When The Bull Is Just Too Tame
Japan is a country of great things. It's a place that continues to interest the West with its unique mix of new and old; a place where deep-seeded culture clashes with the modern; a place where, at times, the future seems to have arrived way before the rest of the world. It continues to be a mysterious land for many, and because of this it's deeply attractive.
When it comes to cars, many people draw inspiration to the styles and practices that are spawned from this tiny little island nation, yet at times we may also feel massively confused by what some choose to do with their cars. Shinichi Morohoshi challenges people; what he likes to do may not be for all, but in typical Japanese style he simply doesn't care.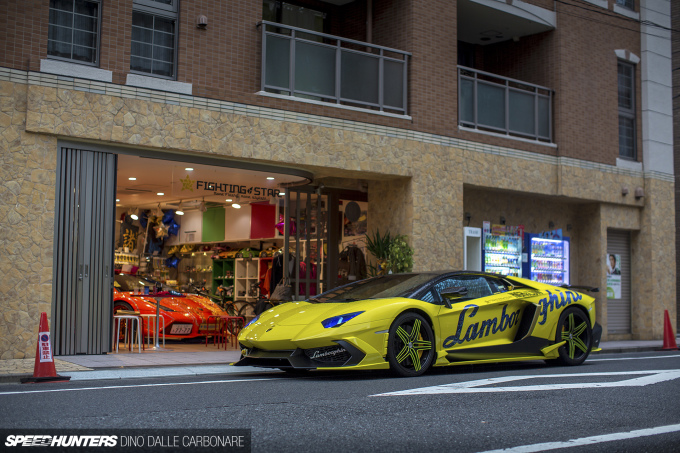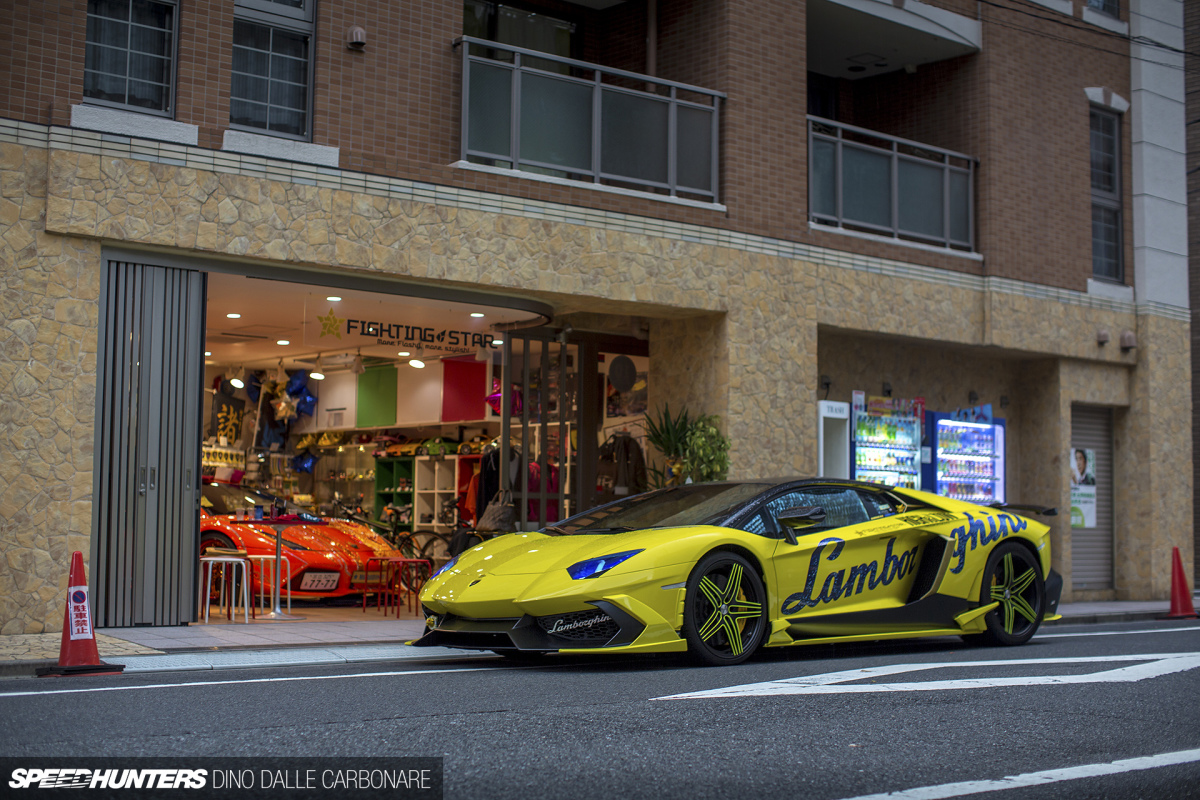 It's all about creating something unique that will get you noticed out on the street. It may have all started out as some fun in the beginning, but Morohoshi has managed to build a following and an appreciation for what he does.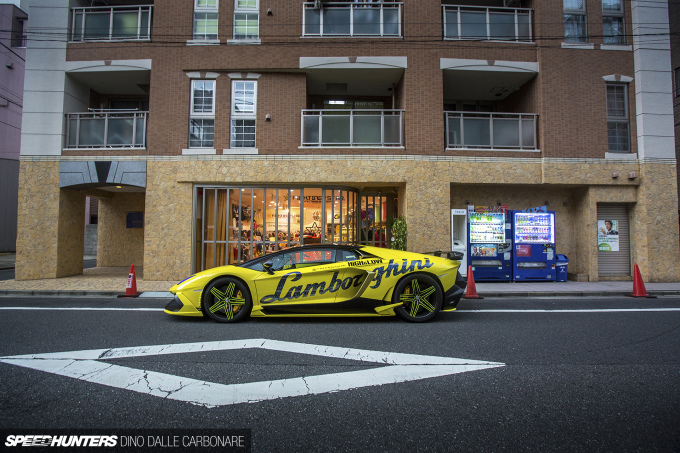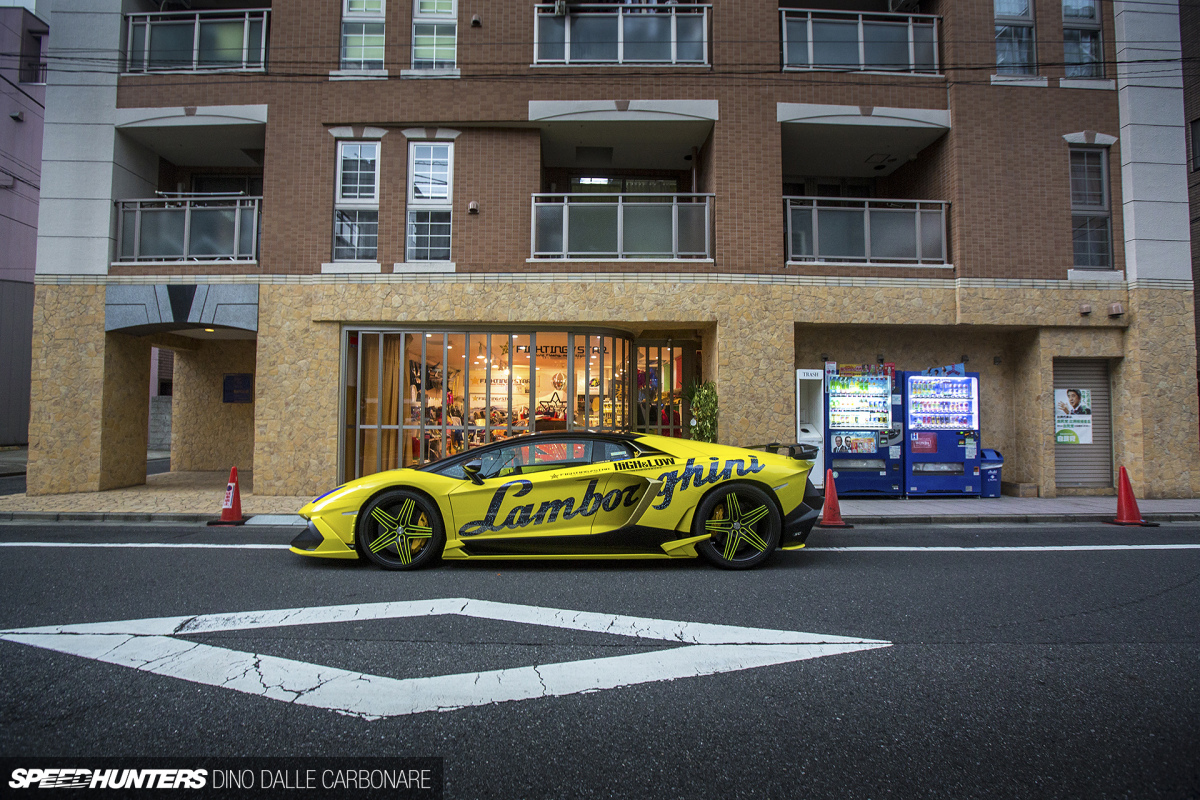 It was late last year when I heard he was about to open his very own shop, appropriately named Fighting Star, in the Tokyo business district of Nihonbashi. It's not the sort of area you'd normally find a car shop in, but that's how Morohoshi likes to do things. Last week I decided it was about time I headed over to check it all out.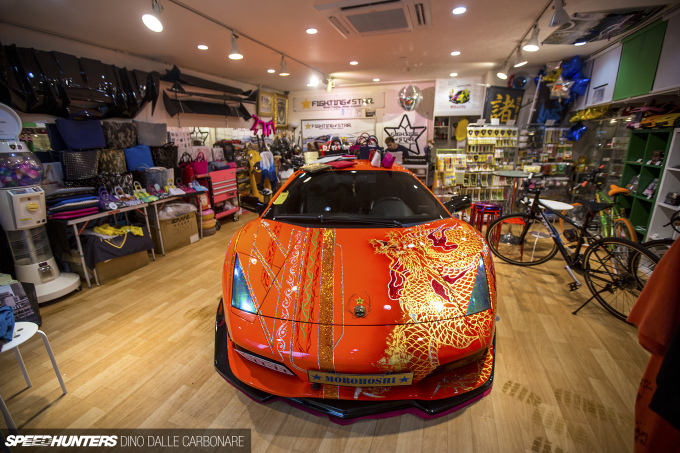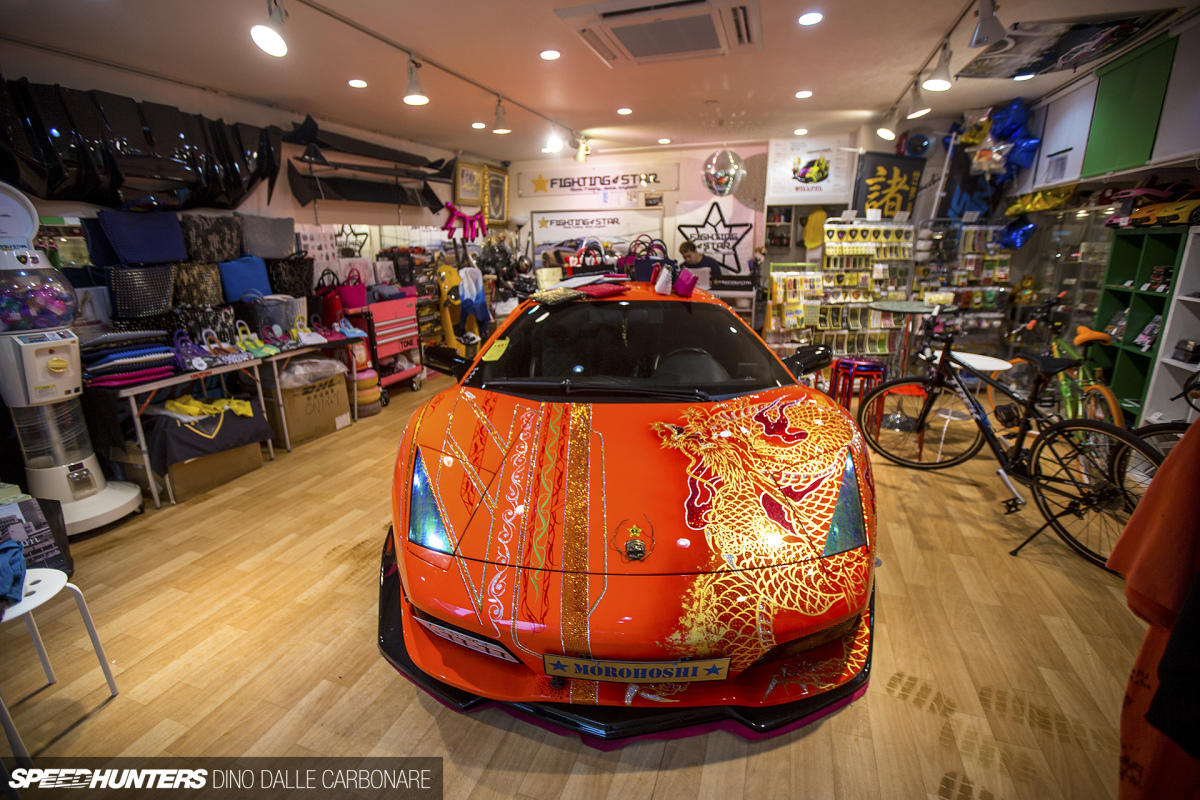 You could almost think of Morohoshi's shop as his own personal man cave. It's somewhere he's able to display his beloved customized Lamborghinis alongside the wide variety of merchandise he's designed and created to further fuel his inner passion. While his daily-driven 50th Anniversary Aventador usually sits outside when he stops by the shop, there's always a car inside on display.
Morohoshi's Murciélago is such a perfect example of what his style is all about: loud, shiny, in your face and oozing an impossibly Japanese character about it. An insane number of hours went into laying down all the tiny little Swarovski crystals that make up the carp design, itself mimicking the sort of tattoos you might find on some shady, underground individuals in certain Tokyo neighbourhoods.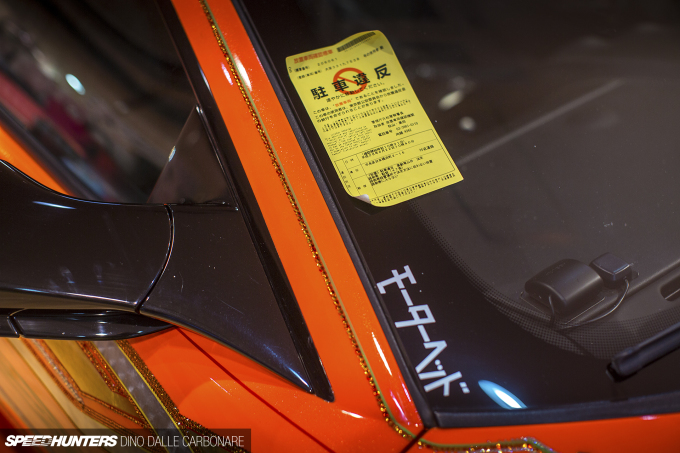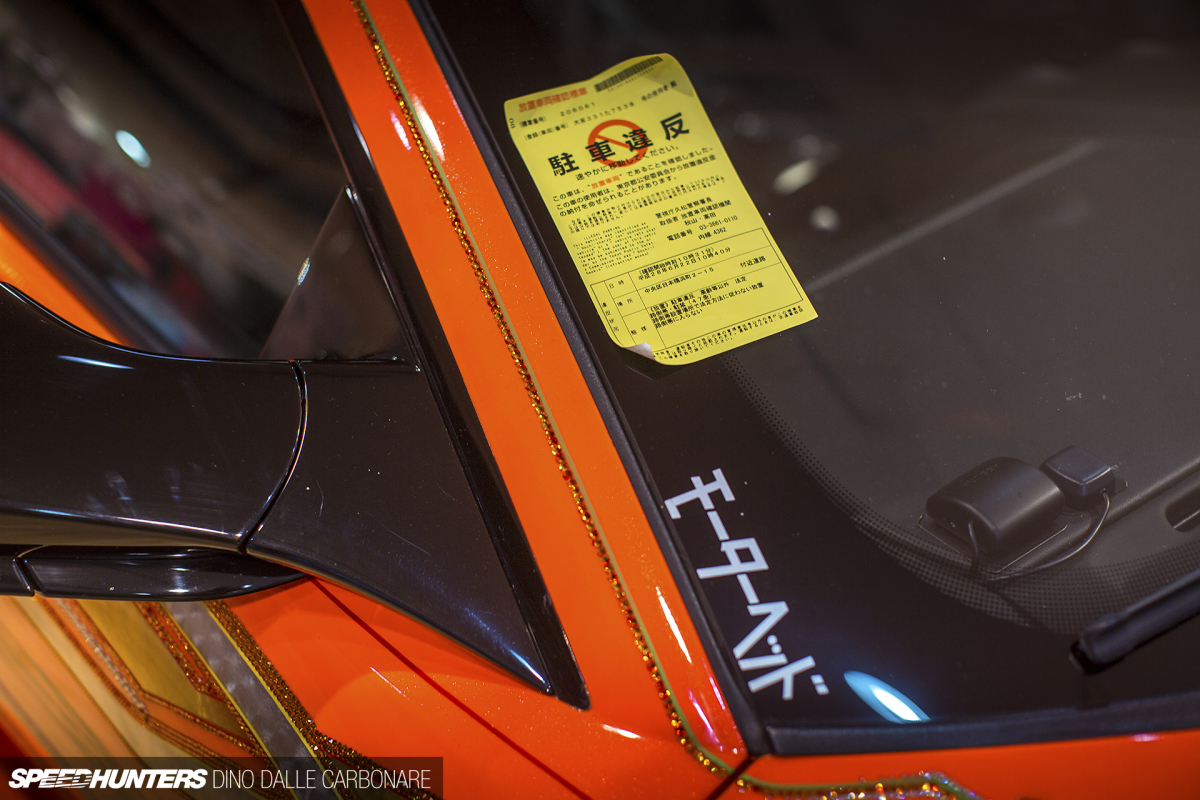 I had to laugh at how he'd left a parking fine attached to Lambo's windscreen!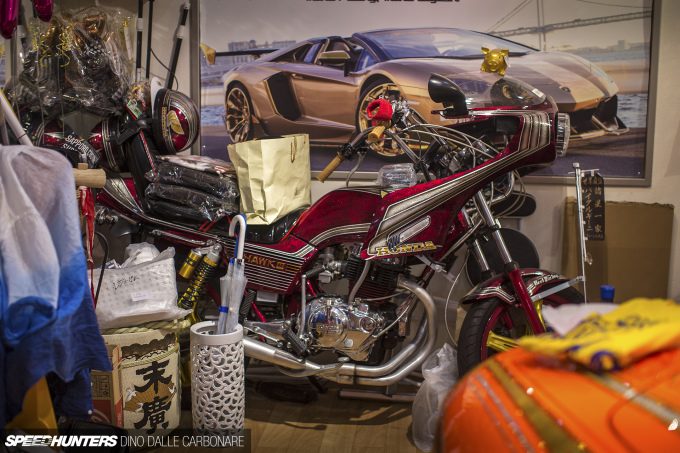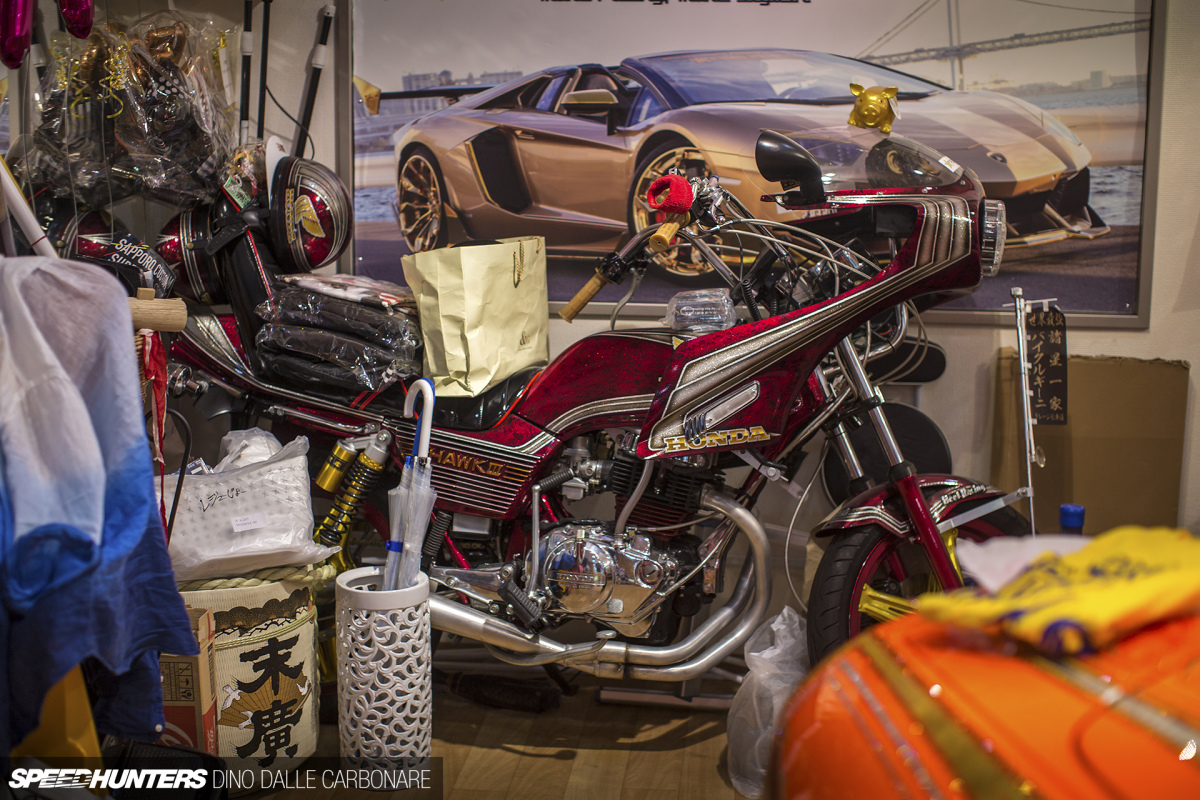 Morohoshi could be described as a Lamborghini bososzoku, because a lot of what he does with his cars can be traced back to these bikes, their style and the way in which their riders use them. So it's no surprise he's got a pretty cool two-wheel custom creation in the shop as well.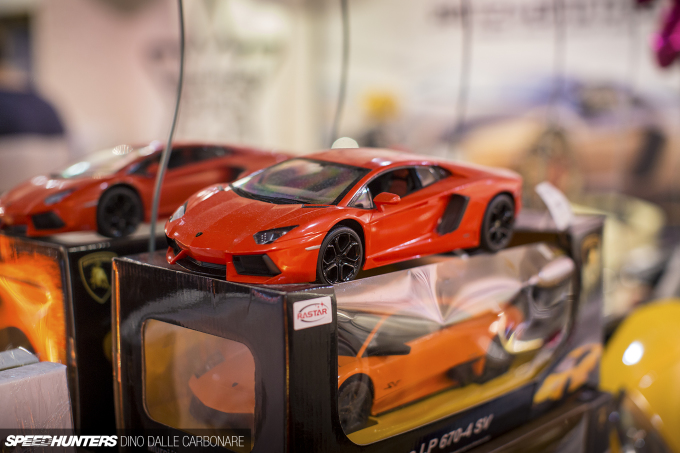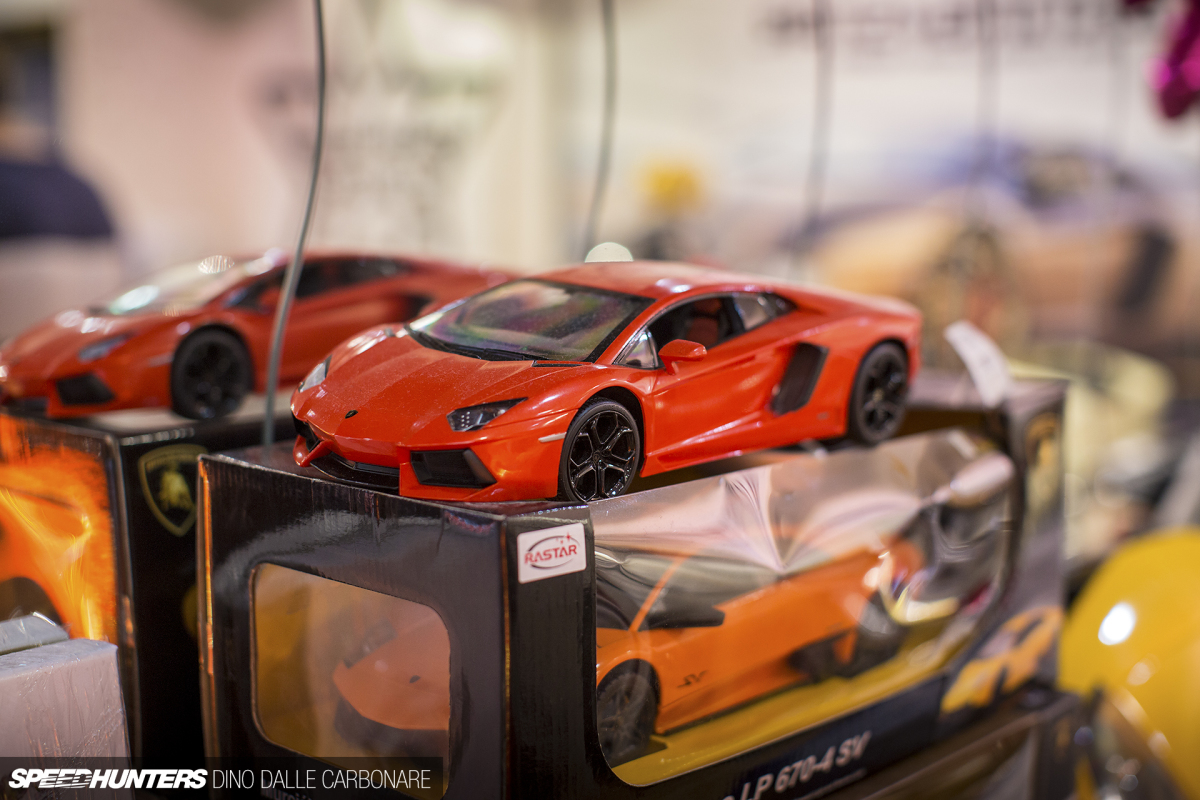 Fighting Star has a lot of Lamborghini themed stuff to check out; no matter what the scale, Morohoshi seems to have collected every Lamb0-related item out there!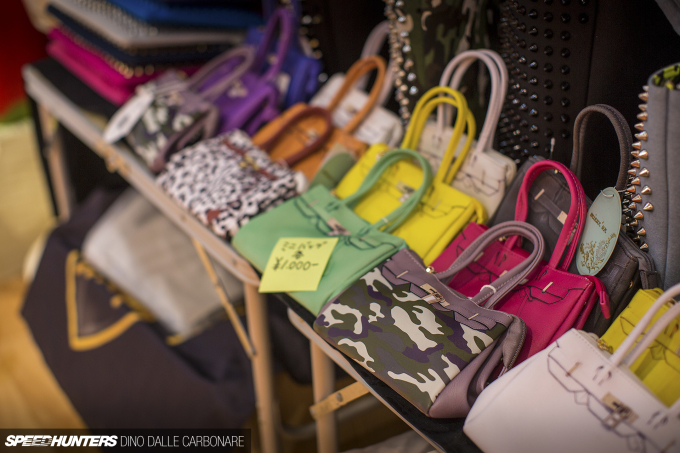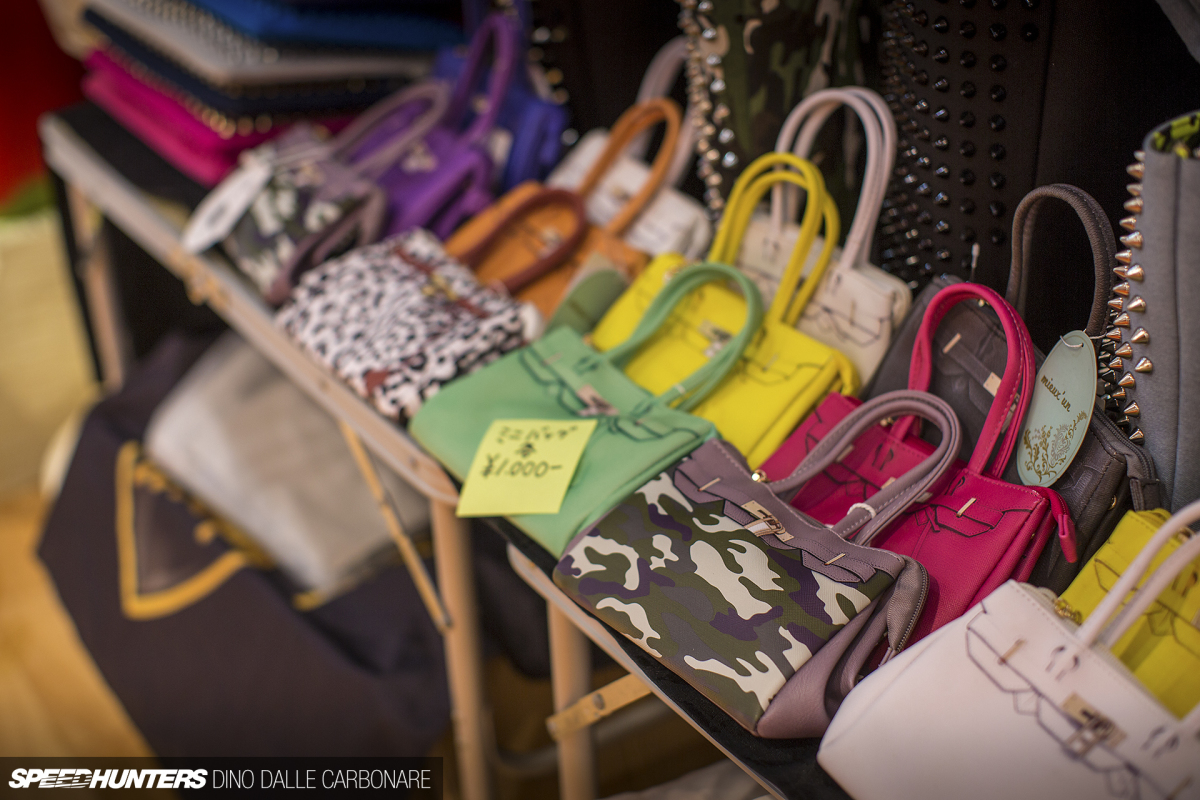 A big part of his persona is the style in which he dresses. Just like his cars, Morohoshi likes stuff to be colourful and flashy, and that's exactly the thinking he employed when selecting these bags to sell in his store.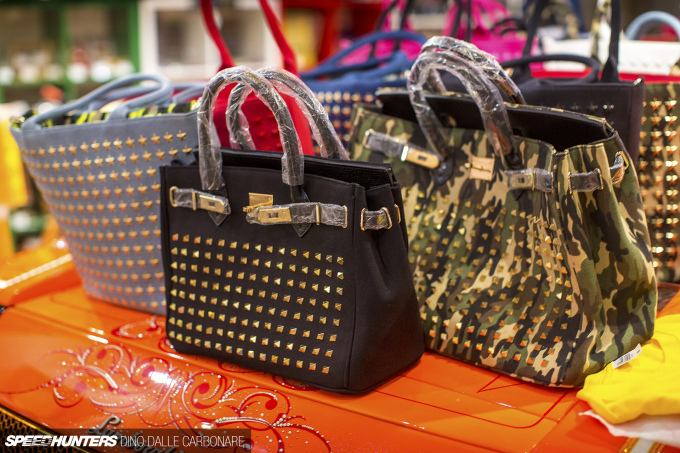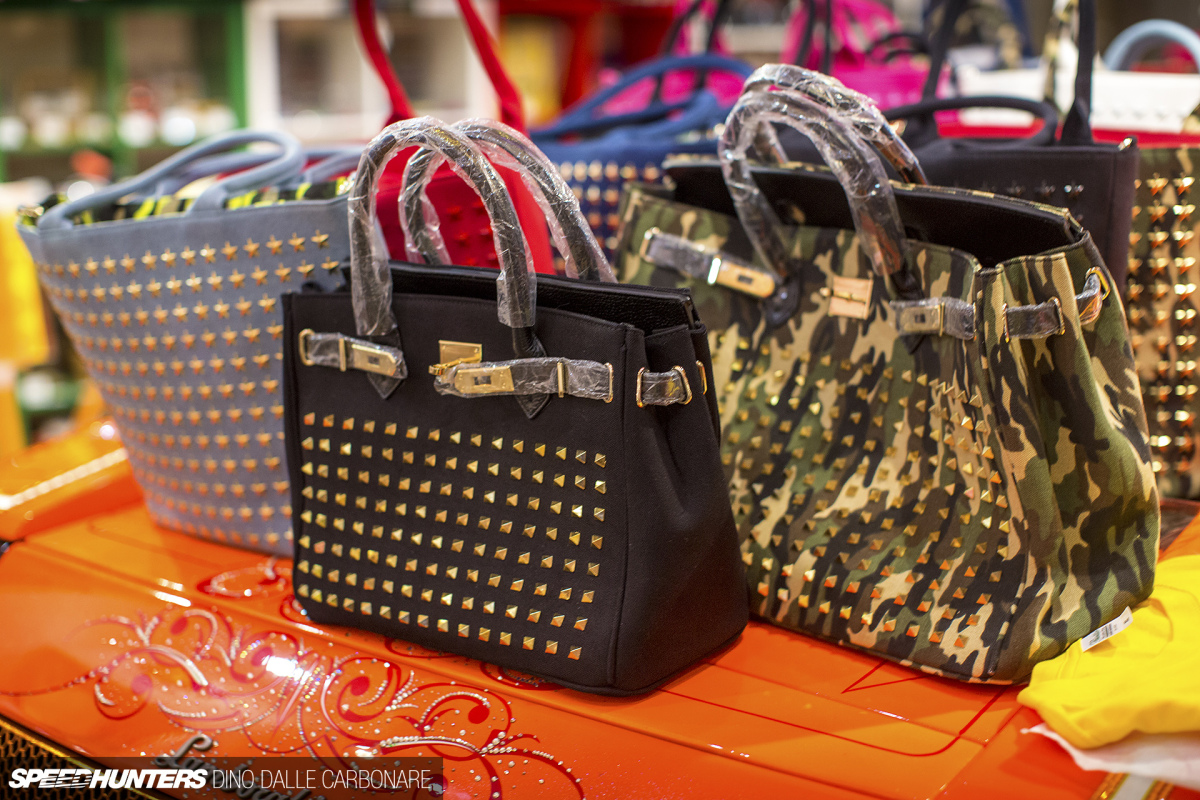 Oh, and apparently you can never go wrong with metal studs.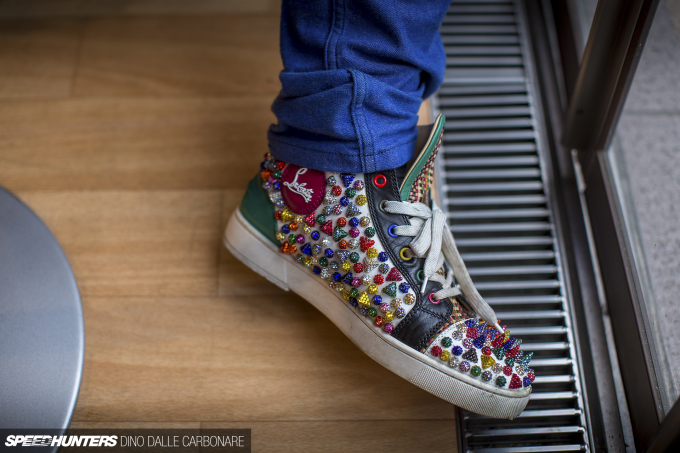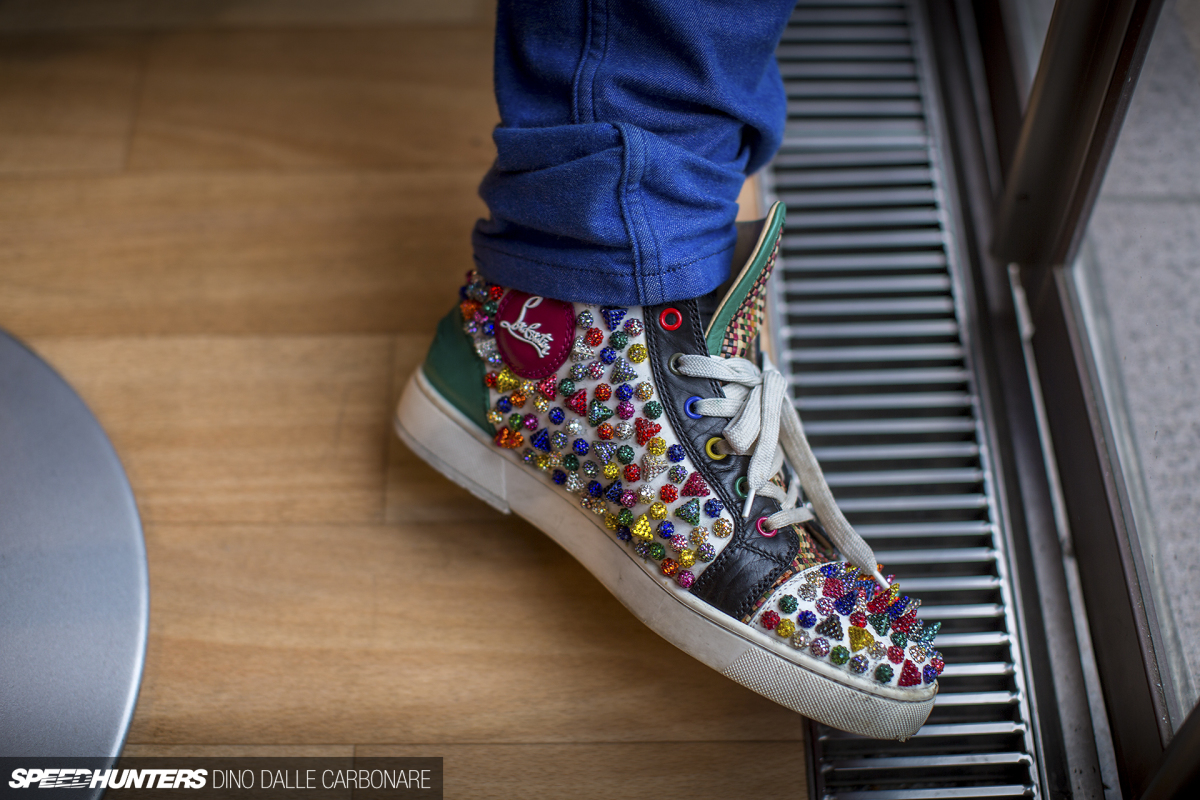 Check out Morohoshi's shoes for example. Like half the stuff he owns, they're custom, in this case metal studs covered in colourful Swarovski crystals.
Fighting Star: The Brand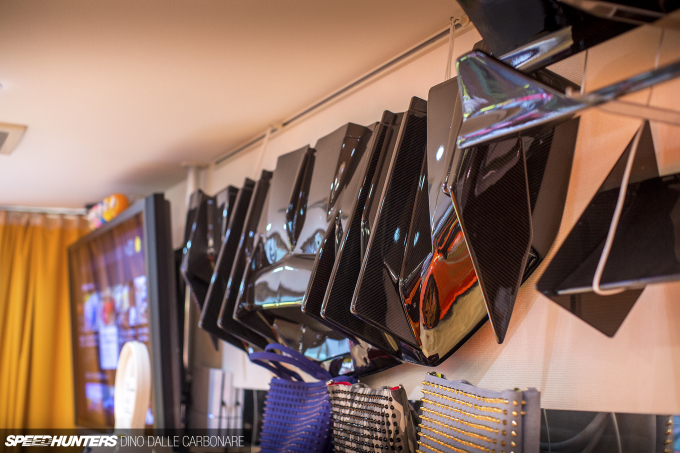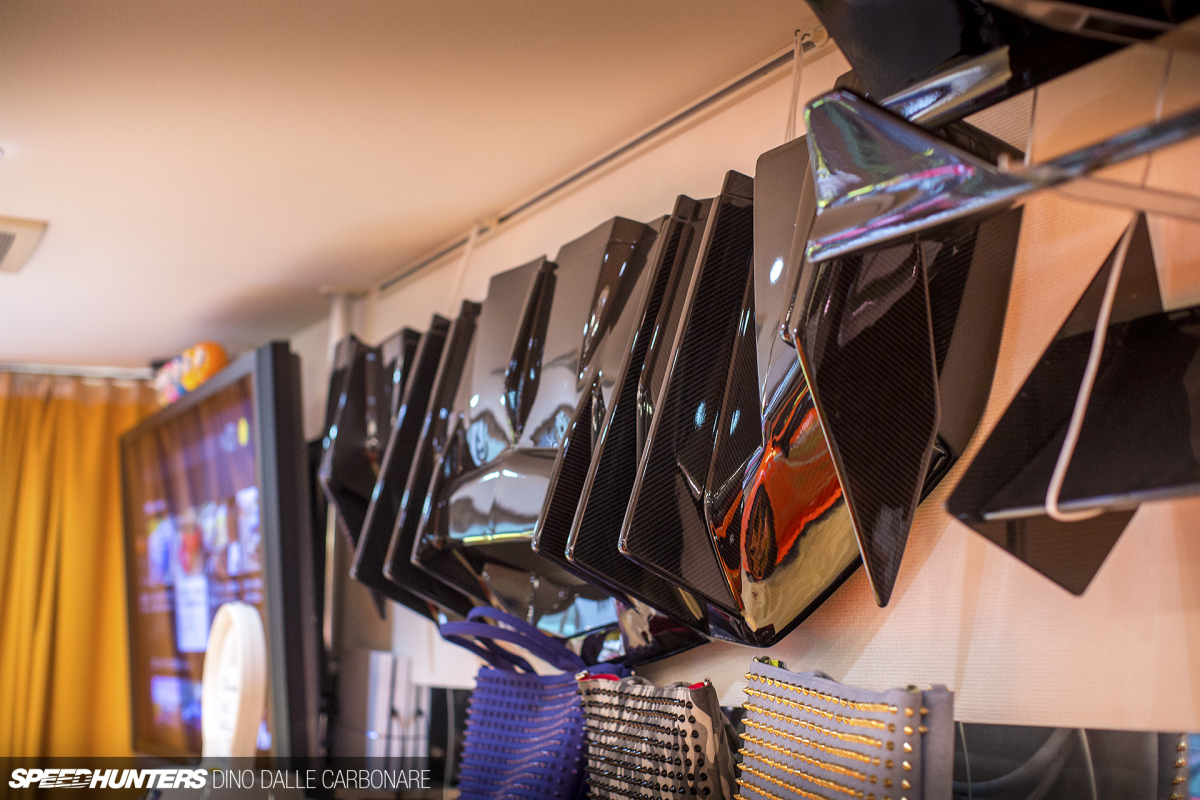 But the main reason that Morohoshi opened Fighting Star was a desire to create his very own aero line. He currently has a selection of FRP and carbon fiber kits for the Aventador, with more soon coming for the Gallardo and other Lamborghini models.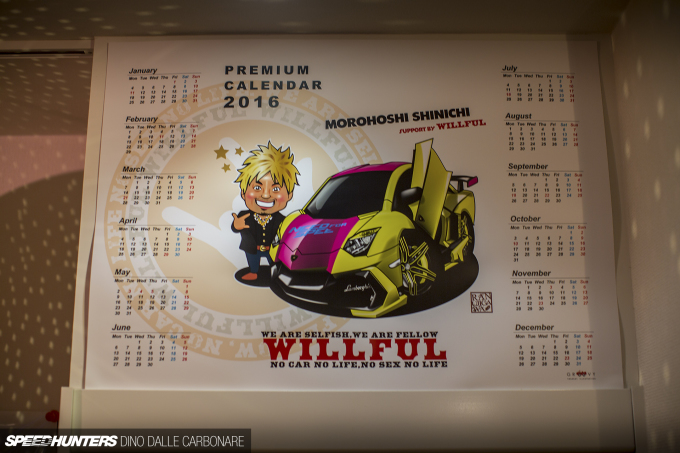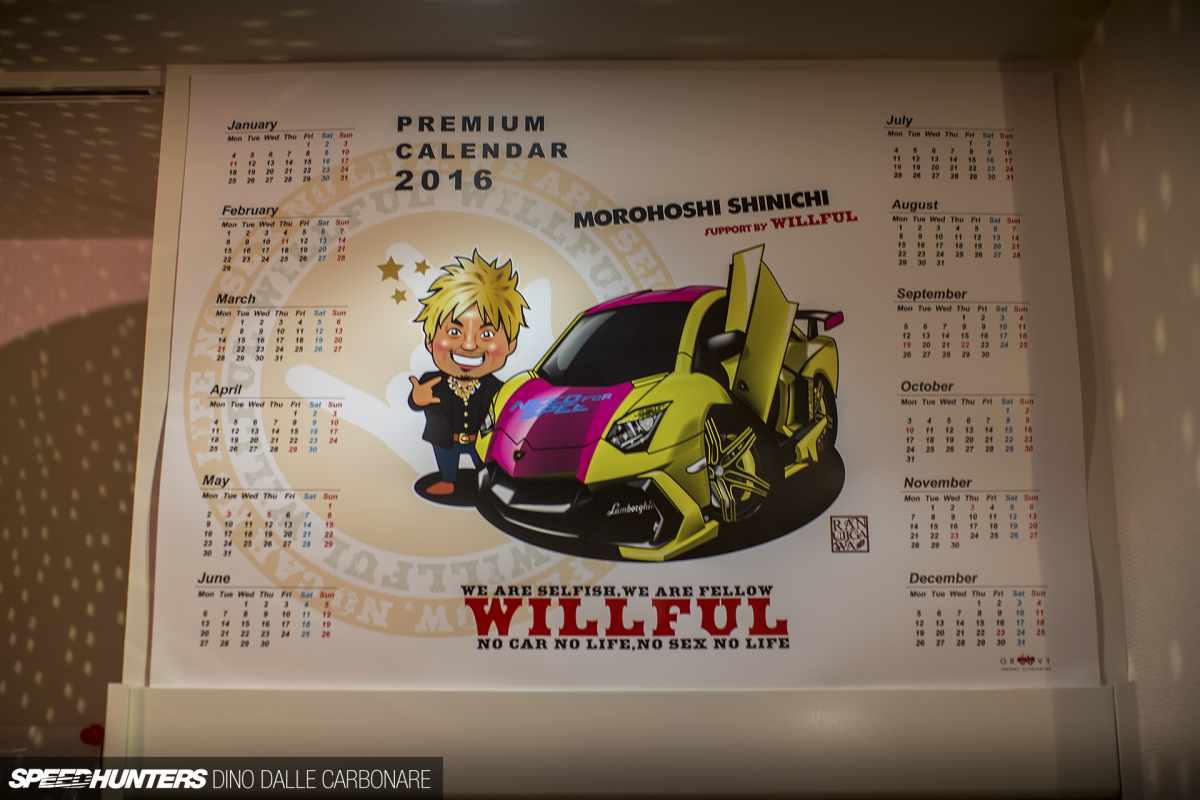 He's made the most of his popularity and created a very recognisable brand out of it all, hence why he was chosen as one of the characters in the current Need for Speed game.
Morohoshi tells me the Aventador iPhone cases are a popular seller, but I do have to wonder who would part ways with around US$3300 for a Swarovski crystal-covered 1/18 scale Aventador…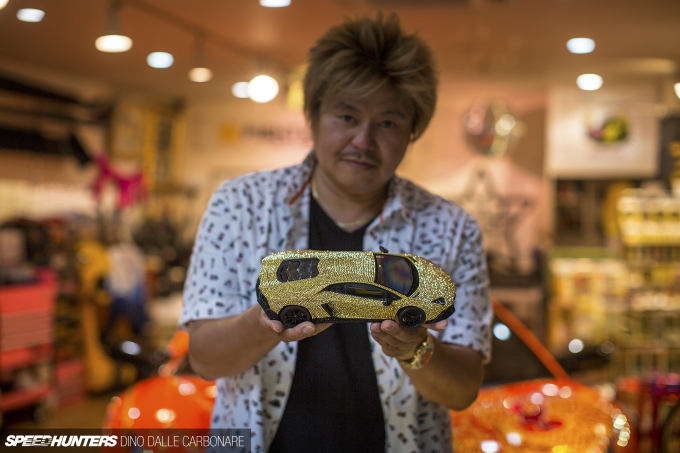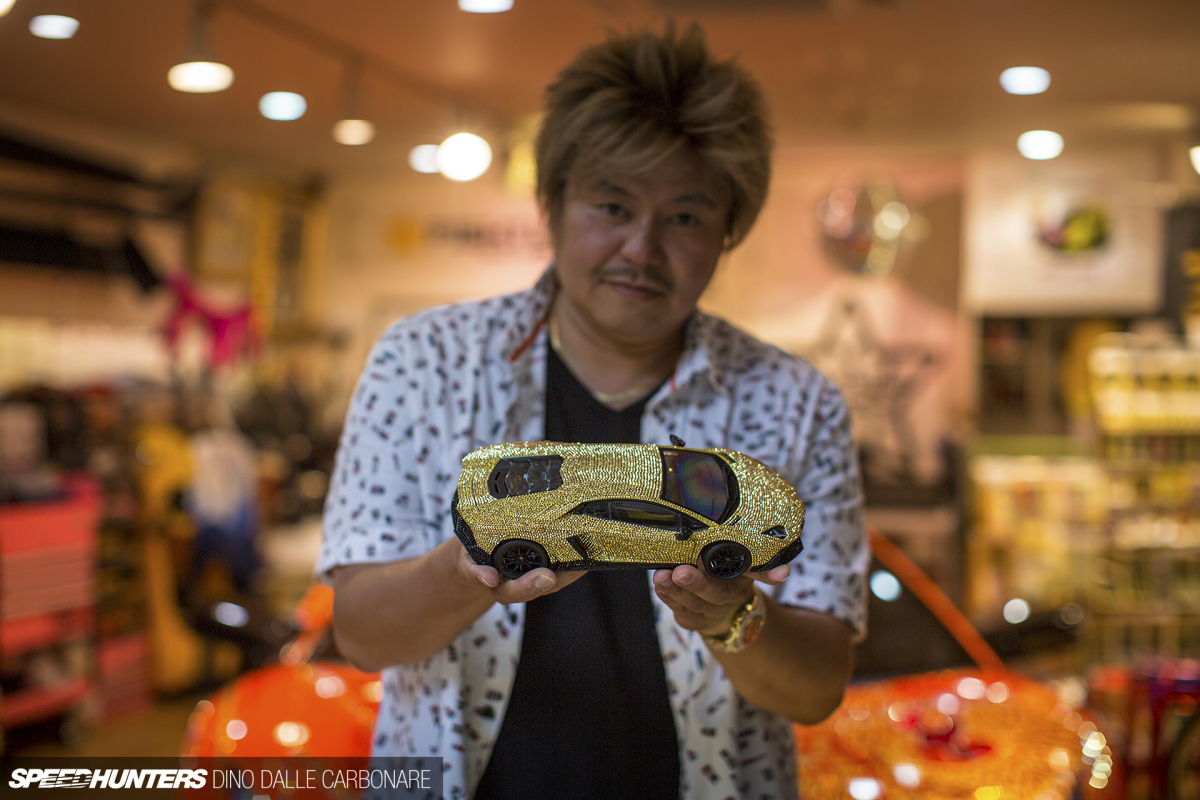 To this question he simply replied: "If I make them it's because there are people out there that buy them."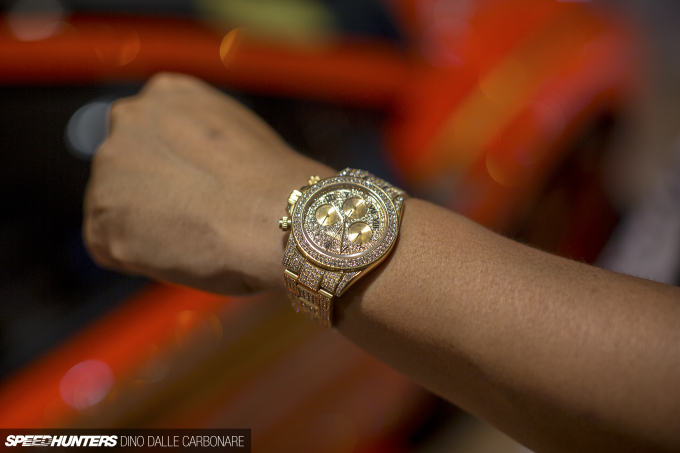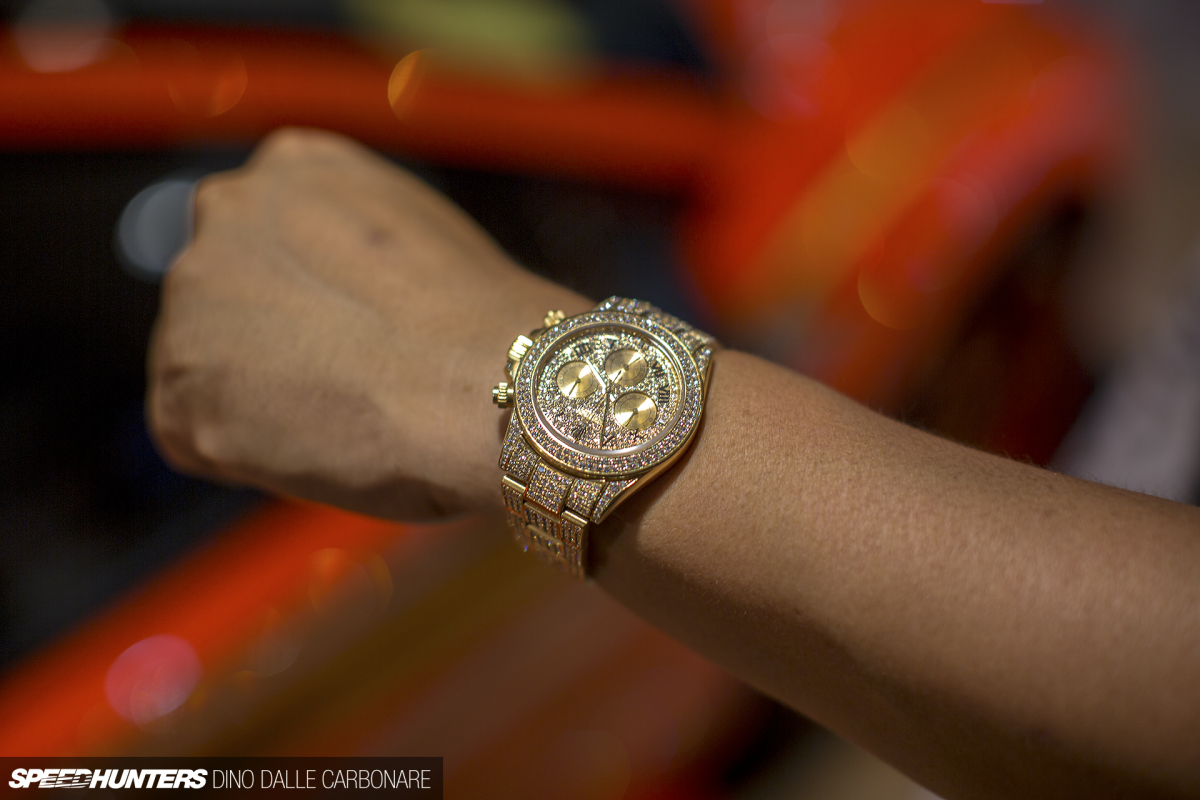 His love of pika-pika – the Japanese word used to describe anything that shines and sparkles – stretches to pretty much everything, and Morohoshi was quite proud to show me the latest addition to his watch collection.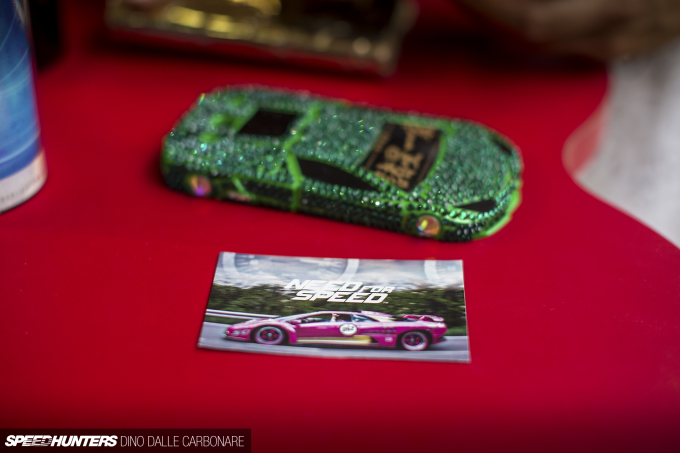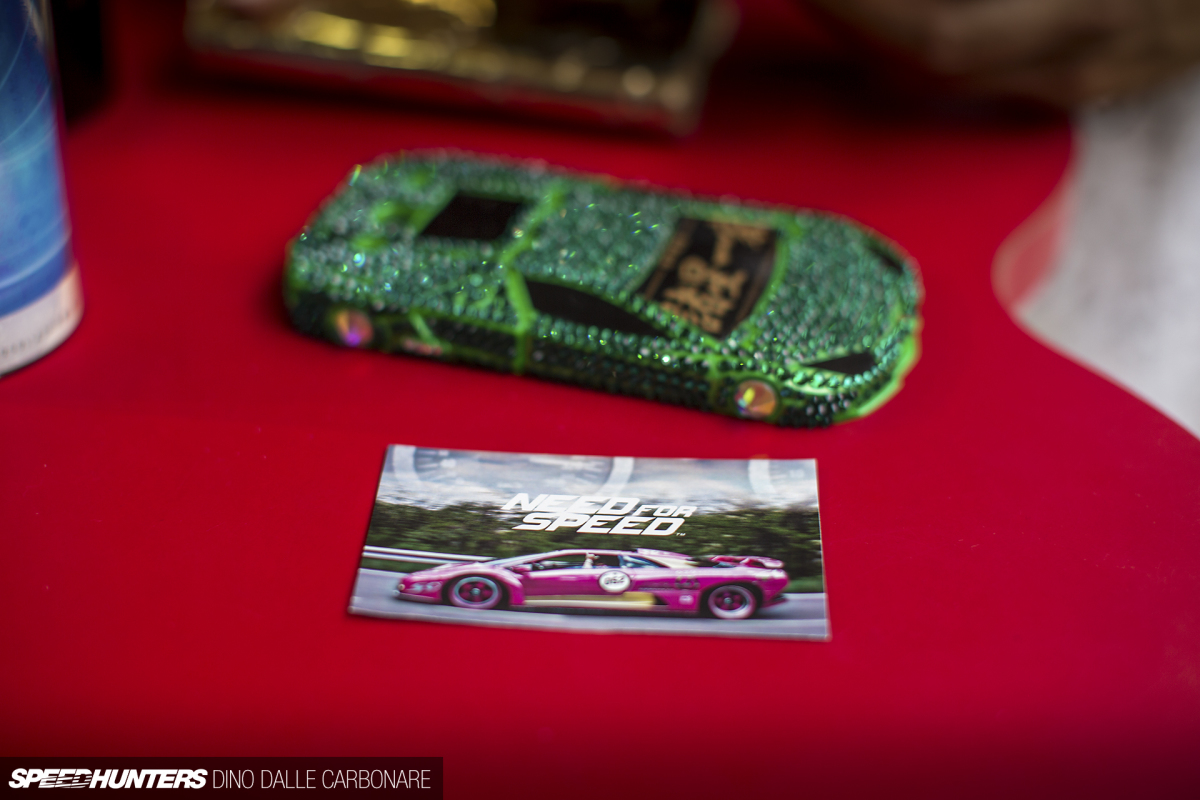 His rebellious image is something that made him one of the biggest spectacles at the 50th Anniversary Lamborghini meeting, for which he shipped his purple Diablo to Italy for. With air-horns blasting The Godfather theme tune and fire-spitting exhausts, he won the love of the Italians – but not so that of Lamborghini's president. But we'll get to that in the second part of my meeting with Morohoshi, where I had time to sit down with him and ask some questions.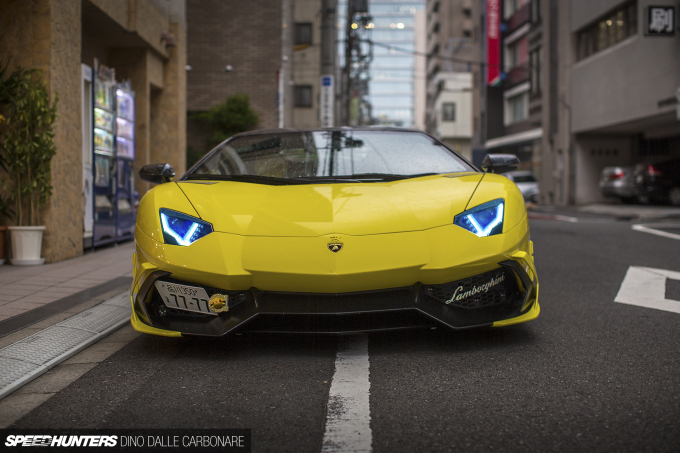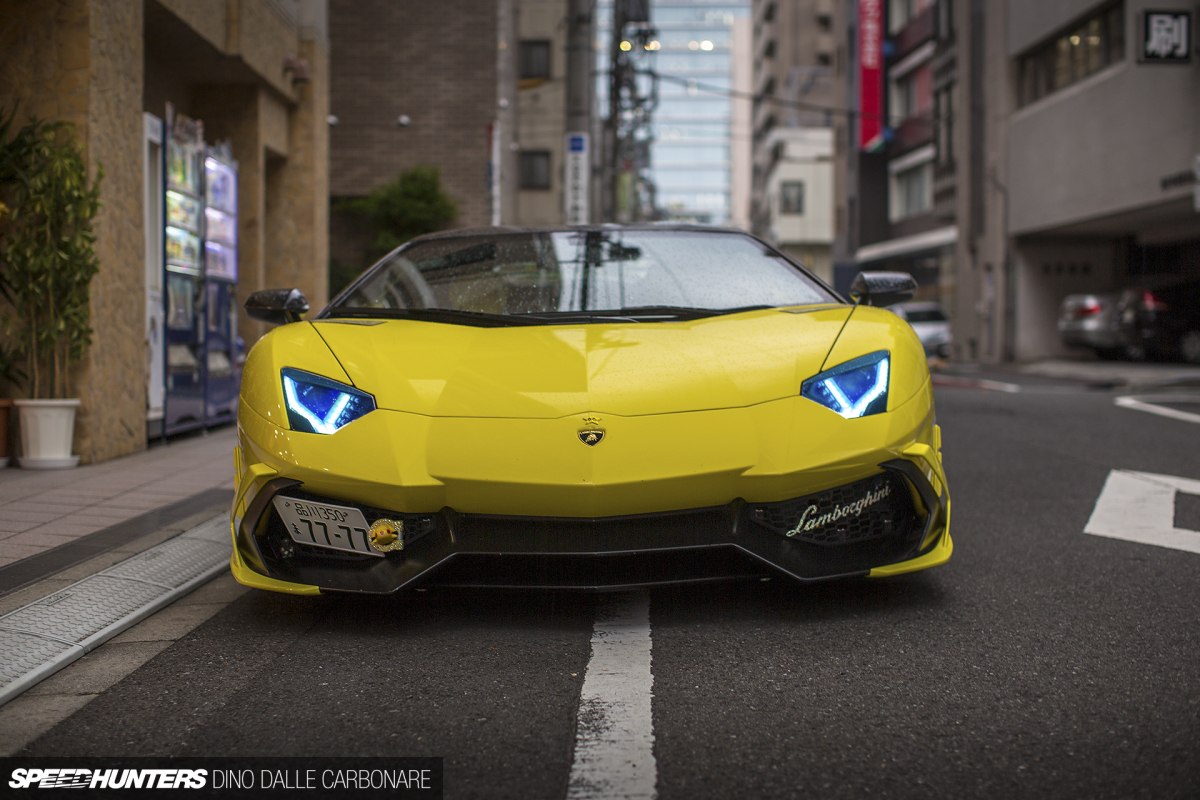 While it was parked outside, I wanted to take a closer look at the Fighting Bull aero bits that Morohoshi's fitted to his own car. You could call this the shop's current demo machine, which is running a one-off treatment that's not yet on sale.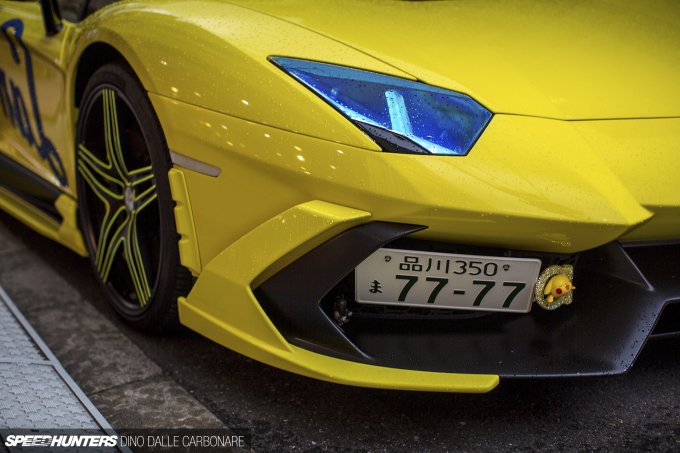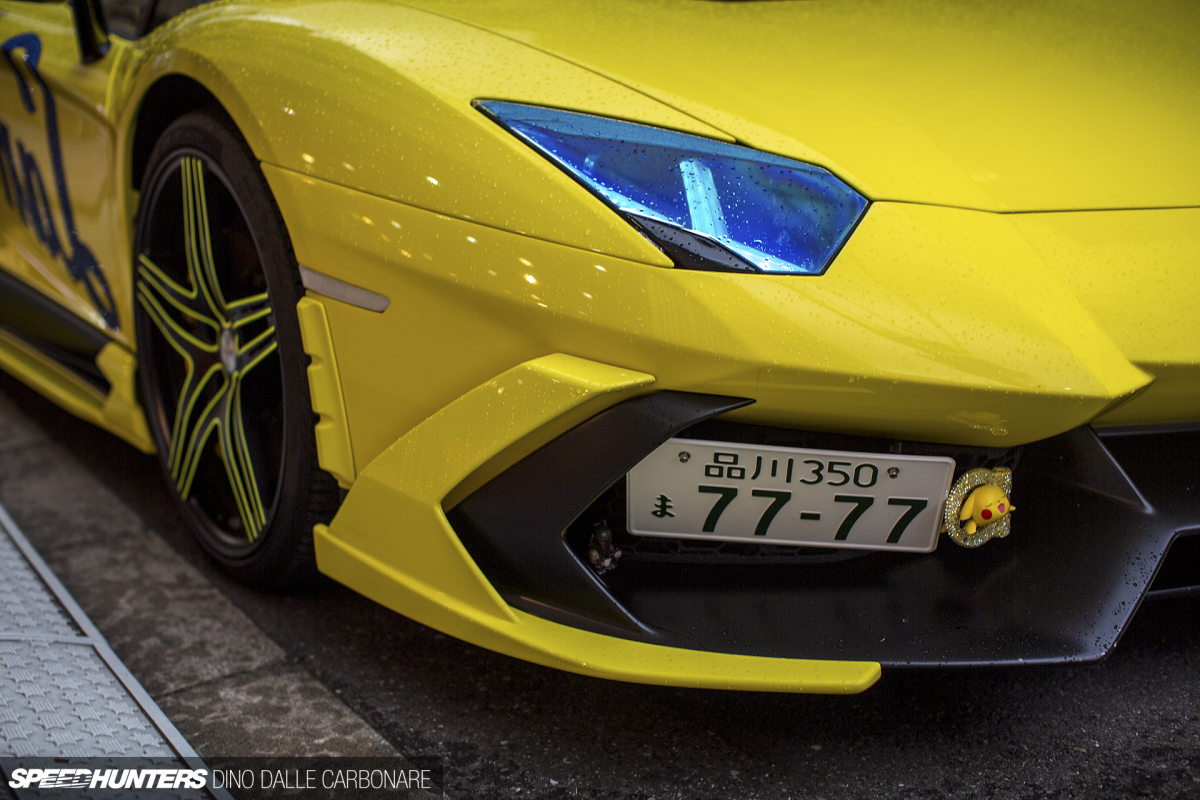 As you can see, the additions follow the Lambo's angular and recognised design language, but add some extra aggression around the car.
The Pikapika character poking out from the front though? That's there because he likes his things to be pika-pika of course!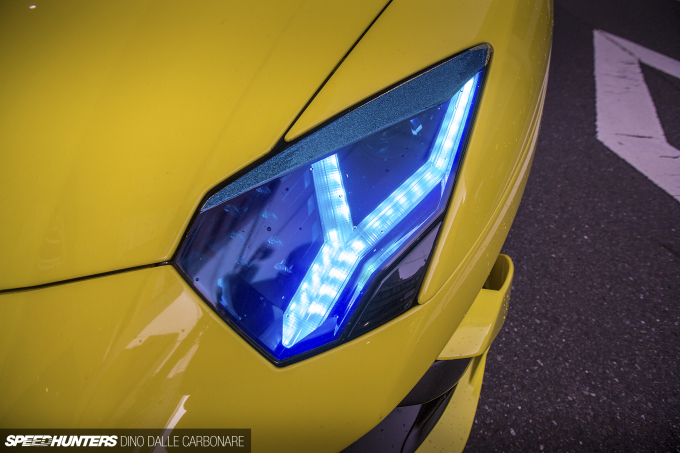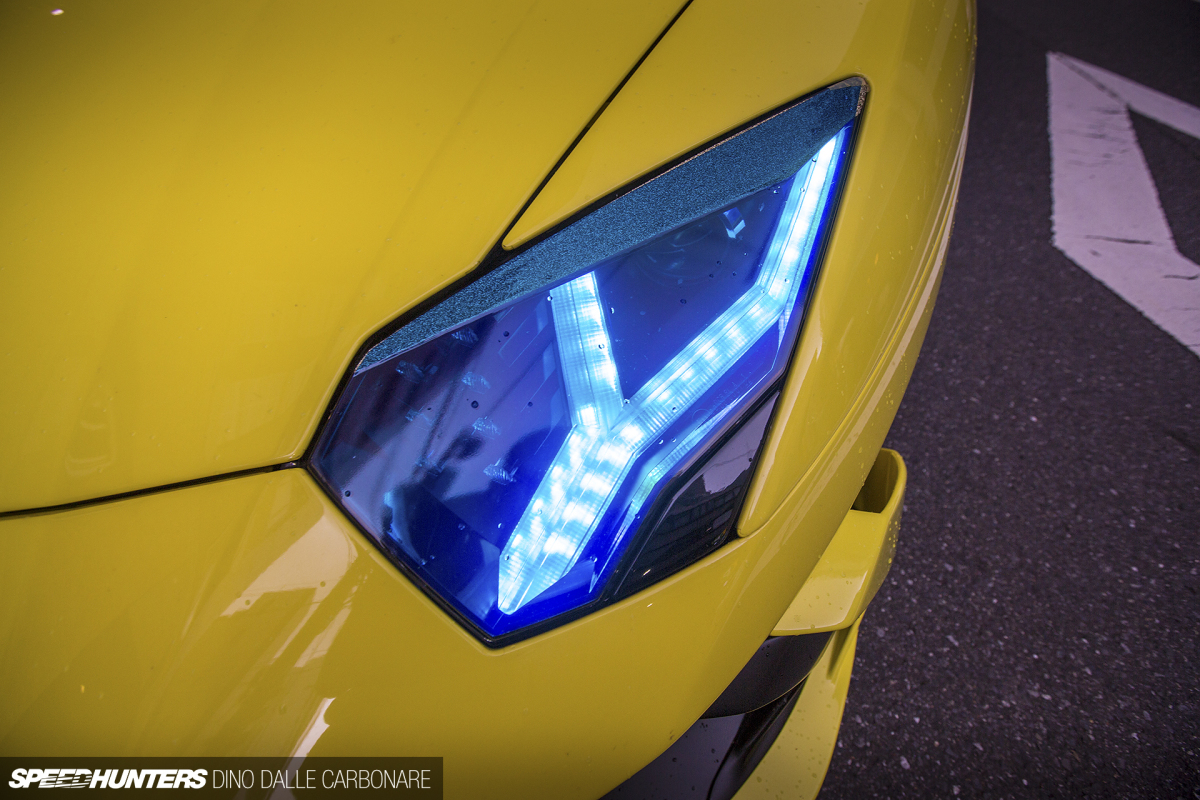 The blue film covering the headlights was something Morohoshi had just done, and he was very satisfied with the resulting look.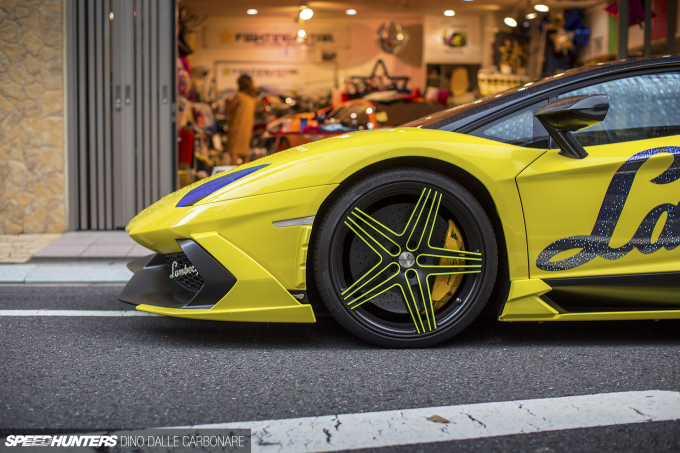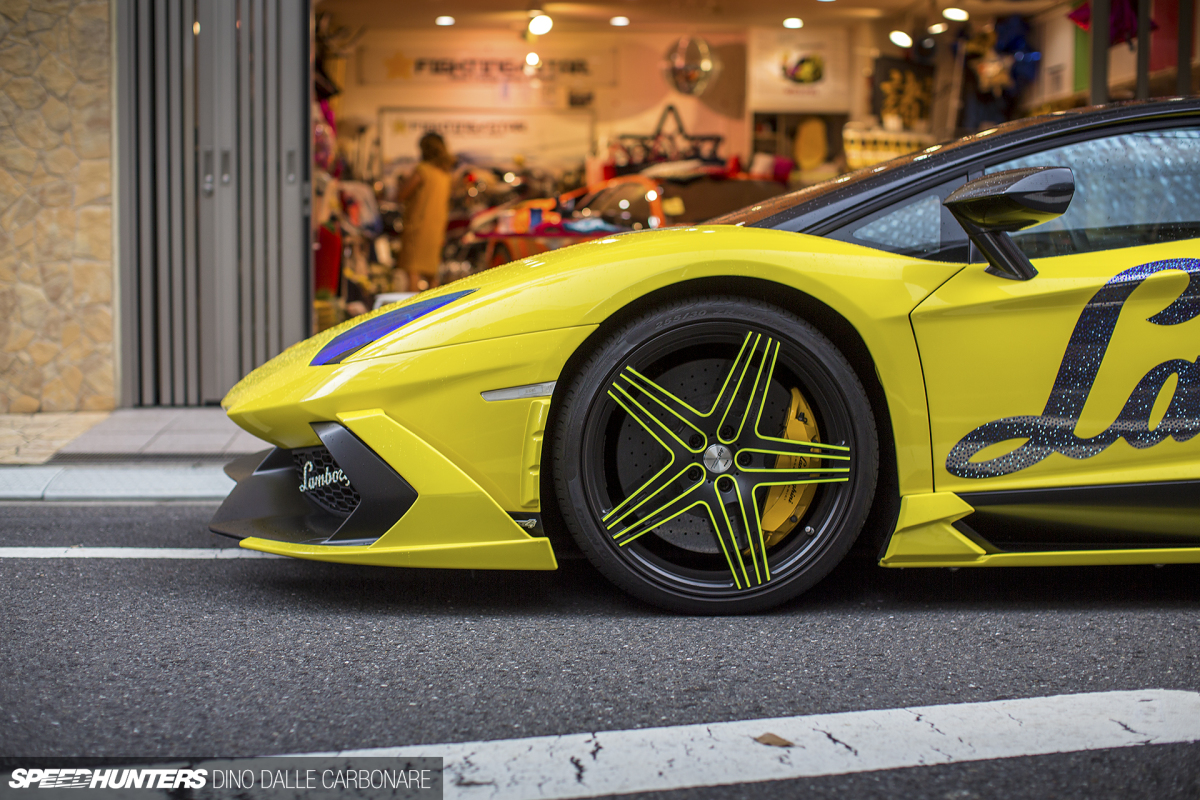 And the aftermarket wheels run thin fluorescent vinyl stripes to highlight their five-spoke design.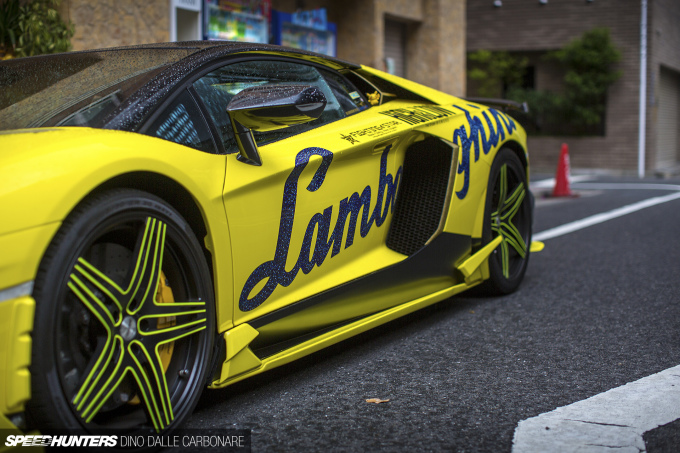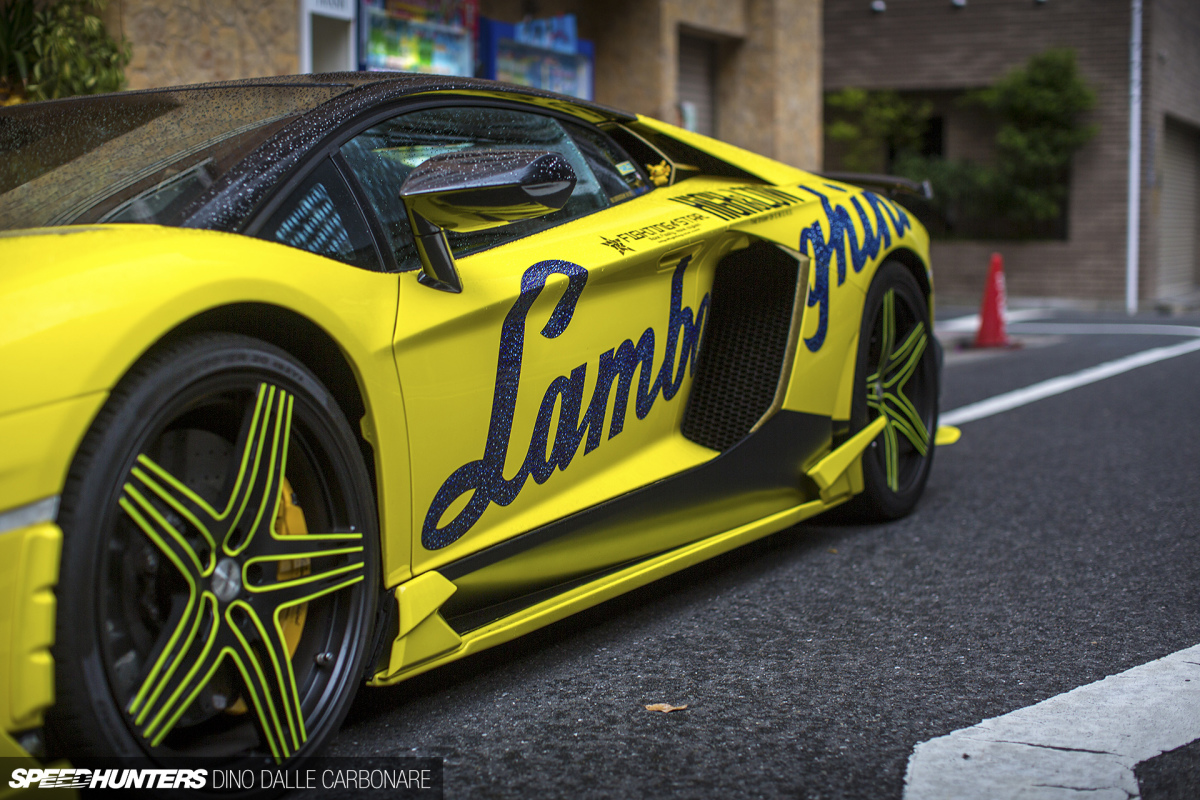 Moving to the side, Morohoshi's added an underskirt section to beef up the profile. Yes, I know an Aventador is probably the last car on the planet that needs to be injected with more aggression, but do you think Morohoshi cares?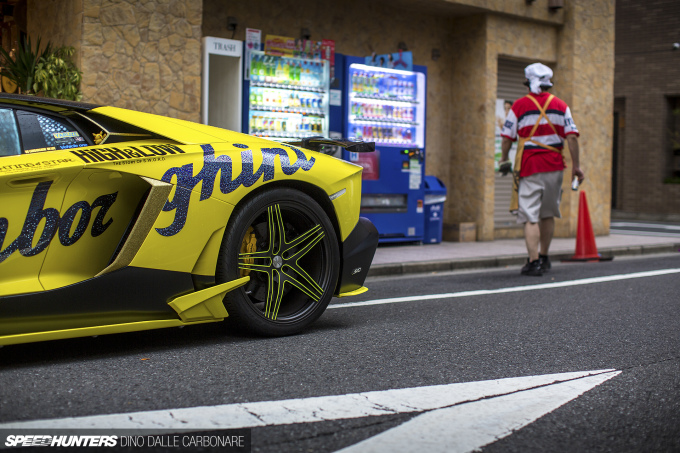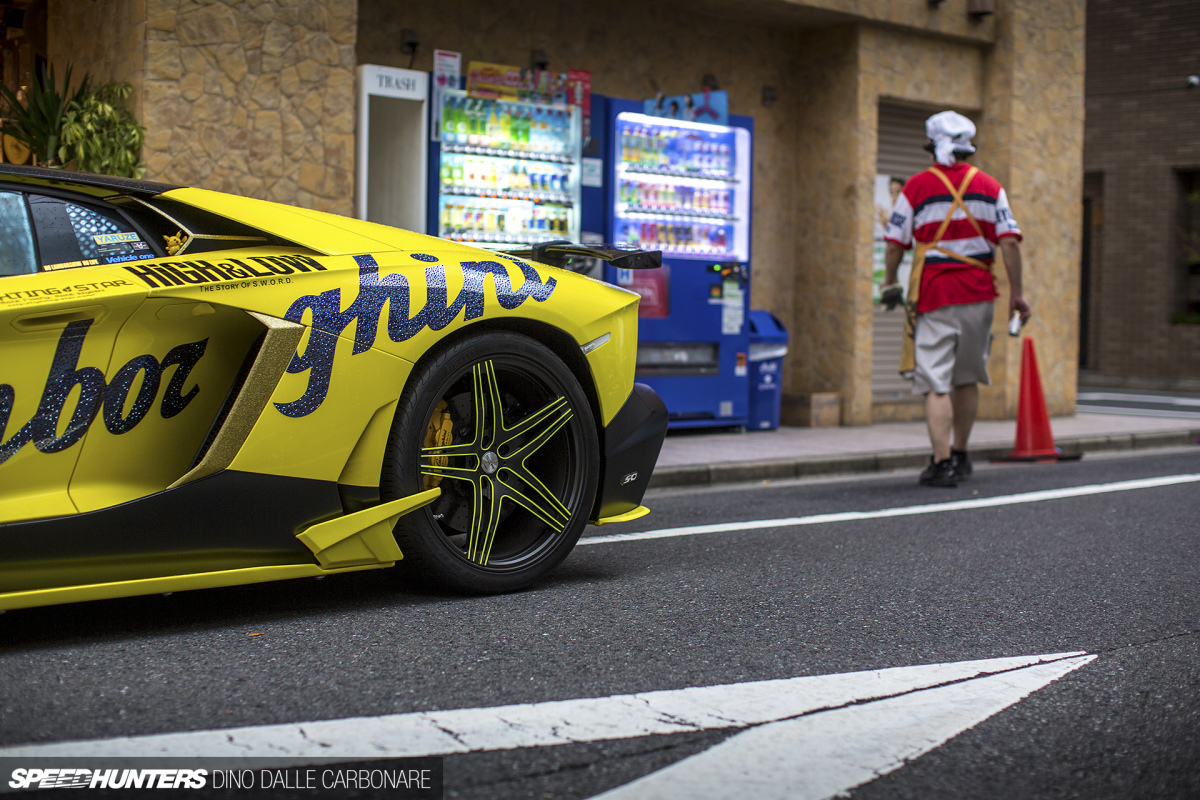 As I was looking at this particular angle of the car I remember the first press event for the R35 GT-R in 2007, where Gundam was quoted as inspiration for the design. I think Morohoshi must also like Gundam too…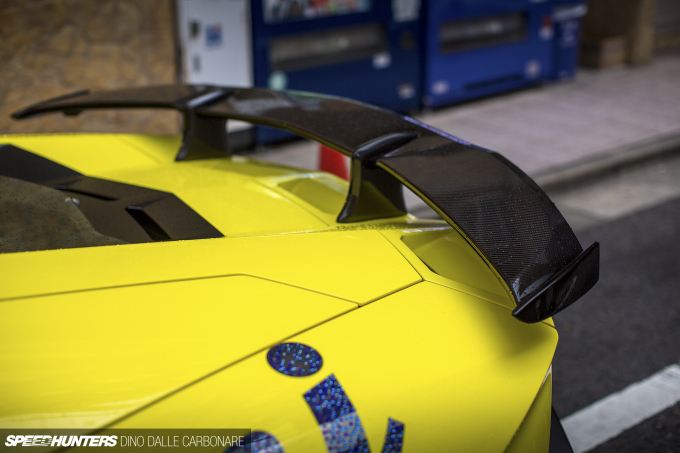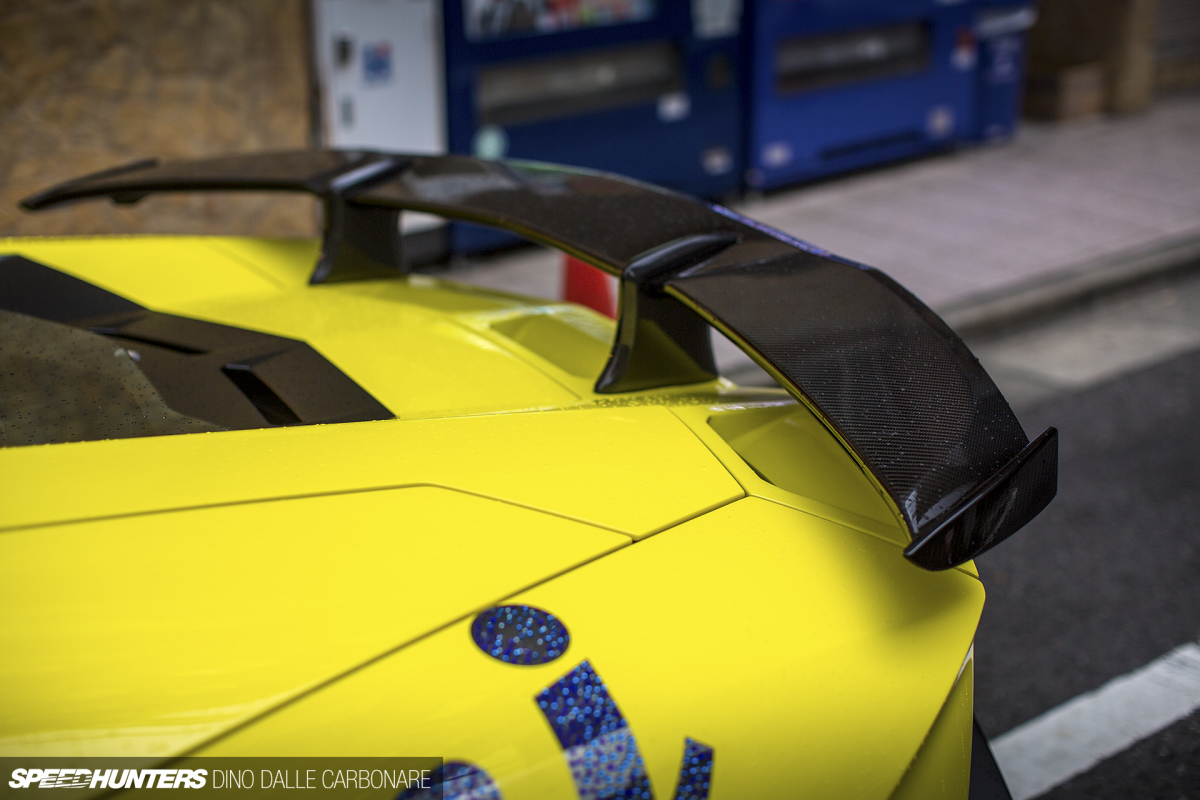 And how could a treatment of this type possibly be complete without the addition of a carbon spoiler?!
Onwards Across Tokyo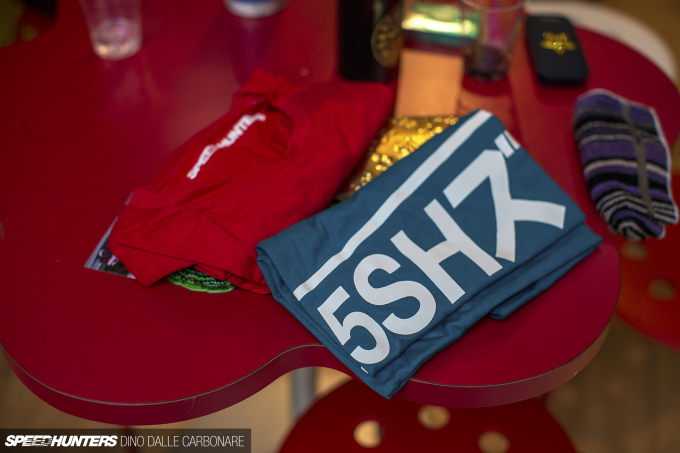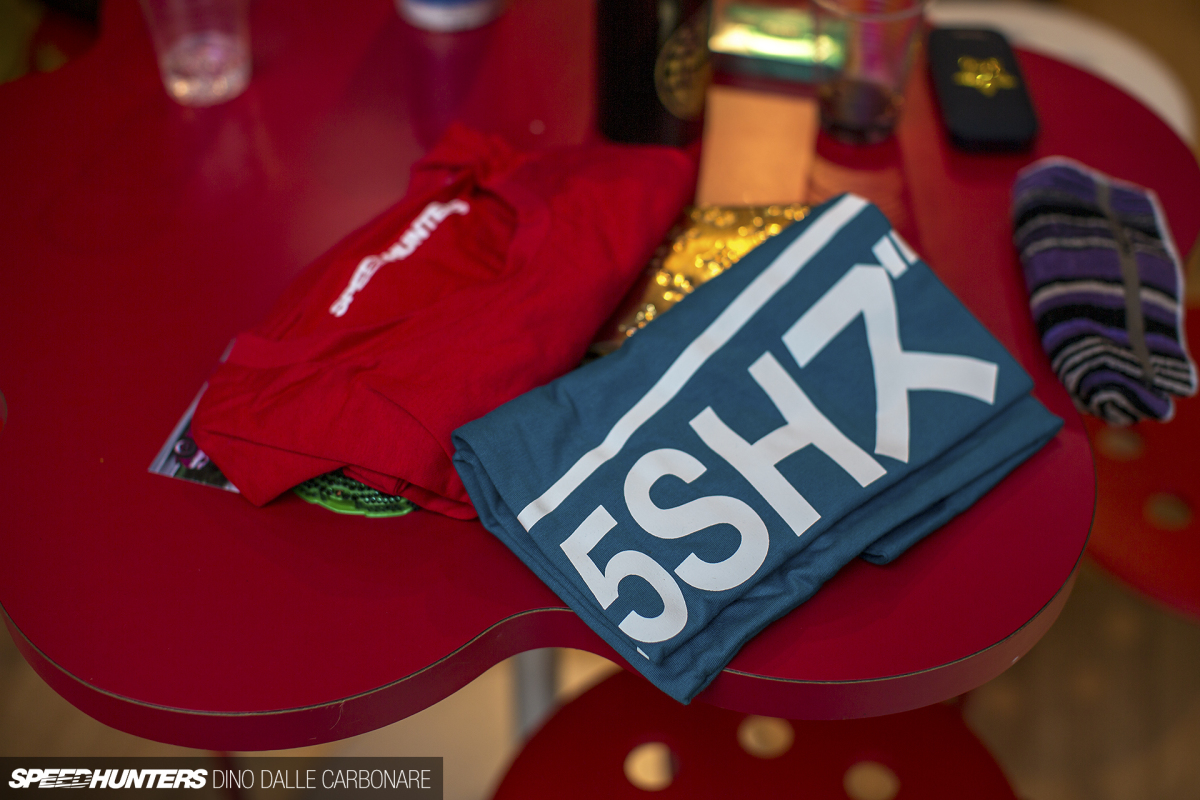 Having just received our all-new 55SH (Go-Go Speedhunters) t-shirts (now available to purchase from our store), I thought it would be cool to give Morohoshi a few. After all, I was sure he was going to like the bright colours we chose for this particular collection.
He immediately picked the red tee and put it on, giving a nod of approval.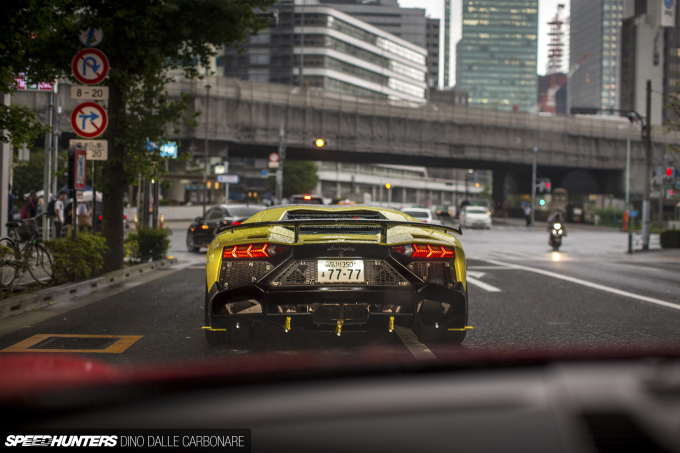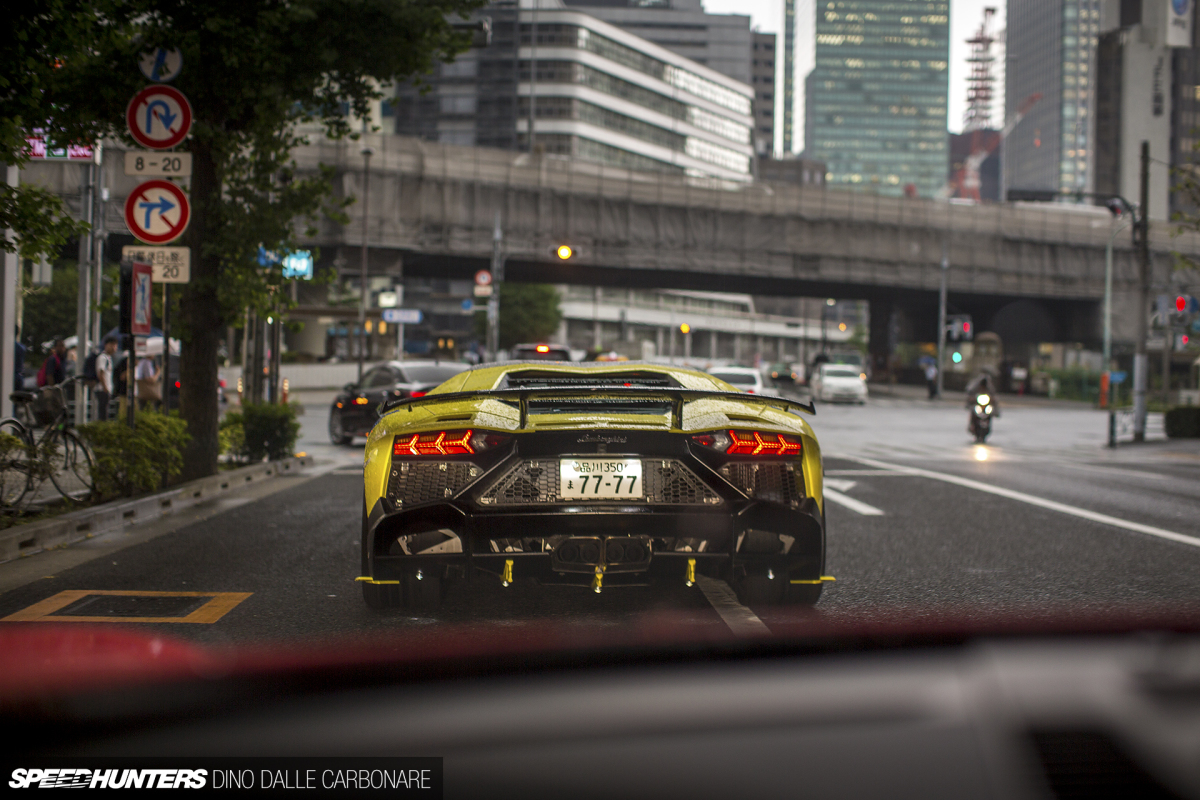 As I mentioned earlier, another reason I paid Morohoshi a visit was so I could sit down with him for a short interview, but by the time I was done shooting the shop and his car, he had to leave for an appointment.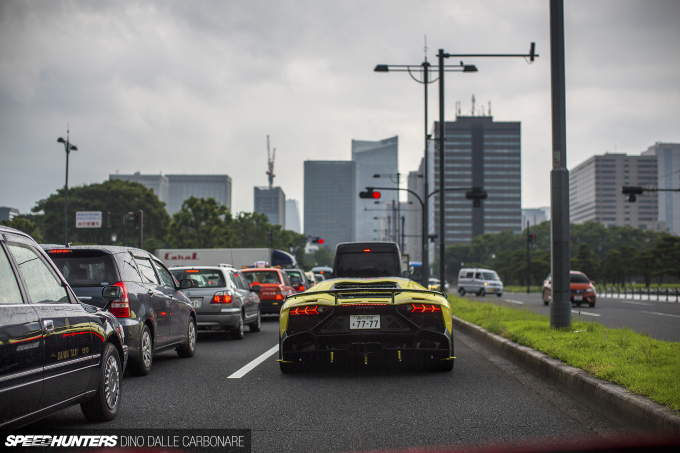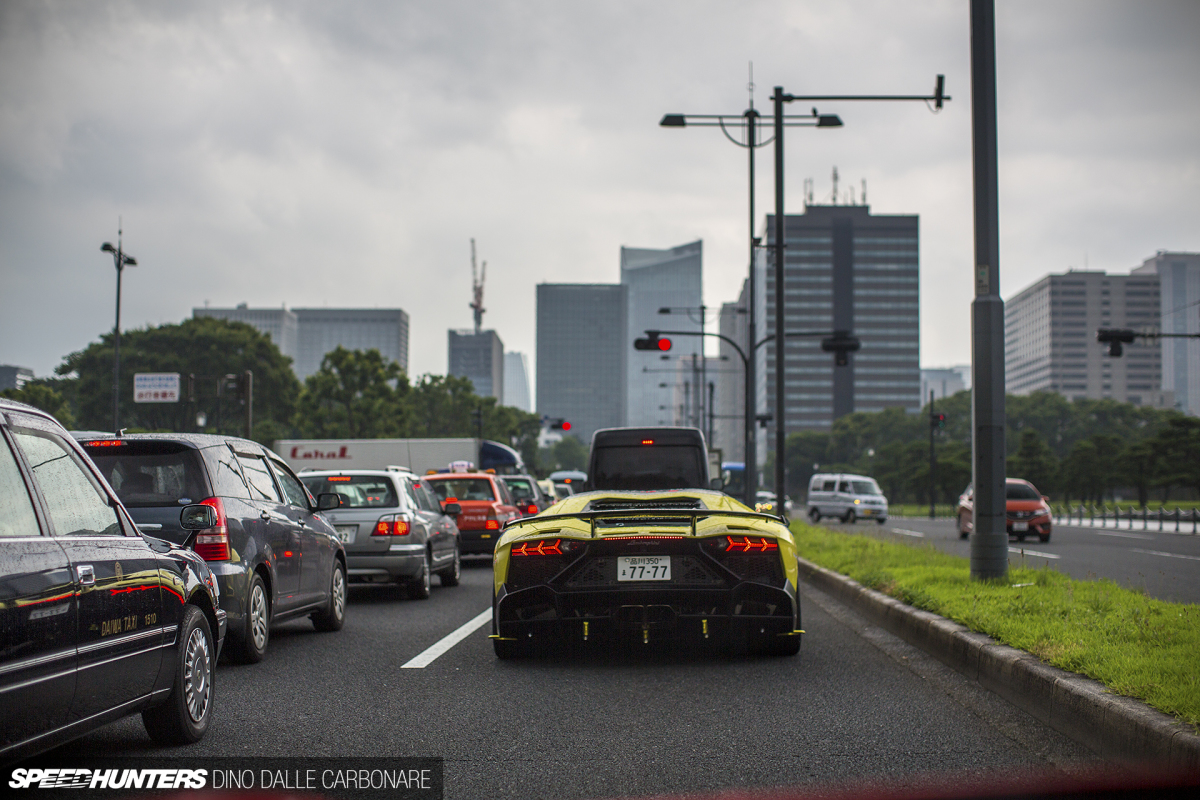 Not to worry though; he said that if I followed him down to the Lamborghini service center, where his car was booked in for scheduled maintenance, we would have plenty of time there.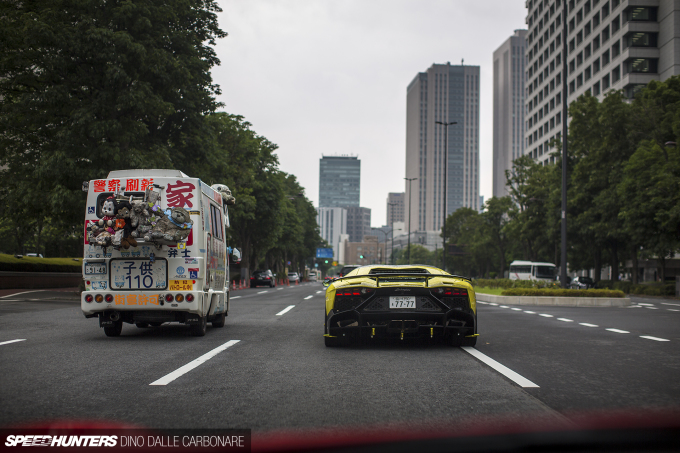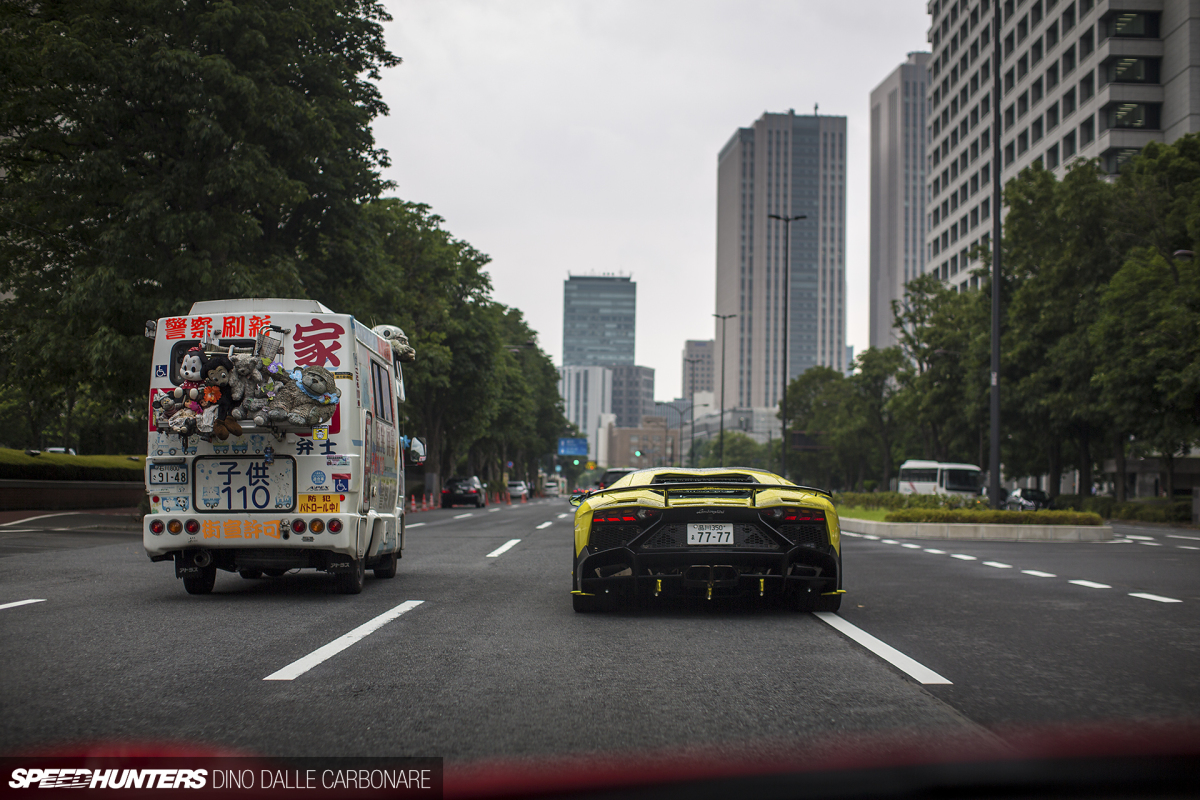 This turned out to be a cool thing as I got to follow the Aventador through the center of Tokyo for a good half hour.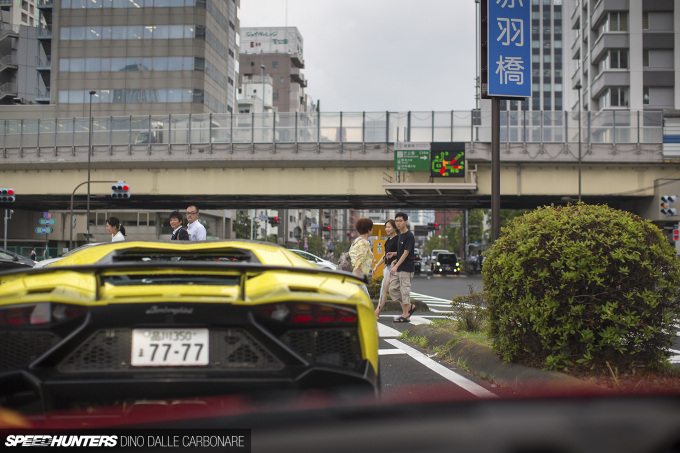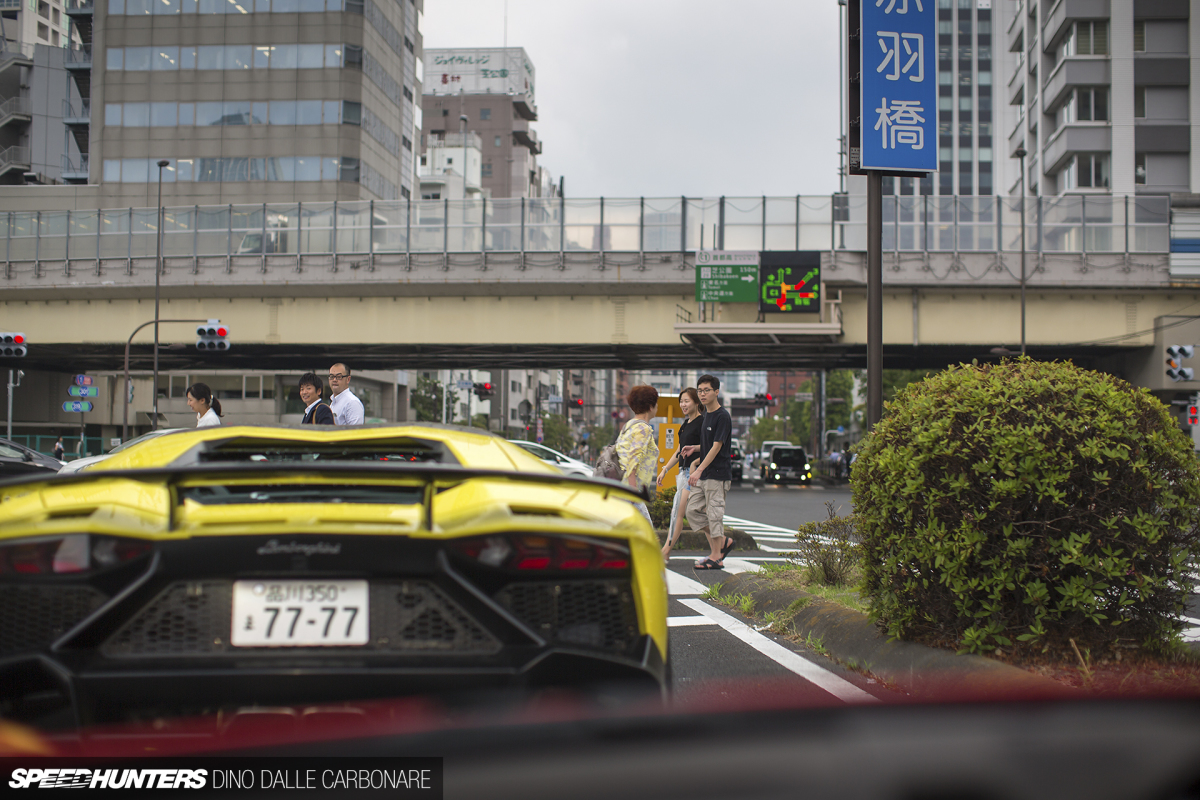 Aside from the pleasure of hearing the custom exhaust crackle every time Morohoshi down-shifted and backed off the throttle, seeing the attention the car was getting drove home the point of why he has developed his very unique style.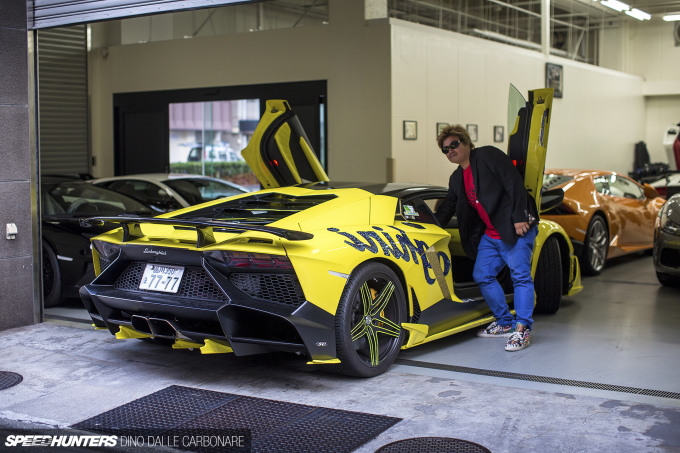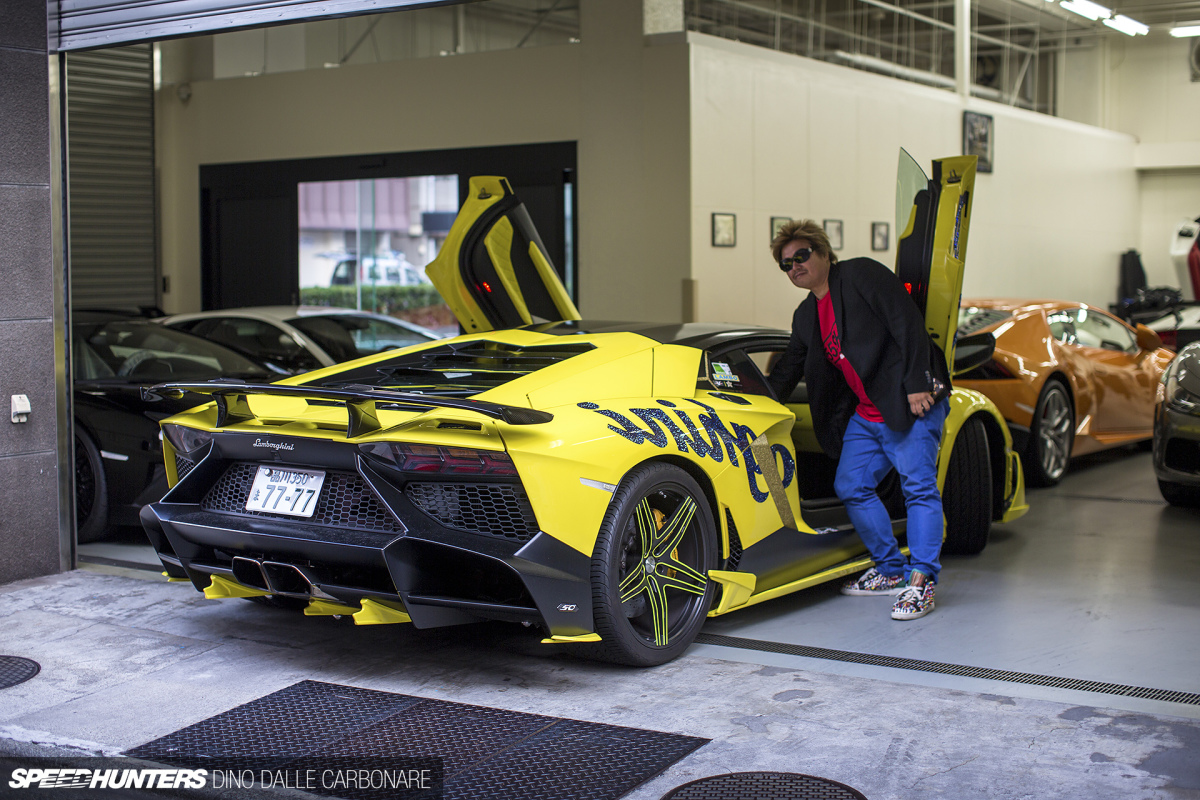 That's something we would later discuss once the Lamborghini Tokyo mechanics got busy servicing the car.
Make sure you tune back soon to hear how Morohoshi's passion for Lamborghinis started, and how it all developed from there.
Dino Dalle Carbonare
Instagram: speedhunters_dino
dino@speedhunters.com