Hallowed Ground
It isn't often that one gets a chance to hit up a legit drifting event on a touge; much less a touge that was made world famous by the likes of Hot Version videos.
So when we heard that Yosuke Suga from SC Films had planned to shoot a new Kamikaze Dive video at the Gunsai touge, Les and I just had to head up to Gunma.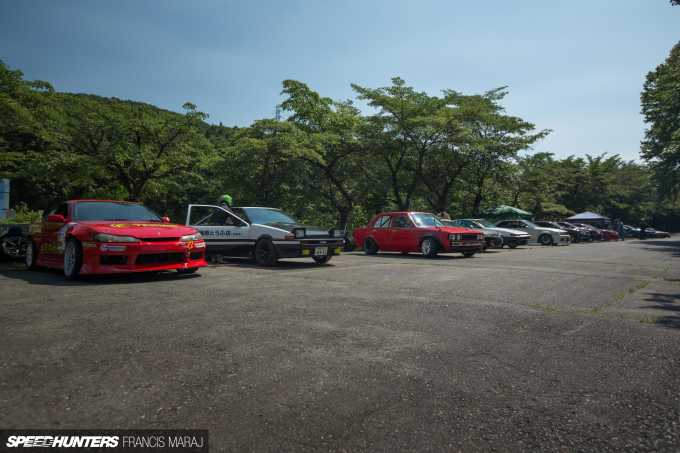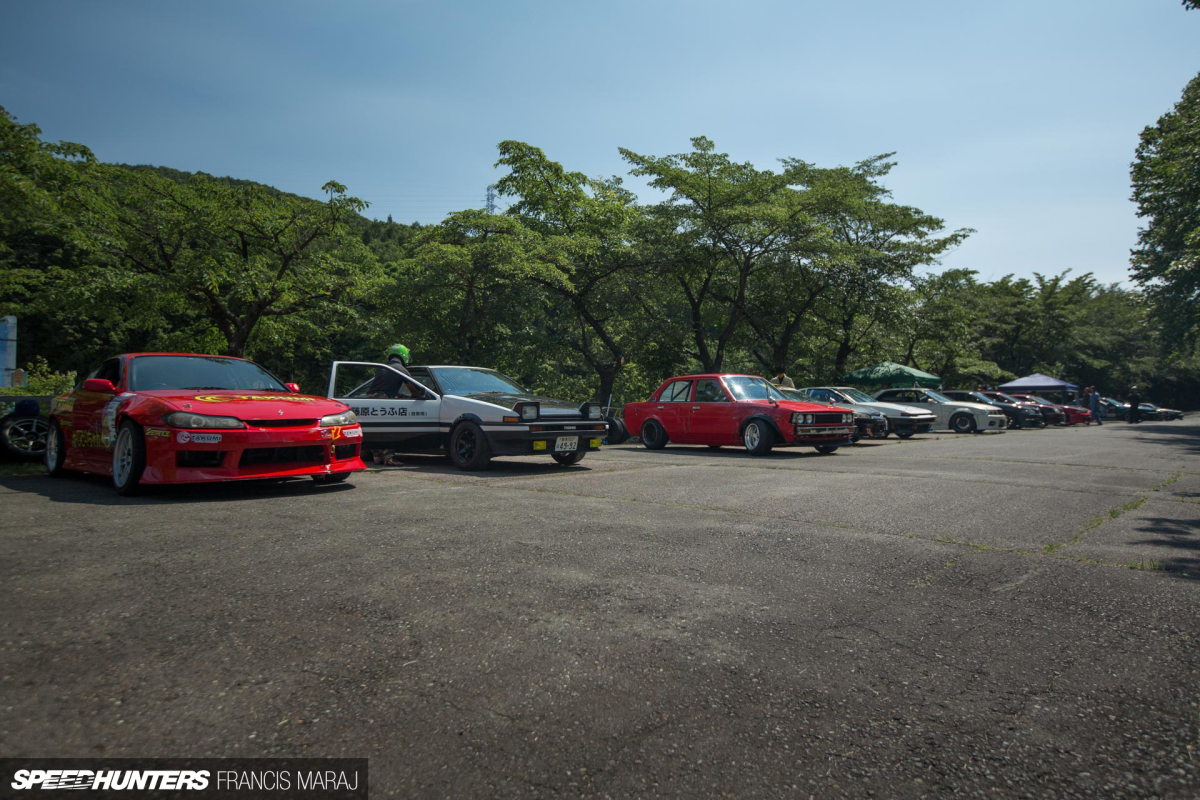 Francis: The day started early, and having arrived a bit late I was afraid I'd missed something important. But it seems that many other attendees for this fun day were late too, and the only thing I missed was the track reconnaissance which Les had been able to make it to. In the meantime, I walked around the pit lot and scoped the cars, which were mostly lightweight Hachirokus and svelte Silvias.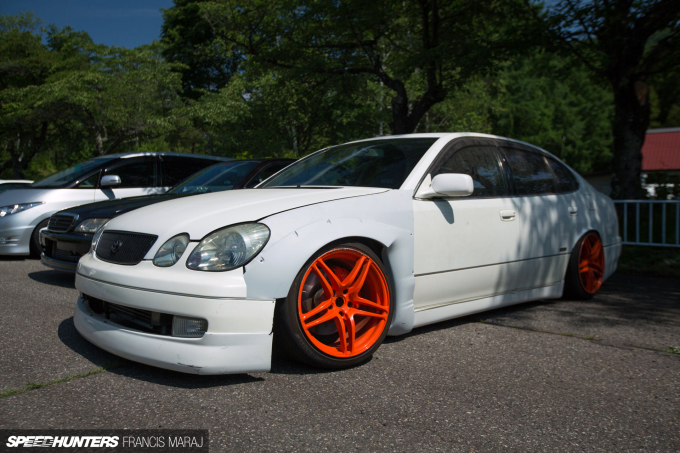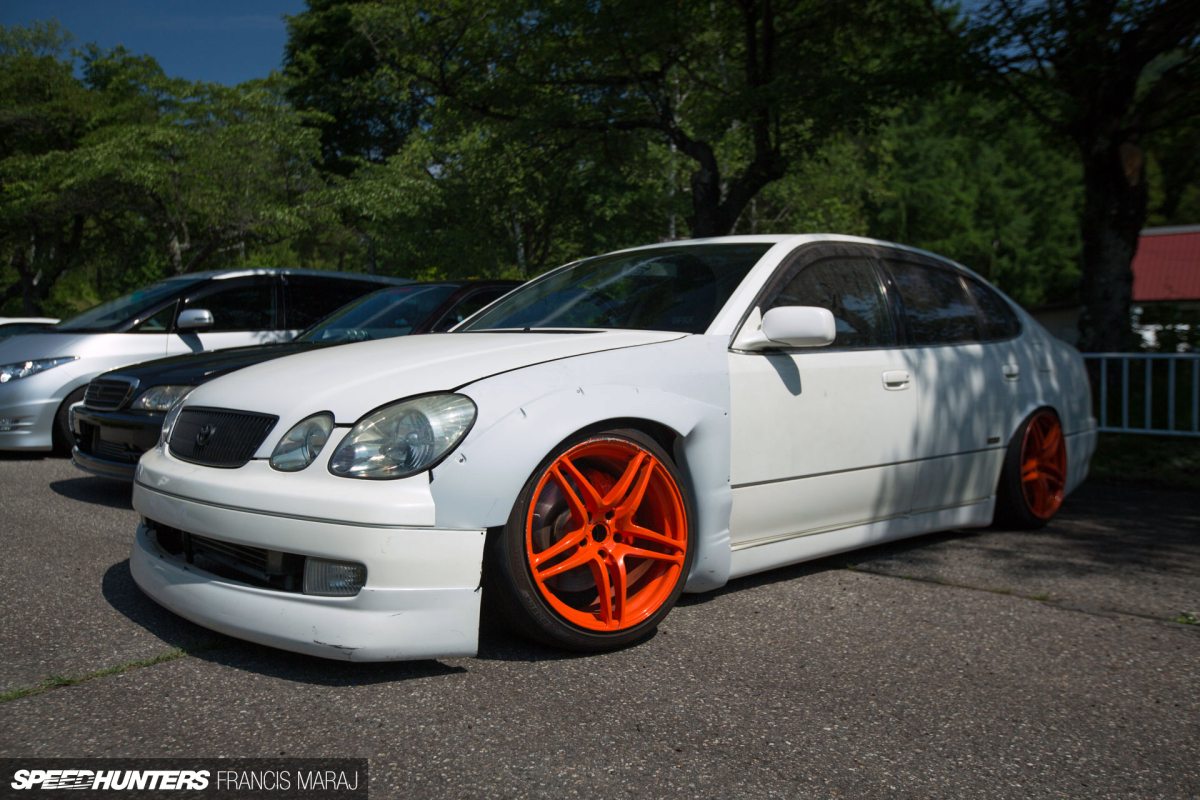 But there were some cool big booty girls in attendance as well, like this second-gen Aristo, complete with some interesting front fenders.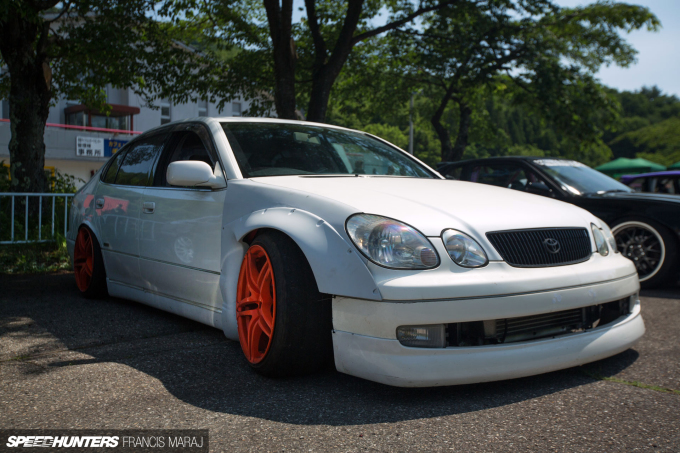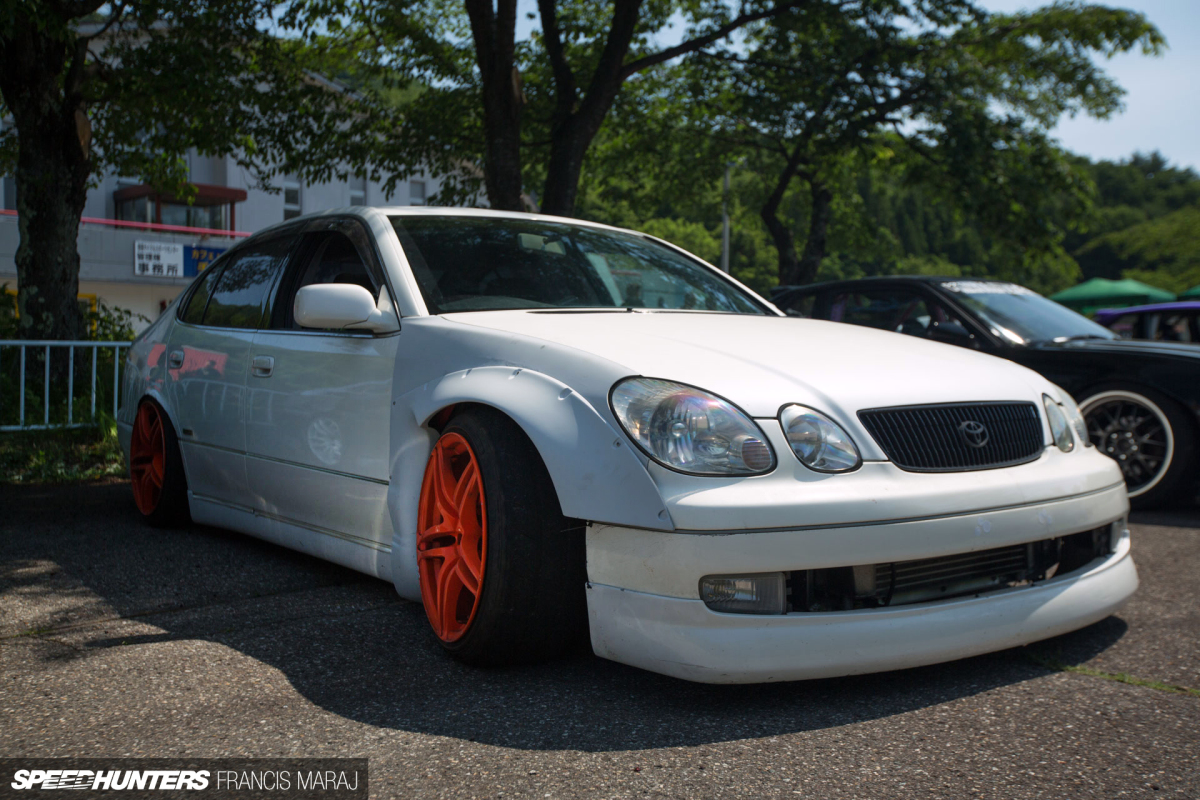 Tucked up under the bumper was a big intercooler too; this gal was putting down some power.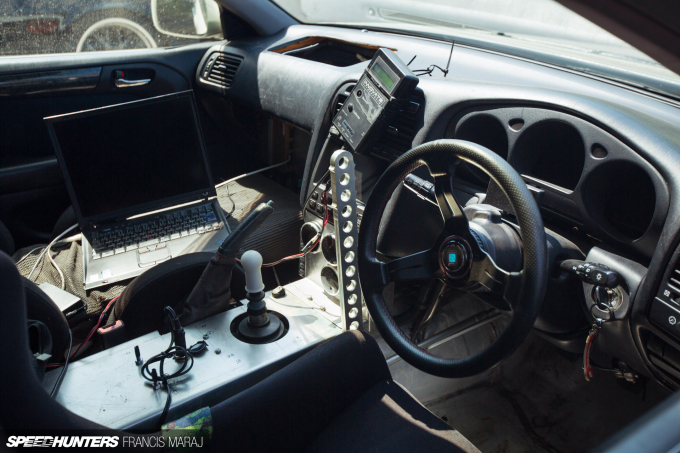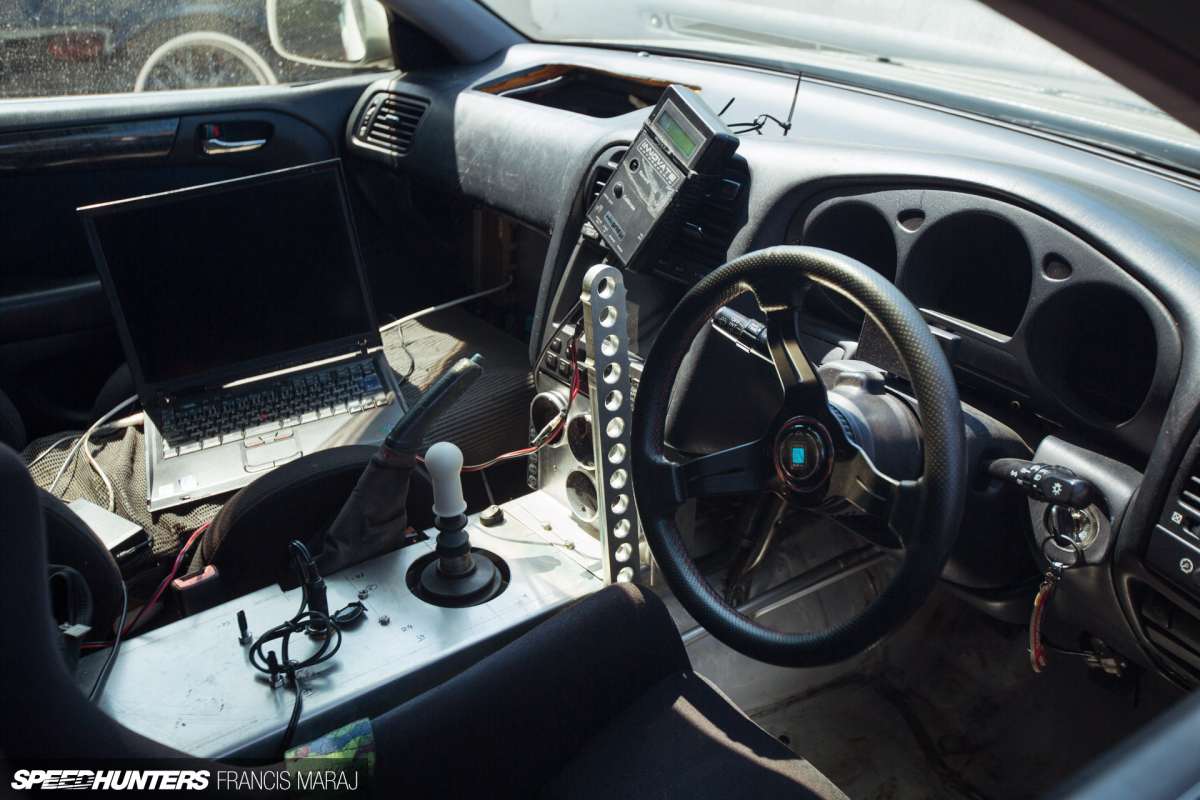 A peek inside revealed a fairly gutted interior with a custom transmission tunnel cover and a big 'ol hydro e-brake handle.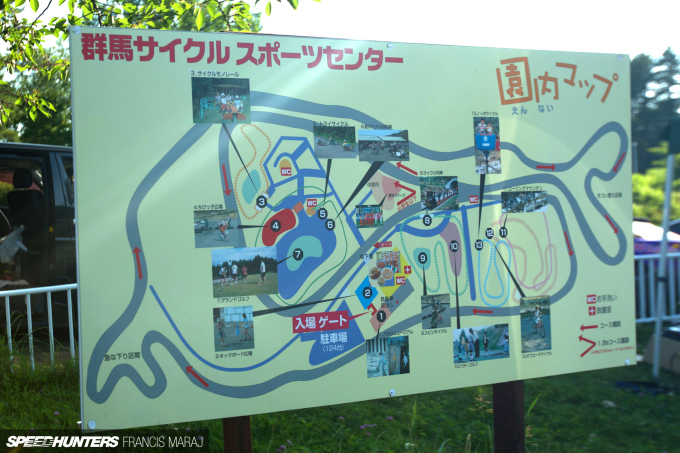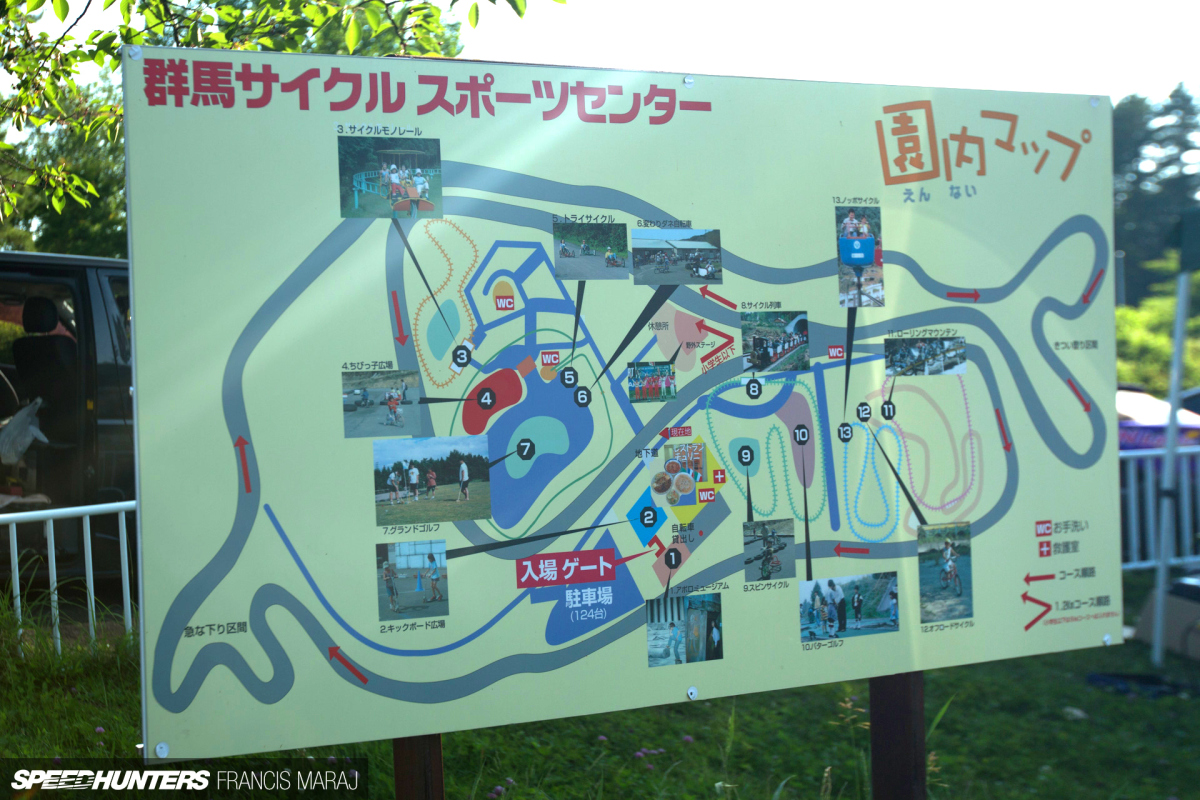 Continuing on towards the entrance, I spotted the course layout. Being a bicycle circuit and mini amusement park for kids, it was a funny to think about all the high horsepower monsters that have ripped up this place over the years.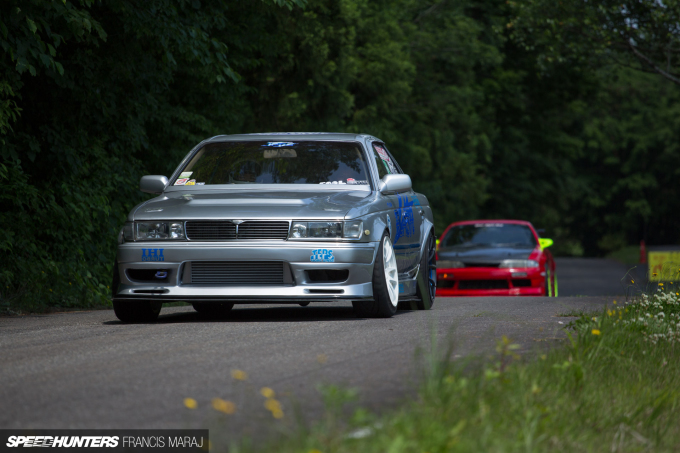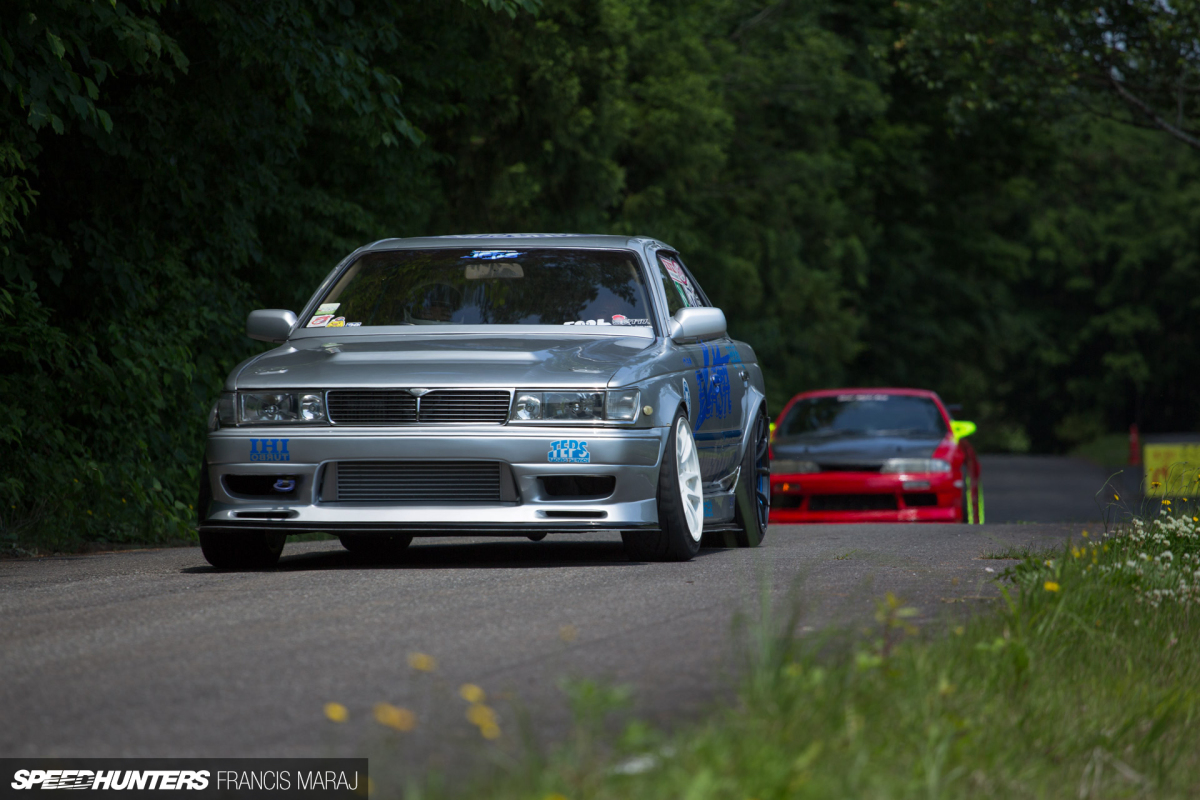 By the time I had gathered up my gear, cars were already doing warm up runs to get a feel for the layout. This C34 Laurel was another sedan that caught my attention.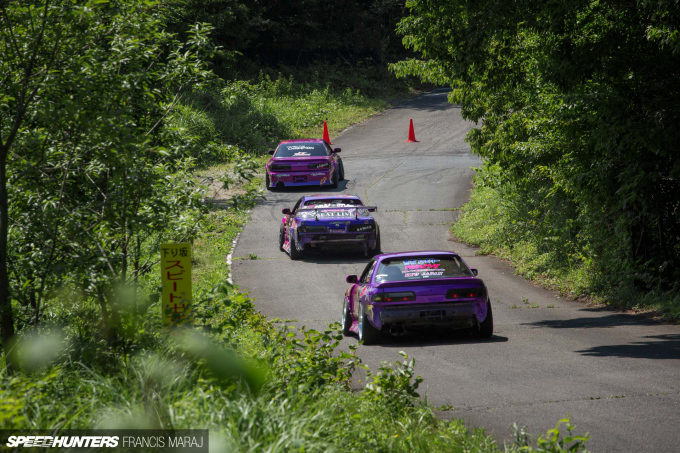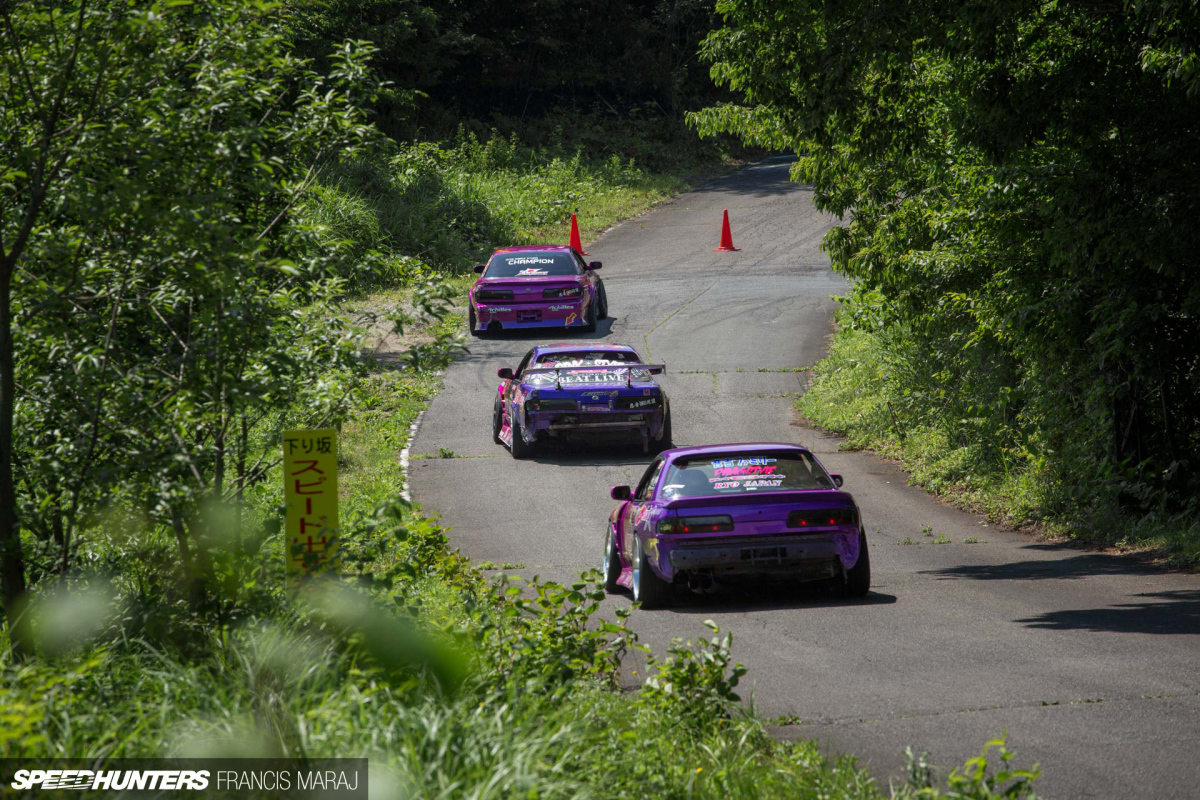 Moments later, three purple musketeers emerged and began their trek up the hill to the starting line.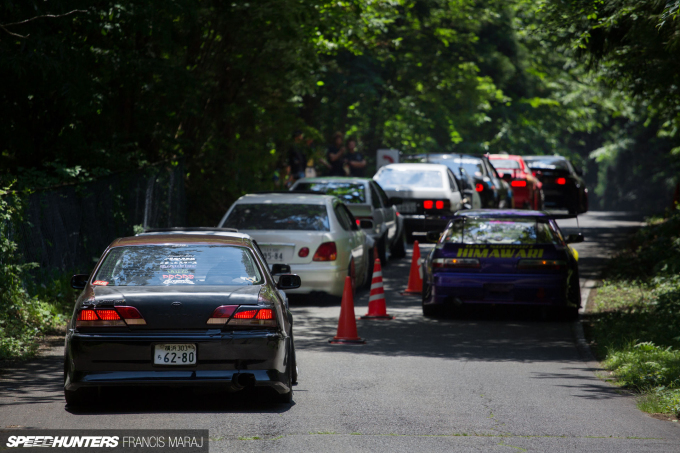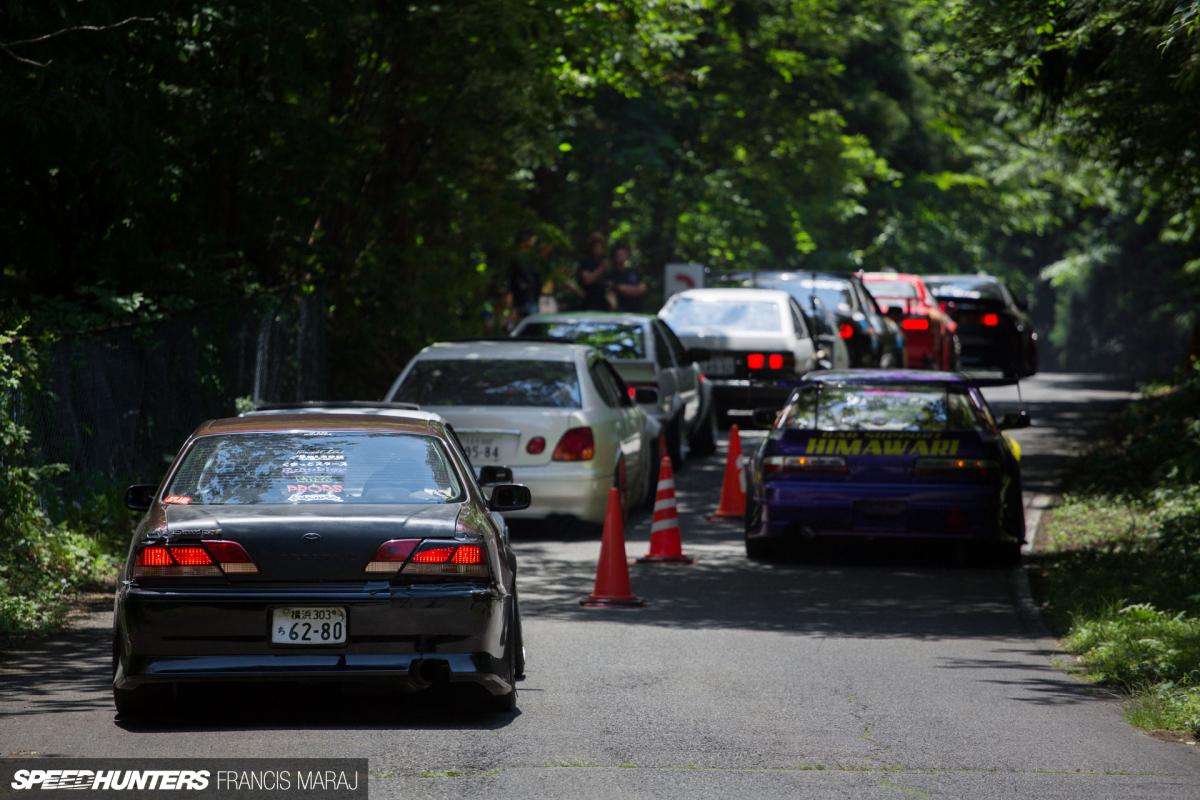 It was awesome to see all the cars lined up and being readied to attack the downhill.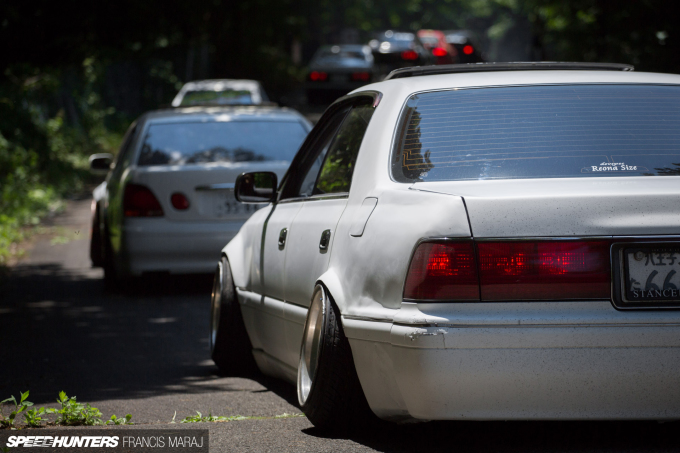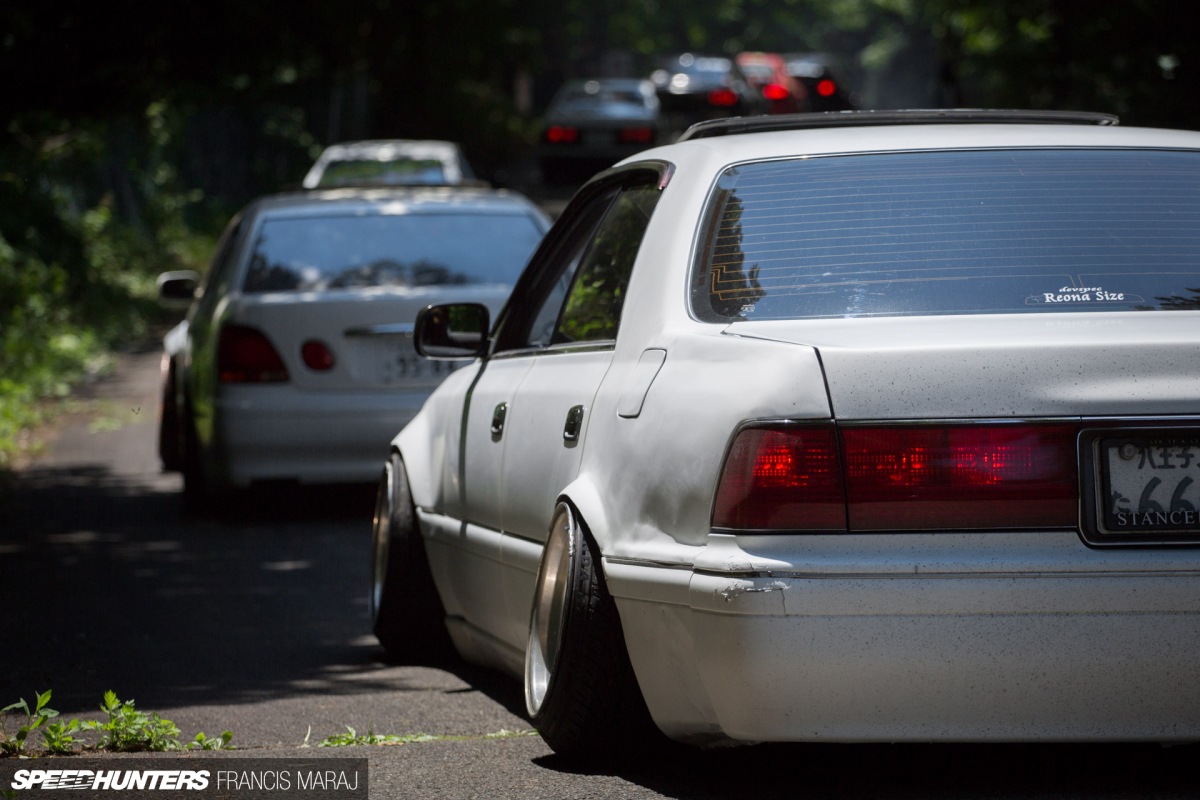 A shakotan Toyota Crown comically joined the queue of missiles and purpose-built drift cars, and seconds later the call came through that the drifting was about to begin.
Location, Location, Location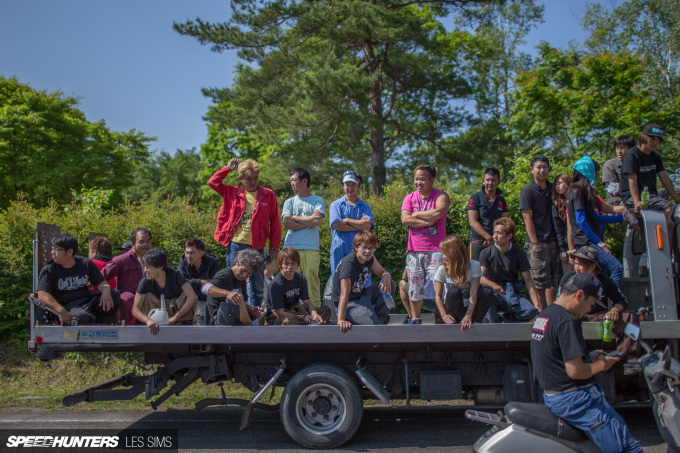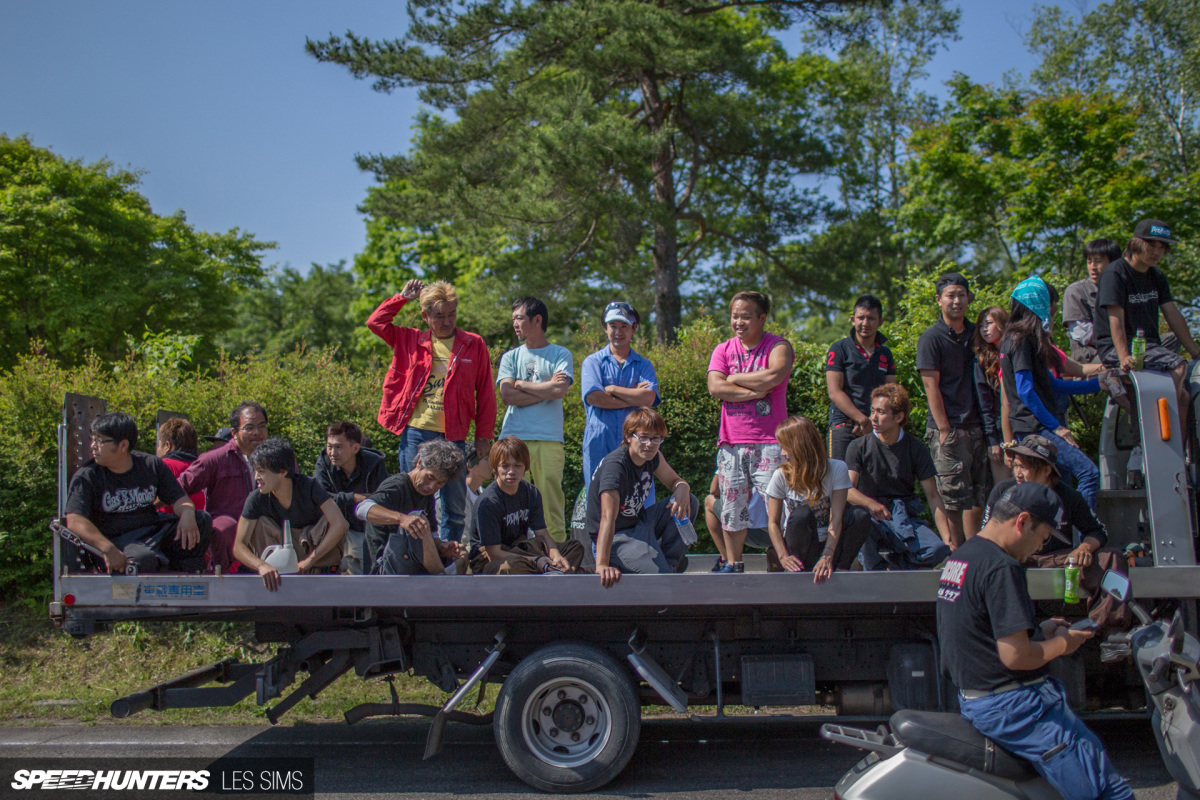 Les: Every sniper needs a spotter, so whilst Francis was in the pits rattling off shots, I took the opportunity to do some track recce. My first port of call was this rig, which took the drivers to see where they'd be drifting. The Gunsai Cycle Centre has around 6km worth of roads, but the chosen course was a smaller, but still extensive section of that.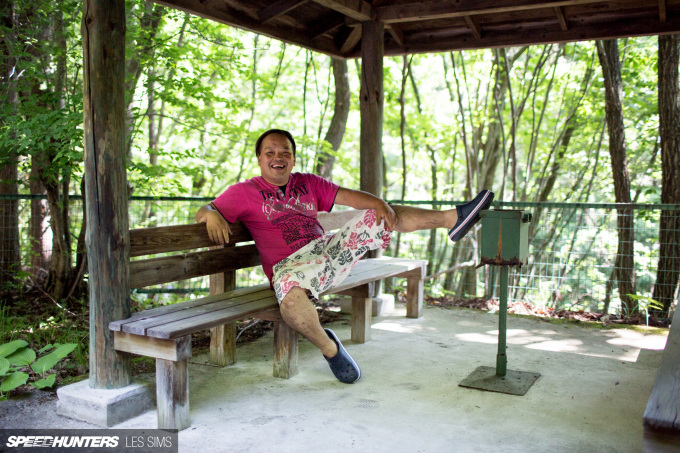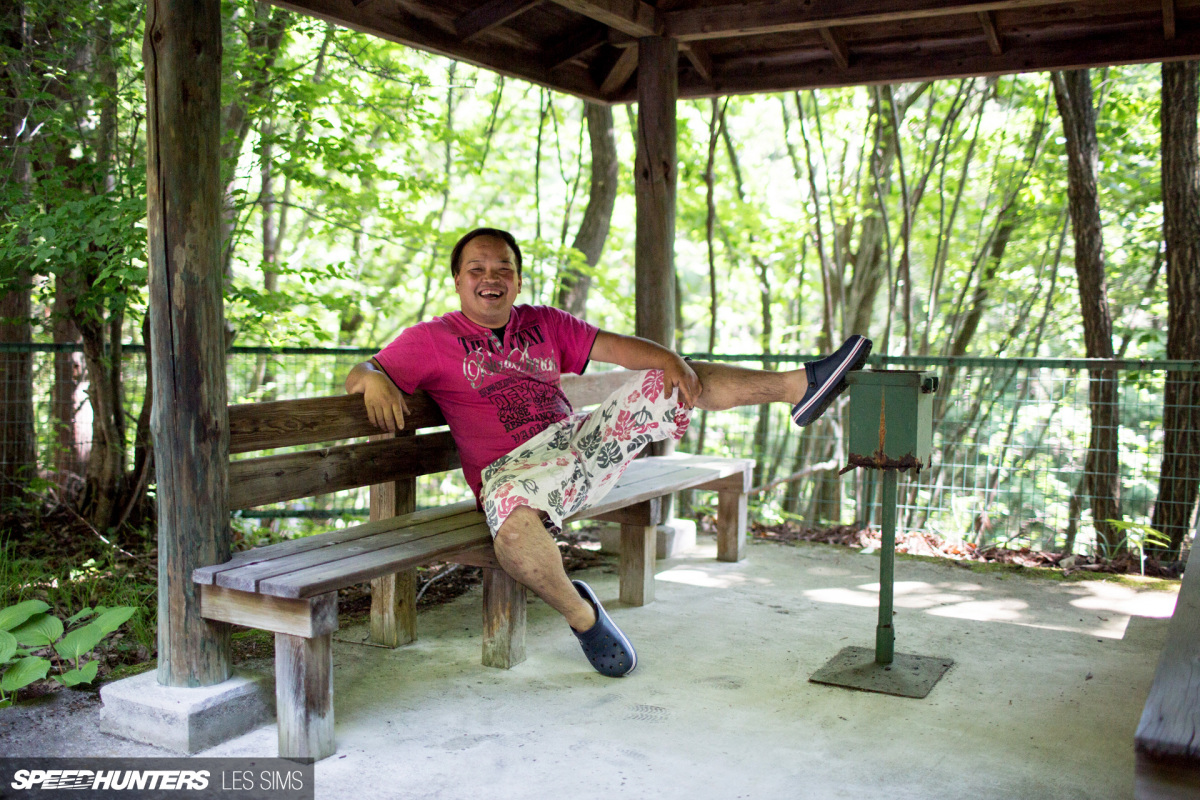 Not even halfway around our mini excursion, Naoki Nakamura decided to set the tone for the day by stopping off and posing for a photo. But behind everyone's smile and laughter, every detail of the course was being absorbed for the forthcoming kamikaze runs.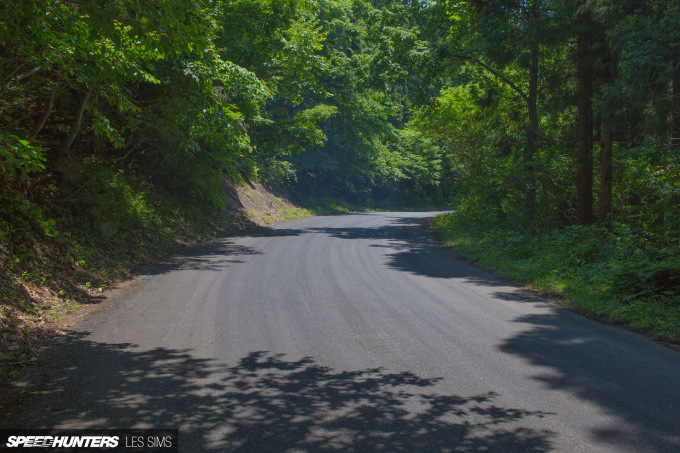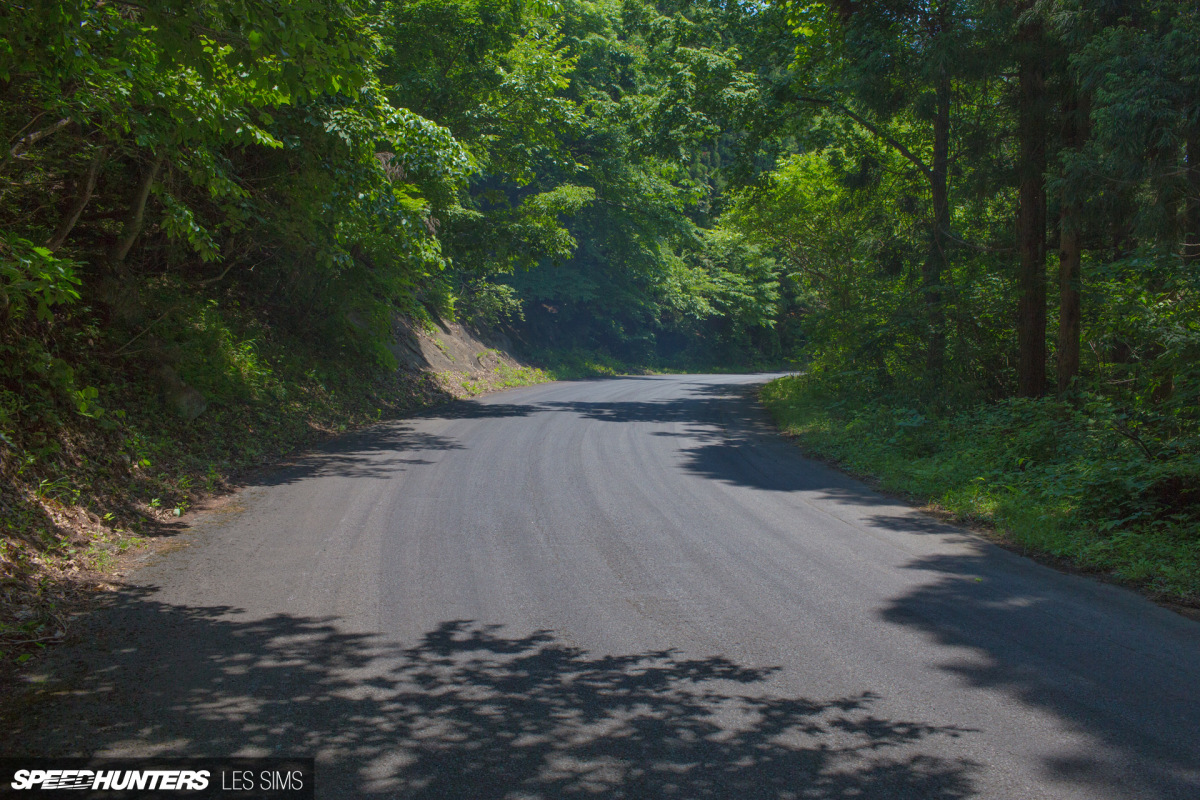 The ride allowed me to jump off and be the first media on track. A quick silence soon settled, but in my head all I could hear were the sounds from the videos I've watched of this battleground.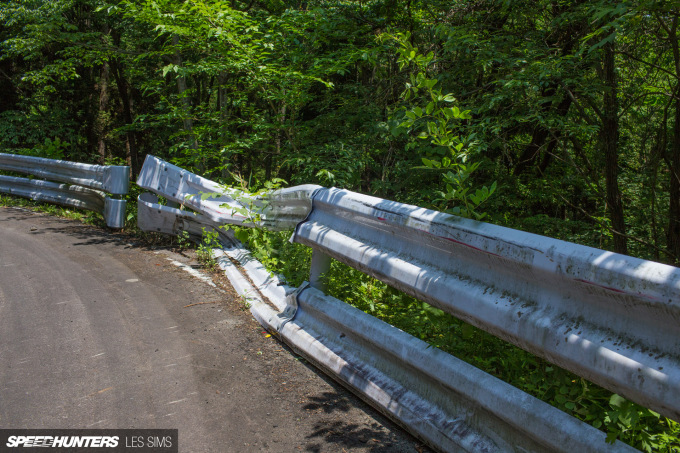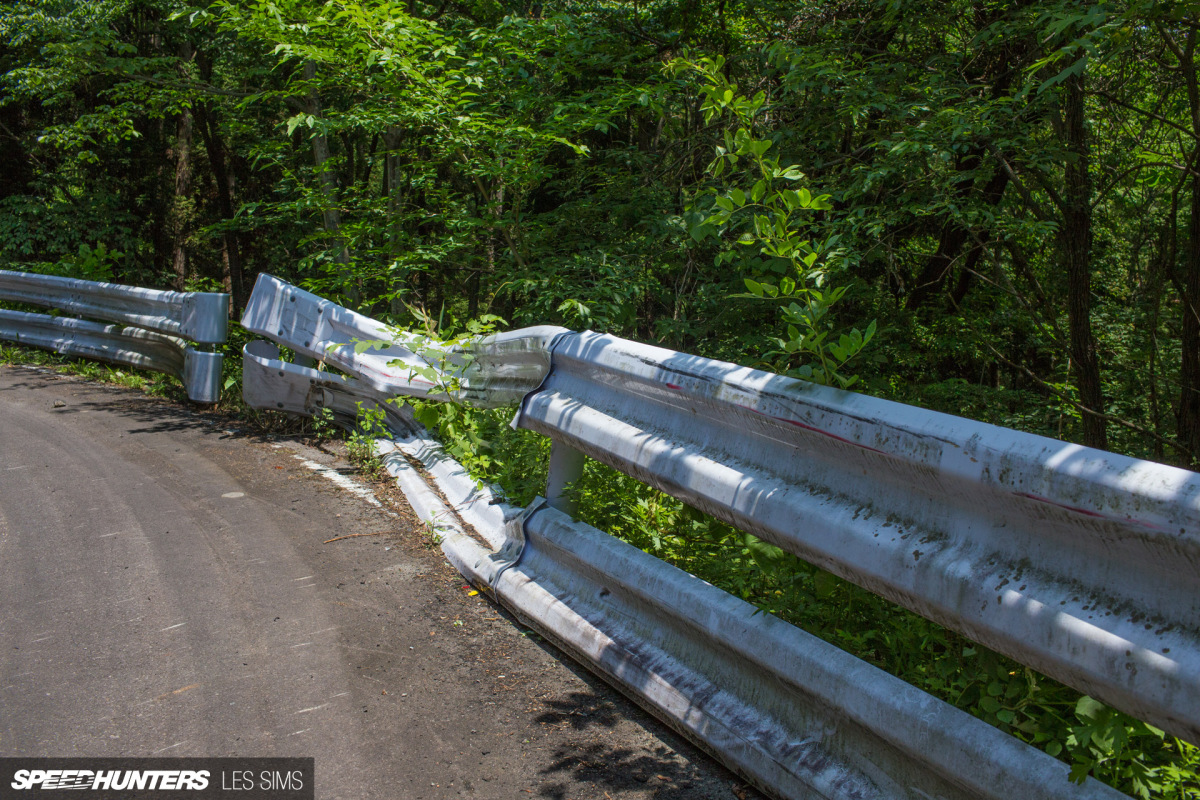 It didn't take me long to realise that the Gunsai touge is an extremely challenging piece of road. This particular section of railing is where Max Orido crashed one of the Powerhouse Amuse cars.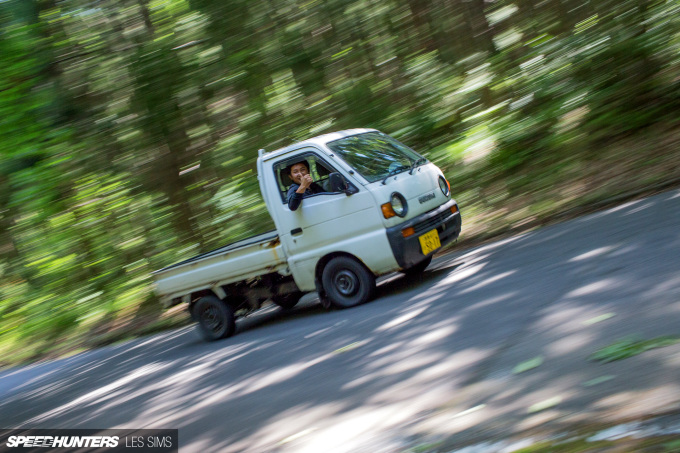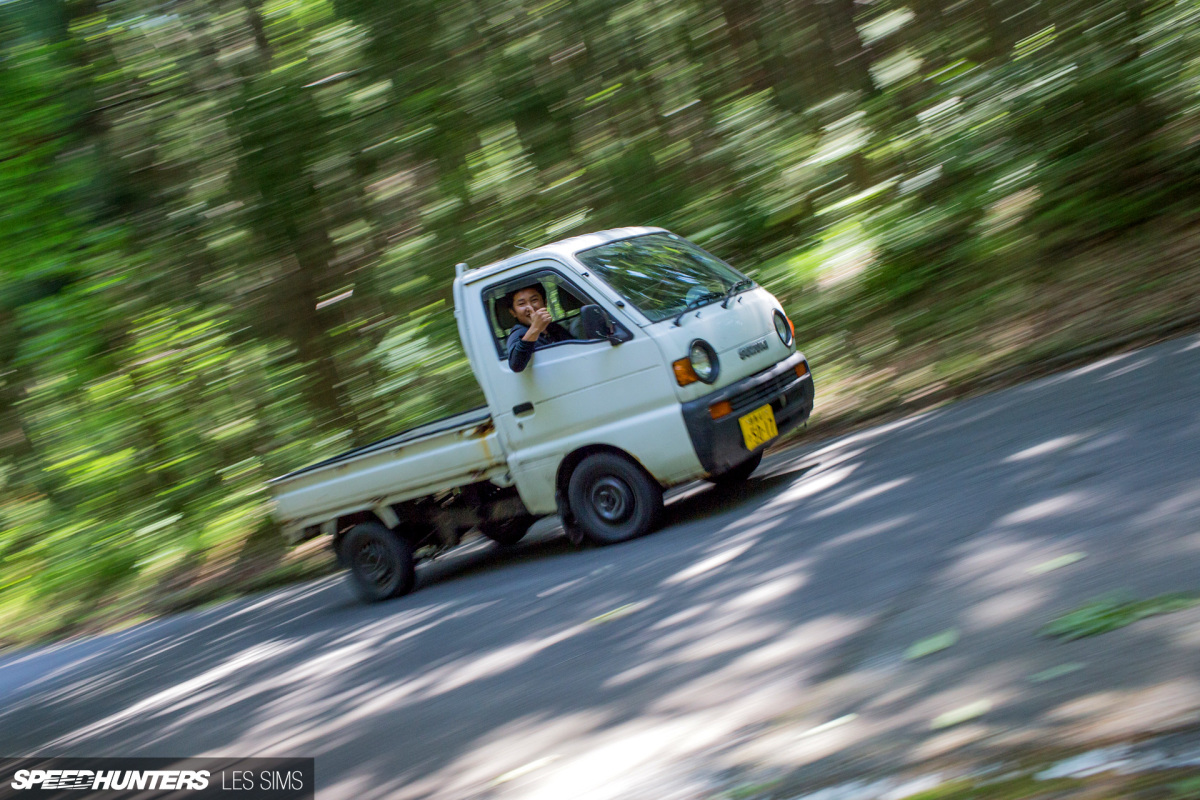 The faint noise of an engine came into earshot as the first vehicle came onto track. It was my taxi for the day; the very helpful staff made regular laps of the section to enable media and officials to quickly relocate to other areas of the mountain.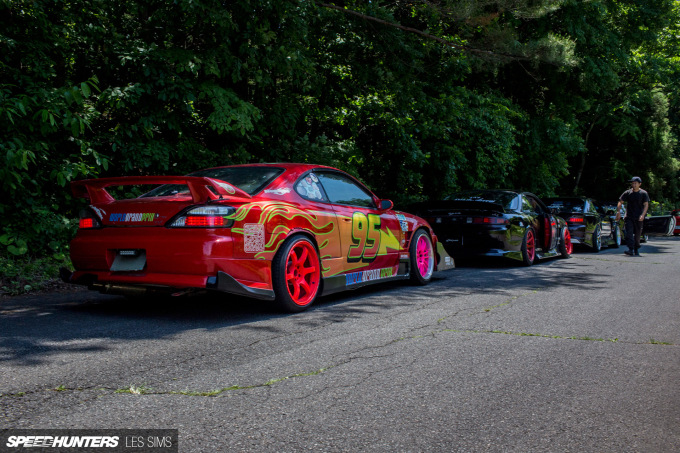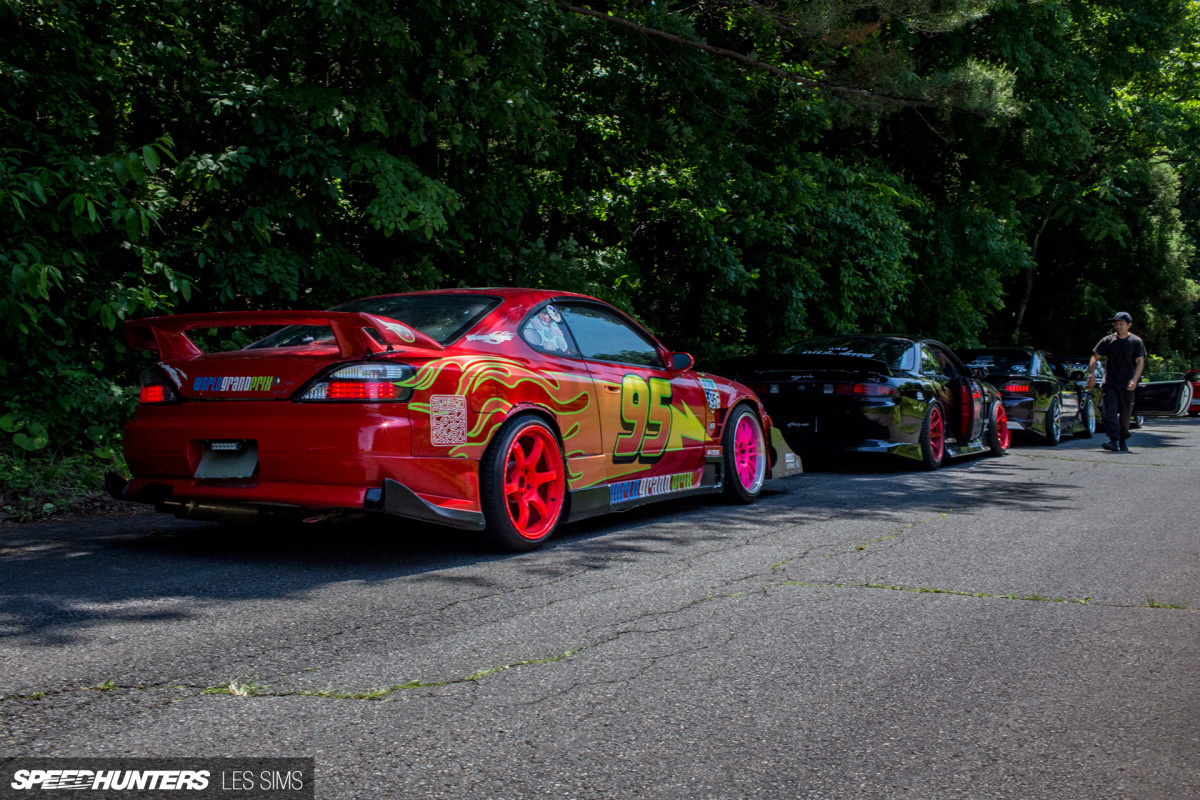 At the start line I was happy to see Awaji Sama had travelled all the way up from Chiba with his Lightning McQueen-inspired Silvia S15. He's a former member of the famed 'Sexy Knights' drift team, and his body shop, Newtype, is a five-minute drive away from where I live.
Anyway, the games were now about to begin…
Enter The Touge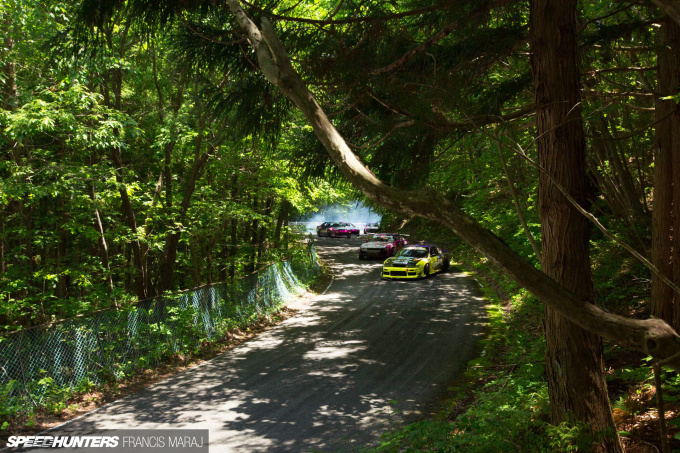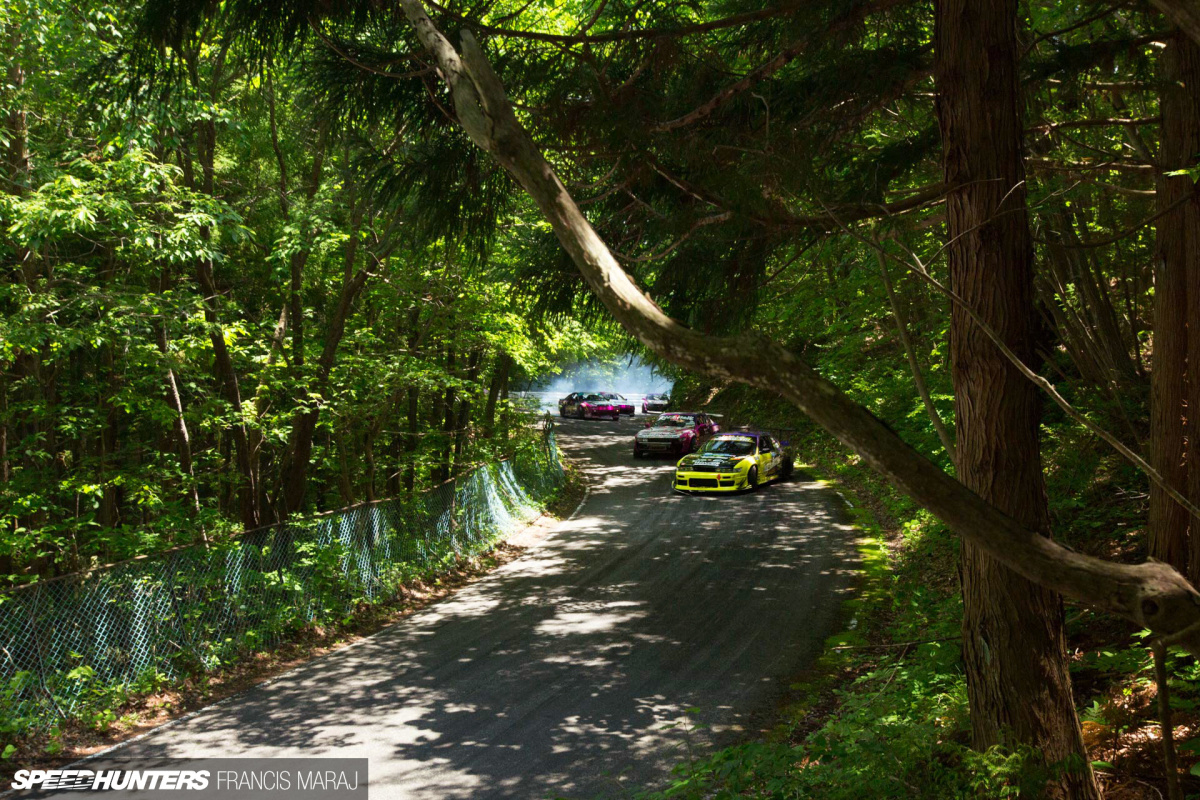 Francis: I did a little hiking and set myself up right after the first corner. Up to five cars were allowed to run at once, and although it didn't always end up being that many on track at the same time, when it did, it was ridiculously intense. Being so close to the action only amplified the experience.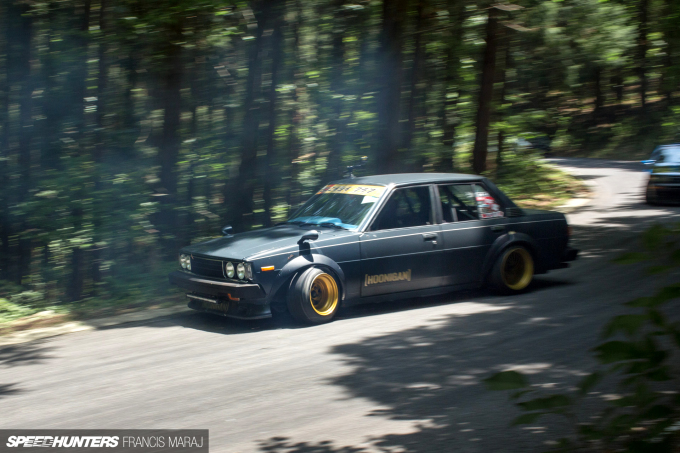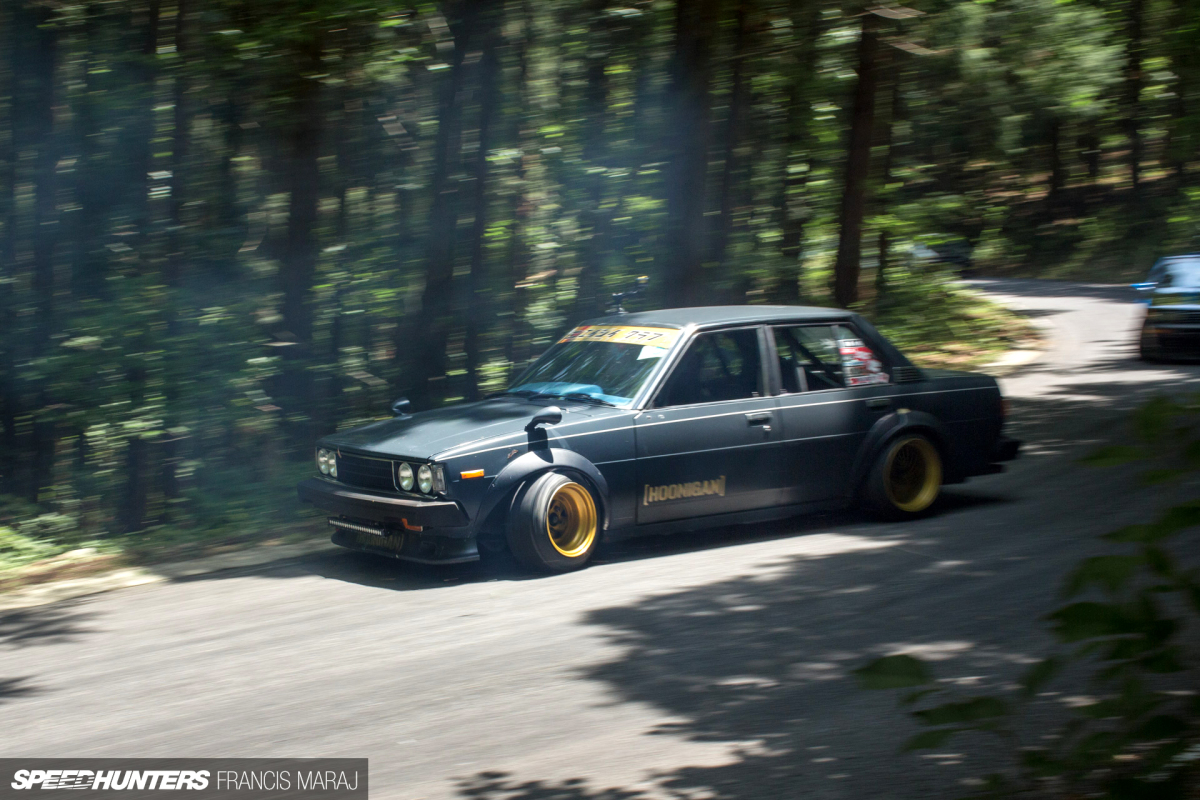 Check out this Ken Block-inspired AE72 Corolla. The owner was very confident in his driving style and slid the car around like it was on cafeteria trays.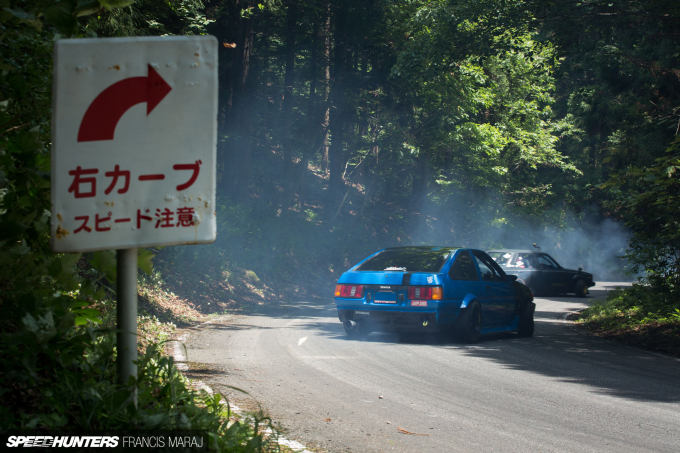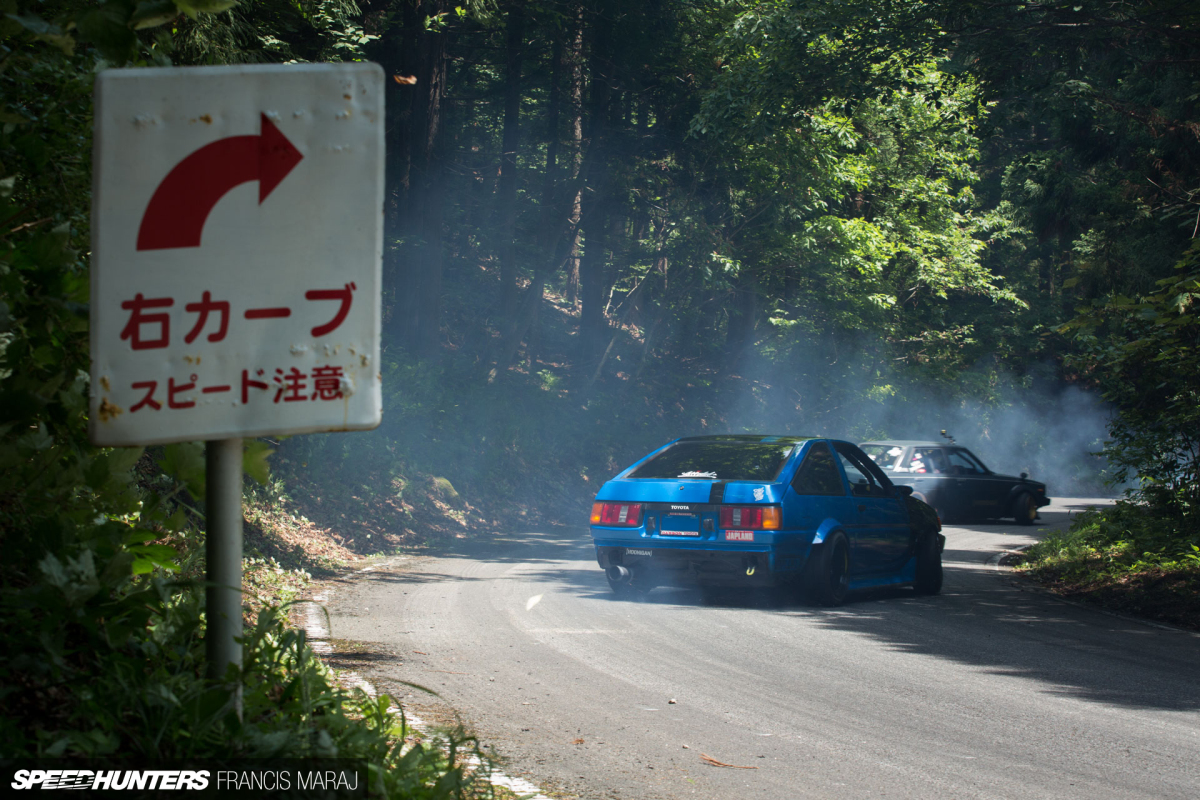 The irony of this sign is painfully hilarious; 'right turn, slow down' doesn't exactly lend to the feeling of car zipping by sideways at 60mph.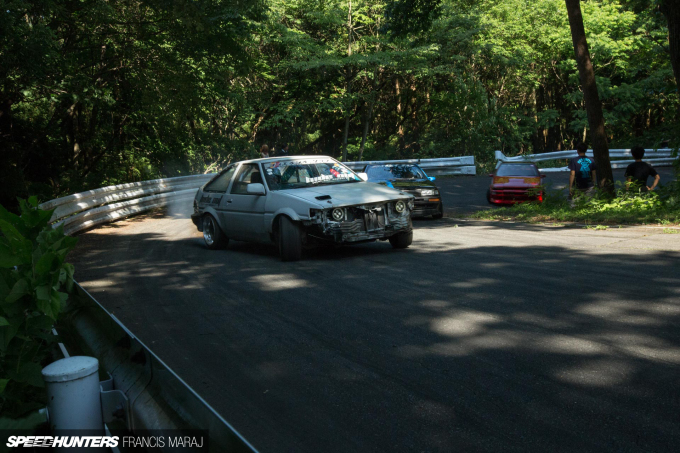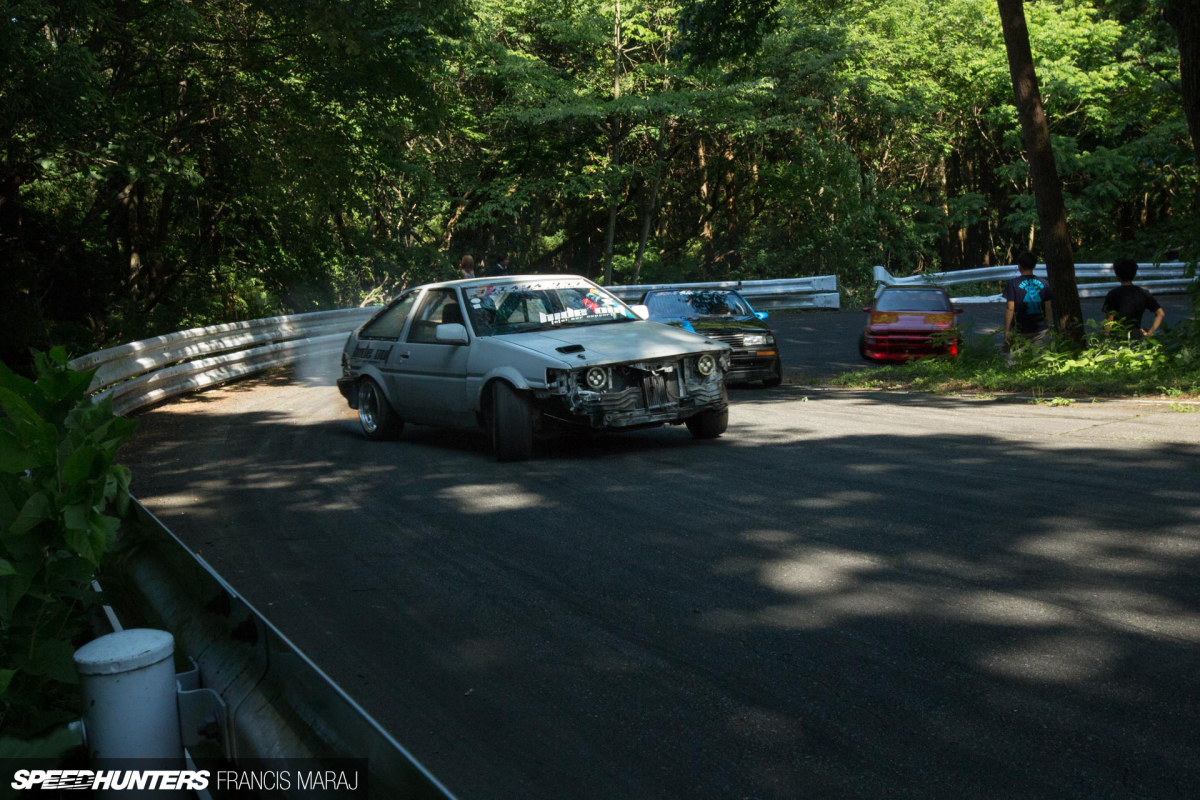 Among the AE86s running was this missile car that had definitely seen better days.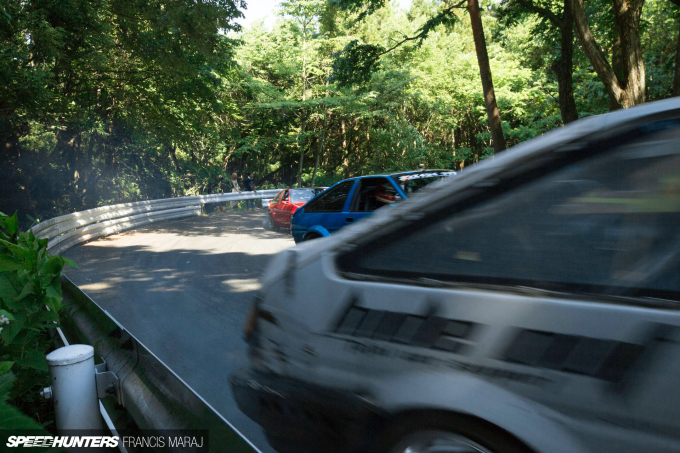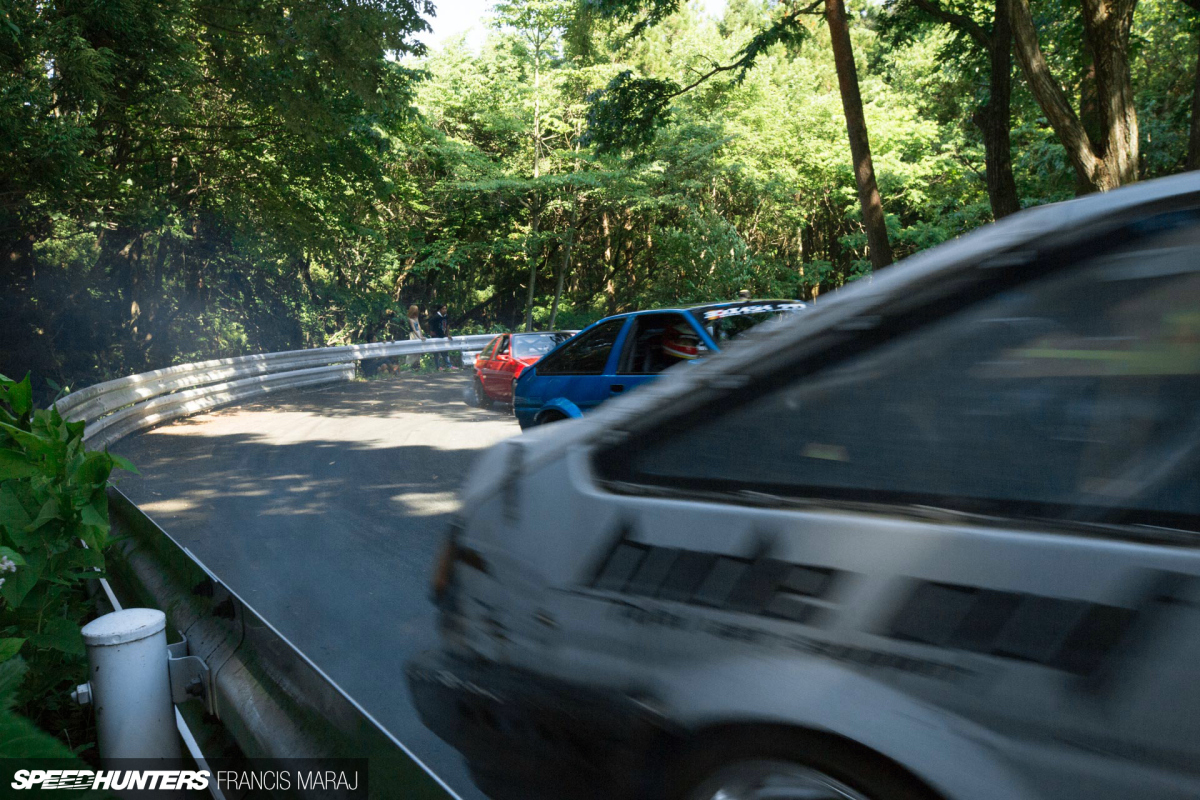 I'd say that had something to do with the fearless way its driver was scraping the wall.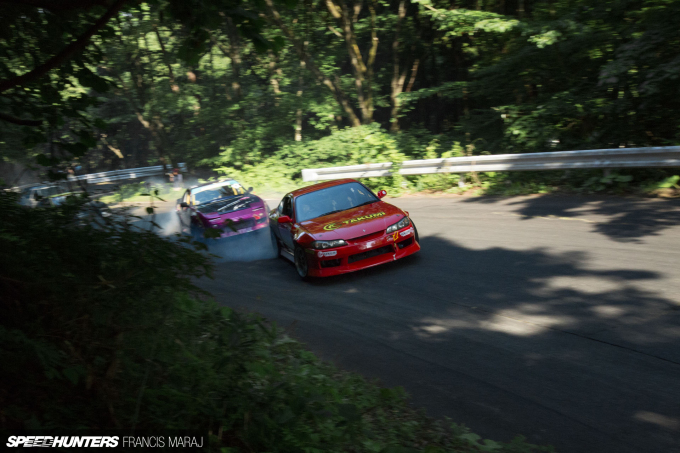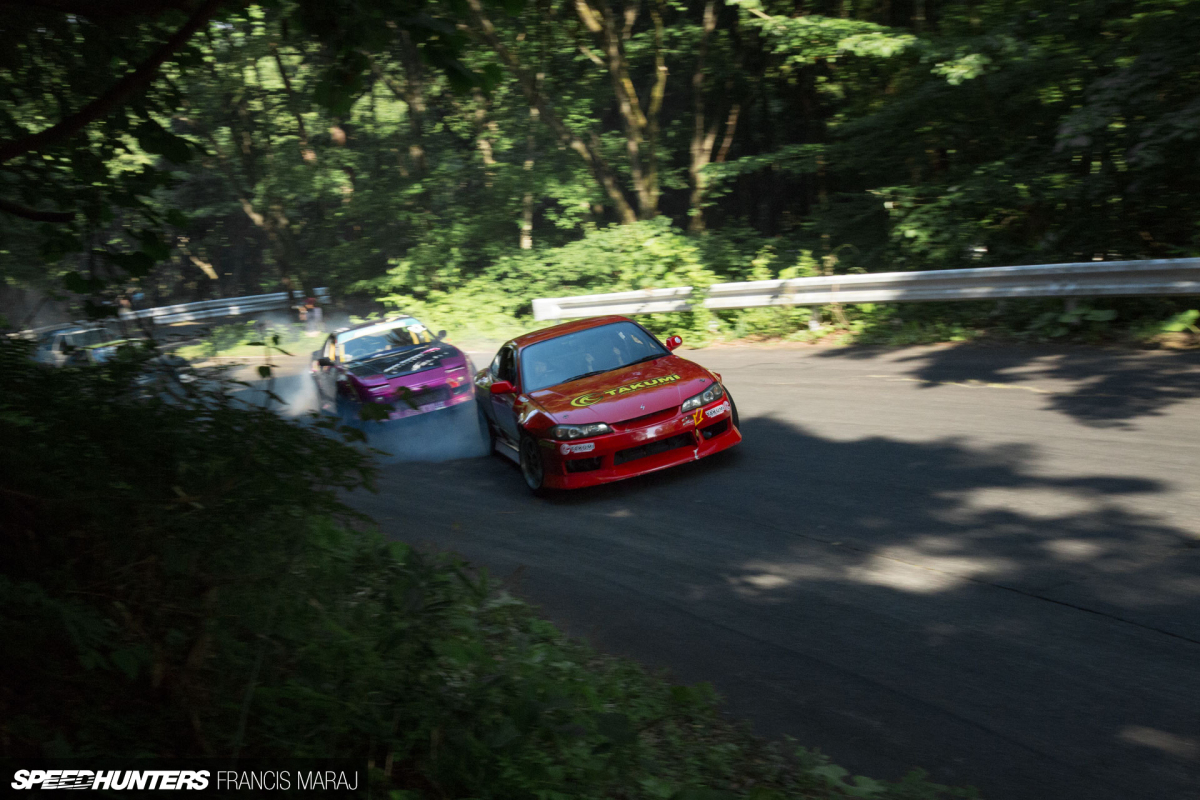 It's too bad that this place isn't really set up for competition events, because watching tandems really made me think how cool a D1 Grand Prix event held here would be.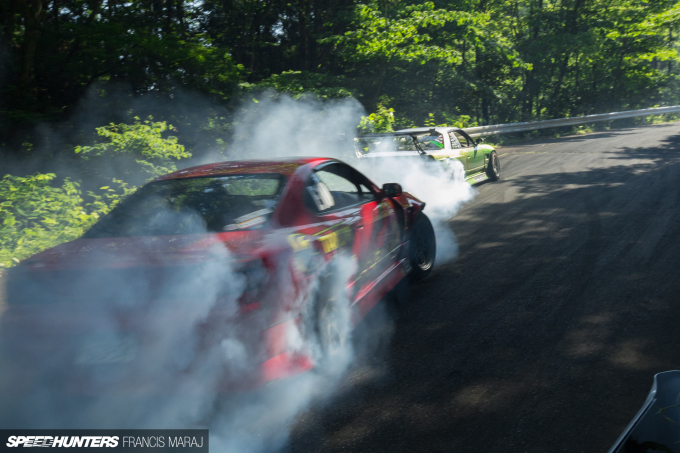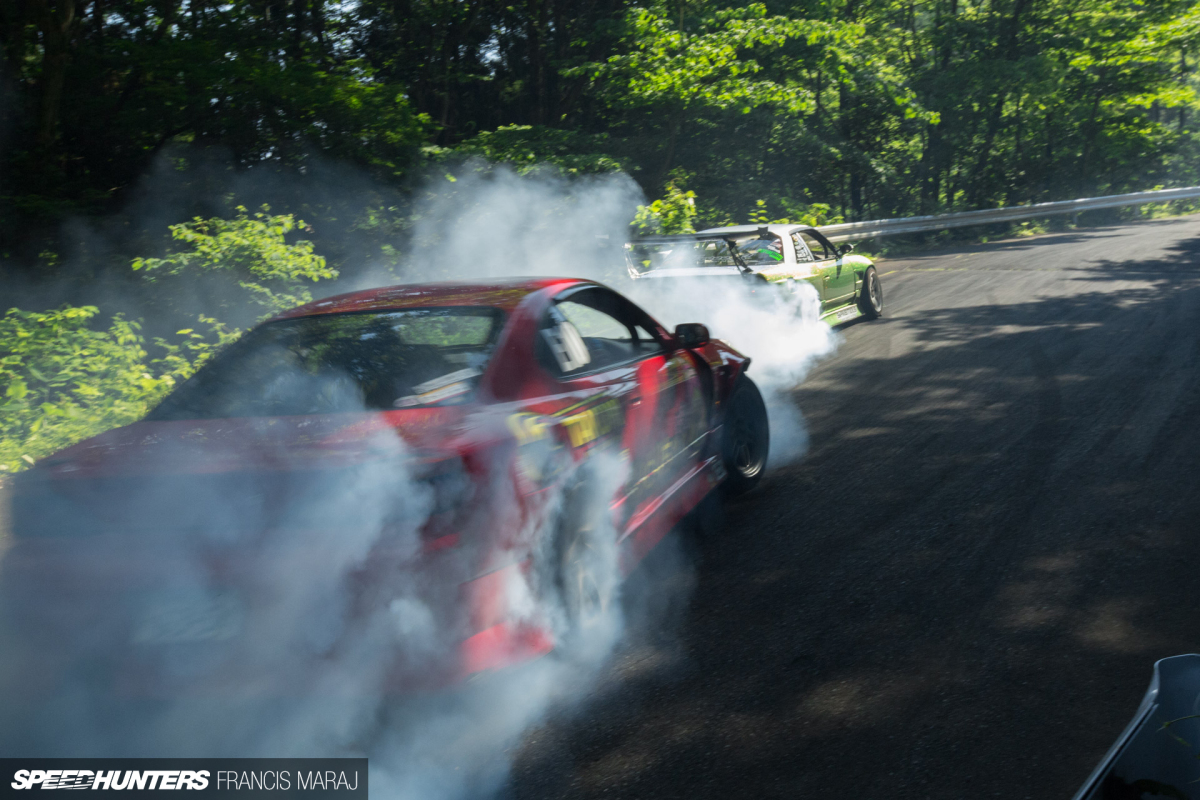 Maybe a pay-per-view style online event would be cool? You could watch safely from in front of your computer screen, rather than precariously standing on the side of a ditch behind the barriers, like I was.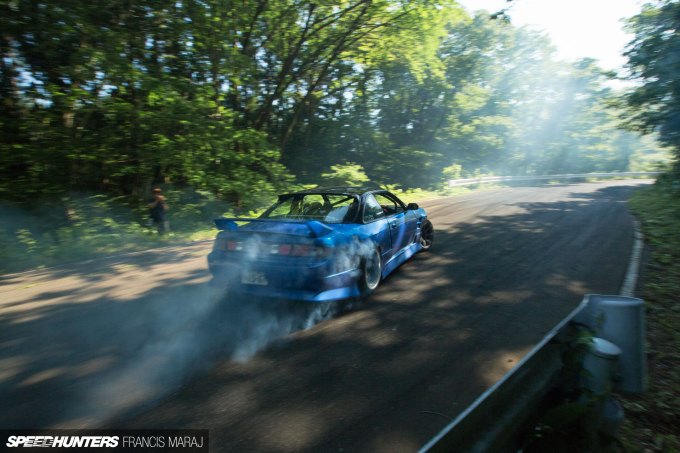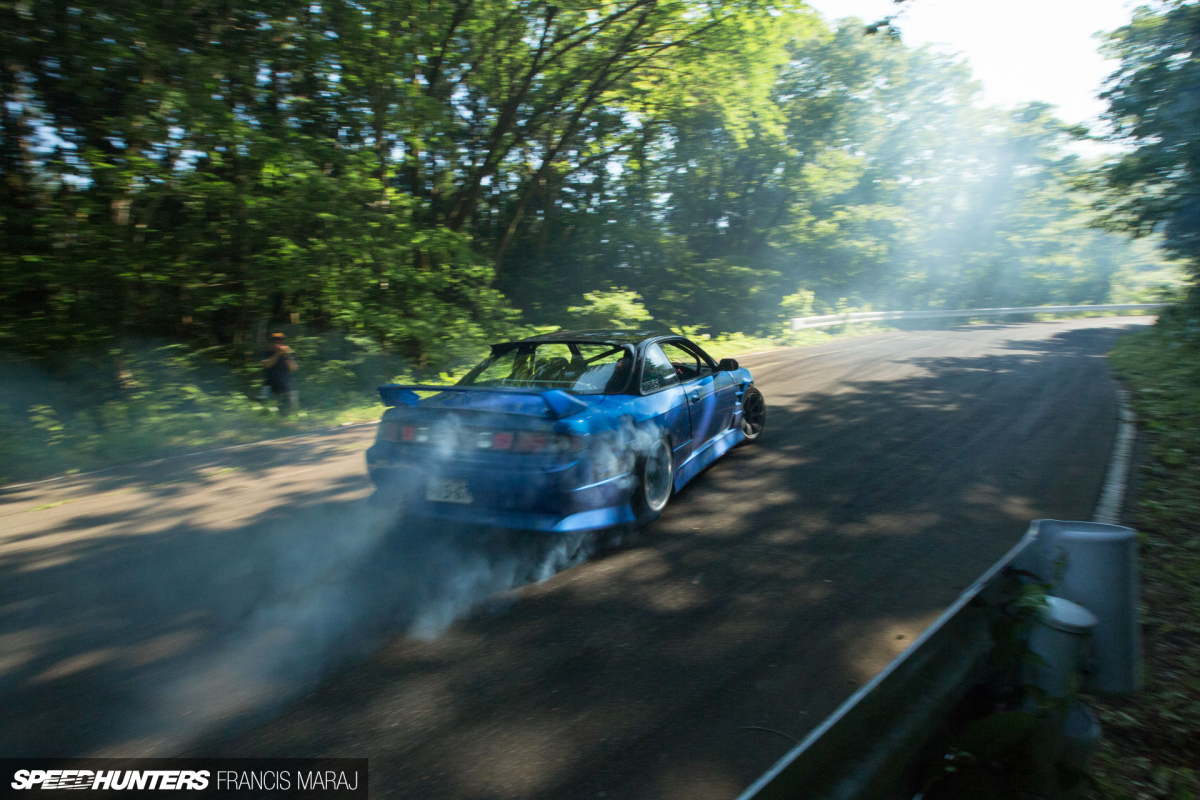 Another thought crossed my mind as well – I'd much rather have been driving this course than spectating.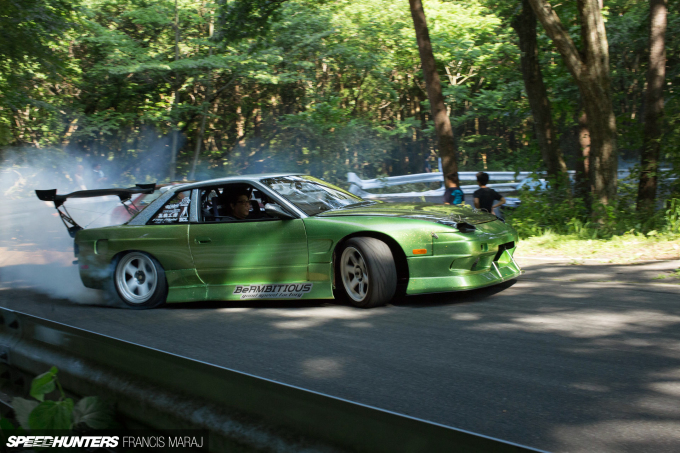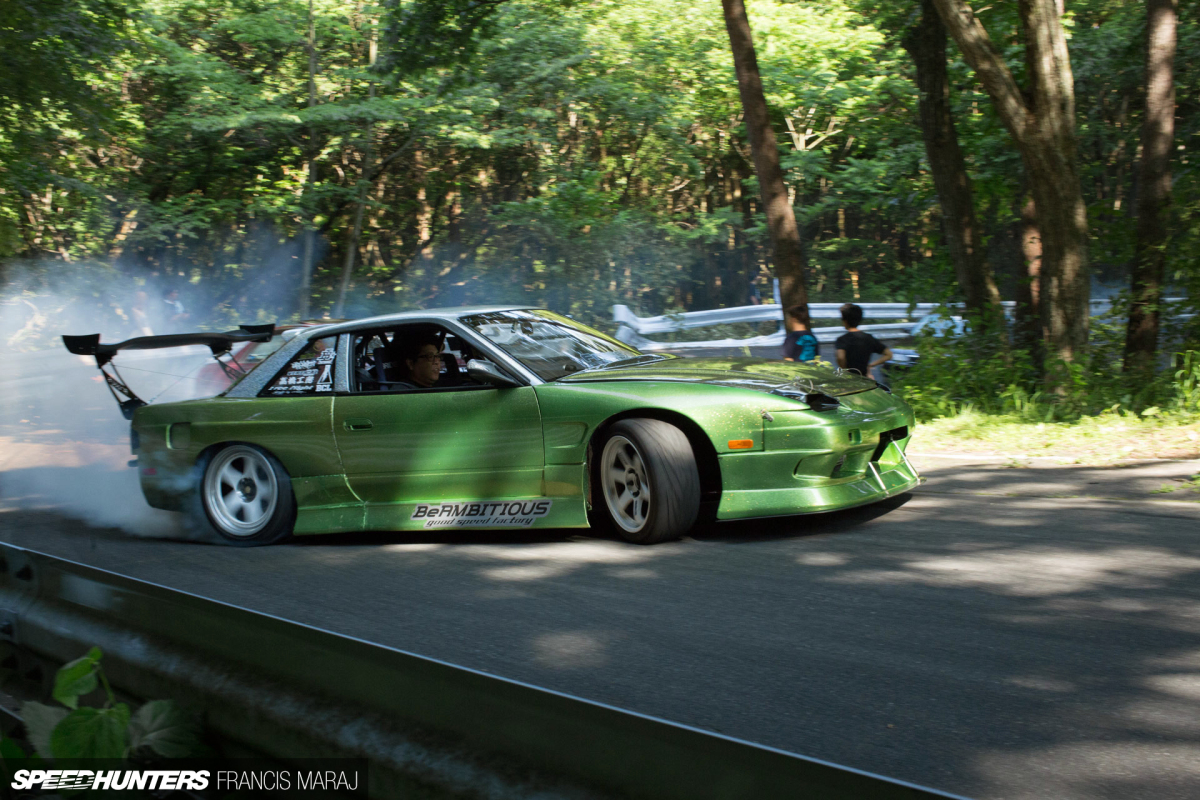 And more so after watching Hideaki Ishii of Freee's totally destroy the place. This guy is a badass; maybe you would all like to see a spotlight on his Nissan?
All Roads Lead To This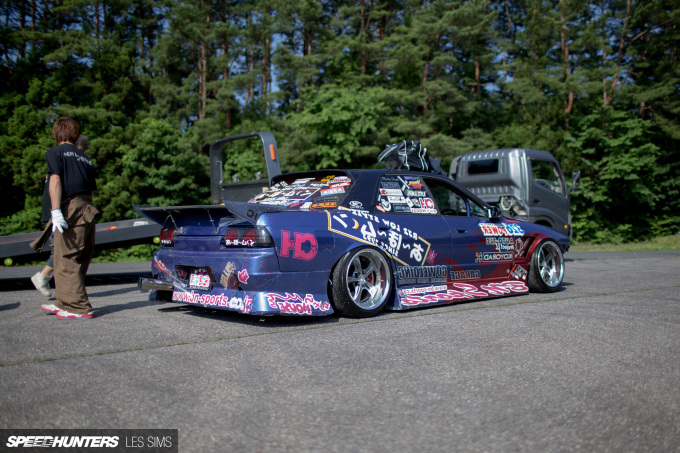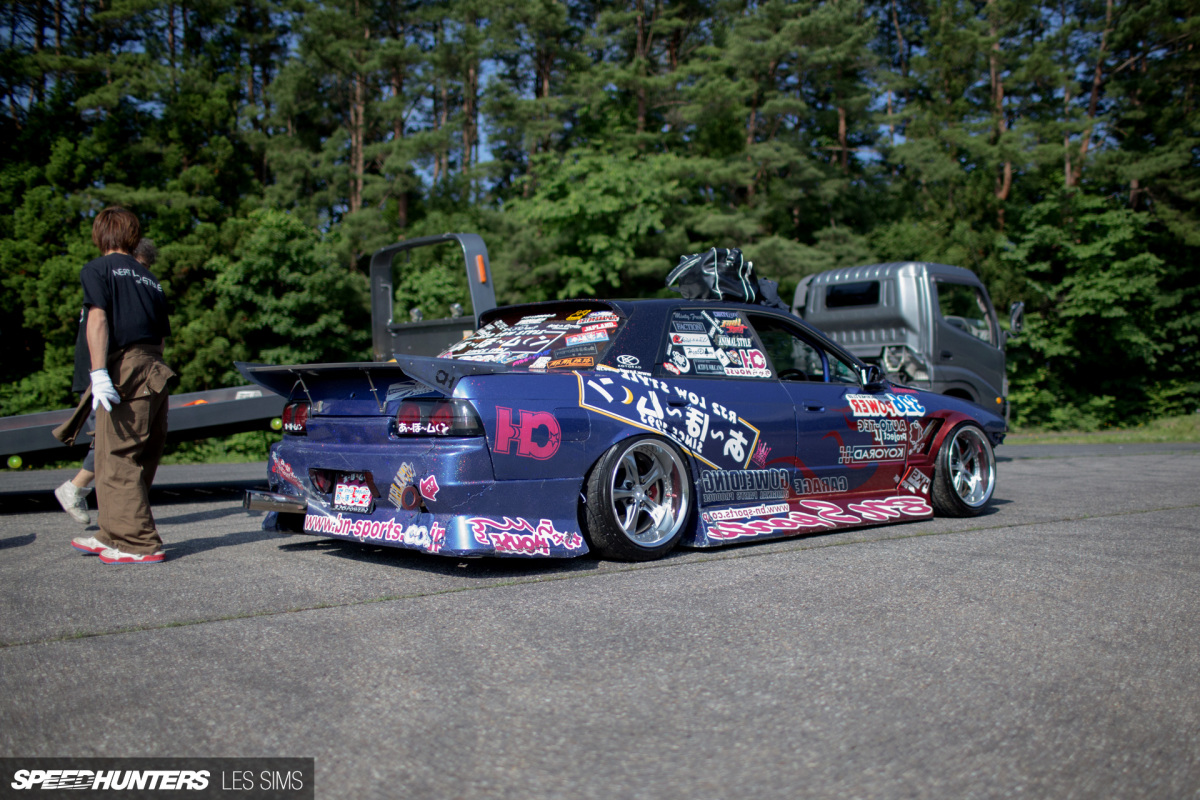 Les: Whilst my colleague was being blown away by Ishii-san's antics, I was smiling. The reason being, the vast majority of drivers had come here from far and wide. Satsukawa from A-Bo-Moon had travelled all the way up from Nagoya – a seven-hour drive – with his 350hp four-door R32. If that doesn't show commitment, then I don't know what does!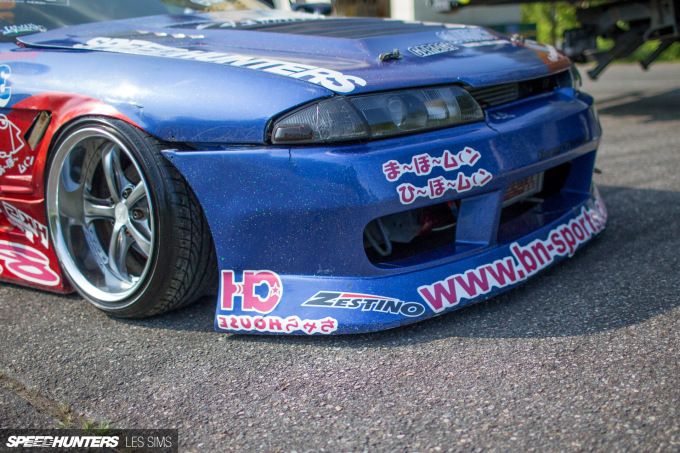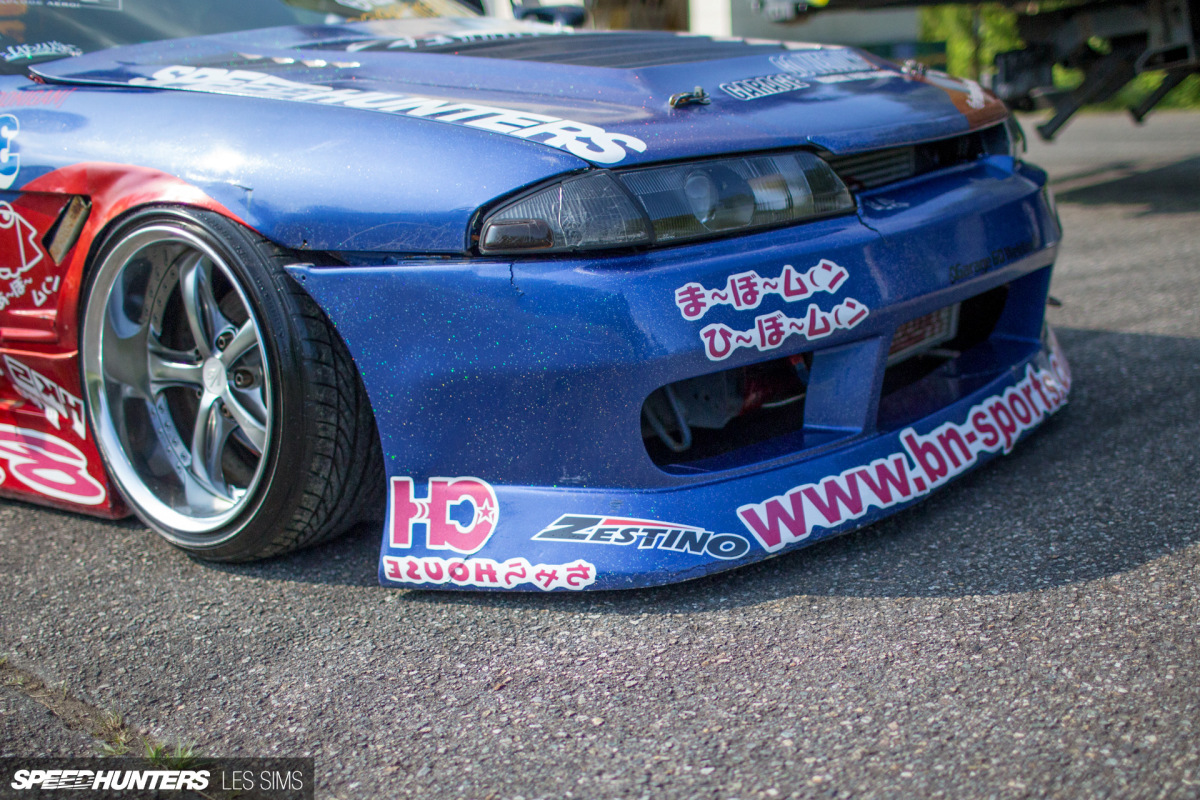 He would be another of the shakotan variety looking to shred his well-used BN Sports kit along the hard turns and various gradients the Gunsai layout offered.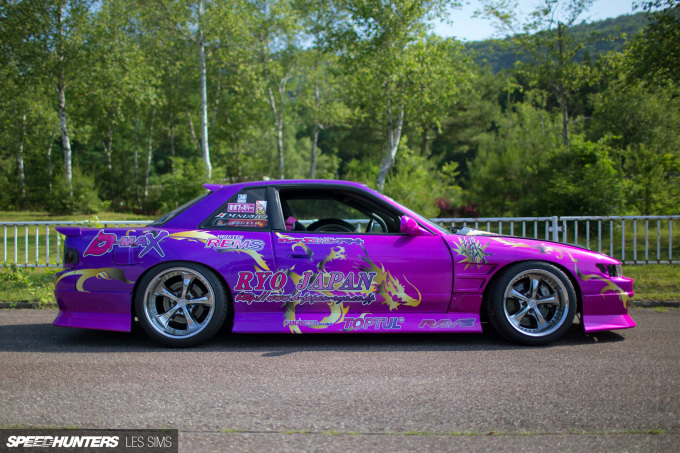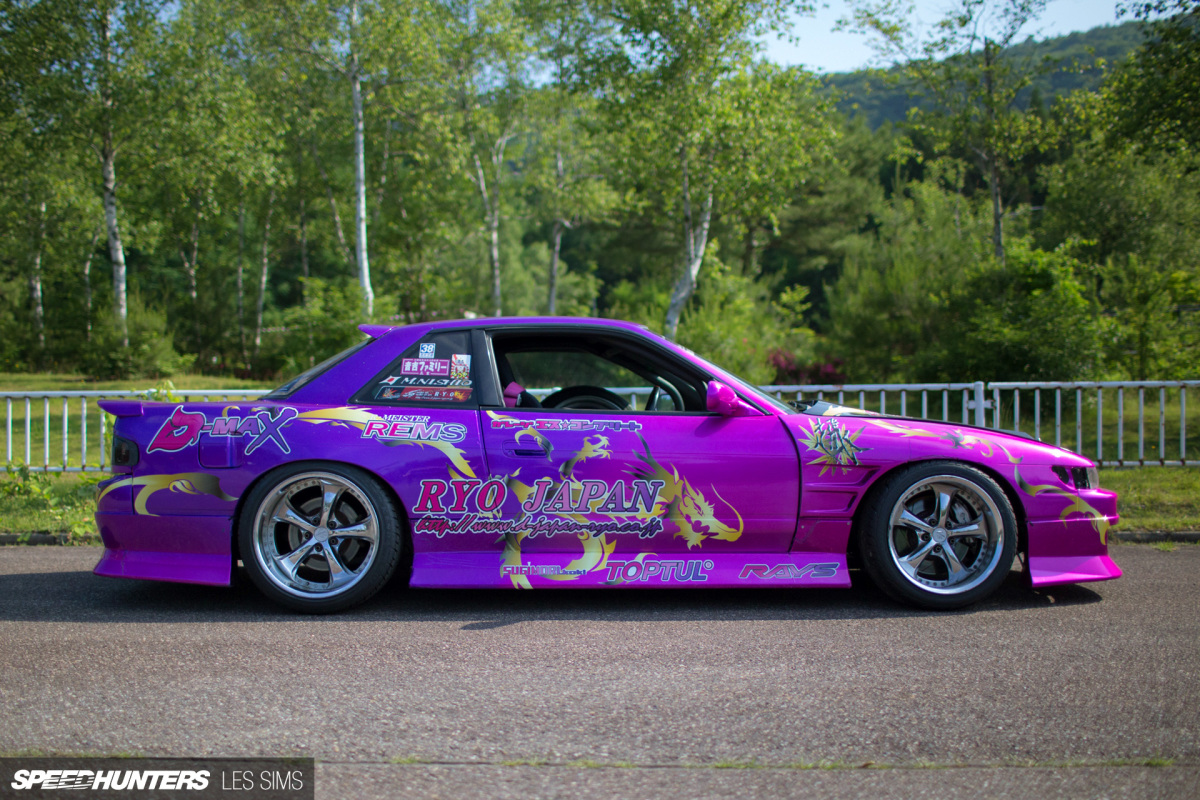 Mie, Nara, and Osaka are where many of Japan's most talented drifters reside, so to see drivers from the Kansai area up in Gunma for the event shows the lengths some were prepared to go to, to take part. Mitsuyoshi Nishio turned up in his S13, newly-wrapped after a disagreement at Suzuka Twin robbed him of his last look.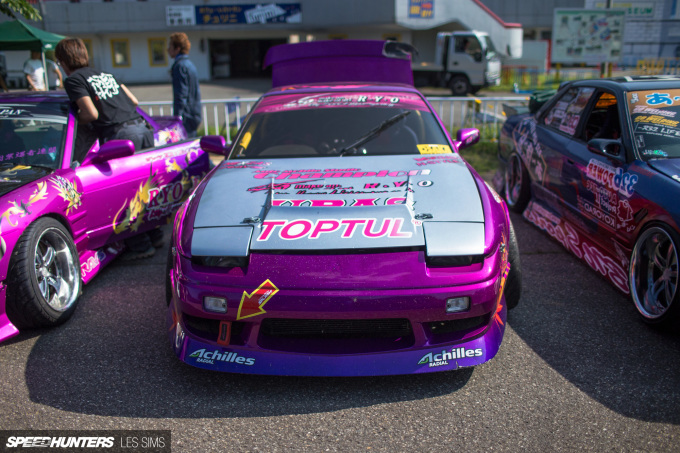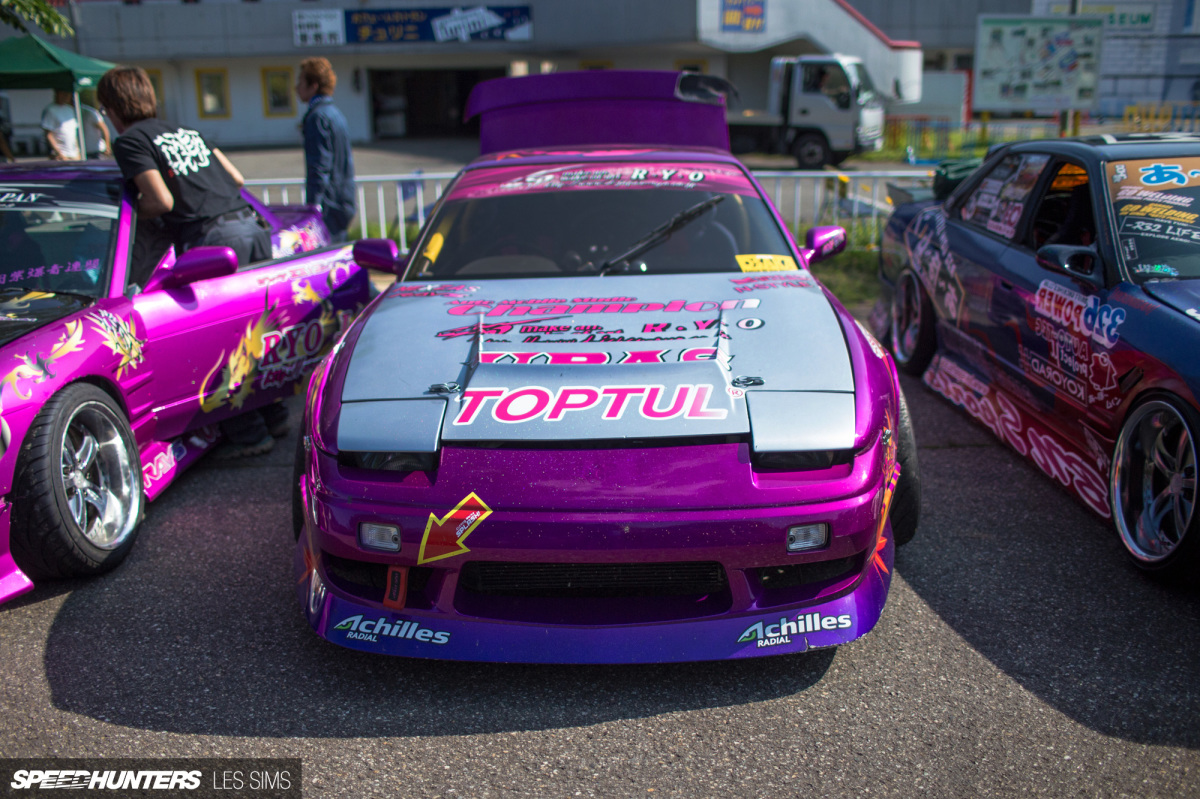 Hiroki Vito from Osaka also has a fresh new look. Going through the specifications of his car, I was surprised to learn it has a final gear ratio of 3.90; that's longer than most drivers from Kansai, who tend to run shorter 4.2 to 4.6 ratios for their local – Meihan Sports Land.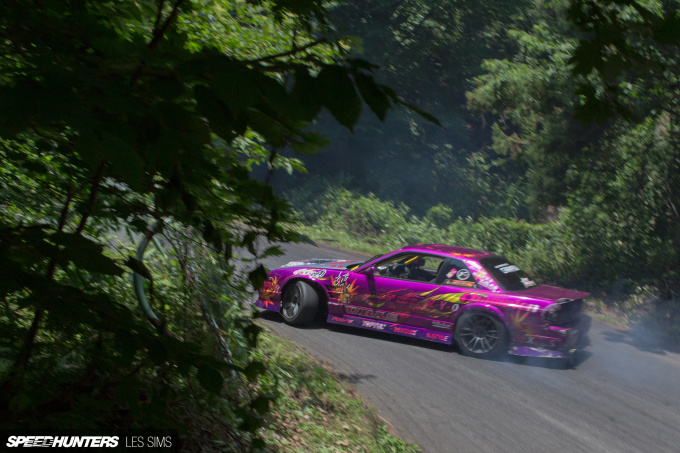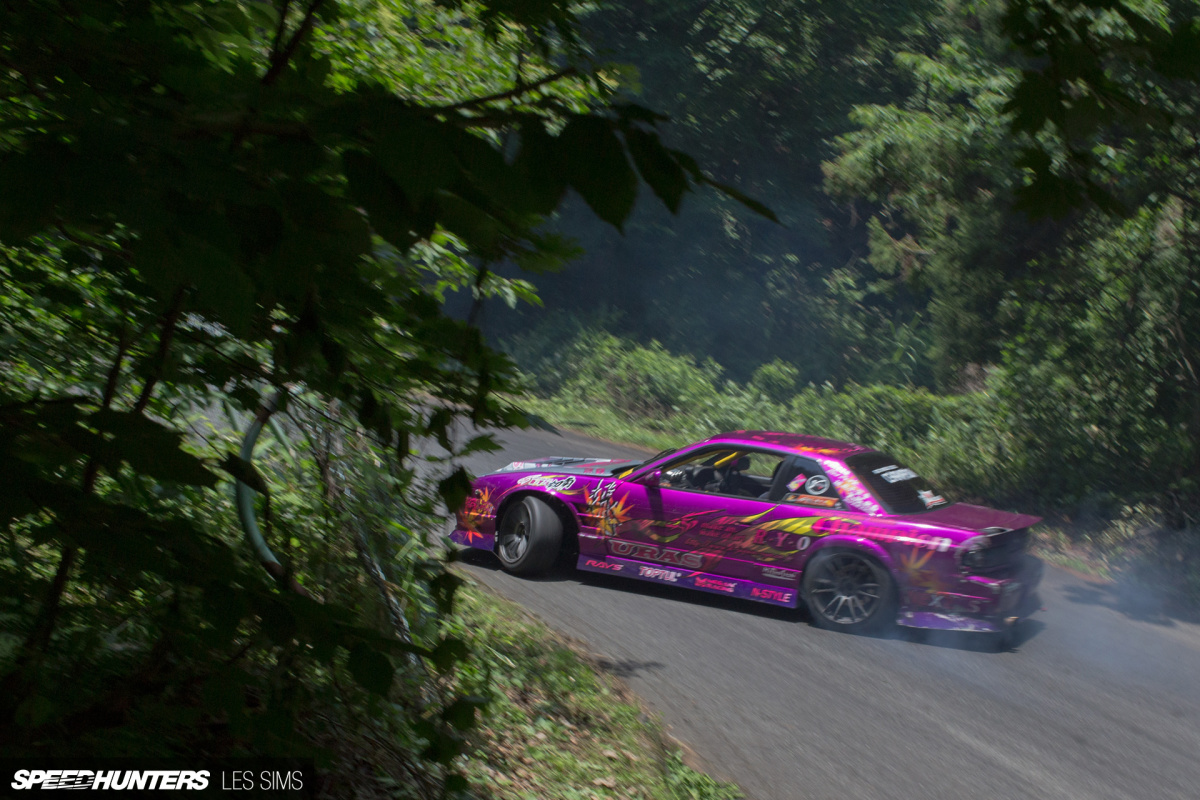 It certainly didn't affect his ability though; super consistent, he slid through the corners with ease.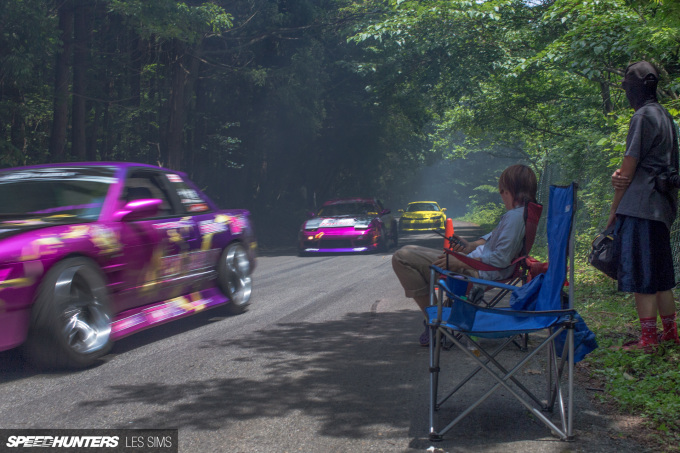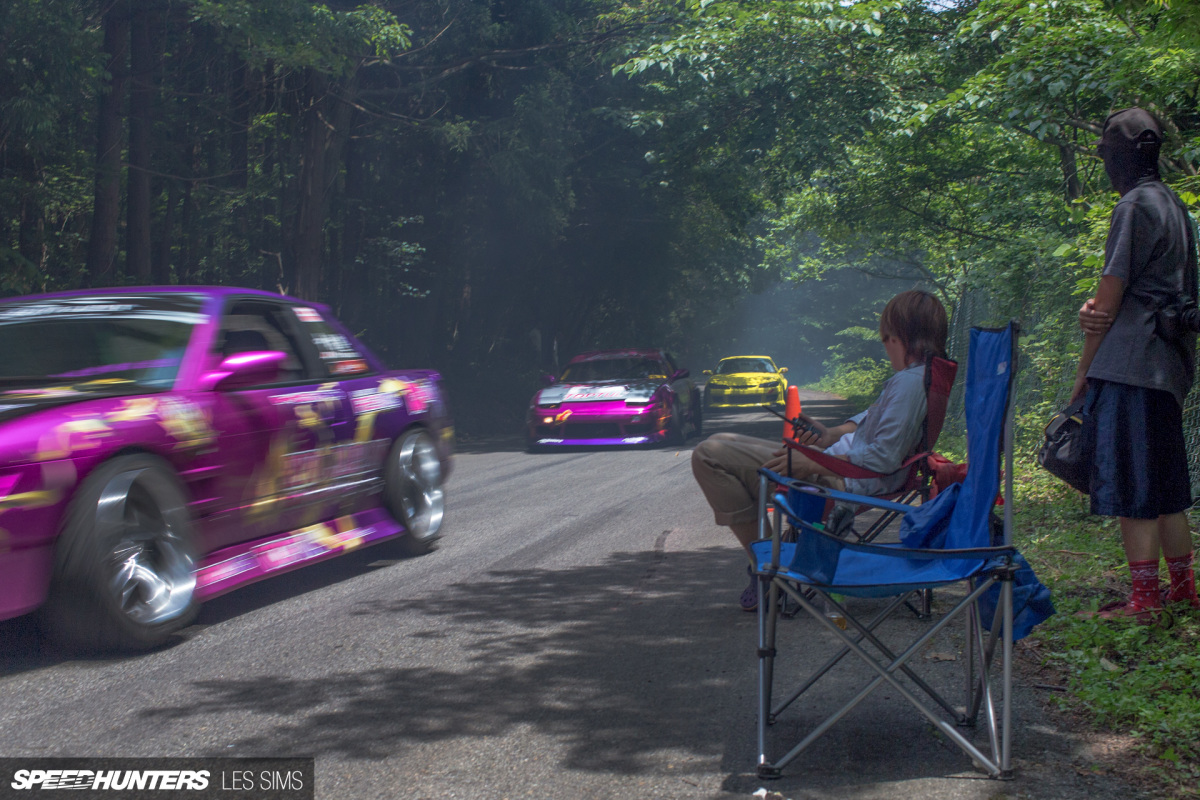 Each run was completed as though it was mere practice.
Highlights Of The Day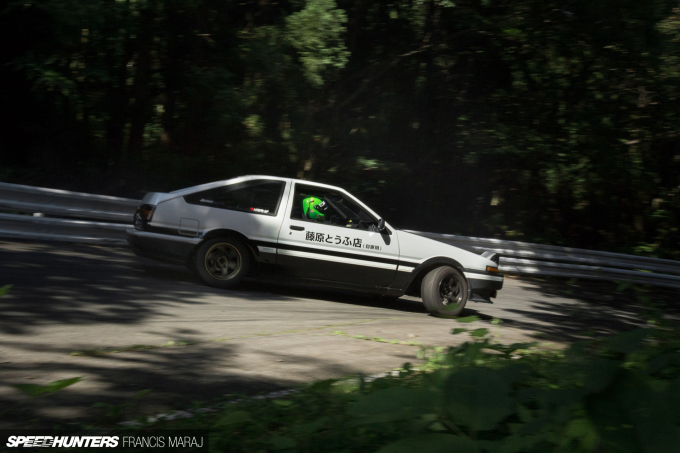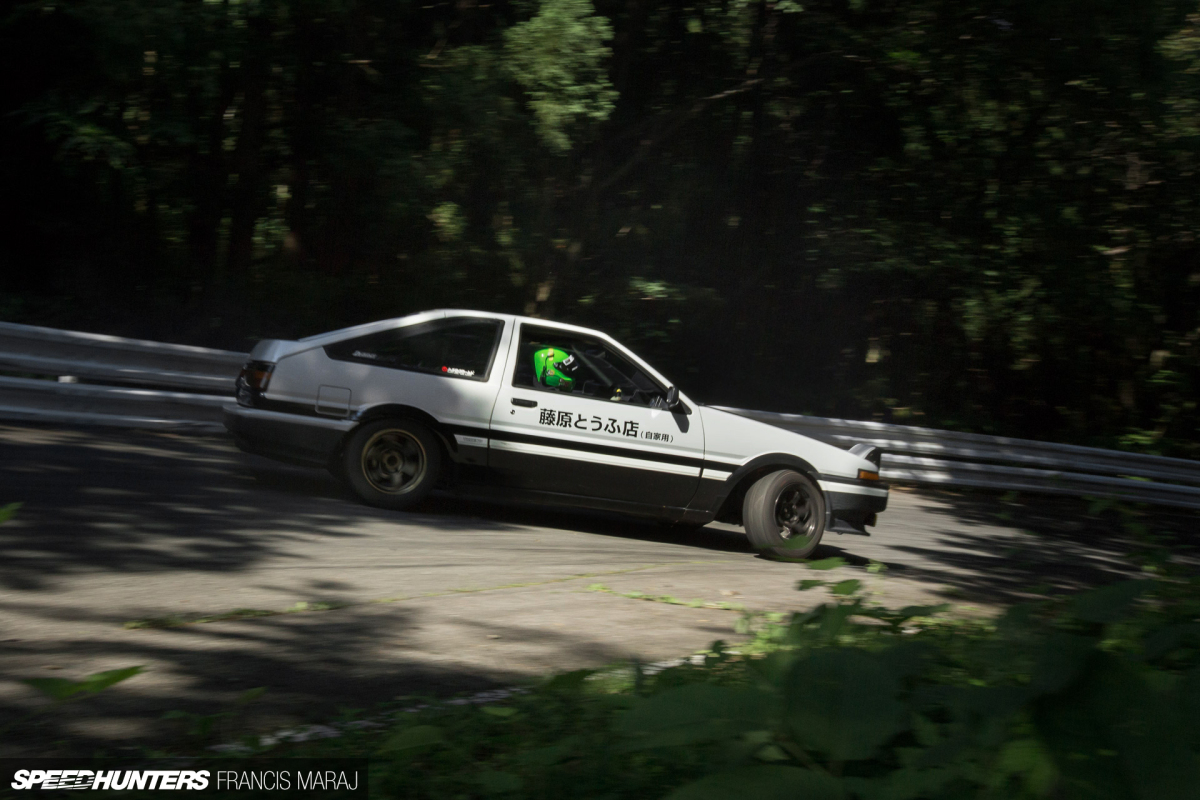 Francis: The highlight of my day definitely had to be seeing Initial D come to life with this replica tofu delivery car ripping it up. What about you, Les?
Les: For me it had to be catching up with Ishii-san; I first met him three years ago on outskirts of Tokyo, and his driving skill has certainly advanced in that time. Here's a video of him nailing a run, while he took me for a spin around the course.
Thanks to the SC Films staff and to everyone that made this a great event to attend; we hope to see you all again next time around! And don't forget to keep an eye out for the Kamikaze Dive Gunsai Attack video that's coming soon.
Francis Maraj
Instagram: hashiriyadotnet
Facebook: hashiriya.net
Les Sims
Instagram: roughsmoke
Cutting Room Floor