Aired Out In The Sun
Back in 2014, Dino made the trip over to Hawaii especially for Offset Kings, coming away with a whole new appreciation for car culture in the Aloha State. Last weekend marked this year's running of the popular event, providing a perfect opportunity to check in and see how the island nation's custom and modified tuner car scene has progressed.
This time around though, we enlisted the help of someone who lives and breathes Hawaiian car culture, namely local automotive photographer TJ Chun.  Take it away TJ…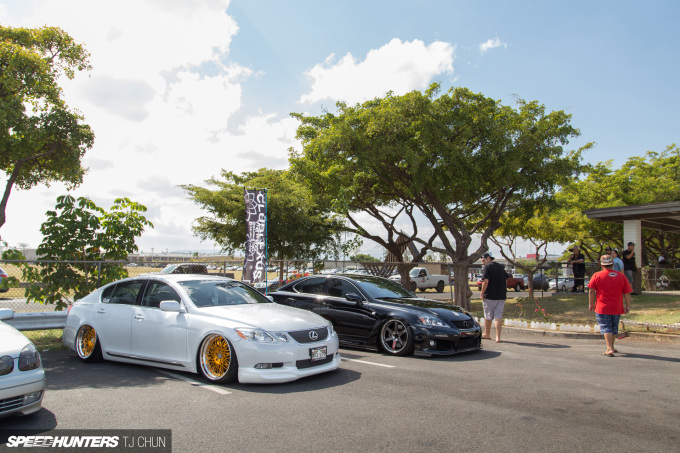 Laid out front and center at Offset Kings were the Club Lexus Hawaii cars. Along with Honda and Acura, Toyota's luxury brand is always well represented at events like this.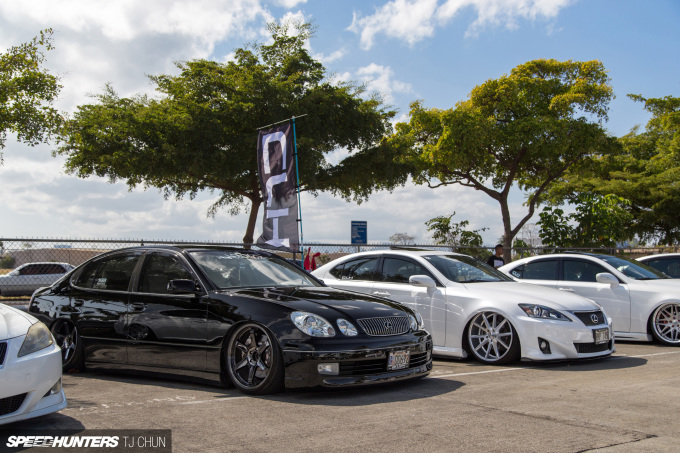 Taking out the 3rd place award in the VIP category was Alex N.'s Lexus. This GS is a favorite of mine in Hawaii, mixing a simple stock body look and air suspension with fresh RAYS Volk Racing TE37s and a big brake kit. There are plenty more JDM goodies on board too.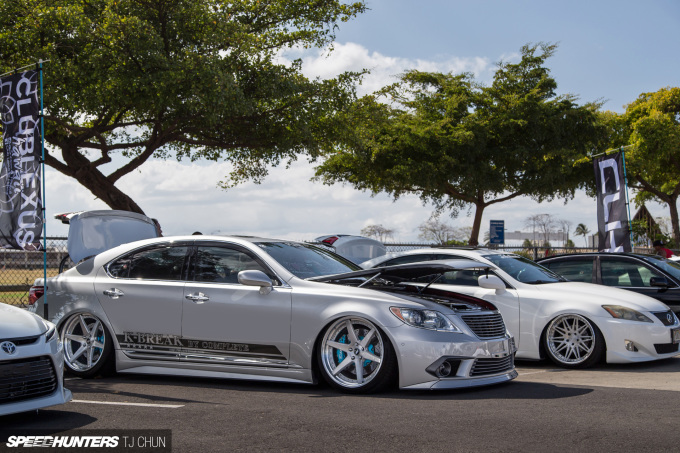 The 1st place VIP car? That would be Davin's K-Break LS460 sitting on a new set of Work Zeast ST1s.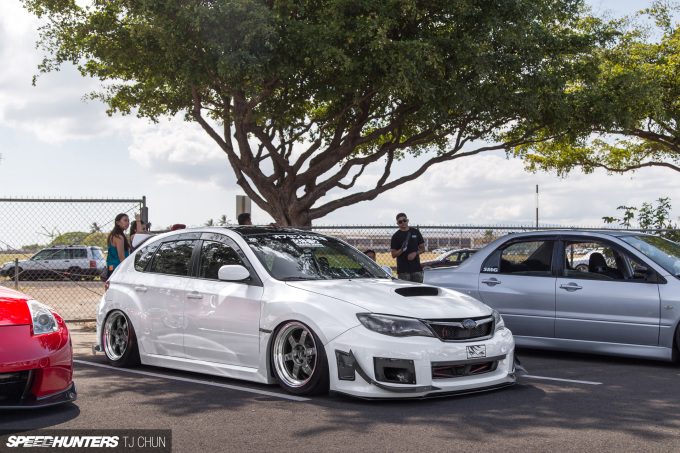 Living in Hawaii, I know first-hand just how bad the roads and parking structures are here. I was trying to live the static 'slammed life' with my car, but that only ended with a scraped-up front lip and a flattened exhaust. I also received more than my fair share of tickets; with the strict reconstruction permit laws in Hawaii it's not easy to drive slammed and the police tag everyone. Because of this, many people continue to turn to air suspension.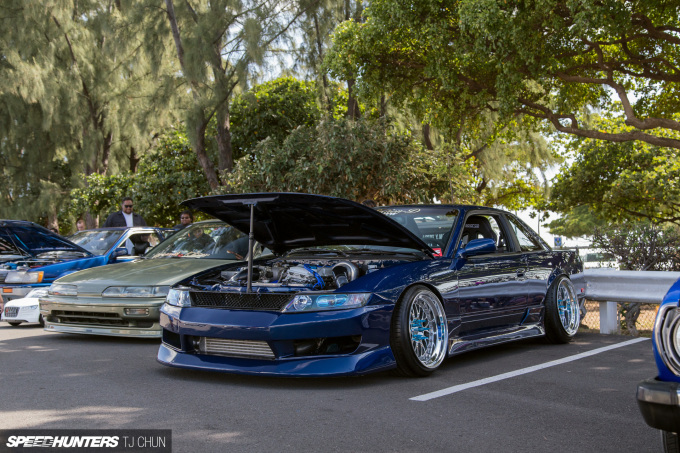 With its 'Odyvia' front bumper conversion from Spirit Rei, Alex's S13 always breaks necks at shows and meets. He did everything on this car too, from bodywork to painting, to all the engine and interior mods.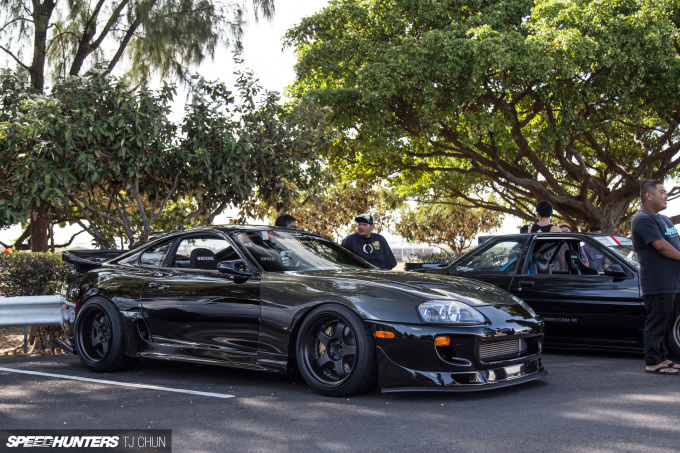 Section D is a local car club with some very tough builds, including this JZA80 Supra.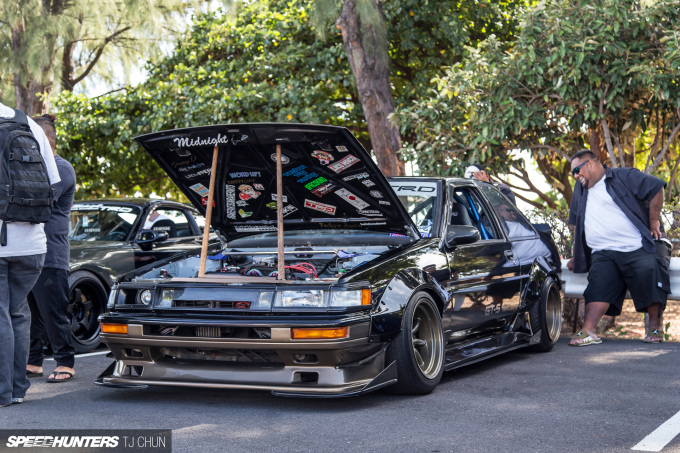 This Levin-fronted AE86 Corolla GT-S is another good example.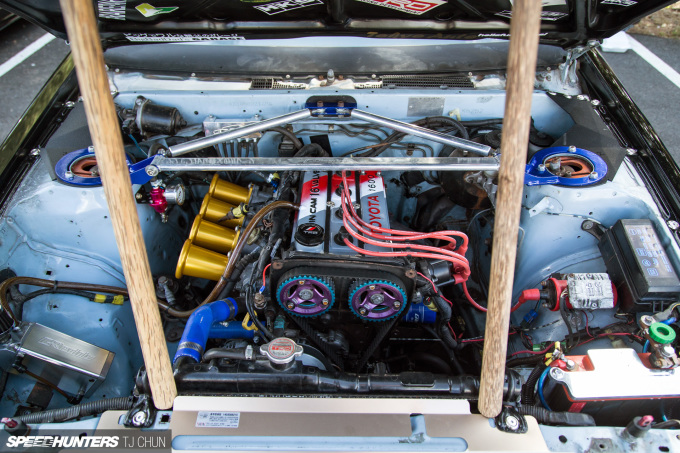 Under the hood, the naturally aspirated 16-valve 4A-GE benefits from a set of quad throttle bodies and other power-making mods.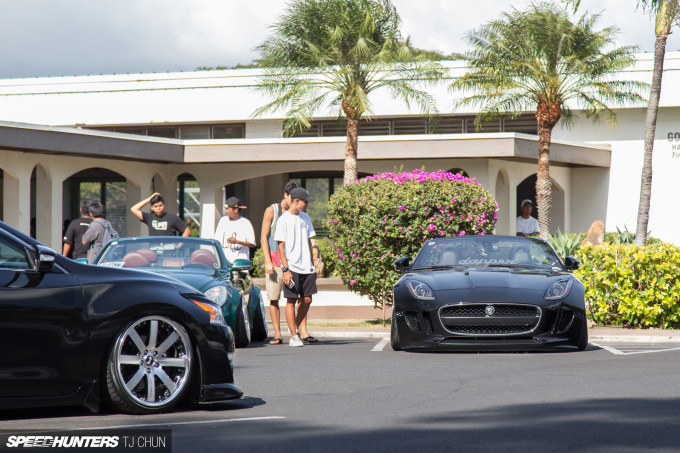 A Jaguar F-Type isn't the sort of car that will first spring to mind when you think of Offset Kings, but Robby's example dropped on AirREX suspension fits in nicely.
Community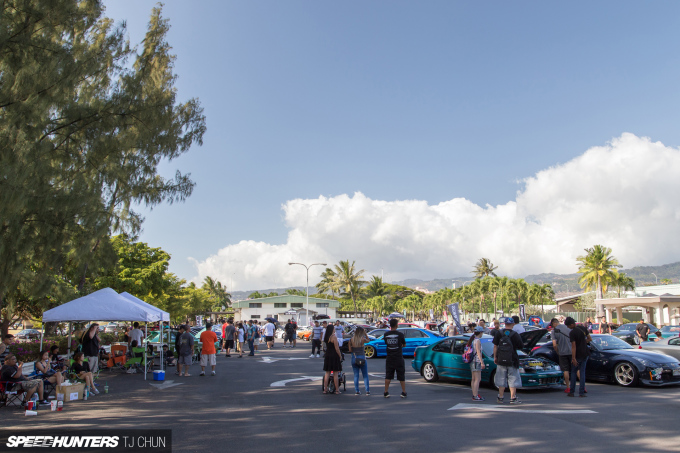 It's always great when the local car enthusiast community comes together for an event, and the weather for Offset Kings was awesome too.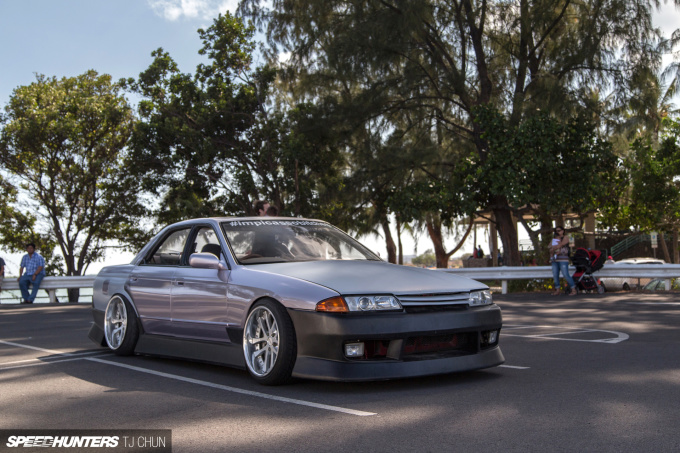 Here's a car you don't see very often in Hawaii: a 1989 Nissan Skyline GTS-t. Although it was originally powered by an RB20DET, its owner Giovanni has upgraded to an RB25DET and added Weds Kranze LXZs wheels to complete the BN Sports style kit and GT-R hood and grill conversion.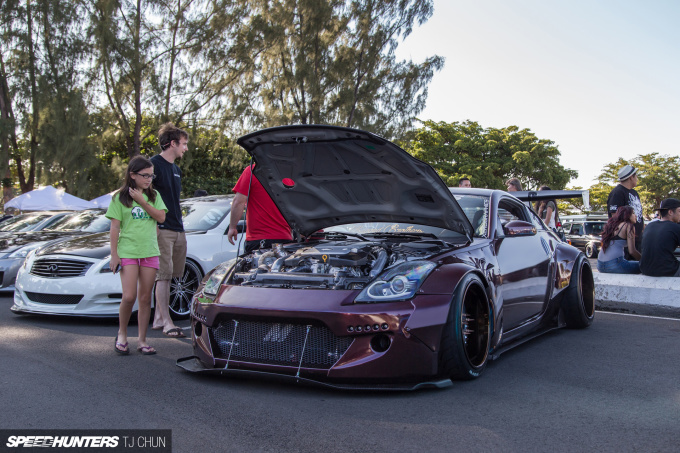 Another rare gem in Hawaii is Bryce's 350Z, which always draws a crowd. The Nissan runs a Rocket Bunny Kit, AirREX suspension and Avant Garde F230 wheels.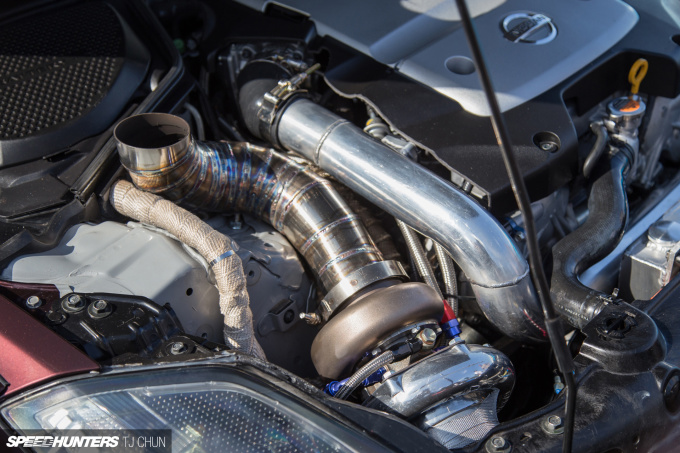 To back up the looks, a turbo kit was also recently added, complete with a custom hood exit.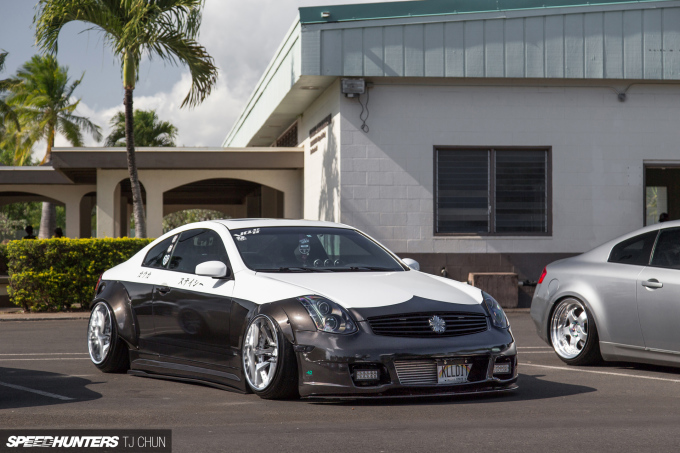 A Vortech supercharger provides David's G35 with 372rwhp, so it has the power to match its aggressive Japanese police car inspired exterior too.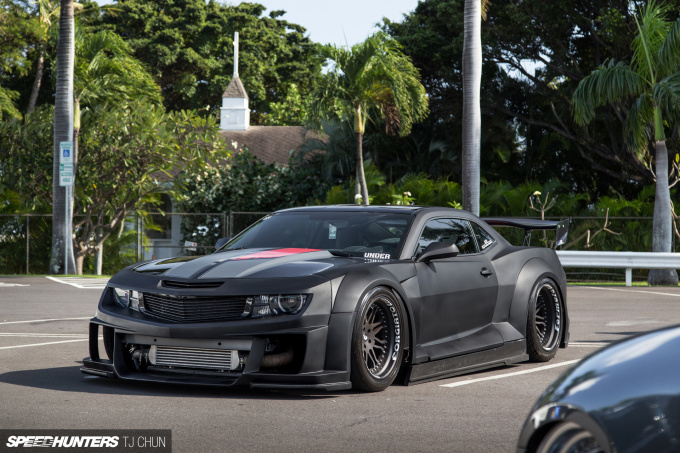 This 45th Anniversary Camaro SS has a huge modification list, starting with a full Bomex body kit. The Forgiato F-Kato-1 Formula series wheels were hand-delivered to Hawaii by their namesake – Liberty Walk's Kato-san – and sit perfectly under the wide fenders when the suspension is aired out. Meanwhile, the front-mount intercooler hints at the twin turbo setup under the hood.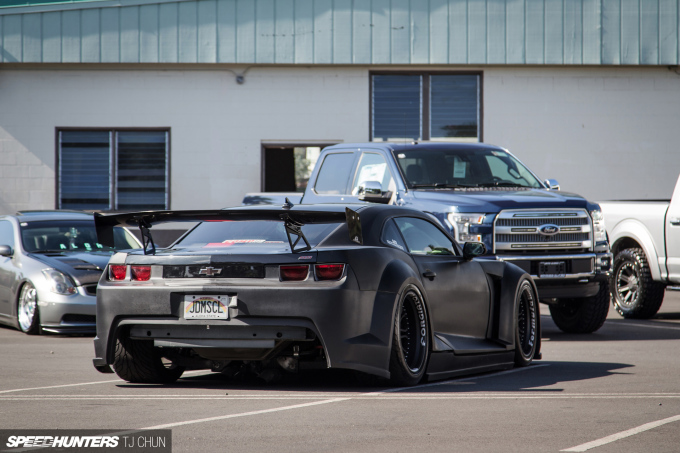 Its owner Kazunari is definitely holding it down for the Camaro scene. His next step is a full paint job, which should finish off the exterior nicely.
Varied Styles, Common Goals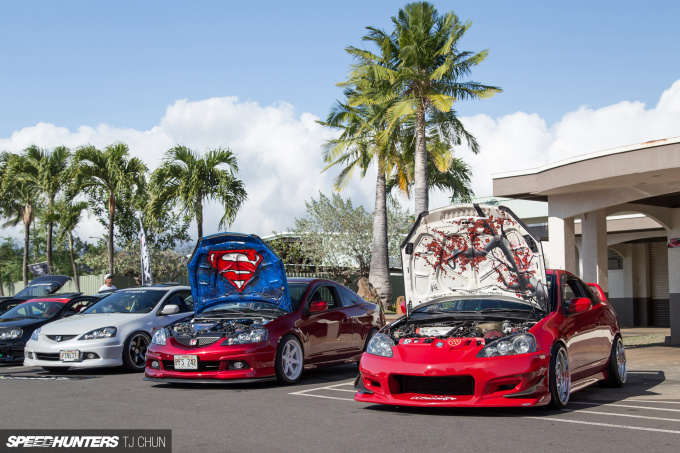 Overall, the show had great diversity this year. From bagged cars, to race cars, to drift cars and old school cars – quality was something they all had in common.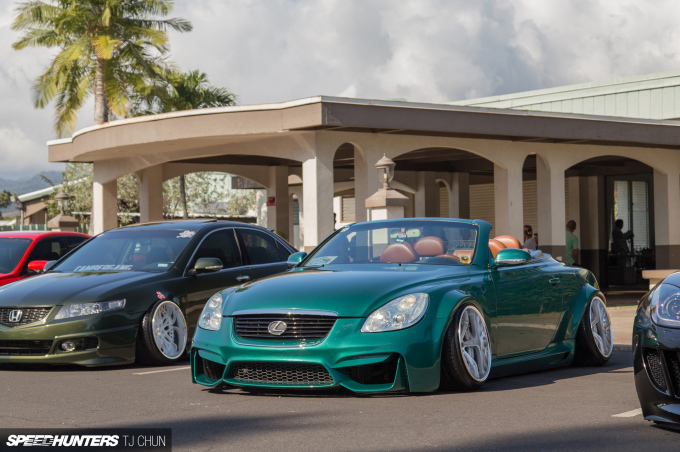 Adrian's custom SC is unique creation; the front bumper is part stock Lexus and part BMW M4, and a new air suspension setup ensures the Leon Hardiritt Gral wheels tuck deeply under custom-modified fenders. This is a great build by Renown Autobody and Adrian himself.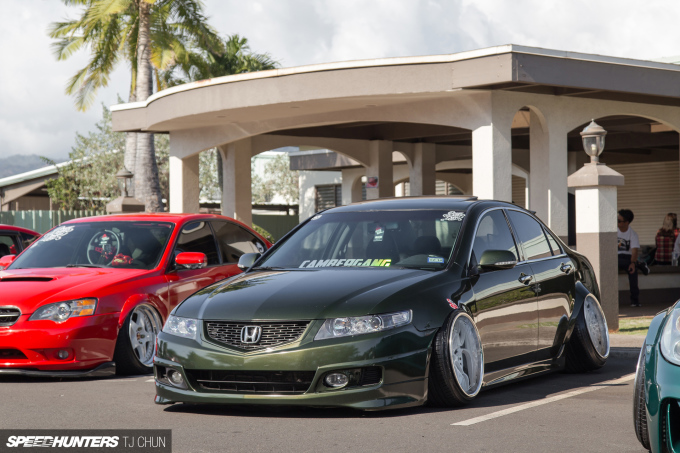 Jerrick's TSX is another one-off car in Hawaii, and it took home the 2nd place award in the Best Bagged category. I've followed this build since its stock body days, but now it's running a custom metal wide-body that Jerrick built with Kncautoworx.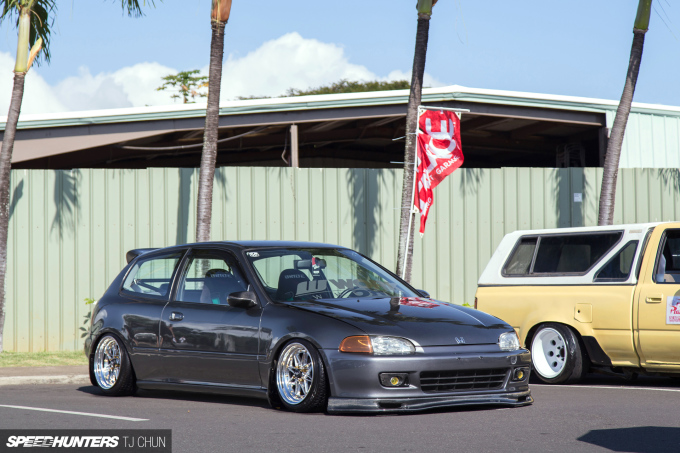 Modified Civics are plentiful in Hawaii, but not many are as clean as this EG owned by Josh. Although race-type modifications feature throughout, the Honda was primarily built as a slammed street car. Josh's efforts were rewarded with the 1st placed trophy in the Slammed category.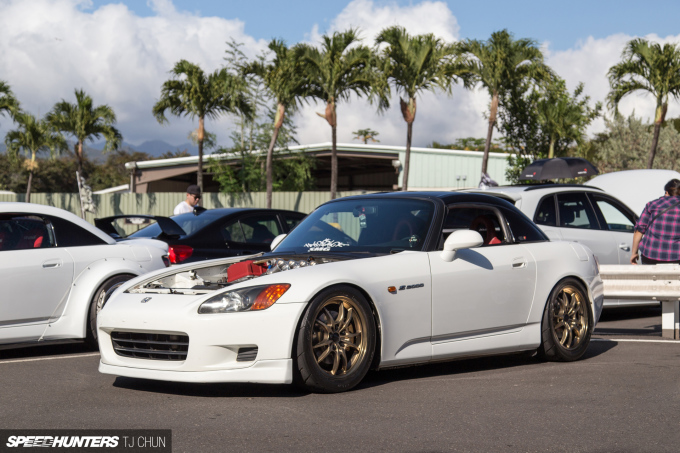 There were two Honda S2000s at Offset Kings Hawaii that really caught my eye, including this one owned by Josh sitting on Mugen MF10 wheels.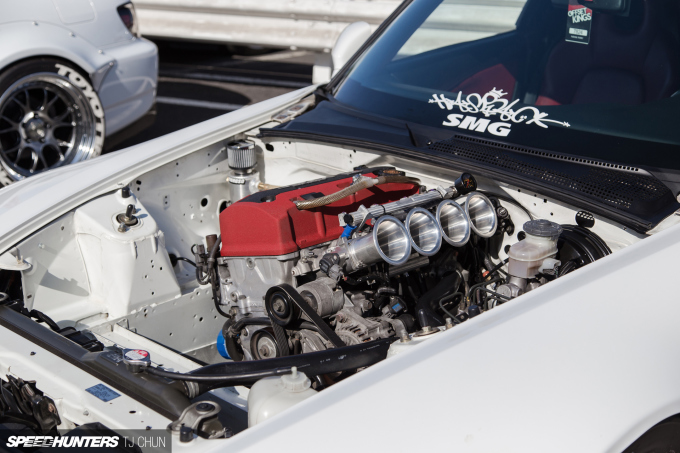 The engine bay wire tuck was completed just before the show, something that makes the ITB'd motor really stand out.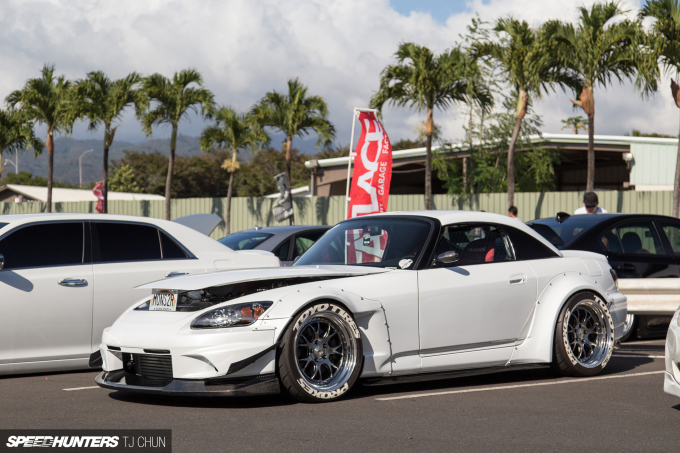 The other S2000 was this fresh build by JP. I don't need to tell you that the Honda has an extensive modification list, but some of the main external ingredients include Circuit Garage and Industry Garage overfenders, a Voltex carbon fiber front end, adpated RX-7 carbon side diffusers, JDP Engineering rear diffuser, an Air Walker duckbill spoiler and Mugen hardtop. The wheels are SSR MS3s wrapped in Toyo R888s.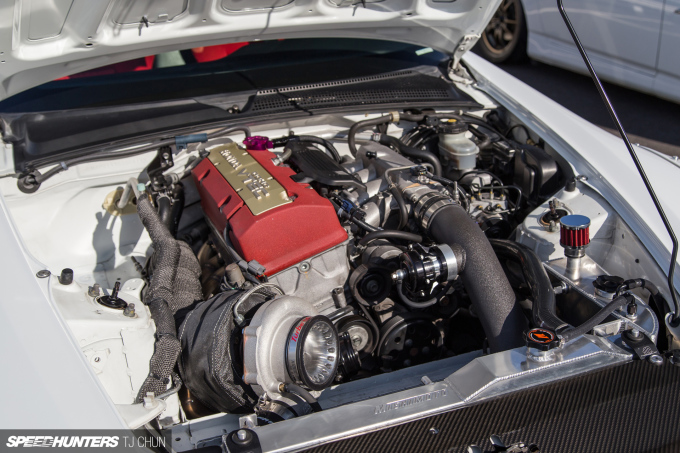 And this is the sight that greets you under the hood – a Precision Turbo PT 6266 turbocharger taking center-stage.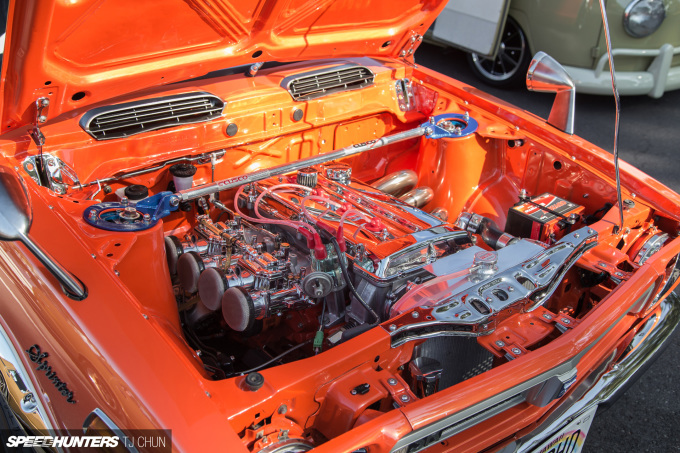 Without doubt, Lance's TE27 is one of the cleanest cars on the island.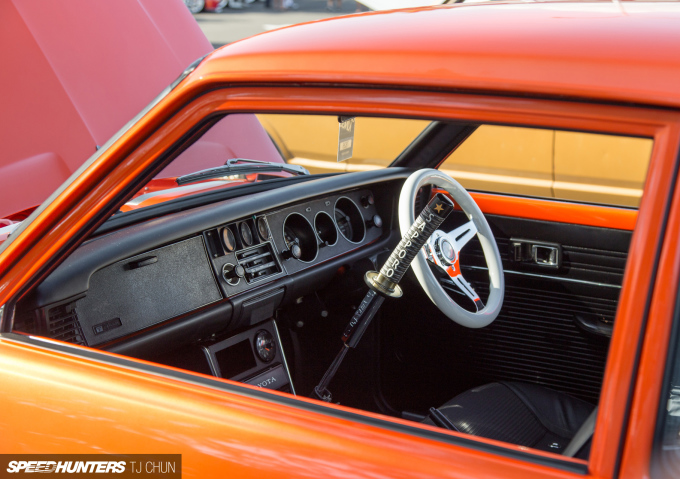 The attention to detail is crazy, and every time I see the car it's absolutely spotless.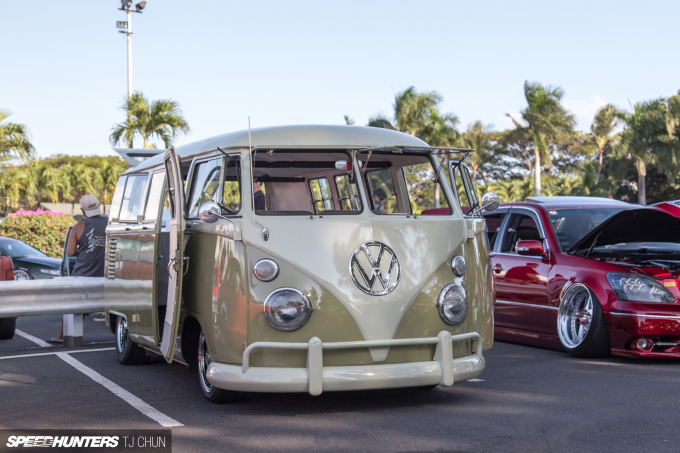 There weren't as many old school VWs in attendance as previous shows, but those that were on display were of a very high quality.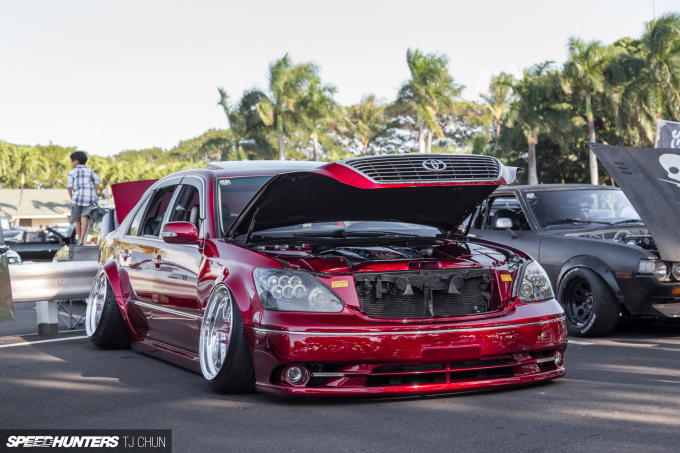 Preston's LS430 is a heavy-hitter in Hawaii's Lexus scene, and Nuskoolfx Garage did a awesome job in executing the custom VIP vision.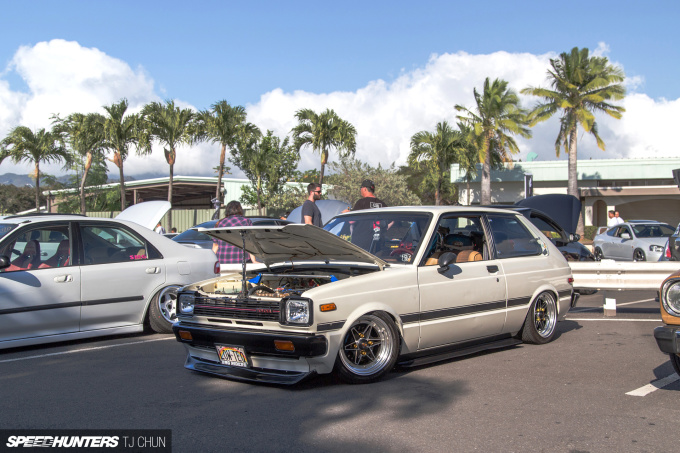 Tommy took home 2nd in the Classic/Muscle class with his KP61. This is another well-built old school machine with plenty of mods, including air suspension.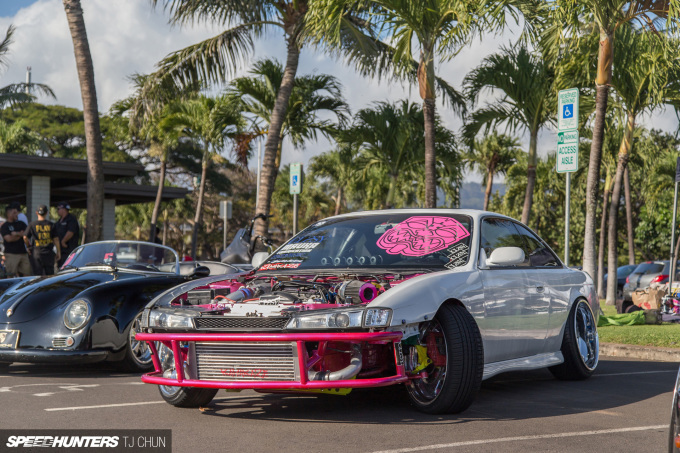 Team Kamakazi was definitely holding it down with their drift/racer builds. Here we see Keoni's 240 showing off its steering angle and engine bay.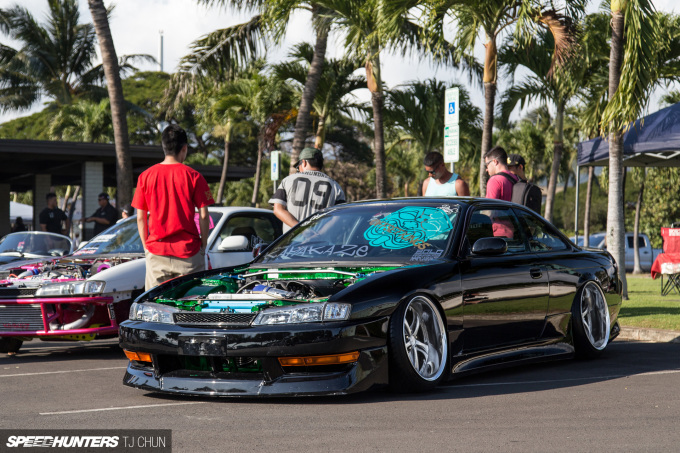 And next to it, Steven's LS-swapped S14 slammed on Work VS-KF wheels.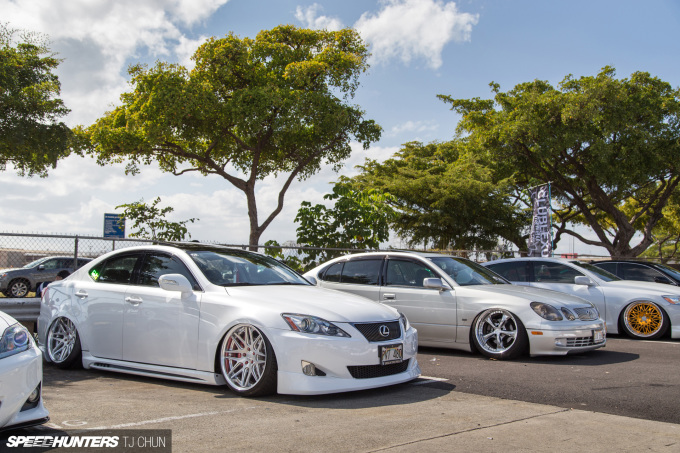 Once again, Offset Kings Hawaii delivered a great show and a bunch of really nice builds. I'm really glad the weather held up too, because here it can be sunny one minute and rainy the next.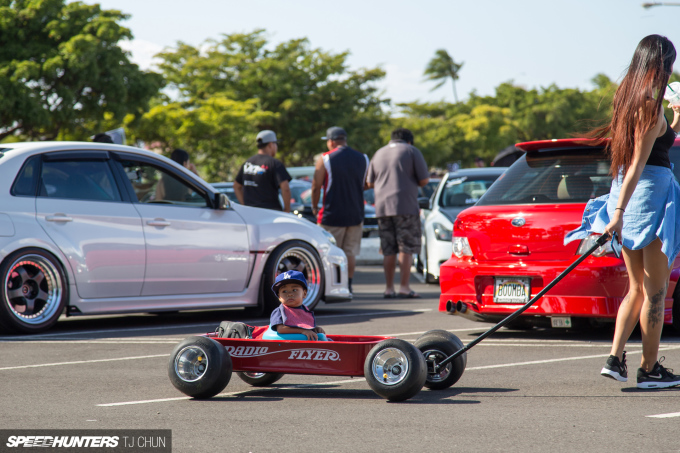 I'm definitely looking forward to the next OK event in the Aloha State! Until then, make sure you check out all the extra images in the Bonus Images chapter below.
TJ Chun
Instagram: tjchunmedia
Website: TJ Chun Media
Cutting Room Floor