Honda Hero
The Honda CR-X just might be the quintessential front-wheel drive compact car.
With its agile chassis, stellar build quality, distinct looks and incredible fuel economy, the EF CR-X of the late 1980s truly represents Honda at its peak. It's no wonder that so many are asking for the company to build a new version of this car.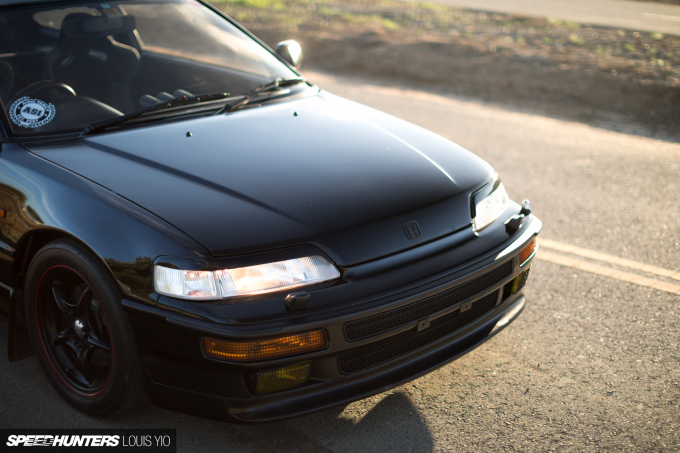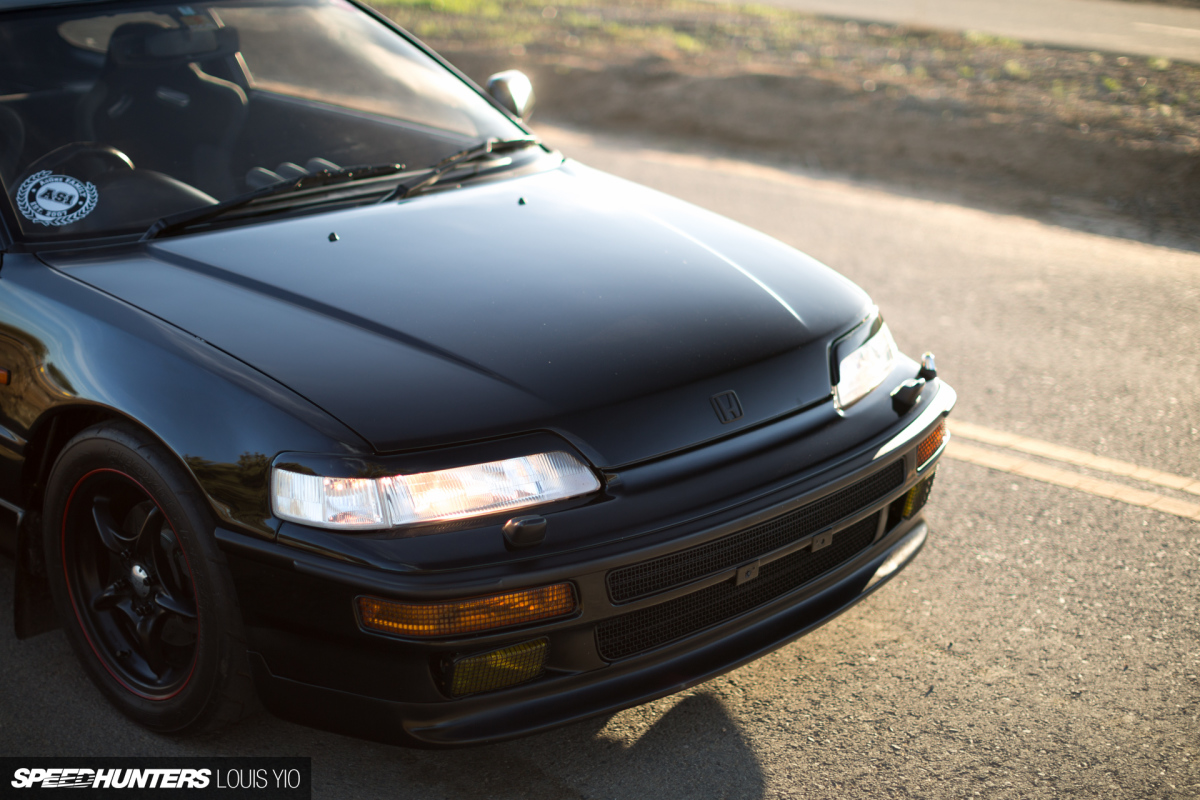 There's the CR-Z of course, but being a hybrid and heavy it's just not that same thing. I'm talking about a proper performance car with a light, sports-tuned chassis and the under-hood hardware to match – perhaps one of Honda's new generation small-capacity VTEC turbo engines coming to the 2017 Civic line-up. But while it's unlikely that we'll see a CR-X descendant like this anytime soon, the EF still makes for a fantastic platform for both road and race use. Case in point, this beautiful black example that can be found prowling the streets of Southern California.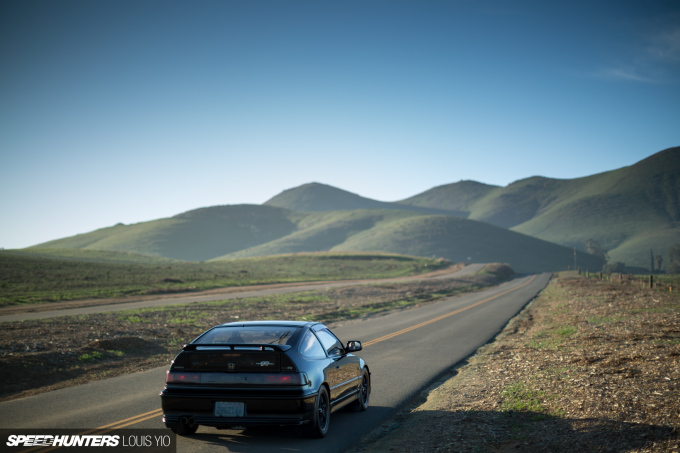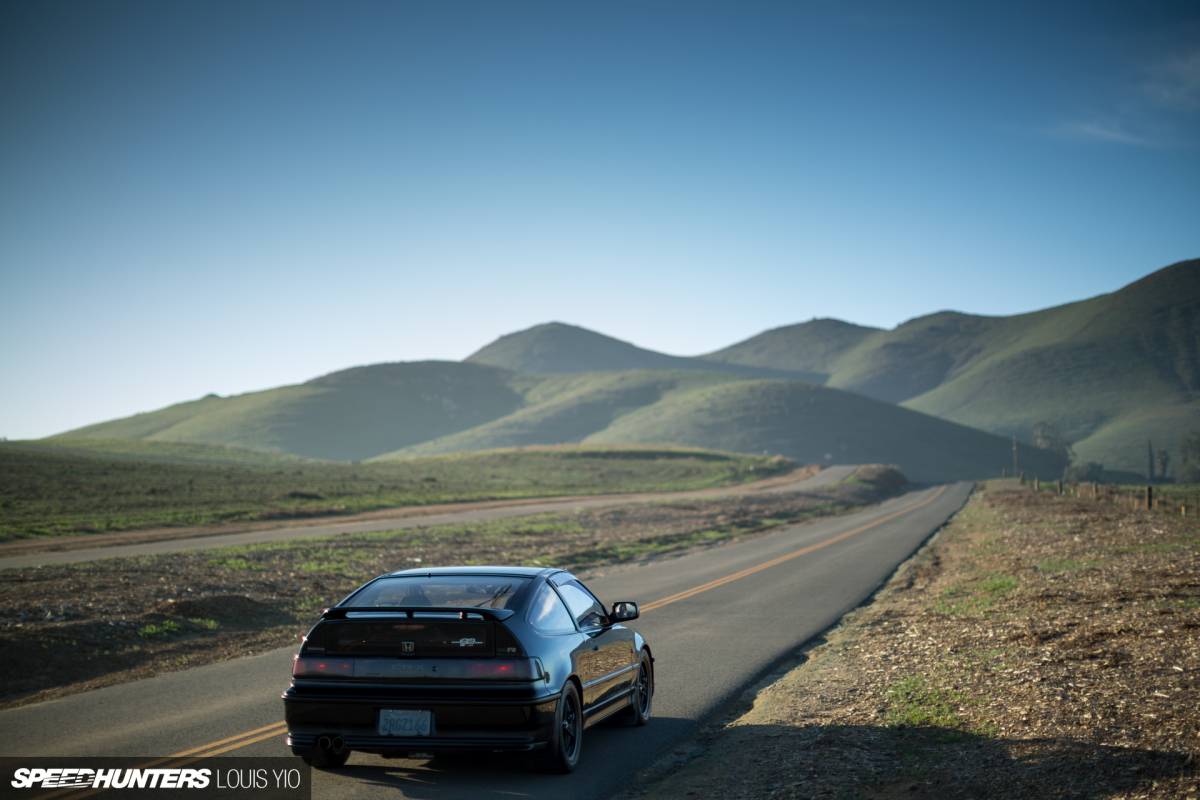 The car was built by Jesse Temores – a genuine Honda CR-X fanatic. We recently saw his yellow CR-X which is loaded with parts from Spoon in Japan, but that's not the only one he's built. This car is a project that's been 10 years in the making, originally started by Jesse in 2006 with the help of his sons.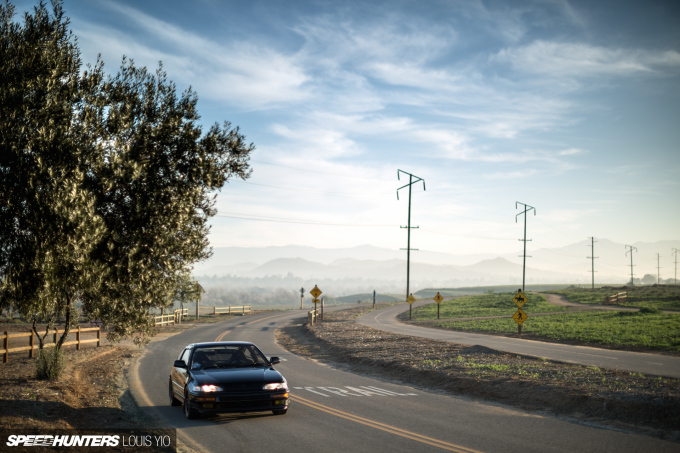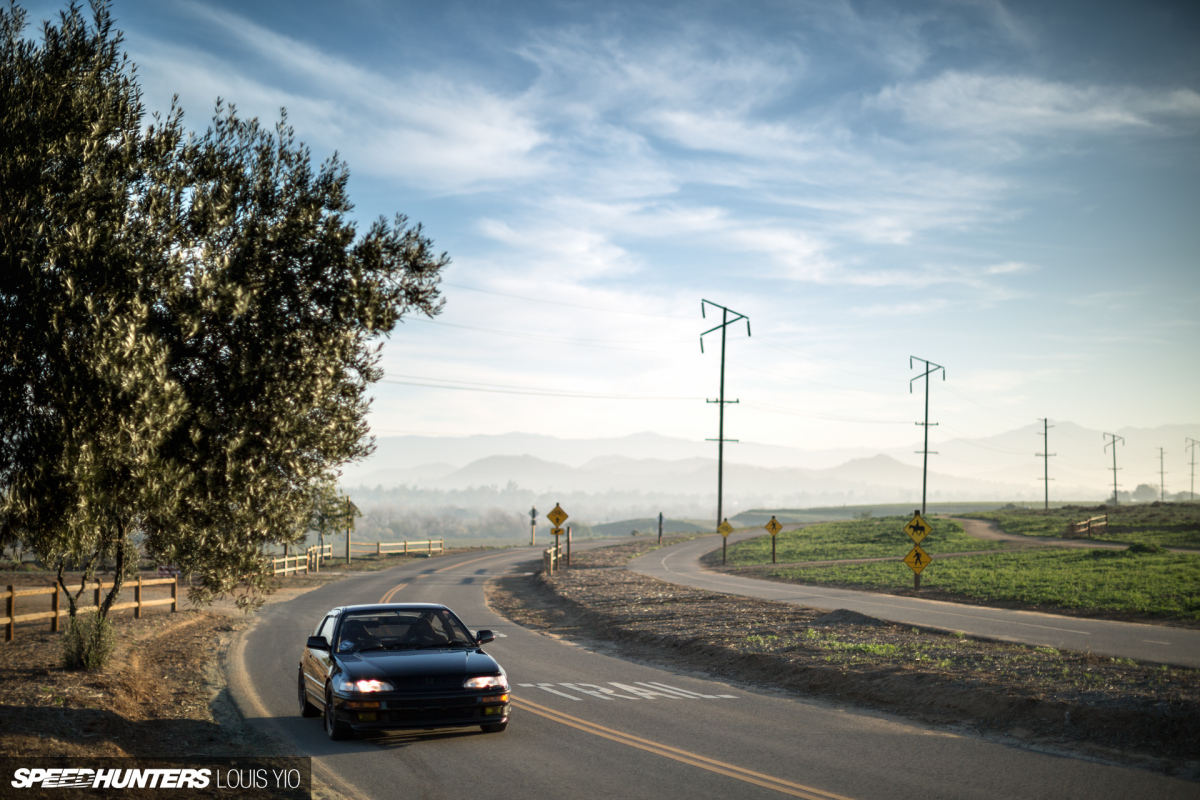 In 2010 when his oldest son Hector graduated high school, Jesse decided to give him the black CR-X as a graduation gift. And what a gift it was; a shining example of '80s and '90s JDM styling that's been honed to perfection.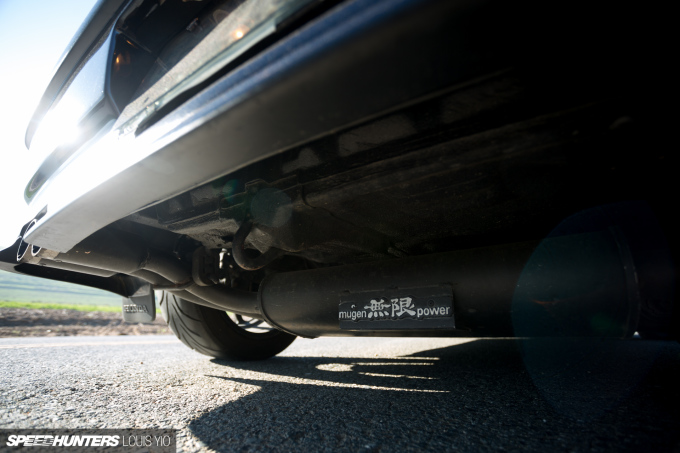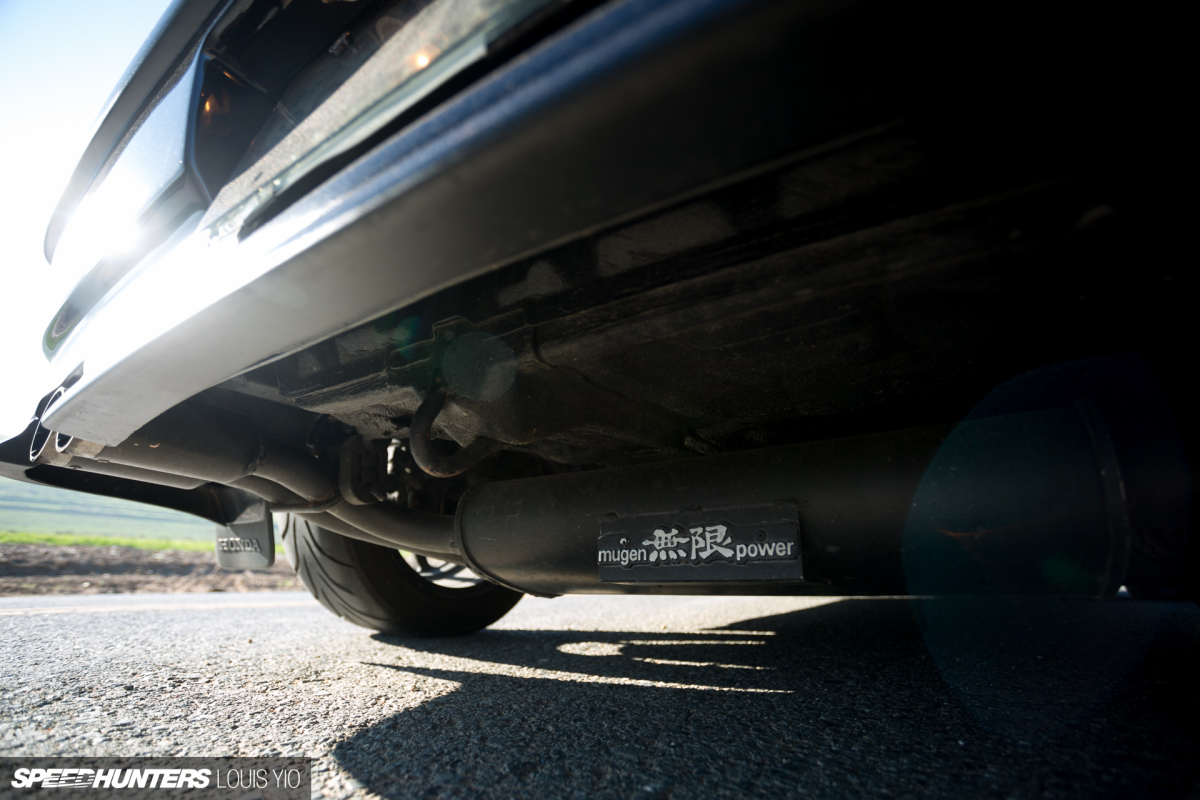 While Spoon was the primary theme for Jesse's yellow car, the black car is all about Mugen – Honda's famous racing and tuning arm.
The Mugen Touch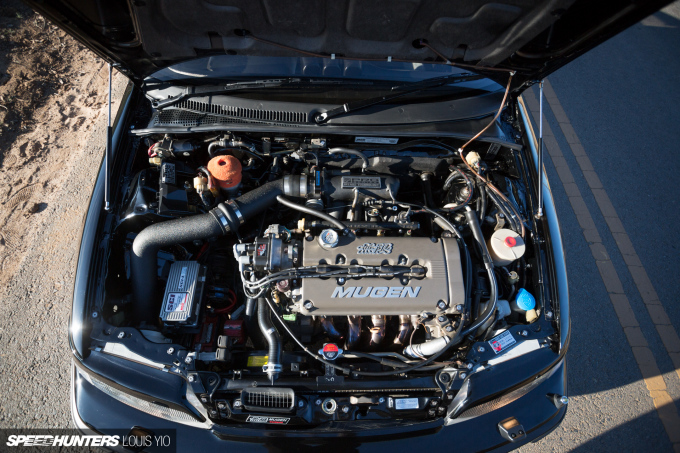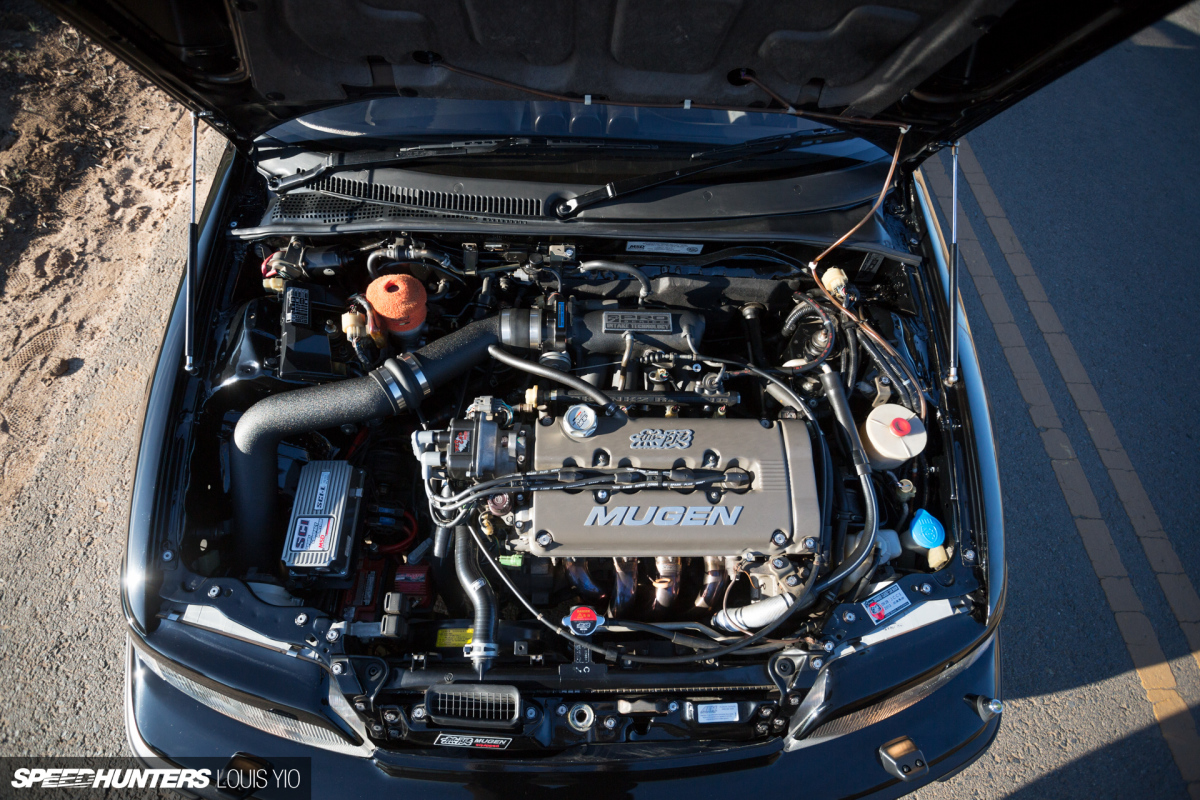 It starts under the hood where you'll find Honda's legendary 1.6-liter B16A four cylinder. Rather than going the big-power route, the upgrades to the naturally aspirated DOHC VTEC mill have been kept simple. For starters, there's a Skunk2 intake manifold and throttle body, plus an AEM intake and upgraded fuel injectors.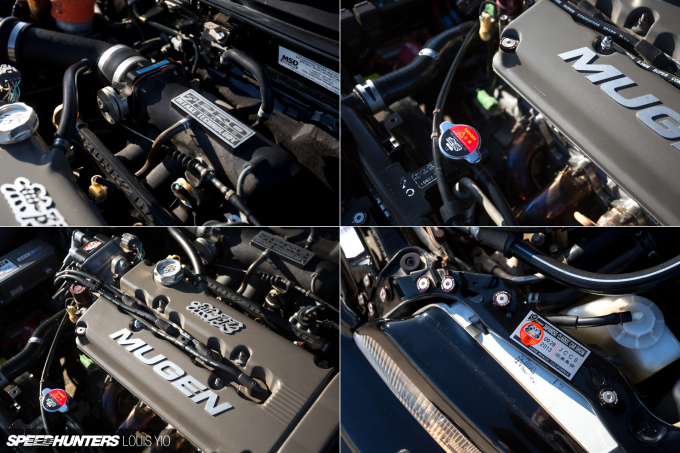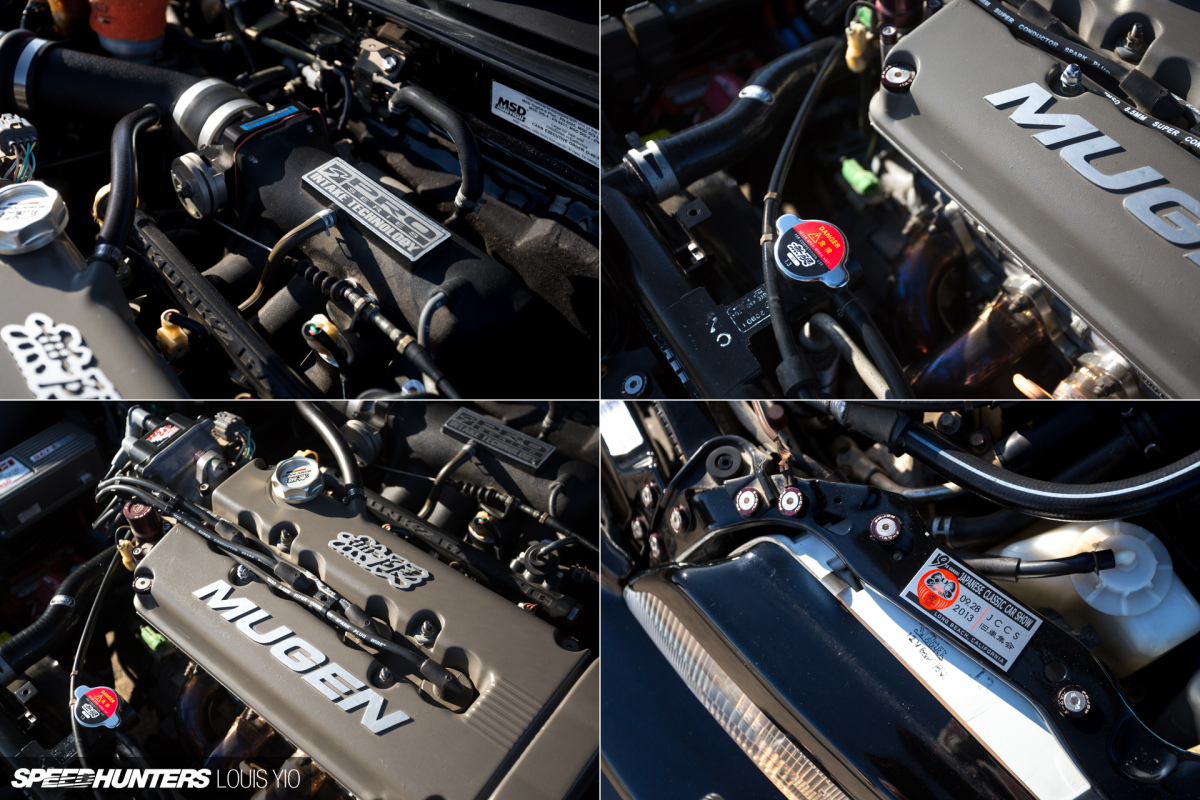 Naturally, there are plenty of Mugen parts beneath the hood as well, including the gray-finished valve cover, a Mugen header and Mugen oil and radiator caps.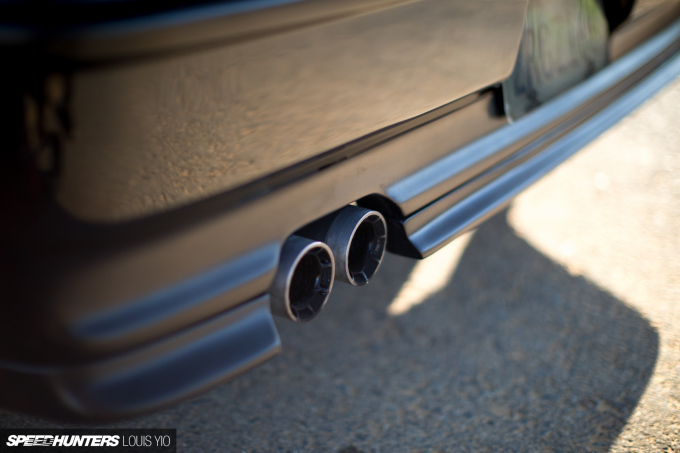 And let's not forget the Gen 1 Mugen exhaust system with its twin tips casually protruding from the rear bumper. It definitely gives the CR-X a unique tone.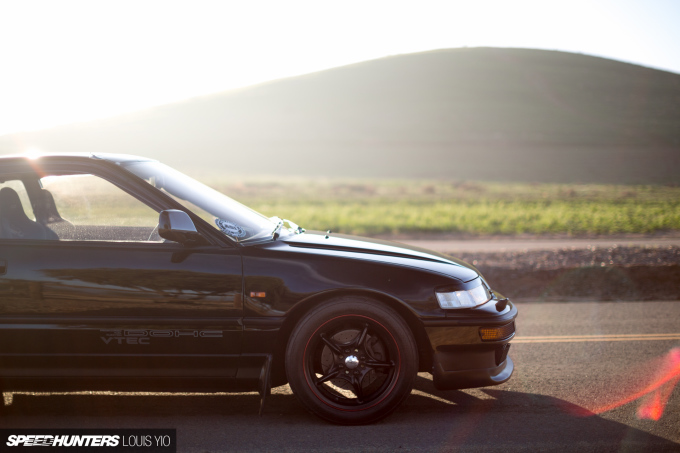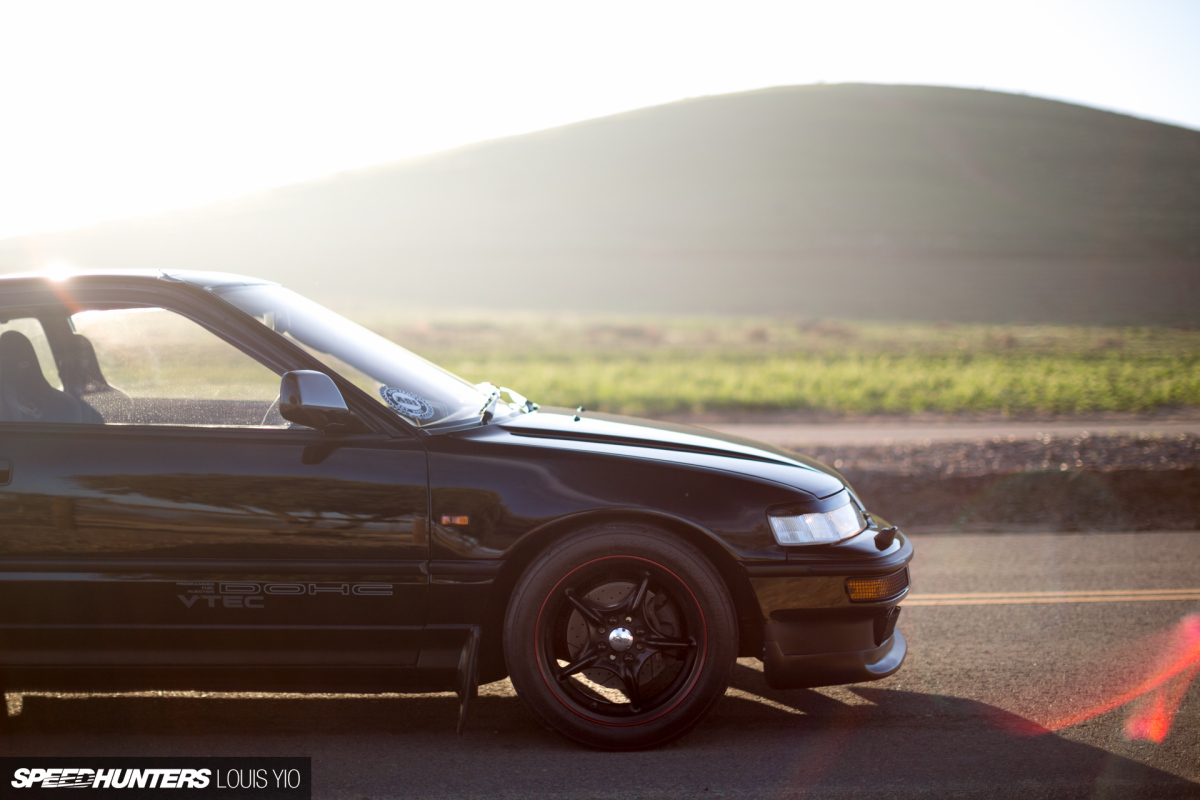 There have been plenty of upgrades made to the suspension and chassis too. All bushings have been replaced with polyurethane pieces, the lower control arms are from Function7, and the CR-X rides on a set of adjustable Spoon coilovers.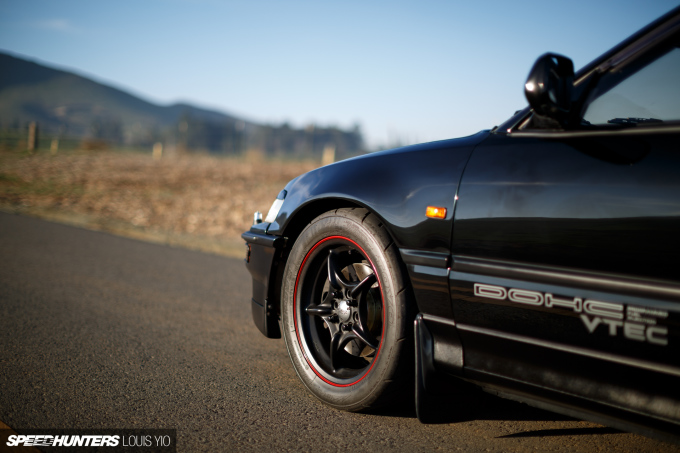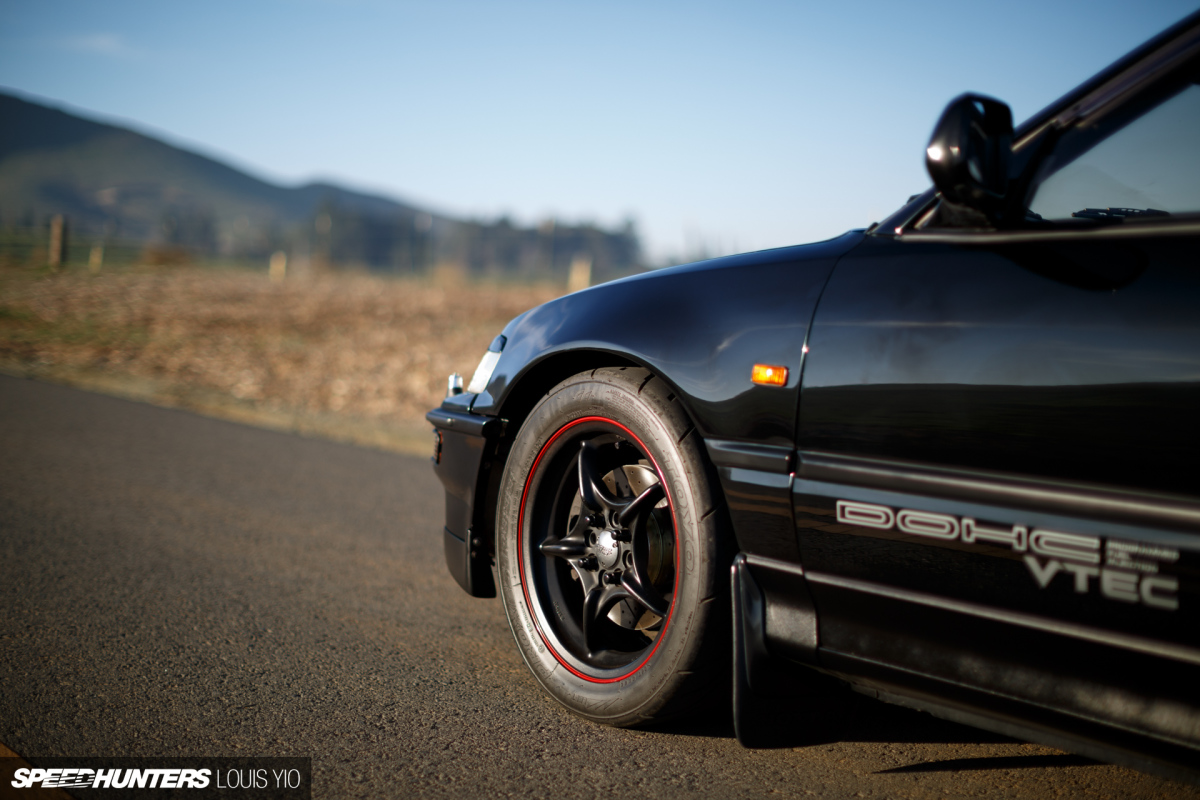 When it came time to fit wheels to the CR-X, Jesse naturally wanted to choose a period-correct offering from the Mugen catalog. The old school 15-inch Mugen RNRs complement the black exterior perfectly and are matched with a set of 195/50R15 Toyo R888s.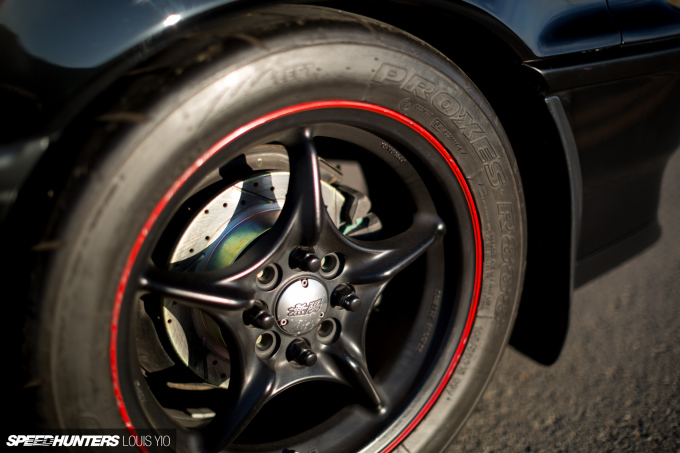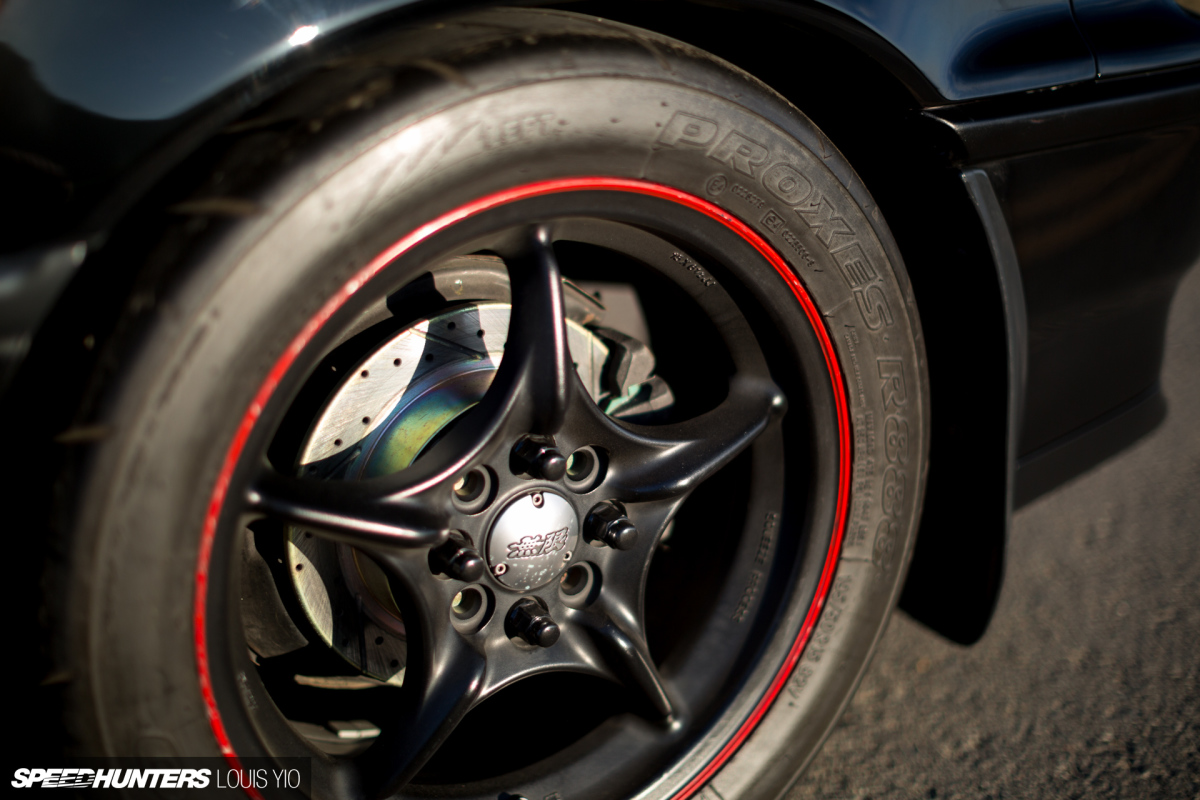 Also visible behind the spokes of the RNRs are a set of upgraded brake rotors from Password JDM.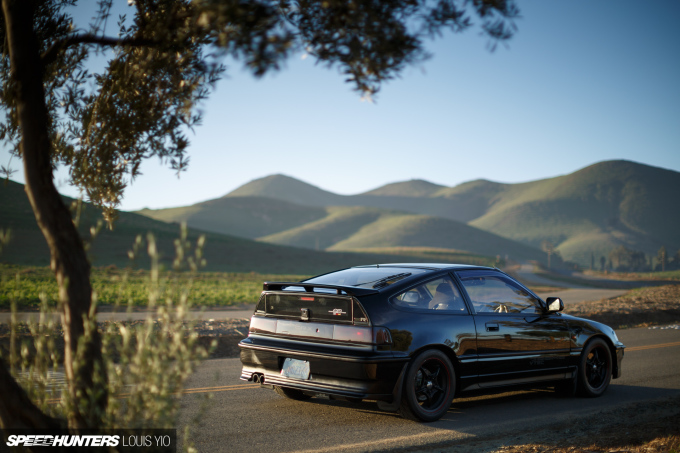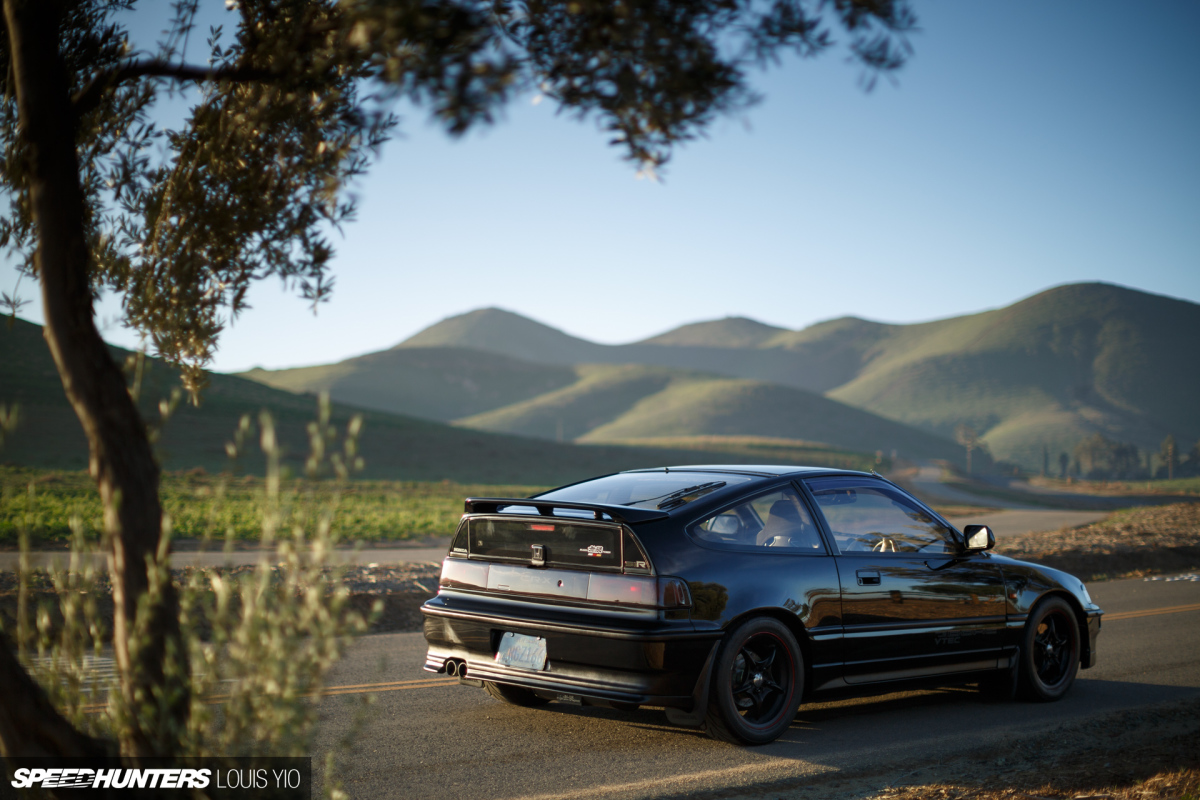 As for the exterior of the CR-X, rather than going with lots of aftermarket pieces, the styling is all factory JDM. The parts list reads like a dream selection for old school Honda fanatics.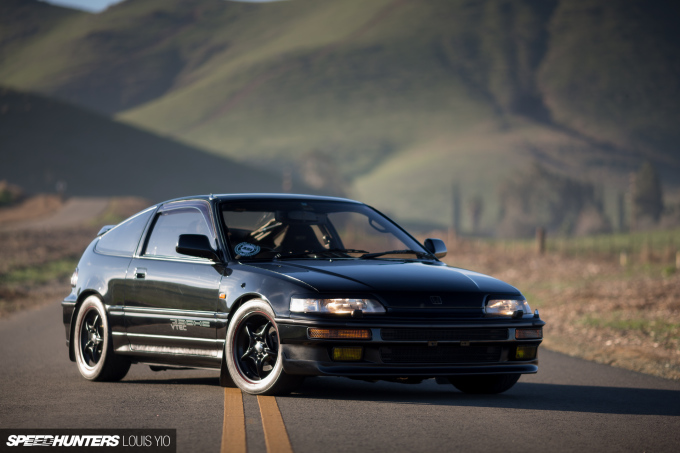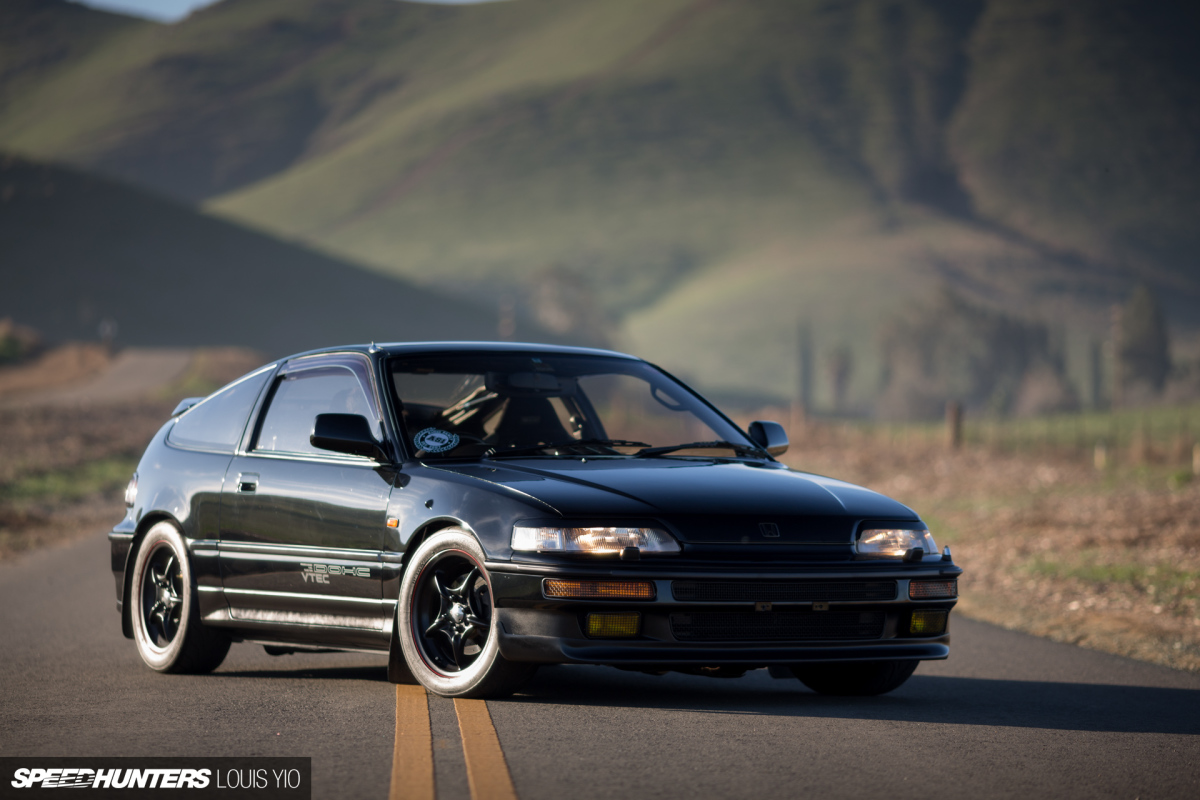 There's the EF8 SiR front end of course, and the front bumper has been fitted with an understated J's Racing lip spoiler. Jesse even custom designed a set of grills for the bumper signals and foglights, along with a pair of eyelids for the headlights.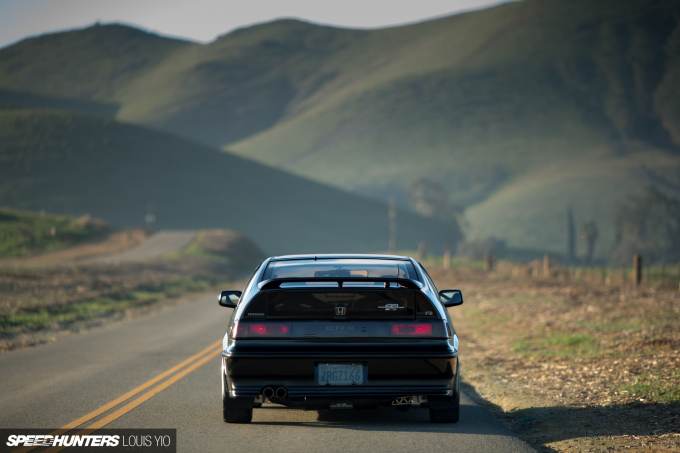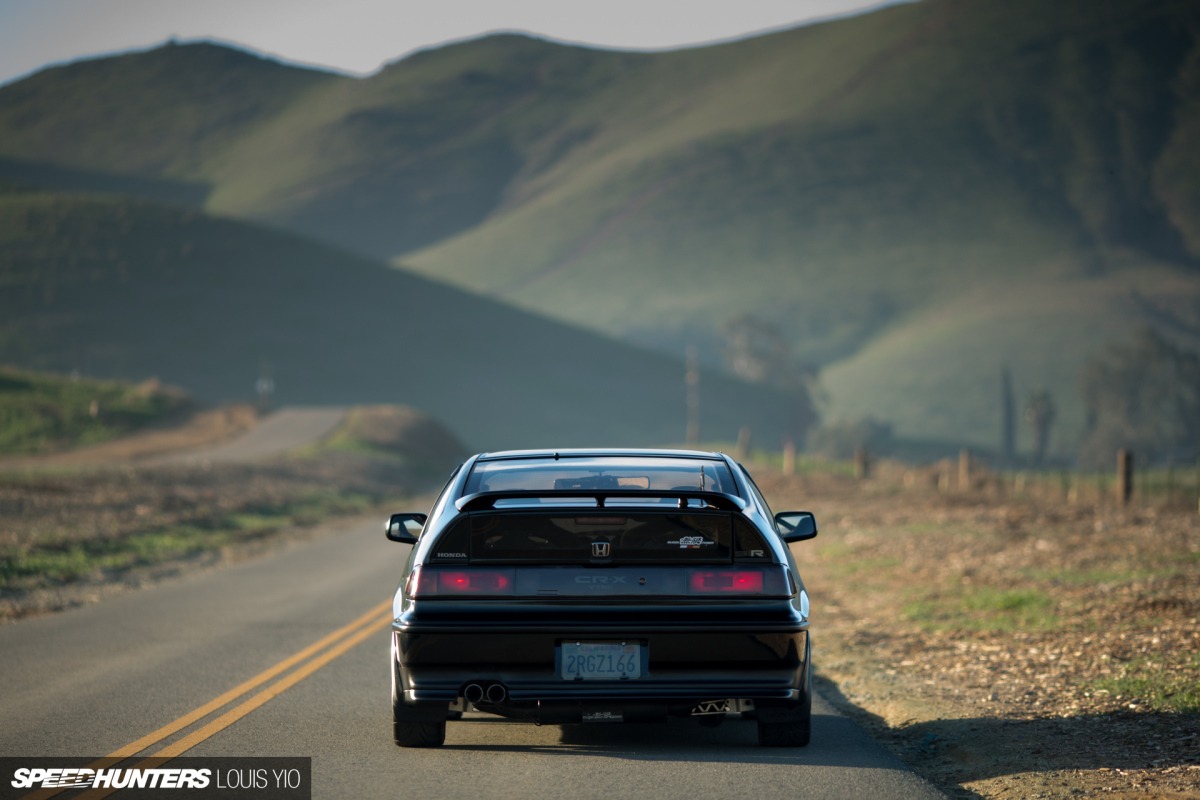 Out back you'll find an EF8 SiR lip spoiler and rear wing, plus smoked taillight covers for a slightly more aggressive look.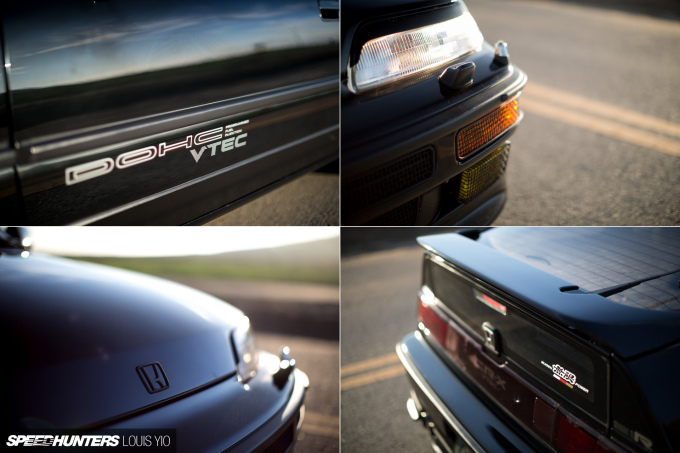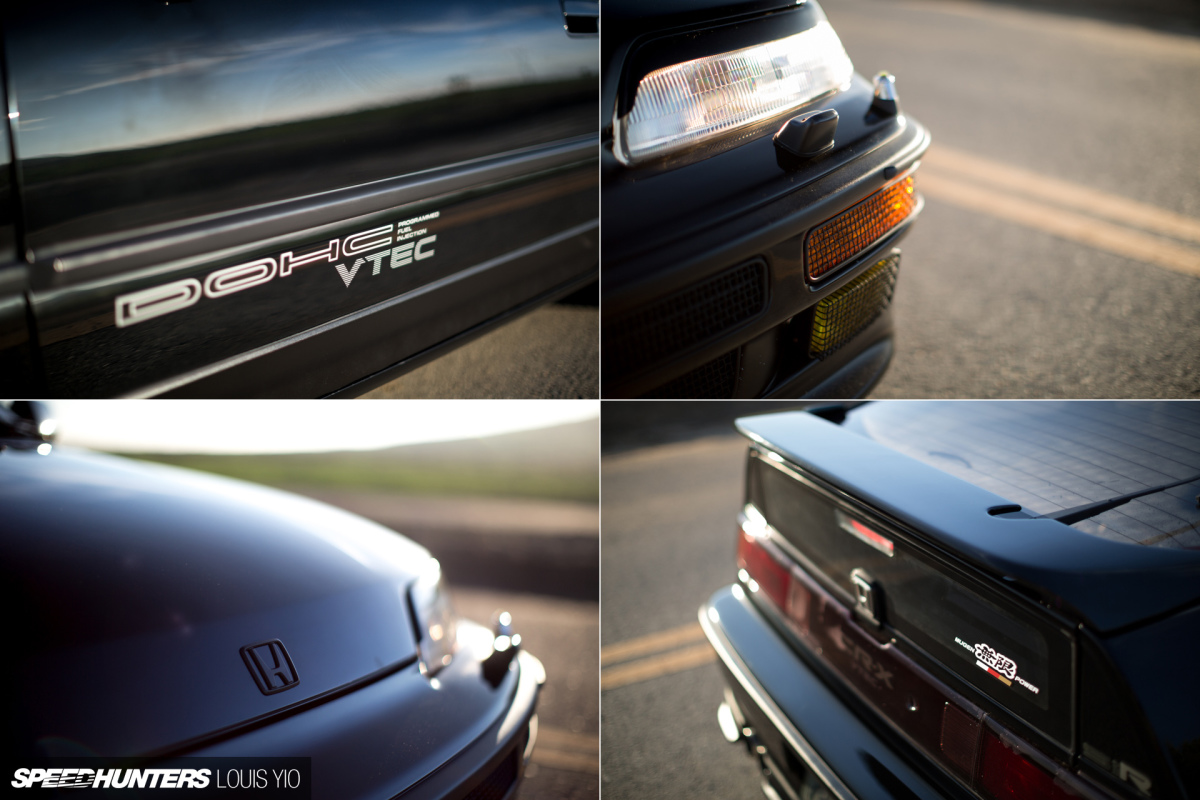 The CR-X also features a number of cool JDM bits, including an optional front bumper pole, power folding mirrors and of course that super cool glass moon roof.
Like Father, Like Son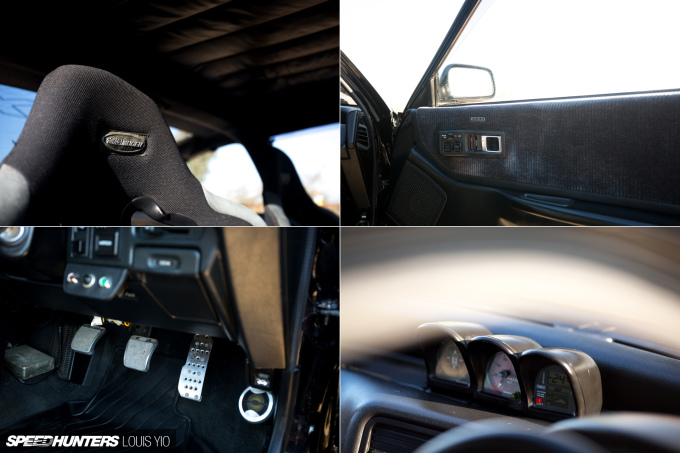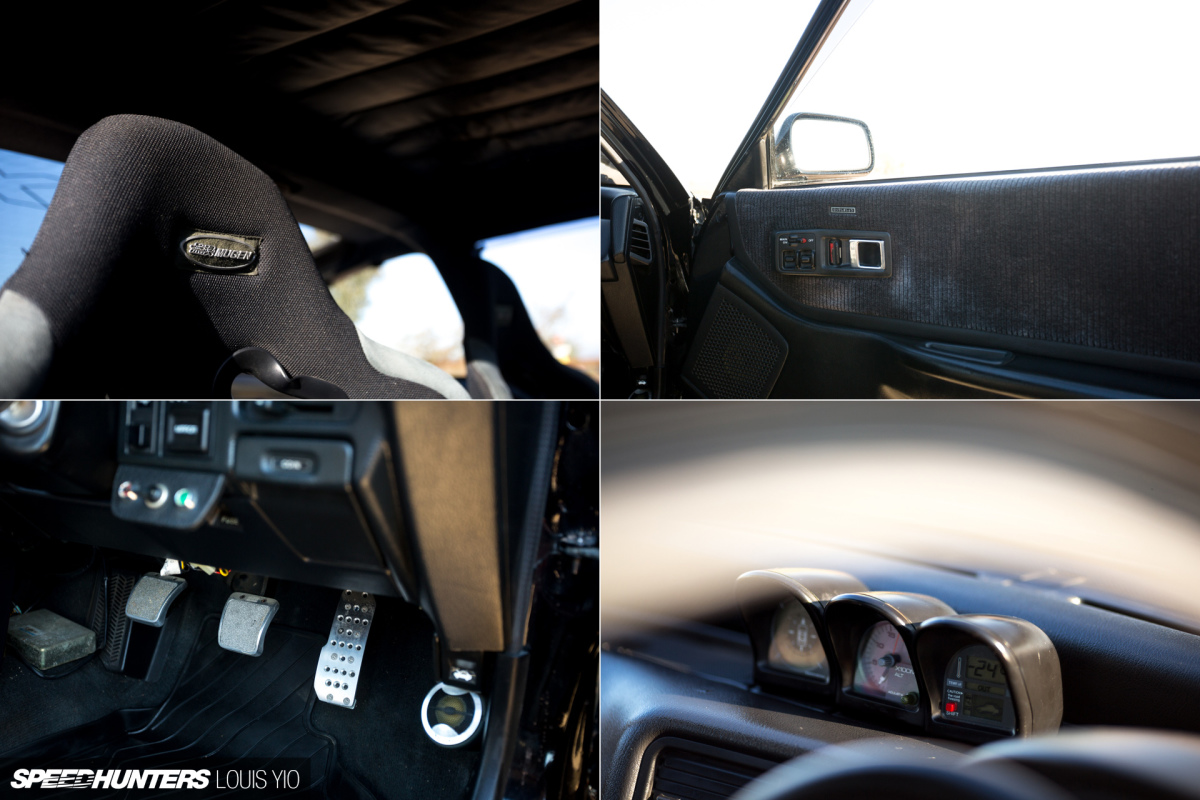 Inside the cabin you'll find an assortment of rare factory parts from Japan and an even rarer selection of vintage Mugen products. The seats for example are Mugen Formula 1 buckets.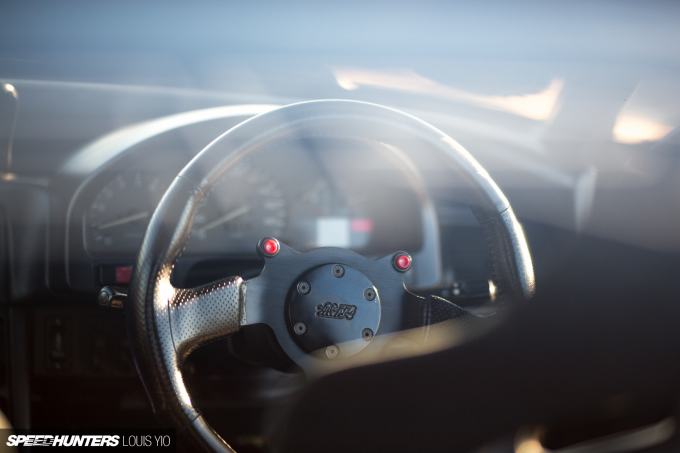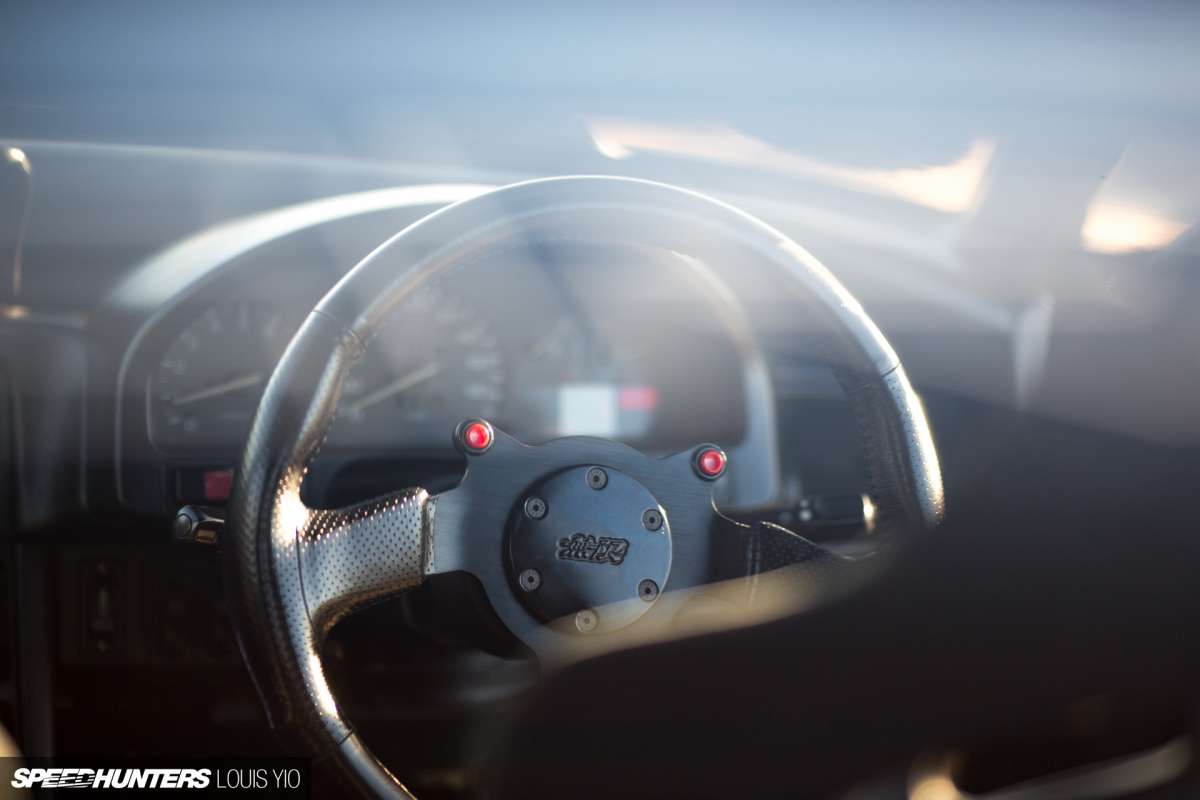 And the original steering wheel has been swapped for a Mugen FG360 that looks like it's straight out of a race car.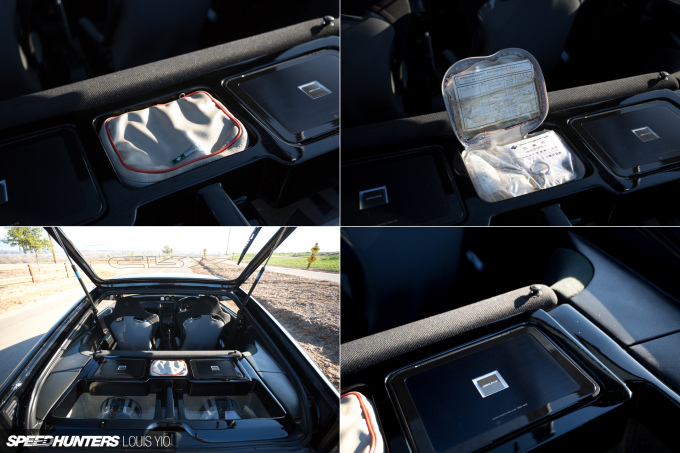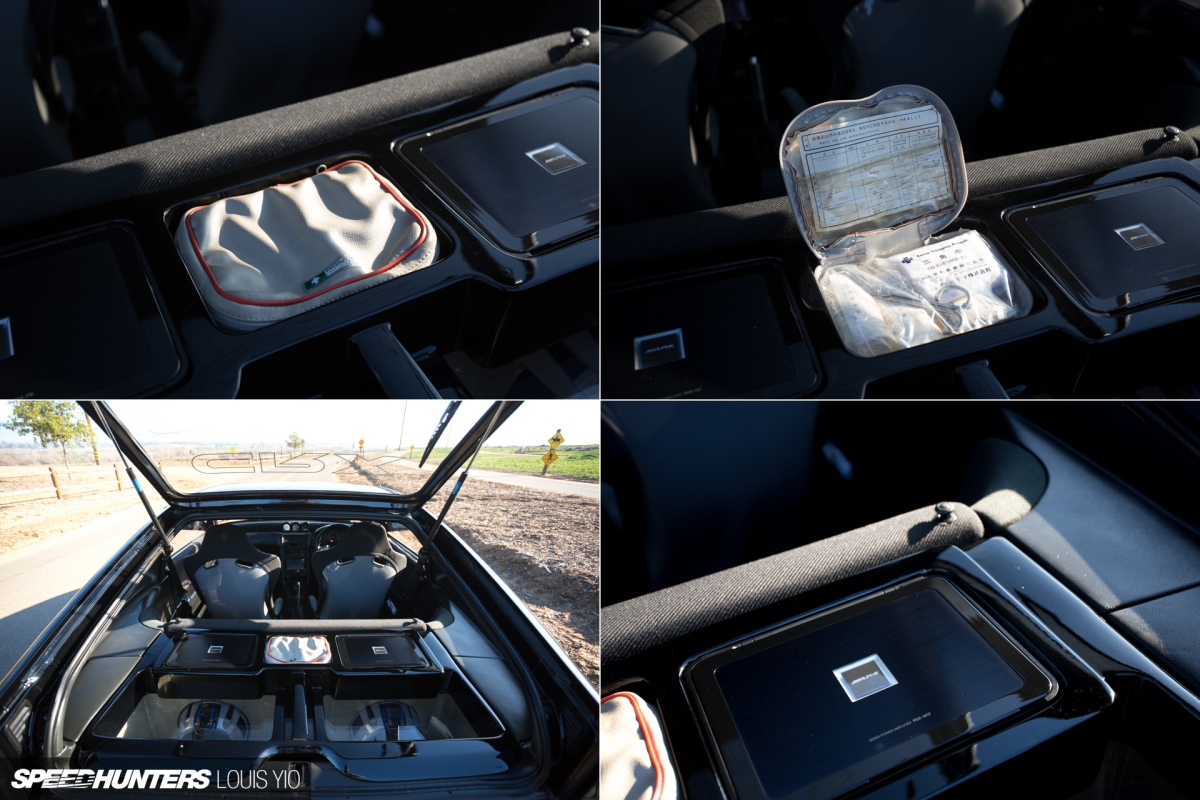 Elsewhere, unique JDM accessories are abound, including a 'Personal Box' ash tray and a number of goodies from the Honda Access catalog.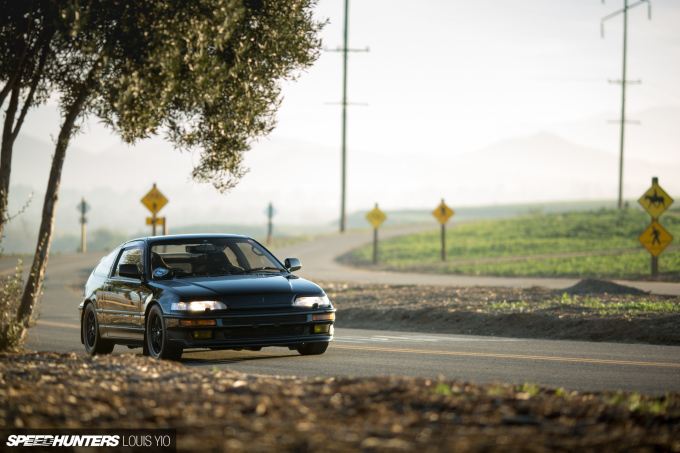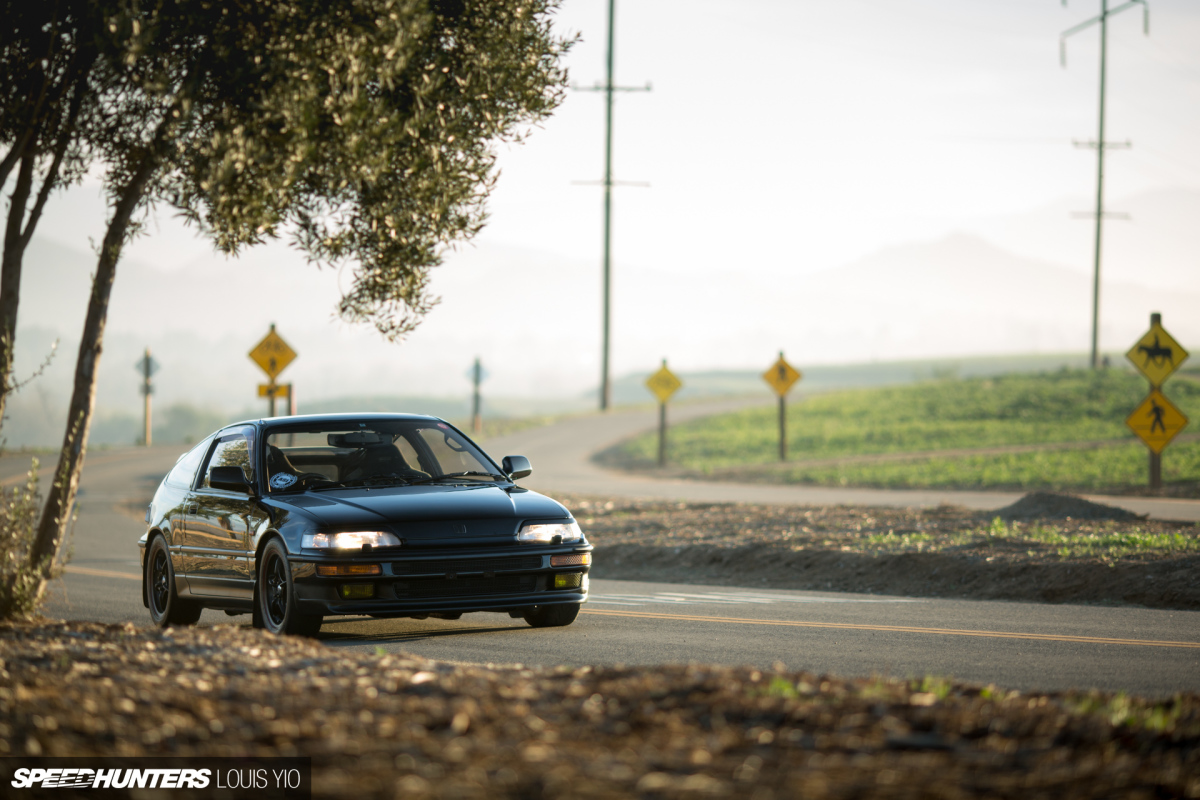 Hector tells me that he has no plans to change anything on the CR-X that his dad so lovingly handed down to him. He may swap back and forth with another set of wheels in the future, but other than that he's just going keep enjoying it.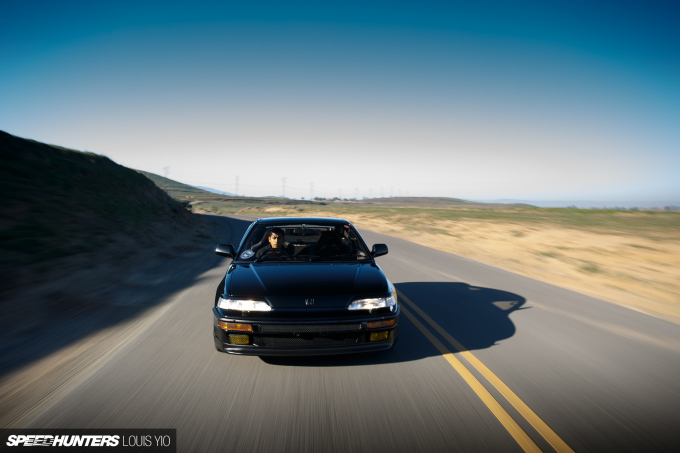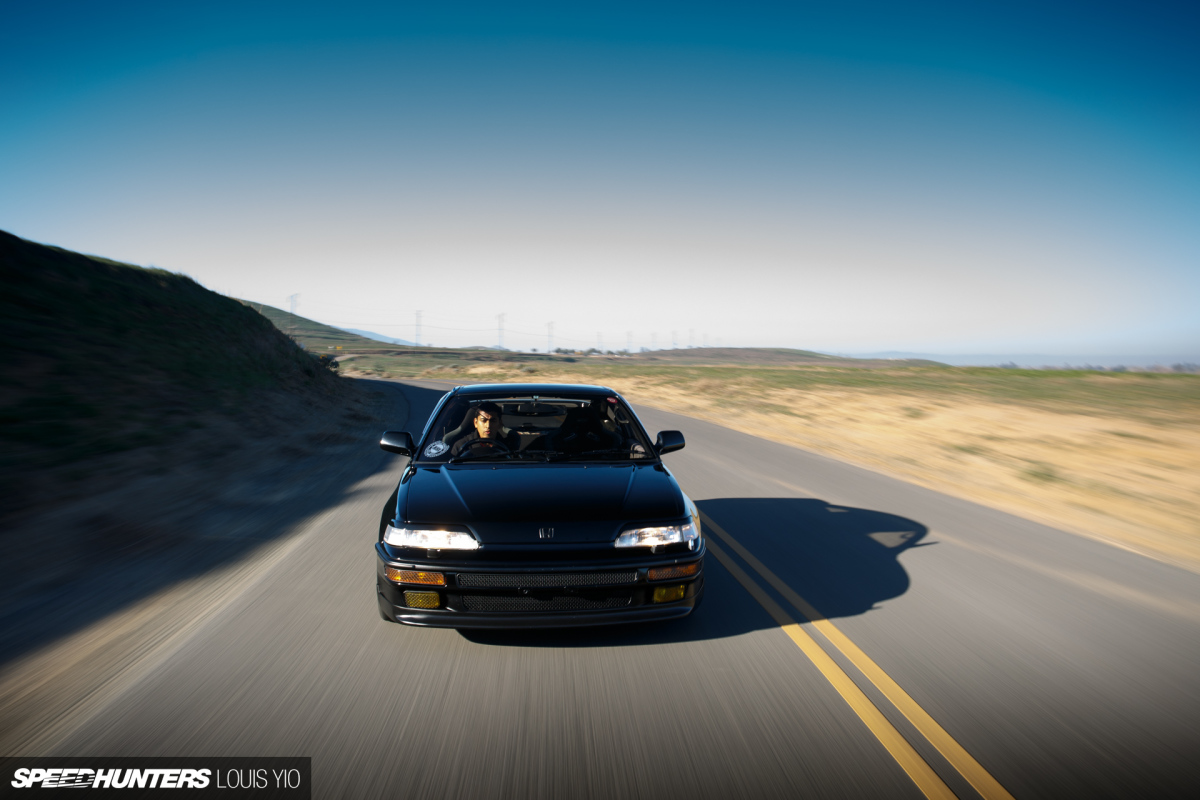 He also tells me that he will never sell the car. It'll remain in the family forever, perhaps being handed down to one of his own children sometime in the future.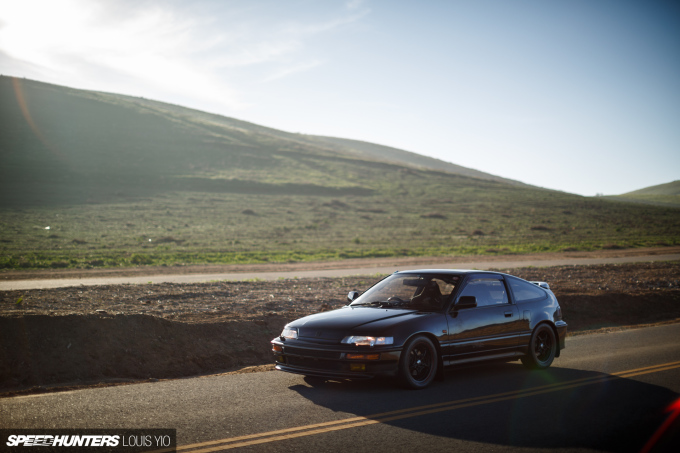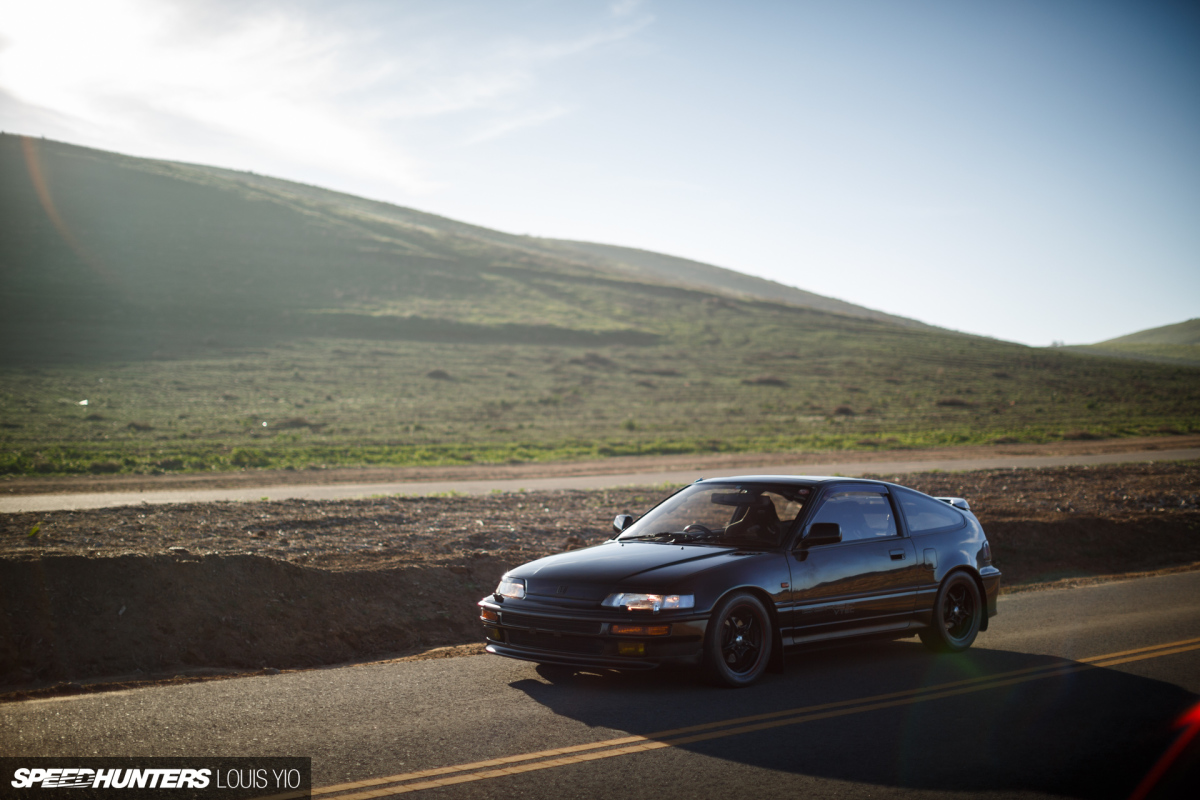 For Jesse Temores and his sons, the Honda love runs deep. We've now seen Hector's black CR-X and the yellow CR-X, which just leaves the J's Racing-themed CR-X that Jesse plans to build for his youngest son. If it's anything like these two, it'll be worth the wait.
Mike Garrett
Instagram: japanifornia_media
mike@speedhunters.com
Photos by Louis Yio
Instagram: lusciousy
Hector Romero's Honda CR-X 
Engine
Honda B16A from Japan, AEM intake, Skunk2 Pro Series manifold, Mugen valve cover, RC injectors, Mugen header, MSD sport compact ignition, Skunk2 fuel rail, Skunk2 throttle body, Odyssey compact battery, Mugen Gen 1 oil cap, Mugen Gen 1 radiator cap, JDM password hardware, Mugen exhaust system
Driveline
5-speed manual transmission, Toda Racing Stage 2 clutch & flywheel
Suspension
Spoon Sports full strut coilovers, polyurethane bushings all around, Function7 Type R spherical bearing lower control arms, Skunk2 Pro front & rear camber kit, front & rear Password JDM brake rotors
Wheels & Tires
15-inch Mugen RNR wheels, 195/50R15 Toyo Proxes R888 tires
Exterior
EF8 SiR front end, EF8 SiR fog lights, optional bumper pole, optional headlight washers, custom designed grills for bumper signals & fog lights by Jesse Temores, custom designed eyelids by Jesse Temores, J's Racing front lip, EF8 SiR glass moon roof, EF8 SiR power folding mirrors & visors, JDM bronze windows, discontinued weather strips & moldings, optional rear indiglo H, smoked tail light covers, EF8 SiR rear lip, EF8 SiR rear wing, JDM mudguards
Interior
Formula 1 Mugen bucket seats, all original Honda Access parts including rubber dash mats with cup holder, Personal Box ash tray, leather shifter boot, optional pillar map light, glass top leather shade, Mugen FG360 steering wheel, optional double-DIN unit bezel, optional bazooka tubes, Alpine amplifiers, cloth rear seats, Super Sound rear speaker grills, optional all-weather floor mats
More Honda related stories on Speedhunters
Cutting Room Floor