During a professional drift competition like Formula D, there are so many little moments that happen all over the place. I guess it's the photo nerd in me that see a picture in every moment, even if it involves kneeling down in filthy rain water.
I gathered up 50 of my favorite shots from the season opener in Long Beach, and have provided a little insight into every photo. Enjoy!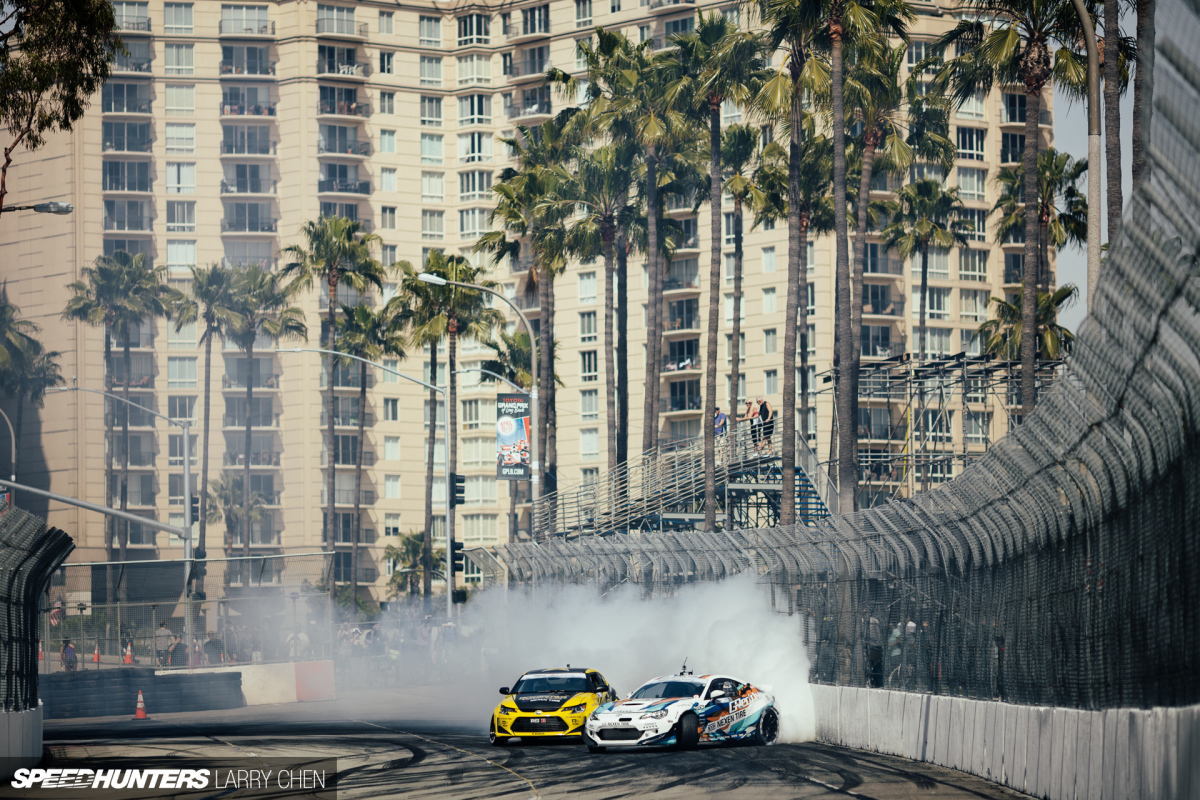 I could physically only get this shot during the Formula Drift weekend, because I am actually standing on the race course. Of course, it doesn't matter as the end of the FD course is at the exit of Turn 11. The weekend afterwards they run the entire length of the course for the Grand Prix.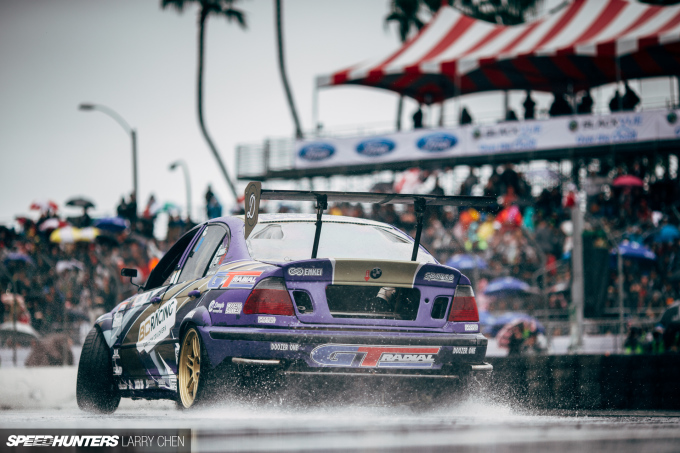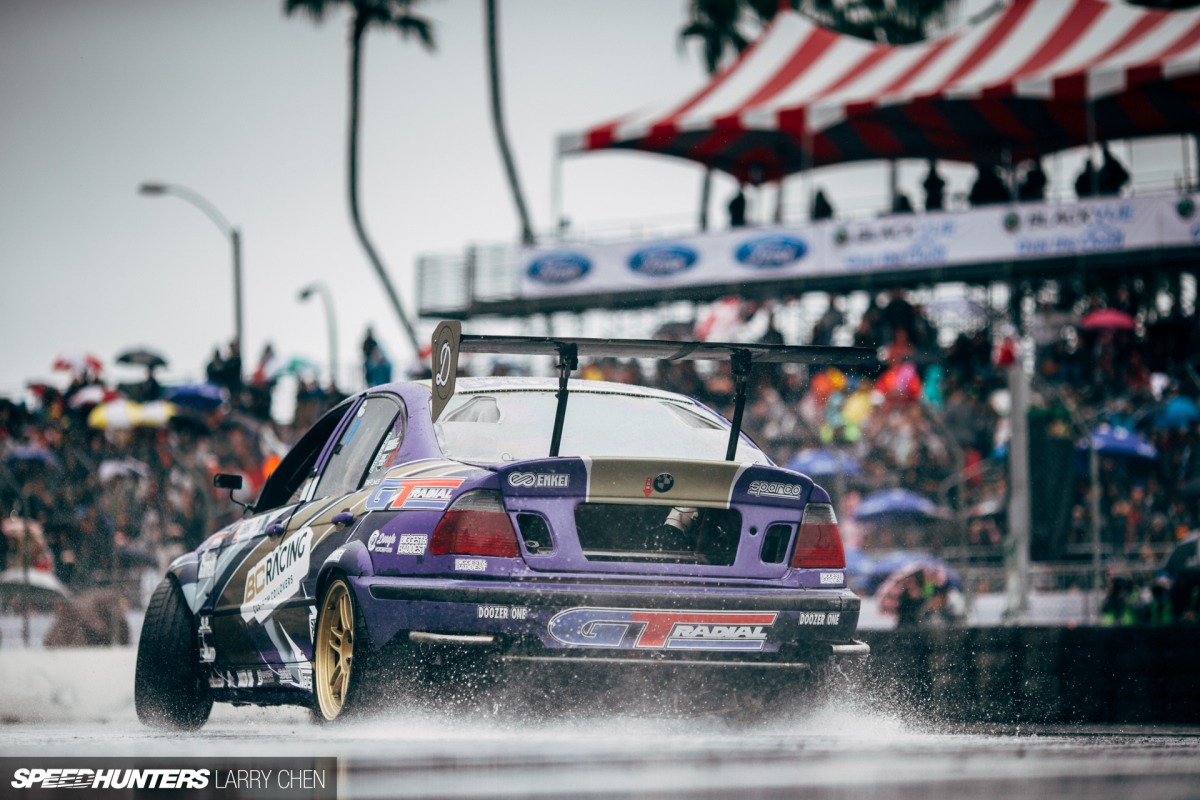 Shooting racing in the rain is funny in that it's terrible looking if it's just a little bit of a sprinkle, so I always hope for pouring rain or nothing at all.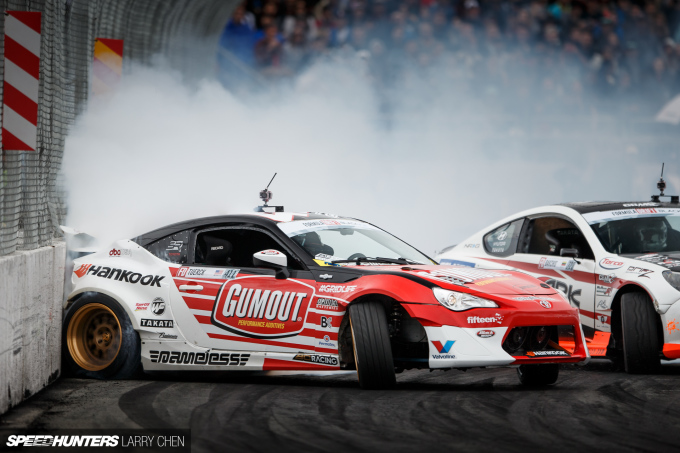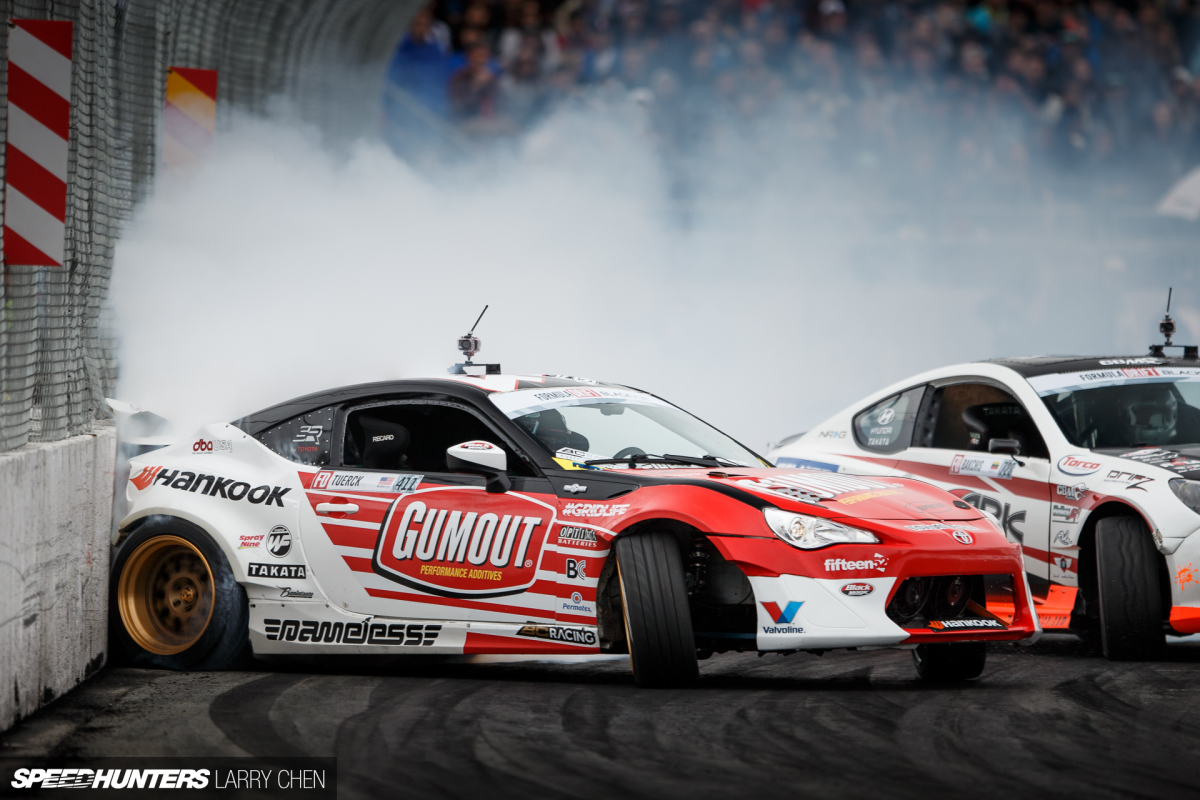 Long Beach is the most unforgiving Formula D track, and it's great because it's the season opener, which is like the body damage equivalent to ripping off a bandage quickly and getting it over with at once.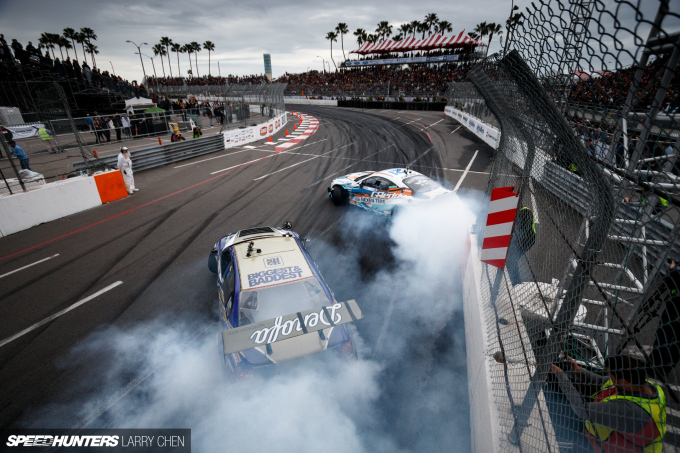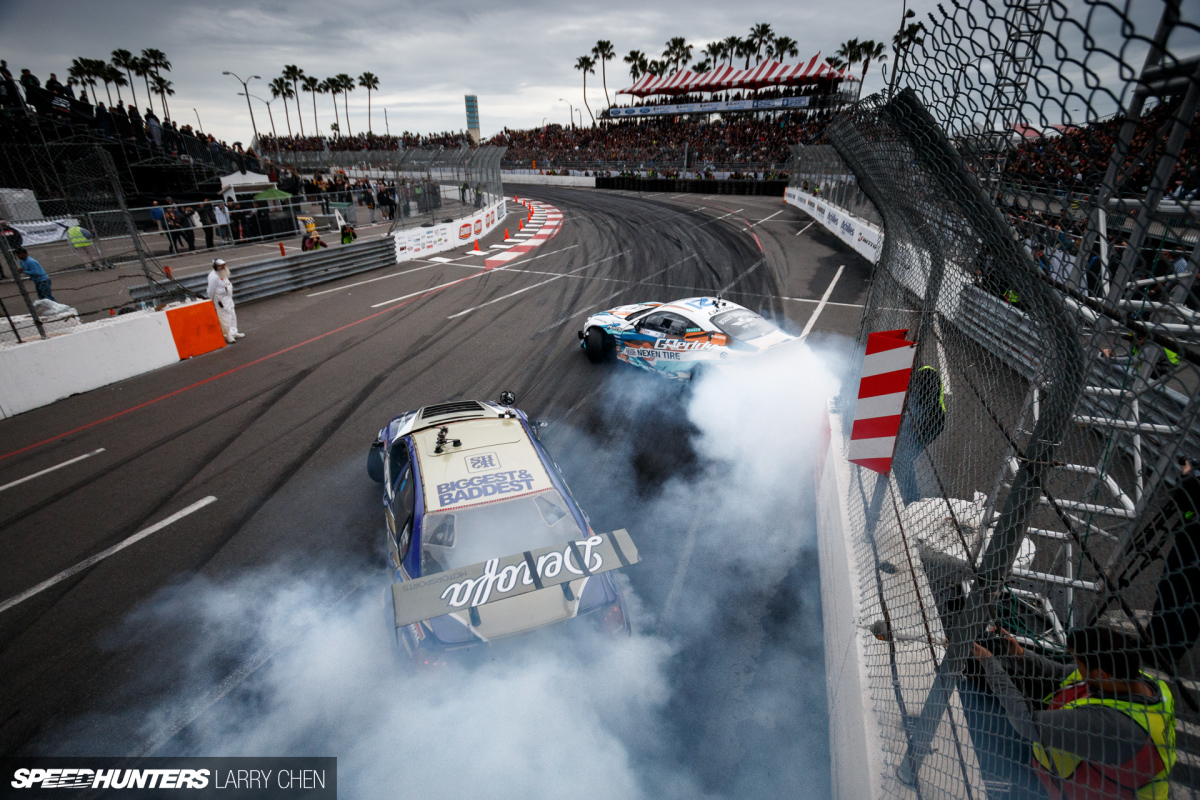 While it's neat that for the first time in 11 years there was so much rain during an FD weekend, it sucked for me as I could not have as many remote cameras up. That's partially because the photos would not come out due to the amount of rain and mist on the lenses, but mostly due to the fact that there was not enough light to freeze the action. Luckily it dried up during Top 16, but it was still not enough to warrant a full arsenal of remote cameras.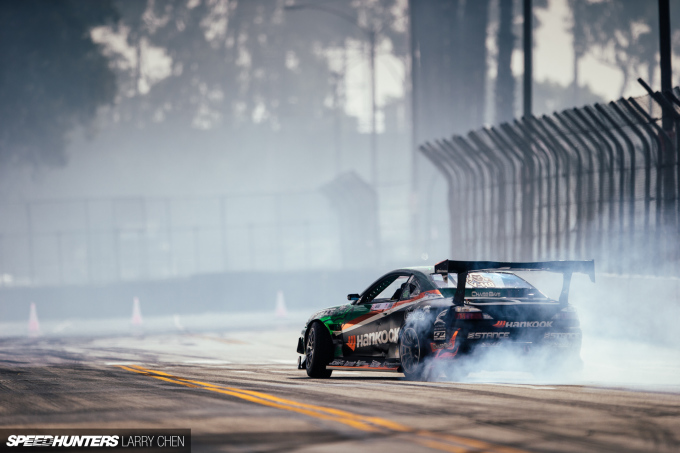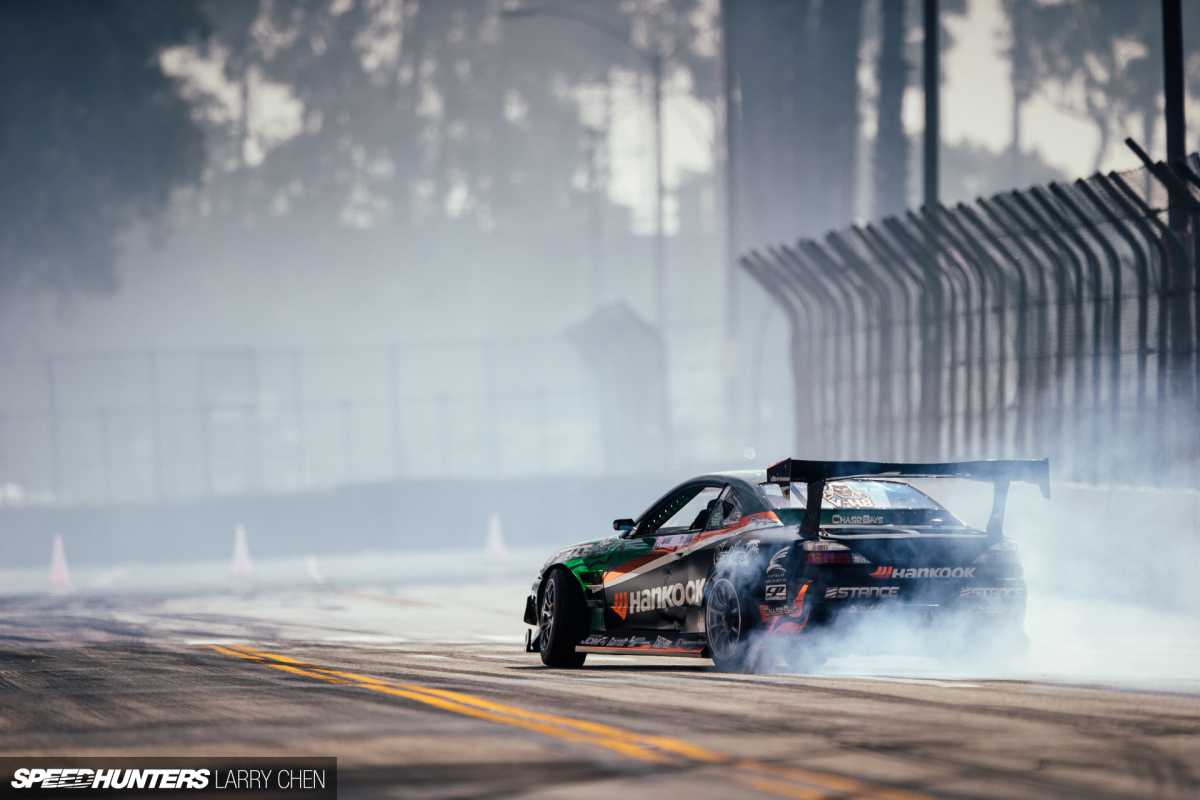 Forrest Wang makes the most smoke out of the entire grid of drivers, and also initiates earlier than anyone else. I always make a point to capture his antics on course.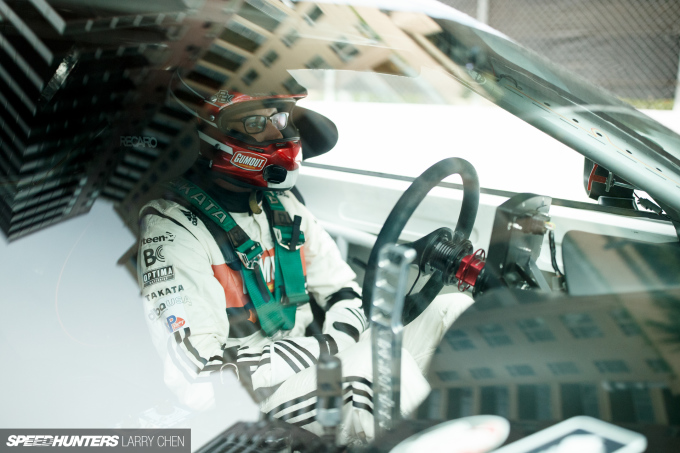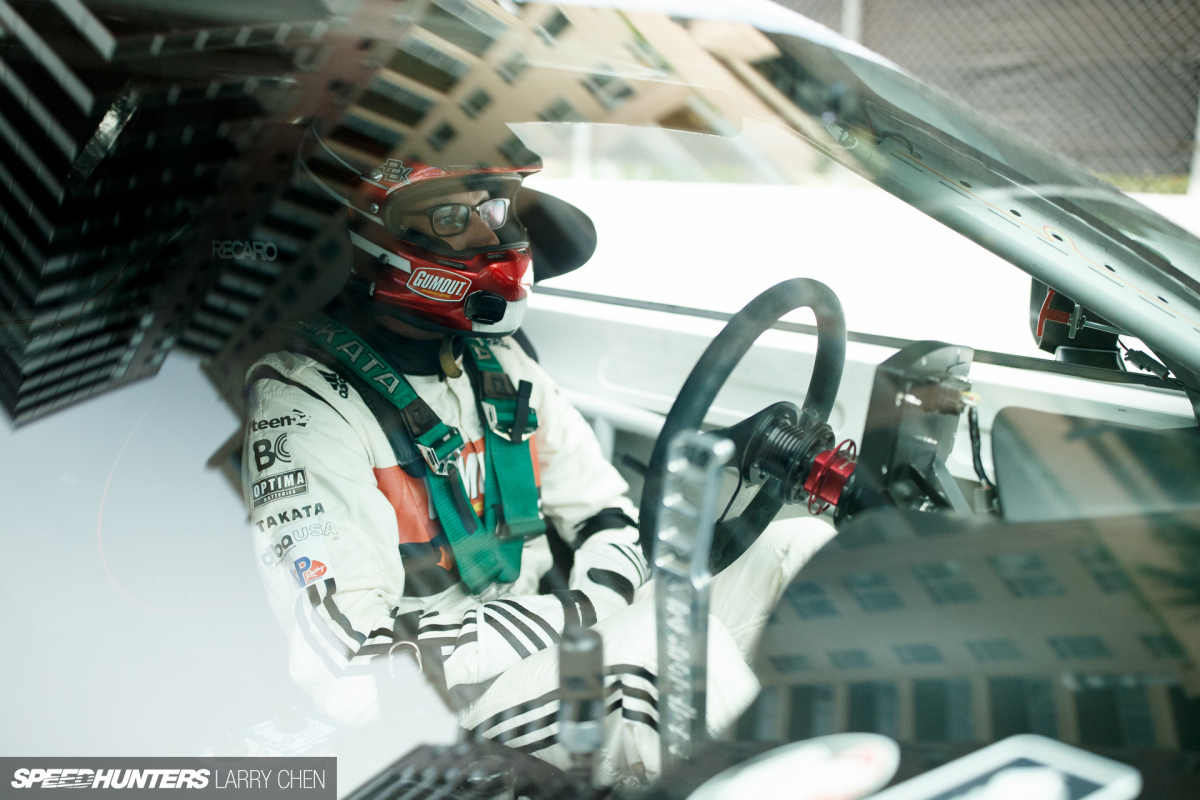 It's becoming more and more rare to find actual glass windows in these crazy machines, which is a big factor in terms of what sort of images I can make. If the window is made out of Lexan, sometimes it can be very hard to shoot through.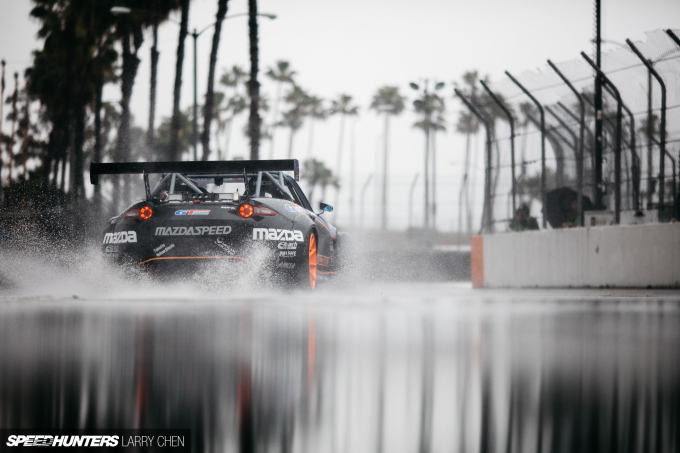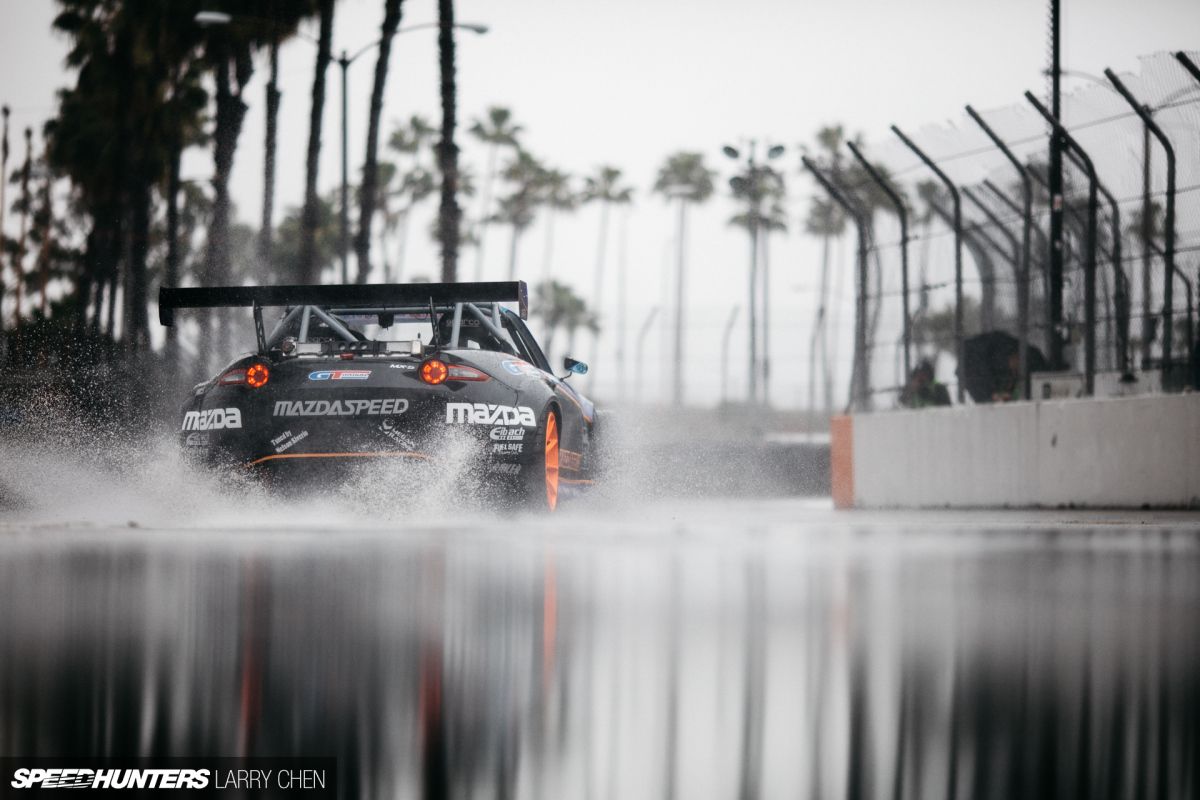 Linhbergh and I always used to do a dance when the clouds rolled in, basically calling for Noah's rain so we could get shots like this.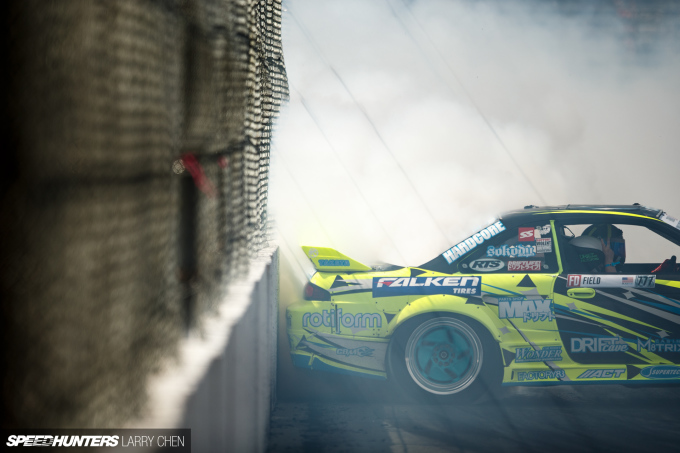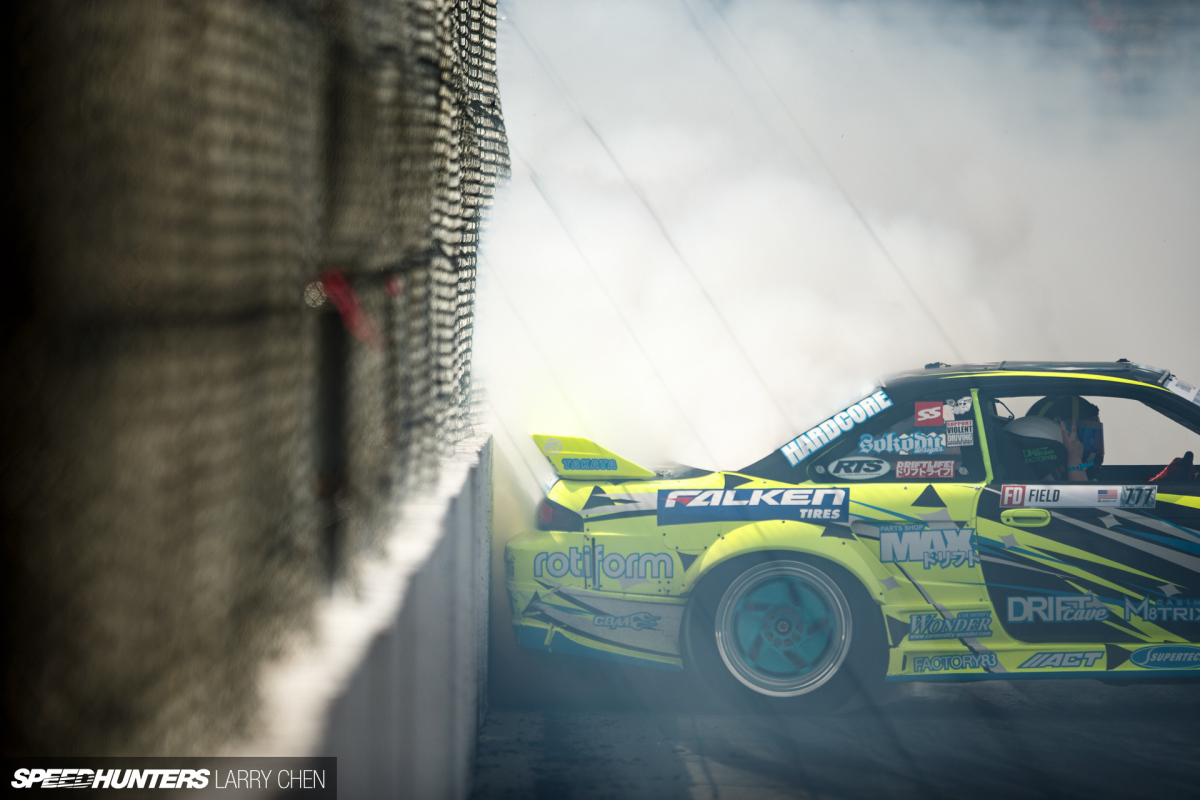 The Tuesday before the FD weekend at Long Beach is always Media Day, which allows passengers to ride in the cars on the track. This person riding in Matt Field's Nissan had no idea how close they got to getting a bit more intimate with a concrete k-rail.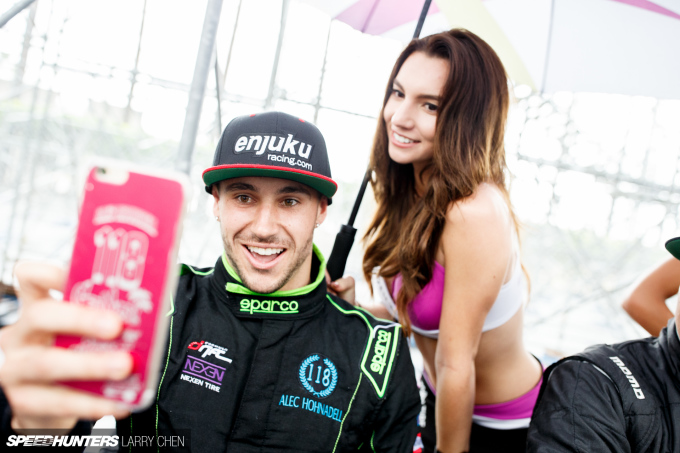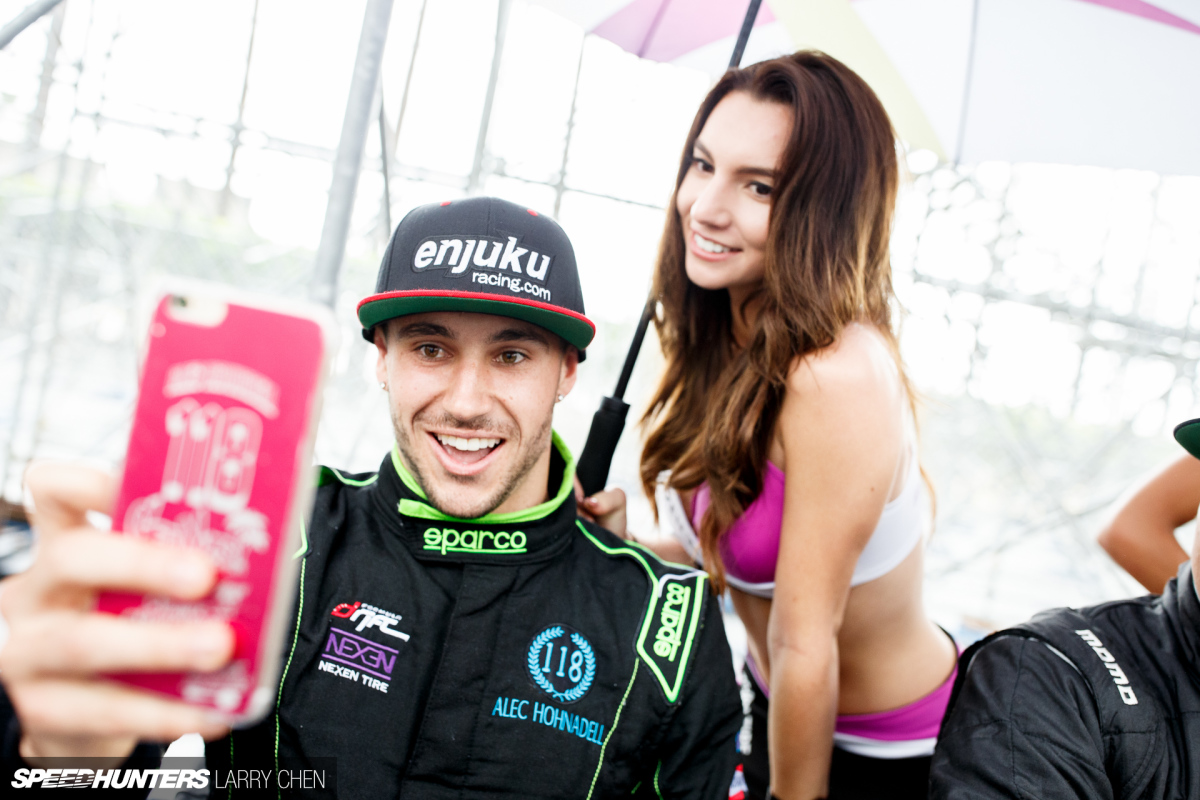 I'm going to sign these autographs, but first let me take a selfie.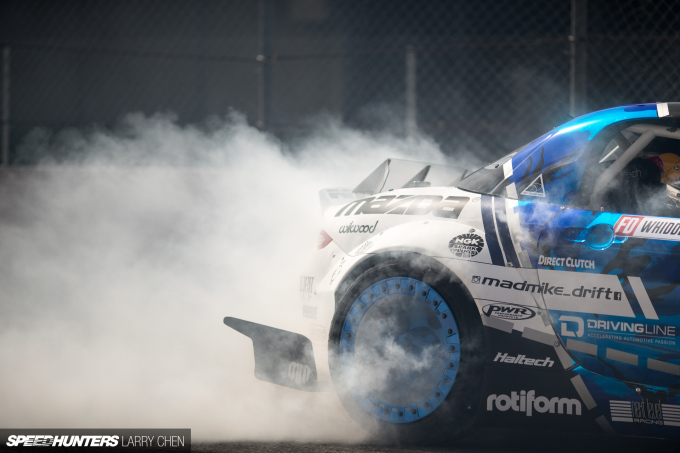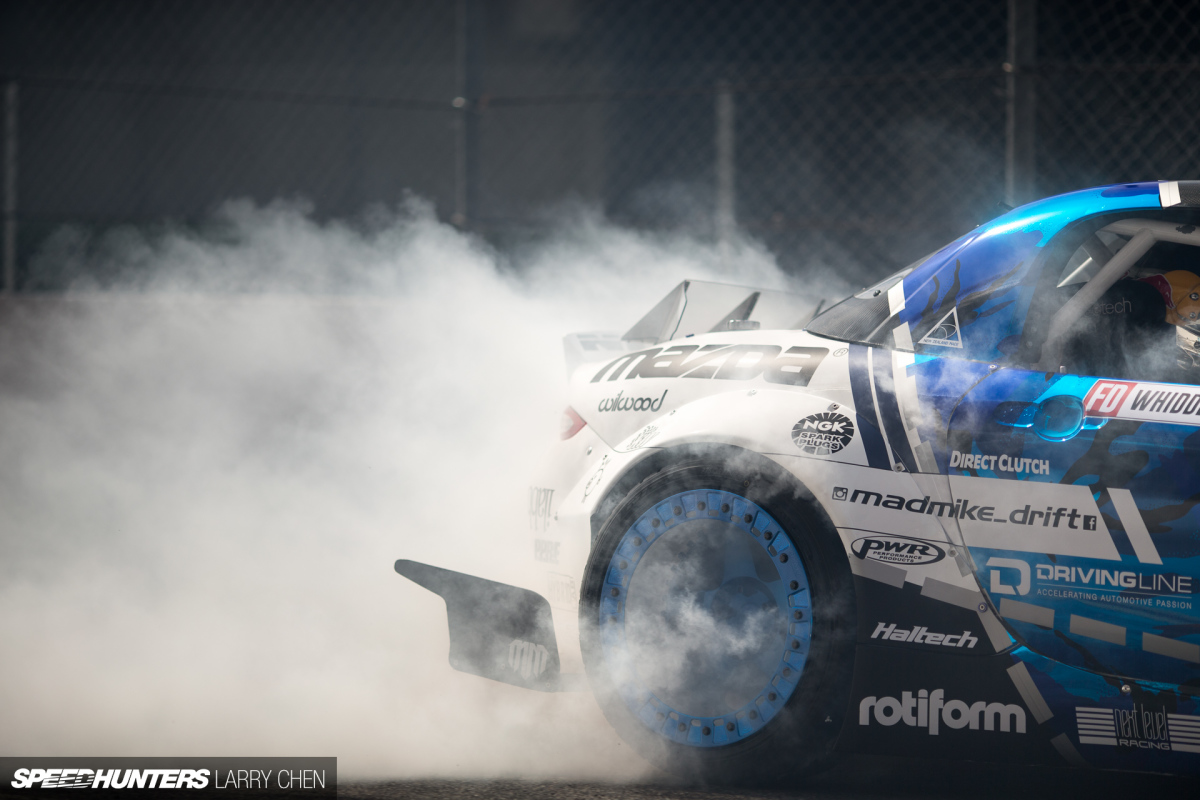 While all the FD cars can shred tires till the cows come home, no one does it quite like Mad Mike Whiddett.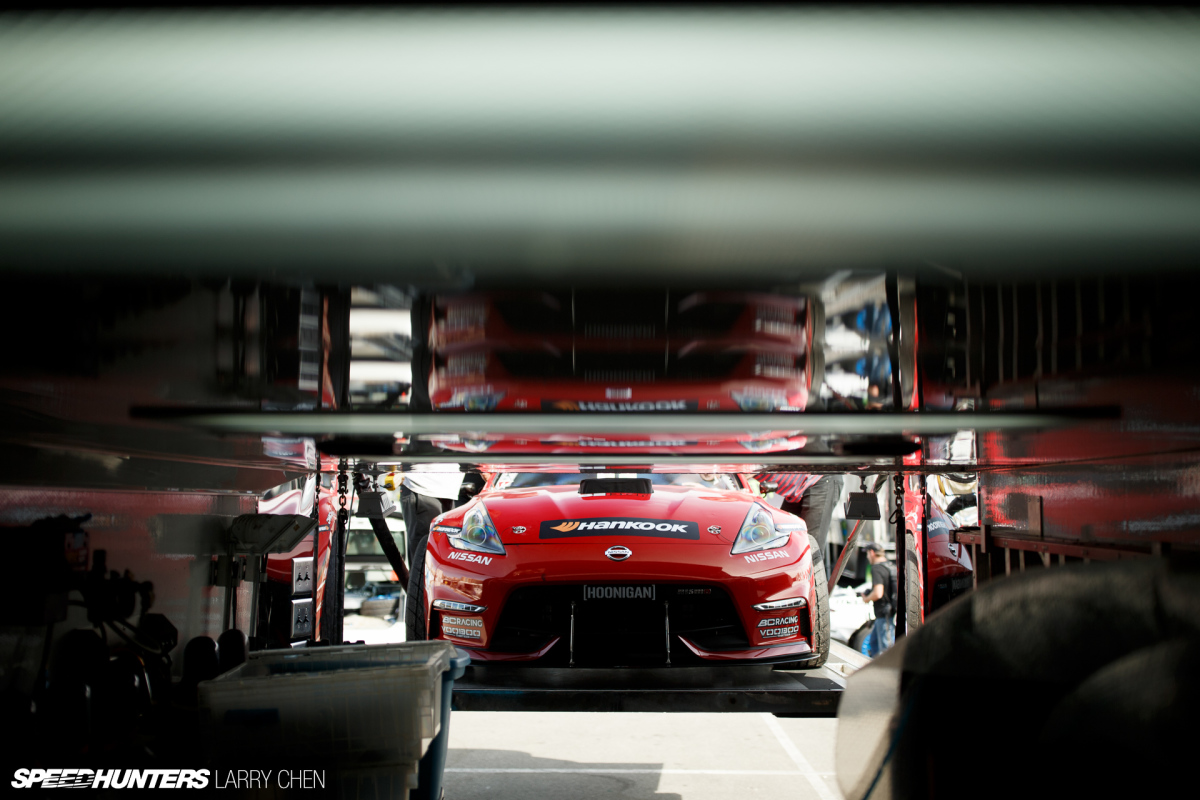 A new season means shiny new liveries, and I think Geoff Stoneback's is one of the best looking. Simple is better.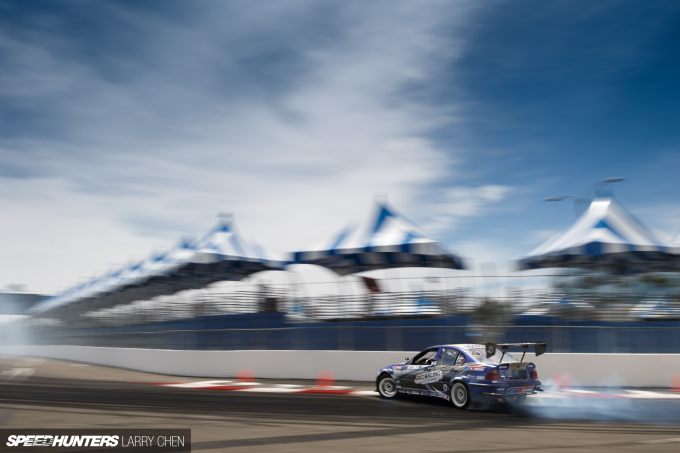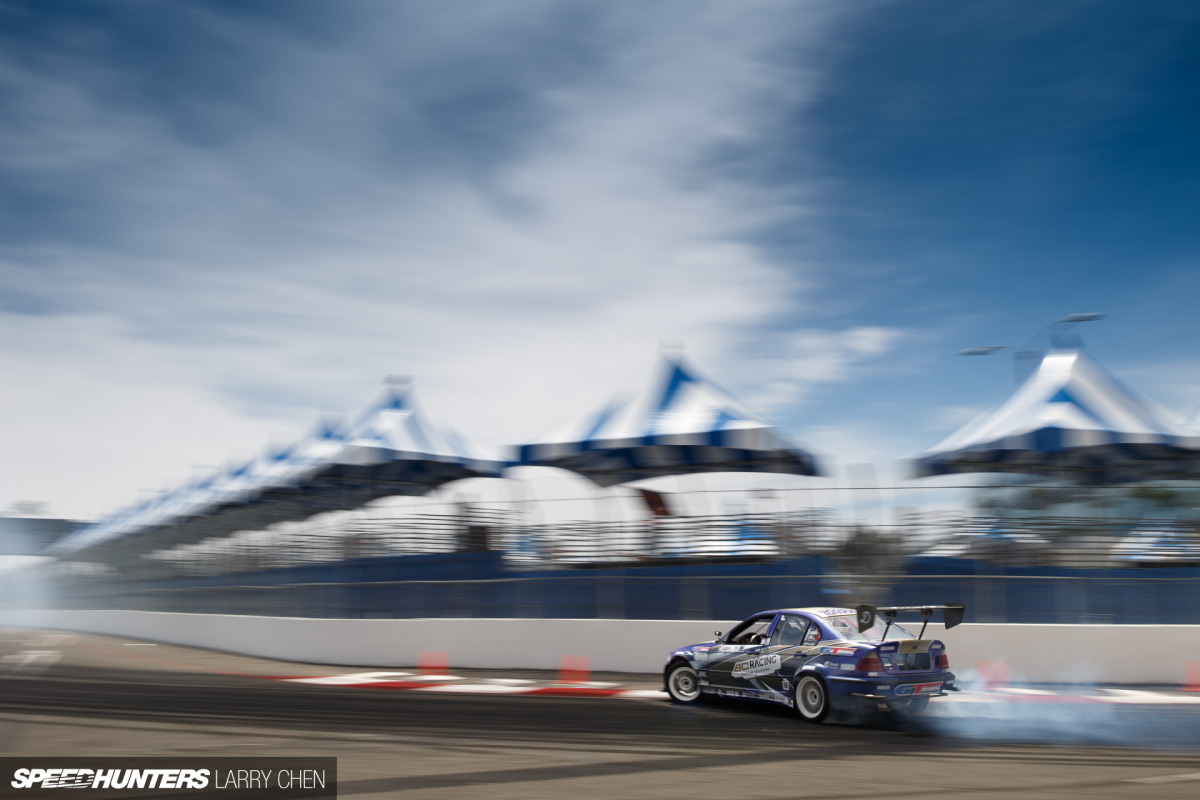 The Media Day had amazing weather with perfect conditions for drift, but it didn't stay that way for long.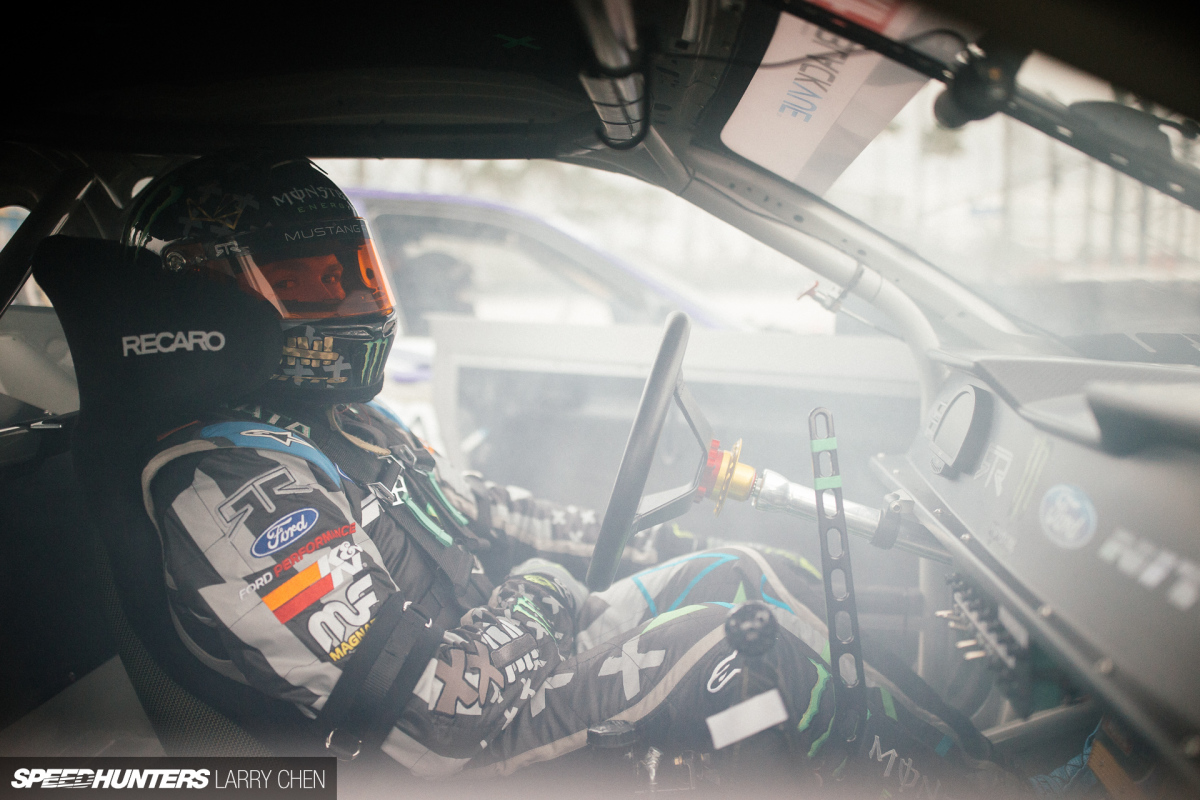 The professional fun haver, Vaughn Gittin Jr., has been behind the wheel of so many different race vehicles recently. What will we find him in next?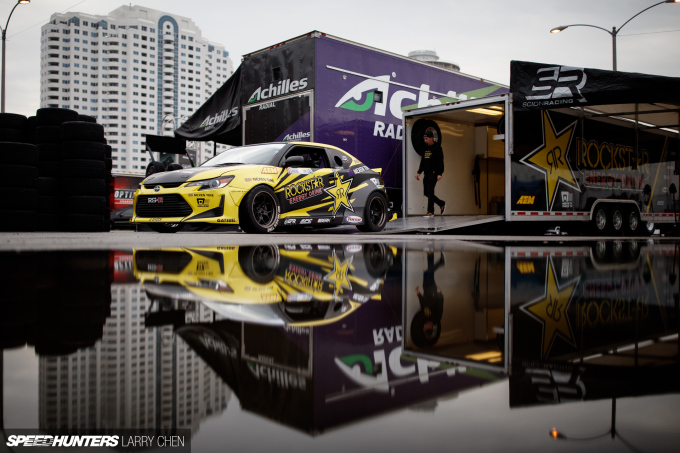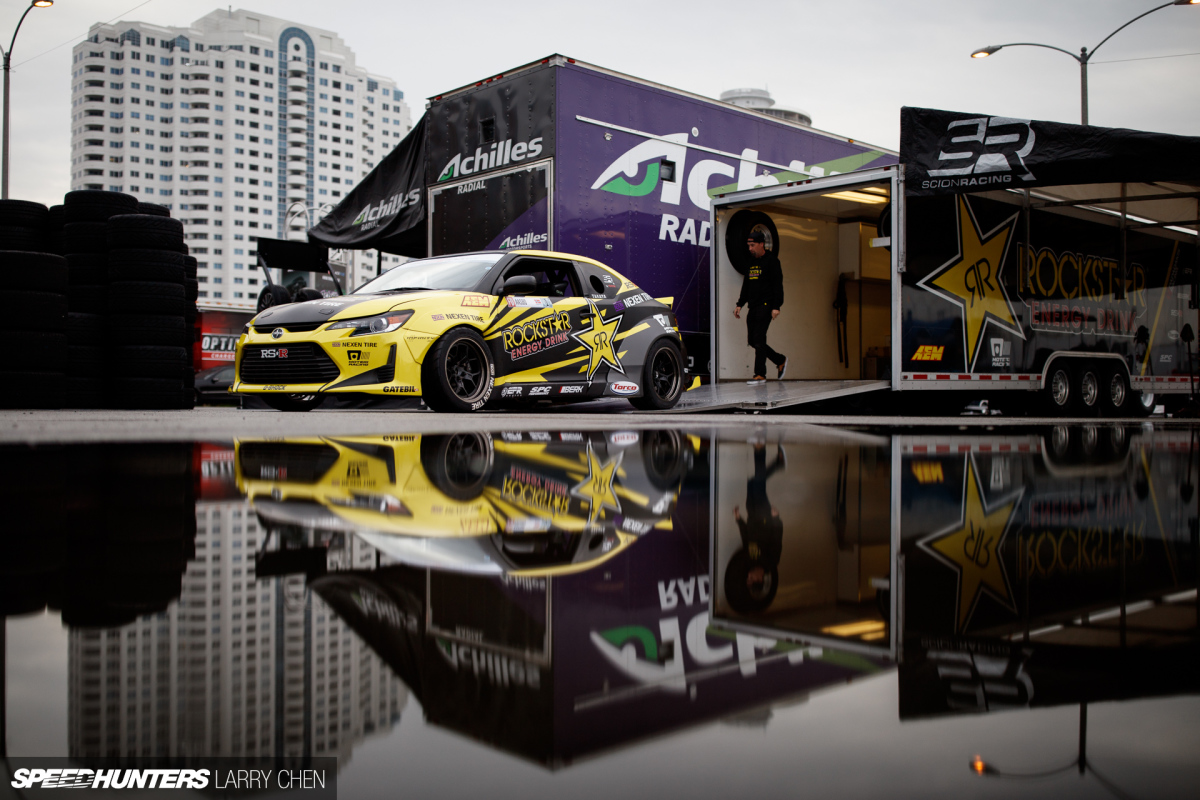 You see garbage water, I see an opportunity.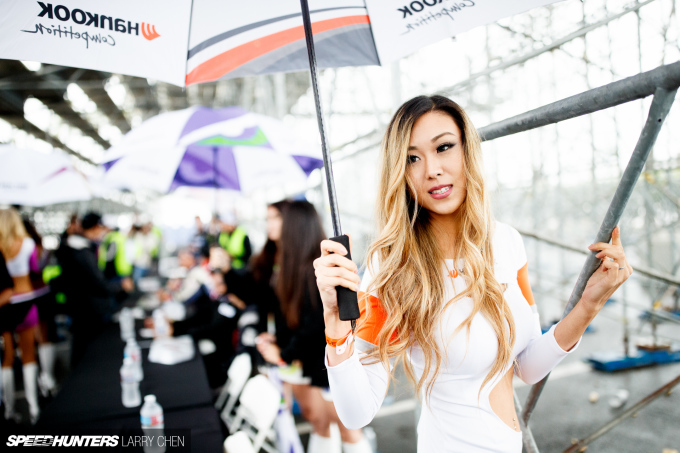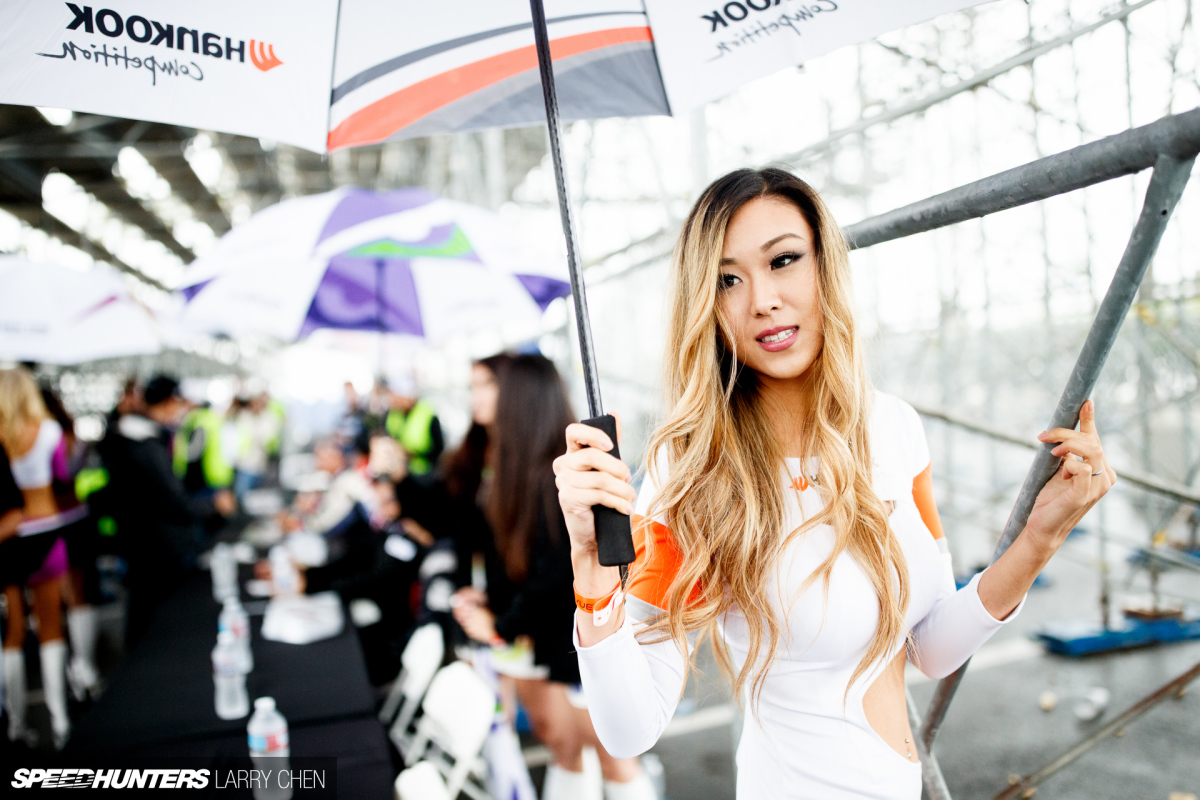 The look on Sarah's face when I asked to borrow her umbrella.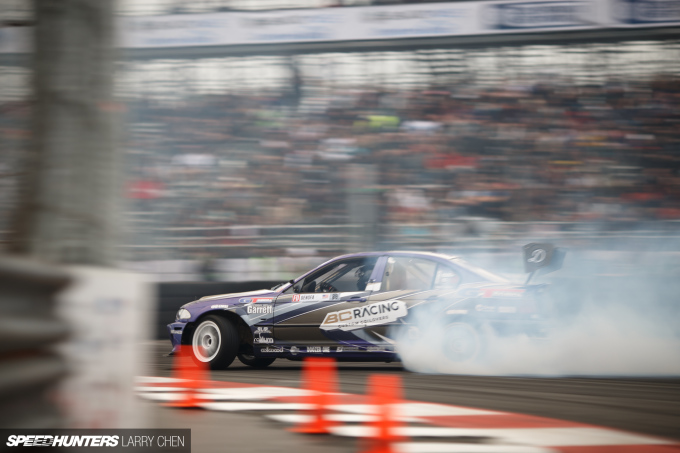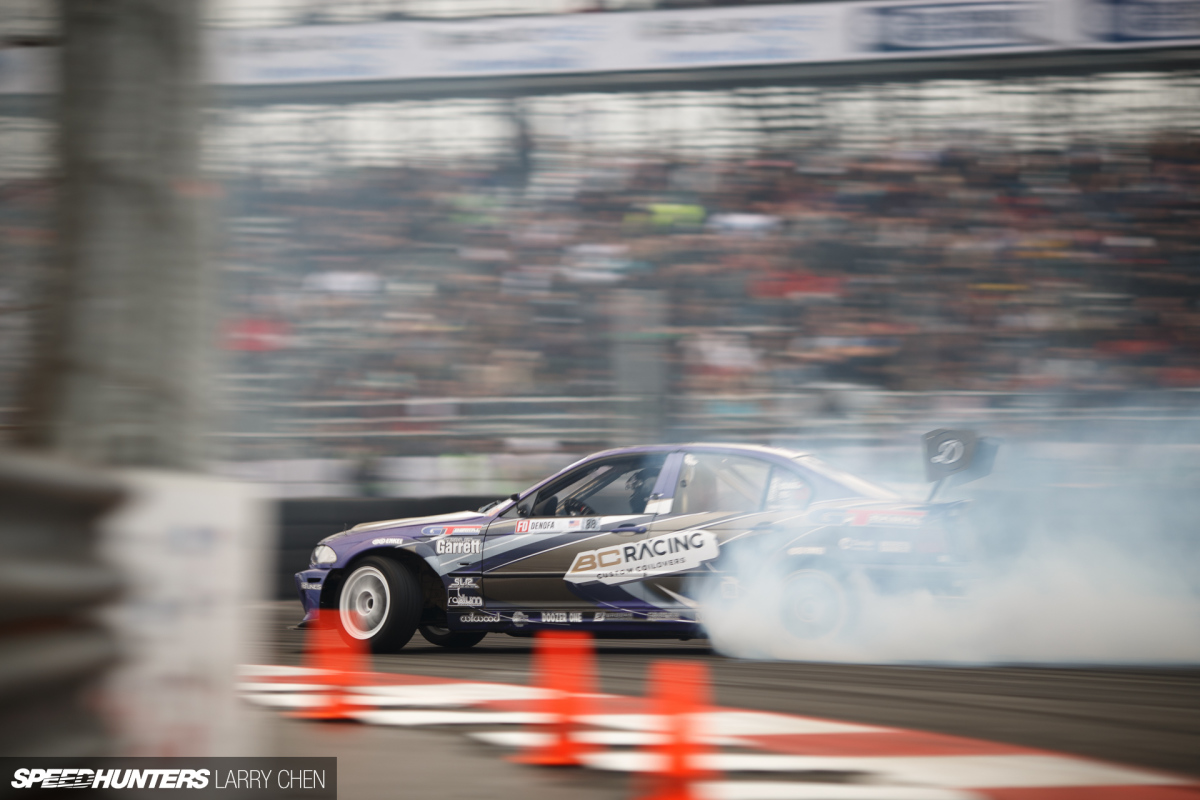 I asked Chelsea Denofa where all this newfound driving skill came from, to which he replied: "I've always had it." I then replied with: "You never had me – you never had your car," but I don't think he heard that part.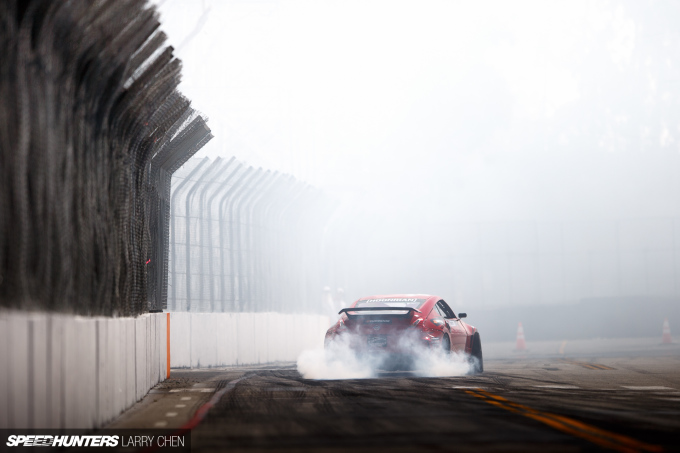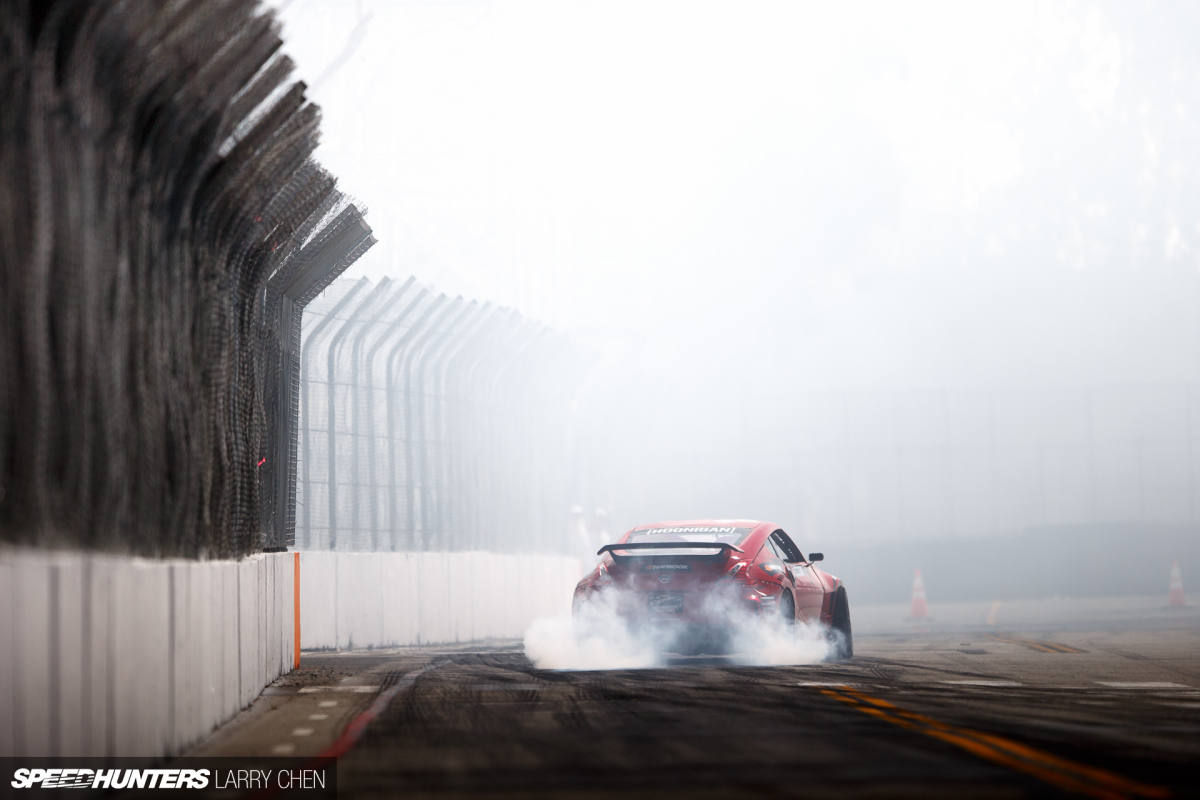 Drifting into the abyss. I don't know how some of the drivers see at all. With the amount of wheel speed these guys are getting, the tire smoke just seems to linger around forever.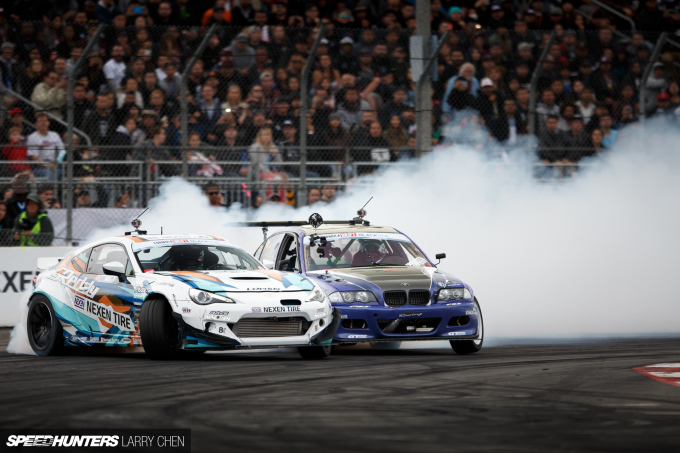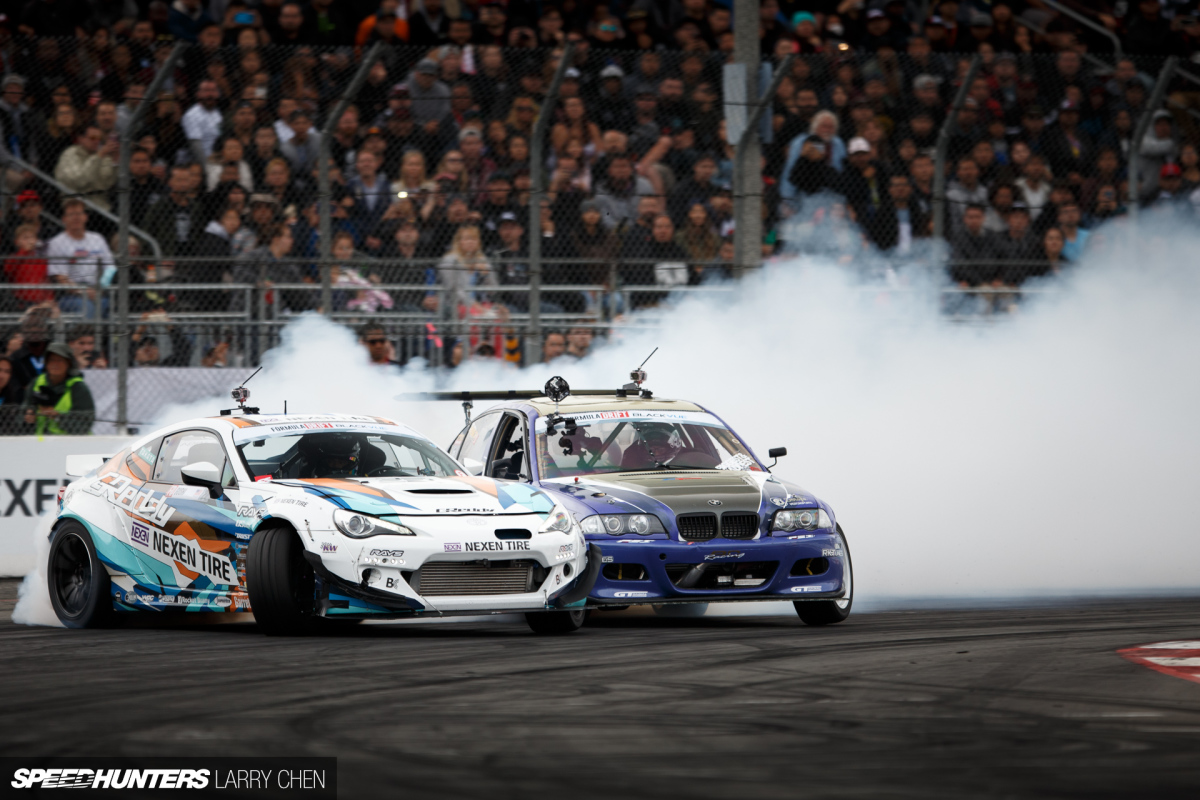 Exactly one year ago, Ken Gushi was struggling to get into the Top 16. After a few minor upgrades including maximum angle kits, he is now a high-ranked driver. Who knew that just a tiny modification could do so much?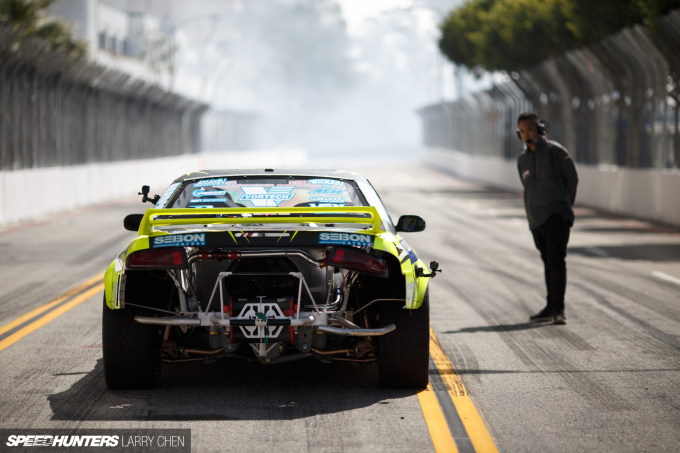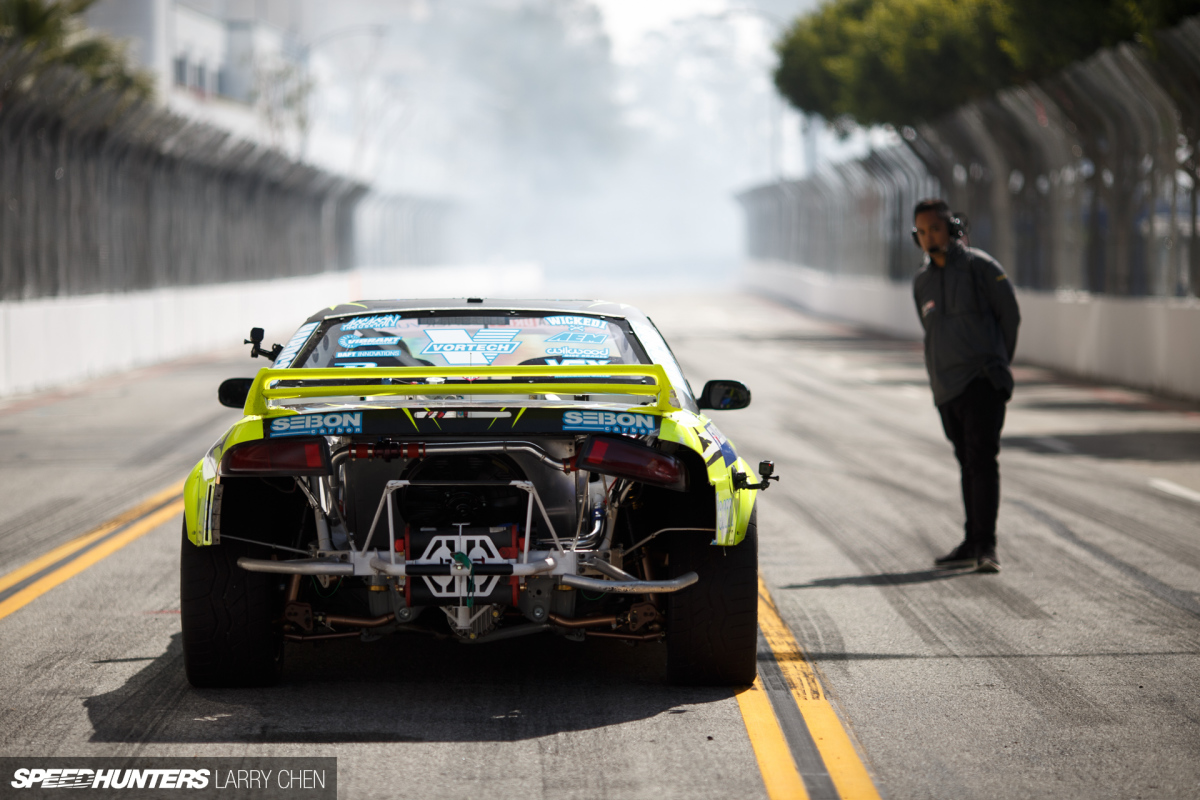 I just love street courses. For most of the year you can barely reach the speed limit in downtown Long Beach, but for those few weekends when racing takes over, cars can travel at top speed down these streets.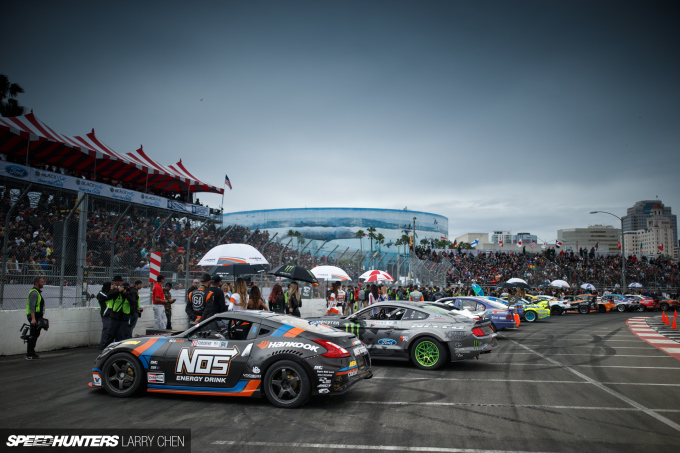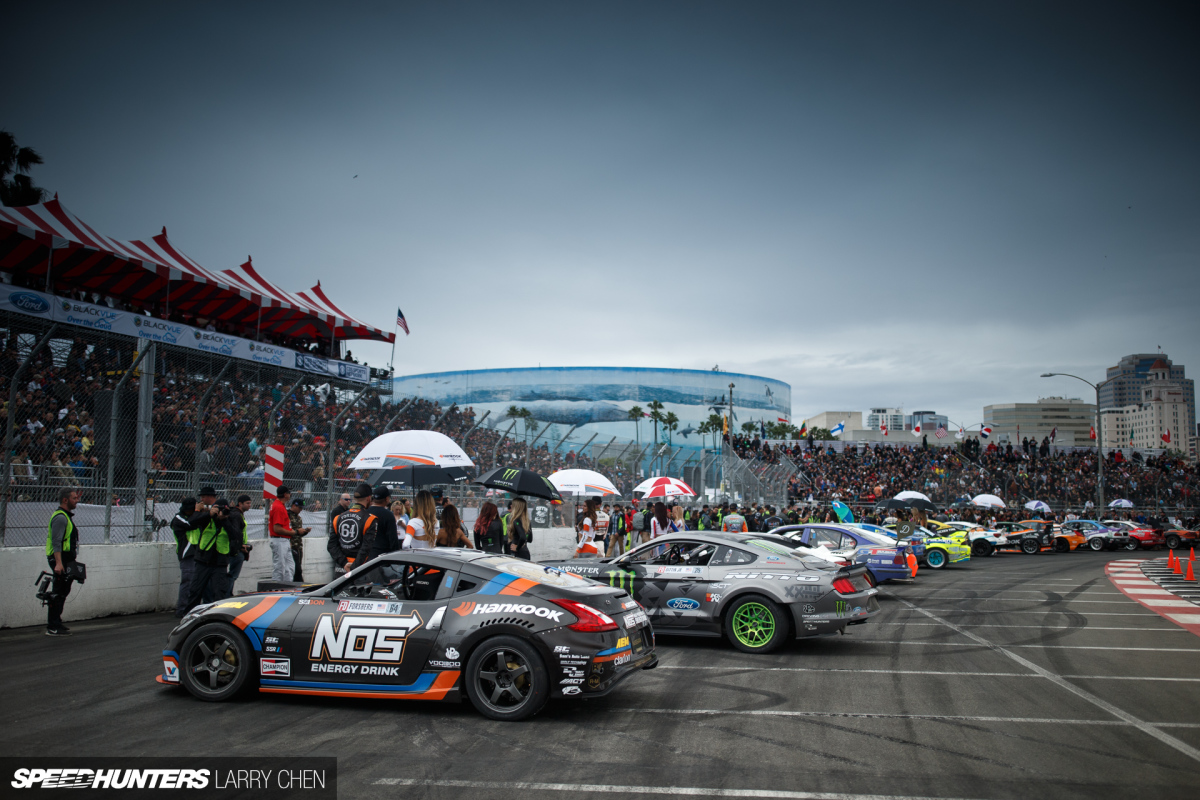 Top 16 introductions in front of a sold out crowd. I love this part of the event because the best action is right around the corner.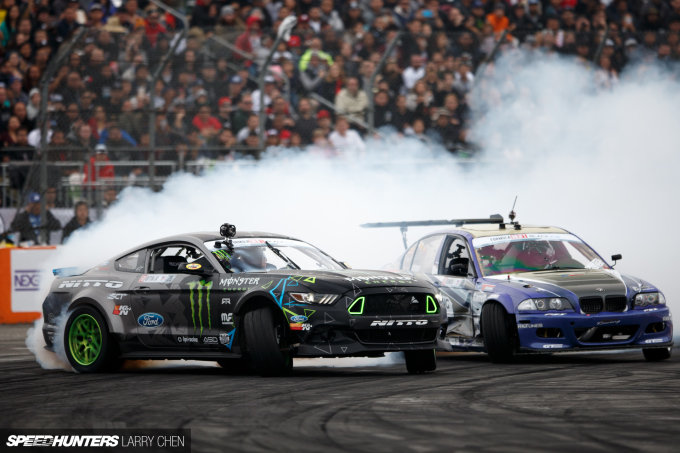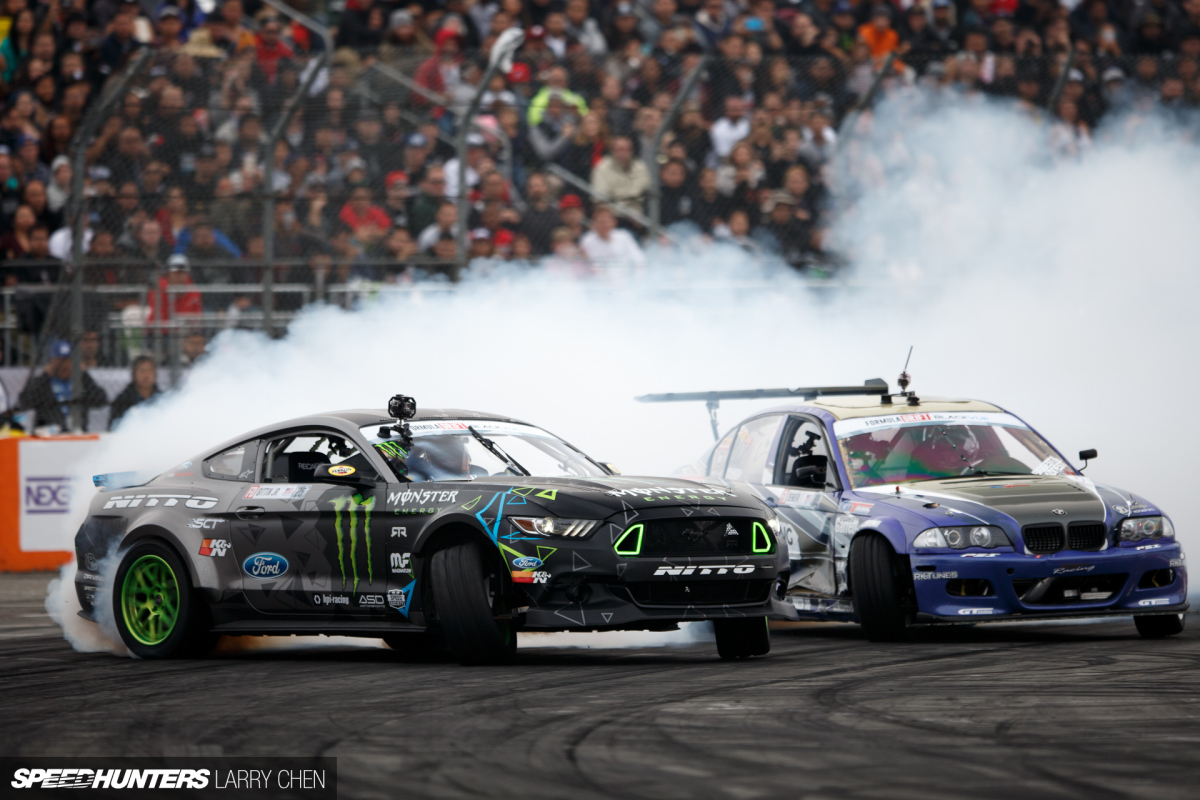 The sport of drifting in itself is evolving right in front of our eyes. These days, if you don't have massive steering angle you can't hang with the top guys.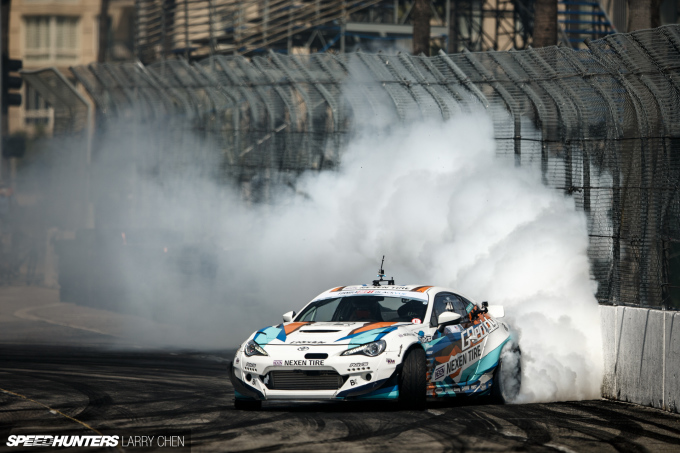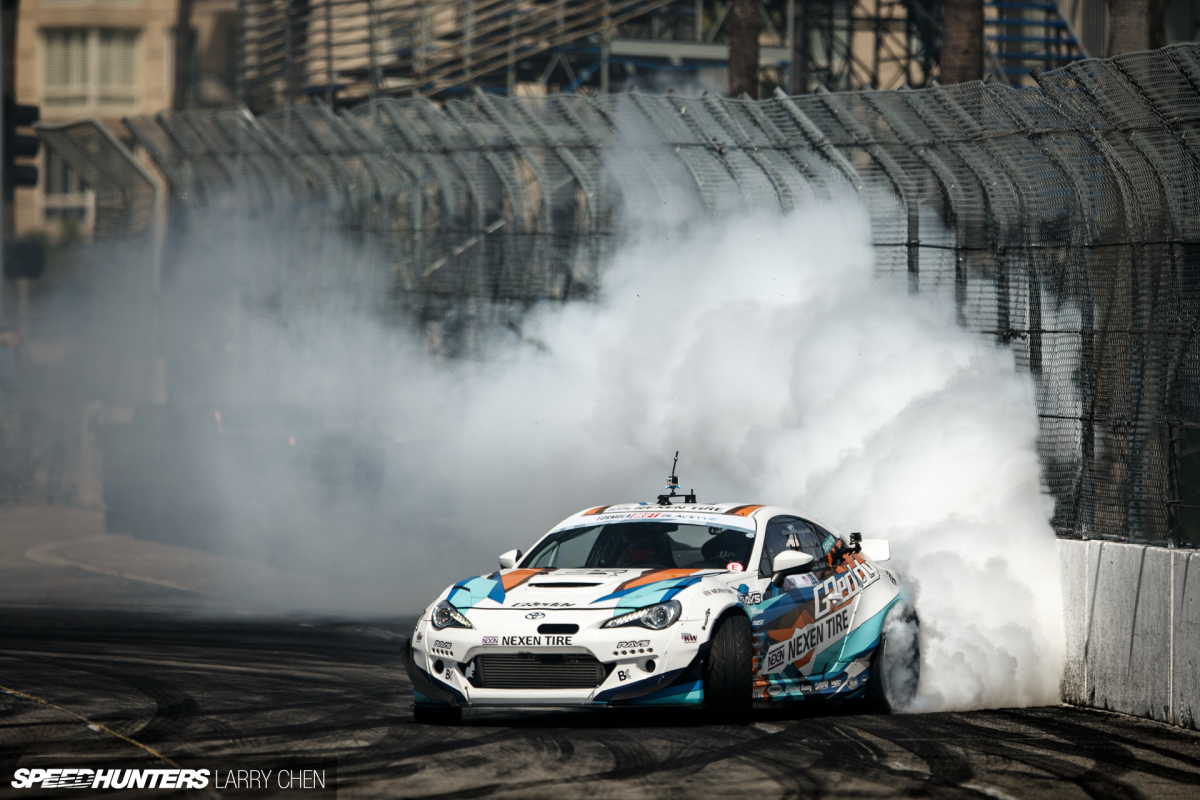 My favorite part of this image is the fact that Ken is making so much smoke it's spilling over to the spectator area of the track.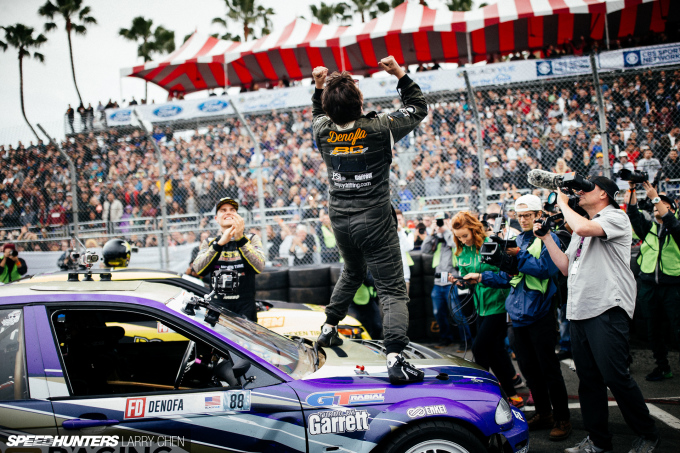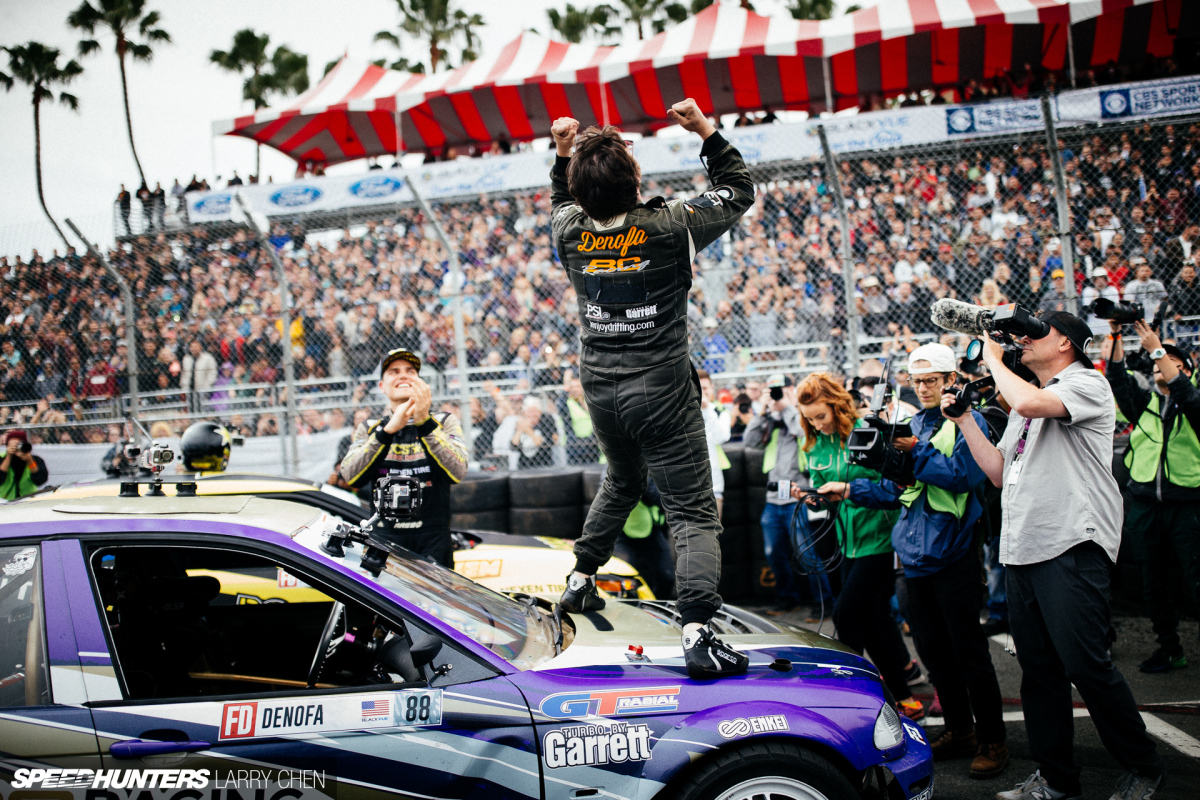 One of these days a driver will slip and fall off their car while celebrating, and you can bet I will be there to capture it all.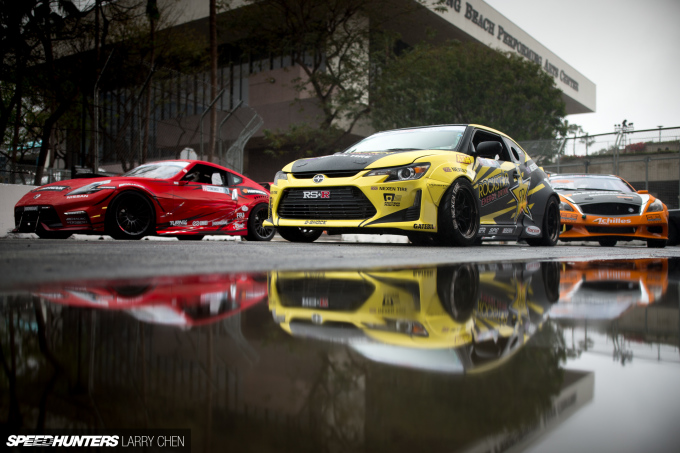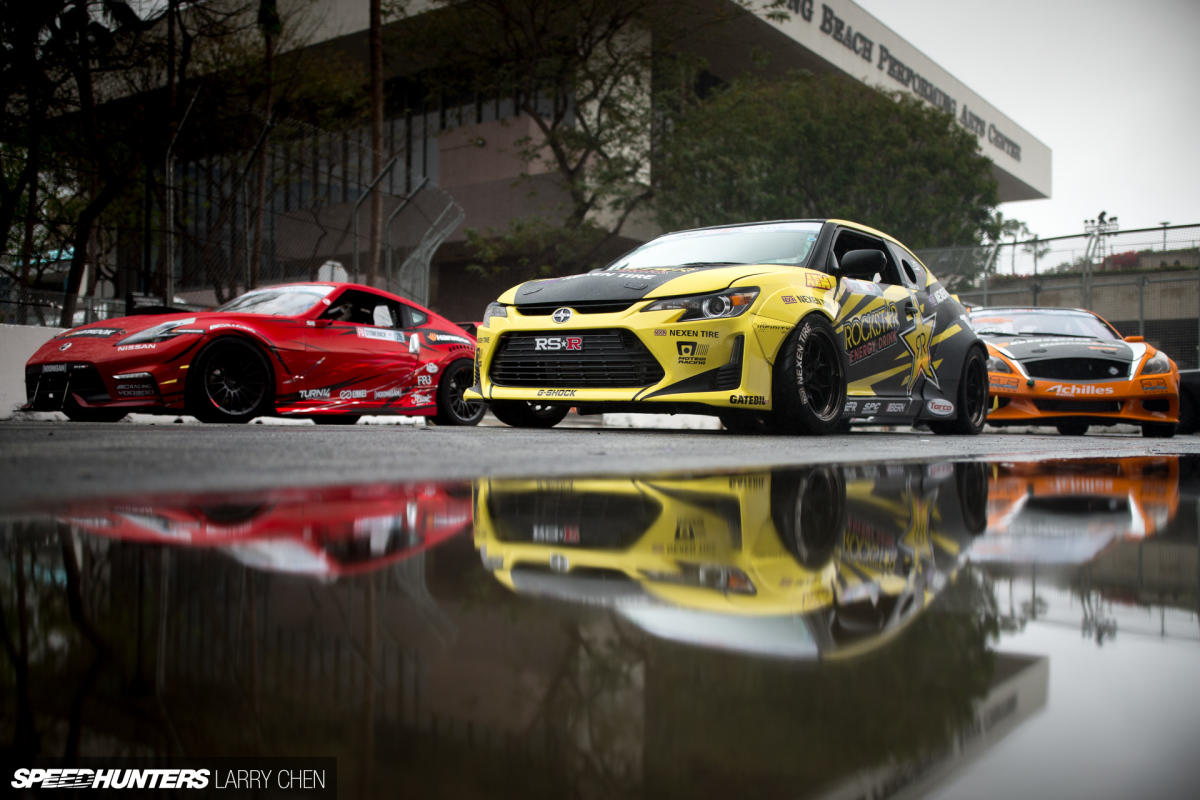 Mirror mirror on the ground, who has the most chiseled chin of them all?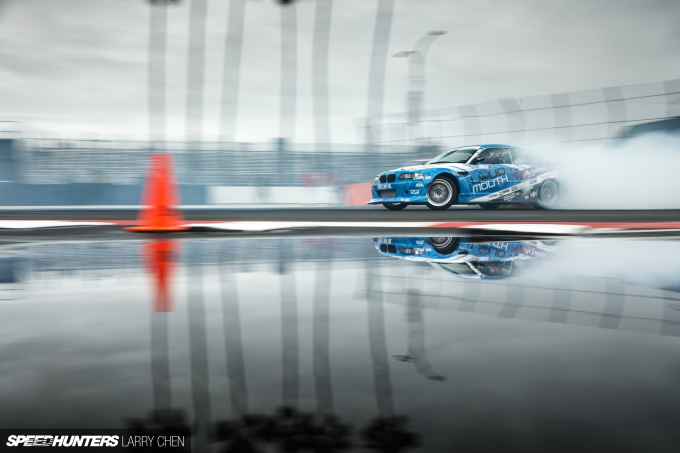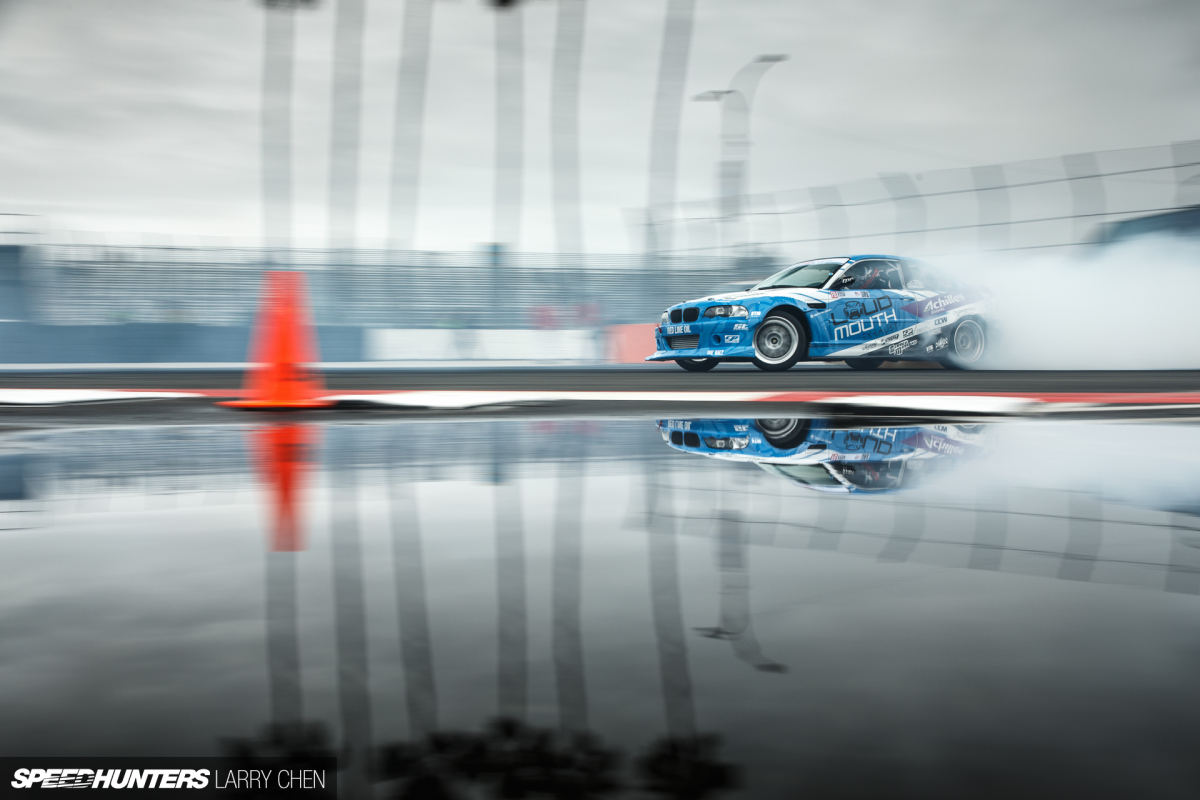 It's so awesome to see Michael Essa back behind the wheel of a BMW; it suits him way better than the Camaro he ran last year.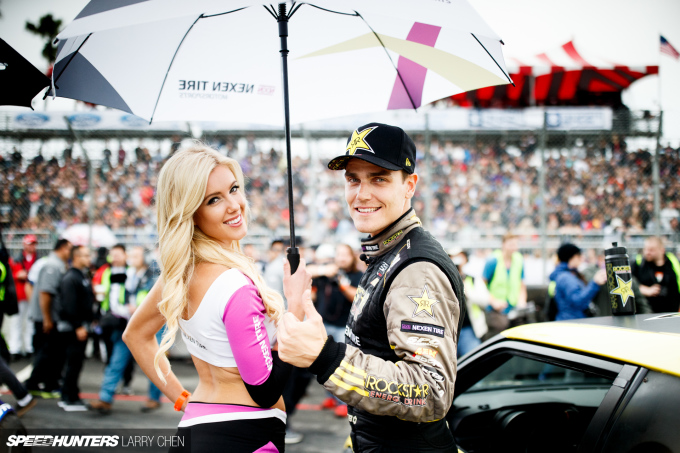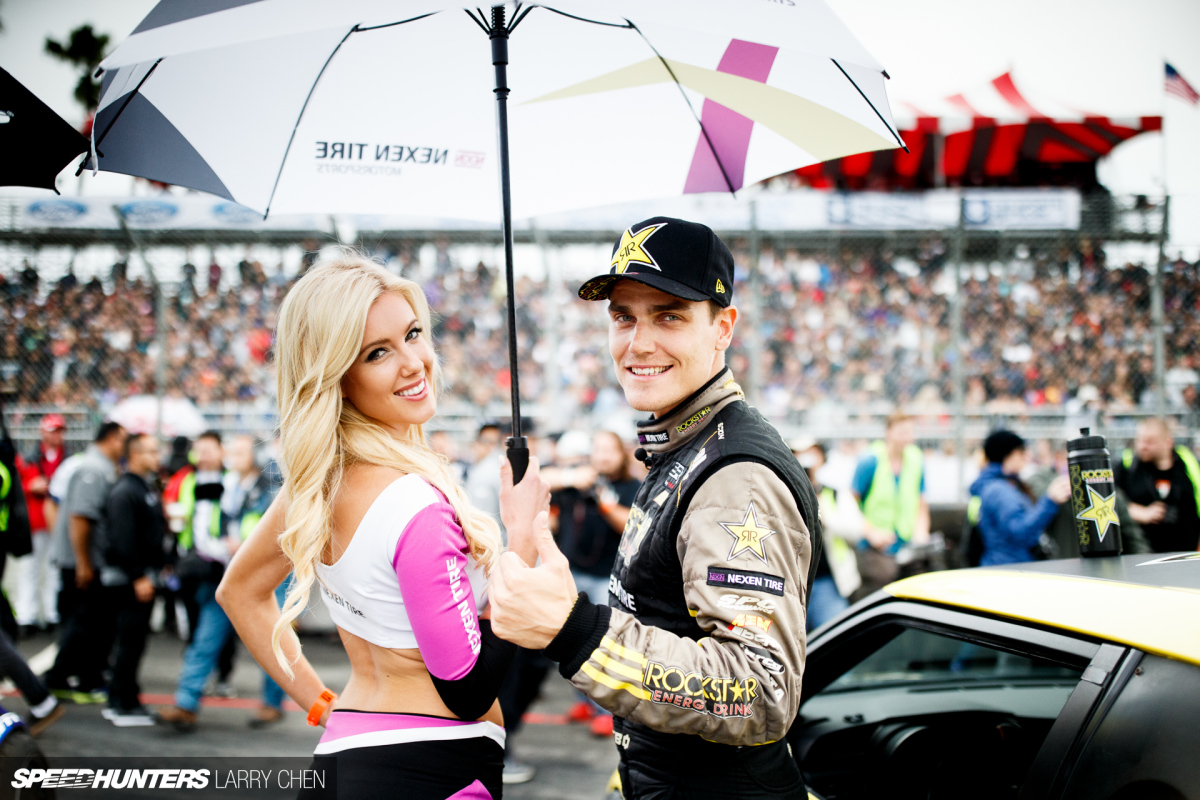 Oh Fredric, you are a natural born movie star, pretty soon you will leave all this drift stuff behind to pursue your true calling.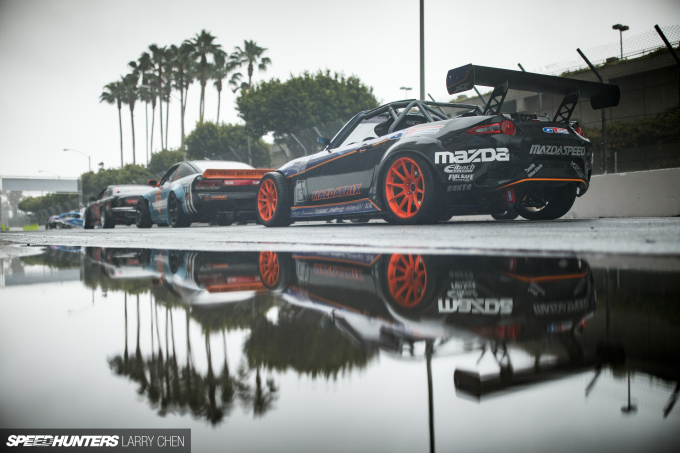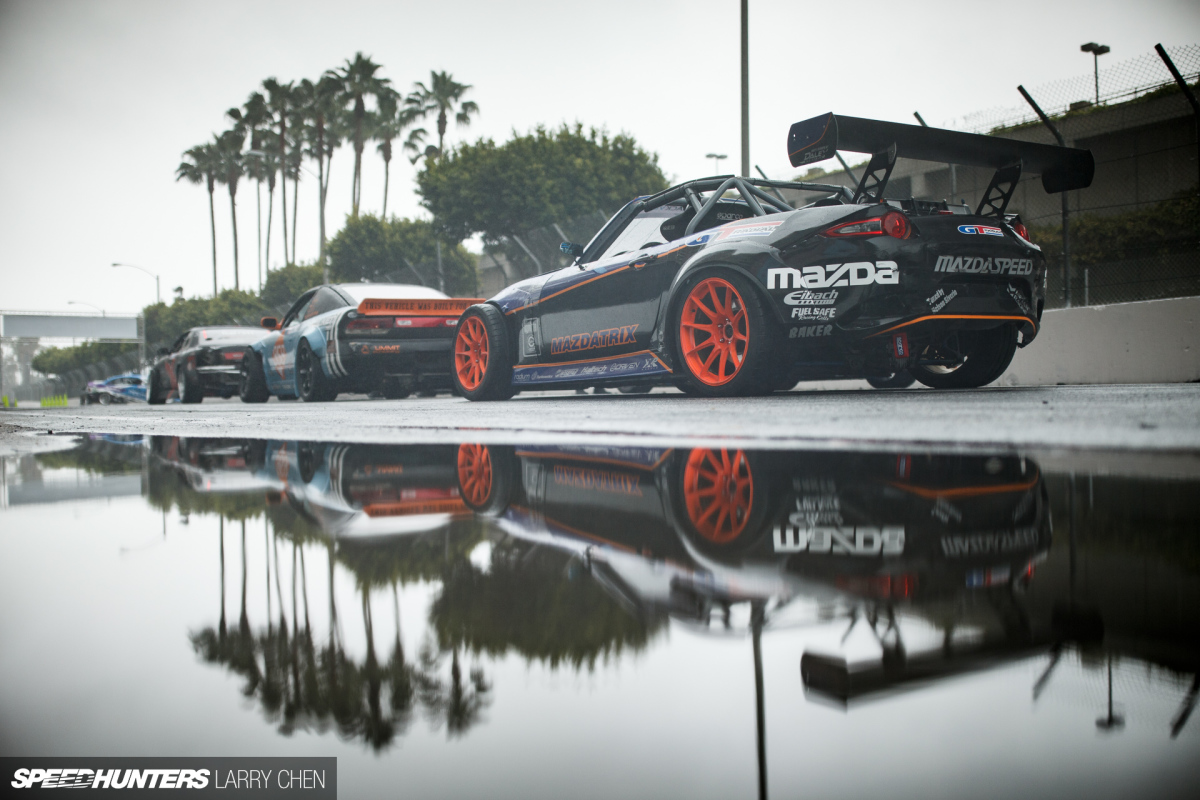 Reflections everywhere; I just could not help but indulge. At least the lack of tire smoke was good for something.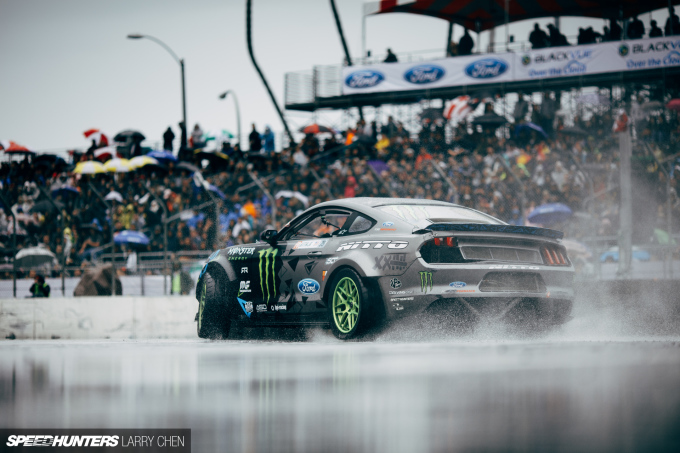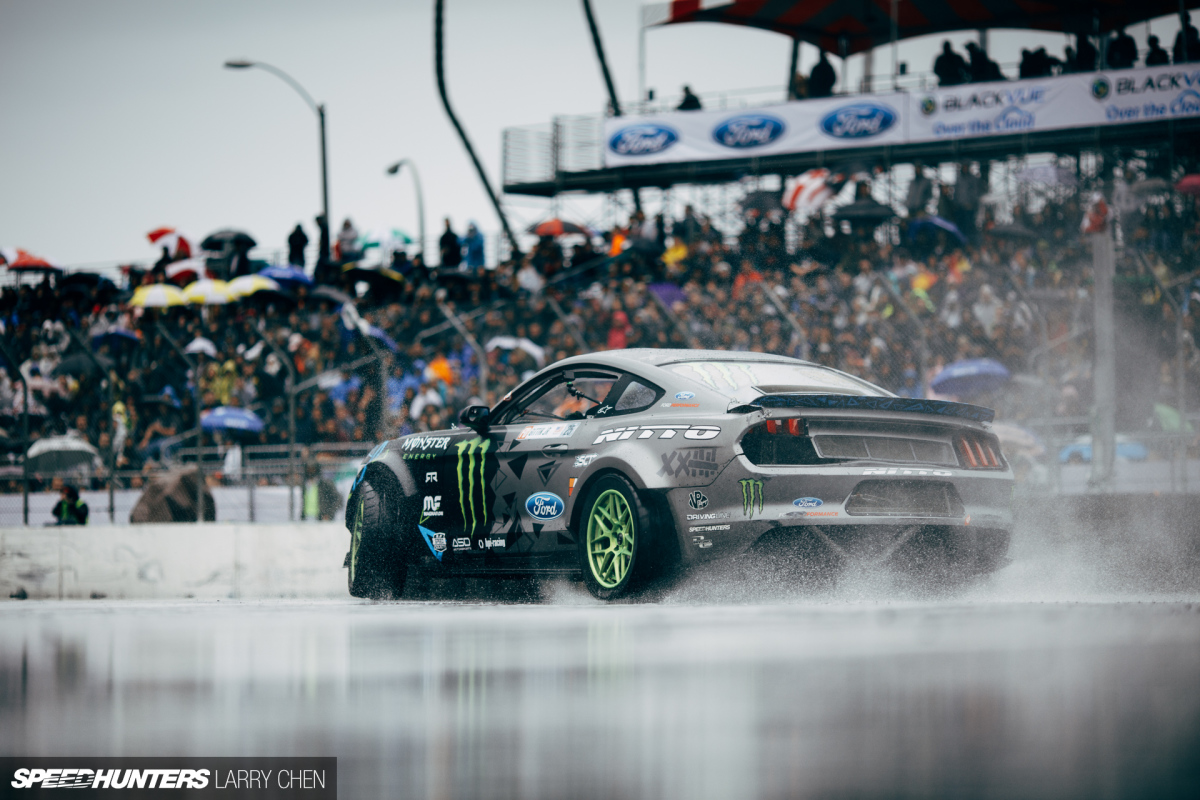 Gone are the days of zip-ties and bumpers falling off. These drift machines are built to take the knocks.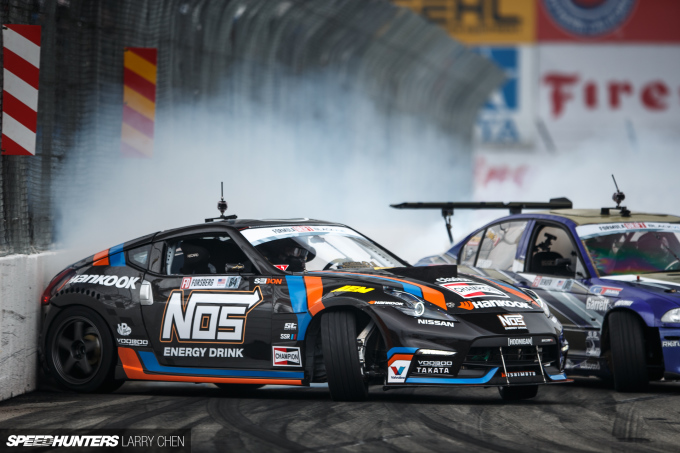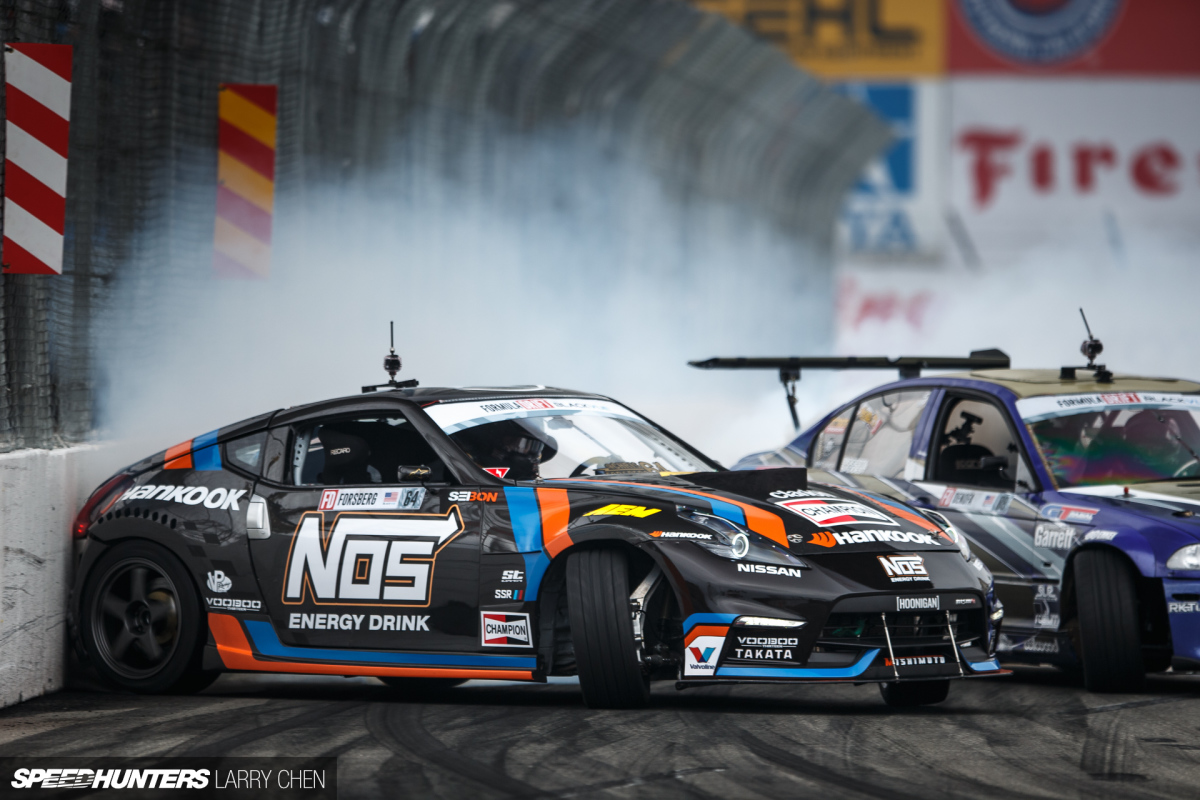 For how hard Chris hit the wall here, I thought he was going to write off the car just like D-Mac did all those years ago.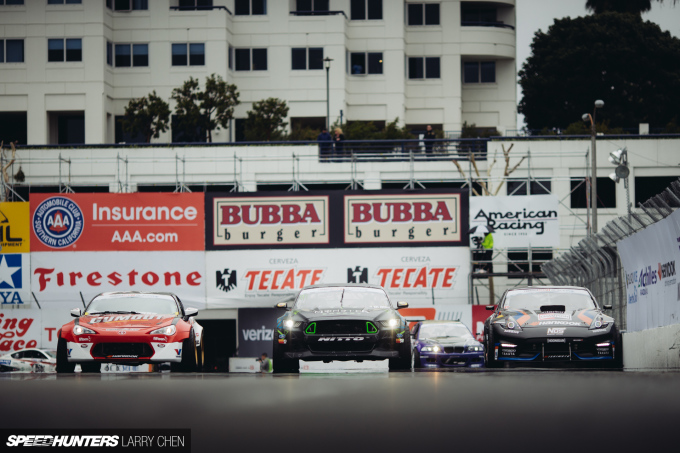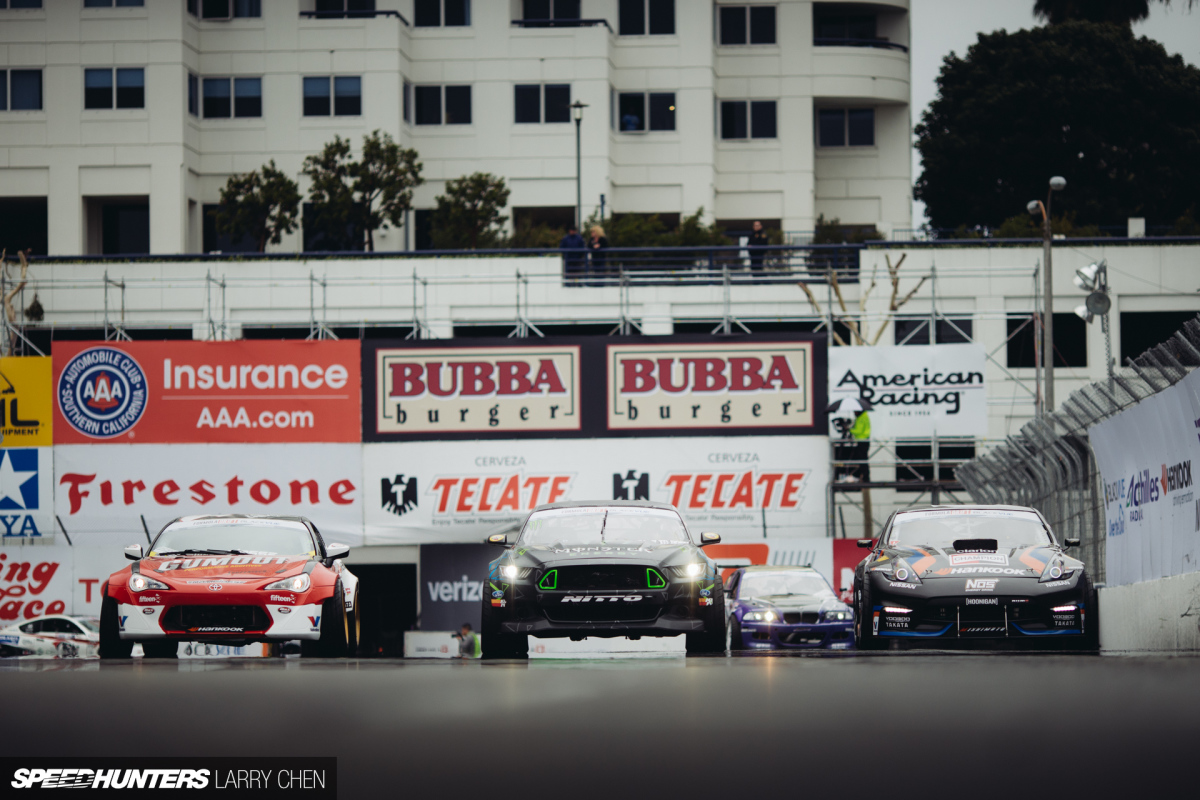 Roll out. I remember when it used to be six of them, but now there are three left.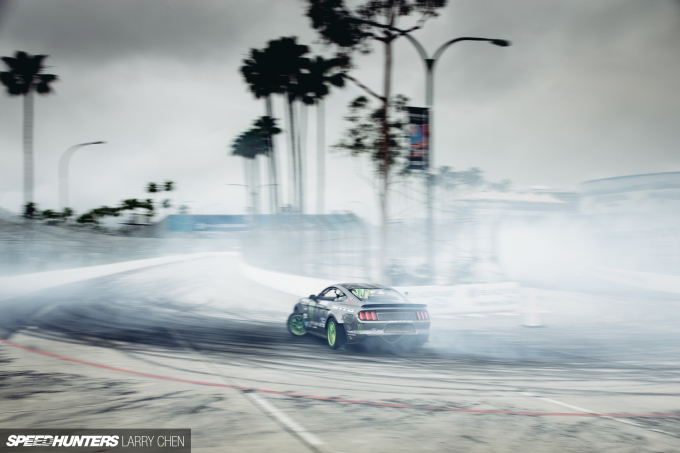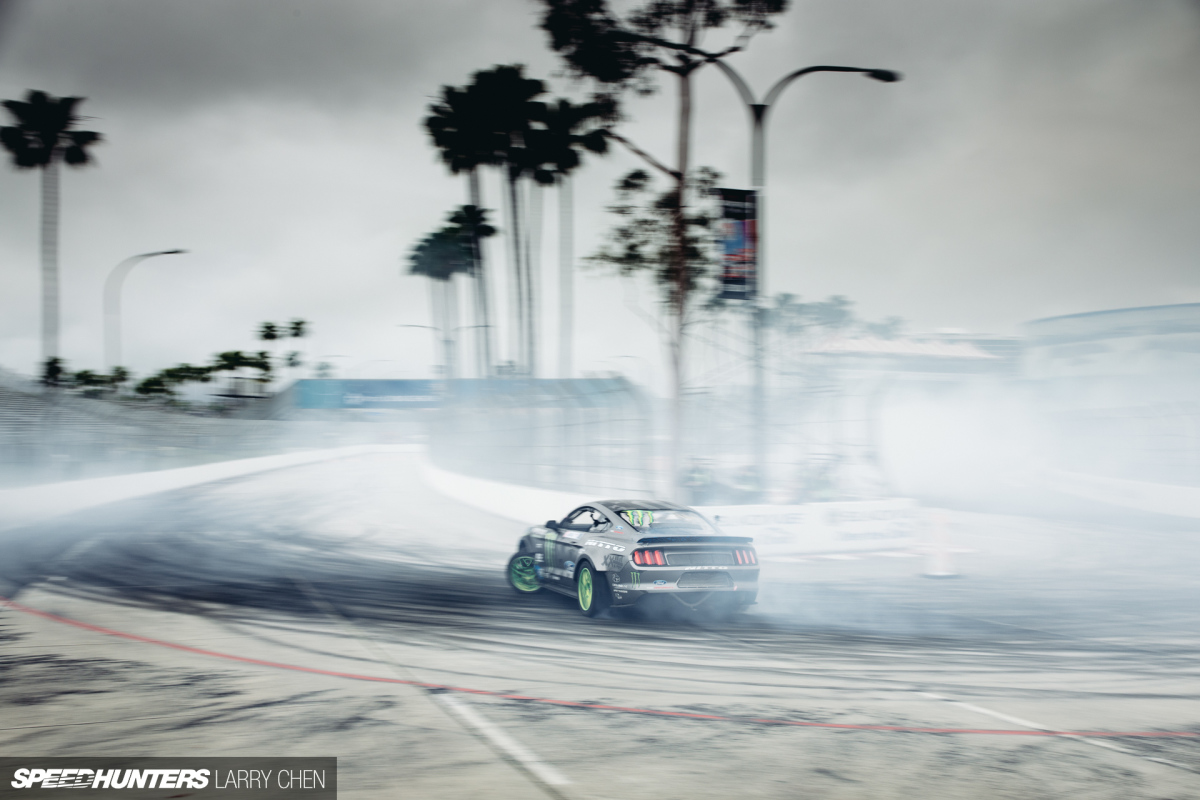 If you think about it, the FD Long Beach course is only three corners, but it's crazy how many shooting angles there are. It's basically unlimited.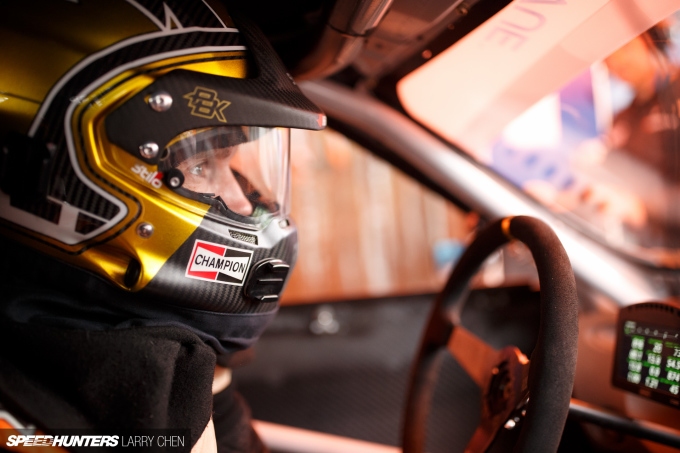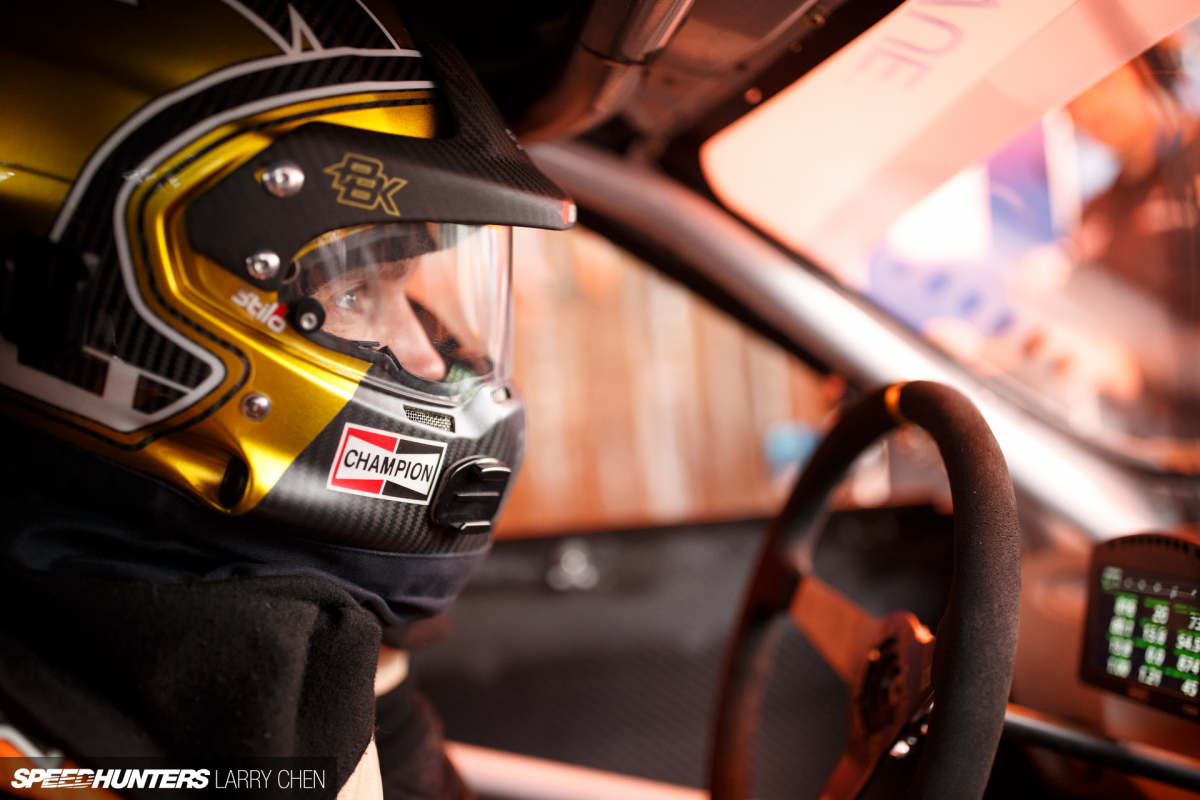 The veteran drivers are used to me sticking my lens in their face, but some of the rookies still have no idea what to do with their hands when in front of the camera.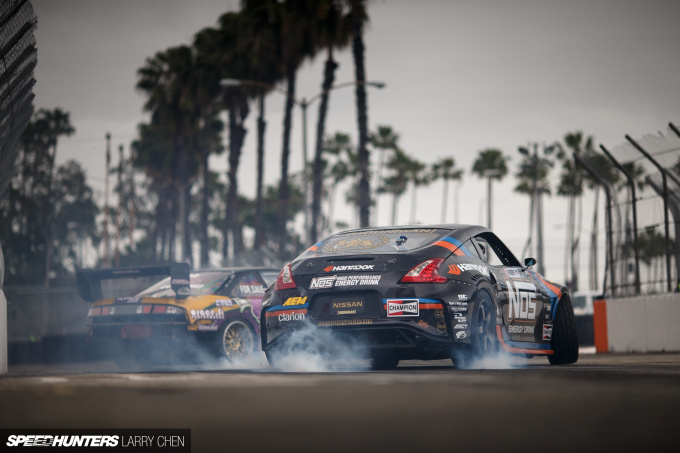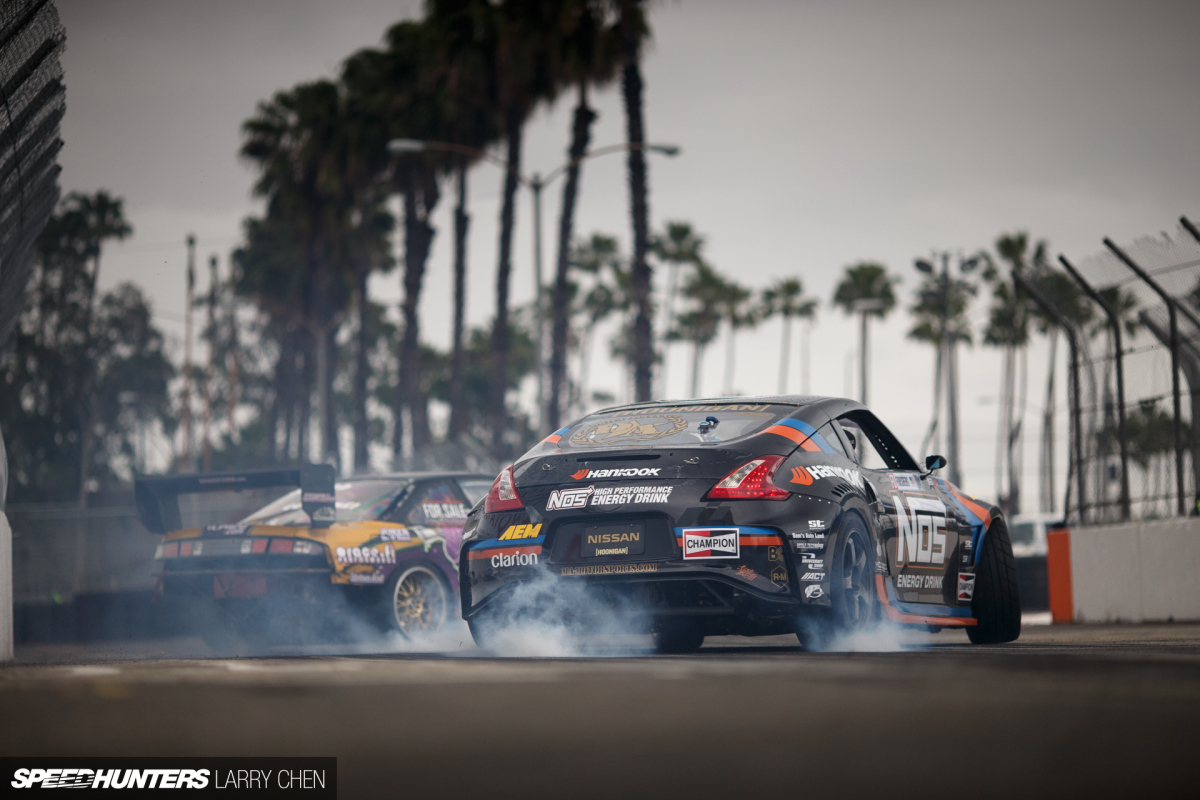 The initiation shot is one of my favorites every year at Long Beach, however this was the only one I got in the dry.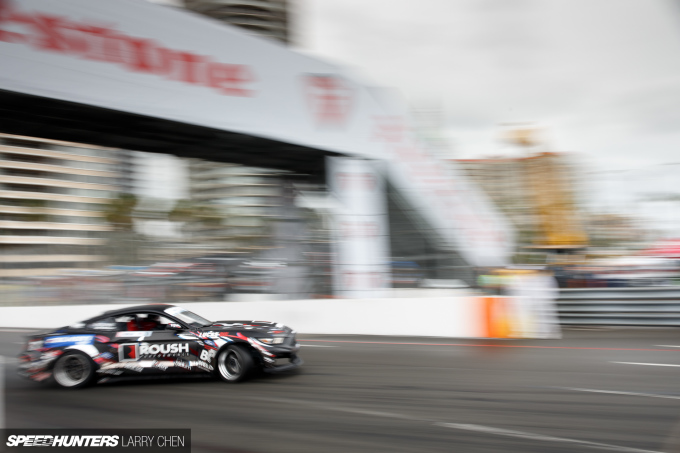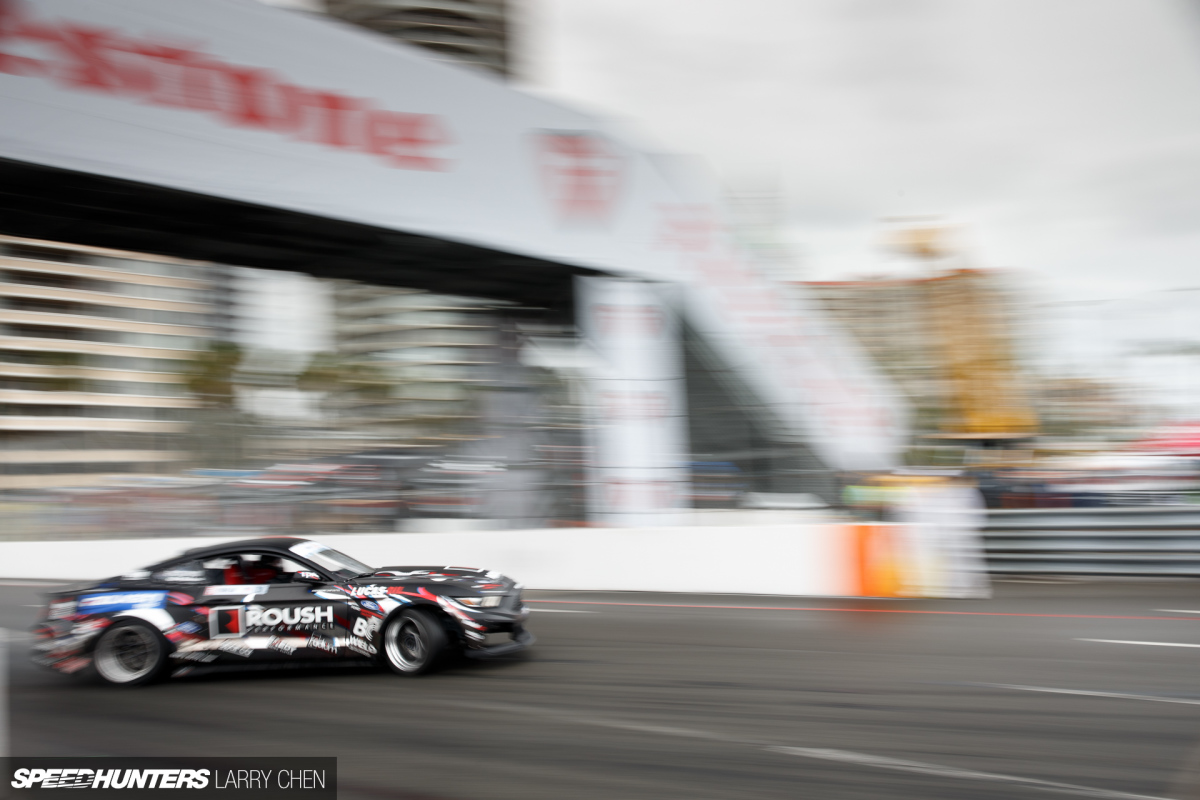 What do you do when the track is moist and there is no tire smoke, you slow the shutter down all the way and get your pan on.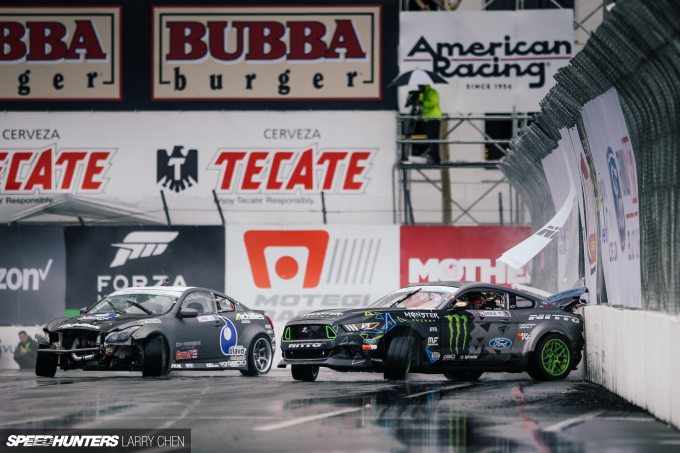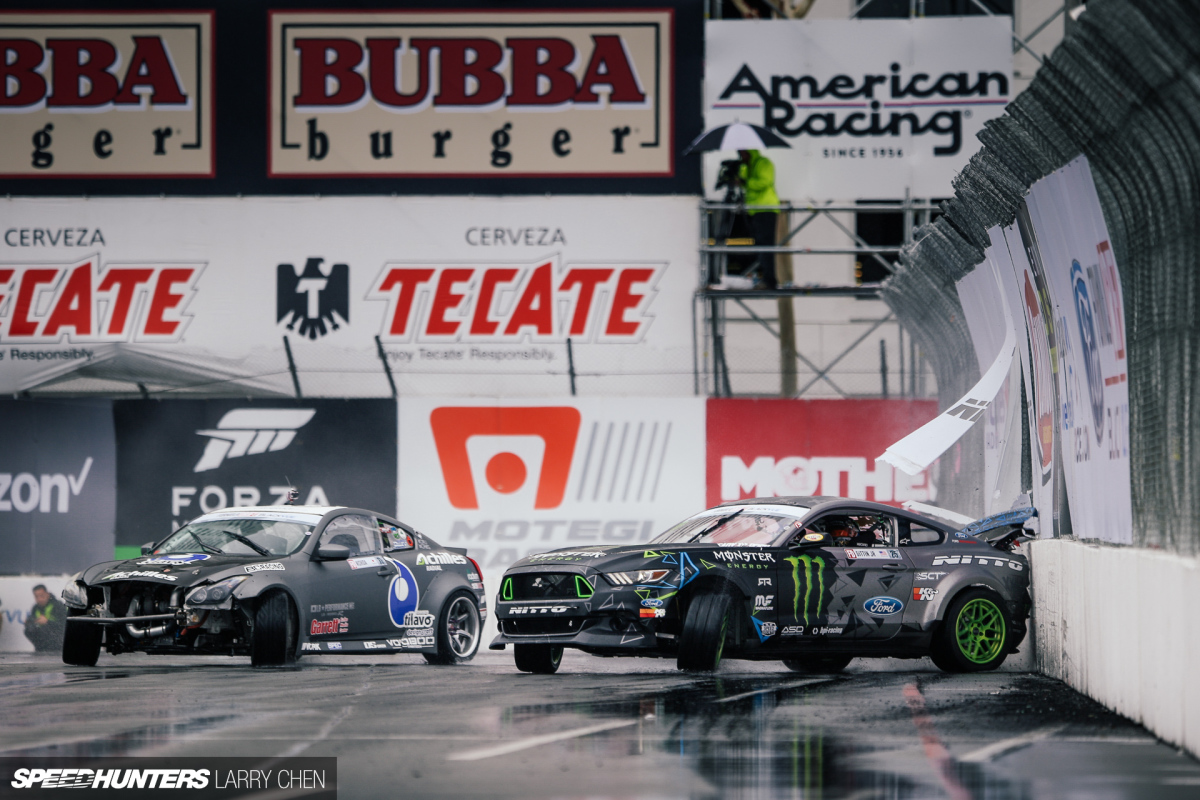 That's one way to open up the boot.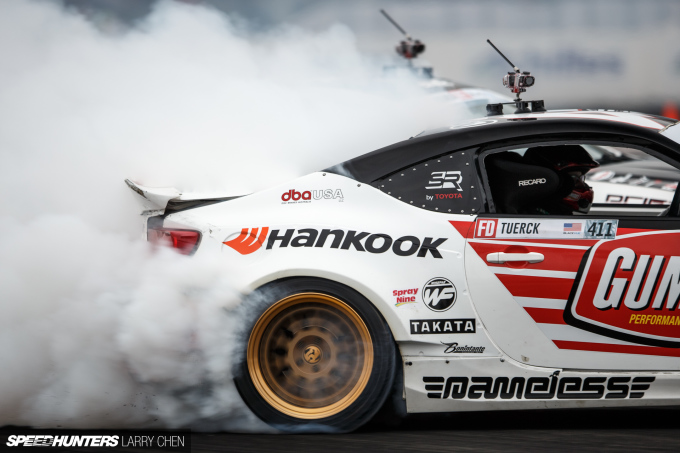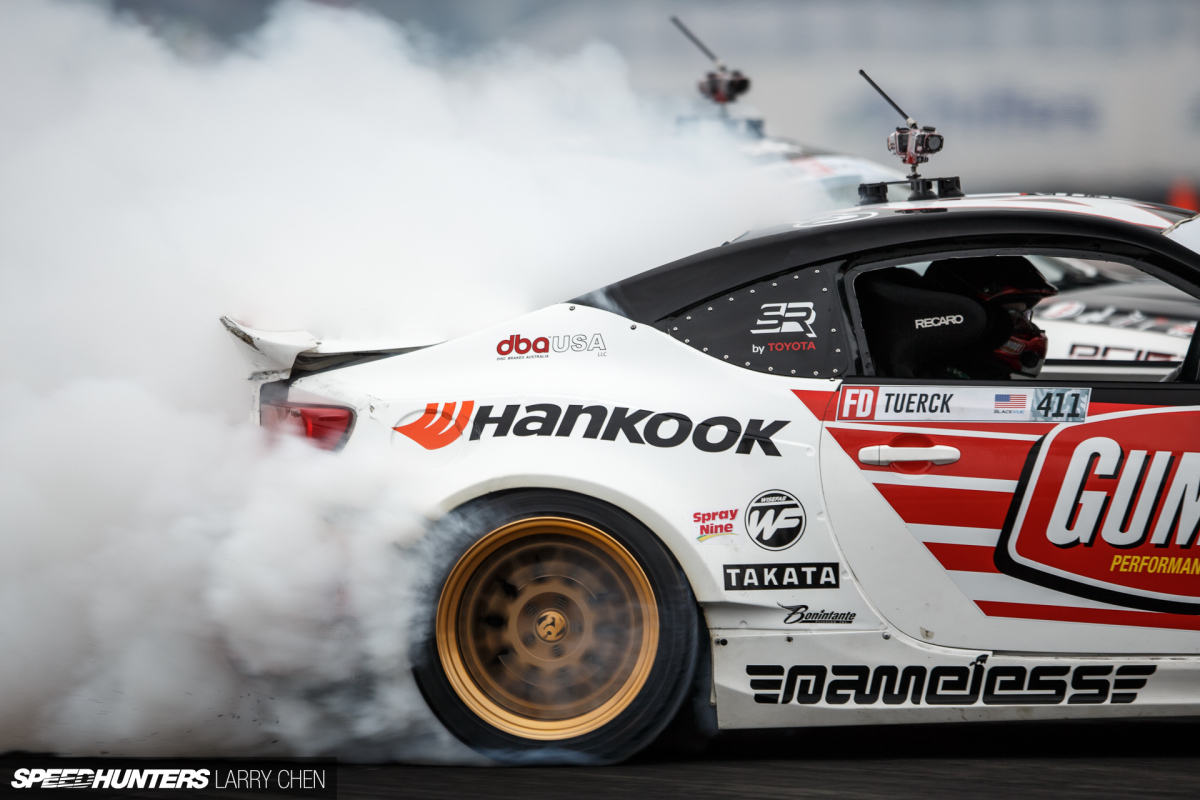 Ryan Tuerck's 2JZ-powered Scion FR-S is probably the craziest sounding thing on the grid. If you are not wearing your ear plugs when he drifts by you could lose an ear drum.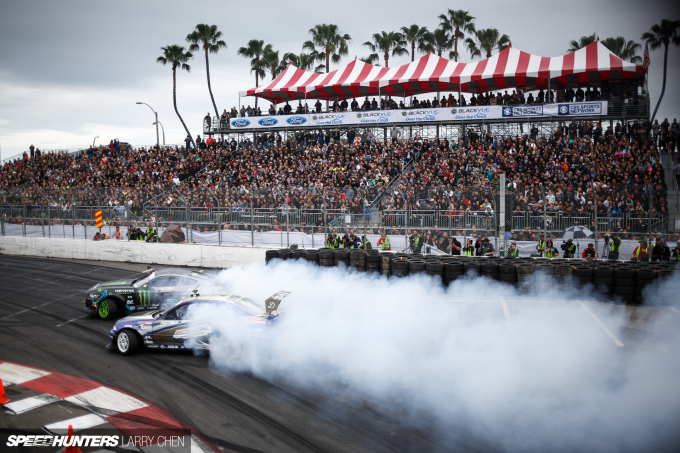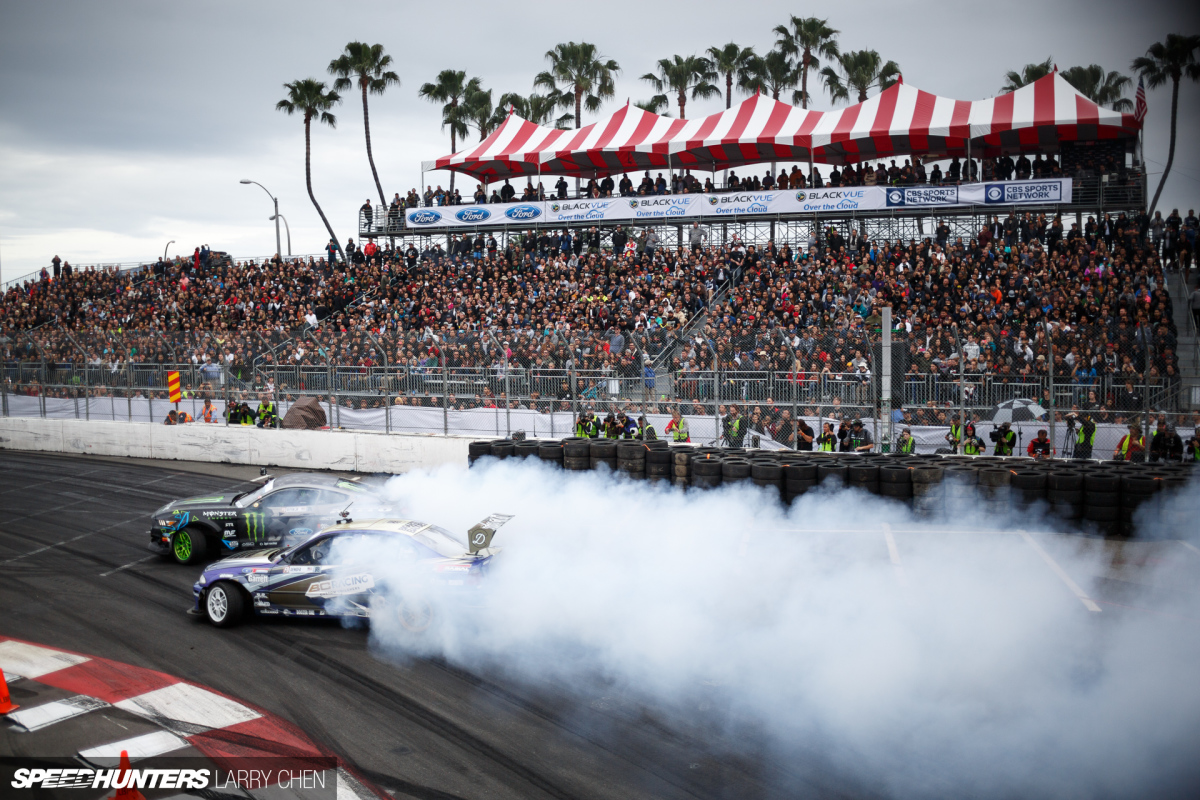 It seems that year after year the stands get more and more packed. It's to the point that many people are now even showing up for Friday qualifying.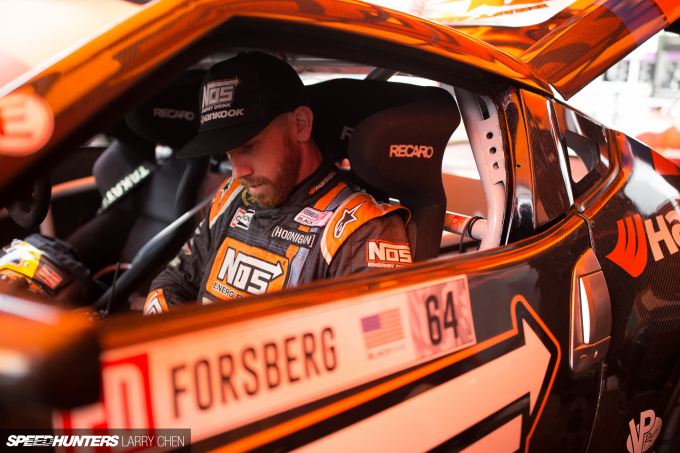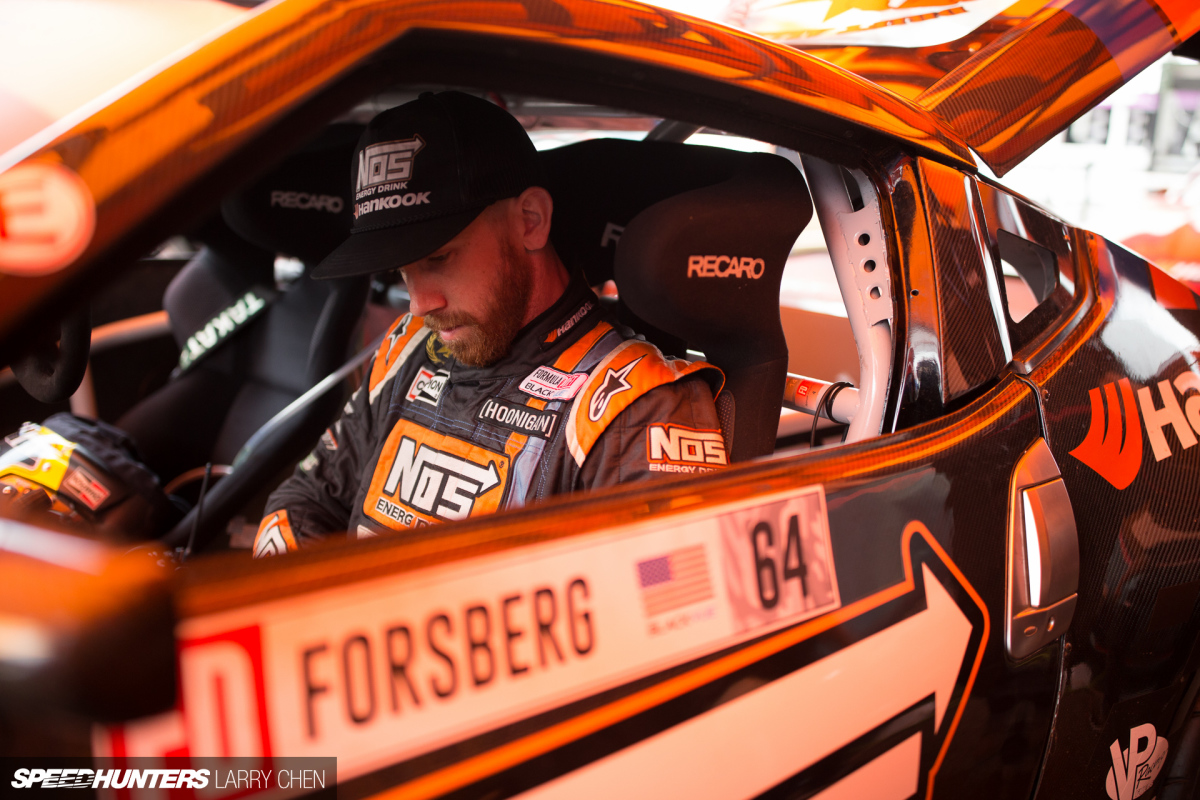 Chris Forsberg is the only one left in the series who has two championships under his belt. Plenty of other drivers are going to do their best for that title this year.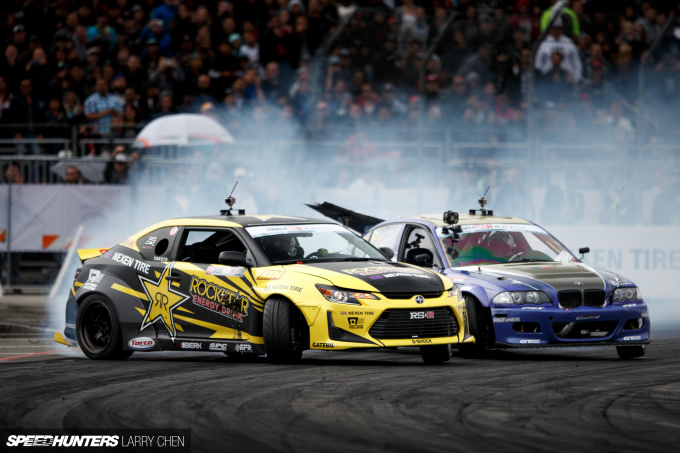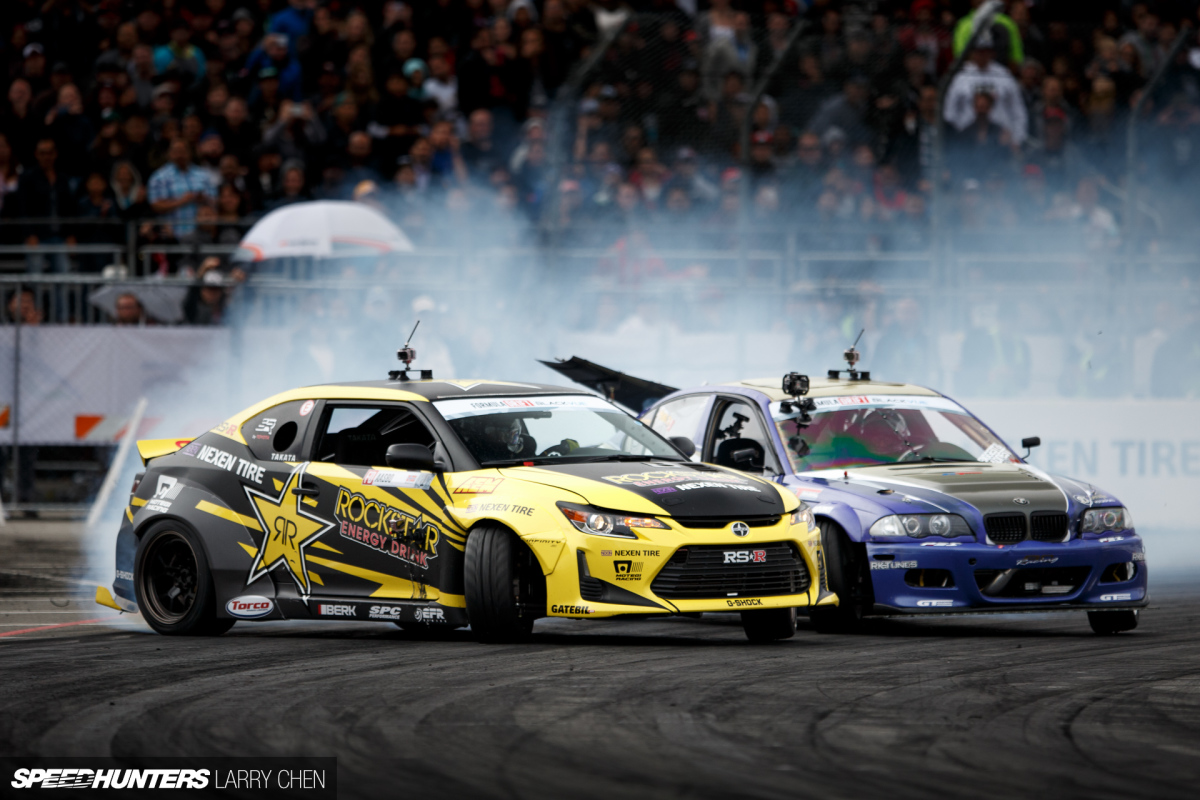 A battle of epic proportions. Fredric is the best Final boss you can possibly have as he just came off of a championship win.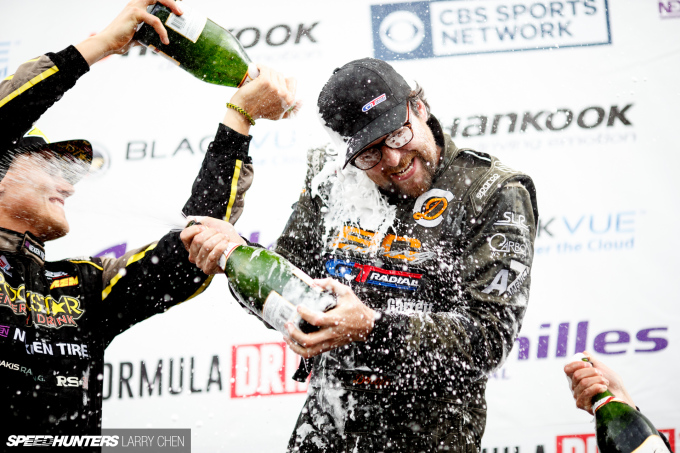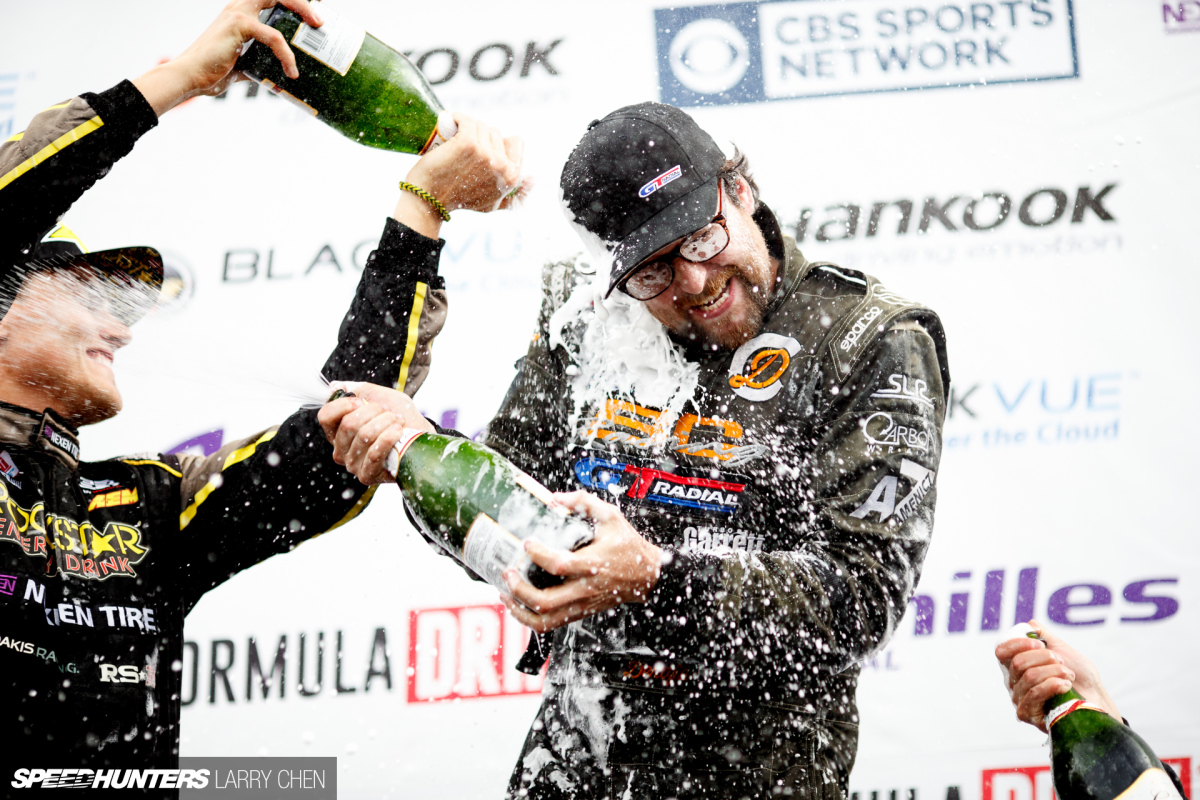 That's all for now; congratulations to the winners and make sure you check out the live stream when FD hits Road Atlanta on May 6-7.
Larry Chen
Instagram: larry_chen_foto
larry@speedhunters.com
Cutting Room Floor