If The Shoe Fits
People buy, build and own cars for all manner of reasons. But for the vast majority of the population they are a necessity – a means to an end. Cars, for the most part, are a highly effective way to get from A to B at your own convenience and leisure.
Within that general populous you have the automotive community; people who invest far more time, effort and money into the cars that they drive than most. There's a high likelihood that, because you're reading this, that's where you come in.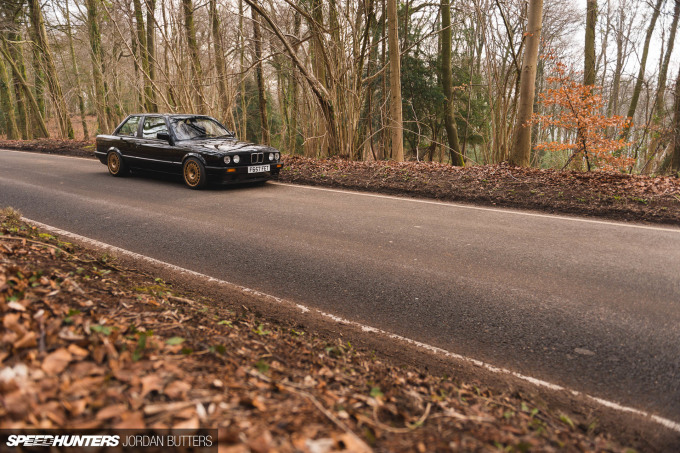 Drill down further and this subgenre splits off into countless branches. Some enjoy show cars, some get their kicks from driving on track, while others like to do all manner of odd things like slide around sideways, drive over rocks and mountains, bounce up and down on hydraulic suspension or fill their cars with more speakers and screens than your average cinema.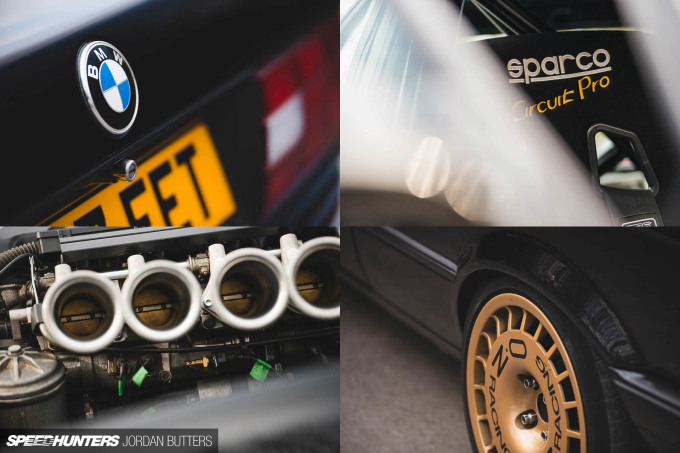 I'm getting to the point, don't worry. The one thing that we all instinctively do when we see a new build is try and work out which category it fits into, and whether it might be relevant to our tastes. Quite simply, we like to be able to put things in boxes – that's a show car, that's a drift car, that's a track car.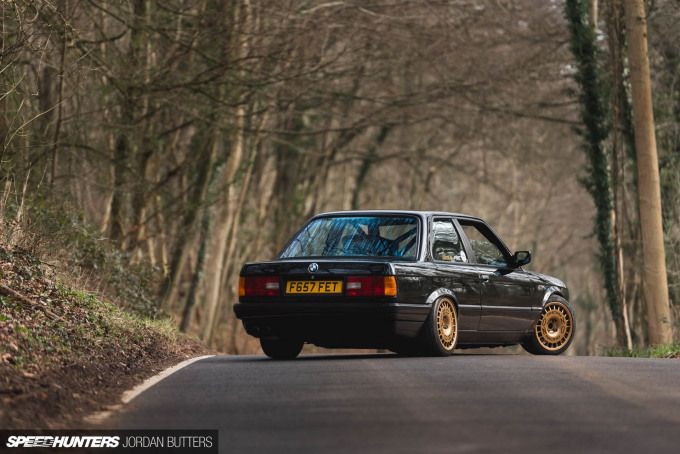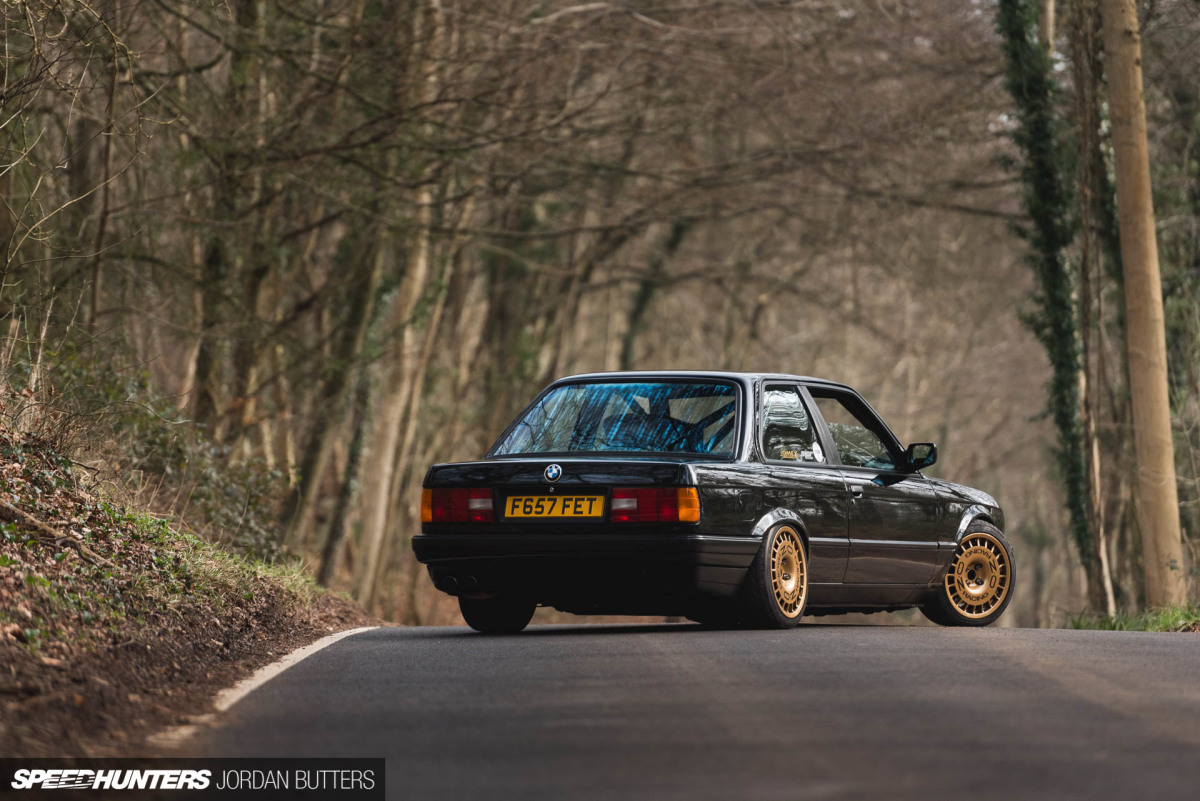 Guy's Higgs' pristine S50-powered 1989 BMW E30 doesn't belong in a box.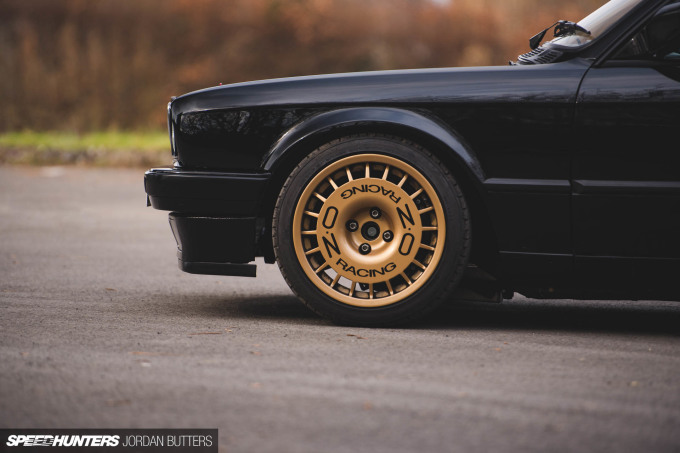 If you've attended several of the major shows across the UK last year then there's a chance that you've seen Guy's E30 sitting pretty with its gloss black paint job, slammed over those retro-cool gold wheels.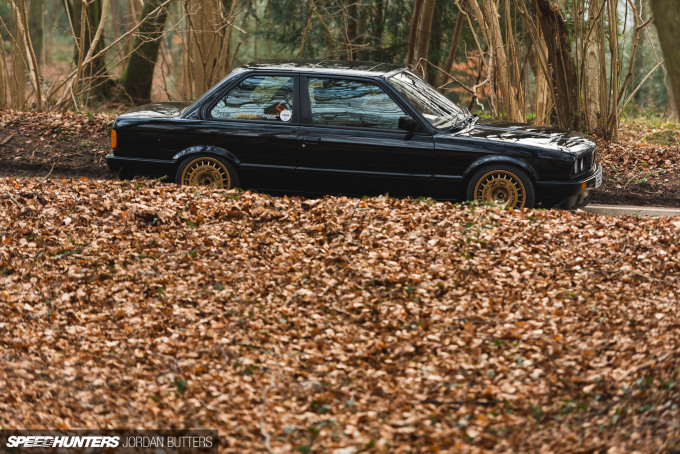 Or, if you've attended any one of the number of annual trackdays at Guy's local circuit, Castle Combe in Wiltshire, then you might've seen the E30 screaming down the straights chasing down far more powerful machines.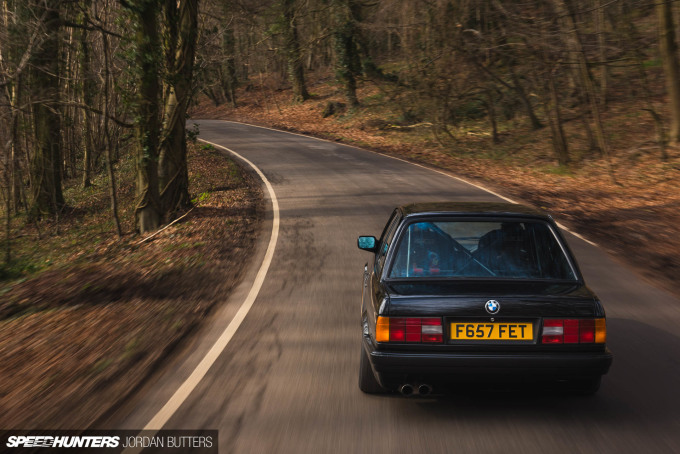 You might have even caught it being expertly slid around the corners during a drift session. This BMW can do it all. It's a car that has been built by its owner with one purpose in mind: to enjoy the pure thrill of driving.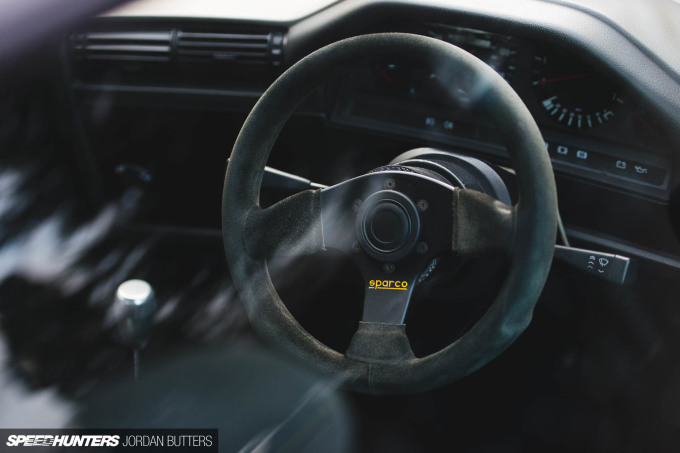 When I mentioned to friends that I was shooting Guy's E30, the standard response was 'he's handy behind the wheel' or 'he can properly drive that BMW'. When Guy tells me that he spent a couple of years racing competitively in an E36 M3 at Castle Combe, his reputation starts to make sense.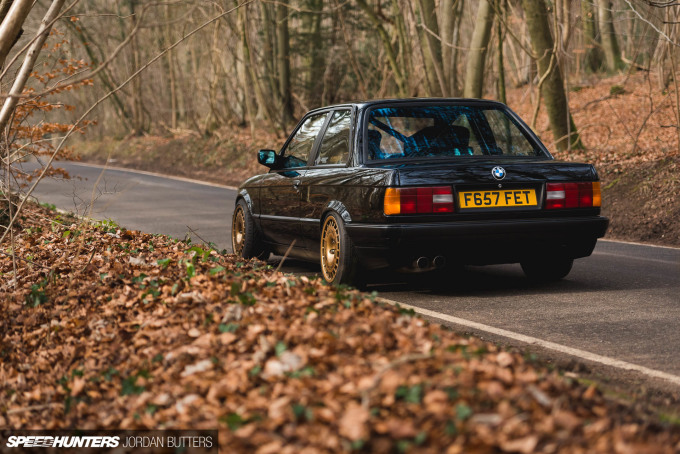 The slick black E30 that sits in front of you originally belonged to one of his friends. It started out life as a humble 320i auto before it was taken off the road and work started on turning it into a fully fledged race car. It's original purpose was to be used in the Production BMW Championship alongside a sister E30.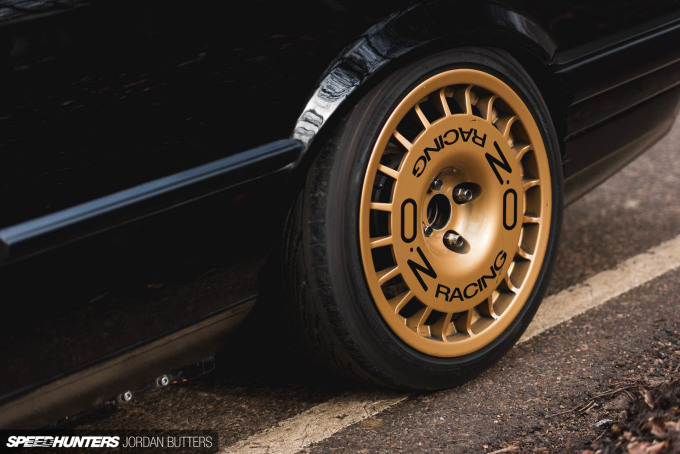 The car was stripped back to a bare shell and a full T45 cage was TIG welded into position. It received a lick of paint and that's where progress ground to a halt, for the time being. The car was left in its unfinished state for some time until Guy came along and decided to give the forgotten E30 a home.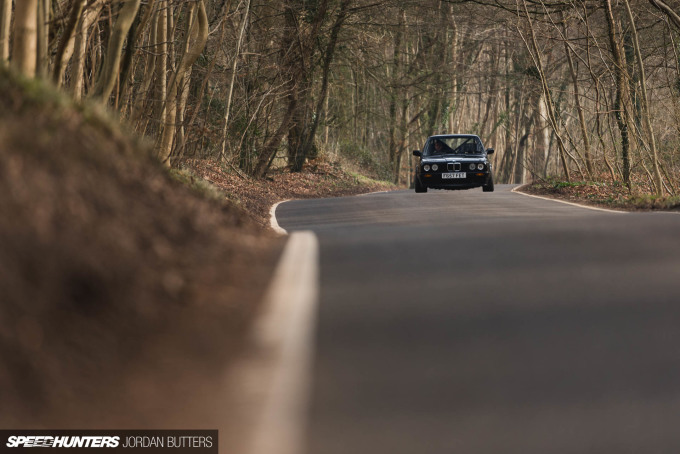 Even after Guy took ownership of the car, it wasn't until around a year later that the project was revisited. Guy's friend, Tom, was getting married, and decided to have his stag do at Santa Pod's Retro Car Show. Guy saw it as a chance to crack on and build the E30 as he'd intended, to get it ready for the event. With the help of Guy's neighbour, Scott, the car went from a bright orange bare shell to slick black track animal in just six months.
At The Heart Of It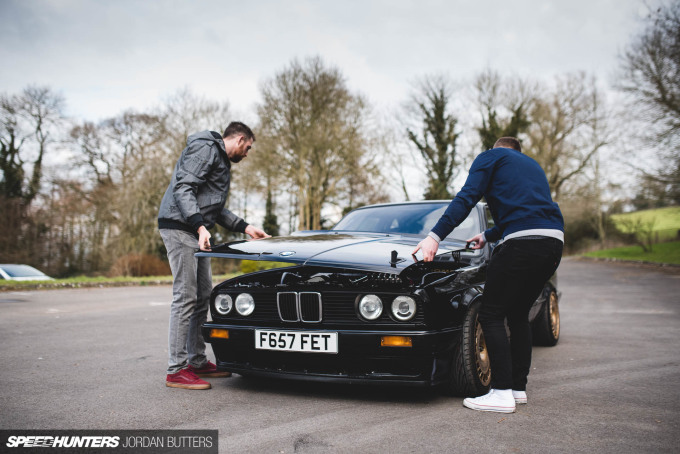 Guy's history with racing E36 M3s is the sole reason behind his choice of engine for the E30. The 3.2-litre, straight-six S50 is a proven powerplant that he had plenty of experience with. It was a no-brainer.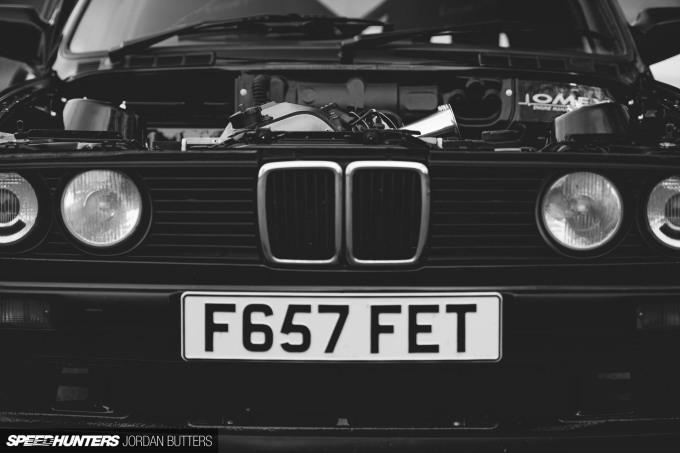 Notice how the engine sits upright like the original M20 rather than pitched over to one side as it does in most S50-swapped E30s? Rather than go the usual route of utilising an E34 sump and swapping out a load of other components that didn't line up further down the line, Guy designed a modified S50 twin pick-up sump from cardboard which was converted to alloy by Forge Motorsport. Coupling this with an E36 anti-roll bar gave the engine the clearance it needed, meaning Guy could use the original E30 engine mounts, 325i Sport gearbox and propshaft.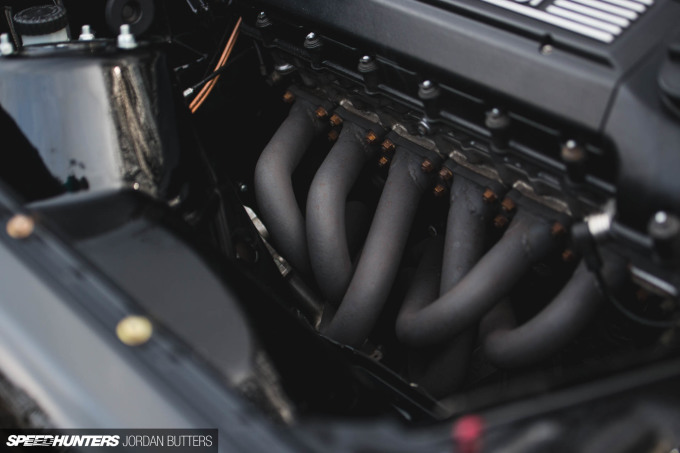 Sitting the engine upright also helped when it came to the exhaust manifold. As chance would have it, the stock E30 item had the same size runners as the S50 manifold, so Guy sourced an S50 flange and mated it to the stock E30 manifold – voila! There are plans to upgrade the S50's cams in the future, which will call for a less restrictive outlet, but for now it does the job.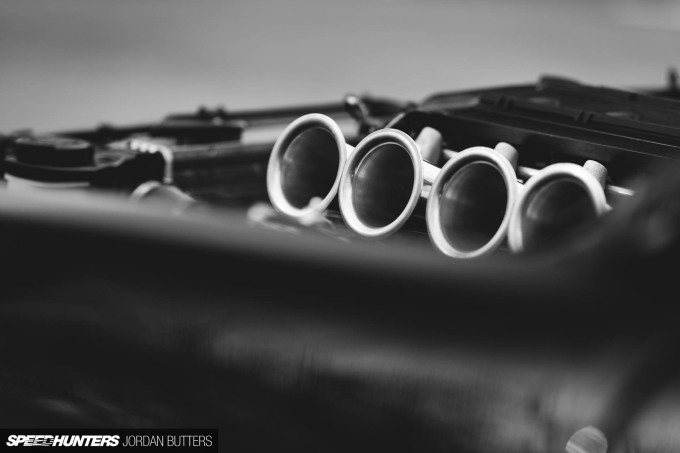 The S50's Vanos system has long since been evicted using a delete kit of Guy's design. This further simplifies the powerplant and will make it easier to dial in more aggressive cams when the time comes, as well as eliminating any potential problems that could arise. The six 48mm polished trumpets protrude proudly from the E30's engine bay.
Whilst the S50 burbles away nicely at idle, open the throttle and its bark is aggressive and raw. I don't have to tell you how immense this thing sounds at full chat – and it pops, crackles and flames galore too.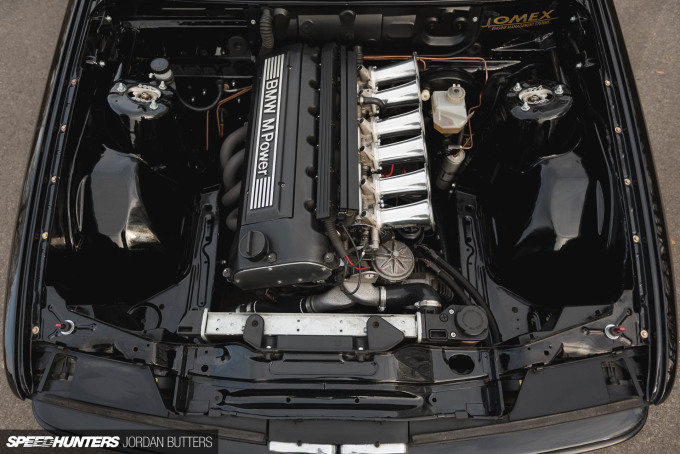 Elsewhere in the engine bay anything that isn't completely necessary has been removed. The cage is tied to the suspension turrets and any brackets and remaining holes that aren't needed have been removed and filled. An E36 radiator sits up front; Guy chose the non-M3 item as it has a built-in expansion tank to keep things tidy. A Setrab oil cooler is tucked away behind the grille.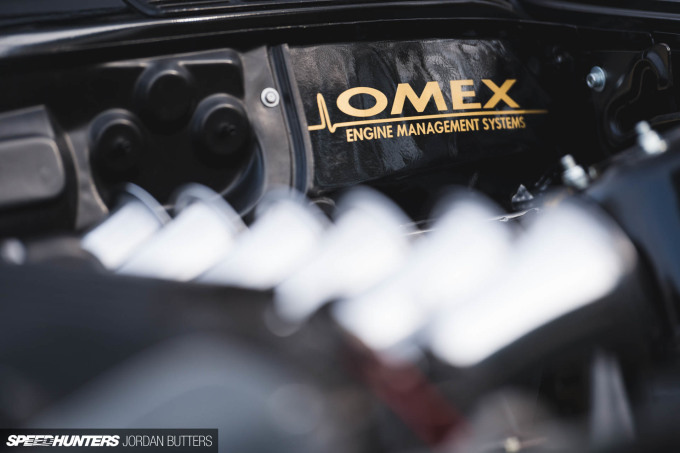 Given Guy's current position as a technician at OMEX Technology, it doesn't take a genius to work out why he chose the OMEX 710 to conduct the orchestra of trumpets under the bonnet. While I choose to scroll aimlessly through Instagram on my lunch hour, Guy tends to be more productive. He used the time to create a custom wiring harness based on an entry-level 1987 E30 loom. No electric windows and minimal frills means less unnecessary wires to remove and, therefore, less weight.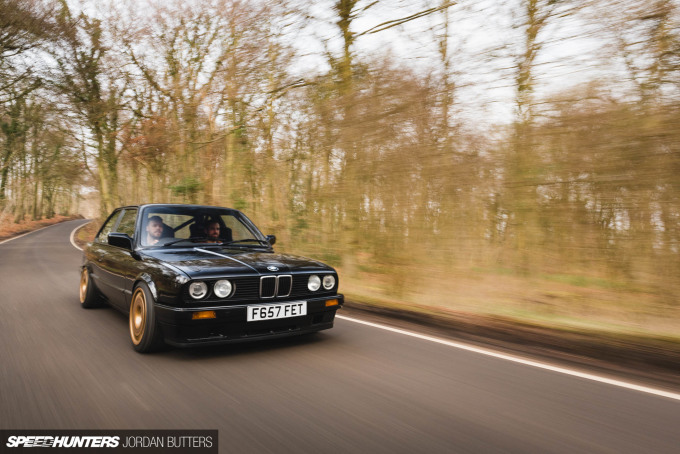 There's something about the sound of a German six-cylinder on throttle bodies screaming through the woods – it's enough to give you goosebumps.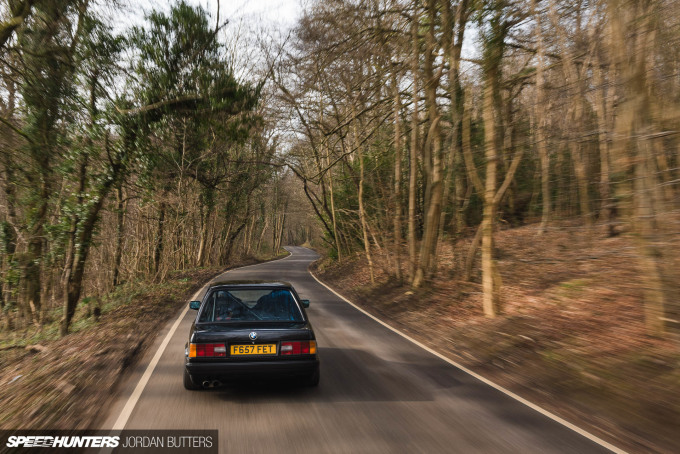 The car was on the road and attacking Castle Combe on a regular basis using a base map that Guy had used before on an E36 M3 for around year before he found time to map it. A quick rolling road session later and Guy had talked the S50 into singing to the tune of a healthy 330bhp at the fly.
The Ultimate Driving Machine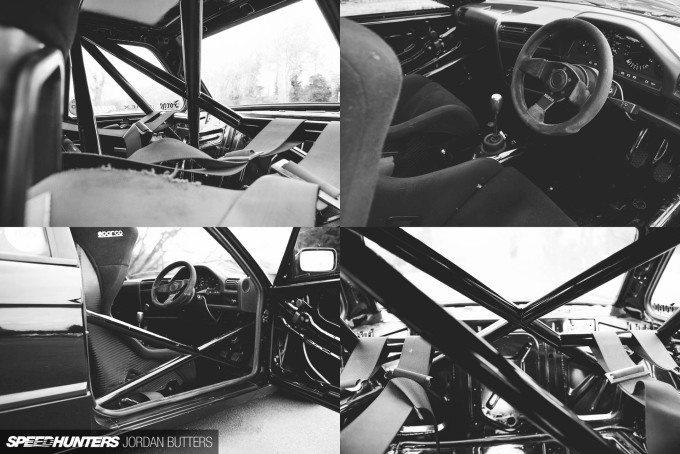 Climb over the door bars and inside it's strictly business. You won't find a trace of sound deadening. There's no radio, not even a heater for company. A Sparco Circuit Pro carbon fibre seat and TRS harness holds the driver in place while a Sparco Circuit fibreglass seat and Sabelt harness looks after the passenger. A dished suede Sparco wheel helps keep things pointing the right way.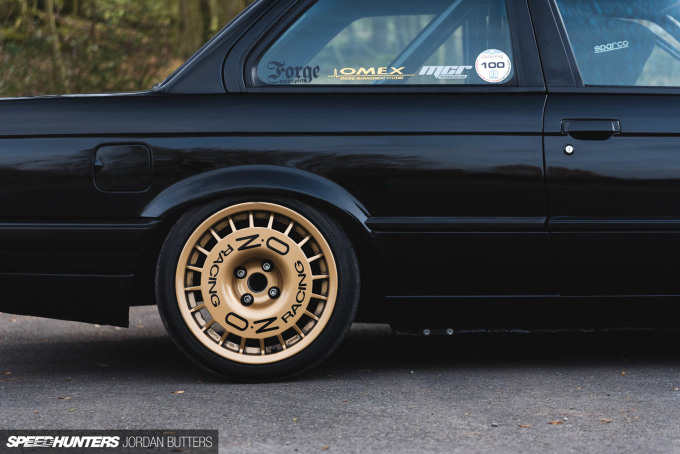 When the car rolls up shows, most people are initially drawn to it by its gloss black paintwork and gold OZ Racing wheels. Their retro design is pretty on-trend at present, but this isn't 100 per cent intentional – Guy actually beat the scene to it.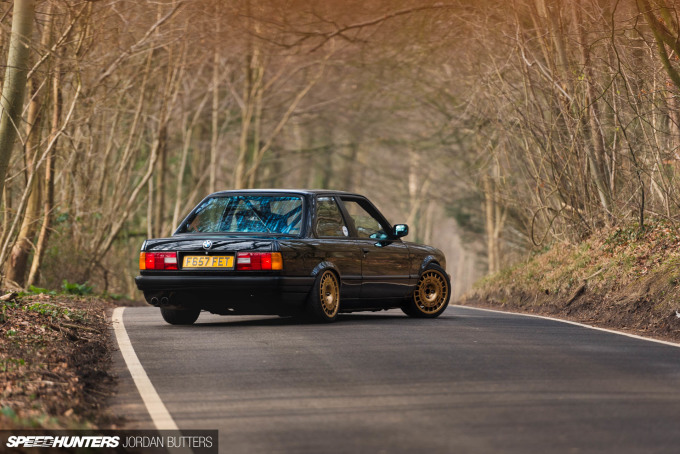 The wheels originally came off an Escort Cosworth Monte Carlo and were acquired around 16 years ago for the princely sum of £200. They've been converted from 4×108 to 4×100 and have found a home on three of Guy's E30s.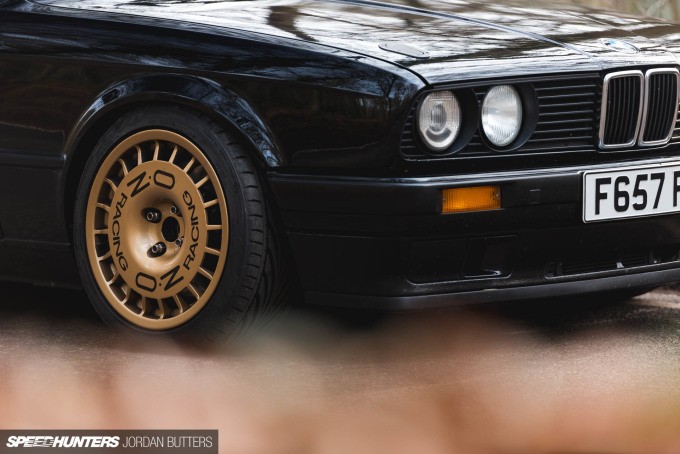 Refinished in custom gold and held in place by some rather posh forged titanium lug nuts, they perfectly compliment the E30's aesthetics. Tucked away out of sight is a set of Forge Motorsport 306mm 6-pot front brakes and DS2500 pads.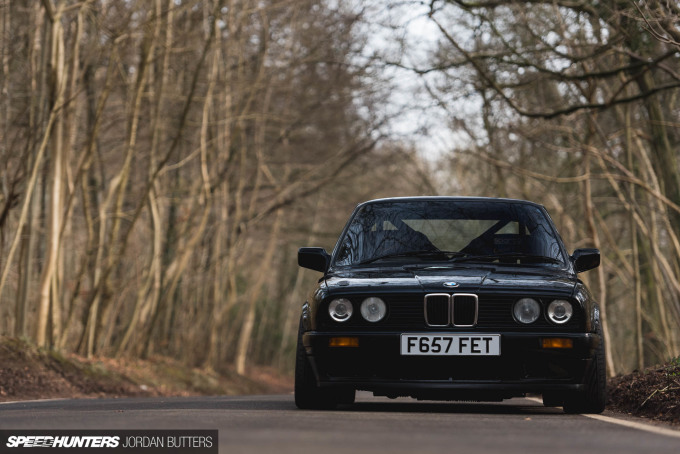 Handling is taken care of by Gaz Gold coilovers with adjustable top mounts. Guy admits that, at present, the E30 sits a bit too low for optimum handling, and plans are afoot for some custom front and rear subframes and arms for adjustable roll centre.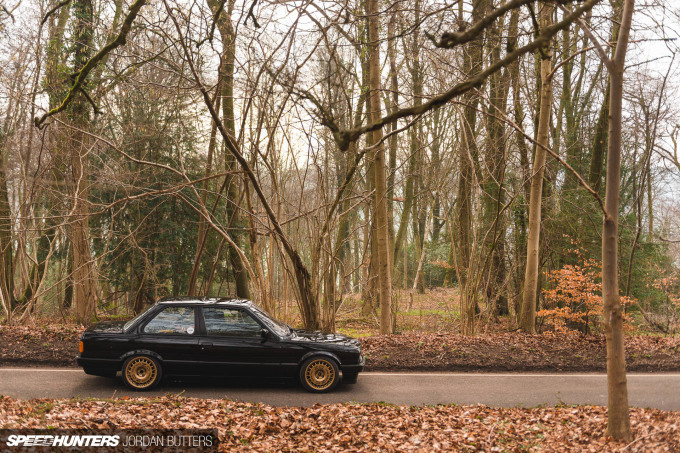 The E30's understated exterior belies the animal within. There's no crazy overfenders, aero or even the slightest hint that this is anything more than a lovingly-restored classic. Guy has resisted the urge to fit a bigger front lip, which he has in his possession, simply because he wants the car to remain looking stock.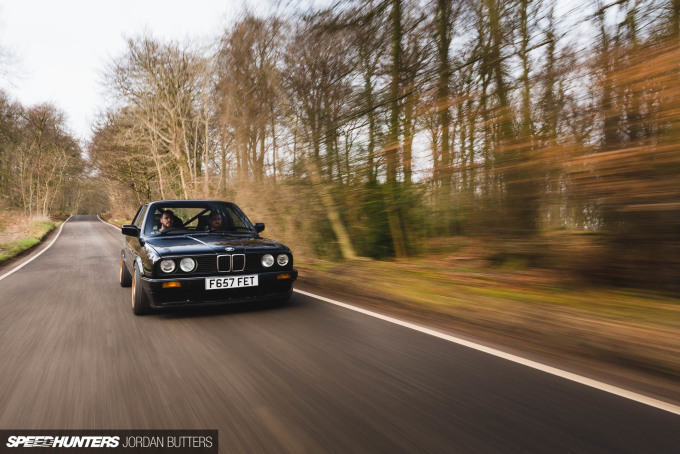 Far more than the sum of its parts, the result is a car so raw and pure that it's best utilised on the track, although blasting through the woods on a quiet Sunday morning it couldn't look more at home. The on/off nature of the tiny 140mm twin-plate clutch and plated LSD means that even slow-paced exits from junctions turn into tyre-scrubbing, engine-barking affairs.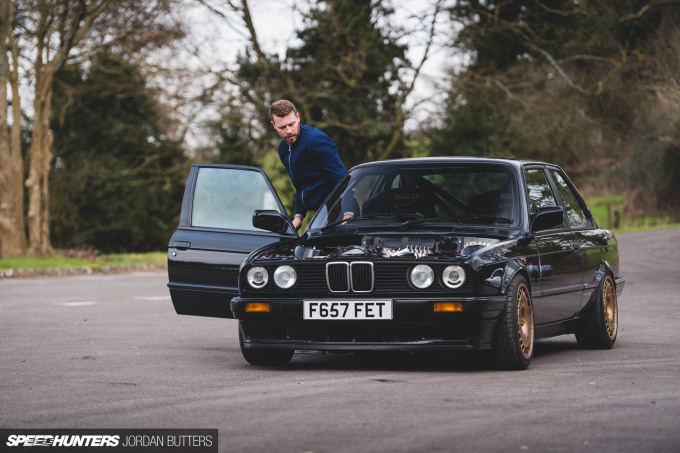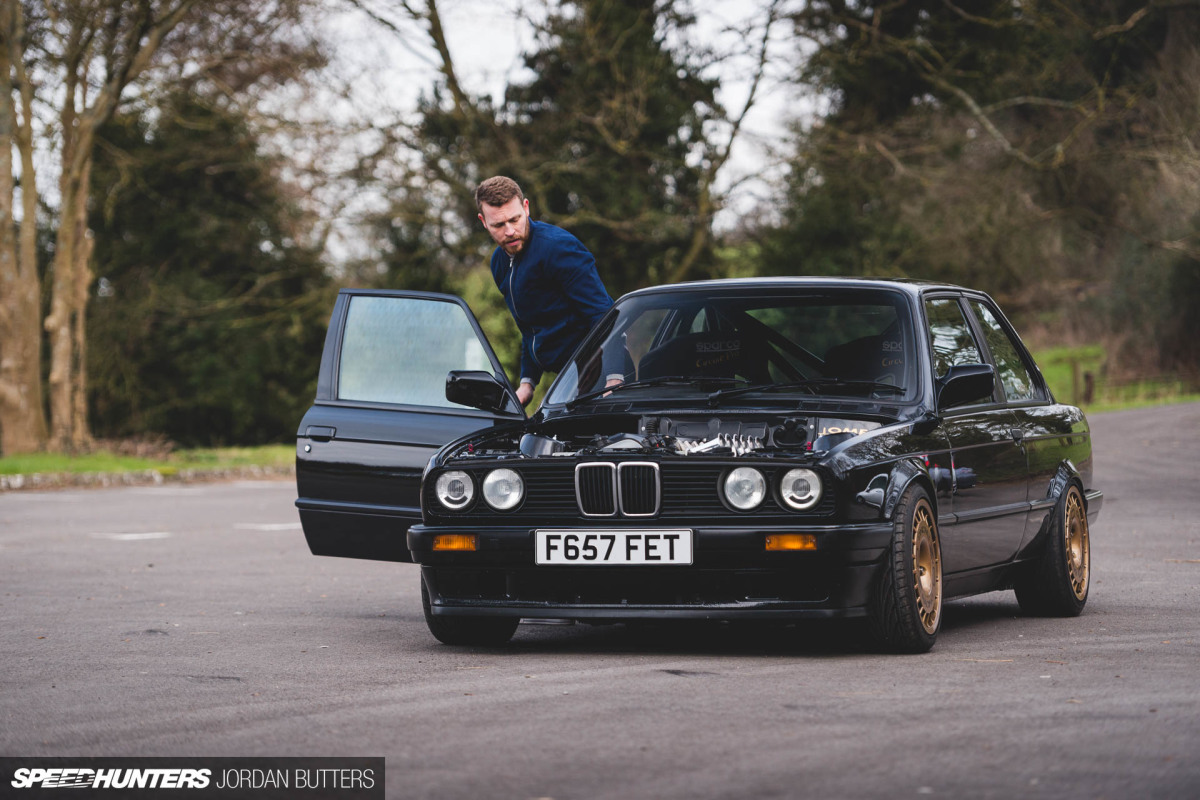 Despite this car's low-slung stance and clean exterior, this E30 was built to be driven hard. It's a proper raw driver's car through and through. It just so happens that it can stand its own amongst the show crowd too.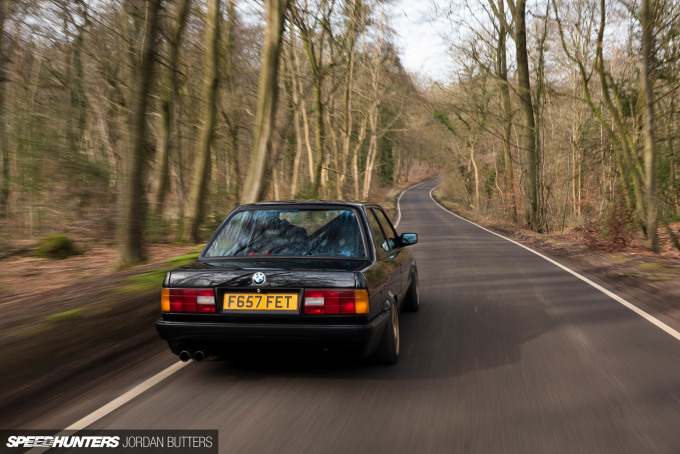 My attraction to this build stems from its simplicity. There's nothing unnecessary, and everything that isn't deemed to improve the experience of driving has been improved, removed or stripped back. Through the right combination of parts and attention to detail, Guy has built, in my eyes, the perfect track-ready E30, and a car that gets you pretty damn close to a pure, unadulterated driving experience.
Jordan Butters
Instagram: jordanbutters
jordan@speedhunters.com