An Overwhelming Evolution
So how do I even approach this? The Pagani Huayra is so much more than just a hypercar, and now its Italian maker has come up with a faster and more track-focused iteration called the BC.
My mind was blown even before I saw the thing, and that was just from talking to the company's global PR and marketing manager, Luca Venturi. In an era where even the greats like Ferrari, Porsche and that little British company McLaren, have fully embraced hybrid technology, Pagani has stayed true to its roots, creating performance through that good old 'drop weight, add power' recipe.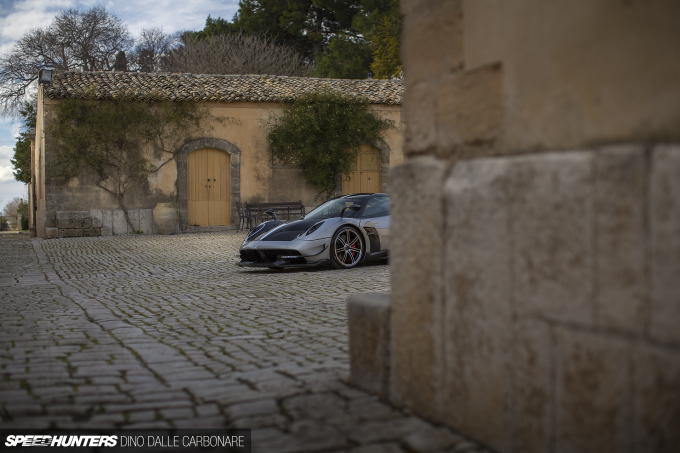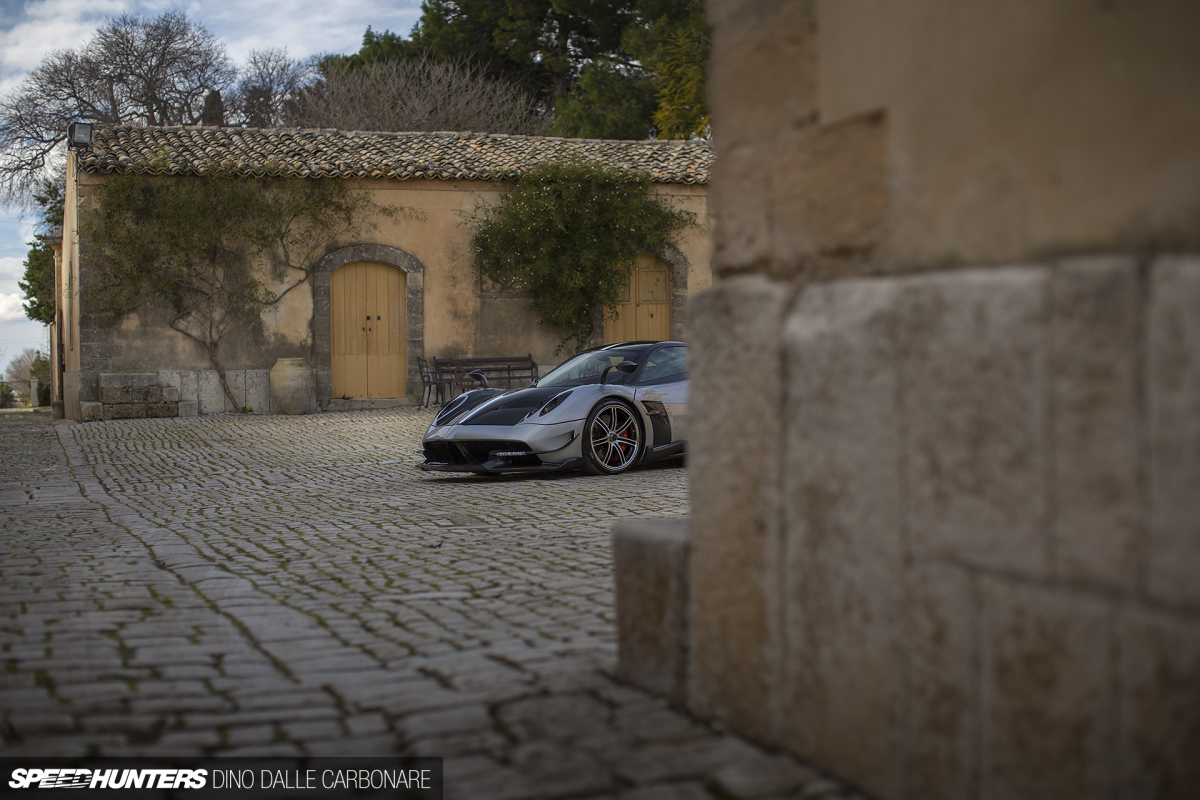 The first thing you need to know is that Huayra BC weighs in at 1218kg – 132kg less than the 1350kg original. Don't just look at 1218kg as a number though; have a proper think about what it means. That's around the same weight as a Ford Fiesta, but where a city car like that does with 125-odd horsepower, the BC packs an 800hp version of the Huayra's AMG 6.0L twin-turbo V12.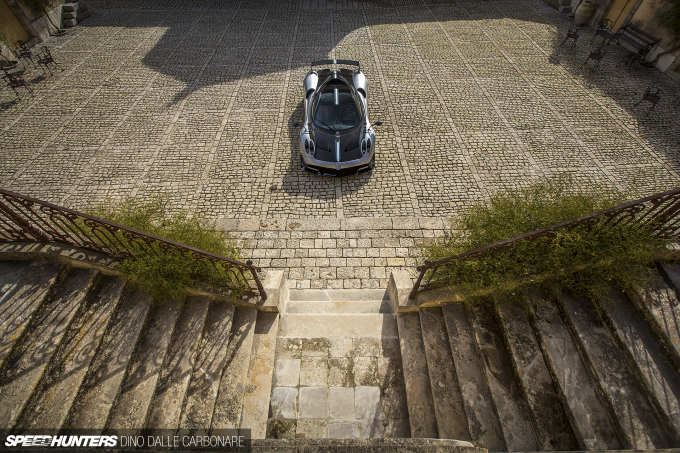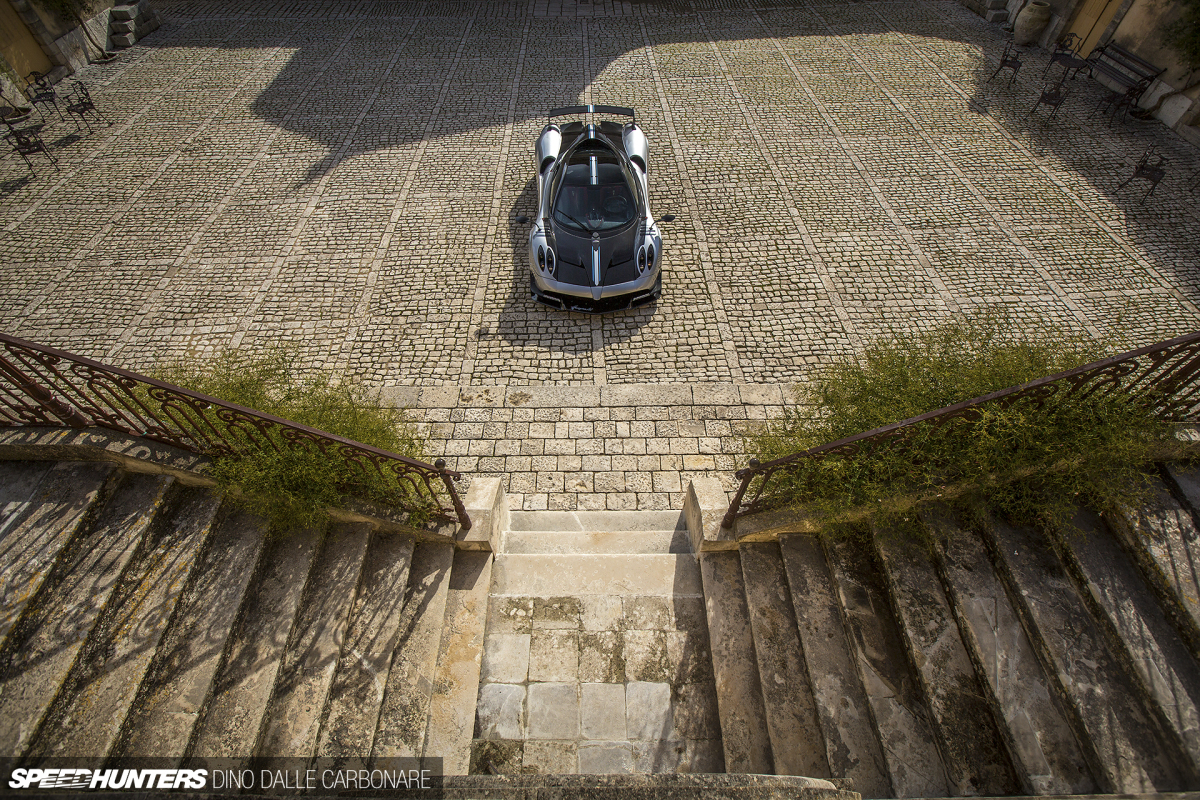 Oh, and what does 'BC' stand for I hear you ask? Those are the initials of Benny Caiola; late New York City property developer, famed Ferrari collector, and Horacio Pagani's very first customer. Benny, who had immigrated to the US from his native Sicily, Italy, was a mentor to Horacio over the years, and picked up a few other Paganis along the way. He always put pressure on Horacio to make more track-focused versions of his cars, so the BC is a beautiful homage to Benny's passion for driving. He's also the reason why the car was unveiled in Sicily.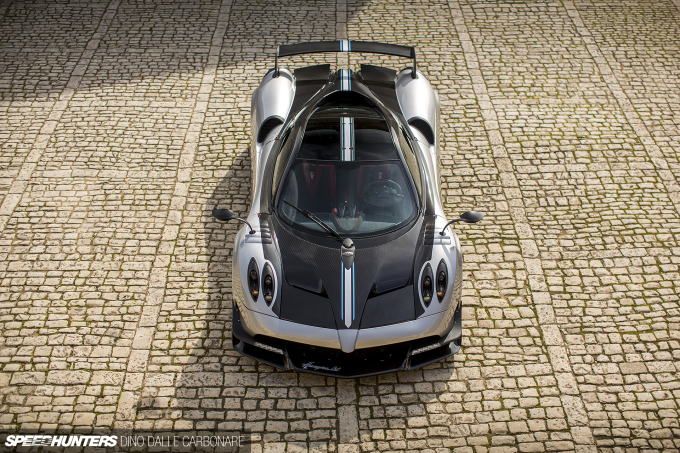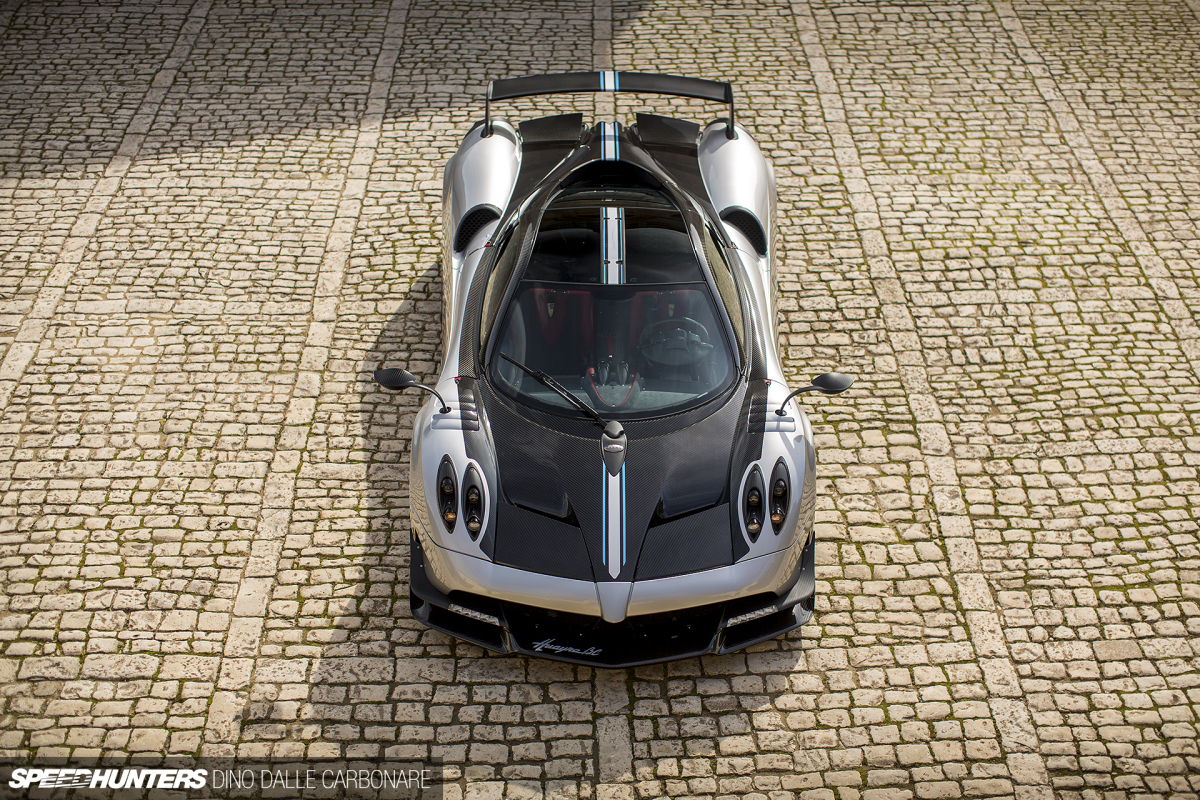 Before we get to what actually makes the BC the amazing car it is, I do need to mention that every single one of the 20 offered cars – each costing 2.35 million Euro (2.61 million USD) – has been spoken for. On top of that run, there's five extra cars for Pagani's own testing and development purposes. The BC is not just a one-off; it defines what the future of Paganis will be like, starting from the roadster version of the Huayra which is up next once the last of the 100 Huayra coupes are completed. Think of it as a testbed for new tech in every single area of the car; something that will be passed on to the next version, but also able to be retrofitted – to some extent – into existing Huayras. To me, that's something else that makes Pagani a little bit more special than the other hypercar makers out there. Because if I had forked out a fortune on my Huayra, I'd love to keep it performing as best as it possibly could through regular updates.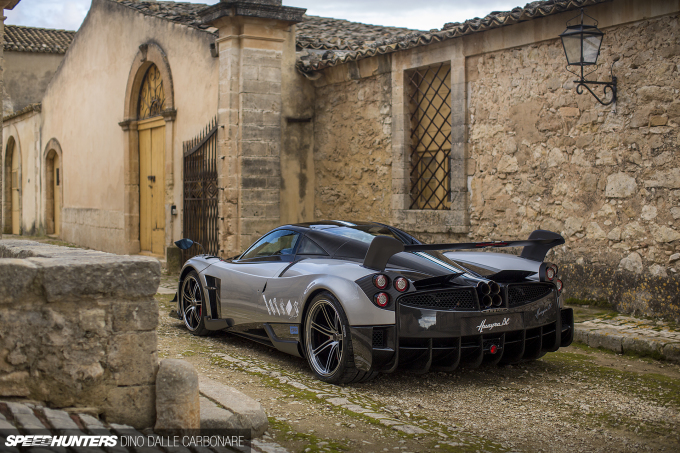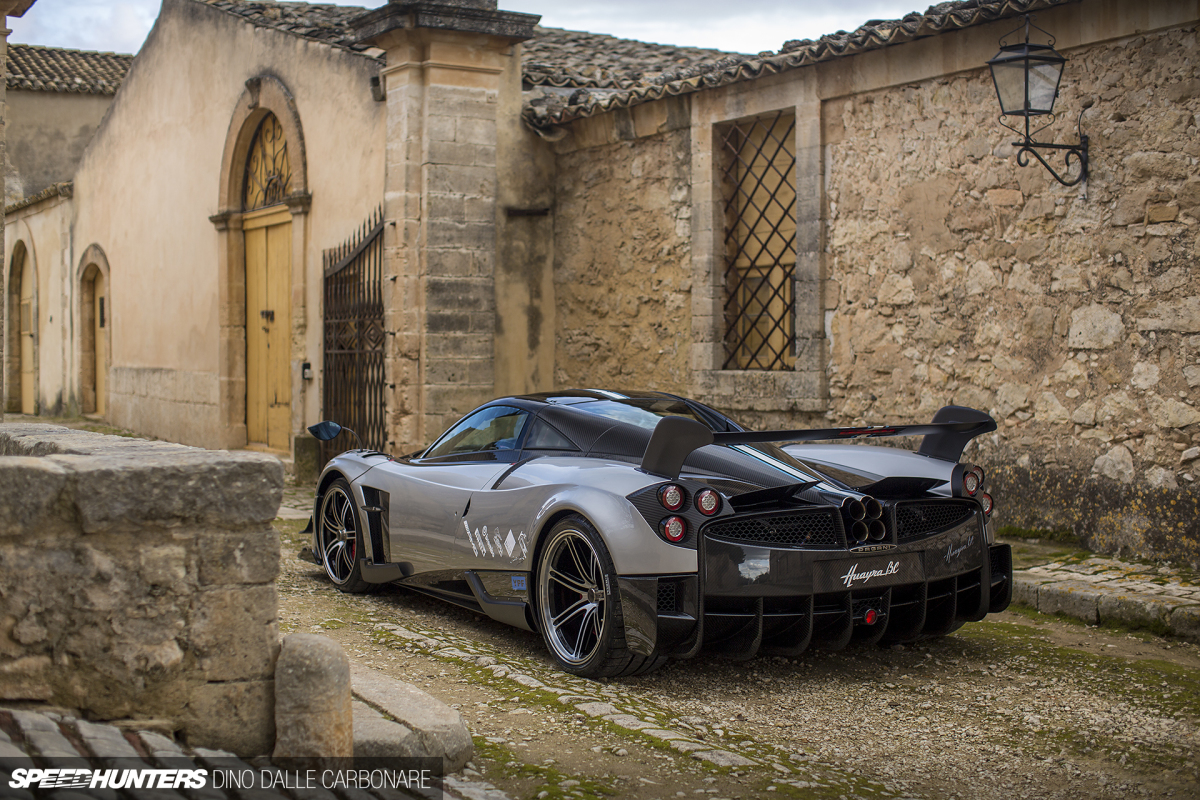 Aside from the little roof panel, pretty much everything you see on the BC is 100 per cent new or redesigned. Notice how there's a more defined hip line to the car, a wider and more pronounced radius to the front and rear wheel arches, and all of the aerodynamic additions like the front lip and canards, the skirt treatment, the rear integrated diffuser and extractor section, and of course the fixed wing. This prototype was about 60-65 per cent ready, so there are still some refinements that need to be done before the completed car is unveiled at Geneva next month. The wing, for example, will get an adjustable blade section which you can rake to its most extreme angle when you take the car to the track.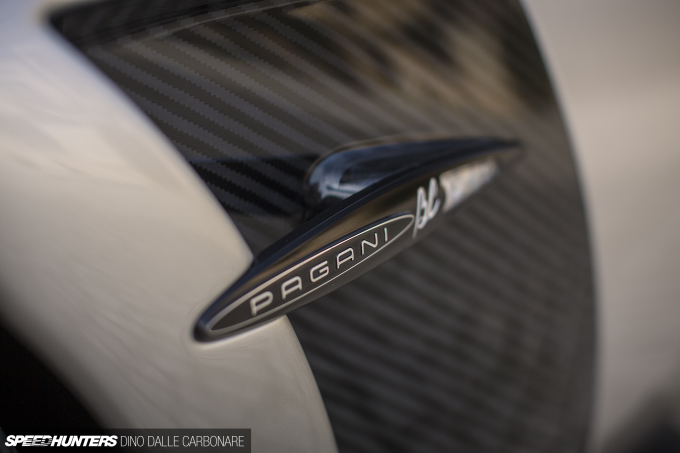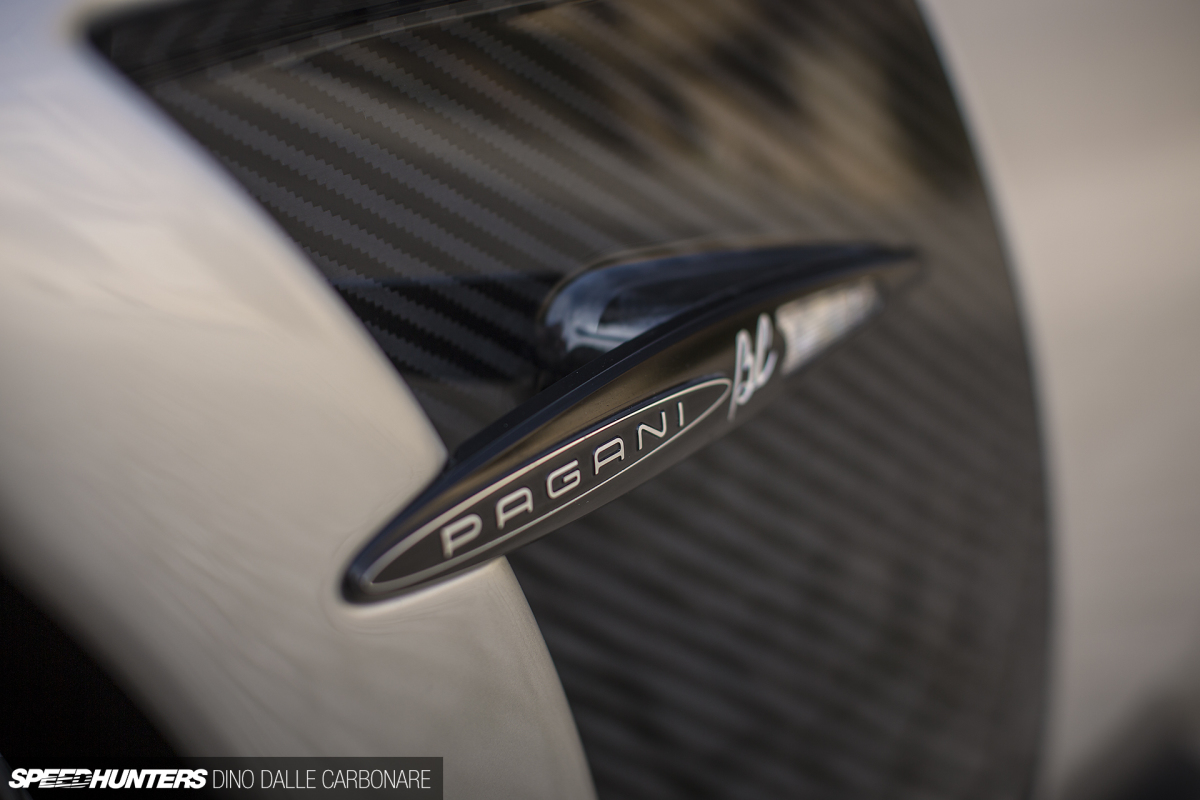 It might be a more spartan interpretation of the Huayra, but the BC is laden with the same maniacal attention to detail that only a Pagani could have.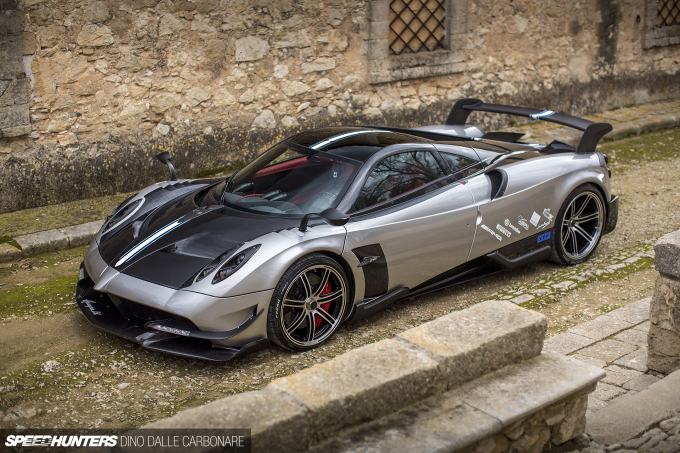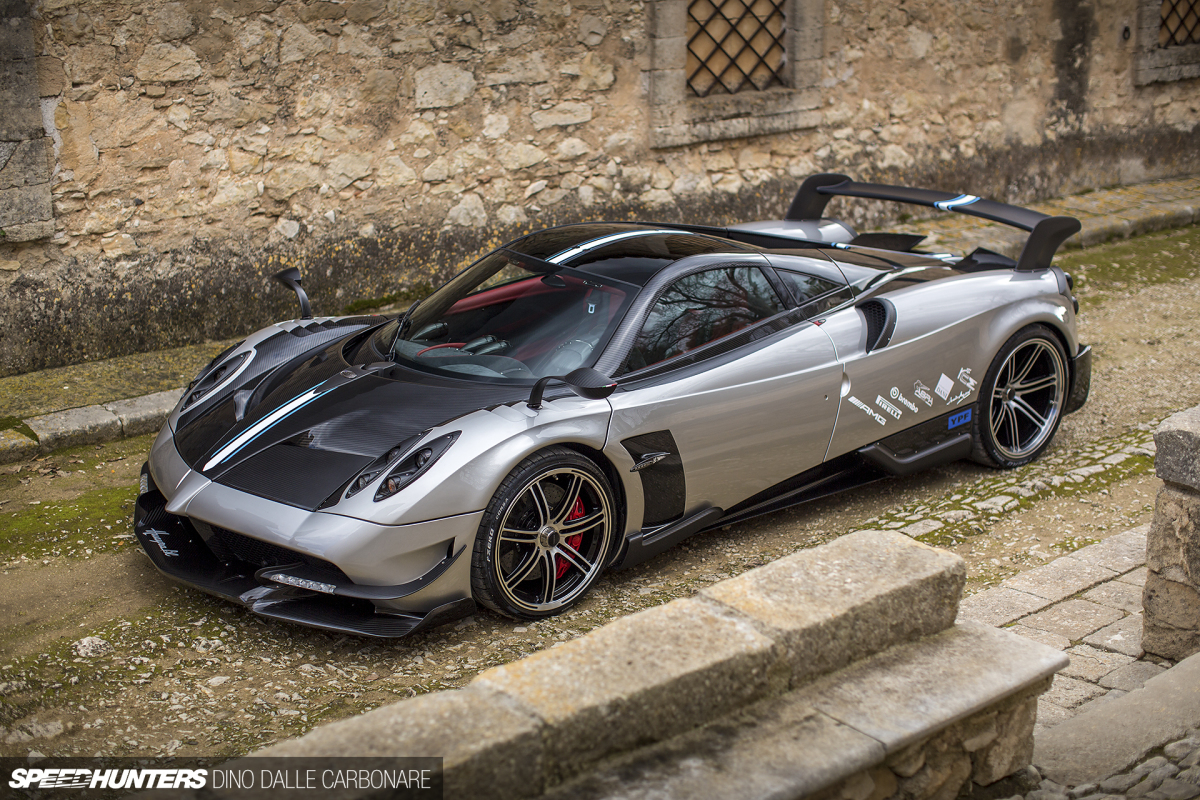 You can look as hard as you want, but you will never find plastic. Try that on a 918 or a LaFerrari… Not to take anything away from what are two amazing cars (Horacio actually owns a 918 as he loves them so much), but there are noticeable differences between a car manufactured on a regular production line, and one that is hand built like a fine Swiss watch.
Attention To Detail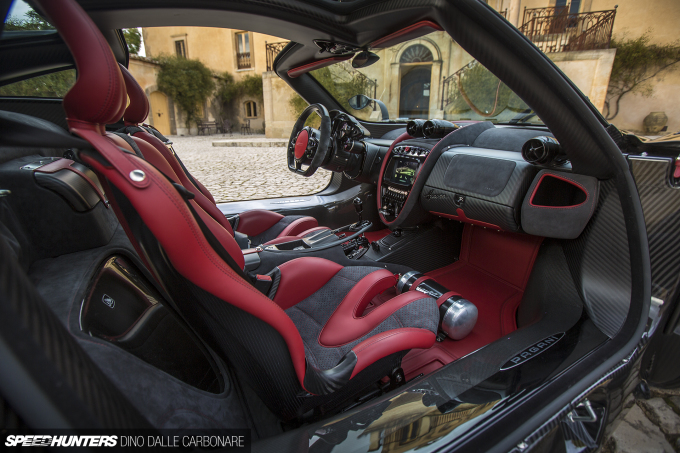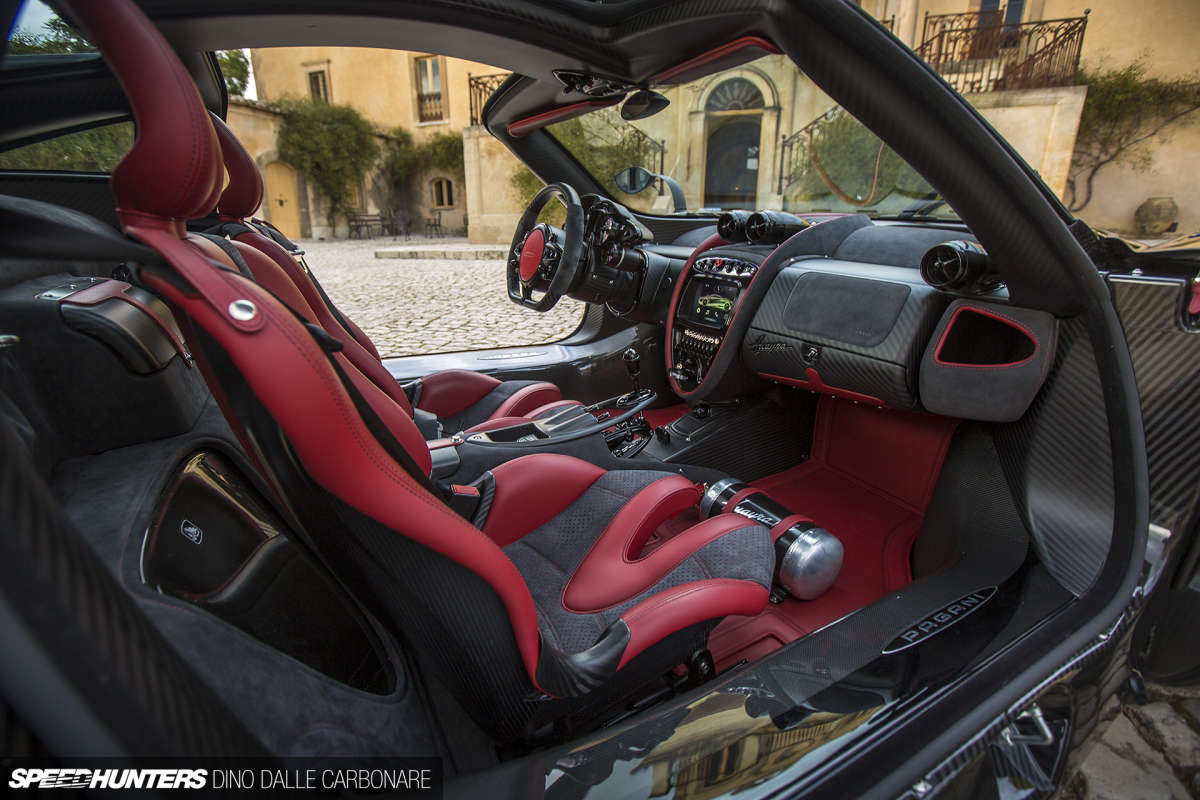 The interior further emphasis the attention to detail. Yes, the Huayra BC is faster and more exciting to drive, but don't for one second think that anything has been taken away from that signature fit and finish and top-of-the-line choice in materials. The cabin is a little more track-focused; you have supportive bucket seats that do away with that center knob that Huayras have to tilt the seat upwards, and they're trimmed in soft suede and leather to grip occupants in a better way. Four-point harnesses are standard fare too.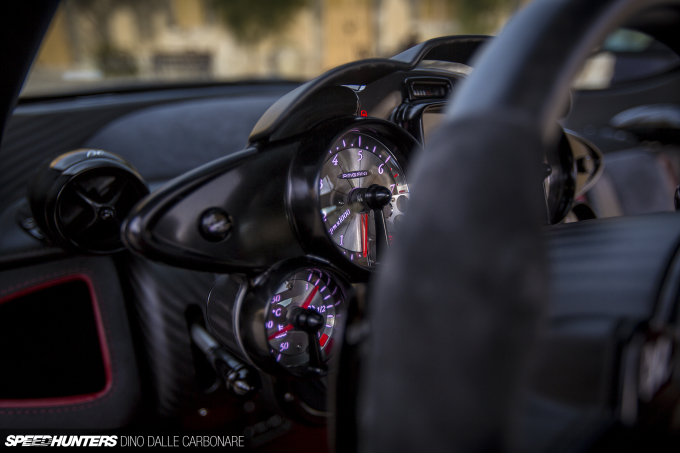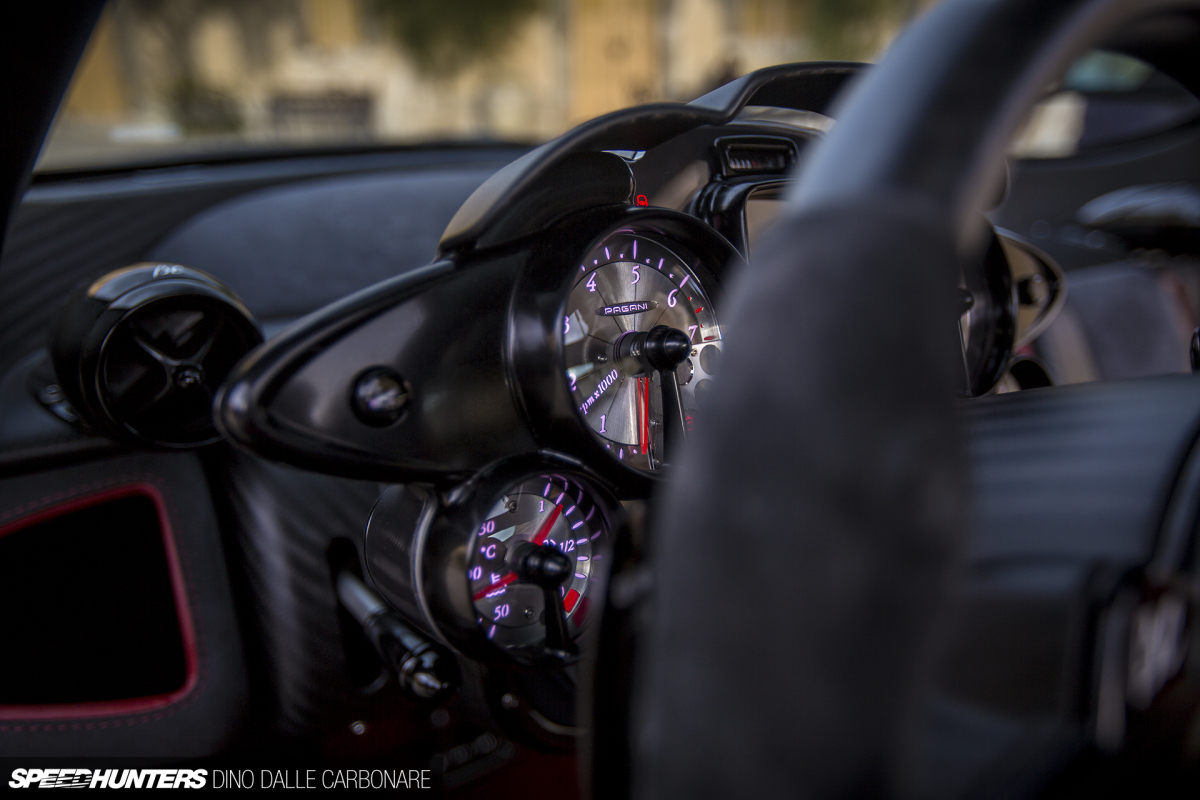 The same suede covers most of the dash and various trim around the cabin, while the exposed carbon has been given a satin finish so as not to cause annoying reflections in the windscreen. All the CNC-machined billet aluminium parts that form the main instrumentation behind the steering wheel and the center stack have been anodized in black, which has a dramatic effect in person.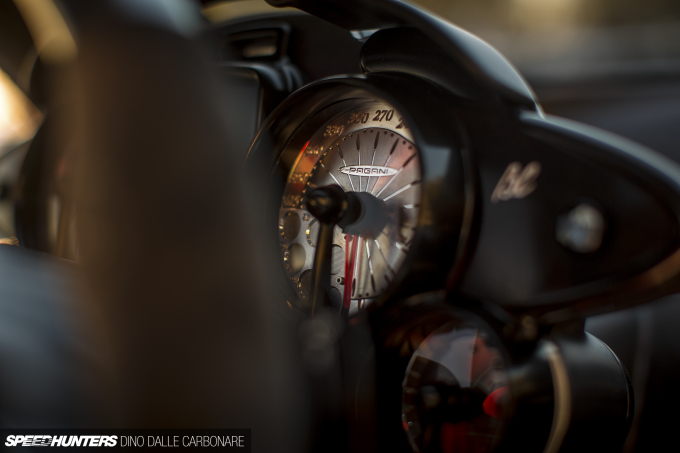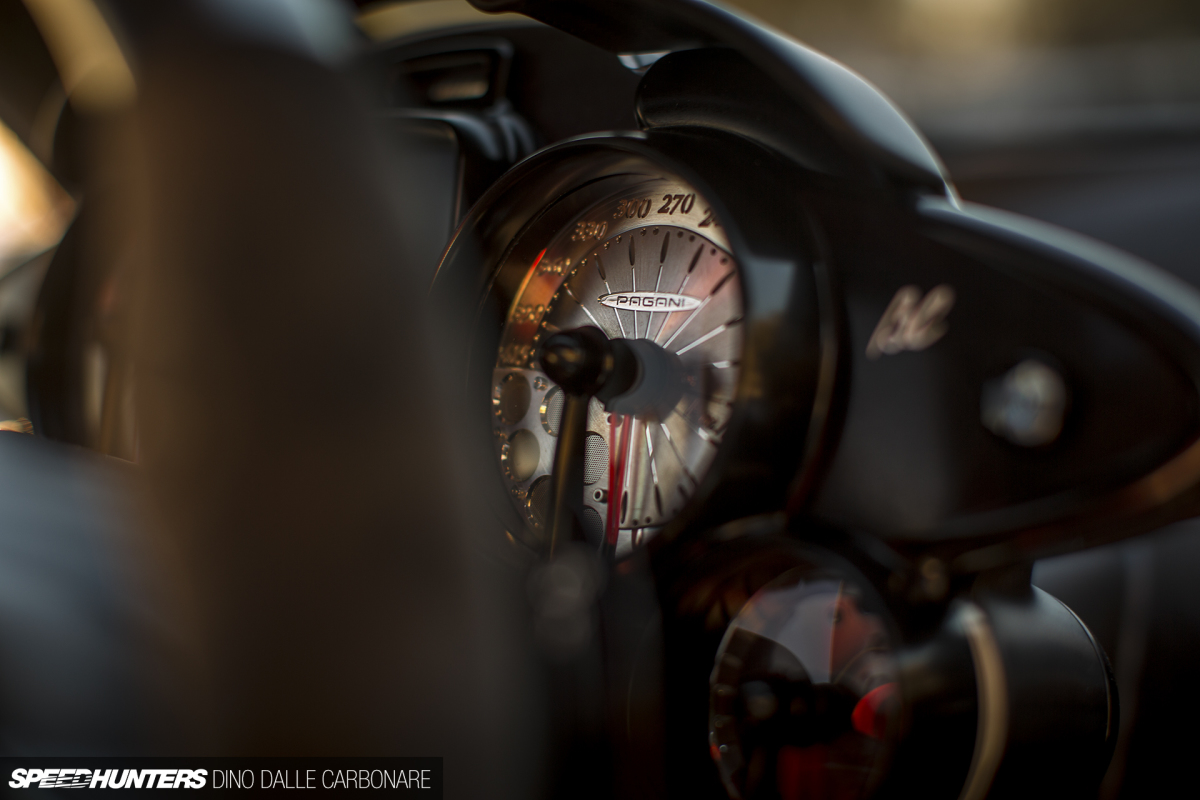 The gauges themselves are still beautiful analogue instruments, and are hand-made by the same people that make watch faces for Patek Philippe.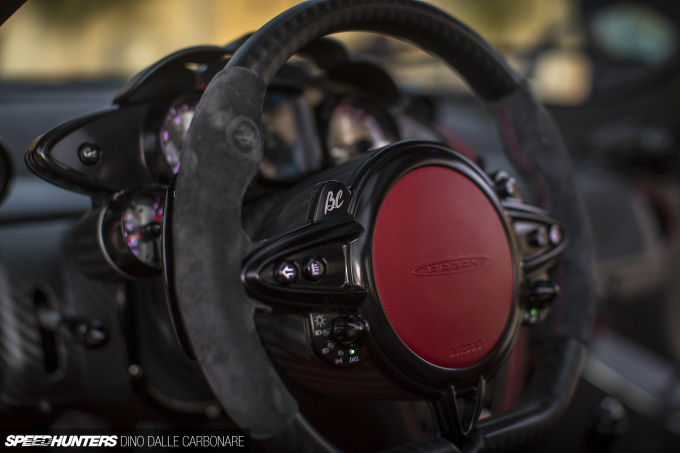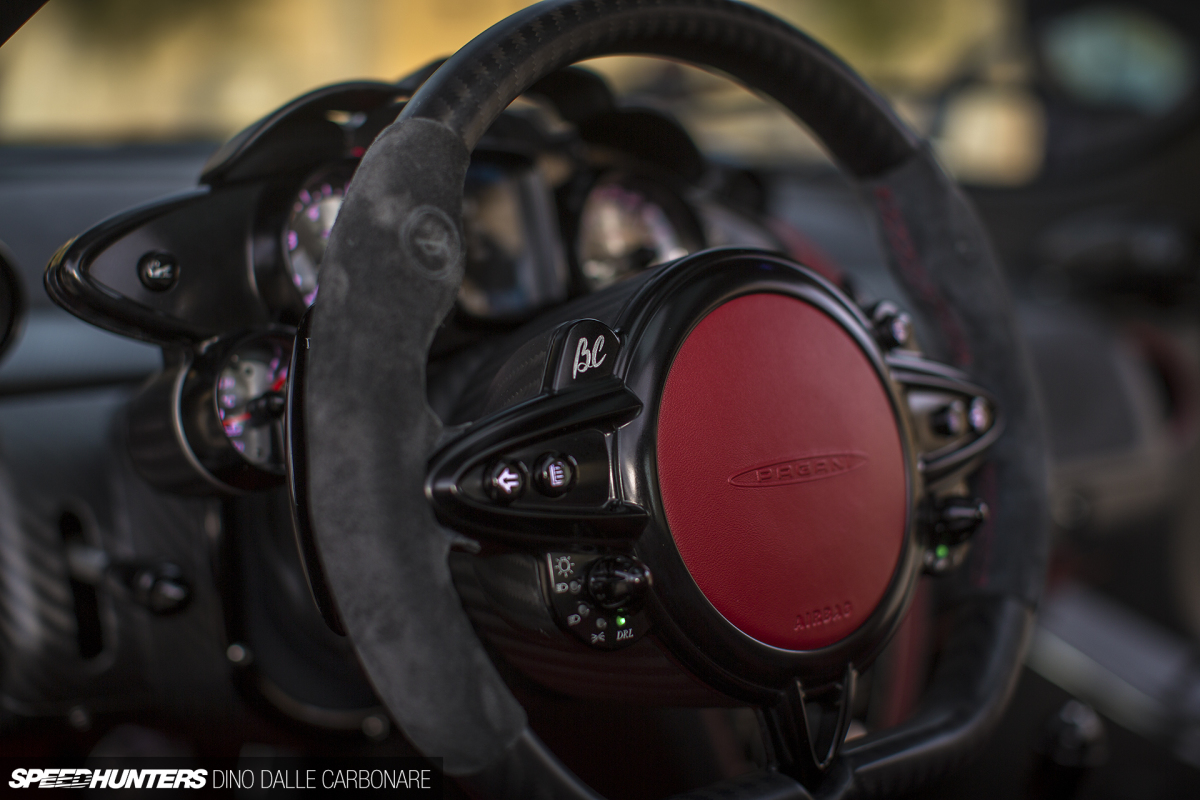 Engraved BC logos feature all around the cabin as a subtle reminder of just what you're driving. The steering wheel is suede-wrapped too, and feels nice and chunky in your hands.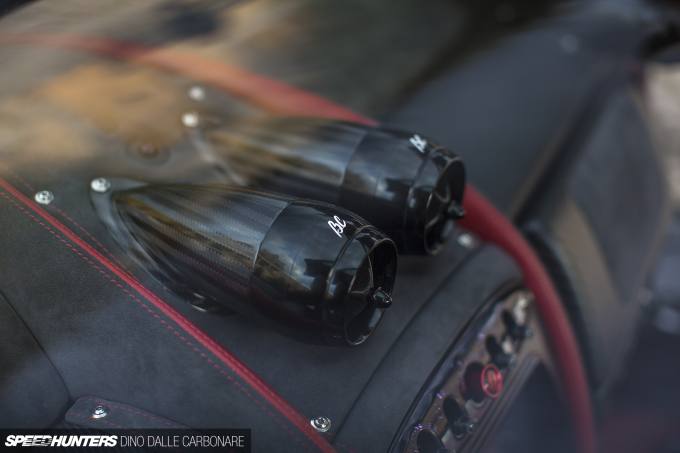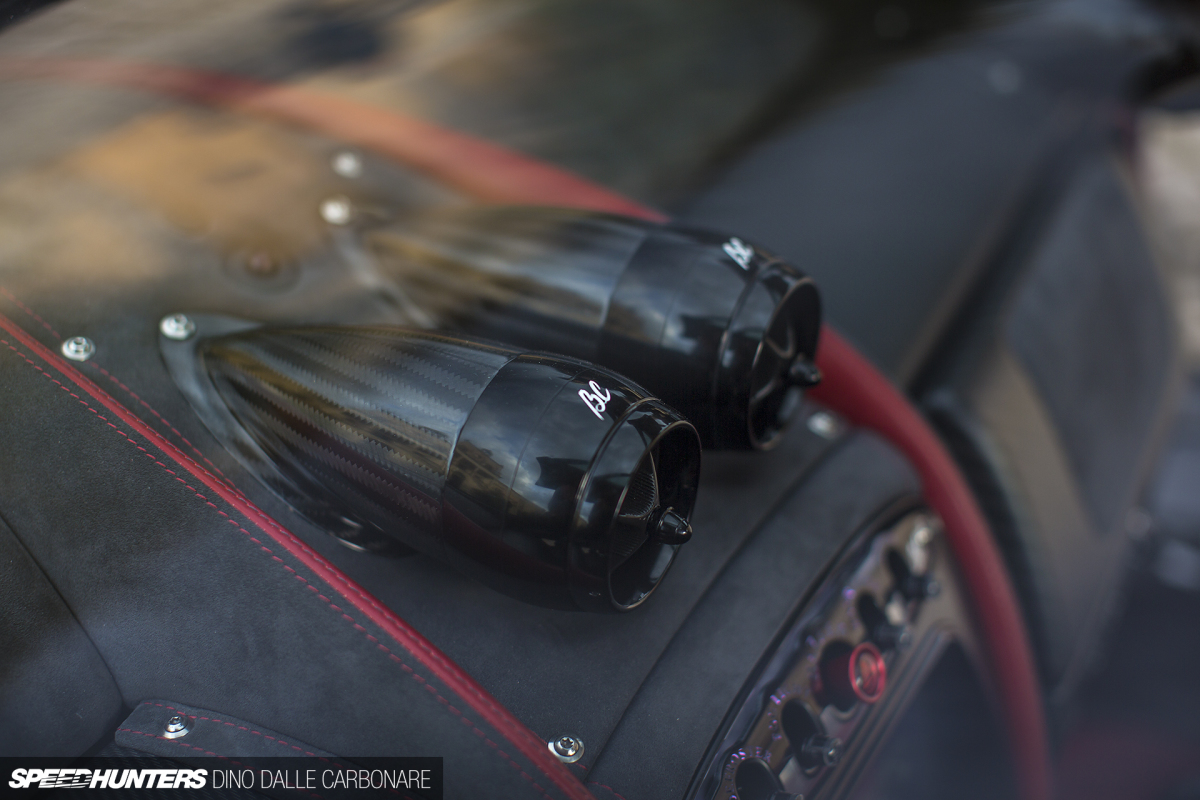 The detailing is on such a level that even attempting to explain it to you is a somewhat futile exercise. You have to see it, feel it and even smell it to get a real sense of it. Every little thing is meticulously crafted, right down to each individual Pagani logo-inscribed titanium bolt.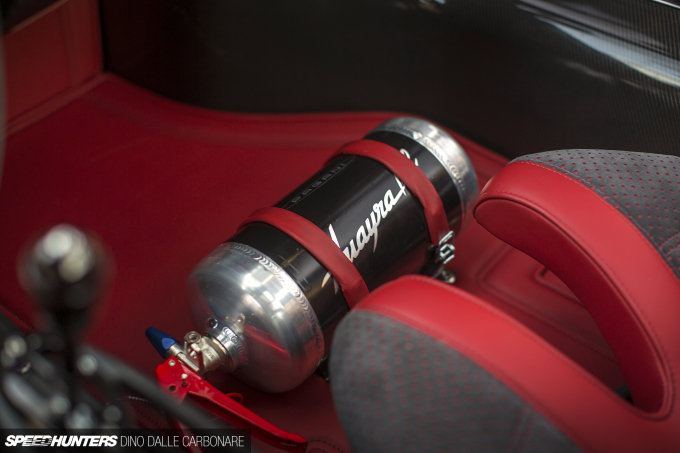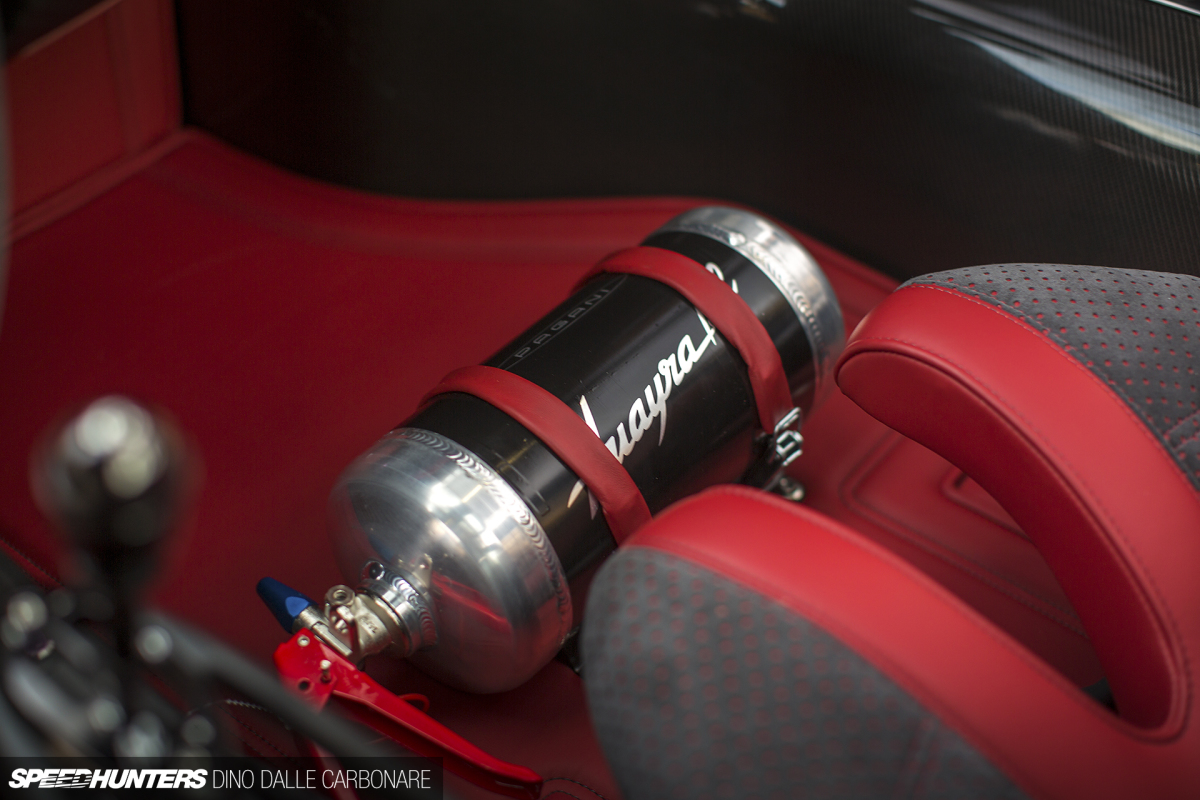 If the BC's motorsport intentions weren't clear, the aluminium fire extinguisher in front of the passenger side bucket seat is a clear sign. I do find it funny that the car is supplied with beautiful leather floor mats though; you need to rest your custom-made race shoes somewhere, I guess.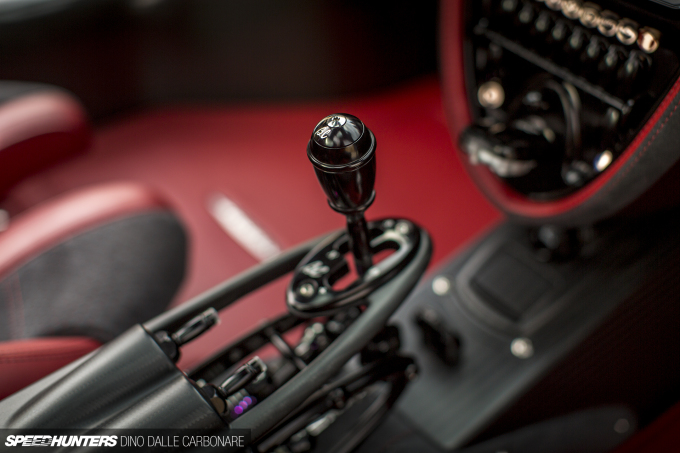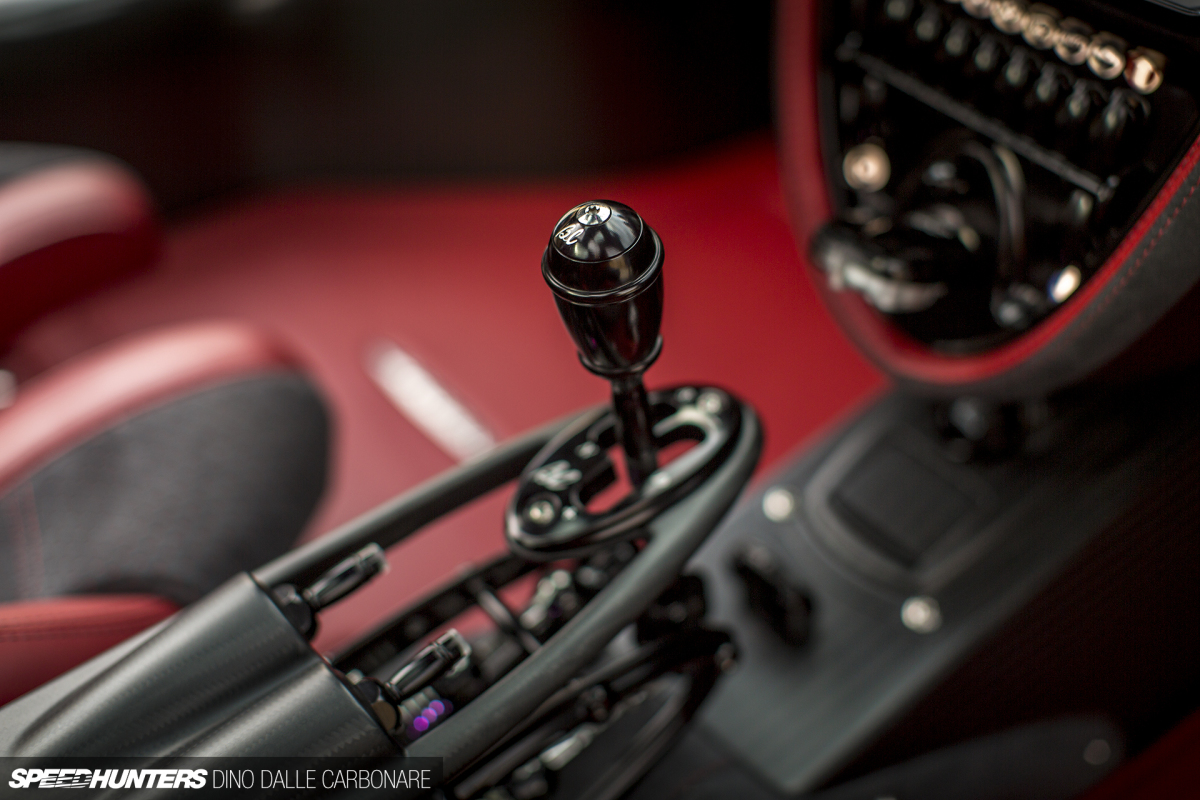 I can't stress how spot-on the black anodising treatment is. Check out the mechanical masterpiece that is the gear selector and linkage; black gives it a new look altogether.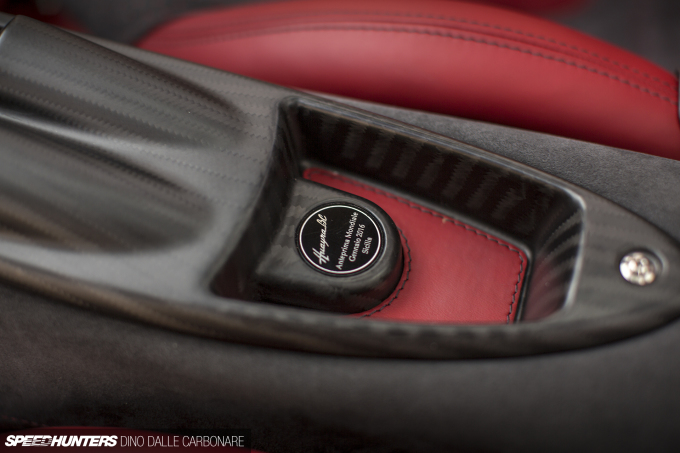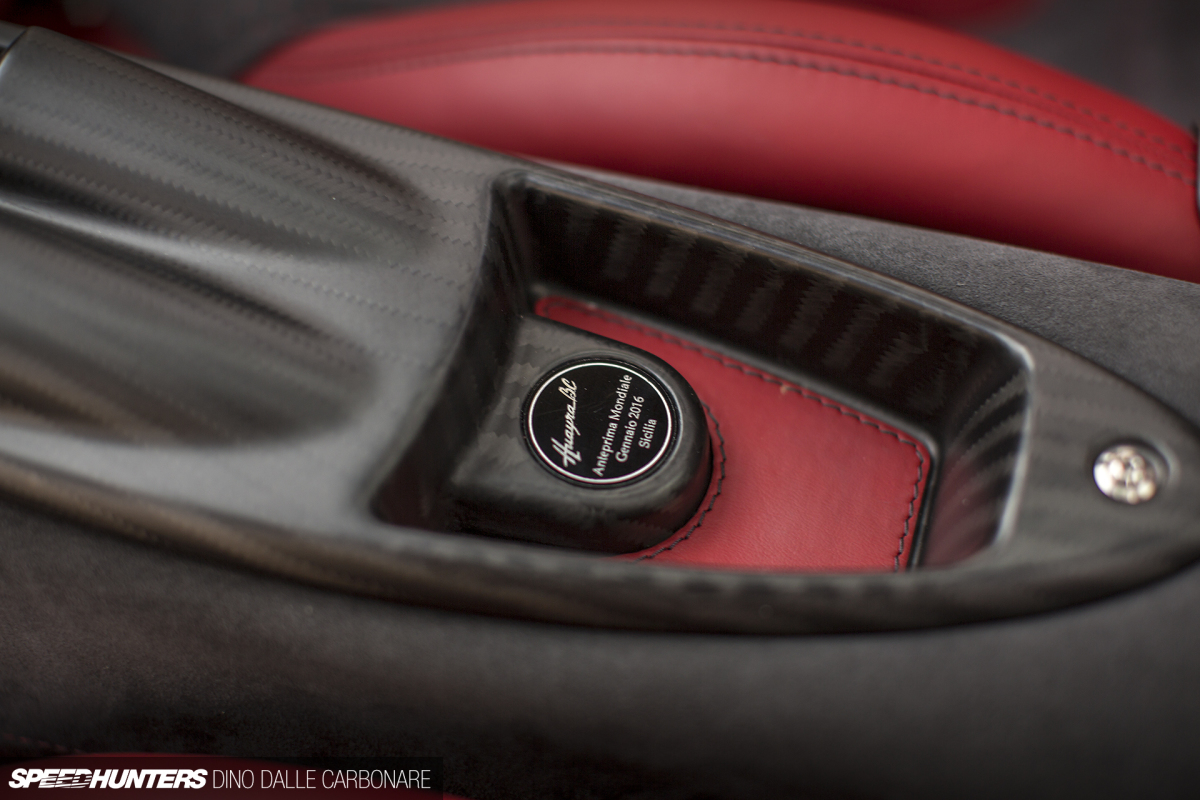 The Huayra BC that I got to drive was prototype #3, and the guys at Pagani had added a special badge highlighting that this was the car used in the world preview drive event.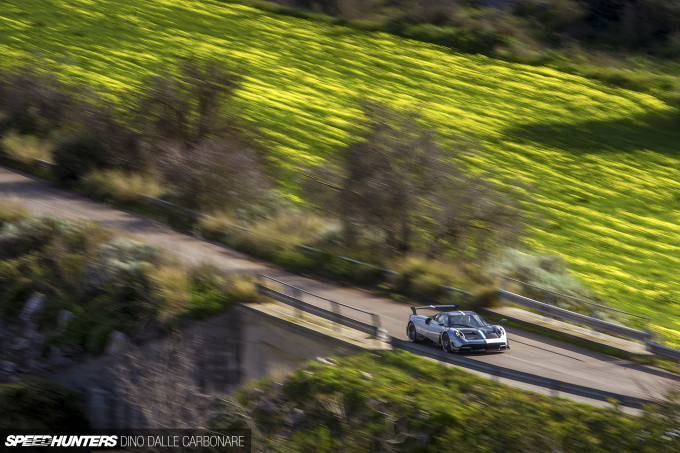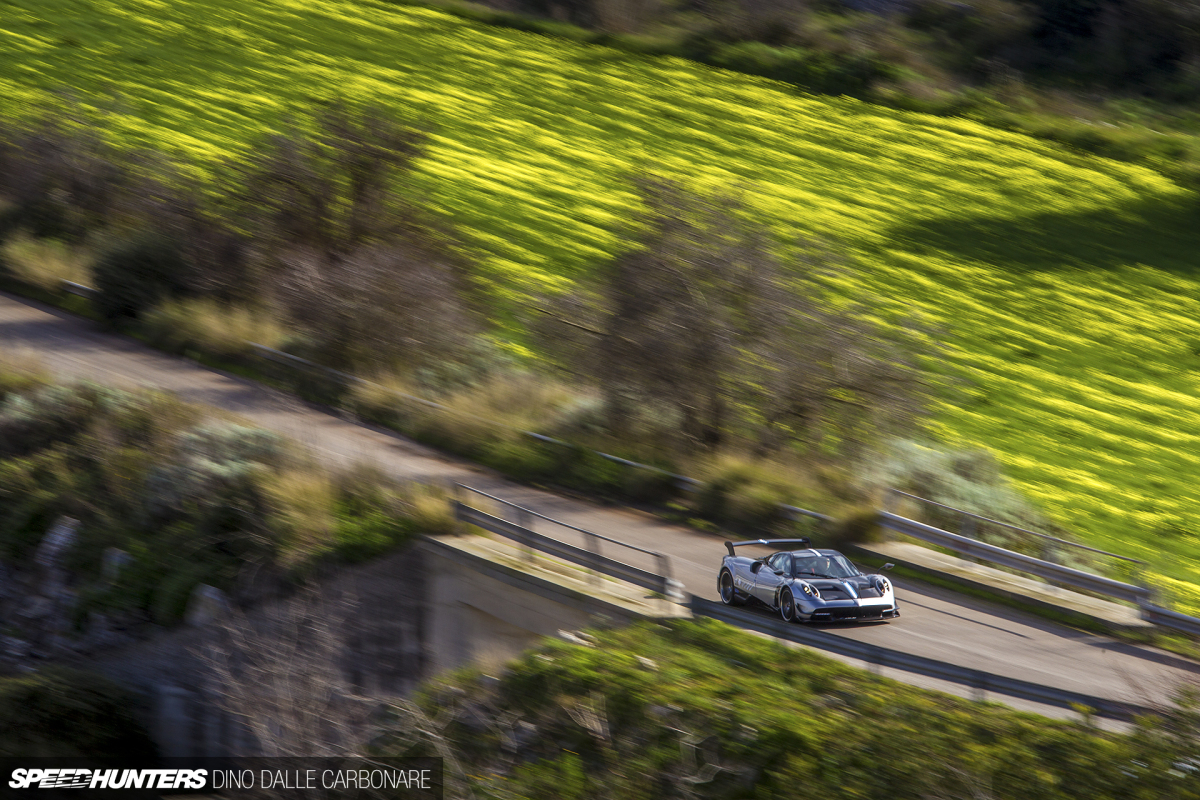 I could blabber on for days about the beauty of it all, but I'm sure you just want to hear me get to the point, so let me talk about how the BC feels from behind the wheel.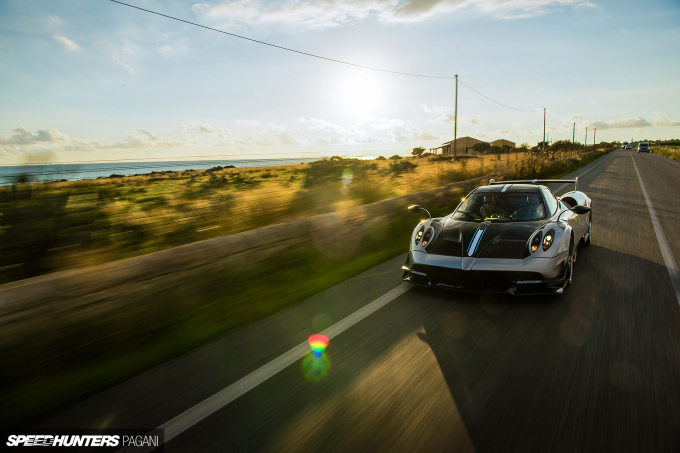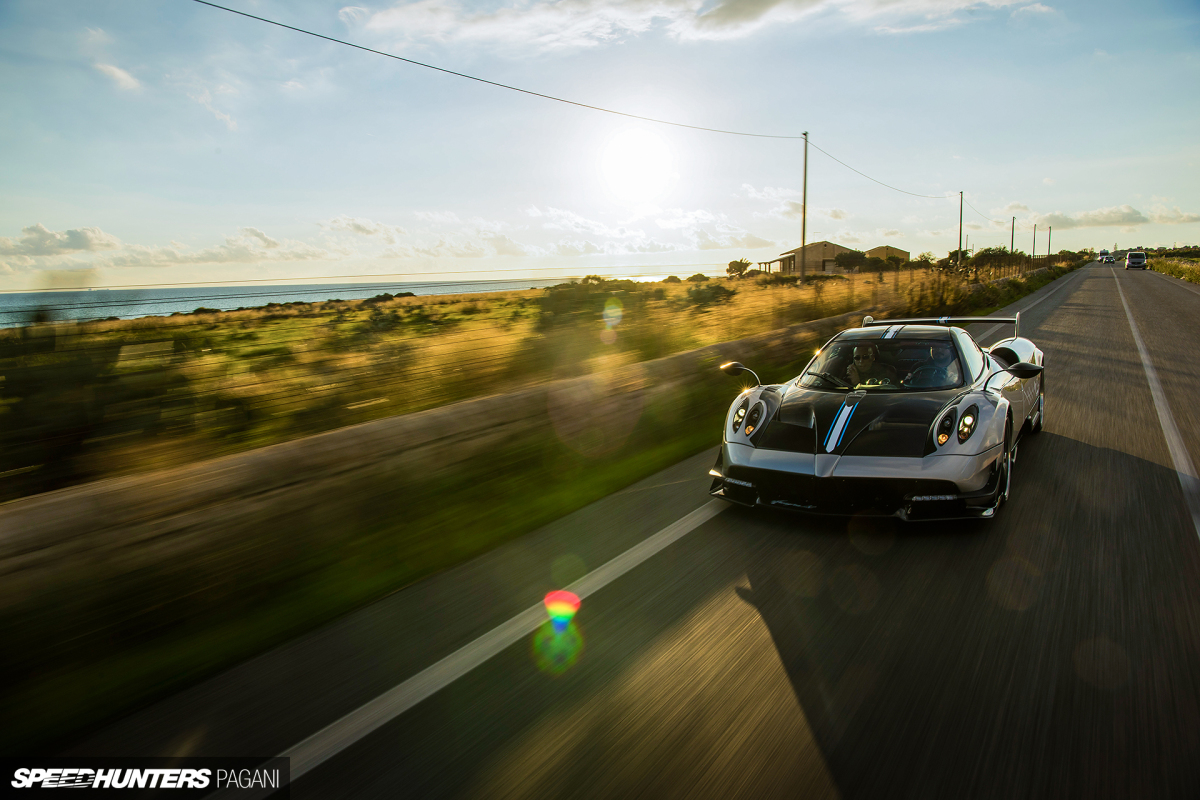 The night before my drive, I got to sit in the BC with Horacio as we drove back to the hotel after a day of shooting at an old Sicilian villa. It was the perfect opportunity to hear the vision explained from the man himself, before I got to experience it for myself. Horacio has a very clear vision of what type of cars he wants to produce. He could have made the BC ridiculously powerful and extremely tricky to drive, but his focus, even on a car like this which is supposedly for gentleman racers, is that safety and ease of driving should always be the most important aspects. When you take into account the mass of every suspension component, the gearbox, and even Bosch's latest and most advanced stability control system, it's obvious that Pagani has worked hard to drop the Huayra's weight for this version.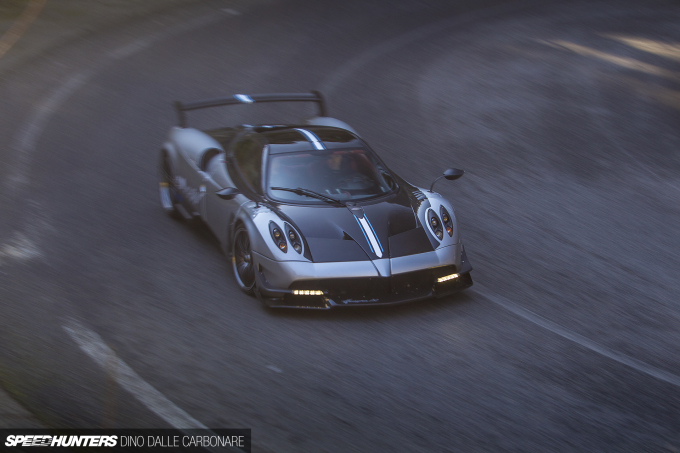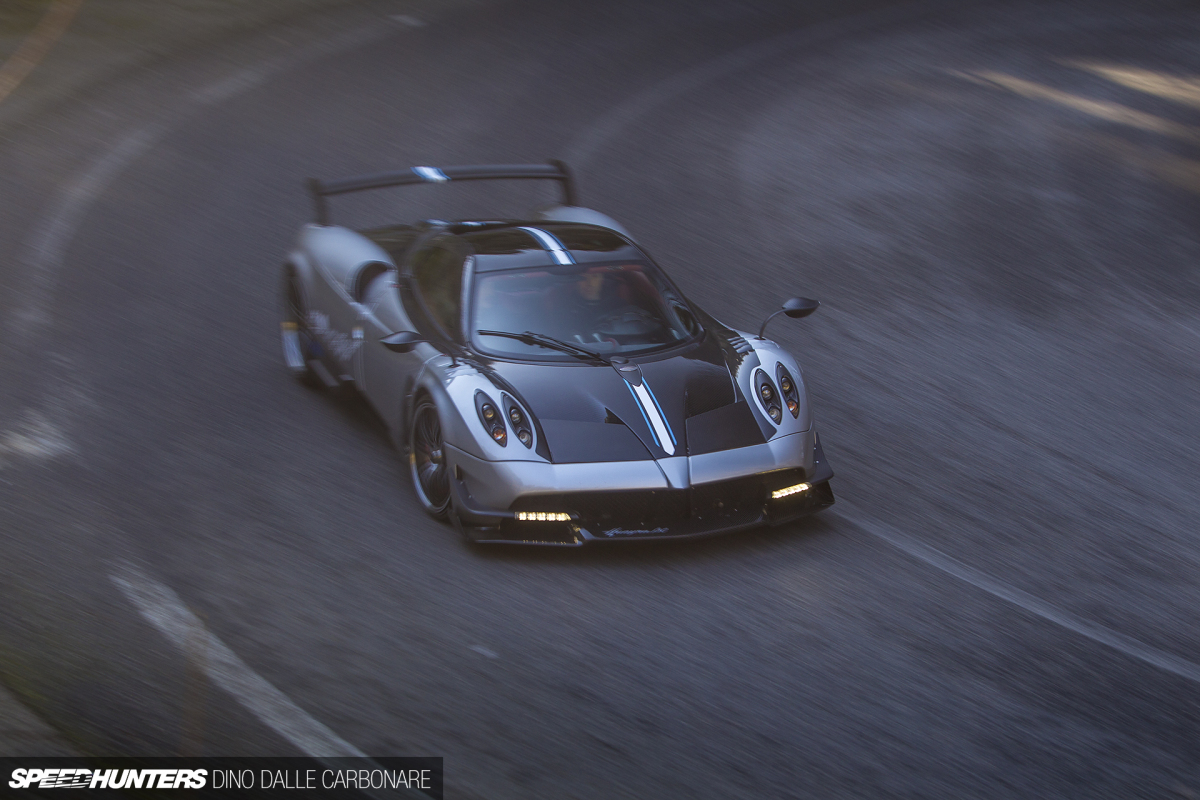 But it all makes so much sense once you step on it for the first time. Acceleration is so savage that the thrust produced shoves you violently back into your seat on every upshift. It's relentless, yet at the same time it's all drama free. Traction is never an issue unless you want it to be, and the steering and chassis communicate beautifully with you.
1100Nm; 800hp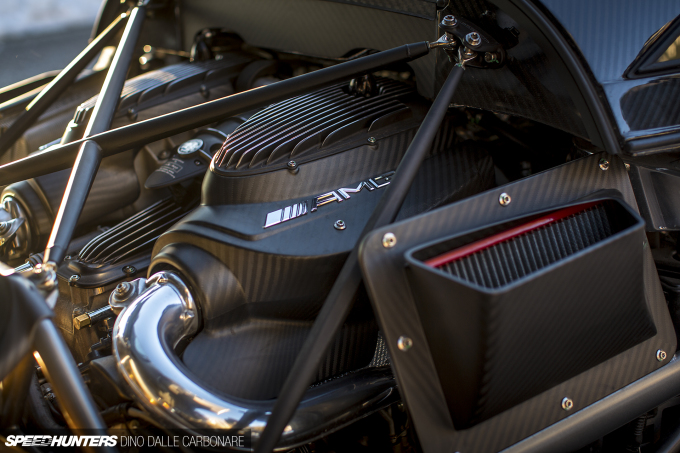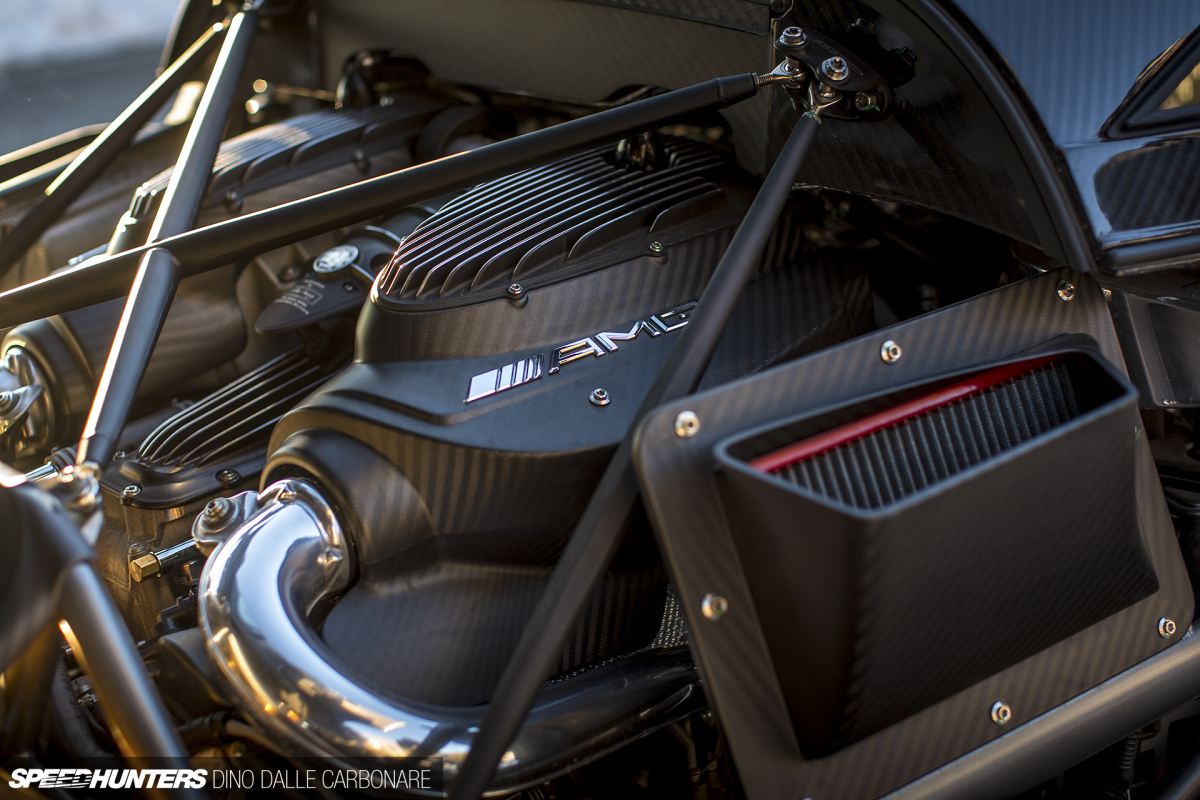 In the engine room, AMG has upped the power of the Huayra's 6.0L twin-turbo V12 by 70hp to realise 800hp in the BC, although that figure won't be 100 per cent confirmed until the last few homologation and refinement tests are completed. With so much motor pushing small BorgWarner EFR turbos, there is of course no lag, but it's the new electronic throttle mapping you notice first. This is the work of Andrea Palma, Pagani's new test driver; a seasoned wheelman and someone who has a lot of experience in getting the most out of performance cars. His daily driver is a Nissan R35 GT-R daily, and he wanted to have that immediate throttle response from the accelerator that the big V12 seemed to lack. It turns out that it was all in the way the throttle map was set up; he made it more linear and the result is a motor that now seems to respond the second you squeeze on the loud pedal.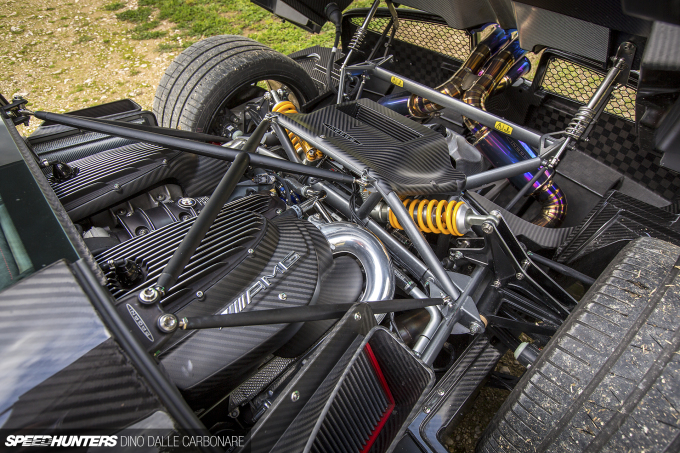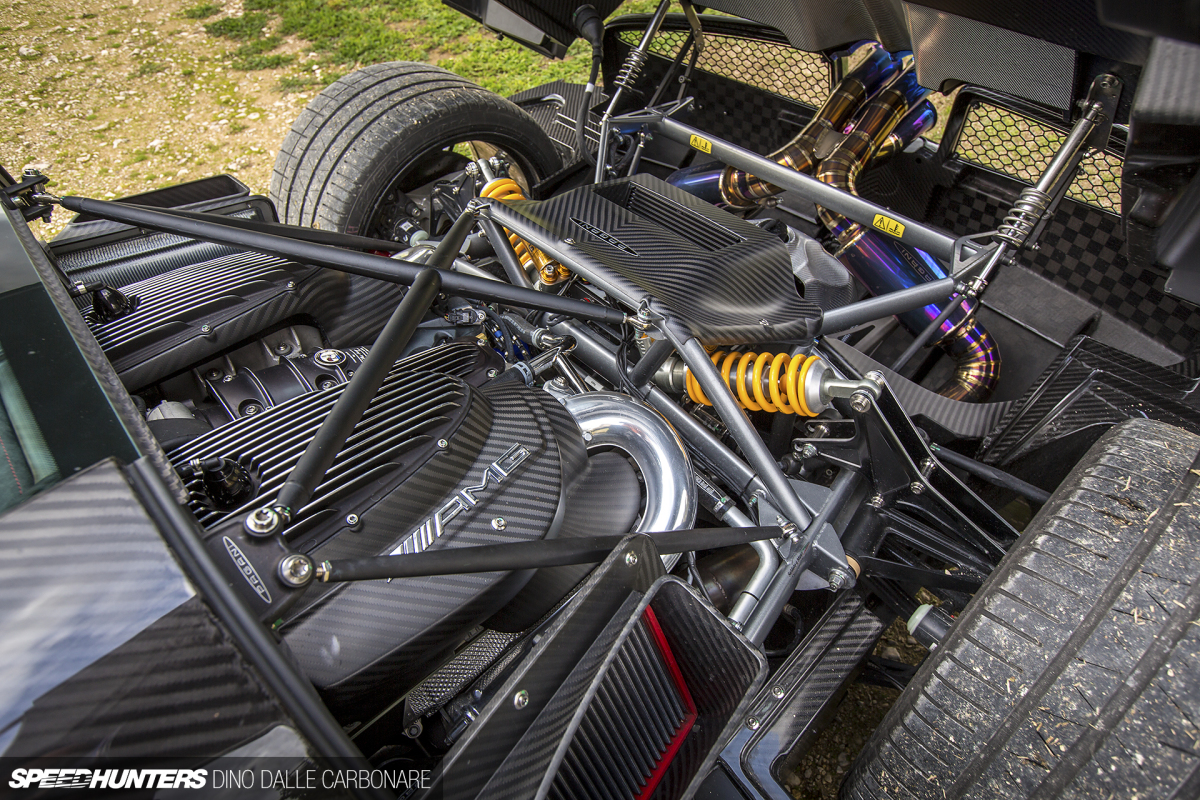 Visually, the BC's engine gets the same black anodised aluminium details that feature in the cabin, so no more gold/orange treatment as the regular Huayra. The fins on top of the charge coolers are hand polished to reveal the aluminium underneath, making them stand out more. Refinements to the engine go all the way down to how the oil lines are plumbed in and out of the dry sump lubrication system, so as not to transfer vibrations and harshness into the interior space.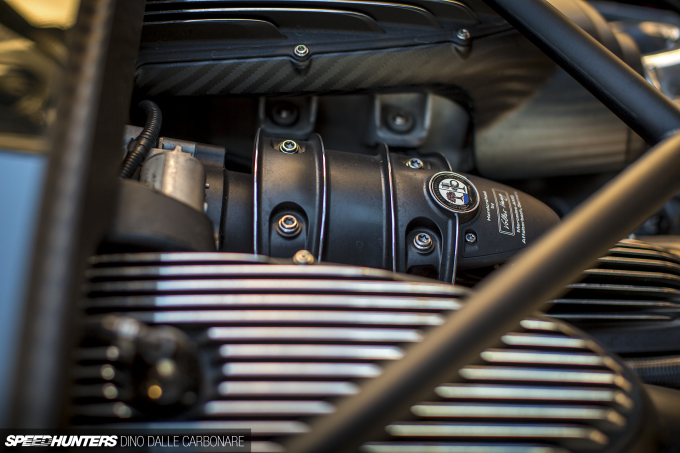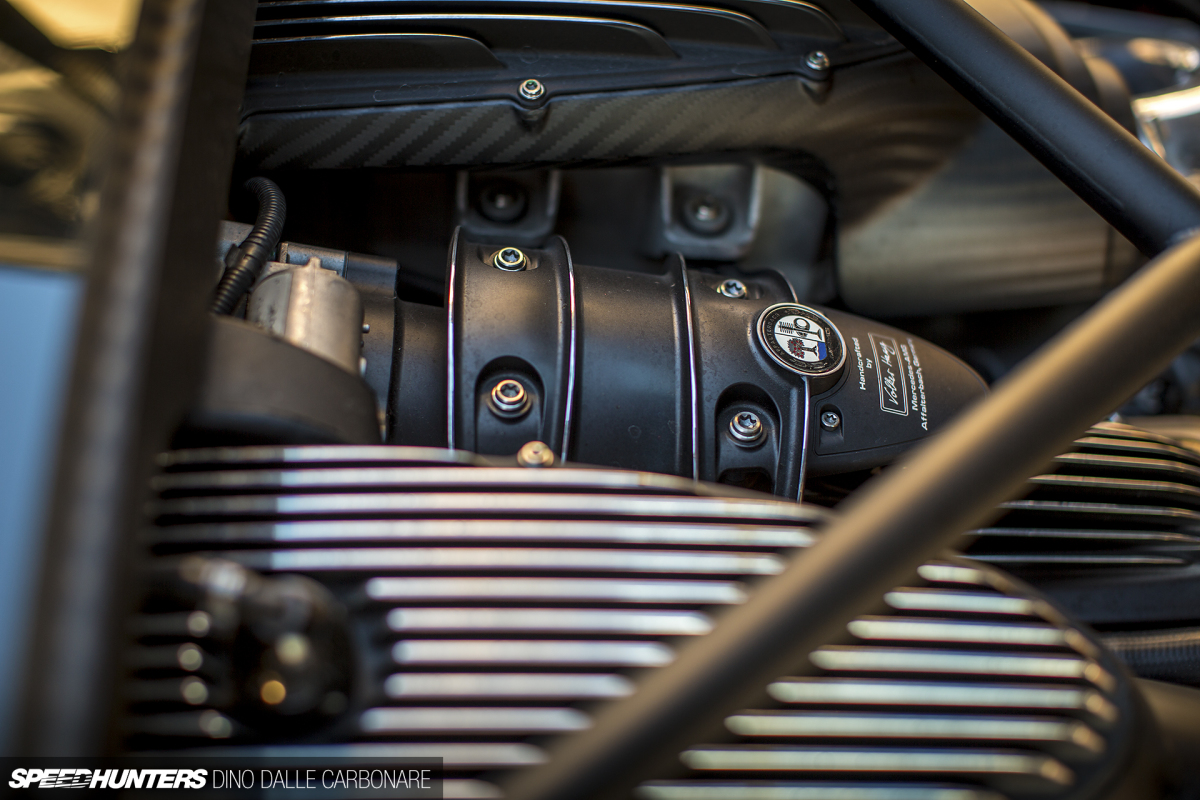 Torque peaks at 4,000rpm with 1100Nm on tap, and while it could have been a lot more, Pagani had to think about the driveline. Not that it's been spared from an almost complete redesign mind you. The Xtrac-developed transverse gearbox remains; there because it's still half the weight of a comparable dual-clutch transmission, and because its traverse orientation behind the motor allows it to keep as much weight as possible towards the car's center of balance.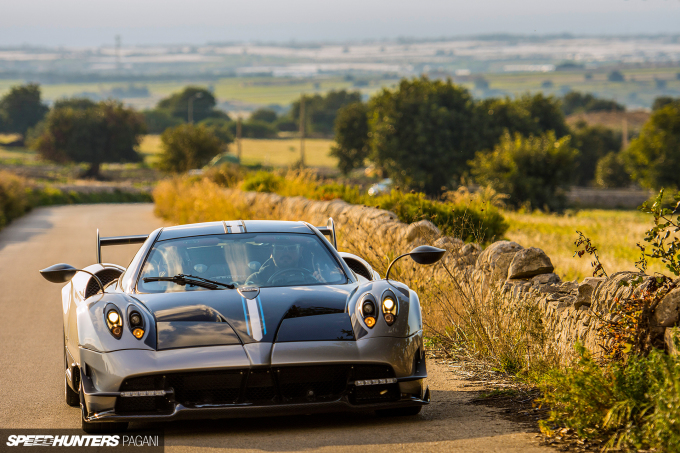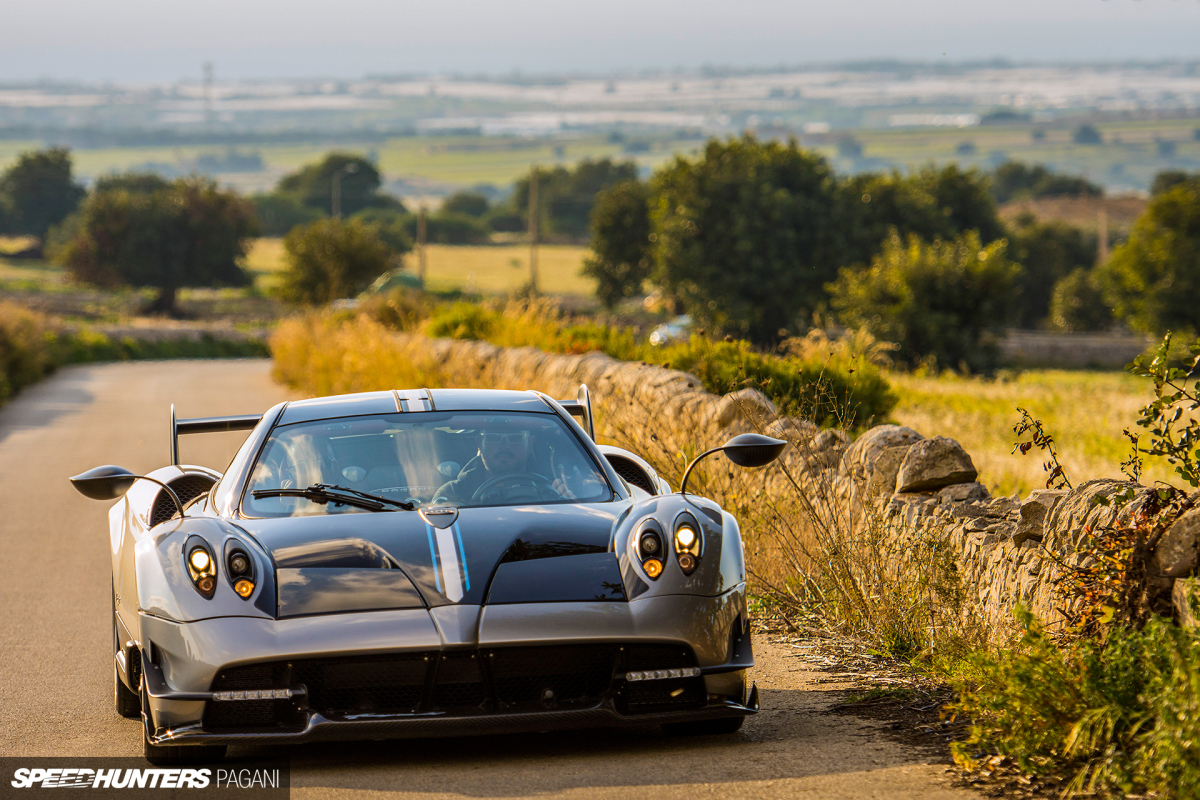 This is central to why the Huayra can be thrown around relatively easily, and is not as scary to drive as you would assume. It's all about weight management, and Pagani does this rather well. Shift times have been cut in half from 150 milliseconds to 75 thanks to stuff like carbon fiber synchros and redesigned internals. Then there's the electronic diff, which helps add that physics-defying nature into the BC's vast bags of tricks. Drive is sent to the rear 355-section 21-inch Pirellis via tripod axle driveshafts, straight out of LeMans racers.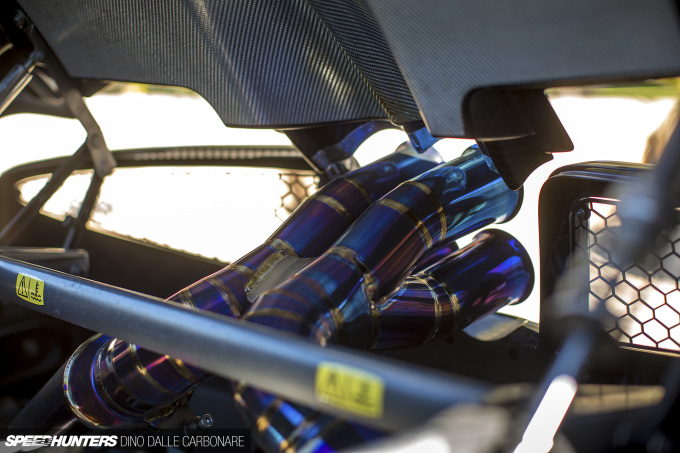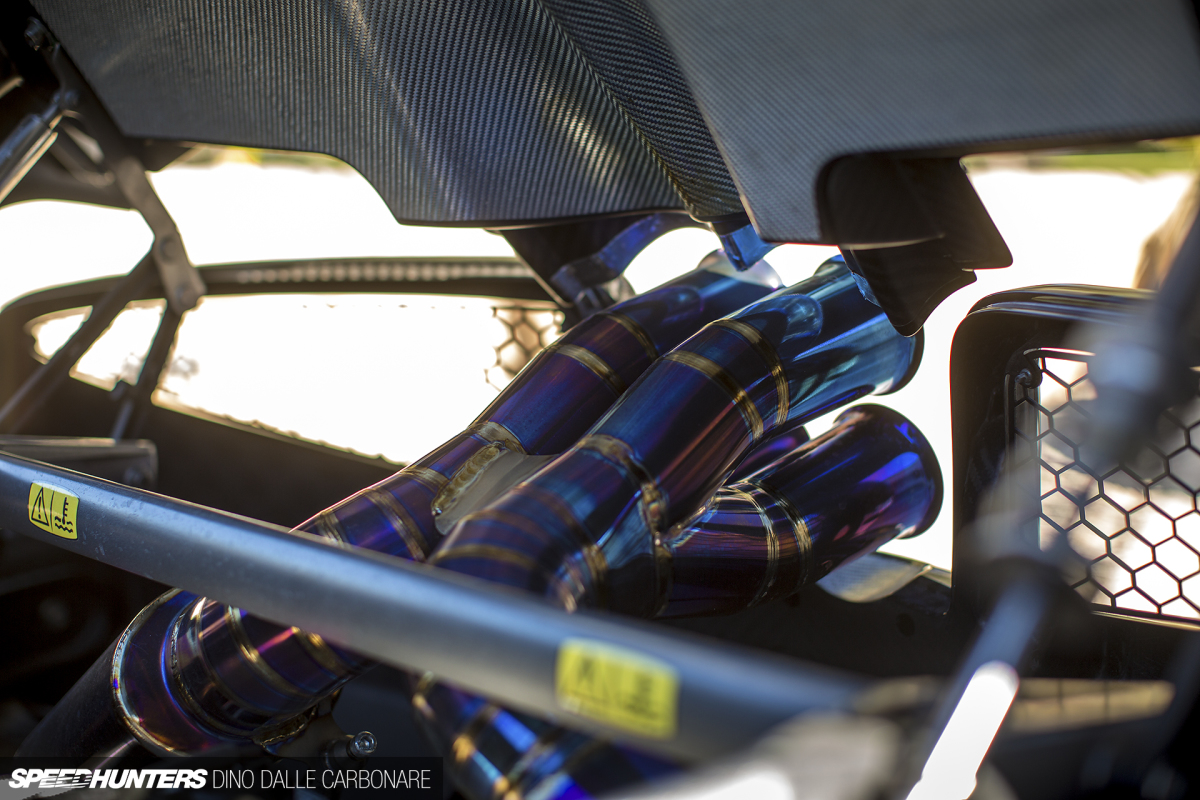 Oh yeah, and check out the exhausts the BC gets – titanium of course, and weighing in at just under 3kg.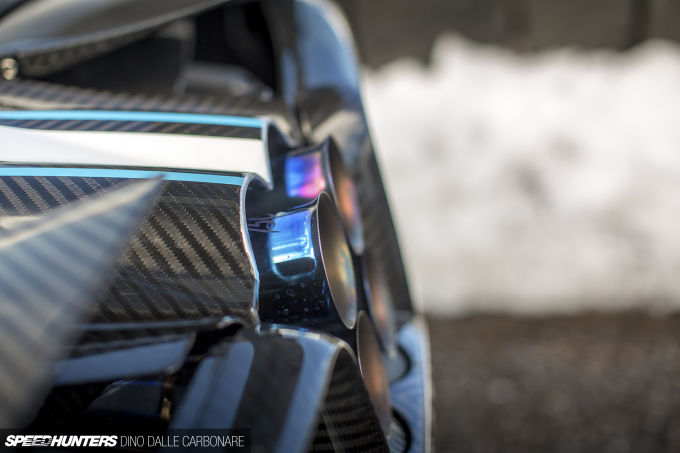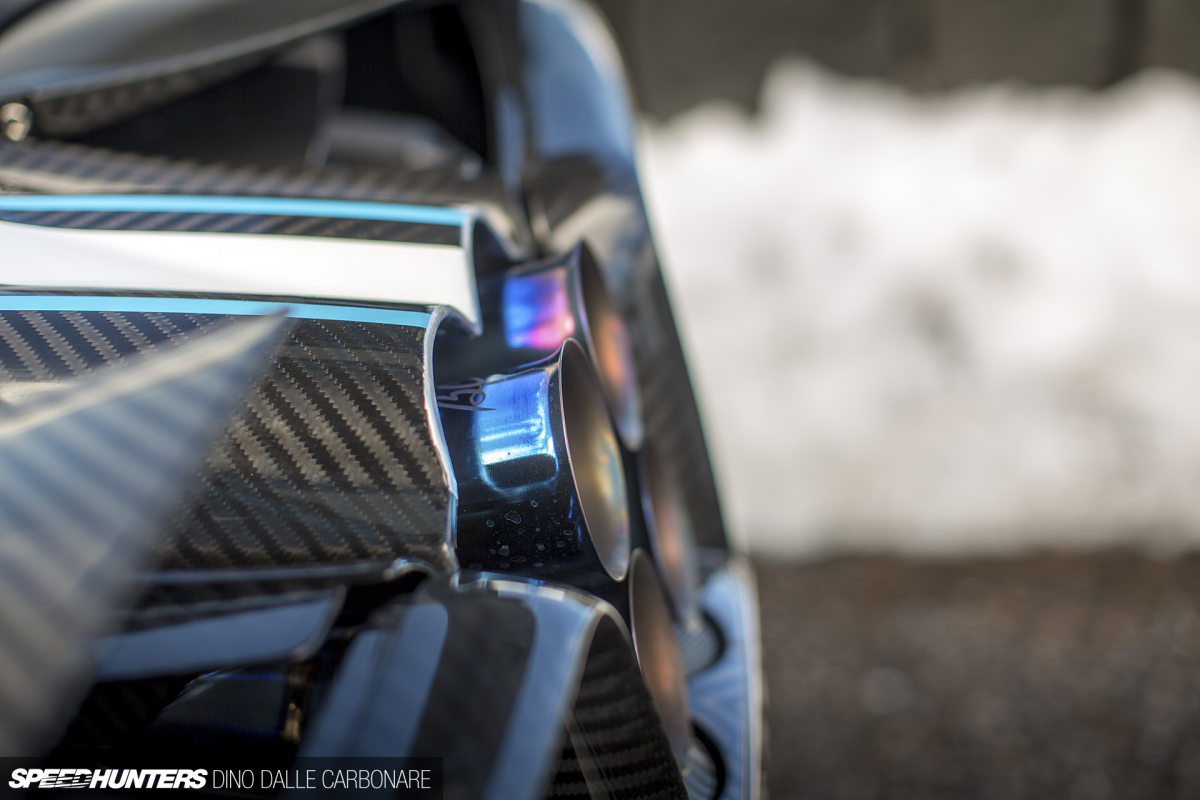 They have a flared out trumpet-like design and spit out blue afterburner flames when you really start to push hard.
Here's a quick video so you get an idea of what I'm talking about.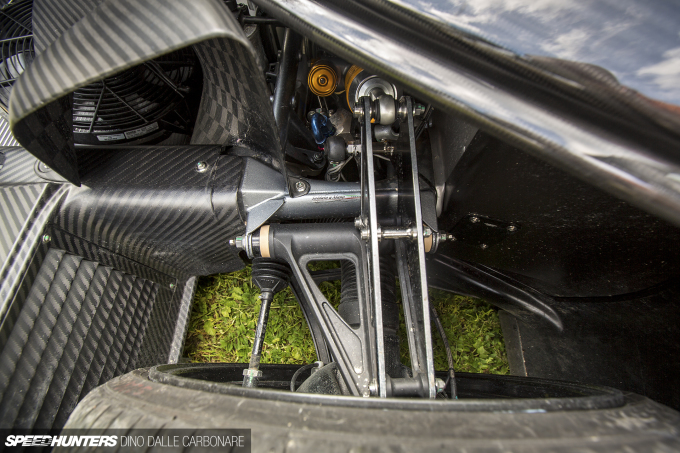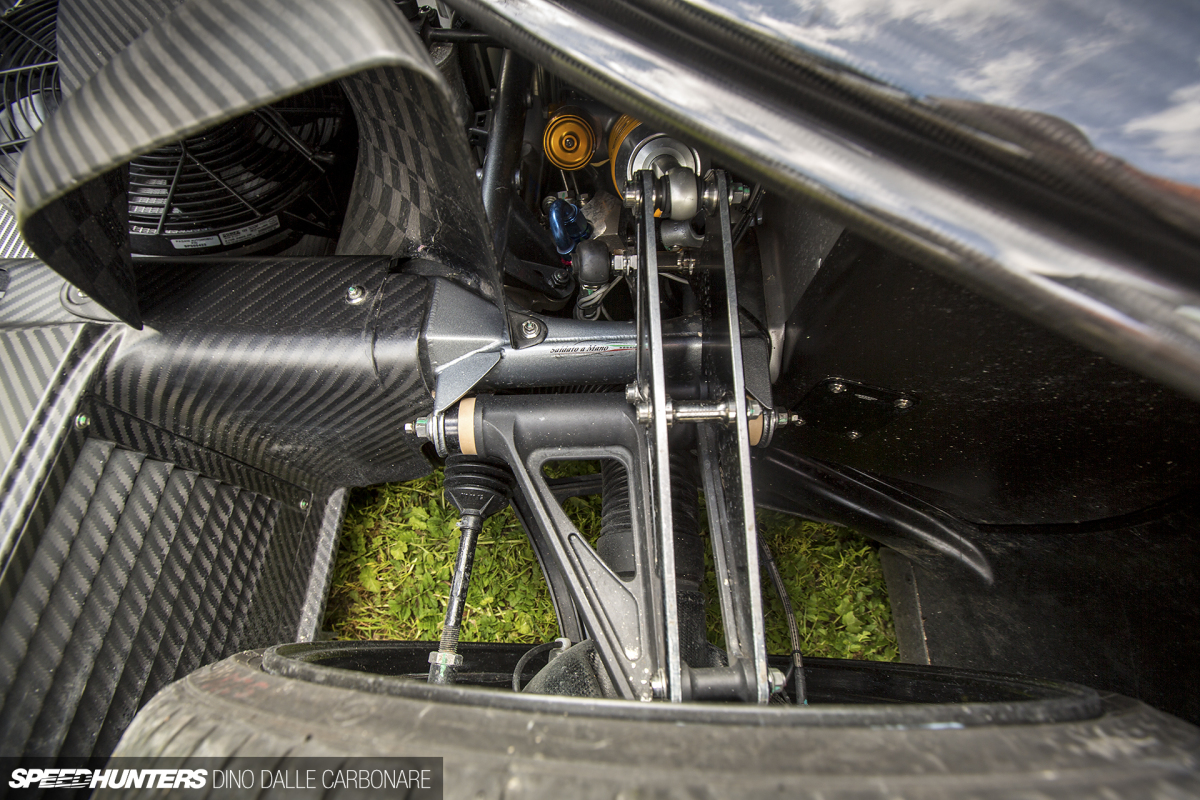 Suspension-wise, the Huayra's original double wishbone layouts front and rear have been completely reengineered, now sporting an all-new design and geometry. The arms are 25 per cent lighter as they are sculpted out of HiForg, an aerospace grade alloy, and are connected up to new Öhlins dampers – or at least they will be in the final production version. The prototype I drove was receiving these new dampers the week after the test drive, and aside from having new guts and more efficient valving, they will be mated to an active system which will counteract dive and roll at the front to keep things nice and stable when pushing hard on track.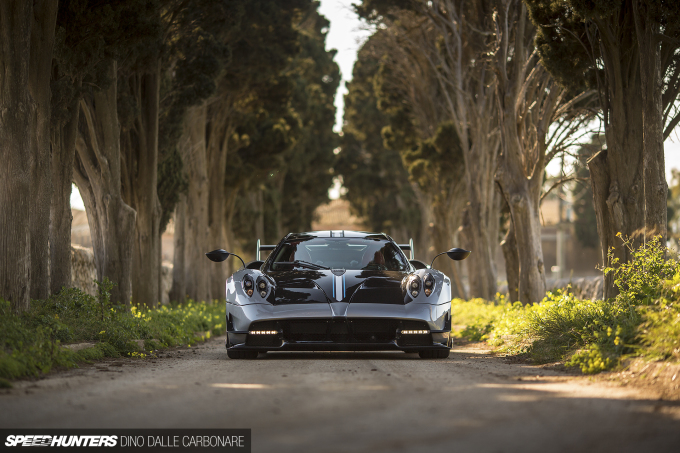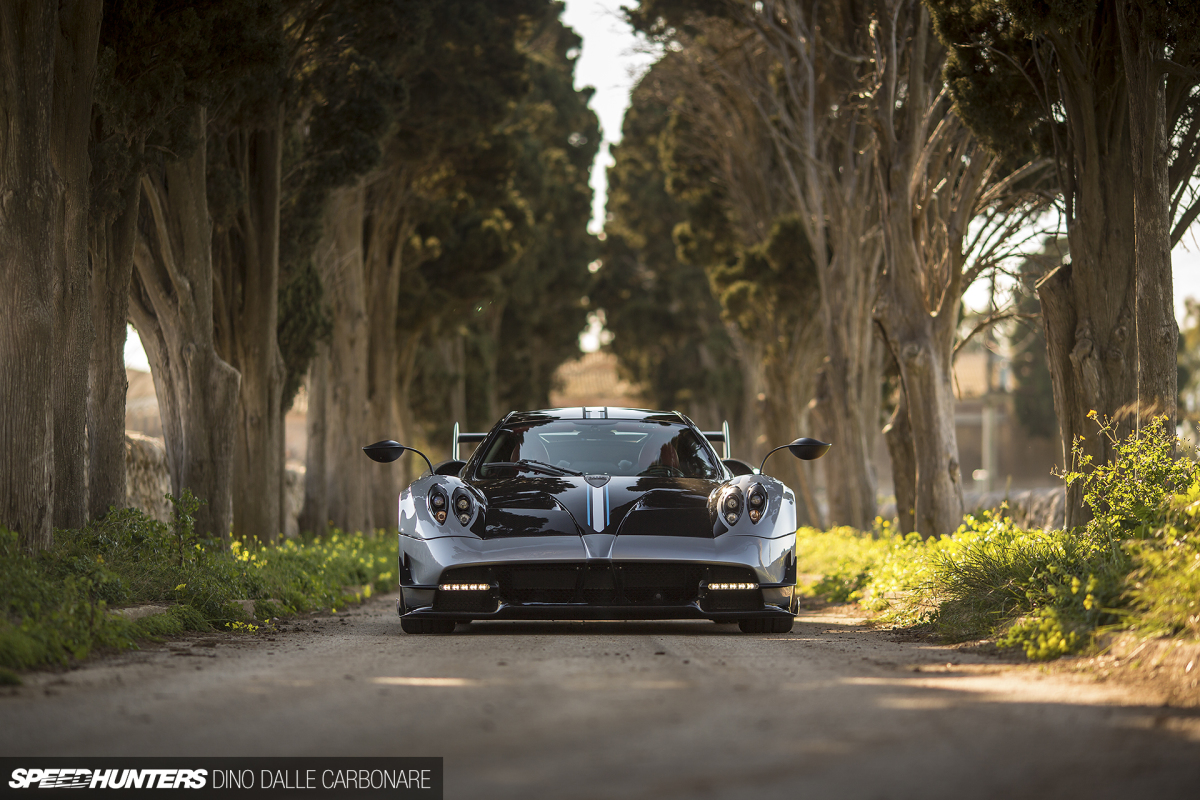 The BC also benefits from a new steering rack which did give a great feeling on turn in, but felt a little slow on lock-to-lock if you ask me. It's as if I was moving my arms way too much to tackle what were, in reality, small corners. But aside from that, there's nothing to fault here. Through the corners I drove, the car felt easy to place and responsive in every way.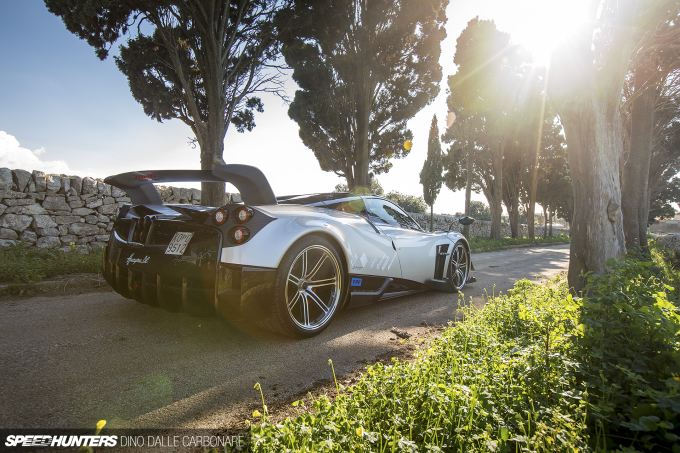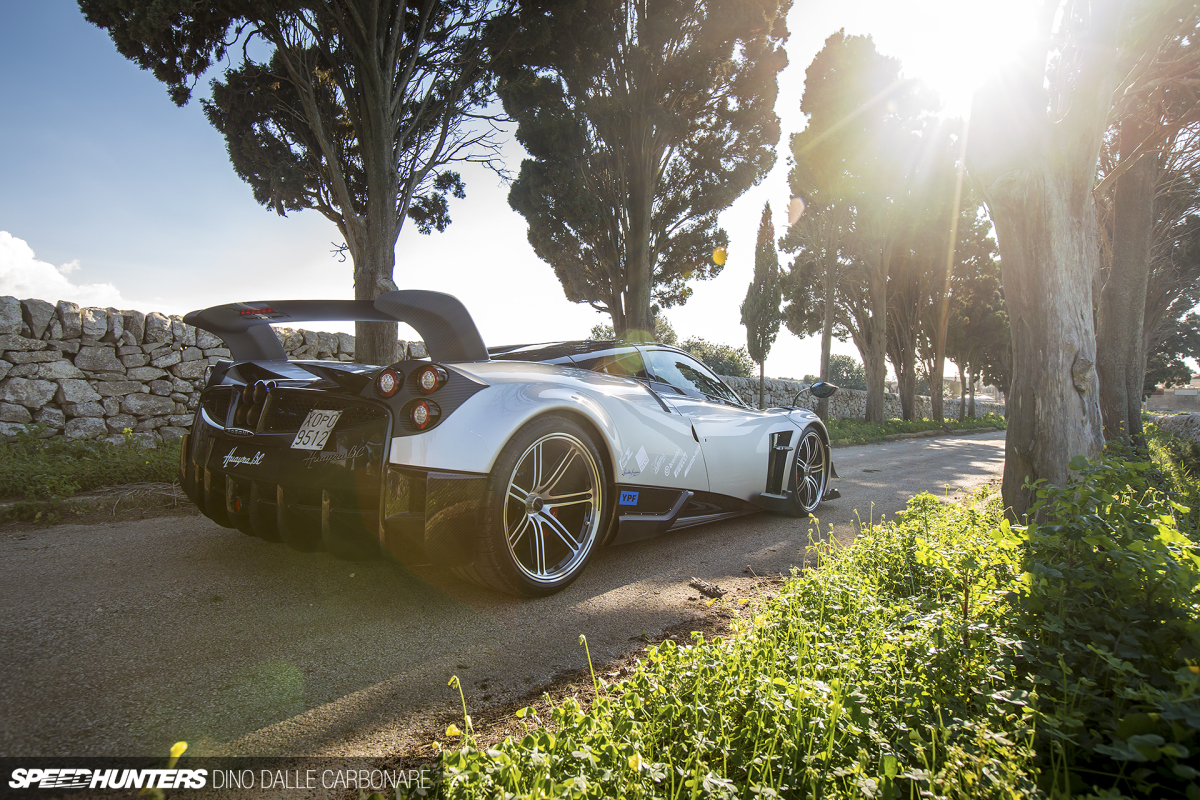 Pagani turned to Dallara for the CFD development of the exterior and the aero package, which helps eliminate lift and at higher speeds starts to develop some serious downforce. It all works in conjunction with the standard Huayra's four active front and rear flaps that stabilise it through the corners and under braking.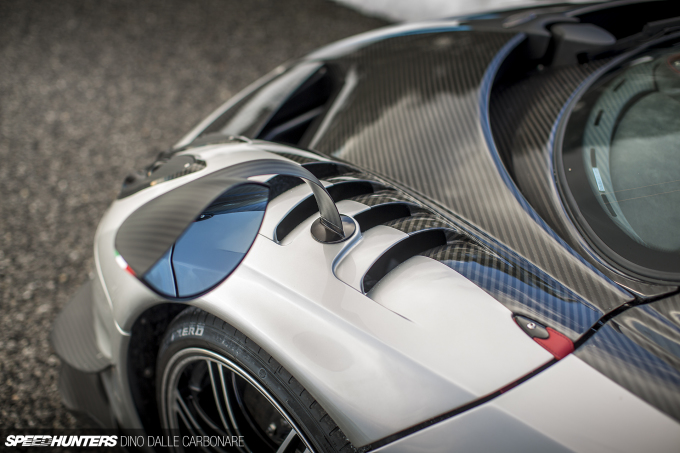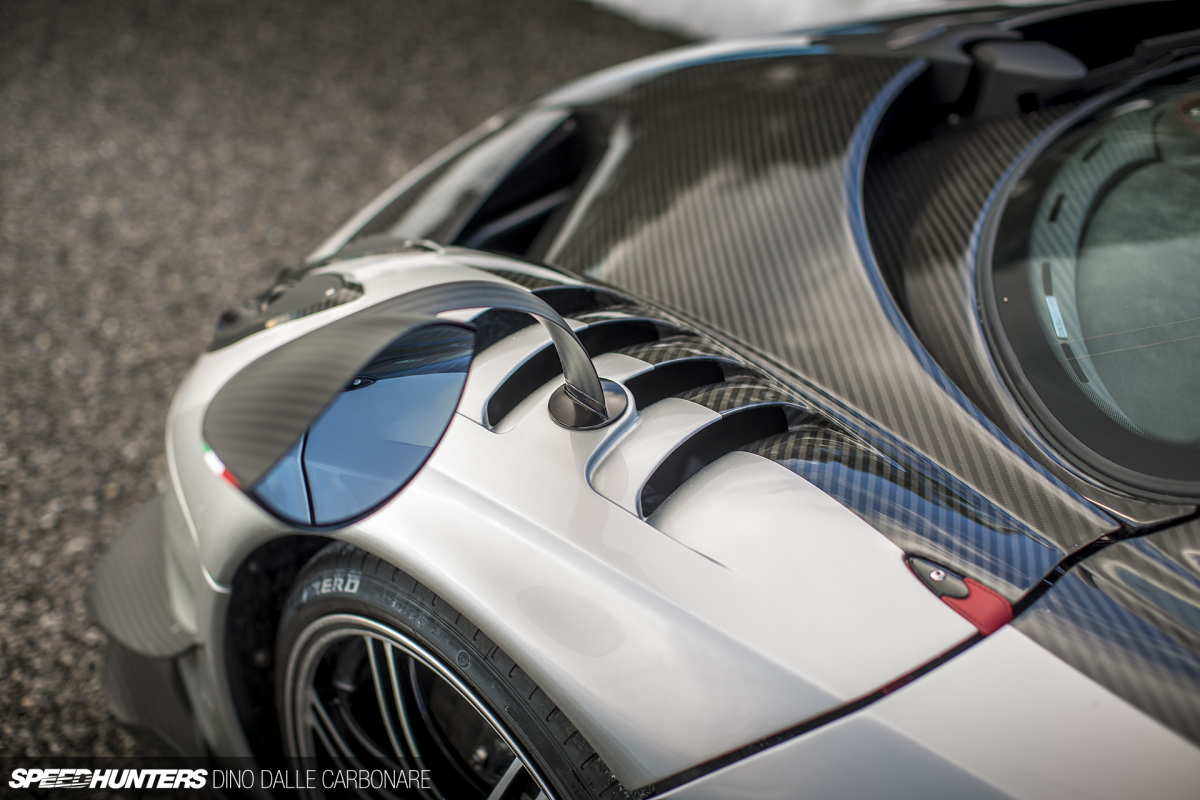 But due to the roads we were on in the beautiful Sicilian countryside, there was no way we were going to experience that downforce during this test drive. That will have to wait until we put the BC through its paces on track.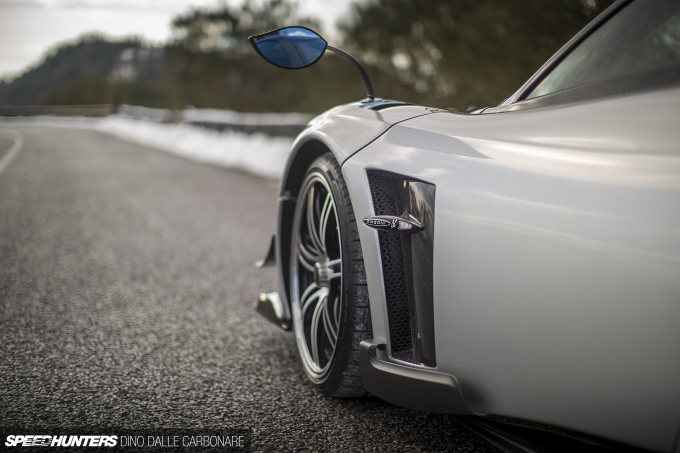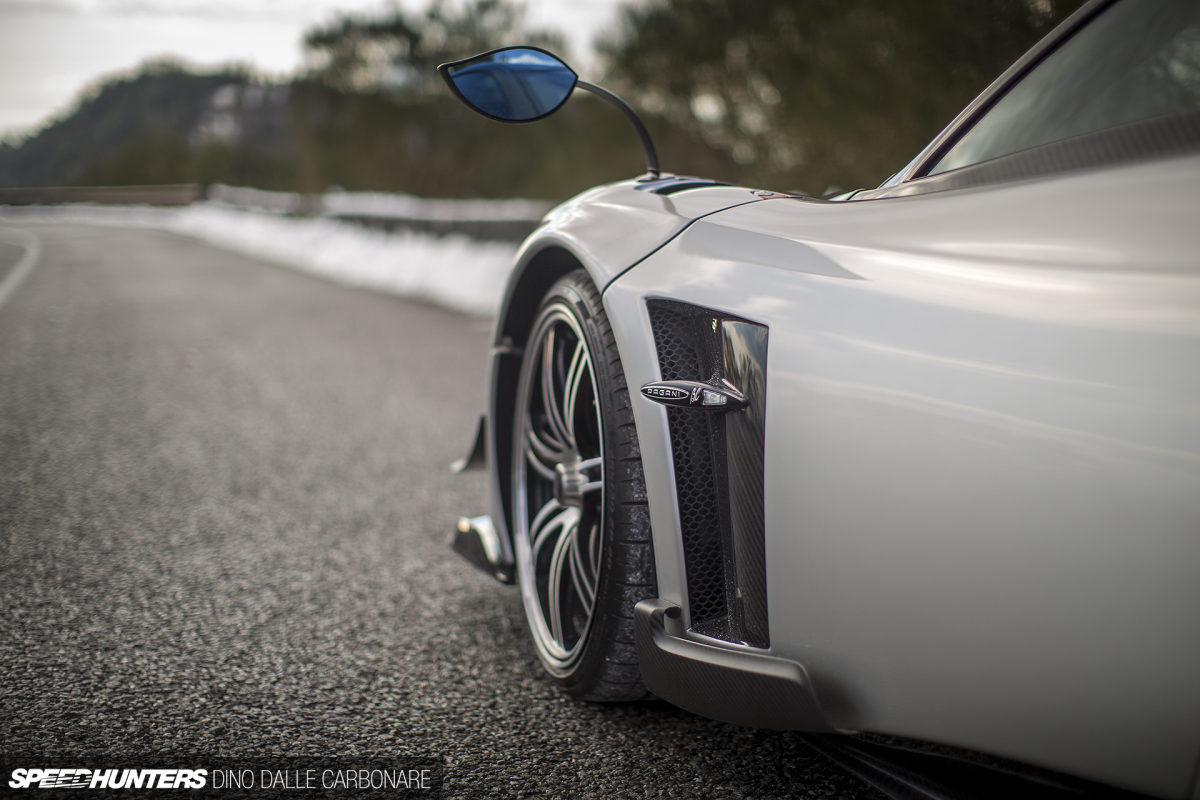 Air flow was also cleaned up in areas like the scoops and intakes; resistance is lowered so the whole car is more efficient as it slices through the air.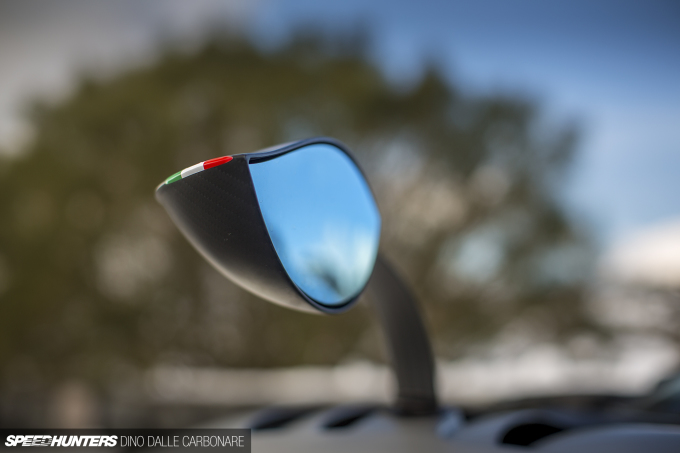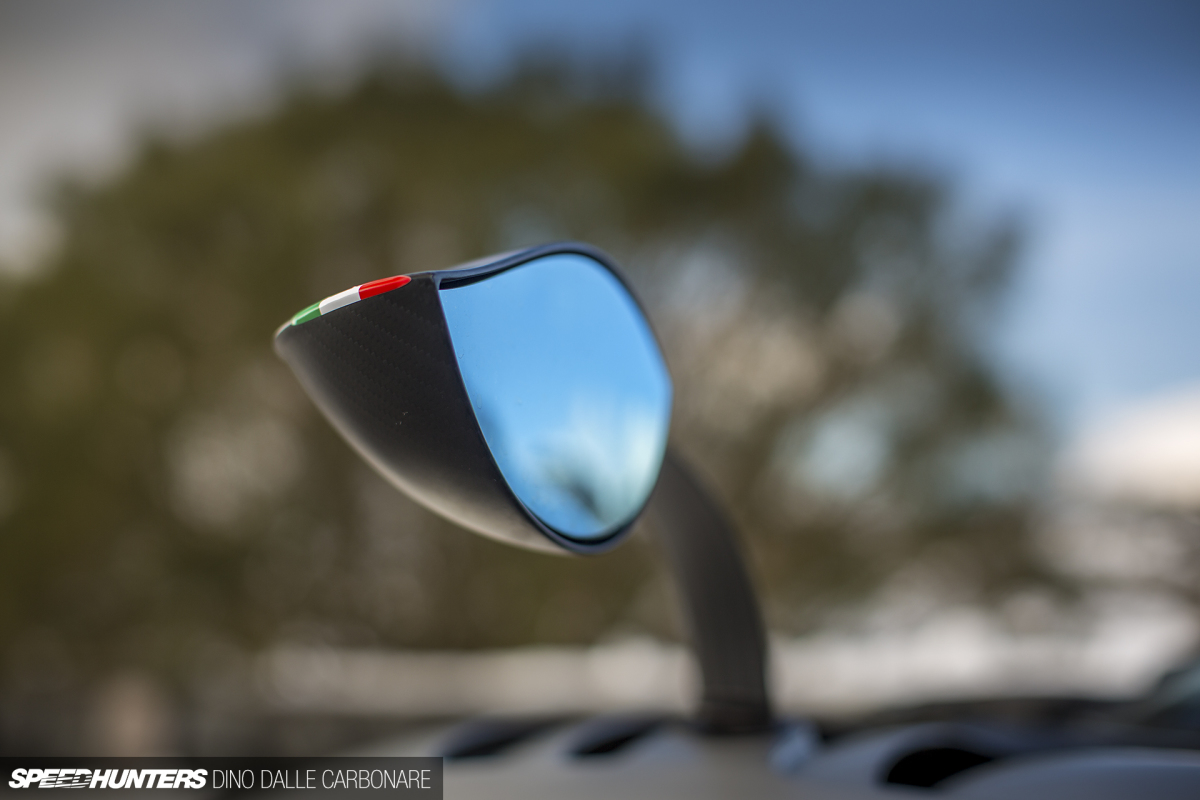 The signature mirrors remain however; masterpieces in their own right.
A Snippet Of What's To Come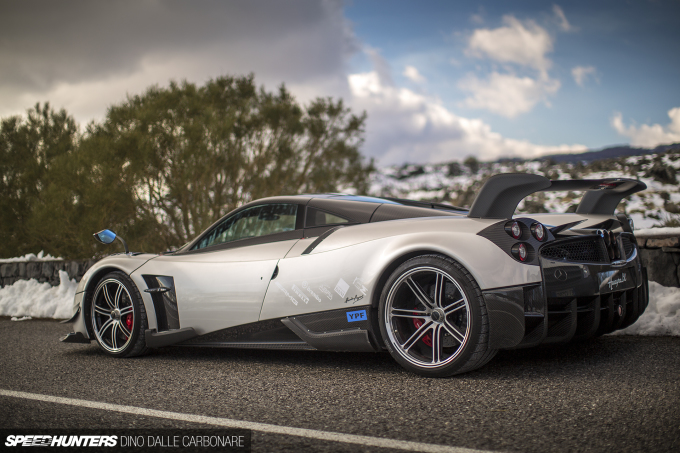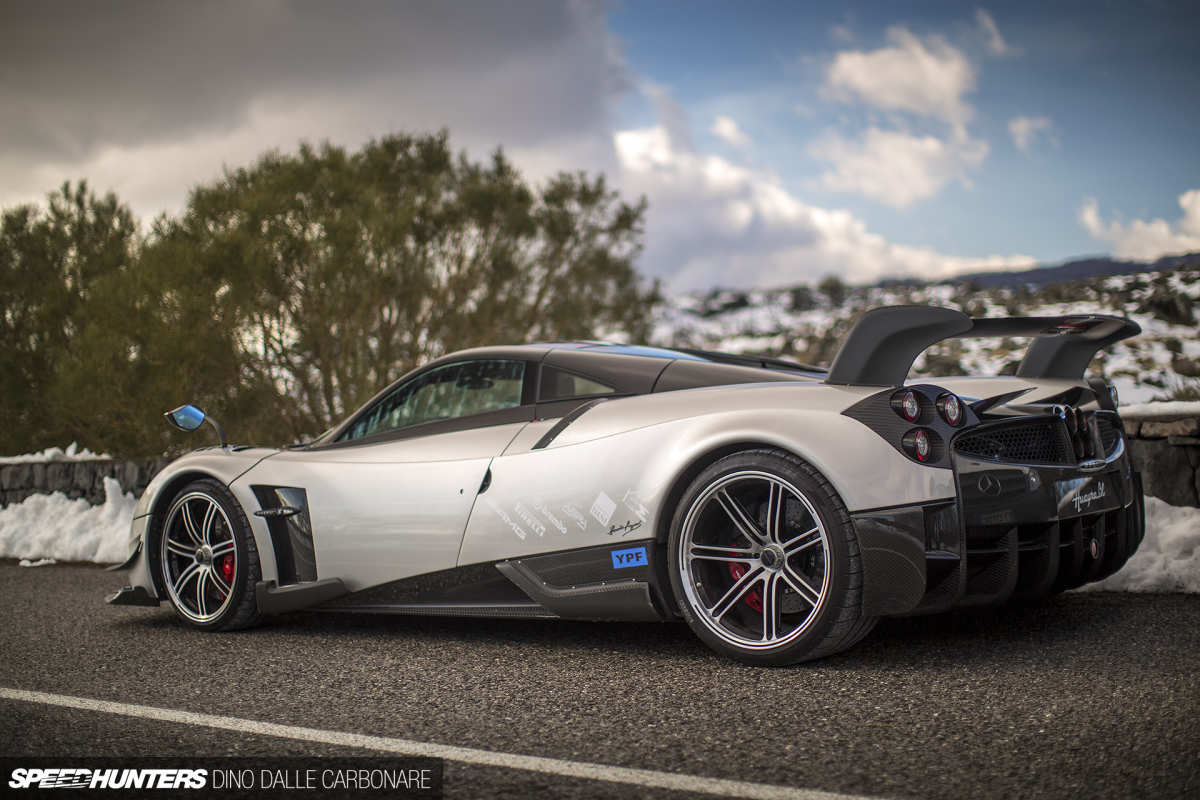 The 20 lucky BC owners will have their cars shipped out to them with new APP lightweight forged wheels; one inch bigger than what's fitted to the Huayra, so 20-inch up front and 21-inch at the rear. A second set of 'Track Pack' 19s and 20s shod in Pirelli P Zero Trofeo R tyres are also supplied for track use.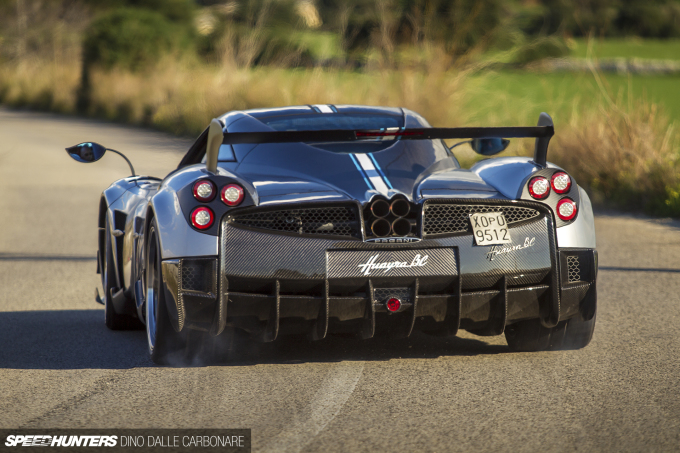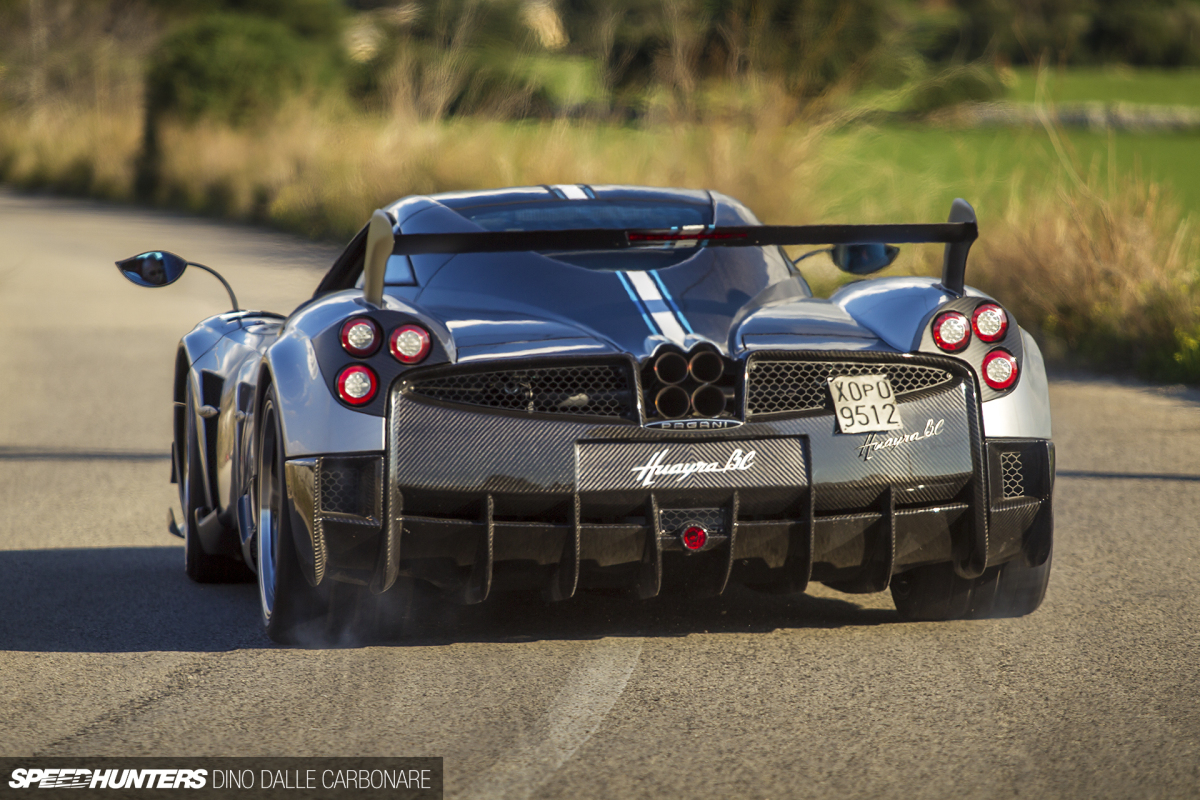 The street tyres are P Zero Corsas, and as Andrea Palma showed us, the BC has no issues lighting up the 355-section rears when you want to have some fun.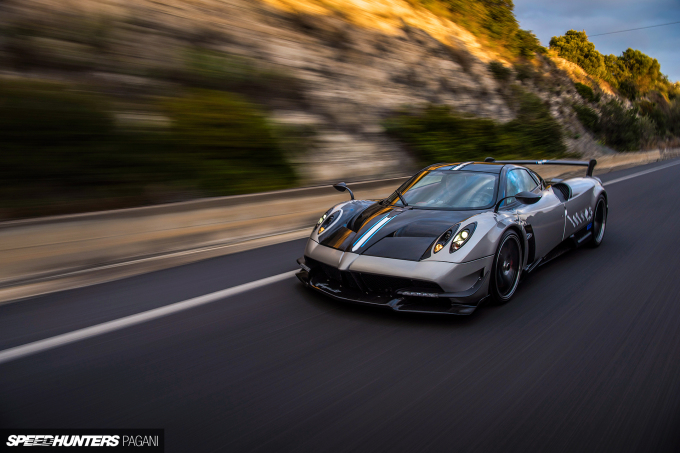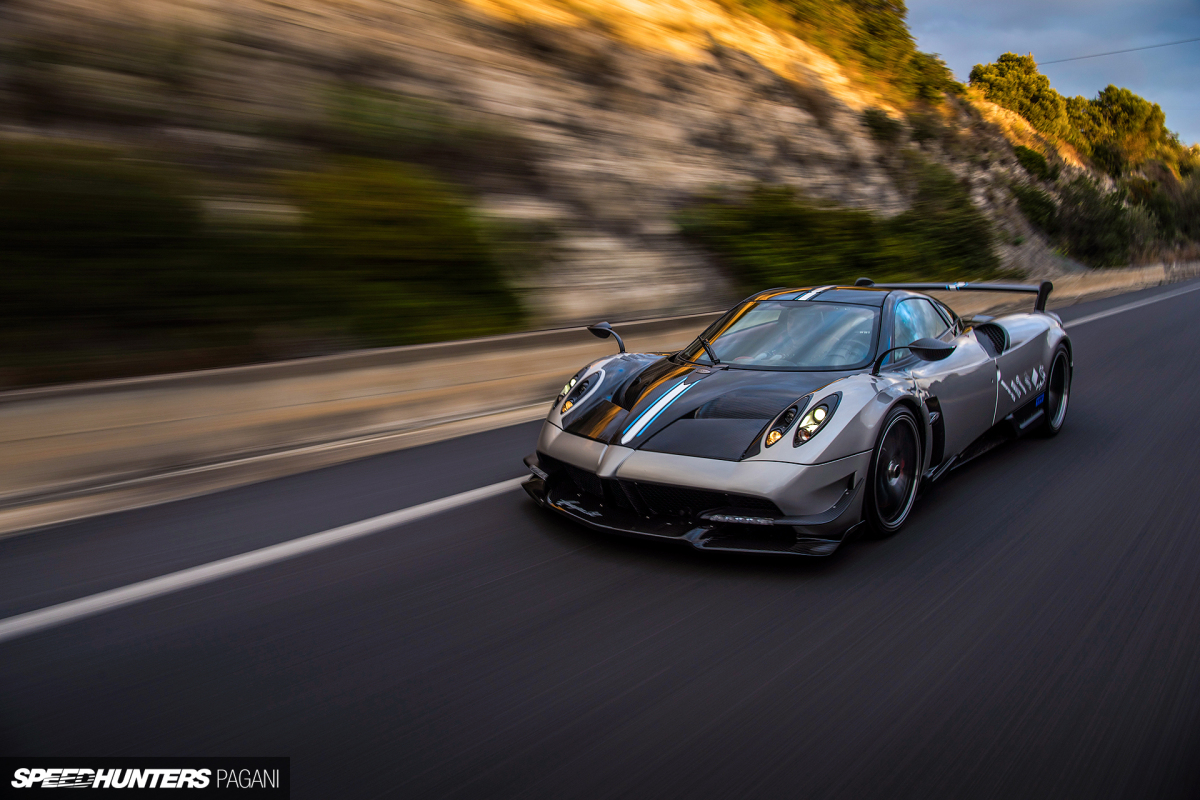 But as strange at this sounds, what impressed me the most was the car's comfort. Drive it at a relaxed pace and it's a pleasure to be in. The seats are great, albeit a bit tall on the prototype (they will be lowered for the production cars), and even the worst road imperfections are dealt with effortlessly. And the new Öhlins should be even better in this respect. I can just picture jumping in one of these things and embarking on a cross-continental trip; maybe stopping off at the odd track along the way.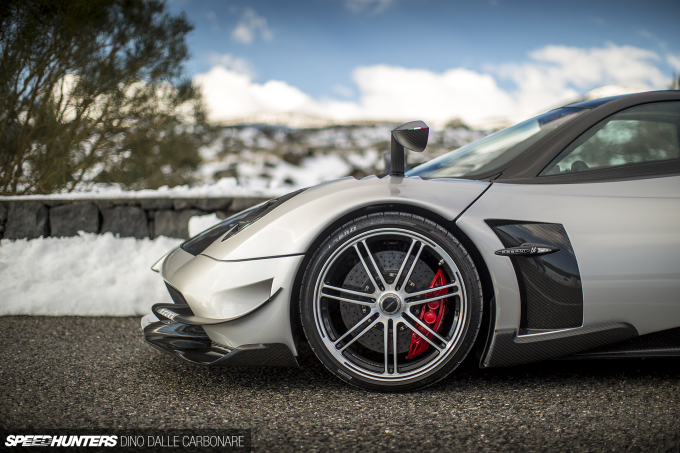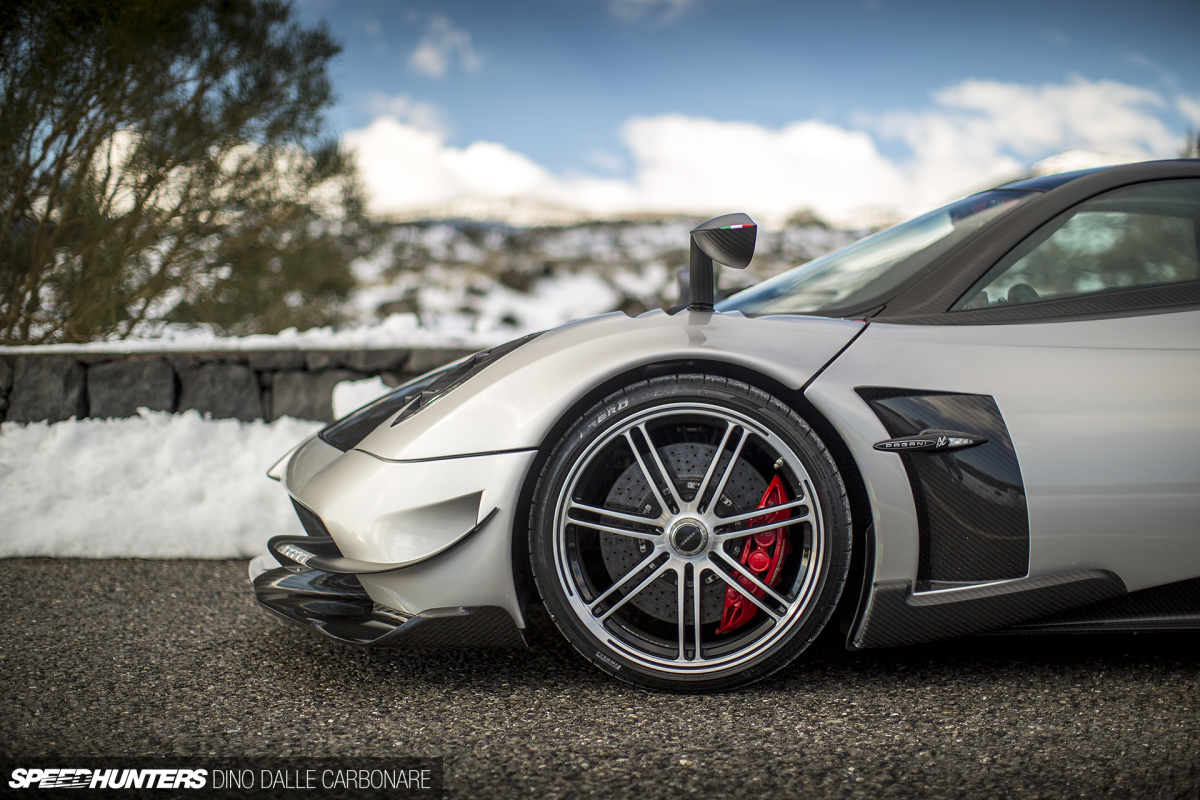 There is also a front lift system that ensures you can tackle ramps and driveway entrances with ease, so everything has really been thought about. Of course, the brake system wasn't going to be left untouched either.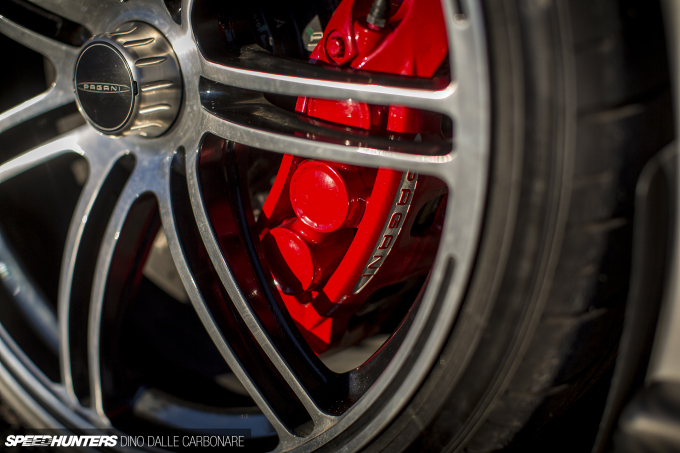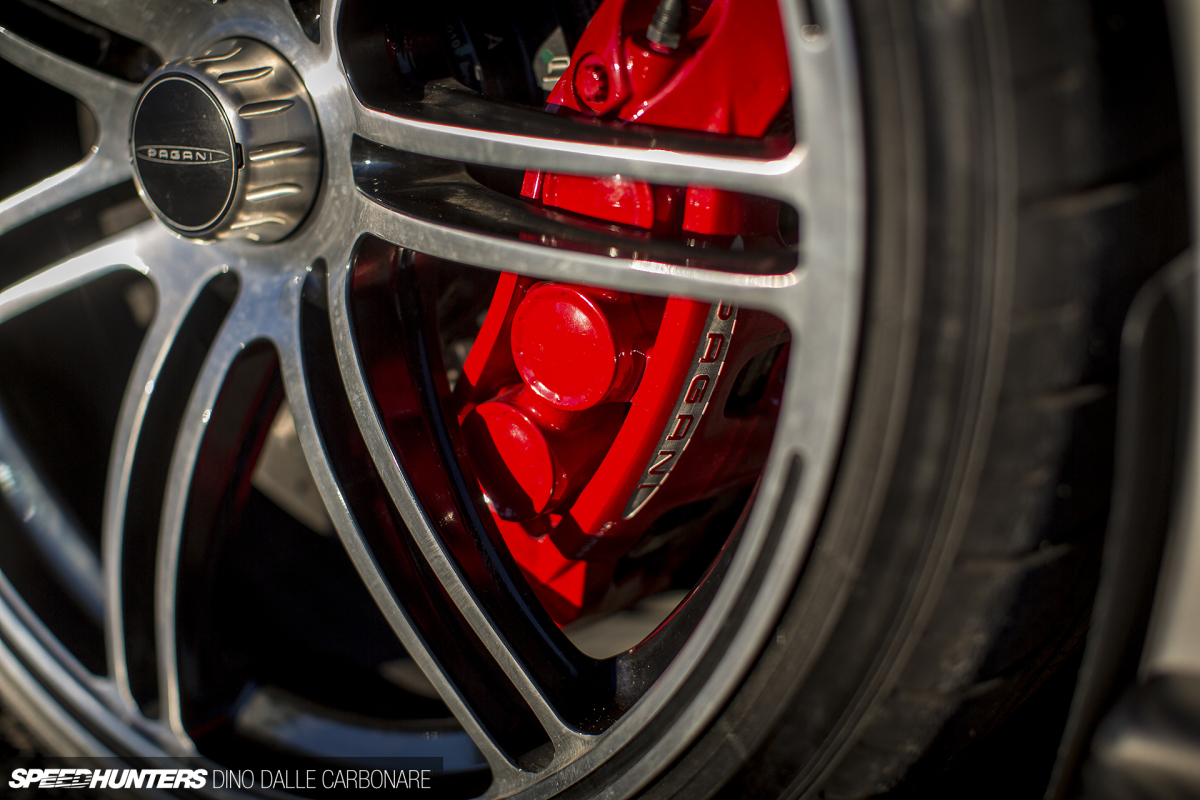 The BC uses Brembo 380mm x 34mm carbon ceramic rotors; monoblock 6-pot front and 4-pot rear calipers a new part of the equation. The calipers have had so much material machined out of them that you can actually see the individual piston outline in the centers.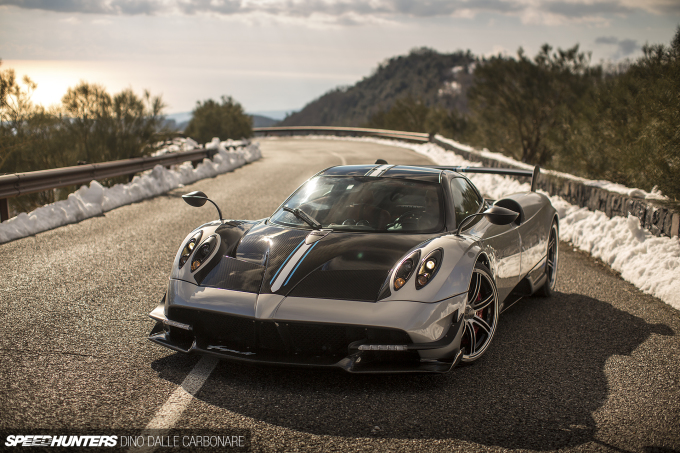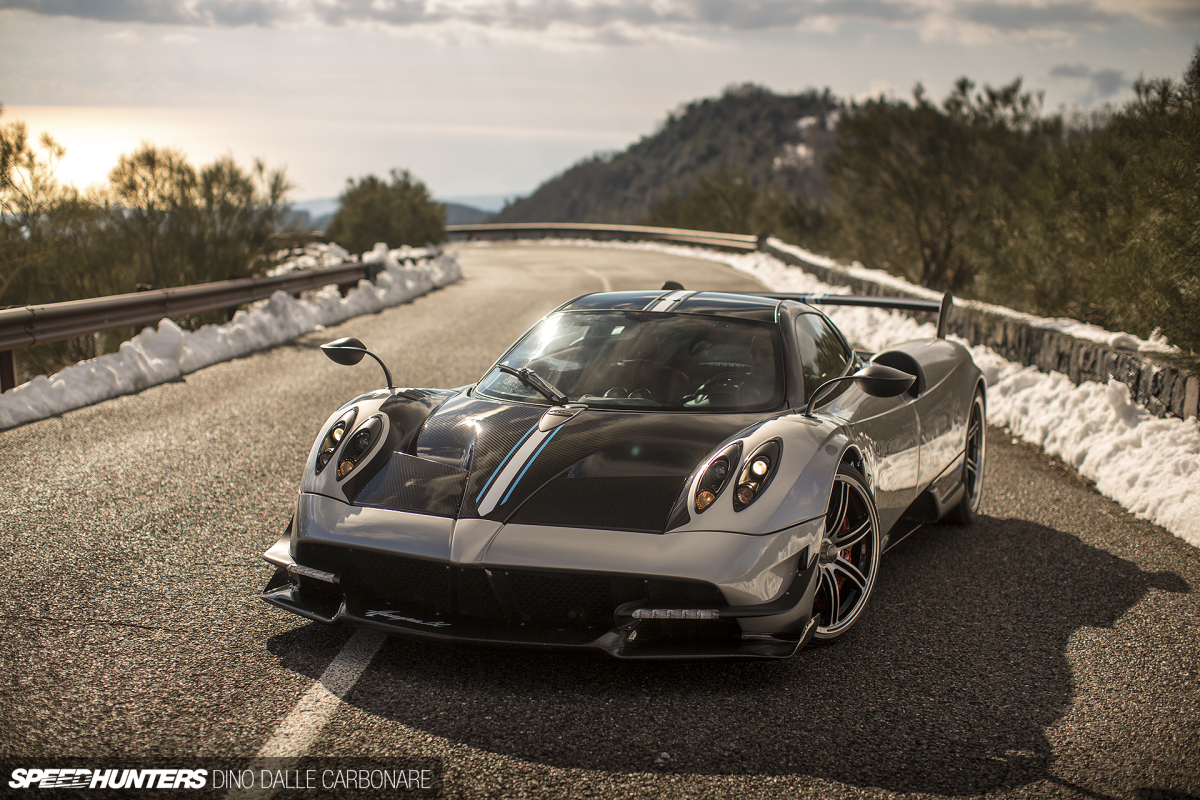 Their performance is unquestionable, but at the same time they bring quite the reduction in unsprung weight, which is extremely important for Pagani.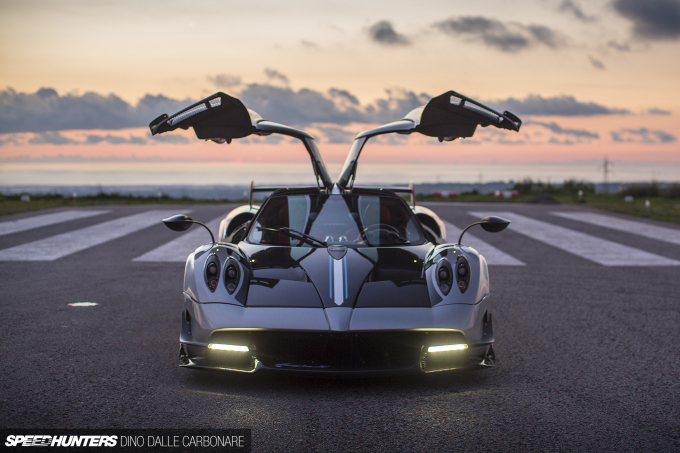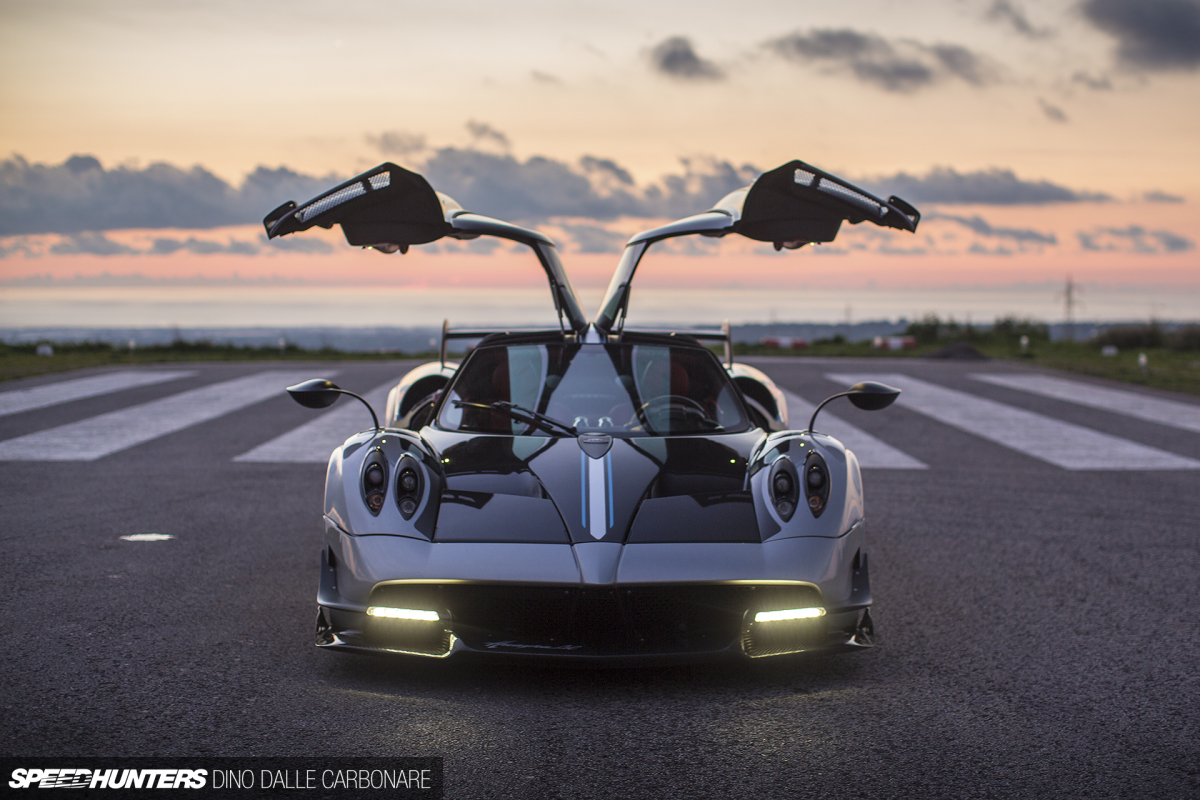 It all makes for one hell of a machine. This is a car that may only get to be appreciated by a lucky few, but something we should all be thankful actually exists.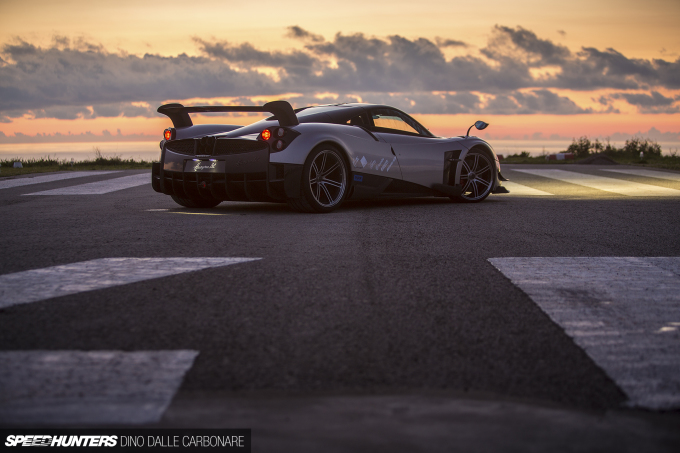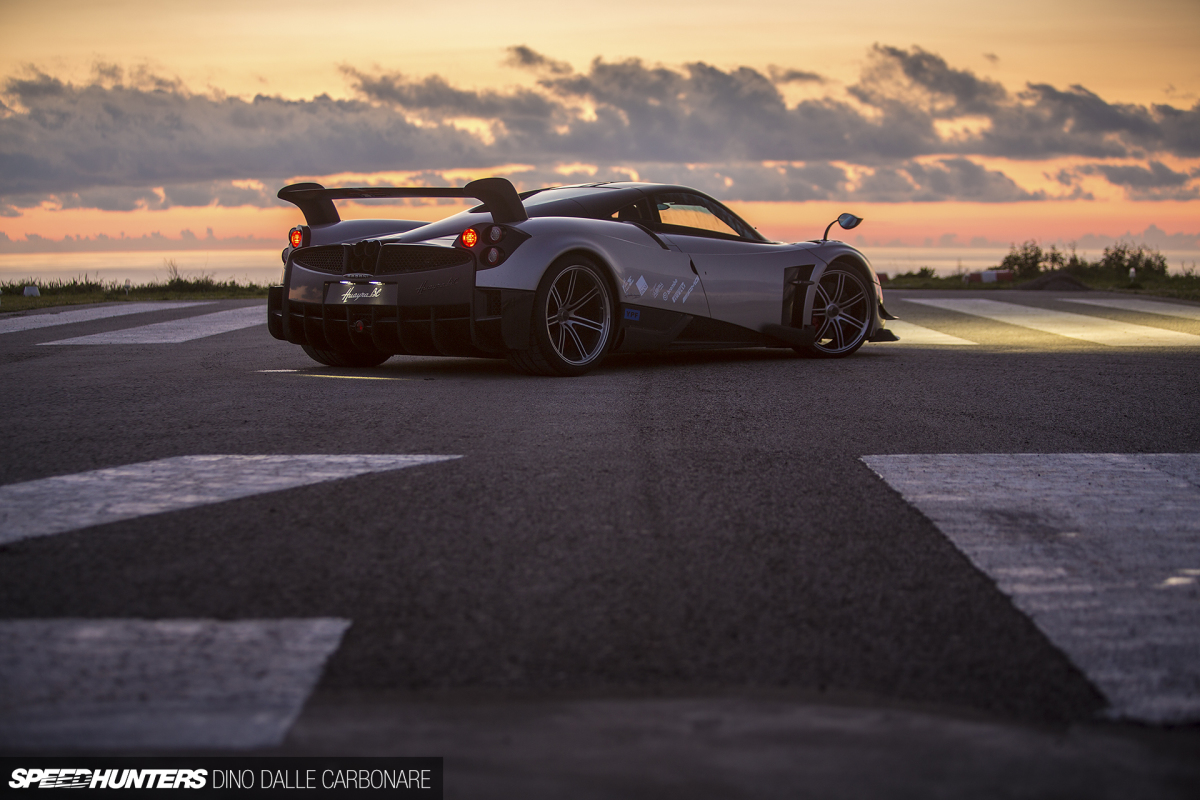 It's Horacio's continuous need for innovation that keeps his cars on-par with modern day hypercars. To achieve this without the need for hybrid technology is truly commendable.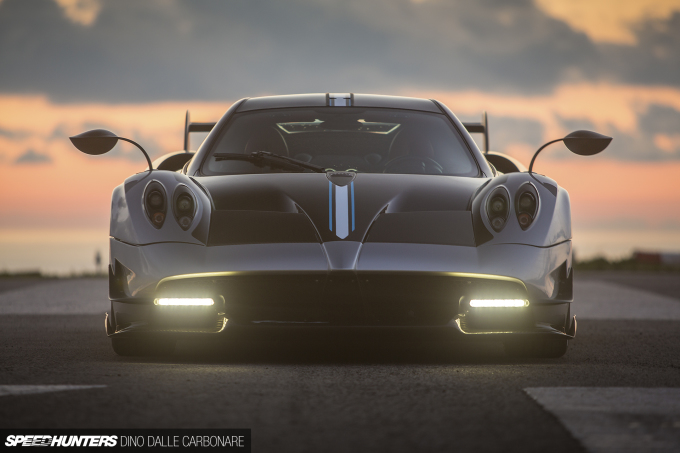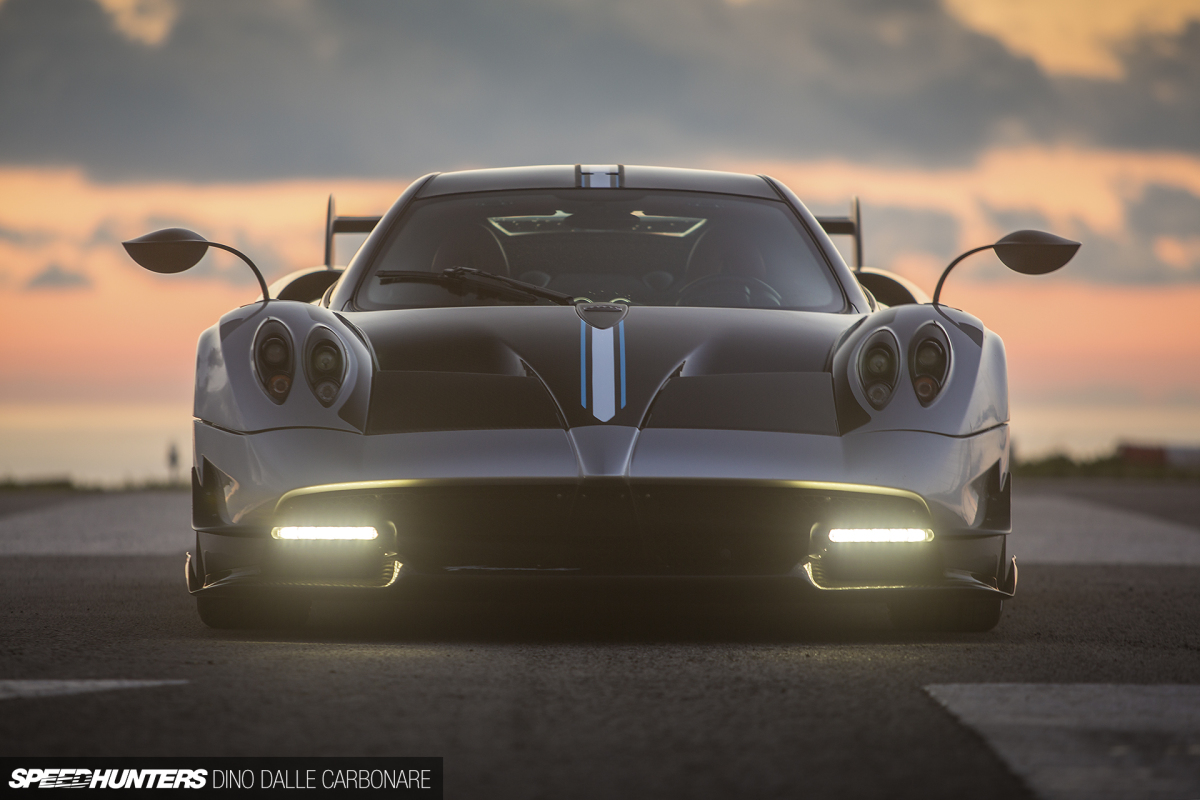 Pagani reinvests an astronomically high amount of yearly profit right back in R&D, which keeps the company at the forefront of composite technology, just like it has been since the Modena Design days.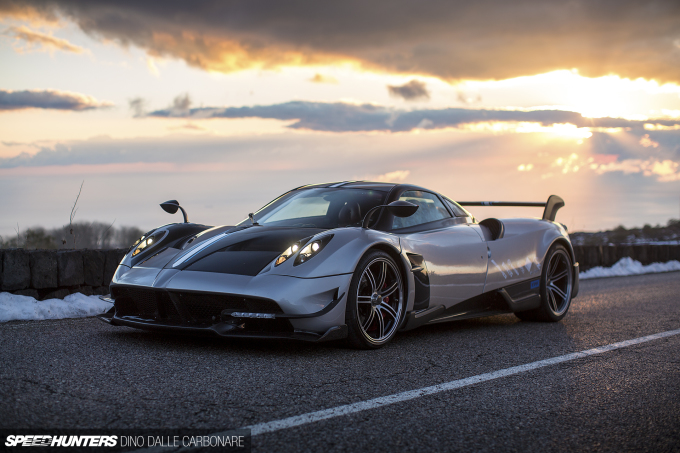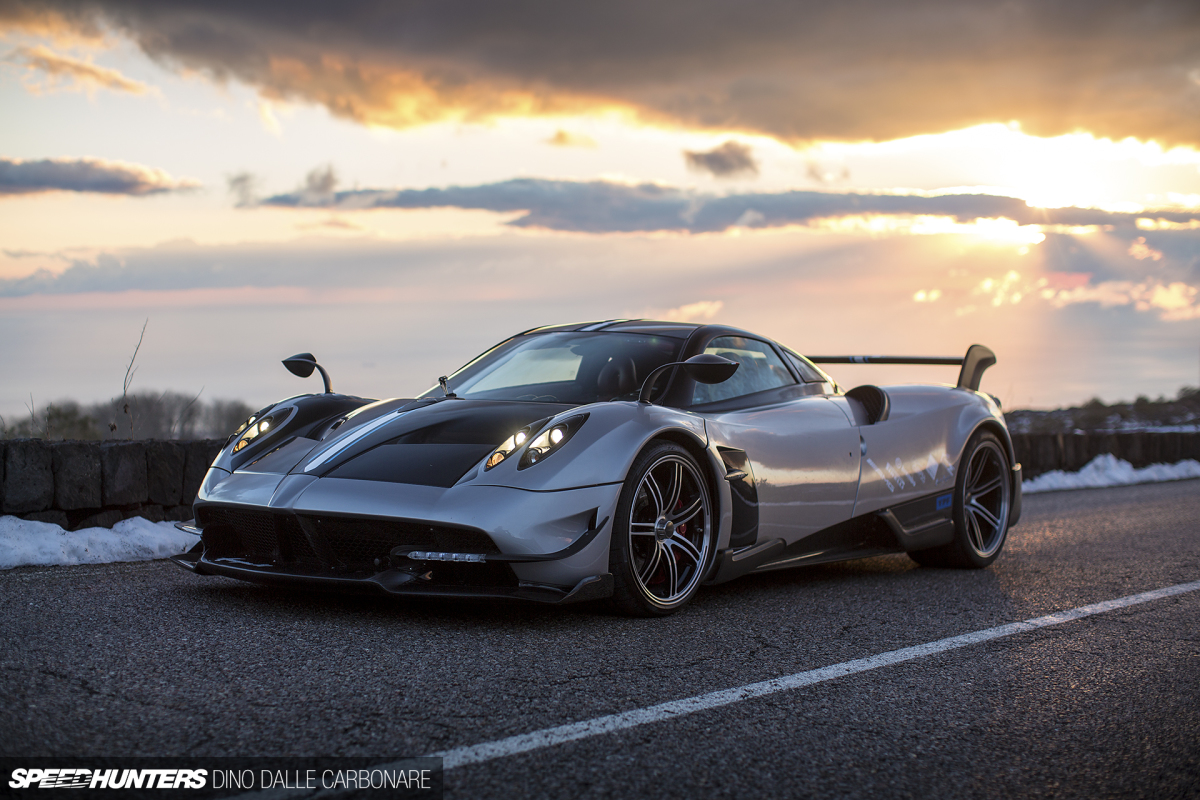 Add to that the need to stay ahead of the game and it's the reason that cars like the BC are possible.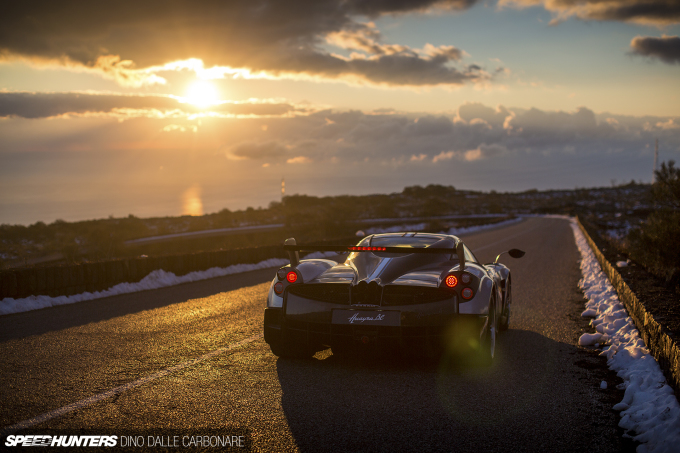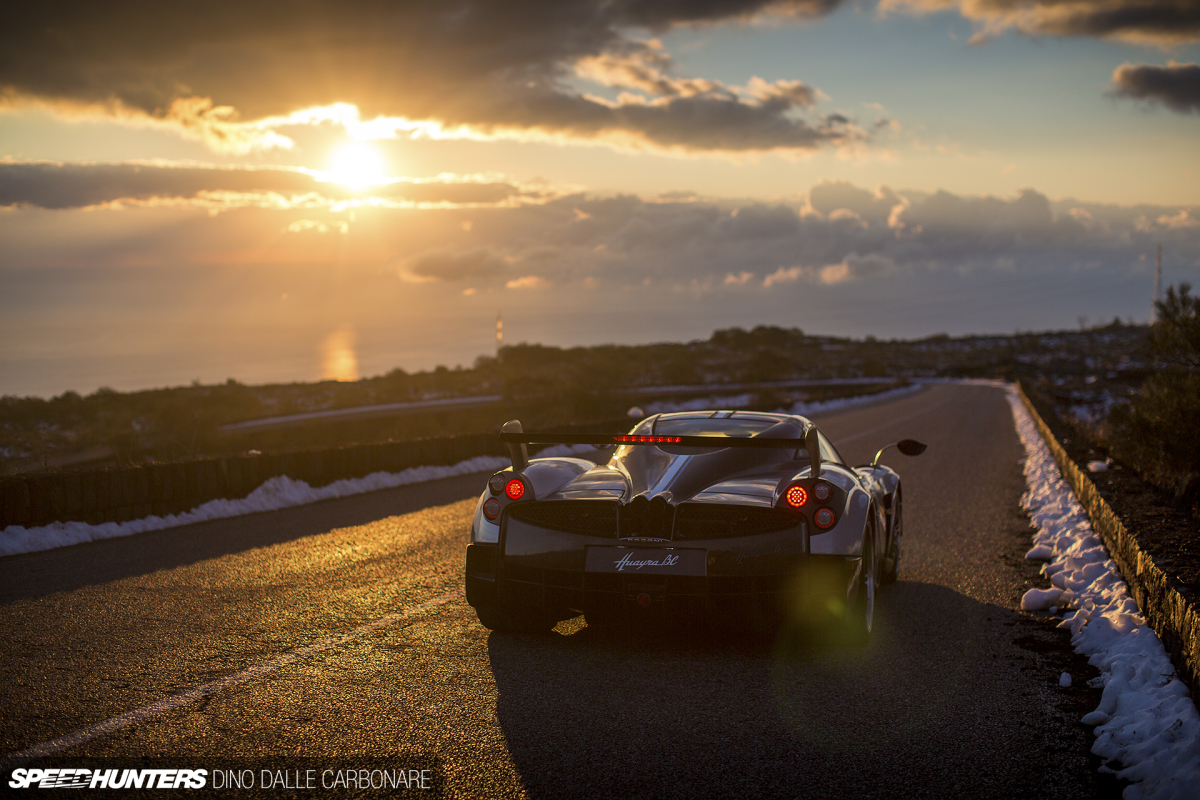 This first drive of the BC is just a taster of what Pagani has coming this year. There is also the opening of the new HQ and factory which I'll be giving you a little preview of in the coming weeks.
Dino Dalle Carbonare
Instagram: speedhunters_dino
dino@speedhunters.com
Additional Photo by Pagani