A Lack Of Weight
Think 'lightweight cars' and no doubt images of little British sports machines will start flowing through your mind. It's always been the way of small British manufacturers, starting off with Lotus back in the day, and it's now the ideology behind so many low volume car makers. But while the notion of reducing as much weight as possible to gain more performance might be the golden rule here, there is one area that many have failed in, and that goes for Lotus too.
I didn't realise this until a few weeks back when I had the chance to drive and sample the Zenos E10; a lightweight sports car that shined for taking the British mentality, but applying it in an innovative way.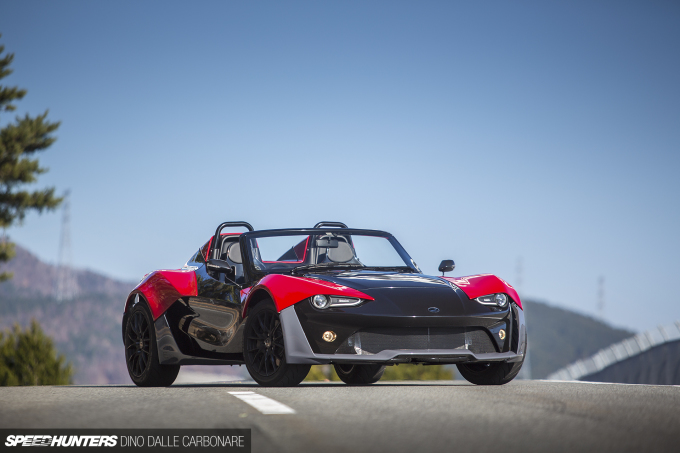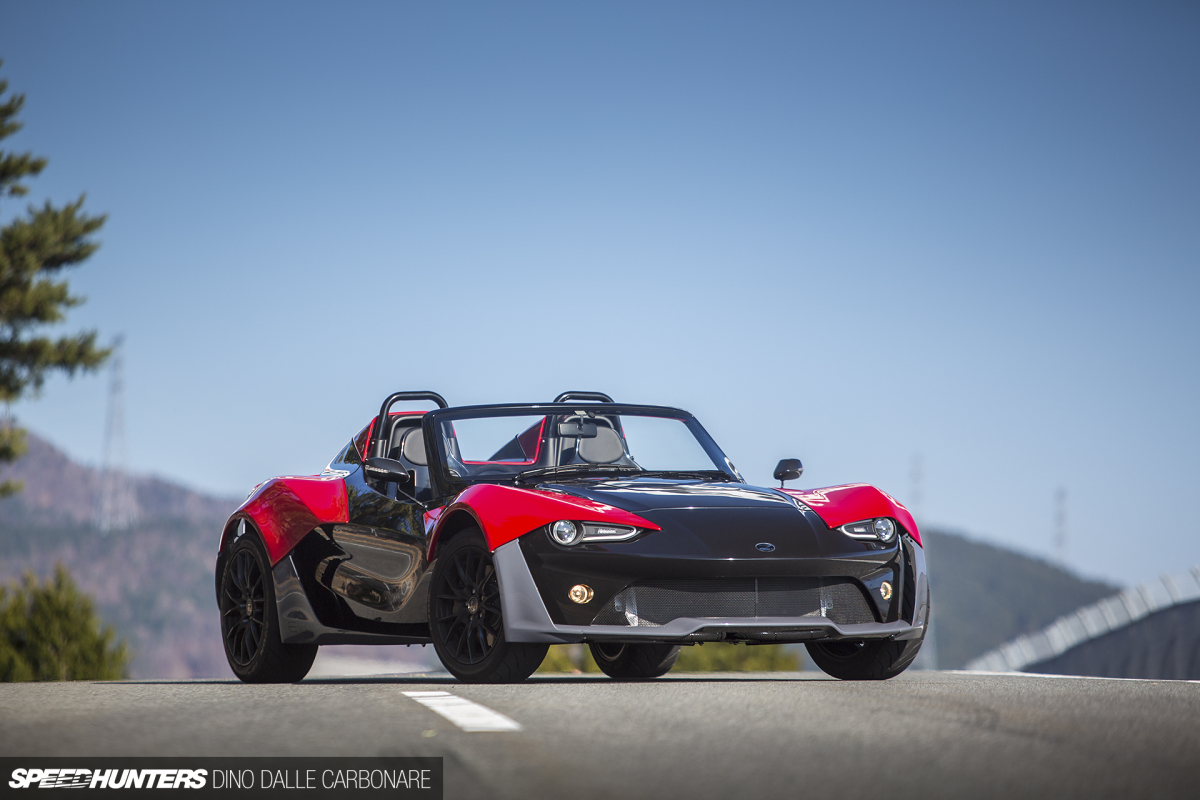 This little 2-seater reimagines the original lightweight sports car recipe for the modern era, taking full advantage of the materials we now have at our disposal. A thin, central aluminium spine makes up the backbone of the car, forming a light yet very rigid chassis onto which components are bolted. The tub is manufactured out of recycled carbon fiber, so while it might not win awards for an aesthetically pleasing finish, it's light and strong just like any other carbon equivalent.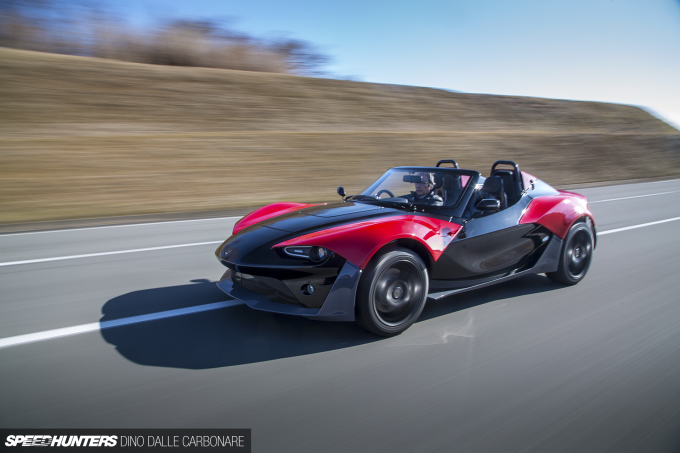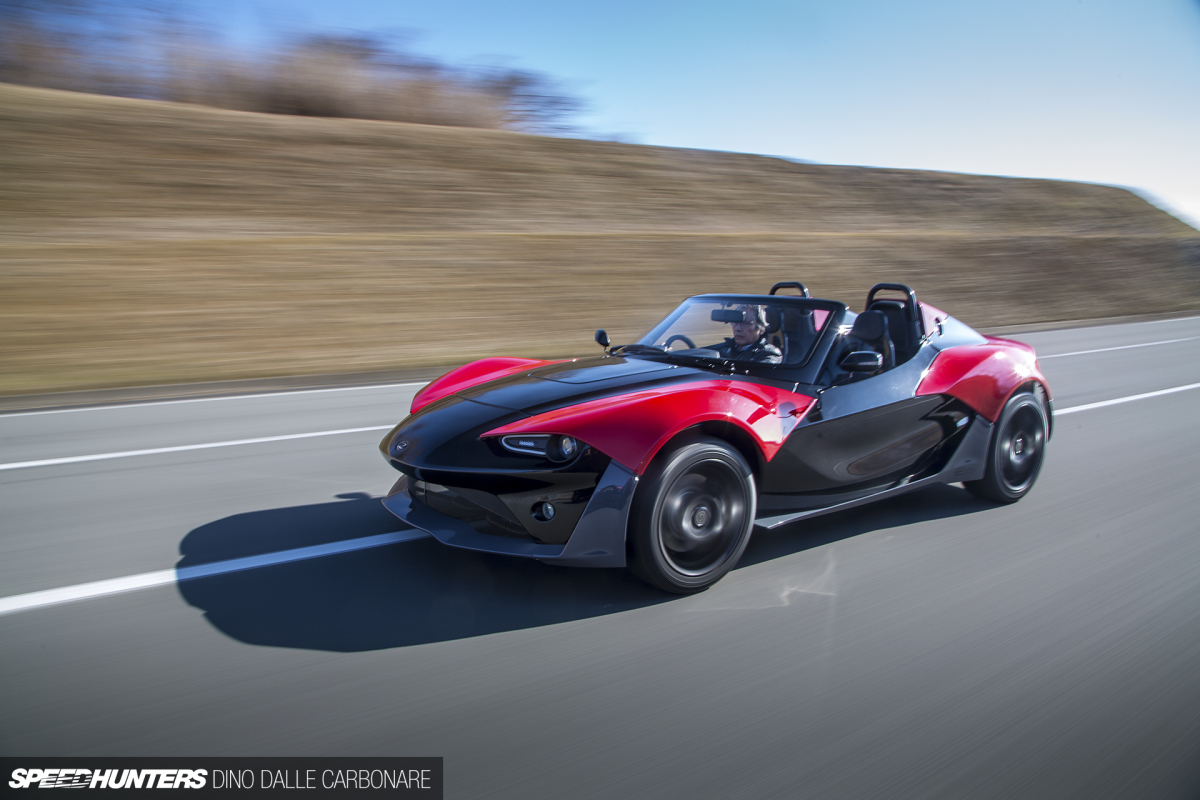 Double wishbone suspension arms span out from this central structure both front and rear; the front pivoting an inboard-mounted pair of Bilstein dampers. The aluminium center spine then widens out at the rear to form a cradle for a Ford 2.0-liter naturally aspirated engine to sit in; driving the rear wheels through a transverse 6-speed gearbox. So give me some numbers, I hear you ask… Well, this is where it gets even more interesting, and these figures will really drive home just how fun the Zenos E10 is. With a curb weight of 700kg and 200hp being developed by the Ford four-cylinder, there's a ton of fun to be had, which I quickly discovered at Fuji Speedway during my initial drive.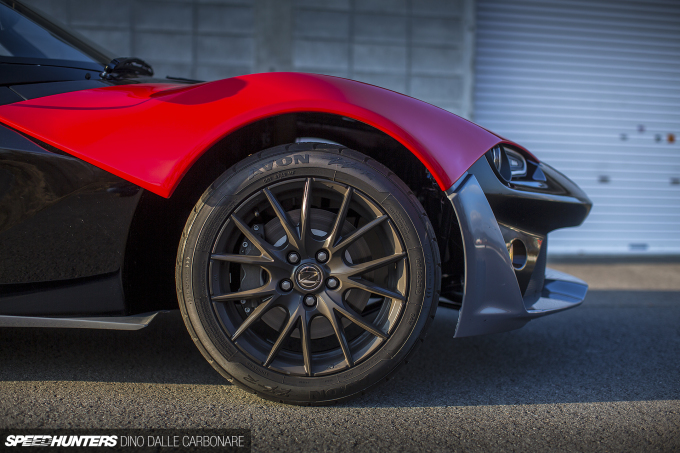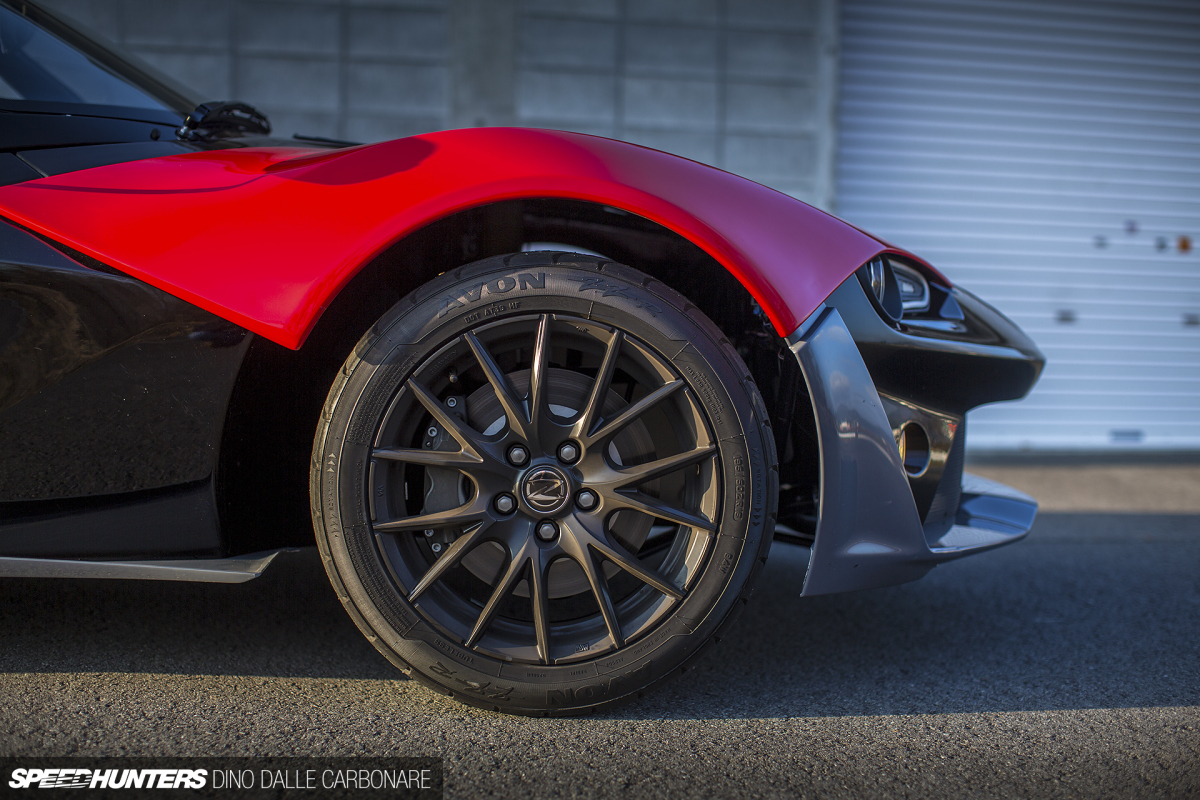 The E10 sits on 16-inch front and 17-inch rear wheels shod in Avon's stickiest road-going performance tyre, which don't need to be excessively wide at 195 front and 225 rear due to the car's lack of mass. This translates into a very nimble machine that's always willing to turn in and precisely execute what the driver wants it to do. Brakes were the biggest surprise; they aren't servo-assisted and that's something I discovered the first time I had to slow down. They lack initial bite, which is usually the case with these setups, but once you lean on them with adequate force they bite down very hard on the compact 4-pot front calipers.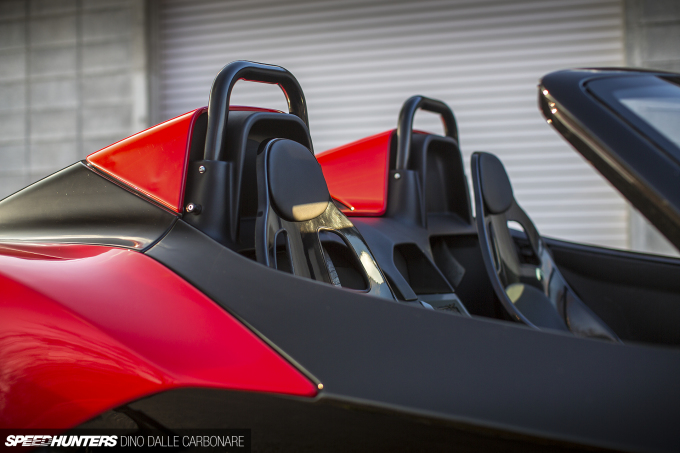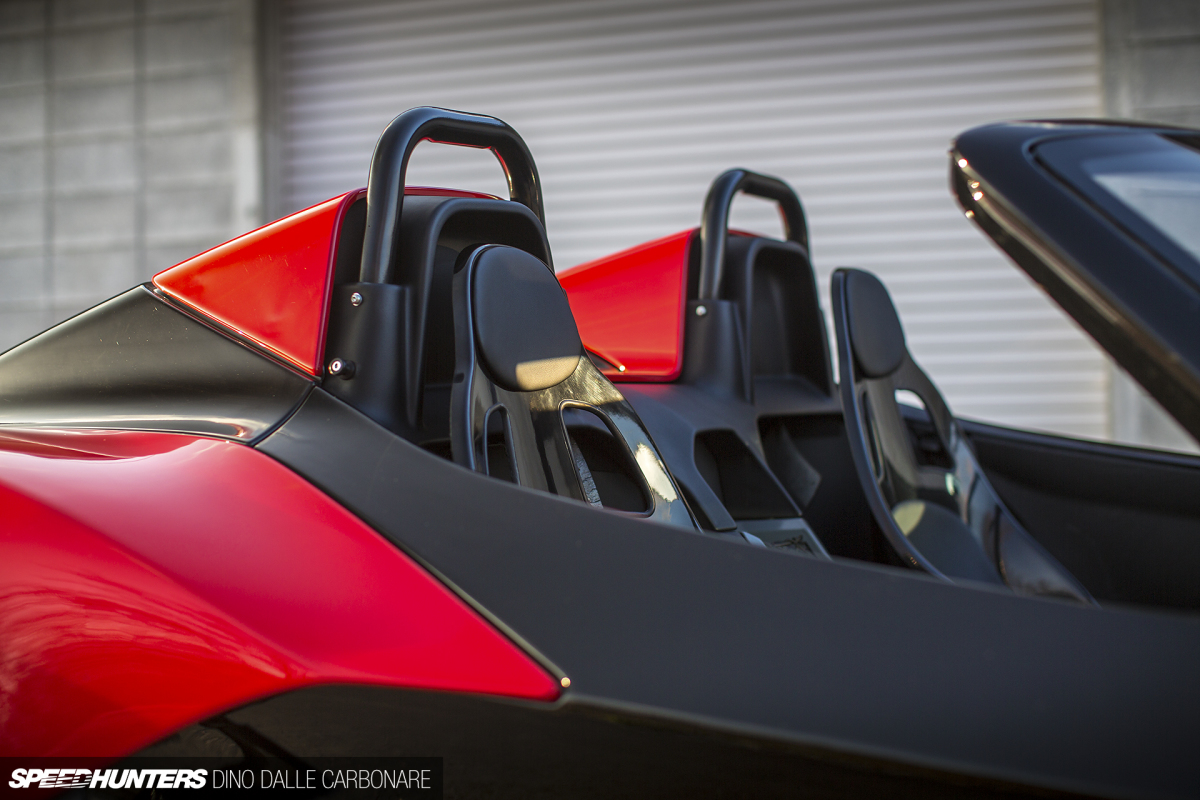 The E10 is a car built for the sole purpose of driving, and by driving I mean driving hard. It's stripped of most creature comforts as you would expect, and that includes any sort of storage space or trunk. Hell, it doesn't even have a roof! There is a optional little tonneau cover that you can flick on in case of rain, but if it's raining you're still going to get wet.
Finally A Modern Interior In The Segment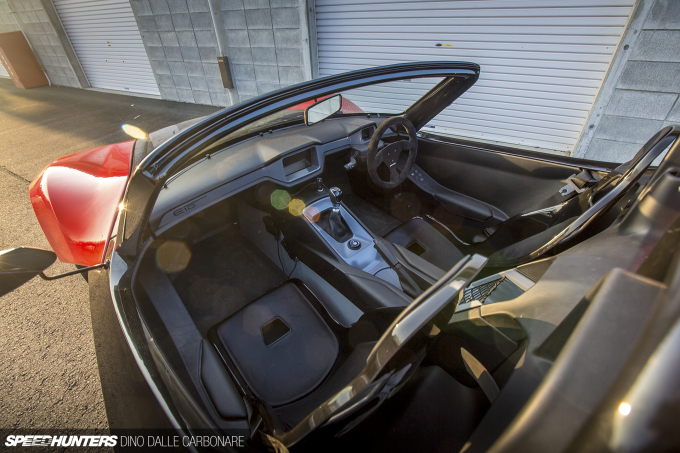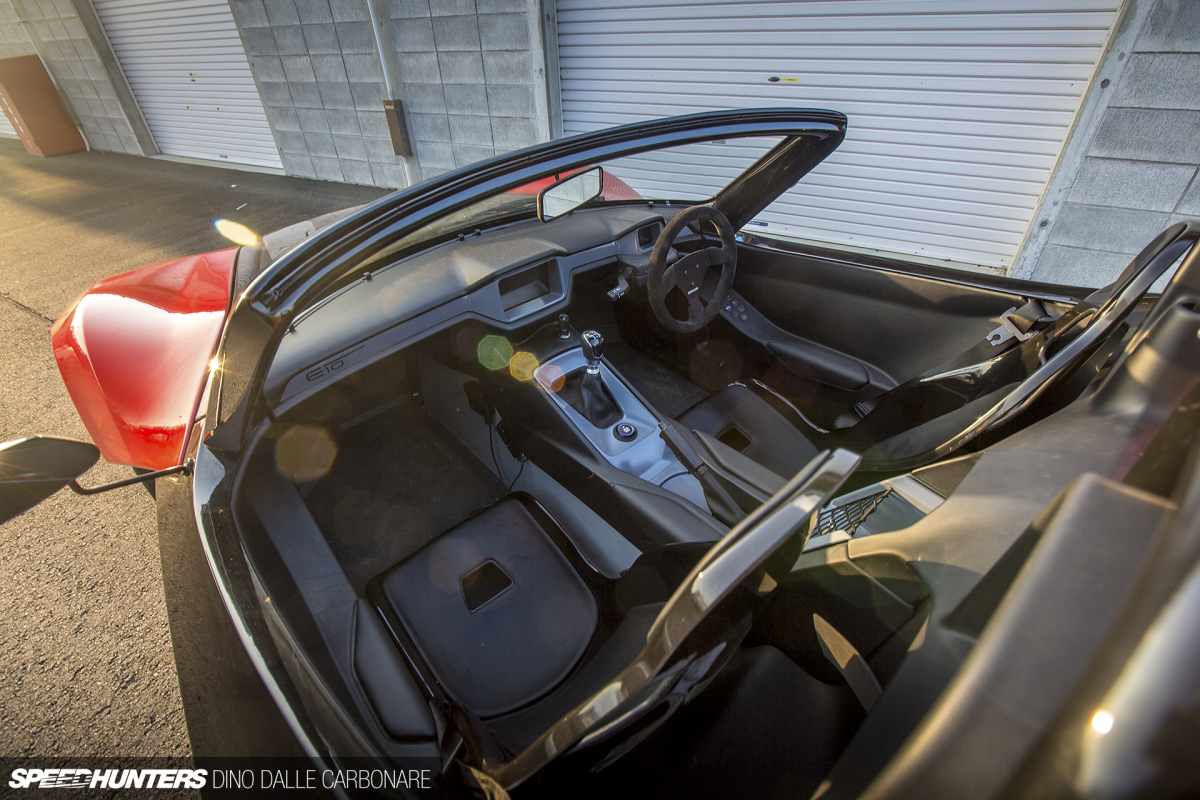 But that doesn't matter. This isn't a car you buy to pamper and look after – even the seats tell you this. They are thin and light plastic shells with a little padding on them, but since the car has no doors you end up stepping on them whenever you get in and out. That said, the cabin is a very nice place to be in; you sit low and well within it, and you have enough adjustability to always find a good driving position.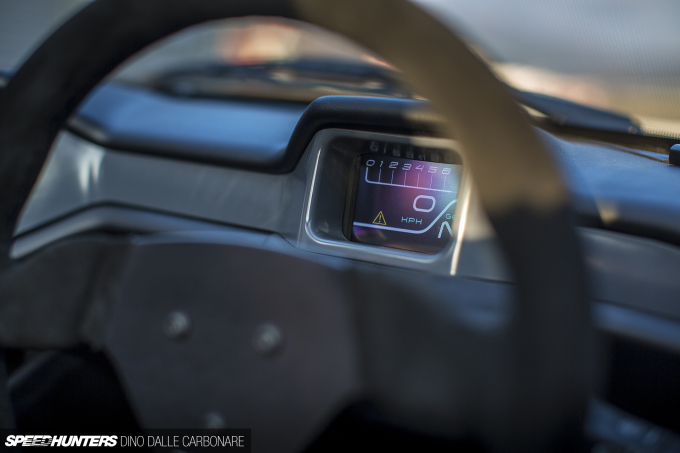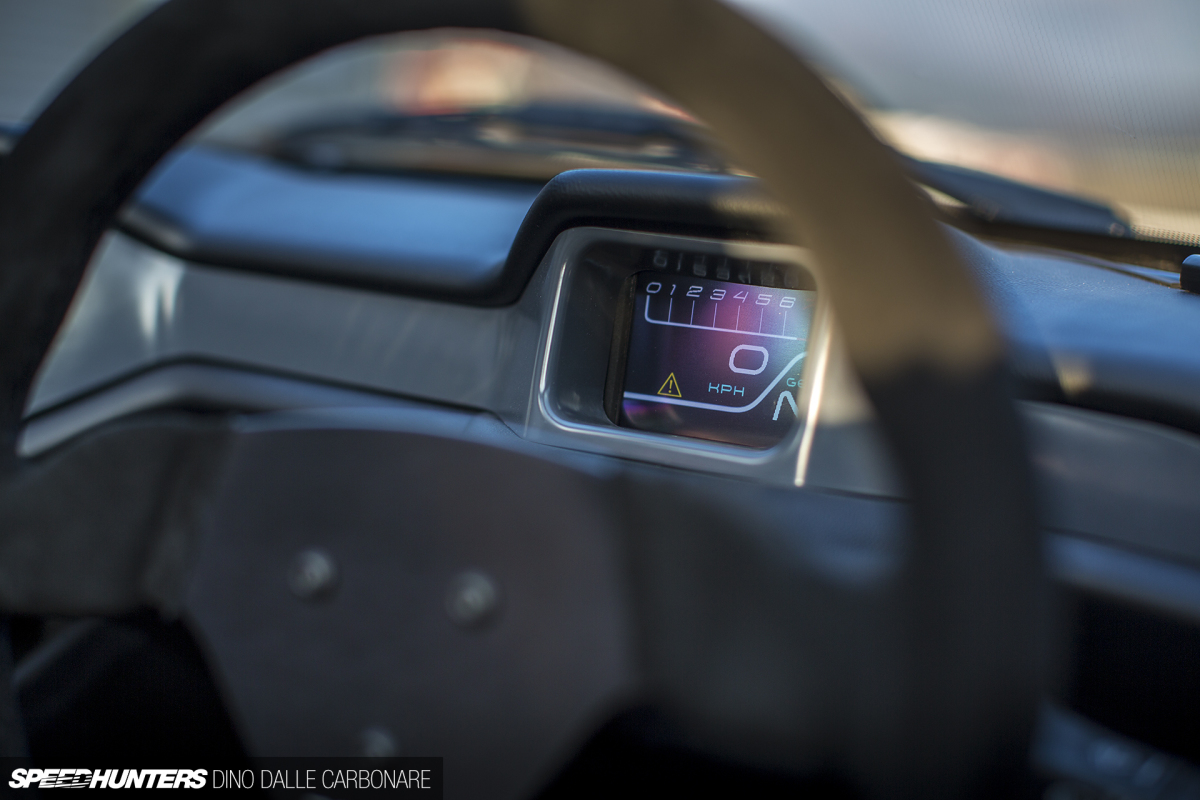 Within a few minutes of sitting in the Zenos I thought it felt like a more modern take on the whole British sports car thing; it's refreshingly well put together and its construction seems to involve far less componentry. So I guess with less stuff around you, there's less potential for things to go wrong. The driver gets a neat little color LCD screen to look at while driving, and it displays only the important data, like a tachometer, speedo and gear position.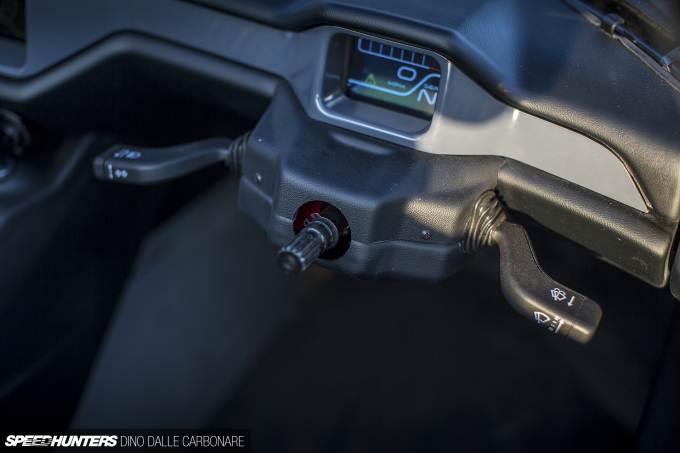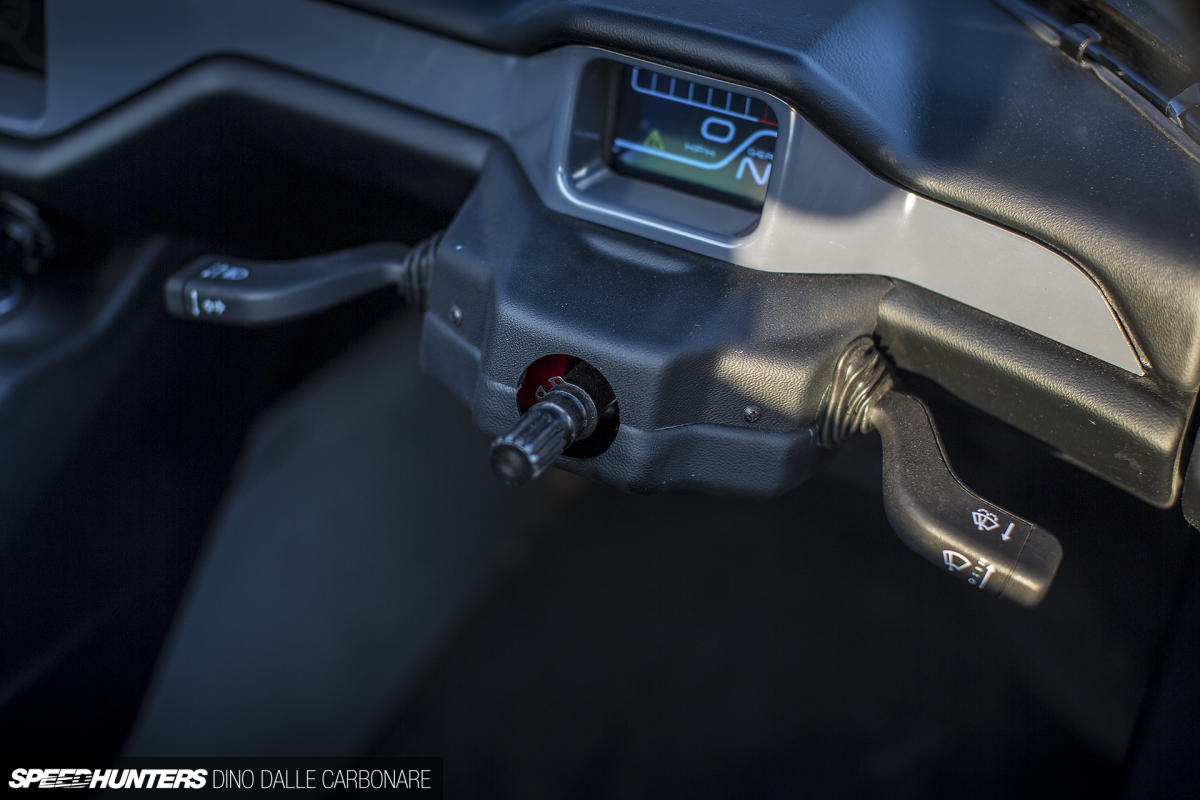 To get in and out the steering wheels pops off easily thanks to its quick-release mount; a true help for those that are on the taller side of the scale.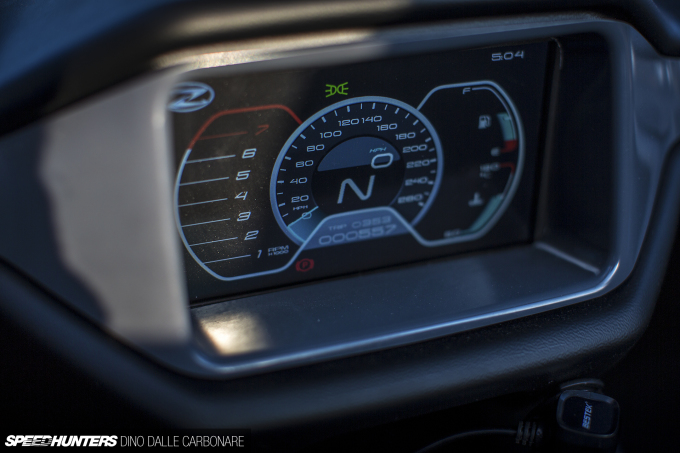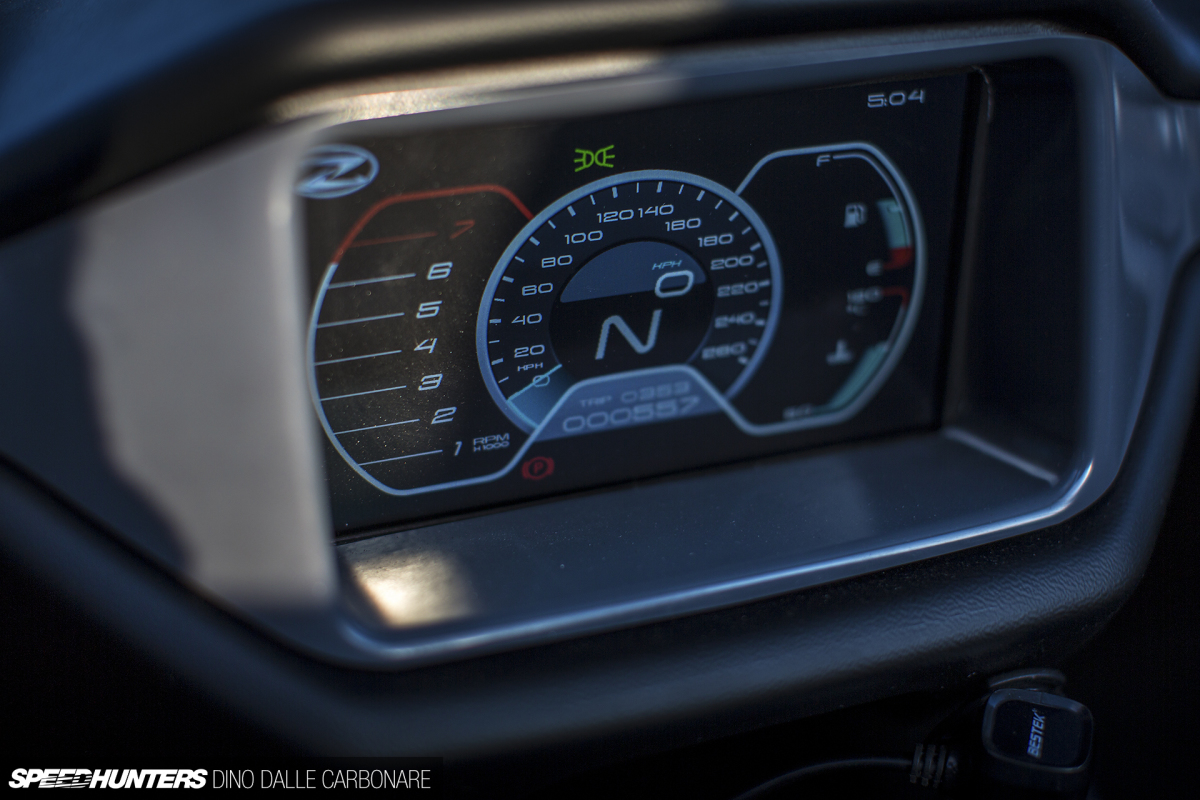 The car's main instrumentation is contained in a larger central screen.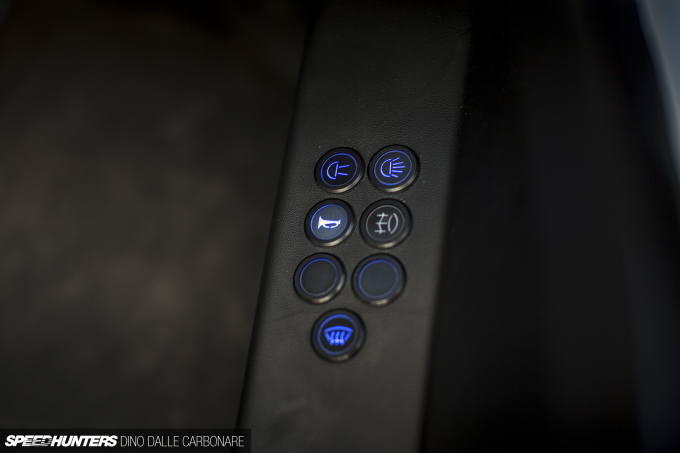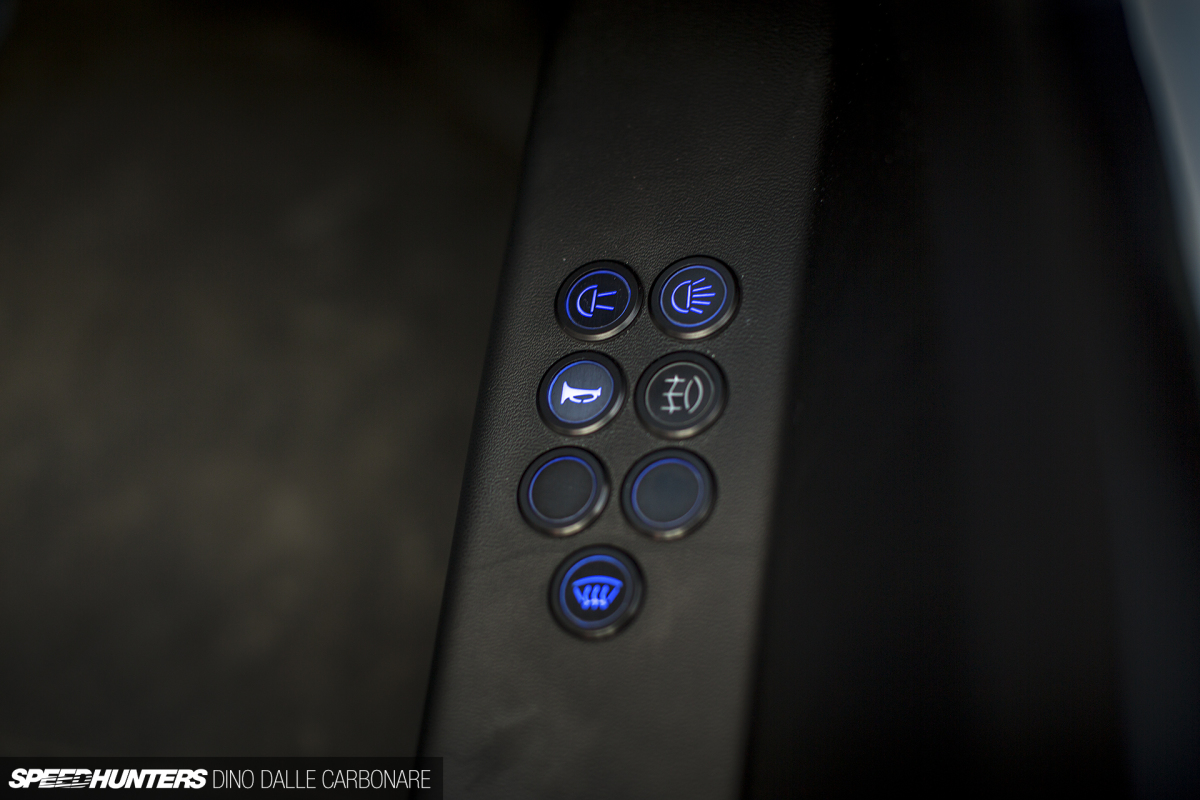 Switch gear is as basic as it gets, yet it has a nice modern feeling with these backlit aluminium buttons laid out on a panel on the driver's side.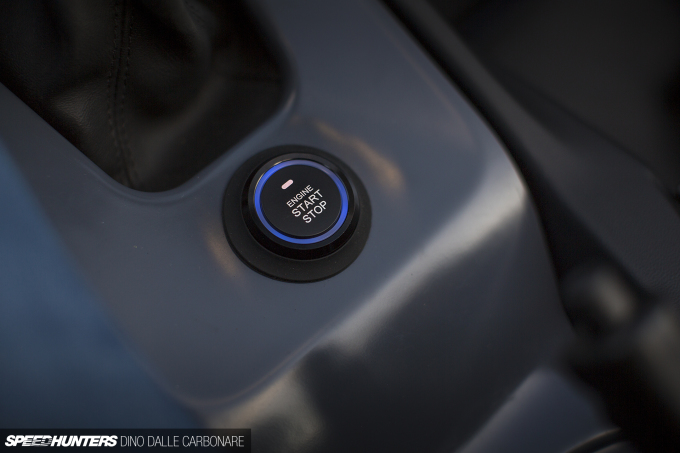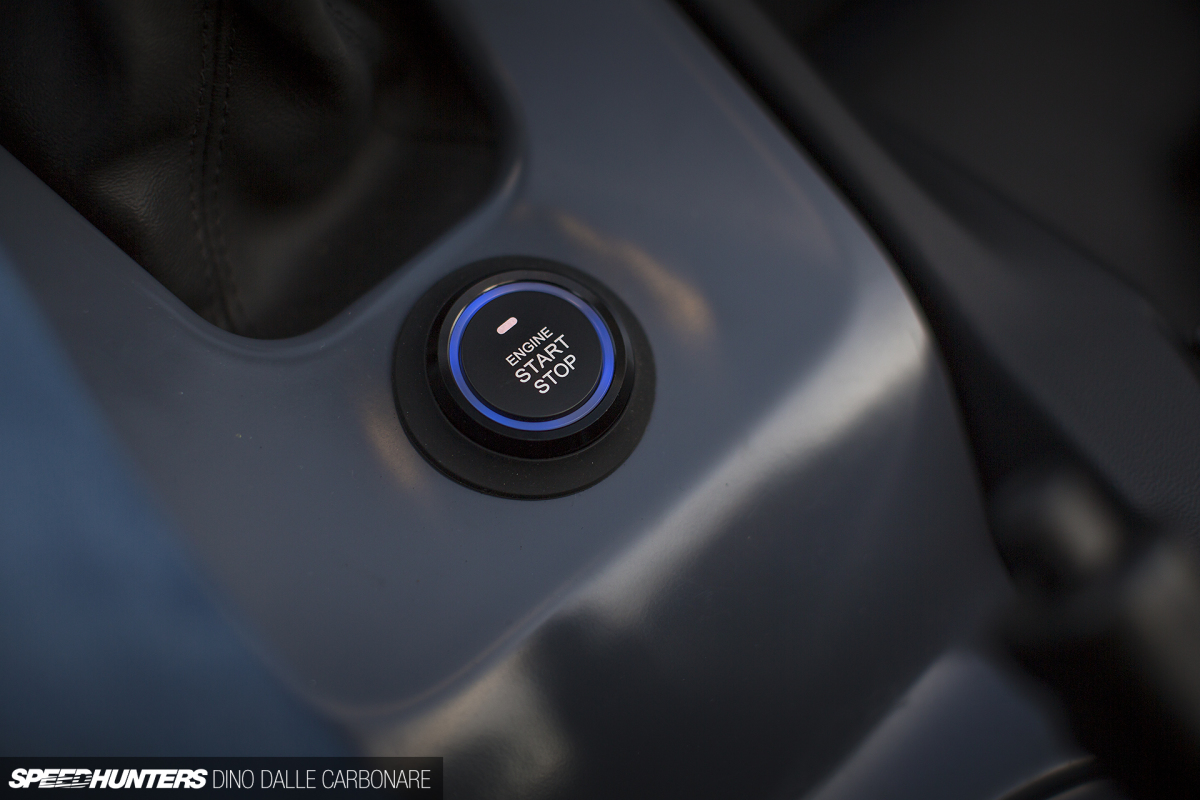 The keyless ignition is a nice touch too; the last thing you want to do when you are wearing a race suit, helmet and gloves is fiddle to look for a conventional key. Not here, you simply carry the smart key in your pocket and hit the Engine Start/Stop button on the transmission tunnel and you are ready to go.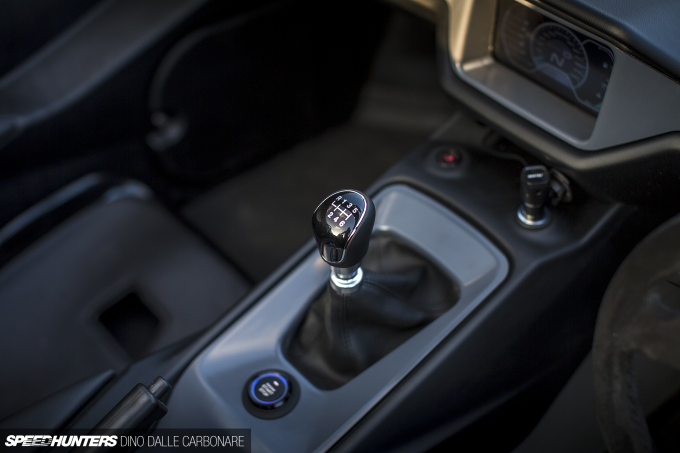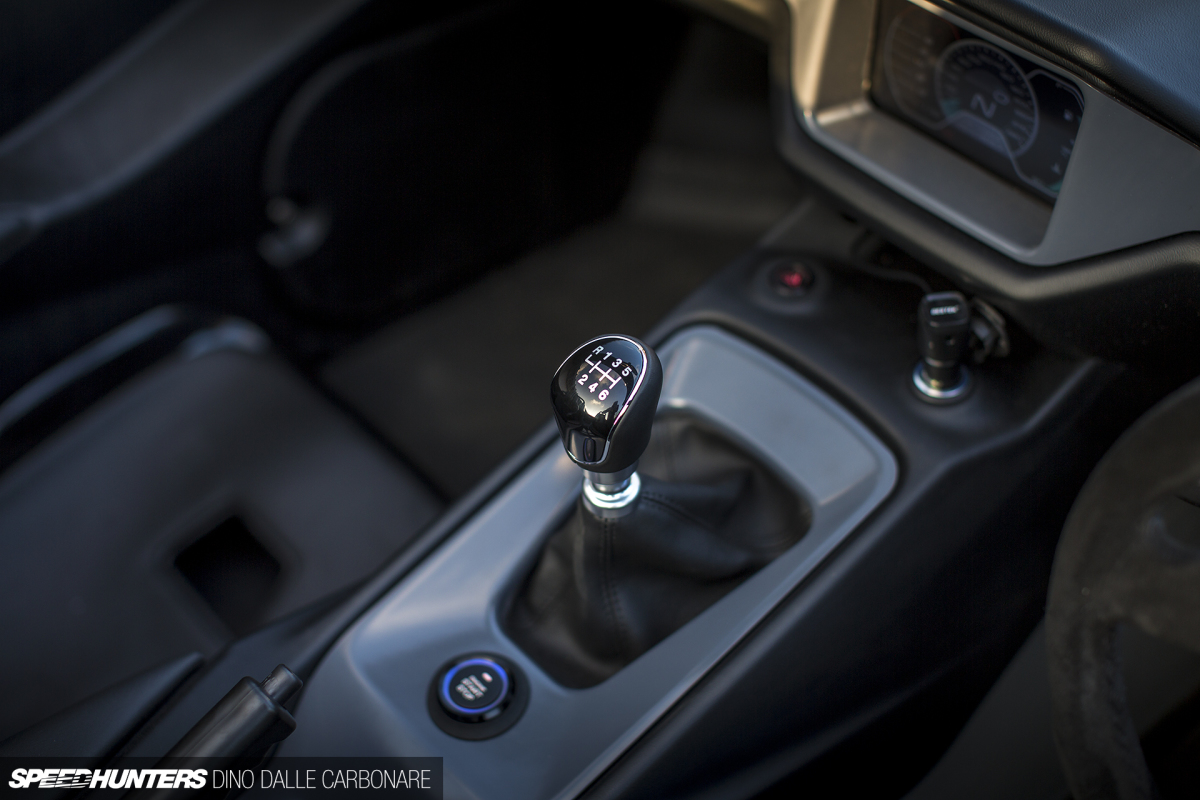 Pedal position is optimal, as is the height and action of the 6-speed transmission, making it all a very nice place to work from. There's even a 12V outlet so you can charge your phone while driving!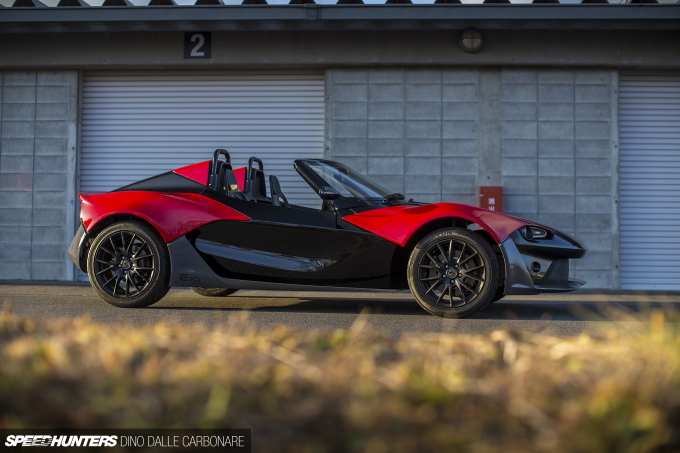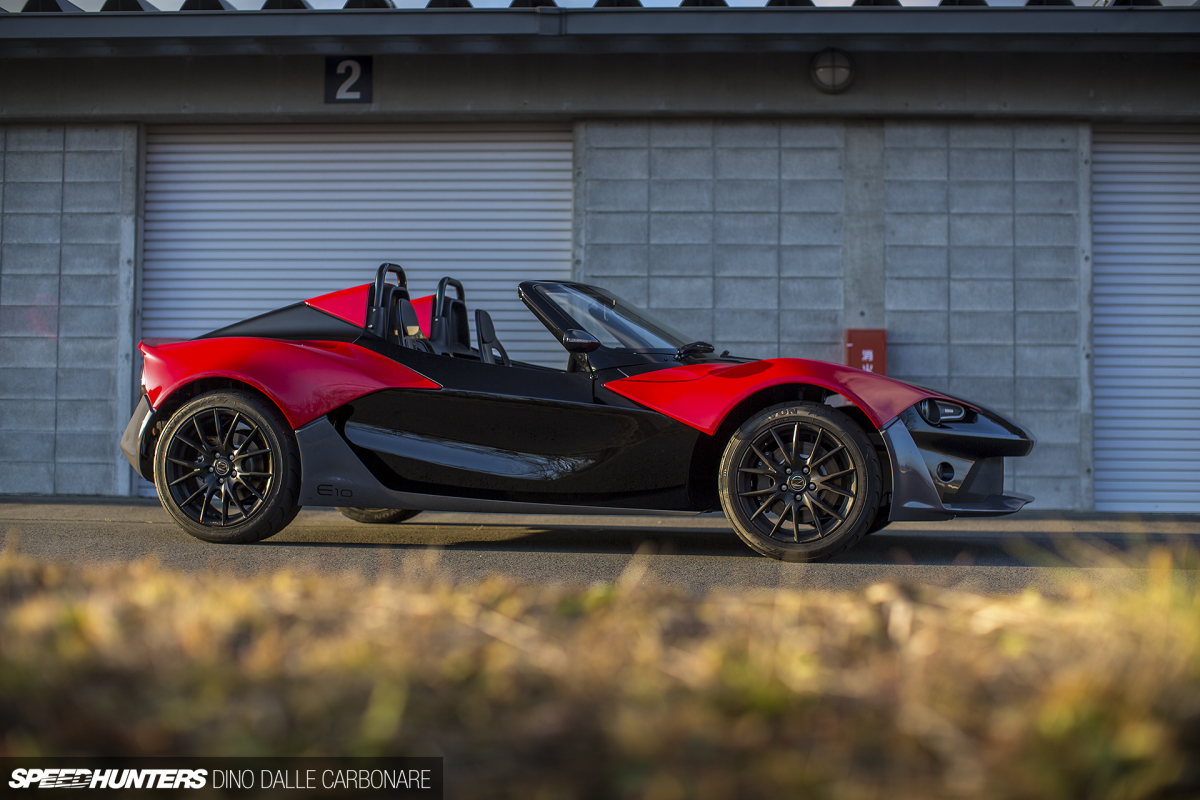 Design-wise, the E10 looks very modern; it's all geared towards driving with as little as possible to water-down its purpose. Take the body panels for example: they are all plastic, light, easy to remove, and easy to replace if you happen to have a little unexpected off.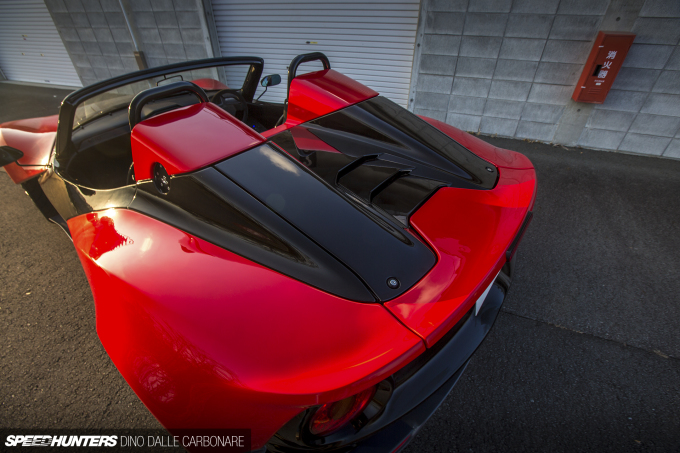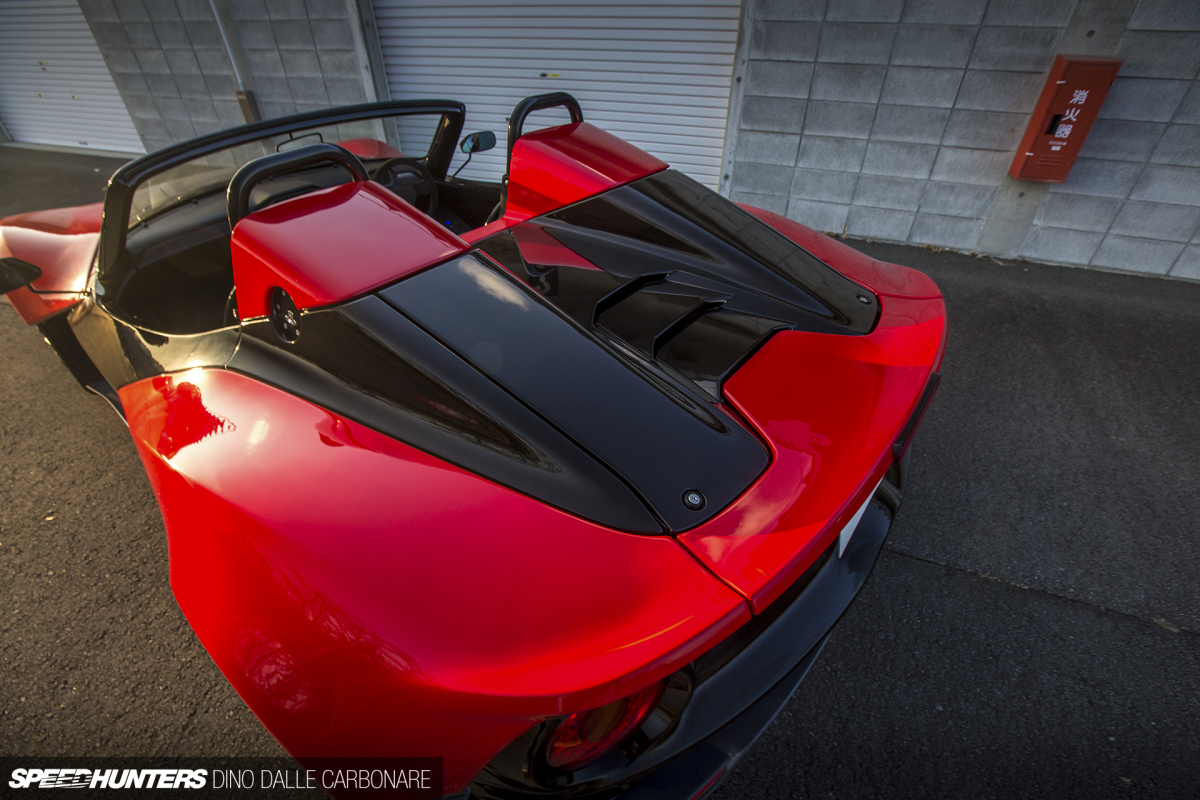 Each panel connects up to the central tub or aluminium spine as well as the steel roll protection bars that add a touch of safety to the whole car. I really like the emphasis on actual driving; even the engine cover and the little cover up front are locked in place and can only be removed with the use of the key. It all adds to the whole 'get in and drive' feel of the E10 package, and I thought that was very cool and pretty refreshing.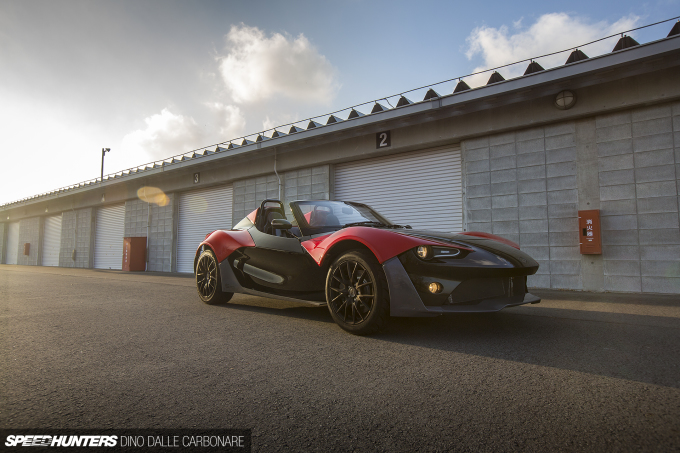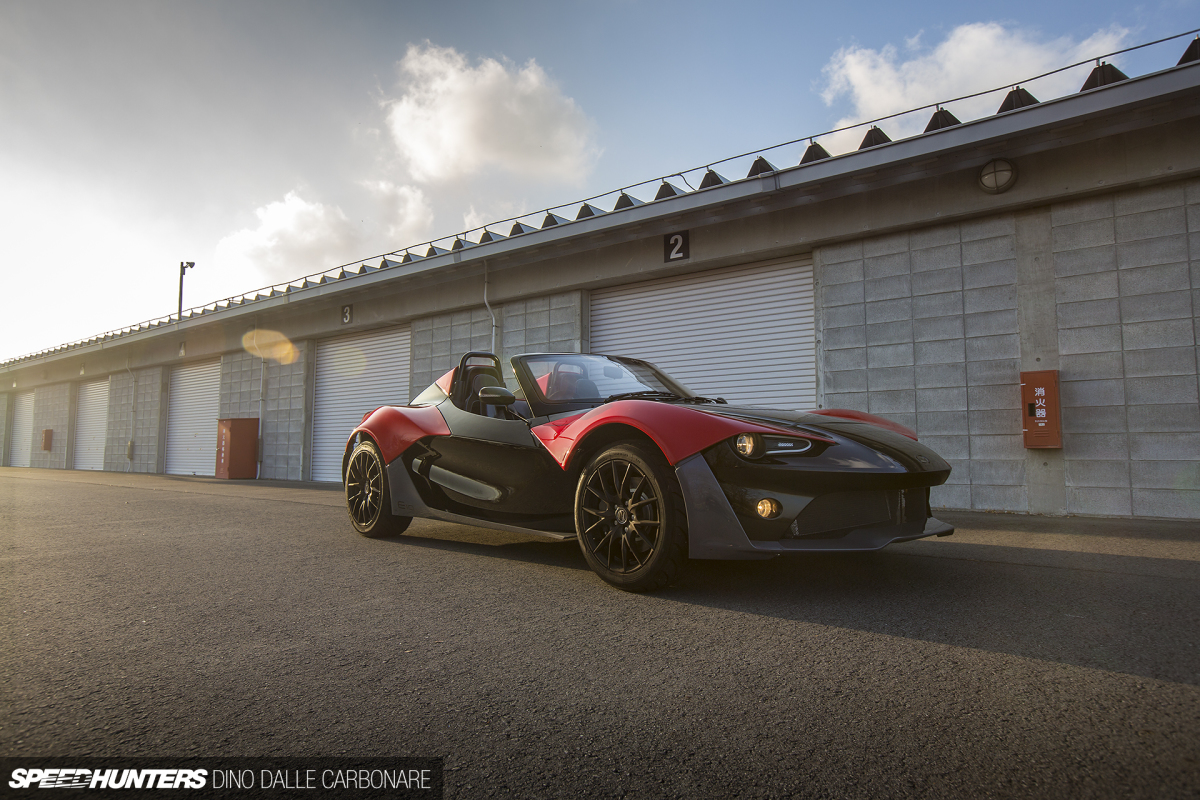 Zenos currently offers the E10 in three guises: this base model with the 200hp engine, an EcoBoost 'S' turbo version with 250hp, and the 'R' which packs 350hp and does away with the windscreen for the ultimate in driving experiences. It might be a tad extreme, but that kind of power in a 700kg package gives you hypercar performance at a fraction of the cost. To give you an idea of what that means, the 0-60mph time of 4.5-seconds for the base E10 drops to 3-seconds for the E10R, and in that spec you also get double the torque output.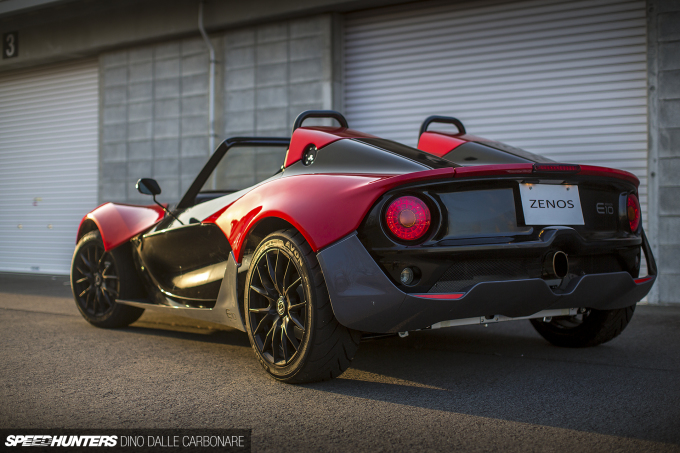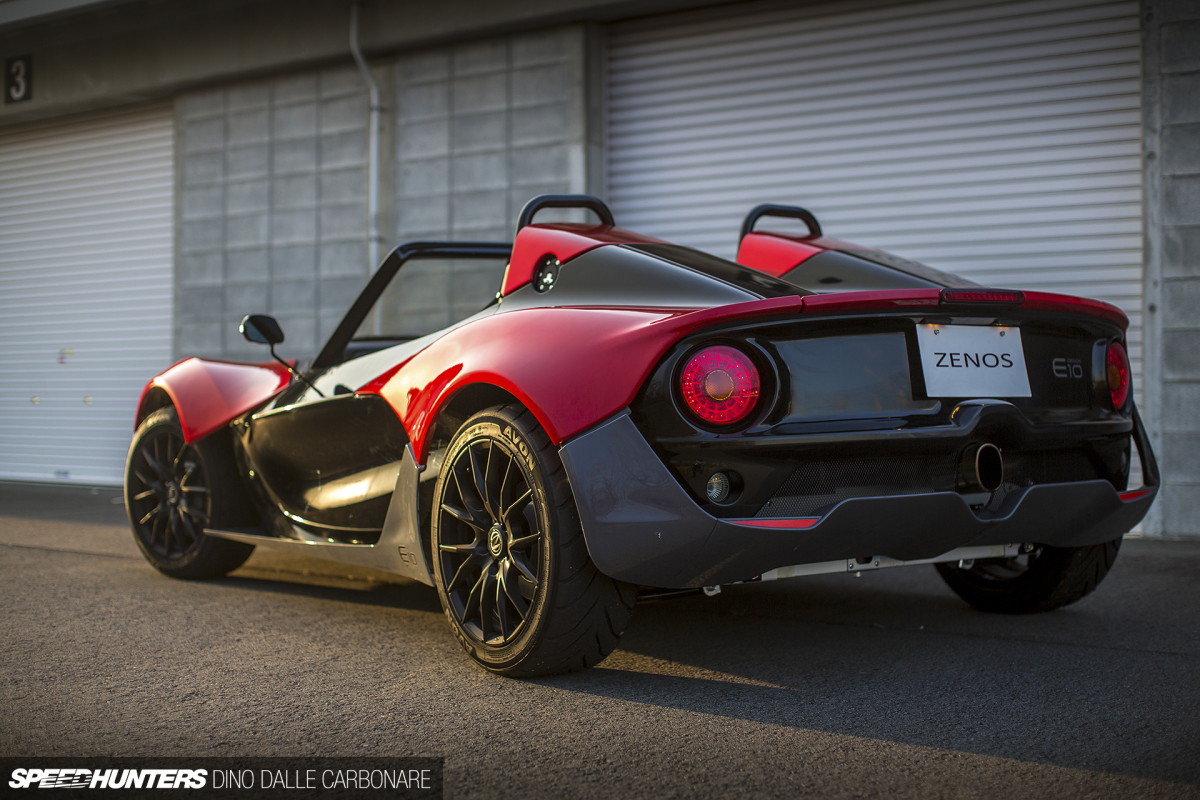 Needless to say, I'd love to get behind the wheel of the 'R' whenever Japan's official distributor beings to bring them in, but the E10 impressed me enough already for what it's able to deliver.
It's All About Feel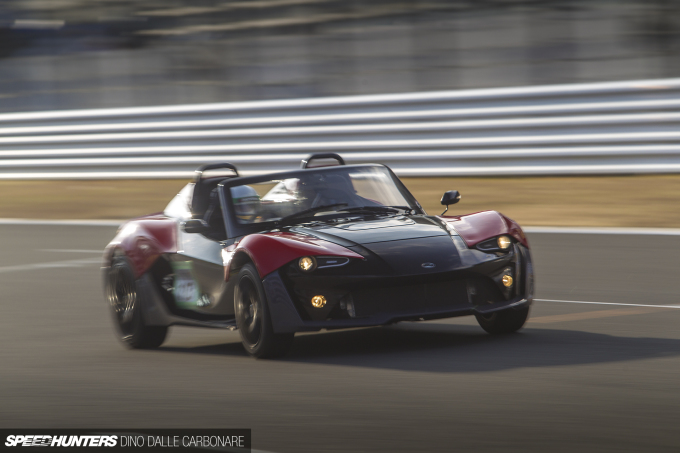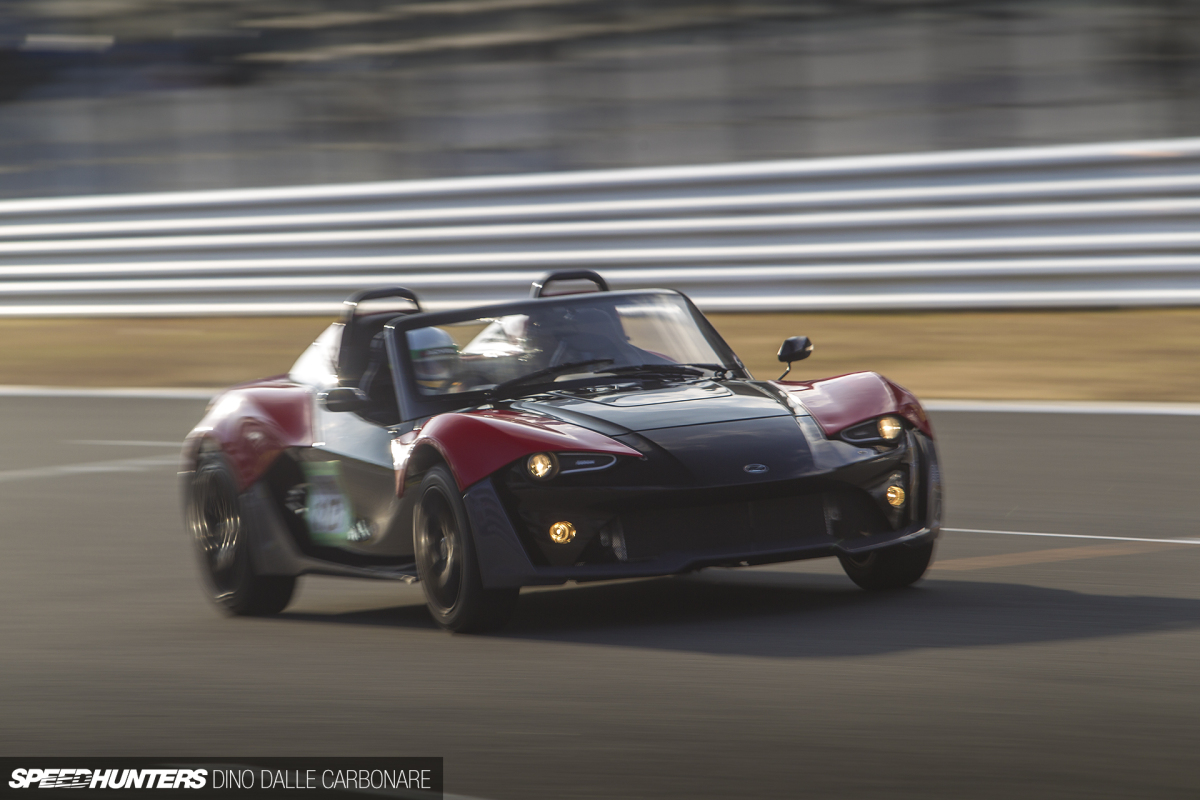 That is, fun dynamics in an equally fun package. The base 200hp makes it a hoot to drive and also totally approachable. It isn't intimidating in any way, and it's always eager for you to give it more until you reach the limit of grip and find nice and easy understeer to deal with. But feel is where this car really shines; you notice that it's well engineered from the moment you move off, beautifully simple and mechanical, which in itself is a breath of fresh air in this day and age of overly complicated cars.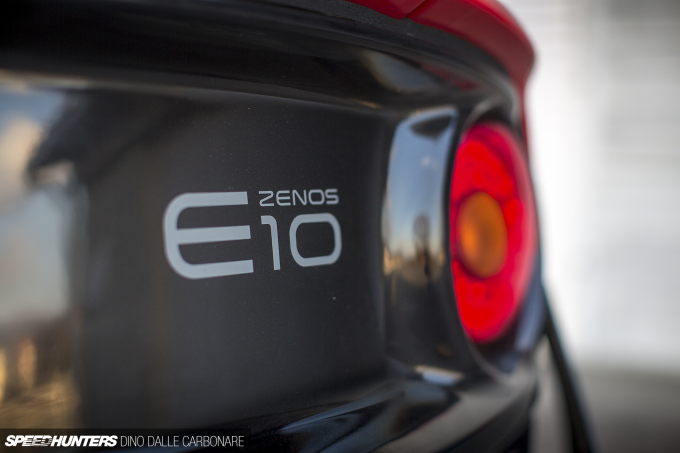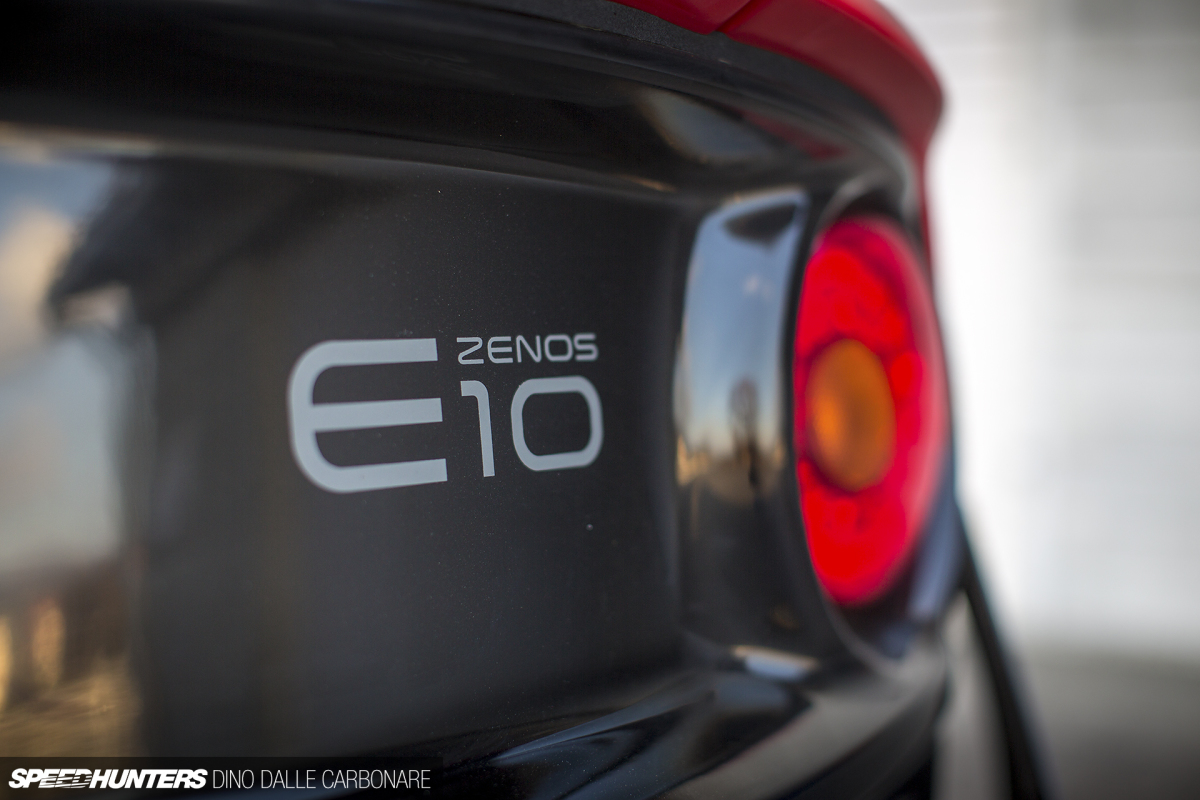 Everything is direct and responsive with decent feedback, and the weight seems nicely contained within the chassis resulting in a pretty neutral handling car.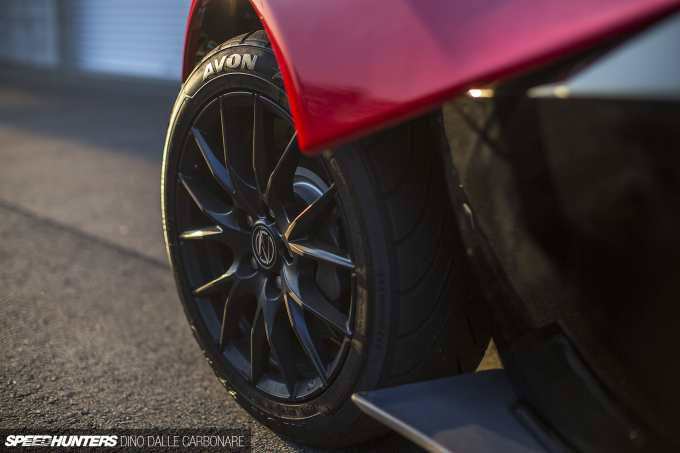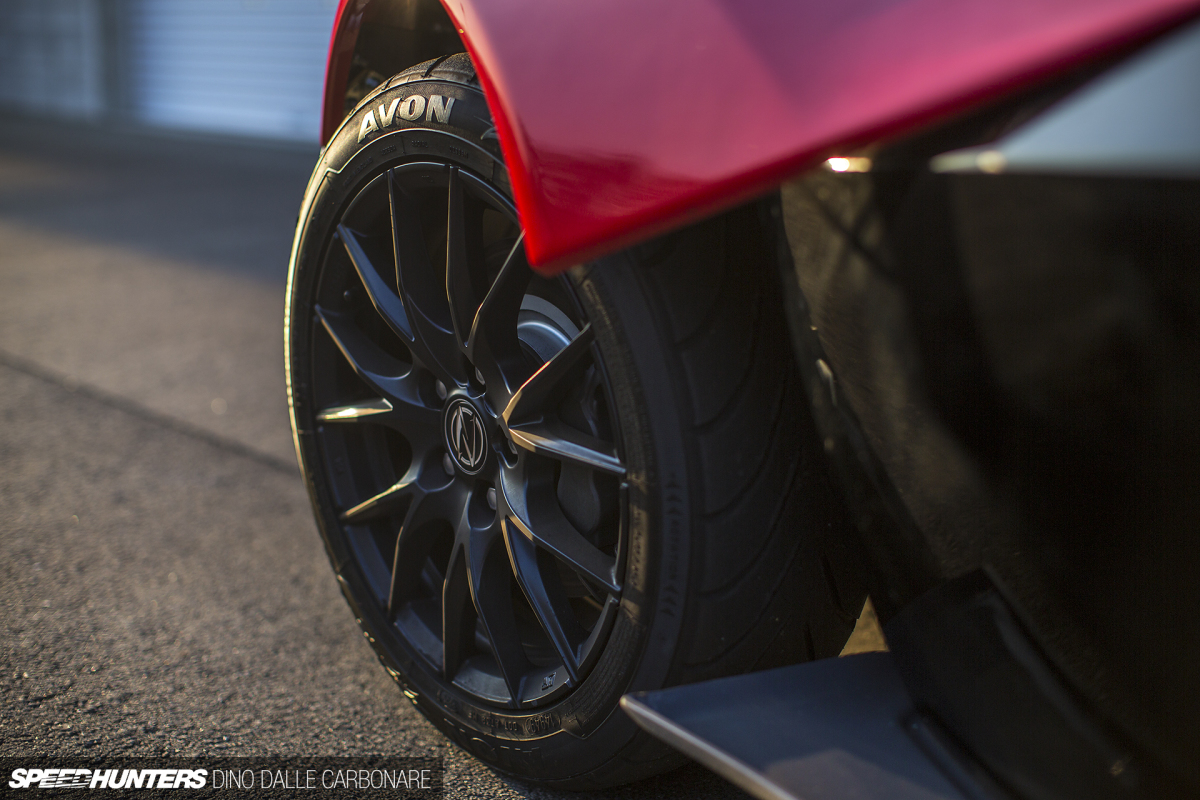 The optional Avon ZZR tyres offer the right level of grip and allow the car to move around a bit when you start pushing it hard, but I imagine they would have quite the job to handle the 150hp bump in power and 265Nm bump in torque that the E10R gets.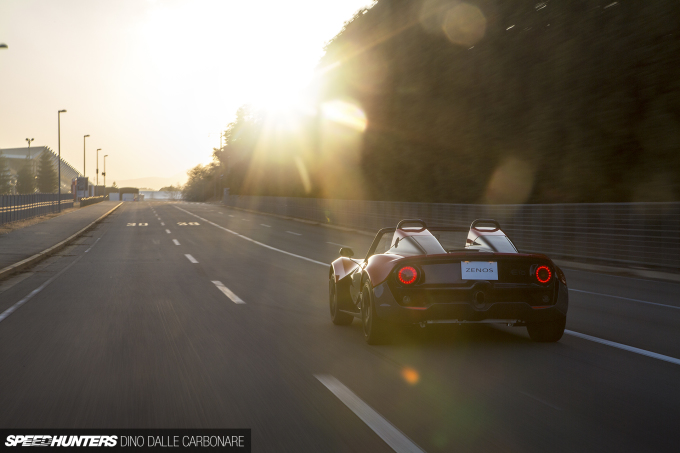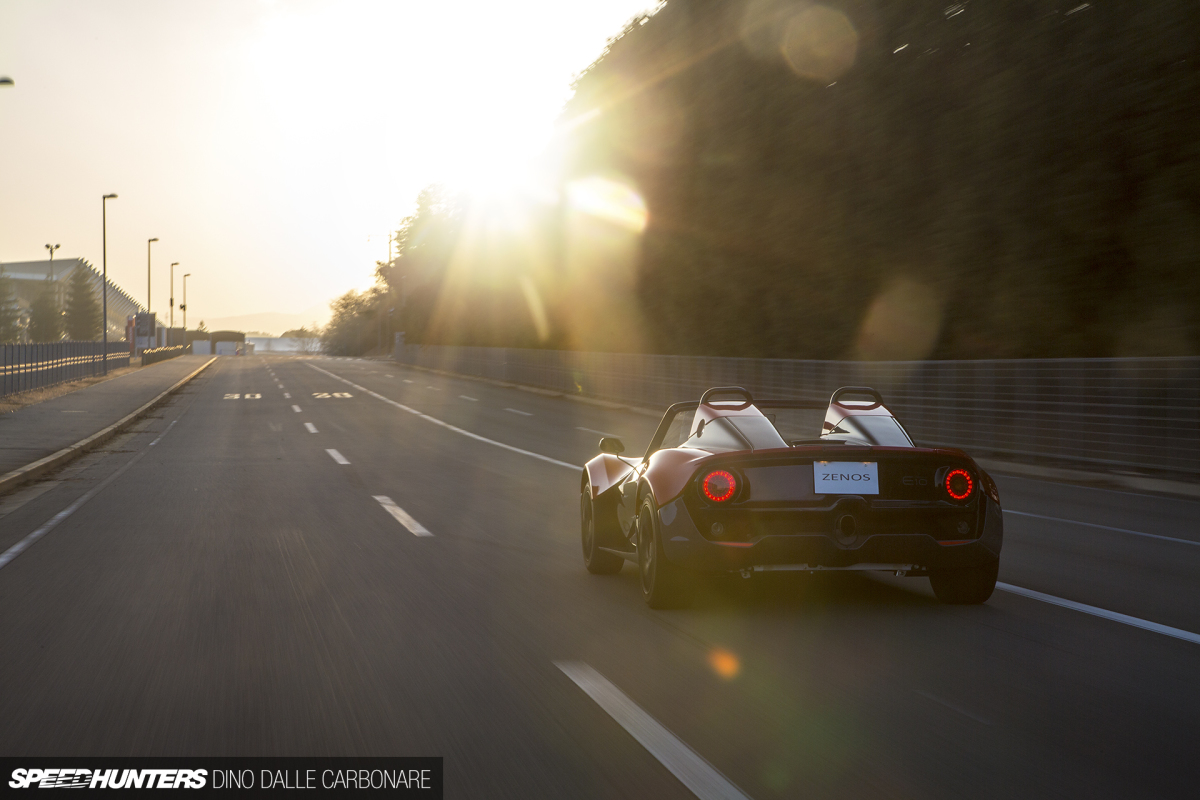 With the E10, Zenos had managed to apply the age-old lightweight recipe that's resulted in so many great British sports cars to a modern day package, with huge success. With an entry-level price of US$38,500, I'm sure we'll be seeing a lot more of these things populating track days around the globe.
Dino Dalle Carbonare
Instagram: speedhunters_dino
dino@speedhunters.com