Stop What You Are Doing
New cars, styles, looks – they consume our minds. Every day we're bombarded with the latest car news and innovative things that people do with their cars, and it all adds to the awesomeness of being a car nut. But for how cool and engaging it is to be enticed by the latest going ons in global car culture, there is always a time to detach yourself from the fast-paced machine-gunning of news that social media inflicts on us. This story on a very special Italian shop seeks to do just that.
Consider it a break from the normal proceedings, because the cars I'm about to show you deserve your full attention.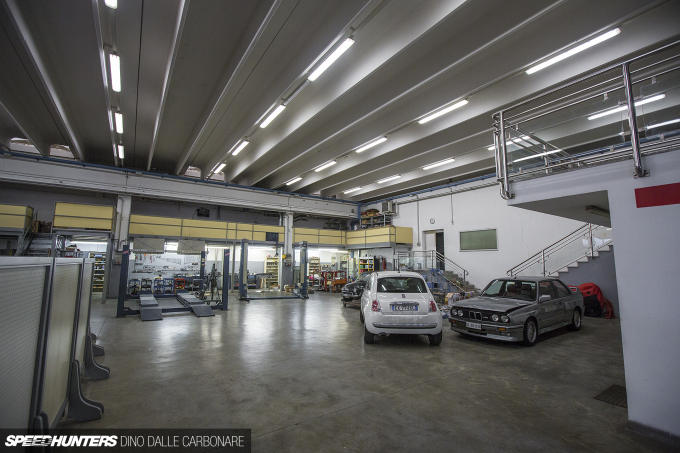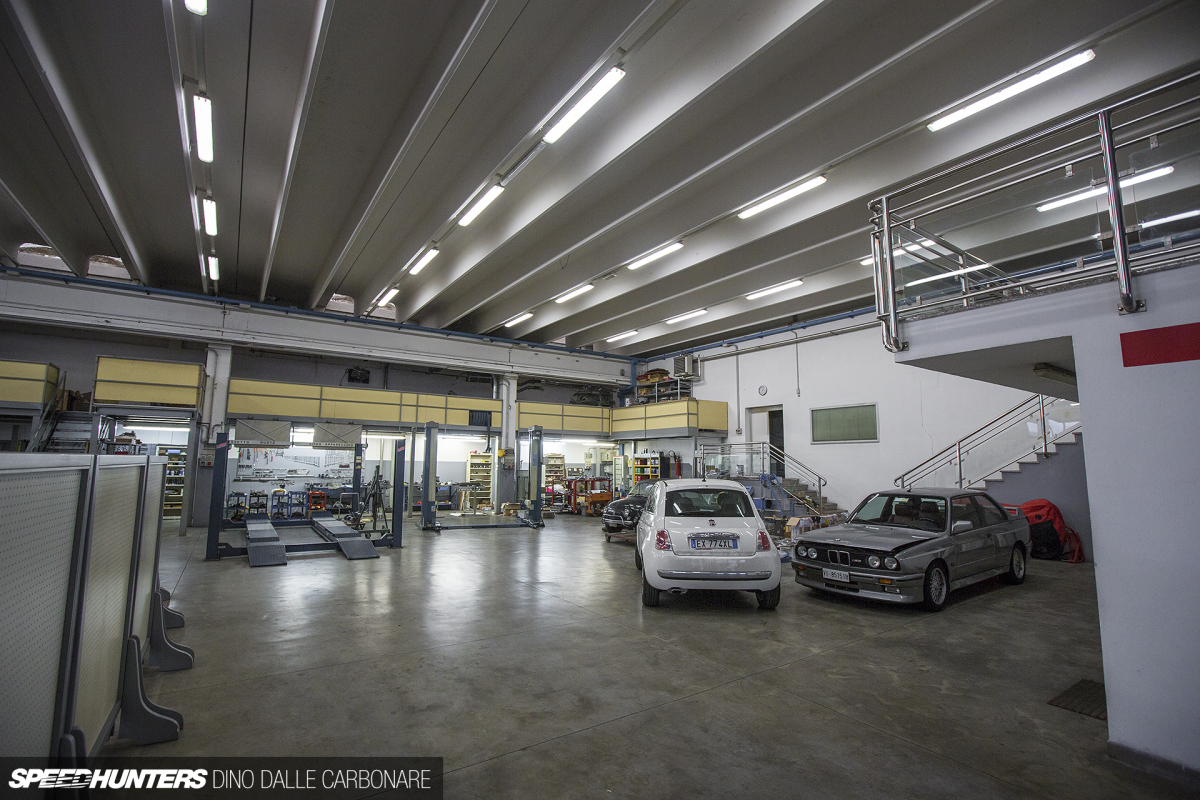 Autofficina Omega is located north of Vicenza in Italy's Veneto region. It's situated along the main road that passes through Zané, a tranquil countryside town that goes about its daily business as it has been for hundreds of years. You won't ever find the place unless you know specifically where to look as it sits inside a nondescript building with no exterior signage. That's somewhat intentional too, as at any given time there are some very special, and very expensive, cars parked inside. Let's take a look at what I found on this particular day…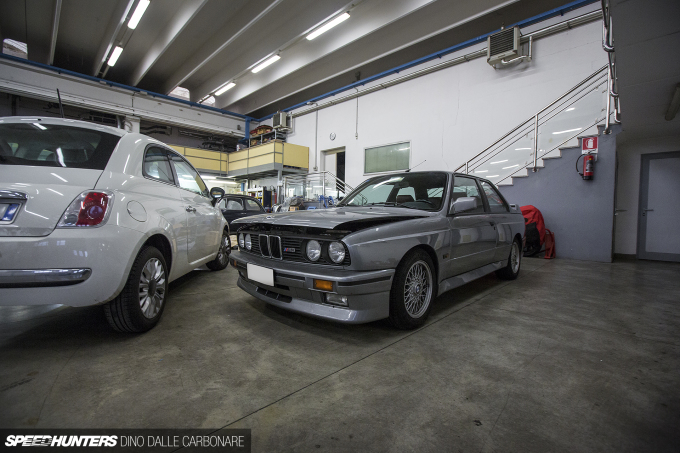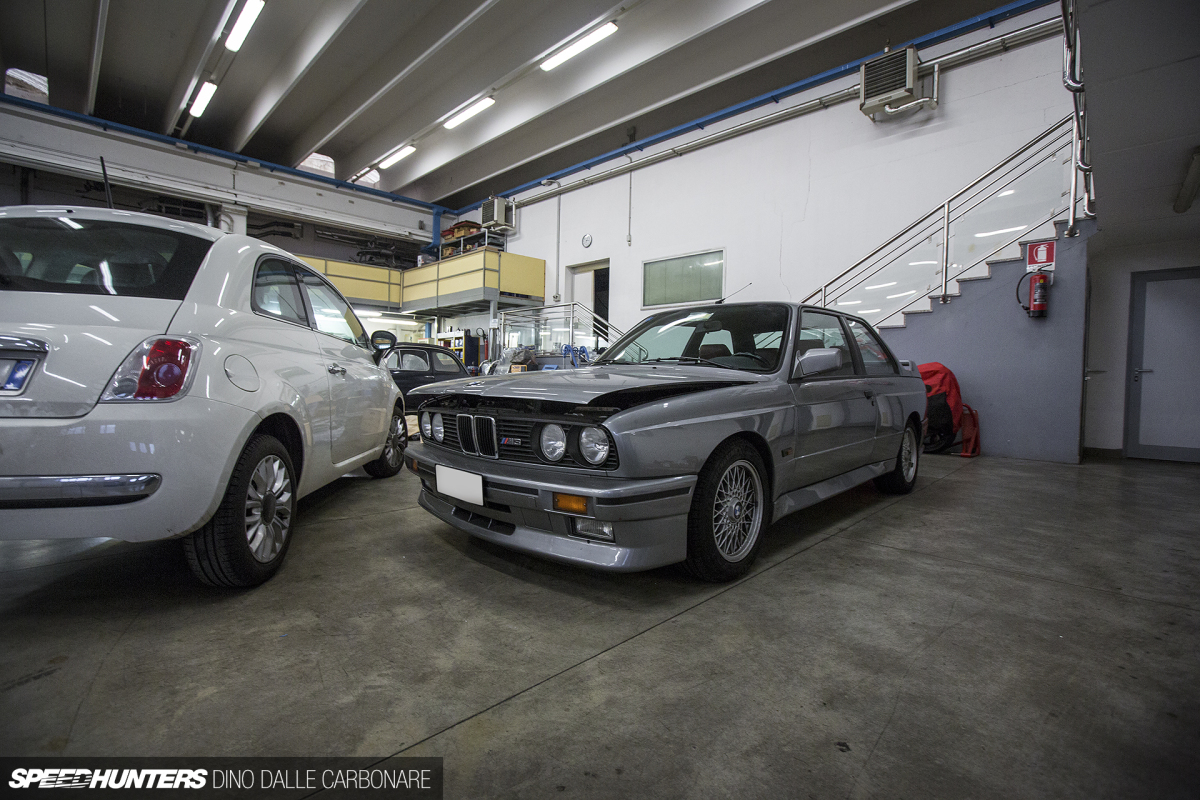 The first car I spotted as I came through the door was this BMW E30 M3; it's been sitting here for years and is a little side project the owner's son, Guido, is slowly working on when he has the time.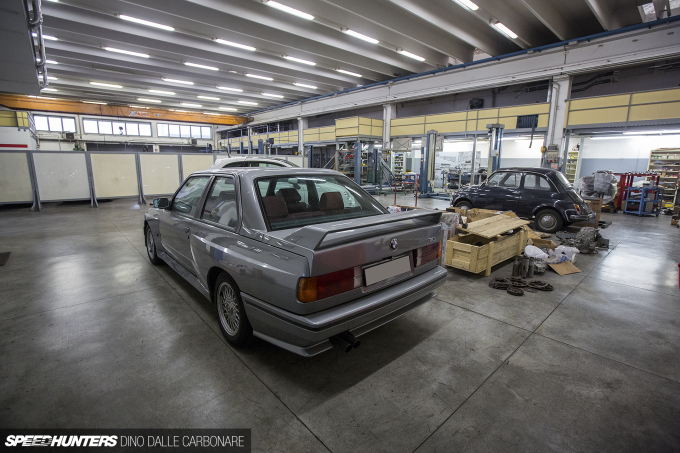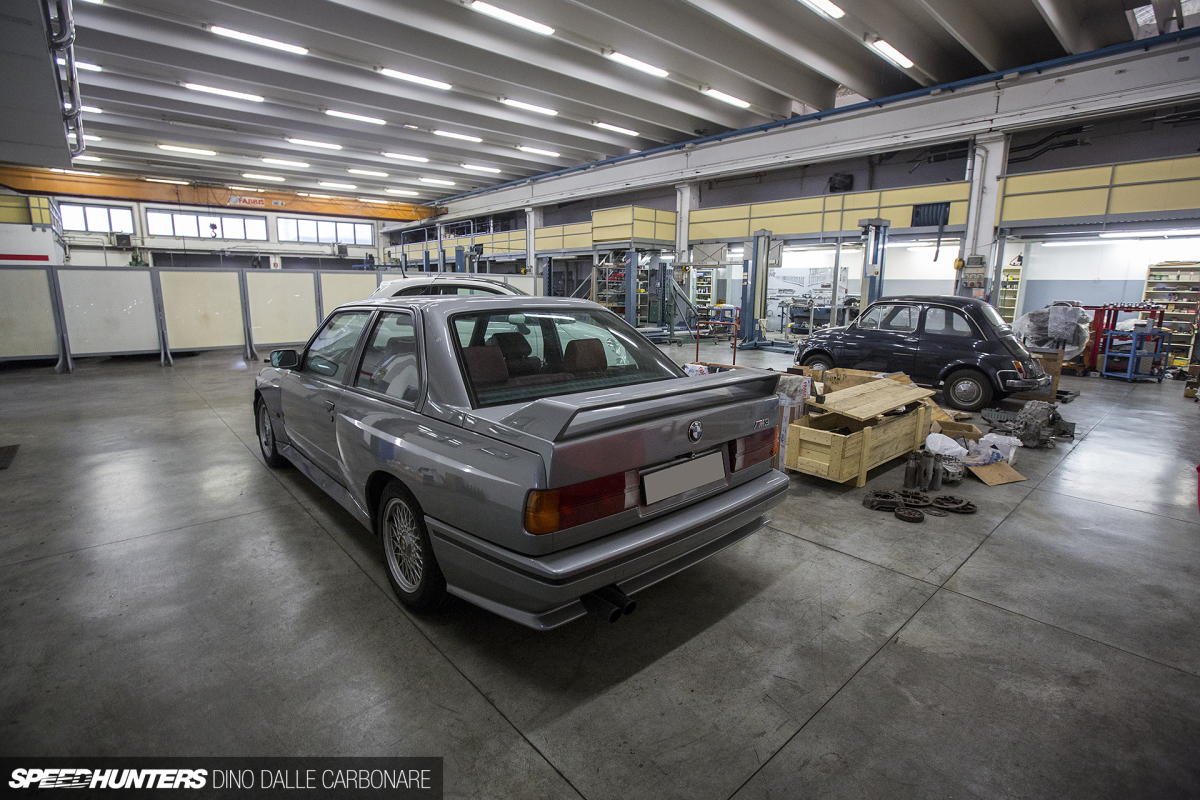 As you can see, it's in mint condition having been well cared for, and by the looks of it, not really driven in anger much.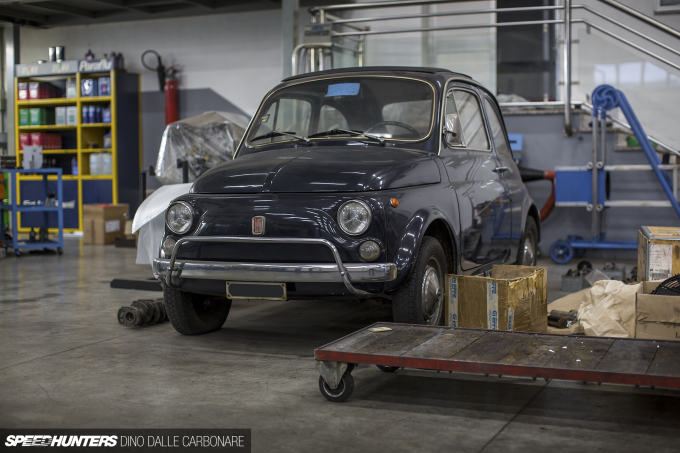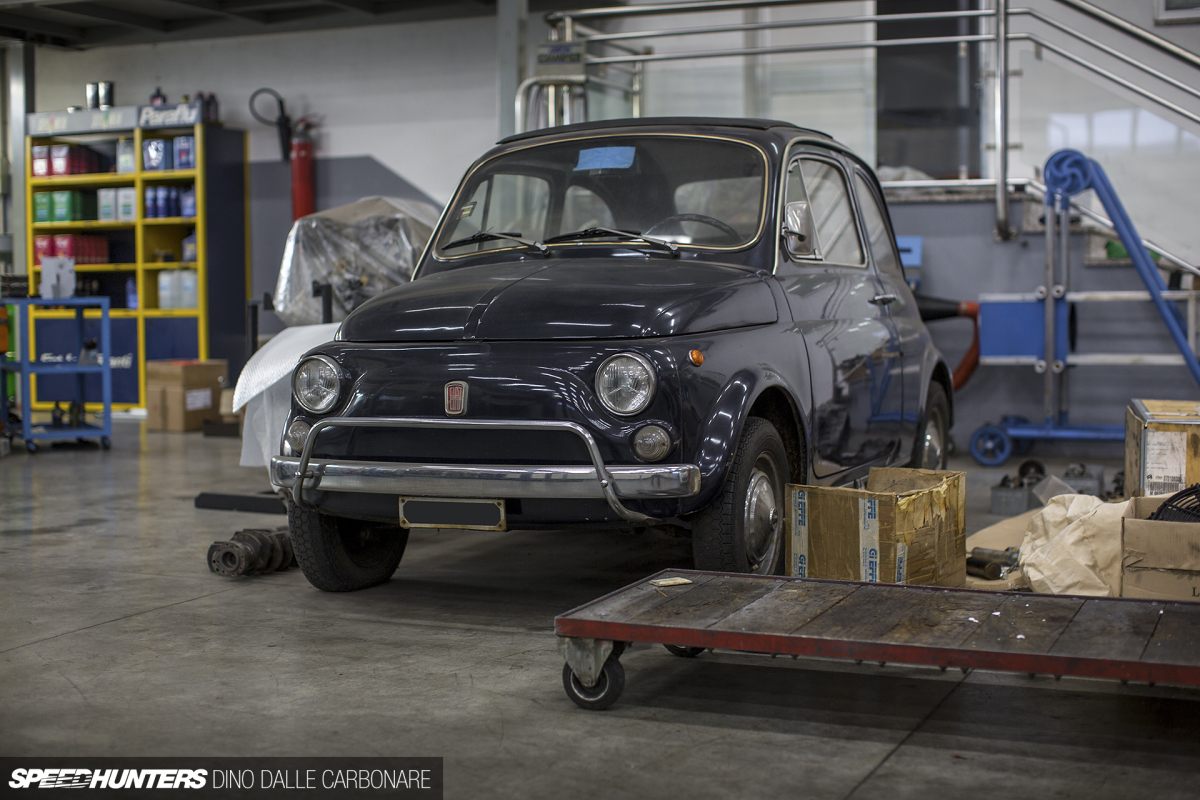 What workshop in Italy could possibly be complete without at least one old Fiat 500, right? Look at the box of parts laid out next to it however, and you quickly understand that this isn't your usual mechanic shop that fixes anything you bring in.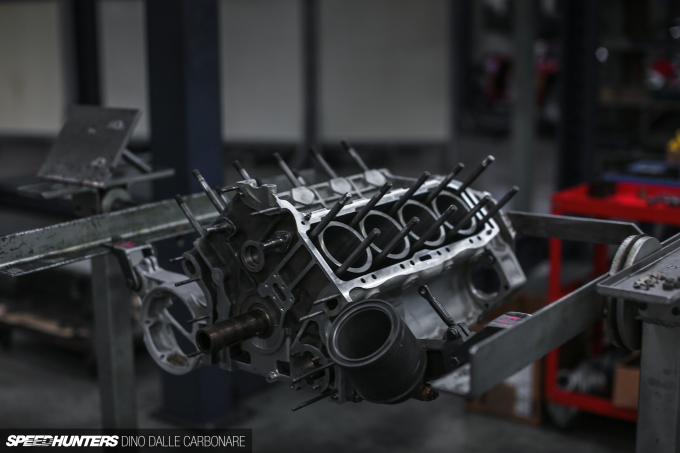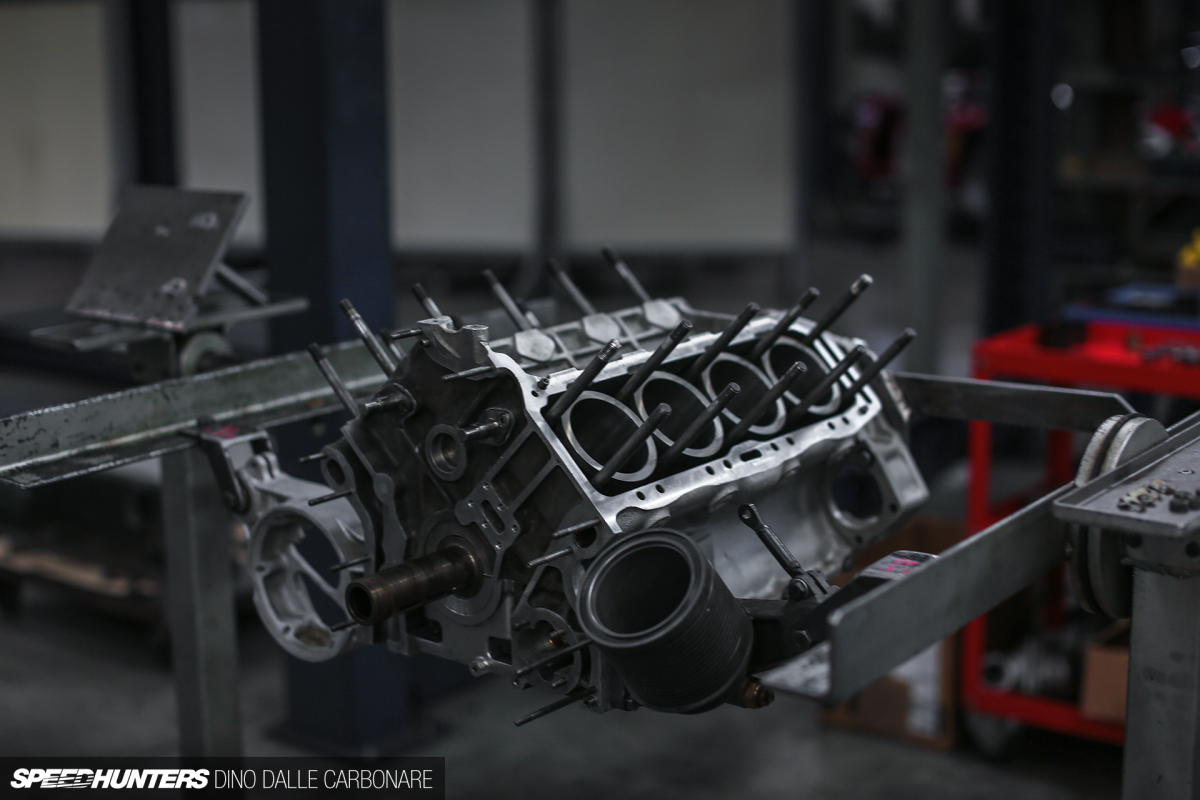 Autofficina Omega is divided up into a few different areas, with the top section of the space dedicated to engine stripping, cleaning and building. The first engine I'm showing you is an old Alfa Romeo V8 out of a 33. But not the 33 you're probably thinking about. This tiny all-alloy block is what powered the 1968 Tipo 33/2 – a car built to race in endurance events of the period, and one that ended up winning the 2.0-liter class at the 24 Hours of Daytona. Apparently the owner of the car is a little sensitive about having his pride and joy shown, but if you scroll further down you might see a few more images of it that I sneaked in. It also features in the opening shot to this story.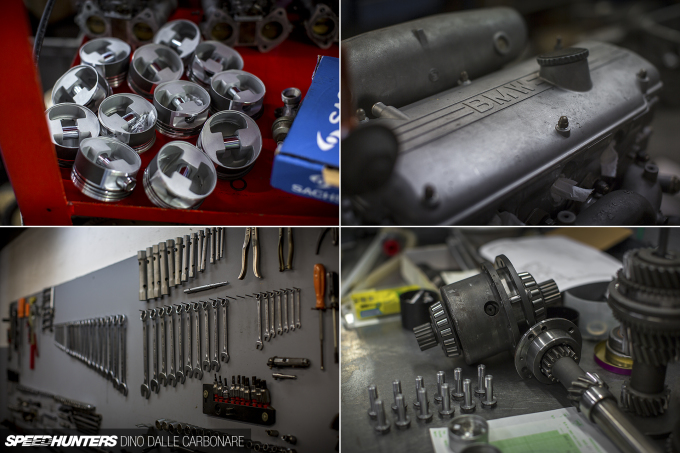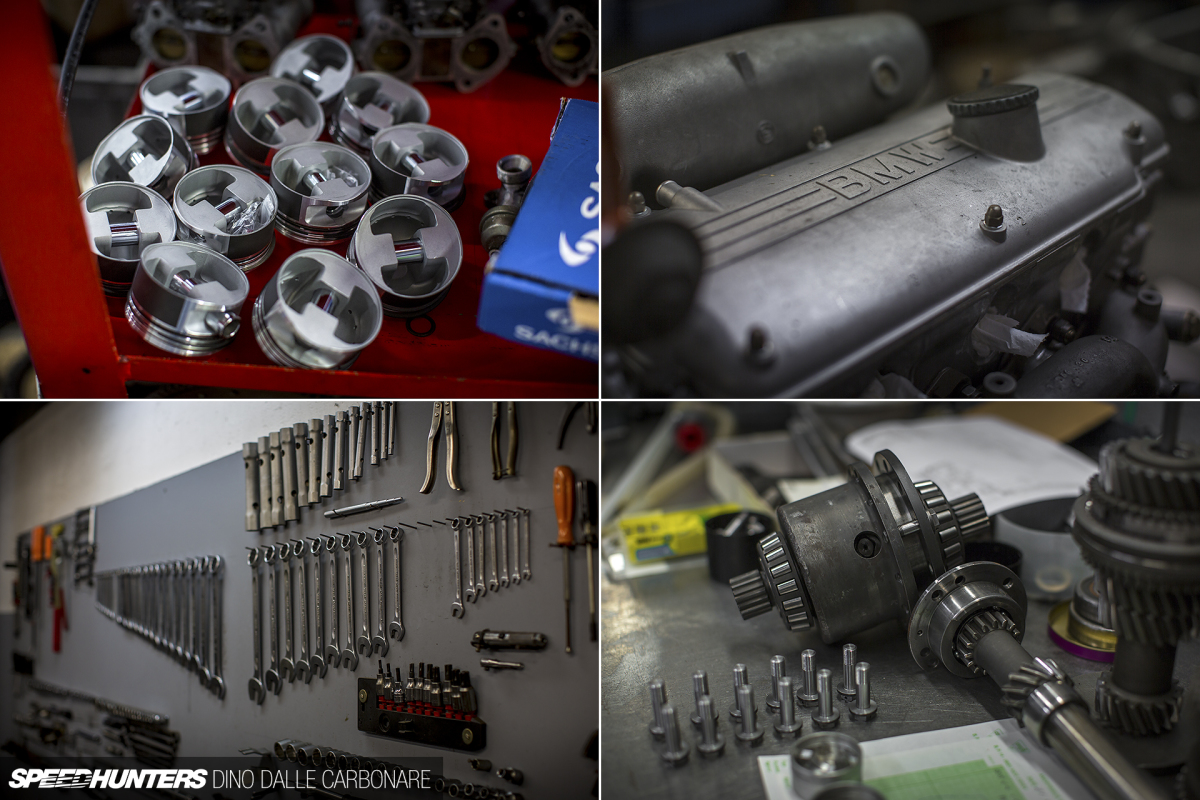 There were four engines being worked on during my visit, with most having already been stripped down to their smallest component. The BMW 2002 engine in the top right above was a little more complete.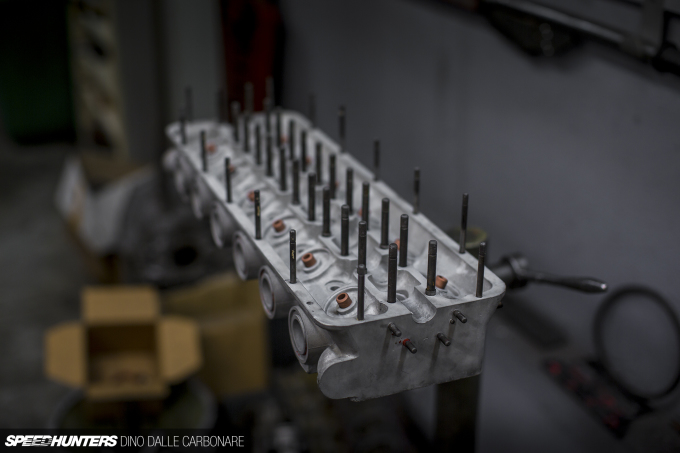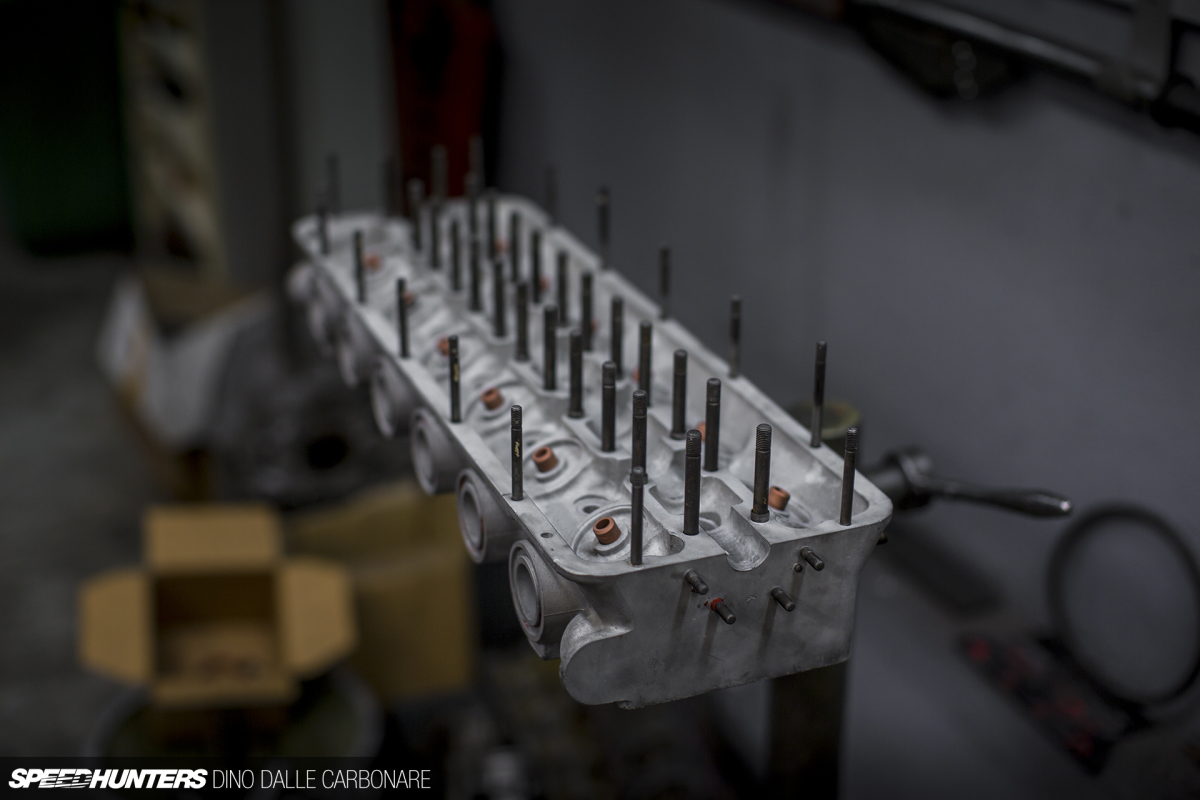 One of engines waiting to be assembled was a Lamborghini V12; you can see one of the heads here with the studs and guides already fitted and ready to be joined by the various components of the valvetrain.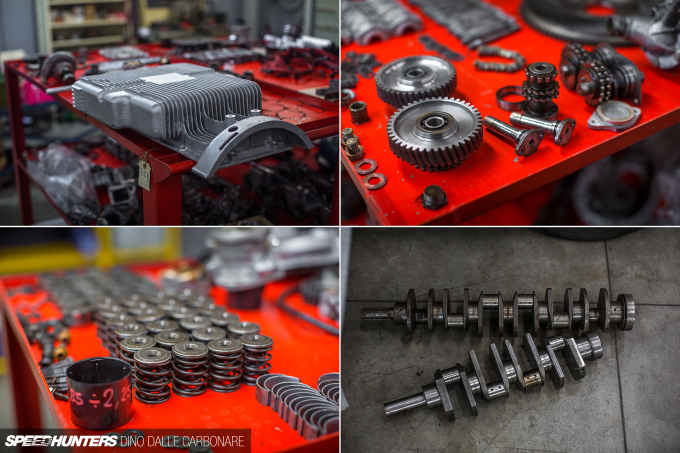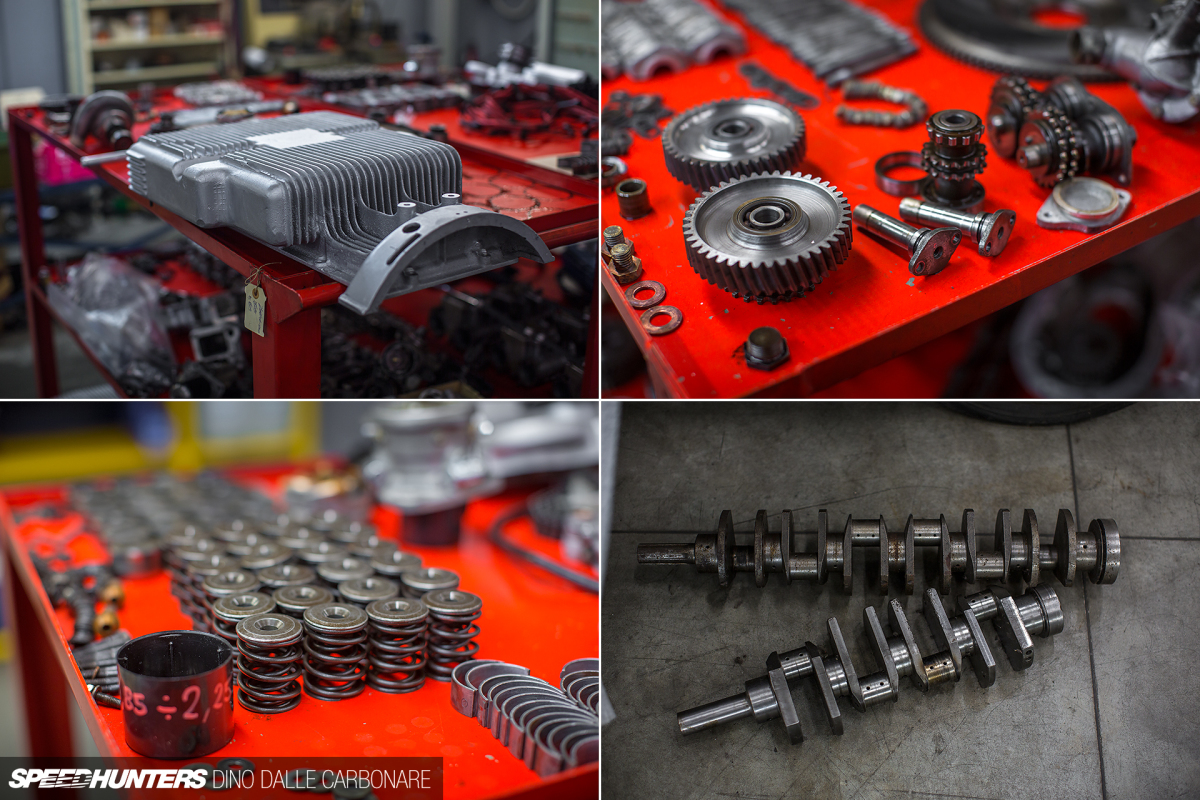 And here are some of those components, all cleaned up and ready to be used.
Father & Son Team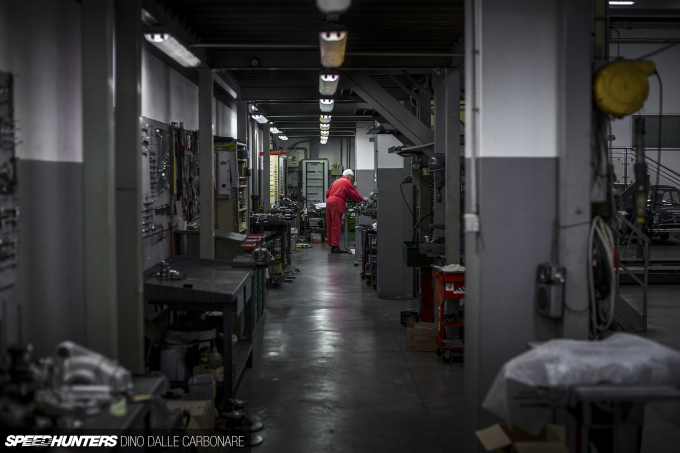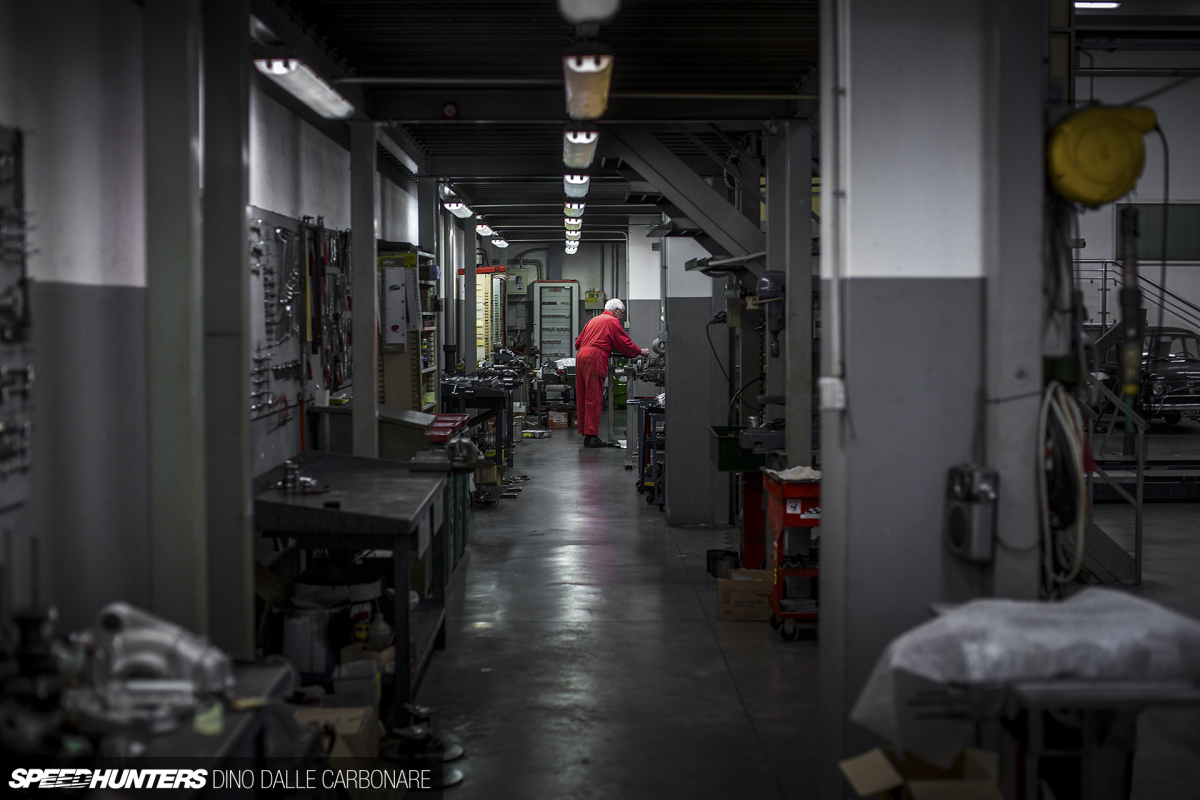 Corrado Patella is the man behind the operation; he's built up his business over the decades in such a way that he's become one of the go-to guys around the world when it comes to all manner of mechanical restorations. He and Guido have worked on some of the rarest and most valuable cars in the world, and their clientele really is global. I first visited this place around 15 years ago now, but completely by chance, as my uncle sold them the building they're currently operating out of. It was those things that came totally by surprise, but needless to say I was blown away, and every time I'm back home in Italy I try to stop by and have a little look at what's under the knife in the workshop.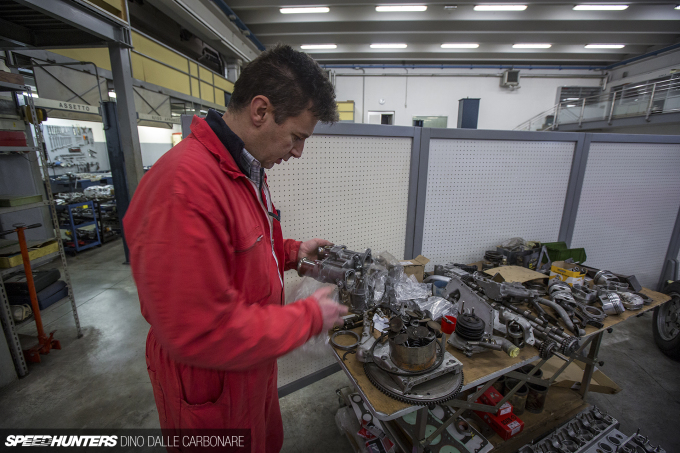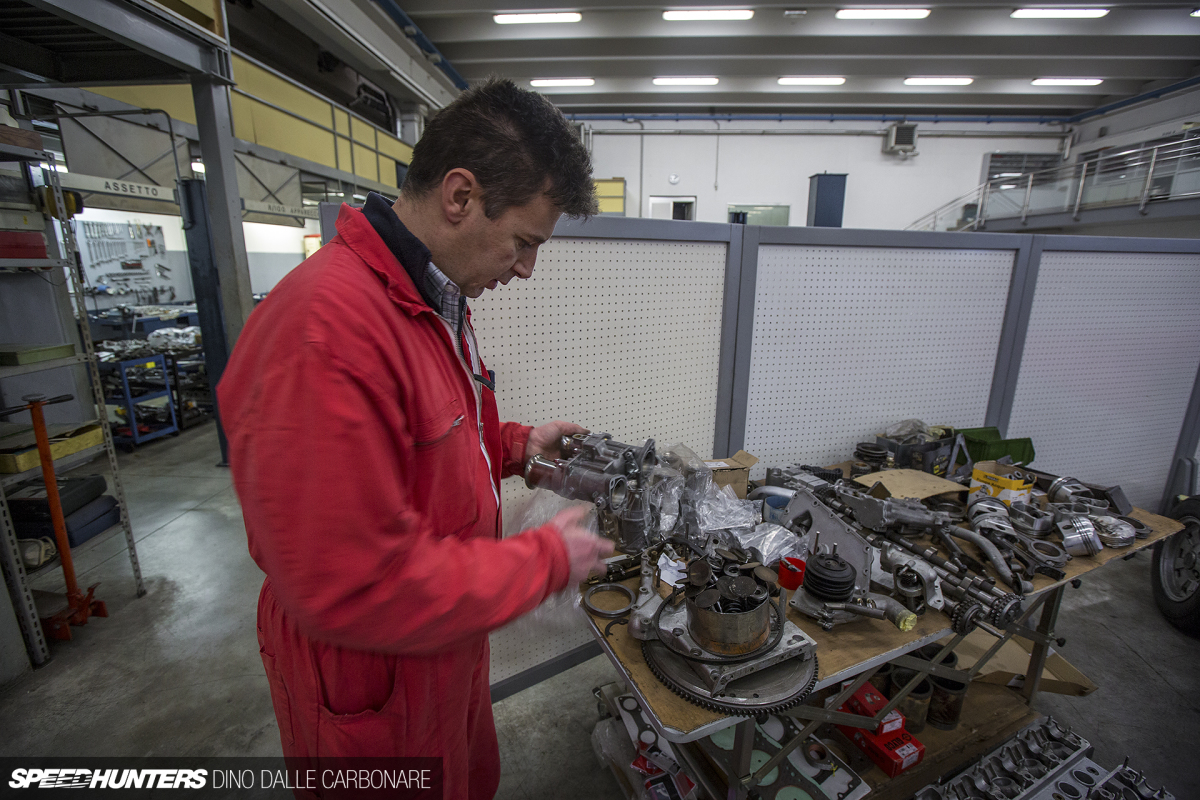 Guido has been working alongside his father since a young age, and his knowledge about anything vintage and extremely exotic is very impressive. He showed me one Aston Martin engine that had had come in for a rebuild; the result of being driven too hard at the track.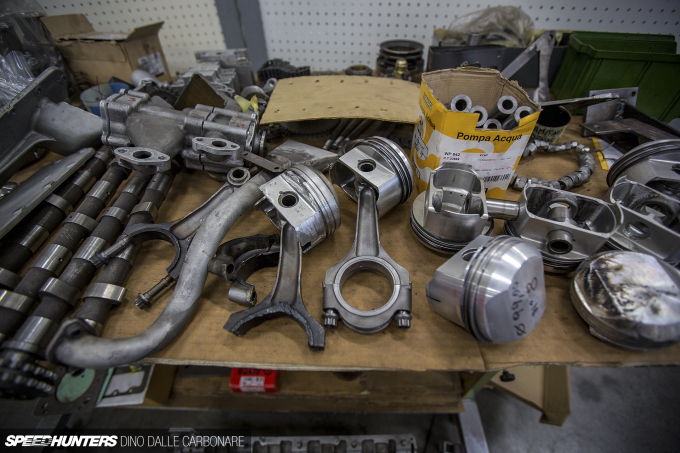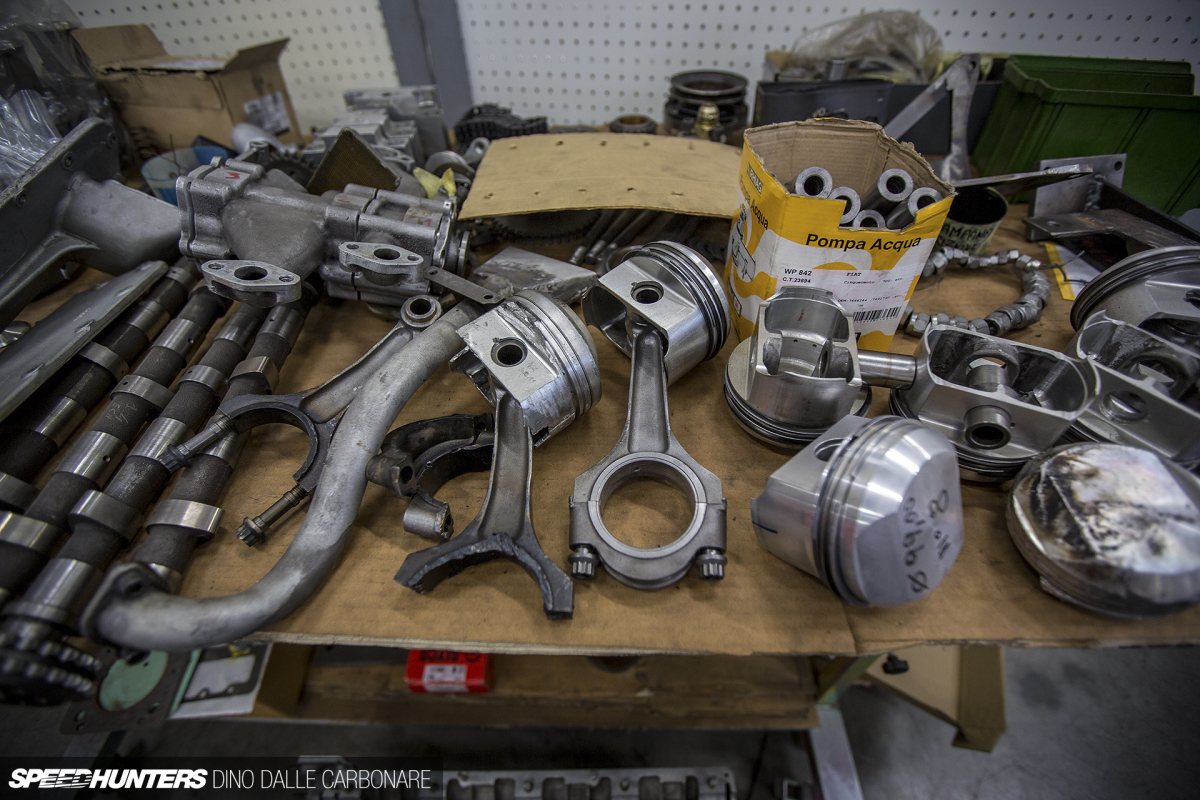 Check out that connecting rod and the state of that piston on the far right side.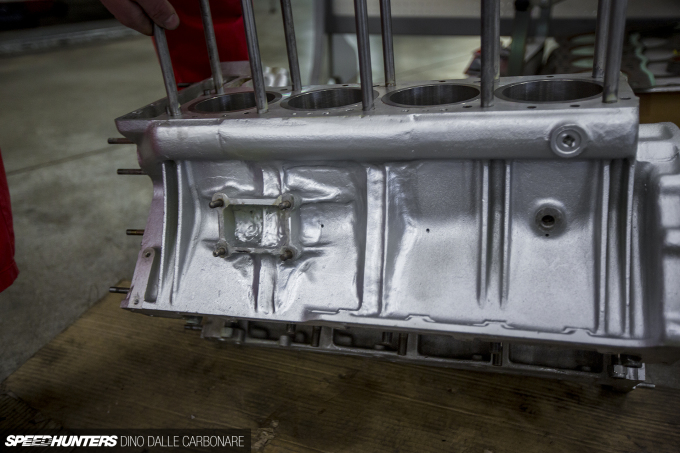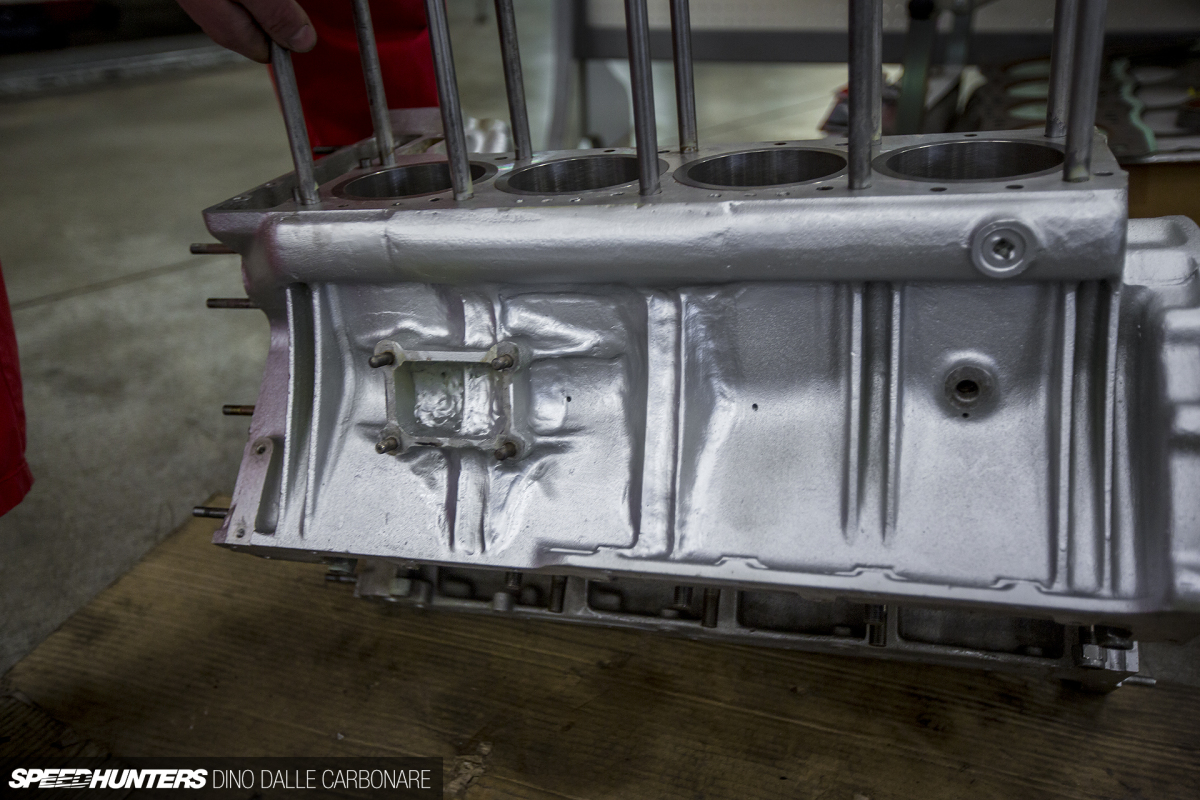 The rod cap turned into a projectile and ended up putting a massive hole in the side of the block. Since old Aston Martin V8 alloy engine blocks aren't exactly off-the-shelf items at the dealership, the guys had no choice but to weld in material to replace the missing section. Once a replacement bottom end arrives it'll all be put back together.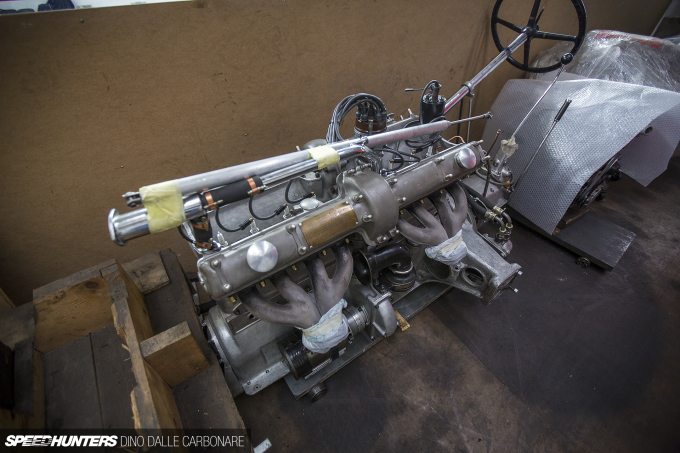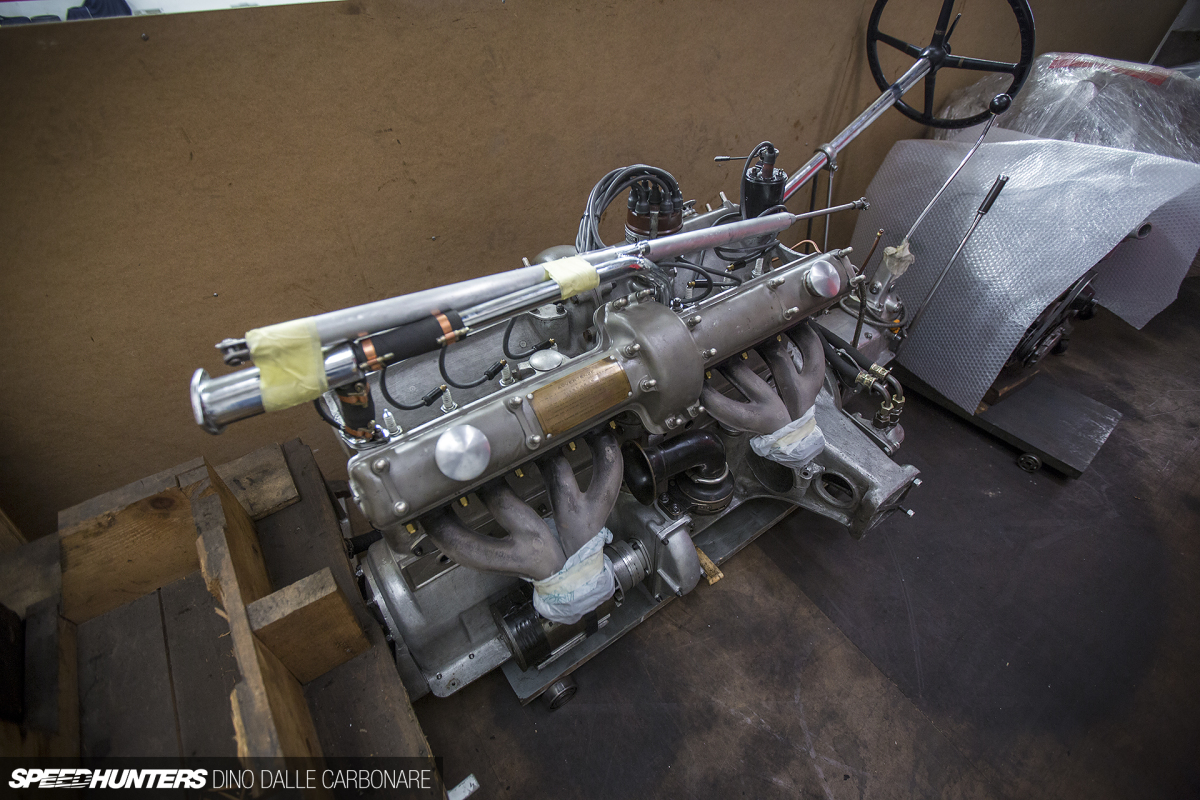 Guido took me upstairs to show me a rather special engine that will soon be shipped out. This is an Alfa Romeo straight-eight out of a 6C, along with the gearbox and steering column, all ready to be packaged as a complete assembly.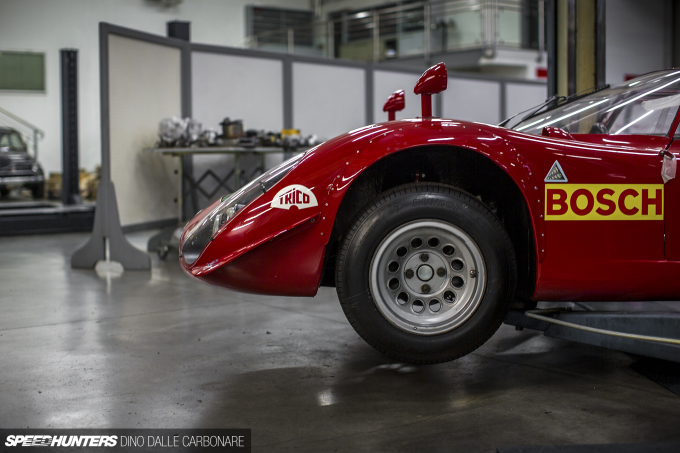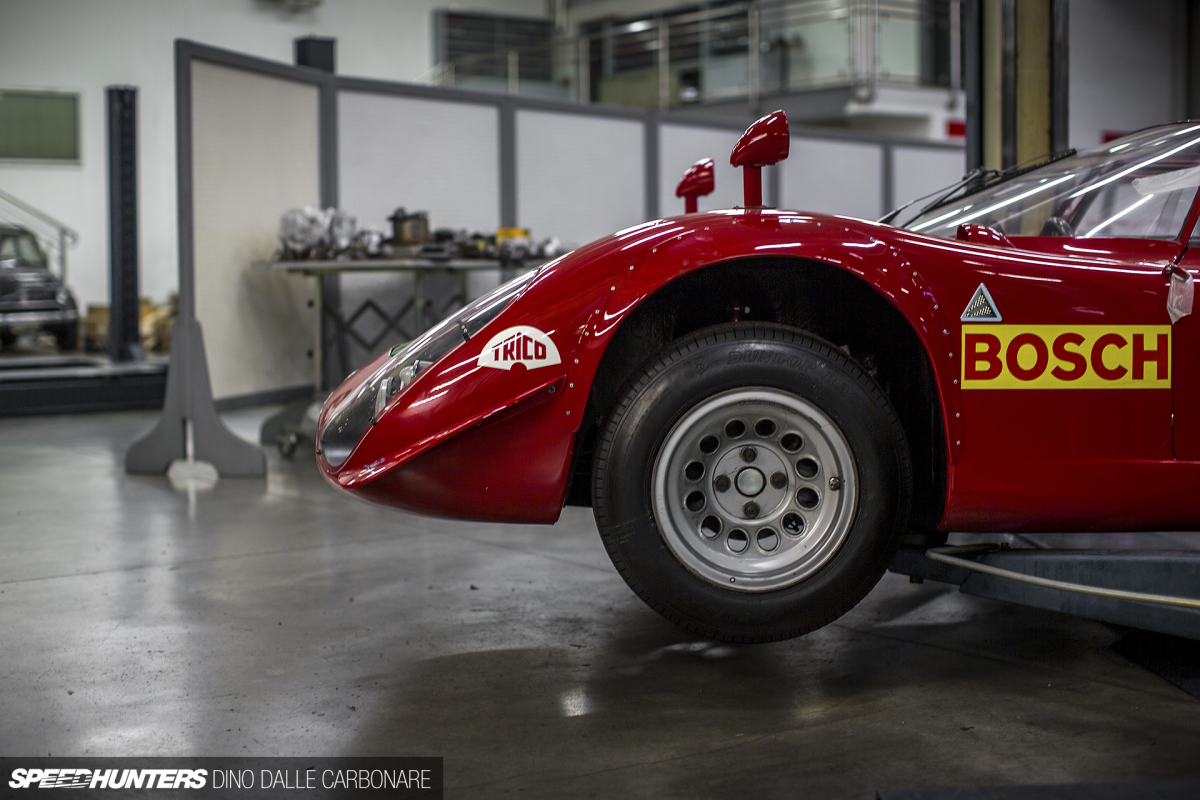 This is the car I wasn't supposed to be showing you much of, but Guido said to go for it. A masterpiece like this needs to be seen, not hidden!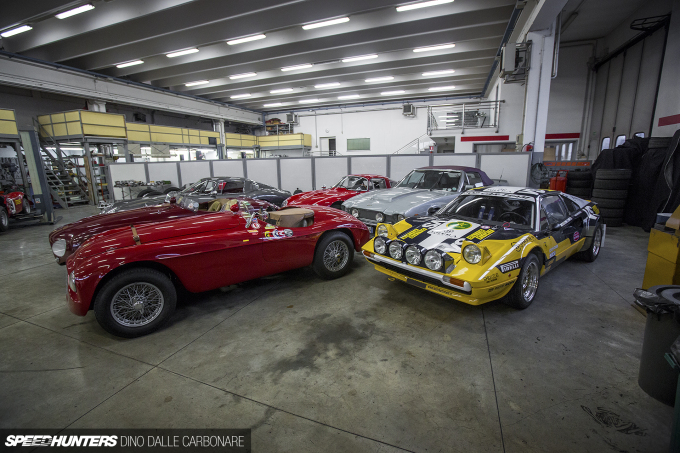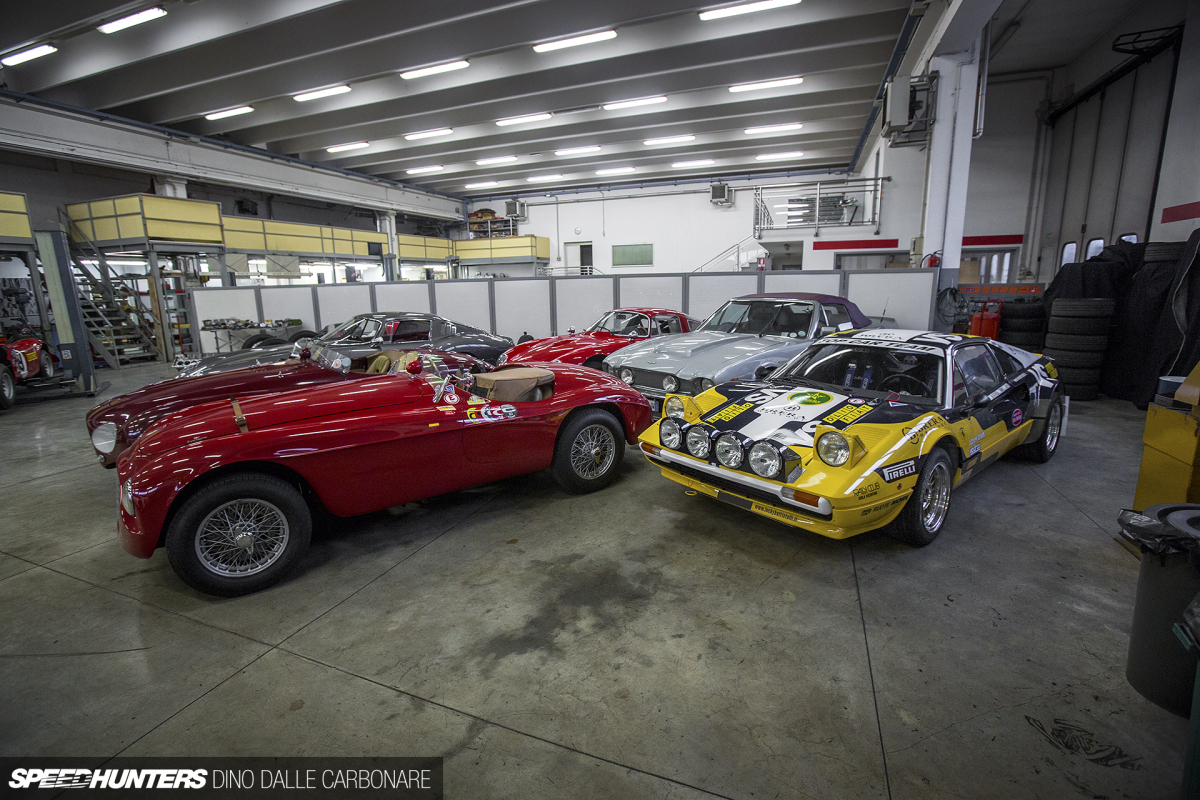 And so it was on to the cars that I could freely look at and take pictures of. But we'll get to this group later on…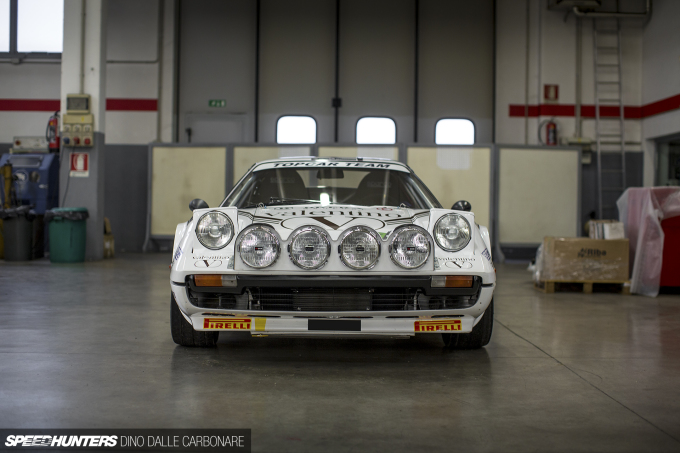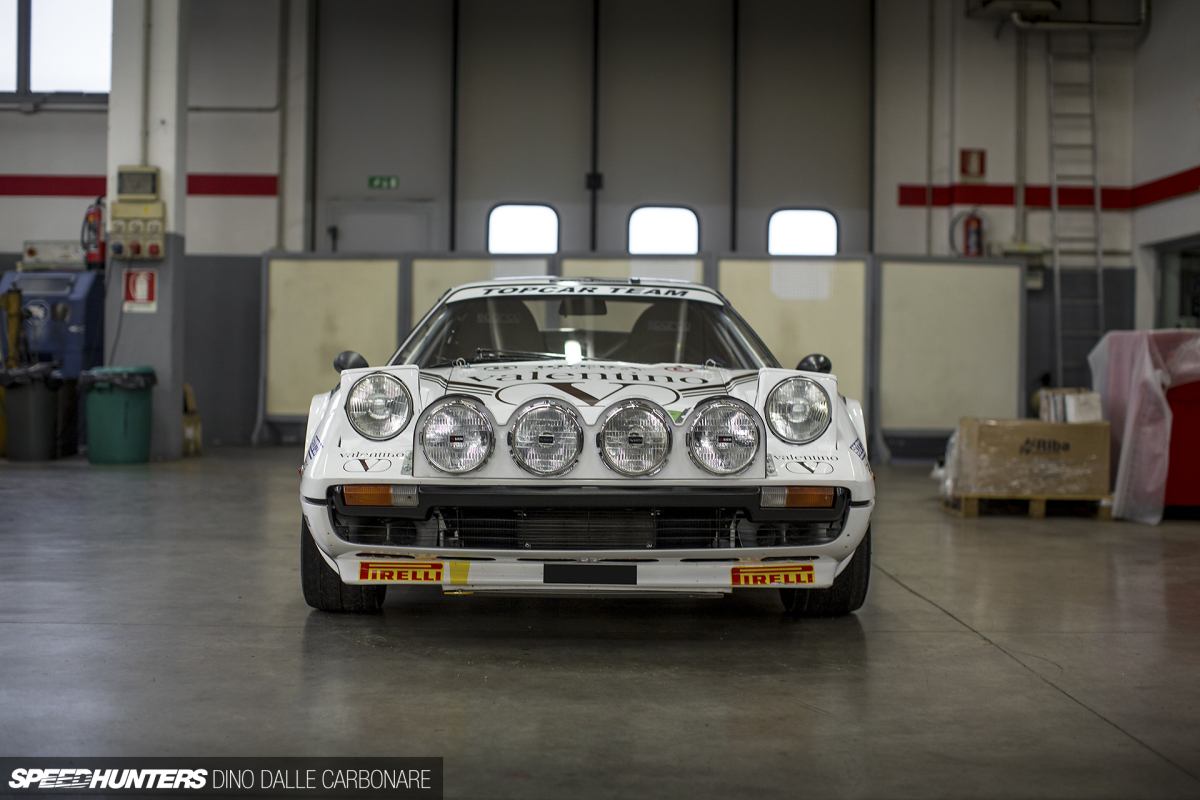 First I want to show you this cool Ferrari 308 GTB, which was in for some general maintenance.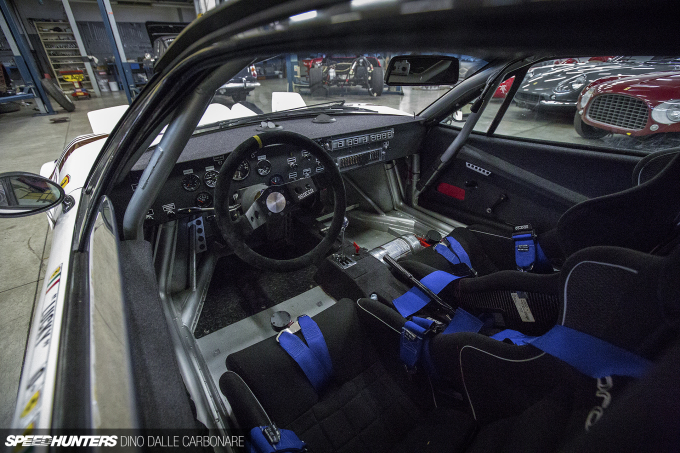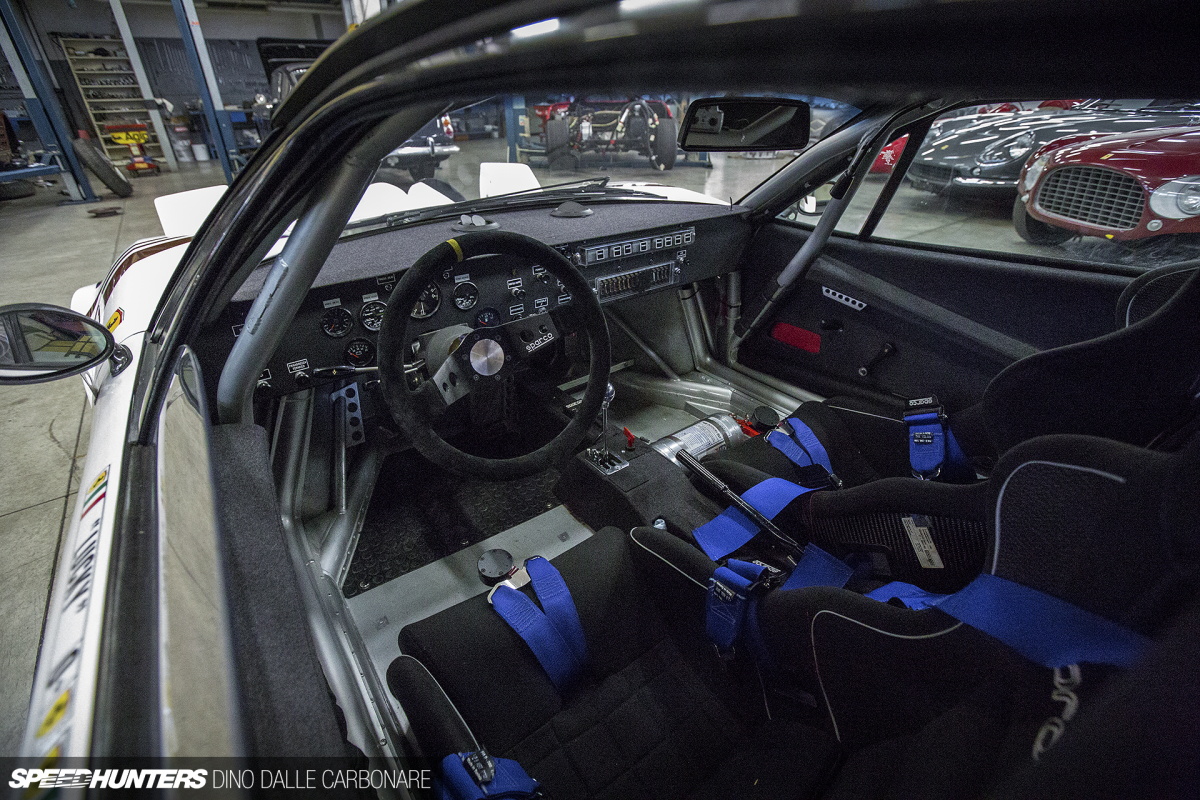 This car competes in rally events all across Italy, and it just looked sensational. This is a chassis-up build, so it sports all the safety equipment and motorsport-certified additions you would expect to see on a modern race car, even if the base is a quasi-vintage sports machine.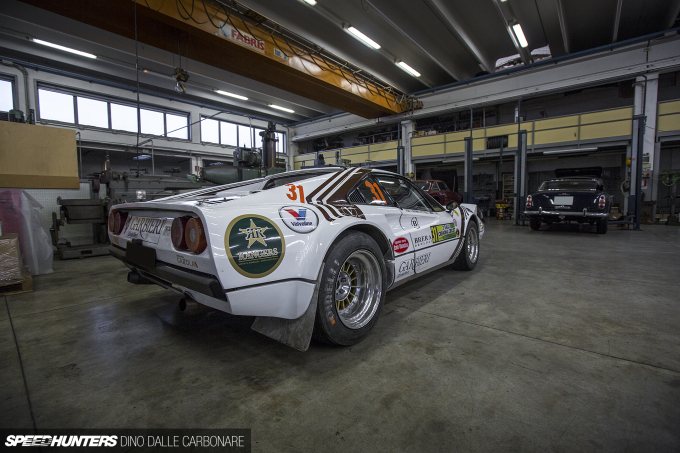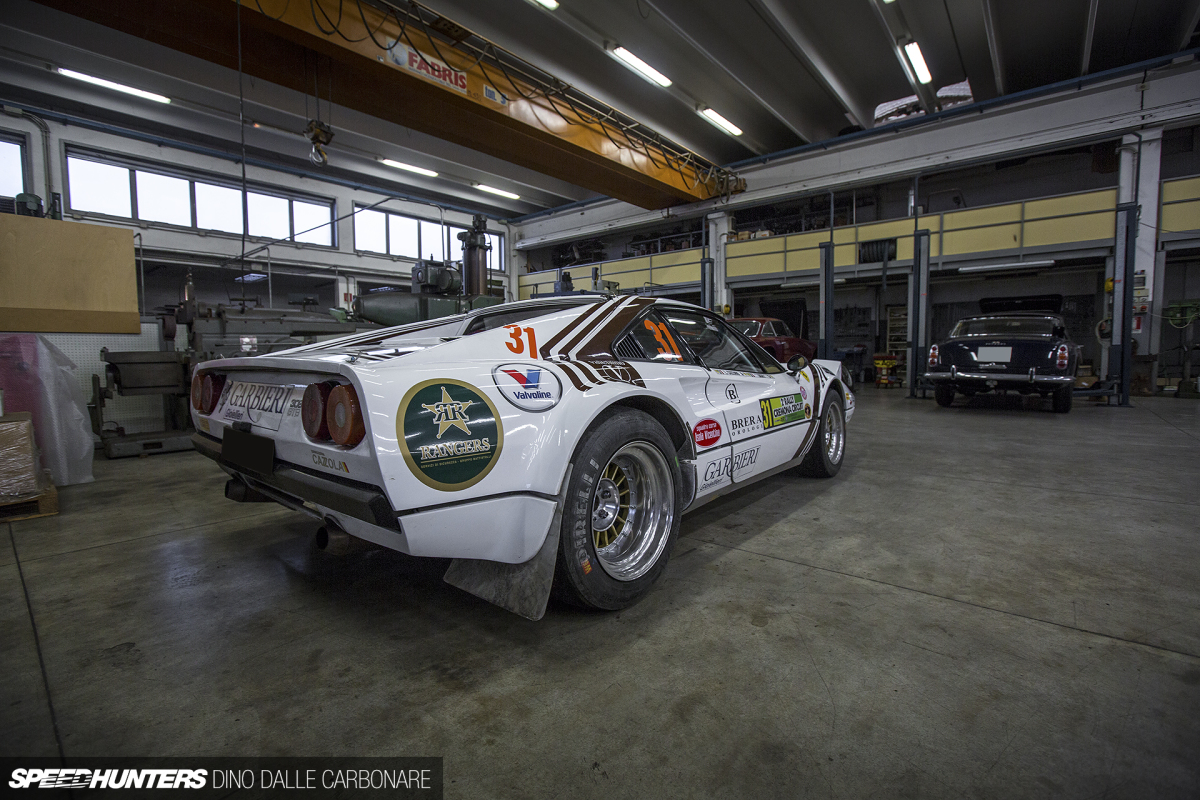 The exterior is home to Gr.4 competition panels with extended wheel arches to cover the wider wheel and tyre setup.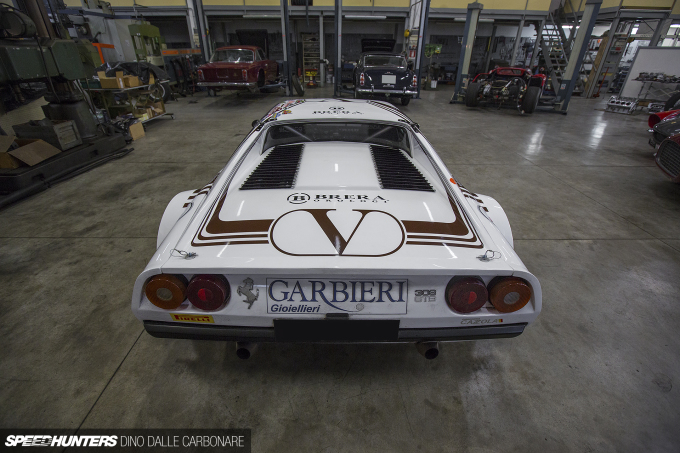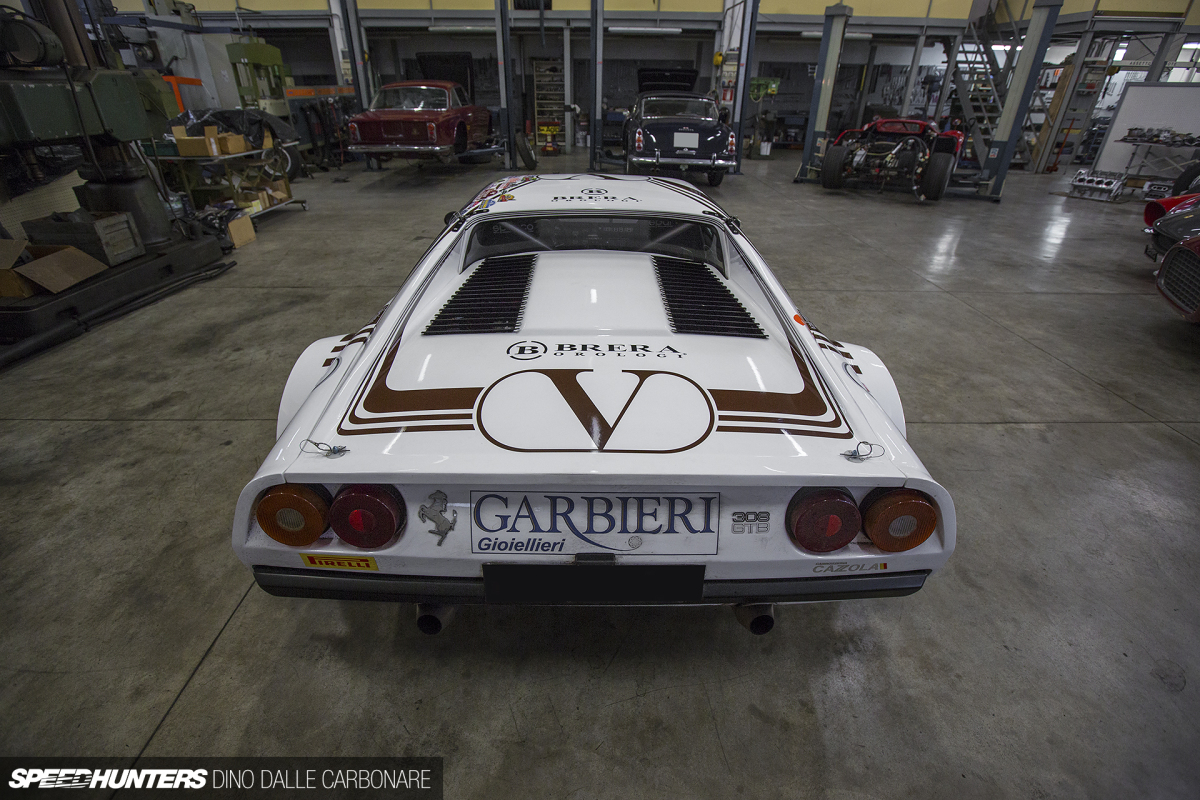 It definitely looks like it means business!
And here is a quick clip of what it sounds like. This was shot during a test some years back when they were practicing hairpin bend turns – an important aspect that you have to nail perfectly in competition, especially when you only have rear-wheel drive.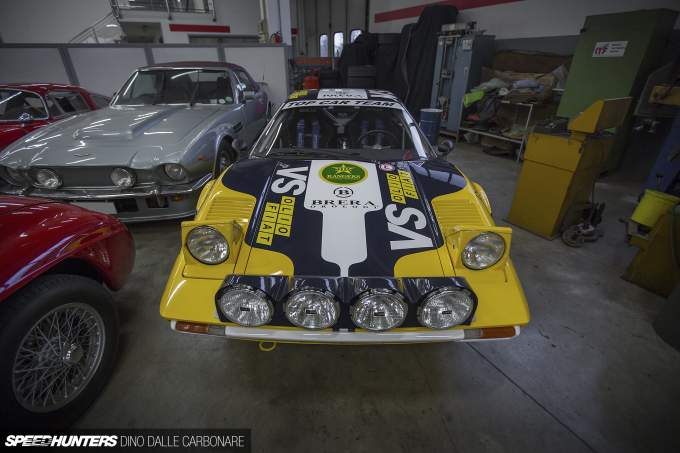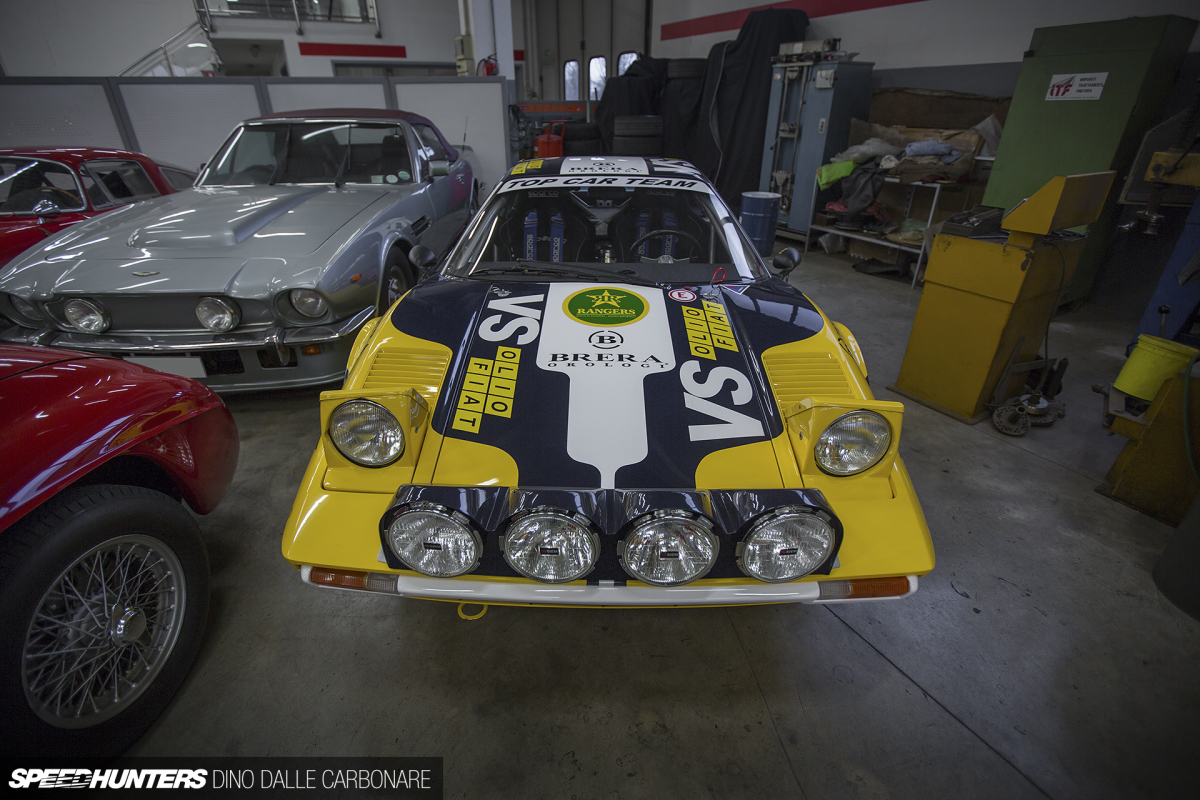 There was another Gr.4 Ferrari 308 GTB rally special sitting in the corner.
And how can I not share another video of glorious flat-plane crank V8 awesomeness?!
Rarities From The Past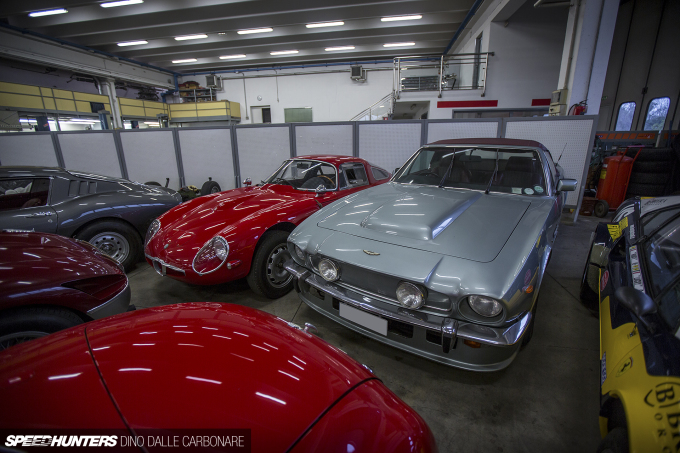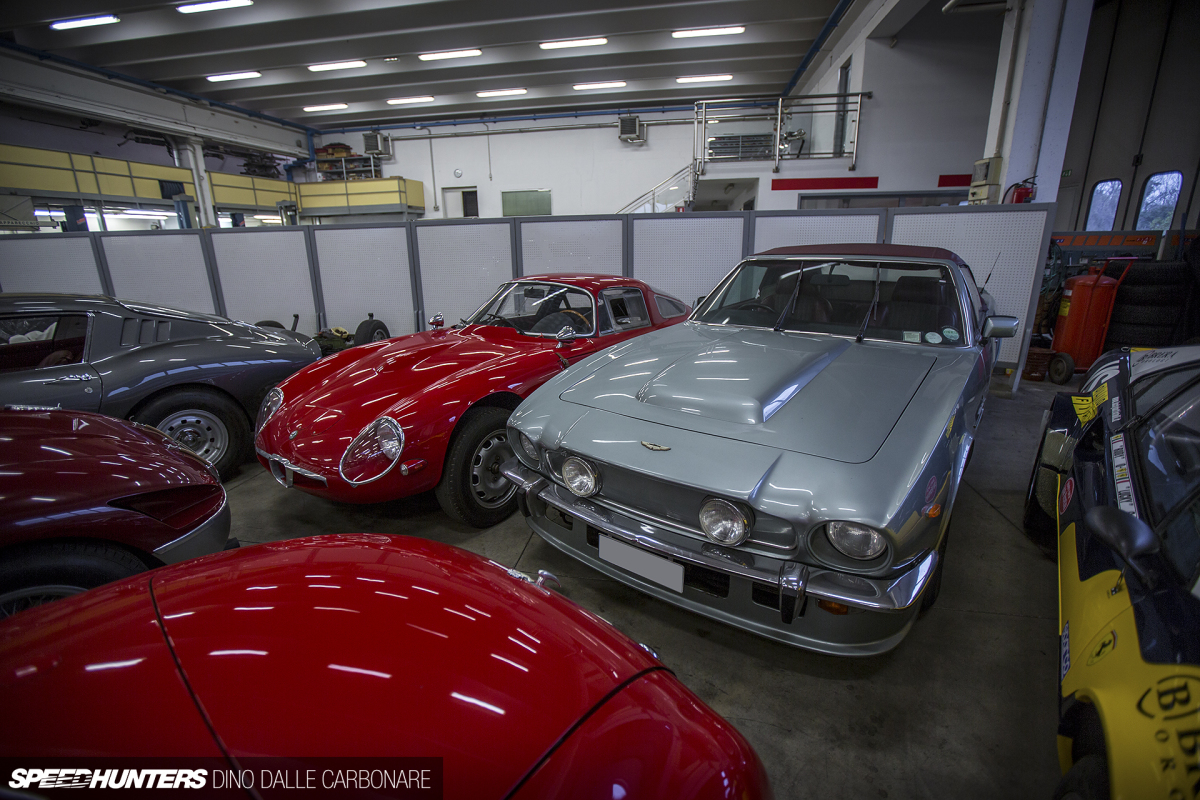 Among the sea of Italian classics it was hard not to be drawn in by the more angular '70s lines of this Aston Martin V8 convertible; quite a different machine compared to the sort of cars that the British manufacturer churns out these days. It would be so cool if Aston Martin reimagined this tough, almost Mustang-like design.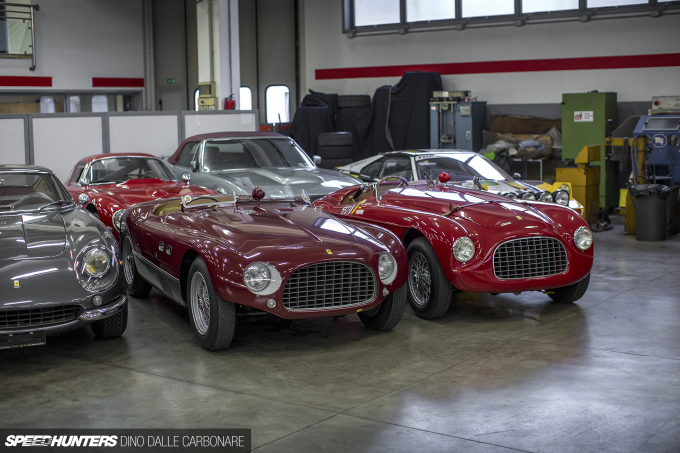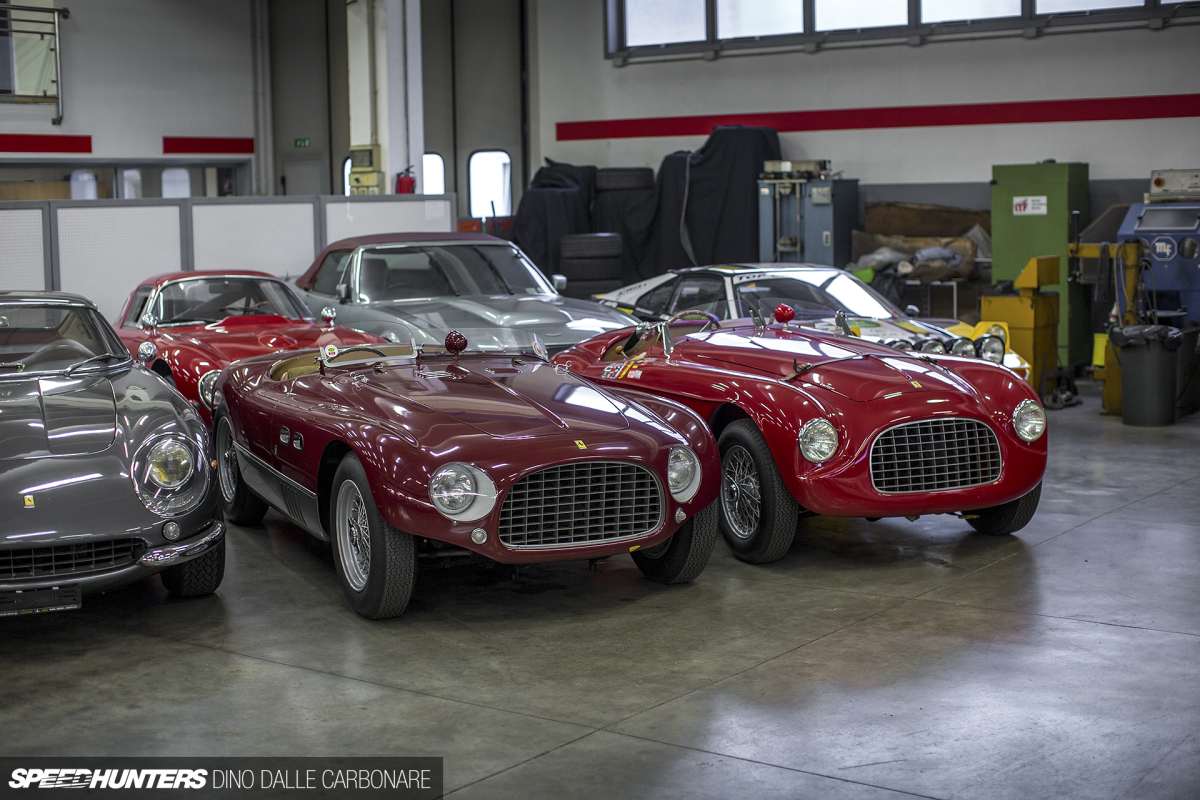 These two little Barchetta race cars span right back to the very beginning of Ferrari's history, starting first with the 1949 166 MM which was an evolution of the 166 Sport to celebrate the victory in the 1948 Mille Miglia.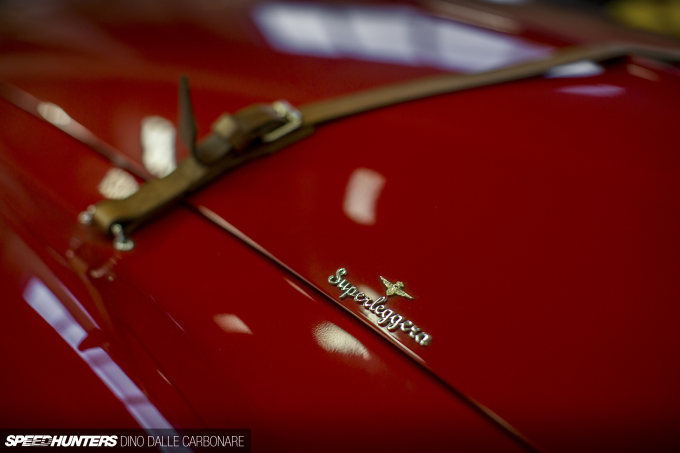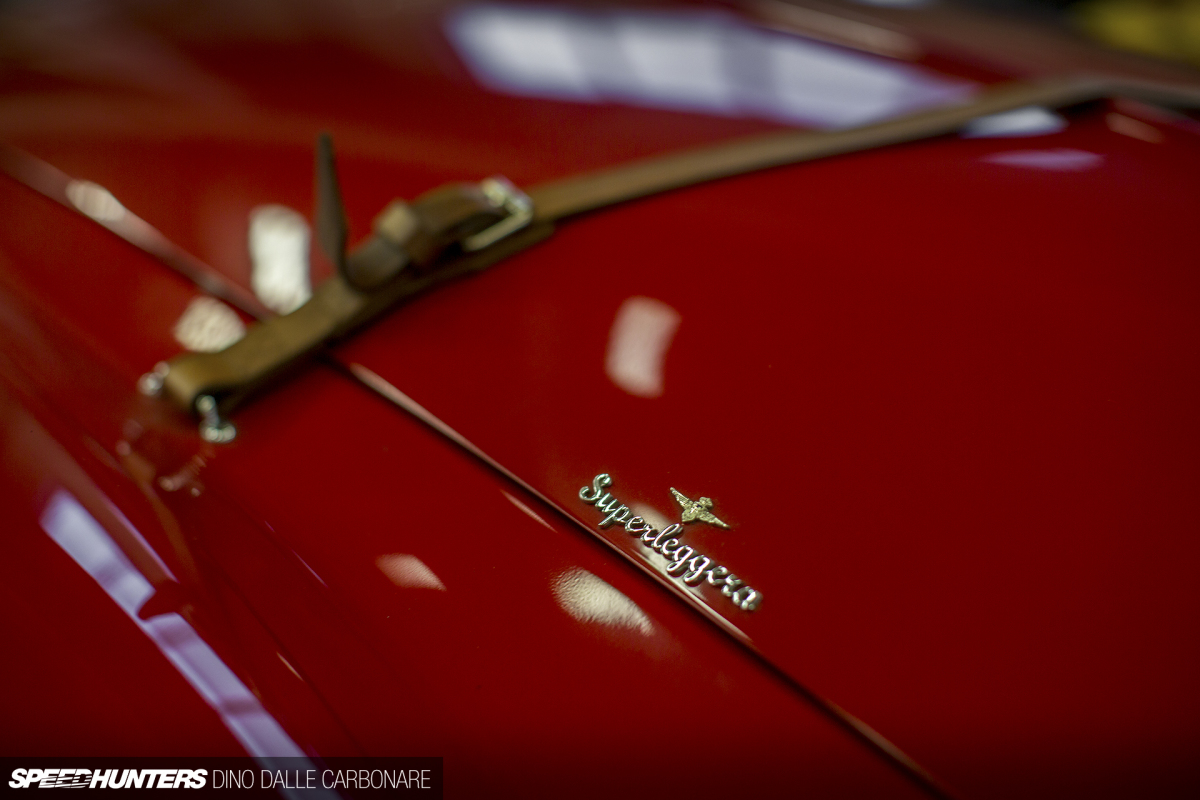 The tiny little four-cylinder car was bodied by Touring and sports those signature Superleggera badges along the long bonnet.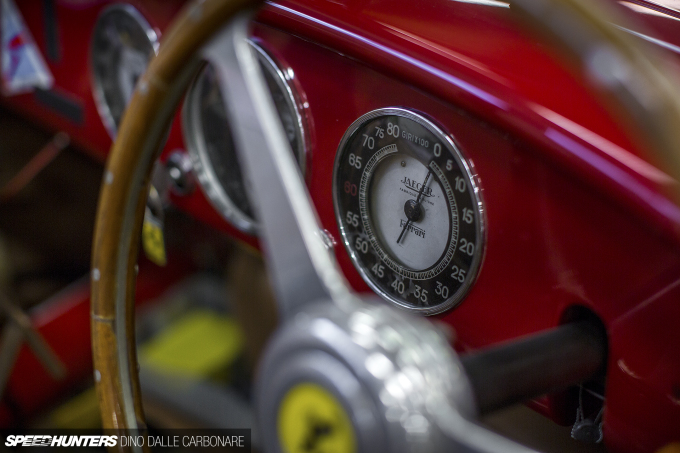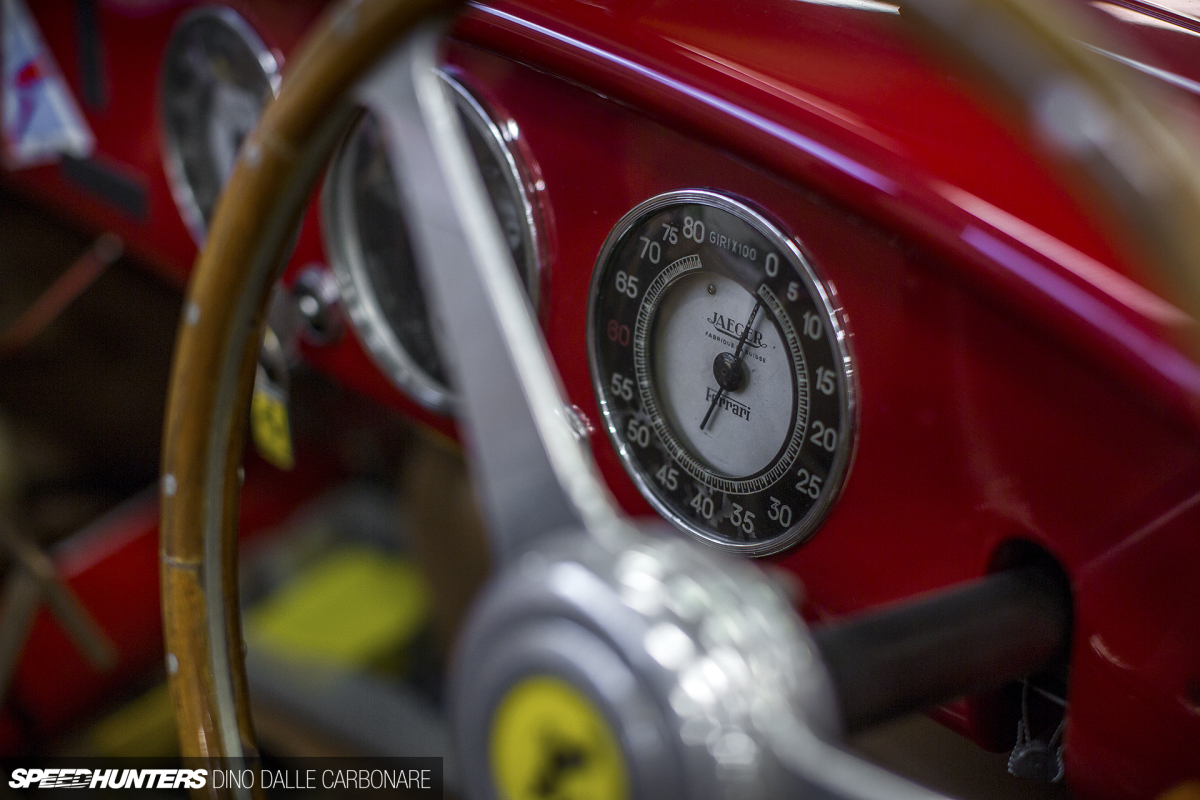 It's almost awe-inspiring being next to this sort of metal. Value aside (which is in the US$2.0 million-plus range), you can sense the history behind it; by touching the cold hand-shaped aluminium body and taking a deep whiff of the cabin. The latter brings all sort of scents with it; a mixture of fuel, oil, leather, wood and aged manly sweat.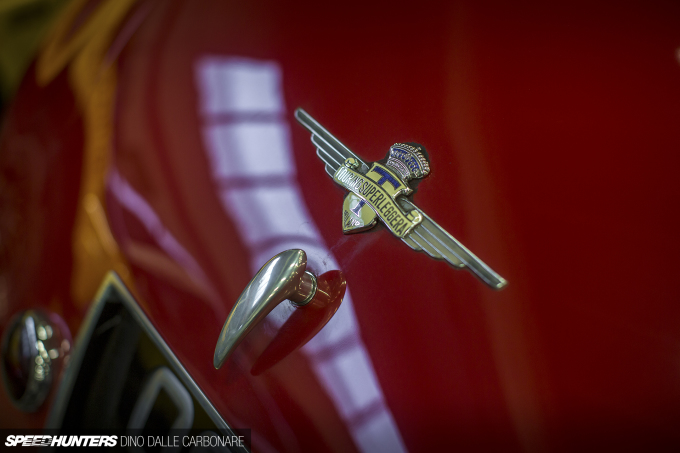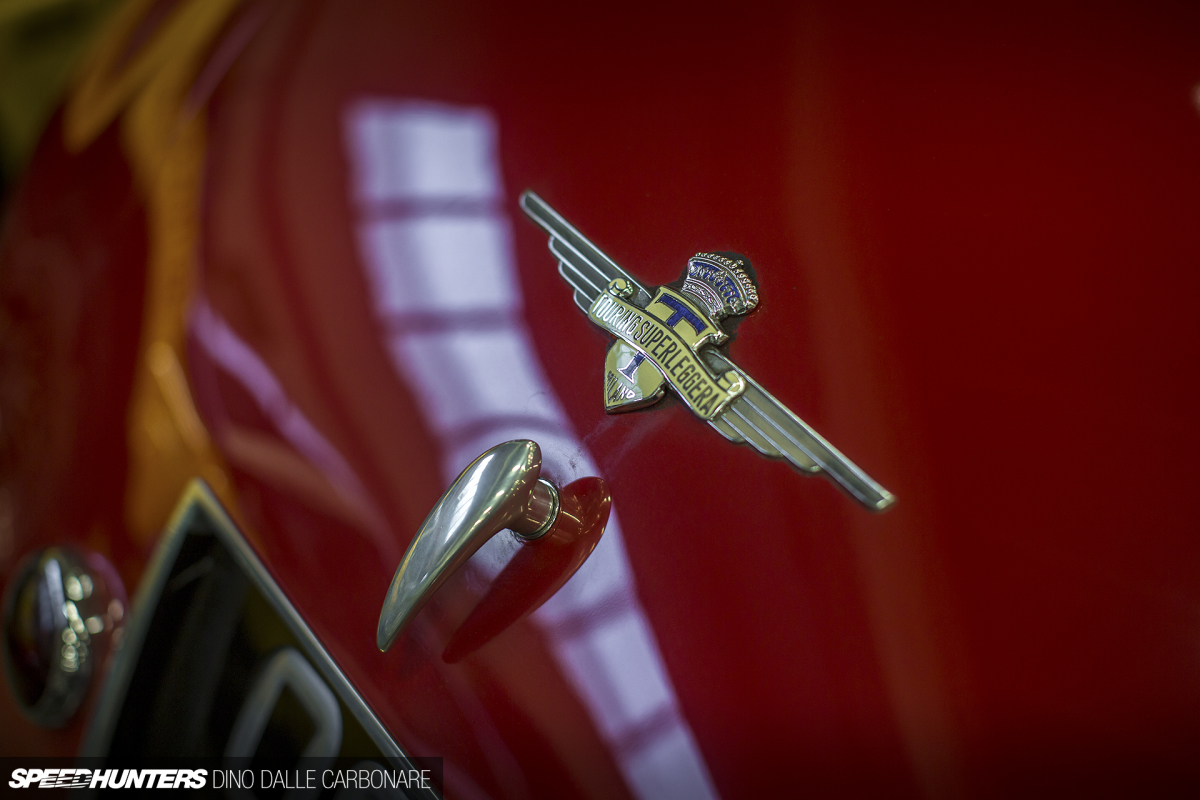 Back in those days, getting a coachbuilder to design and create bespoke bodies for your cars was a normal thing. Manufacturers like Ferrari embraced it, as did wealthier privateers, just so they could feel that little bit more special. And it wasn't looked down upon like it might be these days if you fit a body-kit to your car. It was approved and enjoyed by the manufacturers, as it was nothing but a pure art form. Oh, how times have changed!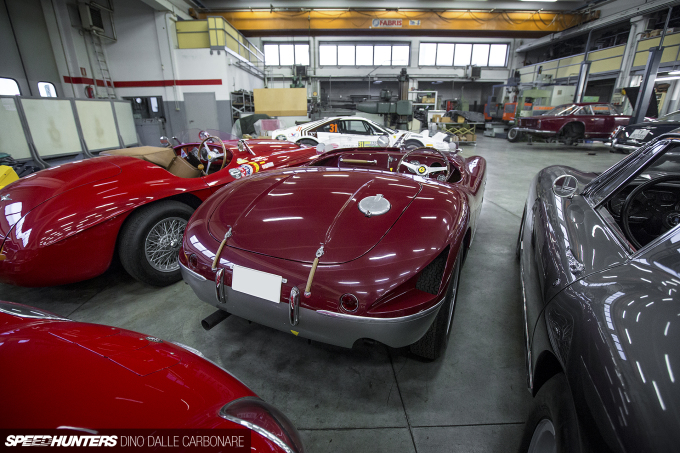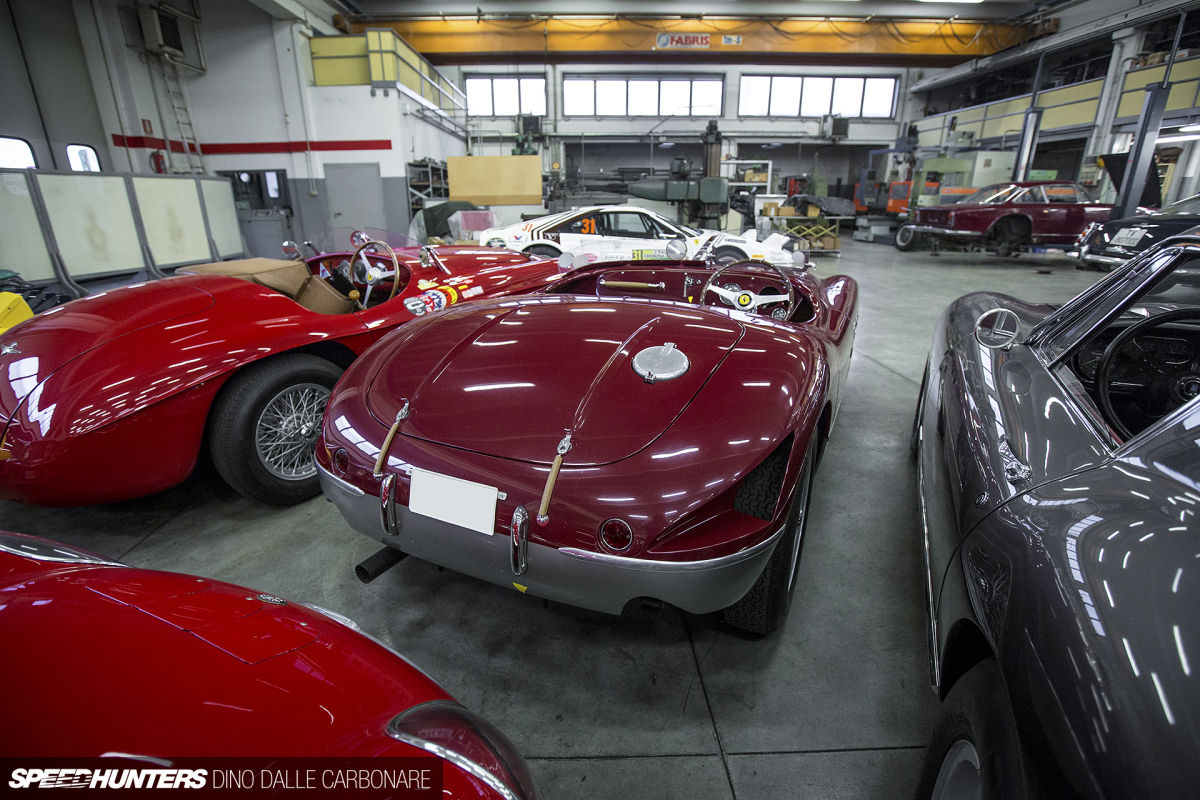 And that's precisely how this particular car came to be. Ferrari commissioned Vignale in Torino, another famed coachbuilder, to take the underpinnings of the successful 166 and sculpt a bespoke body over it. Only three of these 625FTs were created, so I'll let you imagine how irreplaceable something like this is. The number 625 referred to the capacity of each of the four cylinders in the 2.5L four-pot motor that powered it, and 'TF' stood for Tour de France. Now Ferrari uses the 'TDF' moniker to pay homage to these historic machines.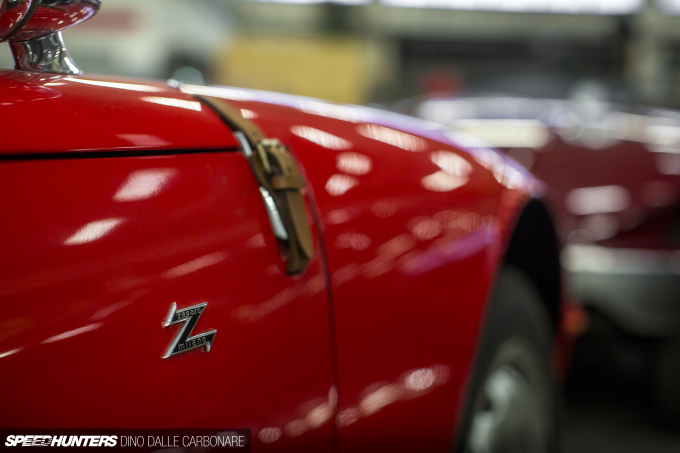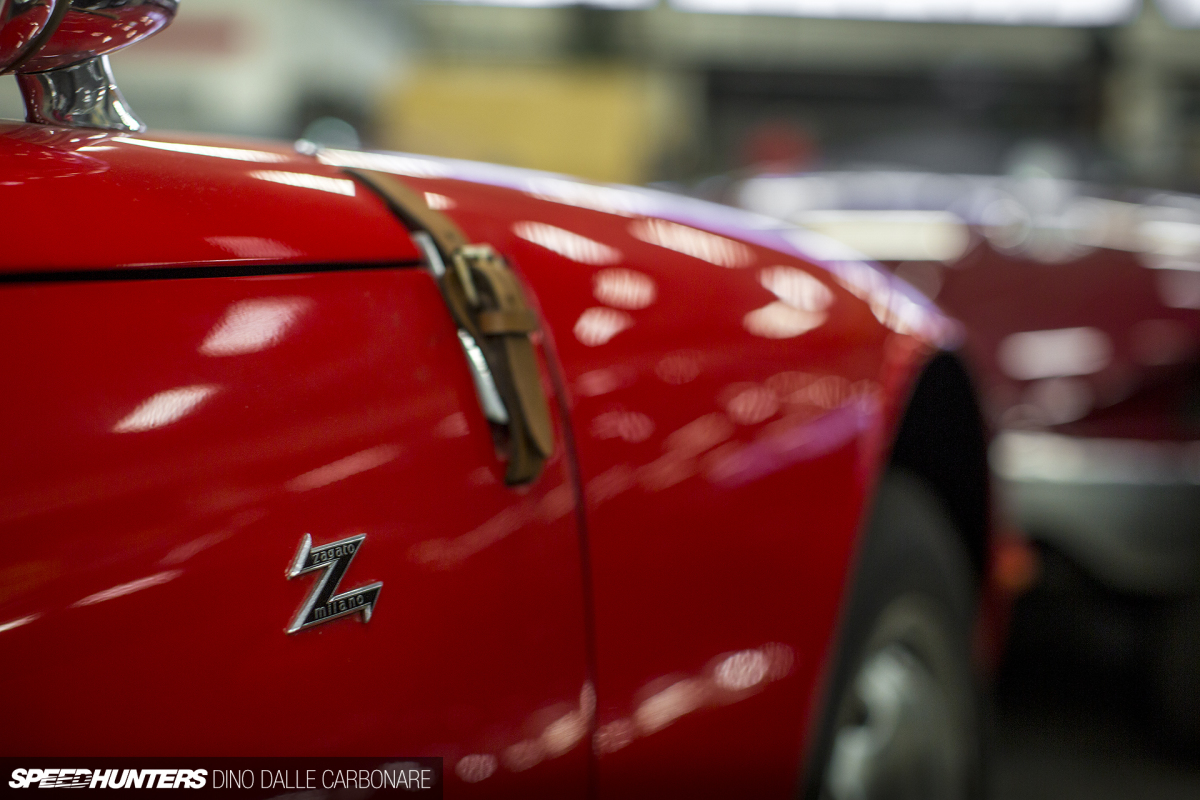 And after Touring and Vignale, it is of course Zagato's turn, and luckily the guys at Omega had this very special Alfa Romeo to show me.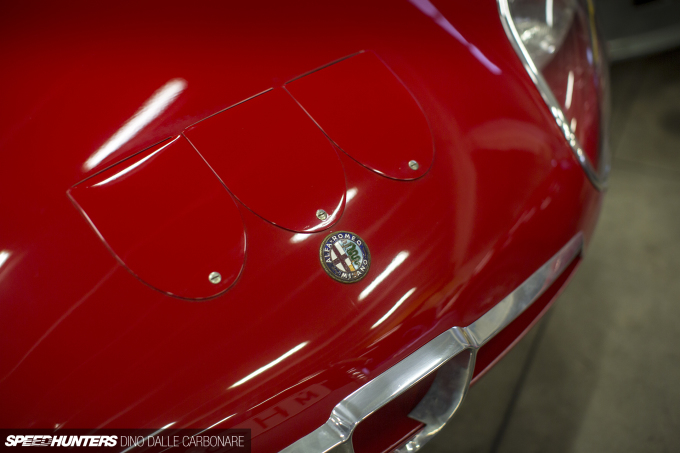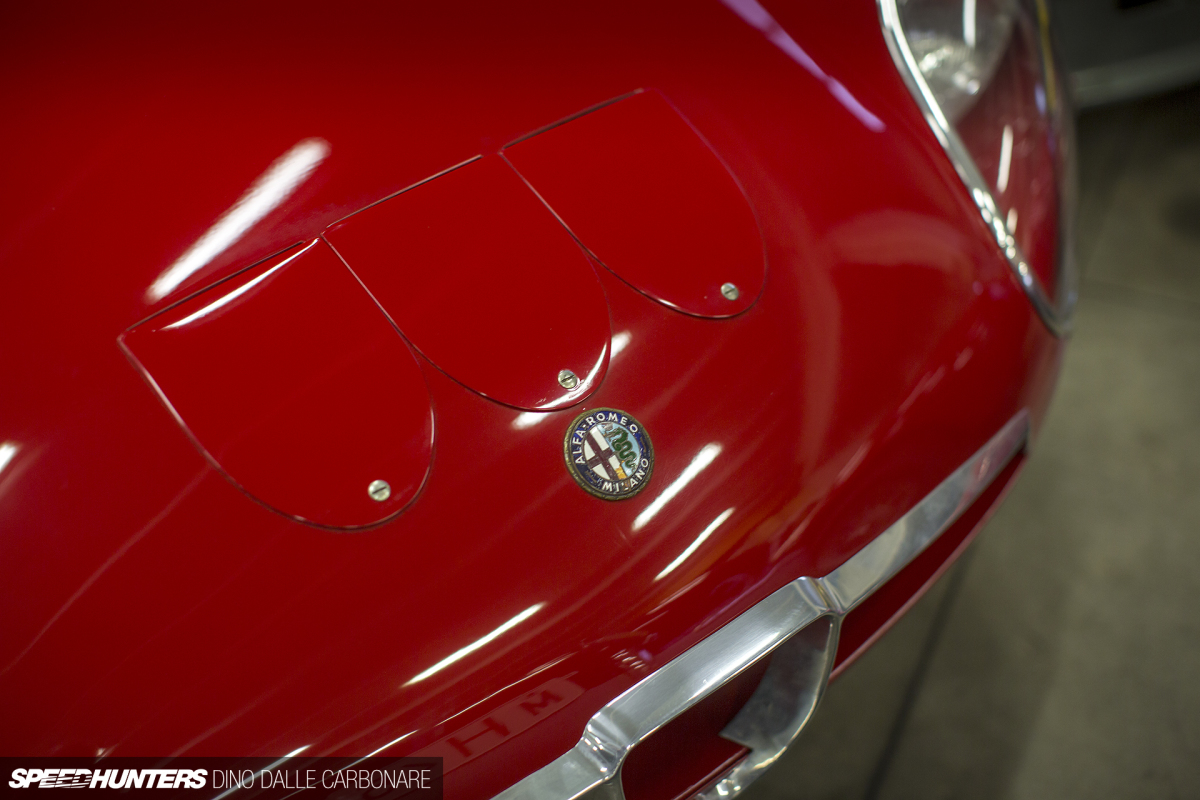 The Ferrari 250GTO-like triple intakes on the front will instantly show that this is indeed a TZ; the car that replaced the Tipo 33 that you weren't supposed to be seeing in this particular factory tour!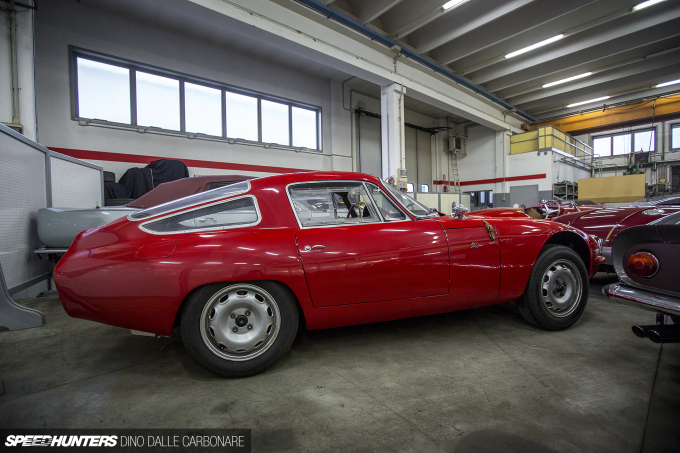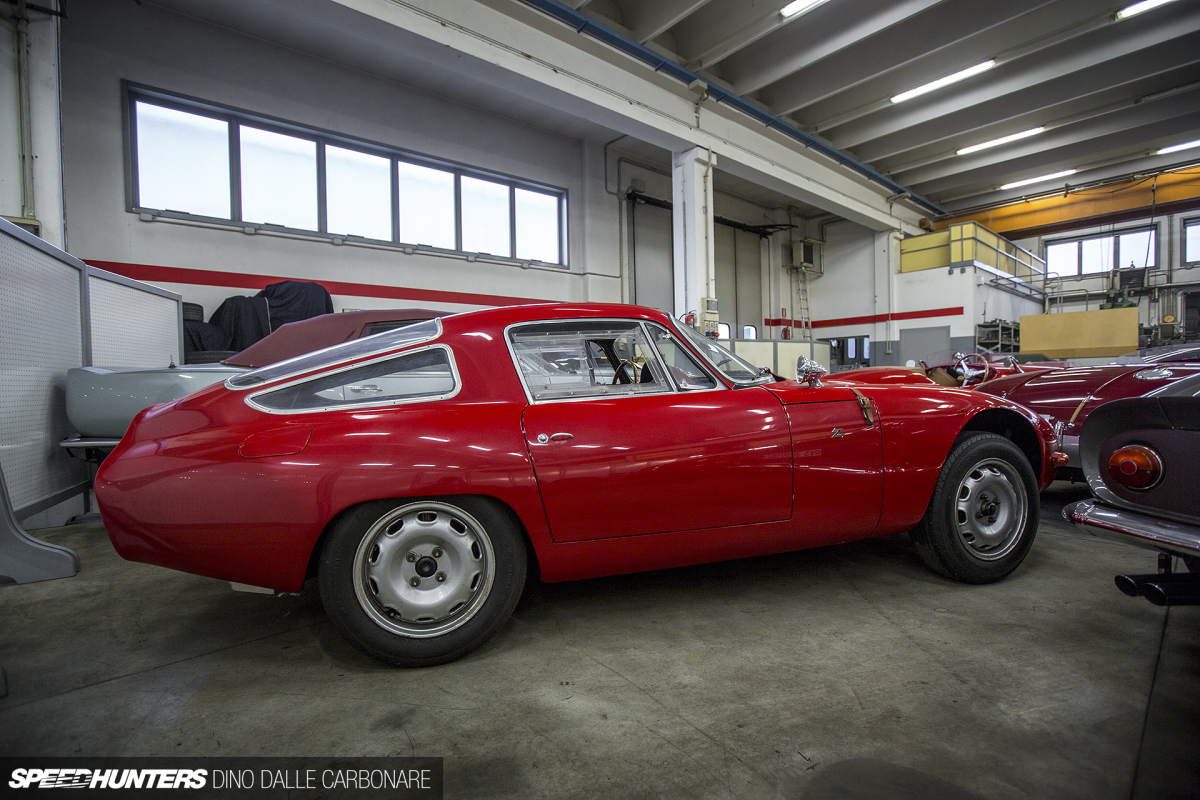 The little Zagato-bodied car was powered by a 1570cc twin cam derived from the Giulia TI, and breathed on by the guys at AutoDelta, who were called in to extract more power from the engine as well as assemble the special car.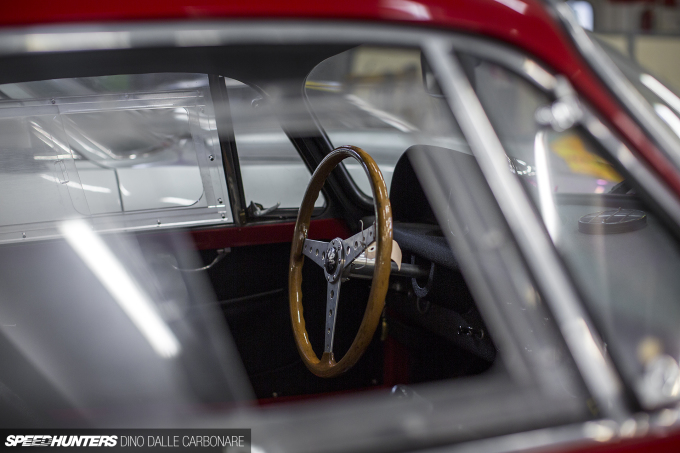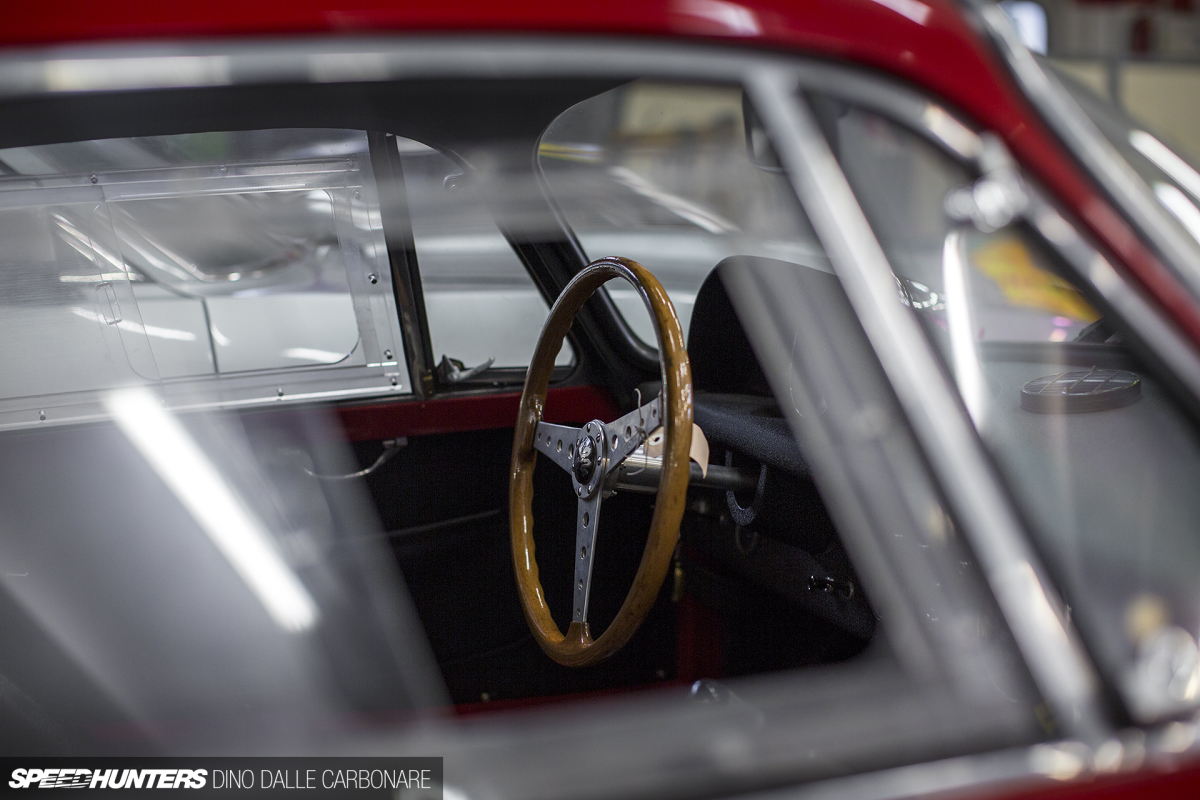 This is a road version of the TZ, so the motor makes around 120hp or thereabouts. The race version pushed out 40 additional horses.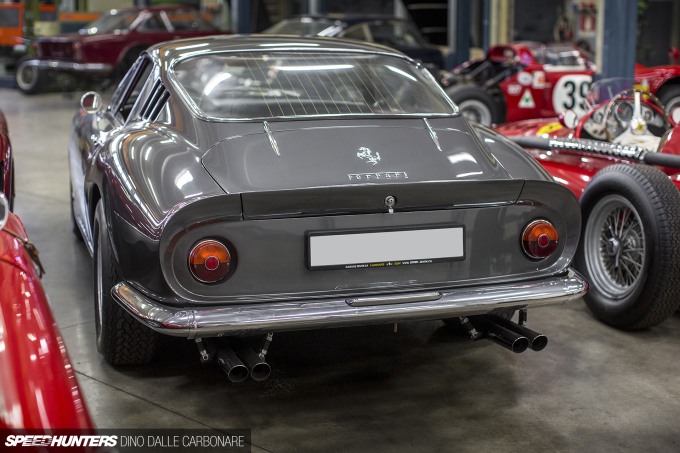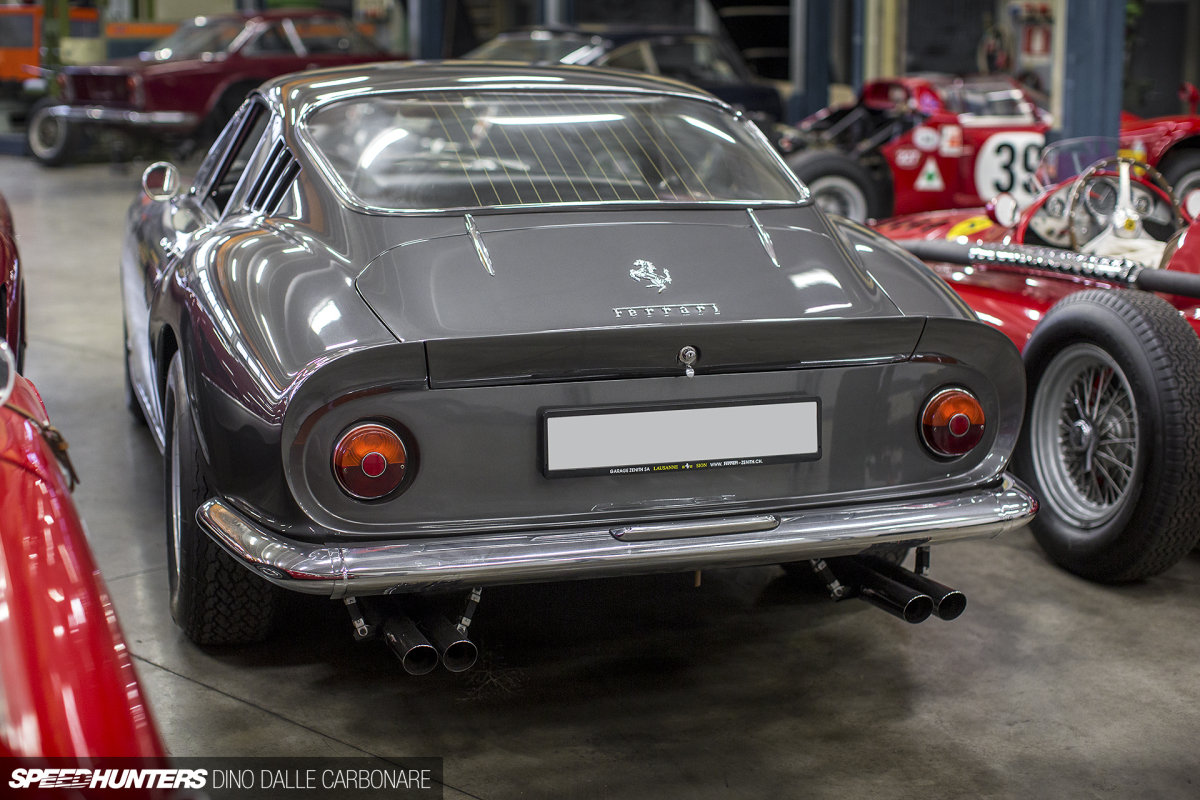 Next to it was this. And yes, I almost fainted, because for me, when it comes to vintage cars nothing really touches a big front-engined V12 Ferrari from the '60s. This 1967 275 GTB/4 truly is the pick of the bunch, as it comes with the quad-cam (hence the '4') Colombo V12 breathing through six Weber carburettors. The sound it makes is nothing less than pure and utter mechanical perfection.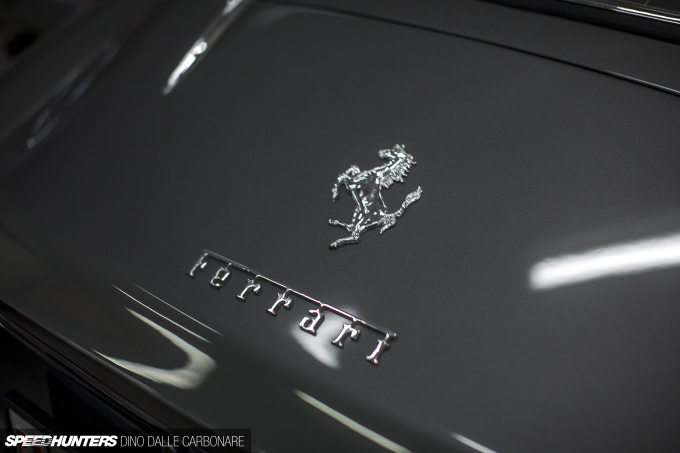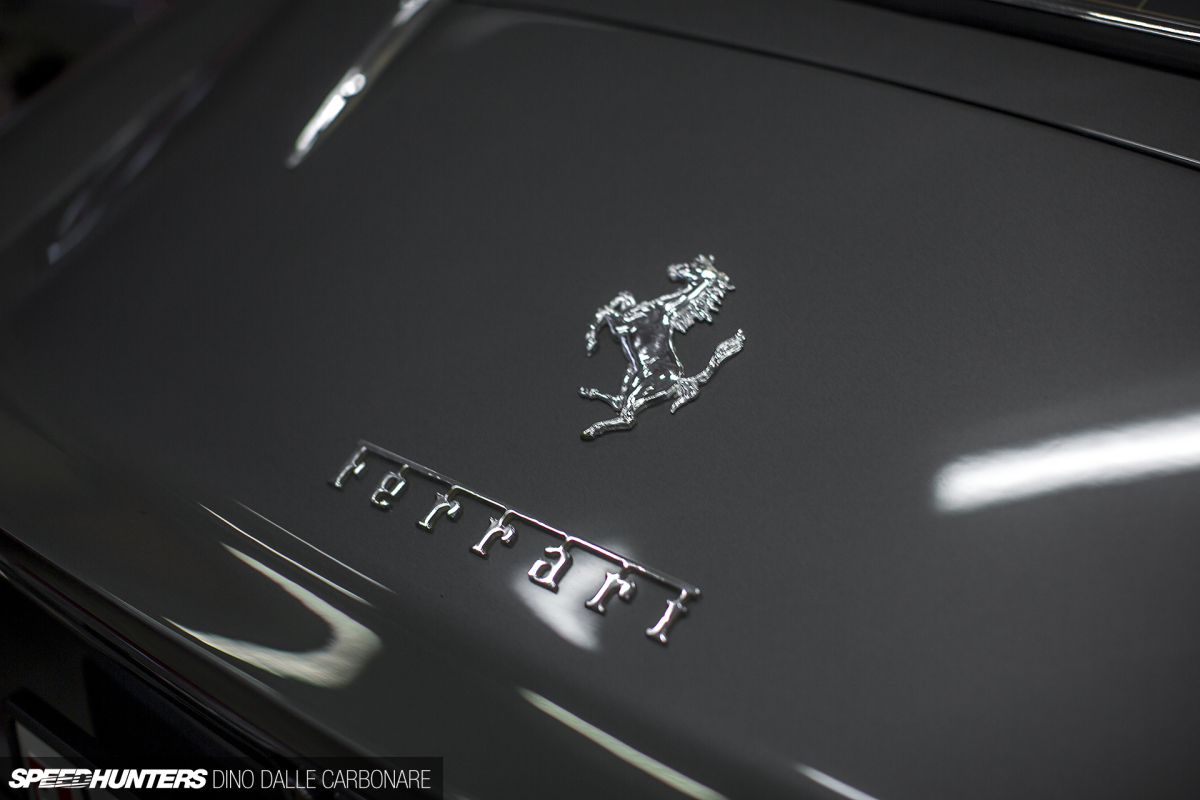 The dark metallic silver paint the Scaglietti body was finished in just made it look even more special than the more common red and yellow examples I've seen in the past.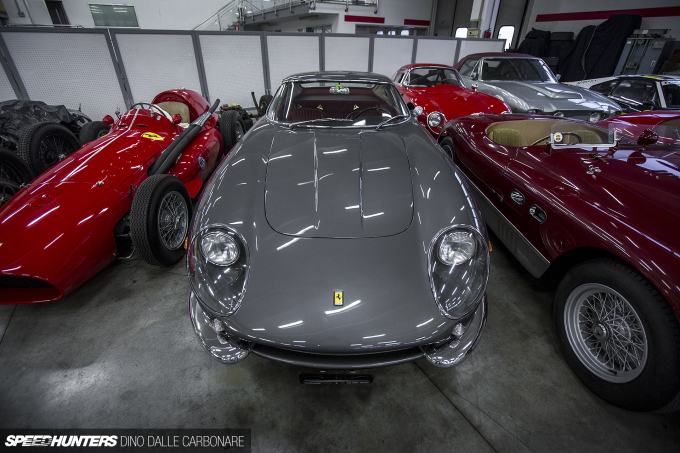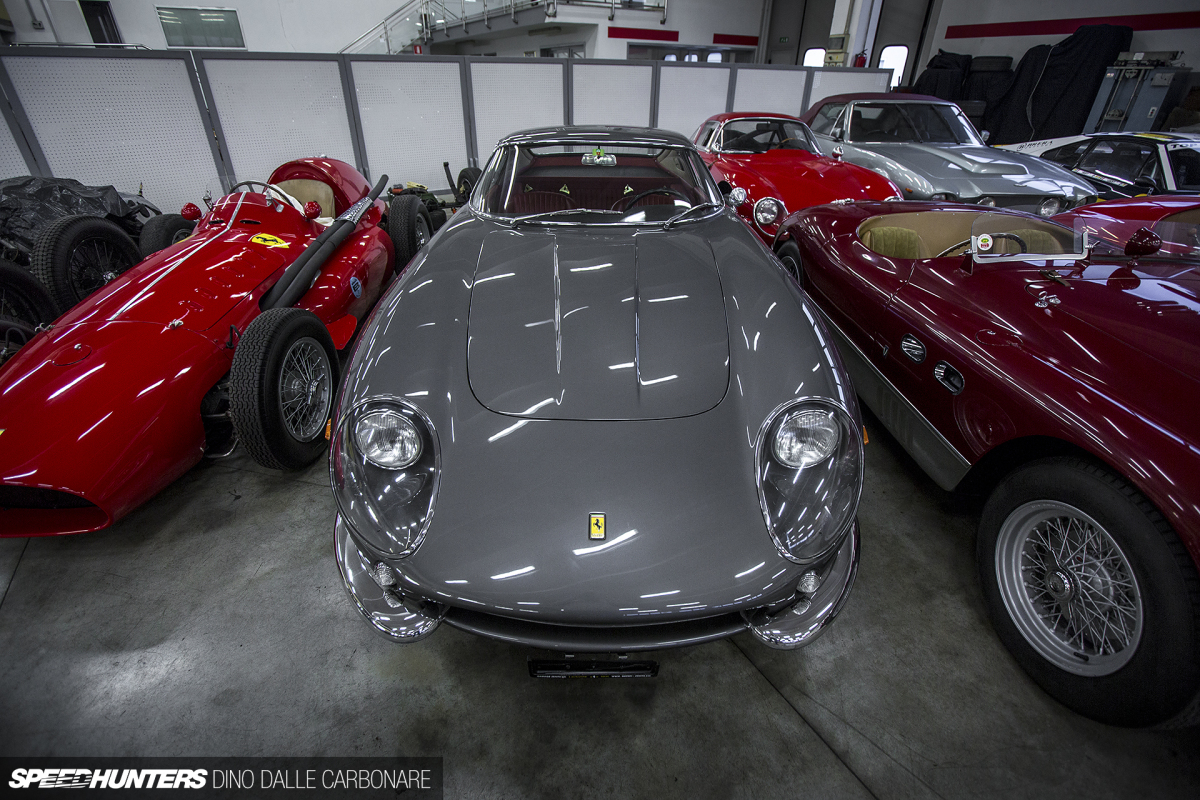 So there you have it – four of the main Italian coachbuilders of the past (don't worry there's a Pininfarina classic further down) summed up with some of the most iconic designs ever penned and executed by hand.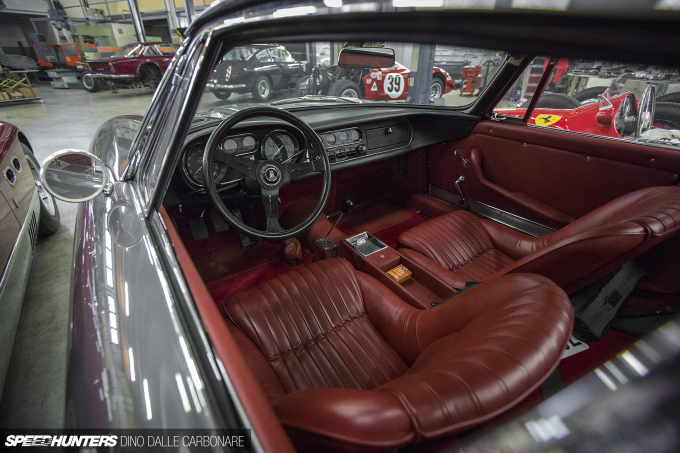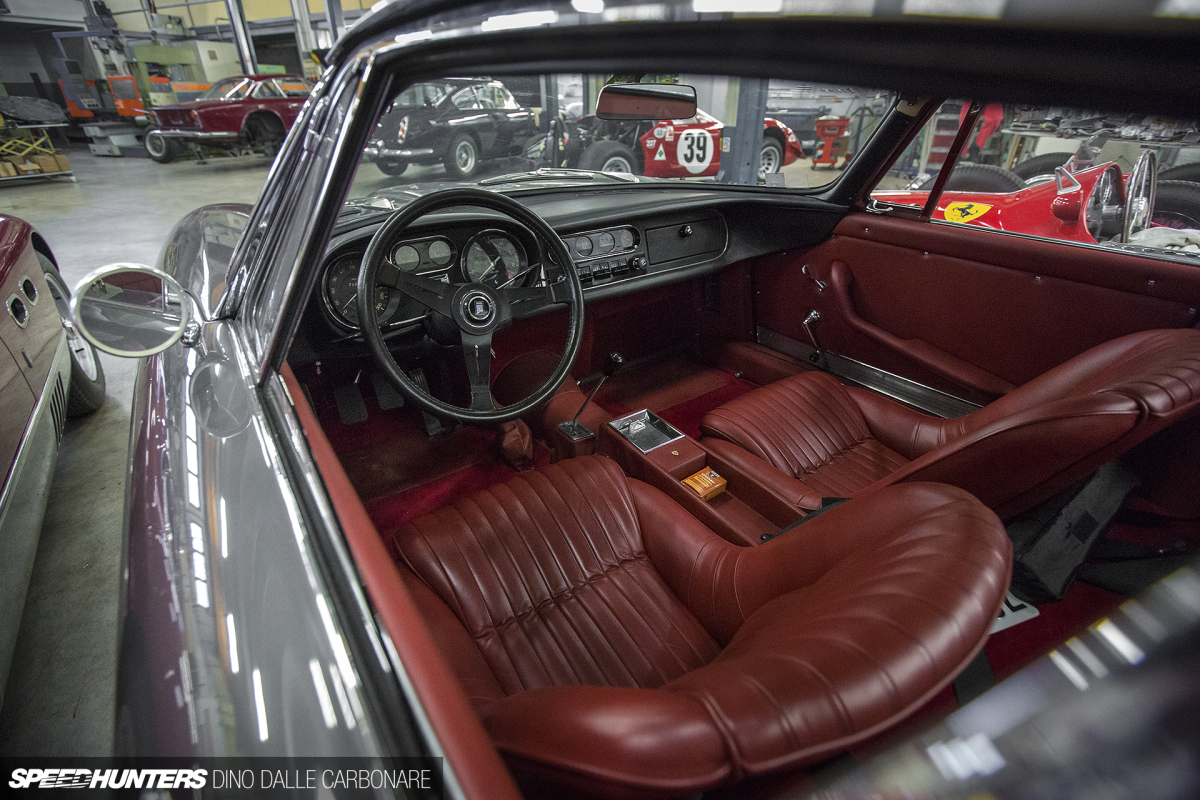 The 275's contrasting brick red interior was as spotless as the rest of the car, and I loved the addition of the Nardi steering wheel. I'm sure Nobuteru Taniguchi would approve!
The Super Squalo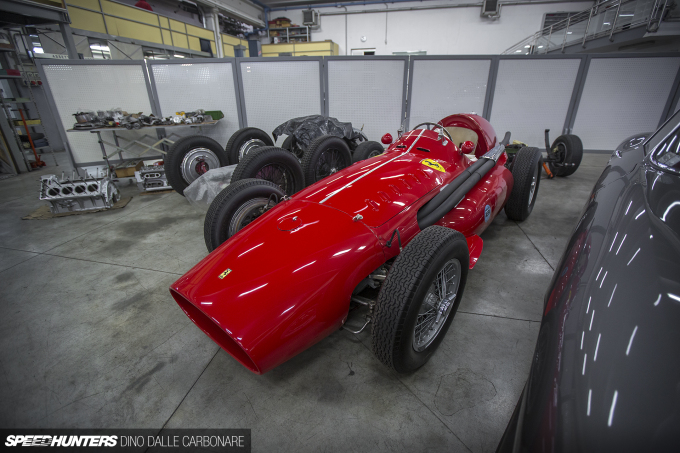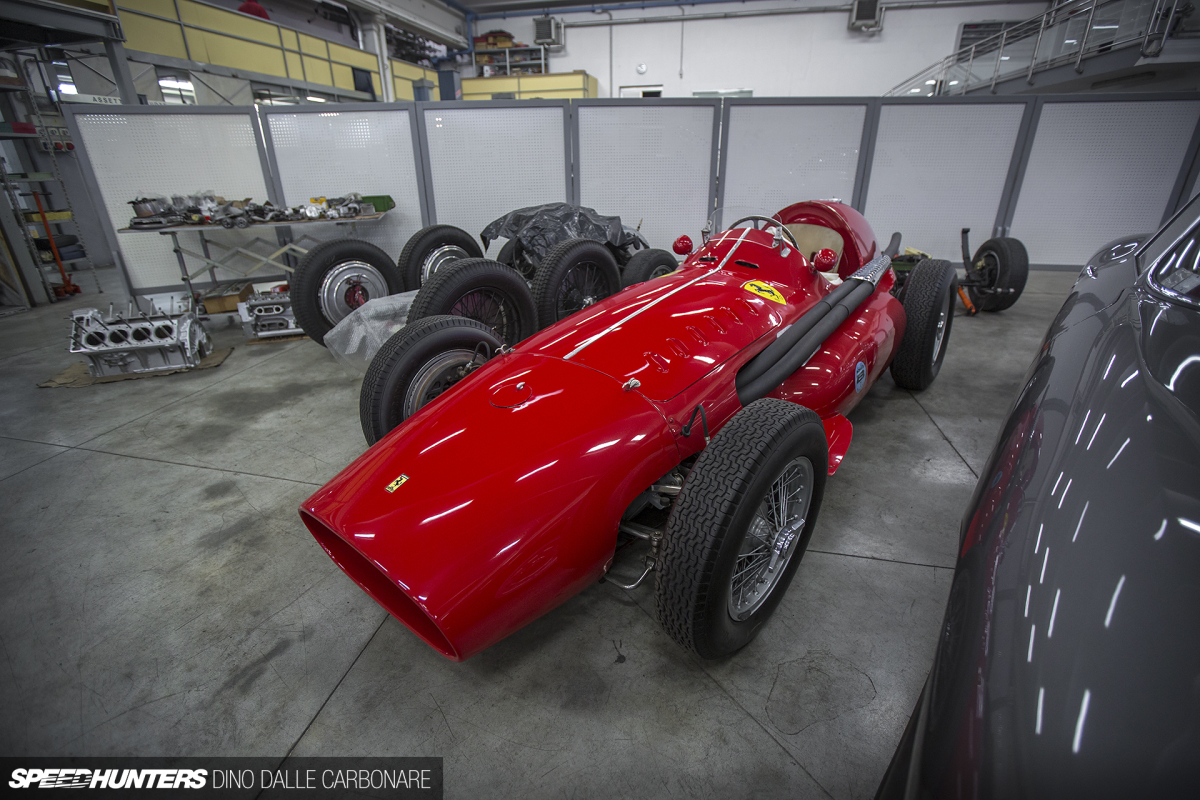 What on earth is that single seater race car next to it, you might ask? Well, another pretty important car in Ferrari's history – the 'Super Squalo', or 'Super Shark' as it was named back in 1954.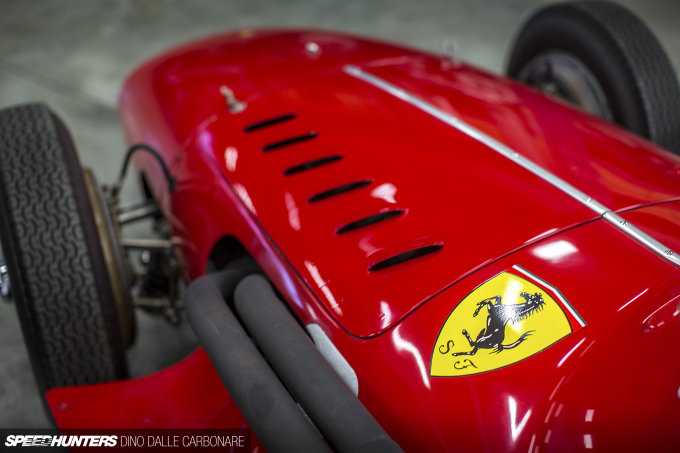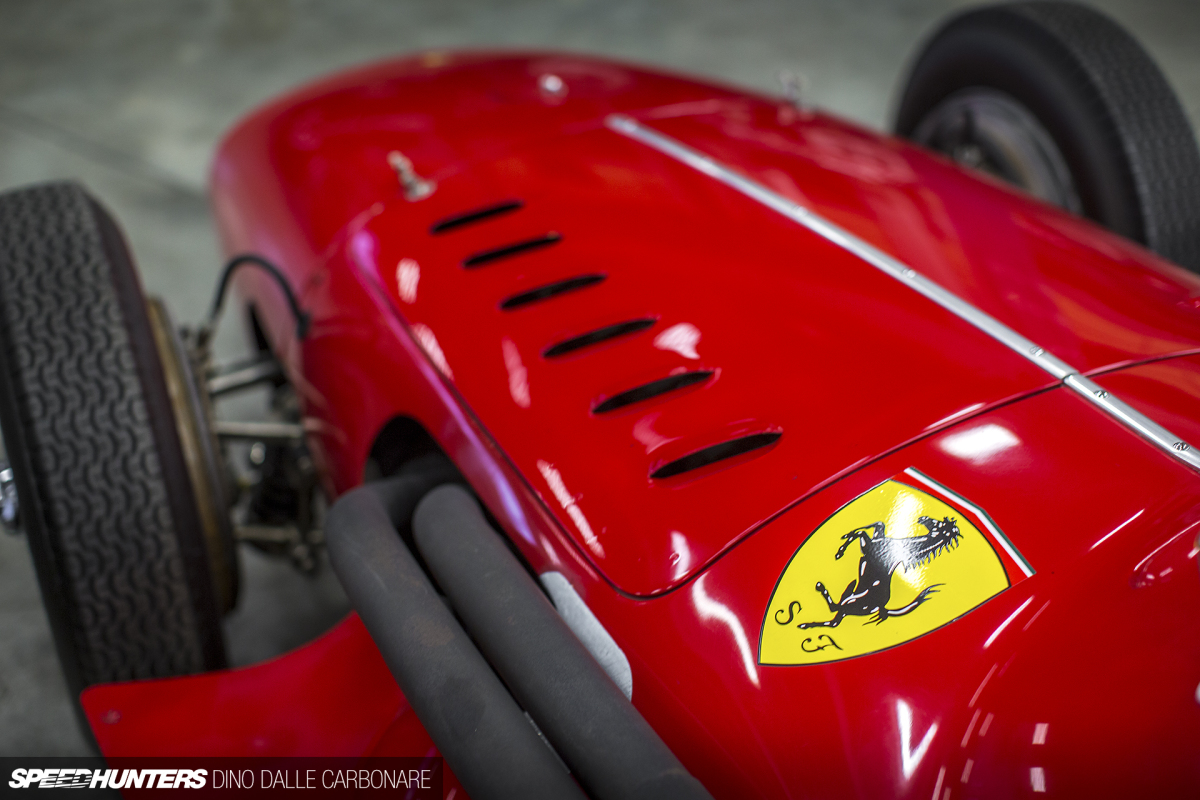 The 553 F1 was developed from the Formula 2 version of the 553 and was entered in a few F1 races of the 1954 season. The 2.5L four-cylinder that powered it revved to 7500rpm and developed 250hp.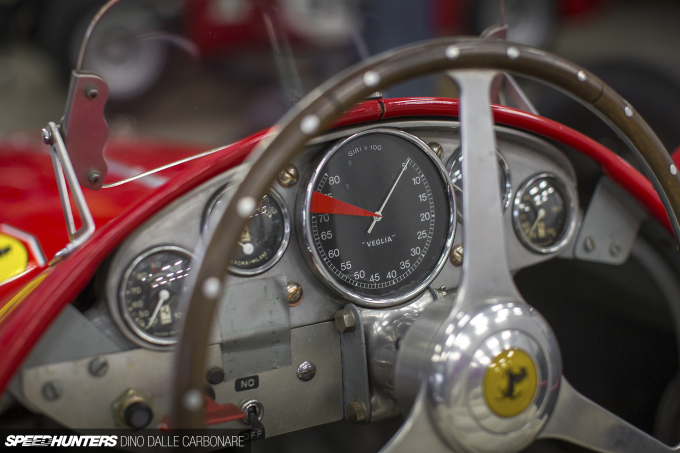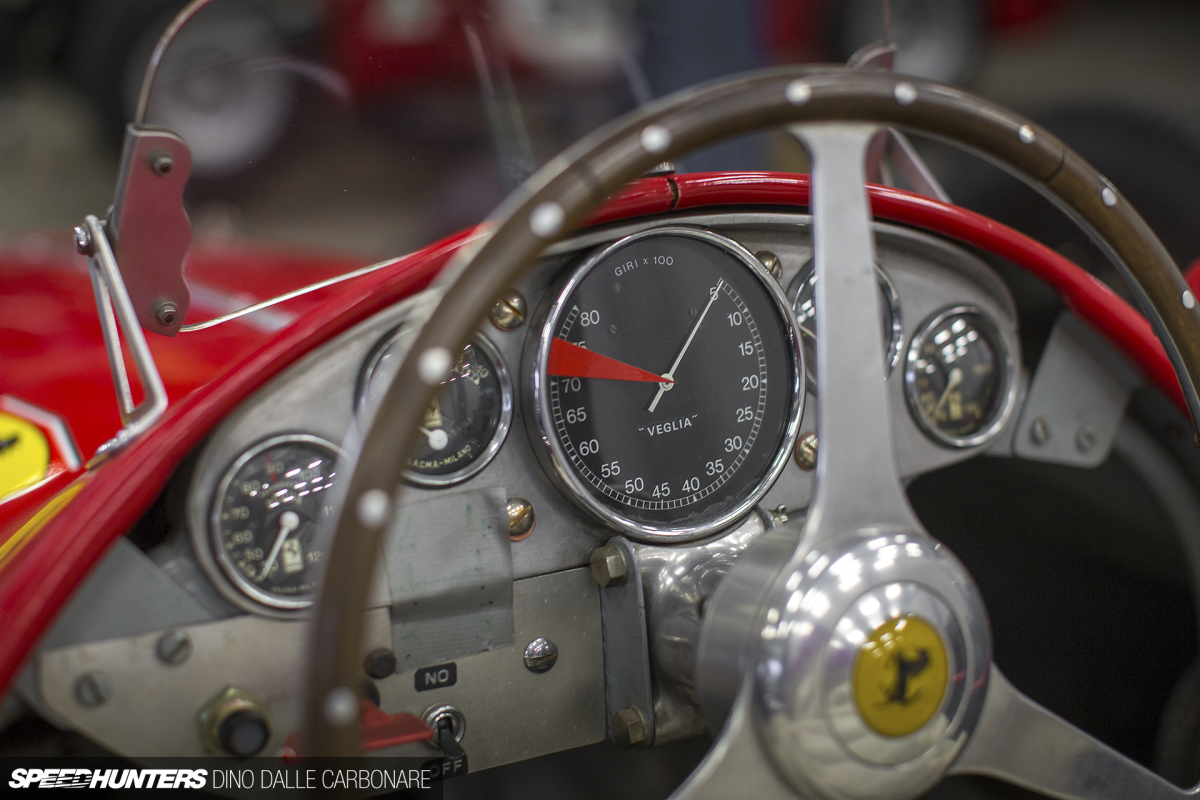 Seeing as this particular car still gets used, it was in at Omega for a tear-down and refresh to make sure that it's maintained in tip-top condition.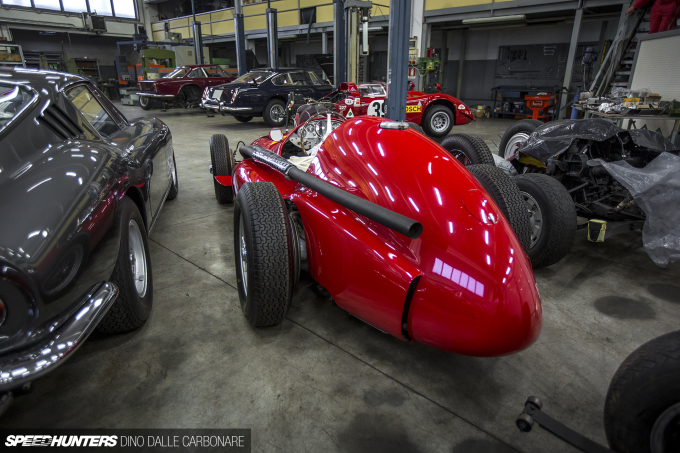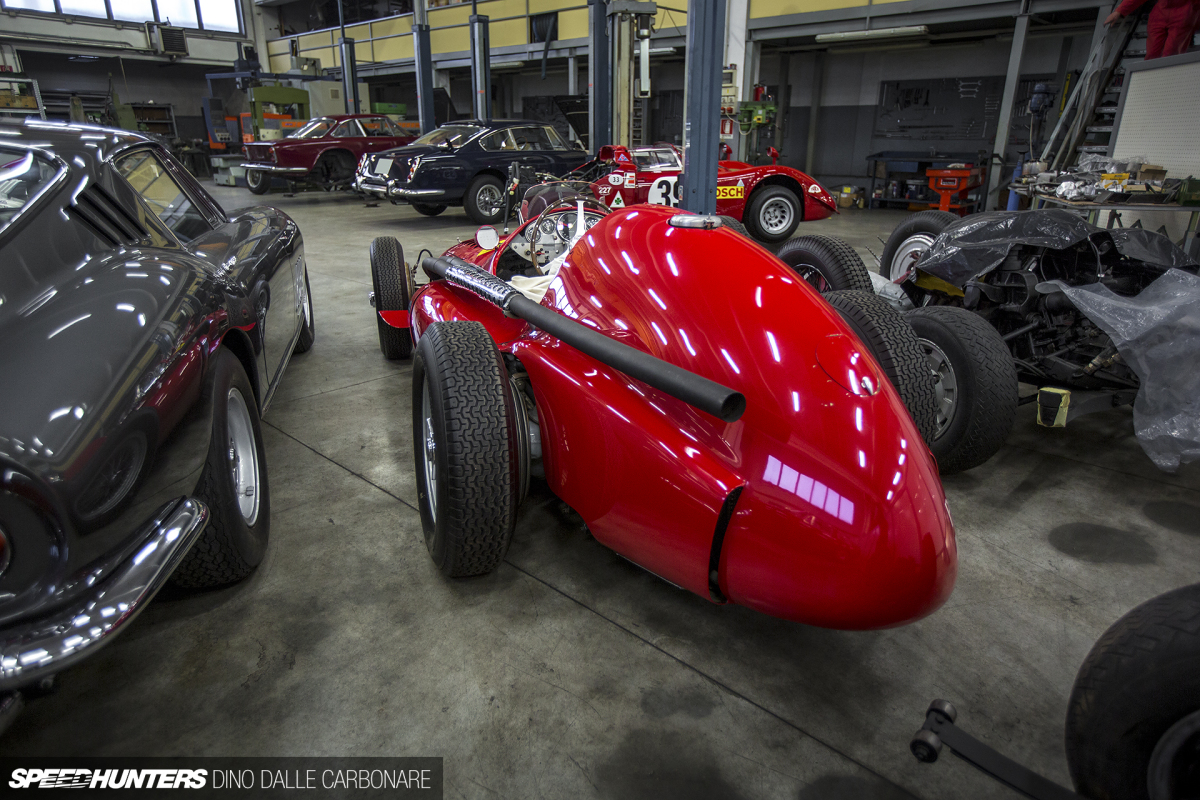 It wasn't a particularly successful car, but its design and the way it captivated Italian enthusiasts in those initial years of F1 racing definitely makes it something very special.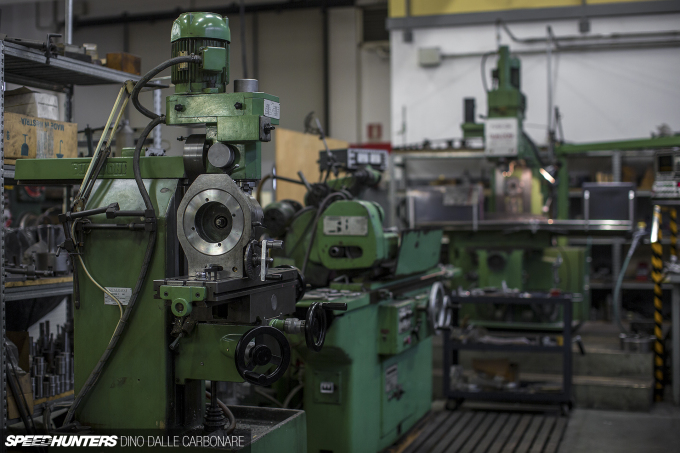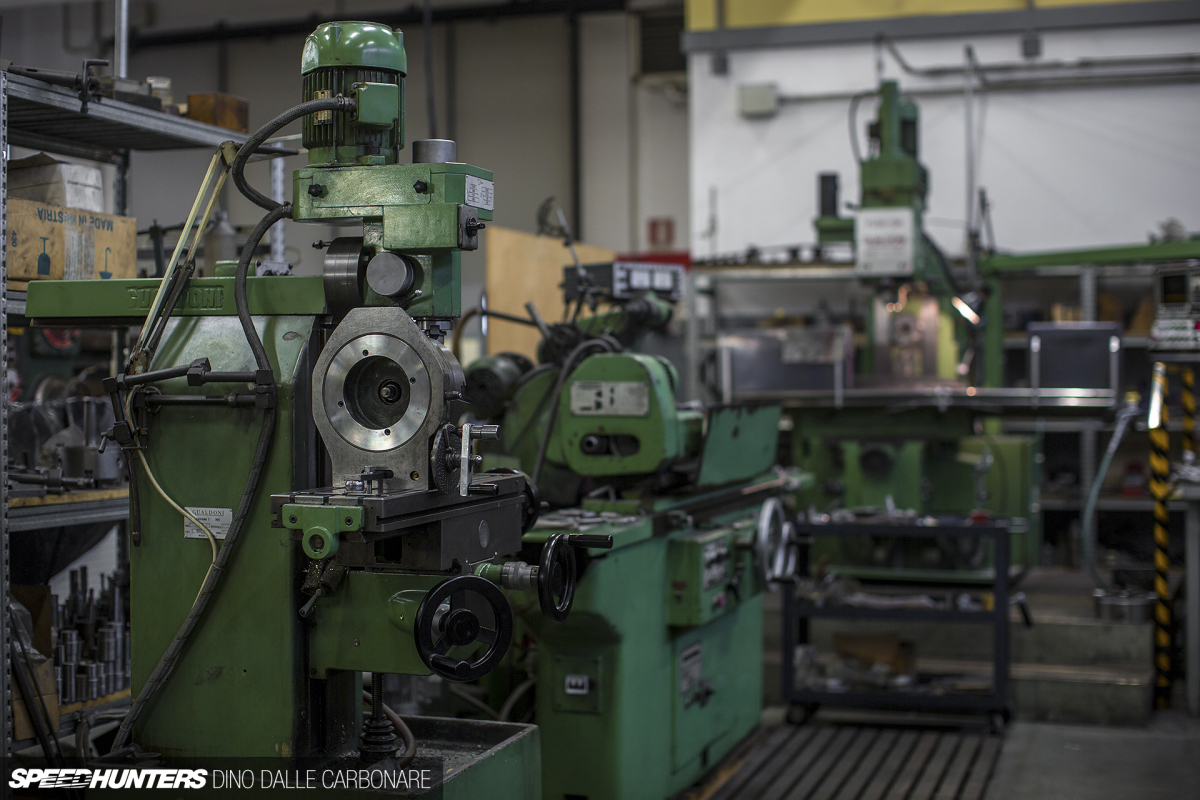 Omega gets full support from manufacturers like Ferrari, Maserati, Alfa Romeo, Lancia and so on, so back in the day they were supplied with all the technical drawings for the majority of engines and other various drivetrains and miscellaneous mechanical components. This means that if they can't source or buy something, they have the means to make it according to the original schematics. About a third of the workshop area is a dedicated machine shop where they can mill and make pretty much what they may need.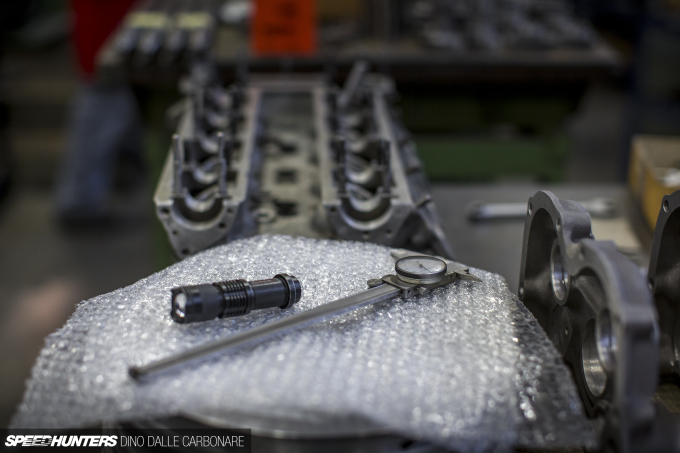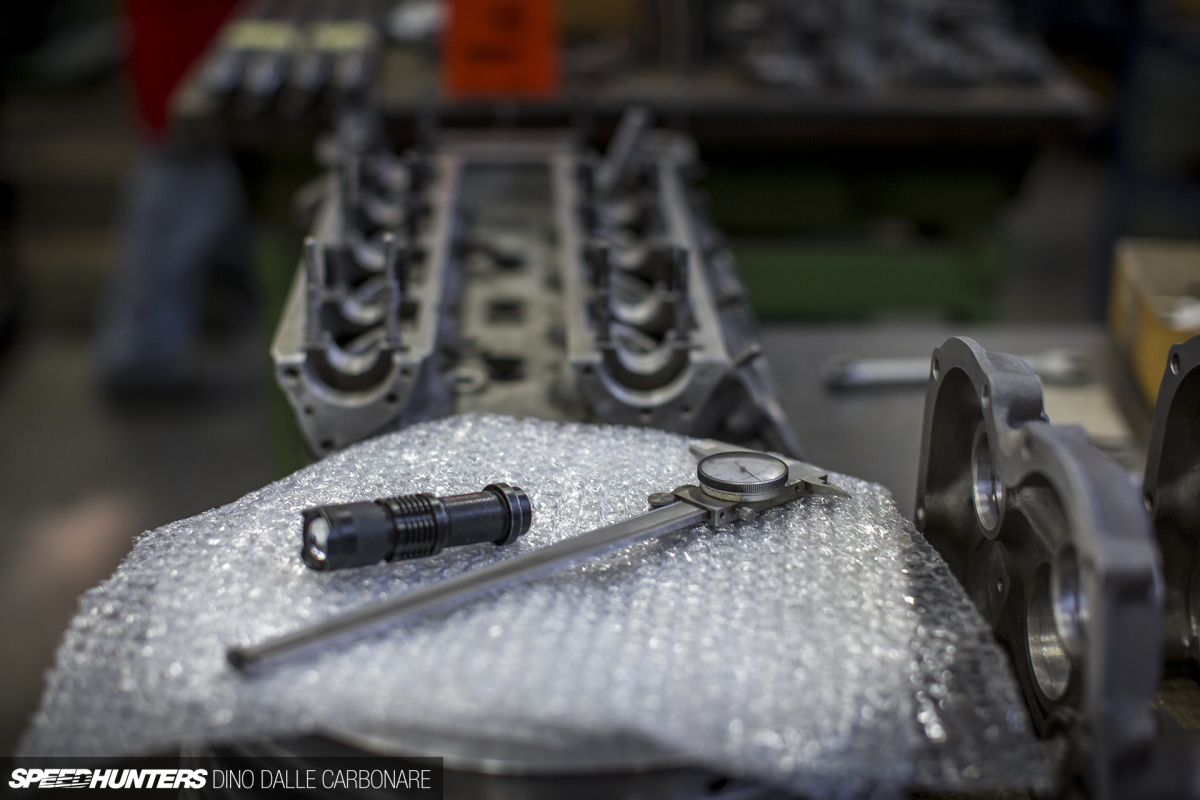 It then all gets prepped and checked before being brought over to the engine build section of the shop; ready to be put together as part of a restored and blueprinted motor.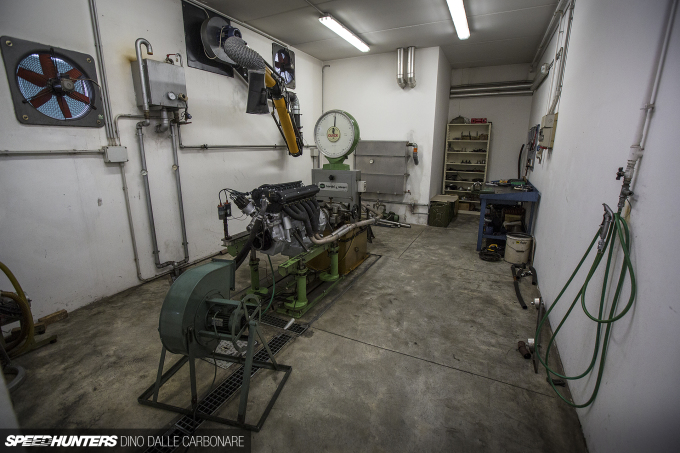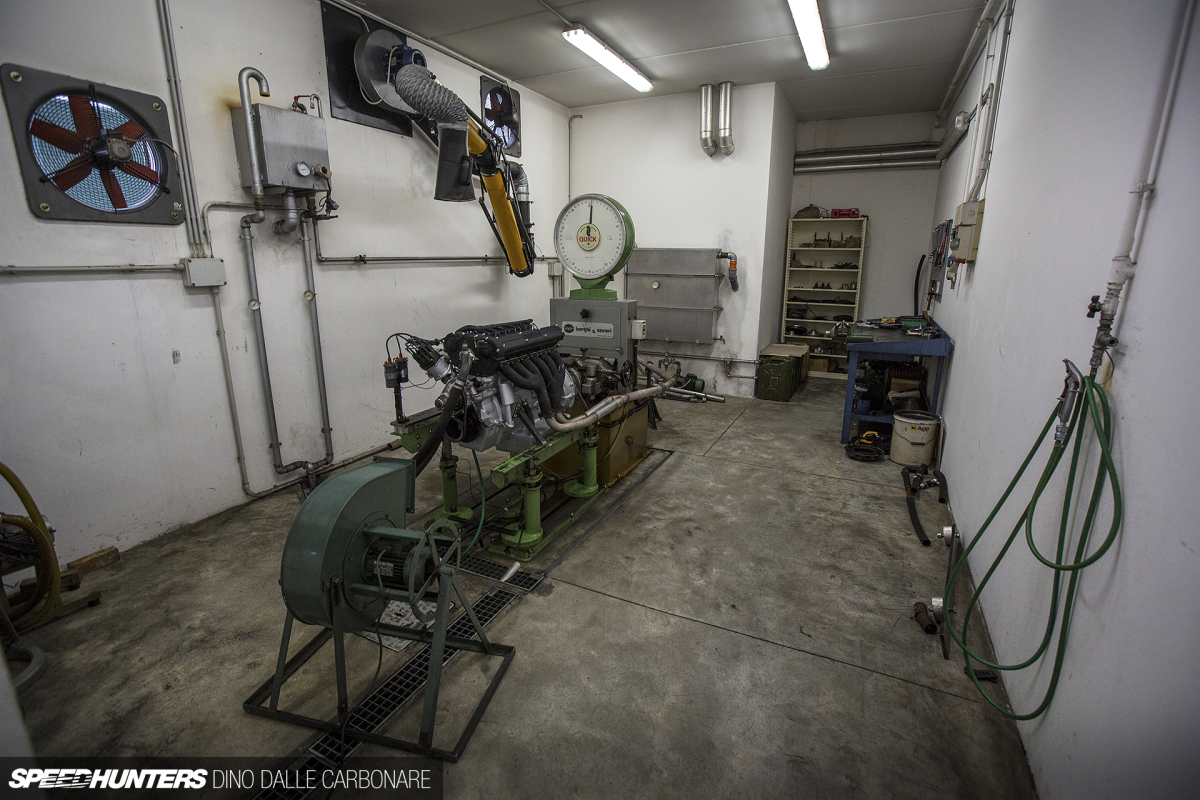 Once that is done, it's all brought into this room where the engine dyno is set up. Engines go through tests and checks before being run-in and measured against the original specs when it comes to outputs – maybe more if the customer has requested a little 'massaging.'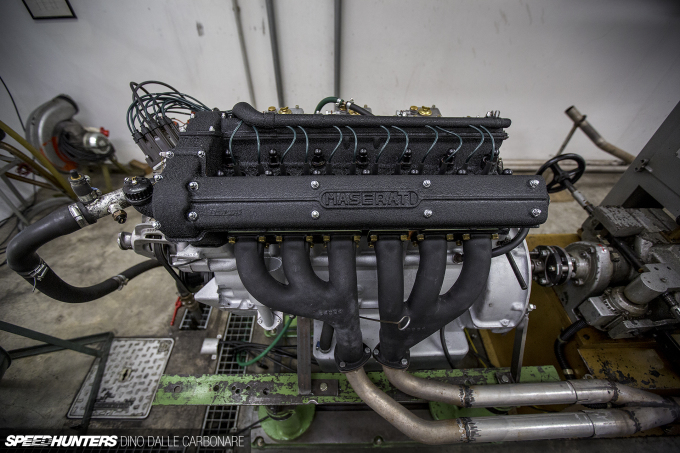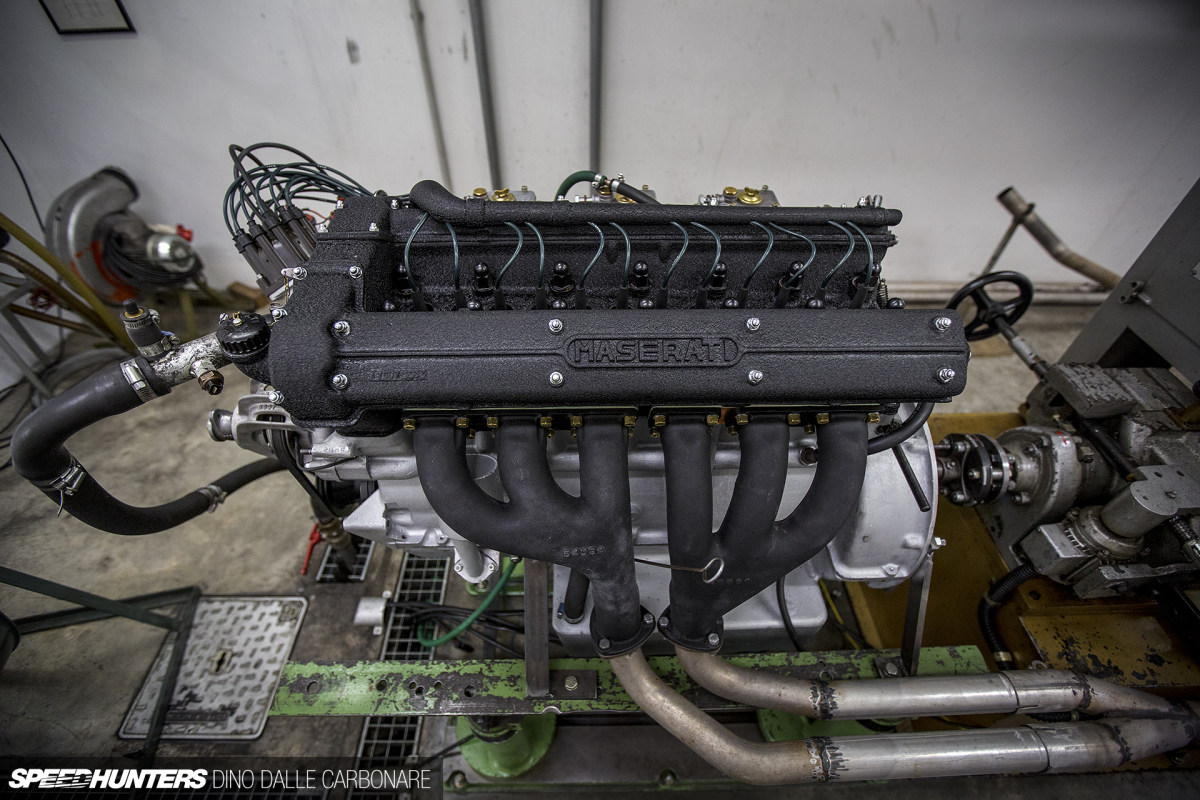 On the dyno this particular day was a freshly completed Maserati straight-six from a 350GT. It's a great looking engine…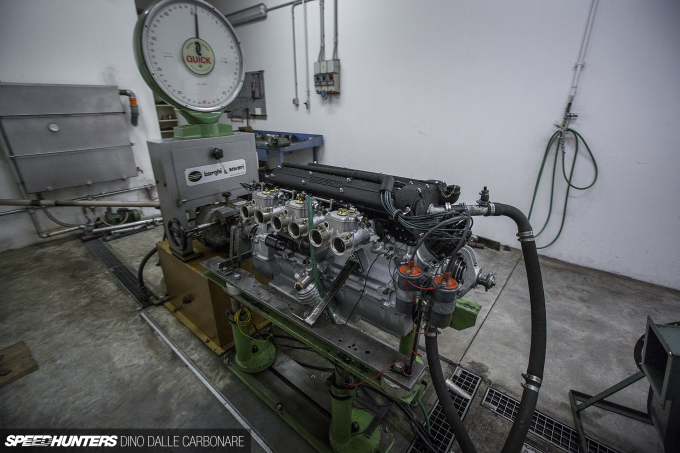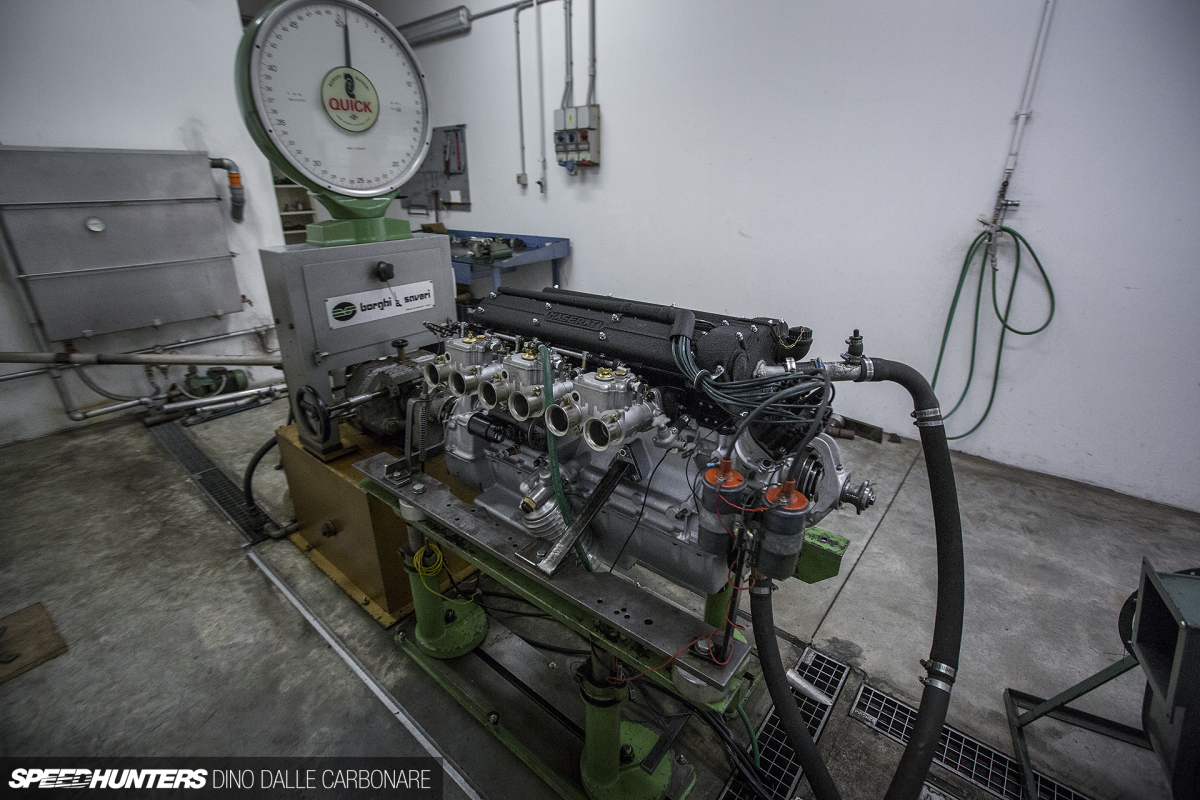 Especially when you look at it from the intake side and see the trio of twin-barrel Weber carbs.
Luxury Meets Performance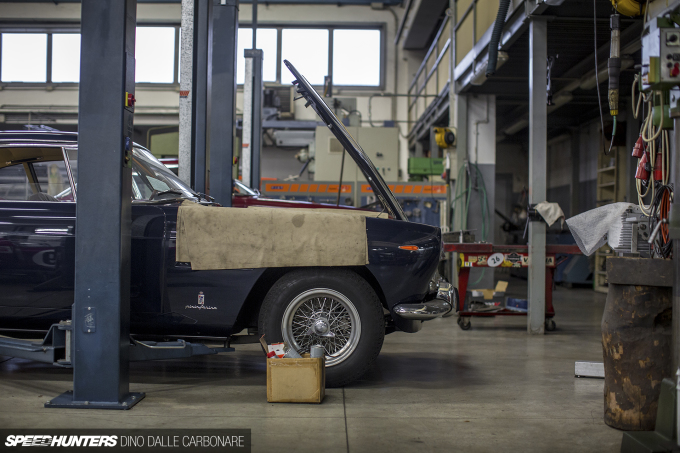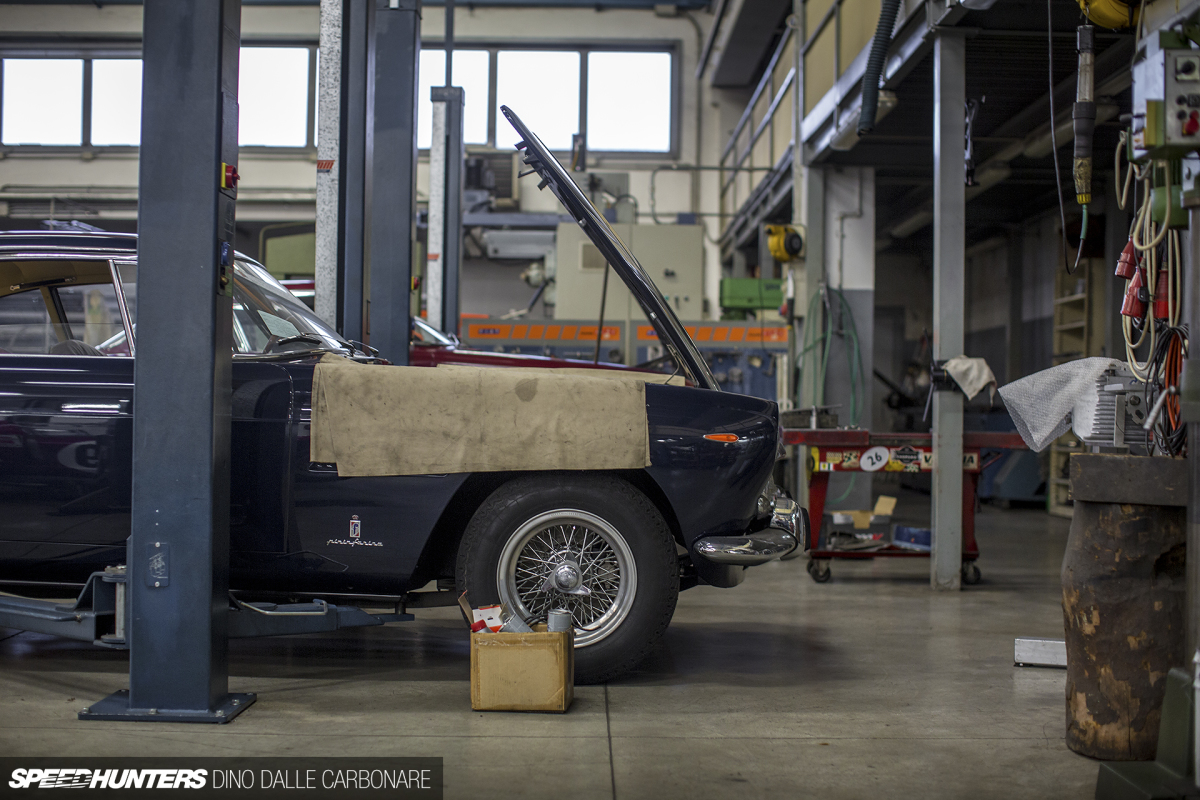 There was one car in the very center of the workshop that I couldn't keep my eyes off, specifically because I'm curiously attracted to 2+2 luxurious exotics like this. The 250 GT/E is what came before the 330 America, and it was a stretched GT-oriented car with a pair of small seats in the back to accommodate children.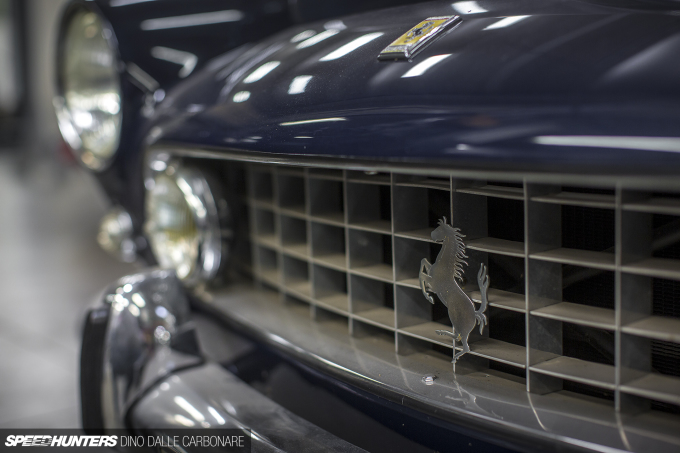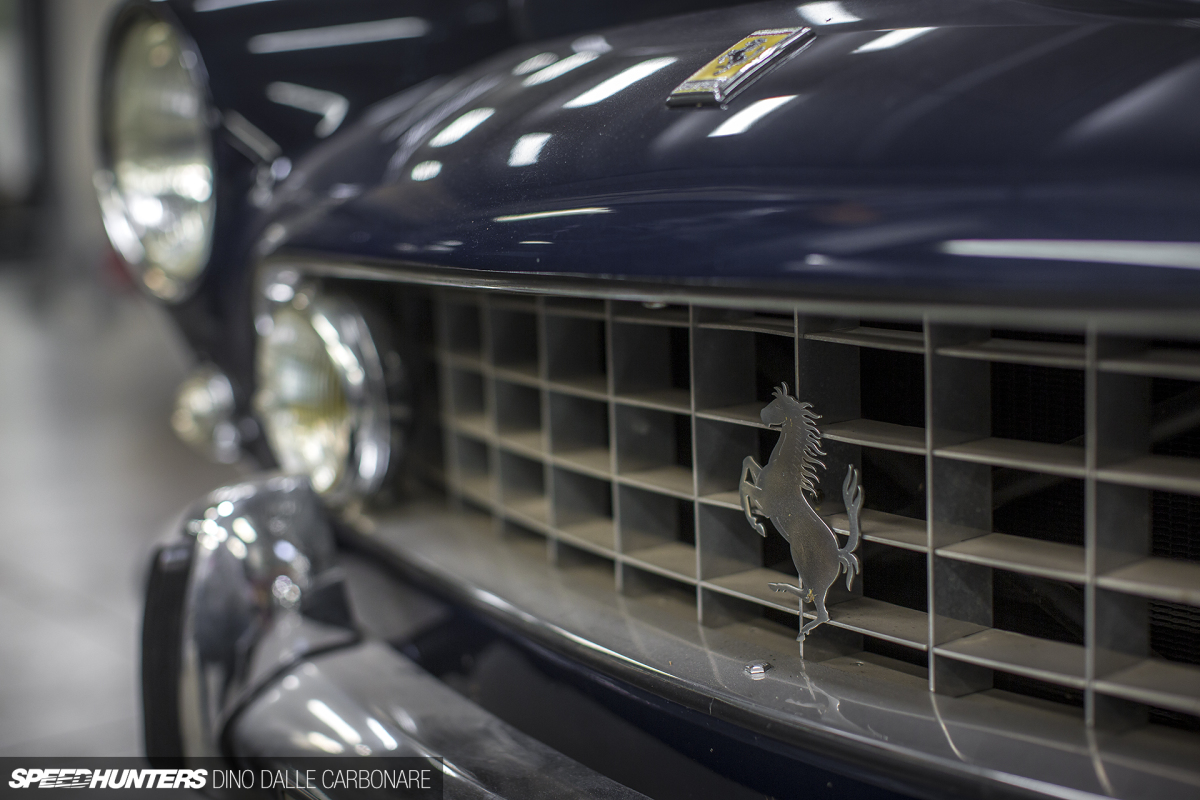 The GT/E was a success for Ferrari in the early '60s, with almost 1000 cars being built by Pininfarina, the majority of which went to the US.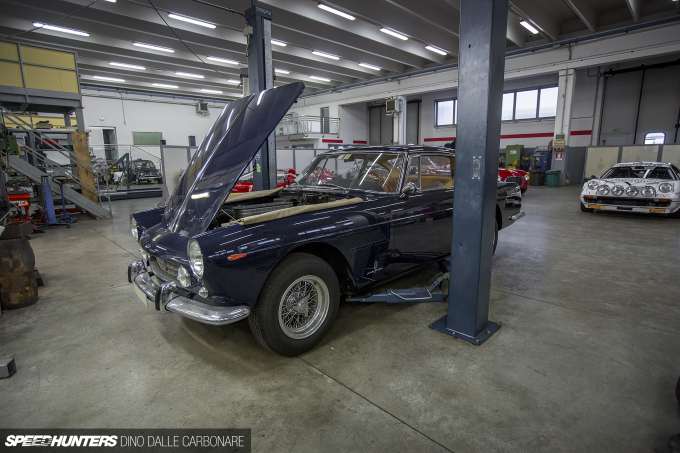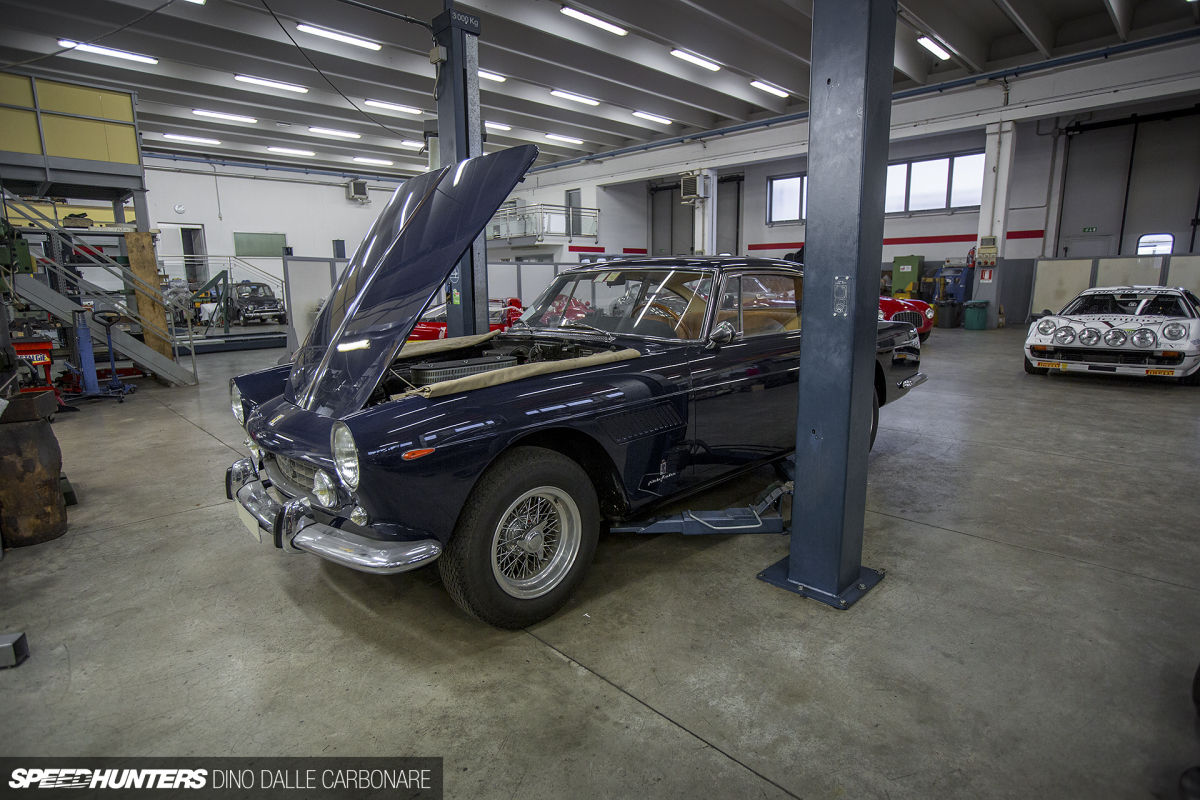 This car was in for a scheduled tune and check up, so it was in its beautiful completed and functioning form.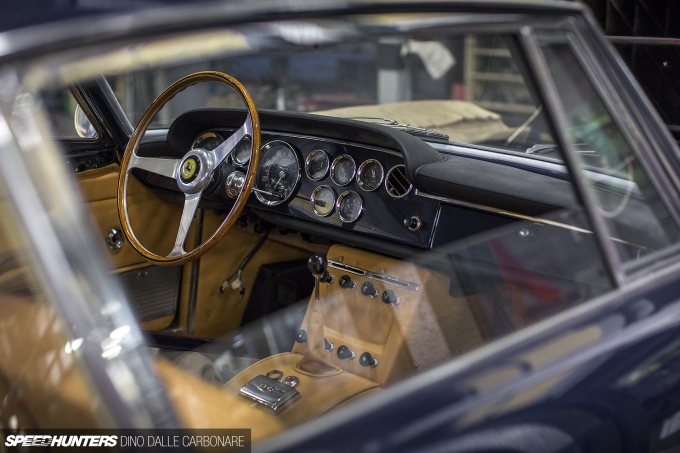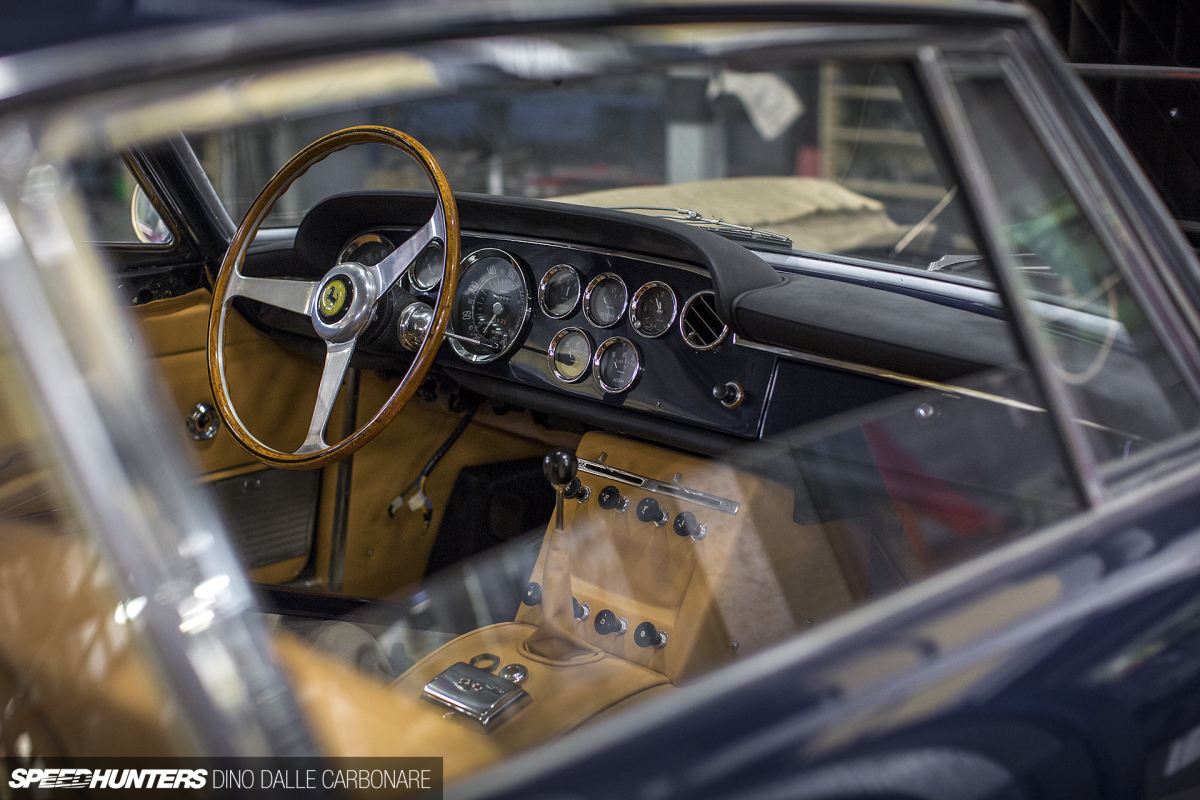 Look at that interior! You just want to straighten up your tie, unbutton your sports jacket, light up a cigar and jump in the driver's seat.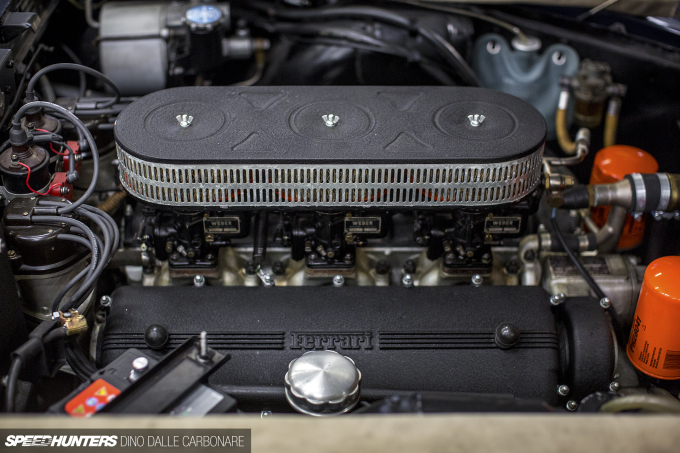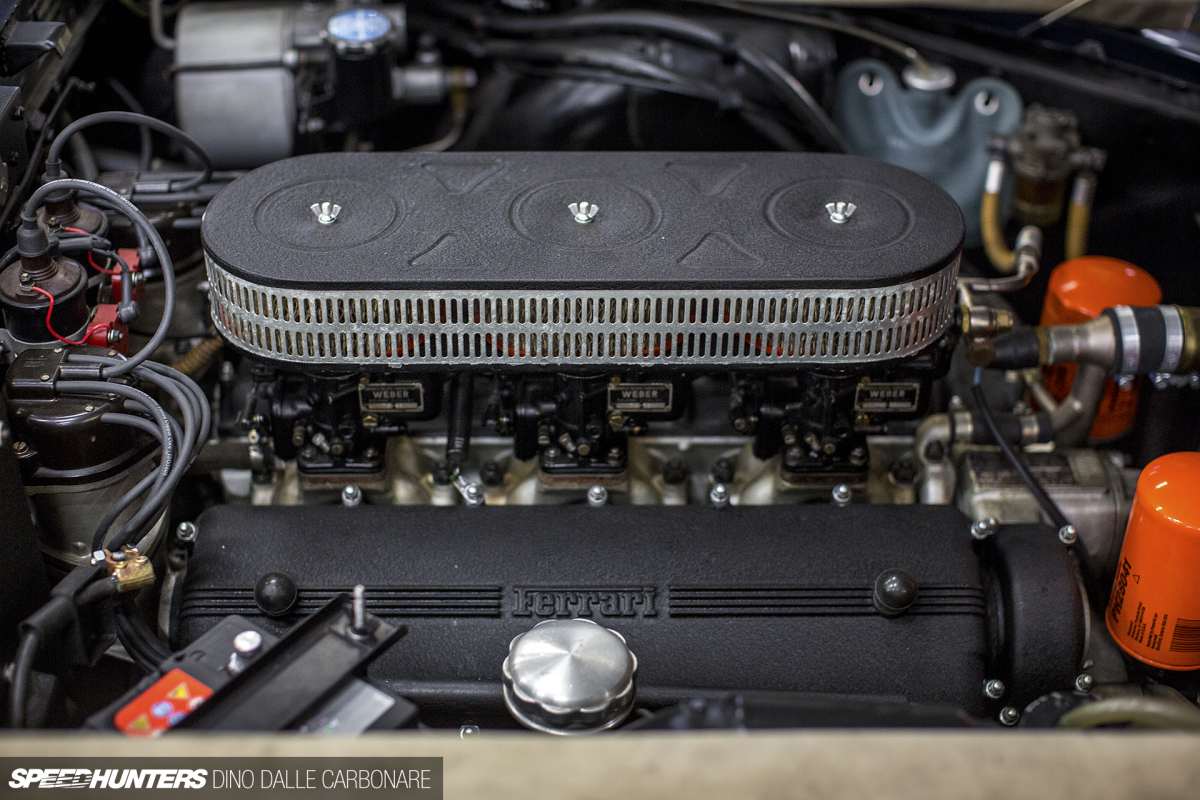 From there you'll crank into life the 3.0L V12 that powers it. The engine may only have 240hp, but the music it makes will ensure you forget that a modern day turbo hatchback has way more power and pace.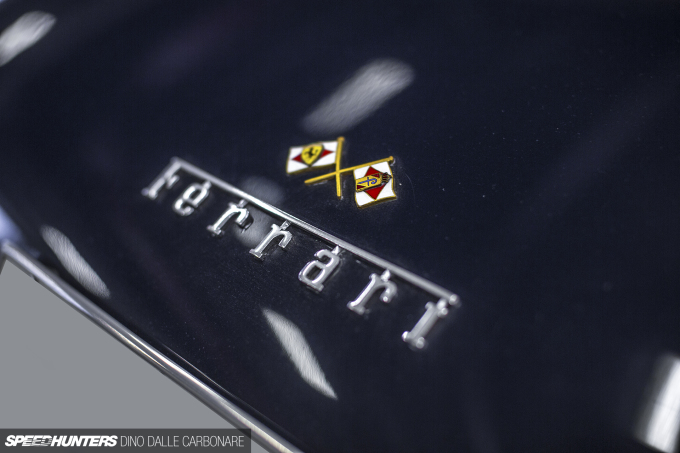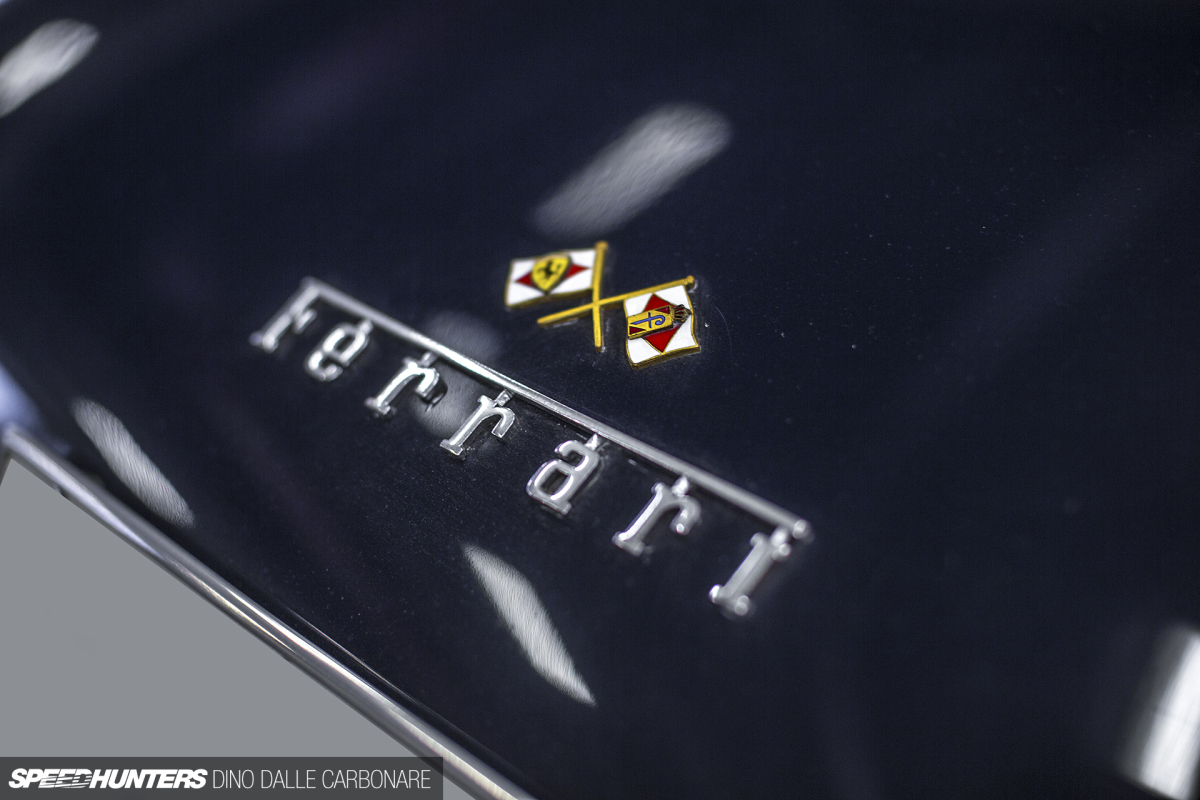 Power, as they say, isn't always everything.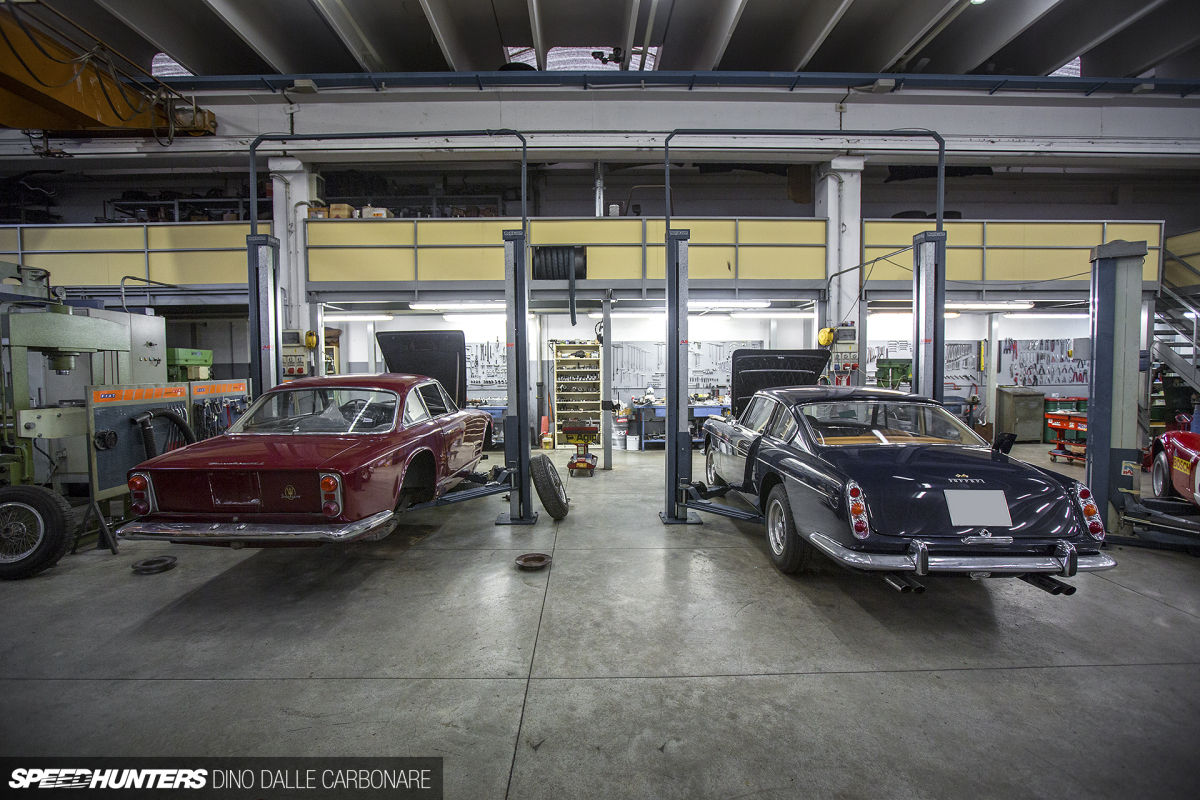 The burgundy Maserati on the left is the car from which the straight-six we saw on the dyno came out of.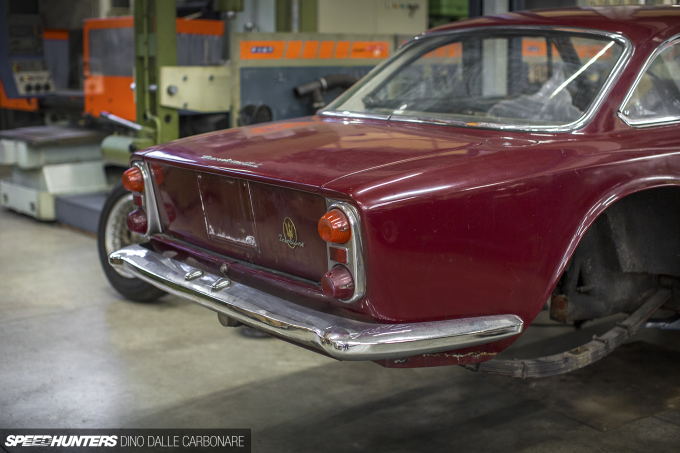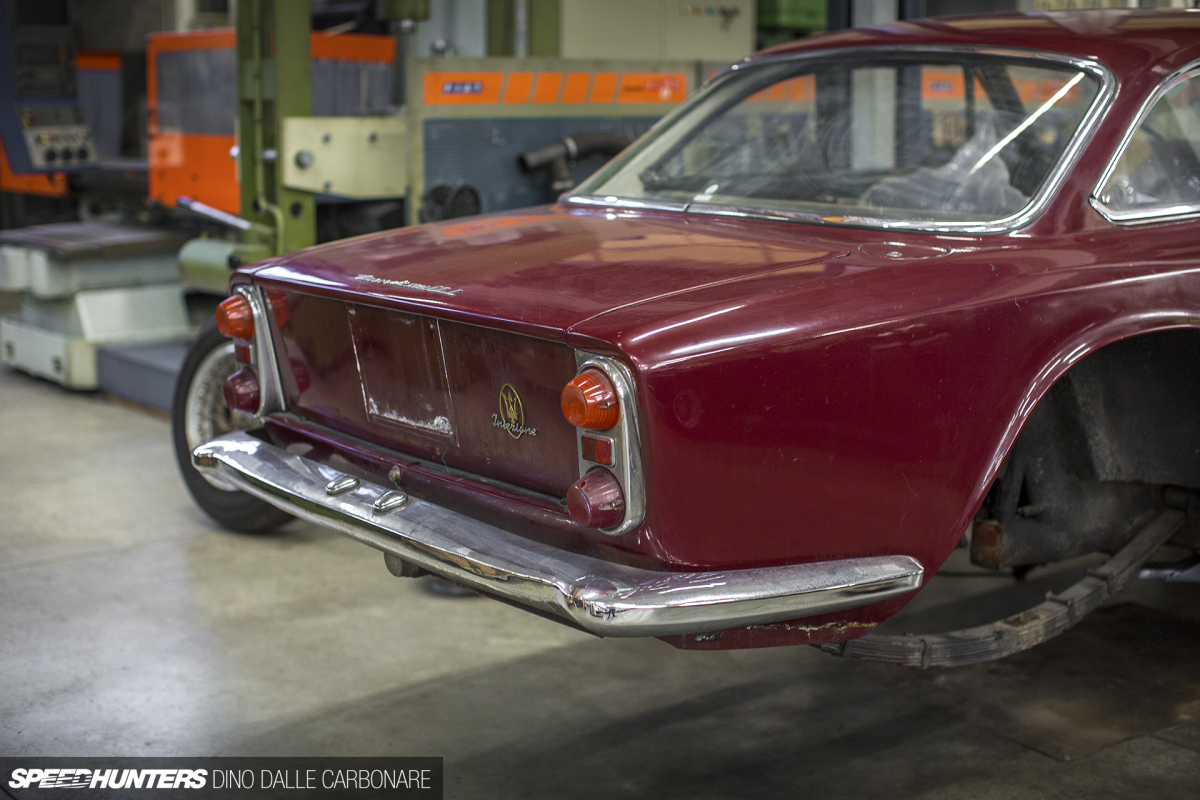 The car belongs to the owner of four other cars that were at Omega that day, and it's been sitting for a very long period, patiently awaiting its time to go under the knife for a full restoration.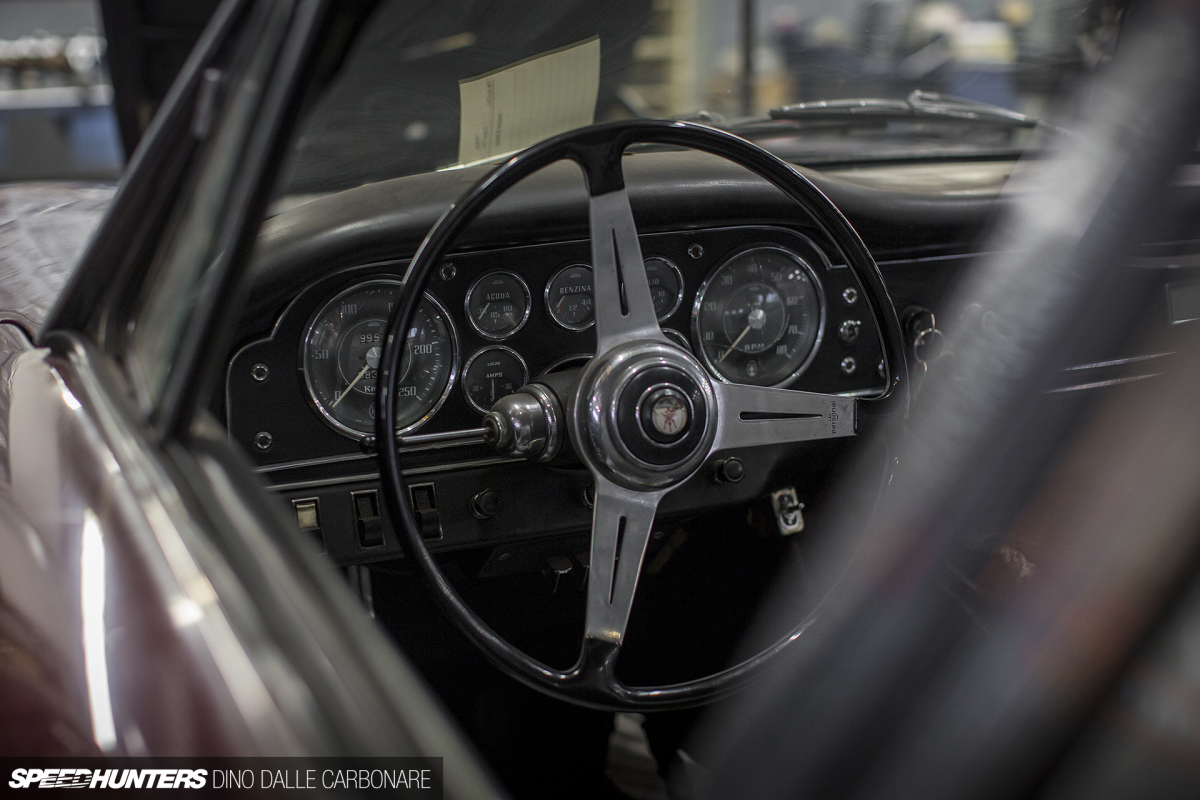 The good thing is that the interior is in very nice condition compared to the exterior and the mechanicals of the car, so it's not going to be such a monumental job to get it to look and feel right.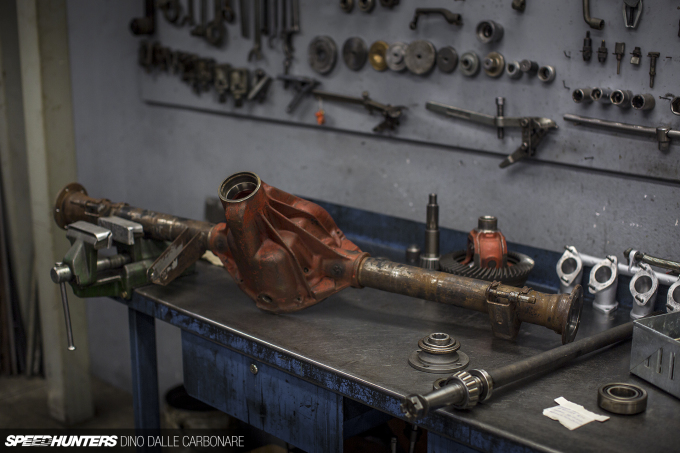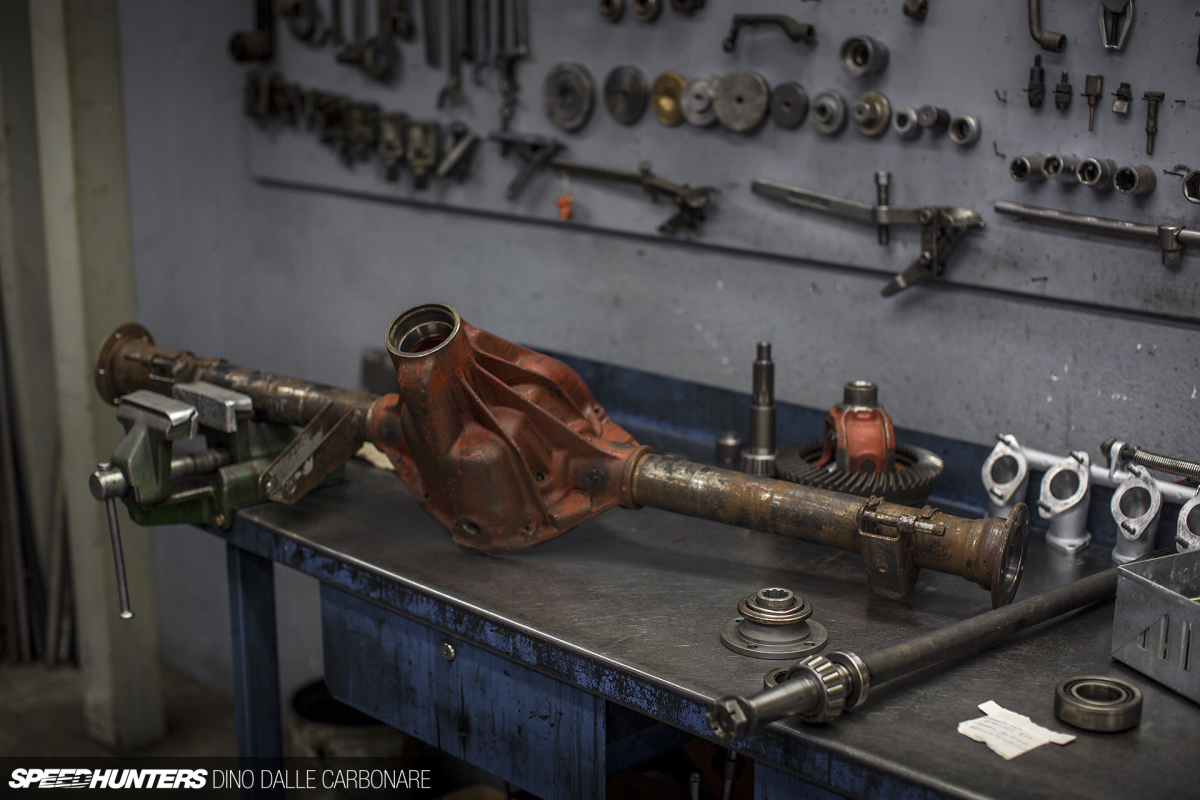 Omega has already completed the engine and is currently working on the driveline, having dropped out the rear axle, gearbox and pretty much everything else before the car is shipped off to a body restorer that I will be visiting on my next trip to Italy.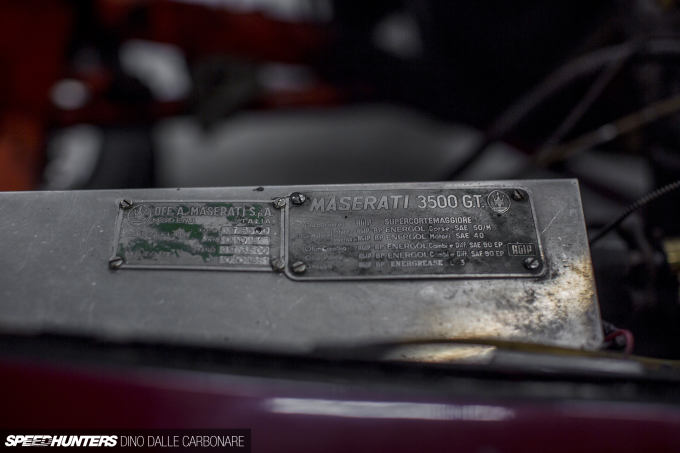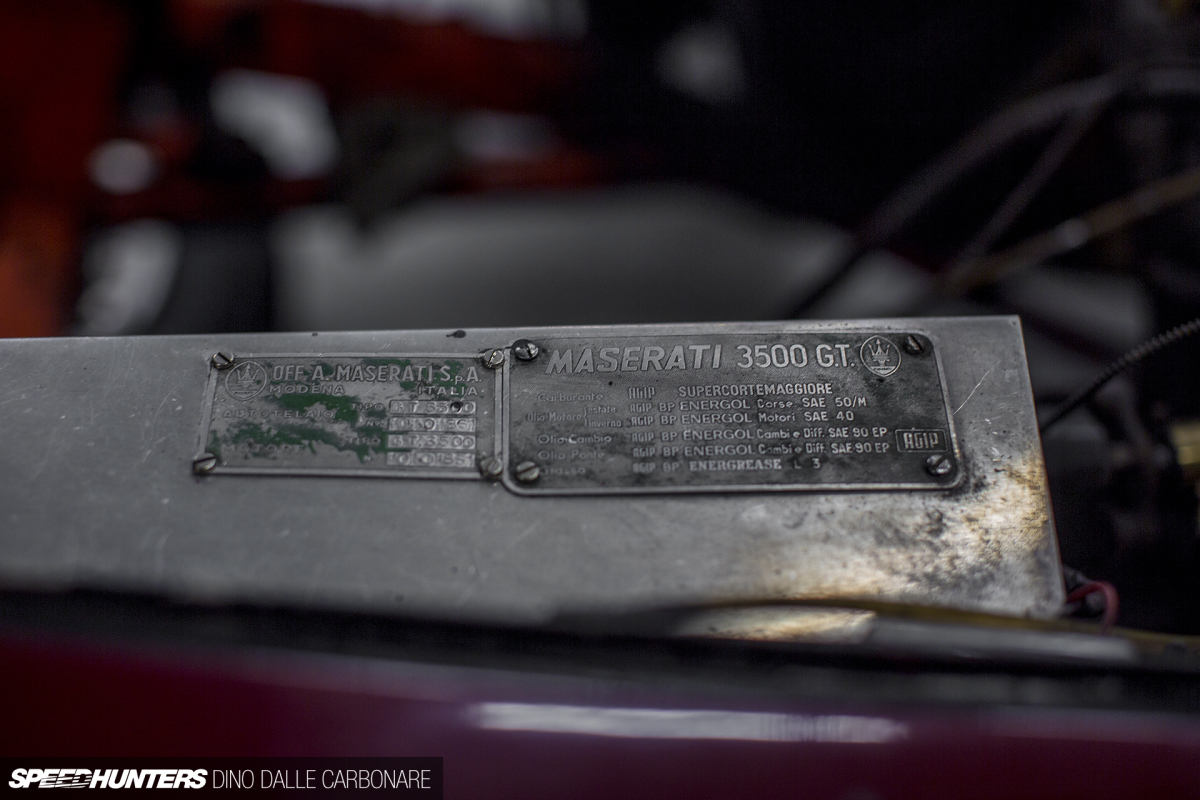 It's as much of a special place as Omega; the place where Ferrari actually prototypes its most exotic of models, and just down the road from a little shop called Michelotto.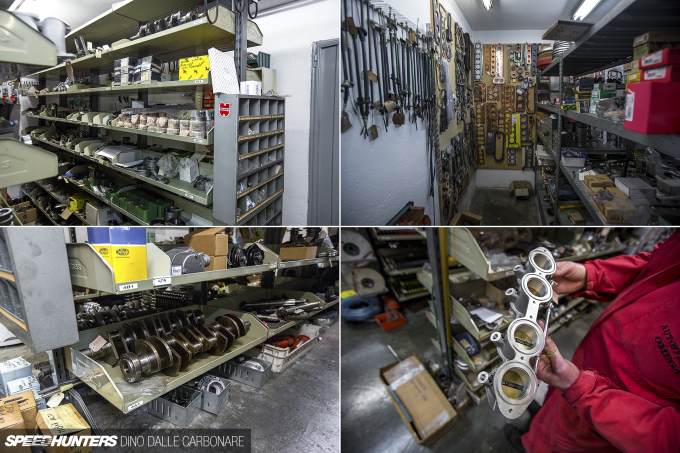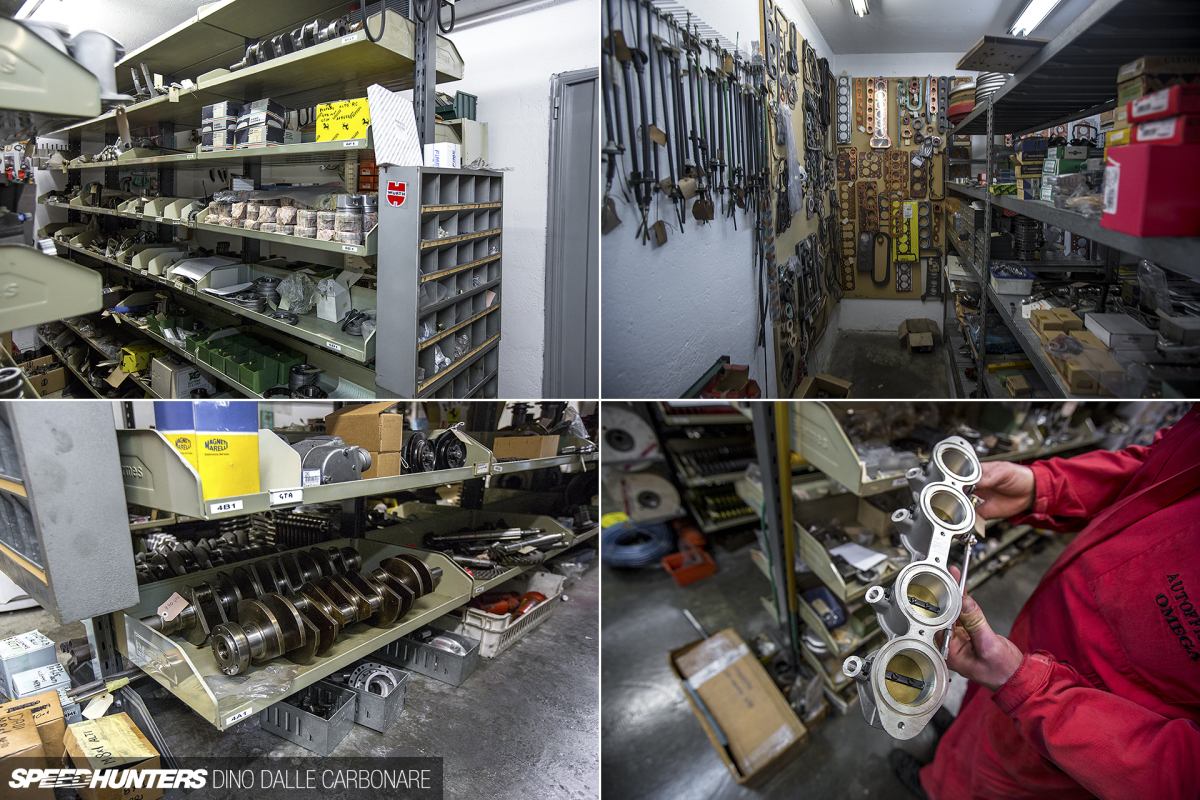 The final port of call was the vast warehouse. This in itself is a treasure chest full of spare components from some of the rarest and most sought-after engines in the world, and given the amount of work Omega sees at any one time, it's a good thing that they keep so much stuff in-house. And as I mentioned earlier, what they can't find, they simply make.
It's thanks to places like this that gems of the past will be shared and enjoyed for many more generations to come. Corrado and Guido truly are artisans and masters of their craft.
Okay, now you may return to hitting the like button on your social feeds…
Dino Dalle Carbonare
Instagram: speedhunters_dino
dino@speedhunters.com