A Winter Drift Vacation
When I was a kid, I remember that I used to be absolutely petrified of my peers teasing me for not knowing something, or not being very good at something. I was pretty shy back then, but it wasn't long before I grew old enough and wise enough to realise that there's no shame in wanting to learn something new. Halfway through last year however, something strange happened. Speedhunters' editor Peter and myself acquired a project car in Japan, and we committed ourselves to three months of drifting in the Land of the Rising Sun. It was cool, but there was just one problem: I'd never drifted a car before…
If I said that I wasn't nervous or anxious, that would be a lie. I have a natural tendency to overthink things, so thoughts like 'What if I can't do it?' and 'What if people laugh at me?' crossed my mind.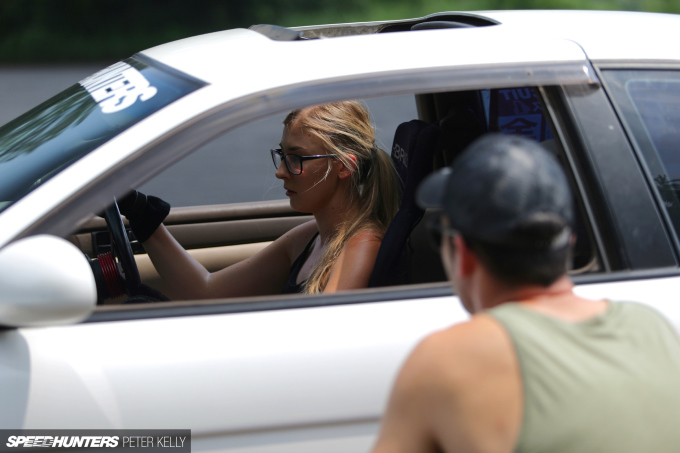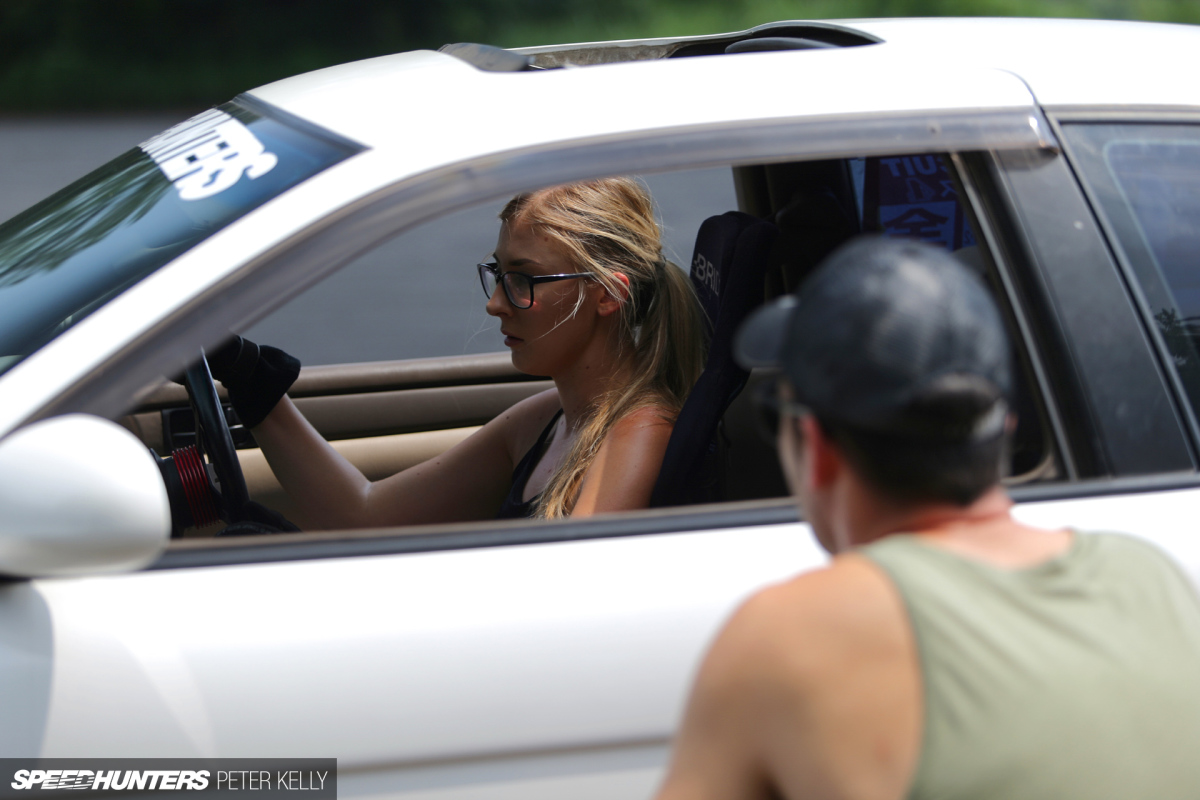 If you've been following Peter's Project X updates here on Speedhunters, you would've read about how we ended up having some unfortunate car trouble, which resulted in a lot less driving than we had hoped for. When the time came for us to leave Japan, I'd only driven our JZZ30 Soarer at two open skid pan days, starting with doing donuts around a cone course at Minami Chiba Circuit, and then onto some figure eights at 'KuruKuru Land' up at Ebisu Circuit in Fukushima.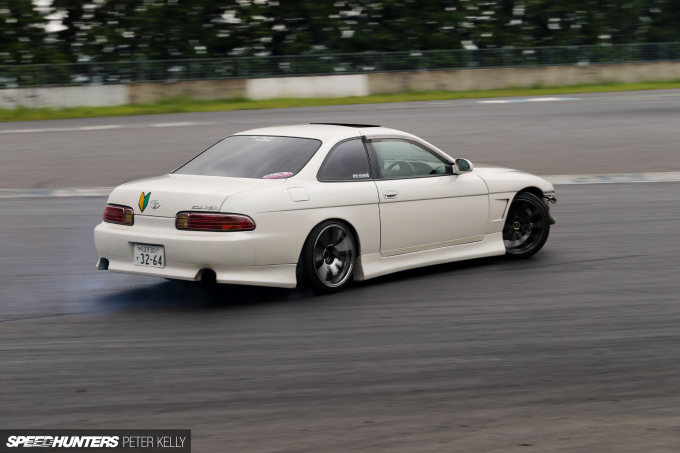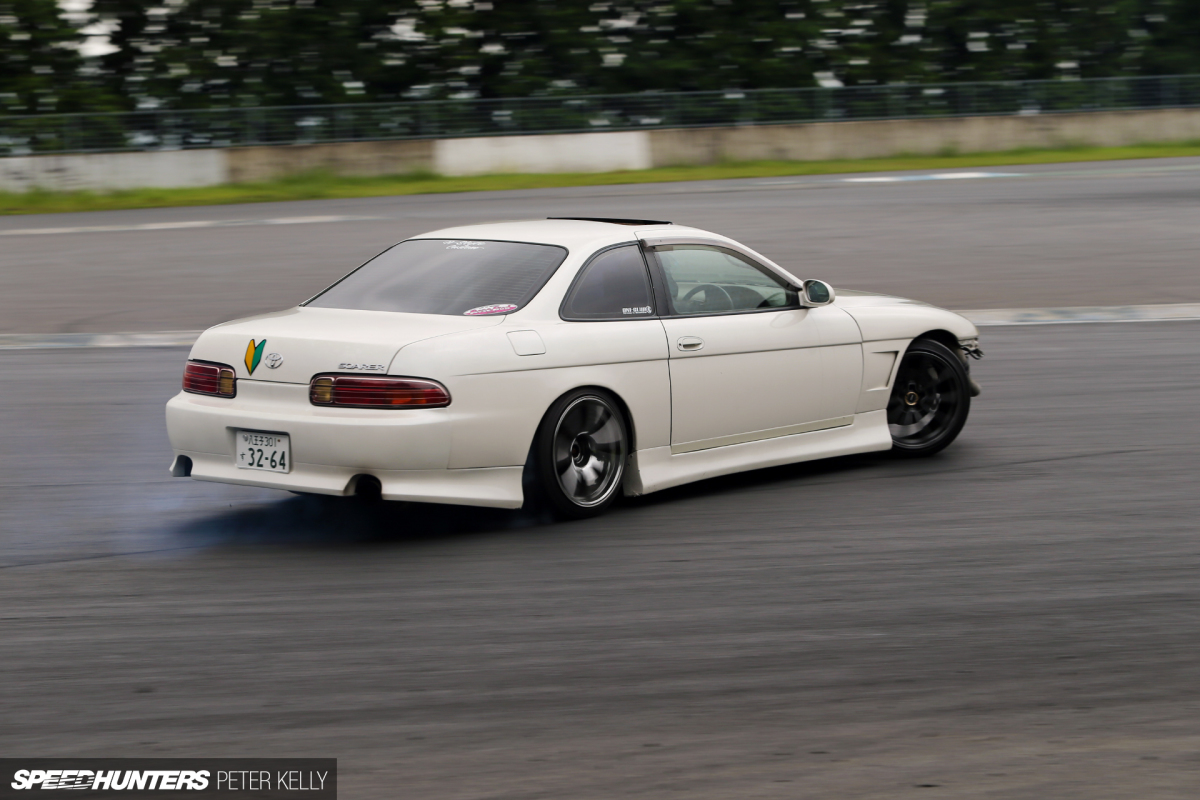 I'd also managed to make it along to a casual grassroots day at Fuji Drift Park, but the Soarer's handbrake was almost completely useless, and I found myself struggling to successfully switch between corners. All of these experiences were awesome, but I still left Japan feeling slightly disheartened.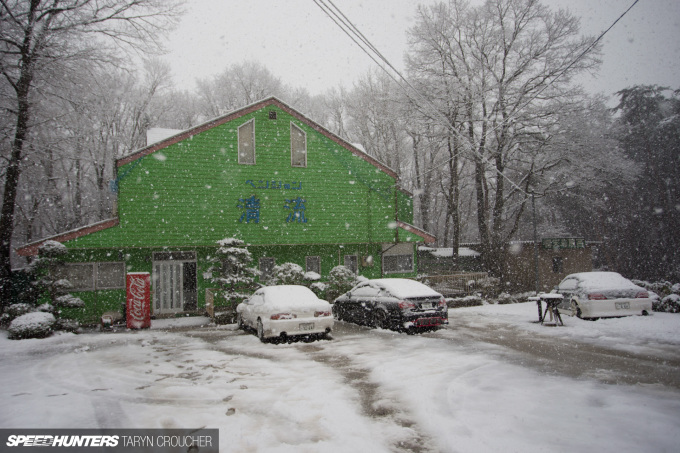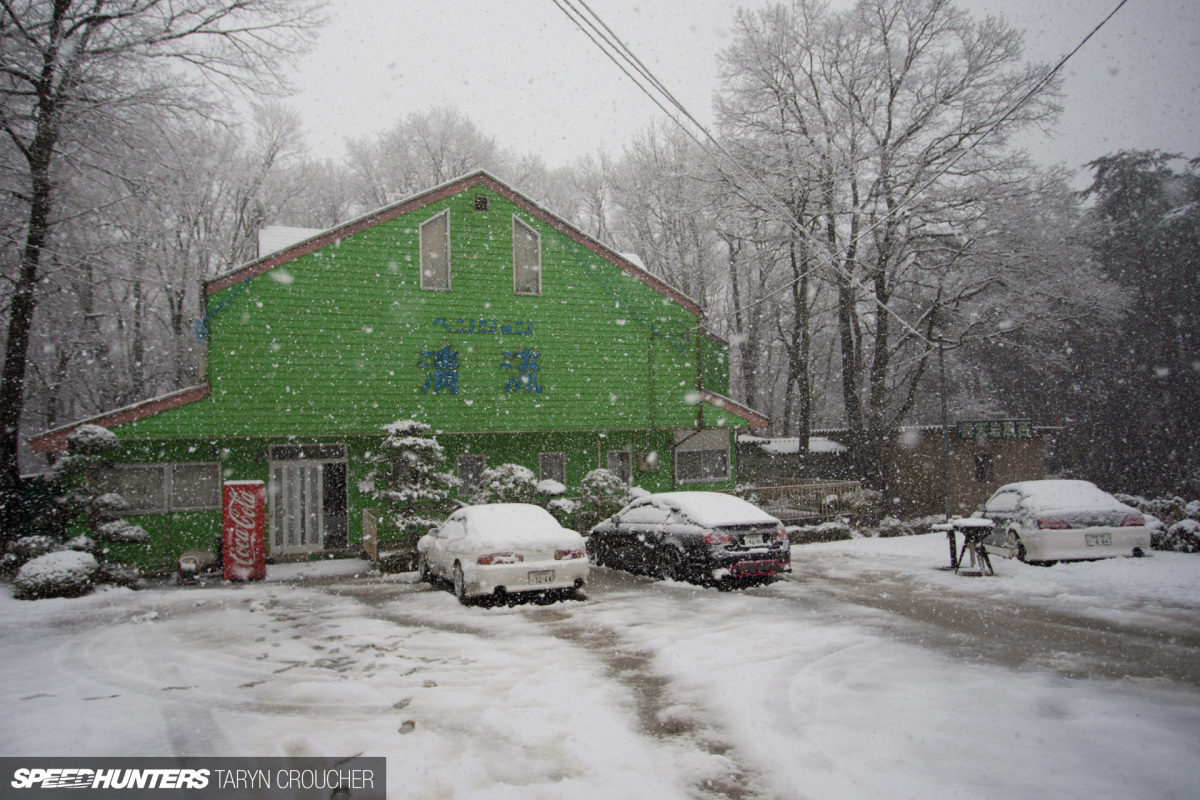 Peter felt the same way, so we agreed to swing by Japan again at the end of November on our way from Sweden back to New Zealand. But this time we wouldn't mess around. We'd be staying right next to Ebisu Circuit for three weeks, thanks to Emily and Andy Gray from Power Vehicles who invited us stay with them at the 'Drifter's Lodge', which they usually only open up to guests during Drift Matsuri events. This time, the Soarer was in tip-top shape and I was ready to conquer as many of Ebisu's seven tracks as I could.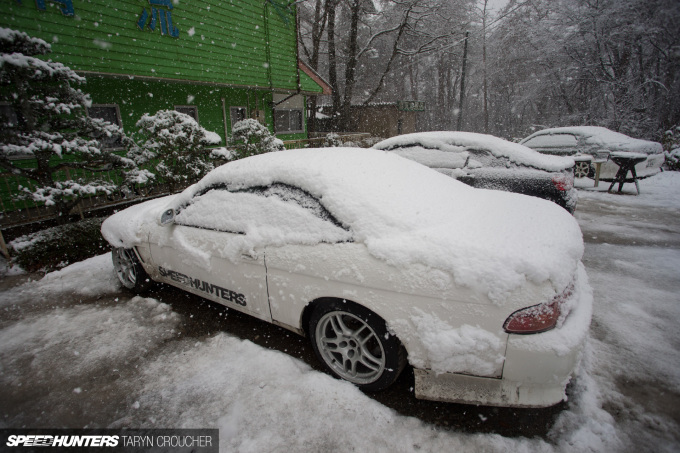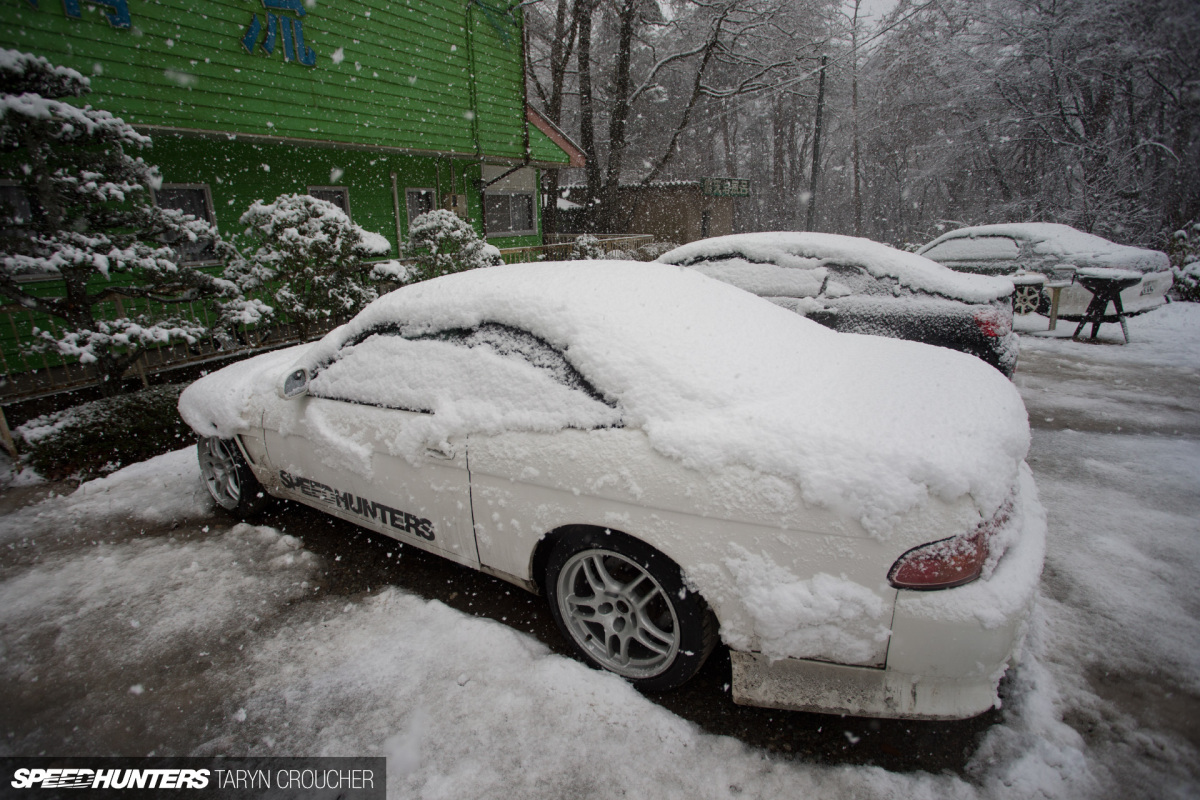 As you can see though, the weather had other ideas…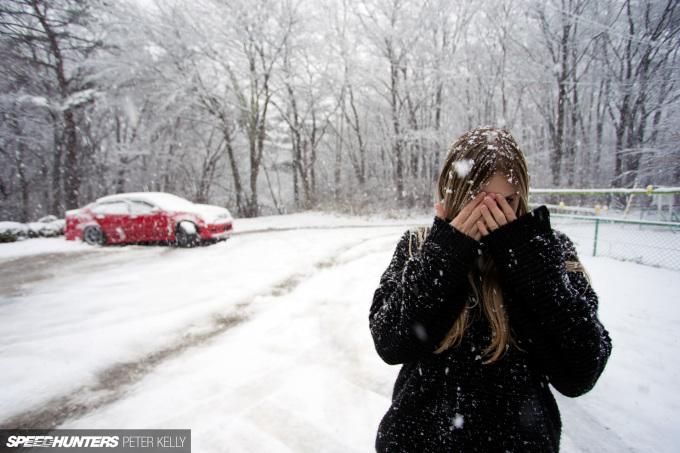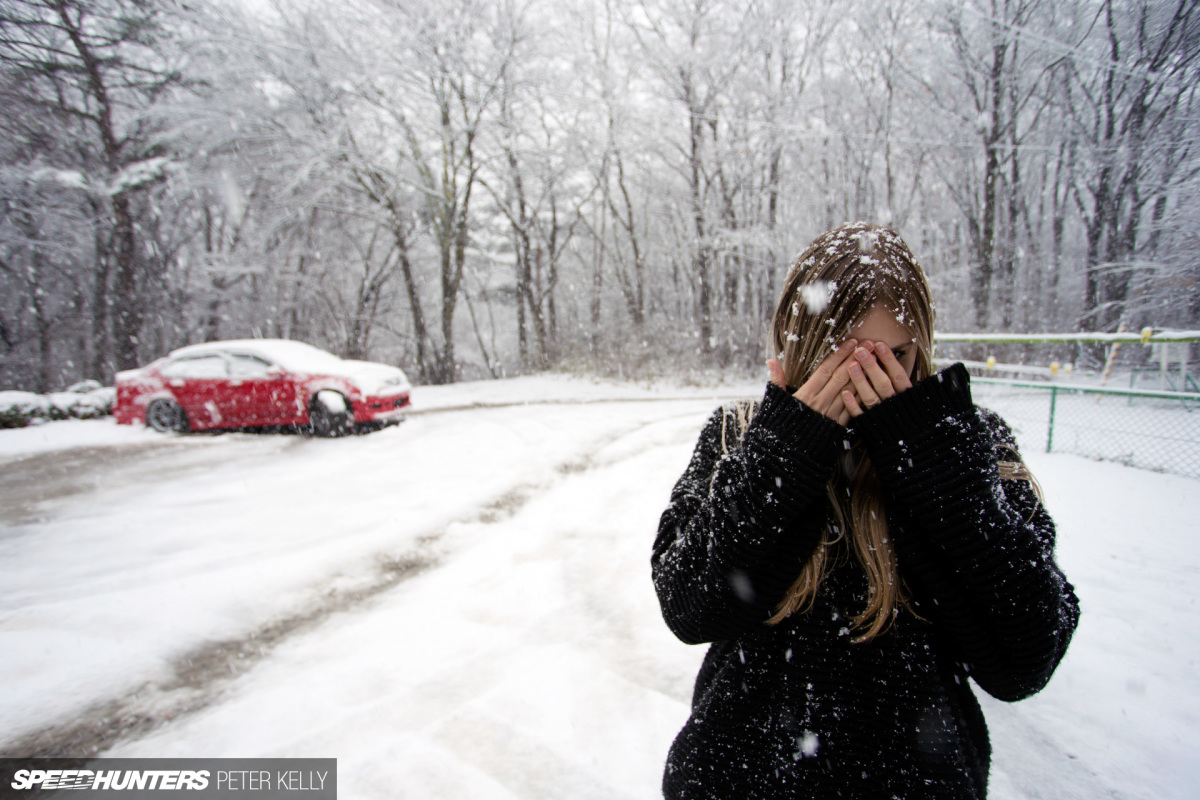 We knew there might be a risk of snow during this time of year, but I honestly didn't think it was going to snow snow! It was a strange contrast to our last Ebisu visit, where wearing anything other than a singlet and shorts was simply out of the question, and even then we'd be drenched in sweat by midday due to the intense humidity.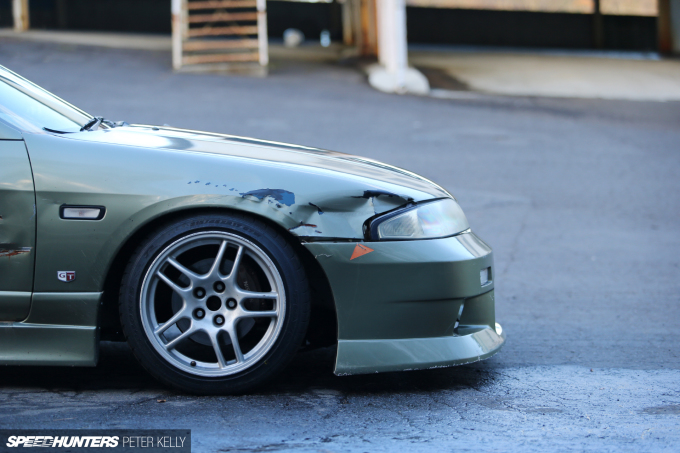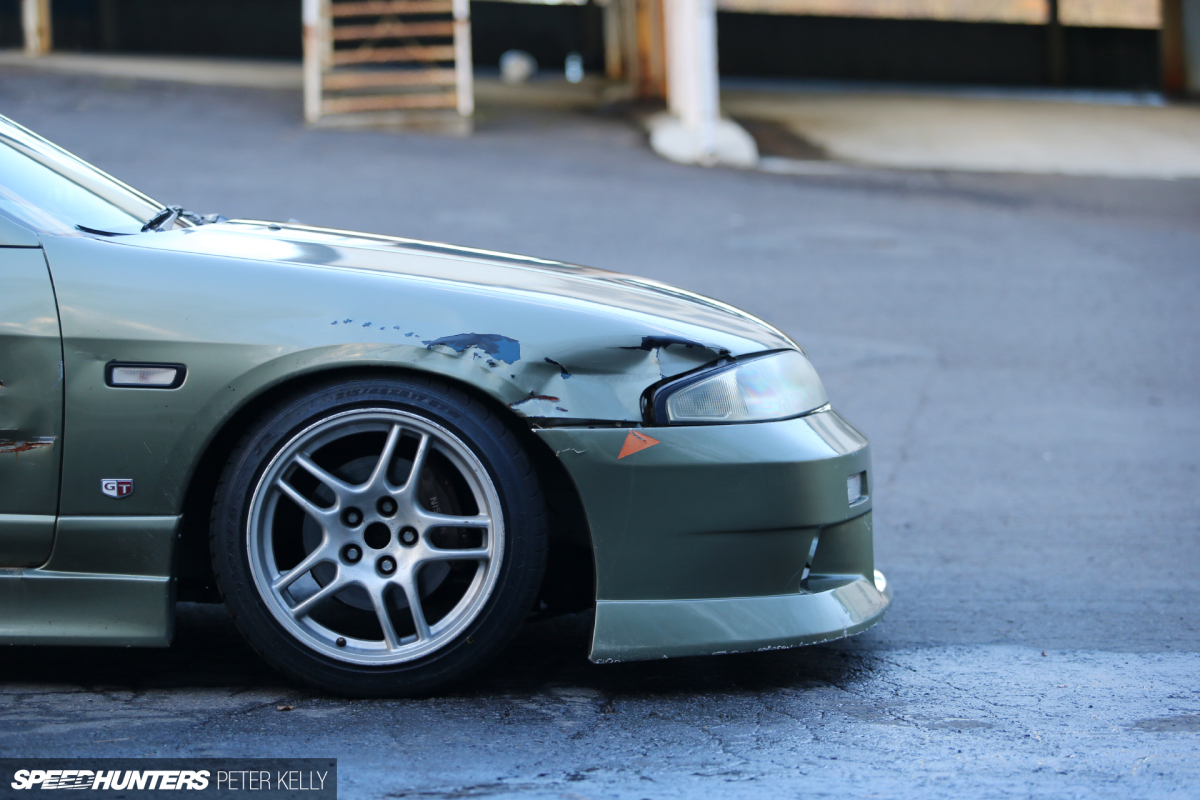 Life really loves throwing us curveballs, so just when we managed to get a break in between the snow and get back to the track, the Soarer's power steering failed and we were left without a driftable car. Thankfully, Power Vehicles came to the rescue and was able to lend us a suitable practice car in the shape of this R33 Skyline GTS-25t.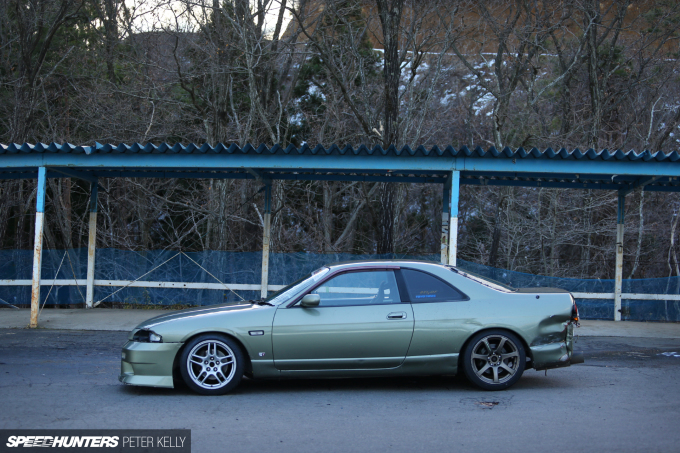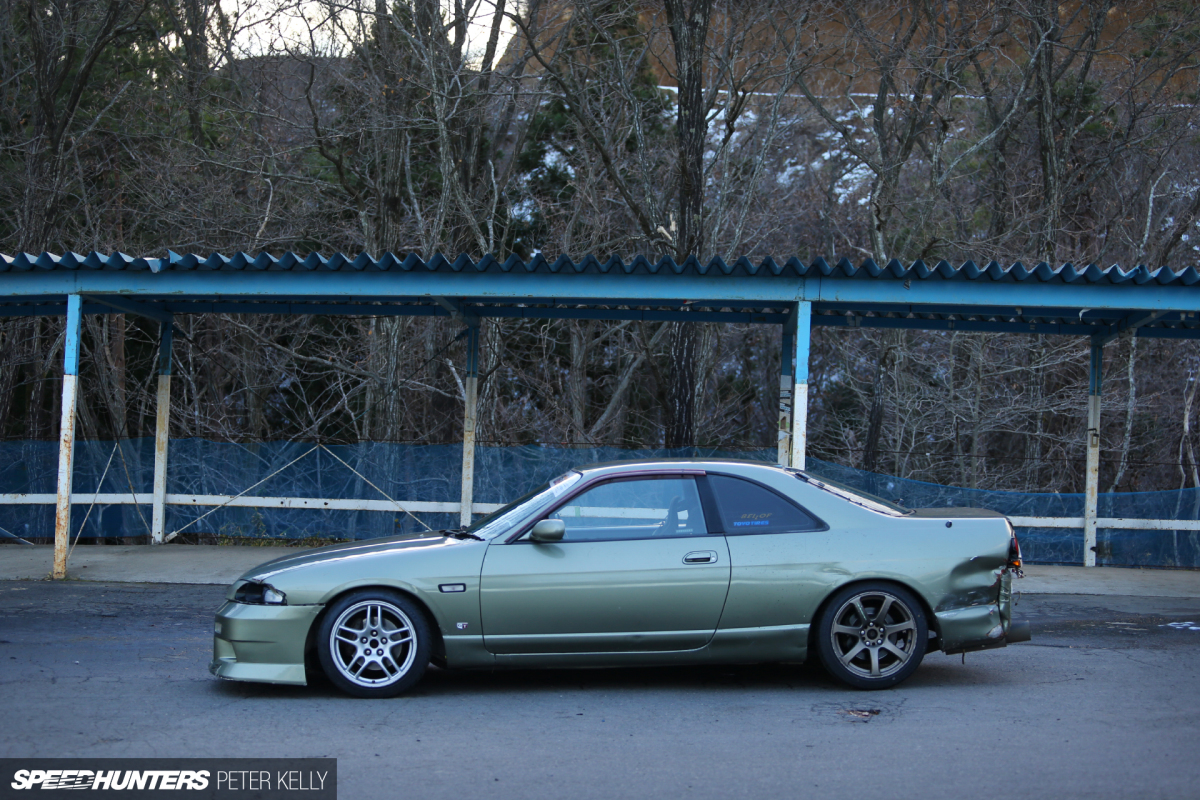 Sporting a Millenium Jade green paint job and some unruly battles scars, the R33 was all ours, and it was already set-up for going sideways. I should add, in normal circumstances you can't rent a car from Andy and Emily, but for us they very generously made an exception. The only rules? Supply your own tyres and your own fuel, and most importantly, if you bone it, you own it.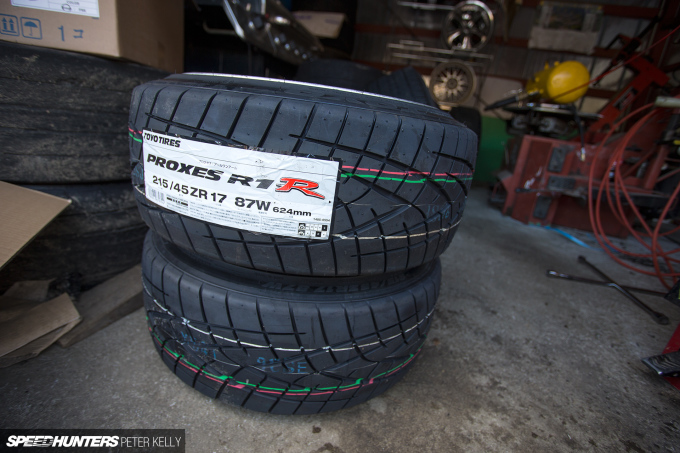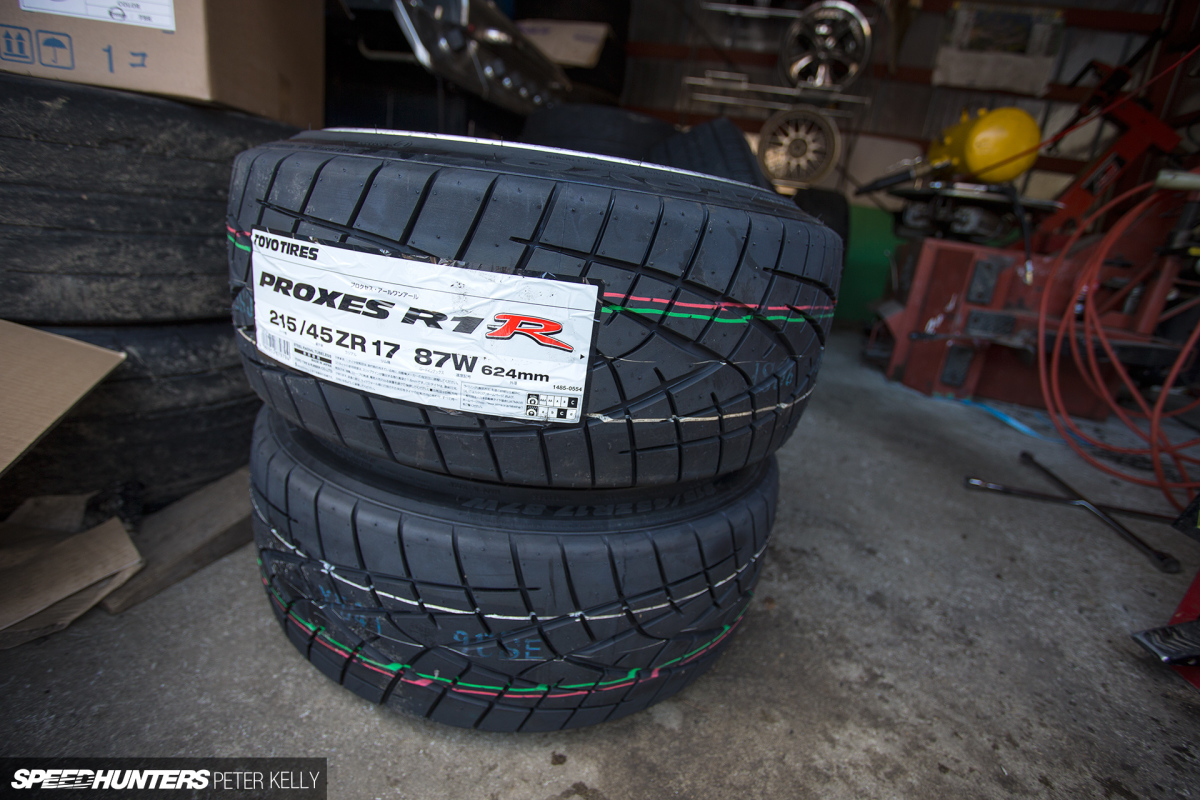 A few days earlier, Toyo Tires Japan had sent us out a set of grunty Proxes R1Rs to test, which would work out perfectly for the front of the R33 once shod onto a pair of our spare R33 GT-R 17x9s.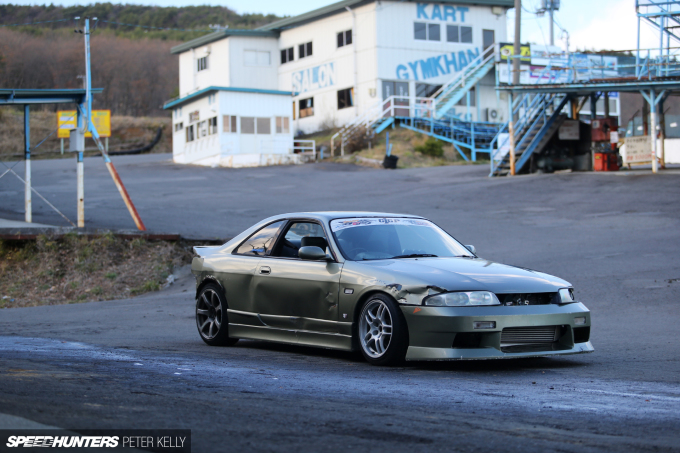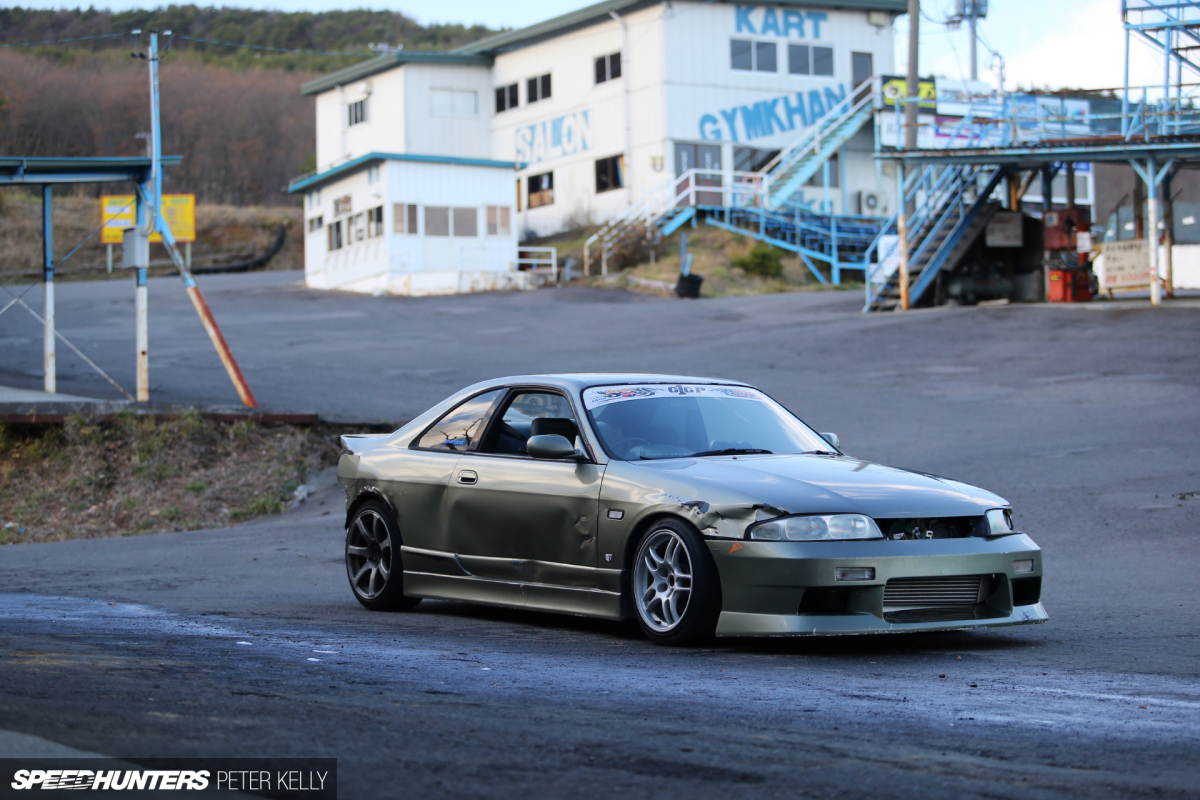 As you can see, that other photo was of the Skyline's good side! The driver's side of the car hadn't been so lucky; a harsh reminder of how Ebisu's many walls will chew you up and spit you out if you get too cocky behind the wheel.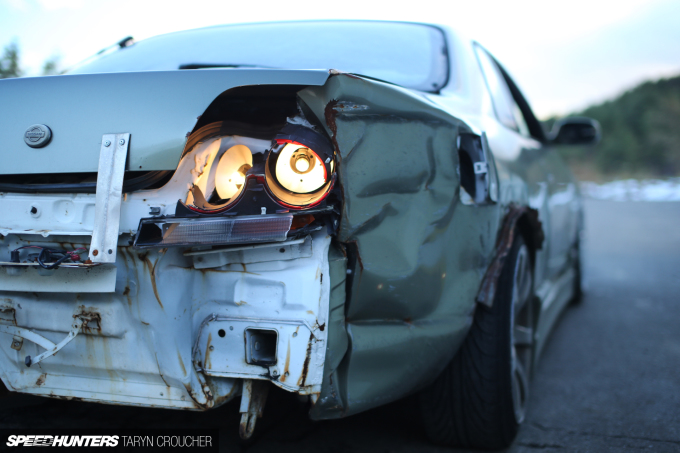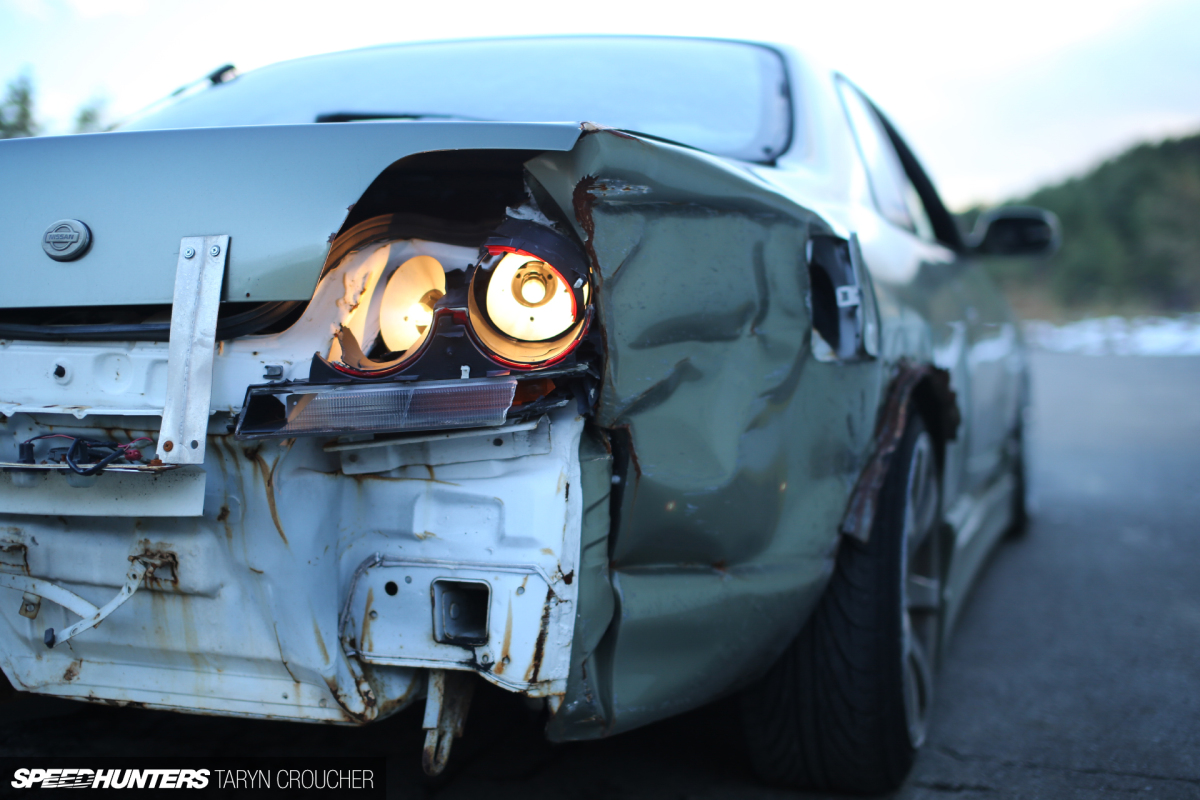 As Andy handed over the keys, he sighed and said, "I remember when this car didn't have a single scratch on it." I gulped and mentally crossed my fingers in the hope that I wouldn't be responsible for adding any fresh dents to the poor R33's already impressive collection.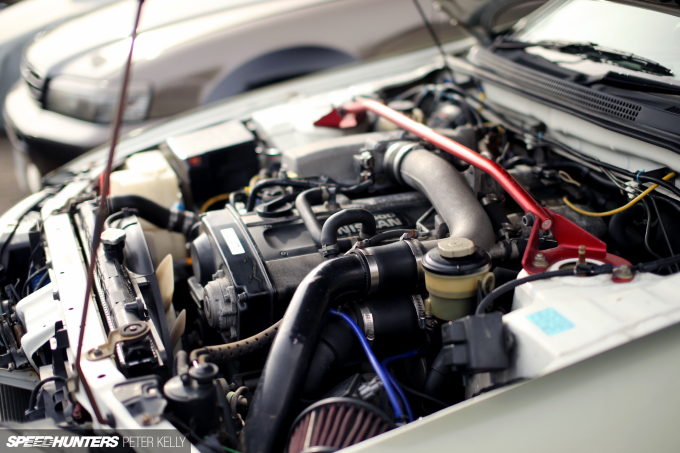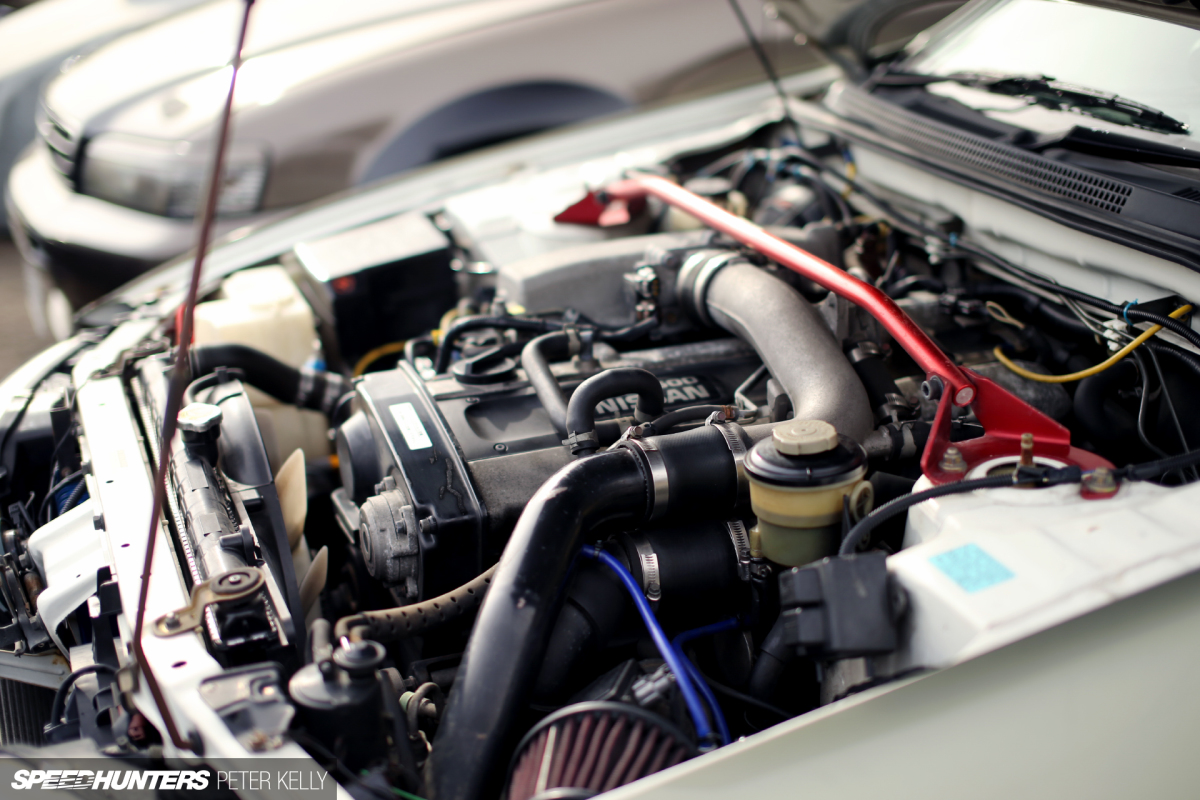 In terms of specs, in all honesty there's not a whole lot to write about. It was a basic, entry-level drift package, and as a beginner this is exactly what you want. The 2500cc straight-six RB25DET runs a stock turbo with a boost controller upping the pressure as it pushes through a front mount intercooler and exits through a rowdy 3.5-inch exhaust with no mufflers in sight. In Japan, this is what you'd call a basic 'boost up' car.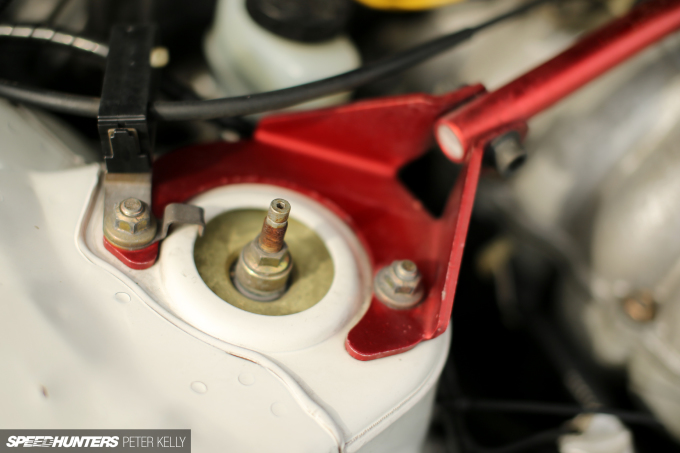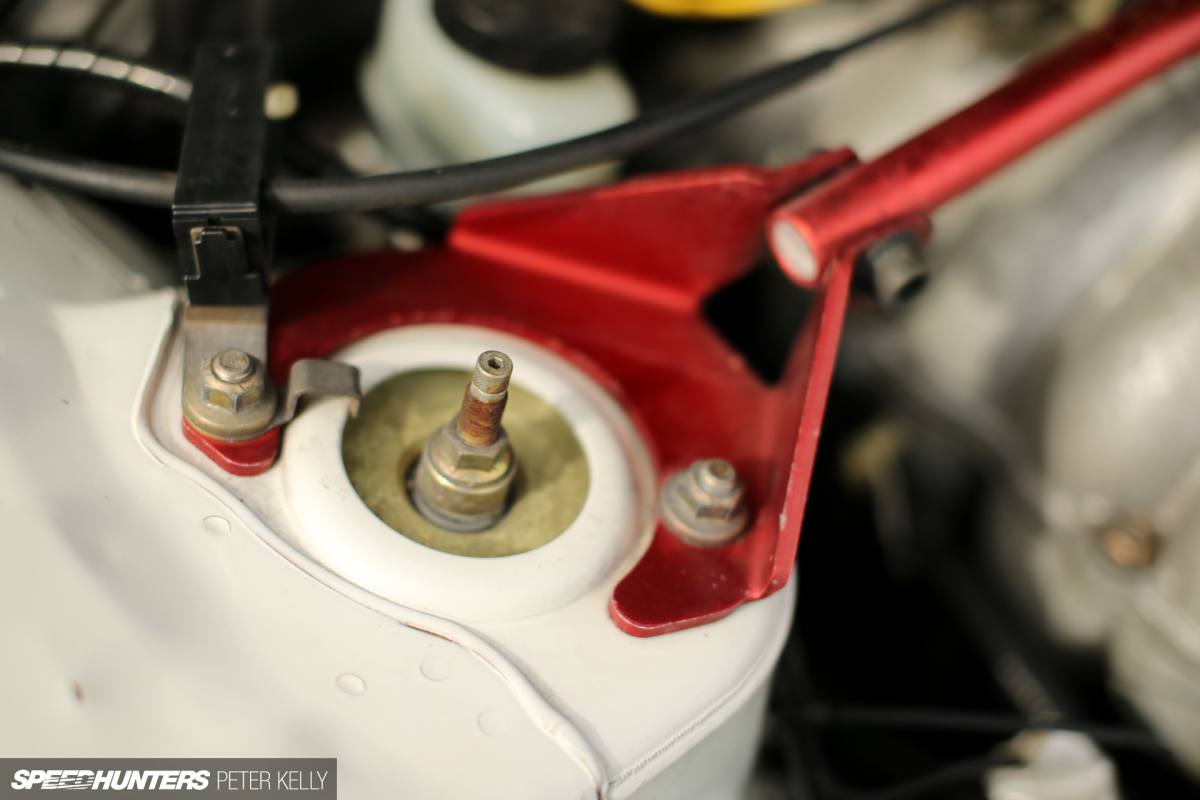 The body had been stiffened up with front and rear chassis bracing, the steering had a decent amount of lock thanks to rack spacers (but no knuckles), and it had some sort of LSD. It sounds too simple, doesn't it? But it's really all you need, especially on the tight circuits of Ebisu.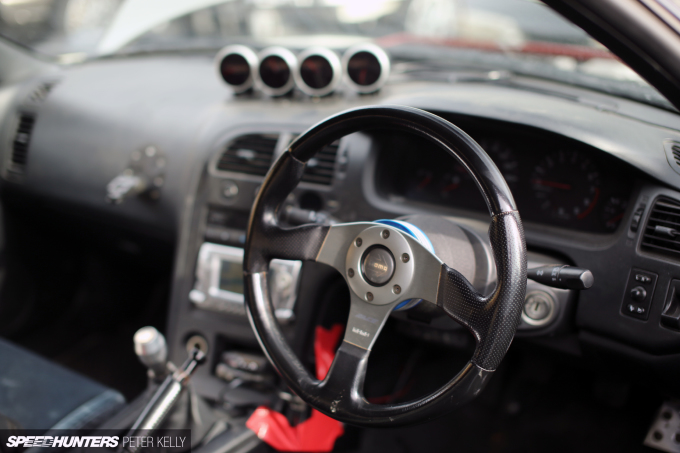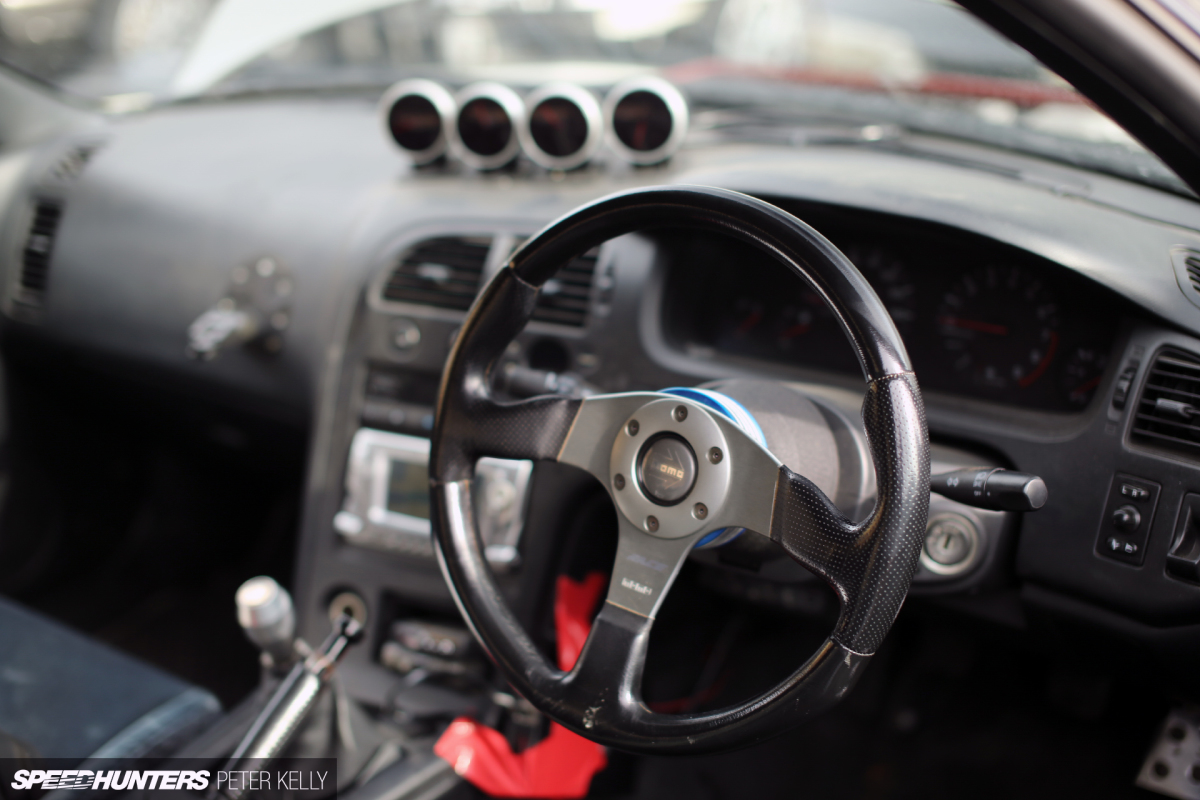 When I jumped into the driver's bucket seat for the first time, I instantly noticed how different the seating position was compared to what I was used to in the Soarer. I felt much higher up, and it just felt all wrong. 'Ignore it', I told myself.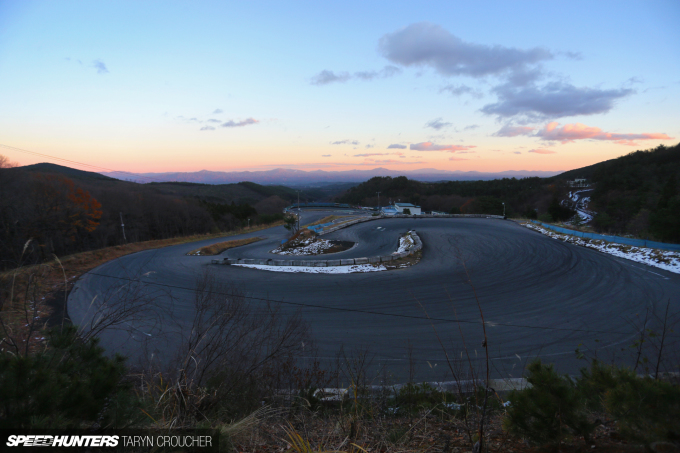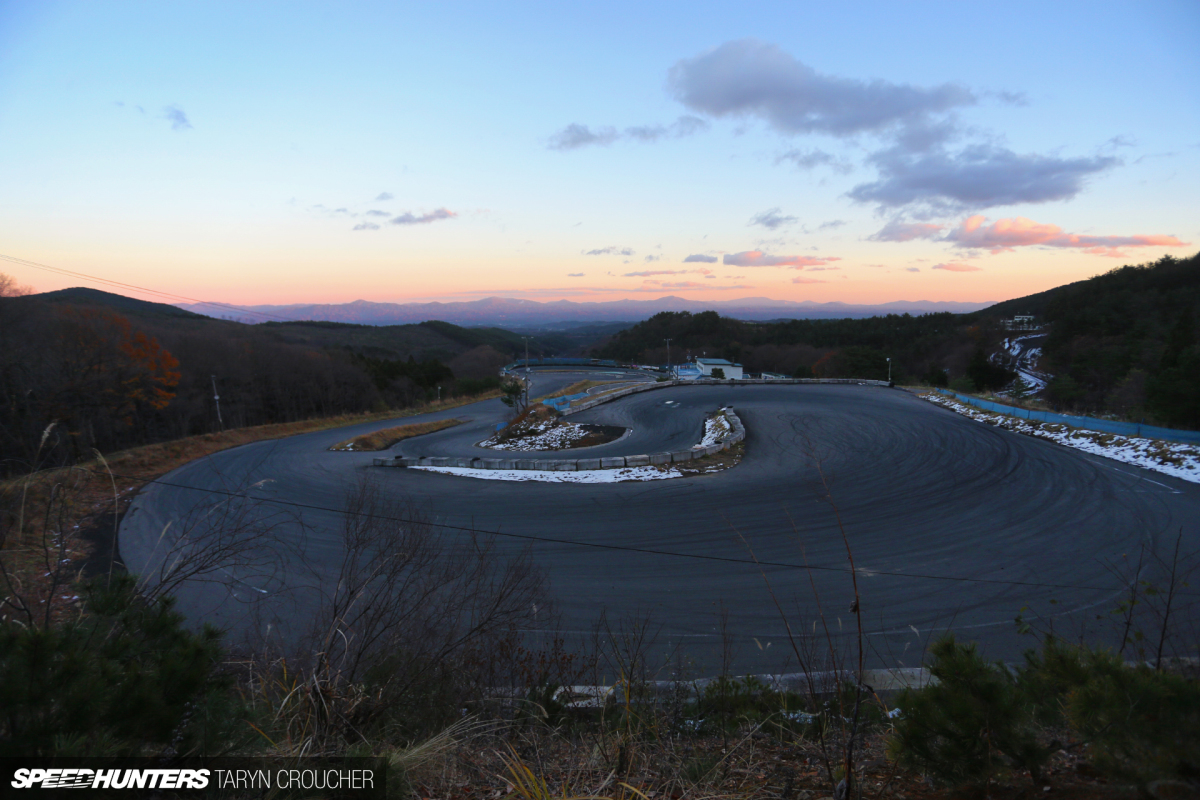 Minami (Japanese for 'South') course might be the track used for competition drifting, but it's also an ideal track for beginner drivers as it's super wide with fairly minimal obstacles you can hit when compared to many of the other circuits up on the hill (including the deceptively-named School Course, aka 'The Car Destroyer), so this would be my starting point. In the photo above, you can also see why we chose to visit Ebisu at this time of year. Sure, it was bone-chillingly cold and I had to wear two pairs of socks at all times, but almost every day we had the whole park to ourselves like this. Sometimes it was literally just me and the track, and not another soul in sight. Where else in the world can you have an experience like that?
Can I Really Do This?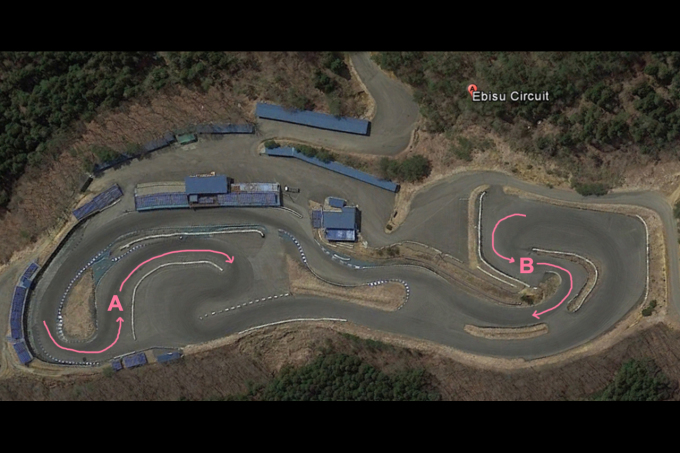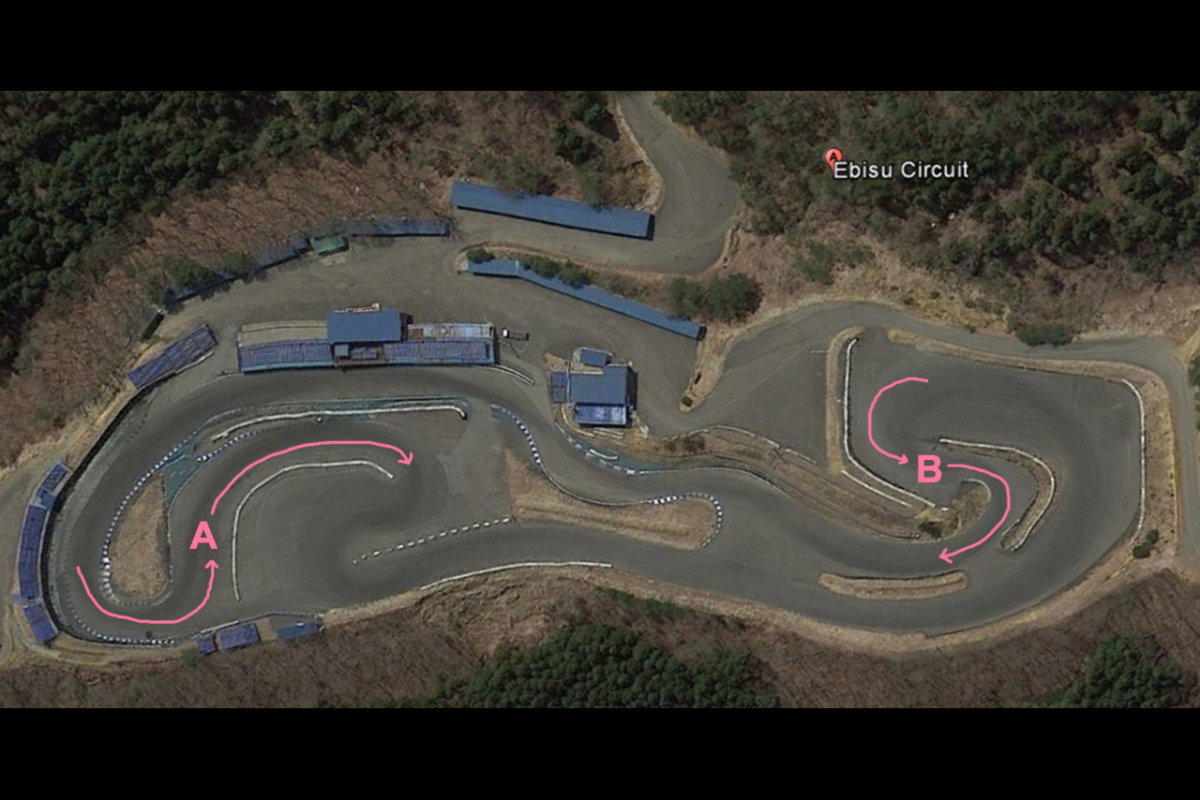 Previous to driving the R33, I'd been out on this circuit a few times in the Soarer, so I already had a bit of a feel for the layout and I'd set myself some goals. I'd be focusing on drifting two S-bend sections of the track in second gear, with the bottom corner (A on the map above) requiring a bit more speed and throttle to get around the double apex corner followed by a switch and long full-throttle right hander; and B requiring a more delicate approach with a downhill transition.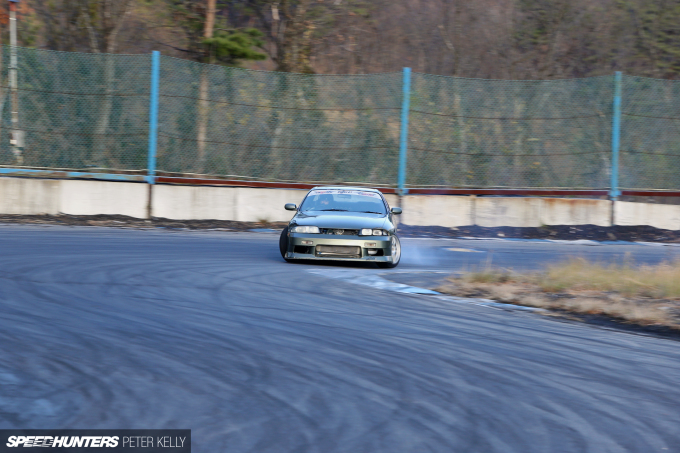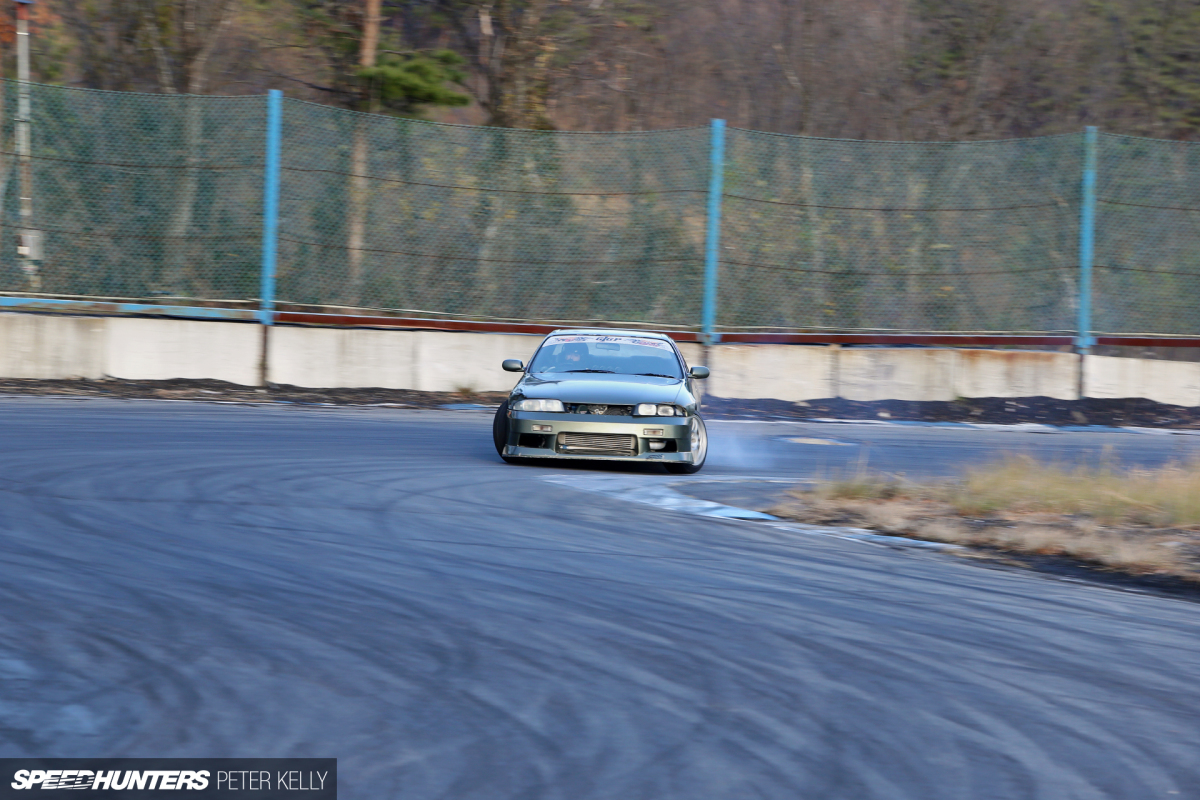 I'd already managed to drift both of these sections in the Soarer, but the R33 felt so strange. Was driving a different car going to be like starting all over again? I took a deep breath and fully committed myself to the task at hand: head to the turn-in point on the outside of the corner at full pace, apply some lock, clutch in and handbrake up, feeling the rear of the car swinging out to the desired angle before the handbrake comes down and the clutch comes out, and then throttle.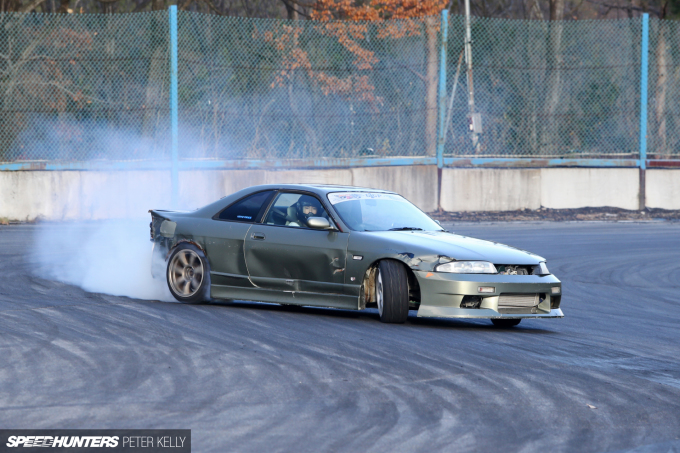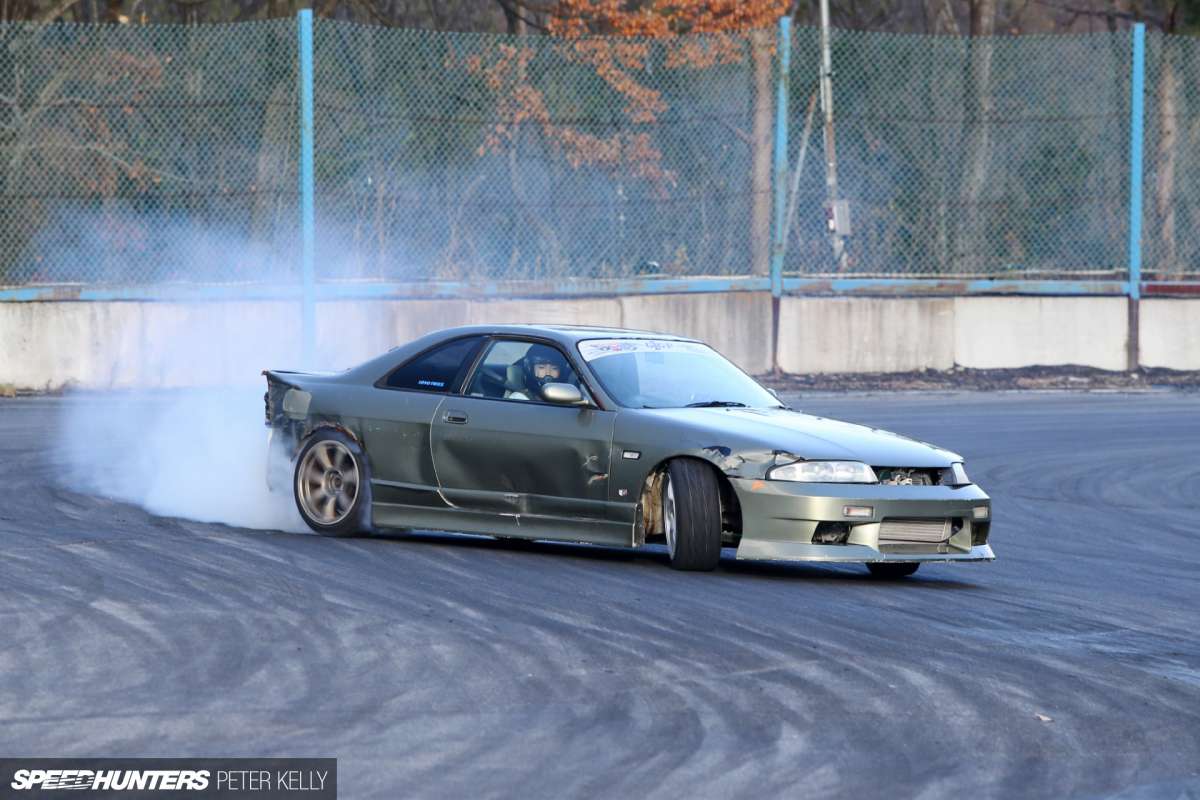 To my utter amazement, my clumsy hands and feet actually made the car do what I wanted it to, and the feeling of sheer joy I felt straight afterwards is still etched in my mind. You can't see it, but there's a massive smile under my helmet.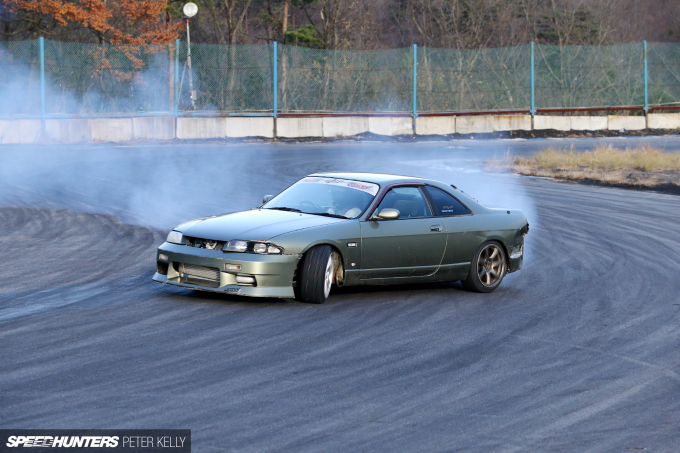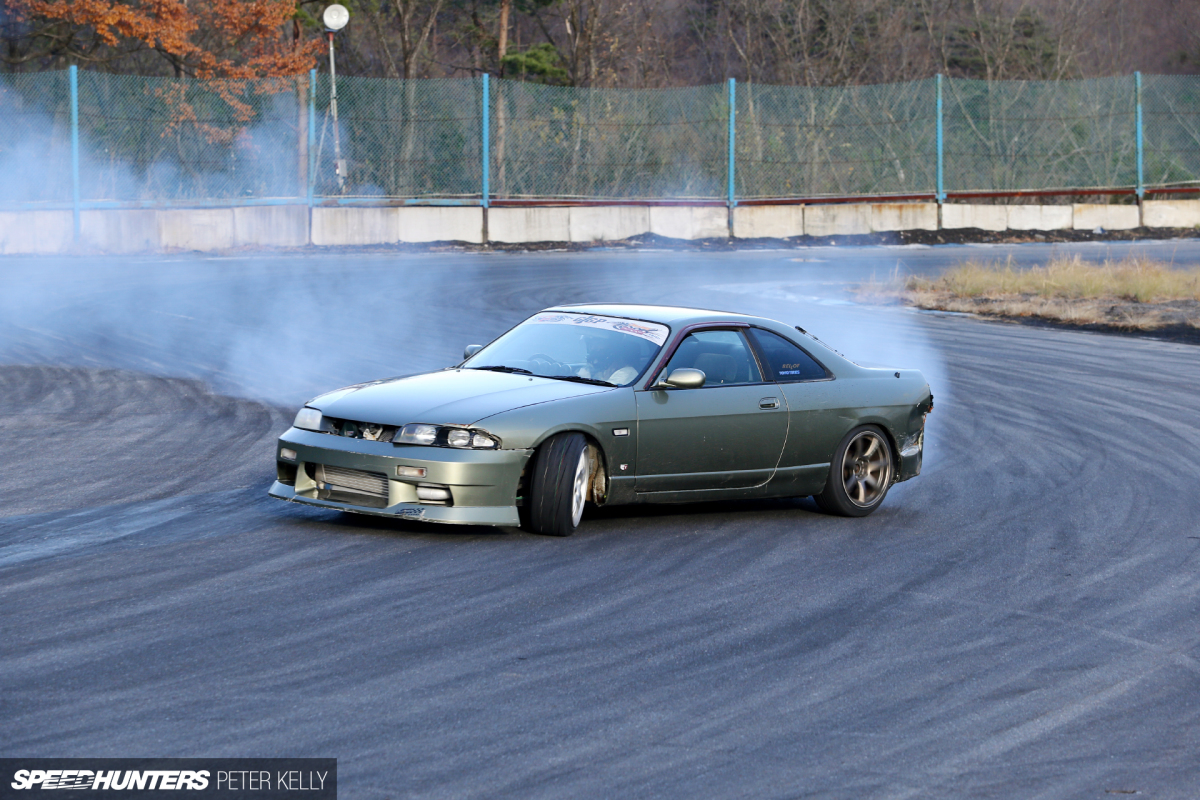 The R33 had less steering lock than what I was used to, but the low down power delivery still made it easy to drive; although it still wasn't quite as smooth as our 1JZ-GTE. But the biggest difference was the weight. With the R33 already having been stripped of some of its interior, it was at least a few hundred kilograms lighter than our lazy, lumbering full-street JZZ30. What an eye-opener… Compared to the Soarer, drifting the Skyline felt like everything was happening in fast-forward!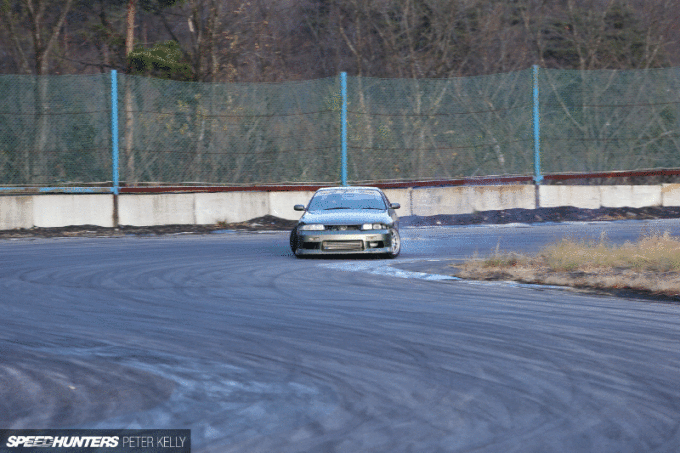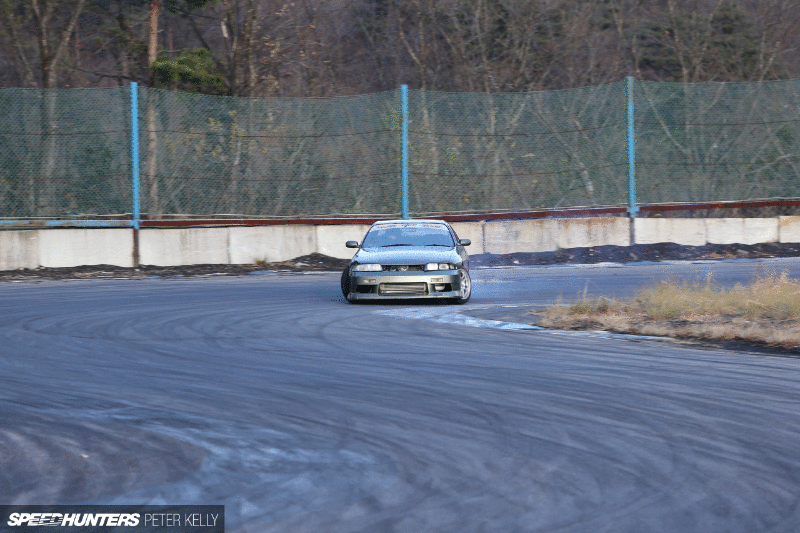 Here's a quick GIF I put together with the whole sequence of photos. Next, it was onto section B…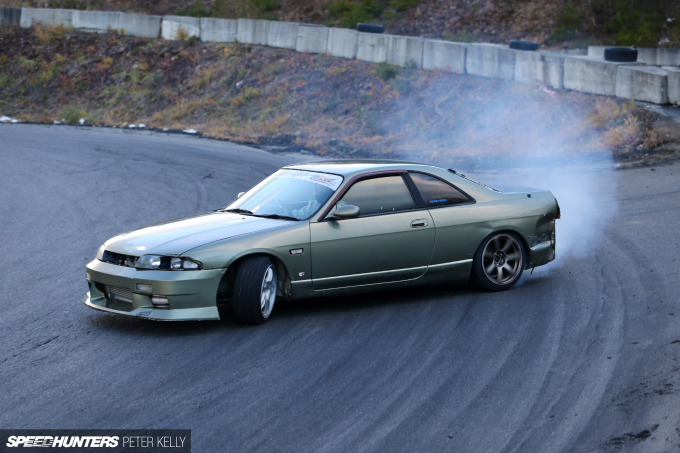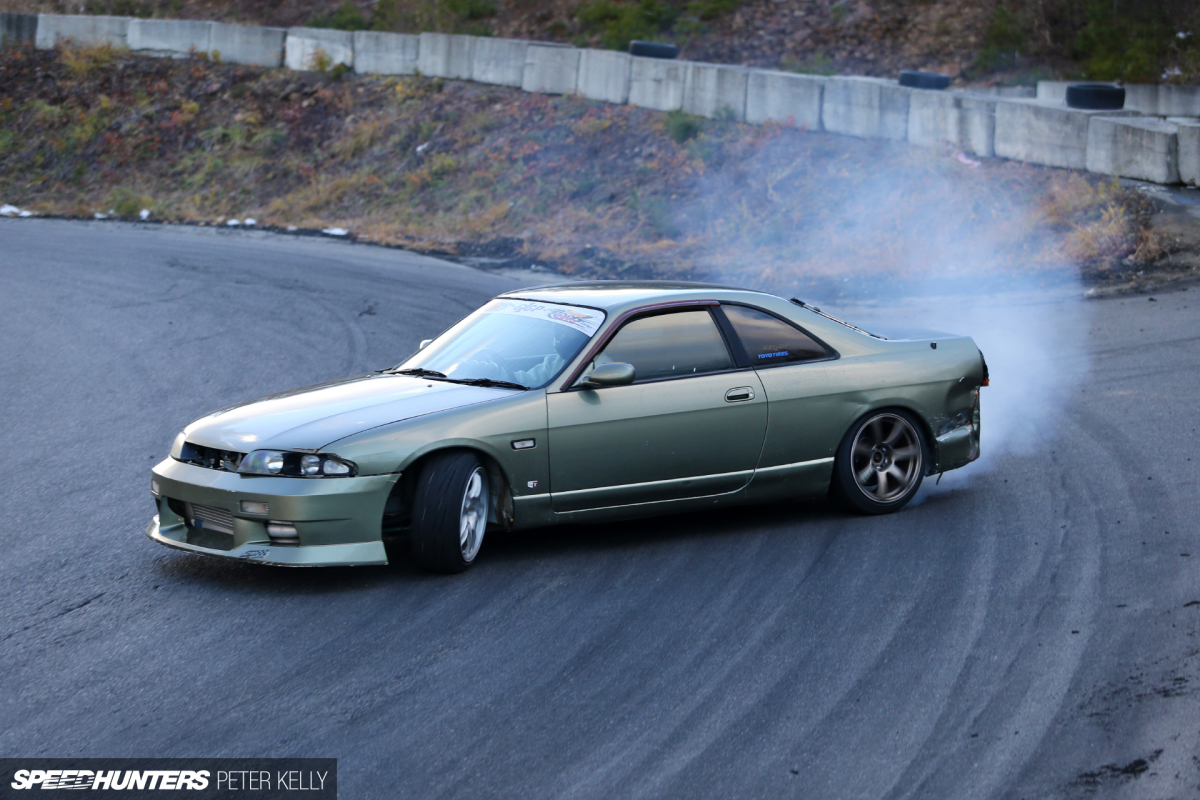 Instilled with way too much confidence, I barrelled up to the top section and completely overcooked it. I came in way too fast, spinning out and heading backwards down the hill in epic fashion, but thankfully not managing to hit anything. Soon afterwards I realised that I'd actually dipped my rear wheels into a puddle, forcing the back end of the car outwards considerably more than I was expecting. It wasn't long until I'd picked up on how to avoid this happening, and I was able to successfully drift into, switch, and drift out of both S-bends.
This footage was taken on our last day and we only had limited track time, so it was a bit rushed; but here you can see a bit of my progress. I know, I'm still not very good, but I'm not pretending to be. The process of learning this was both challenging and incredibly fun, and that's the whole point, right?
Tackling The Touge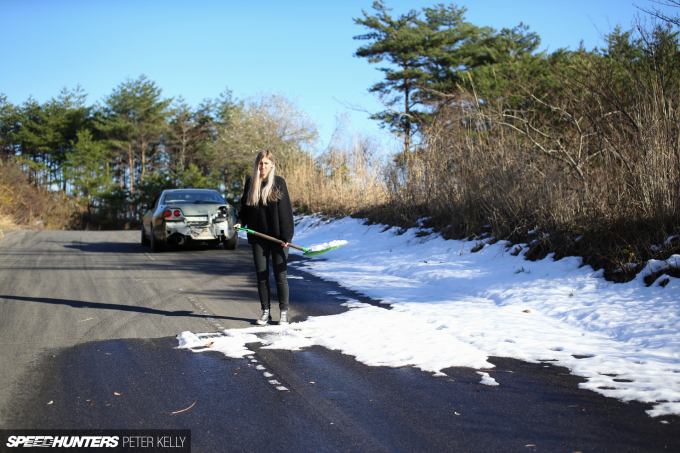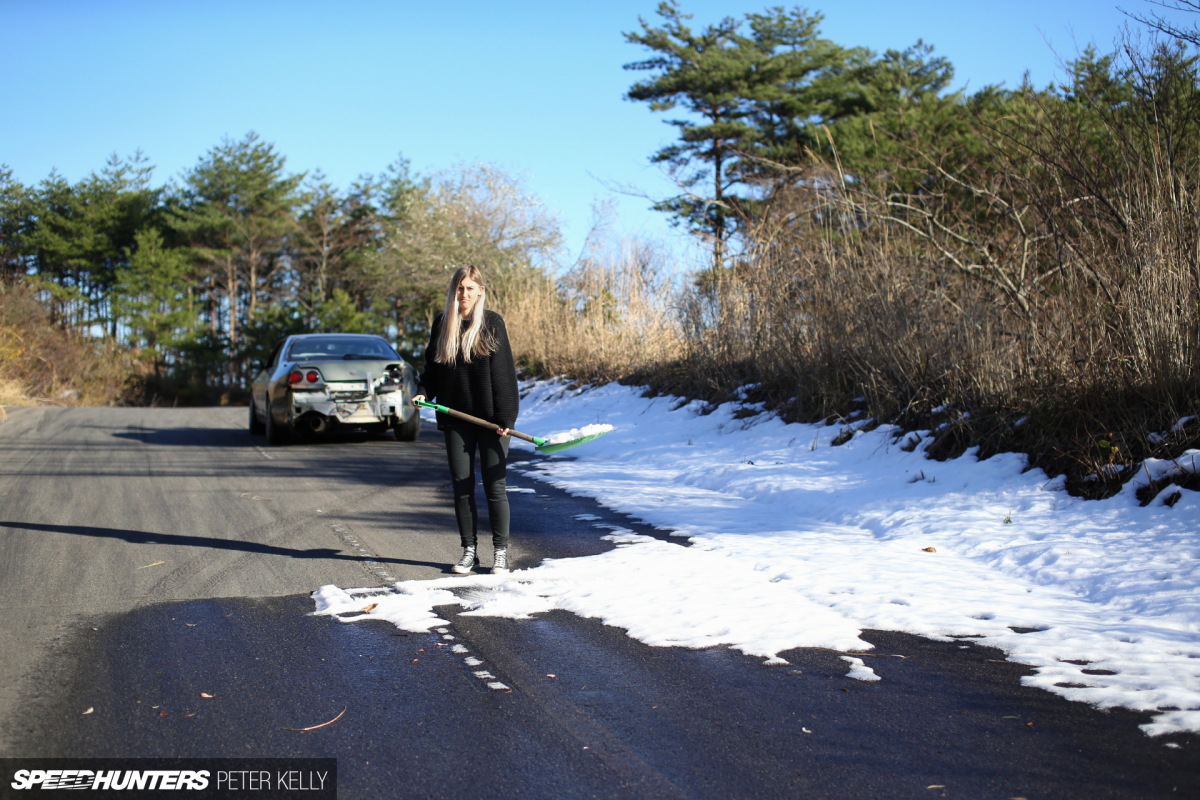 During our Ebisu stay I was extremely keen to drive on Kita (North) course, but the weather simply wasn't allowing it. North course is the highest track at Ebisu in terms of elevation, and although the snow eventually managed to clear enough that we could actually drive up the steep access road to get to it, at least half of the track was still buried in the white stuff. So instead we drove a recce lap around Touge course – Ebisu's most dangerous track which imitates a winding mountain pass – to assess the damage. Somehow shovelling snow ended up being my job!?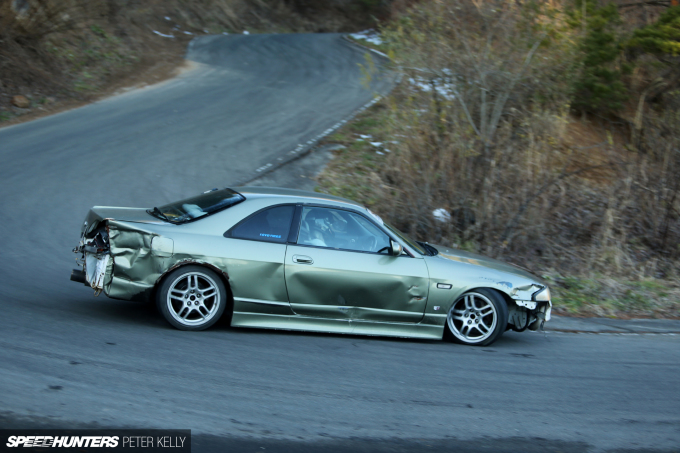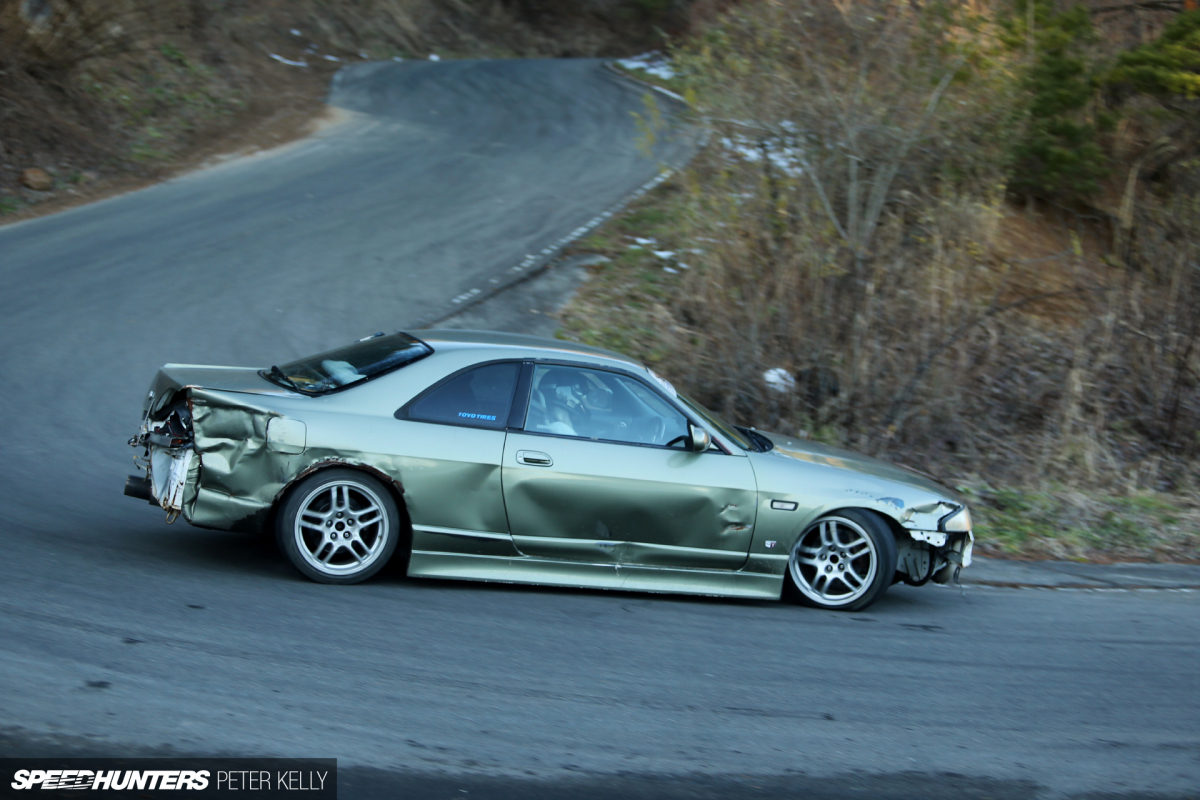 With the track mostly drivable, Peter convinced me to give it a go. If you know anything about Ebisu, then you'll probably be familiar with this corner. My first few attempts sucked, and I was struggling to find the right line in order to initiate properly. But I took it slow, and gradually started to make small improvements each time.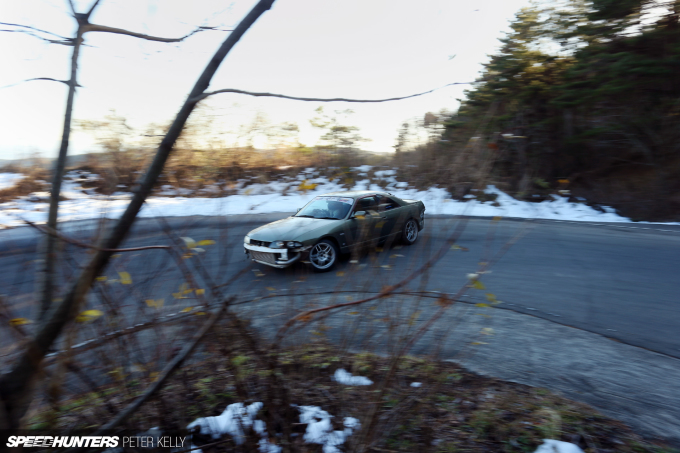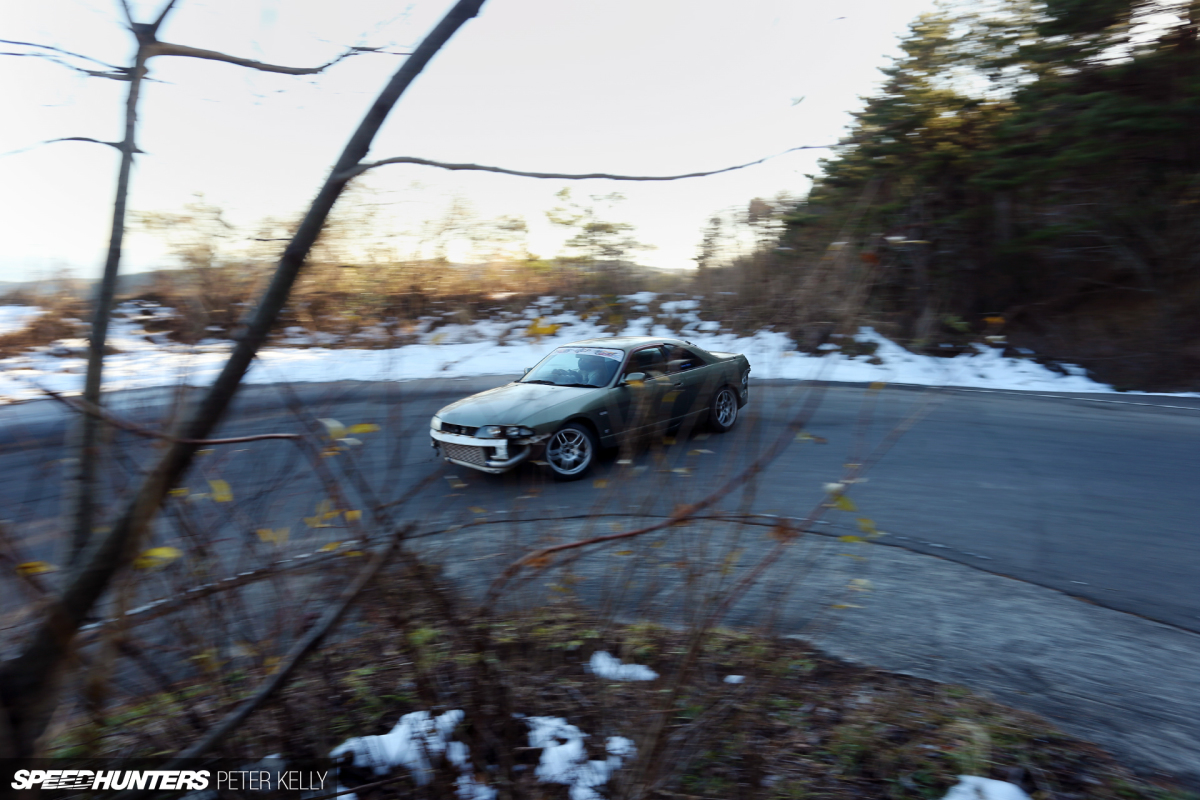 Naturally, I've encountered various problems throughout my learning process, and I've found that it's more about getting past mental hurdles than anything else. My initial problem was that I wasn't counter-steering early enough, which at first I could absolutely not wrap my head around. It was ridiculously frustrating, and I felt stupid. But then it 'clicked' and I suddenly understood what I was doing wrong.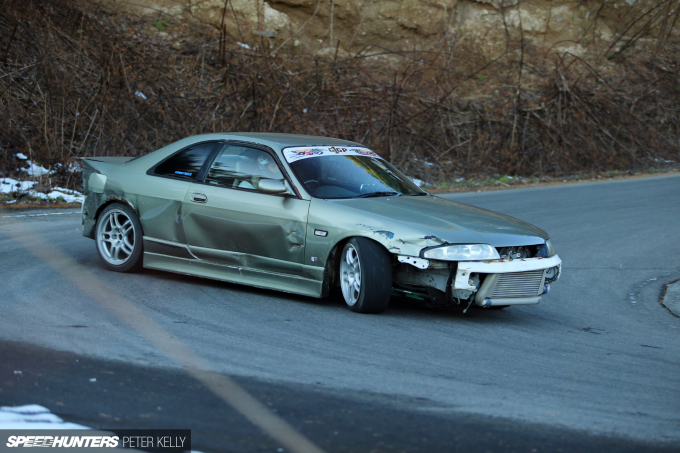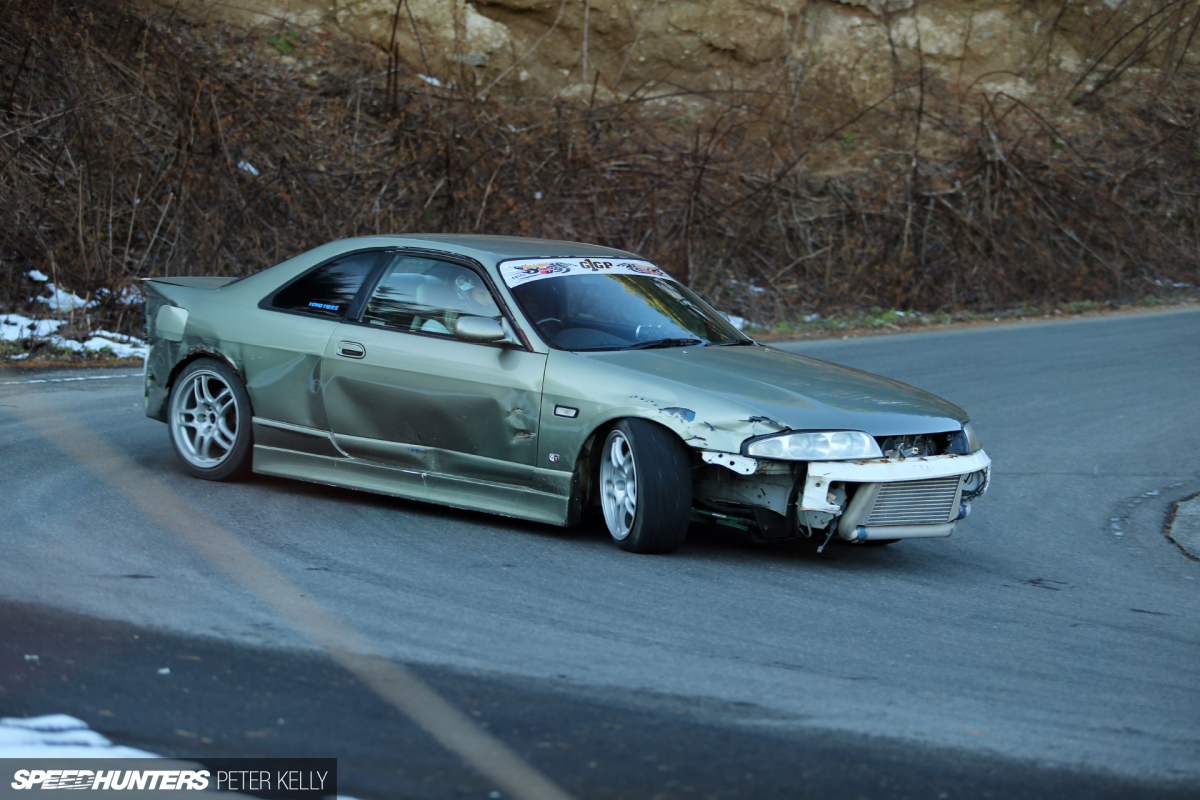 I was also using the handbrake to get the car into a slide and getting the angle right, but then the rear tyres would grip-up as I wasn't getting back on the throttle quick enough. And then I wasn't getting off the throttle enough before setting up to transition the car, and so on… These are all things I'm still working on, but at least now I understand them. In a way, learning to drift is like 'un-teaching' yourself to drive. I know that sounds weird, but it's kind of true. You have to ignore the instincts that try to kick in when the car goes sideways, and instead do the opposite of what feels right.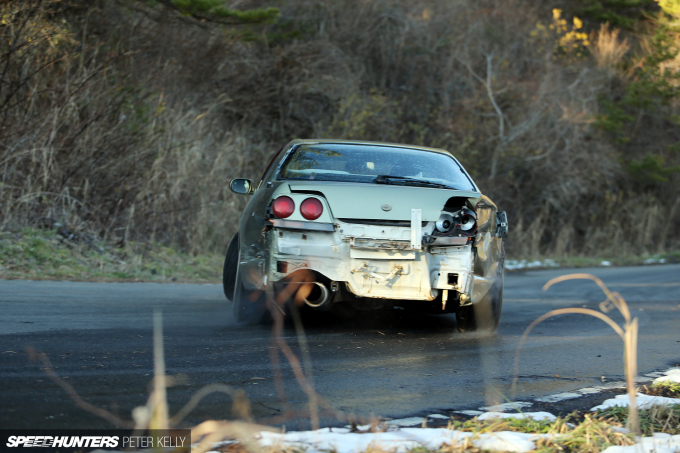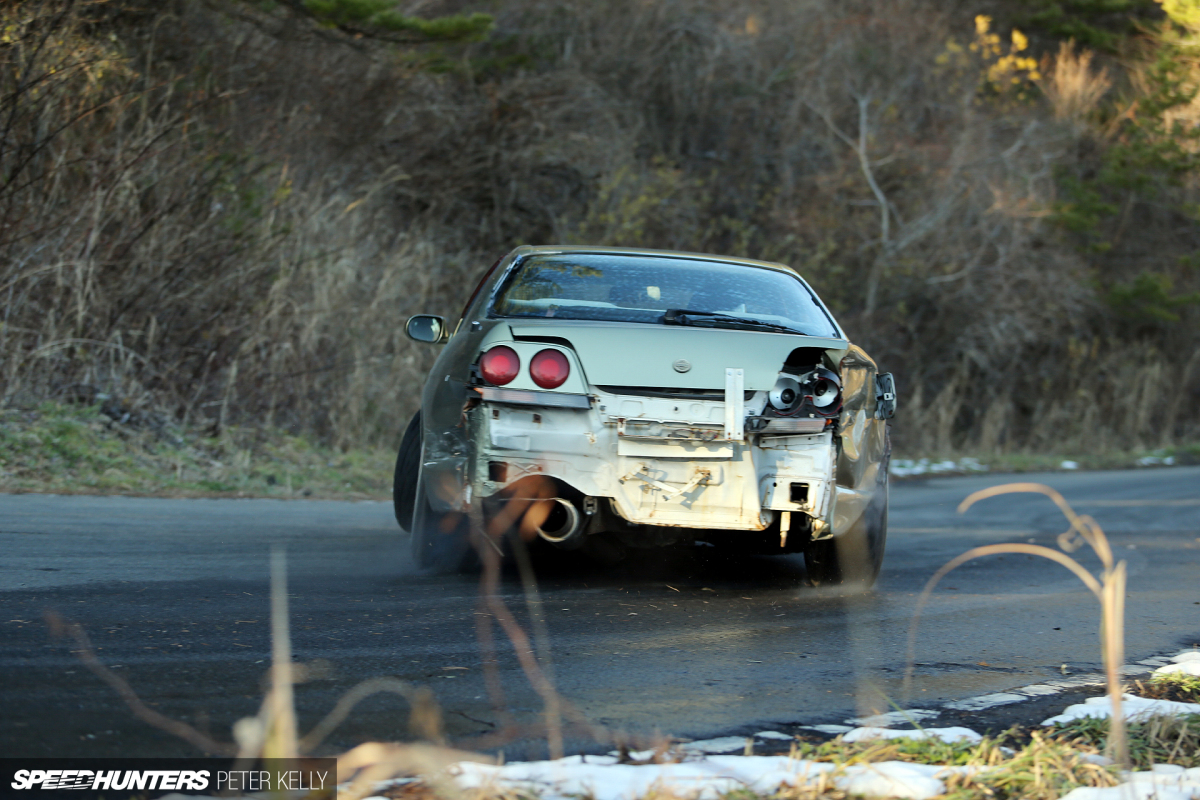 Breaking through each of these barriers to come out on the other side with a new skill and being able to do something that you couldn't do before has to be one of the best feelings in the world. I'm still no expert, but I honestly didn't think I could do this. I ended up proving myself wrong.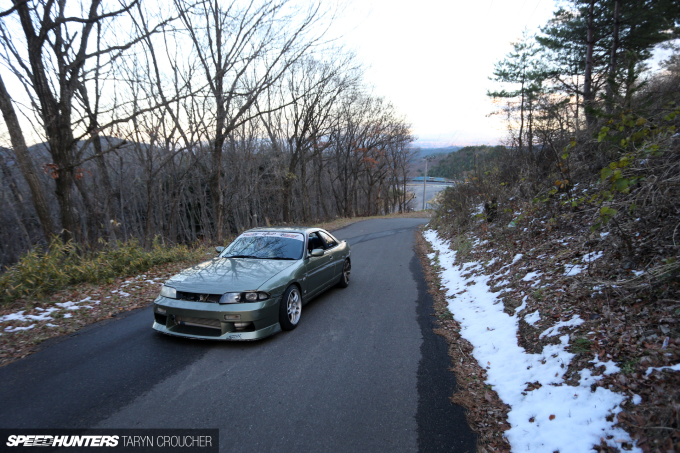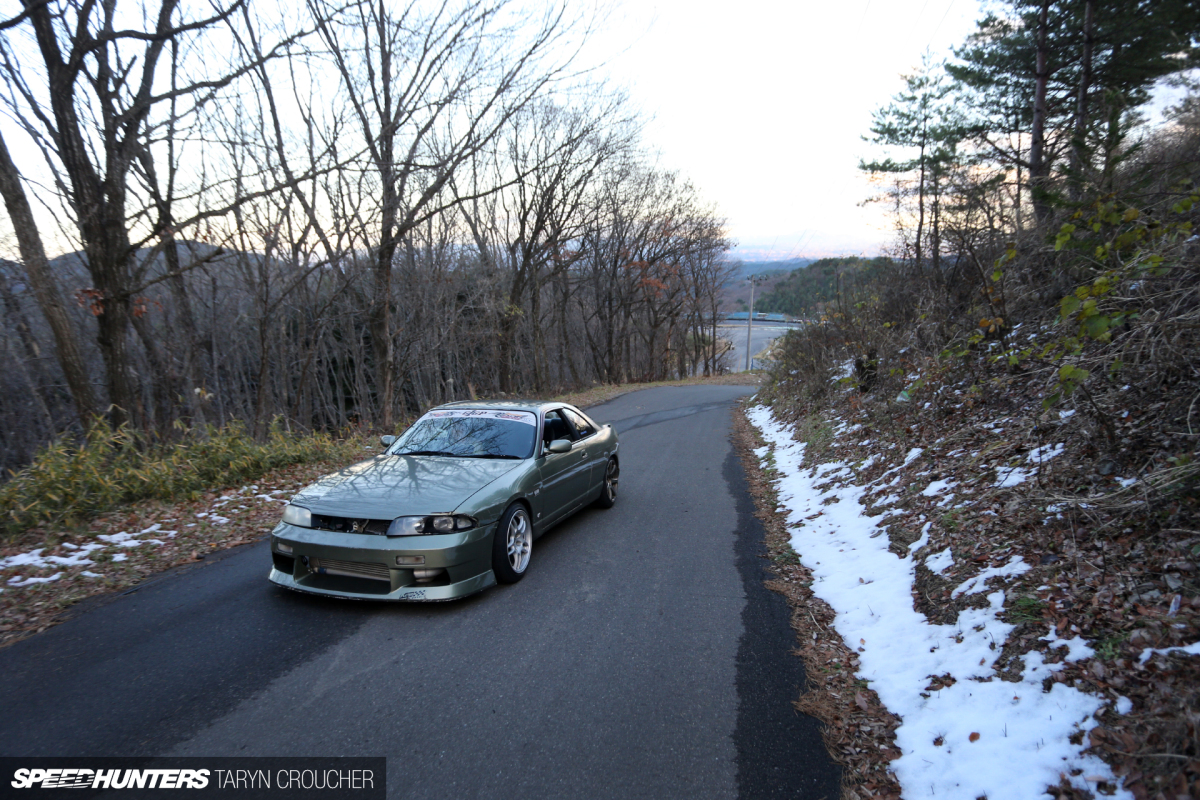 There's an incredible amount of small, casual race circuits dotted throughout Japan, all ideal for beginner drivers to slowly get into the art of drifting at their own pace, and to build up their skills gradually. But as a foreigner, the 'drifting in Japan dream' is actually a pretty hard thing to do – unless you live here or you're able to keep a street-driven drift car in Japan somehow.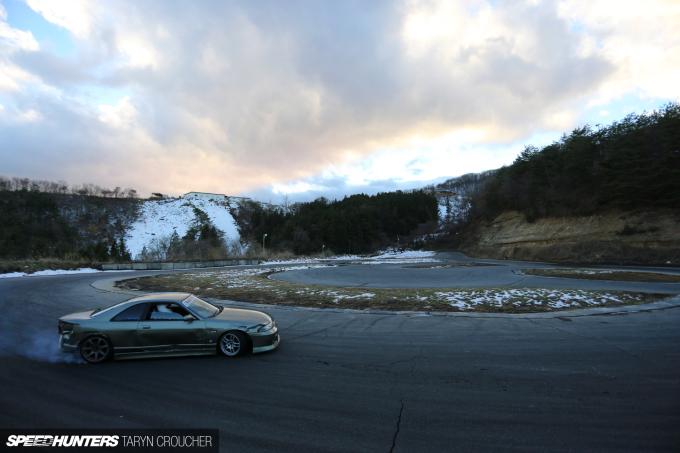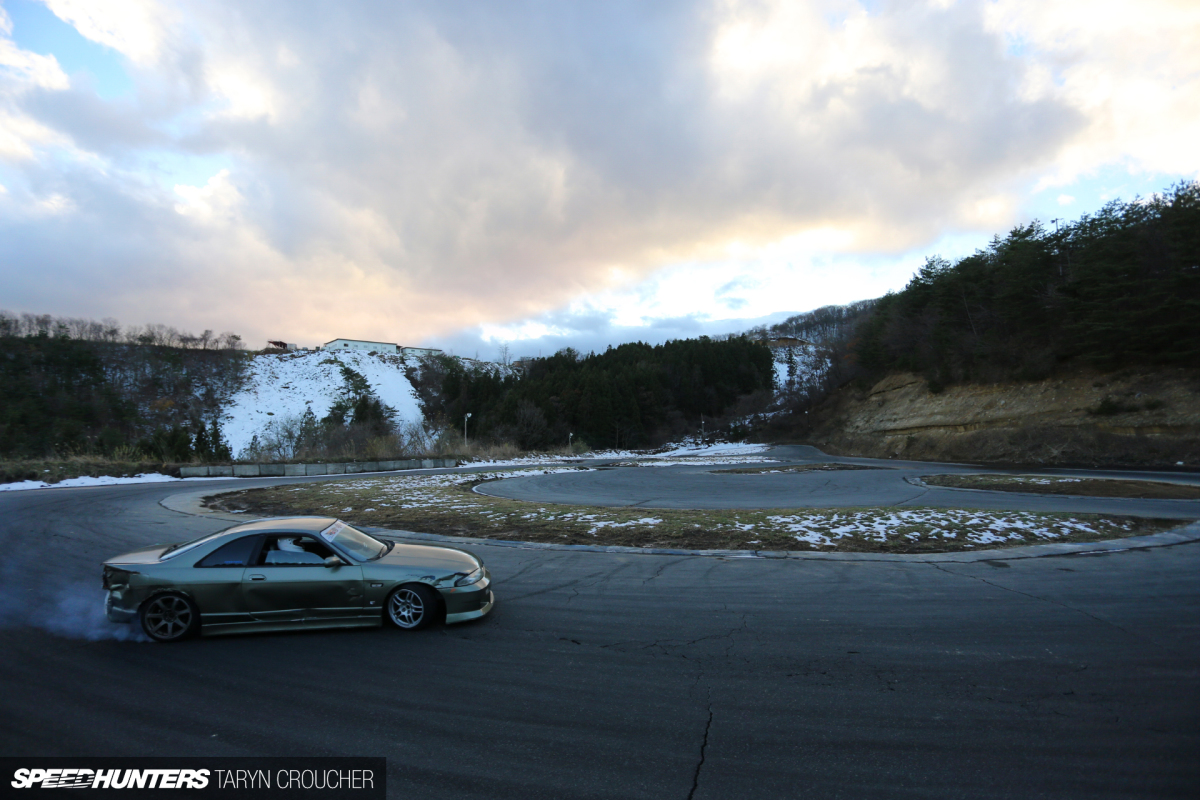 But this is what makes Ebisu so perfect. Power Vehicles can source your very own ready-to-drift practice car and even store it at the facility for you; then you get to come and drift in the mountains of Japan and have not one, but seven tracks to play on. Keep in mind though that all seven of them are only open during the Ebisu Drift Matsuri events.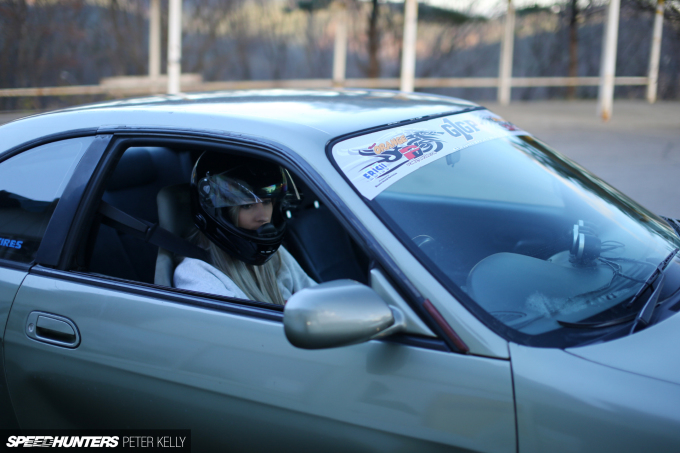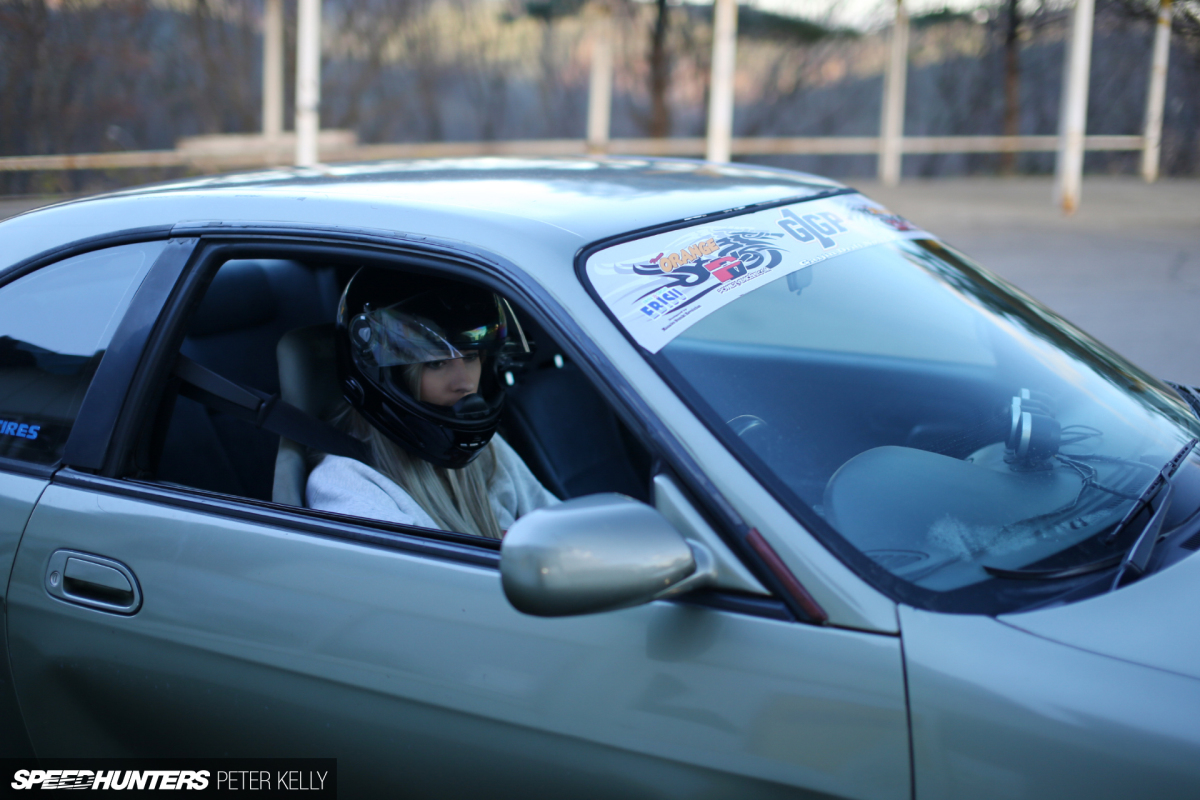 During these triannual festivals Ebisu Circuit gets super busy, but if you've already got a bit of experience under your belt, you'll have an absolutely incredible experience if you make it along to one of them. But if you're a complete beginner like me, Ebisu can also provide a safe environment for you to learn to drift and get a tonne of track time that you'd struggle to be able to get anywhere else. Although, I probably wouldn't recommend visiting Ebisu when there's the risk of snow!
Kicking my newfound fear of failure in the ass really felt great, and honestly, if someone as uncoordinated as me can do this then so can you. For everyone out there who's worried about looking foolish and being a beginner, remember this: just the fact that you're giving it a go is 100 times cooler than simply standing on the sidelines doing nothing.
Taryn Croucher
Instagram: taryncroucher
taryn@speedhunters.com
Additional Photos by Peter Kelly
Instagram: speedhunters_pedey
pedey@speedhunters.com