Master of GT-R
While I've always been the type that wants to have automotive experiences as diverse as possible, and whose dream garage includes cars of all shapes and backgrounds, there's something I've always envied about those who have a favorite type of car and stick to it.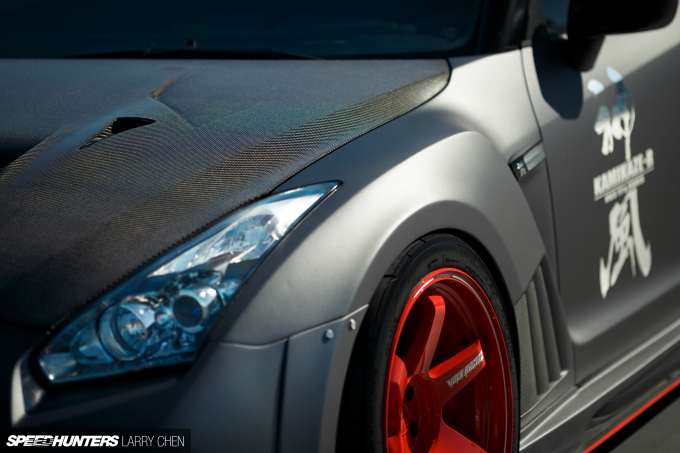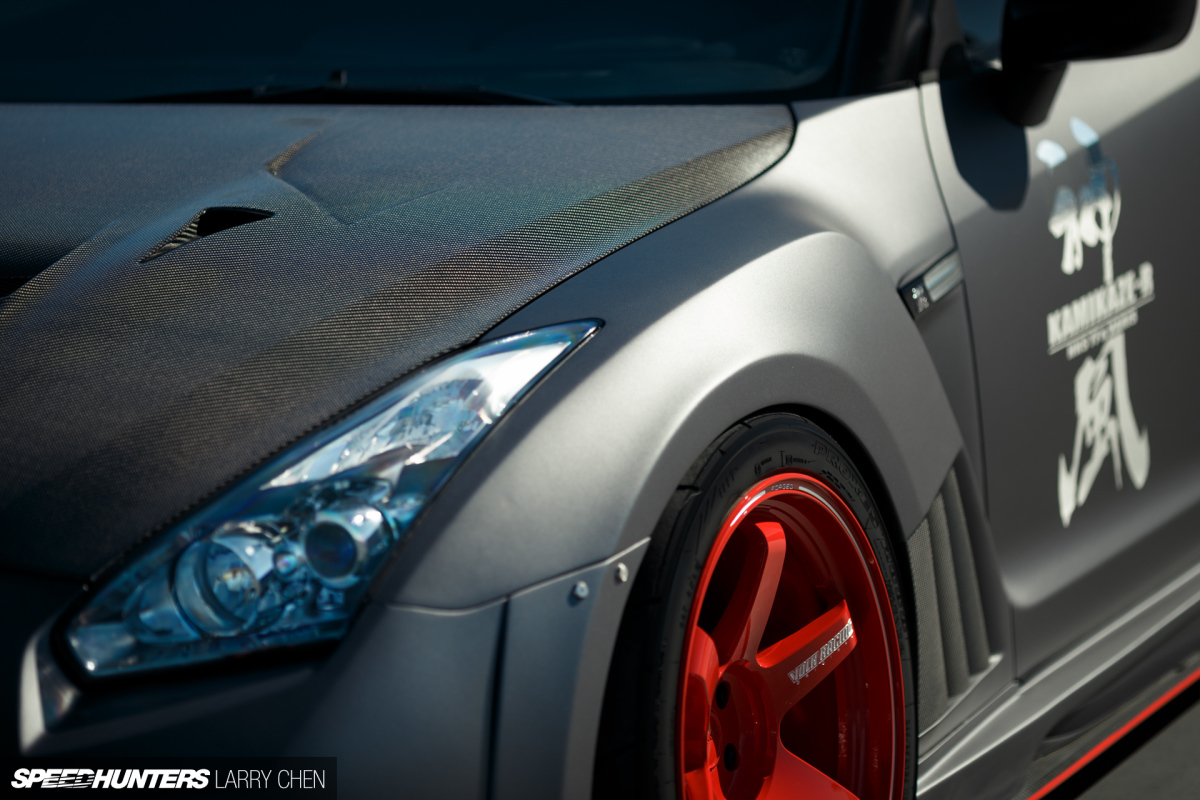 Rather than bouncing all over the place, these enthusiasts become intimately familiar with their automobiles. Often they will own multiple examples of the same car; each built to do different things and satisfy different needs.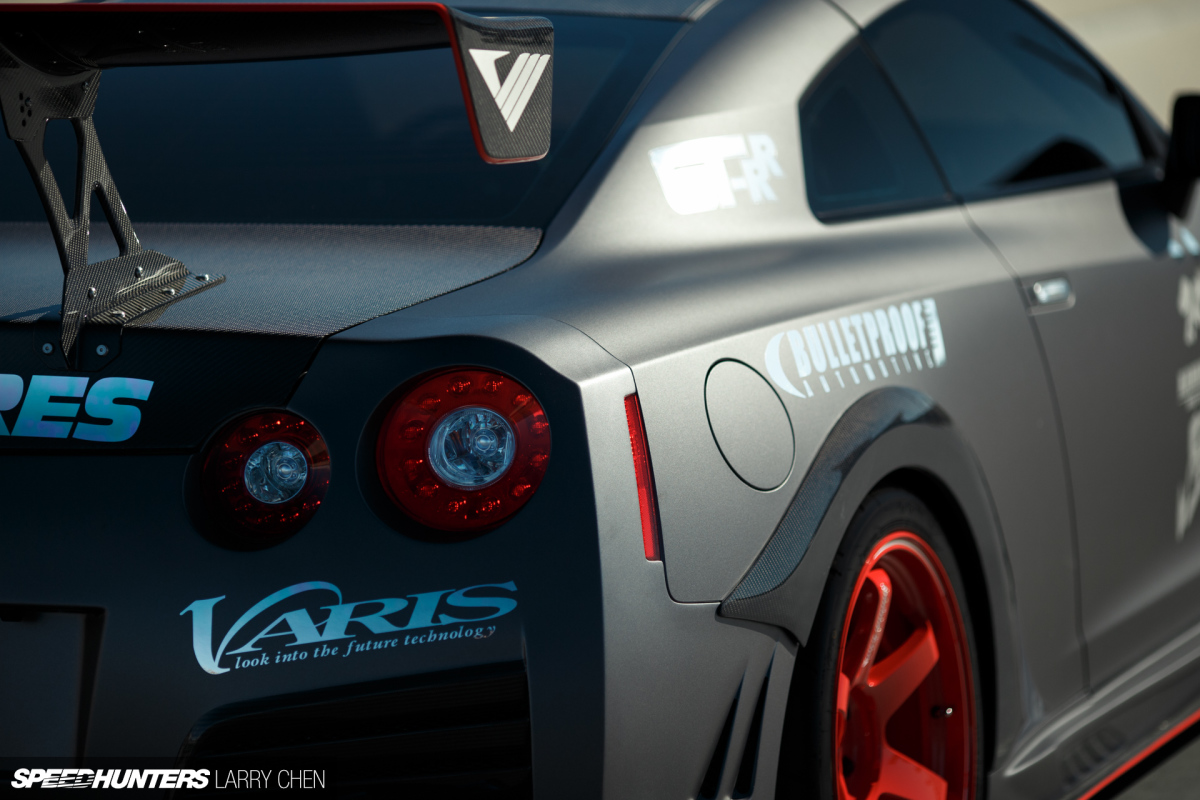 One of those people is Michael H, a California resident who happens to be a fan of Nissan's GT-R. Having owned and experienced different examples of the GT-R and learned tons about the platform along the way, Michael decided it was time for an all-out build.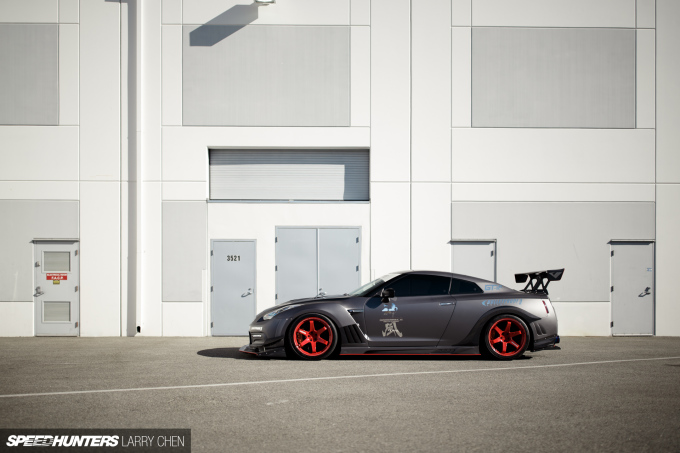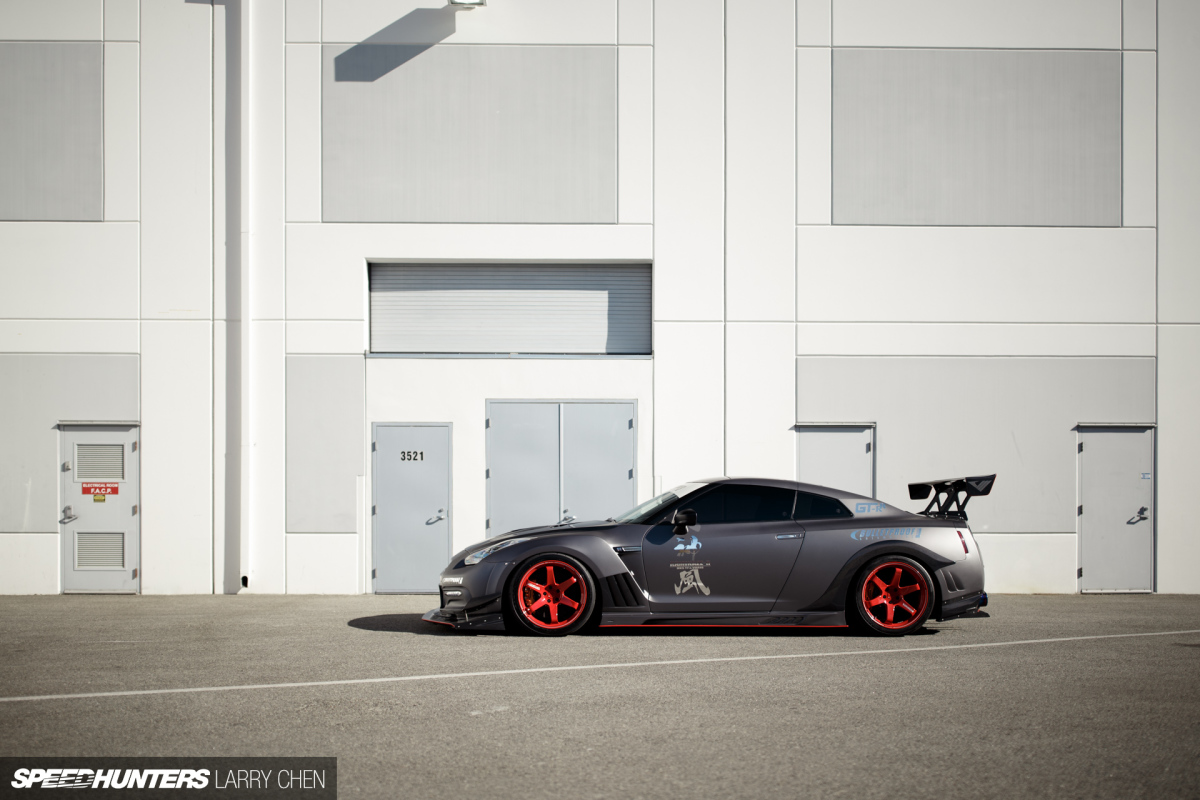 And what better partner to help make his dream a reality than Southern California's Bulletproof Automotive – a company that certainly knows a thing or two about putting together a high-end R35.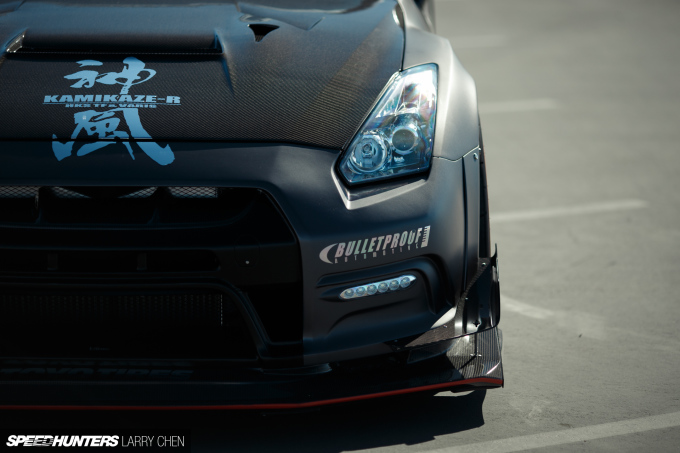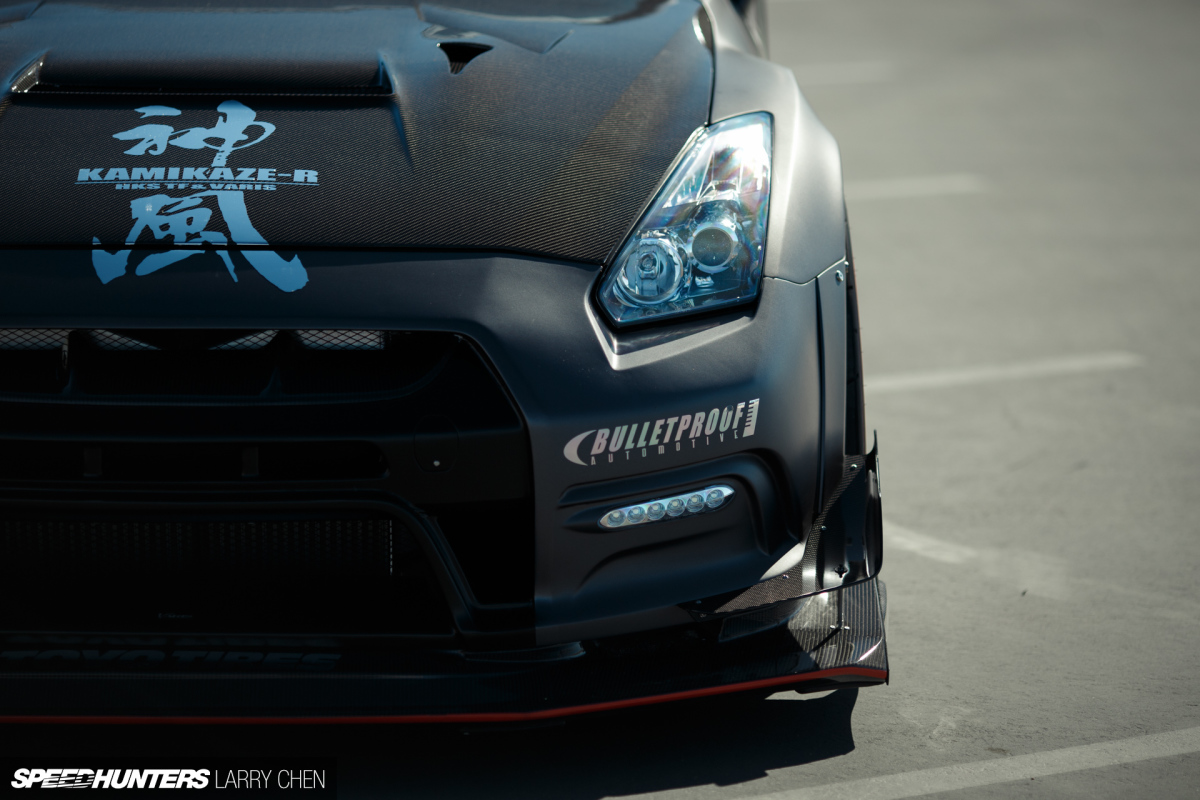 But this project would have some rather lofty goals. The plan wasn't just to build one of the best GT-Rs in California or the United States, but one of fastest and most well rounded GT-Rs anywhere on earth.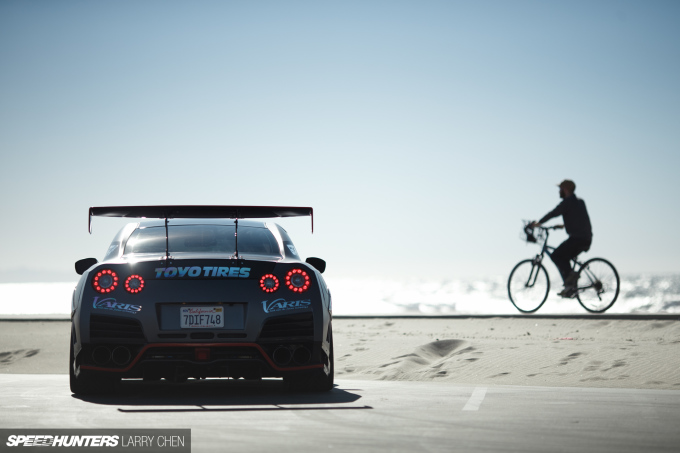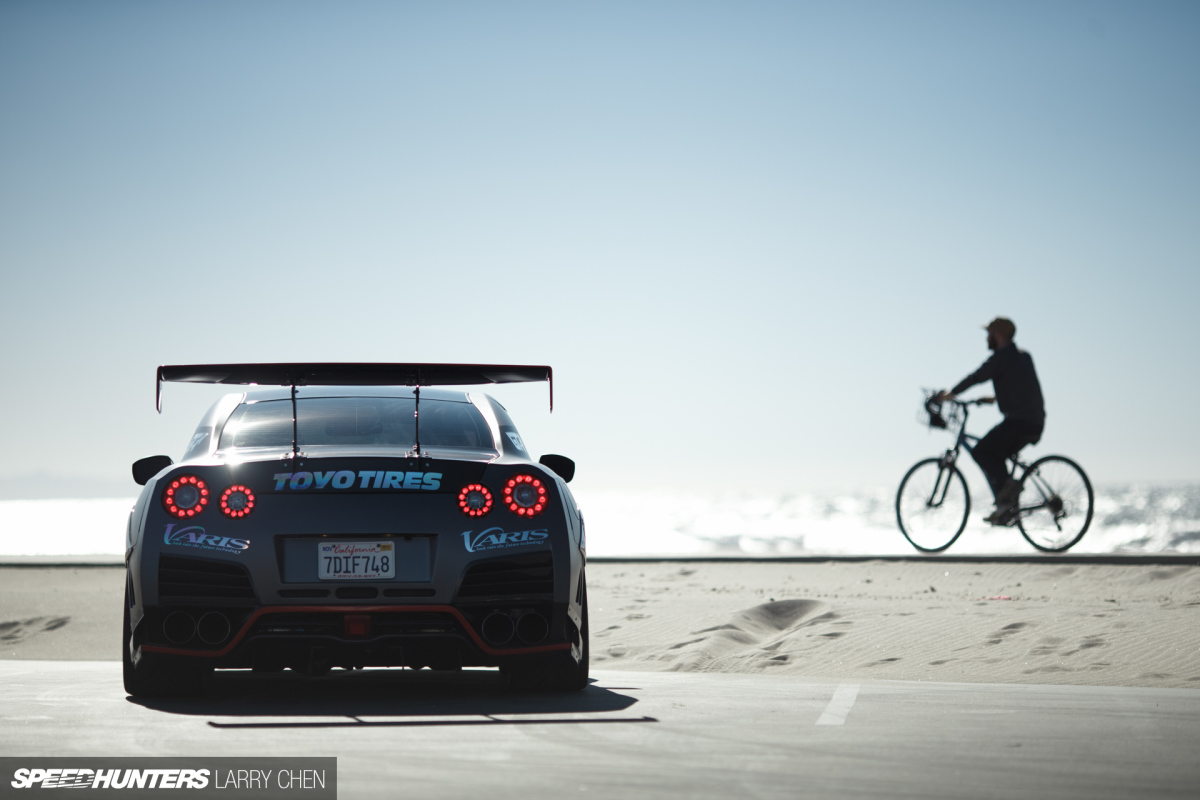 Before the project even began, Michael had a muse; a car he wanted to replicate in both overall look and spirit – the Japan-built Varis x HKS Technical Factory Kamikaze-R. This is a GT-R that's known for its aggressive looks and domination of Fuji Speedway.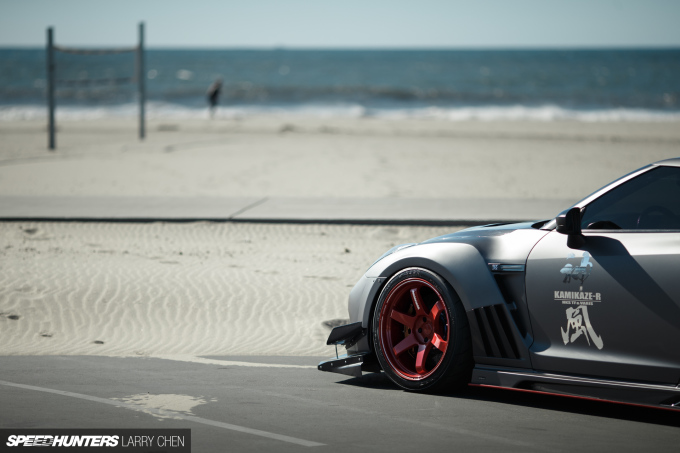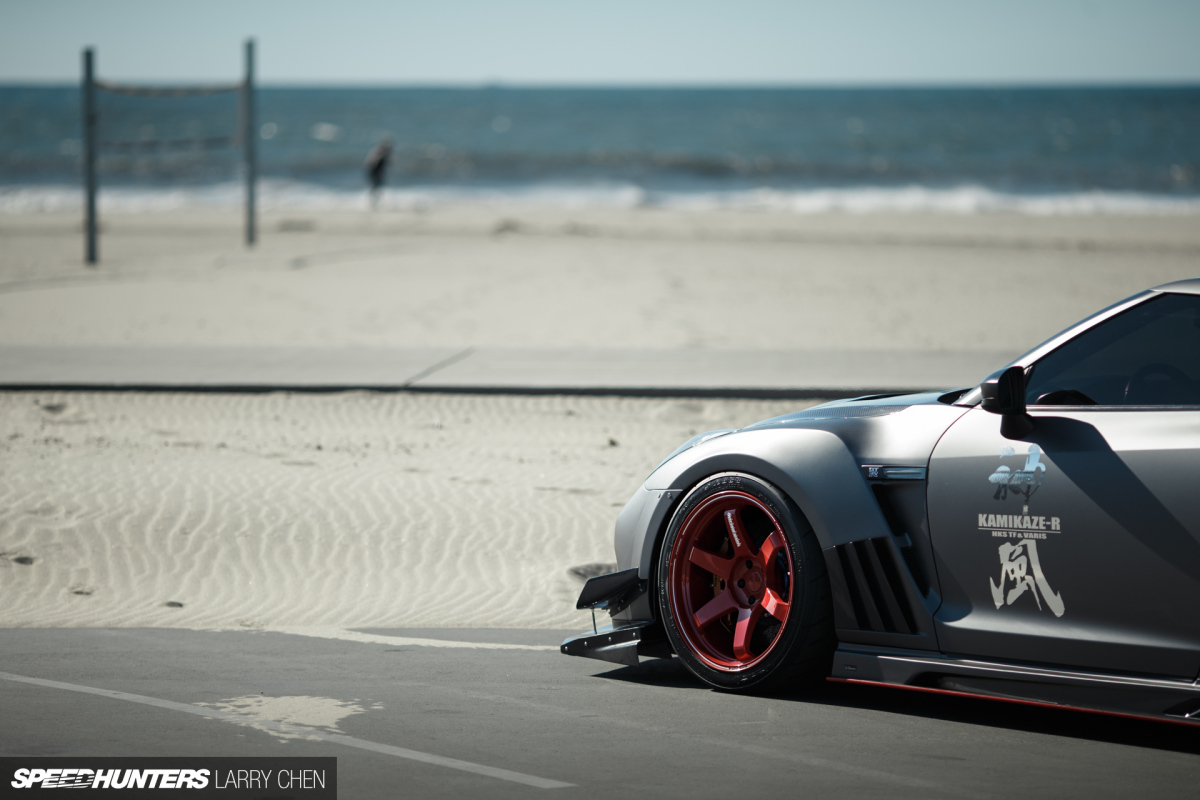 And while that car would be the initial target, plans actually called for a build that would take things to the next level. More power, more high-end parts… I'm sure you get the idea by now.
Big Power, Big Balance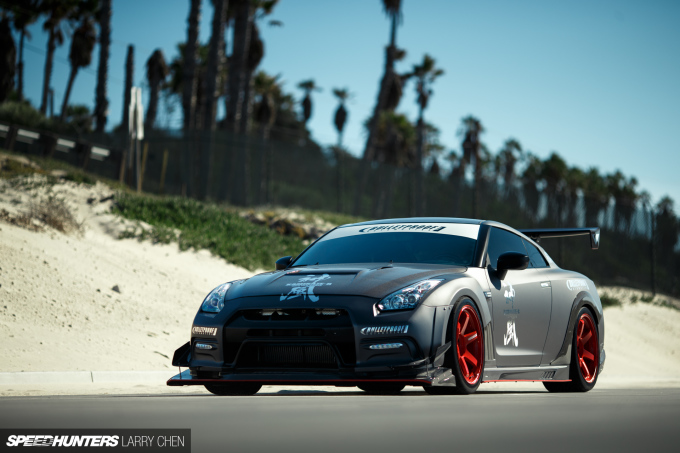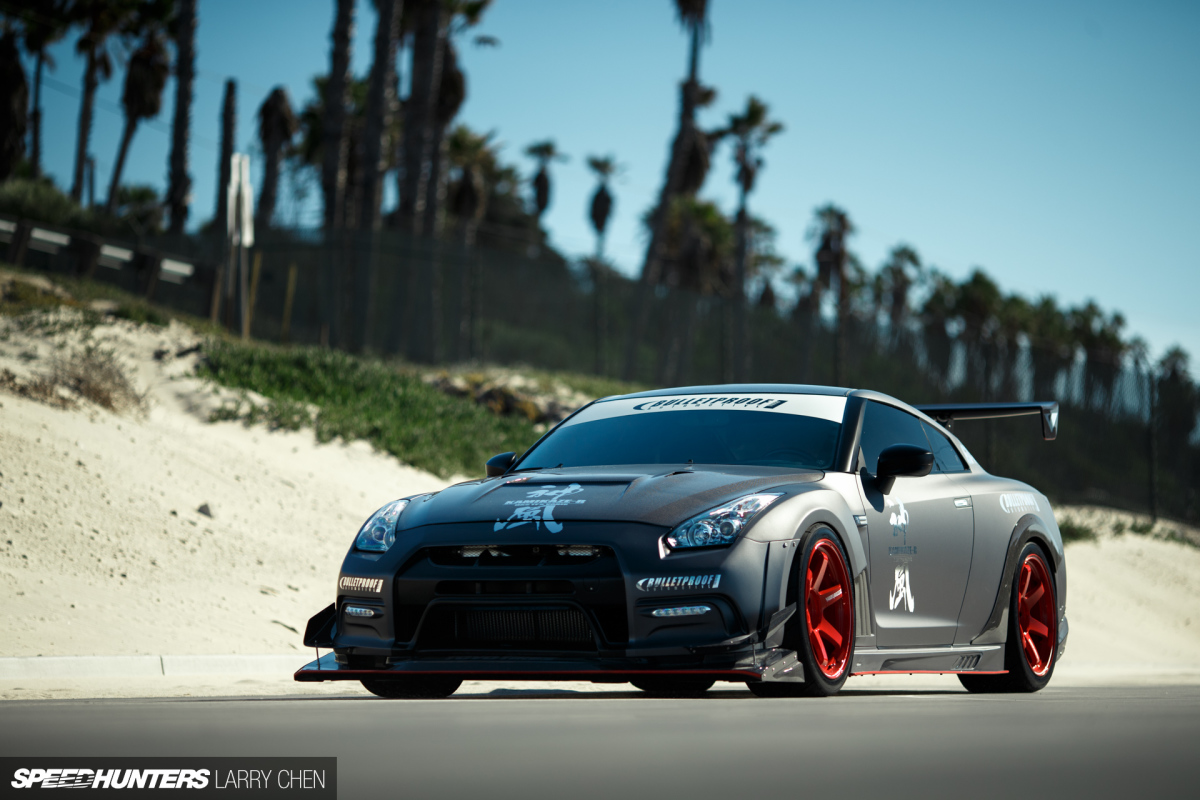 After going under the knife for some serious work at the hands of the Bulletproof team and their partners, the Nissan re-emerged from the garage as the Bulletproof Automotive Kamikaze-R USA – the American counterpart of the Varis x HKS machine. And what a monster it is.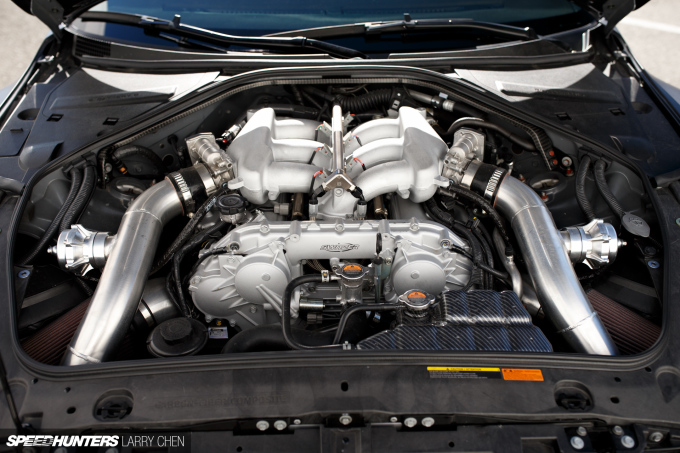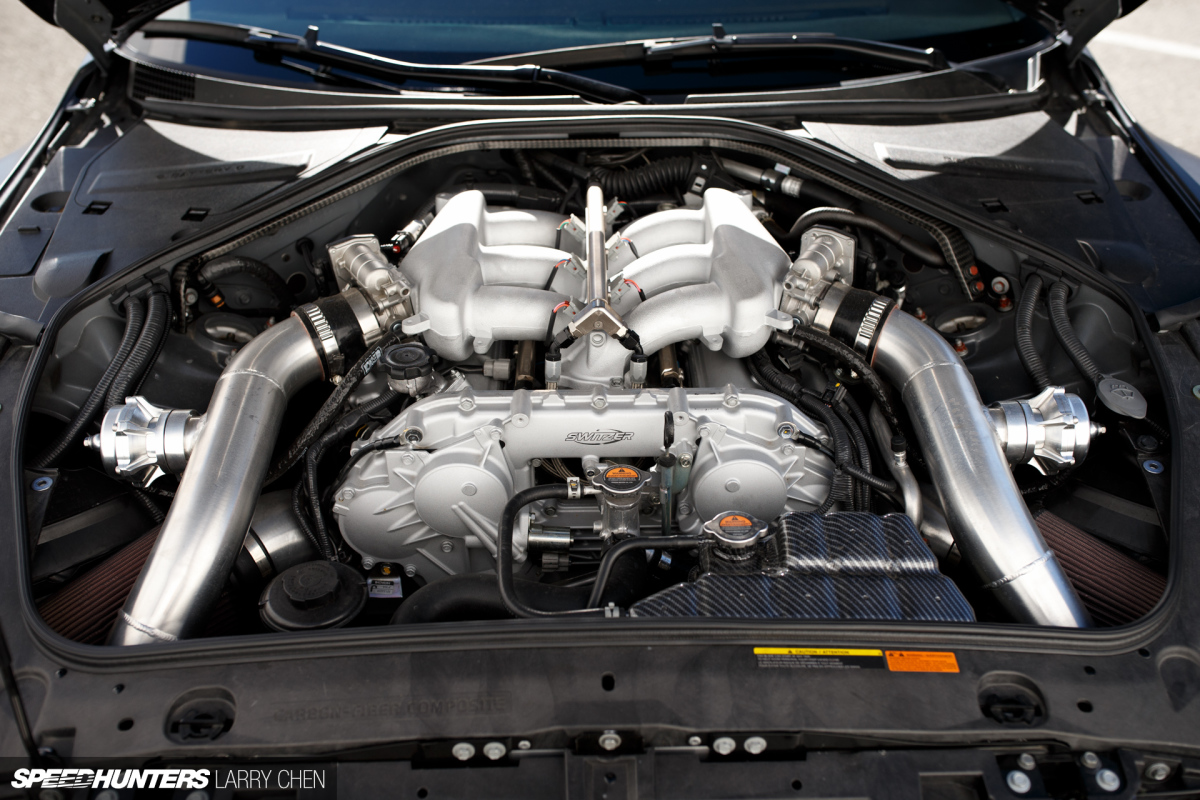 Starting under the hood, the VR38DETT has been treated to a full Switzer Performance R1K-X Stage II package that includes everything from strengthened engine internals to a Garrett GT35R-based turbo setup. E85 is the fuel of choice.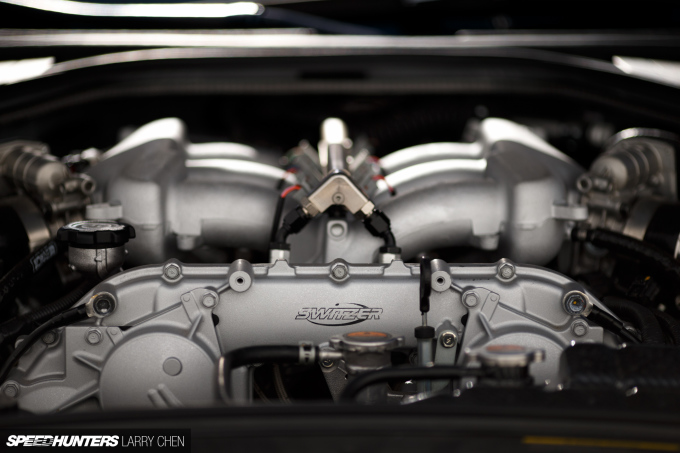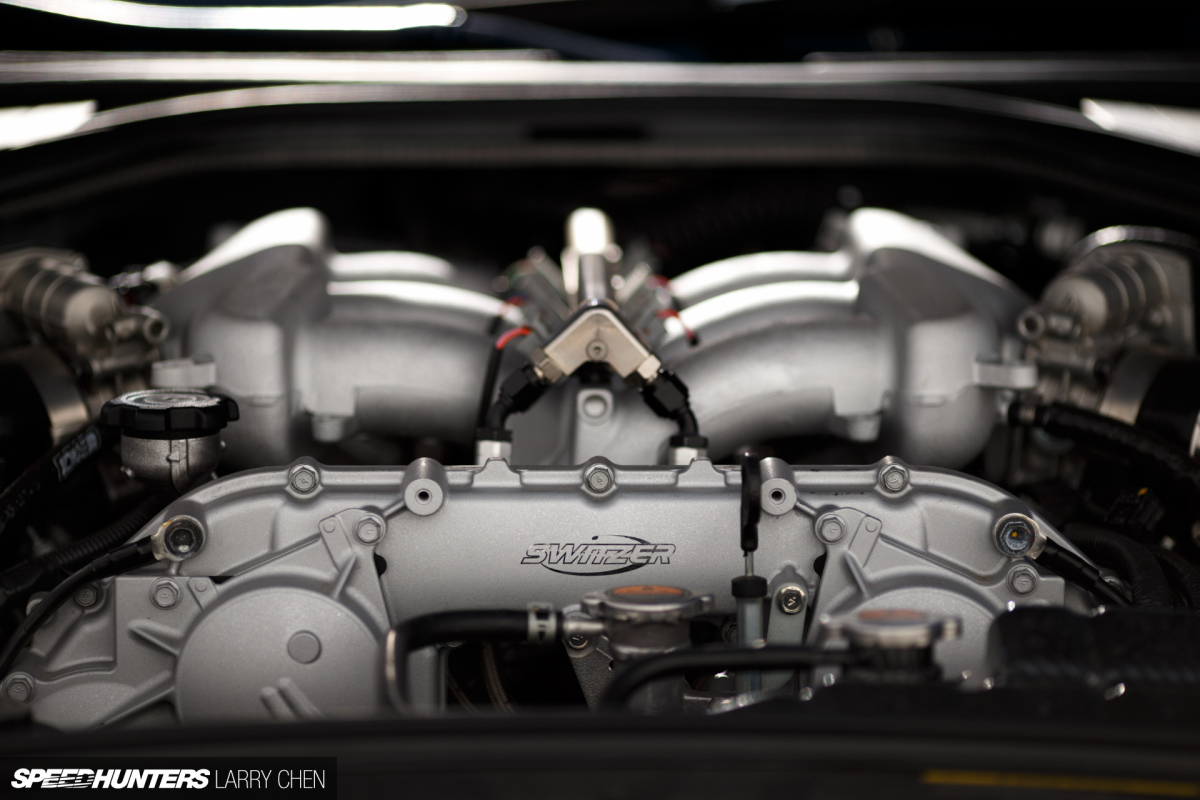 For the application, the engine work is good for a dyno-proven 1,401 horsepower to the wheels. That's correct, a 1,400 horsepower street car that could be used as daily Los Angeles commuter transportation if you so desired.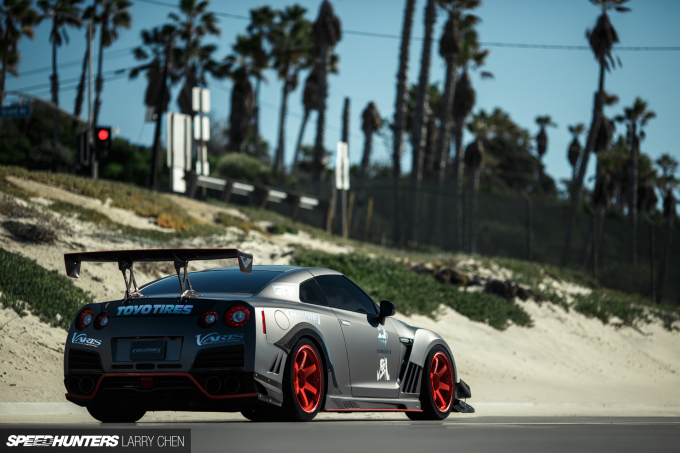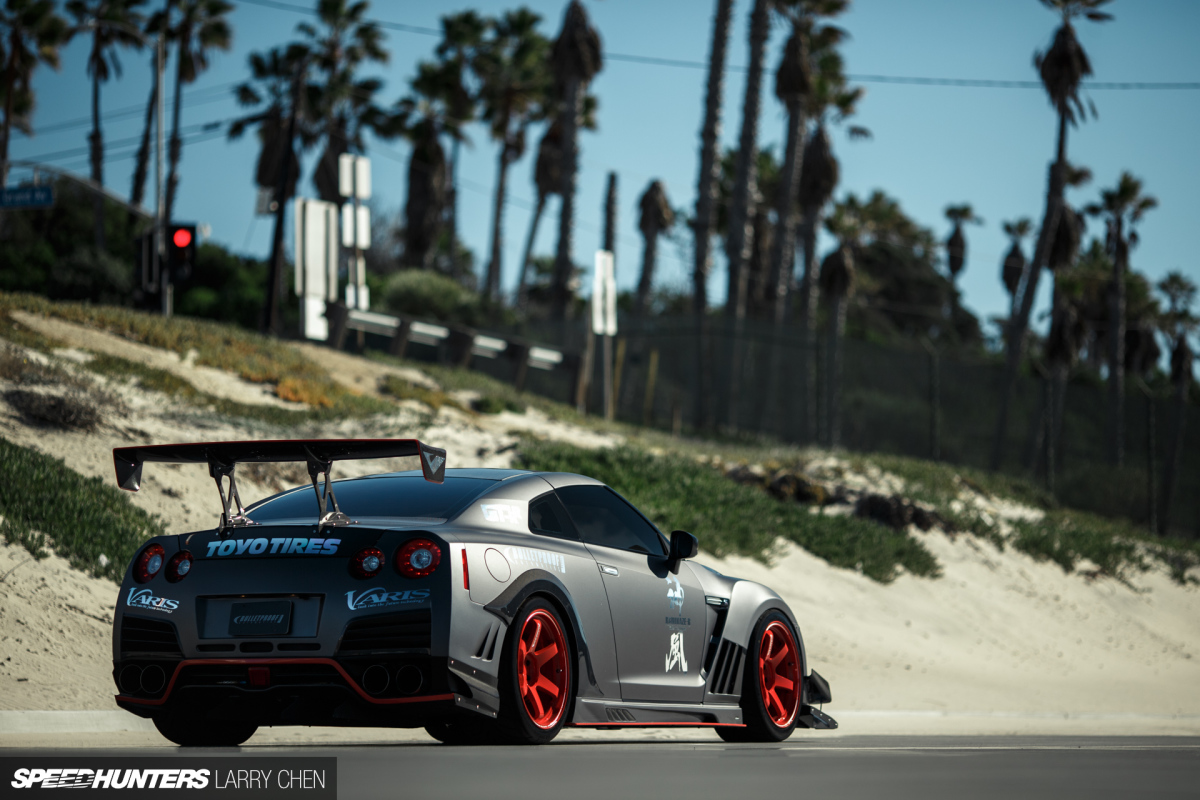 The fully built 3.8-liter V6 exhales through a quad-tipped Overtake x Amuse 100-V Saikou titanium exhaust system, which not only looks great, but makes the GT-R sing a sweet melody at its 8,150rpm peak power level.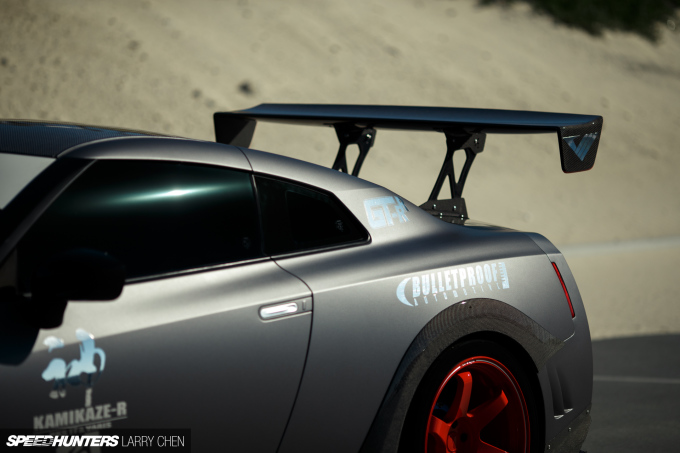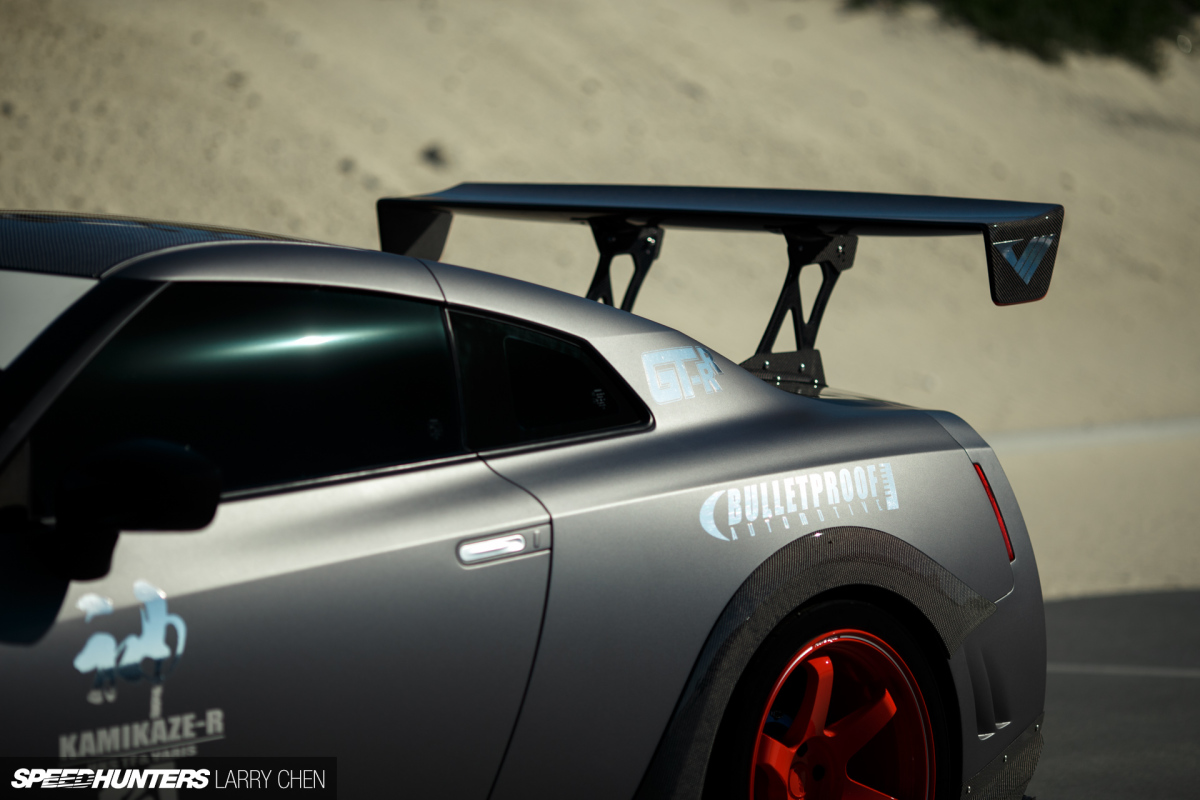 Naturally, the drivetrain would need some upgrades to stand up to all that power, so both the transmission and clutch systems have been beefed up with Switzer Performance parts. Furthermore, the axles are from The Driveshaft Shop and there's also a GReddy transmission cooler to keep things from getting too hot.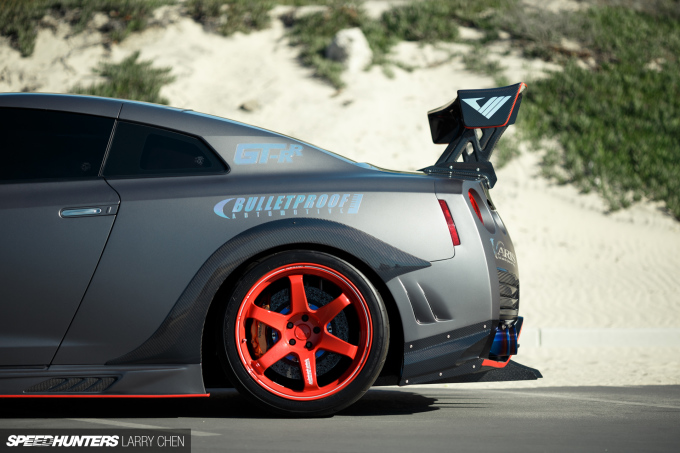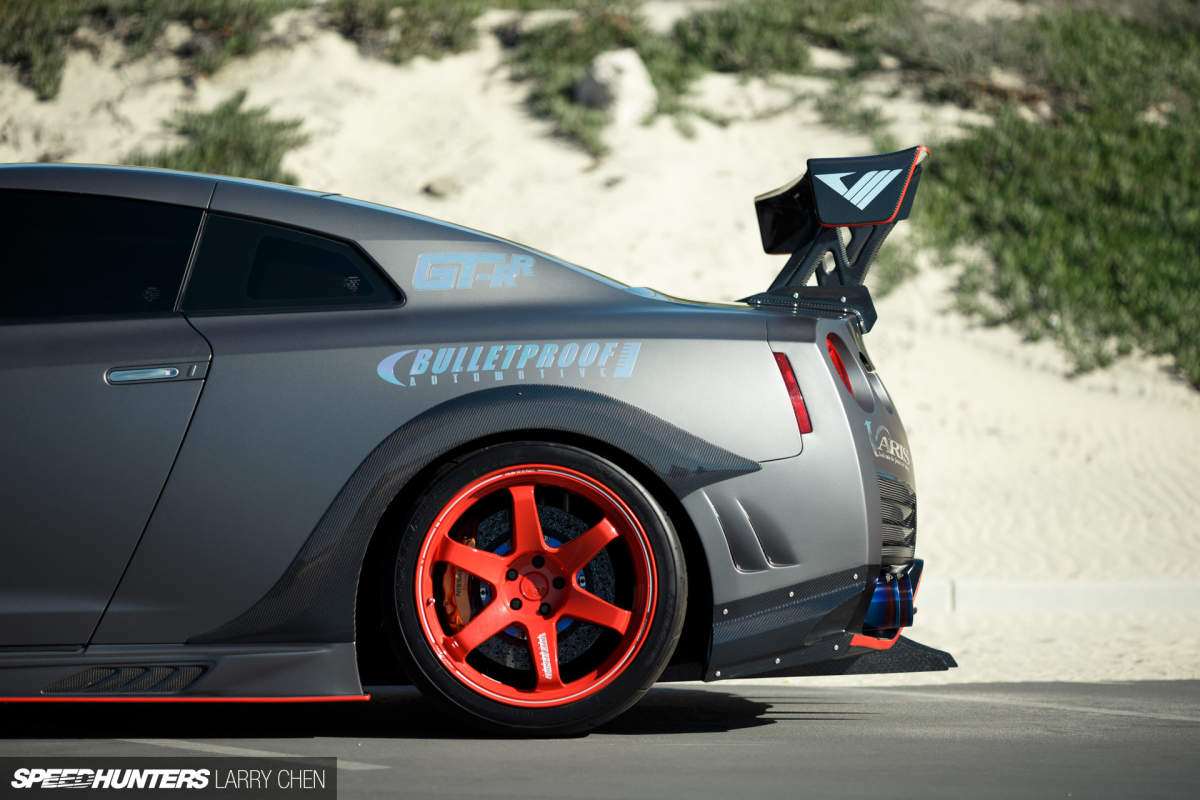 Of course, this build was always going to be about more than raw, straight-line speed, so the suspension and braking systems were also in need of upgrades beyond what the already potent stock stuff can do. The dampers are KW V3 Clubsports with a hydraulic lifter system up front for street driving, and the factory control arms have been swapped out for adjustable SPL pieces.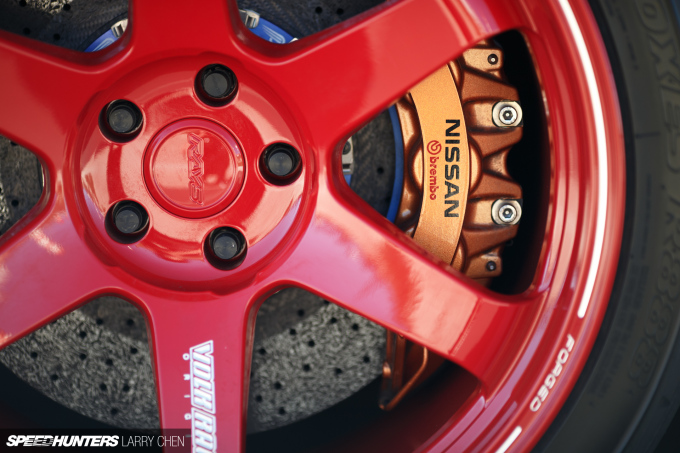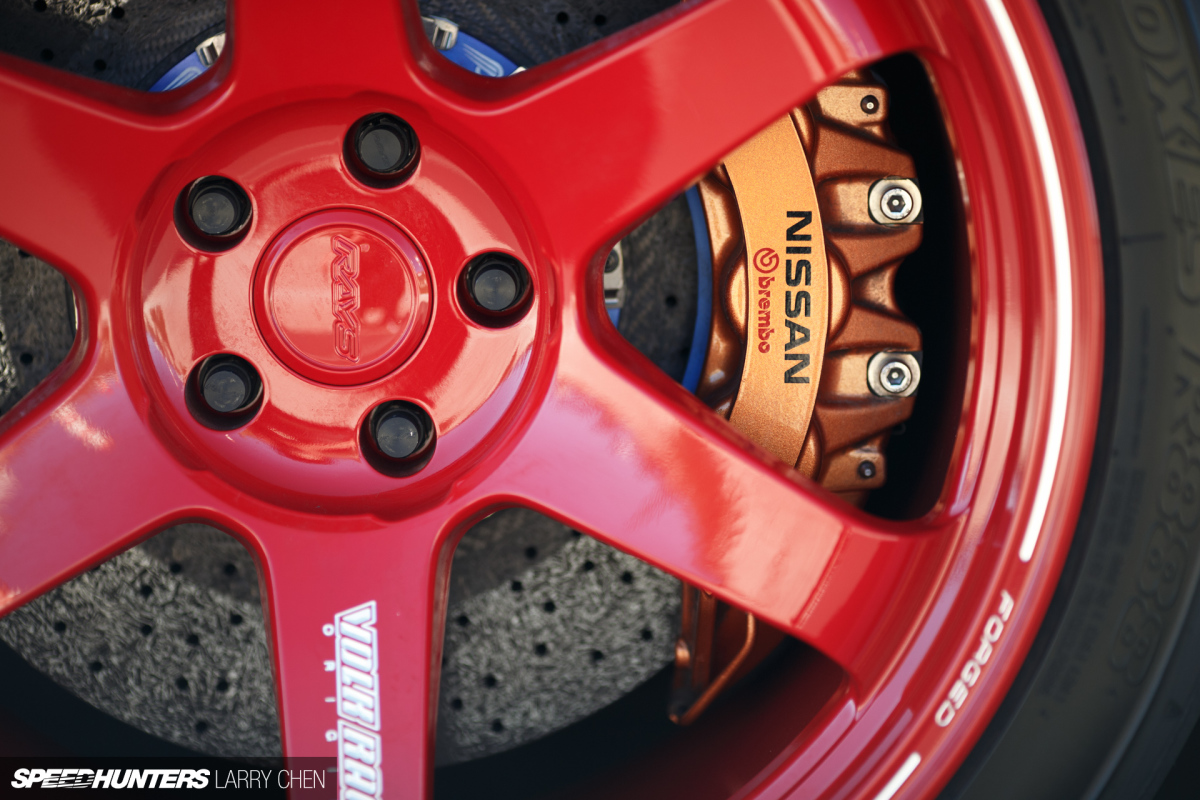 And helping to bring all of that thrust to a stop is a set of Overtake x Brembo carbon ceramic brakes, which look absolutely monstrous behind the spokes of the wheels.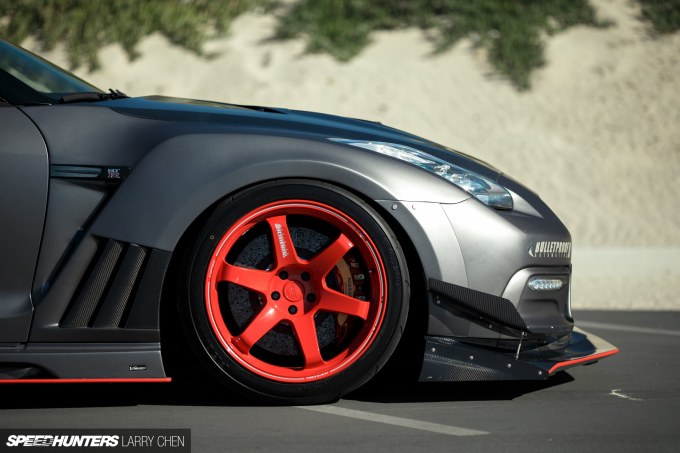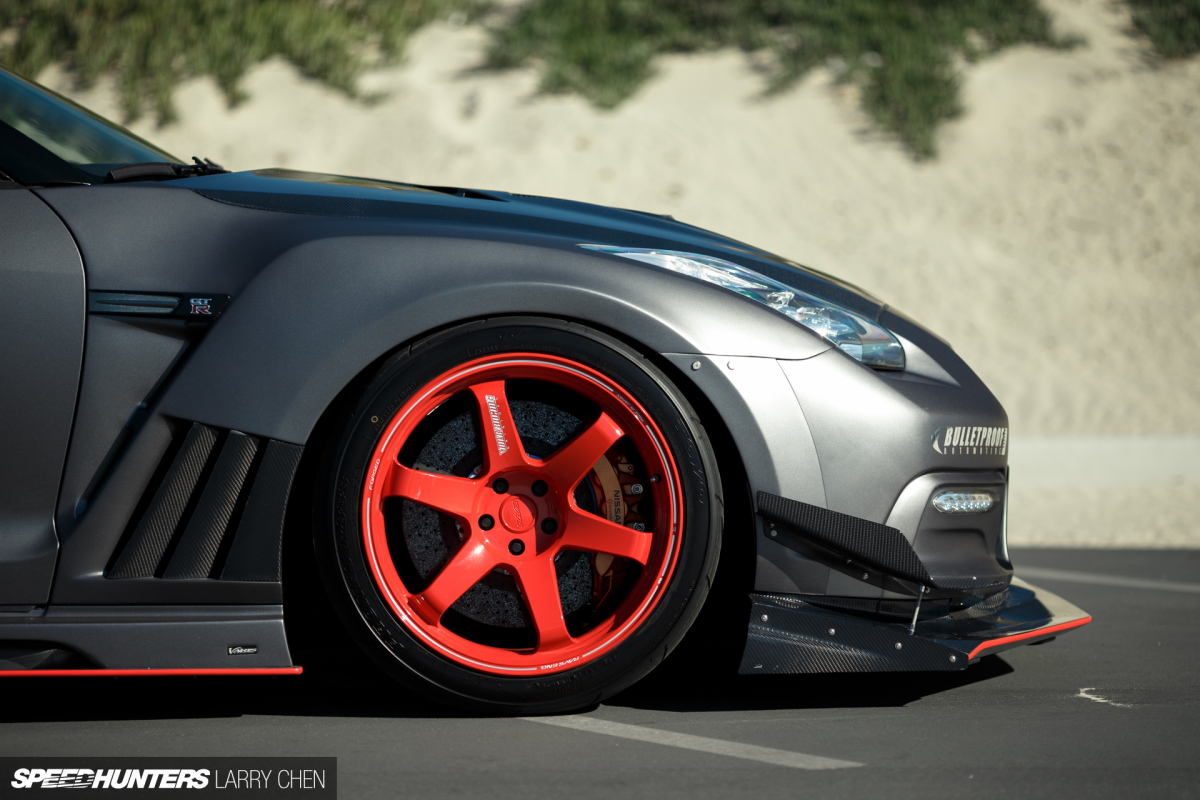 And speaking of the wheels, you're looking at RAYS Volk Racing TE37 Ultras finished in a custom 'Nismo Red' color which contrasts beautifully against the GT-R's satin gray body wrap.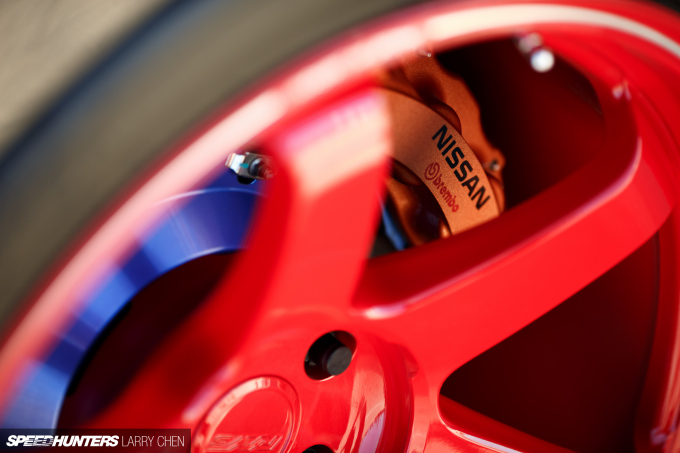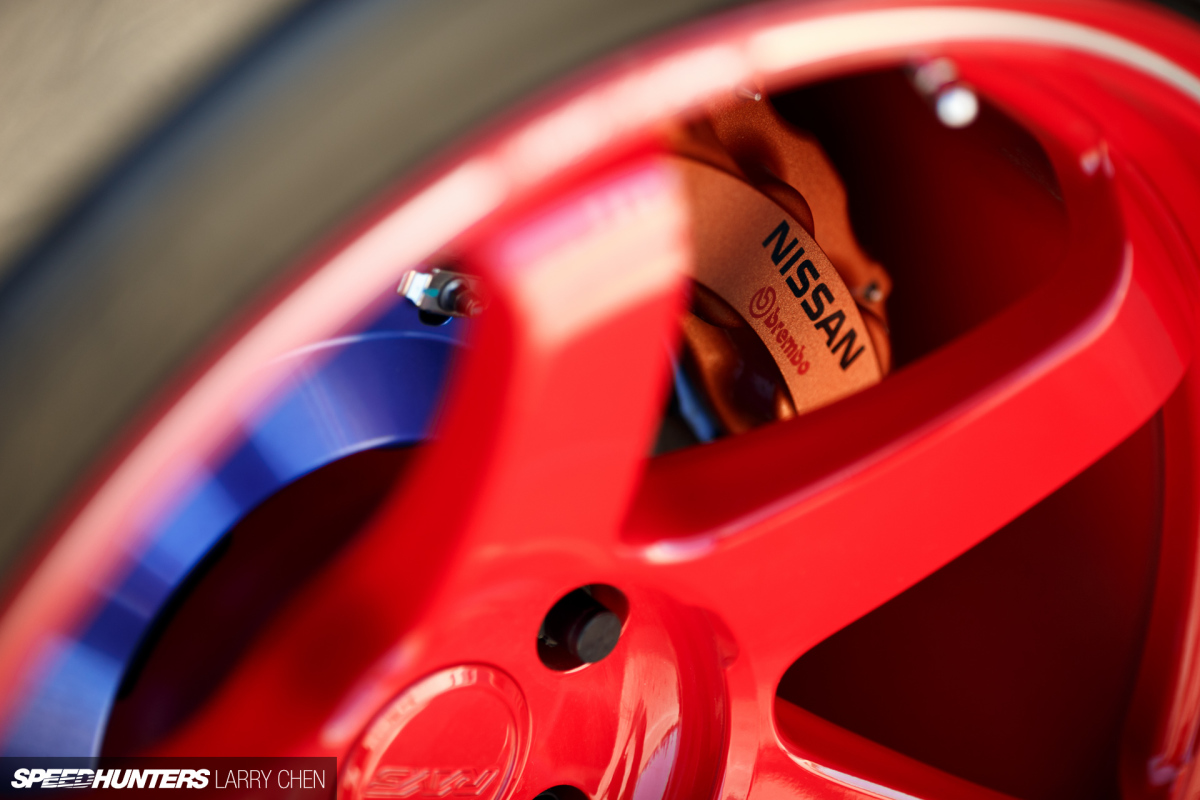 The wheels are sized 20×11-inch +0 in the front and 20×12-inch +20 in the rear, and are wrapped in sticky Toyo Proxes R888s tires, 285/35R20 and 315/30R20 front and rear respectively.
The Ultimate Performance Car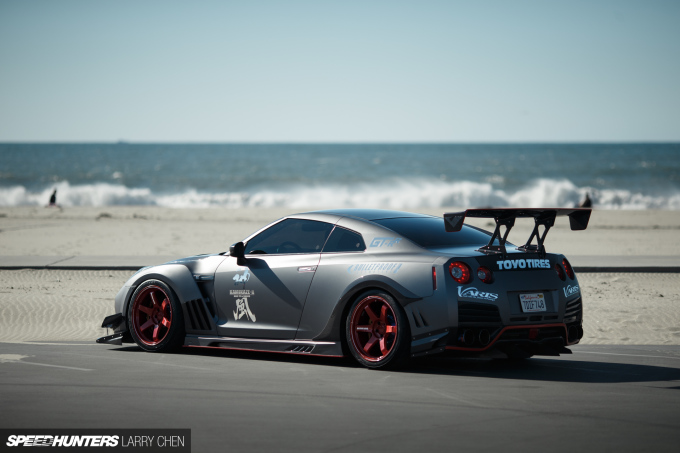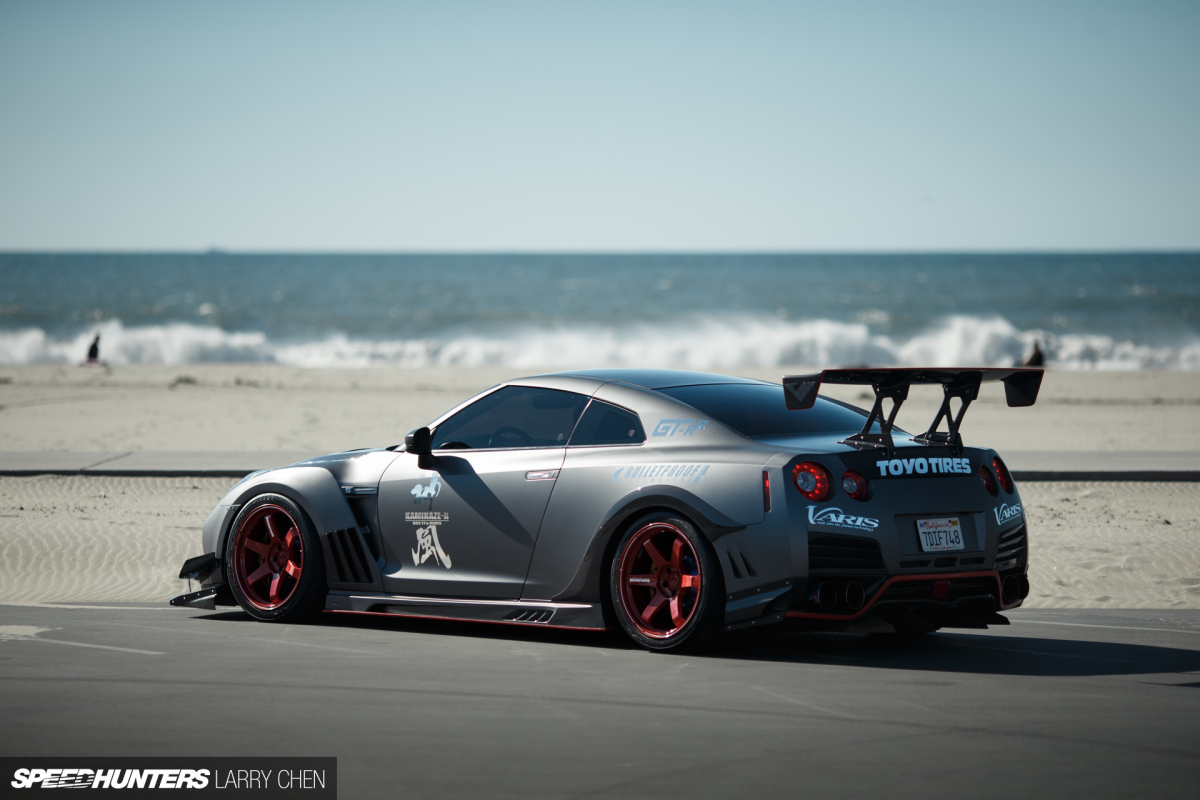 The body has been given the same treatment as the Japanese Kamikaze-R with a full Varis wide-body kit that includes front and rear fenders, bumpers, and side skirts.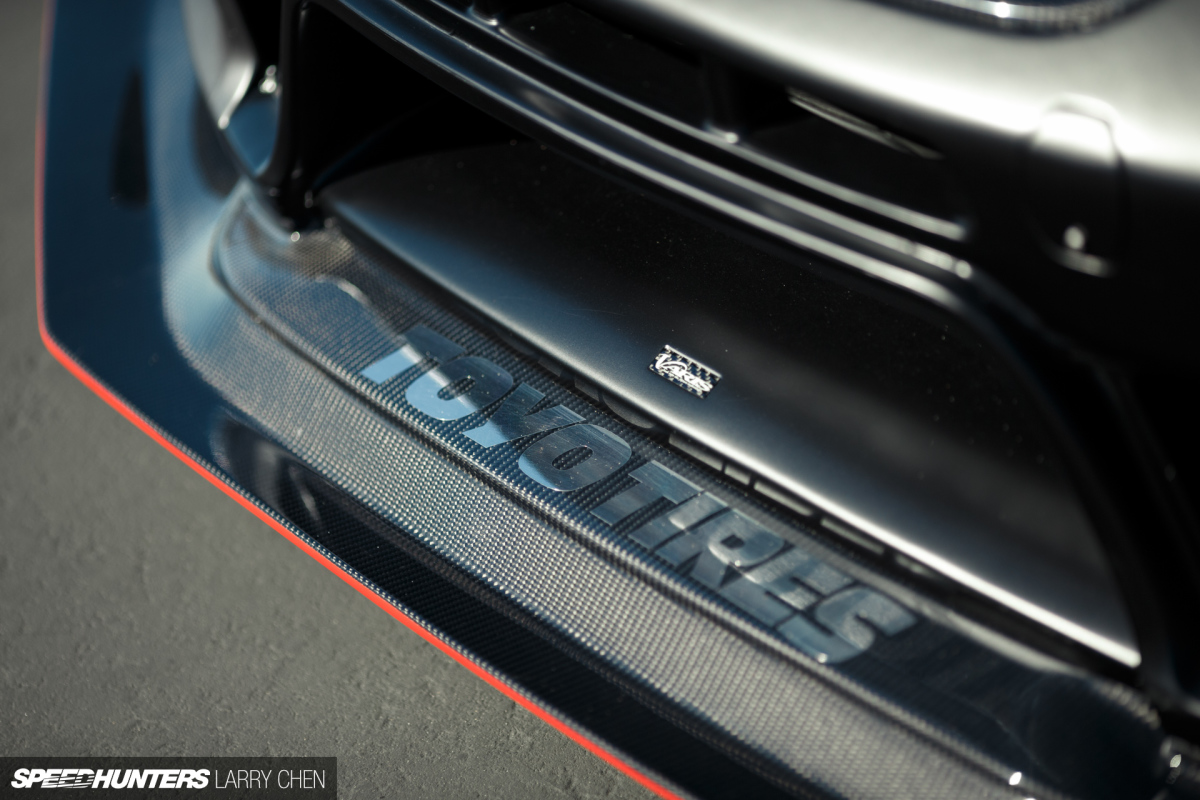 The Kamikaze-R USA is laden with carbon fiber, with the front splitter, canards and rear GT wing all making for the look of a street-going Super GT racer.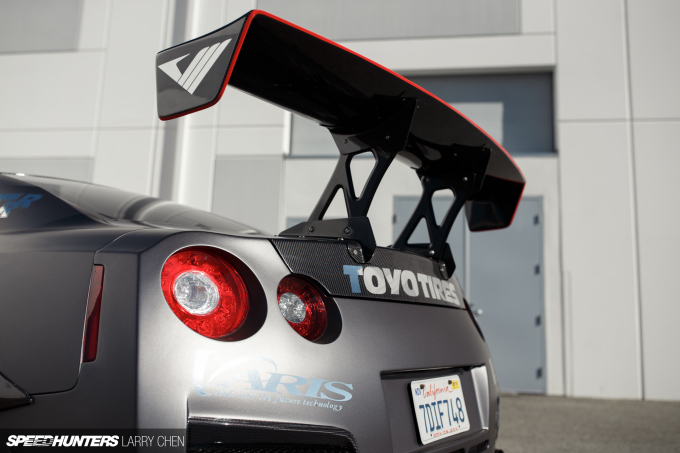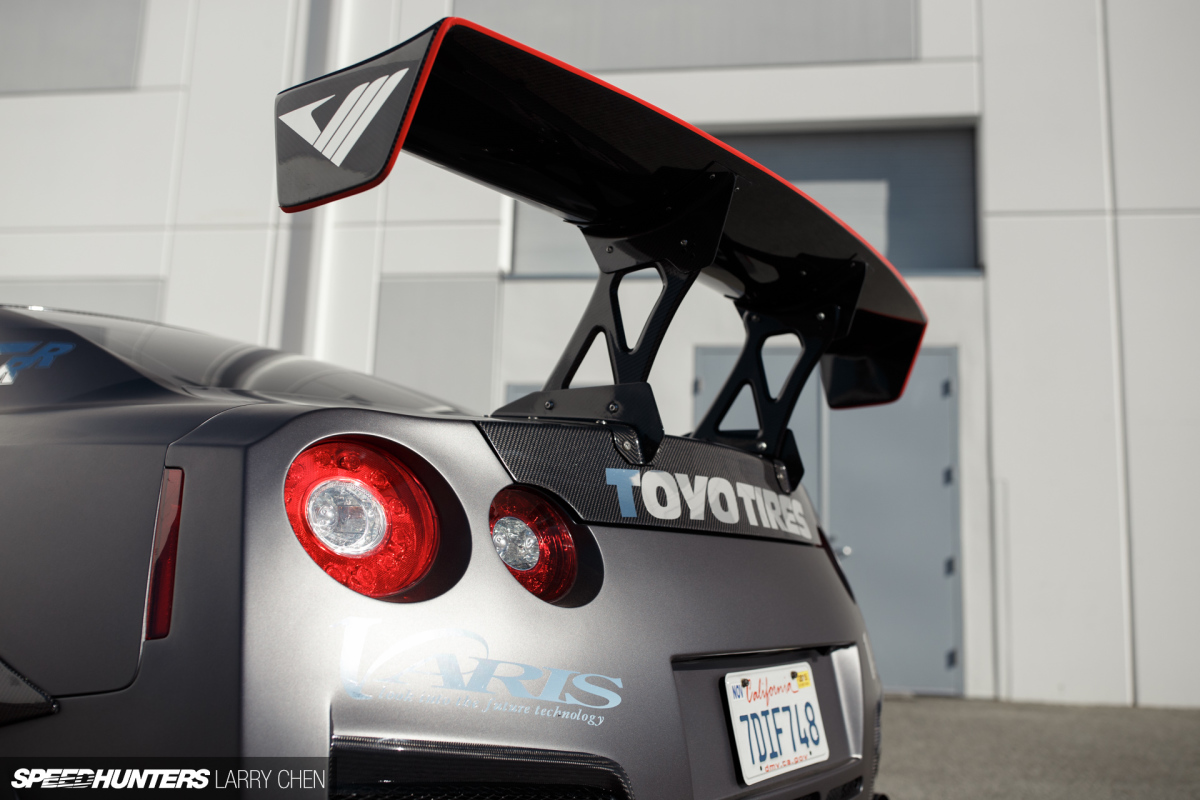 Other touches on the exterior include an Overtake carbon roof panel and a Top Secret caution lamp in the rear.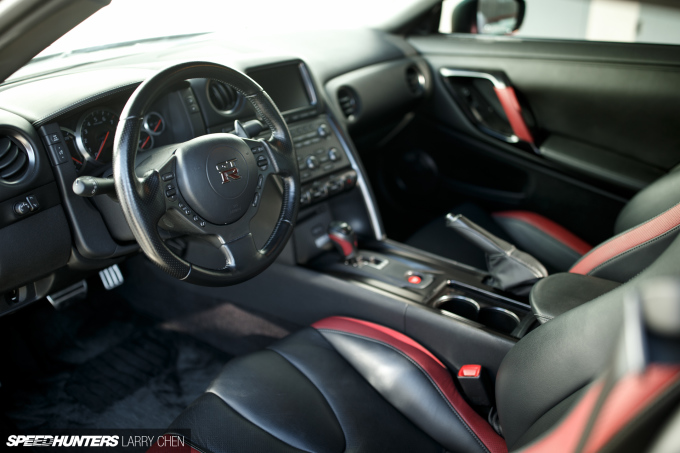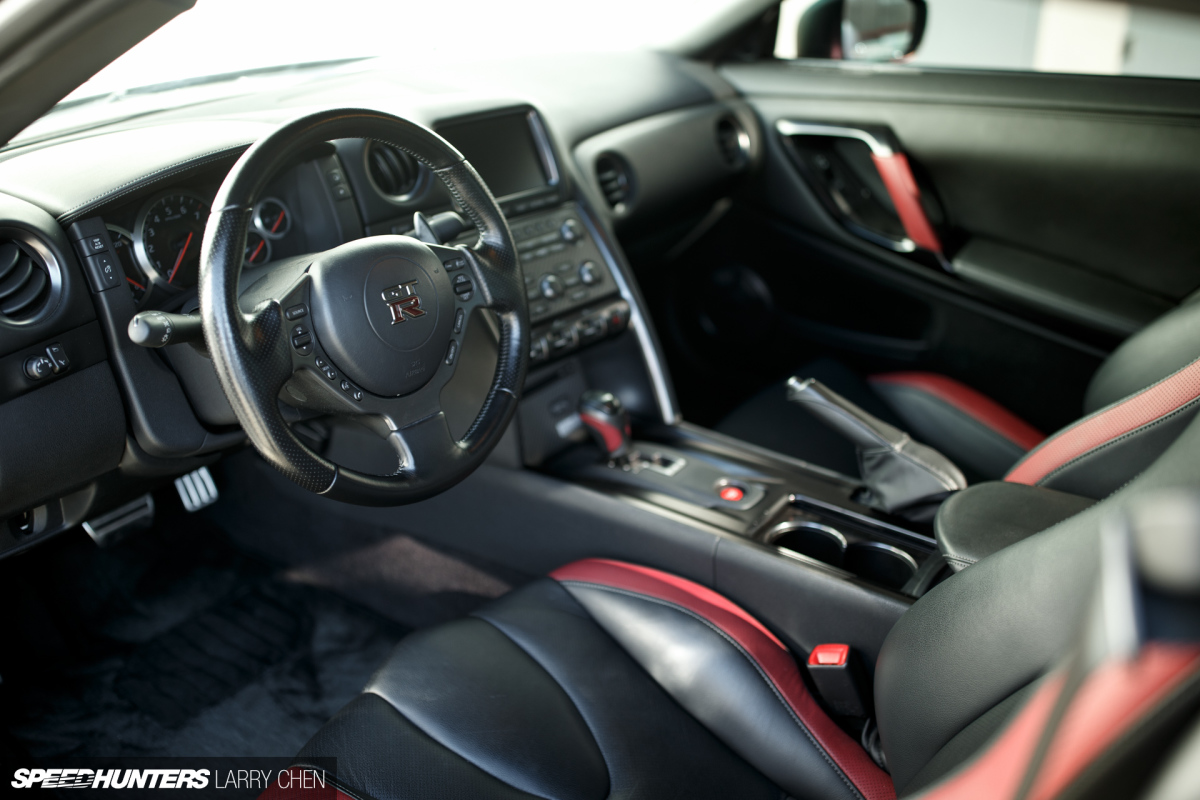 As for the interior, the idea was never to build this GT-R into a full track car, so the cabin has remained stock GT-R Black Edition. I wouldn't use the word 'sleeper', but the inside certainly doesn't shout '1,400 horsepower car.'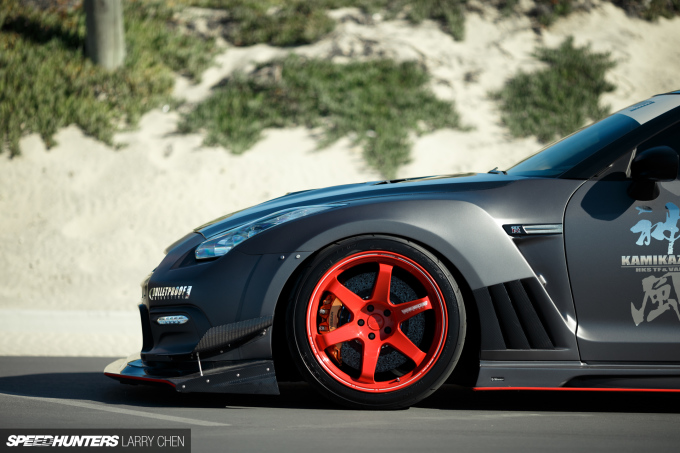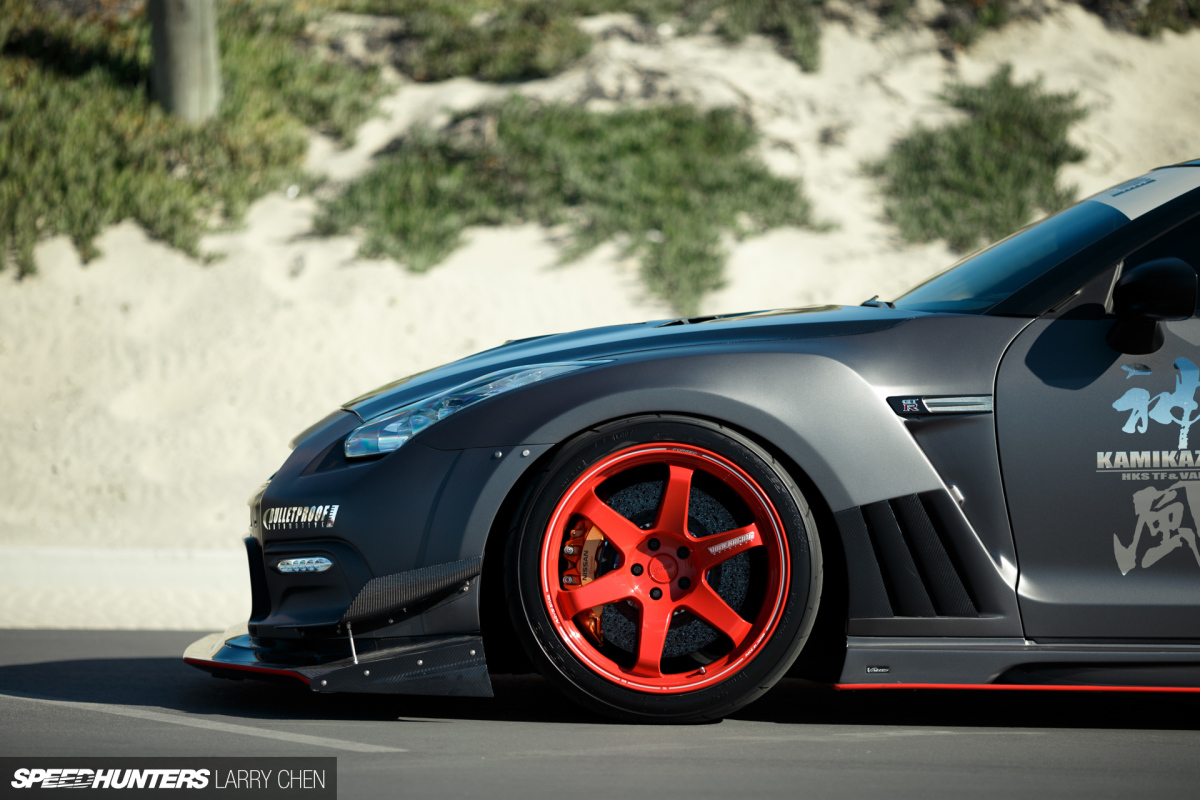 While there is no shortage of high-end, mega-horsepower GT-R builds out there these days, Bulletproof believes this car might be one of the most capable R35s around; a car with limits that could only be explored by a very experienced driver on a very big race track.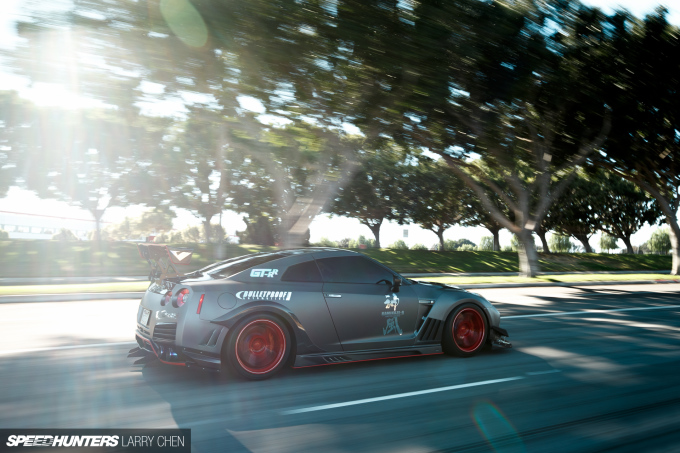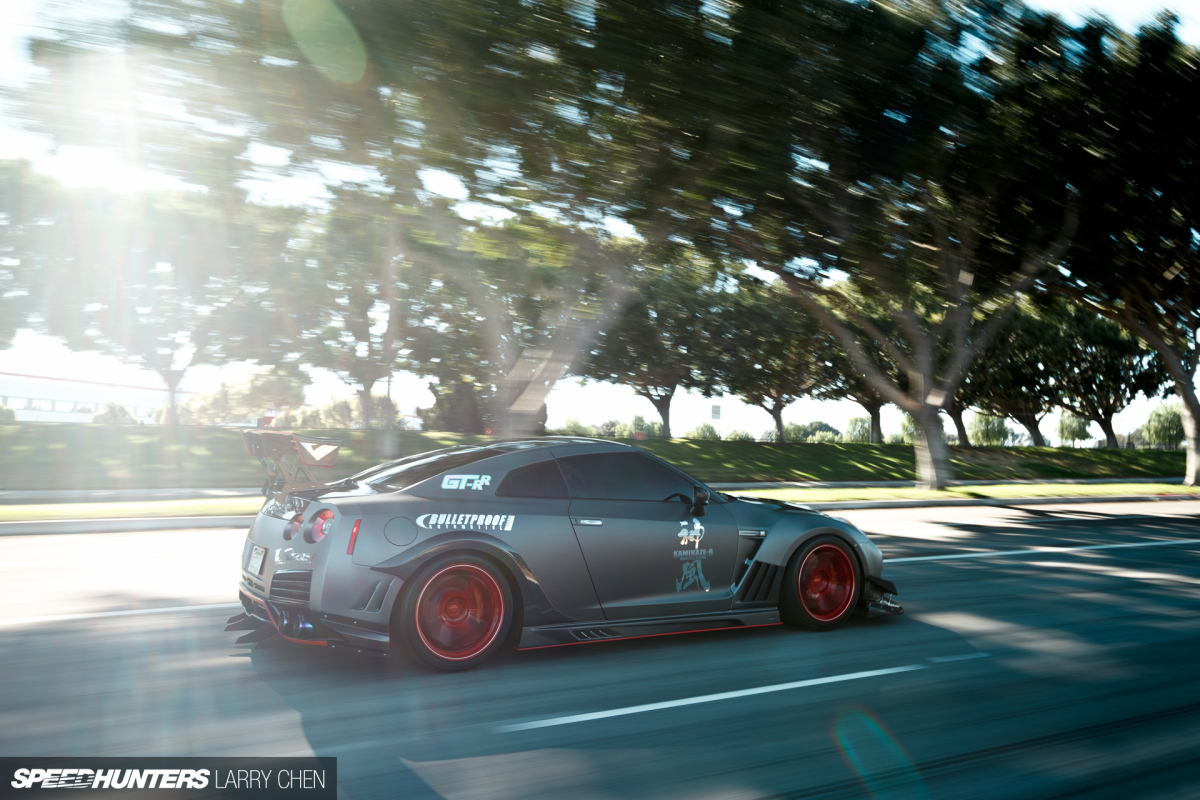 But in the the right hands, they believe the Kamikaze-R USA is among the fastest streetable automobiles in the world. With 1,400hp on tap in a very balanced and road-friendly package, it's hard not to believe them.
Mike Garrett
Instagram: japanifornia_media
mike@speedhunters.com
Photos by Larry Chen
Instagram: larry_chen_foto
larry@speedhunters.com
Bulletproof Automotive Kamikaze-R USA Nissan GT-R 
Numbers
Dyno Power: 1,401whp @ 8,150rpm (E85 fuel)
Engine
Nissan VR38DETT, Switzer Performance 3.8L R1K-X Stage II package, Garrett GT35R-based turbocharger, Syvecs S8 engine management system, Overtake x Amuse 100-V Saikou titanium exhaust system
Driveline
Switzer Performance GR6 transmission & clutch upgrades, The Driveshaft Shop axles, GReddy transmission cooler
Suspension/Brakes
KW V3 Clubsport coilovers with KW hydraulic front lifter system, Overtake x Brembo carbon ceramic brake system, SPL control arms
Wheels/Tires
RAYS Volk Racing TE37 Ultra with 'Nismo Red' finish 20×11-inch +0 (front) 20×12-inch (rear), Toyo Proxes R888 285/35R20 (front) 315/30R20 (rear) tires
Exterior
Varis Japan Kamikaze-R complete aero kit, Overtake carbon roof, satin wrap, Top Secret rear caution lamp
Interior
Factory Nissan GT-R Black Edition