510 Forever
Last year when I was in Japan, I had the chance to attend a casual meet in Yokohama dedicated to the Datsun 510 and Nissan Bluebird where I was greeted by an array of vintage 510s modified in many different ways. During my coverage of the meet I mentioned that the 510 Bluebird is a car that holds a unique spot in Japan's classic car scene.
In the United States, the little Datsun 510 quickly earned a reputation both on the street and race track, and along with the 240Z it would become one of the first enthusiast-oriented Japanese imports in America. In Japan things were a bit different…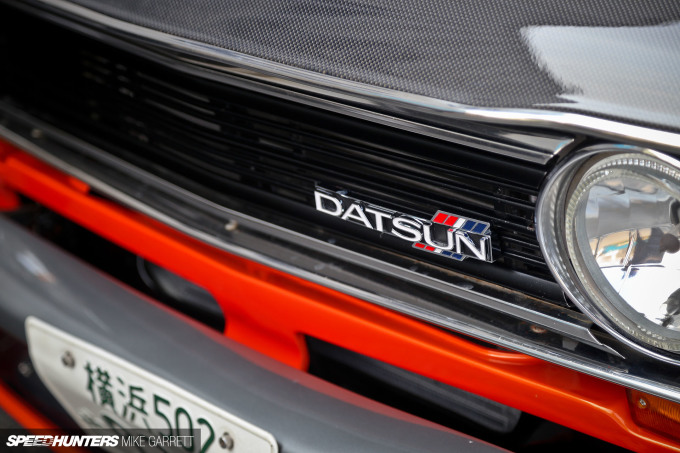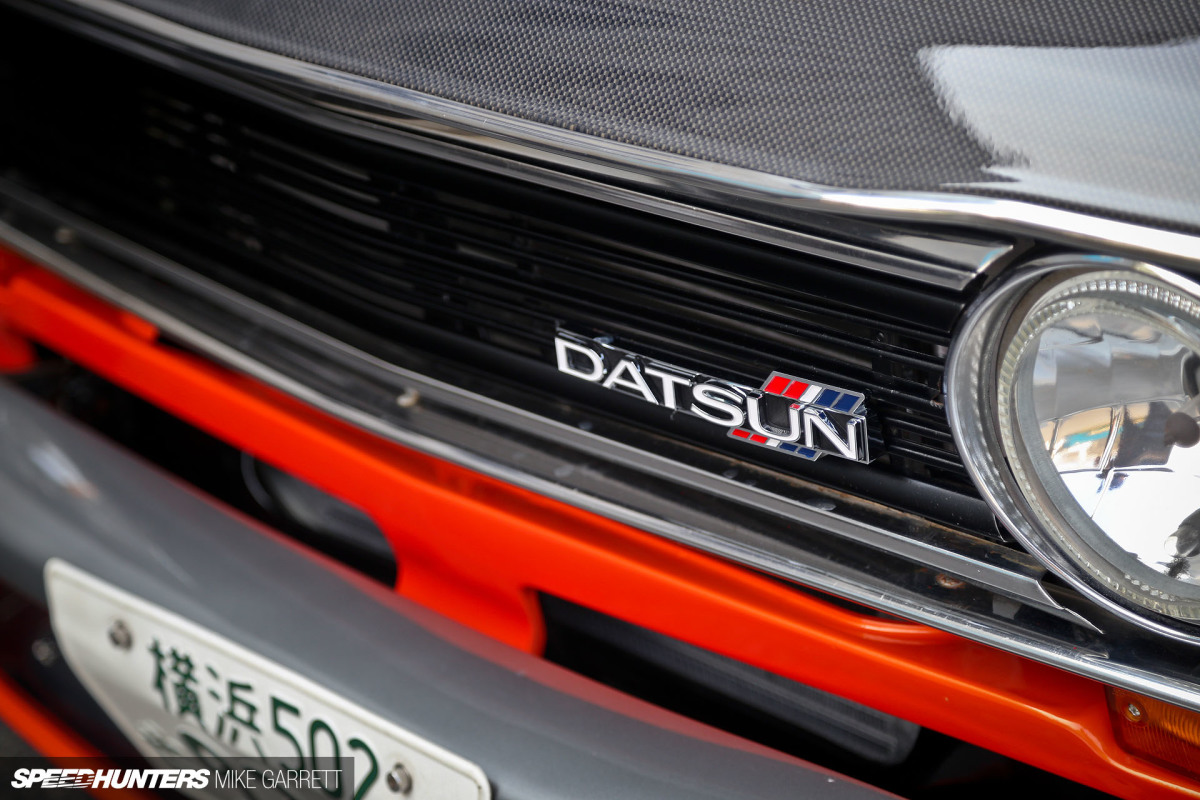 The Nissan Bluebird always had fans in its home market, but there it was part of a line-up that also featured cars like the competition-proven Sunny GX, the Nissan Laurel, and of course the Hakosuka Skyline – most notably the GT-R variant, which became a thing of legend in the motorsport world.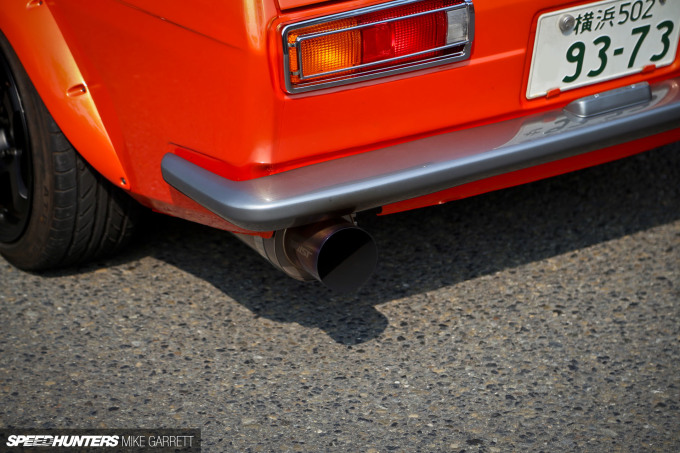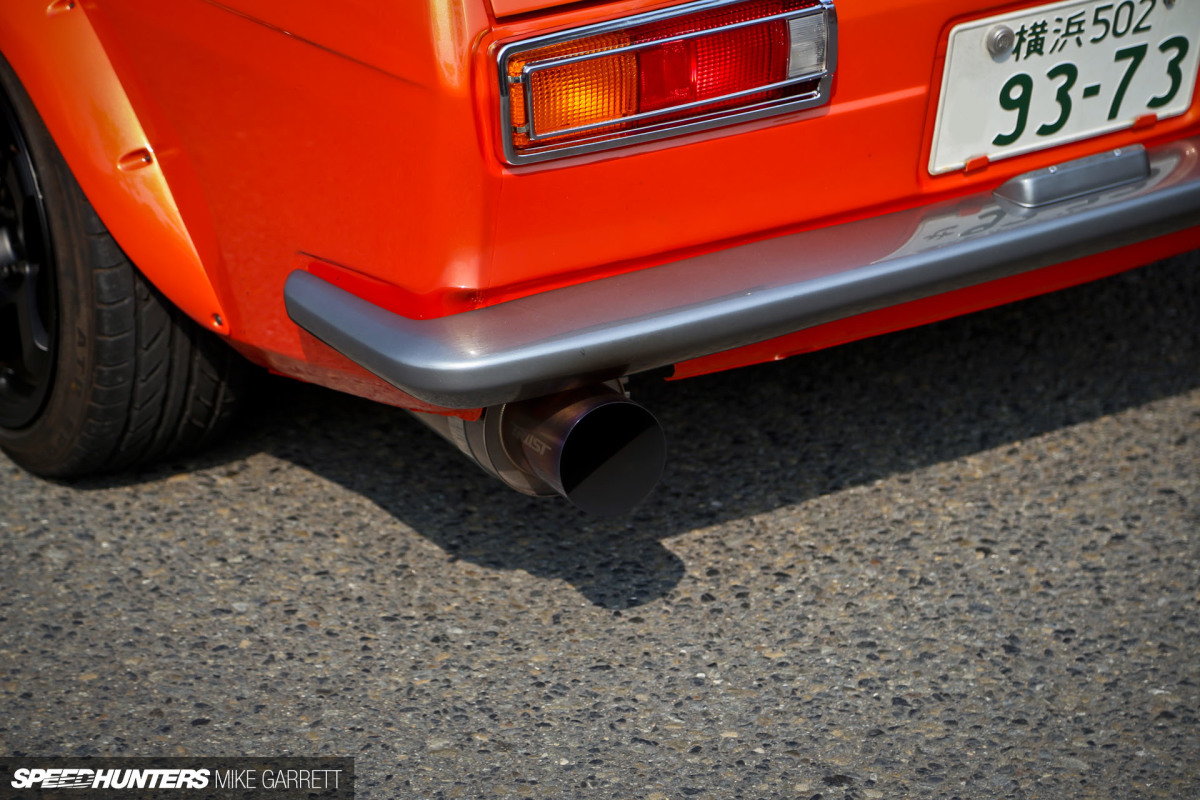 But for some reason, 510 Bluebird owners in Japan seem to be extra passionate when it comes to their cars. They are more than just vintage car fans – they are 510 maniacs.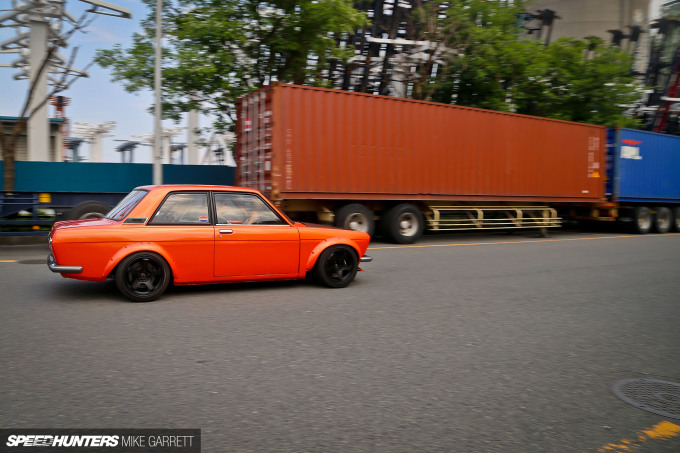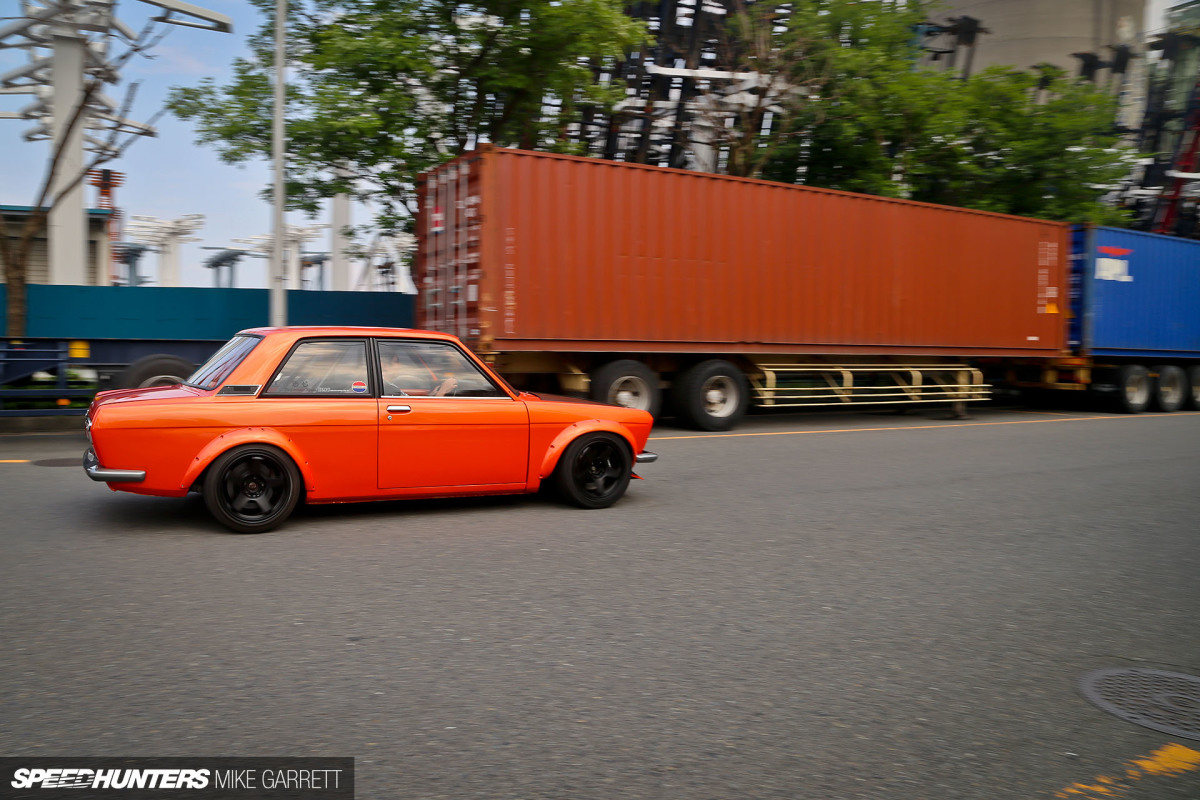 And that brings me to a man by the name of Hirohisa Hosokawa.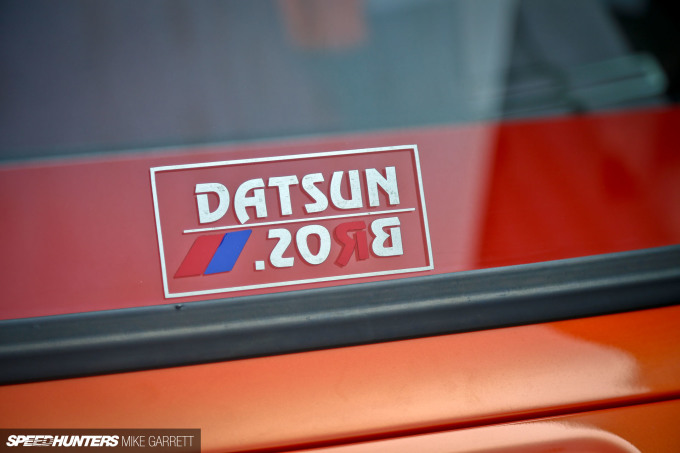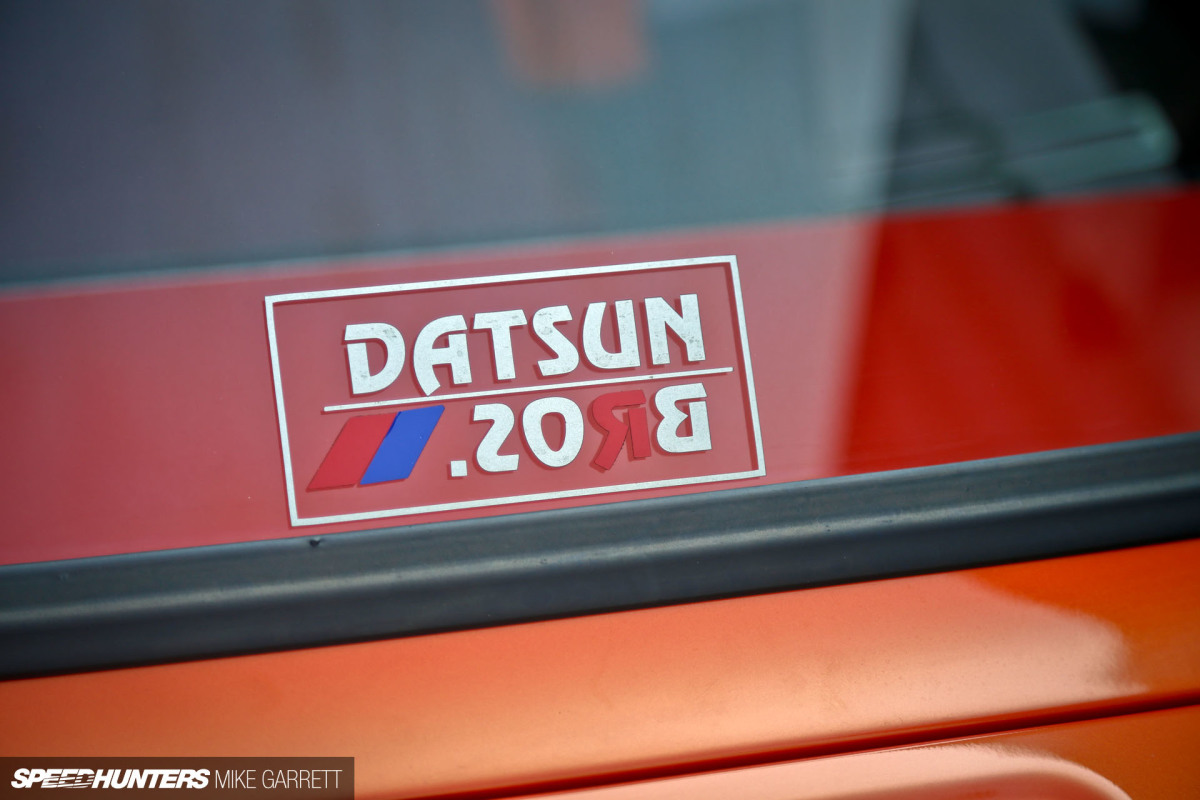 Hosokawa is 510 nut through and through, and has been for most of his life. His bright orange 1971 Bluebird 1400 DX has been a work in progress for many years, and is likely one of the most extensively modified 510s in all of Japan.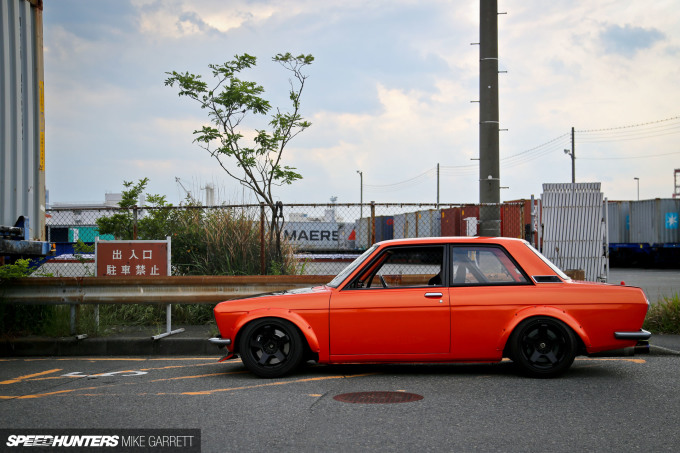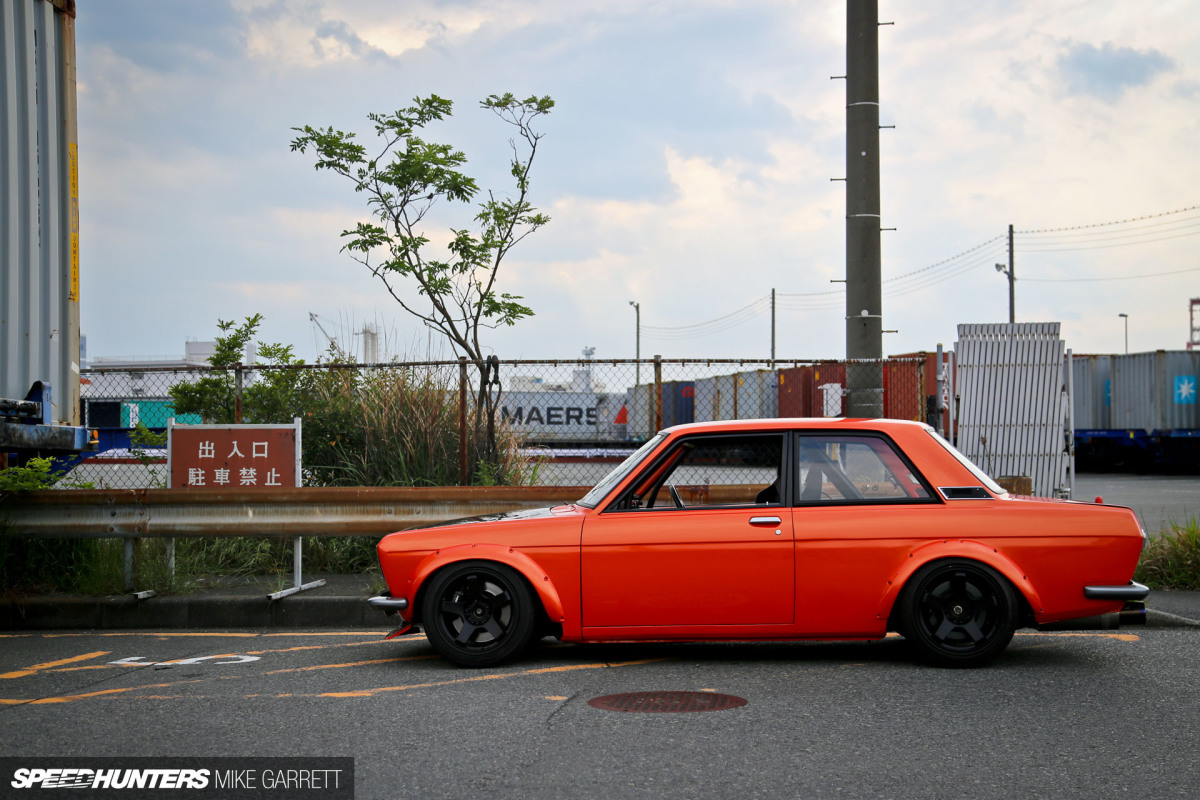 Truth be told though, there's not a whole lot of 1971 Nissan stuff left on this car; over the years, Hosokawa has rebuilt and renovated nearly every part of the 45-year-old 510. And even better is that all of the modifications get put to use both on the road and at the race track. So let's take a closer look at this radical orange machine…
Retro Look, Modern Speed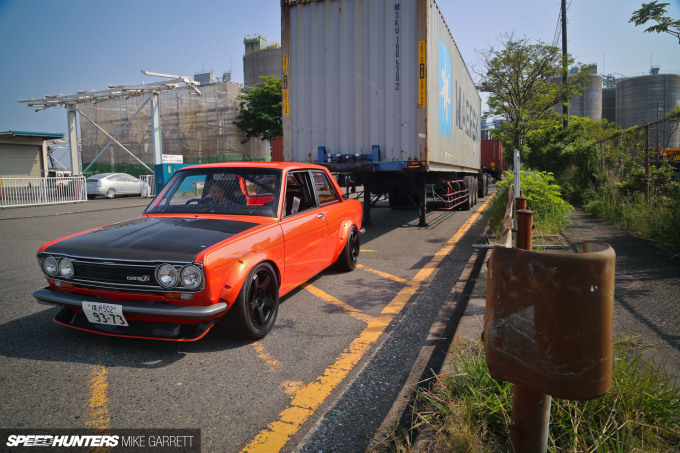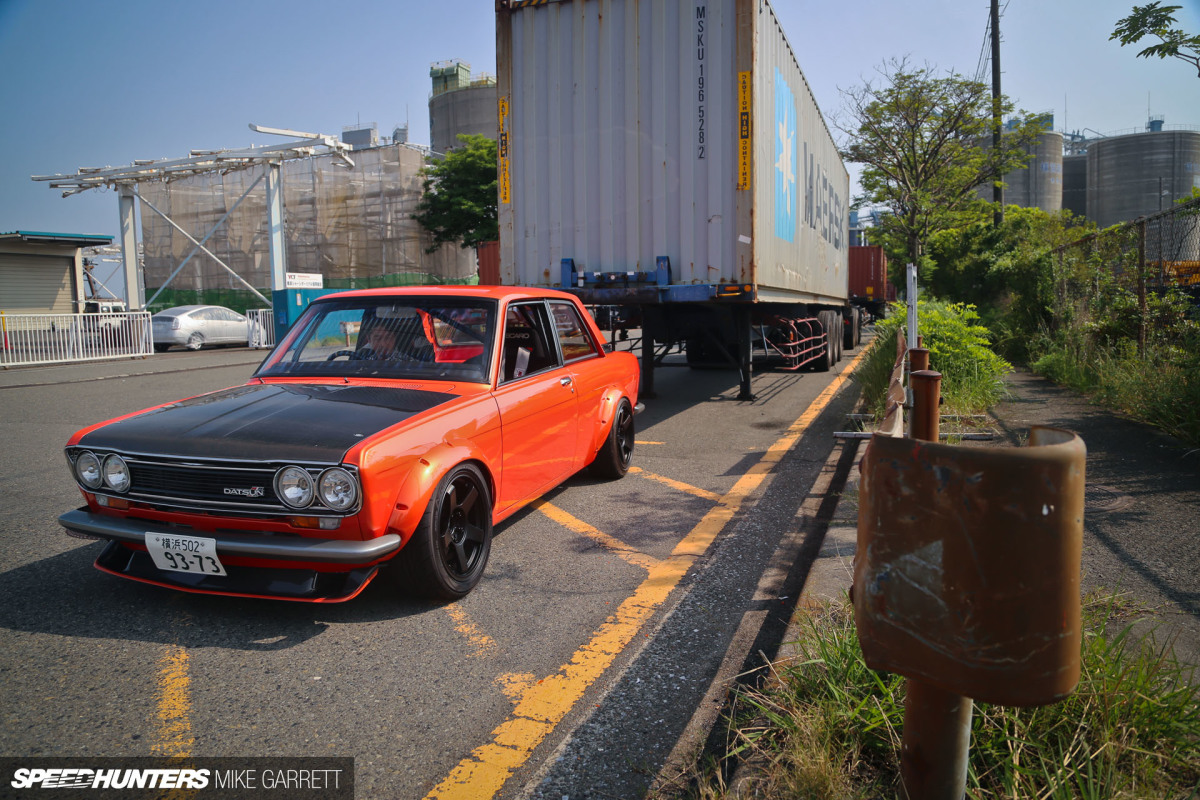 From a distance, the Bluebird doesn't appear too different from other modified 510s out there. But then you notice the abnormally wide wheels and tires, the big brakes and the rollcage. You realize this thing might be a little more extreme than your typical weekend toy Datsun.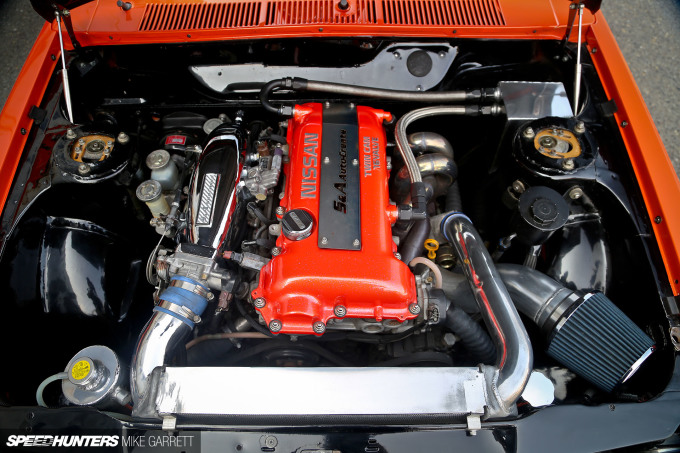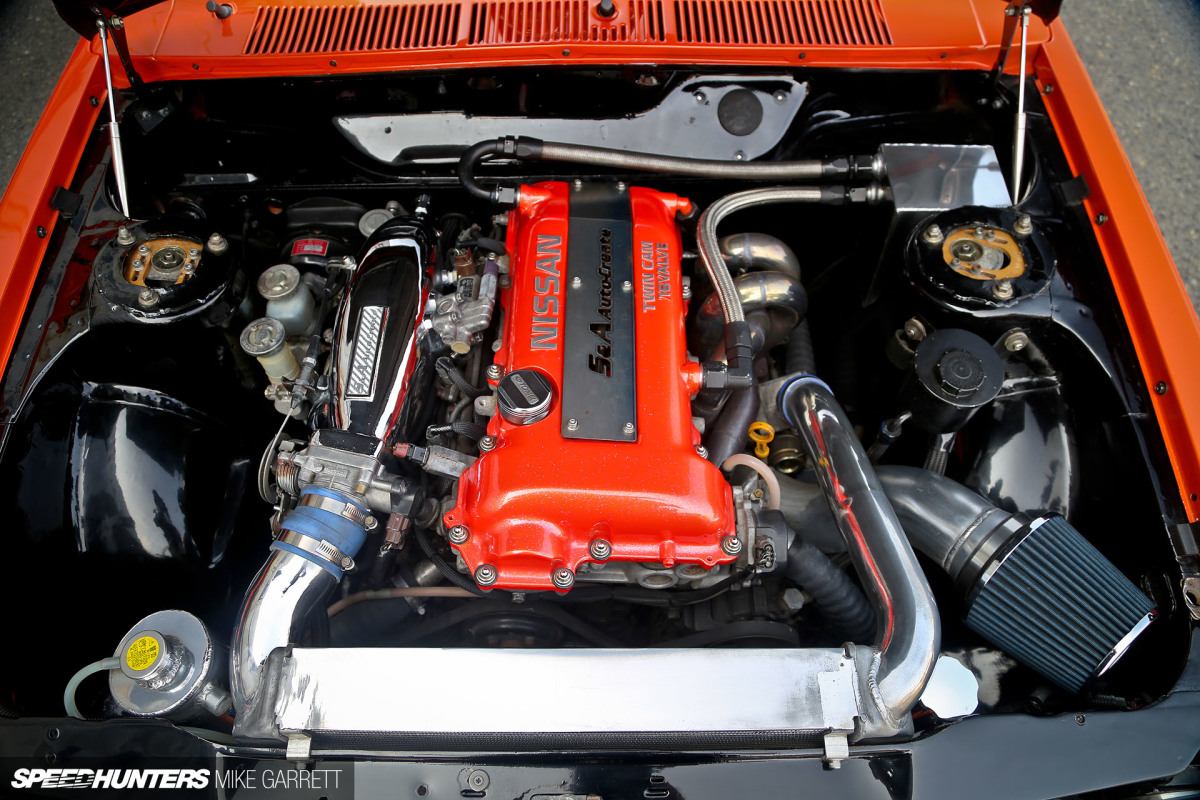 Lift up the carbon fiber hood and you see that the original L-series engine is long gone; in its place a very potent-looking turbocharged SR20DET setup. The motor came from an S14 Silvia and it's been fitted with a lot of the usual upgrades to squeeze more power from Nissan's venerable turbo four-cylinder.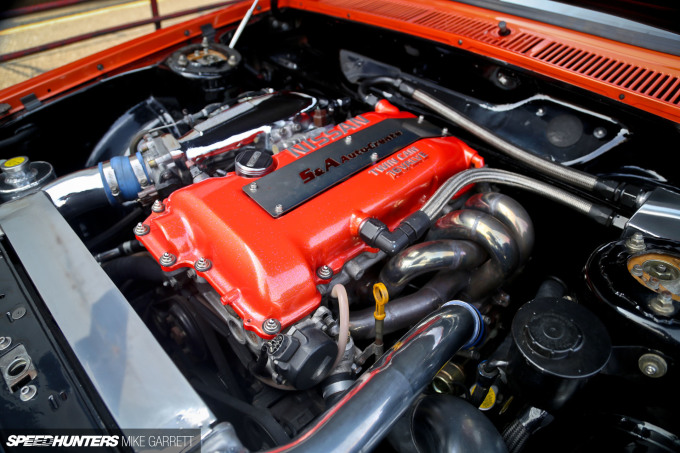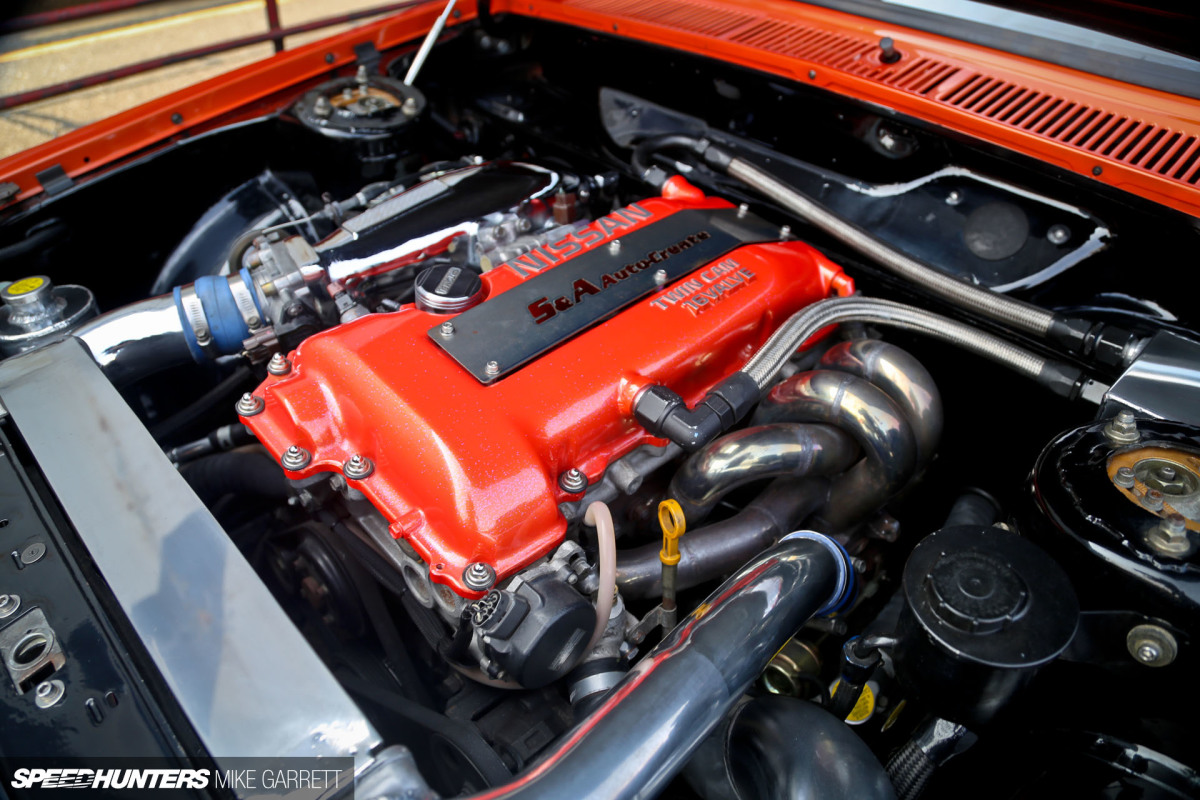 There's an upgraded exhaust system, an intercooler borrowed from a Mitsubishi Lancer Evolution VI, a fully upgraded fuel system and a Tomei ECU overseeing it all. Yes, there are certainly more powerful SR20DETs out there, but when you consider just how light a 510 Bluebird is, this is a formula for some very serious performance.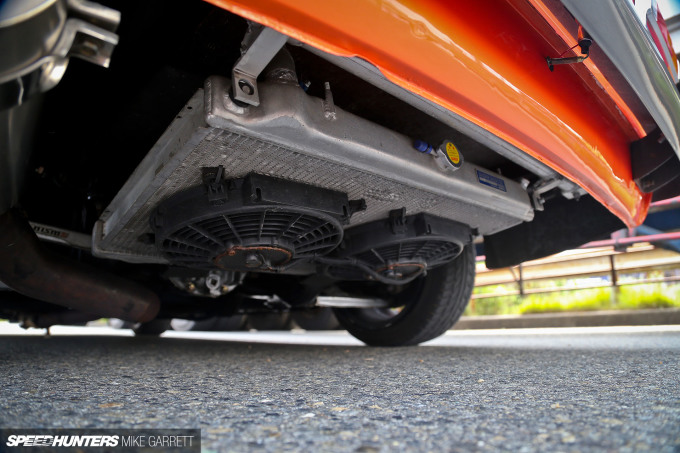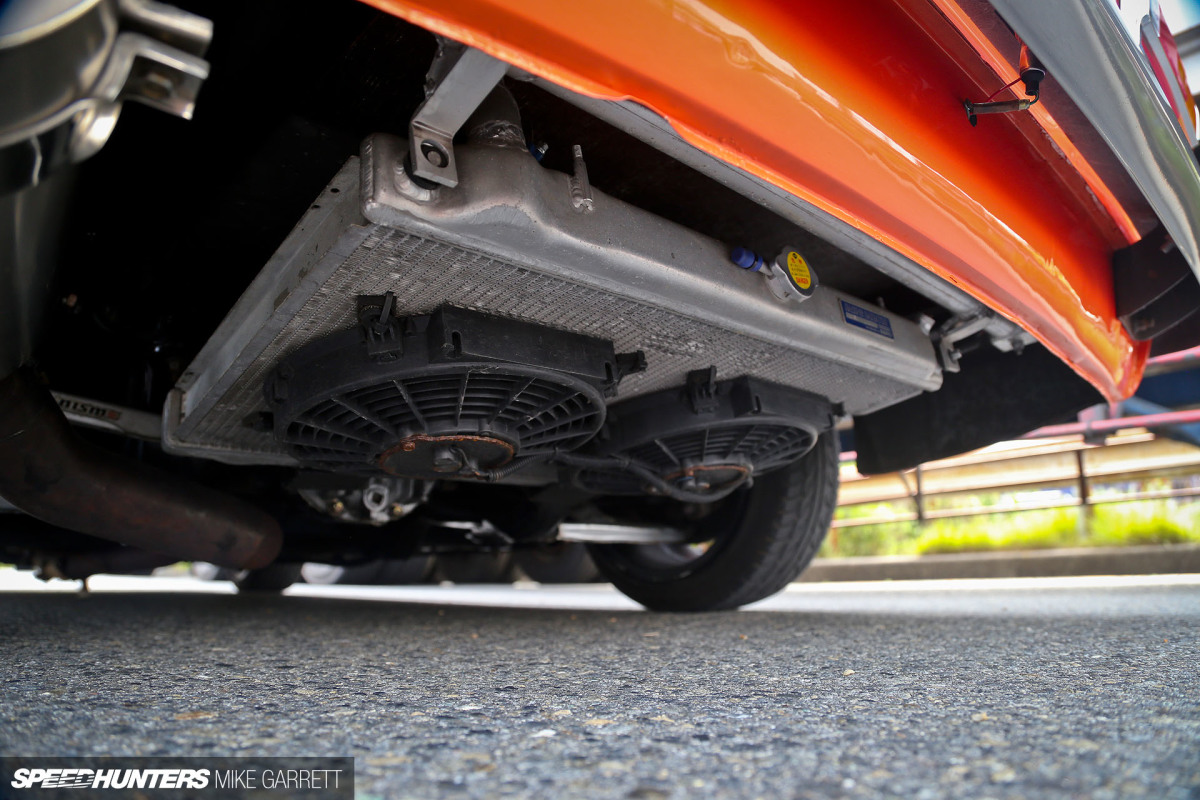 There's also a heavy-duty Sard radiator, but you won't see it in the engine bay. That's because it's been mounted in the rear to improve both cooling and weight distribution.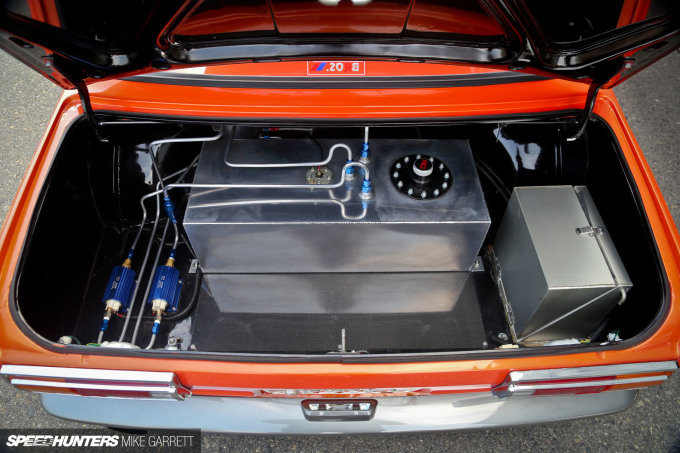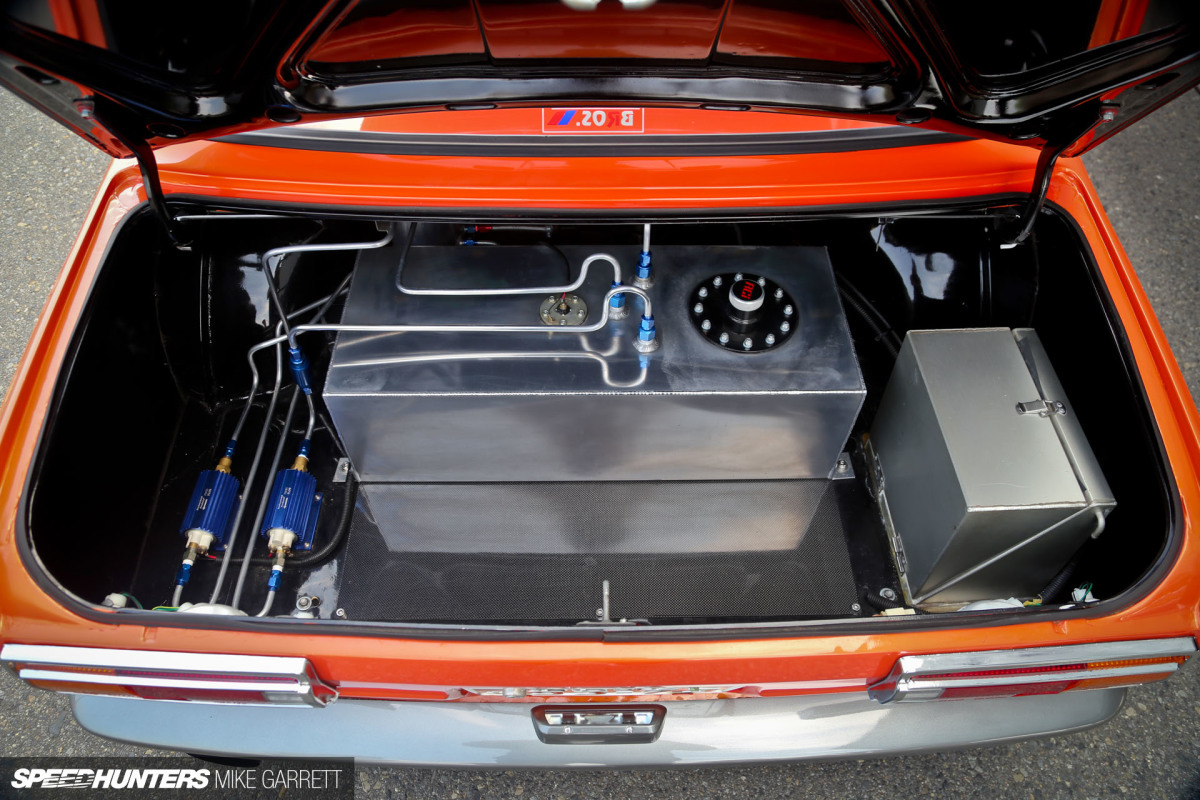 And sitting directly above the radiator is a trunk-mounted RCI fuel cell which supplies its high octane gasoline through a pair of Professional Products fuel pumps.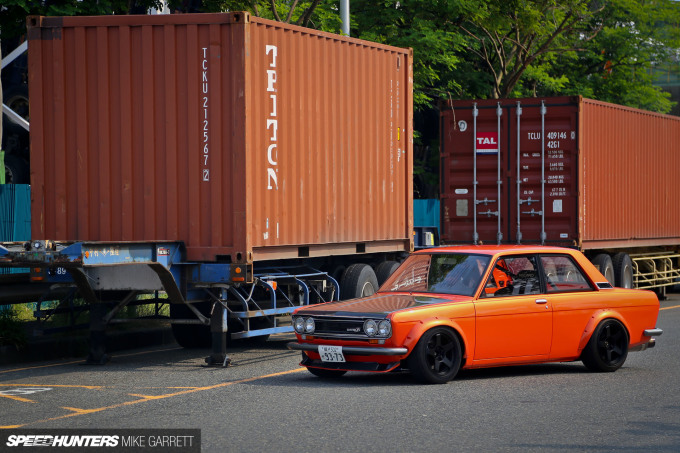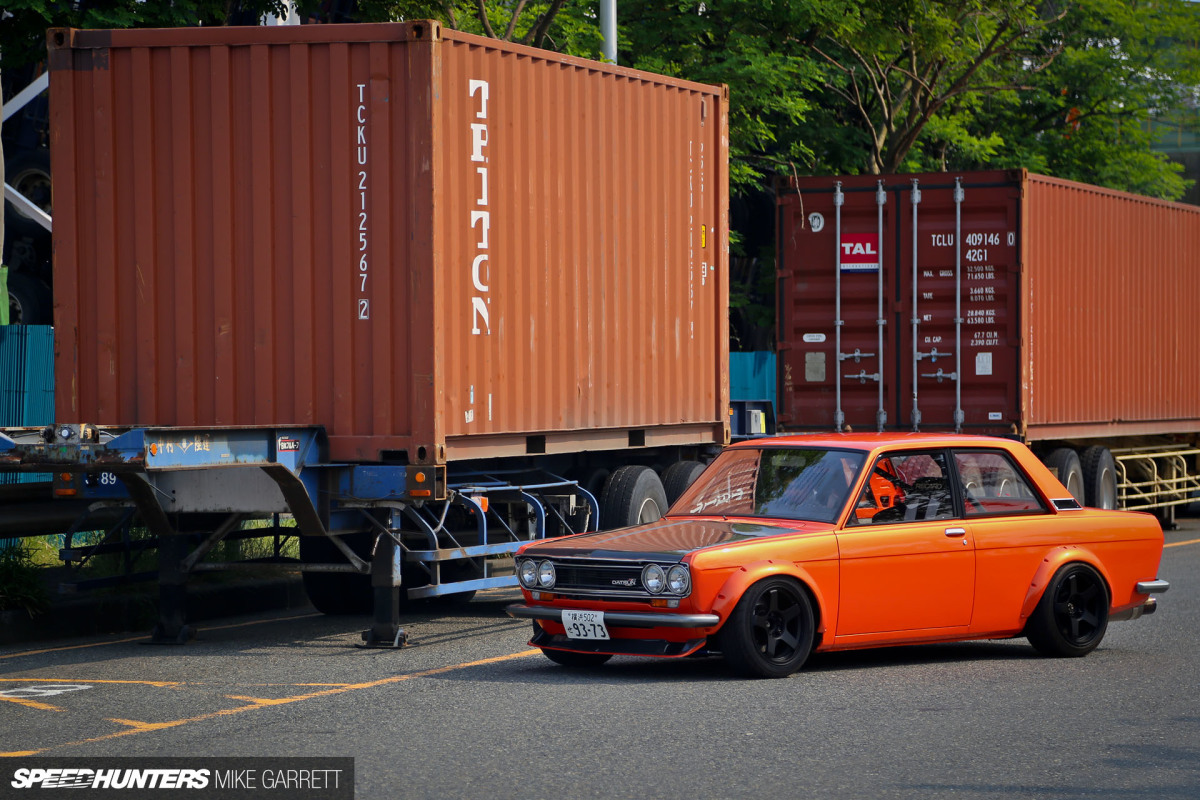 These days SR20DET-powered 510s aren't uncommon, but Hosokawa's car goes far beyond just having a cool engine swap. The steering for example, has been converted to a rack and pinion setup from an A31 Cefiro.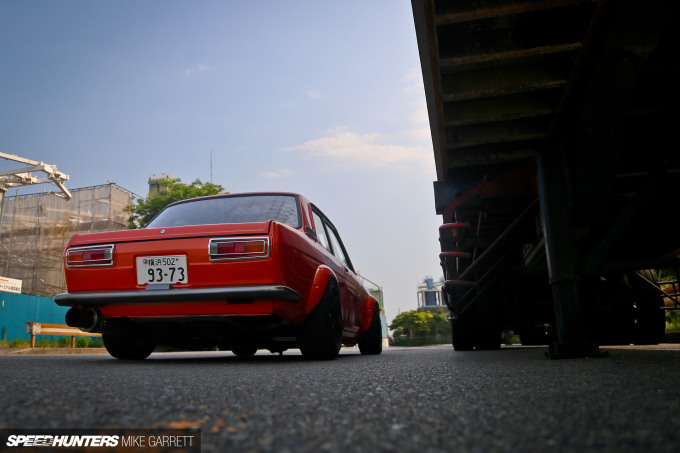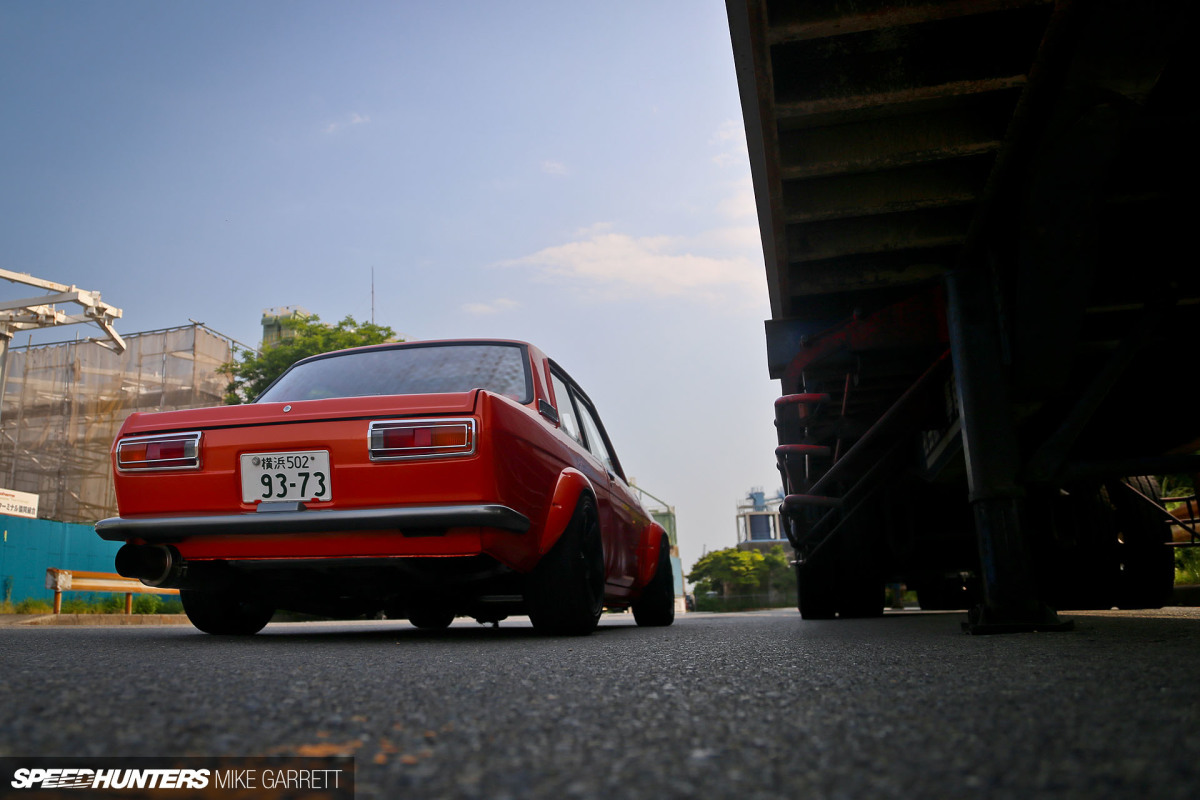 Out back, all of the factory 510 rear suspension has been replaced with the very capable multi-link setup from an R33 Skyline GT-R, and there are Megan Racing adjustable lower control arms in the mix too.
Ready For Action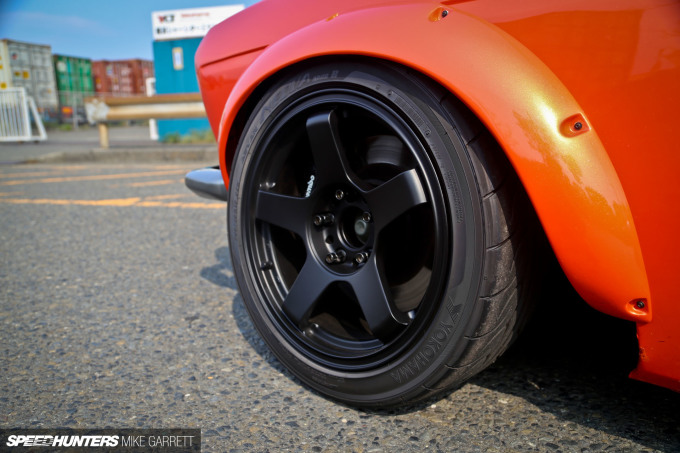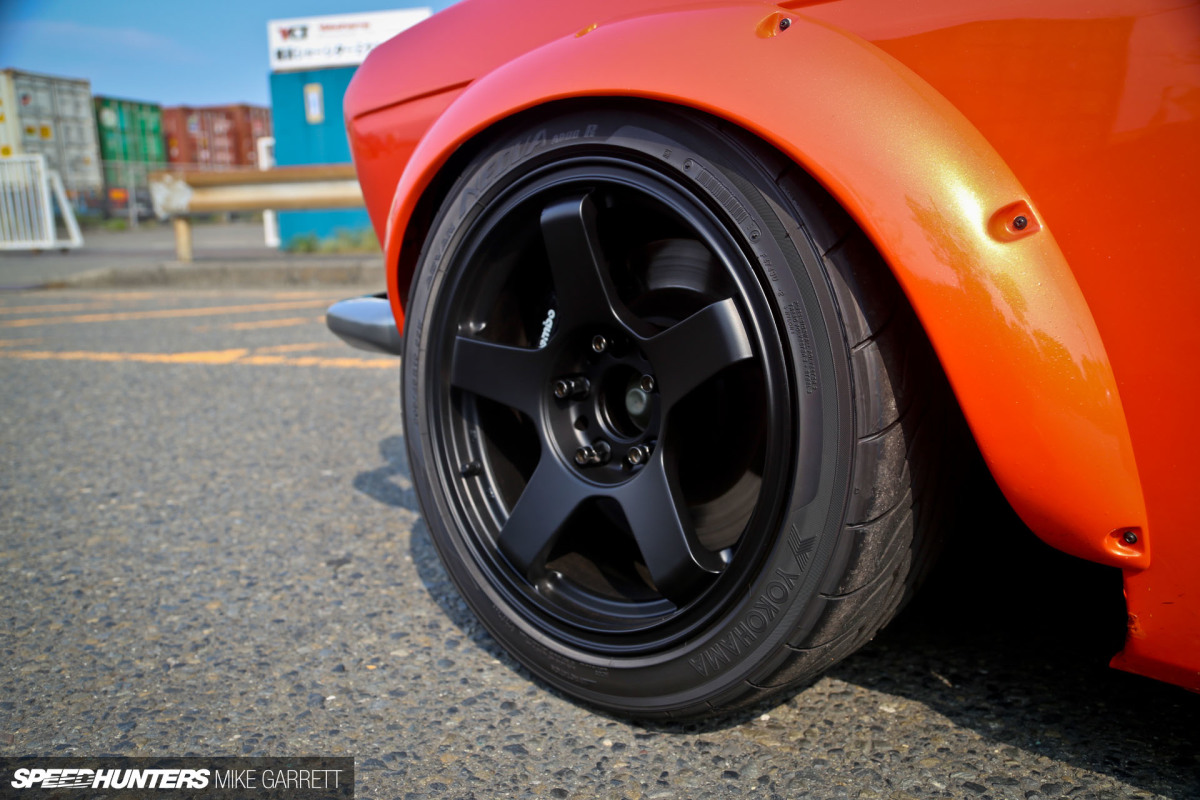 Despite the light weight of the two-door 510, the Nissan's brakes have also seen some serious upgrades. Up front are 4-piston Brembos with 315mm rotors, while at there rear there's 2-pot calipers and discs from an R32 Skyline.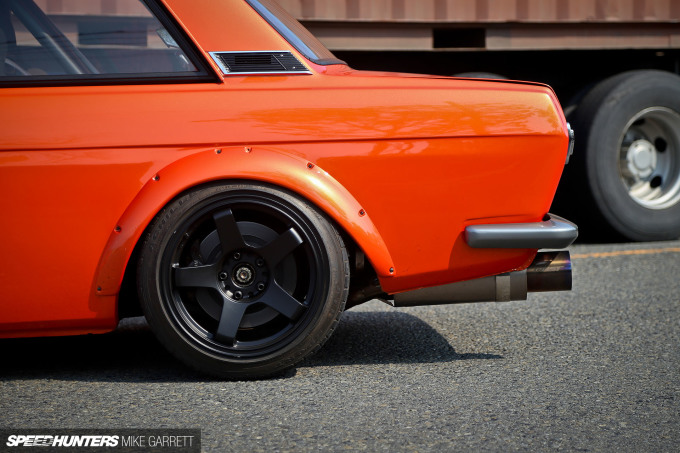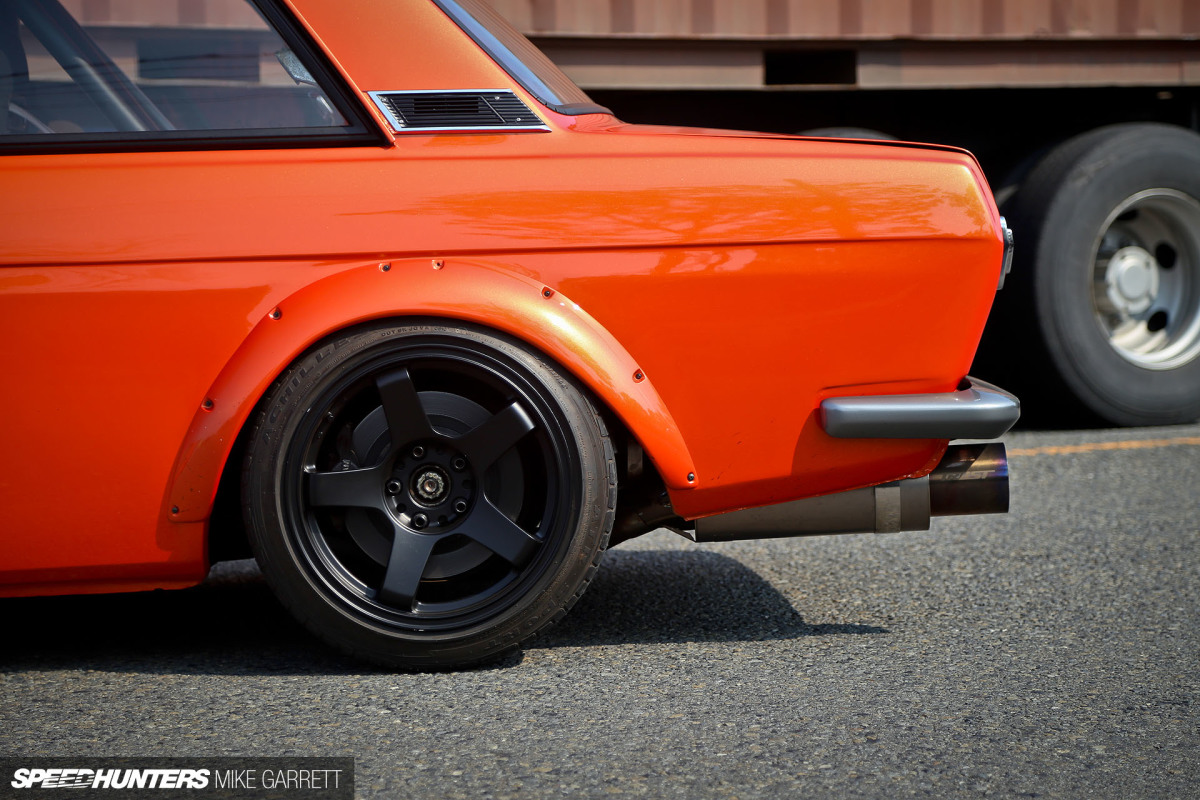 Also of note is that the hubs have been converted over to five lug, allowing the fitment of 16-inch concave-faced M2 Hanbai DT-05 wheels in an aggressive matte black finish.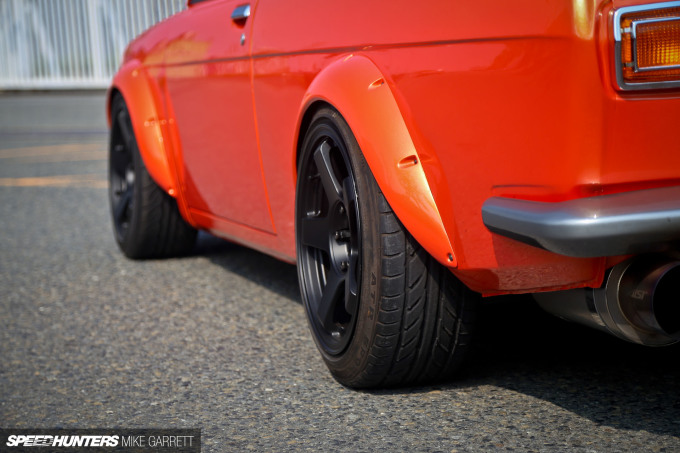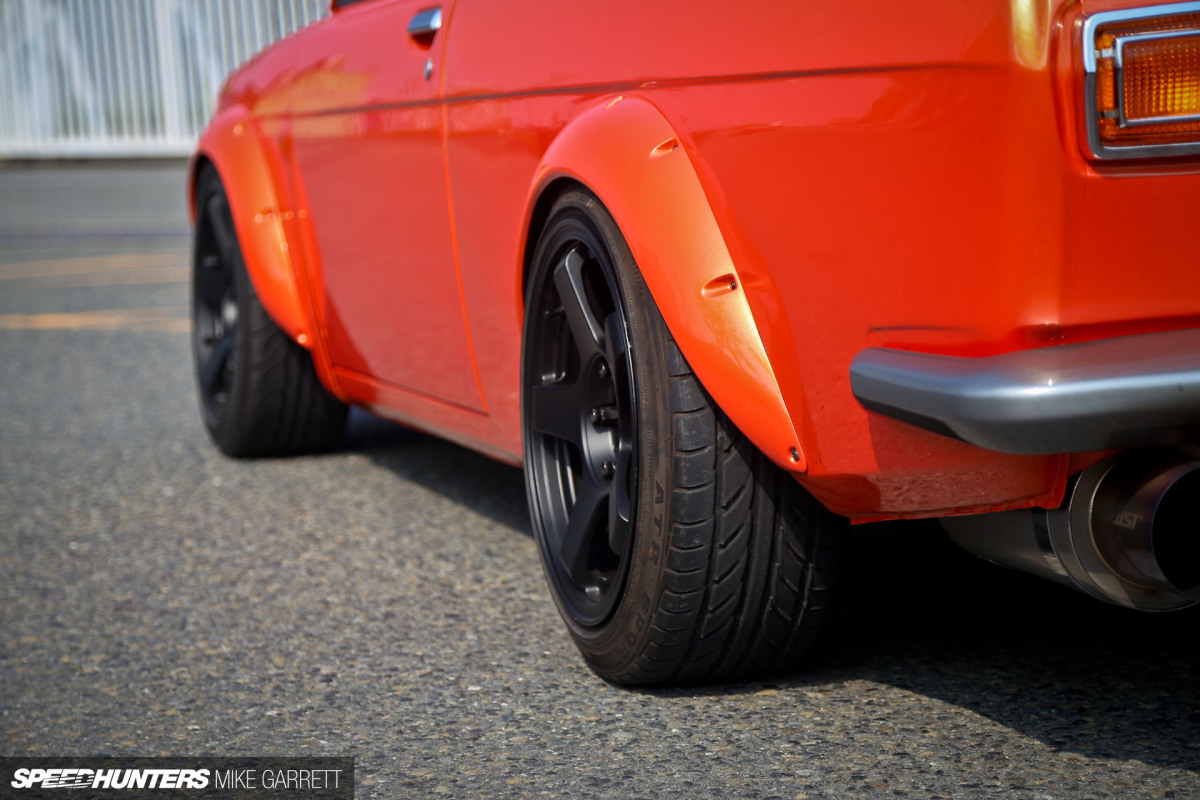 On this particular day the car was wearing sticky Yokohama Advan AD08Rs up front and Achilles rubber in the rear; likely mismatched because Hosokawa loves taking the 510 out to Fuji Speedway for some drifting whenever he has the chance.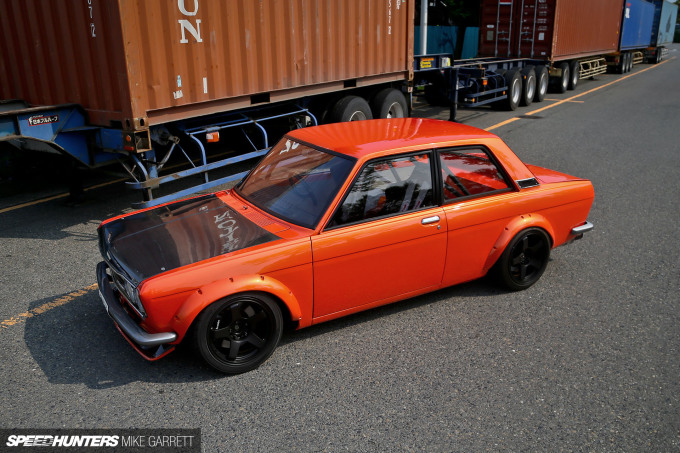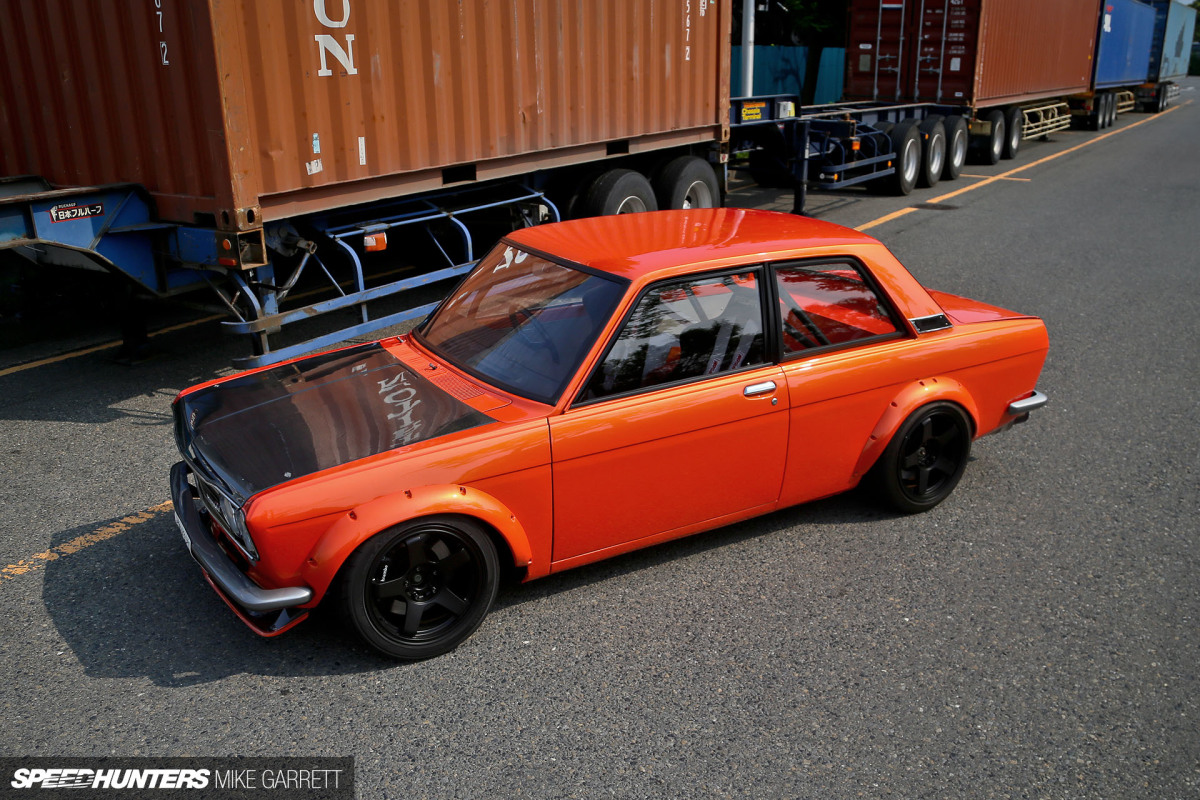 Sitting over the wide wheels are a set of TS Cup style overfenders from Refresh 60. The aforementioned carbon fiber hood as well as the BRE-style carbon fiber chin spoiler are Datsun Bros. original items.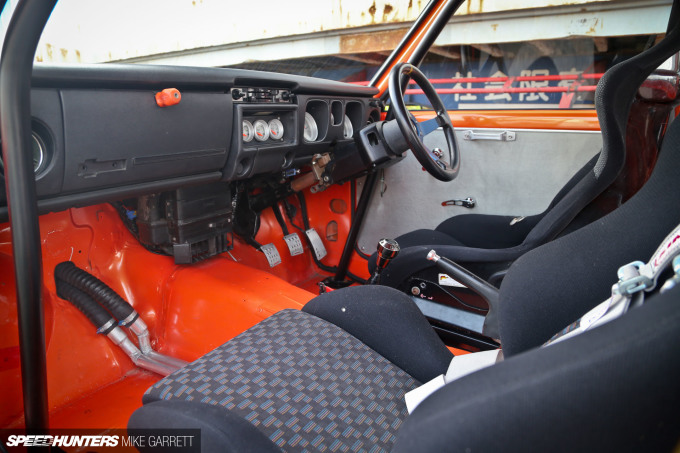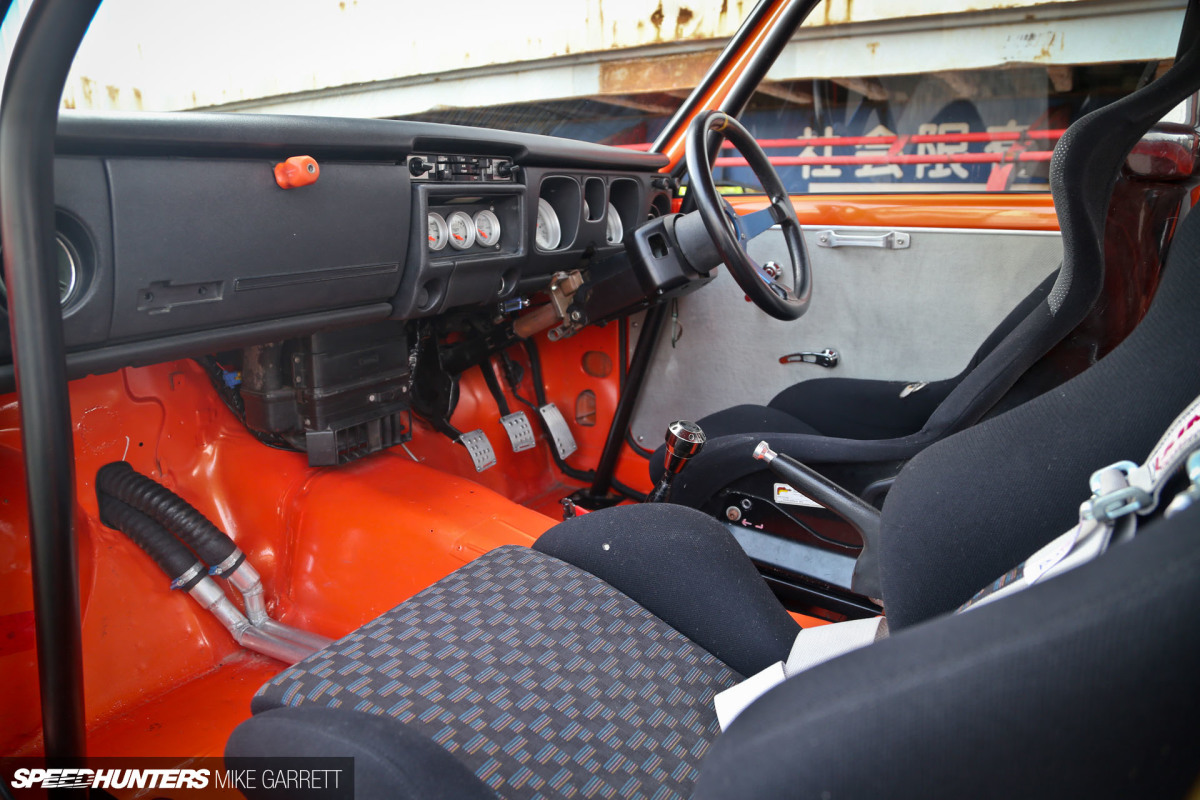 Take a look inside and you'll find a cockpit that's very functional. There's an 8-point cage for safety and rigidity, and the driver sits in a fixed-back Recaro SPG bucket while the passenger gets a reclinable Recaro SR.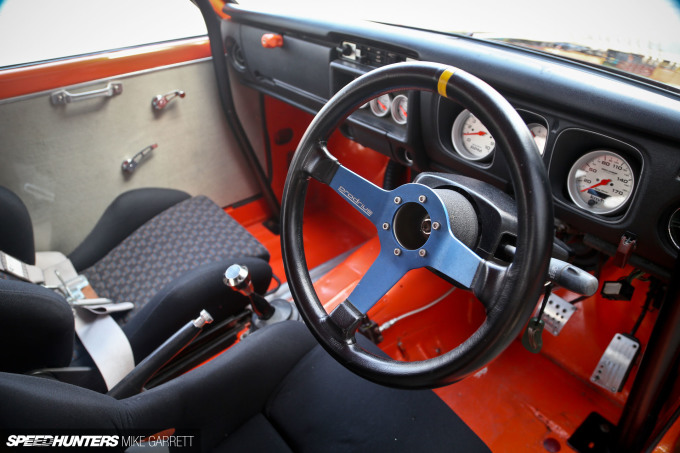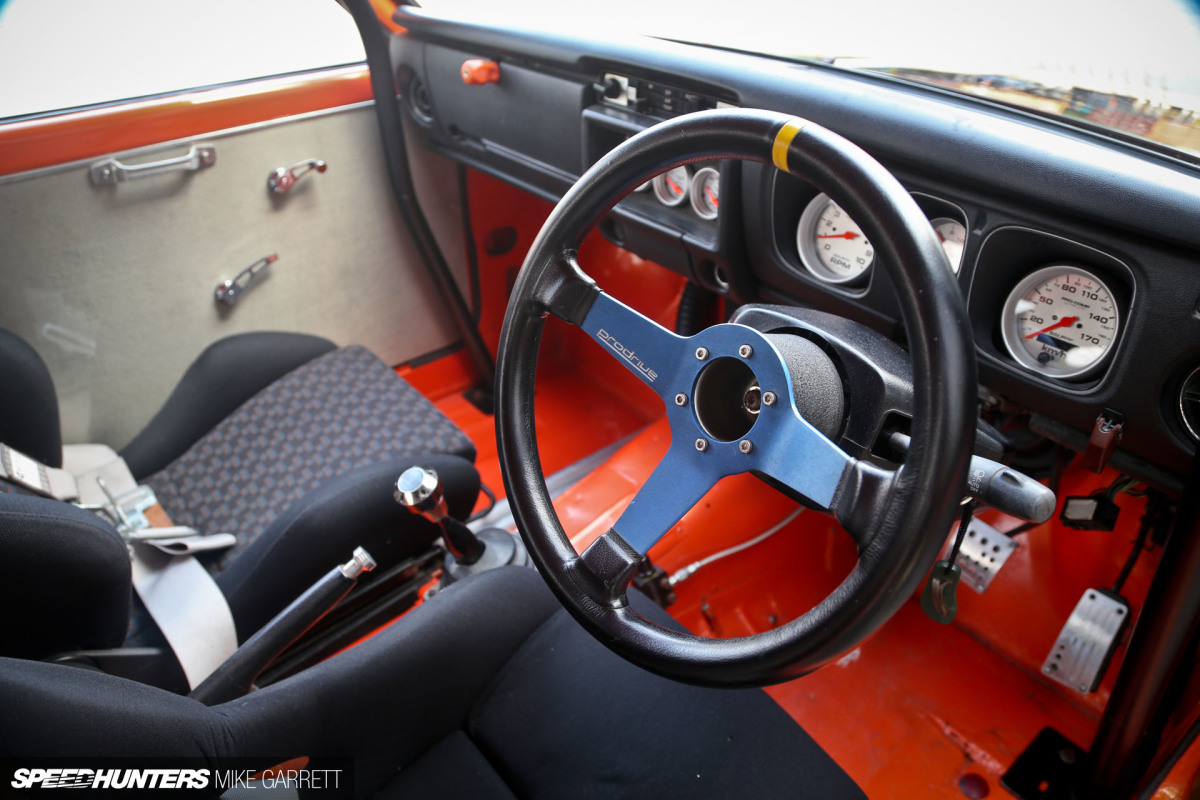 Other touches inside the cabin include a full set of Auto Meter Pro-Comp gauges mounted in the original 510 instrument panel, along with a Prodrive steering wheel and a Tomei shift knob.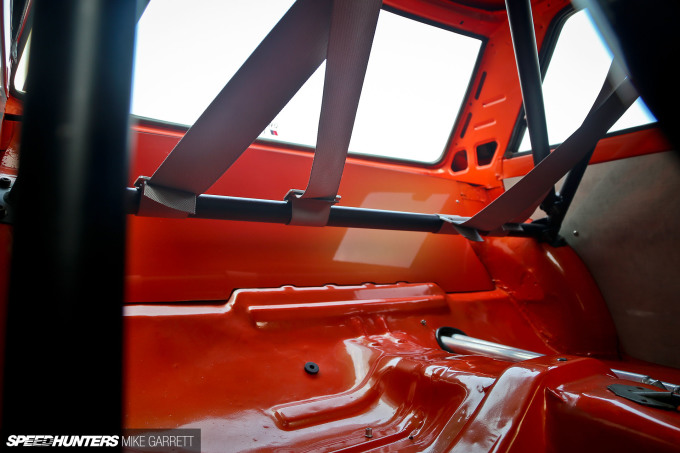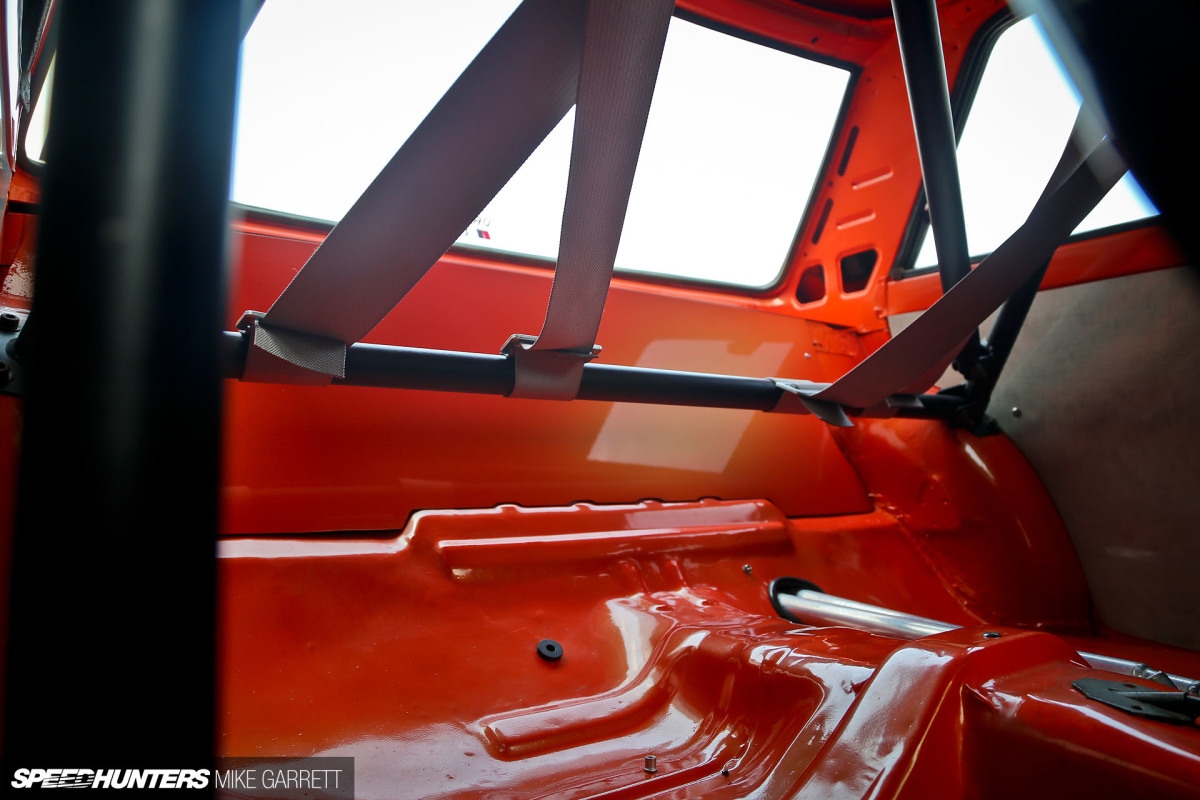 And while the Datsun is far from a show car, that hasn't stopped Hosokawa from approaching the old school Datsun with a strong sense of cleanliness and detail.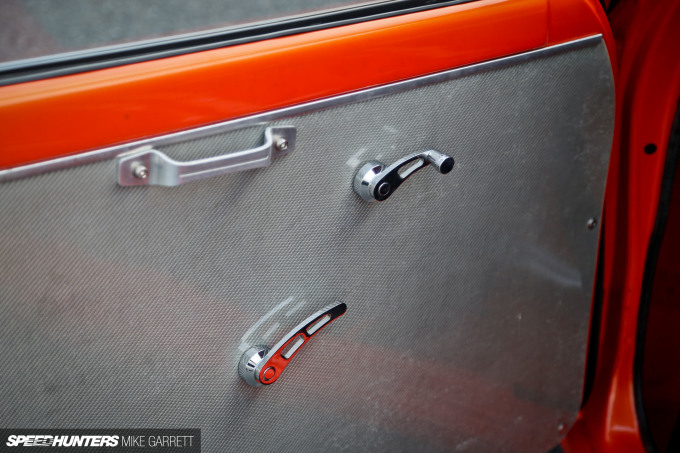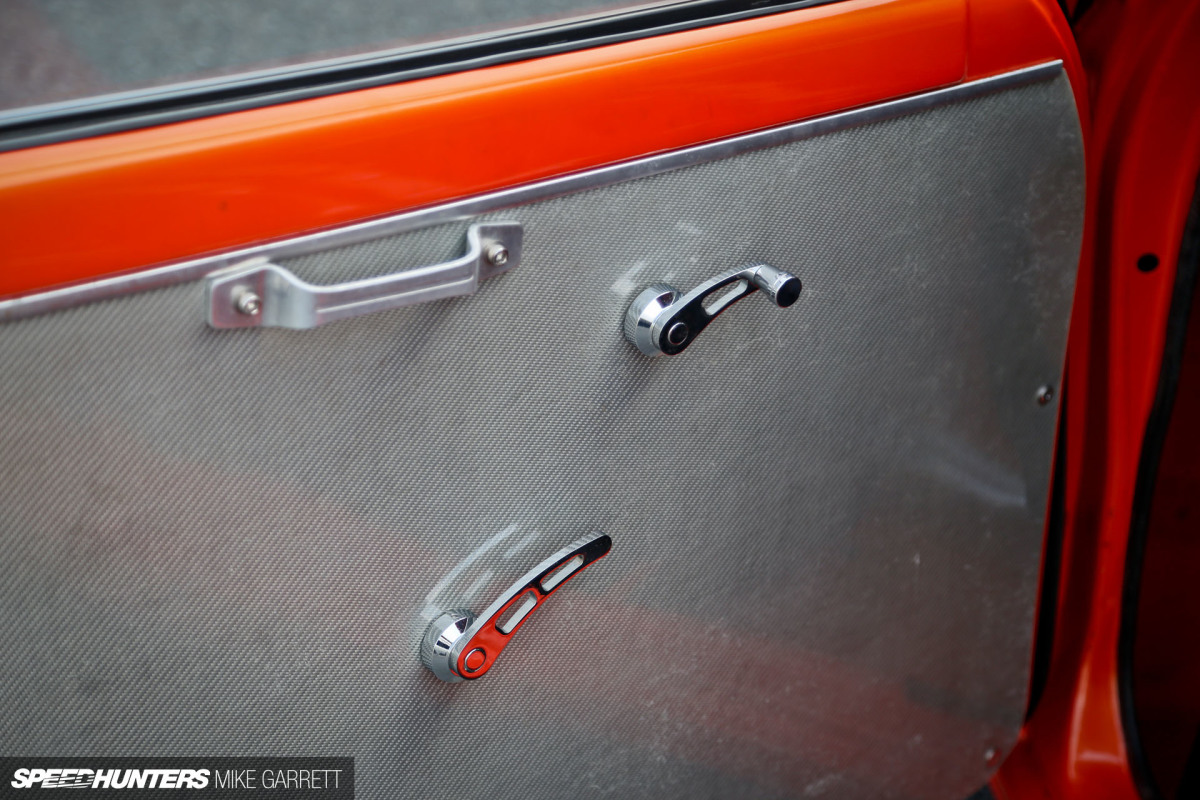 The door panels, for example, have been fully redone in a way that reminds me of both a vintage hot rod and modern racing car.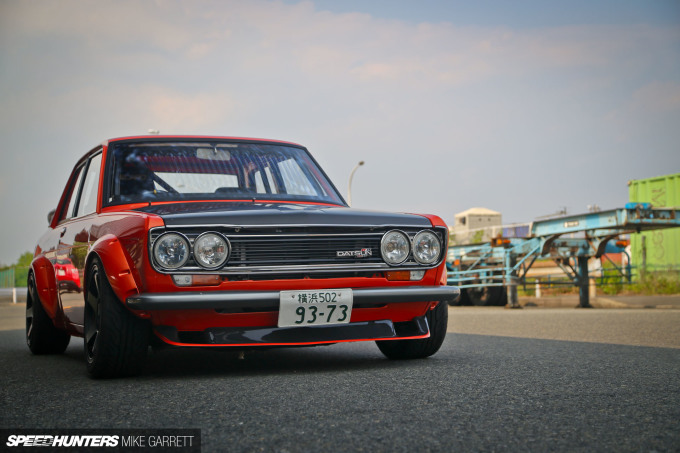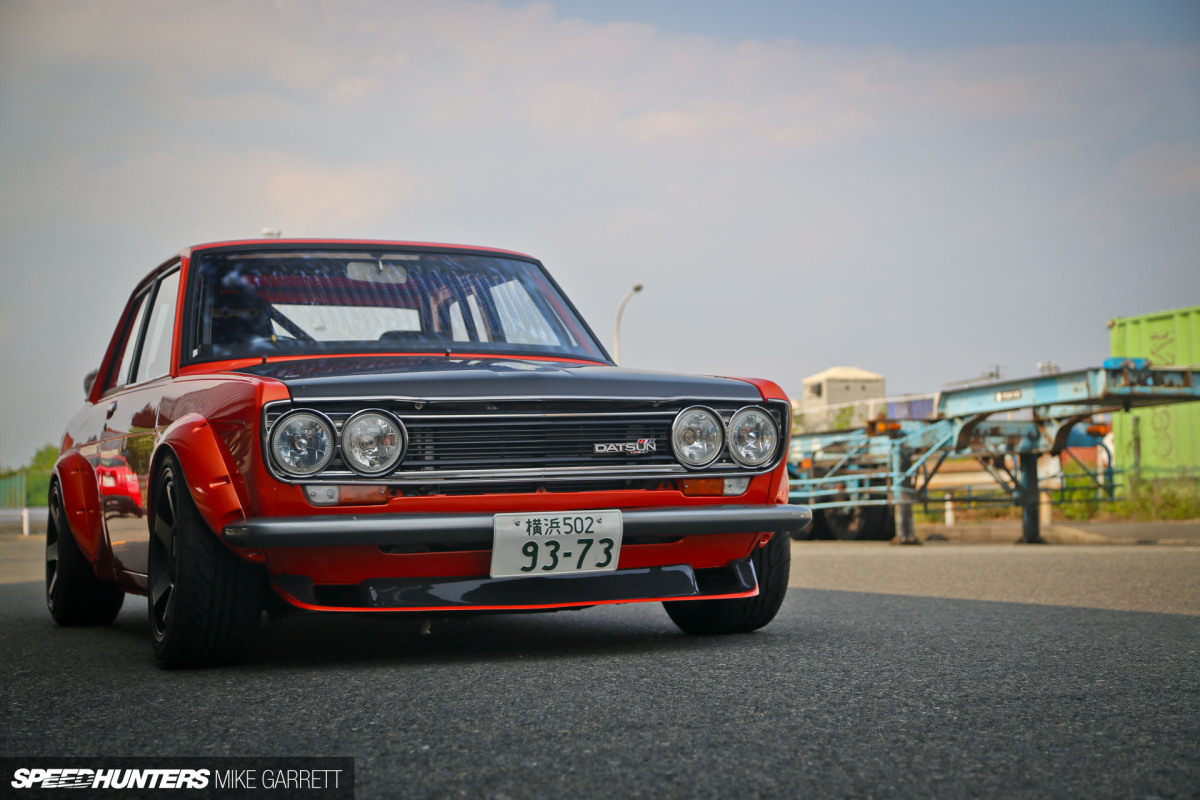 You just can't help but fall in love with the old Bluebird. The whole car seems so well balanced and thought out; you can easily feel Hosokawa's deep passion for the 510 when looking at it.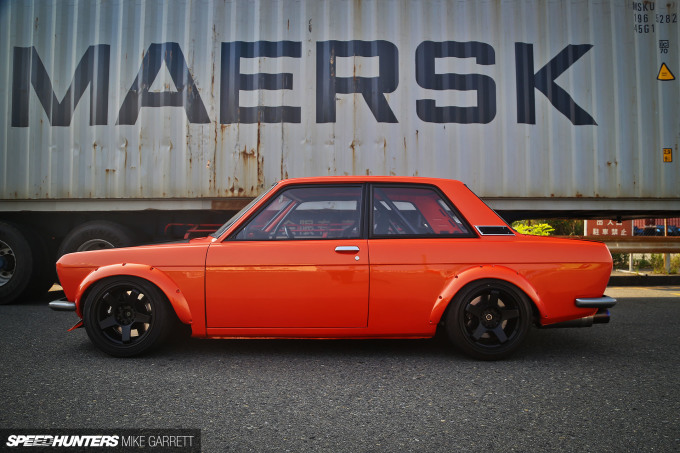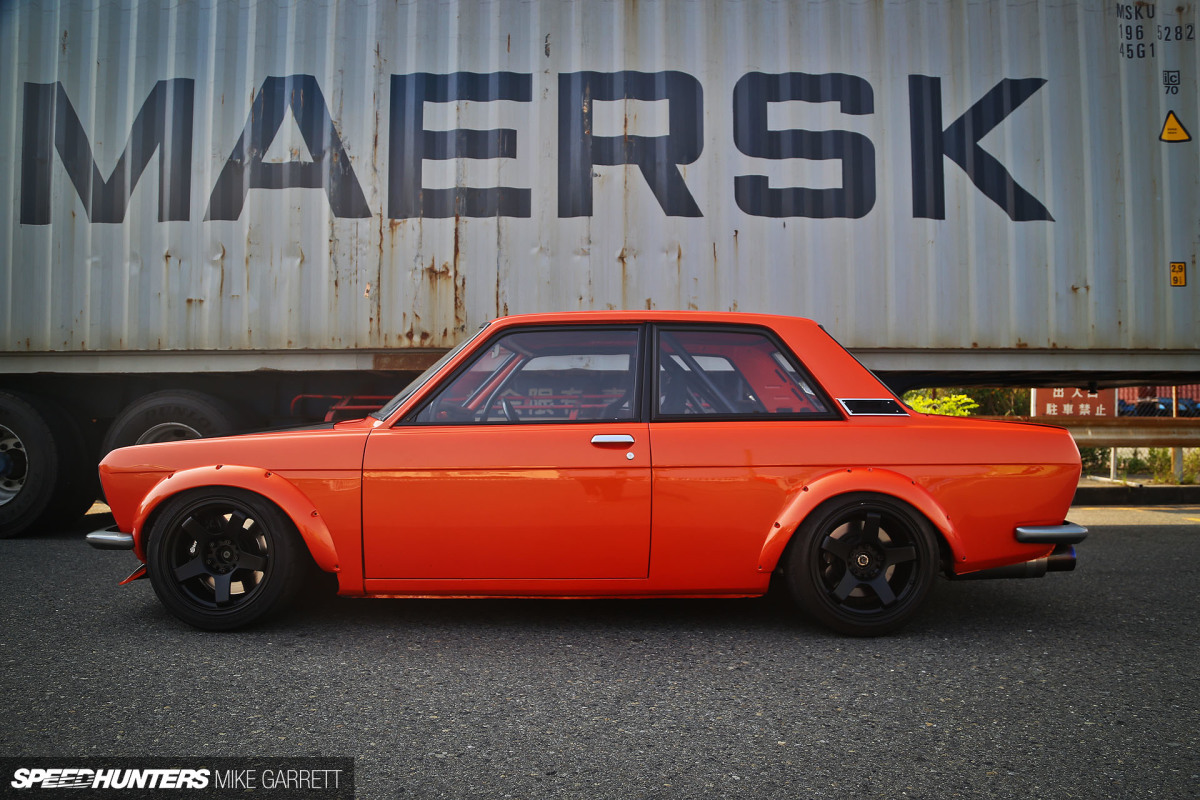 The Datsun is clean enough to draw crowds at shows, but that's not what it was built for. It's capable at drift events and track days, but it also sees tons of road use – both on the tight mountain passes and on the highways of Kanagawa and Tokyo.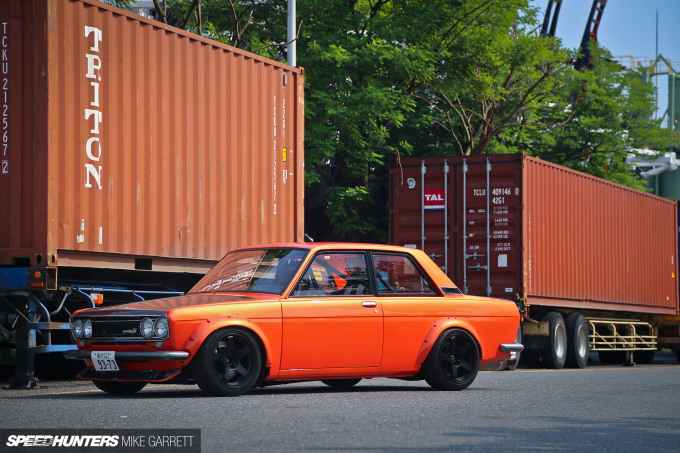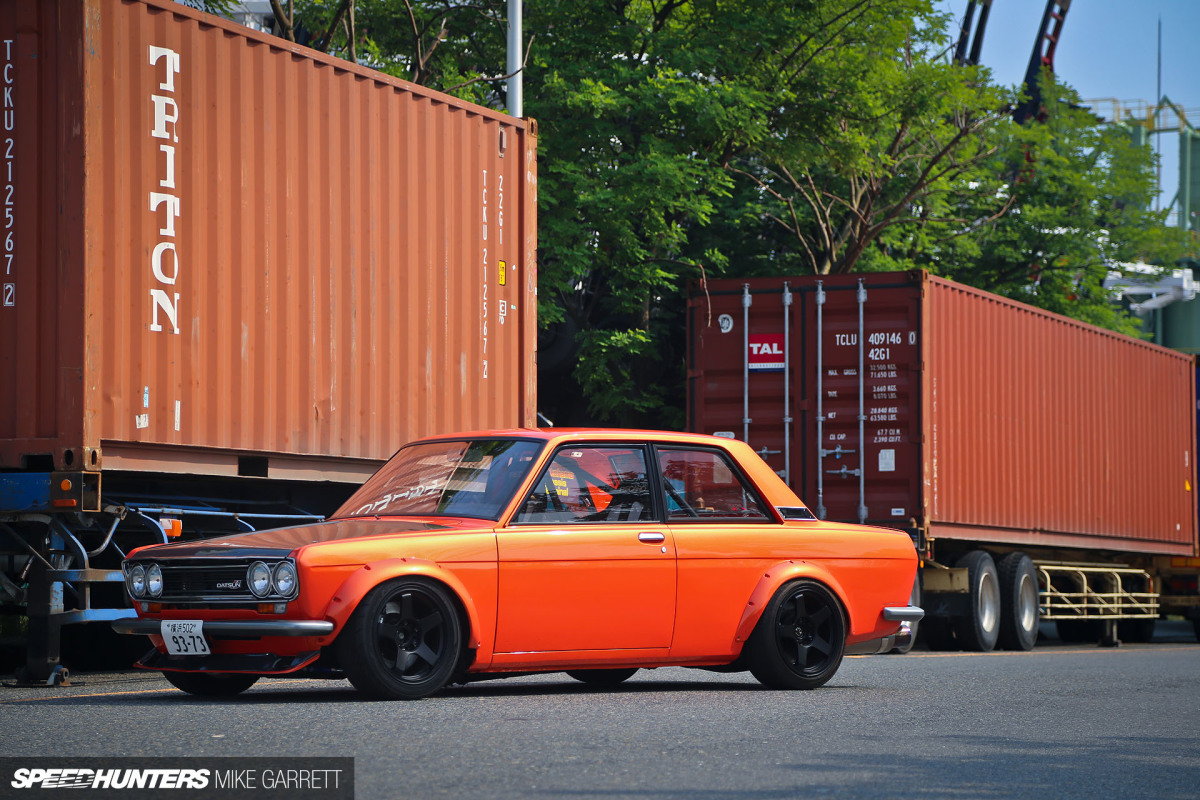 It's a classic Japanese icon that's been transformed into a true modern performance machine; built and driven in a way that could only be done by true 510 maniac.
And this is just one half of the Japanese 510 duo I'll be featuring this month. Stay tuned for another story on a different, but equally impressive Bluebird built by Hosokawa's good friend and fellow Datsun lover Akio Hirano. I think you're going to love it…
Mike Garrett
Instagram: japanifornia_media
mike@speedhunters.com
Hirohisa Hosokawa's Datsun Bros. '71 Nissan Bluebird
Engine
Nissan S14 SR20DET swap, upgraded turbo manifold, S&A Auto-Create one-off exhaust system, Lancer Evo VI intercooler, S&A Auto-Create surge tank, rear-mounted Sard radiator, Sard oil cooler, Tomei ECU, RCI fuel cell, 2x Professional Products fuel pumps
Drivetrain
5-speed manual transmission, limited slip differential
Suspension/Chassis/Brakes
A31 Cefiro rack & pinion conversion, R33 GT-R multi-link suspension conversion, Megan Racing rear lower arms, 5×114.3mm hub conversion, Brembo 4-piston front brakes, R32 Skyline rear brakes
Wheels/Tires
16-inch M2 Hanbai DT-05 wheels, Advan Neova AD08R (front) Achilles radial (rear)
Exterior
Bodywork by Datsun Bros. carbon fiber hood, Datsun Bros. carbon fiber front spoiler, Refresh 60 TS Cup style overfenders
Interior
8-point roll cage, Recaro SPG fixed-back driver seat, Recaro SR reclinable passenger seat, Auto Meter Pro-Comp gauges, Tomei shift knob, Prodrive steering wheel
Special thanks to S&A Autocreate, Datsun Bros., D.M.C
More Datsun stories on Speedhunters
Cutting Room Floor