High Voltage
I love museums. The tingle down your spine when you see a car that won an epic race, or are close to an incredibly rare prototype. The stories seem even more real when you've got the actual machine in front of you; ones you've previously only read about or seen in video.
But even better is when there's personal involvement; when what you're seeing is more likely to trigger off emotions in your own memory bank rather than being about something you read in a book. And nowhere can that be more true than at a place dedicated to the grand-daddy of slot-car racing, Scalextric.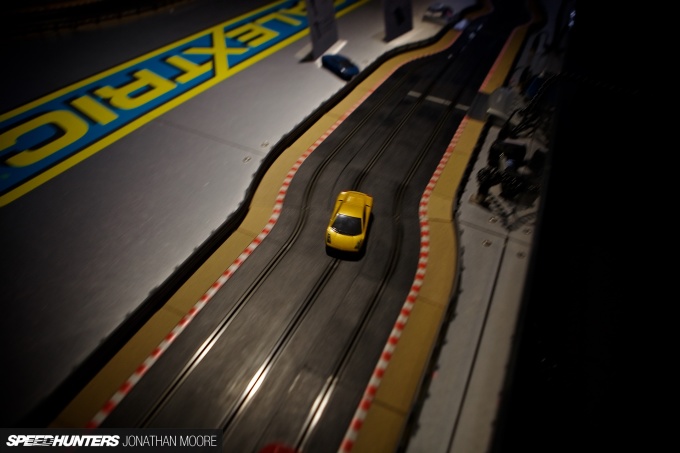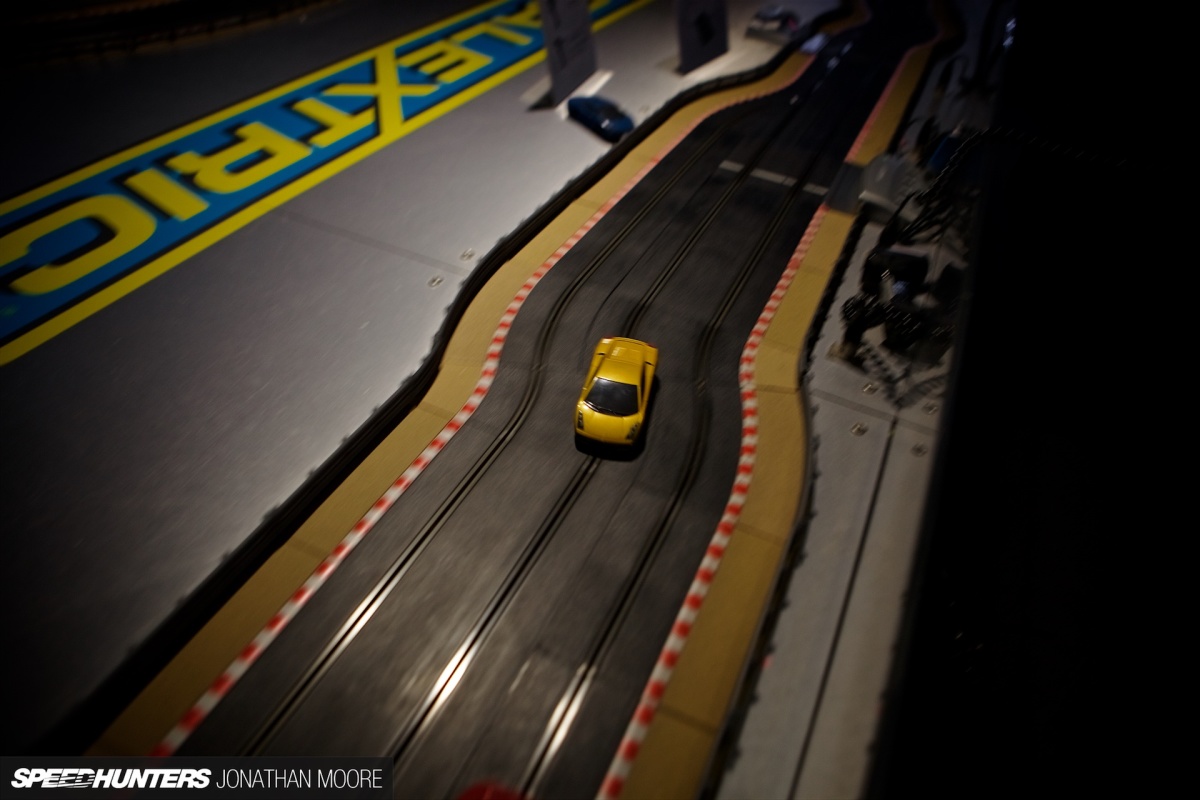 I'm sure that most of you out there have had a play on a slot-car track at some stage in your life. Sometimes that could even be the thing that kickstarted a life-long passion for cars. That's certainly the case with me, obsessed as I was with my dad's old Airfix track and models. I particularly remember his Revel-produced Cobra and Ferrari 250, and a soldered-up Porsche 917 with wafer-thin, old school plastic body painted on the inside. I still have all my old Scalextric gear stashed away…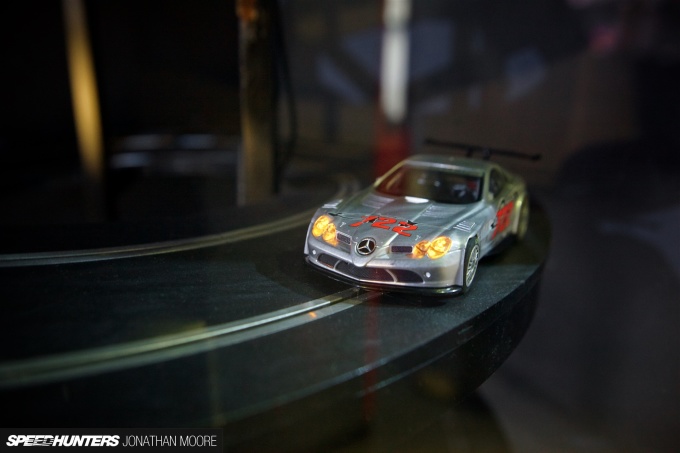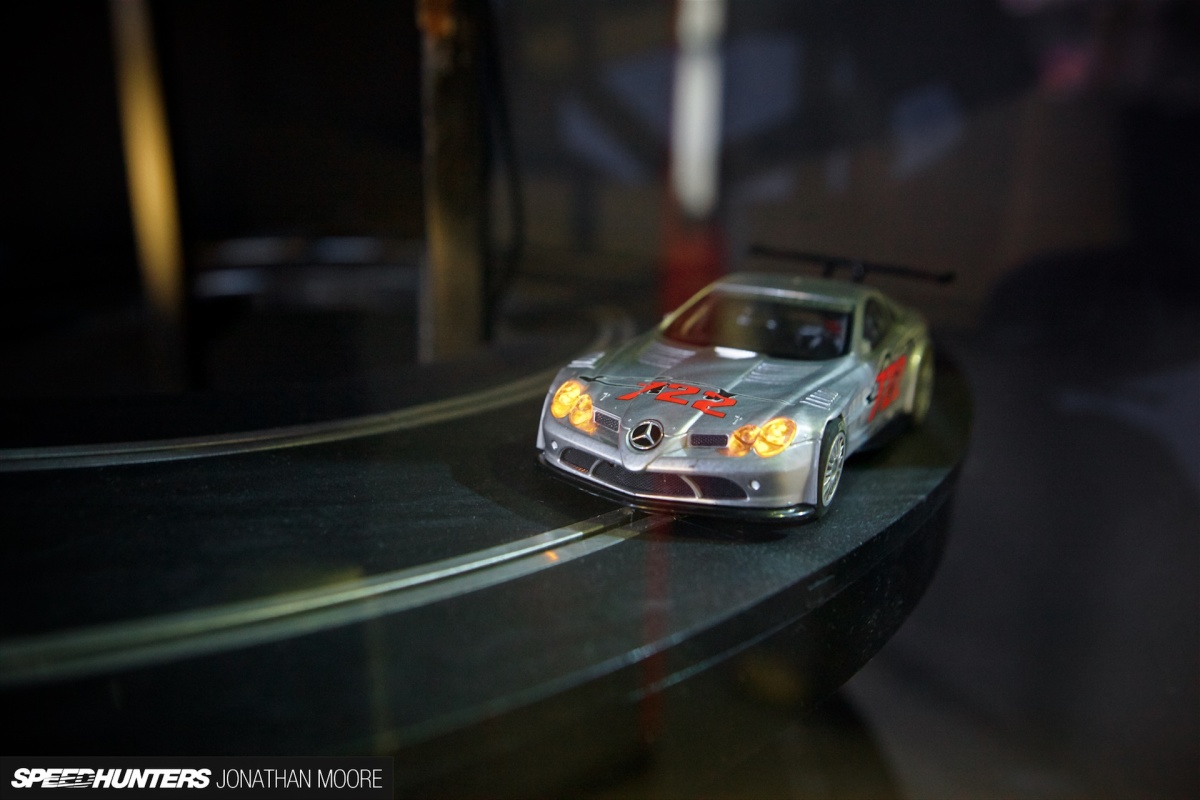 On Speedhunters we celebrate all sides of the automotive world, and I think people who build model kits or race slot-cars are just as relevant as builders and tuners. After all, not everyone has the time, skill and cash to take their passion to the ultimate level at 1:1 scale. I'd love to race in the real world, but like most normal people the reality is that it's mostly limited to the virtual environment, which is why the tactile treat of racing slot-cars again has been so fun.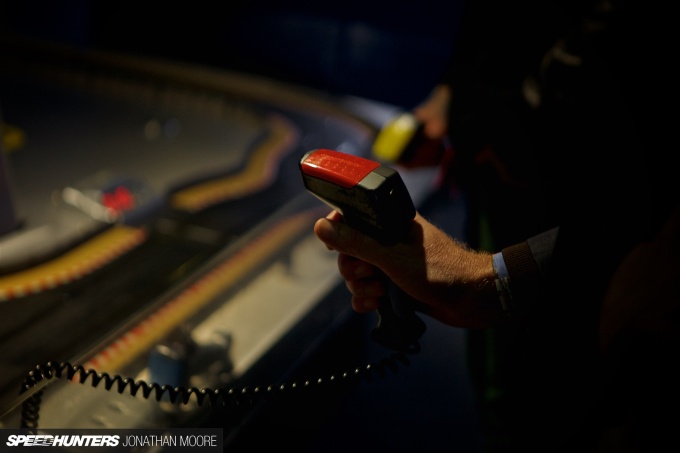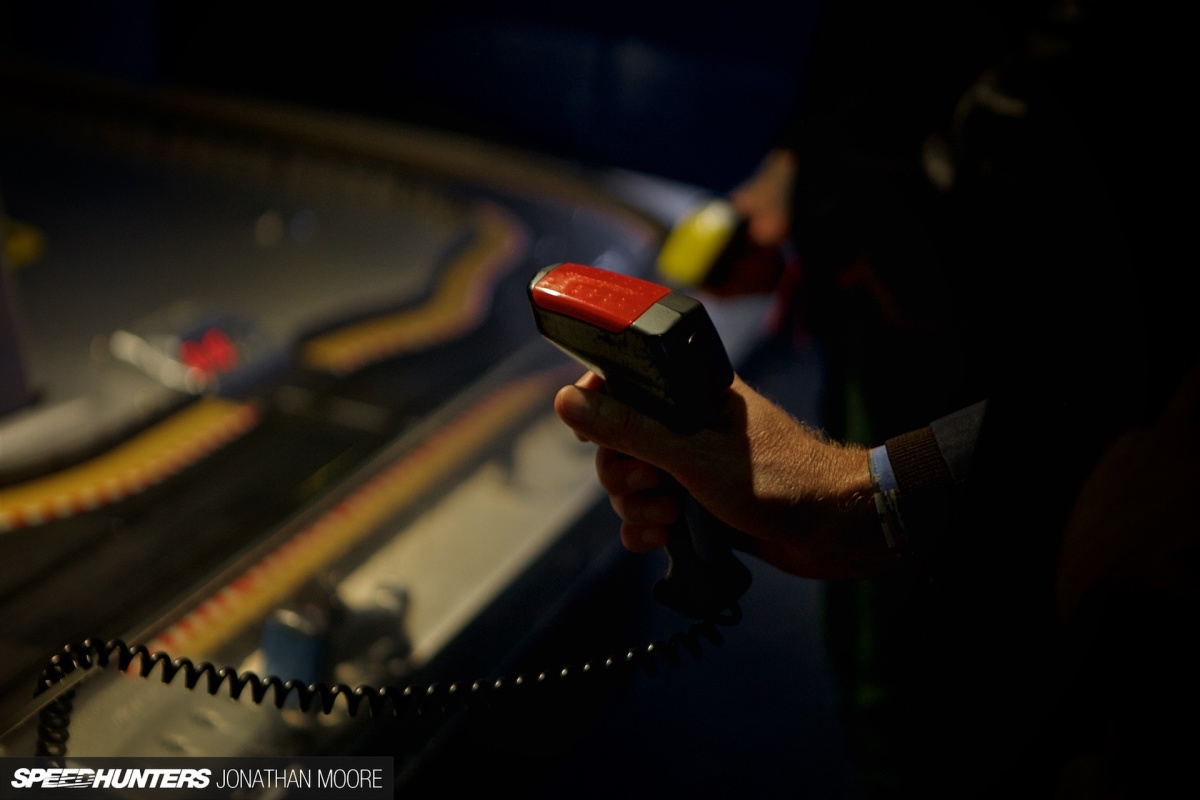 It turns out that the joy of playing about with slot-cars doesn't diminish over time – even if the skill does!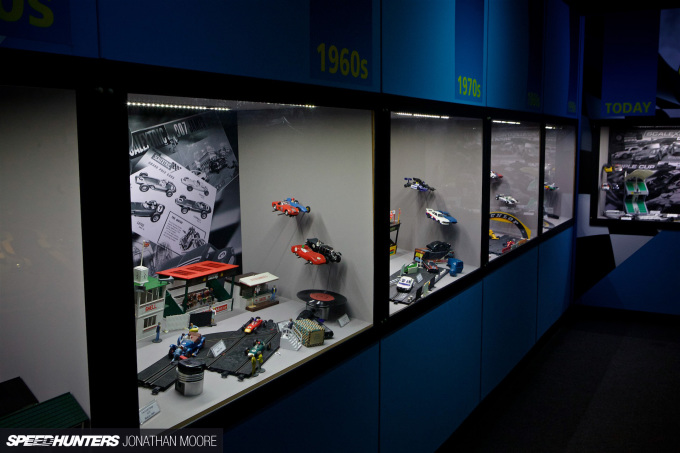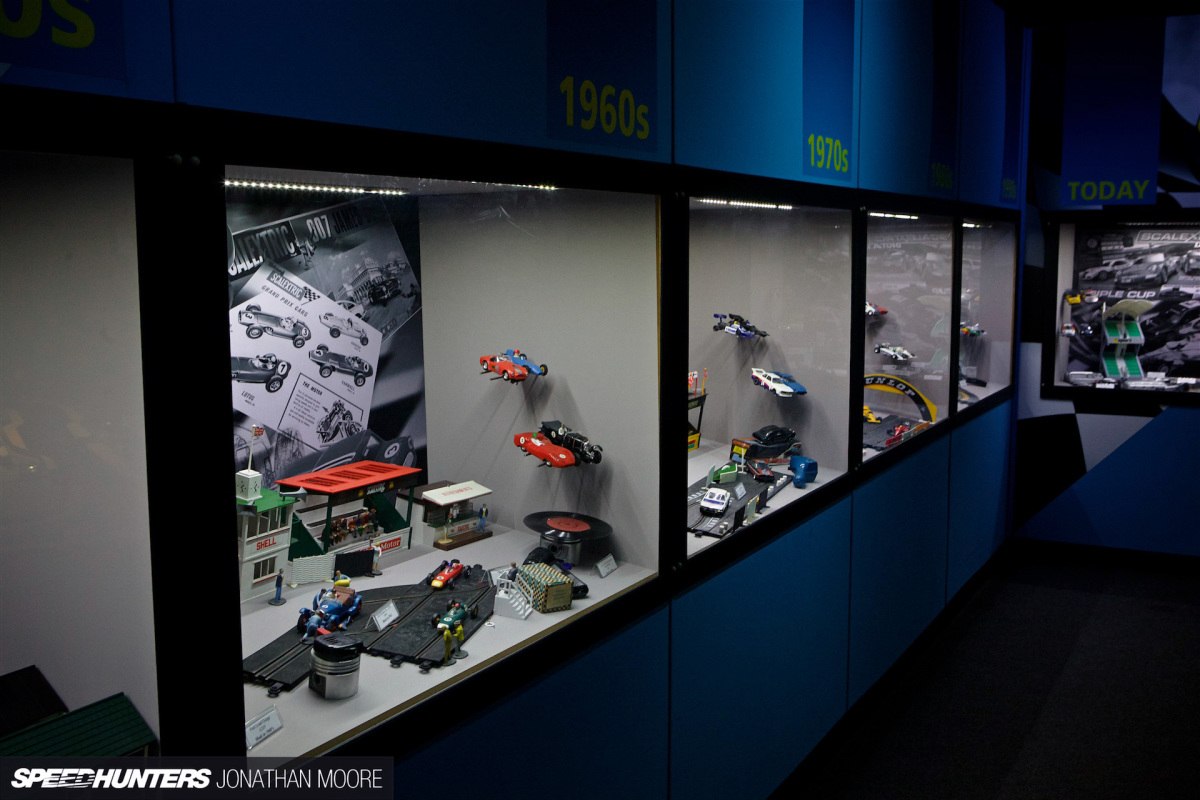 The Scalextric museum is based in Hornby's Visitor Centre near Margate, perched out on the south-east coast of the UK, and uses a section of the now mostly abandoned original factory. It's soon to move to sparkly new premises on the waterfront, but even so, this was a gem of a place to visit. Not only was there Scalextric memorabilia displayed, but also histories-in-miniature of Airfix model kits and Horny trains as well as enormous 1:8 scale model cars from Pocher – a more recent group acquisition.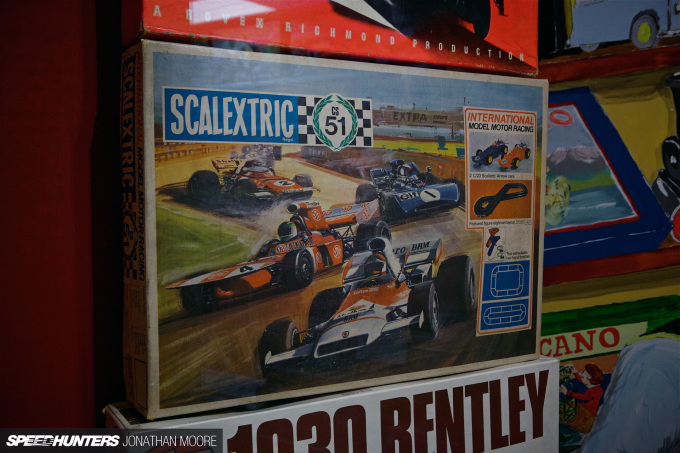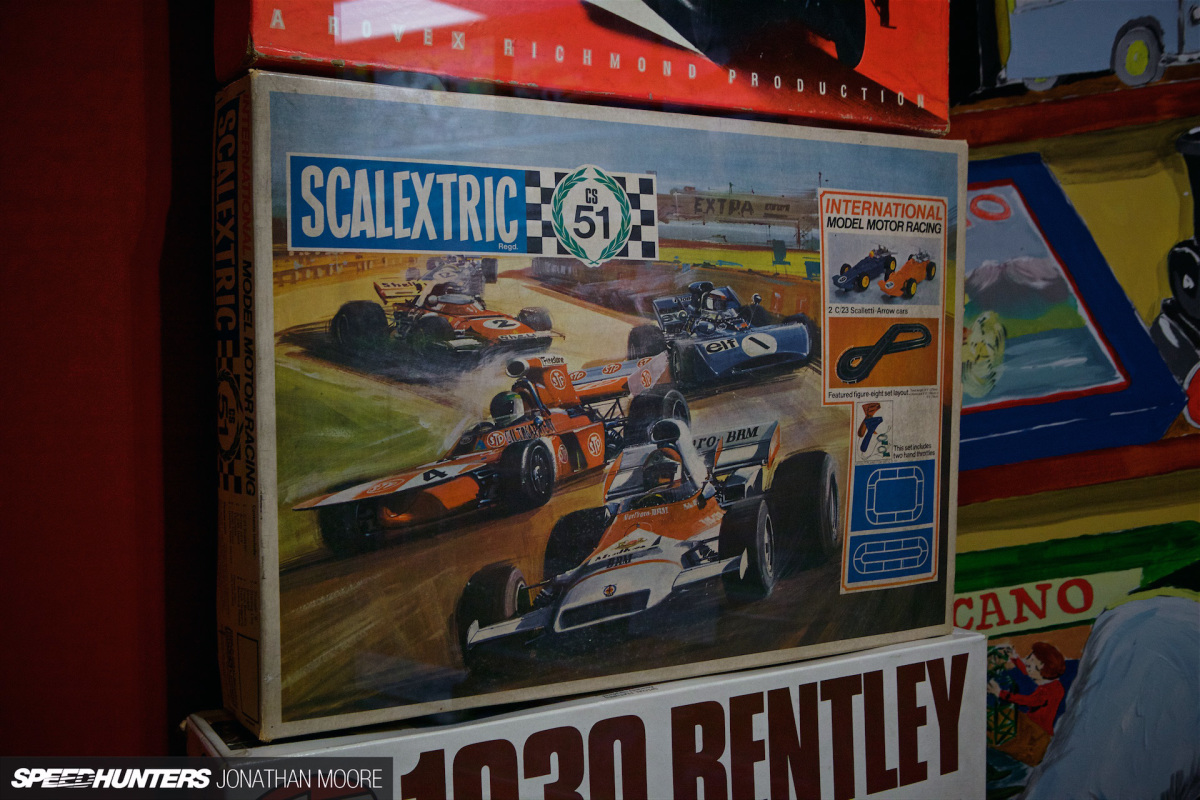 My first surprise for the day was just how old the concept of Scalextric actually is. Originally called plain Scalex, the first clockwork-powered tin-plate cars were released back in 1952 – that's almost as old as the Formula 1 World Championship itself. Electricity was thrown into the mix in '57 and Scalextric was born. From the off it was a hit, intertwined with the almost vertical rise in popularity of car ownership and motor racing in that period.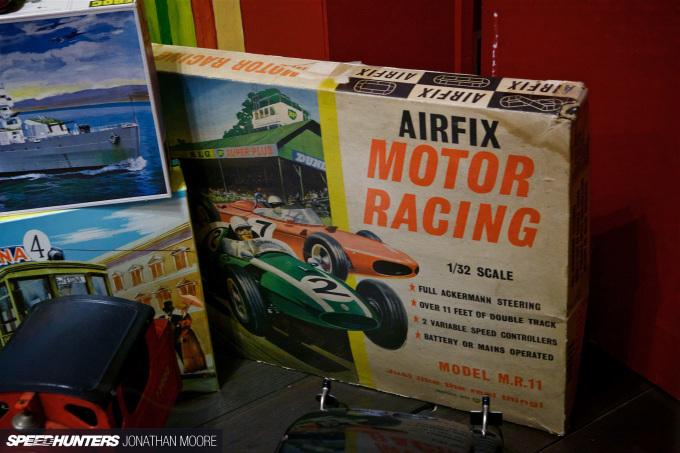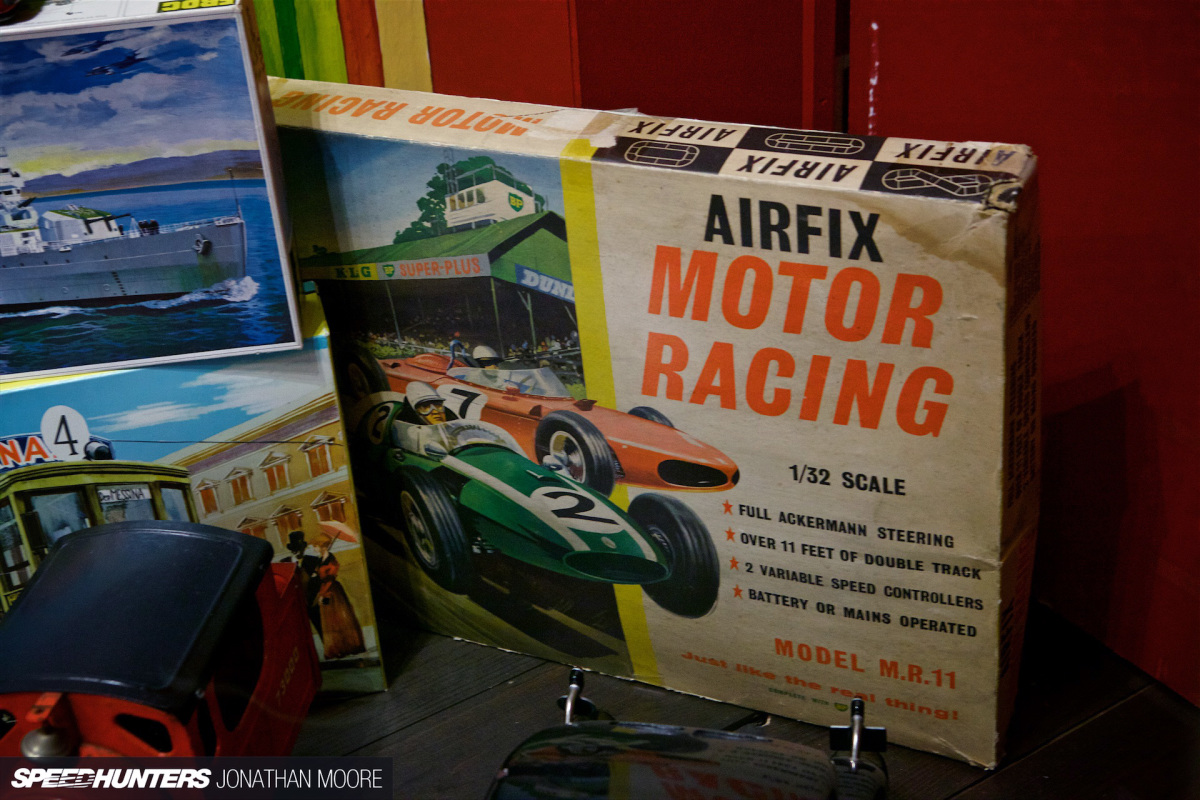 I was surprised to see an example of Airfix's old racing track in the opening display, which was a contemporary rival of Scalextric in the '60s (the Hornby group later acquired Airfix as well). Its rigid grey plastic track sections and copper conducting strips gave it quite a different look to Scalextric. Subsequent searching led to another revelation, that it's now called MRRC and still going strong, and making some really nicely detailed 1:32 cars for the pro market.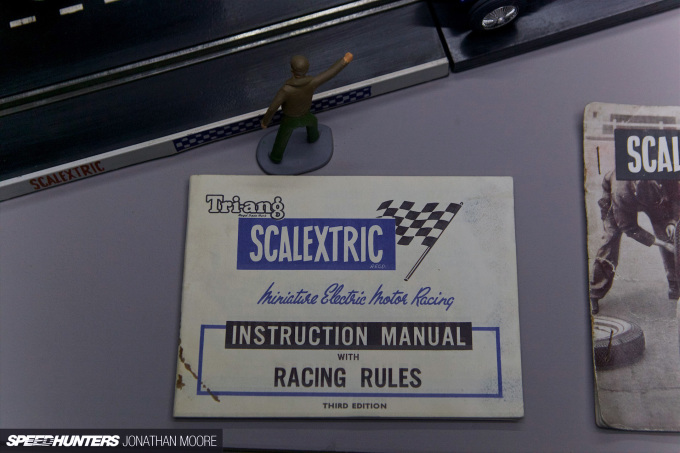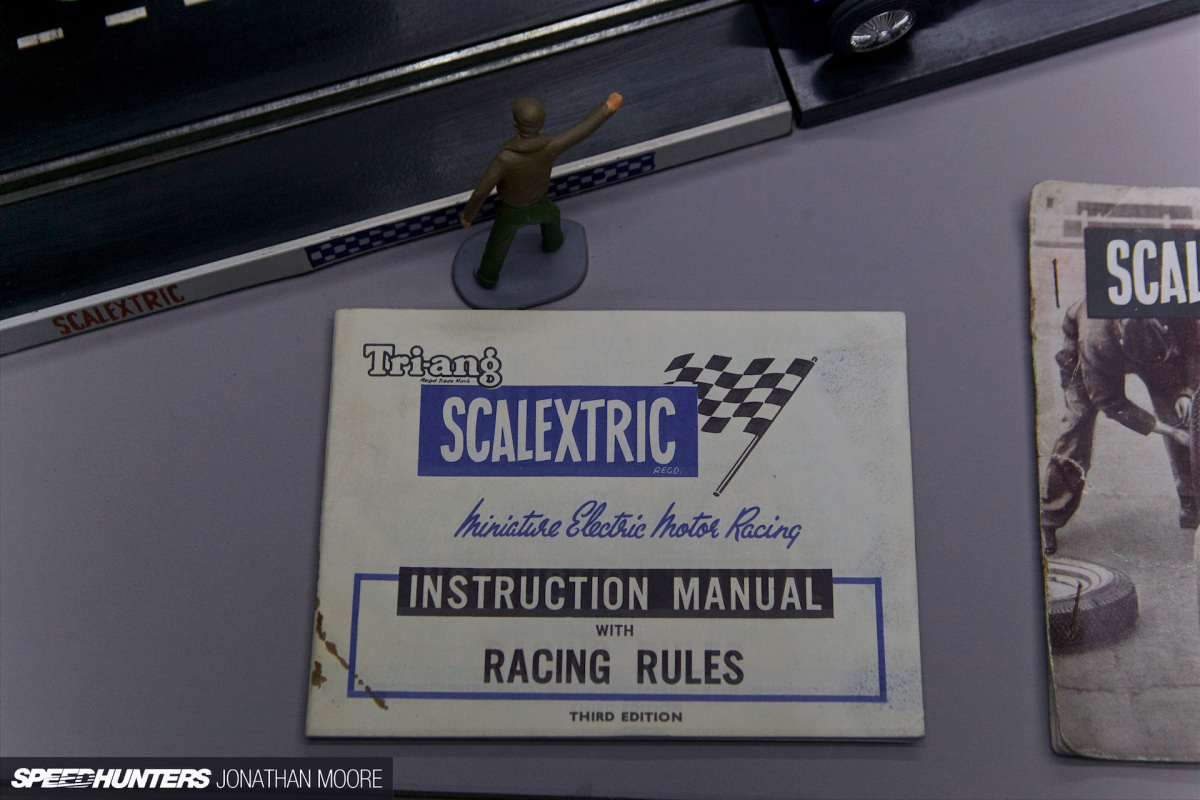 We're now 58 years into the Scalextric story, and it was interesting to see what had changed – and yet how much had stayed the same. The differences: the technology in the cars. The constant: controlling a car in a slot around a track. It shows that when you have a good idea, the sensible thing is to not stray too far from the path.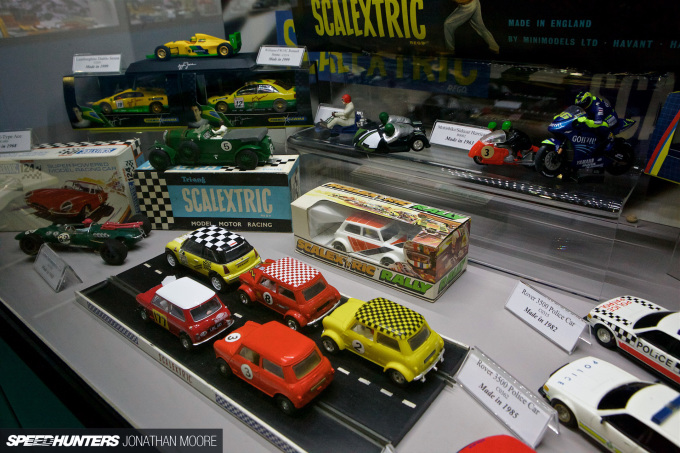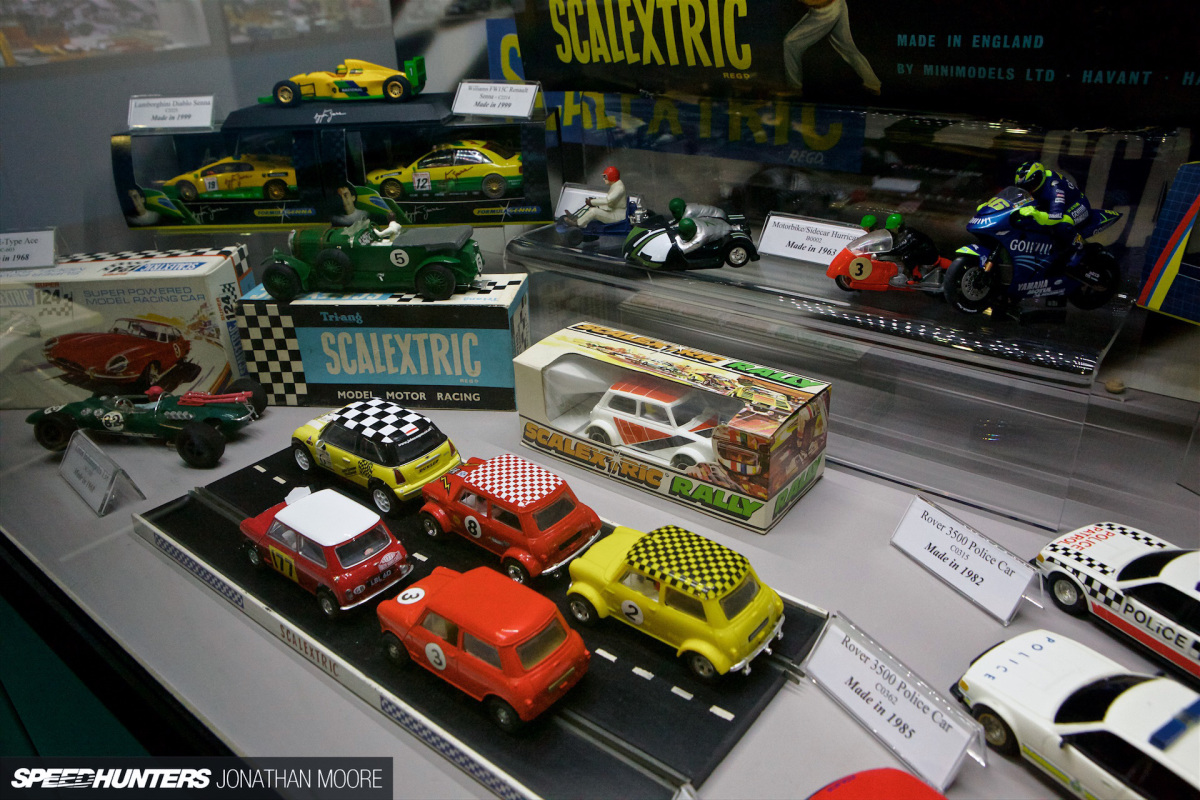 Scalextric has represented the trends of every decade, allowing us all to have our moment of emulating the driver du jour, be they a Fangio, Senna, Schumacher, Mansell or Hamilton – and all whilst lounging around on the living room floor. But there's also a down-to-earth aspect as well, with Minis an enduring model in the Scalextric pantheon.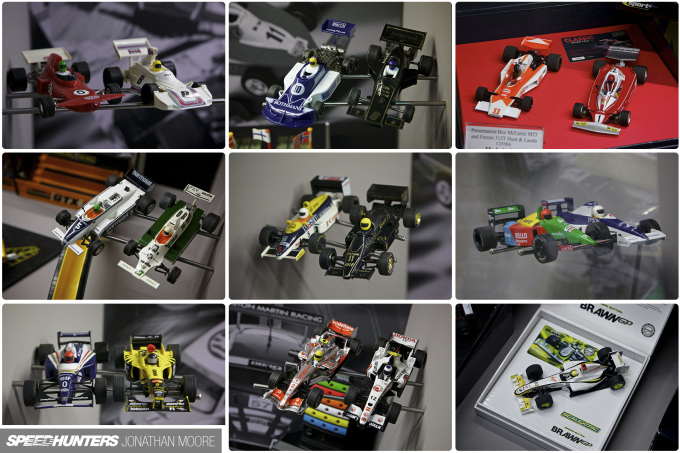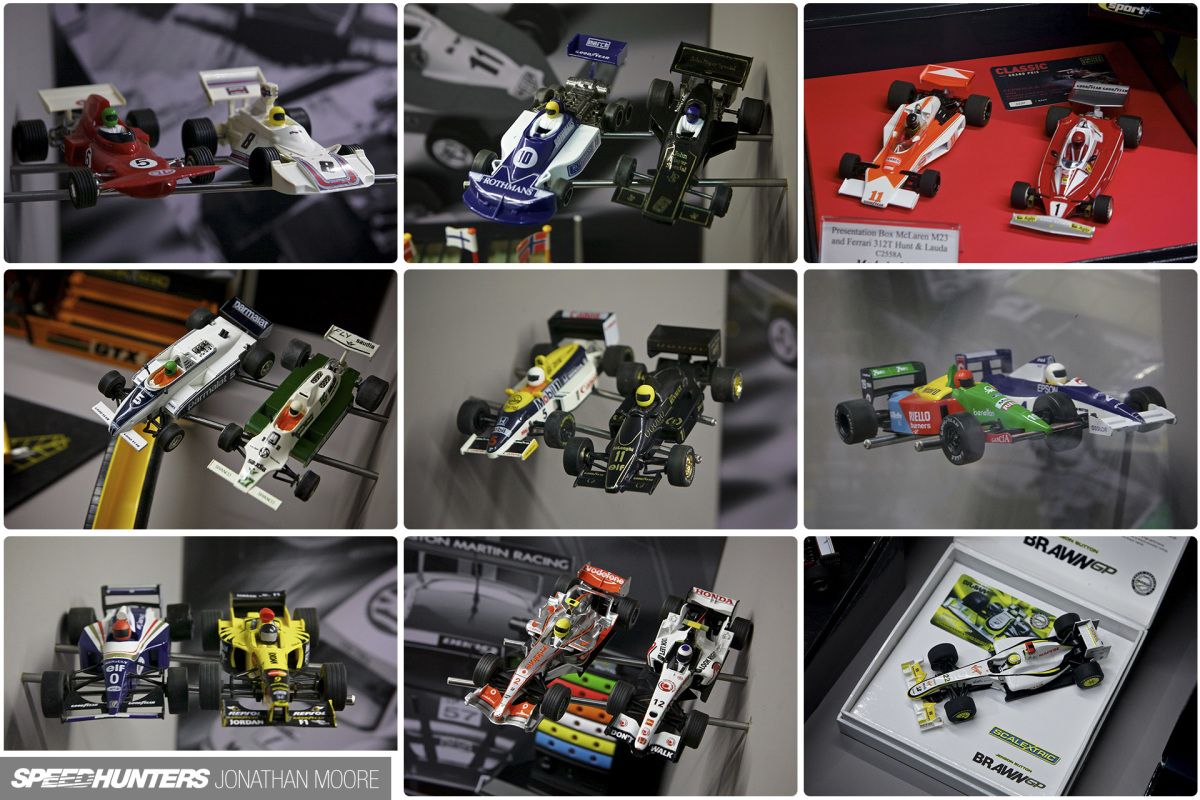 Of course, Formula 1 has always been a massive draw; there hasn't been a period without an F1-themed Scalextric set.
An Electrifying Evolution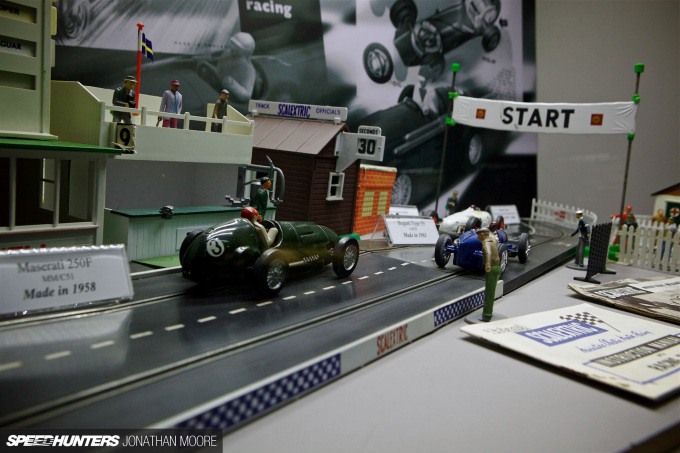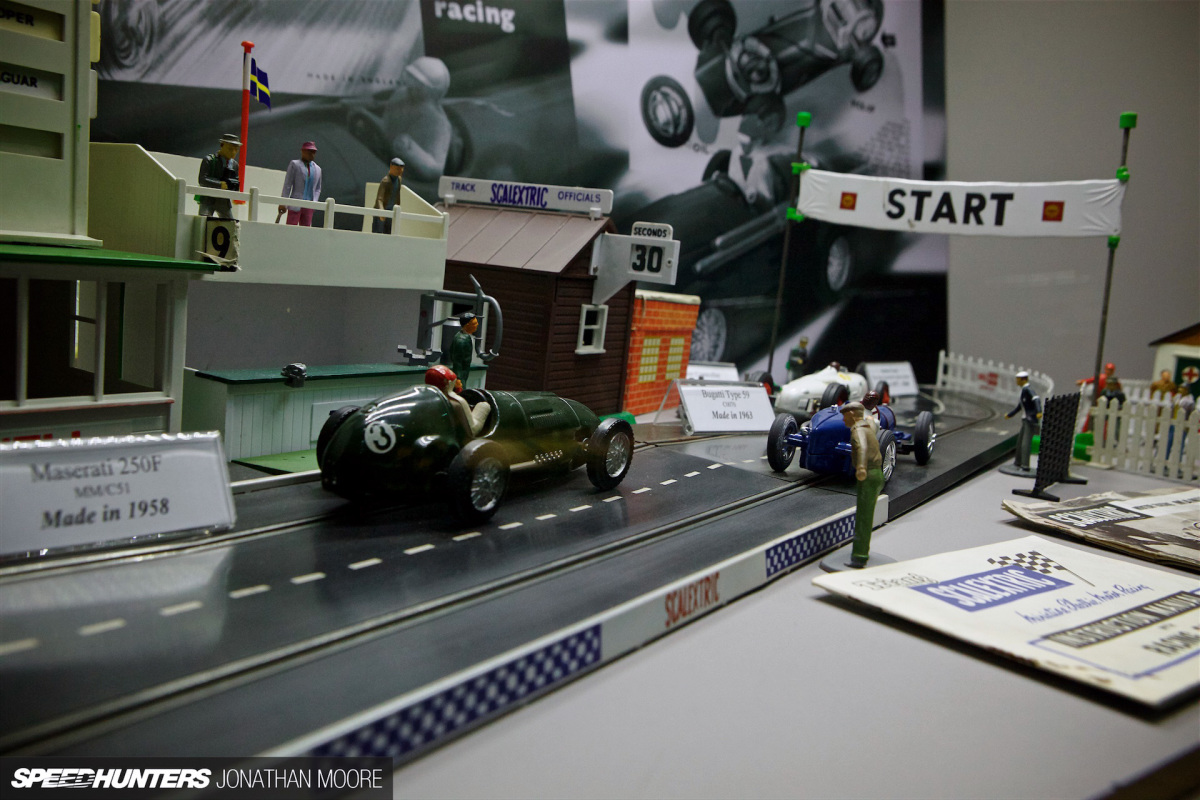 The first sets released included metal-bodied 1:32 scale Maserati 250F and Ferrari 375 Grand Prix racers, celebrating heroes of the day like Fangio, Moss and Ascari; and the range quickly grew.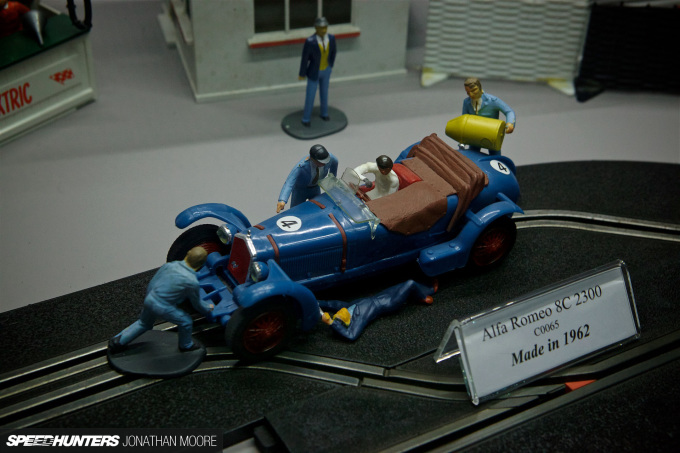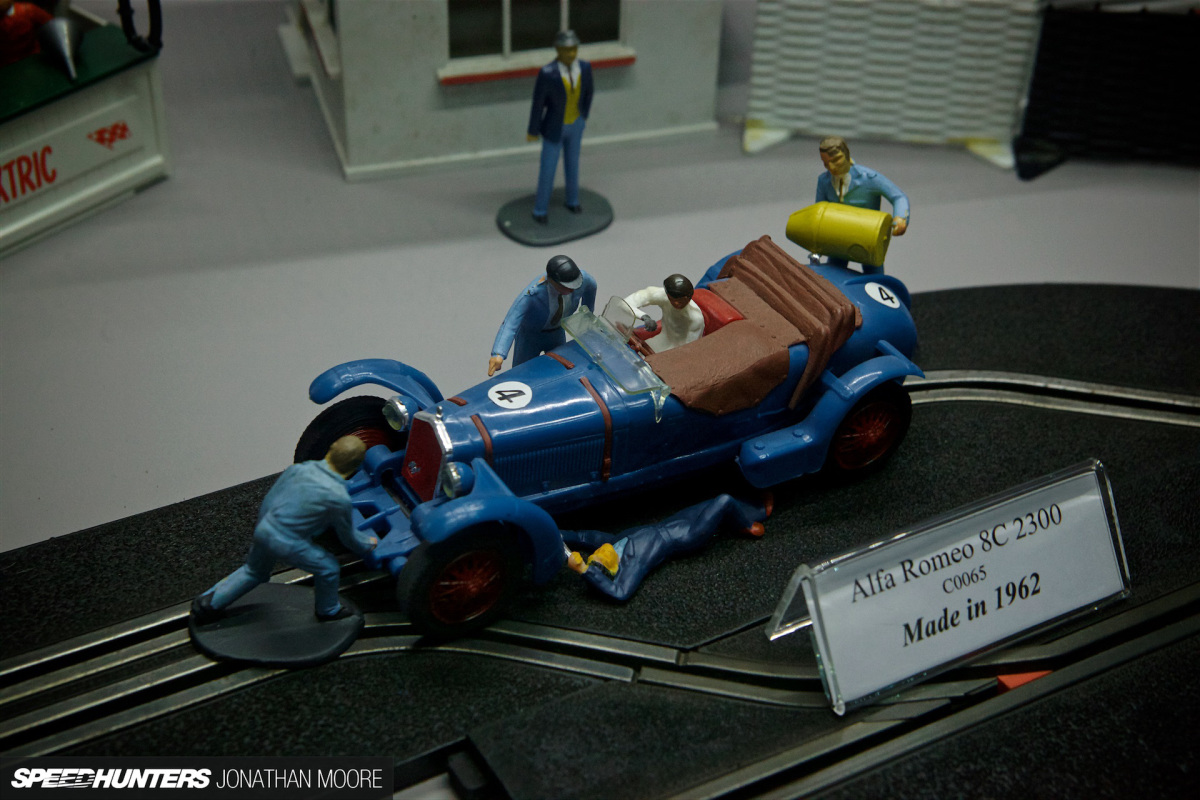 Into the '60s the cars changed from metal to plastic, which massively improved the whole experience. It all started getting a lot more serious, with 'professional' racing taking off.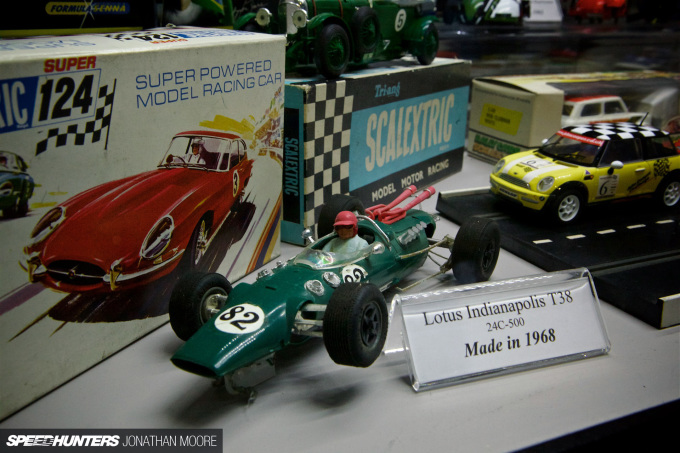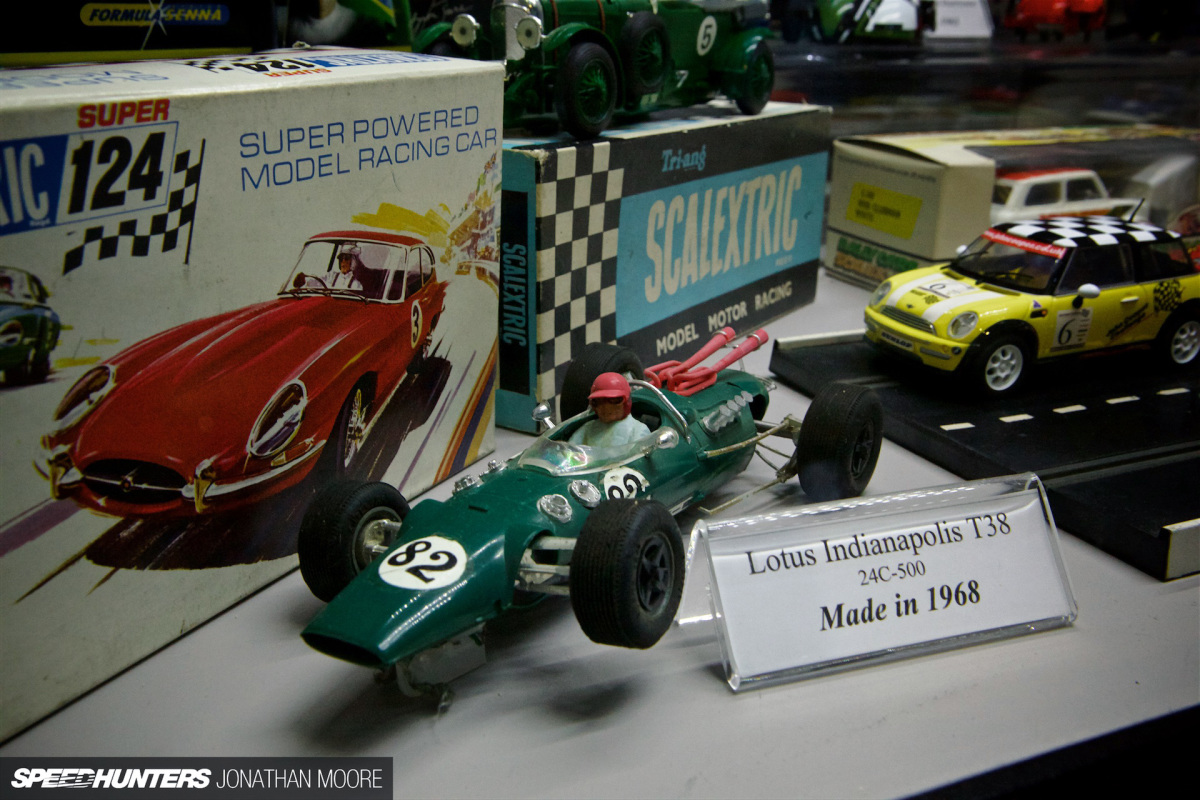 For a very short period of time, some larger 1:24 scale cars were made along with an unusual three-lane track as part of the Super124 range. The detail isn't that far off today's models, despite the limits in manufacturing technology of the time; the price did reflect the quality, however. This Lotus Indianapolis T38 was made in 1968, but the suspension modelling and detailing is impressive.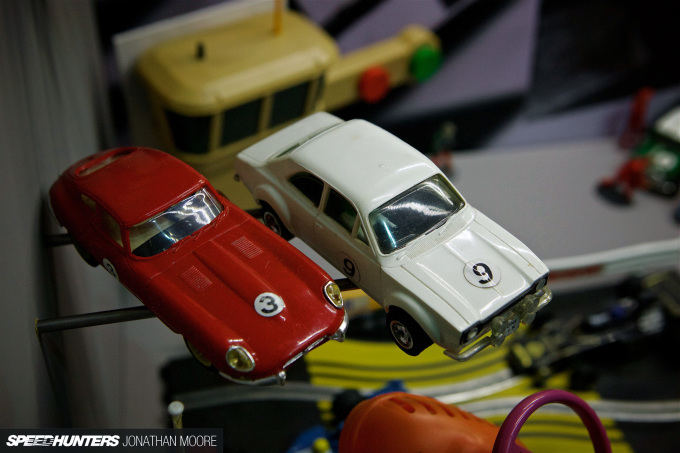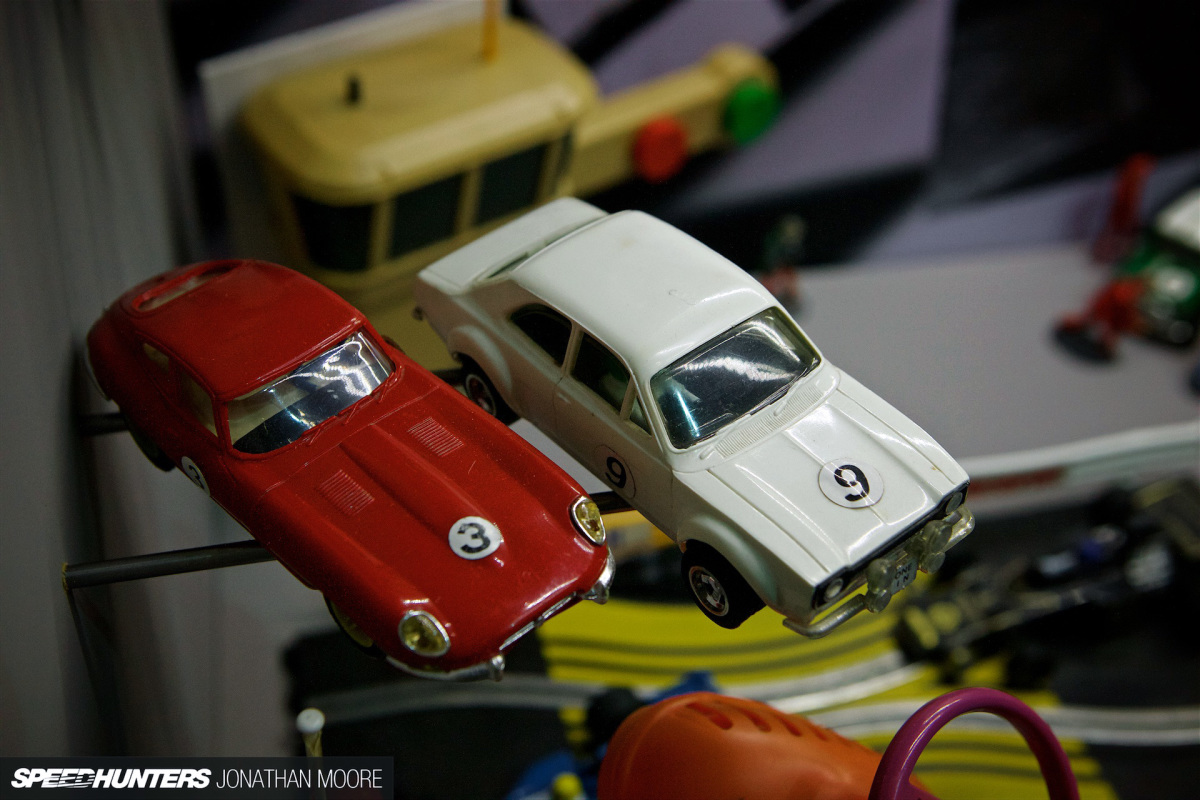 Dare I say it, but there does seem to be a decrease in quality from the '70s onwards, reaching a nadir in the '90s. Perhaps that's because of Scalextric almost becoming too popular? It's still pretty easy to break bits off a car when you're scrabbling to put it back on track, and you have to think that the priority might have been to make them as simple as possible. Single seaters really seemed to suffer, although sportscars and saloons still generally looked good. The Escort Mk1 from the '70s still stands up well.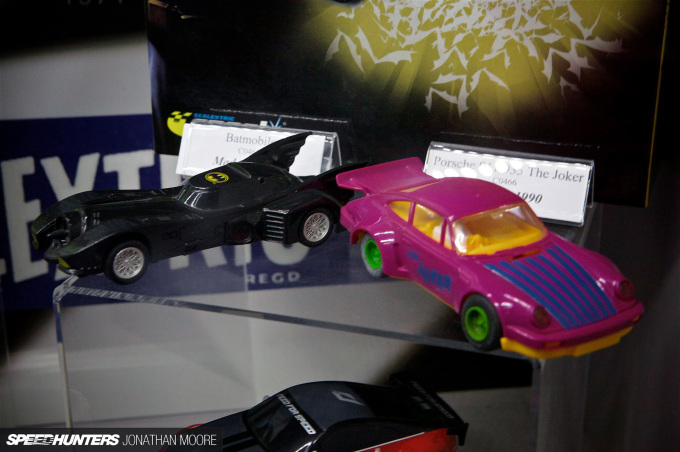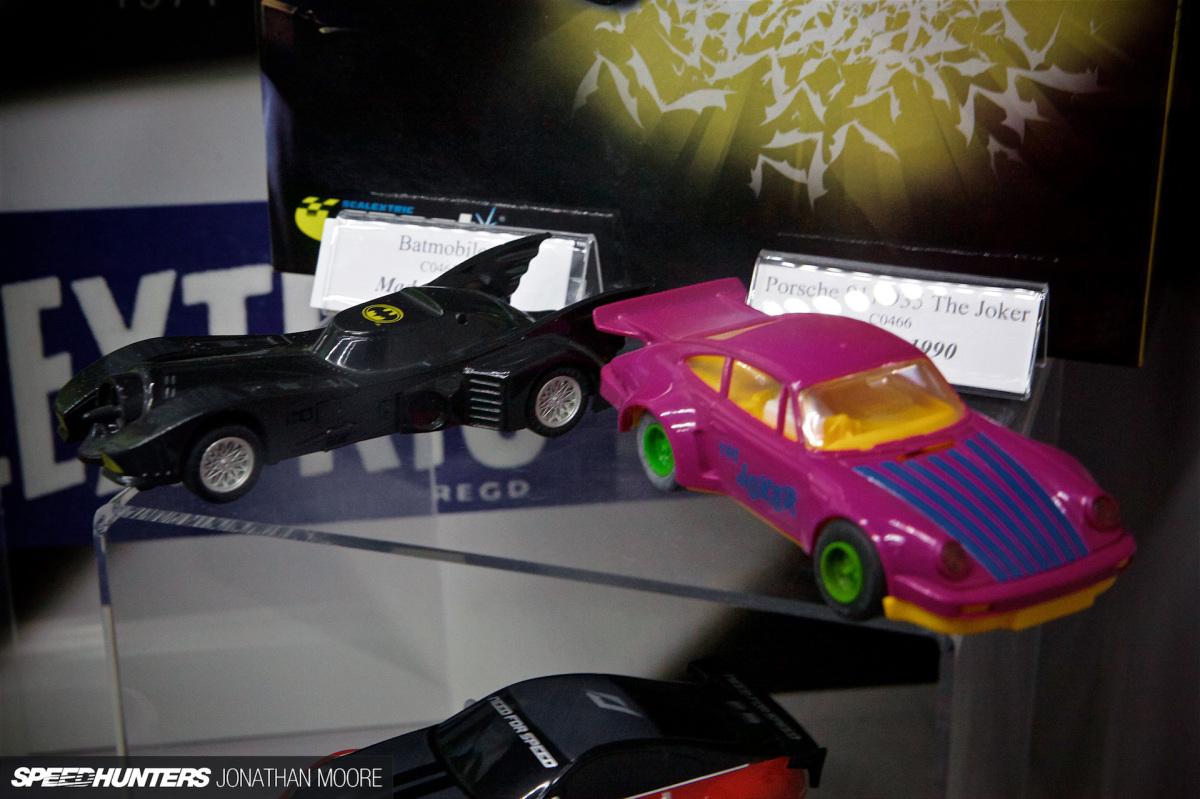 Into the '80s, everything gets a bit chunky, but then to counter that you had the amazing Super-Stox cars, which could do 180-degree skids; the Blow Out track section where you could flick an opponent off track; massive racing trucks and some very cool Group C prototypes.
Tie-ins really came to the fore in the '90s, but with a lot less taste than today. For instance, I'm not sure I remember The Joker driving a shocking pink 911 against the Batmobile… However, against that and what was perhaps the lowest point of the F1 models there was the reliable high of the latest Mini Cooper set, which along with F1 must be the best-selling package.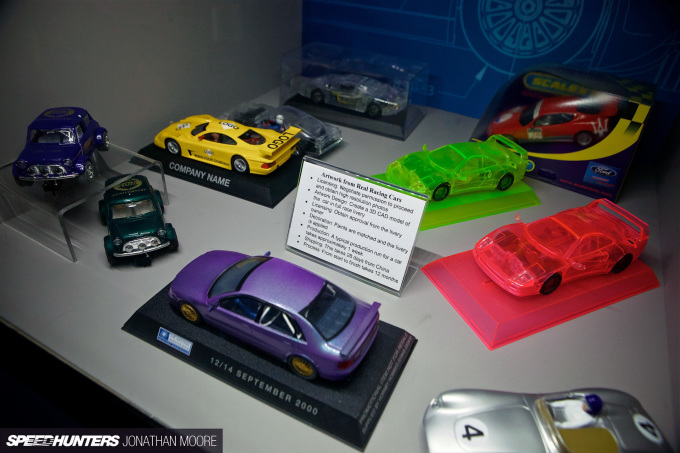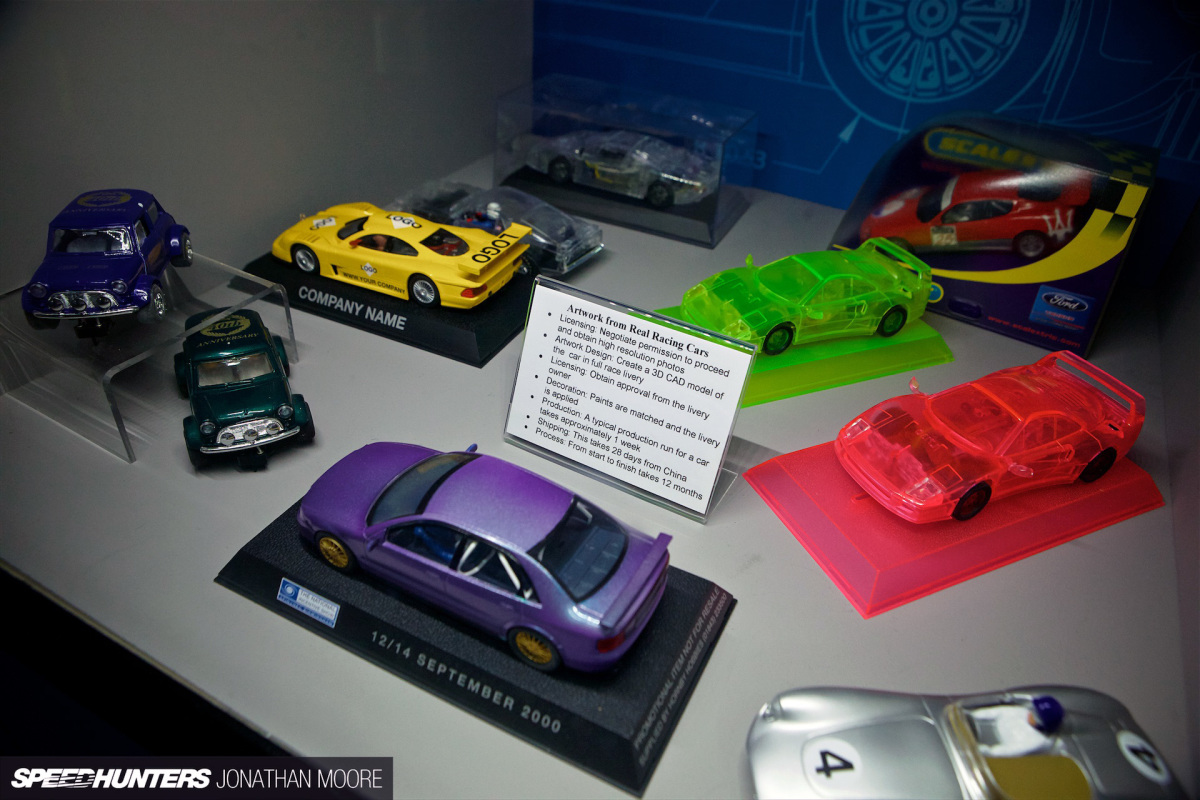 Things were saved as the new millennium hit; the model quality shoots up, with awesome new cars like the Mitsubishi Evo coming on stream alongside things like phenomenally detailed MotoGP bikes. Sport Digital was also introduced, allowing up to six cars to race across two or more lanes.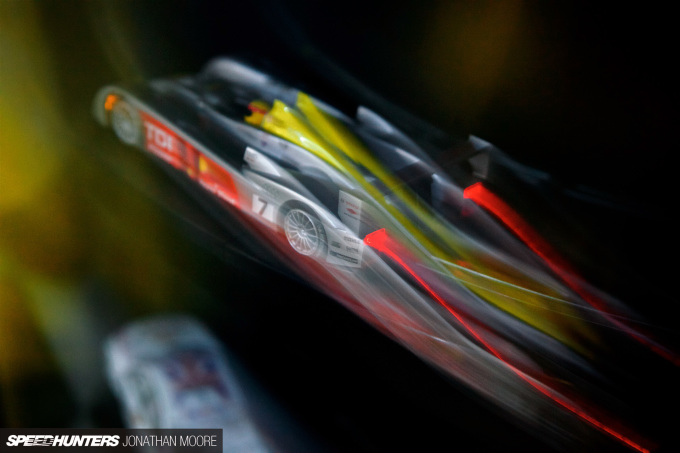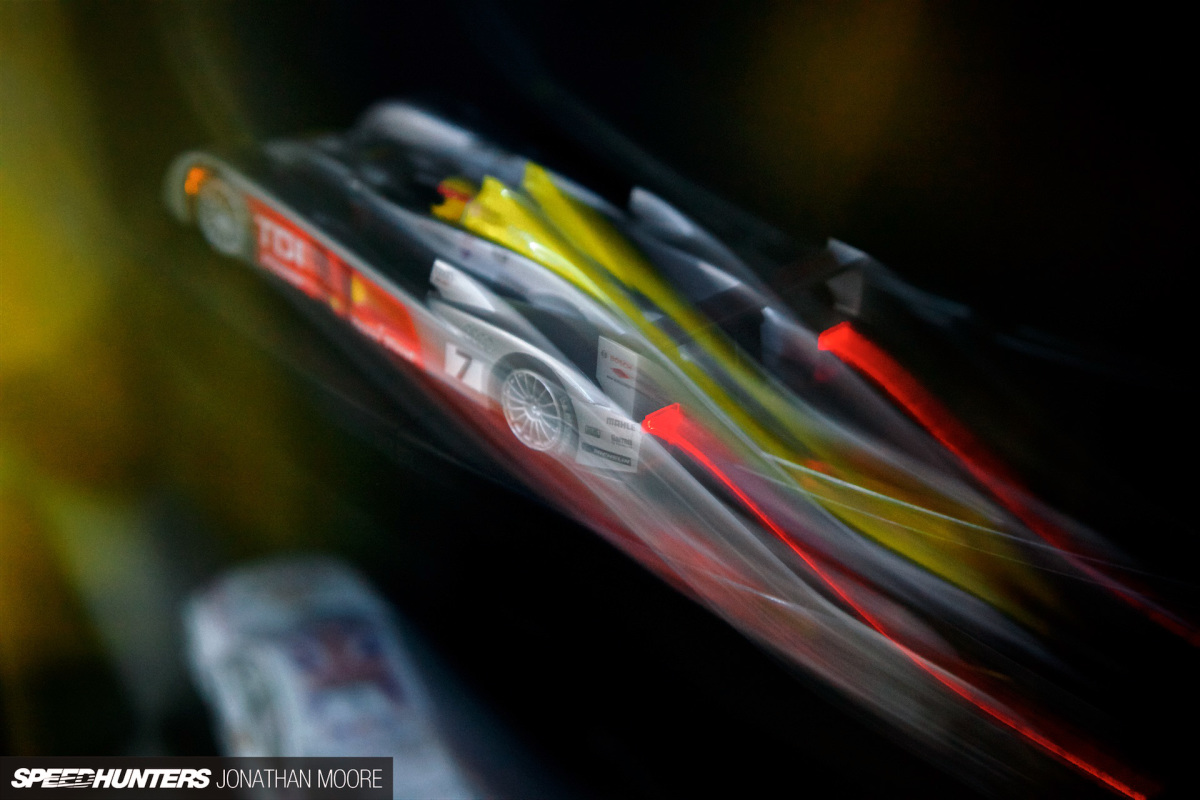 Lights had been introduced the decade before on special models, but were now becoming commonplace and much more effective. Those replicated night runs at Le Mans could come into their own.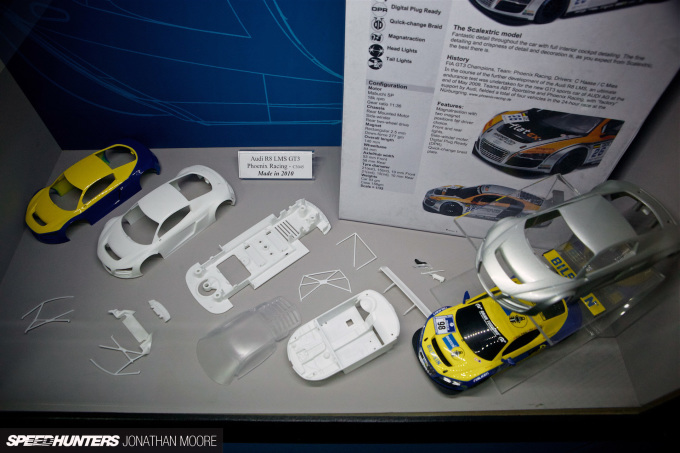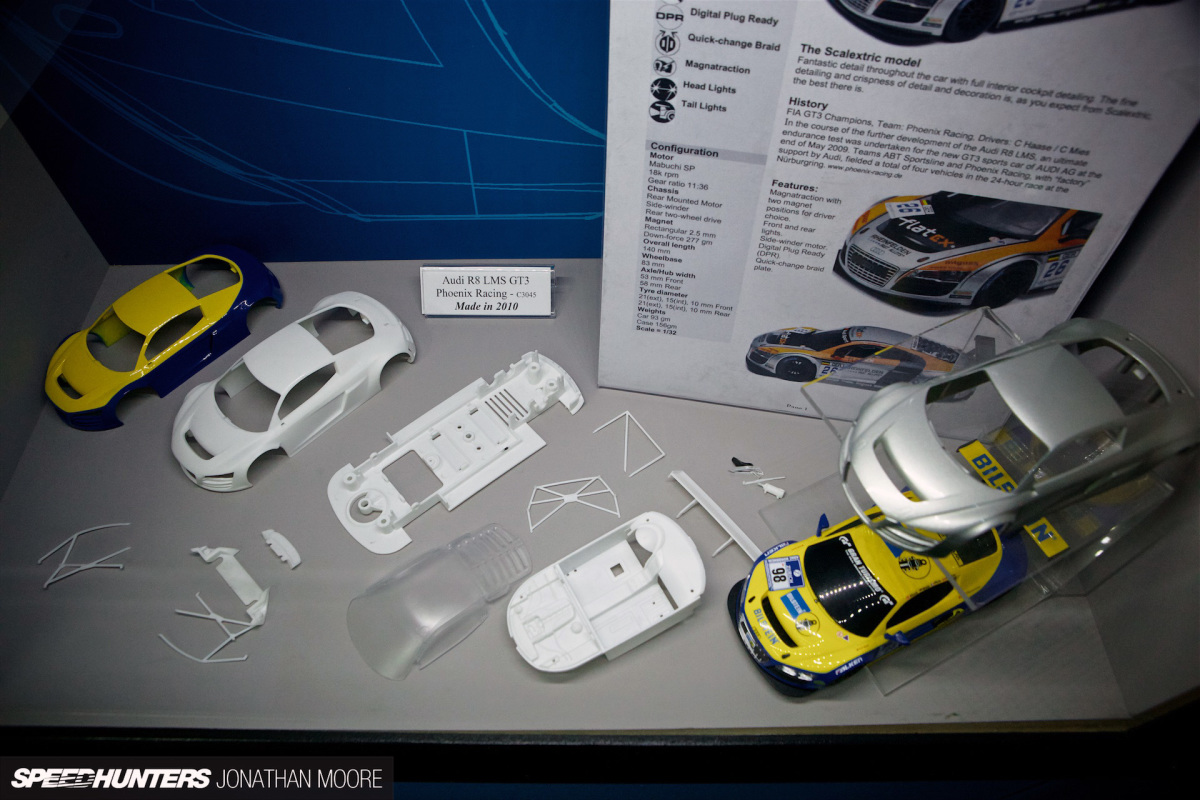 Now the cars aren't far off scale model kits in terms of quality. As we've seen at the Scalextric design HQ, an incredible amount of time and effort is put into creating cars and making them as accurate as possible.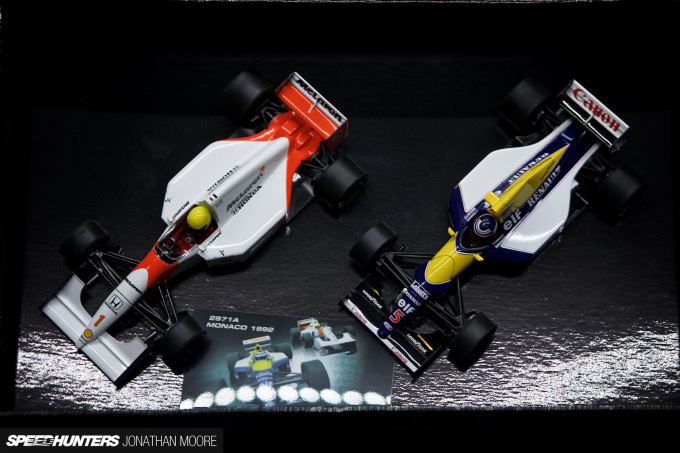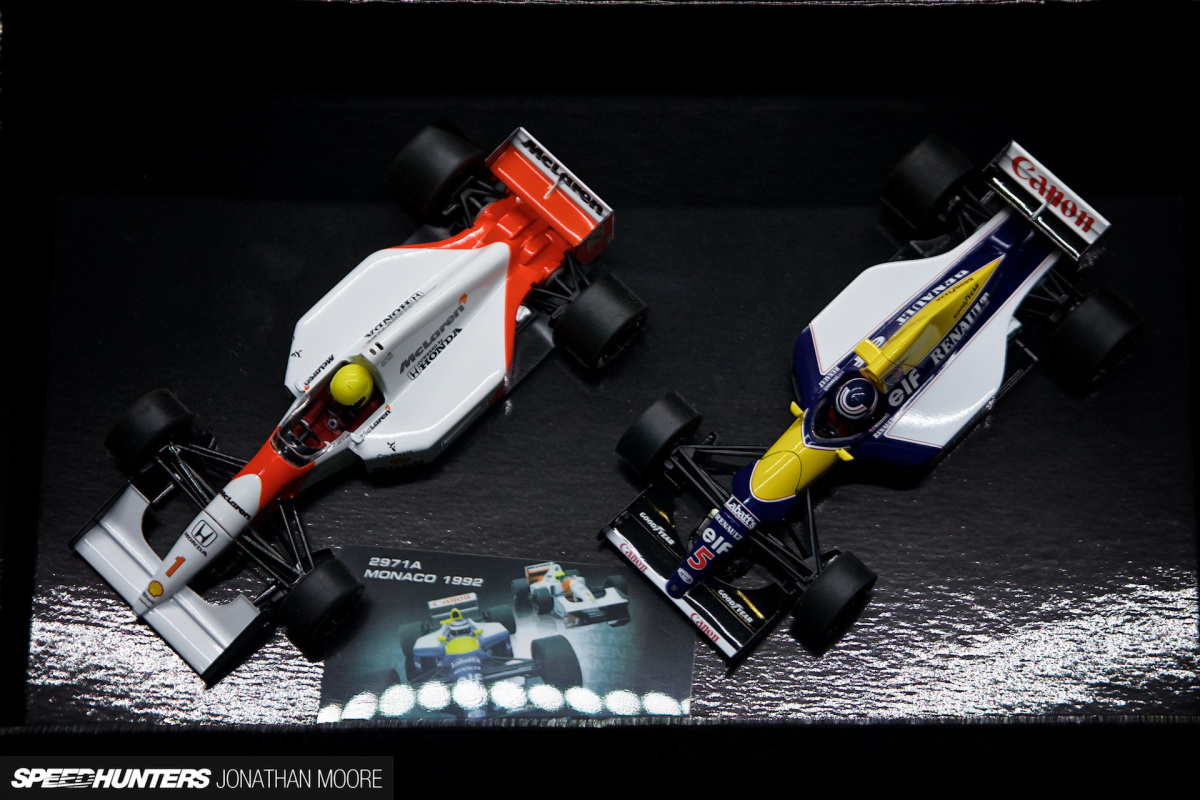 Special edition kits are nothing new, but now the quality is on another level. Attention to detail now puts them straight into the collector market, with the added bonus of being able to drive them too!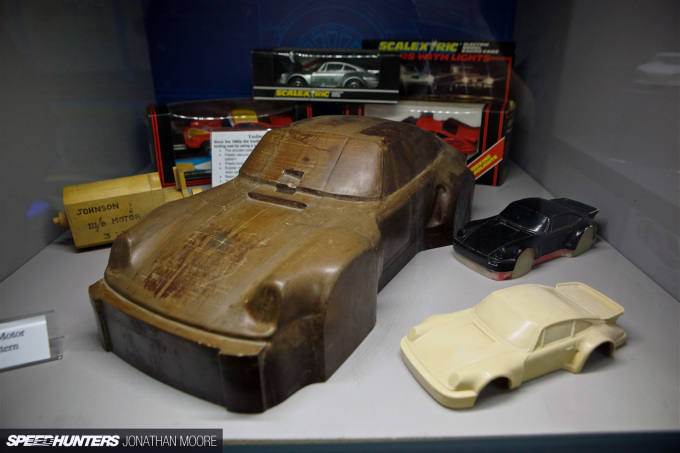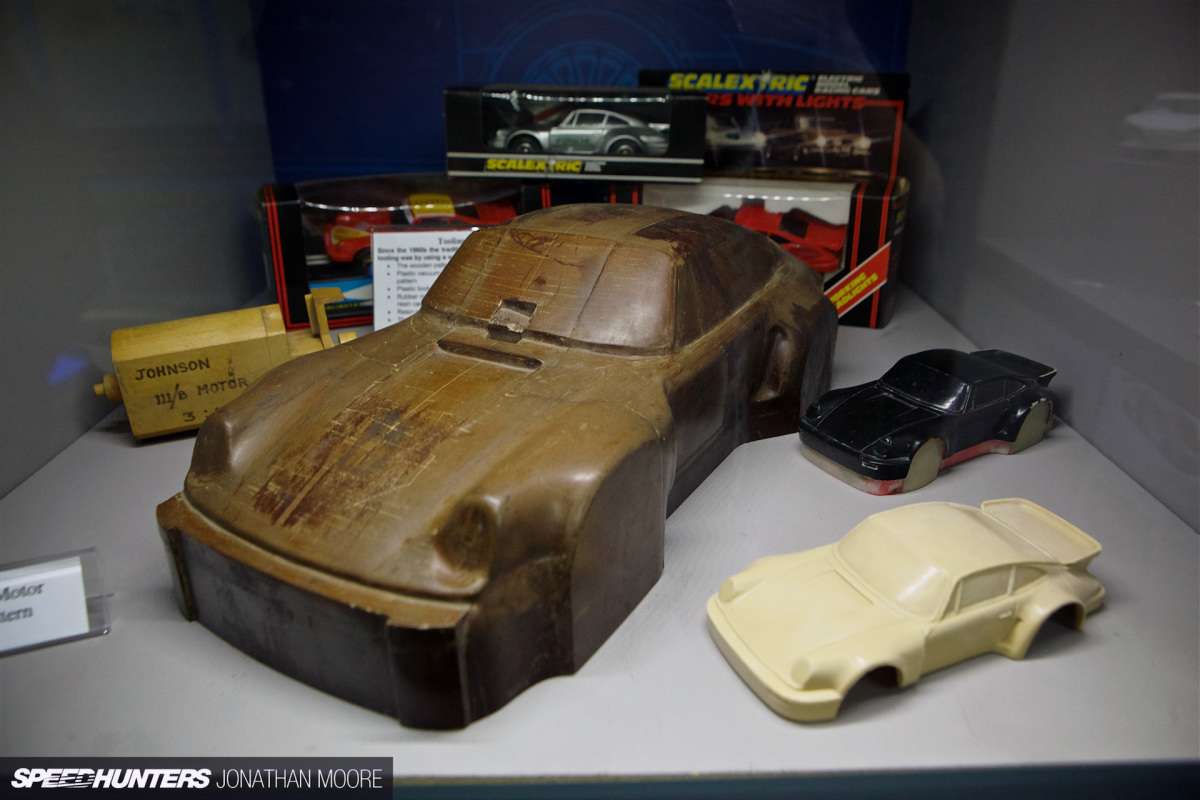 A separate cabinet showed the related evolution of design techniques: large-scale wooden bucks were the original starting point, well before the days of CAD and rapid prototyping.
All Fingers & Thumbs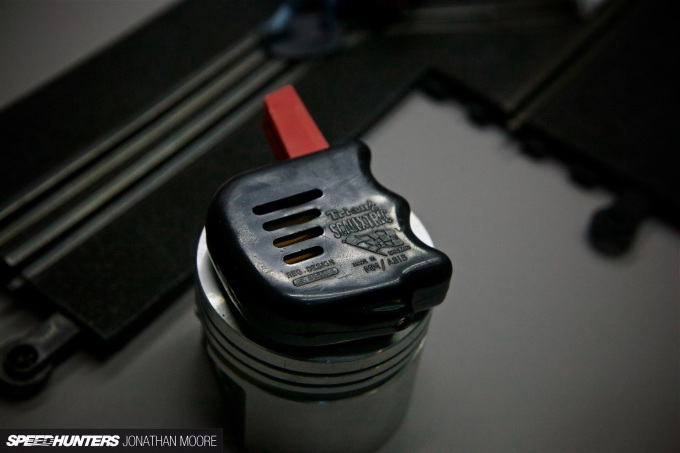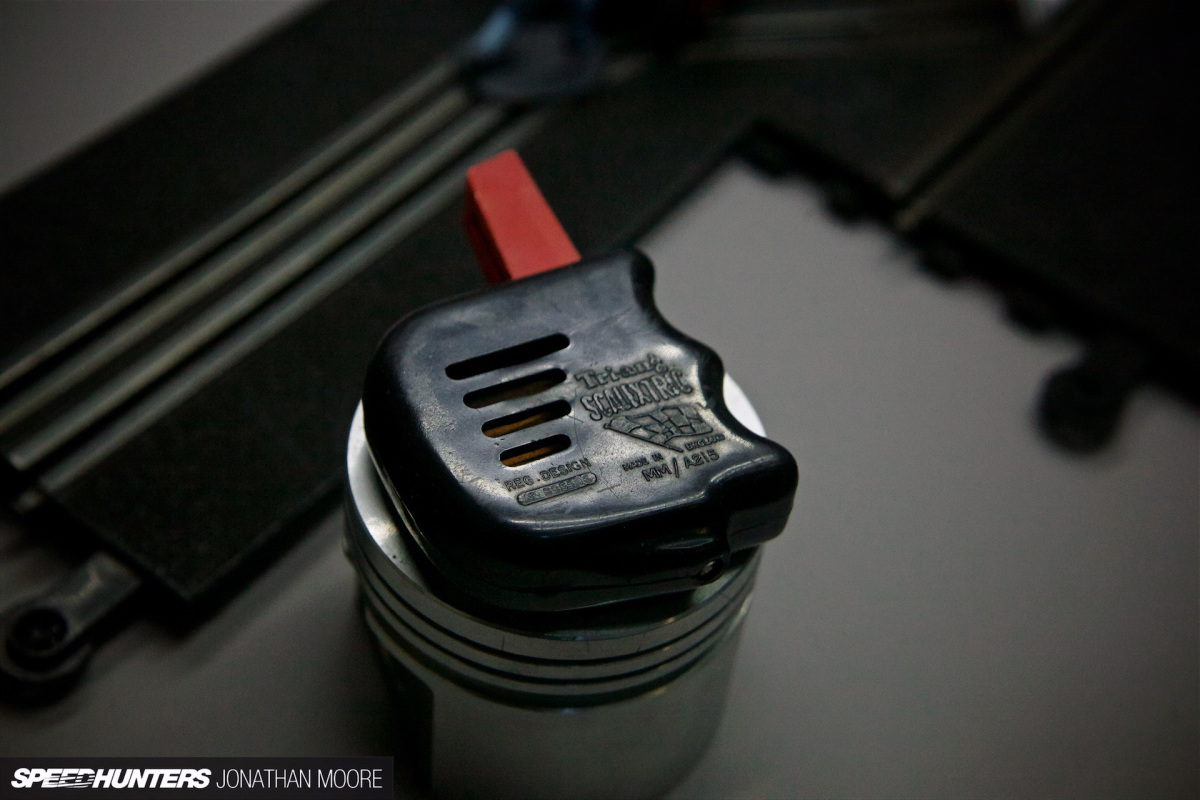 Speed is nothing without control, and in the beginning the precision with Scalextric was all thumb-based. This is one of the old detonator-style controllers, guaranteed to set fire to your hand within the first half hour. Actually, that is still one of the enduring things about slot-car racing: the faint smell of burning wire…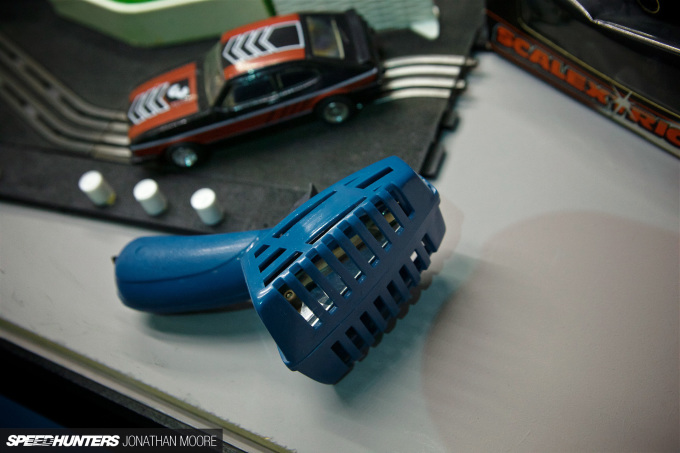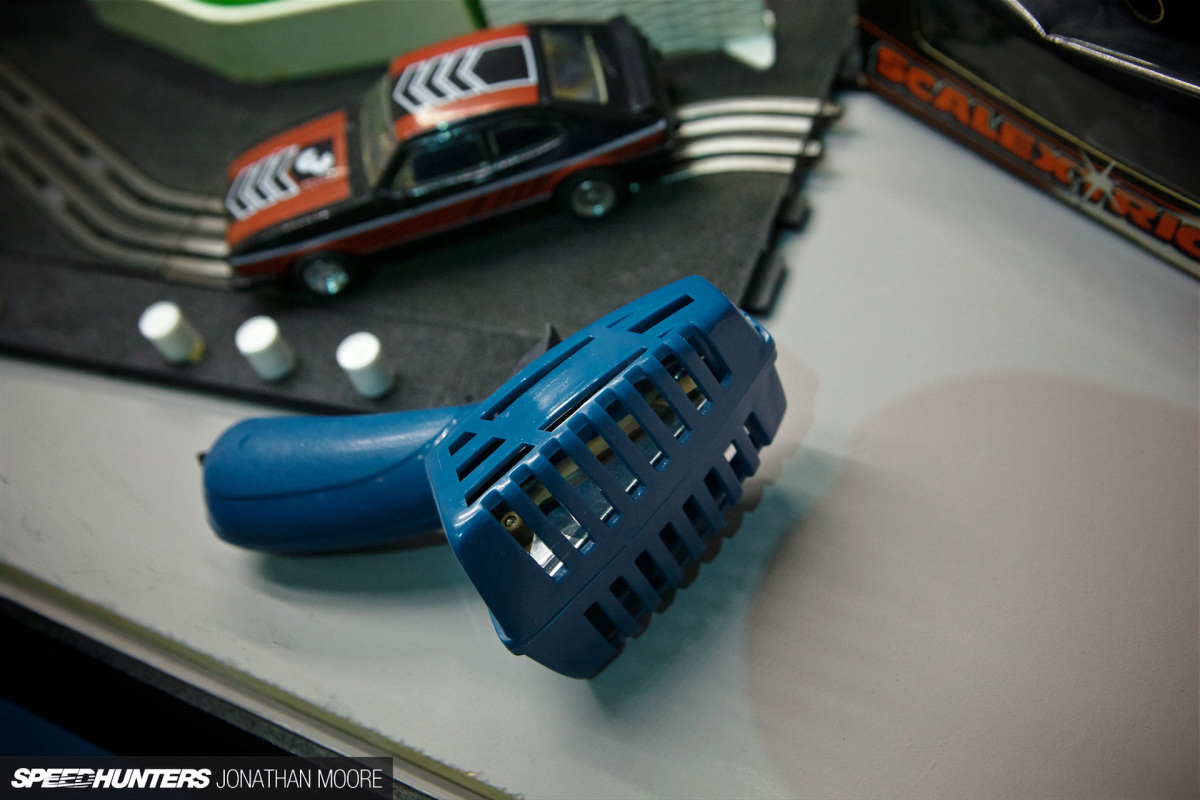 The classic Scalextric controller has to be this one, which was the standard for decades. You always felt like you were taking your life in your hands as you fastened the bare wires into the track connectors and power transformer.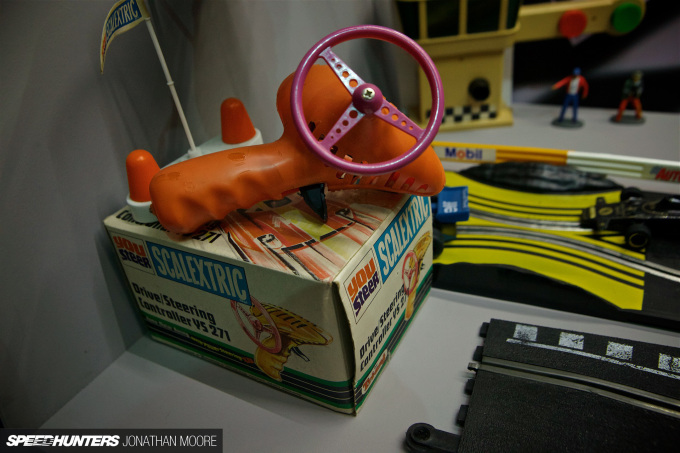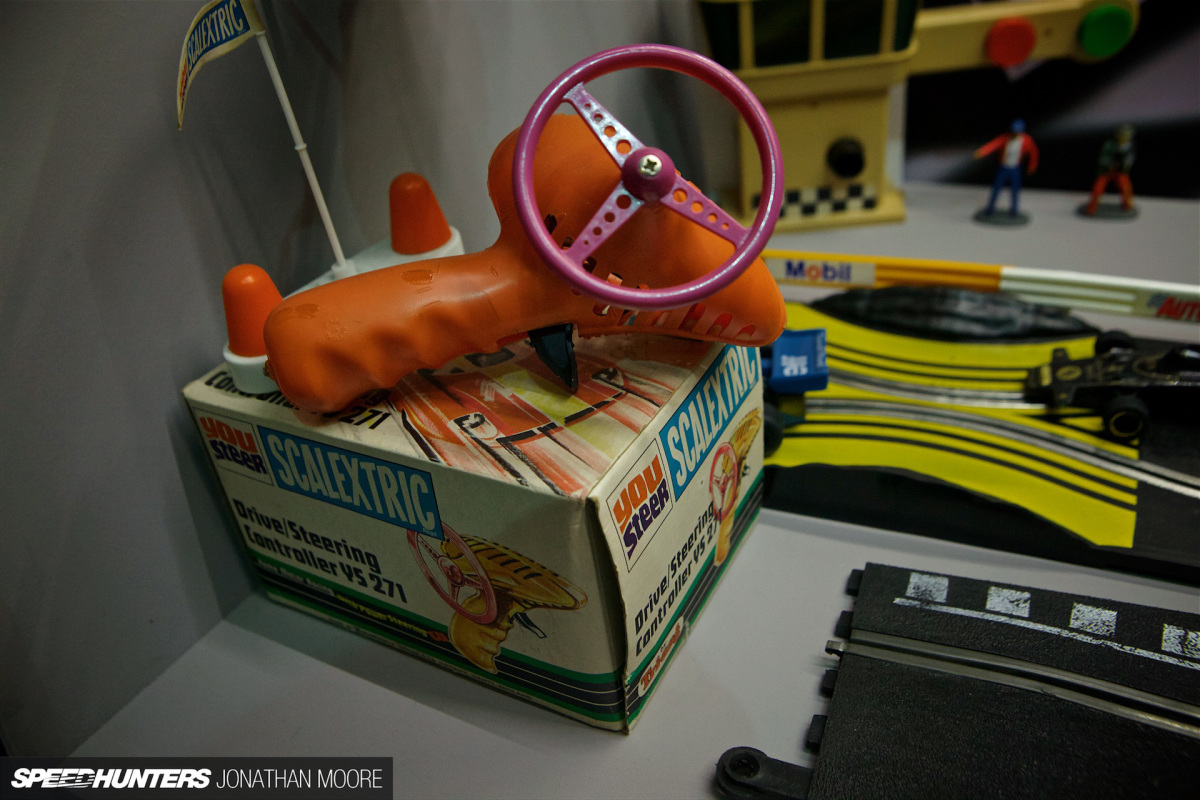 There have always been attempts to make the interaction with the car even more immersive, well before today's world of Bluetooth and smartphones. This was the You Steer system from 1970, which allowed you to 'steer' your car an inch or so left and right around the centreline. It never took off though; the cars move so quickly anyway that any additional input inevitably just introduced unnecessary complexity.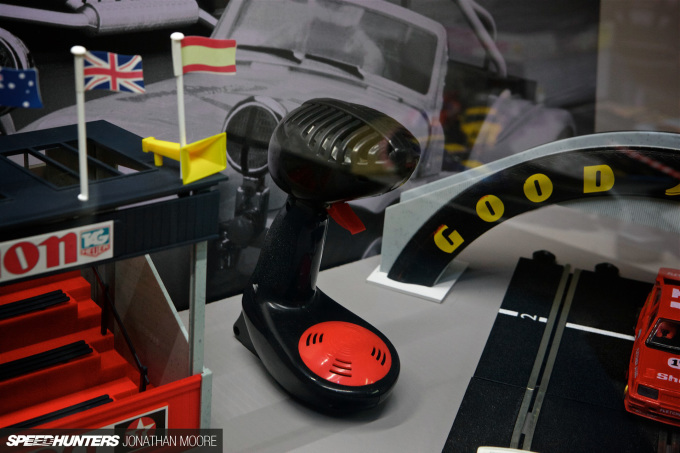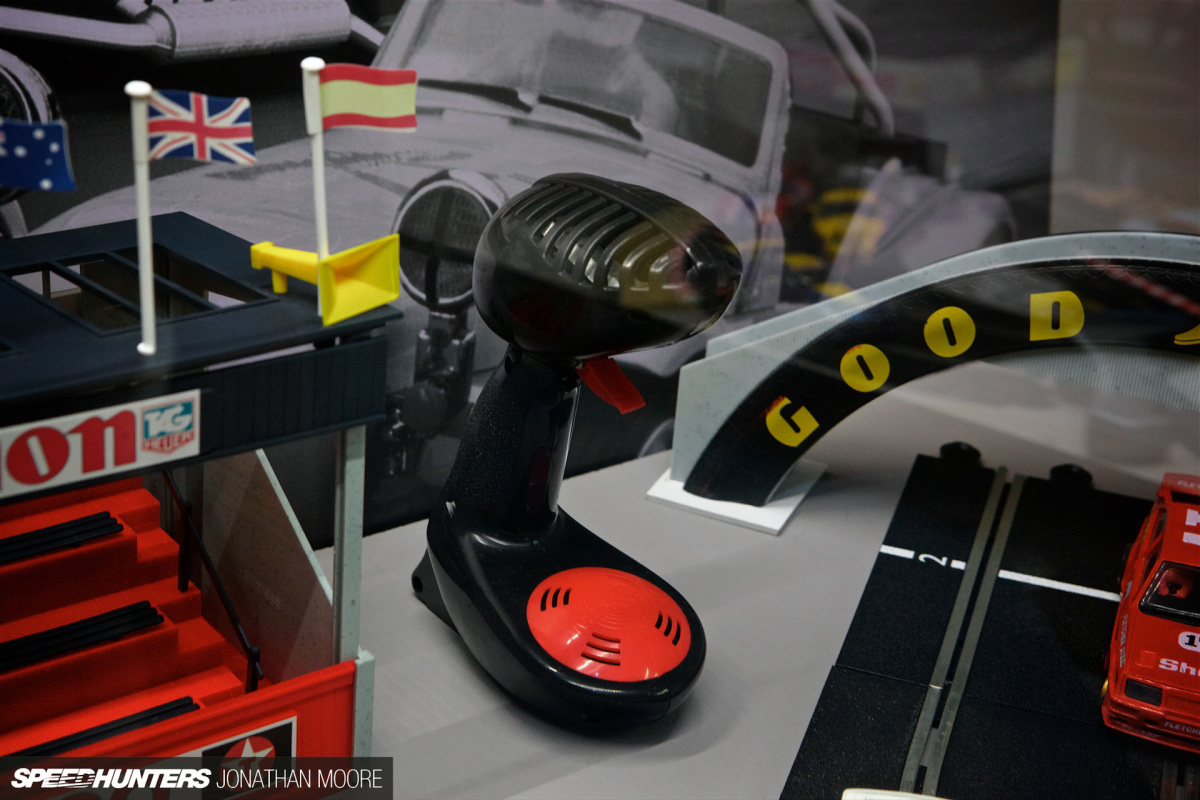 This was a little bit more sensible in theory, if not in practice: the Mega Sound controller from the '90s revved away in tune with your throttle, plus featured gear-change sounds. At least new snap connectors made the whole thing a lot more simple to set up.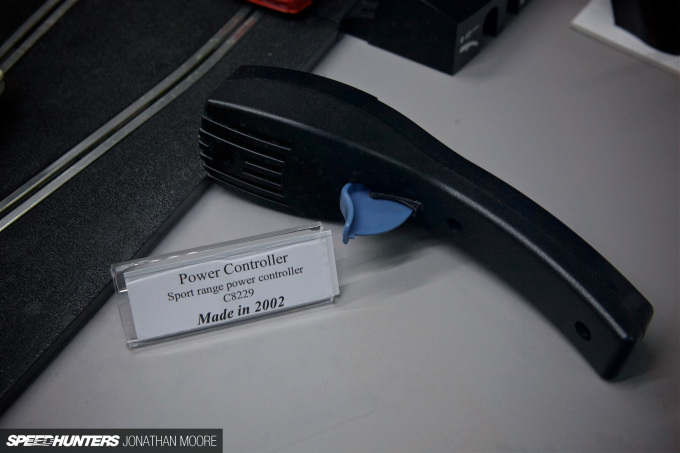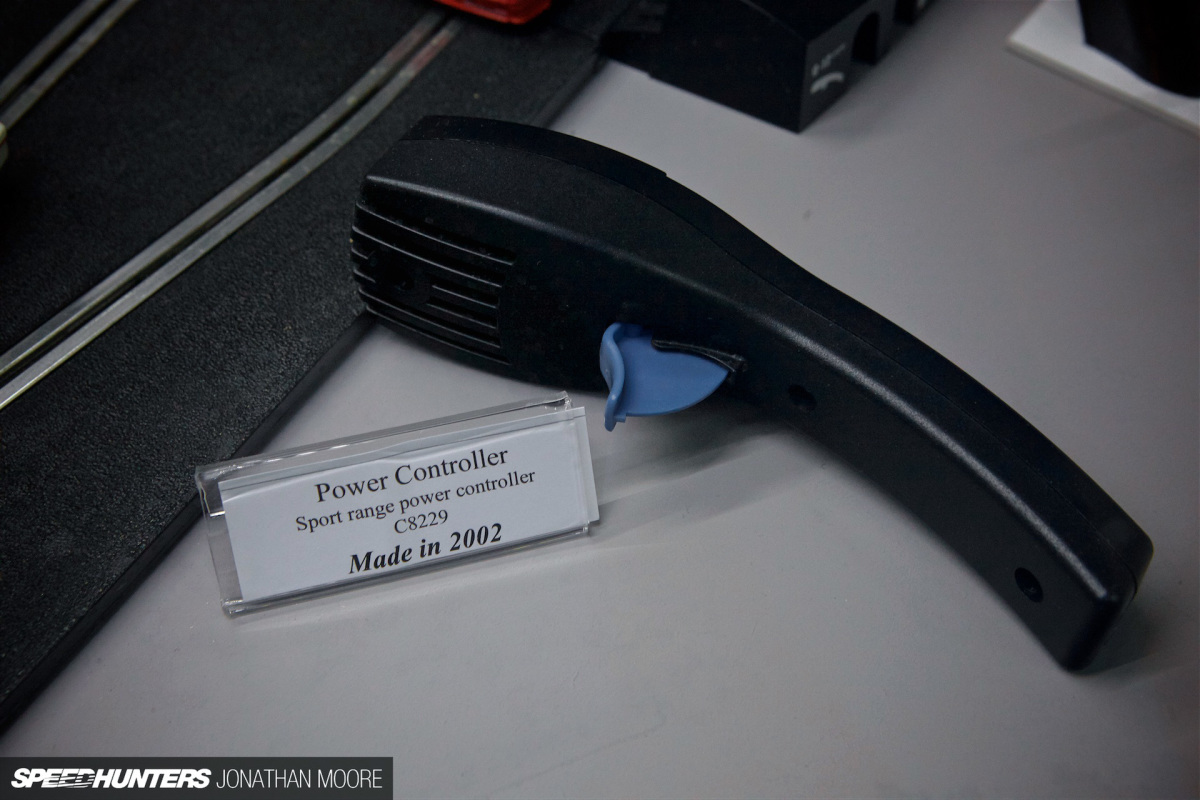 The Power Controller from the early 2000s was specifically for the then new Sport range and introduced a new slim-line look to go with a much better connector system for new track pieces; the old hook and eye connectors tended to weaken with excessive use.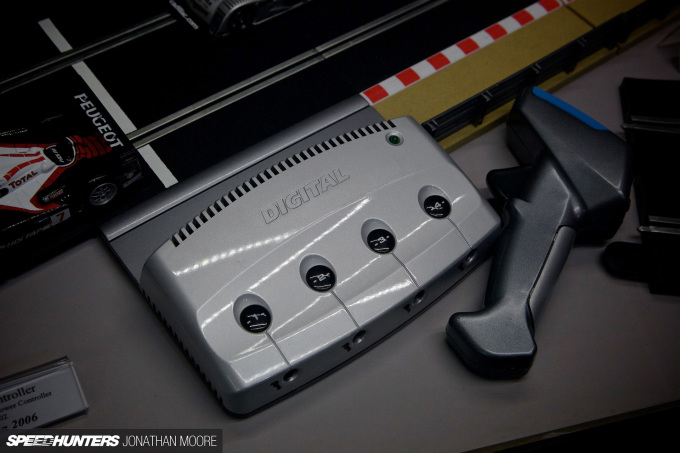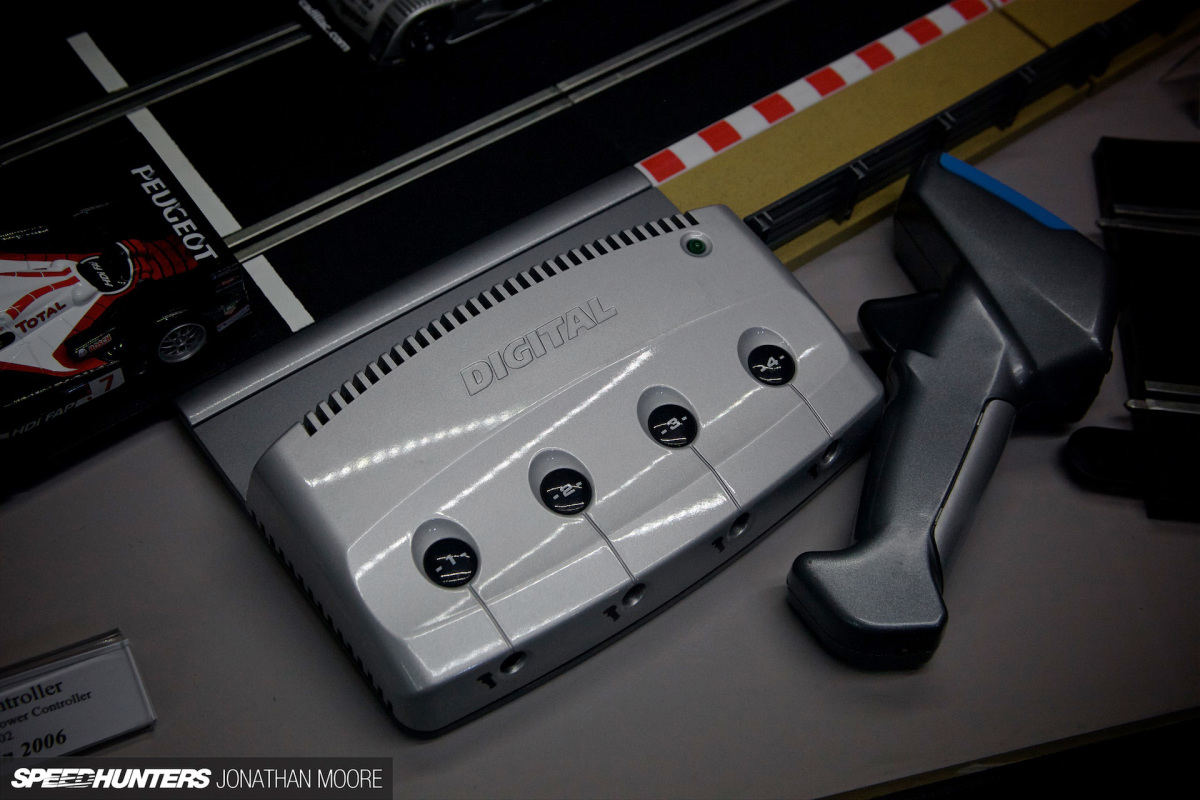 The Digital system introduced in 2004 saw the biggest shake-up for decades. A button on the throttle allows your car to change lanes at crossover points or even use a separate dedicated pit-lane, and the power can be calibrated to slow down certain cars (and give the rest of us a chance).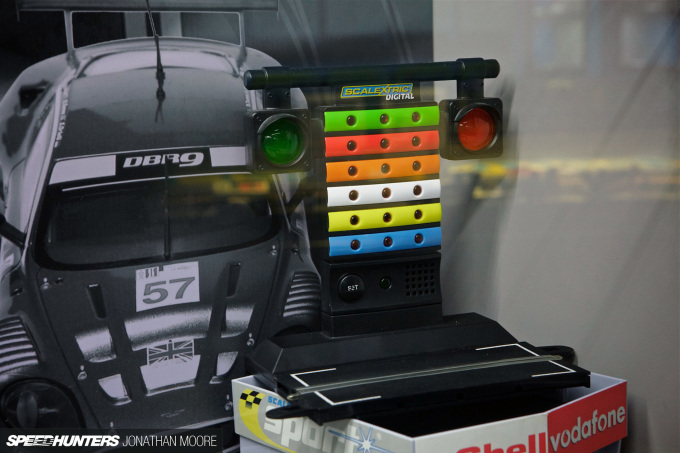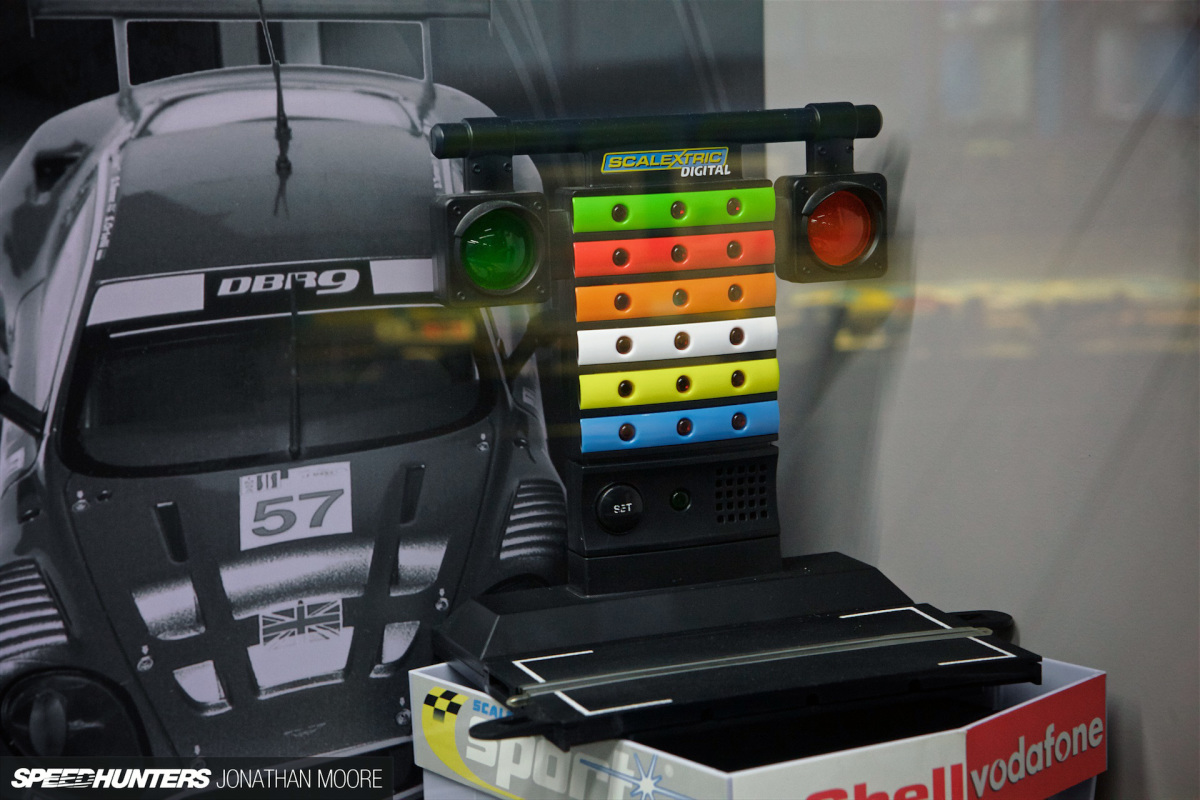 To complement that there's a special Digital Pit-Lane unit, where you can set pit-stops, controlling the number and duration of pit windows, as well as lap counters and LED displays. Bringing things bang up to date there's now the ARC system, fully integrated into mobile tech. That to me seems so much more the way to go, rather than over-complicating the purity of the controller method itself.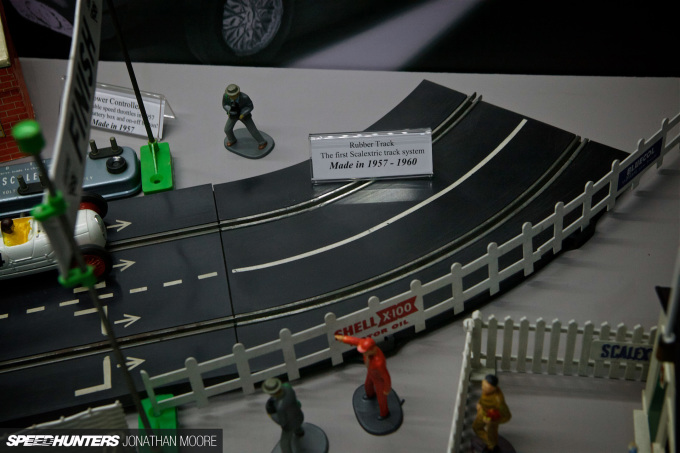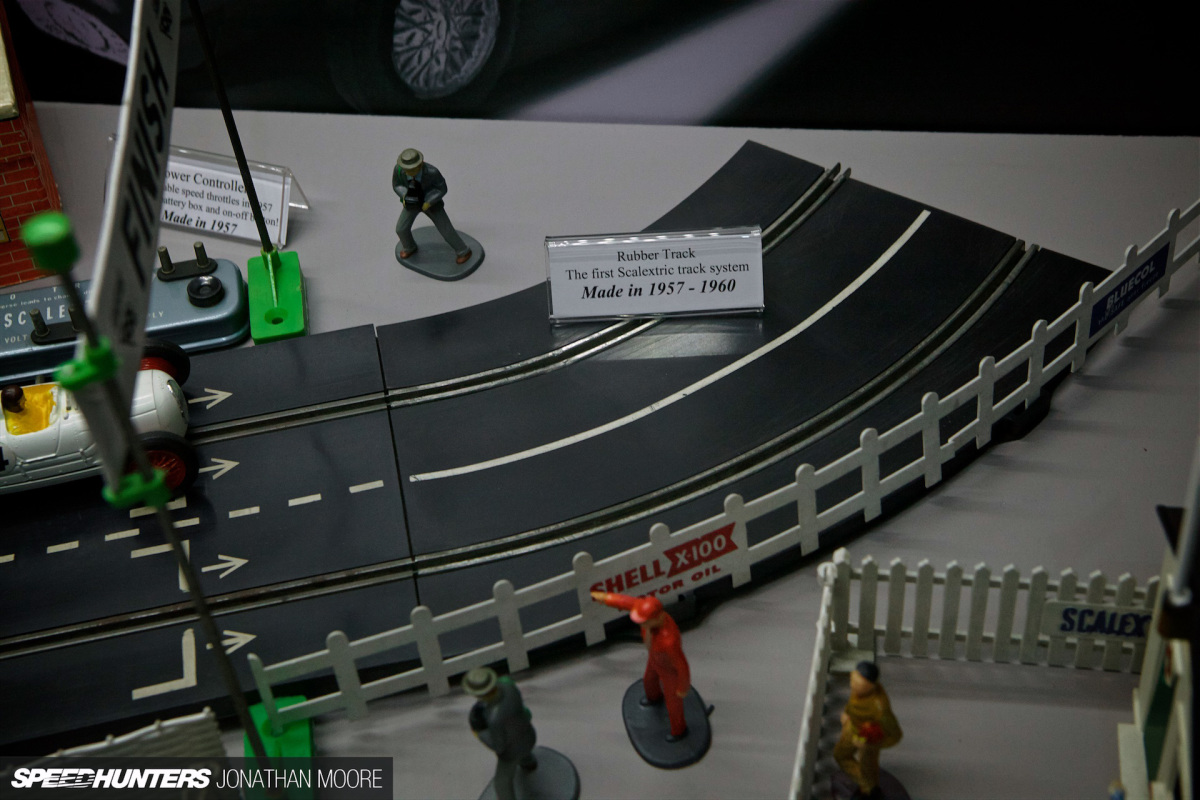 The track has also evolved over time, starting with the shiny rubber sections held together by metal clips, featuring a white dividing line down the middle of the track. Silicone 'skid patch' oil could be applied to the already slippery surface to create even more hazard.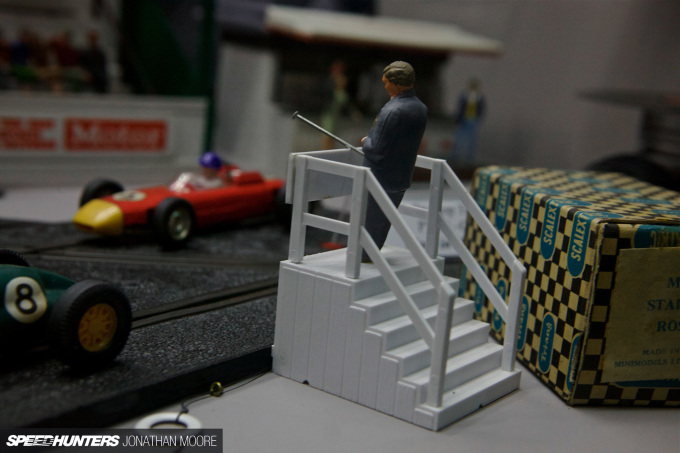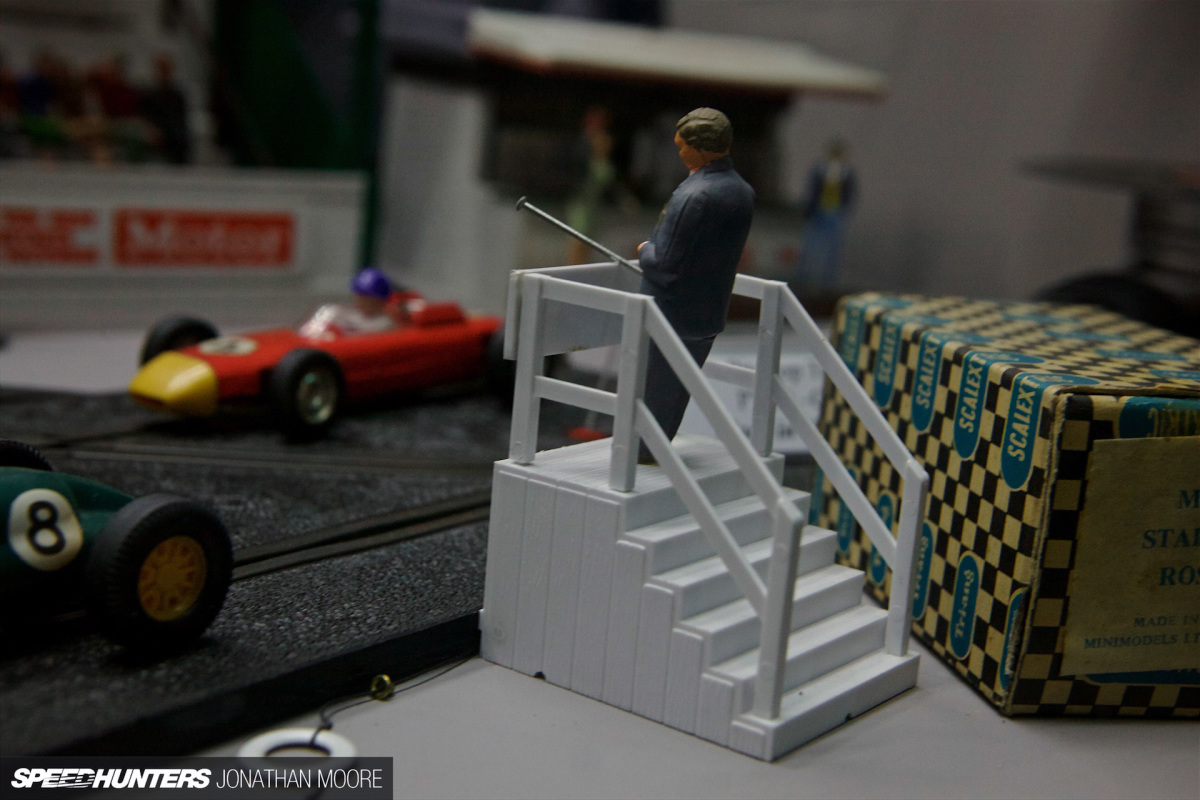 Of course, from the off accessories were a must. Track fences could help less skilled driver keep their car on course, but then more superficial additions would make your track, well, just way cooler. Piles of straw bales to tail-flick out of the way, half-tyres plugged into the outside of the track to flip your car skywards (the thought that those kind of things were actually installed at real tracks is terrifying), corner markers, officials and more.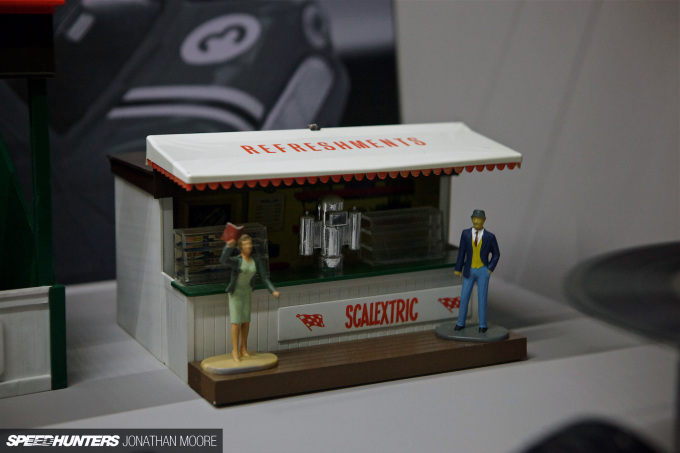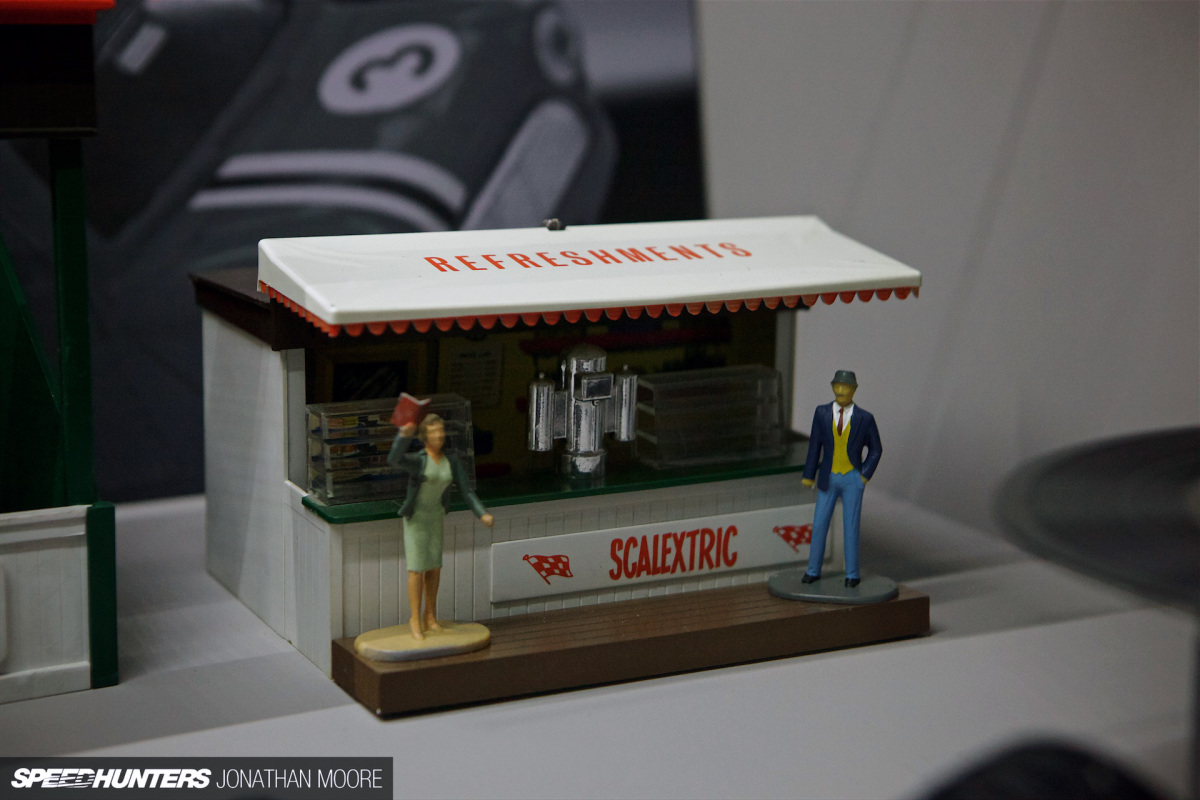 None of this made the cars go faster or your thumb work more efficiently, but who wouldn't want to adorn their track with all these extras?! Nothing has really changed on this front.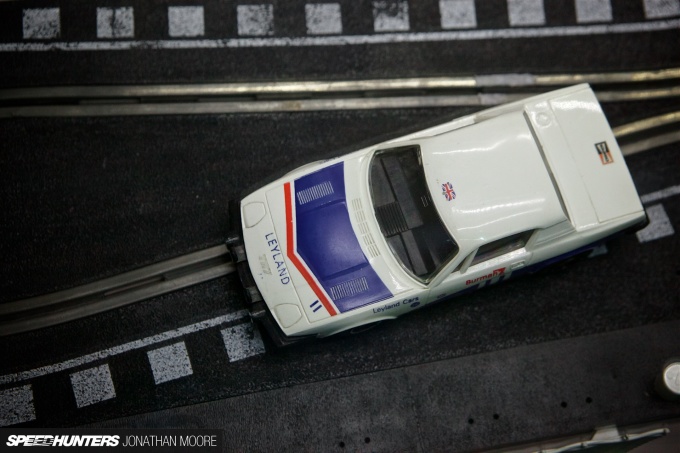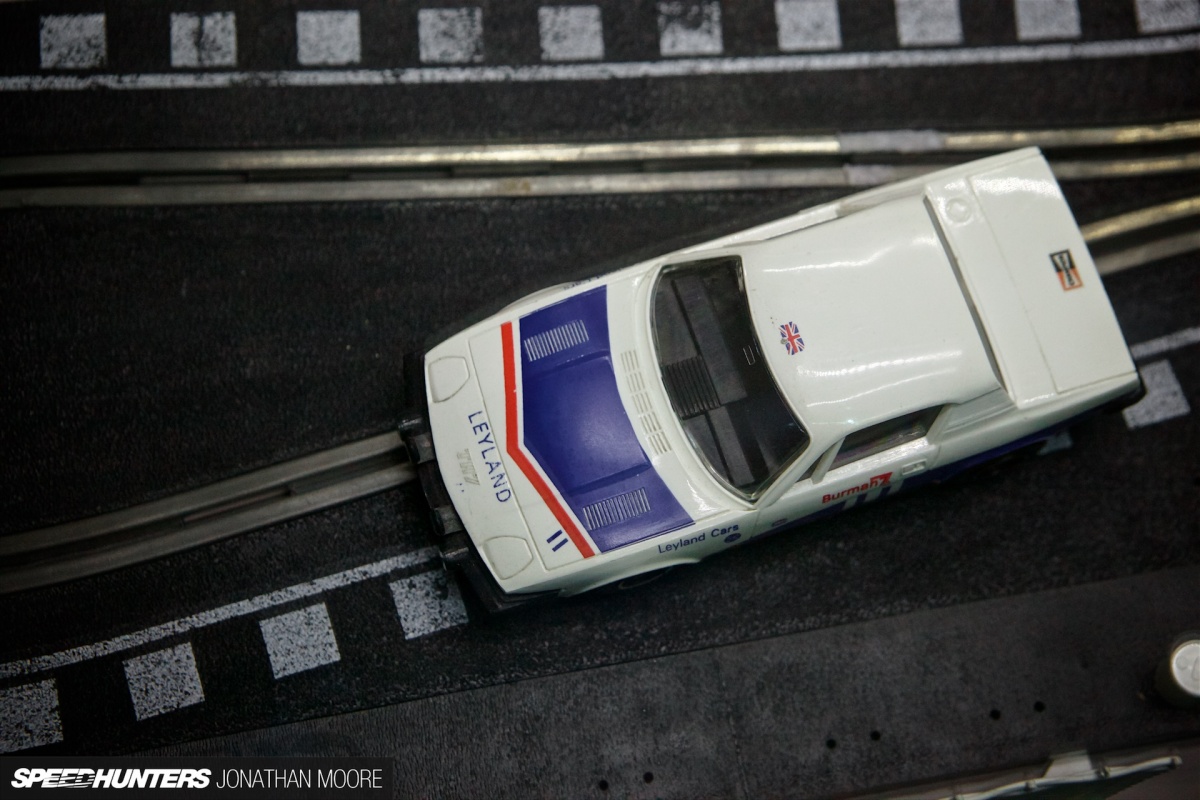 Revisions to the track itself were made in the mid 1960s, with the material changed to polyethylene plastic – and that was it for pretty much 40 years until Sport was introduced. The change meant that Scalextric could produce the track itself, and the range exploded into a global market. There were (and still are, in fact!) Scalextric World Championships.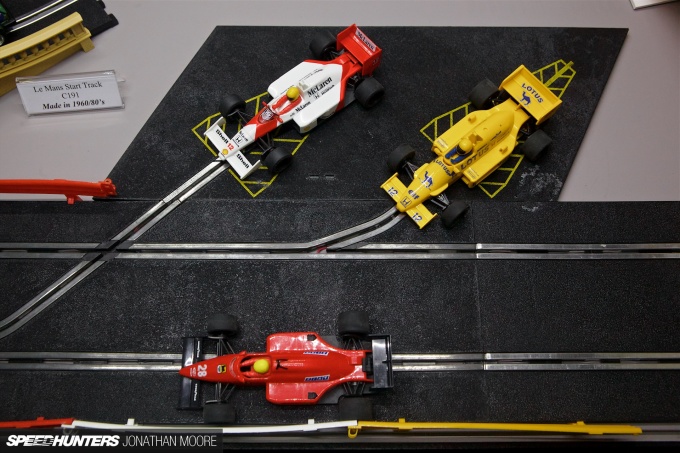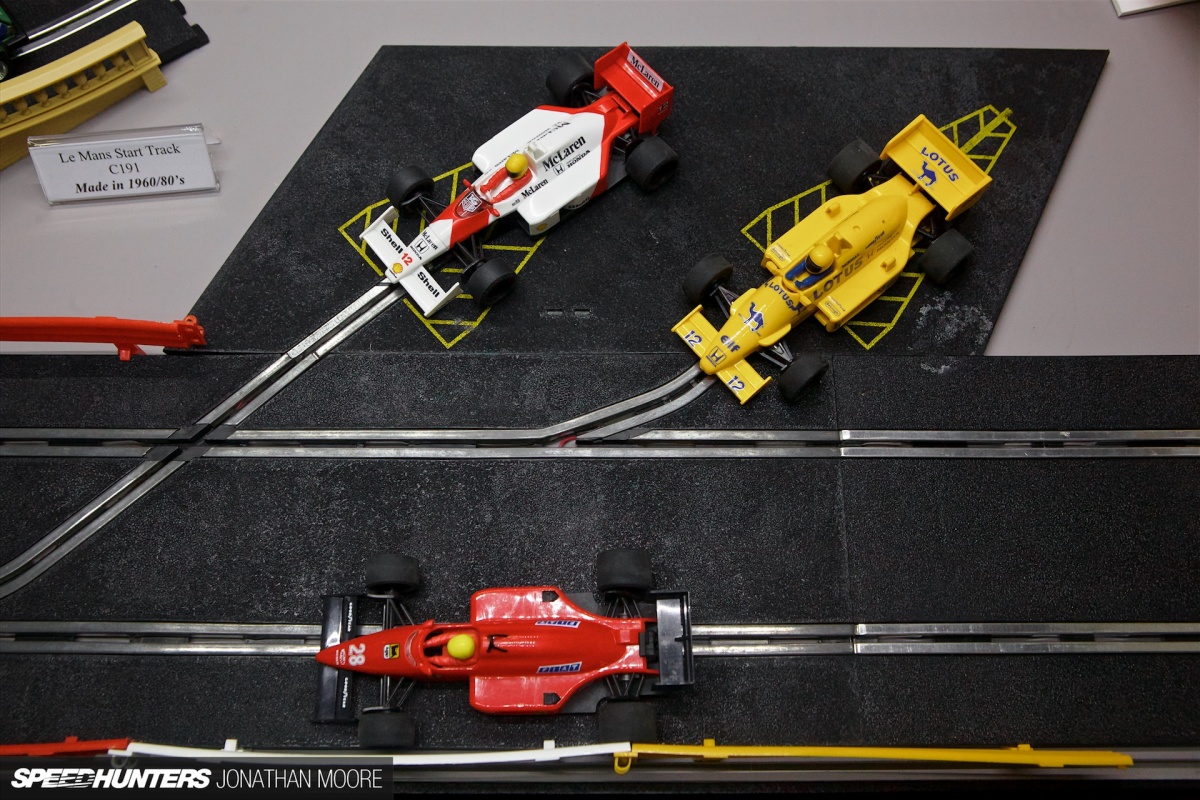 Along with trackside additions like snap-on run-off, bridges and lighting, yet more specialist track sections came out: offset starts, crossovers, squeezes, hump-back bridges and the oh-so-aspirational Goodwood Chicane set.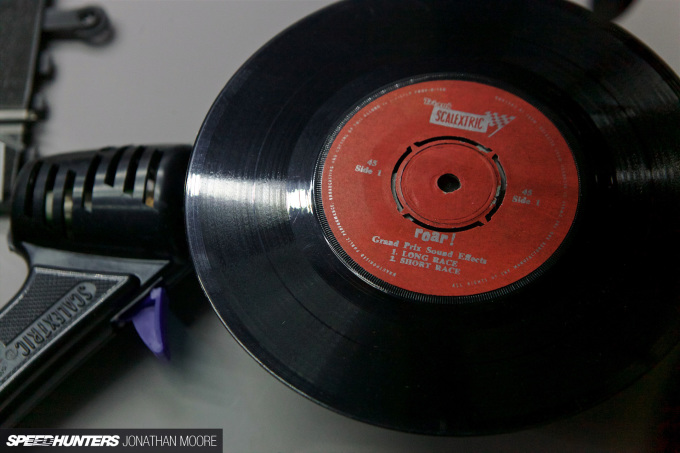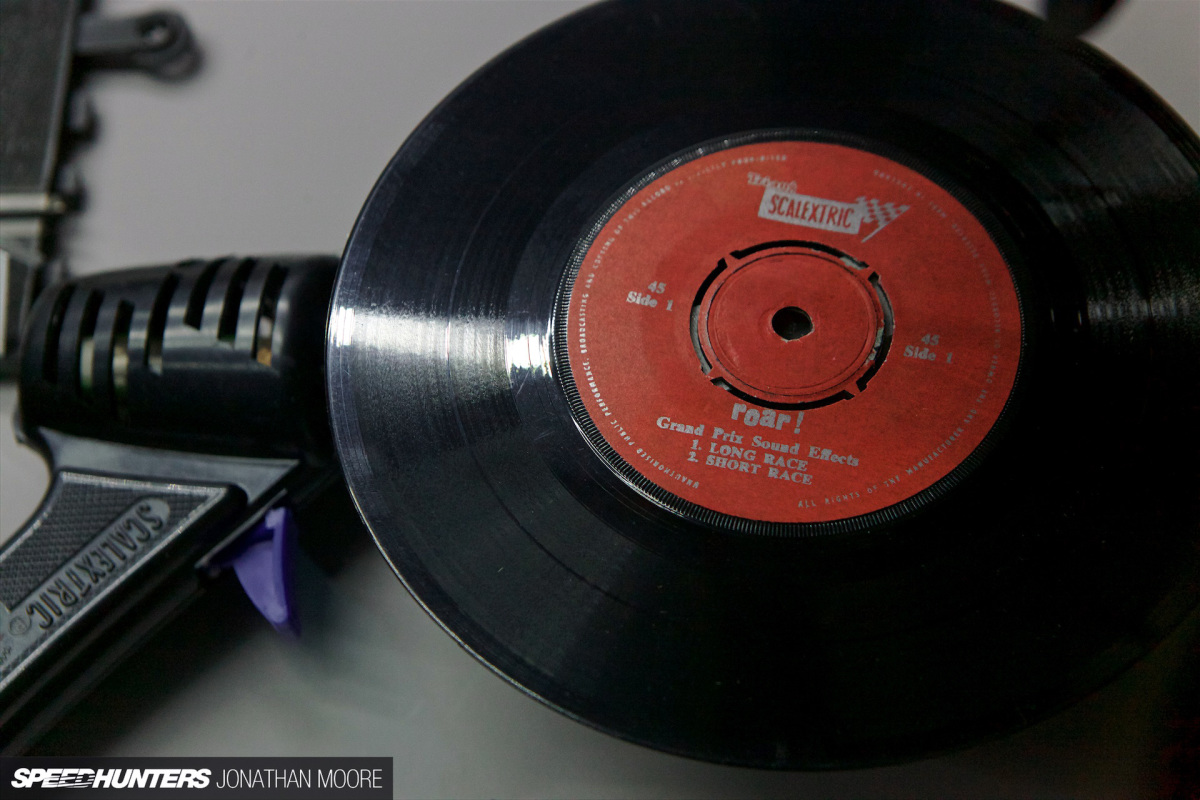 But the absolute highlight was this: Roar! Authentic Sound Thrills Of Grand Prix & TT Racing from the early '60s. This was a 45rpm seven-inch single of racing sounds recorded live at real F1 and bike races, with Long Race and Short Race versions available depending on the length of the race you wanted. Three klaxon blasts… and you'd be off!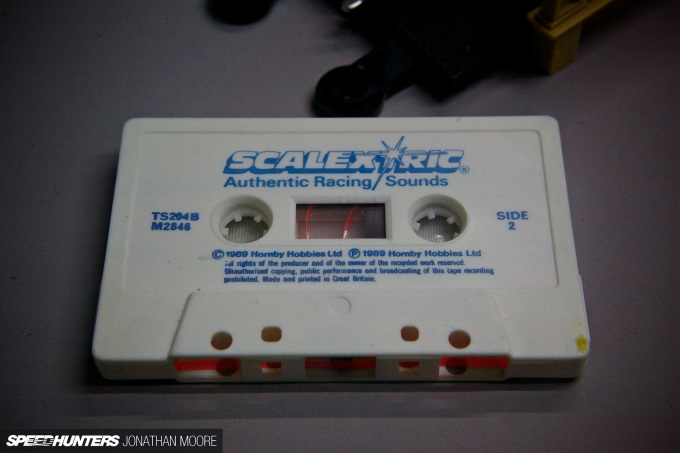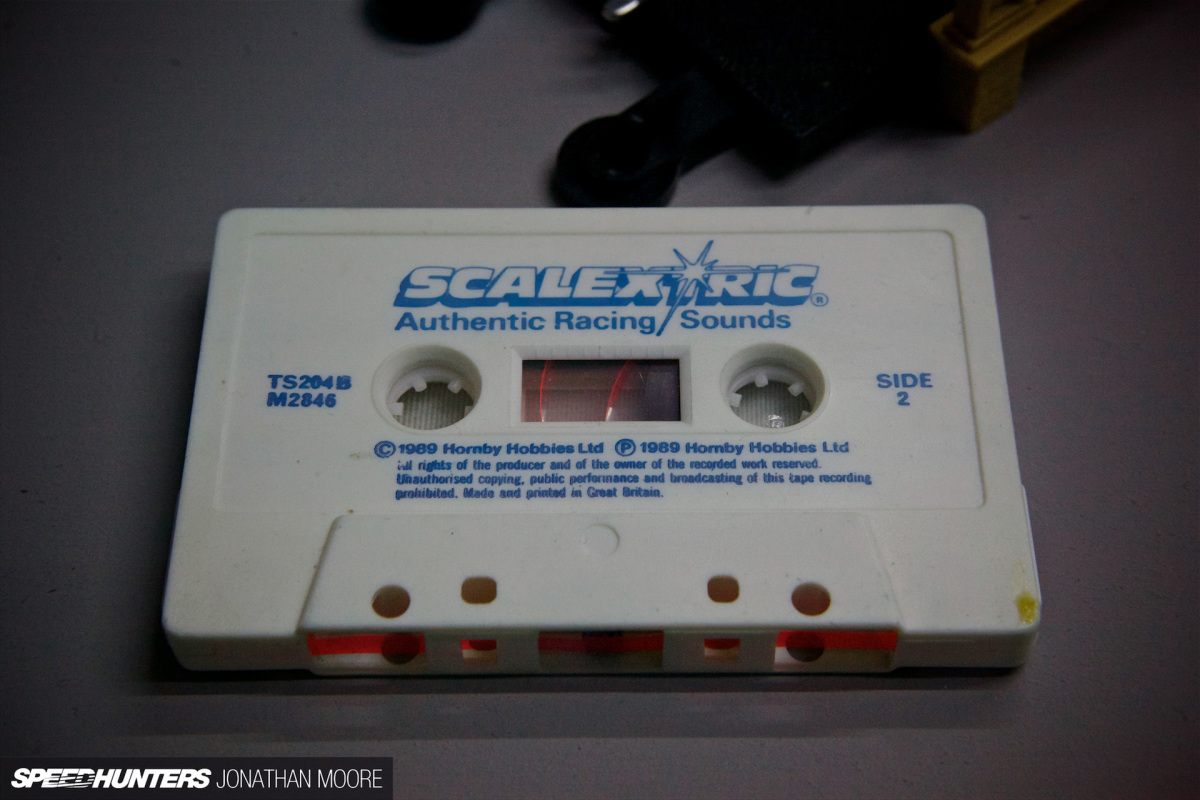 But technology always improves the brands… With the introduction of new-fangled cassettes the following decade, you could have even longer races with the Authentic Racing Sounds tape!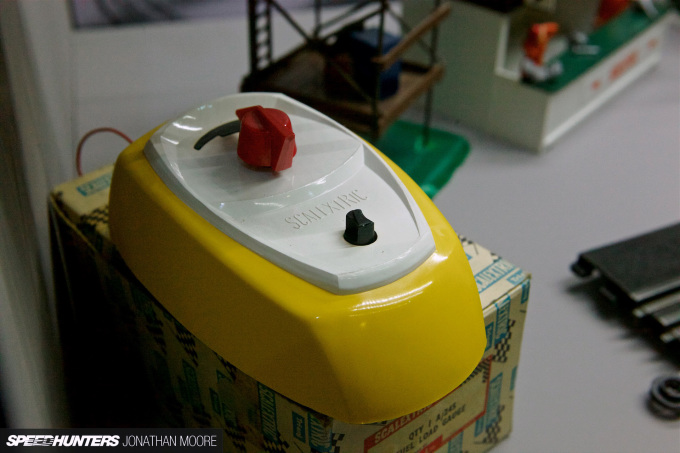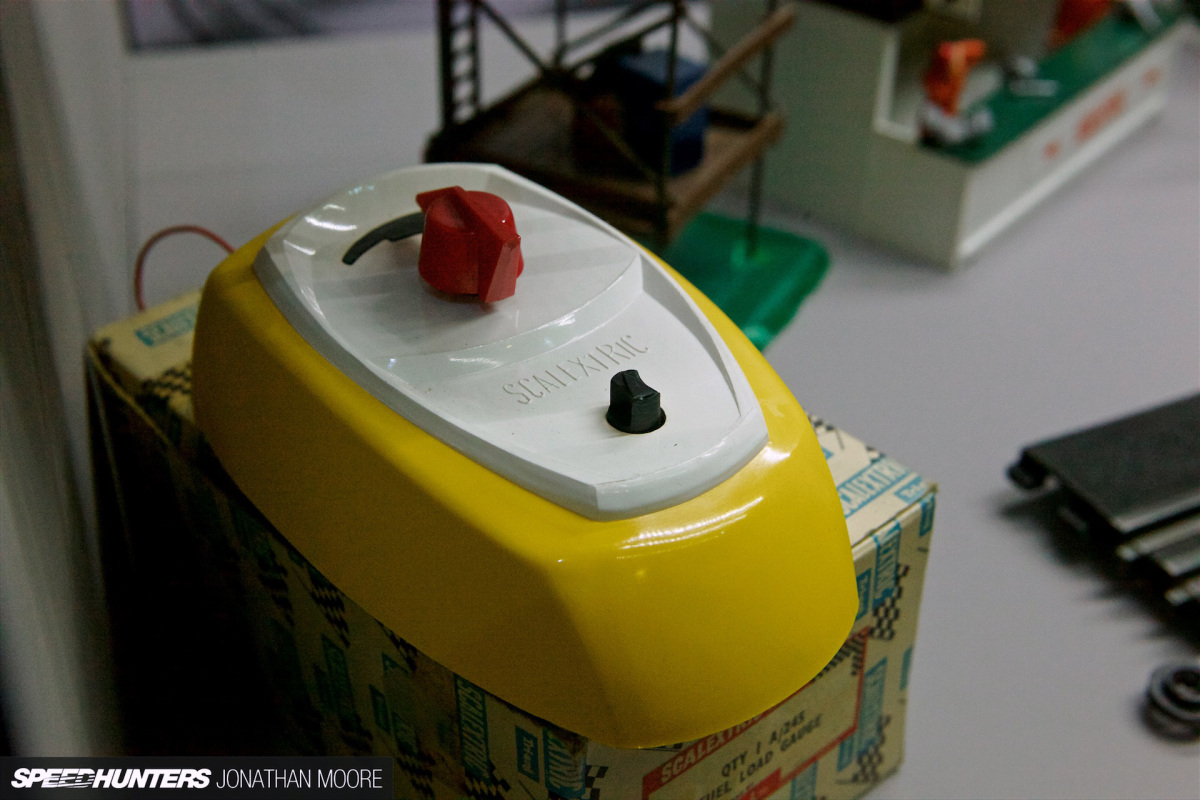 Digital is cool, but this old Fuel Load Gauge from the 1960s did the same trick via a simple winder mechanism. As soon as the dial hit zero it would cut the power to the track.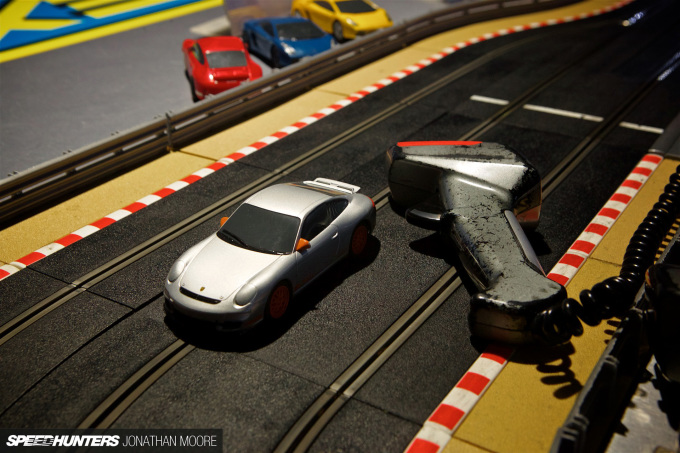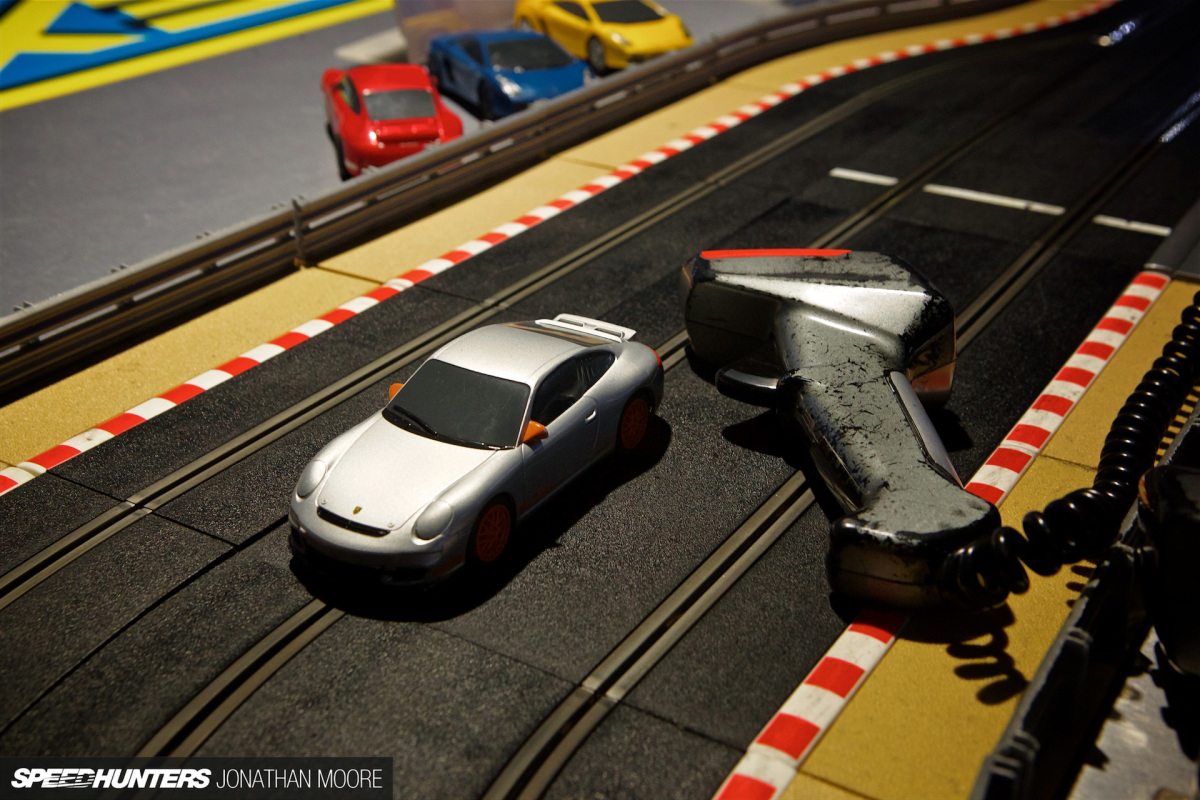 In the end, though, it only ever comes down to one unchanging thing: a controller and a car in a slot. Friends getting together, whether the young, the young at heart or the outright pro racer.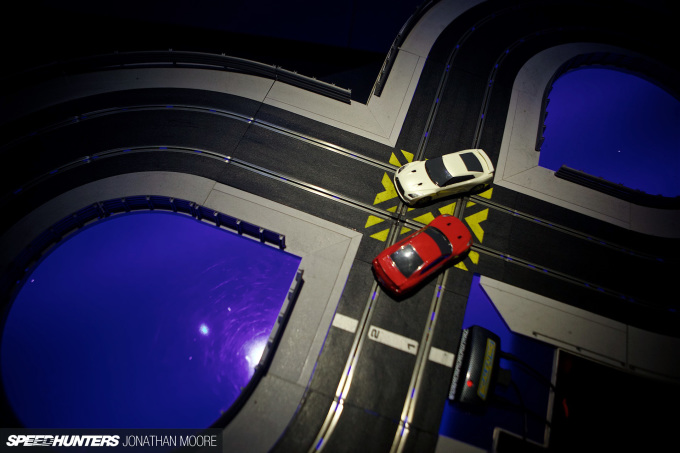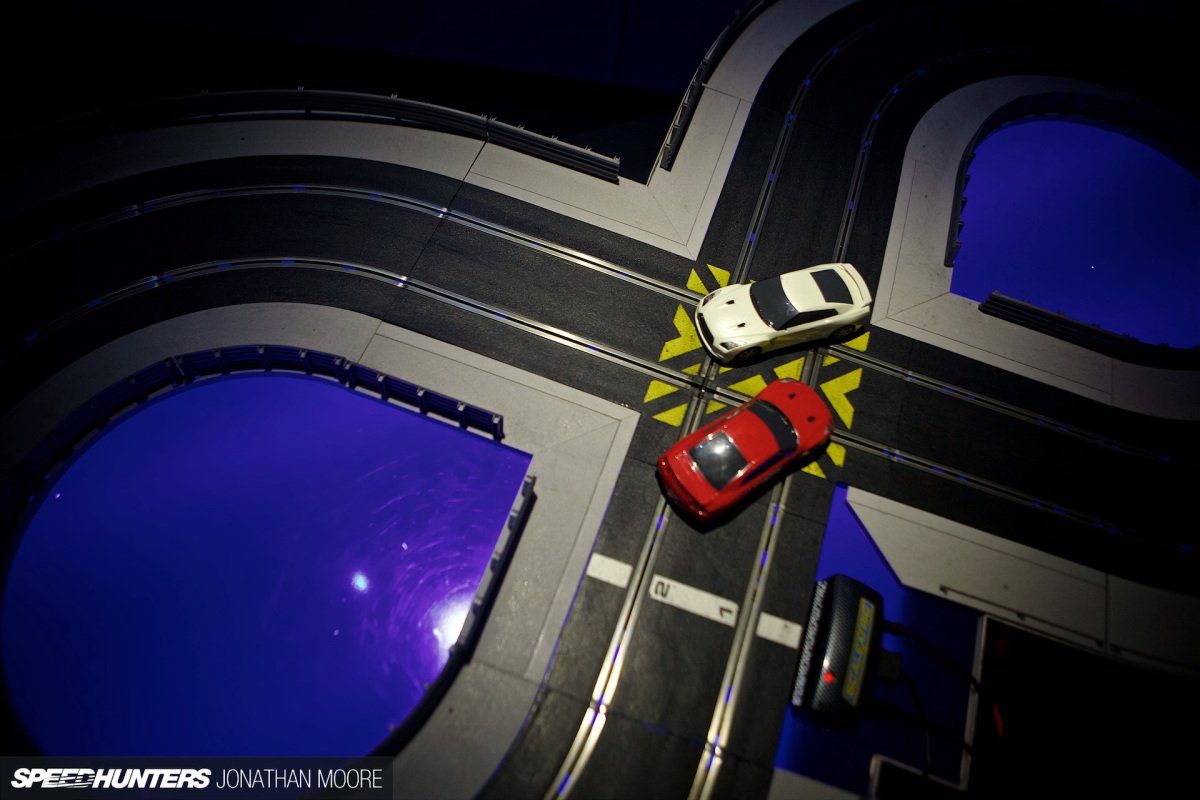 Naturally, the museum featured a couple of layouts to have a go at. Collecting is one thing, but playing is what it's all about.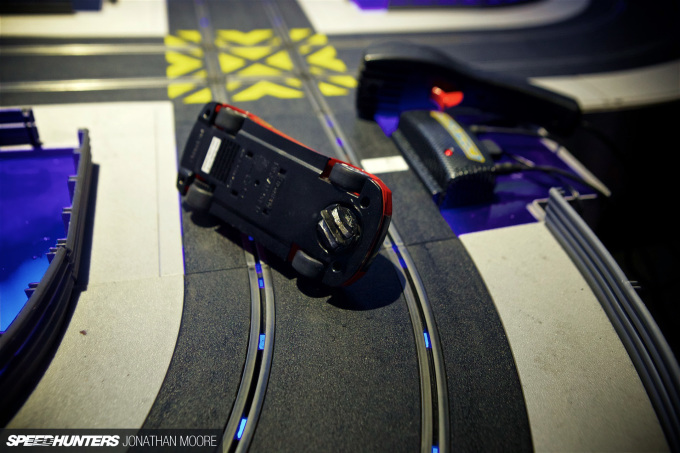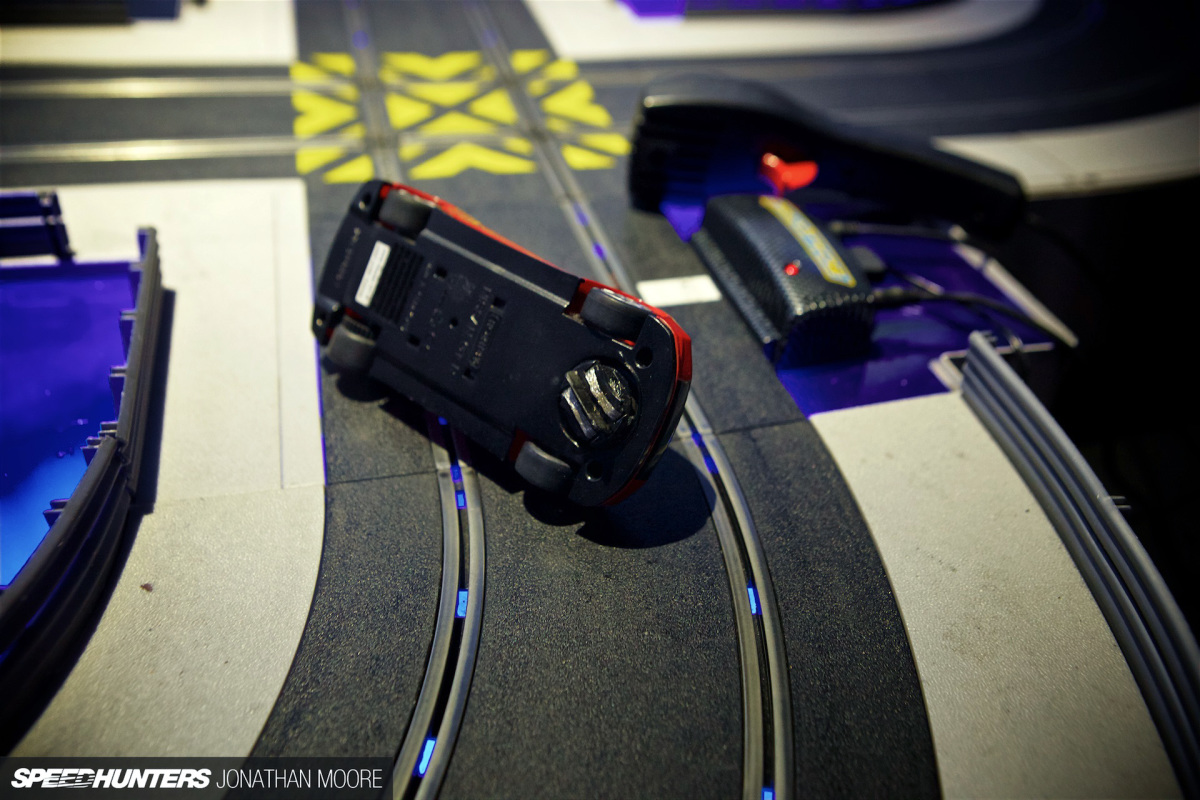 It's as addictive as ever. Time can disappear, especially when you've got a couple of GT-Rs with 360-degree guides to mess around with. It's only on the inevitable crashes that you'd think, well, maybe we should move on…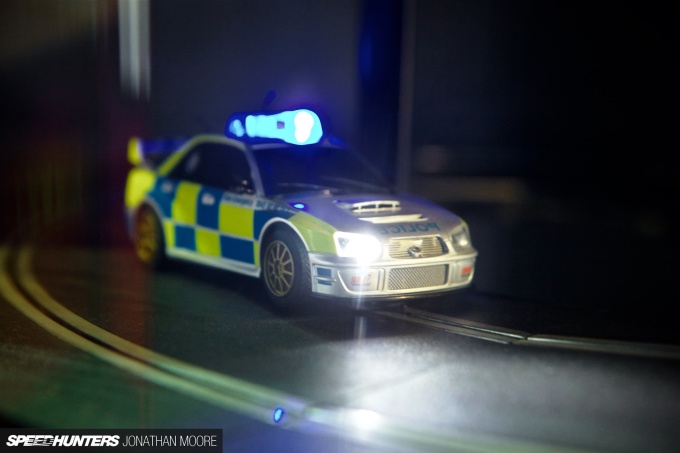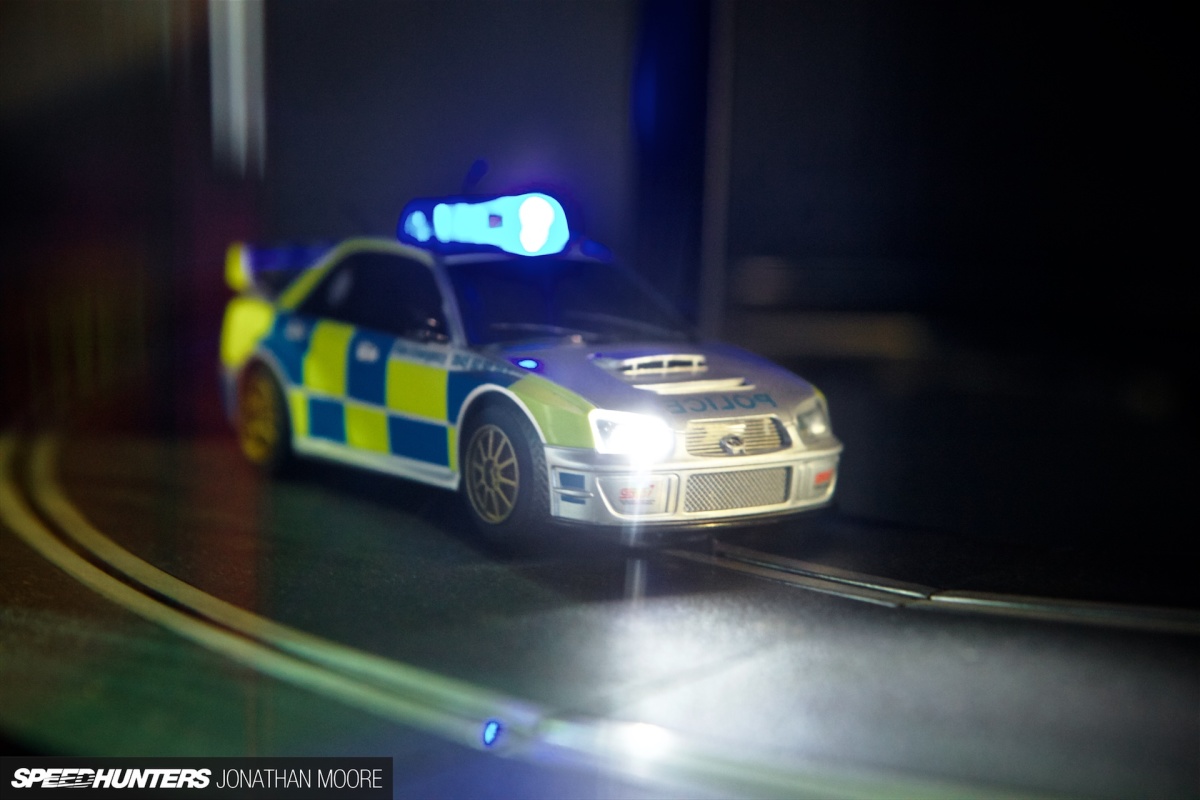 With the day disappearing, it really was time to stop before stronger measures were required.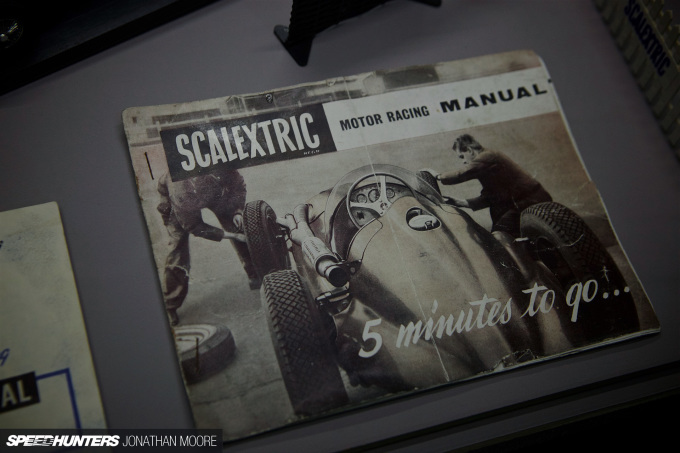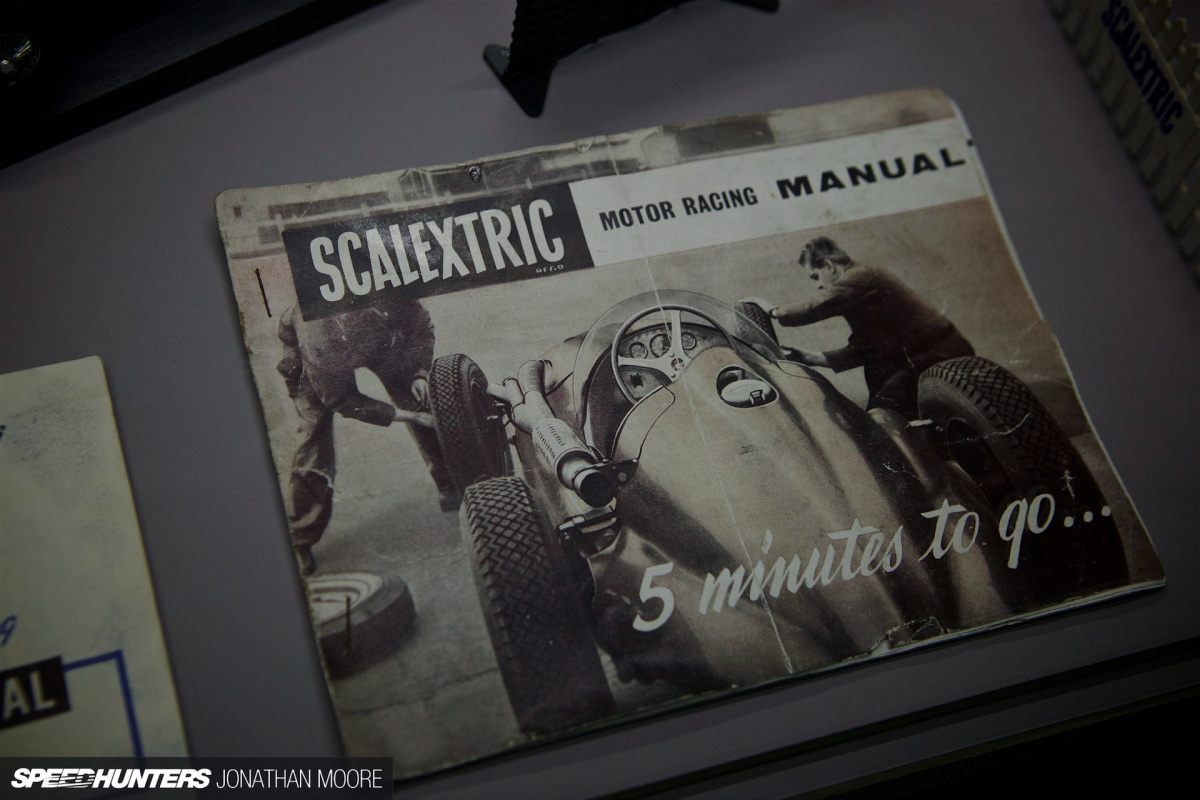 But there should always be time for playing. Coincidentally, my uncle has just converted part of his workshop into a huge slot-car track production facility, and is busy routing a three-lane circuit – pro-style. I still can't beat him even after all these years, but give me just another five minutes and I might stand a chance…
Jonathan Moore
Instagram: speedhunters_jonathan
jonathan@speedhunters.com