Just Add Sand
What is the 'Doonies' anyways?
It's Monster Energy and Dirt Shark's idea of the ultimate shred session in the sand dunes, featuring all of their top off-road athletes.
Imagine hanging out with all your buddies, and they all have the meanest machines – from two-wheel to four-wheel, and even no wheels at all.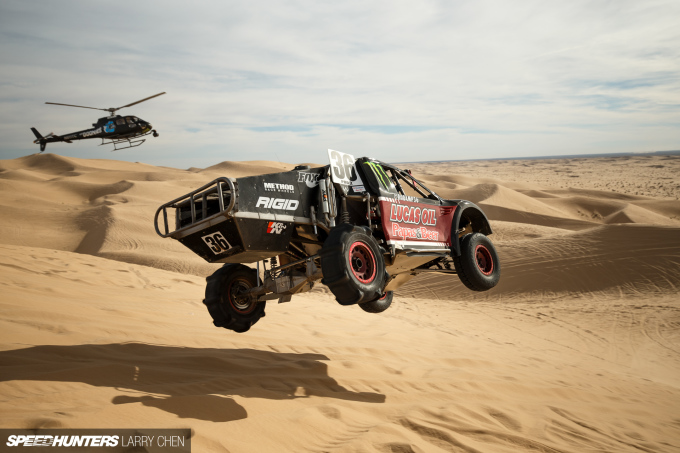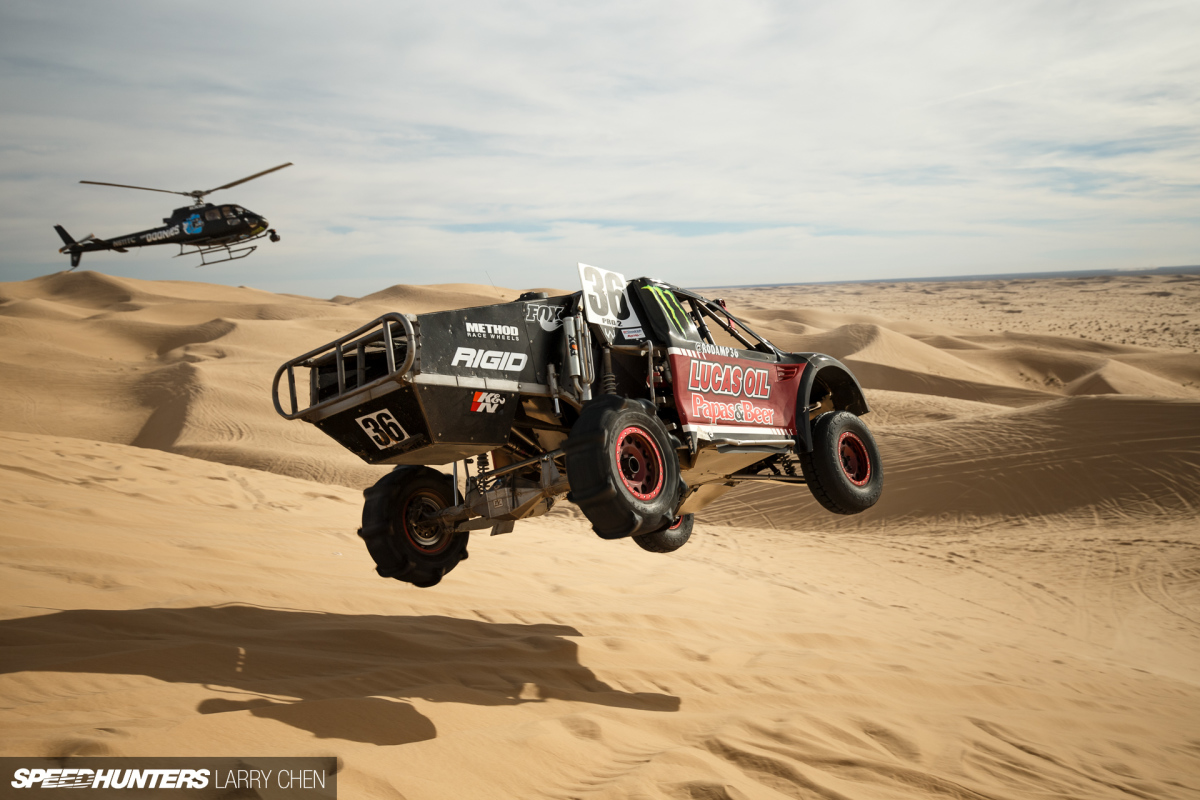 For the second year running, all these athletes and their closest friends gathered in the Glamis Sand Dunes in Southern California. All of the racing series are done and dusted by winter, so it's the perfect time to shoot an epic video.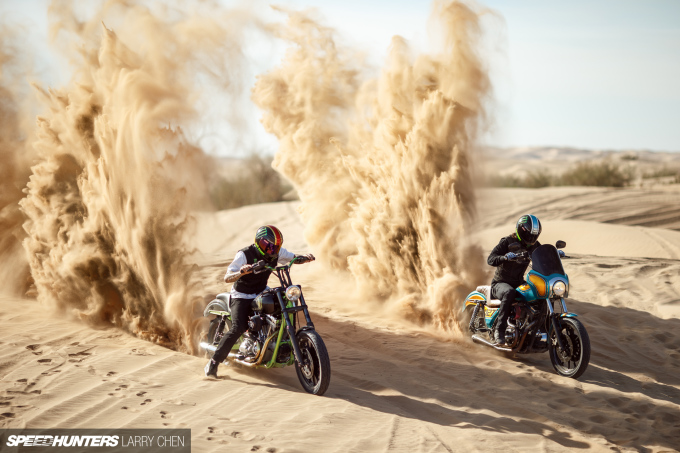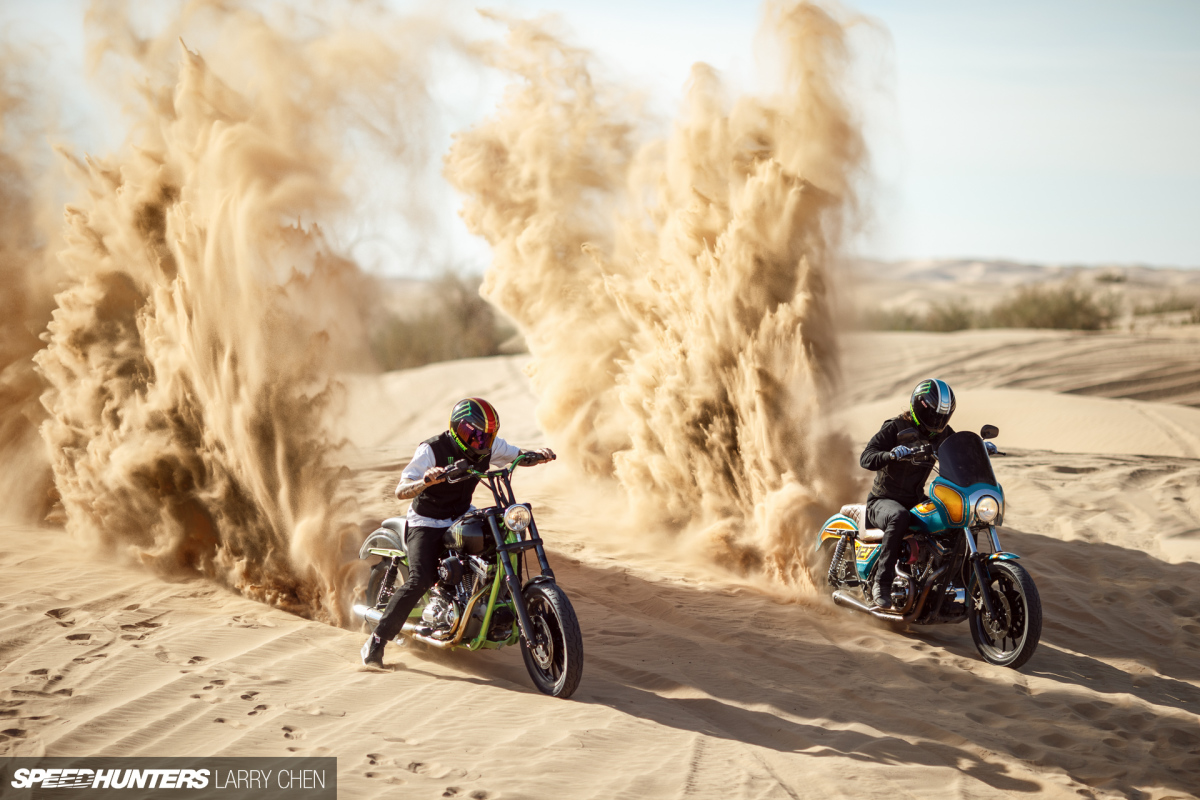 Who would have known that Harleys work so well in the sand?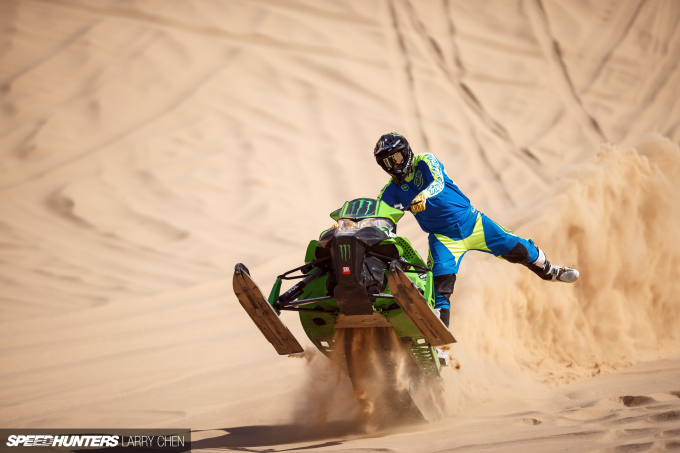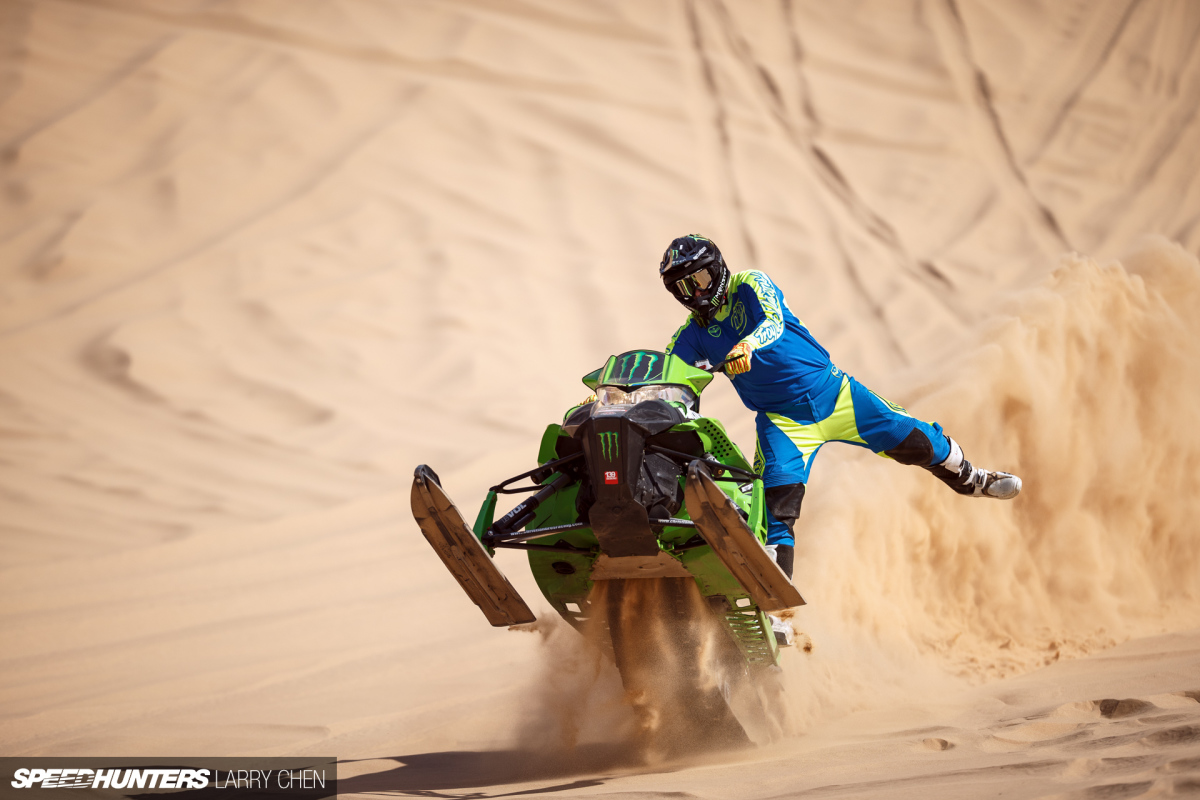 But what about snowmobiles? They were never designed for this kind of duty, yet to a certain degree they work just great.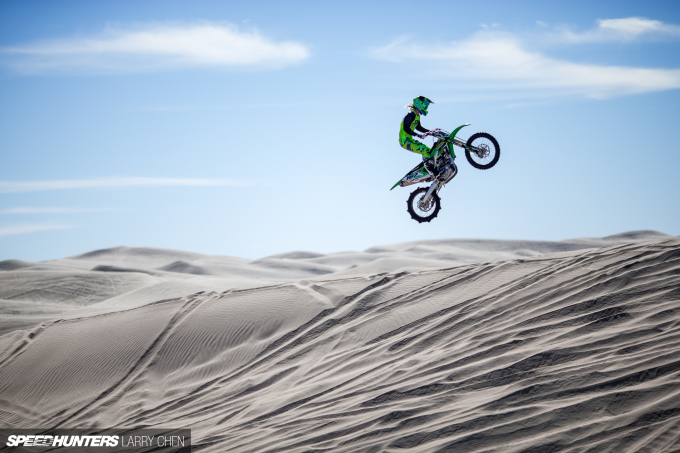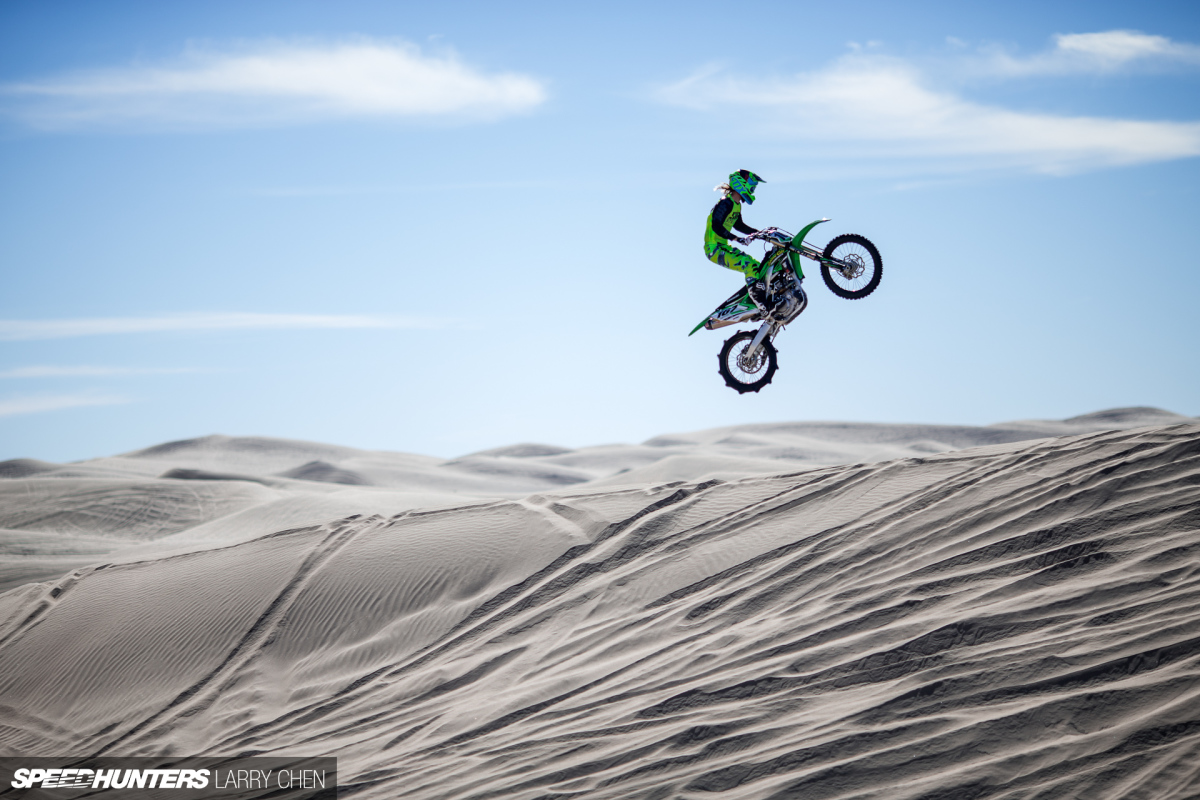 Then there are the guys who are insane enough to ride on two wheels, let alone do massive jumps in a sand environment where you can only pray there is a landing area on the other side.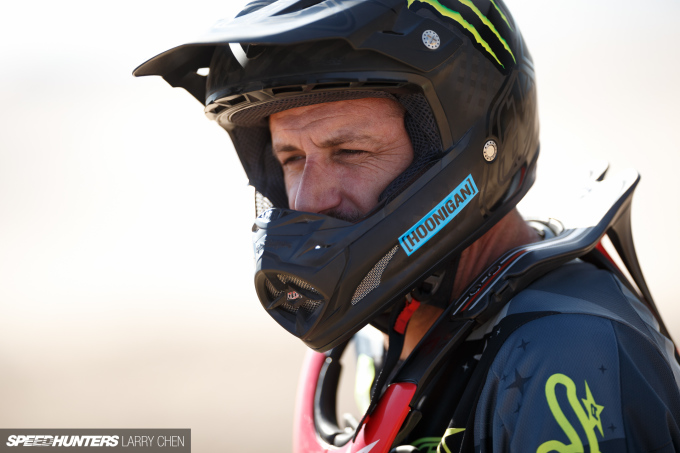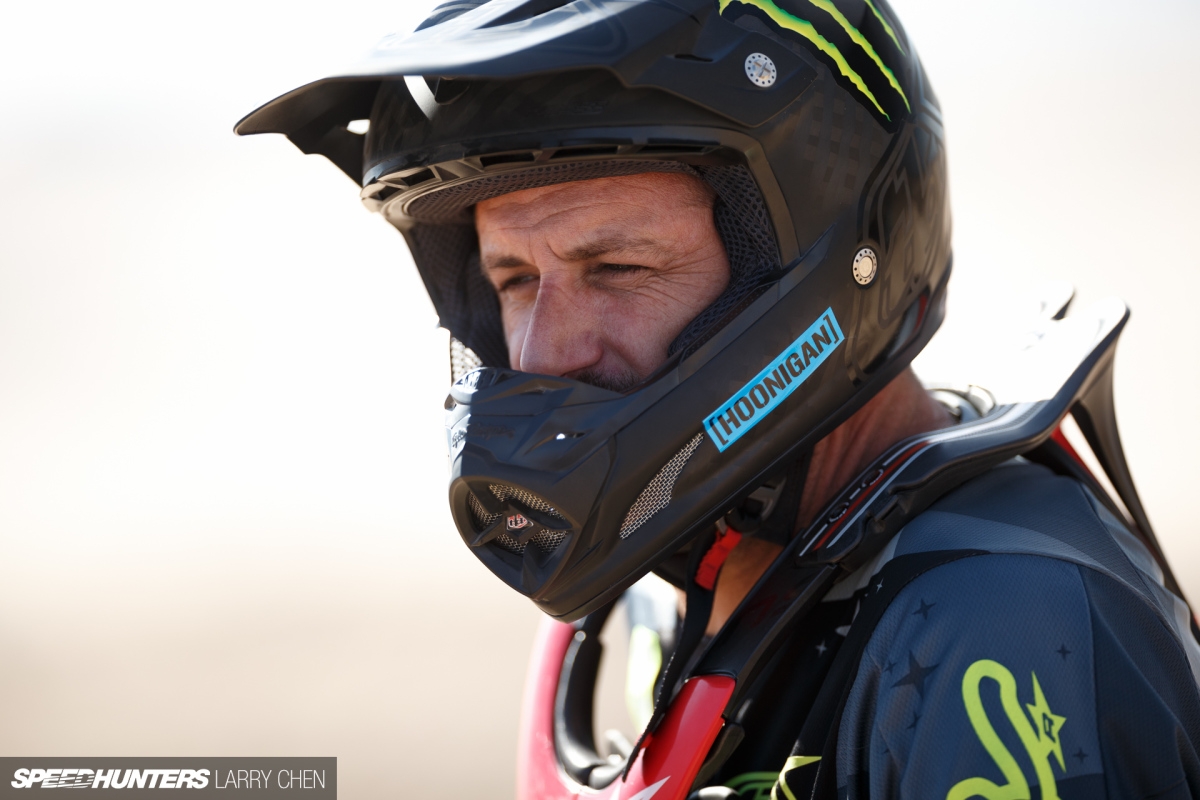 Of course, the Head Hoonigan In Charge, Ken Block, made an appearance as well. I had no idea that he was so good at riding motocross.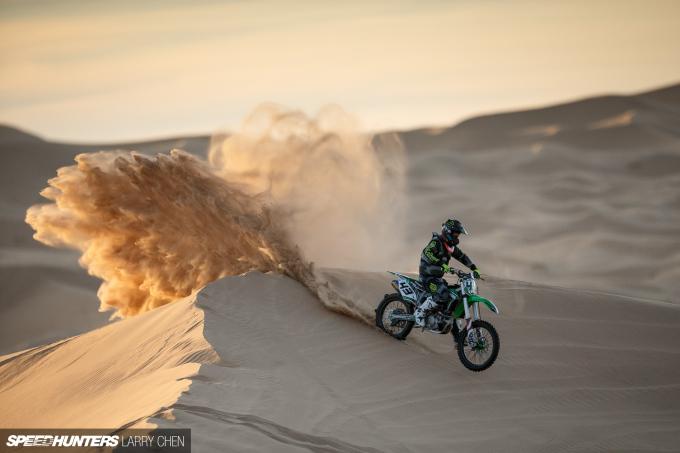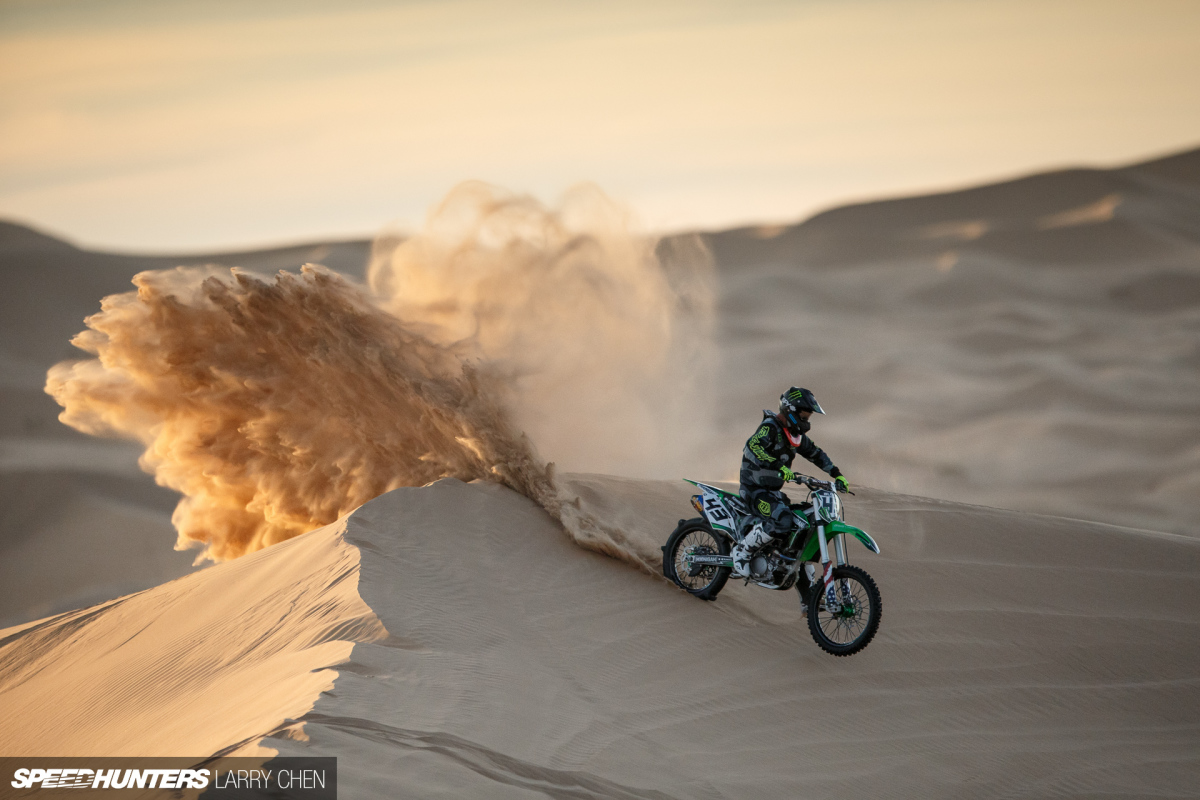 At first he was a bit rusty, but with a bit of practice he was shredding the dunes like he'd never left the two-wheel world.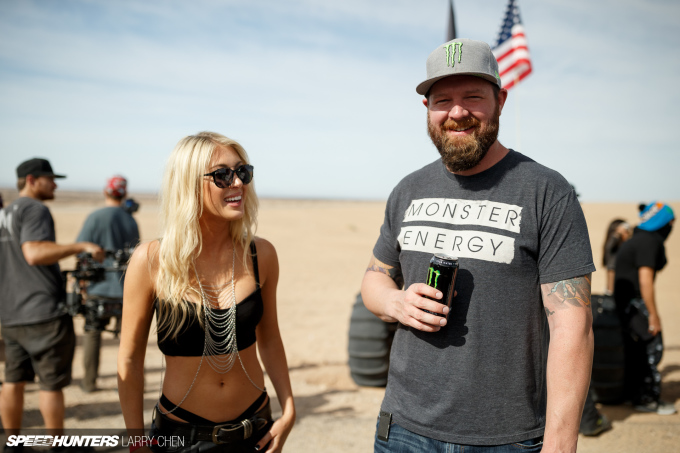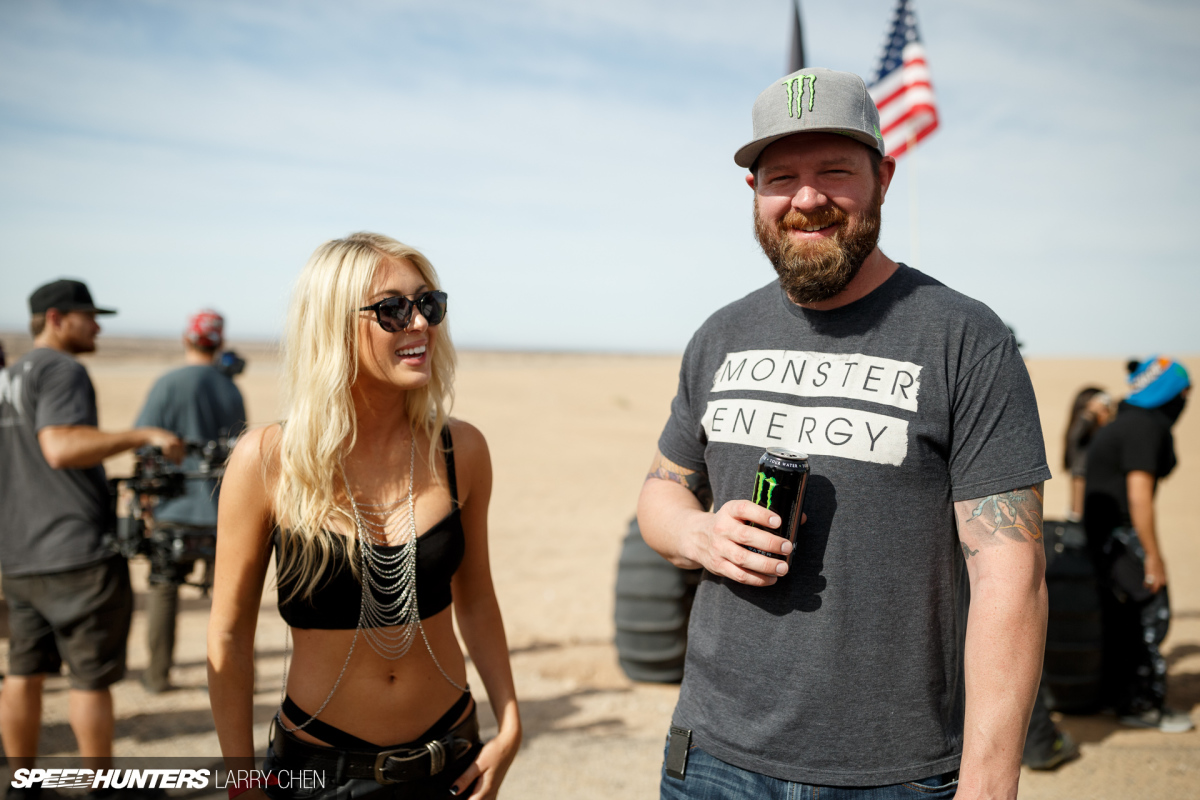 In terms of desert racing, it's hard to not mention 'Ballistic' BJ Baldwin.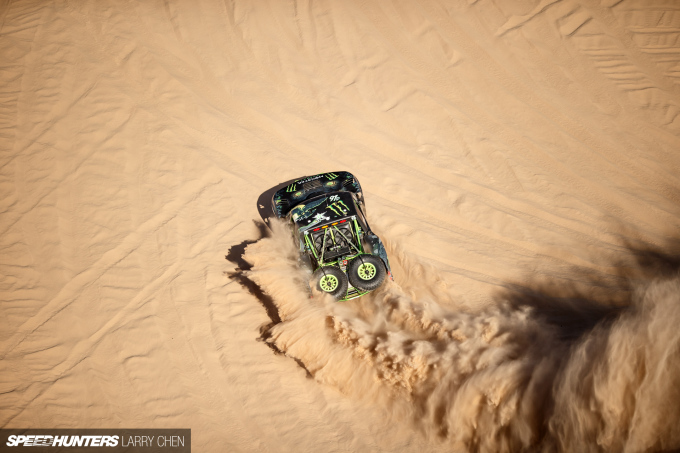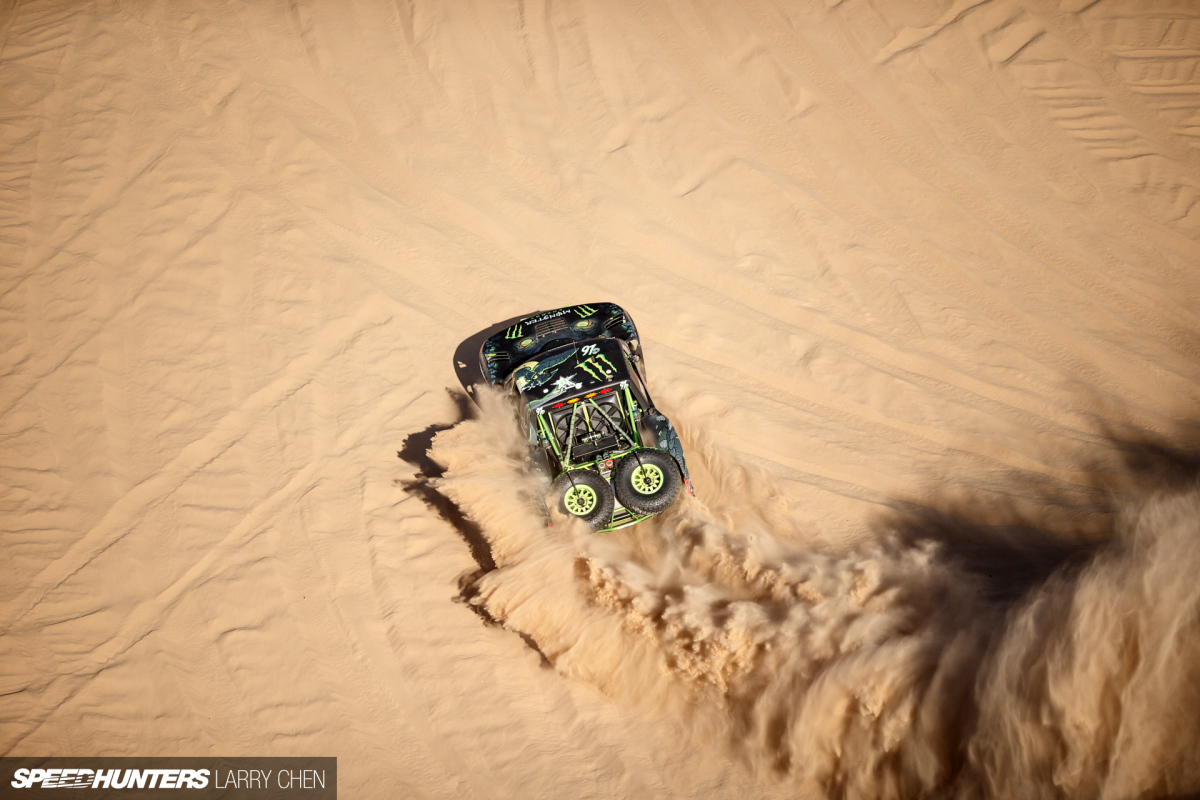 He brought out his trophy truck and fitted it with some sand paddles to join in on the roosting fun.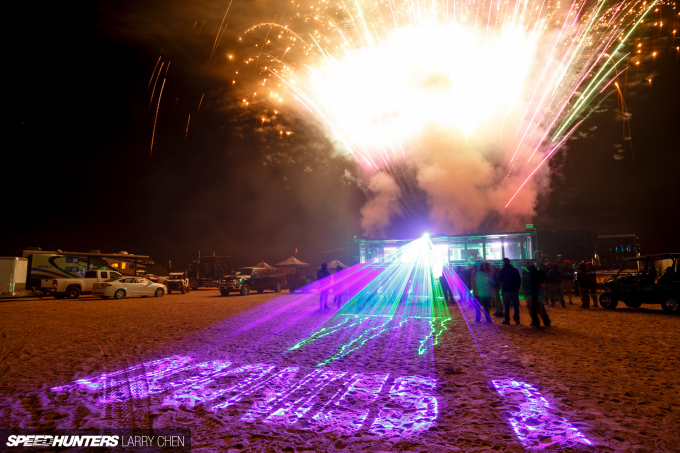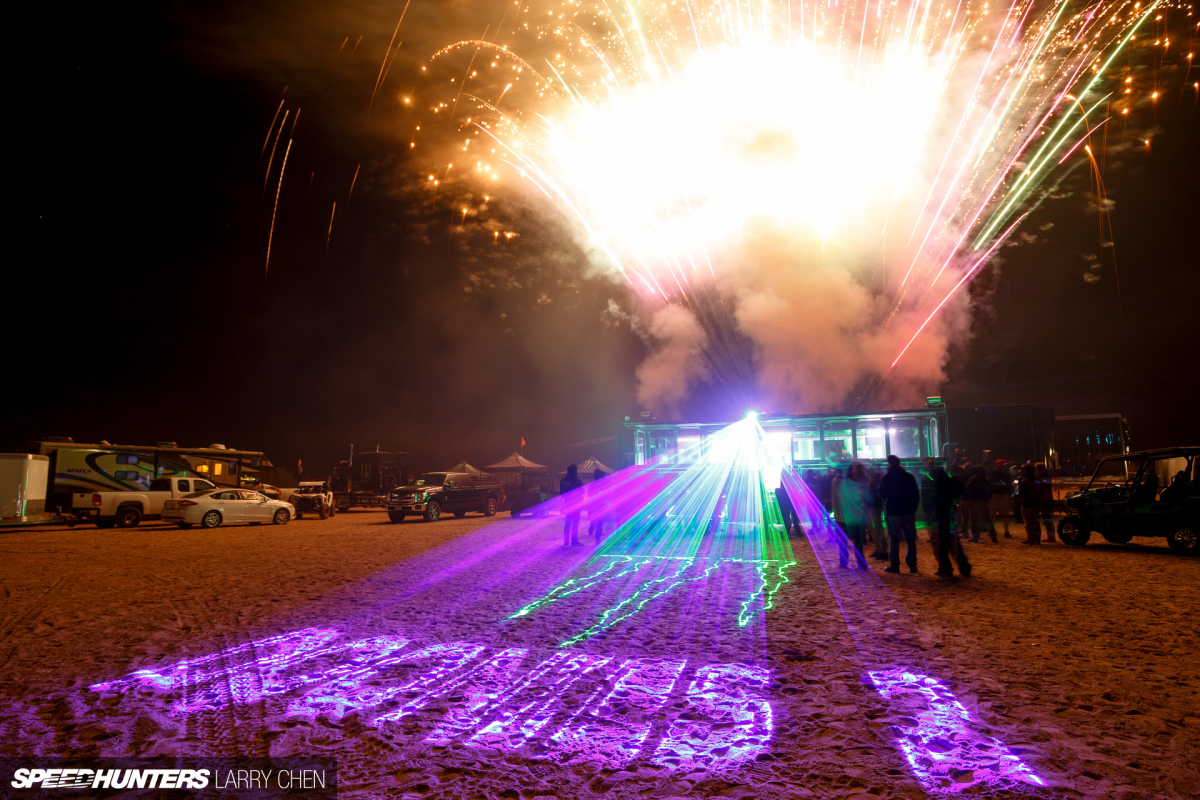 Welcome to camp Doonies. When the sun goes down, the party's just getting started.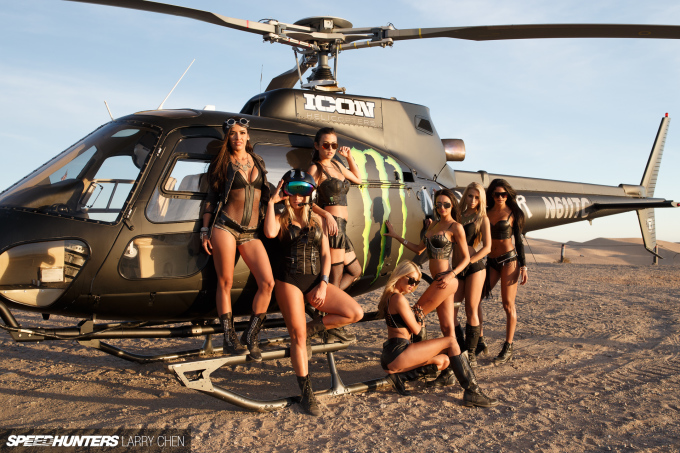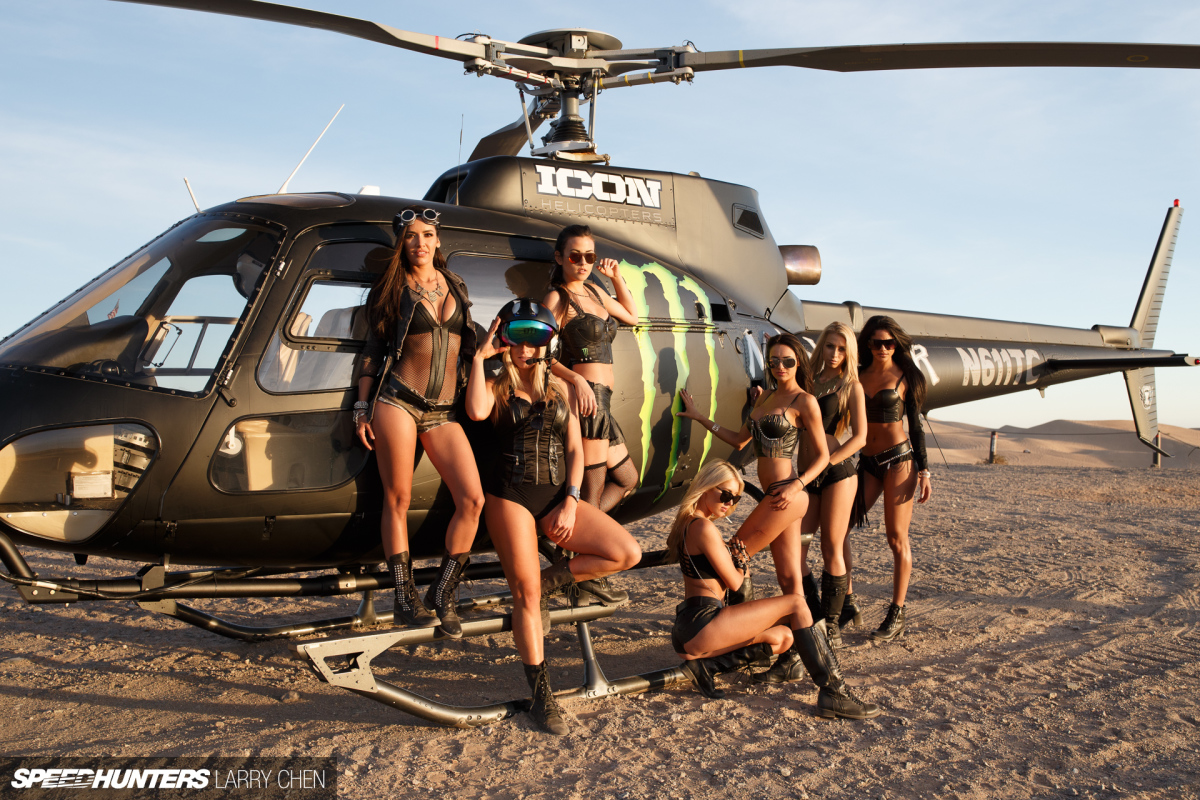 And you can bet the Monster Energy girls were on-site to guard the helicopter.
Ground Level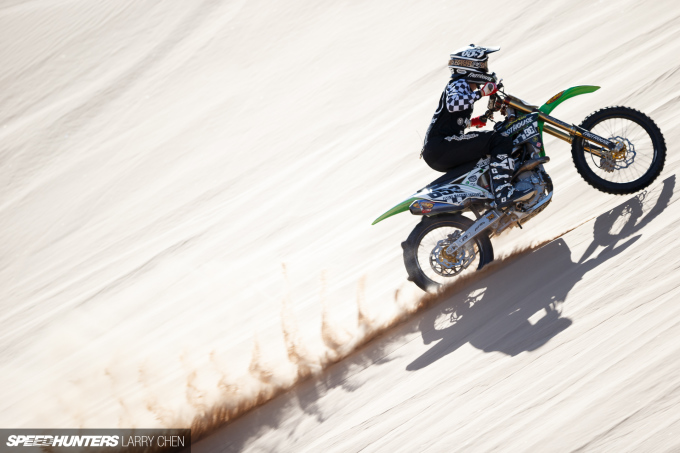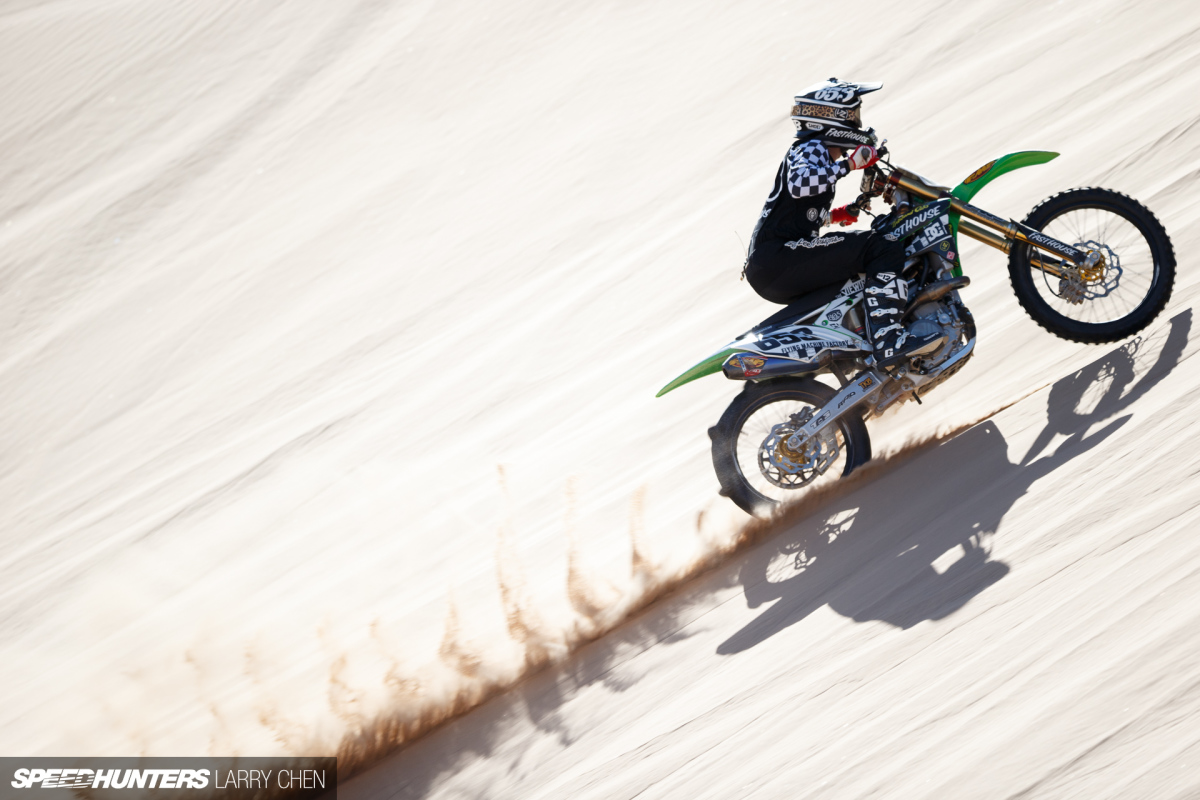 For the first day of shooting I started off on foot. Well, kind of…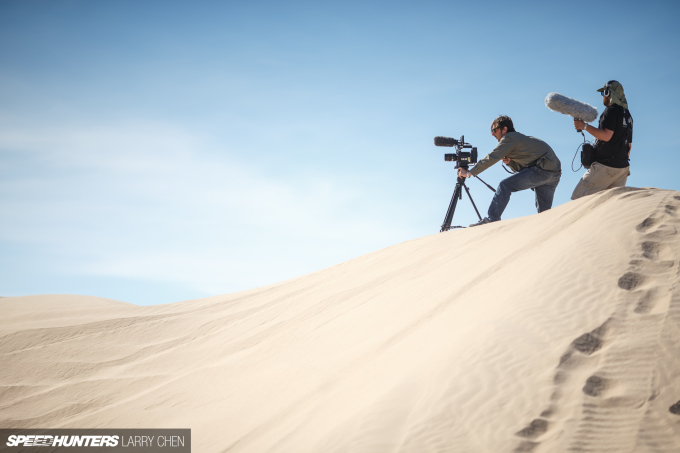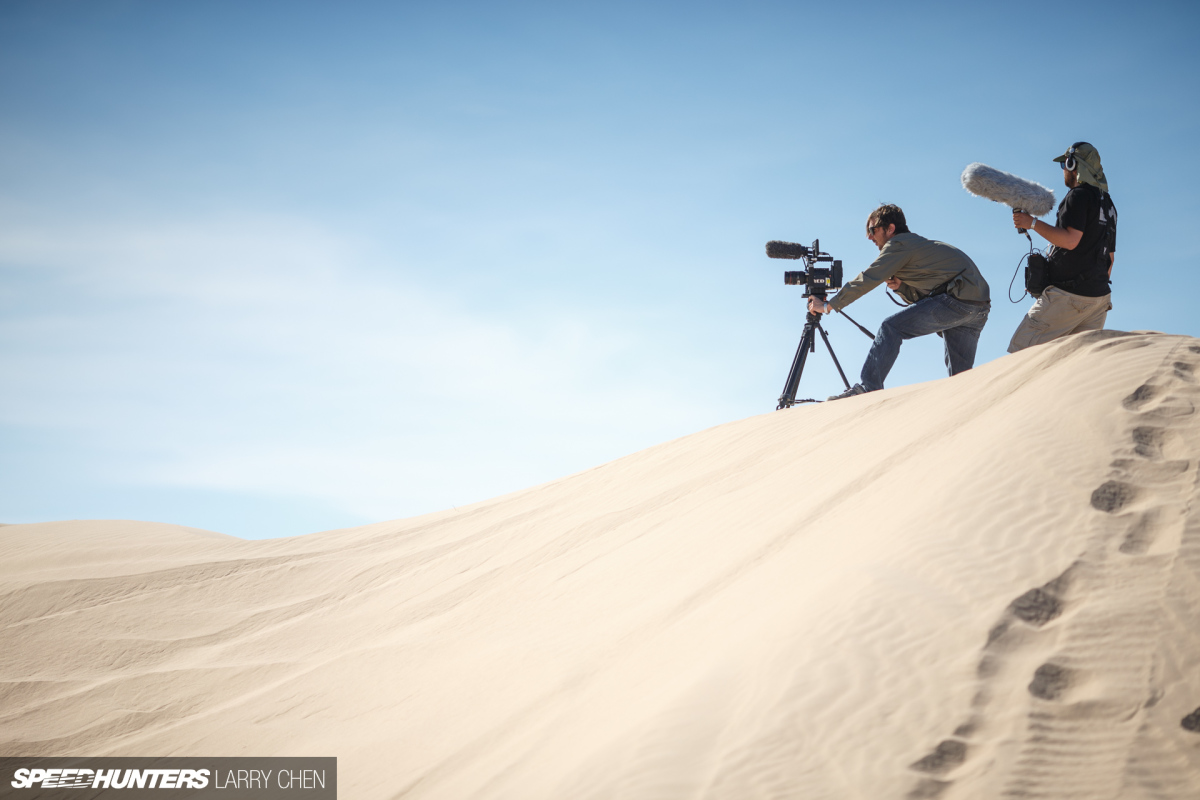 As easy as it sounds, it was actually quite difficult to run from one dune to the next. It's just so hard to find your footing when climbing up these massive sand hills.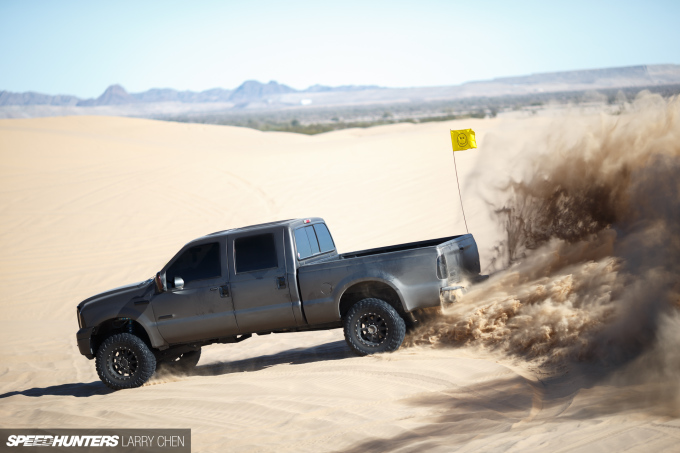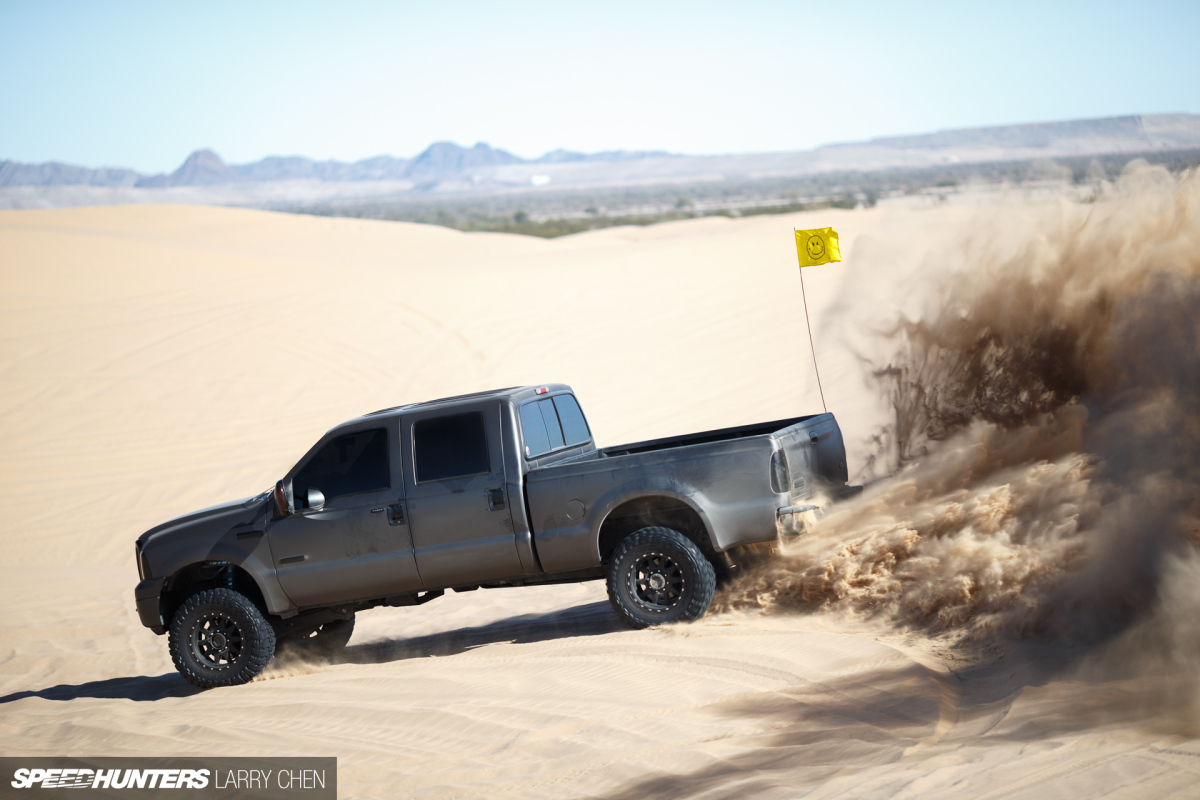 Enter the big daddy Ford F250 driven by my buddy Bryan Moore of Tempt Media. These guys also have that awesome F150 camera car, but the F250 proved to be the perfect media shuttle and camera mule out in the desert.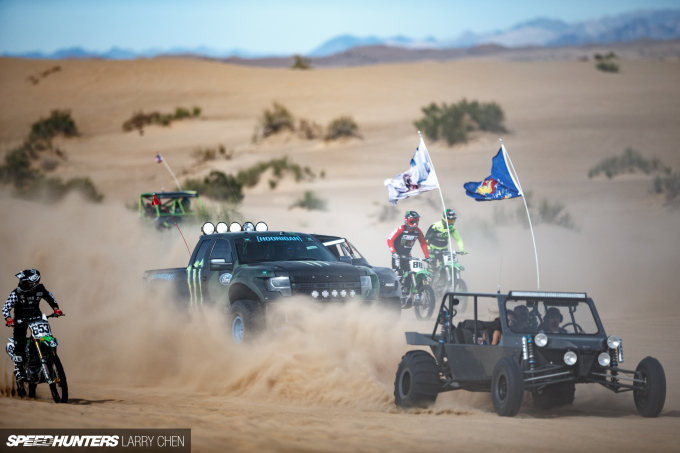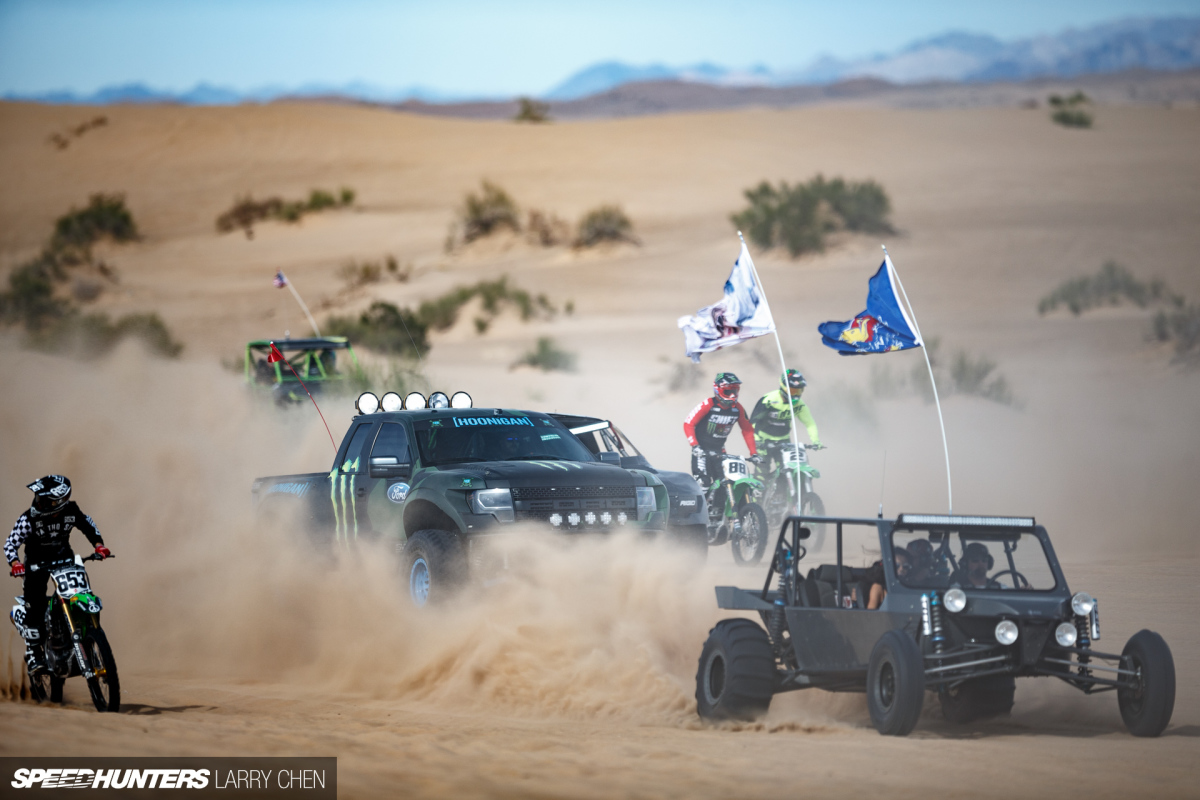 So how do these shoots go exactly? It's actually quite simple… We were out in the desert for four days, and each day they just let the athletes run loose.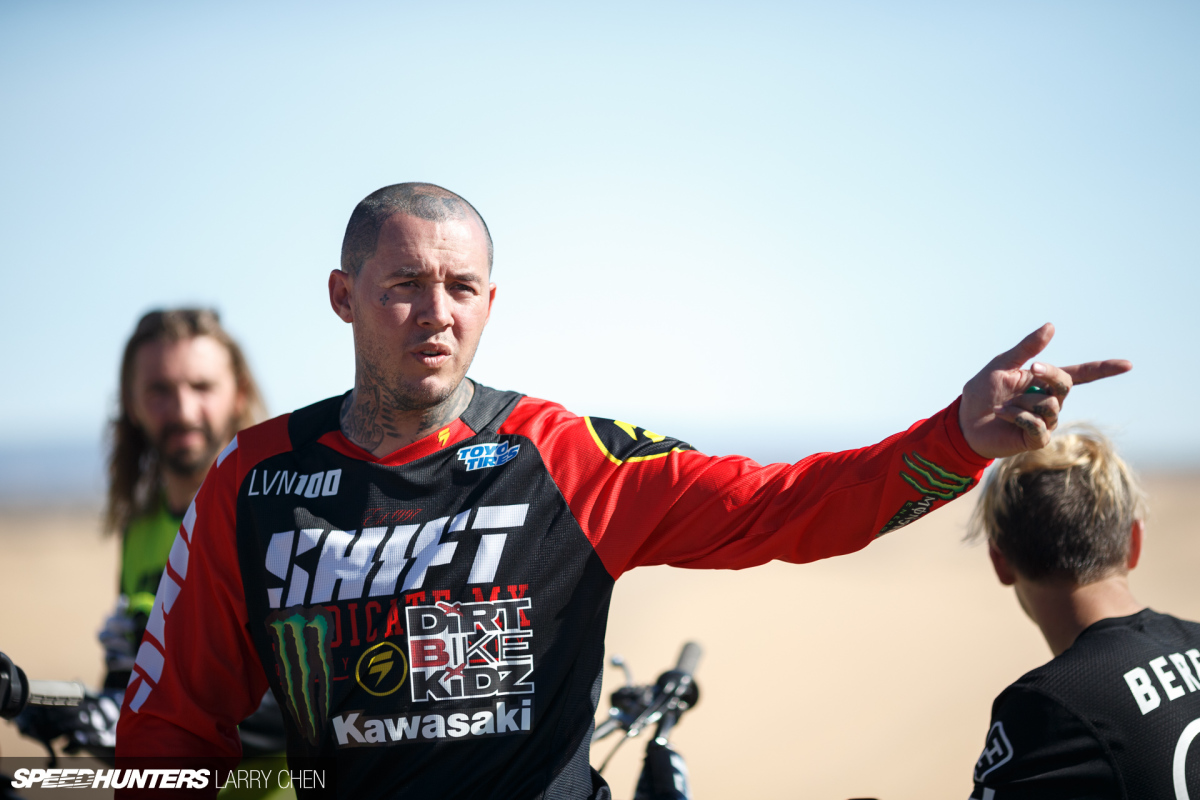 Whether it be the two-wheel guys or the four, they just pick a spot that they want to shred and go at it; all the while the cameras are rolling.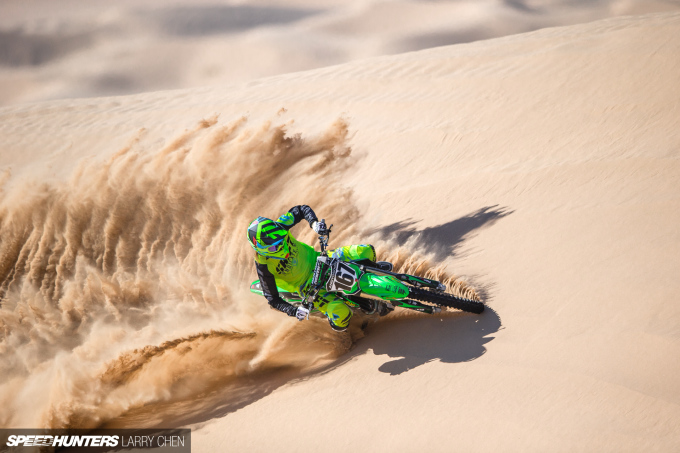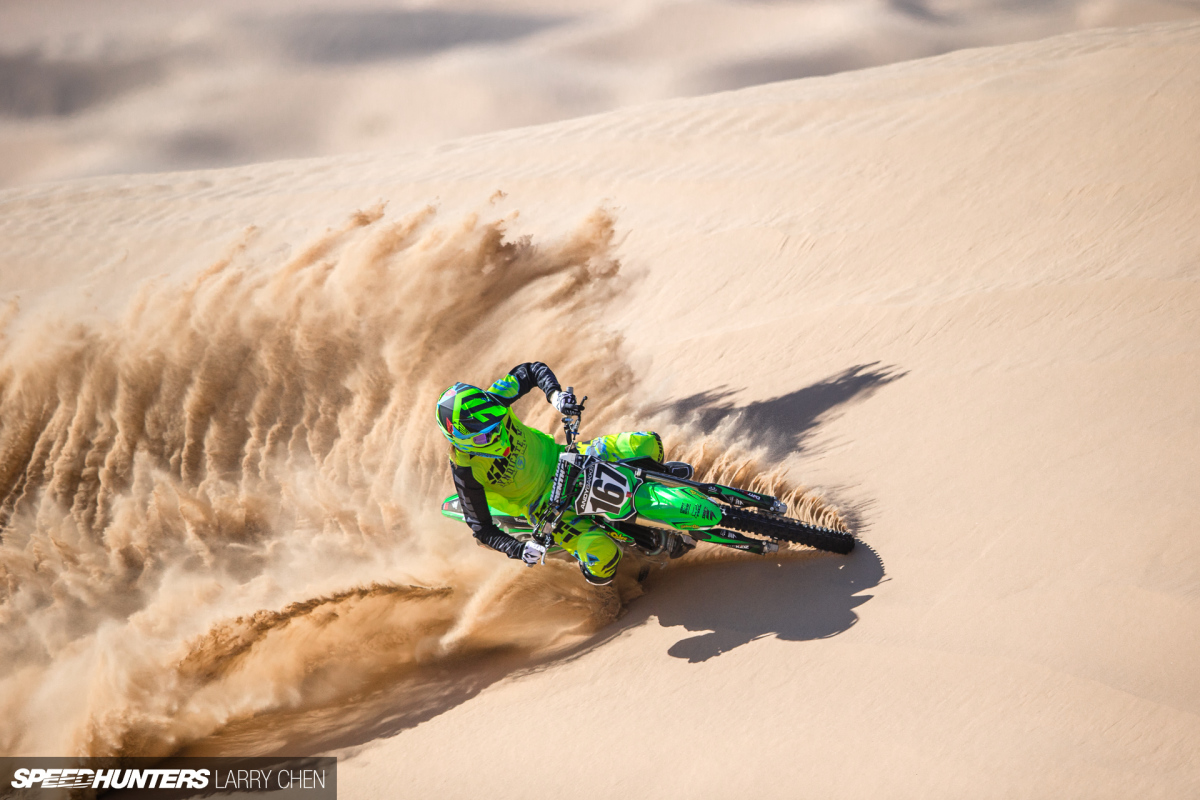 Having no script or storyboard does present some challenges though. For example, you don't actually know if anyone is going to pull off a trick – you just have to go wherever there is action.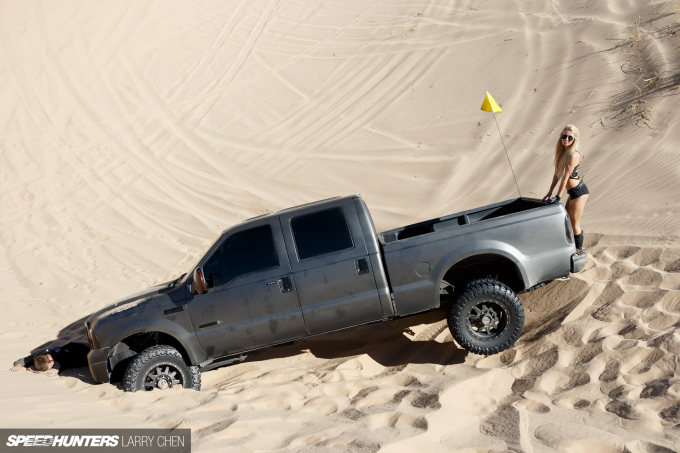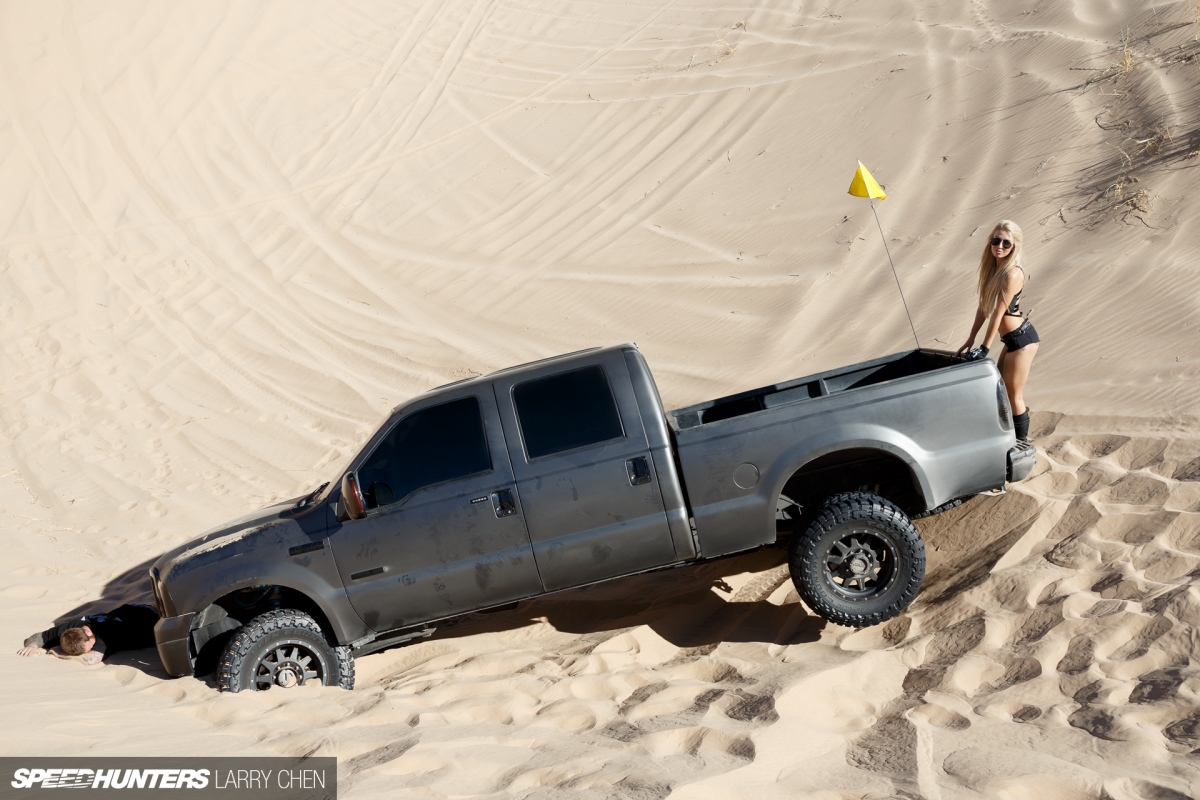 If you guys were wondering how it's possible that such a heavy beast like an F250 could float around on the sand, well, we did eventually get stuck…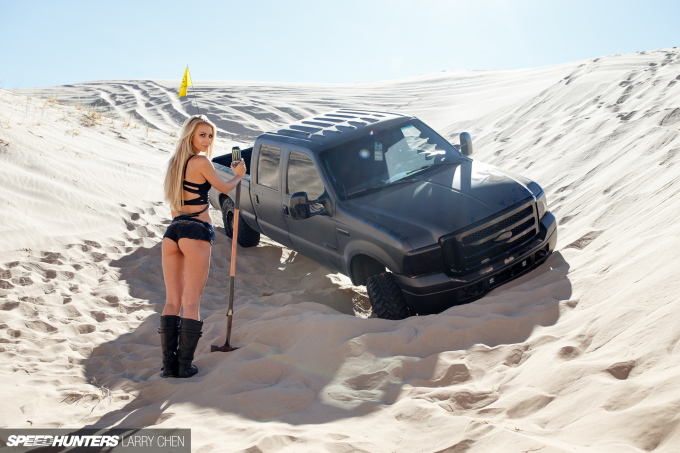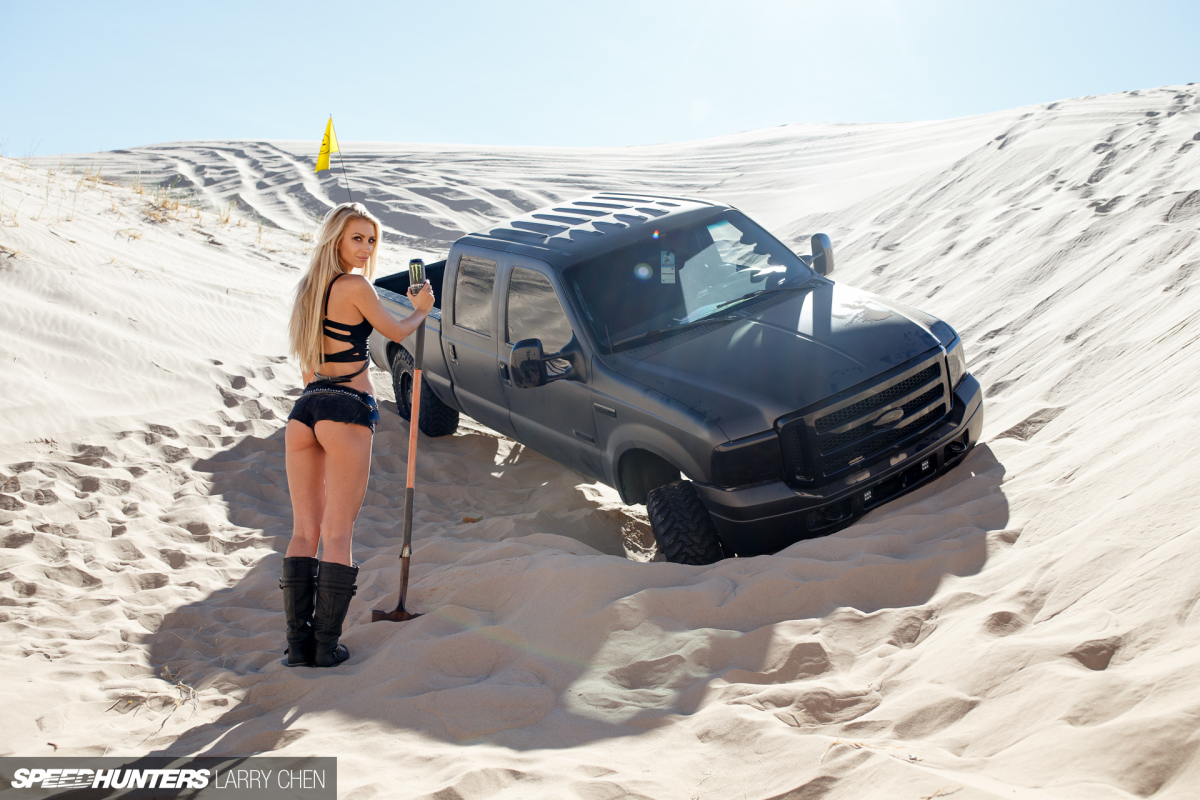 But lucky for us, a few Monster girls came by to help dig us out.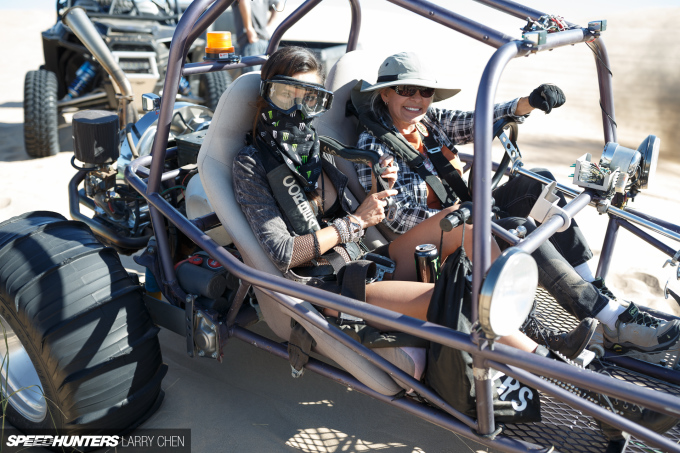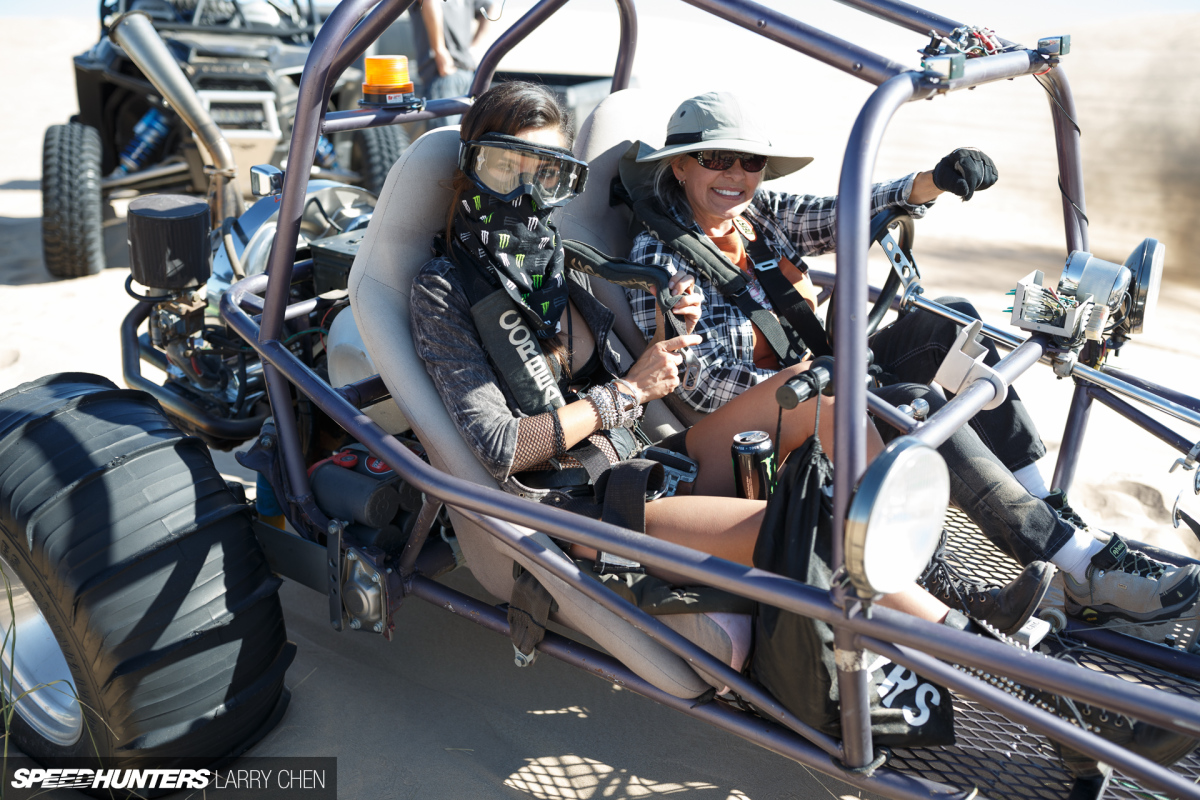 Then word got out and even more help arrived.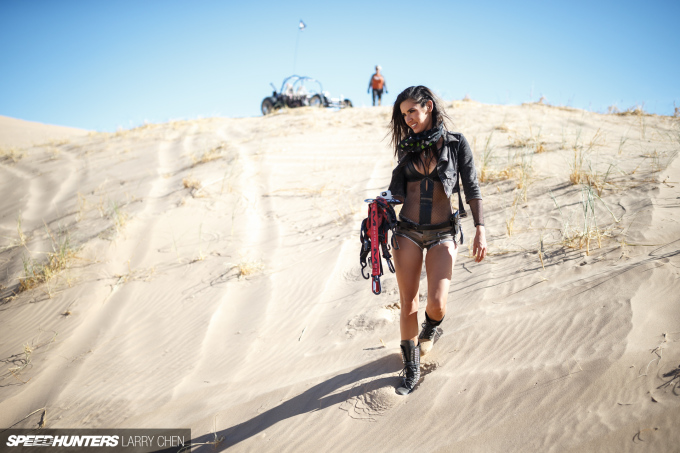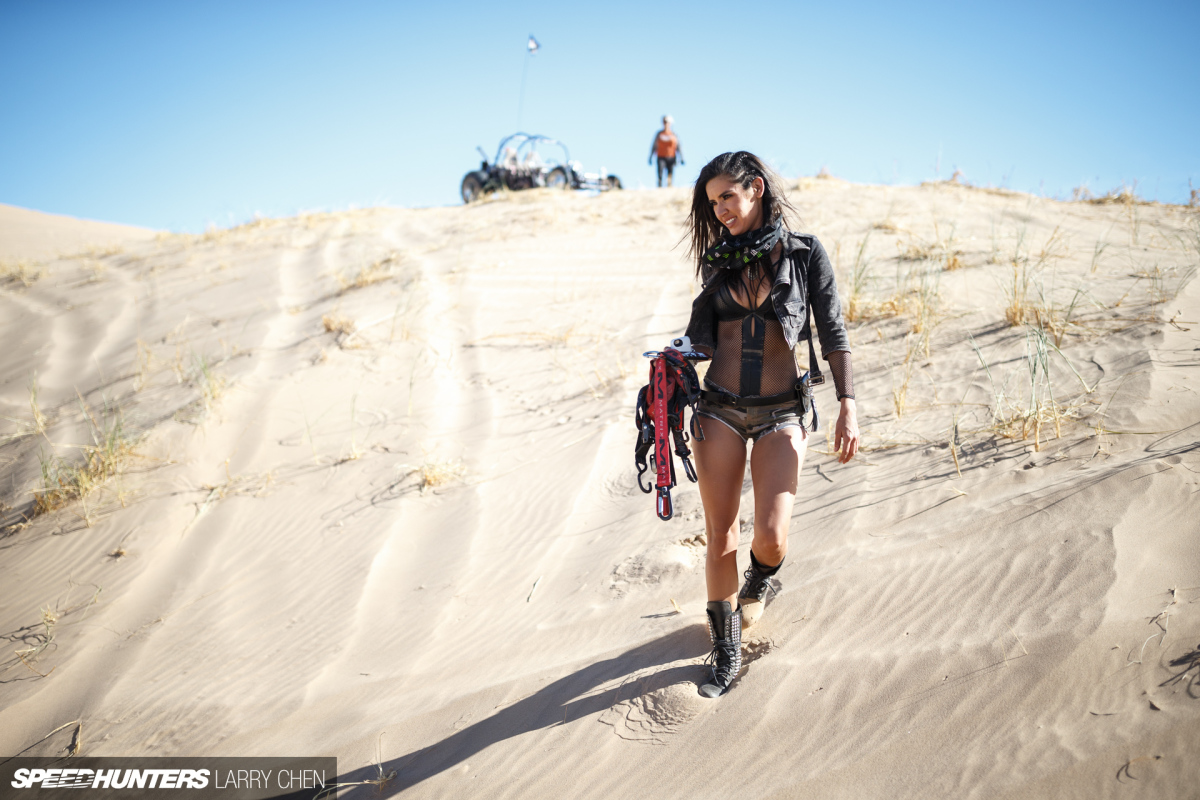 This is a scene out of a dream or your worst nightmare. Getting stuck is not so bad after all.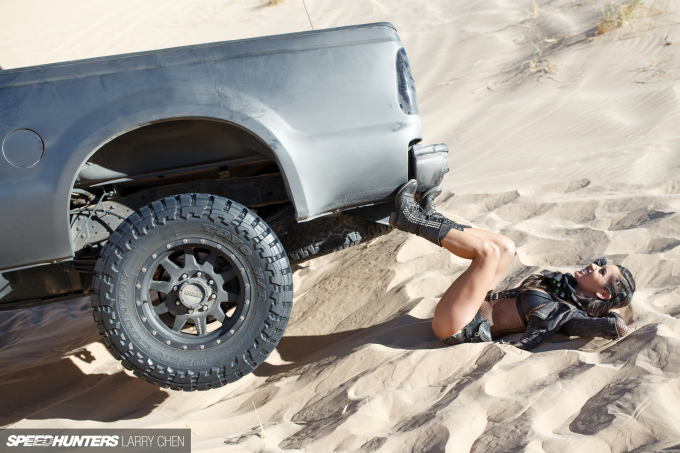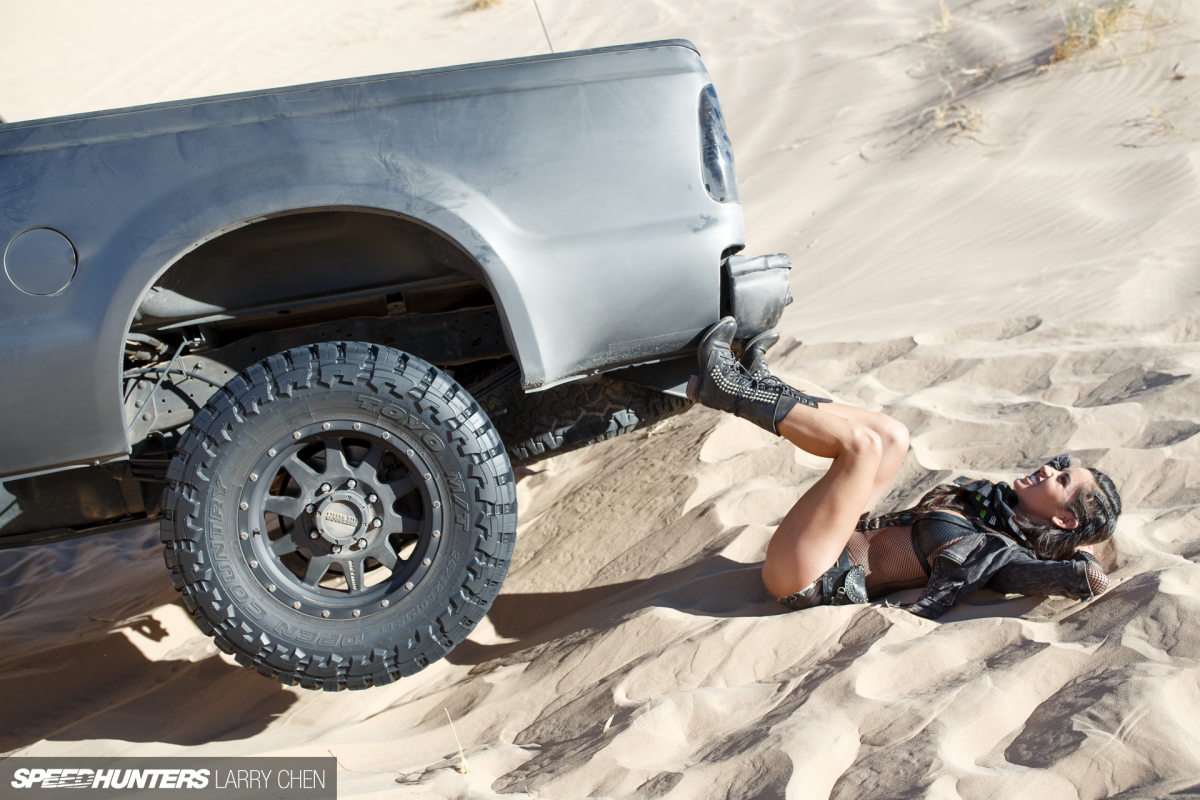 Considering we were buried to the diff, there was no way we could dig ourselves out.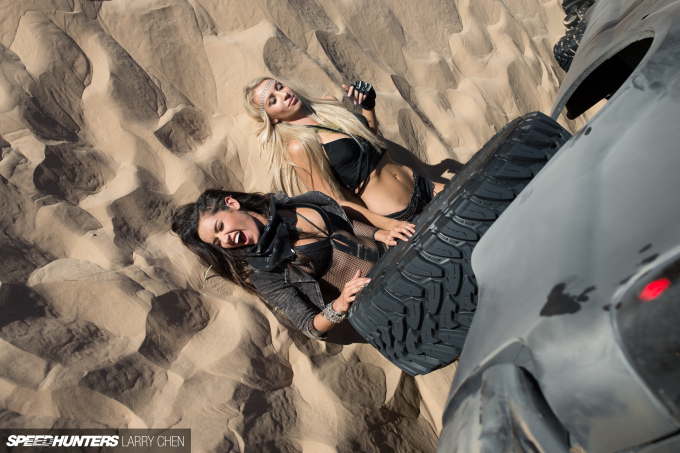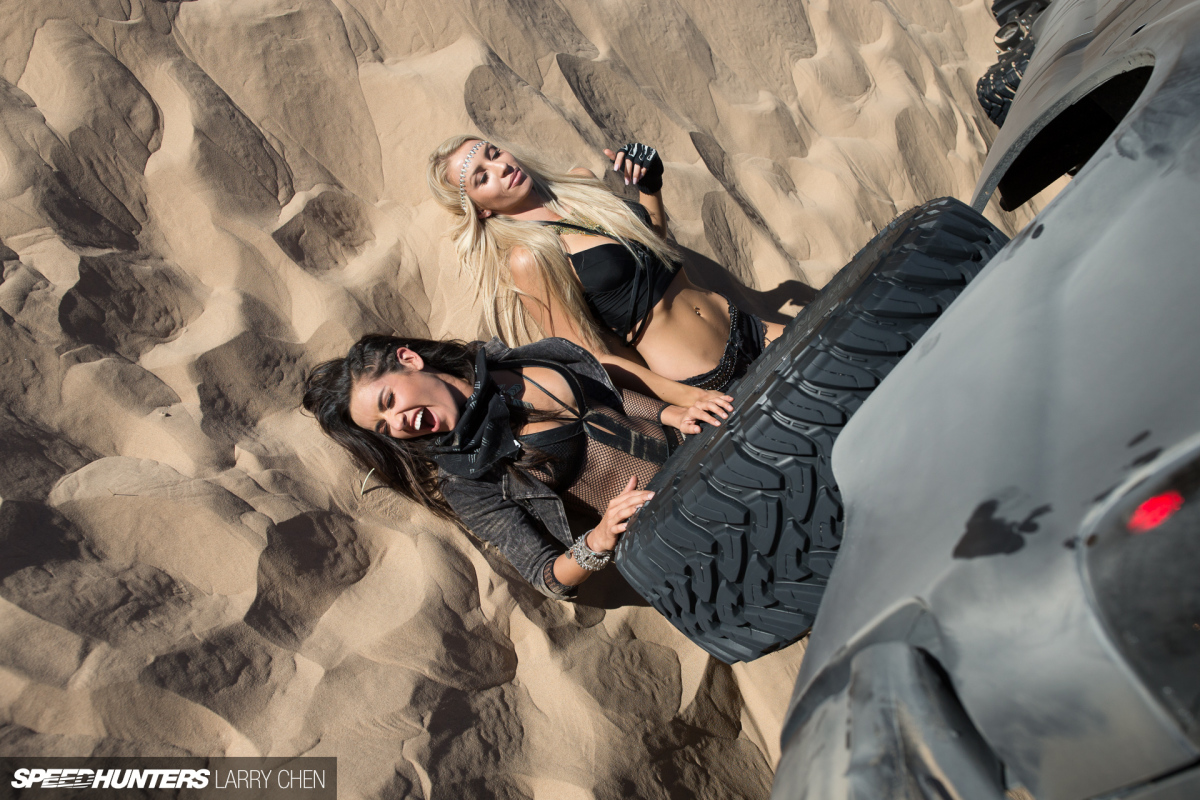 It turns out the girls were not much help either.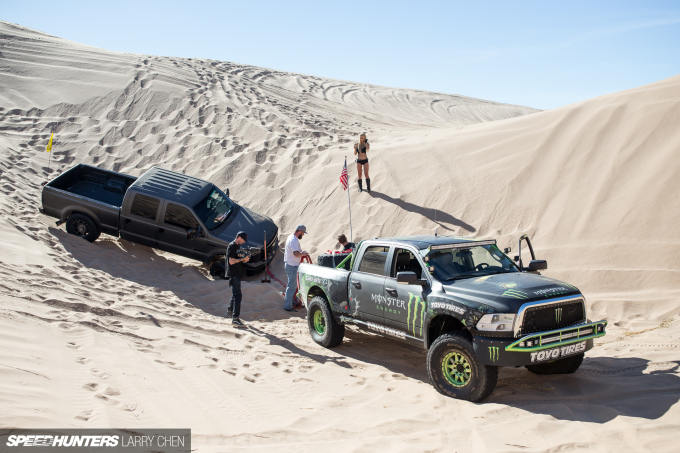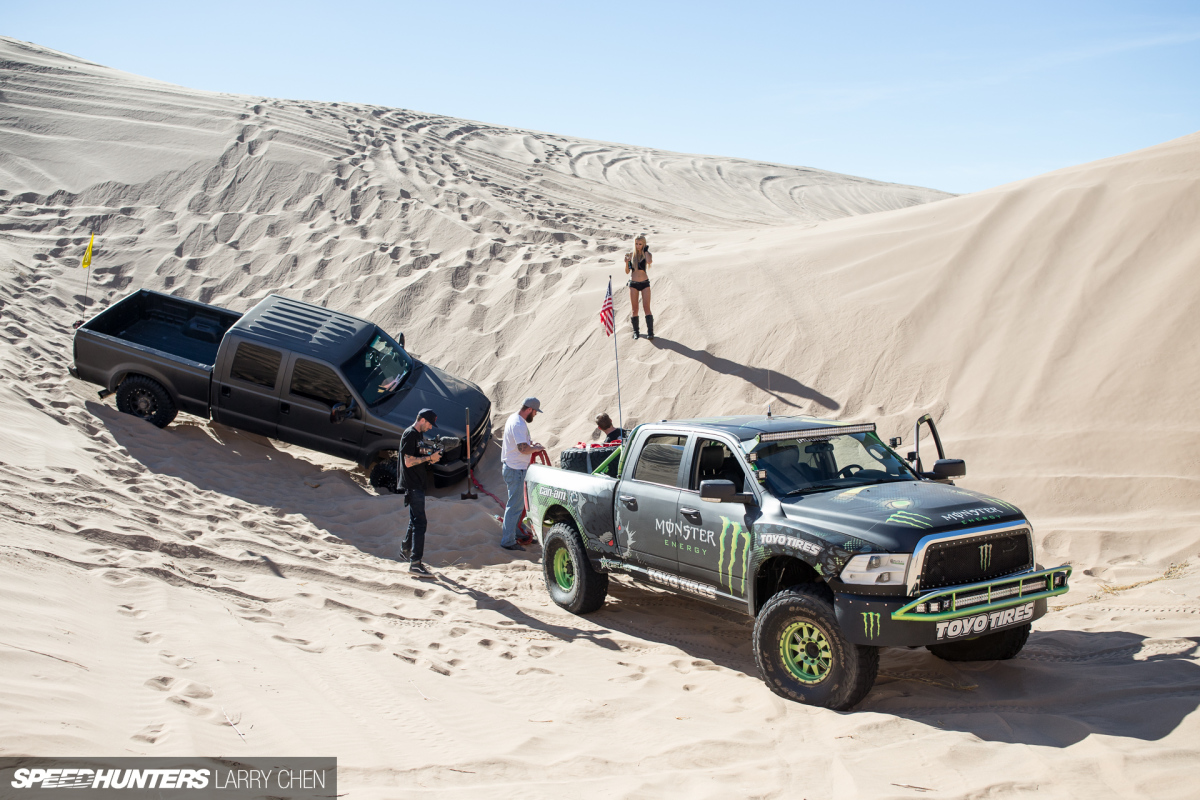 So BJ Baldwin brought over his truck to pull us out. Fun times had by all.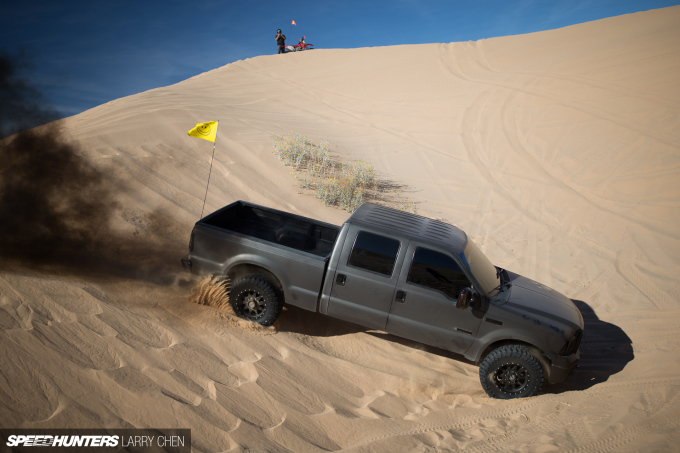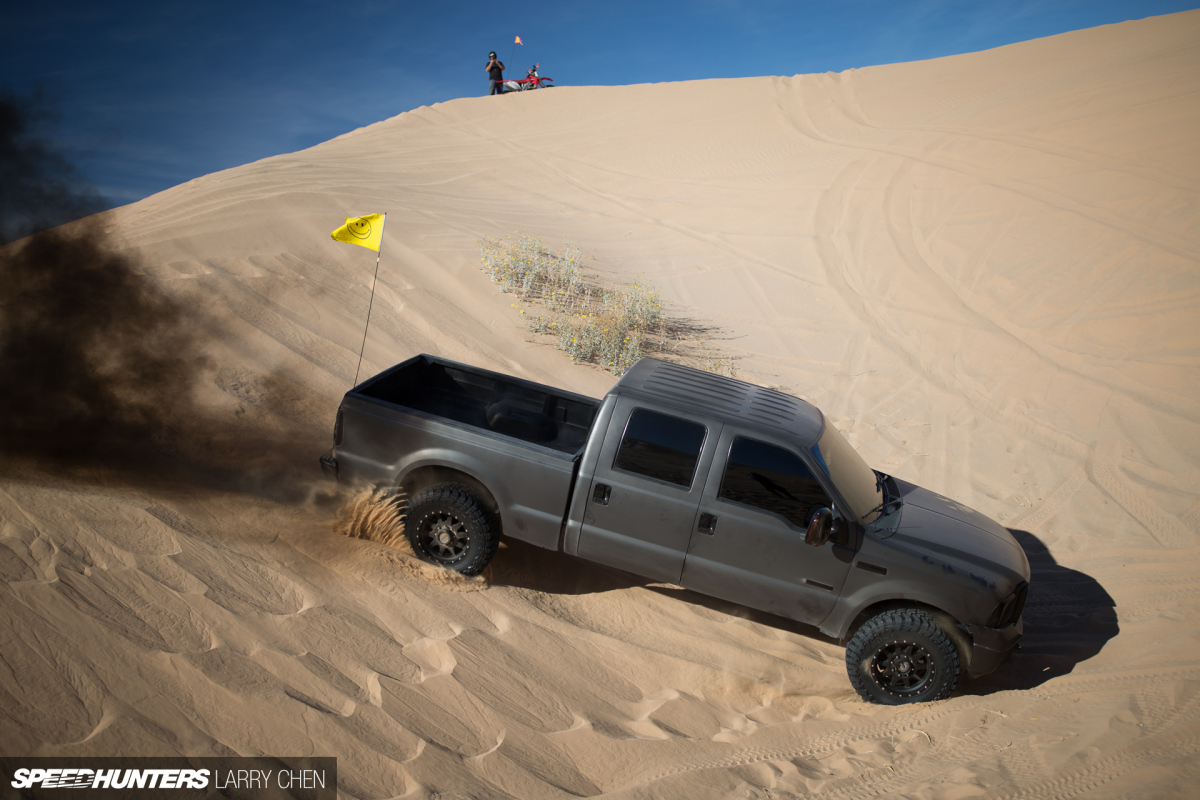 With the truck released from its temporary sand grave, it was pedal to the metal once more – there was lots more shooting to be done.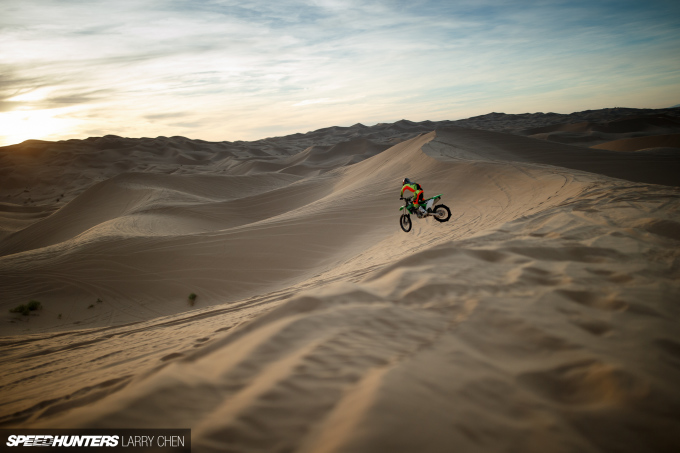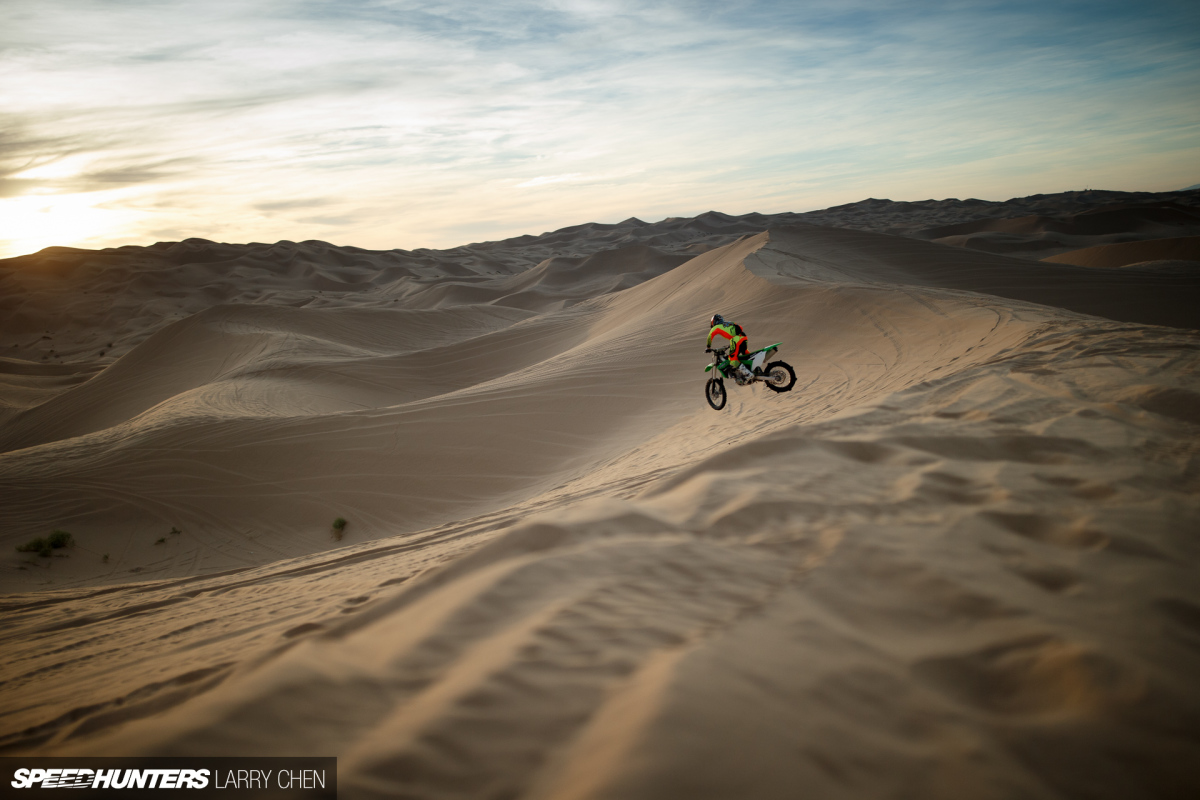 It's just so amazing how quickly the light can change in the desert; the shades of color and the way the dunes look later in the day is unlike anything else.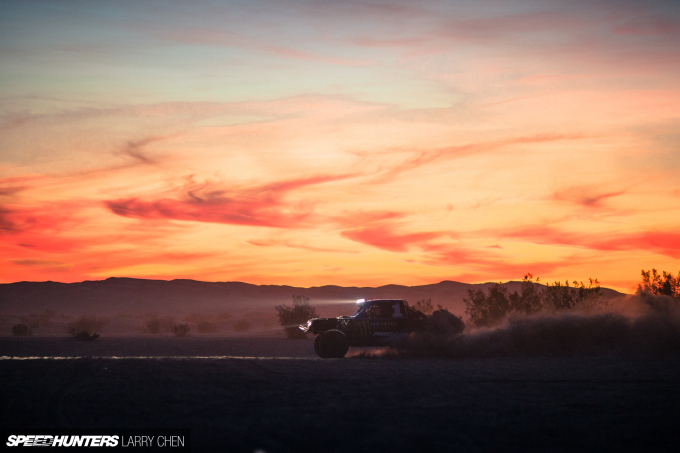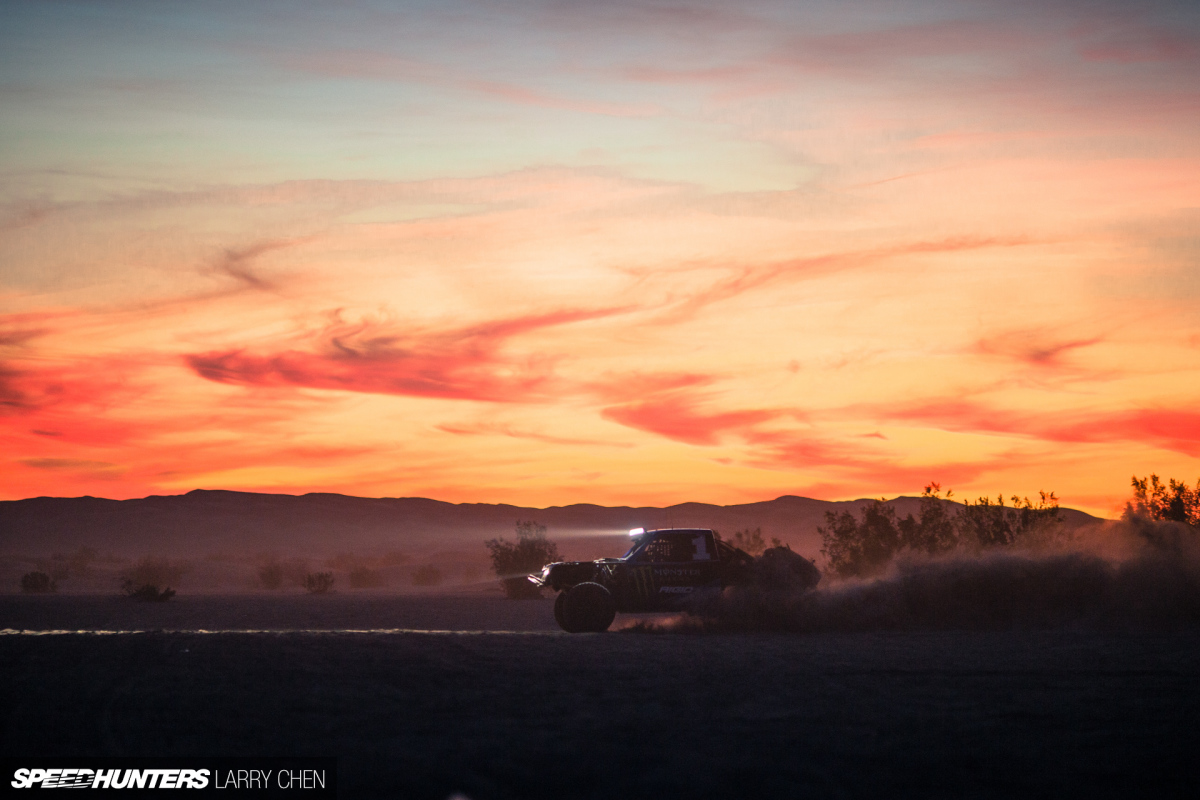 When the sun dips below the horizon, all the colors of the sky come out. Purple, red and orange – just amazing.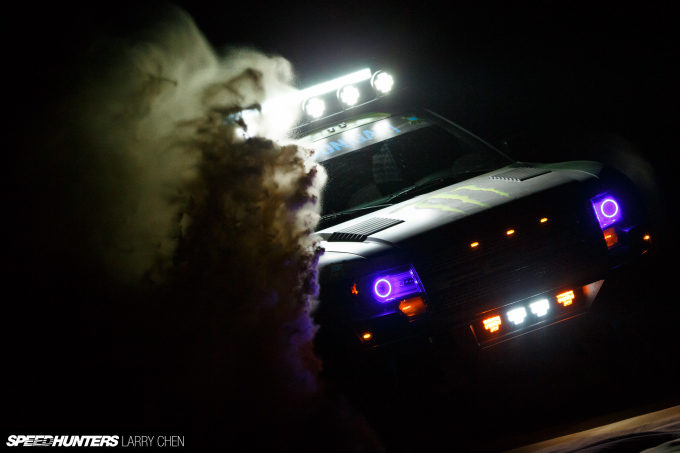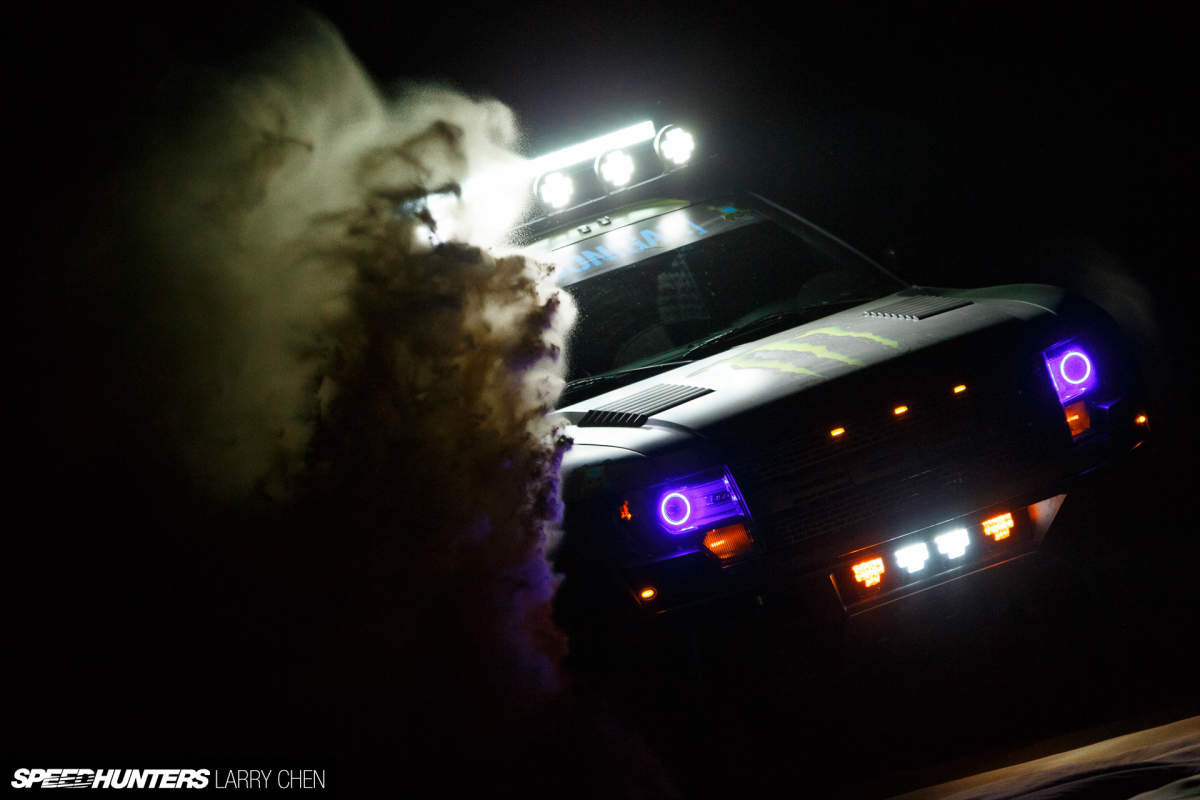 Once it was pitch dark, Ken brought out his Ford F150 Raptor Trax for a bit of fun in the sand.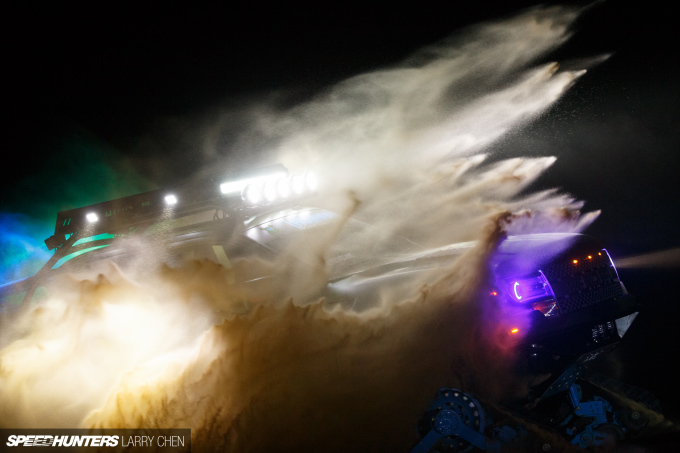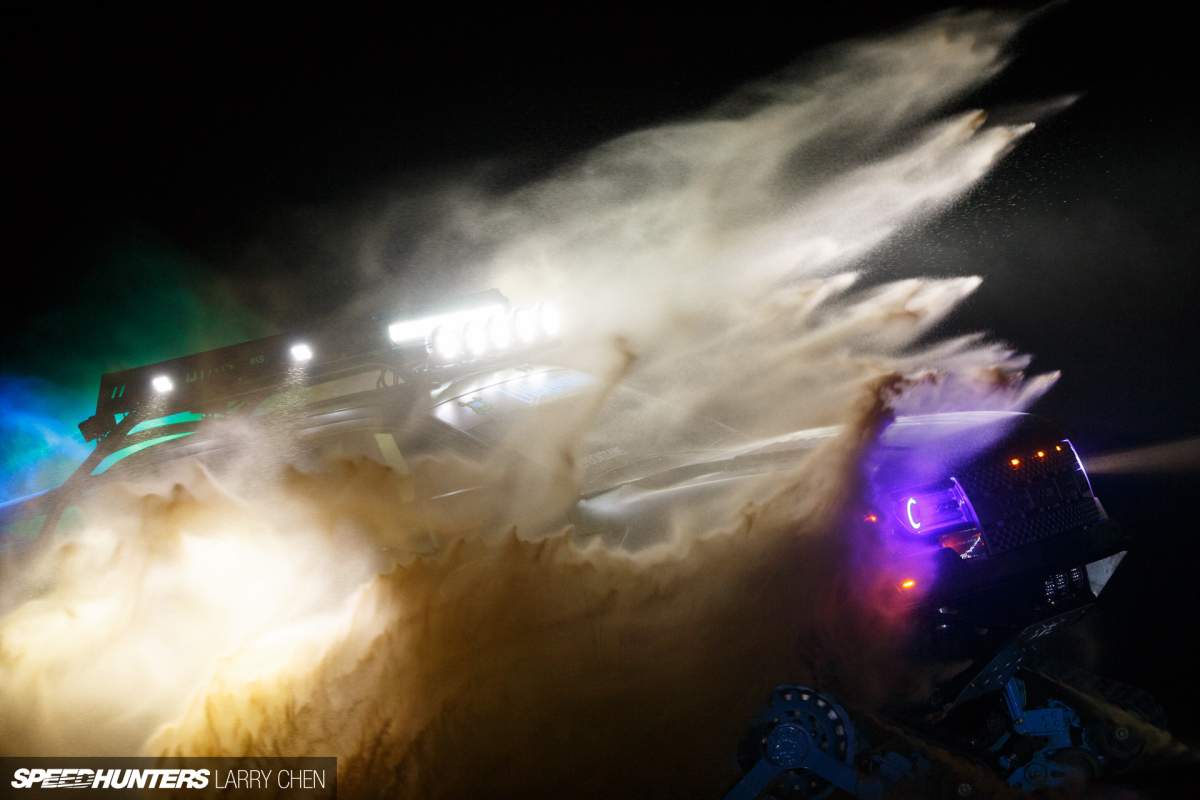 While he knew that it worked great in the snow, how it would perform in the sand was unknown.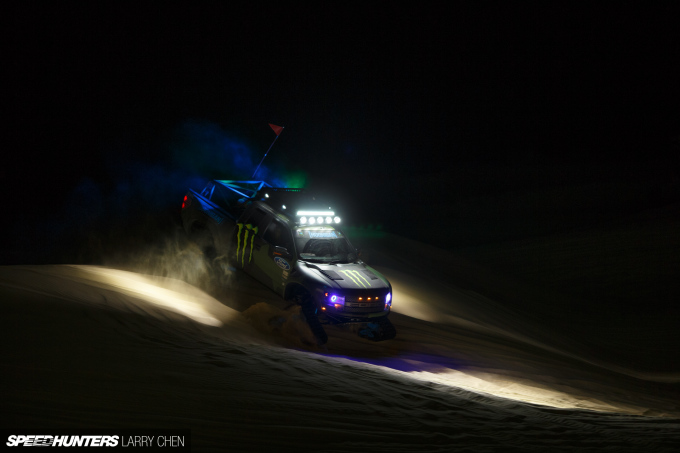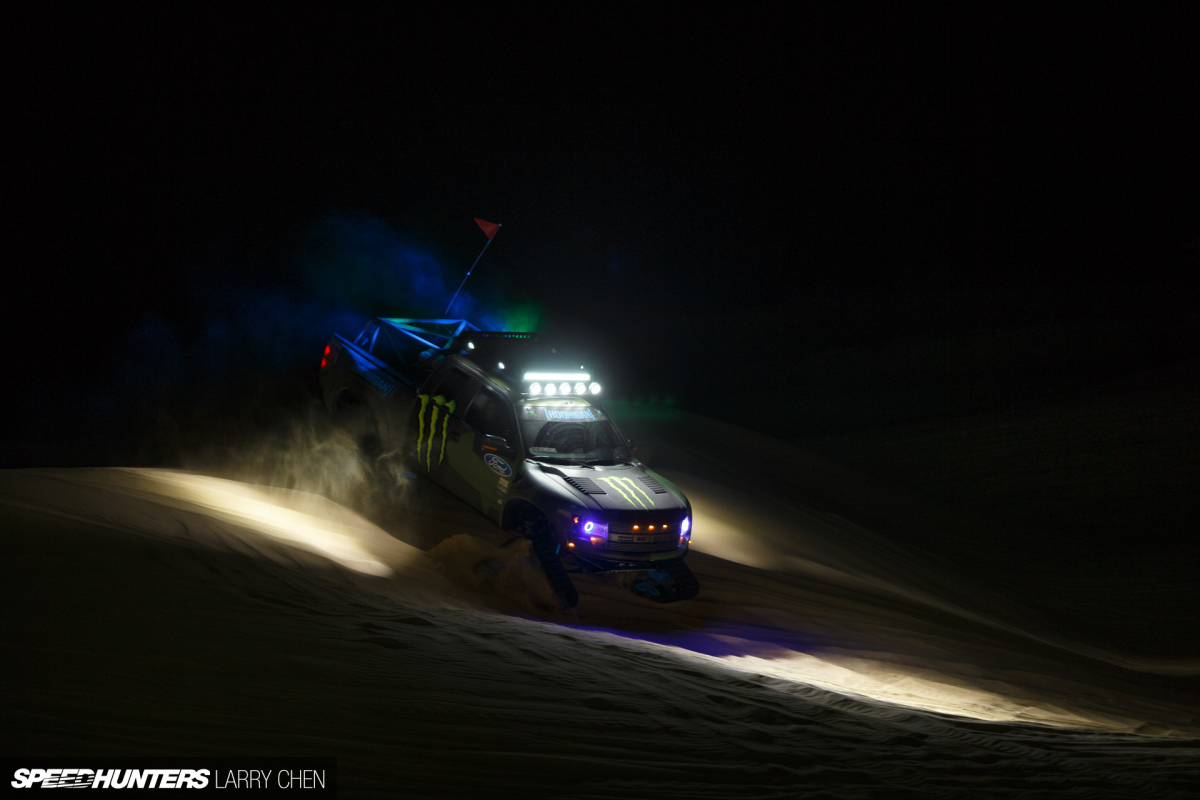 With sand being sprayed forward and lights illuminating the dunes, it definitely looked awesome.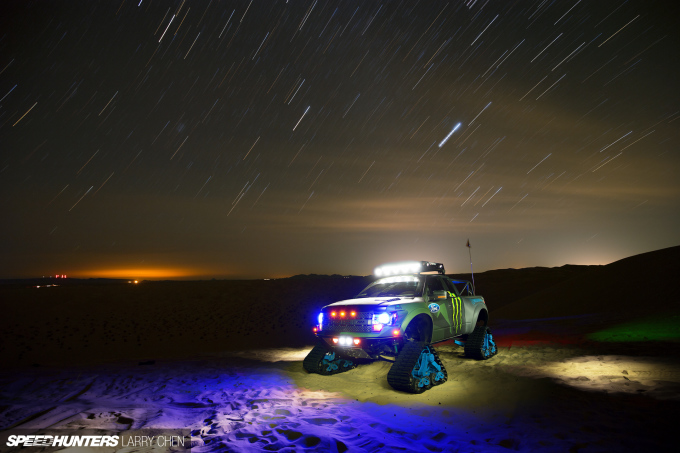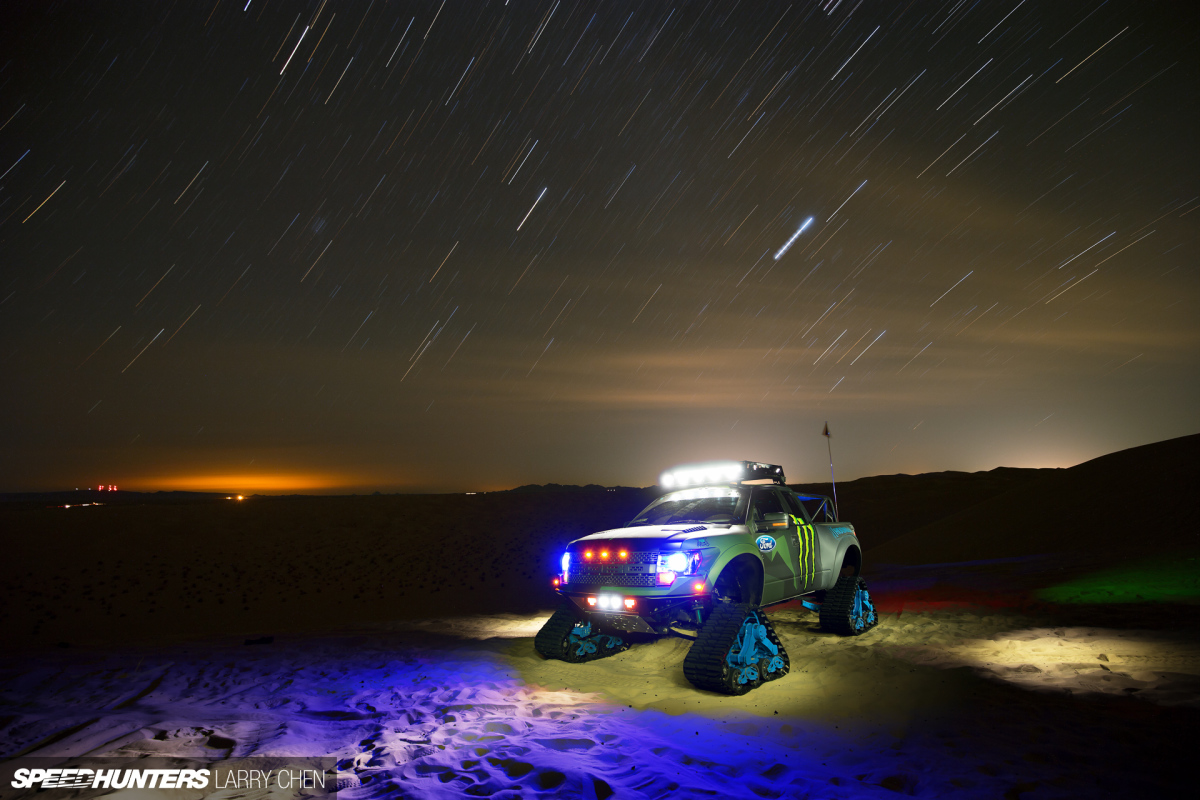 Although, without the additional cooling from snow and ice, it was limited in how fast and far it could drive.
Air Time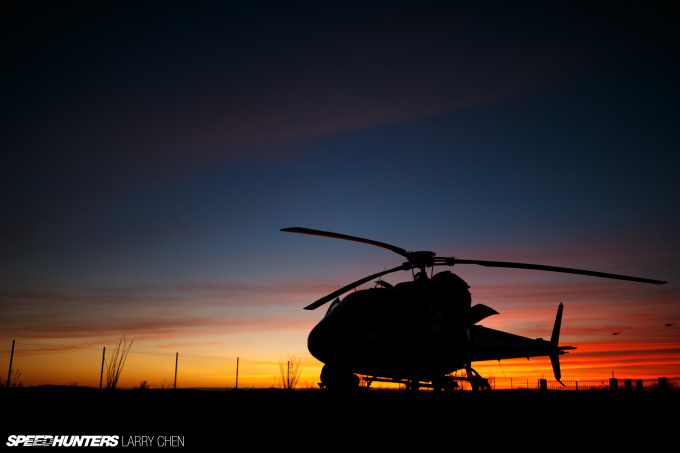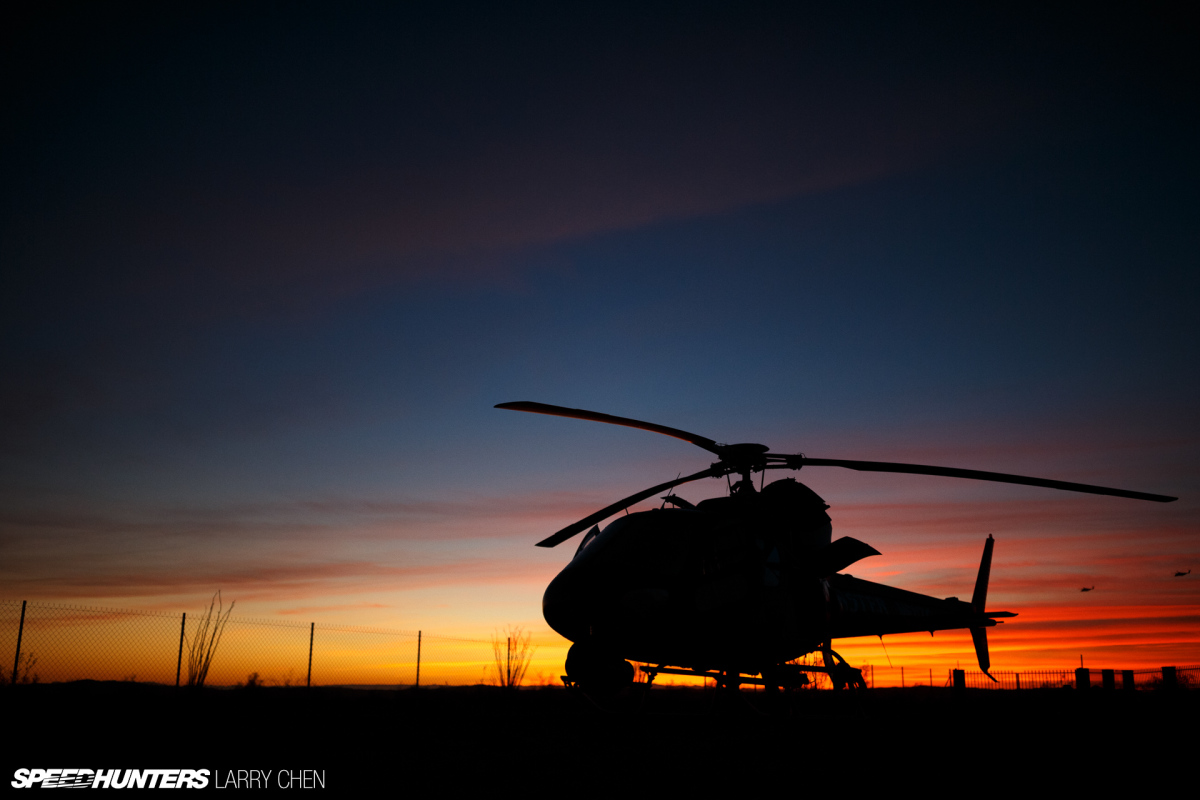 The next morning I tagged along with the Tempt Media crew in their helicopter.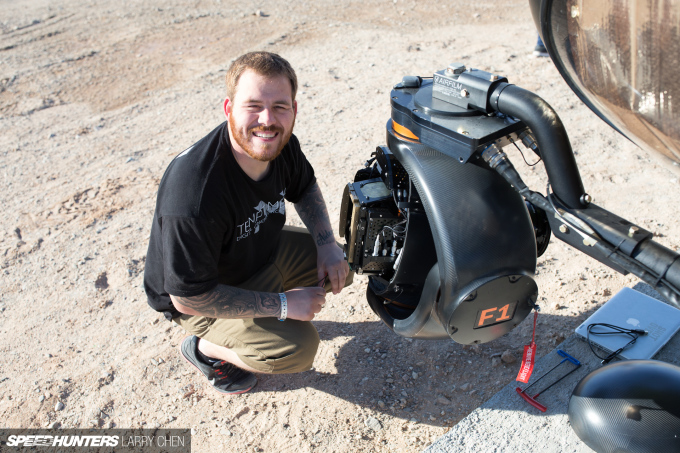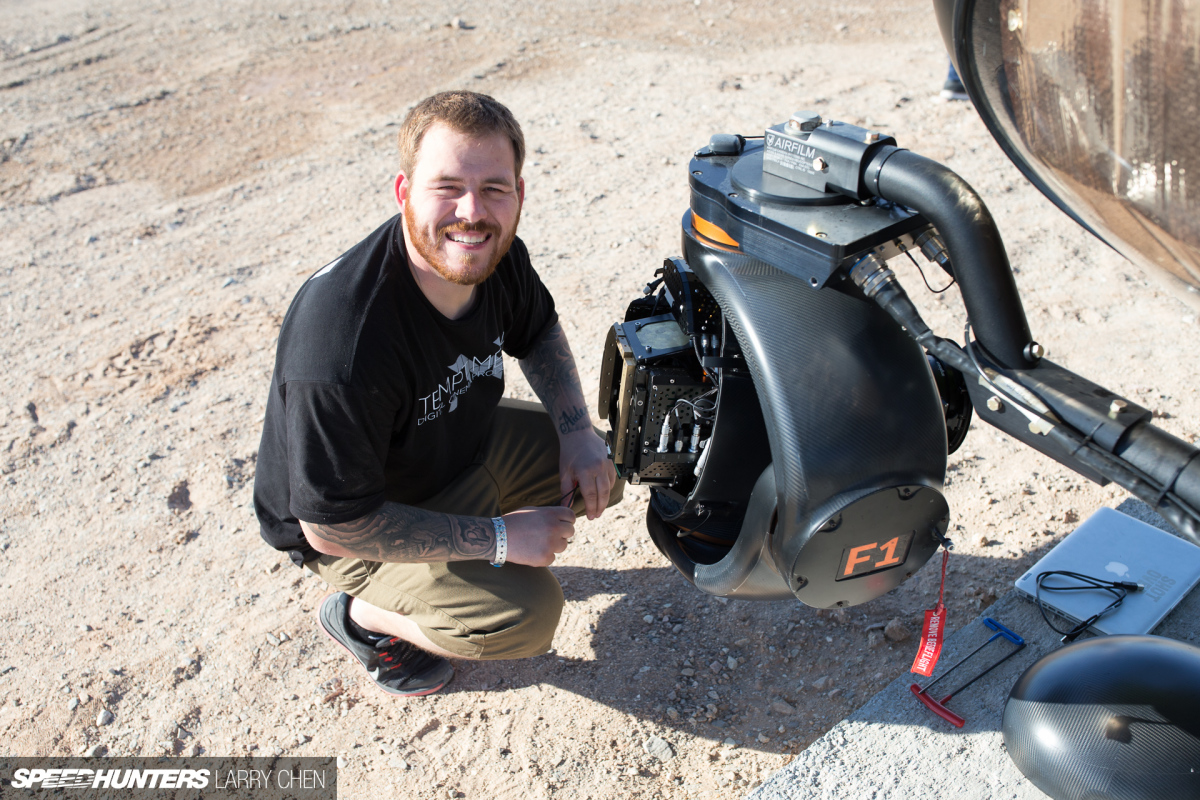 Here's Bryan cheesing it up as he set up the Shotover F1 camera before we took flight.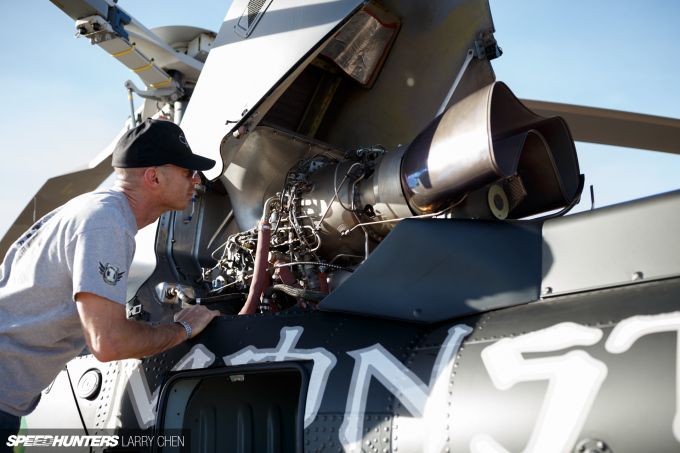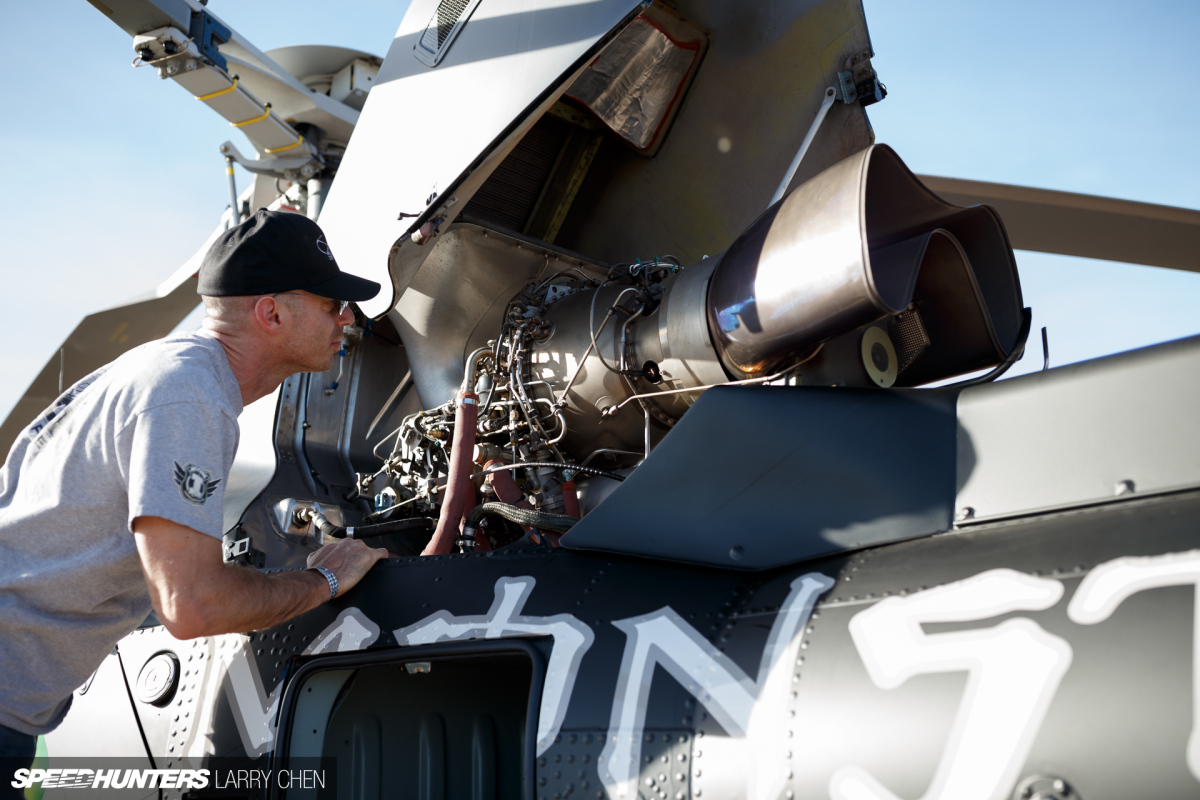 The pilot was Dave Vernick, the owner of Icon Helicopters, which specializes in filming. He also flew for the aerial shots in Gymkhana 7.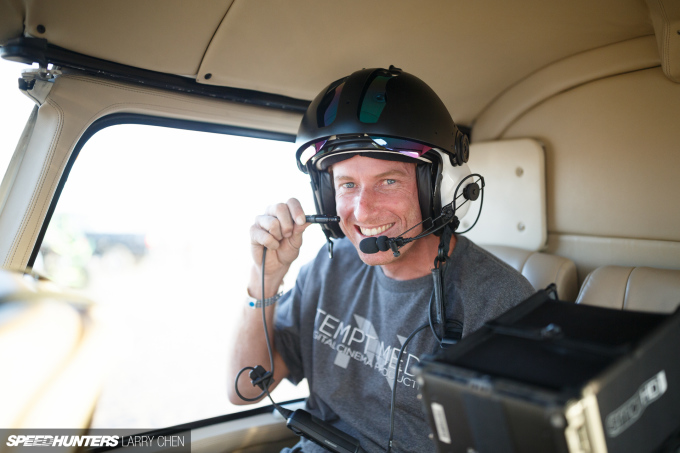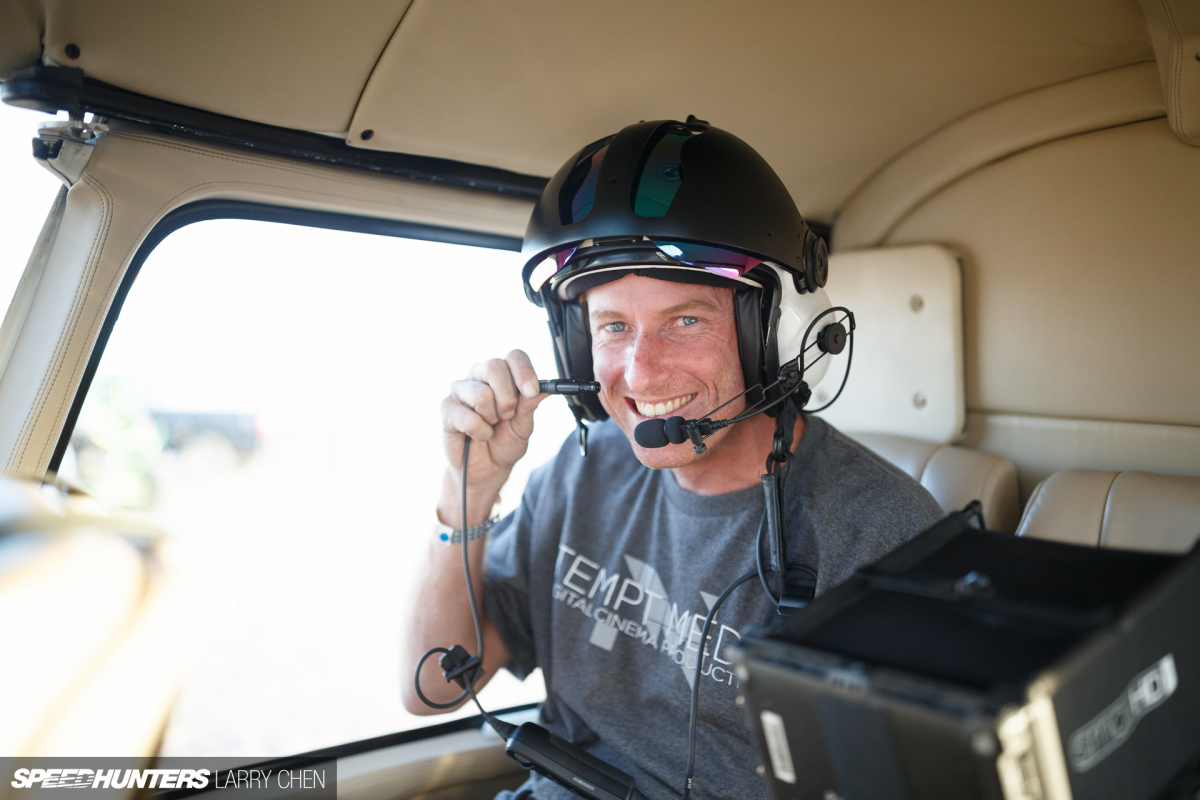 Behind the camera was my good buddy Eric 'Redwood' Everly. Aside from working with Eric on some major film projects over the past few years, he also owns Tempt Media.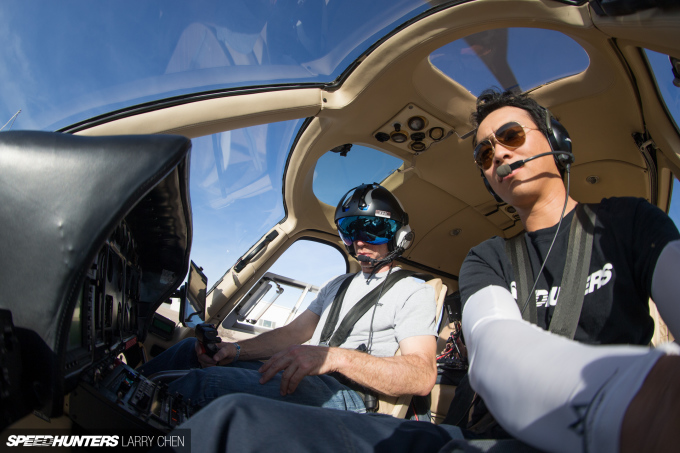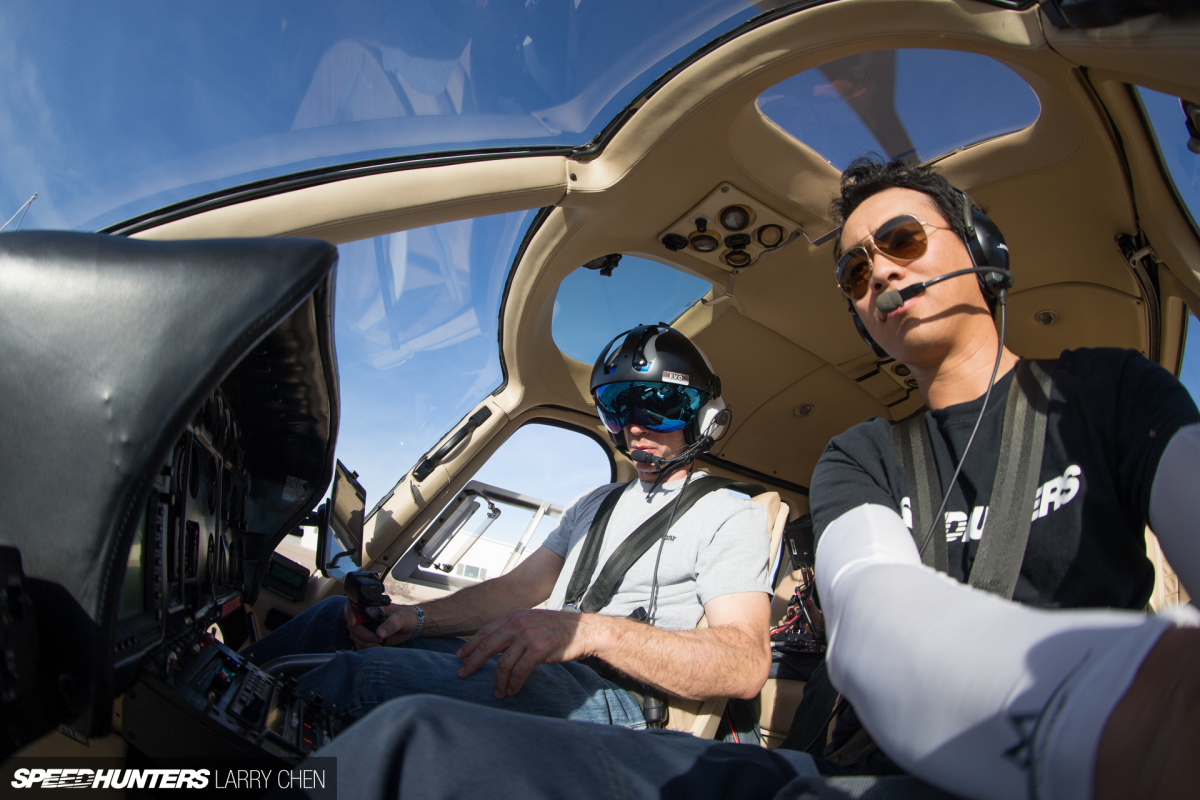 Believe it or not, this was only my second time shooting from a helicopter. However, I have shot out of a fixed-wing before, and of course I ended up losing my lunch from that.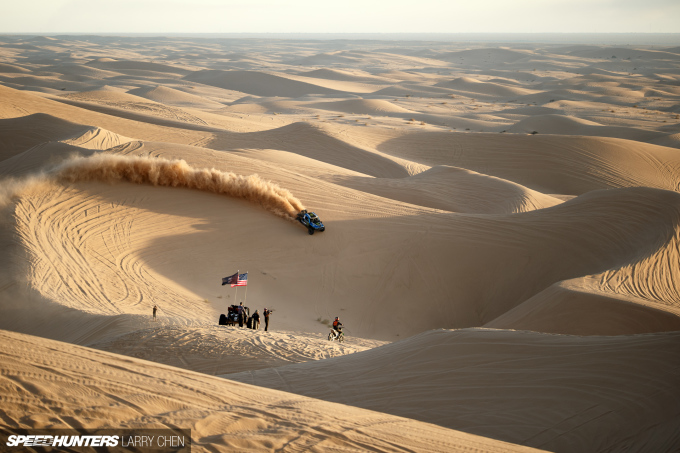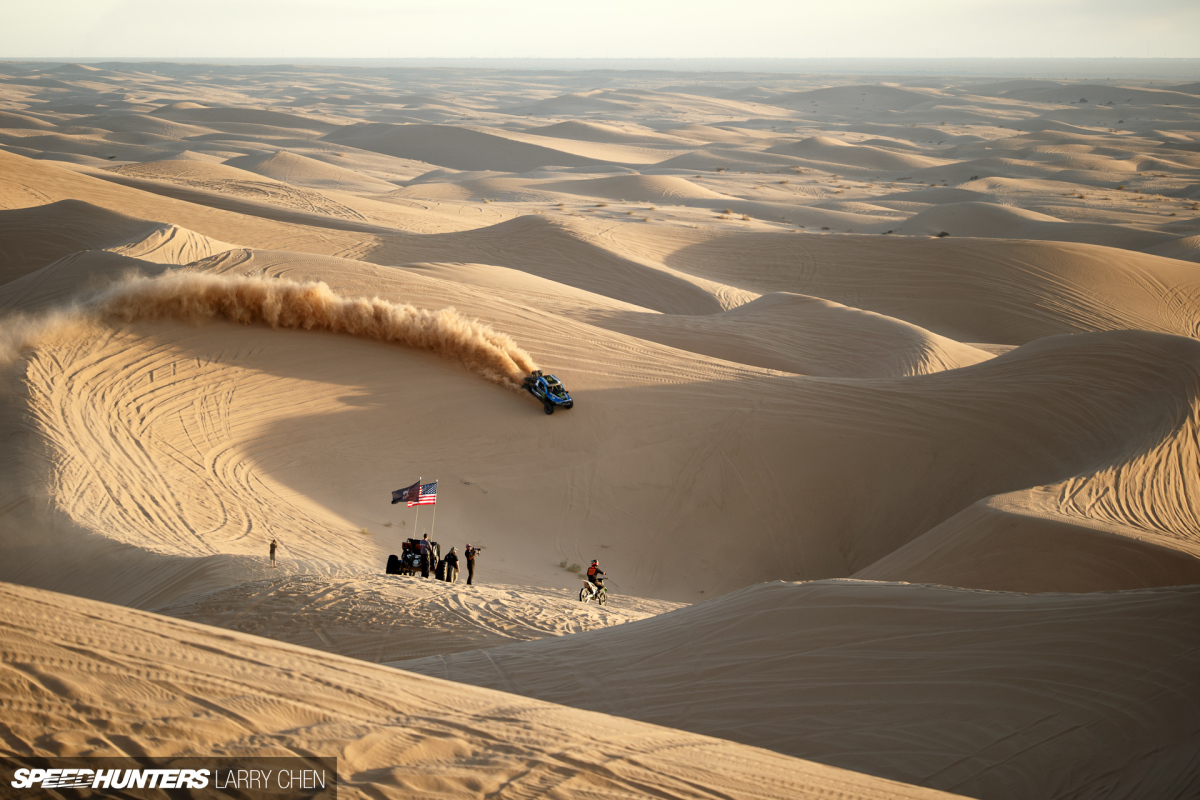 Being in the air really gave me a different perspective on the dunes.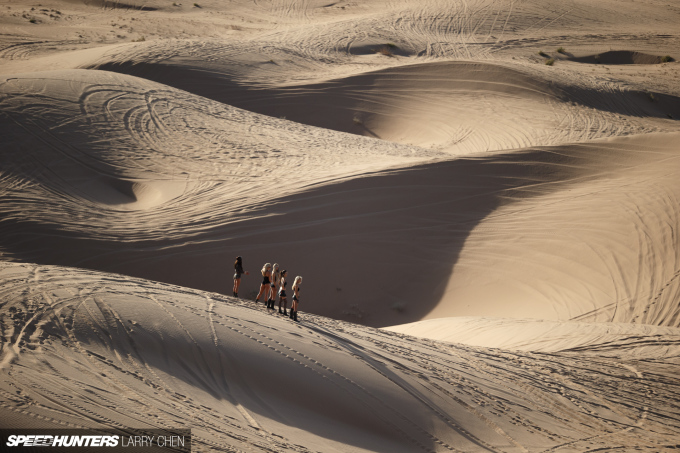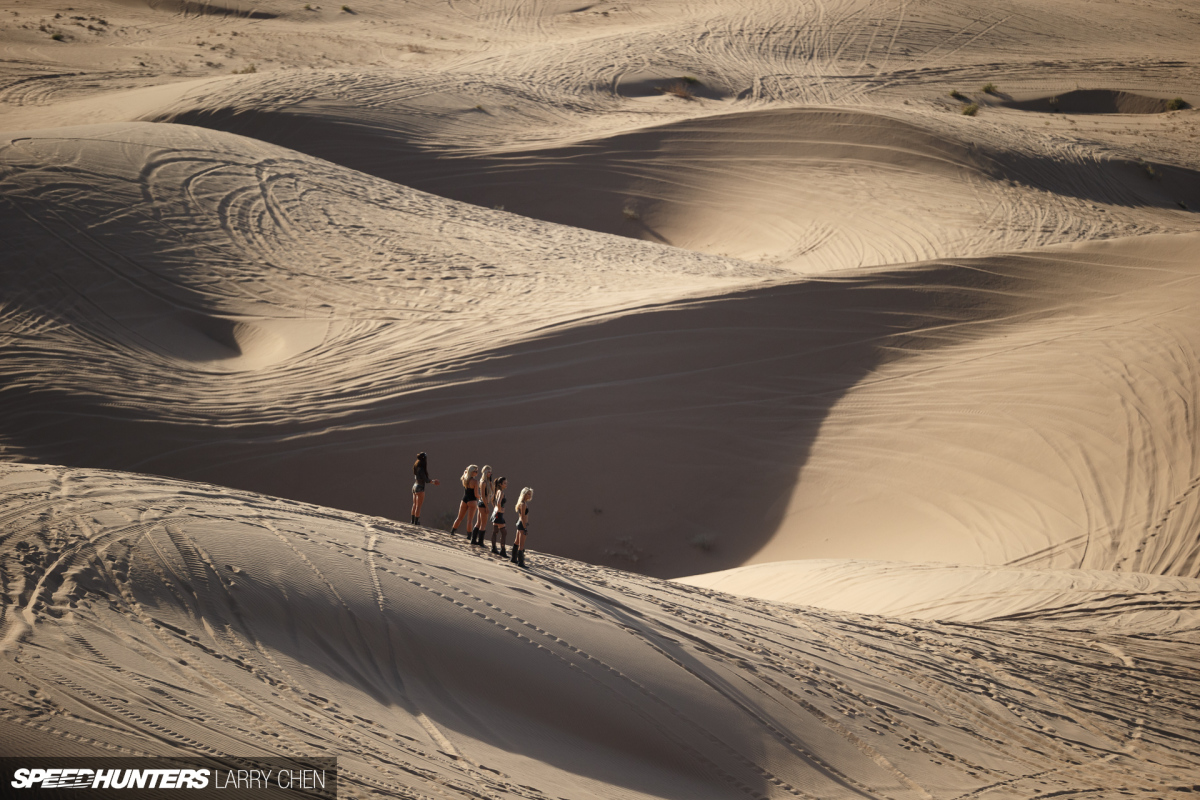 Not only did I have a higher vantage point and the ability to see much further, but I fully understood the advantage of being in a helicopter versus just flying my drone.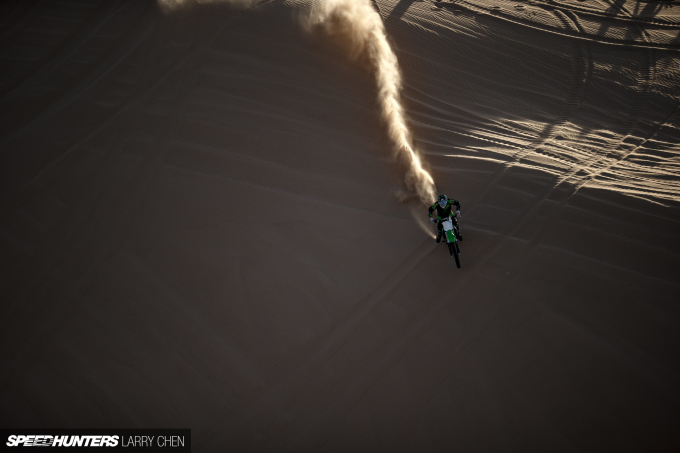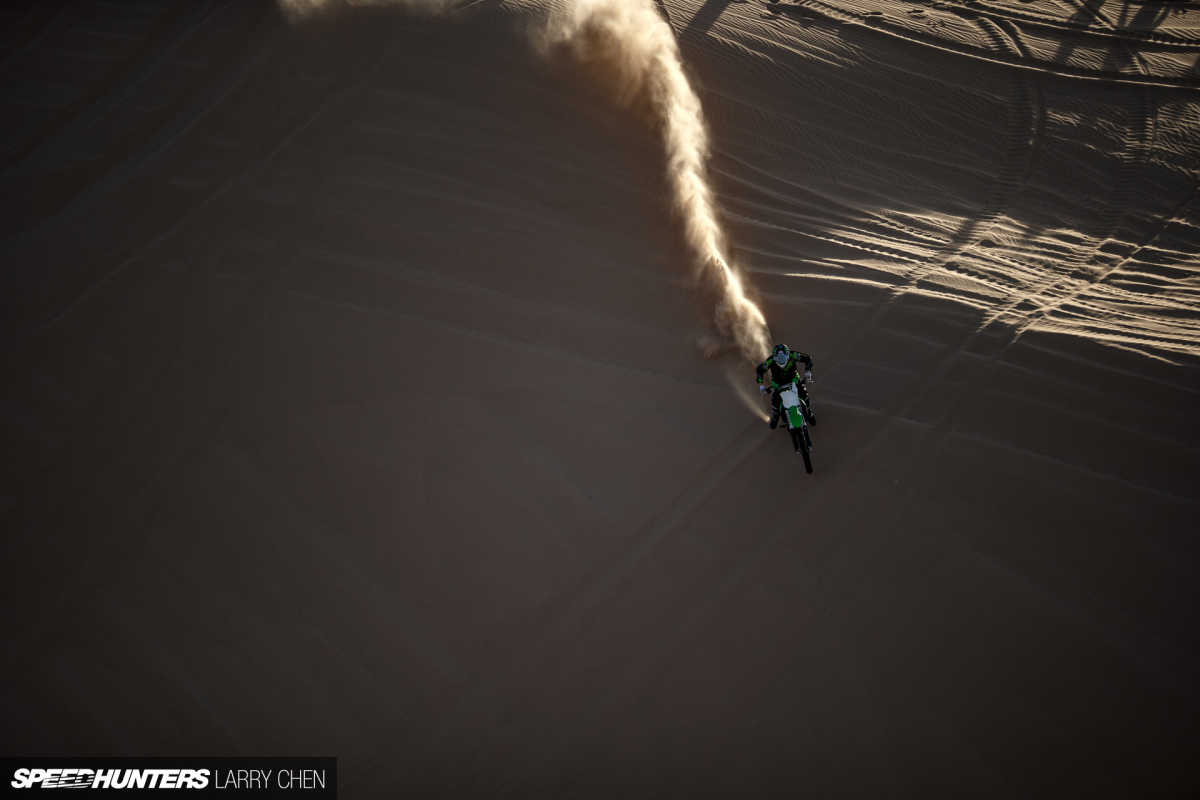 Because when you are shooting from a drone, you can't be precise with a telephoto lens.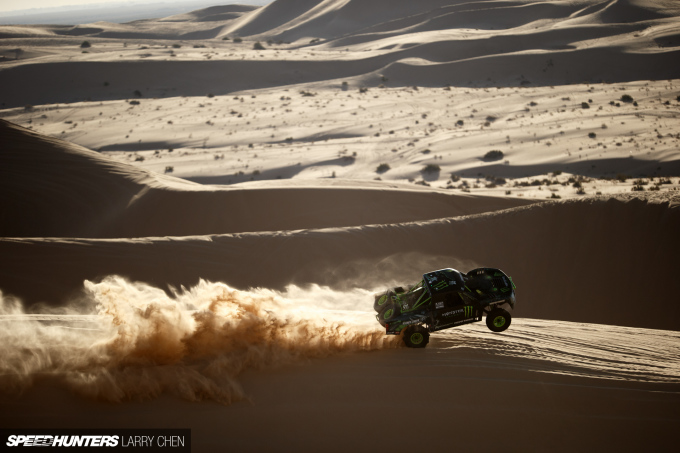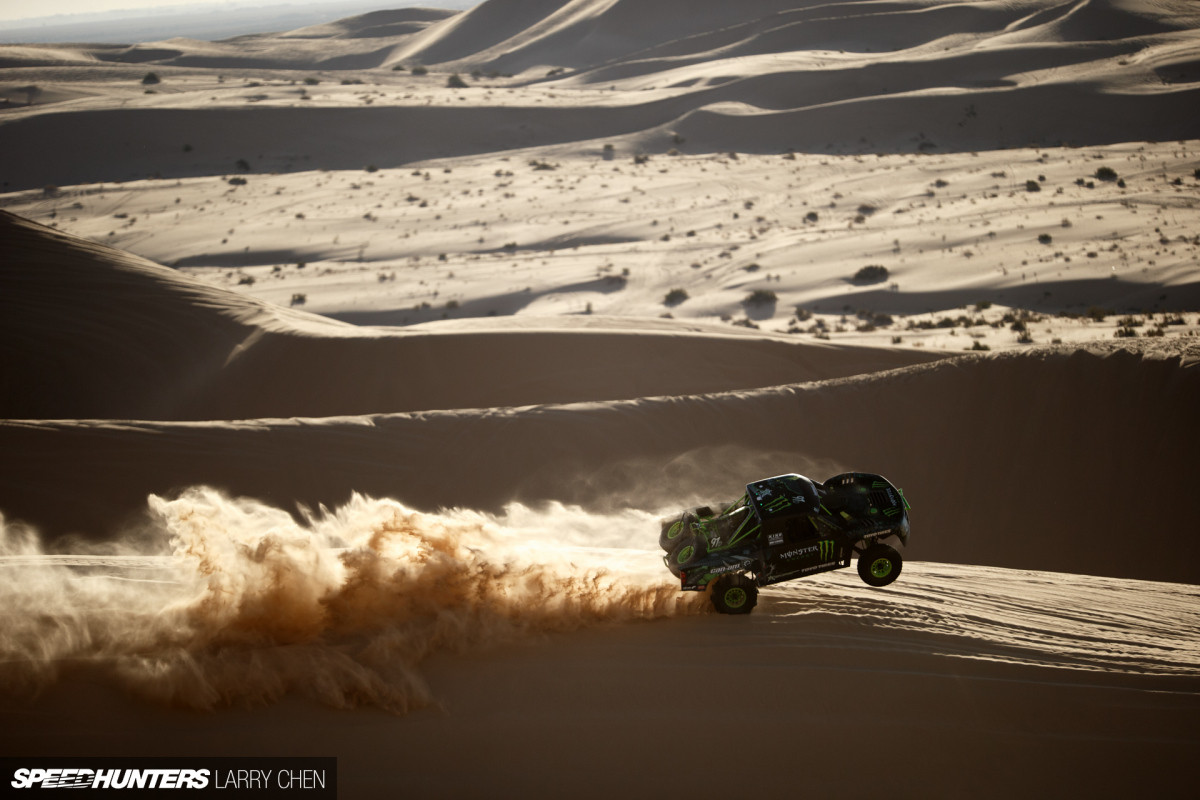 It was nice to be practically everywhere at once, especially when there was new action going on.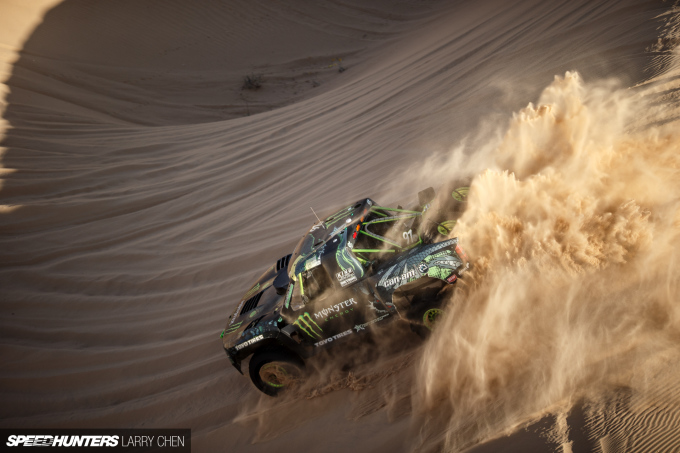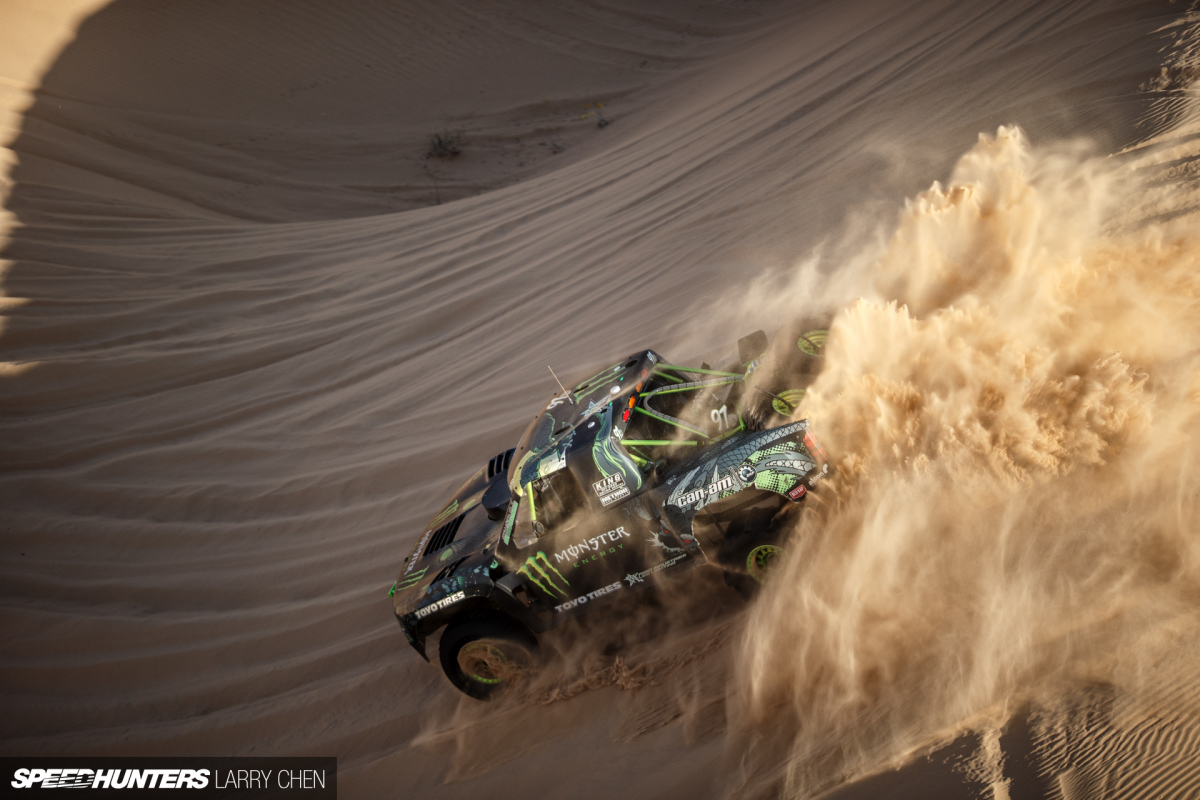 It was awesome to be able to follow the same driver as they were running their own line.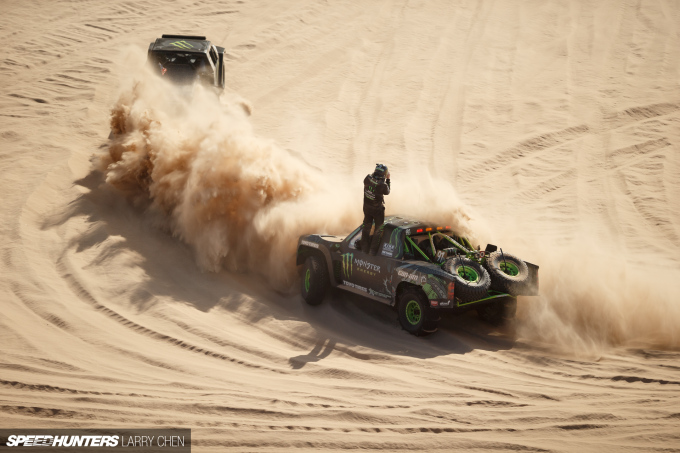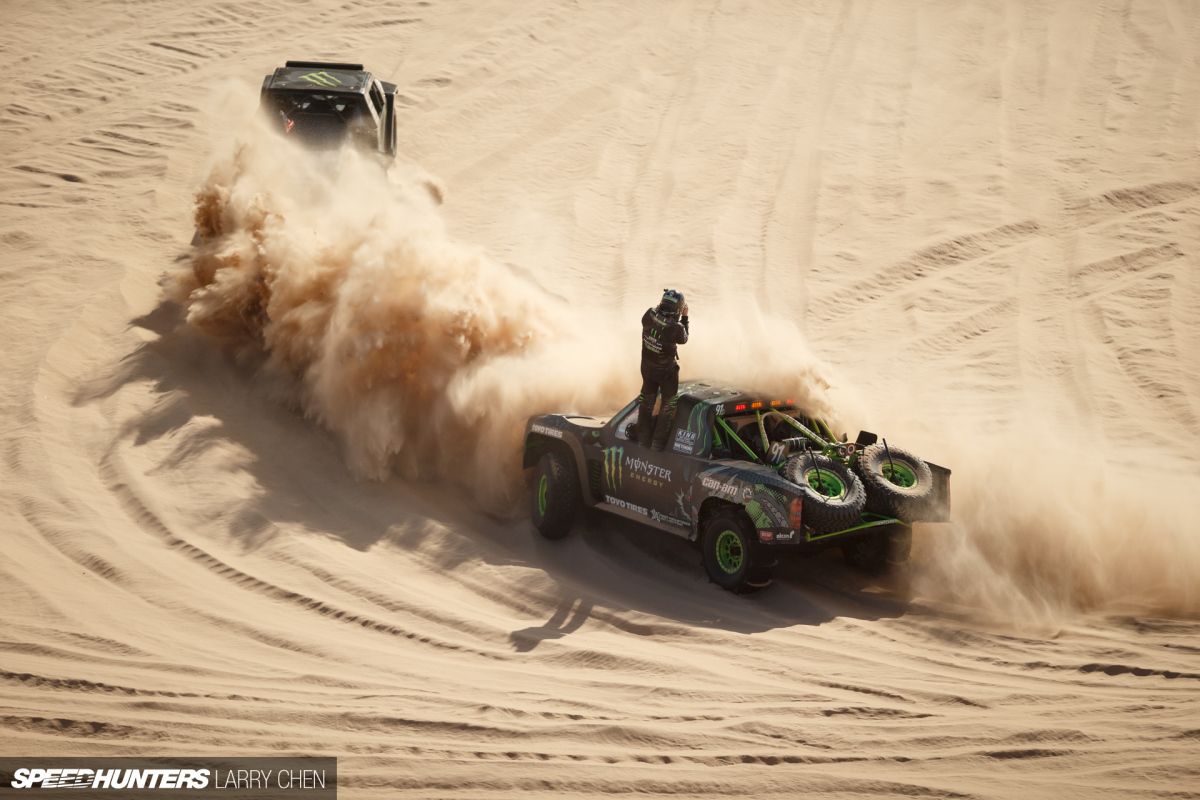 That's how I caught the boys giving BJ Baldwin a sand shower after he broke down. It's what friends are for, right?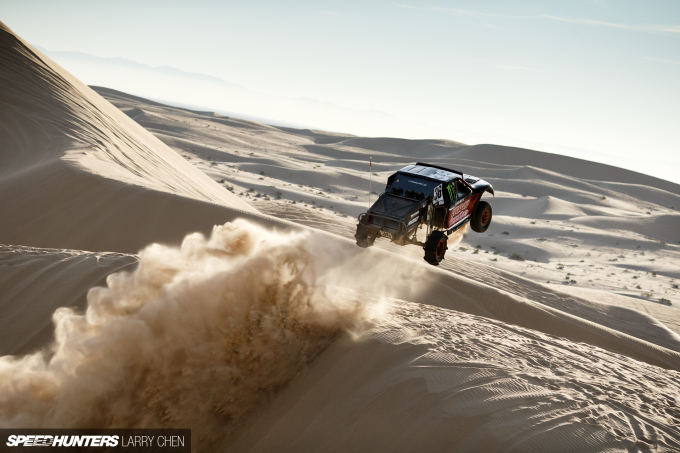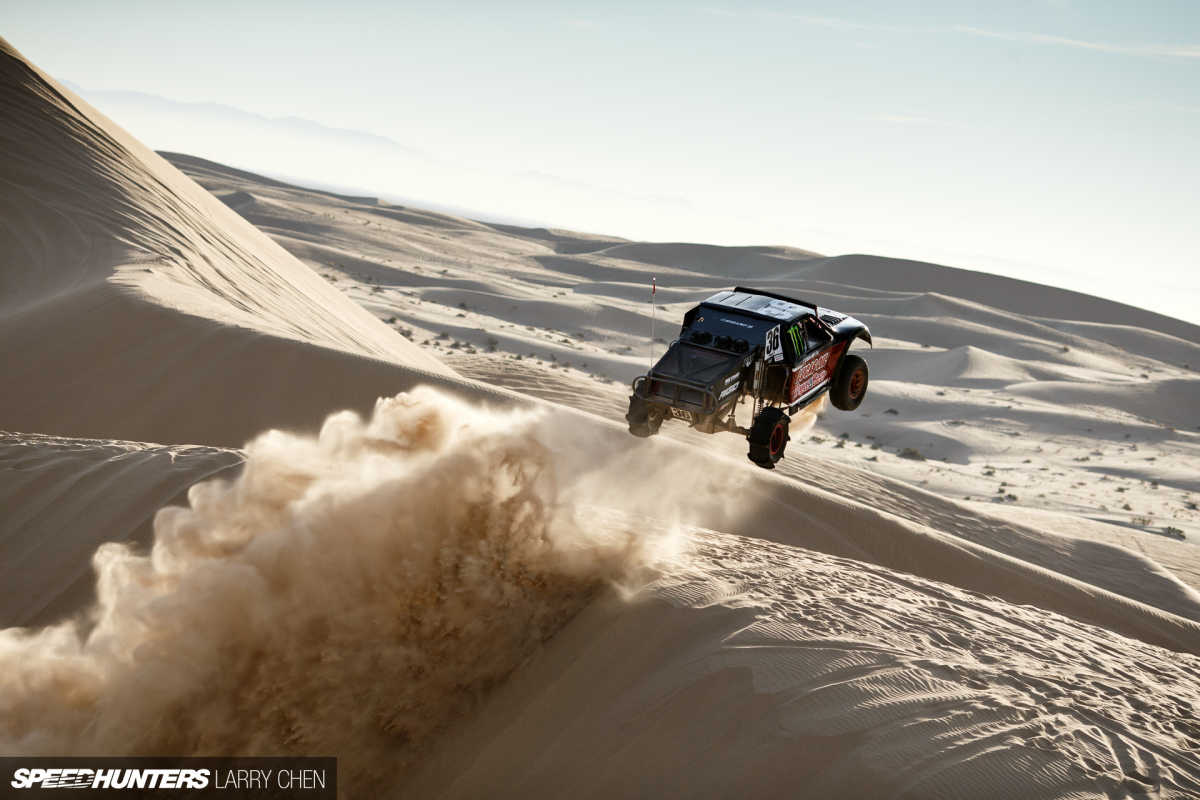 Rodrigo Ampudia of Papas & Beer Racing loves to catch big air with his short course rig.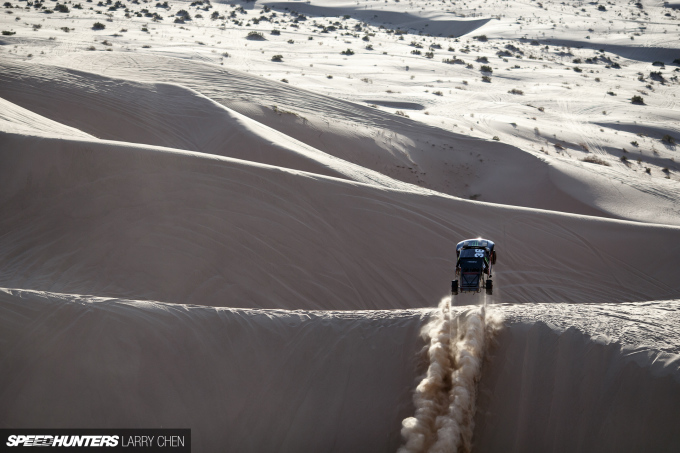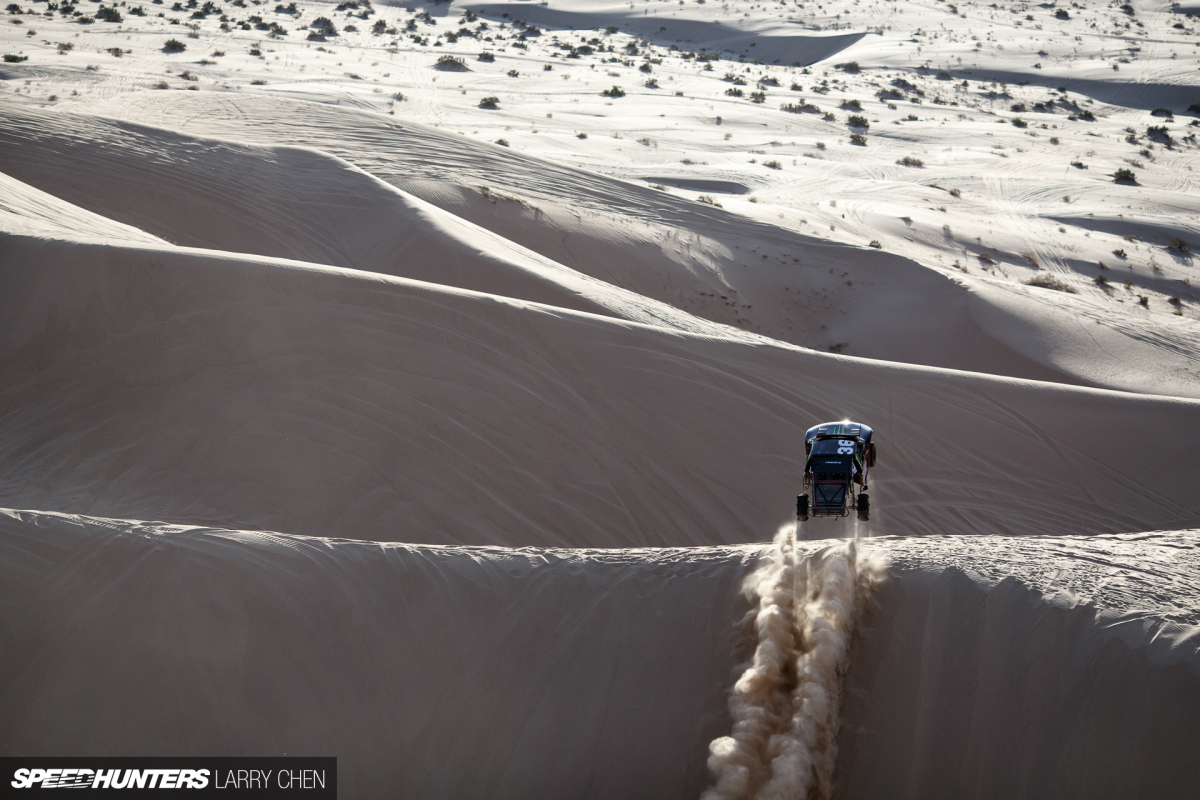 It's just such an awesome sight when he jumps, because he's absolutely fearless.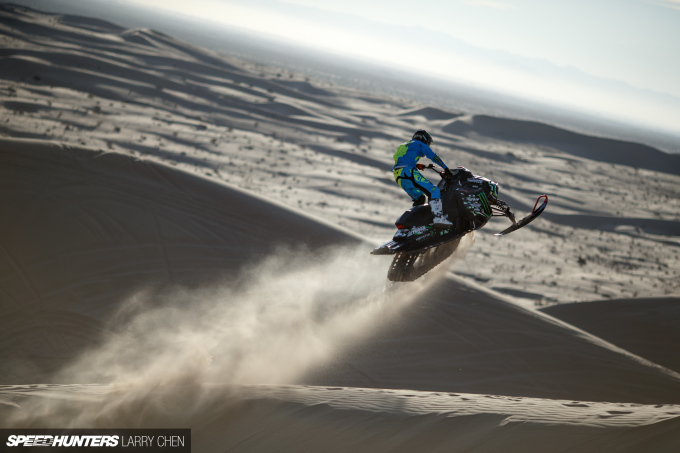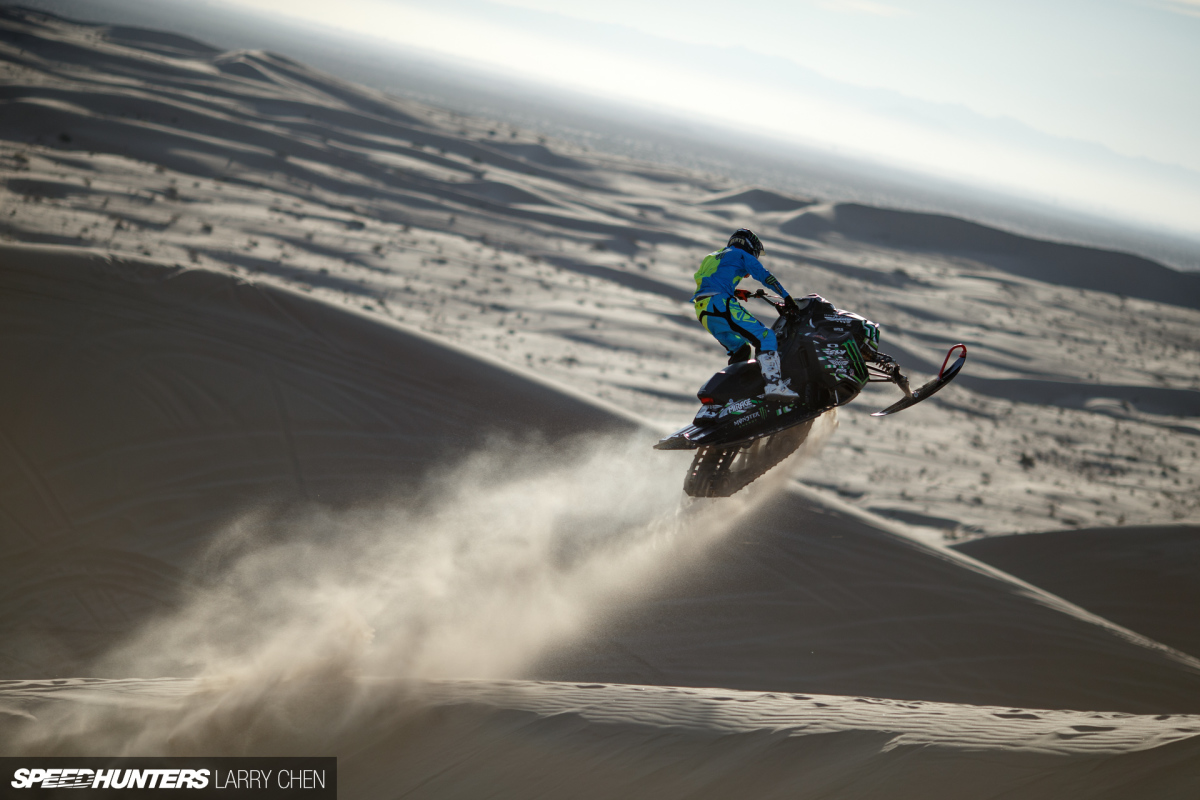 I also had a chance to catch one of my favorite shots of the year. It's just so amazing to me how fast the guys on the snowmobiles would accelerate going up a dune.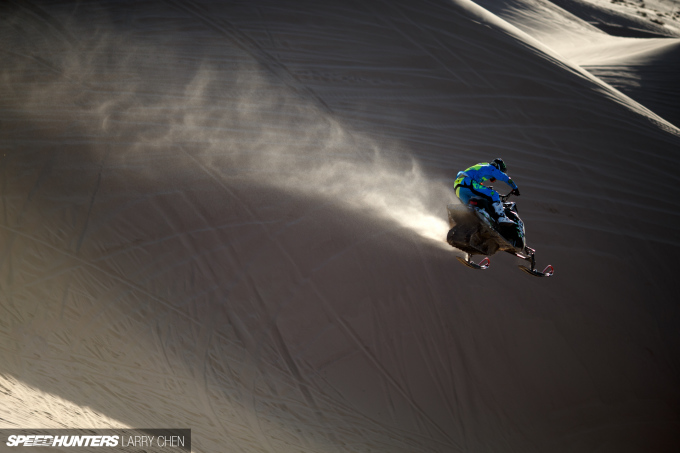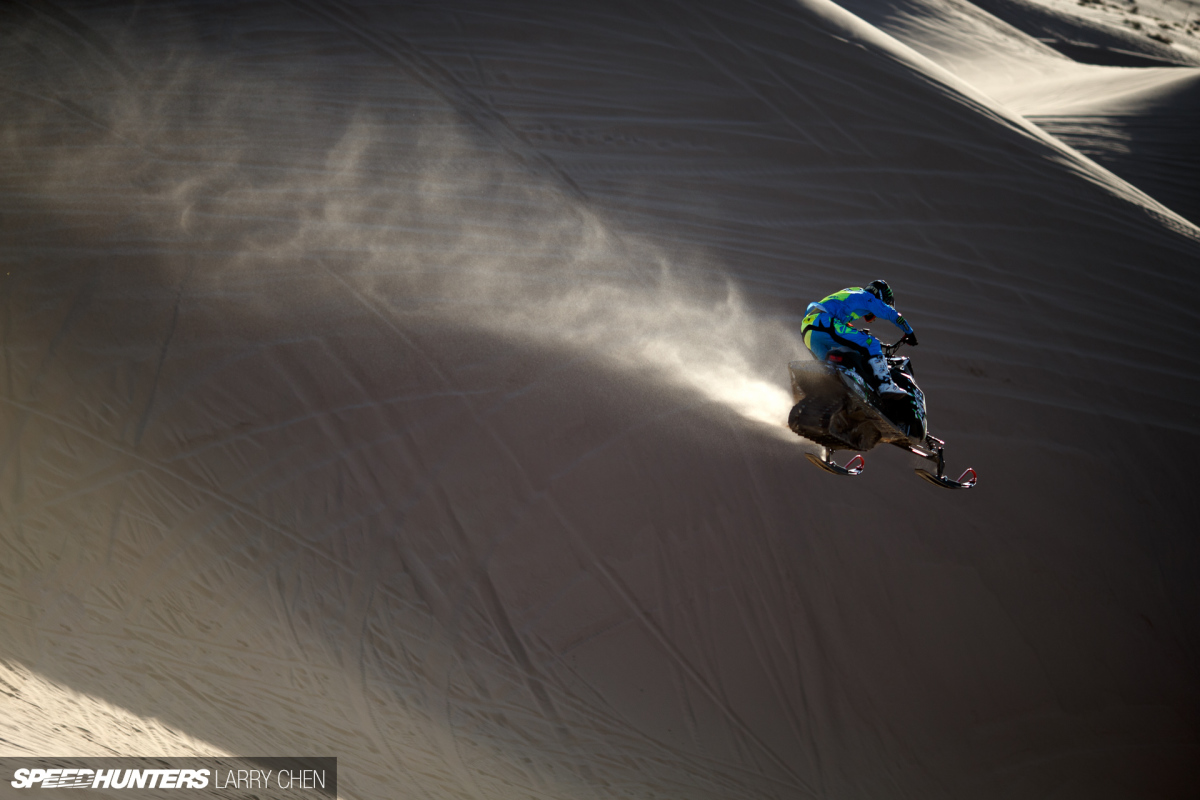 But the fact that the trail of sand here was lit as Heath Frisby dove into the shadow makes this one of my favorite shots of 2015.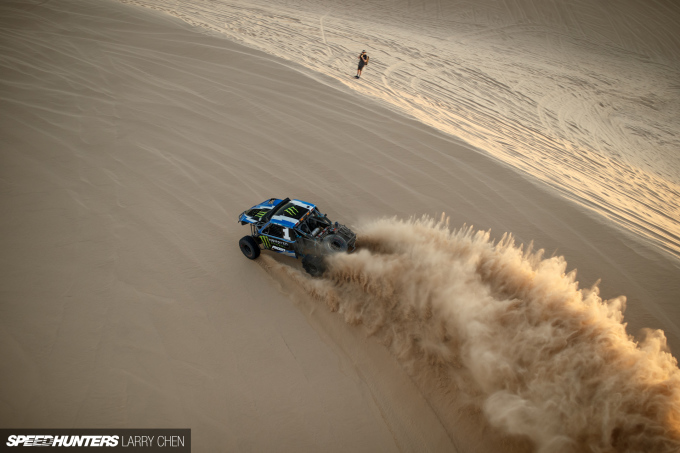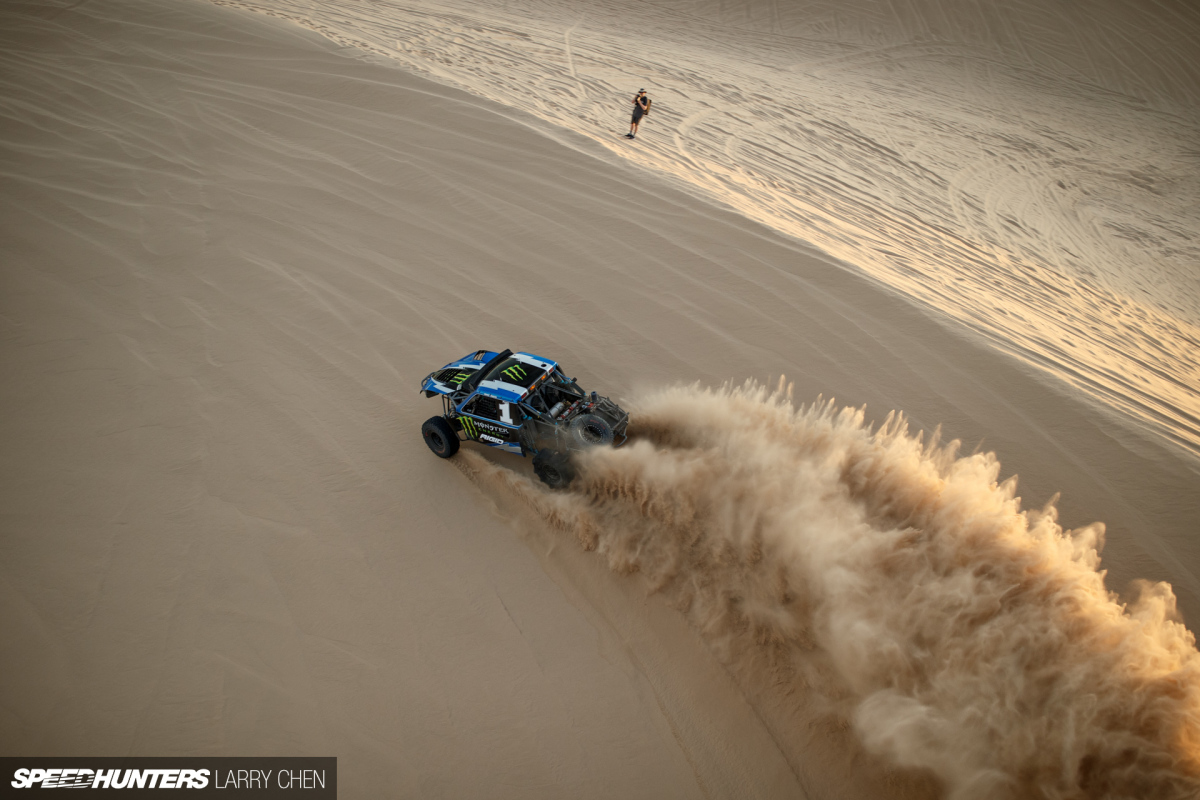 There's nothing like seeing these epic roosts from the air.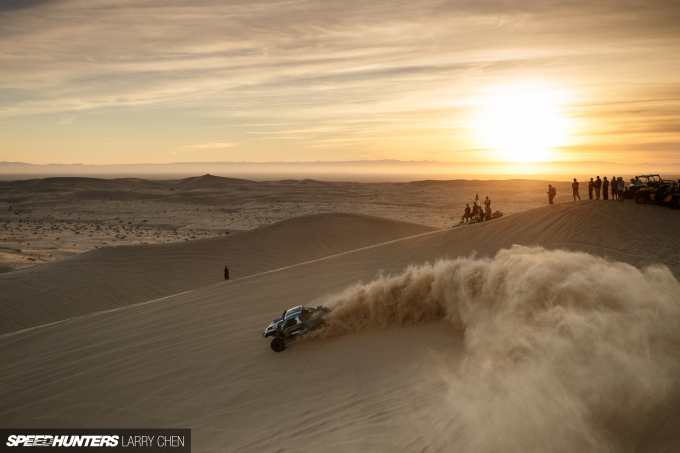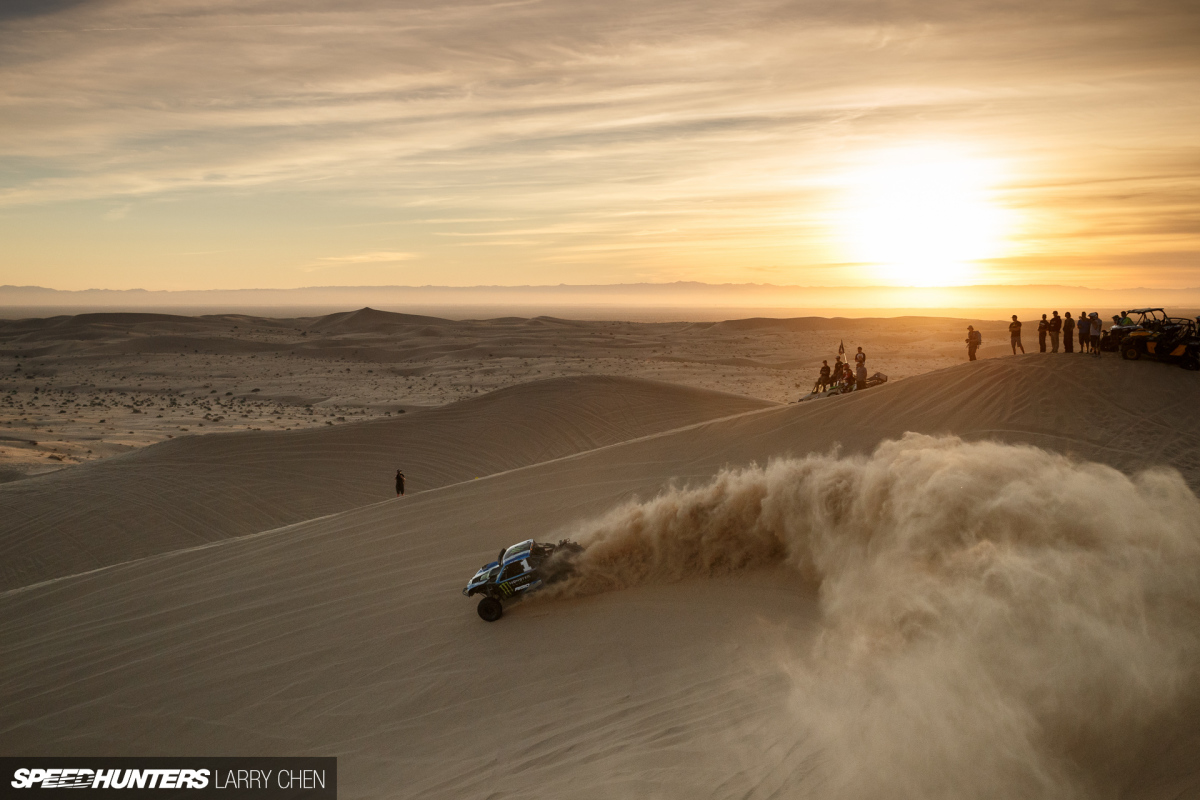 Steven Eugenio is also fearless when it comes to going off the big jumps.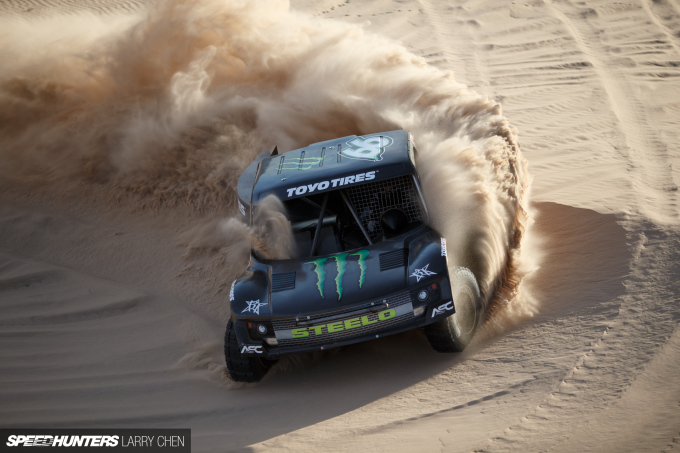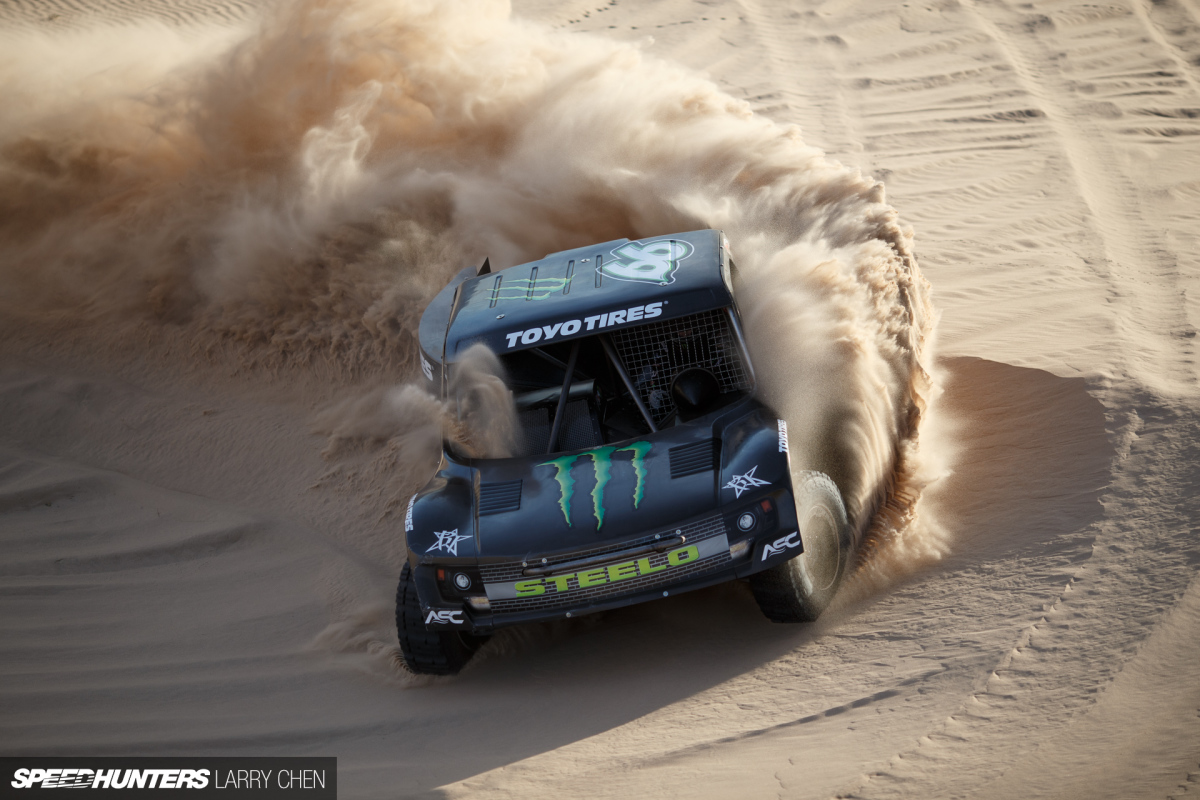 Here's one of my favorite shots a Pro4 truck driven by Kyle LeDuc as it kicked up a mean roost from the front tires.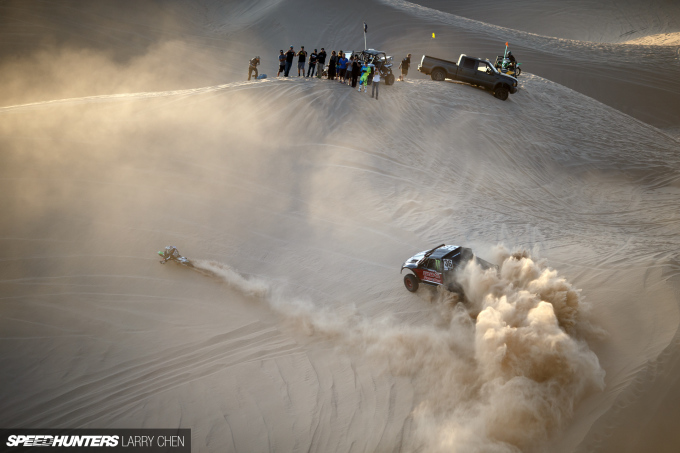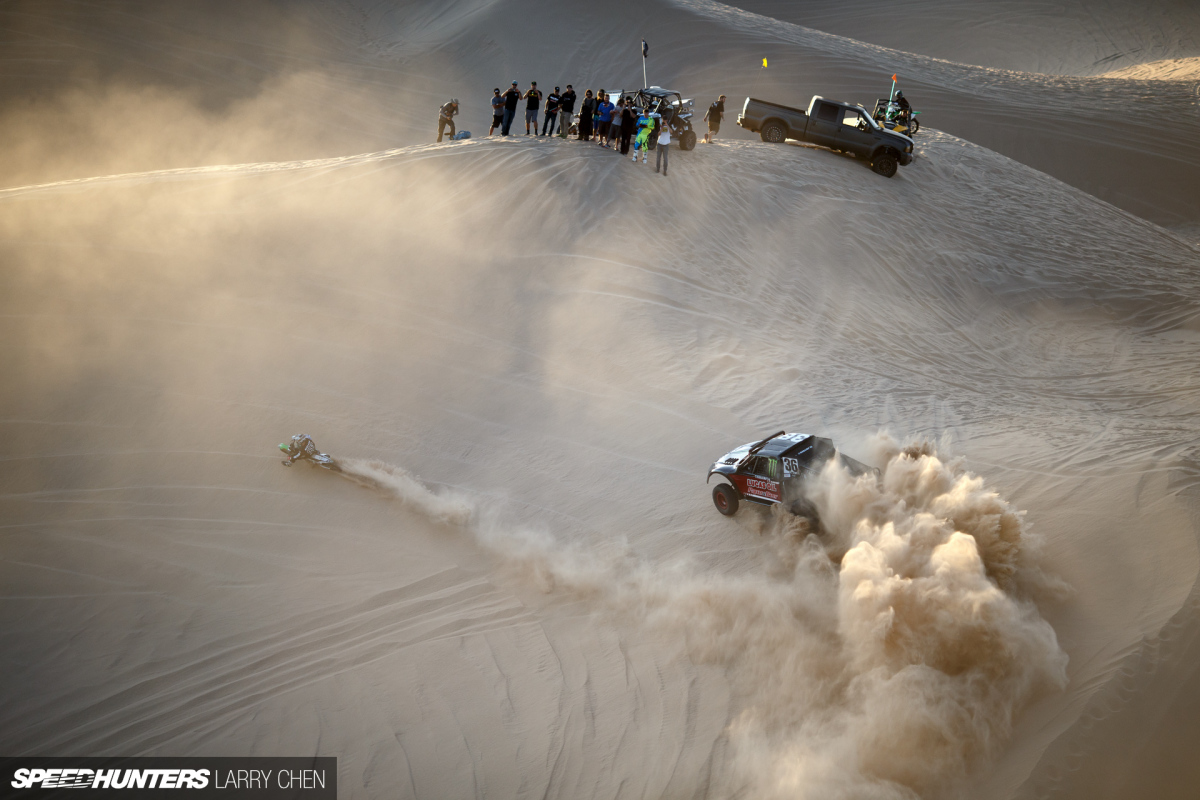 These guys really had to show a major level of trust being able to drive and ride together, because there is really no way to see what's on the other side of a dune when you commit to hitting it hard.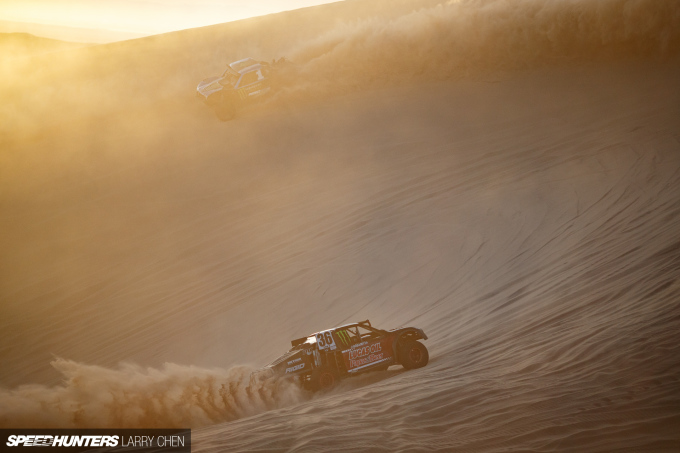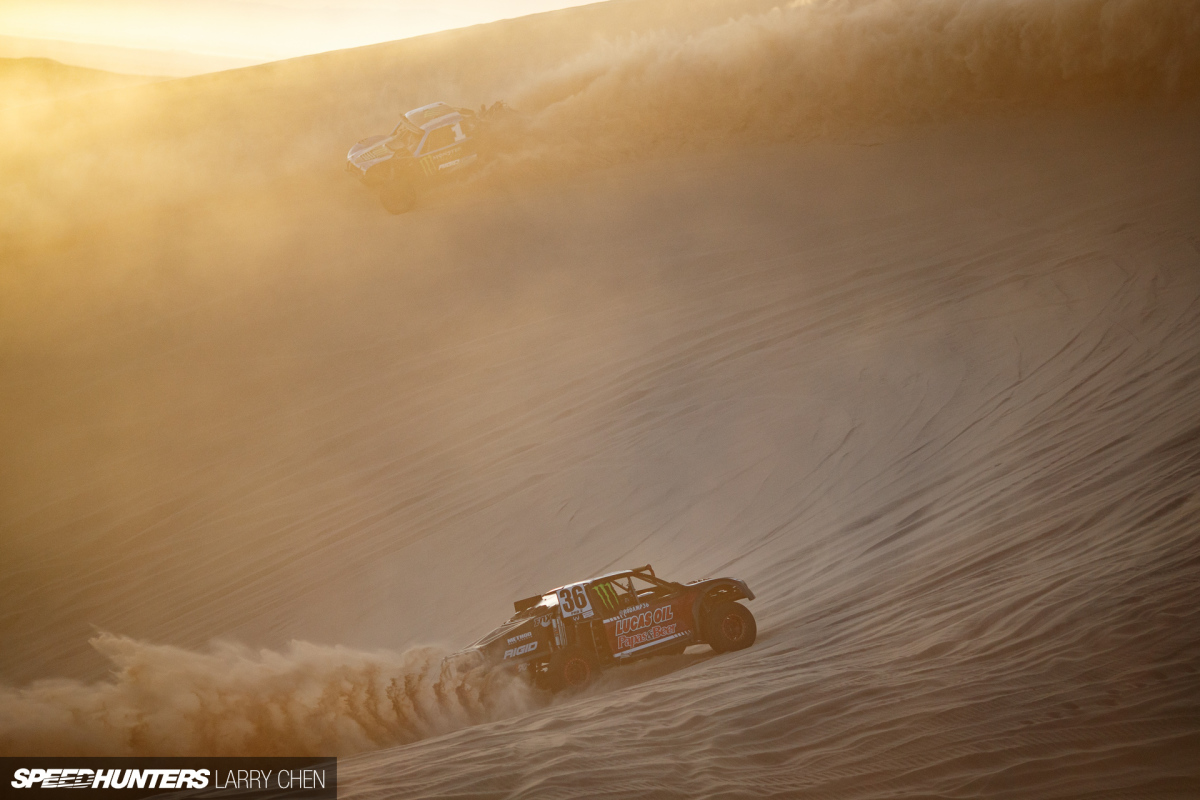 Plus, with the sun as sideways as it was later in the days, it was easy to get blinded as you crested a hill.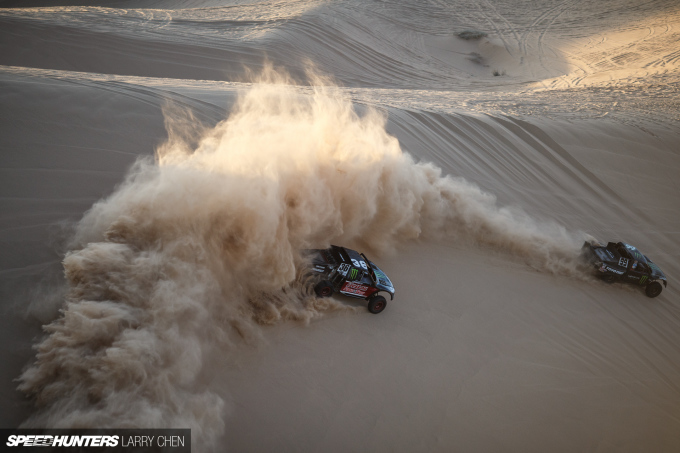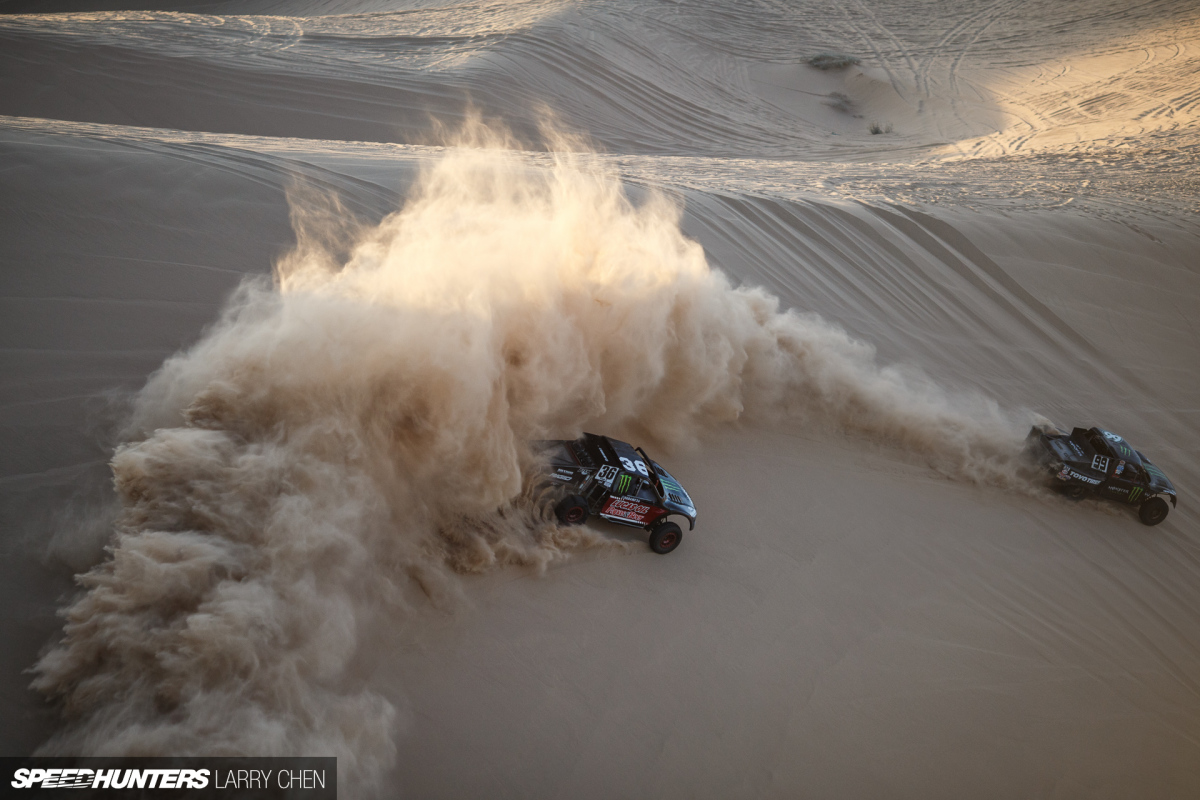 Then there's getting lost in someone else's sand roost…
Snow Sports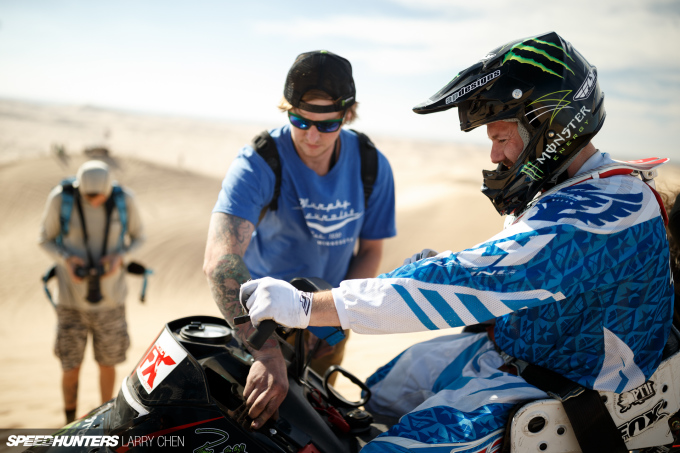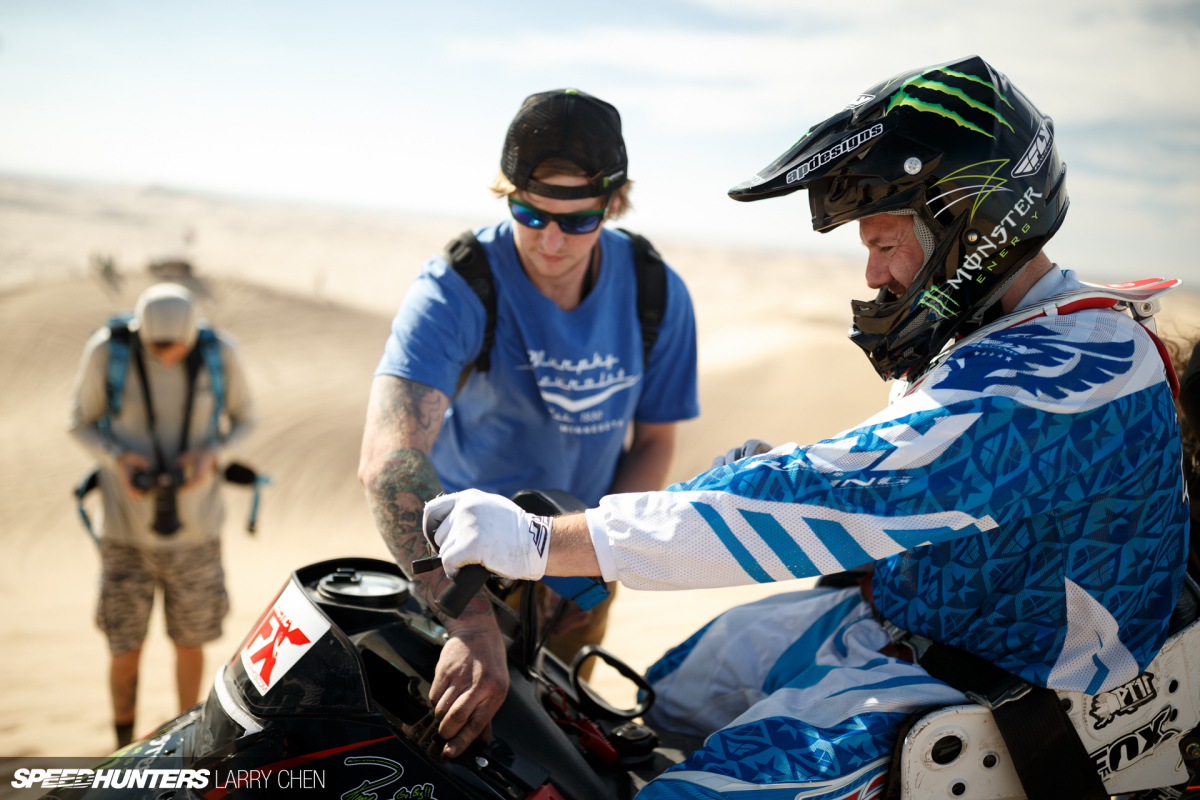 For the last day I decided to focus more on pick-up shots, especially with the snowmobile guys. Because how often do you get to see these guys in the sand?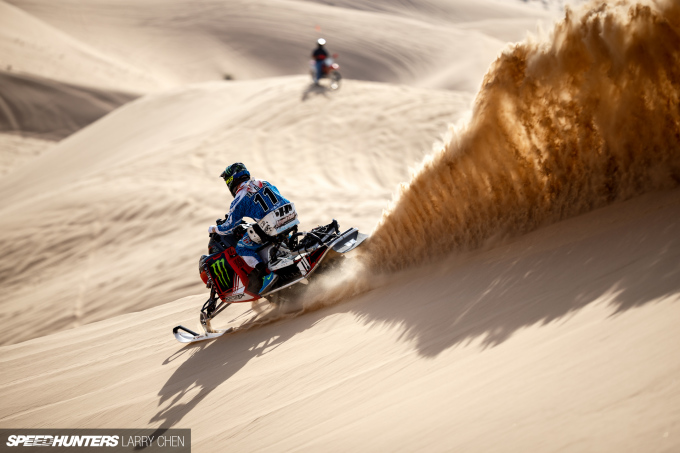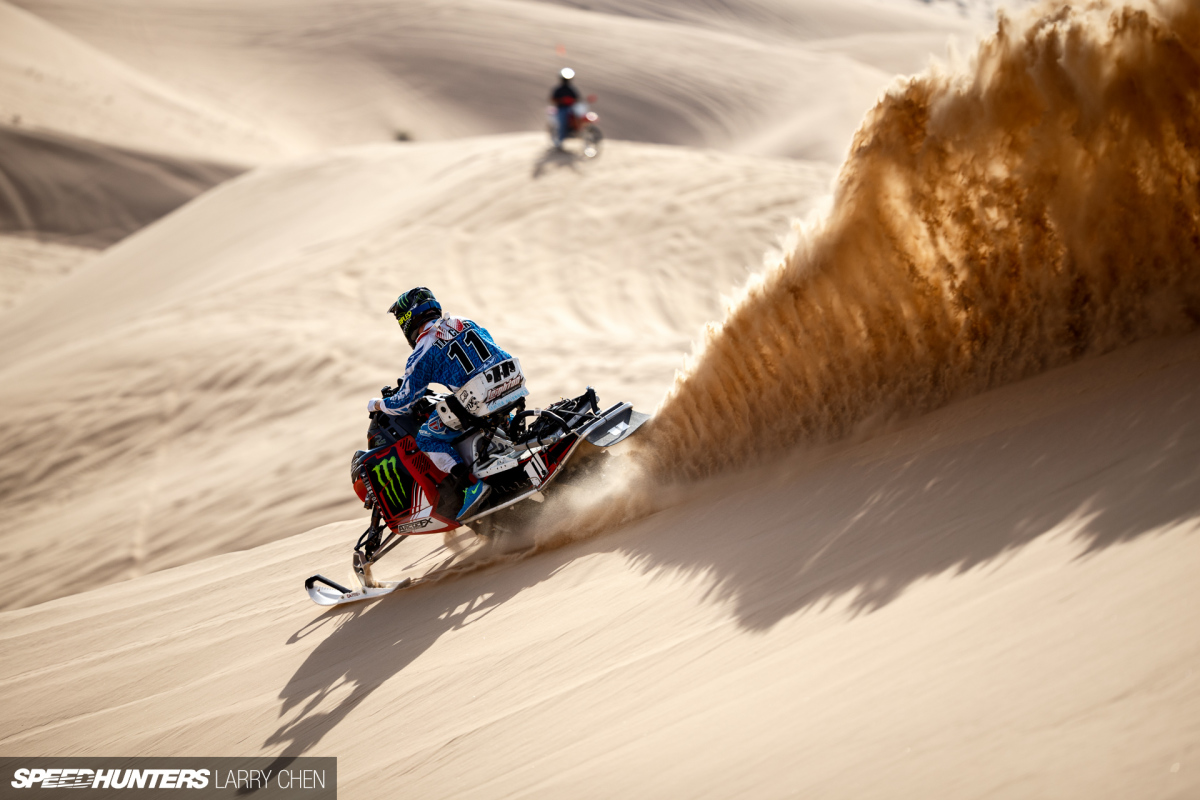 Paul Thacker came all the way from Alaska just to be able to shred some sand with his buddies. That is some serious dedication.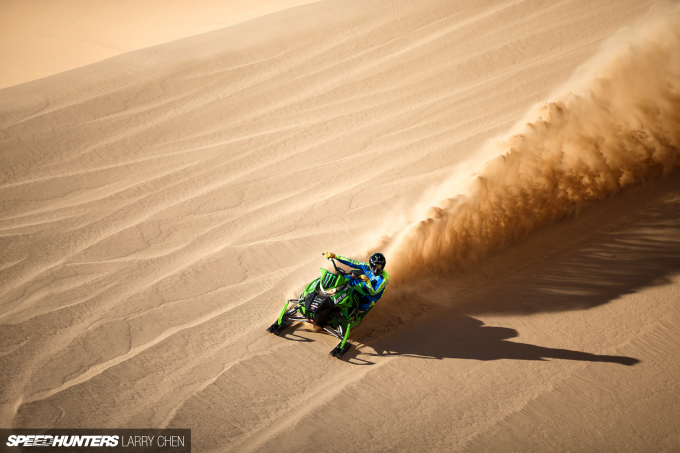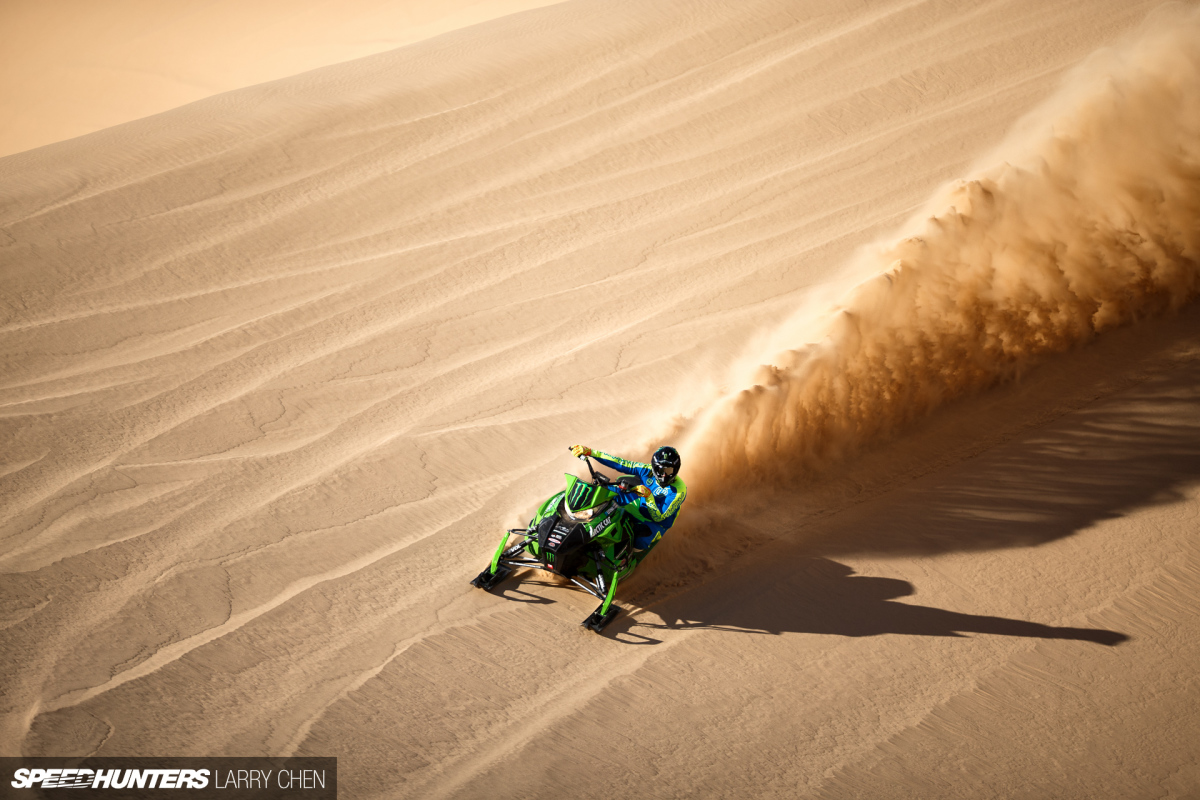 It was such an amazing scene, and it boggles the mind when you see these things meant for the snow playing in the sand.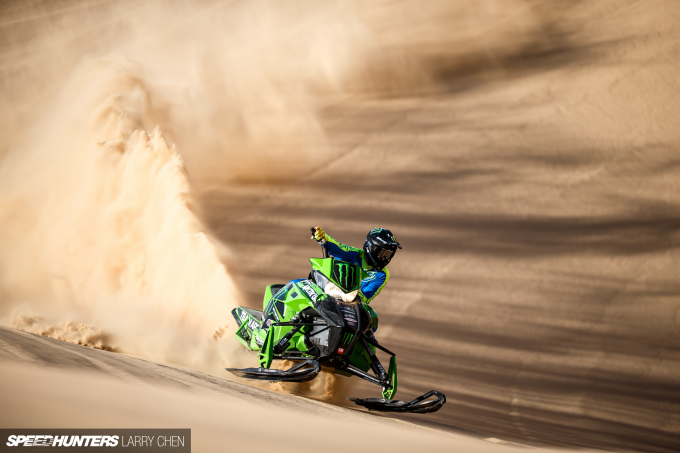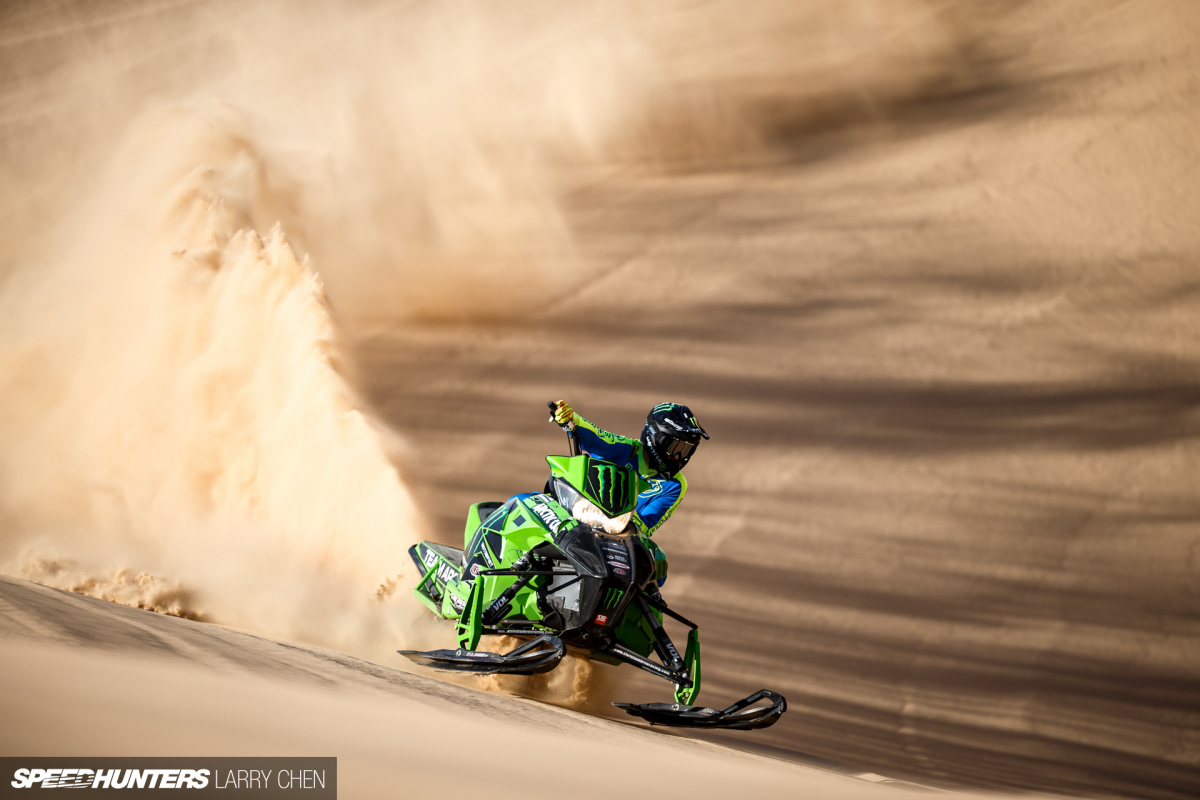 The mechanics actually had to fit custom cooling fans to prevent the 2-stroke motors from overheating. Just like Ken Block's Raptor Trax, the snow provides the required cooling for these machines.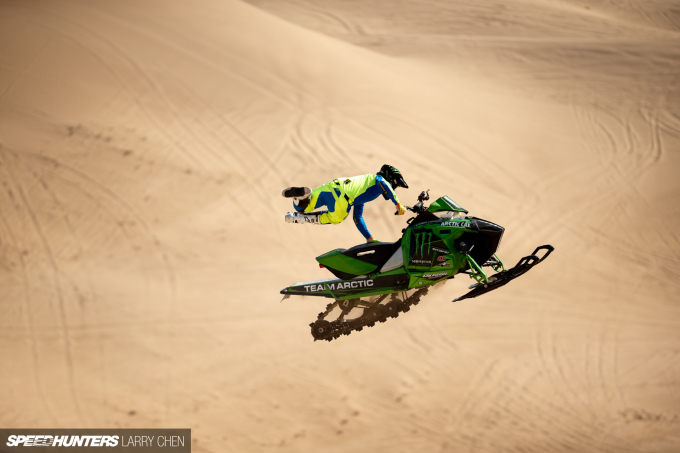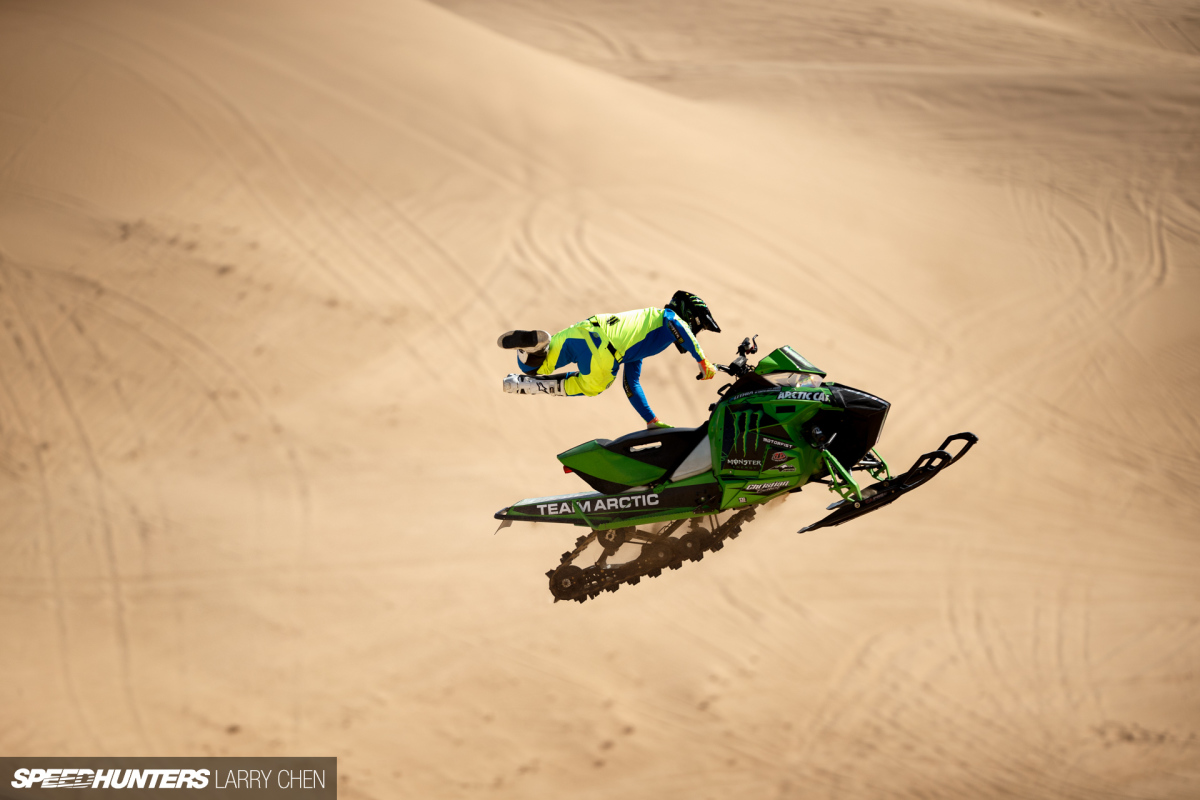 Just how cool does this look? Although it was very difficult for the riders to turn, it still made for some awesome shots. Talk about air time!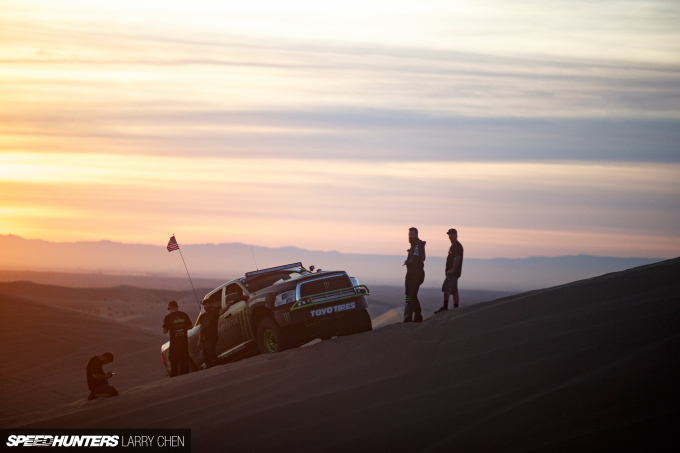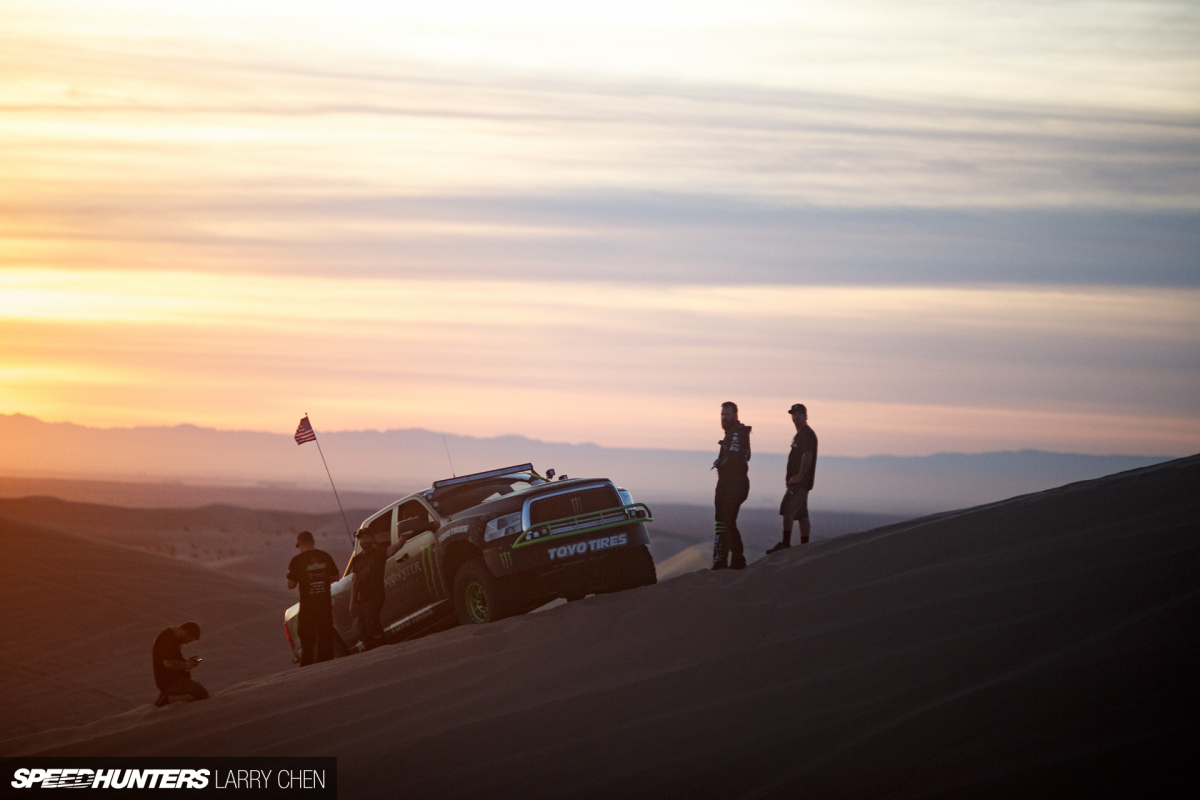 At the end of the week, it was fun to look back and see all the cool shots that we may or may not have captured. The awesome thing is, all this actually happened out in the desert – no camera tricks, no post production.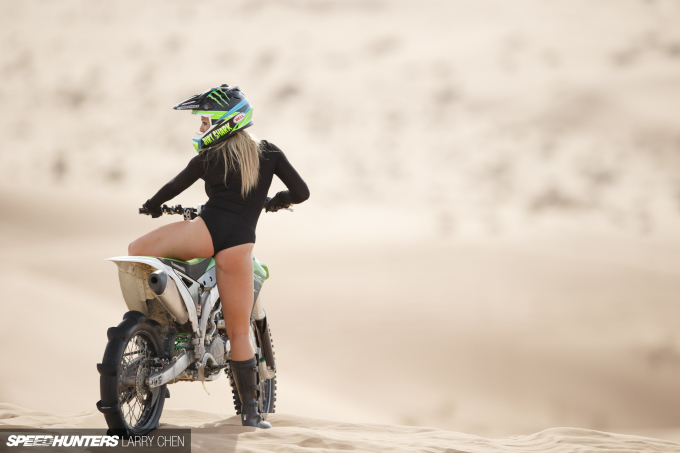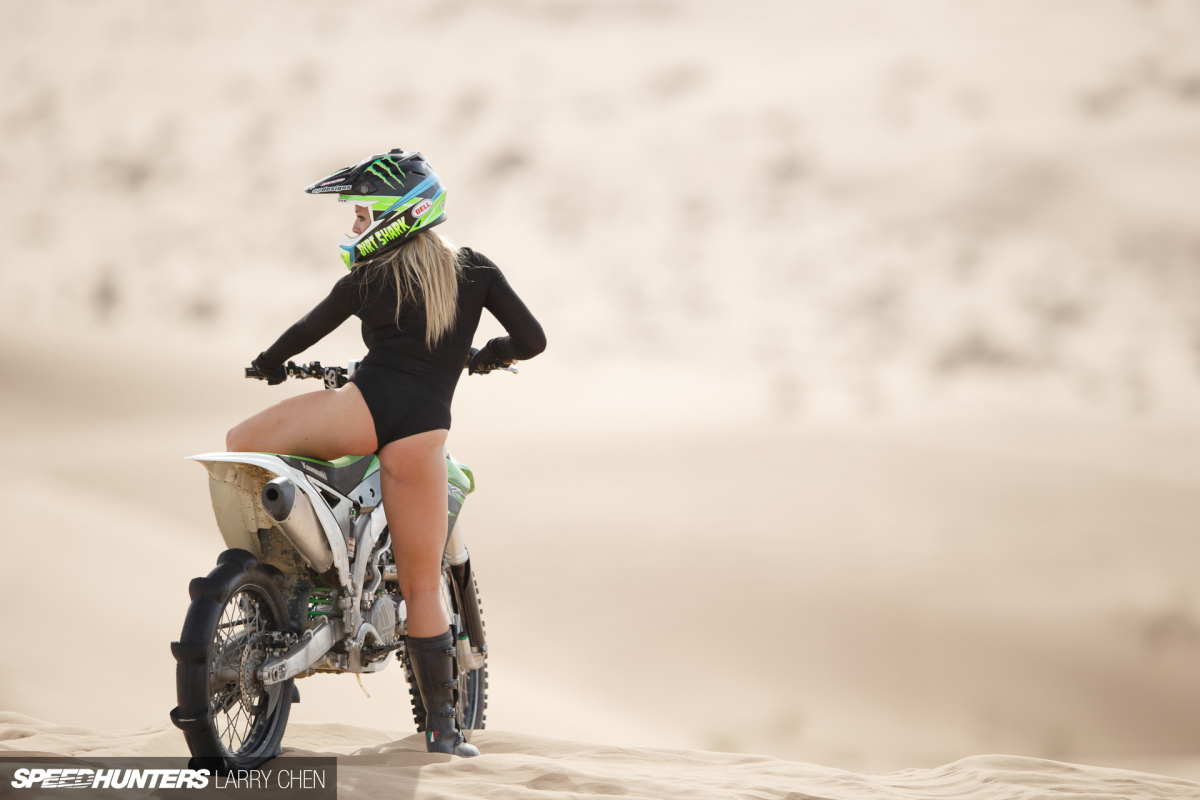 These riders, drivers and overall crazy athletes are pushing the limits of what is extreme on a daily basis. And that's why Doonies is so amazing; it's just a melting pot of talent and guts… Mostly guts.
Larry Chen
Instagram: larry_chen_foto
larry@speedhunters.com
Cutting Room Floor