Pressing On
Happy New Year, Speedhunters, and welcome to the fifth instalment of the D-Mac S1 build blog.
As I mentioned in my last update, I was hoping to be a little further along by now, but hey, it could be worse. The fact that the car now looks like an S1 is very pleasing indeed, so let's take a look at what's been going on with the build and other stuff here at MCNSport…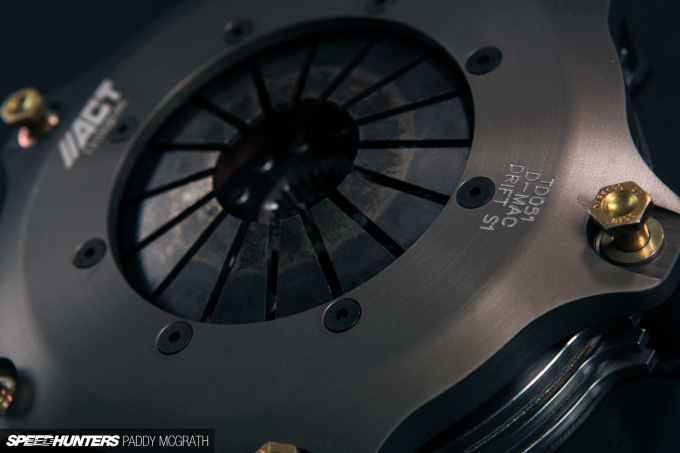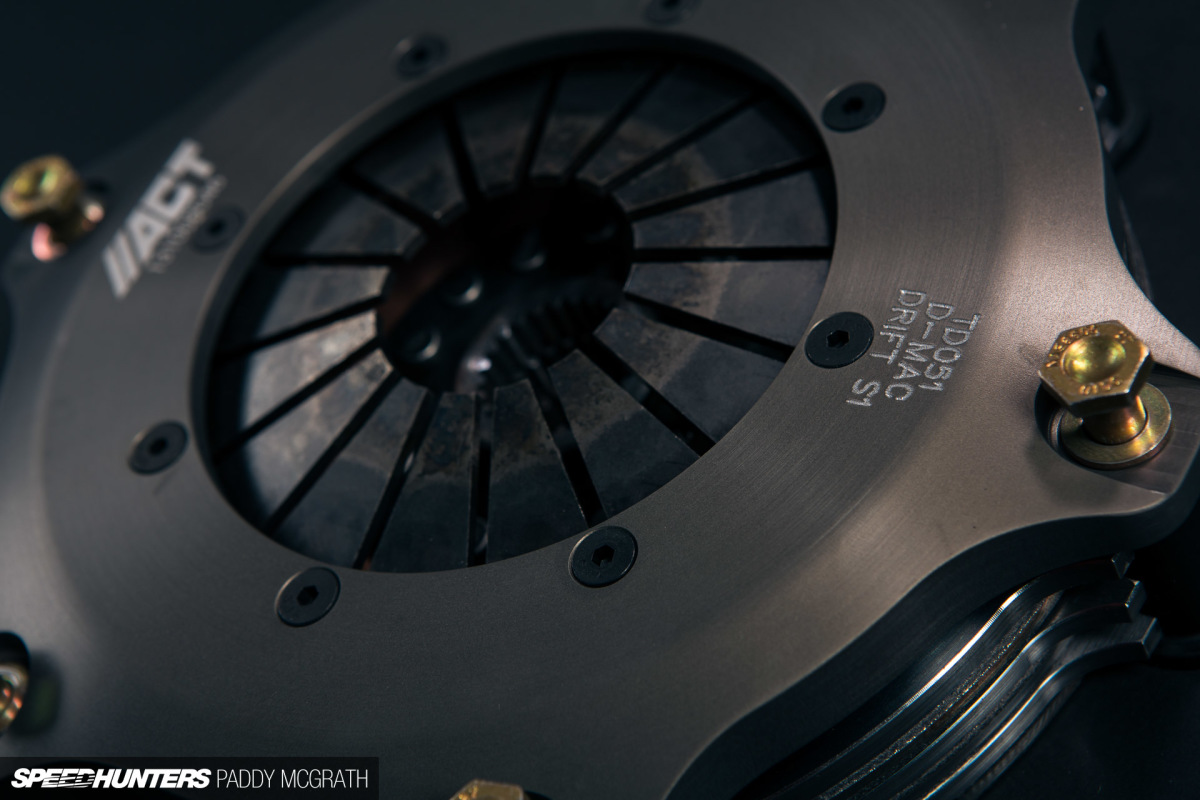 Paddy arranged to stop by one day and we got very creative with the S1 parts shooting images for the new Need for Speed game. When you go to modify your car in-game, all the parts you see are from the D-Mac S1 project – a pretty cool thing to add to the build. Here is a close up of our very cool ACT triple-plate clutch, which was made especially for us with 'D-Mac Drift S1′ stamped into the pressure plate.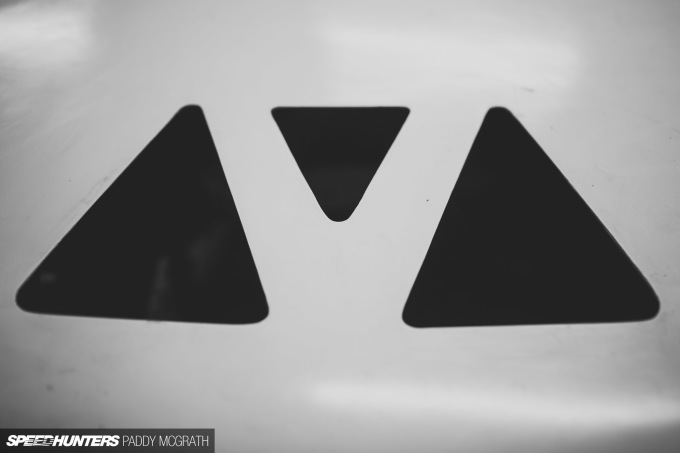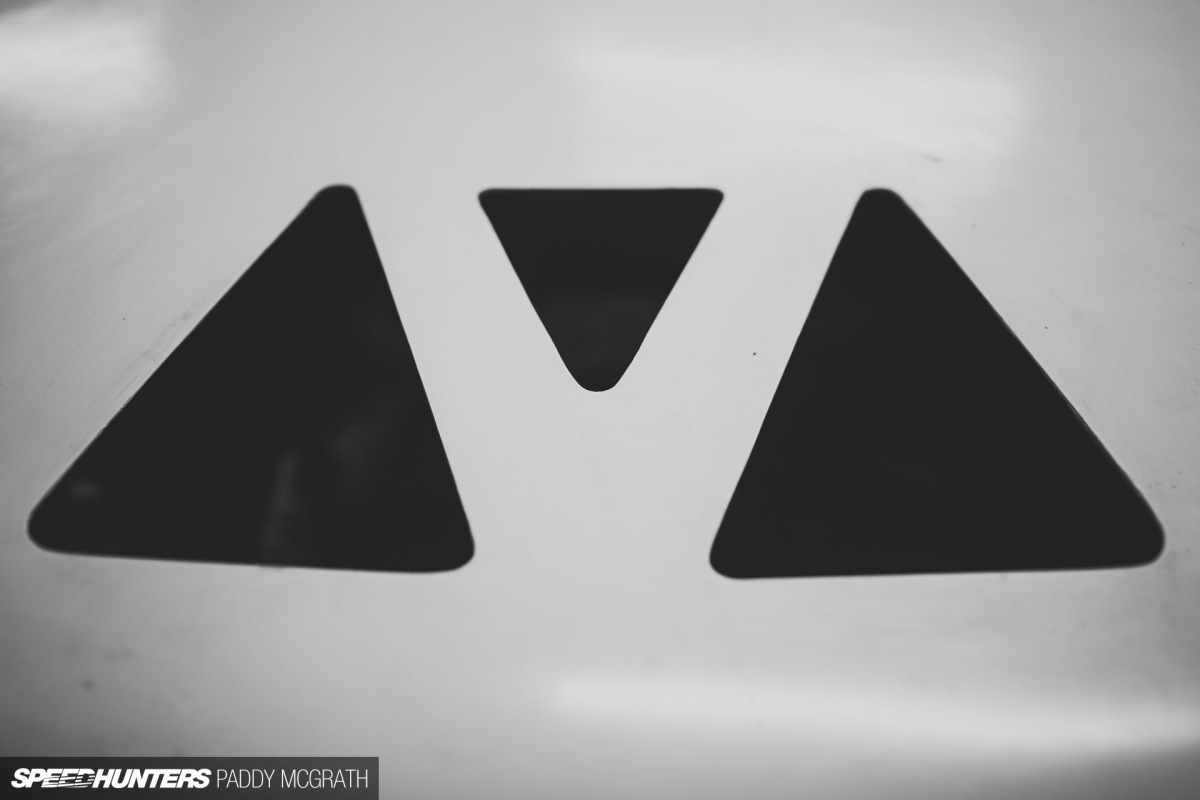 How can three triangles on a bonnet look so cool? This for me is instantly recognisable as an S1 E2; I would love to meet the guy who designed the brutal aero on these cars. Designs like this are unfortunately a thing of the past, but for me, the old silhouette cars like the IMSA racers are visually the most impressive. There is something about the squareness of it all that looks so much better than modern designs.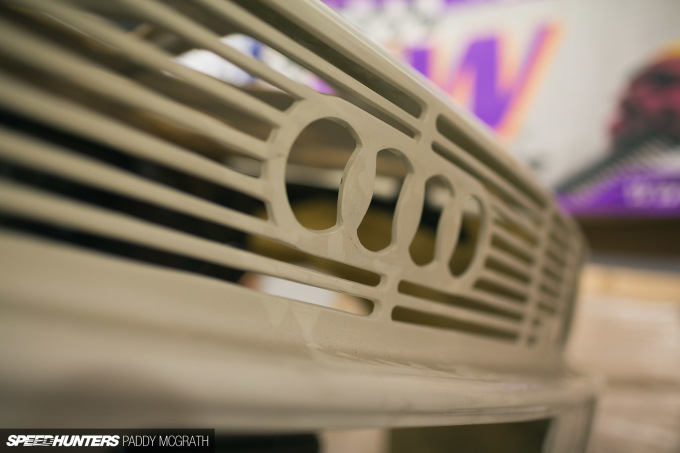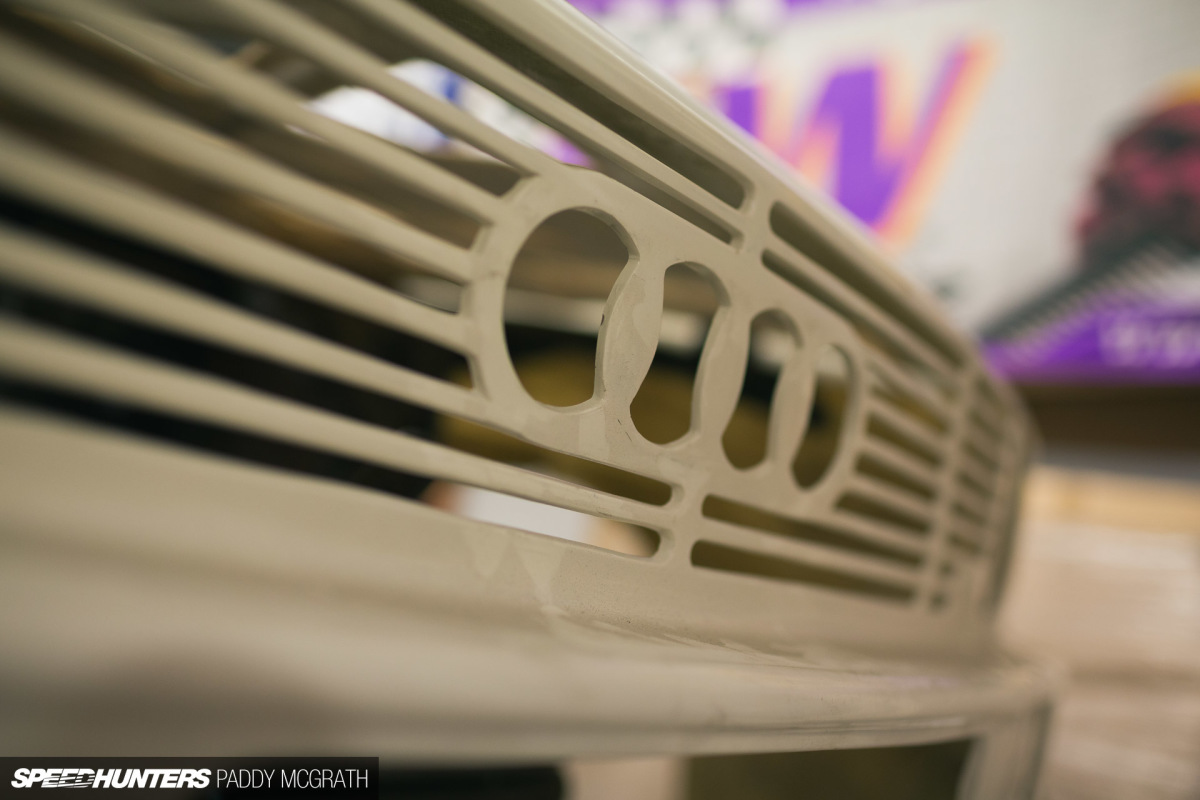 I can't wait to get this to paint and have the grille satin black with the contrasting chrome four-ring badge. This car single-handily makes me an Audi guy. I wonder how many people were influenced as much as me buy the original Quattro rally car? And does that happen any more? Is there any modern race cars that are so influential that they create brand loyalty? Sound like a good Speedhunters article to me…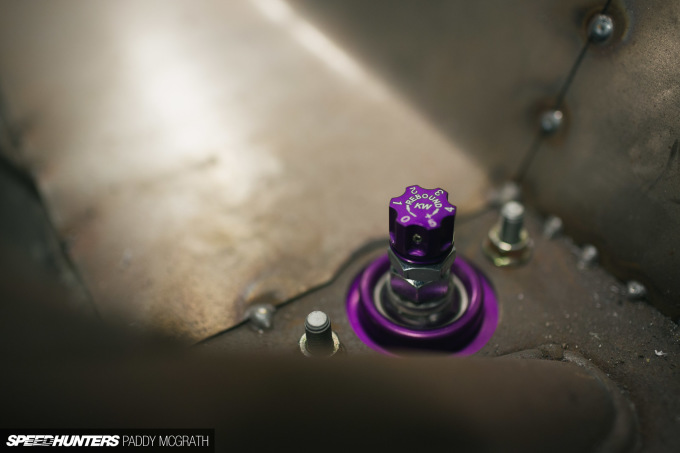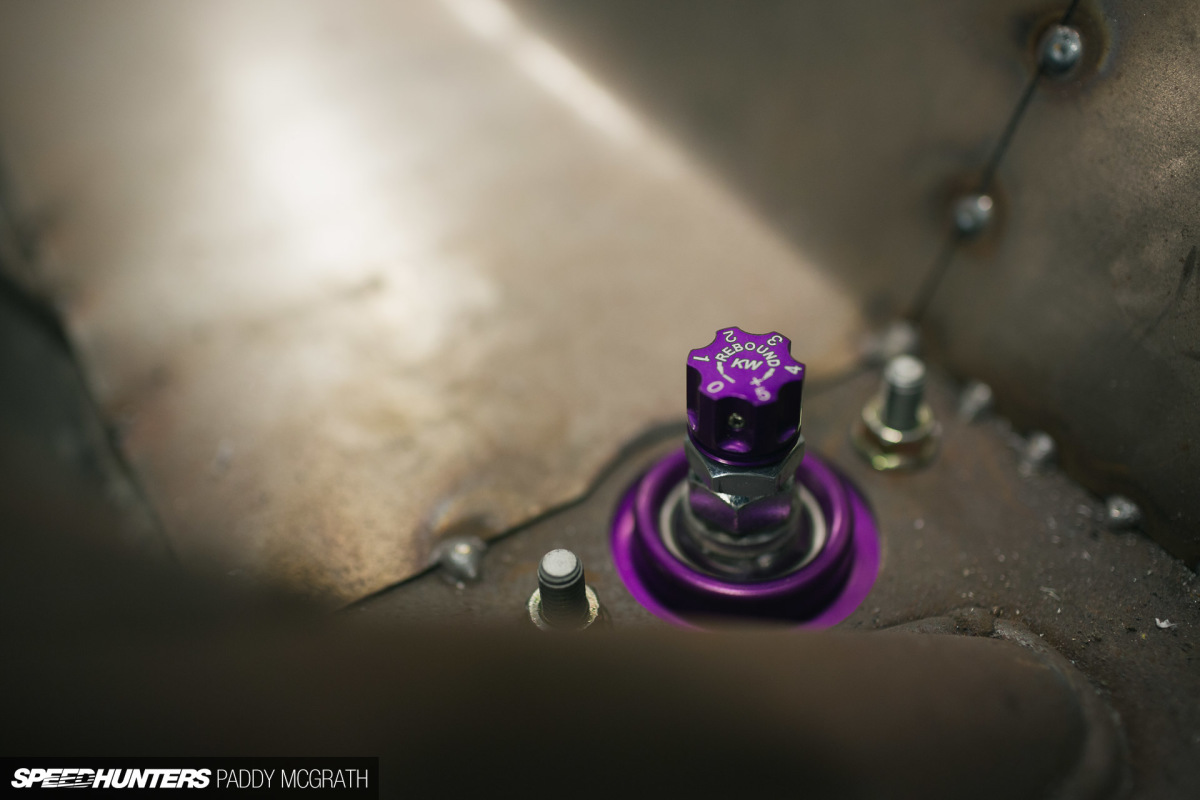 I am fortunate to have great partners that are helping me build this car to a better spec than the original. There are famous Group B rally videos from Finland of the Audi S1 getting air over the famous 'yumps' and almost bouncing when they land. I know those guys would have killed for something like KW's Clubsport 3-way coilovers back then. I'd love to be able to jump this thing when it's finished!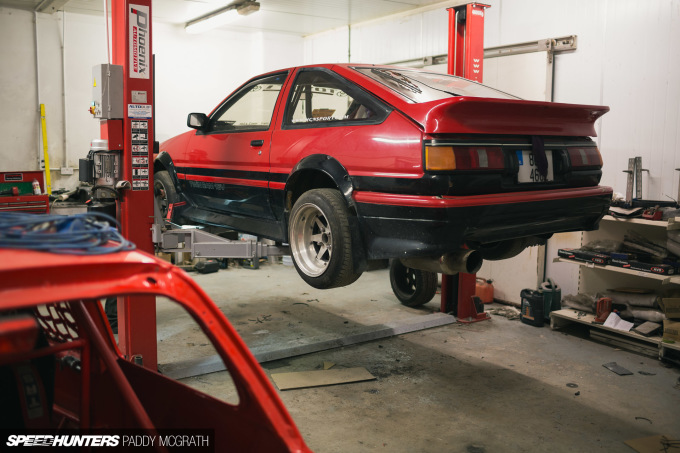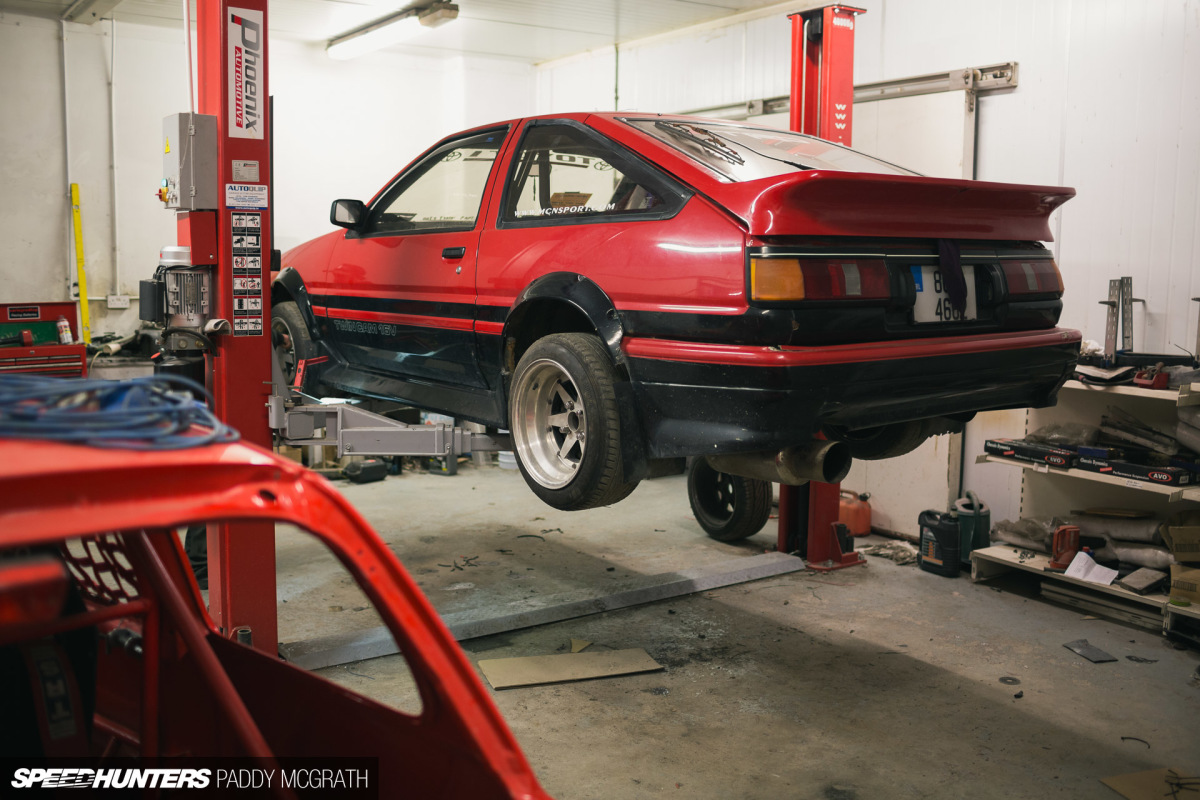 As with all shop projects, progress is hindered somewhat by actually having to do some work.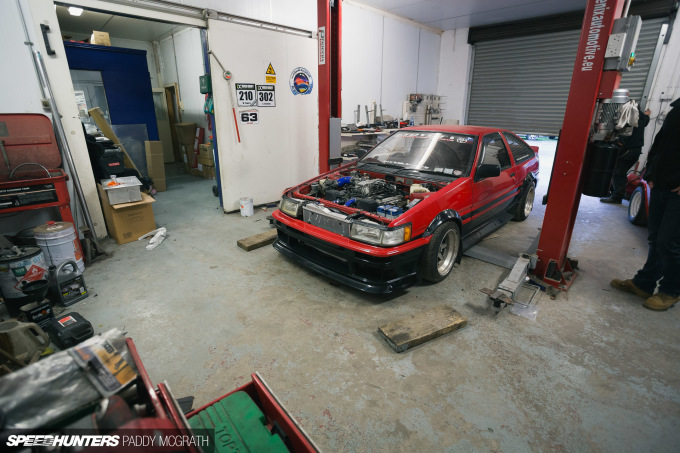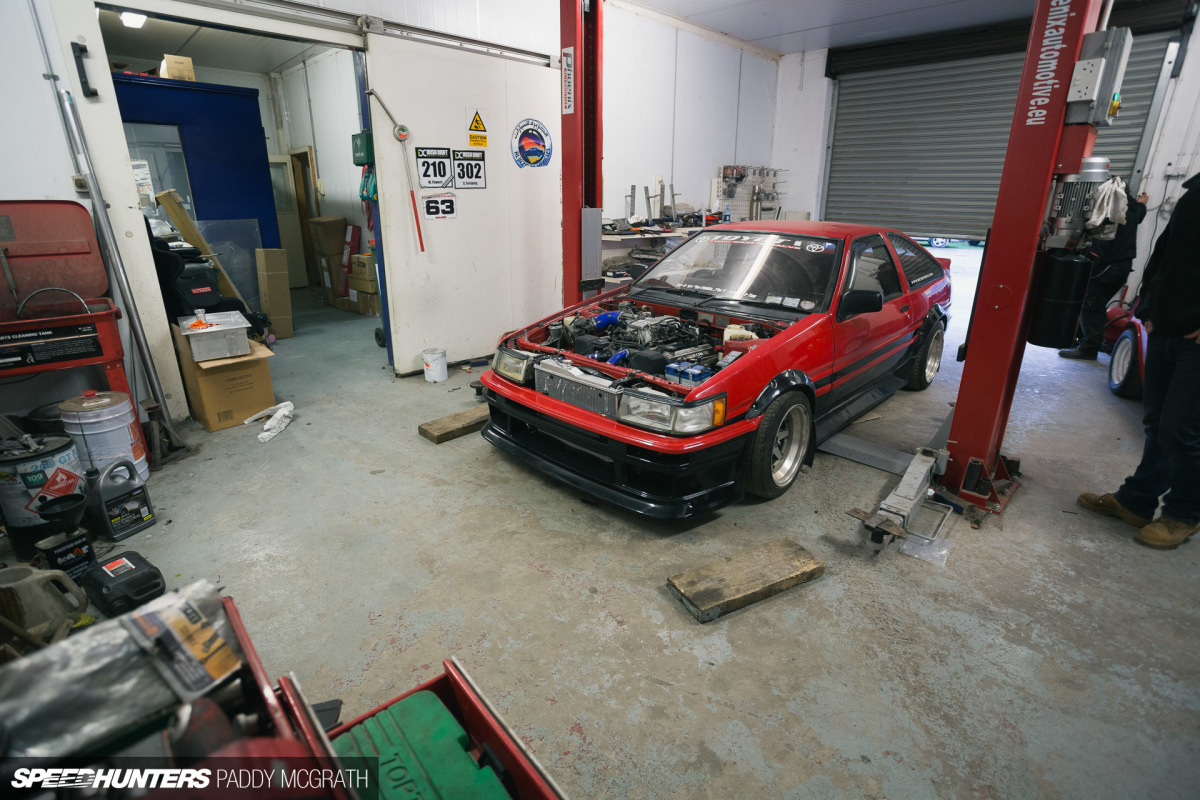 Paddy took a real shine to this red-over-black AE86 we were doing a 1UZ-FE V8 swap on for a customer.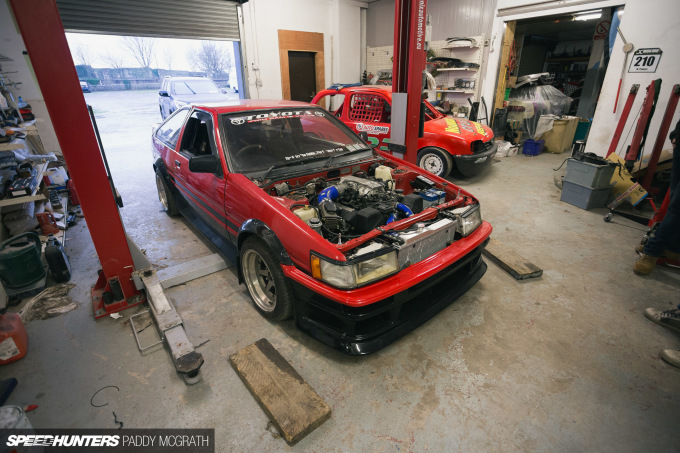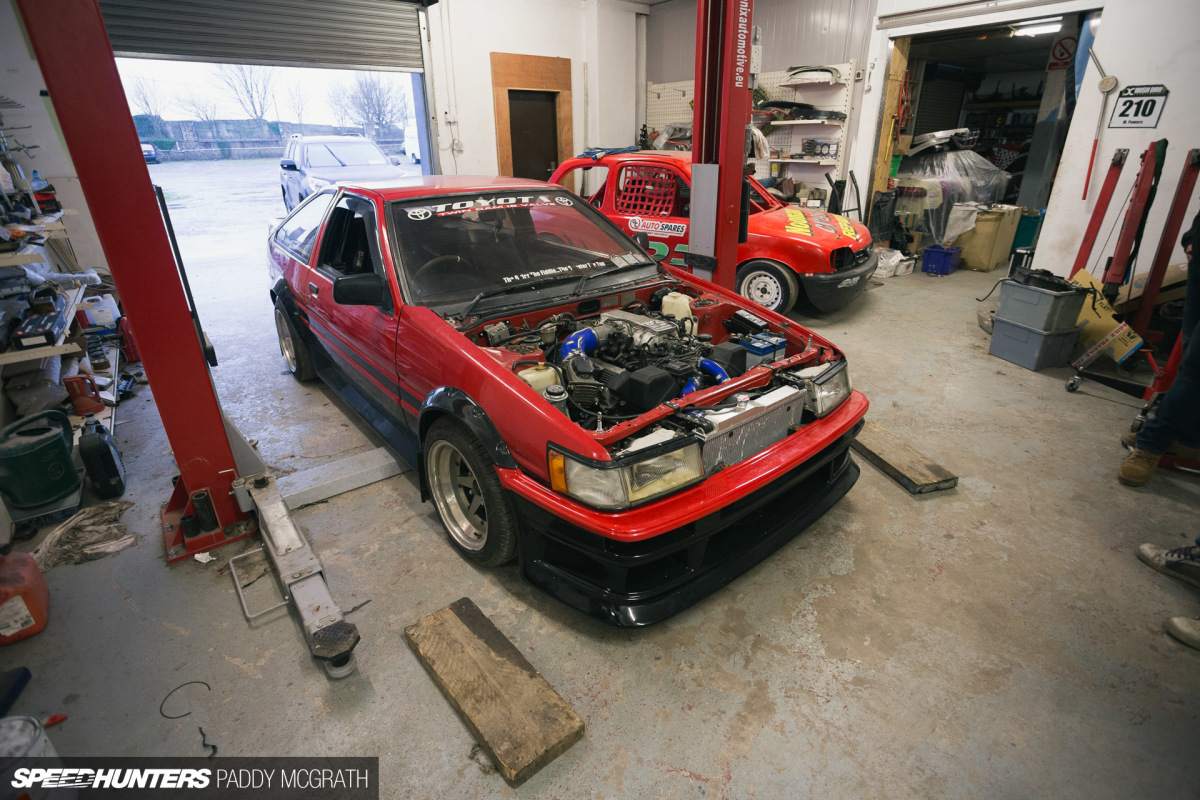 The end of the year is a very busy time for car enthusiasts in Ireland, and with most people on holiday from work there are lots of meets and events to go to, so we were trying really hard to get this one finished before Christmas.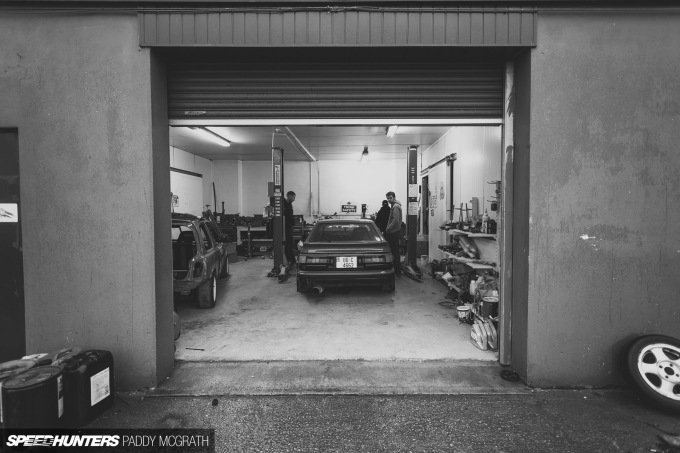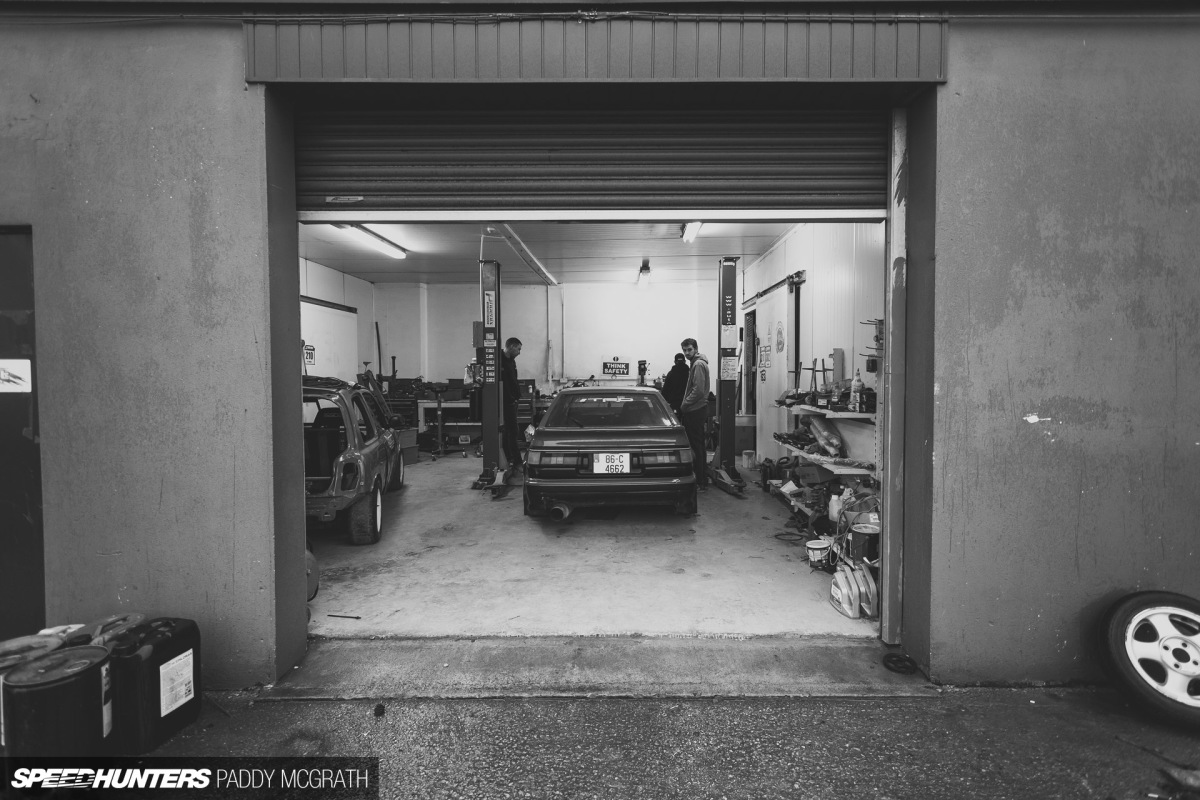 This is the mechanical bay of MCNSport, and keeping the AE86 company was also another customer's K11 Nissan Micra oval racing car. Now with most big customer projects out of the way, the Audi S1 will soon be making its way onto the ramp.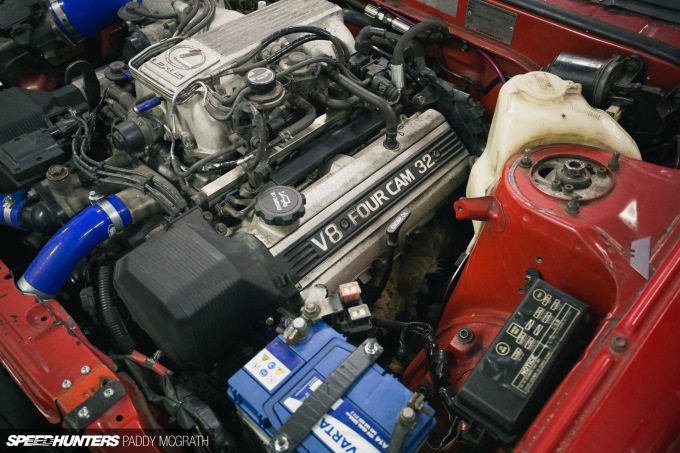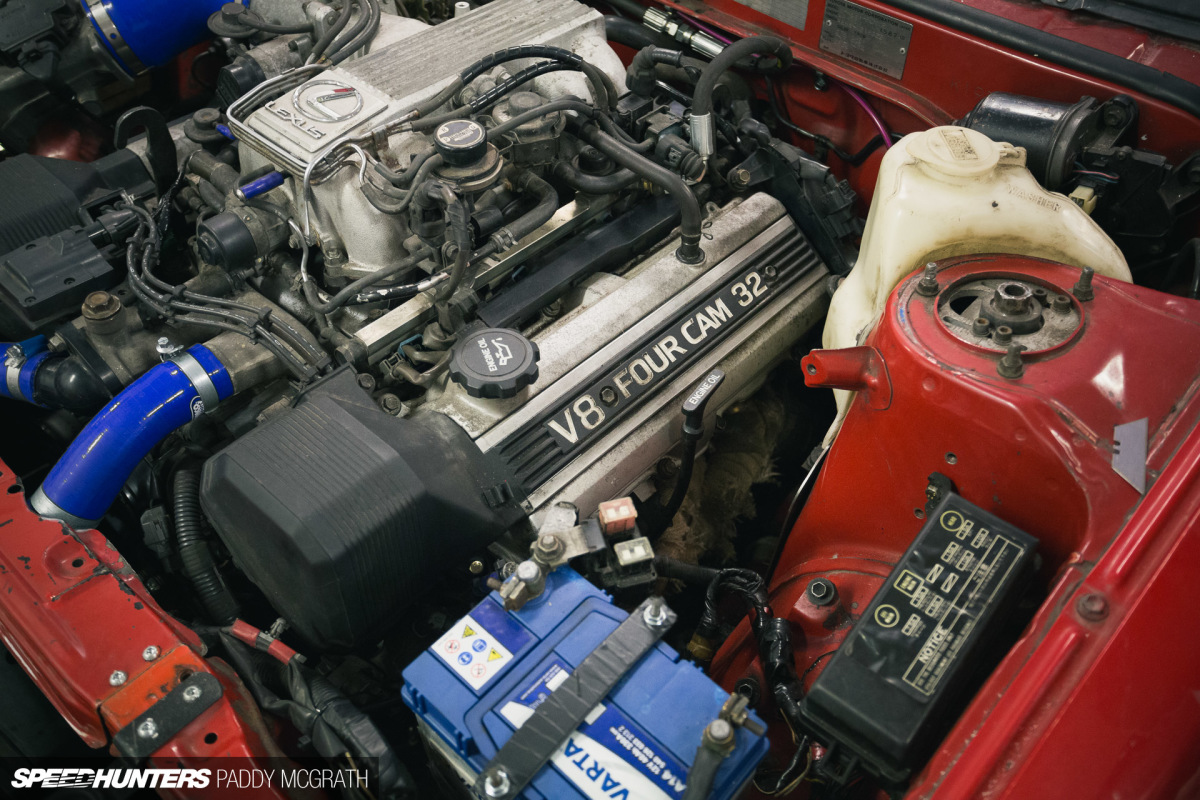 As the AE86 is a street car first and foremost, we took the time to make everything as hassle free as possible, and generally make the car a pleasure to drive. We fitted electric power steering and kept the servo assisted brakes that are commonly deleted in this setup. We also fitted Wilwood 4-pot calipers up front for the extra stopping power needed.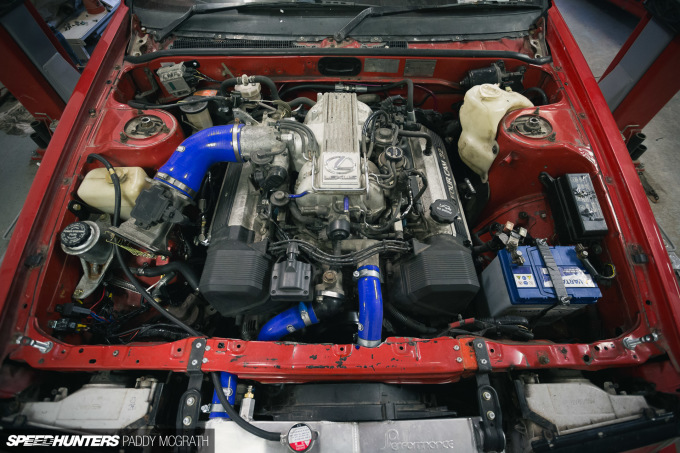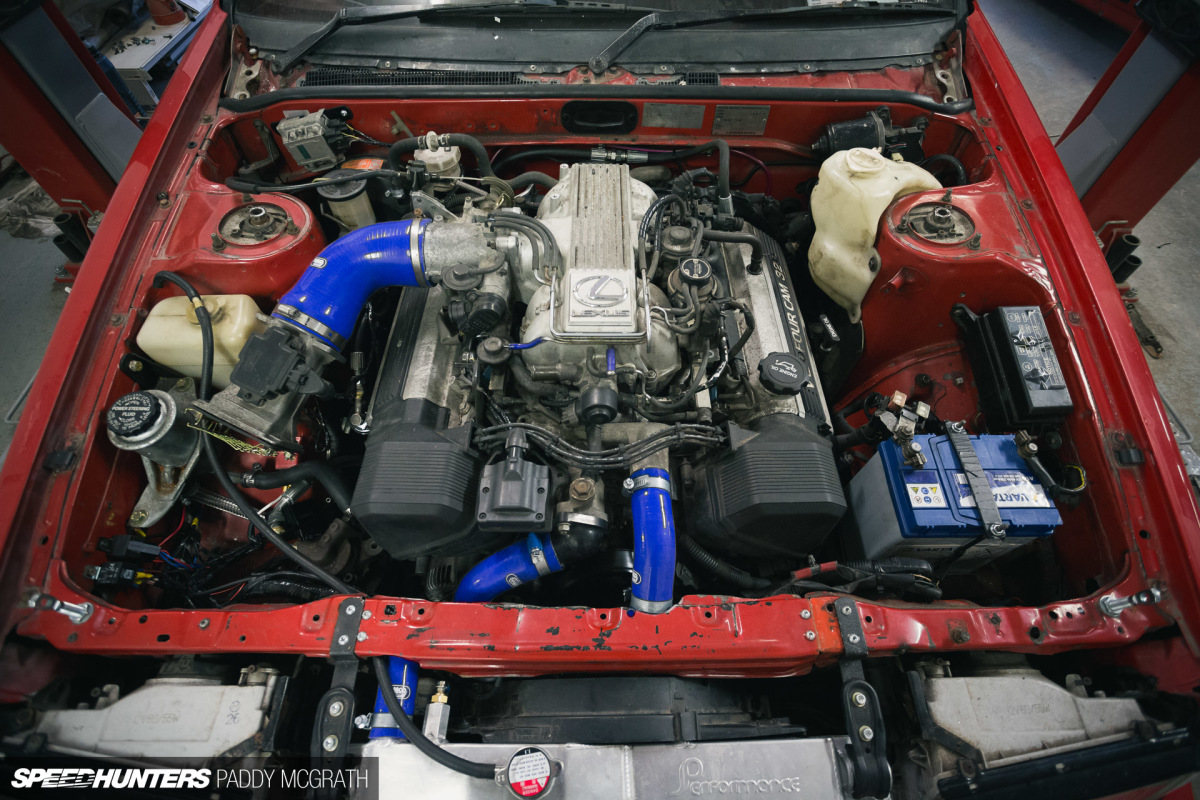 As for the radiator, the only place left for it was right behind the front bumper. The original bonnet latch was deleted and the top panel was made removable, but behind this sits an electronic fan controller which can be adjusted to bring in the electric fan at any temperature. We can set the fan to come on at a lower temp, which is ideal for taking the car to drift track days and giving it hell. Time to get this one back home!
Taking Shape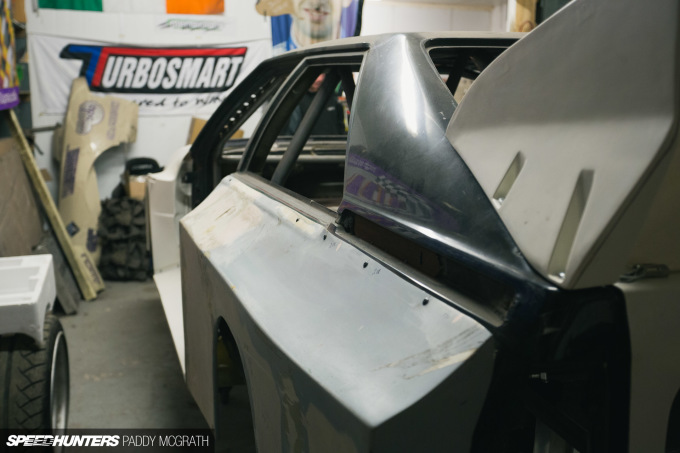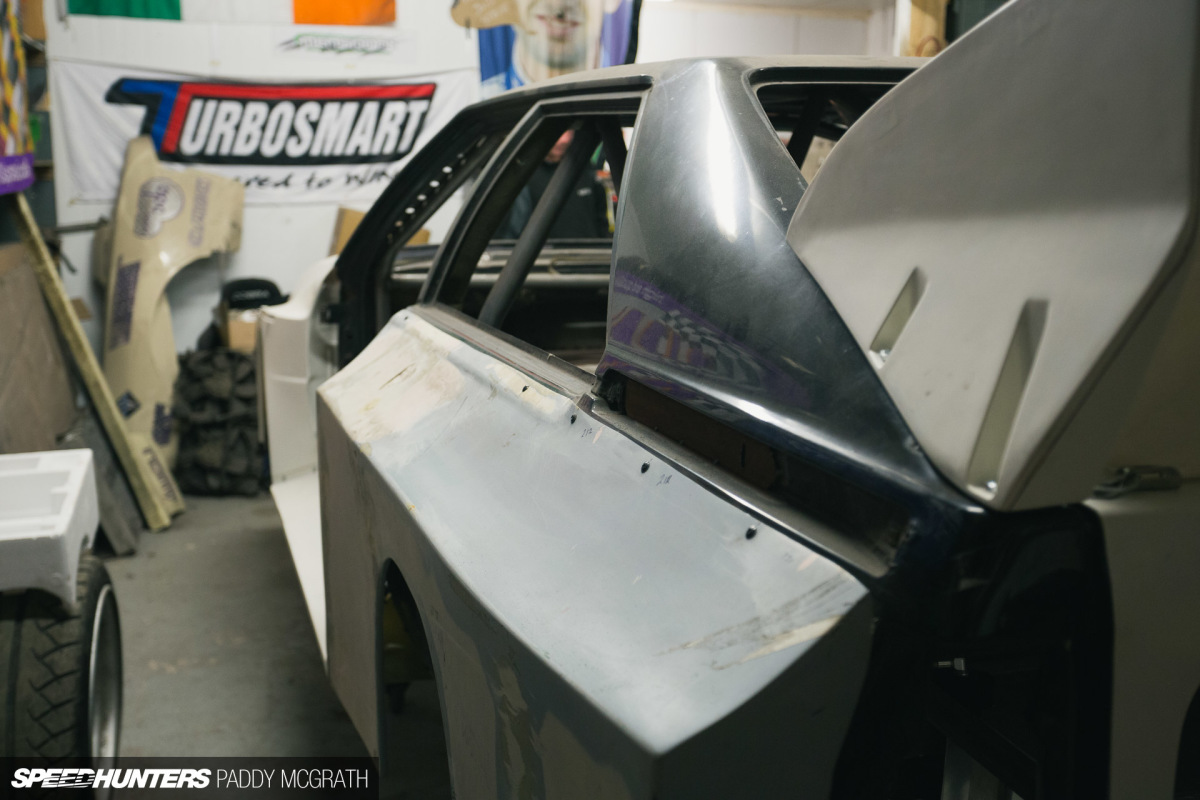 Back to the fabrication bay and all of the aero is finally on the S1. And what a sight it is to behold too! The decision of whether or not to shorten the body shell was something I gave a lot of thought to, and at one point I had my mind set on shortening the car so it looked like a genuine S1. But in the end I let my head overrule my heart, knowing that the longer wheelbase would be a more friendly-to-drive drift car.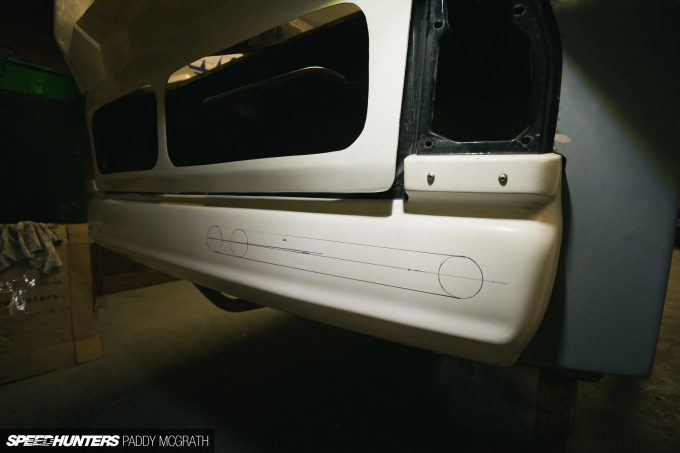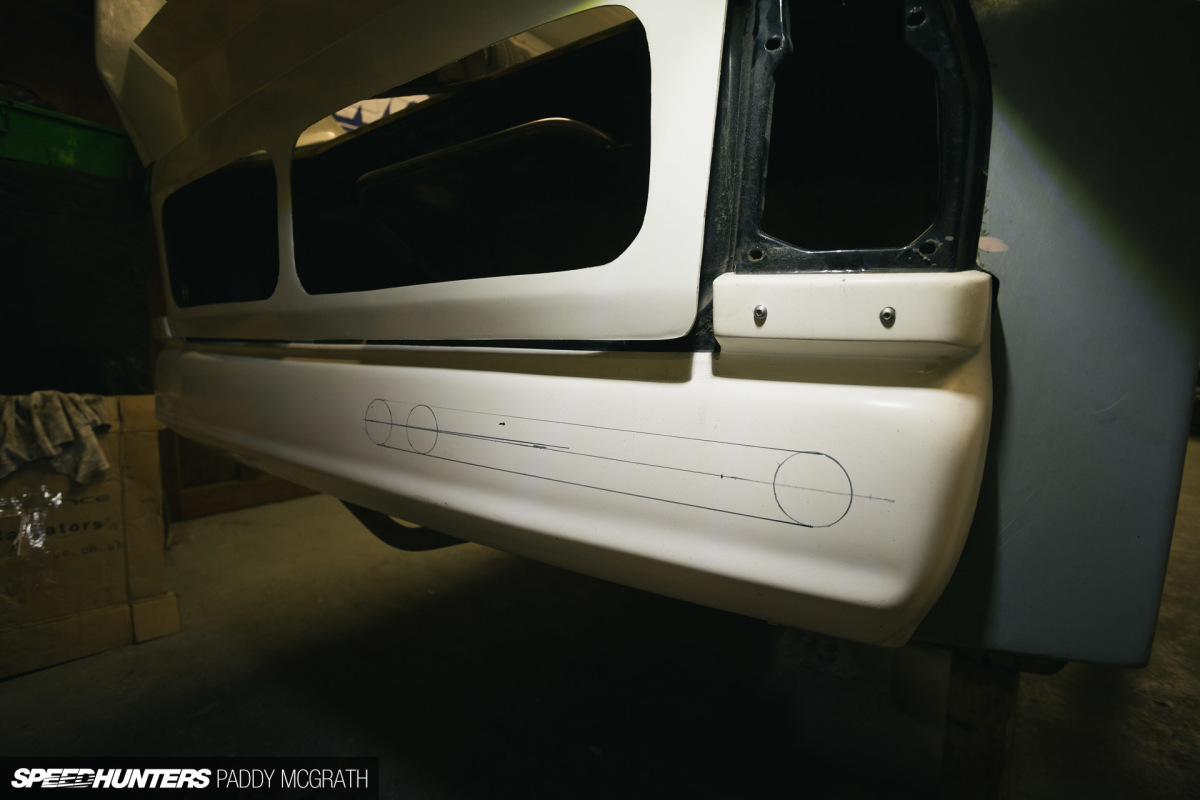 The rear is giving me a lot of food for thought at the moment. I don't know how I feel about smashing a S1 rear quarter with every wall tag, or worse bending the original rear quarter area, which looks like it would kink in a very nasty way on the 'C' pillar. Tail lights aren't exactly easy to come by either, so I am playing with the idea of a 1-inch bash bar coming out through the rear panel and bending in behind the quarter through the rear vent (rear vent not cut-out yet). I think it might look good and also save a lot of drama.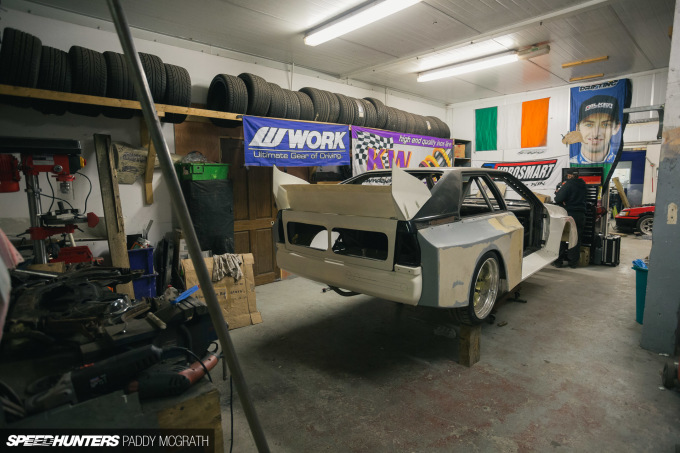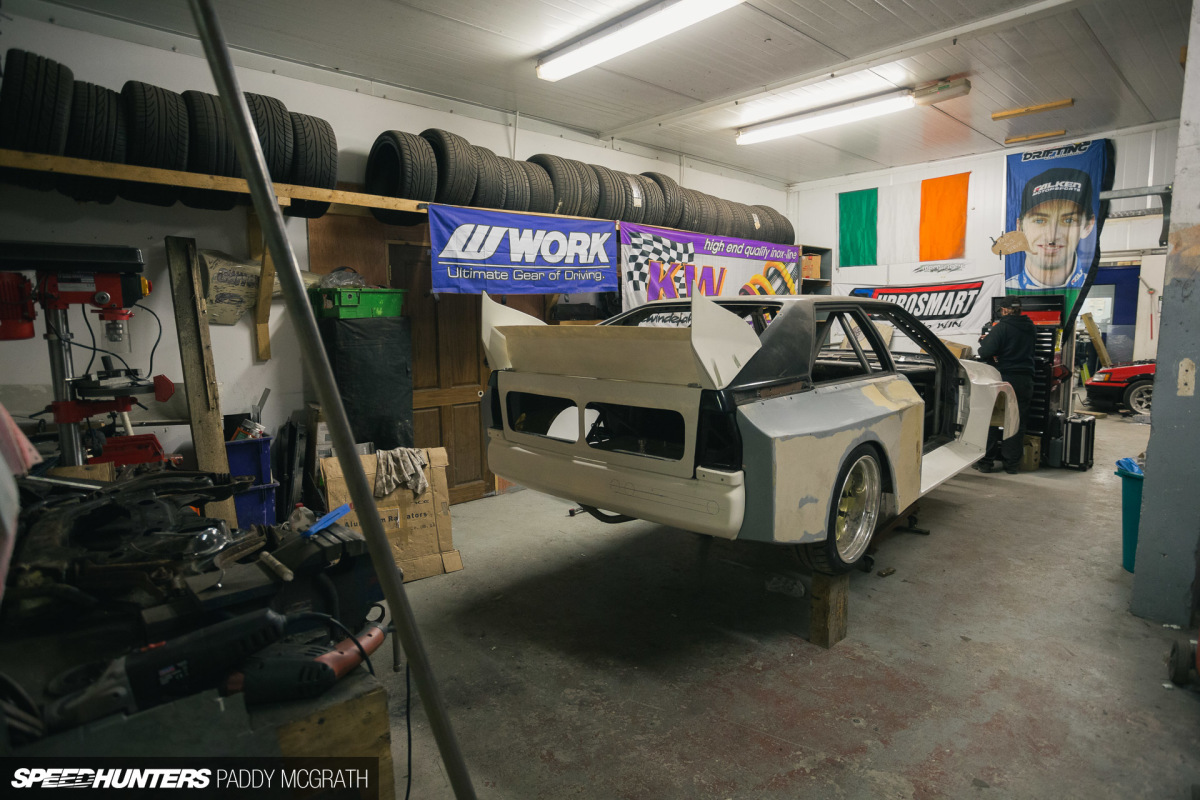 Back to the wheelbase thing though… I think that proportion-wise the long wheelbase is actually going to suit the car better. The final ride height will end up being just a bit lower than where the wheel is currently sitting in the image above, and with the low-slung stance compared to the rally car, I think it will look pretty amazing. Under the rear panel you can just see the jacking point protruding; a must-have for tyre changes in a drift car.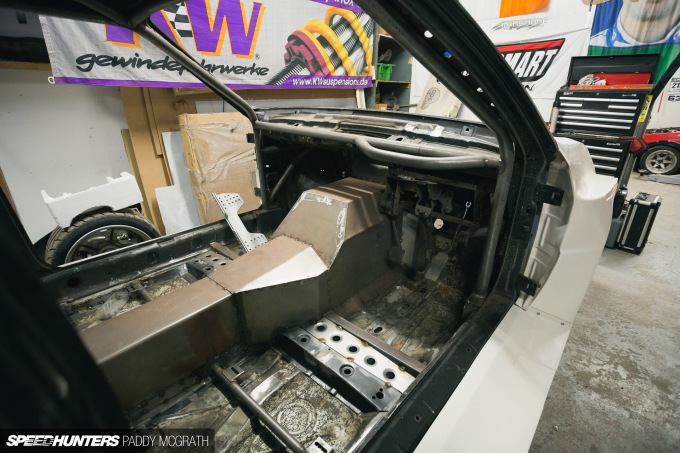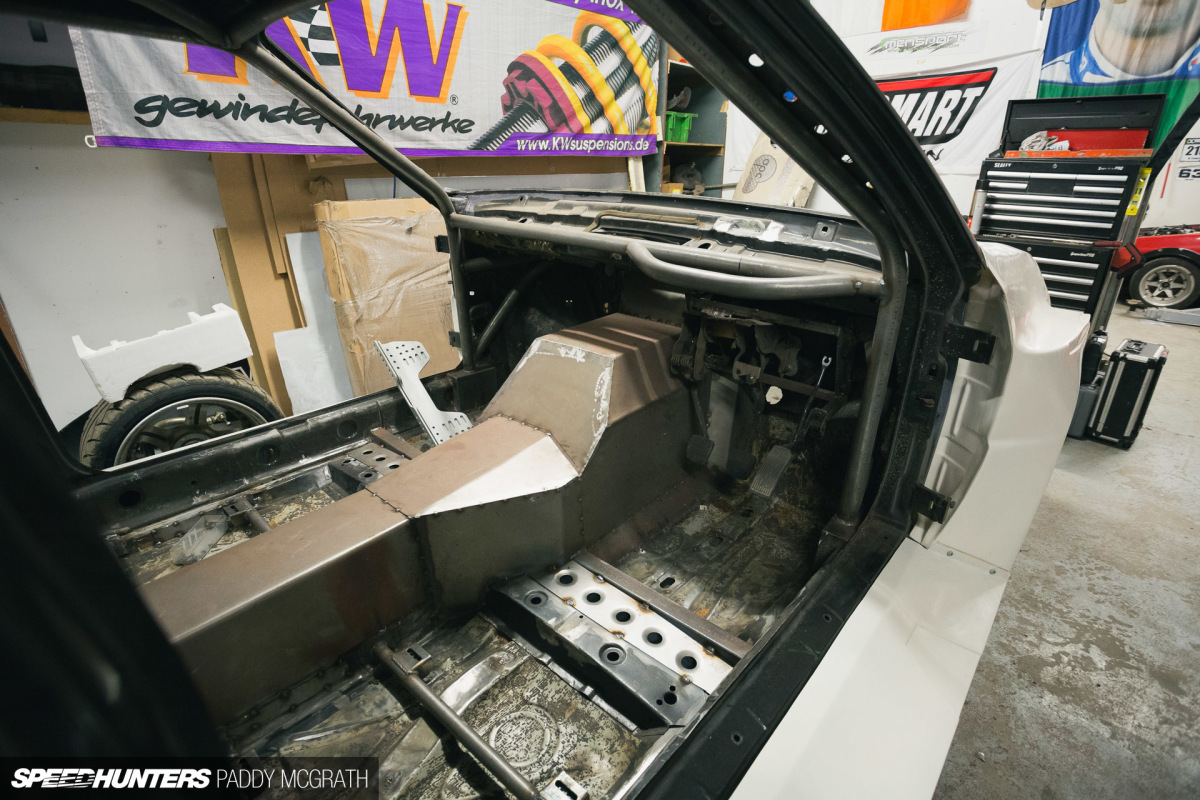 The inside is much closer to completion now too. We installed some swaged plates just to sex-up the gap between the original seat member and new gearbox mount square tube. The Audi had the original gearbox mount all the way up at the firewall, so something has to be done to have a strong enough mount for the Saenz 6-speed sequential.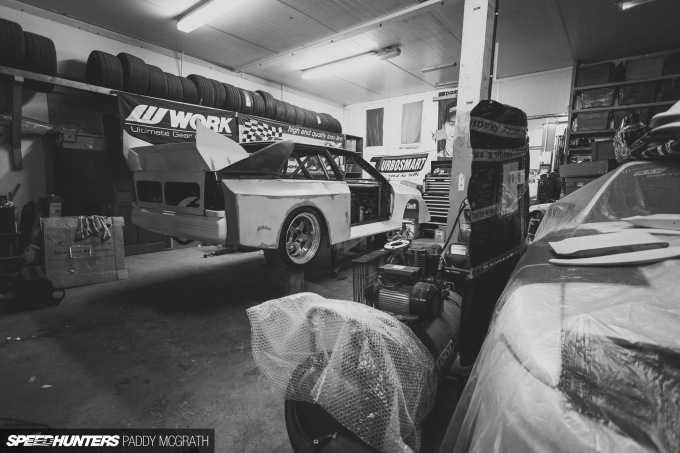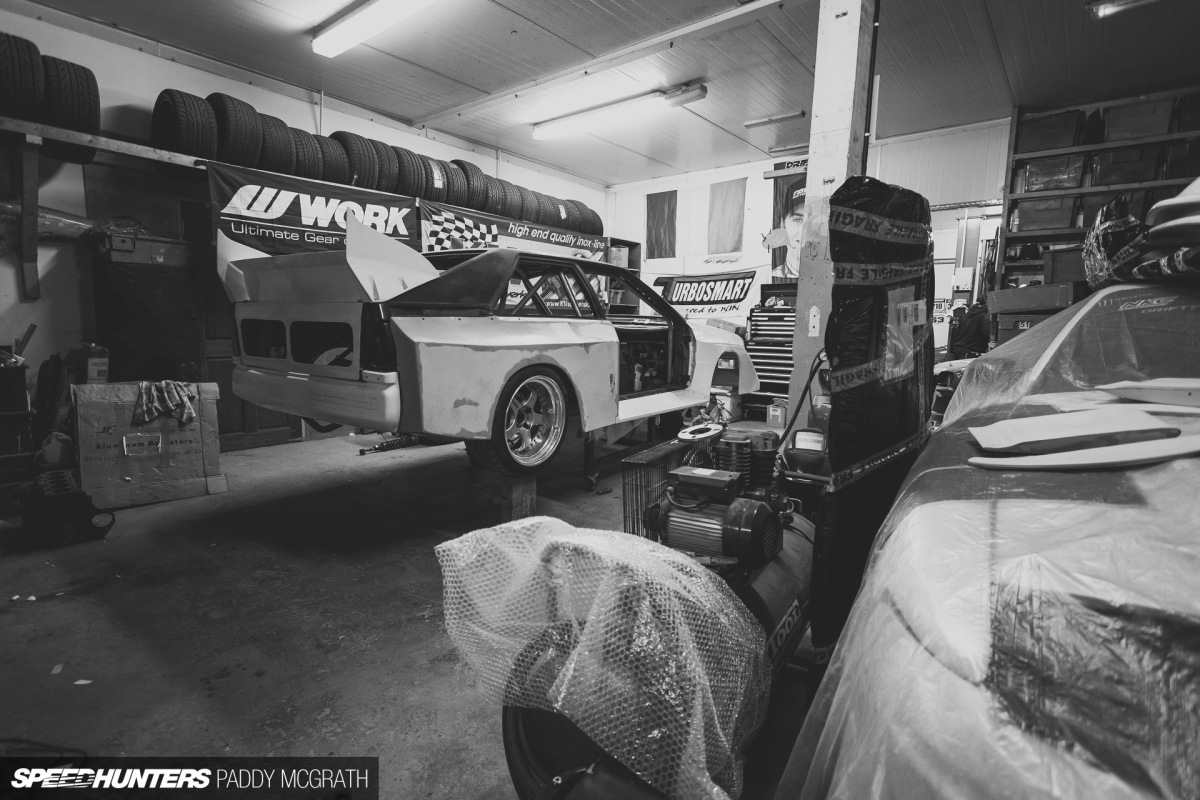 There will be a diffuser added below the rear panel and I am thinking of adding a skirt along the side to match the front skirt. The rally cars only had a front skirt fitted, but I think that adding a side one will work well on this.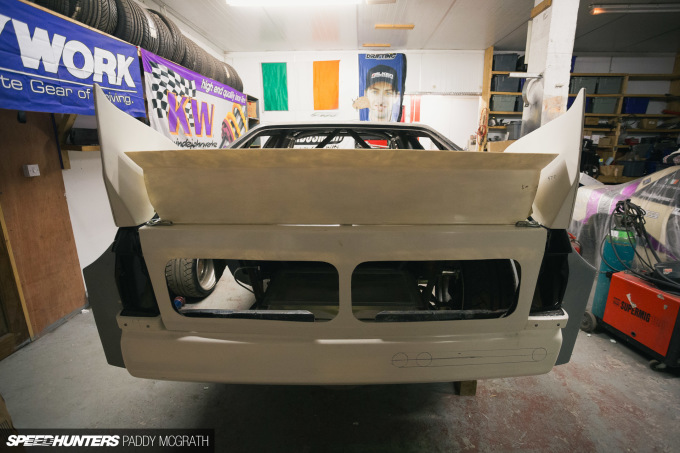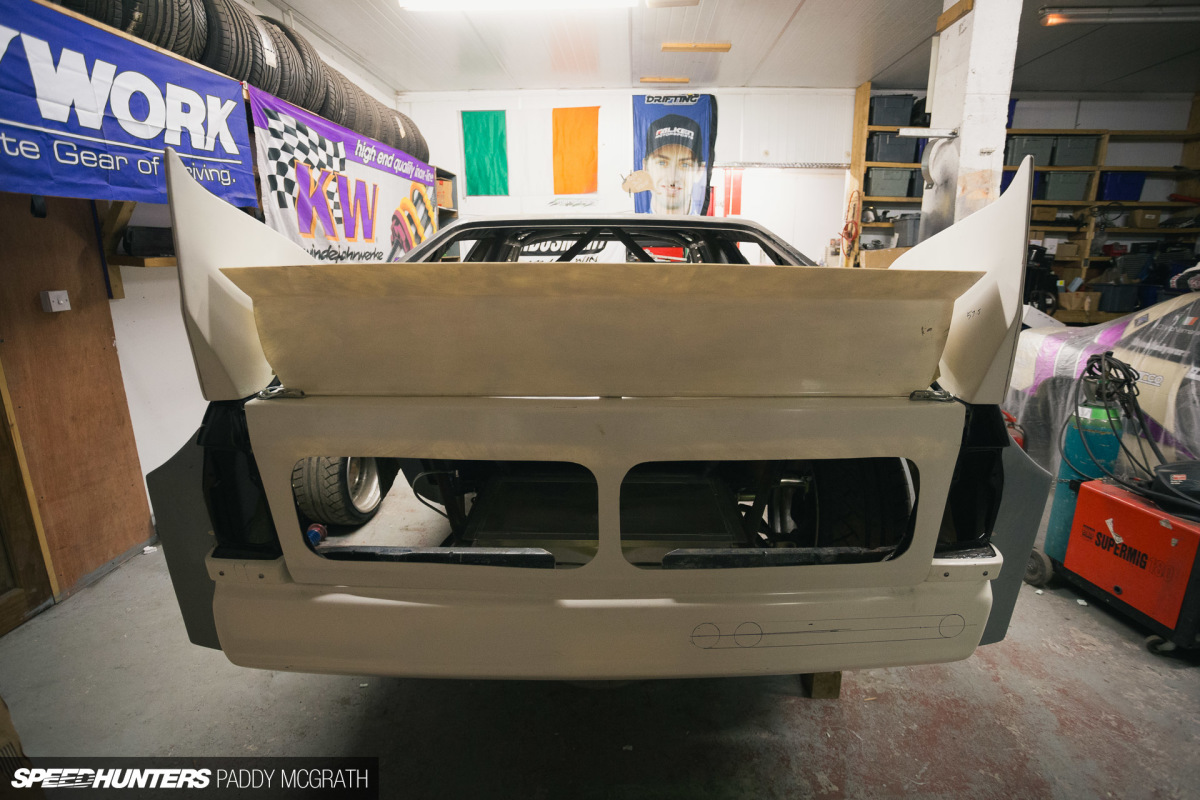 The rear is very impressive looking, but I am yet to finalise the rear deck lid mounting. This car needs to be able to do 150mph without undressing itself – a problem that most drift cars don't have to deal with. The rear air divider, which is the piece that sits between the wing mounts, is mounted to the deck lid and rams the air through the radiator. At speed this will try its best to remove the deck lid, so I need to come up with a way of being able to detach the deck lid easily and also mounting it very strongly. More thought needed…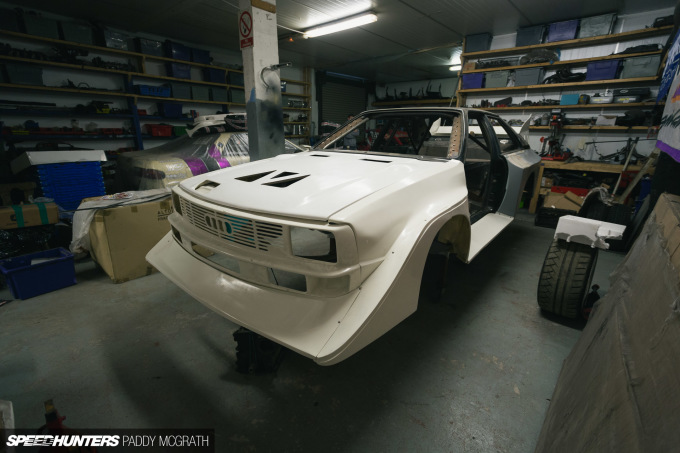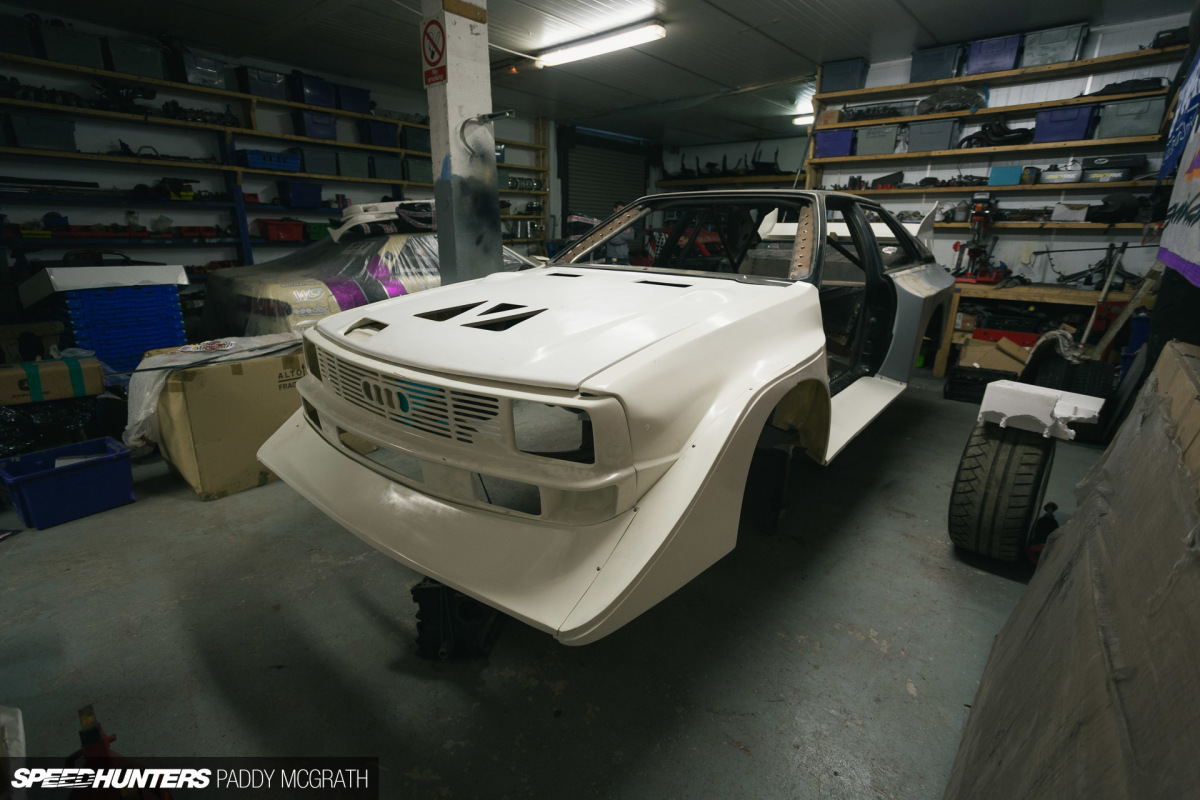 Here you can see where the front skirt needs to go on the front air dam. It's a 2- to 3-inch rubber strip on the rally cars that wraps around the side, and if you look at an old picture from the Group B days you'll know exactly what I mean. I think an aluminium one with maybe a front splitter will work much nicer.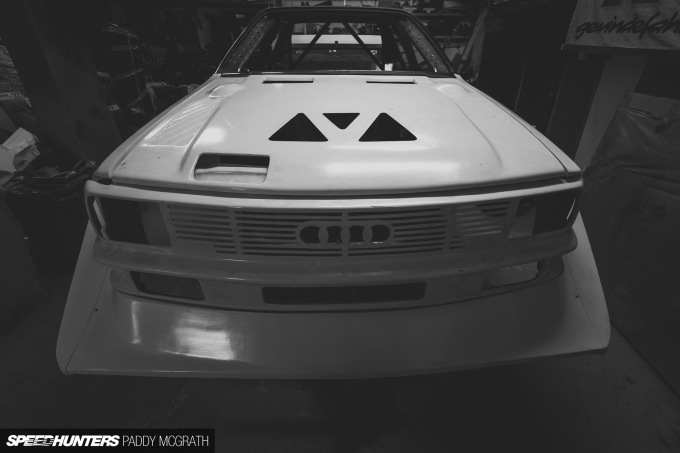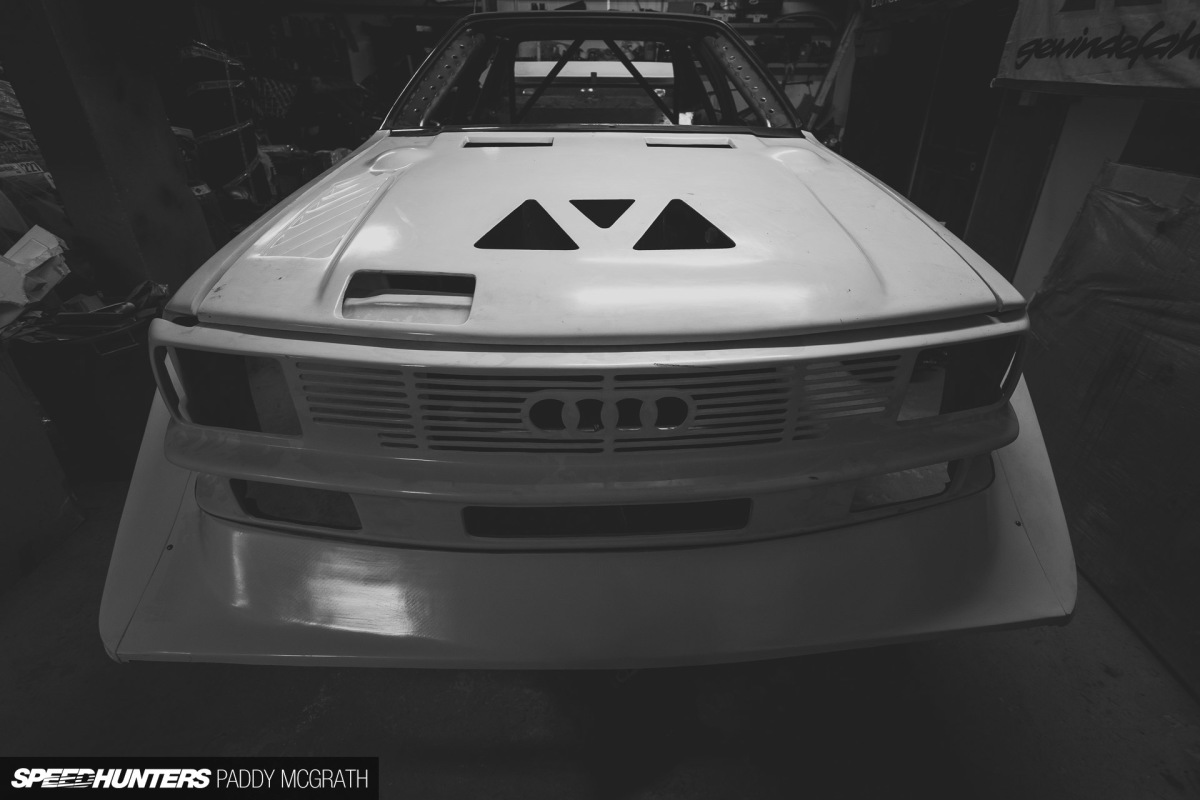 Next up to be made is the front bumper bar structure and upper support tubing for the intercooler, oil cooler, headlights and bonnet pins – stuff like that. Interestingly, there is no airflow on the lower half of the front fascia, so the intercooler and oil cooler will have to be mounted higher than they normally would be in a regular drift build.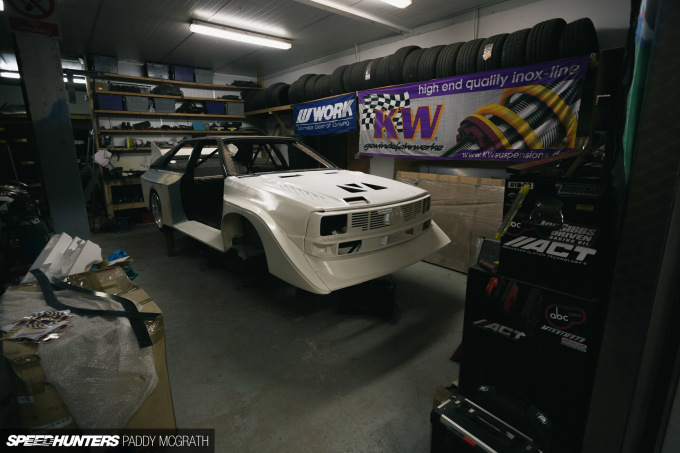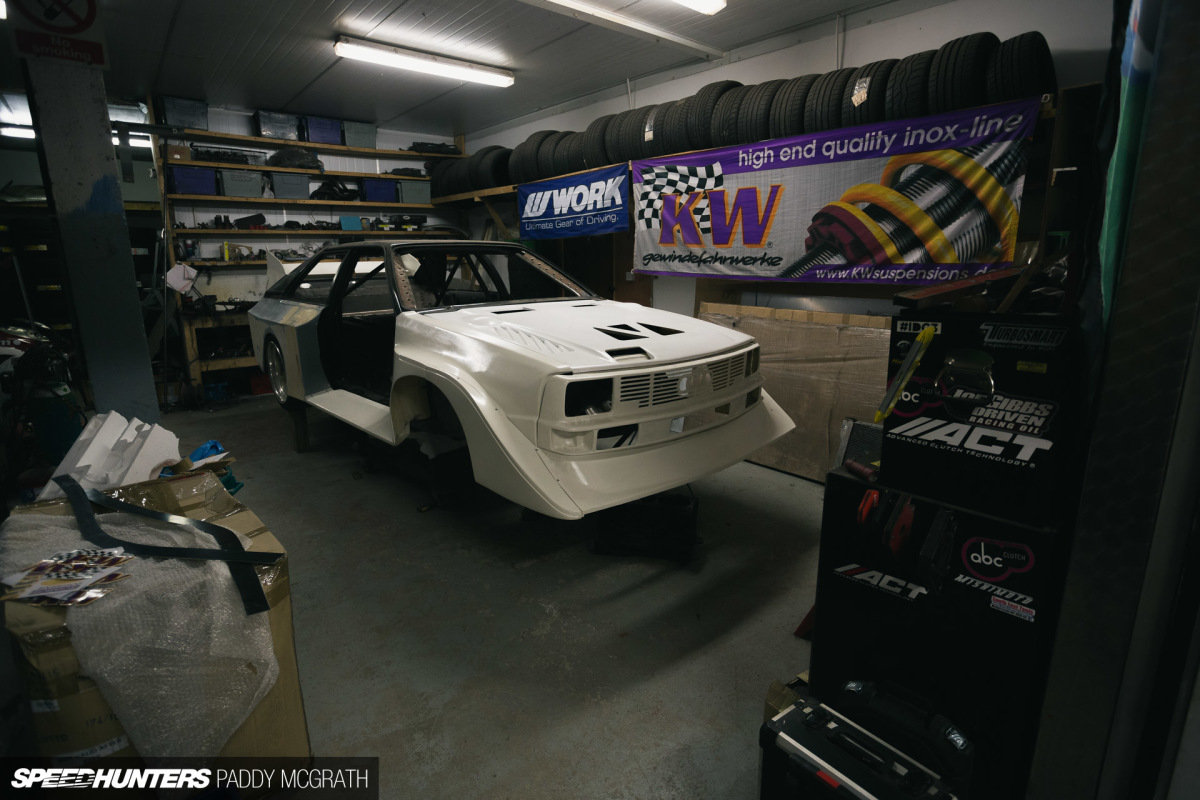 I still can't believe this thing is in my workshop… Anyway, on top of that box in the the left-hand corner of the pic above, you can see the two black 'swords' that attach to the recessed outer edge of the front fenders. I might do some trimming on these to make them more sideways-friendly.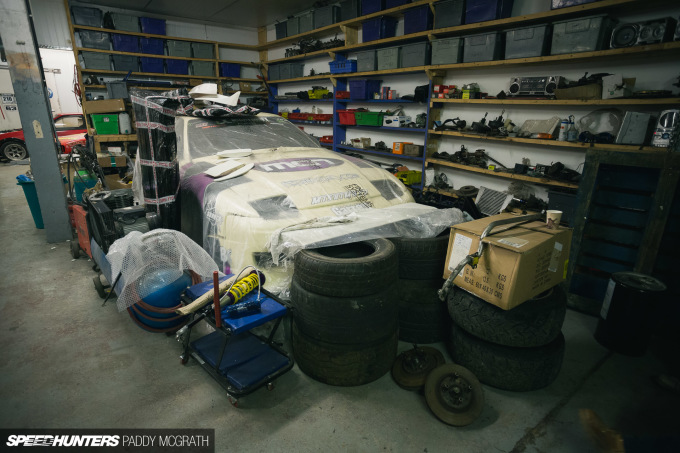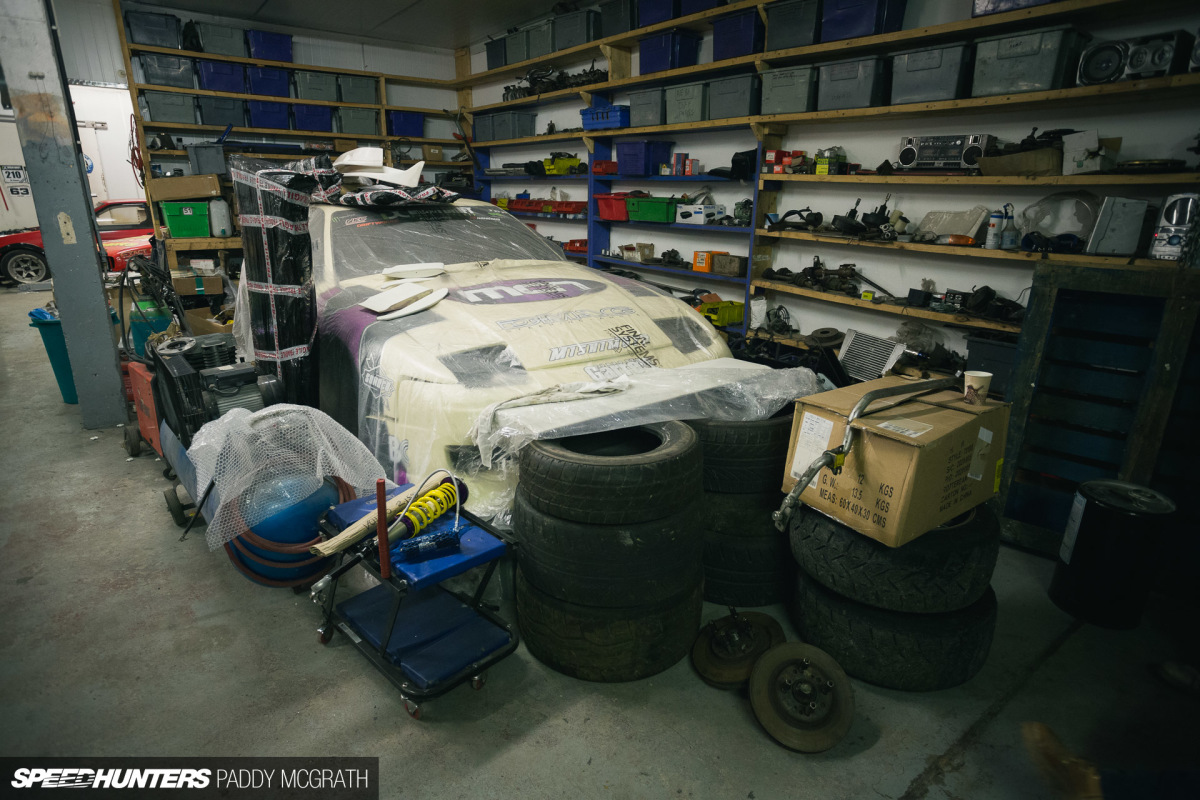 My 240SX is now parked up waiting to be resurrected for 2016. We have big plans for this one, but we are as yet unsure what engine it will be running. All the development work for the D-Mac steering angle kit (which will be available this year) was done in the Nissan, and the kit already has one championship under its belt and was removed and being tested on another customer's car at this time. We have lots of steering angle kits on order at the moment and production is underway. You might also notice that if anything stays still long enough around here it becomes a bench!
Forging Ahead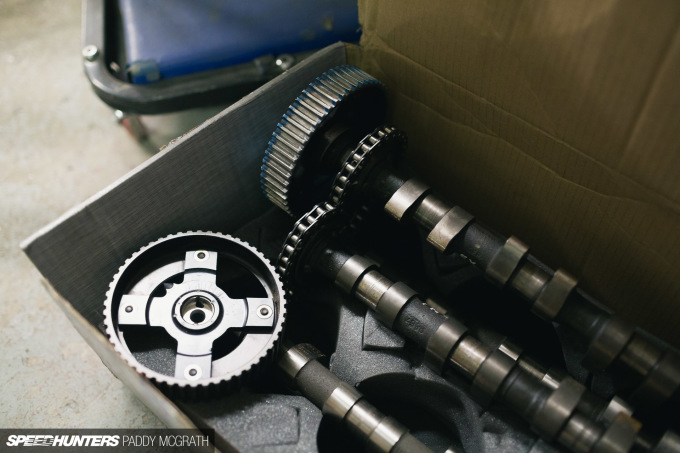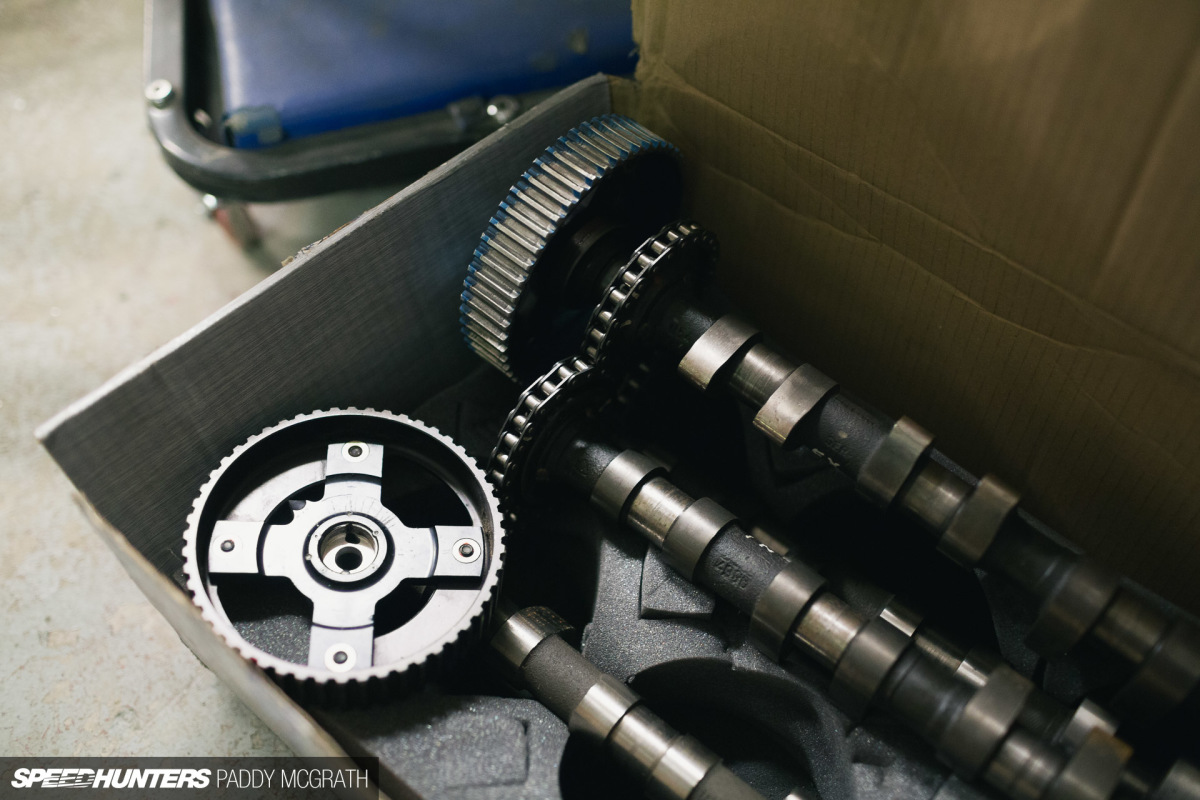 Let's take a look at some engine parts before the cylinder head goes off for final assembly.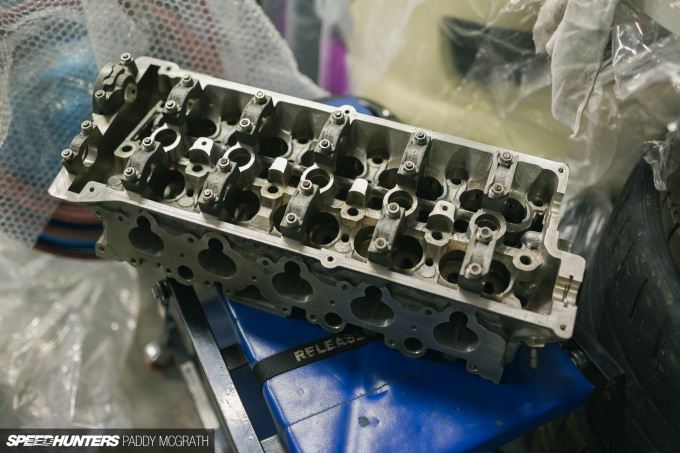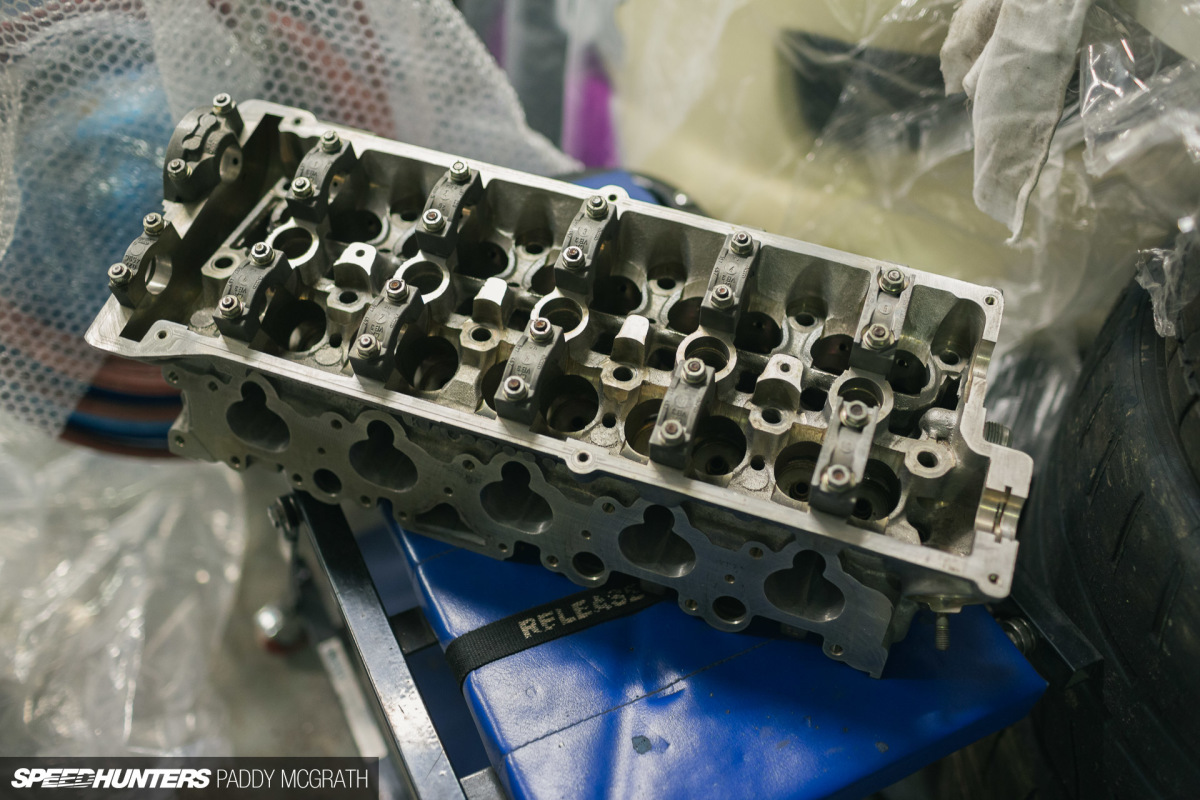 Here's the 5-cylinder 20-valve head; it came from Norway and it's a pretty rare thing around these parts. The head has been maxed out with every conceivable upgrade in order to be able to stick with my plan of being able to keep up with 2JZ power.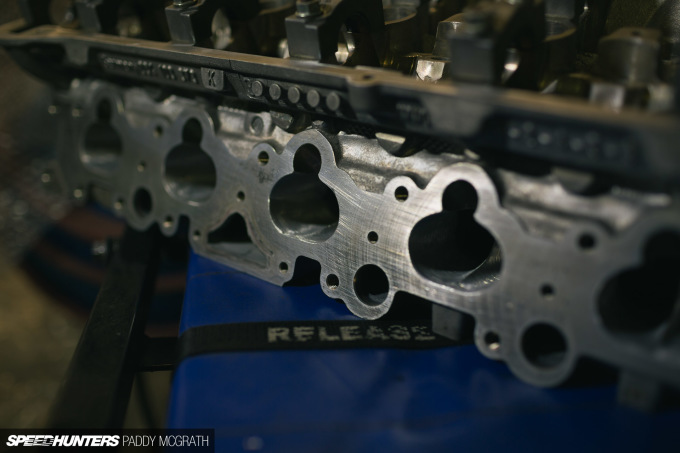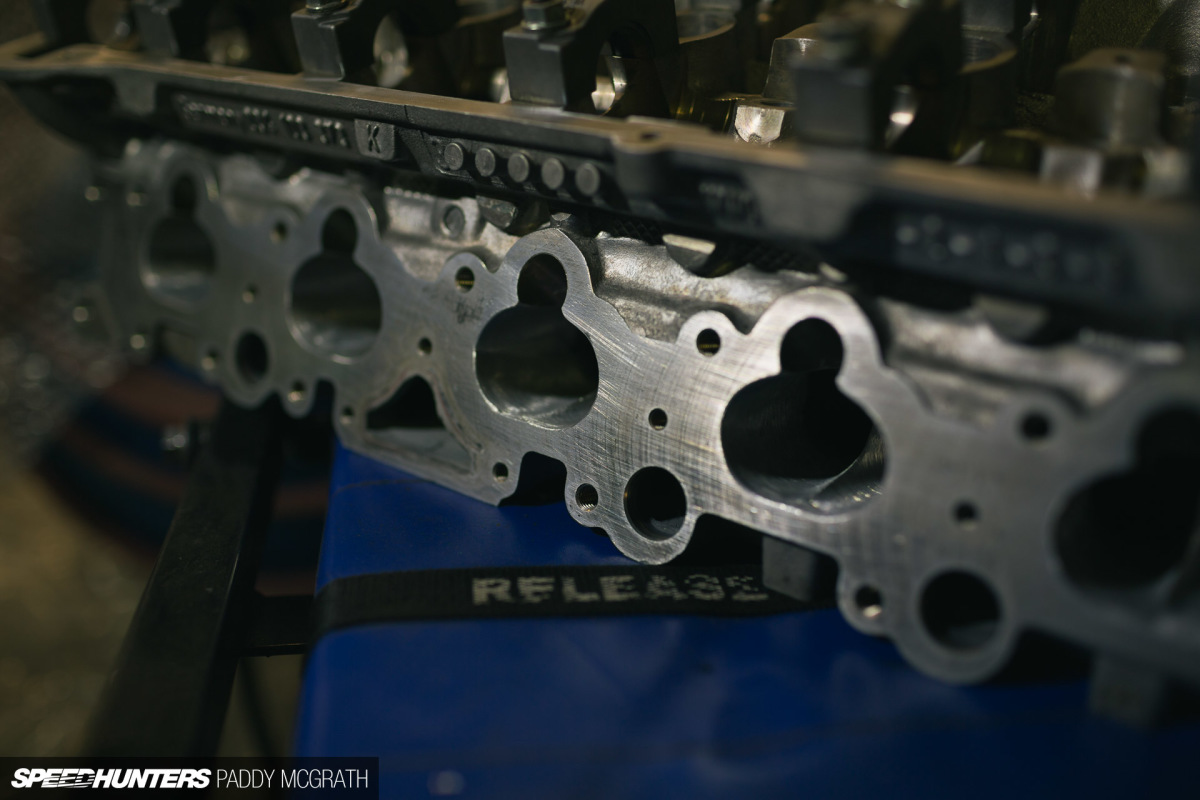 The head has been ported on both inlet and exhaust and is fitted with oversized valves. Shortly it will be ready to be mated to the 2.7-litre, fully-forged, dry-sumped bottom end.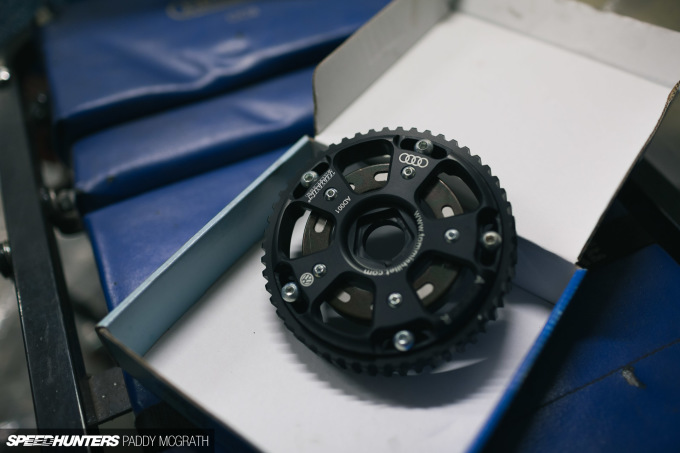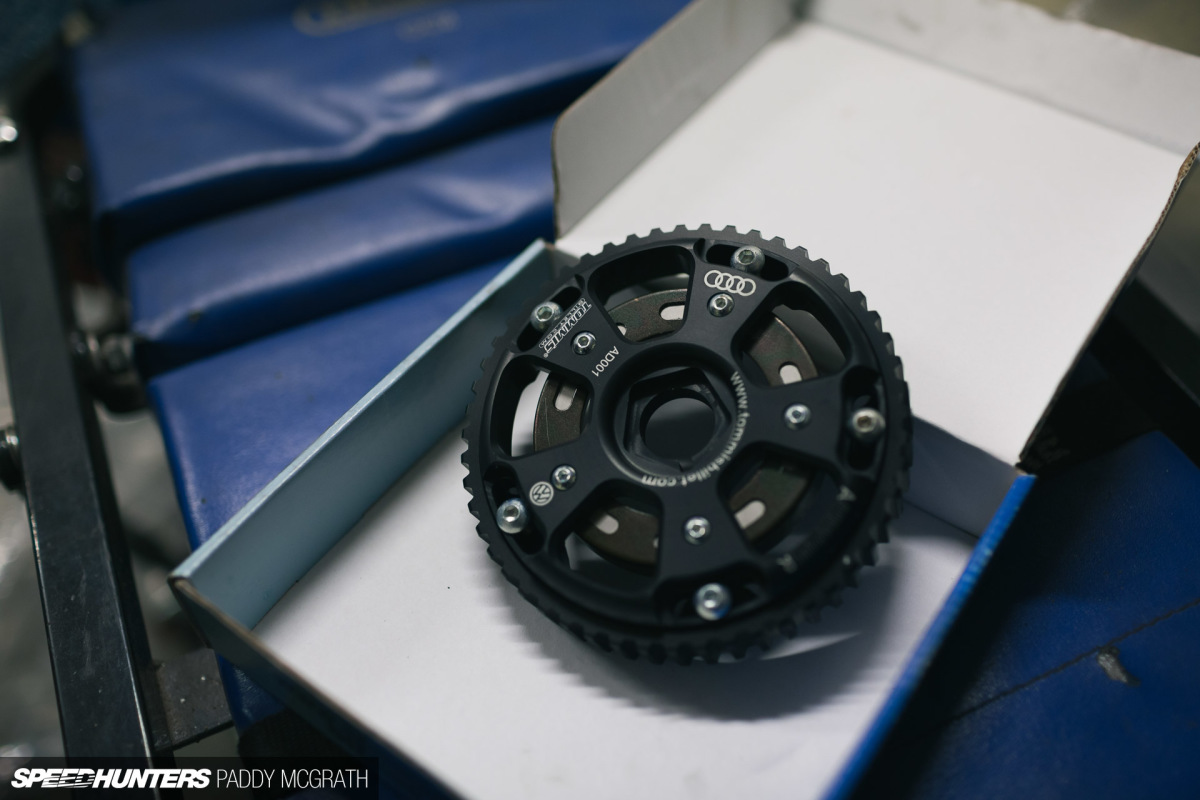 I've received a fresh adjustable cam pulley from my project partners at 034Motorsports, along with an adjustable pulley for the chain-driven intake cam.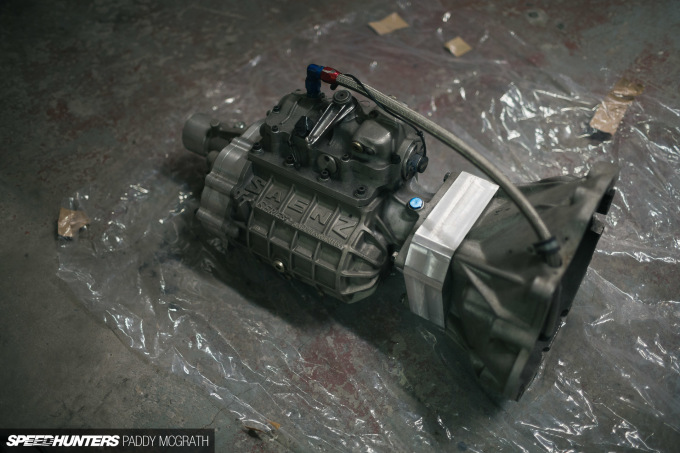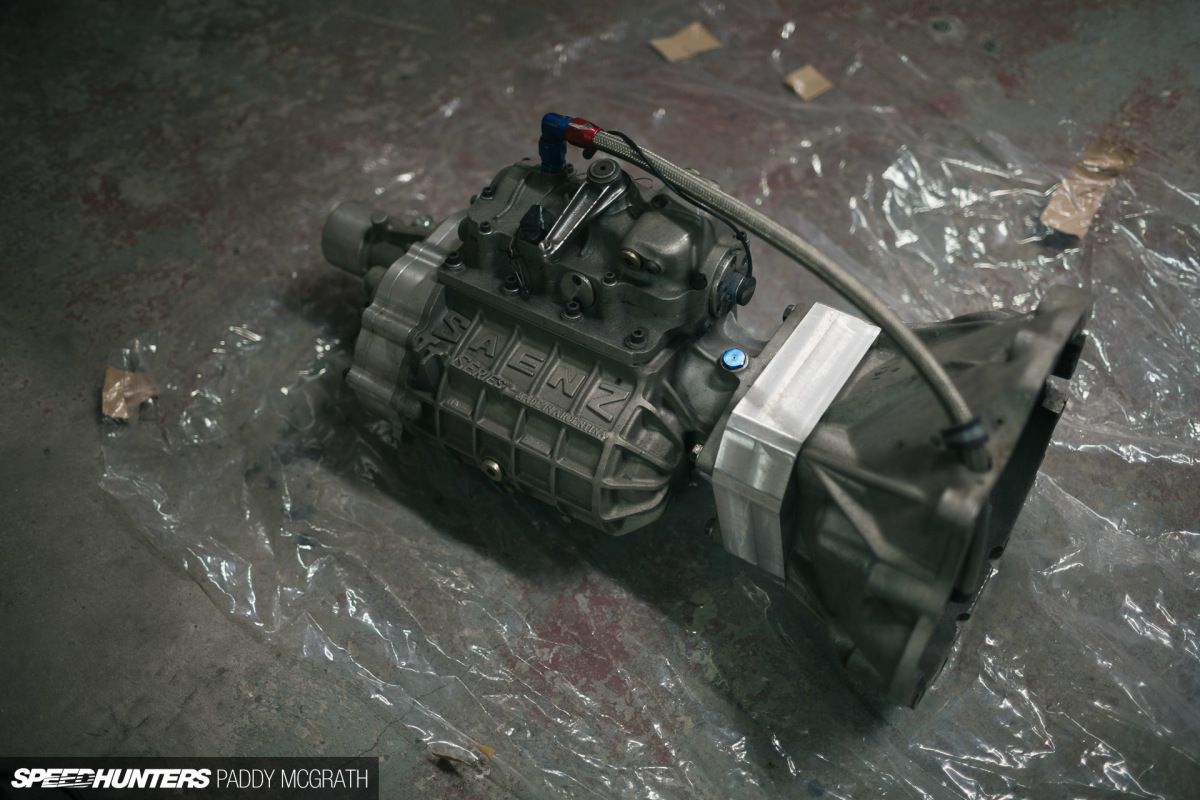 Like I mentioned earlier, my gearbox of choice is the Saenz TT3 6-speed sequential, and as you can see above we have already made an adapter block of aluminium to let us bolt on the Volvo (yes, Volvo!) bell-housing, which bolts directly to the Audi 5-cylinder. I specced this gearbox with the largest diameter input shaft possible, a Chevy 26-spline, which is also the longest input shaft possible to mount the gearbox further rearward to increase the rear weight percentage.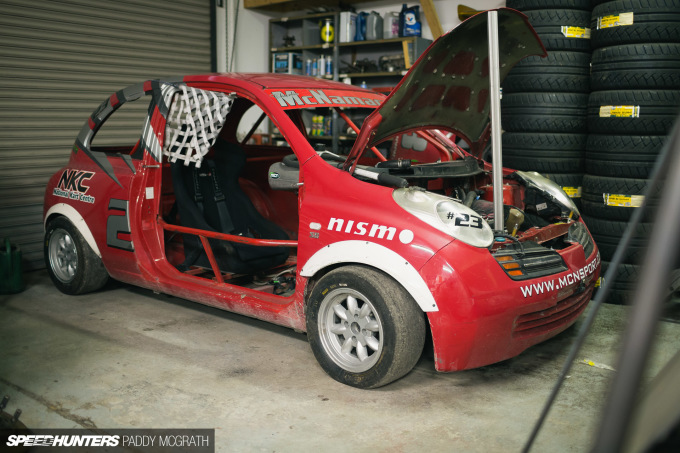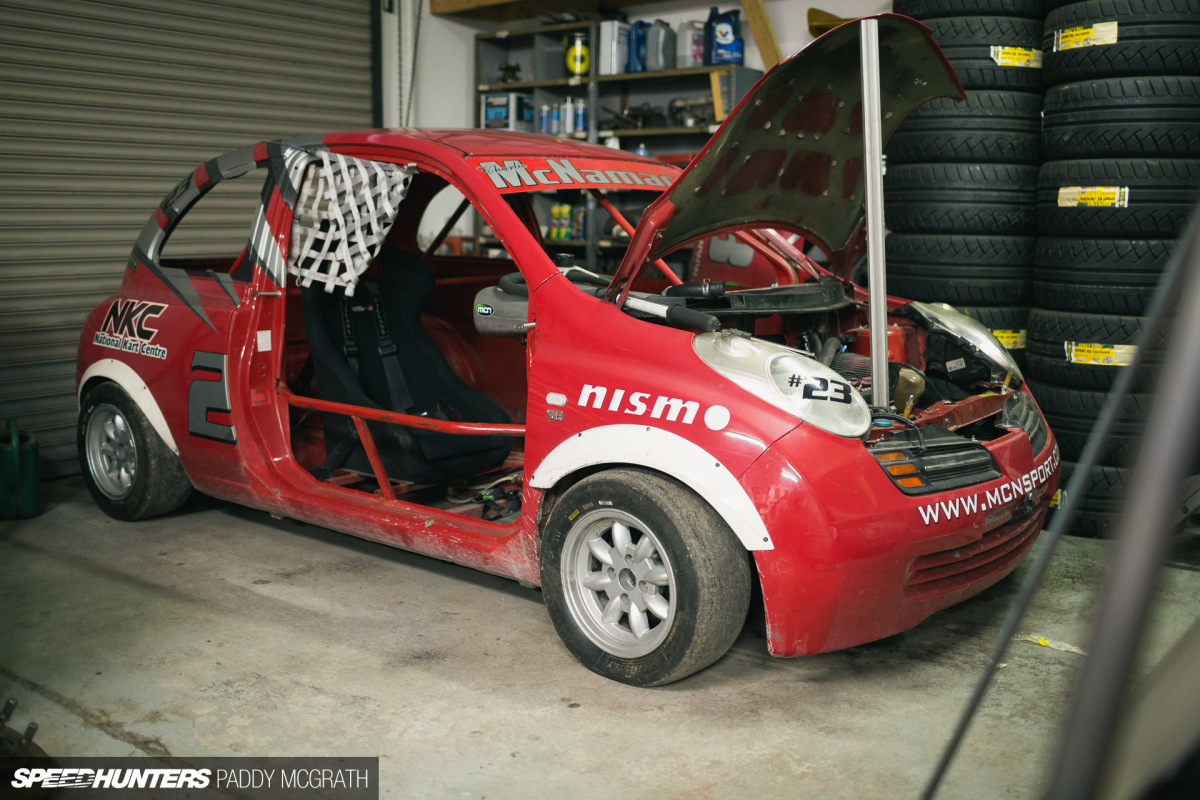 Keeping my cars company over the cold Christmas period was my dad's K12 Micra oval racing car. This car is pretty unique and actually looks pretty cool for a something that is so ugly in standard trim.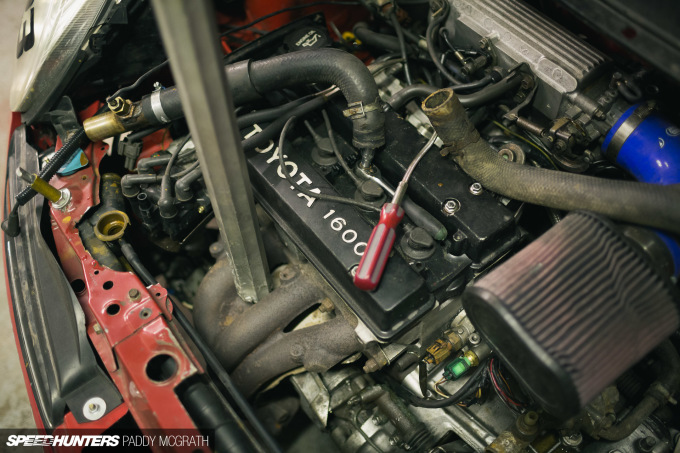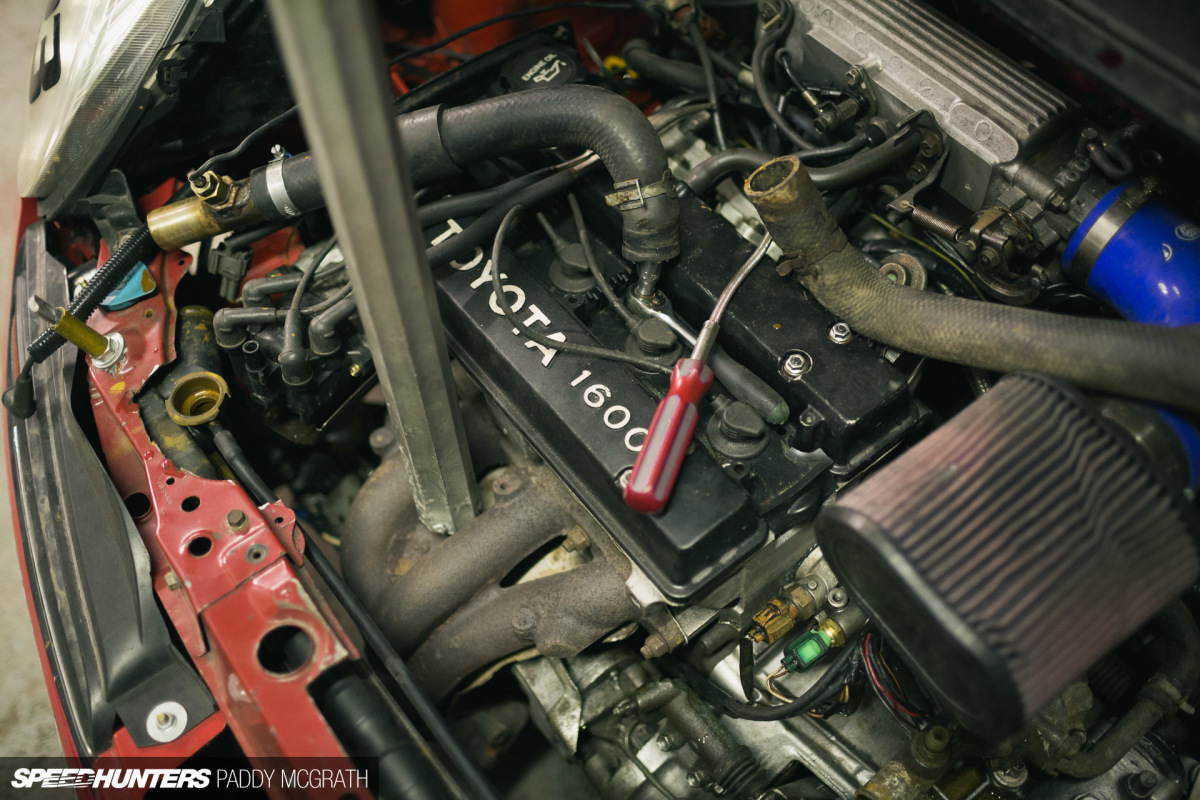 And what makes it even better is that it's fitted with a small-port Toyota 4A-GE, which is an engine I adore. This one is having some cooling issues at the moment though.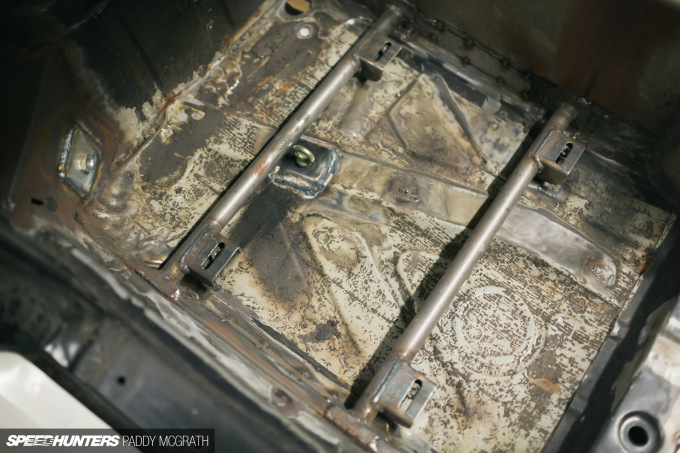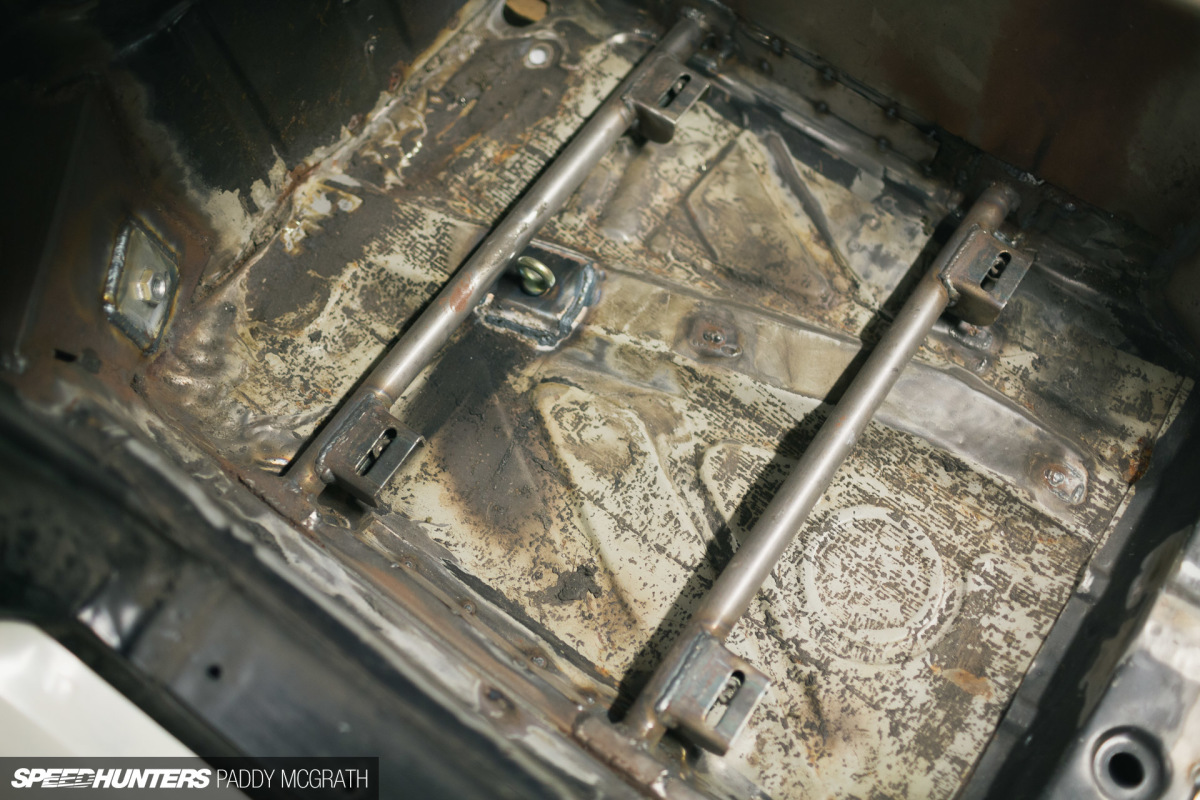 Back to the S1 and the mounts have been fitted on both sides for the Sparco seats, along with the mounting points for the 6-point Sparco harnesses, which I very nearly forgot prior to underside painting.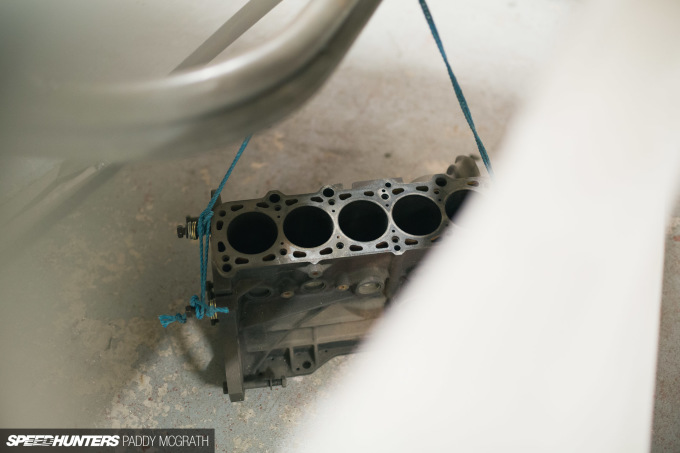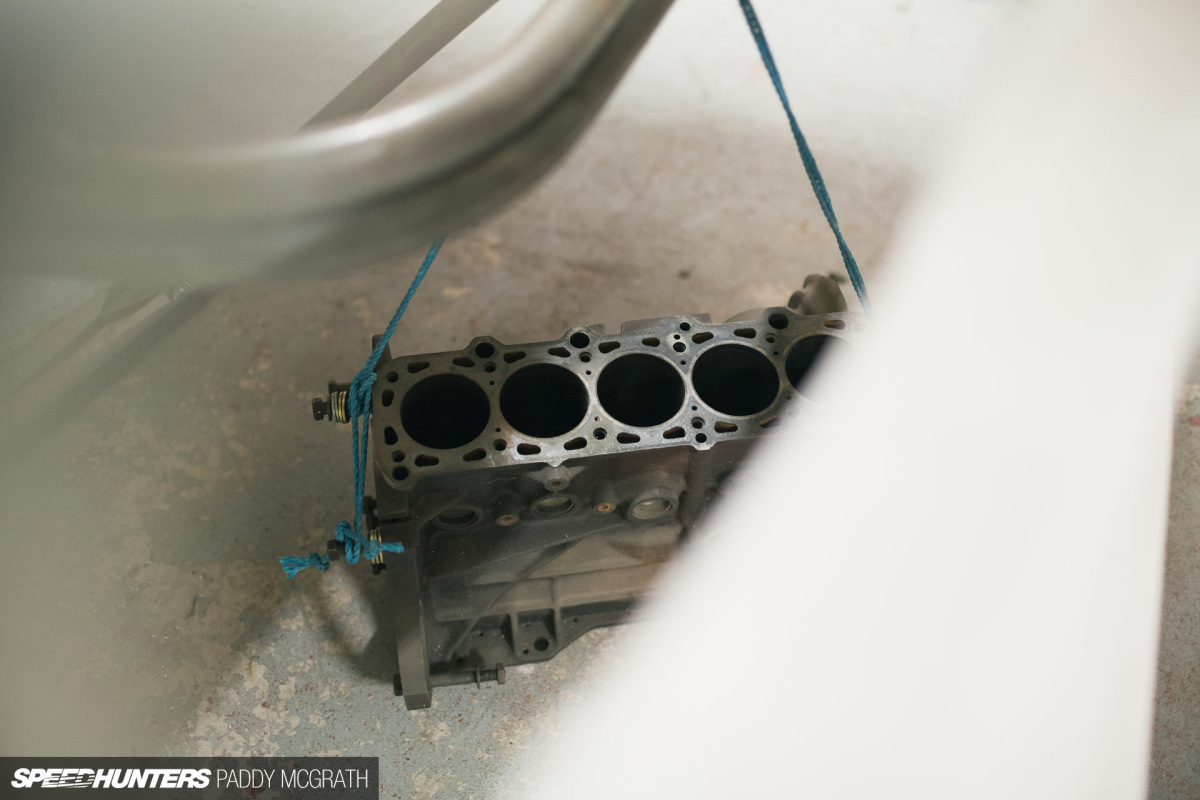 With the rear subframe now fitted the car is getting pretty rear heavy on the trolley, so we are using a spare 5-cylinder block as a counterweight to keep it from tipping over. Paddy loved this.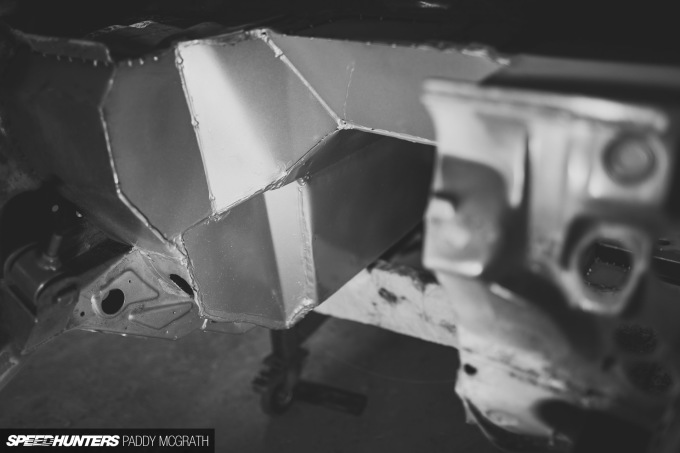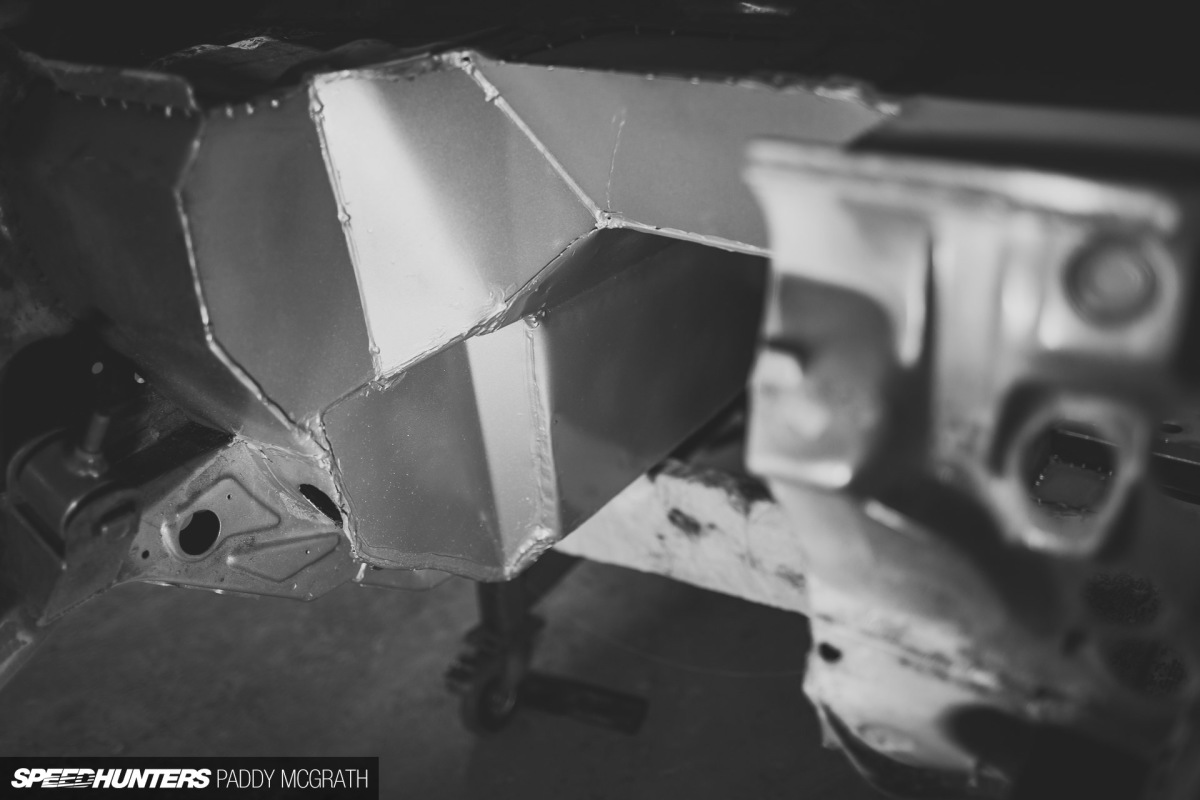 The firewall is an extremely odd shape and is now painted metallic silver as is the underside, and as will be the interior. It looks like we have the engine very far back, but the exhaust will actually go behind the cylinder head and over the top of the bell-housing and down the opposite side. It's going to be pretty weird…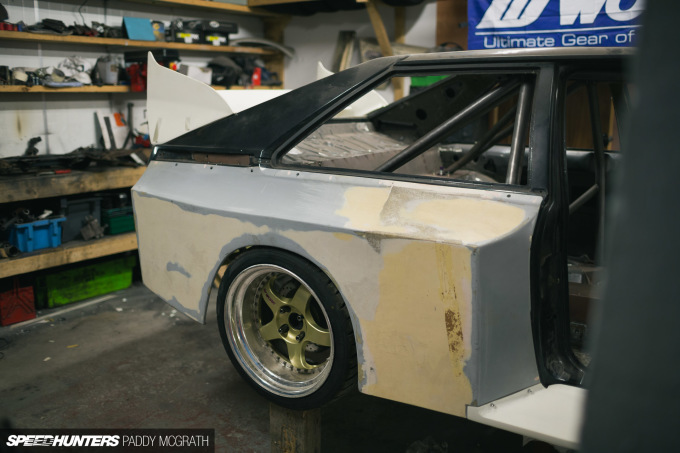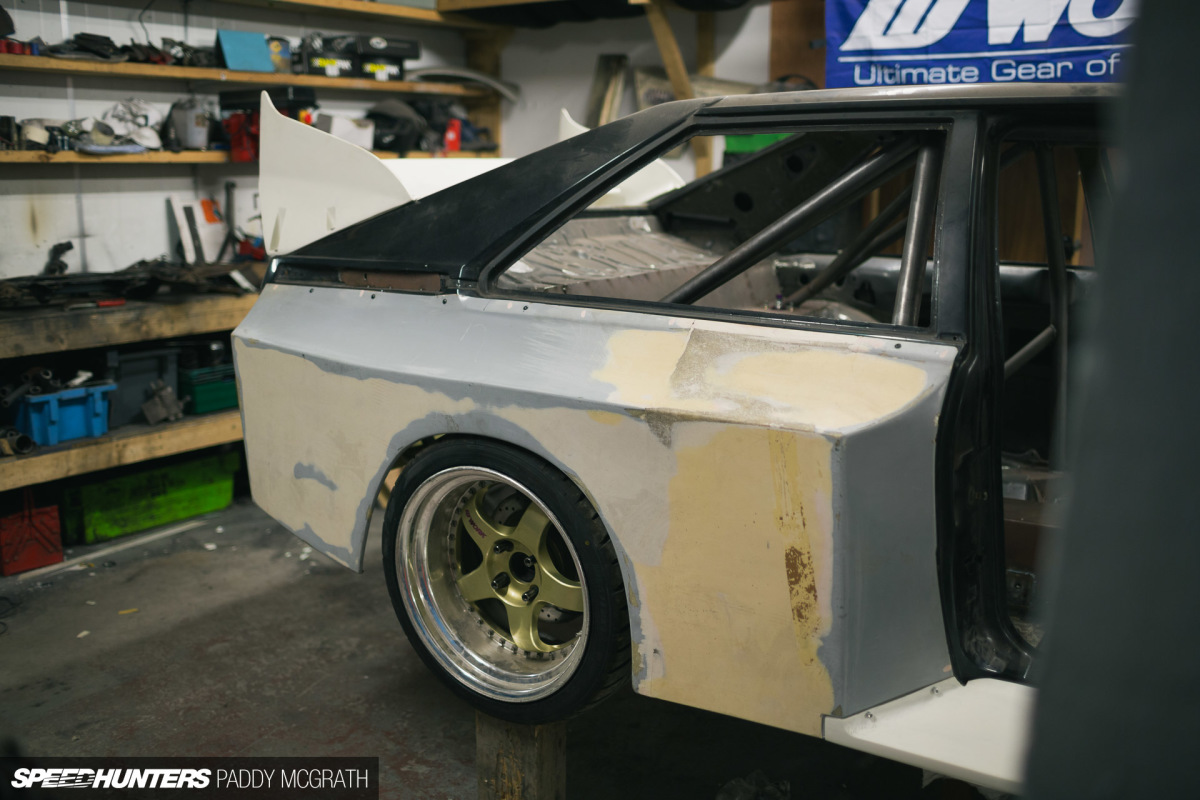 We will have the extra planes of the rear wing added for the next update hopefully, but here you can see the Work Meister S1 3-piece wheel fitted from my 240. I am probably going to go with Work Meister S1Rs for this one, as I think the 5-spoke design will suit it well and I'll have the option of running 17-inch fronts. The S1Rs will be a nice change for me from the S1s.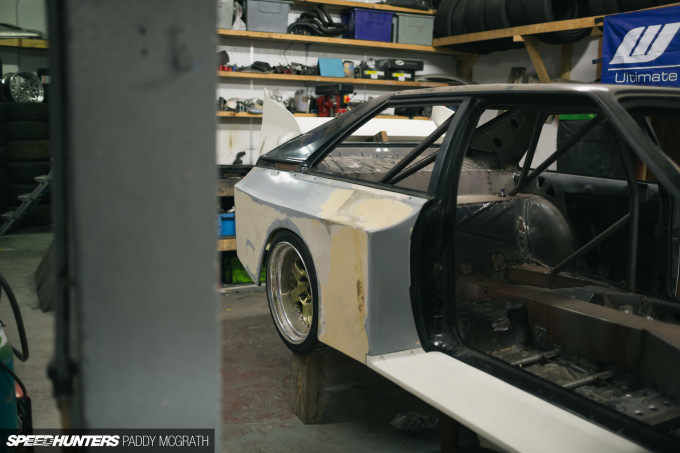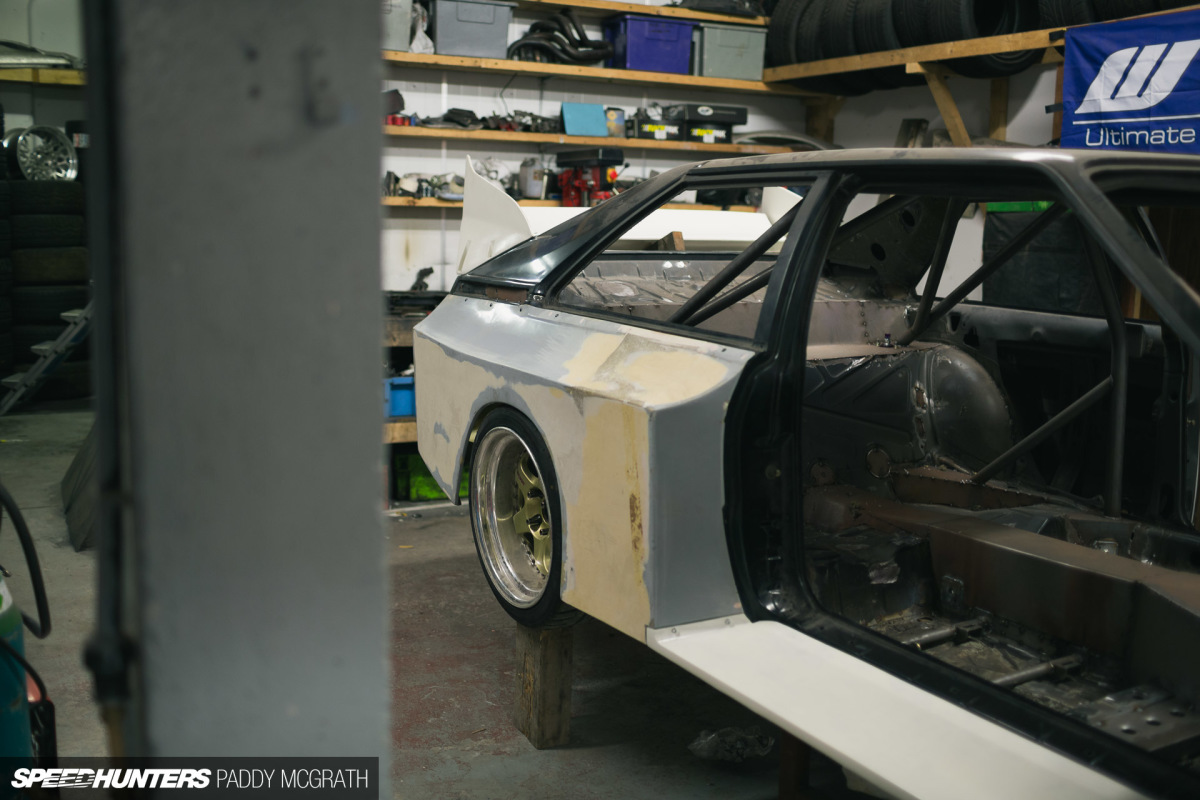 The car has a massive presence when you see it and looks huge, but amazingly it measures shorter and narrower than my S13. There's also less overhang front and rear, which is surprising with the front air dam.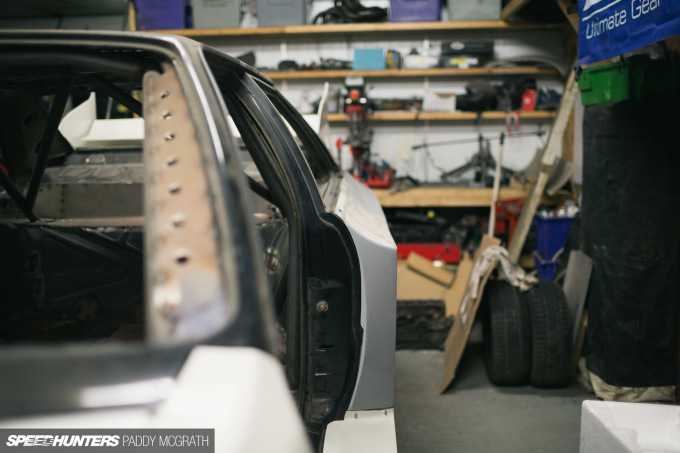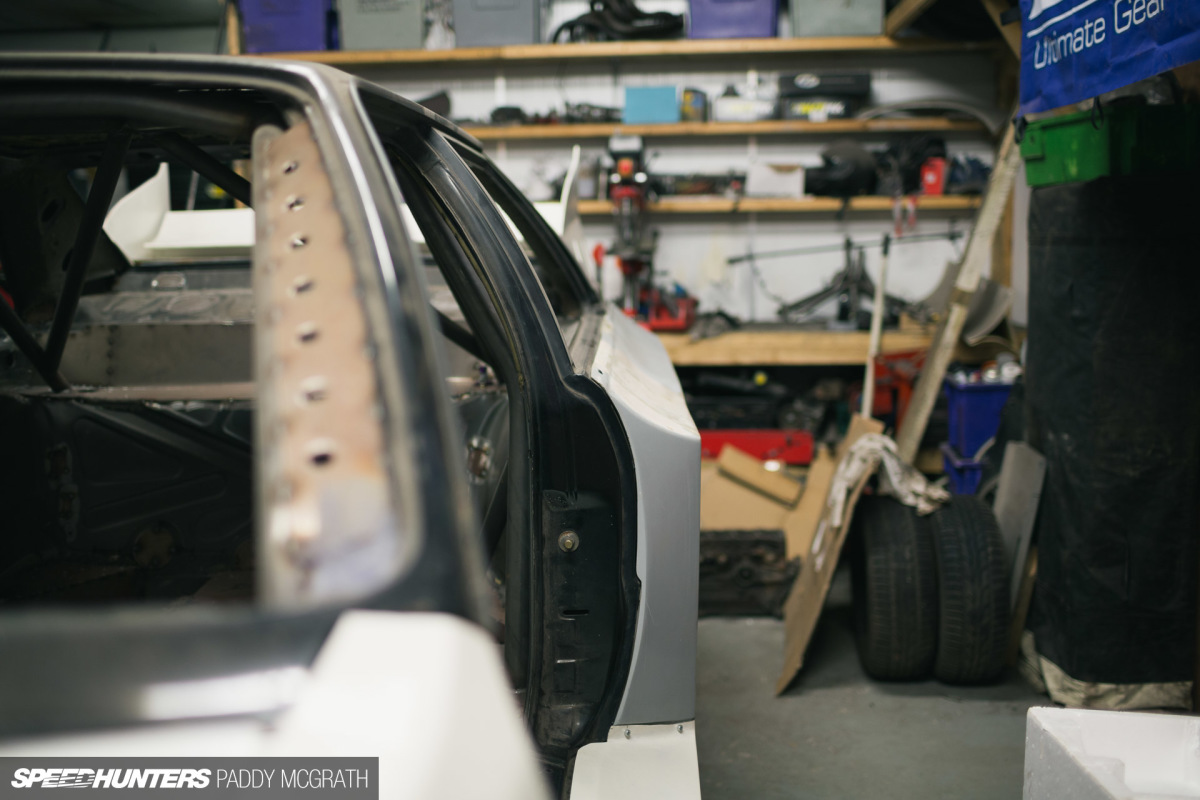 The original car has quiet a high and narrow body, and space on the interior is limited. I'll have to see what is the best way to run the fuel, radiator and dry sump lines on the interior when the seats are fitted, but I think it's going be a pain in the ass.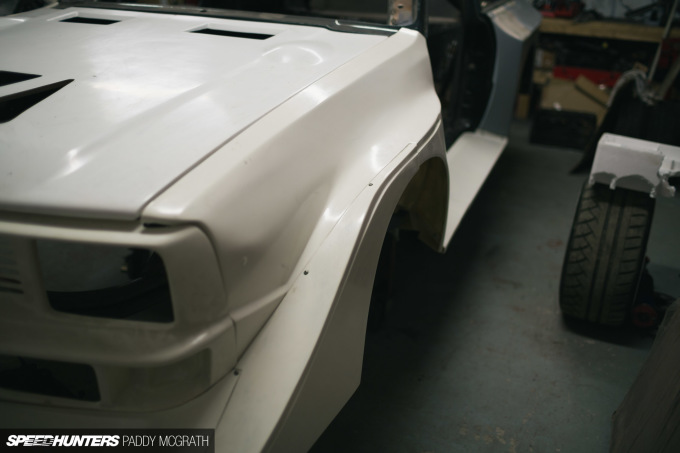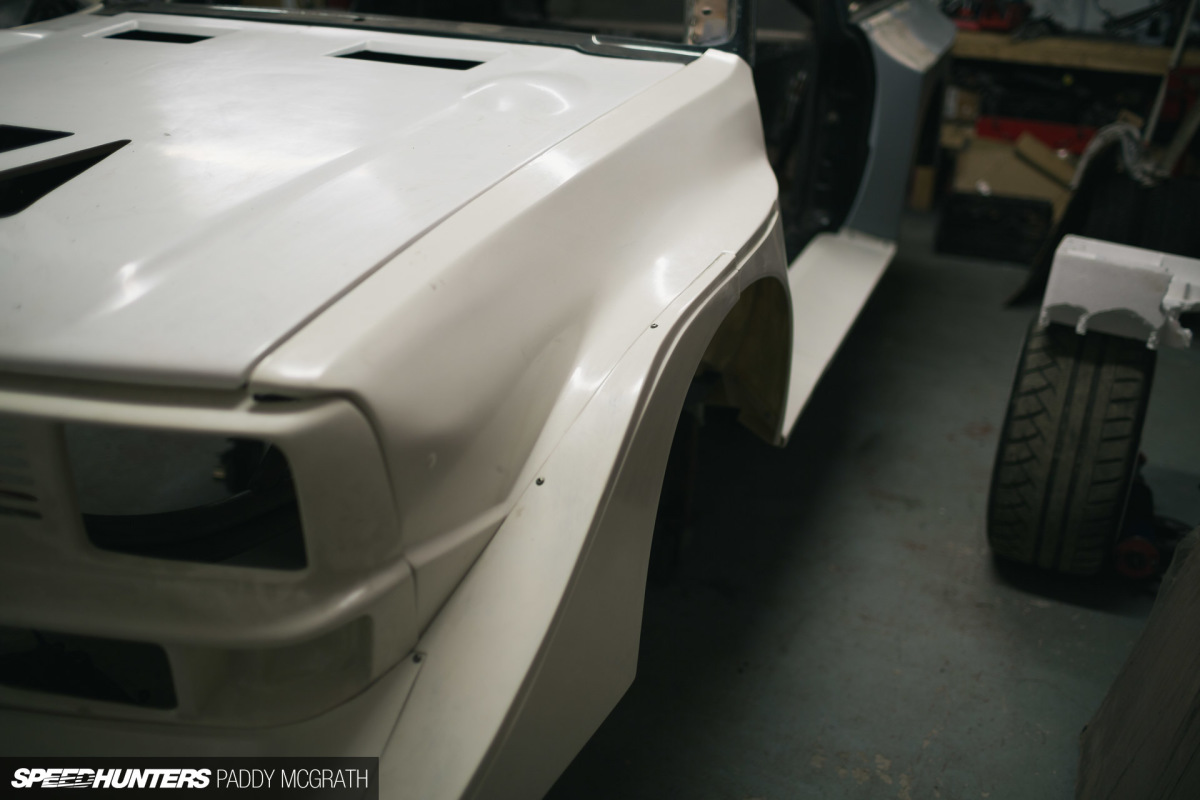 Here is a close up of the recess for those front 'swords' I talked about earlier; they're a really are a nice touch. I am undecided on whether to run indicators or to remove that area for better front airflow. Airflow will probably win that argument.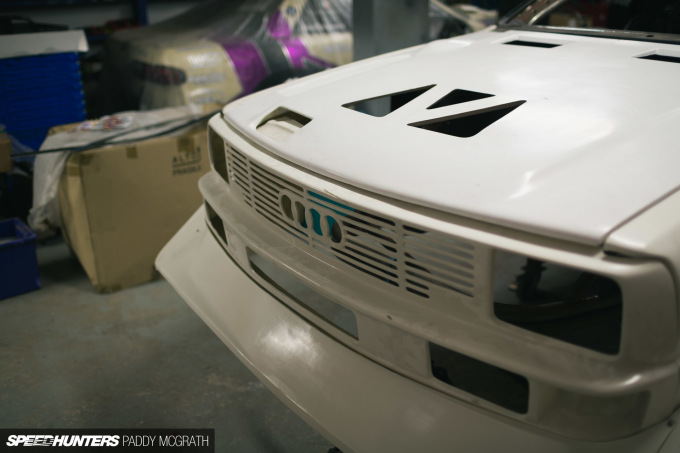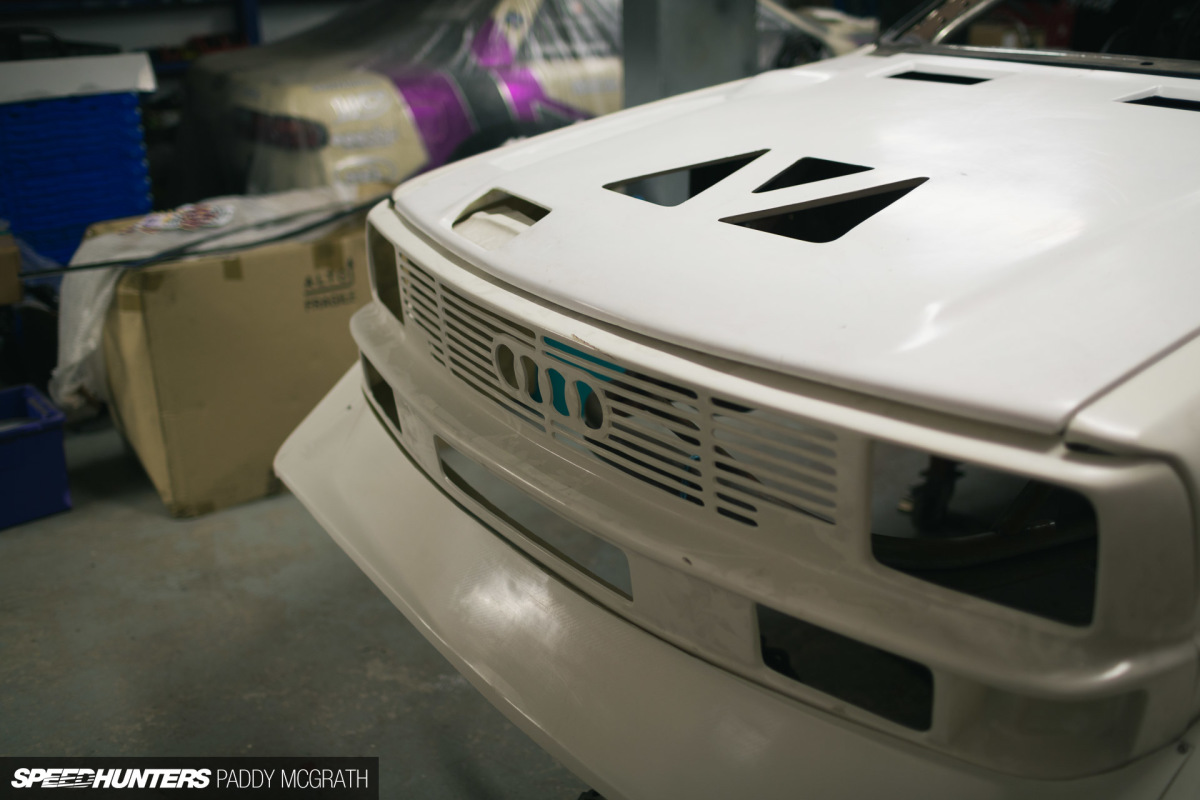 I wonder if my cream, purple and grey livery will offend anyone?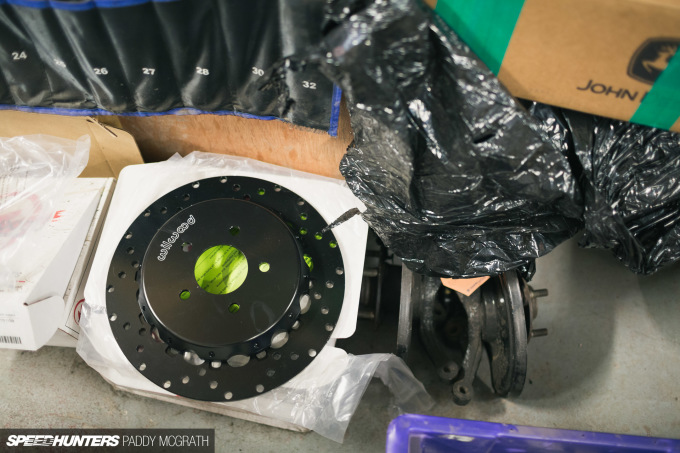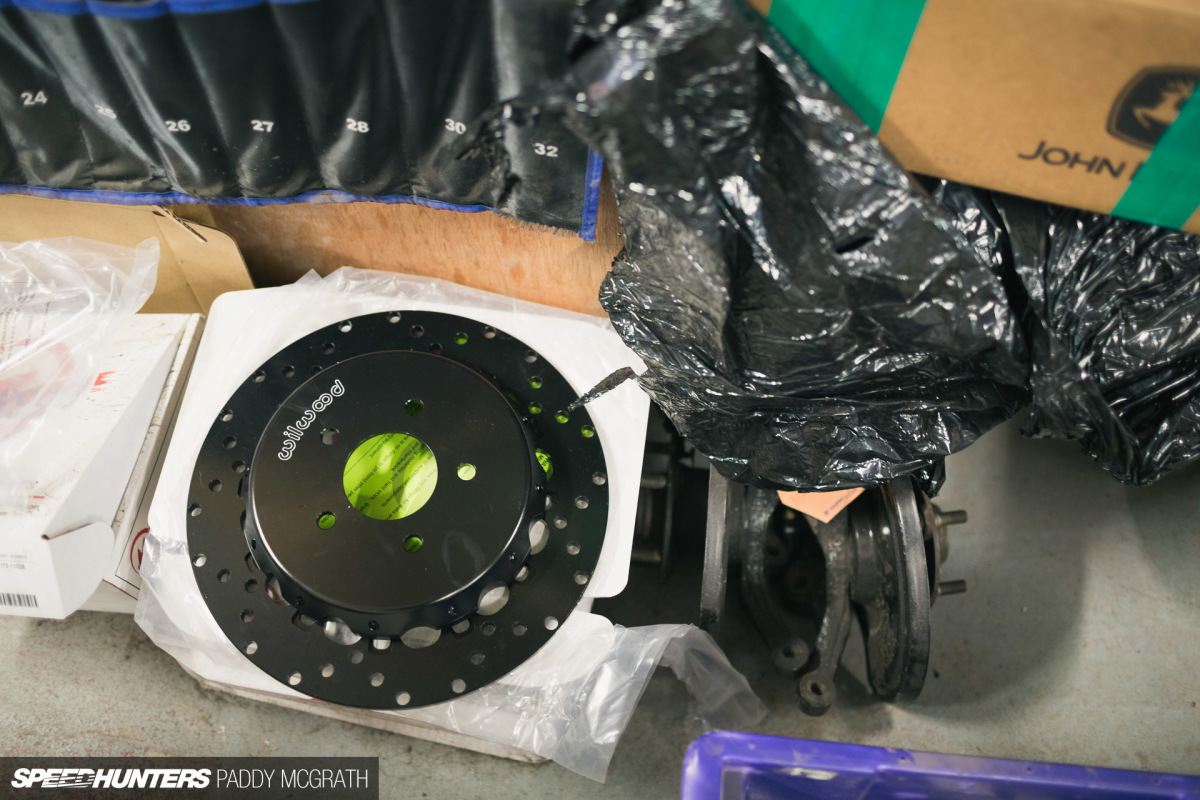 More parts have arrived, this time from Wilwood USA, who I worked with in Formula D. I really wanted to replicate the handbrake feel that we had in the S14, so I ordered a pair of 300mm solid rear disks with a different offset which allows me to run a 4-pot calliper for the handbrake. More to come on this setup in the next update.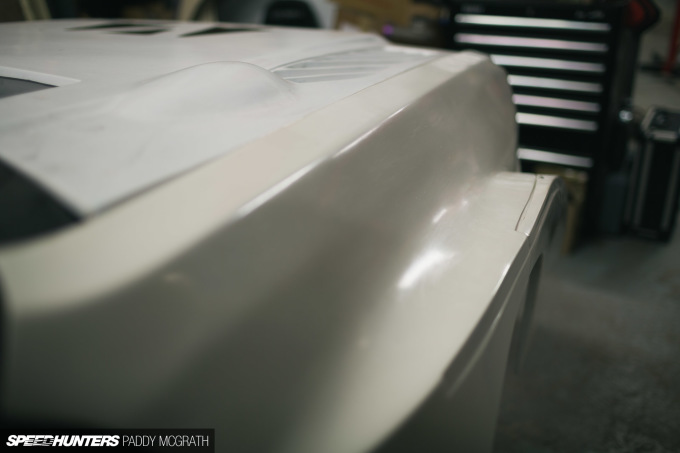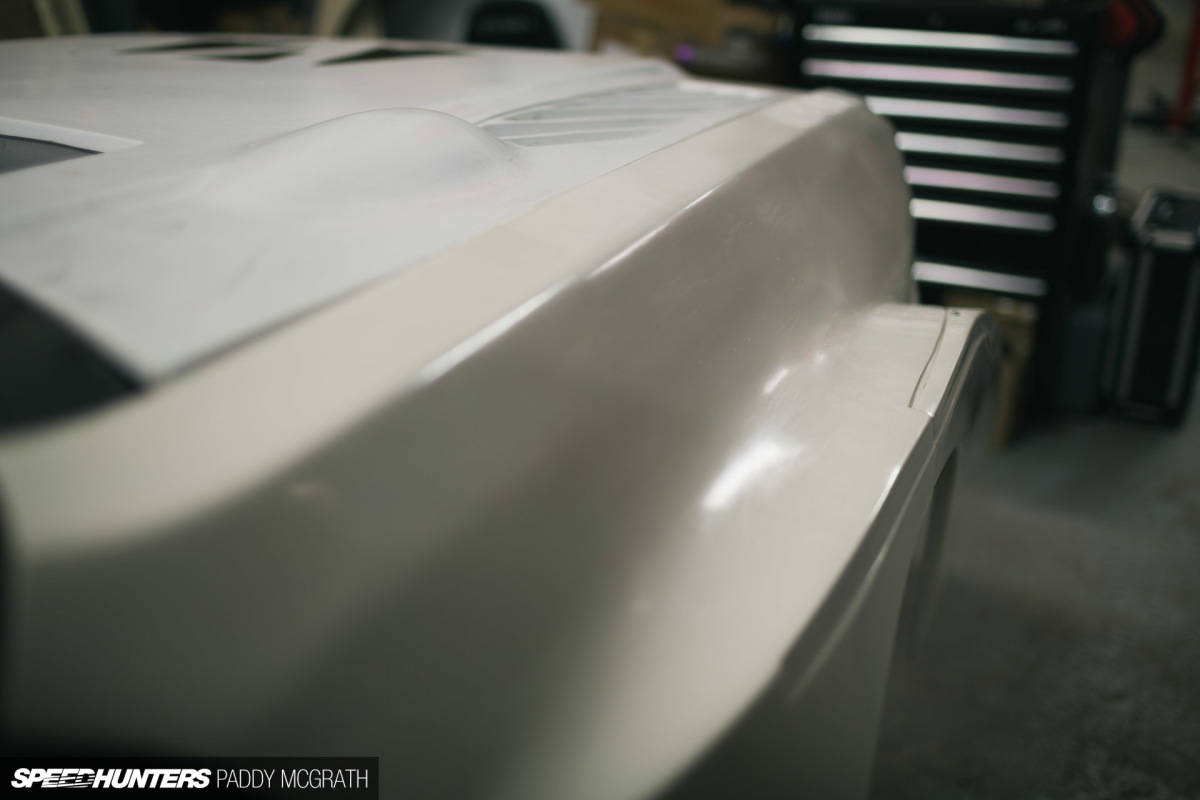 Unfortunately, all this aero has to be removed now for metal fab work, but on the plus side a lot of it can go for paint after having all the holes drilled for assembly. Hopefully we can get some consecutive weeks together to get everything finished.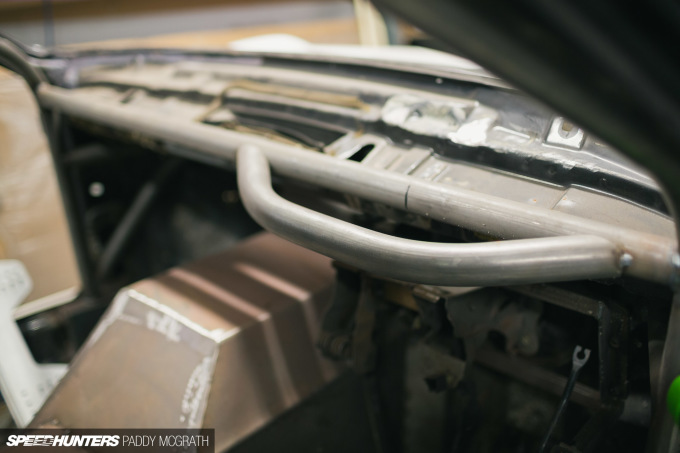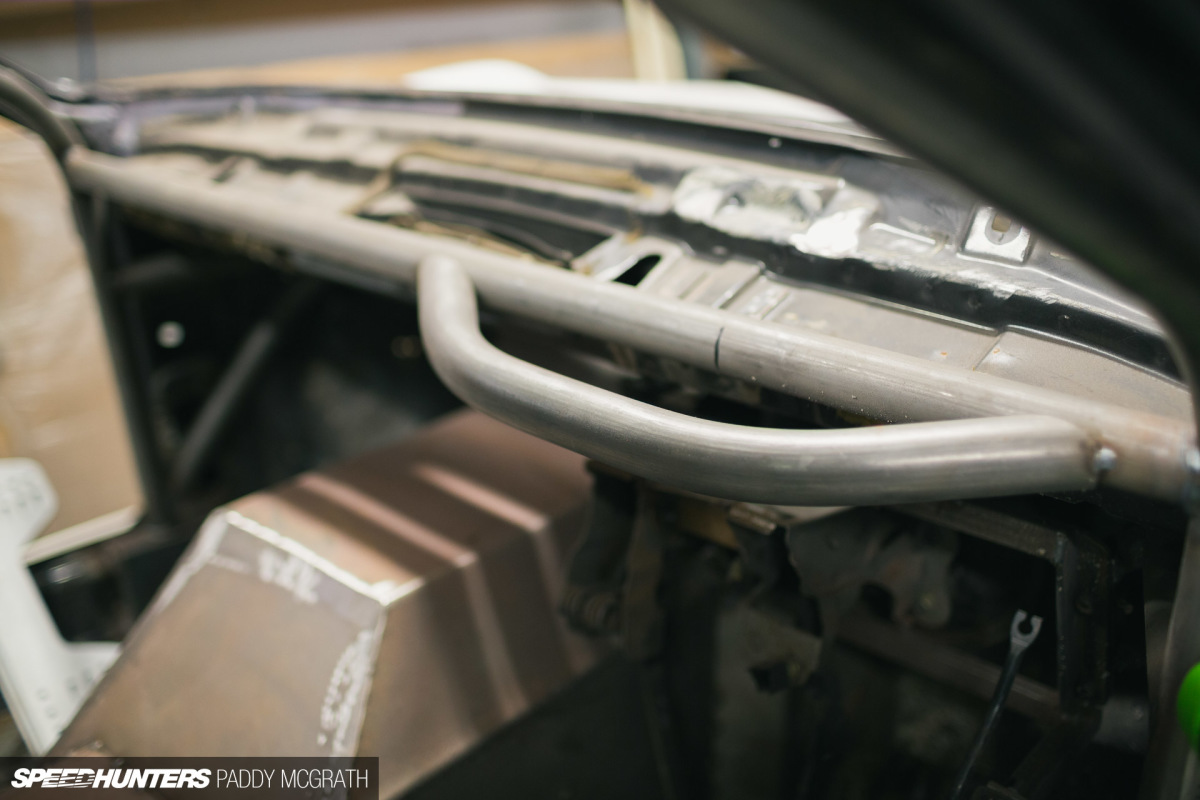 I am pretty sure I'm going without a dashboard on this one. There is no need for instrumentation as the Haltech IQ3 dash will be column-mounted and takes care of everything. There are a lot of electronics, so I will be making a panel from the cage to the tunnel on the passenger side which will mount the Haltech Elite ECU along with its thermocouple amplifiers, CAN hub, igniter and wideband controller. Also to be mounted down there will be the power steering pump and possibly an electric vacuum pump for brake assist. There is a lot to be figured out there yet.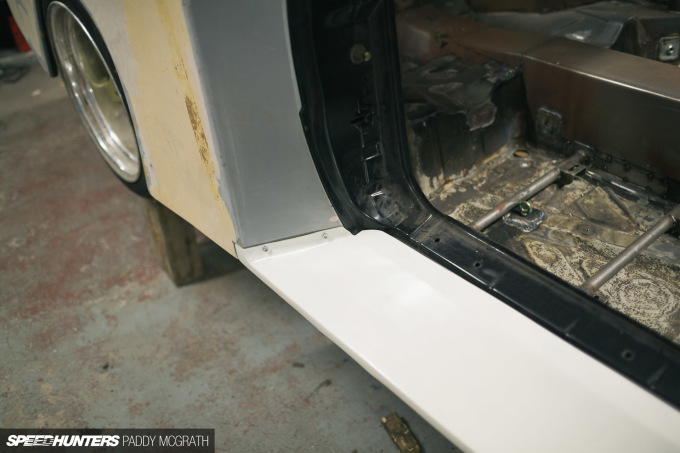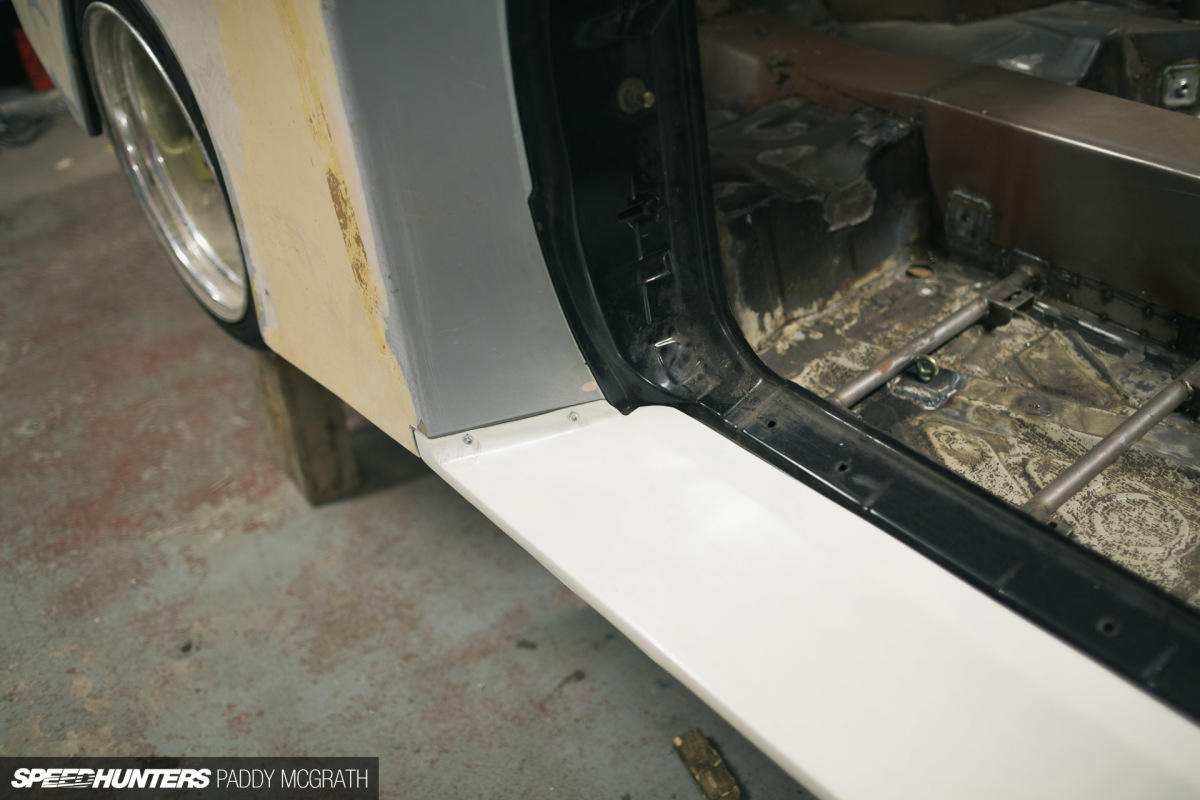 I think I might possibly stand on this a few times…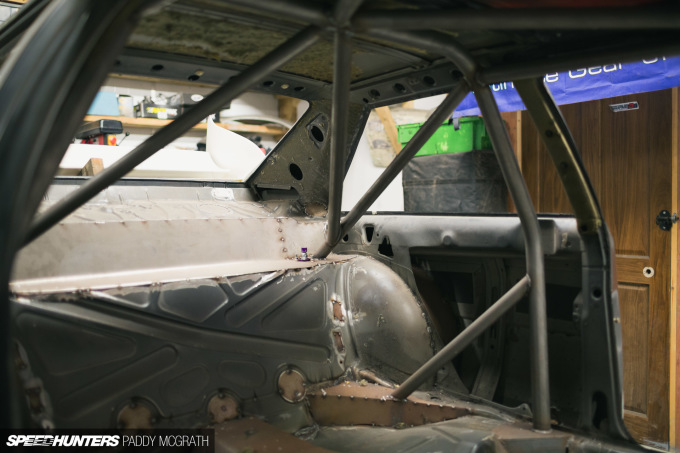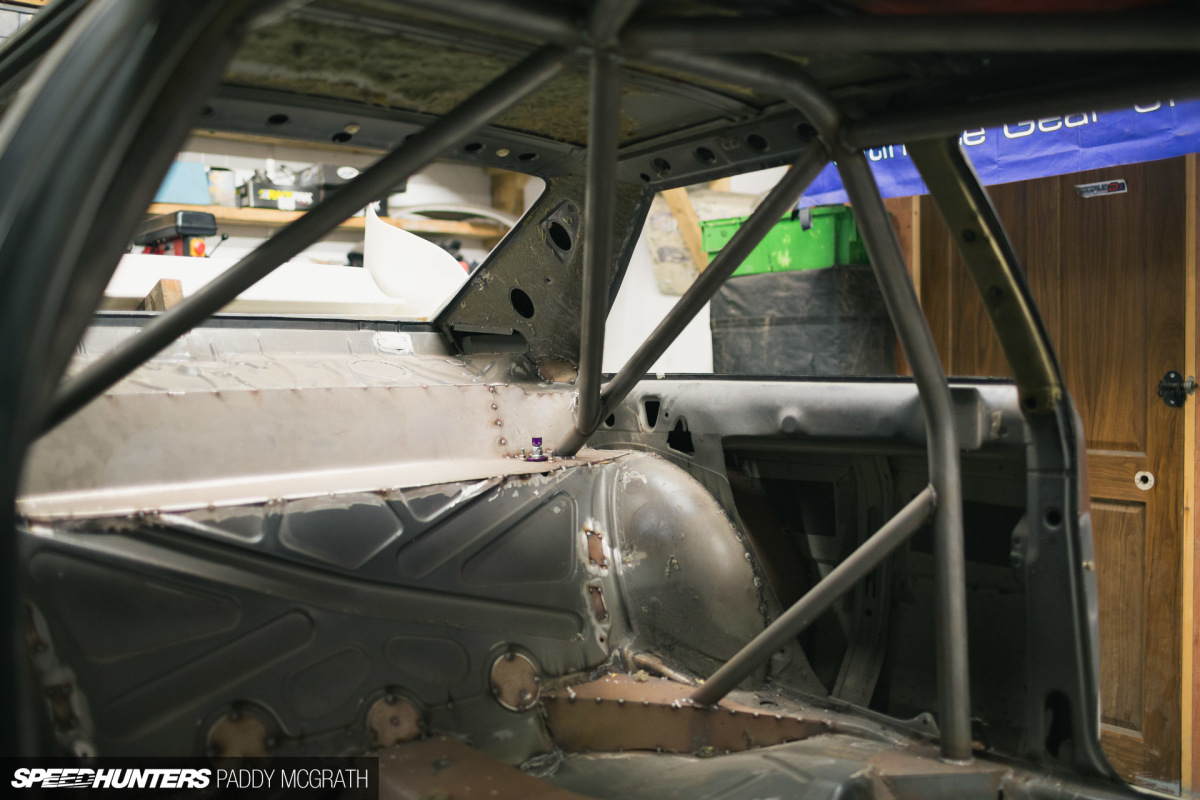 The rear seat area is pretty much done except for a harness bar and a mounting platform for the dry sump tank. All holes are sealed to prevent tyre smoke entering the cabin and some extra radiator ducting will be added.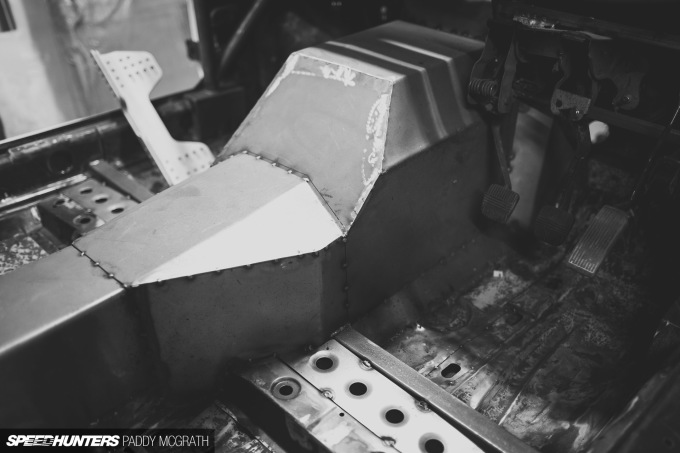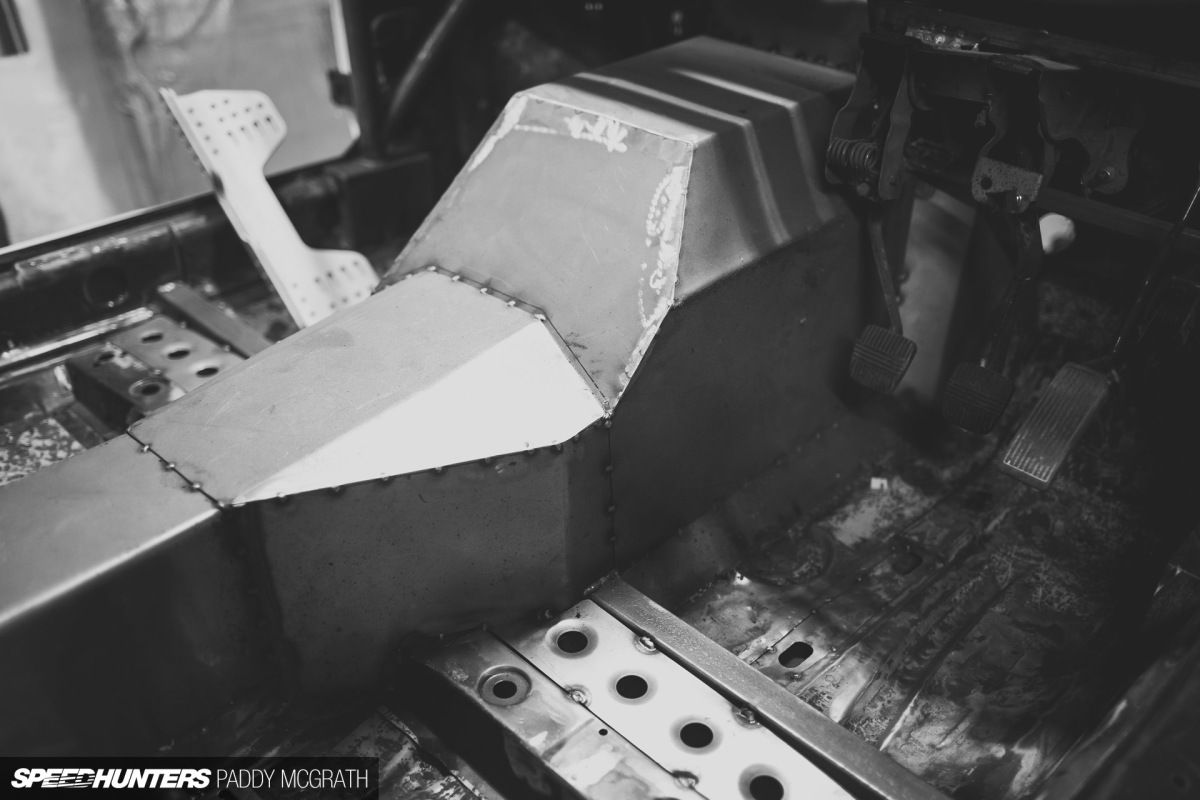 You can just see where we cut the original floor and made it level for quick pedal actions. I plan to add a floor plate here to keep it tasty looking. It doesn't look like there is much room for my foot on the clutch pedal, but once you sit in it it's actually fine and my foot isn't close to the tunnel.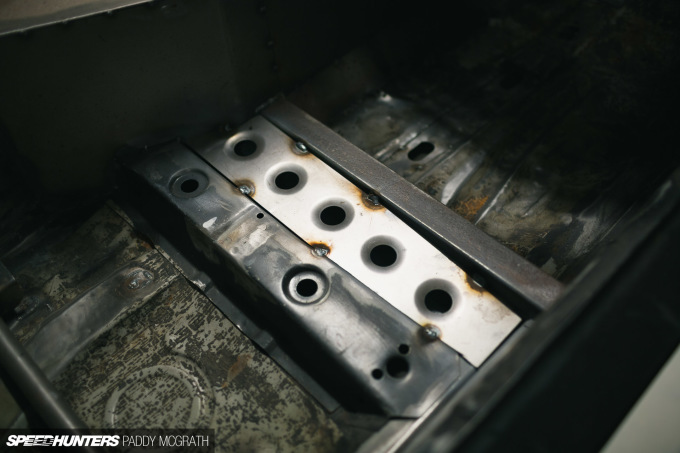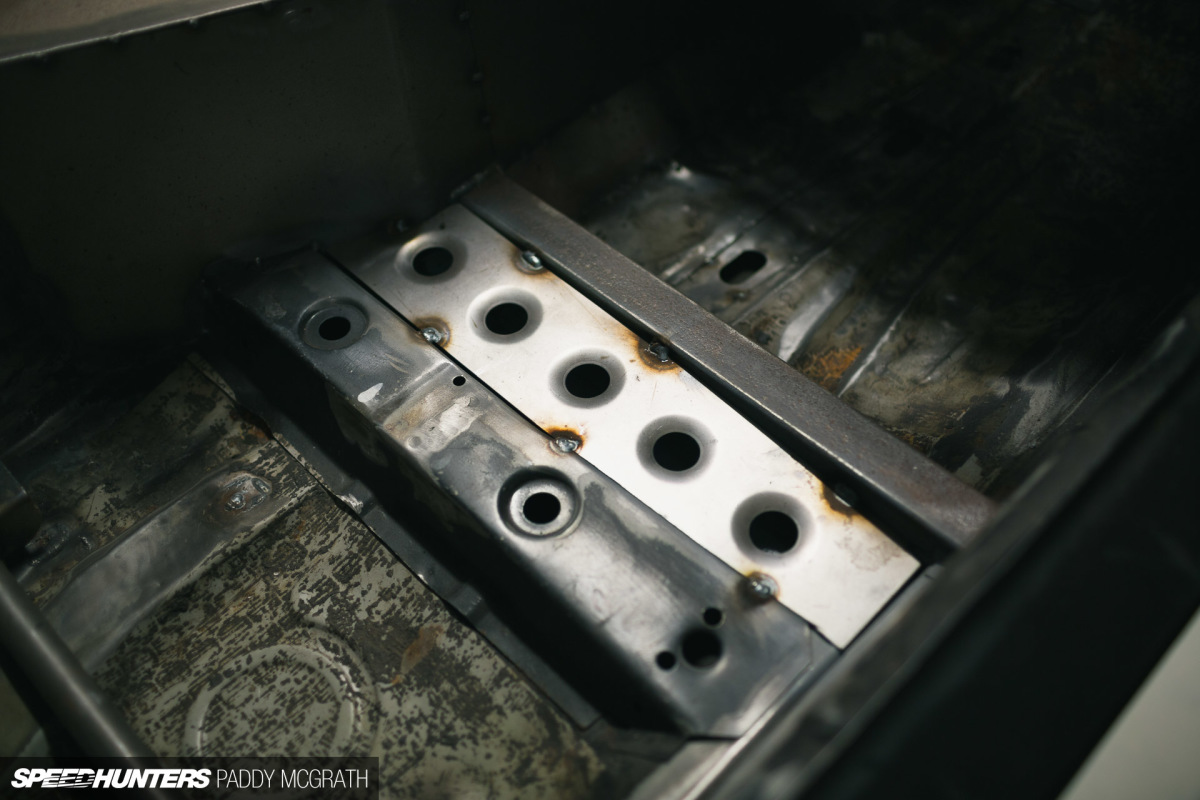 Here is a close up of the swaged plate we've used; it serves no structural purpose really, but looks pretty cool. You can never have enough drilled and swaged plates on a race car!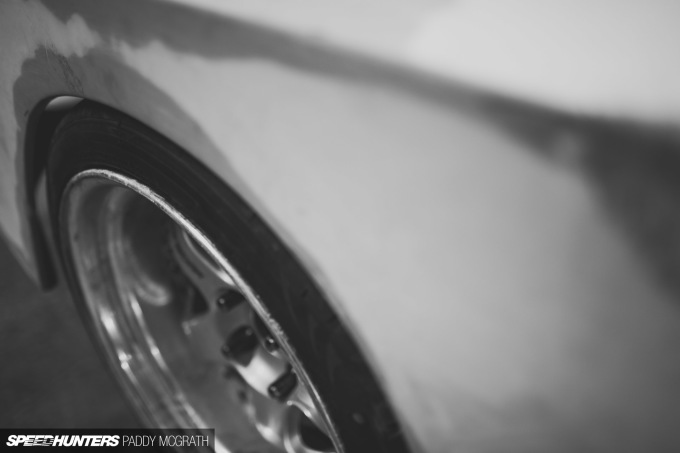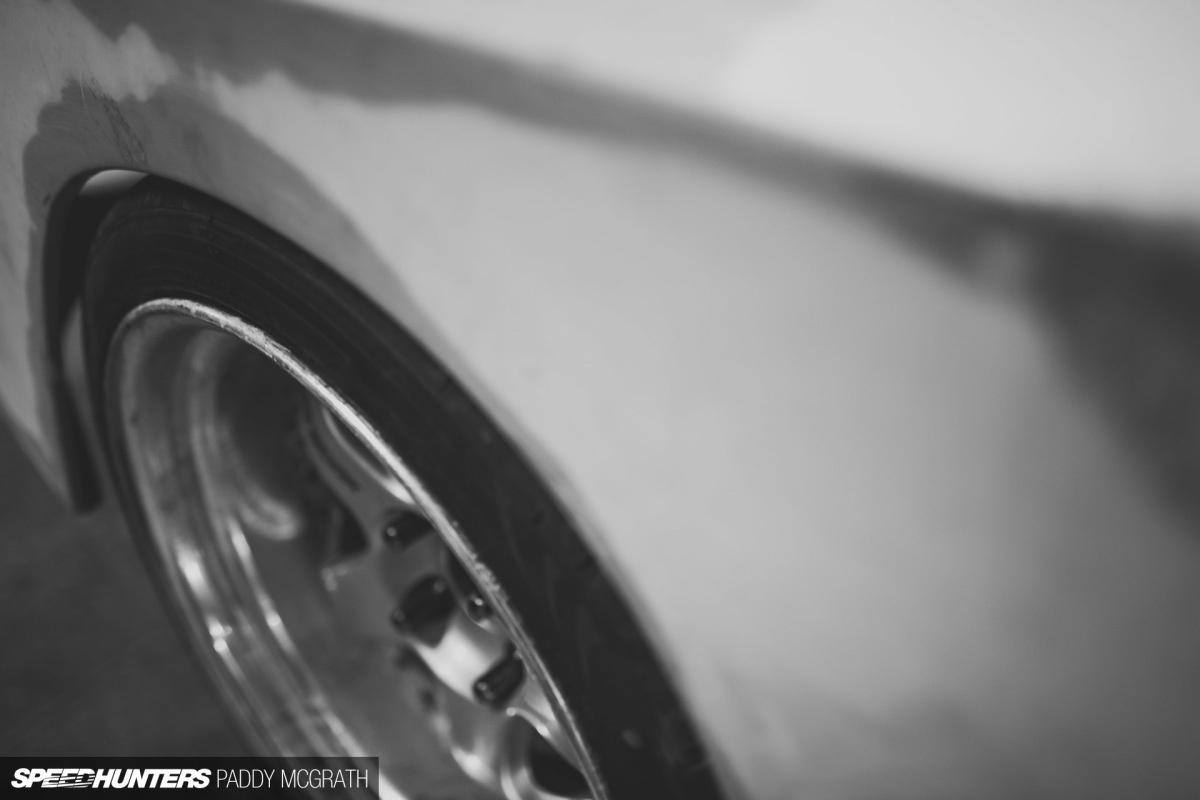 We will probably have to make some sort of frame behind the quarter as it's such a long and flat surface the fiberglass can get a bit of a mind of its own and start to warp. This is something I didn't take into account, but it will have to be done or else it just won't look perfect.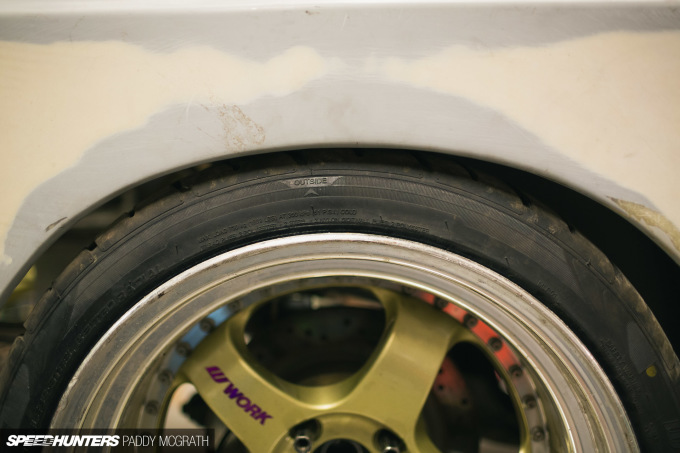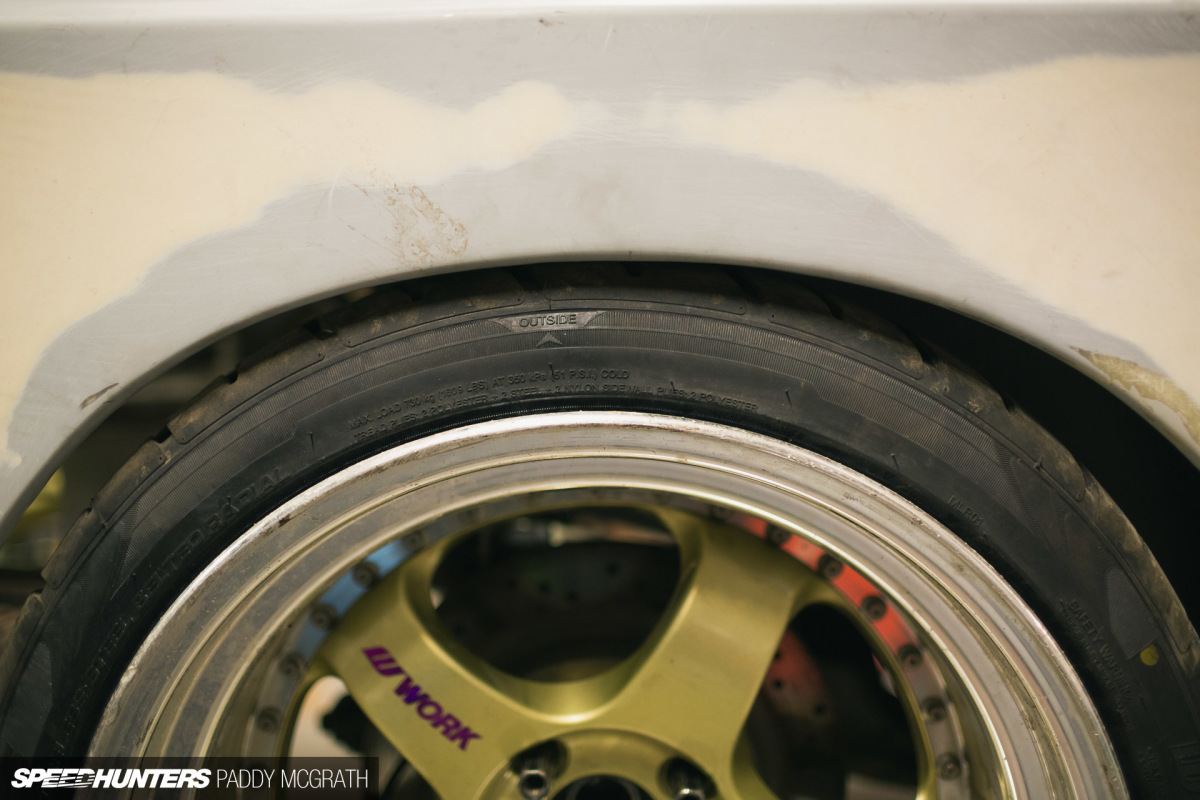 As I mentioned before, we still have to lower the car a little – perhaps 0.5- to 1-inch. That's an educated guess, but I'll know more when I actually get to measure out the rear roll center. The lower you go the more it hurts roll center height, which can ruin the feel. We are going with stock rear spindles on this car as we're using mega 1000hp rear axles from The Driveshaft Shop with 930 CV joints, so drop spindles can't accommodate the large CVs.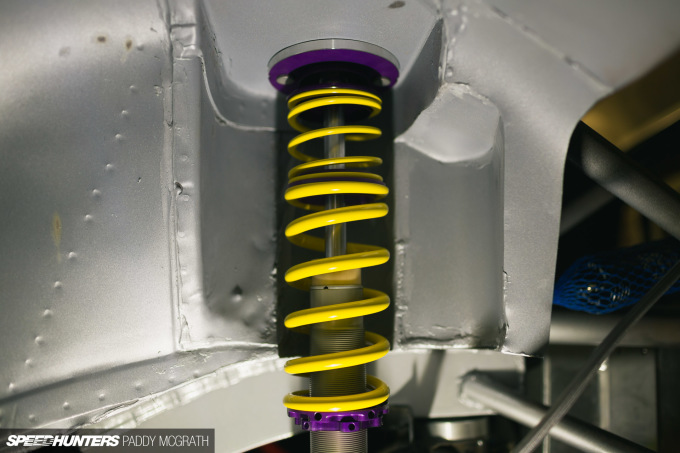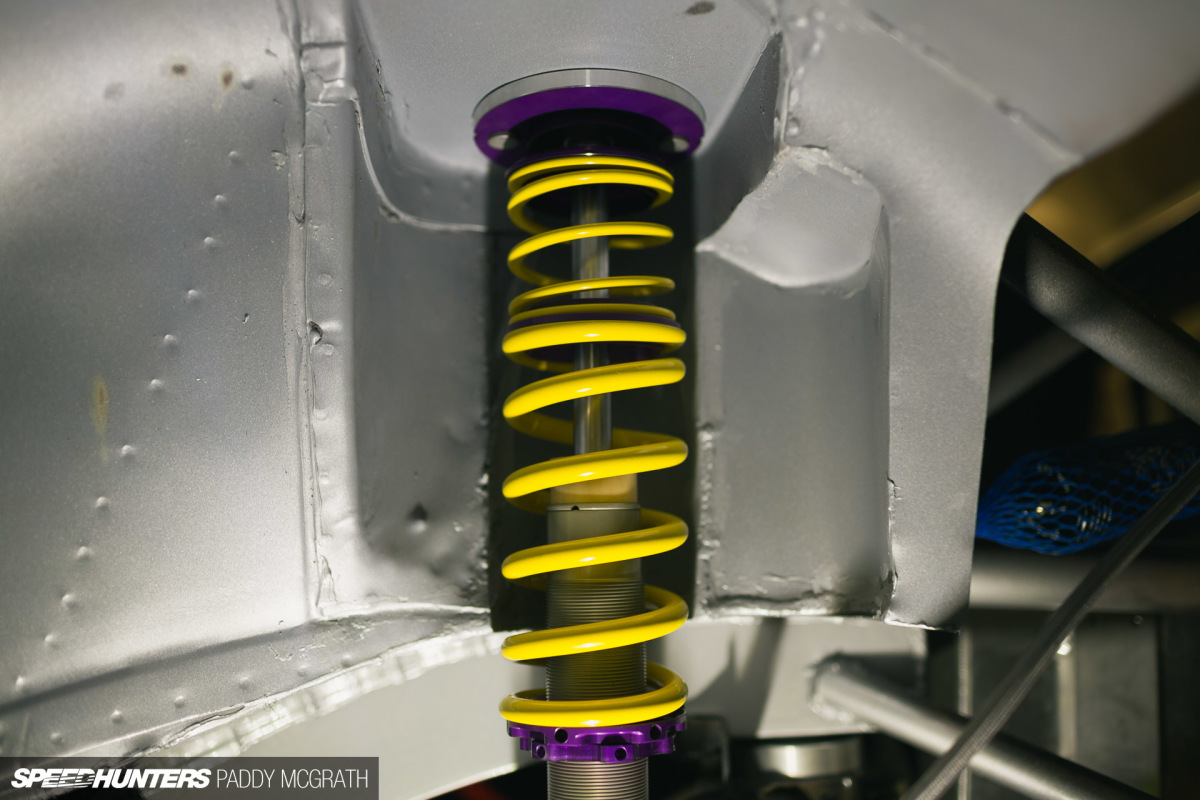 Some clearance had to be made to the rear strut tower to allow the KW S14 coilovers to work, but everything looks good now. I must find a place to mount the canister, but we had KW make the line nice and long so it can be mounted in a more accessible location.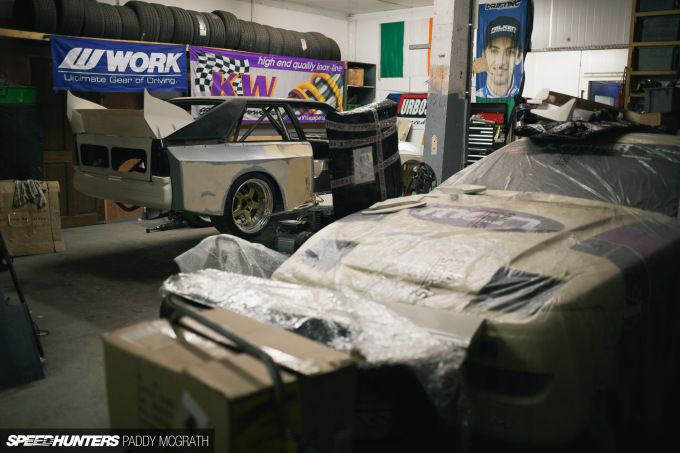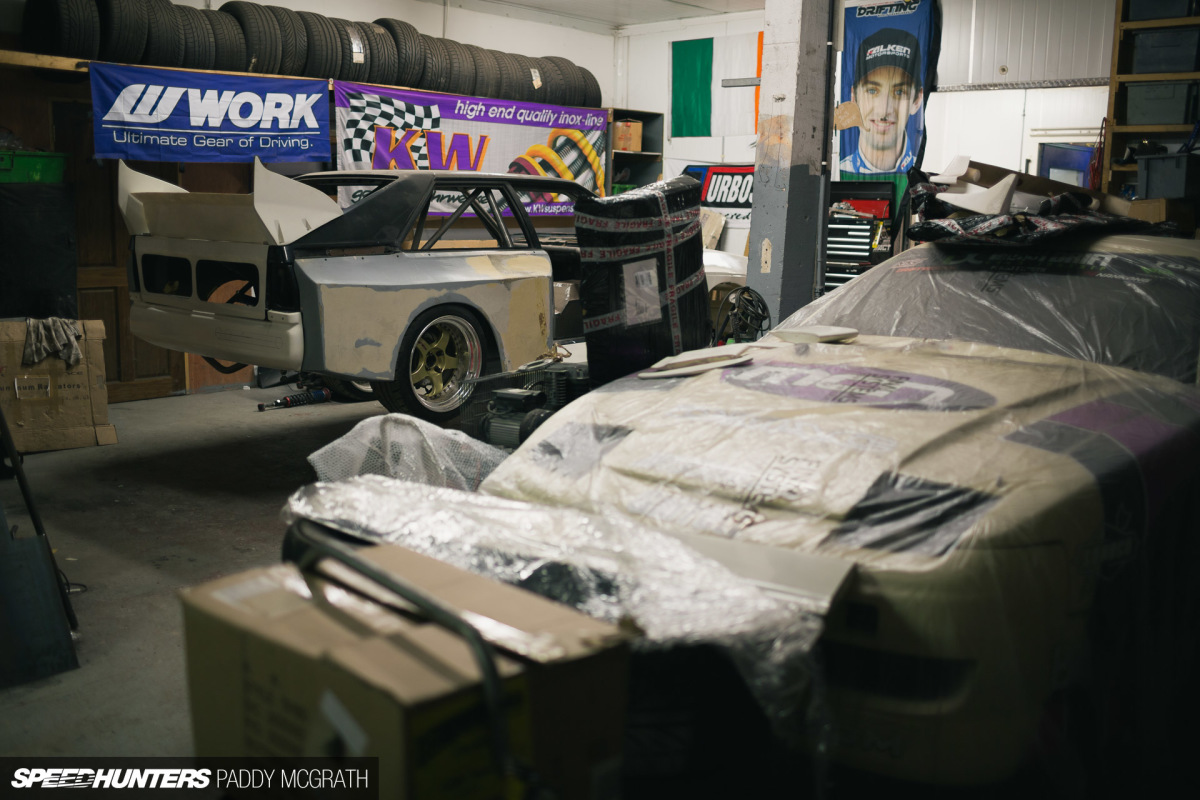 No picture could sum up the next four months of my life more than this one.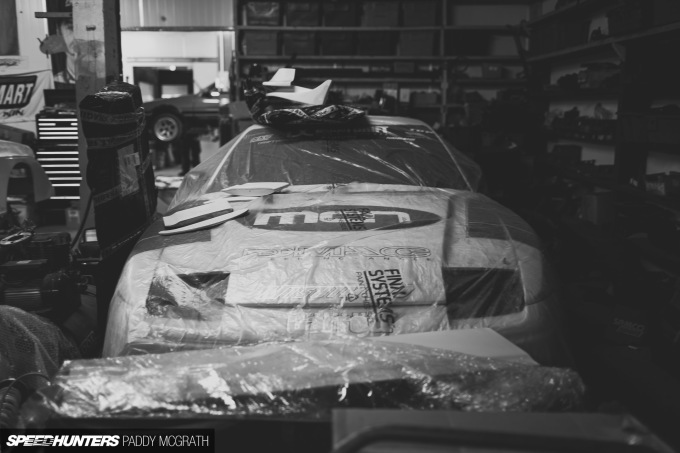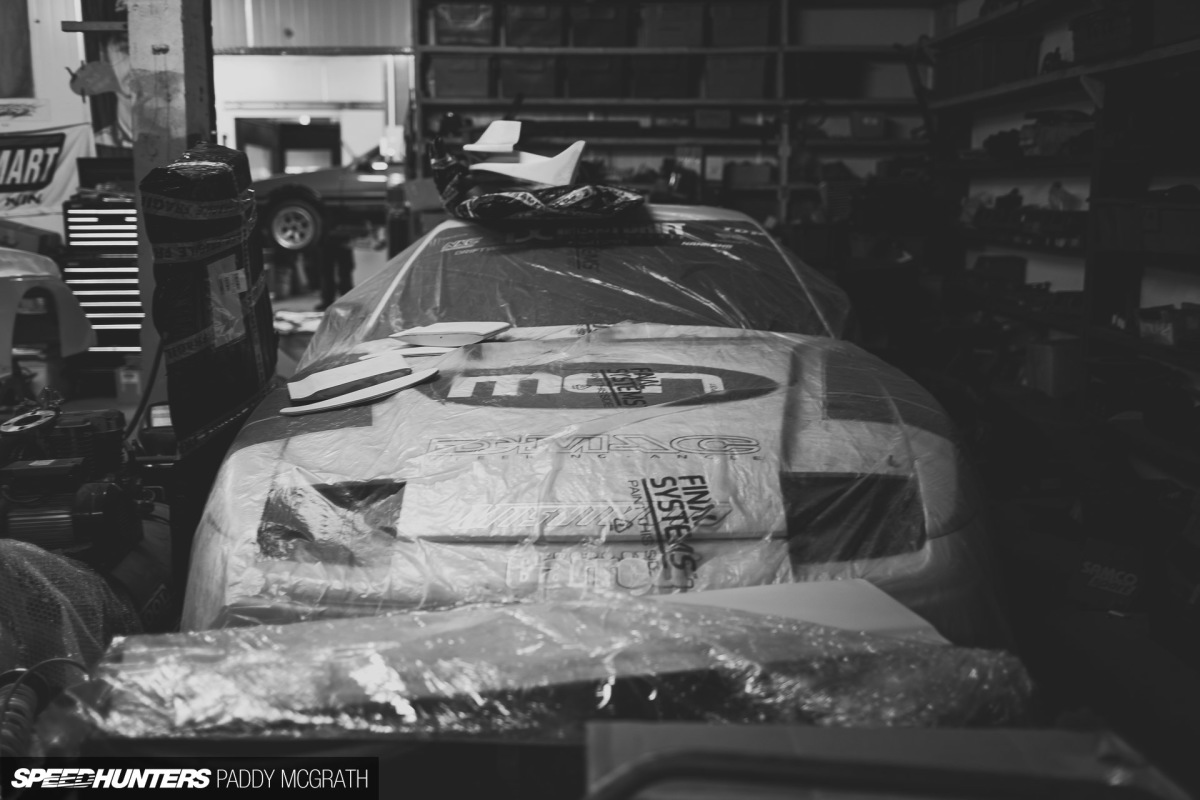 The S13 will be used to set the benchmark for the Audi's handling goals. Great attention has been taken in replicating seat, steering wheel and pedal position on the wheelbase. Being able to run both cars back-to-back will greatly speed up the Audi's development time. Even though one car is left-hand drive and one is right-hand drive, the goal is for them to have the same 'seat of the pants' feeling.
Parts, Parts & More Parts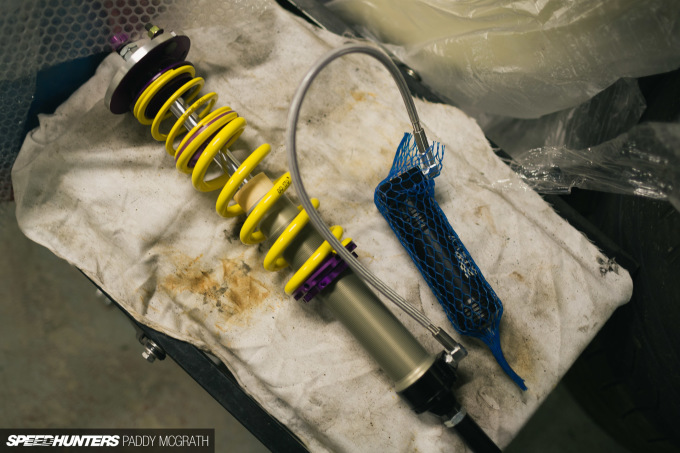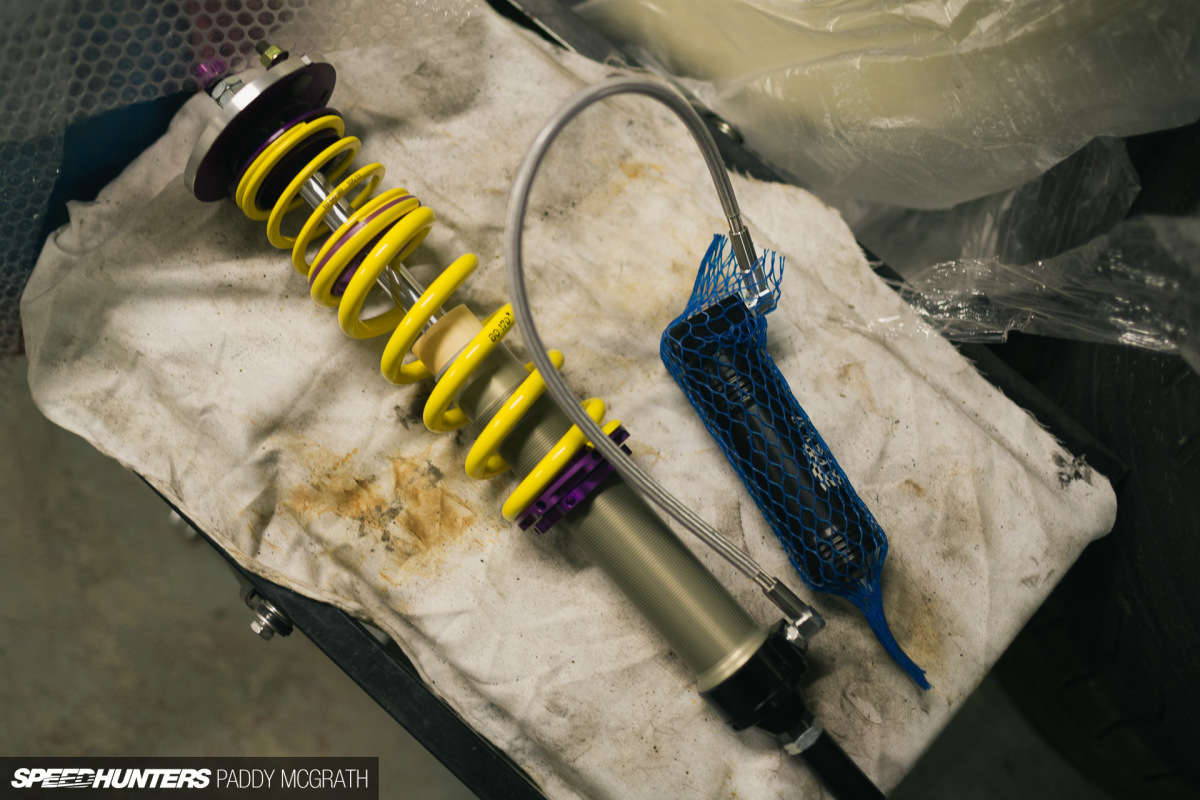 None of this would be possible without my fantastic partners of course, and the last shoutout must go to them. I have a great relationship with the guys at KW and I know their Clubsports are the best suspension for the job. German coilovers on a German car is just right.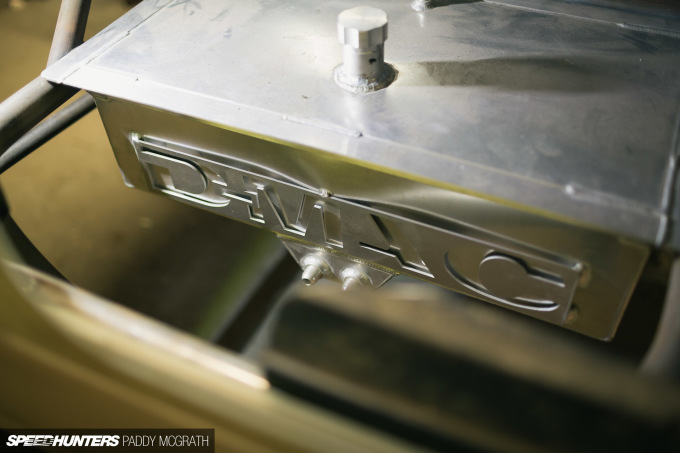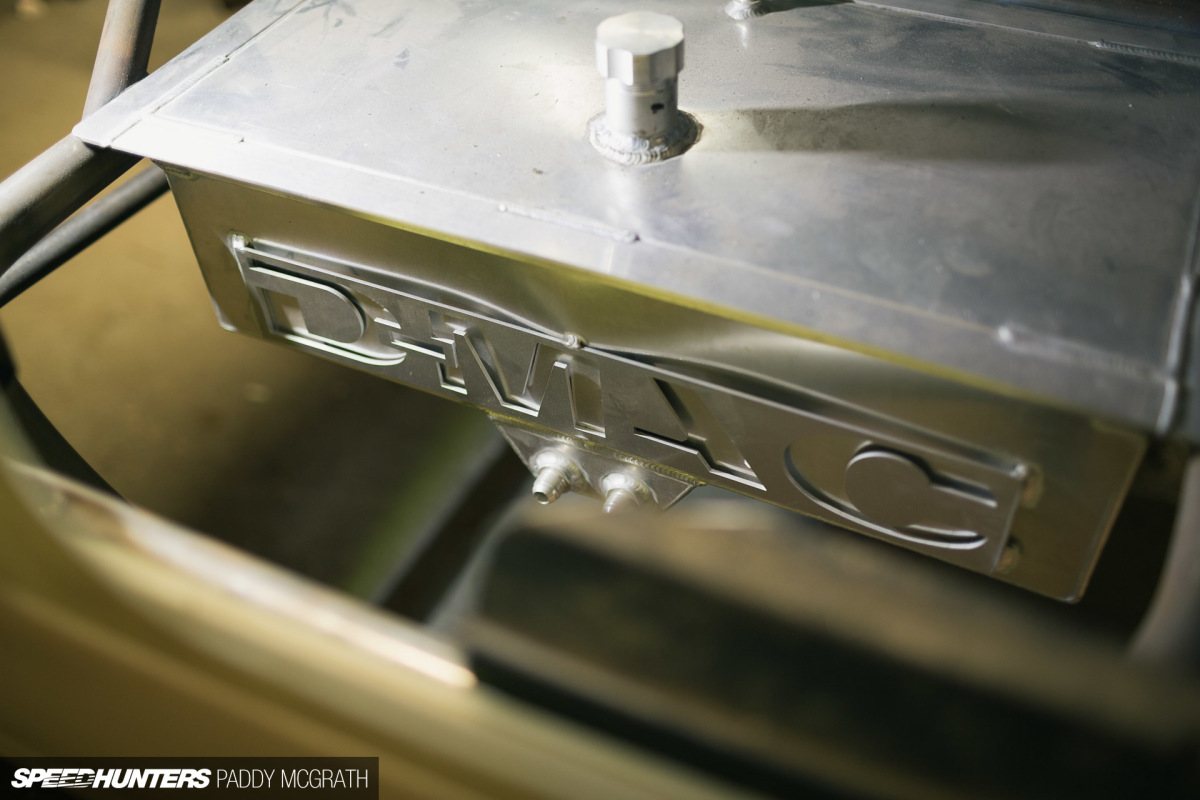 Of course, some of the parts come from my own drawing board, including the alloy fuel cells that will sit in the rear. I designed this cell for anti-surge which is always a big concern, and OBP Motorsport in the UK brought it to life for me.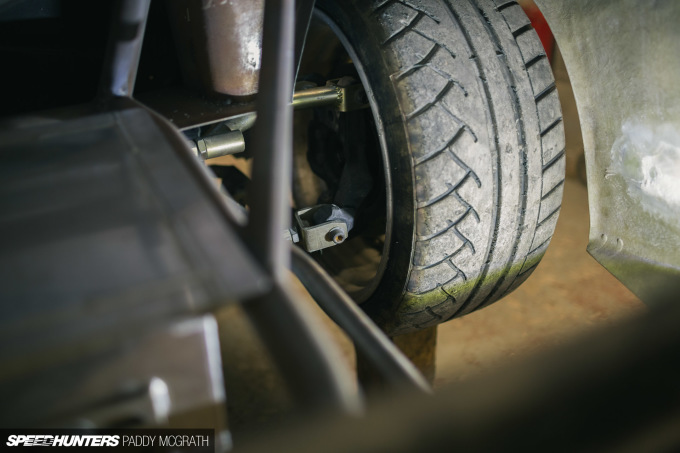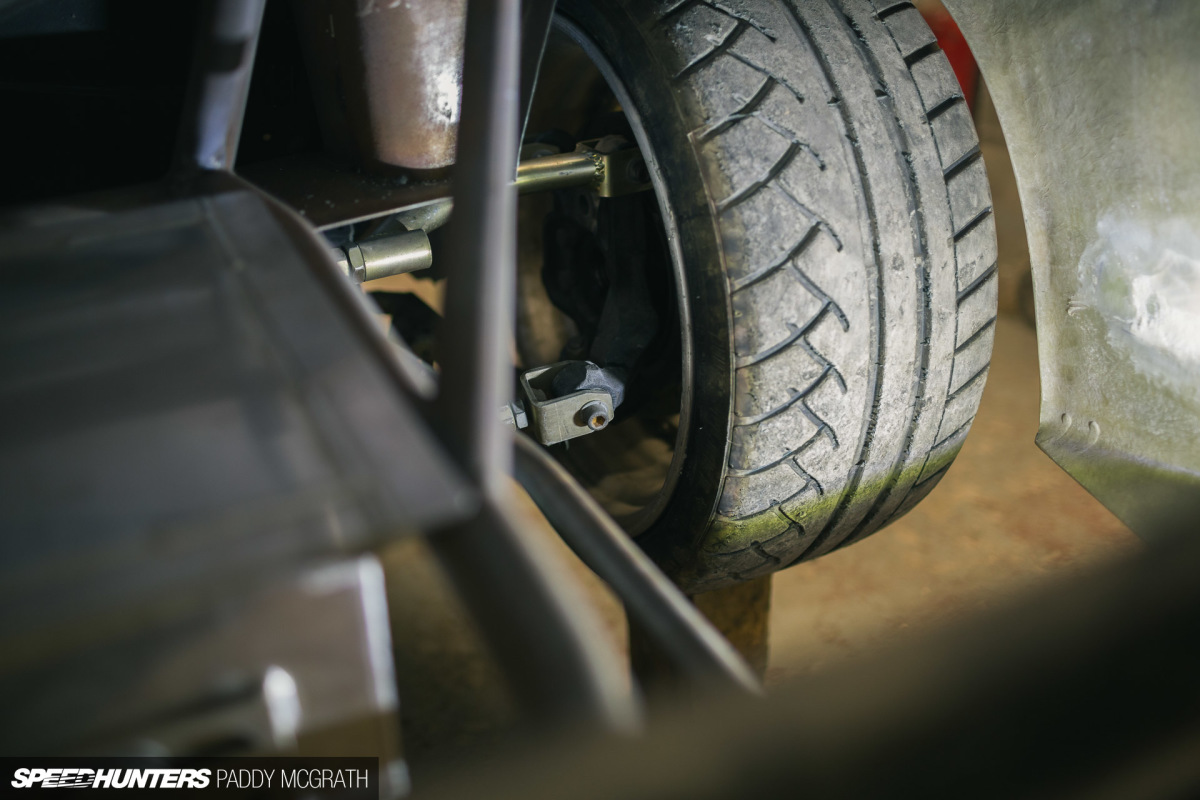 Work Wheels have been on all my cars since day one and they'll be controlled by my own D-Mac control arms at all corners.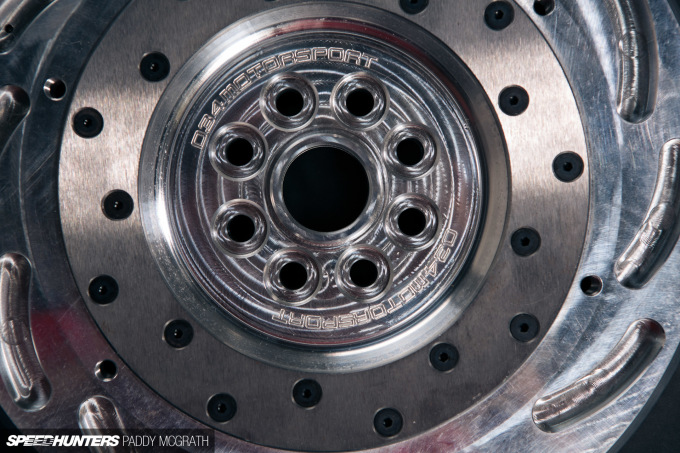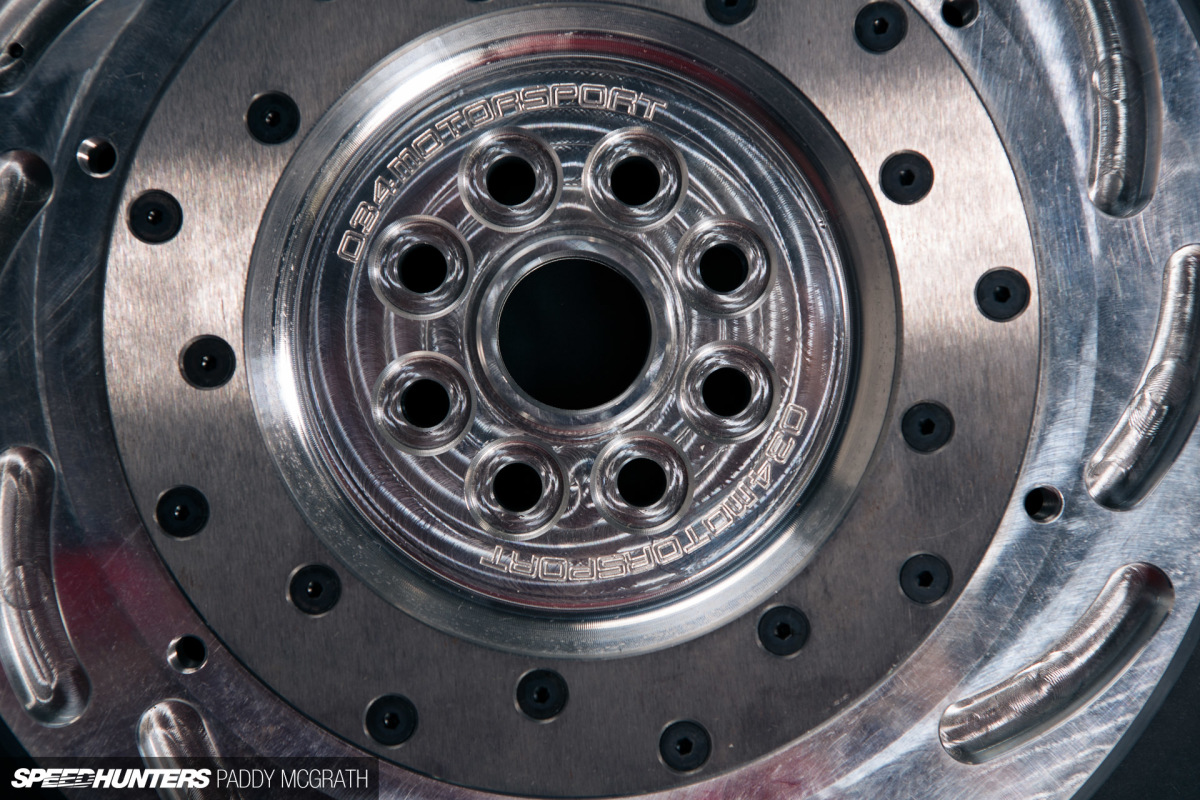 034Motorsport are a new addition to the build and I have browsed their website so many times. Take a look at the flywheel they have provided – it's a work of art! My ACT 7.25-inch triple-plate clutch has steel pins inserted in it by the ring gear which will act as my crank pick-up signal for my Haltech Elite ECU. Drool…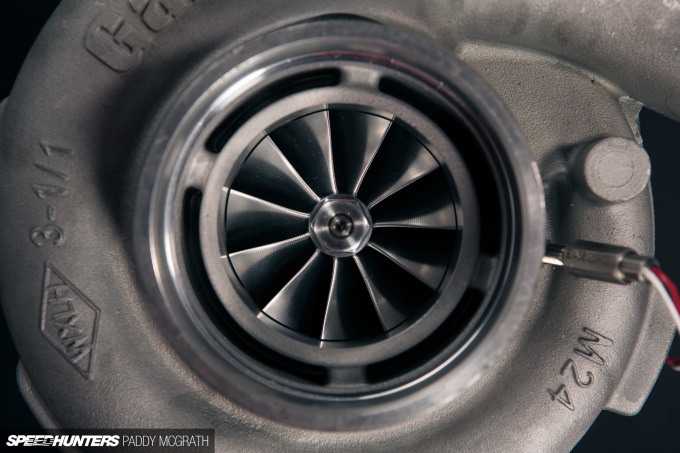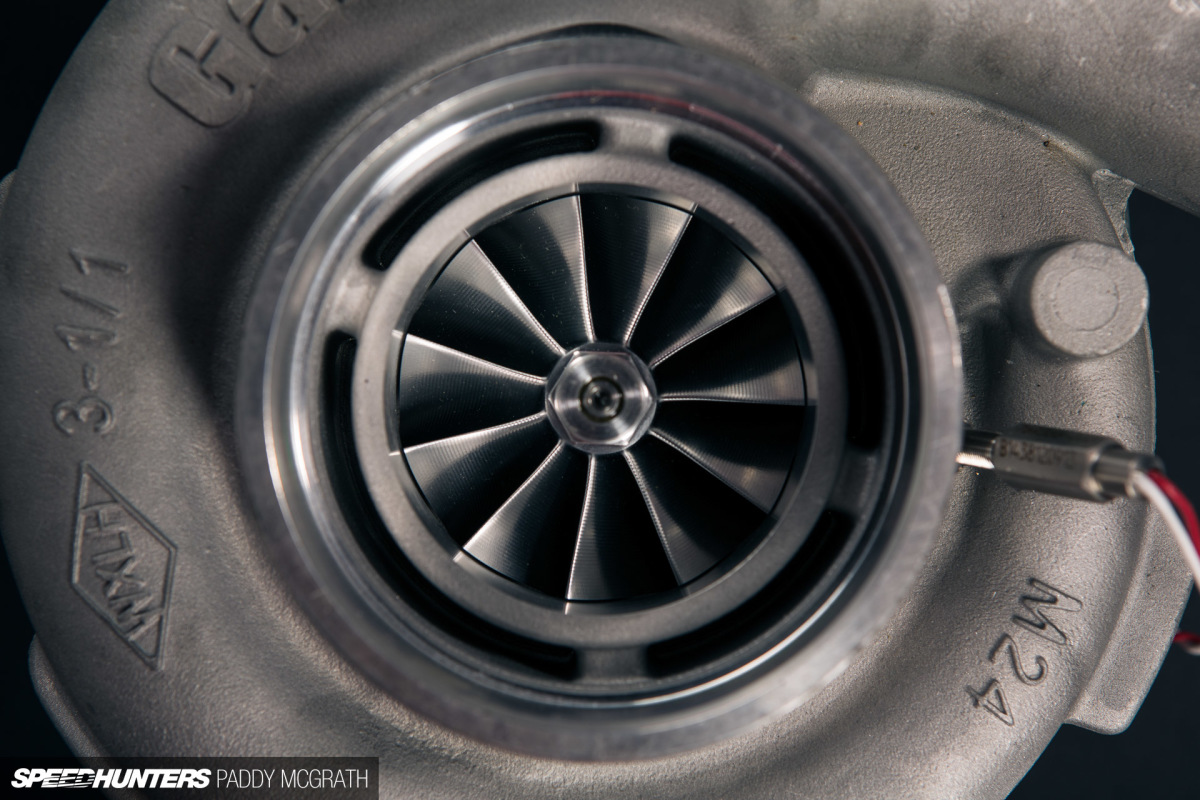 Of course, I can't forget my friends at Garrett either. Their GTX4088 will boost my 5-banger, and it comes fitted with a speed sensor to monitor turbo RPM during anti-lag. Turbosmart will regulate the boost to a figure of 2.0bar (30psi) for this engine, and I'm hoping to push over 700hp on the West Coast Performance Dyno in Southern Ireland.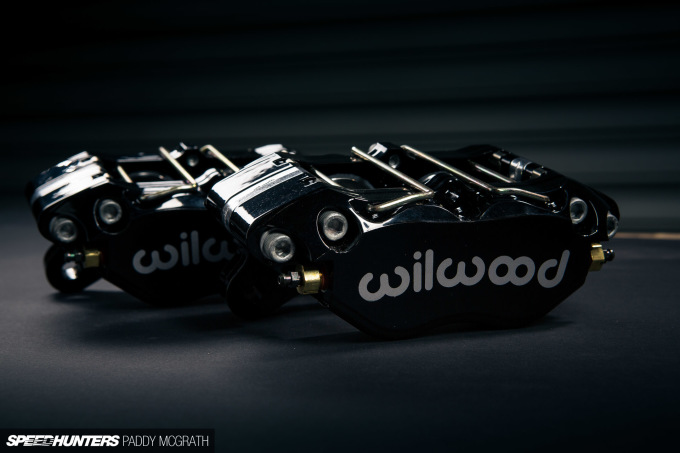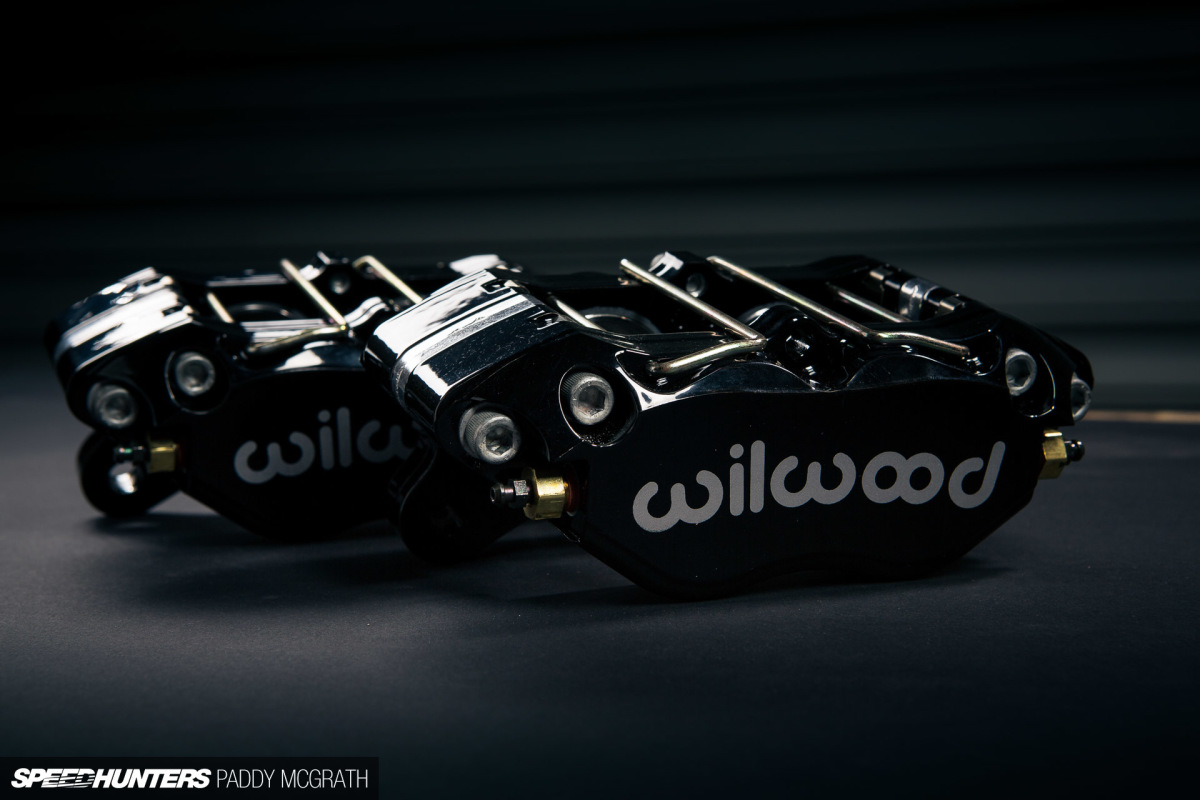 Here are the Wilwood 4-pot calipers for my handbrake setup. All these pictures were taken from the photoshoot we did for the new Need for Speed; if you have the game you might recognise some of them!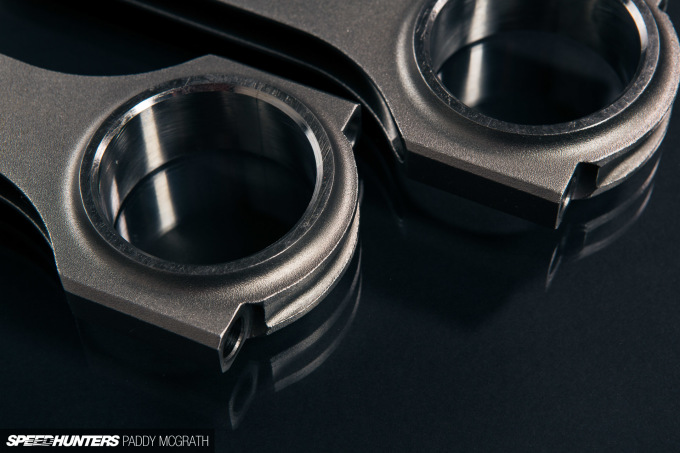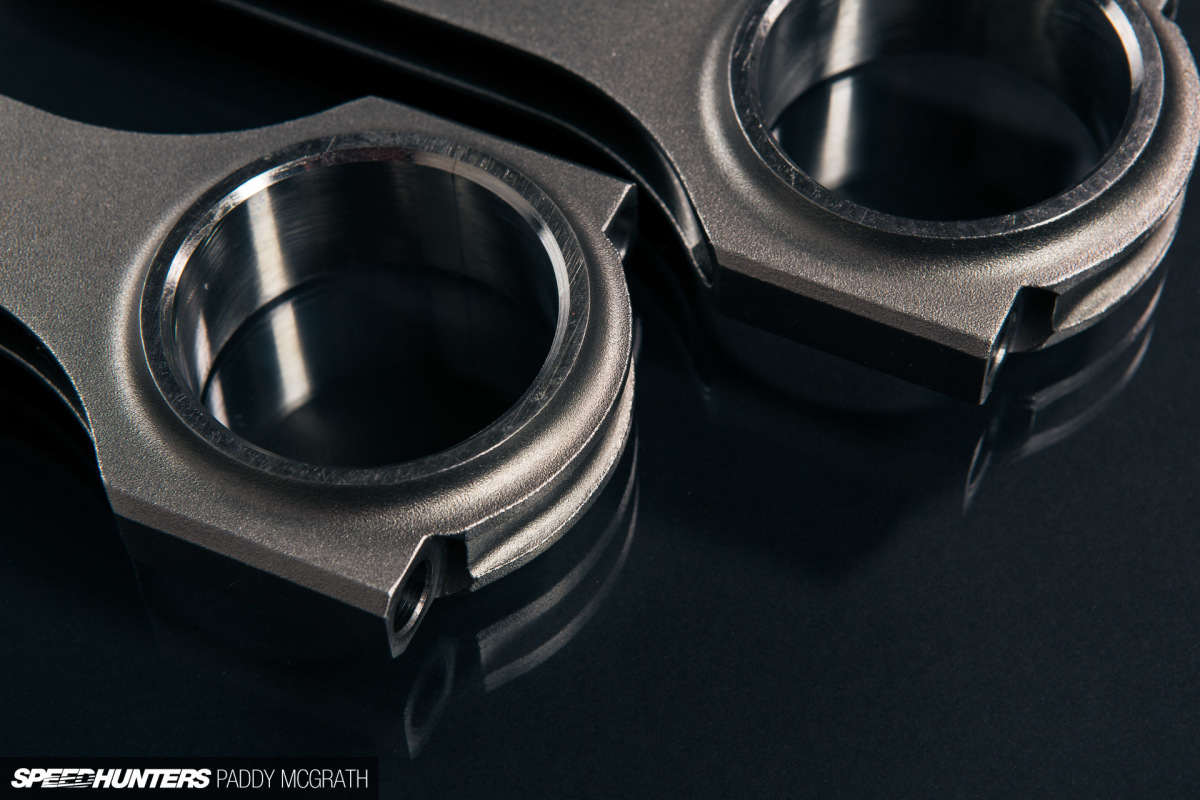 And here are two of five rods that I hope will never come apart at 2.0bar of boost!
As I write this I'm getting nervous even thinking about it – it'll be a lot of stress for a for a 2.7L trying to keep up with the 2JZ and V8 brigade. Unfortunately, if anything goes wrong I will be stumped, as parts for this engine are impossible to find, hence why only the best products are being used. The end result should be something quiet spectacular.
Happy New Year, Speedhunters!
Darren McNamara
Facebook: darrenmcnamara86
Facebook: mcnsport 
Instagram: dmac86official
Twitter: dmac86
Photos by Paddy McGrath
Instagram: pmcgphotos
Twitter: pmcgphotos
paddy@speedhunters.com