Brand Loyalty
I have such admiration for people who commit to one particular car manufacturer. I haven't found my one just yet, or maybe I just can't afford it to know, but I definitely look on with a certain amount of respect and envy for those who have found the one.
For as long as I haven't and have known Bryan Duggan, he was always a Toyota guy. I say 'haven't known' because I knew his cars before I knew him; he owned one of the first really nice Japanese-styled AE86 Truenos in my locality.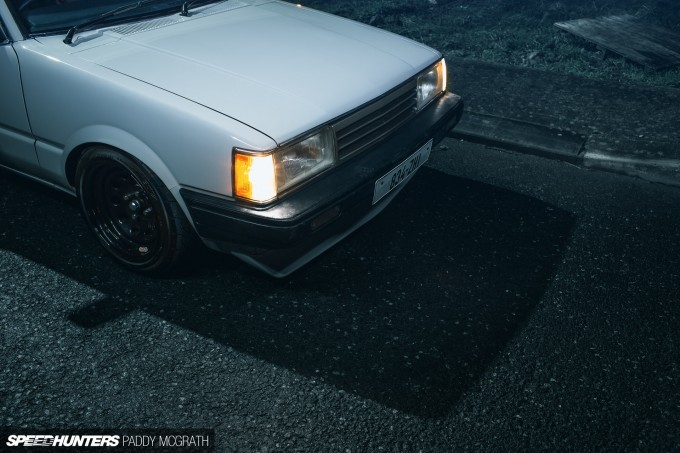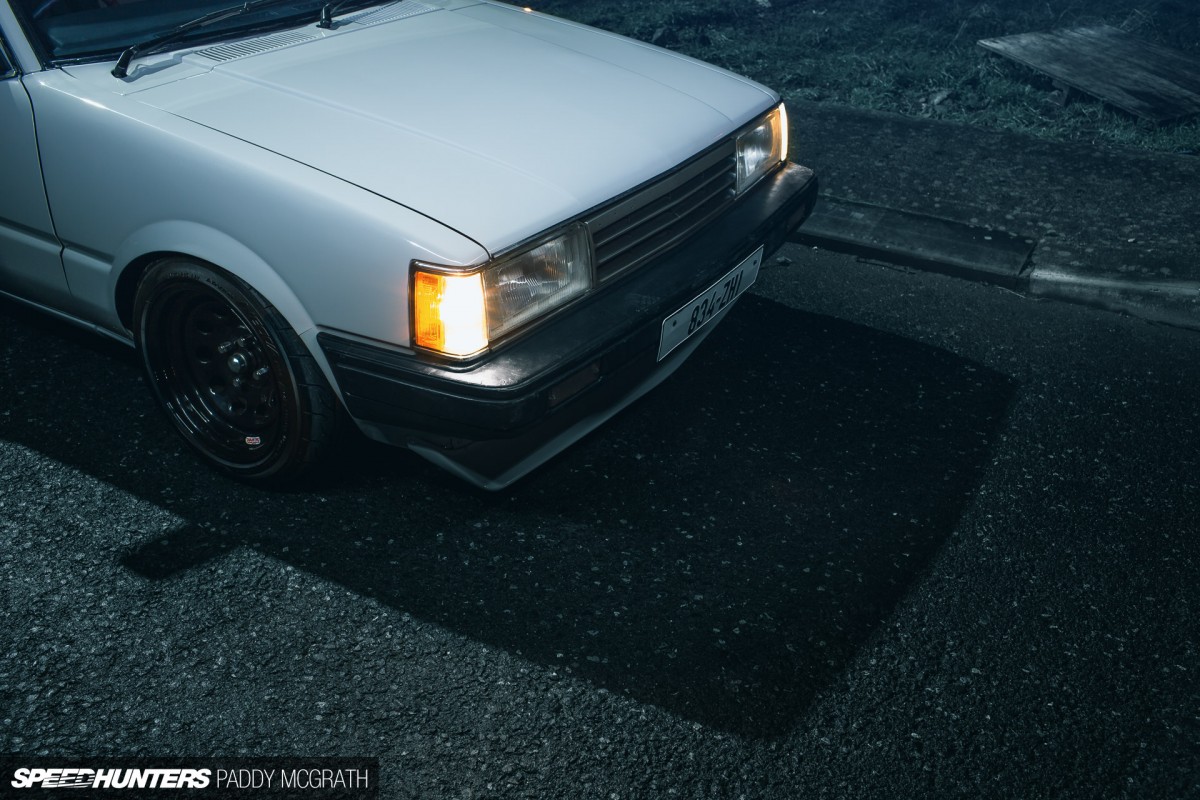 It was actually because of his Trueno that this project came about. In many ways though, it was very much an accidental sort of build.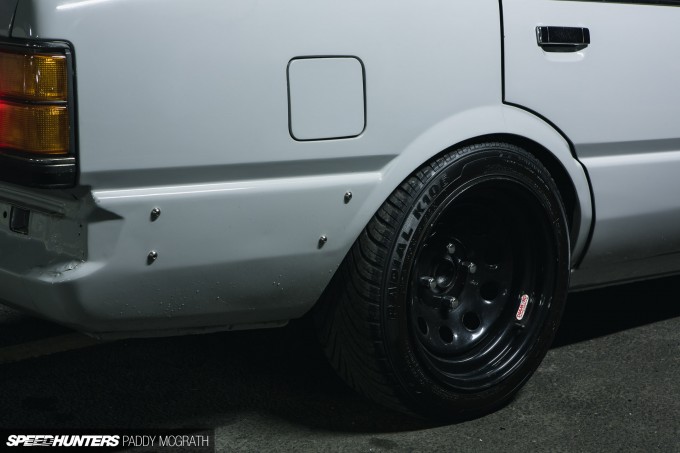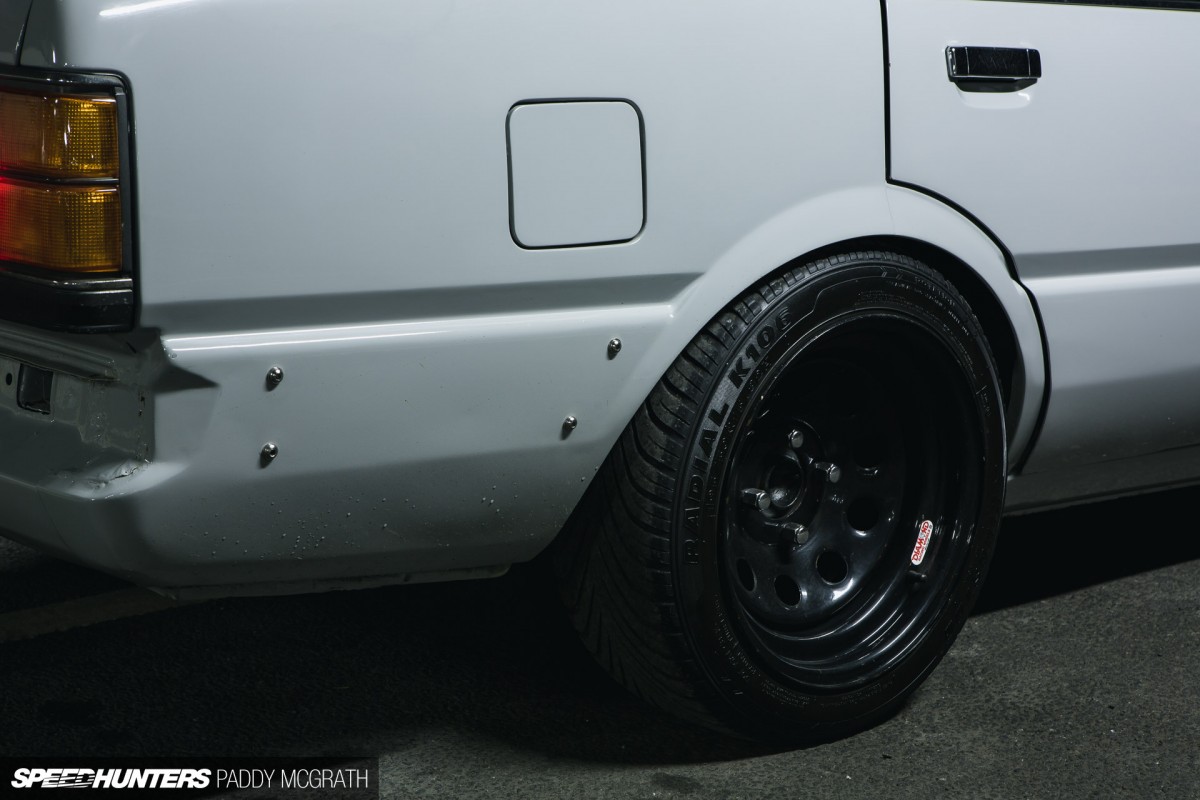 Wanting to protect his Trueno from the Irish roads whilst still having something fun to drive, he looked at other options. Another Hachiroku would be too expensive and sort of pointless; KE70s would have been ideal but their prices were on the rise and are becoming far more common here.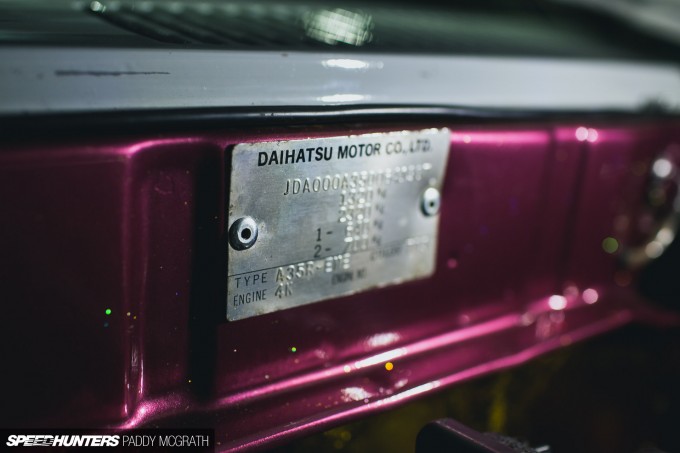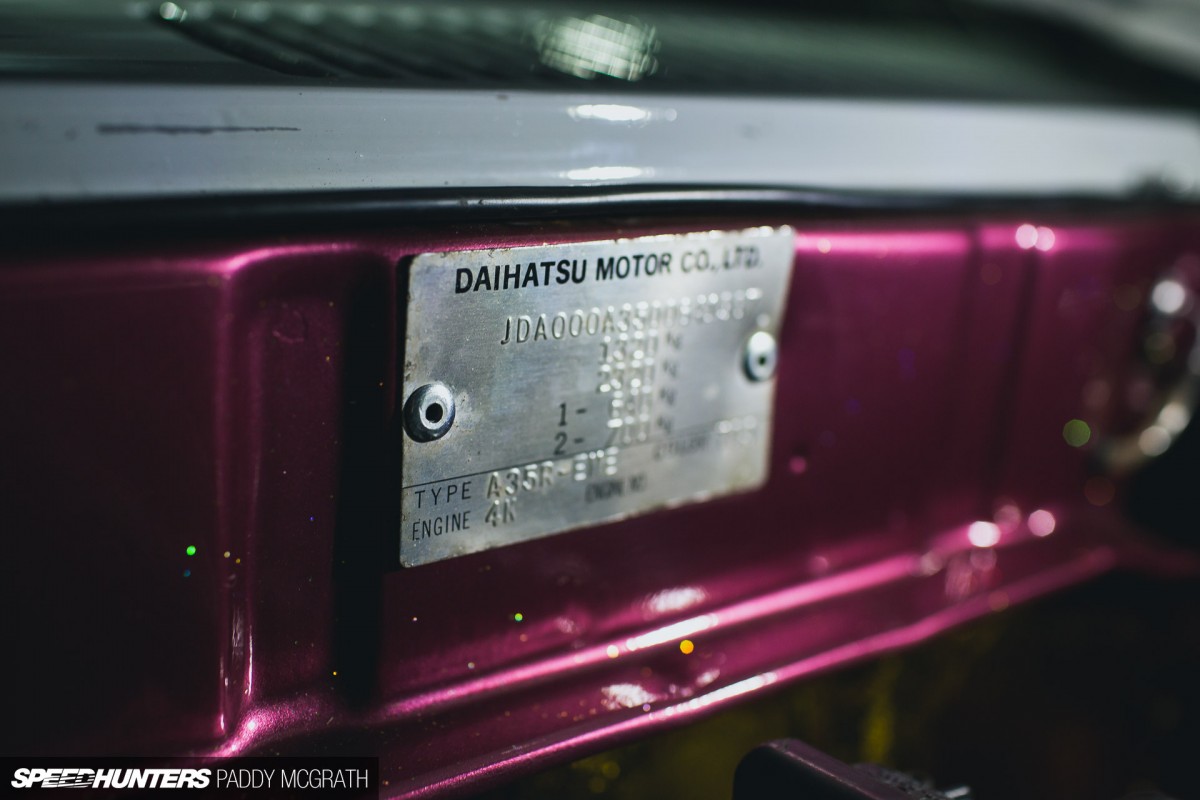 What Bryan chose would ultimately give him all the fun of an AE86 but for a fraction of the initial purchase price. Whilst it's not a Toyota in name, it most certainly is one by any other measure – especially when you discover how Bryan has gone about this particular build.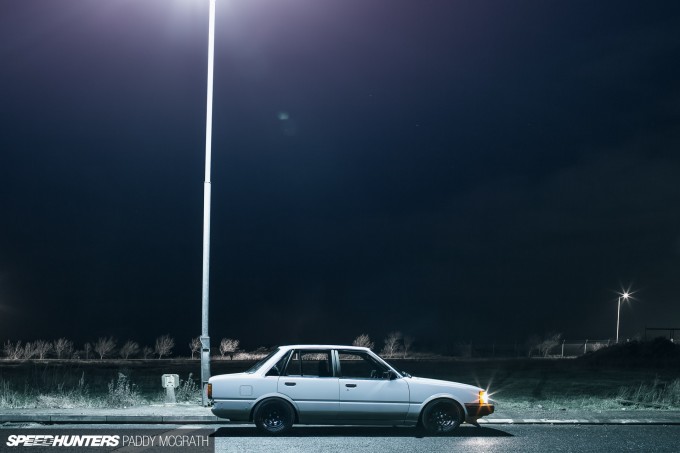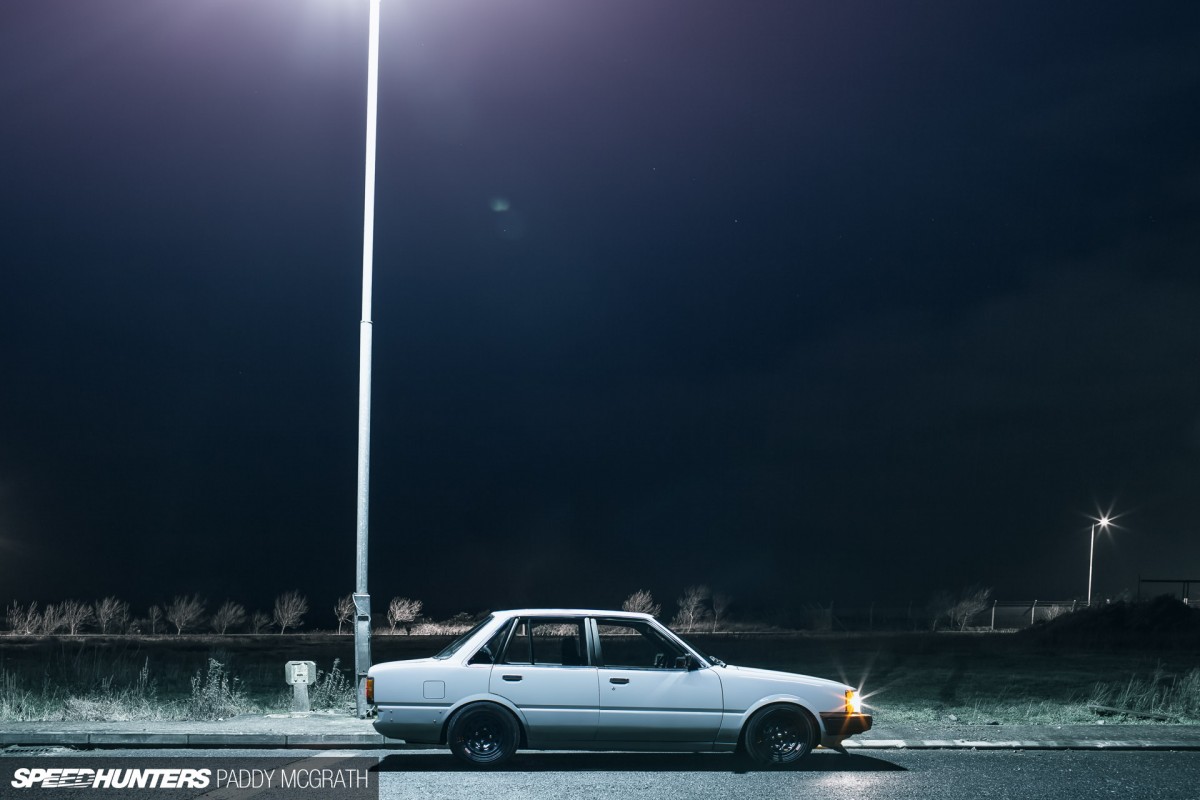 You don't see the Daihatsu Charmant too often on Speedhunters; in fact, I think this might be the first one we've ever featured. It's not because we're Charmant-ist, but rather because they're a pretty rare sight. Even in a country which is saturated with retro Toyotas and the like, we've estimated there to be less than 10 of them remaining on the roads here. It's no wonder then that Daihatsu is probably the last name that comes to mind when you think 'retro Japanese car' with numbers this small. However, I think I might have found a new guilty pleasure…
Accidental Project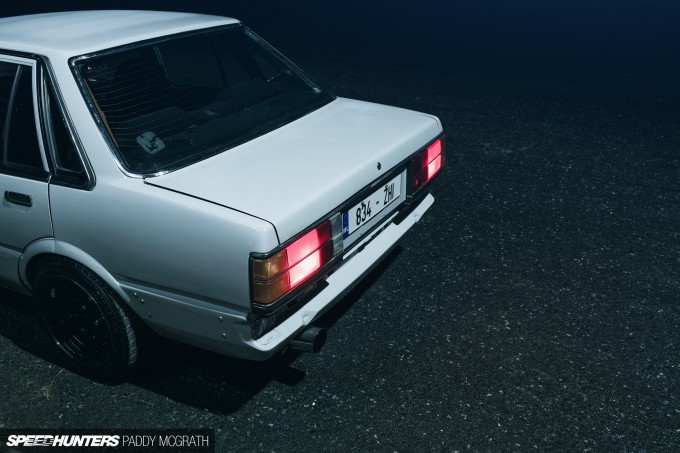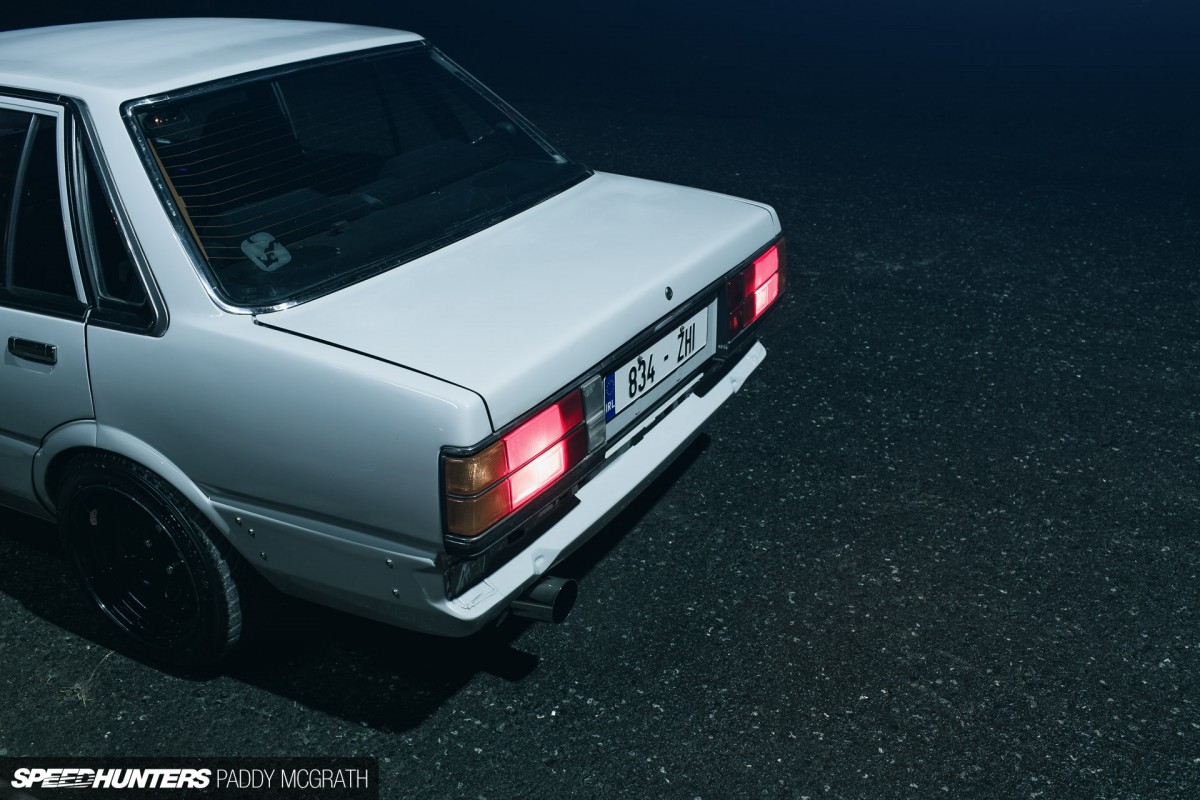 "It's so f*cking ugly." Probably not the words you would expect to hear from a car's owner, particularly after a prolonged build, but it's difficult to disagree with. In many ways though, it's part of the Charmant's charm.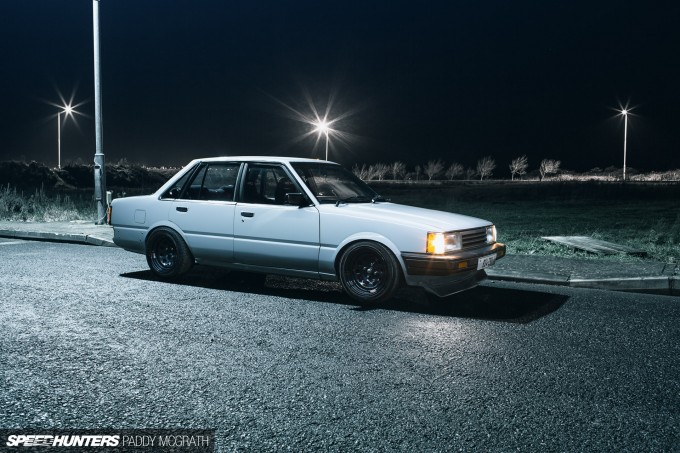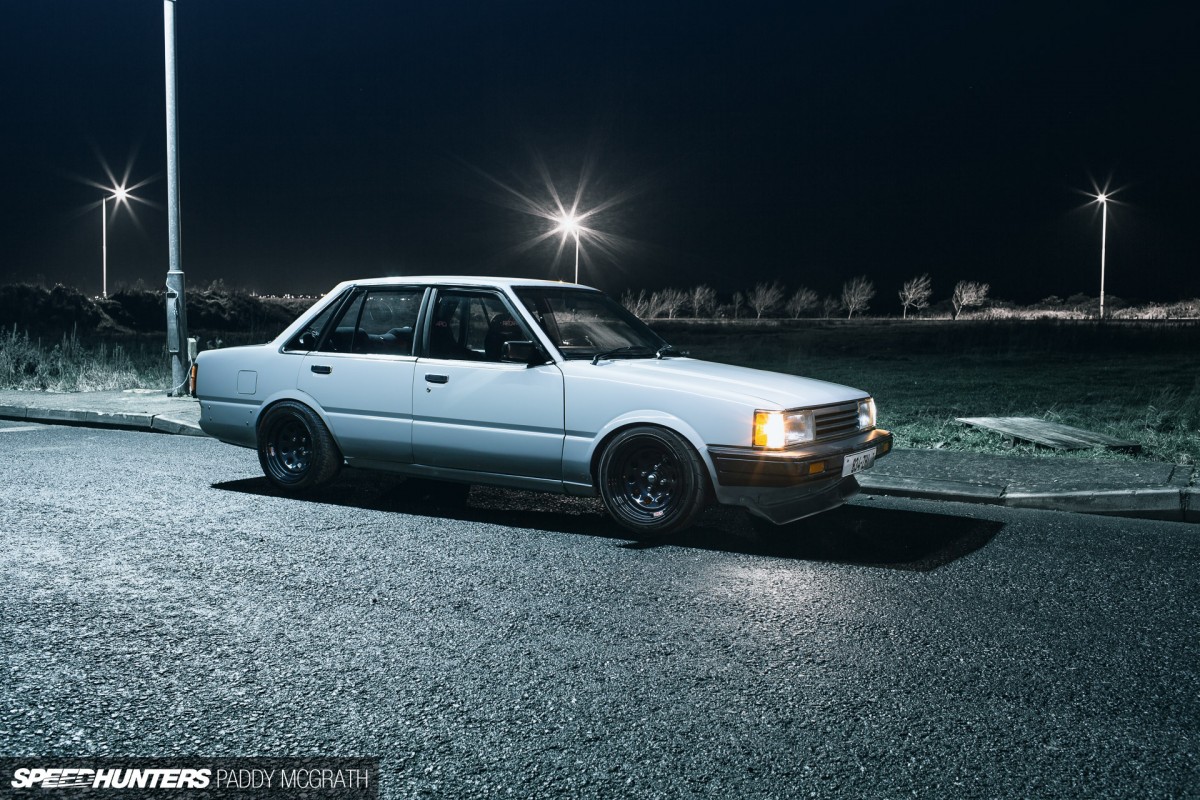 If you squint a little and imagine that the rear most passenger window isn't there, then you'll almost see a KE70 Corolla. They're both the same chassis, but just with different exterior details. The lights, both front and rear, are larger and more unsightly than the Toyota equivalents. The boot area is different too, with a slight slope to it.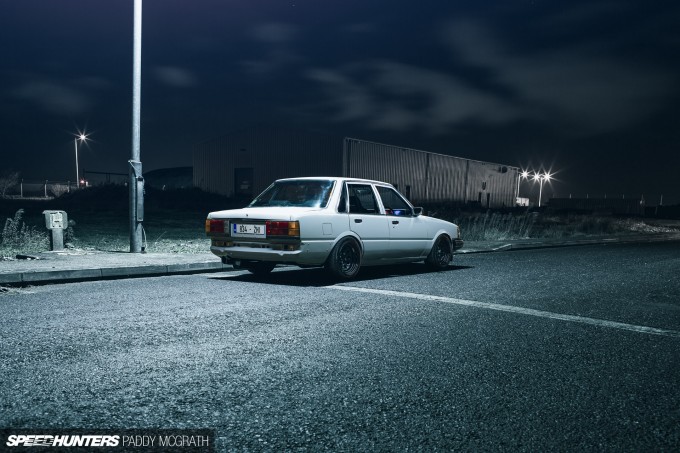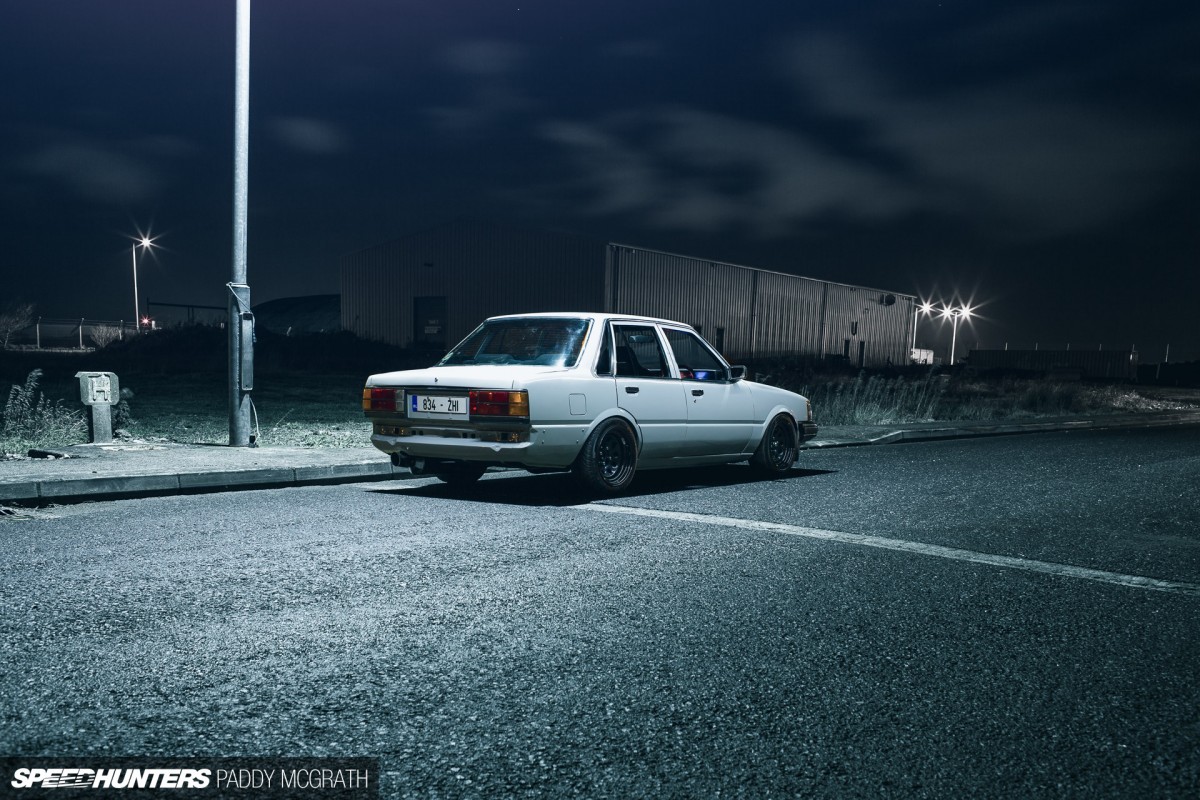 Bryan doesn't seem to take the car too seriously, but the work involved in turning this into what it is today has been significant. It has undergone a complete and total restoration before it received a transformation, too.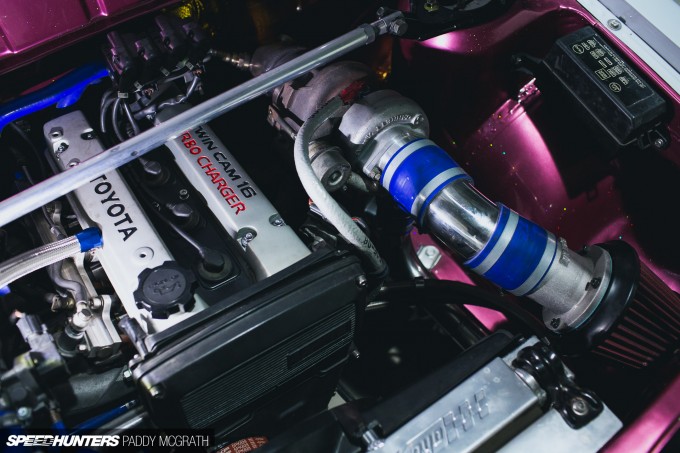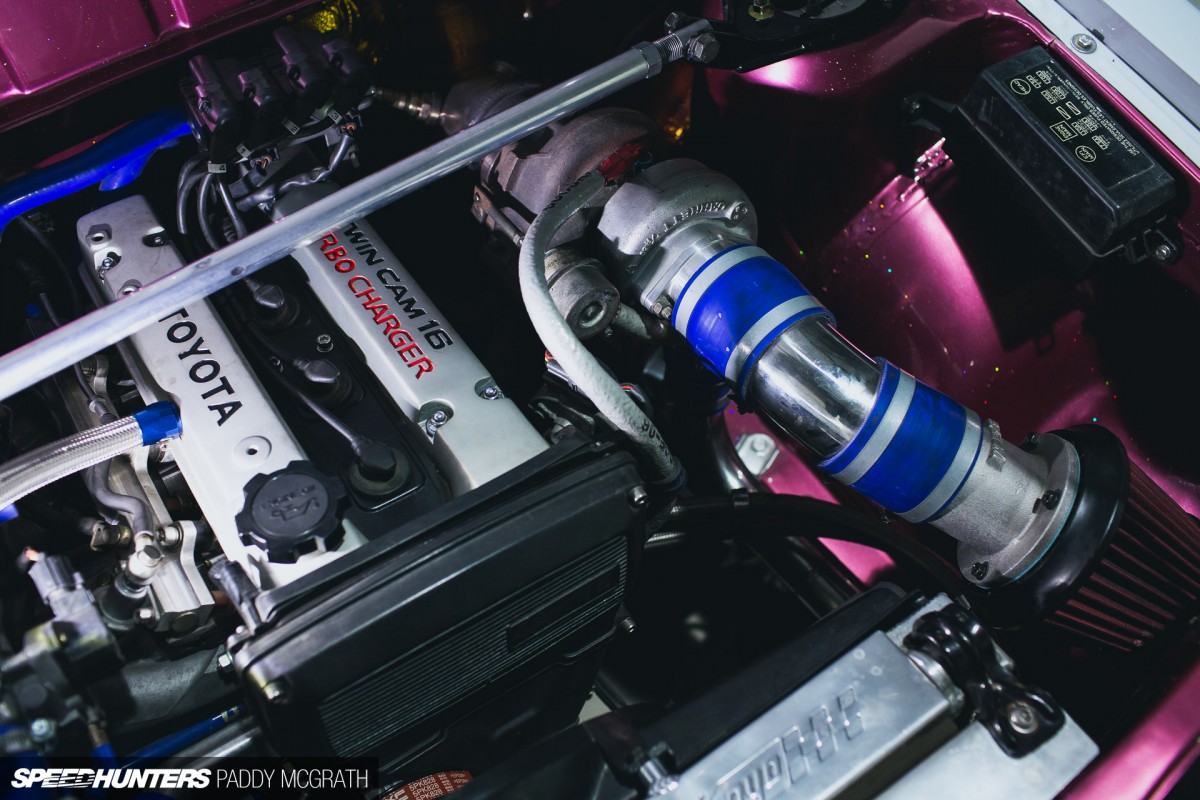 Originally, this Daihatsu came with a lethargic Toyota 4K. The Charmant wasn't created with performance in mind, so the 1.3-litre OHV engine was perfectly suited for what Daihatsu intended to be a comfortable saloon car. For what Bryan had in mind, the 4K was never going to suffice however, and a little bit of AE86 DNA would have to be injected into the equation.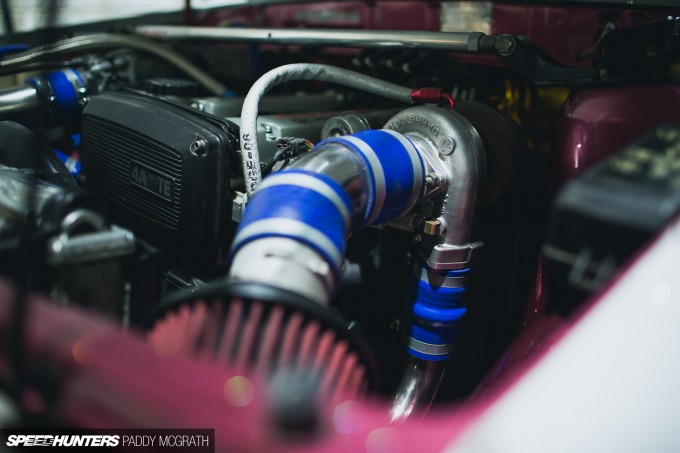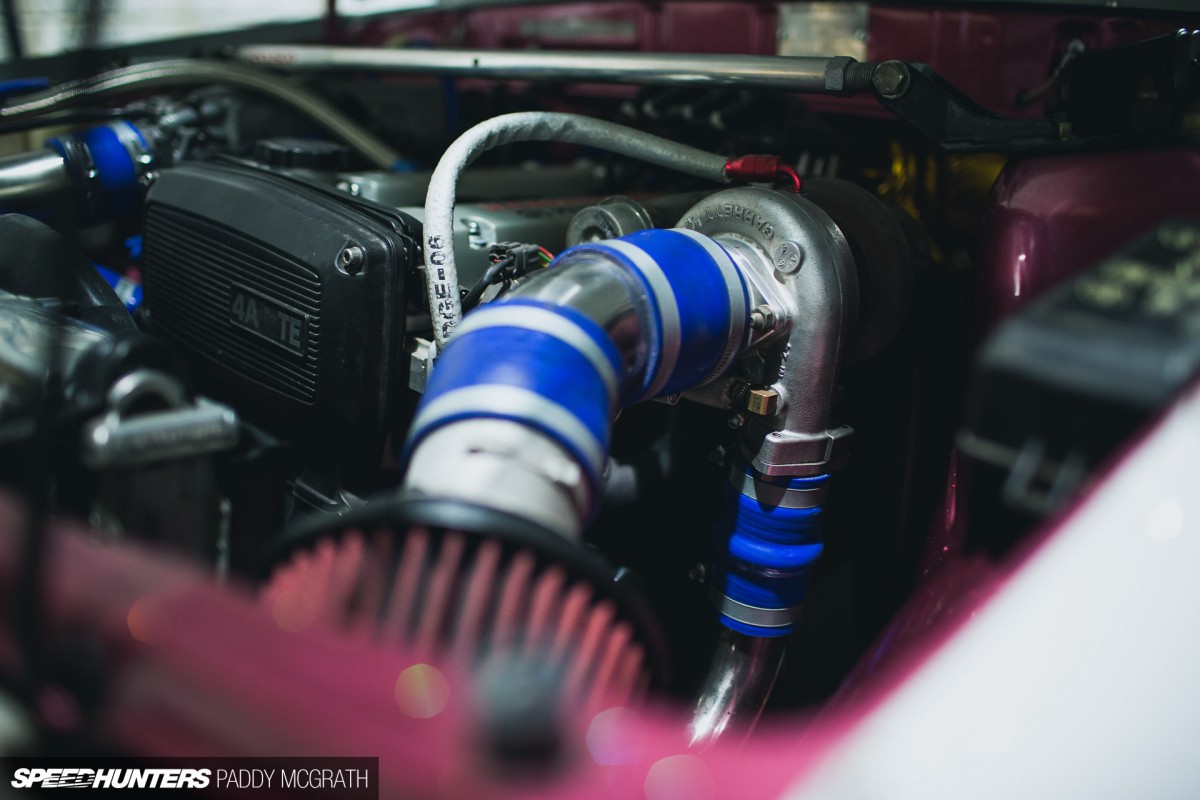 Speedhunters readers will of course be familiar with the 4A-GE 16-valve engine and likely its 4A-GZE supercharged cousin, the latter of which Bryan chose as the base for a turbo conversion.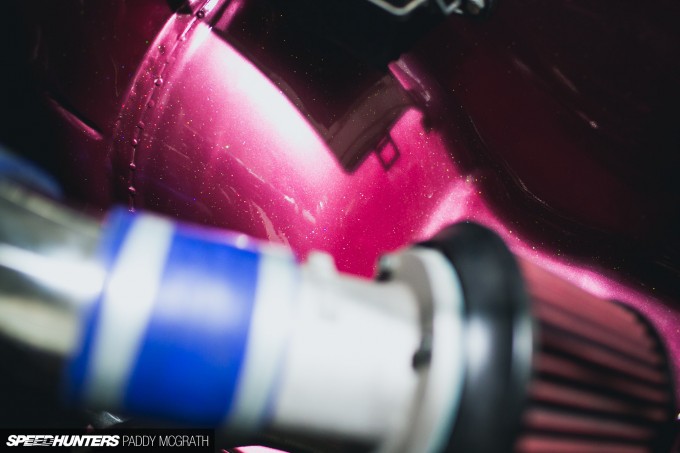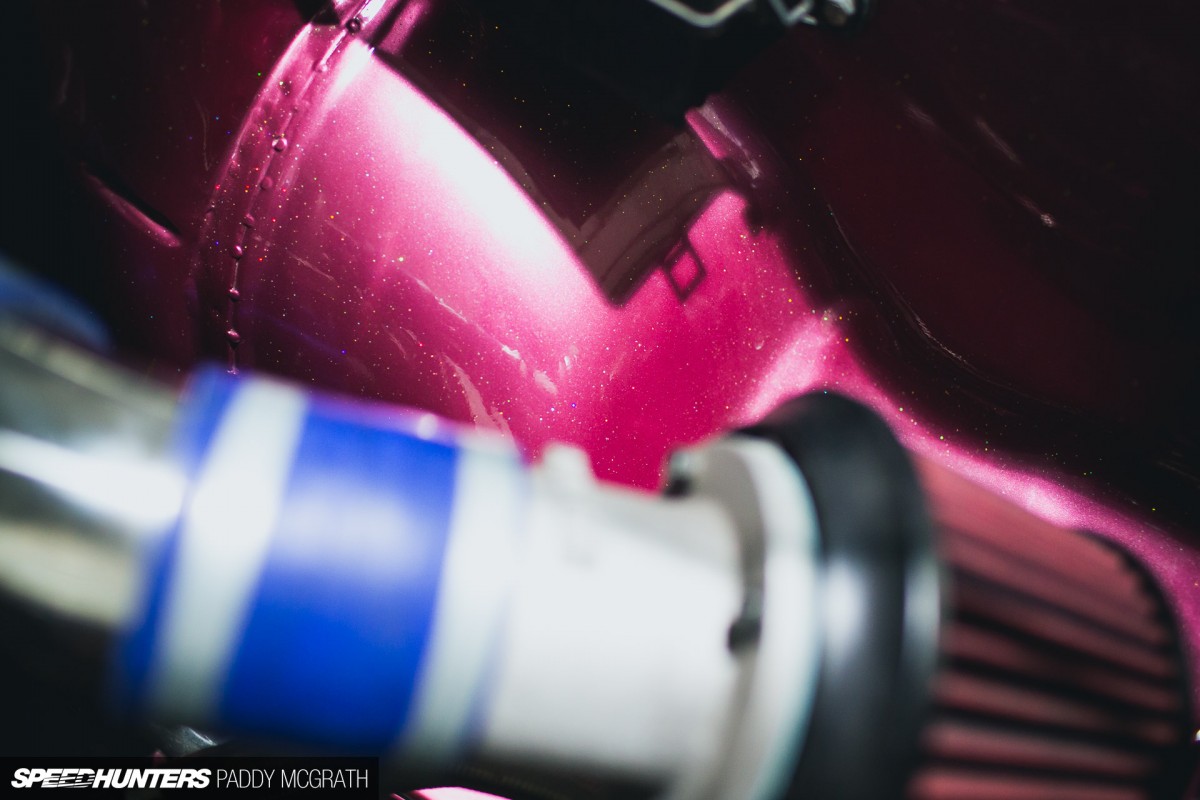 The sparkling pink paint in the engine bay was a deliberate choice; something to reinforce the idea of this Charmant being dull on the outside but quite the opposite underneath.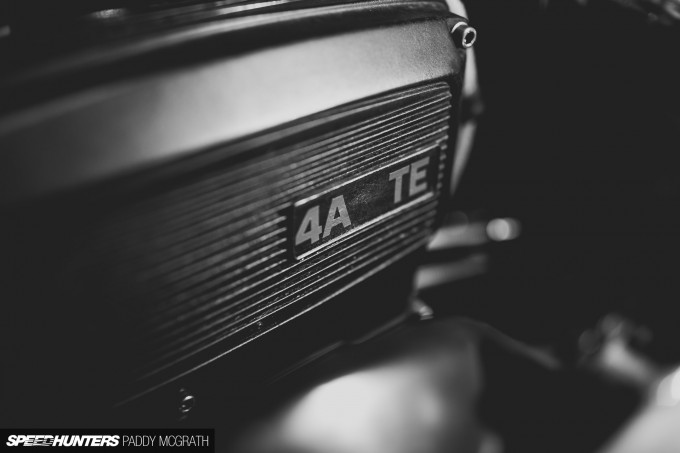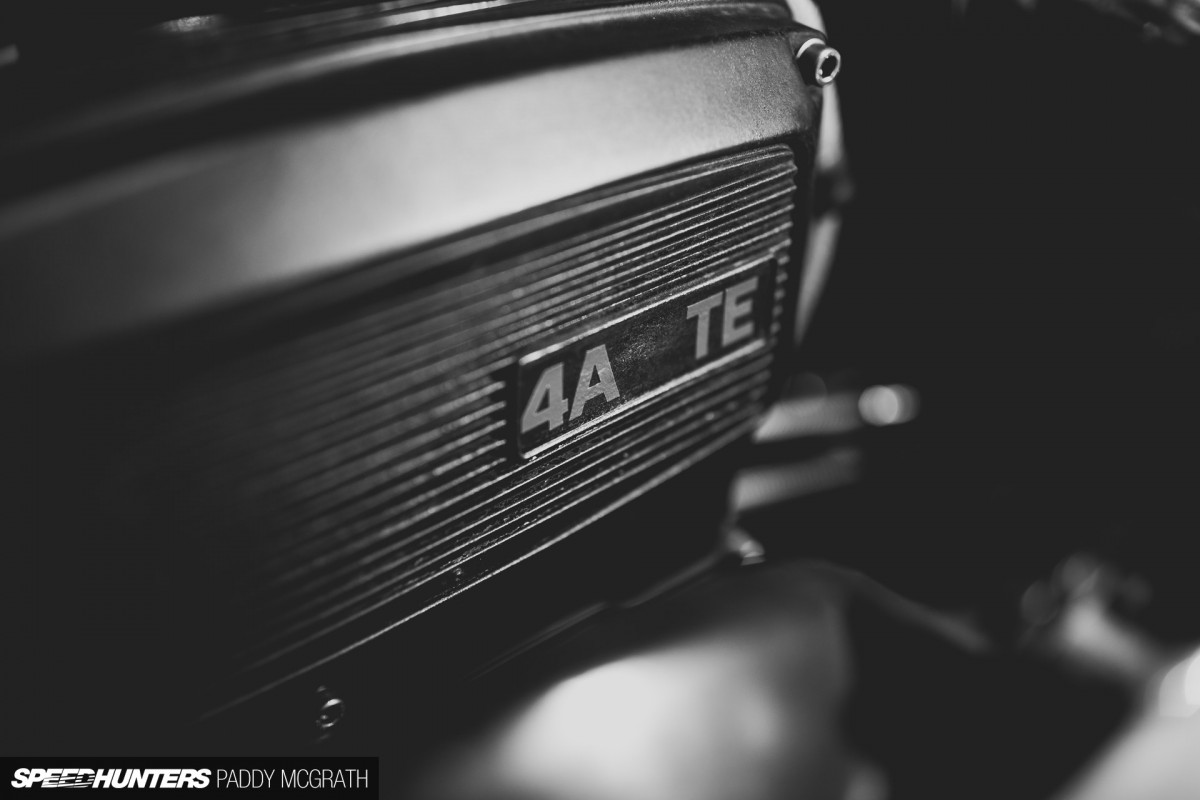 Rather than repeating the spec list below, I'll just say that the engine work is considerable. There hasn't been a dyno session, but power is estimated at around 190-200hp, which has been deduced from the Charmant pulling on a DC5 Integra Type R in a drag race. I mean, how else would you figure these things out?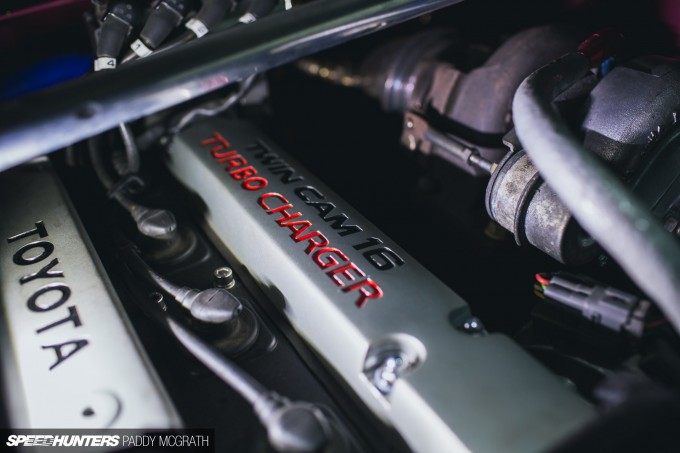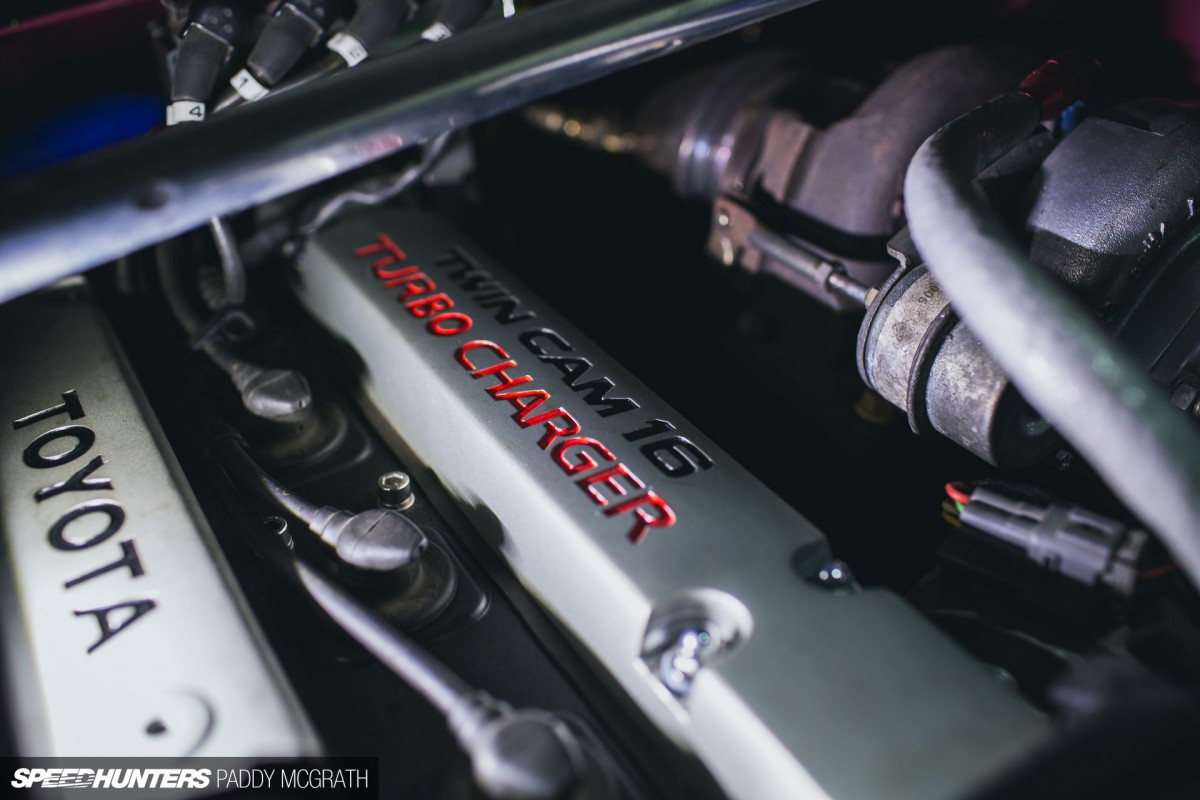 One of the neatest parts of the build is the custom 'Twin Cam 16 Turbo Charger' cam cover. Utilising an original 4AG-ZE 'Super Charger' cover, the 'Super' portion was filled and smoothed before being re-machined with the 'Turbo' lettering. If anything, it's probably the best example to show you the level of thought and detail that has gone into this project.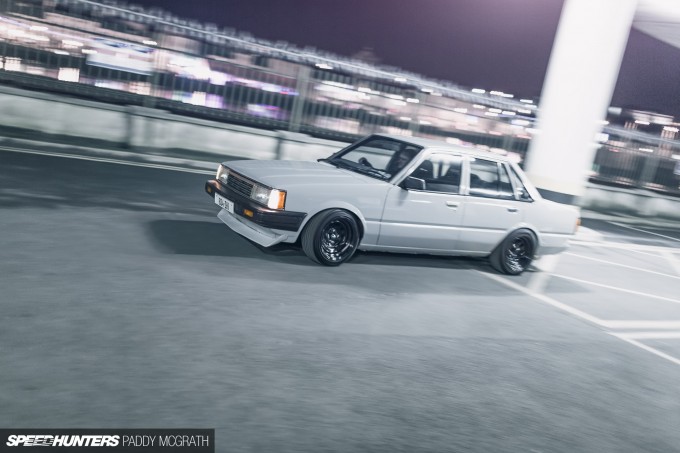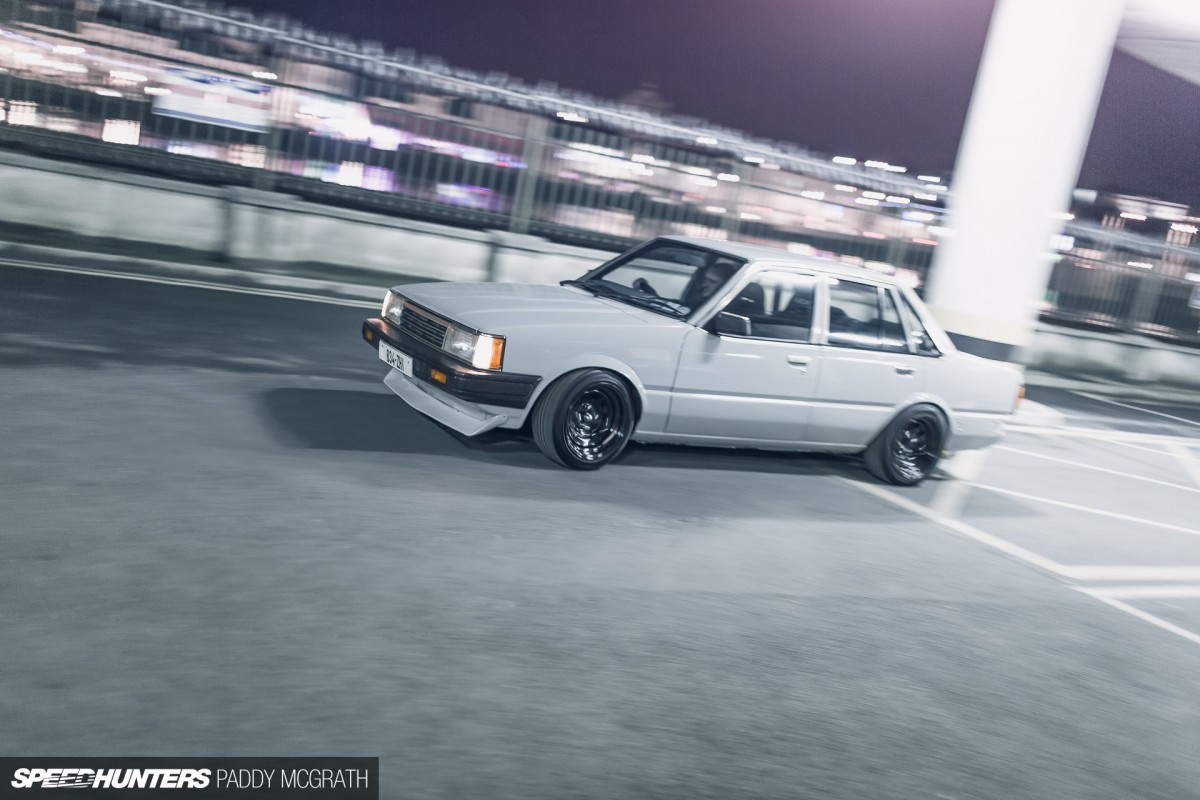 With the night growing colder courtesy of strong winds, we headed back to civilisation and took shelter beneath a bridge at a railway station. Under the brighter lights, it gave us a better opportunity to look closer at the car.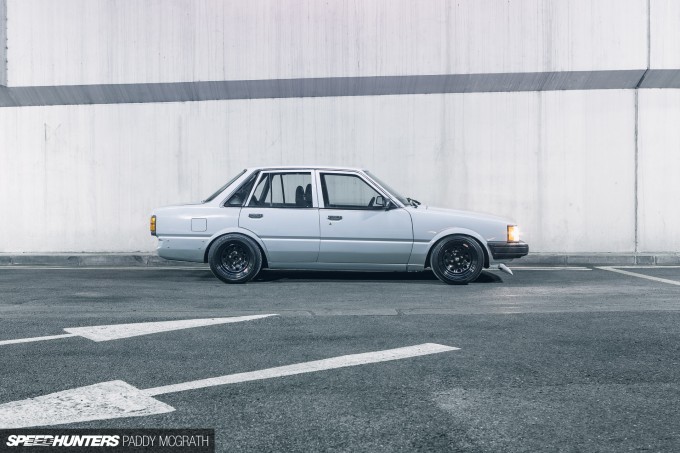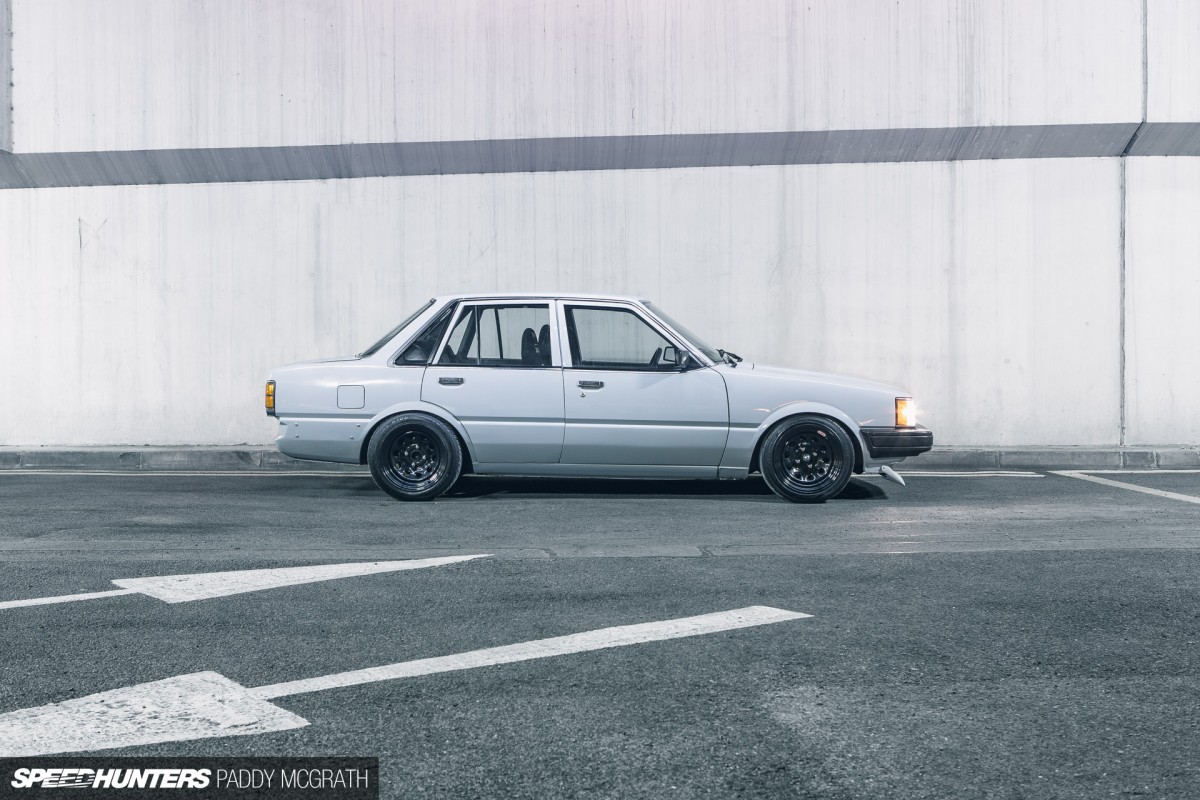 To accommodate the 4A-GTE and the increase in power, the original floorpan has been seam-welded to give an increase in strength. The K50 gearbox has been replaced with a rebuilt T50, too.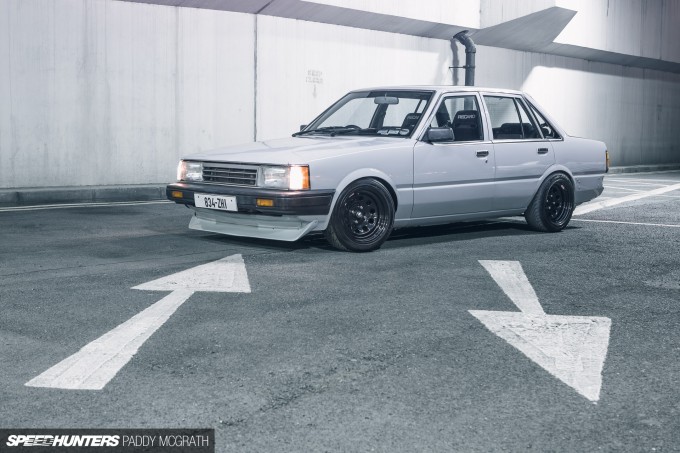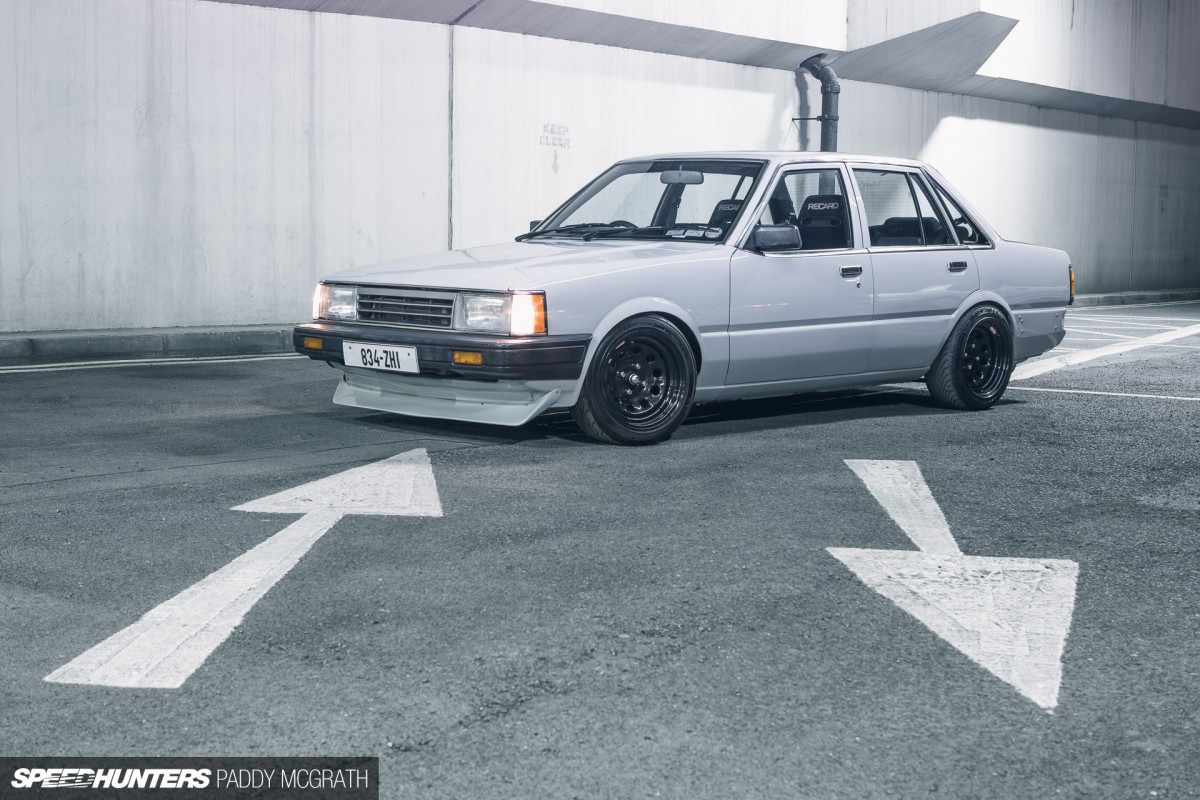 In order to completely remove the cable clutch operated setup of the factory 4K and K50 combination, Bryan used a CE70 Corolla's hydraulic pedal box. The AE86 loaned many pieces to the puzzle too; a full AE86 wiring loom was used front-to-back along with a front cross-member and rear axle housing. The fuel tank too is an AE86 item, as is the brake bias valve which has been fitted inside the bulkhead, in order to hide the hoses and keep the engine bay as clean as possible.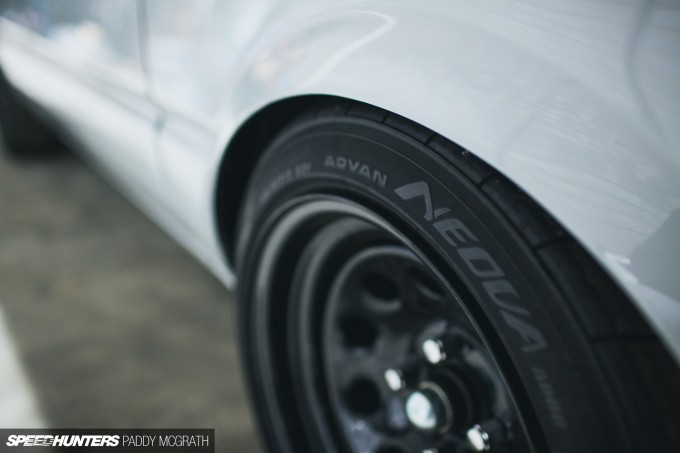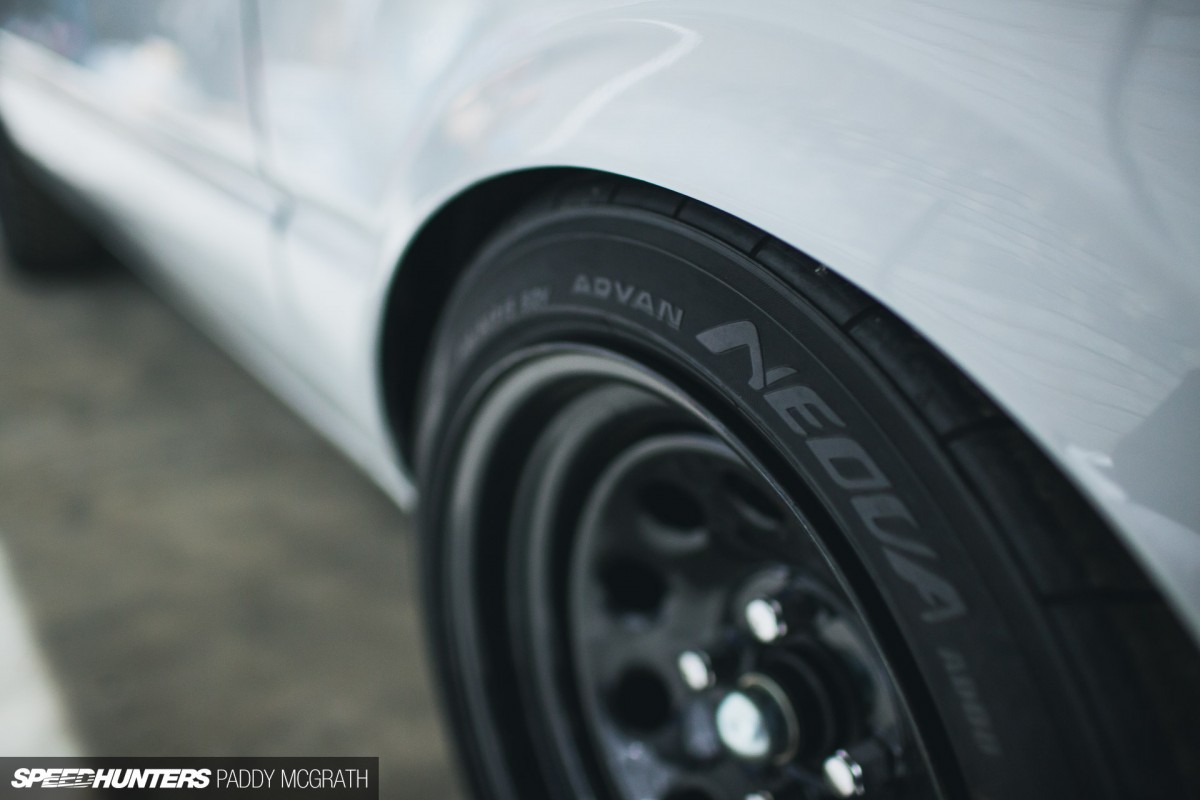 The fitment is flush and functional. Diamond Racing SC Series wheels have been deployed front and rear in identical sizes (15×8-inch) but just with differing offsets (0 at the front and -12 at the rear).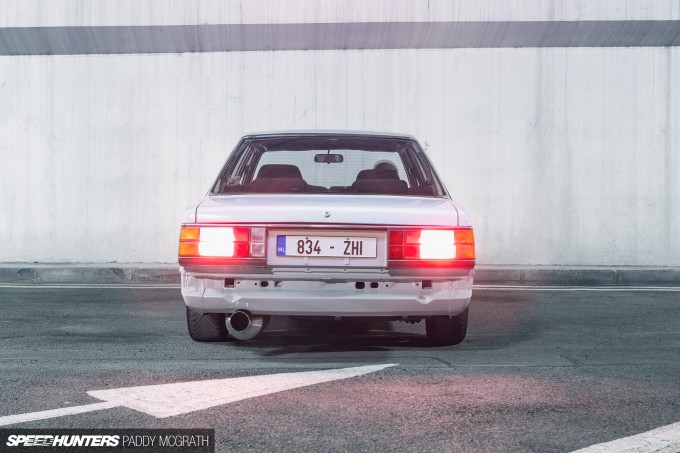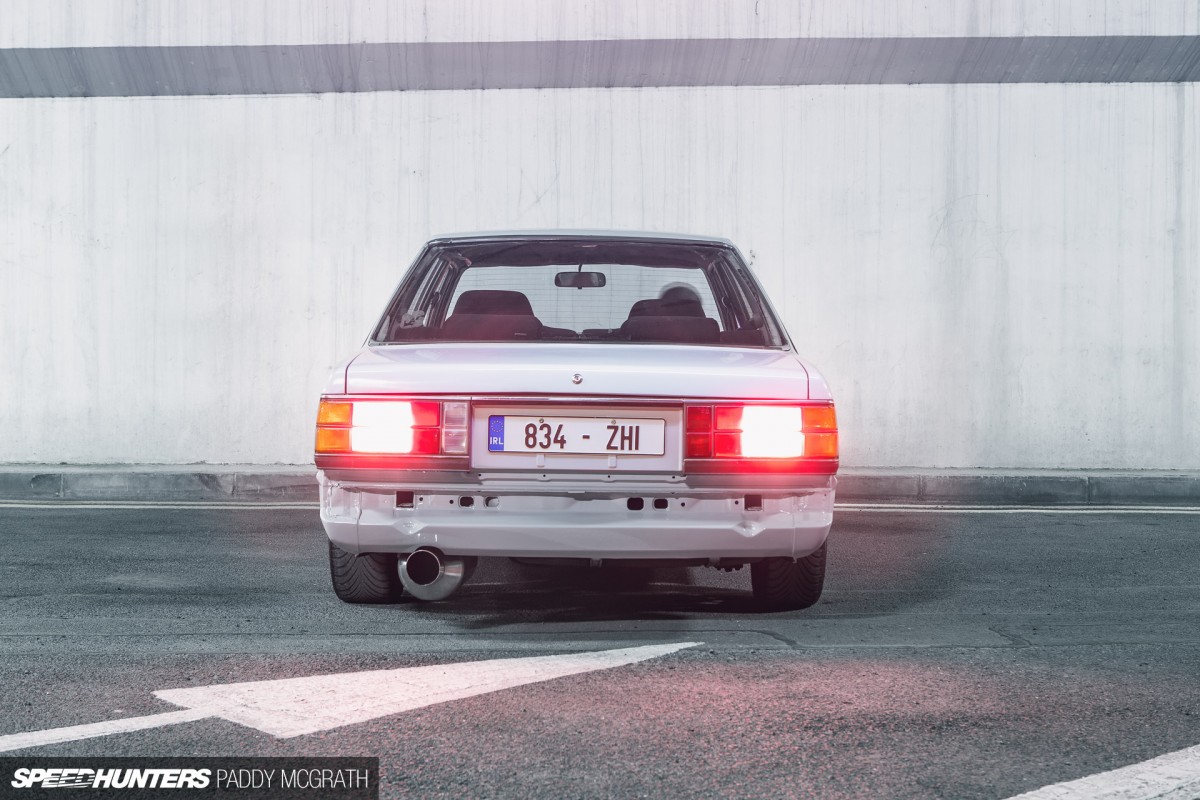 The bumper-less rear wasn't a purpose-made decision, rather it has just proved very difficult to source a rear bumper. Luckily for Bryan, the bumper-less look is quite strong at the minute and it adds a little bit of aggression to the overall look of the car.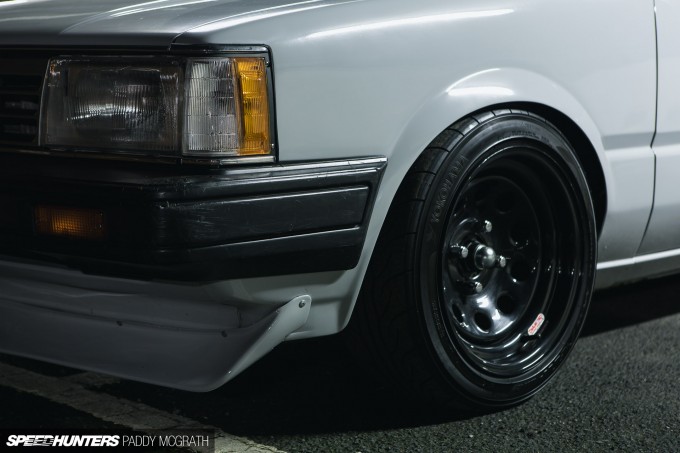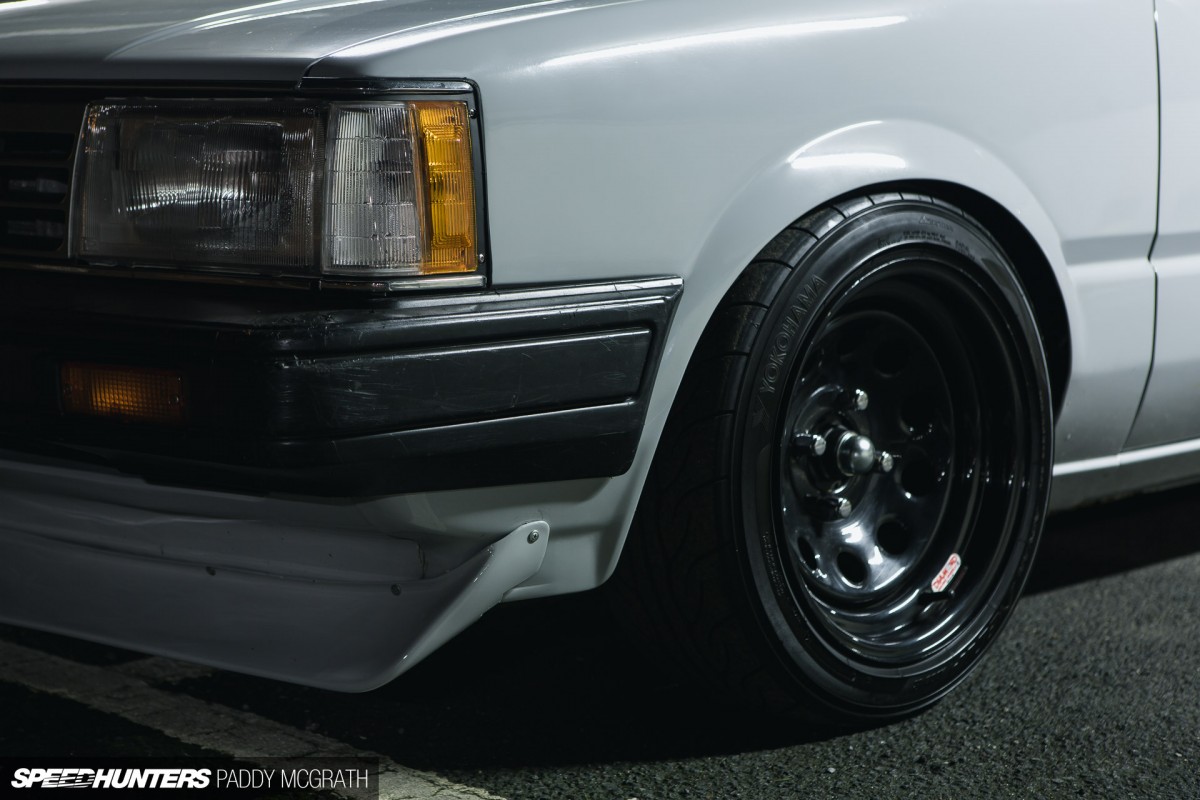 The only real aesthetic addition is the front chin spoiler which he acquired second hand, its origins unknown.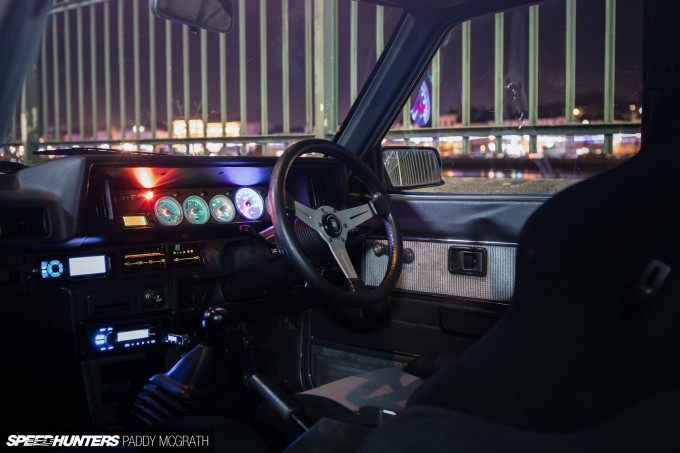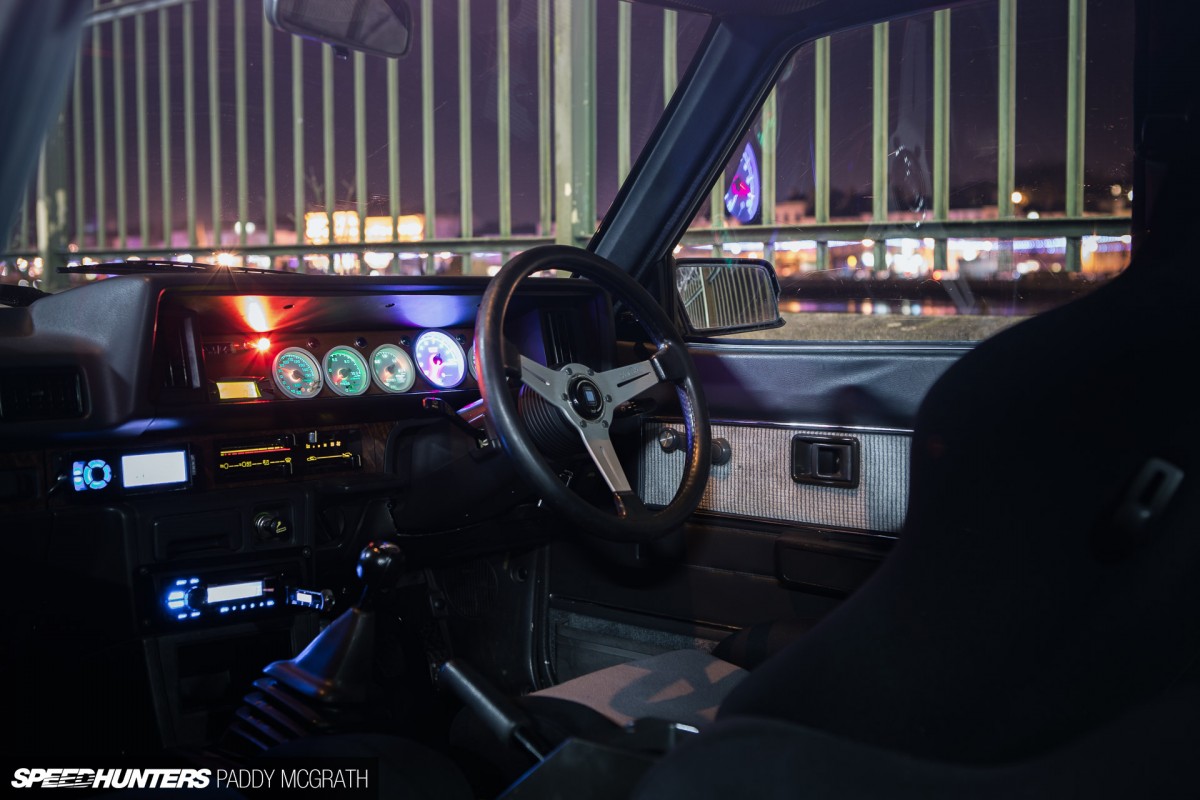 The interior has been suitably upgraded too, with a 360mm Nardi wheel, a pair of Recaro SR2s and the factory rear seats having been re-trimmed to match the fronts.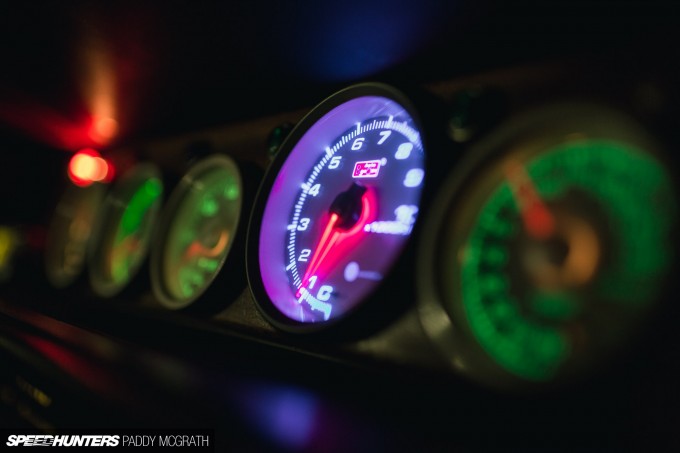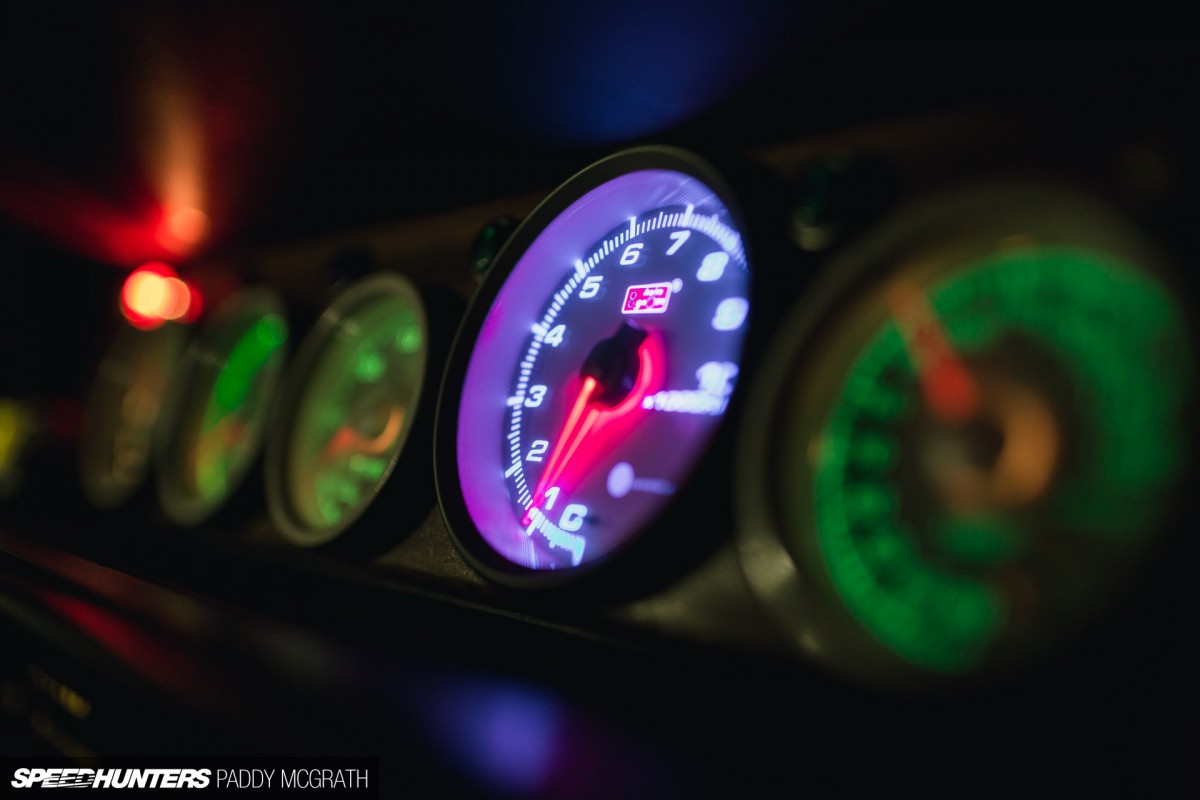 The instrument cluster has been replaced with a custom item which houses the new gauges.
A Simple Recipe, Well Executed
Before we parted ways, I managed to grab a quick walk-around video to give you a better appreciation of the proportions and sound of the car. It's a bit grainy but I'm sure you'll survive.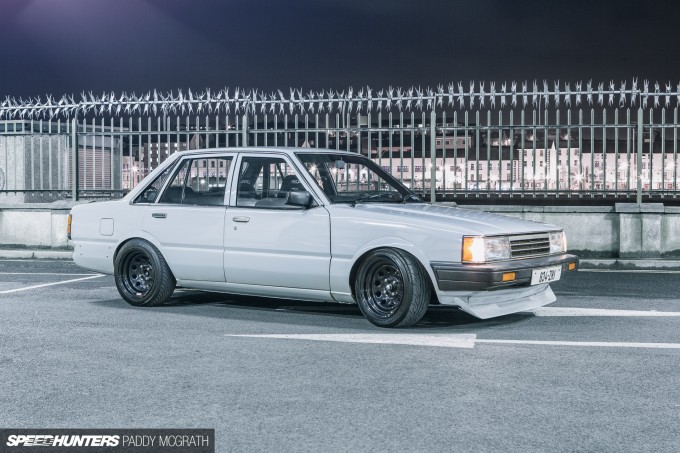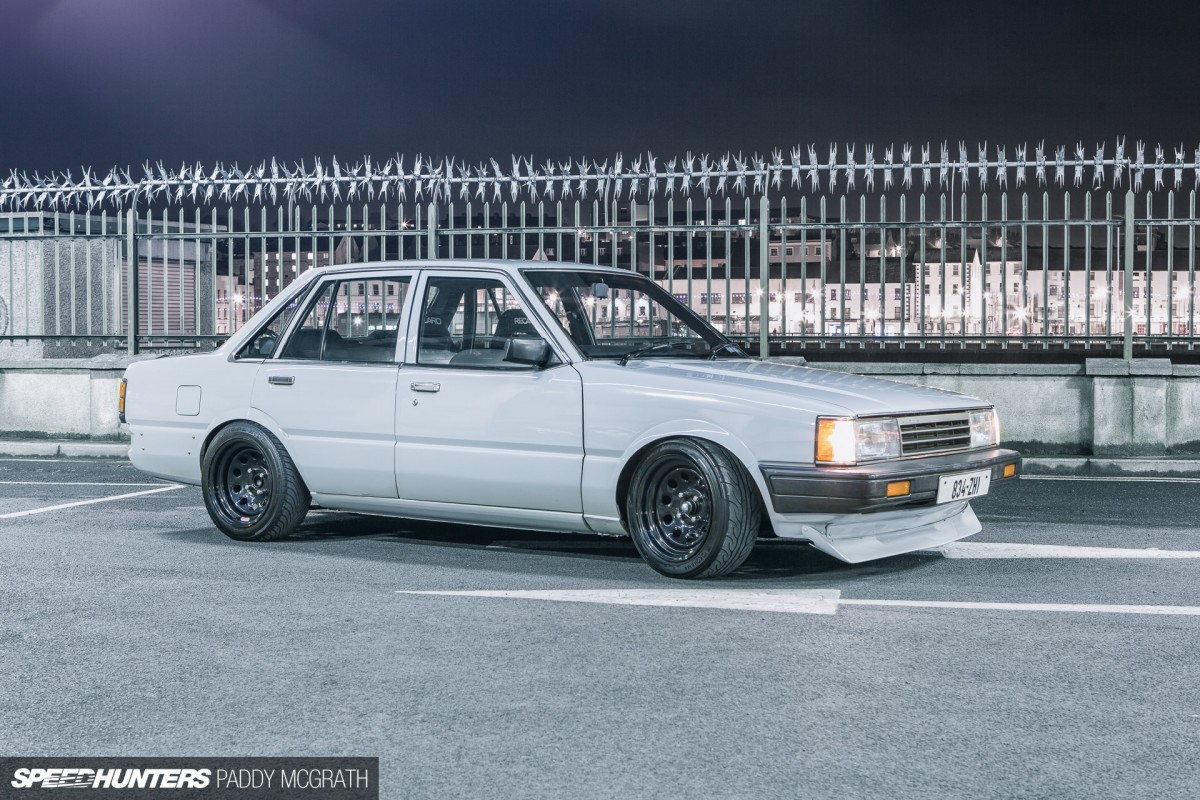 I would expect a lot of people to turn their noses up at a car like this. I think in years previous, I probably would have too, especially if I didn't bother to take a closer look.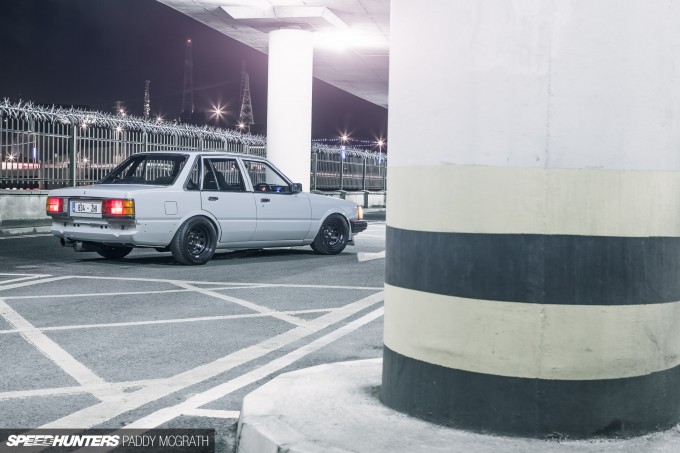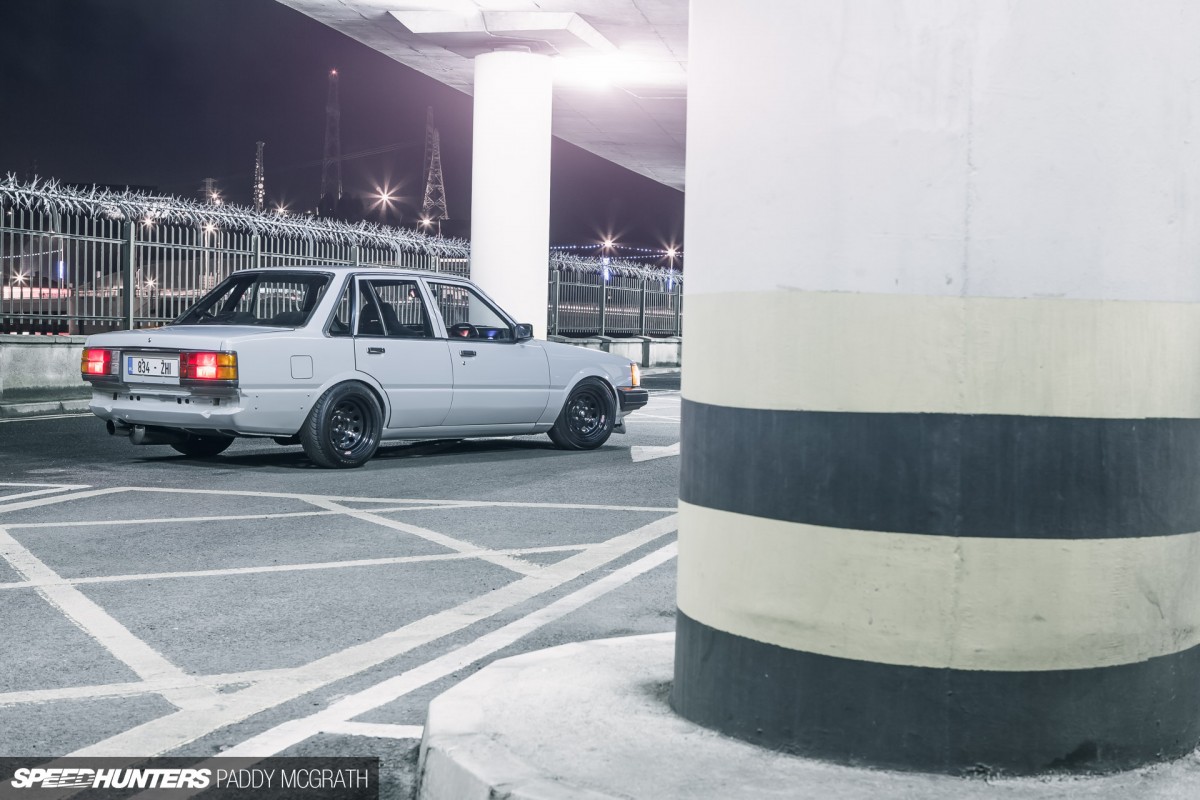 But I love everything about this car. Even as we were wrapping things up, I still found myself trying to find other unexplored angles of the car. The whole idea behind the Charmant and the way it has all been executed is simply brilliant.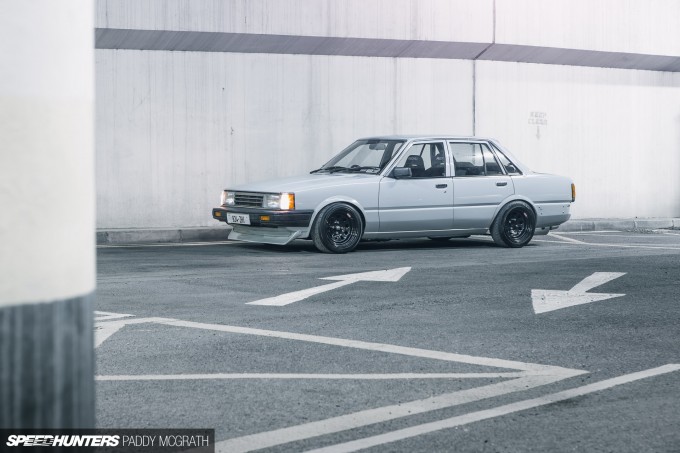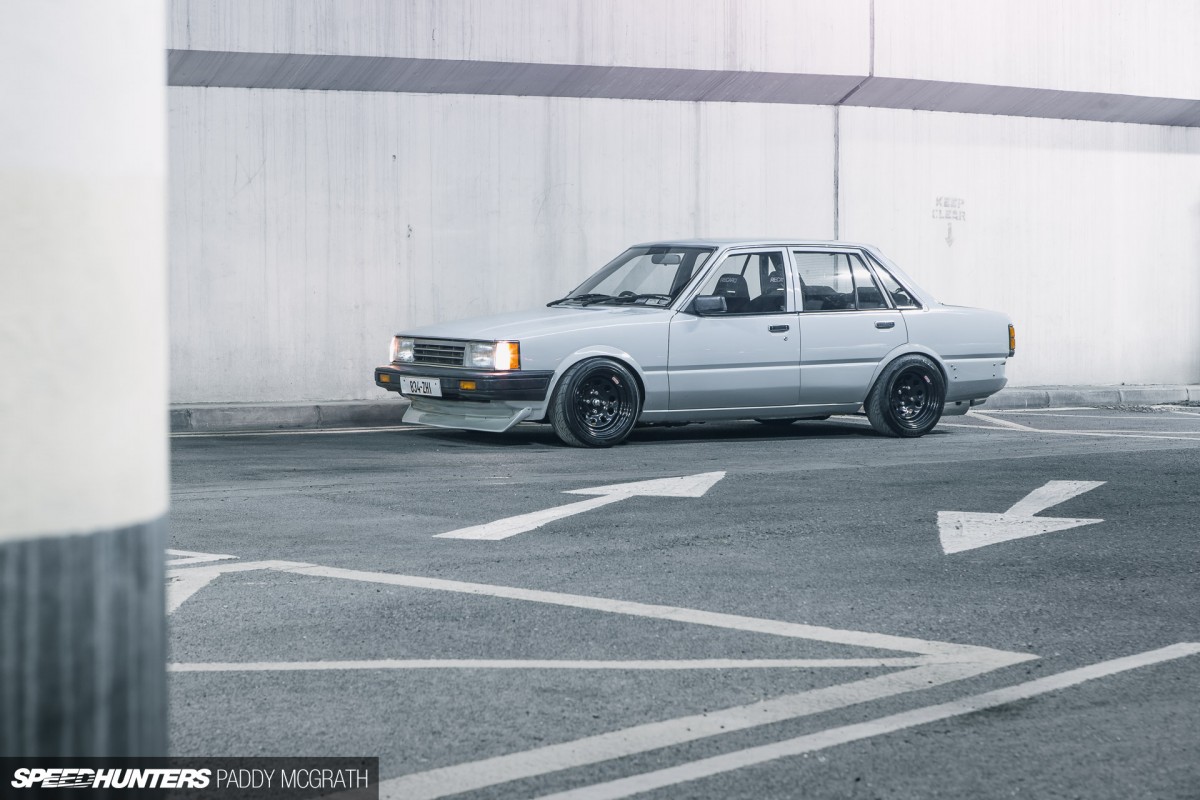 For me, it's a car built for the right reasons. It was never meant to evolve this way, but this is what happens when you have someone who is so passionate about cars behind a project that they just have to keep taking it one step further.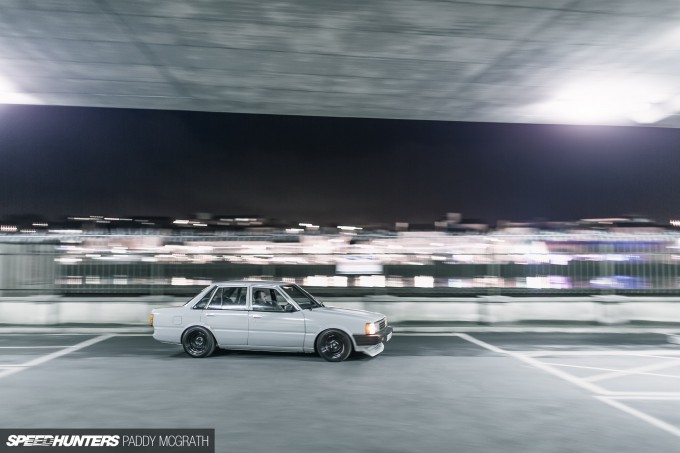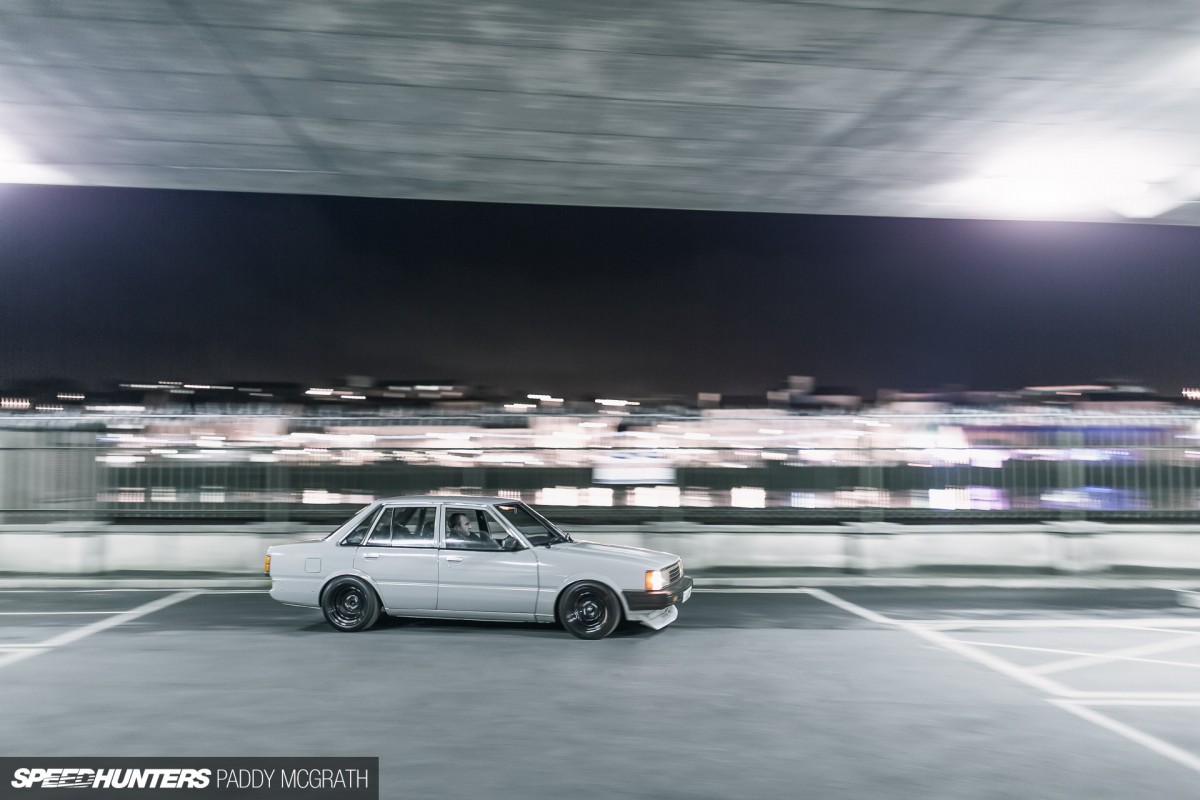 Further to this, it's the result of someone who built a car entirely for their own pleasure. I don't recall seeing a single tweet, 'gram or Facebook post about this car as it came together. It's the result of one guy and some friends whiling away their time doing what they love. And while Bryan is the first to make a joke about the car, I really feel that it's his way of showing affection for it, much like how many of us will take the piss out of our friends as an act of endearment.
You can call it ugly, you can call it whatever you want, because at the end of the day it puts a smile on the owner's face, and that's all that matters.
Paddy McGrath
Instagram: pmcgphotos
Twitter: pmcgphotos
paddy@speedhunters.com
Bryan Duggan's 4A-GTE-powered Daihatsu Charmant
Numbers
Max Power: ~200hp
Engine
Toyota 4A-GZE long block, TRD 0.8mm head-gasket, ARP head studs, Toda 264 inlet & 256 exhaust cams with Toda cam pulleys, T3 small-port to big-port inlet manifold adaptor, Kelway exhaust manifold, T25G turbo with HKS actuator, A'PEXi 75mm air filter, 3-inch down-pipe, Trust MX cat-back exhaust, TRD engine mounts, Koyo radiator, Samco AE86 silicone hose set, Lancer Evolution IV intercooler, RS Chita sump baffle, HKS oil pressure increase kit with head oil feed restrictor, AE101 4A-GZE ECU and wiring loom, custom made Twin Cam Turbo Charger cam cover, various AN fittings for oil & fuel lines
Driveline
Rebuilt T50 gearbox, 4.1:1 6.7-inch rear end with Cusco RS 2-way LSD and kouki-spec shafts, TRD 212mm sport clutch with black-top flywheel
Suspension/Brakes
MCN short-stroke front inserts with coilover converted struts using Rix coilover sleeves & Faulkner race springs, Cusco front roll centre adjusters  & camber plates, Cusco front & rear braces, Uras inner tie rods, P/S steering knuckles, Black Diamond drilled & grooved discs, Project Mu B-Spec front pads, D1 Spec rear pads, Goodridge braided caliper hoses, TRD green short-stroke rear dampers, TRD race height 6kg/mm rear springs, Cusco Formula Jr rear 4-link & Formula panhard rod, T3 traction brackets, various poly-bushings
Wheels/Tyres
Diamond Racing SC 15×8-inch 0 offset wheels with Advan Neova AD08 tyres (front), Diamond Racing SC 15×8-inch -12 offset wheels with Kingstar tyres
Exterior
Seam-welded floor pan, AE86 brake bias valve, AE86 handbrake, AE86 front cross member and rear axle housing, AE86 fuel tank with Walbro 255lph pump, full AE86 wiring loom front to back, CE70 Corolla hydraulic pedal box, front lip
Interior
AE86 carpet, Recaro SR2 seats with rear seat retrimmed to match colour, headlining re-trimmed in black suede, custom instrument cluster, GReddy 60mm gauges & Auto Gauge 80mm tacho, Ultra Speed Monitor for vehicle speed, Nardi Classic 360mm wheel fitted to HKB hub, Odyssey PC680 battery in the boot
More Engine Swapped cars on Speedhunters
Cutting Room Floor