Onikyan Craziness
You may have noticed a sudden increase in 'squashed' cars here on Speedhunters. That's what I jokingly like to call rides exhibiting the polarising style of dialing in silly amounts of negative camber to achieve what the Japanese call onikyan, or devil camber.
It's more out of coincidence than anything else, as I ended up coming across a lot of cambered rides at the recent StanceNation show in Odaiba. But the car you see here is one I've been waiting to feature for quite some time.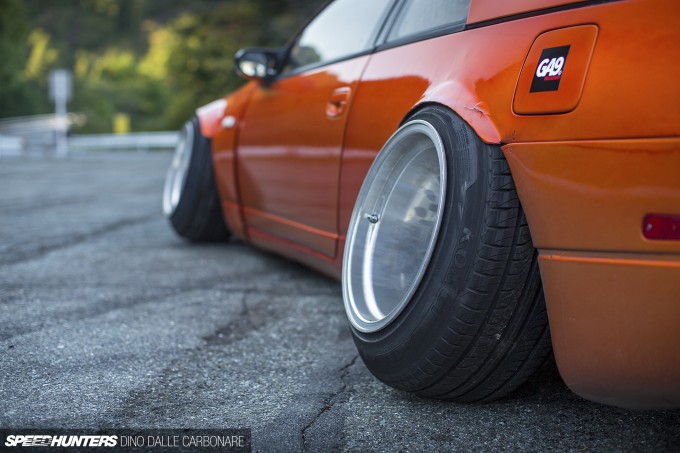 I came across Sasaki-san's Z32 Nissan Fairlady Z at Offset Kings during the past summer when it was still very much a work in progress. The extreme negative camber was there, but both front and rear fenders weren't finished – they were missing entirely.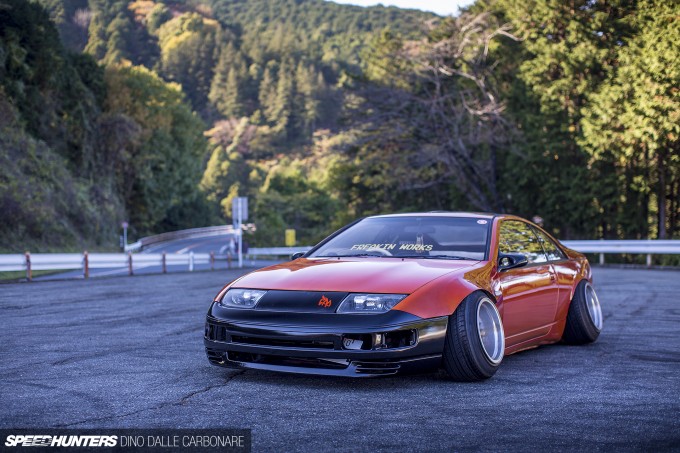 We chatted on Instagram for a while and came to the agreement that as soon as the car was at a point where he was happy with it, Sasaki-san would message me. That happened a few weeks back, and we set a date, time and location to meet up at. If you've followed me here on Speedhunters over the years you may know that this isn't exactly the first onikyan-style car I've featured. There have been many, starting with those cool VIP machines that Bee Dragon churns out on a yearly basis. But Sasaki-san's Fairlady is a bit different. To put it simply, it's not as polished as the car's I've shown you in the past.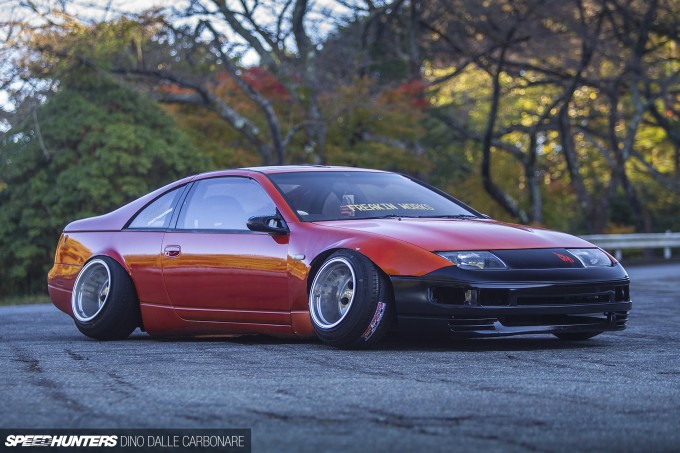 Whether that's a good thing or not could be debated all day without resolve, but it is nonetheless a take on this curious style that I wanted to investigate more. The best way I can describe it is 'grassroots' onikyan, if that even makes any sense? By this I mean that the car is built out of pure passion, sacrifice and a need to be different. It's not a big budget build that wants to impress at shows, but it attempts a similar style with a slightly different approach. When Sasaki-san rolled up to the Hakone Turnpike entrance I almost flinched in fear. I literally heard the car three minutes before I actually saw it. Open headers will do that though… And if the noise wasn't enough, the Nissan was bottoming out on every minuscule bump on the road, with lots of other miscellaneous rubbing noises thrown in for good measure.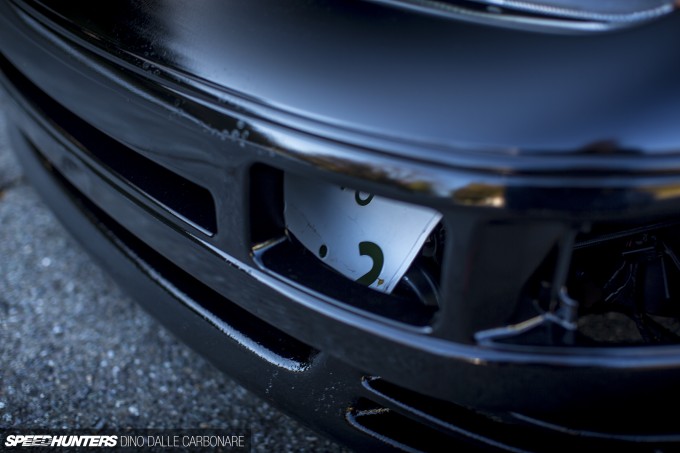 Sasaki-san was a bit late as he had a run in with the police on the highway after they spotted the tube-frame prototype front bumper he had fabricated. The JDM cops weren't impressed and made him remove it on the spot, but funnily enough they weren't concerned by the stealthy position of the front plate nor the angle the wheels were set to.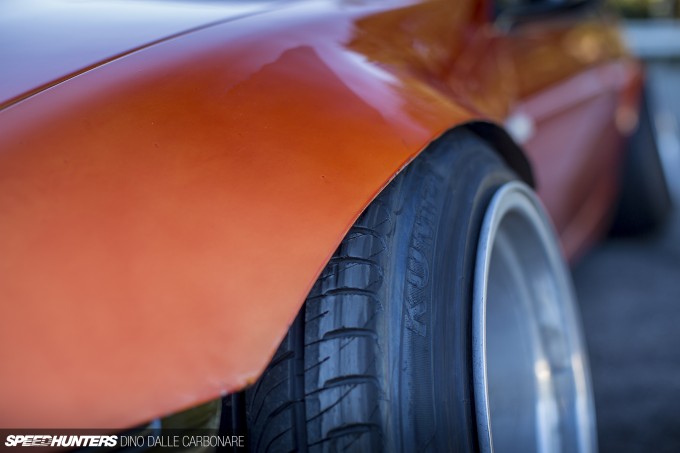 And they let him go, which I'm sure many of you will be amazed to hear. Luckily for me too as I had spent a long two hours sitting in crappy weekend traffic to make it down to the mountains, curious to find out what it is that makes people go for this style.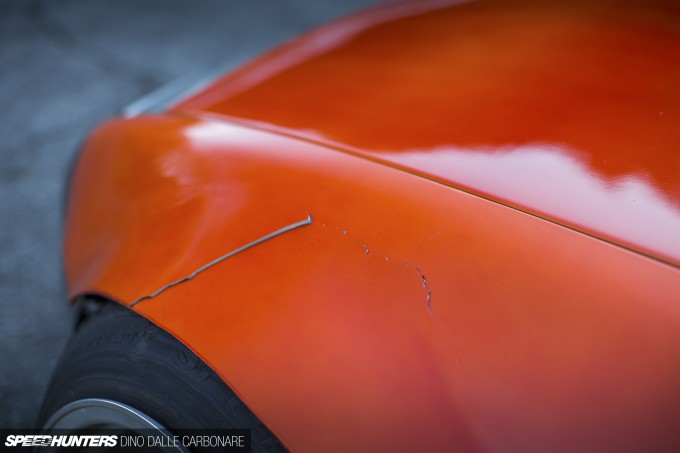 Sasaki-san fabricated his own front fenders, first cutting them and then welding flares in place with a whole new radius, big enough to contain the massive -101 offsets of the Mickey Thompson Classic wheels fitted.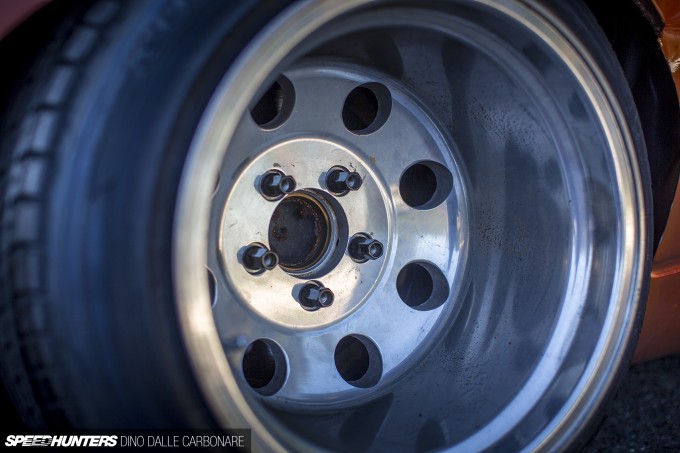 Yes, -101 – you read that correctly! The 15-inch wheels measure 12-inch across at all four corners and are fitted with super-stretched Kenda 205/55R15 tyres to achieve that much cherished tayazuri look, or when the sidewall sits flush with the lip of the fender. In this case, that flushness is a little more flush than it needs to be, especially over bumps, when often the rubbing is so bad it actually cracks the bodywork paint.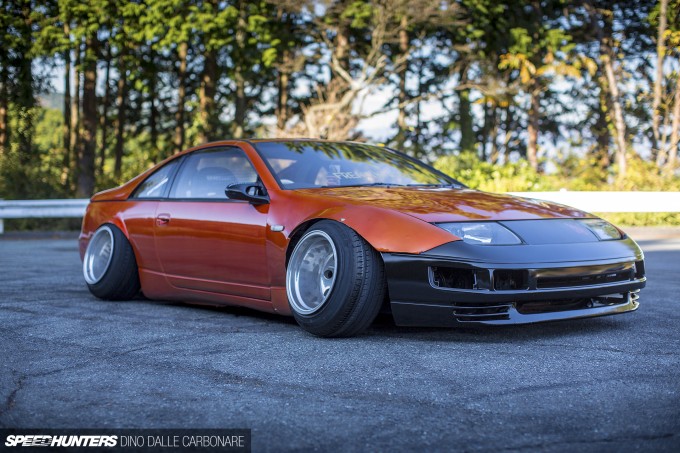 The car runs HKS adjustable dampers and super-hard 70kg/mm springs from 326 Power in order to eliminate any sort of piston movement or shock absorption. The more Sasaki-san told me about his car and what he's done to it, the more confused I became.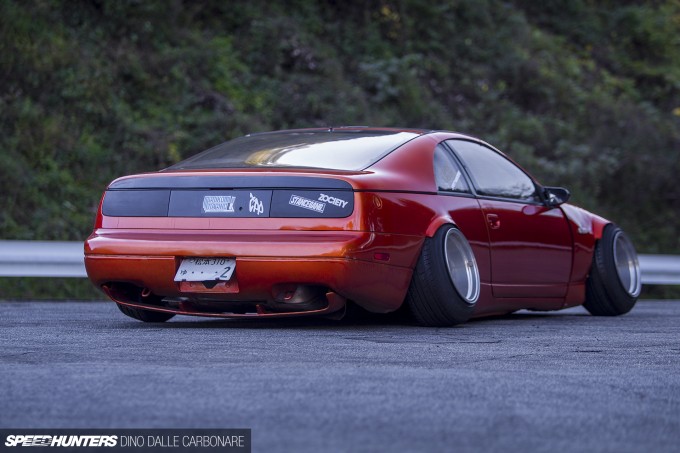 I mean, I totally get that some people prefer to take a form over function approach, but when even the form is questionable, well, it was hard to understand…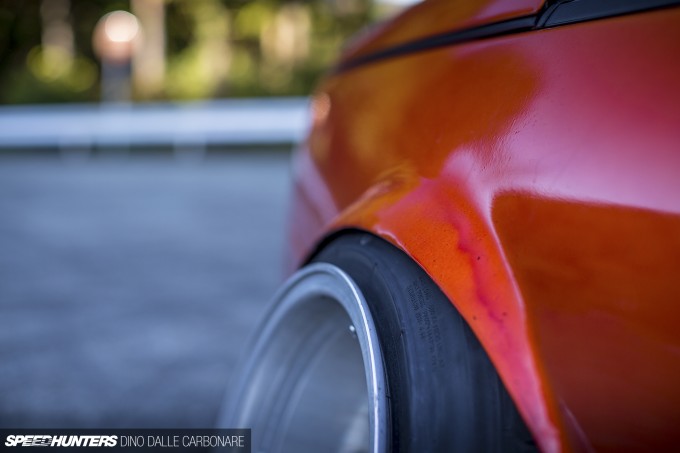 But I'm not one to judge – I simply observe what's going on around me as an unbiased observer. And so that is what I continued to do, taking in all of the other details. Like the rear wheels for example, which are set at -15 degrees of camber, -1.5 degrees more than the fronts.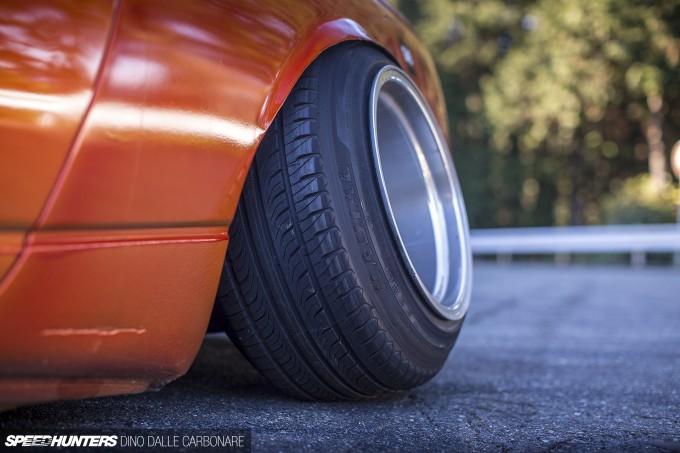 Sasaki-san shaped and welded in place a more pronounced flaring to the cut rear fenders.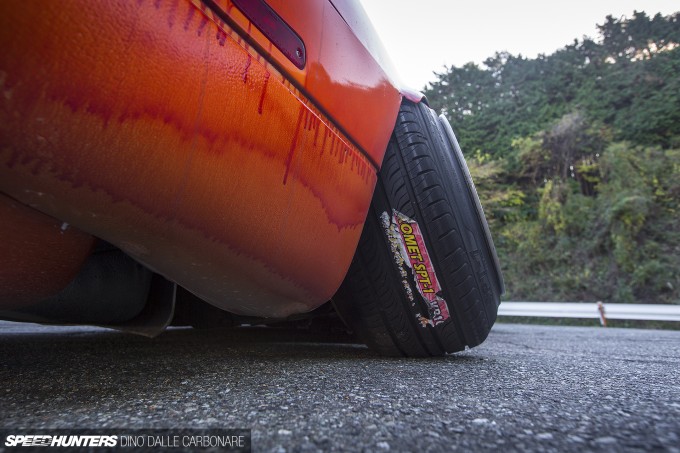 I had to get down low to show you guys just what sort of contact patch this king of negative camber generates. Only half of the tyre is being used, so that would make it a 102.5 section, which is pretty much scooter size. Sasaki-san painted the car himself for the time being, but this is something that will be addressed once he's totally happy with the custom bodywork's fit and finish.
A Z32 Like You Have Never Seen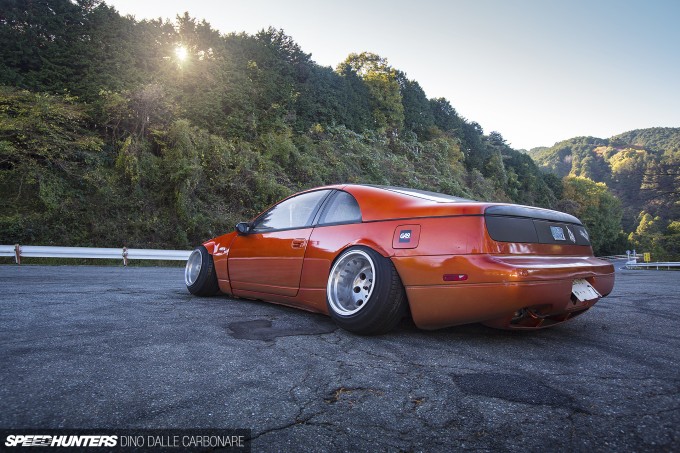 Sasaki-san's main focus has been to get the car 90 per cent complete and worry about the small parts later. Like the exhaust for example. Quite simply, at this low ride height there's no space to run pipes from the VG30 up front, so the solution might have to be some high-mounted side pipes, which will hopefully silence the thing down a tad too.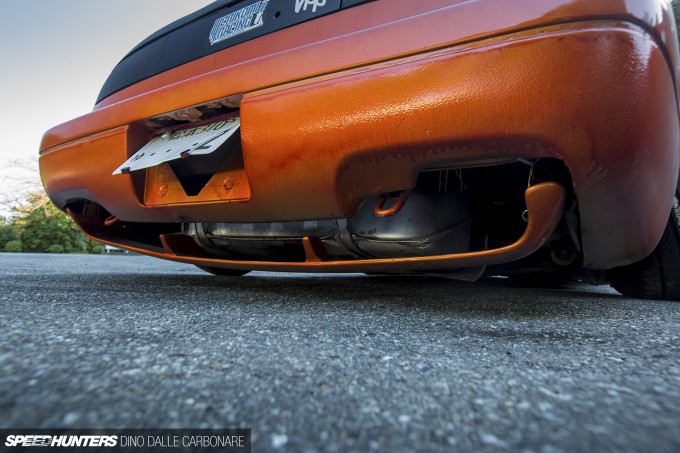 In a nod to kyusha and general bosozoku style, the Z32's rear spoiler was taken off the rear gate and mounted upside down beneath the car as a sort of pseudo diffuser.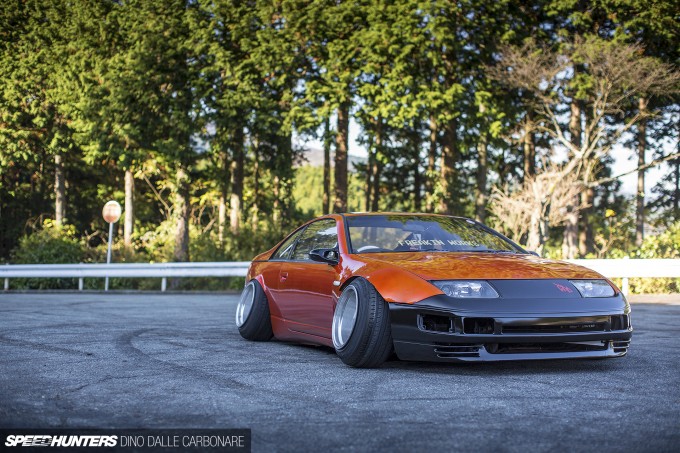 The questionable touches might be too much for some to digest, but they're what give cars modified in this fashion their essence.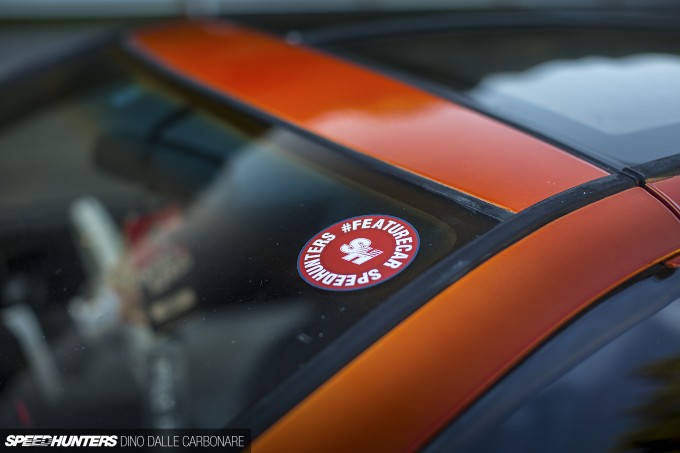 Sasaki-san built this Z32 to get noticed, and I don't think anyone could deny he's achieved that. He was quick to stick the #FEATURECAR seal of approval on his windscreen as soon as I handed it to him.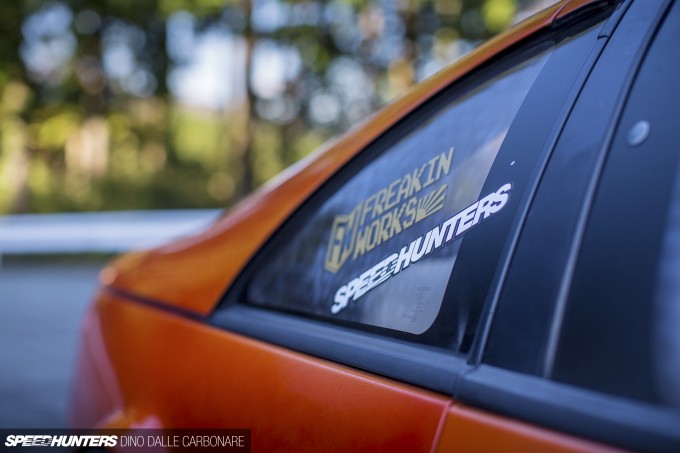 He also rocks his team's name, Freakin Works, which you can look up on Instagram. If you can't quite get your head around this style, I suggest you do that too, because after a flick through their pictures it made me begin to understand it all. Call it camaraderie, a sense of belonging and that energy you get when you know you are part of a group that share the same ideas and tastes as you. Think about it in this way and it doesn't really matter what you are doing with your cars. As long as you can run together with your buddies and pass the time doing what you like, who the hell is anyone to judge?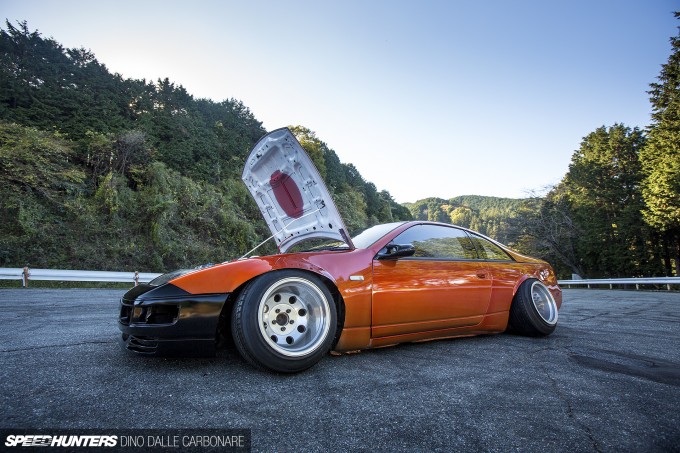 But I wasn't satisfied; I wanted to find out more so I asked to have a look under the bonnet. The hinomaru (Japanese flag) had a bit of an impact when I first lifted the Z32's hood, and I instantly felt that this group of kids have pride for what they do; like they are the ambassadors of their own very unique sense of style.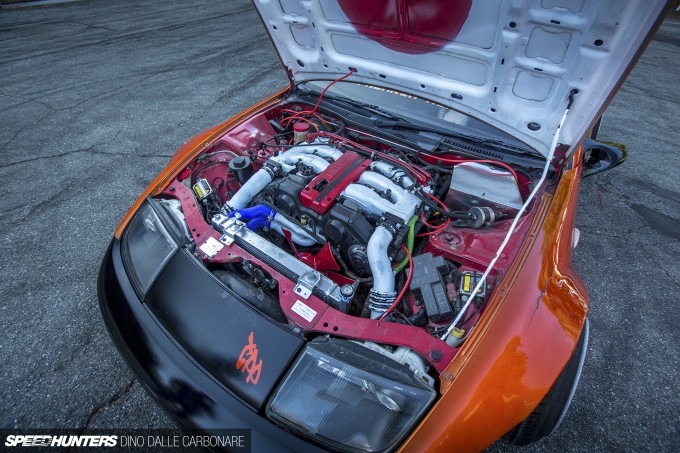 There wasn't much to see in the engine department. The VG30 in its turbocharged form is quite an exciting powerplant with a lot of potential, but this naturally aspirated DE version had 230PS when it came fresh from the factory, so in its 'well used' state and running only headers that figure's probably dropped a fair bit.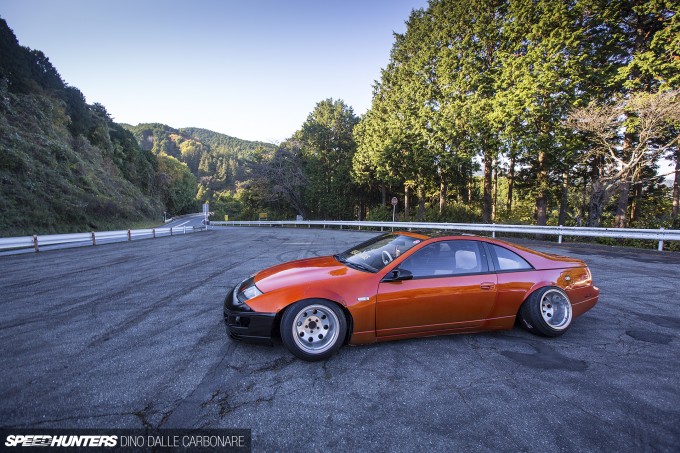 The more I looked at the car, the more I drew parallels with the VIP scene where details are pushed to the limits for the sole reason of getting a reaction.
Bosozoku Meets Dekotora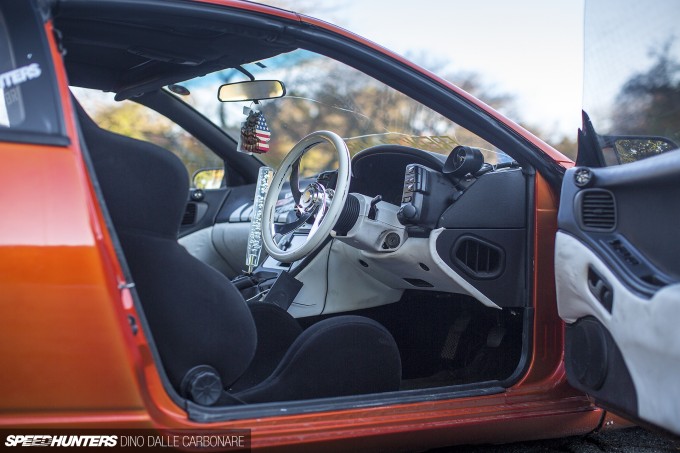 The style-oriented feel of this Z32 is very much carried over into the interior where trim and accessories have been added to create what can only be described as a coherent look.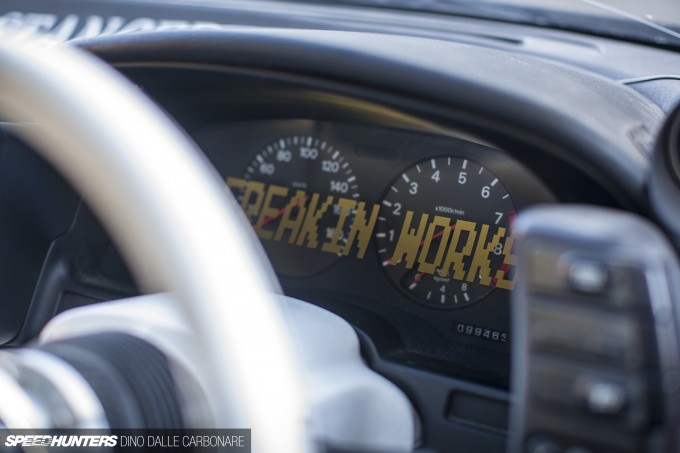 The pixelated team name is even plastered across the instrument binnacle.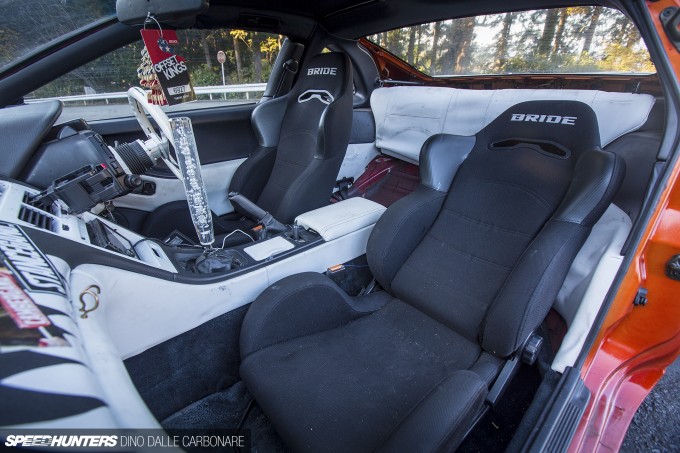 A pair of Bride reclinable buckets replace the stock Nissan seats and contrast heavily against the white vinyl that was chosen to spice up the dash, transmission tunnel and door cards.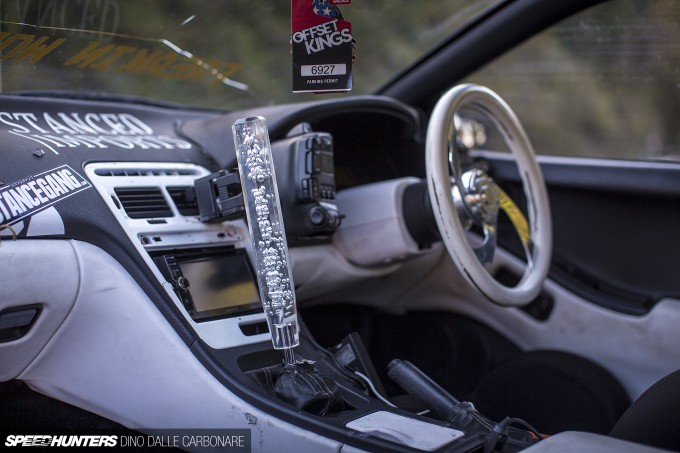 The best addition of them all is the extended shifter knob, probably borrowed from a Dekotora truck!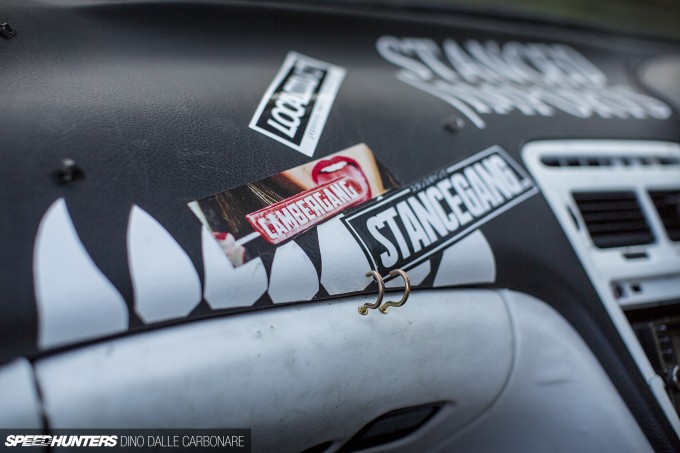 Sasaki-san has decorated the rest of the cabin with stickers that hint at the fact that Japanese car guys continue to look abroad for ideas and inspiration. The two screwed-on hardware hooks are there to stop convenience store plastic bags from flying around the cabin.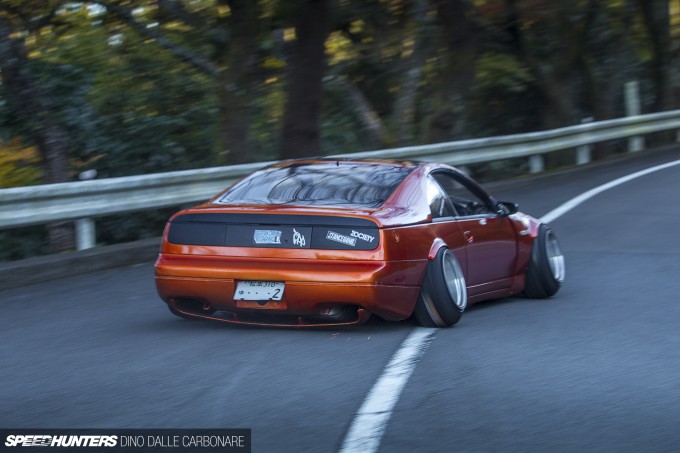 But for all the visual impact that a car like this is able to generate while parked up, nothing can quite prepare you for actually seeing it move under its own power – sparks flying and with plenty of rubbing and scraping sounds.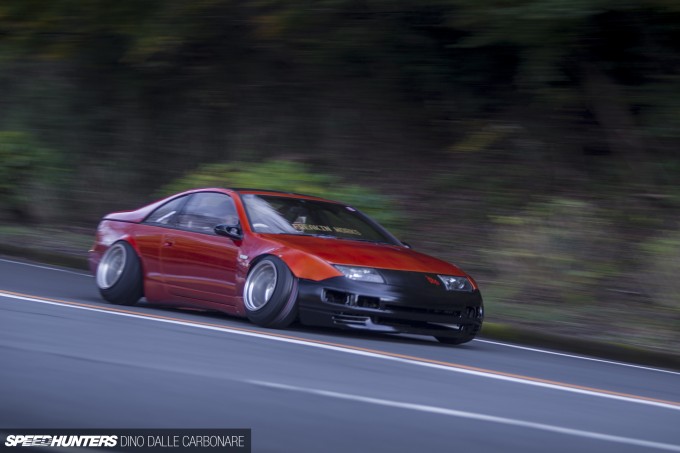 The looks this thing must generate when it drives pretty much anywhere must be seen to be believed. Even all the tourists that were passing and stopping by had 'WTF?' sorts of looks plastered across their faces.
But you know what, just hit play above and see for yourselves…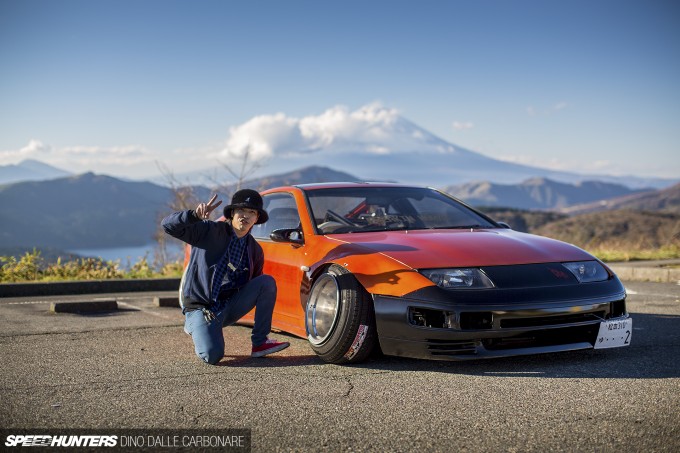 After spending some time with Sasaki-san and his car, I have to say that I do 'get it' now. Well, I think I do at least. These guys are after attention, be it good or bad. They want to shock and confuse and are always trying to come up with louder ways to do so.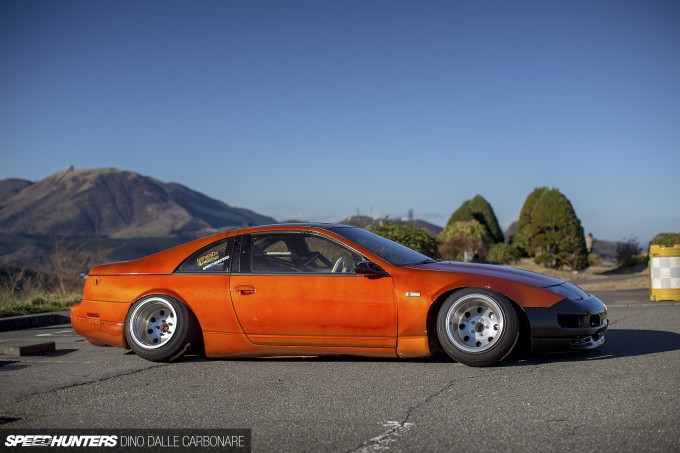 Mixed reactions are a given, and I'm sure the comments section below will be filled with remarks like 'it's plain dangerous,' 'it's stupid,' and 'it has no sense.'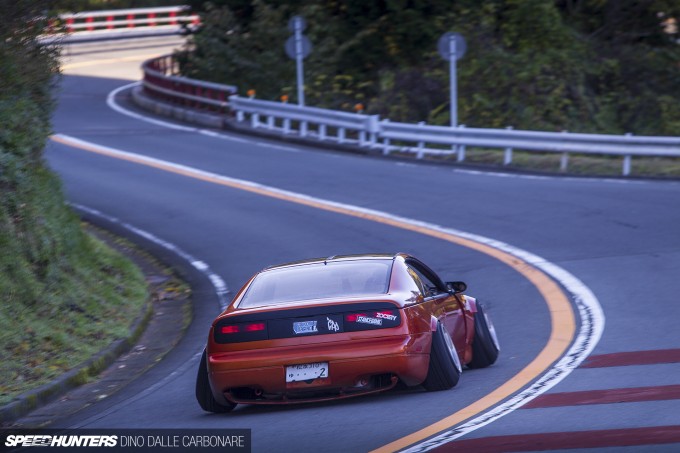 But then you take a second and you realise that those reactions are exactly what guys like Sasaki-san and his Freakin Works team want. Their job is done when they get a response.
Dangerous? Sure. Pointless? Definitely. But they just couldn't care less…
Dino Dalle Carbonare
Instagram: speedhunters_dino
dino@speedhunters.com