I wanted to give you guys some insight on what goes through my head when I am in the field shooting drifting, so I gathered up 100 of my favorite shots from this year. These are in no particular order, and while some of them are not the best technically speaking, I choose them because I liked them for one reason or another. Enjoy!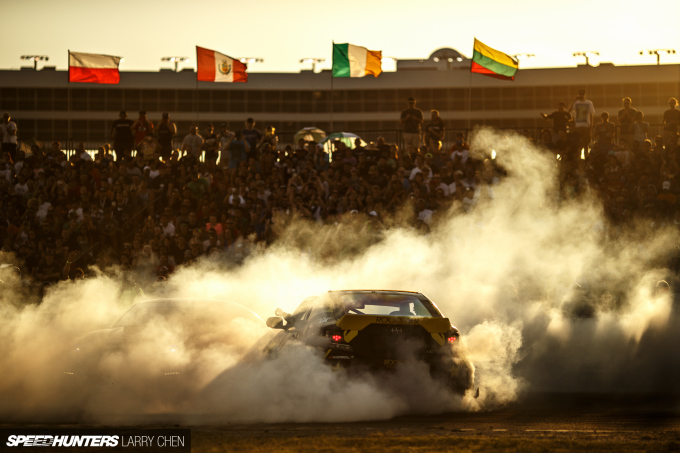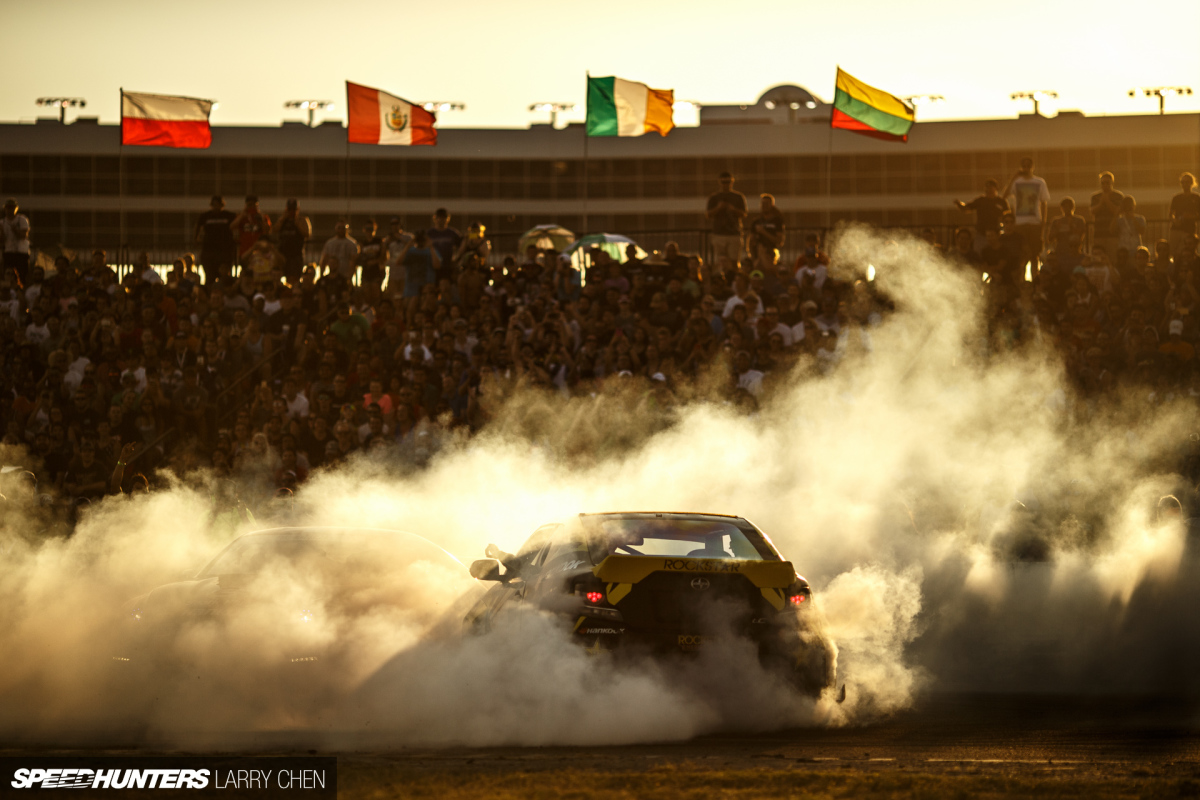 Is there nothing more magical than tire smoke? Wouldn't drifting be so boring without it? It's getting tougher to get nice shots of tandem donuts as most of the drivers don't want to risk hurting their car show-boating during the Top 16 introduction. Lucky for me, Fredric Aasbø does not care.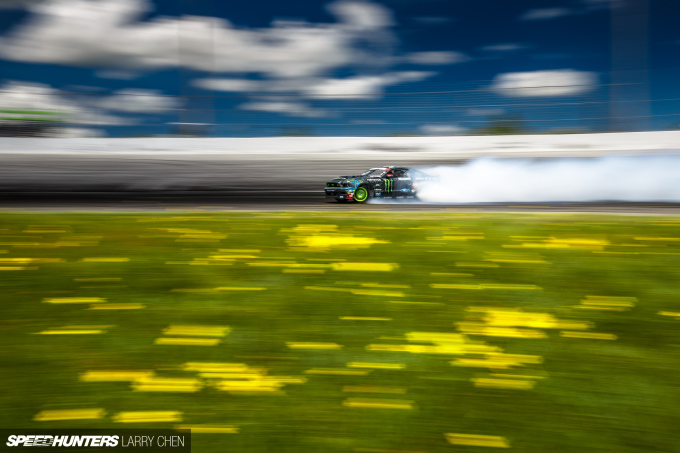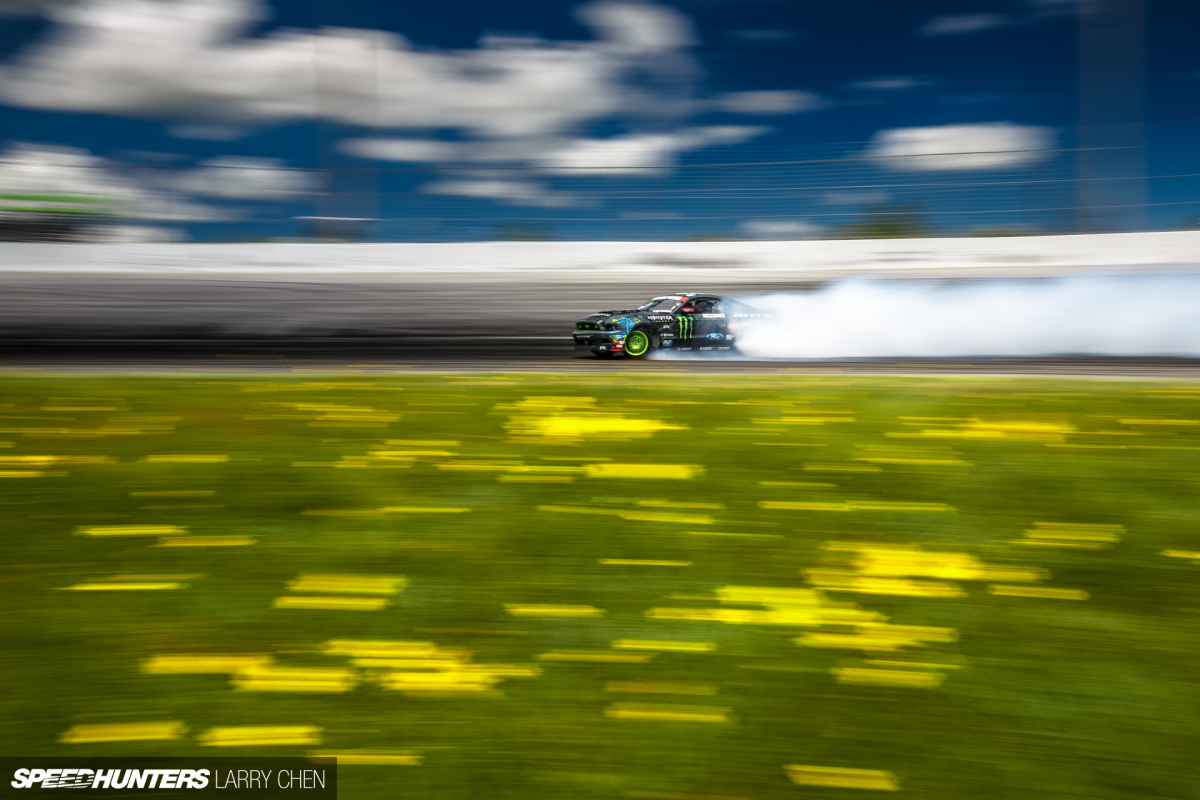 Orlando World Speedway is not the best looking venue on the Formula Drift calendar, but there are some advantages, like this field of flowers that made for great foreground blur.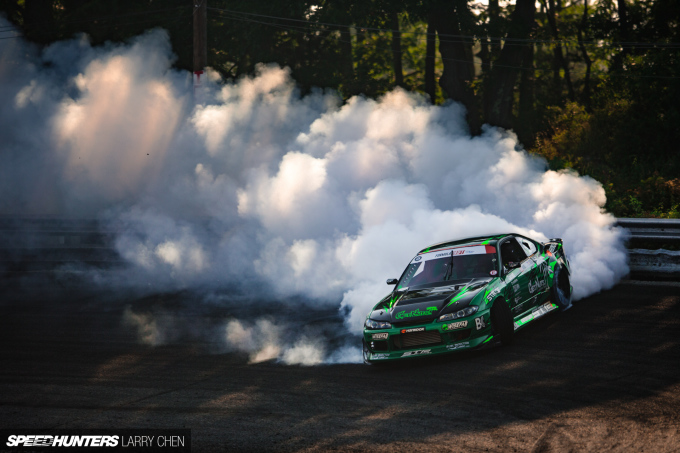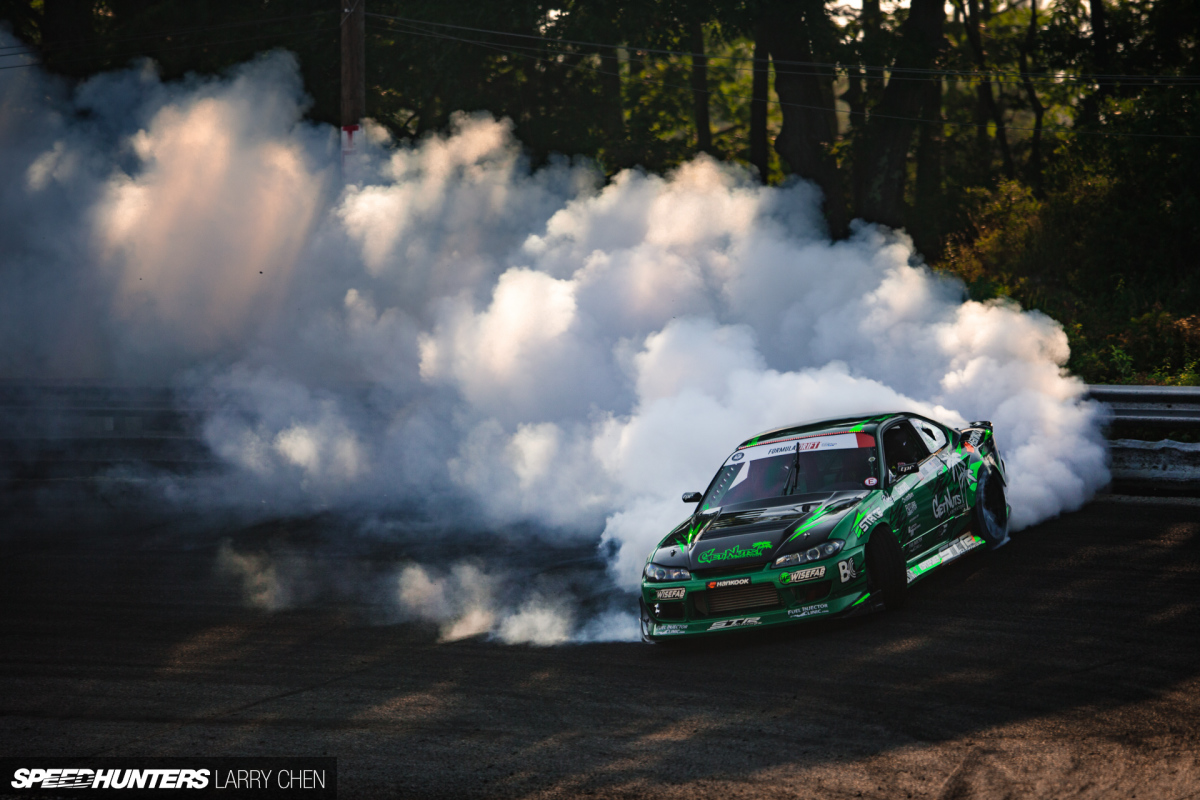 Mr. Smoke Machine himself, Forrest Wang, making clouds. I just love the way the rays of light shine through the trees. This is also why Wall Speedway, New Jersey, is one of my favorite drift tracks to shoot at.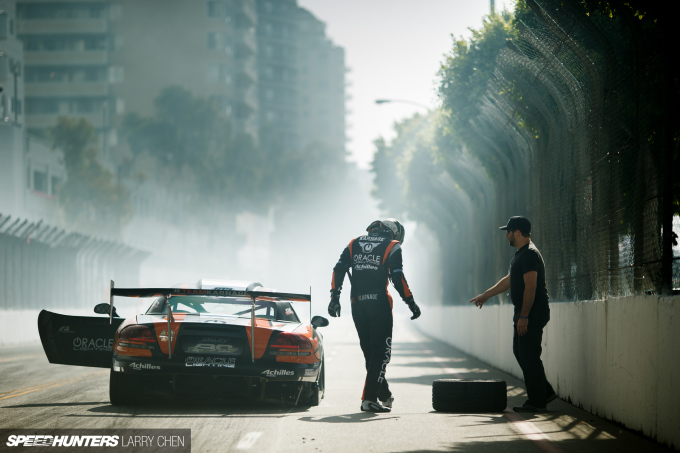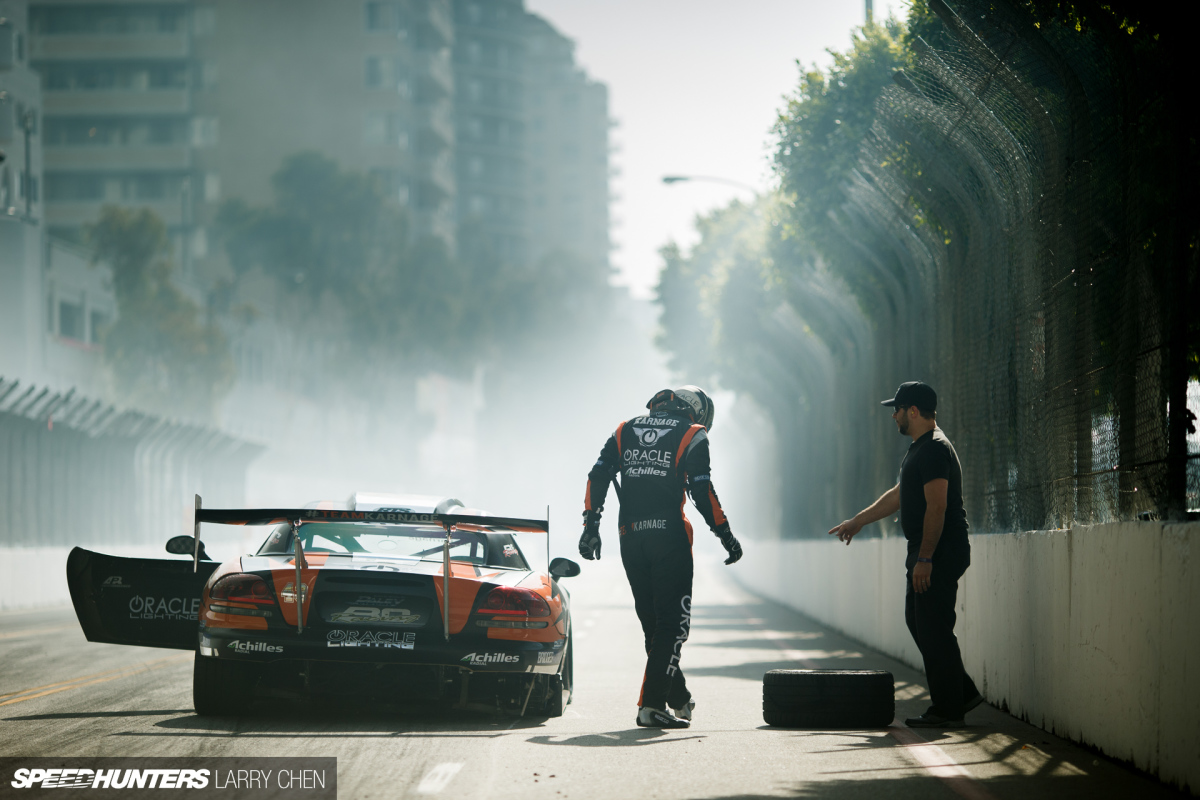 All sorts of fun things happen on the starting grid. It's never a dull moment with these guys.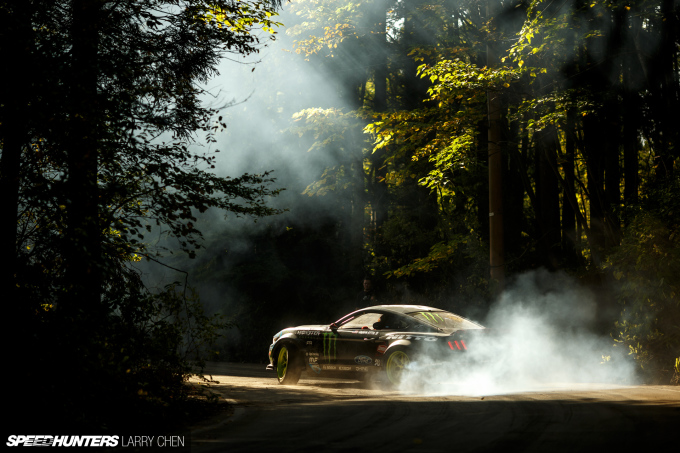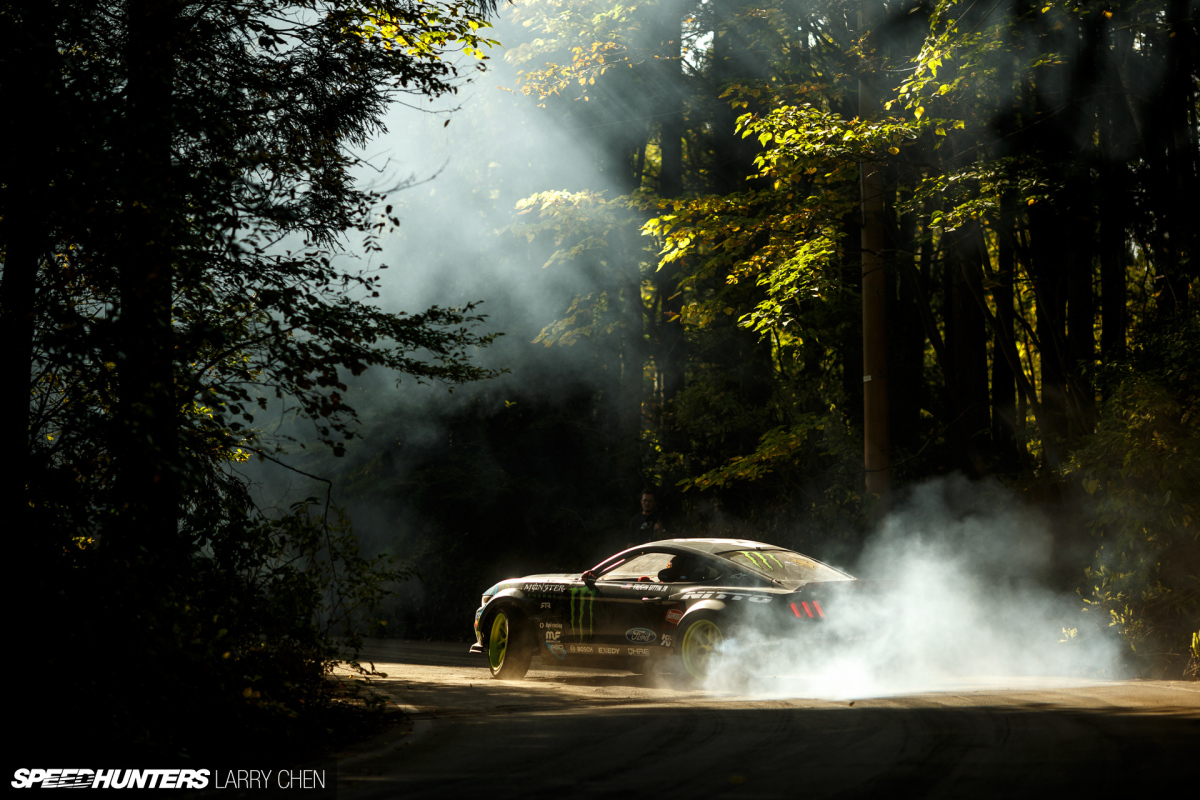 For us Speedhunters, it's always a battle to search for the good light. As soon as you find it, the light changes within a moment's notice. Just a few minutes after I shot this photo of Vaughn Gittin Jr. drifting a real Japanese touge, the light disappeared.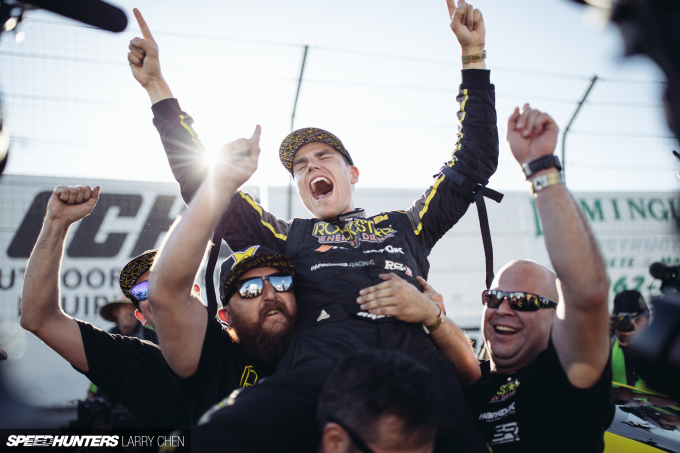 To me, there are two types of decisive moments: ones that you can plan for and ones that are spontaneous. This shot was in the back of my mind as soon as I stepped foot into the House of Drift – aka Irwindale Speedway. I am not a large man, but I don't have a problem with moving someone to get my position.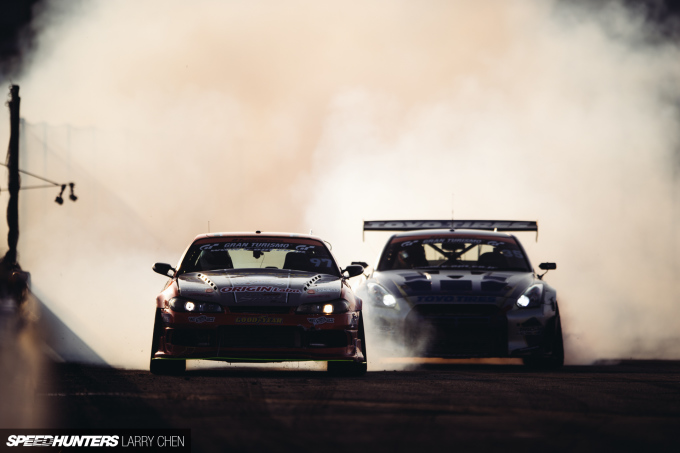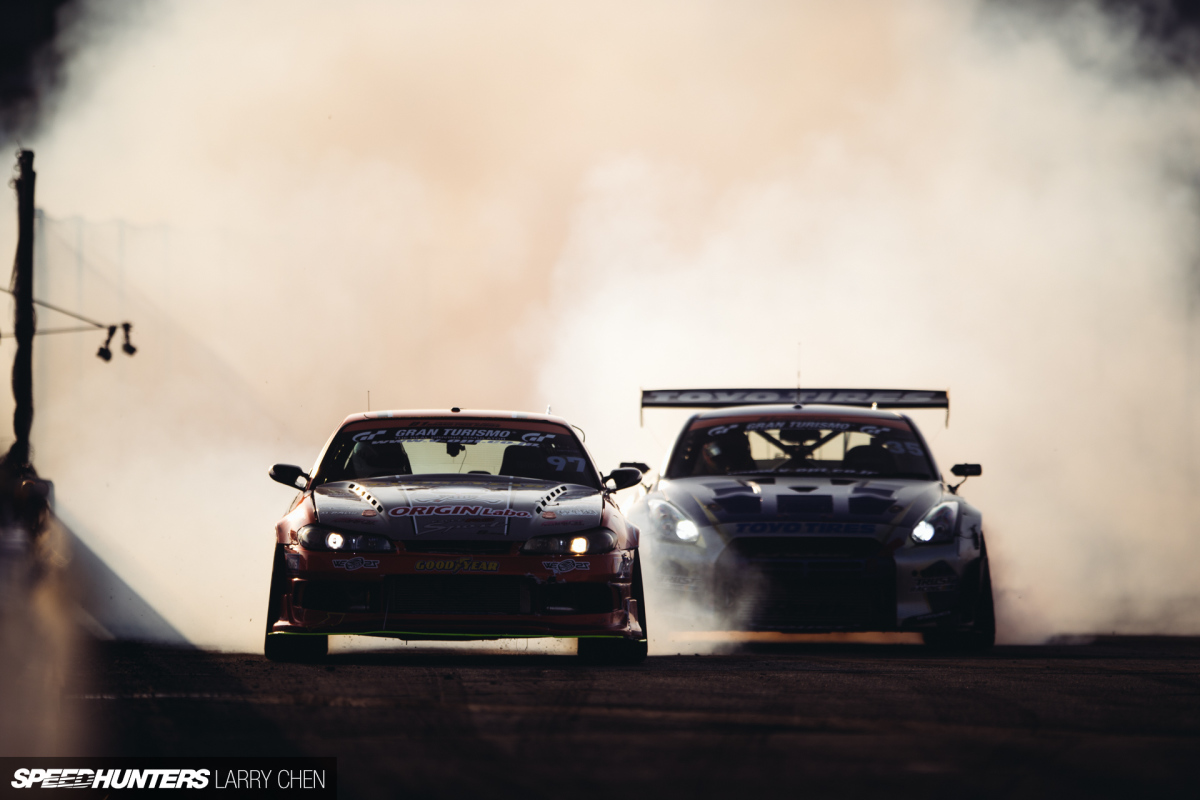 This shot was a bit frustrating as the best part of the course to photograph from was a shutdown zone. While some drivers would go ham and continue to floor it, most drivers would straighten out and just let the smoke just bleed out from underneath their cars. At the end of the day, the latter still made for a good shot.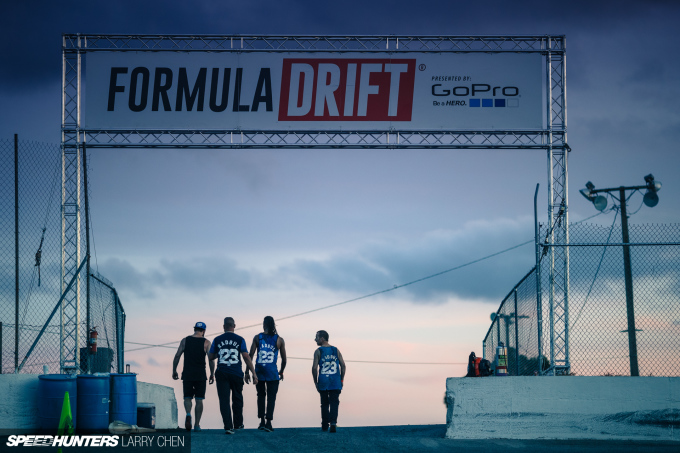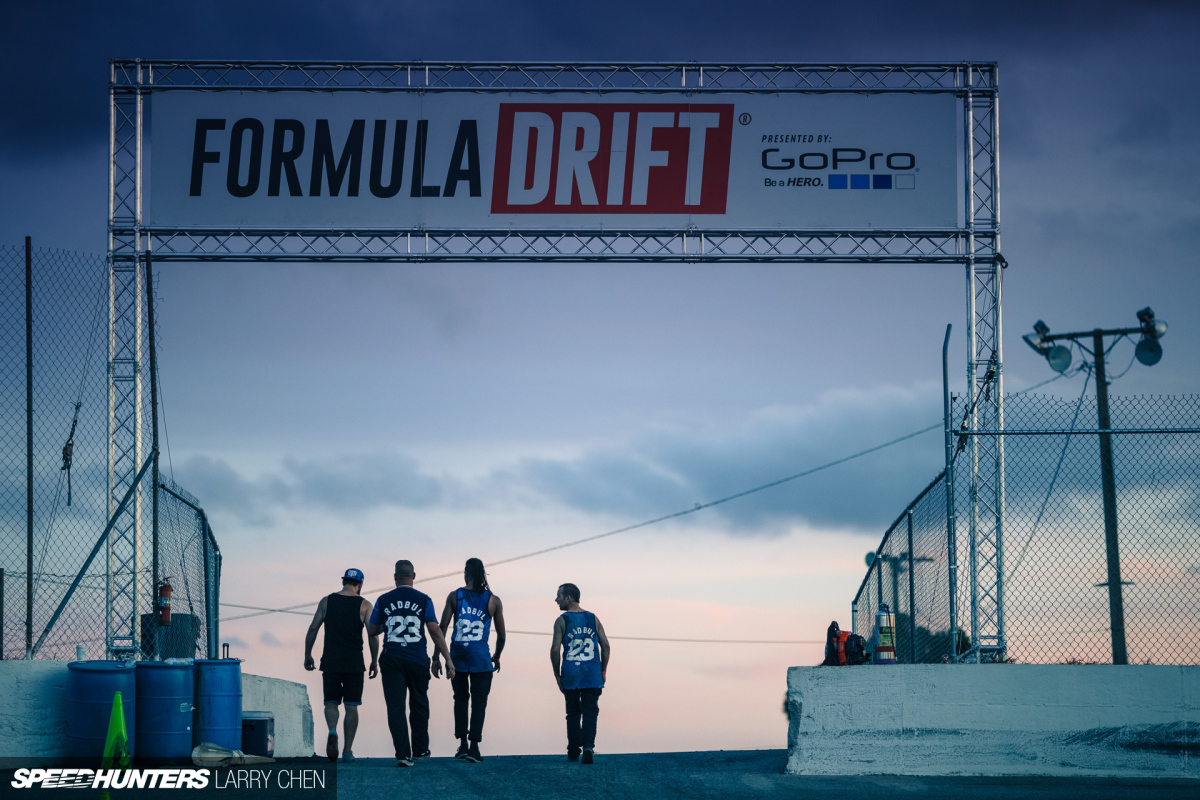 I saw this shot of Mad Mike Whiddett's team as they were walking through the sign coming towards me, but I had the wrong focal length on. I remembered this for when they were leaving the track, so I got into position with focus locked and loaded. Sometimes it's easy to see a good shot in your head way before it happens, but other times it's not the case.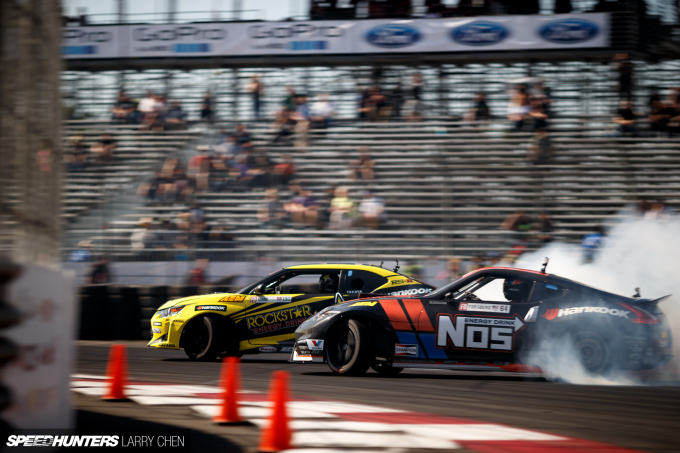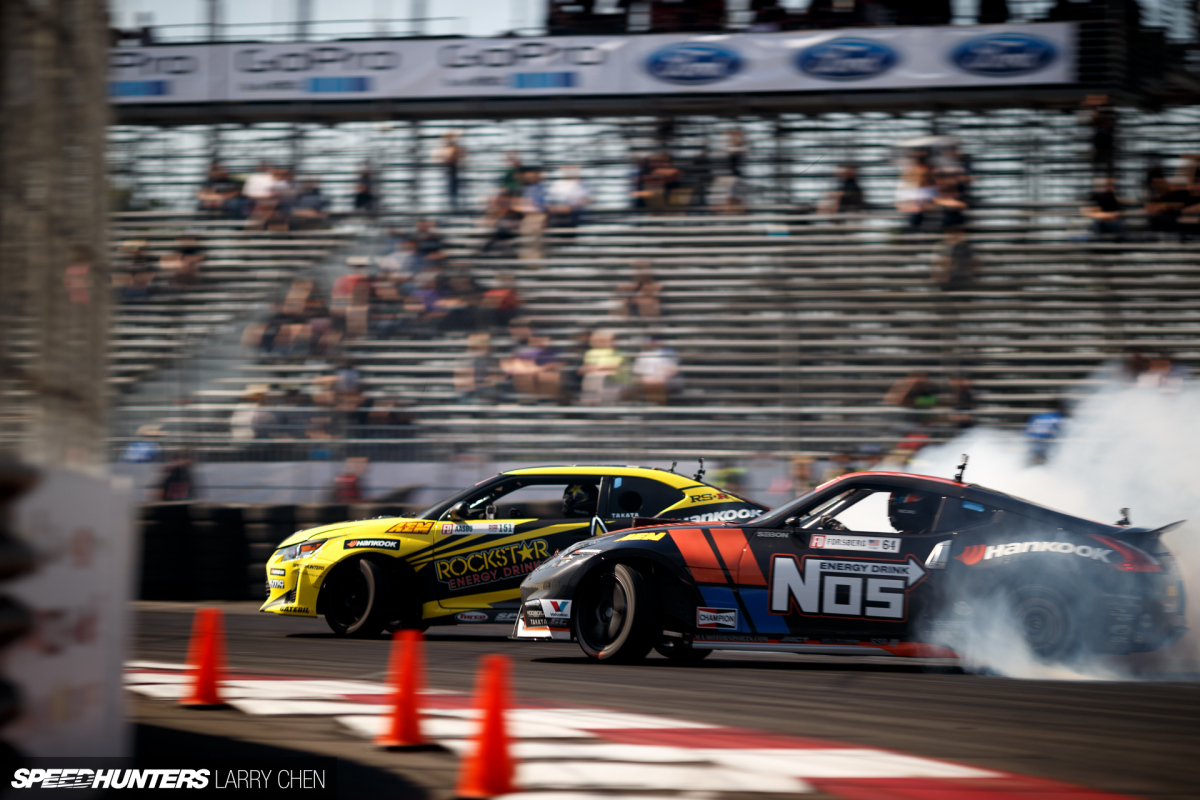 While this tandem shot may look simple, it was actually very hard to get. There was probably less than half a second between the cars appearing and then disappearing behind that wall, so I could only shoot off two or three frames. The timing was hard, plus the drivers had to follow very closely for this shot to work. It took quite a few tries.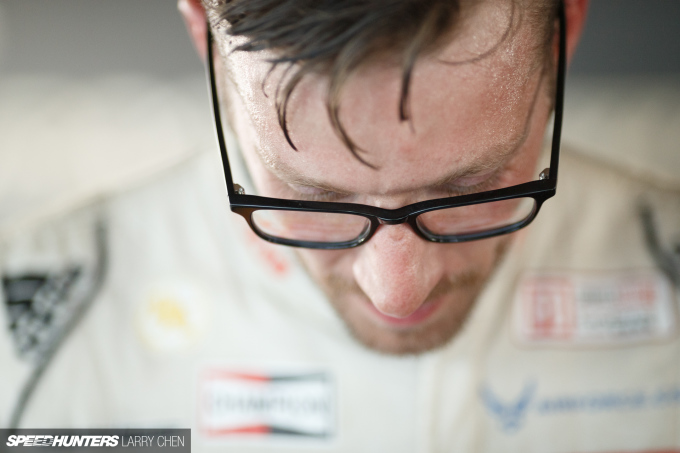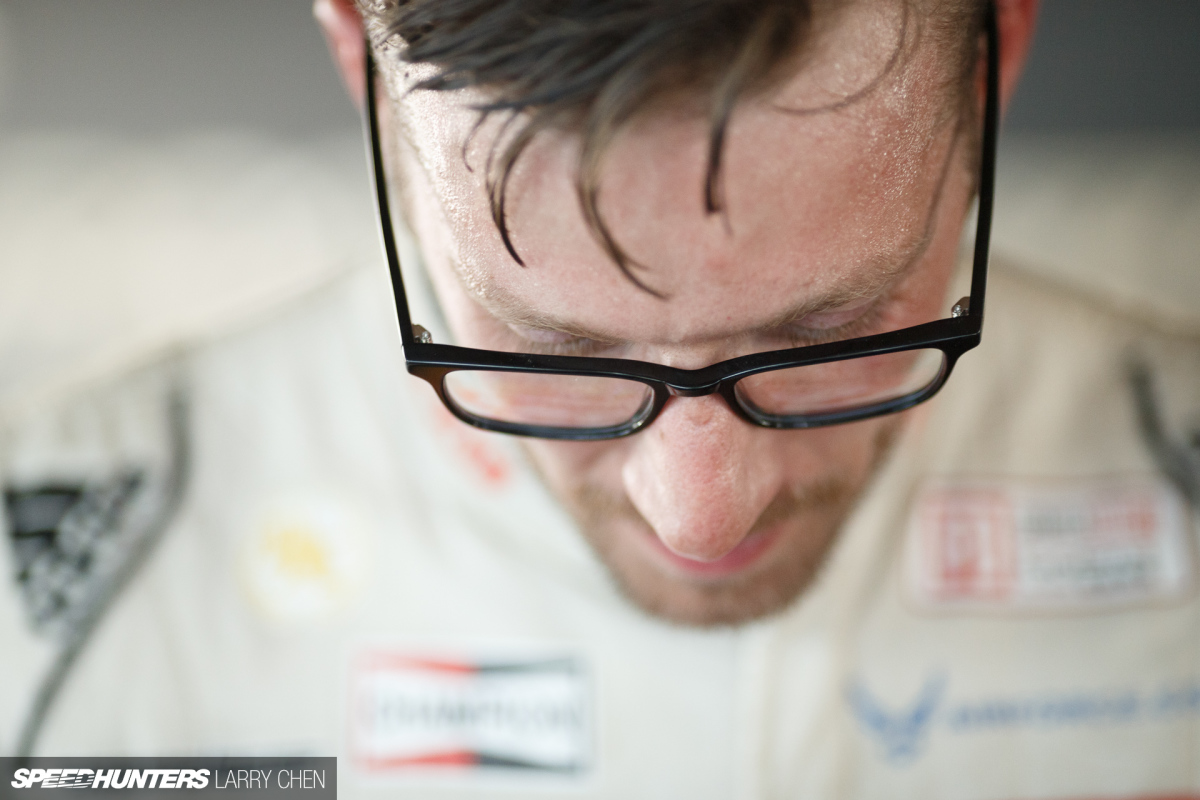 While some drivers are more shy than others, it's always hard to photograph anyone in very close proximity without them acting unnatural. This is why I try to do most of my shooting before I'm even noticed at all.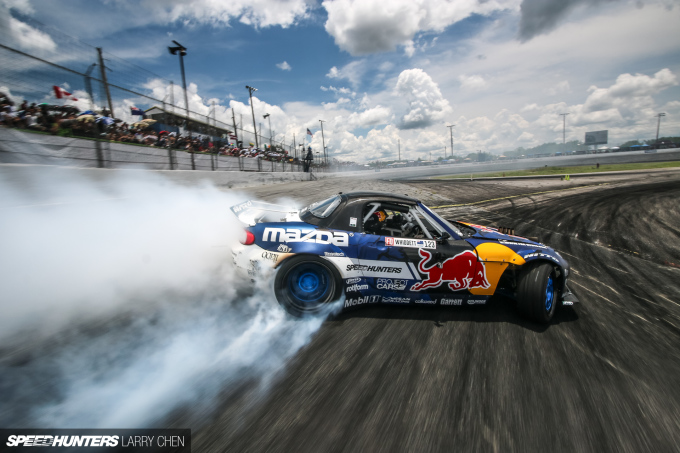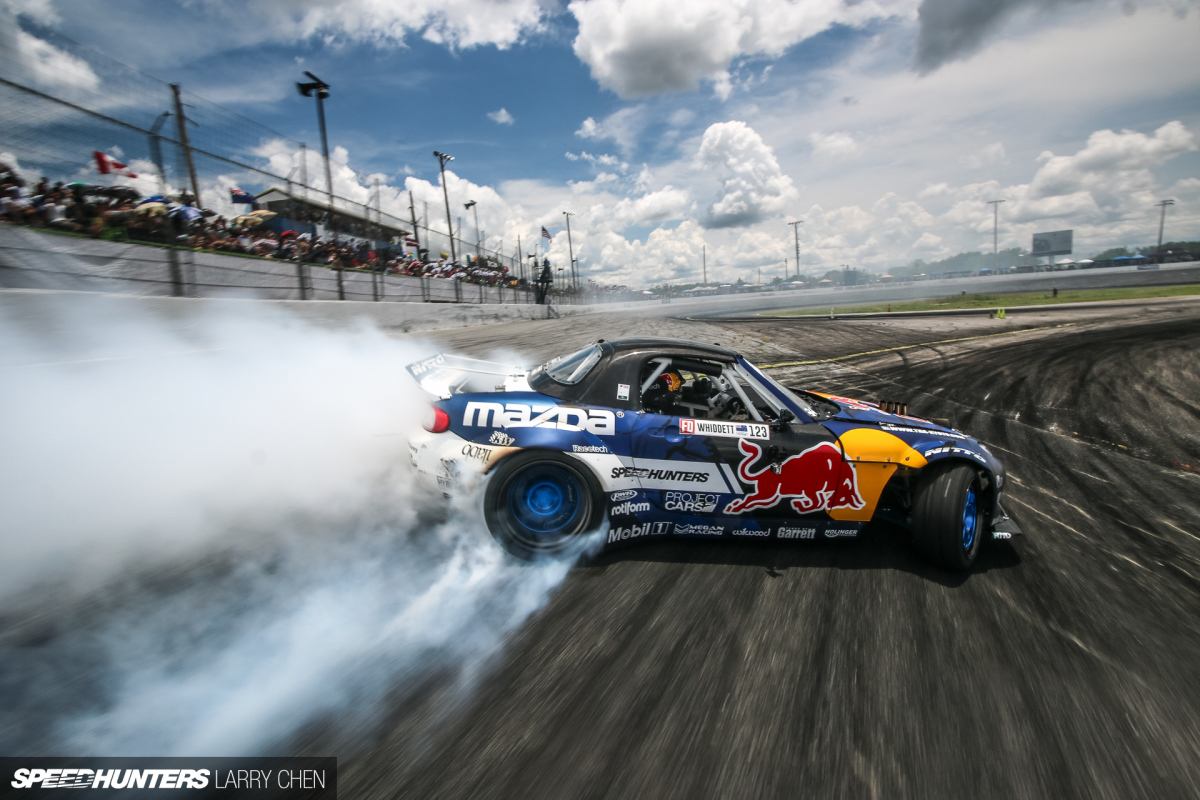 Car-to-car remote shots are probably some of the hardest to master. Framing a shot like this really comes down to your best guess. There is so much luck in play as well, because you could lose your whole setup if the camera car crashes out, which has happened to me before.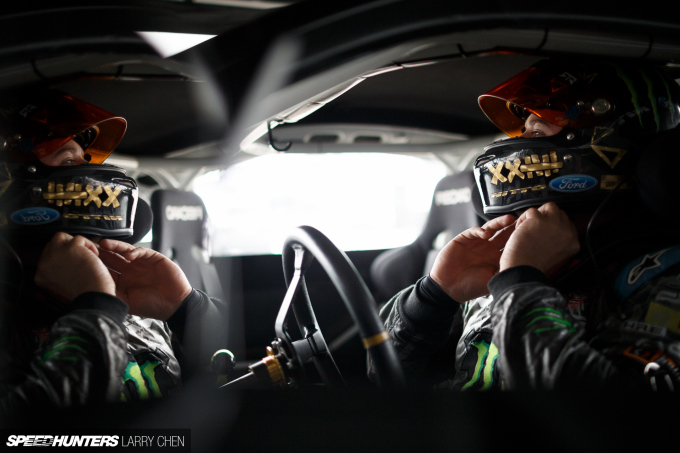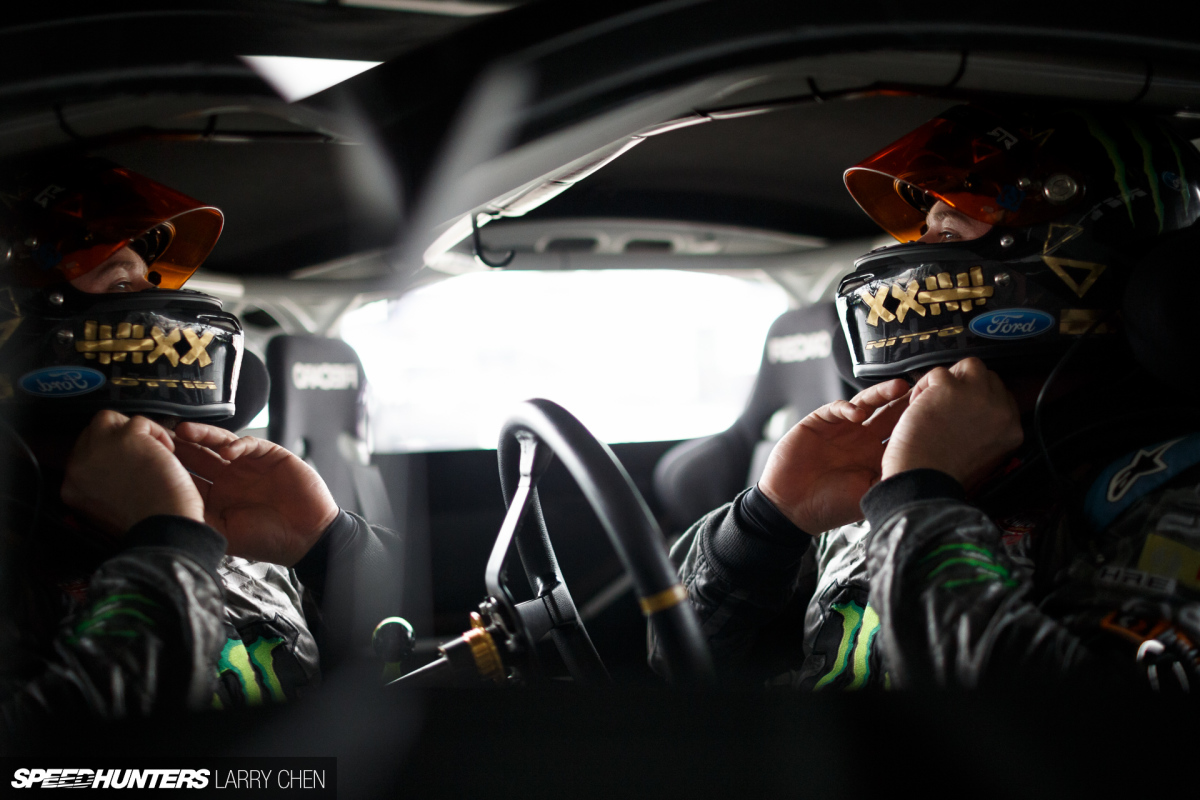 I have so much fun playing with reflections; it's almost cheating because most of the time it comes out pretty cool. A puddle of water or a reflective surface can totally change an image.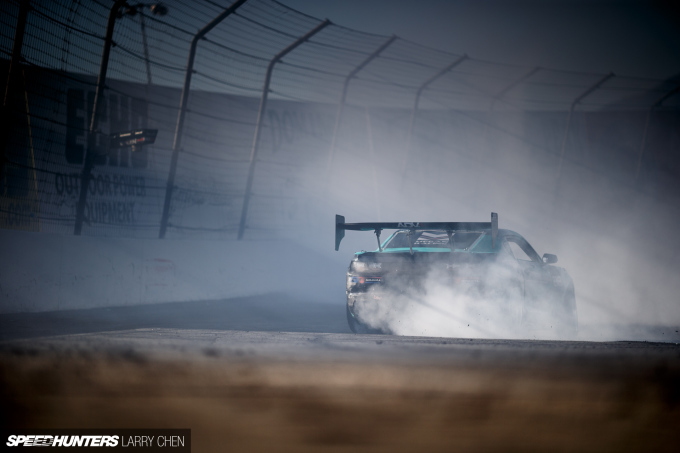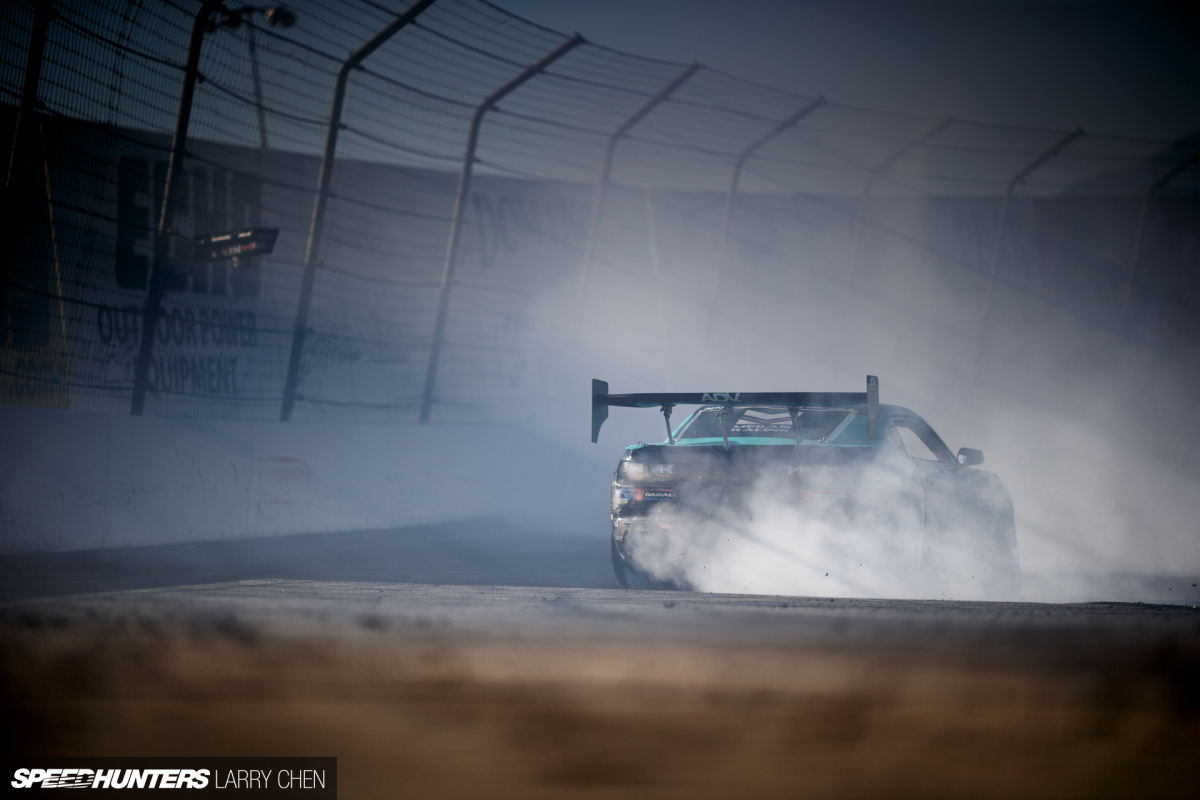 There is a time of day when the rays of light shine through the Irwindale fence, casting an interesting shadow on the burnout box. I try my best to snap some action shots of these drivers while doing burnouts, as it gives a much different perspective than on the track itself.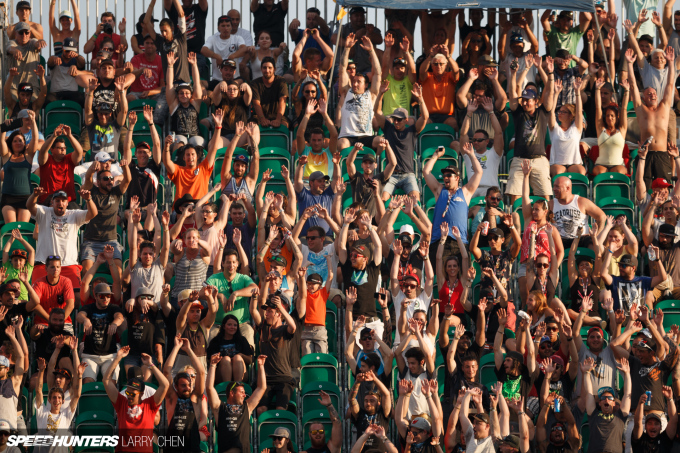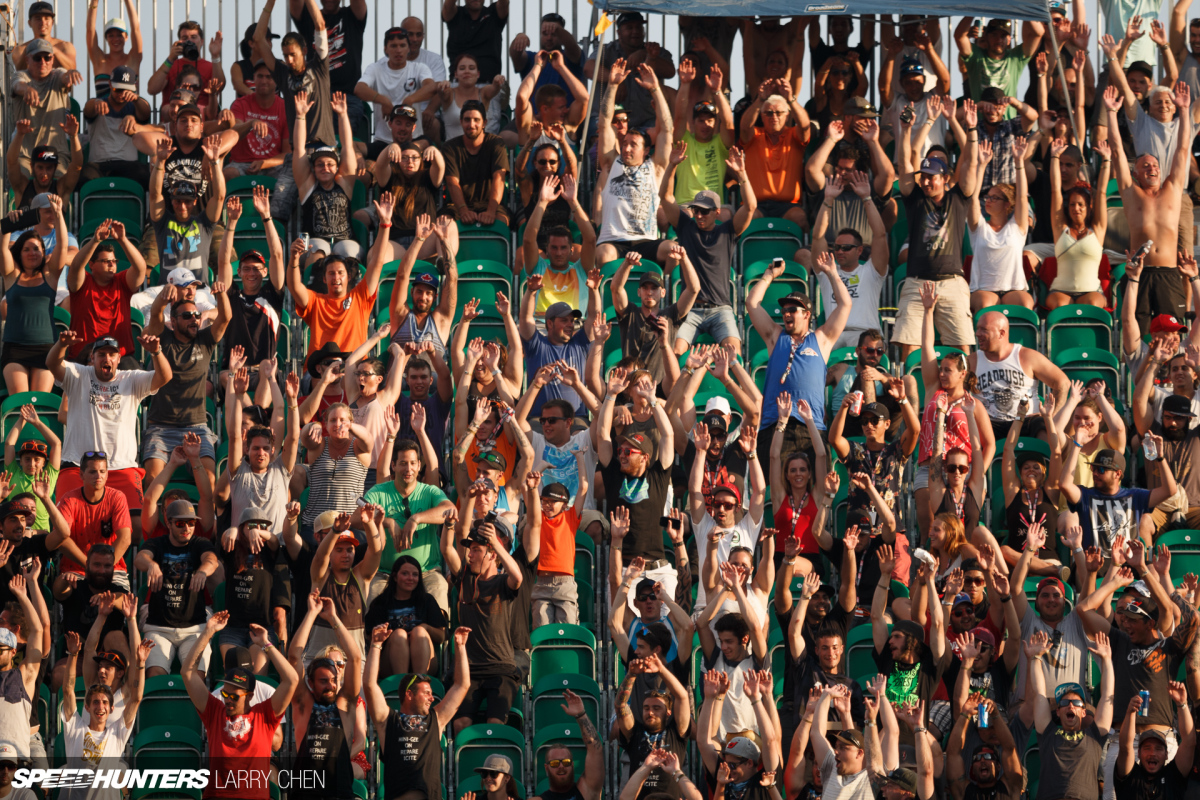 Drifting would not be where it is today without the fans, so I try to point my camera their way as often as I can too. Sometimes the audience can be just as interesting as the performers.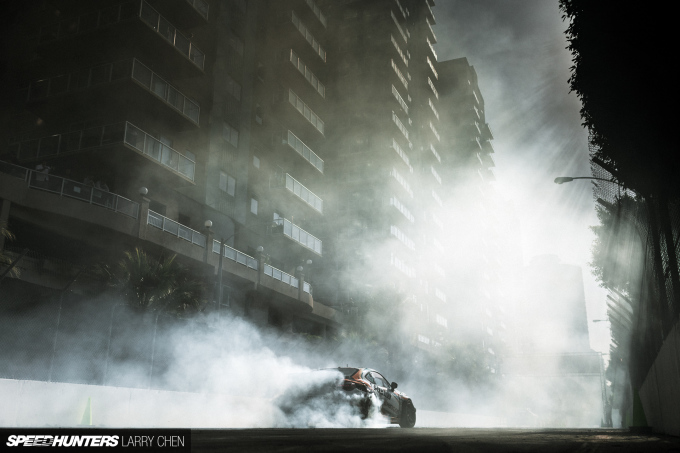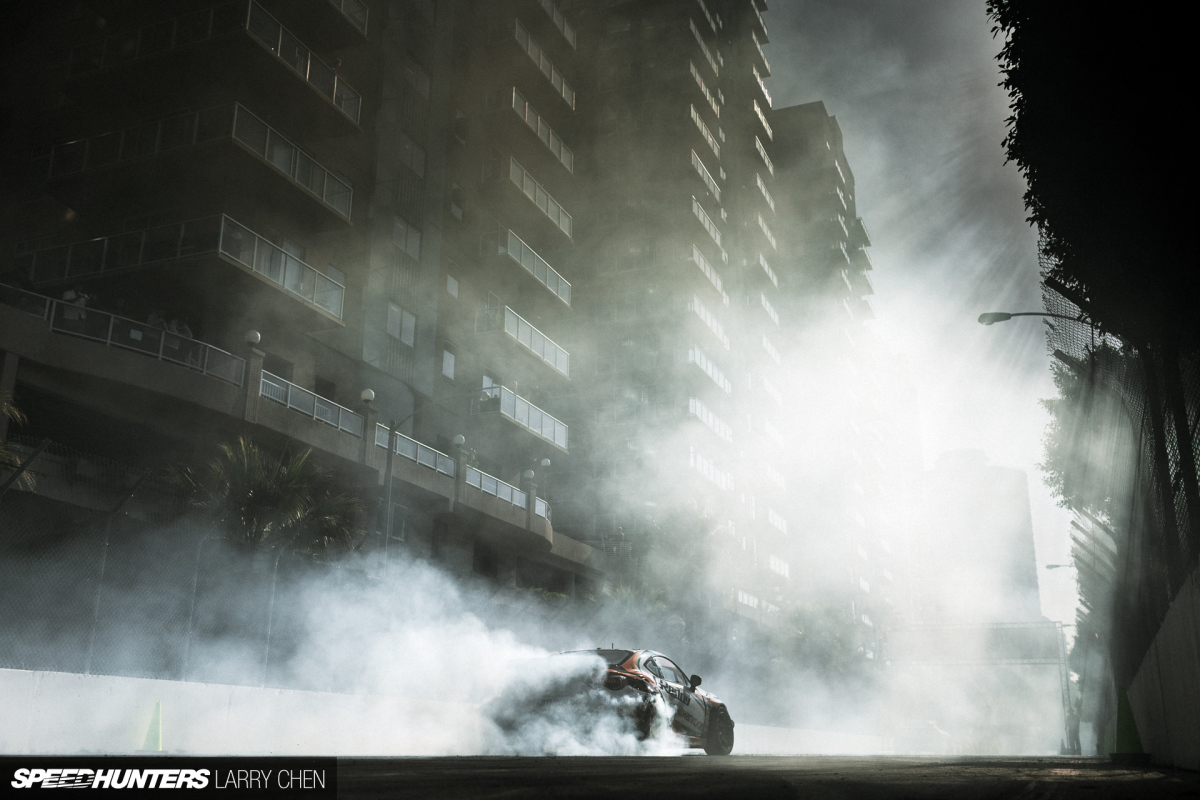 Shooting the same track year after year can be tough. For example, this was my tenth year shooting the Long Beach Grand Prix track, but somehow I always find a new perspective. When you actually think about it, the angles and perspectives are infinite.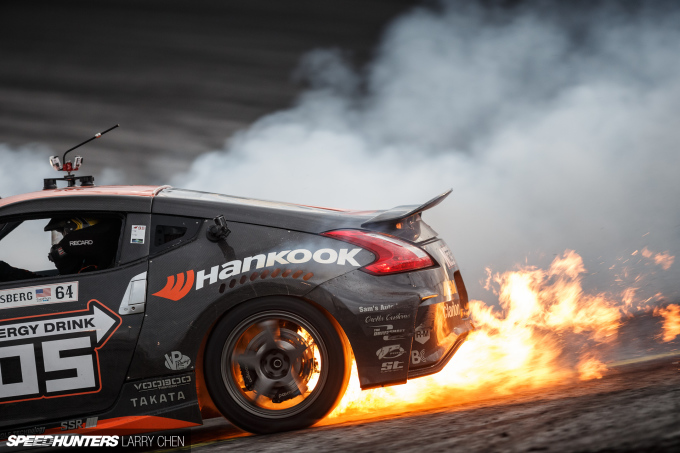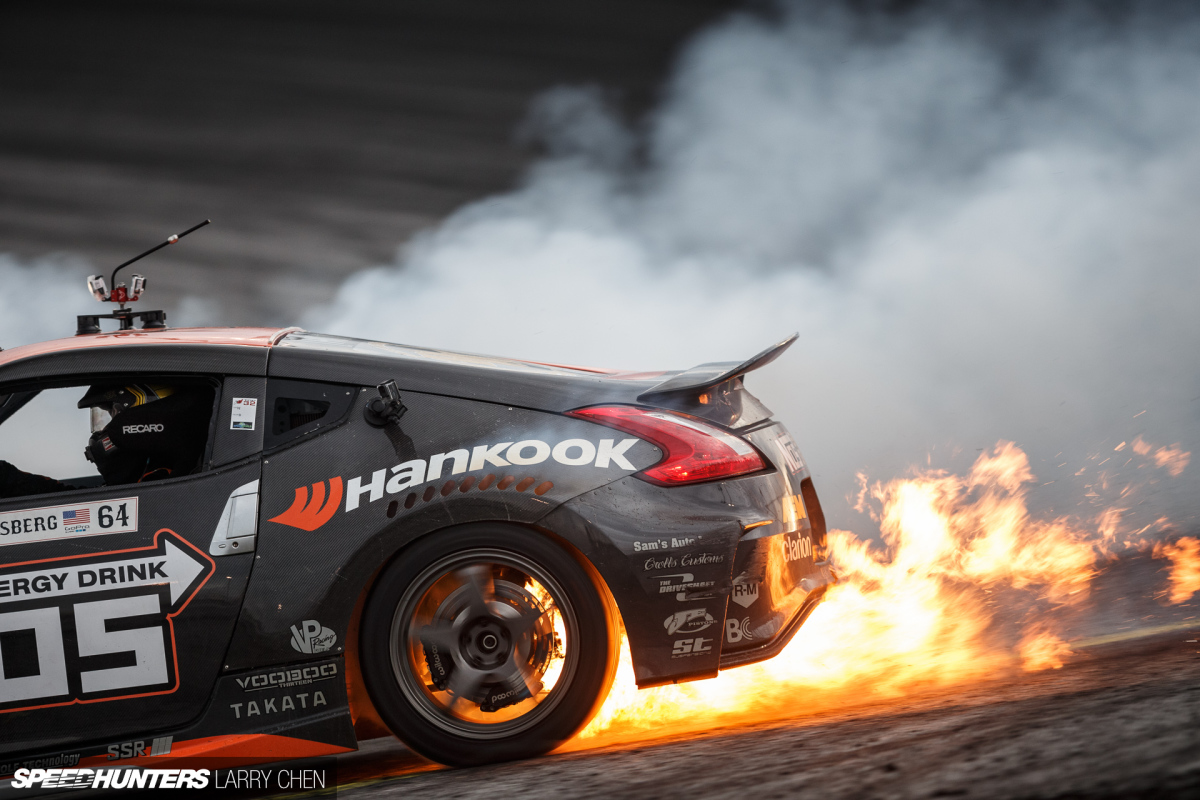 This shot was one of those decisive championship implication moments that you just can't plan for capturing. I just happened to be at the right place at the right time with the correct focal length.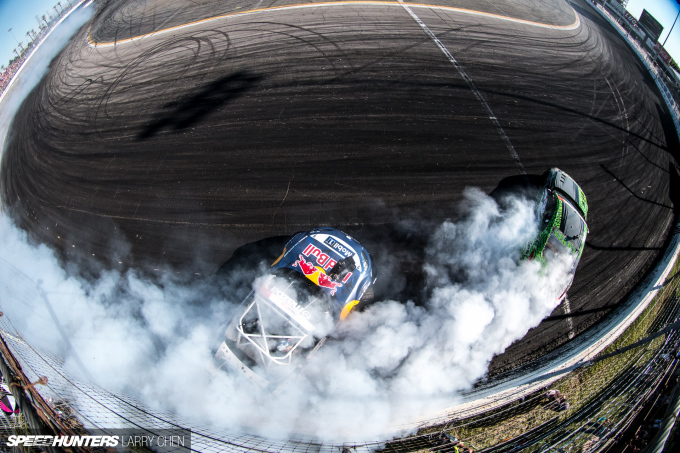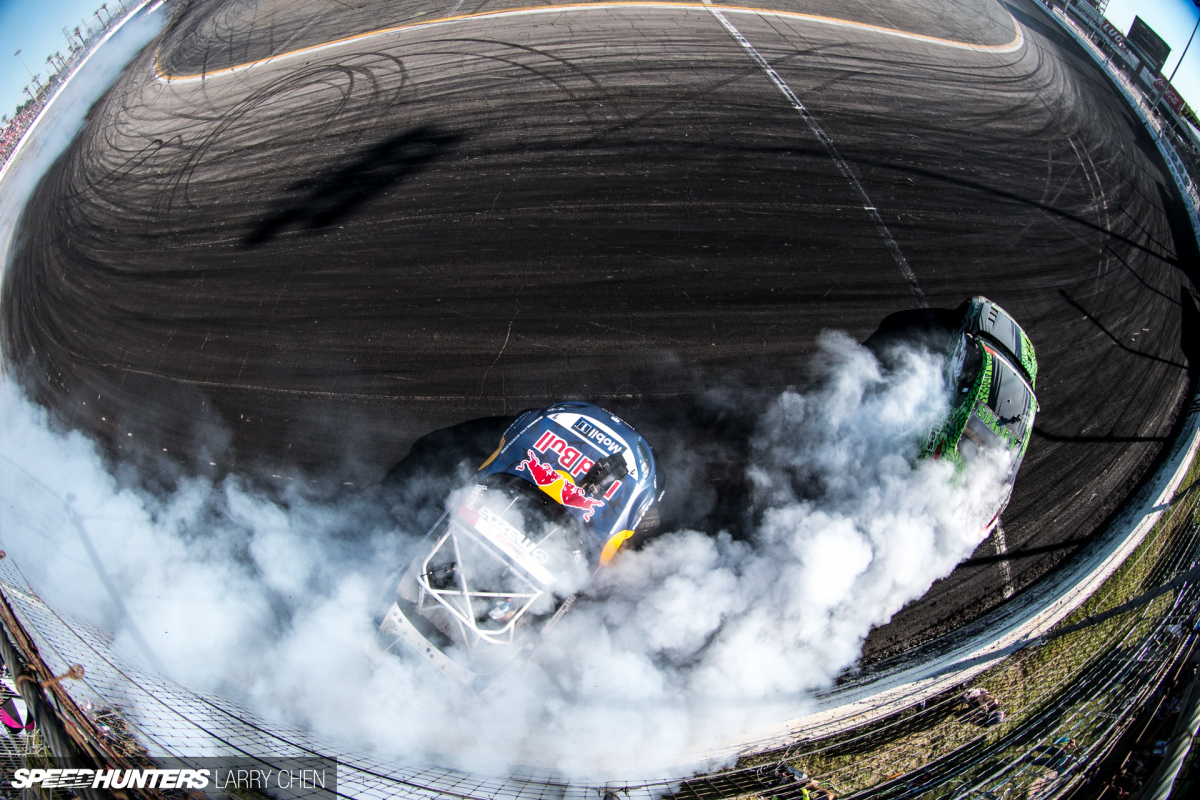 While it's nice to have the latest and greatest when it comes to camera gear, it doesn't really make much of a difference these days. Most of the time I use my phone when I don't have my DSLRs with me, but for remote shots like this, I just use old cameras and lenses that were once my main bodies. There's no point in wasting a perfectly good camera.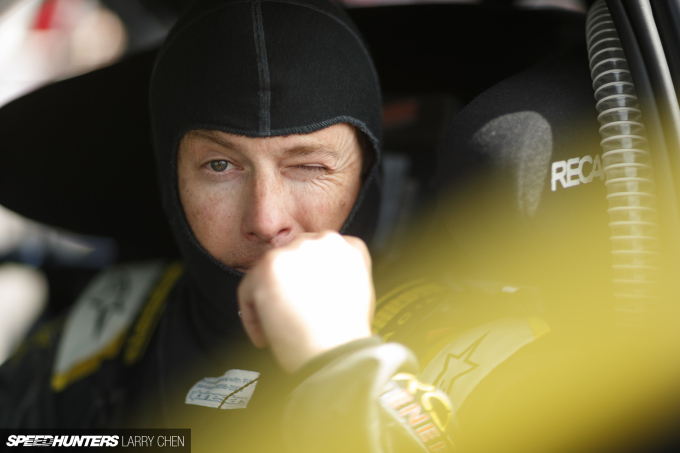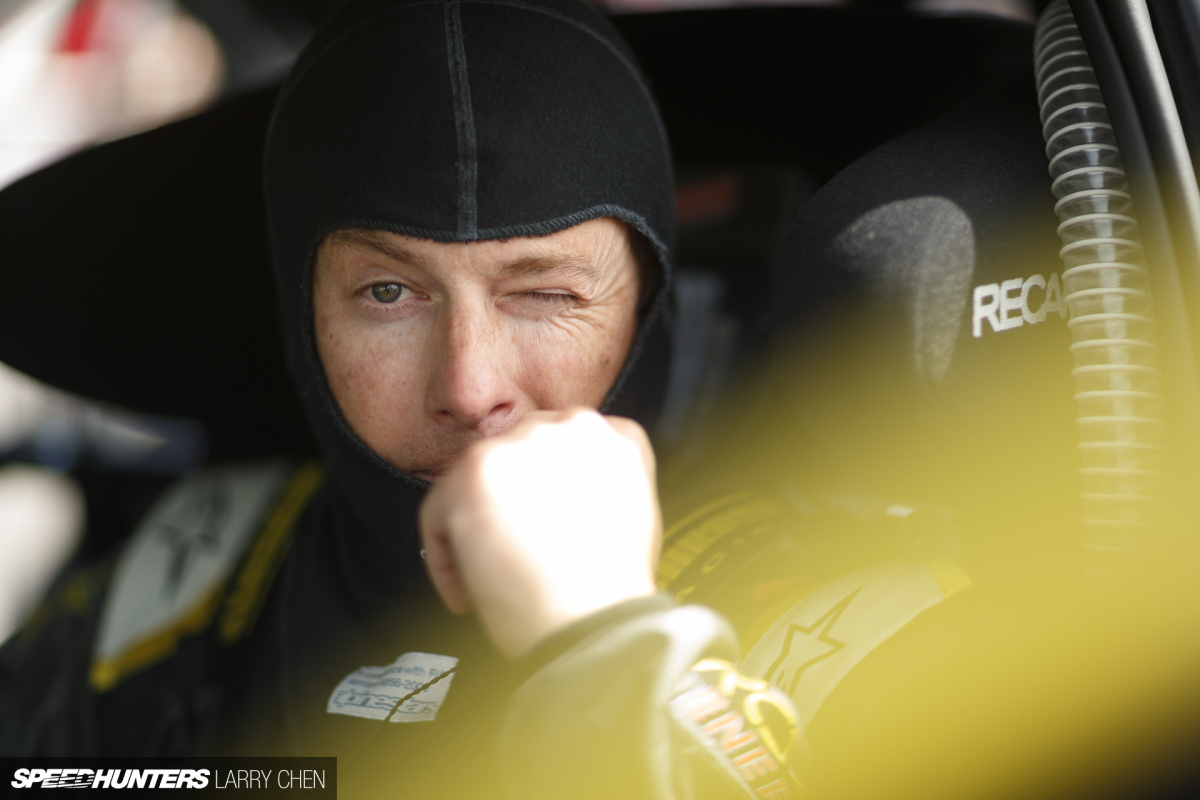 It's really interesting to photograph the same people over years, because you can go back and see how much they have changed, what race suits they have gone through, and how their racing careers have progressed.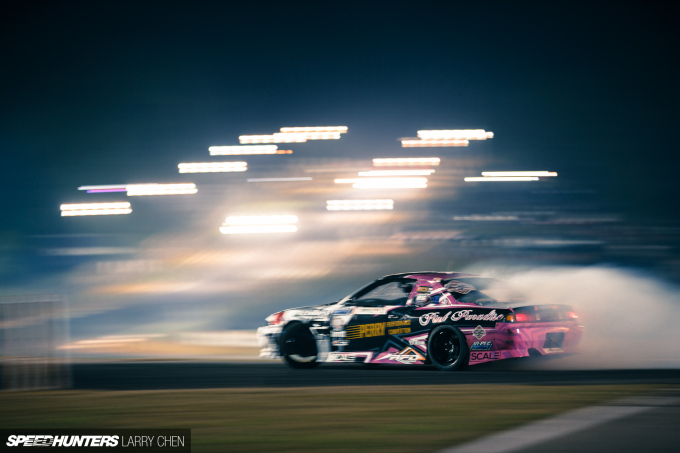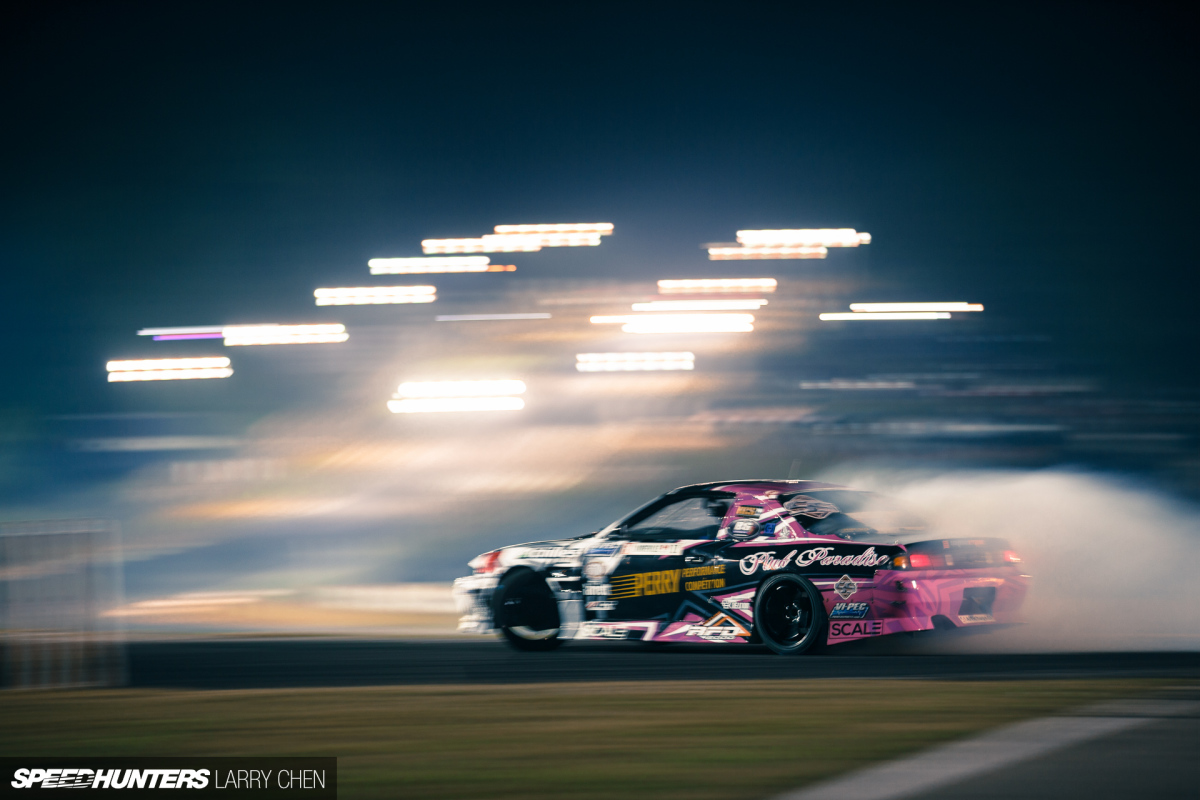 When Formula Drift had a 'knockout' qualifying format, my pictures suffered; I was forced to shoot much safer because there was a potential for the top drivers to only get a single run. Now that it's back to two runs per team, I can shoot as slow as I want on the second run. That is how I ended up with this 1/10th of a second pan at Road Atlanta.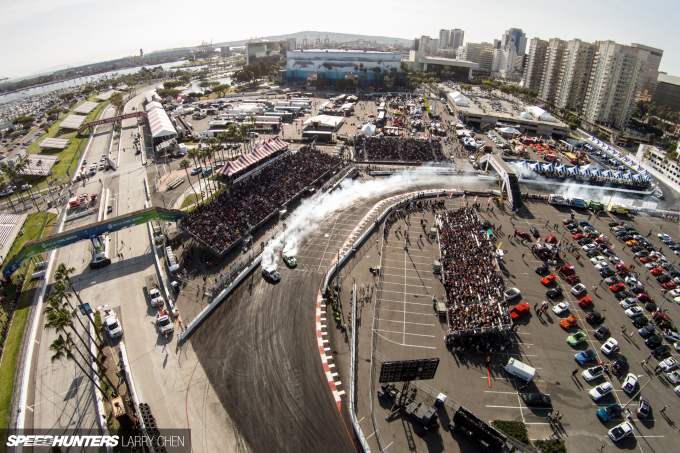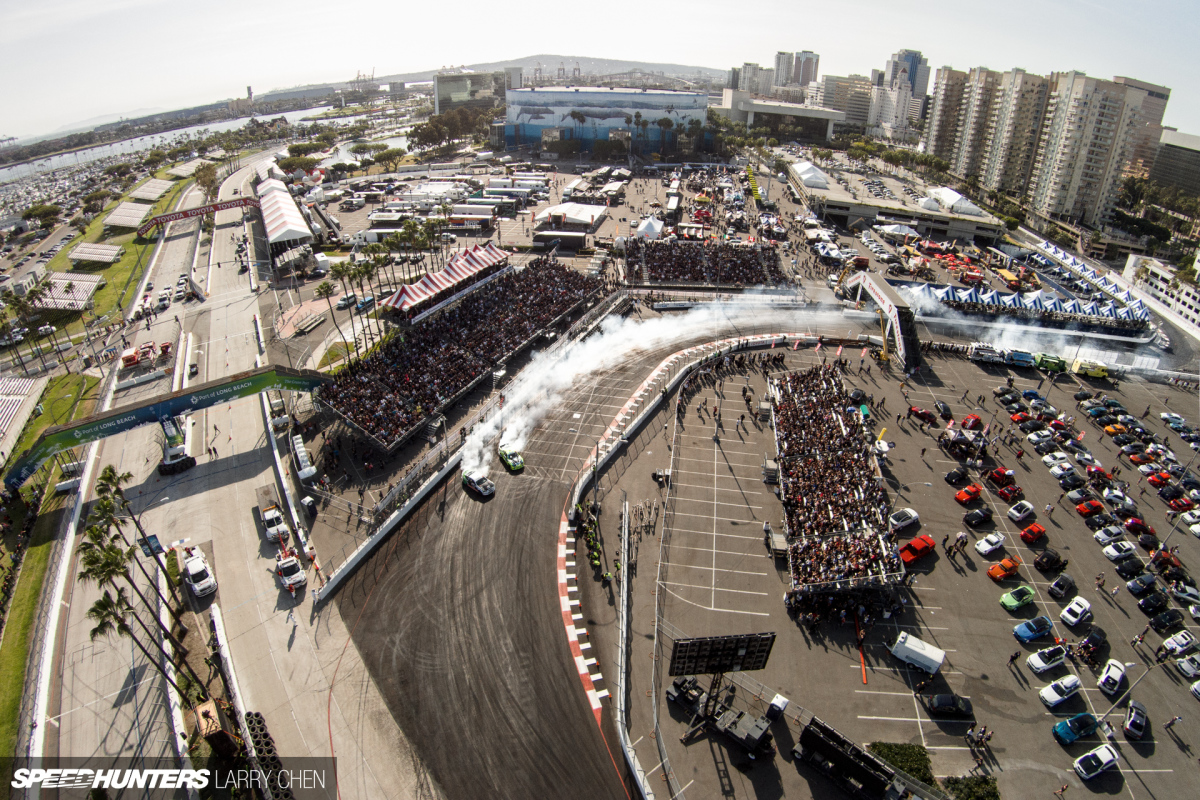 You guys are probably wondering how I get these aerial shots during competition if I am shooting each run from the ground. Well, thank goodness for OMT battles, because that allows me to get many different angles on the same match-up.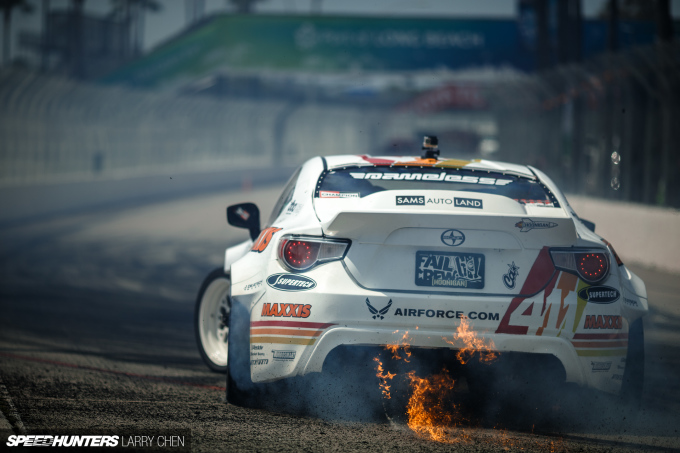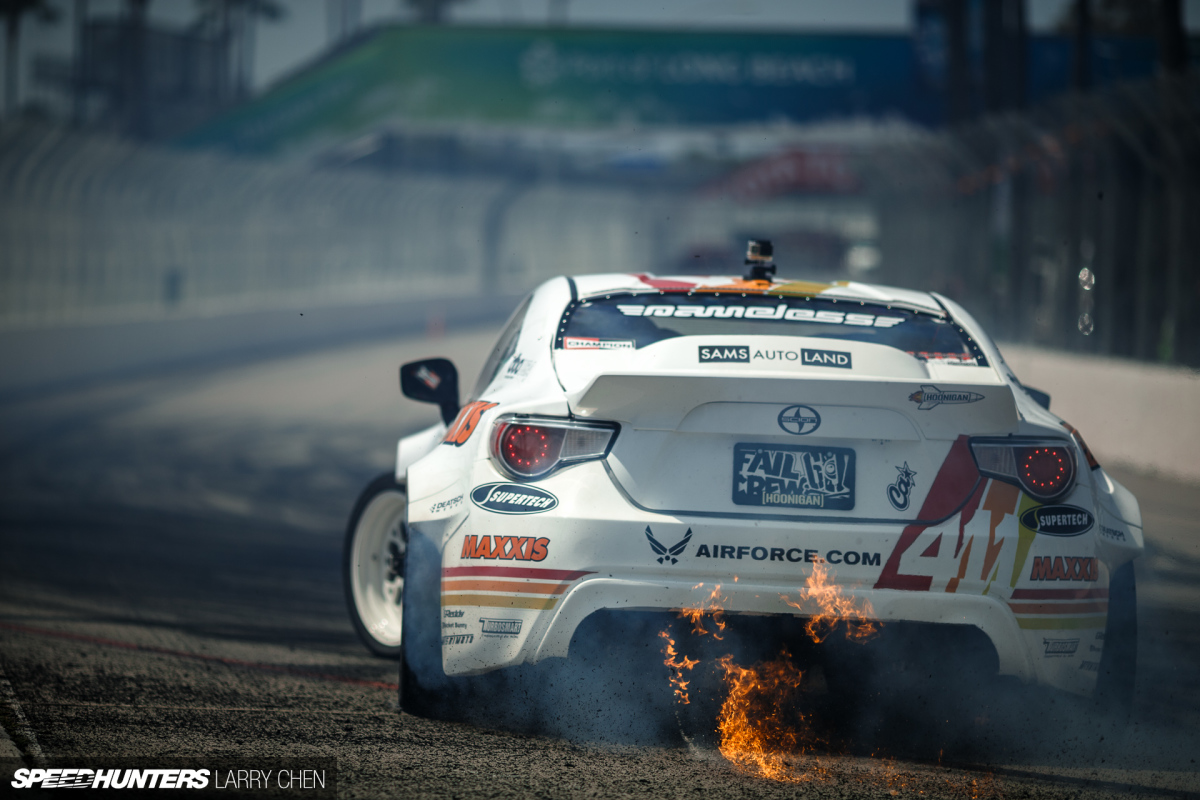 Is there anything cooler than a race car spitting flames? It's not as bad when the flames are intentional.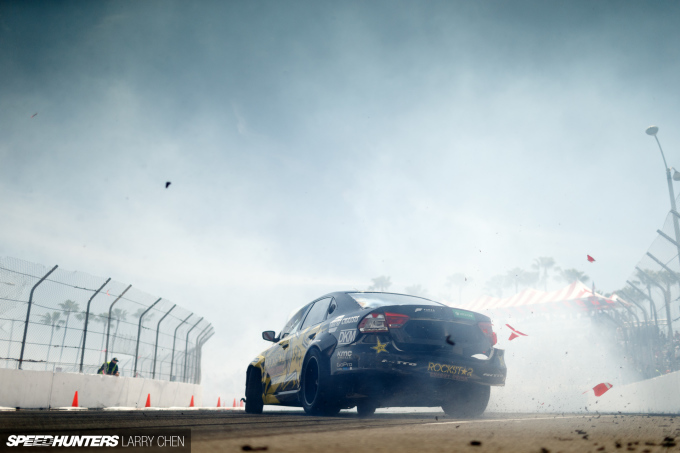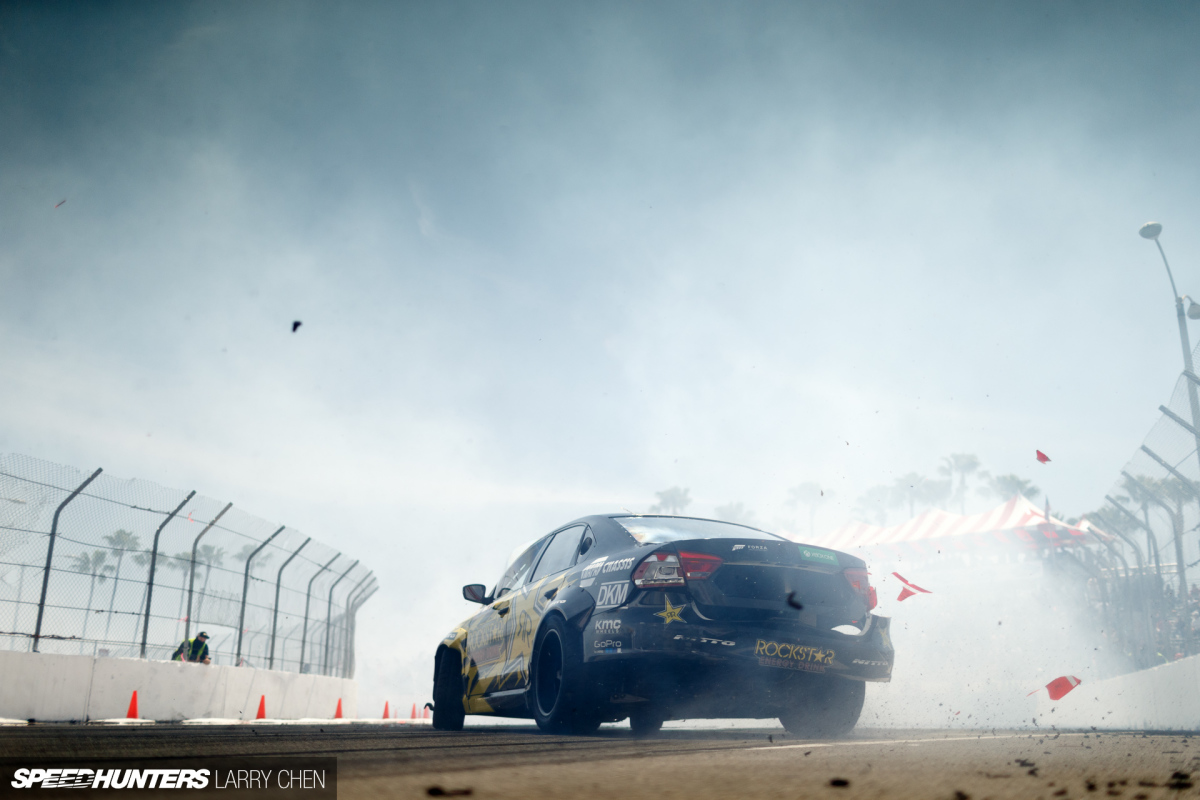 It's often hard to gauge when the drivers will push hard, but a good measure is to shoot with a very high shutter for the 2nd qualifying run, as there is a good chance they will rub the wall or tap a clipping point. In this case, Tanner Foust tapped the wall a bit too hard and ended up in the tire barrier. But at least it made for a cool taillight-shattering photo.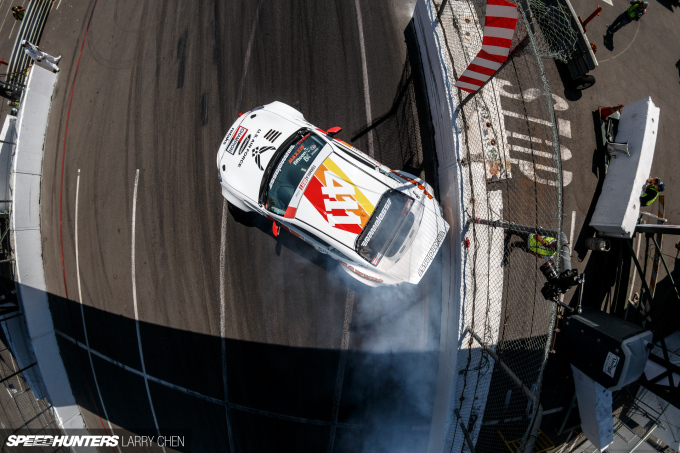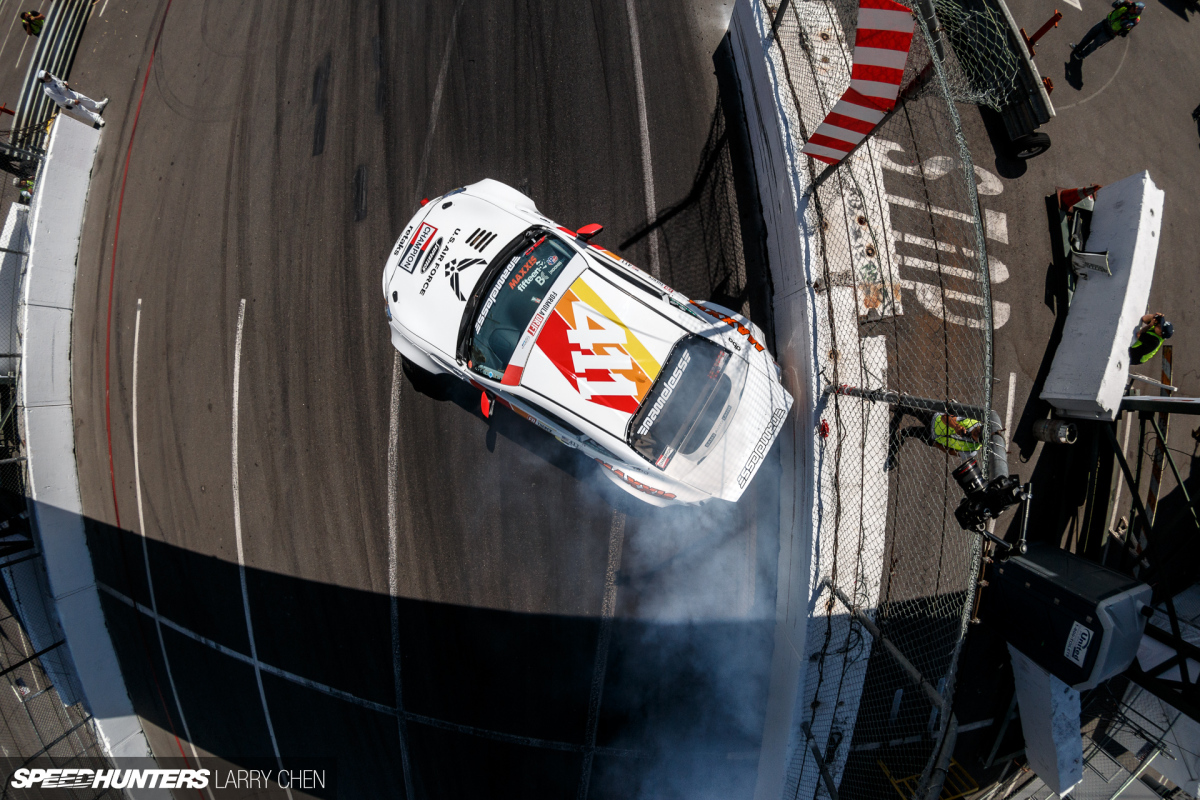 So how is it that I can freeze the action when the cars are drifting at a considerable pace? You would be surprised how still you can capture motion when shooting at 1/8000th of a second.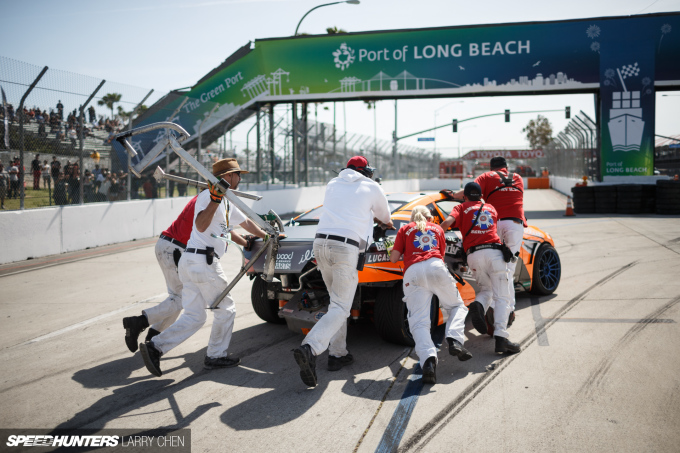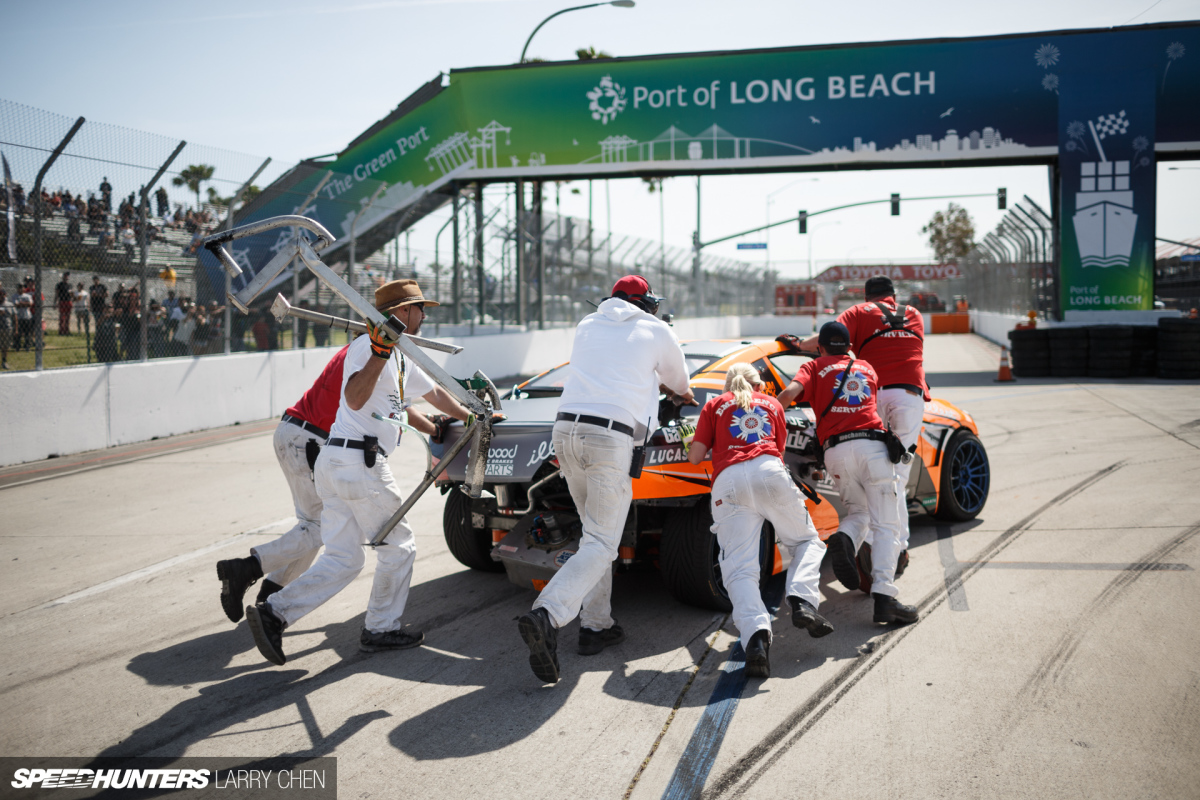 Corner workers are always fun to photograph. They come from all walks of life, and most of them are volunteers, so they do it for the fun of it.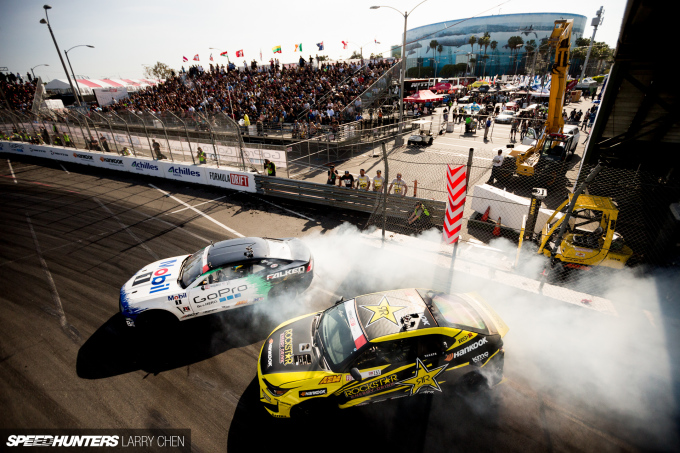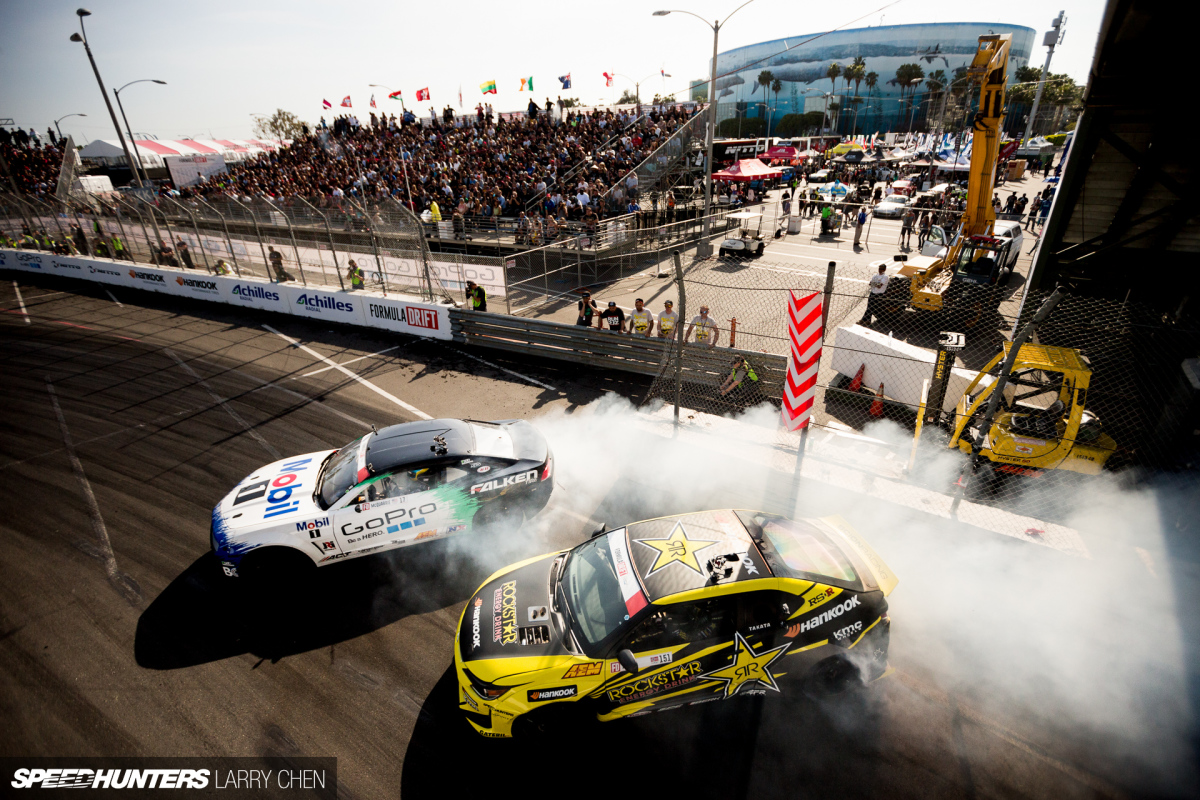 This was a new shot that I attempted at Long Beach this year. While I love this photograph, it was pretty much the only one that came out from this angle, mostly due to the positioning of the cars. Barely anyone was running as close as Aasbø, therefore it was very hard to get both cars in the frame, and a single car shot would be super boring.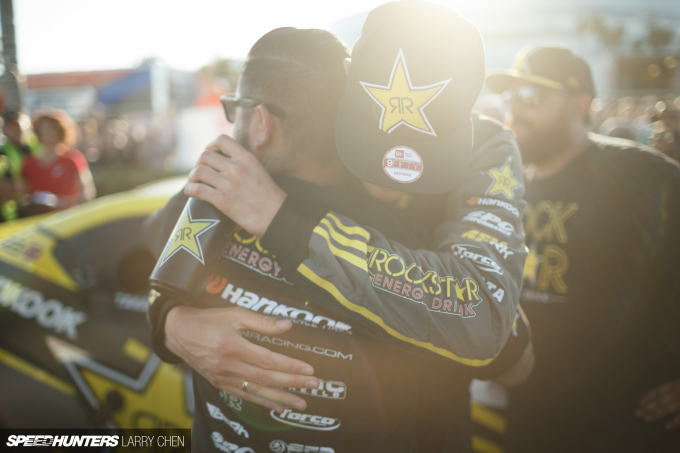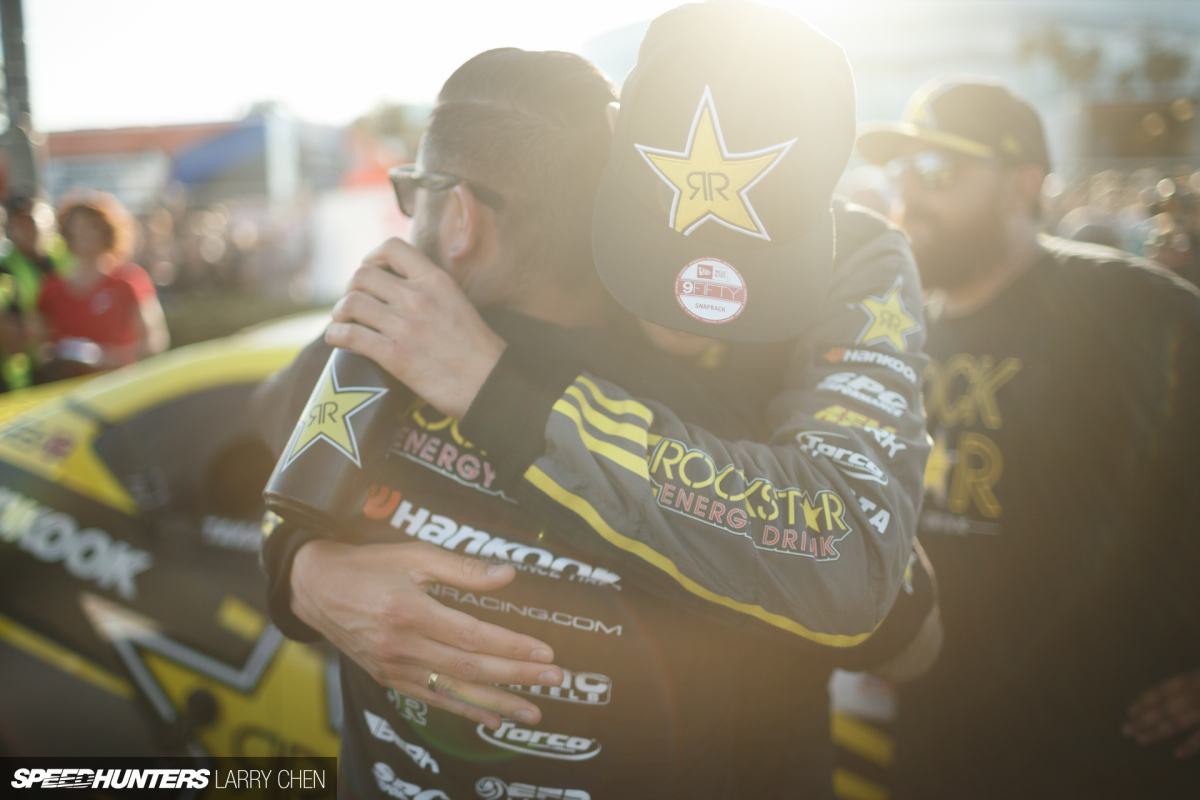 Over the years I've learned that sometimes it's a good idea to take one step back. In terms of storytelling, it's the best way to get a better perspective on what is happening.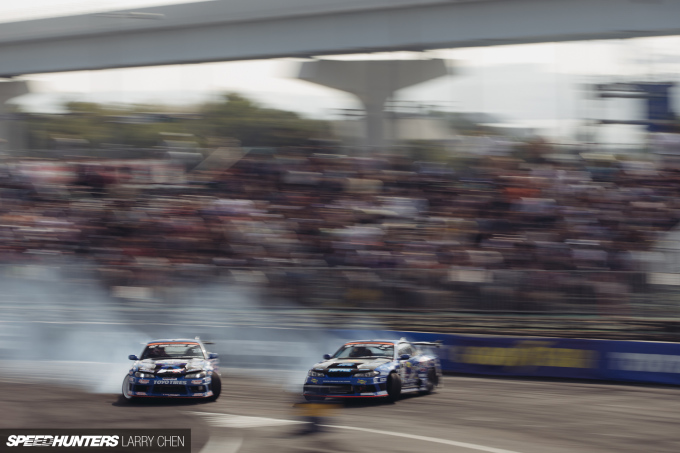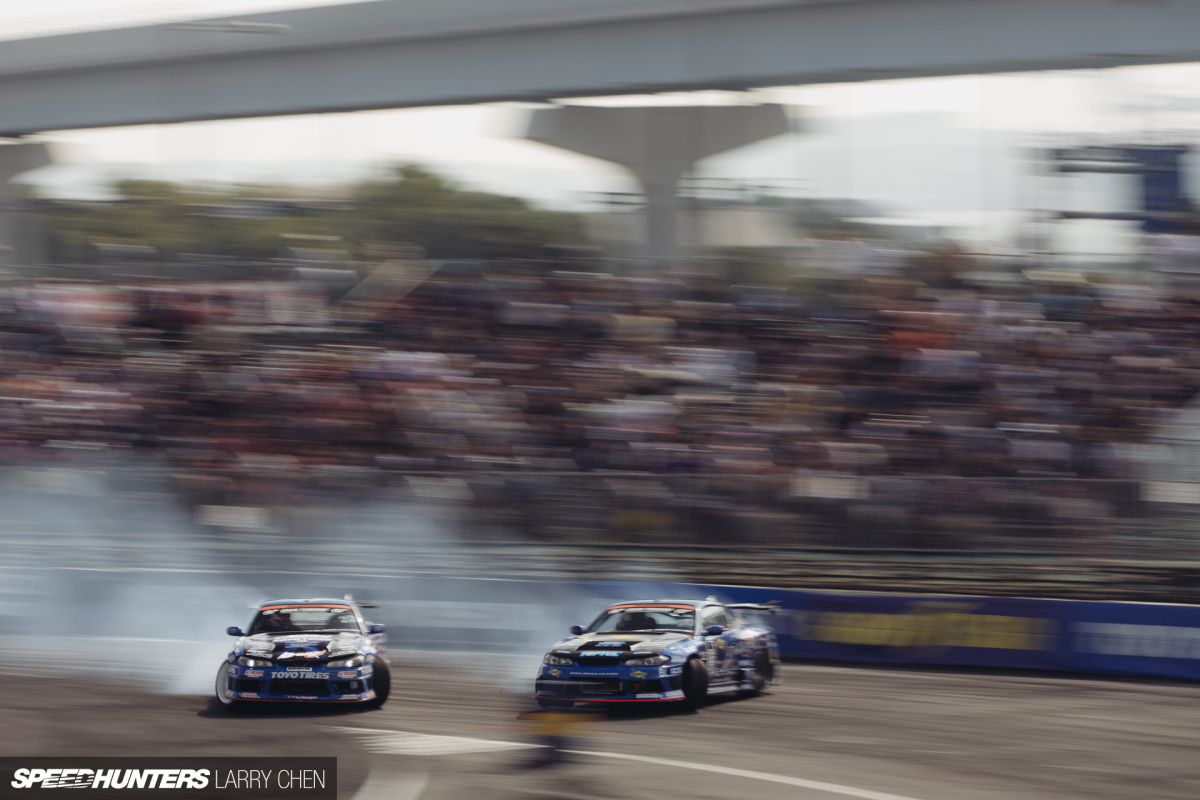 The tricky part about photographing drifting with a slow shutter is that the rear end of a car moves at a different speed than the front. Sometimes it turns out pretty cool, but I find that most of the time it's lame because only part of the car is in focus.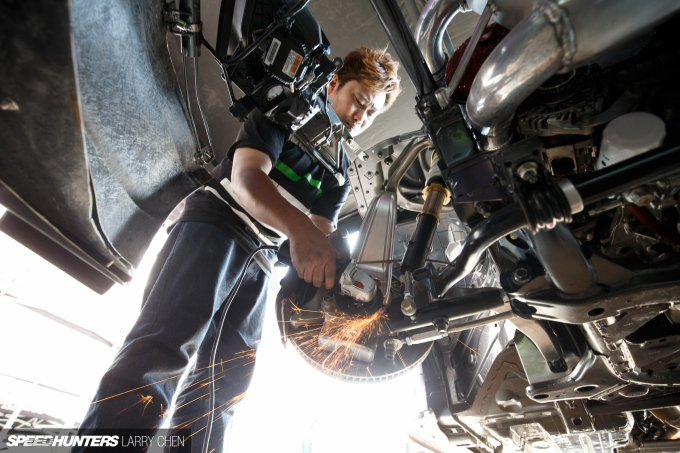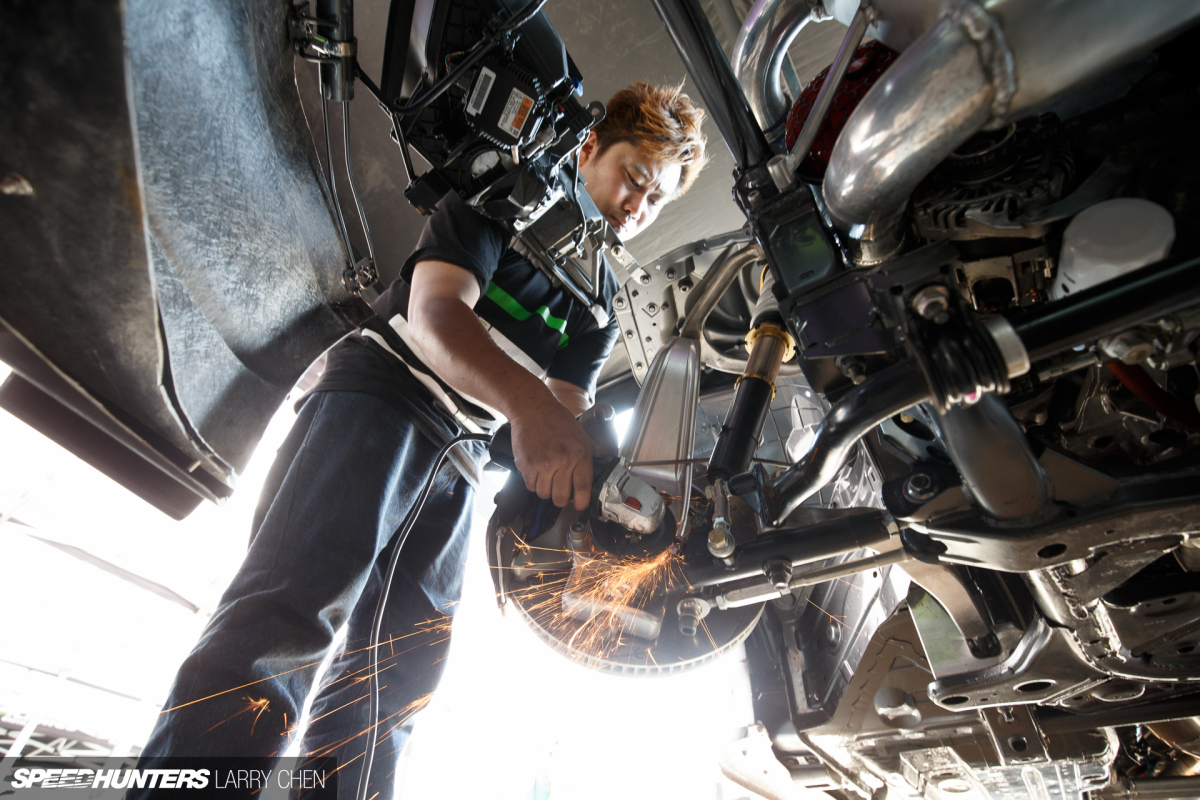 I just love getting spark shots. I am not much of a wide-angle shooter, but I figured this would be appropriate due to lack of space under Daigo Saito's Nissan GT-R.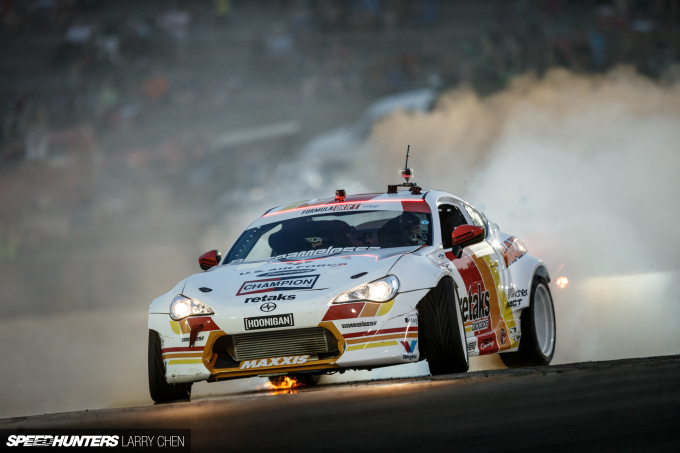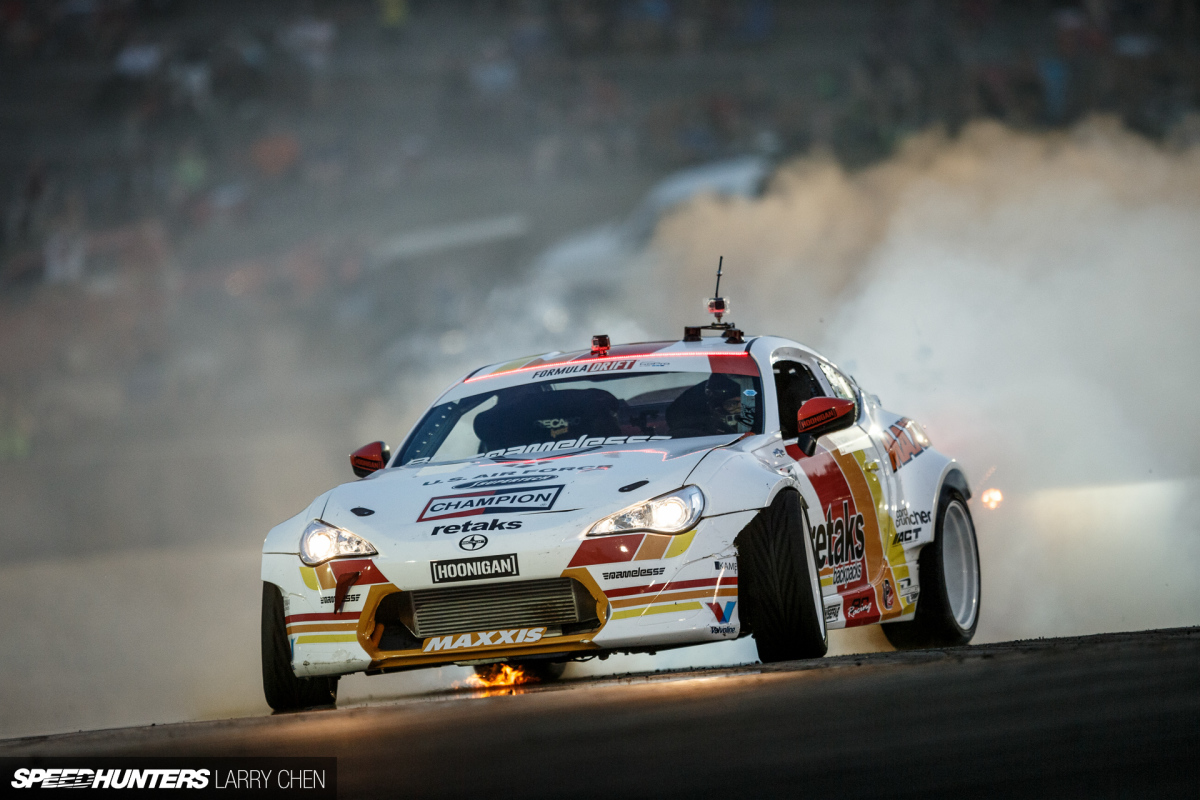 Another flame shot from Formula Drift McDreamy, Ryan Tuerck. What most people don't realize is that when you shoot over 200mm you run into a heat-wave issue. When it's hot and humid out at Road Atlanta, it's almost impossible to get a sharp shot in the daytime with a 400mm or 500mm lens. I tend to reserve my long lens shots for night shooting when the asphalt has cooled down a bit.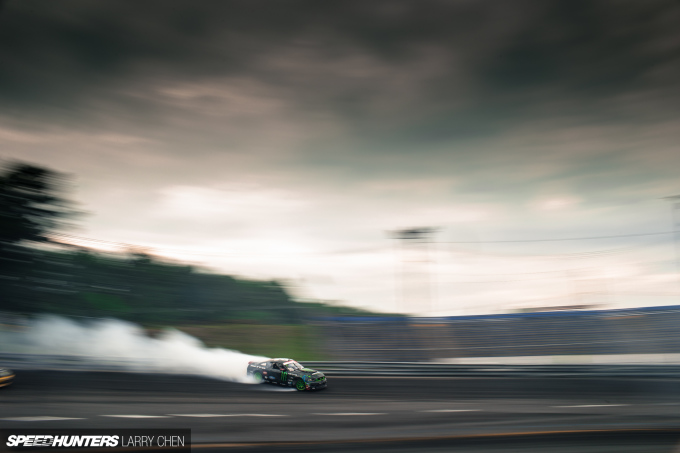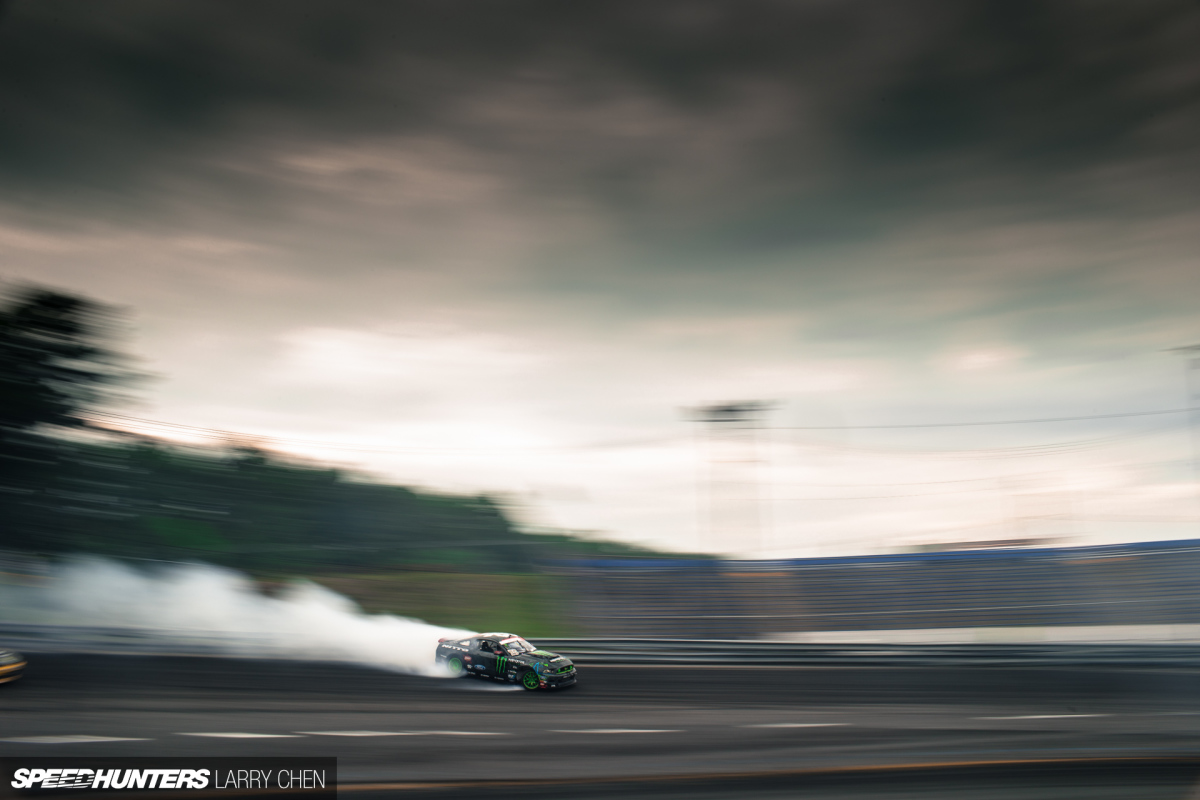 One of my favorite things when shooting professional drifters is when they lock up their front wheels while left-foot braking. It's just so cool to see tire smoke coming from both the front and rear tires.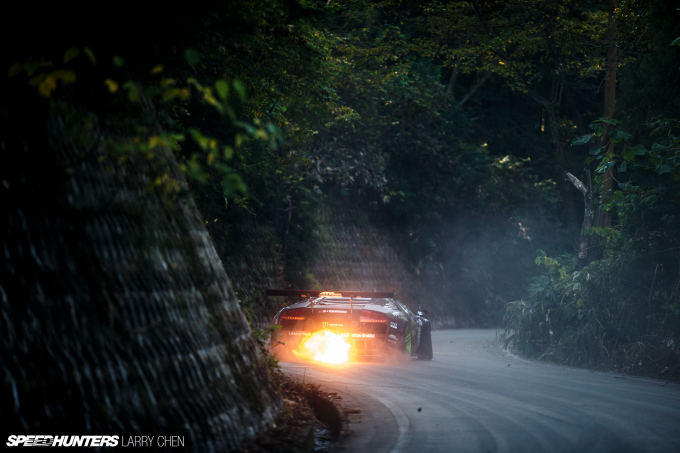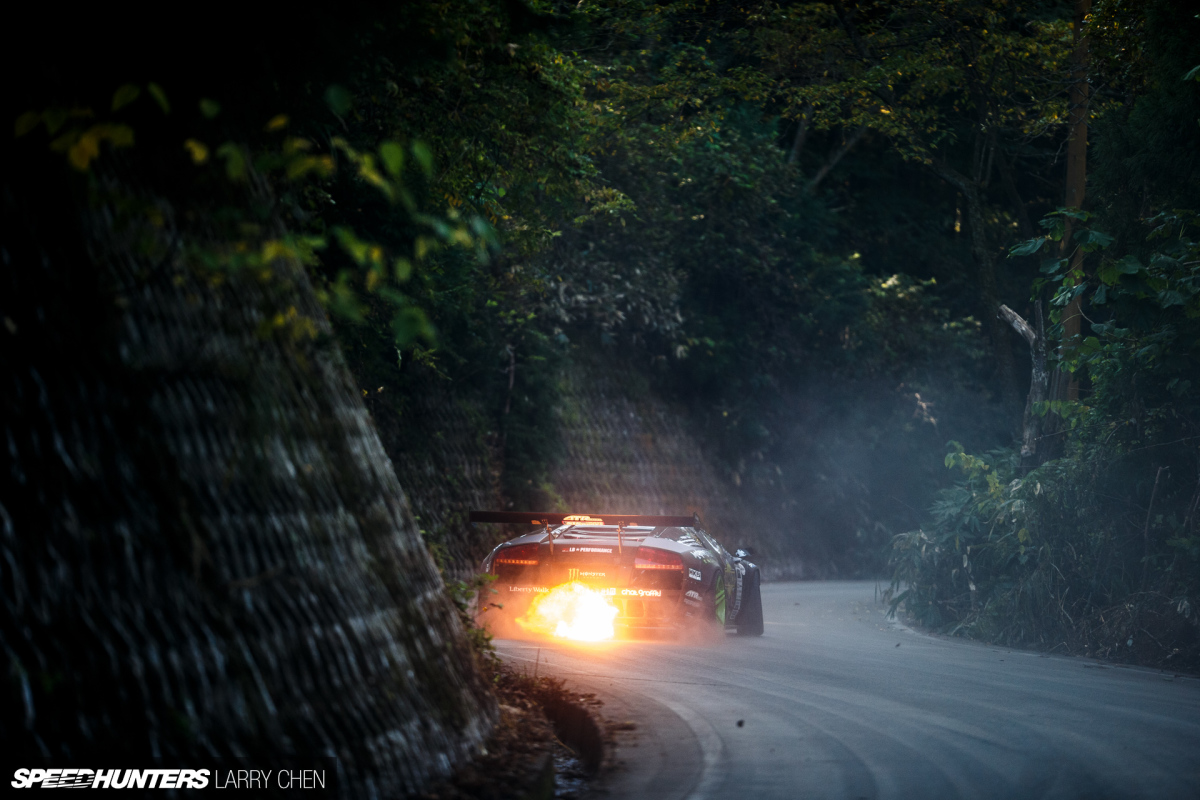 I had a blast shooting Daigo Saito and his Lamborghini Murciélago drift car, although I do have to say it is probably the loudest, ear-piercing drift car ever made. I plan on being able to enjoy music at an old age, so I had to wear earplugs the entire time I was on set.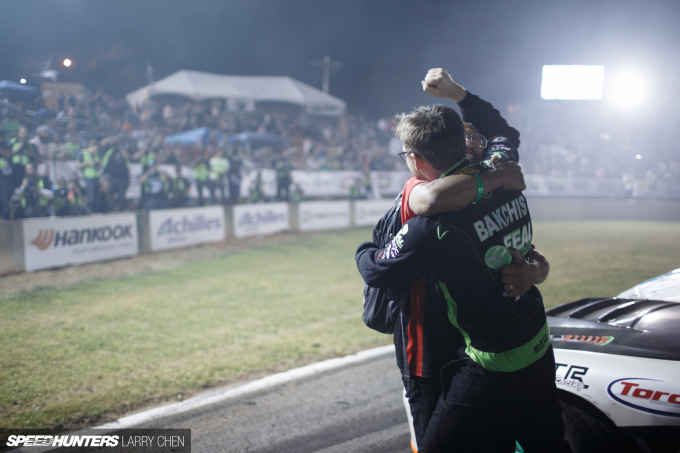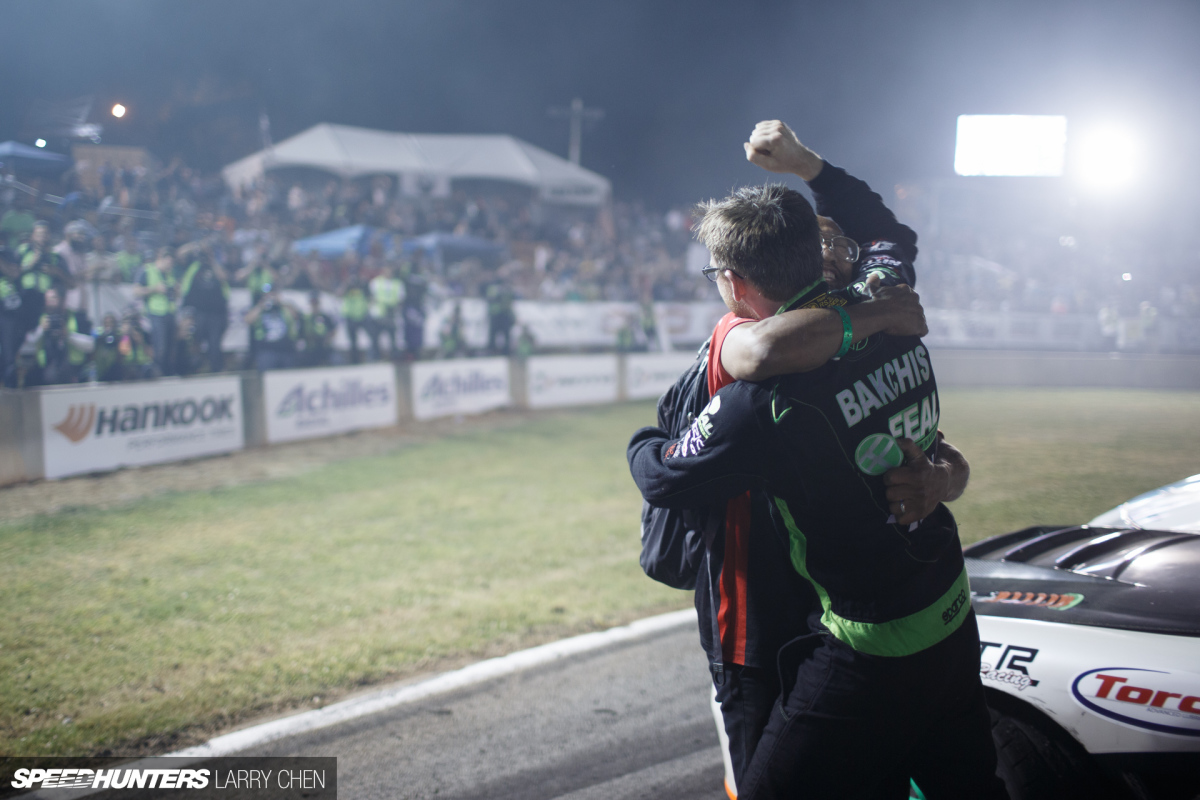 It's pretty crazy to me how far the sport has become. The drivers and teams put so much into it, and when they win they pour their heart out. You don't even have to see Odi Bakchis' face here, but you can definitely tell how happy he was for his first win.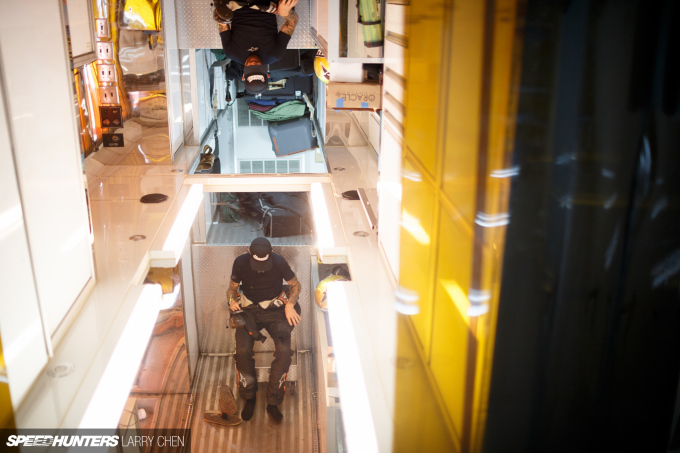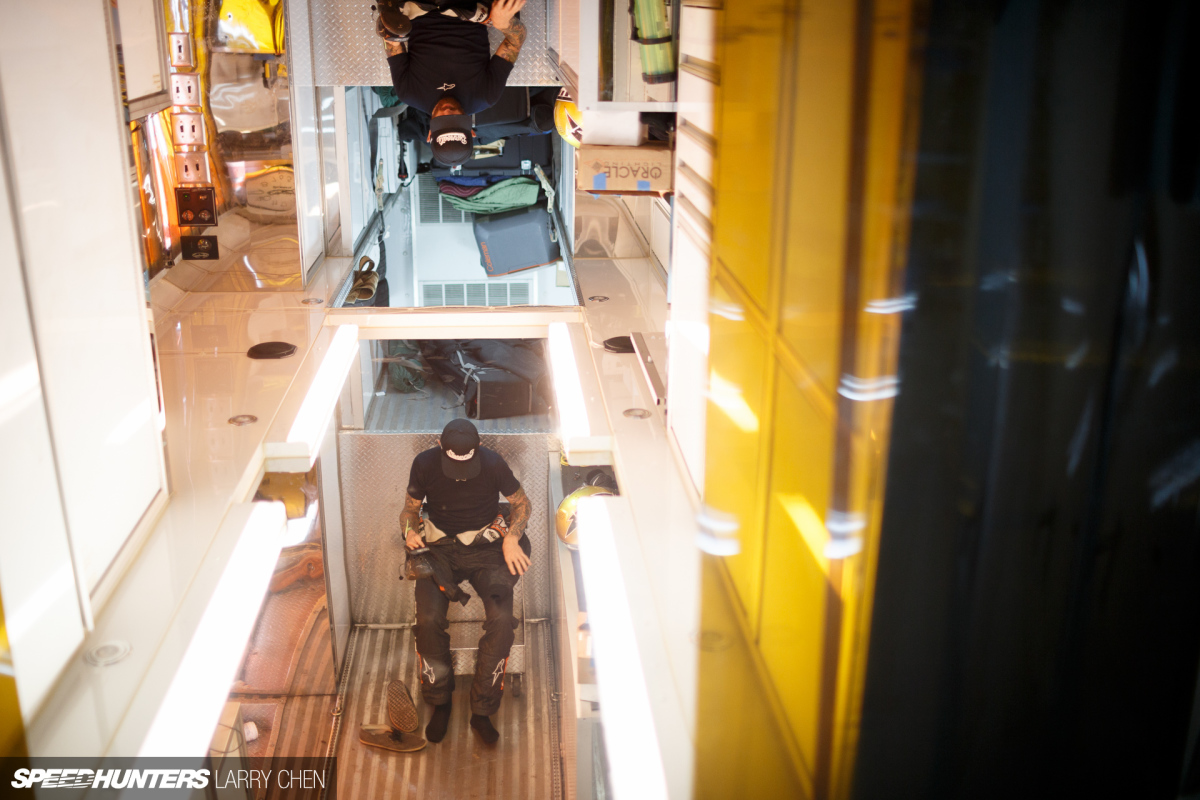 Playing with perspective is always fun. There is a mirror on top of Chris Forsberg's rig, and I always like to shoot into it and then flip the image in post.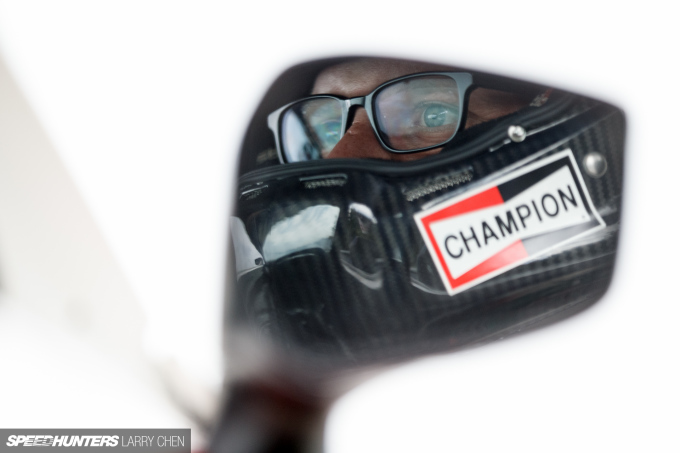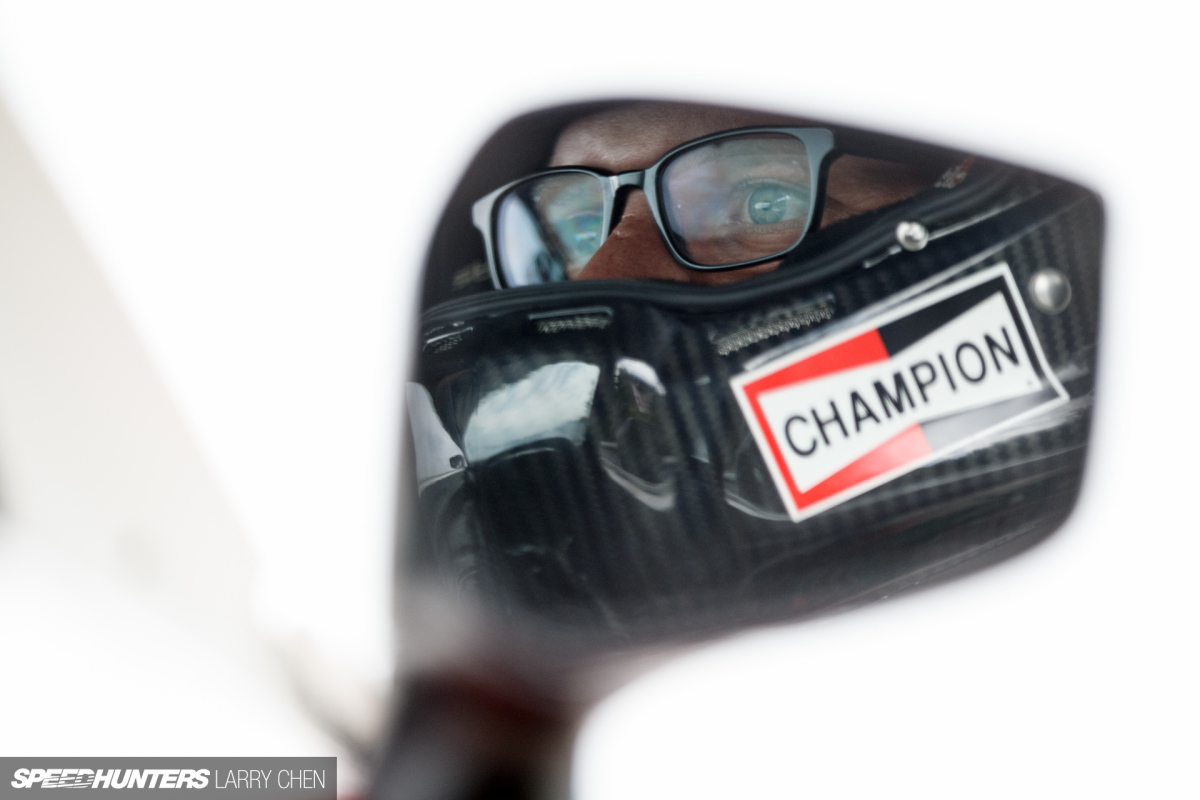 This type of shot is much harder to get nowadays; many drivers run tiny mirrors and most of the cars have some intense vibration when idling. Lucky for me, Ryan Tuerck's Scion FR-S appeared to have stock mirrors.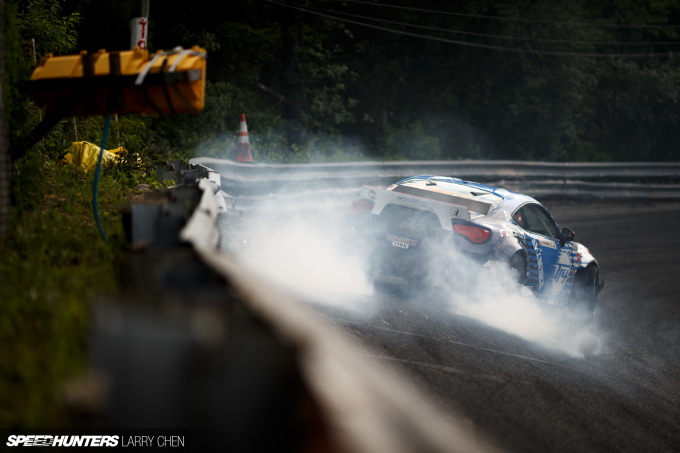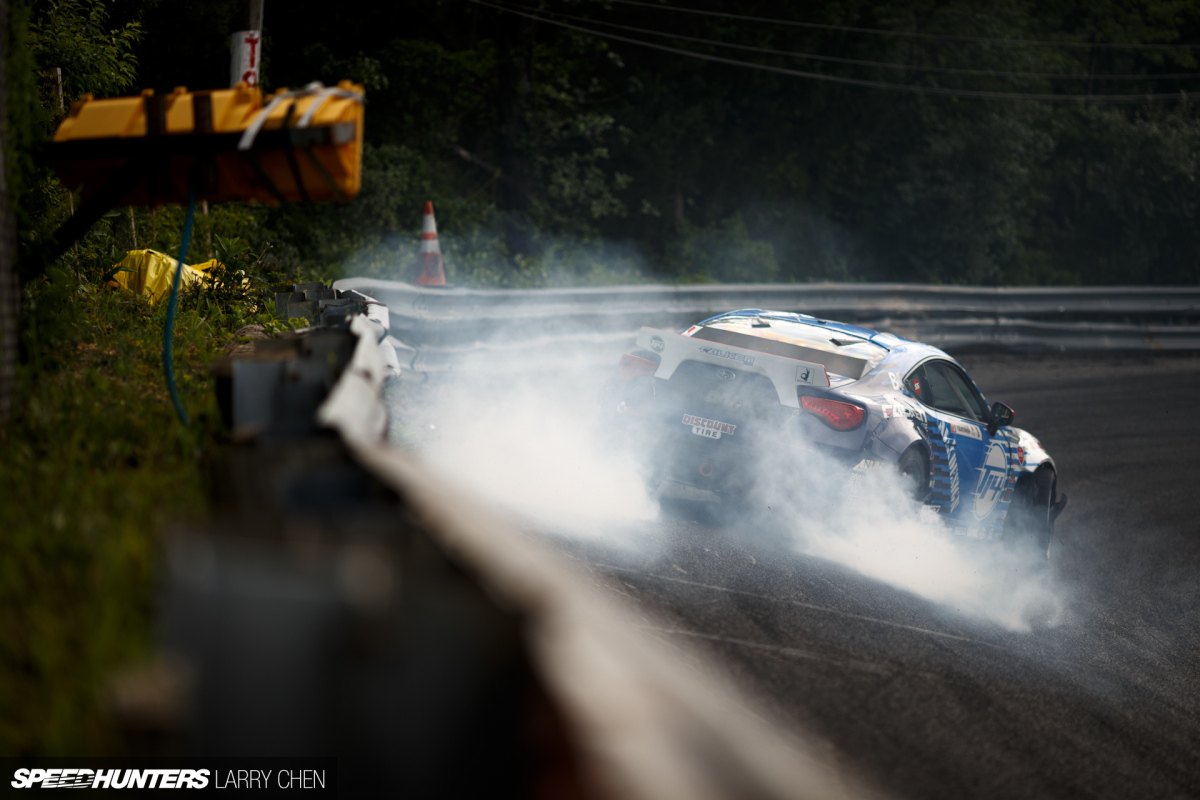 These days it's pretty rare to get a clear view of the back of car as pretty much everyone makes big smoke. Although, it is still possible when shooting during initiation when the tires are still locked and not rotating under power. This shot from Wall Speedway, New Jersey, is always one of my favorites, although this year we did not have much luck with the light due to the rain.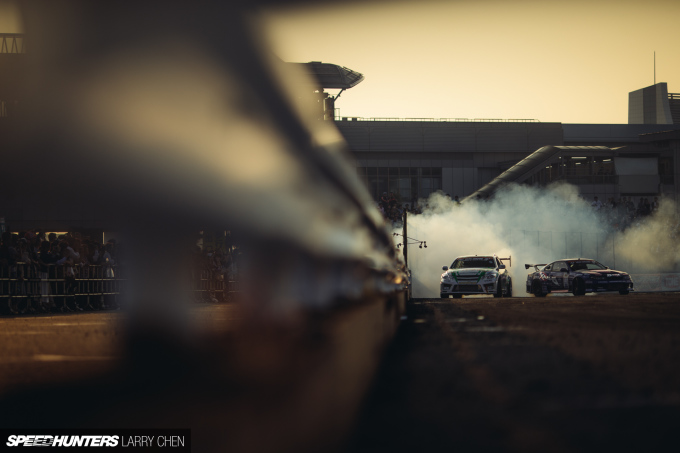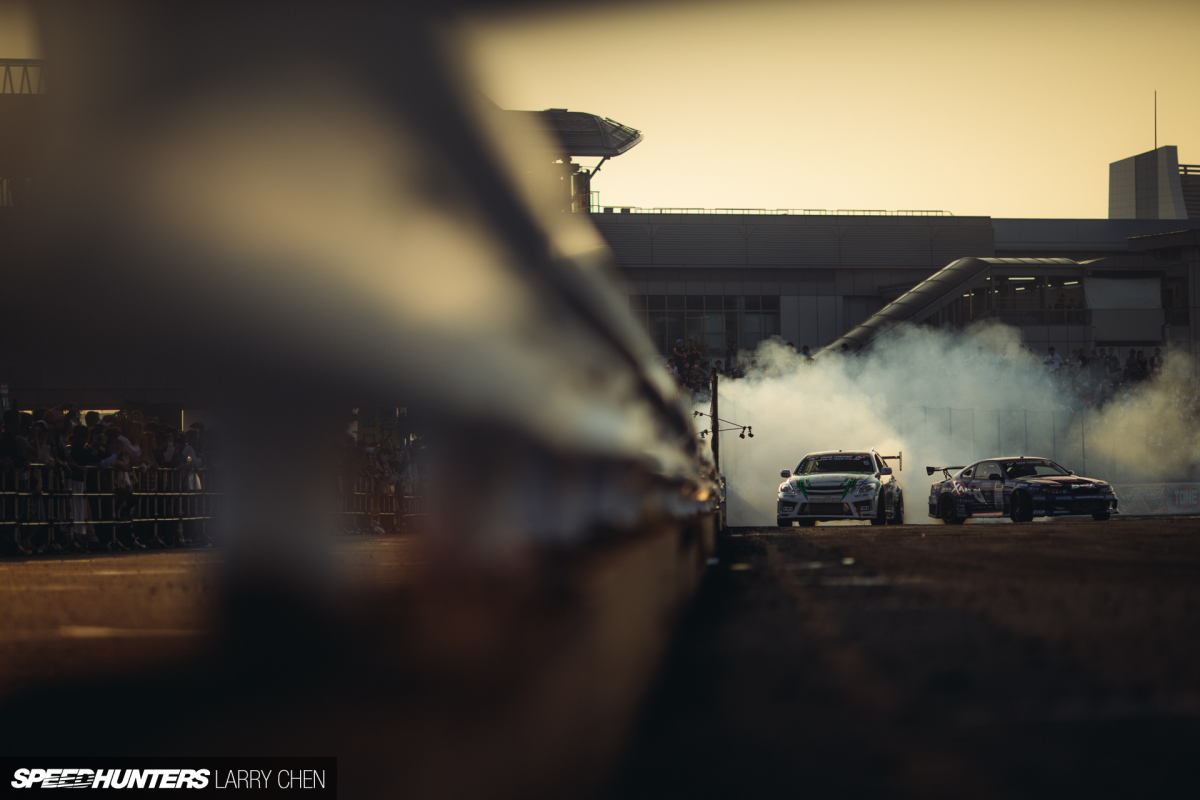 As I mentioned earlier, sometimes the photo of the cars not drifting turn out better. In this case, the two drivers almost collided, but they stopped drifting right in time.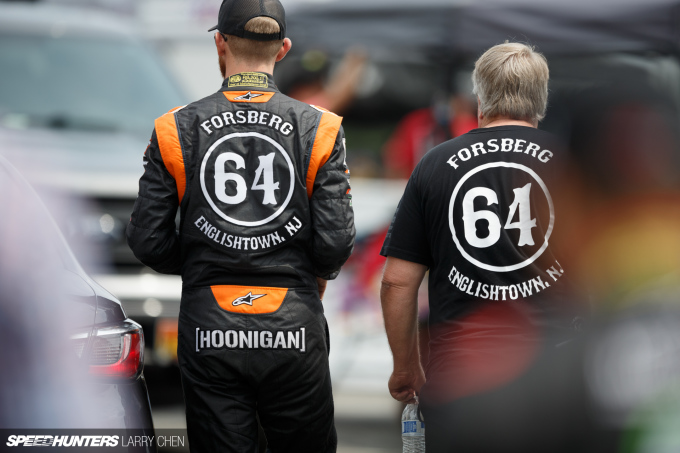 A little bit goes a long way with team uniforms and liveries. Fans remember timeless liveries and they cheer for you most of the time based on how you look and how much they like the car. Many race teams don't understand this and they cut corners where it matters most.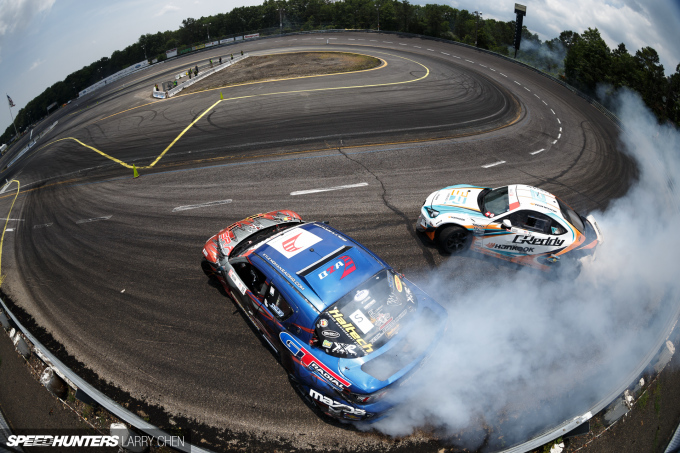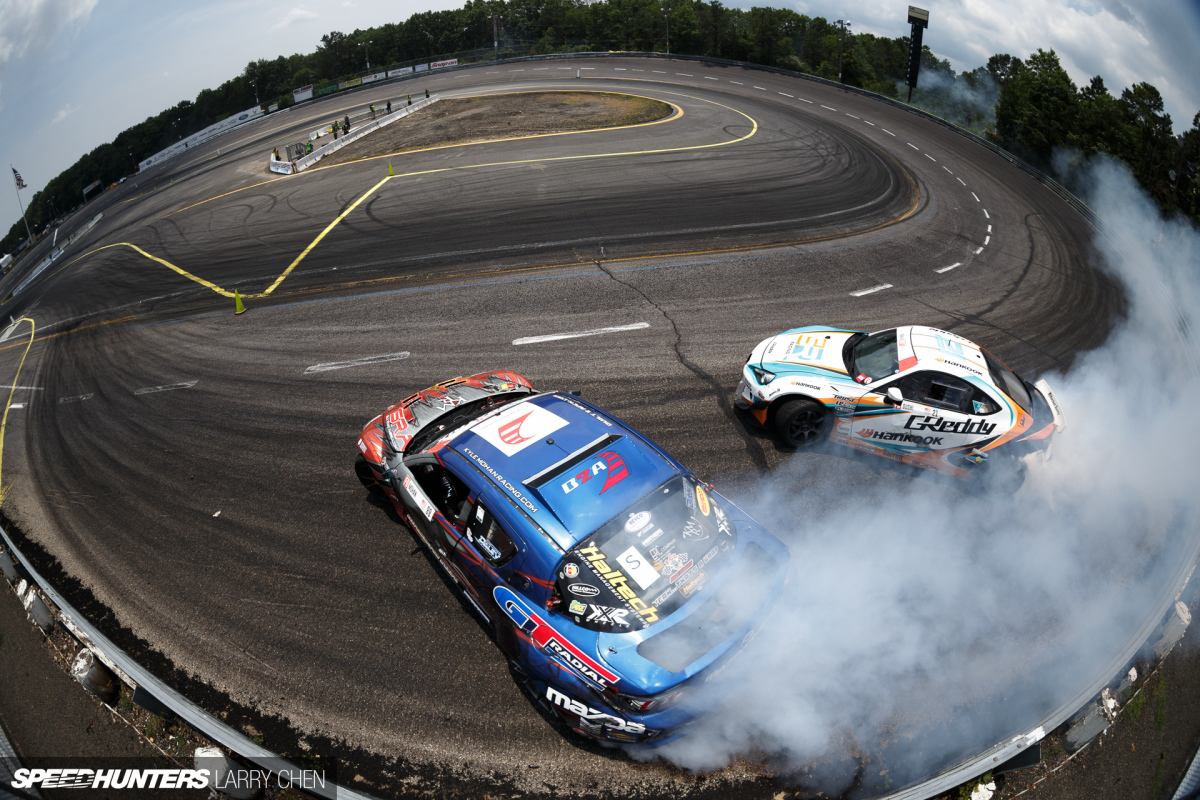 While I love fisheye shots, I definitely try to minimize the use of them as they can get annoying, really quickly. In this case, it really exaggerates the way Wall Speedway curves, and I love the effect it has on the cars as well.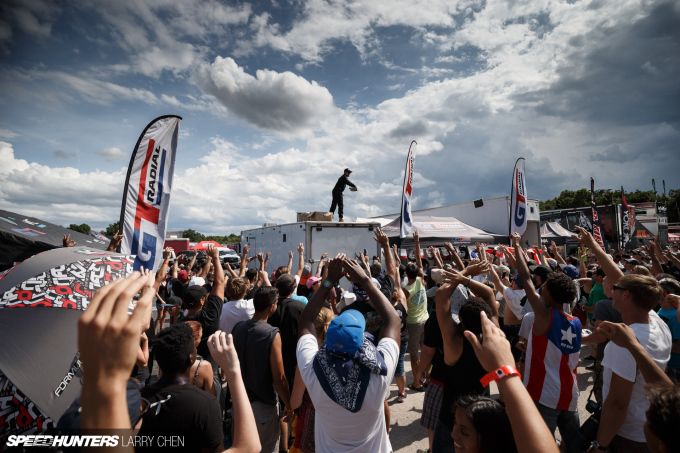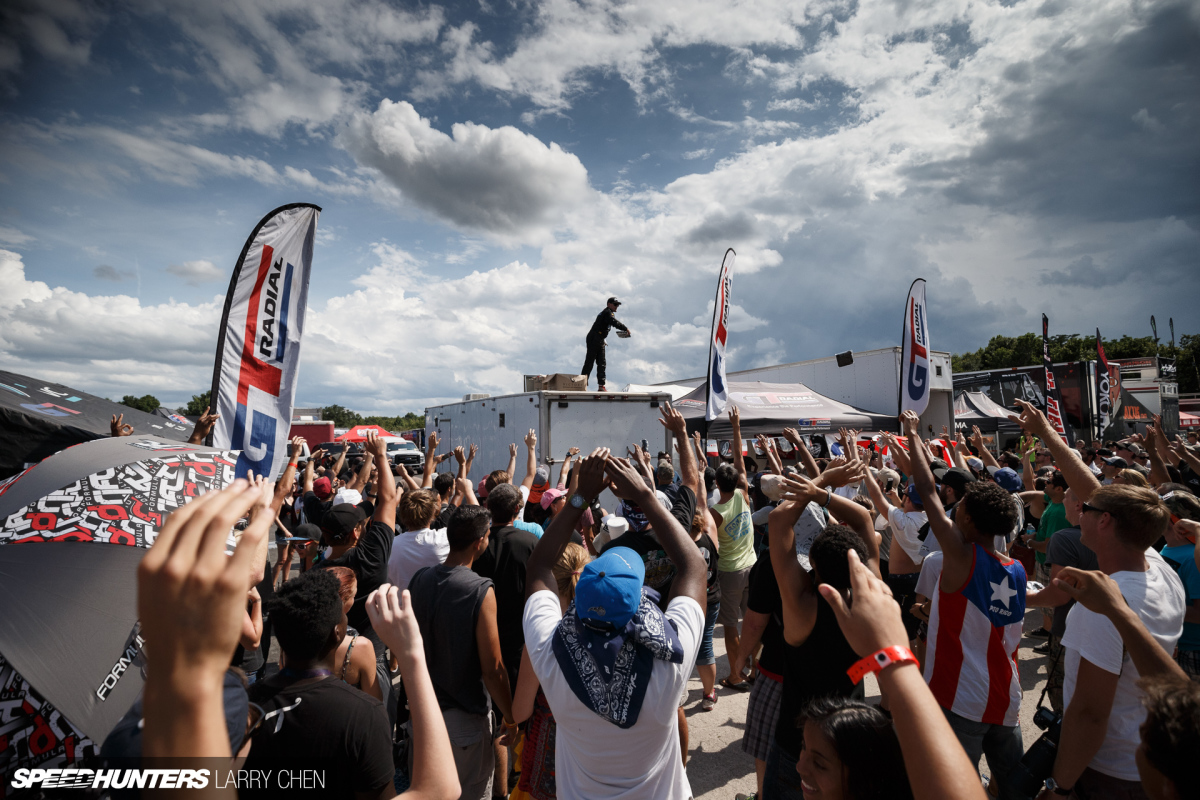 I see so much swag given away at these events, including shirts and hats, but I really wonder what the fans do with used tires with holes drilled in them. Maybe that should be a topic for an article next year…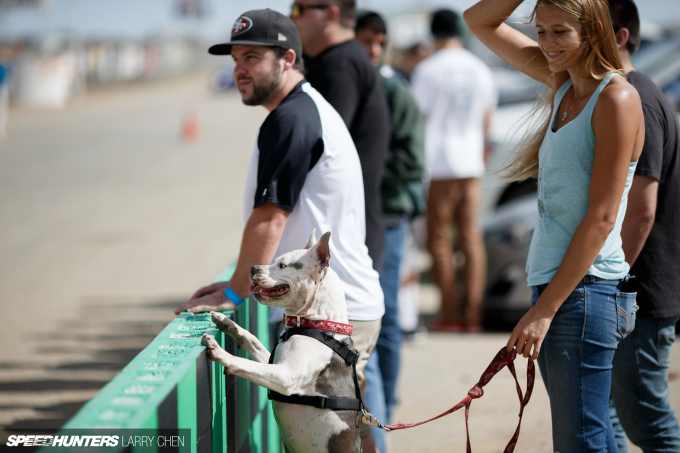 Man's best friend loves some sideways drifting action every now and again.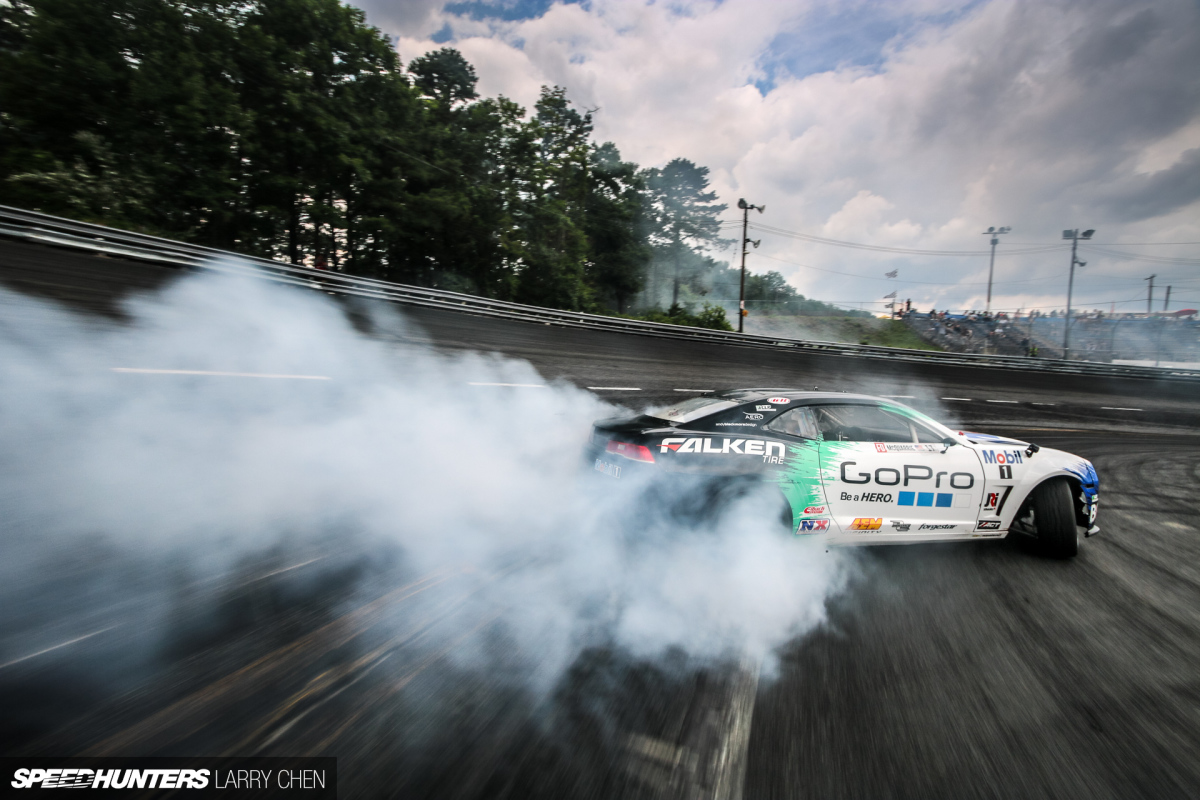 It seemed like this year had rain at every single FD event. It's hard to guess when is a good time to knock out 'dry' shots, or when to save them for when the drivers go at it closer. I made the right choice to shoot remote cameras on qualifying day, because the skies opened up for main competition and there was not a bit of tire smoke for the entire day.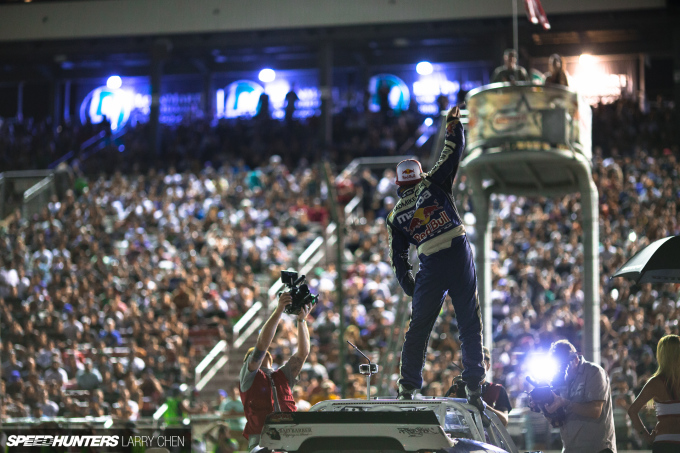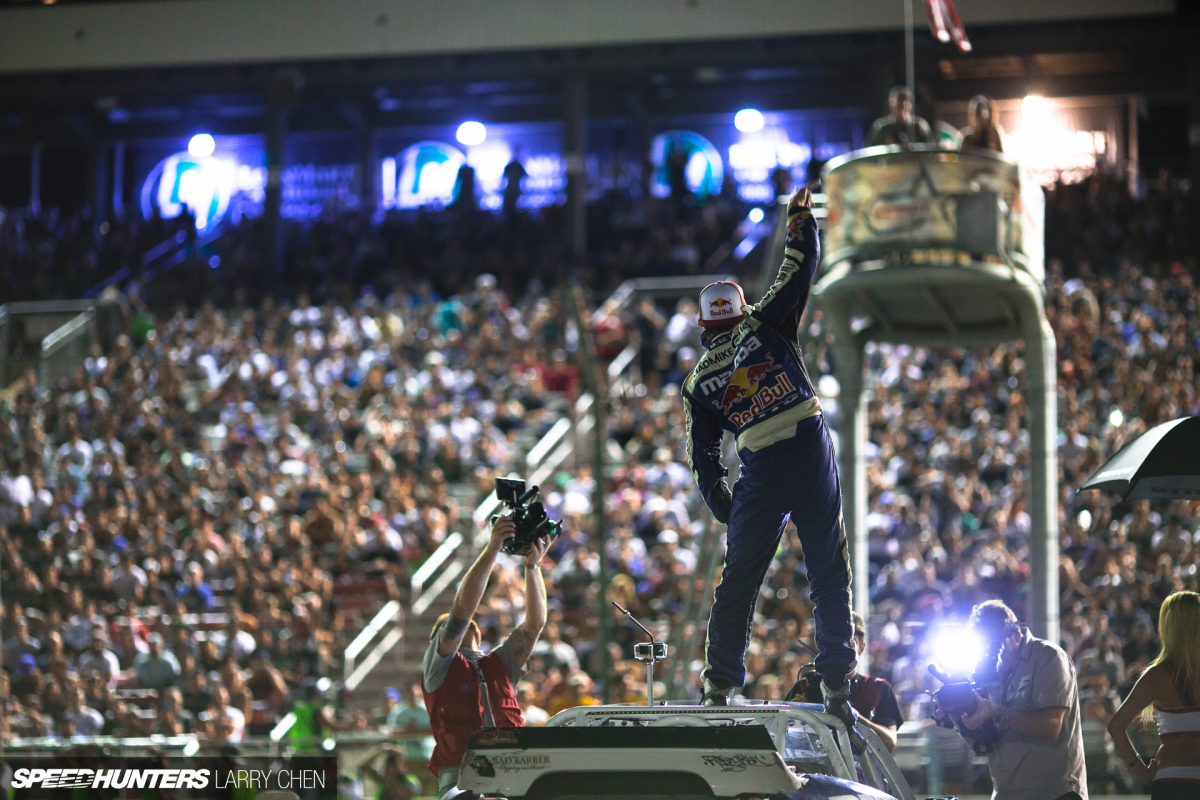 I've always wanted to get this kind of perspective at Irwindale, but up until this year I'd never been able to catch someone on their roof at the right time. I knew Mad Mike was going to jump on his rollcage, so I laid on the ground for a better angle and he just happened to move right into my frame.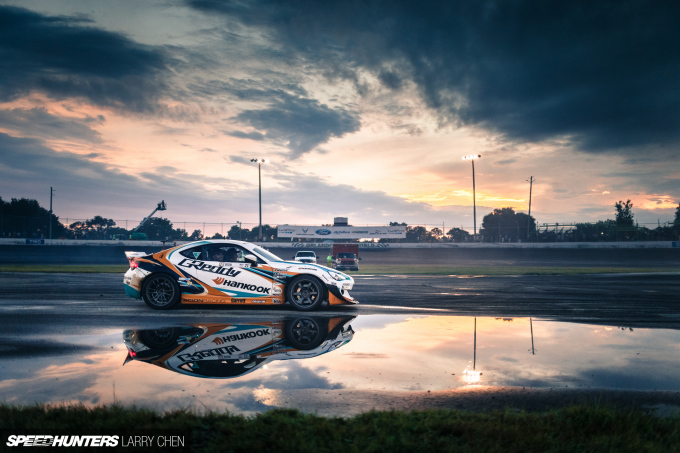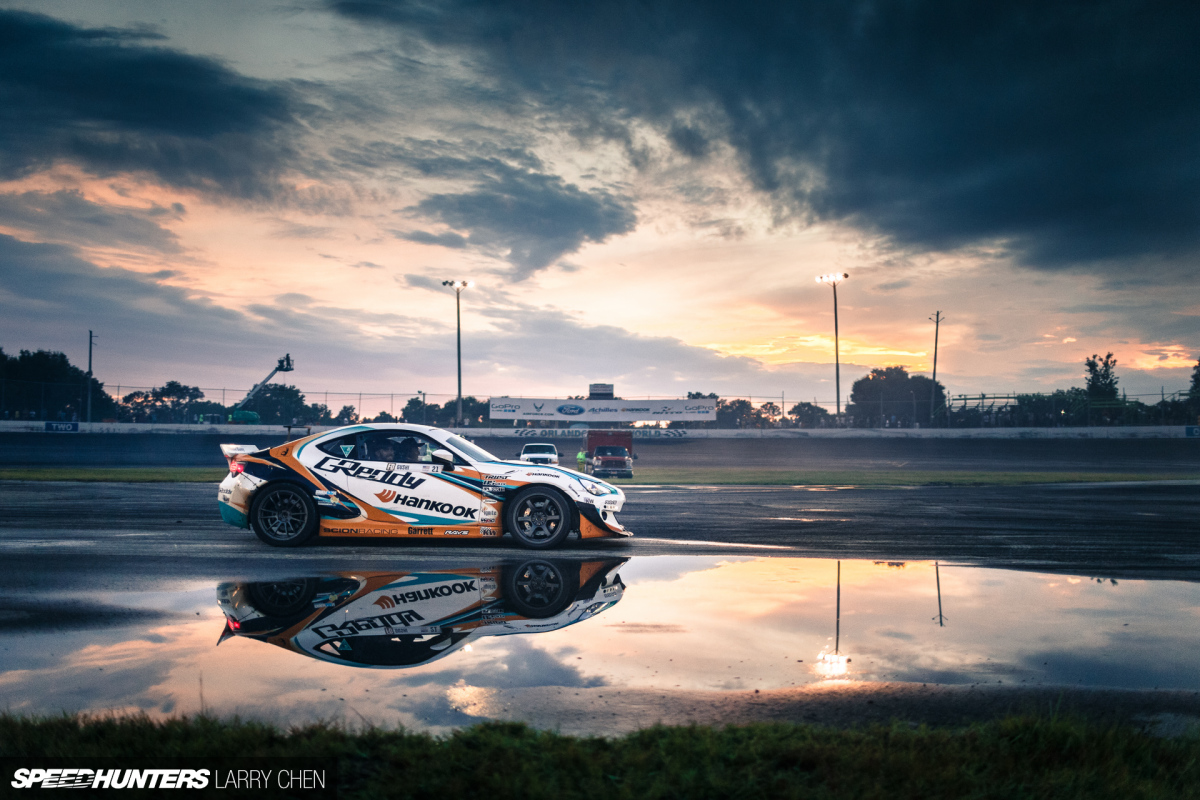 Sometimes the non-drifting photos are my favorites from an event, and this one is no exception. Of course, to me the best part is the story. That is actually Chris Forsberg riding to the podium in Ken Gushi's car, because of course Chris' car would not start after the Formula Drift staff told him to pull his fire suppression system.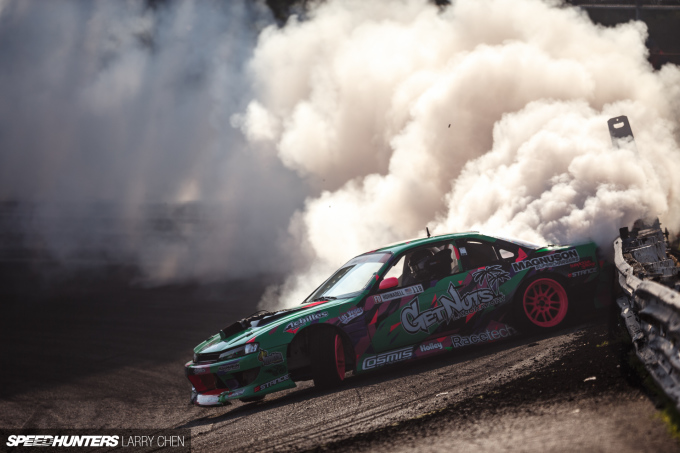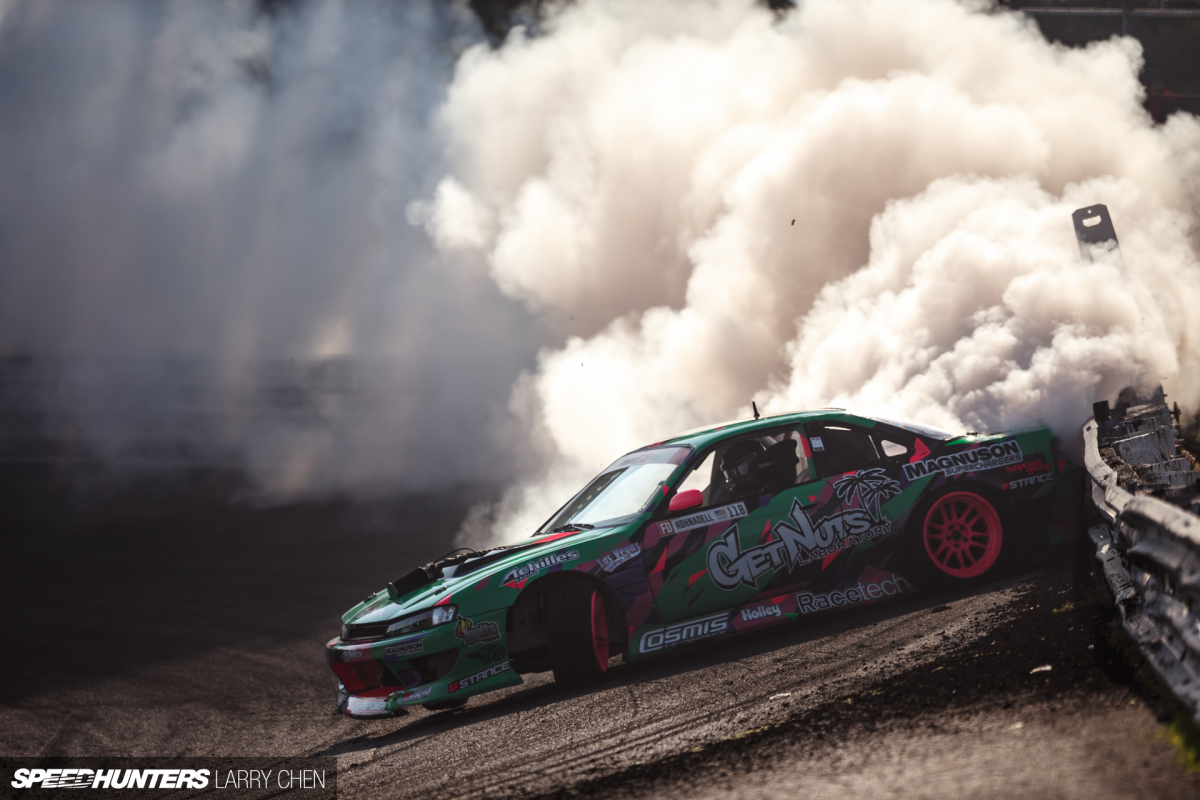 I always find it fascinating that tire smoke looks so different at higher and lower shutter speeds, yet generally speaking our eyes only perceive it one way. When you freeze the action the clouds of smoke get very clumpy.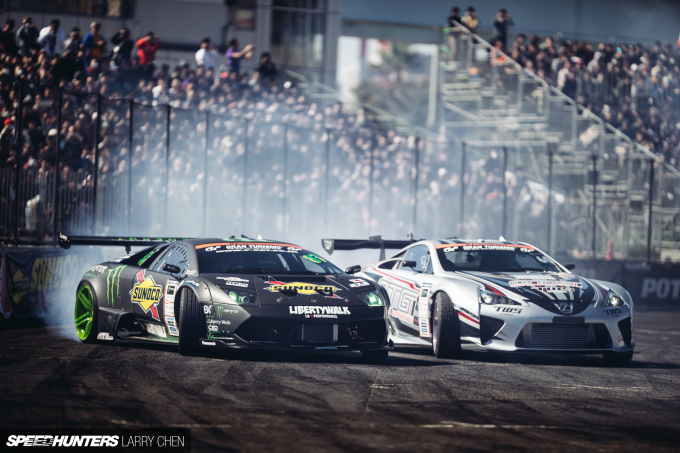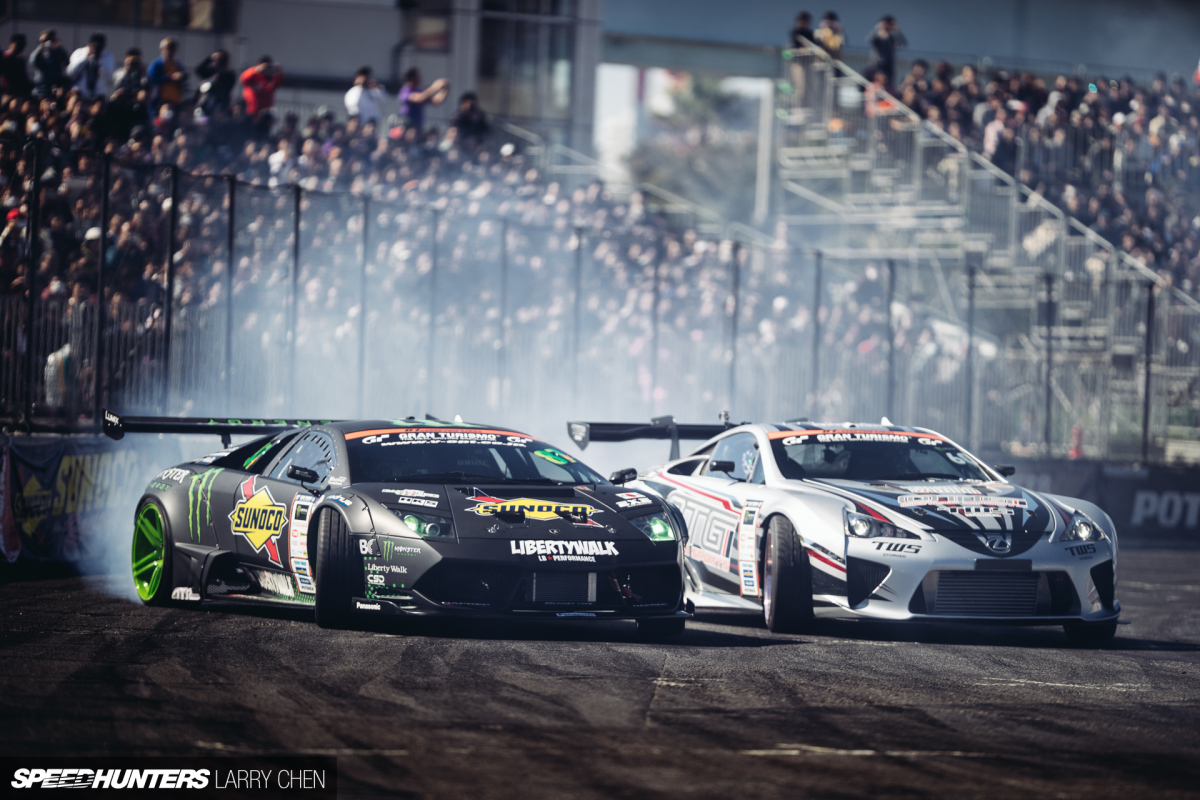 Is it me, or is this just the best drift battle of all time? I dreamed of getting this shot when I first heard that Daigo Saito was going to build a drift Lambo. I just could not believe how close the two were battling just for an exhibition.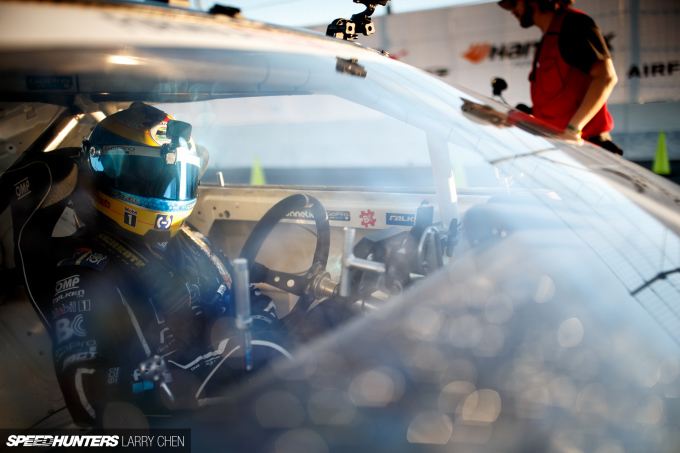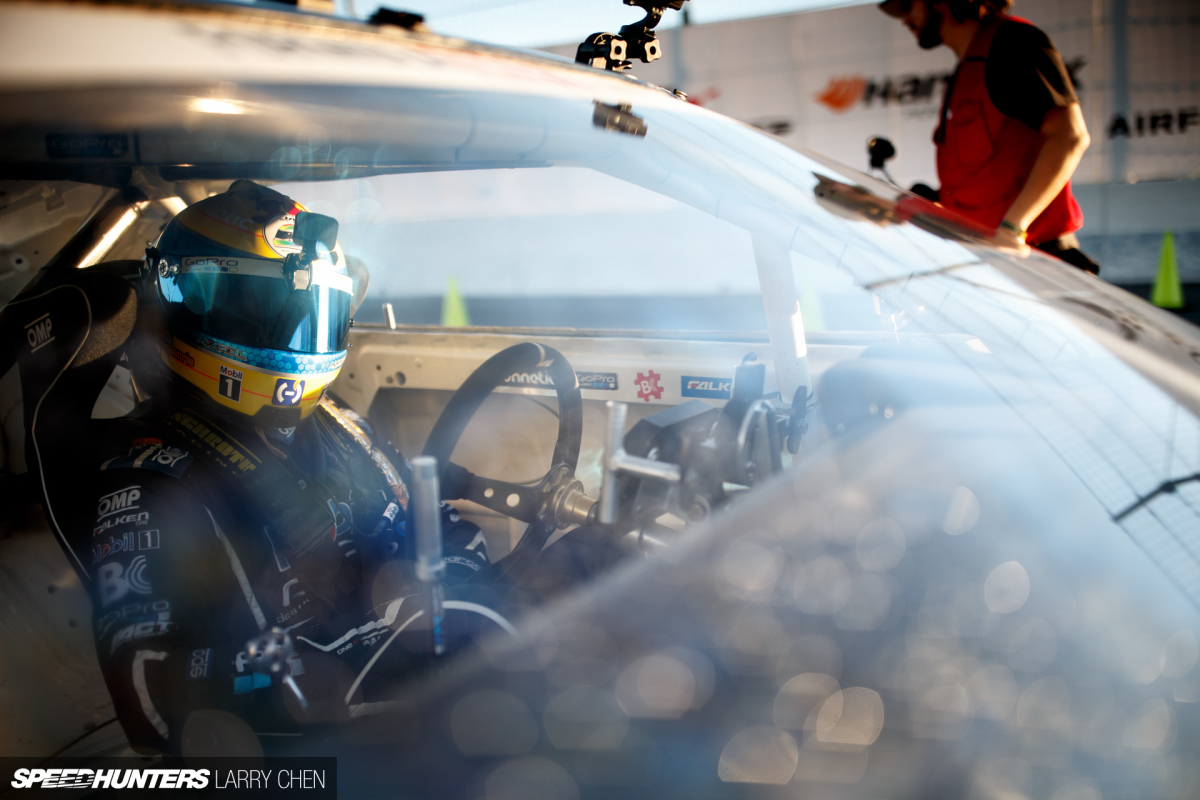 Shooting into the cockpit of some of these cars can be a bit tricky, and ever since Formula Drift updated their safety requirements to have seats with head protection, it's much more difficult to get a side profile shot of the driver. I've resorted to shooting through the front windshield, and I think it produces an interesting result.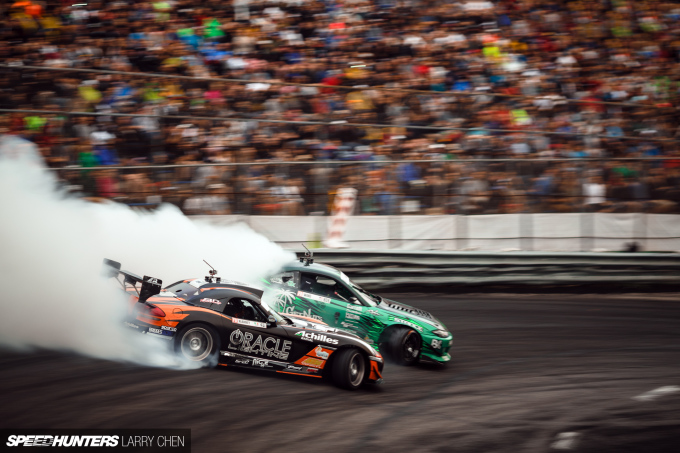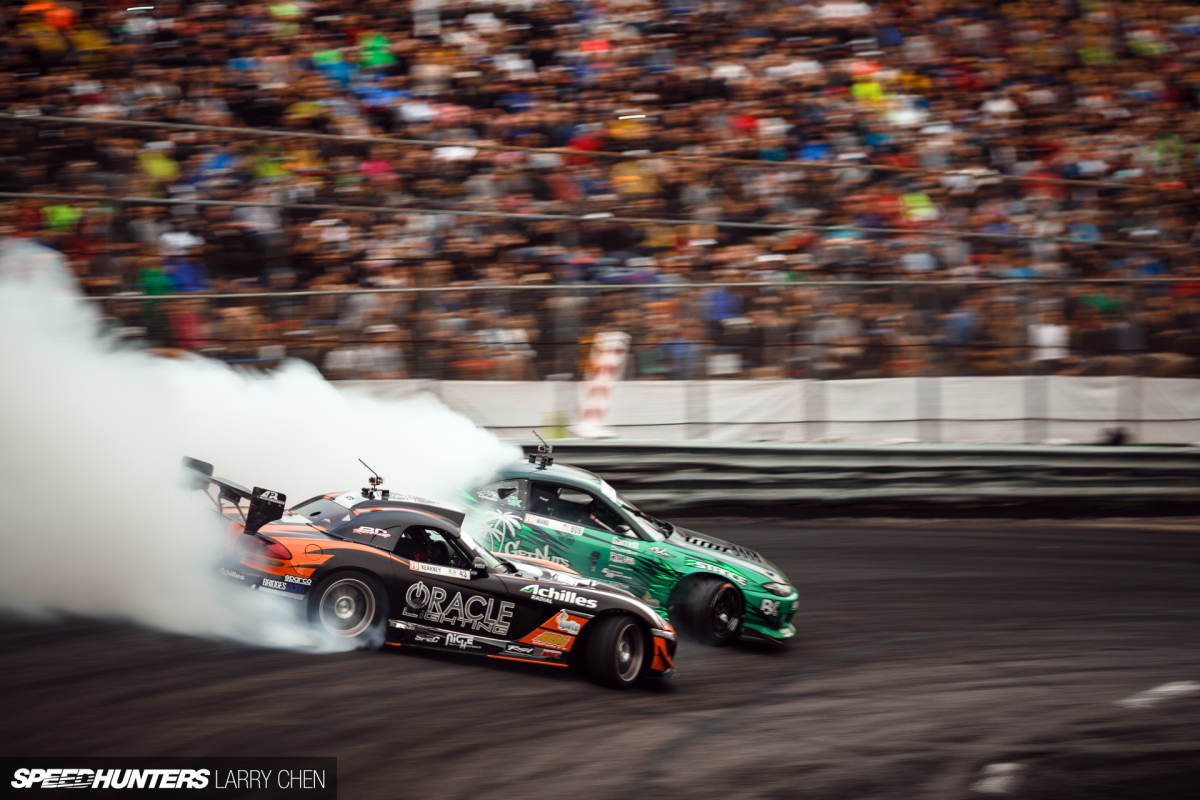 I've never been able to get this shot before, but because the course was wet it allowed me to shoot from this angle as the drivers were barely making any smoke.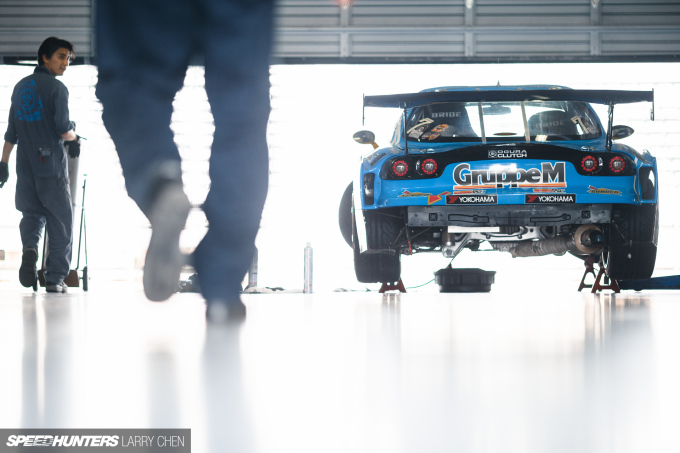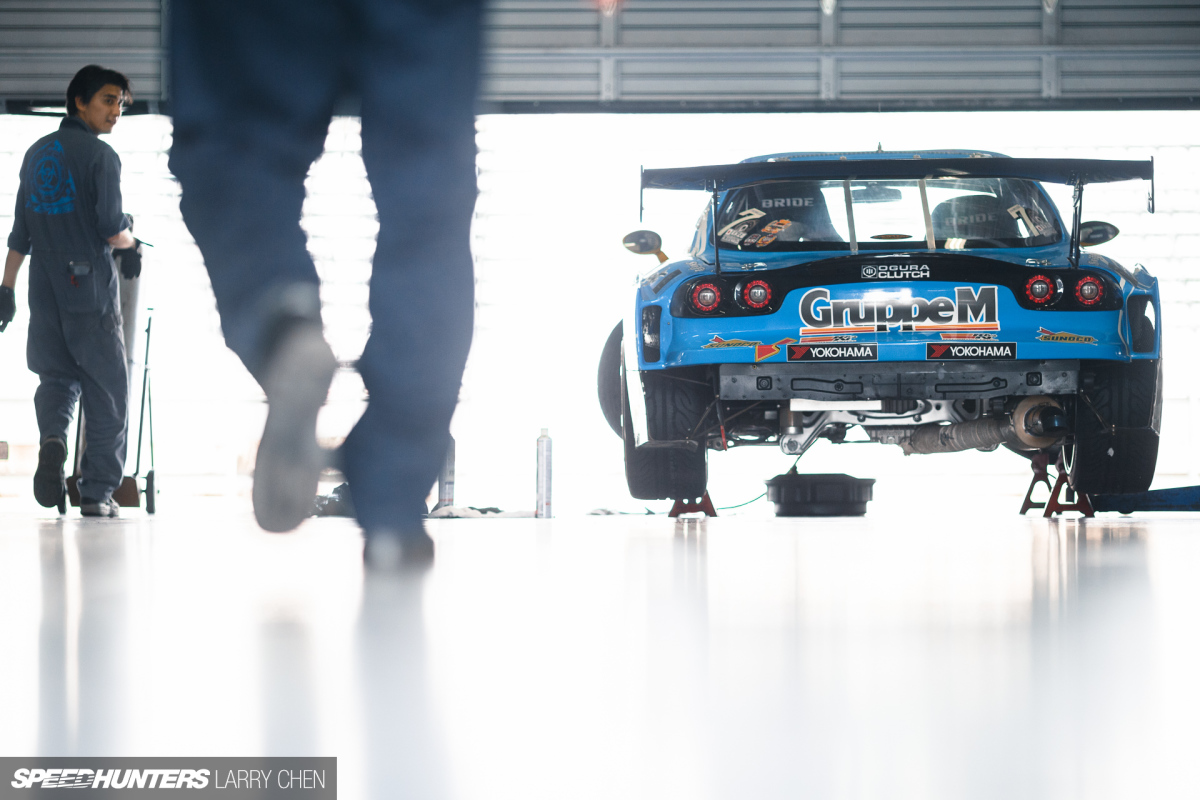 The garages at Fuji Speedway were a pleasure to shoot in as they all acted as giant soft-boxes. Plus, all the scenes had a heavenly look to them due to how much light was pouring in from outside.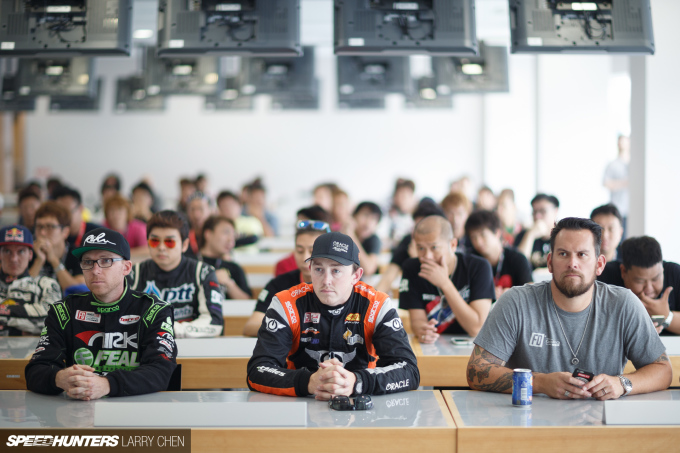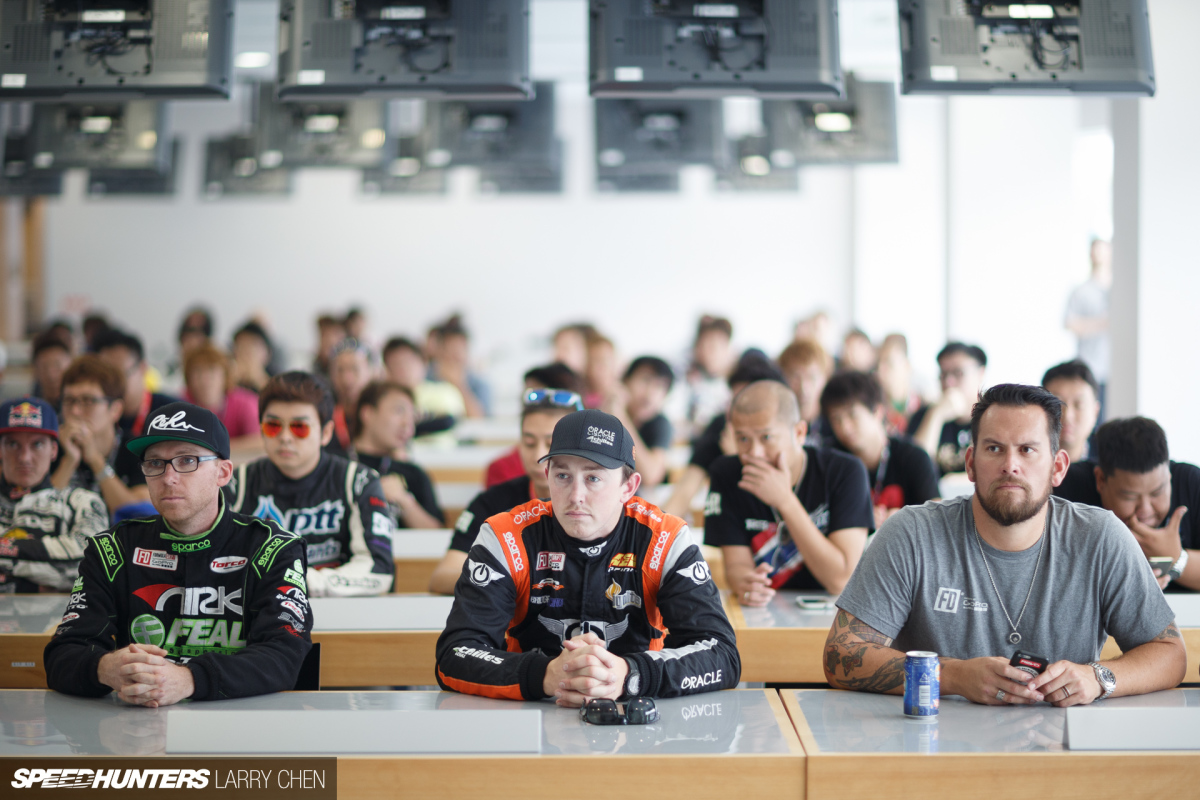 The boys were like fish out of water in Japan, as for a few of them it was their first time competing in a foreign land.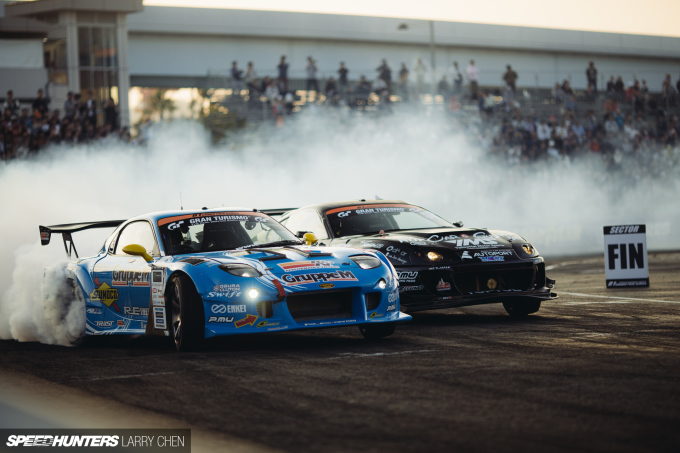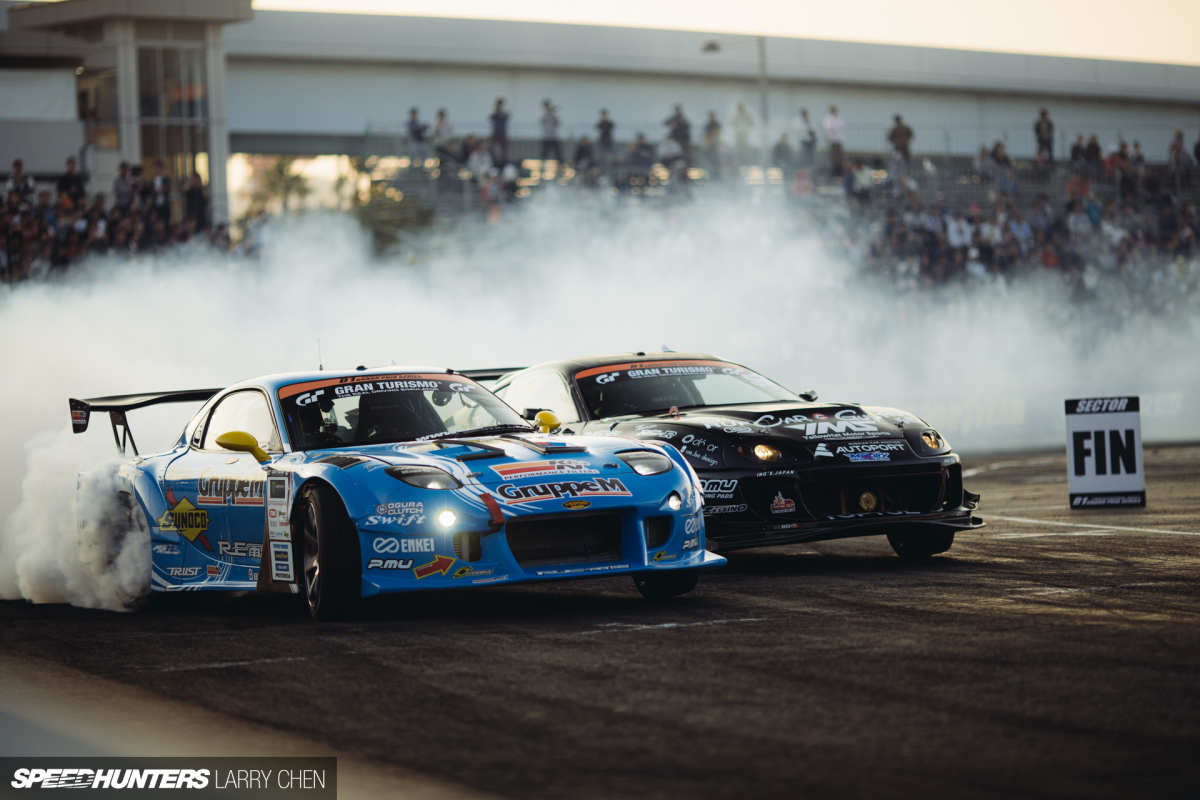 I had a chance to shoot D1GP in Japan for the first time, and it was very refreshing to see some different cars and liveries competing in drifting. To stay inspired, sometimes you need to have new subjects to photograph.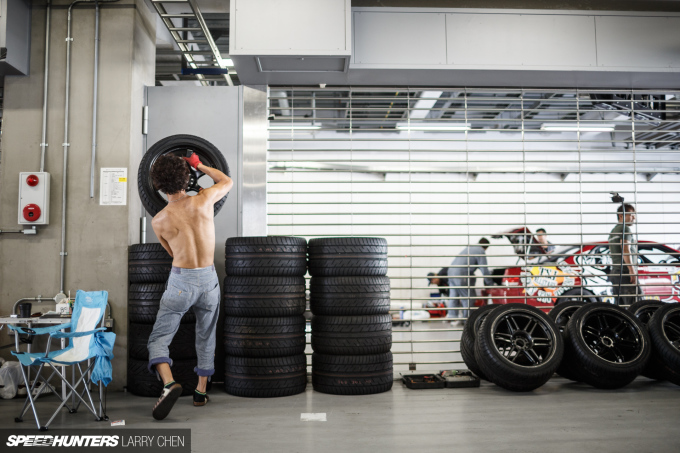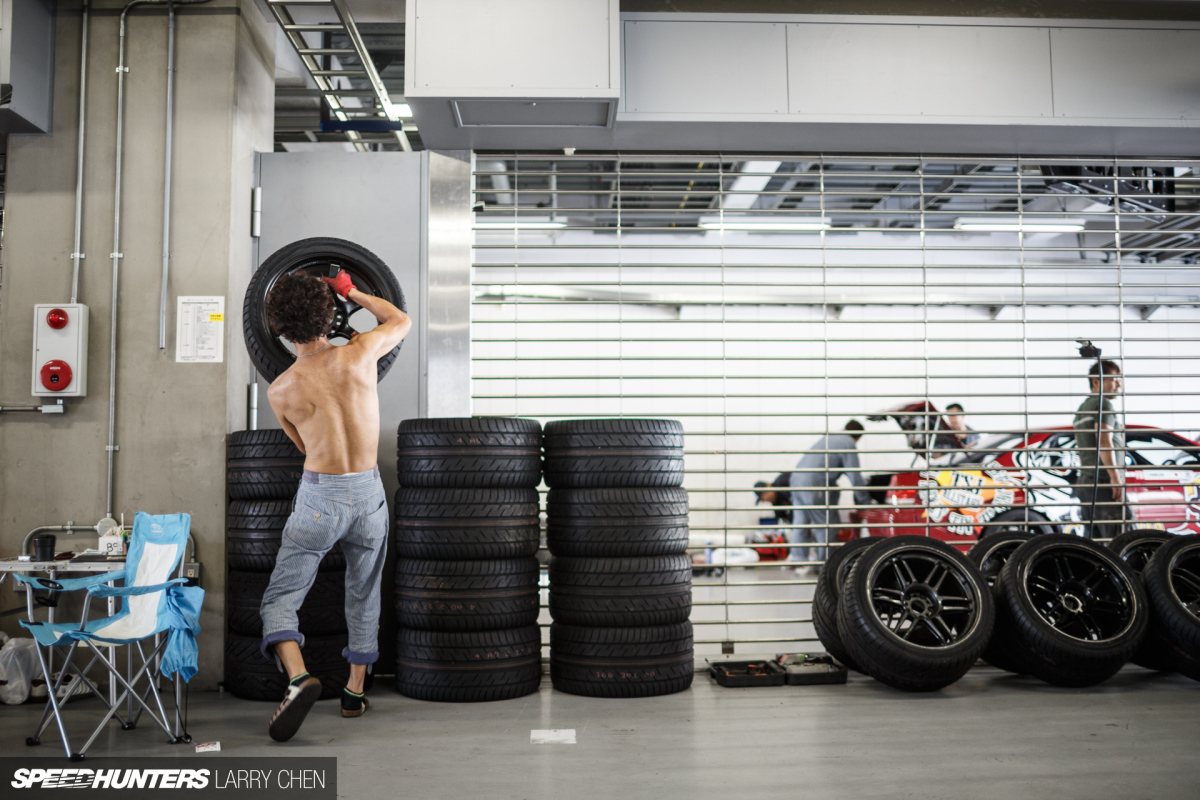 It's interesting to me that even the bigger teams in Japan pale in comparison to the teams in North America. It's just a different world.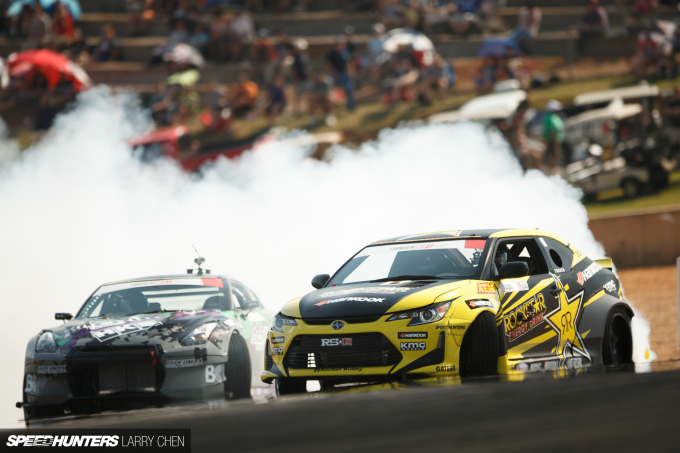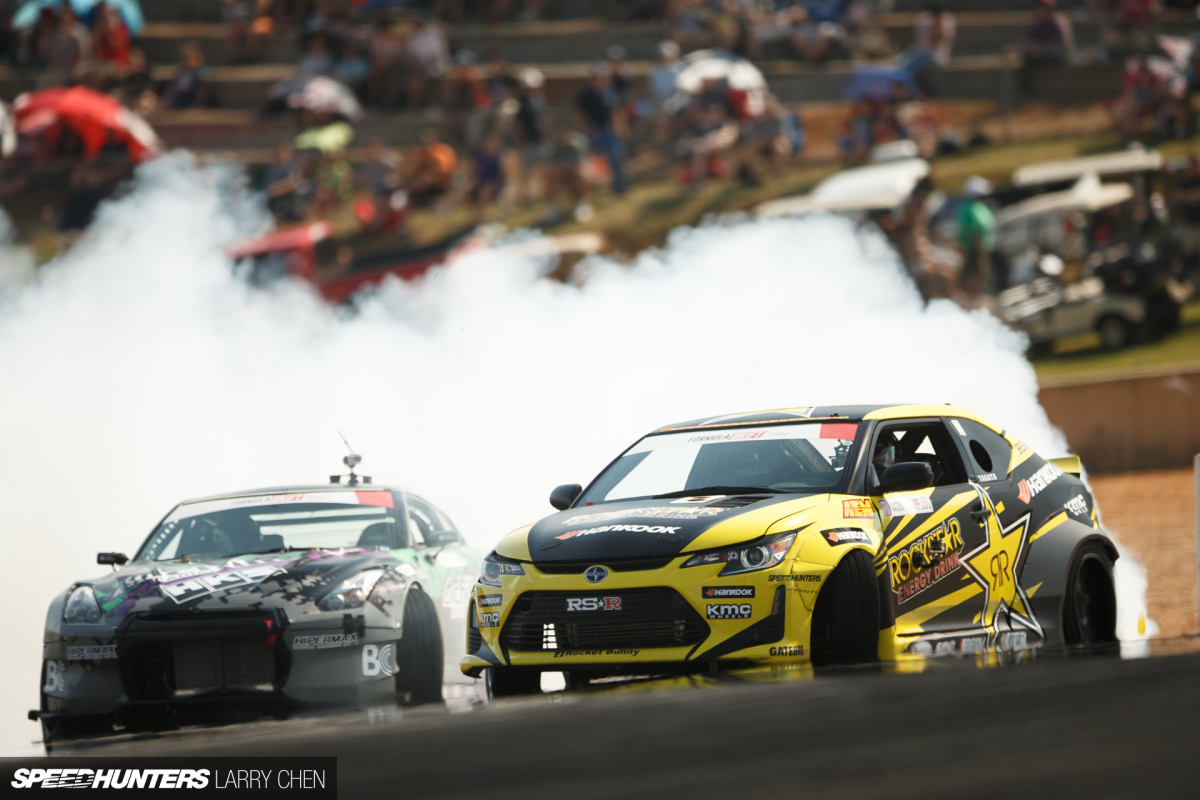 Every time these two frenemies go out on course I know they will put on a great show.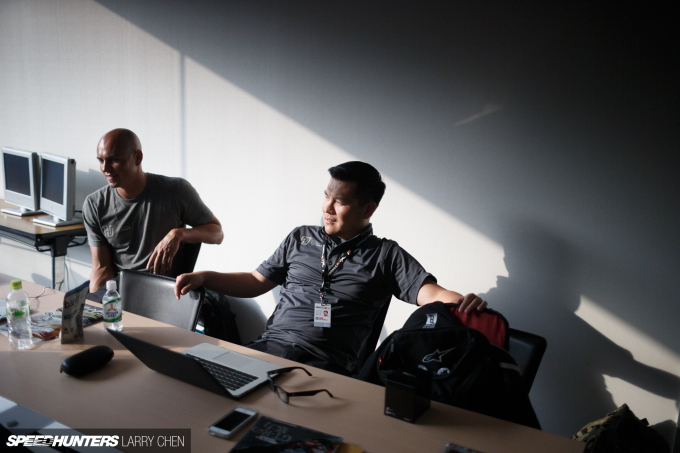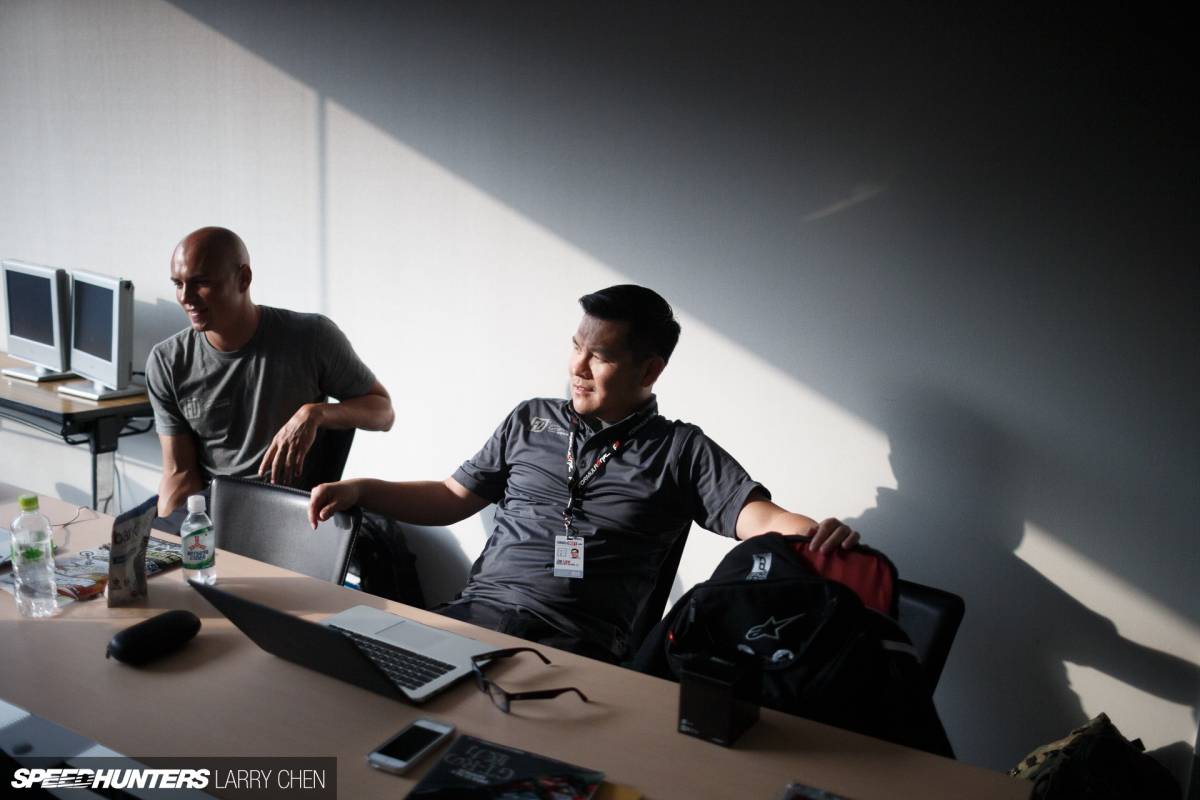 While it's stressful for the FD staff at international events, it's nothing compared to what they have to go through at Pro Championship rounds back home. This was a rare moment when Formula Drift's president and co-founder had a chance to take a breather.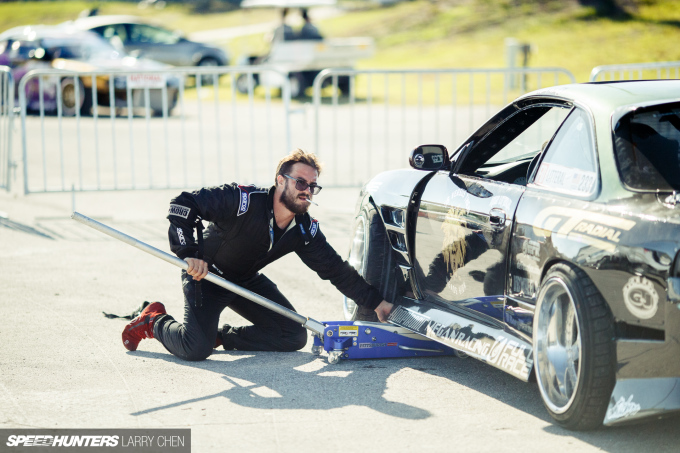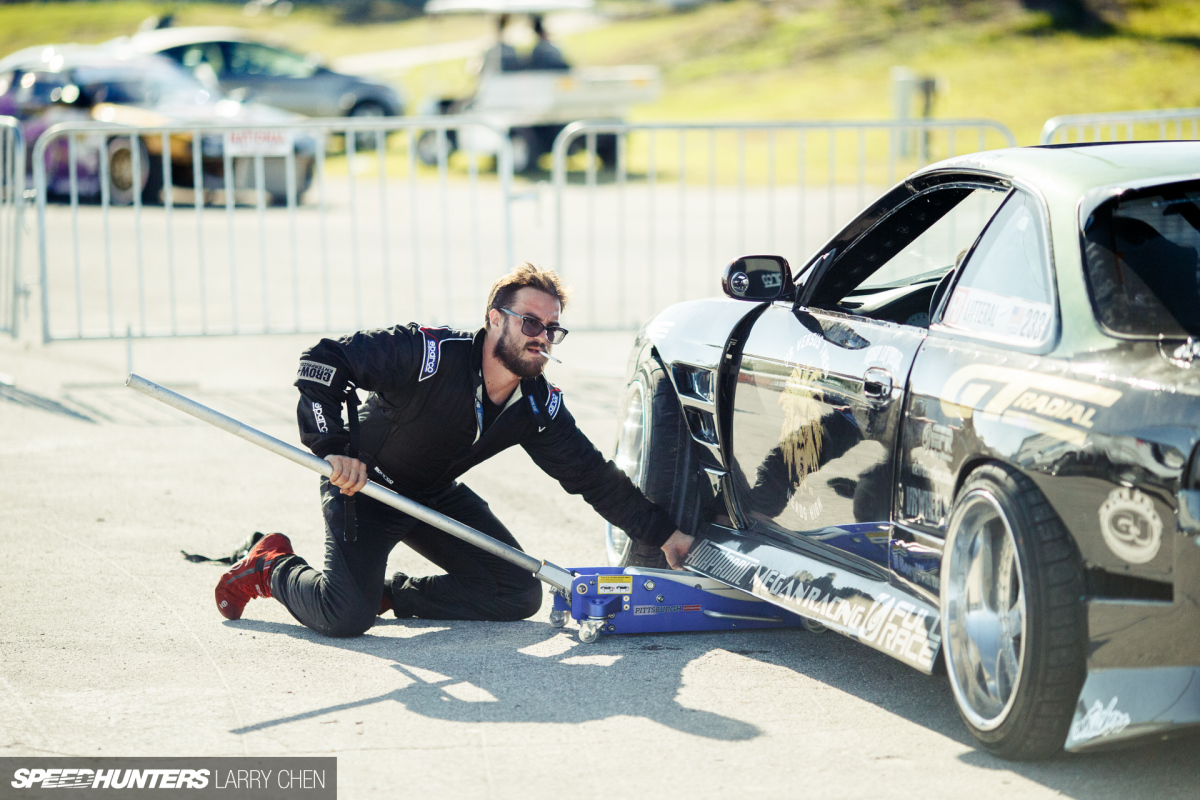 This is another one of my favorite photos of the year in drifting: a privateer team in a snapshot. Ryan Litteral was smoking a cigarette while changing his own tires in his race suit. How boss is that?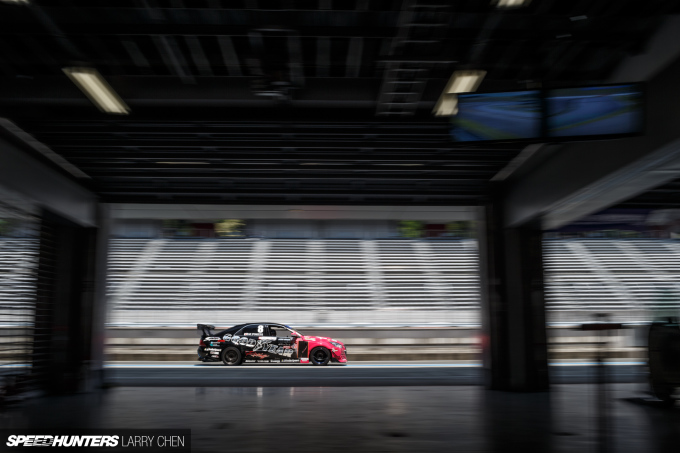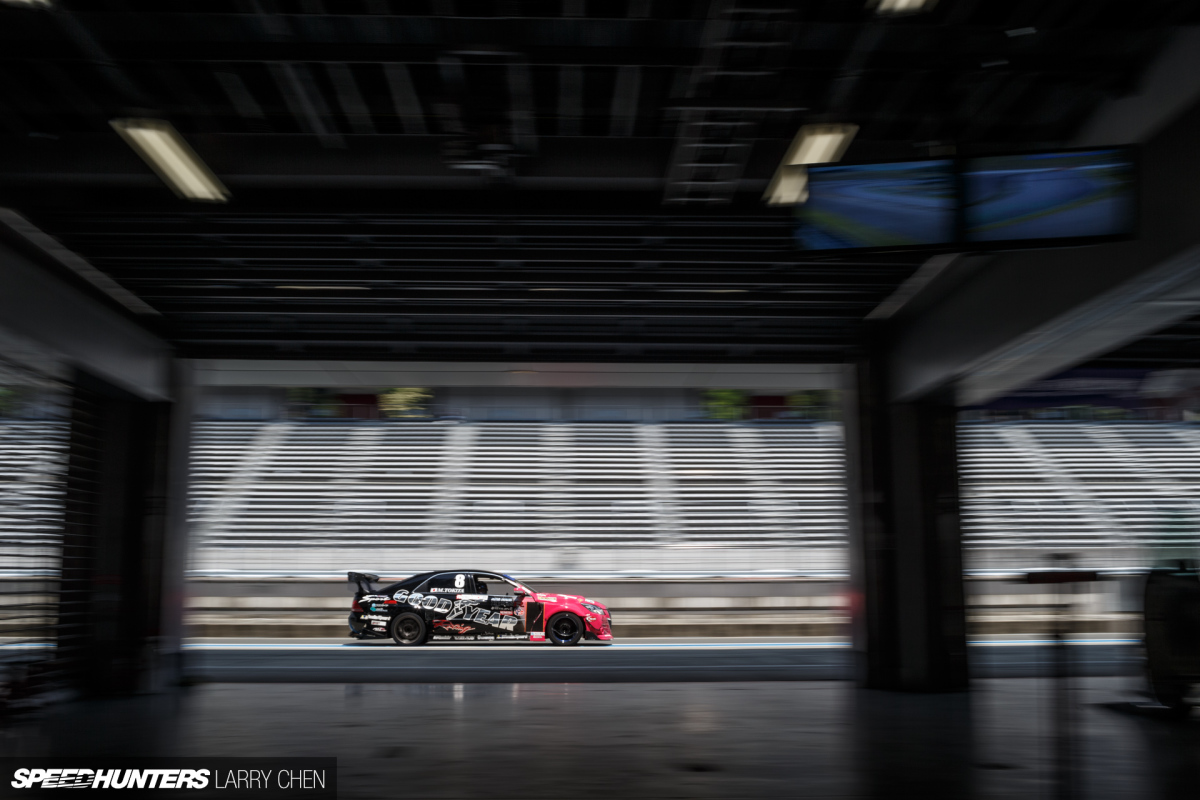 The pits at Fuji Speedway also provided for some interesting framing opportunities, although the track itself was largely unsatisfactory to shoot at due to the way it was designed. It's a road course, not a drift track.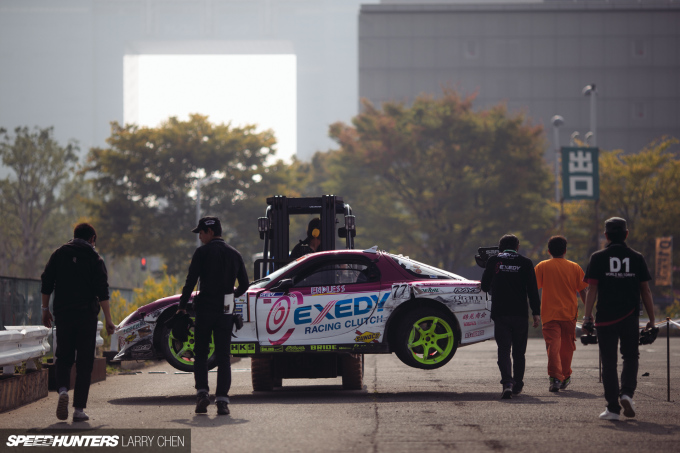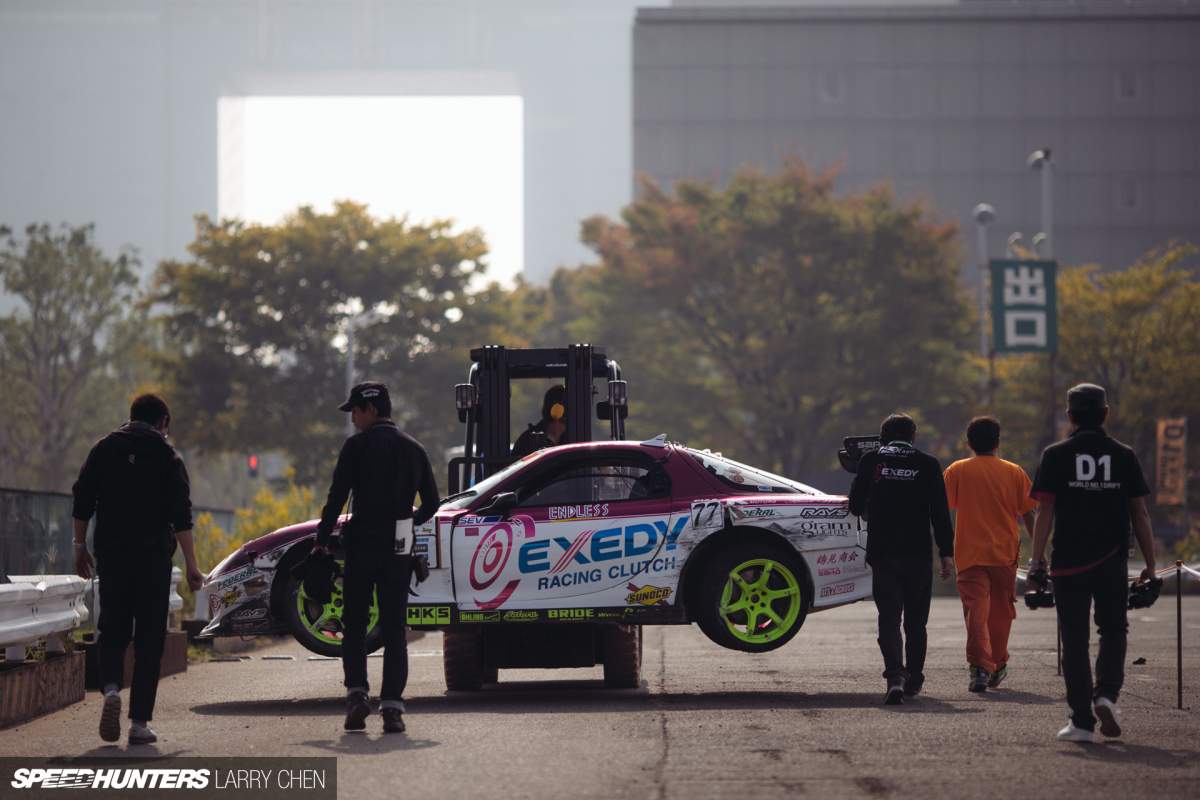 Racing photography in general can be quite stressful, as you may never know when the team you are doing a story on wrecks out. Heck, it could very well be the first lap of the day – there is no way to tell.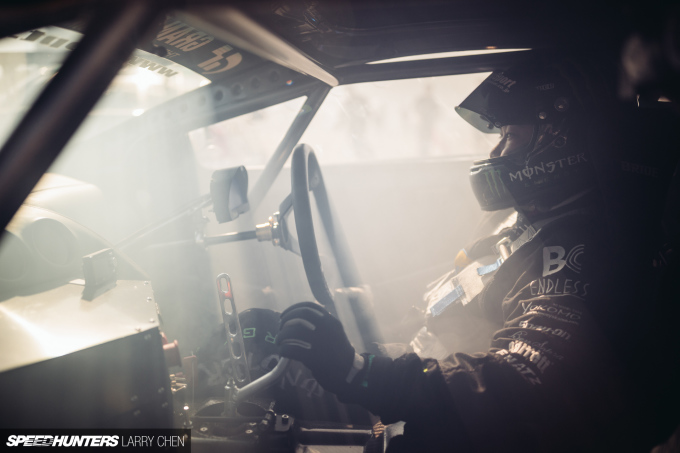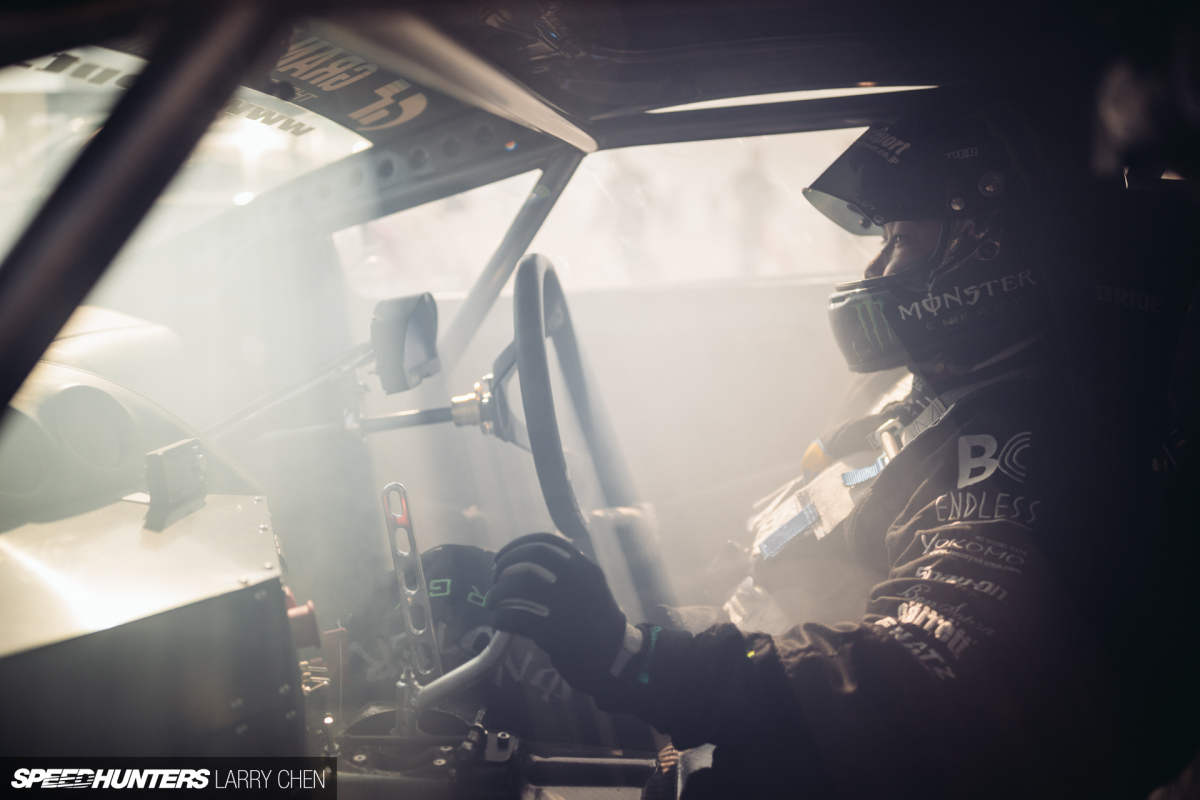 While it's cool to get cockpit shots while the drivers are on the hot grid, my favorite thing to do is to shoot them as soon as they are done with a run or a big burnout.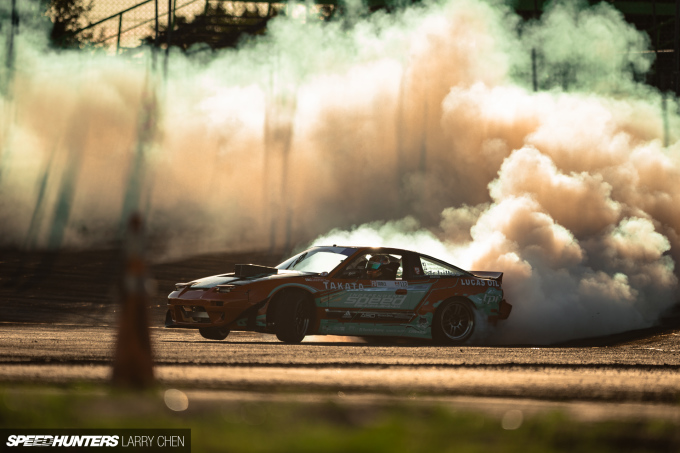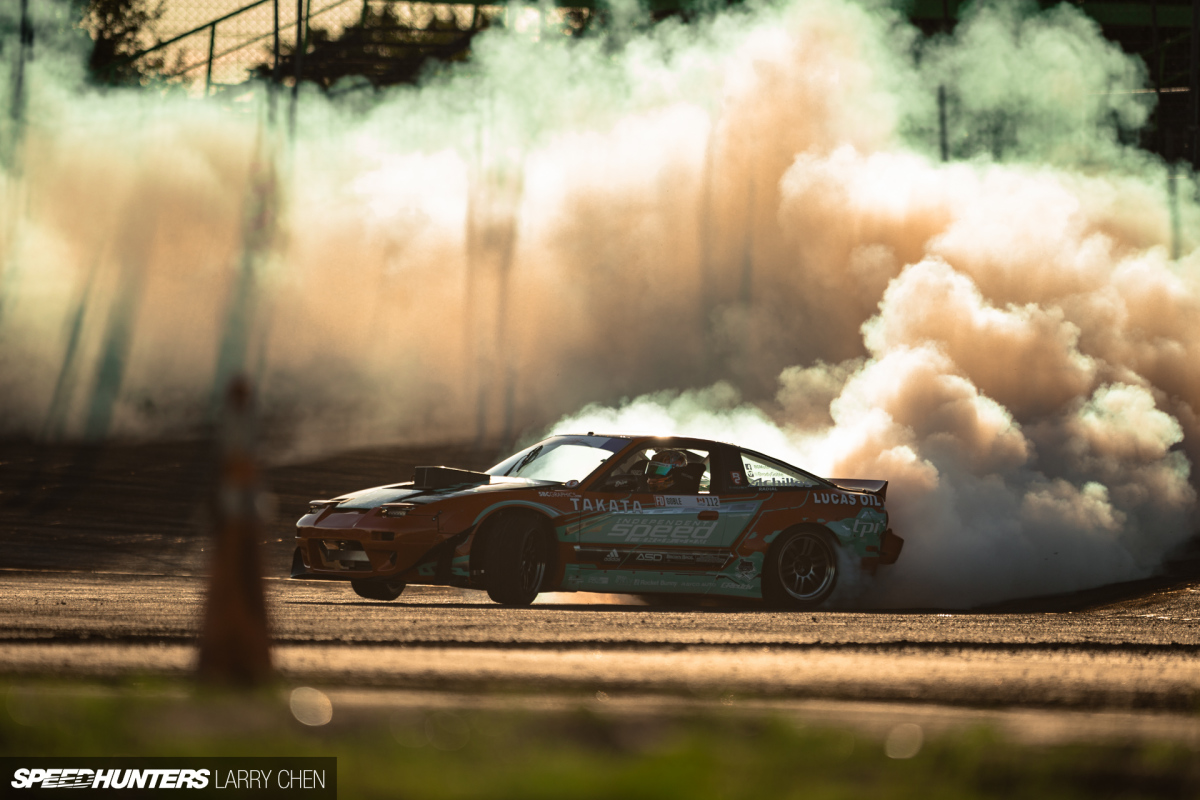 In the early days of drifting, it was popular to have very stiff suspension so the cars would slide around easier, now it's very common for the cars to have so much grip that they lift the inner front tire. I love it when I get shots like this where the tire is clearly off the ground.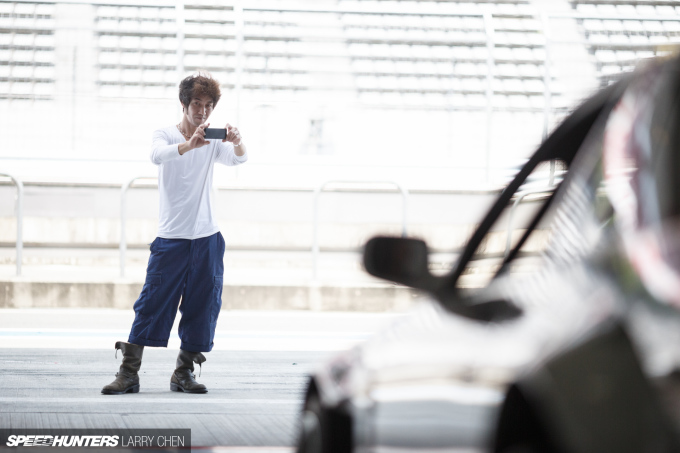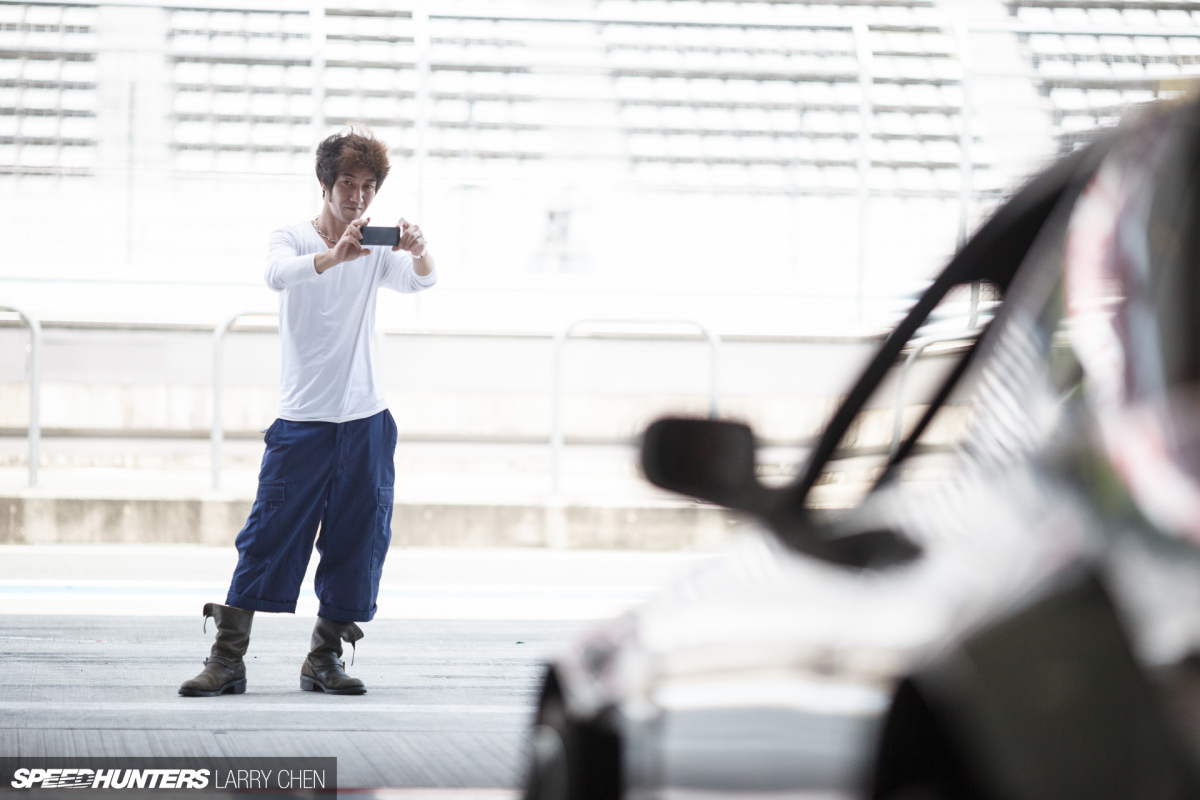 Mr. Rocket Bunny himself is a big drift fan. It's amazing what this one man has done for the aftermarket styling world.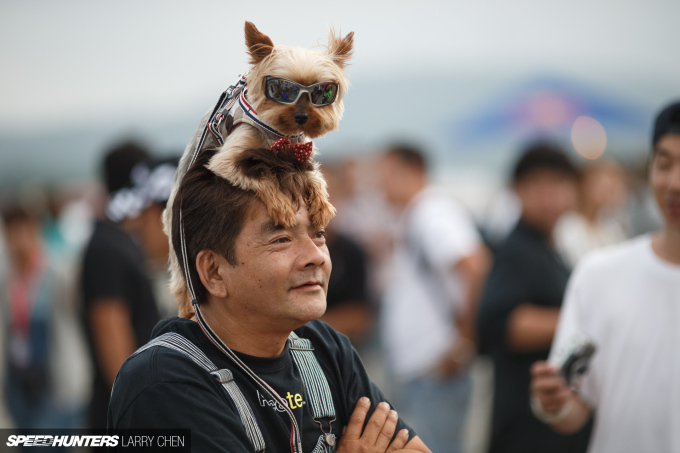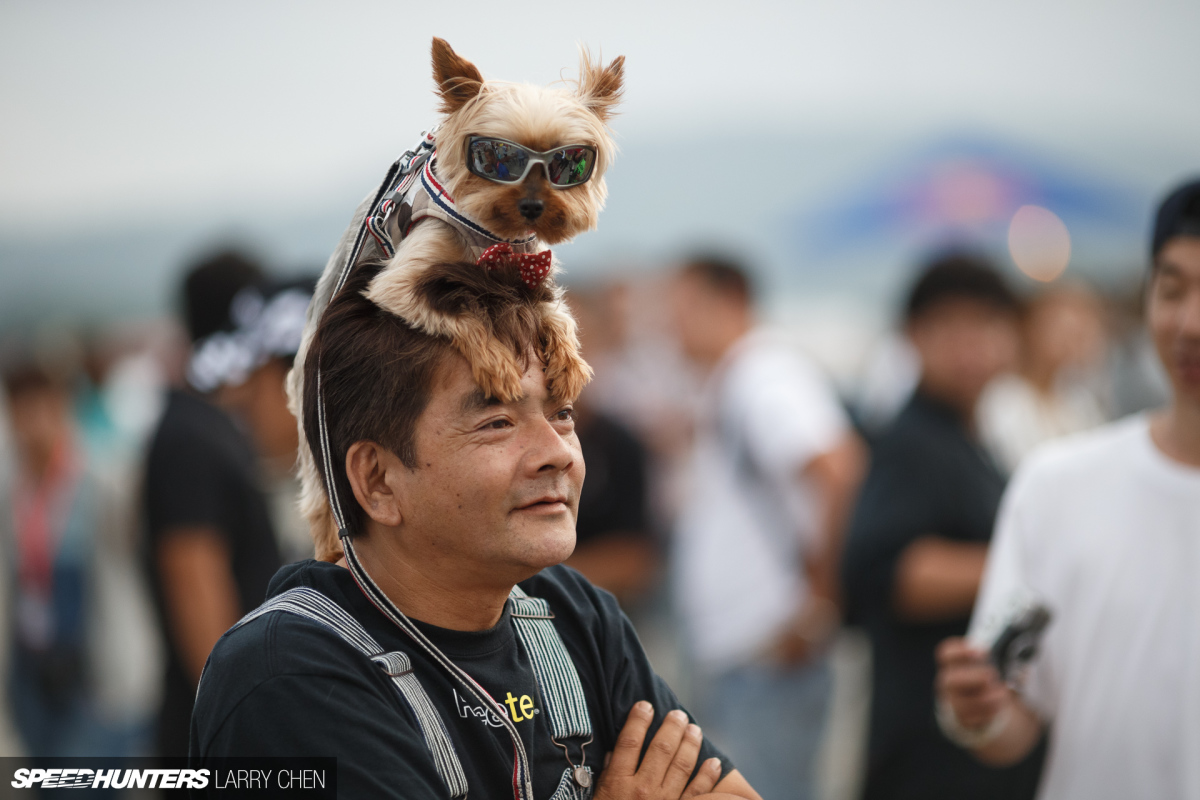 Drift fans know how to party. This guy is a mechanic for one of the D1GP teams, but he came out to Formula Drift at Fuji Speedway just to check out the action.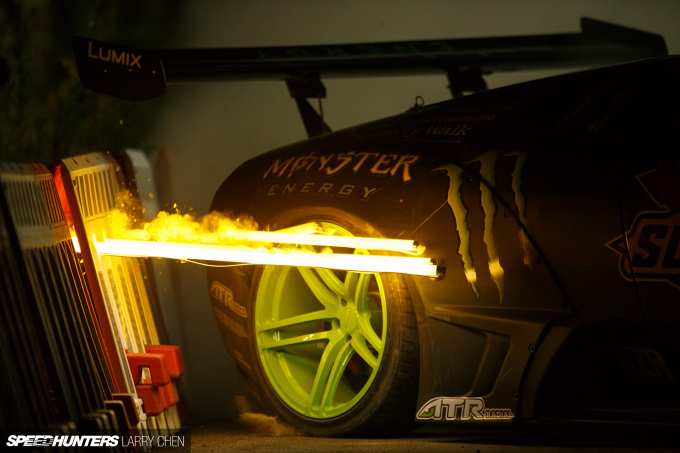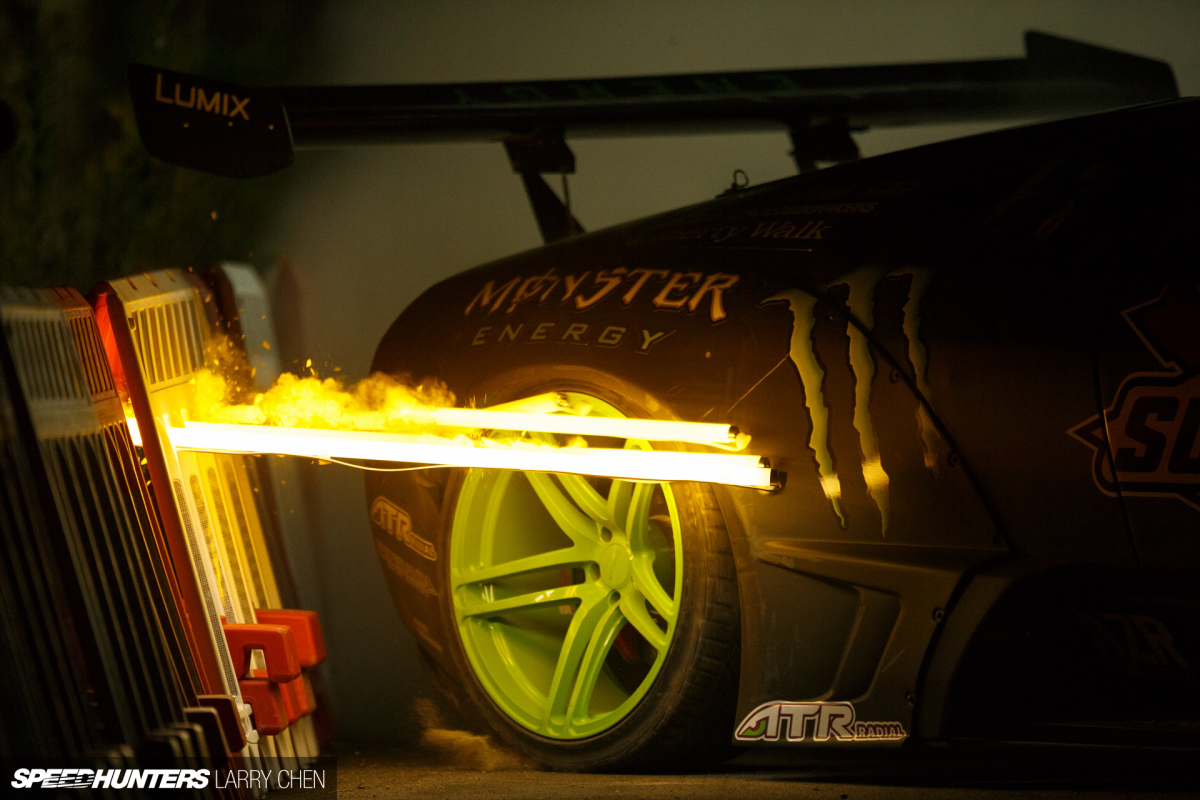 When you only have one shot to get the picture, you better make it count. In the Battle Drift video, Daigo Saito only had one chance to get this trick right. I setup two camera angles, but my handheld angle came out the best.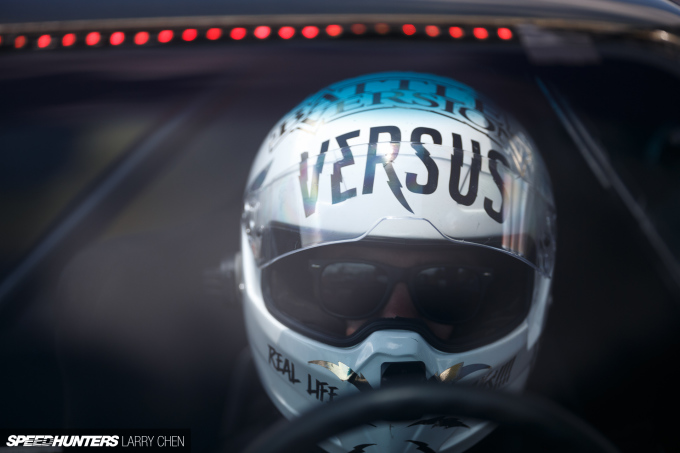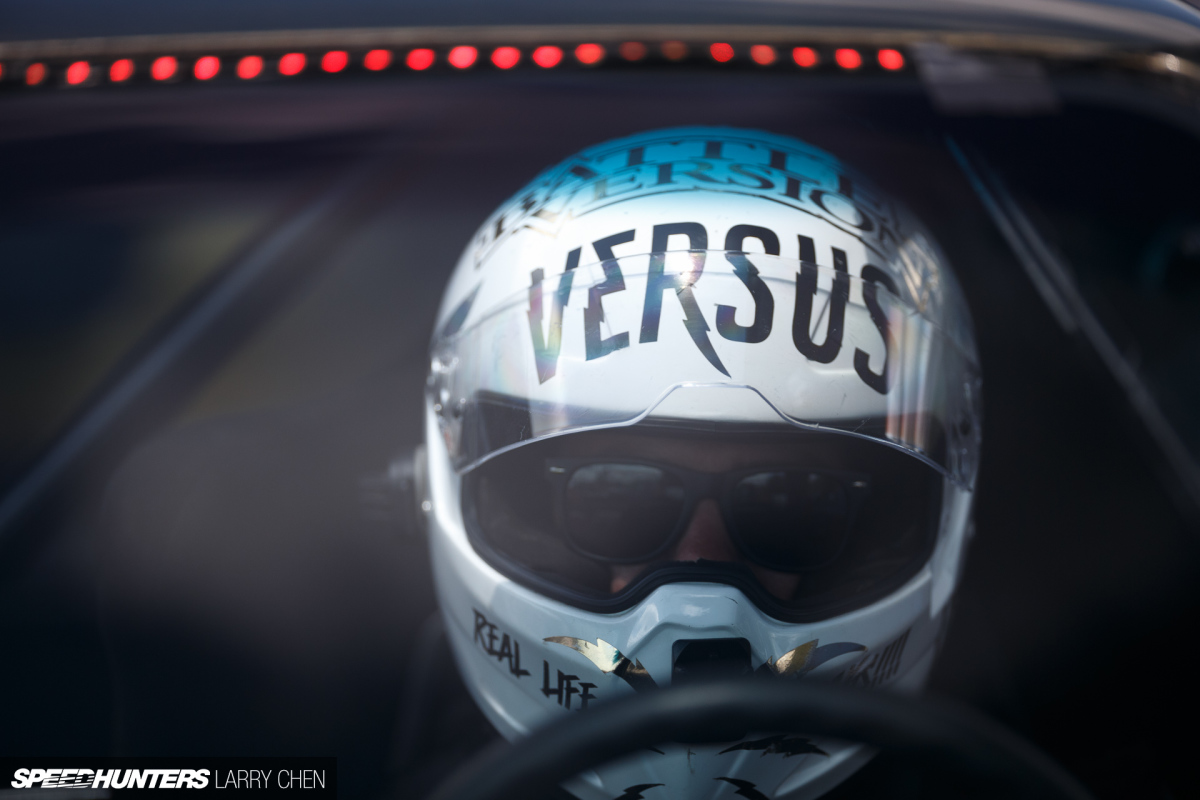 While most pro drivers fill in their sunroofs with carbon fiber sheets, most privateers run without a sunroof, which of course lets in just the right amount of light for interesting portraits while on grid.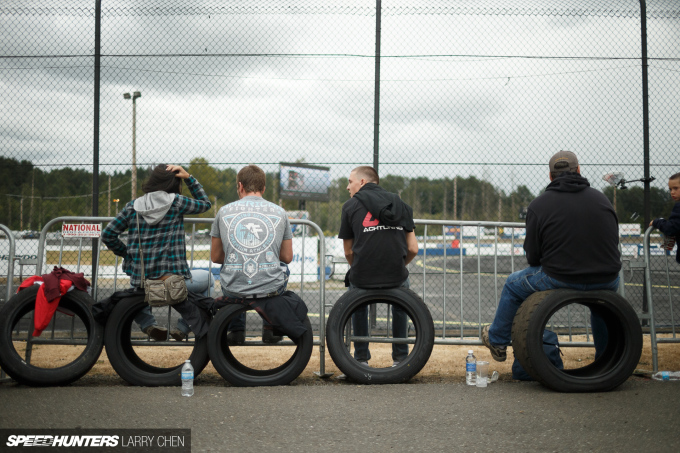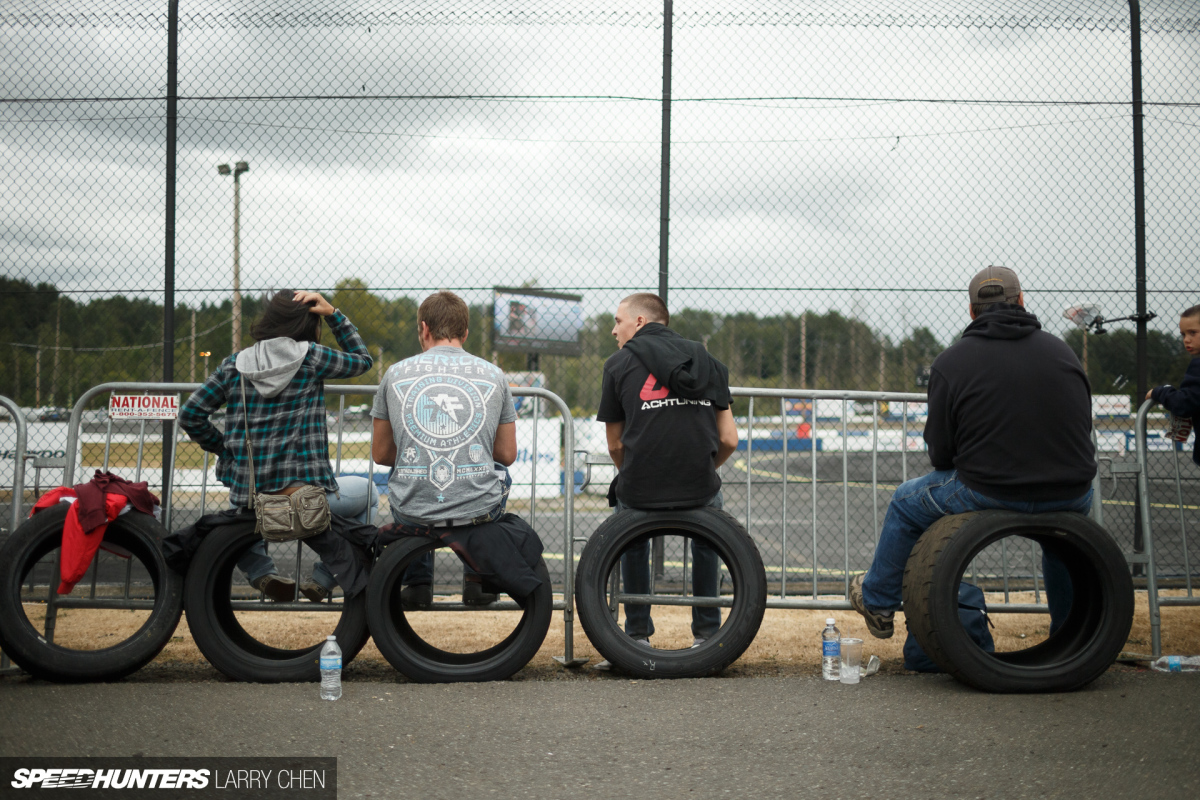 The drift fan always finds a way, and sometimes the best seats in the house are not in the stands. These fans know that the outside of this clipping point is the best place to watch. Didn't bring a chair? No problem.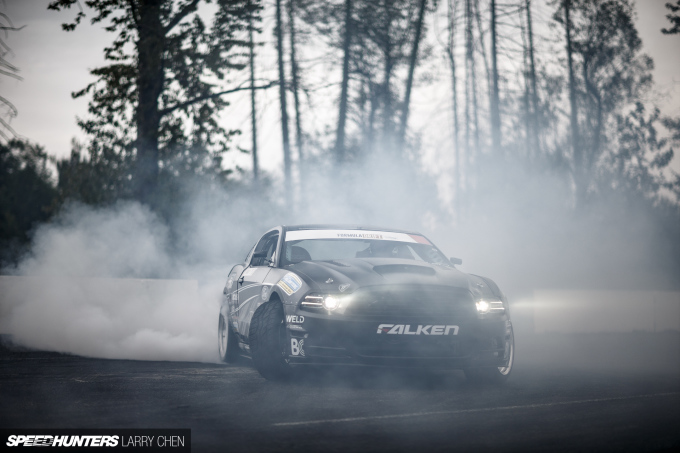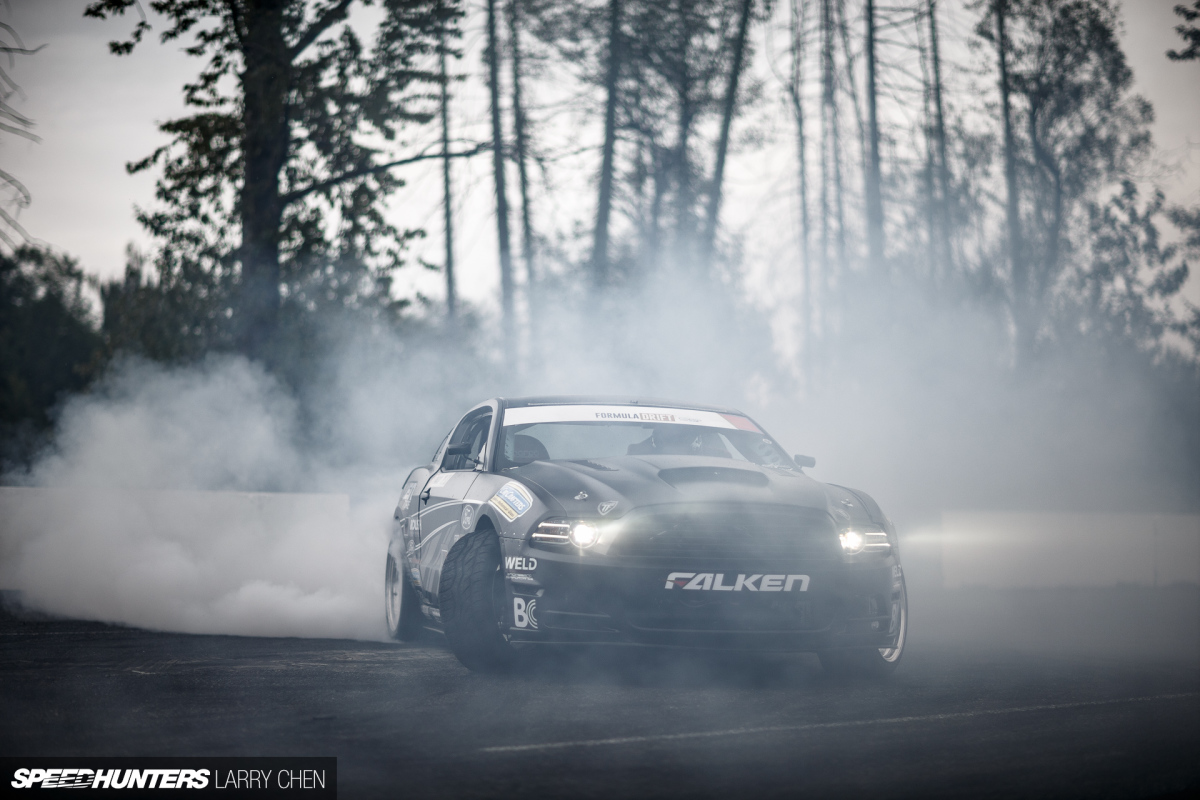 Because Justin Pawlak's Mustang livery is finished in black and white, this photo almost has a monochromatic look to it. But I can assure you, I was shooting in color.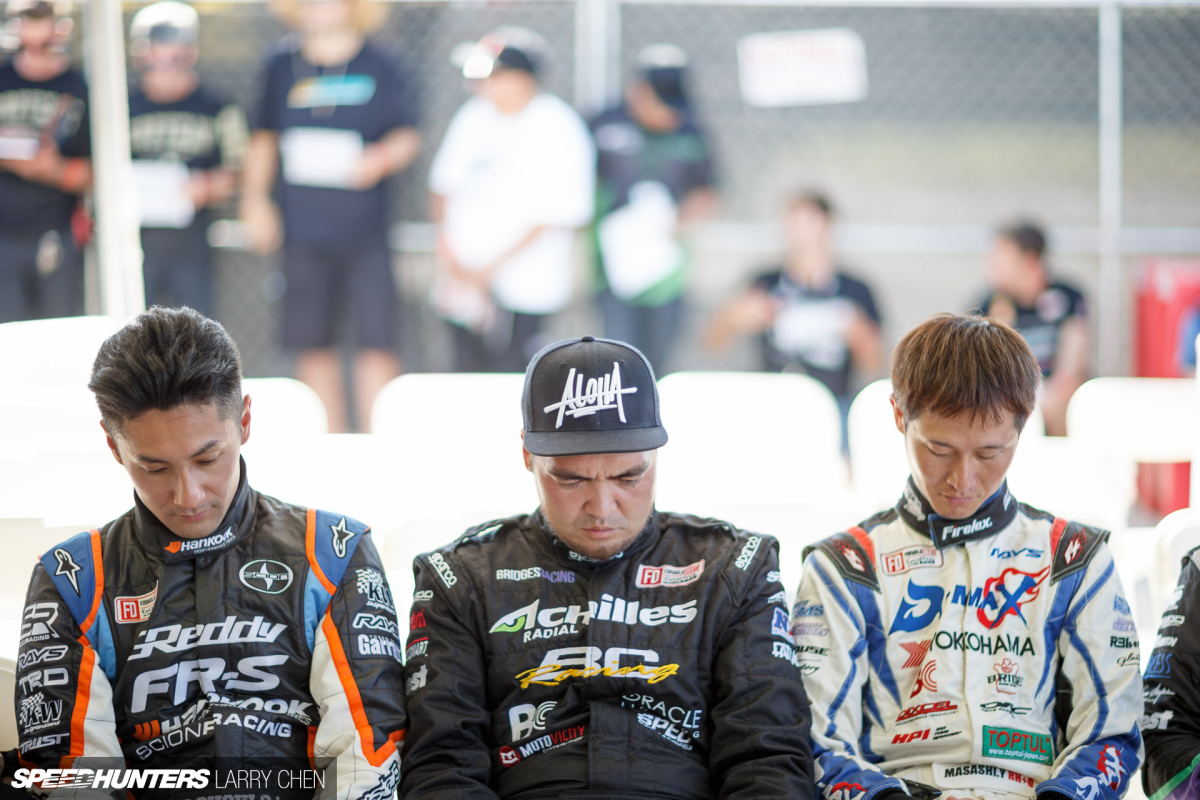 Drivers' meetings are generally very boring, and from what I can tell, no one holds more drivers' meetings than Formula Drift. It's fun to catch a few of the drivers snoozing off every now and then.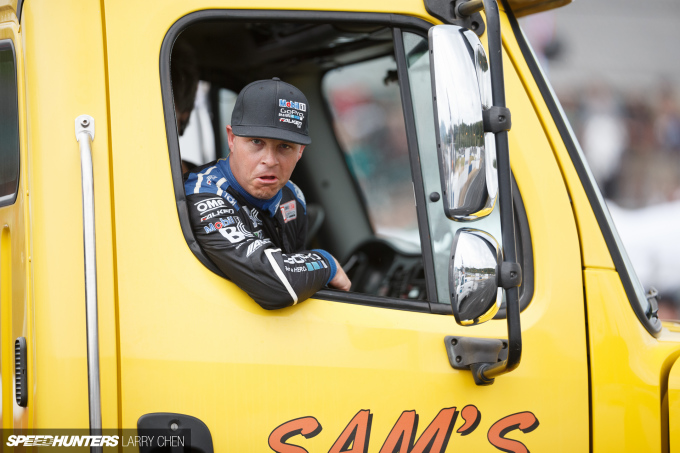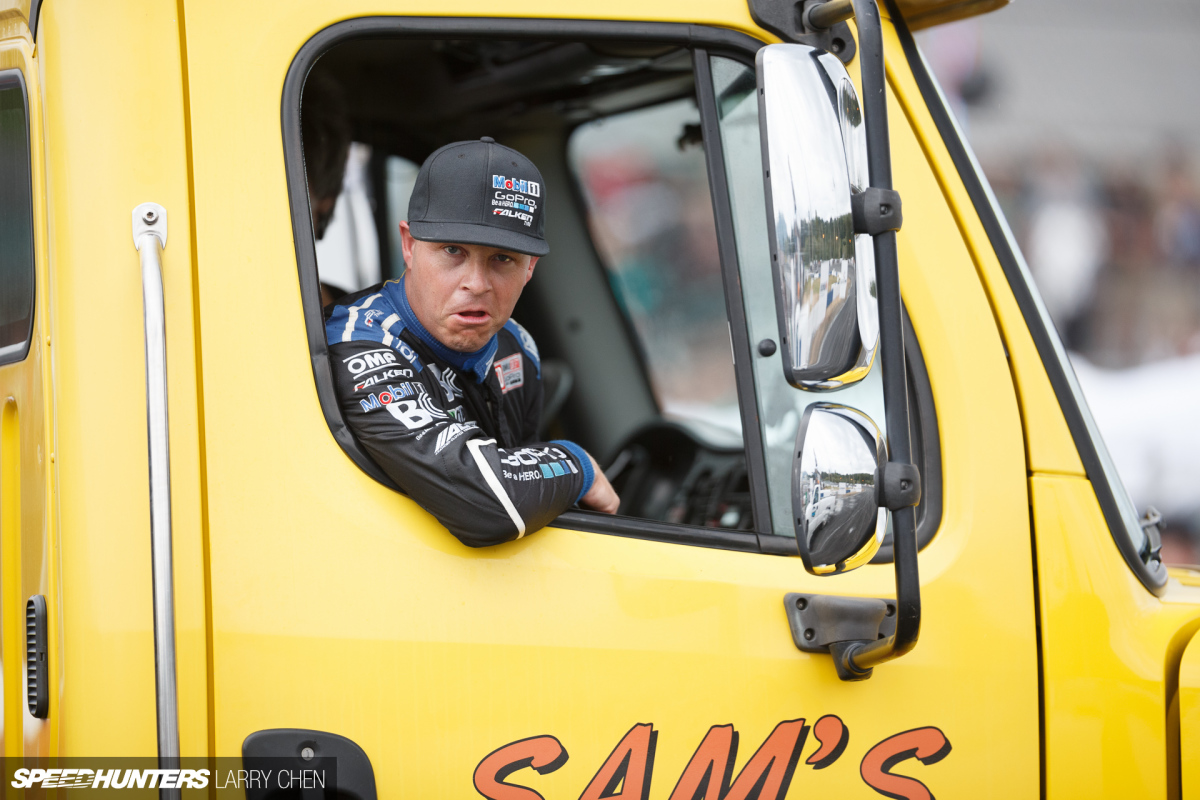 I love shooting Tyler McQuarrie as he always has the most interesting facial expressions. This one look tells the whole story on what he thought about his feud with Justin Pawlak.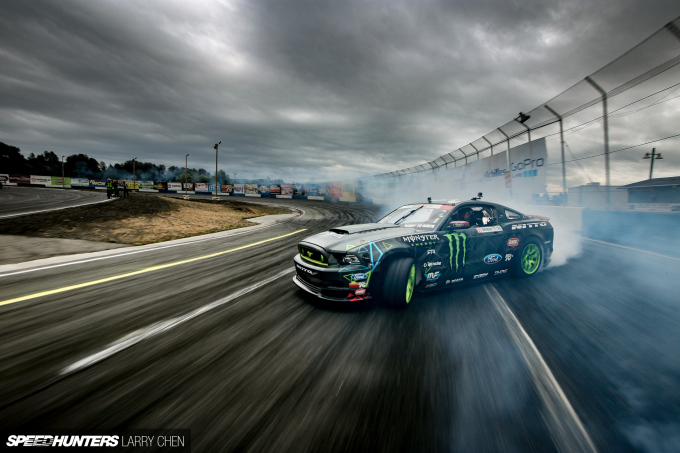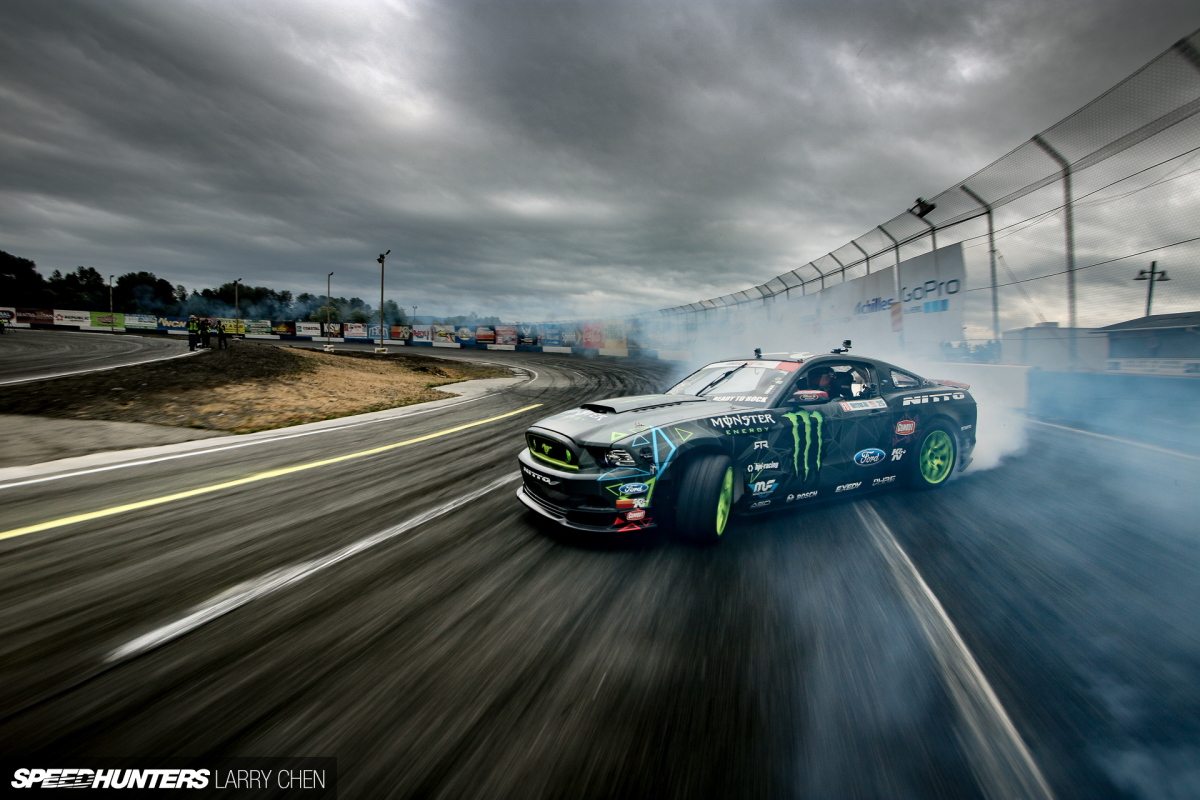 I always poke fun at Vaughn for forgetting to turn on his headlights when he is out on track. When the lights are off, the front of his car turns into a black hole, and none of the photographers shooting the event want that.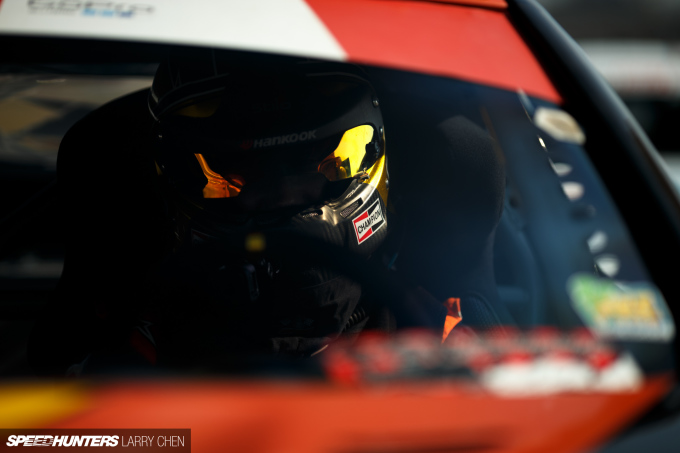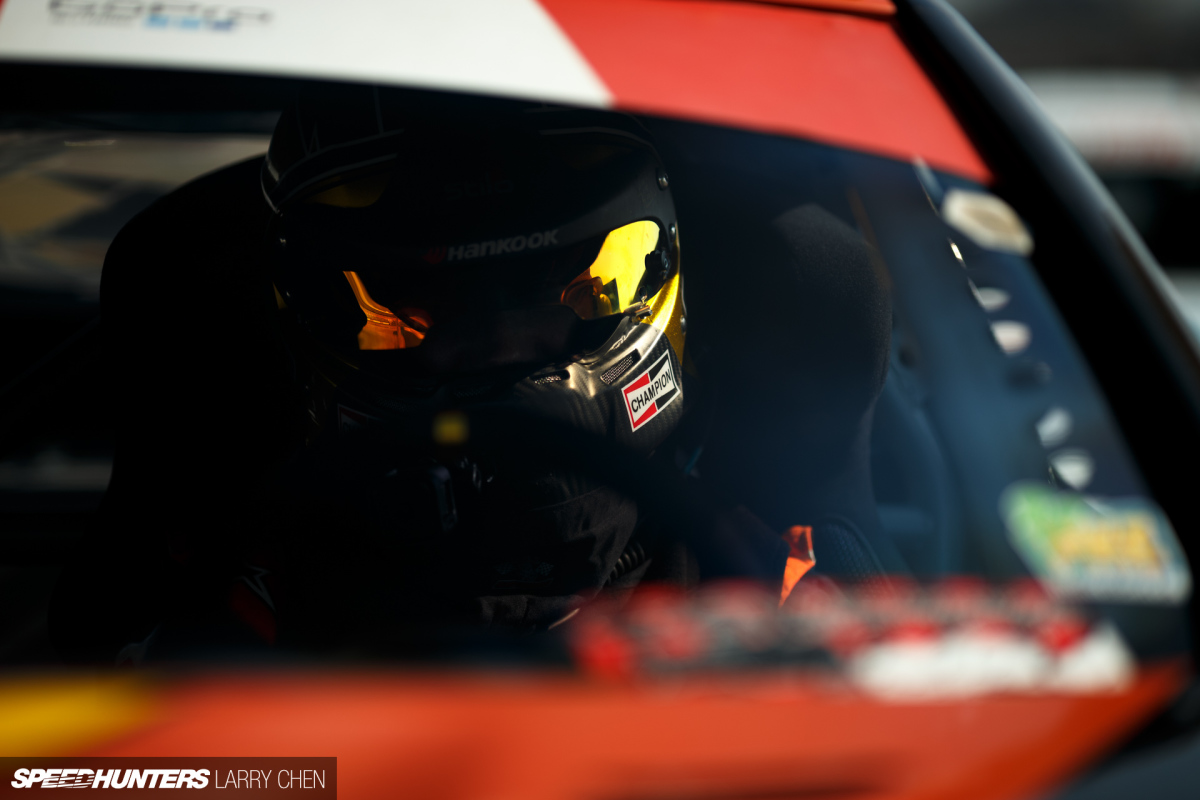 I find it fascinating how a helmet can completely change the look of the driver – it's like they have two faces. That is why I love it when drivers have fancy helmets with liveries. I hate it when they rock plain helmets.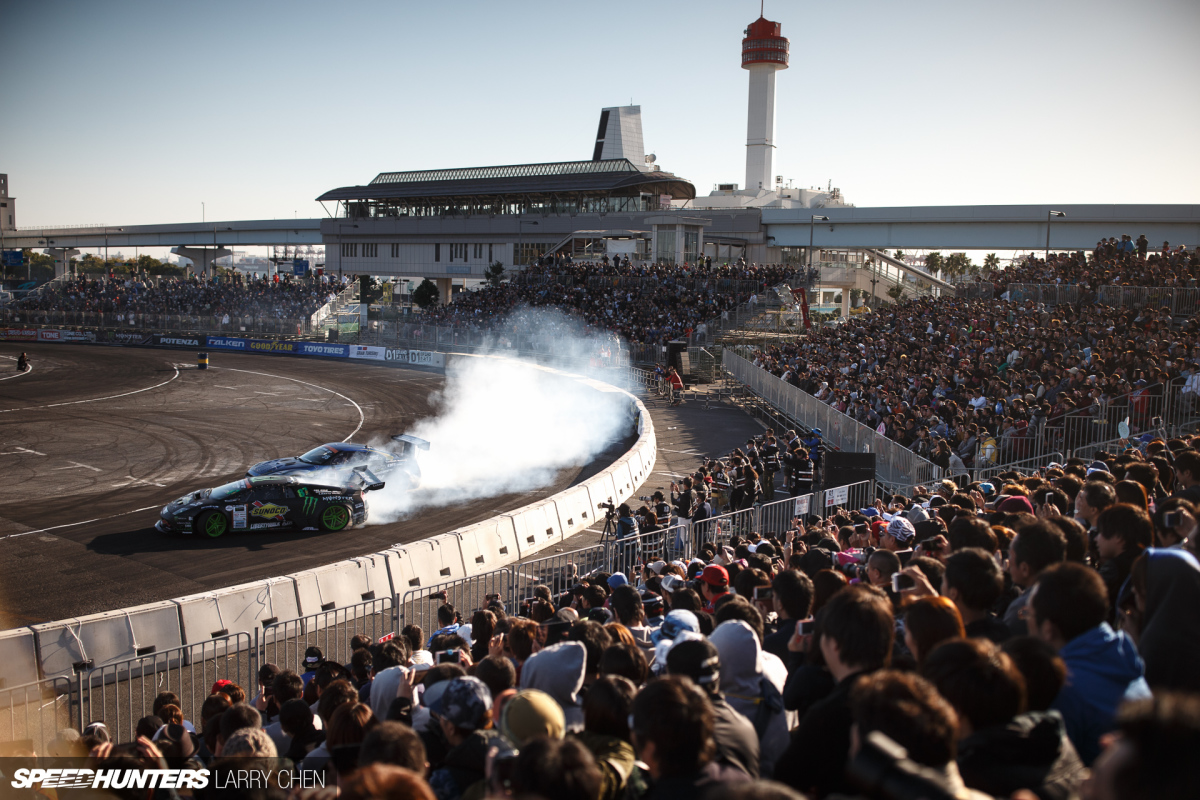 I love shooting from the stands. While most photographers like to stay in the press only areas, it's always a nice perspective to see what the fans see. Most of the time, it's not a bad shot at all.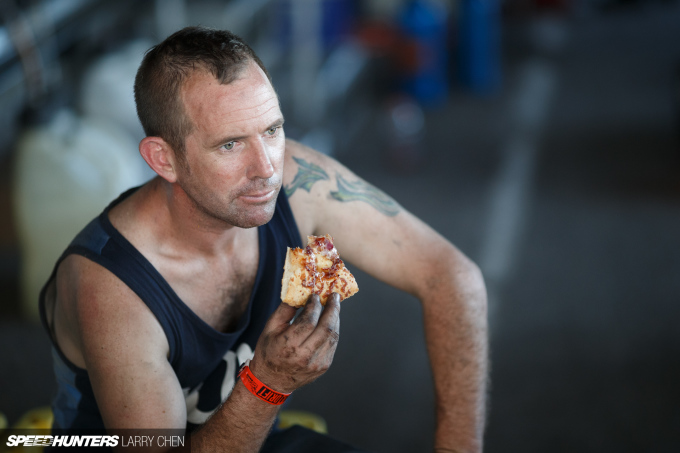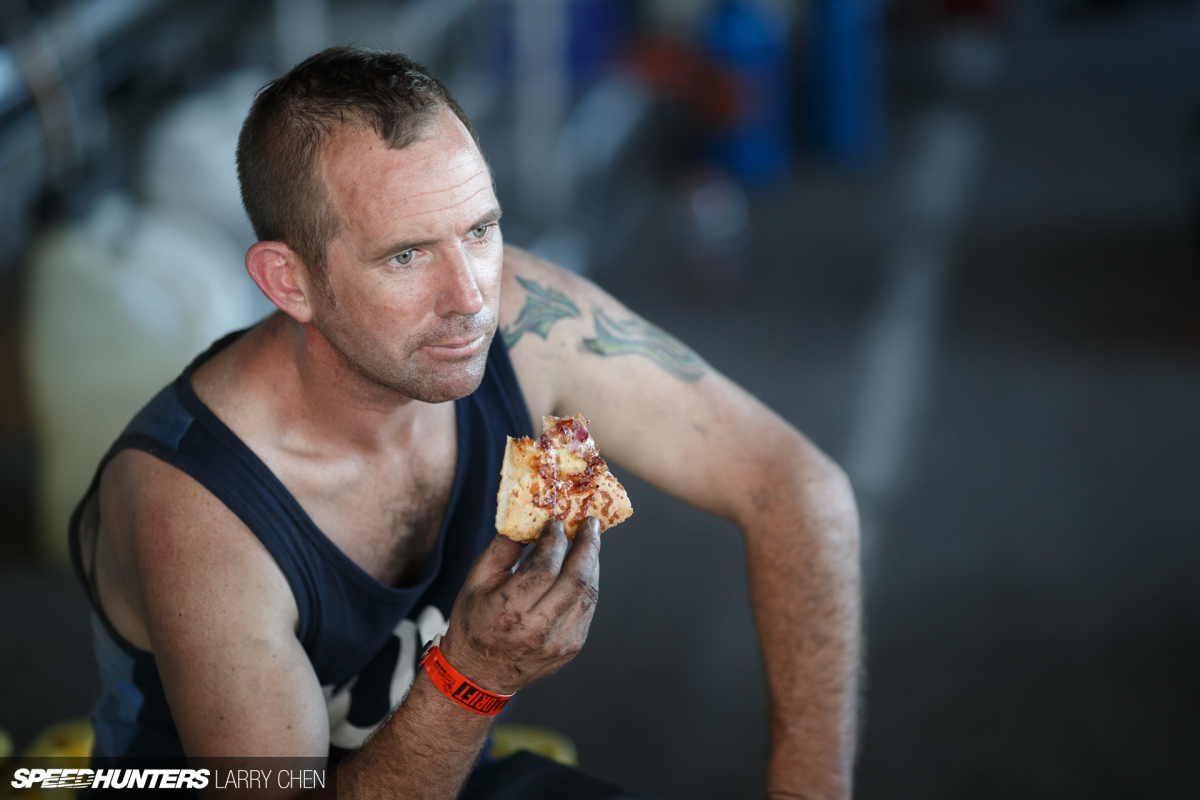 I guess if mechanics washed their hands every time they got dirty they would not have any more skin. This is one of my favorite shots from the event it was captured at.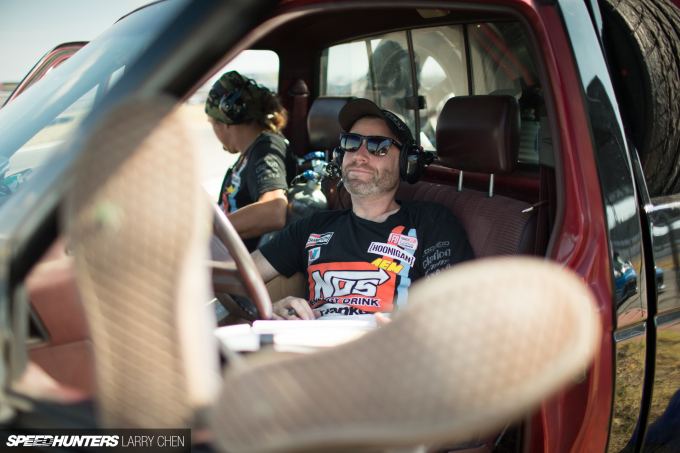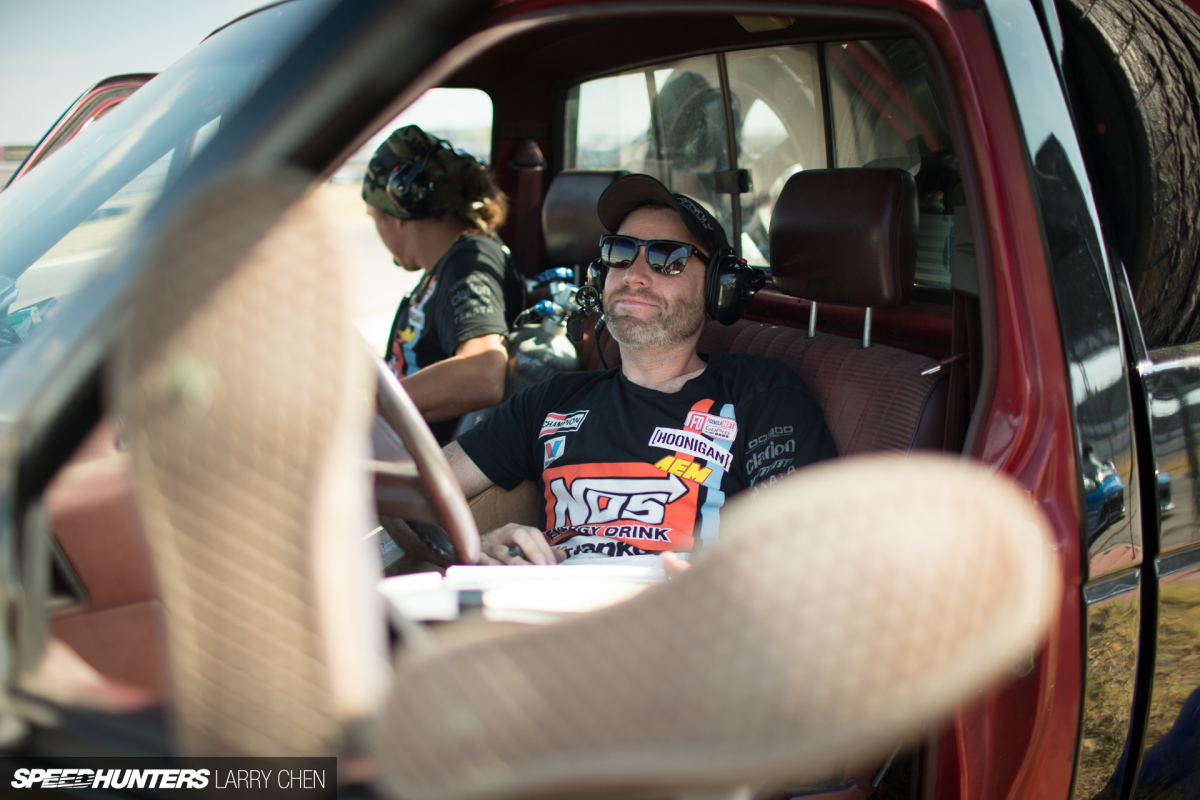 The gumshoe technician that is Brian Wilkerson, crew chief for Chris Forsberg, had the perfect bounce-light in the form of a clipboard, and I just had to take advantage of it.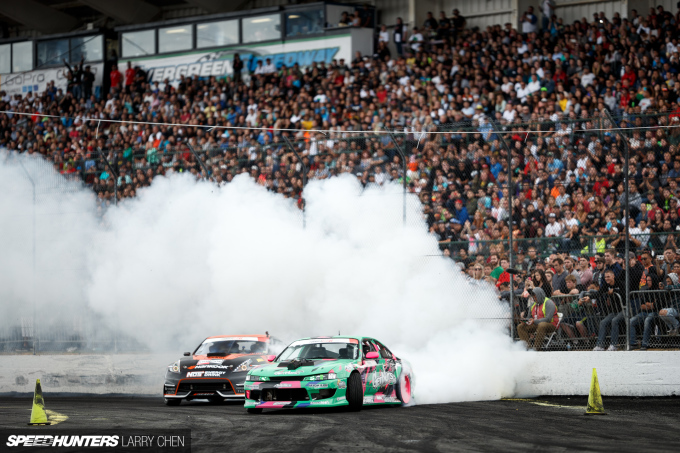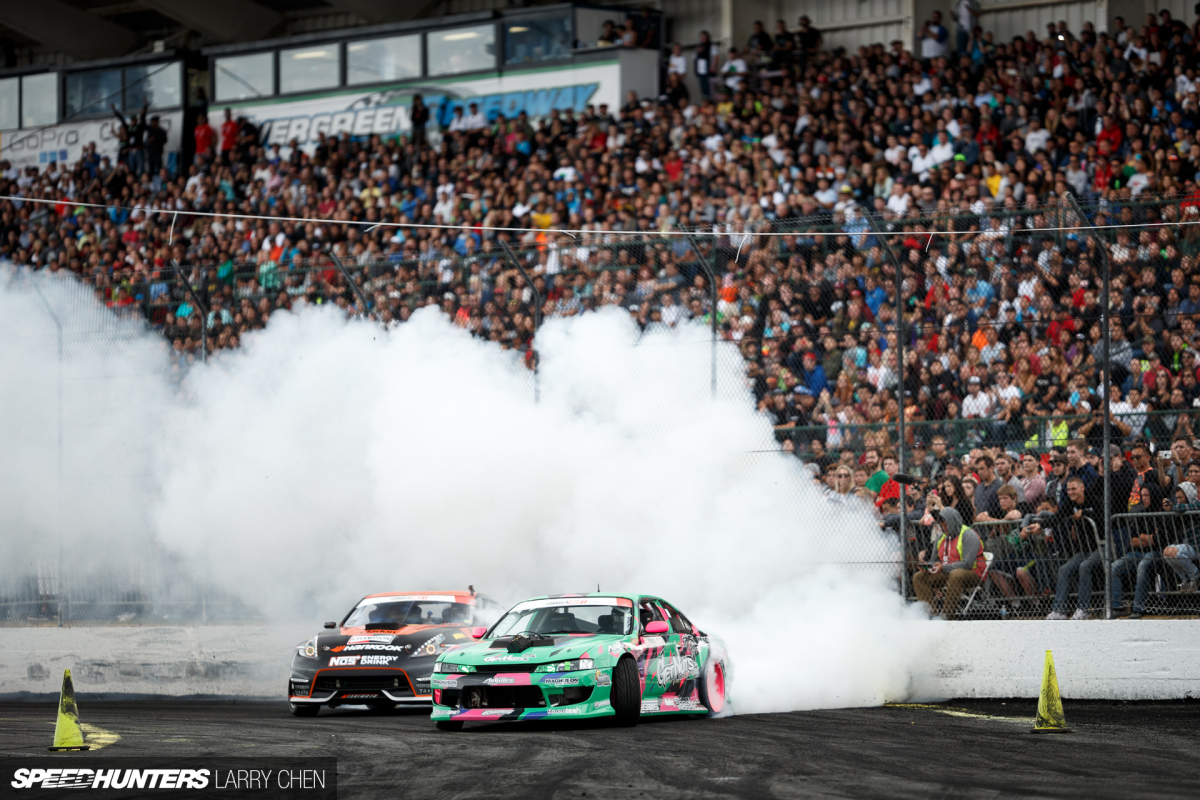 What I hate most about autofocus is that it forces people to shoot near the center of the frame. I try to manual focus as often as I can, even if the hit rate is much less. From one of these passes I am lucky if I get one or two frames in focus.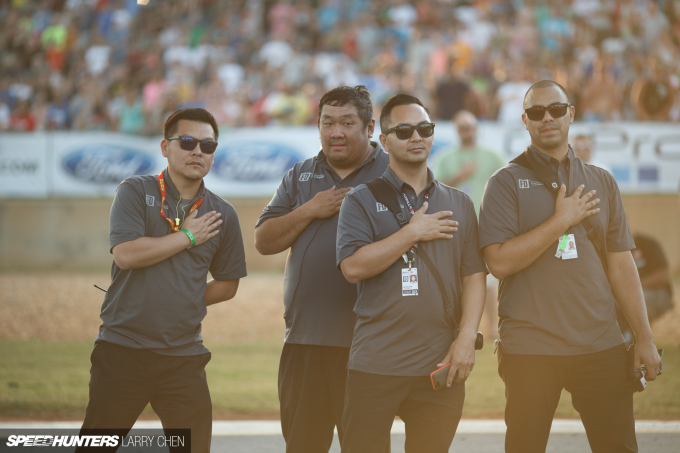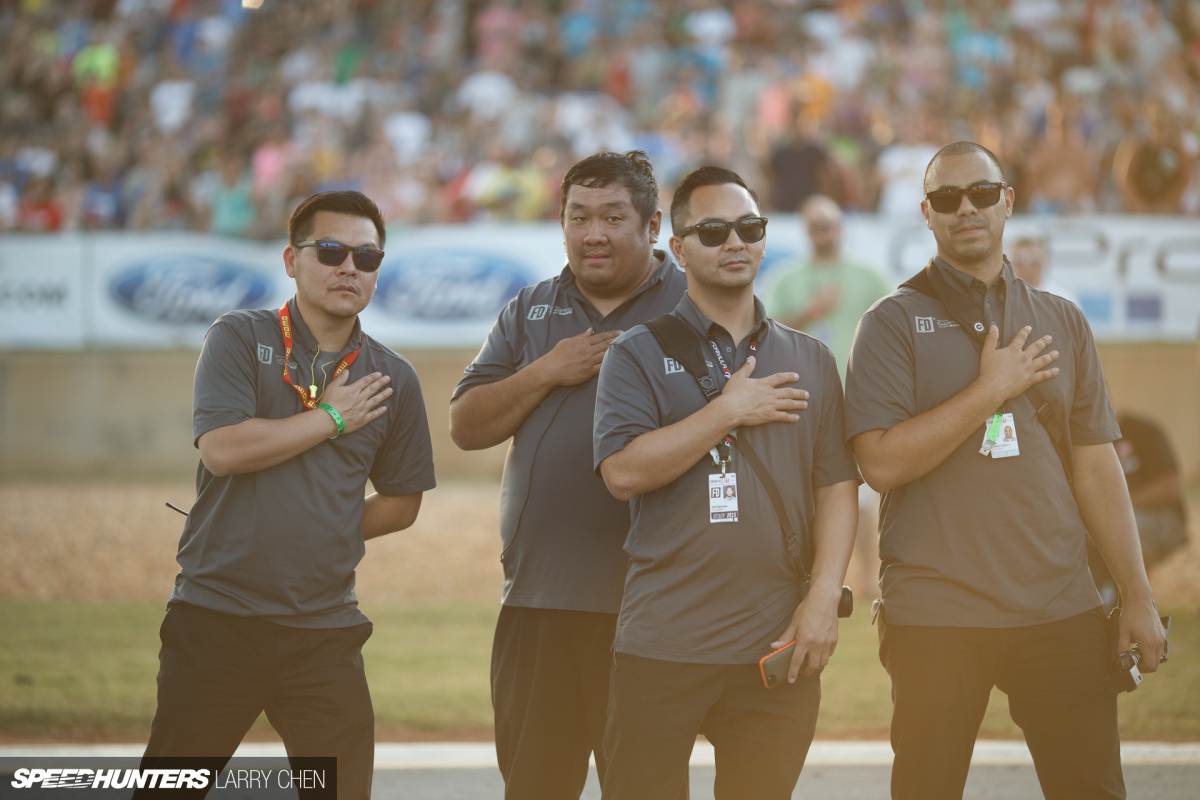 I always try to capture what goes on behind the scenes as well. FD is a big traveling circus and these are the clowns that run it.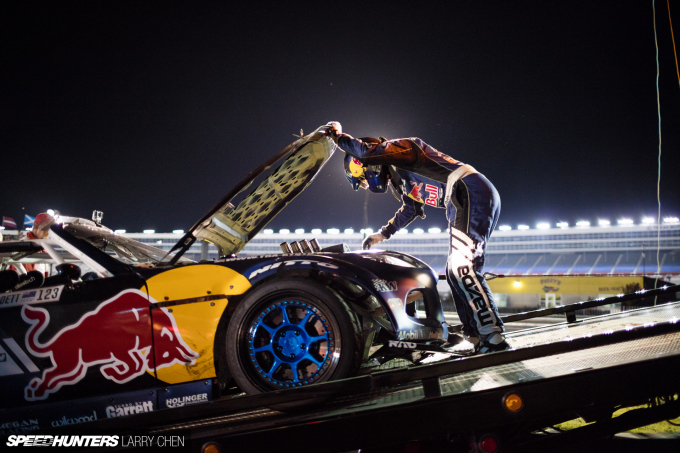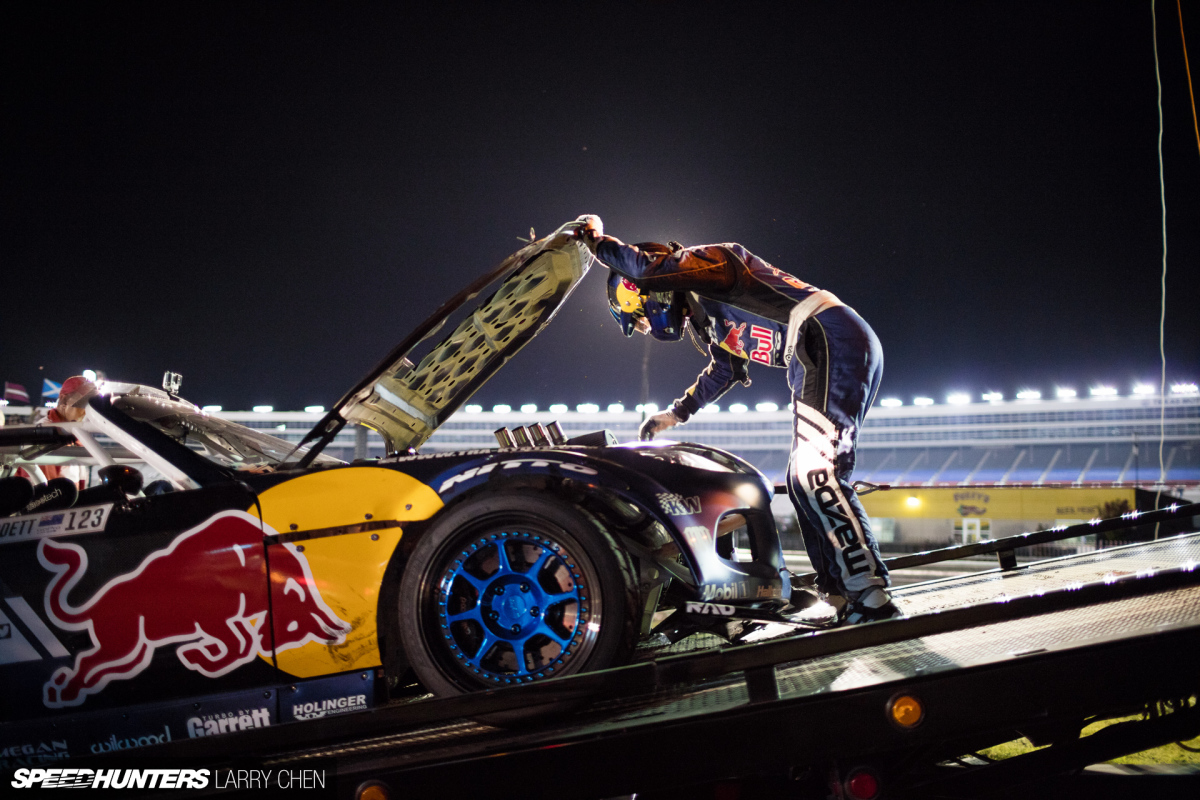 It was very dark in the Texas Motor Speedway infield, but as I was shooting this the fire safety trucks were lighting the scene and the portable light tower just happened to be directly behind Mad Mike's helmet.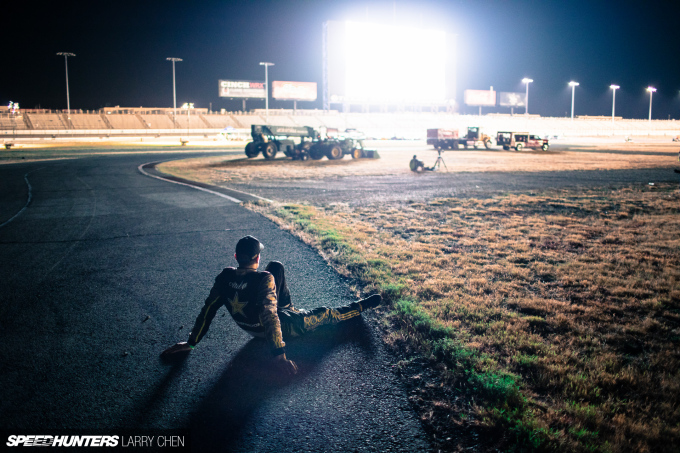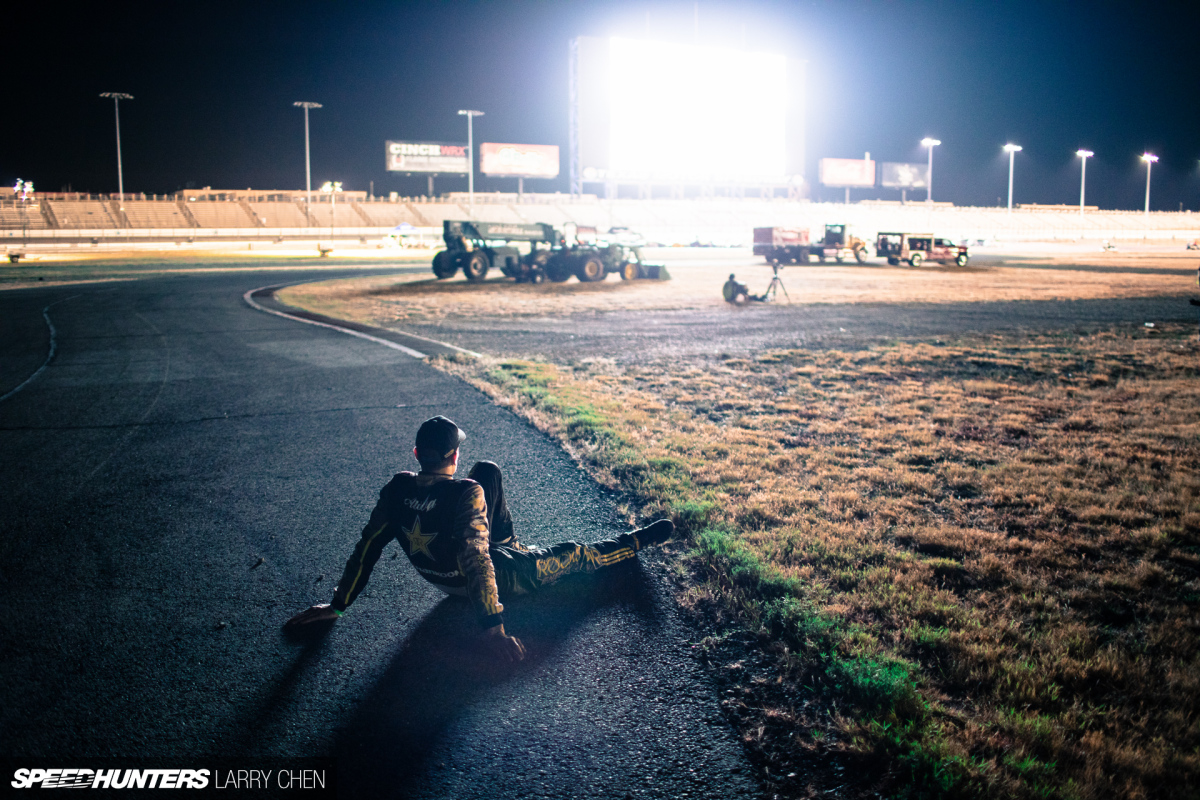 This is one of my favorite photographs of the year. Fredric Aasbø got knocked out relatively early in Texas, but instead of going back to his trailer to pack up, he just took a seat on the asphalt to watch the rest of the show on the Jumbotron. Capturing moments like these are what I live for.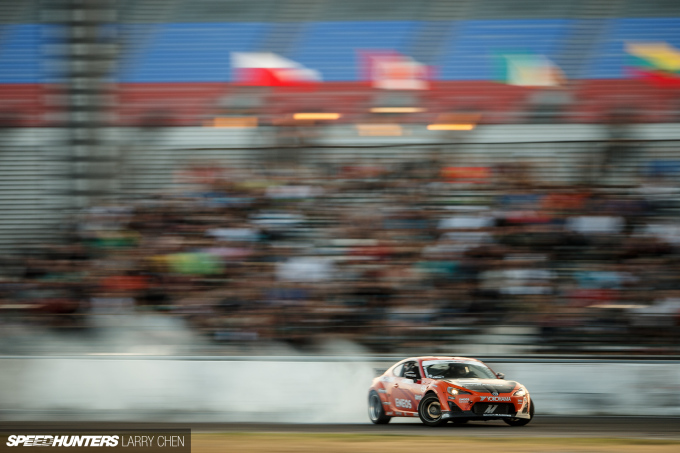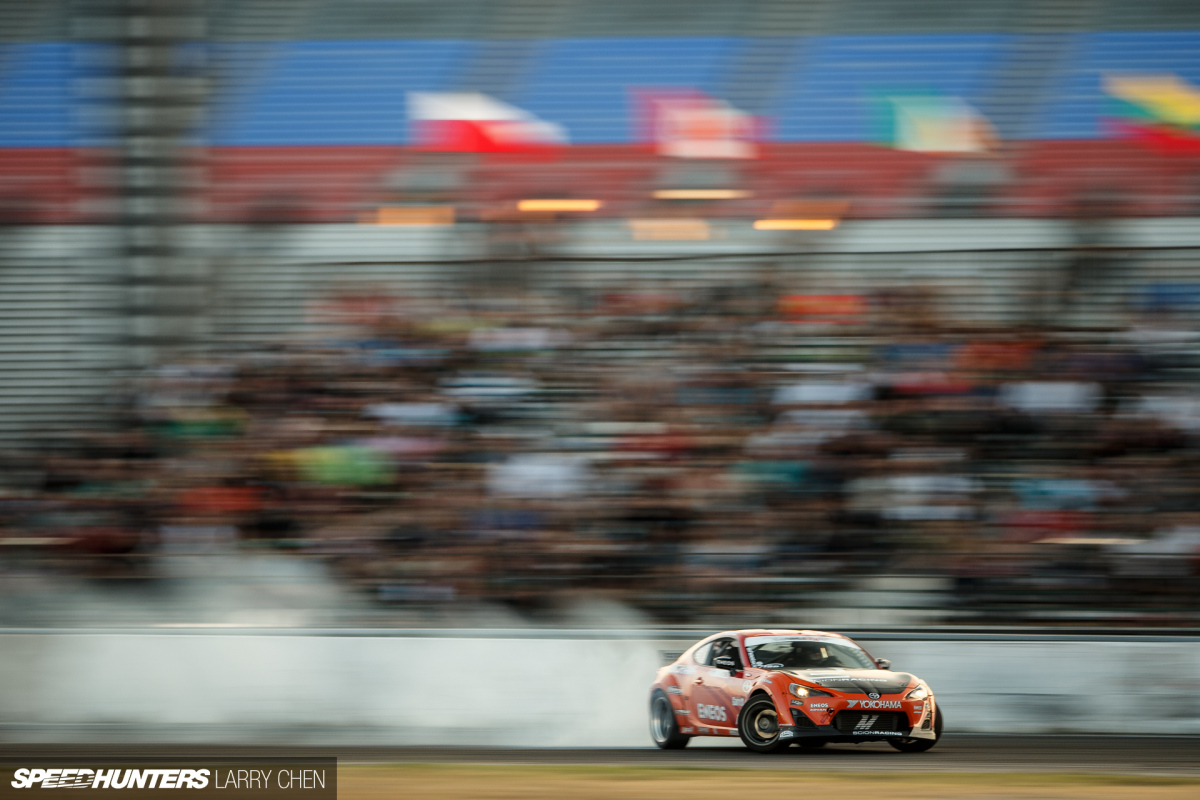 There is nothing better than shooting drifting during golden hour. Unfortunately, the Texas Motor Speedway grandstands are so high that they blocks out the sun about 30 minutes before it dips below the horizon. The plus side is that I can do wide-open slow pans very early on.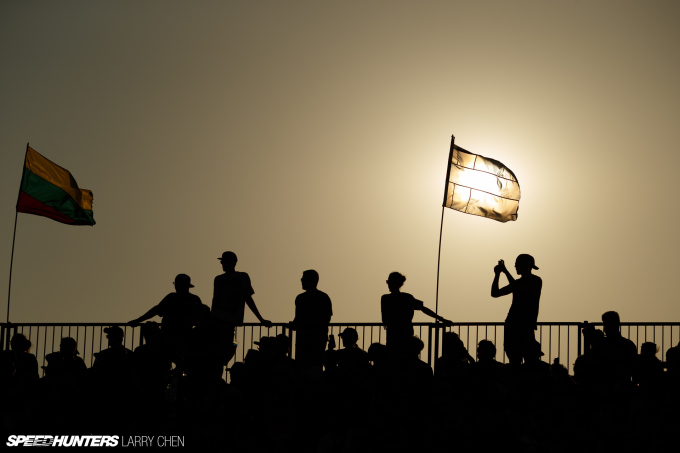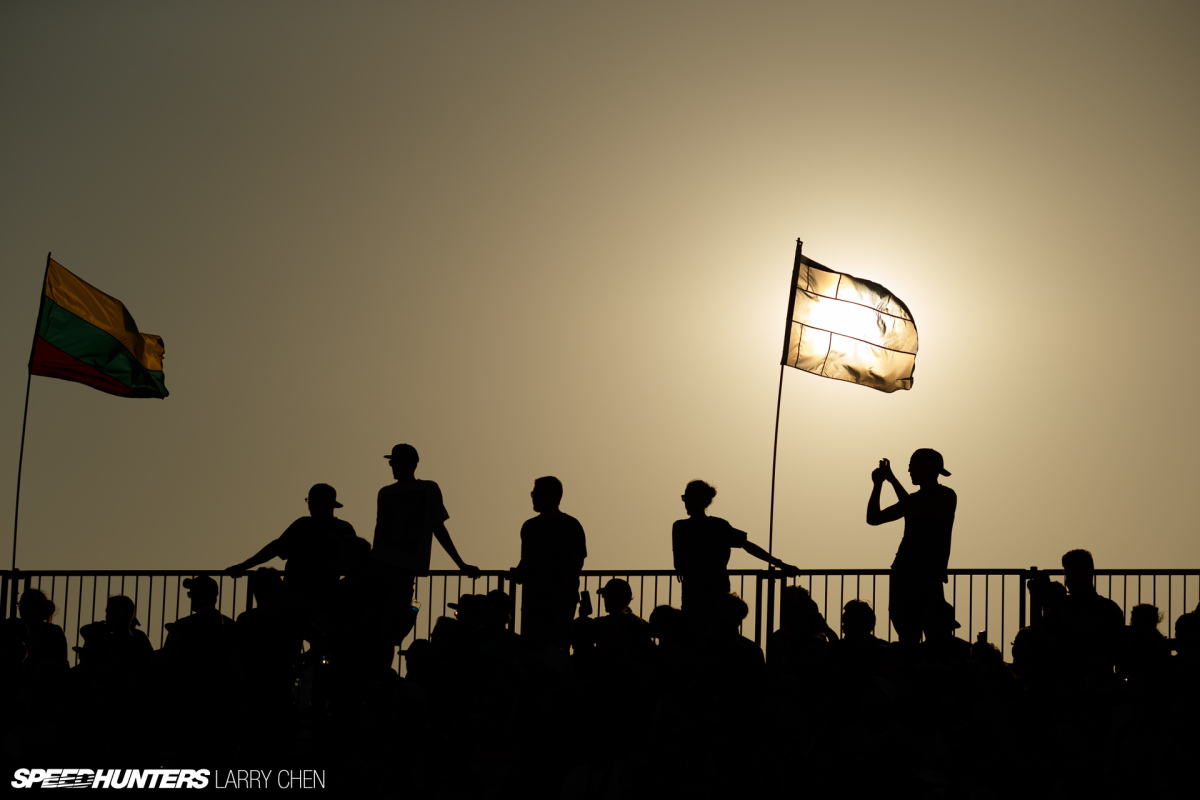 I'm still amazed by the number of fans that travel from all over the world just to watch drifting. I guess I take it for granted as there is so much drifting right in my backyard.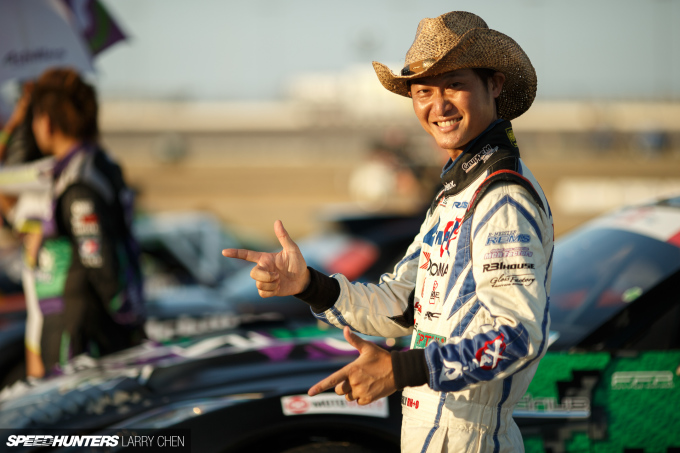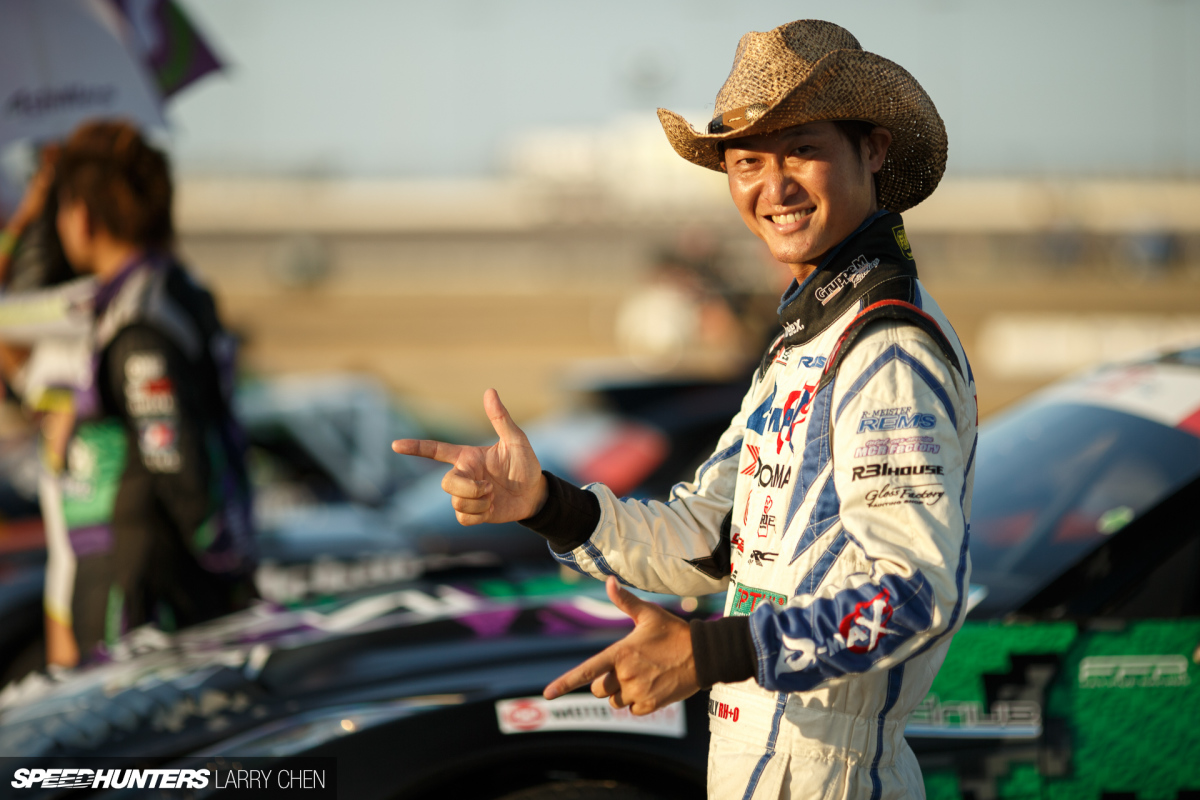 I always try my best to capture the human aspect of drifting. After all, these guys are the ones behind the wheel.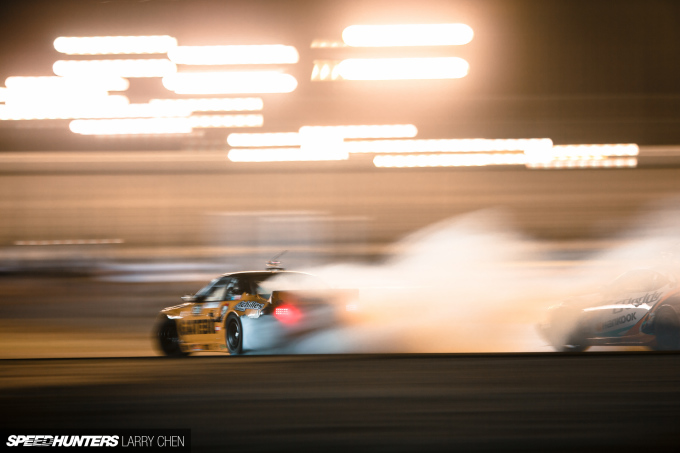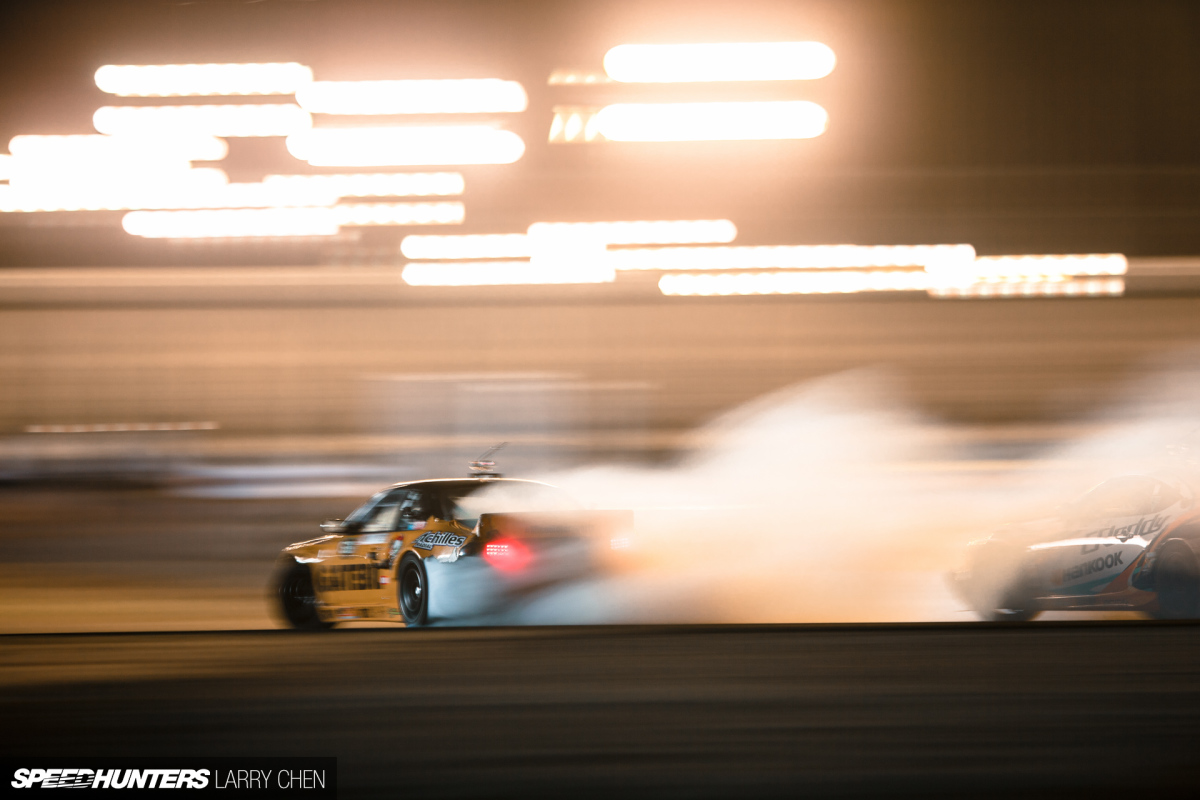 This was one of the harder drifting pans that I attempted this year, yielding only two successful attempts – this photo being one of them. While I was not shooting terribly slow at 1/13th of a second, the speed that the drivers were going at made it more difficult. Although, I would have much more preferred it if Ken Gushi was a bit closer to Kenny Moen. Thanks in advance for next time, Ken.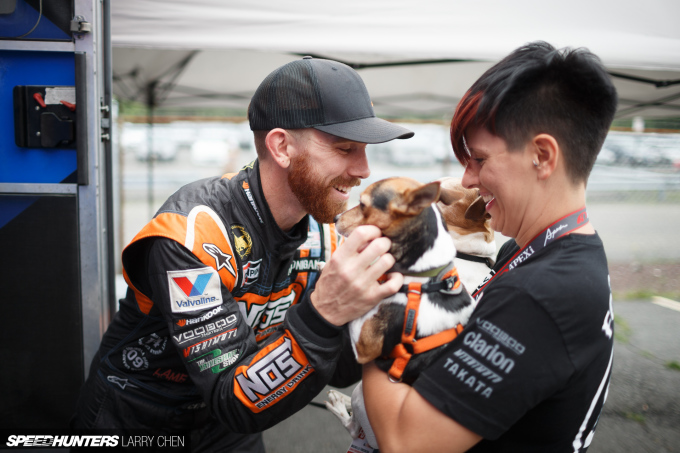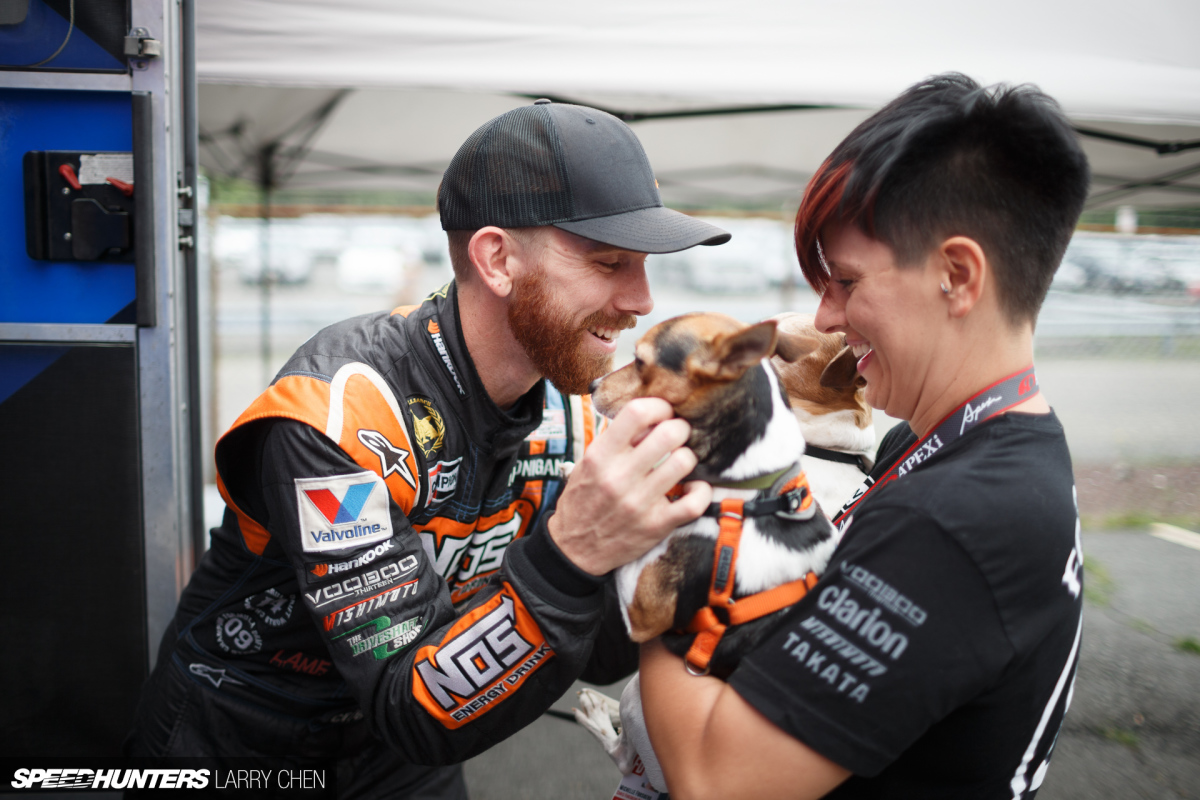 It's tough for teams to be on the road and competing all over the country, so the paddock is a home away from home. Chris and his wife Michelle bring their dogs with them, and I was stoked to be able to capture a genuine moment like this.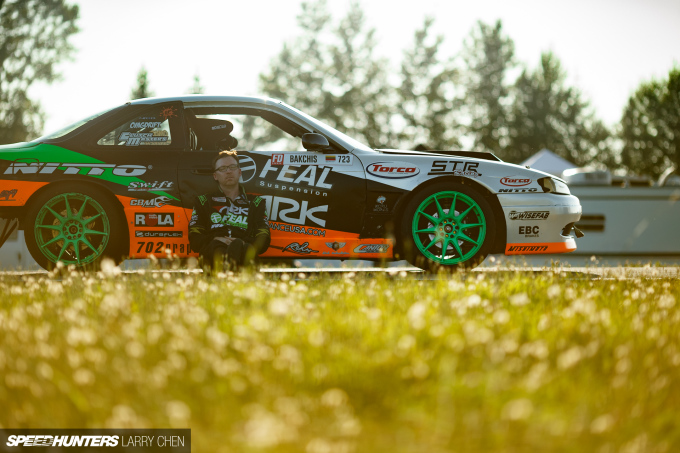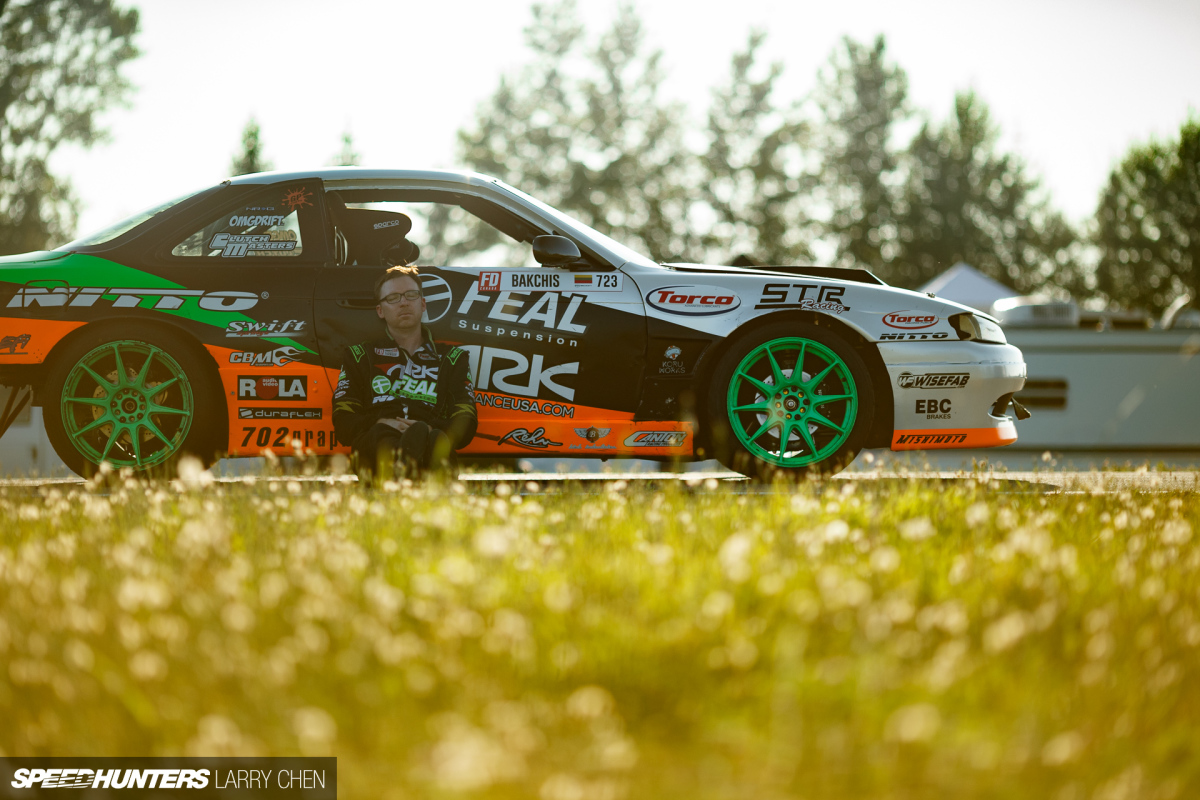 What people don't see from the stands is what some of the drivers have to go through. There are no sick days as a professional racing driver, and in between runs on the hot grid it was very evident that the flu was taking a toll on Odi's body.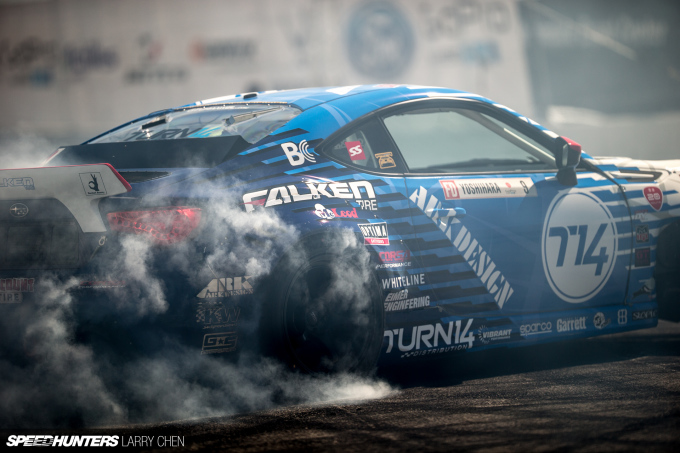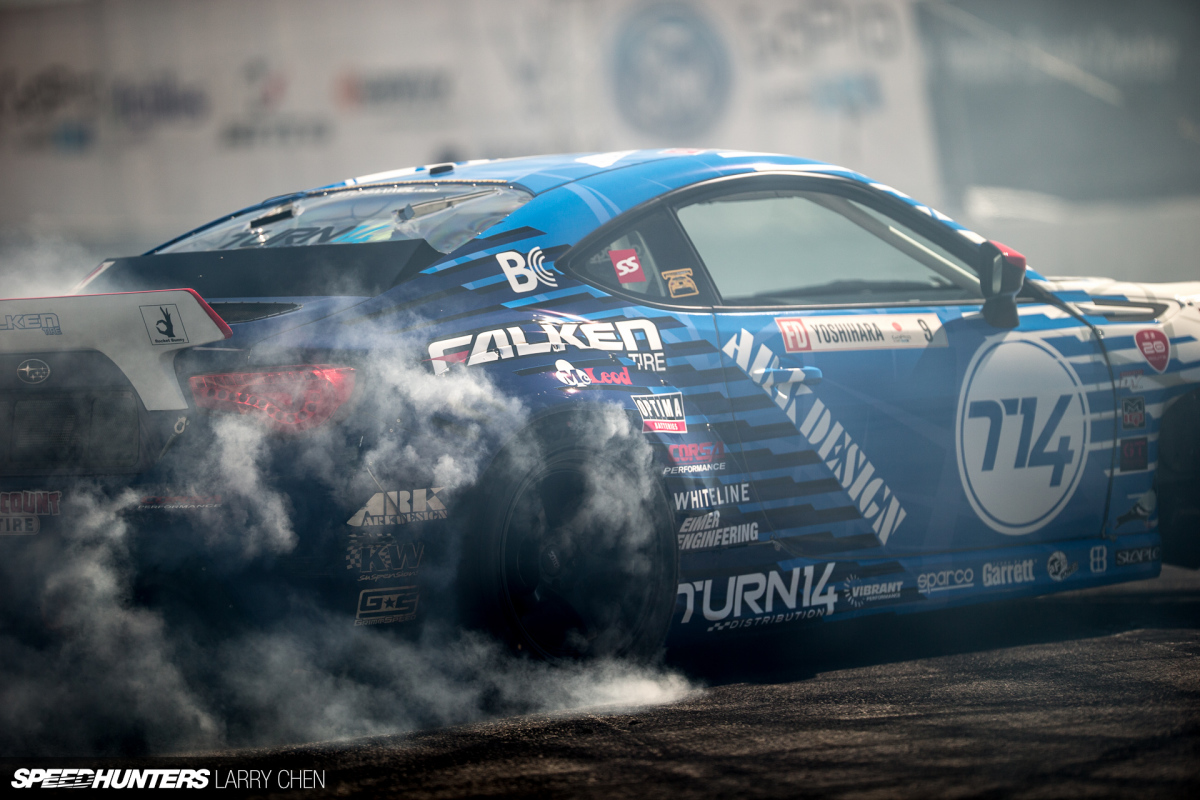 In drifting, there is an advantage to running black wheels: it's harder for the judges to tell when you pull your e-brake, and it's also harder to tell if you are making a correction. Photographers absolutely hate black wheels as they make every car look like a hovercraft. Although, there is one plus side – you can freeze a car with a high shutter and it does not look parked.
The issue with most DSLRs is that the dynamic range is absolutely terrible compared to what you can get with film. But I just use that to my advantage by exposing for the light.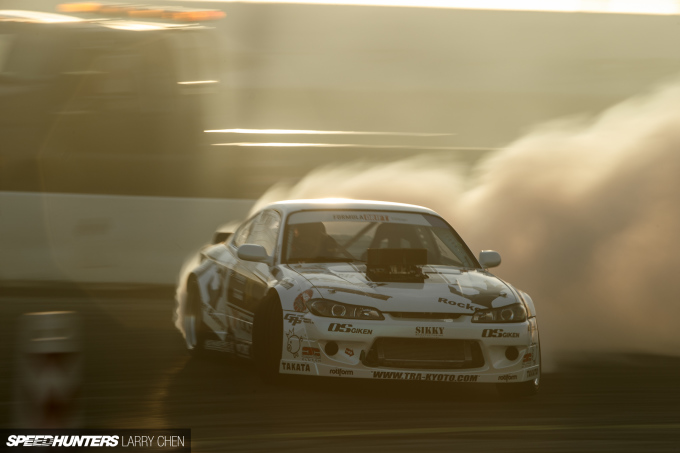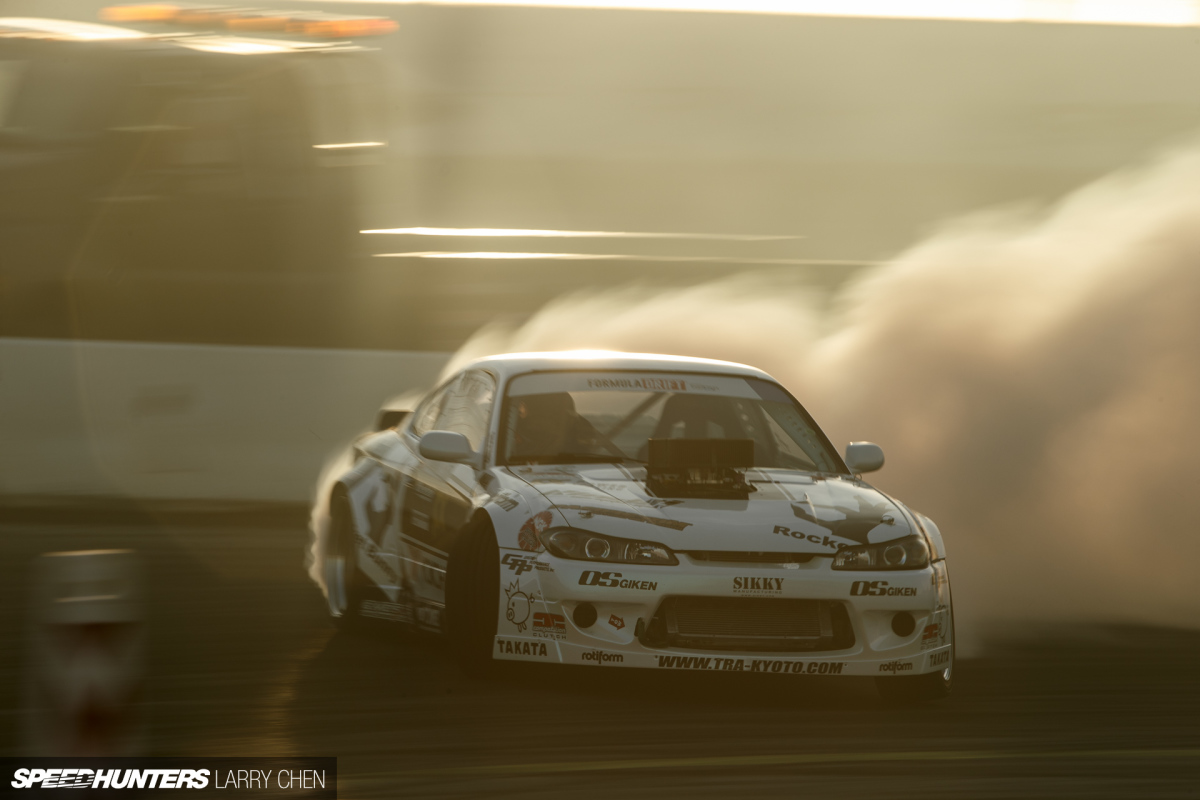 Kenji Yamanaka's Rocket Bunny S15 was probably one of the best looking cars on grid this year. It was a pleasure to photograph, and it was nice to see him back as well.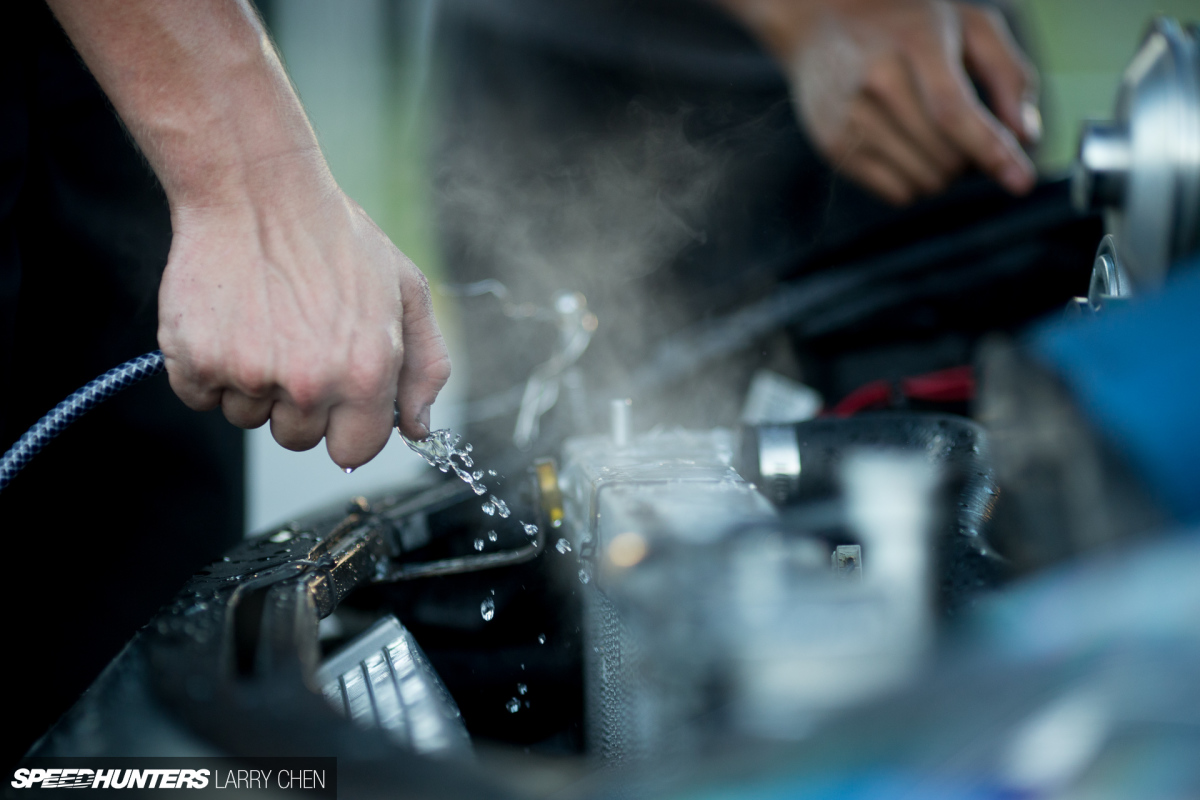 It's all in the details. Sometimes you just have to look closer to get a different perspective on what is happening in the hot pits.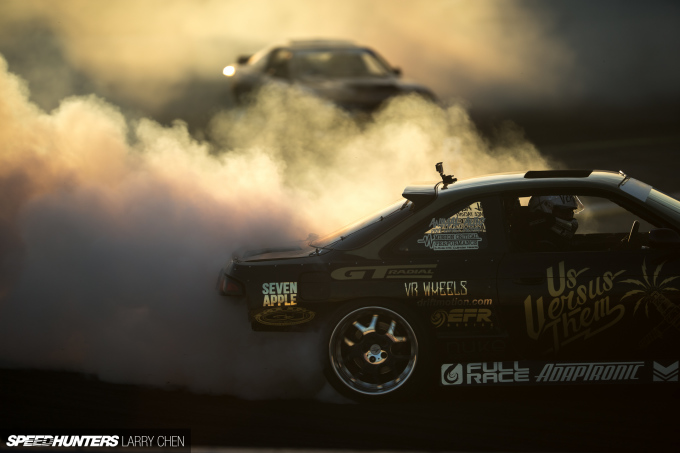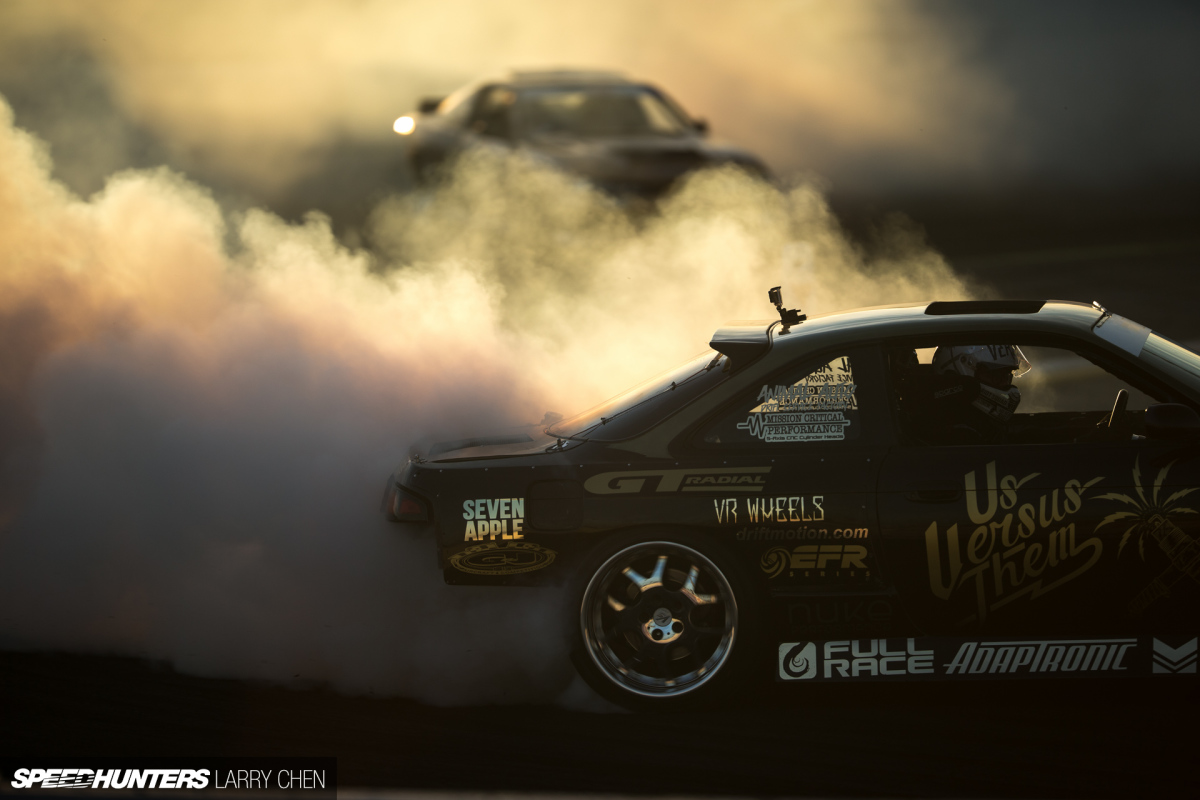 It's taken me quite a while, but I've learned to frame out parts of a car. Here, it allows the focus to be solely on the smoke-producing area.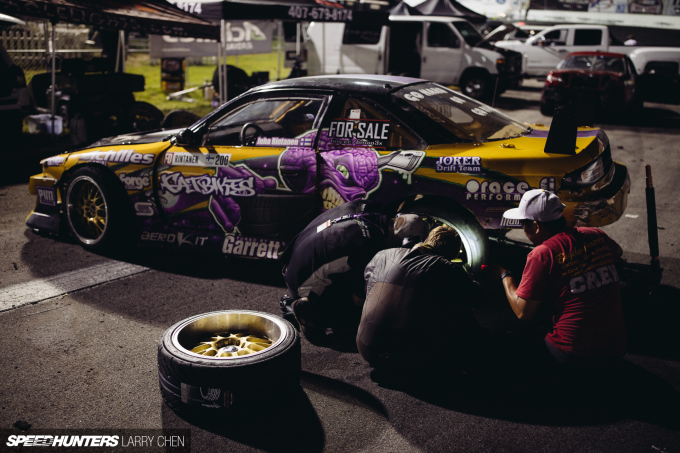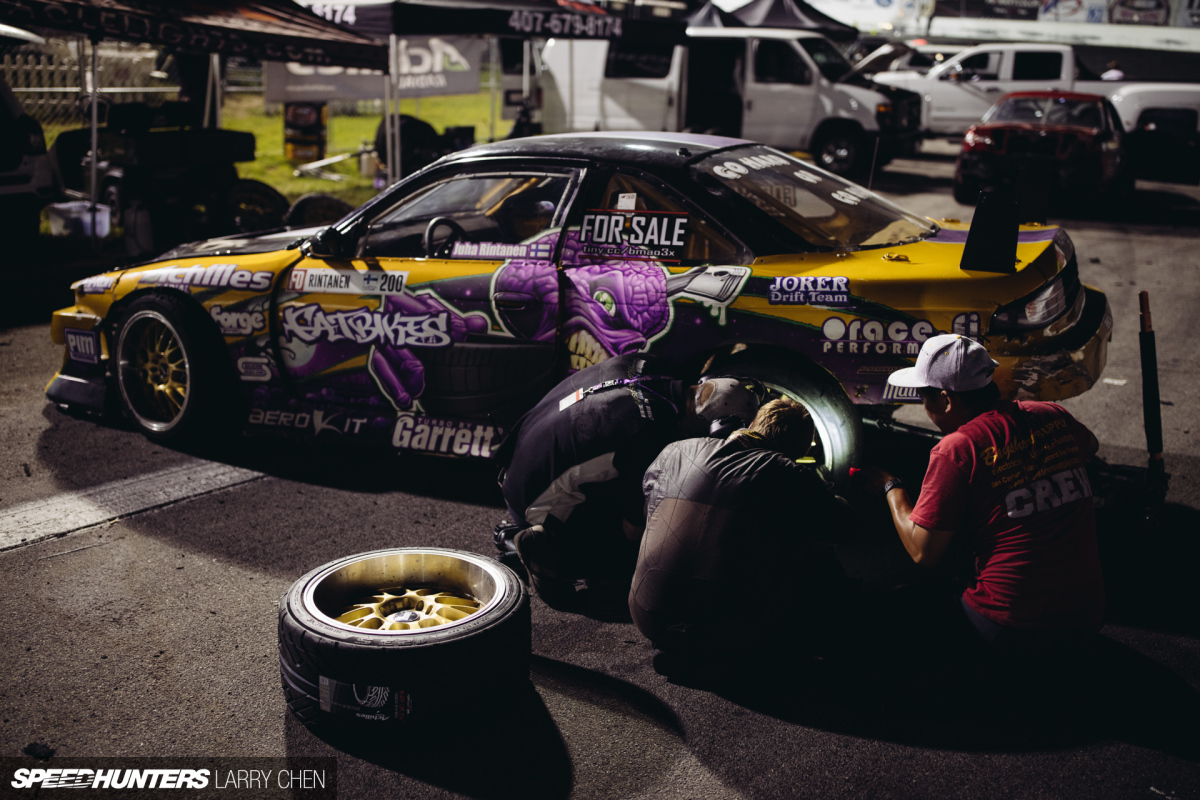 I love it when the hot pits are close to the track. It gives me an opportunity to pop in every now and then between battles or five-minute calls.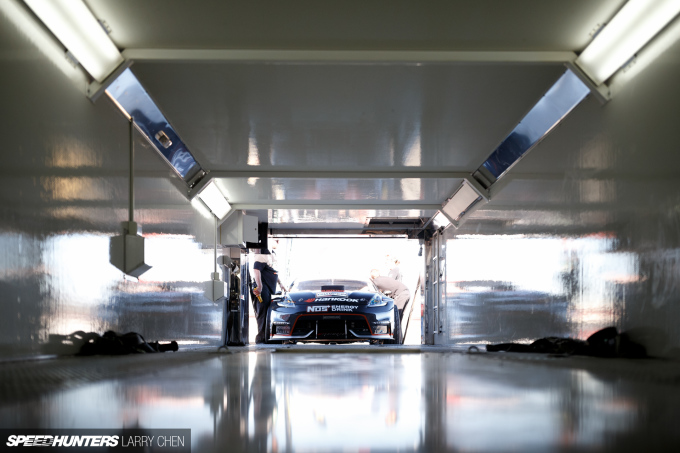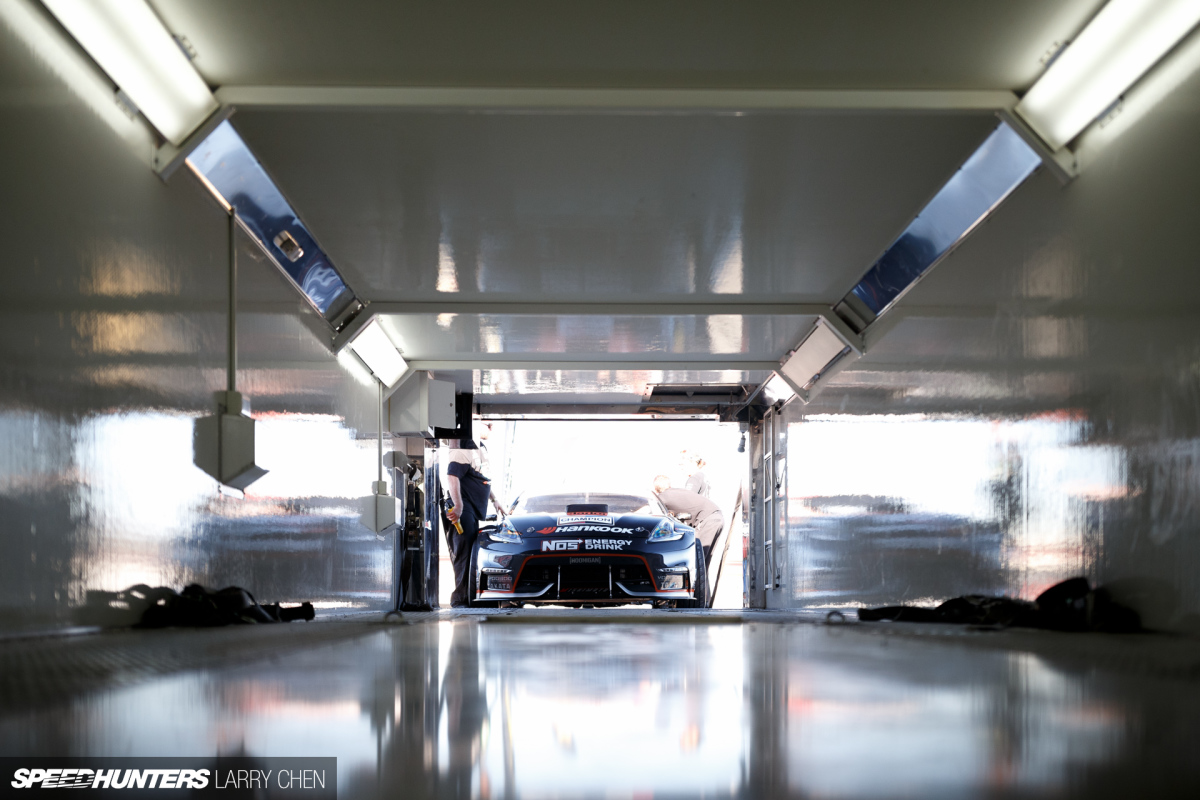 Sometimes, half the battle is getting access to sensitive areas of the paddock. Of course, it's nothing like IMSA or most FIA-sanctioned races in terms of secrecy.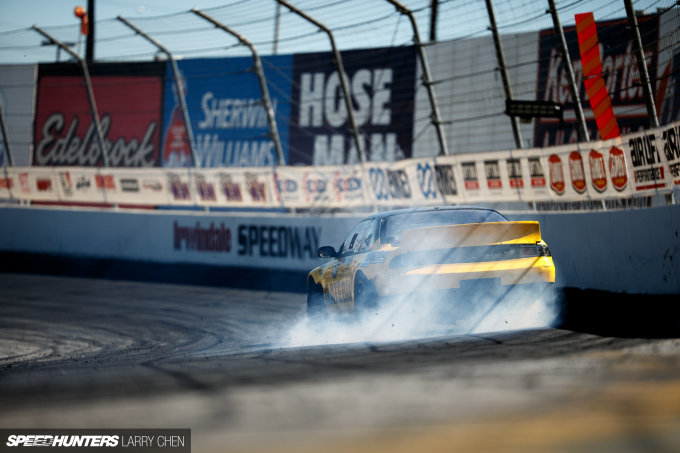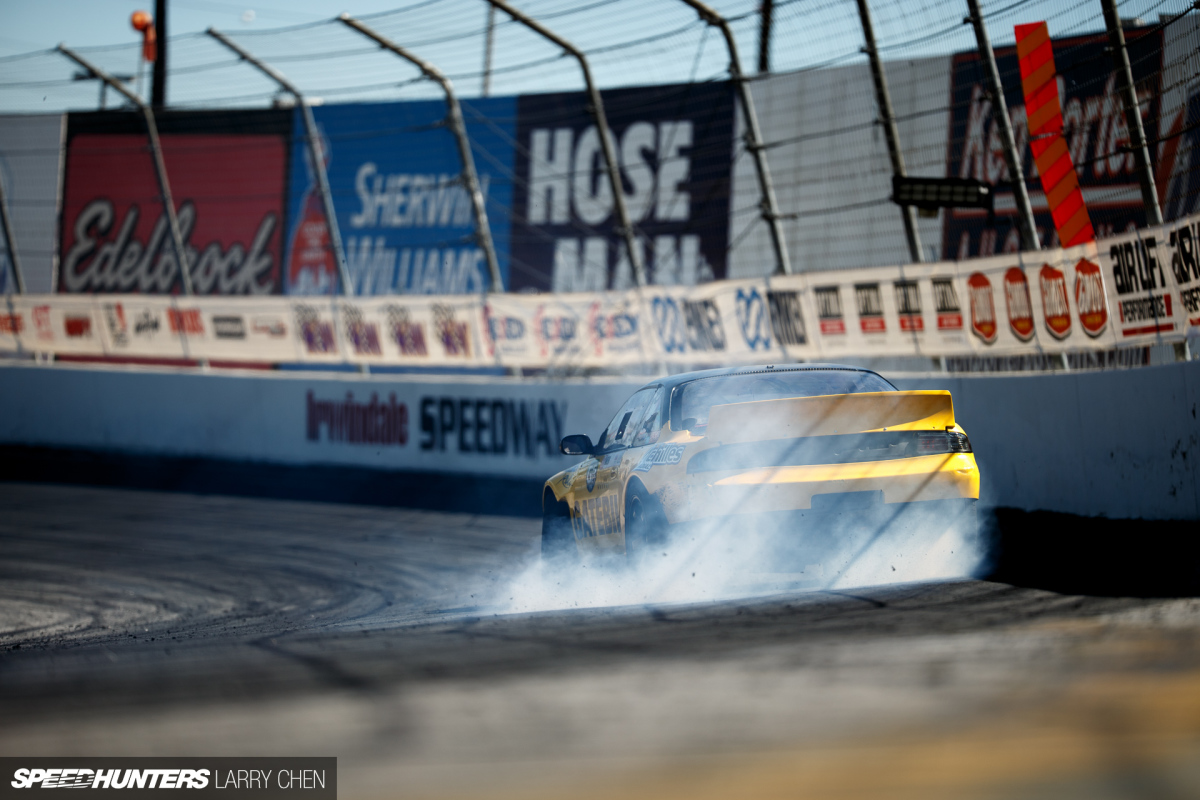 Seeing how different drivers initiate their drift is still interesting to me. While this framing was perfect for Kenny Moen, a driver like Justin Pawlak would not even be in the frame due to how much he flicks it in from way back.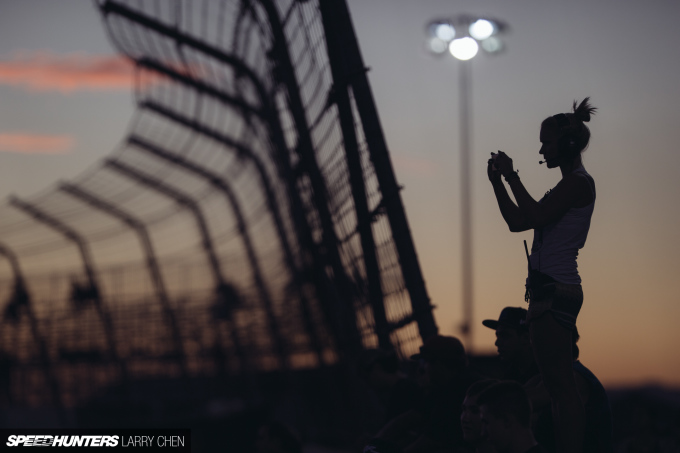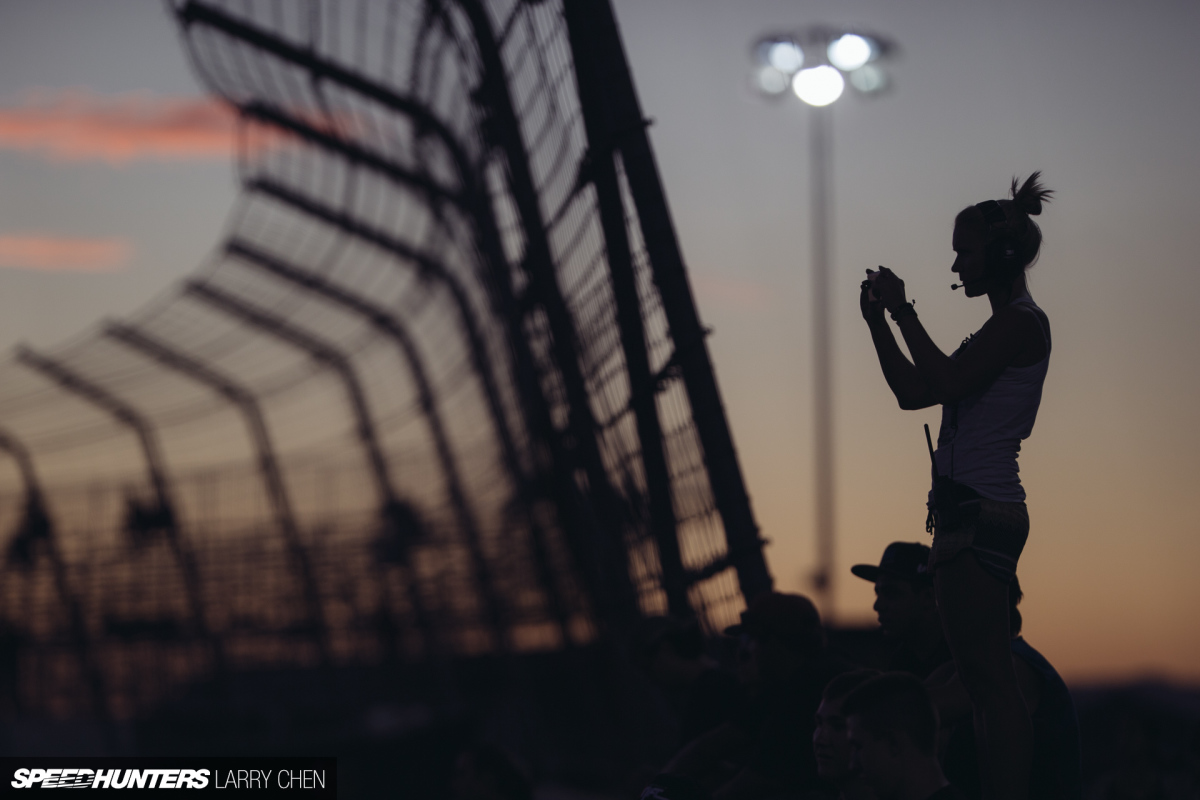 It's just too fun walking around the paddock around sunset capturing silhouette shots.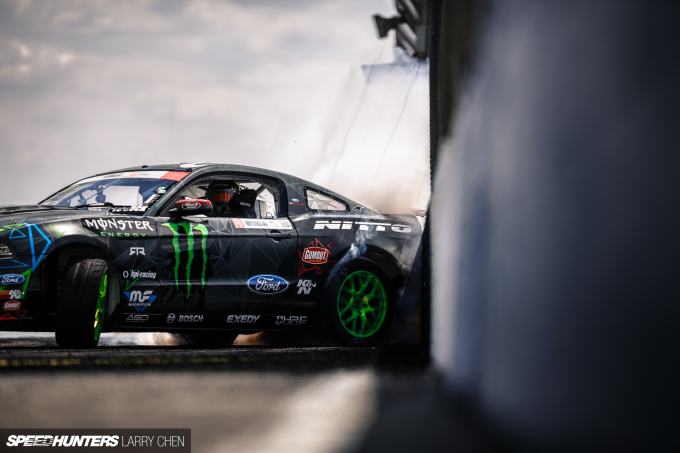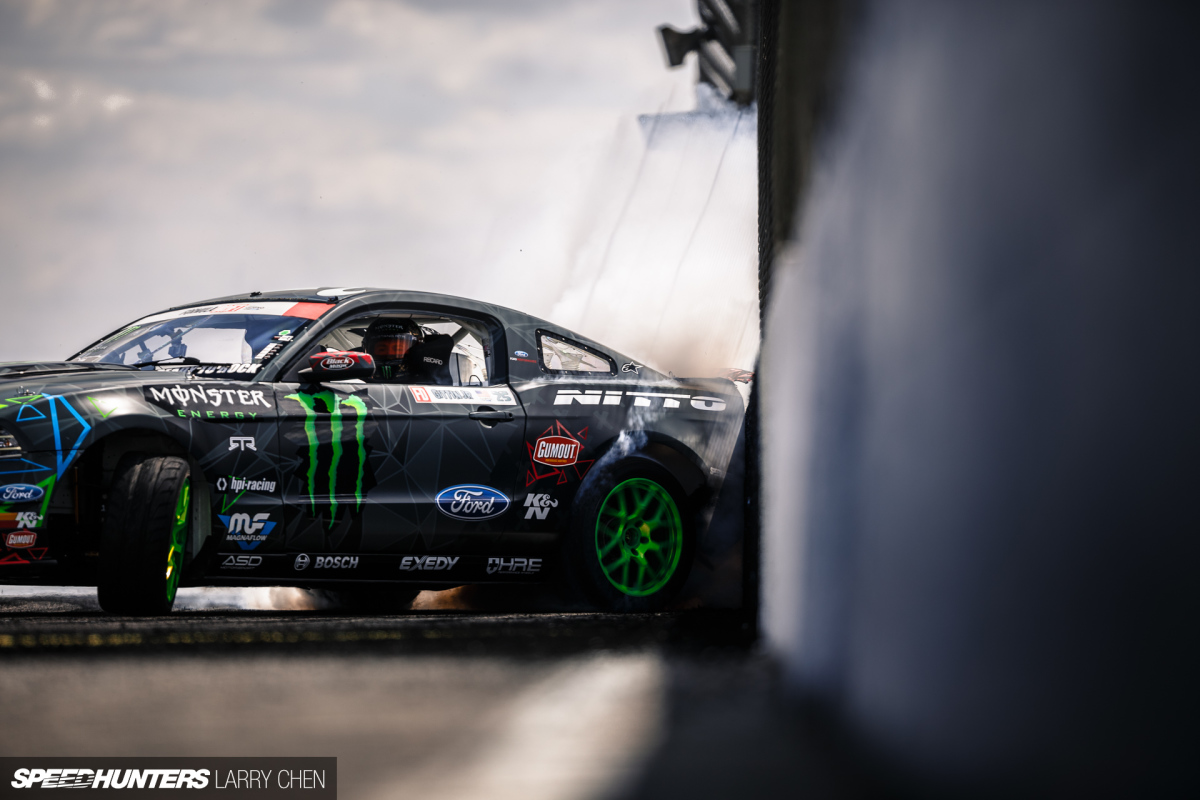 I was kicking myself for not getting the framing correct on this shot of Vaughn tapping the wall at Evergreen Speedway in Washington State. But after looking back at the photo, I kind of like how pronounced the wall is.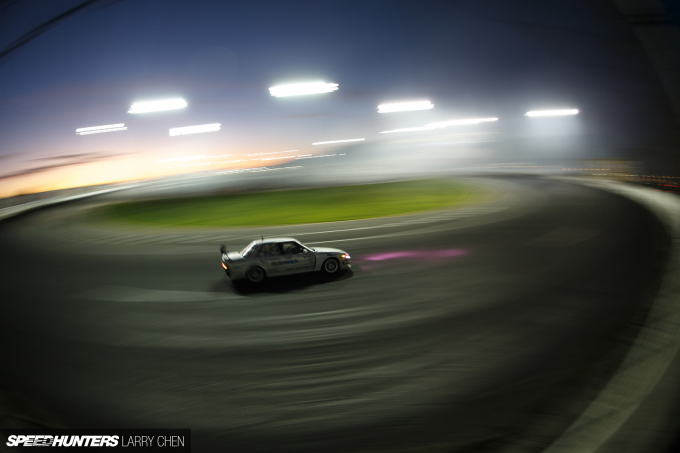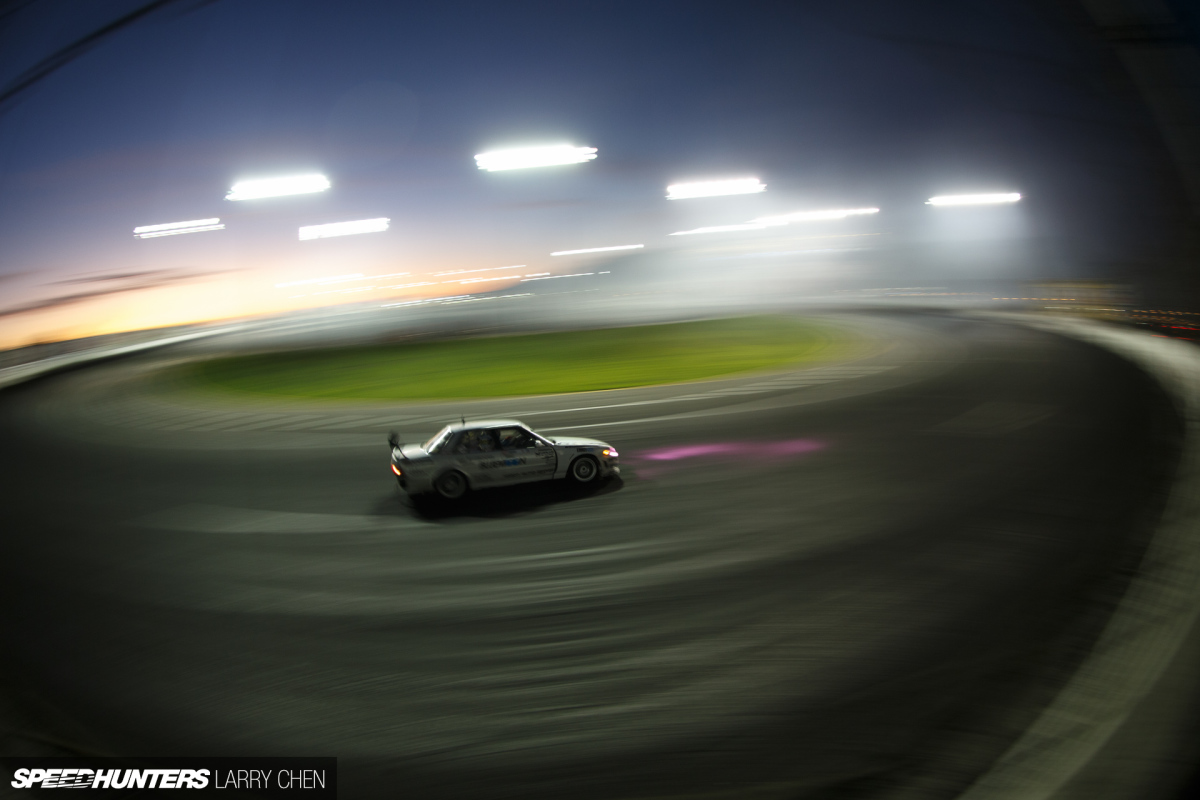 While I like shooting at permanent tracks, I hate the holes that are cut in the fencing. They are almost never big enough for wide angle pans. Of course, you can always make the fence mostly disappear with a very low shutter.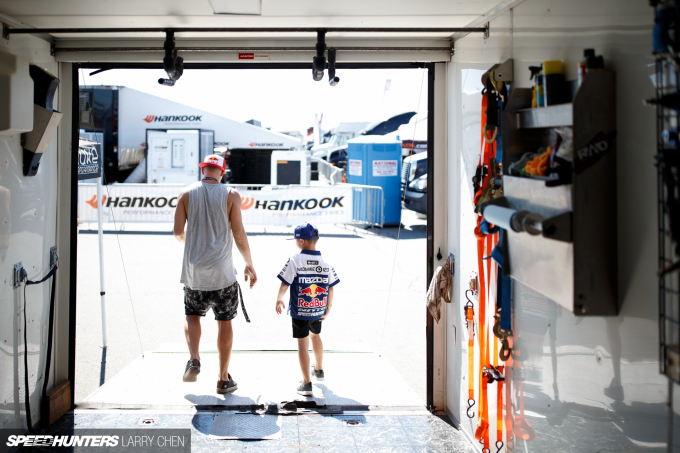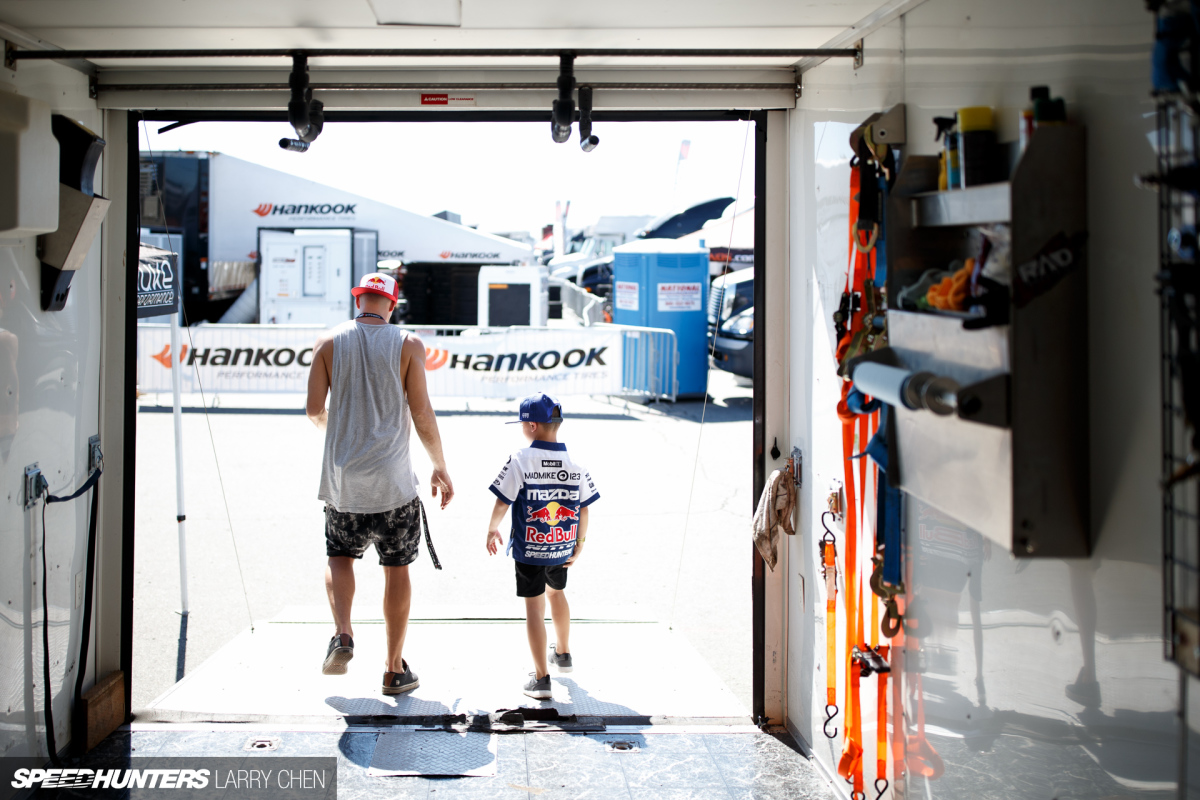 I try my best to keep my camera with me at all times, even if I am just chatting with people in the paddock. If I didn't, I would miss moments like this. Mad Mike and his son Lincoln are always a fun pair to be around.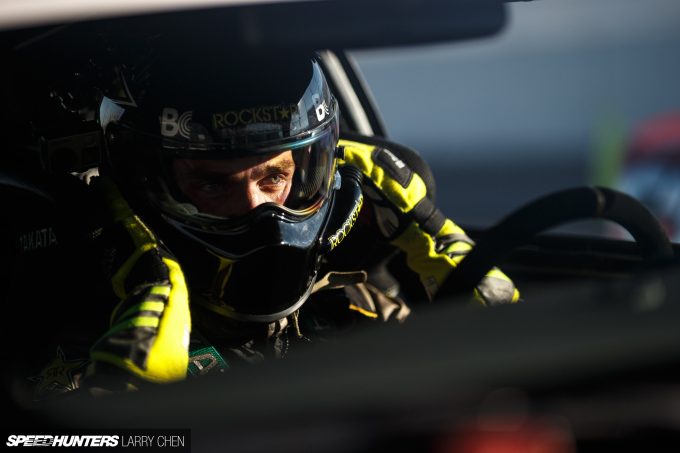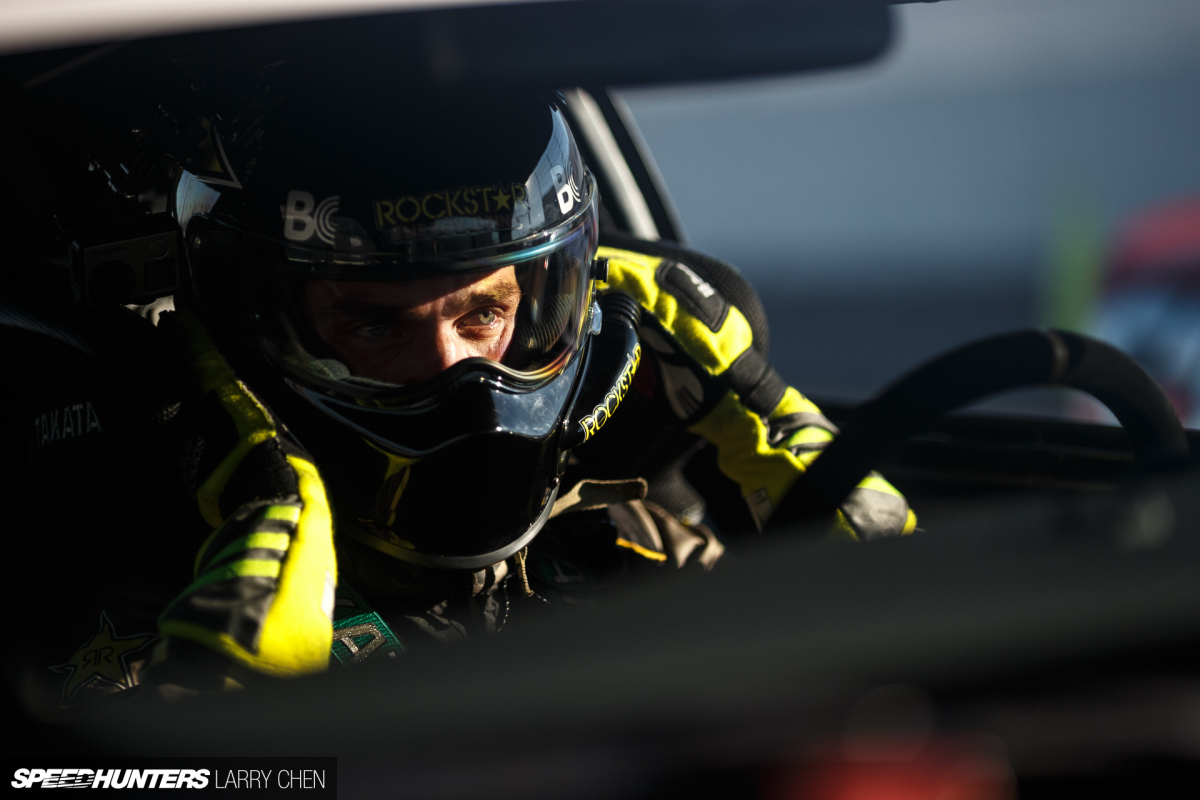 The exact moment that Fredric Aasbø realized that he was the 2015 Formula Drift champion. His eyes started to water, and I hate to admit it, but so did mine.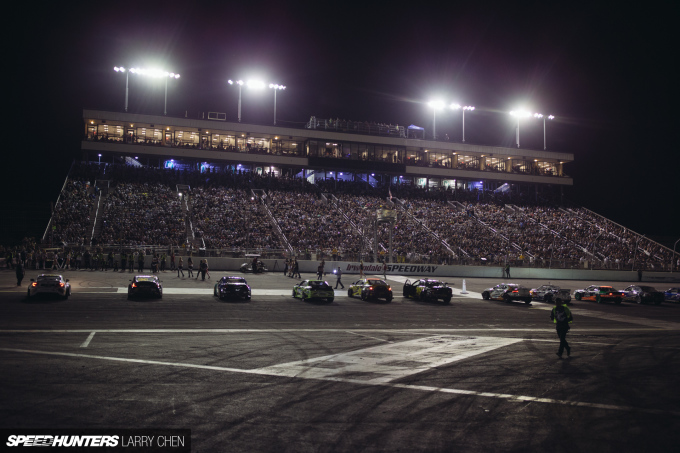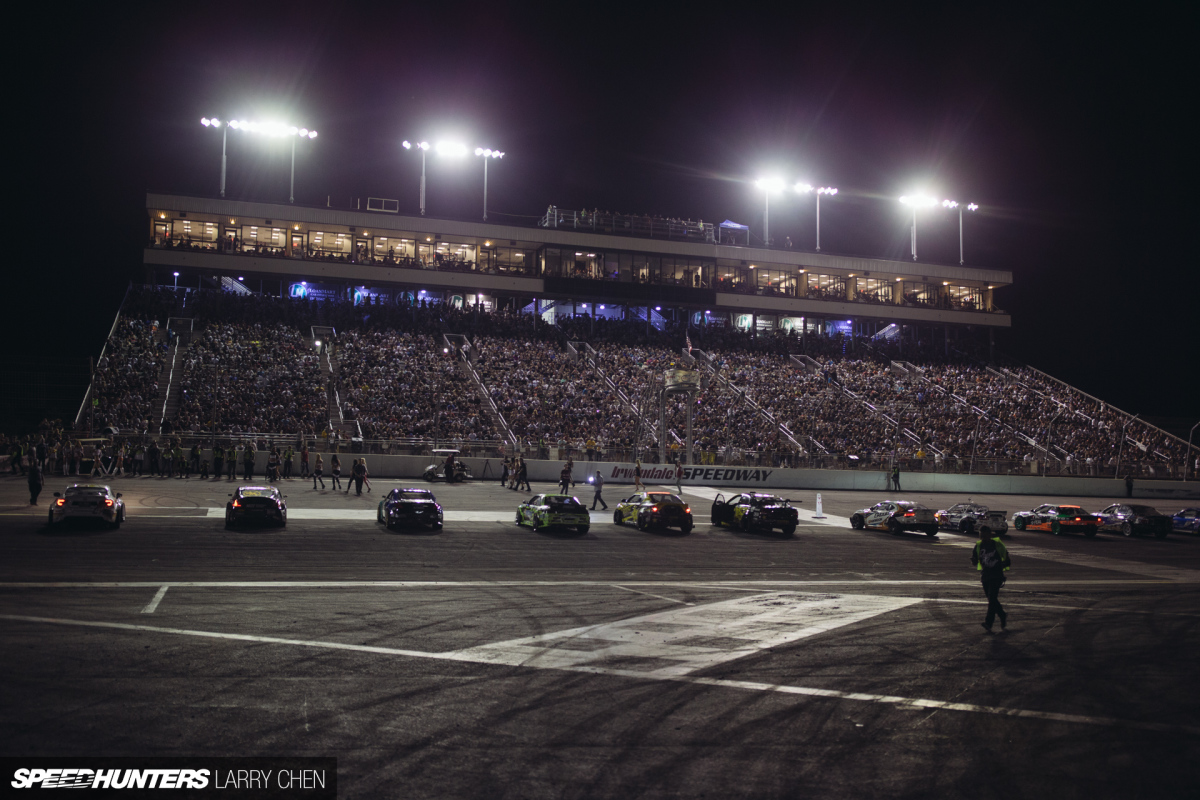 I don't think I will ever get tired of this scene. The energy down on the track during Top 16 introductions at Irwindale is unlike any other drift event. If you have a chance to get a VIP ticket, I would strongly advise it. You get to stand on the track and you get to see this view for yourself.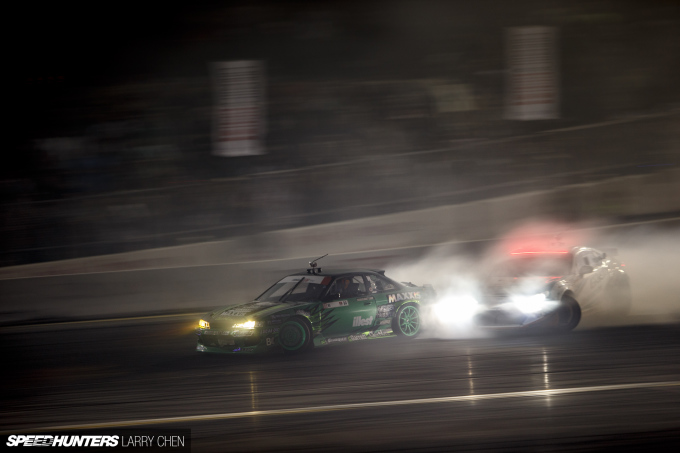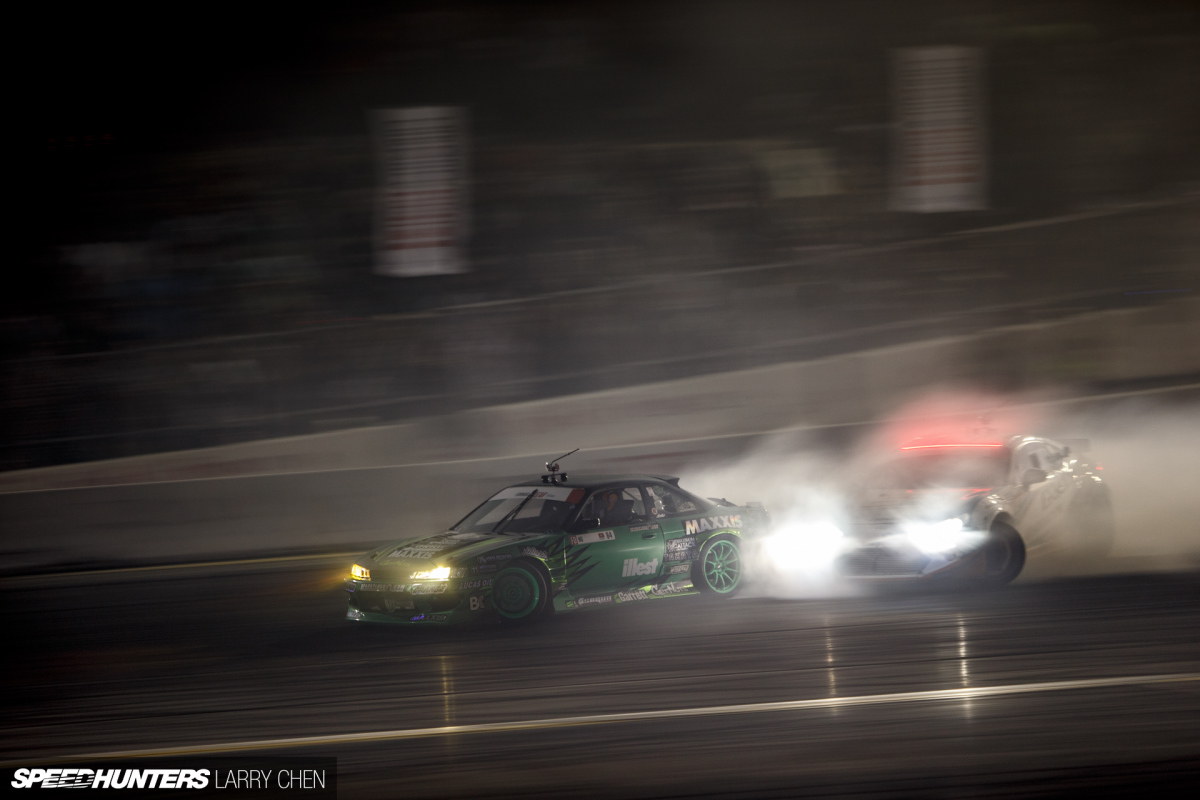 Shooting drifting at night with no ambient light is tough, but the fact that Ken Gushi was lighting up Charles Ng's smoke, which made kind of a glowing effect, along with the rear brake lights going off, made this a winner.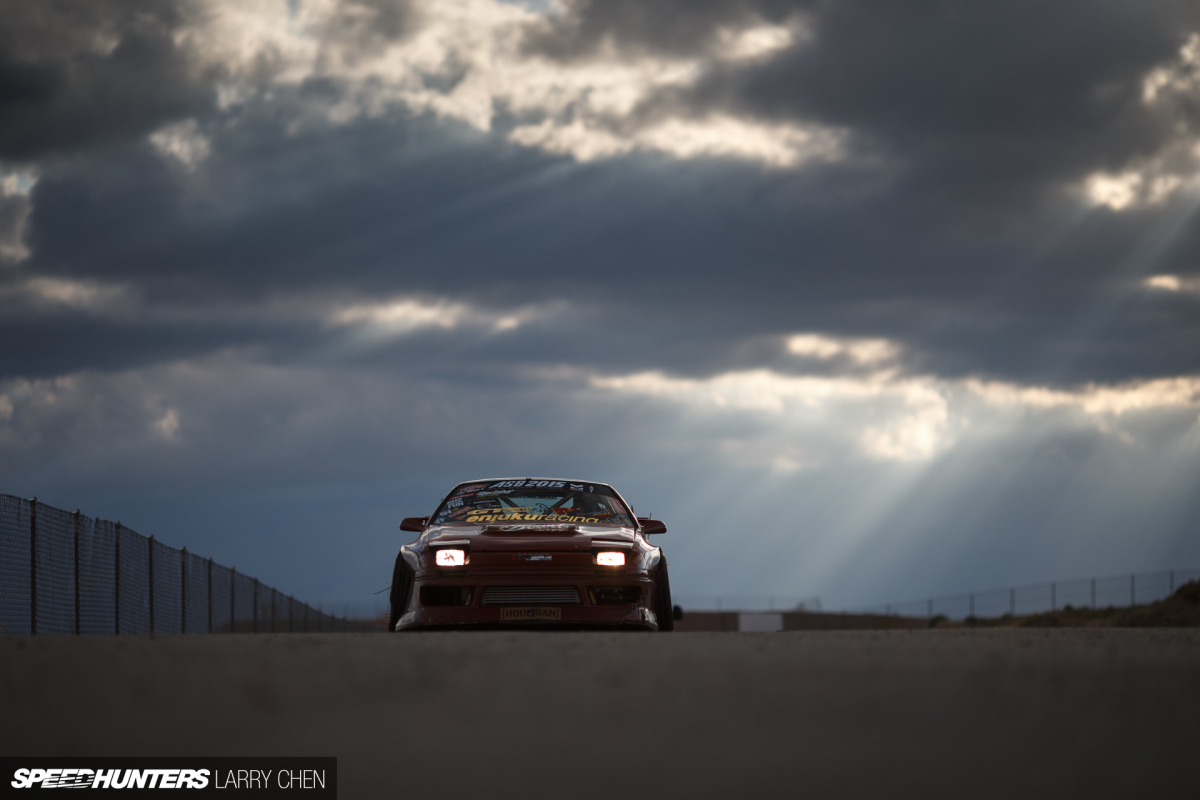 I had a chance to check out Just Drift's All Star Bash again this year, and it's always fun to be able to shoot grassroots drifting every now and again. After all, that is where all the pros started.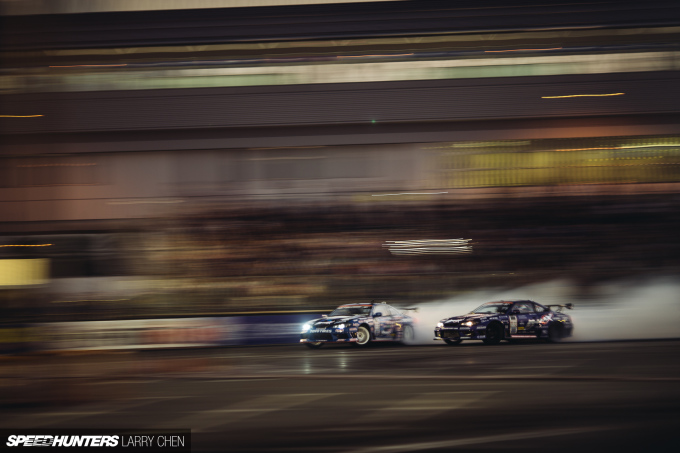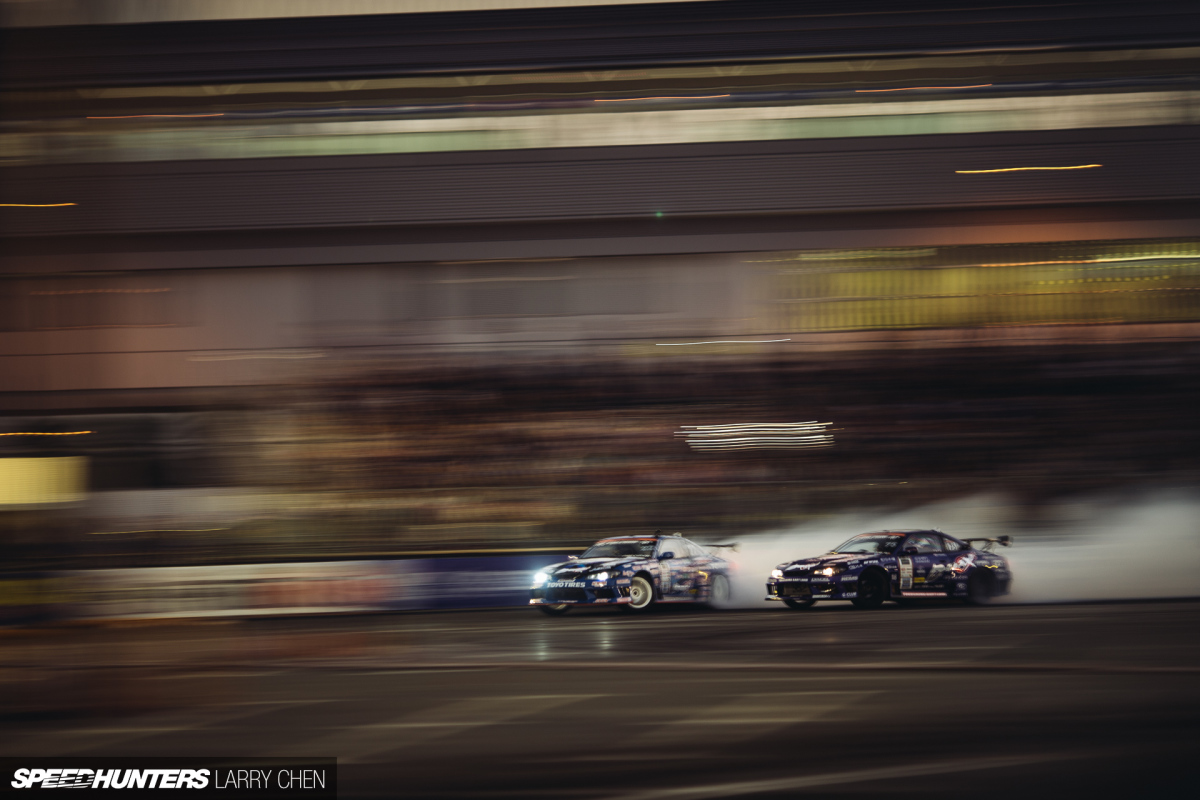 While shooting overseas is fun, it's also very tough due to jet-lag and general lack of rest. I tried all night to get a clean 1/8th second pan, and this was the best I could come up with. You can see how off I was due to the major squiggle in the light streaks, but at the end of the day I like this photo because it kind of looks like a painting.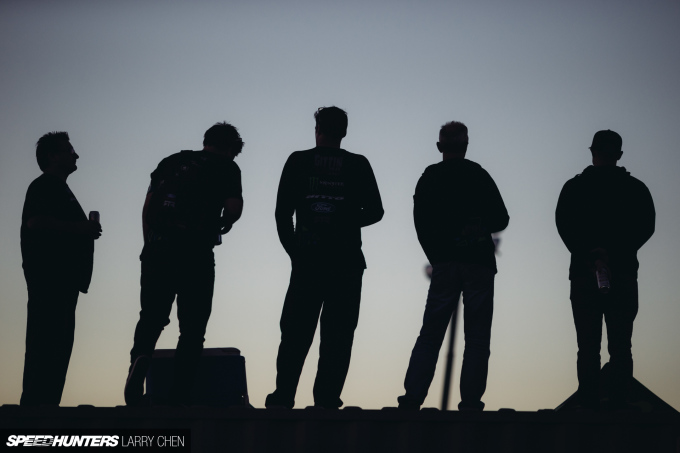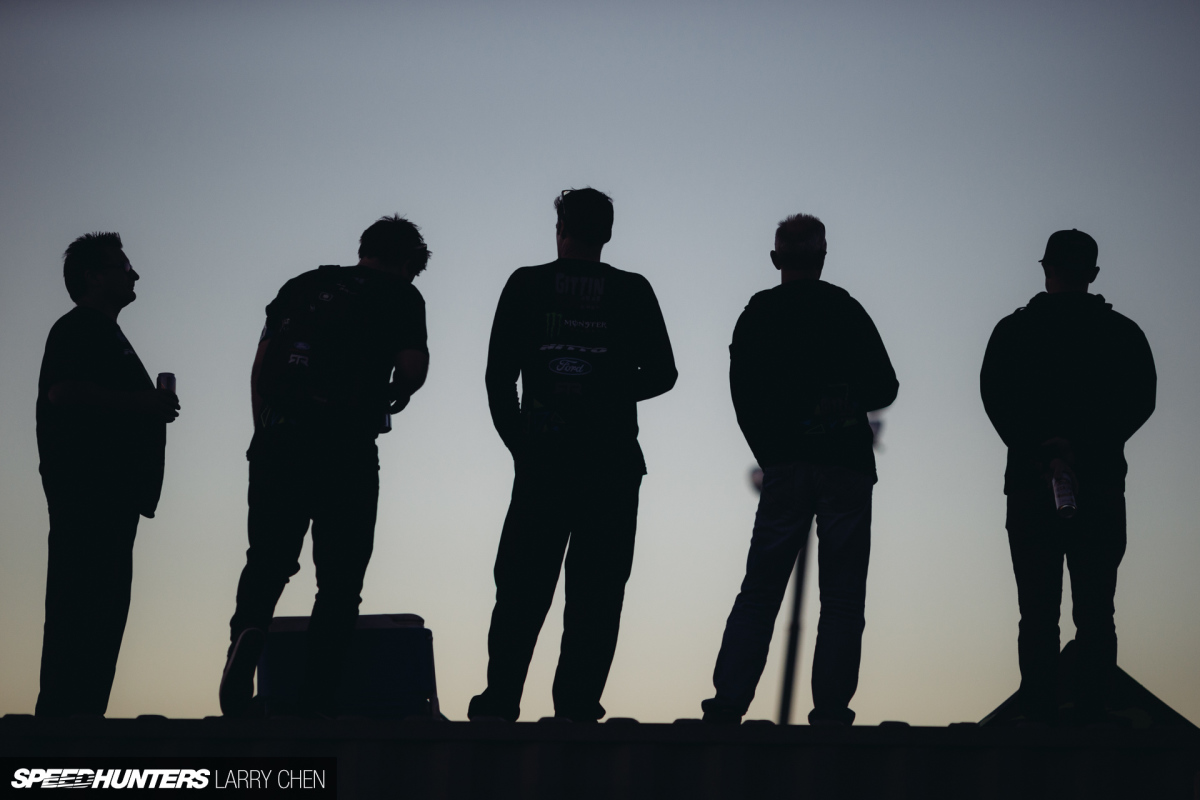 After Vaughn got knocked out of competition at the D1GP exhibition round in Odaiba, his team got on top of their shipping container to watch the rest of the show. I snuck around back and got a great silhouette shot.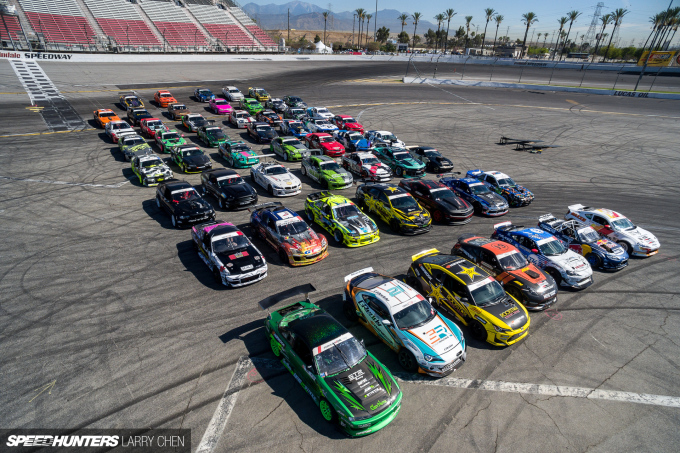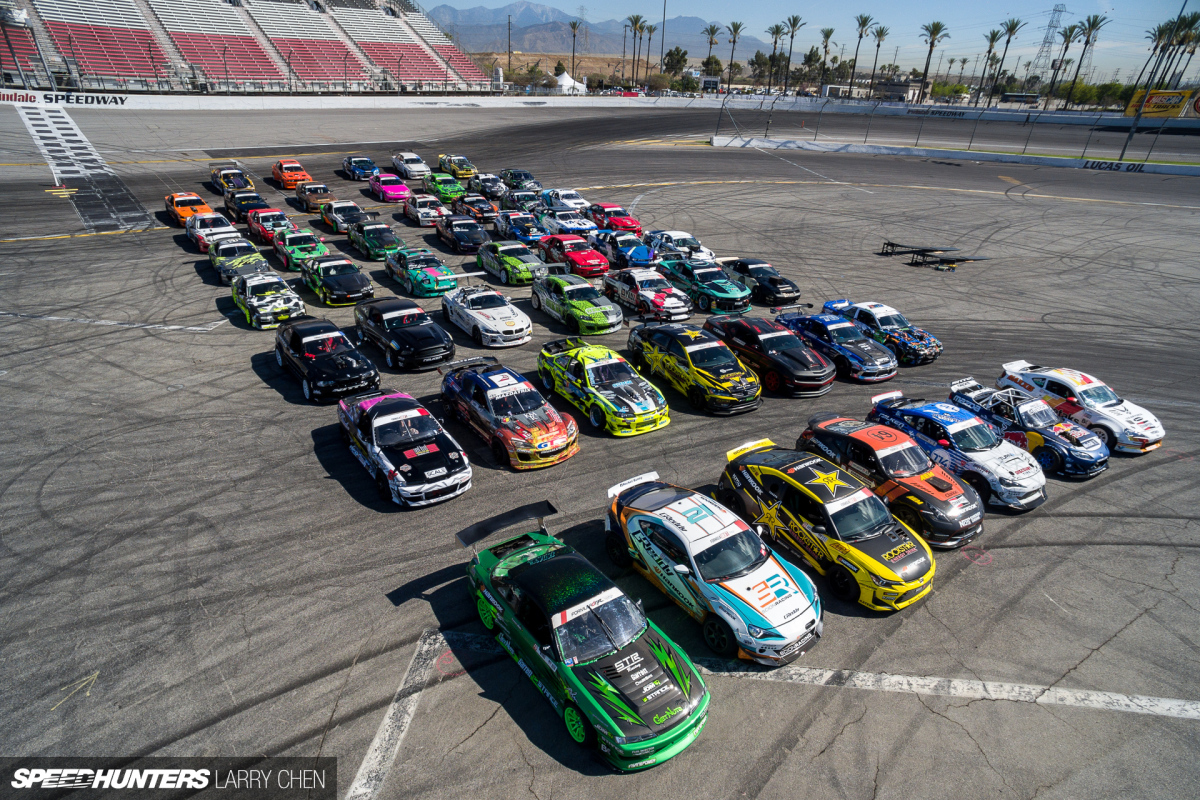 I hope you guys have enjoyed some of my photo commentary. Here's to many more years of sideways Speedhunting!
Larry Chen
Instagram: larry_chen_foto
larry@speedhunters.com