A Welcome Surprise
"Hey Dino, can you do me a favour? I need someone to pick up a car and hold onto it overnight." That's what the familiar voice on the other end of the phone asked me a few weeks back. It was Ko-hey Takada, the man behind Motorhead magazine. When this guy calls me, I listen.
"Sure," I replied, but at the same time I was a bit curious as to what I'd be driving and so posed the question, "What is it?" In retrospect, doing so was a bit stupid. I should have just set myself up for a satisfying surprise, because never do the guys at Motorhead drive anything remotely boring. It's either stupid fast, ridiculously expensive, or both.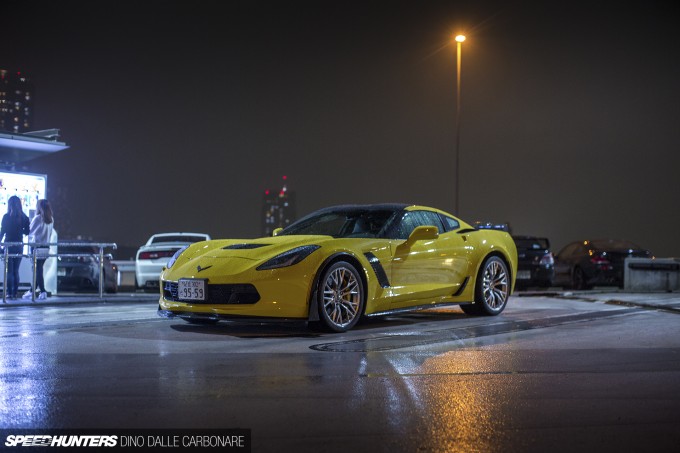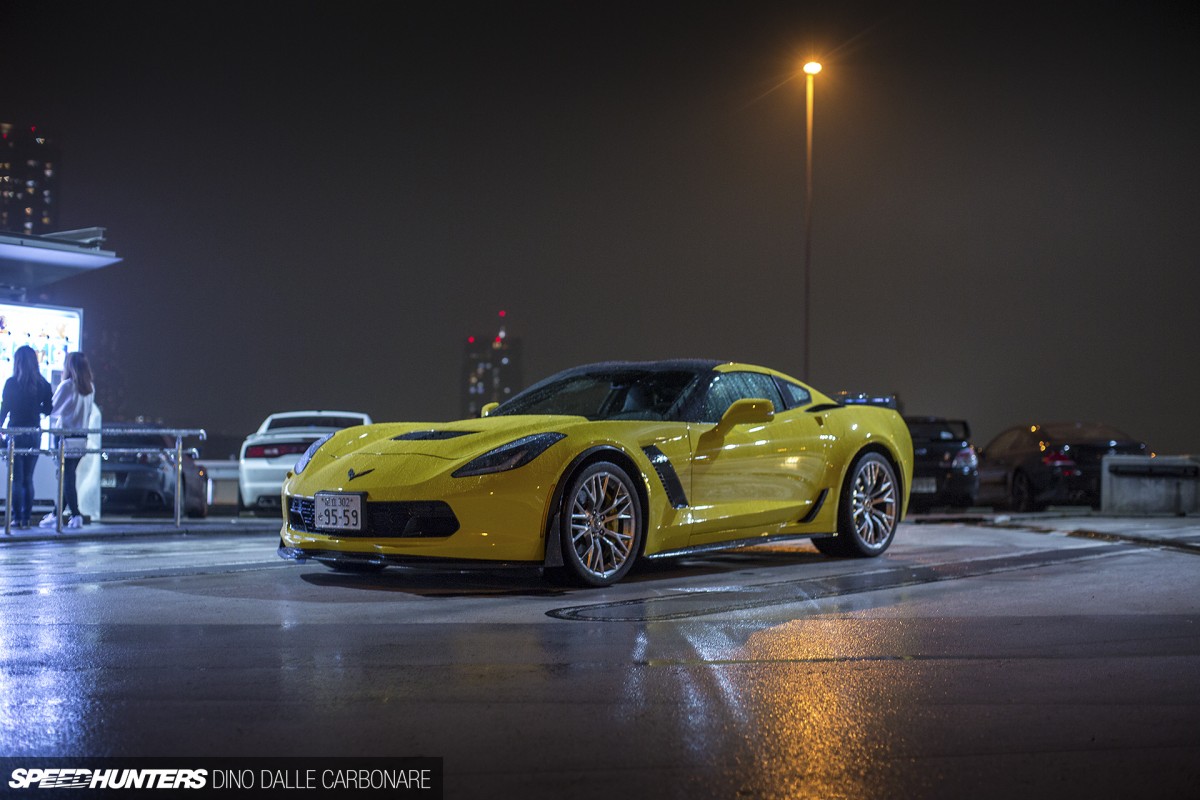 But when Takada-san casually replied, "It's the new Z06," my facial expression instantly changed. I generated what must have been a very cheesy grin and had this urge to rub my hands together with an evil-like satisfaction. I quickly stopped my Mr. Burns imitation and answered with, "Hell yes!"
I am pretty spoiled when it comes to driving cool new and not-so-new cars, but if there's one sort of machine that I always feel like I never get to drive enough of, it's those from America. For a long time I've been drooling over the Hellcats and dreaming about laying hundreds of meters of burnt rubber on the ground, but that's just not going to happen as Dodge doesn't sell cars officially in Japan. There are a string of other cars that I'd love to sample as well, but they're either sold in very low numbers in Japan, or privately imported. But not the Z06.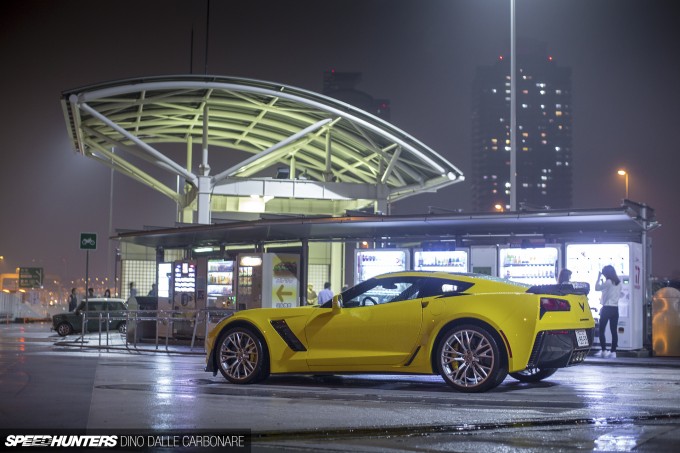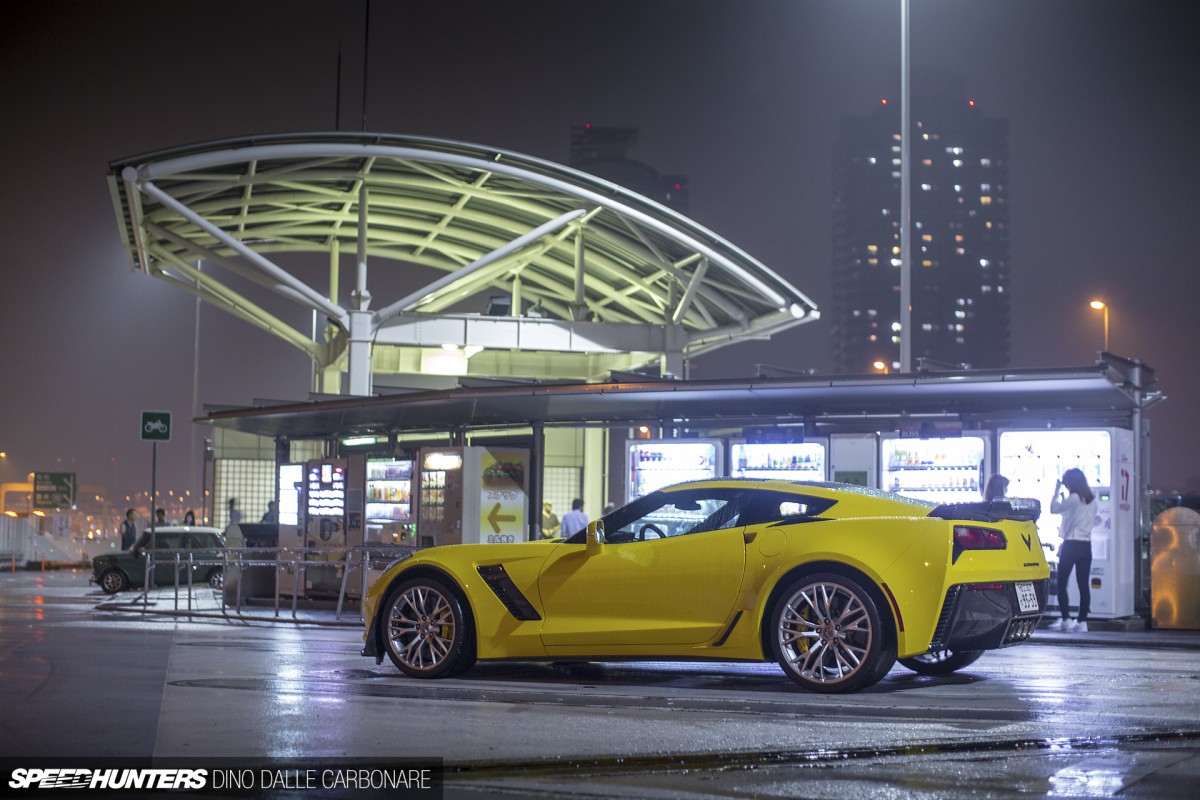 GM Japan does import and sell this extreme version of the new generation Corvette, which I've always thought looks fabulous in every way. Finally I had the chance to indulge myself in something that brings stupid amounts of performance – 650hp and 650 lb-ft – to the proverbial table. Wrap your head around those numbers, and then consider the fact that the Z06 only costs US$80,000 (well, a bit more in Japan). To get those horsepower and torque figures from any other production car you need to spend a lot more money.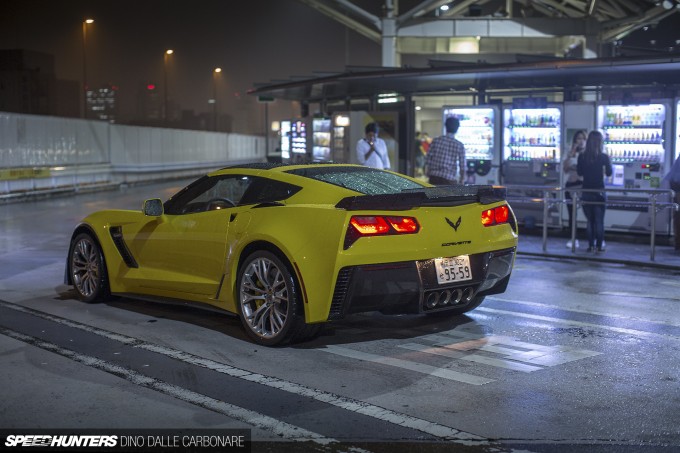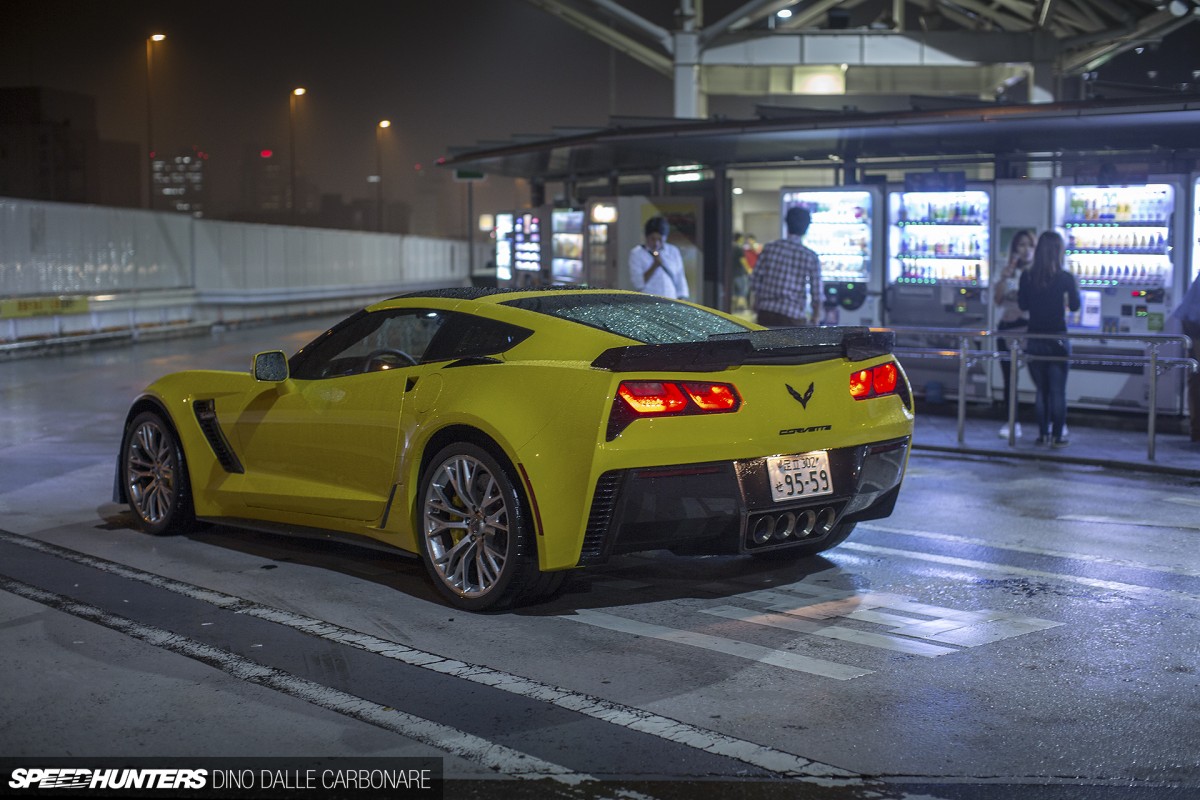 Compared to our usual drive stories here at Speedhunters, I had no choice but to tackle this one in a slightly different way. It was just me, my cameras and the yellow Z06 for a one night stand.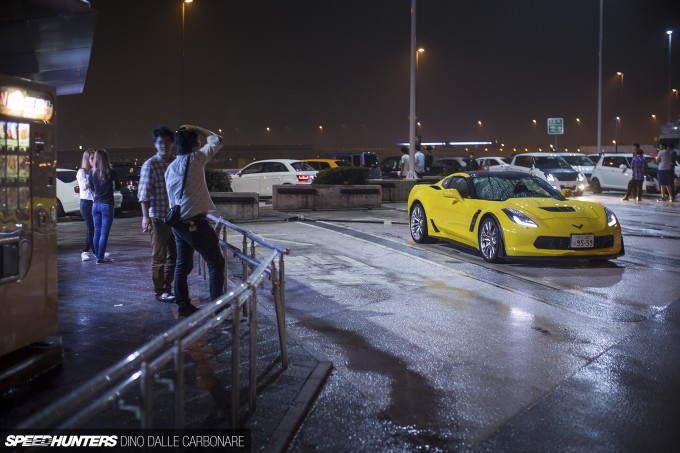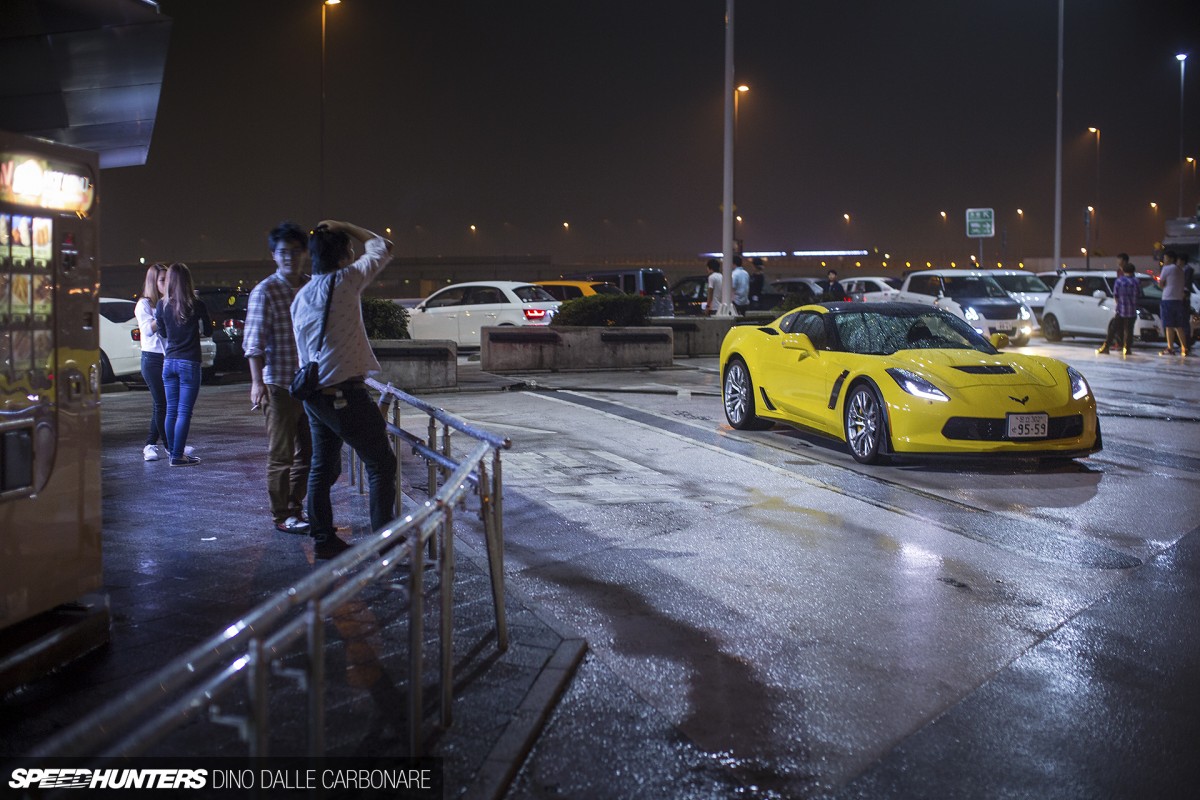 And it was raining. Six hundred and fifty pound foot of torque in a manual, rear-wheel drive car and it was f*****g raining! Just my luck I thought, but the night ended up teaching me a lot. Let me explain why…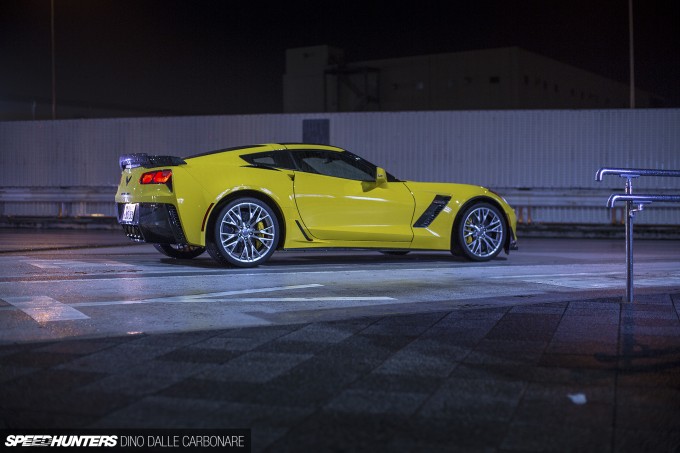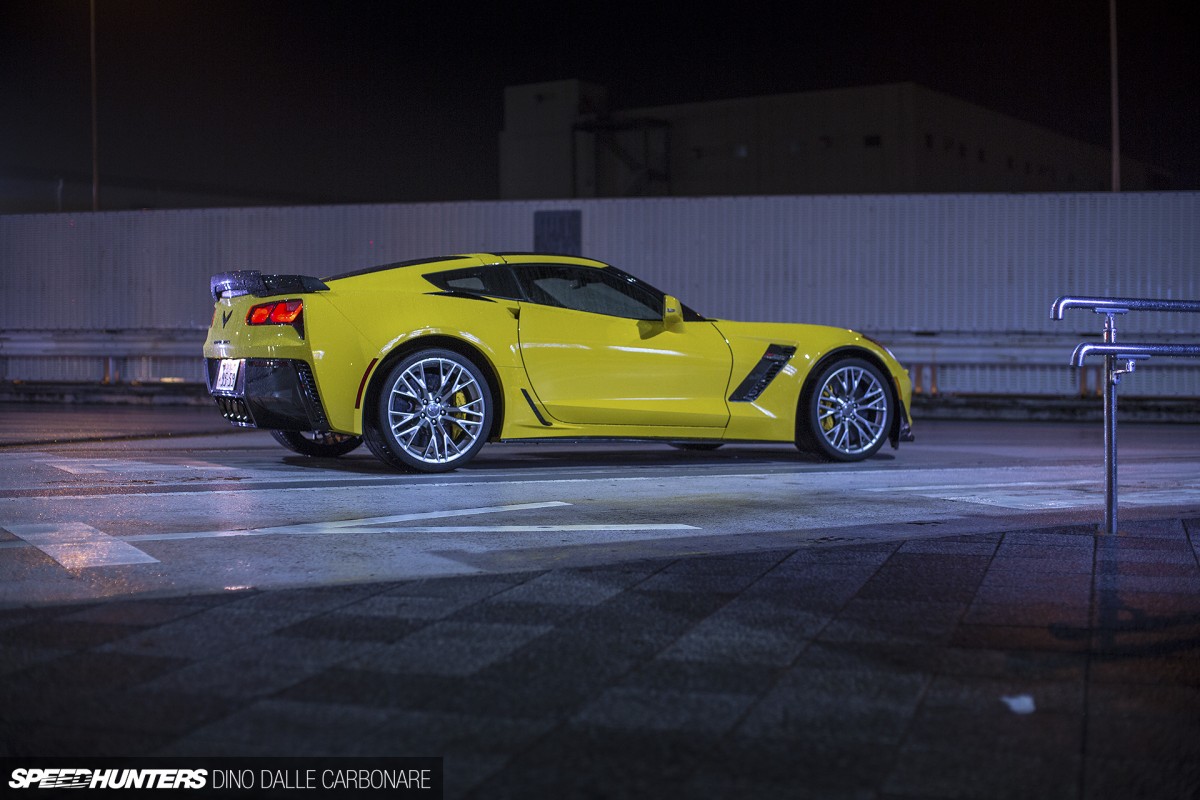 Don't get me wrong here as I'm all for sports cars evolving, making the driving experience more enjoyable, less intimidating and generally easier; but I do get the feeling at times that this is all collectively decreasing driving talent. When you have a car that self-shifts at the speed of light and executes perfectly blipped and synchronised downshifts while sophisticated computing power does its best to keep you on the road, anyone can drive fast. If you're used to driving these sort of cars, I guarantee that if you jump in a Z06 and do your thing as you normally would, you will crash in a matter of minutes. And that is awesome. This is the sort of car that I've missed. Granted, it isn't for everyone, but man did it redefine what a fast car should feel like.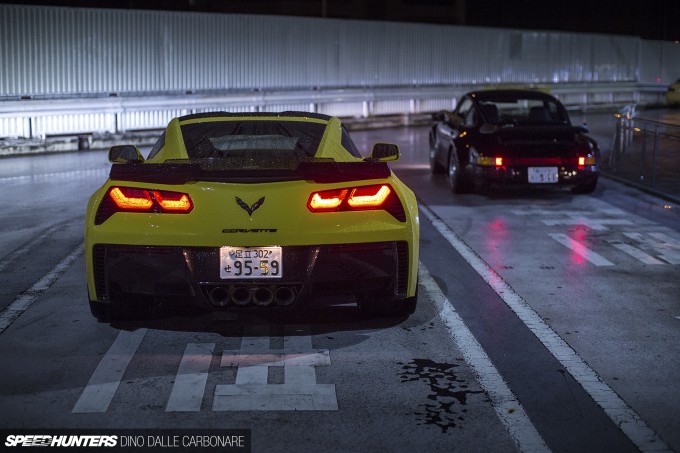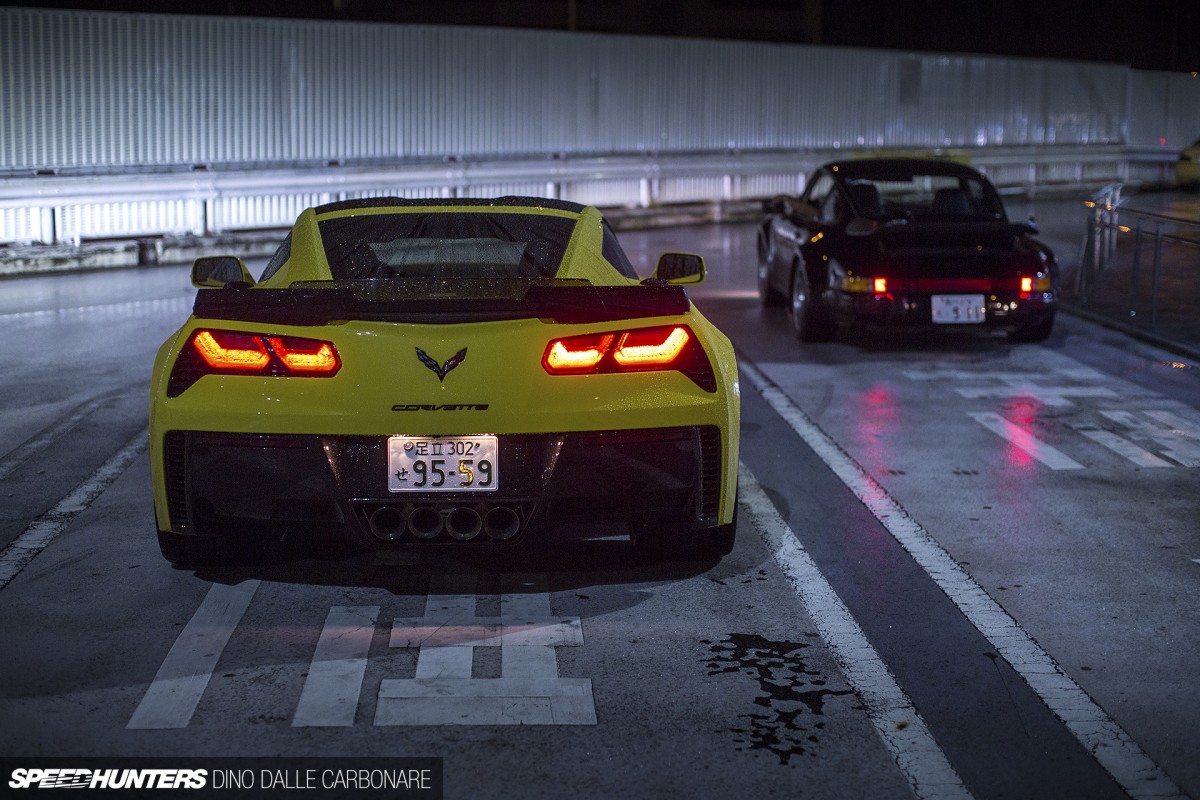 Driving to Tatsumi PA on both wet and dry surfaces, the Z06 satisfied me more than any other supercar has in the last few years. I'm not comparing its driving dynamics to the scalpel-like precision of say, a 911 GT3, or the way one of those big R35s effortlessly sticks around corners at any speed. No, the Z06 is very much its own animal. The best way I can describe it would be like a massive bull on cocaine, trying its hardest to throw a rodeo rider off its back so it can return to destroying more stuff.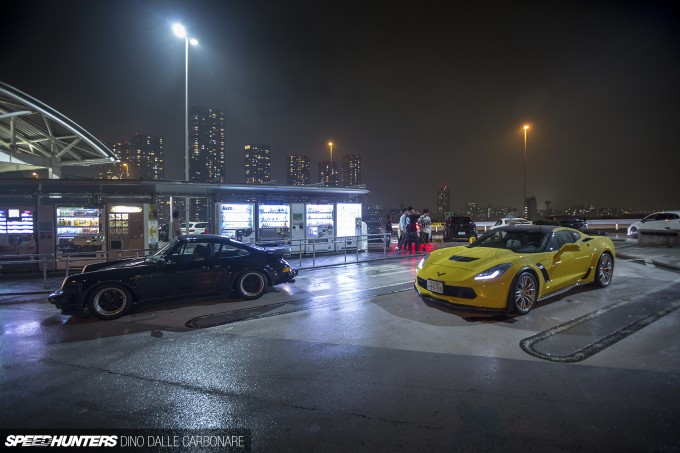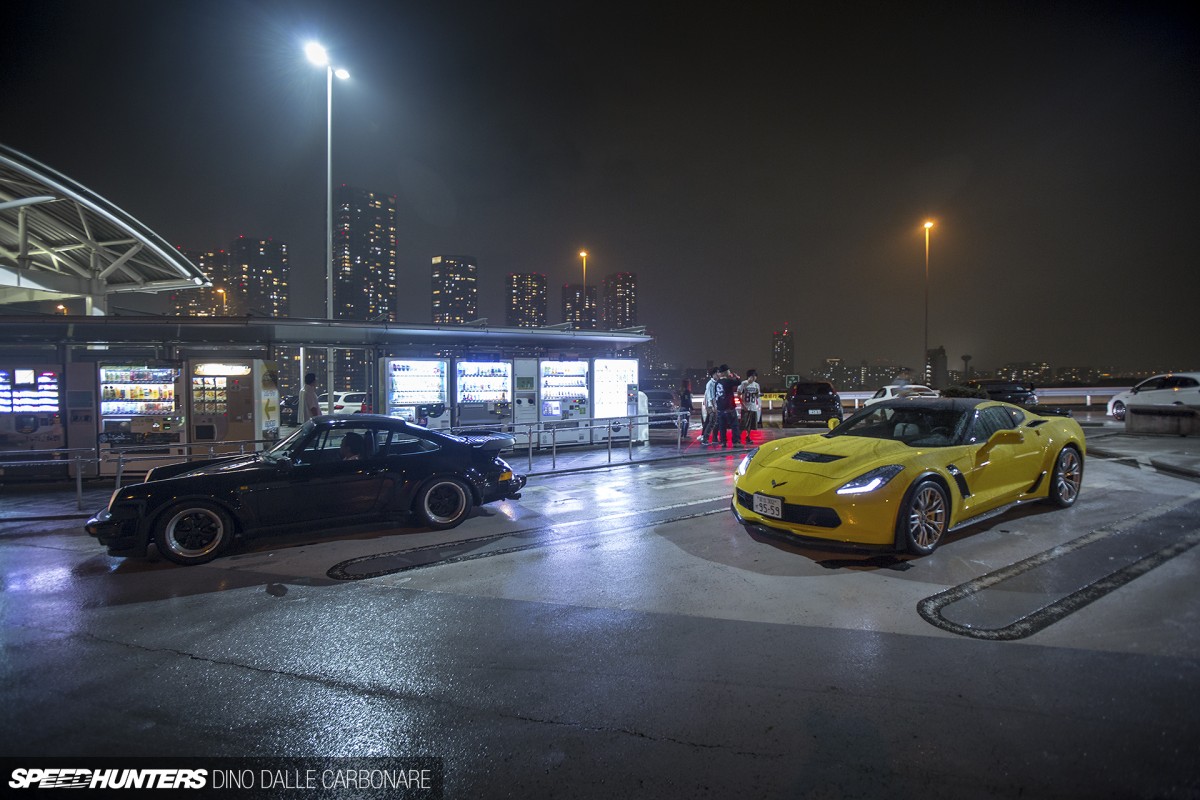 Silly analogies aside, this Z06 is a brute, but one that can be manhandled and made to behave. Respect the beast and it will work with you, but take liberties and it will bite you faster than you can say, 'what the f**k just happened?'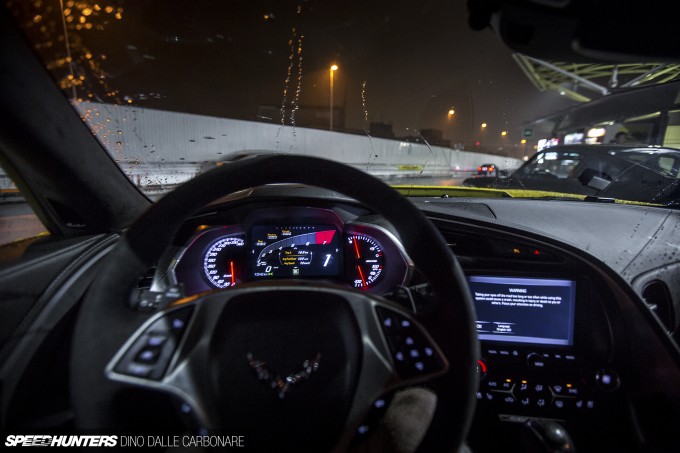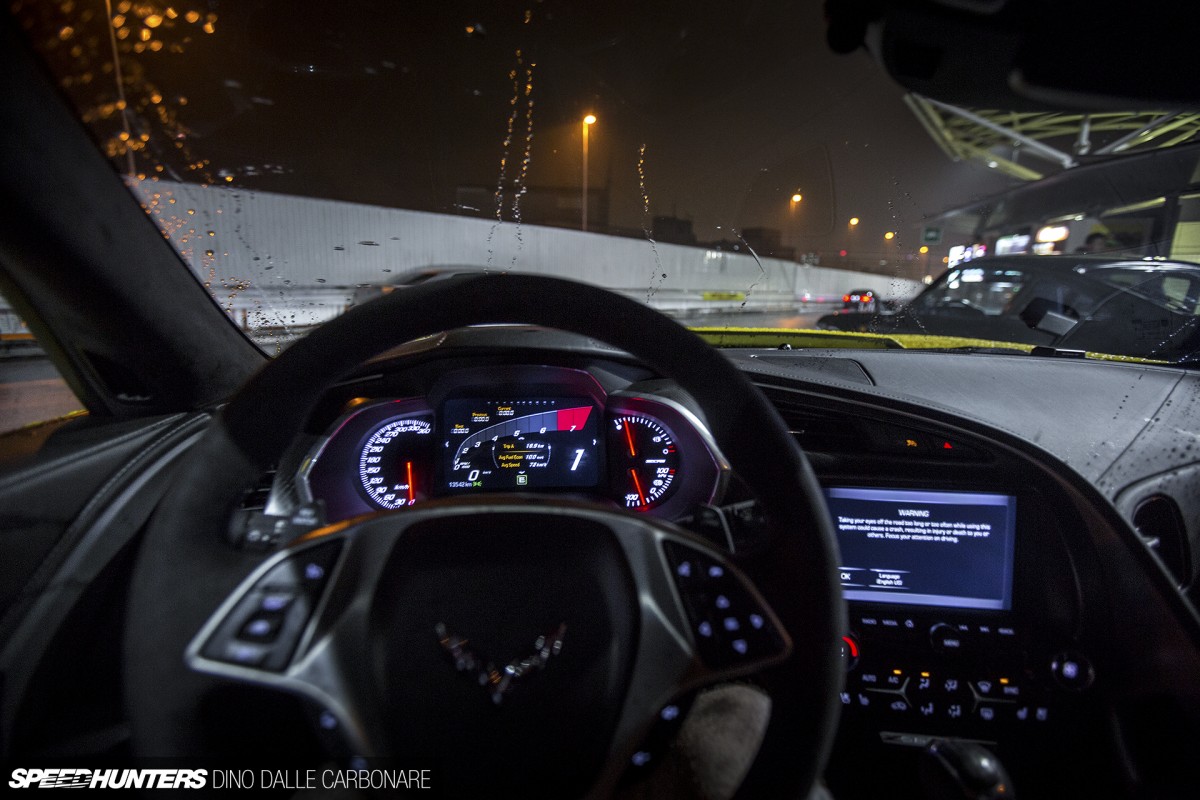 I'll get the stuff like the cabin, build quality and design out of the way first; so what can be said here? Simple. Chevrolet has come leaps and bounds in every single area. The Z06's cockpit is well screwed together; the choice of materials are decent enough for the price-point and the design is very ergonomic, but in no way attempting to emulate any other car out there. It feels special, unique and pretty advanced with an infinitely configurable digital display on the center stack. The car's design? As I said, I love it. It builds on the C7's already compact and very recognisable shape and adds aggression and functional aerodynamic additions. It sits way too high for my liking, but on the plus-side it means you can drive it anywhere without even so much as rubbing the front lip.
A Stark Awakening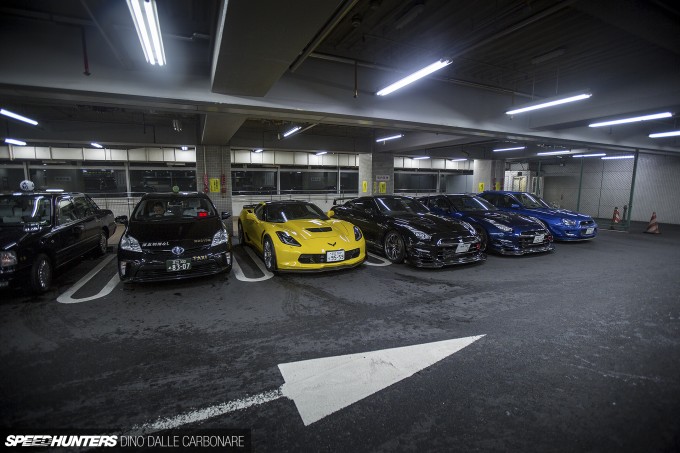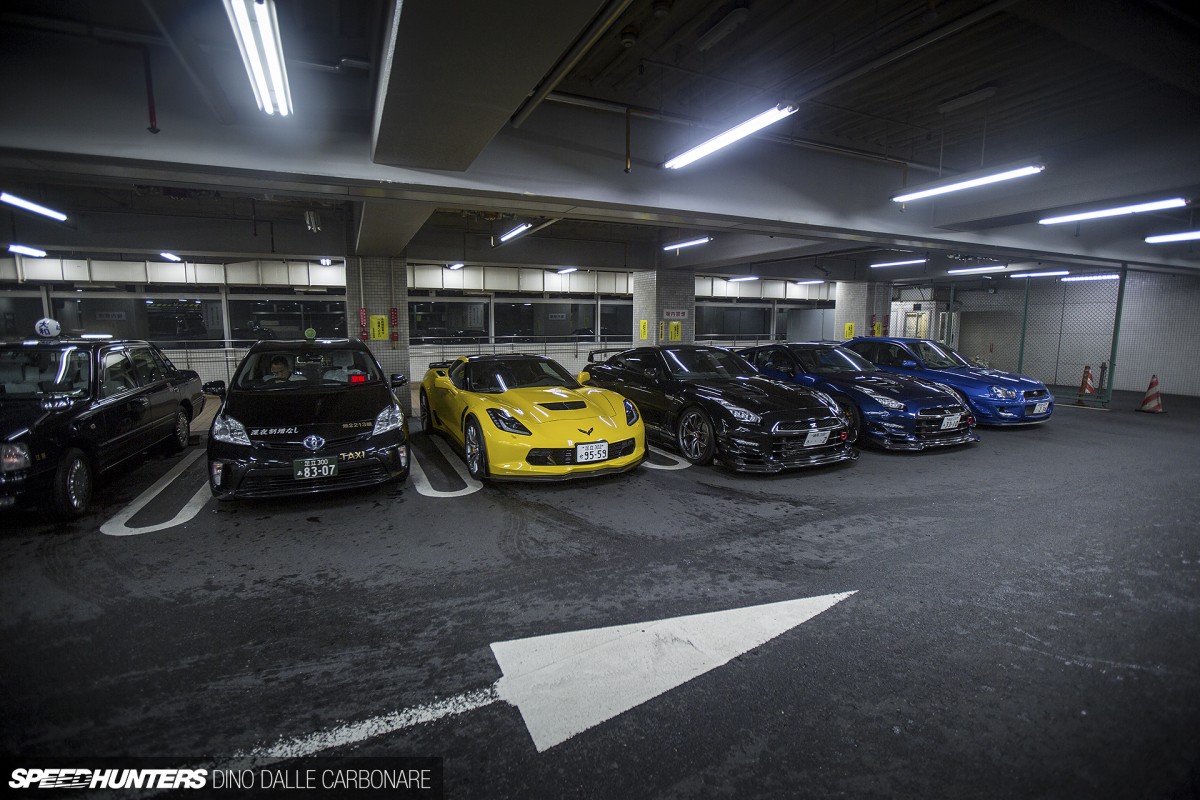 My drive to Tatsumi was interesting to say the least. Aside from a few spurts of accelerations on normal city streets to familiarise myself with what the 6.2L blown V8 is capable of unleashing, I hadn't really leaned on it. I jumped on the Shuto Number 2 in Gotanda and headed for the C1. This is one of my favourite stretches of Tokyo's 'high roads' as it's virtually traffic-free at night and features a continuous series of snaking corners as it weaves through high-rise office and apartment buildings. With the road wet and the sportier drive mode selected, I floored it in third gear and effortlessly lit up the rear tyres. I shifted into fourth and floored it and the rear end stepped out again. I wiped the sweat off my forehead and recalibrated myself.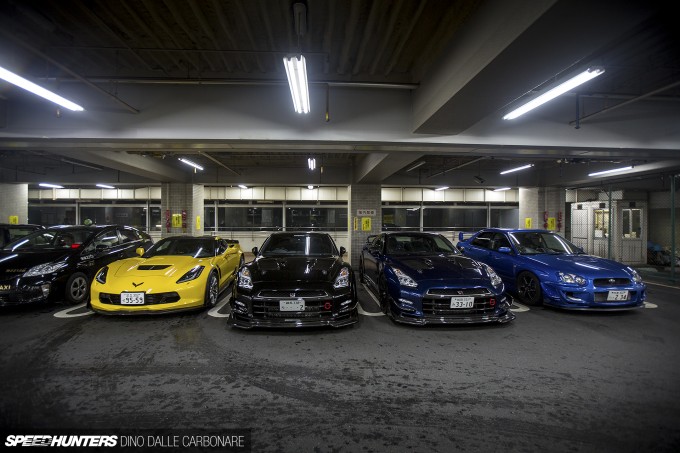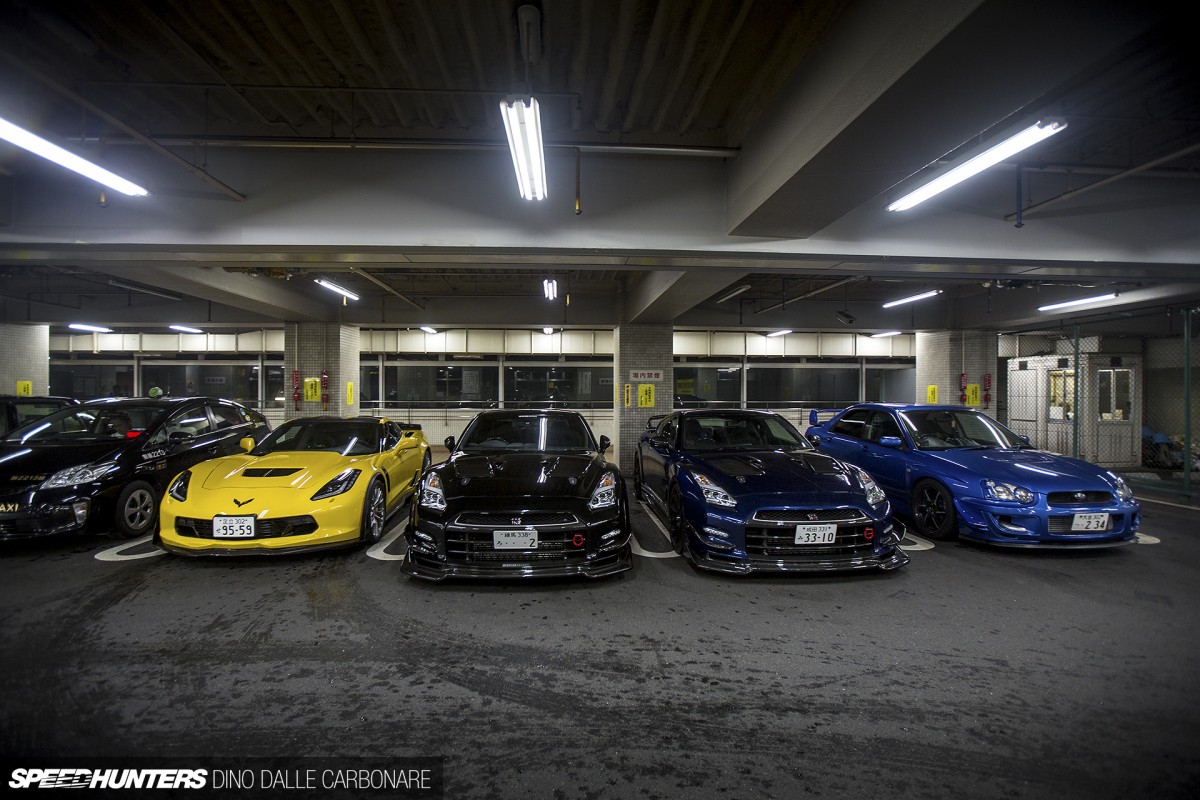 After spending some time at Tatsumi I noticed that the roads were drying out. It was enough of a reason to take a quick lap of the C1 and see if conditions were better on the other side of the city. I pulled up at Hakosaki Junction where there's a little covered parking area.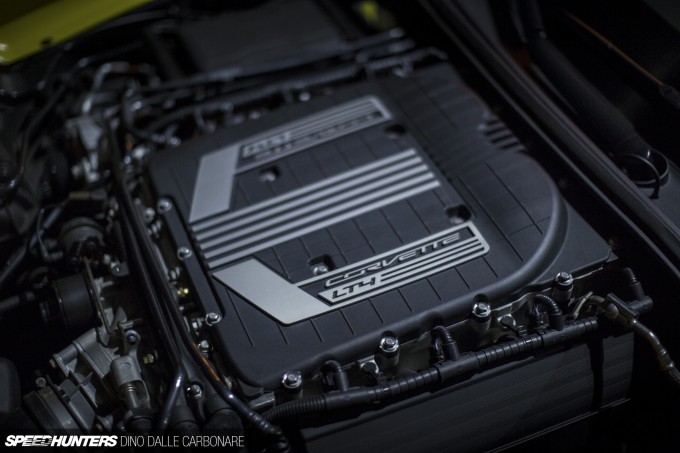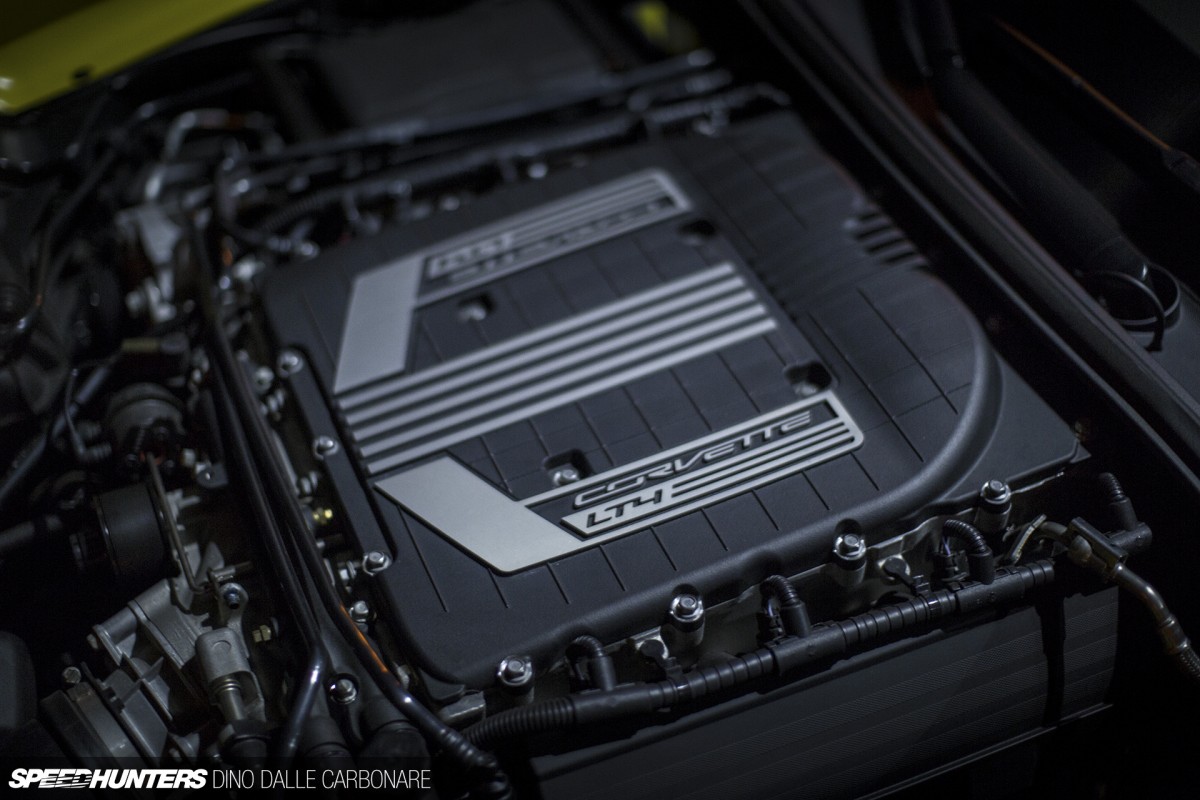 I popped the Z06's hood for the first time and just looked in awe at the LT4, which sits almost in a front-midship position. There's no replacement for displacement, except when it's supercharged to boot!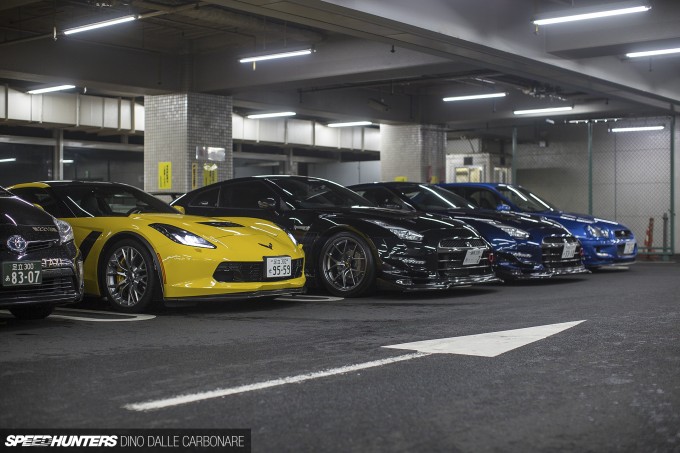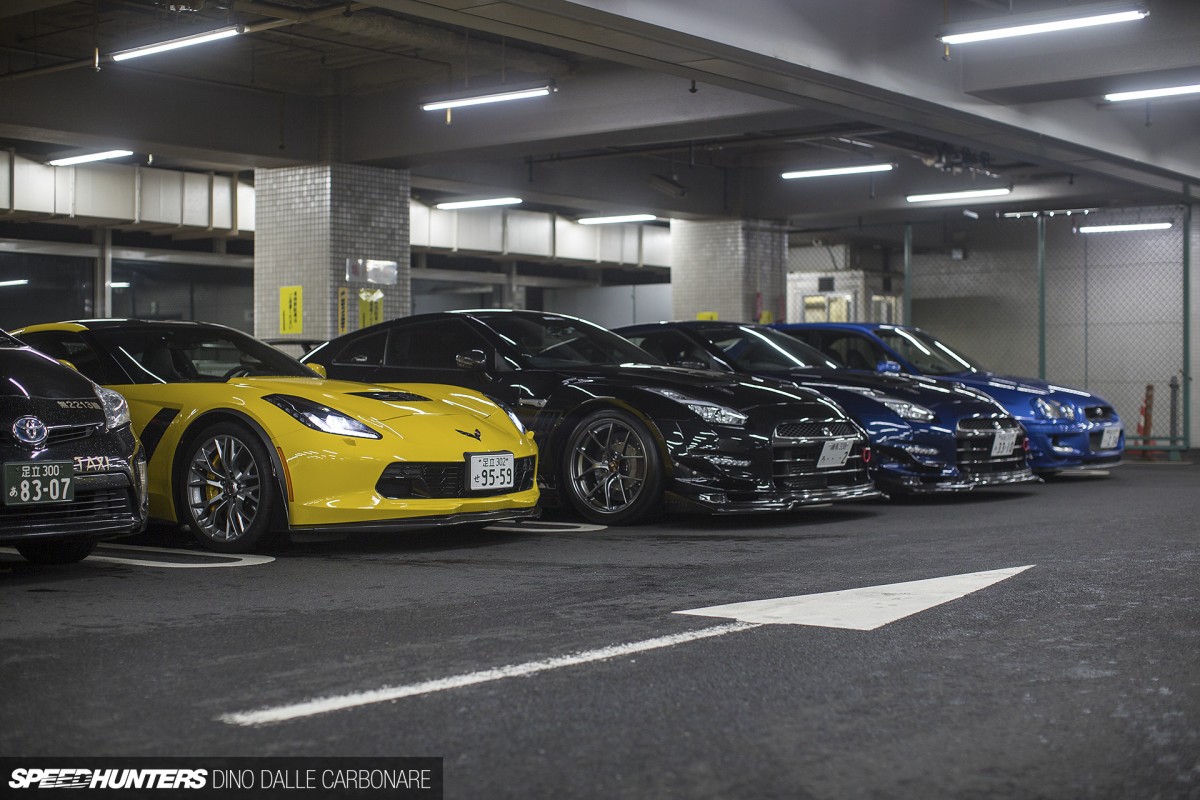 It looked like I wasn't the only one hanging around waiting for the roads to dry. Sitting next to a few Top Secret tuned GT-Rs, the Z06 looked compact and more European-like than American.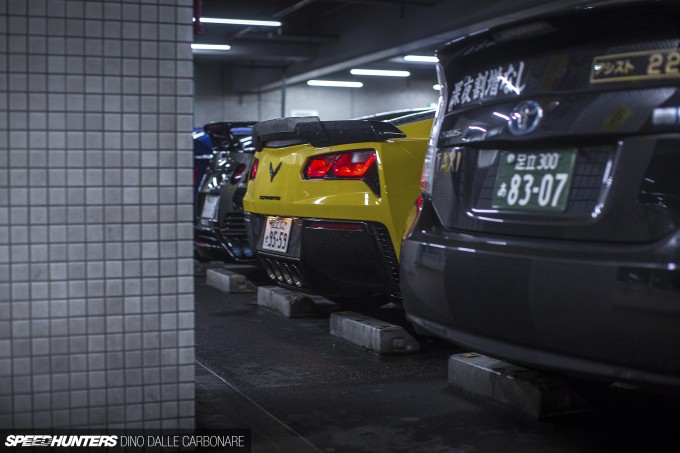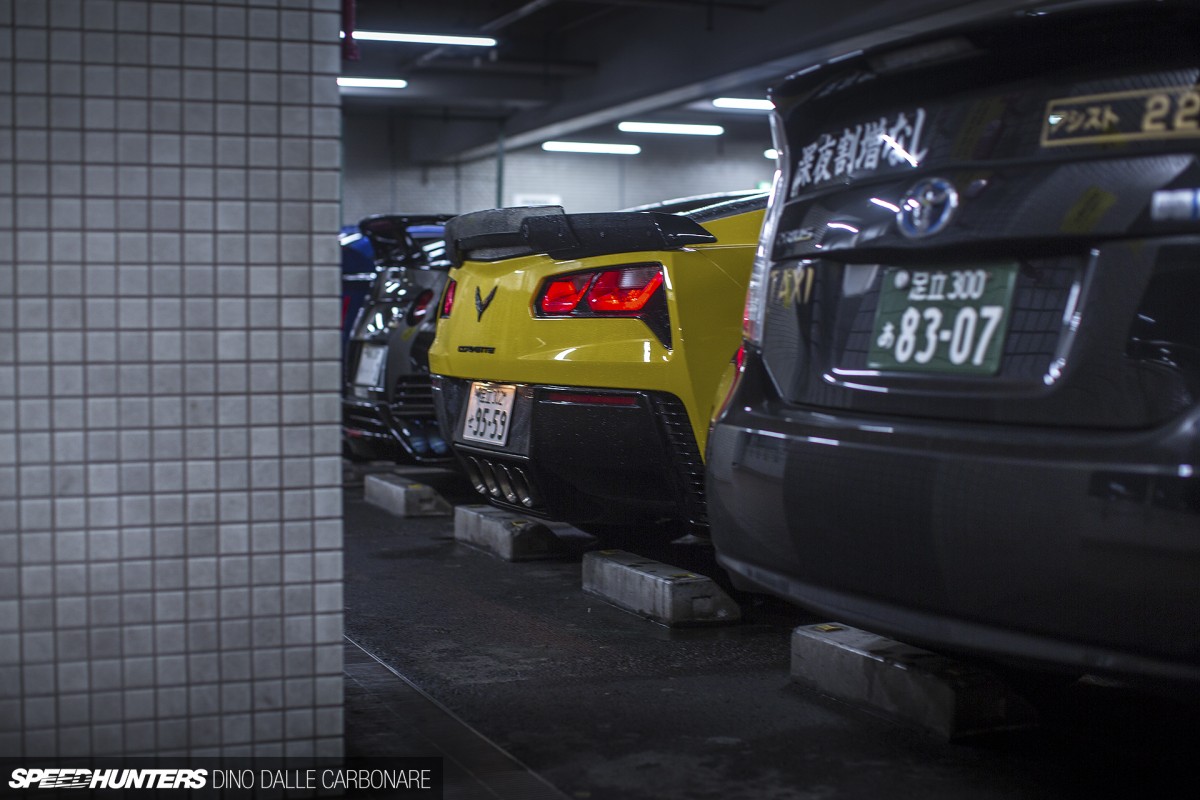 I grabbed a few more pictures of the car, including one of the rear transparent wicker bill addition to the spoiler which is part of the Z07 aero package. But the urge was too much, I had to get out on the road again.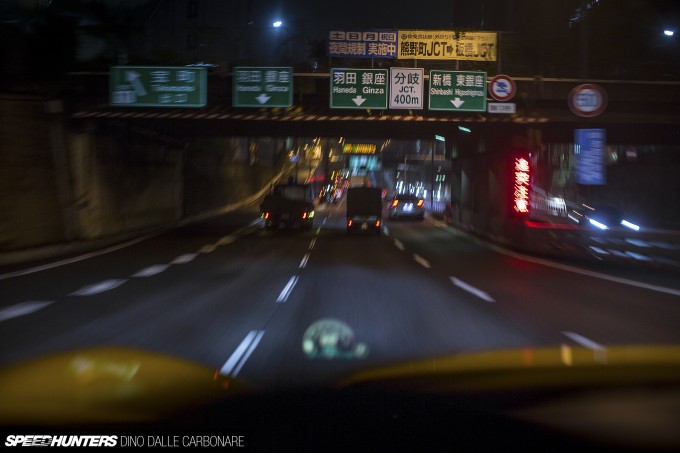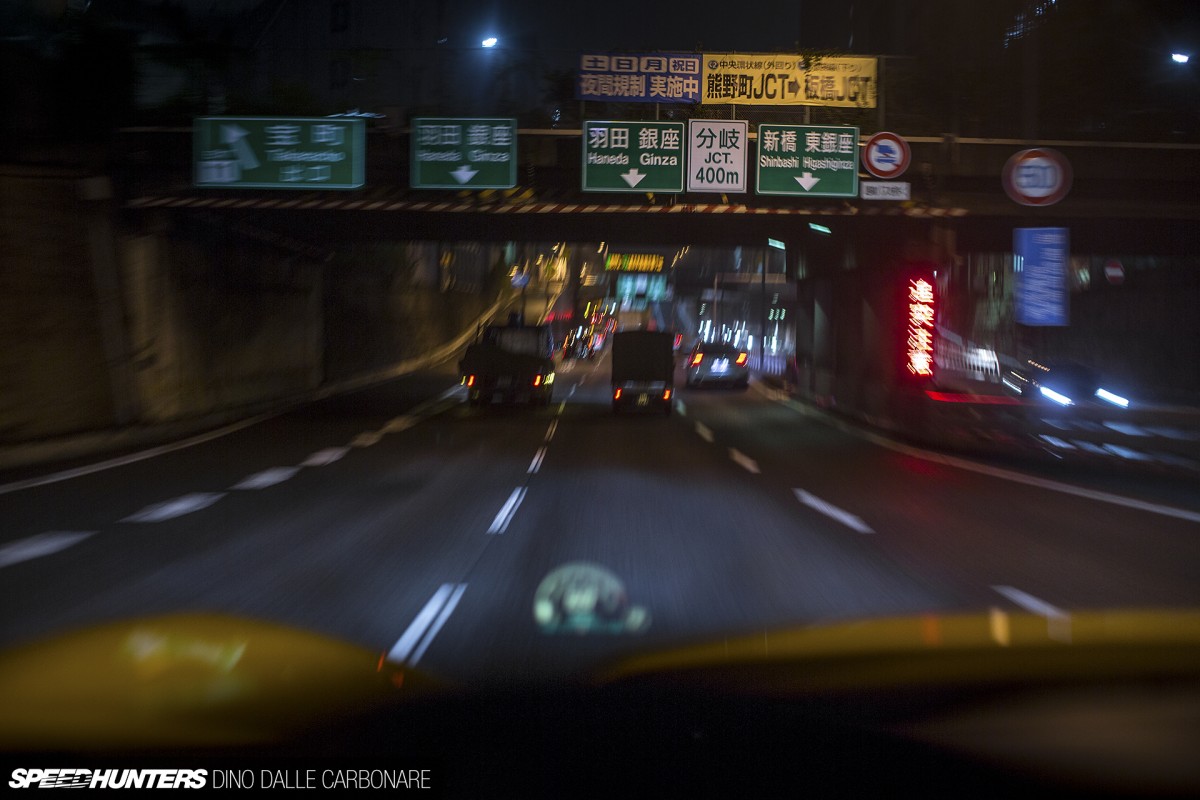 Never have I focused so much driving a car as I did in this yellow beast. Now that the roads were completely void of moisture, I began to really get a feel for what all the Z06's power and torque really means; and best of all, stirring its performance through a well-weighted and crisp 7-speed manual gearbox. The 7th gear is an overdrive, so you only use it when cruising around, and it does help to return decent fuel consumption figures. But step on it and this thing devours through a tank of gas at an alarming rate. It's probably the most fun way to blow a few thousand yen worth of hi-oku. The power is simply savage; it's so strong and always there. It propels you to illegal speeds in the blink of an eye, and the soundtrack is as raucous as a raucous V8 could possibly be.
Here's a quick video I made to give you an idea of that sound. Oh, and yeah, you'll see the traction control light blinking in third gear, in the dry. Damn I love this car!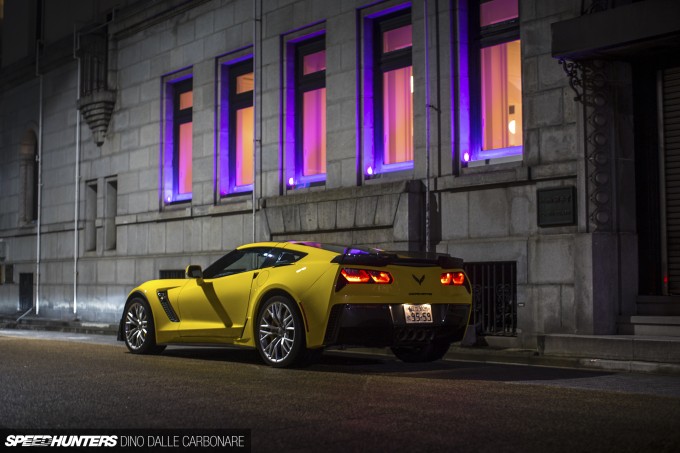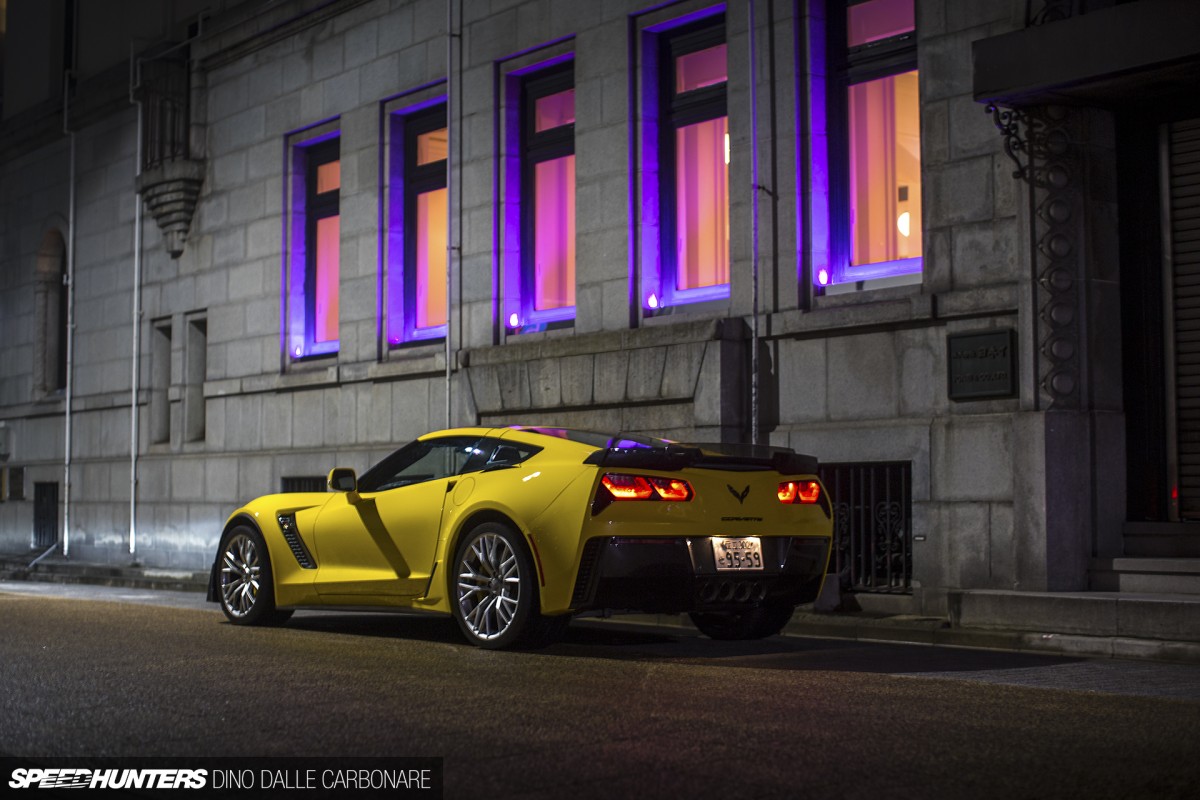 I jumped off the C1 at Ginza and went for a little drive through the tiny narrow backstreets that branch off from Harumi Dori. The sound echoing and bouncing off the surrounding buildings was nothing short of intoxicating.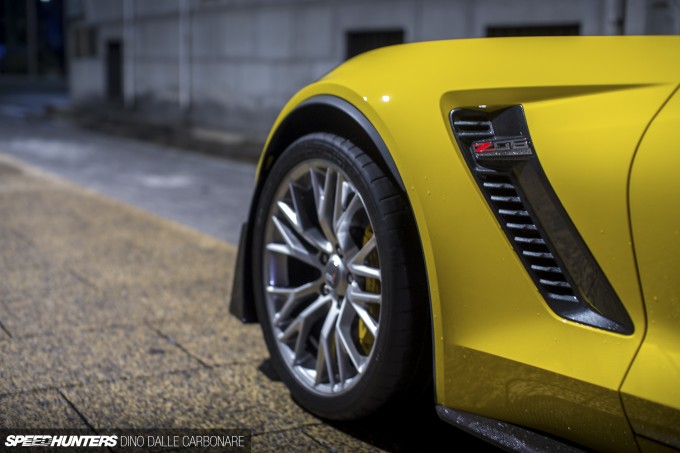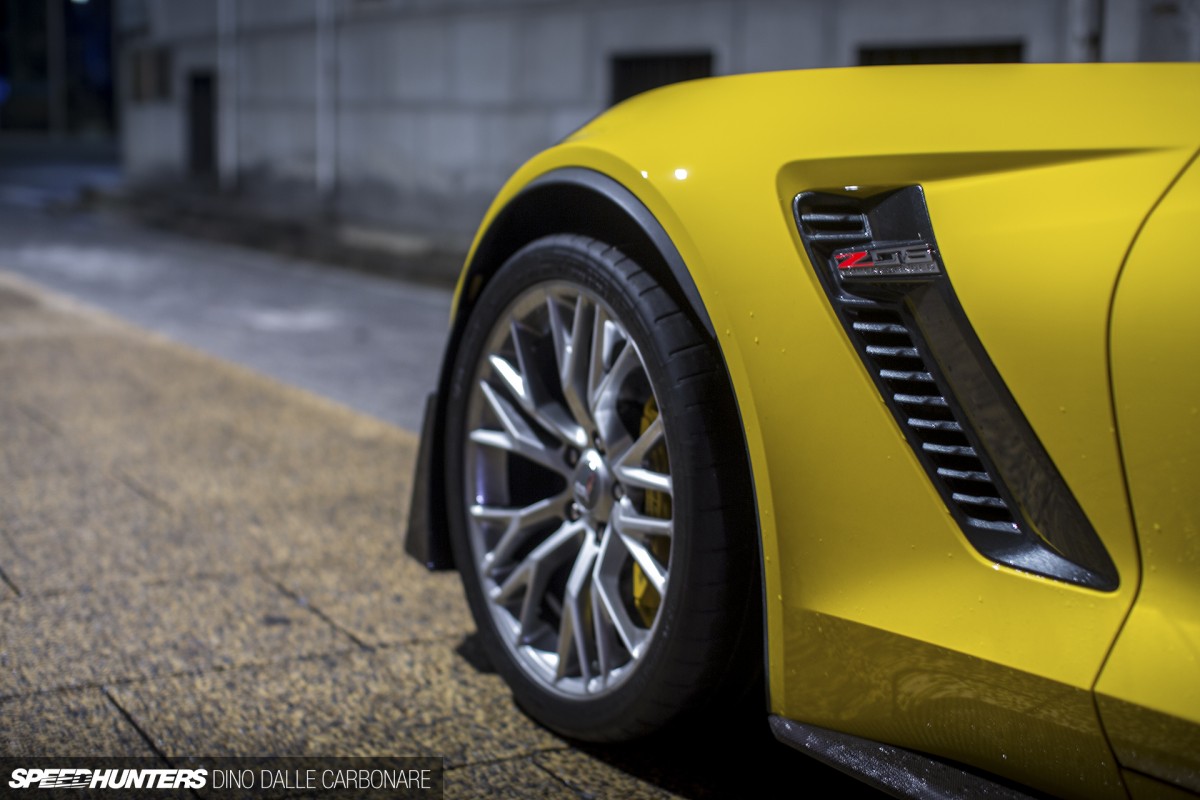 Handling wise, the Z06 is precise and eager to attack any corner you throw it into; overly so I thought initially as it took me time to get used to the pin-sharp way the front wheels respond. It's a good thing that the car runs on super-sticky Michelin Pilot Super Sport Cup 2 tyres as they do make a difference when they're up to temperature. On a wet cold surface though, not so much, as I had been shown earlier on in the night. Behind the 19-inch front and 20-inch rear wheels the Z07 package introduces massive Brembo carbon ceramic brakes, and they're probably the best I've ever sampled; progressive and responsive even from cold and when driving normally, all without that annoying grabbiness that some of these systems have.
Sweaty Palms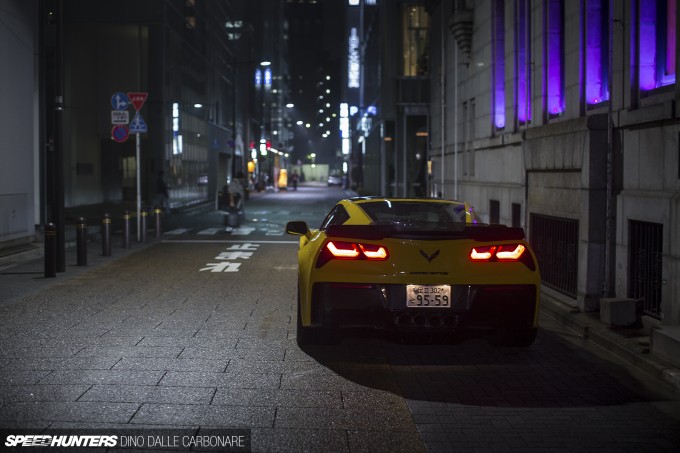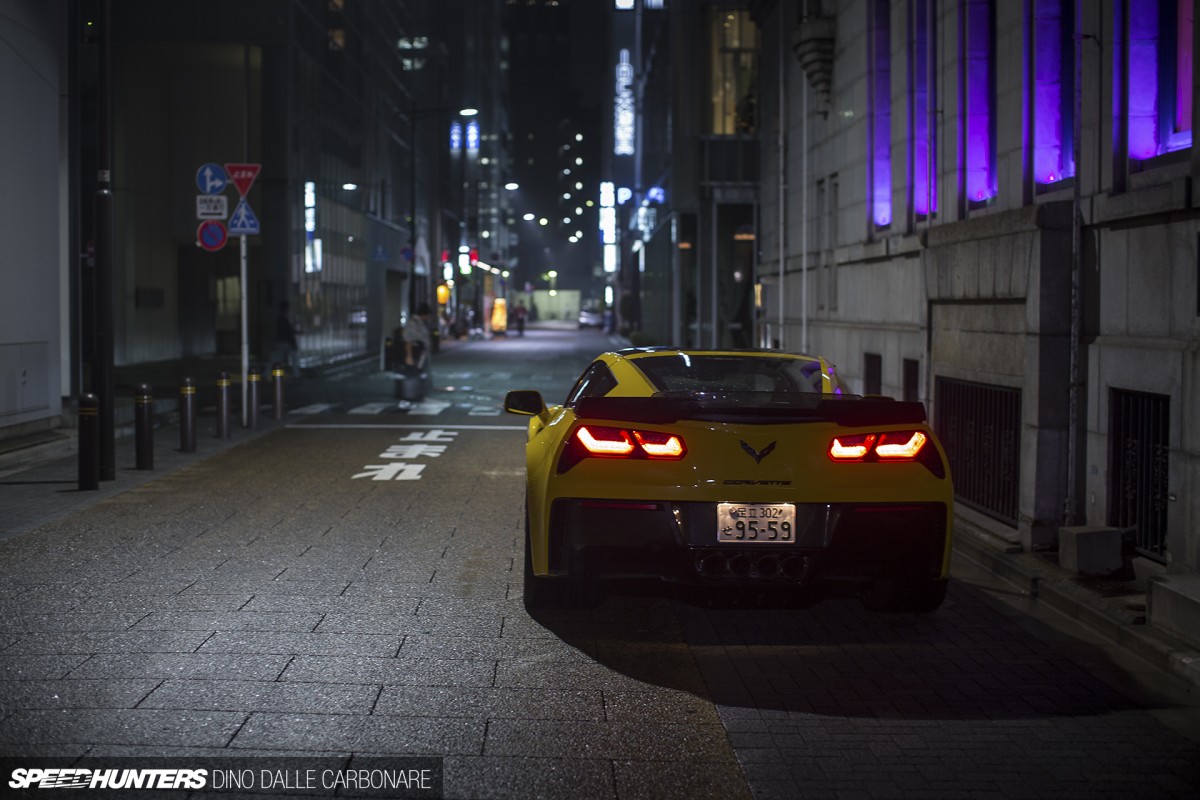 Chevrolet set out to create the best sports car they could based off the C7 and ended up with one of the world's most 'real' and fun supercars. The Z06 wakes you up and you better be ready to play your best game when driving this thing at eight-tenths on the road. The rest should be saved for the track, where I'm sure it would be infinitely rewarding, but extremely tricky at the same time.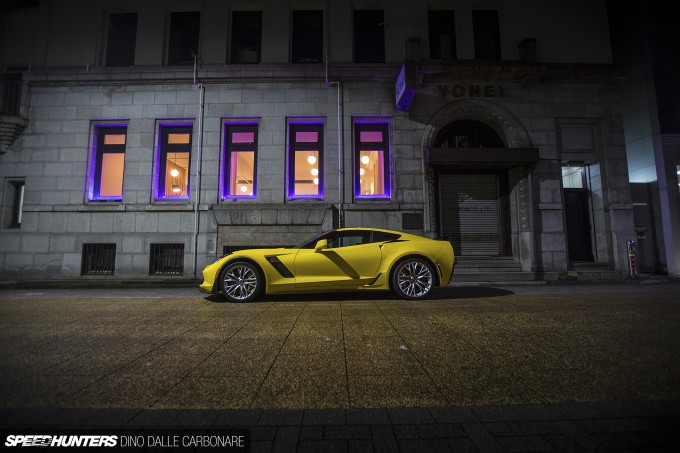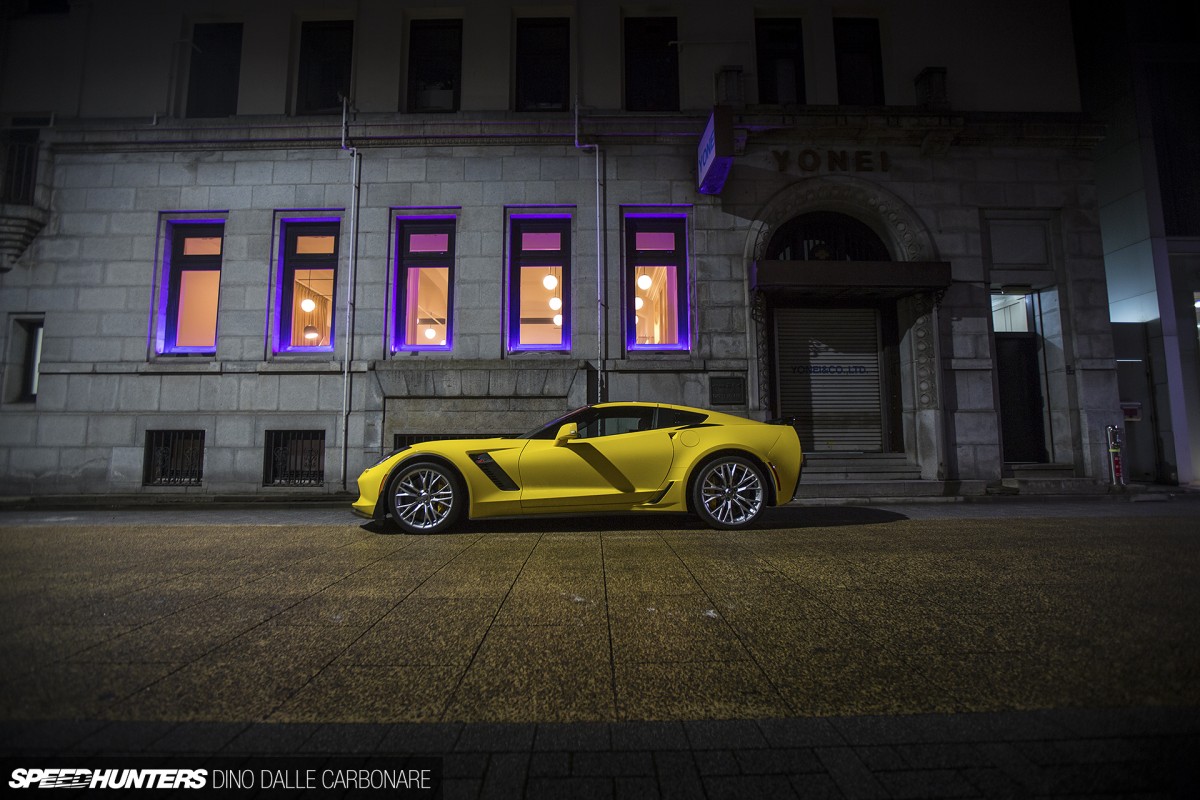 This is what fun is – a fine balance of beauty, aggressiveness, precision and sheer terror. I often tell people that the reason I'm still driving my R34 is because it still manages to scare me. If it didn't, I would have probably lost interest by now. That's why the R35 has never really interested me – it's too easy. In my book, easy does not equate to driving satisfaction.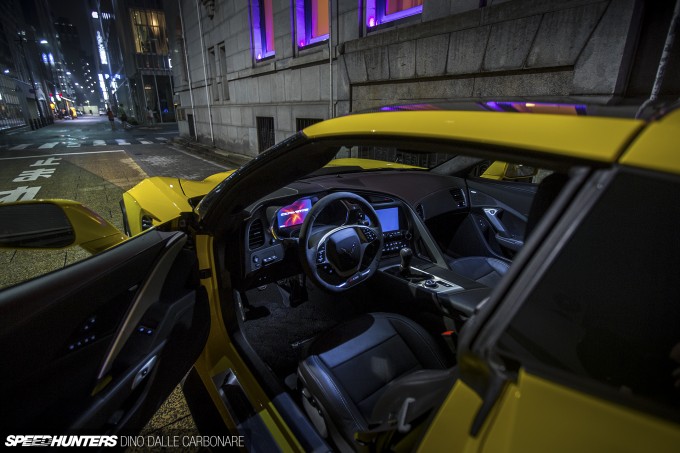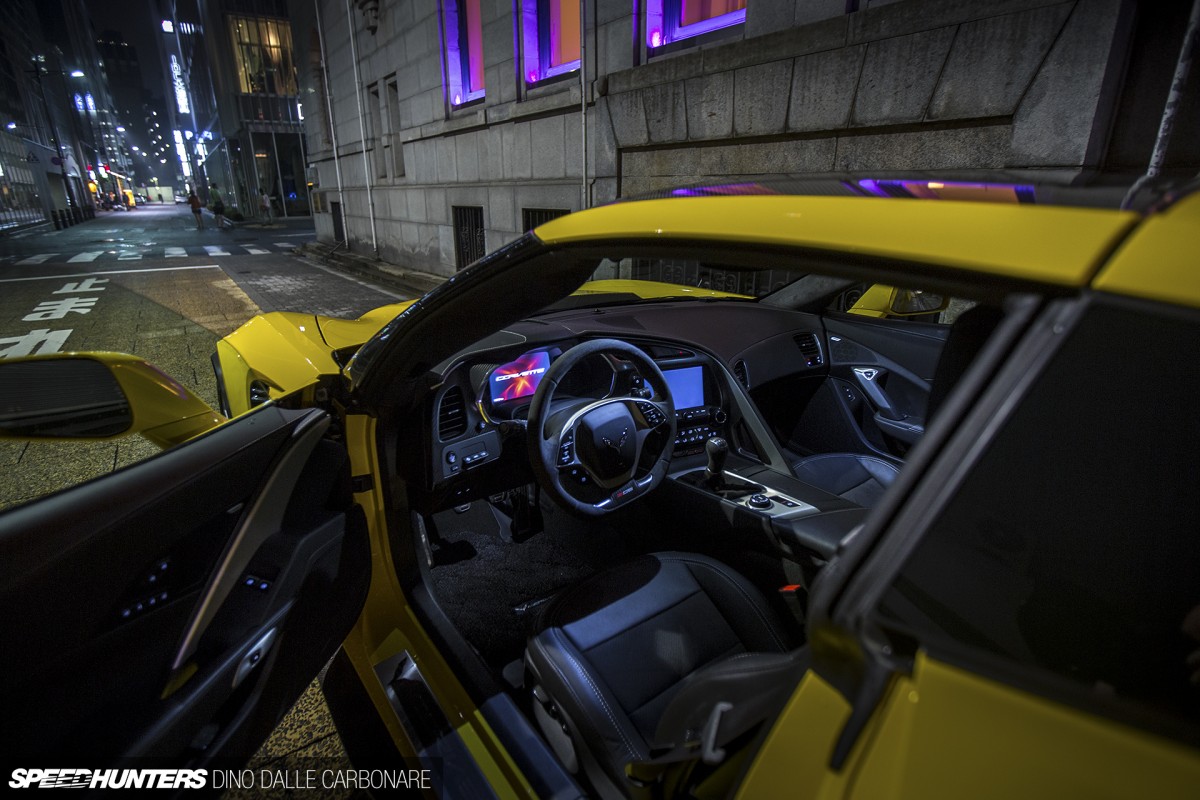 Satisfaction comes from a car that if you set your goals on, you can actually afford to buy. I love what the Z06 stands for. It's what the Skyline GT-R was before the R35 arrived; a car that was fast (and tuneable, but that's another argument), but an experience you could buy into with some hard work. I feel the continuous move to the higher-end of the automotive spectrum where many manufacturers are going with their sports cars is taking away from it all as much as it's adding to it.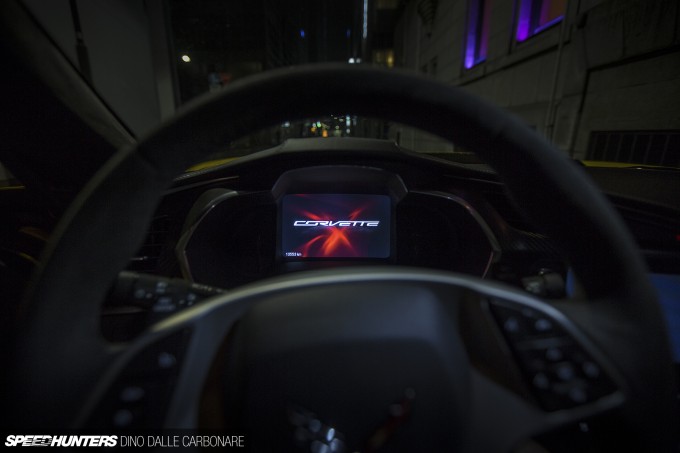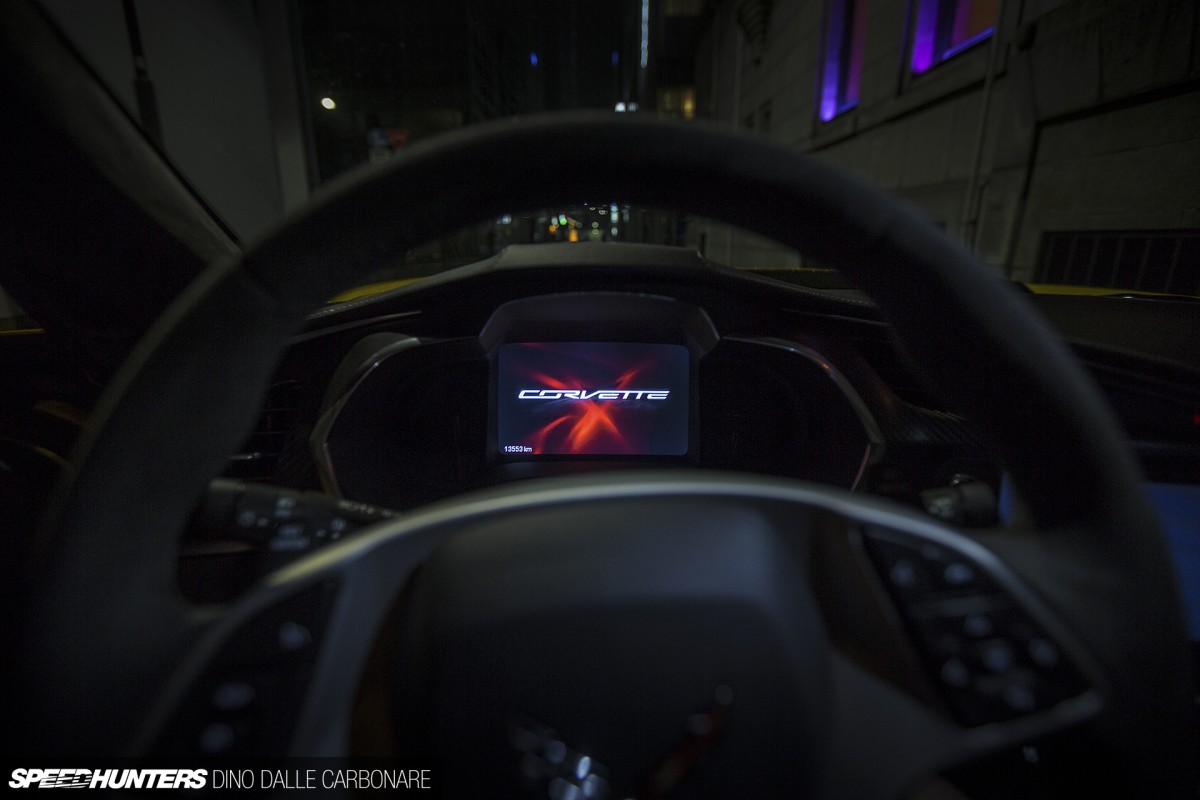 This is a car that if you buy, you will drive the nuts off. If you drop three or even four times as much money into something exotic, you'll probably keep it in the garage most of the time and polish it a lot.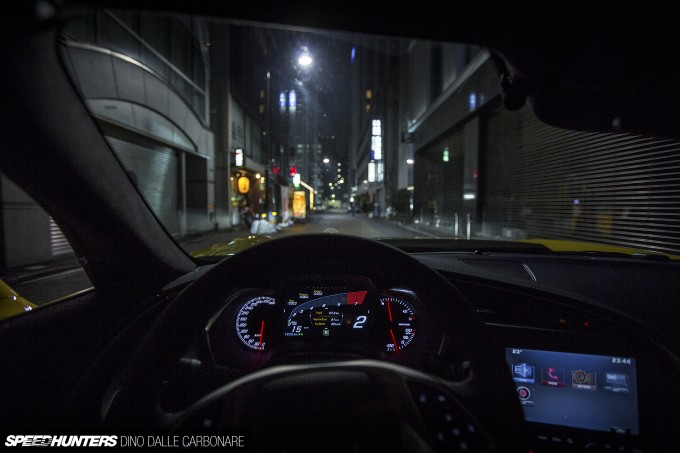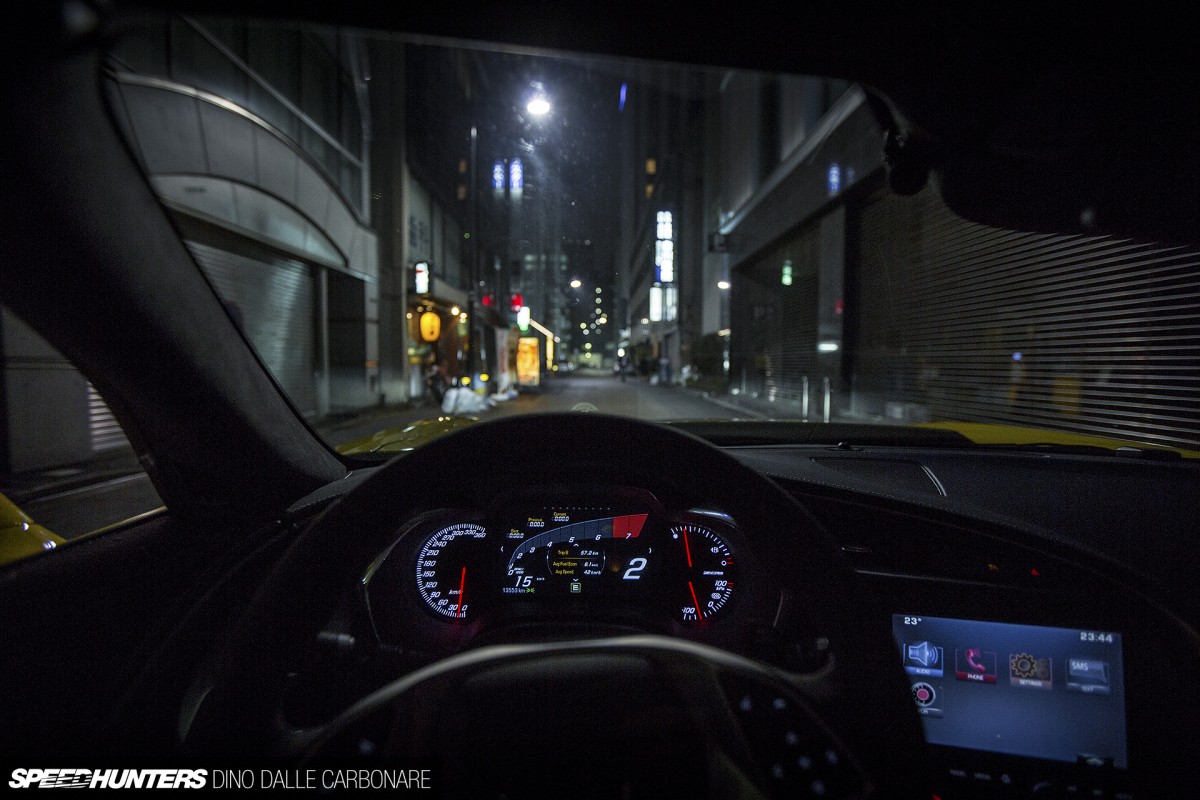 The Z06 begs to be abused, and it satisfies because of it.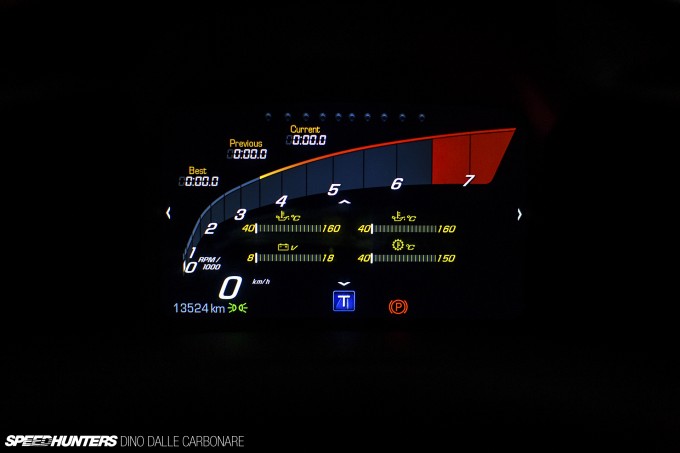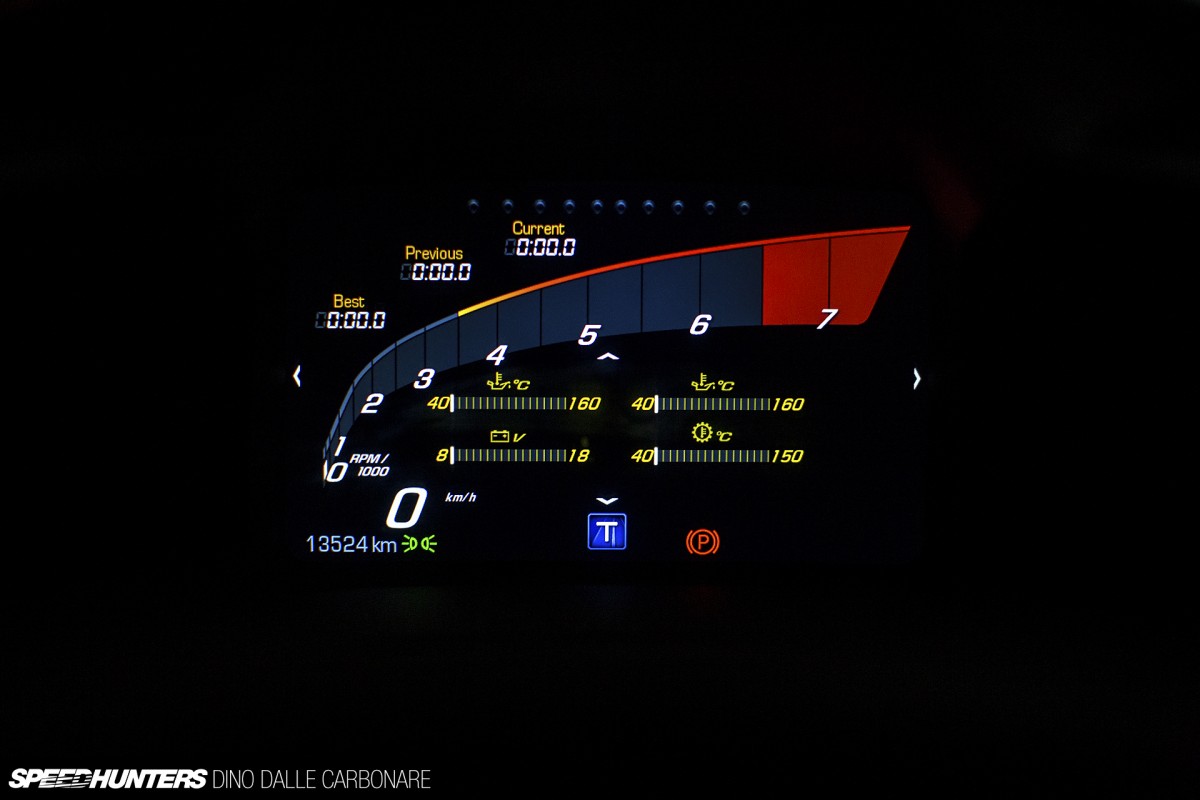 Here's a quick close-up of the center LCD display that owners will surely end up playing with a lot. It displays the tachometer in a few different graphical interpretations along with all the other expected engine read-outs. It's all you would ever want to see, and in the Z06 it's right there in front of your eyes.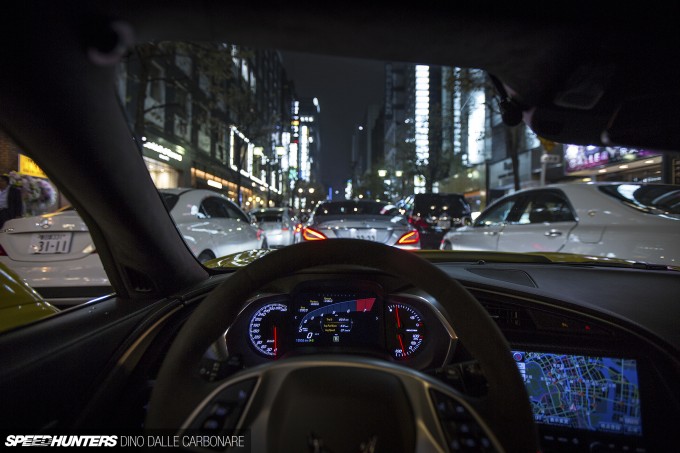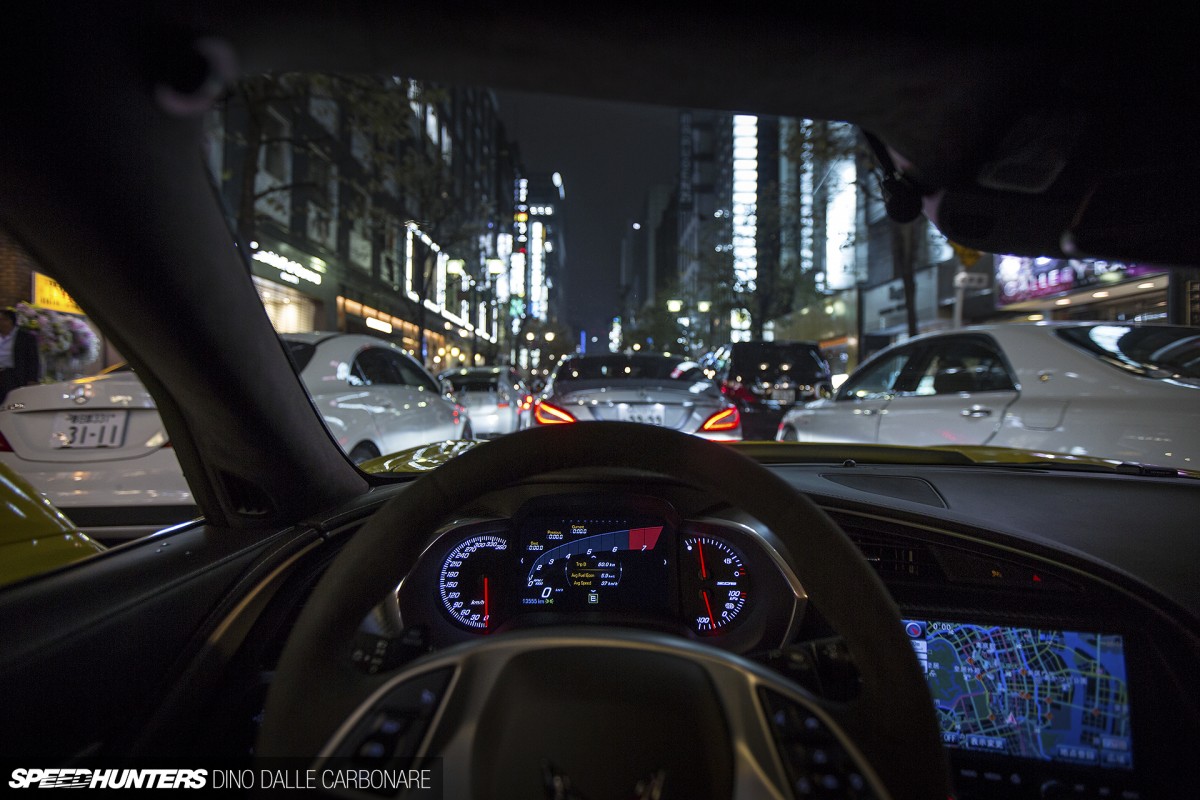 As I continued my drive I passed through the famous hostess bar area of Ginza. It was right around the same time all the wealthy company presidents were heading back home; walking out to their chauffeur-driven cars as groups of overdressed hostesses bowed to thank them for their patronage. The yellow Z06 attracted a ton of attention, but once I had managed to escape the limousine gridlock I had gotten myself into, I headed back to Tatsumi PA.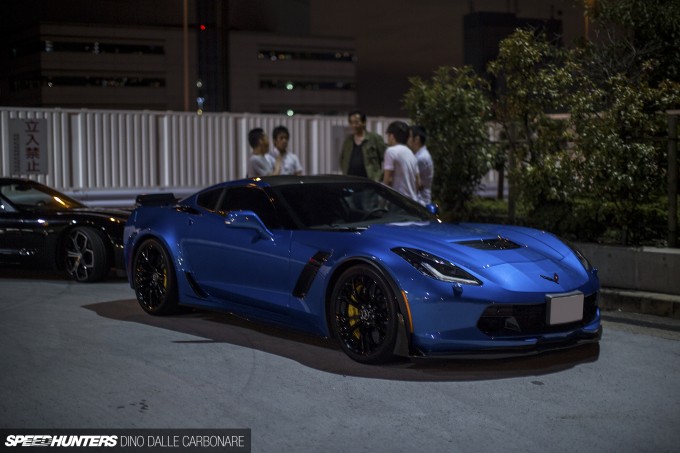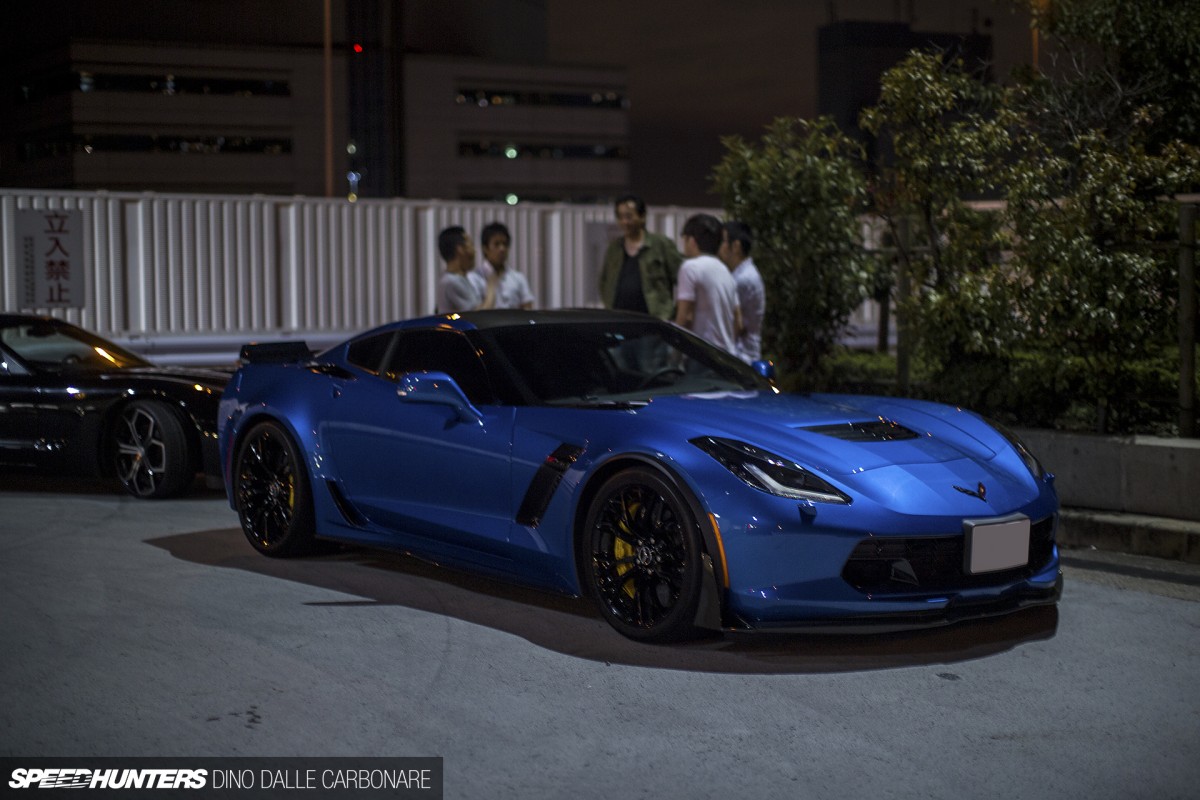 I arrived there to find that I wasn't the only one enjoying 650hp worth of American muscle on this particular night.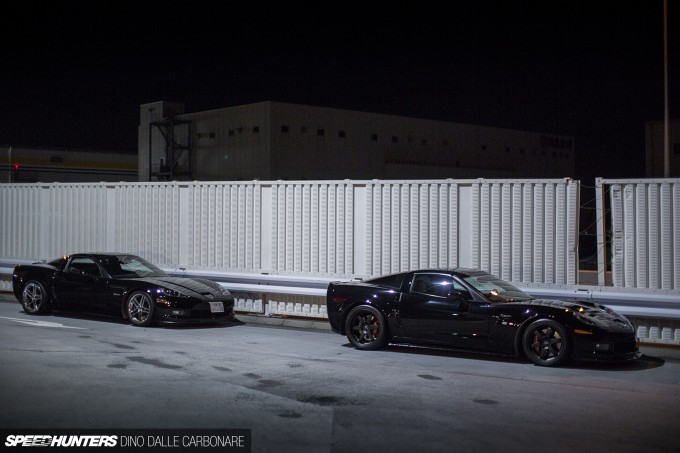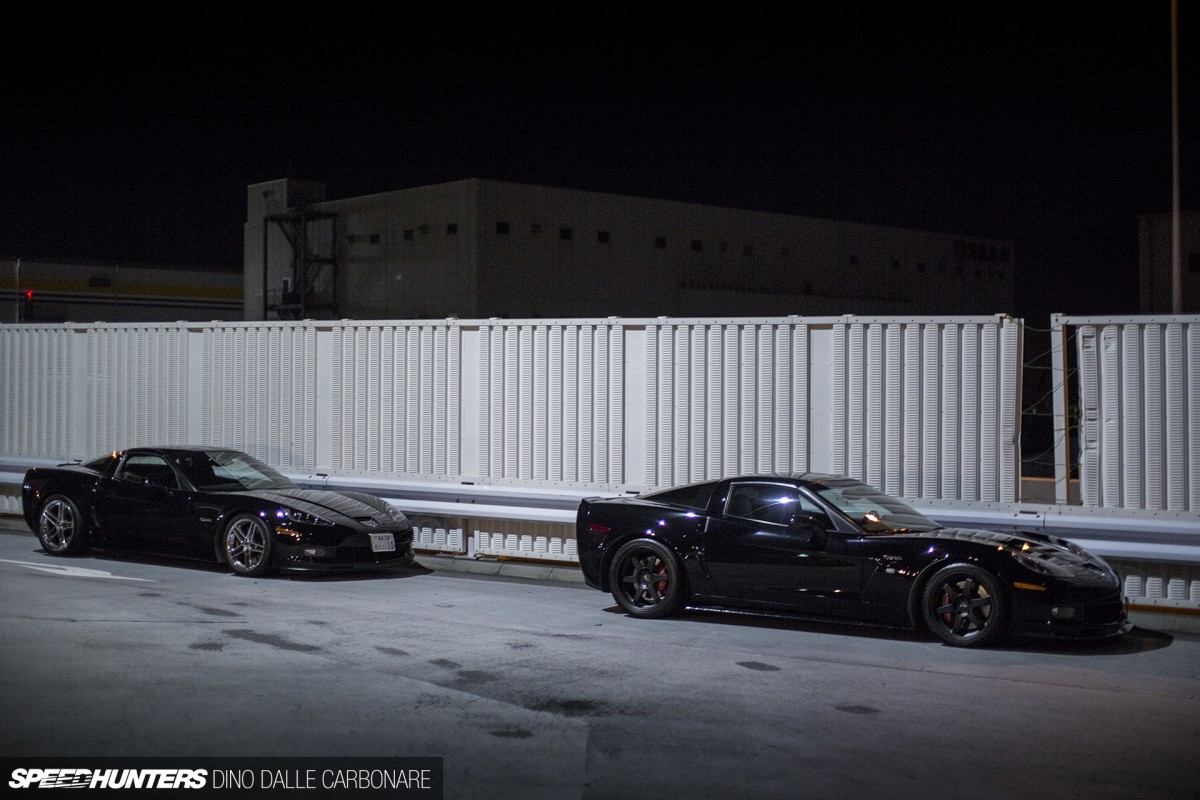 And right behind the blue example I spotted a couple of older 'Vettes.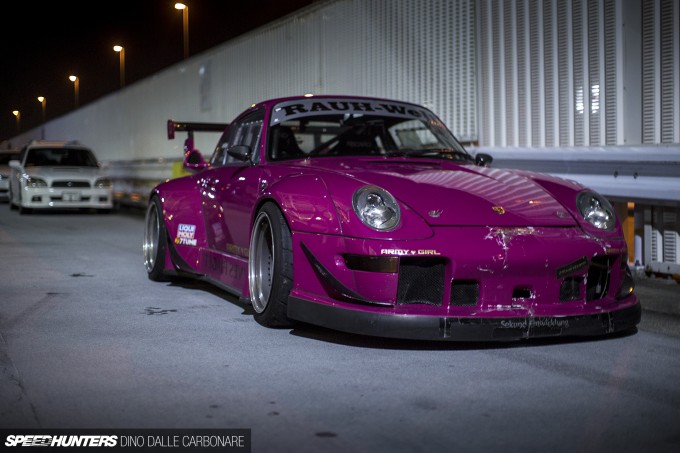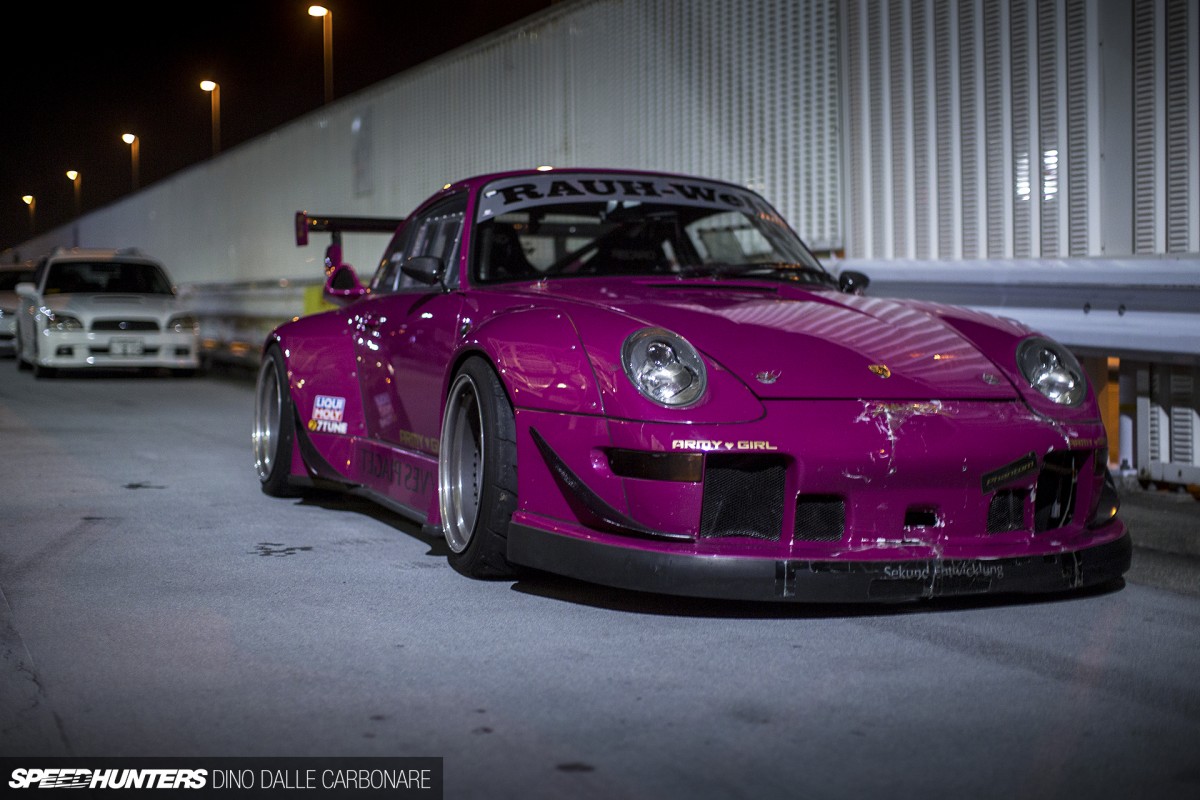 Not to mention, something German, yet tuned in Japan.
The Z06 is the perfect car for Tokyo's vast car culture. It fits in well as it's the sort of car those that want to stand out from the crowd would get. Appearances aside however, driving the Corvette was an enlightening exercise; it made me realise what I've been missing now that American manufacturers like Chevrolet are producing serious performance cars. It was a bittersweet moment the following morning when I had to hand the car over to Takada-san, but this won't be the last time I drive this car, as it's just begging to be put through its paces on more testing roads. Until next time, Z06…
Dino Dalle Carbonare
Instagram: speedhunters_dino
dino@speedhunters.com