Land Of The Free?
As an American auto enthusiast, and even more so a Californian, it's extremely hard not be jealous of our Canadian friends to the north. Sure, California and the American West Coast might be considered one of the best places in the world for being a car enthusiast, but it isn't all sunshine and fun down here.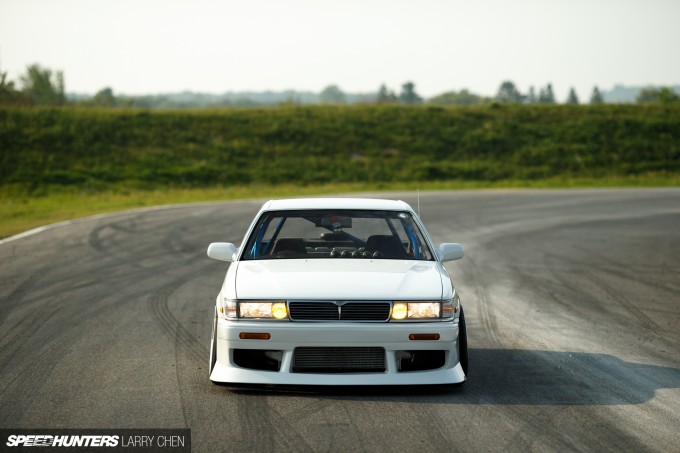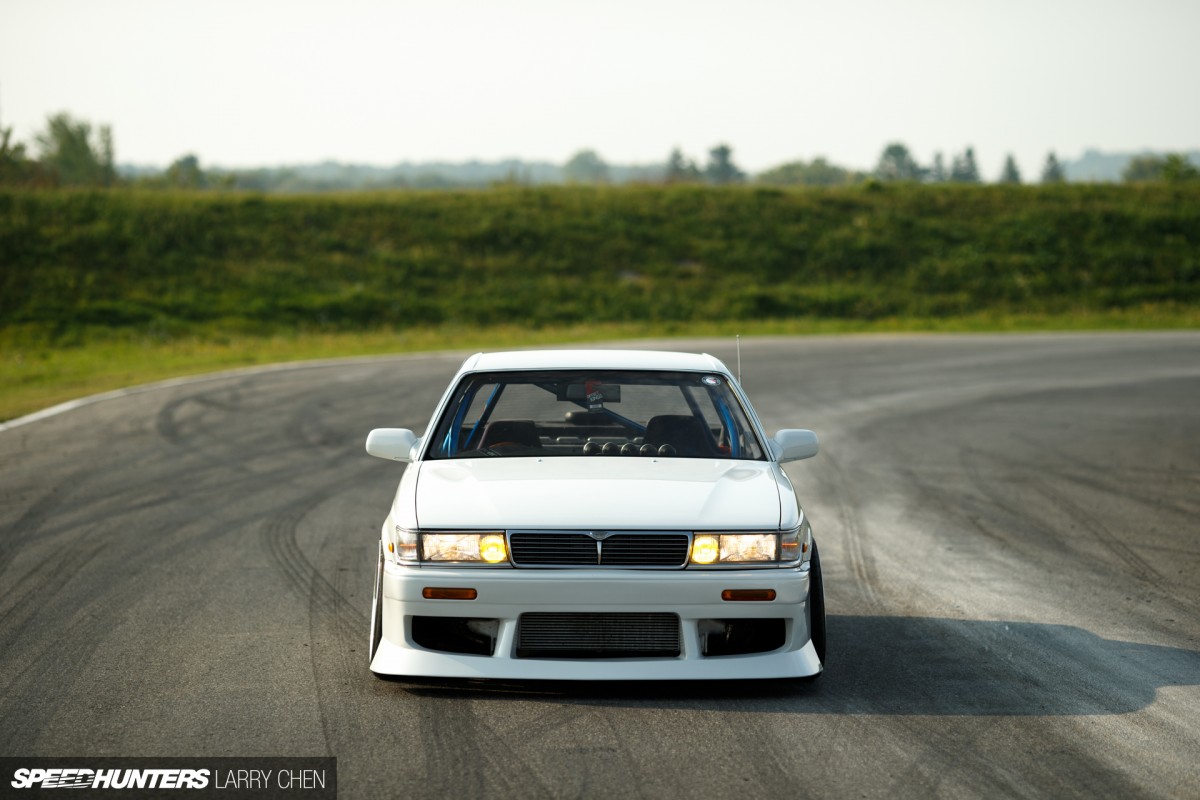 First off, there's the smog laws. Modifying any car built after 1975 regardless of how much you plan on driving it is going to be a pain thanks to the strict emission laws in this state. Why can a 1975 Datsun 280Z be modified and enjoyed however you please, while an identical 1976 280Z cannot? Because California.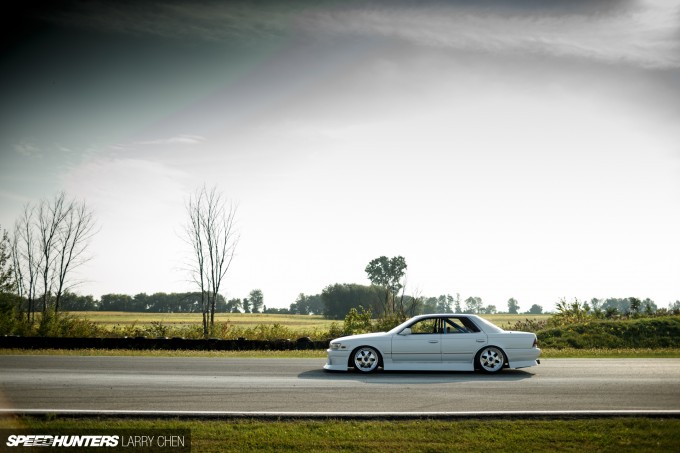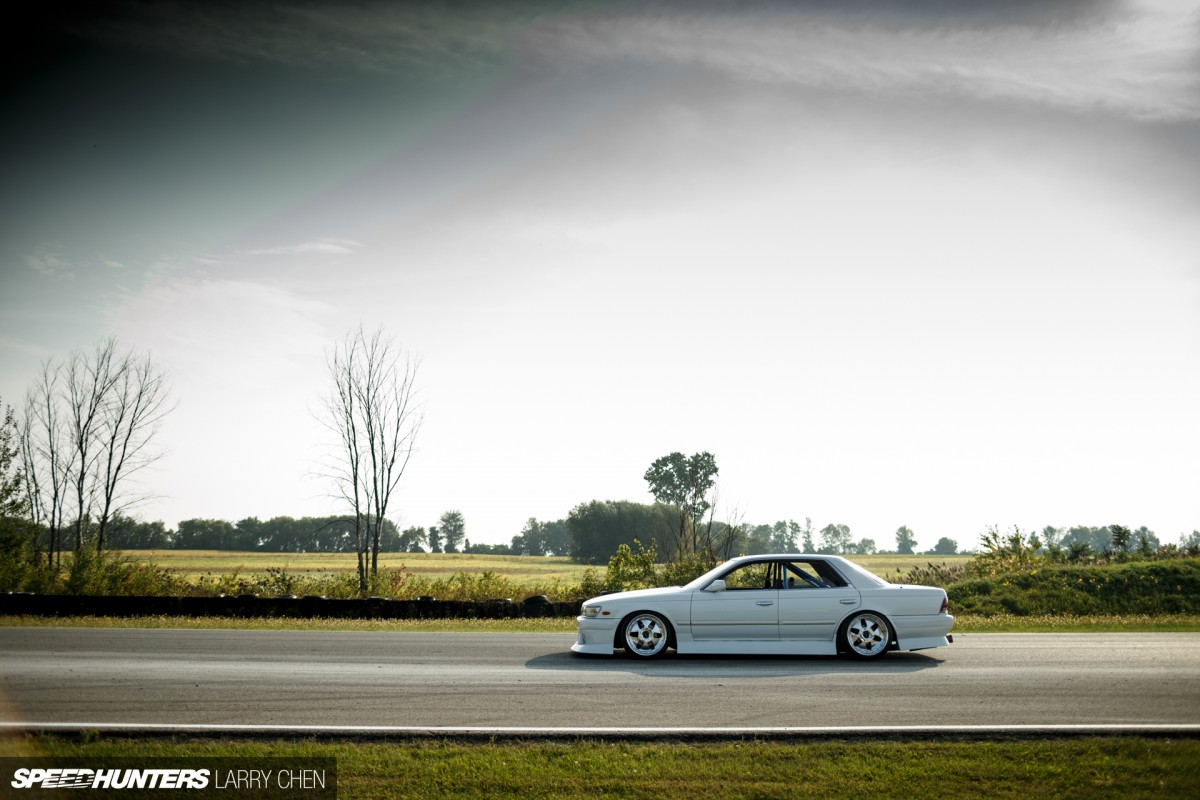 And while the USA's federal import laws now allow people to bring in vehicles 25 years or older, getting those cars registered here in the Golden State is another matter entirely.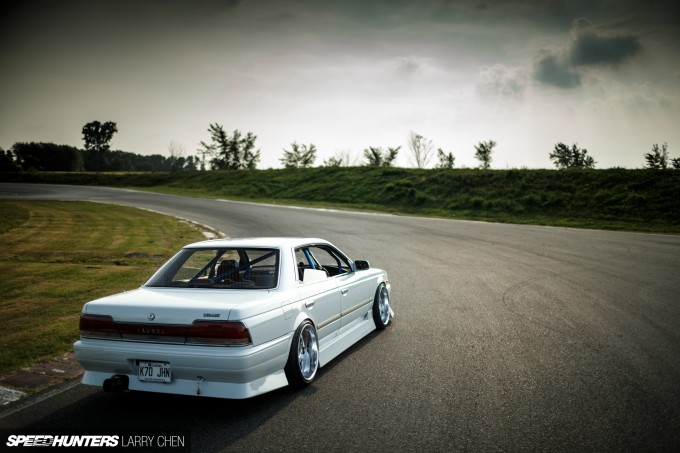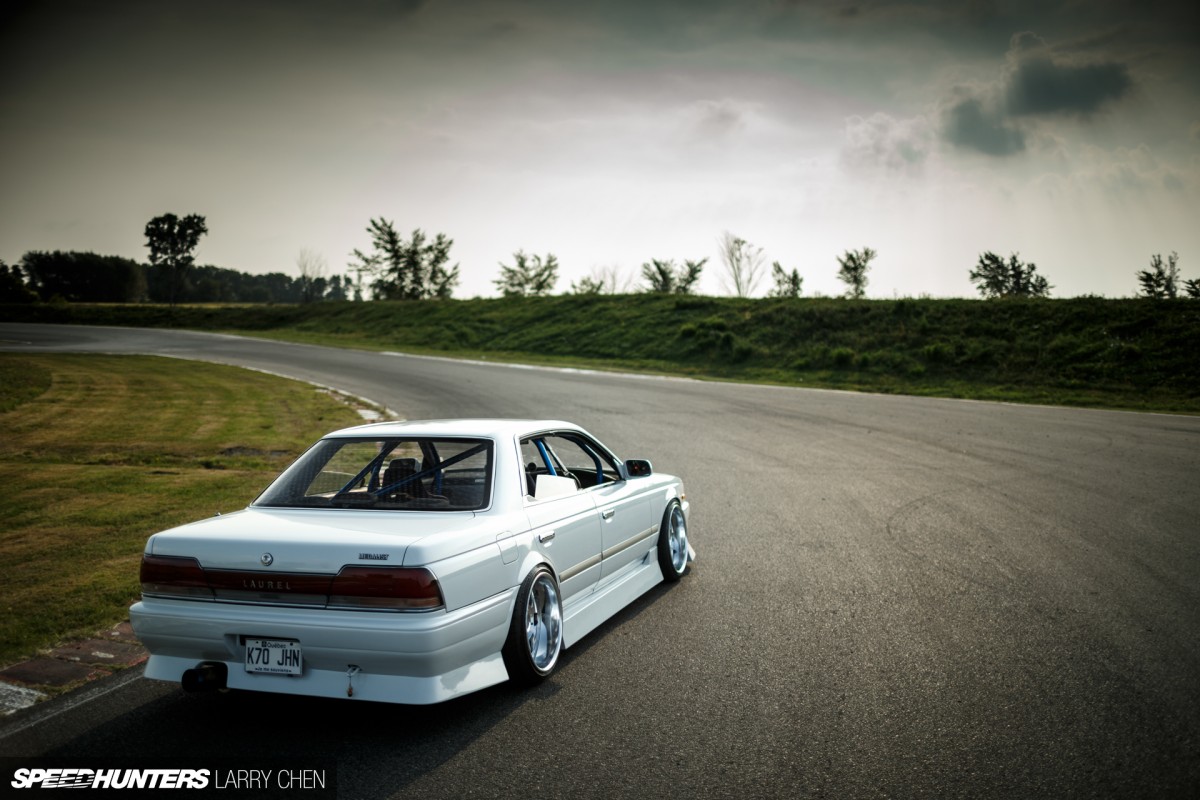 For years we've looked at our Canadian buddies with envy, thanks in large part to their ability to get their hands on imported JDM machinery with ease. The availability of imported cars might be a stupid reason to move countries, but I'd be lying if I said it hadn't crossed my mind at least a couple times.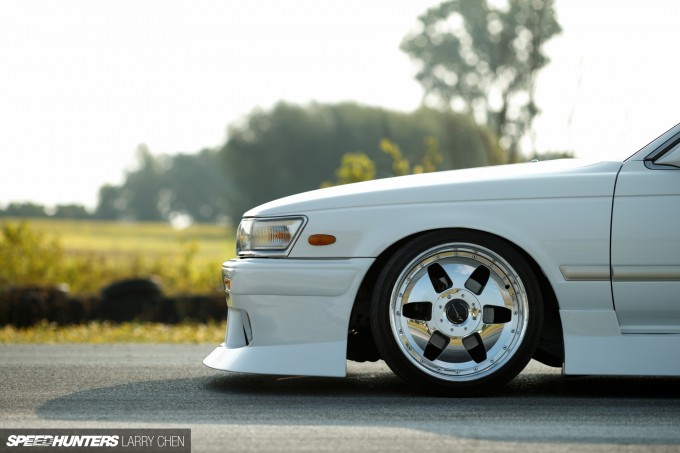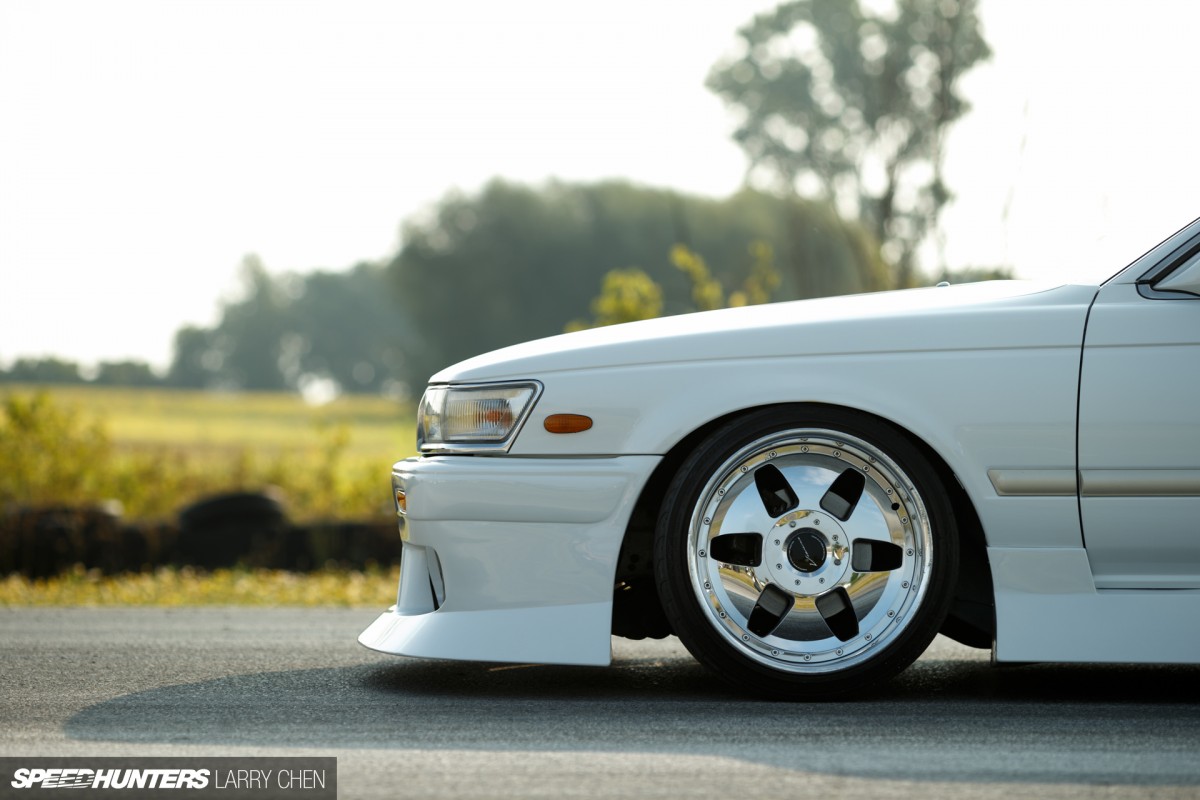 So, it's not surprising that when my fellow Californian Larry Chen traveled to Quebec for the Formula Drift Canada event, he selected a proper JDM vehicle as the recipient of our FeatureThis award at the Offset Kings Car Show.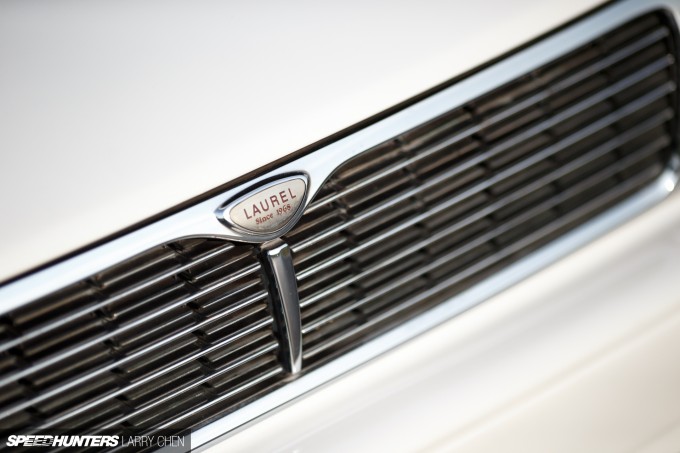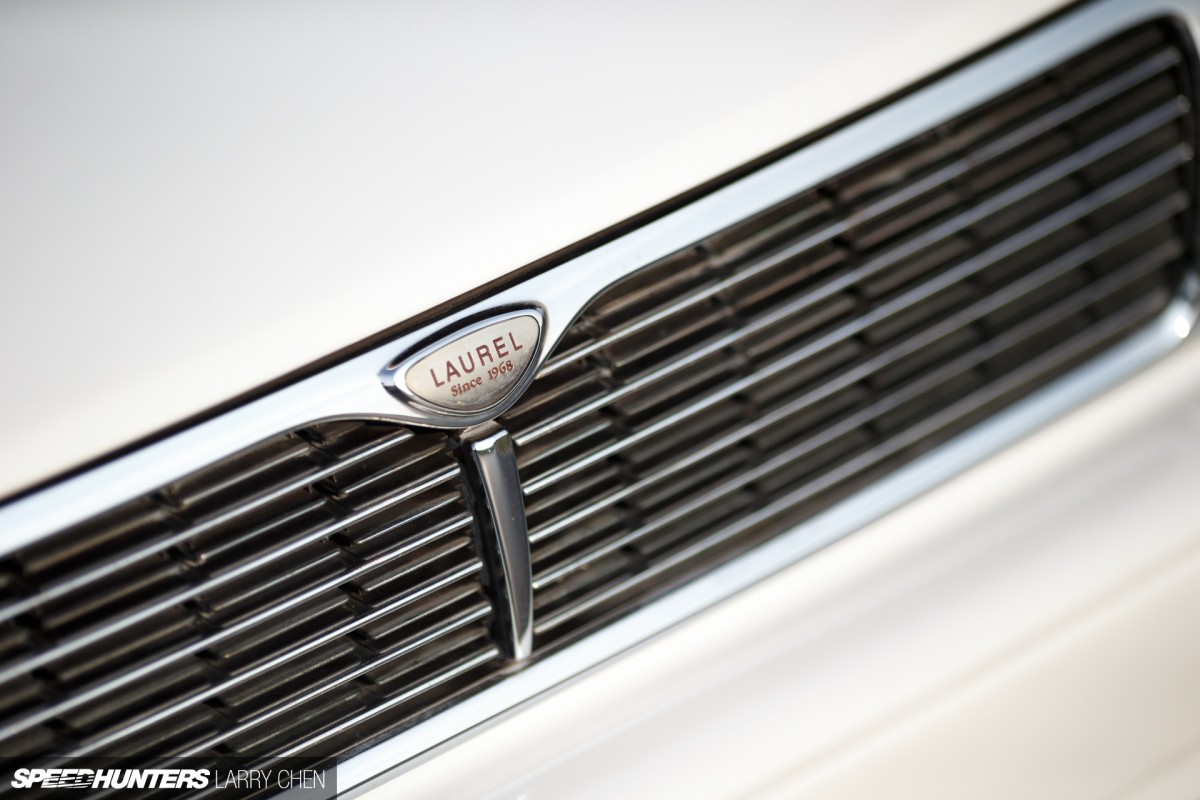 The car is a C33 chassis Nissan Laurel owned by Roch Mirandette, and it represents everything that's great about Japanese four-door sedans from the '80s and '90s. With its sleek hardtop styling, the C33 Laurel was a pretty cool car in stock form, and if specced the right way it wasn't too far from being a Nissan Silvia with four doors.
Four-Door Style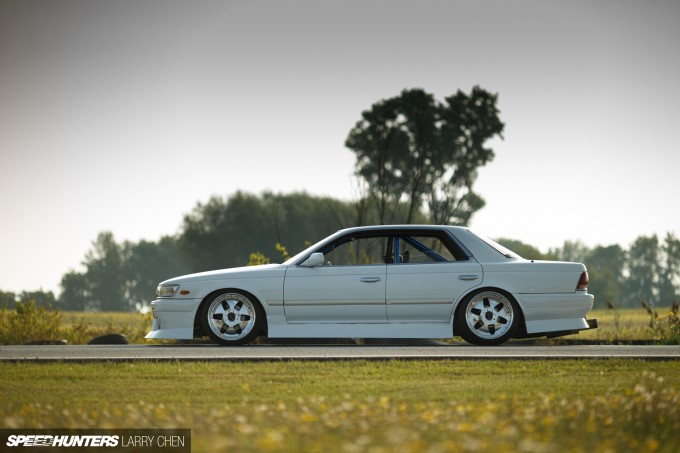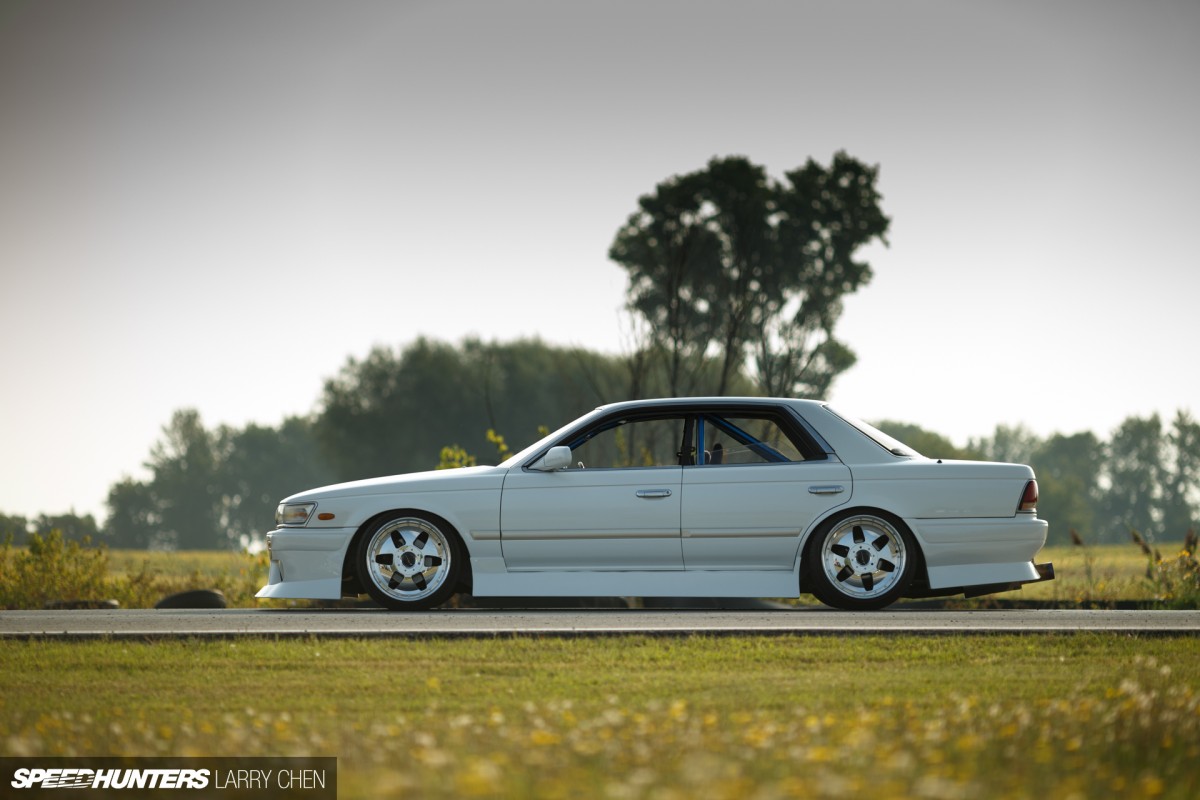 When Roch acquired his C33 from Japan a couple years ago, he wanted to take things a step further. His plan was to transform the Laurel into a four-door GT-R of sorts, loaded up with the radical style that Japanese drift cars are known for.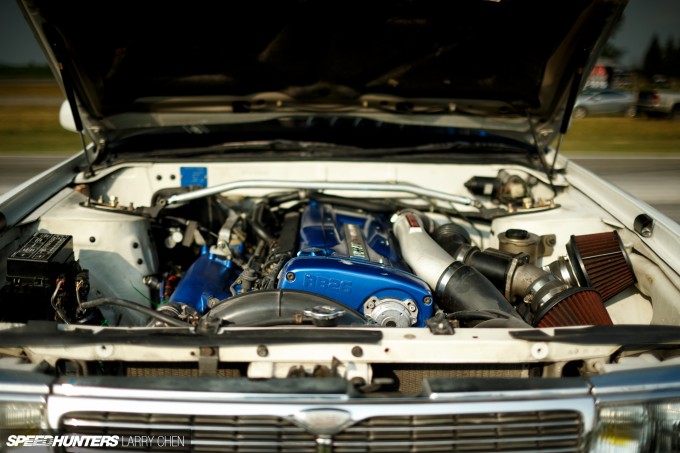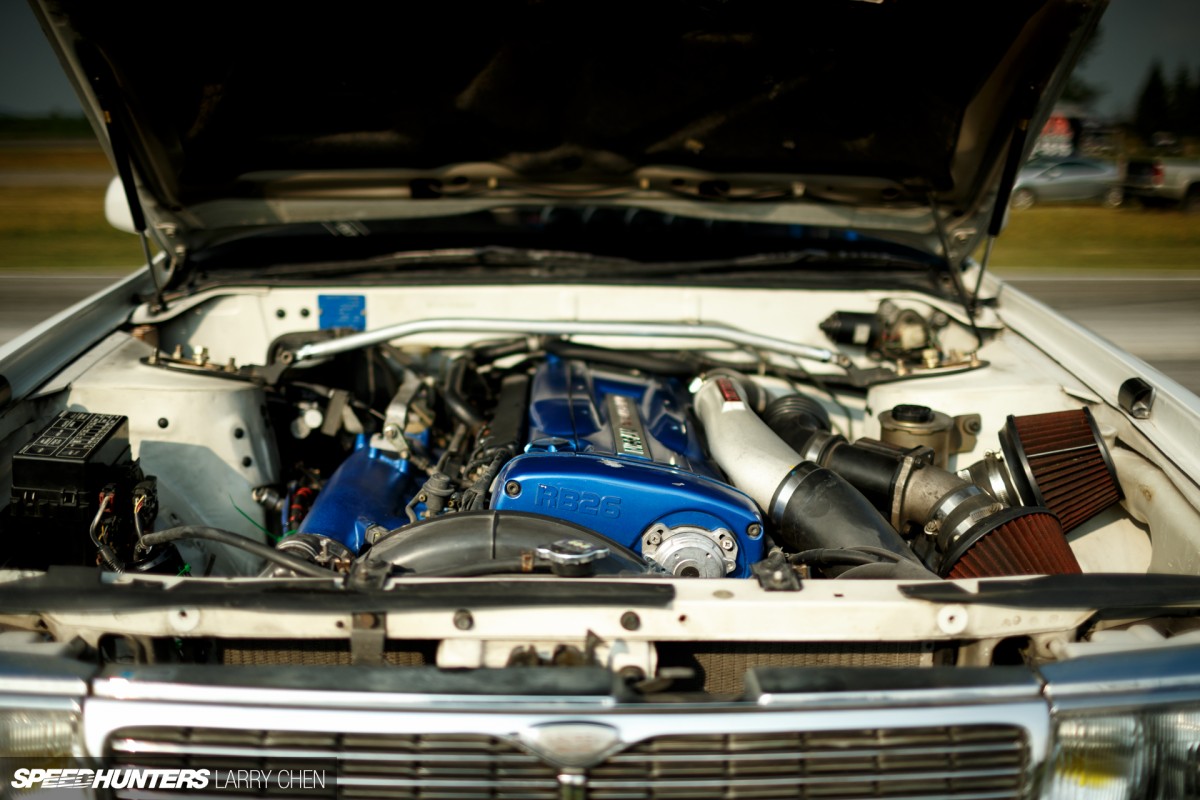 The C33 was available with a few different engines from the famed RB family, and when it came time for Roch to modify his, he went straight to the top of the food chain – the RB26DETT from the Skyline GT-R.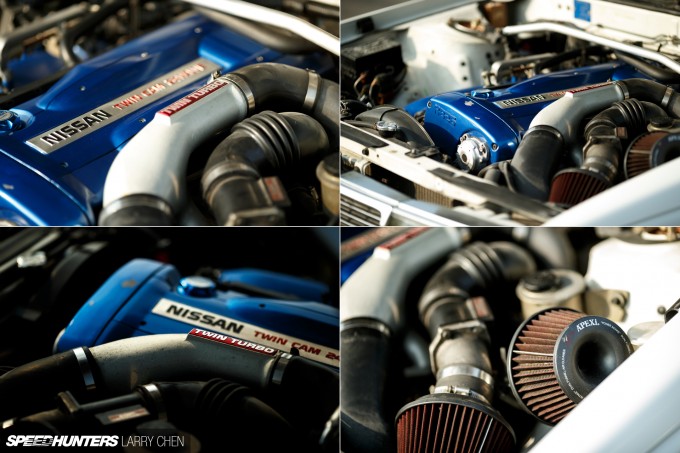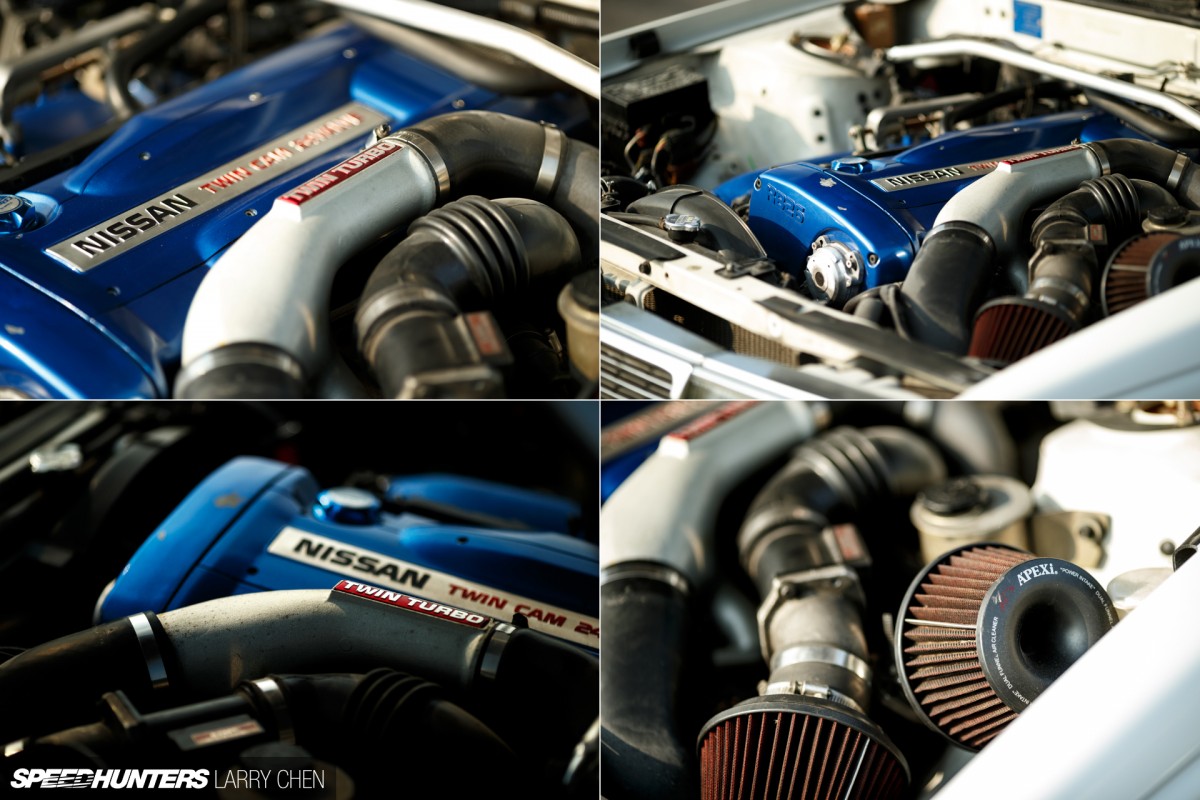 Rather than going with a full-on race build, Roch has kept the modifications to the RB26 relatively mild. After all, even in stock form this is still one of the greatest engines to have ever come out of Japan. Instead of a big single turbo setup you see on a lot of modified cars, Roch is still running the factory twin turbochargers.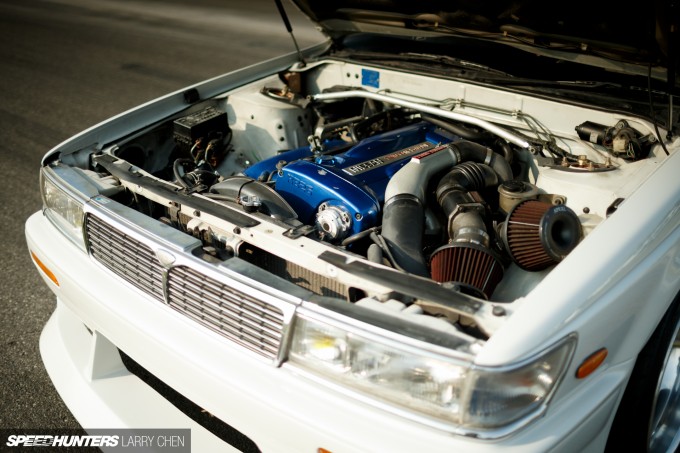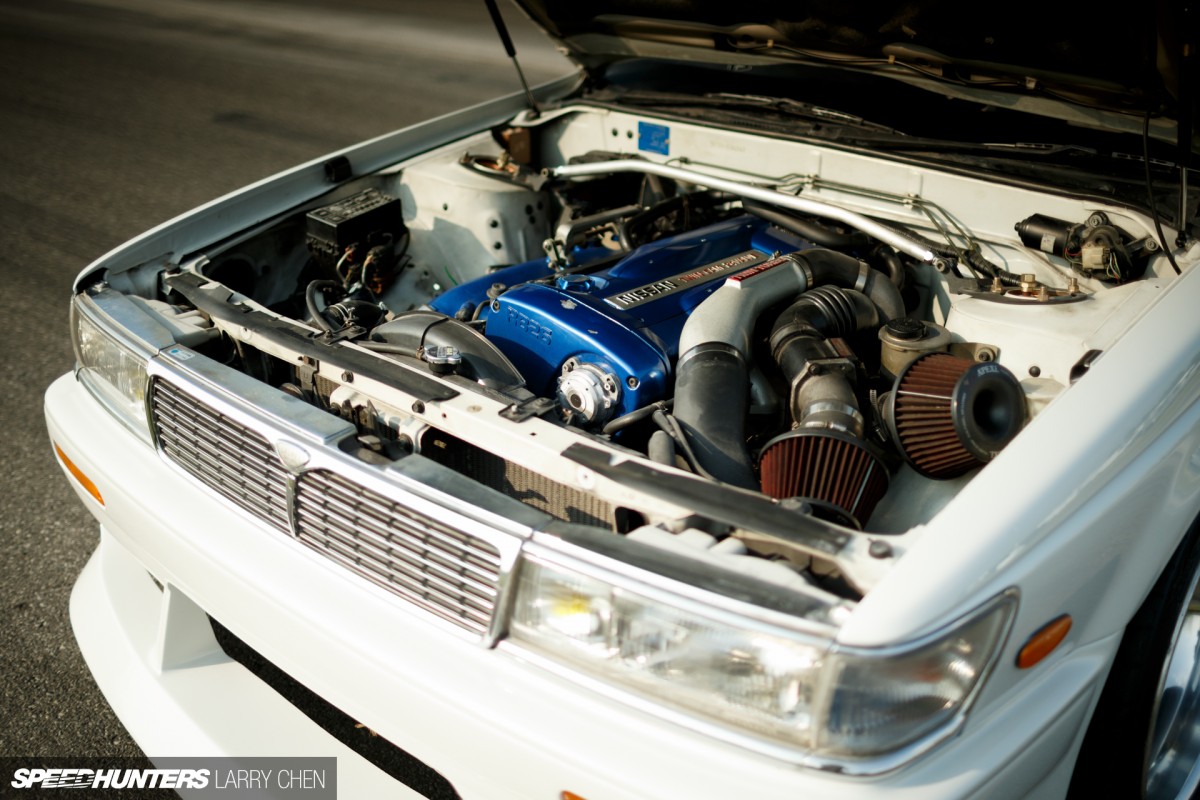 Modifications include an upgraded intercooler from an R33 Skyline GT-R, along with a pair of Blitz blow-off valves, high performance down pipes and an aftermarket 3.5-inch exhaust system from Japan.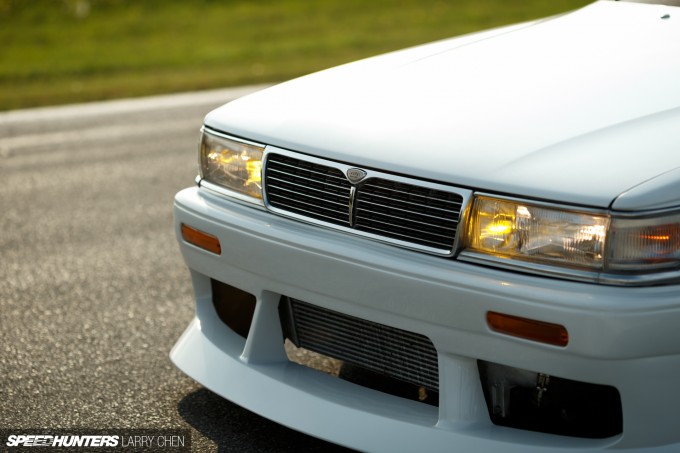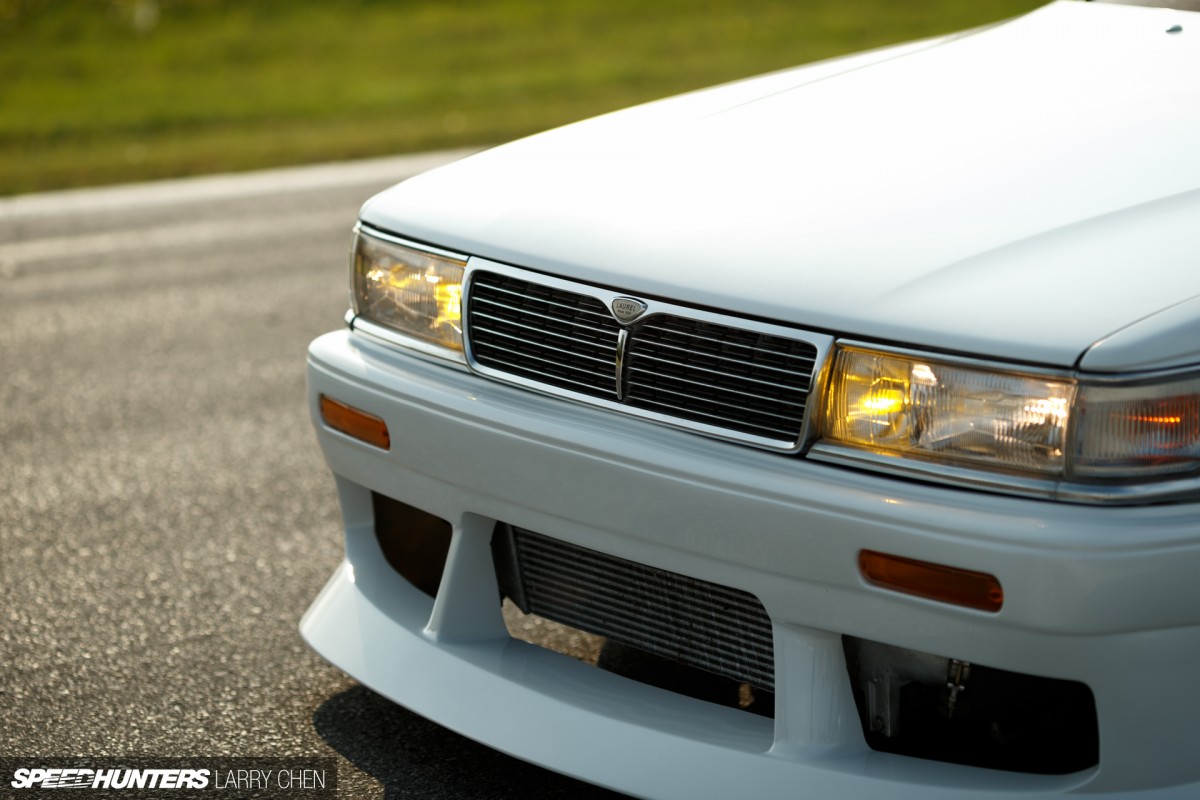 The transmission is an RB25DET 5-speed with a Nismo single-plate clutch, and it sends the turbocharged power to a Cusco 2-way LSD equipped rear end.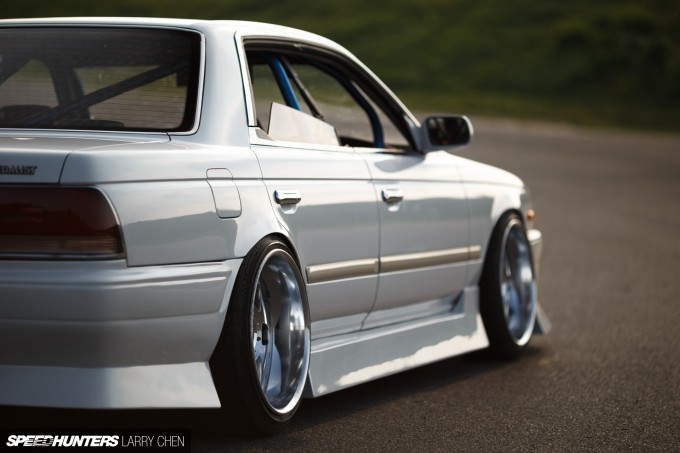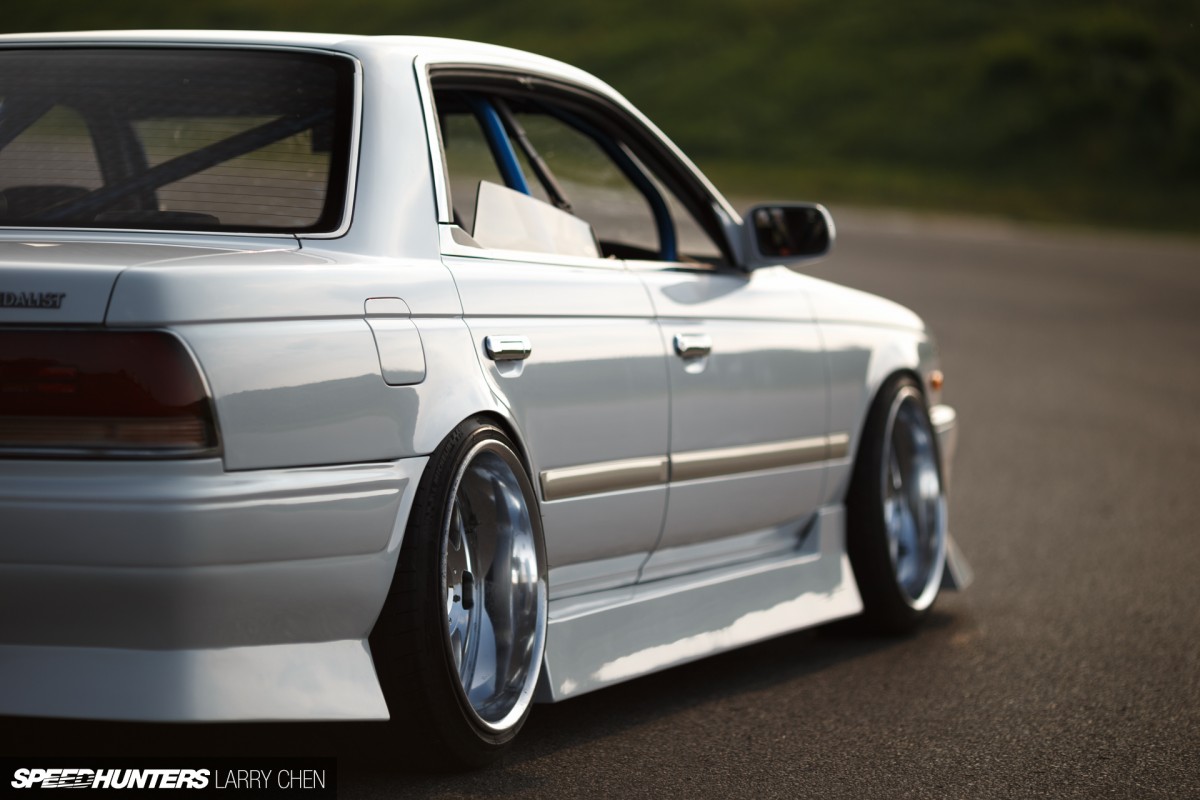 Next up was the suspension, and in order to get the Laurel sitting right and sliding with ease, Roch ordered a set of fully adjustable coilovers from Parts Shop Max. While he was at it, he also fitted one the brand's subframe bushing kits to help stiffen up the decades-old chassis.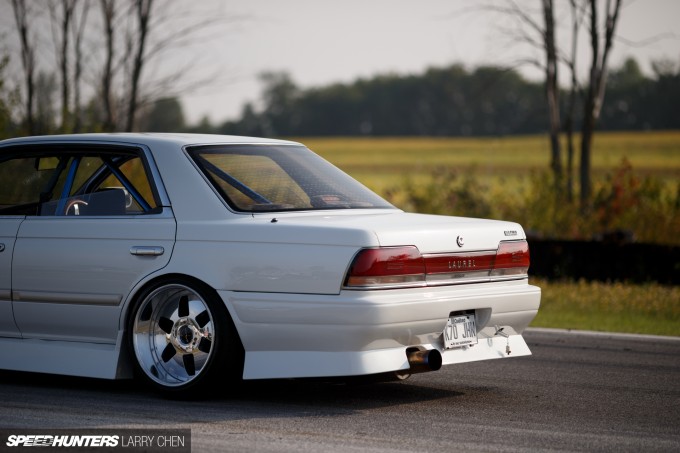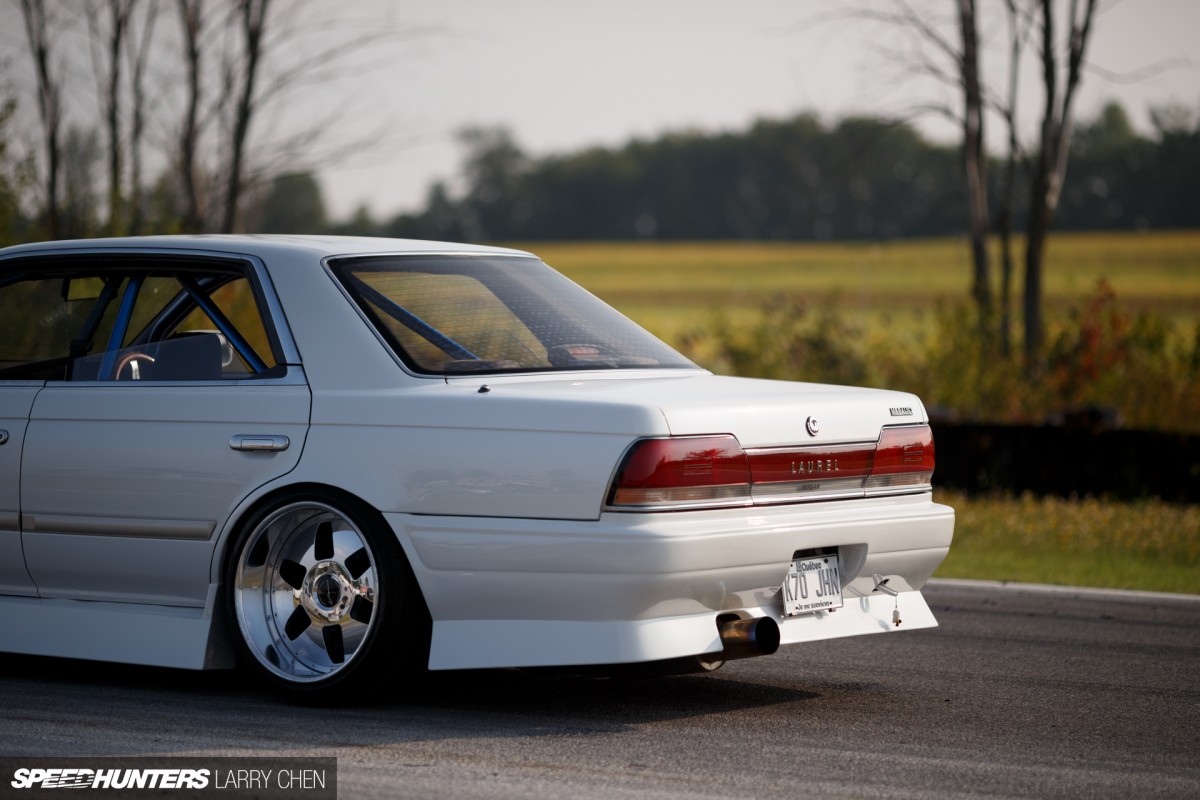 For other suspension and chassis upgrades, Roch turned to the Cusco catalog and fitted a set of the company's signature blue camber plates, as well as upgraded tension rods and sway bars.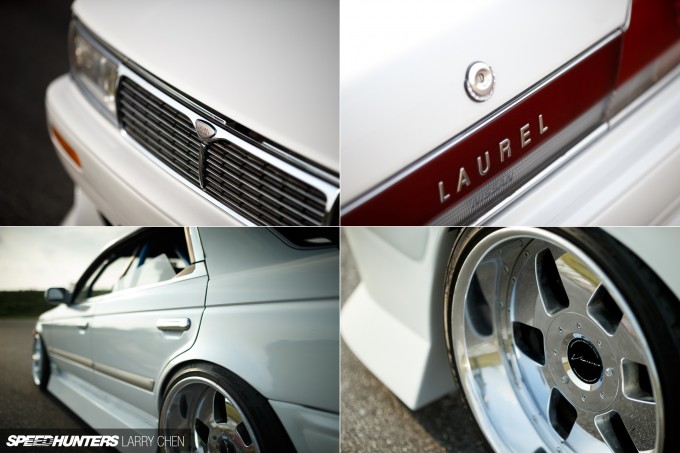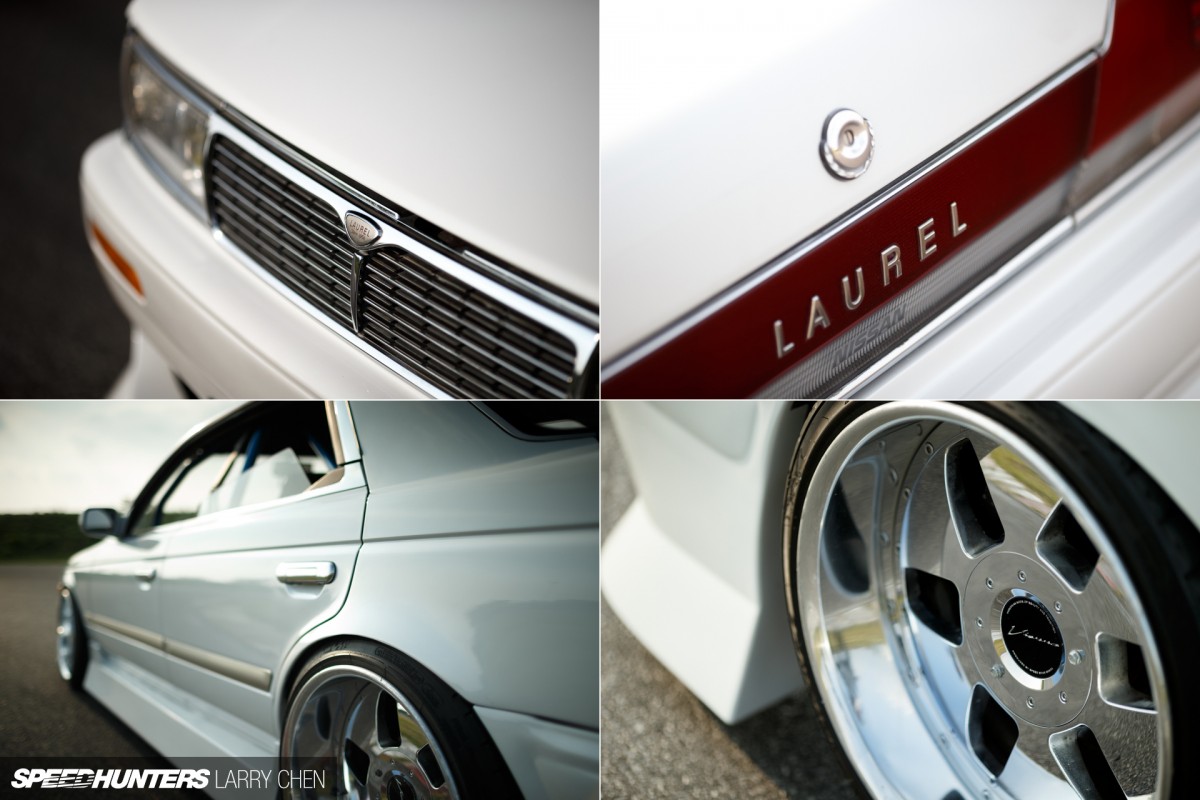 There's a certain style that you expect from a four-door Japanese drift car, and when it comes to exterior parts it's hard to argue with Roch's choice of a full body kit from URAS – Ken Nomura's well known tuning shop in Fukuoka.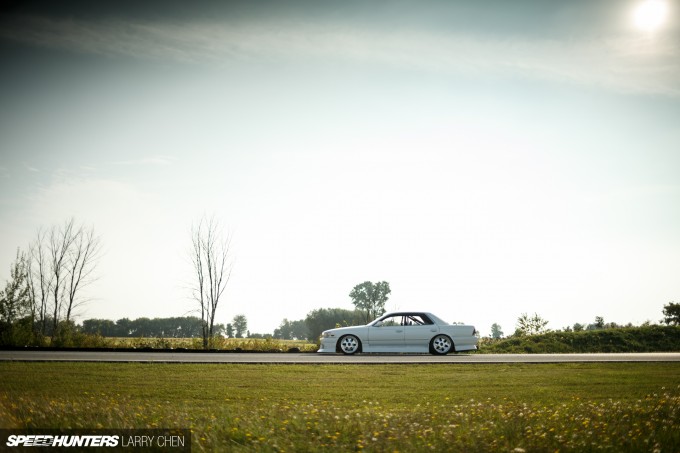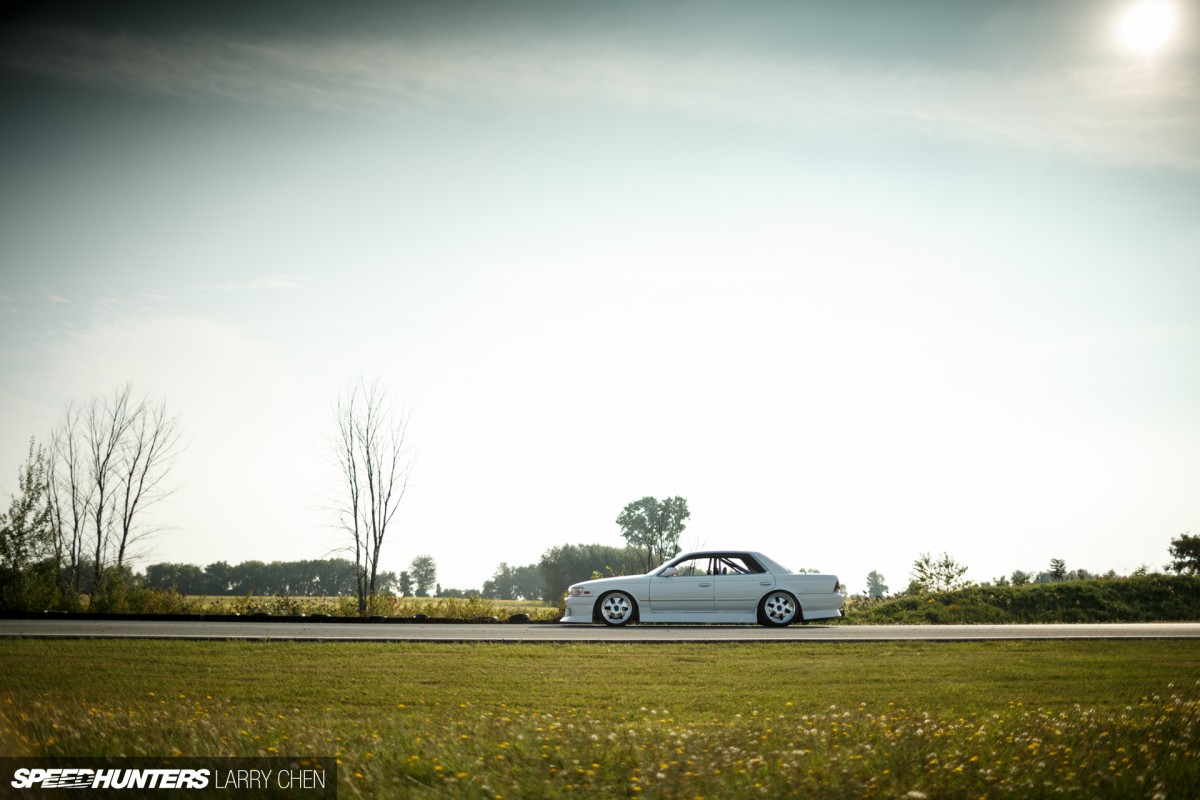 The URAS kit gives the Laurel a classic street drift look, and along with the new aero parts the car was treated to some additional bodywork including custom widened rear fenders and pulled fenders up front.
The Classic Look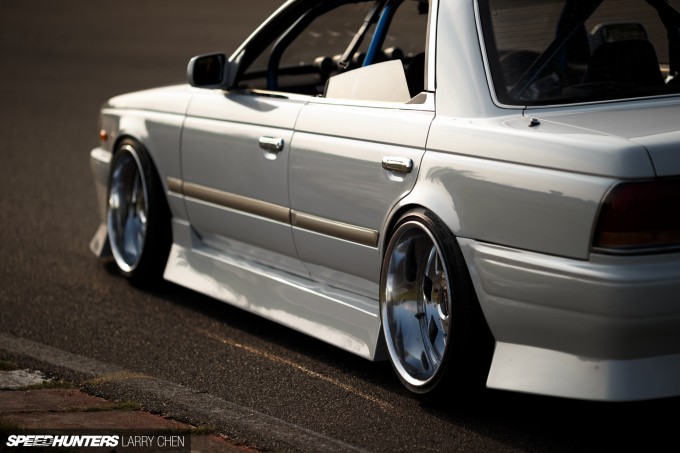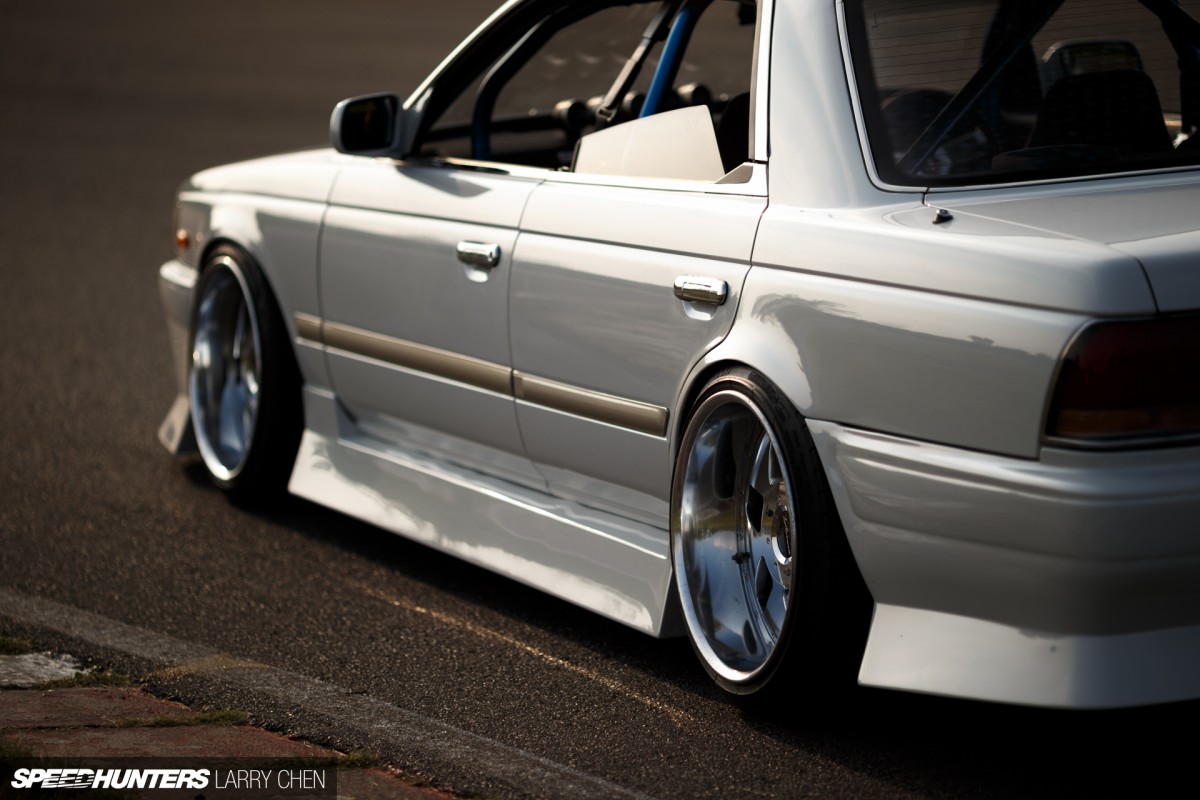 Choosing the right wheels would be another challenge for Roch, but in the end you can't disagree with his choice of SSR Viennas. The deep-lipped SSRs just give the Laurel that perfect late-1990s/early-2000s drift machine vibe.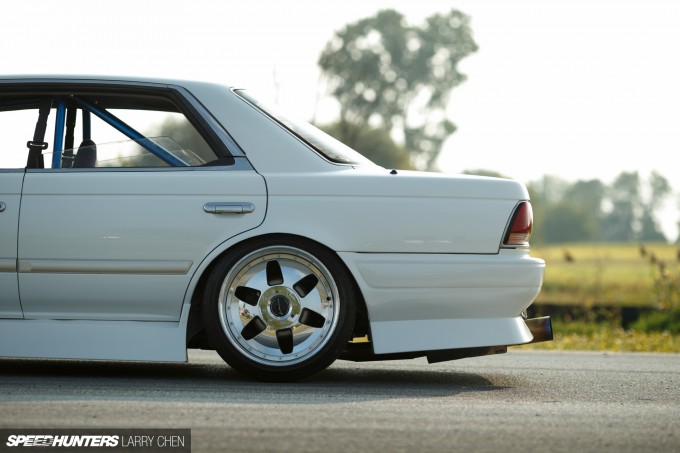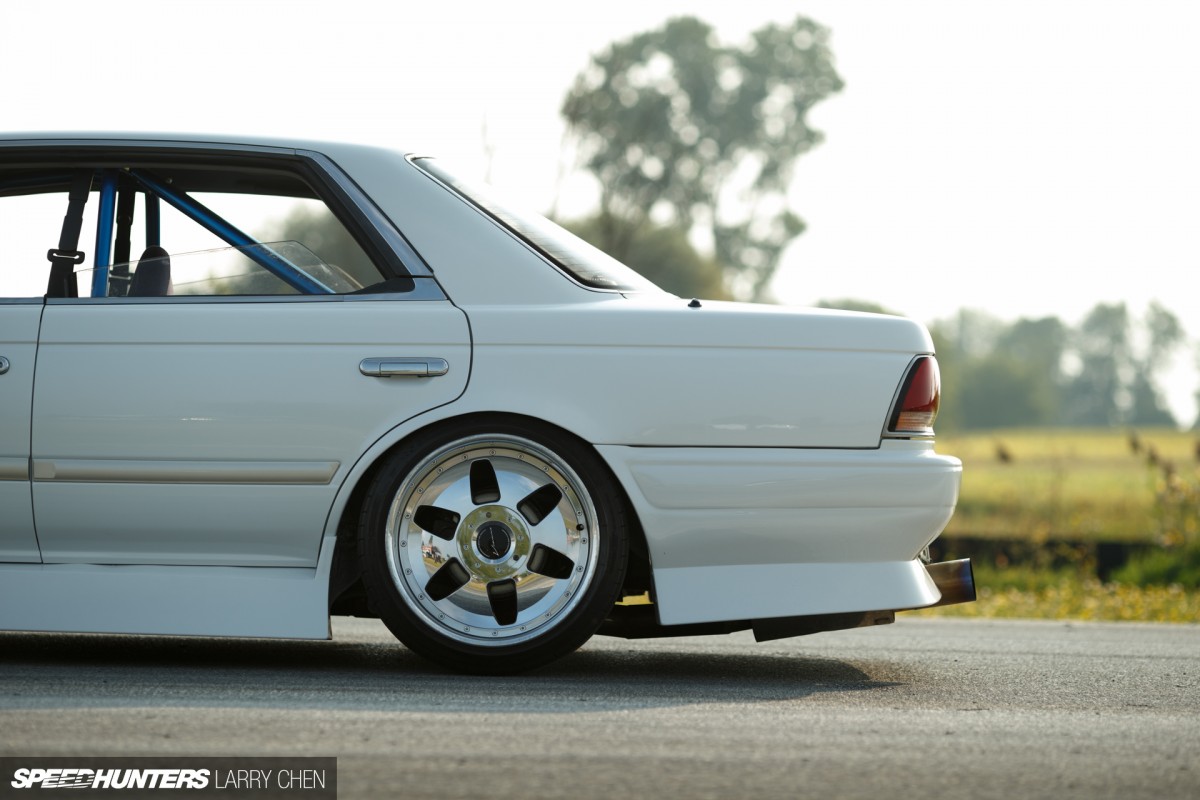 The Viennas measure 18×9-inch with a -1 offset up front and 18×10-inch with a -1 offset in the rear, while the tires are stretched Michelins, 215/40R18 and 225/40R18 front and rear respectively.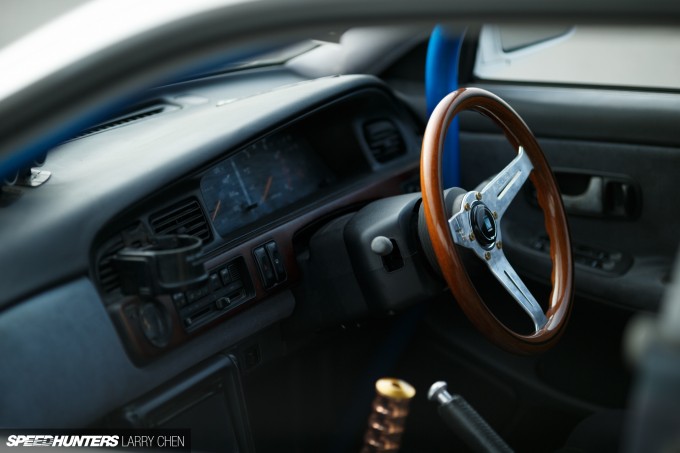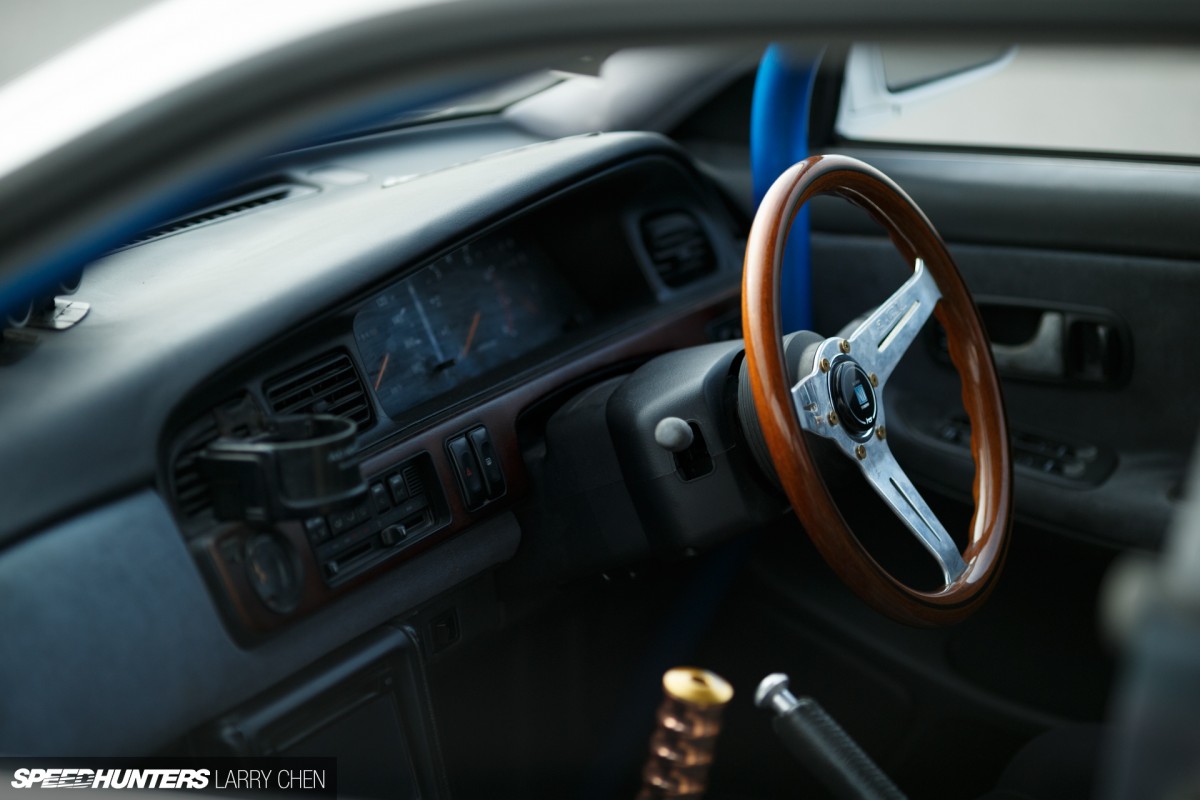 Inside the Laurel's cabin you'll find a full Cusco 8-point bolt-in rollcage along with a Bride bucket seat to keep Roch secure when it's time to let the RB26 sing.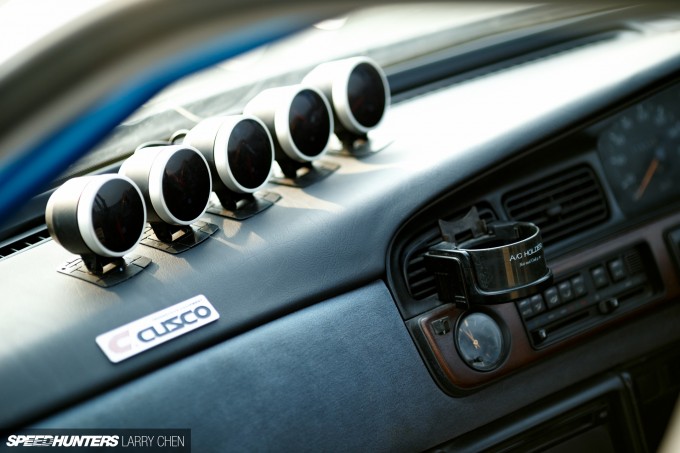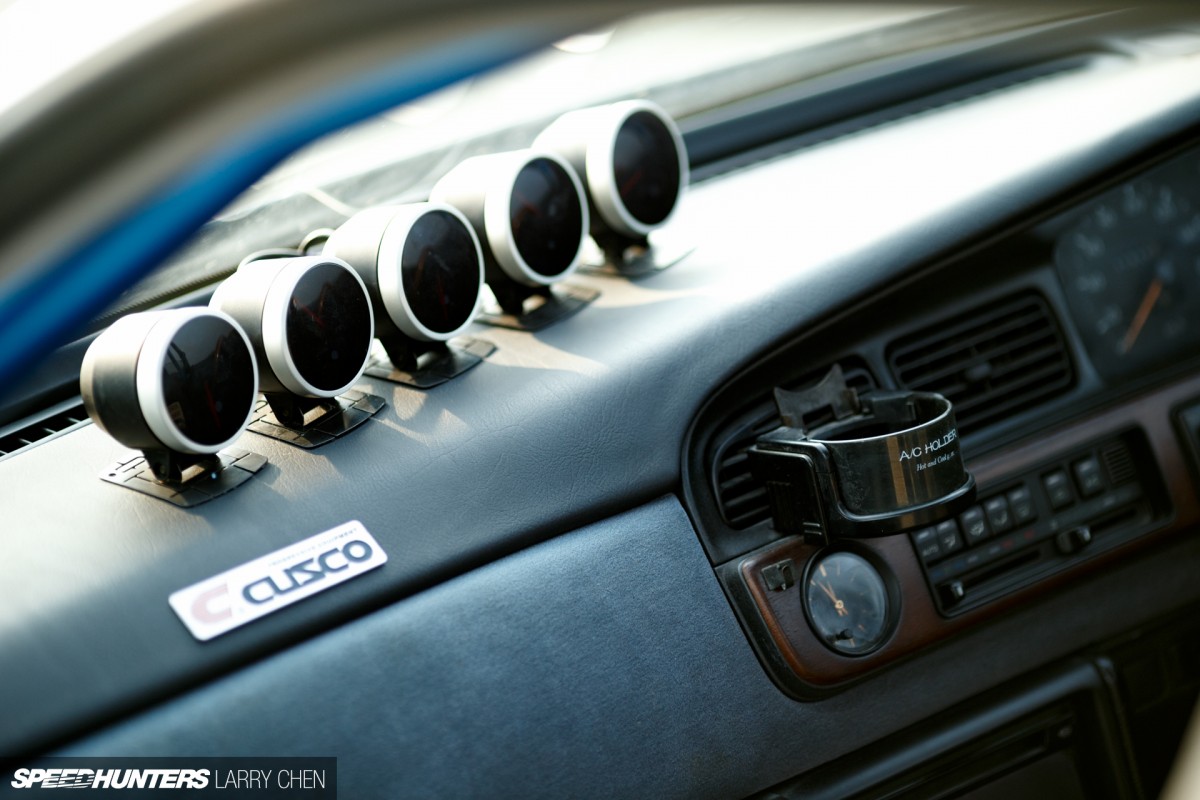 Other interior upgrades include a full line-up of Defi gauges as well the quintessential Nardi steering wheel. Don't forget the double-DIN Sony stereo deck which received TV broadcasts back in Japan but probably won't be of much use in Canada.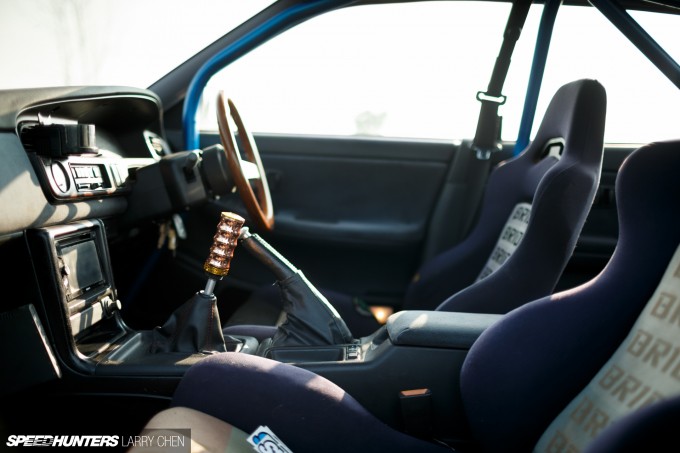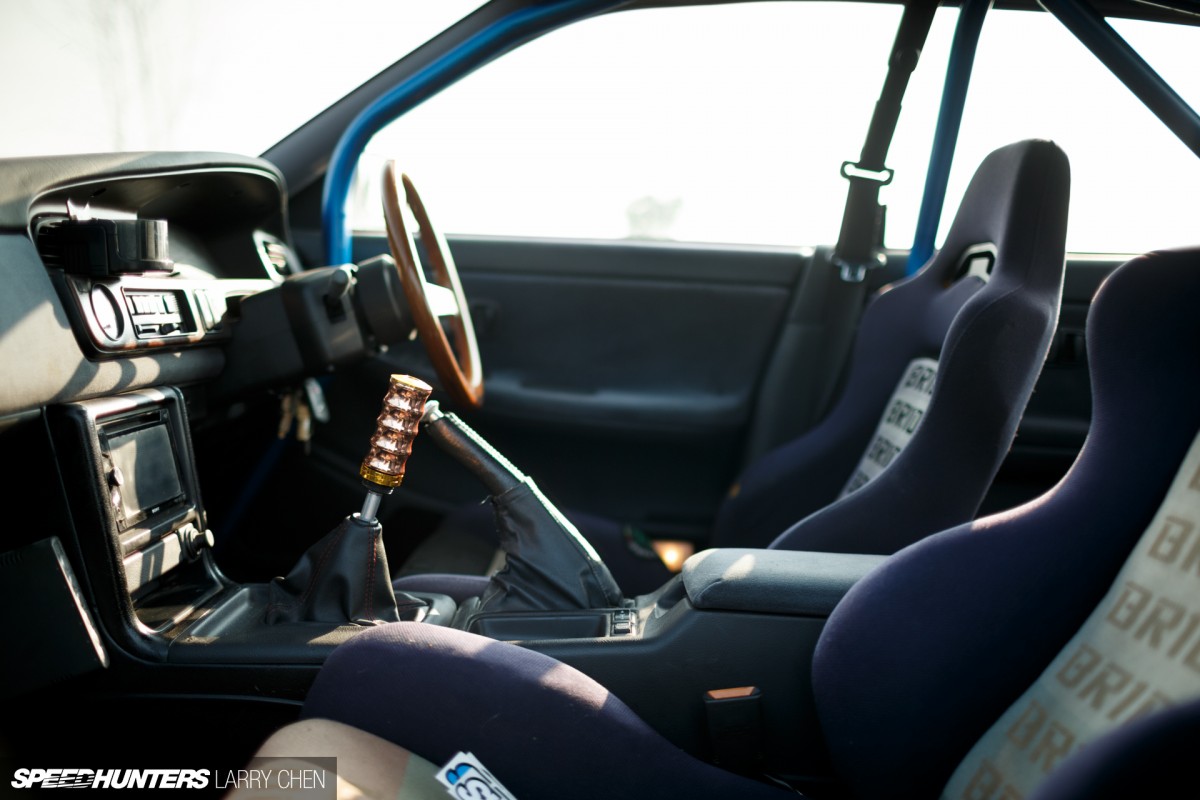 Roch's C33 is the perfect example of a fixed-up four-door. It's got classic drift car styling and with Skyline GT-R muscle under the hood it has more than enough boosted power to back it up.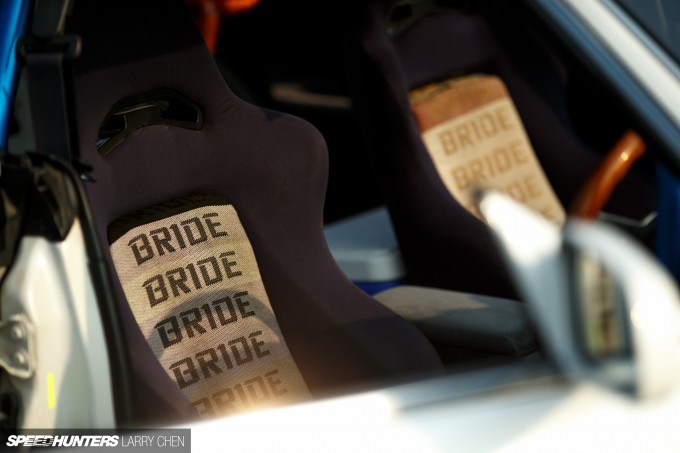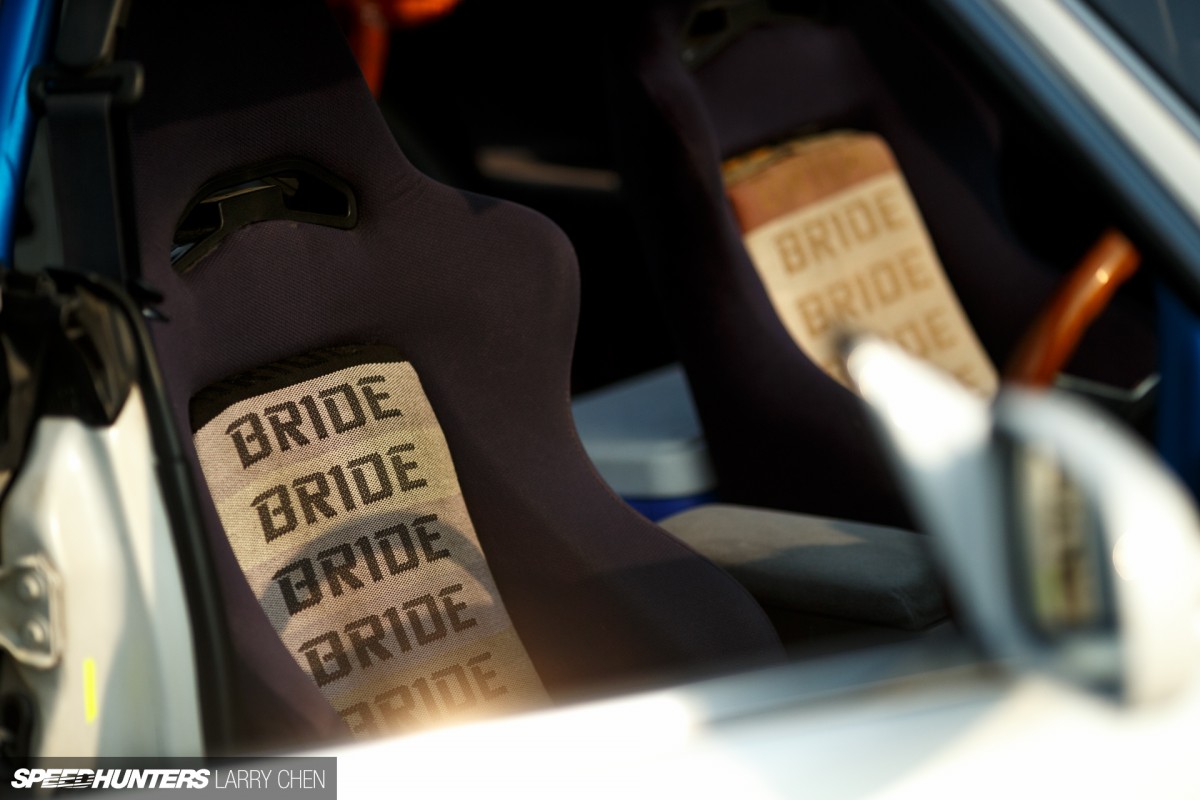 And to my friends north of the border, how about a trade? We send you some of our sunny California weather and you send us some of your bitchin' JDM imports.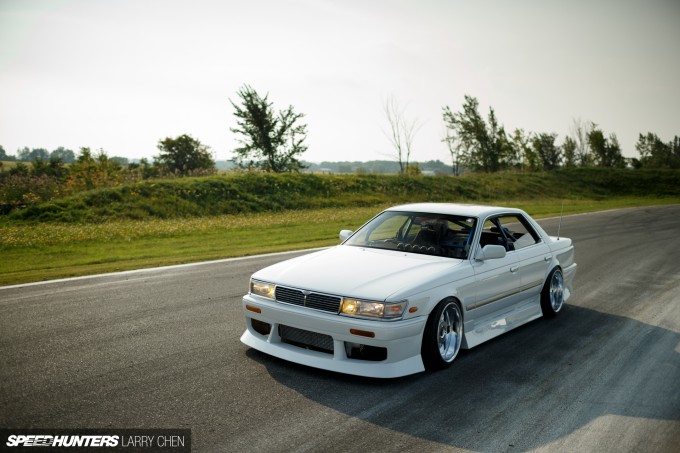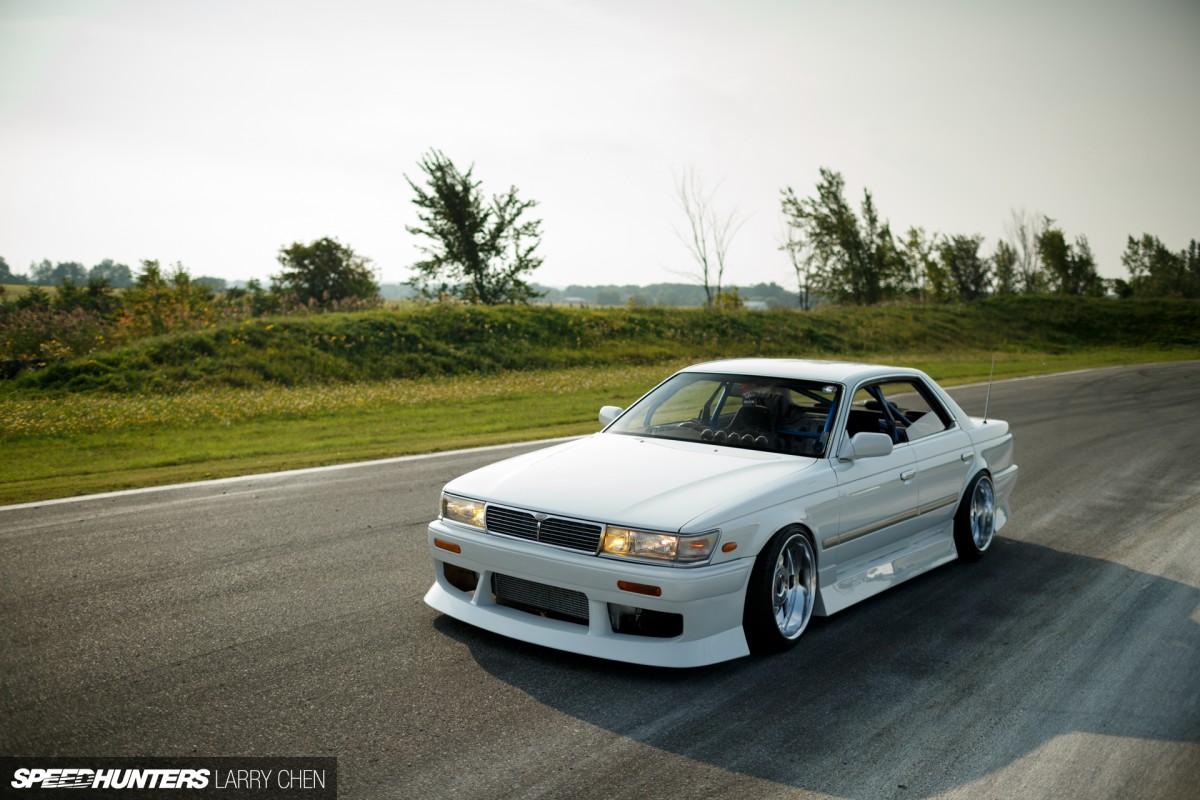 Deal? Let's make it happen.
Mike Garrett
Instagram: japanifornia_media
mike@speedhunters.com
Photos by Larry Chen
Instagram: larry_chen_foto
larry@speedhunters.com