Speedhunters driver Fredric Aasbø knew what he had to do coming into Formula Drift's 2015 Final Fight – and he delivered.
In front of a sold out audience at Irwindale Speedway, the 'Norwegian Hammer' took the Formula Drift Pro and World Championship titles, and then finished off his stellar season with the round win.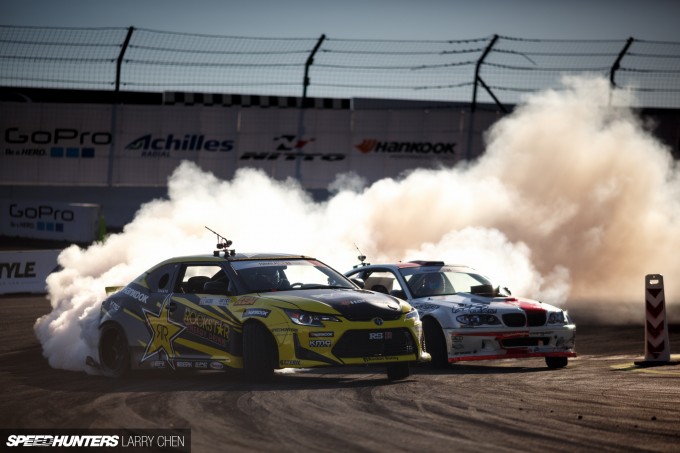 Coming into the 7th and final round of the 2015 season, Fredric held an 80-point advantage over Ken Gushi, with Ryan Tuerck holding third a further 16 points back. It was the Rockstar Energy/Hankook Tire driver's double championships to lose, but after qualifying in 5th spot with an 83.0-point scorecard, all Fredric needed to do to secure both titles was win his Air Force Top 32 battle against Kristaps Bluss.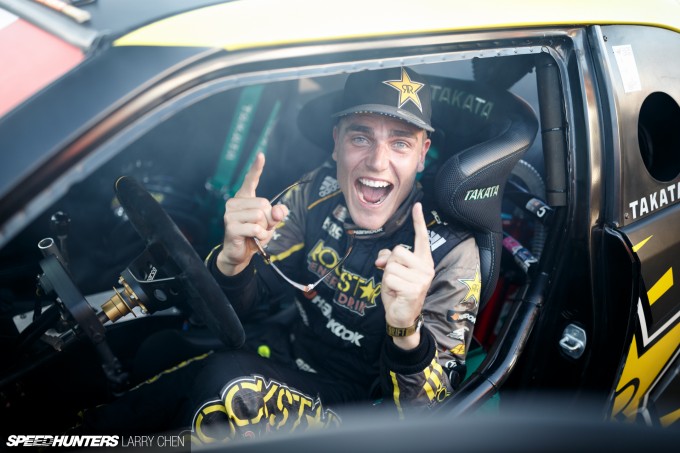 It was a clear-cut result too, Bluss spinning while leading on the second pass. Fredric had nowhere to go in the Papadakis Racing Scion tC, running into the Latvian's HGK Motorsport BMW, but that was inconsequential. "This is what dreams are made of," he commented to Formula Drift's Laurette Nicoll in paddock.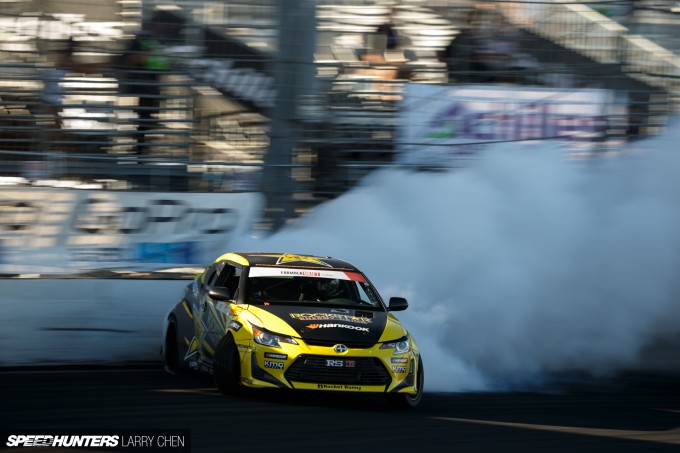 With the two titles in the bag the pressure was off, but that didn't mean Fredric was going drive at anything less than his 'Hold Stumt!' mantra.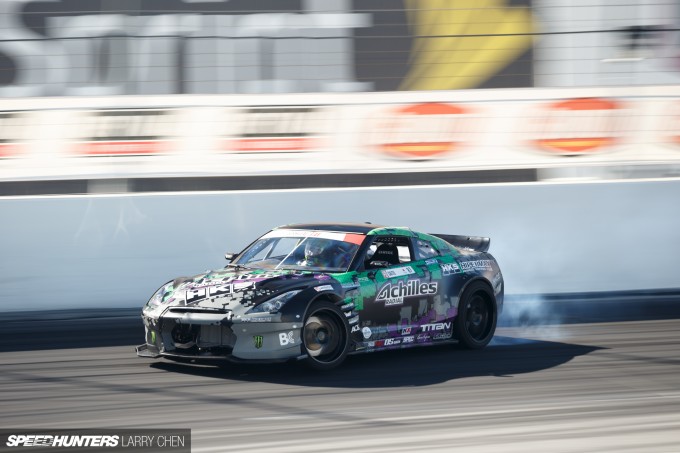 His Ford Top 16 match-up with Daigo Saito had the makings of an epic battle – the Ninja having won at Irwindale Speedway three times running. The pair went One More Time, but the Japanese driver didn't fare so well the second time around, first getting lost in Fredric's smoke and then spinning just shy of the finish on his lead lap.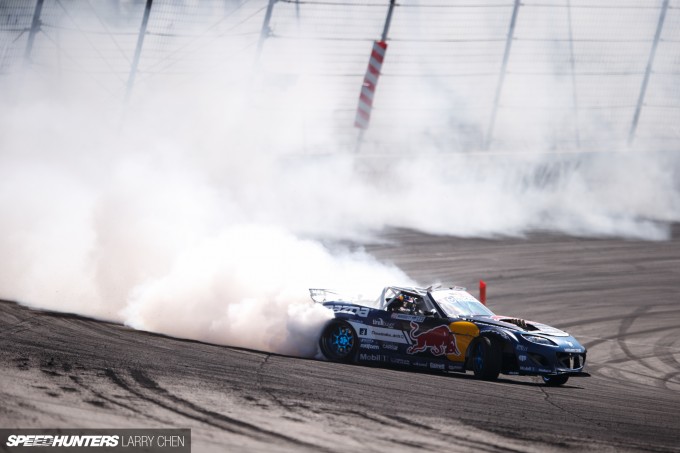 In the Nitto Great 8, Fredric met Mad Mike Whiddett, the Kiwi looking strong after qualifying in 4th – his best to date. But like Saito, Whiddett struggled, and Fredric moved on to meet – and ultimately beat – Forrest Wang (the #1 qualifier) in the Nitto Top 4.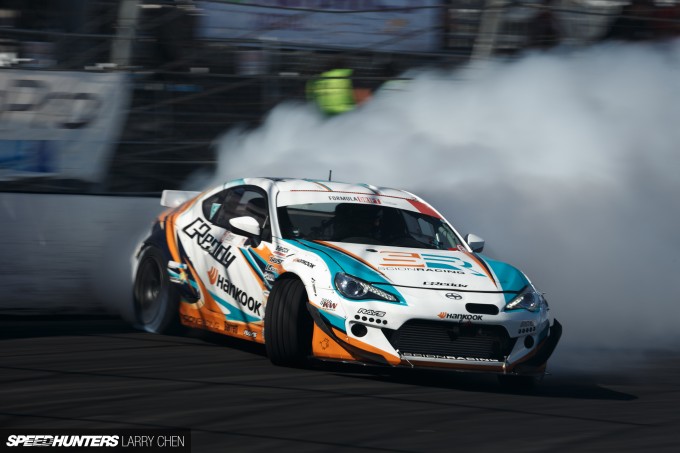 On the other side of the ladder, championship contender Ken Gushi had been carving his own way to the final, defeating Jhonnattan Castro, Michael Essa and Charles Ng (driving a borrowed Get Nuts Lab Silvia). Gushi led on the first pass of the final, driving a faultless line, but Fredric didn't give him an inch – his chase was phenomenal. When it was Fredric's turn to lead, he made his intentions clear from the get-go, pulling a huge gap out of the gate and maintaining it for the entirety of the run.
While Gushi had held onto his second position in the Pro Championship, scoring 431.00 (99 points behind Aasbø's 530.00), Ryan Tuerck watched his podium finish go up in smoke. The Retaks/Maxxis driver only held a single point advantage over Chris Forsberg coming into the event, but having qualified in 13th (Forsberg qualified 9th) he was on the back foot straight away. Tuerck beat Conrad Grunewald in the Top 32, but after making contact with Whiddett's RADBUL Mazda MX-5 and then a concrete barrier in the Top 16, the damage to his Scion FR-S could not be repaired within a 5-minute competition time out and he was forced to retire.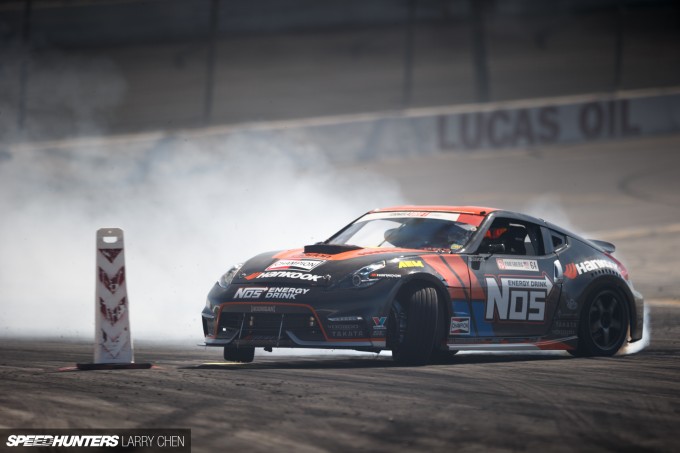 Meanwhile, Forsberg battled through to the Top 8 where he was beaten by Wang. Points earned, however, were enough to give him the third and final step on the Pro Championship podium.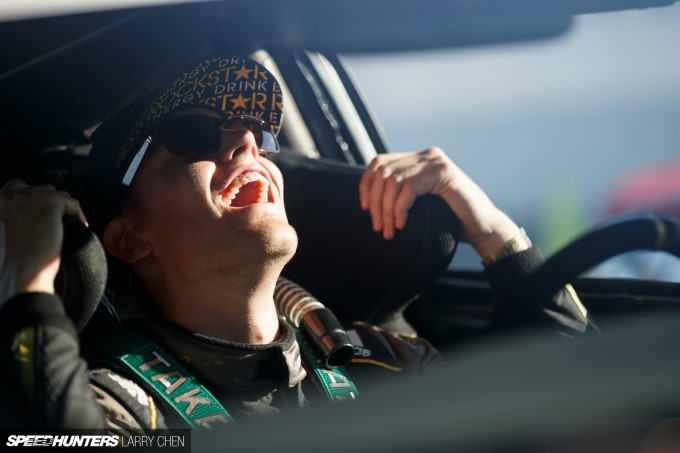 Formula Drift's 2015 Final Fight may be the last that's ever played out at Irwindale Speedway, but we know one guy who will remember it for other reasons. Congratulations Fredric and everyone at Papadakis Racing!
Stay tuned for Larry's extended coverage from the event in the coming week.
TheSpeedhunters