It had to happen sooner or later. Welcome to the STI S207, what was perhaps the most real and interesting car at this year's Tokyo Motor Show.
Okay, that's quite a statement, but do hear me out at least. I've often criticised Subaru for going mainstream and shooting for big sales with a CVT-equipped line-up of all-wheel drive station wagons, SUVs and curious hybrid creations; but at least when it comes to getting a sports car right, it appears to still know what it's doing. So, while the Japanese automaker has stopped injecting fun and excitement into the rest of its cars, when it comes to the Impreza STI, you know you are going to be right at home, just as you would have been in any Subaru product a decade or more ago.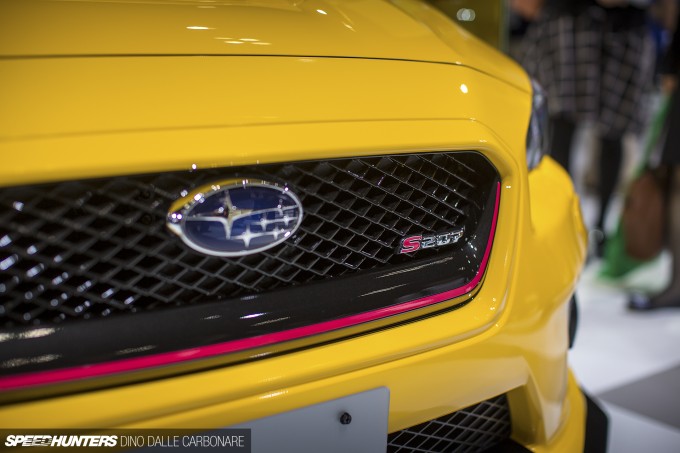 And with every hot-blooded Impreza STI variant, Subaru Tecnica International has always tried to make things that little bit more special with short-run special editions. So as long as you are in Japan and have ¥7 million sitting around burning a hole in your pocket, this is the car for you. You better get in quick though, as the S207 limited to just 400 units – 200 with the 'NBR Challenge' package and another 100 finished in the special Yellow Edition of this Tokyo Motor Show car. These specials STIs have a tendency to sell out almost instantaneously, so even though the S207 won't be available until March 6 next year, all 400 will probably be spoken for come the end of next month.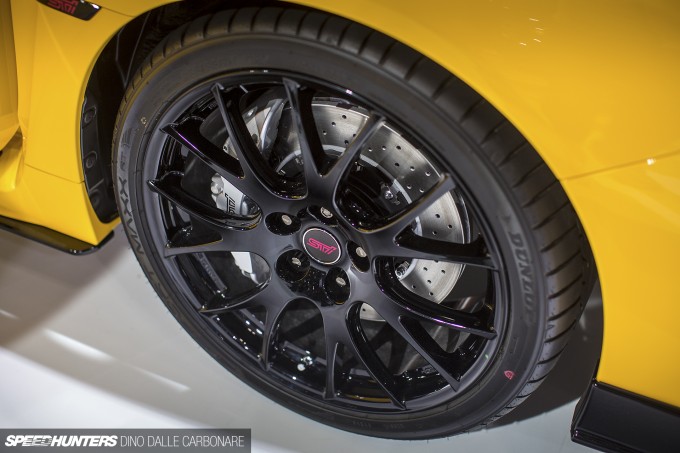 The S207 is based on the STI version of the Impreza WRX and sports a massaged version of the 2.0-litre EJ20 engine to develop 328PS at 7200rpm. There's also a bunch of other upgrade options parts from the STI catalogue as standard, including upside-down Bilstein front dampers and retuned rear shocks with lower and harder springs, pillow-ball links and a host of stiffening and strengthening components to add rigidity to the chassis. Black 19-inch BBS wheels are fitted regardless of whether you opt for the blue, white or yellow version, and surround STI-branded Brembo 6-pot calipers at the front with 4-pot calipers at the rear.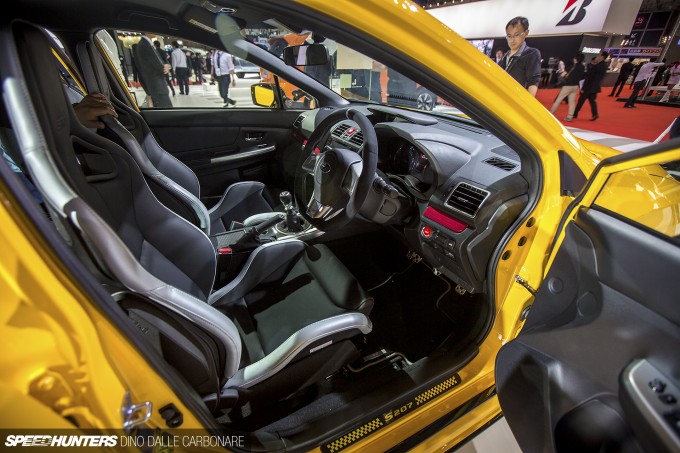 The Yellow Edition NBR Package car on display was the perfect S207 version to bring to the Tokyo Motor Show; its bright hue making it visible from across the hall where Subaru had its display.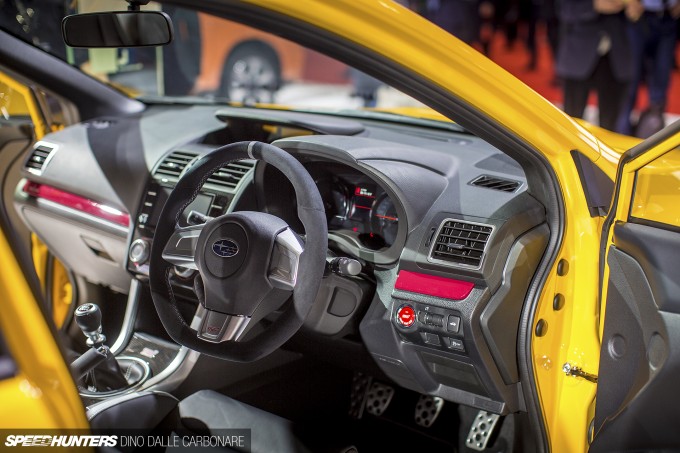 On top of carbon fiber Recaro bucket seats, the S207 has a BMW-like, suede-wrapped steering wheel, and nice red accents through the cabin.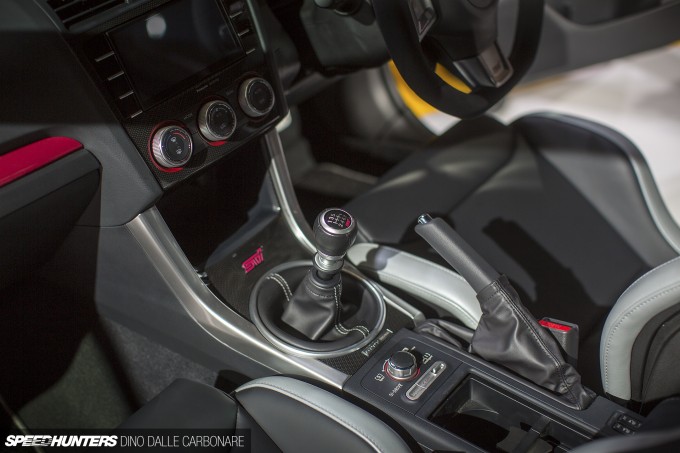 And yes, that is a proper manual gearbox! The precise and fast-shifting 6-speed makes the perfect addition to a driver-focused setup like this, and it's the only way you can get this car as Subaru doesn't make twin-clutch transmissions. Just CVTs. Yes, I'm not letting it go! If you plan to take the car to the track, there's an optional 'light track package' available too, which adds a lighter flywheel and a more performance-oriented clutch to better handle the demands of spirited driving. Higher friction brake pads are also thrown in.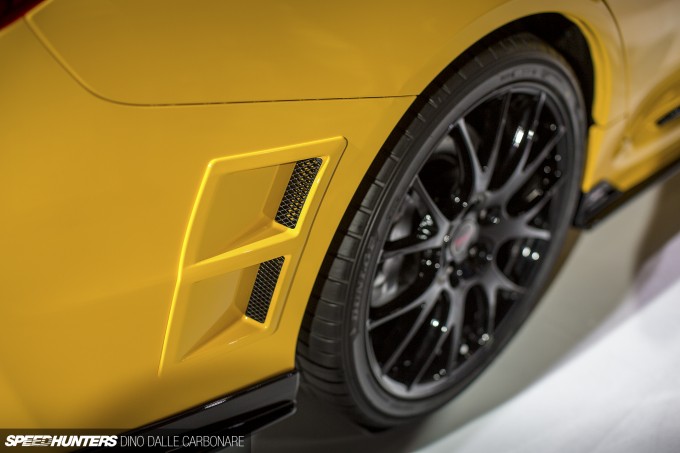 To rid the rear wheel wells of turbulent air, grilled outlets have been added to each side of the rear bumper; a lesson learned from the STI team's successes at the Nürburgring 24 Hour race over the years.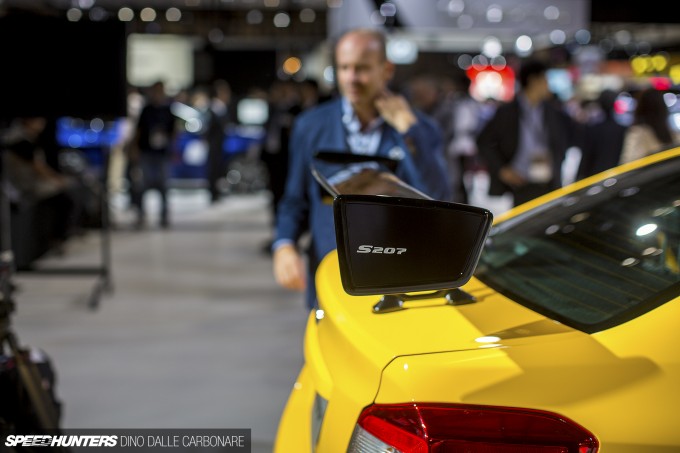 That includes the optional carbon fiber rear wing that comes with the NBR package. If you don't opt for the array of parts, the S207 actually comes spoiler-less, which is a look I rather like for this sedan.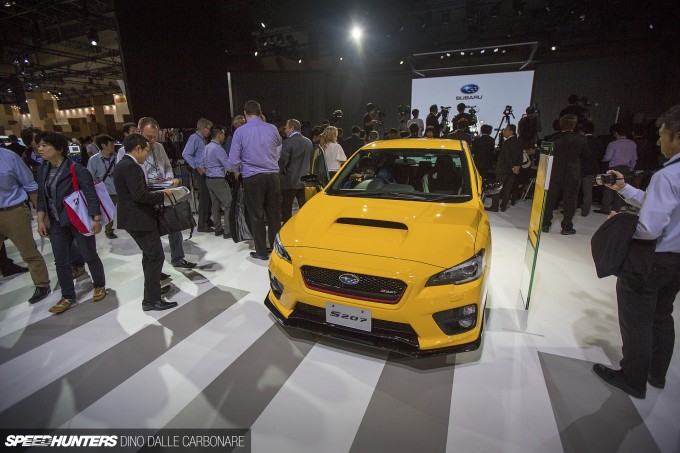 As STI S207 proves, Subaru can still make us dream when it wants to. Now all it has to do is take that way of thinking and apply it to a few more of its cars. Sales are going very well, so it's time to give the enthusiasts more of this kind of stuff. Are you guys with me on this? Oh, and don't just keep this stuff for Japan, Subaru!
Dino Dalle Carbonare
Instagram: speedhunters_dino
dino@speedhunters.com