Not Again
It's usually at this point of a feature where I try to get all poetic in an attempt to bring you gently around to the idea of yet another V8-swapped S-chassis. But I'm not going to do that. Because it should be blindingly obvious to everyone at this stage that the concept of re-powering a Nissan S13, S14 or S15 with a V8, is one of the most logical choices if you're looking to create a competitive drift car.
I'm currently enjoying a second love-in with drifting, and in particular the grassroots side of the sport. I love where drifting comes from and I really enjoy it at its most basic.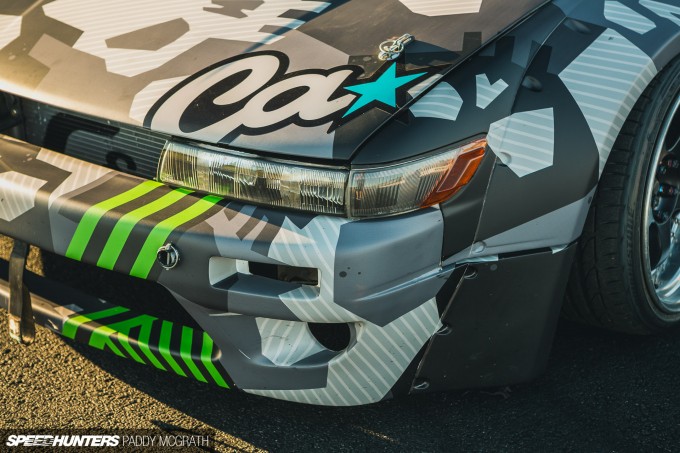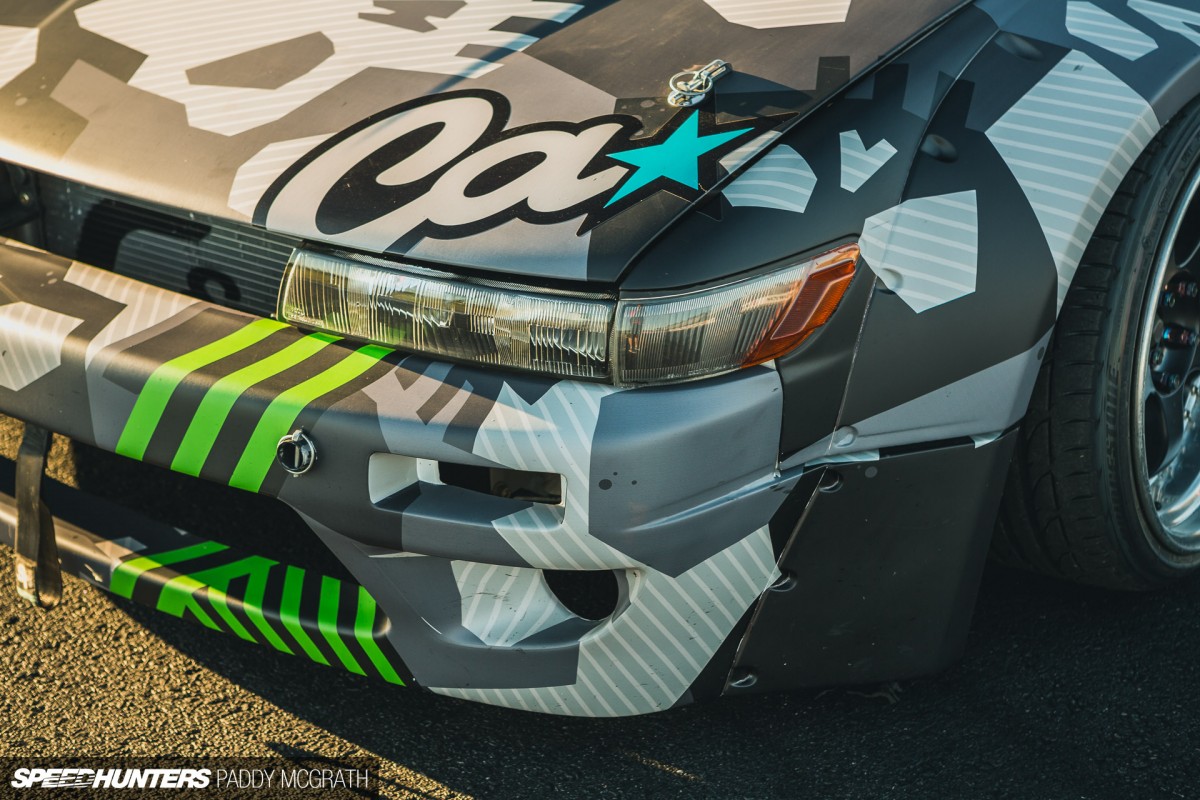 As such, many will tell me that I should hate the idea of a V8-swapped Nissan. But I just don't. I can't bring myself to get worked up over something that I appreciate as a logical decision.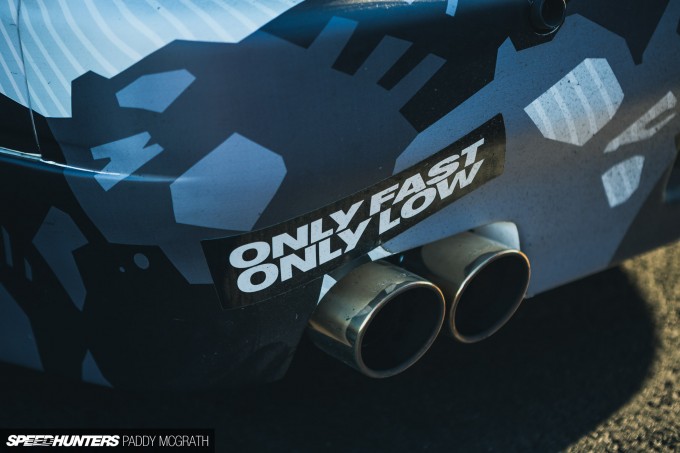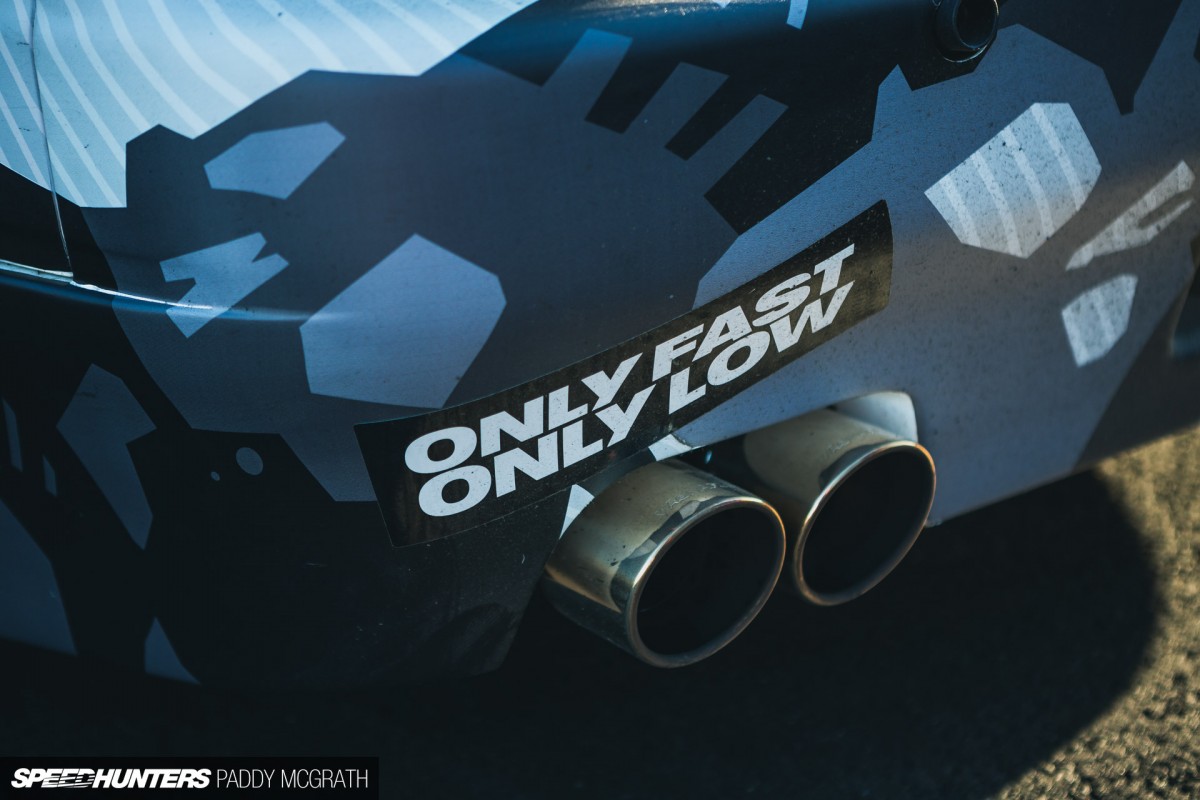 When I talk to an owner or builder about their car, my main aim to always get a better understanding about why they chose to do something a certain way. When you understand this, everything starts to make sense.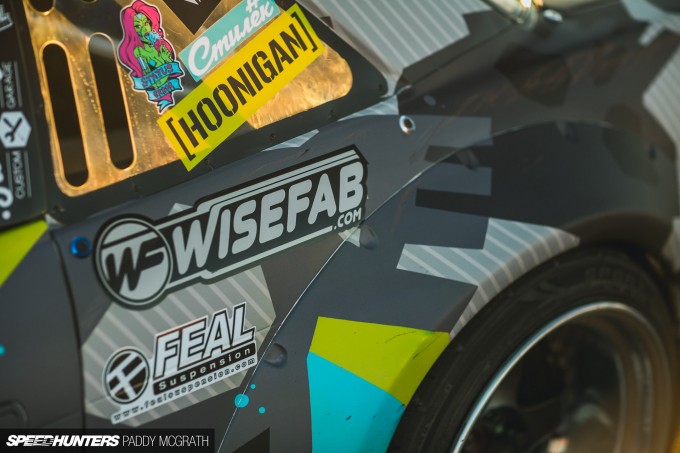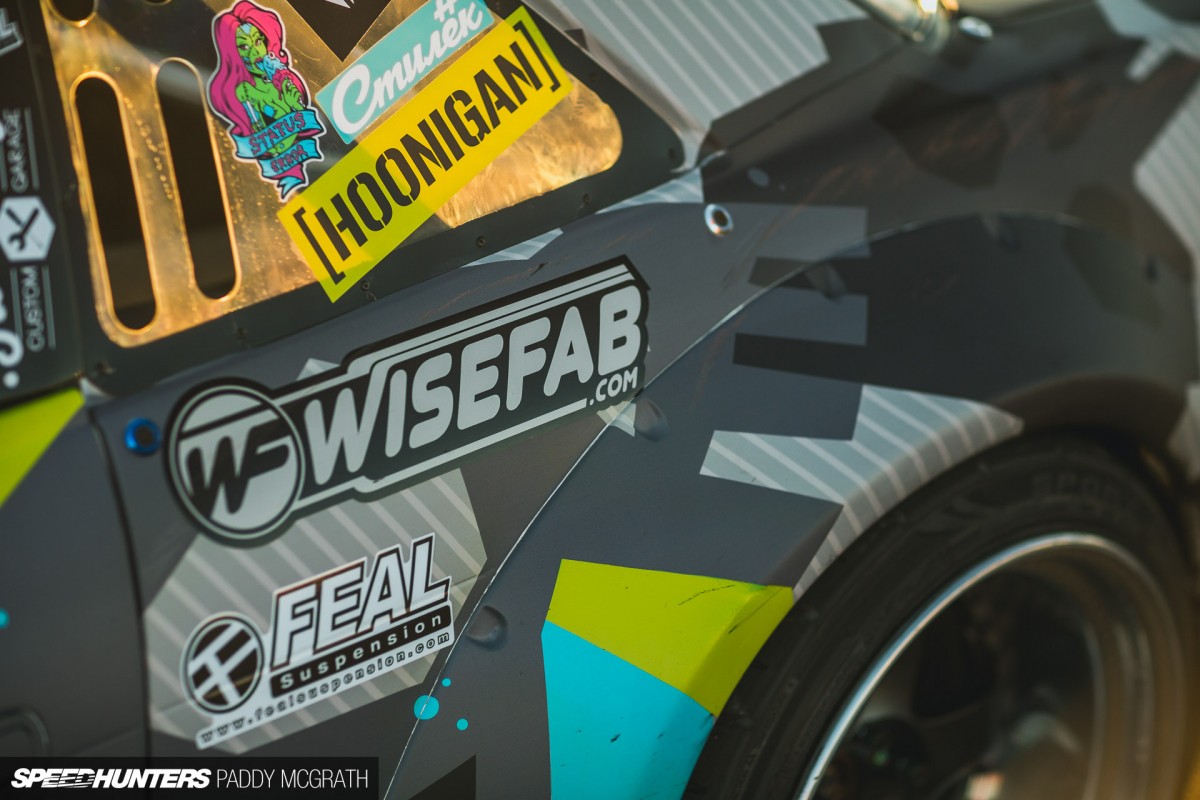 It might be a simple concept, but it's something that we're all guilty of overlooking at times. That is, every modified street or race car only exists because of its creator. As such, the creator is an integral part of the overall build and it's something that we should always keep in mind when critically examining another's automobile.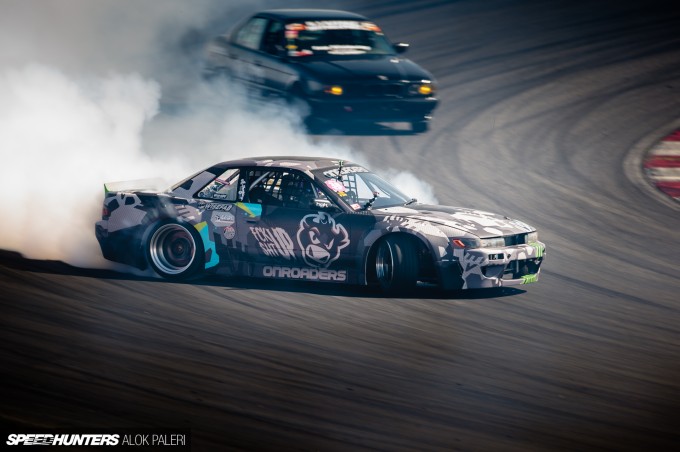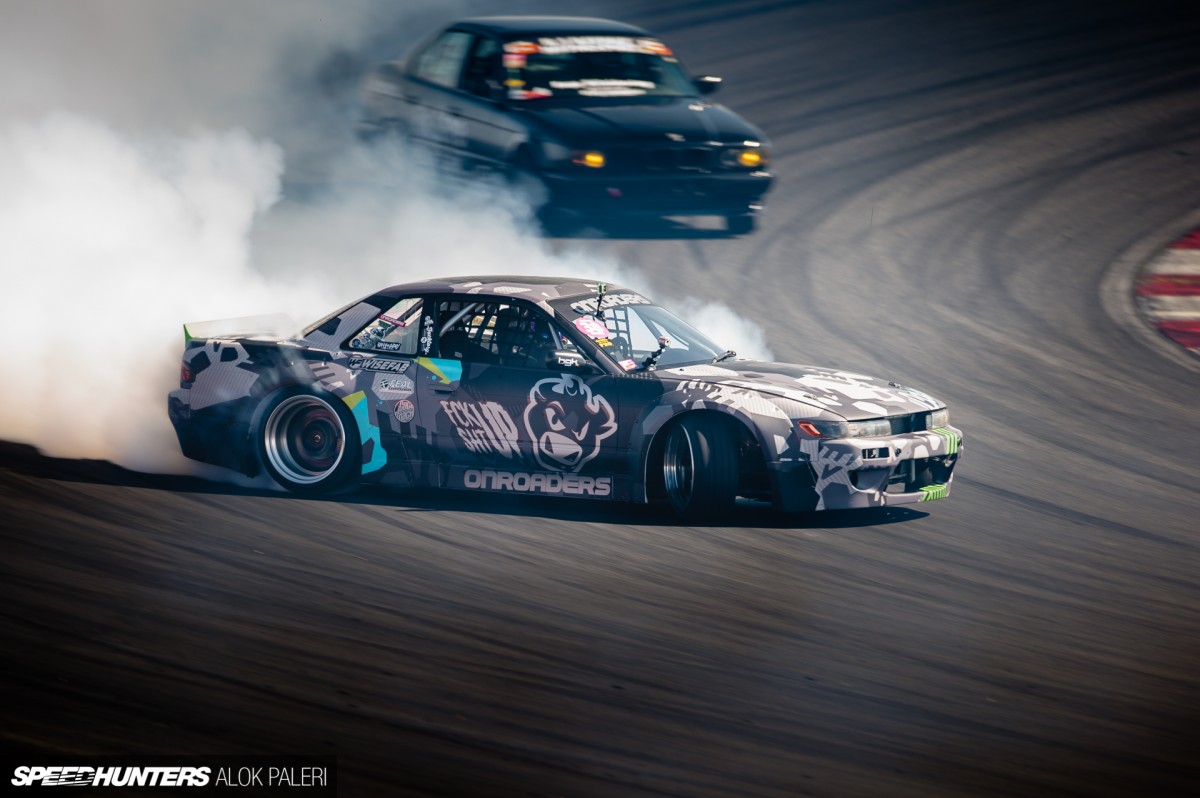 I met Slava and Felix at Gatebil earlier this year; two friends who share the honour of driving this incredibly badass Nissan and are responsible for its creation. There was a language divide, but luckily for me their English was better than my Russian. Our conversations were short, but the intended purpose of this car was without question: the ultimate S13 to take on Gatebil's finest.
K.I.S.S.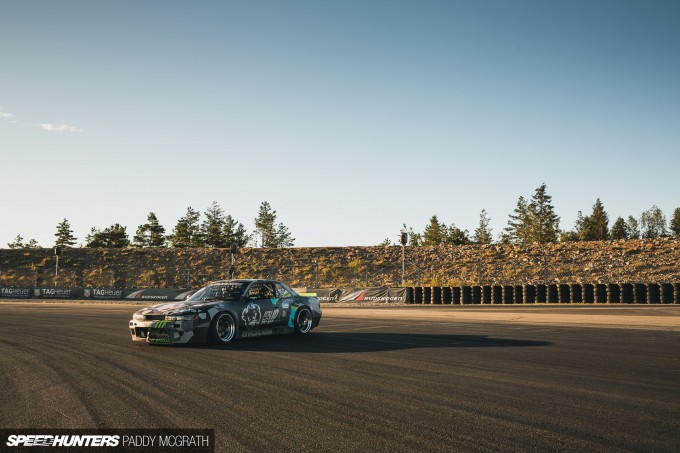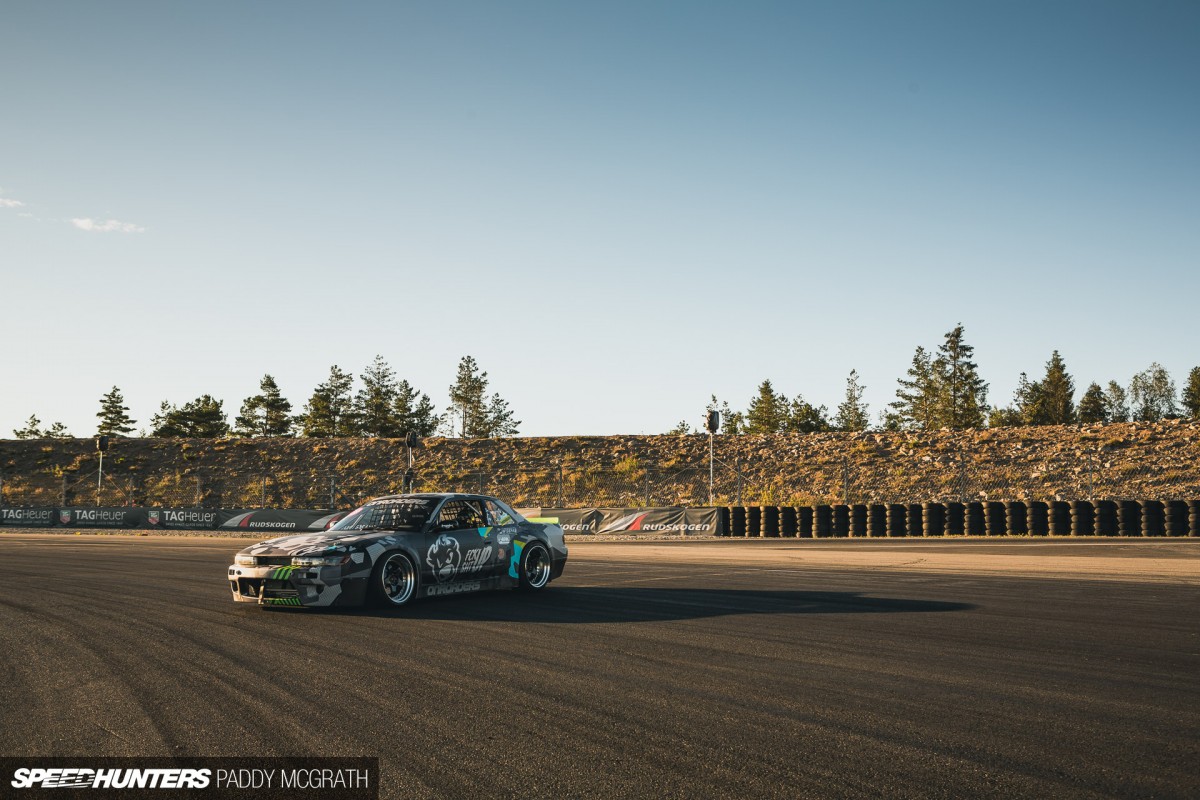 In talking to people, I'm rather often told of plans for world domination. They tell me that they're going to build the ultimate track car (drift or grip) and then go on to detail how they're going to cherry pick the best bits from several cars and implement them into one. In theory, that's fine. But as we all know, reality is a whole different ball game.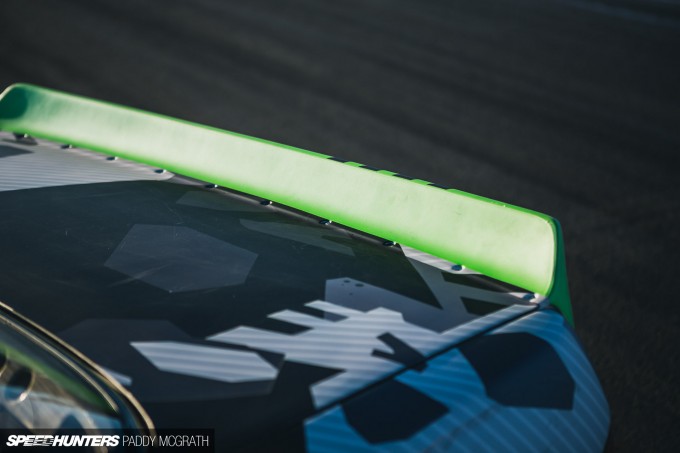 Because unless you have incredibly deep pockets or a level of knowledge that is possessed only by a special few, chances are you're going to have a difficult time making something work. That's not to say it won't work, it's just not going to be an easy process and likely by the time it is eventually perfected, it could well be obsolete and behind the game.
By no means am I saying that people shouldn't try build outlandish cars, not at all. But if you want to be immediately competitive, then you need to keep things simple.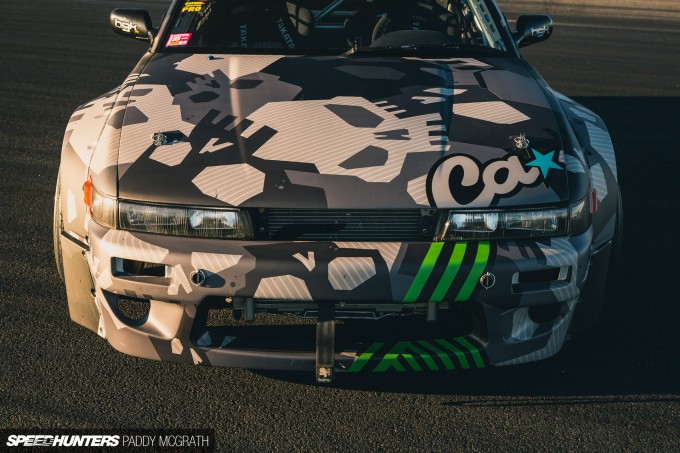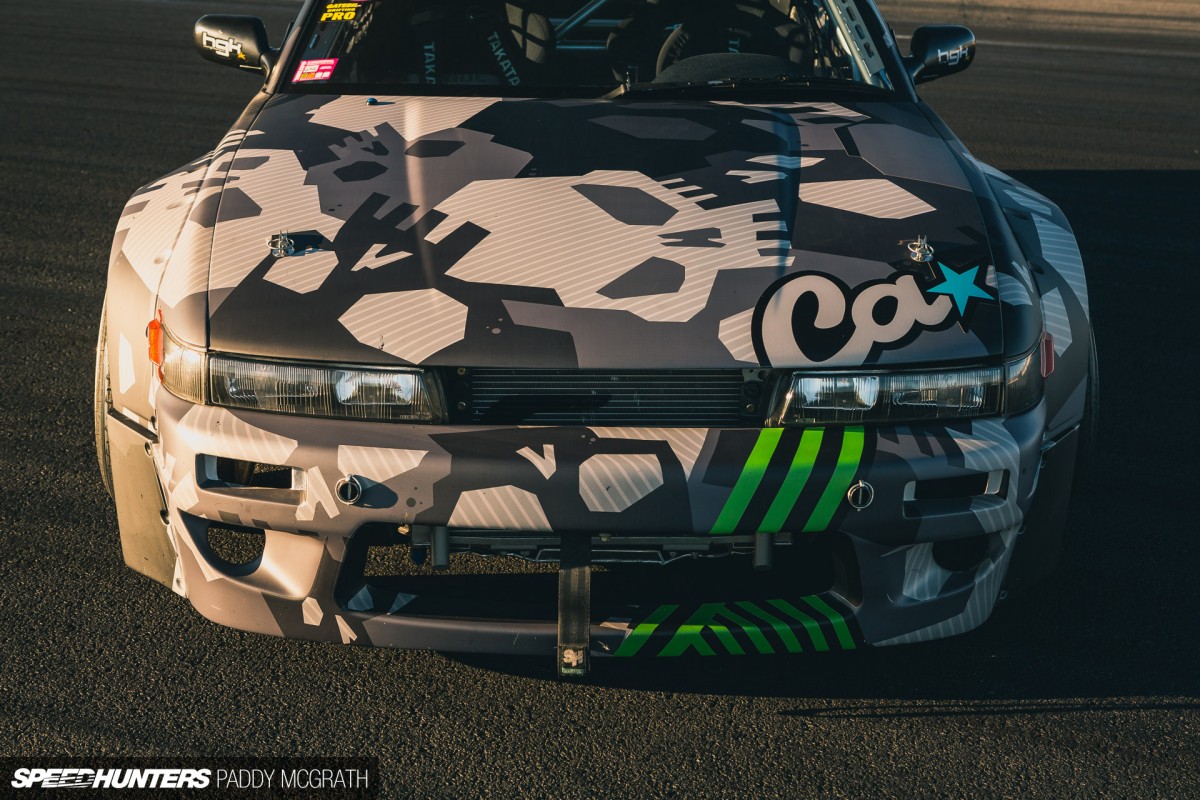 Something that all of the top-level builds I've had the pleasure of poring over this year have in common this level of simplicity. There's a very basic – but highly effective – recipe to building a top-level drift car that would be competitive anywhere in the world.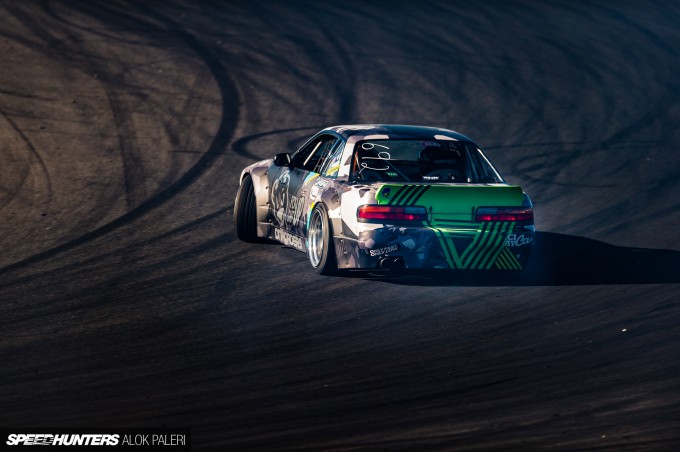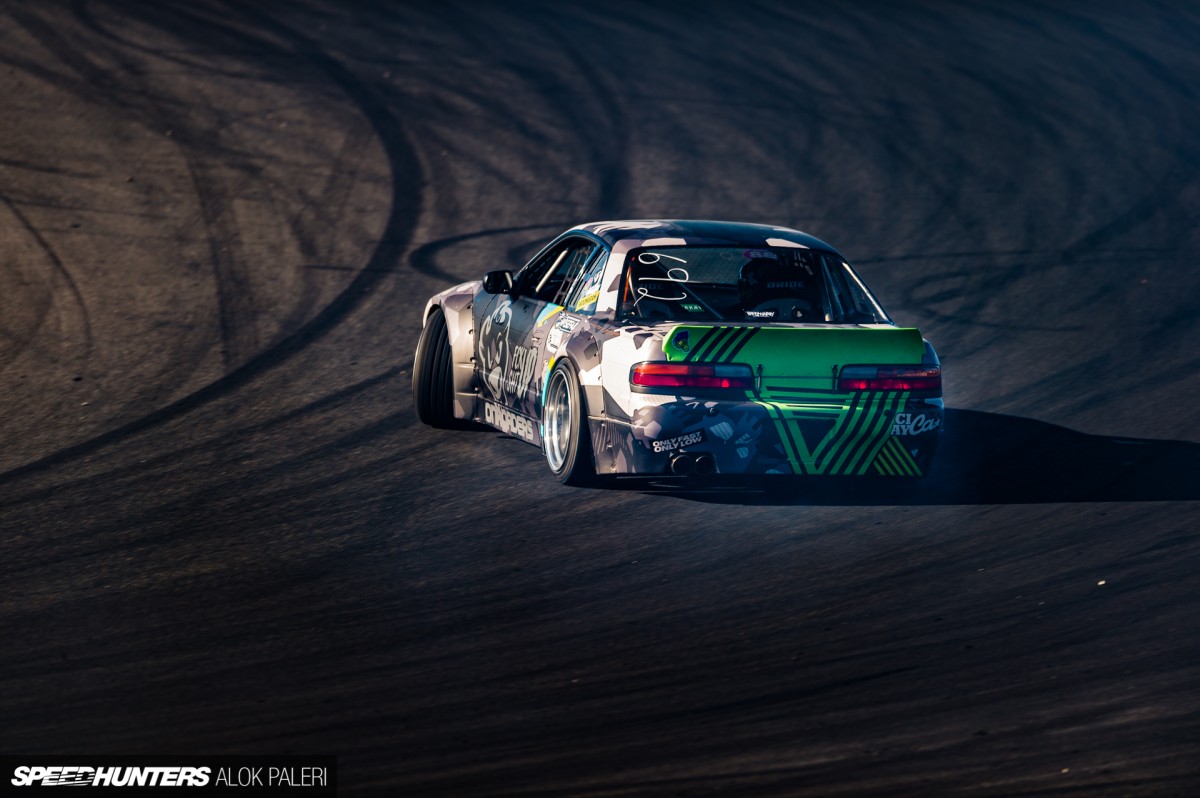 The first step is getting your chassis in order. If you get this wrong, the whole build will never be quite right. As such, Slava entrusted the chassis preparation on his build to HGK Racing. If you've not heard of HGK, you can take a quick look at who they are when we visited earlier this year. It's okay, we can wait for you…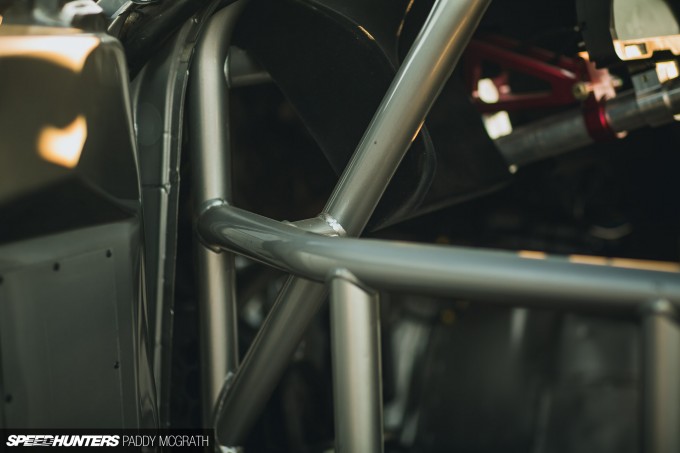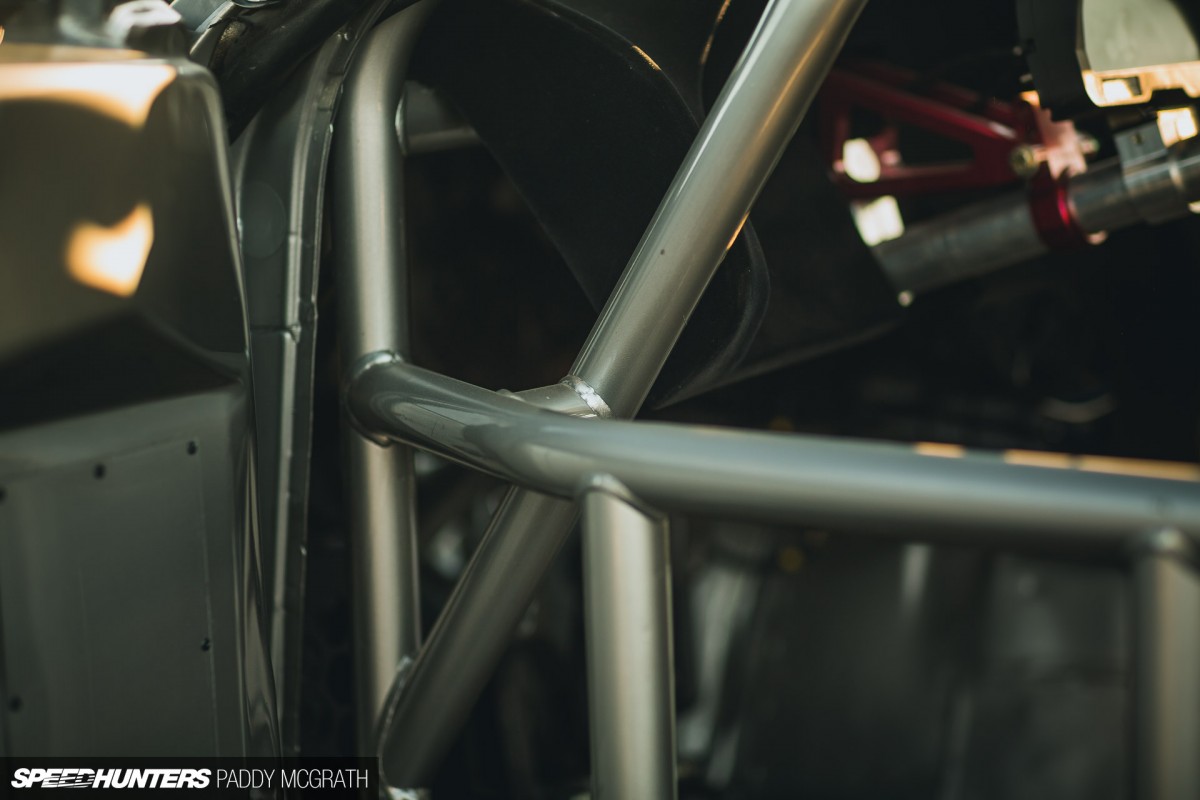 Finished? Splendid. Both Slava and Felix talked (mostly in jest) about the need to convince HGK to prepare a PS13, as Kristaps and the gang are typically more BMW focussed. It doesn't seem to matter what they work on as it turns out, because this is another awesome example of how to prepare a car properly.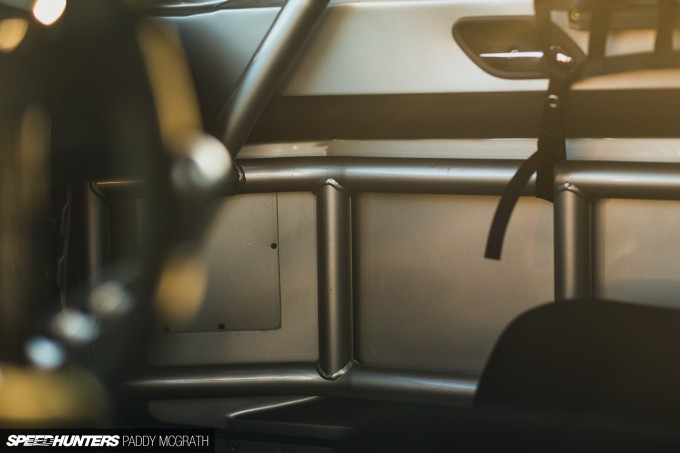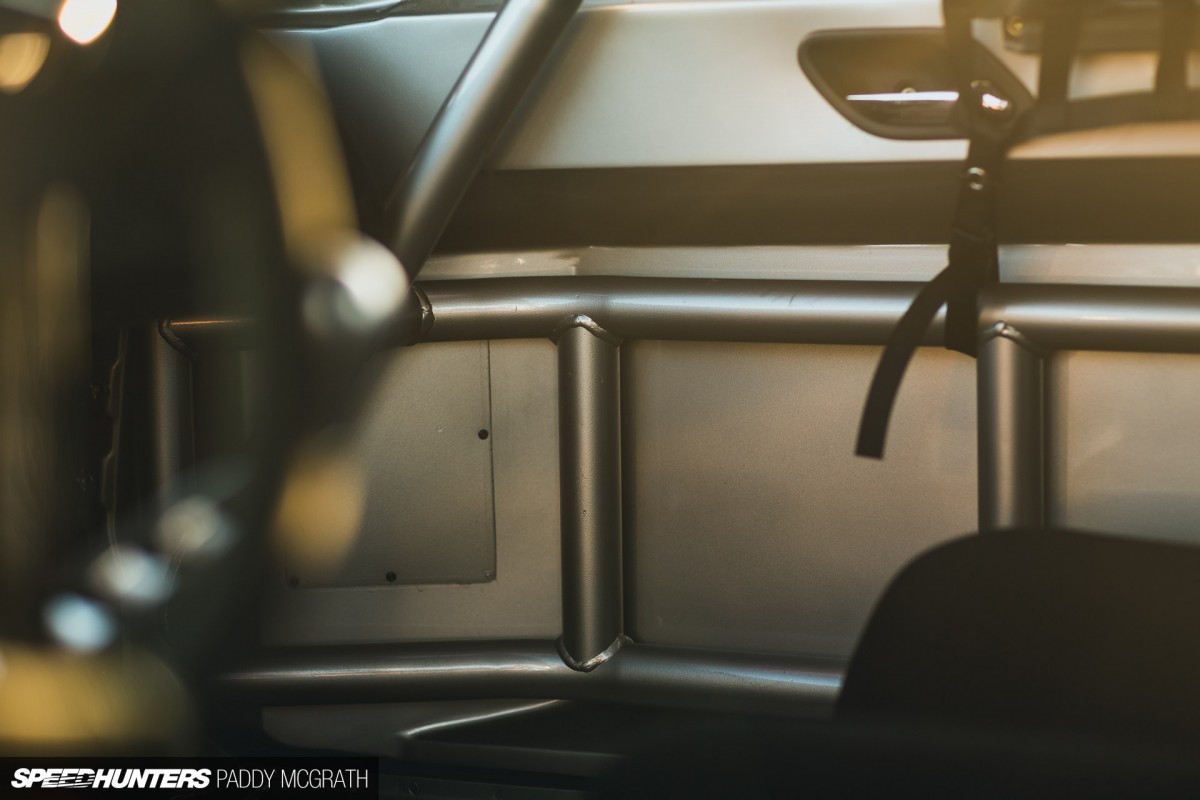 Check out how the door bars are shaped into the custom composite inner door skins. I tend to see most leaving the inside of the doors hollow, but not HGK.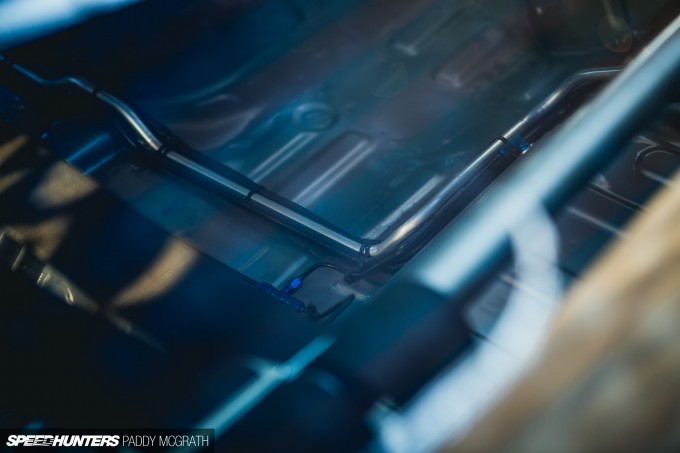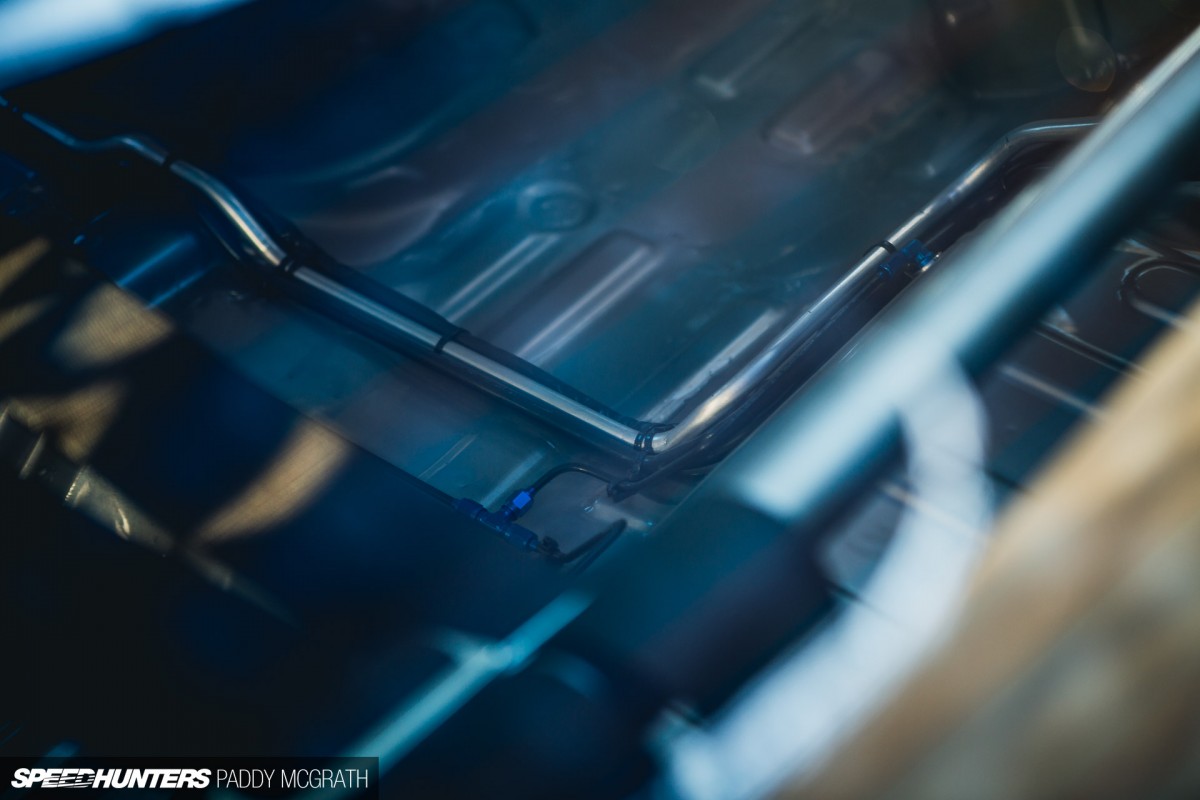 Or how the lines running through the interior have been carefully caressed over the original floor.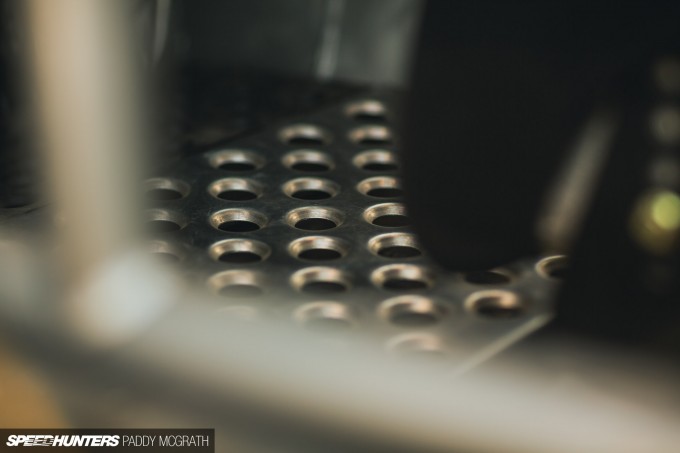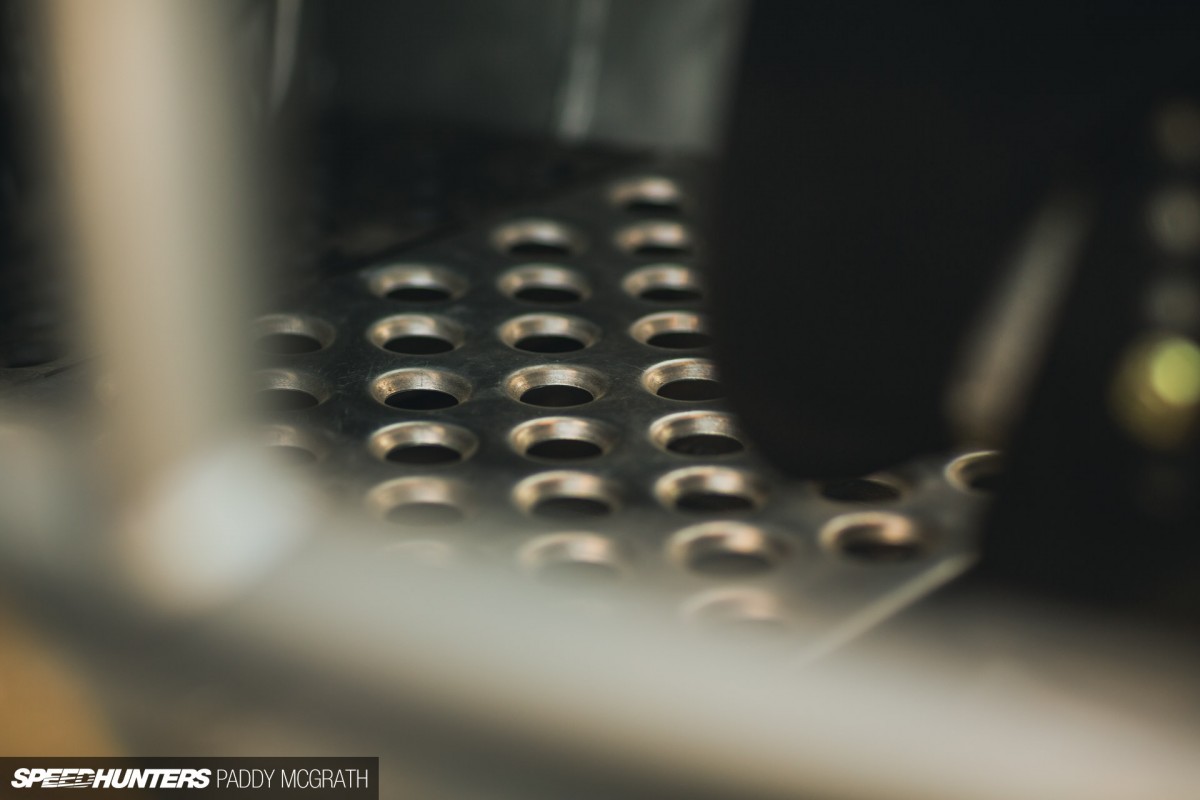 Even down to the mundane things like the punched driver's foot rest. Chassis preparation typically takes around three months with HGK, but you can see where this time is spent. Even for someone like myself who doesn't have an engineering mind, the car is full of details that make me feel warm and fuzzy inside.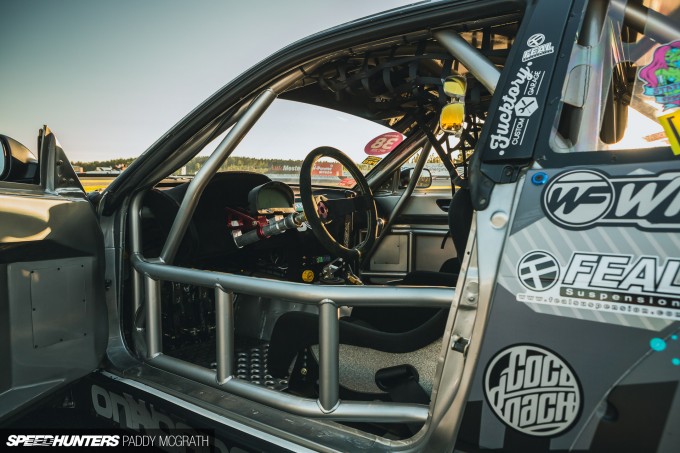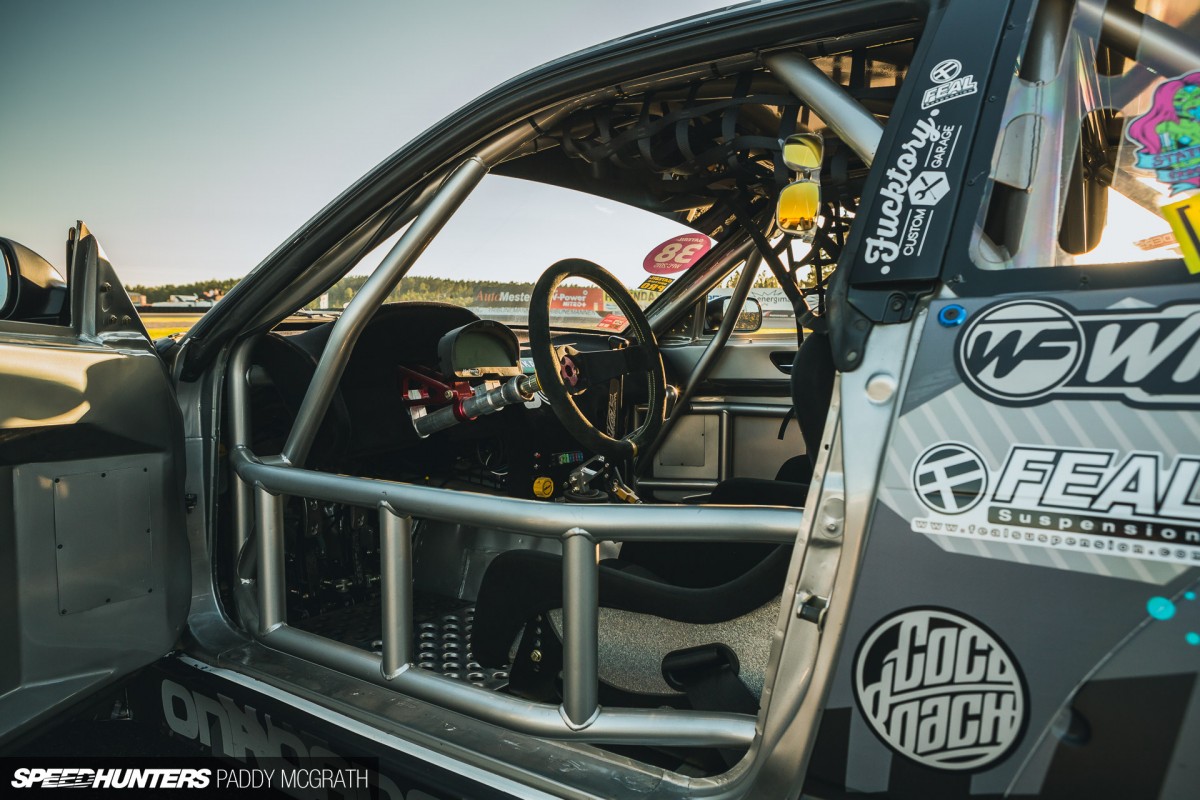 Whilst the inside of the car is where you can easily access the quality of craftsmanship, it doesn't take a genius to figure out that what you can't see is just as impressive. Part of me wishes I was present to watch the whole build unfold.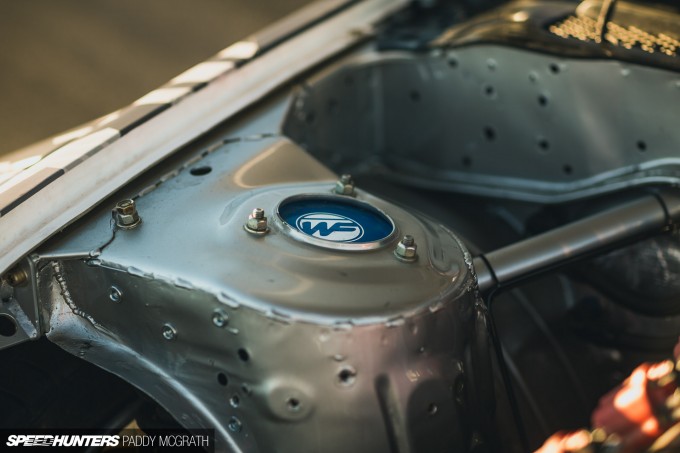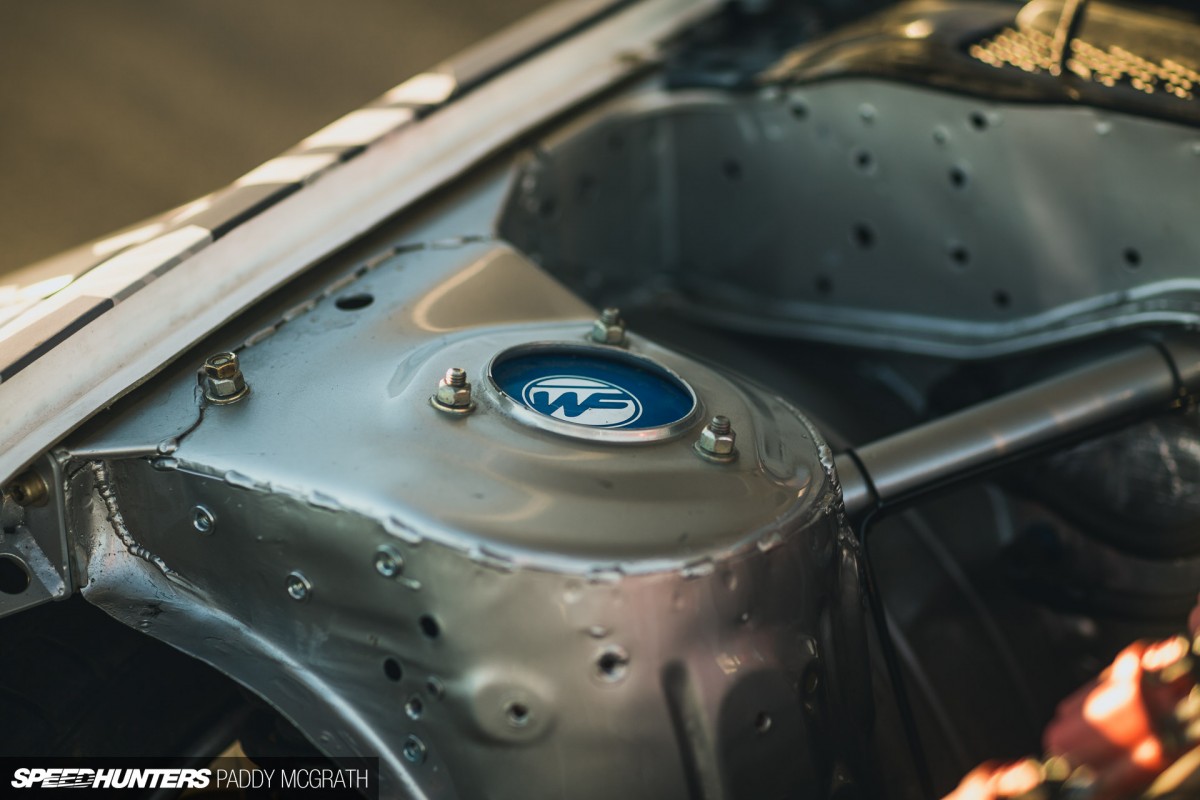 With the chassis situation addressed – and in quite some style – thoughts progress to how the car is sprung, and with it being a drift car, where the extra lock was going to come from. With an off-the-shelf offering for the PS13 and its proximity to HGK, Wisefab was the logical choice. The product is proven and eliminates the time required to develop and fine tune a custom system.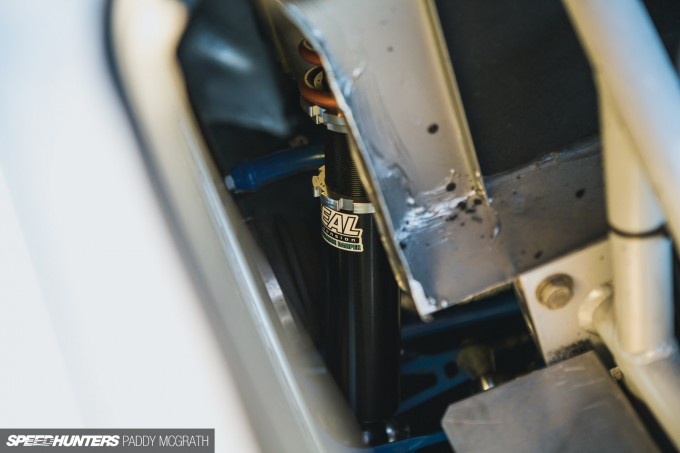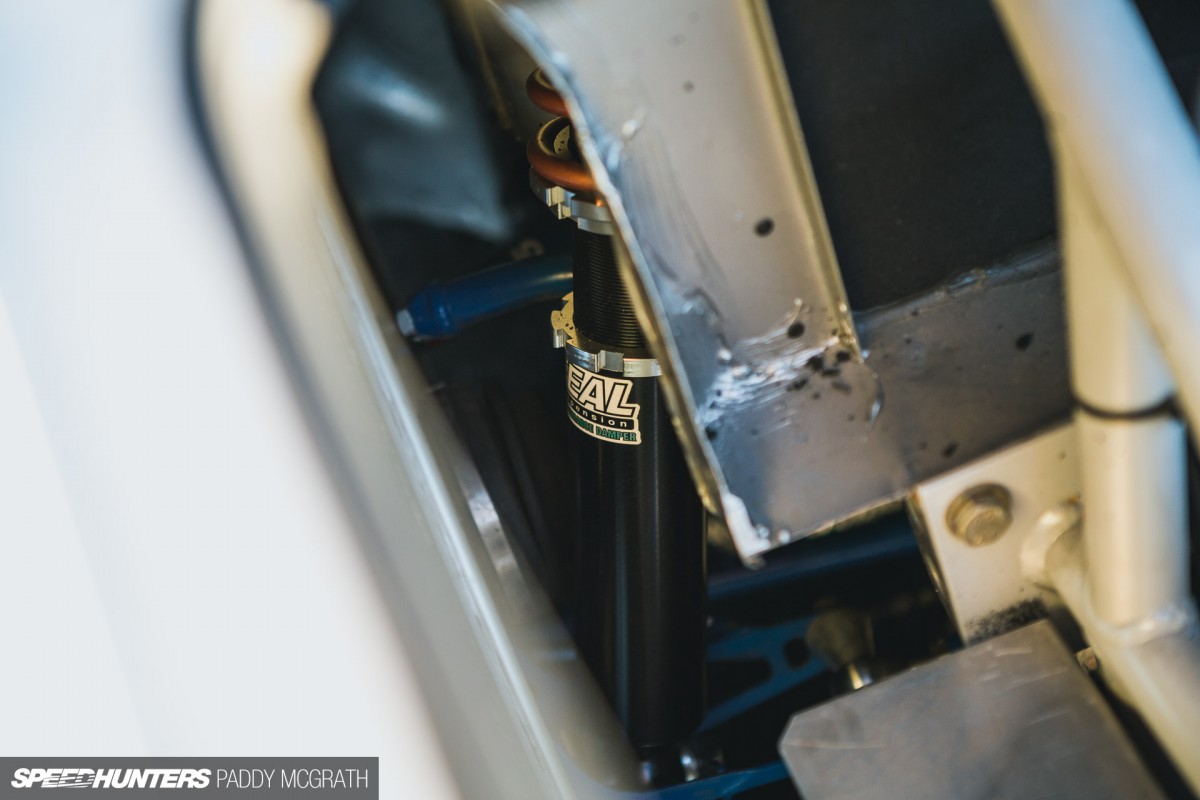 Odi Bakchis' Feal Suspension 441 coil-overs have been deployed at all four corners to compliment the Wisefab setup.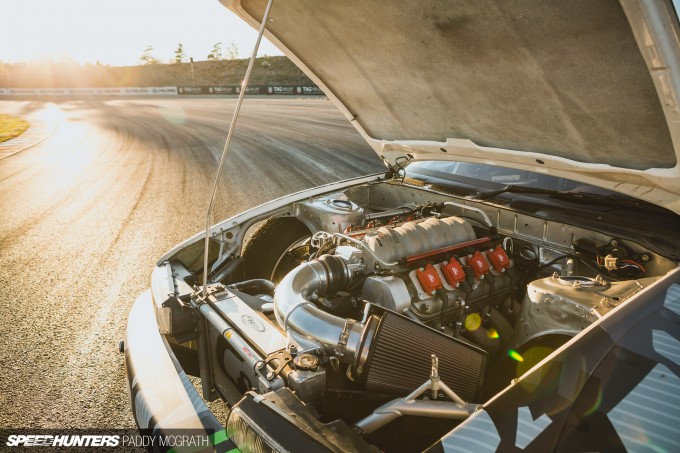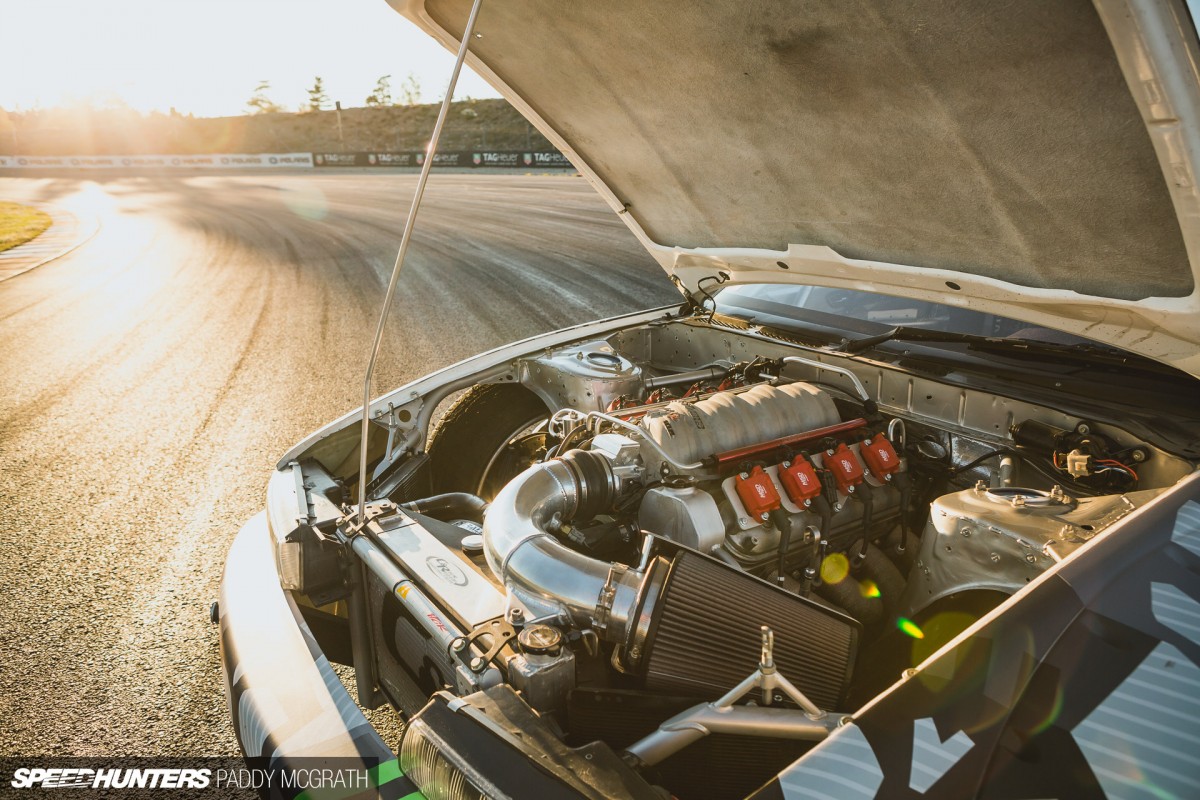 The car is not going to propel itself and in today's top-level drift community there are really only a couple of options for a proven, reliable and responsive power plant.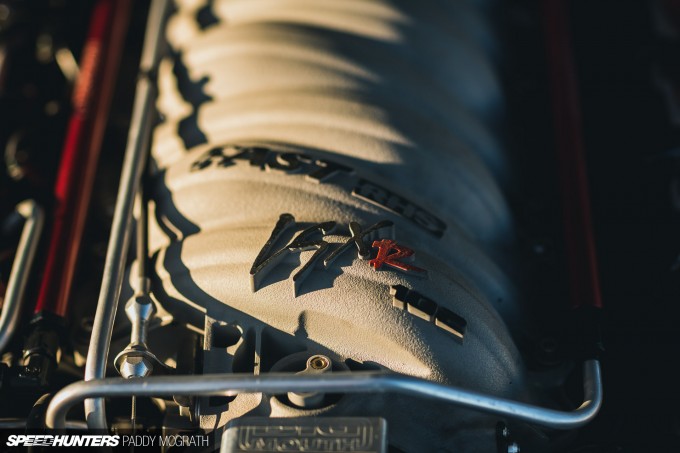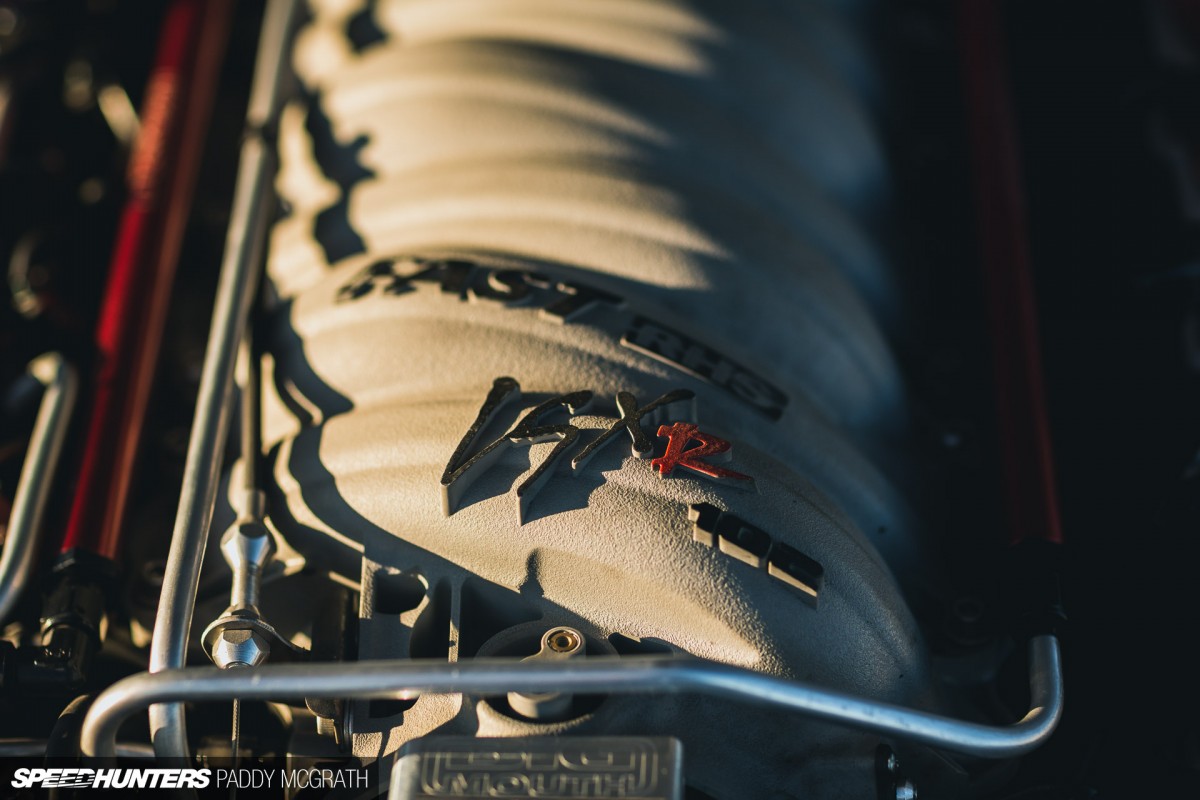 Some go with big turbo in-line sixes and others go with V8s. This is a case of the latter and in particular a stroked LS3 with custom LS7 heads and a Fast LSXR 102mm intake.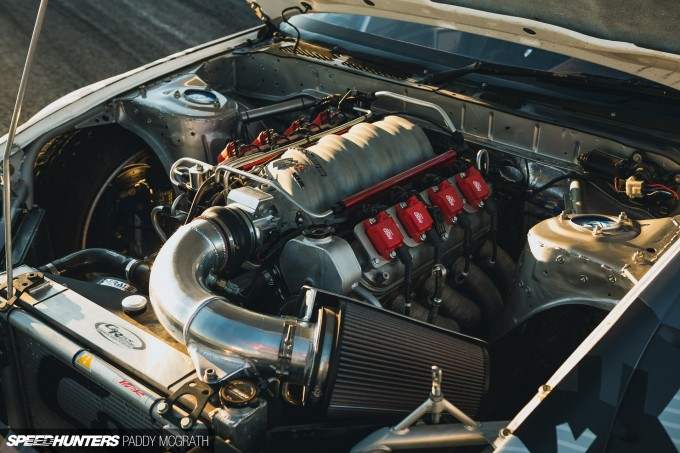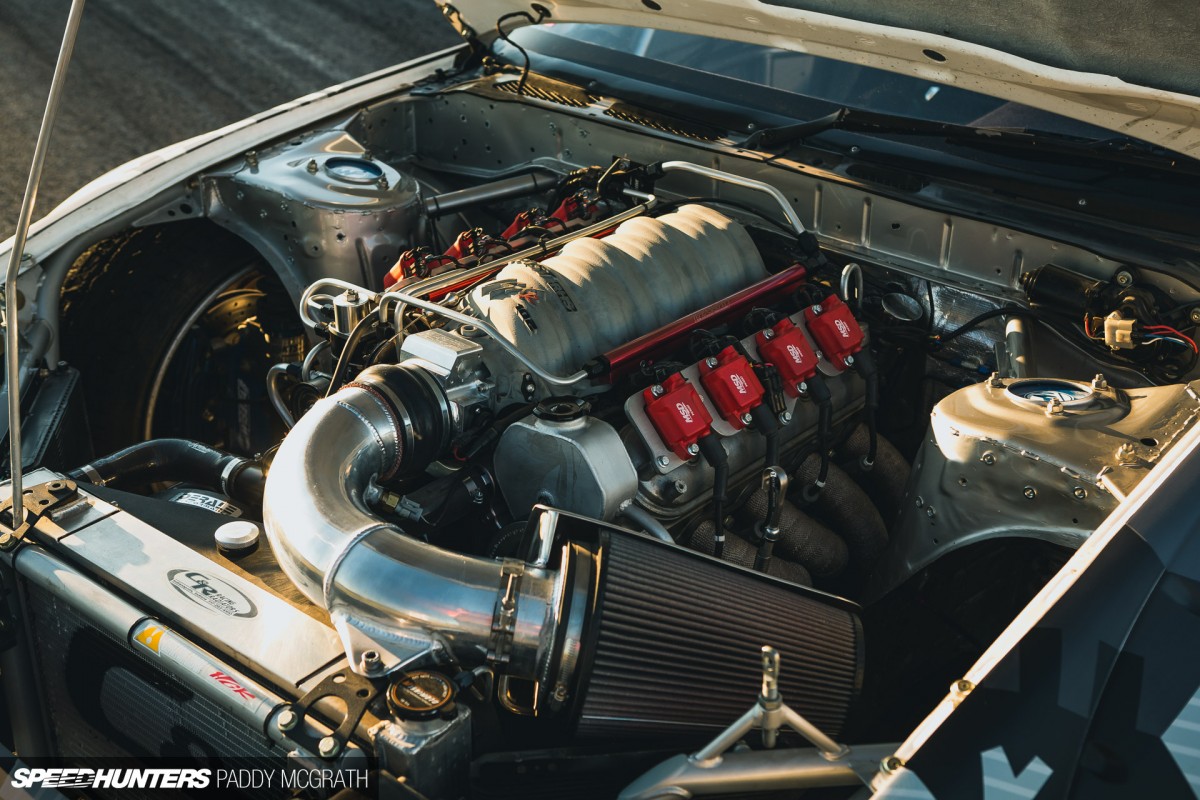 It's a setup that's good for over 600hp at the wheels. By anyone's standards, that's plenty of horsepower and certainly enough to decimate the 265/35R18 rear tyres with ease.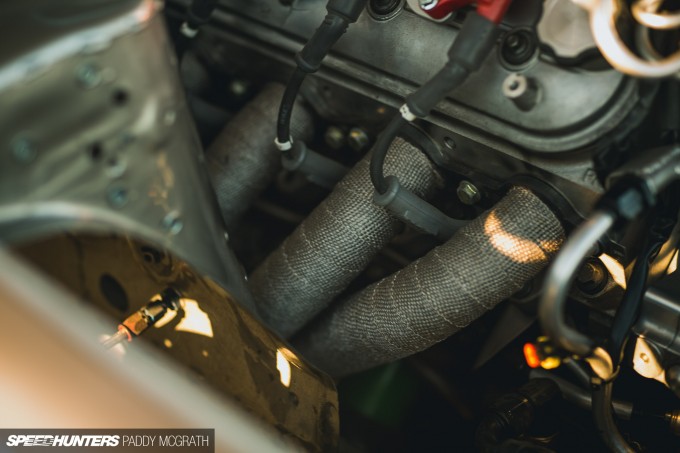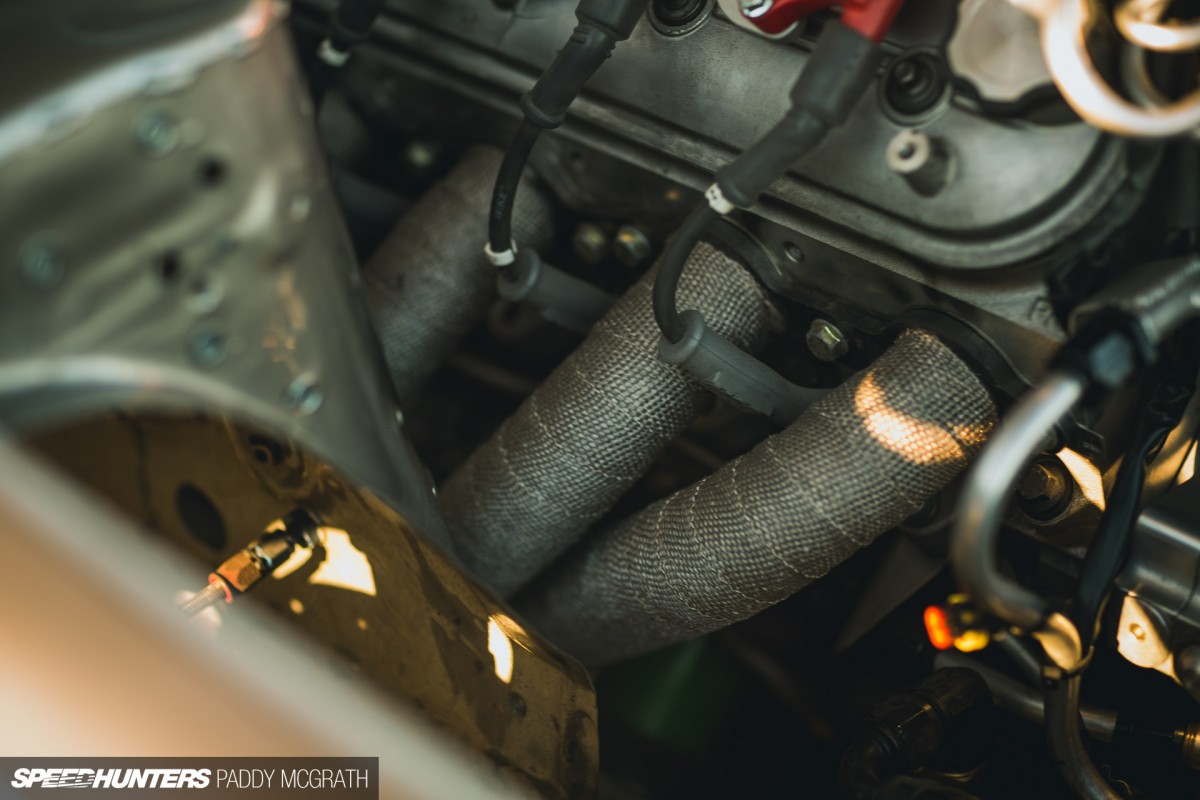 I get that this is usually a stumbling block for a lot of people, but ultimately it comes down to a head over heart decision and it's something I can have no issue with in a car that's built for performance. When you consider how much money you would have to pour into say an SR20 to make this power (with serious question marks over its reliability and its drivability), I think the decision to go LS makes more and more sense. Well, in my head at least.
Paying Homage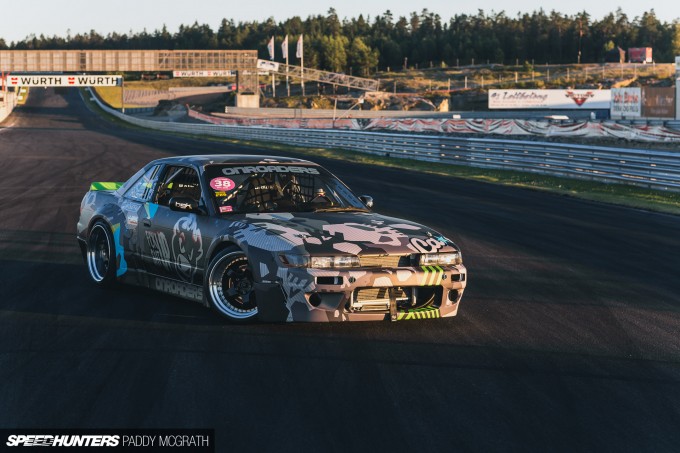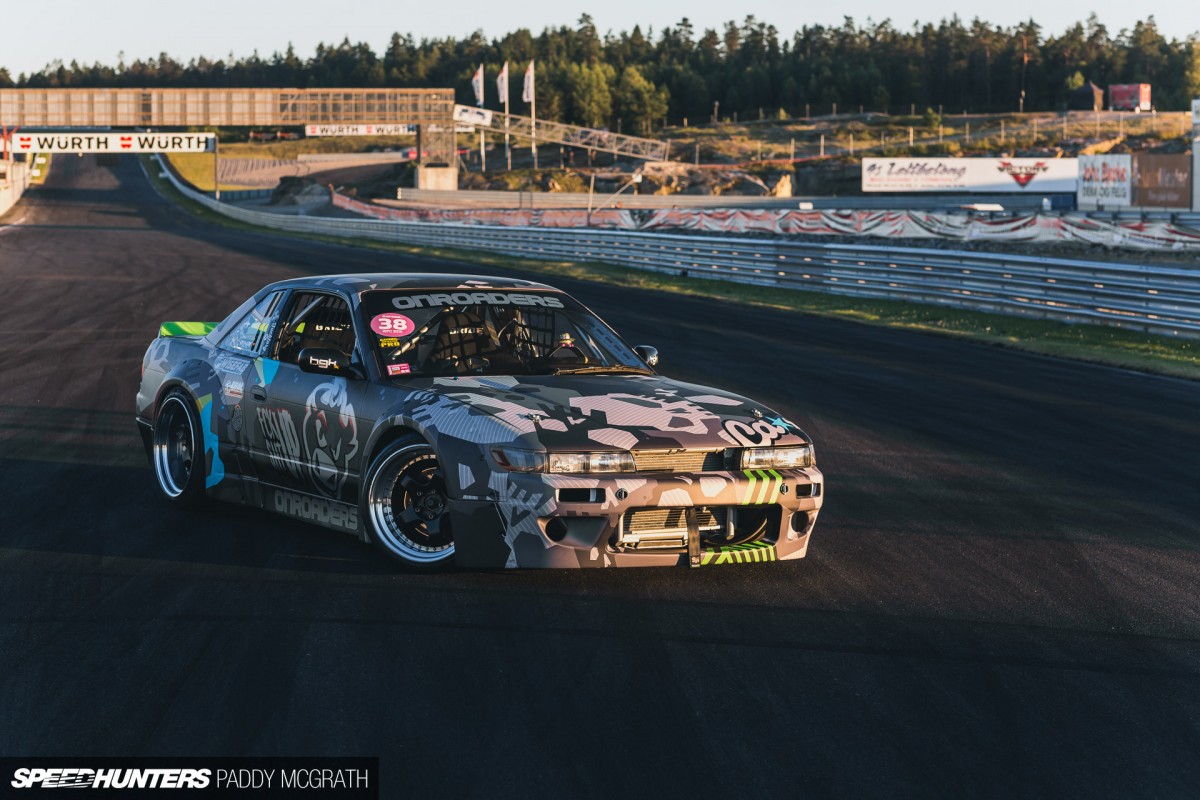 For me, the one edge that drifting has over traditional motorsports is the freedom offered to each driver and team to build and style a car how they please. There's a distinct JDM theme running through this Eastern European/Russian hybrid build. The Rocket Bunny kit has been modified by HGK to be wider and into a complete panel (rather than just over-fenders) which gives the kit more strength.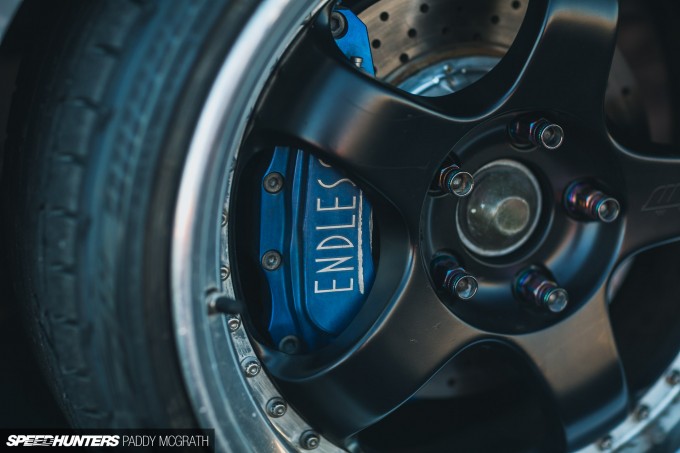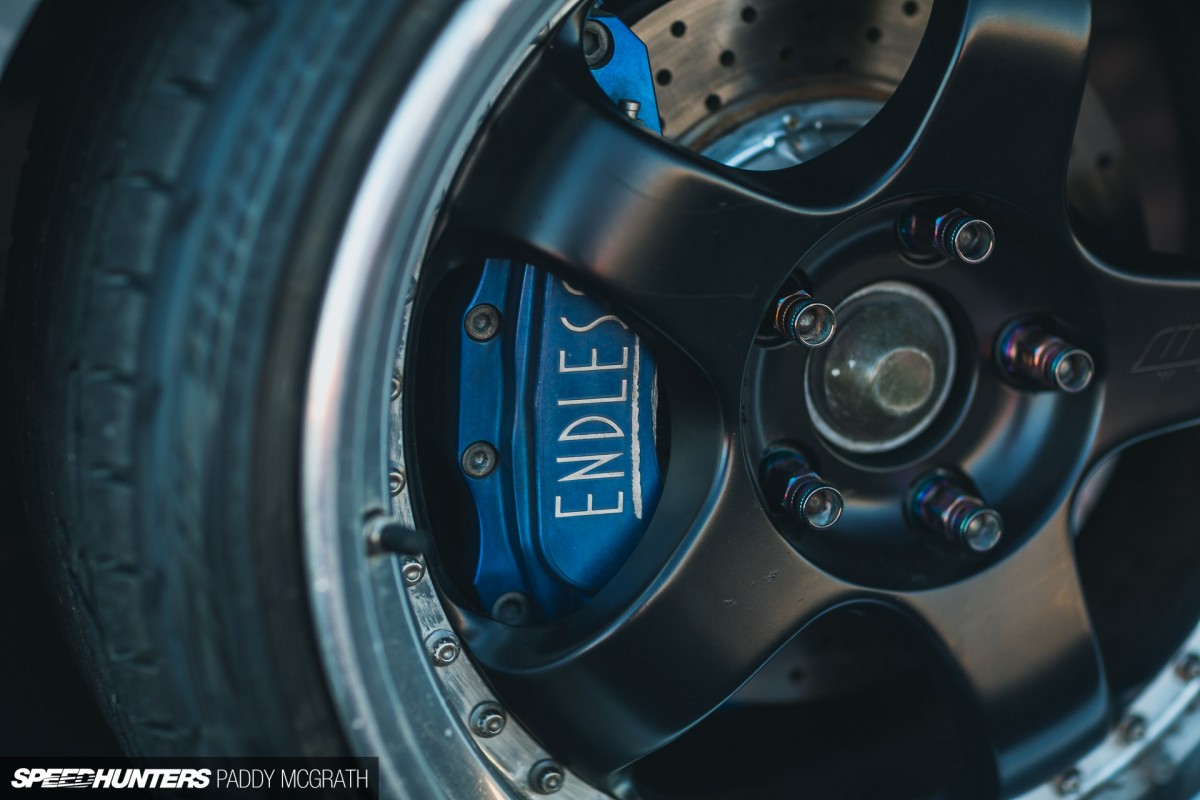 Endless brakes and Work wheels continue this theme, the Meisters measuring in at some pretty respectable widths and offsets, detailed in the spec list below.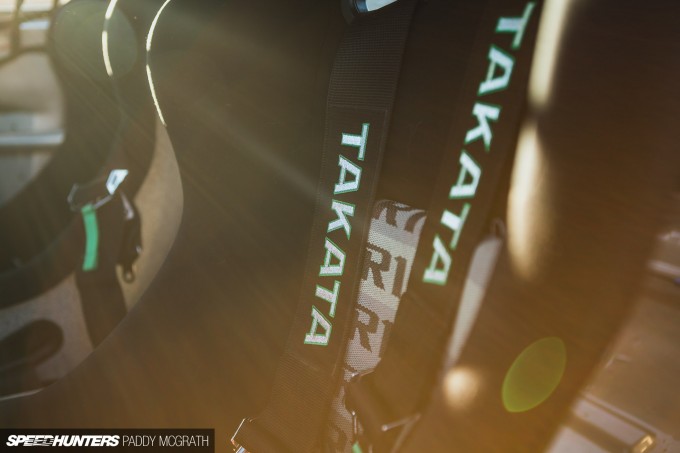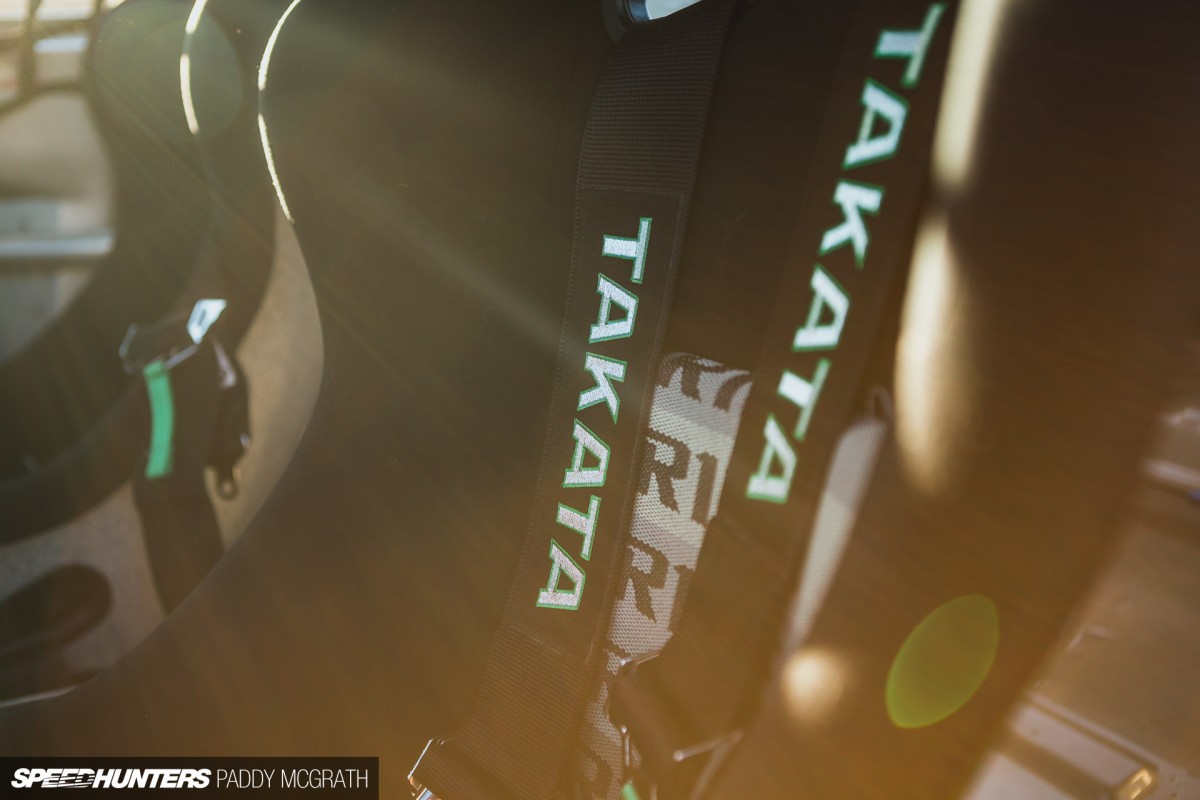 Bride seats and Takata Racing harnesses ensure that there are no questions over which country Slava is paying his respects to.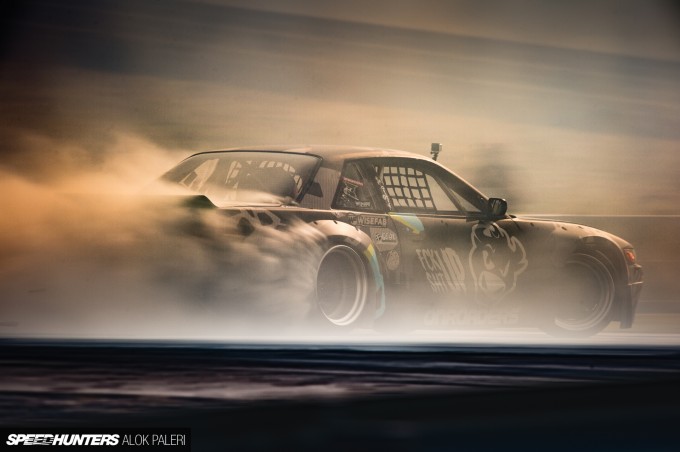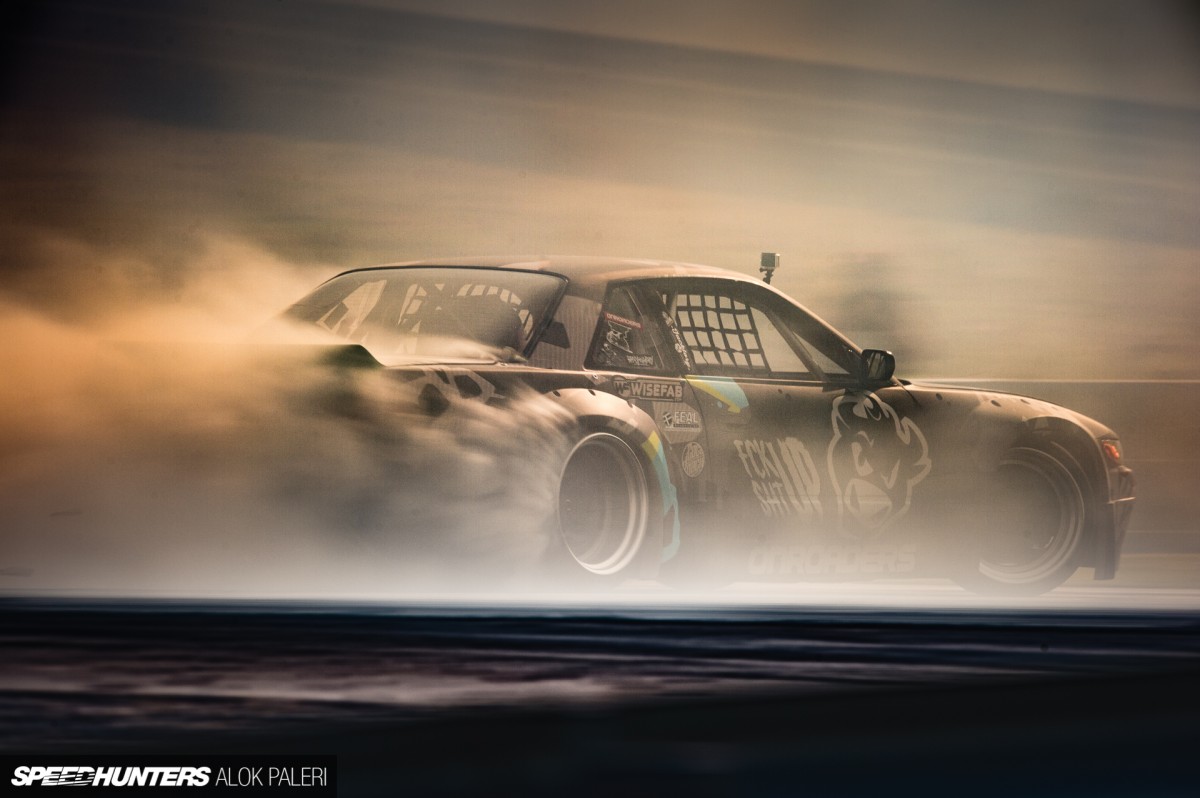 Seat time in the car had been limited for both Slava and Felix before Gatebil; the fresh build was really making its first proper public debut at Rudskogen. Some mistook the car for Slava's previous build which Mad Mike drove a couple of years back. But make no mistakes – this is an all-new car and a further evolution of what was an already capable car. From its first lap out, the Silvia worked flawlessly. All weekend, it laid down rubber in style and as the speeds and confidence increased, the car continued unfazed.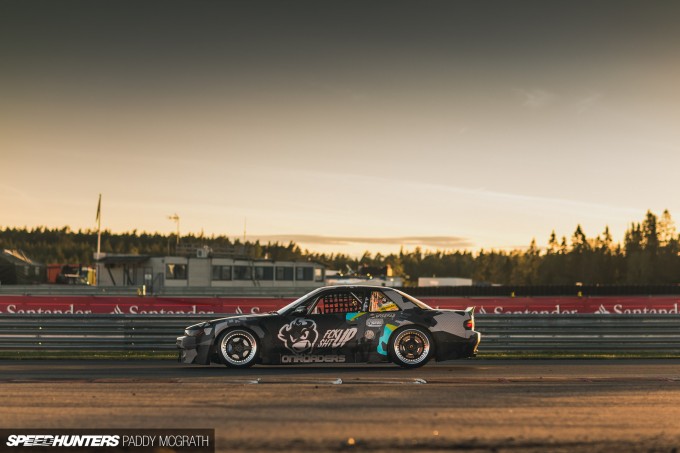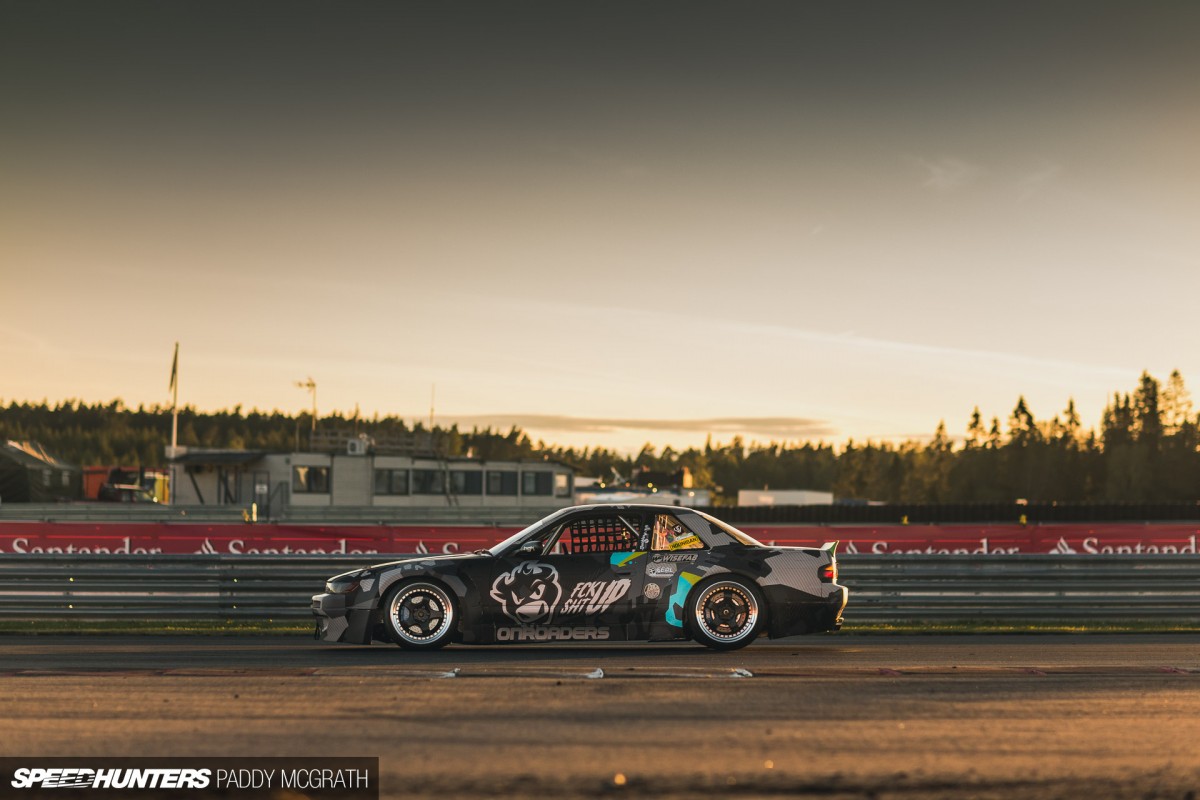 The difficulty behind showcasing a car like this is that its simplicity is actually quite deceptive. It's one of those instances where the final product is made to look a lot easier to put together than you might first think. Whilst the ingredients are relatively simple – a good chassis, extra lock and reliable power that can be deployed in an effective manner – it's how they're put together that makes this car as impressive as it is.
Regardless of budget, there's a reward for anyone who remembers to keep it simple.
Paddy McGrath
Instagram: pmcgphotos
Twitter: pmcgphotos
paddy@speedhunters.com
Additional Photography by Alok Paleri
Cutting Room Floor