Don't Call Me
We were rolling back into Phoenix after a grueling day of driving to the far Southeast corner of Arizona. I had dropped my wife and kids off halfway to visit family, then made my way to the small border town of Douglas to see a 'can't miss' FJ55. I've been on a perpetual search for a Land Cruiser project ever since I sold my mustard yellow '75 FJ40 nearly 10 years ago, and had hoped this Iron Pig was the one. I just wasn't convinced though.
With my wife behind the wheel and kids asleep in the back seat, I pulled out my iPhone and searched Craigslist for 'Land Cruiser' one last time, just to see if anything had popped up while I was on my FJ journey. As fate would have it, something did pop up…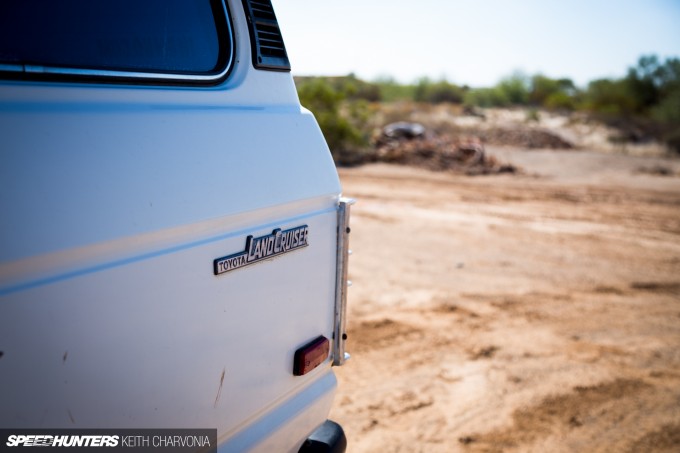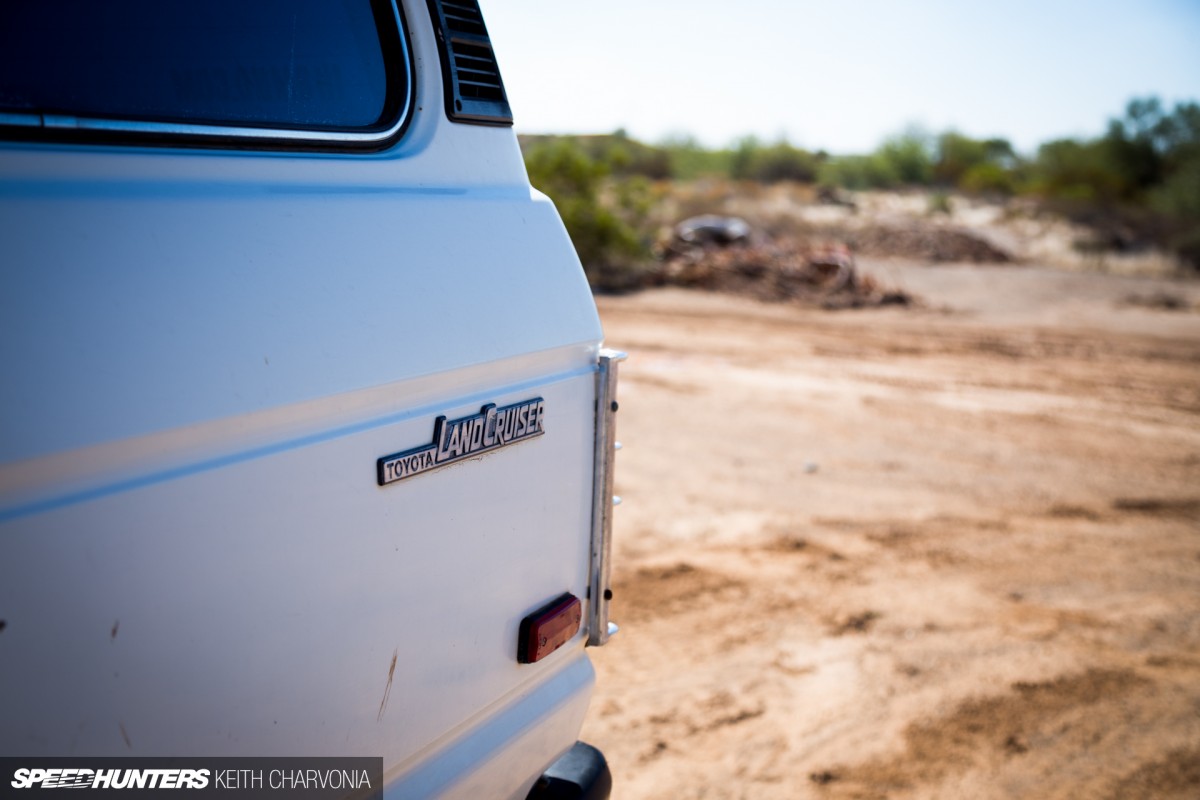 '1987 FJ60, 454 Big Block, Turbo 400, NP205, 14 bolt rear, spring over axle conversion, 37″ military tires, runs and drives but needs work. In fact, I'll only feel comfortable selling it to you if you're a fabricator or a mechanic,' the listing read.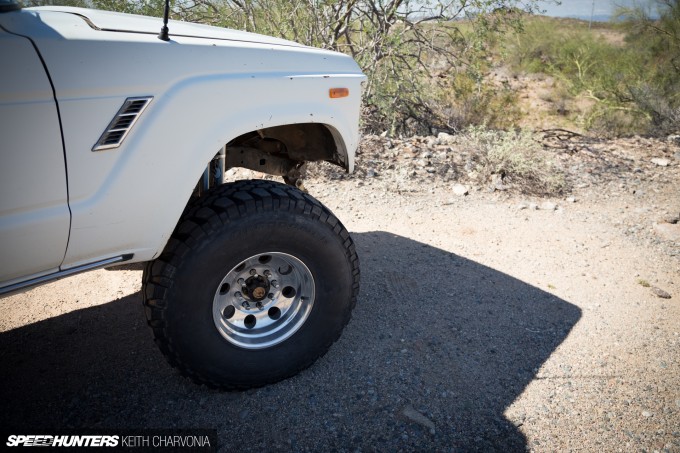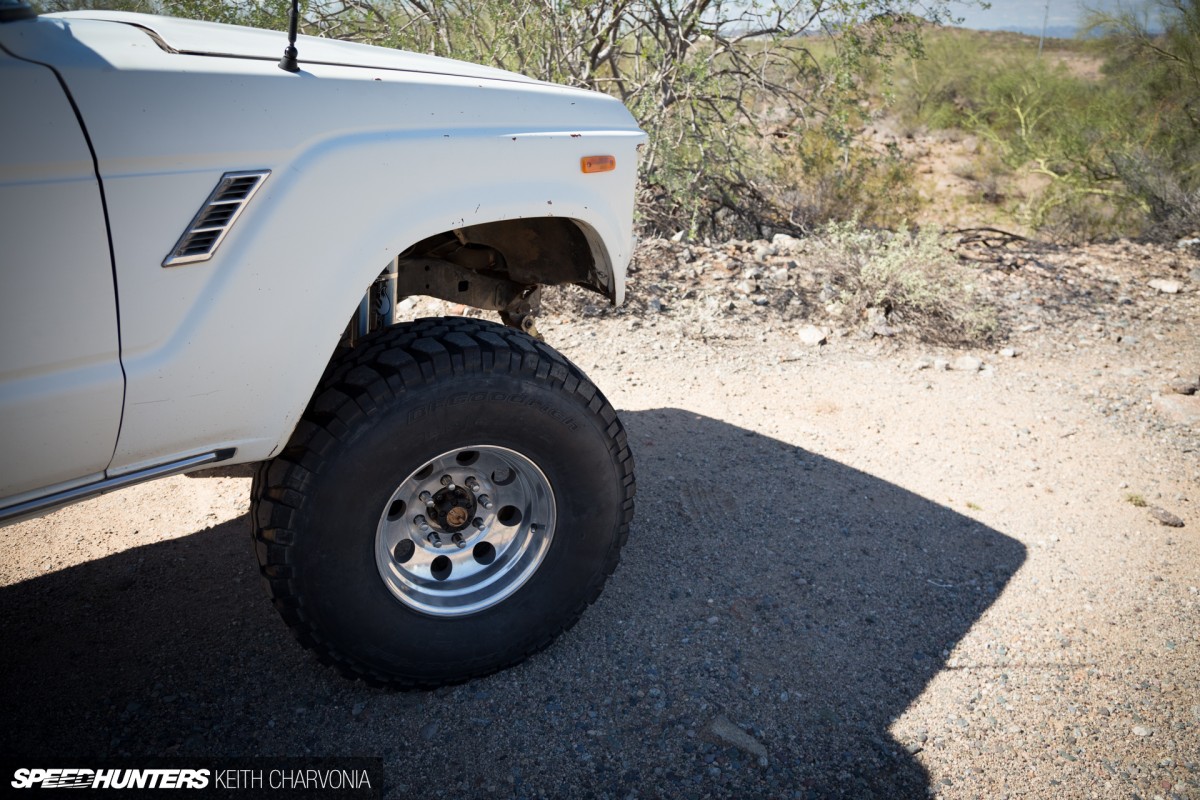 The seller didn't know he was writing the ad specifically for me, but he was. Within 24 hours I was there, cash in hand, ready to drive it home. The last thing I heard as I drove away with the windows down in 100 degree summer heat was "Don't call me!"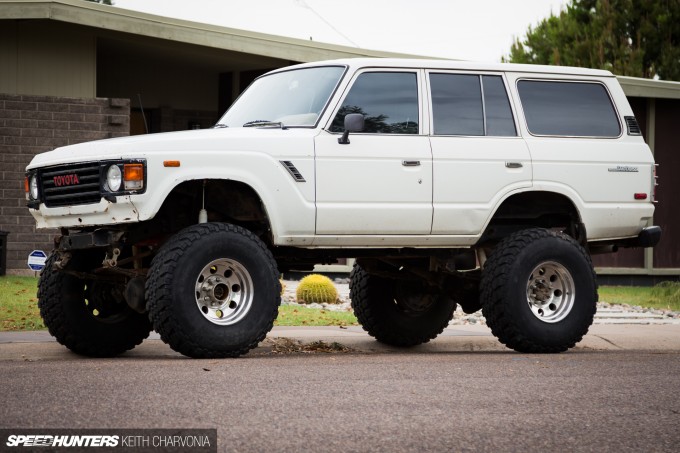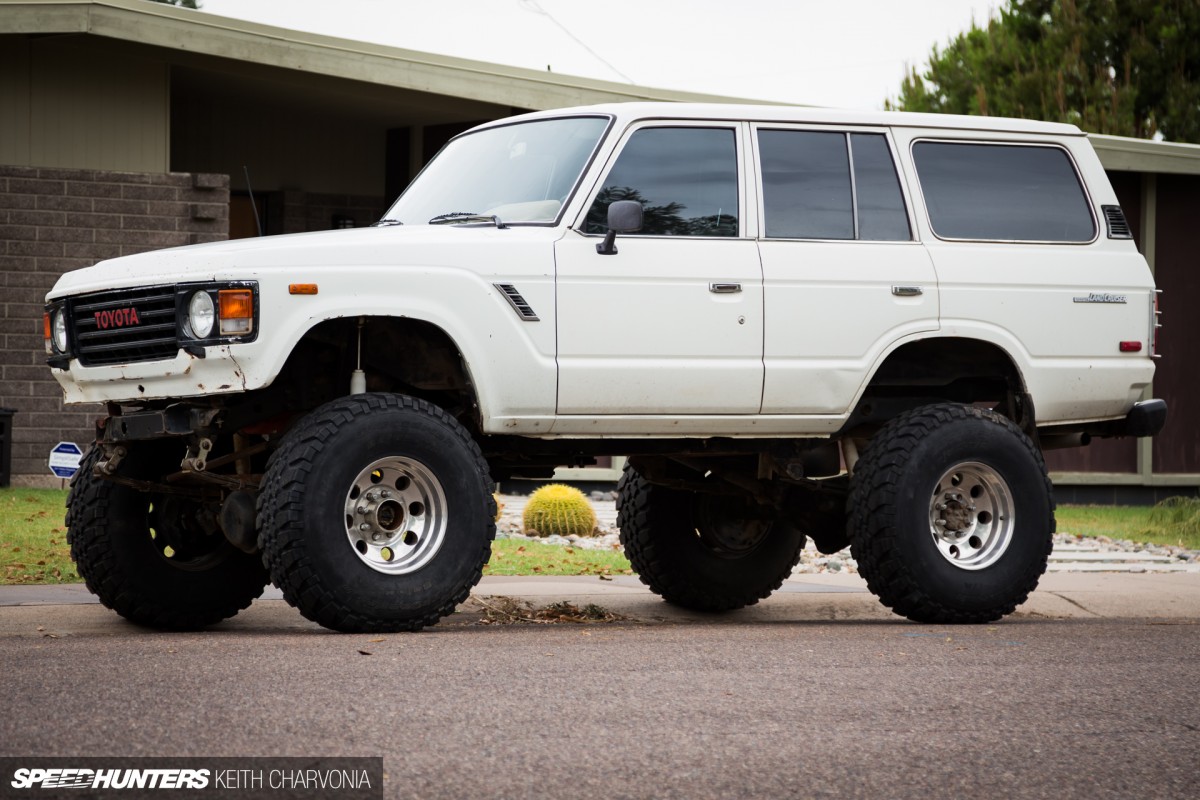 I finally had a Toyota station wagon of my own, and the previous owner had even given me a head start on the build. While the upsides were certainly there, I couldn't wait to change things to better suit my personal taste, starting with the monster truck stance.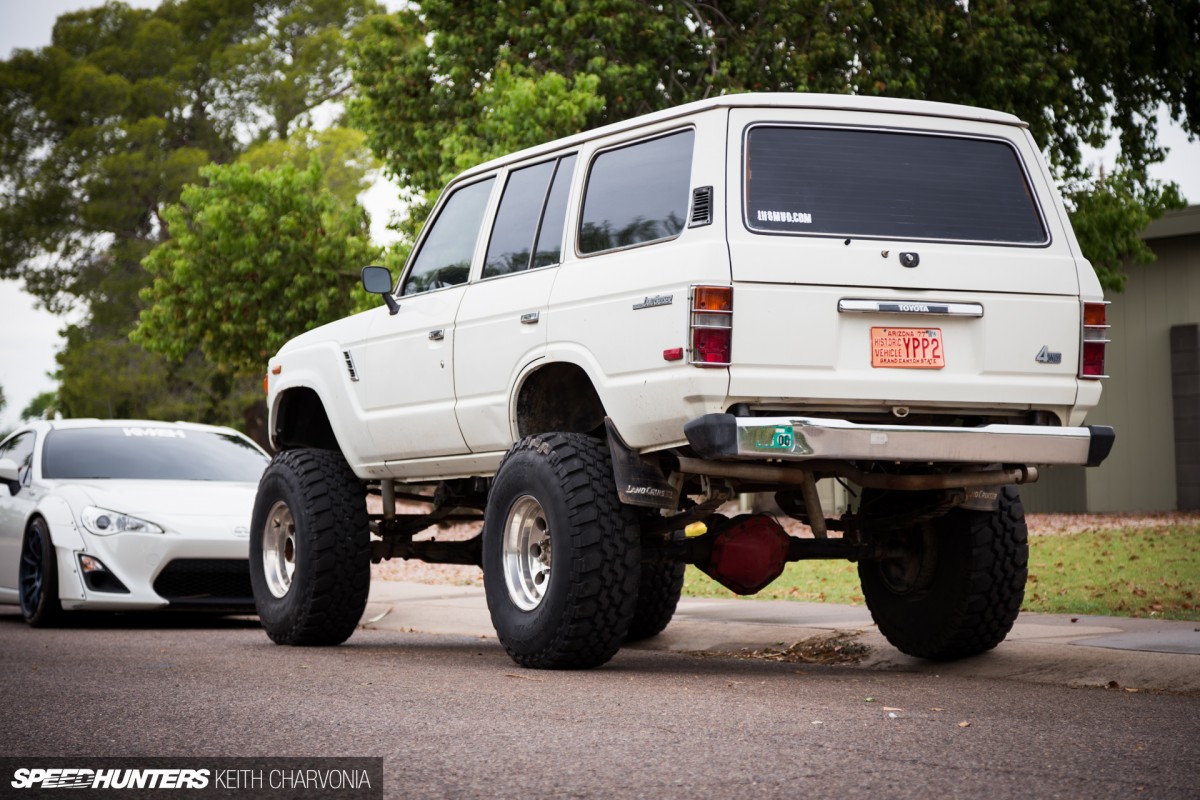 A spring-over conversion places the leaf springs on top of the axles when they used to be below, resulting in a big lift with flat springs and better articulation. Usually this makes a truck plenty high, but mine also had a two-inch body lift installed at some point. Look at the difference between the rear bumper and the reveal on the body. It was all wrong and it had to go.
Unraveling The Past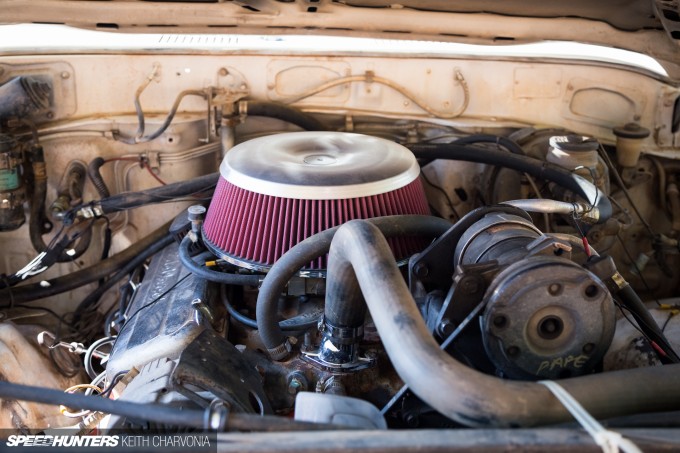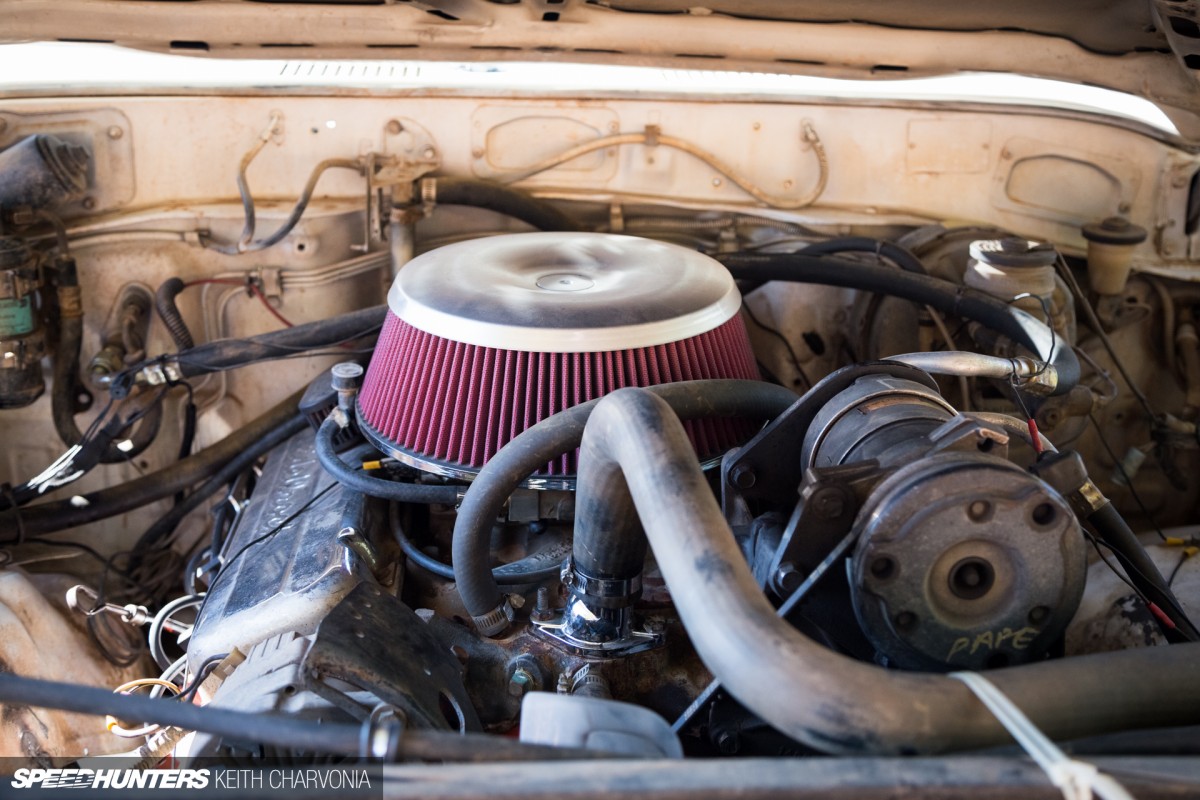 A 454ci Chevy Big Block had replaced the wheezy 2F tractor engine that propelled the Land Cruiser for the first 240,000 miles of its life. This was all great, but I soon realized that the engine had been installed after the body lift. The resulting challenge was that the exhaust manifolds were routed right under the firewall, meaning the body would hit them on its way back down to stock height.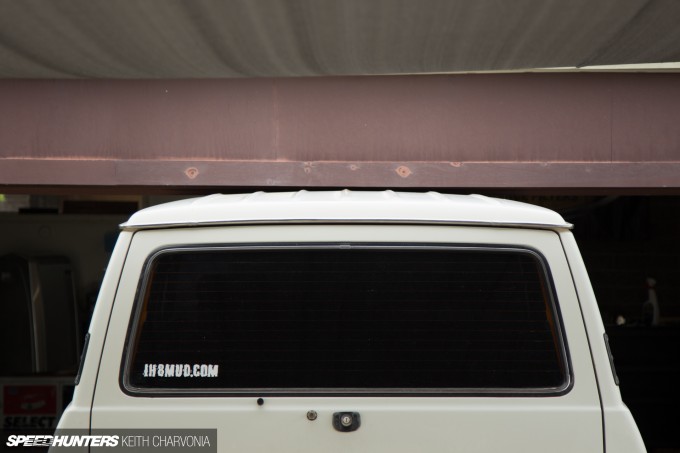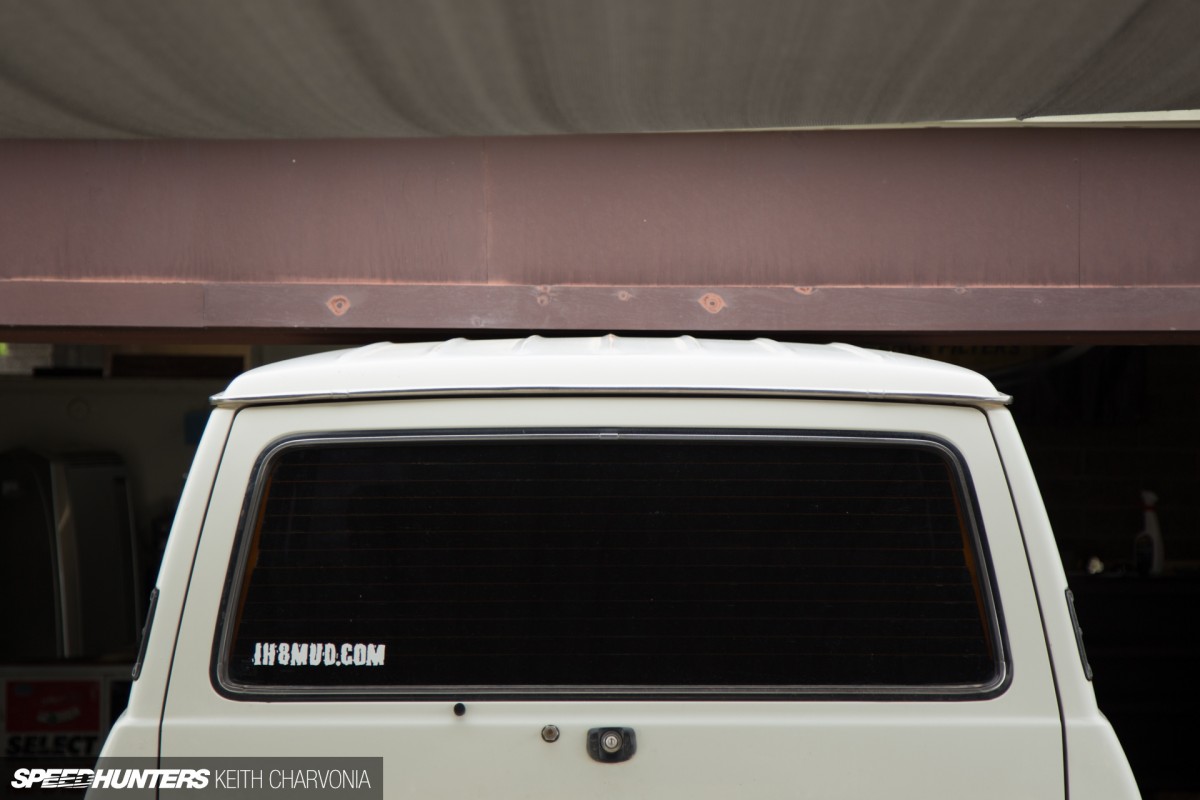 Then I went to pull the FJ into my standard two-car garage and found another issue.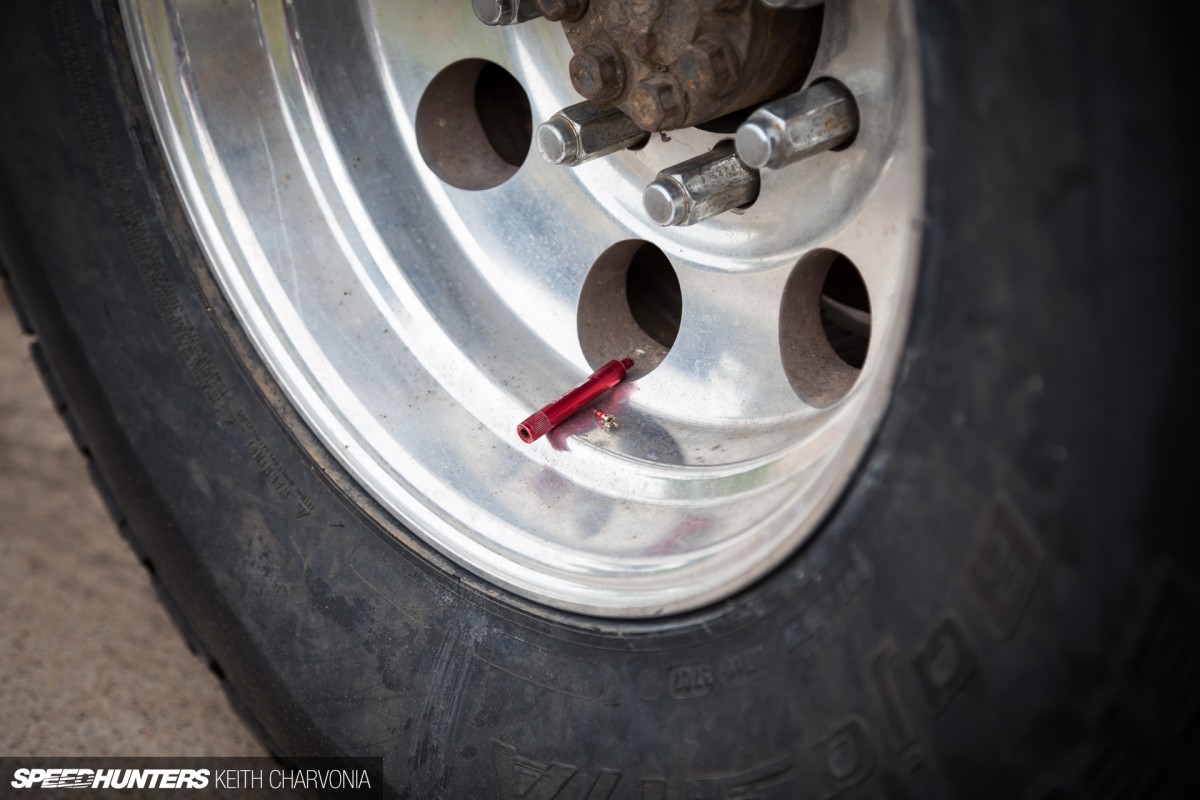 No worries though, I just pulled the valve stems and aired down. This will be happening routinely once I start taking this thing wheeling.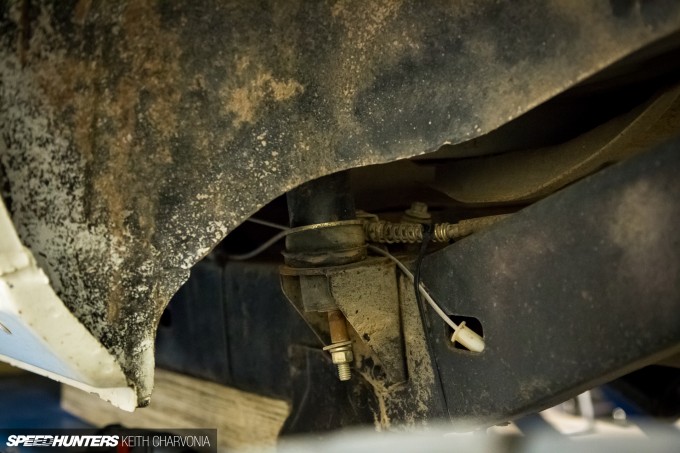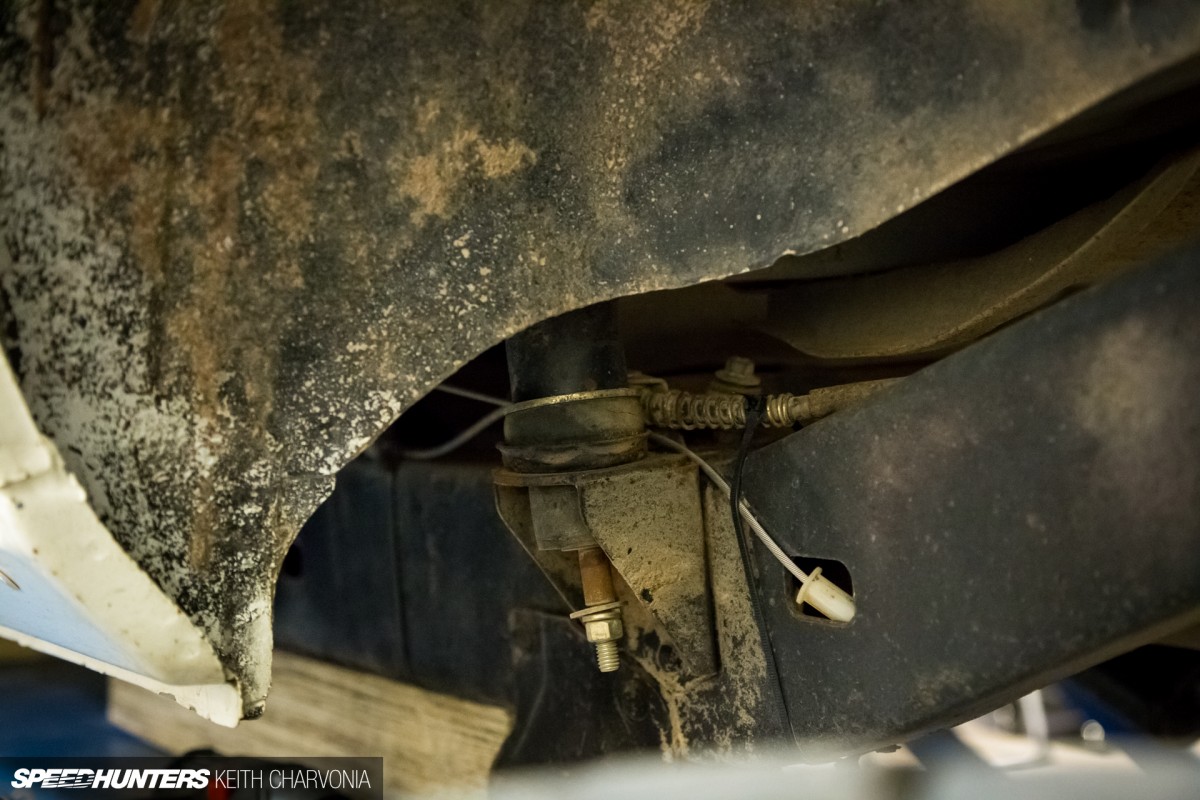 With the FJ60 on my lift, I could inspect the body lift and see how this was going to go. Pretty janky, huh?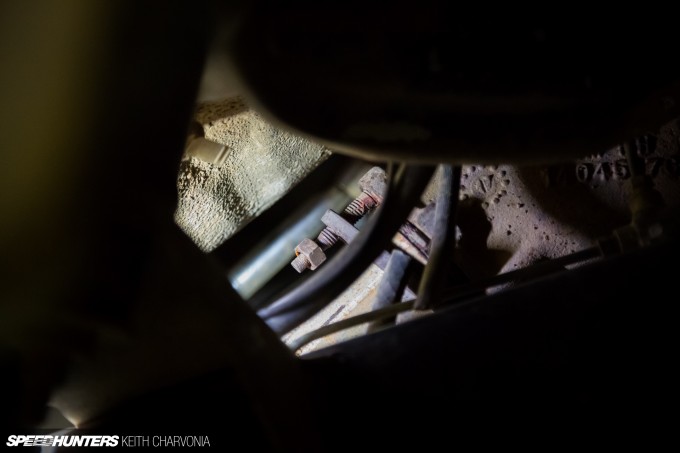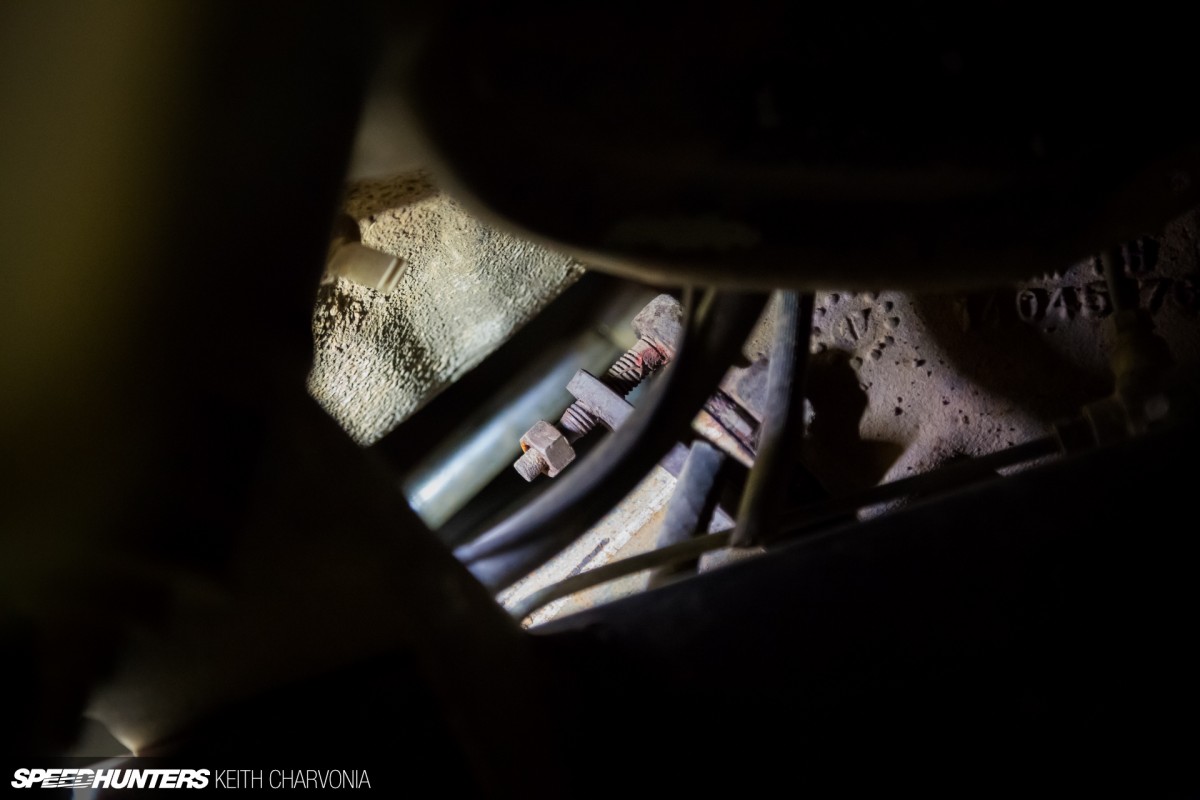 Peering through the front wheel well I could see how close the exhaust manifold was to the firewall, and also noticed that the collector wasn't even close to tight. So that was the exhaust leak I was hearing then.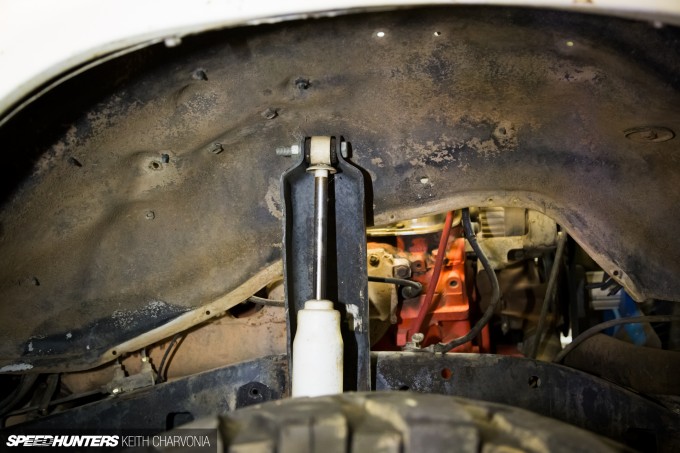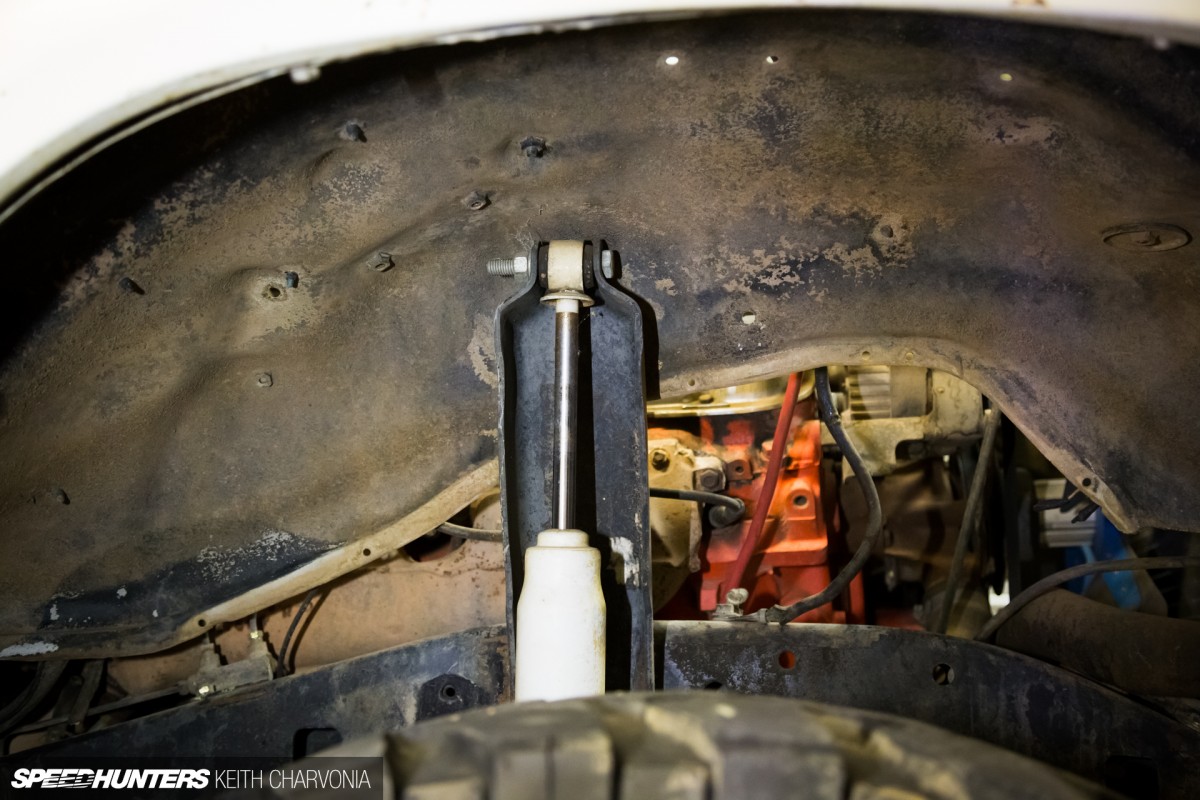 These are Ford F-250 shock towers, a common sight in the off-road world. At less than $20 each they're a quick and easy way to hang shocks on your rig. Mine were right up against the inner fenders, meaning they would need to be relocated before the body could come down.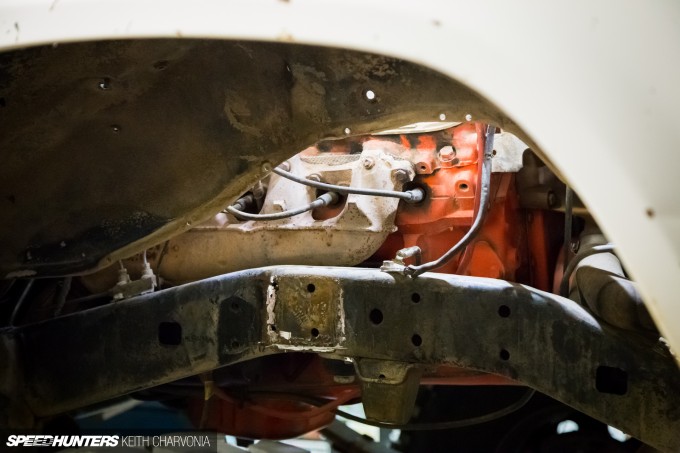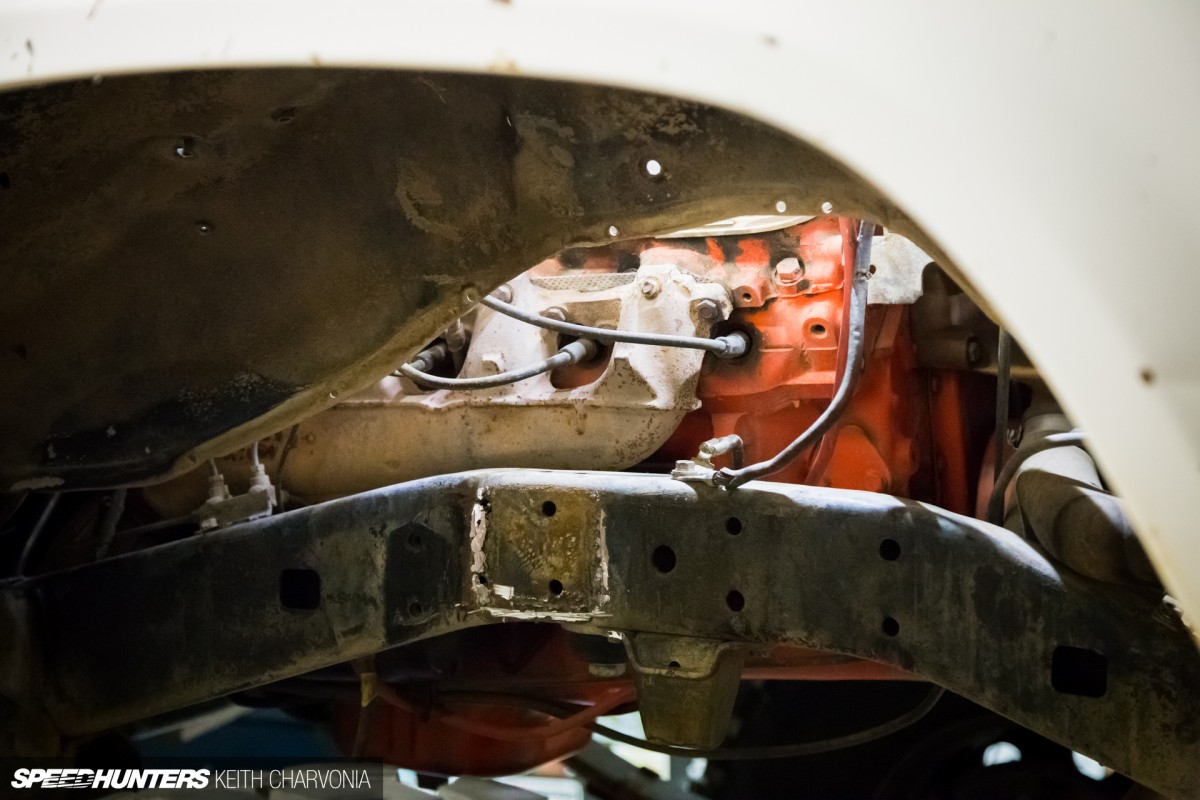 With the shock towers hacked out, I had better access to plugs, wires and exhaust bolts.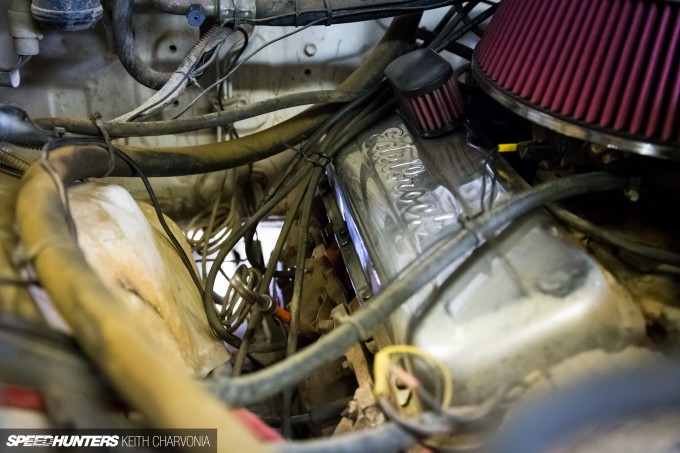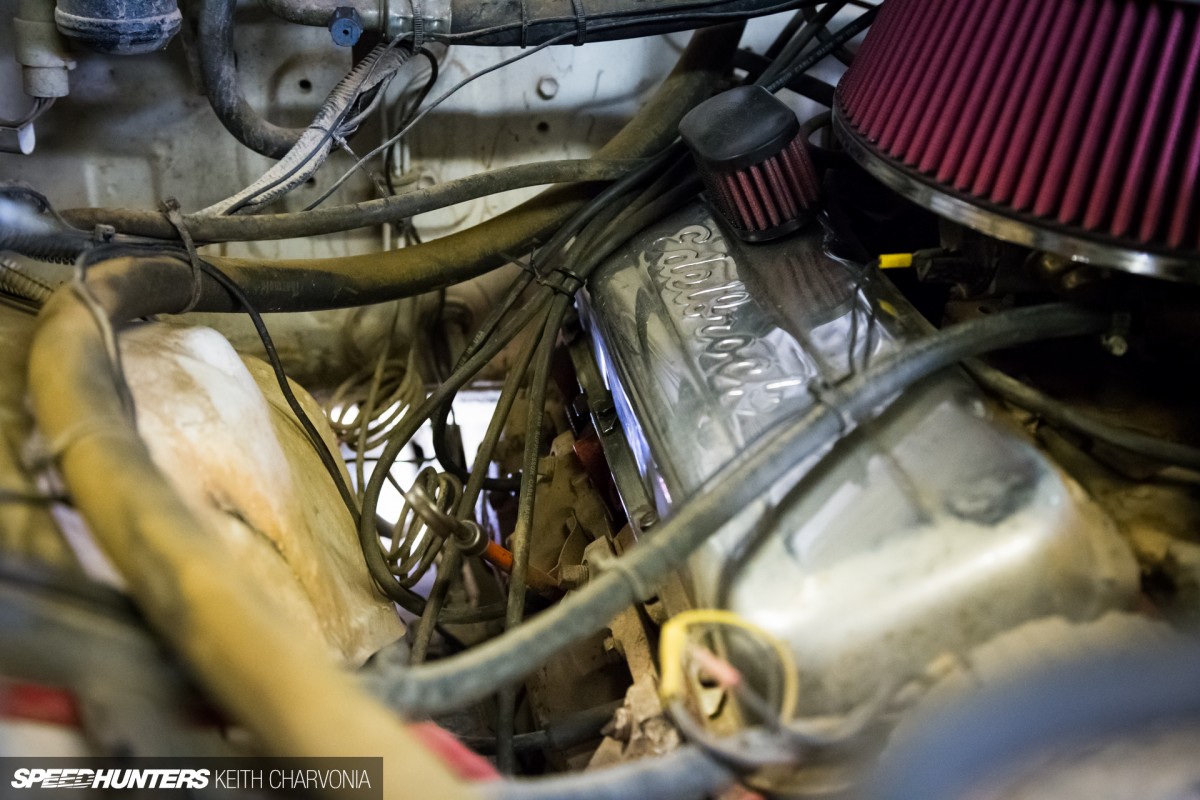 Nothing was tidy, so I didn't mind tearing into it knowing I would put things back better than I found them.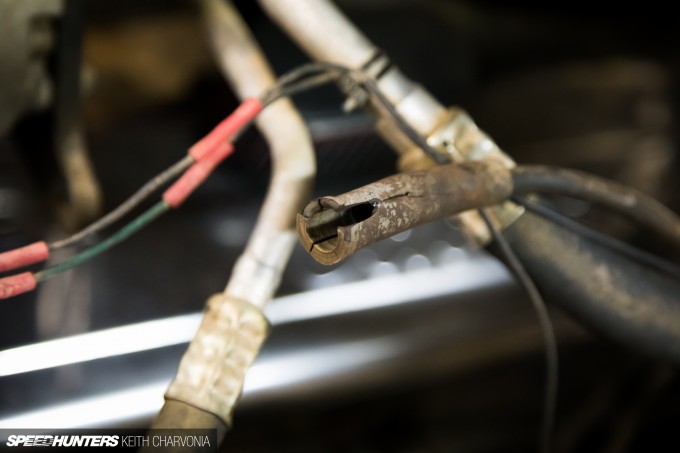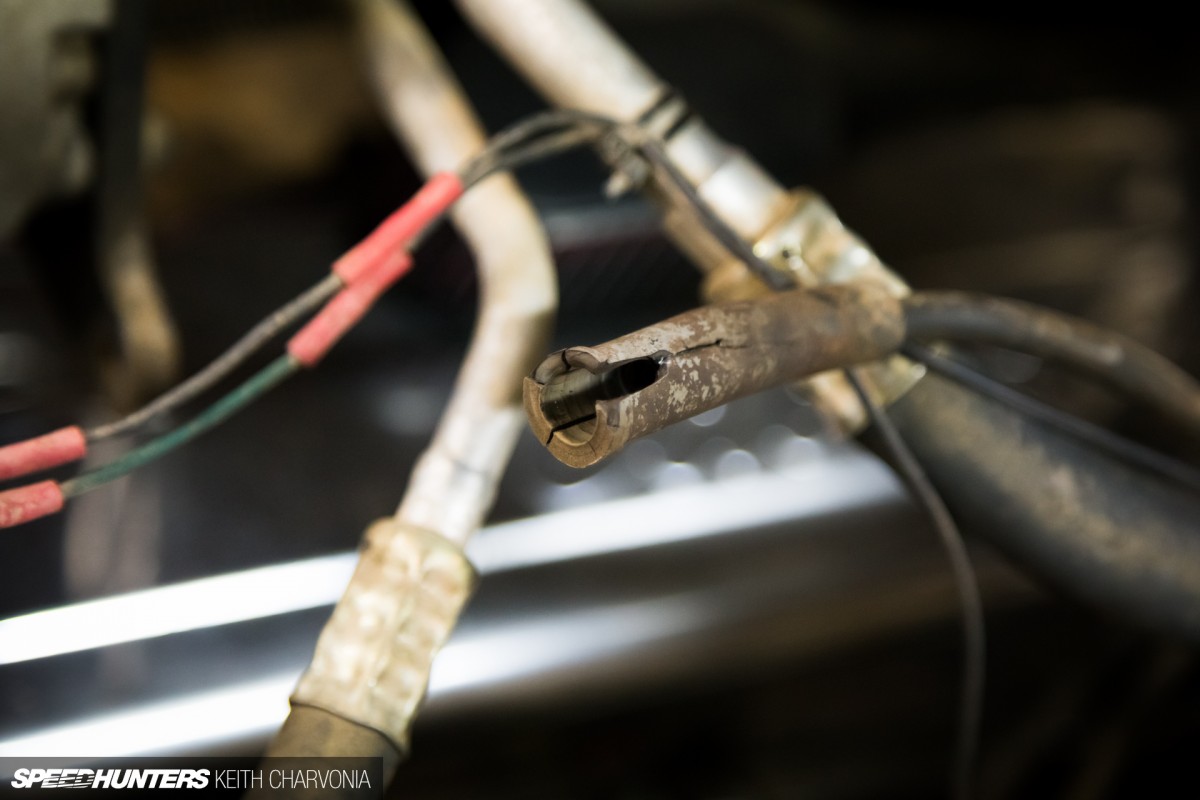 The plug wires were burned and brittle.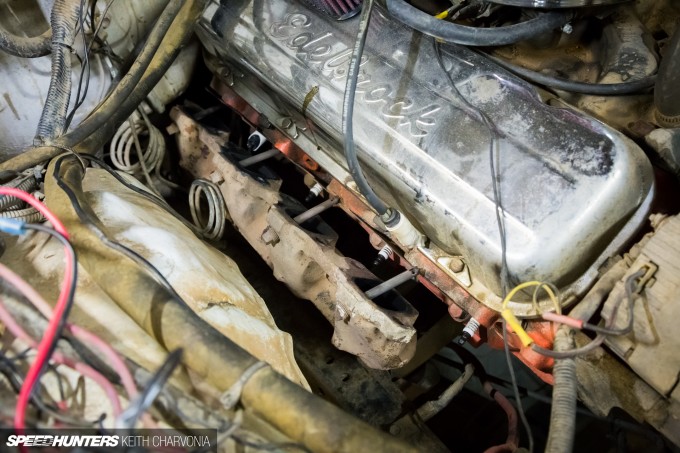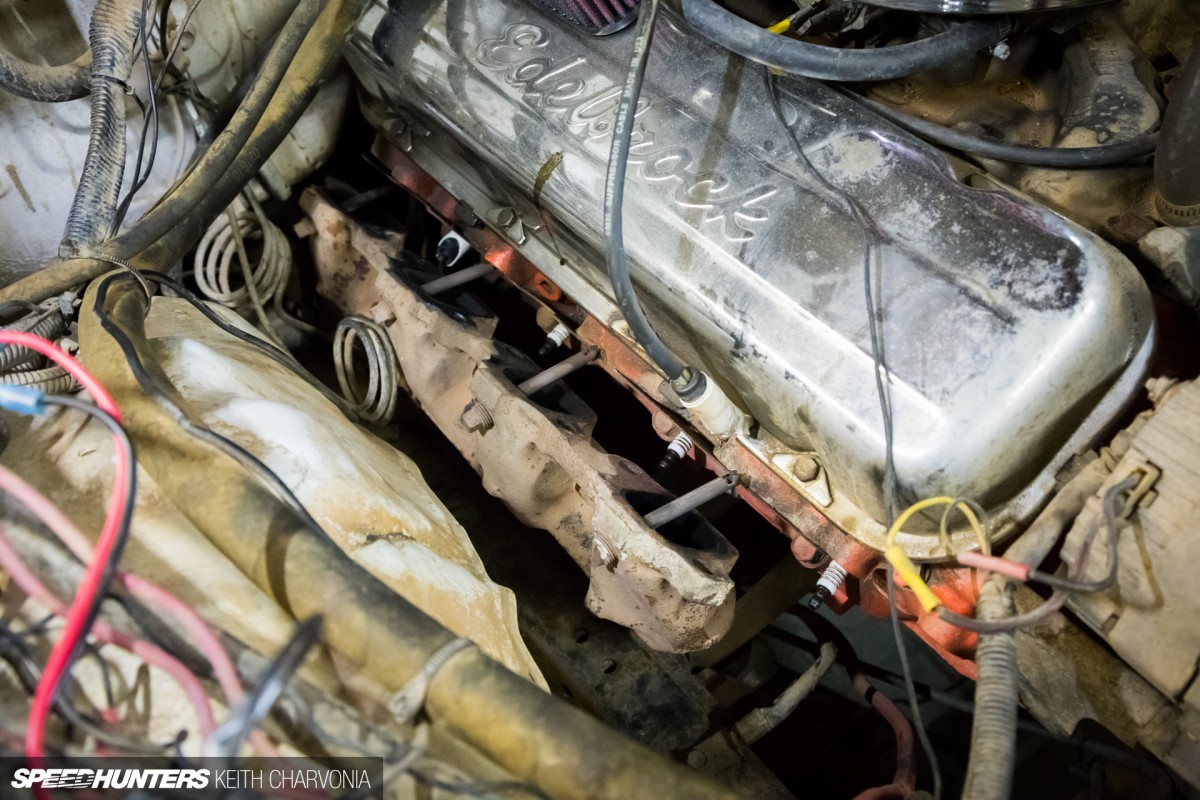 Despite weighing a ton, the manifolds came right out.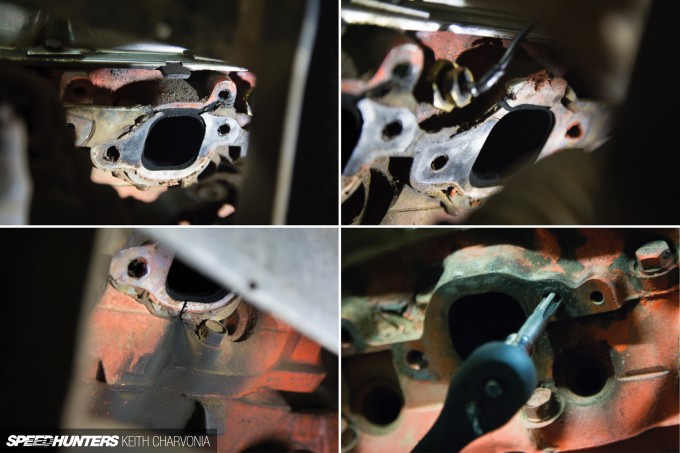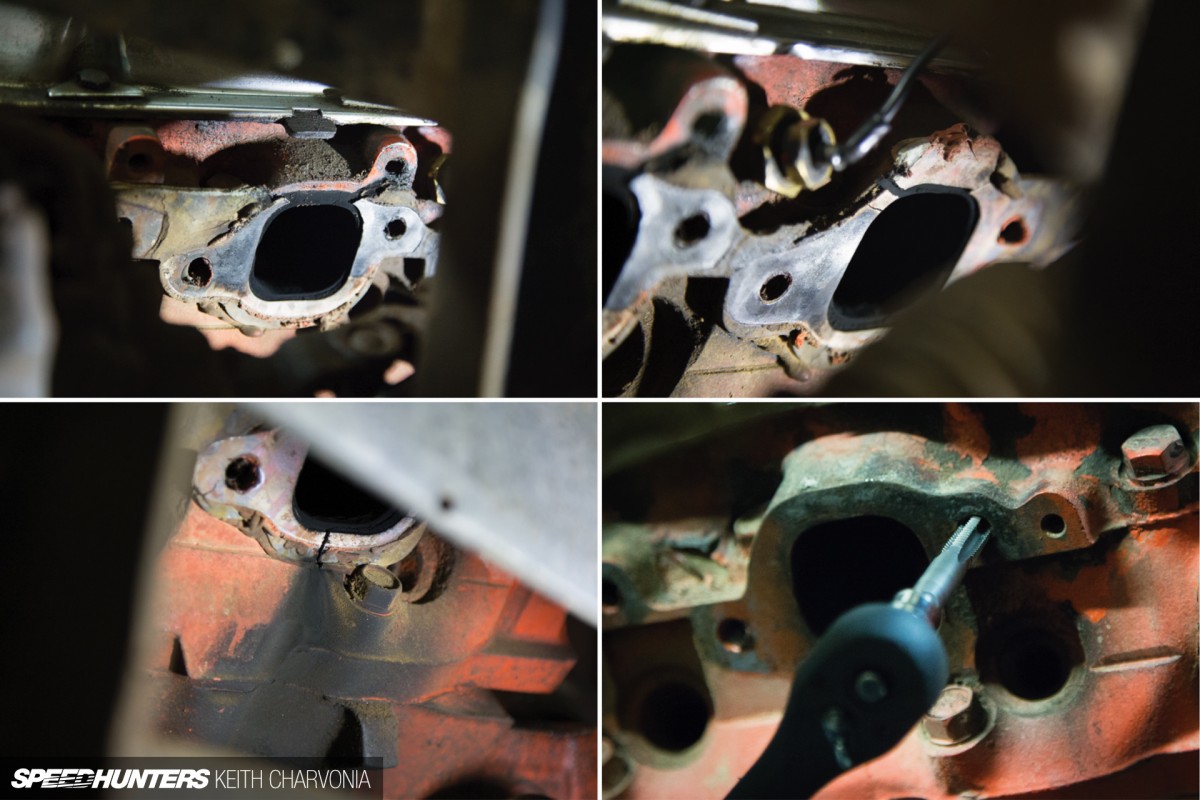 The paper gaskets stuck to the block so I was able to observe the many sources of exhaust leaks. It was leaking horribly at every cylinder! I used a tap to chase the threads so the install would go smoothly.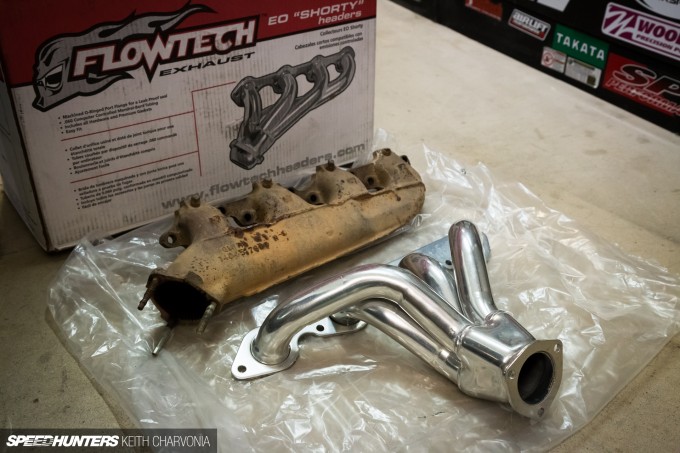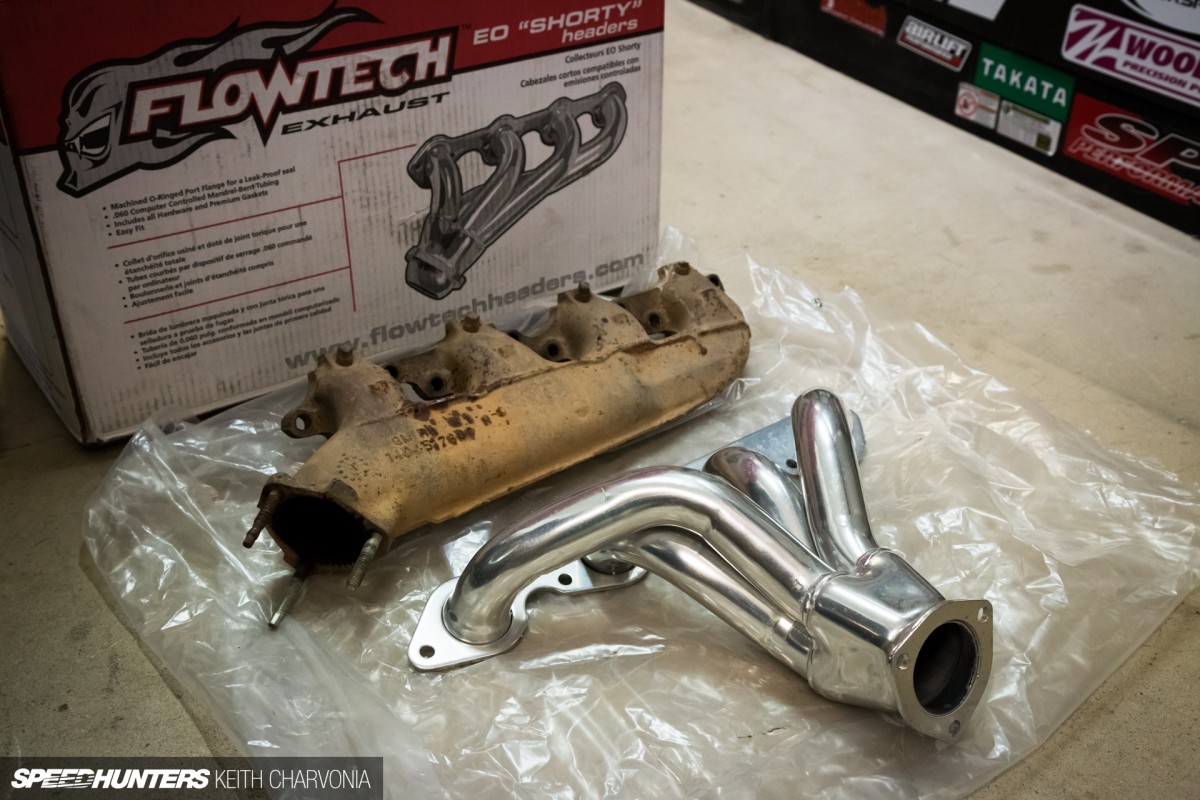 I have a friend at Holley, which also owns the Flowtech brand. After consulting him on my multiple dilemmas – exhaust leaks, firewall clearance and my thirst for more power – he advised that I switch to a block hugger header. These are commonly seen on hot rods, V8 swaps and anywhere you have tight clearance between the engine and frame rails.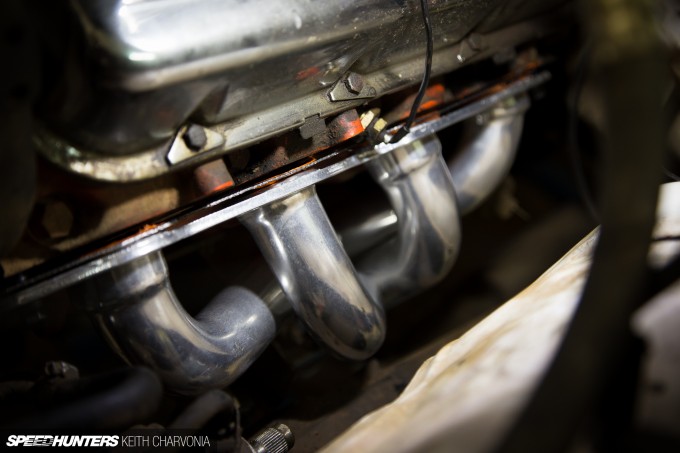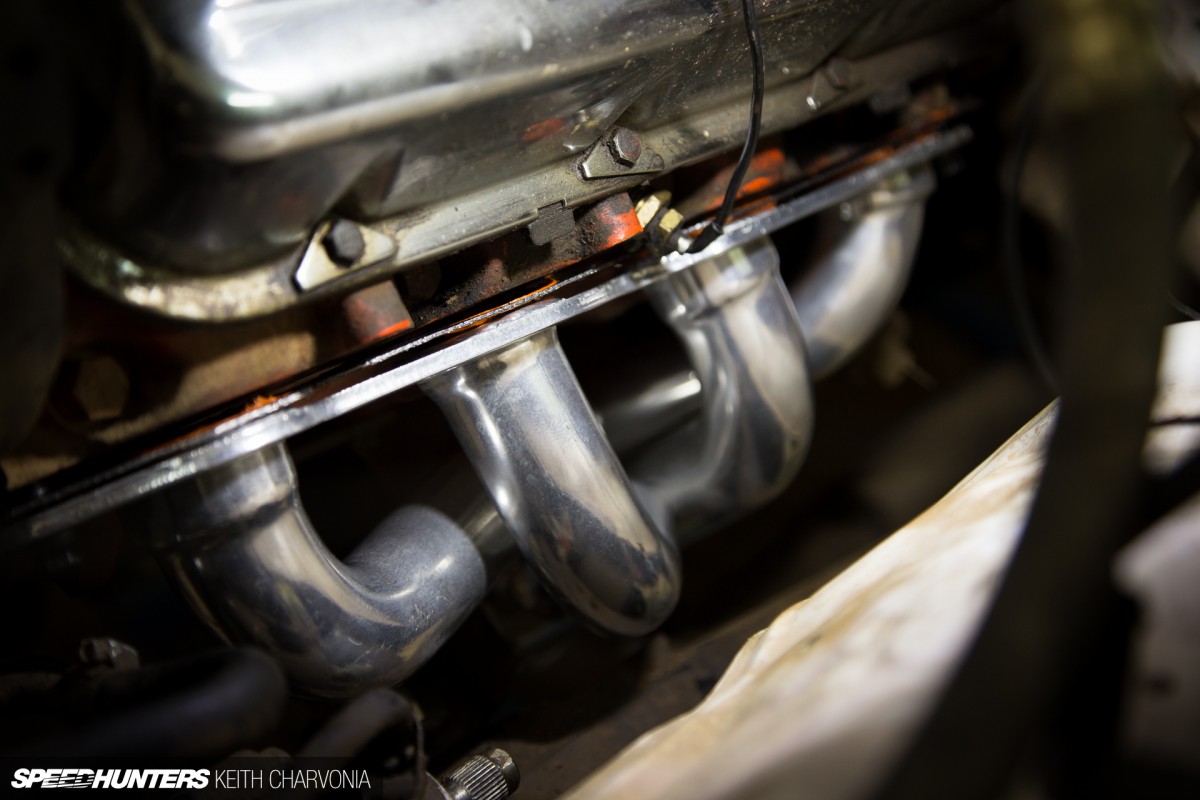 Even still, it wasn't until the ceramic-coated Flowtech headers were installed that I knew they would fit. It's a beautiful sight, isn't it?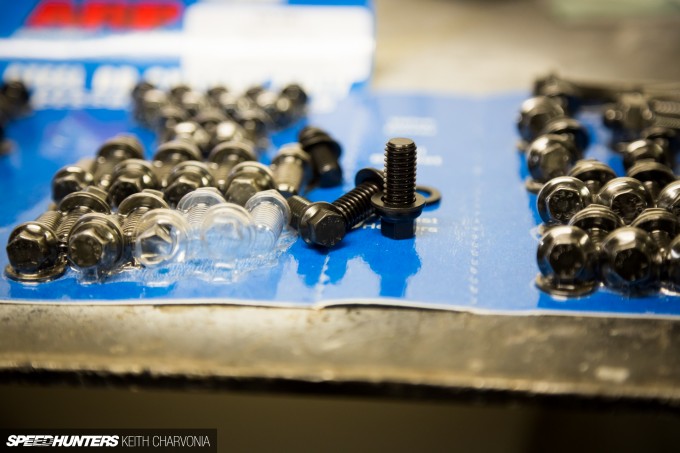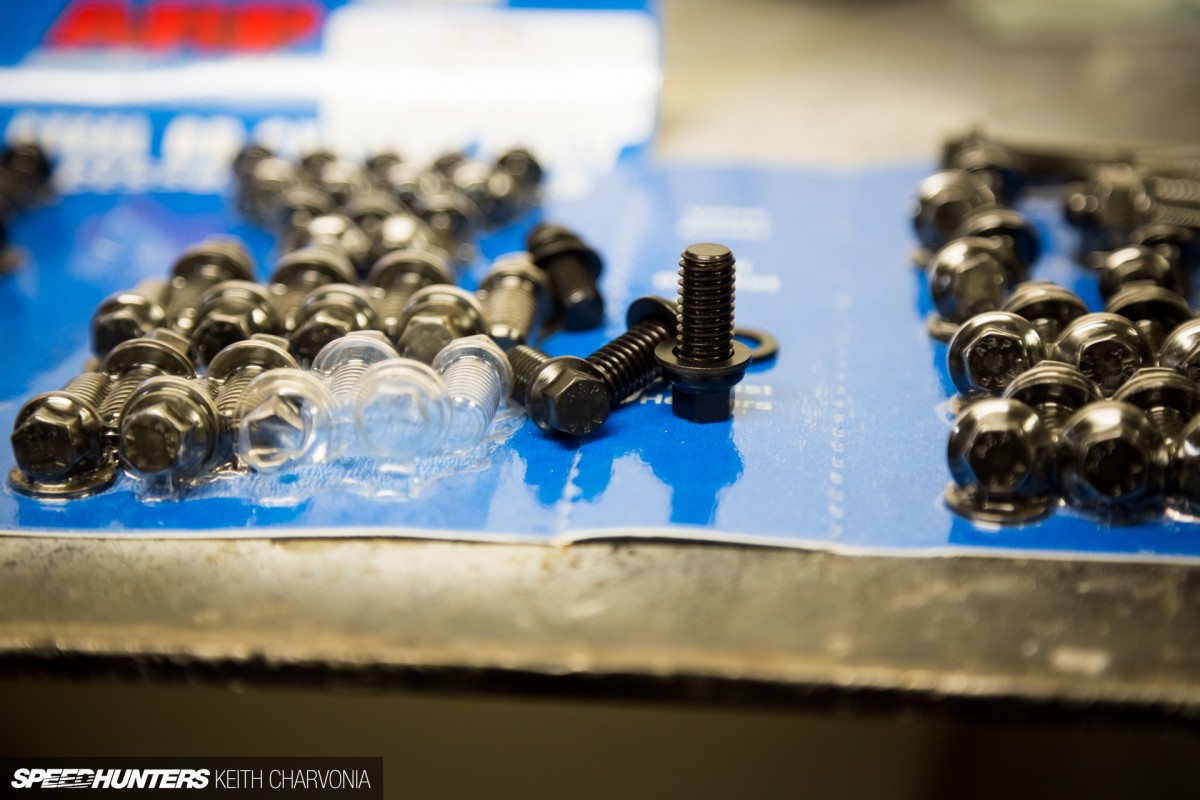 I also rang my friends at ARP looking for a set of nice header bolts. I was pleased to learn that they sold an entire bolt kit specific to the Big Block Chevy.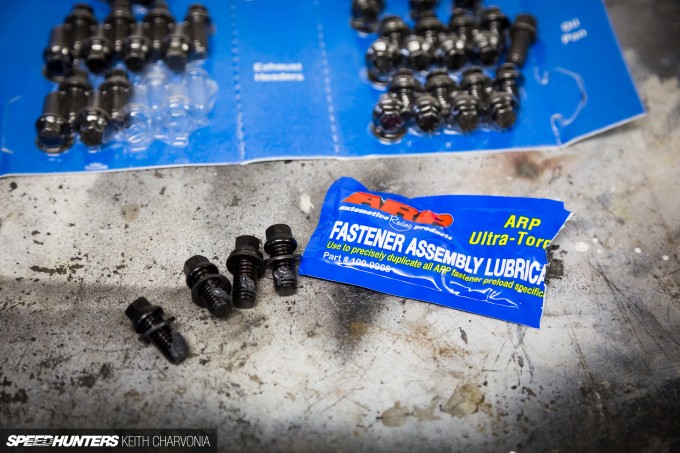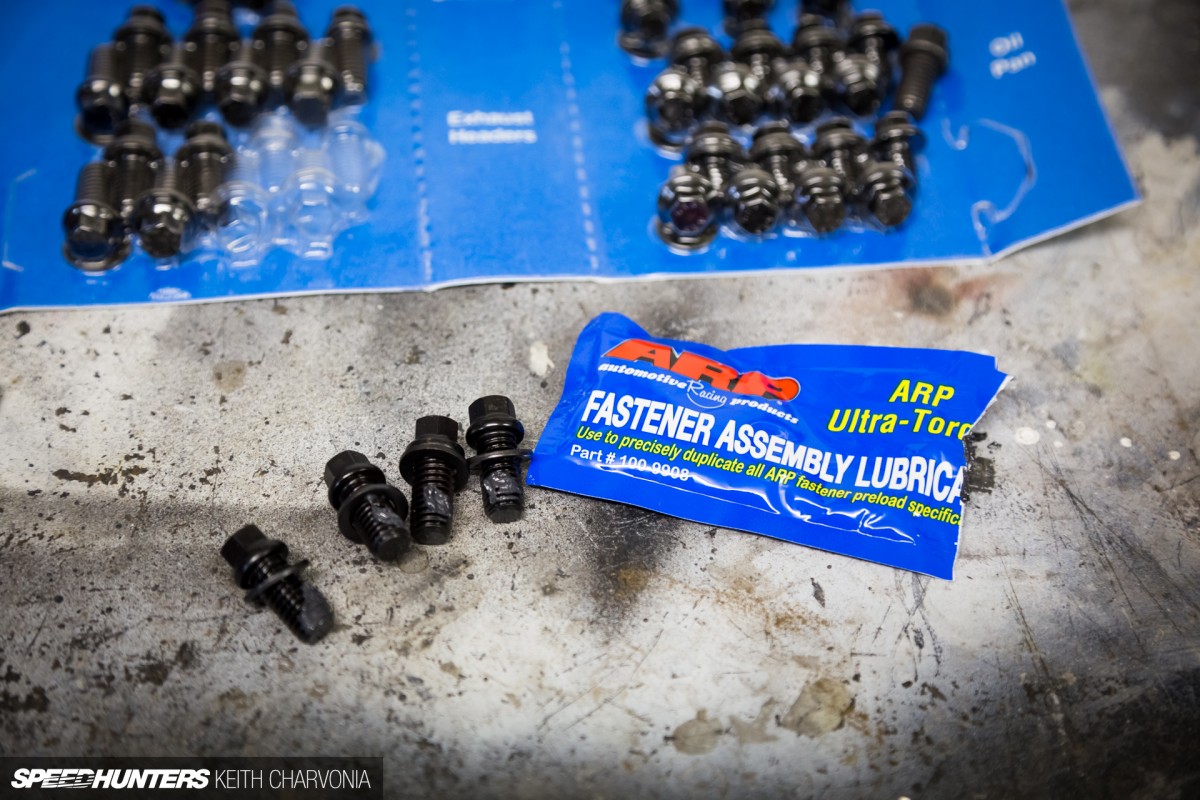 ARP include an assembly lubricant to ensure that the fasteners are torqued properly.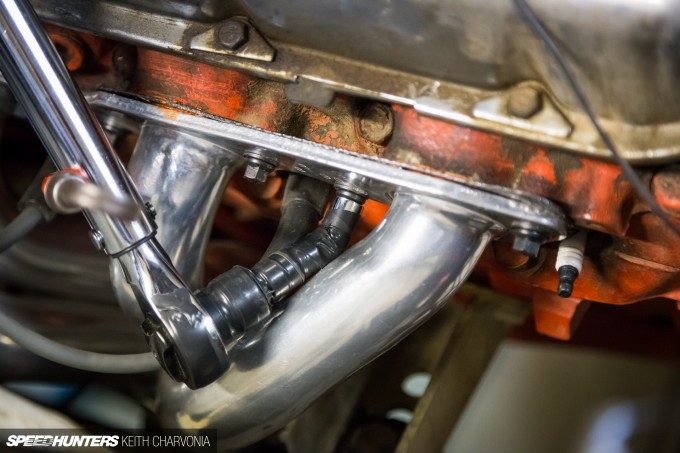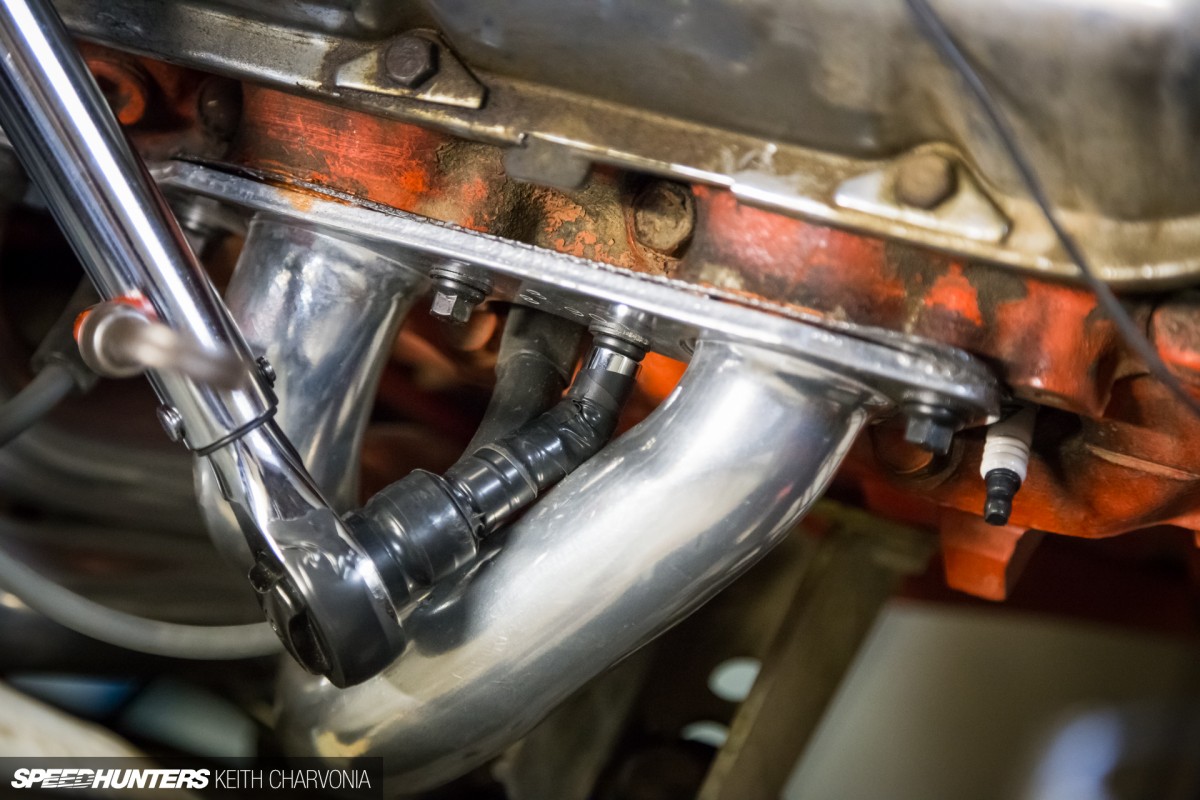 I spun the bolts in with a ratcheting wrench, but torquing them was a little more tricky. Here you can see the stack of adapters needed to make it work. I wrapped it all in electrical tape to protect the finish on the header and also keep the wobbly adapter from folding over on itself as I applied torque.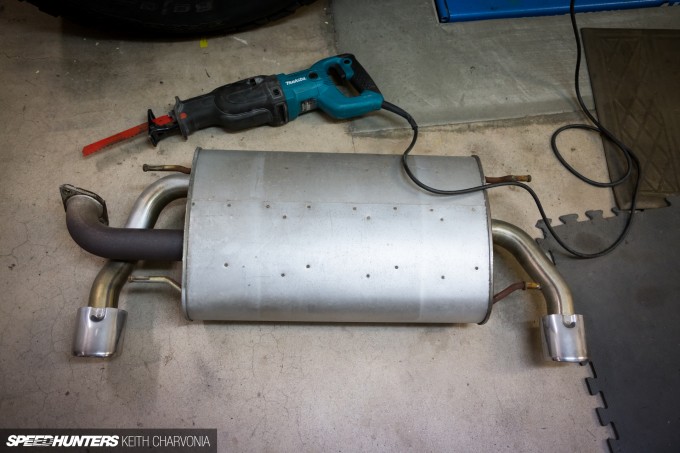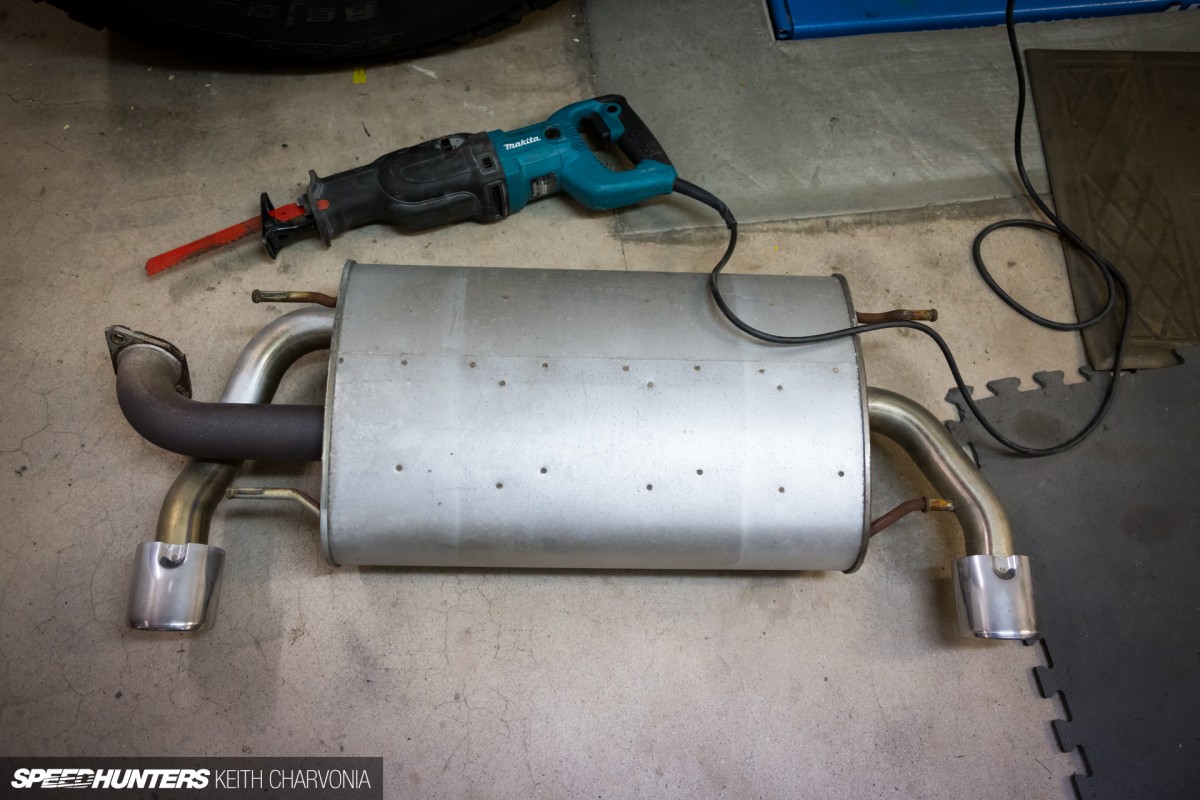 With my shiny new Flowtech headers installed, I just had to reconnect them to the existing exhaust. After some searching I realized I had the perfect mandrel bent tube – it was part of a stock FR-S muffler. Fortunately I had two lying around, and they're virtually worthless anyways.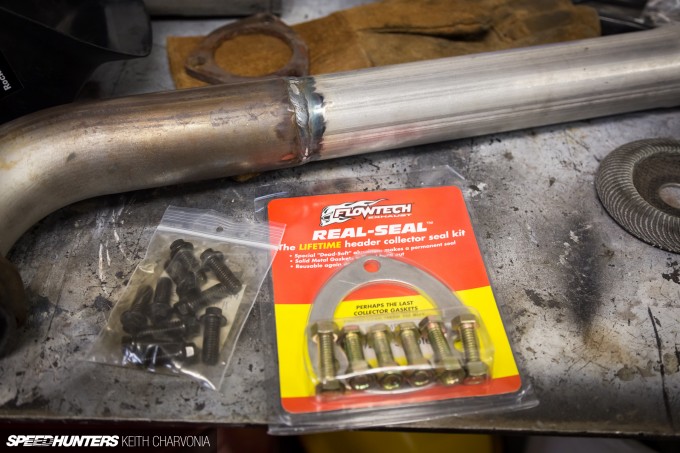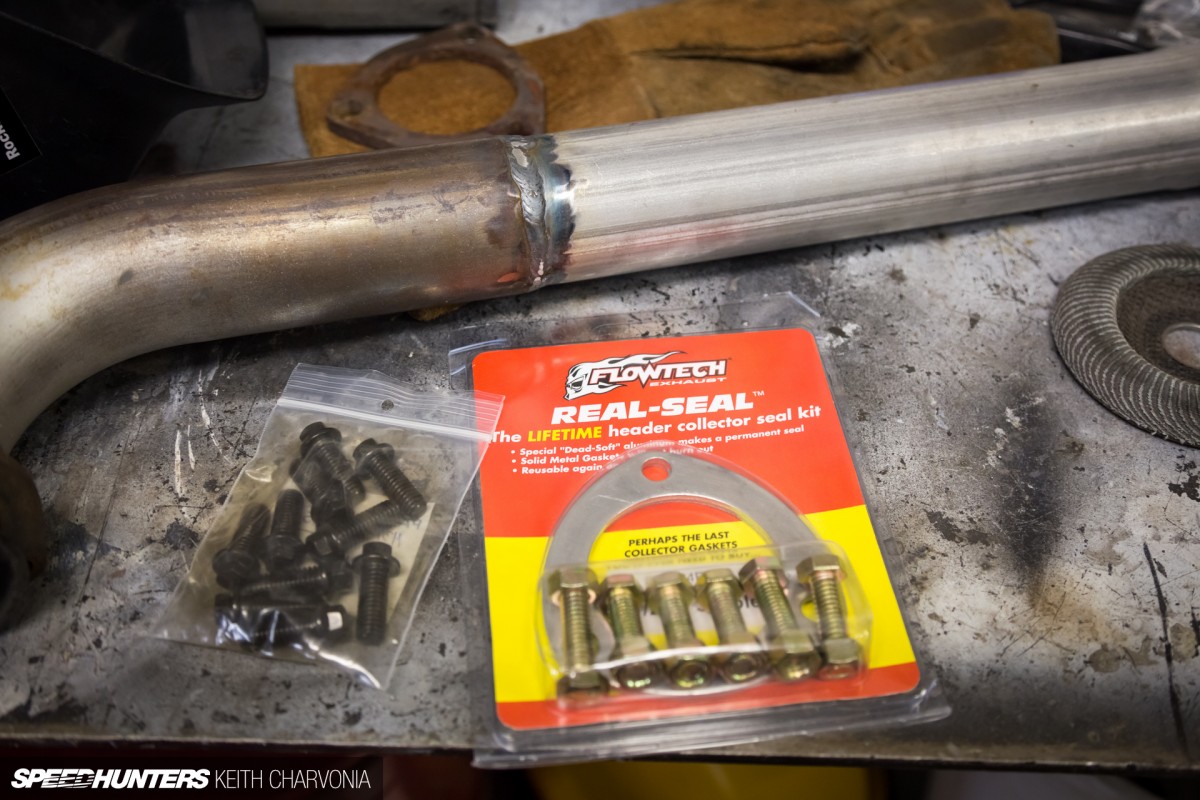 Flowtech also hooked me up with a set of their upgraded Real-Seal collector gaskets. These are thick, 'dead soft' aluminum gaskets that simply will not leak. I also have a set of Earl's Pressure Master header gaskets waiting on the shelf in case the stock ones start to leak up top.
Spark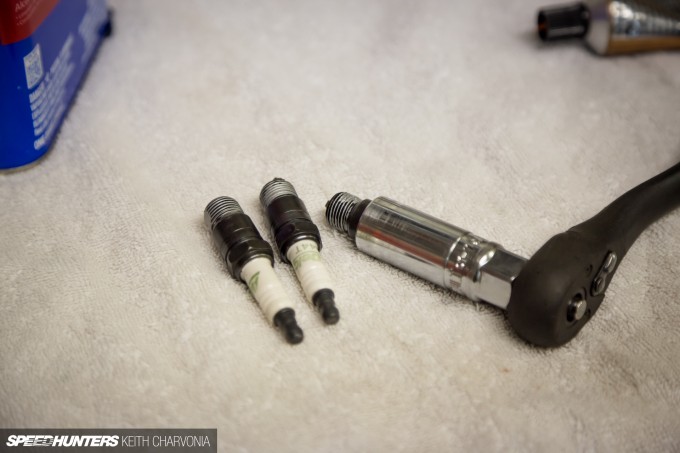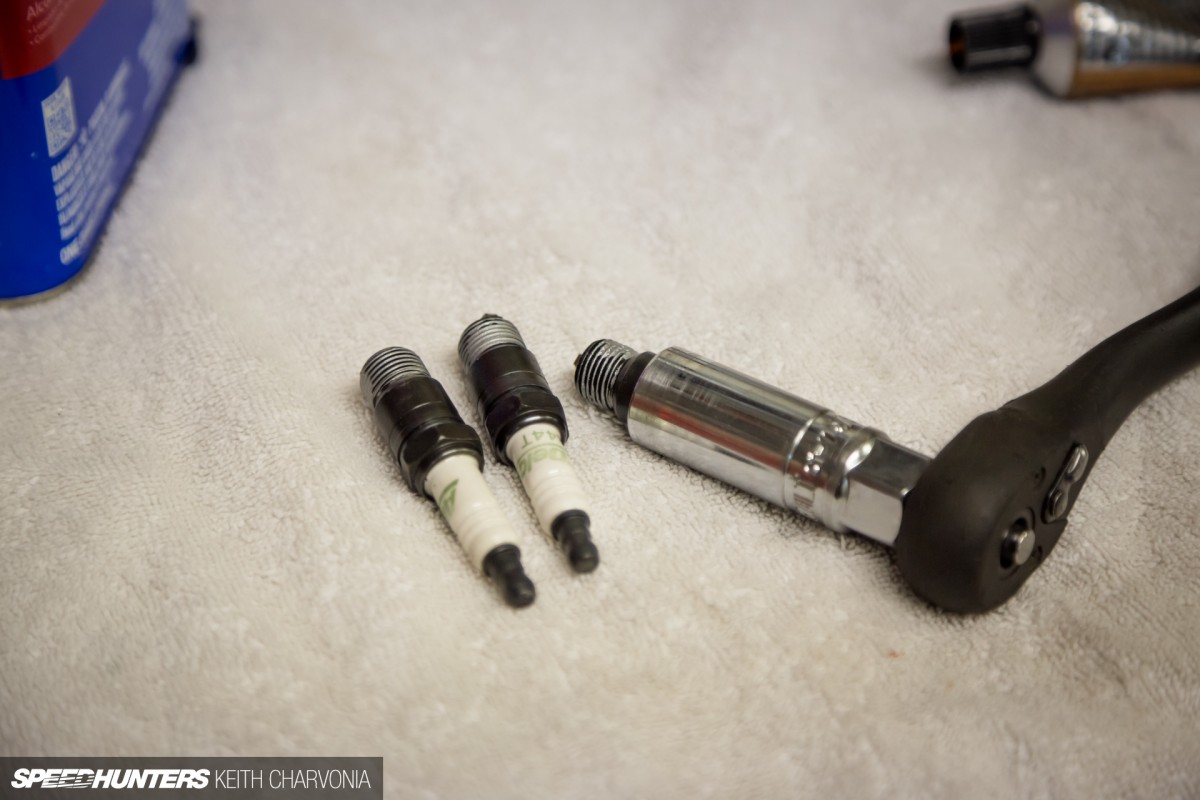 With the Flowtech headers installed and the exhaust reconnected, I turned my attention to the roasted plug wires and old, oily plugs.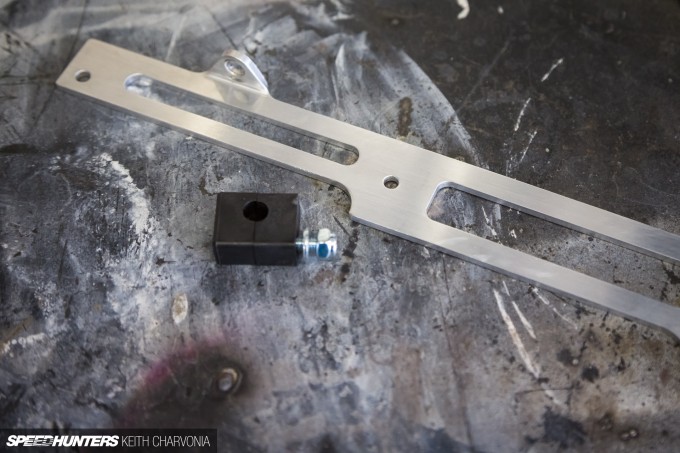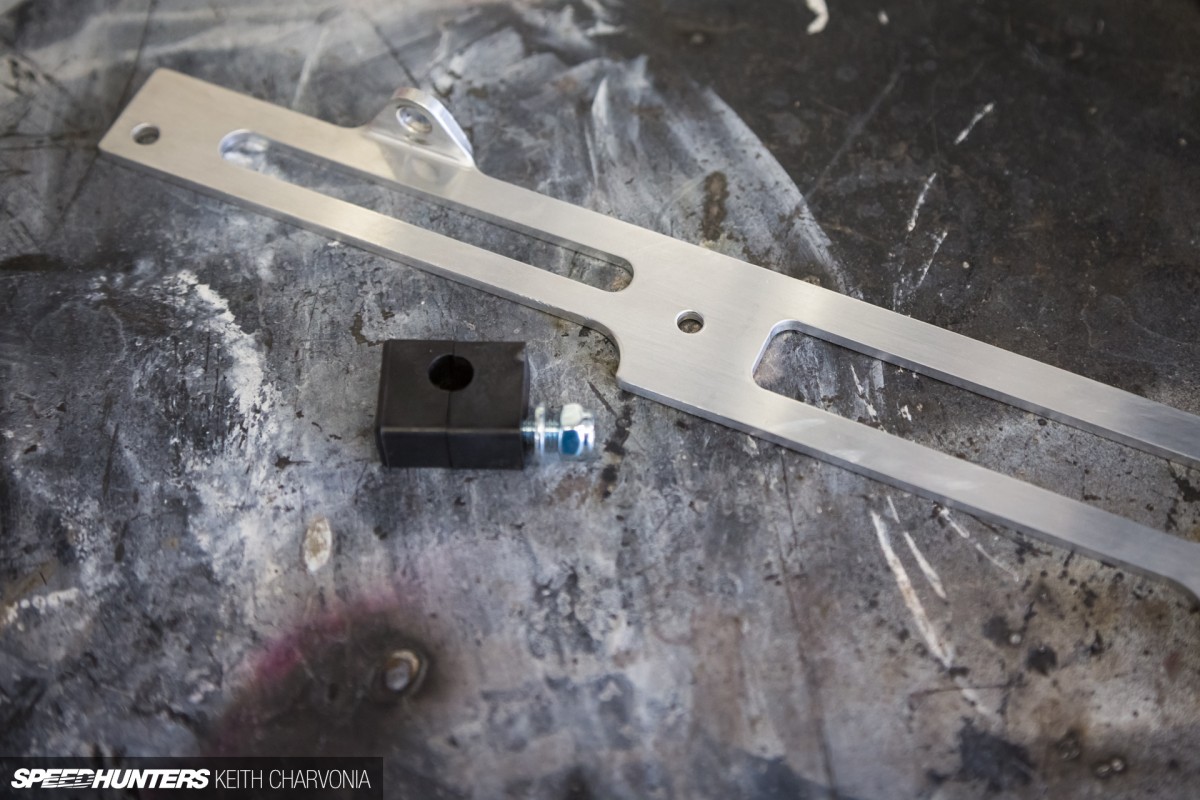 If I was going to install a nice set of wires I didn't want them to get crispy again though. I picked up this wire routing kit, but didn't like all the hardware required to secure the wires.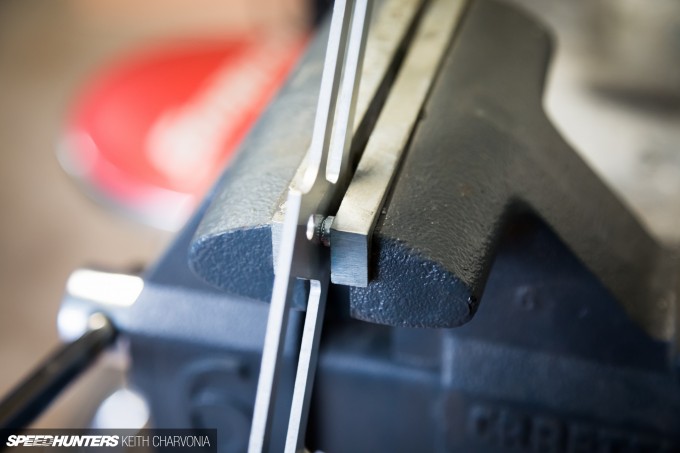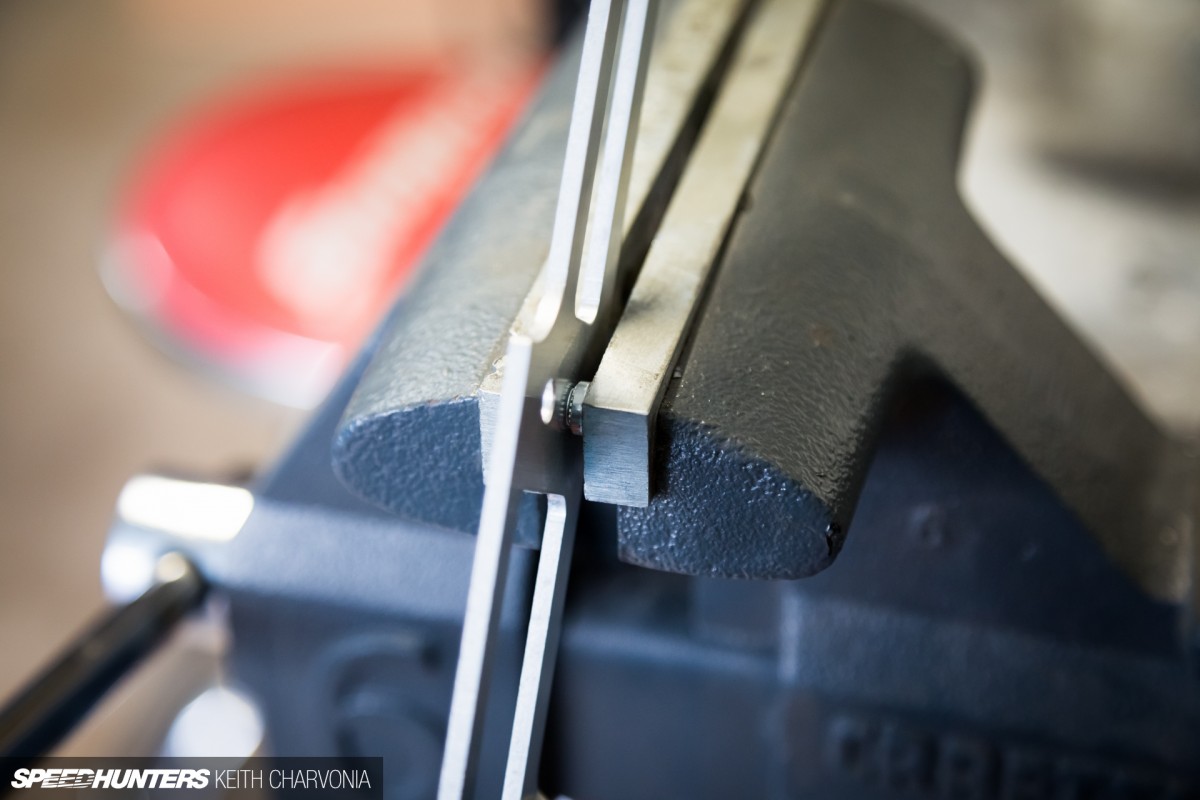 Instead of trying to line up a machine screw with a washer and a nut on the backside, I drilled out the holes and pressed in self-clinching nuts.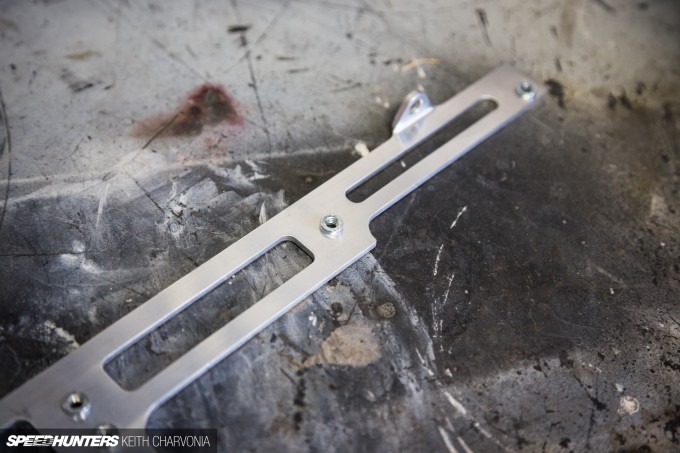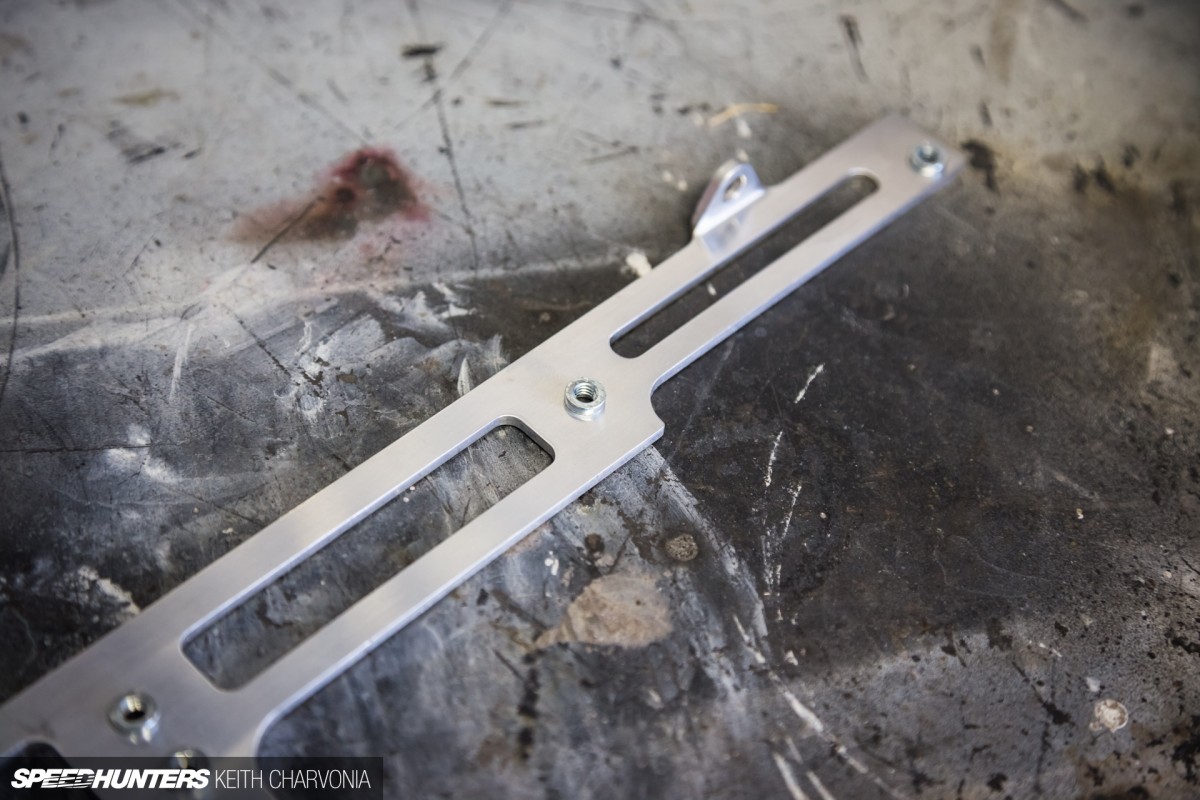 This will make them much easier to install.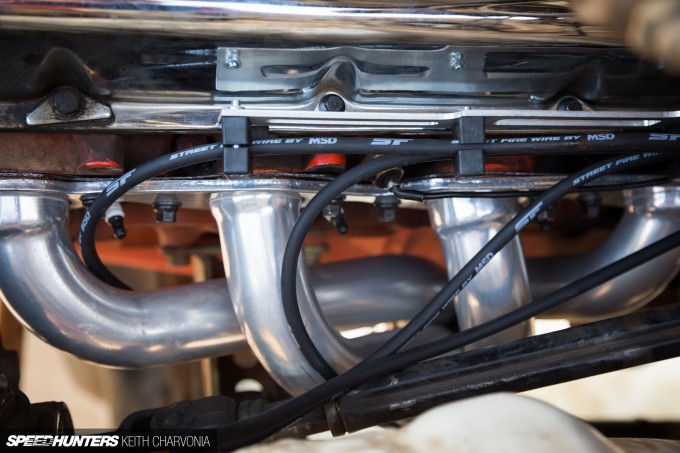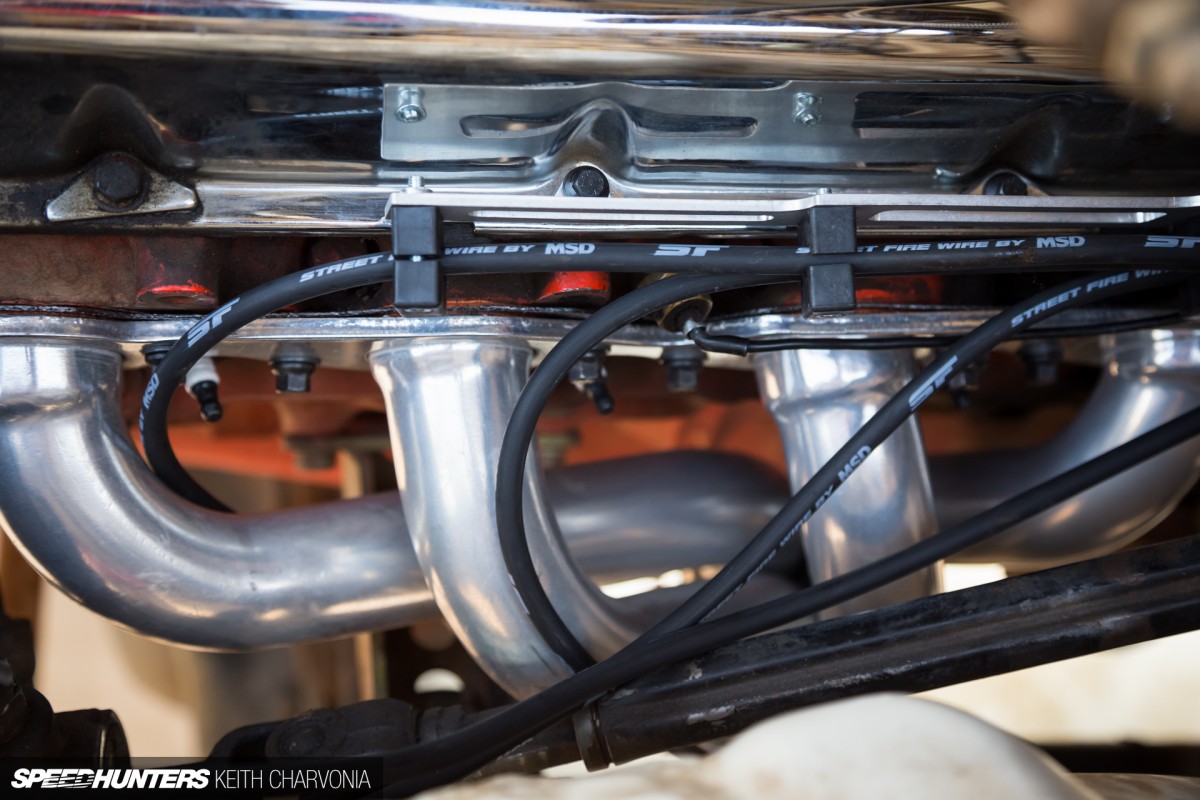 With the plug wire rails installed, I could lay out the trim-to-length MSD plug wires.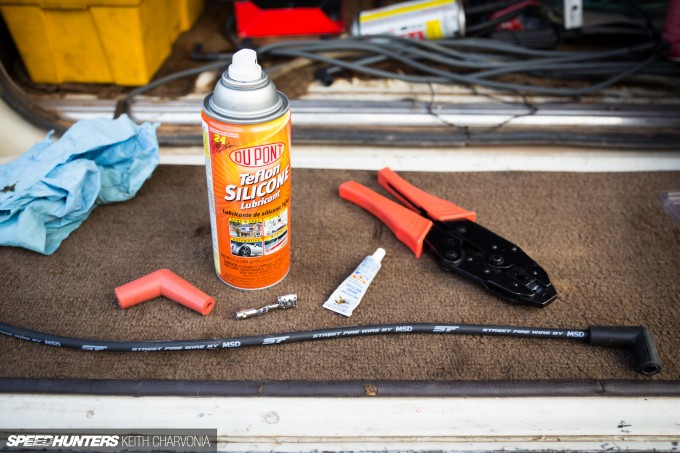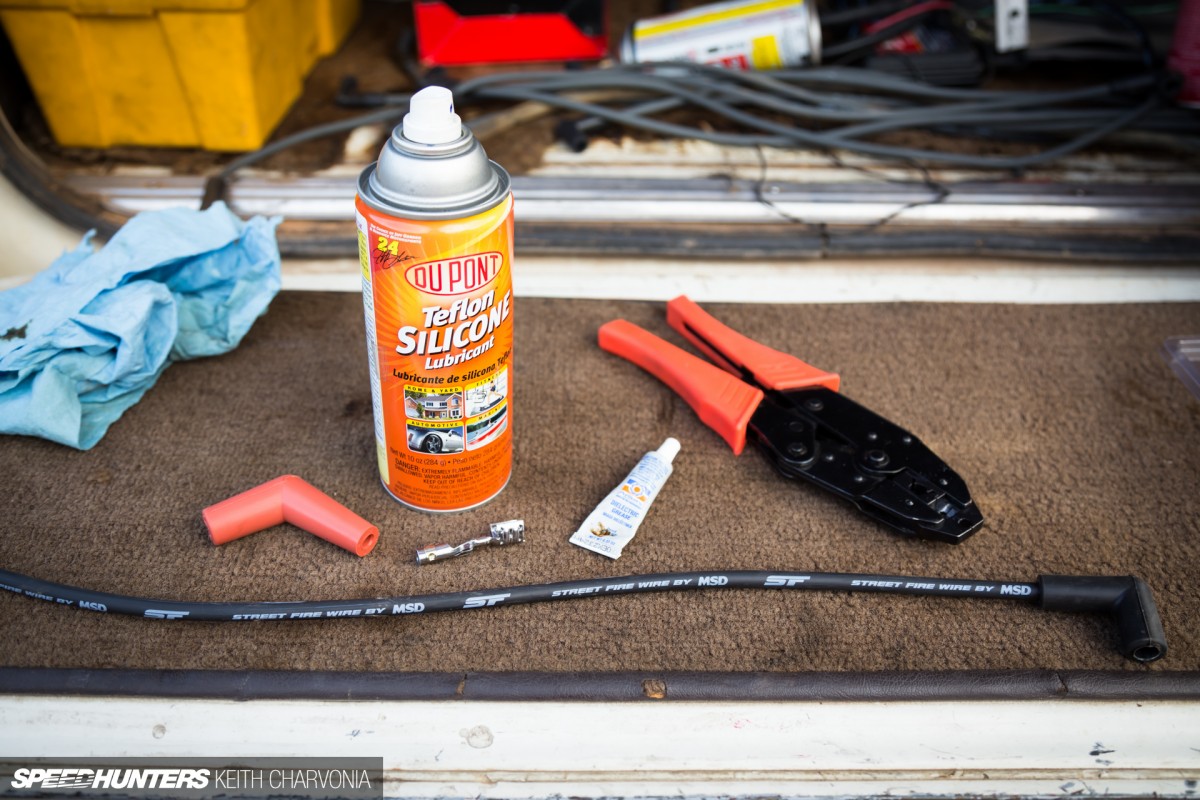 I borrowed some expensive terminal crimpers and proceeded to make eight plug wires that were just the right length.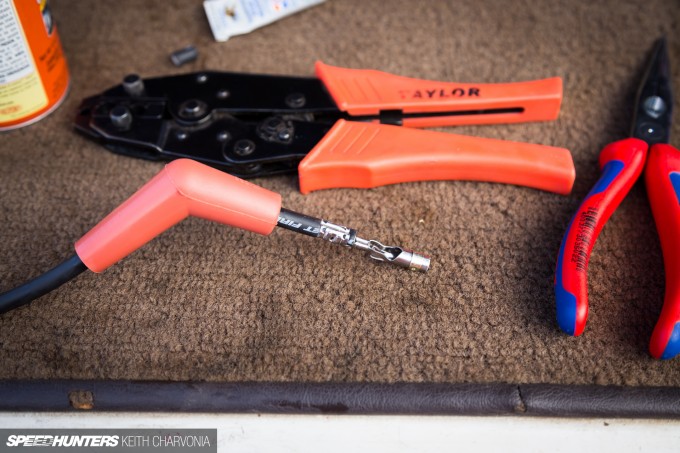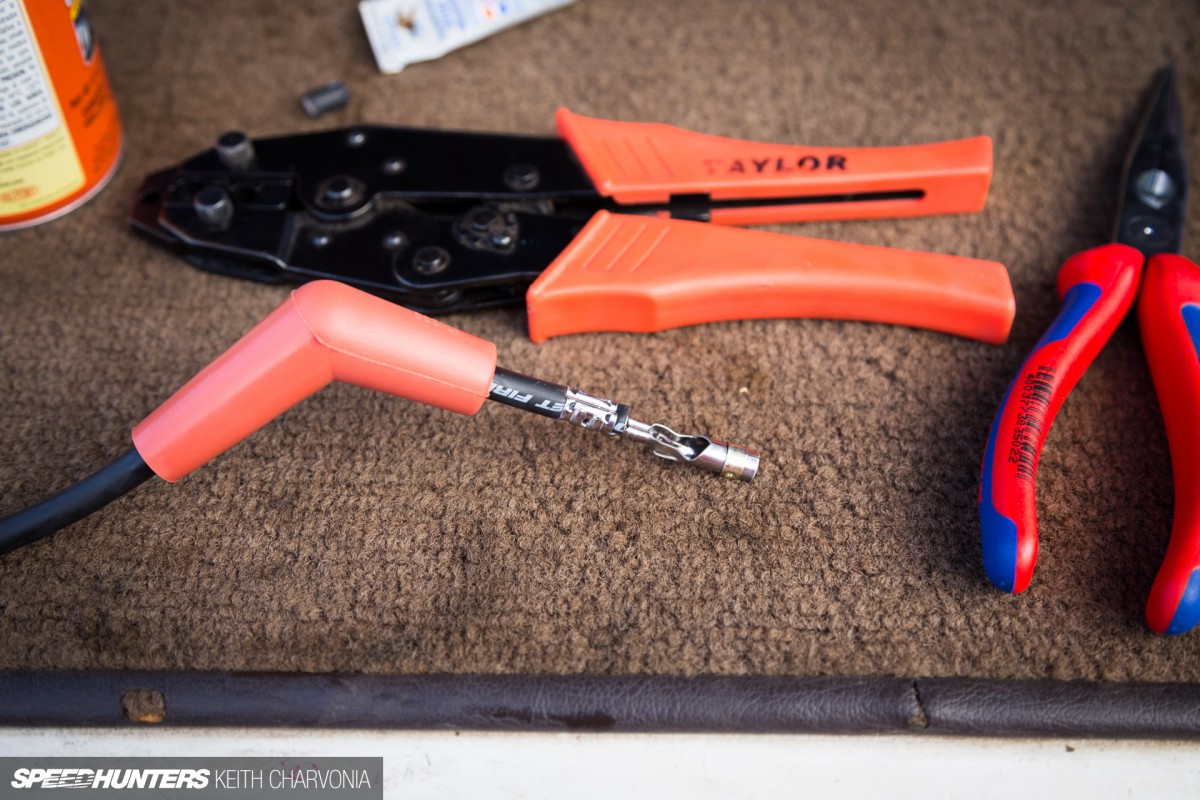 This is something you get the feel for as you go – how much to strip back, how to hold the terminal in the crimper, and most importantly remembering to slide the boot on first!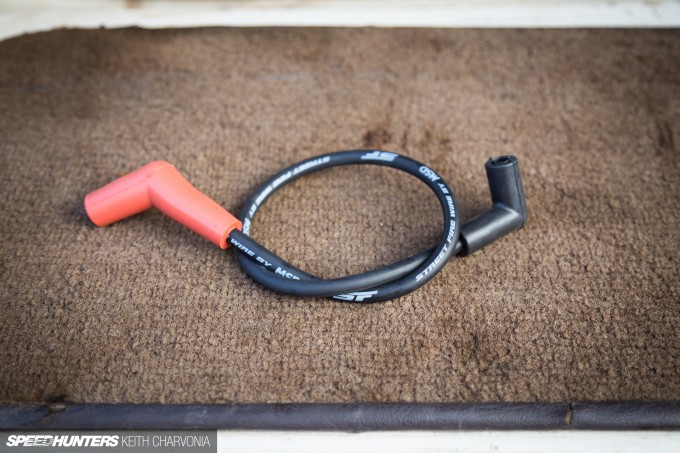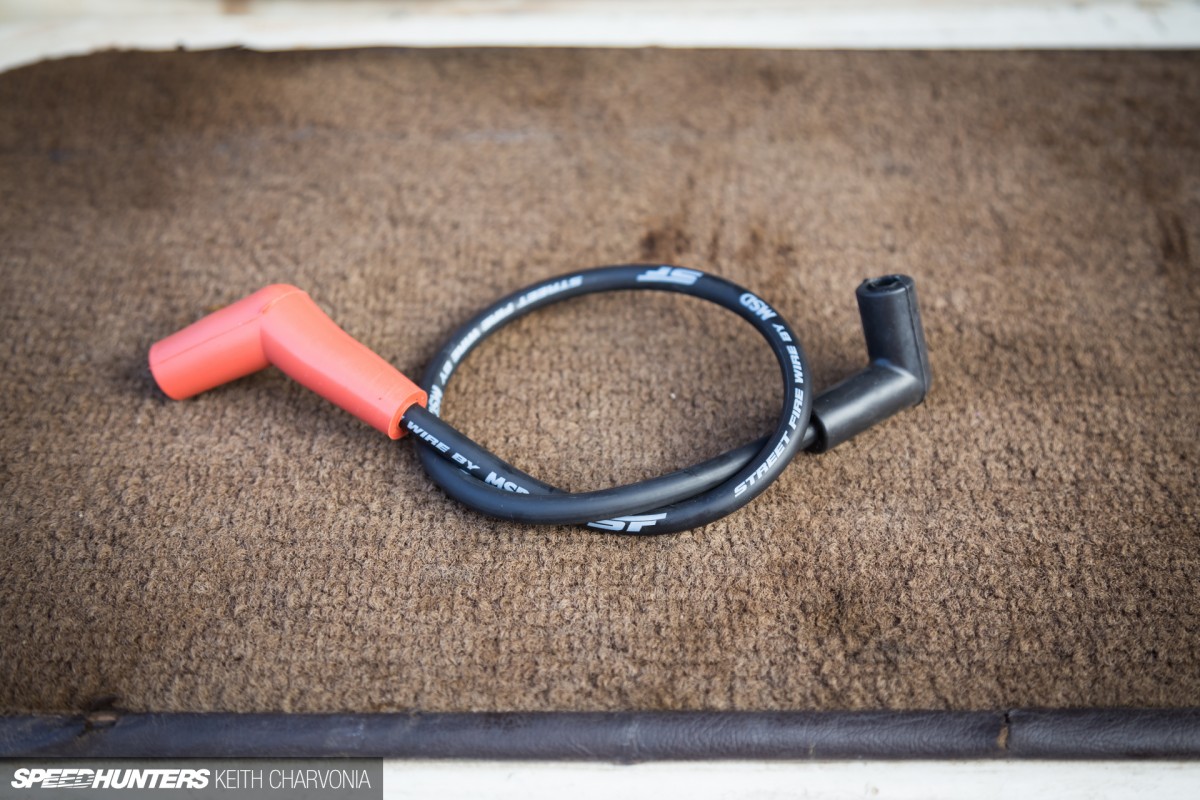 It sure is satisfying when you're done though.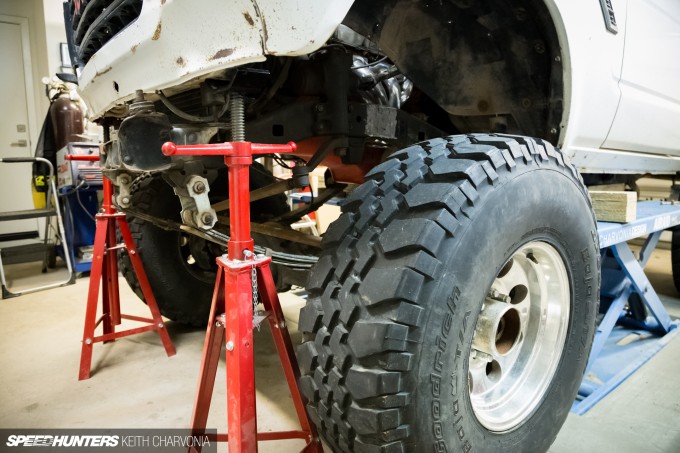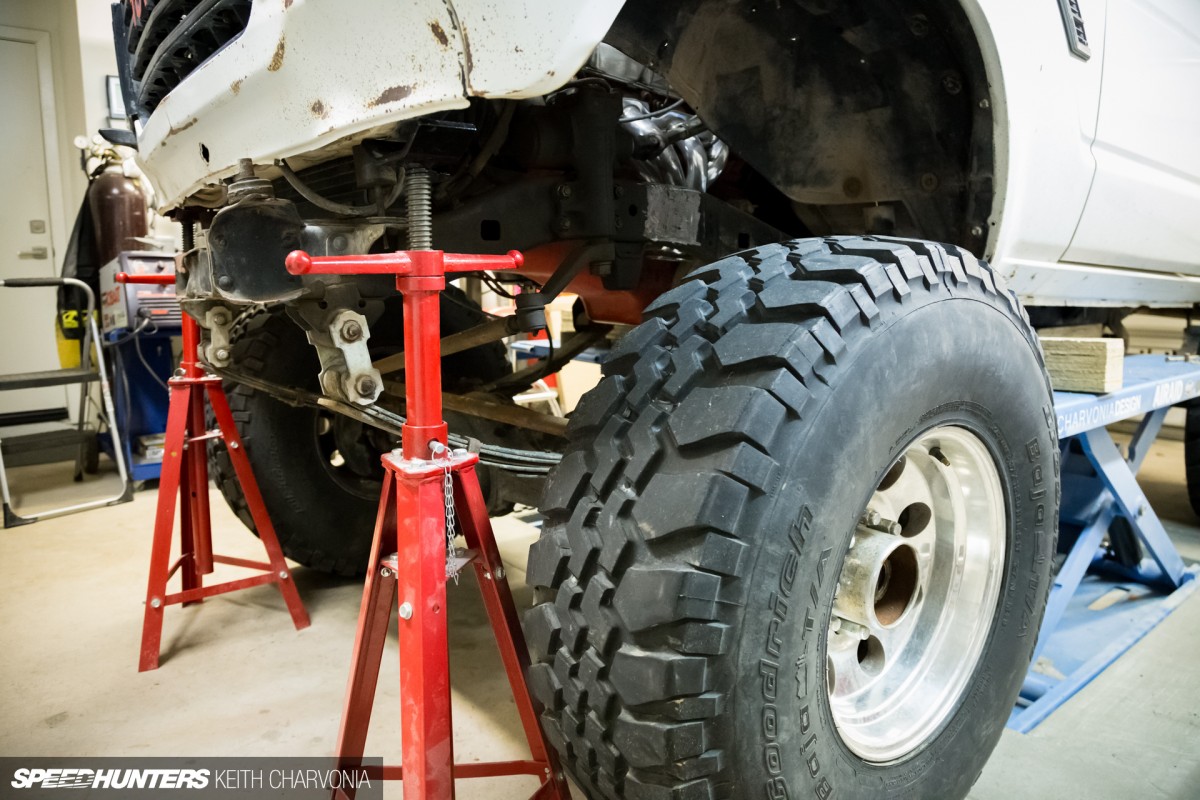 With all that work done, I could finally do what I set out to in the first place – remove the body lift. I was able to do this by myself by carefully using my lift and these tall stands to lift the body off the frame. Once the two-inch spacers were removed I simply bolted the body back in place using shorter, Grade 8 hardware.
Hanging Shocks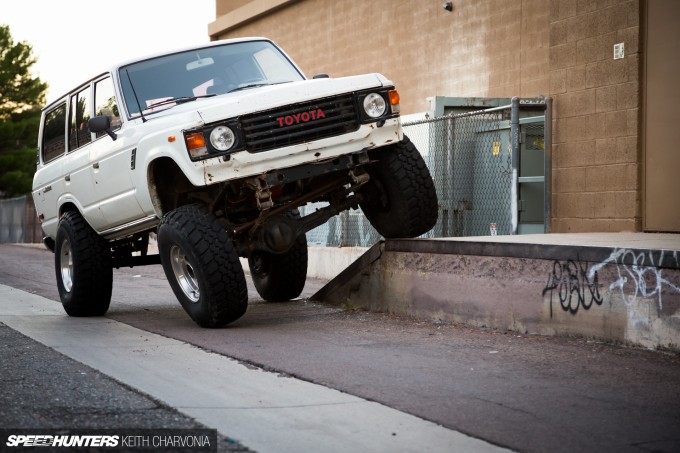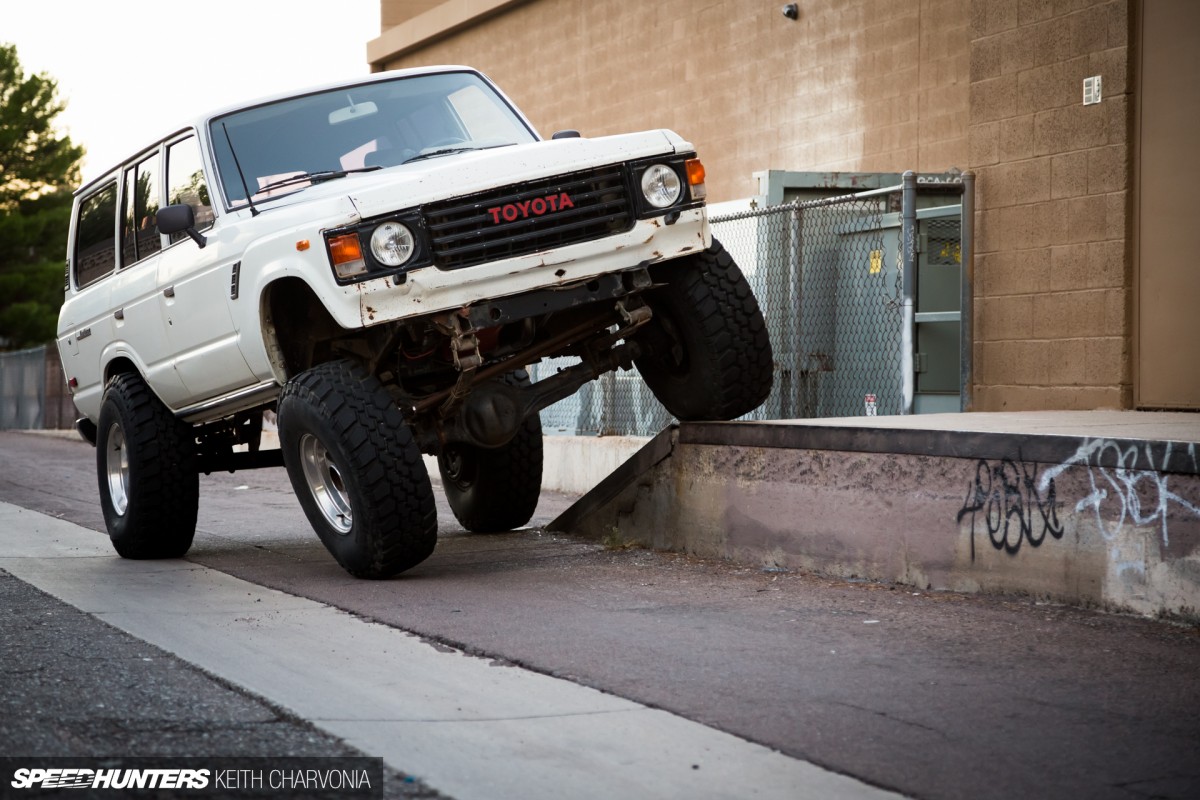 I had the truck running again, and I couldn't resist driving it even without front shocks. This also gave me an opportunity to flex it out and measure for the correct shock length and mounting position.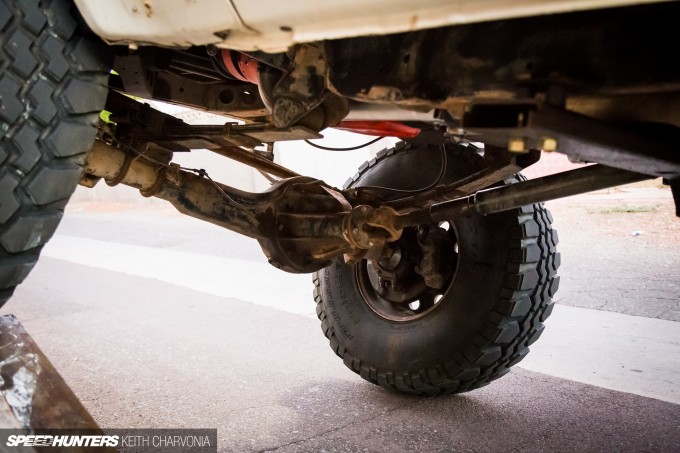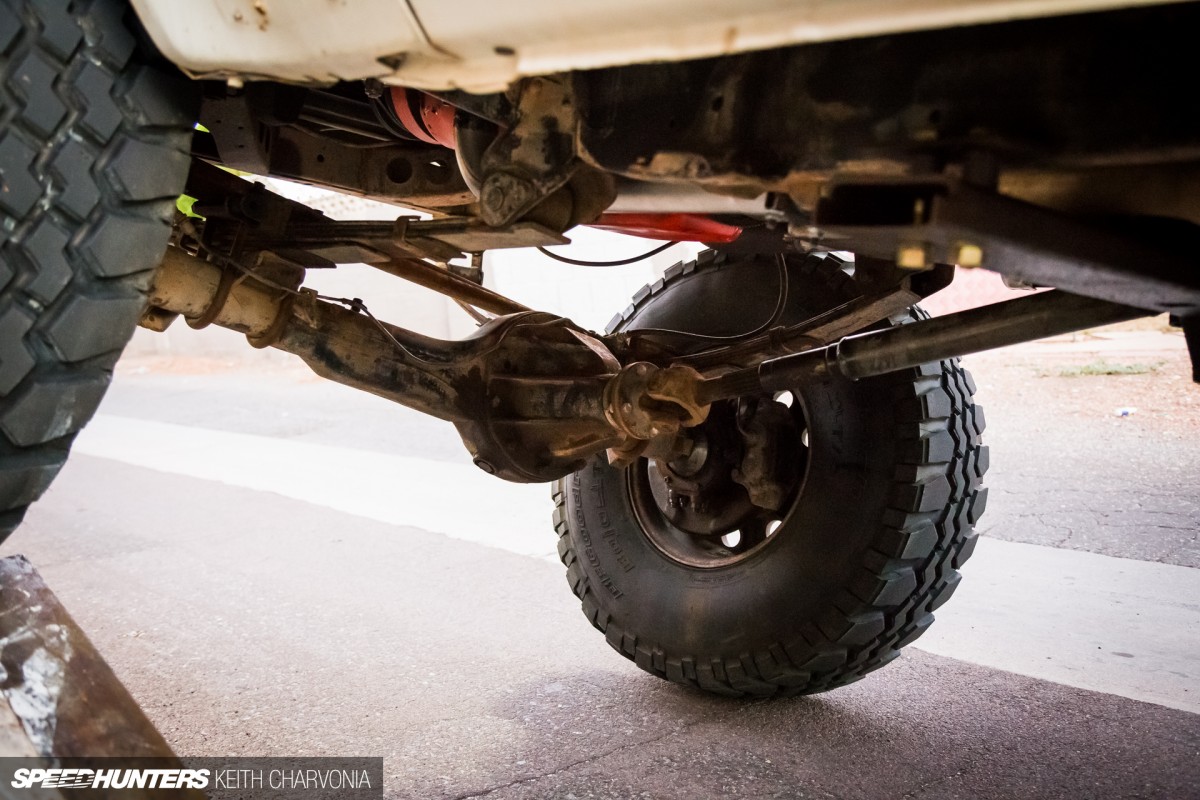 This is pretty much ideal for being flexed out. A flat leaf spring on the compressed side, fully drooped on the other, and all four tires on the ground.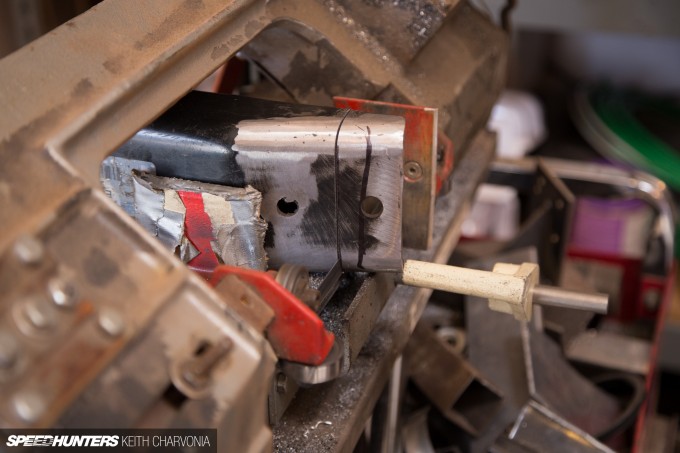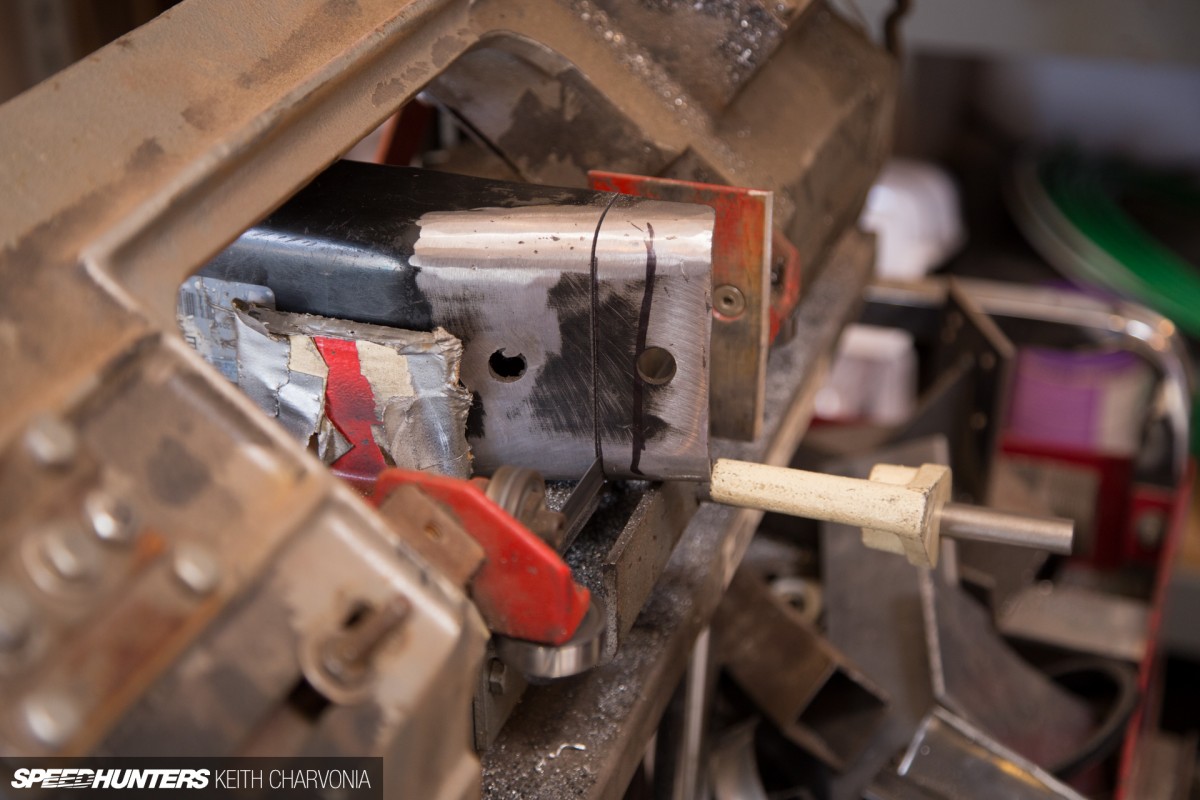 With my measurements in hand, I trimmed a little off the shock tower.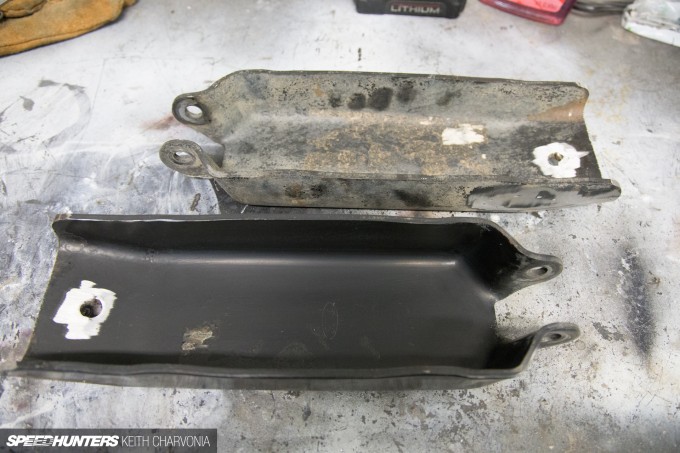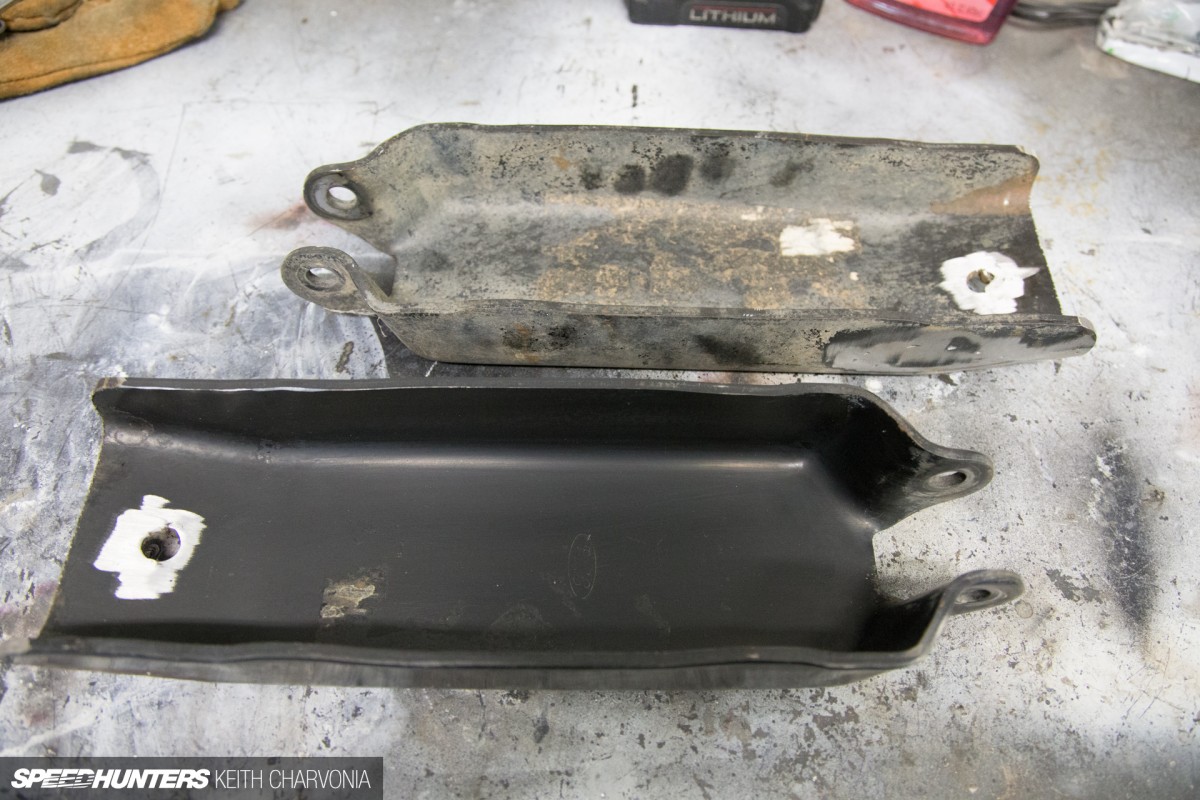 They looked like they came from the bottom of the ocean, but a quick clean-up made the towers much more presentable.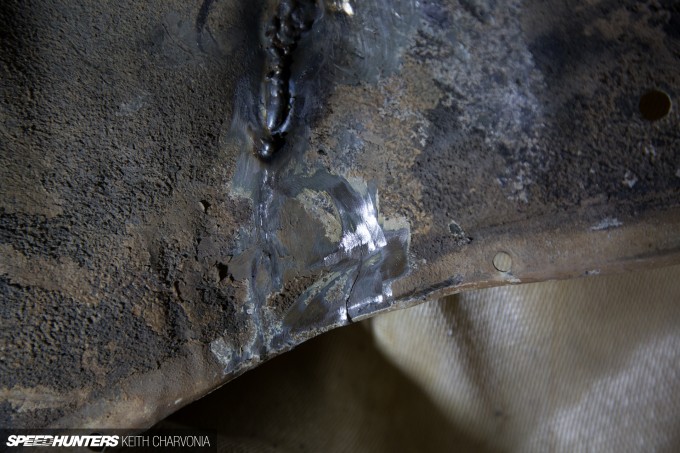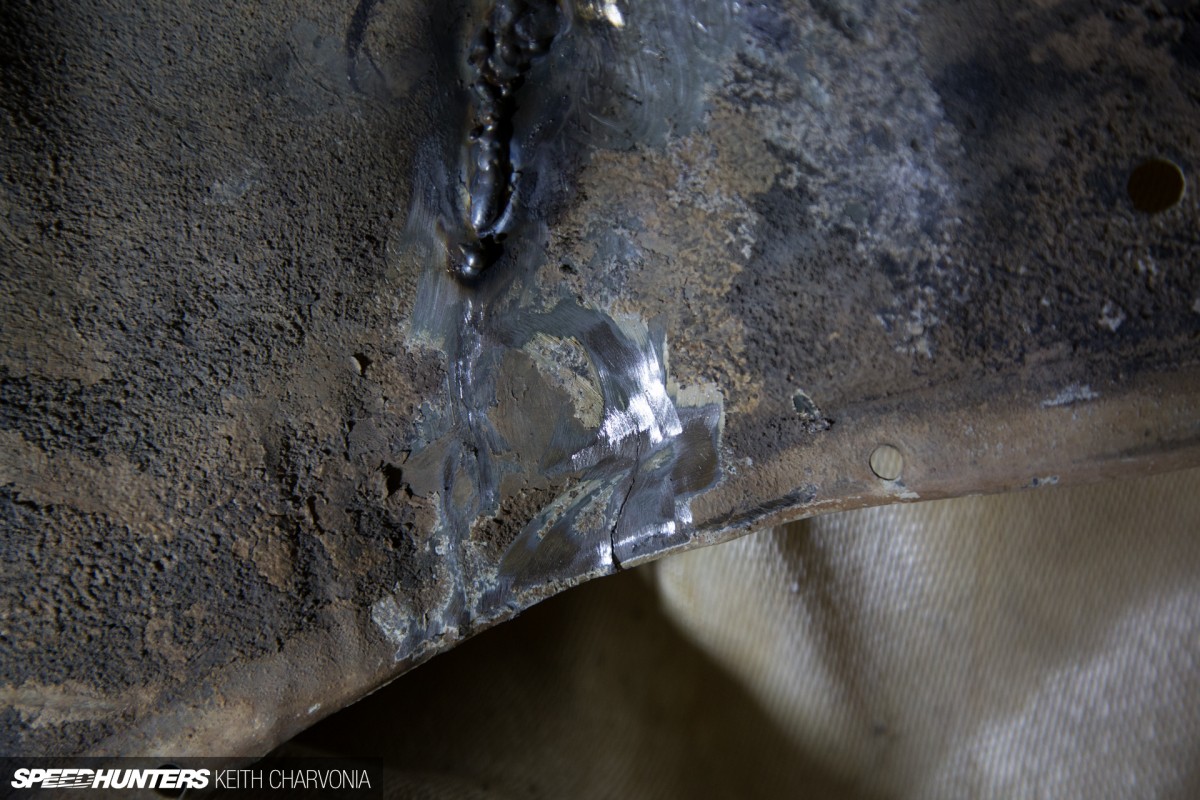 When I went to weld in the passenger side I discovered some cracks in the wheel well that would be covered by the shock mount. Might as well fix them now.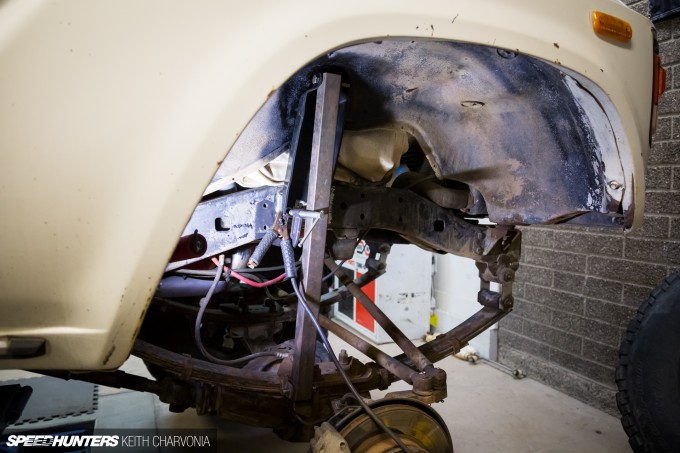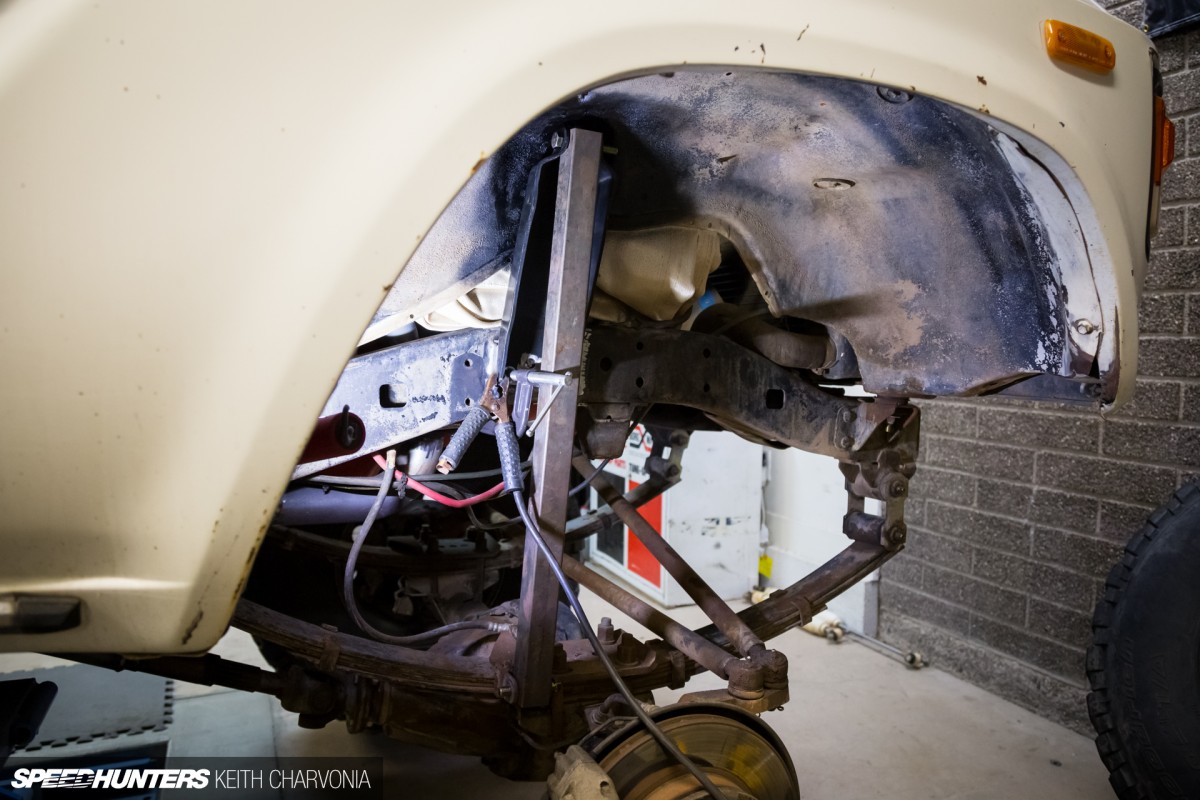 I used a piece of square tube with holes drilled in each end to make sure the shock towers were properly aligned and located the same on both sides.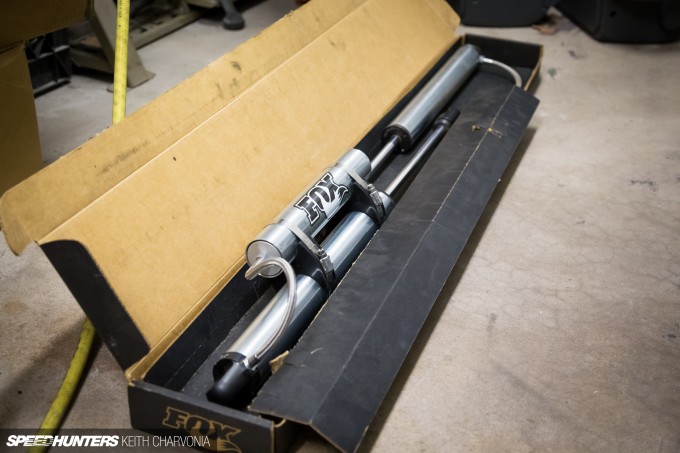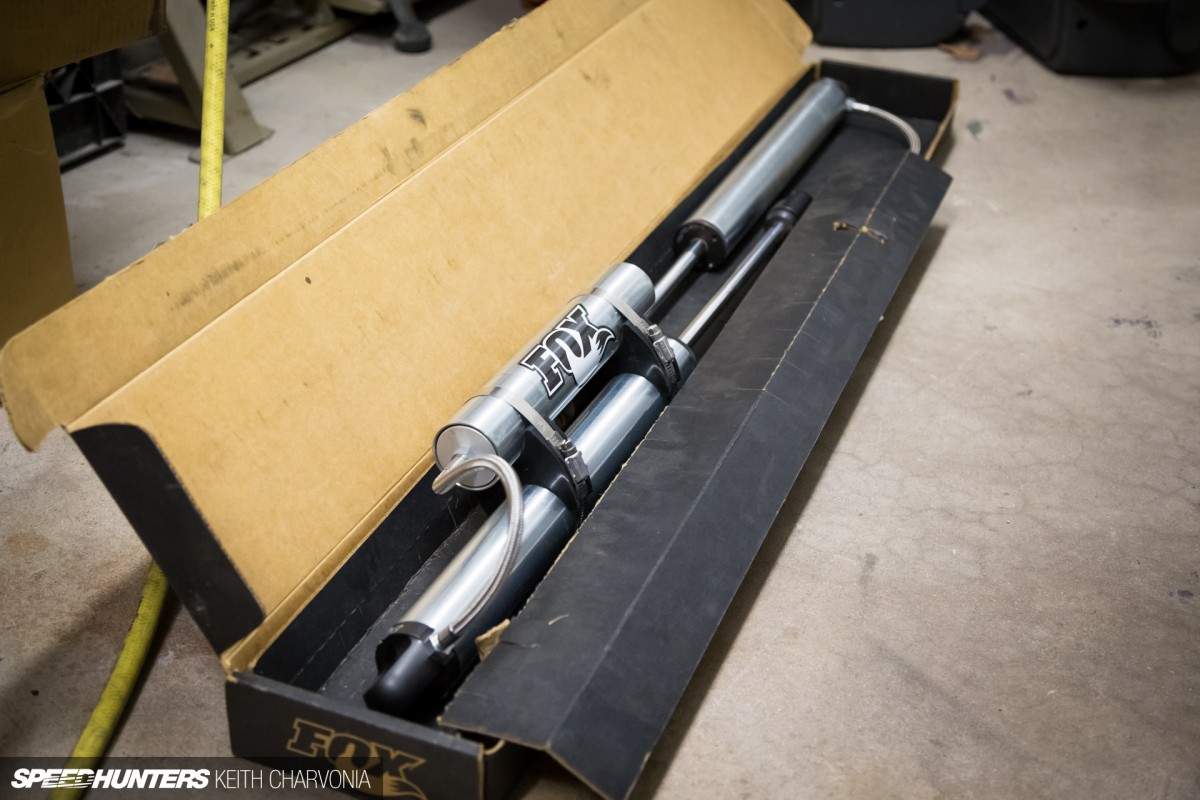 The old shocks were nothing special and I could easily compress them with one hand. I treated the FJ to a pair of Fox 2.0 smooth-body remote reservoir shocks instead.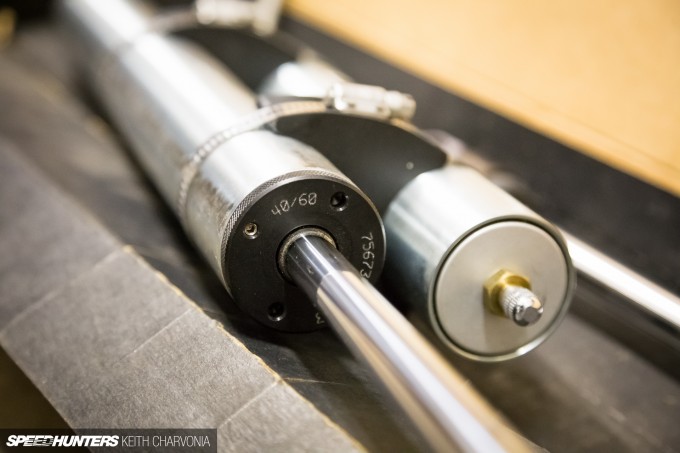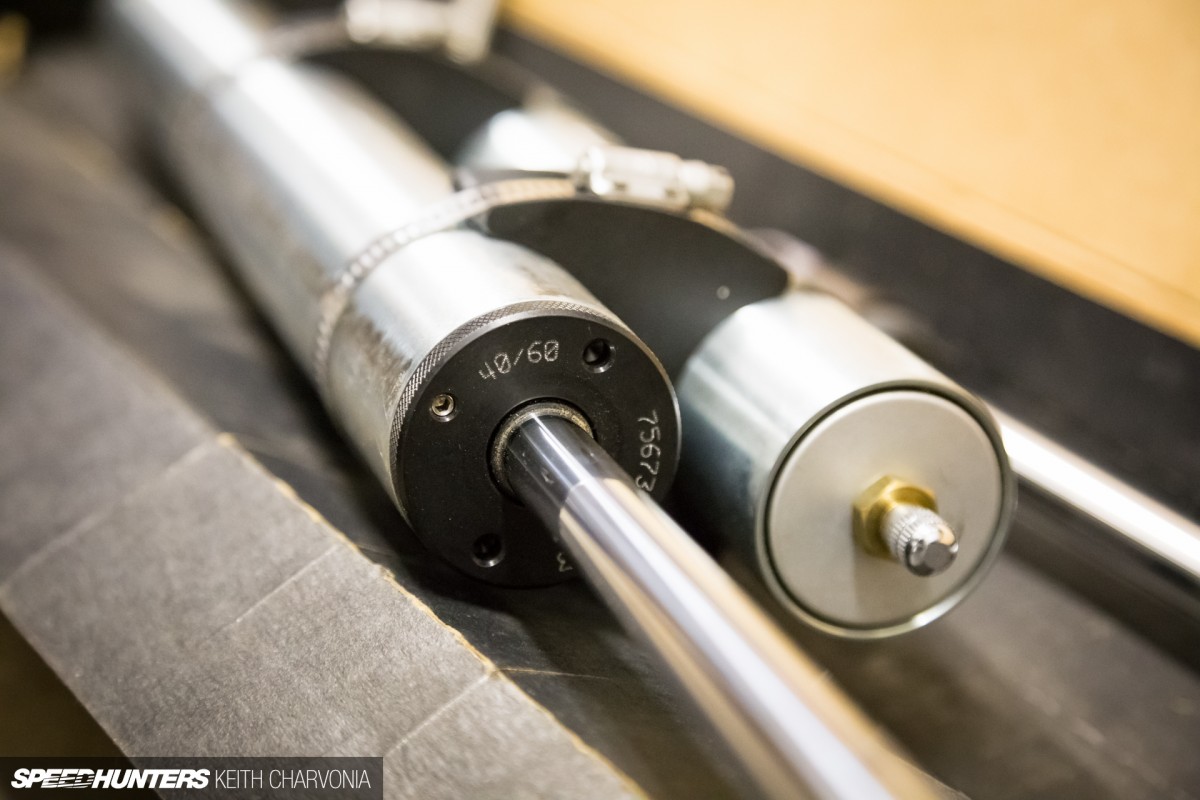 These are fully serviceable and can be re-valved as needed. This will come in handy once I get the rest of the suspension sorted out and it's time to dial in a nice ride.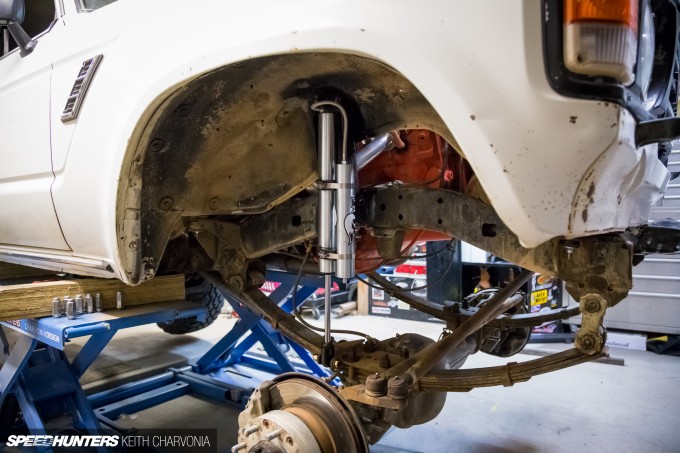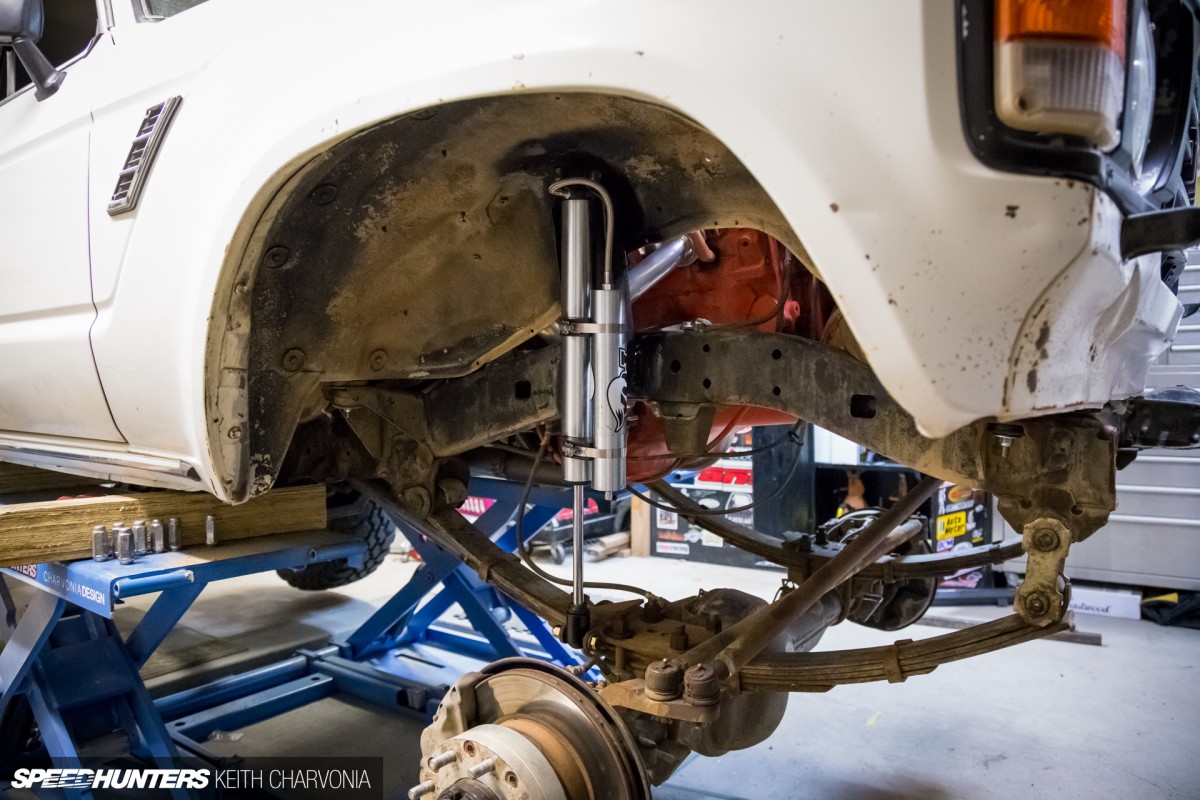 With the Fox shocks mounted up front, the ride is much smoother and more controlled. Now I need to find some that match for the rear though.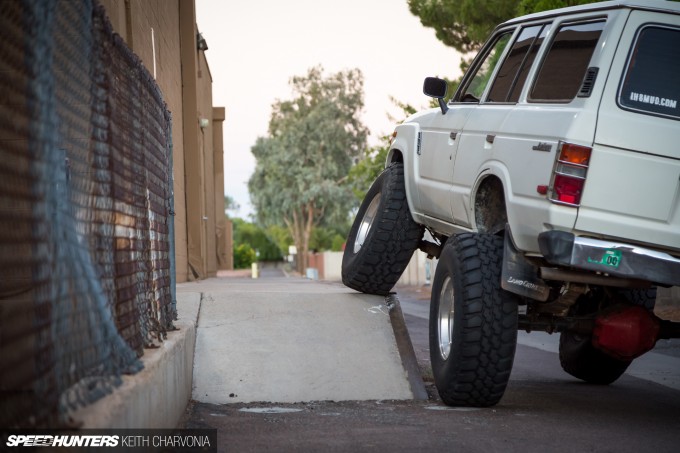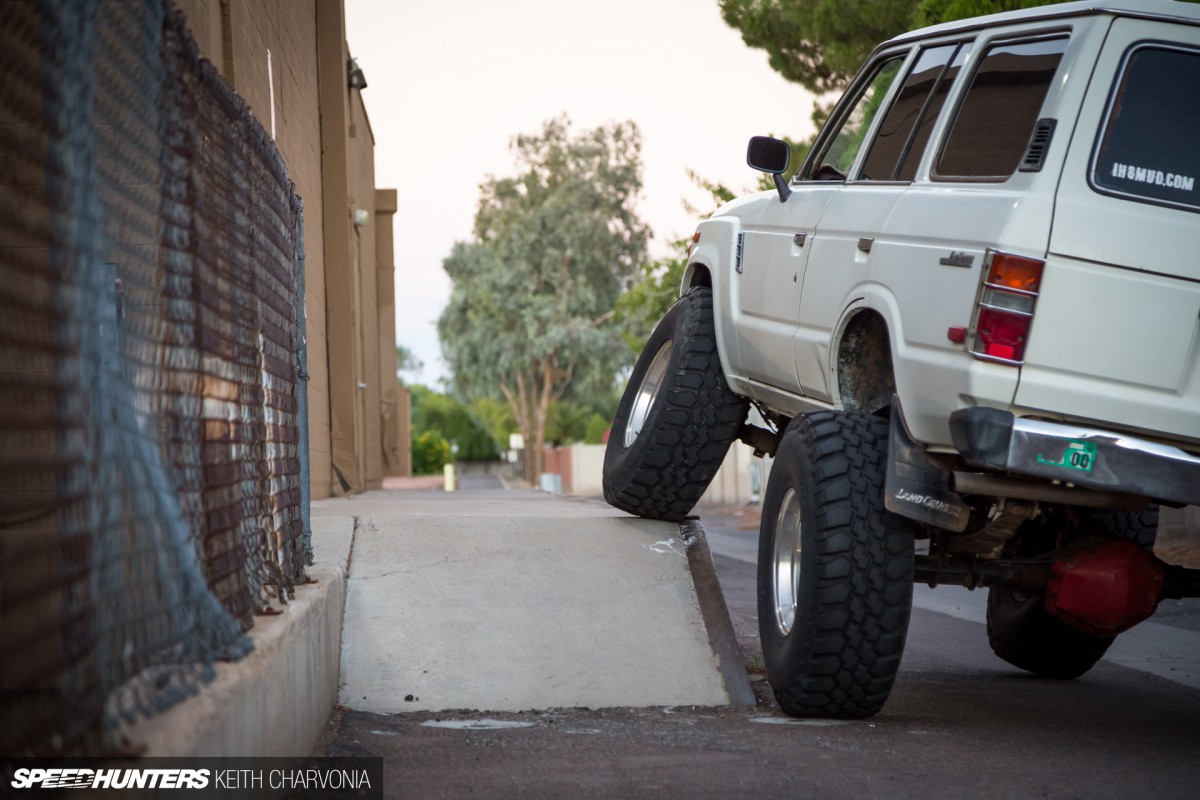 I left some shock travel at the top and bottom, so they're not actually controlling bump and droop. SPC has already sent a full set of Light Racing Jounce Shocks for that, and I'm really looking forward to getting them installed so I can precisely limit travel and also have a second stage of damping to tune.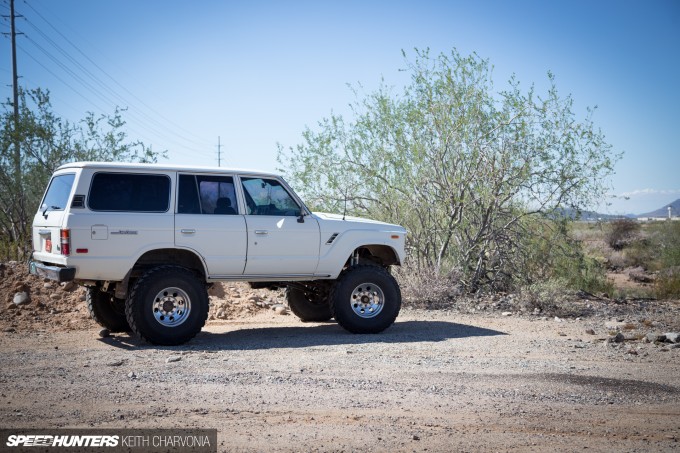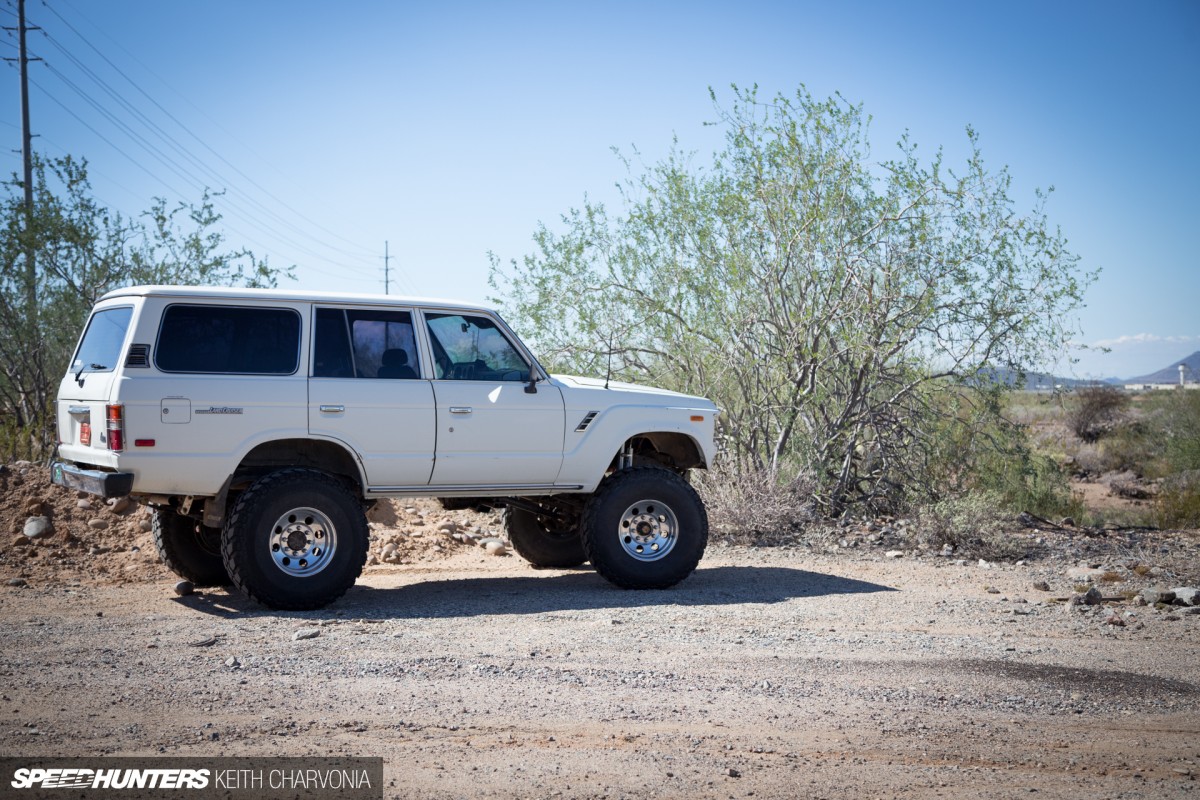 So how does the truck look sitting two inches lower? Much better if you ask me. It's still a little high, but now I need to decide if I'm willing to cut into the rust-free sheetmetal to go lower. Considering how modified the truck is already, I probably will.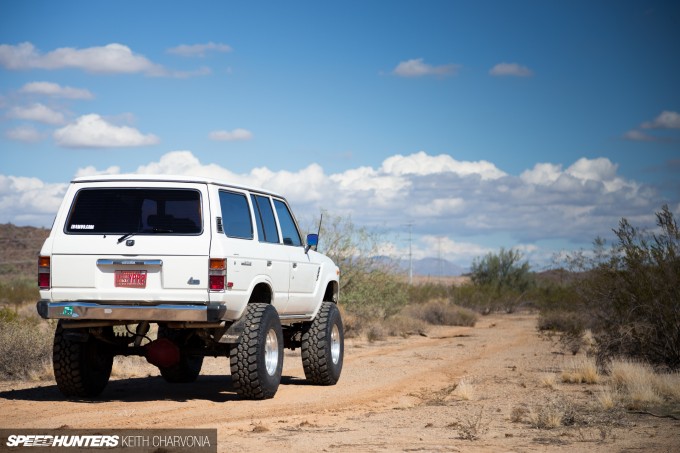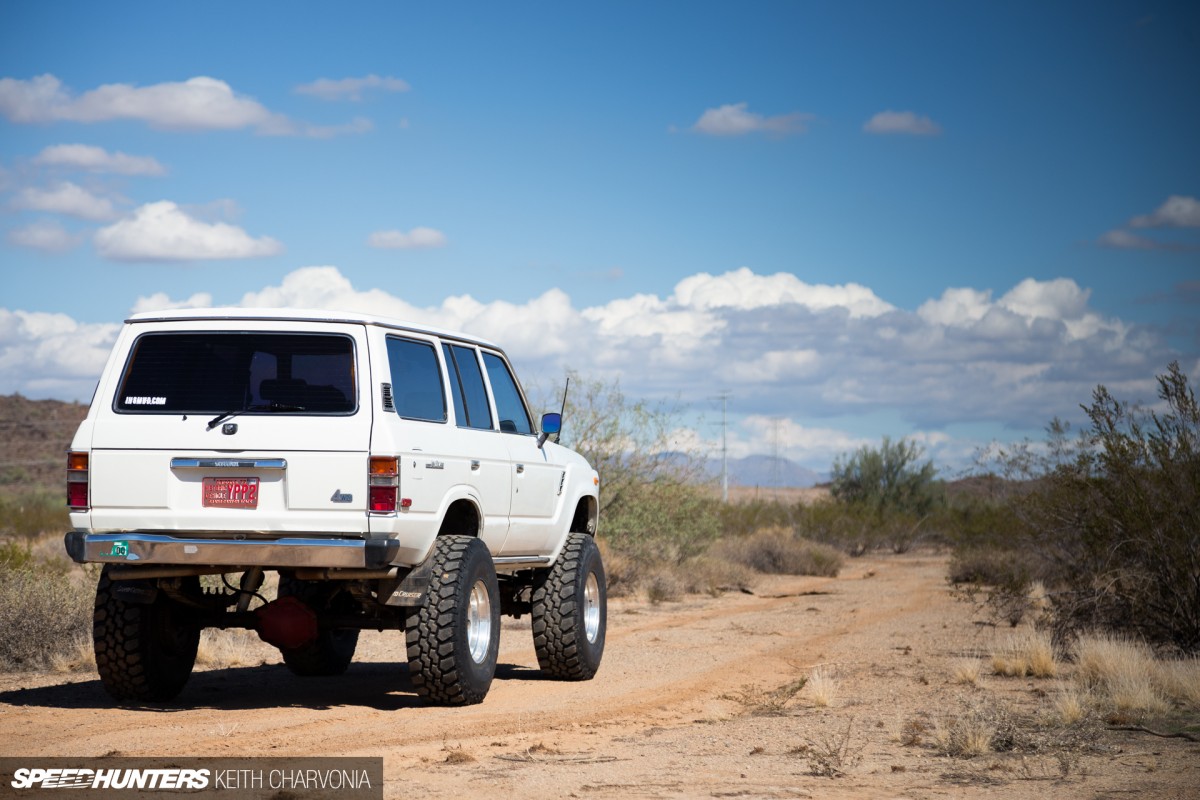 I'm also considering a new set of wheels and lighter 35-inch tires to replace the 100lb 37s. Of course, I've been gathering smaller parts too, and I can't wait to go wheeling again.
Stay tuned for plenty more on the Trailhunter!
Keith Charvonia
Instagram: SpeedhuntersKeith
keith@speedhunters.com