After putting out a request last week for your automotive artwork to share here on Speedhunters, we were completely blown away by what we received. We've never had so many emails in our #IAMTHESPEEDHUNTER inbox before – never like this!
We quickly realised that there was simply no way we'd be able to share all of your amazing talent in just one story, so this is going to be the first of many special features to come over the next few months showcasing your incredible car-related art, and we couldn't be more excited. This idea first came about because of all the cool art Speedhunters was getting tagged in on social media, but we honestly had no idea that so many of you out there had such top-notch skills…
Krzysiek Jackowski – Poland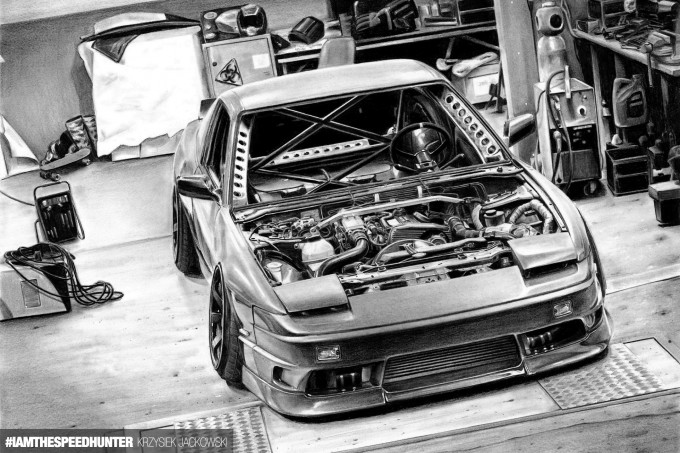 Krzysiek (also known as Chris) from Poland has some serious talent; this is just one of the beautiful pencil drawings he sent into us. Chris tells us that he's been drawing cars for as long as he can remember, and his experience really shows. The attention to detail he's gone into and the intense depth created by the shading he's created here make this Nissan 200SX look like it's about to pop out of the page. This took Chris around 25 to 30 hours to draw by hand on A3 size paper. You can check out more of his work here.
Andrew Millist – Queensland, Australia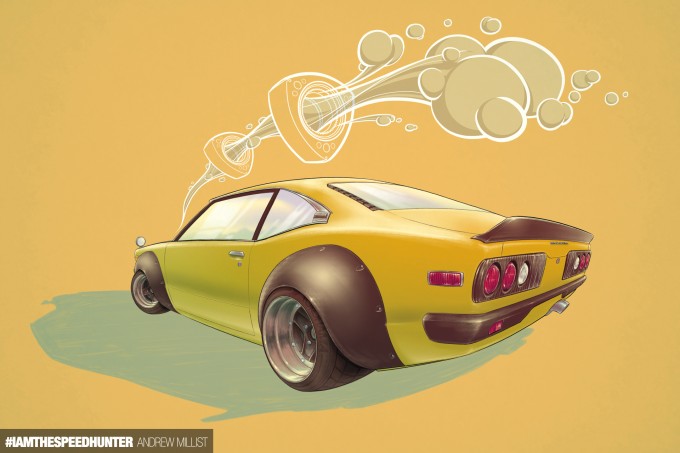 We're loving this neat Mazda RX-3 illustration by Andrew Millist from Australia. Having worked as a commercial illustrator for the past six years, Andrew tells us that at some point, that blurred into design and photography too. "I do the same things at play as at work, though it often revolves around cars. When I get commissioned to illustrate a car, that's the sweet spot," he writes. He created this particular illustration for a request from rotary enthusiasts on his Tumblr account. As you can see, the Wankel-powered kyusha features bulbous, accentuated over-fenders and a sweet '70s colour scheme.
Daniel Senkerik - Czech Republic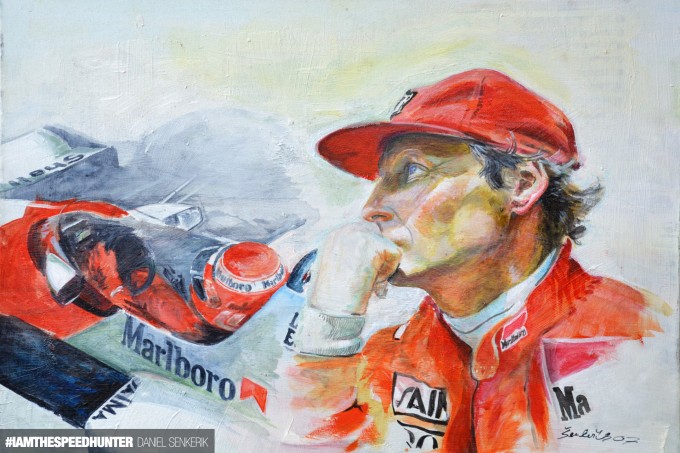 All-round talented artist and graphic designer Daniel Senkerik has always been a big Formula One fan, which has greatly influenced his art since he completed his first painting 12 years ago. Daniel mostly paints with acrylics and oils, with his art being inspired by all eras of motorsport; silver arrows, '50s, '60s, '70s, and he has a beautiful knack of being able to capture a sense of speed within his paintings. Painting portraits of drivers is another one of Daniel's passions, and this painting of Niki Lauda has to be our favourite. Daniel tells us, "I have had around 30 exhibitions in the Czech Republic, which have allowed me to meet some great heroes of mine (including Niki Lauda) and some of them now have my paintings. Step by step, I am working to fulfil my dream." Make sure to check out more of Daniel's work at his website here.
Robert McCarter – Harrisburg, North Carolina USA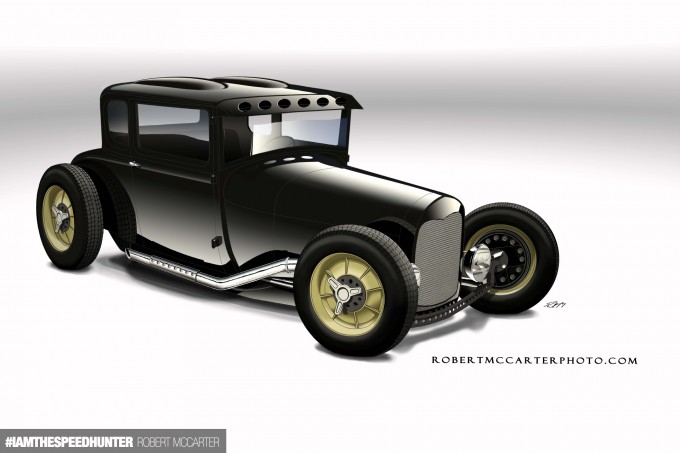 North Carolina's Robert McCarter shared two images that really stood out to us. The first is a conceptual drawing of a 1929 Ford Coupe, and the second (below) is a photo of the real-life build coming to life! Robert writes, "Concept art is a relatively new endeavour for me, but I was lucky enough that the second piece I ever produced became a real car. Back in 2010, a new acquaintance of mine, Jeff Eischen, was getting ready to start a major project for a customer and heard that I dabbled in concept art. Once I told him my process of using real dimensions and measurements, he commissioned me to work with him on proportions and visualization."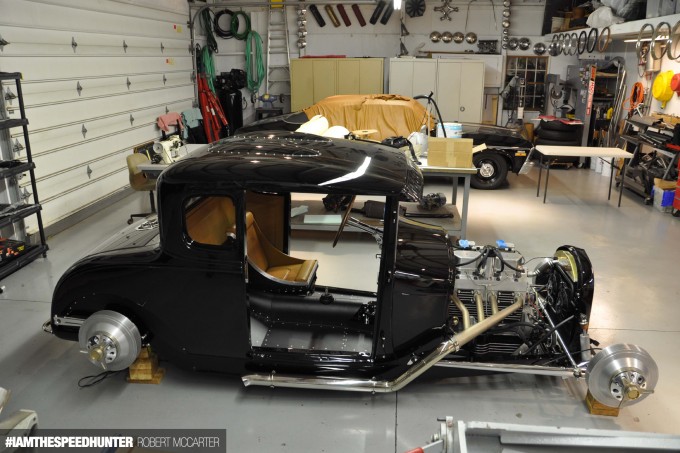 We can only imagine how satisfying it must have been for Robert to see his digital work transform into the real thing, and the finished machine looks absolutely stunning.
Stephanie Isidro – San Francisco, California USA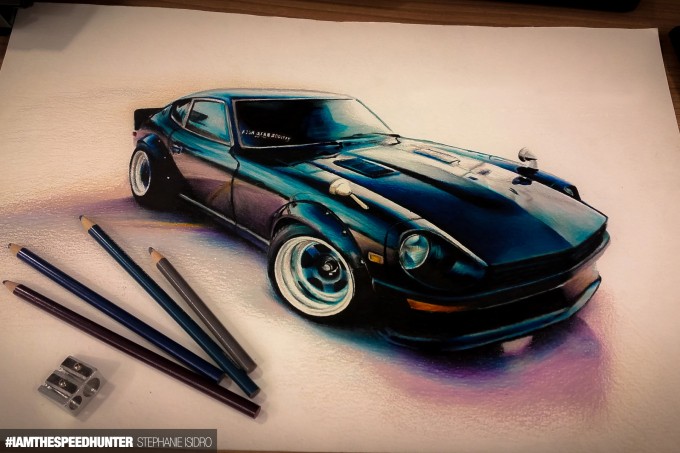 Give Stephanie Isidro some coloured pencils and she can make magic happen. Stephanie loves cars and is a self-taught artist based in San Fransisco, specialising in hand-drawn automotive portraits – some realistic, and some with more 'fun' proportions. Stephanie has a habit of using colour and shading to create a luxurious depth and real-life look to her drawings. Check out her Instagram account for more!
Ashley Westmoreland – Auckland, New Zealand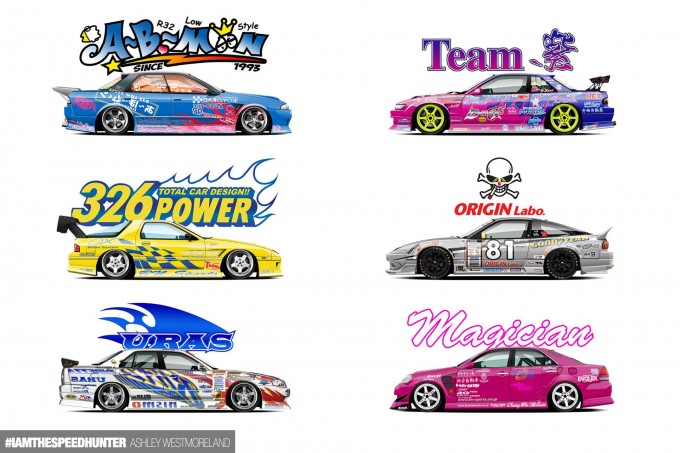 How cool are these digital illustrations by New Zealand based car enthusiast Ashley Westmoreland?! Ashley started an art project a year or so ago called Hero Prints, producing prints of high-quality illustrations of iconic drift cars from the past. A big drifting fan (in case you hadn't guessed already!), Ash has recreated many well-known Japanese drift builds in detail down to the correct wheels, aero parts and liveries, including Ken 'Nomuken' Nomura's 2005-spec ER34 Skyline, Naoki Nakamura's 2010 S13 (which took in excess of 40 hours to complete, ensuring every single sticker on the car was perfect) and Kazuya 'Chunky' Bai's 180SX. Ash writes, "I think it's important to remember the people that have led this growing motorsport to become (in my opinion) the most exciting in the world. And what better way to immortalise them than through art." Make sure to view the above image in Presentation Mode to take in all the cool details!
Thomas Unger – Friendswood, Texas USA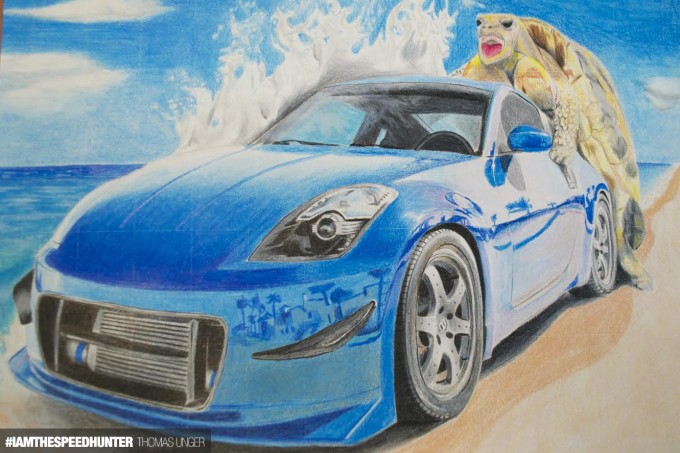 When we first opened Thomas Unger's email, we knew we'd stumbled across something special. Thomas has some awesome skills, and we'll share some of his other artworks (including an amazing painting created with only coffee) in a later story, but for now we just had to share this. About this drawing, Thomas simply wrote, "This 350Z was drawn with colored pencil," but nothing about the fact that it's being mounted by a GIANT SEA TURTLE! Although Thomas perhaps forgot to explain a rather crucial part of the illustration, we'll forgive him, as we've really been enjoying his picture as our new desktop wallpaper.
Andrew Clucas – Manchester, United Kingdom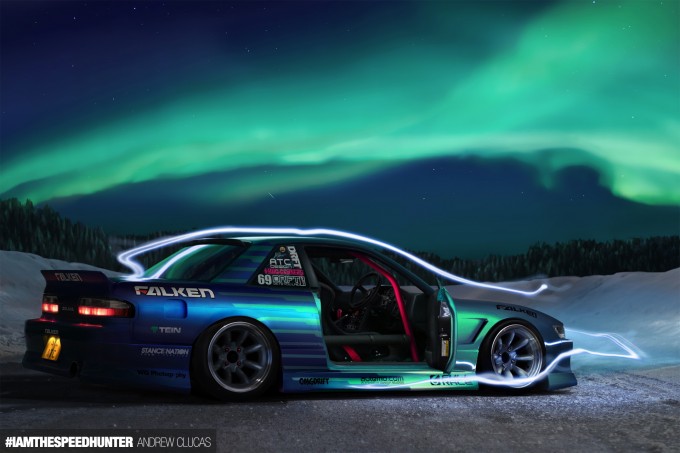 You might not have heard of Andrew Clucas before, but no doubt you've already seen some of his work, like this cool R32 GT-R render that went viral a few years back. This image of a Falken-liveried Nissan Silvia looks almost real, until you look closely and realise it isn't. It actually started out as an image of an S13 that had been stripped back with no interior, windows or lights – basically a bare metal shell. Andrew added in the missing pieces including a full body kit and custom paint, parking it up in front of an impressive snow-laden setting complete with the Northern Lights. The entire paint job, along with much of the interior and backdrop was rendered by hand in Photoshop. Check out more of Andrew's work, as well as some neat tutorials on his Photoshop techniques at his ATC Design Facebook page.
Thomas Gordon – Christchurch, New Zealand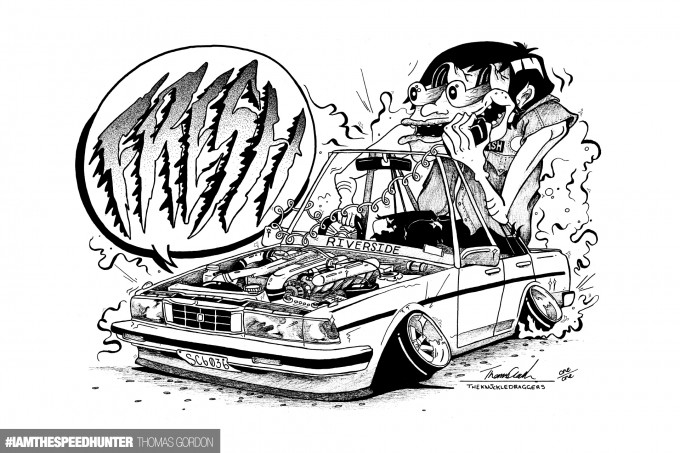 Not only is young Kiwi Thomas Gordon capable of building his own Kaido racer from scratch, he's also pretty handy with a pen too. Thomas writes, "I feel like my art bridges a gap between the older Ed Roth (Kustom Kulture) Dragster-style, which at the time was really taking off, and today's drift car scene which has done much the same in the last few years. What I enjoy most about this particular style is the freedom to take things as far as I like. Ridiculous stretch, insane camber, monster turbos, bulging eyes – it's all good!" All Thomas' drawings, like the 1G-GTE-powered GX71 Mark II pictured, are drawn completely by hand using fine-tip artists pens on 118GSM rendering paper in A4 and A3 sizes. View more on Thomas' Instagram here.
Taylor Zhou – Melbourne, Australia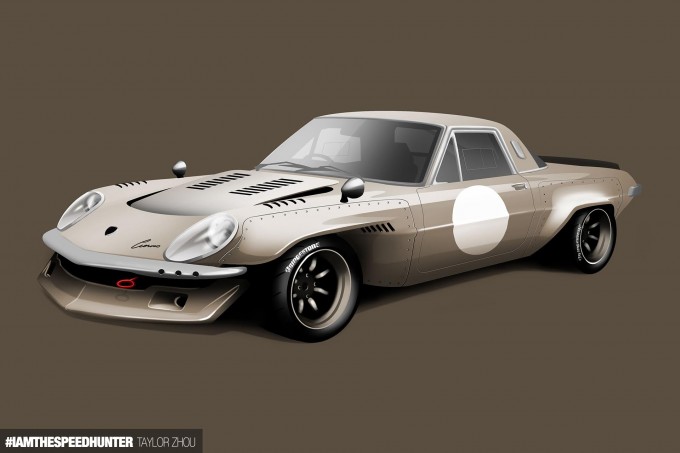 Next up, we've got Melbourne-based automotive design student Taylor Zhou's impression of what a factory works Mazda Cosmo L10 race car would look like, and it looks pretty damn good. The aggressive over-fenders he's added flow really well with the Cosmo's natural lines, and that deep front air dam looks right at home too. And what more of a perfect wheel choice than bronze RS Watanabes? Nice one, Taylor!
Nigel Müller – Netherlands, Amsterdam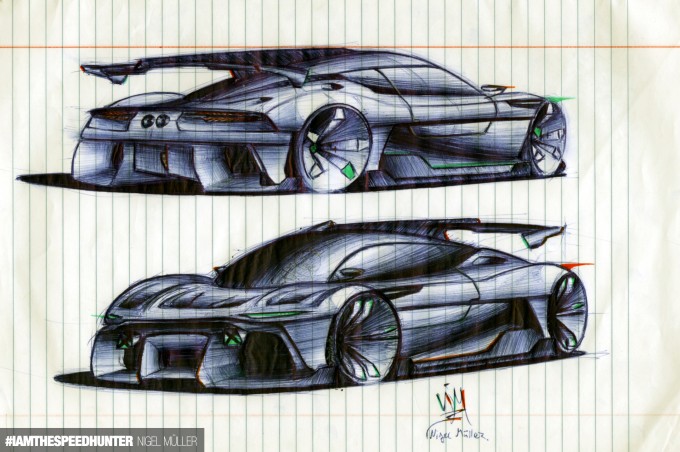 This next image is pretty special. 16-year-old aspiring car designer Nigel Müller actually sent us a few other professional-looking drawings, but we loved this raw sketch which he drew in class on a piece of refill paper. It doesn't surprise us that Nigel has been drawing cars for as long as he's been able to hold a pencil, and this is one that he actually designed himself, based on a new Aston Martin supercar. The design features typical Aston styling queues, including the front intake form, the side vents and the shape of the taillights. This drawing is made entirely with a BIC ballpoint pen, with a bit of coloured marker for effect. Seriously impressive stuff!
Damon Moran – Los Angeles, California USA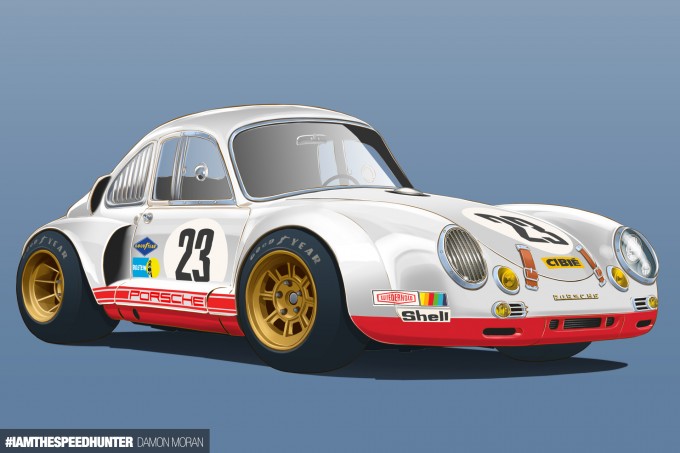 Hollywood native Damon Moran works as an artist in TV animation, specialising in backgrounds and mechanical design, (think cars, planes, robots and spaceships), and he's shared with us this very cool race-inspired Porsche 356 illustration. With this particular drawing he's added a bit of caricature to give the Porsche more of a cartoon-like look, or as he puts it, "More personality than reality might offer." With its wide stance, chunky tyres and cool vintage details, we think it looks awesome. You can view more of his work here.
 Ozizo – Tokyo, Japan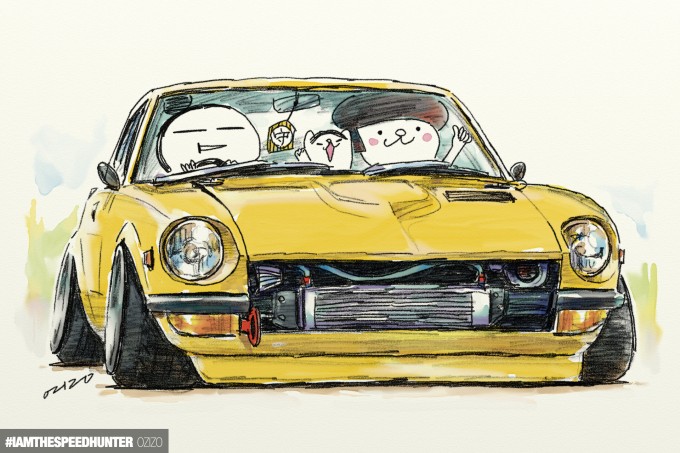 Ozizo from Shibuya, Tokyo, shared with us some of his super-cool drawings, our favourite of which is this pavement-scraping yellow Fairlady Z. With a passion for old-school shakotan rides, Ozizo enjoys creating fun, whimsical drawings of modified Japanese cars with these cute characters and their pet cat, who's always along for the ride. Although this image could almost be straight out of a children's book, it's actually in stark contrast to his non-car-related art which is rather seedy and dark, yet beautiful in a quirky and sometimes shocking way. View his Tumblr account here.
Andrey Pridybaylo – Surgut, Russia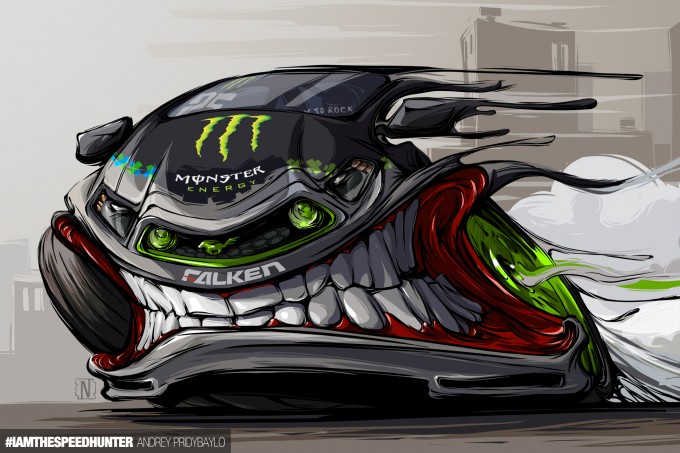 Russian artist and illustrator Andrey Pridybaylo has developed a curious style of drawing cars – with teeth! This drifting beast is, you guessed it, Vaughn Gittin Jr.'s Ford RTR Mustang. Andrey writes, "I love his [Vaughn's] style of drifting and I'm big Ford fan!". You can see more of Andrey's awesome artwork on his Instagram here.
Dušan Boroš – Slovakia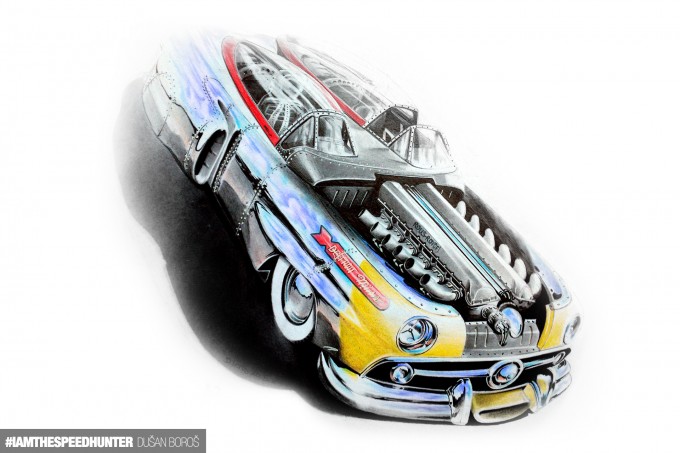 Dušan Boroš from Slovakia has been on our radar for a while. He's an incredibly talented artist and designer, and this is one of his all-time favourite illustrations, a crossbreed between a Lincoln Cosmopolitan and Mustang P-51 warbird fighter plane. Powered by a V12 Merlin engine, it's also got a tonne of features from the Mustang P-51, like the two cabins and side intakes which are originally from the bottom side of the plane, and a Detroit Miss squadron colour scheme. Thanks for sharing your work with us, Dušan!
Believe it or not, these are only 15 of the 75 submissions we've selected to share, so if your artwork hasn't featured in this story, it may well pop up in the next edition of these new automotive art showcases. A massive thank-you to everyone who submitted for this theme, and don't worry – it's not over yet!
Until then, happy drawing, creating and Speedhunting!
Story curated by Taryn Croucher
Instagram: taryncroucher
Twitter: @taryncroucher
taryn@speedhunters.com
About #IAMTHESPEEDHUNTER
We created #IAMTHESPEEDHUNTER to allow you the opportunity to share your skills and car culture experiences from around the globe with the rest of the Speedhunters audience. How do you get involved? It's simple…
Speedhunters.com – Watch out for our monthly announcements on how you can take part and submit your content to feature in one of our monthly themes!
Instagram – Follow us on Instagram at @TheSpeedhunters and tag your own car culture images with #IAMTHESPEEDHUNTER
Twitter – Follow us on Twitter at @SPEEDHUNTERS and share your tweets with the #IAMTHESPEEDHUNTER hashtag
E-Mail – If you've been to a cool event and captured some amazing images, be sure to e-mail them to us on iamthespeedhunter@speedhunters.com and tell us a little bit about the event