Jack Of All Trades
For a car that was built from the ground up to be a sharp-handling, lightweight coupé, the Toyota/Subaru twins have proven to be incredibly diverse when it comes to modification. We've seen 86s, FR-Ss and BRZs rebuilt into everything from drift cars with exotic engine swaps to rally racers, Pikes Peak challengers, competitive drag cars, and of course, fun daily drivers.
Now here's another one to add to the list: VIP street cruiser.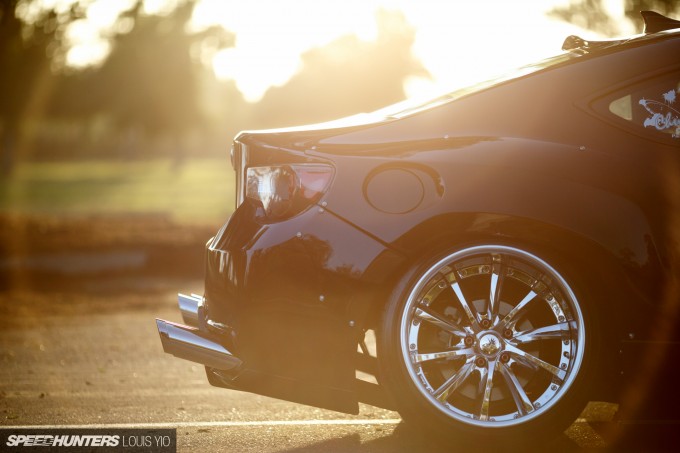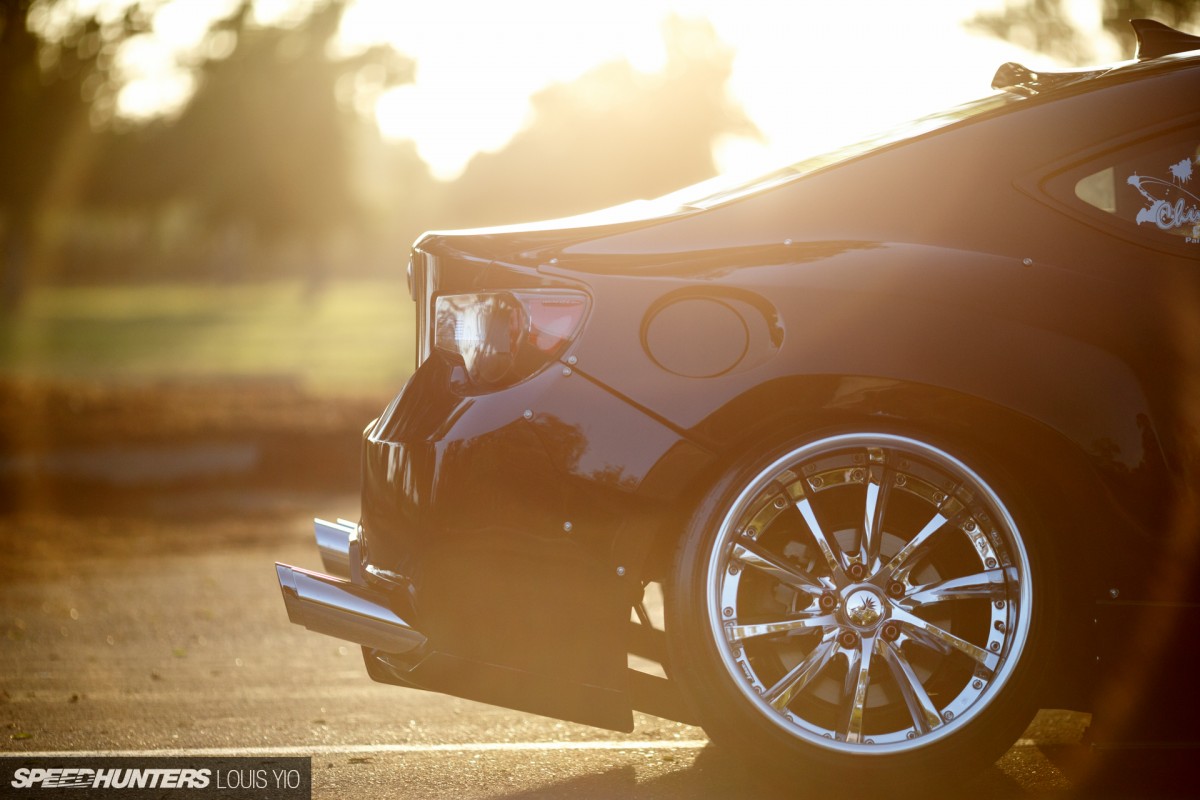 In the traditional sense, the Japan-born VIP genre that brings to mind big-body Toyota and Nissan luxury sedans. Plush machines that ride low, wear incredibly wide wheels with lots of negative camber, and interiors that could be mistaken for night club luxury lounges.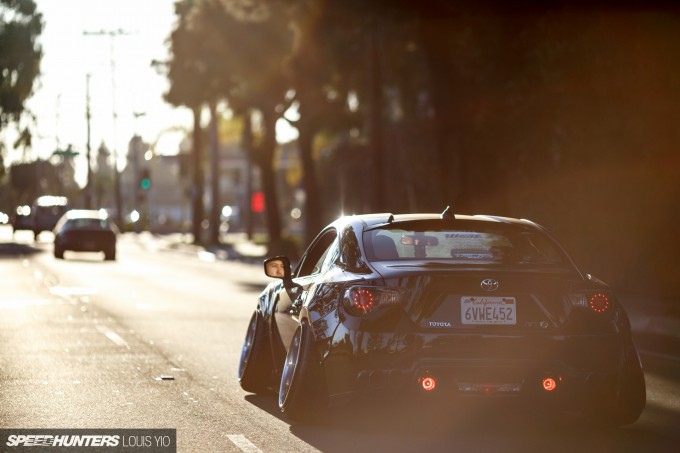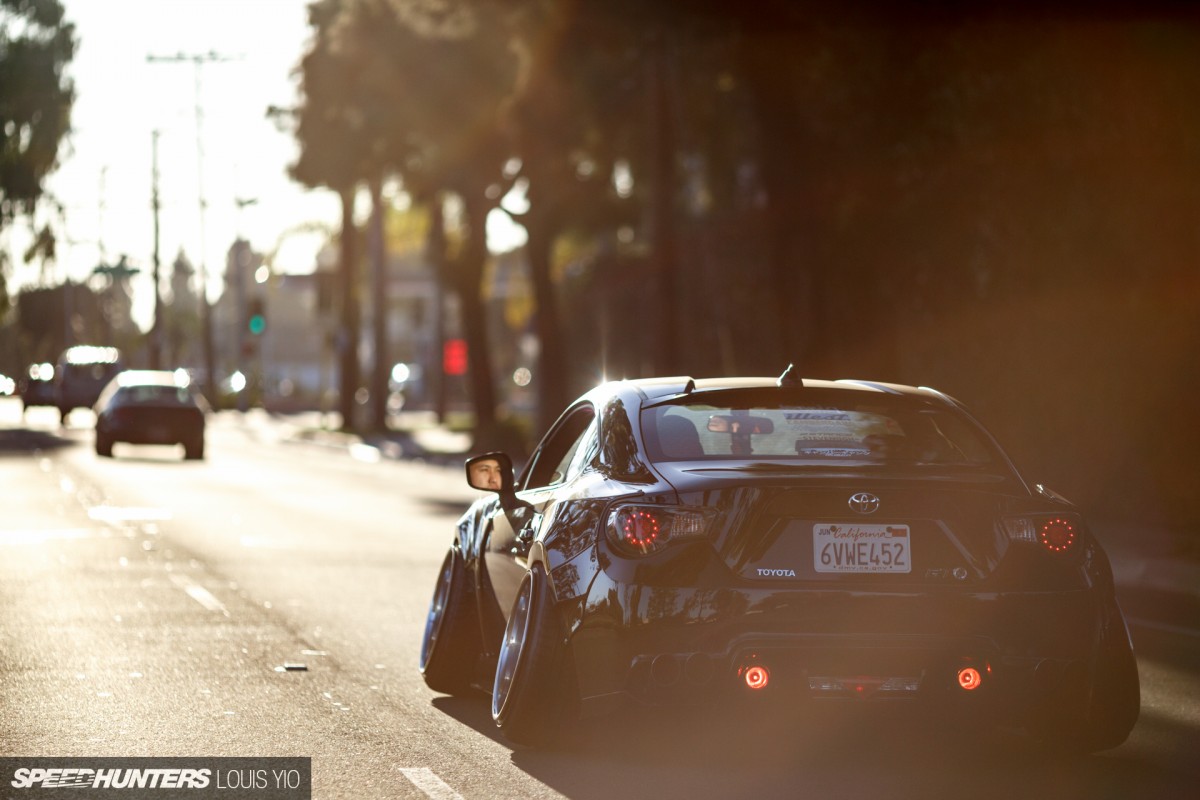 And while the VIP movement was established with platforms like the Toyota Celsior and Nissan Cima, its traits don't have to be limited to high-end Japanese sedans. Over the years we've seen VIP styling applied to everything from European luxury cars to boxy minivans and even gas-sipping hybrids. So why not a Scion FR-S too?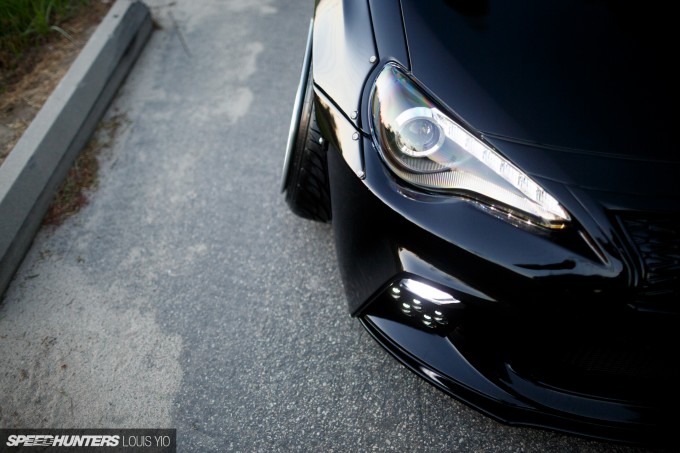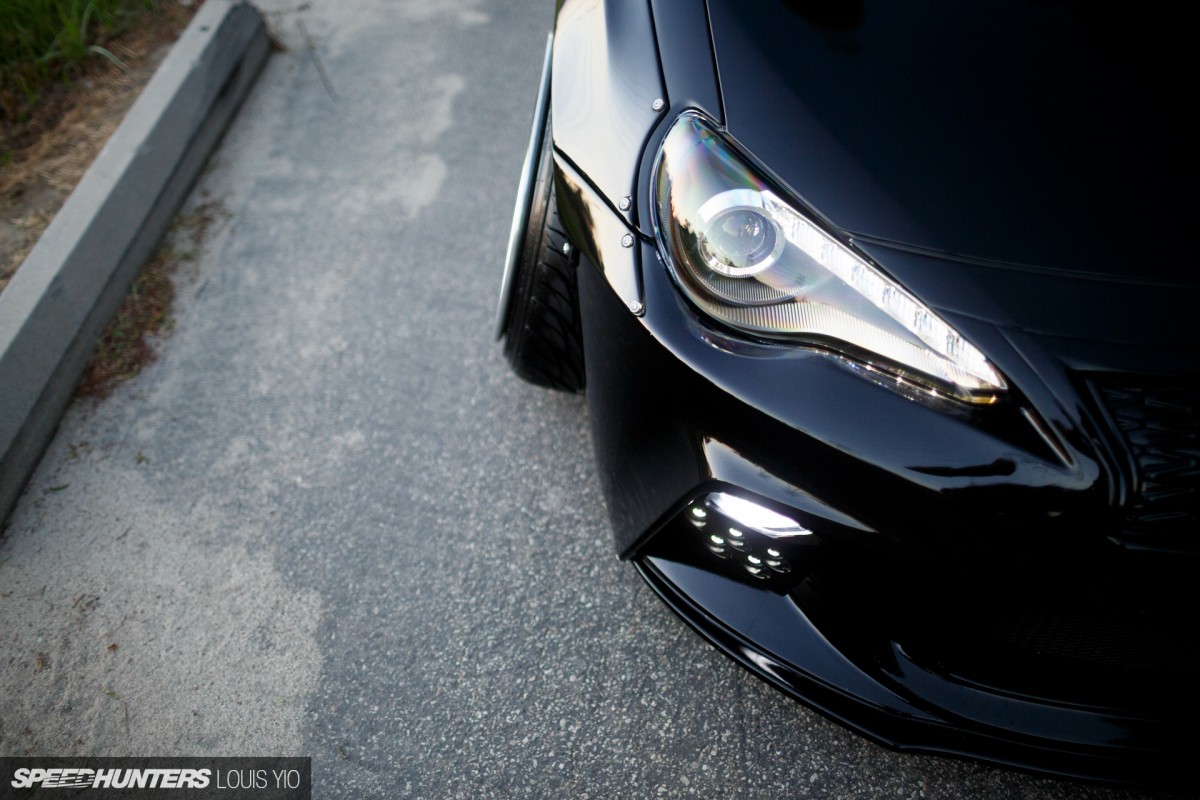 That's the question that Robert Sia of Long Beach had in mind when he began to modify his black FR-S. He'd been watching the car's development, drooling over the concepts and dreaming about the aftermarket potential before putting in his order at the local dealership.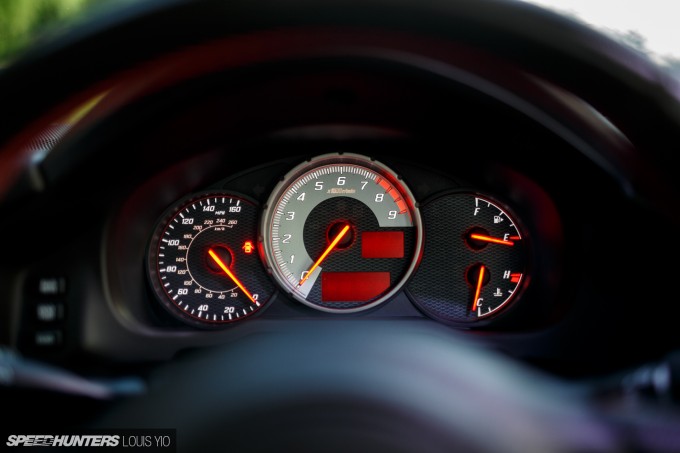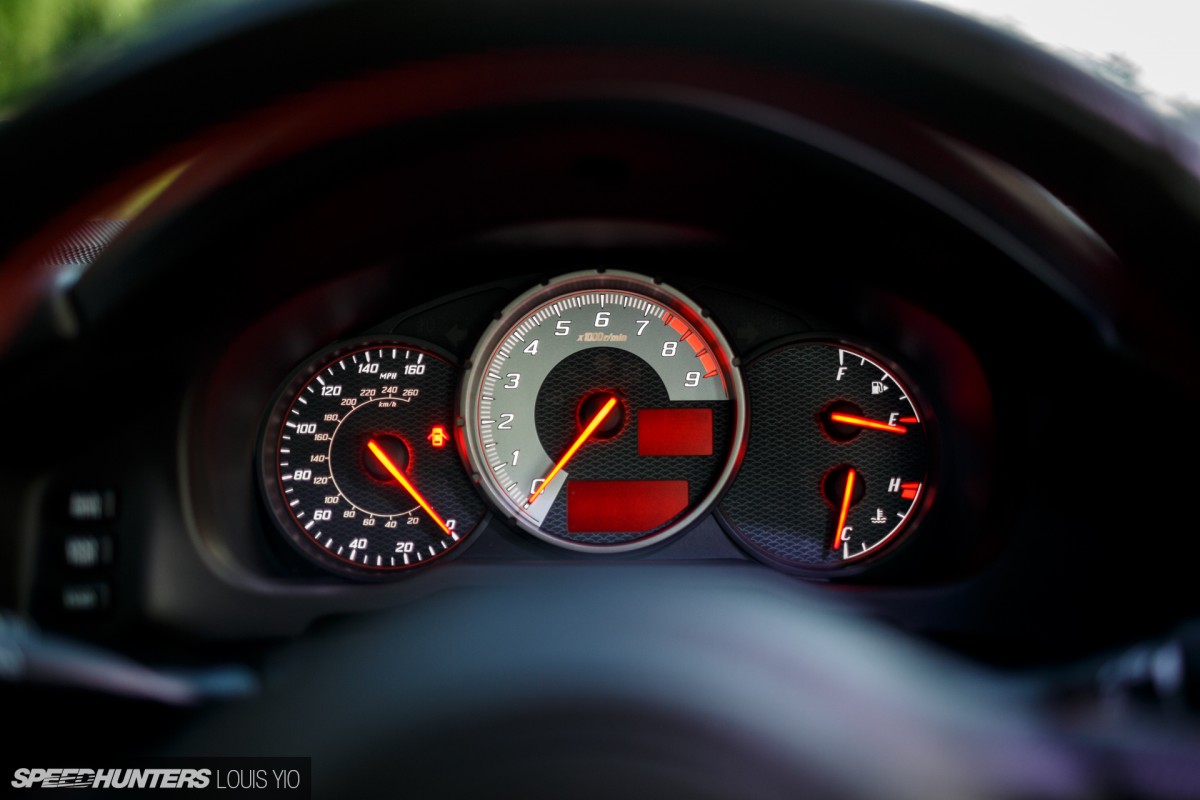 After taking delivery of his FR-S, Robert drove and enjoyed the car in its stock from for about a year before the modifying began. He started off with simple stuff – Work Meister wheels and a set of Stance coilovers.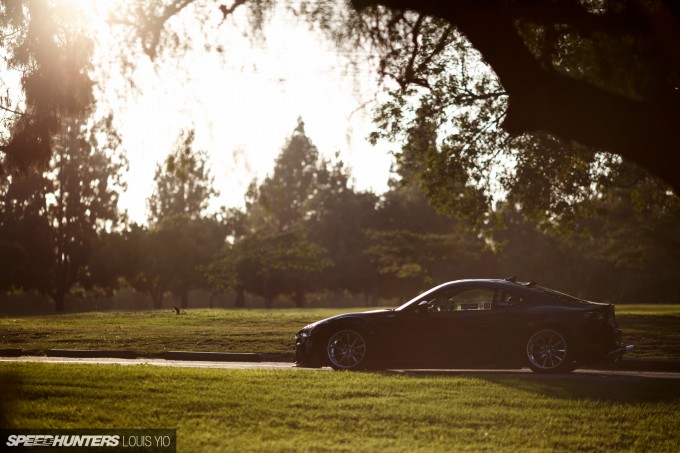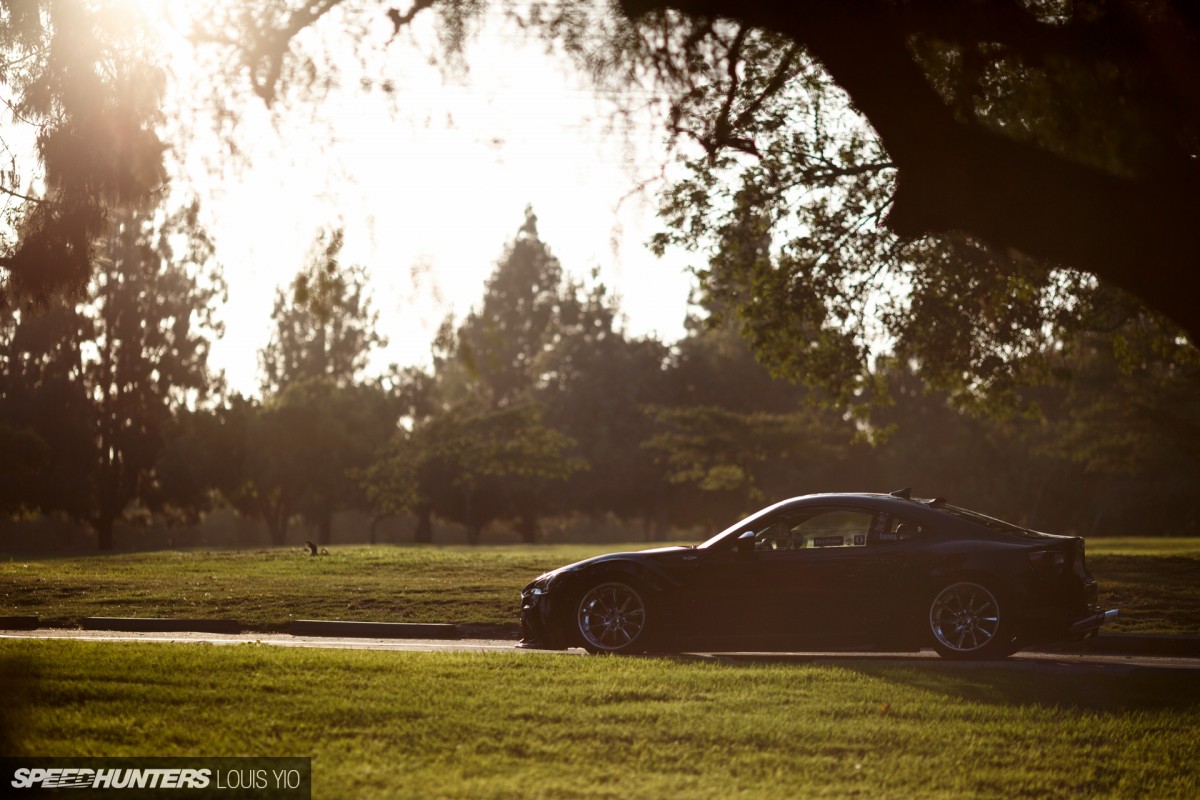 Like many FR-S owners, Robert saw the Rocket Bunny wide-body kit and liked the look. However, he wasn't sure if his budget would allow a wide-body conversion and he was also apprehensive about cutting up the car's fenders. He began saving funds and thinking about what he wanted to do for the next step.
The Road Less Traveled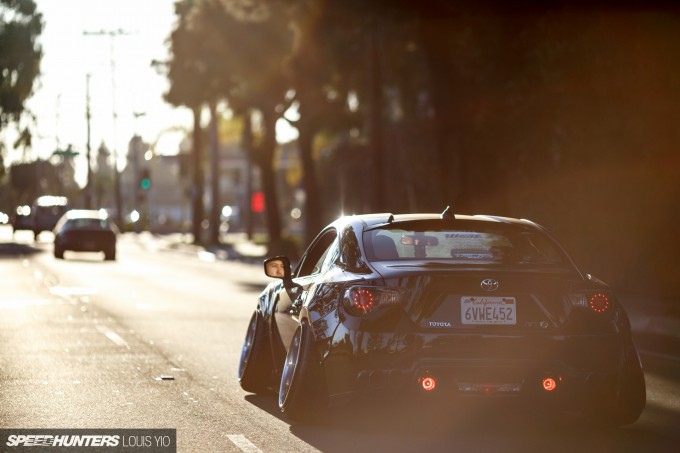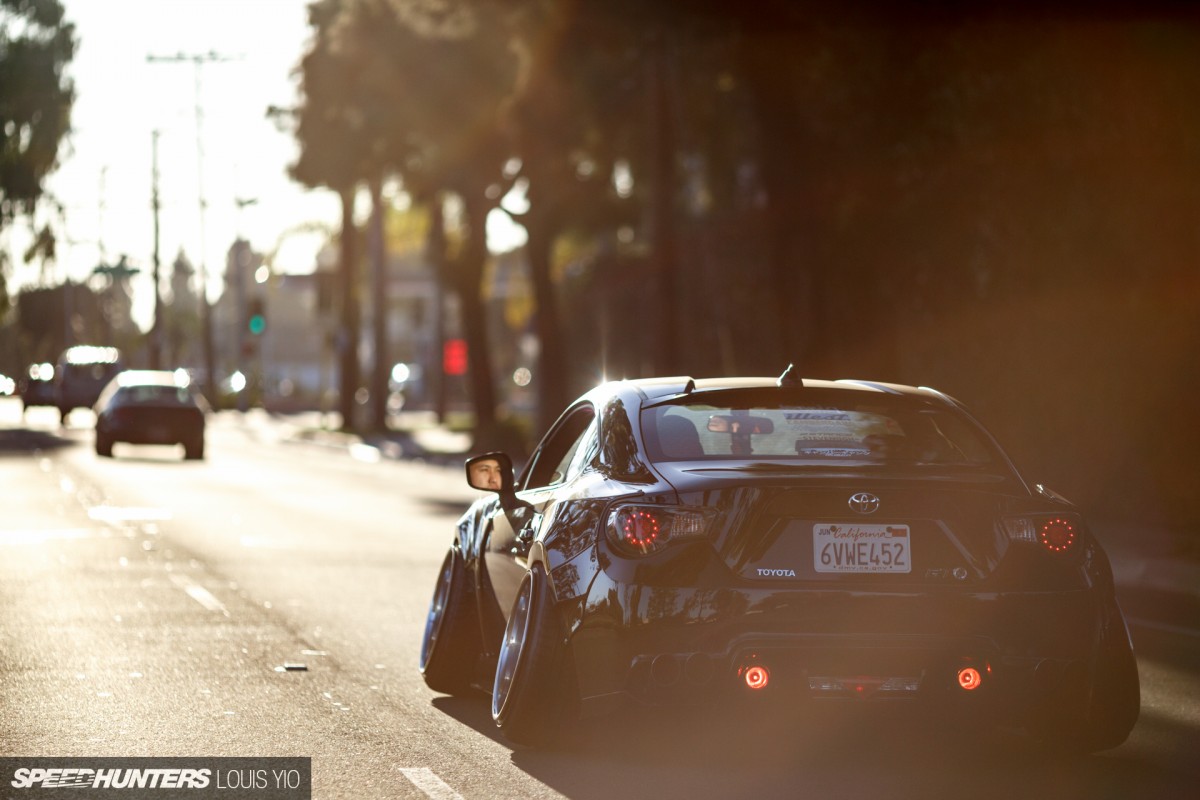 When he knew it was time to make the jump to a wide-body conversion, he had his eye on two kits – the Rocket Bunny V2 setup and VIP-themed kit from Aimgain in Japan.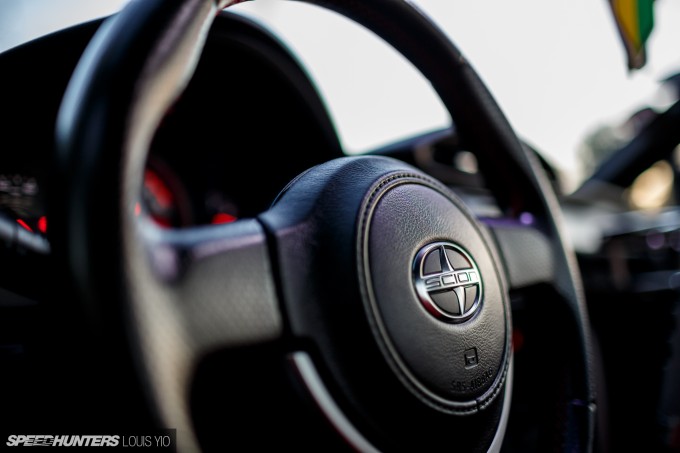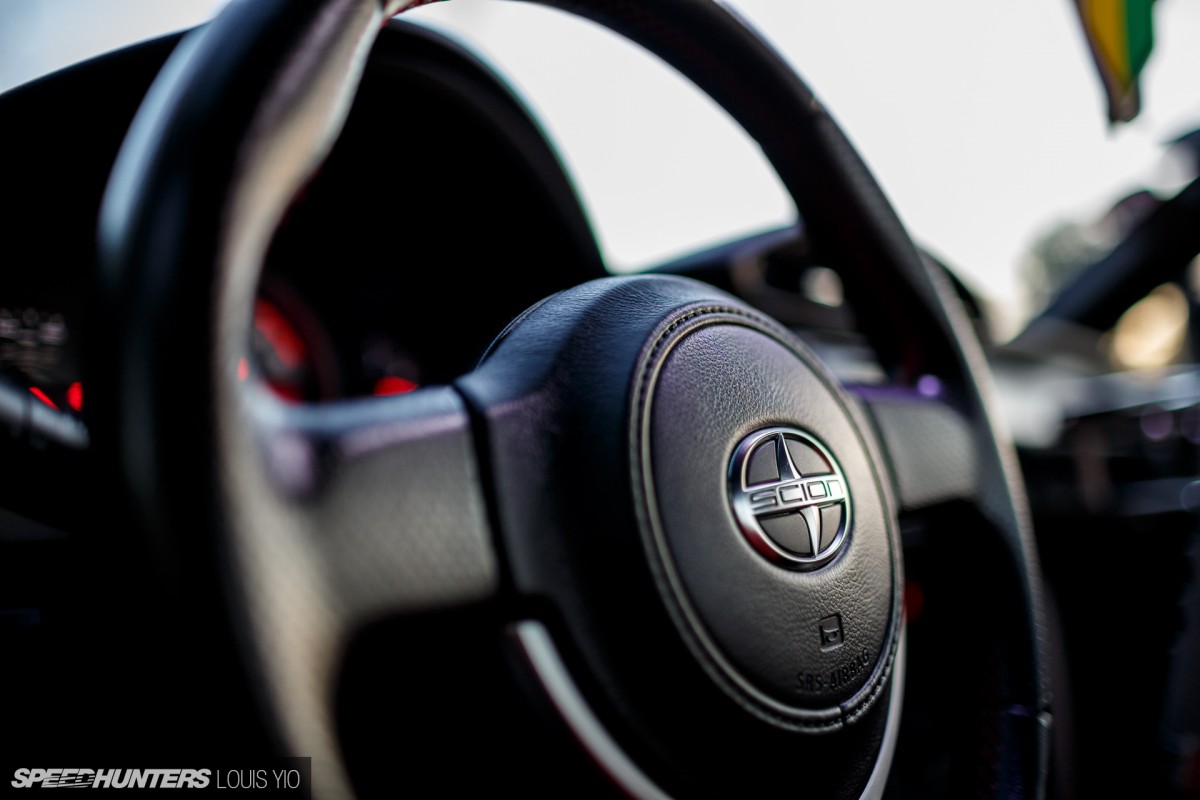 It was a tough decision to make, but in the end, rather than going the more common Rocket Bunny route, Robert decided to go with the Aimgain look. Not only would it help the Scion stand out from the crowd, he'd previously owned a VIP-style Scion xB and thought he'd try and continue the theme with the FR-S.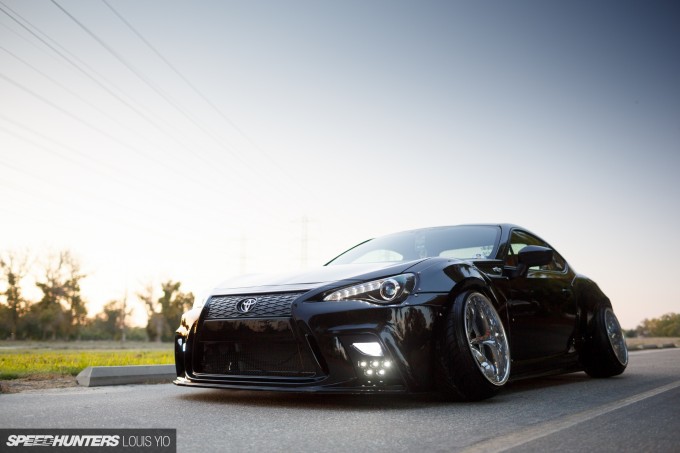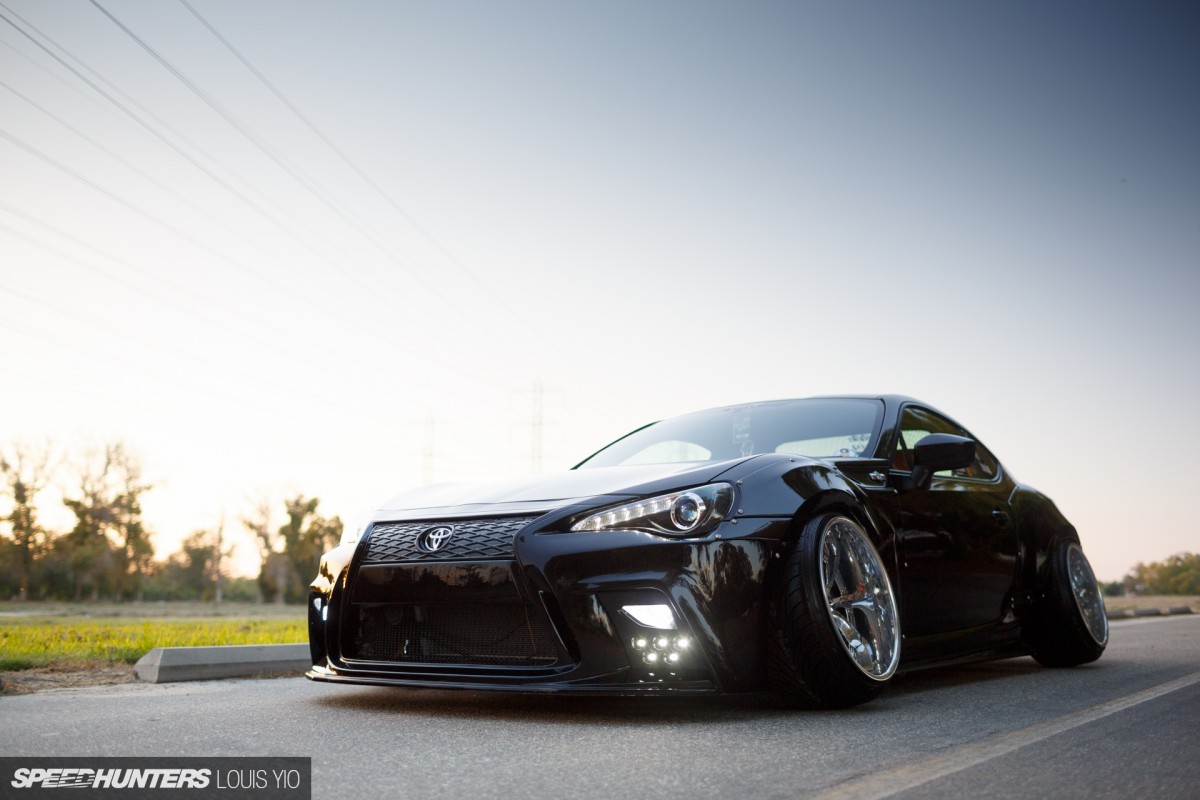 It was a three-month wait for the kit to arrive from Japan, but once he saw the Aimgain parts installed he knew he'd made the right choice. There was just something about the Lexus-esque look that set it apart from the increasingly large pool of modified FR-Ss on the streets of SoCal.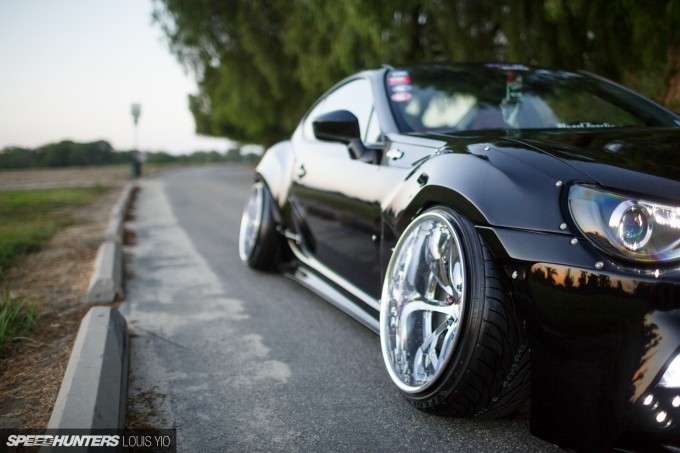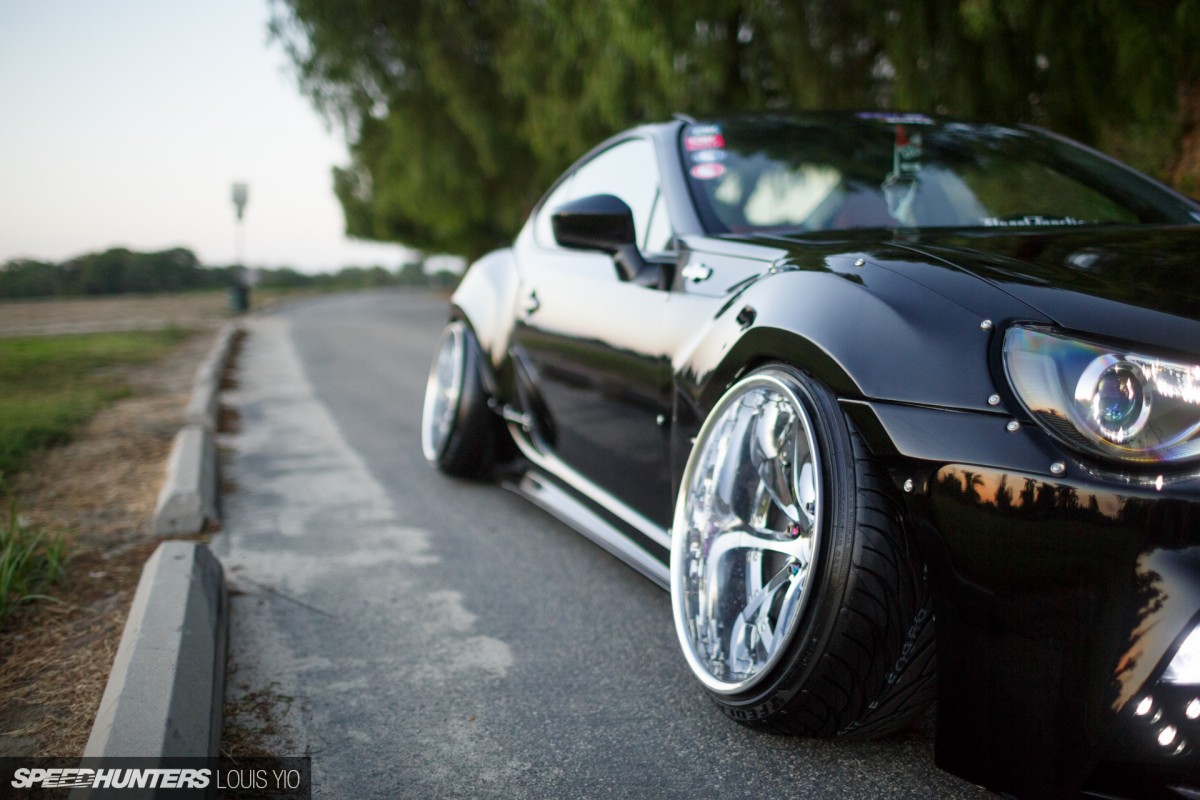 After taking the car to a few events, Robert decided he would take it even further into the realm of VIP with some additional suspension work, a new set of wheels and tires and remodeled interior.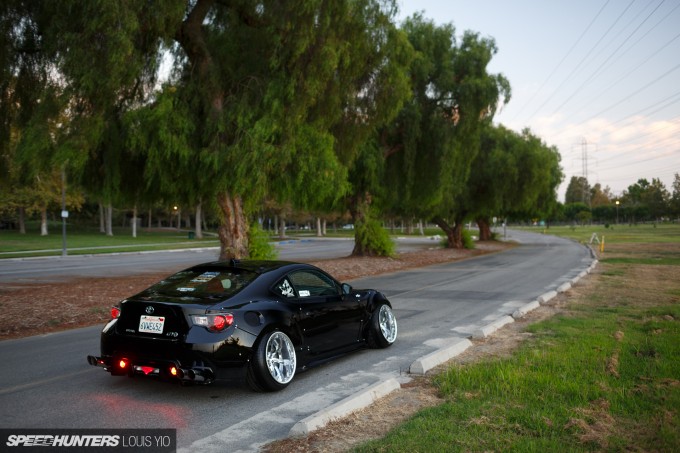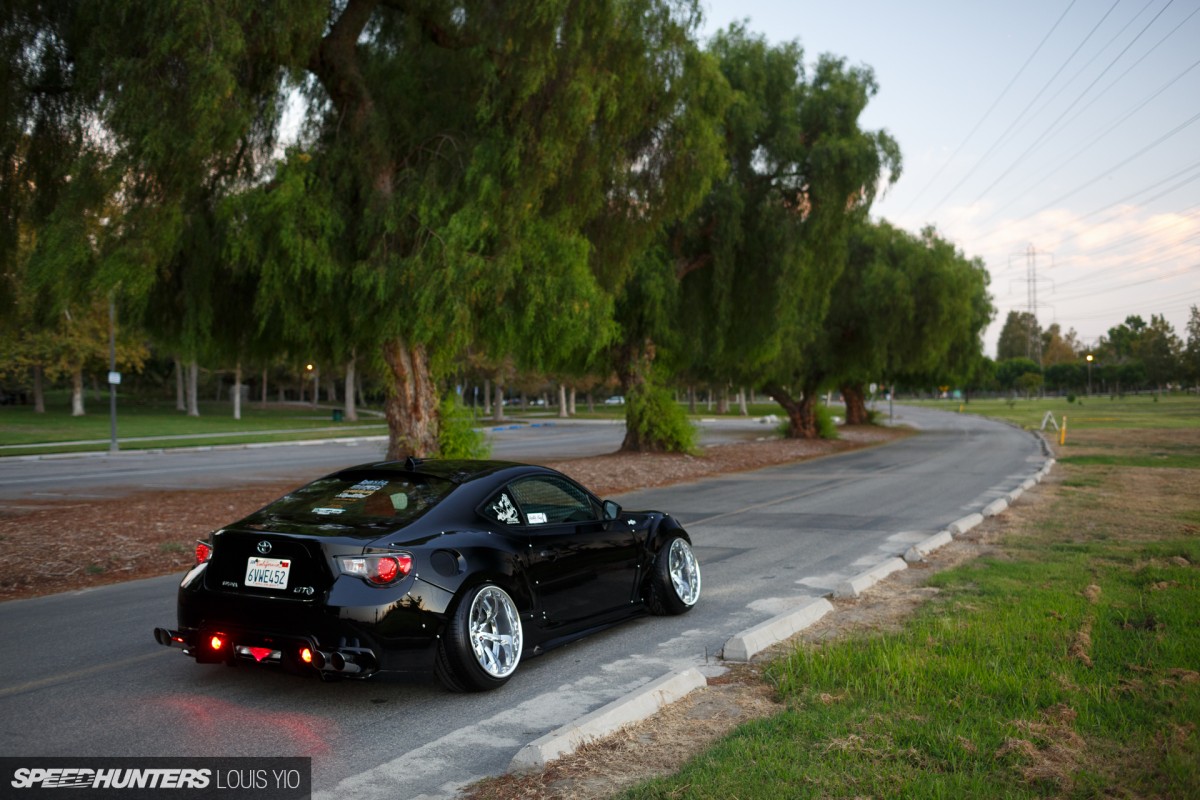 More specifically, he wanted to capture the over-the-top, aggressive look of the VIP sedans from Japan with their excessive negative camber and radically low ride heights.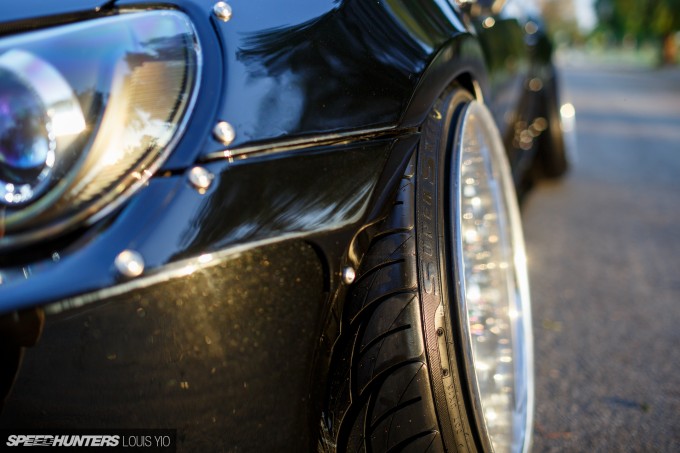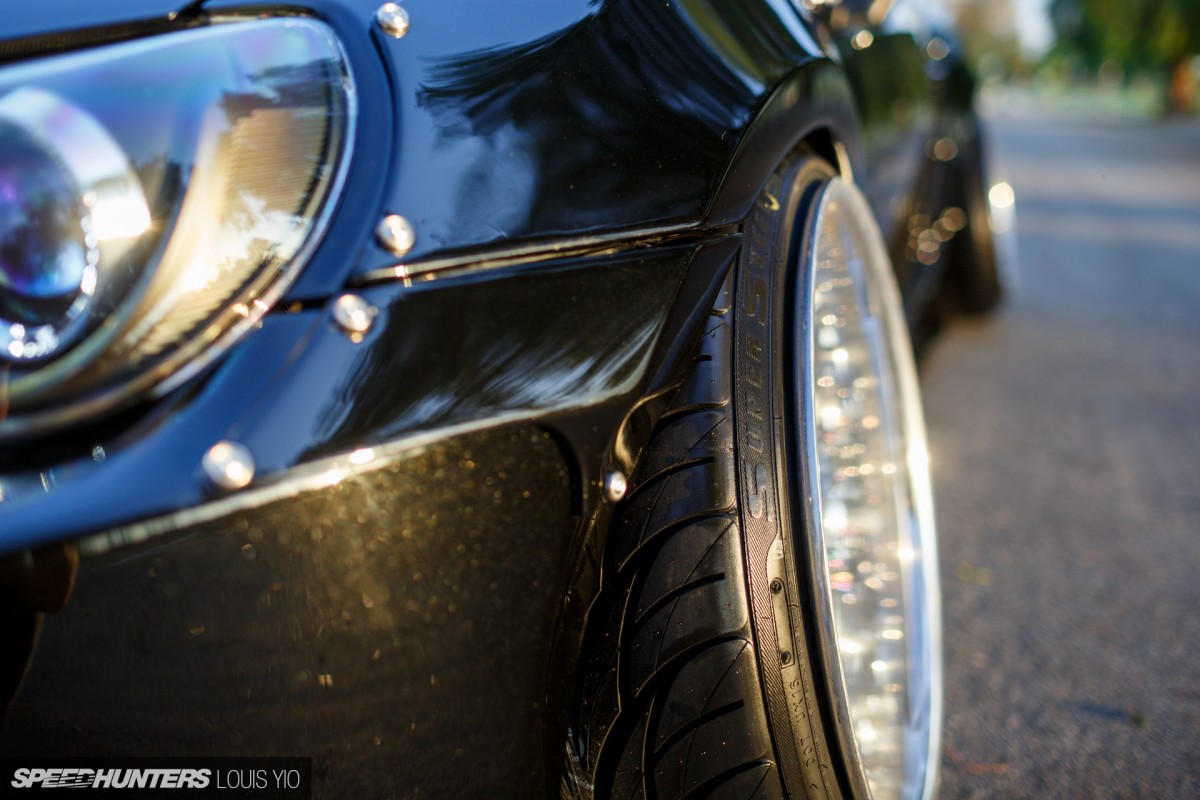 Getting the camber set to his liking would prove to be one of the tougher parts of the project, and Robert not only ended up needing to modify the coil-over bodies, he also had to have a set of custom camber plates fabricated for the front.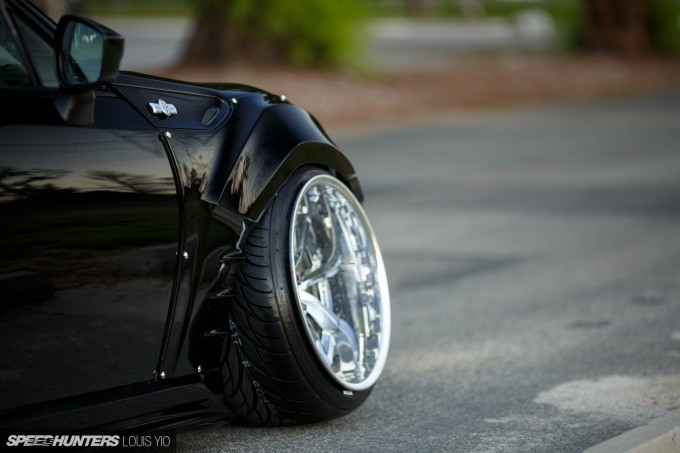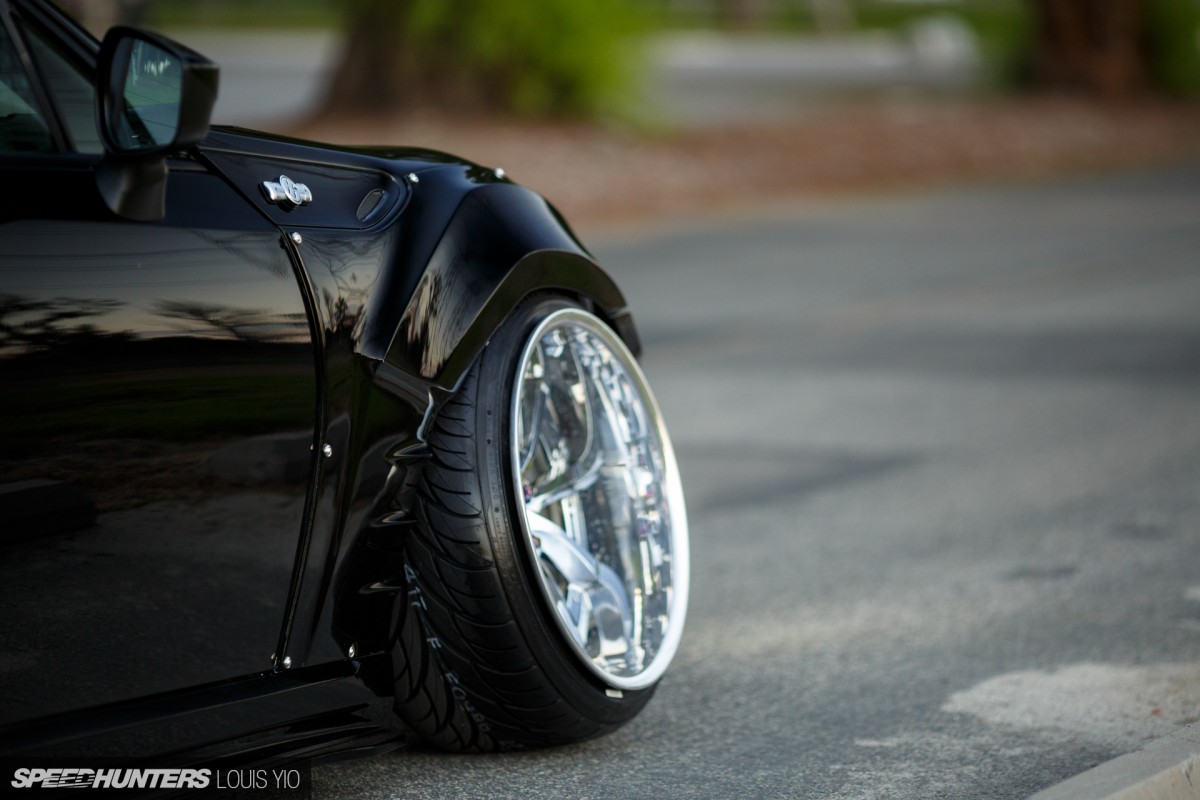 Up until this point he was still running his previous Work Meisters with spacers to fill up the widened Aimgain fenders, but now it was time to find some better-fitting wheels.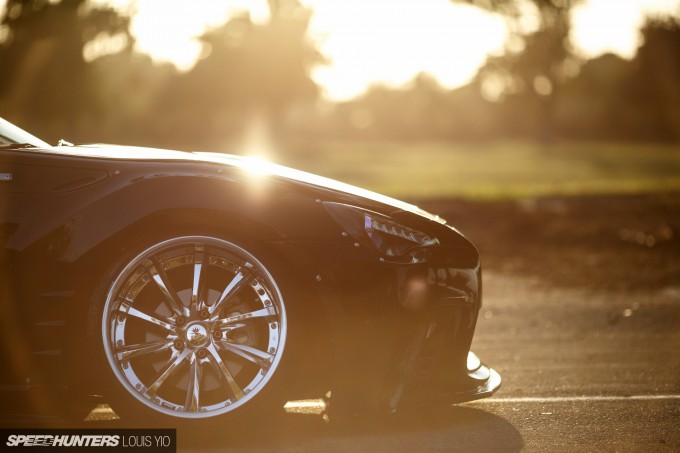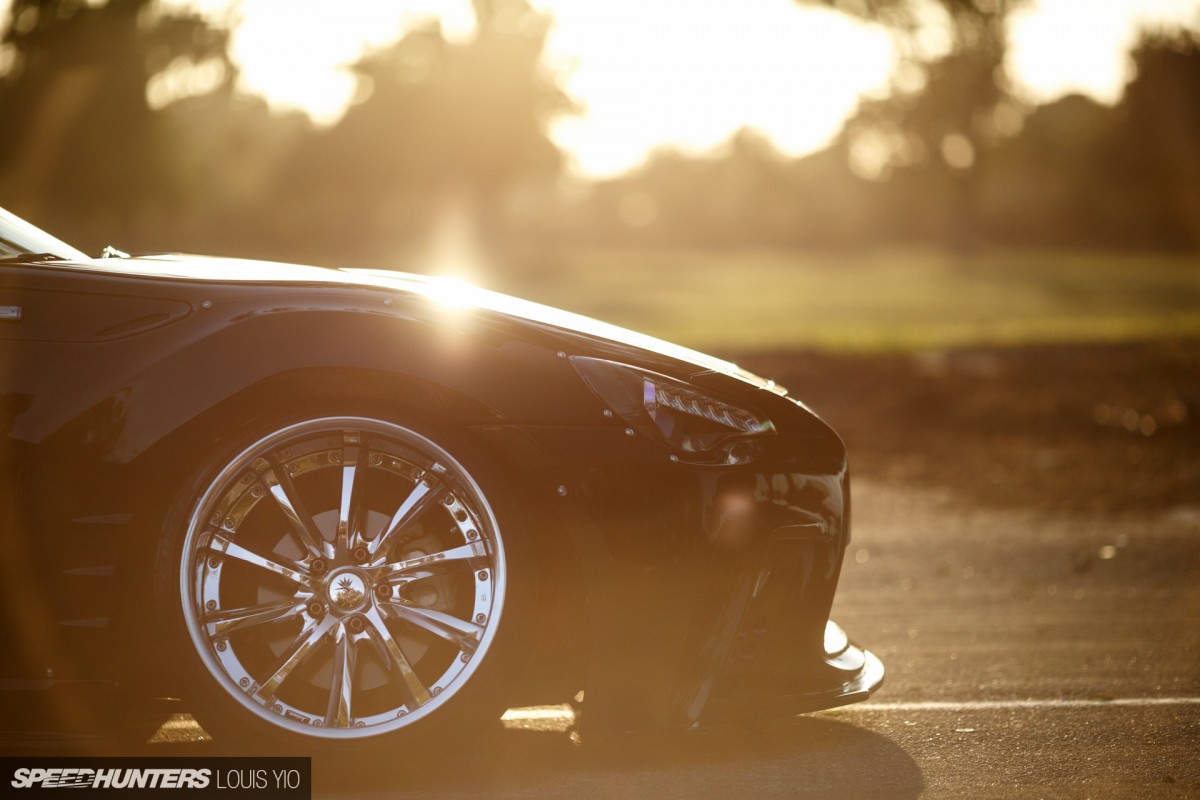 The Weds Kranze Vishunu was Robert's dream wheel, and when he set out to find a set he knew he wanted them to have massive lips.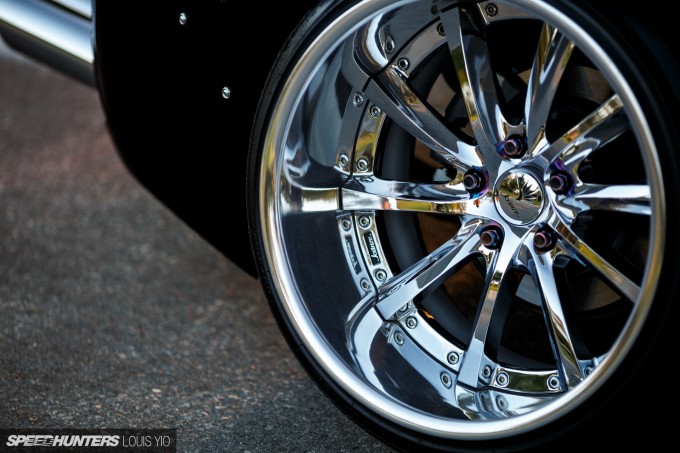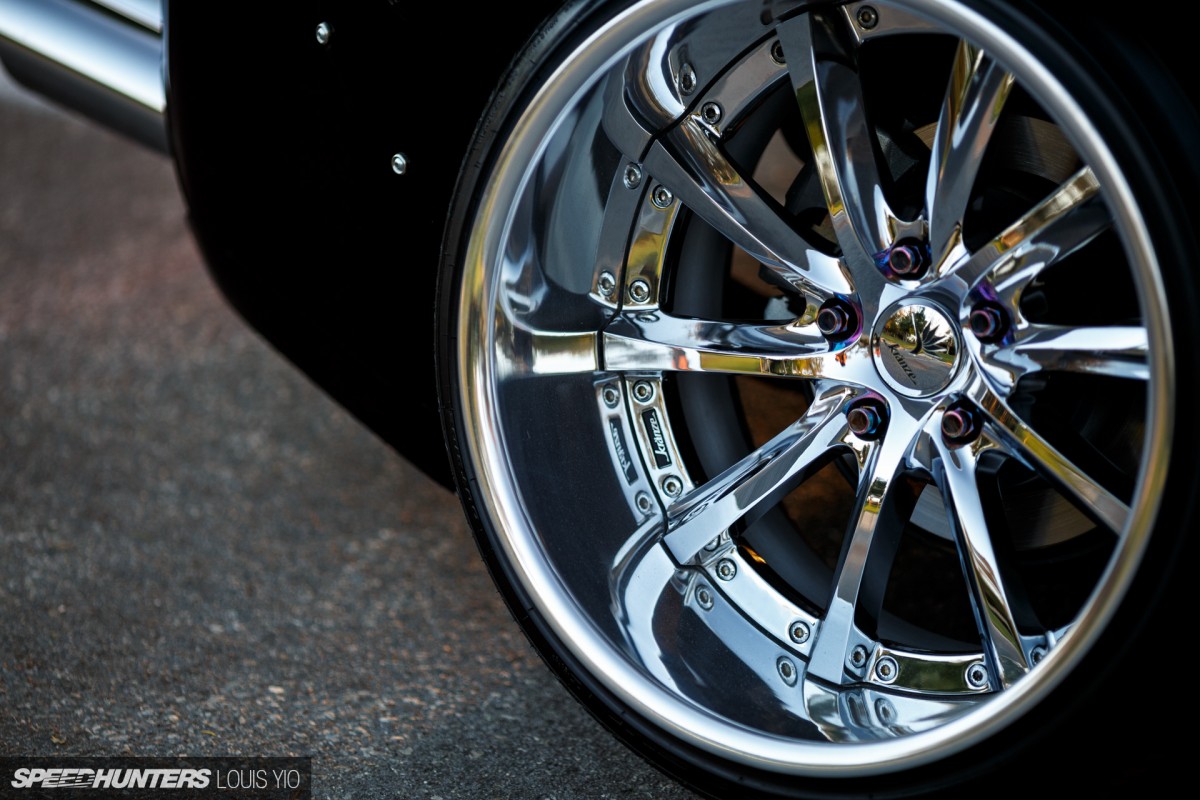 The specs on the Weds are 18×10.5-inch -33 up front and 18×11-inch – 33 in the rear with 1-inch adapters to fit them onto the FR-S's 5×100 hubs. The tires are sized 225/35R18 up front and 245/35R18 in the rear.
Bippu Sports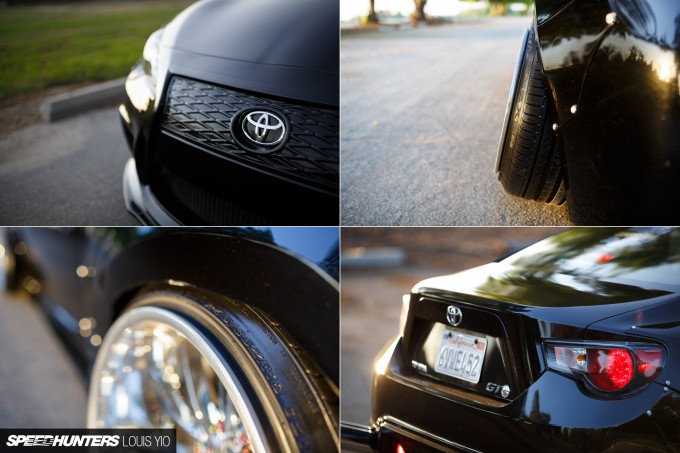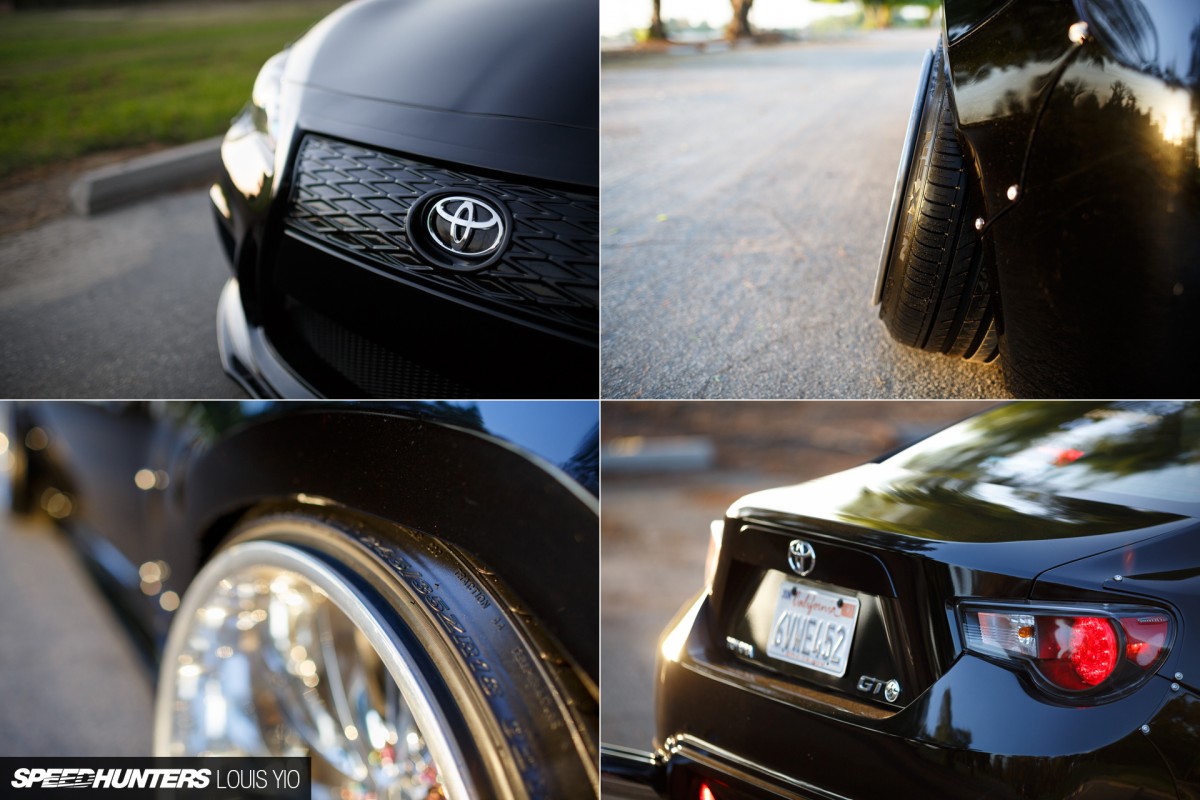 Once Robert had the wheels and suspension fitted, it took him hours of adjustment to get the ride height and camber settings adjusted to where he liked them. While we know excessive negative camber isn't everyone's look of choice, Robert has certainly nailed the wild VIP stance.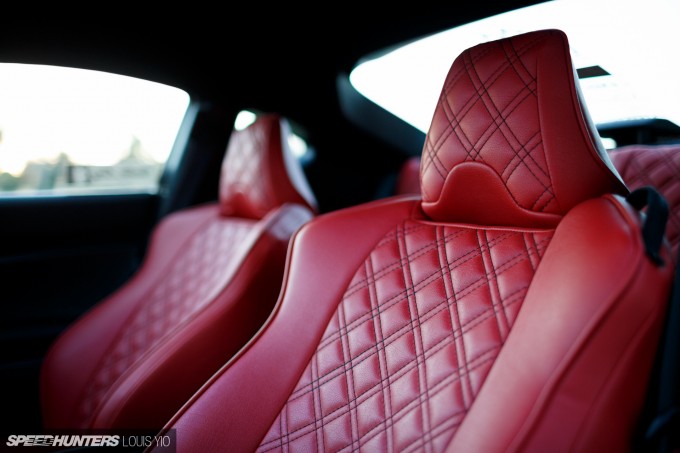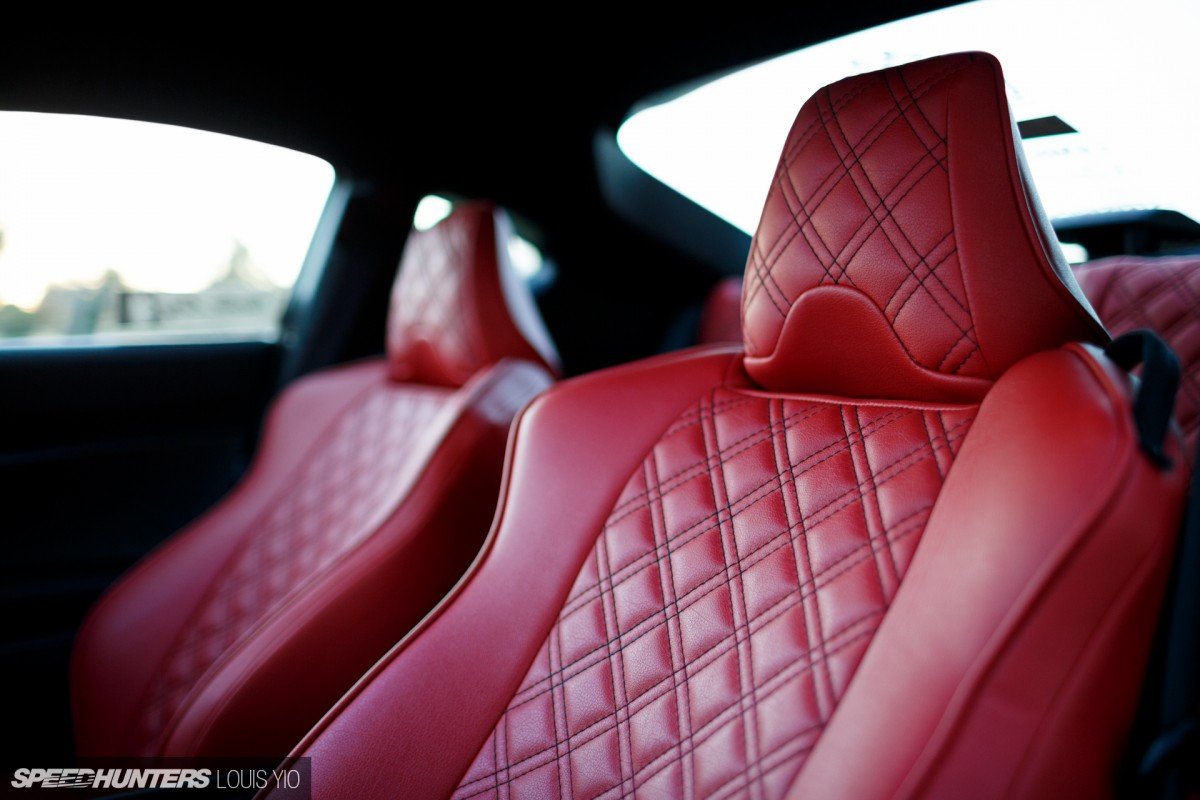 He also wanted to continue the VIP theme in the car's cabin, so Robert had his seats upholstered with Clazzio red diamond covers and even added a custom VIP tray table and a custom shift knob and boot.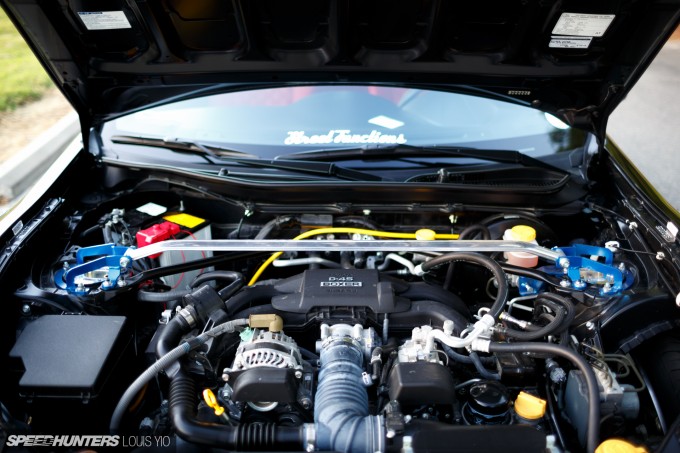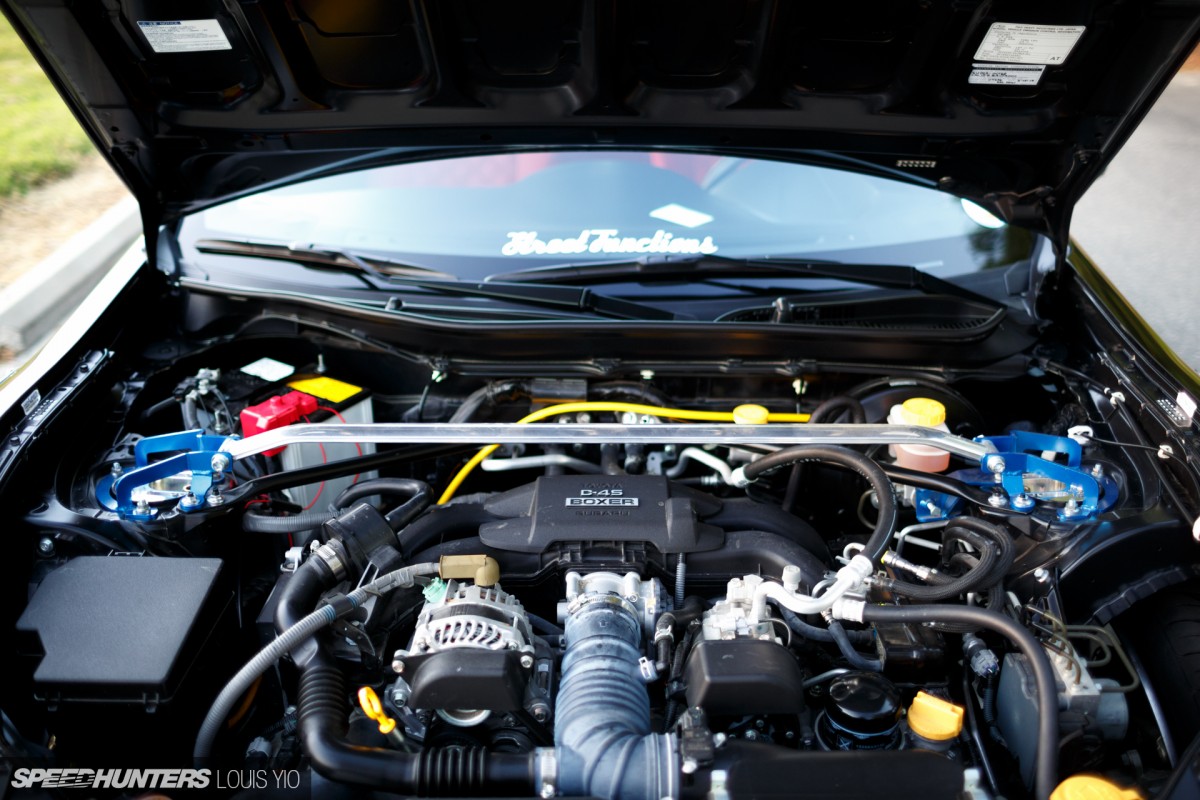 While making the car fast around a race track was obviously not Robert's goal with the build, the flat-four has been treated to an EcuTek Stage 1 engine tune to wake it up a little.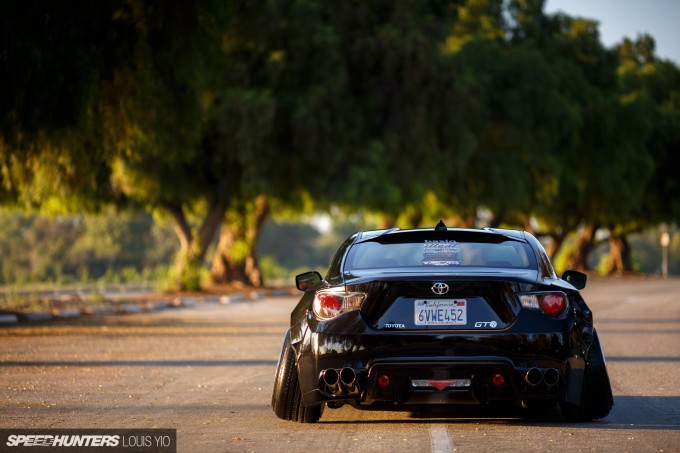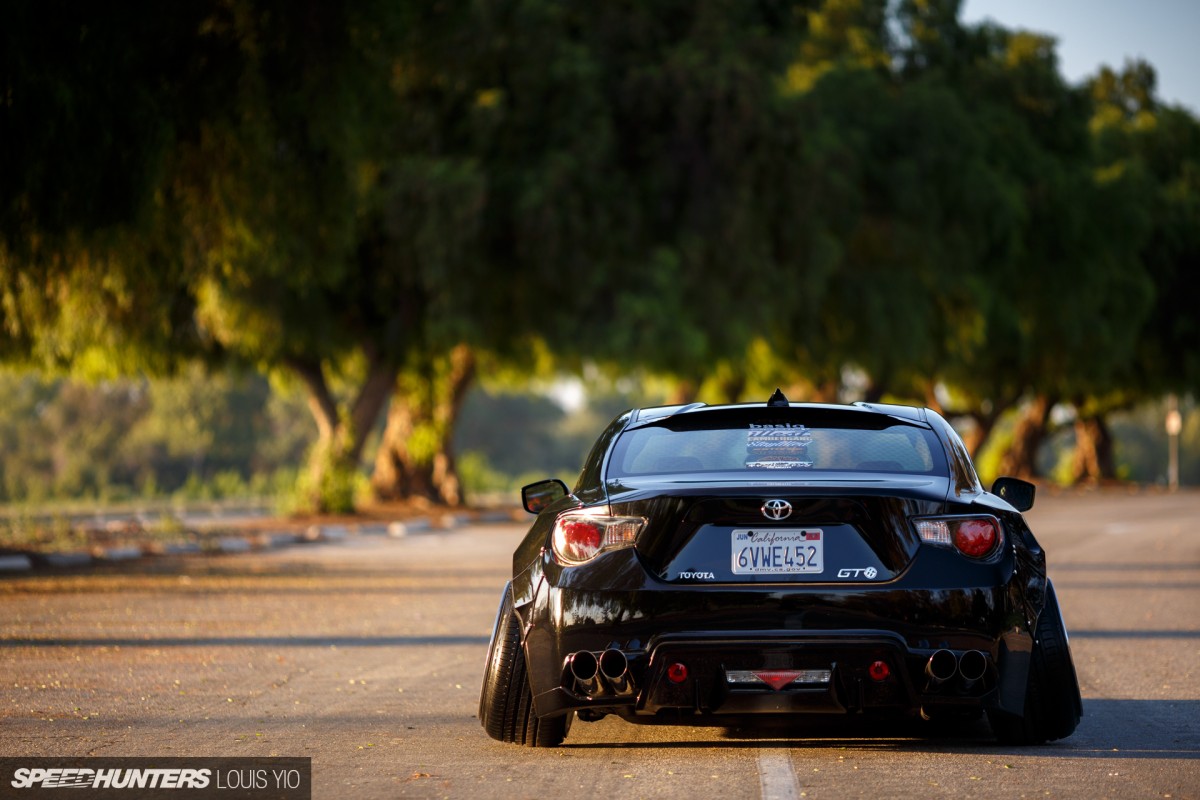 And to give the FR-S a more aggressive sound while also further building the VIP credentials, the car has also been fitted with a custom muffer-less exhaust system which features quad tips out back.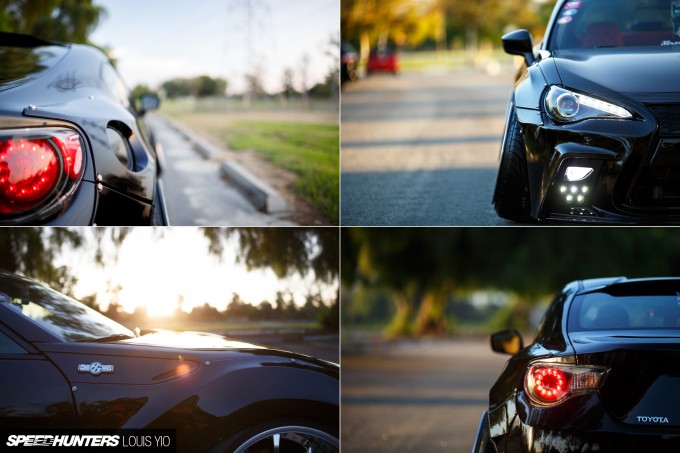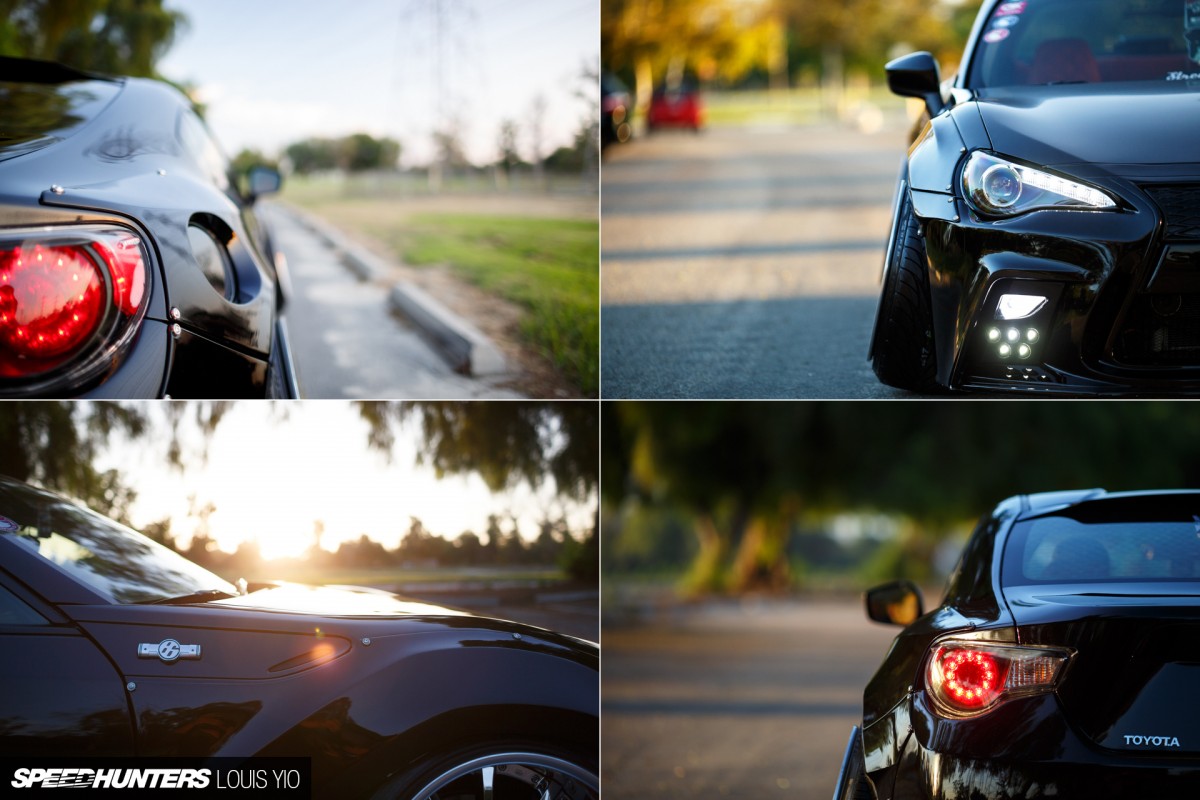 Is Robert's VIP-influenced FR-S for everyone? Absolutely not. I know there are many who won't like the unconventional and non-functional modifications that have been made to this driver-focused sports car, but that's the beauty of it. The Scion's overall uniqueness is one of the big reasons we picked it as our FeatureThis winner at the Long Beach Offset Kings showcase earlier in the year.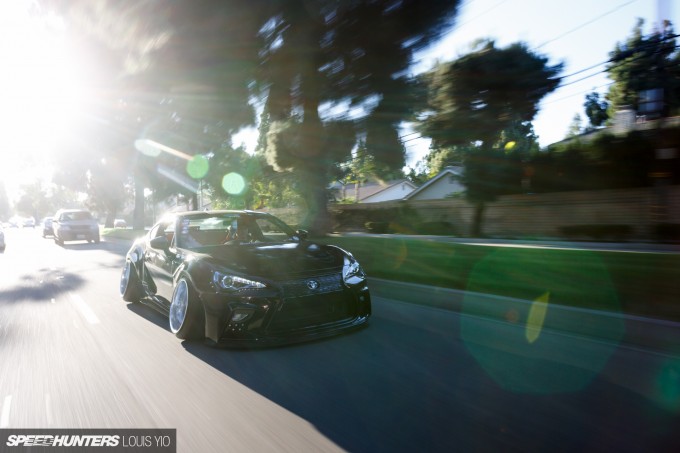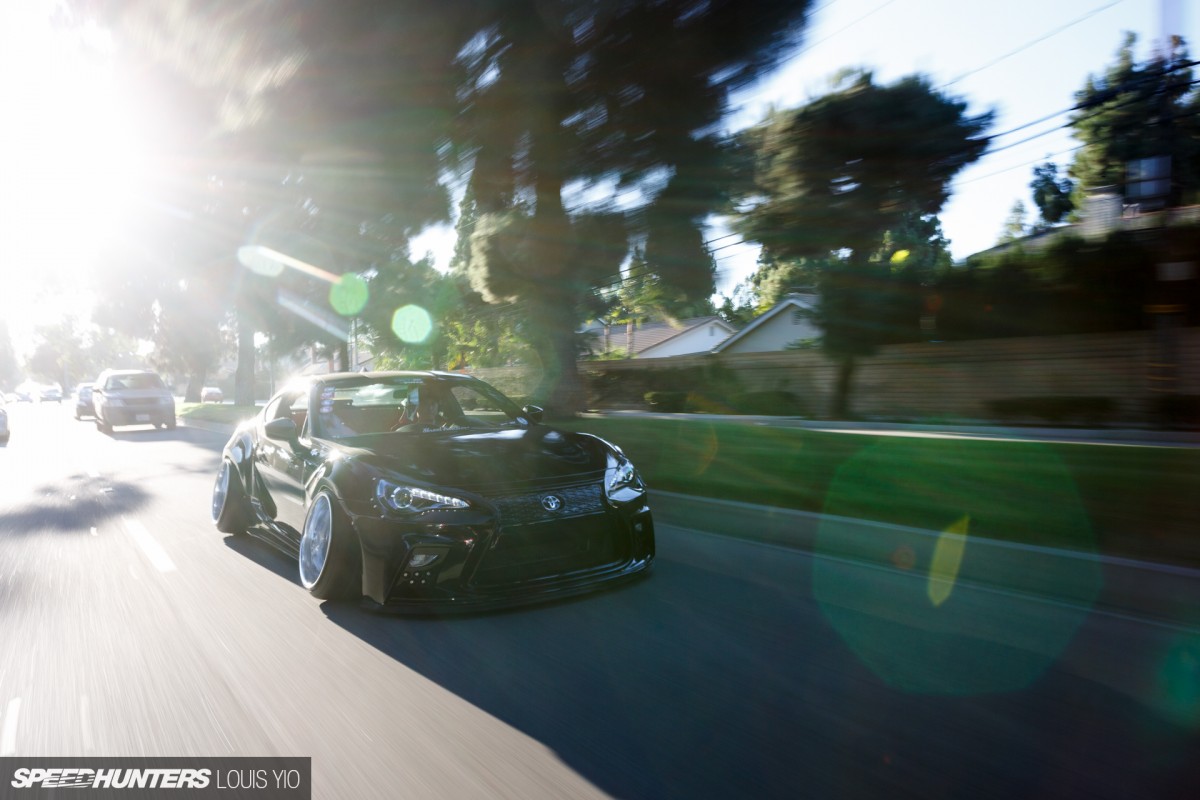 We've seen Toyota and Subaru's low-slung coupés built to do just about everything, and this VIP street build is just one more unique take on what's proving to be an extremely versatile platform for car enthusiasts of all types.
Cheers to Robert for doing things his way and not looking back.
Mike Garrett
Instagram: japanifornia_media
mike@speedhunters.com
Photos by Louis Yio
Instagram: lusciousy
Robert Sia's 2013 Scion FR-S
Engine
Factory 4U-GSE 2.0L boxer four, EcuTek Stage 1 tune, custom quad tip exhaust with muffler delete
Suspension/Chassis
Modified Stance coil-overs with Swift springs, Cusco strut bar, custom Racer-X upper control arm, custom front camber plates
Wheels & Tires
Weds Kranze Vishunu 18×10.5-inch -33 (front) 18×11.5-inch -33 (rear) 225/35R18 (front) 245/35R18 (rear) tires, 1-inch hub adapters all around
Exterior
Aimgain full wide-body kit, Winjet headlights, BeatSonic antenna, custom painted rear taillights
Interior
Clazzio red diamond stitched seat covers, custom VIP tray table, custom shift knob & shift boot
More Offset Kings related stories on Speedhunters
Offset Kings
Cutting Room Floor