Style & Substance
For years now we've been teaming up with our various event partners across the world to run FeatureThis promotions at many of the different shows and meets we cover. It's pretty simple really – a Speedhunters representative looks over the vehicles and chooses a winner that not only receives a trophy of some sort, but a full car feature right here on Speedhunters.com.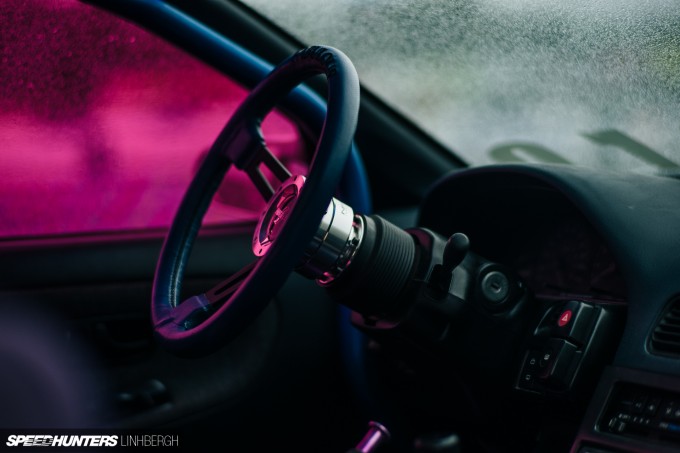 Having been tasked with selecting a winner at many different events, I can some provide some insight on what goes into our decision making. Despite what you might think, a FeatureThis winner needs not be the rarest, fastest, flashiest or most expensive car at a particular event. It just needs to to be cool and interesting, and hopefully make for an enjoyable story.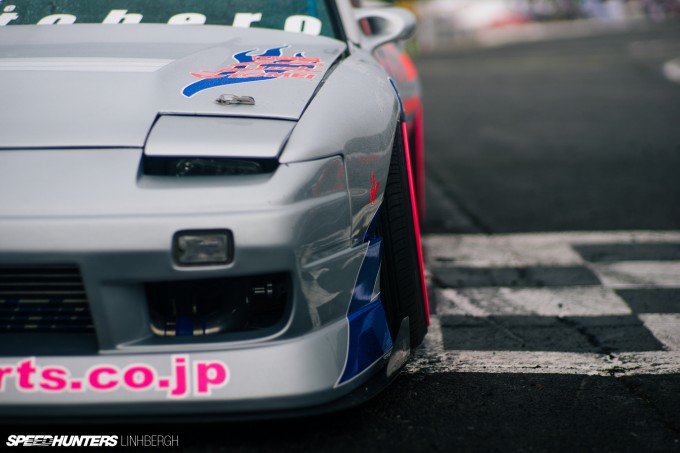 That said, it might be surprising to hear that we chose one of the loudest and most outrageously-styled S13s in North America as the FeatureThis winner from the recent Offset Kings event in Seattle. So did we simply find the wildest car and declare it winner?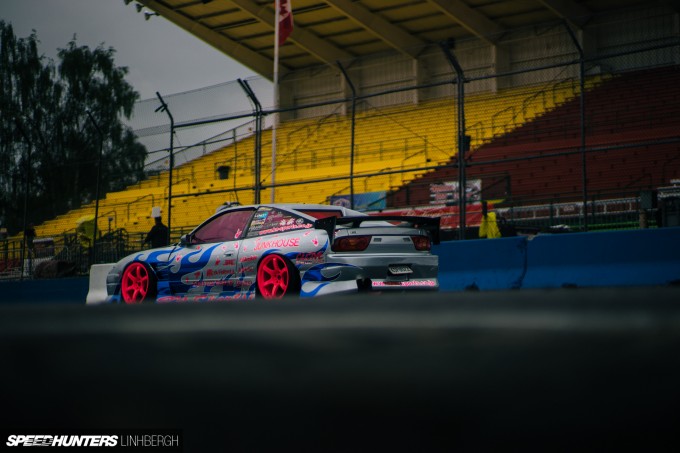 Absolutely not. Derrik Pompeo's 1990 240SX might be a major attention-grabber, but there's a whole lot more to this car than just saying 'look at me'. Not only does it have all the bite to back up its bark, the Nissan is also a perfect homage to the radical street drift cars that came out of Japan during the early 2000s.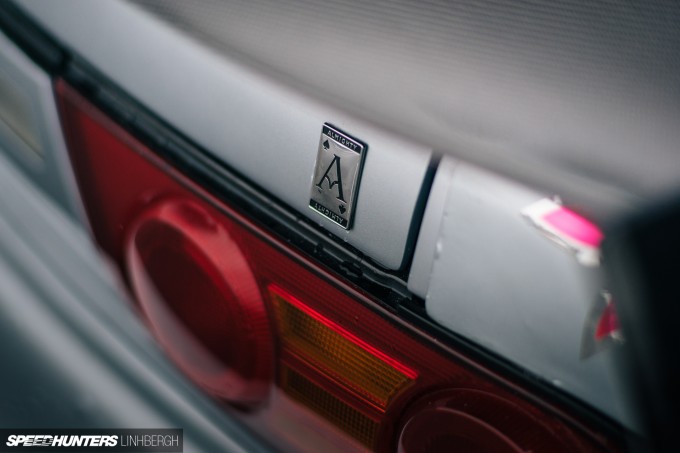 It all started back in 2008 when Derrik was 15 and bought his first automobile – a bone-stock 240SX hatchback with a lame automatic transmission. He'd wanted a 240SX since the 5th grade, so after bringing the car home he got straight into modifying it.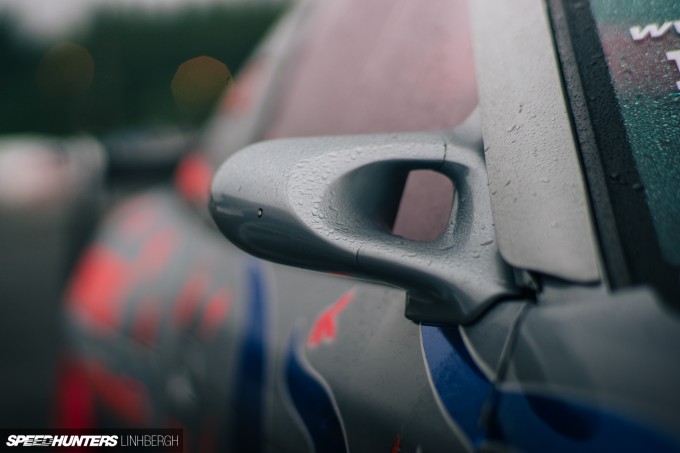 Over the last seven years Derrik's taken the Nissan beyond what he could have imagined originally, going through multiple engines and multiple exterior styles.
Go Wide, Go Low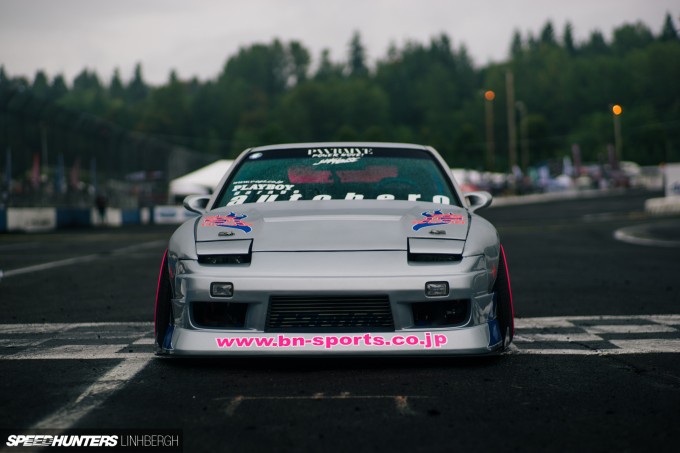 Let's begin with the exterior, because that's the first thing that draws people toward the car. It's aggressive to say the least and looks like something that came straight off a Drift Tengoku video circa 2001.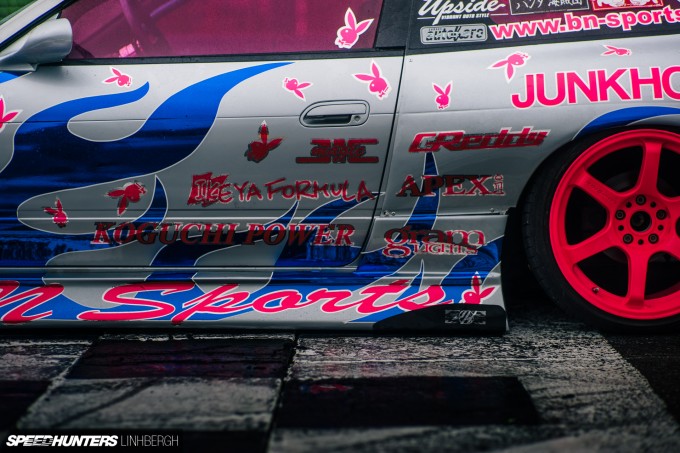 For Derrik, one of the biggest challenges of putting the S13 together was gathering all of the parts to complete the look he wanted – particularly the BN Sports body components from Japan.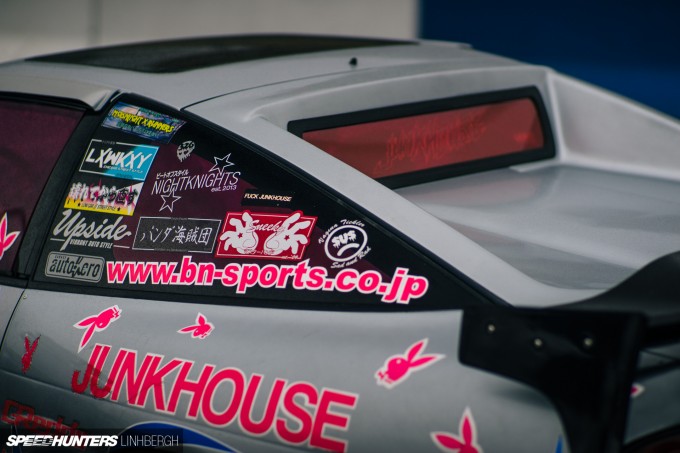 He's running a full catalog's worth of BN panels on the car including the front and rear wide fenders, the bumpers, the vented hood and the side skirts.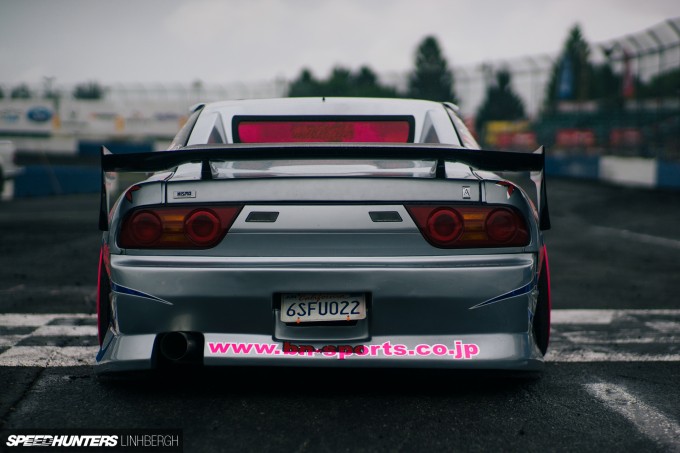 He's also added a rare BN Sports inverted hatch which gives the S13 an especially radical look from the rear when combined with the Do-Luck spoiler.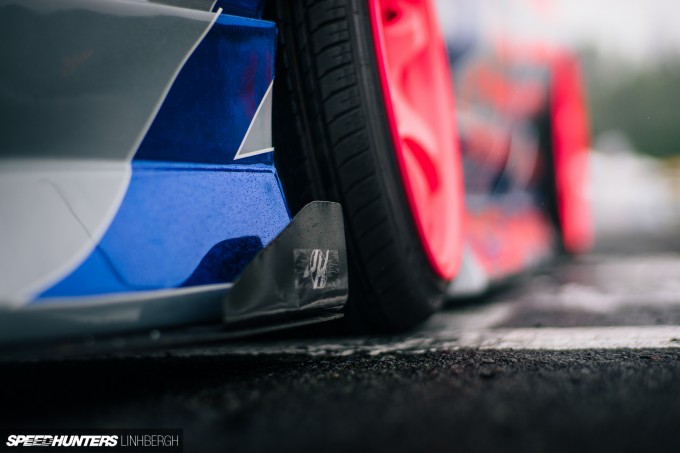 Other work done to the exterior includes D.Pomps canards and splitter up front, kouki 180SX taillights, OEM Nissan rain guards and of course a set of Ganador side mirrors.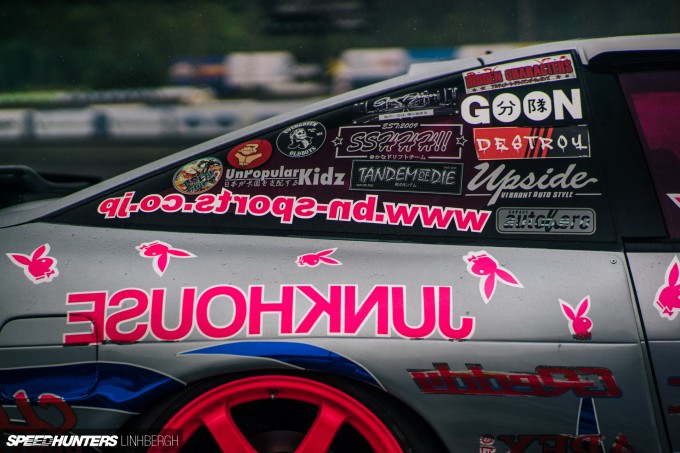 All of that is set off by a graphics package that includes metallic blue flames, pink tinted windows and decals from many of Derrik's drifting-obsessed friends.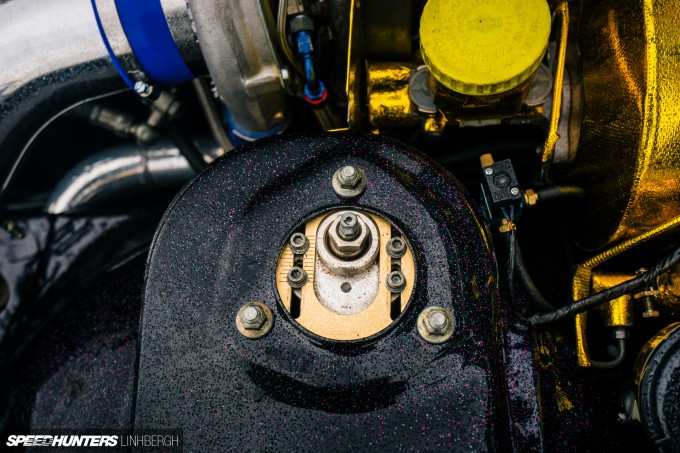 Derrik has given plenty of attention to the suspension and chassis as well. He's running a set of JIC Magic FLT-A2 coilovers along with Garage Autohero knuckles, Battle Version adjustable arms and a number of other bits to help the S13 go sideways as aggressively as possible.
Stay True To Your Roots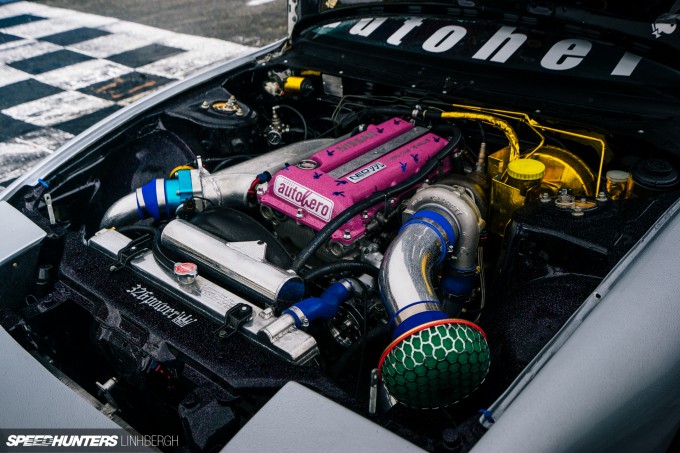 These days when you open the hood on a modified S13 you really have no idea what kind of motor you'll find. In Derrik's case though he always wanted to stay true to the roots, thus the decision to go with an SR20-based engine package.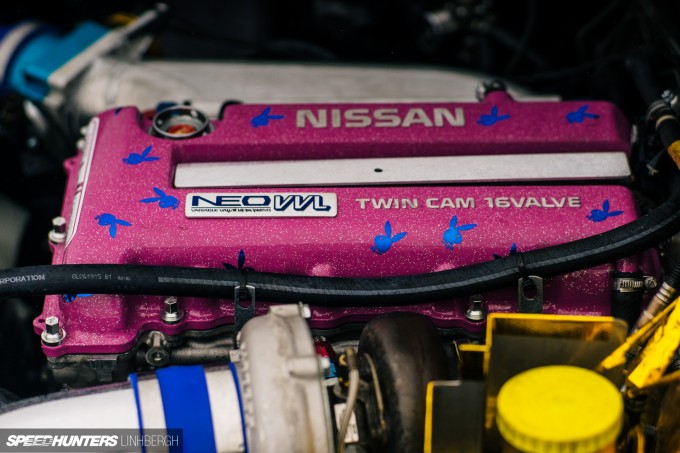 Of course, his motor is far from your typical SR setup. It's actually a variable valve timing equipped SR20VE-T setup with strengthened internals, upgraded cams and an AEM engine management system.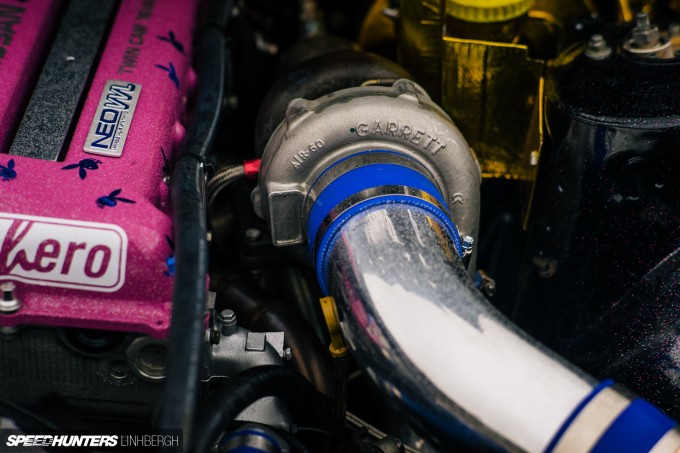 Boost is provided by a Garrett GTX3582R turbocharger and there's also a ZEX nitrous kit on board for good measure. You can bet there's more than enough power for Derrik to hang with those who have gone the increasingly popular V8 route.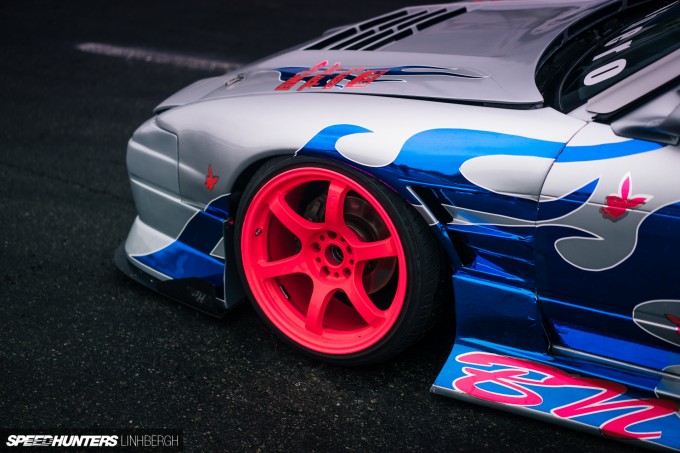 Wheels are a massively important part of building a stylish drift car, and the choice of 18×9.5-inch and 18×10.5-inch bright pink RAYS Gram Lights 57DRs is hard to argue with.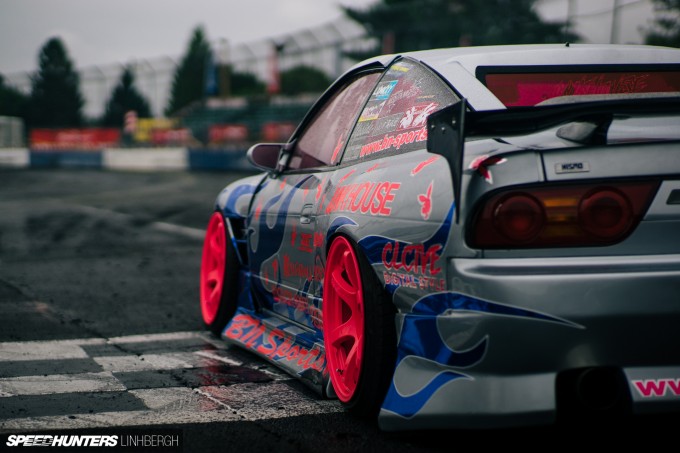 And in addition to the 57DRs, Derrik also has a set of Work VS KFs for when he's in that multi-piece mood. Either choice is equally suited to the wide, low and aggressive look.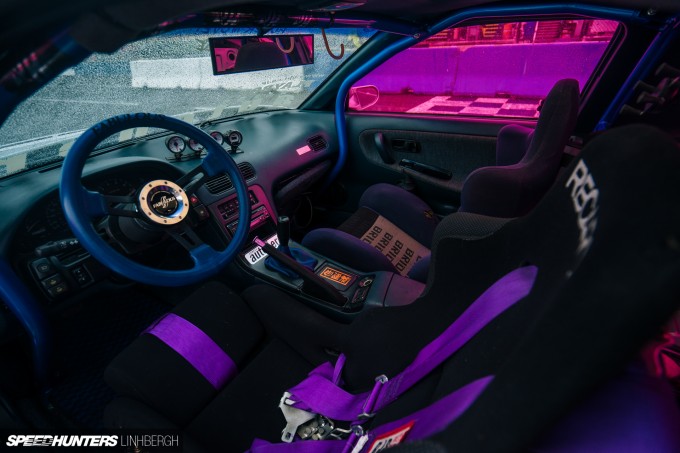 Peeking into the cockpit, you can see a 6-point Cusco rollcage along with Recaro and Bride buckets for the driver and passenger respectively, all basking in the glow of the pink tinted windows.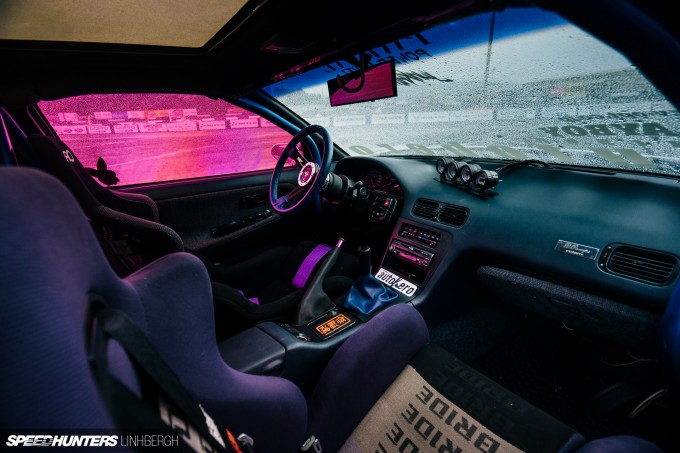 Other touches in the cabin include a Tomei shift knob, a rare Fabulous Profound steering wheel, and of course the requisite set of checkered-pattern floor mats.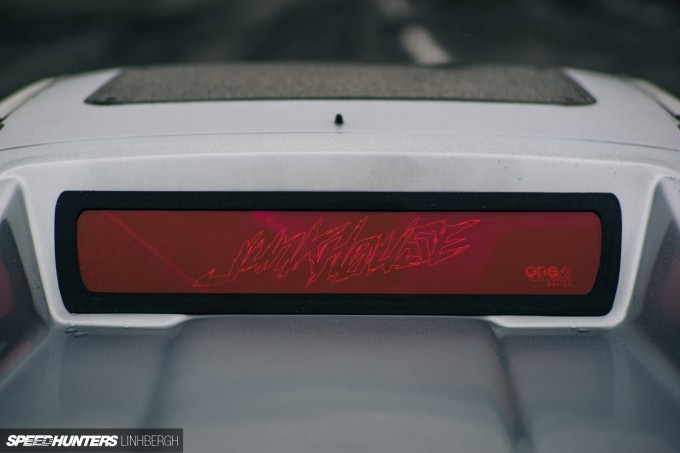 Being his first car, it's unlikely that Derrik will be parting with his S13 anytime soon. In fact, he already has additional upgrades planned including a full custom rollcage and other updated interior equipment.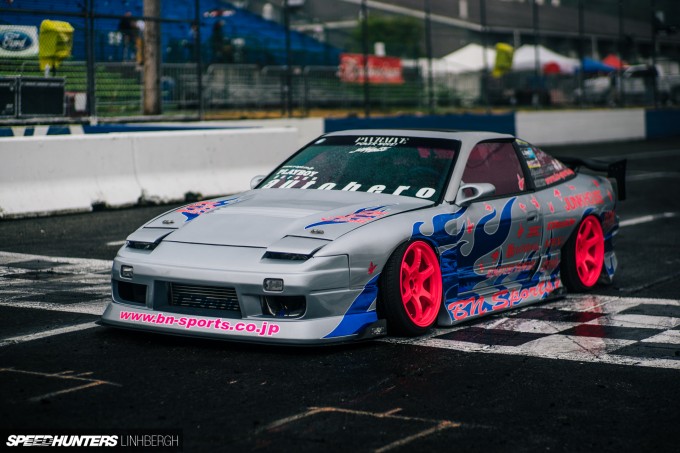 Whether it's the unique SR engine setup, the wild exterior or just the fun attitude that this car exudes, we feel Derrrik's 240SX is more than worthy of joining the growing list of Speedhunters-approved machinery. Tune in next time to see what we find during an upcoming FeatureThis outing.
Mike Garrett
Instagram: japanifornia_media
mike@speedhunters.com
Photos by Linhbergh

Cutting Room Floor