Why do we love epic films so much? The greater majority of the biggest-grossing films in cinema have almost always had something grand about them. Take the original Star Wars trilogy, a space opera if there ever was one, that engrossed the world with a piece of fiction that became an epic milestone in movie history.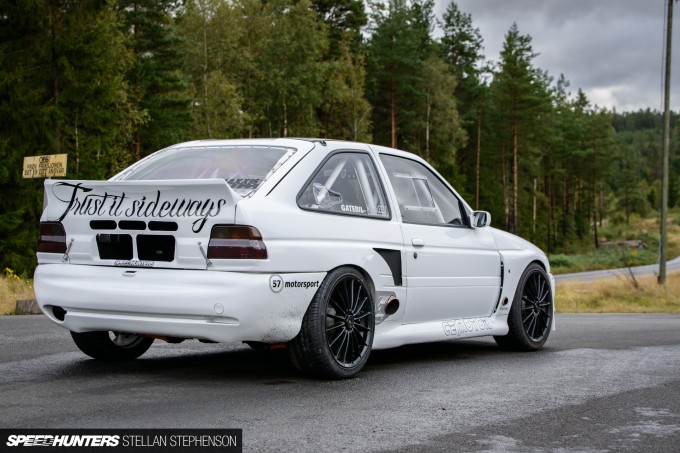 And as much as we love lightsabers, the Millennium Falcon or running the trenches of the Death Star in an X-wing, it is protagonist Luke Skywalker's epic journey that truly captivated audiences.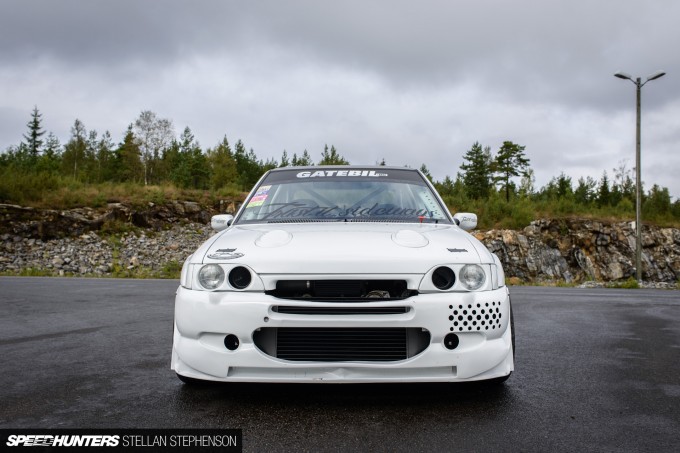 Jocke Stigenberg's rare Stormtrooper-like creation has been on its own journey of Star Wars like scale over the last decade.
It all began when Jocke was 18, and he decided to purchase what once was a stock 225hp Mallard Green Escort RS Cosworth – a car produced by Ford between 1992 and 1996 for Group A WRC homologation. On the third day of ownership a 330hp turbo kit was installed, yet after just a few days of driving with its fresh upgrades, the yearning for more power continued to rise.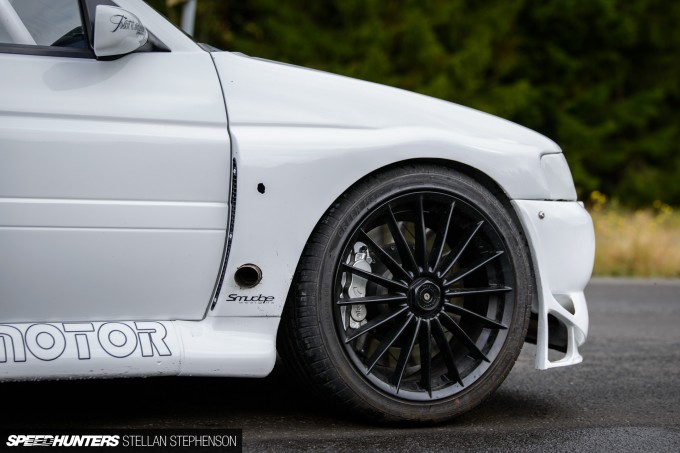 New components, including a more efficient intercooler kit, exhaust, fuel system and a Group A turbo pushed the famous 2.0-litre four-cylinder YBT engine's capabilities to 450hp. Soon after, in a bid to increase reliability and safety, forged internals were sourced and the Escort was stripped down and sent to a specialist to be outfitted with a custom rollcage.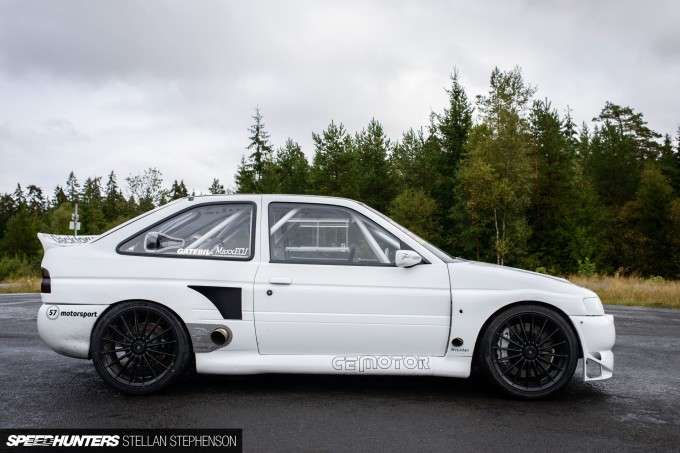 But like any good saga, a conflict arose when Jocke's Cosworth returned from the shop. The materials and build were totally off, nowhere near the plans he had originally laid out. So from this point on, the young carpenter by trade decided to take on the build himself, not wanting to cede power to another shop to falter or delay his build. And yet, the Escort would lay dormant for another seven years.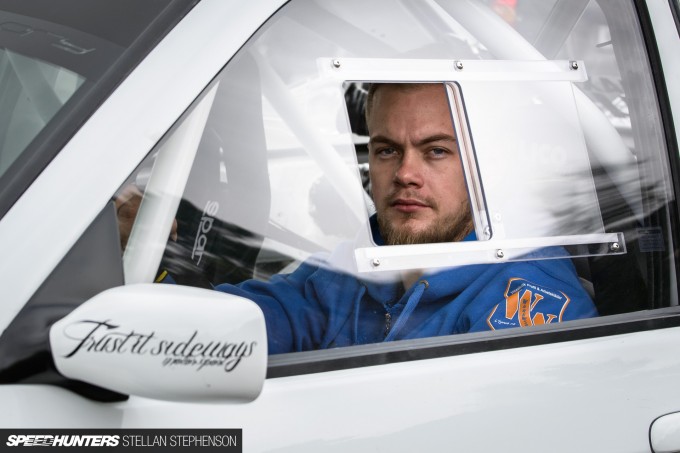 During that time, Jocke grew up, married and had a child, while also building a daily-driven Sierra Cosworth. The Ford Sapphire had a more civil build than his white Escort – if 590hp and 619Nm of torque can be considered a civil power output, that is! So, when the time finally came to complete his ultimate creation – a Scandinavian beast of a car – what would the former young apprentice come up with?
A Heart From Germany With The Claws Of Godzilla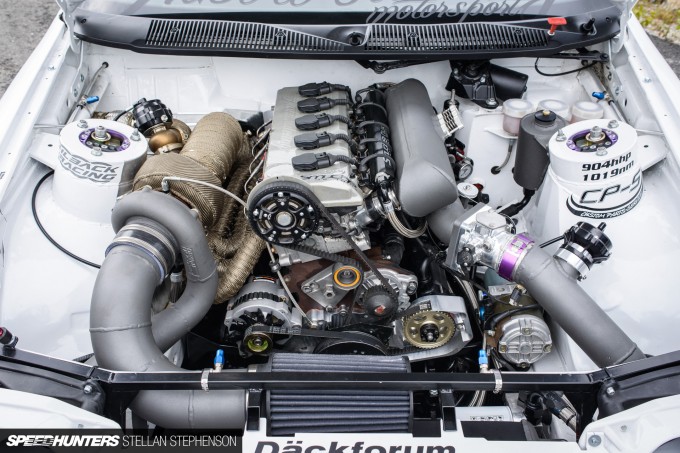 The final quest began with the search for a new power unit. Everyone of us has an automotive sound that literally sends chills down our spines when exposed to it. Whether it's the burble of an LS V8, the screaming induction of air from a Honda VTEC engine or the weaponized hail of a boxer, there's an engine that reaches out to our inner being. For Jocke, that perfect engine note comes from the quirky inline five-cylinder.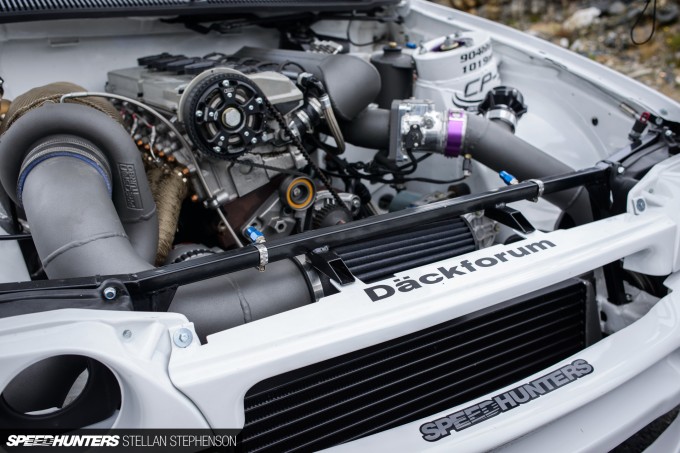 It began with an Audi 2.5-litre block, originally designed to run diesel fuel. To withstand the new petrol-fed power figures, after being line honed bored and properly machined in went custom pistons from JE, PPF rods, original bearings with more clearance and a block girdle with 12.9 bolts.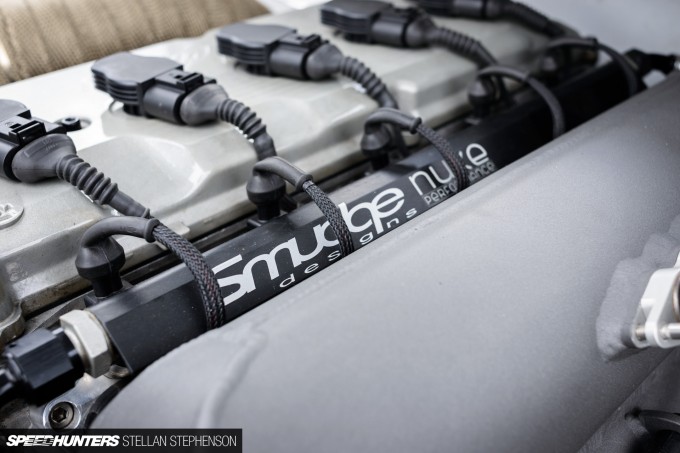 A ported 7A head by Smudge Designs – a venture for custom engine work that Jocke started a few years ago – was prepped with bronze valve guides, Supertech valves, Catcams hydraulic cams, lightweight adjustable cam gears and a 60-2 VW trigger at the crank.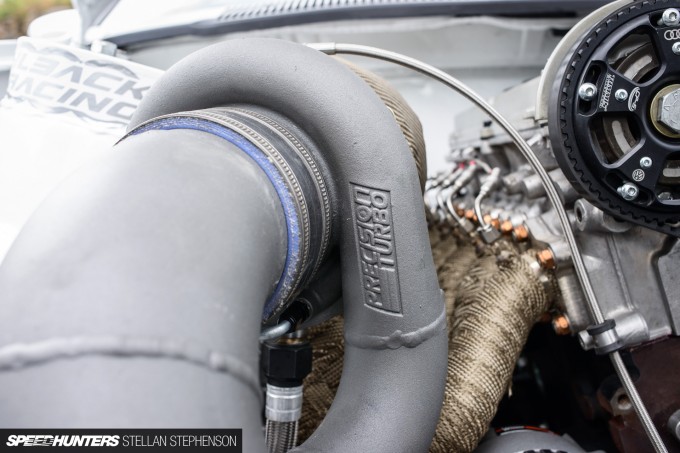 The main driving force for this ship is a Precision Turbo 6466BB spinning a max of 2.7bar (39psi) boost into the hybrid engine.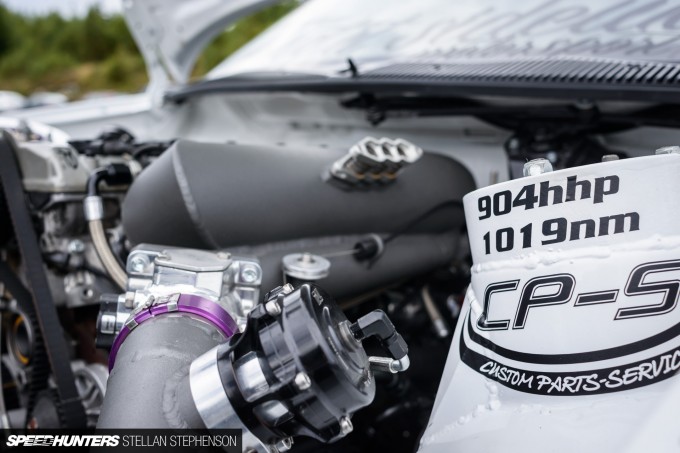 All this results in a lightspeed-inducing 904hp and 1019Nm of torque. Combine this with the lightweight chassis of the Escort and you have enough thrust to leave a Star Destroyer in the outer aether.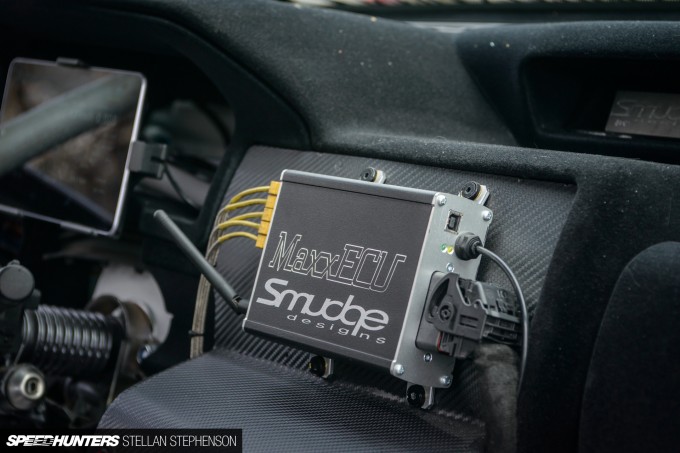 Keeping all manner of ratios balanced is a MaxxECU, where everything from oil temperature and pressure, exhaust temperature, fuel pressure, water temperature and even warnings of engine shutdown are all displayed on a custom dash logger.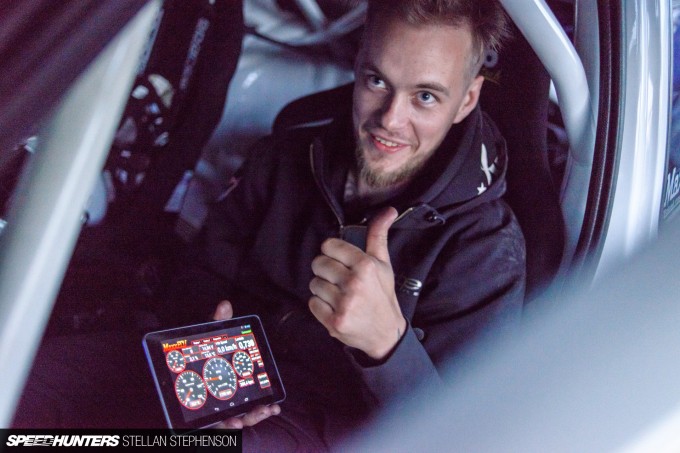 The tuning was handled by Jocke's friends at Pure Performance Factory, with the final numbers more than enough to put a gleaming smile on our hero.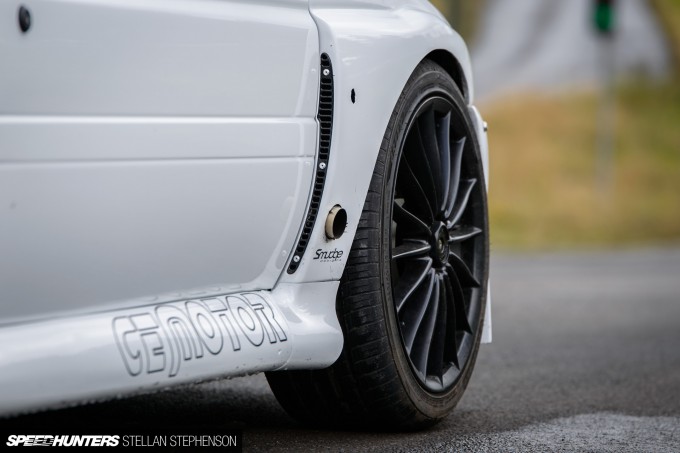 Power is sent to the ground via a custom 184mm flywheel and Alcon twin-plate clutch. Jocke's wheels of choice are 18×8.5-inch Toora center-lock units in black, which contrast ever so nicely with the Escort's freshly resprayed white exterior. At the front end you'll find Maxxis Z1R Drift tires in a 255/40 size and massive Alcon 365mm 6-piston calipers. And if you haven't noticed, there's a custom pipe that connects to the wastegate to create a screaming front exhaust.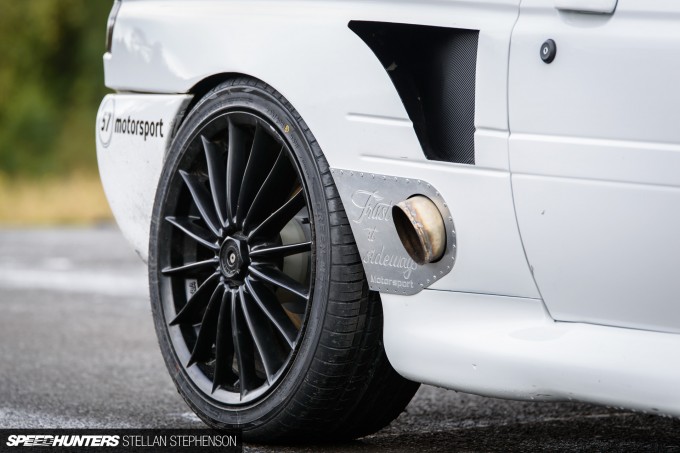 A custom side-exit exhaust produces a mean howl, which Jocke proclaims as the most glorious sound of any modded engine available. The Cosworth sits on a set of GAZ coilovers, providing the flush you see here. Which brings us to the drivetrain. While the Ford gearbox housing was not designed to handle this type of engine or power level, an Audi unit would soon be crossed out as well, since the current engine and part of the transmission would sit over the front beam. It was then that the idea of R33 Nissan Skyline GT-R drivetrain came to mind.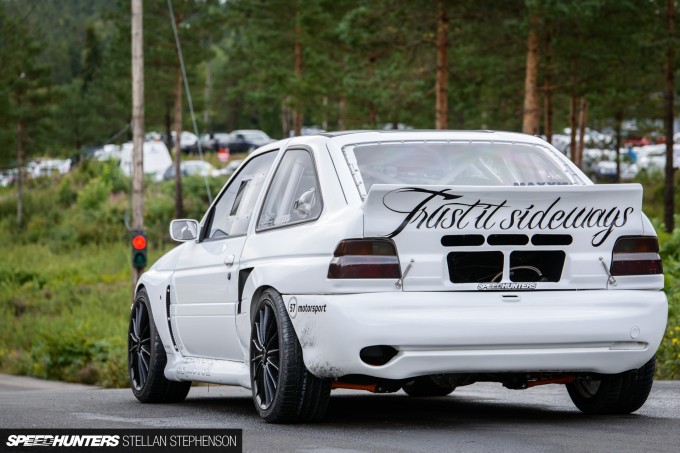 In went the GT-R transmission, front and rear differentials, driveshafts and a unique tubular rear chassis featuring a custom GT-R/S14 rear cradle. The gearbox itself was upgraded with a PPG dog ring gear set. In addition, a Cusco 1.5-way LSD features at the front with an OEM R33 LSD running a 4.11 ratio in the rear.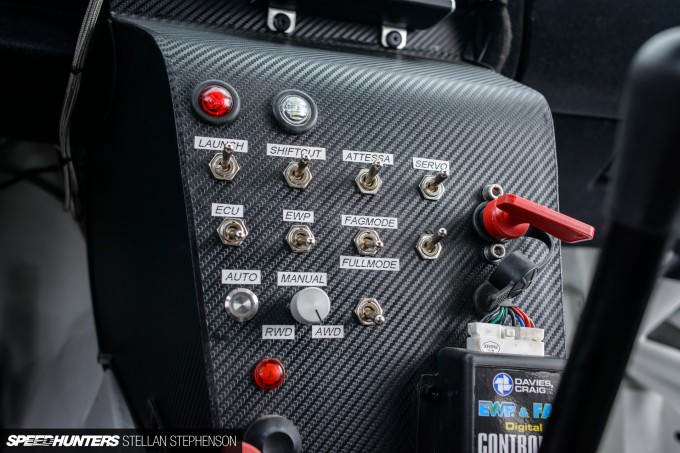 The ATTESA AWD system can be controlled via an ETS PRO management system, which gives Jocke the choice of running power to two or all wheels at the same time. And since this build was inspired as an ice drifting machine, all of Godzilla's claws are always at the ready.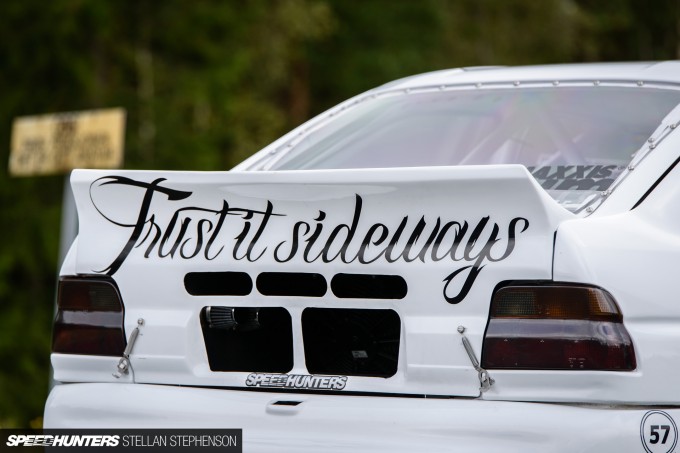 Recognize that wing? It's a Rocket Bunny design originally intended for an S14, now custom-fitted on the Escort. The phrase 'Trust it Sideways' is prominently displayed, a trademark that Jocke came up with that is shared with his team and worn proudly throughout the car. And yet, underneath that JDM wing lies more secrets to this Scandinavian flicking machine.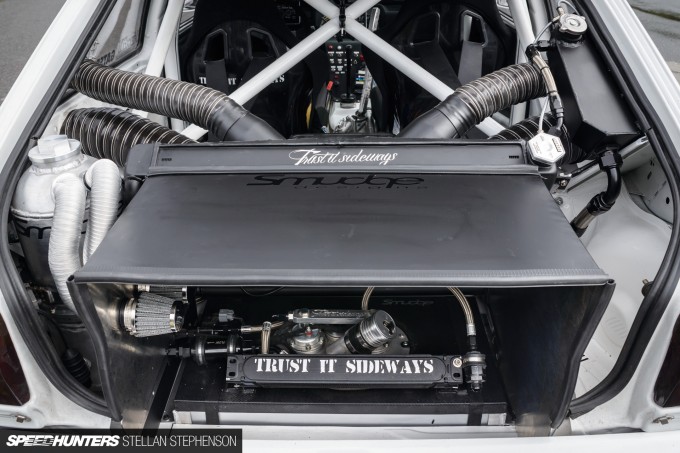 With the front of the car now sporting much more weight than its original design intended, Jocke decided to relocate the radiator to the rear, leaving additional room for the large GT-R intercooler at the front. A massive Smudge Designs custom dry sump system is also employed, equipped with its own set of dual intakes to keep things breathing properly.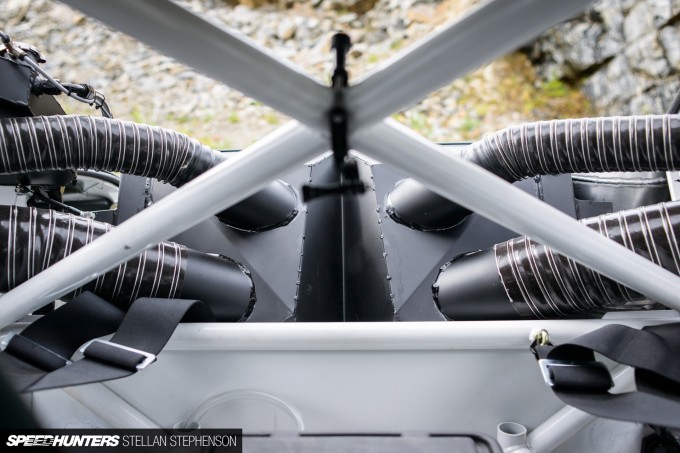 A scene fit for a Sith Lord and one of my favorite views of the entire car, we find a number of custom air intakes meeting just over the radiator and fans.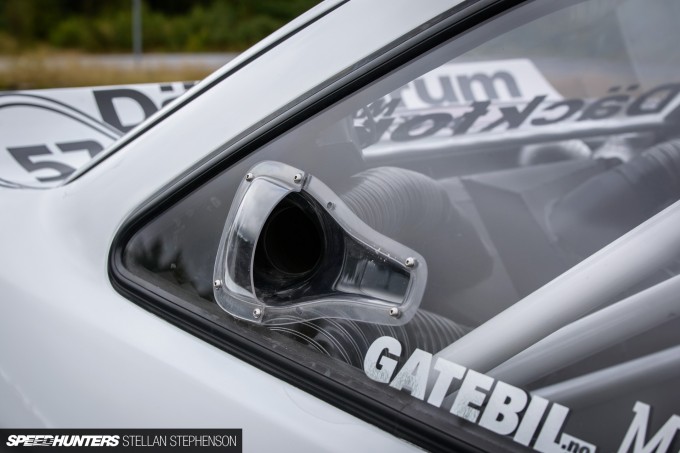 It's this precise and clean work that Jocke has created that earns the appreciation of all the enthusiasts who have seen his German-powered, Godzilla-mauling beast.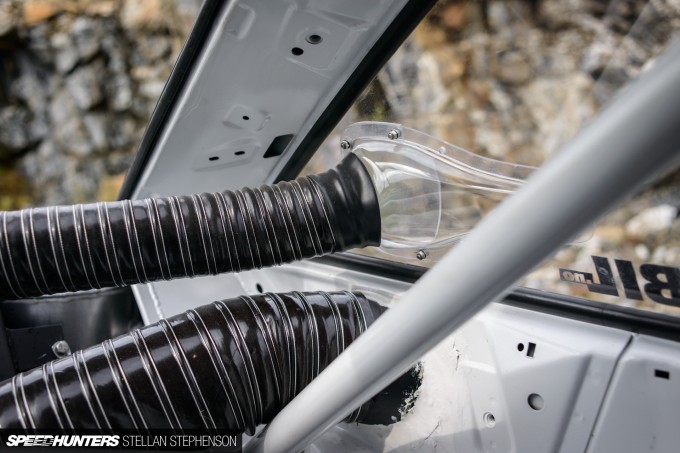 Super-clean work indeed!
Wherever The Road Takes Us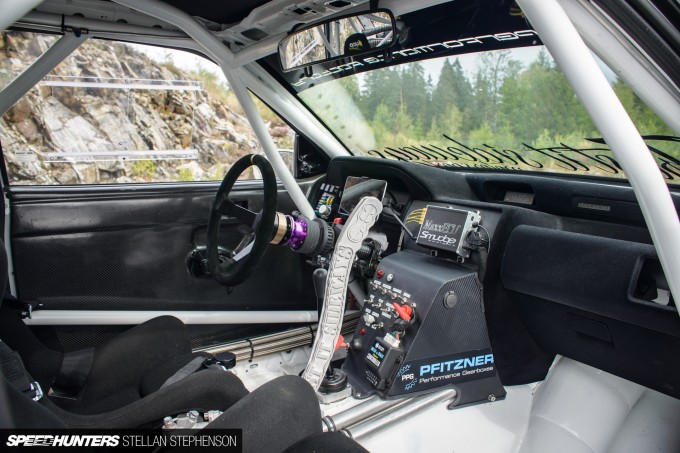 The fresh look of the rear also makes its way into the main cabin where a number of Sparco items, such as a pair of Lico Timetech seats, 3-inch harness and steering wheel, lock Jocke in and give him full control of his white comet. And for extreme, evasive maneuvers, there's a custom e-brake with the Trust it Sideways trademark engraved.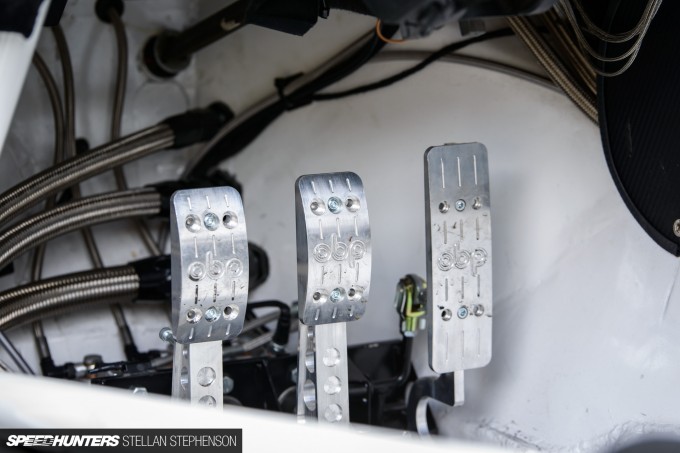 Power output is determined by how far the OBP Motorsport racing pedal set's accelerator is pushed.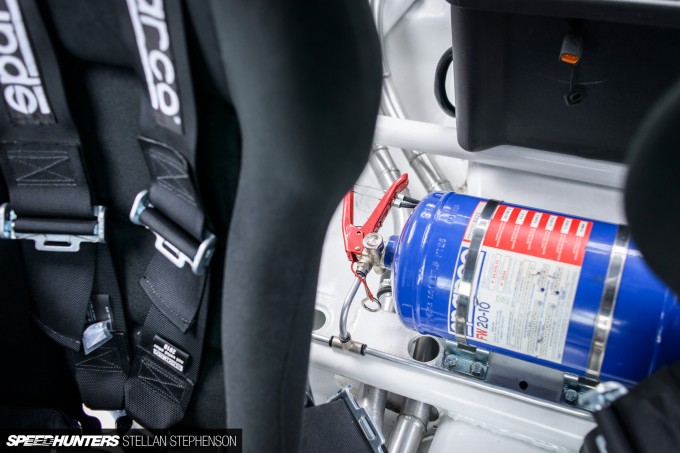 Additional safety is supplied by a full fire extinguisher system, made up of four sprinklers in the engine bay and two in the main cabin. The system can be activated via one of two toggles, one of which is found on the switchboard where the AWD is controlled.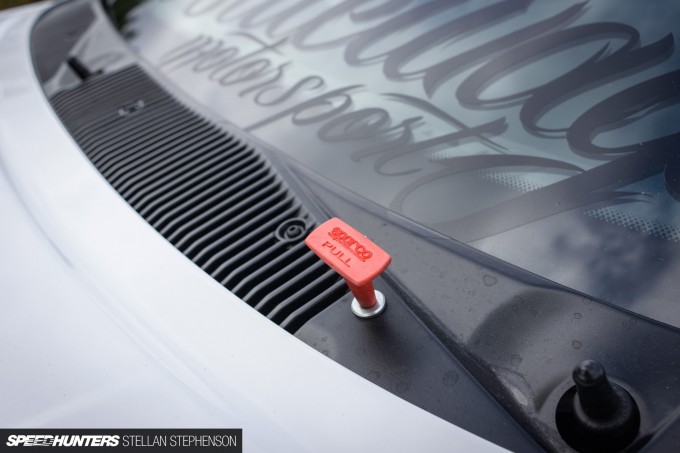 The other is right above the hood, and therefore can be activated by someone from the outside of the car in case things go sour. Safety first kids!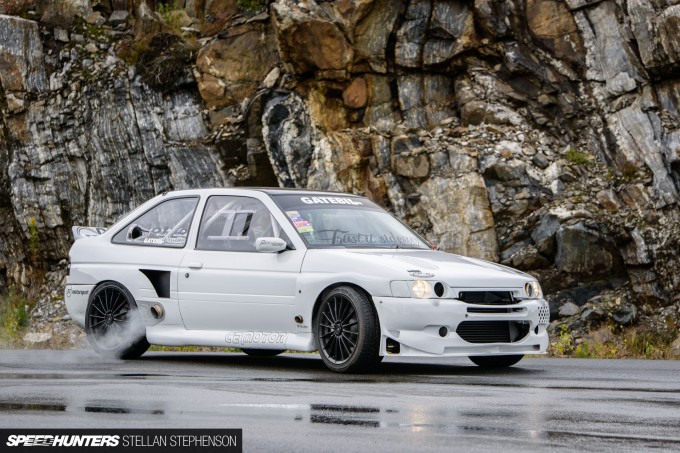 And here you see the culmination of a man working every night for the past two and a half years to see his project come to life. With his carpentry work keeping him busy until 7:00 each day, constant late-hour shifts and cold nights were eagerly awaiting for Jocke. Inspired by guys like Stian Hafsgen and both Kenneth and Fleming Alm, Jocke also thanks the guys at CE Motor who allowed him to finish the last eight months of his build at their shop, in much more comfortable temperatures than his garage. A massive help came from Robert Wiklund and his mechanical workshop, who was generous enough to show Jocke how to work with different levels of machinery.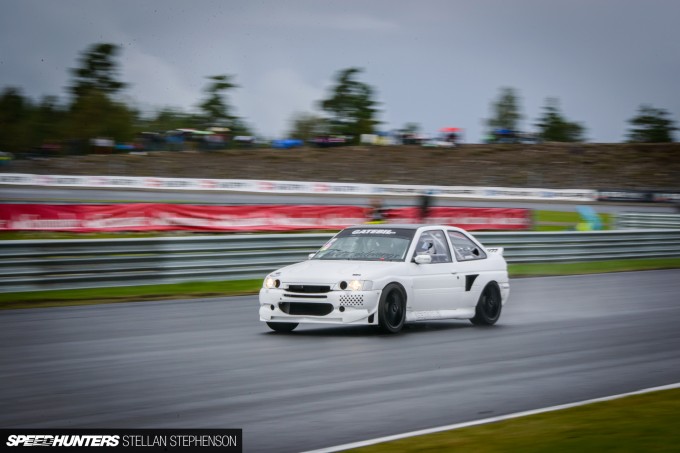 With his new ride now completed, it's time for the apprentice to master his driving skills. In addition to AWD drifting events, Jocke also plans to attend more time attack days in the future. Even so, every time he gets his Cosworth burning rubber sideways, he feels a surge of power coursing through his veins. A moment of great accomplishment, as he feels his hard work paid off in spades.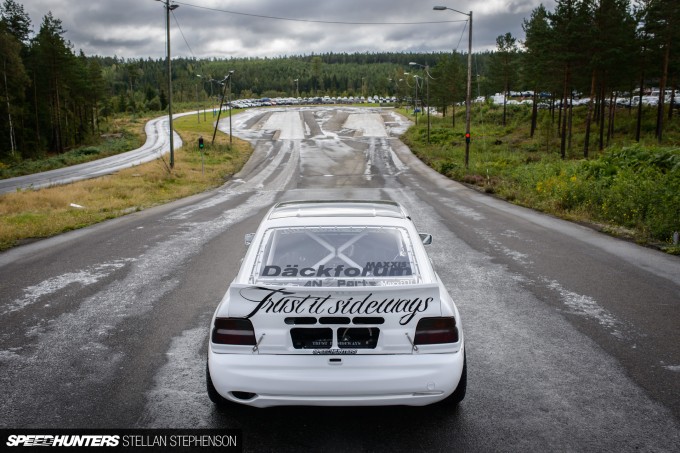 Luke eventually went on to defeat the evil emperor, bring redemption to his father and return balance to the Force. Yet every great story will always yield a new chapter. There will always be a new adventure to take on and an even steeper mountain to climb. And as our young carpenter by day and tuner by night continues to refine the arts of his crafts, one thing is certain – the journey continues.
Jorge Davila

Photos by Stellan Stephenson
Jocke Stigenberg's Ford Escort RS Cosworth
Numbers
Max Power/Torque: 904hp/1019Nm on 2.7bar (39.7psi) boost pressure
Engine
2.5L VW Transporter block modified to fit 7A petrol head with light crank, custom 81.5mm JE forged pistons, 155mm PPF rods, original bearings with more clearance, block girdle with 12.9-bolts, line honed bored, Smudge Designs dry sump system with 4-stage Auto Verdi oil/air separator & custom oil tank, Smudge Designs head ported/prepped with bronze valve guides, Supertech valves, Catcams hydraulic cams, lightweight lifters, adjustable cam gears, machined water channels, ORG AAN trigger sensor, 60-2 VW trigger at crank, custom exhaust & inlet manifold by CP-S, modified 7A head cover to suit 115R coils, erased oil filler cap, Nissan GT-R intercooler, 4-inch downpipe into 3.5-inch exhaust system into 4-inch side pipe with one custom Feritta damper, MaxxECU engine management system, rear-mounted radiator with air intakes in fenders & rear windows, electric water pump
Driveline
Nissan R33 GT-R 5-speed gearbox with PPG dog ring gear set, billet middle plate, billet shift forks, billet axles, custom 184mm flywheel, 184mm Alcon twin-plate rallycross-spec clutch, Nissan GT-R R33 front diff with Cusco 1.5-way LSD. Nissan GT-R driveshafts front/rear, custom mounting to block in front, spacers to shafts, Nissan Skyline rear LSD with 4.11 ratio, modified Nissan S14/R33 GT-R rear cradle & adjustable traction arms, modified GT-R propshafts, ETS PRO ATTESA management
Suspension/Brakes
Modified GAZ Gold coil-overs, Cosworth mounted in Nissan rear hubs, front suspension towers modified to move damper 60mm (approx) up, custom TCA in front, Volvo electric steering servo, billet pedal box, 356mm rotors with Alcon 6-piston calipers (front), 310mm rotors with Nissan GT-R calipers (rear)
Wheels/Tires
Toora 18×8.5-inch center-lock wheels front/rear, Maxxis Z1R drift 255/40R18 & Greenmax 235/35R18 tires
Exterior
All panels still in metal, widened front/rear fenders, Mk6 doors, Rocket Bunny wing, PP Makrolon windows. Audi Ibis White paint, custom carbon fiber roof
Interior
Lico Timetech (Sparco) seats, Sparco 3-inch harness belts, Sparco wheel, dashlogger, plumbed fire suppression system, radiator pipes, custom fly-off handbrake, custom gear shifter
Jocke Thanks: I want to thank my family first – my beautiful wife and my son! Friends and sponsors – Robert Wiklund , CE Motor, Pure Performance Factory, Maxxtuning, Custom Parts Service, AN3 parts, Workwear, Dahlback Racing, Auto Verdi, Däckforum, Gatebil, PBZ syd, ÅRE Production, 57motorsport, Perman, Stoffe & Manne
More stores from Scandinavia on Speedhunters
Cutting Room Floor