From Birth
You're probably not familiar with the names Jack Shanahan and Tomás Kiely, but you should be. Both 16 years old, these two teenagers display a level of talent that completely belies their young age. We're not talking about their skill level in comparison to drivers their own age or in a lower class, we're talking about them competing at the top level of the sport.
The reality of young, successful drivers is nothing new here in Ireland. Ever since James Deane took his first win at 16, we've become sort of used to the situation. There have been others as well, Northern Irish driver Duane McKeever in particular has enjoyed considerable success too.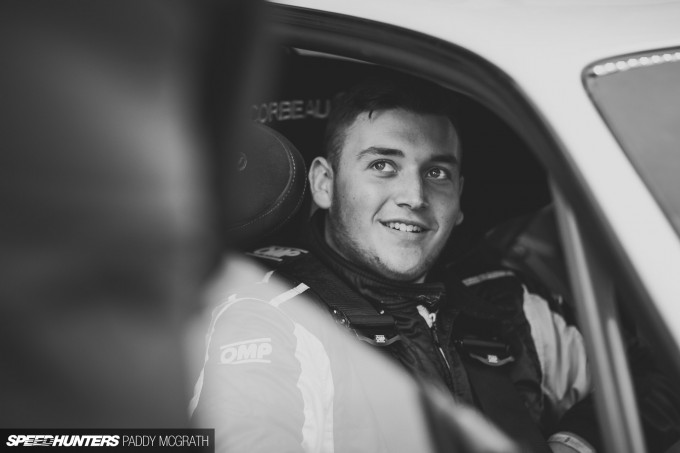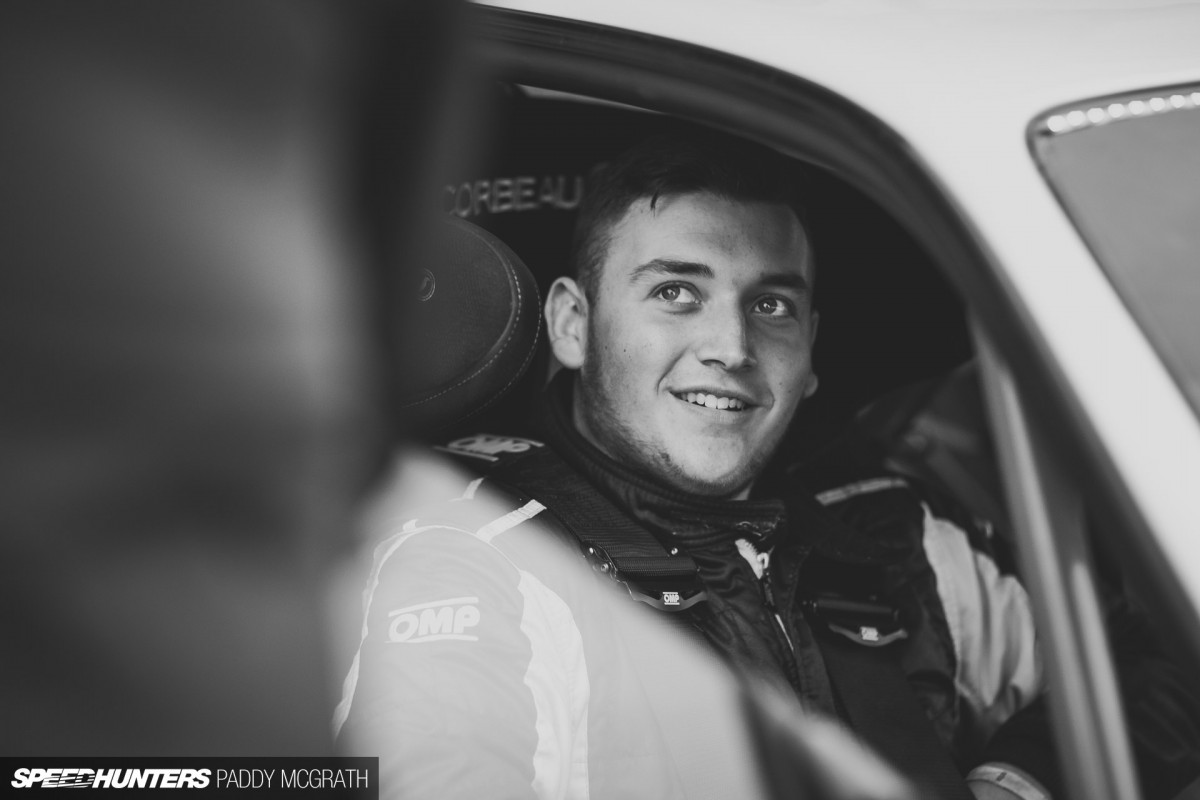 Having only recently turned 16, Jack Shanahan carries himself like a man twice his age. With three years of competition experience around Europe already under his belt, his abilities behind the wheel of his 700hp BMW-powered Nissan S14 are scarcely believable. He's the current and reigning outright British Drift Champion, the youngest ever in Great Britain's drift history.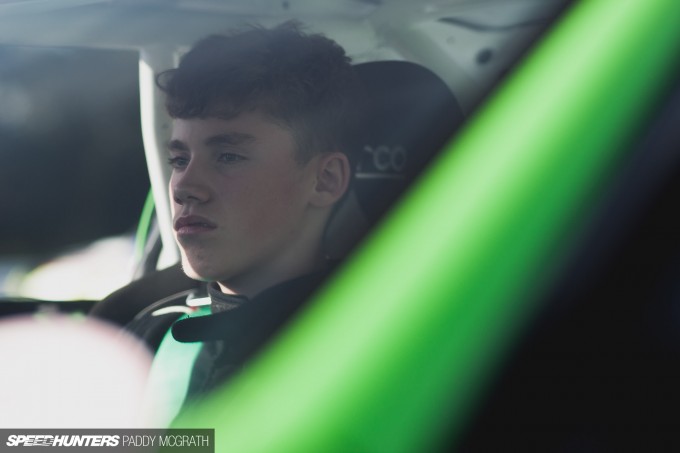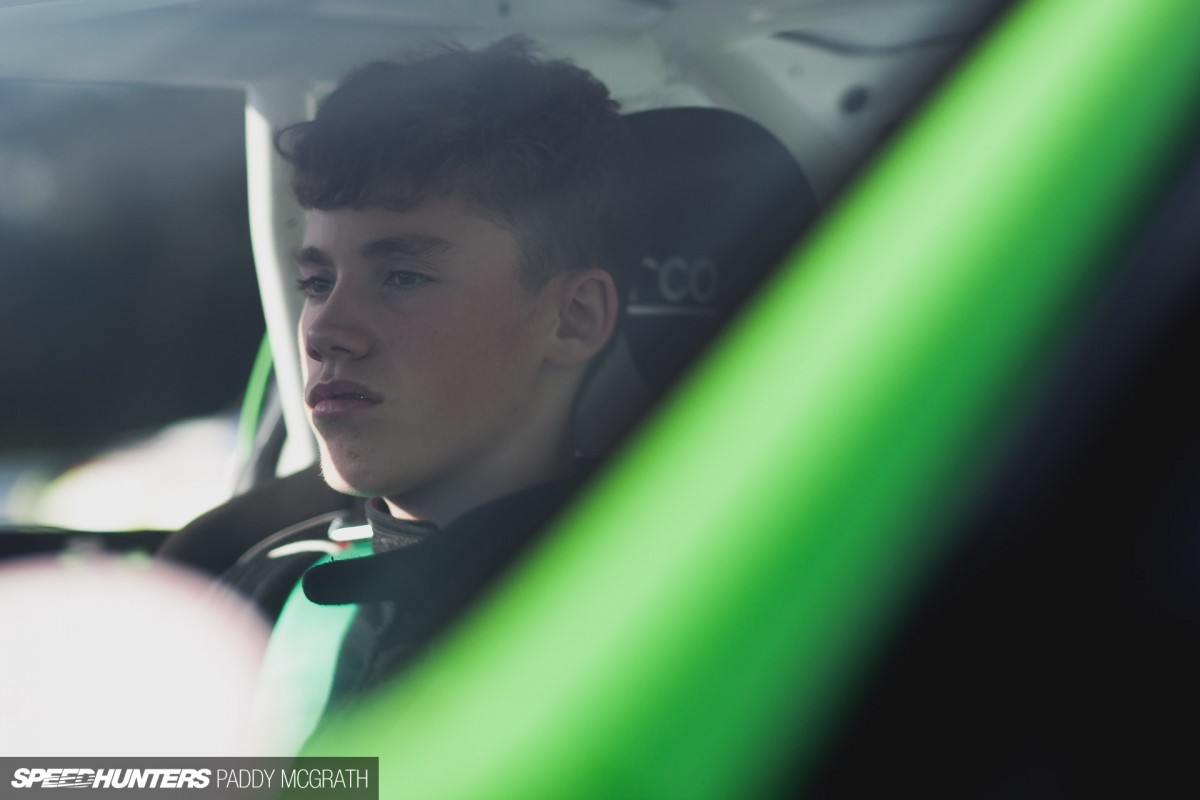 Tomás is the quieter of the two but he's equally capable behind the wheel. At 14 years of age he commenced his first full season of drifting and finished second in the Irish Drift Championship's semi-professional class. At 15 he graduated to the pros. So far this year he's taken his first Pro class win, beating one Daigo Saito amongst others in battle along the way.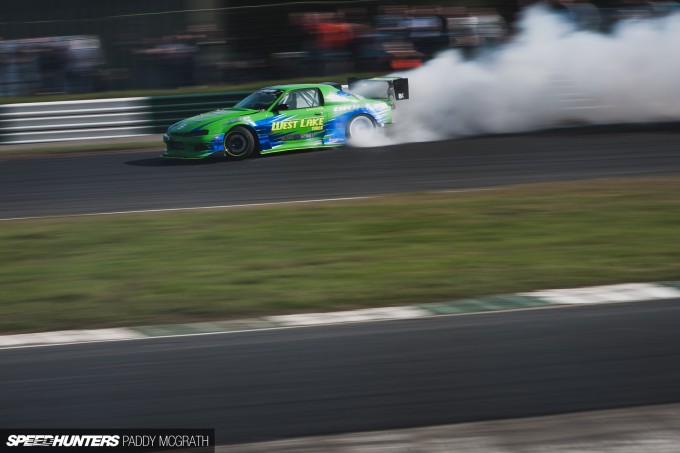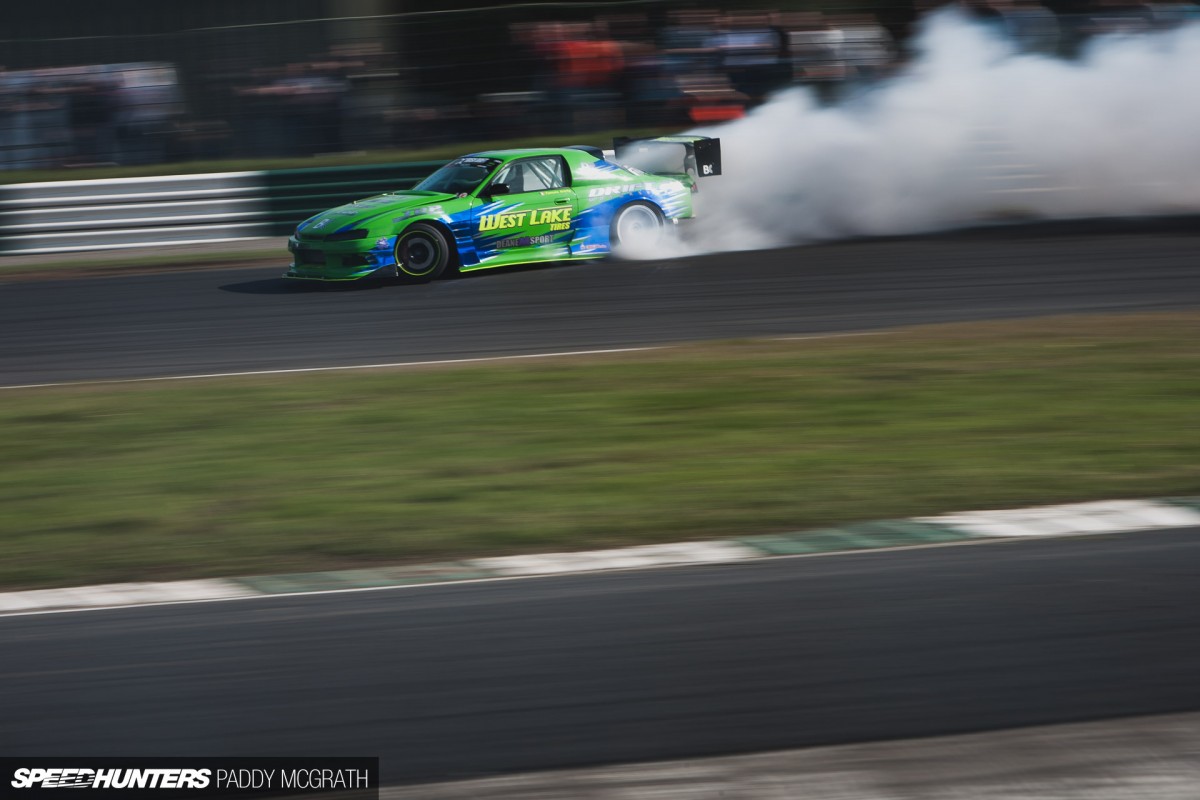 Tomás only recently debuted his new 2JZ-powered S14, which produces an astonishing 813hp at low boost. Okay, it's not astonishing by 2JZ standards, but I can't think of a better word to describe what it's like for a 15-year-old to be at complete ease with that much horsepower. Tomás only turned 16 the day after the Irish Drift Championship's Final Fight, the finale to the 2015 season.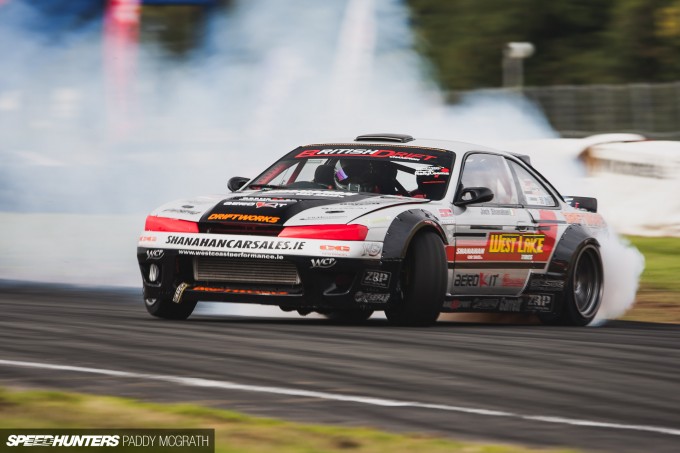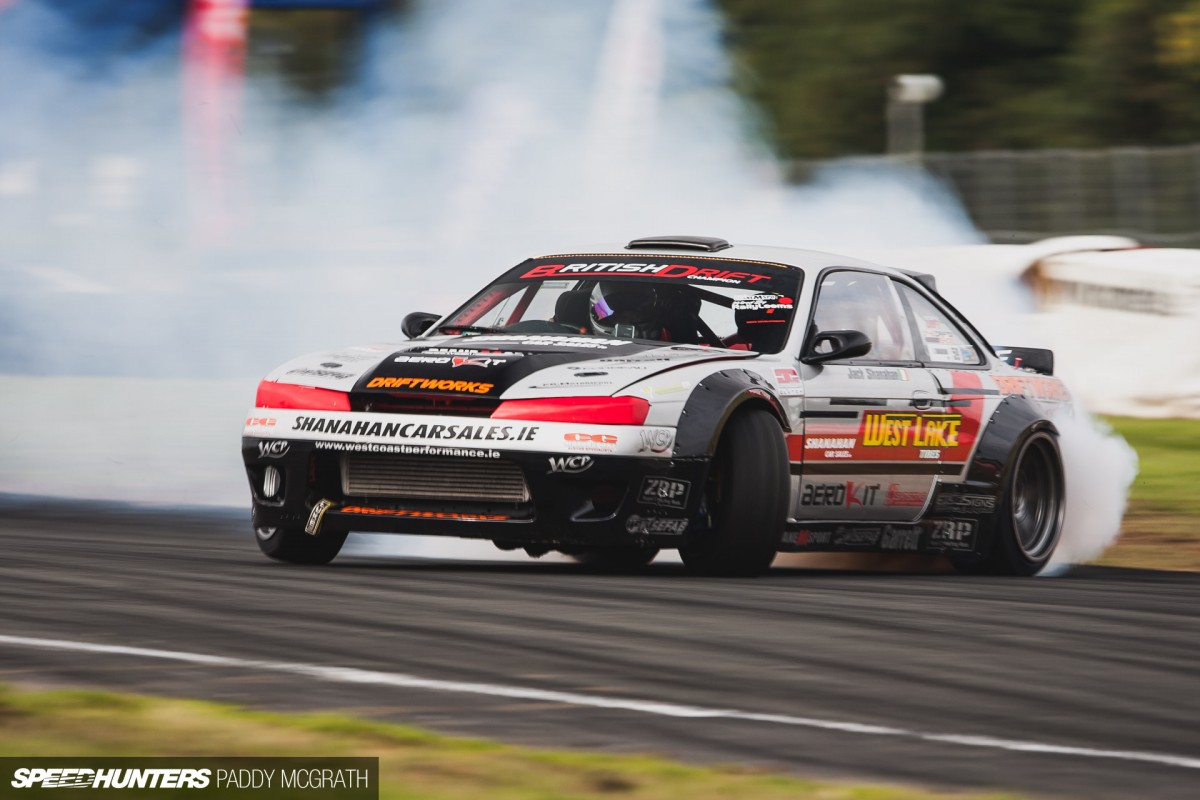 It was this series finale that would pitch Jack and Tomás against each other for the overall championship. Heading into the event, Jack – who had just been crowned British Drift Champion the week before – was the overall points leader, with Tomás just behind him. What makes this story interesting, though, is the fact that not only are Jack and Tomás team mates, they're also best friends who grew up together.
This was going to be anything other than your typical finish to a season…
A Weekend Of Contrast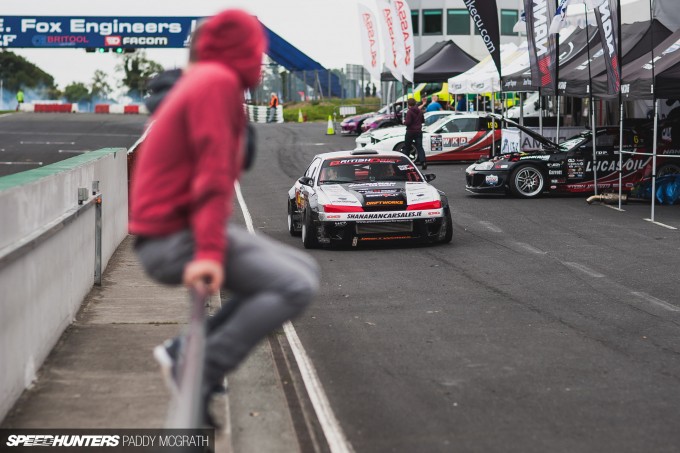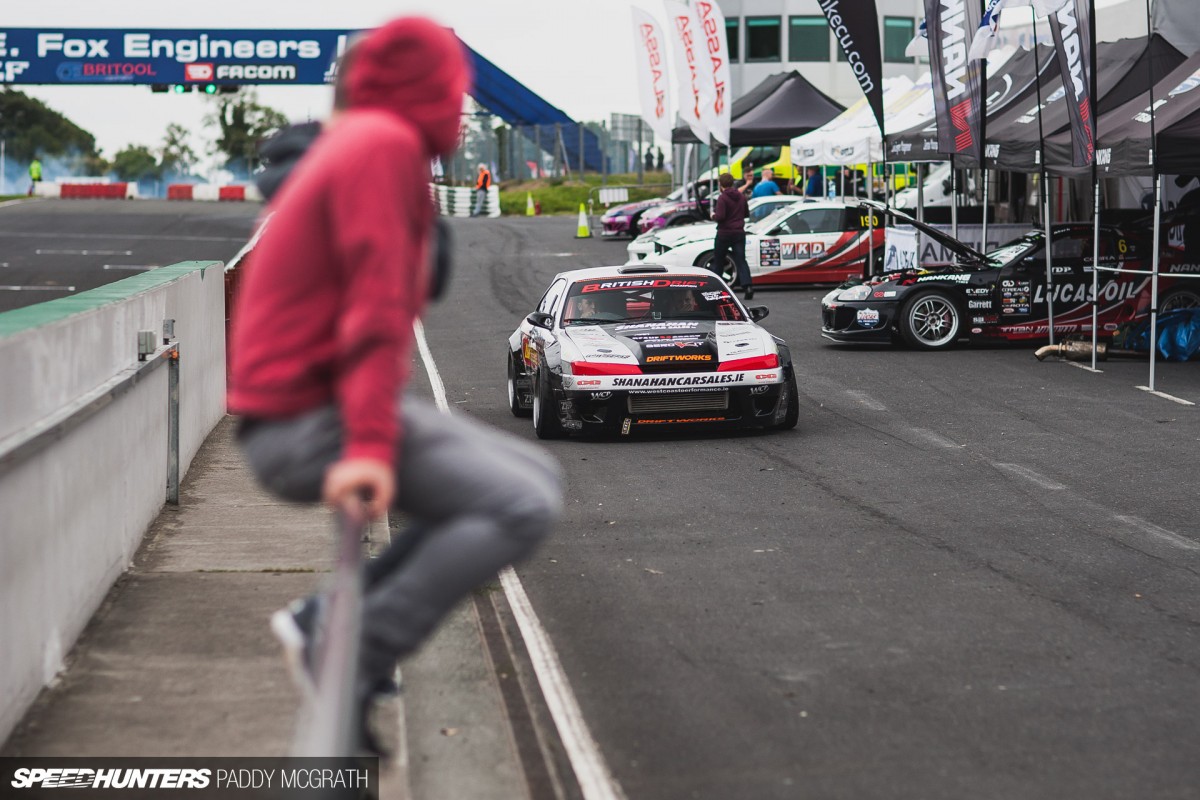 When I arrived at Mondello Park on Friday evening just gone, the paddock was already alive. There was an energy about the place. The weather forecast was extremely promising, a rarity in Ireland in this year. With five drivers being mathematically in with a shout of taking the championship, plus a host of international drivers in attendance, it wasn't really a surprise that there was so much positive energy about.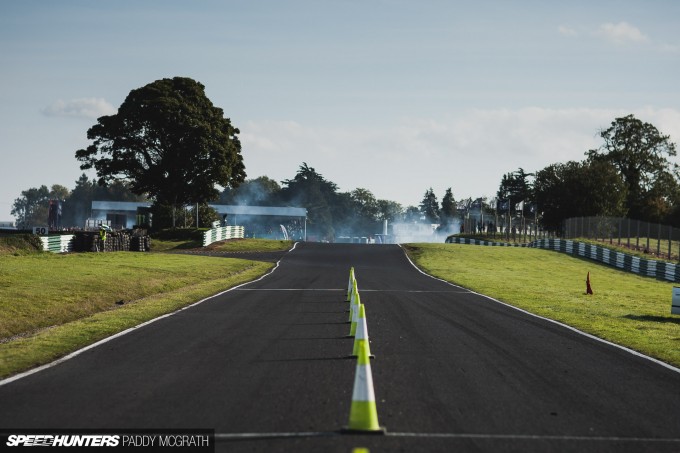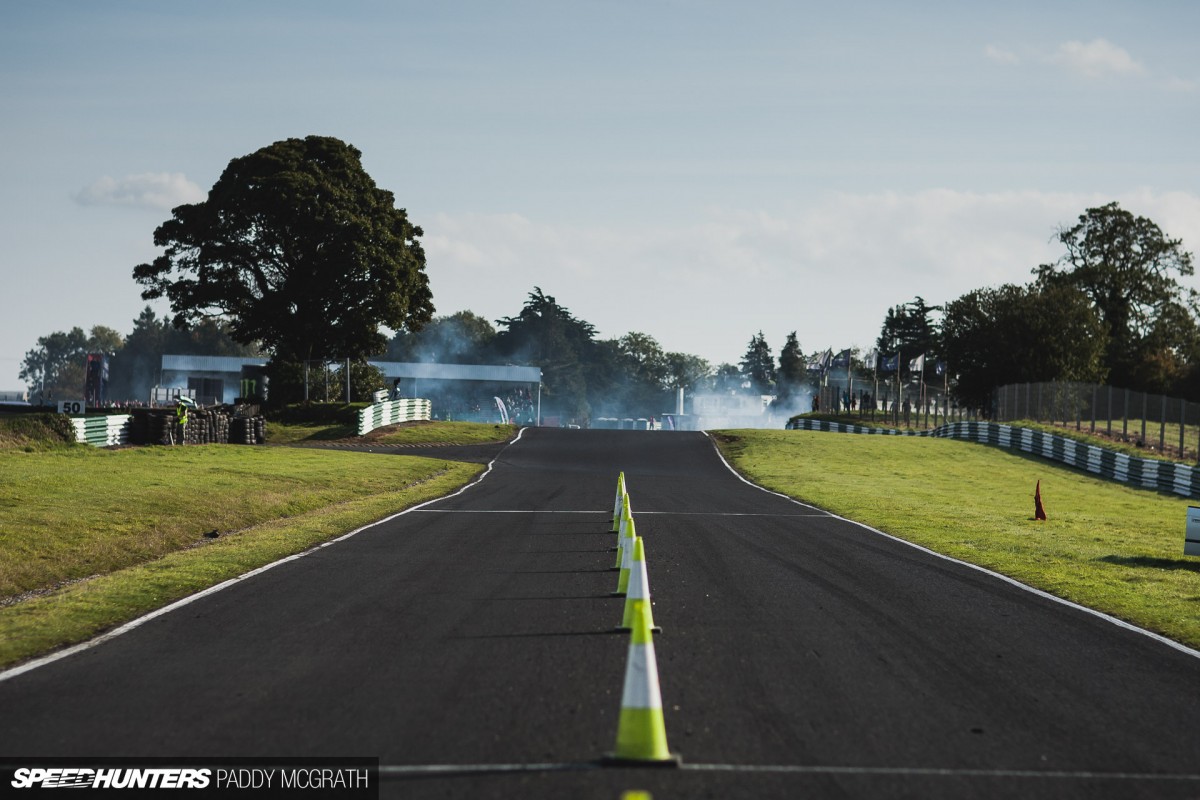 Friday was reserved exclusively for practice. With over 130 drivers in attendance across all classes, track time was limited. It might only be two corners, but the 'Japfest' layout for drifting at Mondello Park is incredibly difficult to master. Seven clipping points – six outside clips and one inside clip – coupled with a blind 160km/h+ entry? Anything but easy.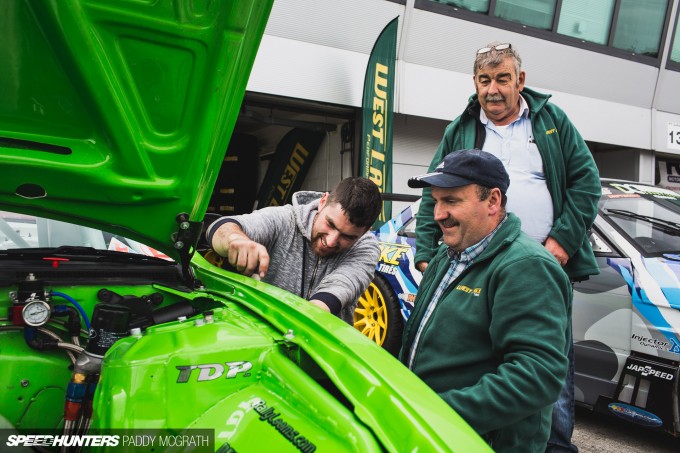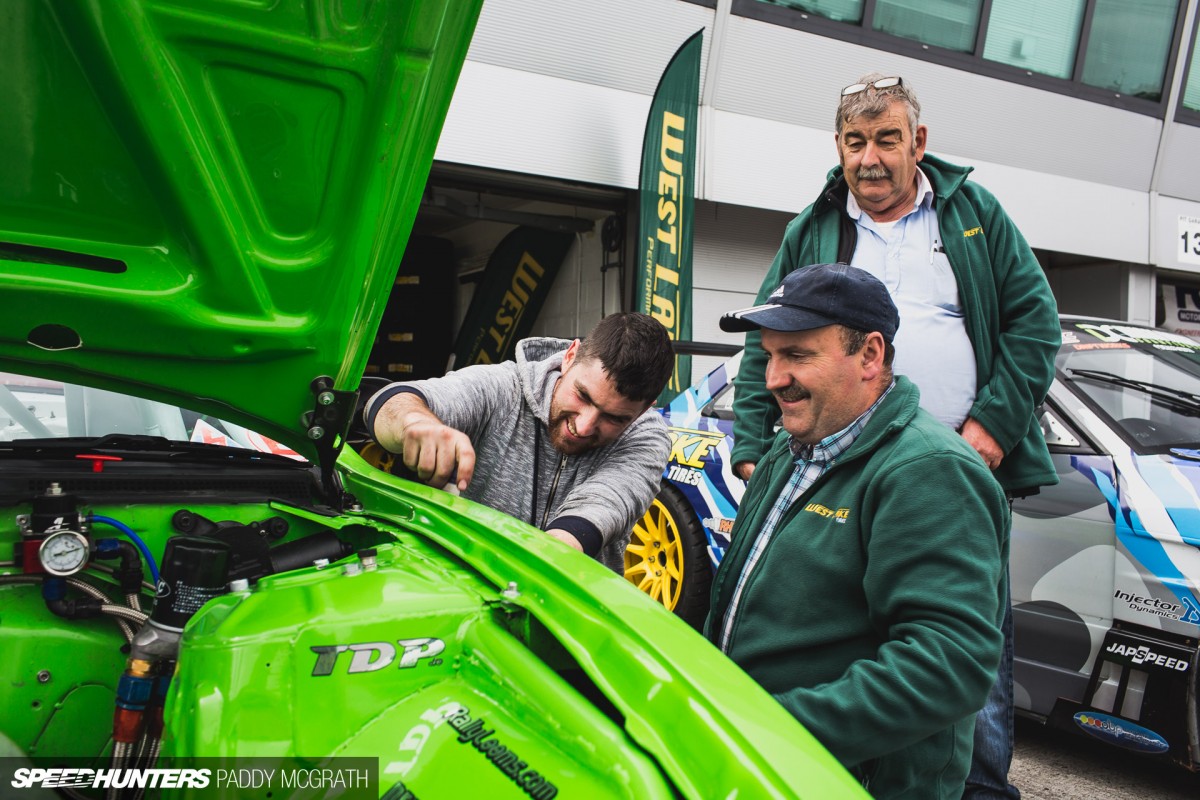 From the get-go in the Kiely/Shanahan pits, both Tomás and Jack's stories were beginning to go in two separate directions. The Kiely family were relaxed after the first session with everything going to plan, but it was a different story for the Shanahans.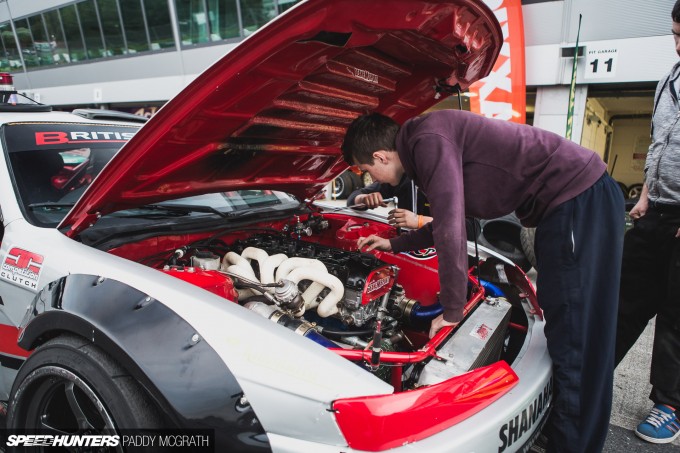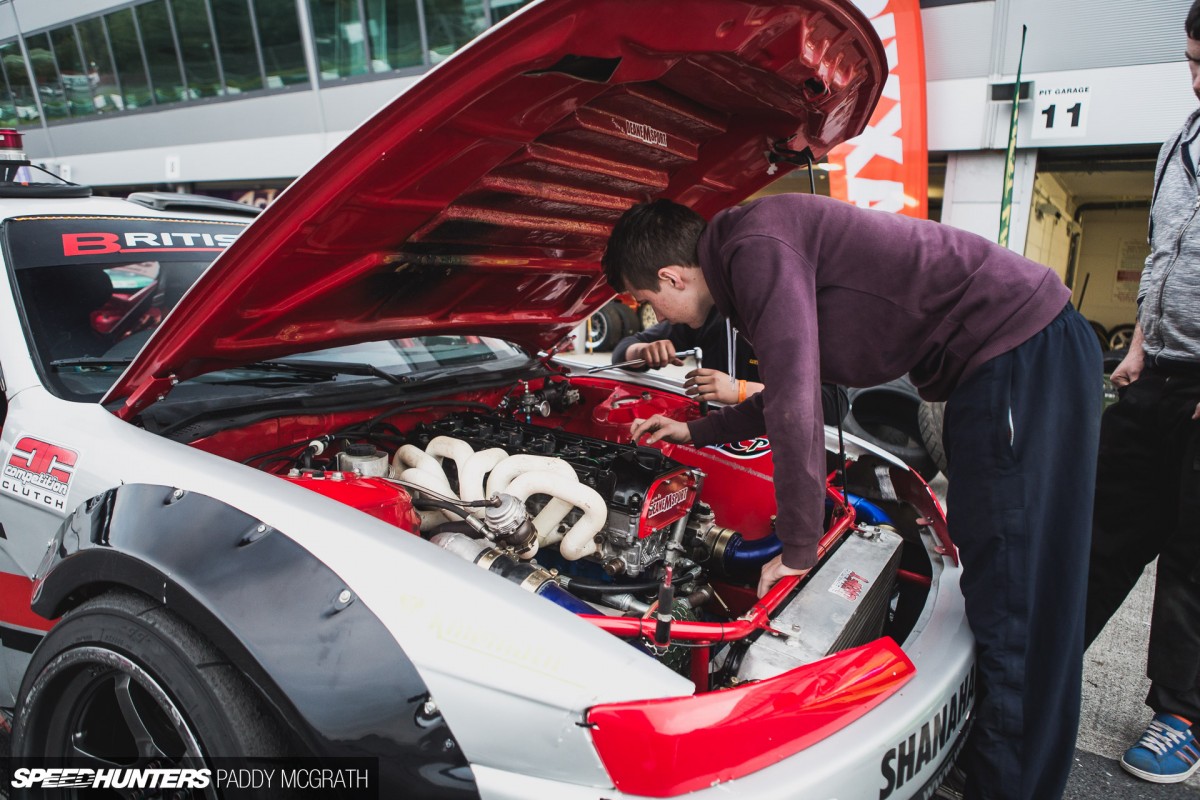 Jack's S14 was over-fuelling and a lot of the day was spent lapping the track trying to re-map the engine. It had been a tough couple of weeks for the turbocharged BMW engine. At the recent Club Loose day, the dry sump belt was knocked off, forcing a complete bottom end rebuild before the British Drift Championship finale. After the BDC final, a new head gasket had to be installed. Competing in multiple championships was taking its toll on the car.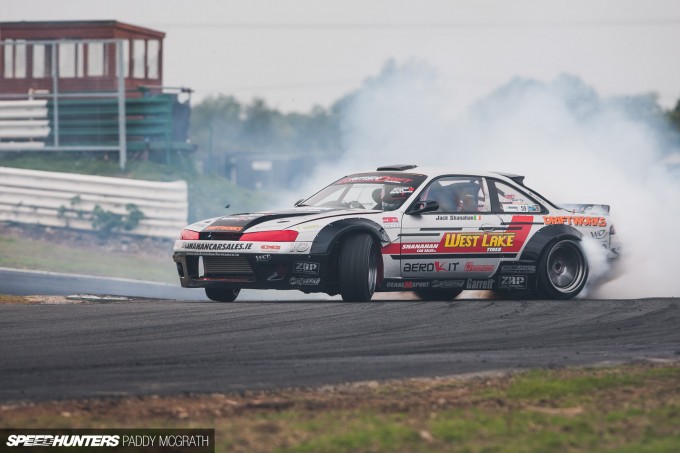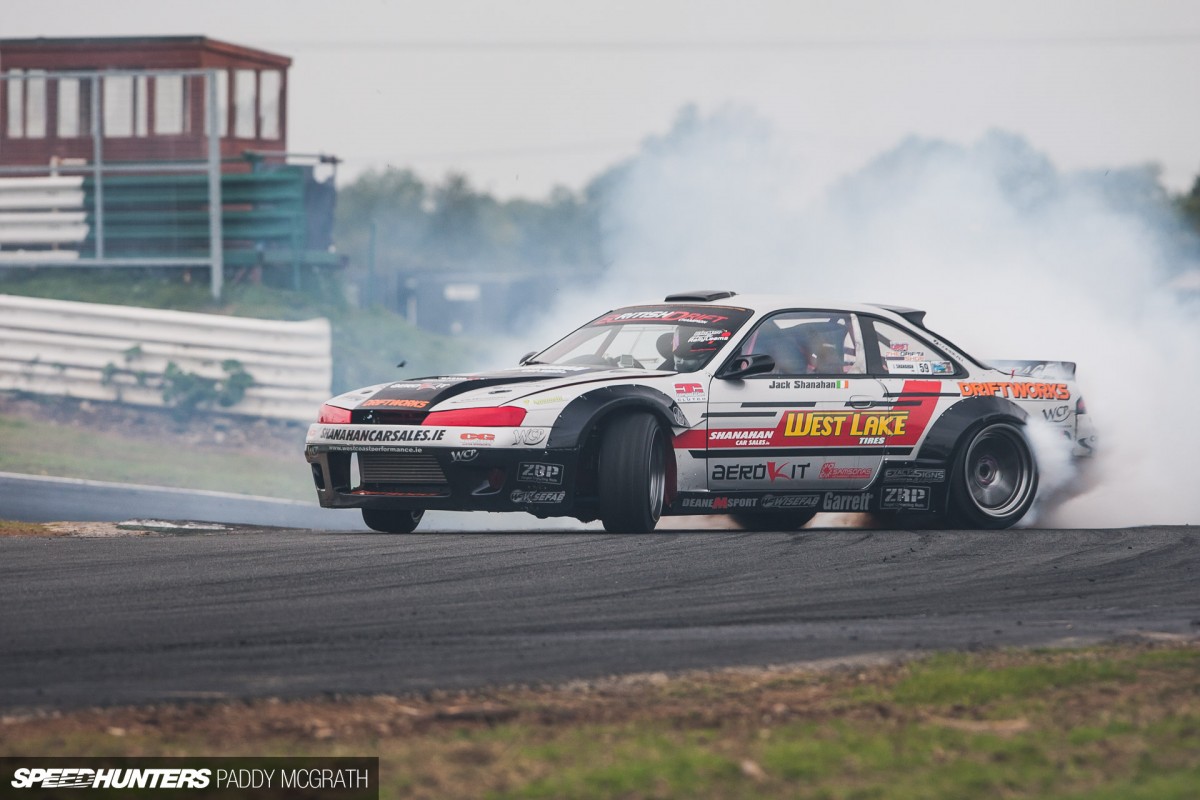 The fuelling problem was sorted – at least to a point where Jack could drive the car – and he was finally able to get some practice in alongside Tomás.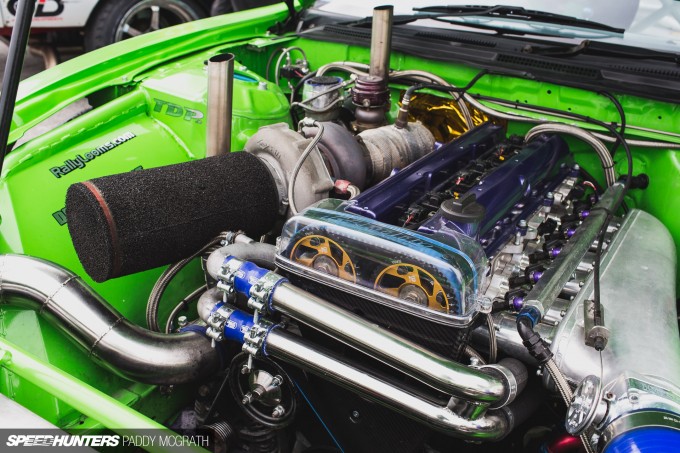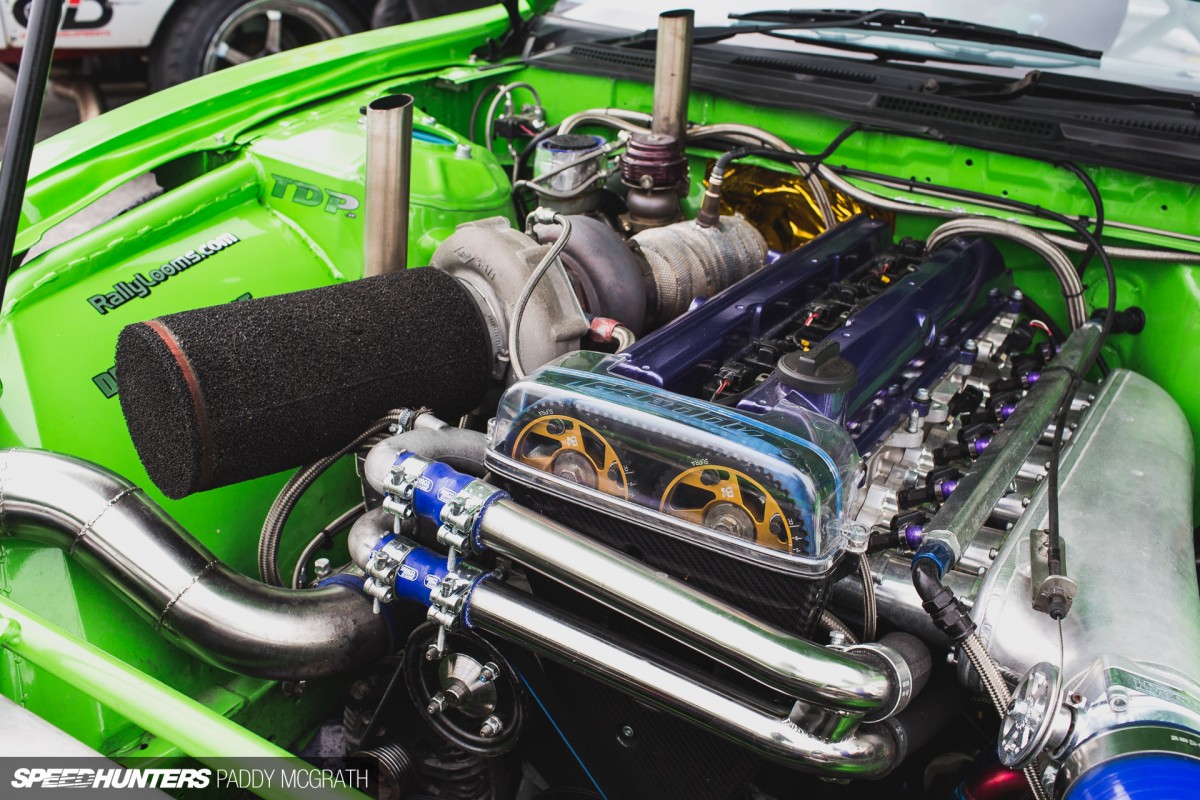 In comparison, Tomás' 2JZ was performing superbly and he was clearly fully comfortable with the car, a feat considering his limited time behind the wheel this season.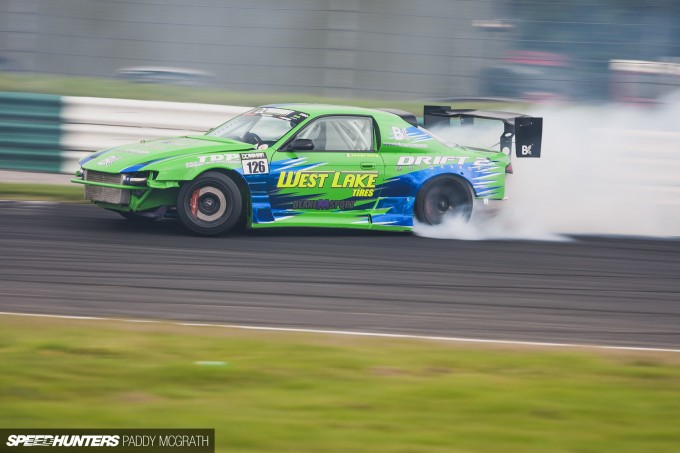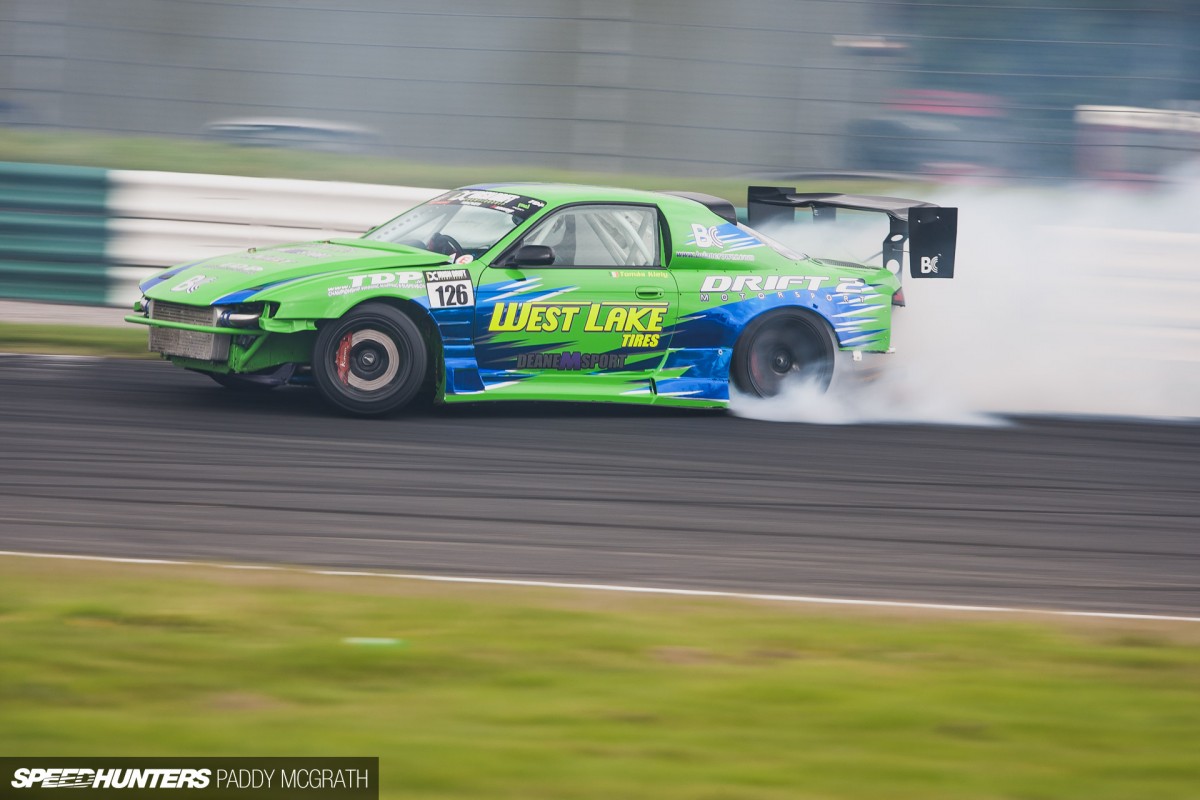 I don't think he put a wheel wrong in practice and, like Jack, was right at the sharp end of things. It must be humbling for older and more experienced competitors to be pushed around the track by 15 and 16 year olds, because that's exactly what both Jack and Tomás were doing. Every practice lap was a battle. They didn't have it easy either, considering they were sharing a grid with Daigo Saito, Robbie Nishida, Darren McNamara, James Deane, Dean Kearney, Shane O'Sullivan and current IDC champion, Duane McKeever, amongst others.
It was said by several that any one of 10 drivers could comfortably win the event on this particular weekend. It's a sentiment that I wholly agreed with.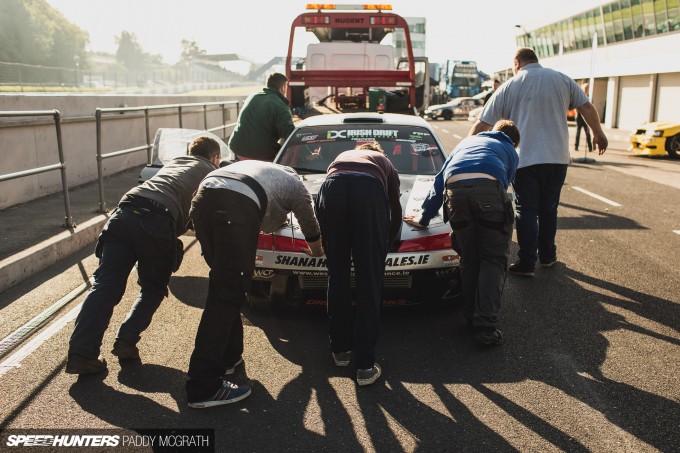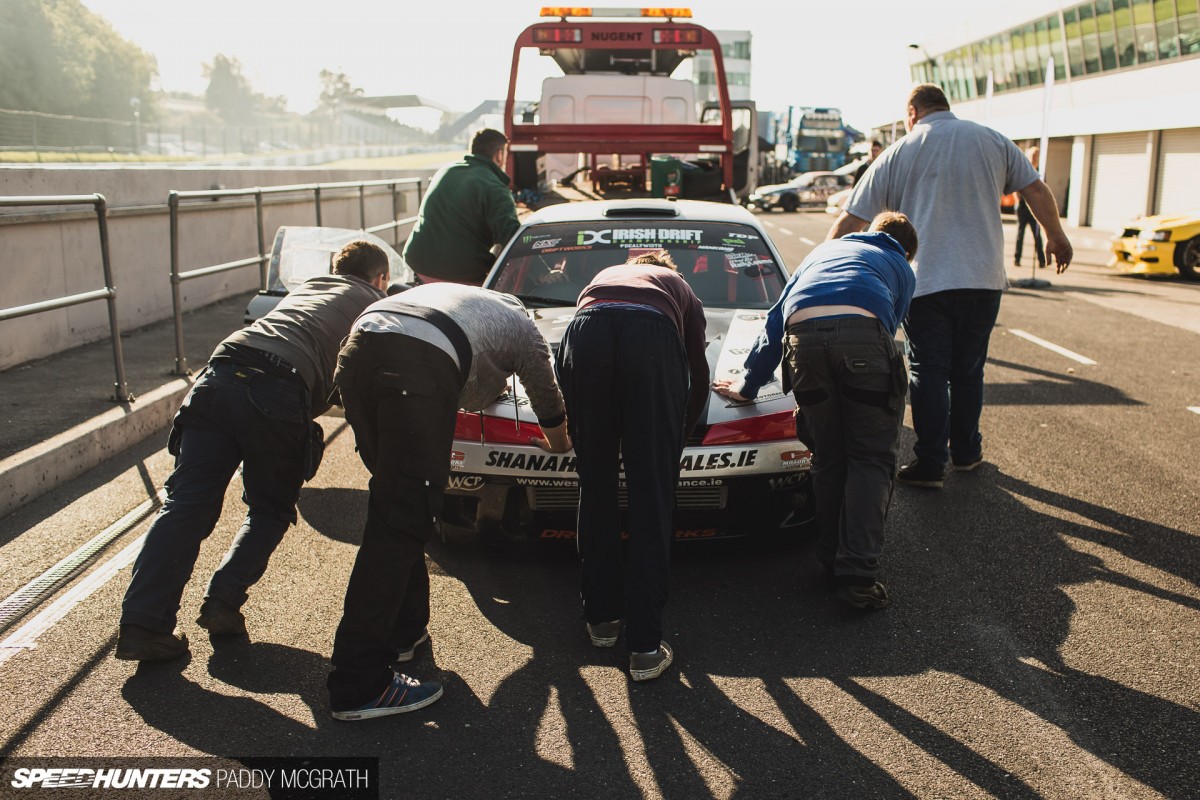 Come Saturday morning, the Shanahans were again on the back foot.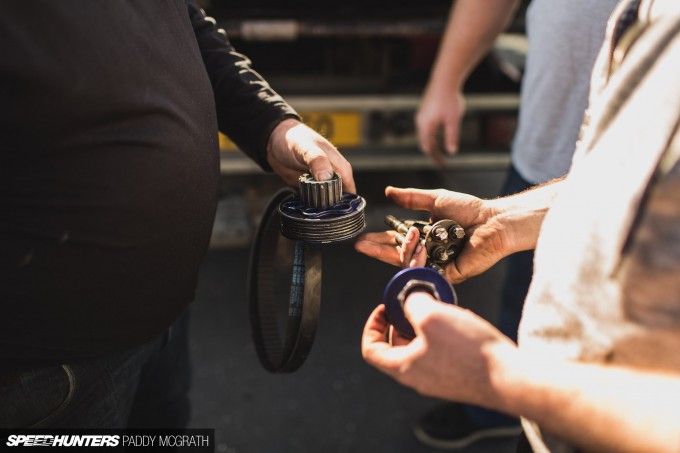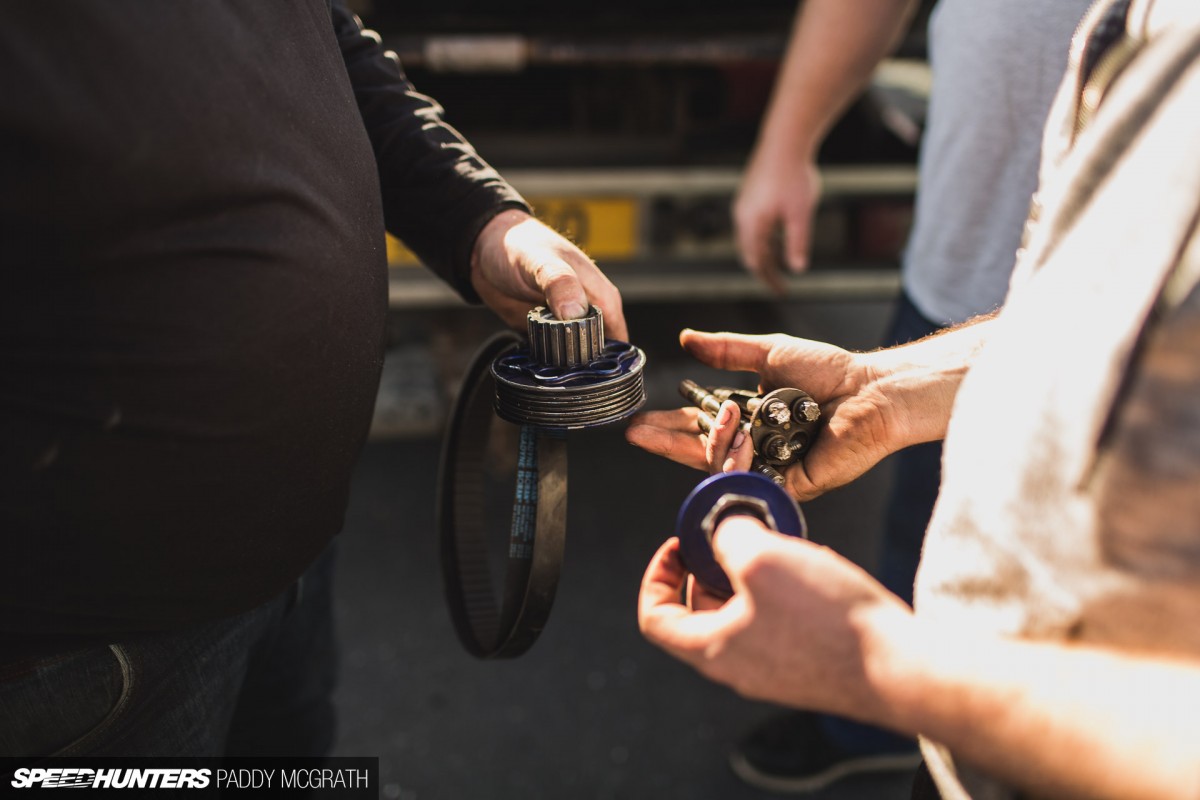 A crank pulley needed to be replaced and quickly, too. There would only be one practice session on Saturday for the Pro class, so a time-consuming trackside repair was not a viable option.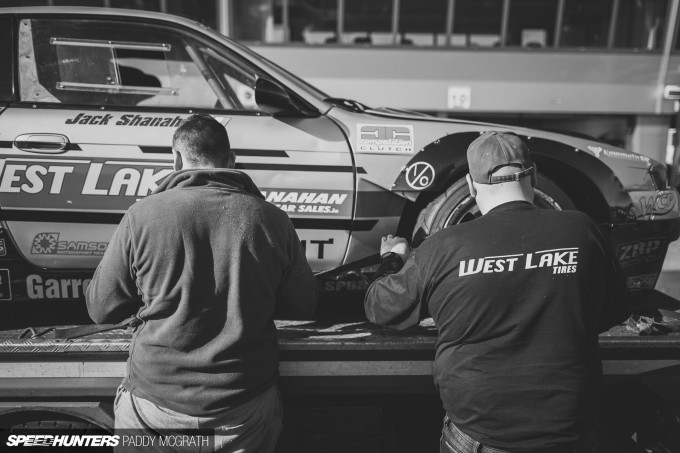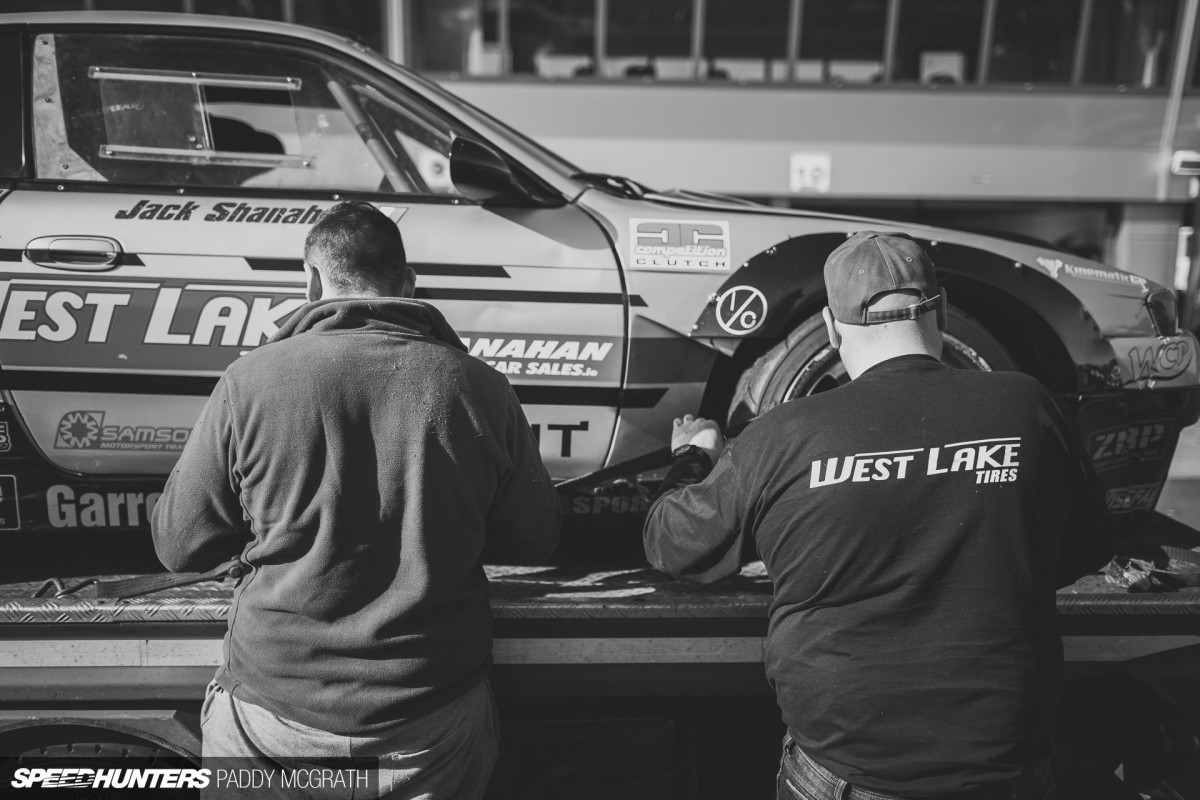 With the help of his father, John Shanahan, the car was loaded onto a transporter and taken to a nearby workshop for the repairs to be carried out. With hindsight, I think that this was the beginning of the end of Jack's weekend.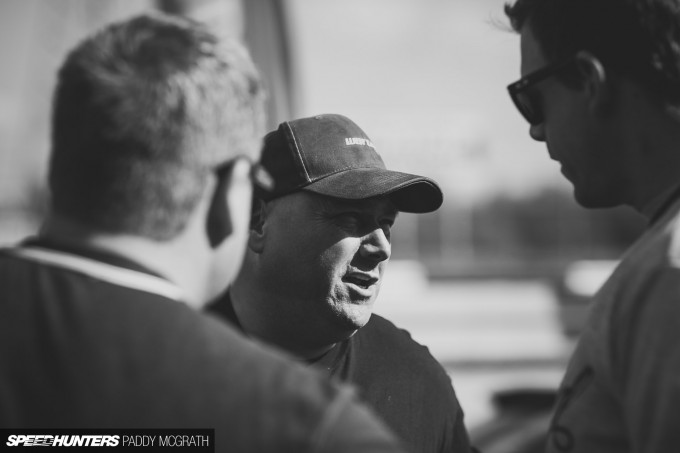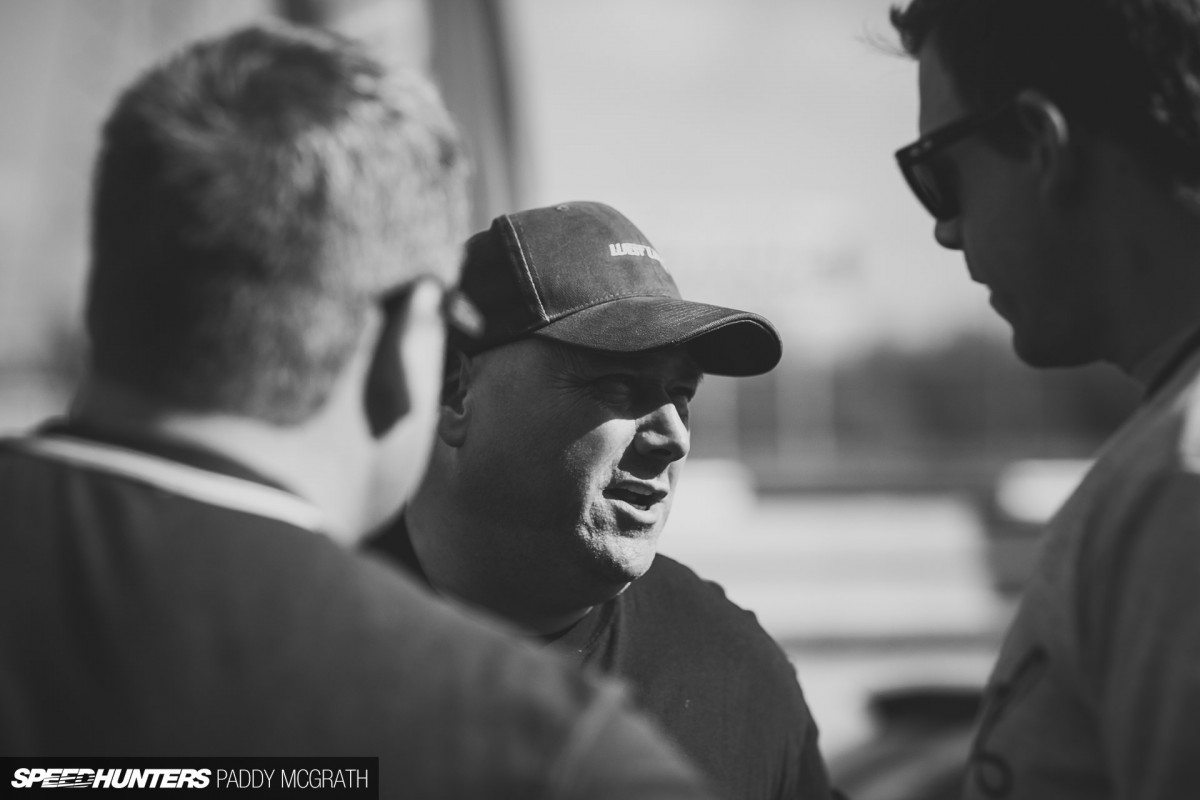 Of course, I can't talk about either driver without paying tribute to their incredible families and friends who support their seasons. Most, wrongly, assume that Jack and Tomás only drive because their parents are wealthy and that either driver is just a 'spoiled' teenager.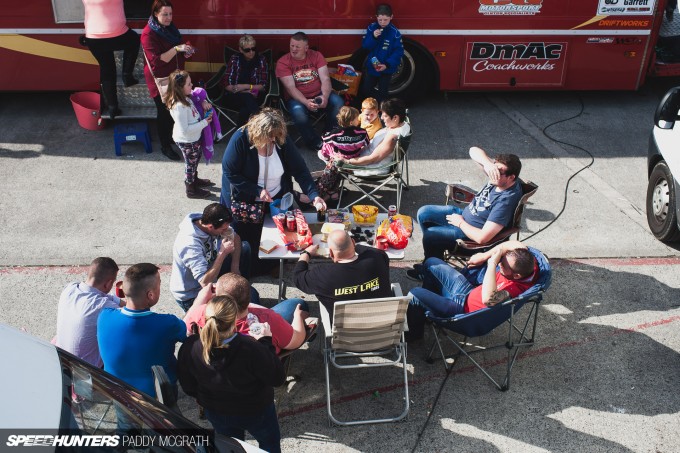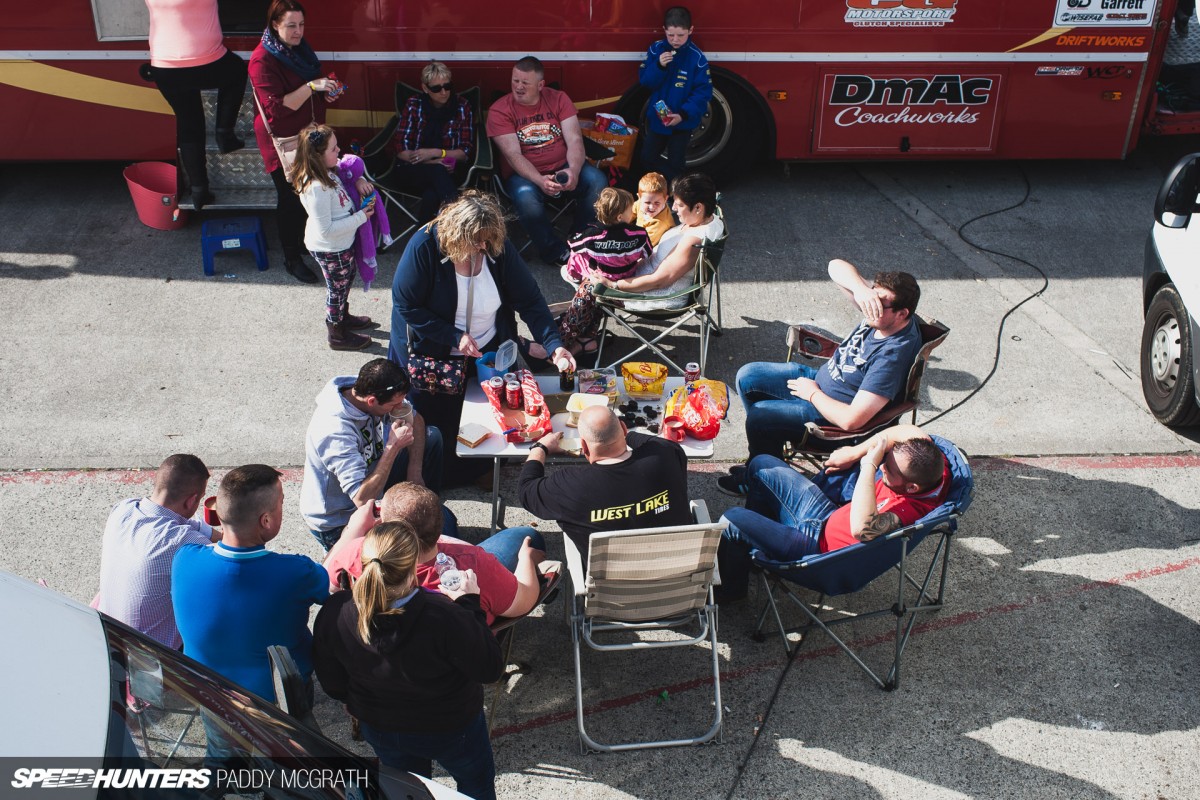 I spoke with Jack's mother, Valerie, and Tomás' mother, Siobhan, about the incredible sacrifices that both families make so that both Jack and Tomás can drive. Valerie told me how how both herself and Siobhan were pregnant with their boys at the same time when John and Tommy (Tomás' father) were racing, how the two lads grew up together and first cut their teeth at motorsport together whilst grass-track racing. They both spoke so fondly about each others children and families that you would think they were talking about their own.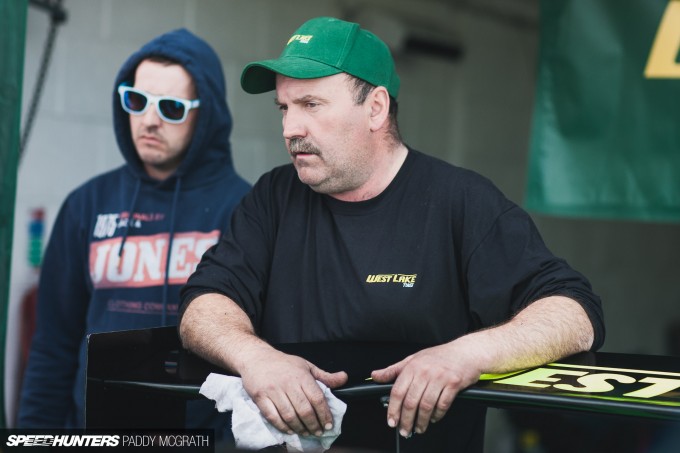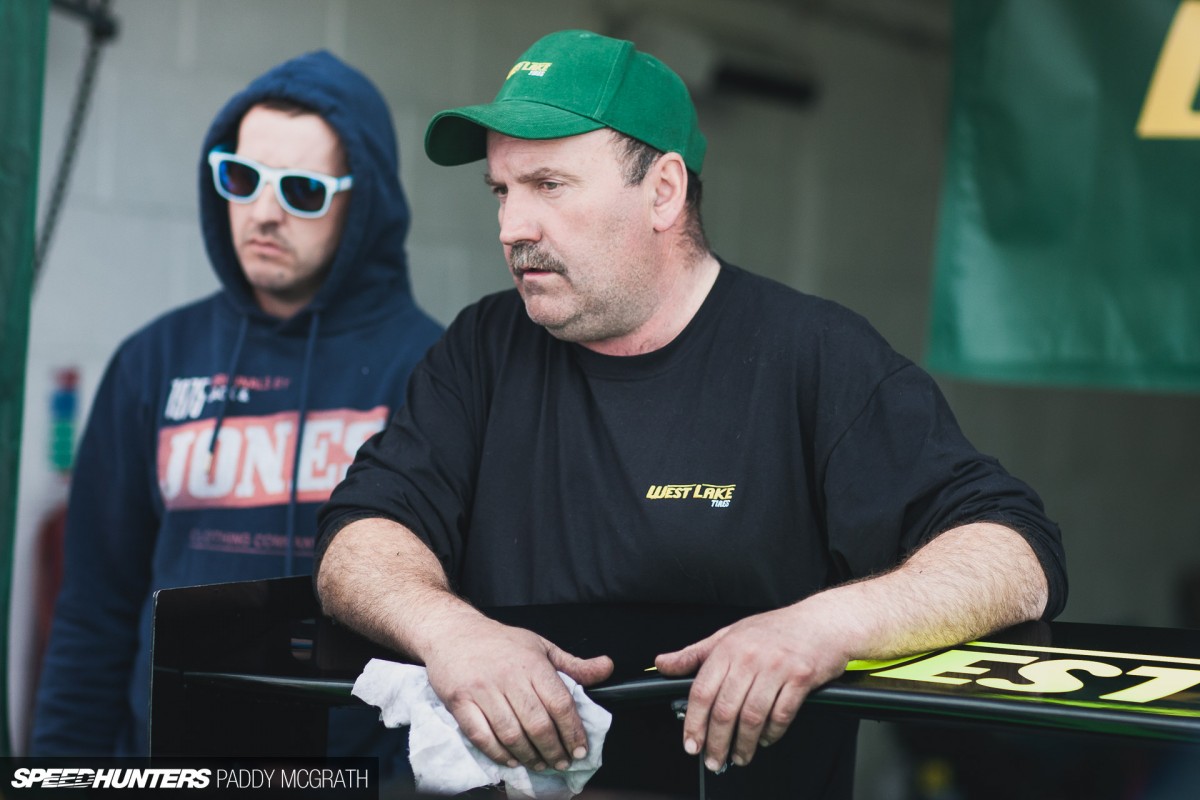 As an outsider, they made me feel incredibly welcome. Also as an outsider, it's difficult to tell where the Kiely family ends and the Shanahan family begins, because in all honesty, they're one family. Both fathers play a huge role in developing and maintaining the cars, along with keeping Jack's and Tomás' heads level. They're instilling years of their own experiences and values into the two youngsters, something that might be overlooked from the outside. Both mothers provide the support and care that only a mother can. They work hard to create an environment where everyone feels as relaxed as possible and in some ways protected from the pressures of competition, in spite of the financial burden placed on both families. The goal here is to ensure both Jack and Tomás are enjoying what they're doing, but that they're also being given the very best opportunity to excel at the same time.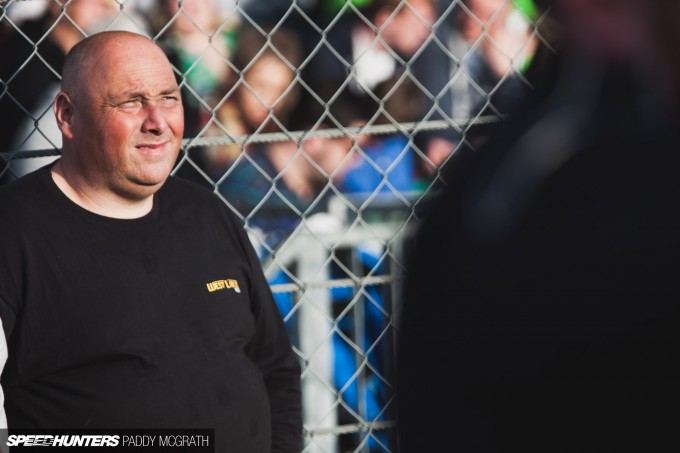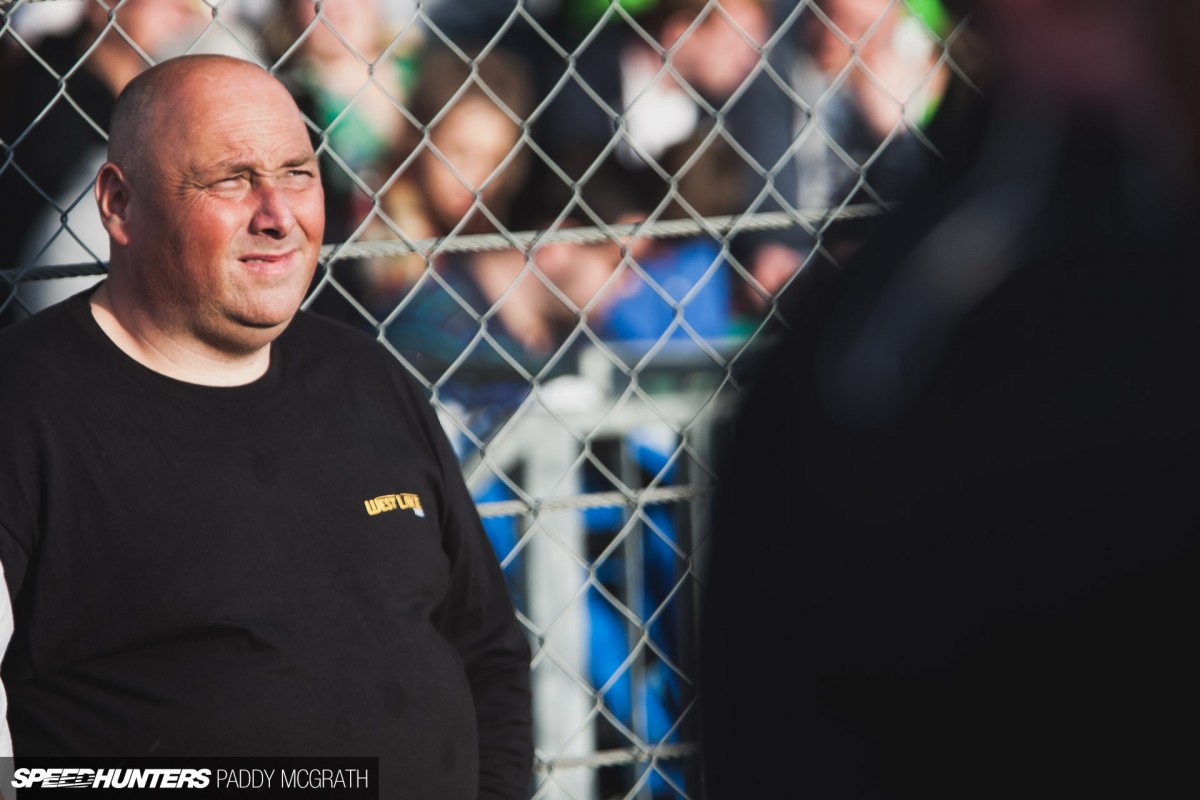 Whilst some people on the outside might look in begrudgingly, anyone who knows either family will have nothing but kind words for them. The people who know either the Shanahans or Kielys will know of the countless hours working on the cars, the expense of keeping both cars maintained and competitive, the nights spent sleeping at the track with their whole families or the extra hours working overtime in their jobs to make up for time spent away on the road. We don't get to see the sacrifices that are made, just the end result as Jack and Tomás light up any event they attend. Neither set of parents would complain, mind. I just feel that it's worth pointing out to the people who might look to attack Jack or Tomás because they weren't ever given the same opportunities. Unfortunately, that's how life goes but it doesn't mean that either family has it easy in any way.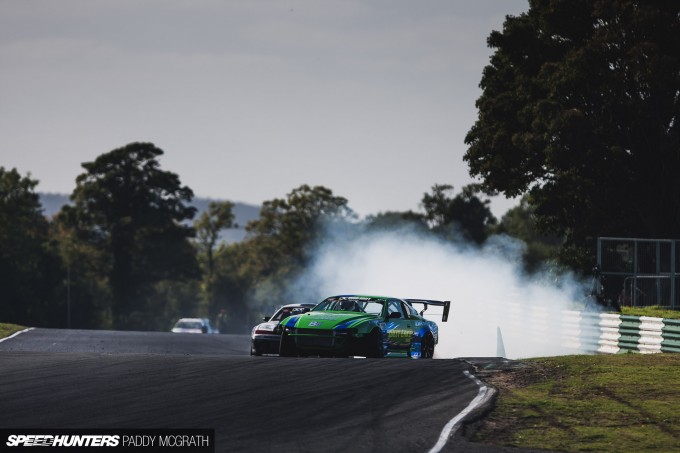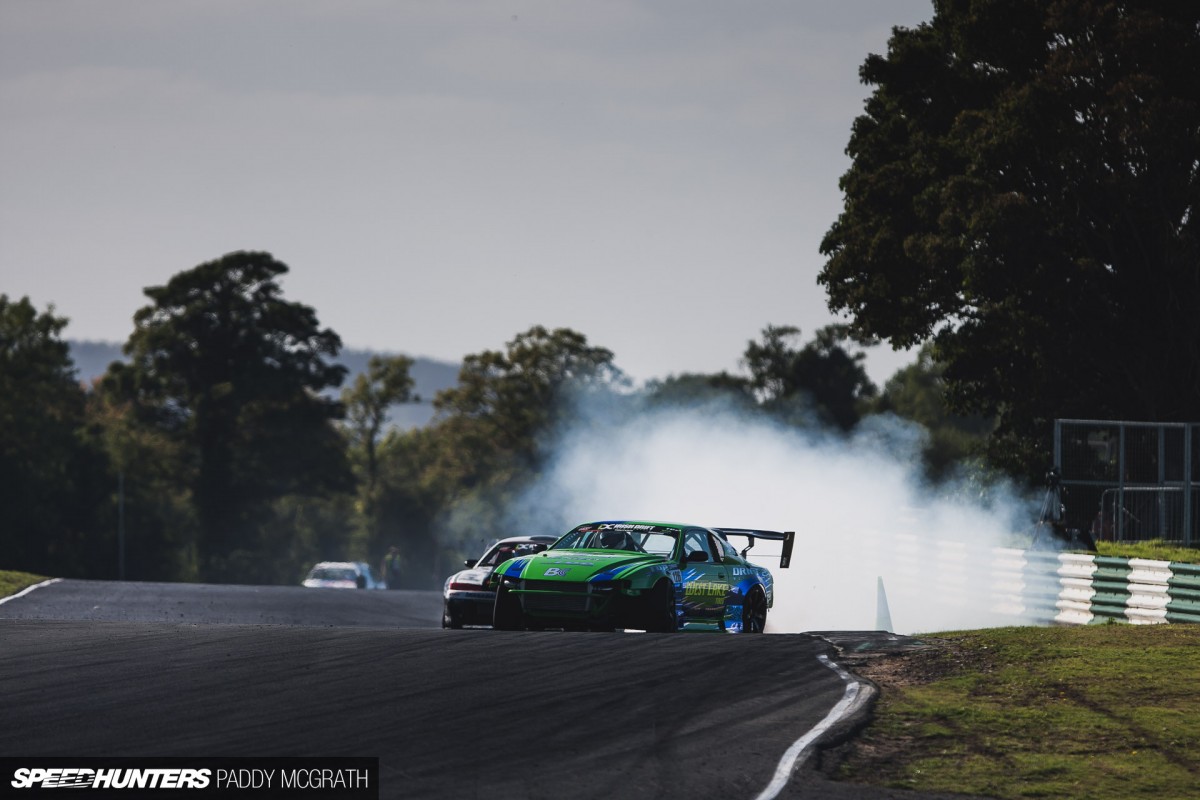 Jack did however manage to get the car back in time before the only 45-minute practice session of the day, and the penultimate practice session before the competition kicked off for the Pro class on Sunday morning. There was no separating Jack and Tomás on track.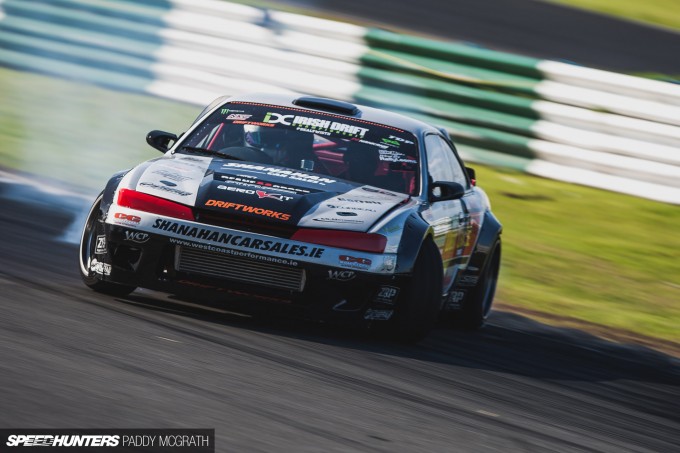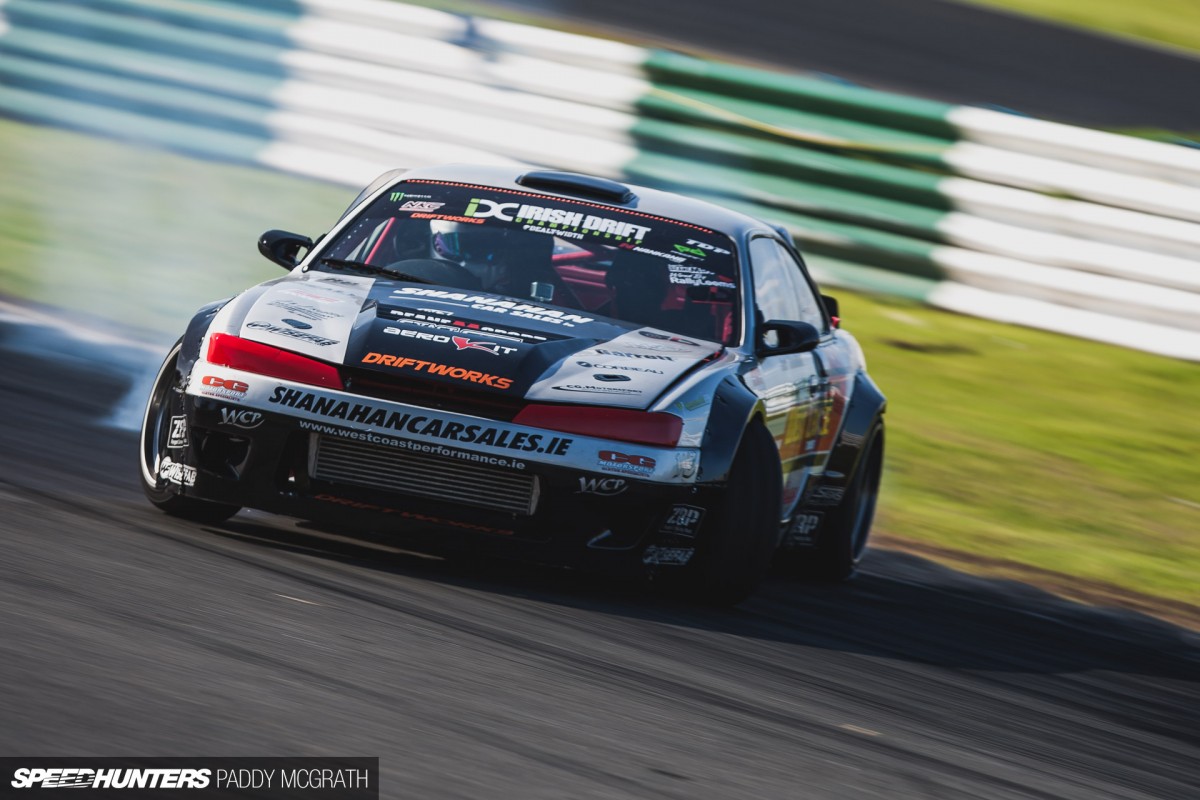 On his second run, Jack was as quick as ever on entry. As he disappeared around the corner and out of sight, there was a noise which I don't think I've ever heard come from a car before. The championship points leader's S14 was dead. And on the evening of the biggest event in Ireland's drift history. But, there were further twists to come…
The Master Reigns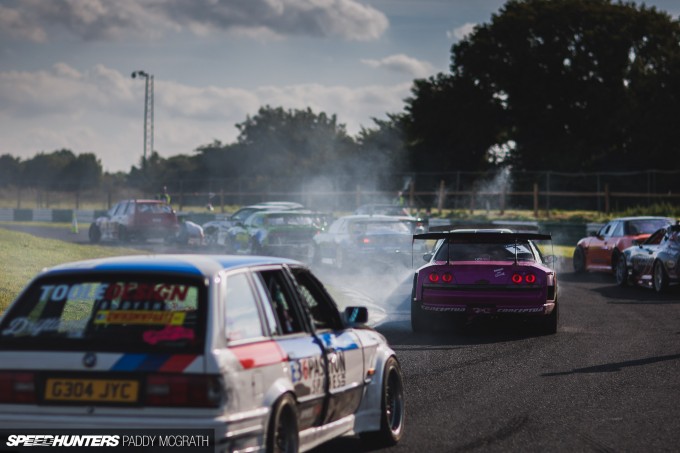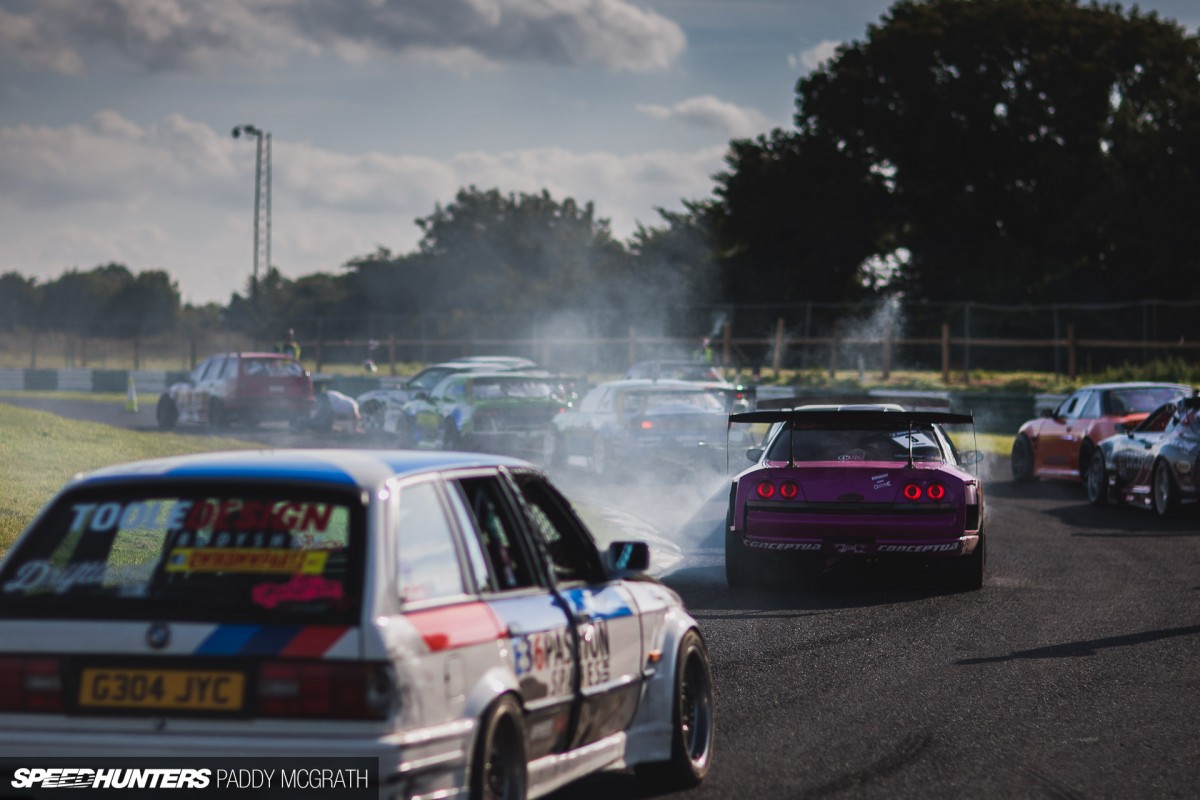 Come the big day, Tomás sat on the grid with his fellow competitors, but without Jack.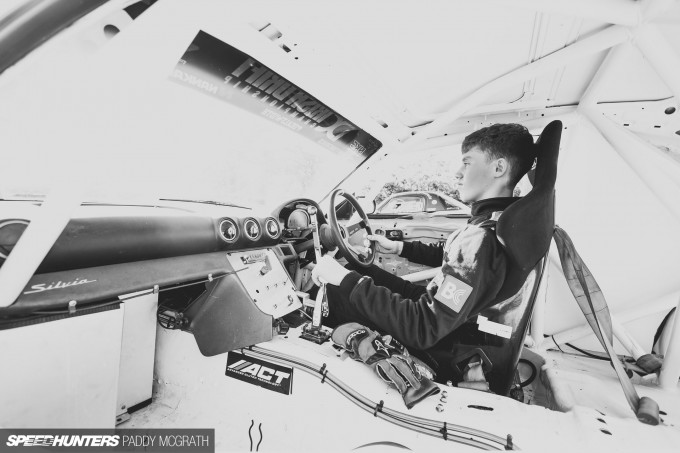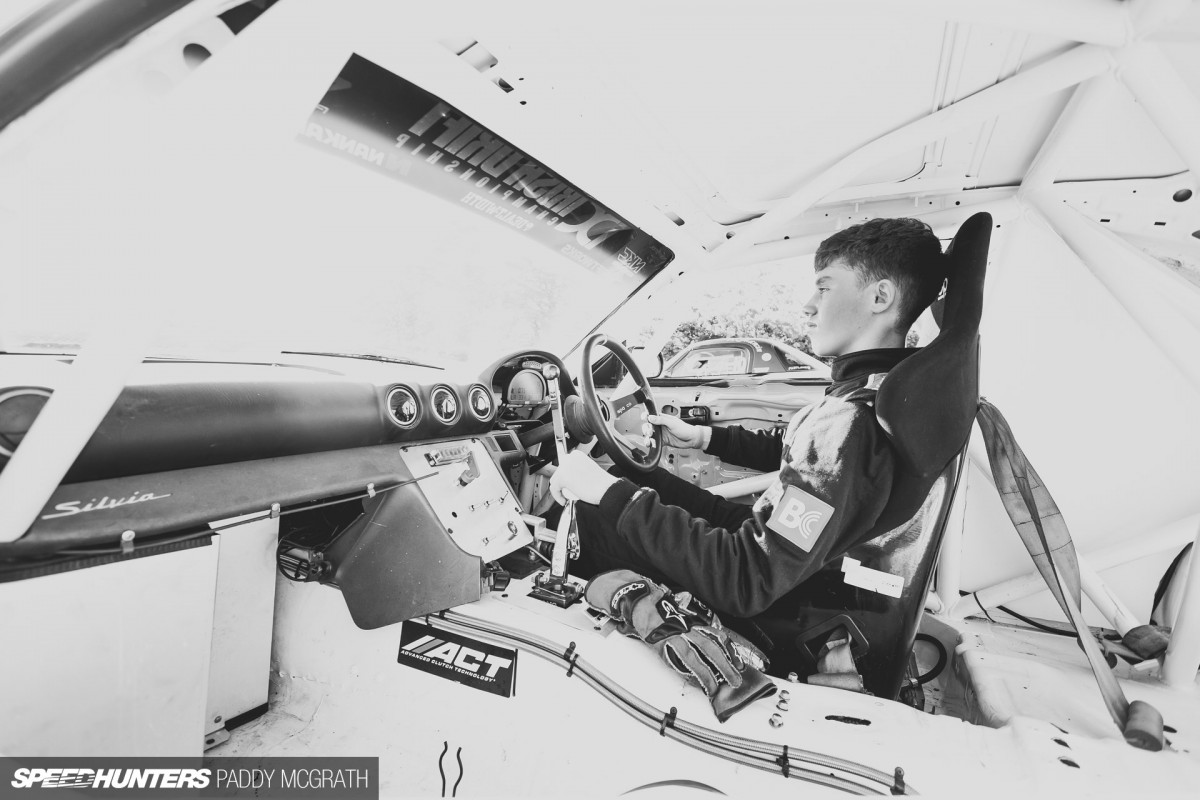 It must have been bittersweet for Tomás. On the one hand, it gave him a better shot at the championship victory, but on the other, I'm certain he would rather win by beating Jack.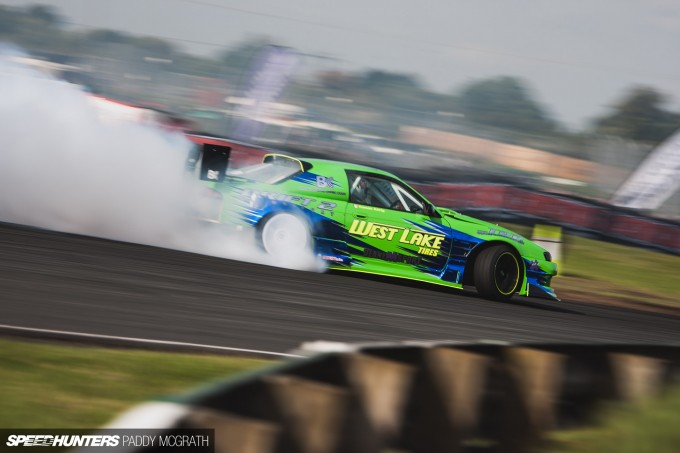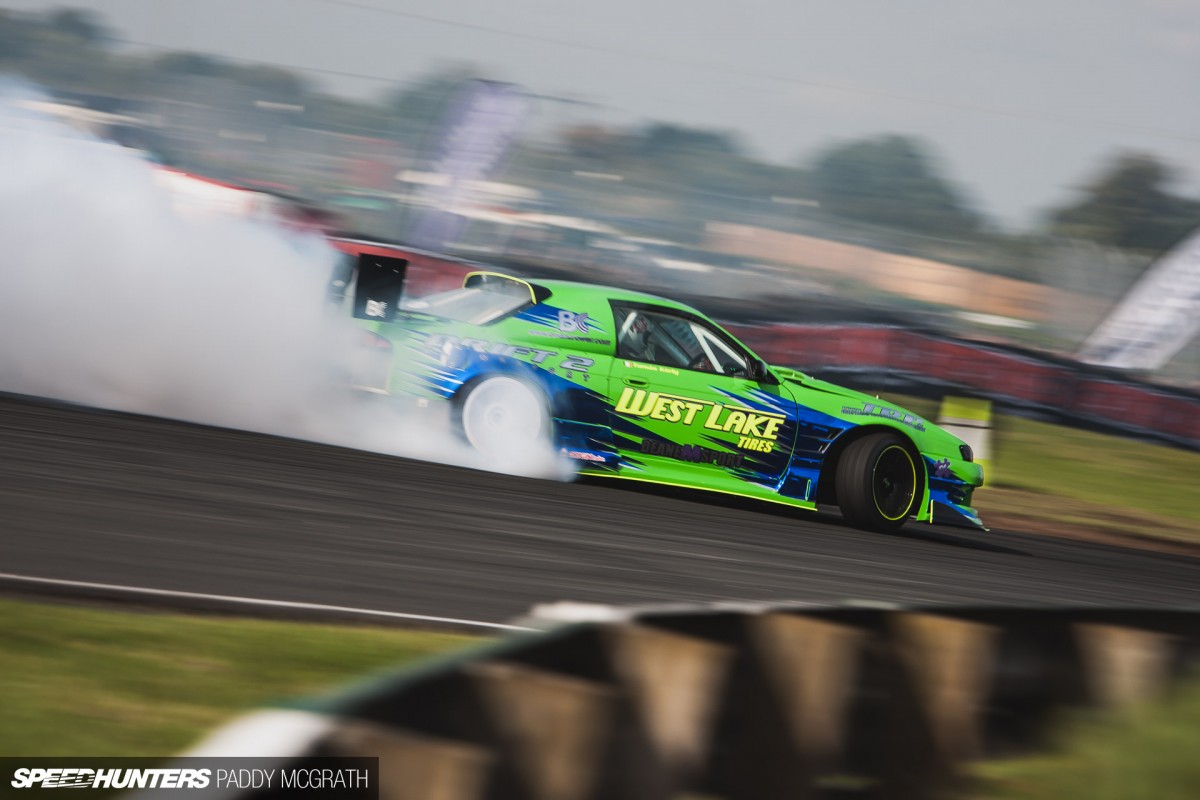 Regardless, he continued to lay down perfect lap after perfect lap, every time receiving a round of applause from the growing crowd.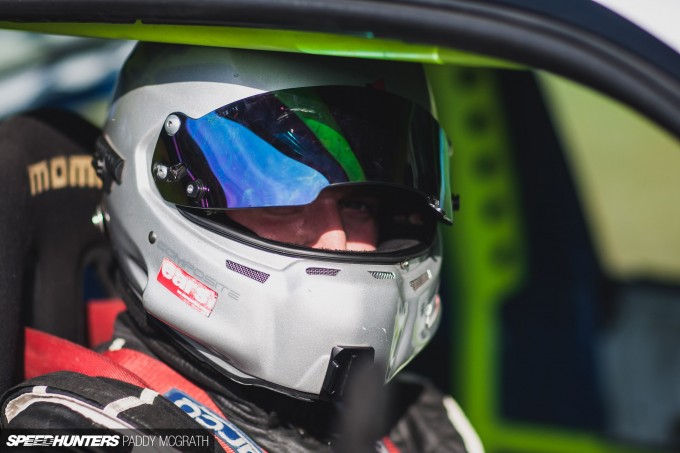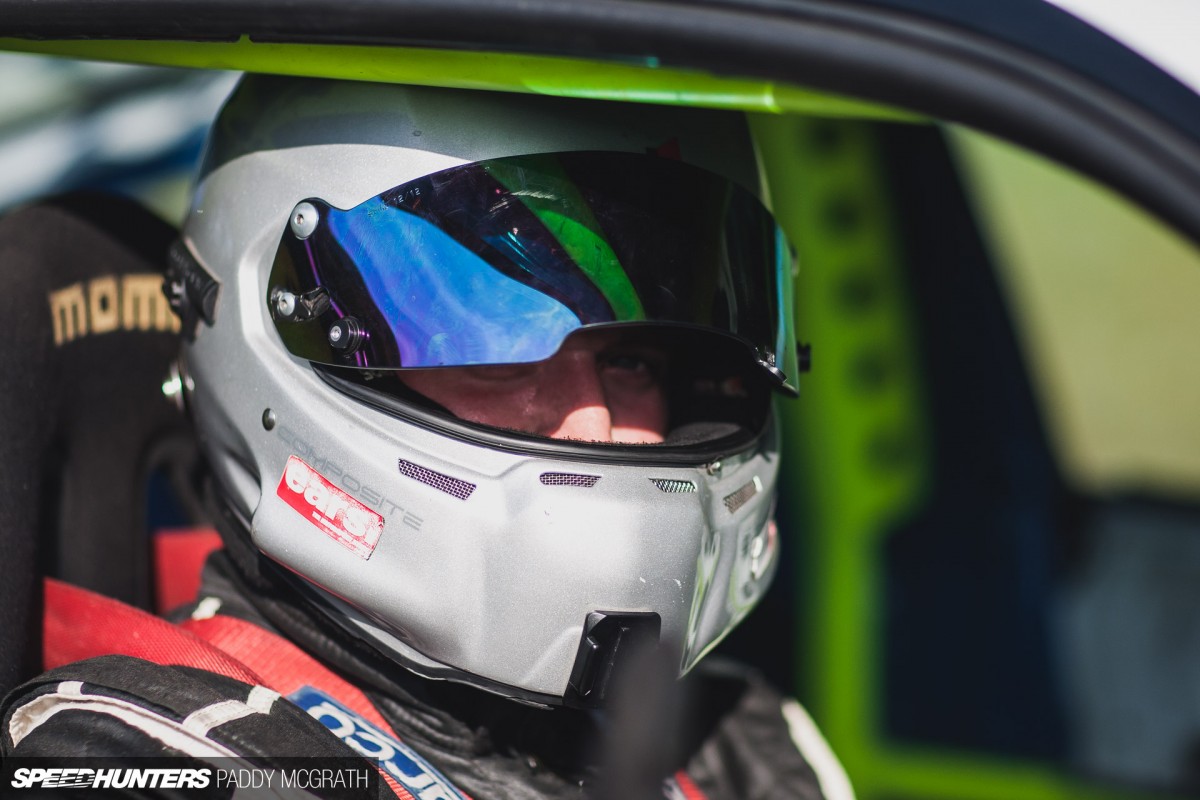 Working the grid and going from car to car, a white 180SX appeared, splitting the two queues and pushing straight to the front. It was only when the car stopped, I recognised the distinctive Stilo helmet and black race suit. Jack had a borrowed car, and he wasn't done fighting just yet.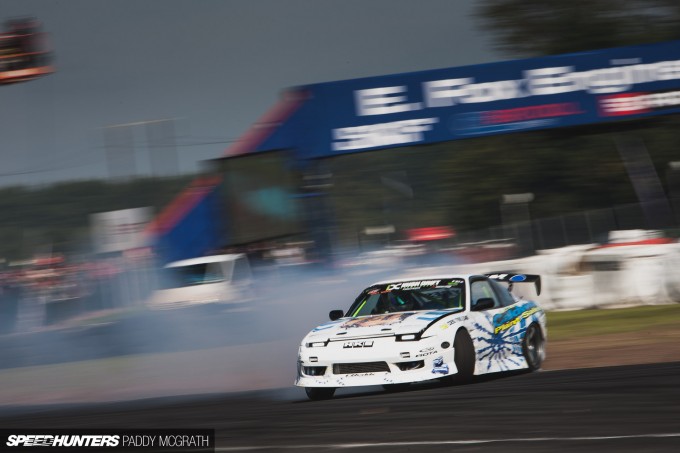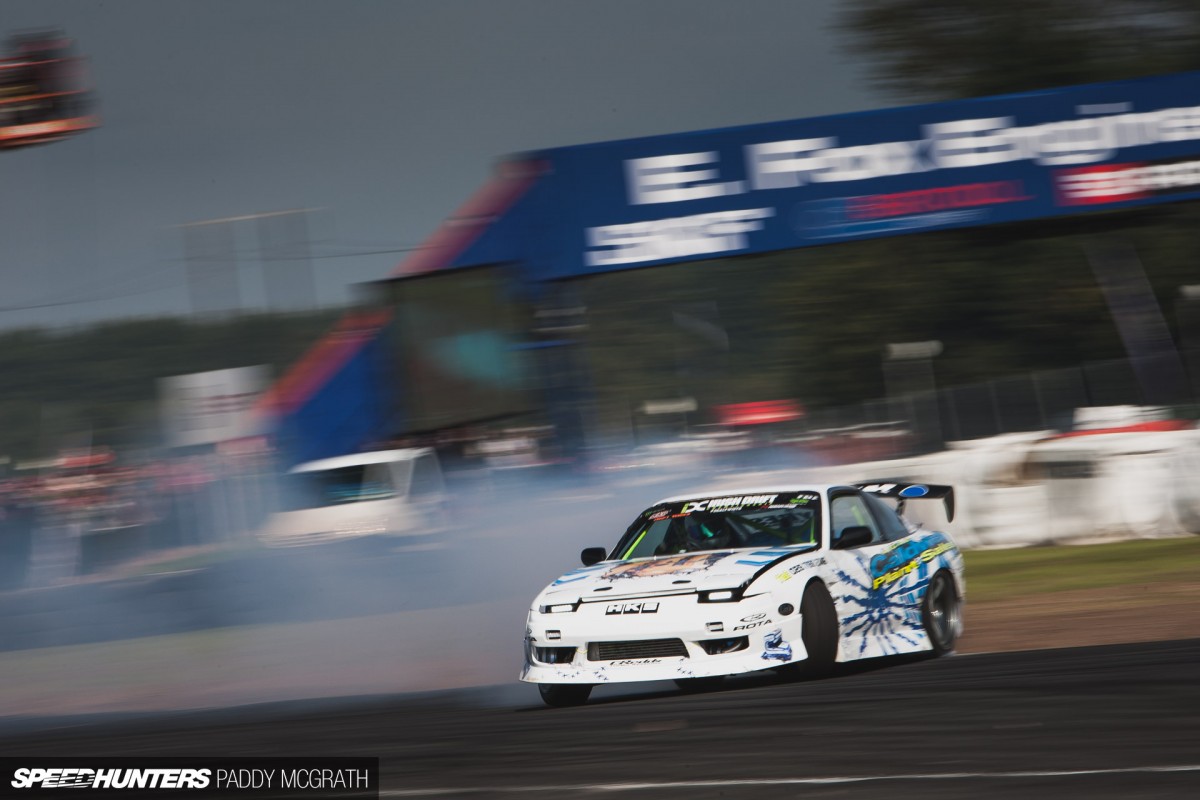 Anyone who follows drifting will know that there's a gulf in class between the Pro and Semi-Pro cars. Well, this was a borrowed rookie car, but seemingly that made no difference to Jack and how he approached the course. With just a handful of laps in the bag, the event immediately moved to qualifying.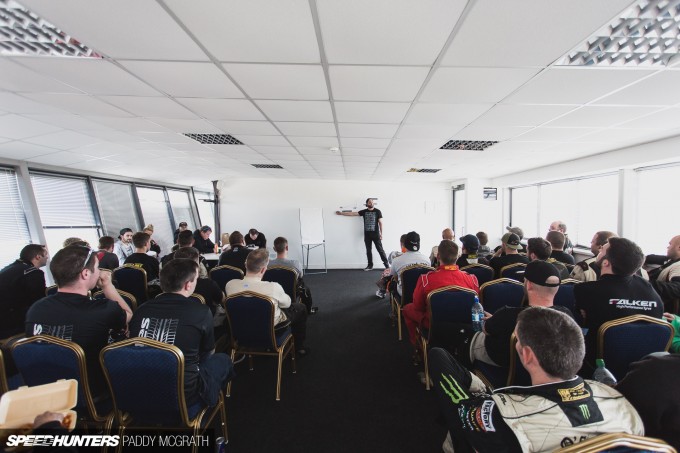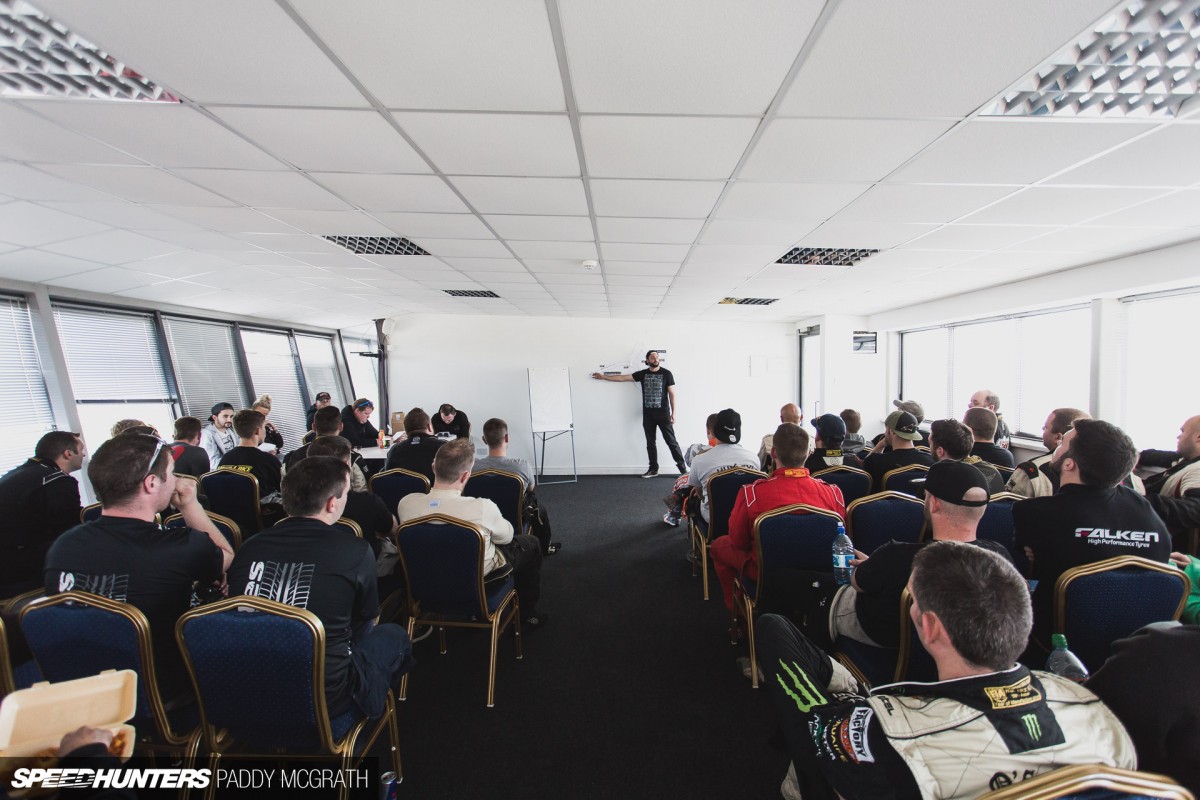 As is tradition, two runs with no do-overs were completed with minimal fuss. Once finished, the drivers assembled in one of Mondello Park's suites for the results and the battle order for the Top 32.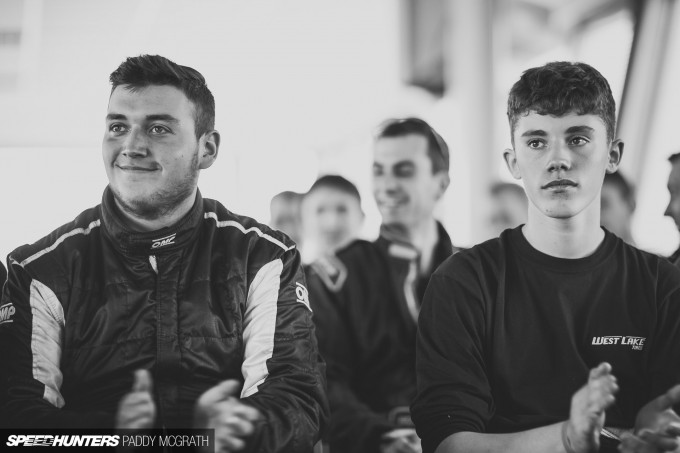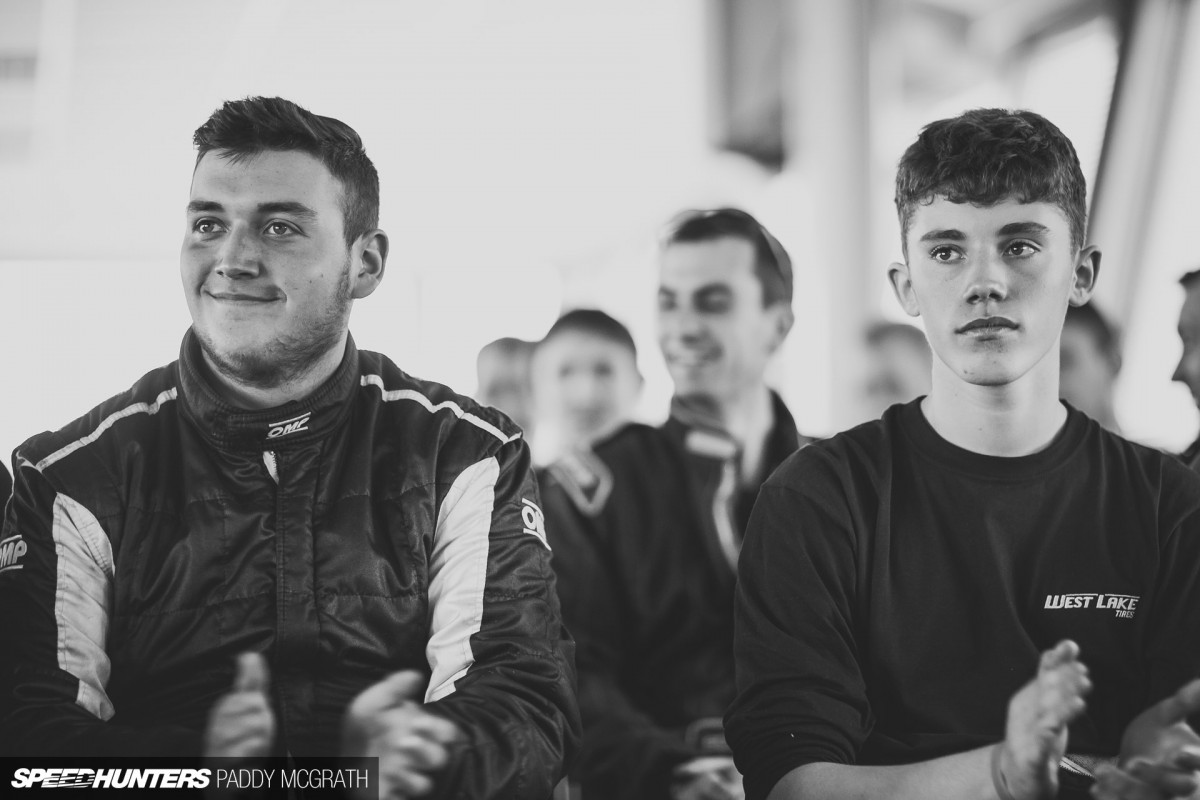 In second place? Jack Shanahan. In first place? Tomás Kiely. Again, this was a qualifying session that featured some of the best drivers in the world and the two teenagers topped the lot.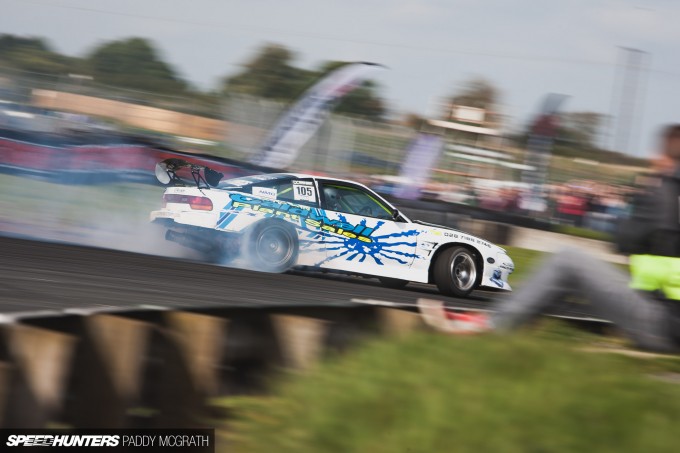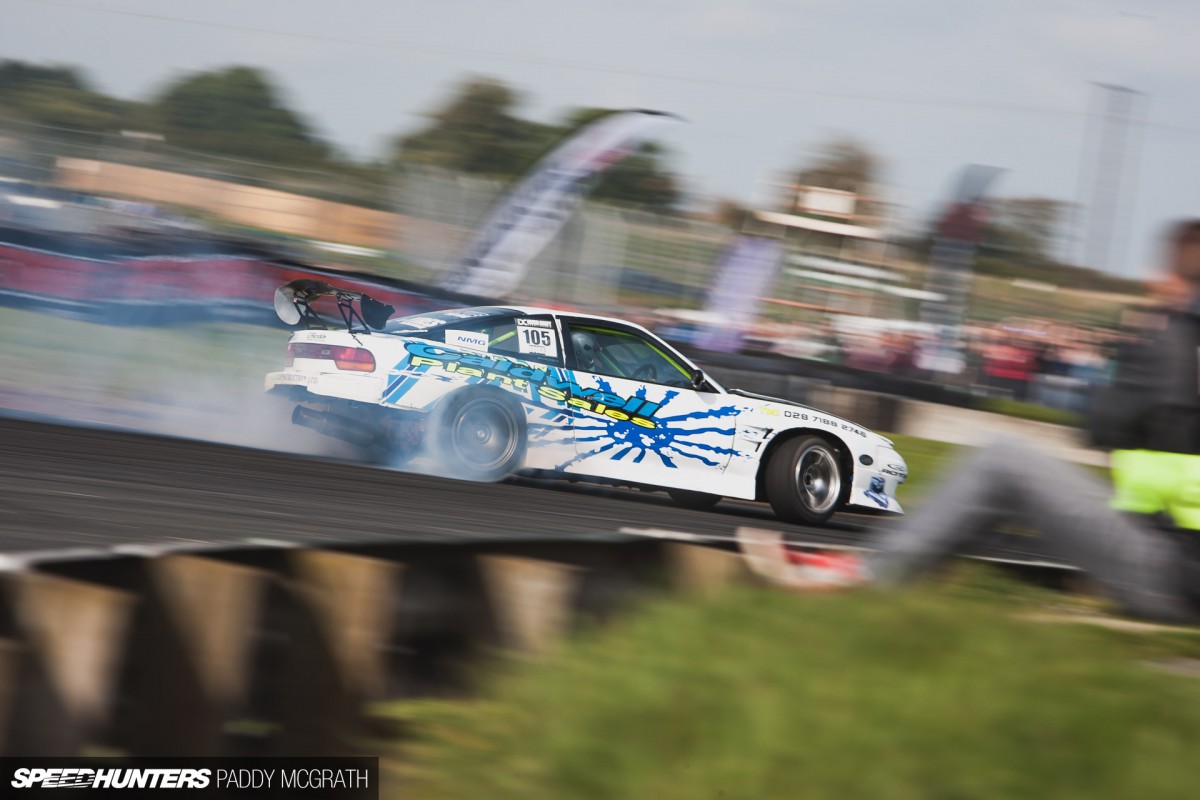 Qualifying in a lower-powered car is one thing, but battles are a completely different story. This would be the end of the road for Jack's Irish title dreams as a miss-shift put him out at the Top 32 stage. He wasn't alone in exiting Top 32 as current and former Formula D stars Kearney, Saito and McNamara also failed to make the Top 16. It might be of little solace to Jack, but there was no shame in how well he performed.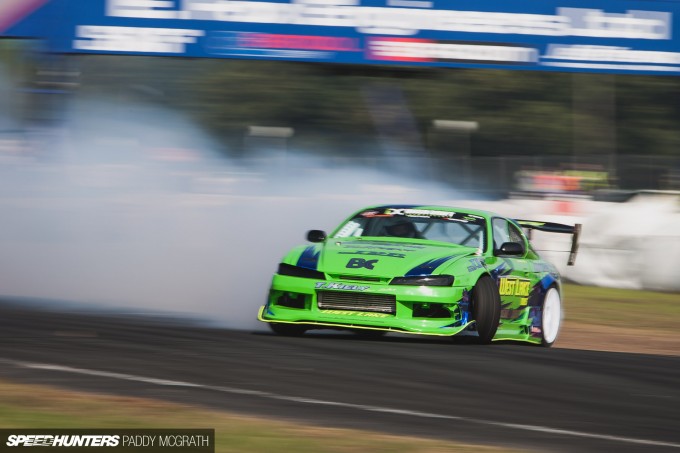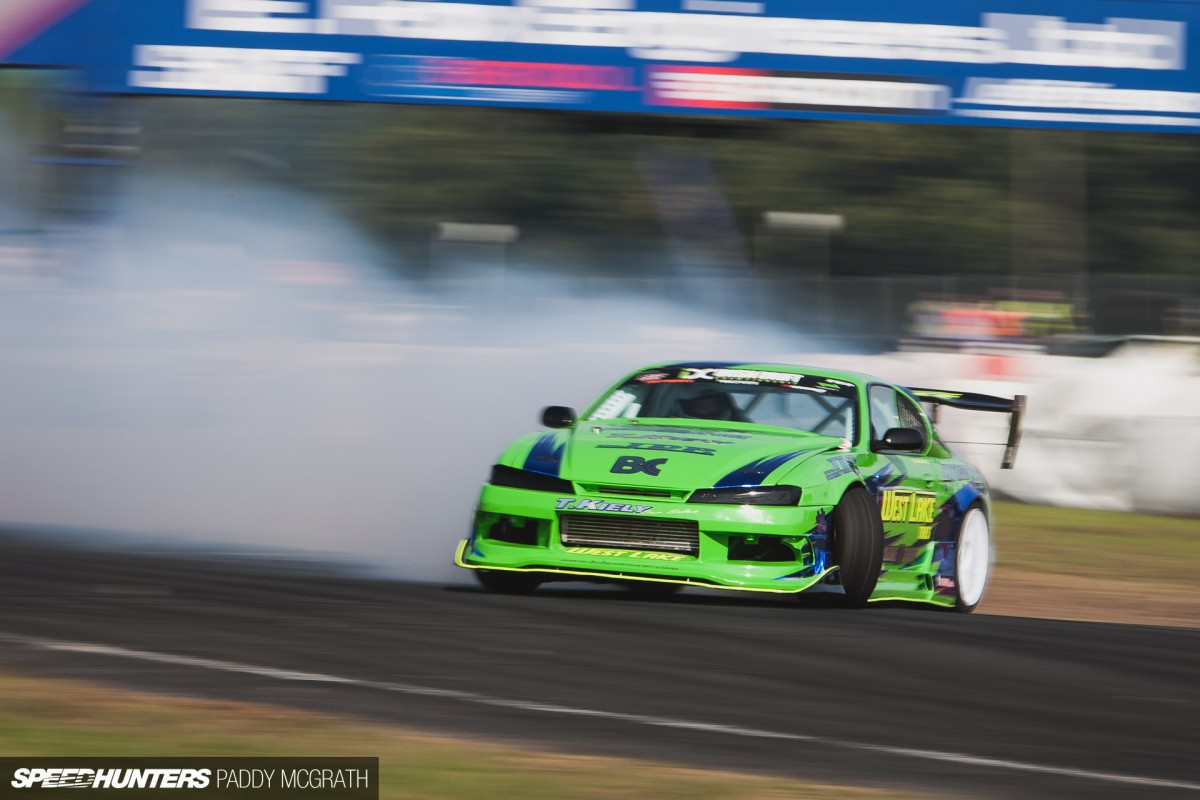 In comparison though, Tomás cruised through to the Top 16, blowing away his rival. This was to set the tone for things to come.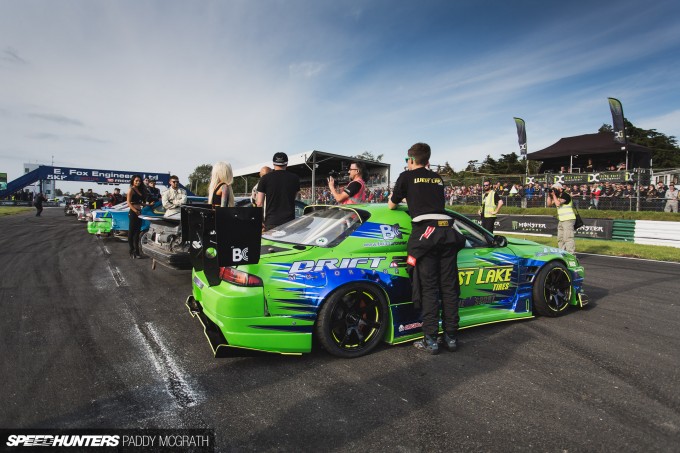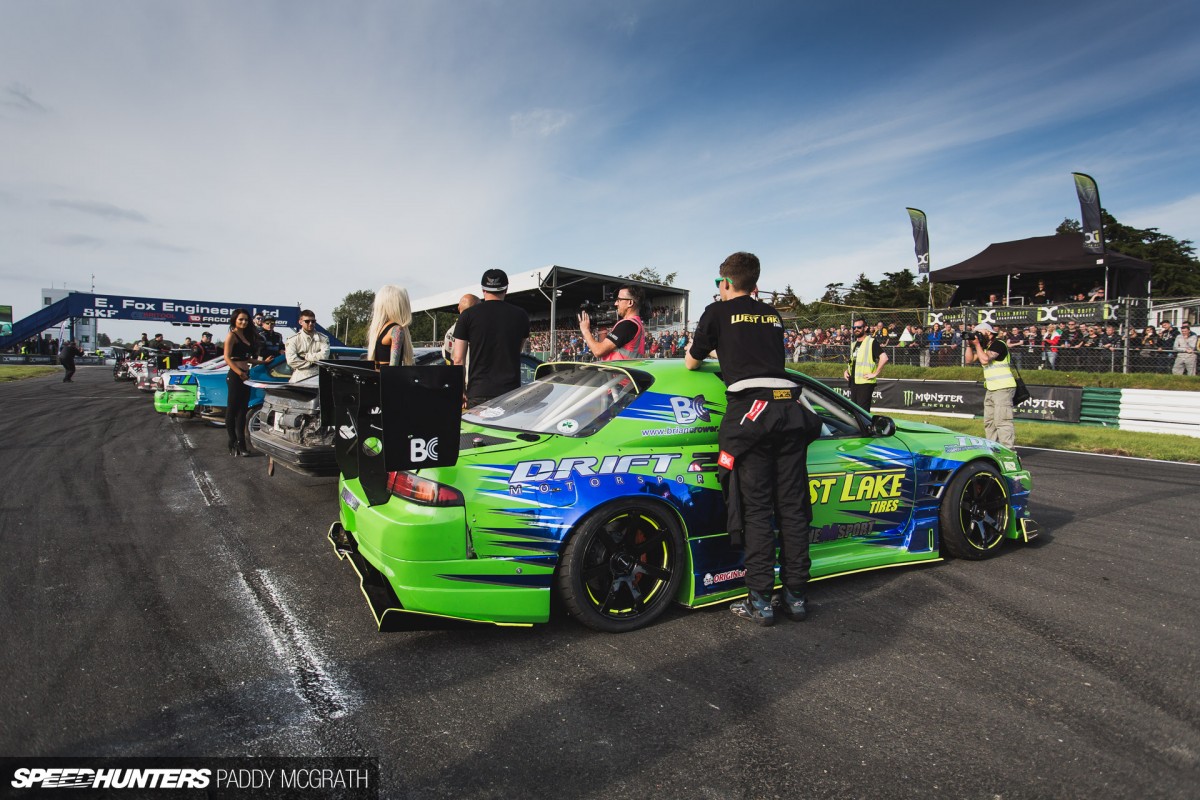 In front of a capacity crowd, the largest ever at an event at Mondello Park, Tomás still had three other championship rivals to defeat, despite Jack's exit.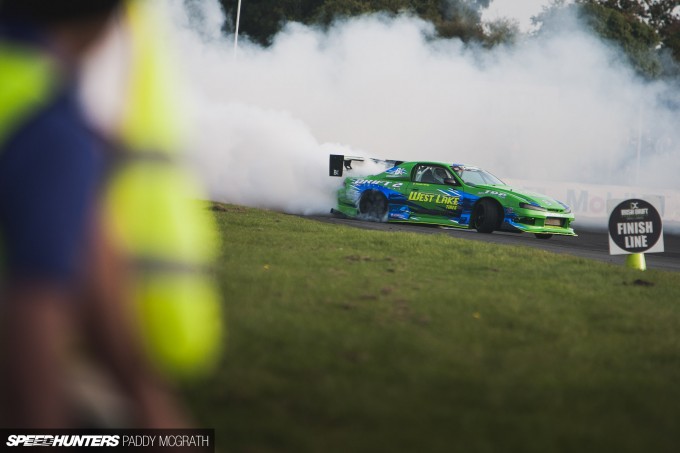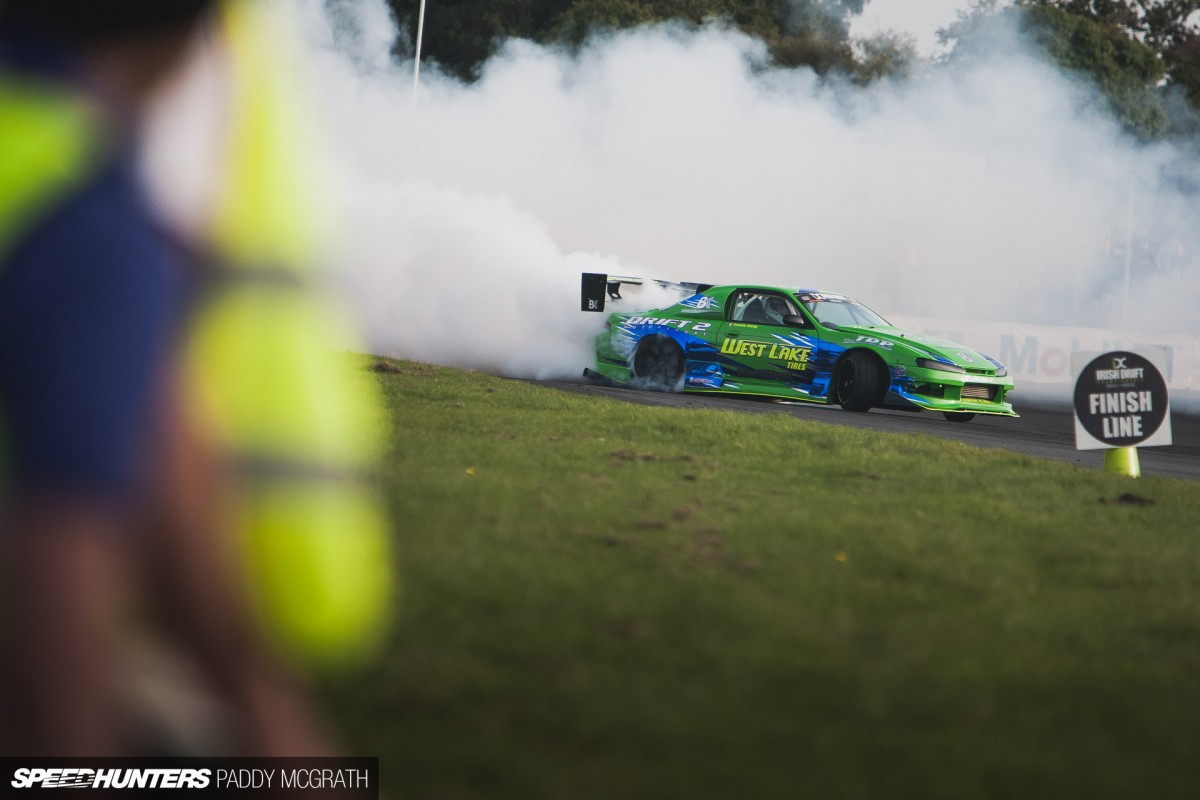 Again, there was little difficulty for Tomás as he defeated French guest Jerome Vassia who is hidden somewhere in the smoke.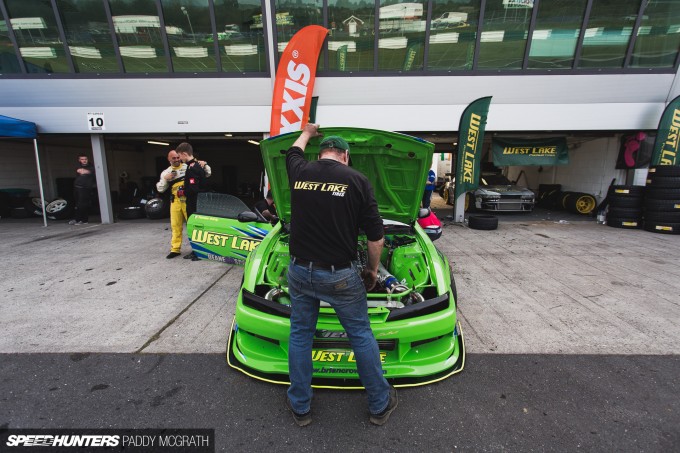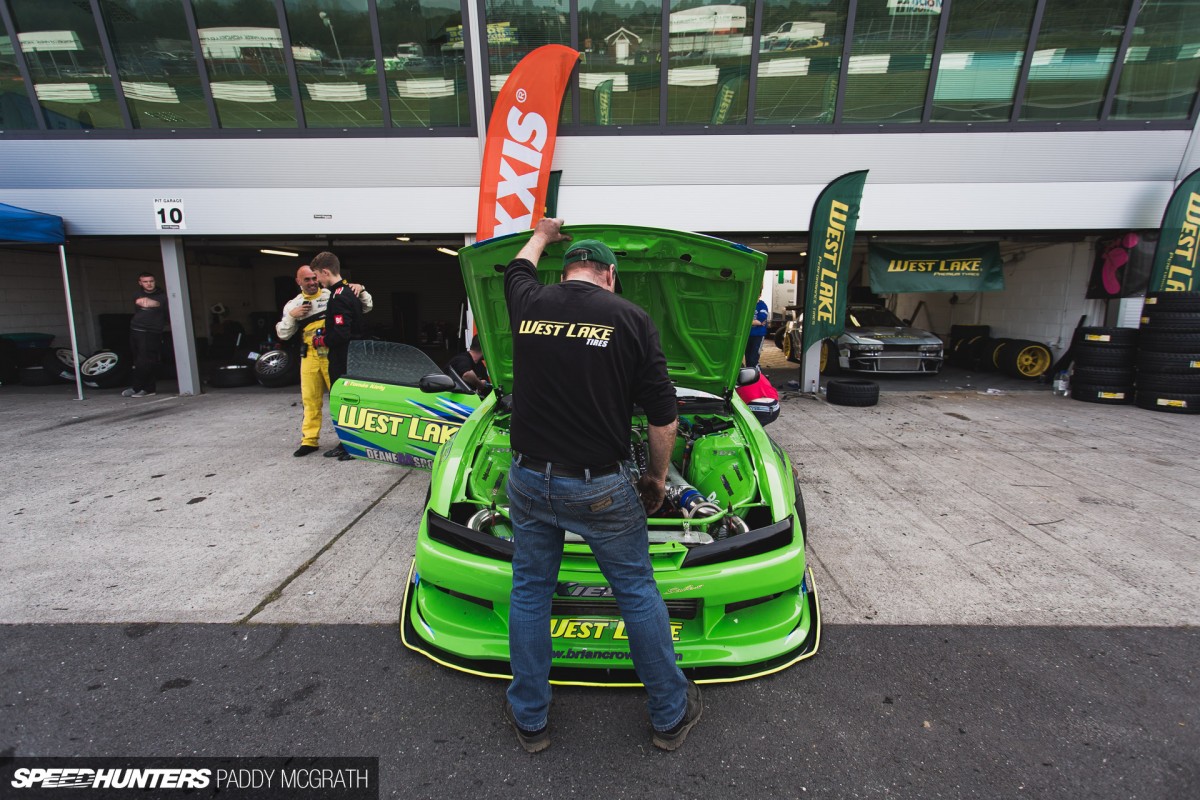 With the battle out of the way, a quick check-over of the car was completed and fresh rubber put on for the Top 8 battle. Ever the great sportsman, Jerome was quick to run down to Tomás' pit area to congratulate him and wish him the best of luck.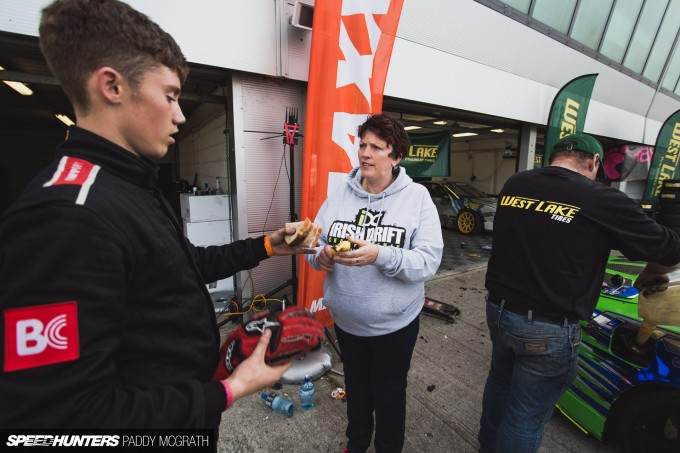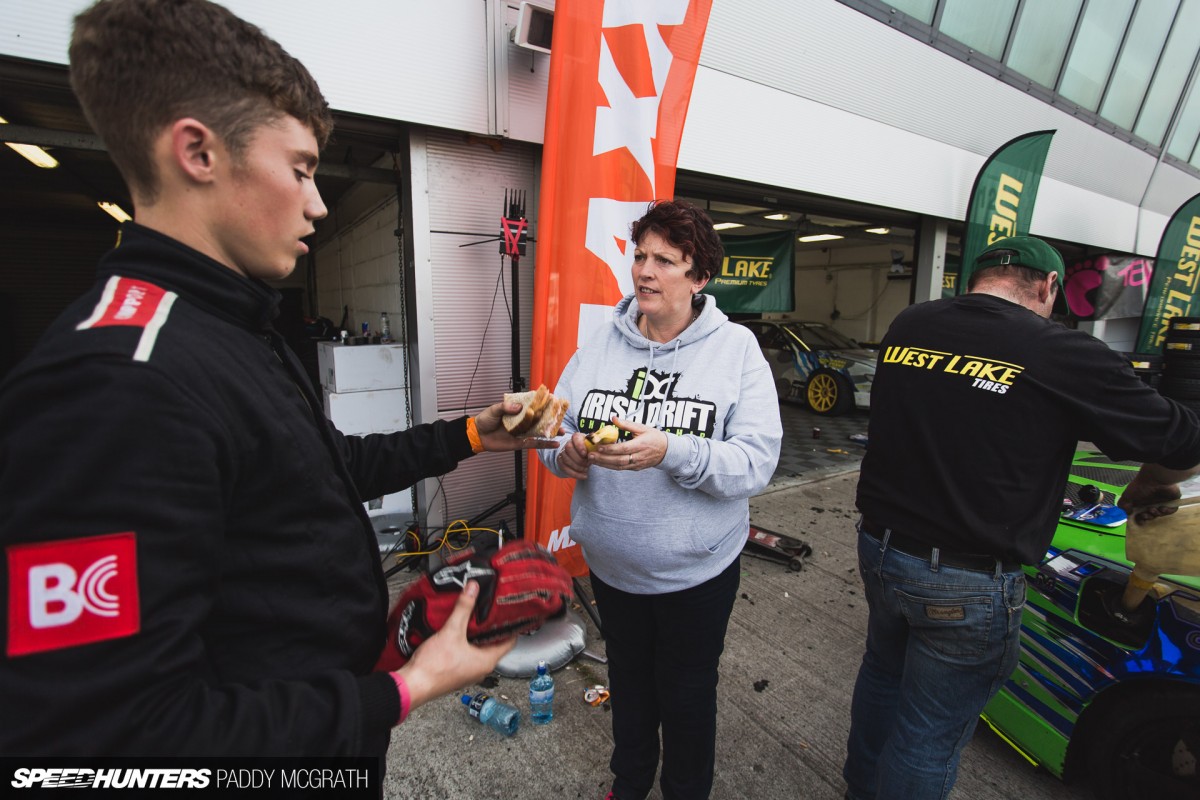 There was also time for a quick bite to eat. I need to figure out how to bring my mother to drift events to keep me fed and motivated…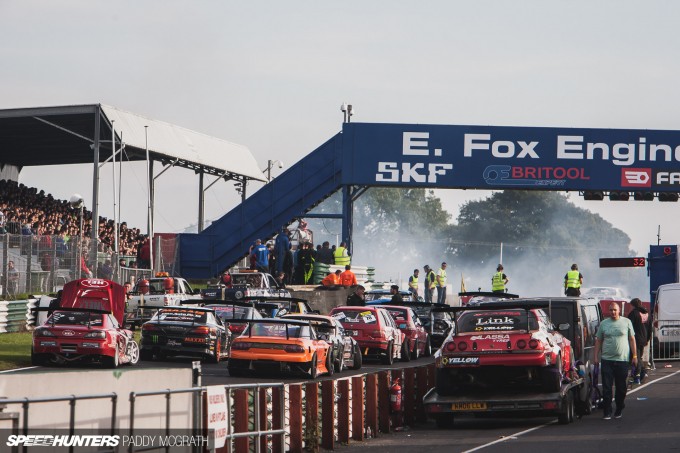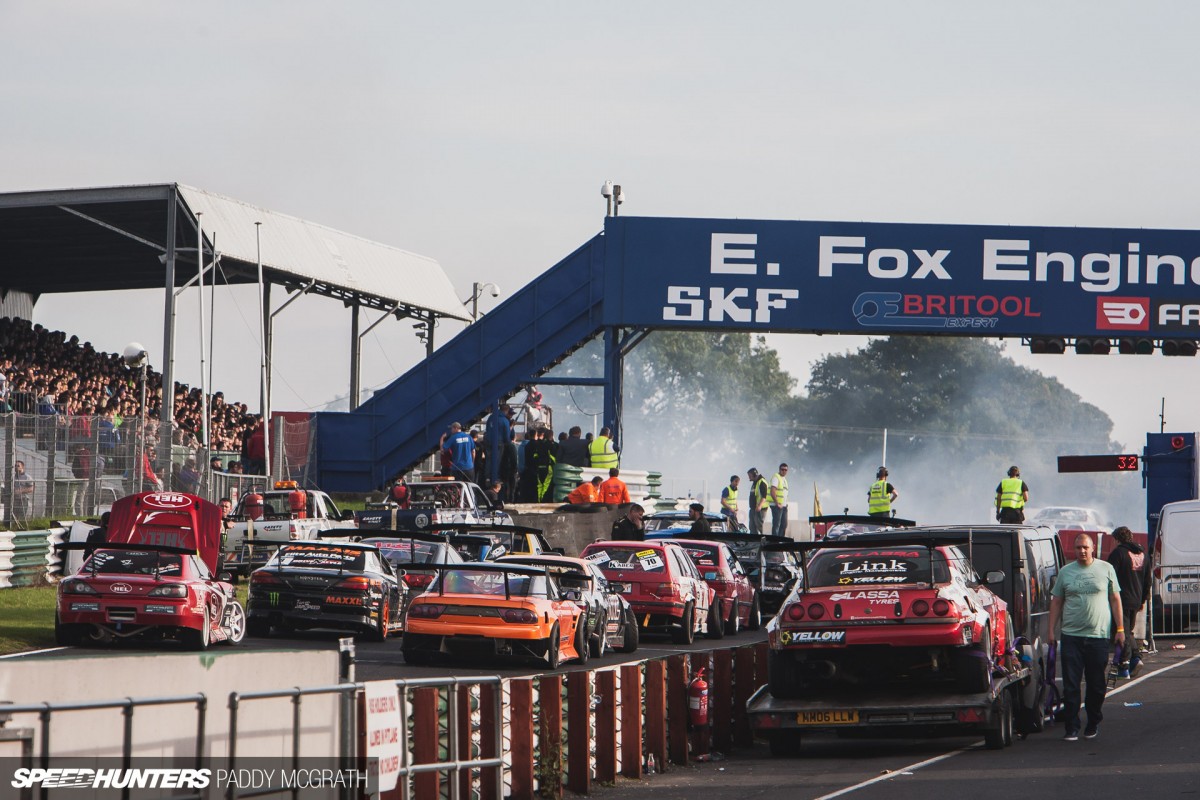 The battles continued in the background.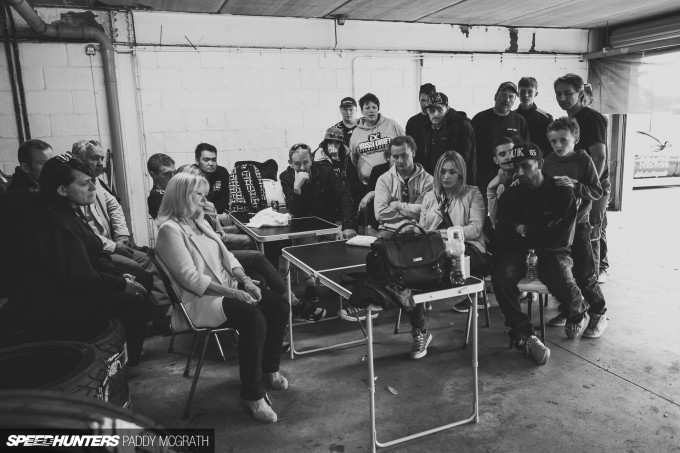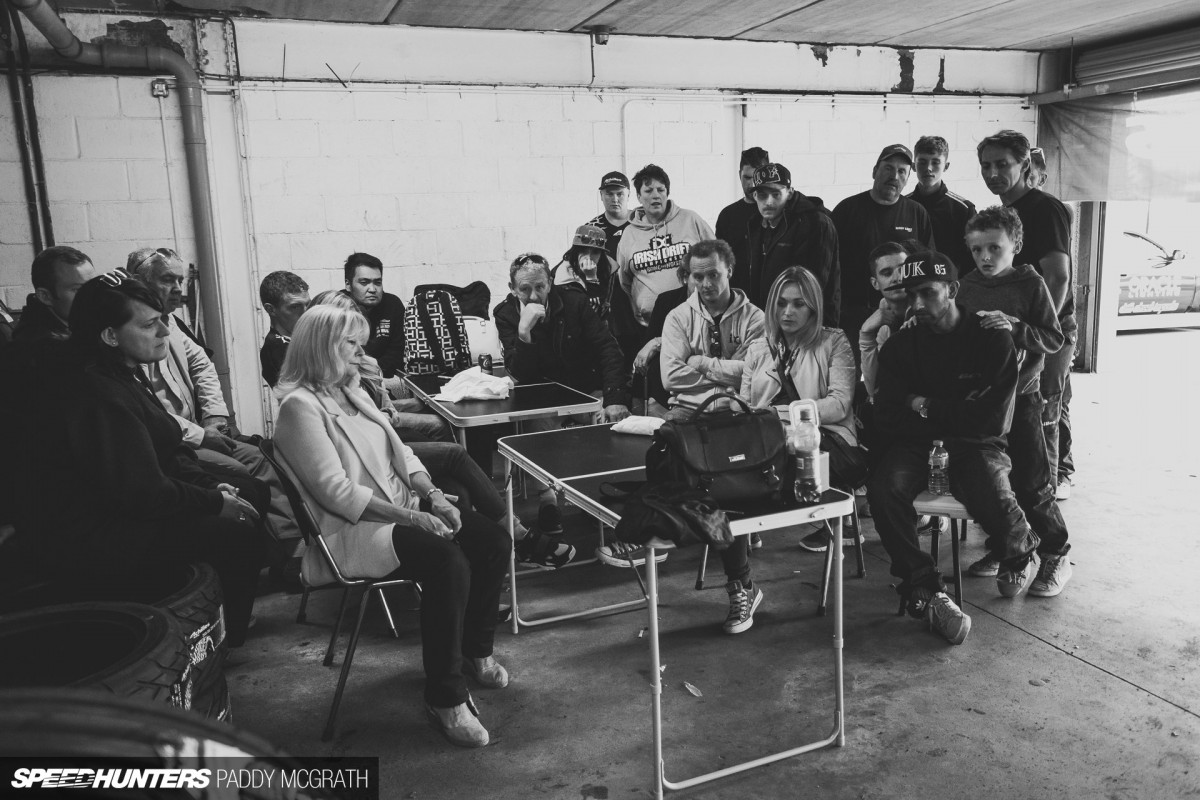 It wasn't practical to watch the action trackside, but conveniently the Achilles team had a livestream running in their garage, which the Kielys were able to sneak a peak at between their own battles.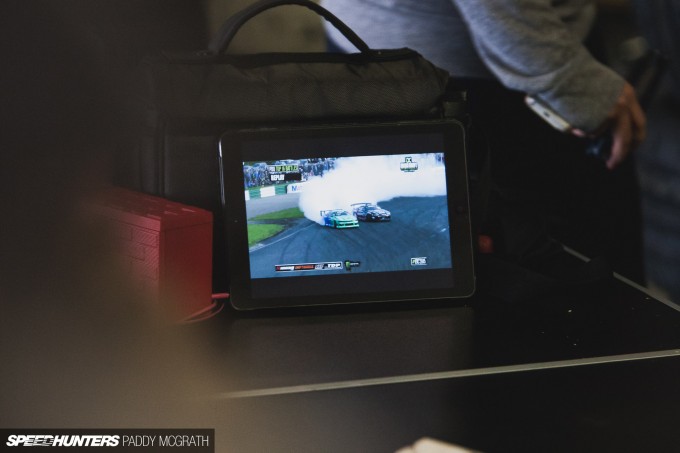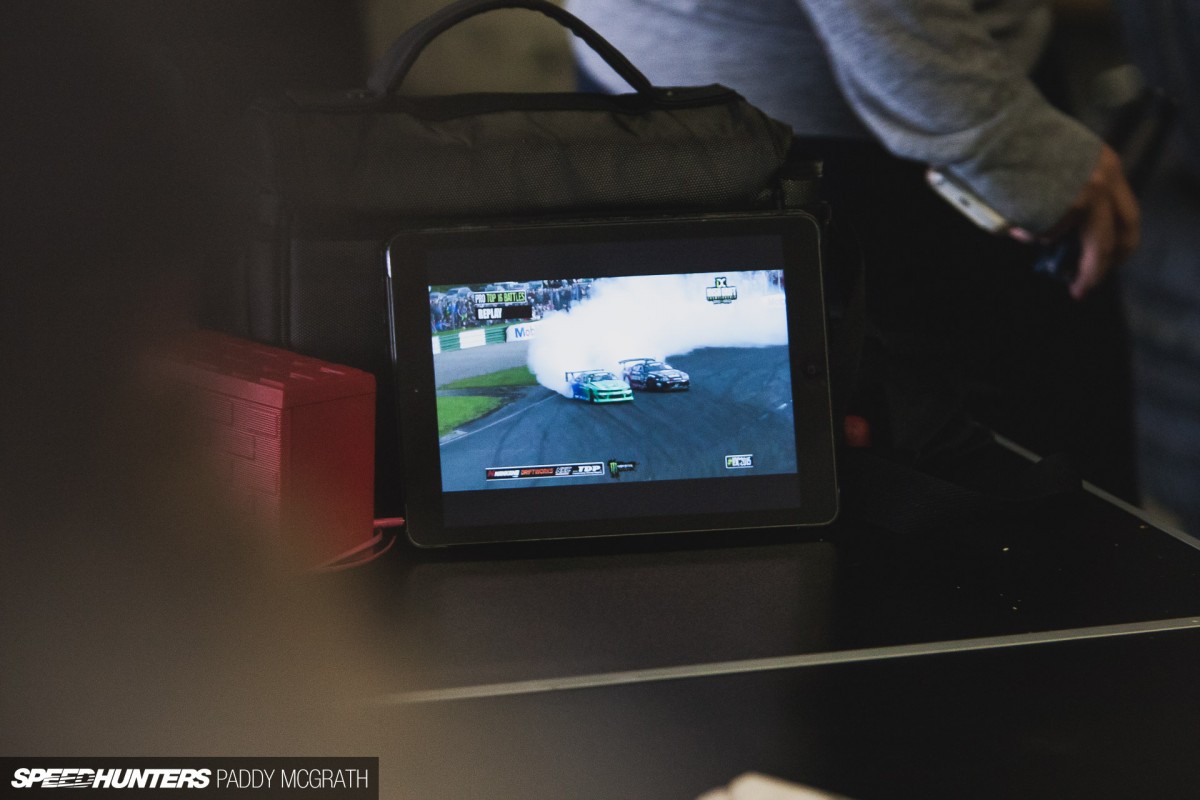 As James Deane defeated Mark Luney, he immediately became the biggest threat to Tomás' title hopes. Despite Tomás' lead over James in the points standings, he would have to advance further than James or beat him to become champion. It was a huge ask of Tomás because James Deane hasn't been beaten at Mondello Park in nearly a decade.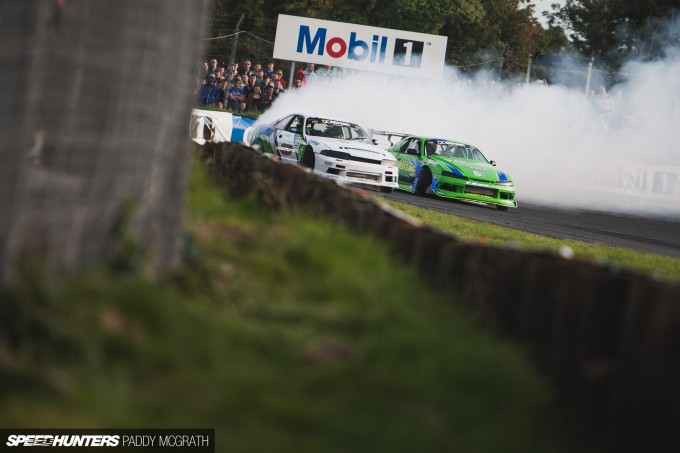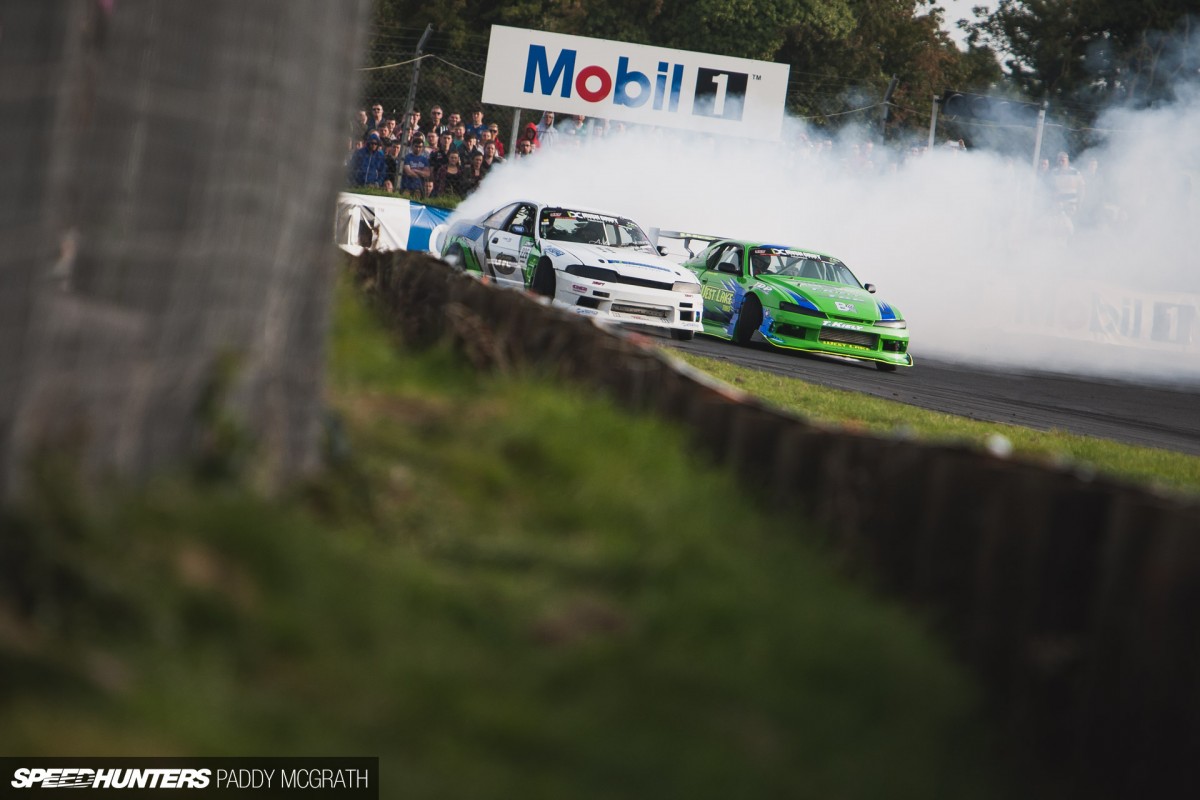 Again, Top 8 was of no problem to Tomás as he beat UK driver Martin Richards unanimously and set himself up with a Top 4 encounter with James Deane.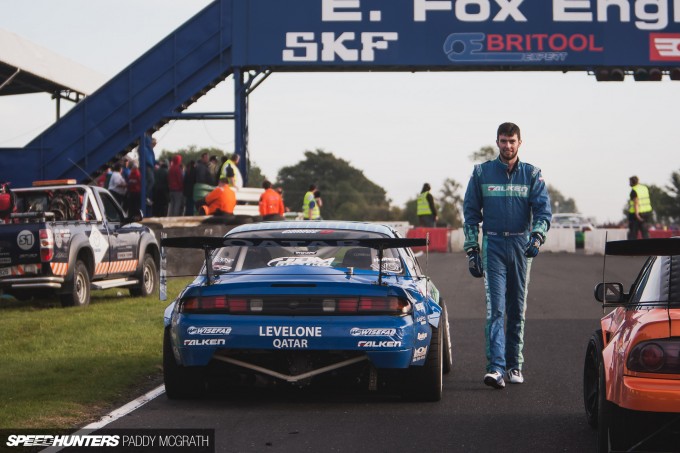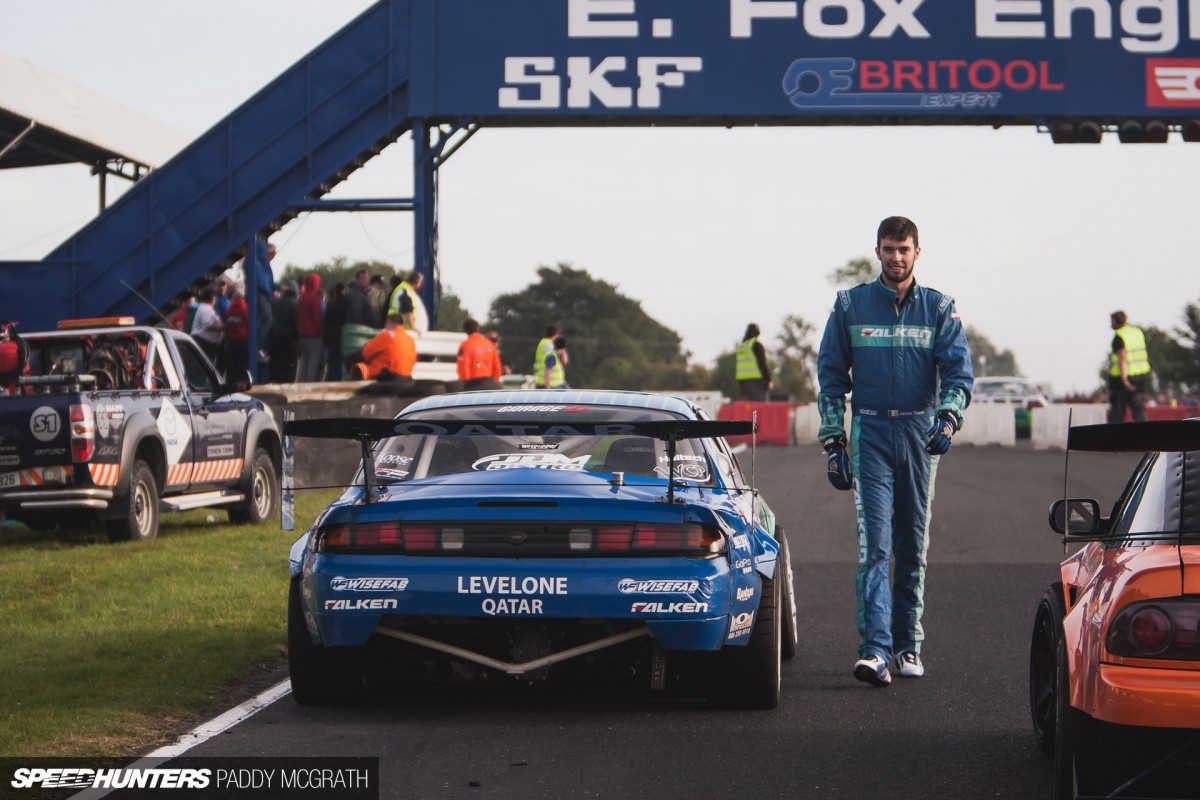 This was the battle that would almost certainly decided the 2015 championship and it couldn't have been more relevant. At 15 years old, James already had a championship under his belt. When he was 16, he claimed both the Prodrift Ireland and Prodrift European titles before continuing his domination across Europe ever since. What really makes it appropriate is that James and the Deane family have played a huge role in supporting both Tomás and Jack in their careers so far.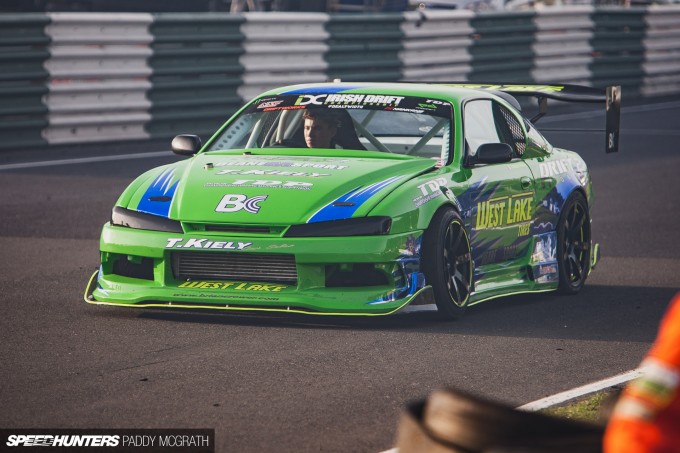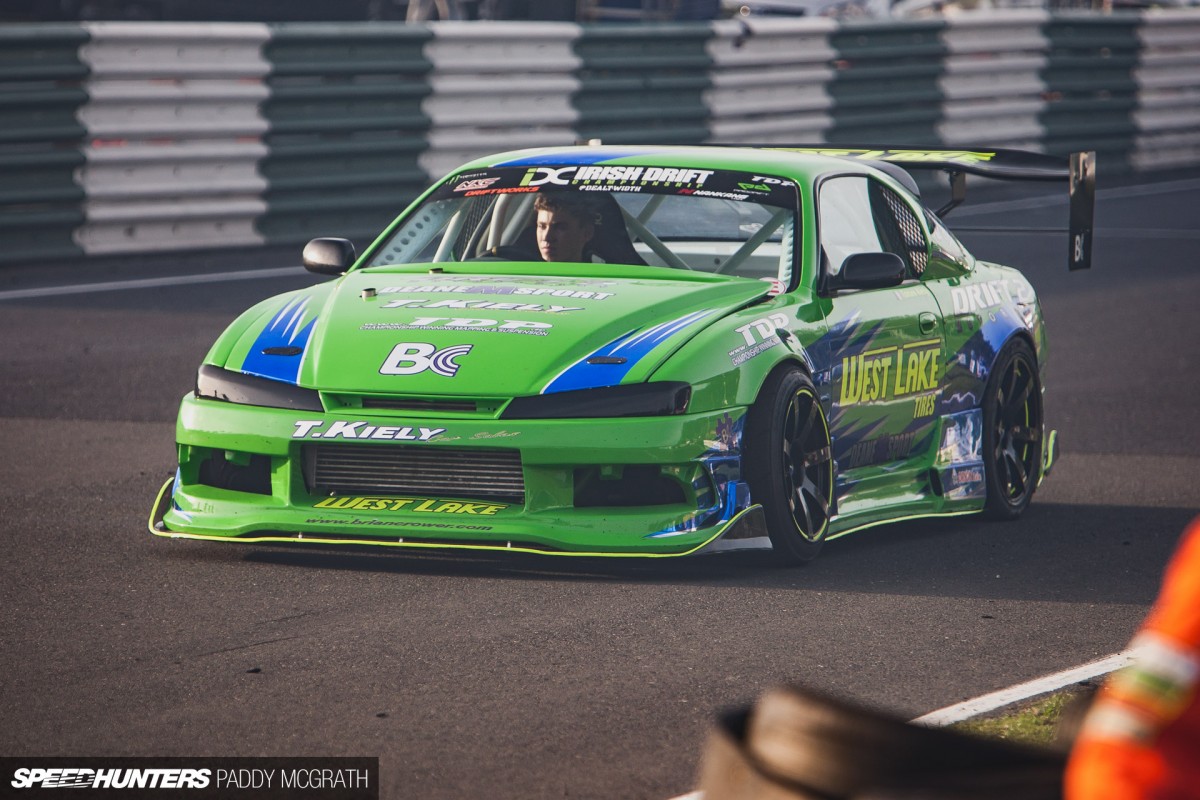 This is a 15-year-old sitting behind the wheel of an 813hp car, waiting to do battle with a multiple national and European champion. What was to come were simply the greatest battles that I've ever seen with my own eyes.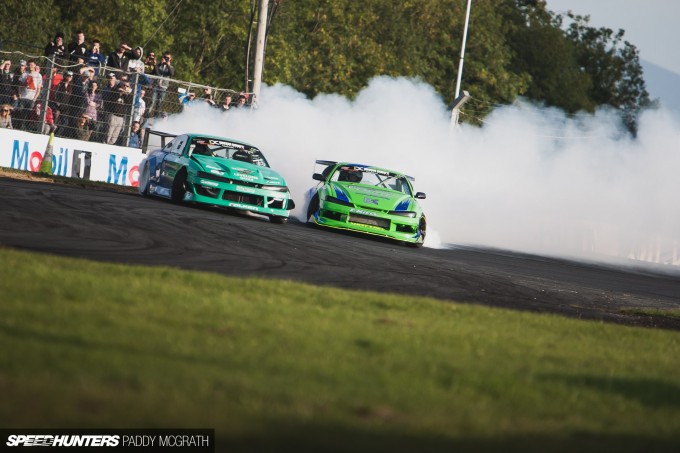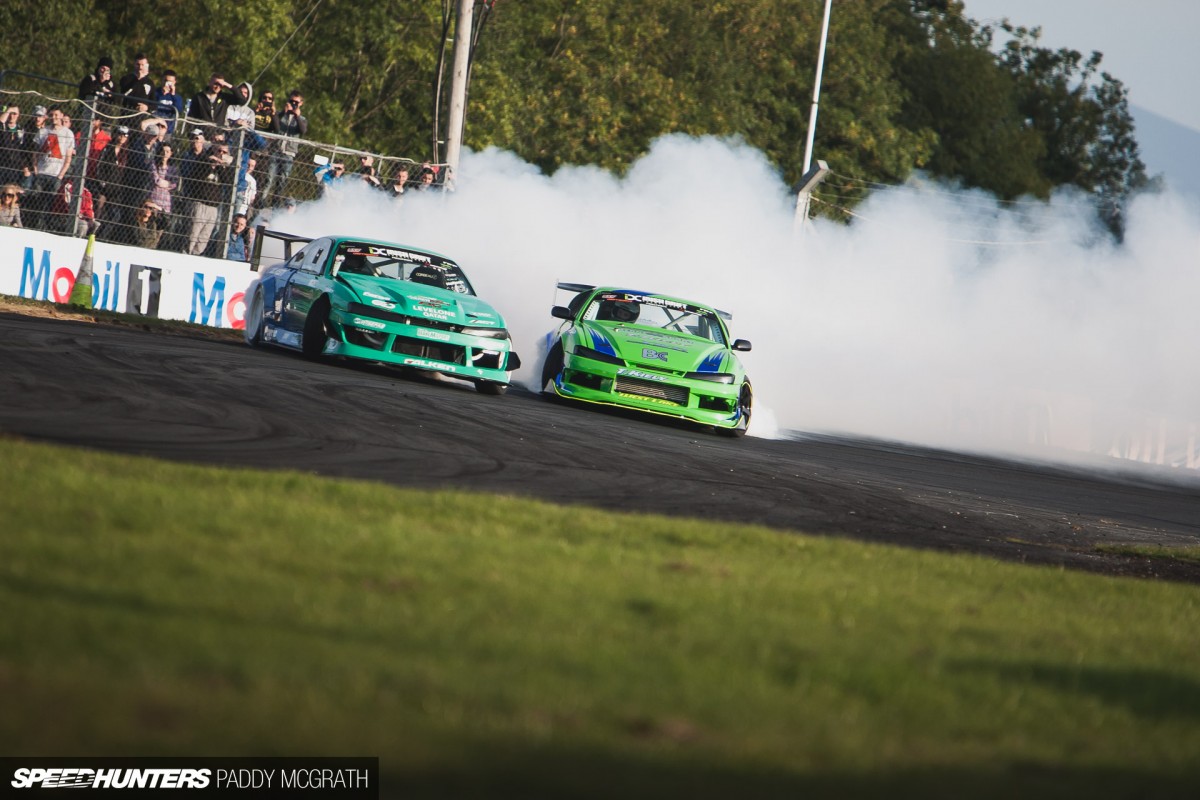 Whatever James could throw at Tomás, Tomás was ready and able to throw right back at him. The two 2JZ-powered S14s shadowed each other perfectly in front of the thousands of spectators who were on their feet and screaming for both drivers.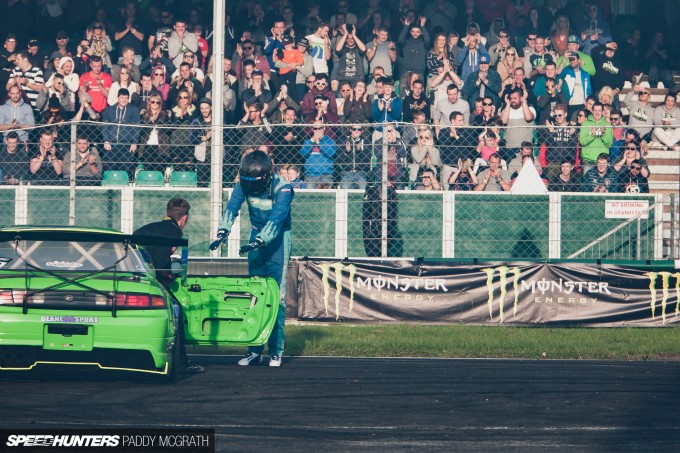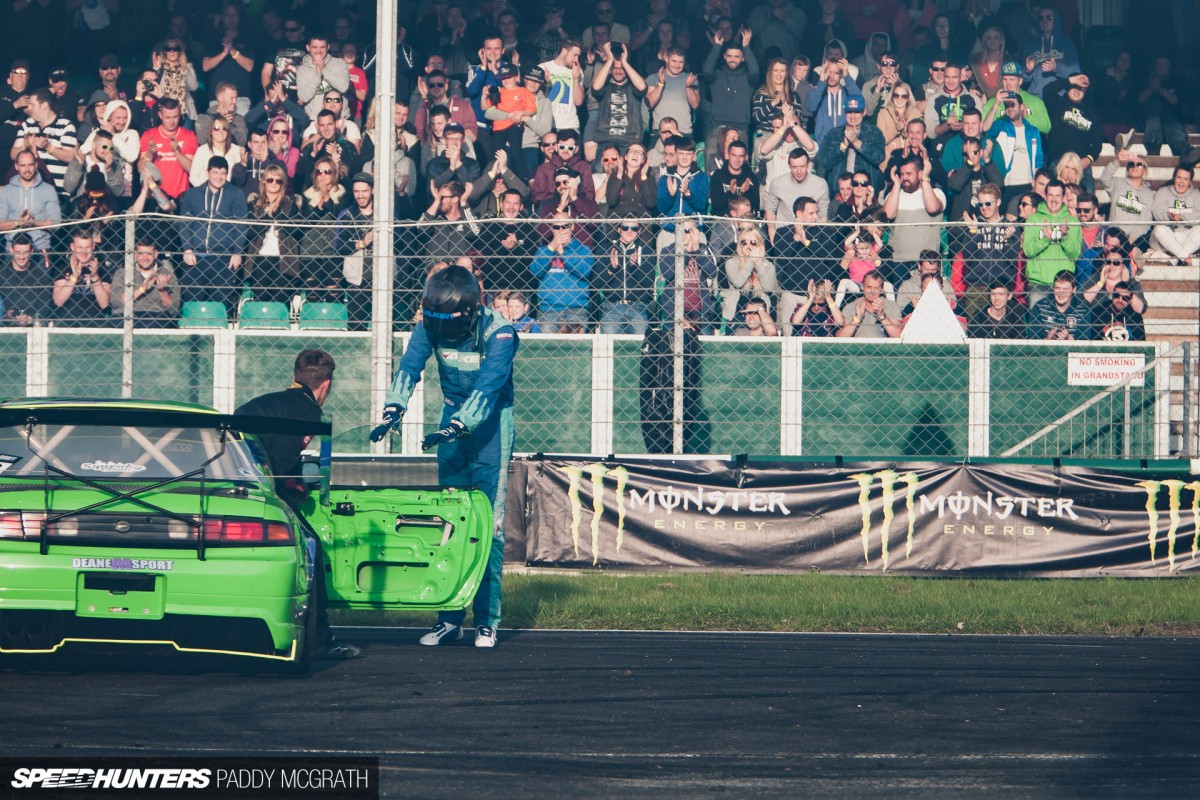 Pulling up in front of the grandstand to await the judges decision, Deane expressed his feelings quite clearly, bowing before Tomás as he got out of his car. The judges decision? One more time. I don't think Mondello Park has ever heard such a loud roar of approval. The hairs were standing on my neck.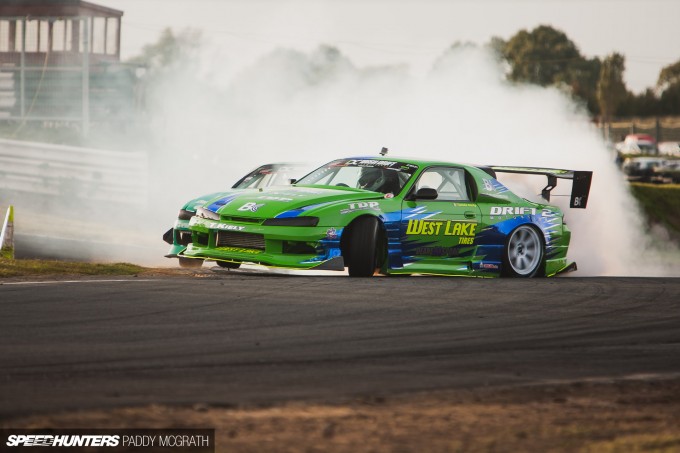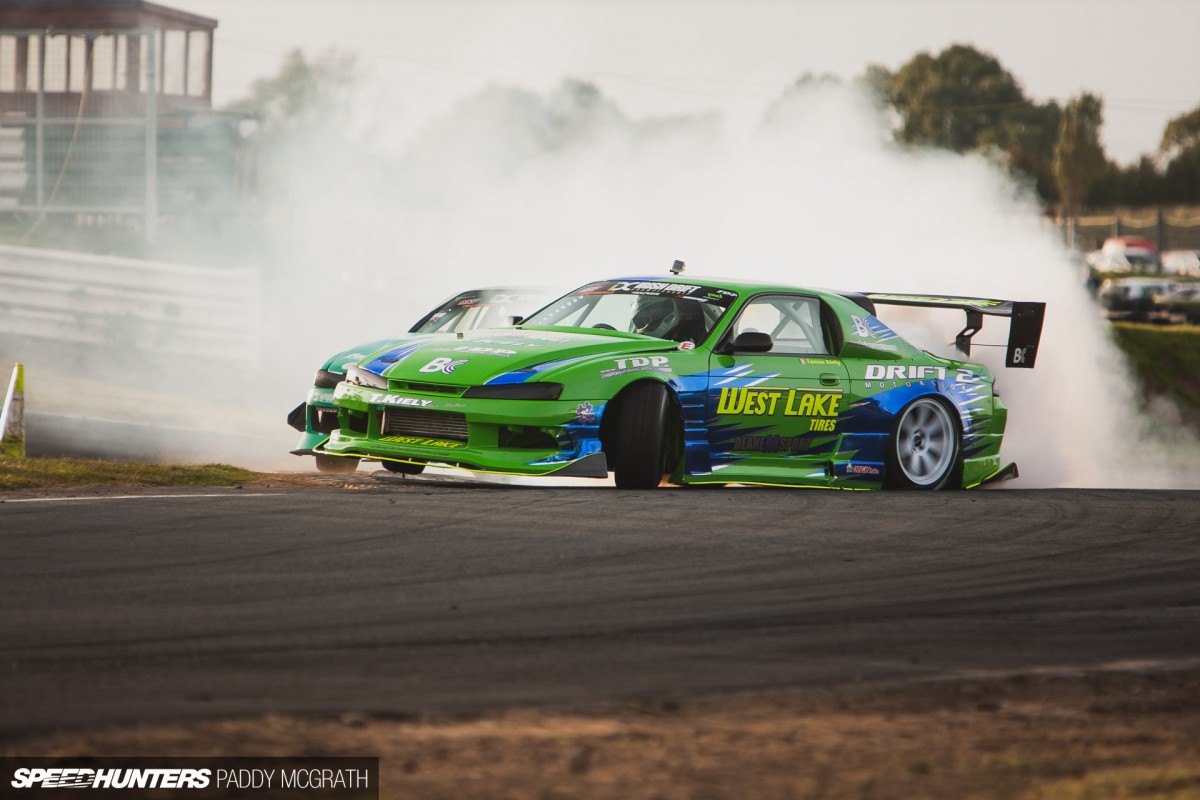 For the second time, the pair were inseparable and with no other choice, the judges were forced to another OMT. I'm critical of OMTs at the best of times, but I really couldn't see any other option for the judges. There was nothing in it.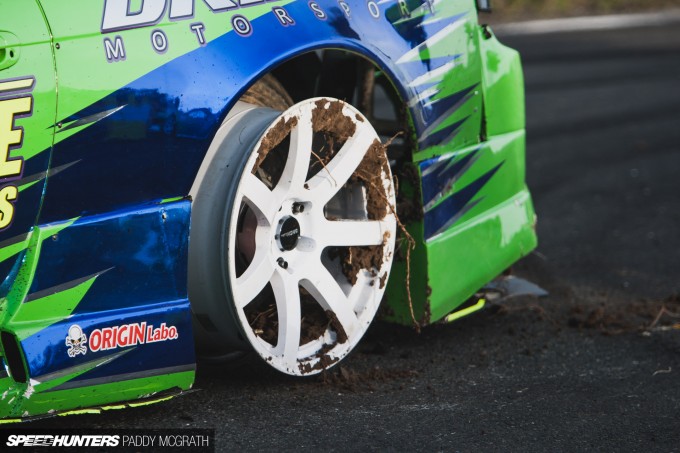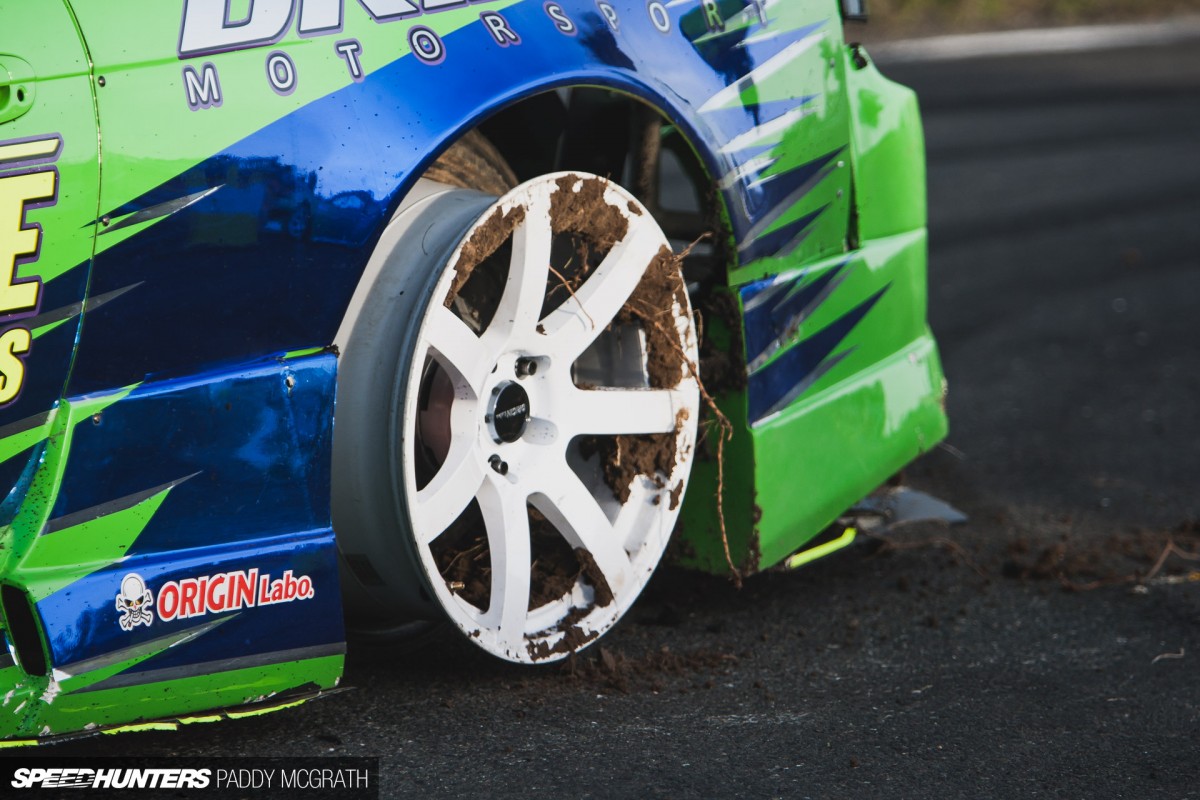 Dropping a wheel off the track after the finish line, de-beaded Tomás' tyre who was forced to call a 5-minute rule for the simple enough fix and fresh rubber for both drivers.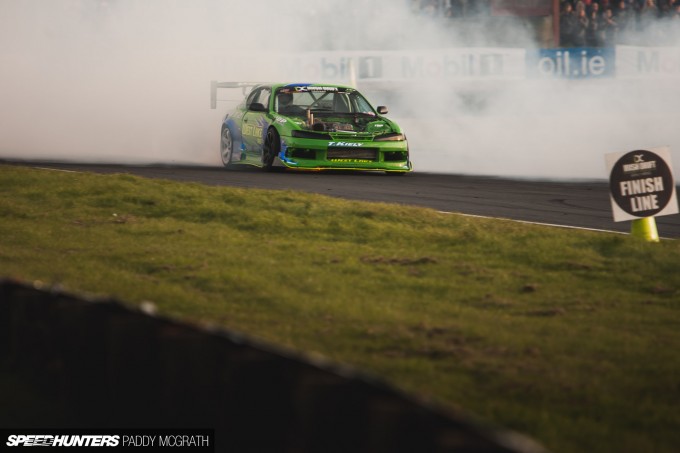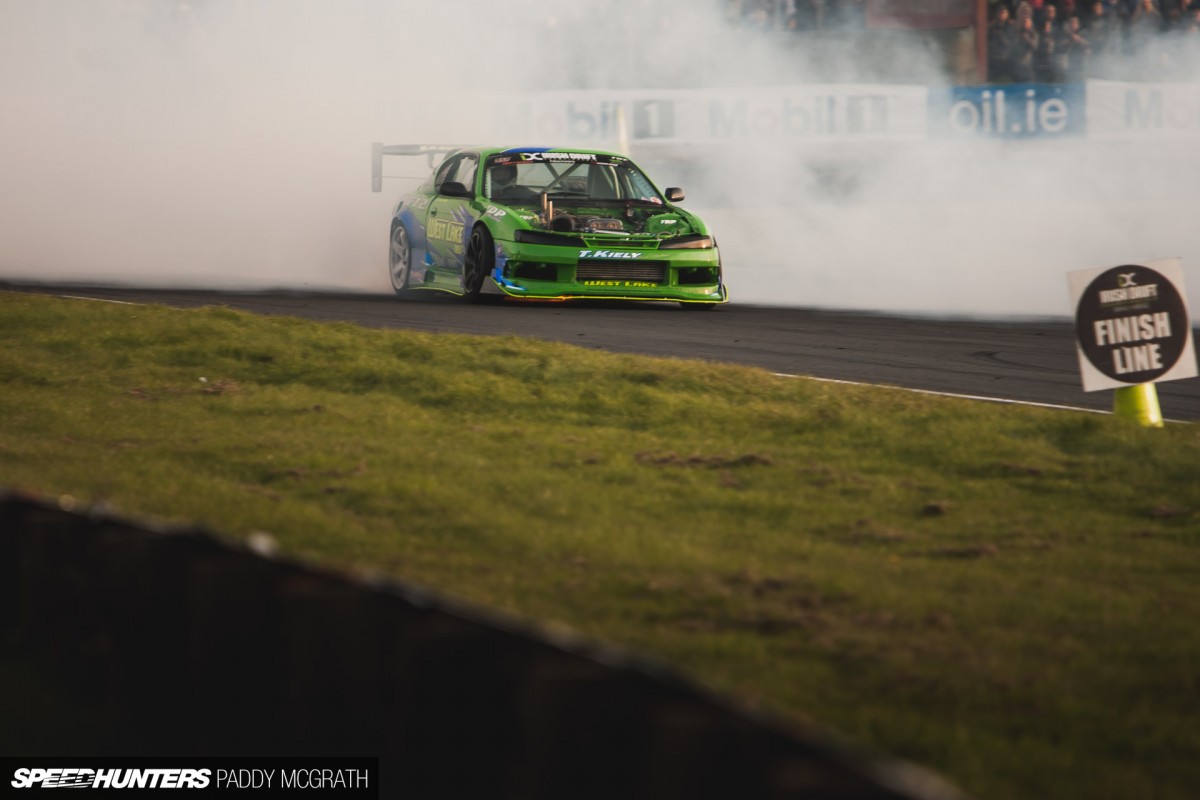 The cars were returned to the start line and would run for the third consecutive battle. In an effort to provide some relief to the 2JZ, the bonnet was removed from Tomás' car. However, on the run into the first corner the car was clearly struggling. As both cars rounded the final corner, the six cylinder Toyota of Kiely's S14 finally gave up the ghost and ejected a connecting rod onto the track, followed by a flash fire.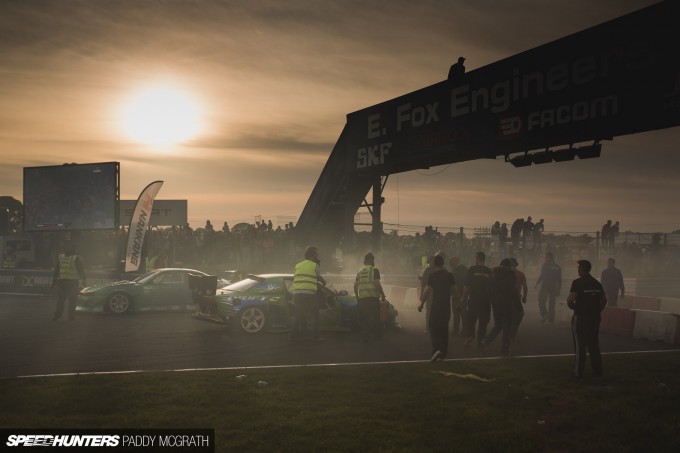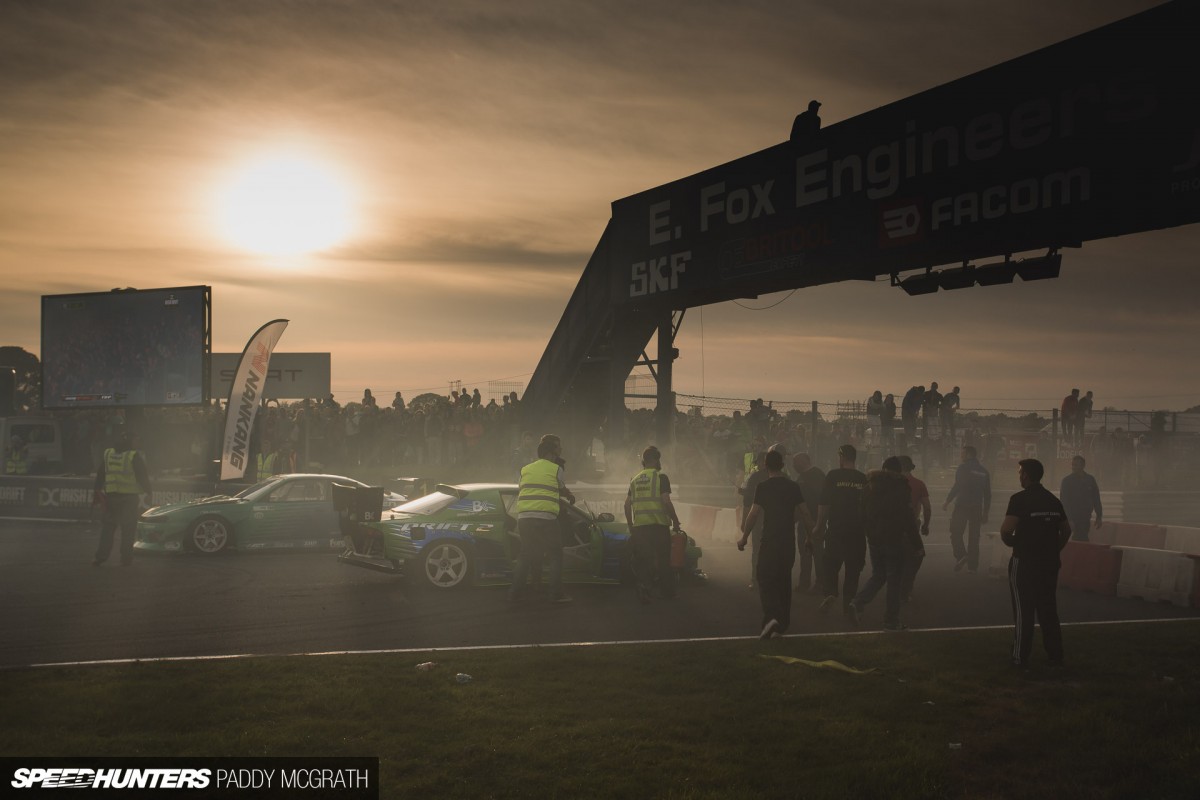 More out of hope than anything, a crowd of drivers and other team members rushed to Tomás' car to see if it could be repaired.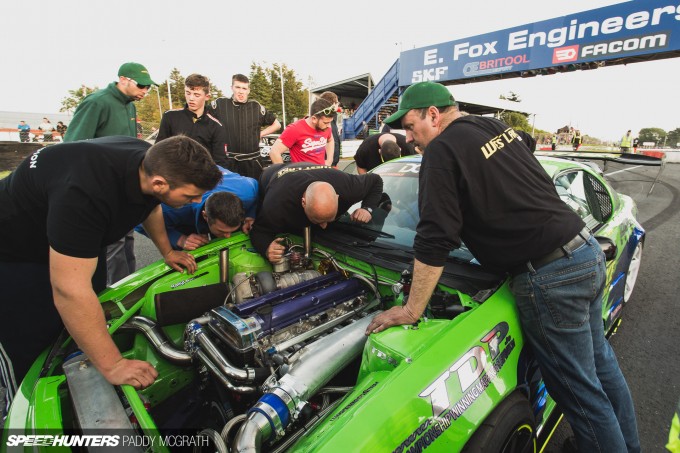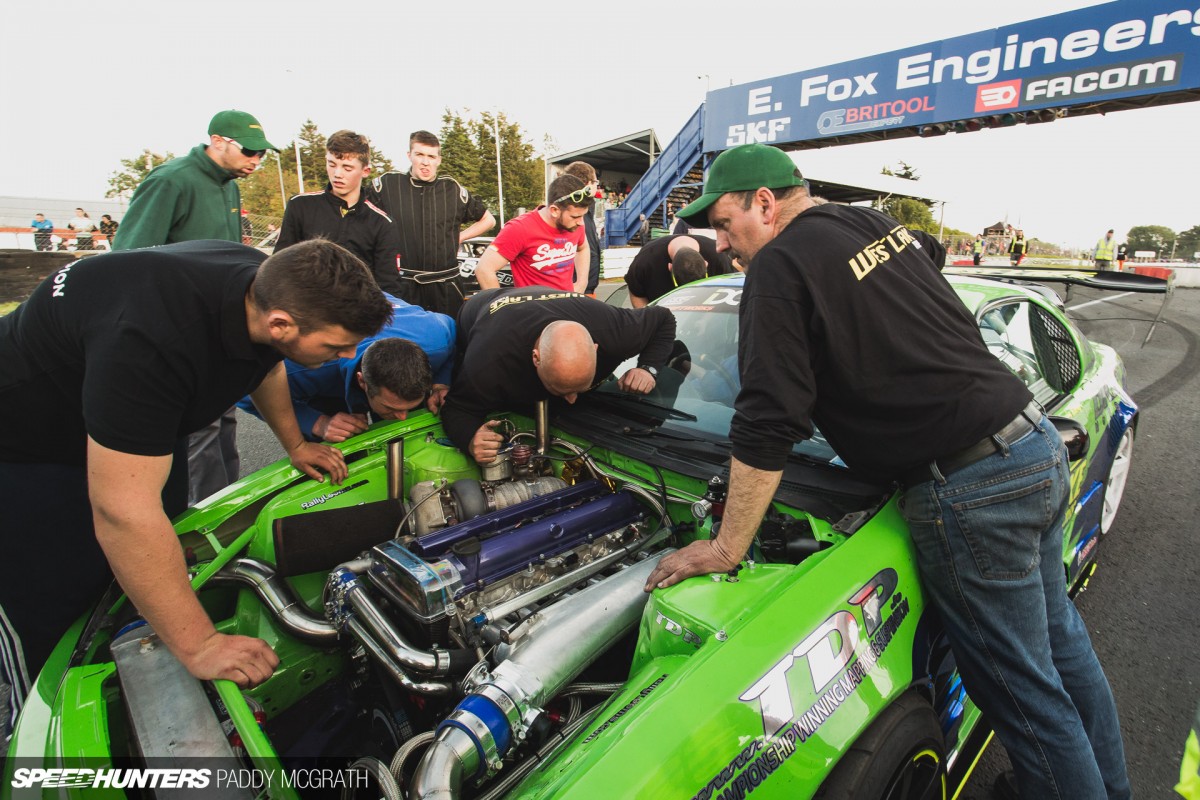 Amongst the first to help were Jack and John Shanahan. Despite his own cruel exit, Jack was there straightaway, and when it was known that the car was done for, he was the first to support Tomás. Despite their young age, both of them show such incredible maturity that only comes with an upbringing by great parents in a great environment. Of course, both were disappointed, but they could easily push that aside to respect their fellow competitors. Once the official announcement that James had progressed came through, Tomás ran over to him to congratulate him.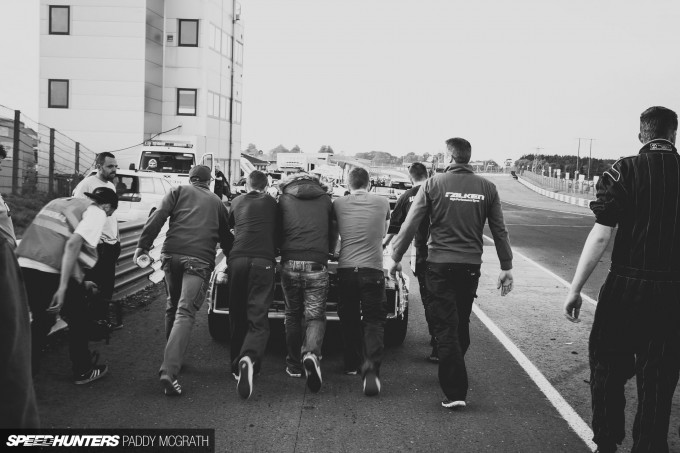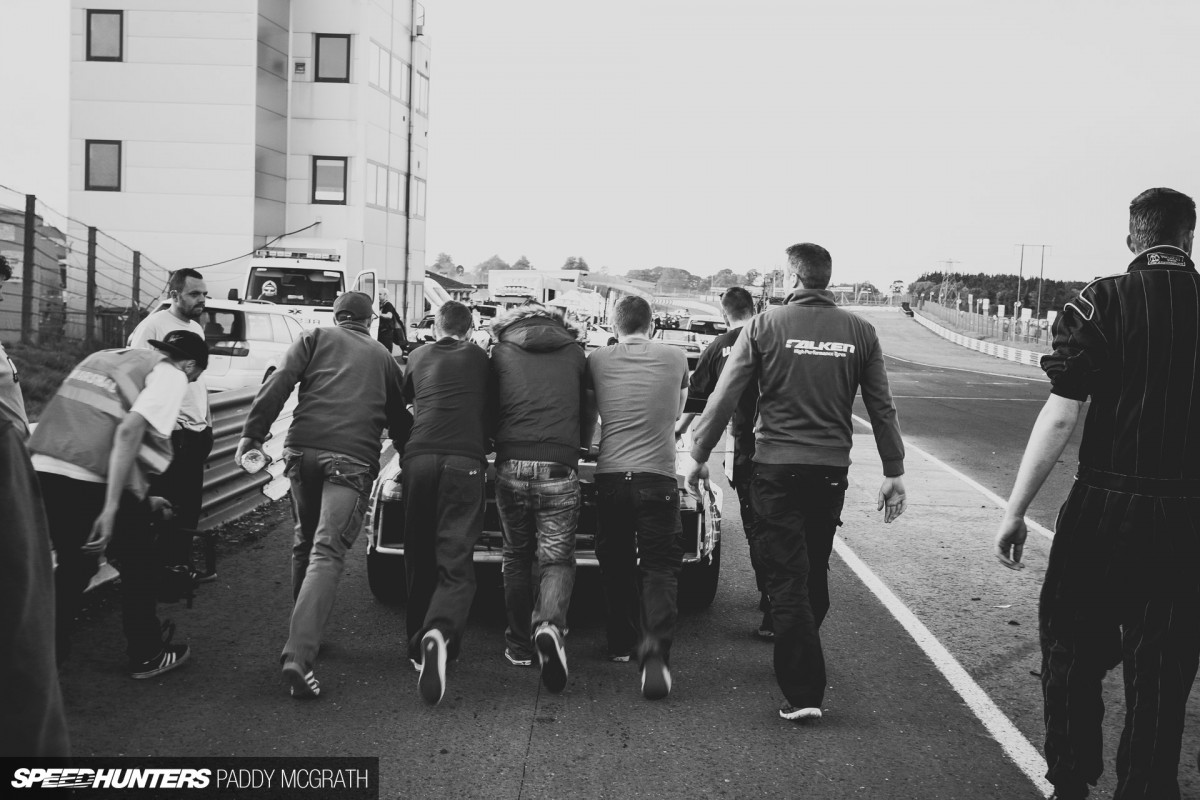 It's not how this should have ended. The universe stole away from us more great battles, but such is life.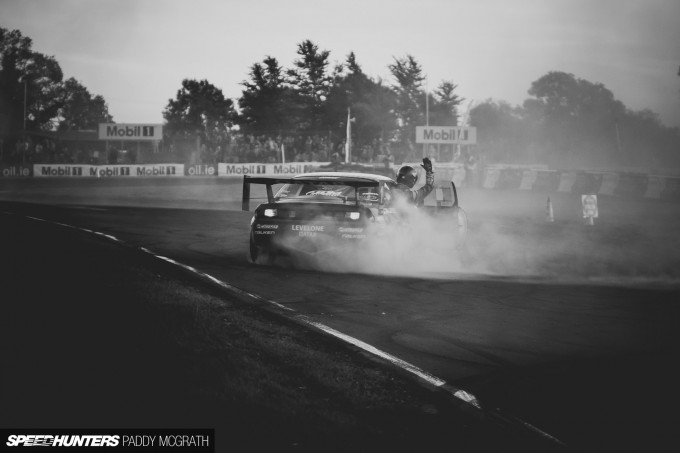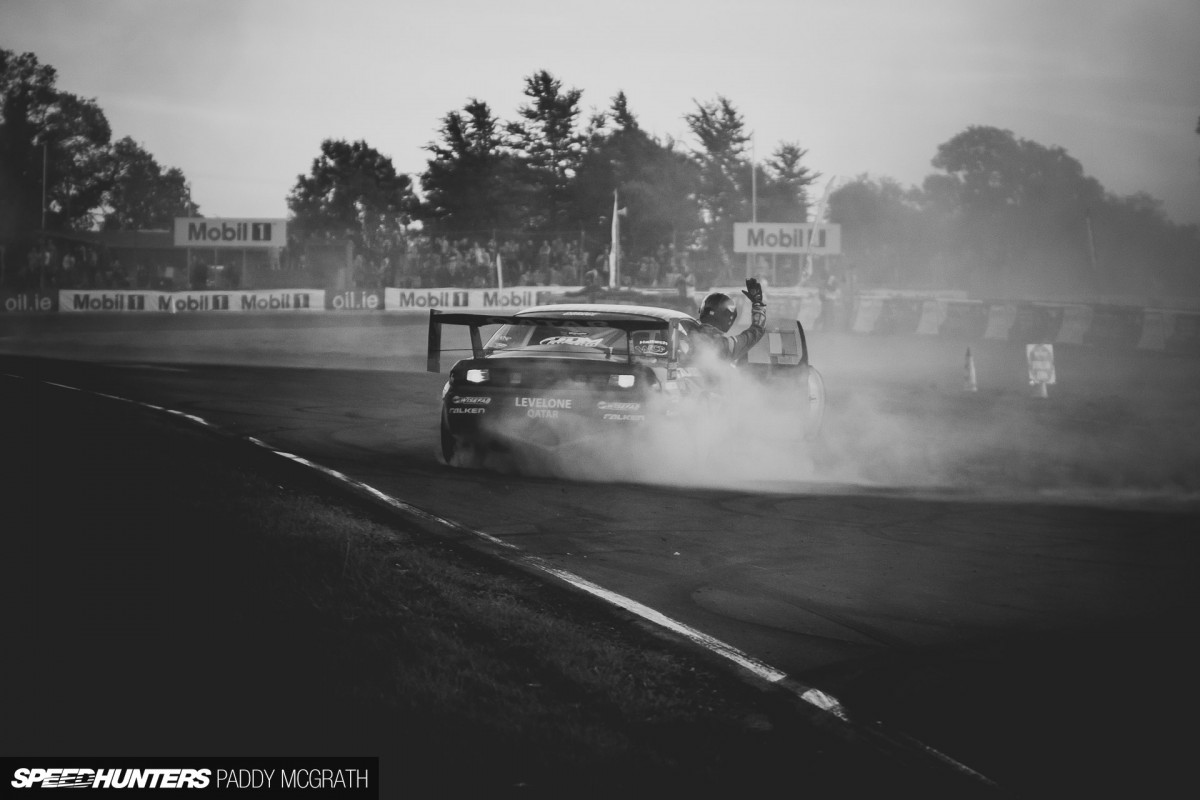 With Tomás unable to compete in the battle for third place, the championship was James', regardless of what happened between him and Japspeed driver Shane O'Sullivan in the final. James being James though, he went and won the event outright anyways.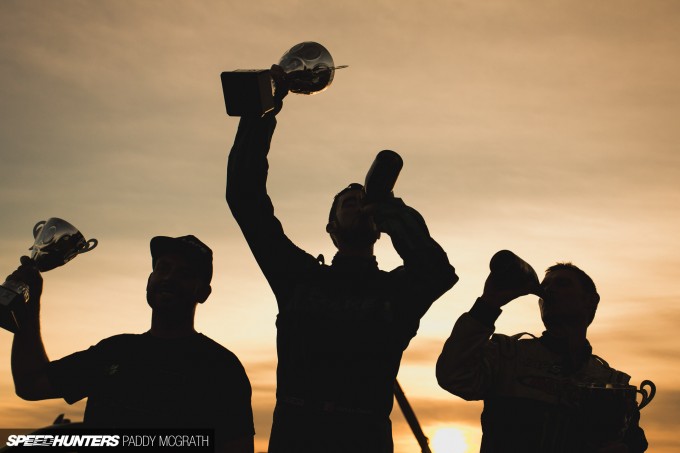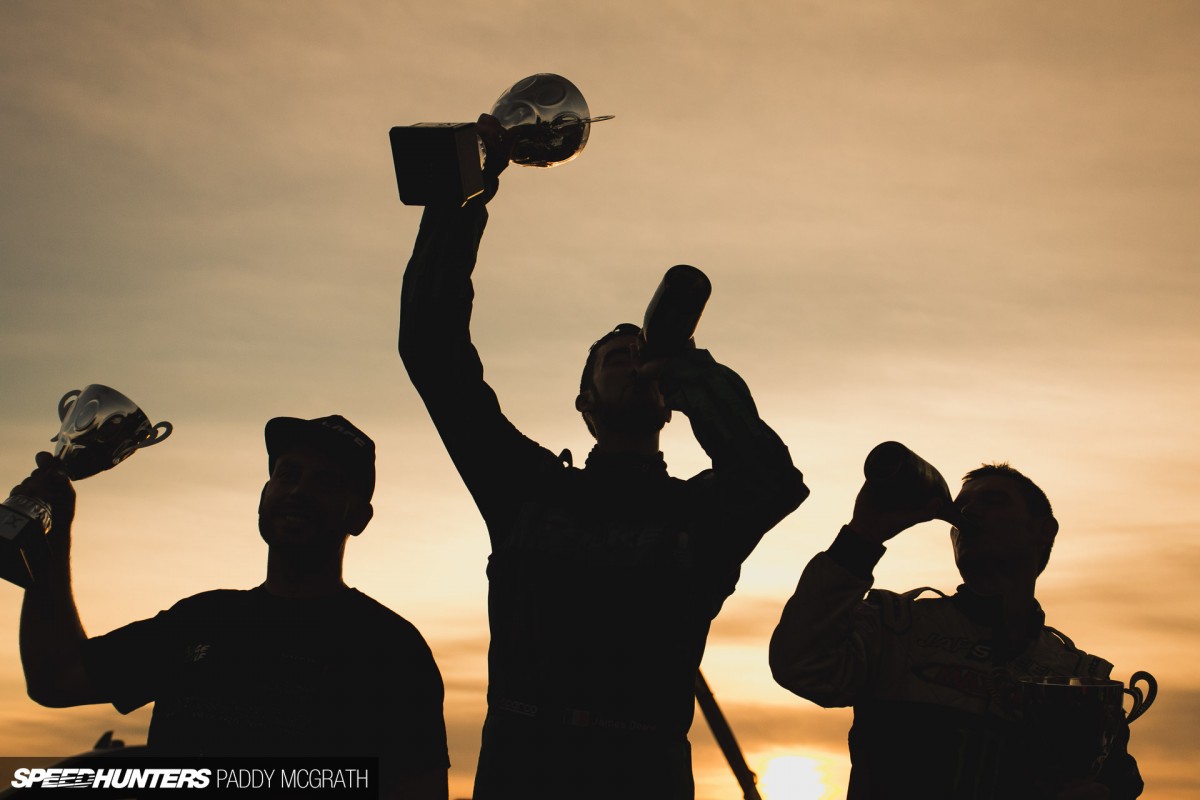 As the champagne dried and the sun set behind Mondello Park, both the Kiely and Shanahan families were on site to congratulate an ecstatic James Deane. As Siobhan Kiely and Valerie Shanahan made their way through the crowd, James' immediate reaction was to apologise for winning the championship away from their sons. Both mothers only had the most sincerest of congratulations and hugs for James, as did the rest of their families.
It was both a cruel and appropriate ending to the 2015 Irish Drift Championship. Whilst neither Jack or Tomás were victorious, it's clearly only a matter of time before these two are known around the drifting world, if they are not so already. Both of them possess not only the talent but also the right attitude to learn from this and improve even further. I've never seen such talent in young drivers, James Deane included in that. Over the course of this season, both Jack and Tomás have gone toe-to-toe with James at different events and have forced James to several OMTs between them, with only mechanical issues being the deciding factor.
Jack, Tomás. You are both champions in waiting. Your time will come.
Paddy McGrath
Instagram: pmcgphotos
Twitter: pmcgphotos
paddy@speedhunters.com
Cutting Room Floor