Early Adopter
I know I can't be the only one who feels that the internet, and more recently social media, makes it seem like time passes faster than ever. How many times have you scrolled through dozens and dozens of someone's Instagram photos only to get to something that happened hardly a week ago? With everything being updated constantly and always connected, it's easy to lose track of time.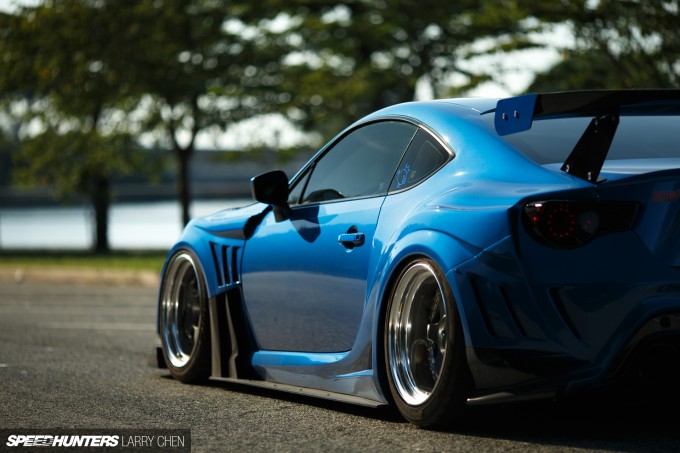 On that note, it's hard to think it's already been over three years since the Scion FR-S and Subaru BRZ were first introduced to the roads of America. But in that time a huge community of enthusiasts has grown around the cars.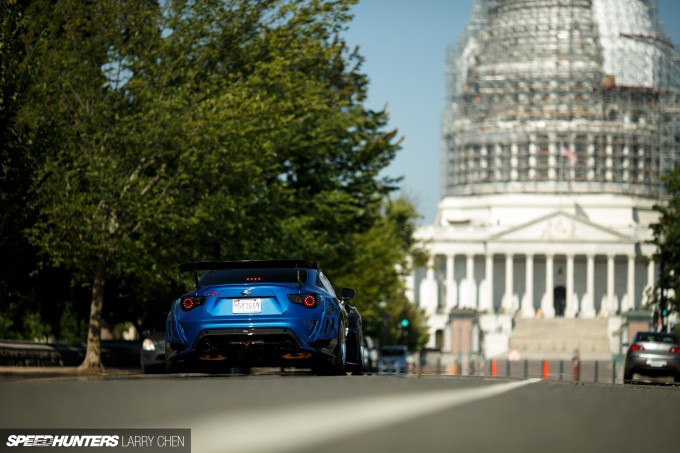 While the initial hype surrounding the coupes may have subsided a bit, the passion that owners have for these boxer-powered sportscars is as strong as ever.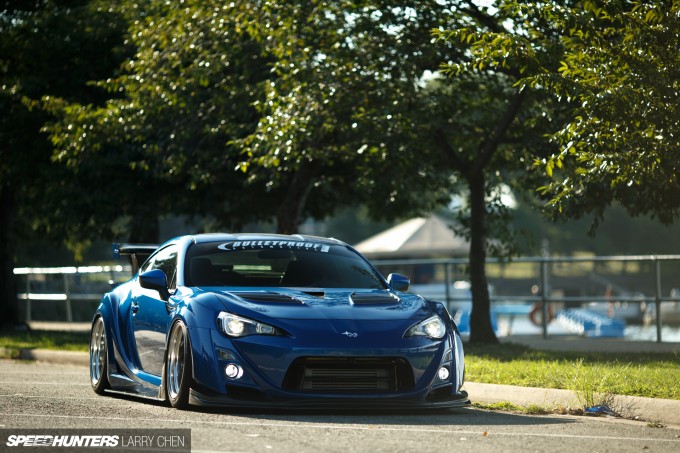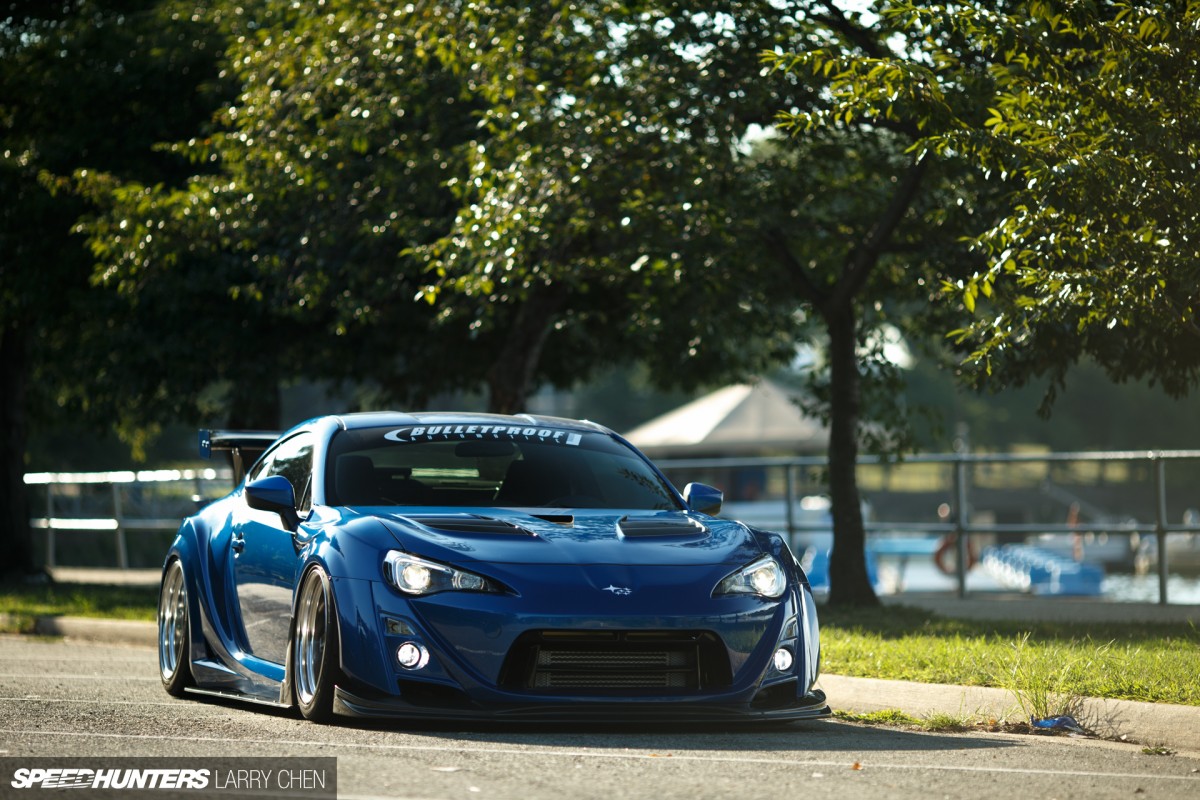 One of those owners is Nguyen Le, the guy who drives the heavily-modified Subaru BRZ you see here. And like a lot of the country's most dedicated FR-S and BRZ enthusiasts, he's been there since day one. Prior to the debut of the BRZ, Nguyen worked as a tech at a Subaru dealership where he learned how to repair and rebuild the brand's cars from the ground up.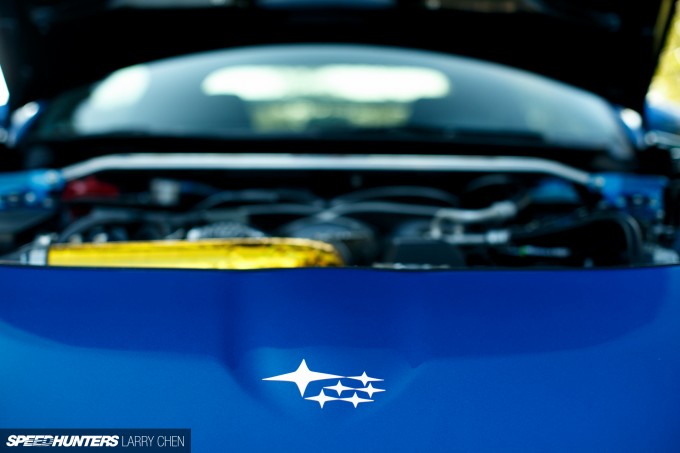 For a while he had a beat-up old Lexus and a Kawasaki motorcycle as his transportation, but when he heard that Subaru would be releasing a rear-wheel drive sportscar he was extremely interested. Like many people, Nguyen followed every move of the car's development.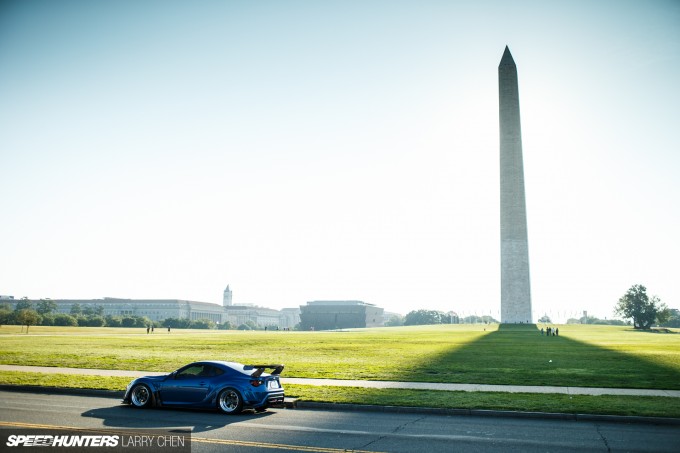 In early 2012, a Subaru rep stopped by the dealership with a pre-production BRZ and Nguyen fell in love with the car's heavily driver-focused attributes. He immediately placed an order, vowing to become one of the first BRZ owners in the USA.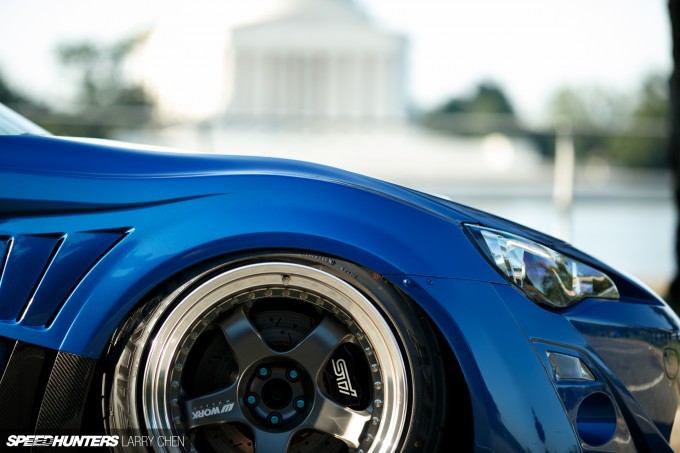 In May of 2012, Nguyen took delivery of his car and quickly began to tinker with it. He began with the simple stuff: fitting lowering springs, larger wheels and an upgraded intake system.
Enter Boost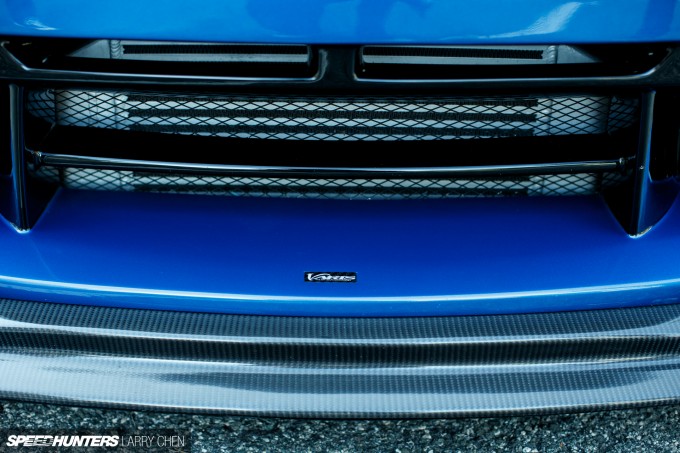 Nguyen loved the way the car felt with the upgrades, but he knew it was lacking something. Power. Having been around so many turbocharged WRXs and STIs, he knew forced induction was something that needed to happen.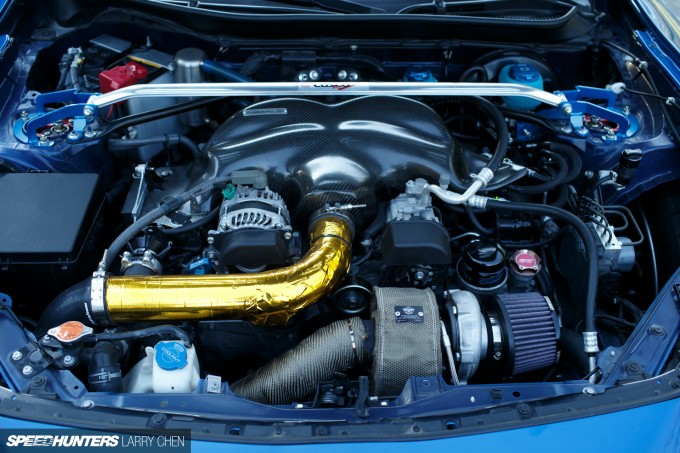 He went with a Full Blown Stage 1 turbo kit, and needless to say, he did all of the install work himself. With boost, the BRZ was initially making a stout 320 horsepower at the rear wheels.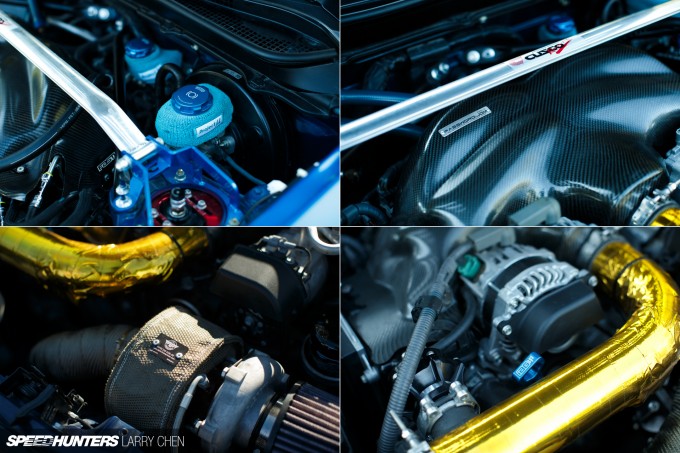 Over the years Nguyen continued to hone the engine setup, more recently adding larger injectors and an E85 tune for an at-the-wheels figure of 401 horsepower and 307lb-ft of torque. Lack of power was no longer an issue.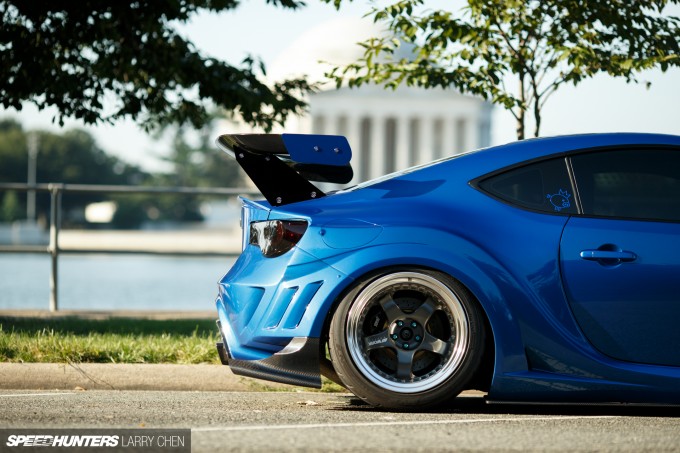 But making the BRZ faster would be just one of Nguyen's goals for the build; next he turned his attention to the car's exterior. He'd been watching the aftermarket grow with great interest, and took a big liking to the Varis wide-body kit.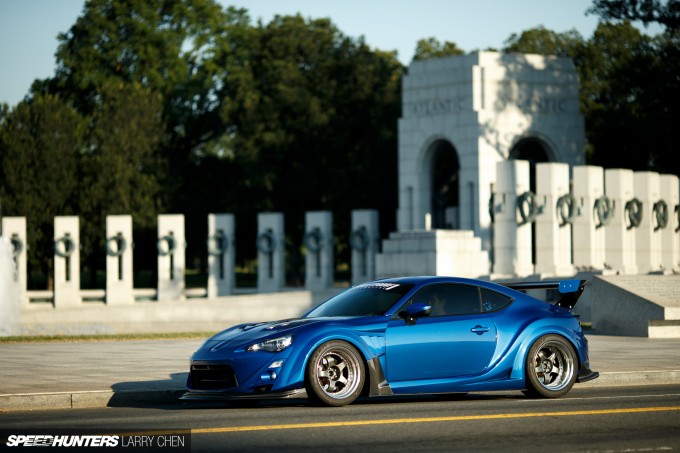 Nguyen got in touch with Bulletproof Automotive to see about sourcing the kit, and found that it wouldn't but cheap. But knowing that it would be of high quality, he had to have it. At this point Nguyen decided to go full-out on the build. He sold his motorcycle to help fund the Varis kit and began to gather other parts to take his BRZ to the next level.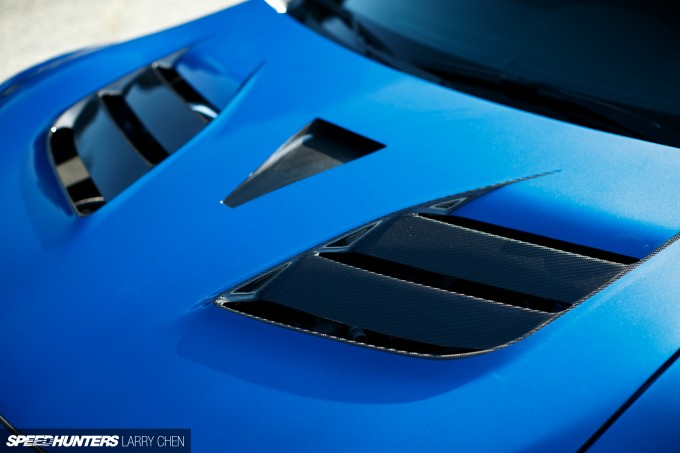 It wasn't until February of this year that he was ready to install all the parts he'd gathered in his house. For the kit install and body work, Nguyen called on his friend Joe Adams at Collins Collision.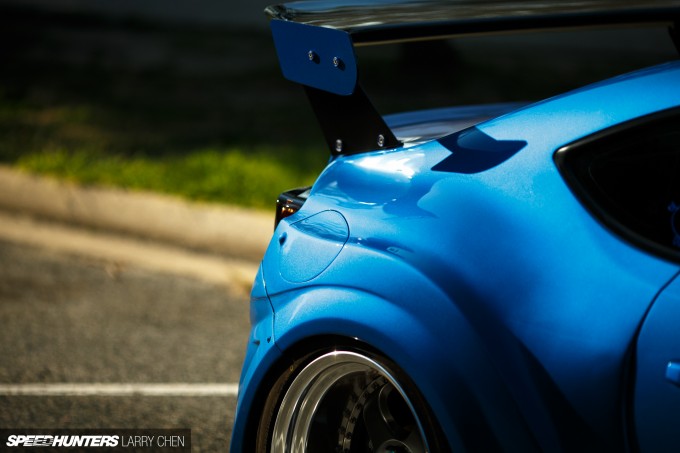 Nguyen wanted the car to have an OEM quality look, and that meant great care had to be taken during the install. He also wanted the rear quarters to be fully molded with no exposed rivets.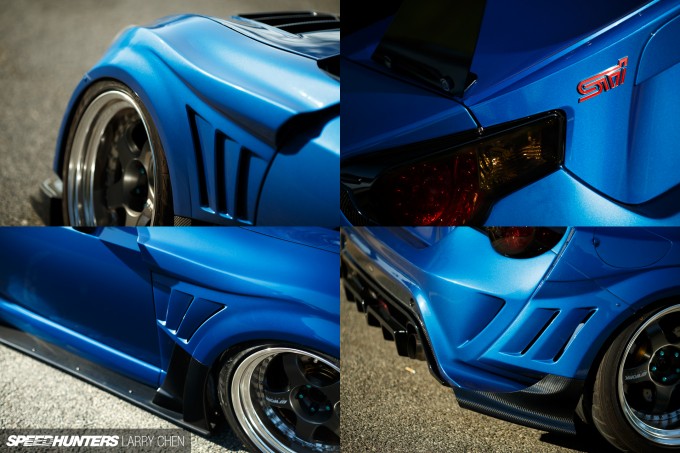 Along with the full wide-body kit, the car was also fitted with a Varis carbon fiber hood, a Stillen trunk lip and 1600mm-wide carbon wing from a Porsche 993 GT2 Evo2.
Doing What The Factory Won't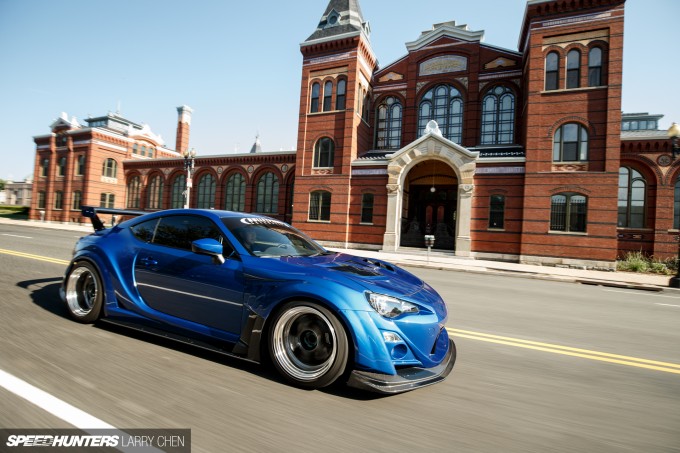 Nguyen wanted the car to sit right with Varis kit with no wheel gap, but also be friendly for daily driving. So he went with a fully adjustable Air Lift kit with V2 management that can be adjusted on the fly.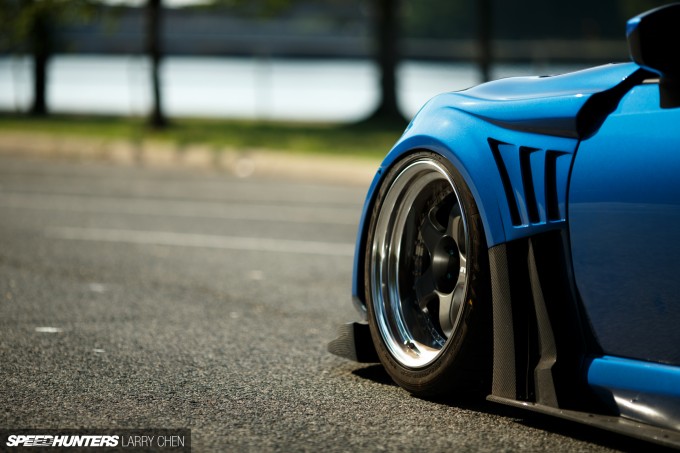 He also wanted the car to handle well, so he gave it a full performance alignment and fitted a number of other upgrades including Perrin sway bars, Whiteline control arms and more.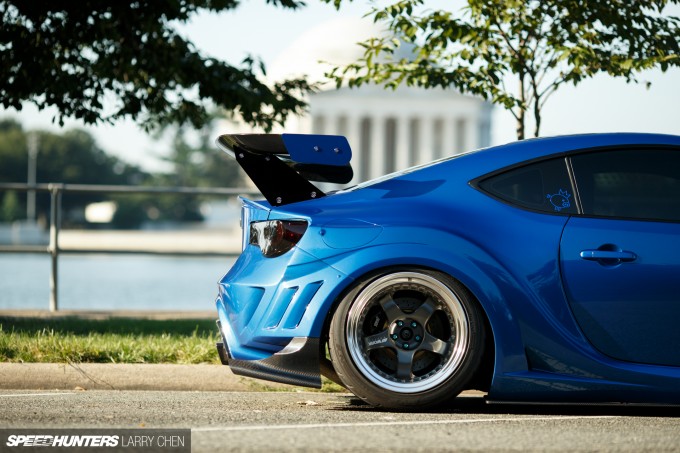 Being a huge fan of RWB Porsches, Nguyen knew exactly which wheels he wanted for the car's makeover: Work Meister S1s with dark gray centers.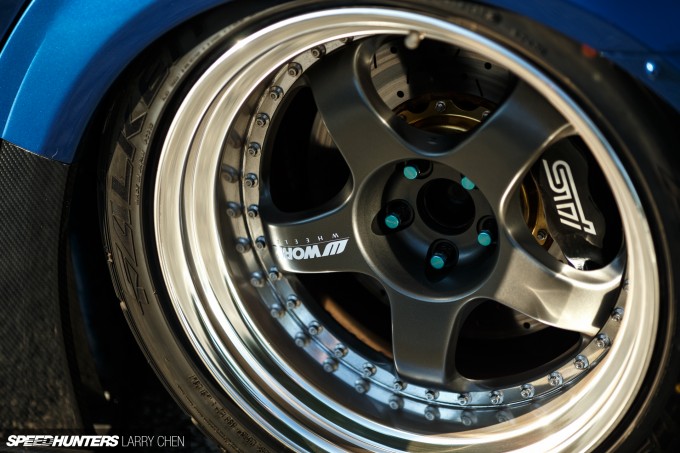 The wheels measure 18×10-inch in the front and 18×11-inch at the rear, and if you look behind the spokes you can also see the '08 STI Brembo brakes fitted at both ends.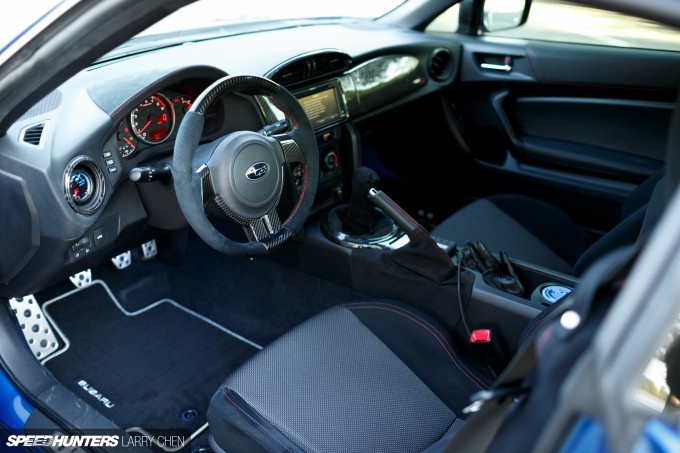 Inside the car you'll find a mix of tasteful upgrades including an ATC Sport carbon fiber steering wheel and a full collection of Alcantara trim from JPM Coachworks.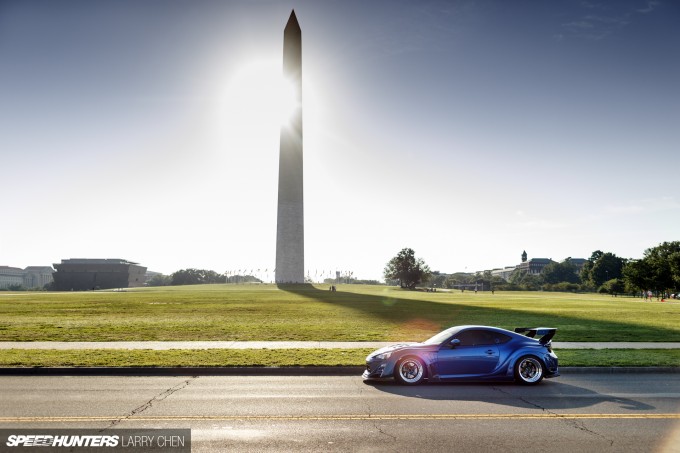 Nguyen also ordered a set of Recaro RS-G SK2 seats, but they arrived just after Larry's shoot with the car in Washington DC. Other future plans include more power and a color change to Midnight Purple II from an R34 Skyline.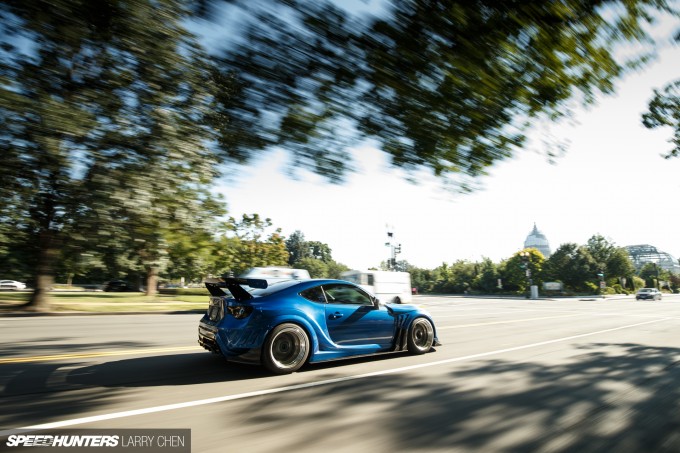 Because it seems like Subaru is not going to make a turbocharged STI version of the BRZ anytime soon, Nguyen figured he'd make his own. And we think he's actually done one better, creating one of the nicest and most well-rounded BRZs we've ever seen in the United States – or anywhere else for that matter.
Mike Garrett
Instagram: japanifornia_media
mike@speedhunters.com
Photos by Larry Chen
Instagram: larry_chen_foto
larry@speedhunters.com
Cutting Room Floor