Splash & Grab
Rain beyond measure, saturating the track and soaking my gear. Drivers slithering round, desperately searching out the grip, the rasp of on-off throttles distinct over the relentless hammering sound of the falling water. Noise beyond belief, standing open mouthed in the pit-lane as 20,000 horses struggled on the leash in front of me, the 50-plus big-banger sportscars of the Masters Historic waiting to flood out onto the sun-drenched track. The refreshing ice in a chilled beaker of oh-so-British Pimms as I took in the latest bonkers-fast road-racer Morgan AR about to be launched. Flares in the gloaming sky as aerobatic planes danced around above the roaring Group C cars that raged below.
Such a range of extremes at the 2015 Silverstone Classic.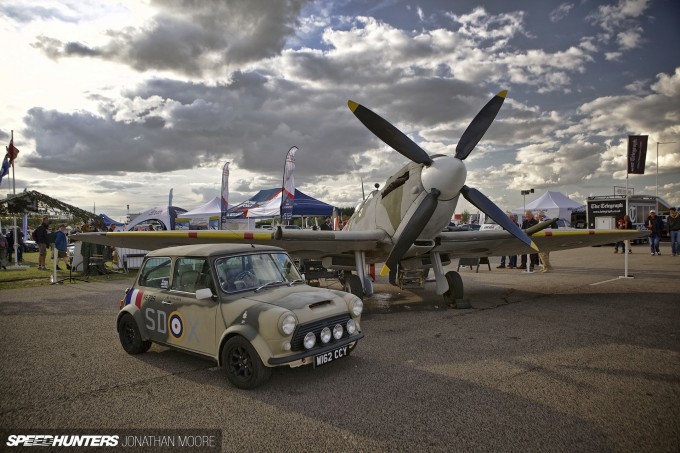 I love going to car events and almost without exception enjoy any and all styles of festival whilst I'm there. But there are some that in retrospect particularly stand out. That's usually down to specific visceral moments, usually unexpected, that stick in the memory.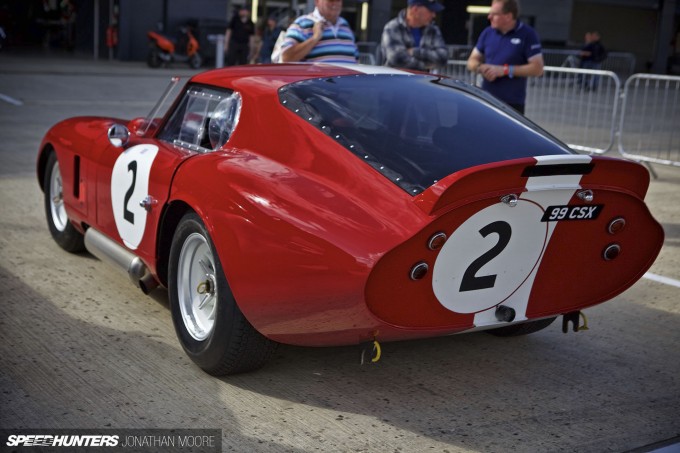 Already this year I've been lucky enough to attend some incredible events, like the annual Geneva Motor Show in Switzerland, the Spirit Of Montjuic Festival in Barcelona and the Goodwood Festival Of Speed. Each had its moments of joy and wonder; all were an overload of both quantity and quality.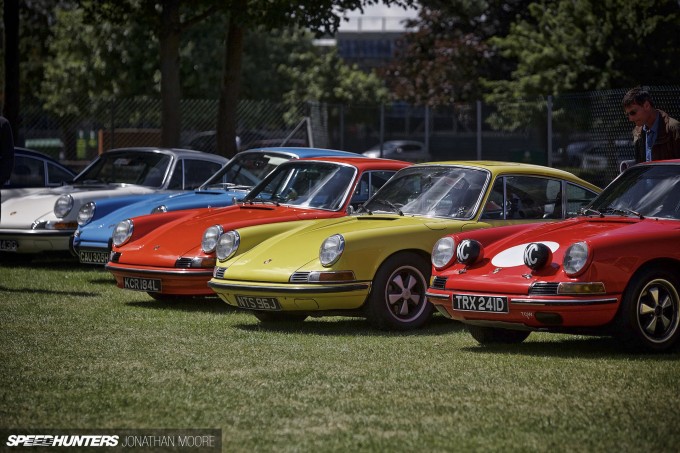 However, the Silverstone Classic was a different beast. It blasted me with so many differing emotions over the two days I was there. Sensory overload one minute, delight in new discoveries the next, the ever-changing conditions to the kick of a particularly good chicken tikka kebab. It all went to easing the aching muscles from trudging round Silverstone's never-ending perimeter.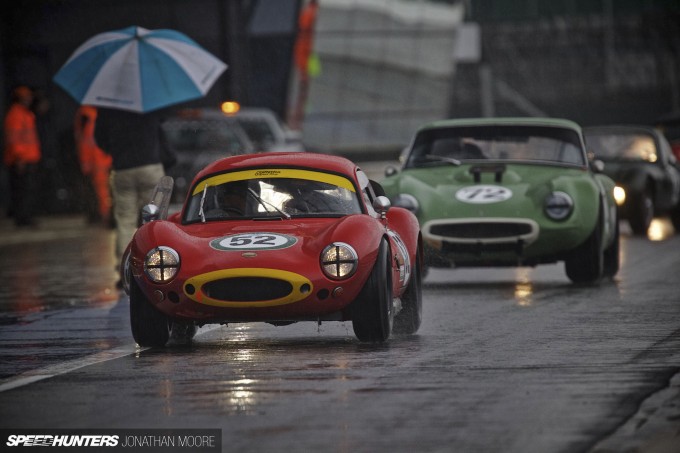 It started with the biblical levels of rain on Friday afternoon, following a brutal five hours stuck in traffic on the nightmare merry-go-round that is the M25 London Orbital Motorway. A decent lunchtime arrival ebbed away until it seemed like I'd barely arrive before the entire track closed down for the night.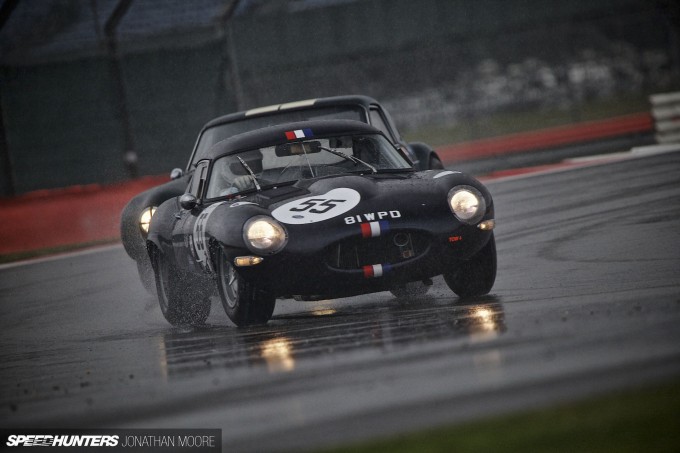 Finally parked up, I signed on and arranged my gear as quickly as possible. Within seconds the boot of my car was already soaking as I struggled to waterproof my kit; within metres of speed-walking to the main gate everything from boots up was saturated. But I was strangely happy. I actually enjoy proper, heavy rain – although my gear never thanks me for it.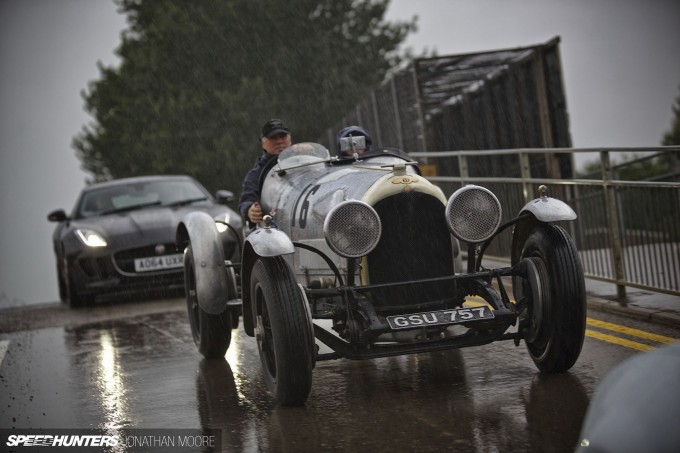 My only concern was whether anyone would actually risk taking to the track as the afternoon drained away and the dark evening closed in. As I moved closer, there seemed to be a lot of cars heading in the other direction…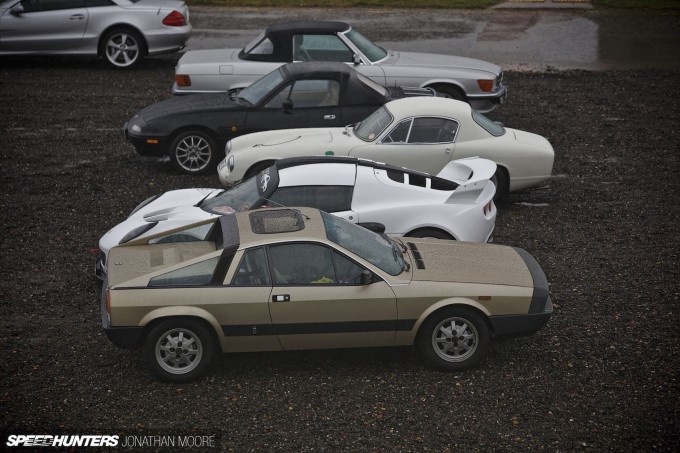 I'd been thinking of concentrating on certain aspects of the Classic. After all, I've already given you a flavour of Group C, Formula 1 and classic sportscars at previous events such as the Spirit Of Montjuic Festival. In particular, there would be the '90s GT Legends and a healthy dose of Super Touring cars – but then I arrived and that plan went out of the window.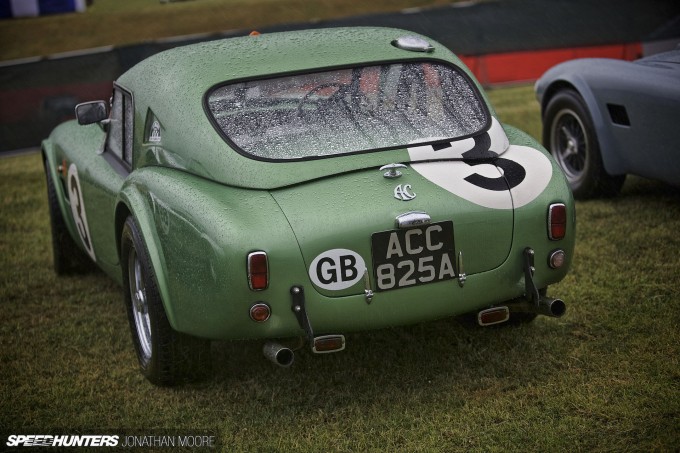 I'm useless, basically. No ability to concentrate as soon as I'm faced with any kind of collection of cars. Even though the majority of car club members had dissipated in the face of the storm, there was still enough of a smattering for it to take an age to make my way through a scattering of steadfast Cobras and TVRs that remained.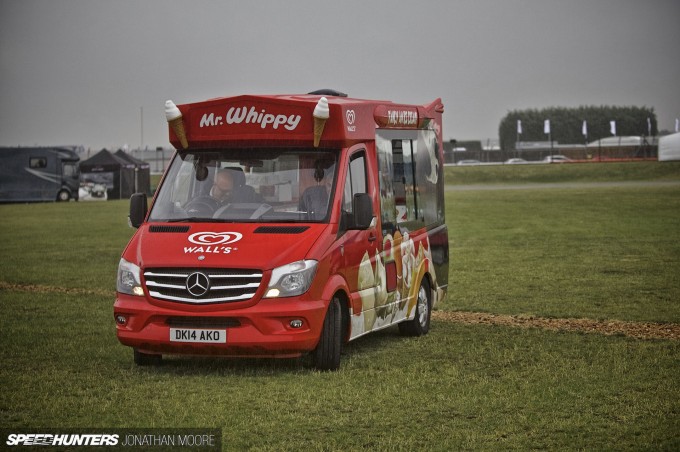 Even better, there was still an ice cream van. Not just any Mr. Whippy either, but a Merc van with aero. Go-faster ice cream.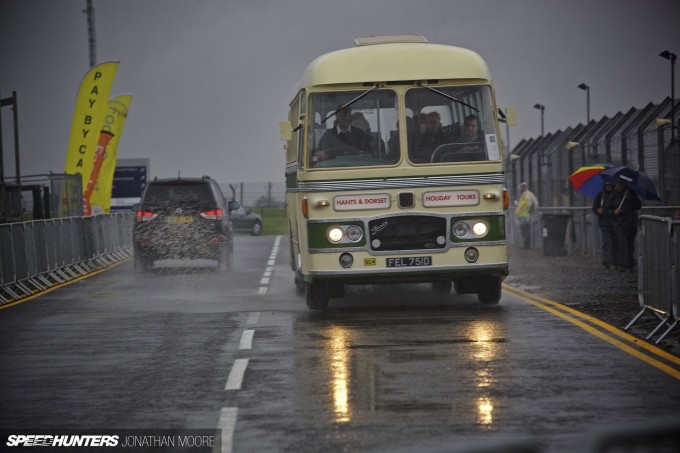 There still wasn't any noise from the track though. Silverstone was eerily free of the sound of exploding air and petrol, instead I had the incessant pitter-patter of falling rain that reverberated around inside the hood of my rain jacket along with the splash of passing buses.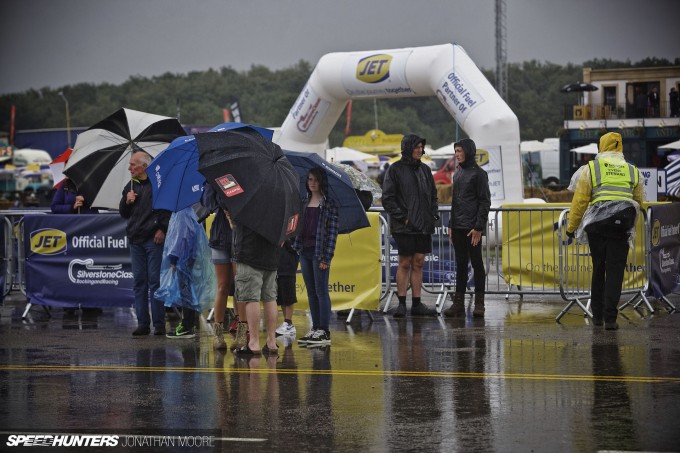 As I continued, I came across the odd cluster of the most hardy of spectators finally making their way to spots for the vintage shuttles, ready to return them to the sanctuary of modern cars with things like heaters and comfy seats.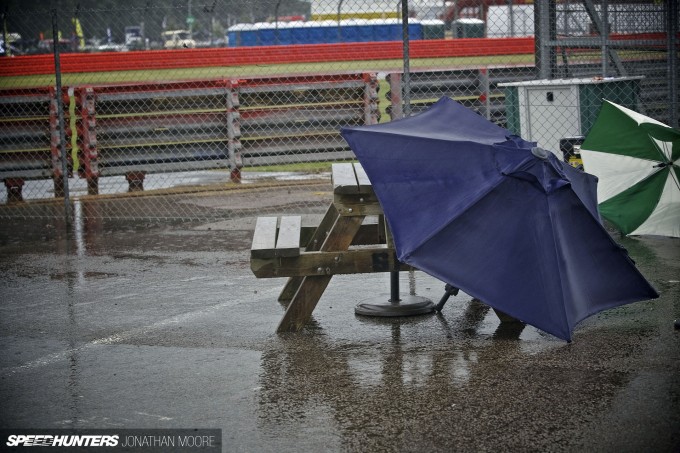 Ah, the cruel promises of an English summer!
But then what was that? A growing rumble from afar, emanating from the direction of Silverstone's sweeping Wing pit complex? Cars. Racing cars.
Reign In The Rain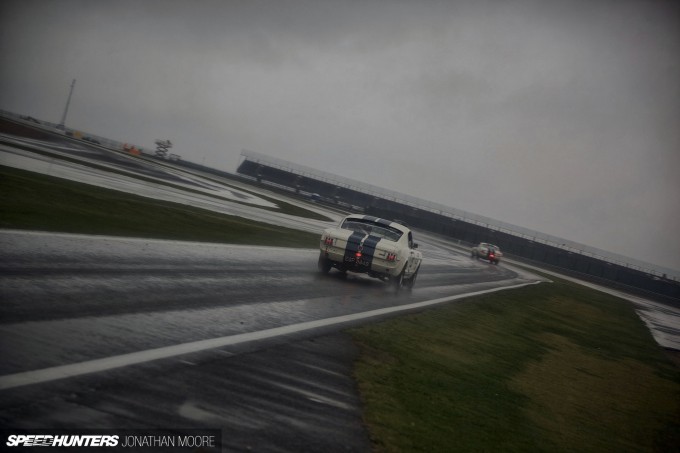 My concerns about track action abated. These are racing drivers we're talking about. Whether professional or amateur, of course they'd be out, whatever the conditions, whatever the value of the cars they had under them.
Because of the nature of historic racing, there are plenty of the latter category, and it's those people we have to thank for bringing us such a glorious and heavyweight display of machinery from across the gamut of motor racing history. After all, there's no real commercial benefit, no sponsorship opportunities of note. It's about pure enjoyment, just for the sake of it. This is a very expensive hobby for a lot of these guys, that we get to share in.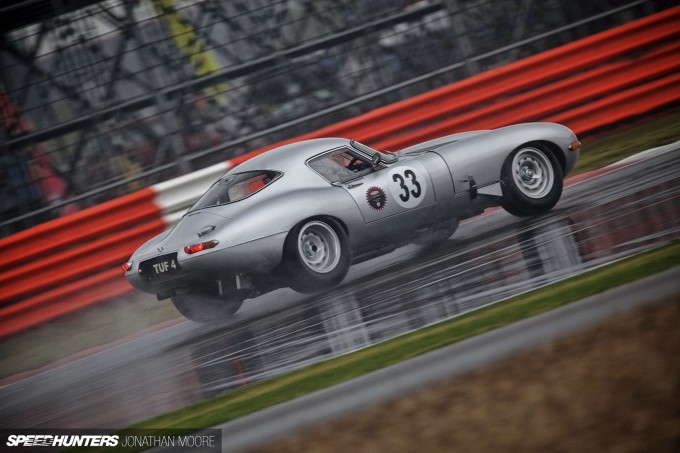 Iconic racers turned out for the Classic literally in their hundreds, sporting original liveries and classic spartan colours that just accentuate clean lines. The specific cars slithering around in front of me were from the International Trophy for Classic GT Cars (Pre '66) – just one of 18 packed grids of single seaters, touring cars, sports prototypes and more.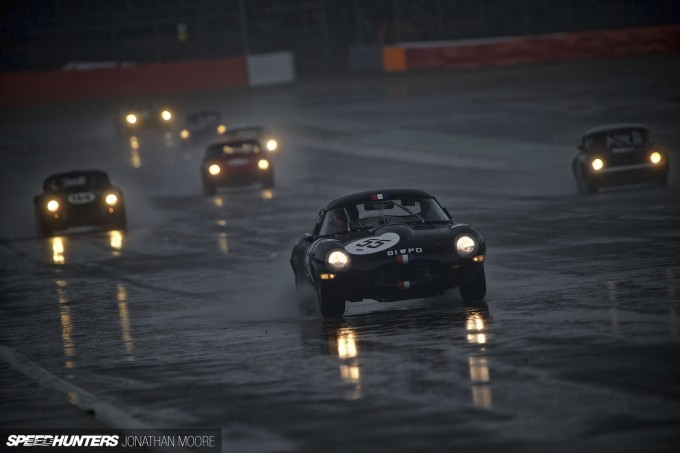 Two pages of the race card were filled with the entries for this grid alone: 58 of them! Madness. And even madder, most of them had taken to the track despite the conditions.
I picked them up at the modern Arena loop – a good place to spectate, if not a favourite part of the track for the drivers, with its lazy hard left less of a challenge and more just a bit frustrating.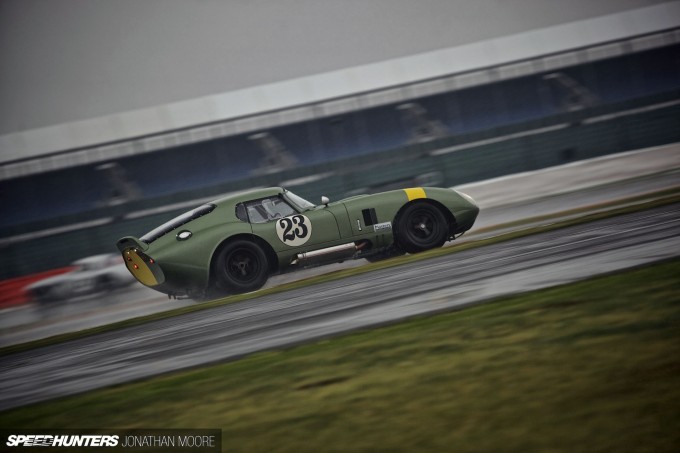 But that's in the dry. In the wet, anything that involves turning the wheel in a vintage racecar devoid of both downforce and cutting edge wet-weather rubber is a tricky proposition.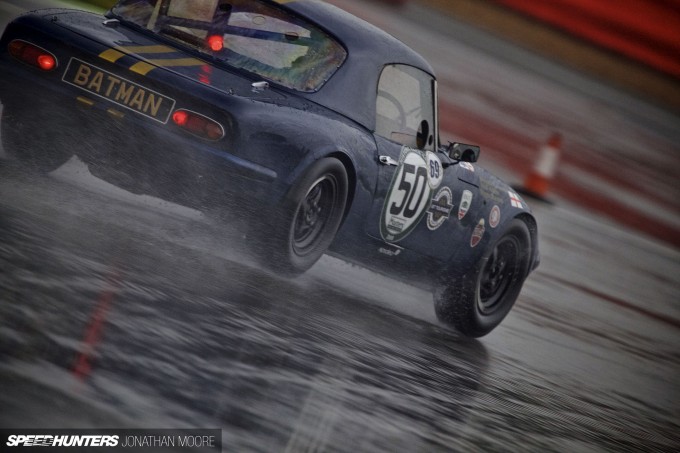 Superhuman effort was required. Which this Lotus boasted it had…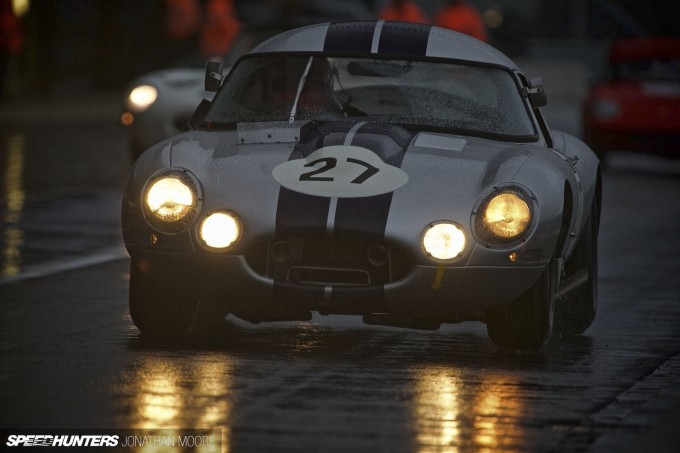 There were Jaguars a-plenty, mostly in Lightweight form and of varying authenticity, but for the most part I really don't care about chassis plates. In this lithe form the E-Type is stripped down to a muscular base.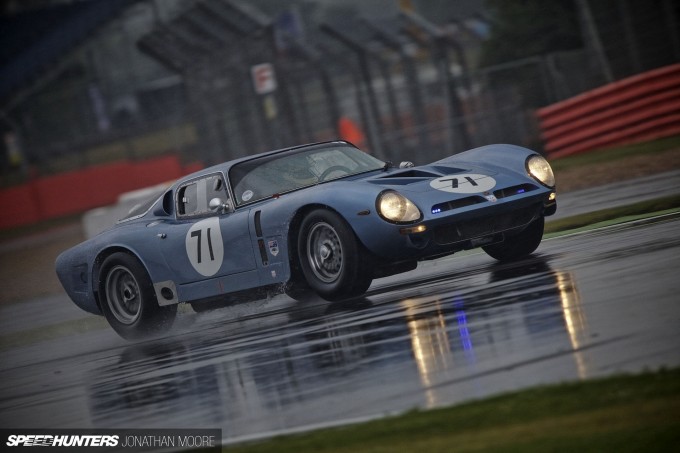 One particularly rare machine was the low-slung Bizzarini 5300GT, this weekend driven by 1992 BTCC champion (and now BTCC commentator) Tim Harvey. Designed in 1965, it might have been the epitome of graceful Italian coach building but it had a growling Chevrolet small-block 327 V8 to power it.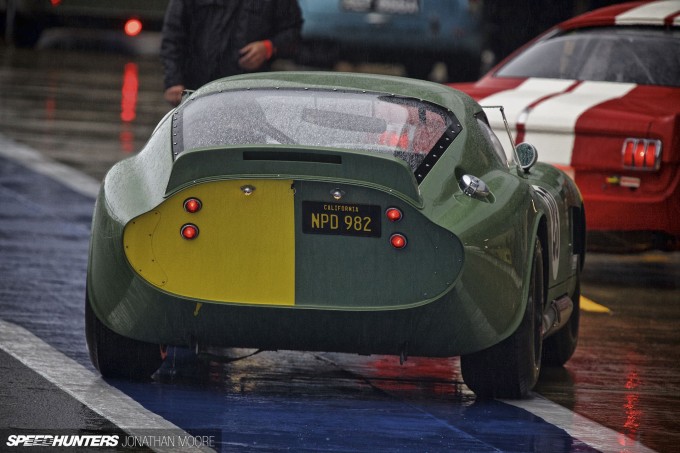 I couldn't help but raise a wry smile at the California plates on some the Cobras and TVR Grifs. If those were true origins of the cars, their chassis must have been weeping at the brutal change in climate… This Daytona had actually come from Poland via Sweden, so was perhaps more acclimatised.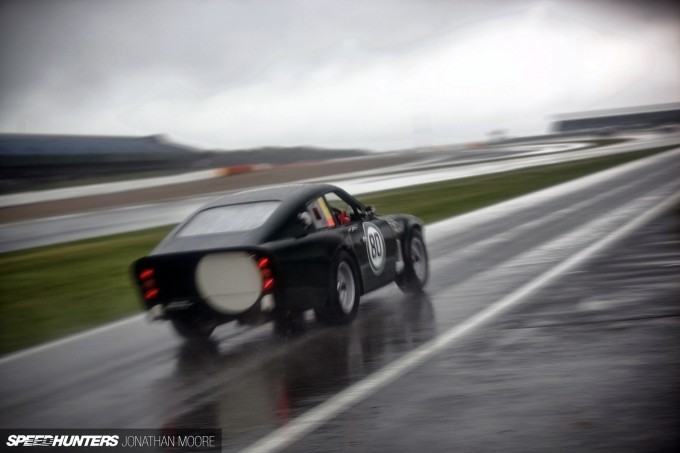 Certainly this was the only Sunbeam we'd see on Friday…
For 40 minutes they all flung themselves at the track without impressive vigour, as I edged along behind the Armco towards the pits, against the direction of travel.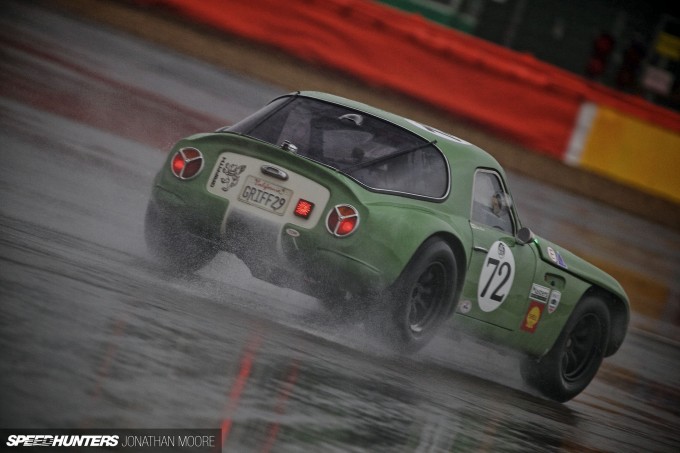 The apex of what is now Turn 1 of the modern Silverstone layout is a super-fast right kink, where you can get impressively close to the action – not the usual situation at this place.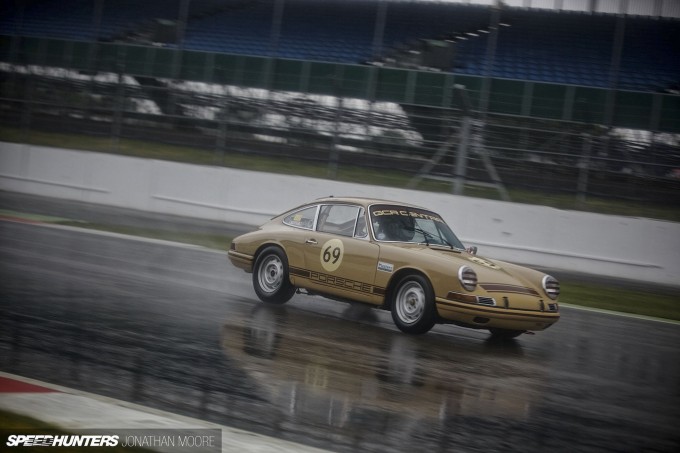 I once saw a composite image of plane take-off trajectories from an airport; I would have loved to have done a similar thing here, as no two cars took – or were able to take, more accurately – the same line!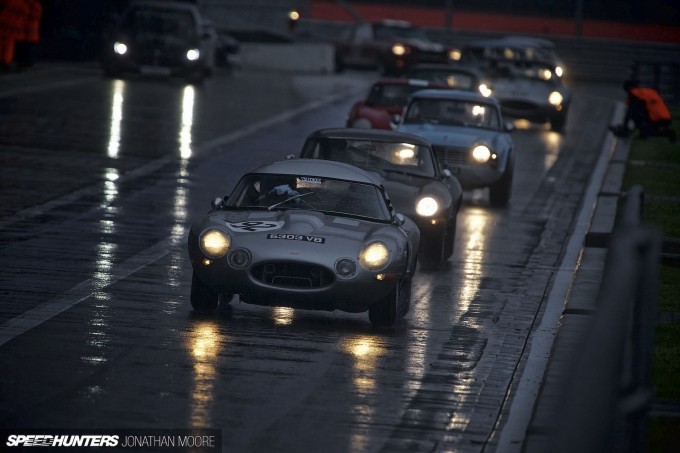 The sharp end of Silverstone's pit-lane is half submerged, running flat whilst the surrounding gentle gradient rises up around it. That provides both a tunnel-like appearance up close and elevated viewing from track-side along the long length of the pits.
Their time up, the GTs had begun making their way back into the pits, making it clear just how many there were.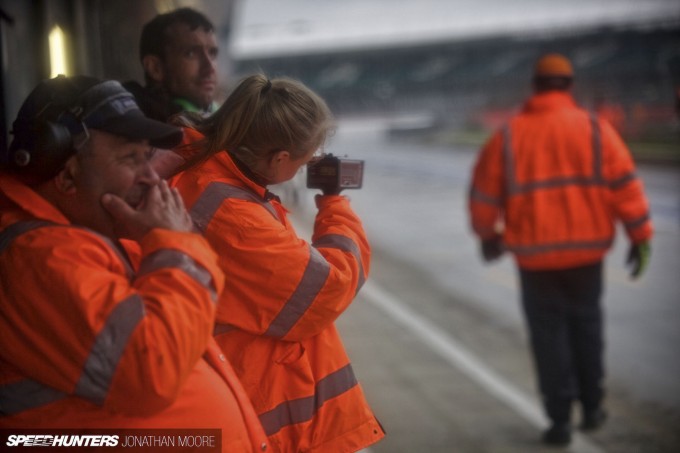 Old cars still have to obey modern rules – pit lanes speed limits and so on. The army of marshals stuck out in these conditions all afternoon still managed to find ways to amuse themselves though…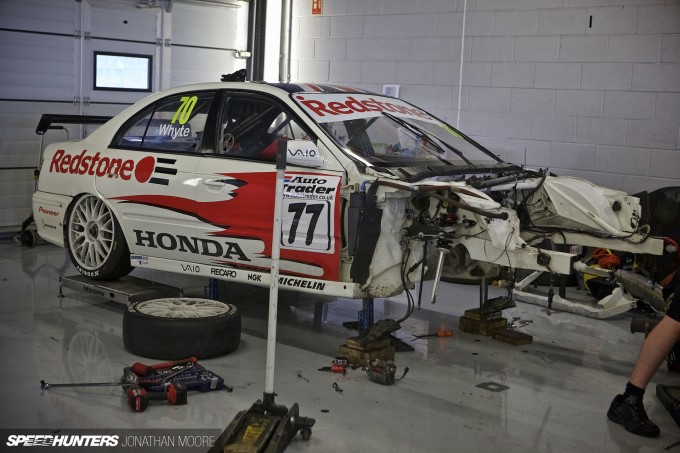 Whilst a handful of Porsches in the '90s GT Legends pack splashed around for the final session of the evening, I took the opportunity to stroll through the cavernous open pit complex, devoid of dividers and like the interior of an aircraft carrier, utterly packed with diverse and amazing machines.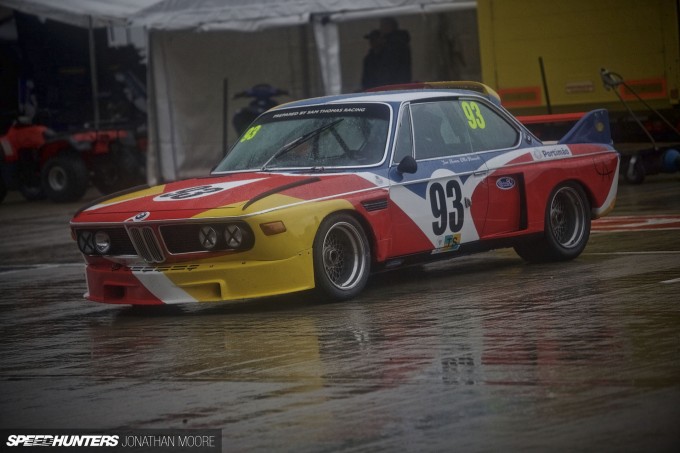 Out back in the swimming pool of a paddock, iconic racers stood in the rain, awaiting their time in the sun. Luckily, Saturday would be that day.
Tropic Thunder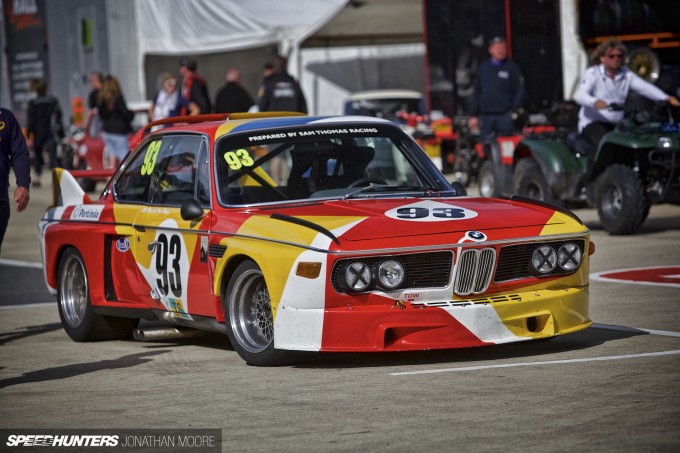 Saturday morning was like being in a different country. The sun beat down on a grateful Silverstone, and the crowds flooded in.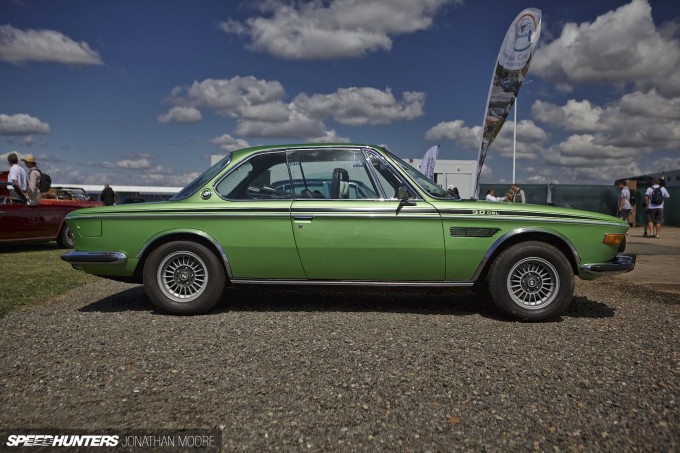 The Luffield complex was awash again, but this time with cars rather than water. The car clubs had come out in force: they're a fundamental part of the Classic.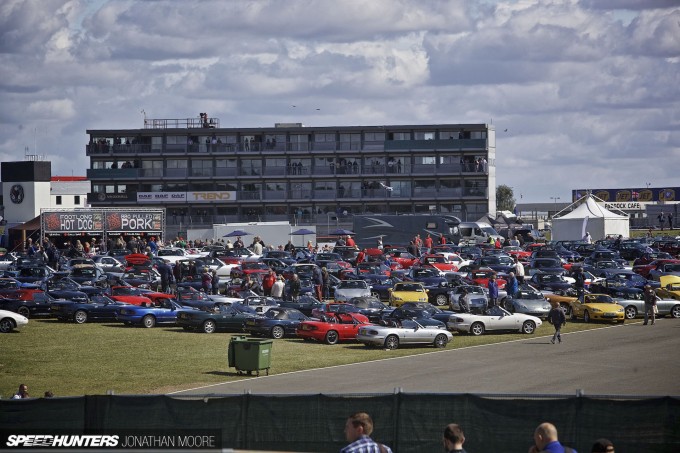 There must have easily been a thousand cars in this area alone, covering all stripes. Anniversaries were being celebrated left, right and centre: 40 years of the 3 Series; 50 years of the TVR club; 25 years since the UK MX-5 launch; 25 years of the RB26-engined R32; an incredible 25 years since the launch of the NSX and many more.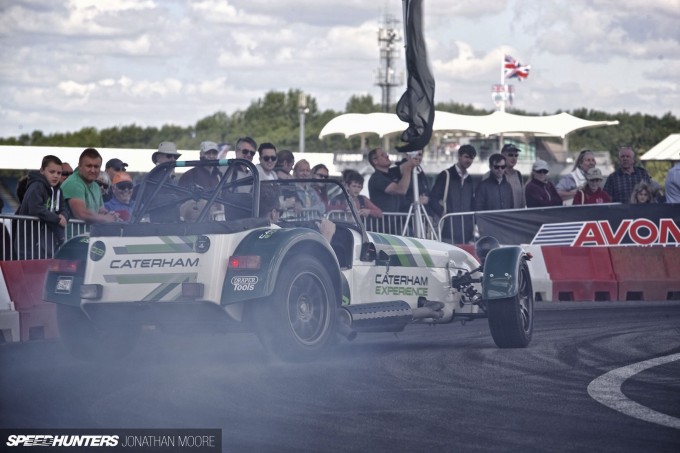 As classic Cortinas three-wheel drifted their way around us on track, pursued by terrier Minis, BMWs and Alfas, the sharp scent of burning rubber wafter down from the Caterham driving experience. It was one of those moments where things can't get much better.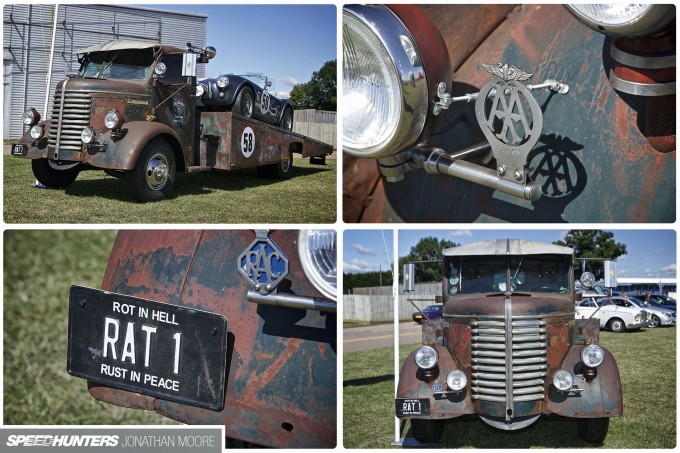 The Cobras had multiplied overnight, and even brought along some cool transporter friends.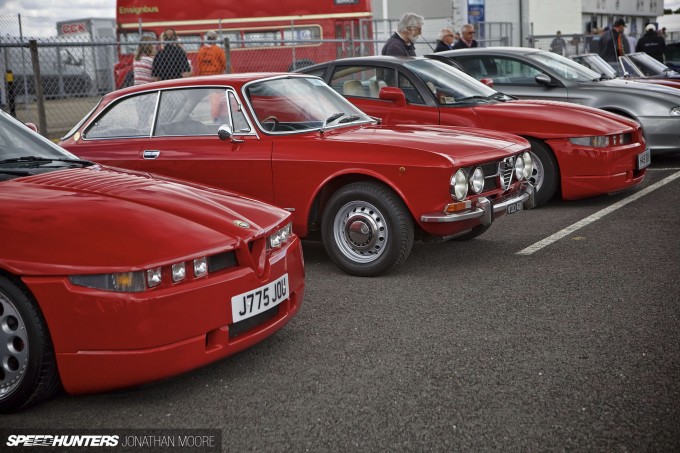 Mustangs by Nissans; Triumph side by side with BMW; Fiats and Ginettas, Alfas and Mercs. Every scrap of grass and hard-stand around Silverstone was rammed.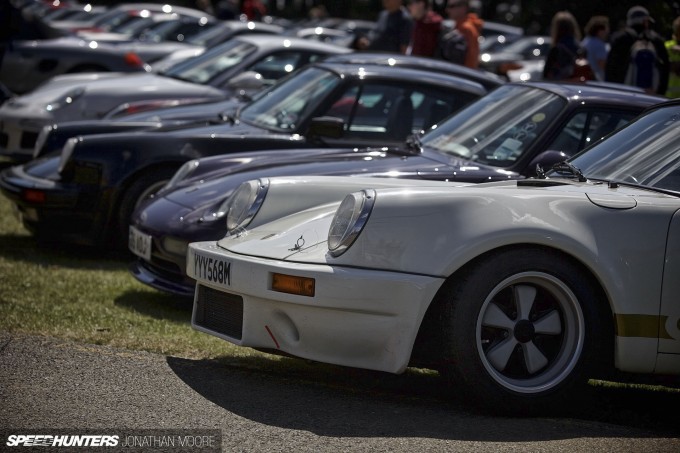 The Porsche Club always have a huge turn-out in their own corralled area: every generation was represented, with some interesting side-orders as well that included an Audi RS2 with a Porsche heart.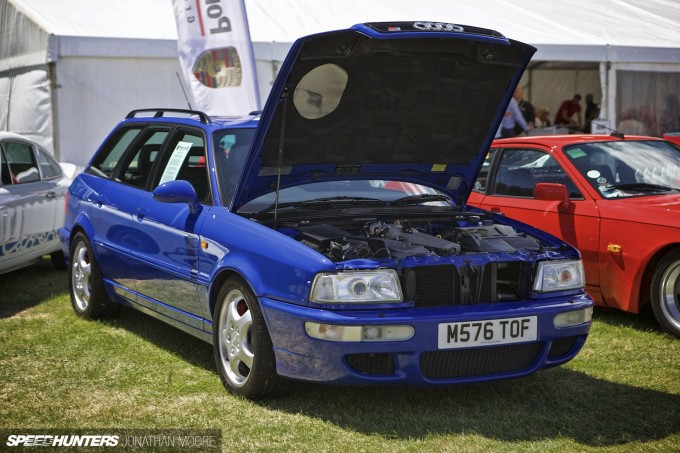 The RS2 was a joint venture between Porsche and Audi; from the outside, the only clues to its DNA are the Cup wheels and 964 side mirrors. Porsche uprated the five-cylinder with a bigger KKK turbo and intercooler, new camshafts and induction system and low pressure exhaust. Massive vented brakes from a 993 Turbo front and back helped keep things in check.
The RS2 could out-accelerate a McLaren F1 to 30mph and had a 4.8-second 60mph time, despite weighing 1,600kg! Just 180 right-hand drive examples were made of this sleeper sledgehammer. Yet another car for my exceptional estates list!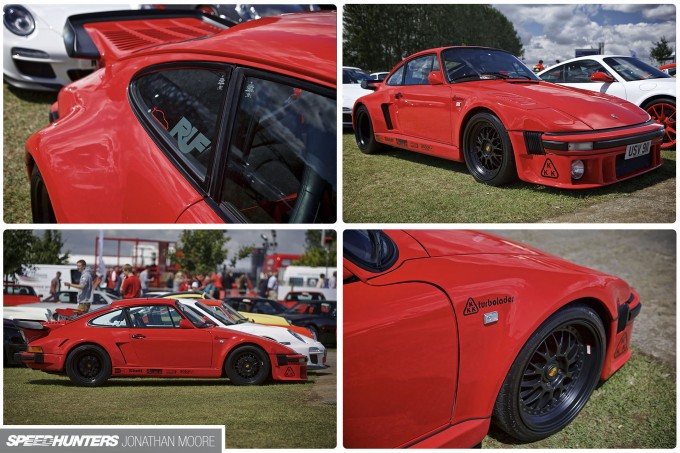 Alongside a K3 rebuild, this RUF 930 really stood out: starting from a flat-nose front and then widening out at the rear to epic proportions.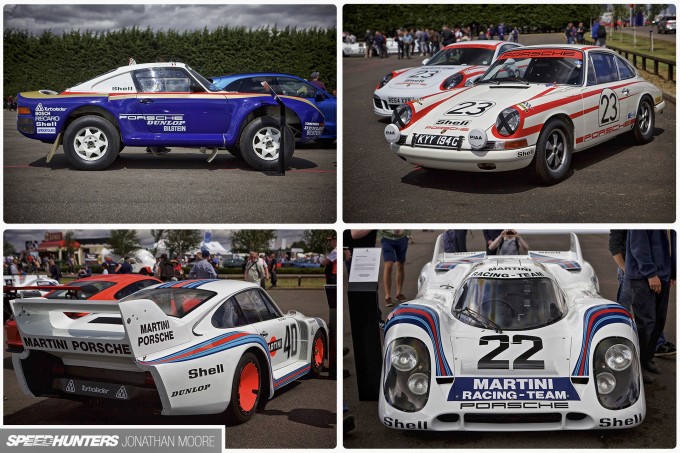 Porsche's official display sprawled over an entire car park, leaving plenty of space around each car. The three numbers of each model describe stories just by saying them: 917, 959, 935, 919. History made and more history in the making.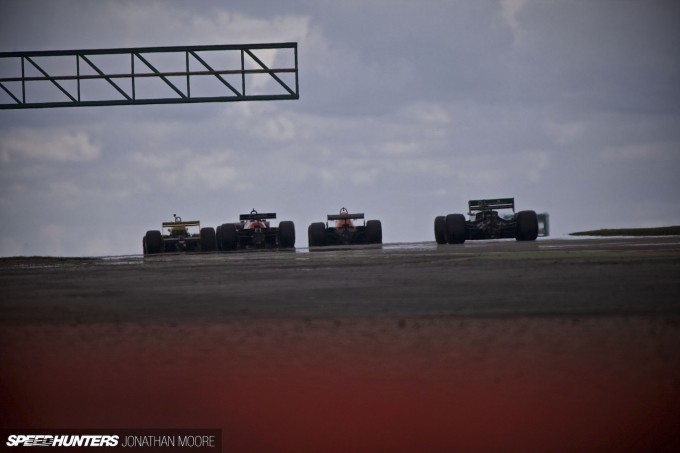 For Saturday afternoon I wanted to pull myself away from the static displays and get trackside. There was a triple whammy coming our way, starting with the classic F1s and the unmistakable sound of massed Cosworth V8s.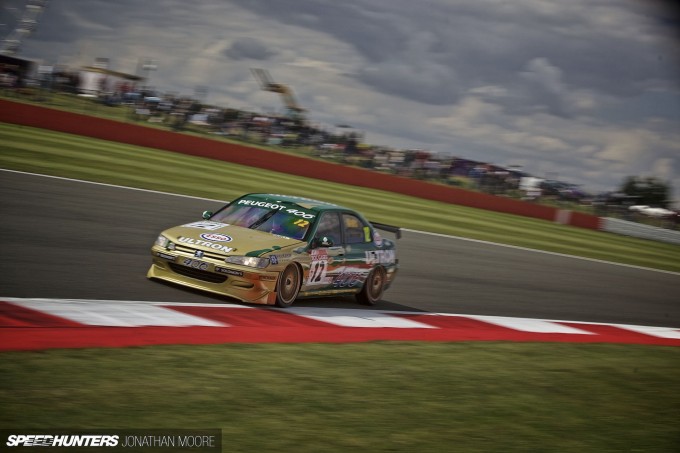 Next up, Super Tourers: 35 genuinely super touring cars, with the entry criteria loosened to include classic CSLs, Rover SD1 and Capris as further eye candy alongside the Primeras, Lagunas, Accords and Alfas.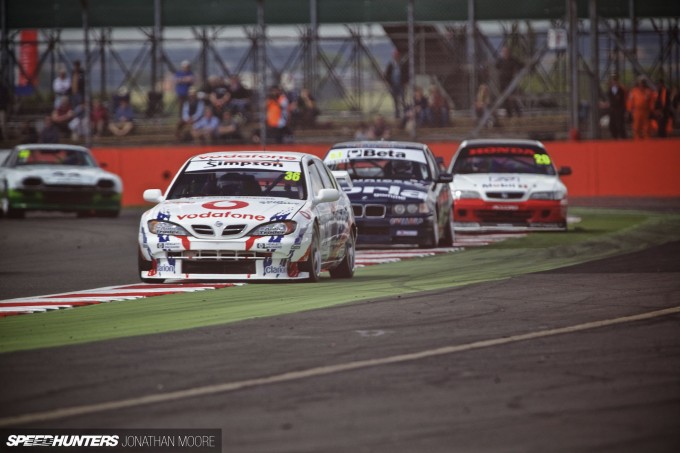 Driven as touring cars should be – freshly stolen of course – the ultra fast Copse corner was virtually ignored within laps, as the pack entered faster and faster and exited wider and wider.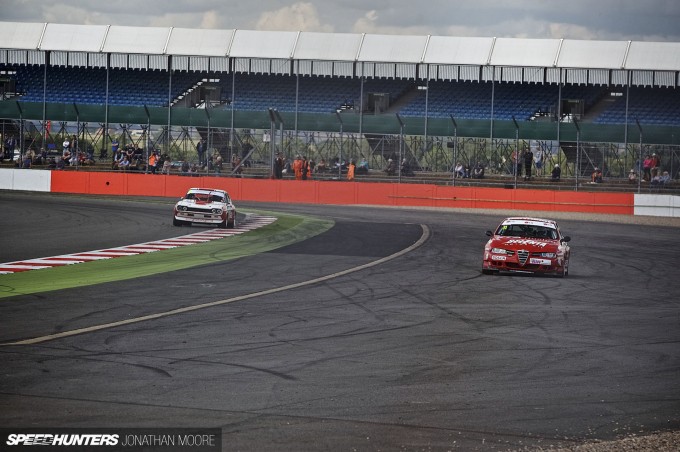 Track limits were definitely not being observed…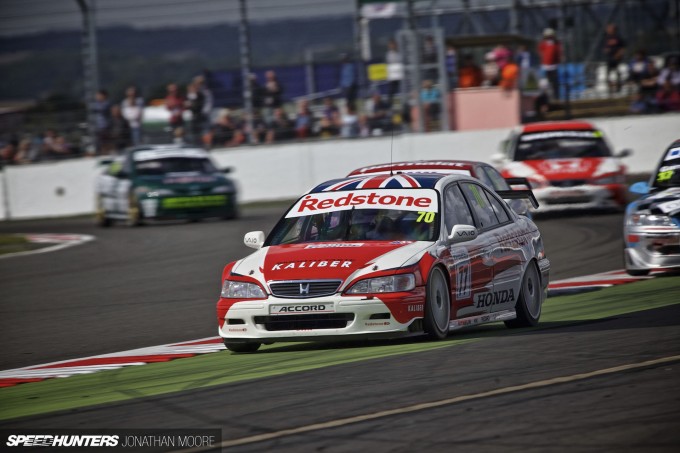 Out front a BTCC Honda Accord battled an interesting ringer for the day: a French Super Tourisme Audi 80 quattro – more on that in another story.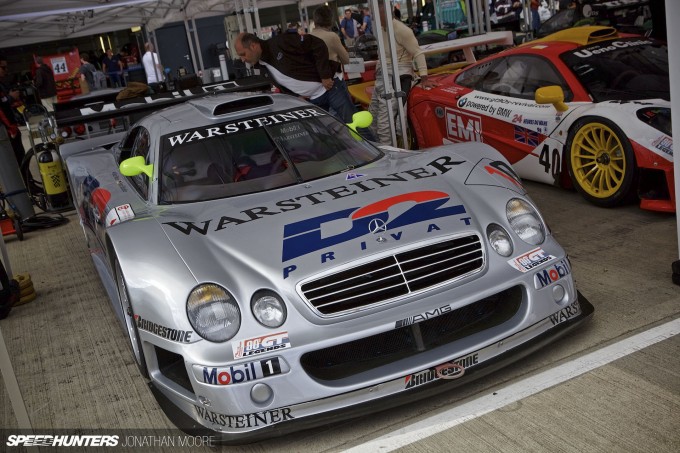 My trackside interlude concluded with '90s GT cars, the only shame being that the pair of Lister Storms, Ferrari 575 and Lotus Esprit GT1 remained in the paddock, and that the Mercedes CLK GTR failed in the opening minutes. A later paddock visit hoovered them up.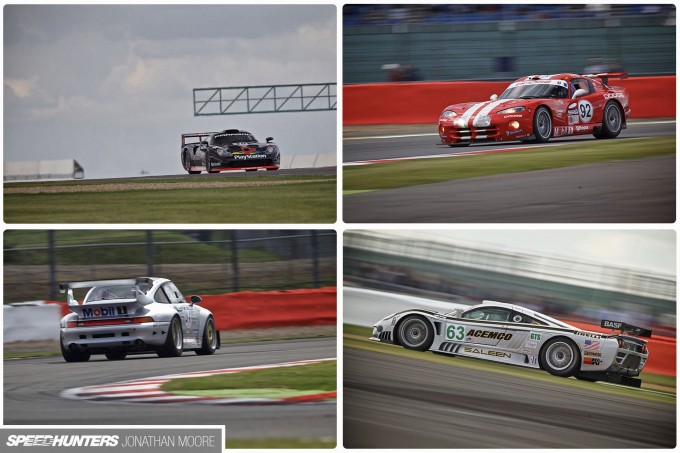 However, the squadron of 993s on track was topped off by a fantastic quartet: a '98 GT2 Viper, ALMS GT1 ACEMCO Saleen, big-wing 993 GT2 Evo and rasping 911 GT1. You could hear the thunderous Saleen approaching from miles away; surprisingly, the GT1 sounded more like a classic WRC cars, with its chirruping turbo and rasping exhaust note.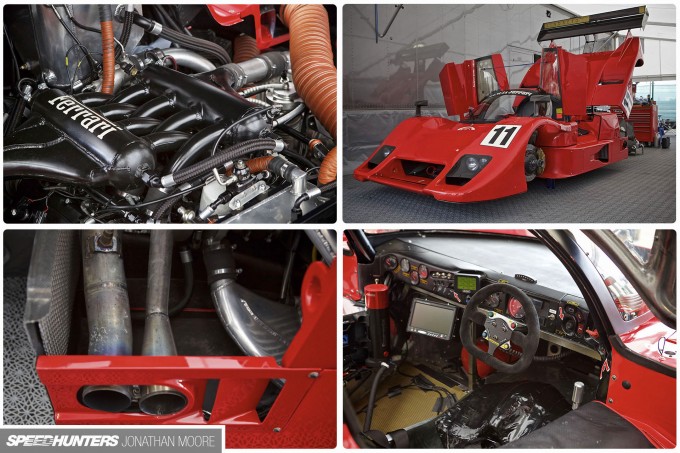 After a quick stop-off in the Group C paddock to check out the rare privateer Lancia-Ferrari LC2, I picked my way through the length of the pit garage complex.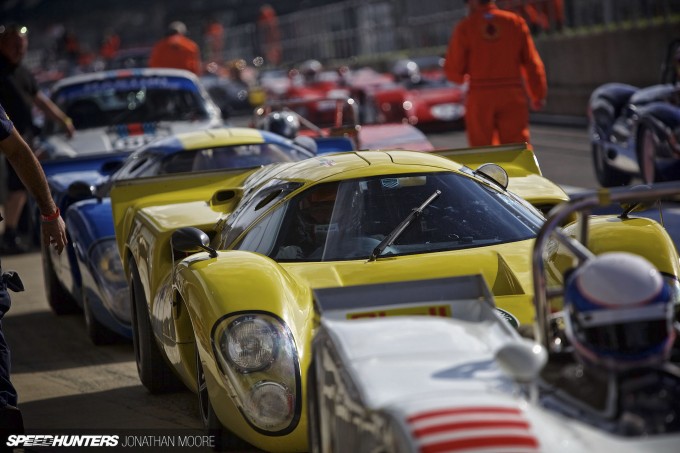 Just as I got to the far end, the pit-lane literally exploded into life – I was swept along with everyone else to the pit apron.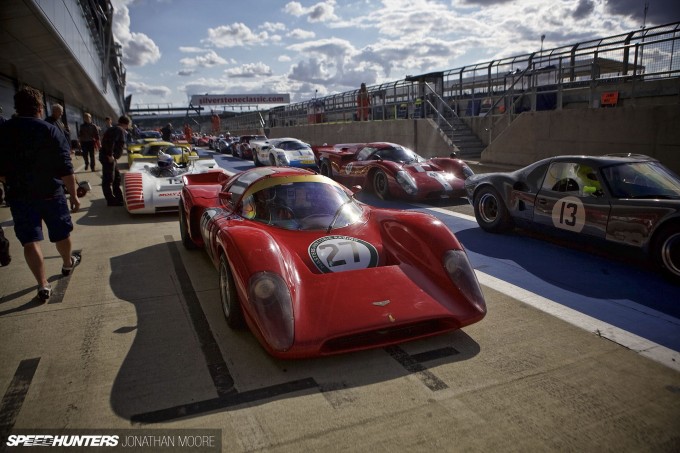 Outside, a gathering worthy of Valhalla: thunderous sounds, a cacophony of noise that held everyone in momentary stasis of shock. The massed ranks of the Masters Historic Sportscar grid. Lola T70s, Chevrons, Corvettes, McLarens, GT40s – sportscars as wild animals.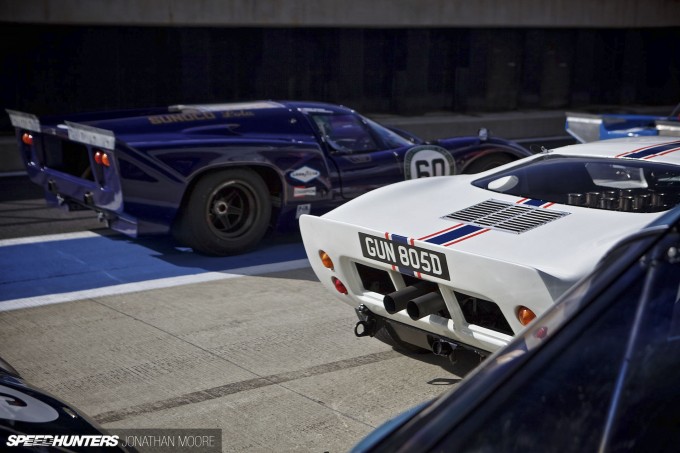 The throbbing, deafening roar of dozens of massive V8s was was punctuated by cliffs of noise as drivers stabbed the throttles. The enclosed nature of that end of the pits further focussed the effect: no one could speak – no one could hear what anyone was saying anyway.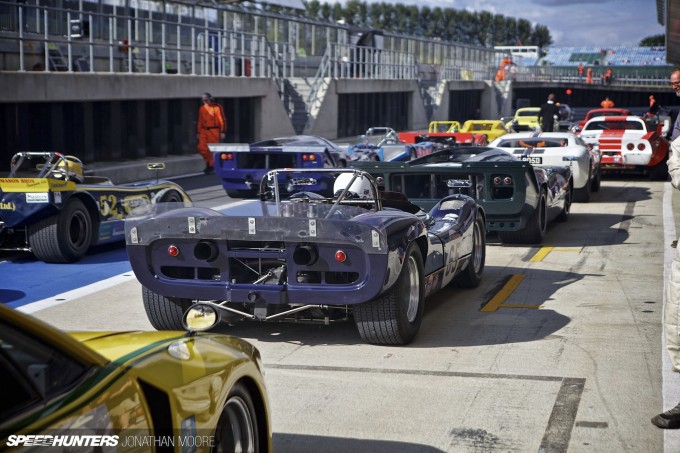 Everyone just looked on as mechanics busied round their charges, drivers tightening belts and pulling down visors amid the maelstrom.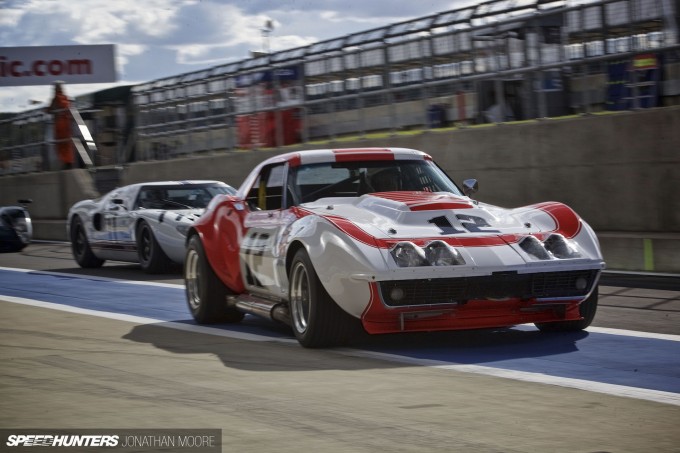 It was like the scene from a war movie, a squadron of heavy bombers about to take off for their mission. Straining at the leash, after what seemed an age the marshals at the end of the pits finally waved the green, and the noise reached another seemingly impossible plateau as revs rose and the cars accelerated away.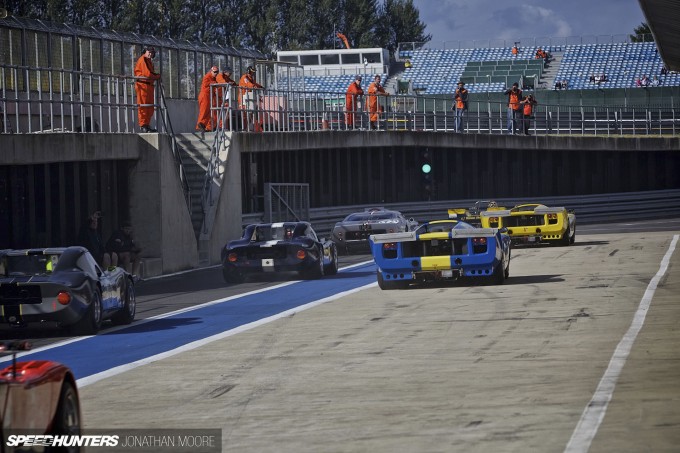 Car after car went by, waves of them. My ears by now were pretty much shot, my eyes stinging from the fumes. Incredible.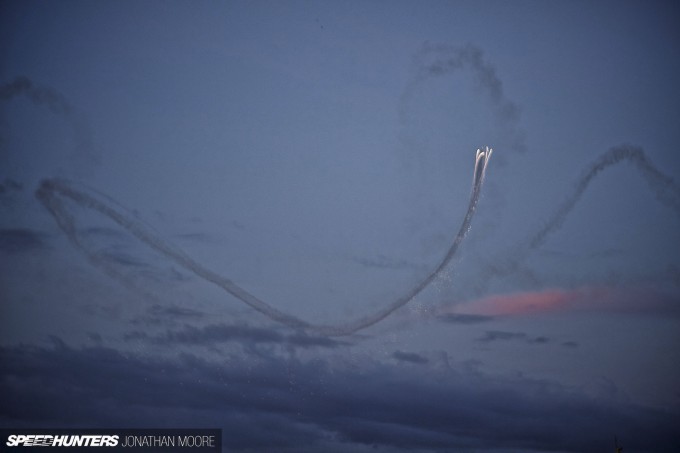 There was no point doing anything more after such a high. Cameras slung, it was time to relax into the dusk, check out the live stage, grab some food and a beer. Maybe wander through the merchandise area and get into a good position for the evening Group C race. A hiatus on work after a glorious day, and time to reflect on another stack of sensations slotted into the increasingly full memory bank.
Jonathan Moore
Instagram: speedhunters_jonathan
jonathan@speedhunters.com
Cutting Room Floor