Finding A Way
We as people have been motoring for well over 100 years. Thinking about this, most will automatically ponder the amazing evolution that the internal combustion engine has gone through in decades upon decades of engineering and re-engineering.
But have you ever stopped to think about transmissions? In its most basic form, a transmission was nothing more than a chain connecting up two cogs of different sizes, channeling drive from the motor's output to the driven wheels. Well, we've come a long way since those days, and I'll be delving into this in more detail in separate posts this month. But right now it's a pinnacle of refinement from the tuning industry that I want to touch on.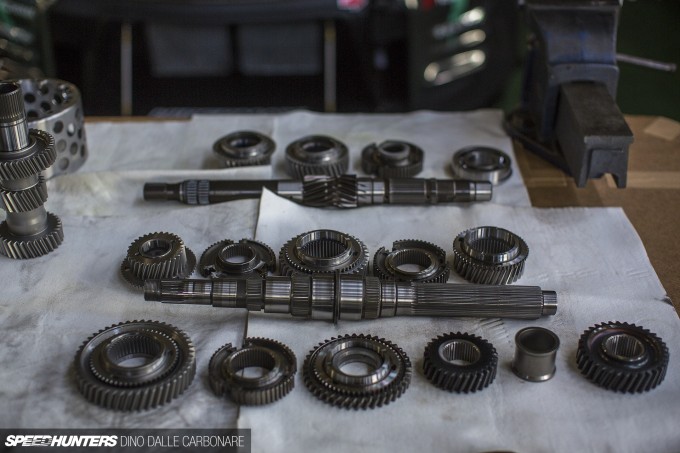 You see, I was recently at HKS's HQ in Shizuoka-ken for a few shoots, and while being taken around the workshop where all the company's demo cars are built up and maintained, Saito-san – the tuning giant's front man and all 'round awesome guy – asked me if I wanted to have a quick look at the innards of HKS's transmission for the R35. The reason he asked is because hours earlier I had been raving on about a car that I recently drove that was fitted with one. I told him how blown away I was with how tight and surprisingly responsive it felt compared to a stock GR6 gearbox. So when the chance came to nerd-out alongside the man who built the GT-R 1000+ time attack machine from the ground up, how could I pass it up?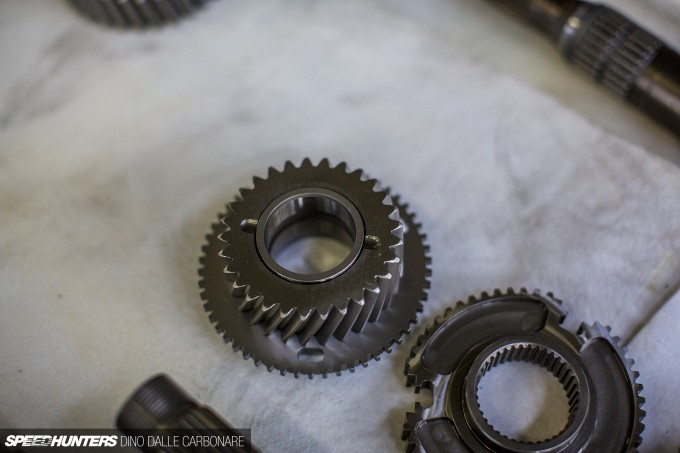 Very few of these 'Transmission Gear Kit' as HKS calls it, have been made. It's an upgrade that solely came from the R35 demo car development, in that HKS needed reliable innards to fit into the R35's transaxle seeing its car was pushing out well over 1000hp and regularly shredding cogs when going for it on track. So knowing that a few sets would be needed for the time attack car, HKS also produced about 40 or so for customers. It didn't think that at around US$40,000 the kit would gain much interest, but once the word got out, HKS couldn't keep up with production. It sort of gives you an idea of the amount of money that R35 owners are prepared to spend on their cars! This was close to two years ago now, and ever since that initial short production run sold out, HKS has had continuous requests to build a few more. Now it's finally given in – a second production run is on its way to being built and close to being sold out again! So what is it that makes it so special? Well, with the ease in which people have been pushing VR38 power outputs to four-figure levels and beyond, it's obvious that shortfalls in the weaker components would eventually present themselves. Don't get me wrong, the GR6 is still a great transmission, if only a little 'last gen' when compared to offerings from BMW or Porsche. But HKS was looking at how to make the gears actually hold more power and torque, whilst making the whole thing reliable and even useable for street car applications.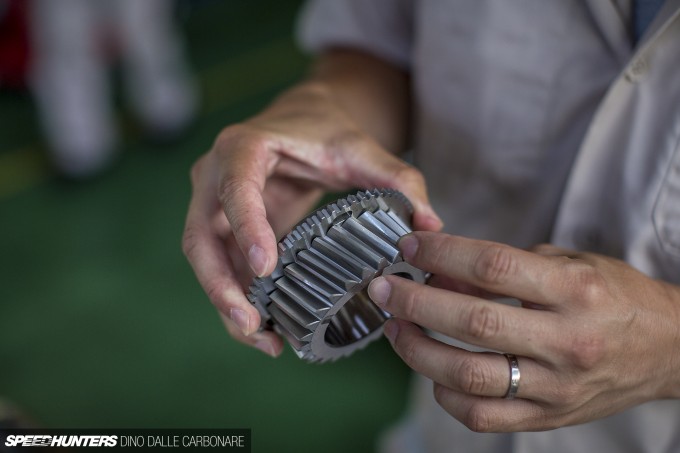 Despite being restricted by actual space, HKS's engineers did managed to increase the widths of the cogs and at the same time re-engineer the way their teeth mesh with each other. They found that by re-profiling them down to a microscopic level they were able to further increase surface contact and therefore take more load. At the same time they found that the meshing noises of the gears were decreased, making the operation a little more quiet.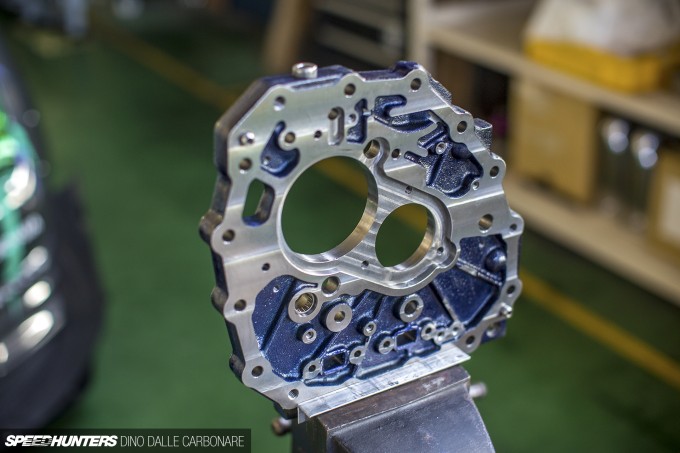 Thicker cogs mean that more space is going to get used up, and they didn't have much to play with within the restriction of the stock transmission housing. So they made space! They got rid of the stock aluminium sandwich plate and created a new one out of very strong special steel. The stiffer plate completely eliminates flex under high load, thus keeping all the gears and shafts aligned properly. The extra space was easily found by machining more 'meat' out of the billet plate, right there on the center where the two shafts and their bearings mount. This is also joined by a steel front plate which is three times stronger than the stock aluminium item.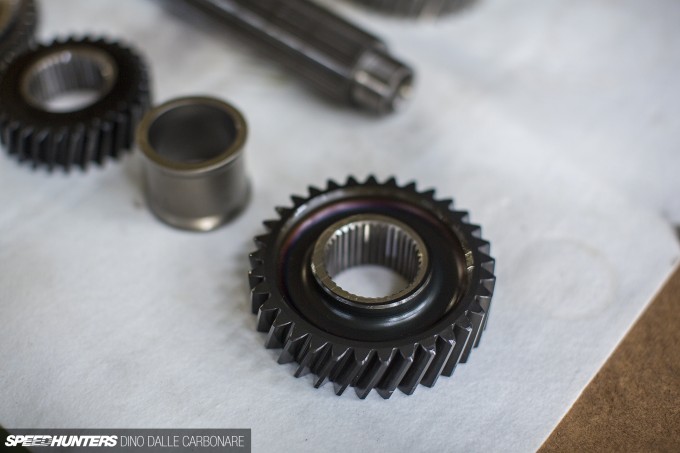 First and second gears are then treated to a diamond-like carbon coating which further increases surface hardness. You can tell which ones these are as they have a much darker finish compared to the other billet gears.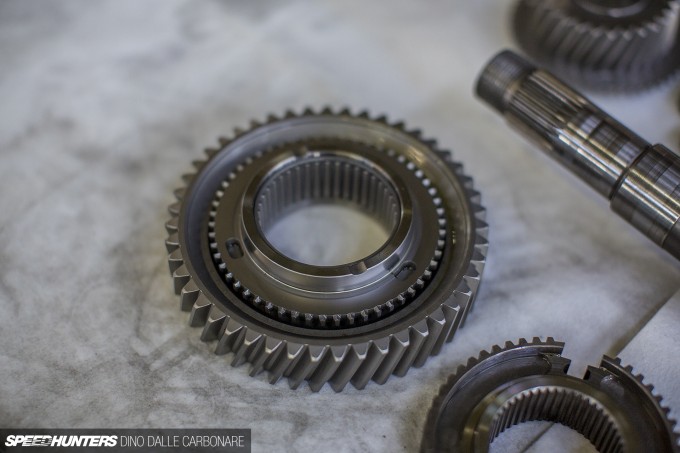 Having had the pleasure of sampling this transmission on a close-to-900hp R35 GT-R, I can safely say that it comes with a massively reassuring feel. It's akin to driving a mechanical sequential gearbox on the street – it feels decisive, direct and gives you the confidence that you can lean on it with all the car has got.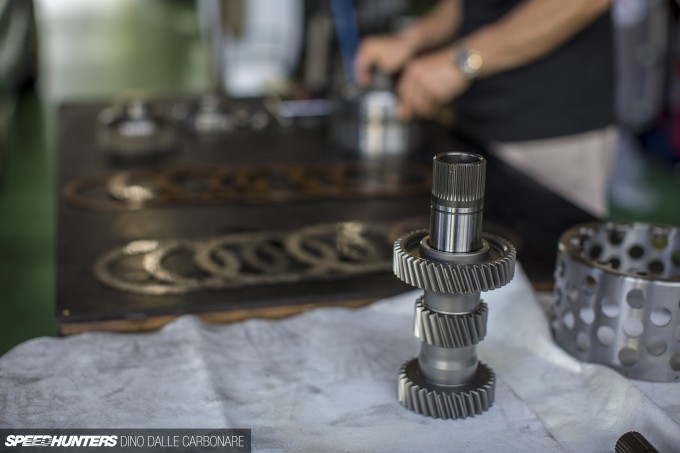 Unofficially this transmission kit is rated to 1200hp, but since HKS is always so conservative, it's probably closer to 1400hp.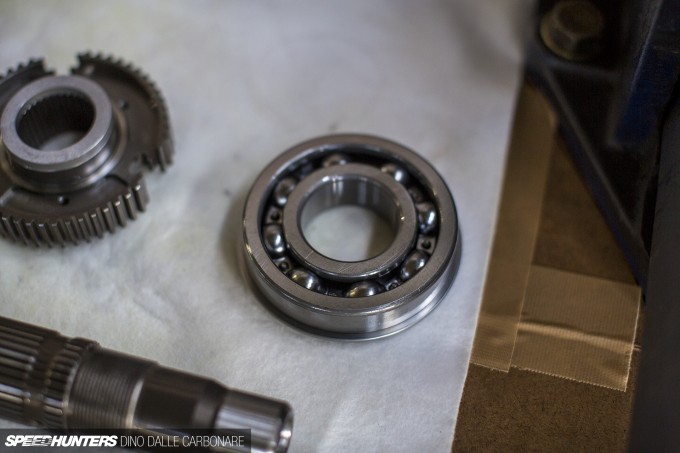 Here's an example of one of the bearings that are employed both on the front cover plate and sandwich plate. Completely flex-free mountings allow the bearings do their job beautifully under all the strain you can put the transmission through.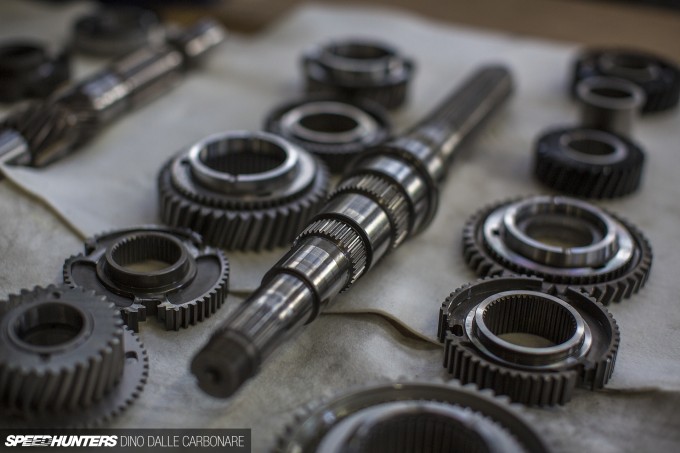 The heavy-duty billet output shaft is fitted with screws to prevent the snap rings from falling off.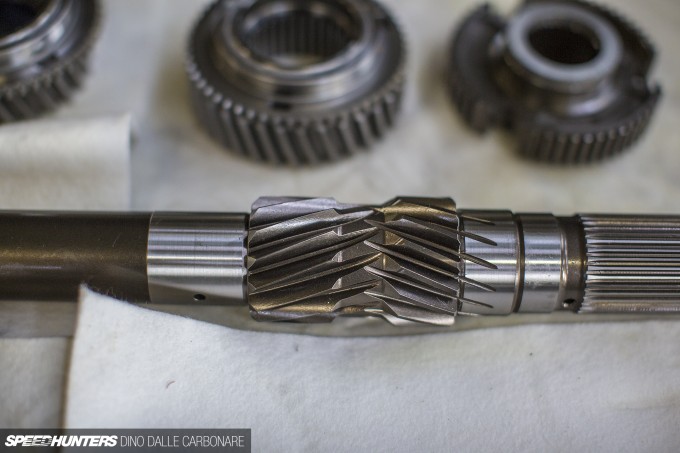 Here's a nice detail of the central section of the layshaft.
A 300% Stronger Clutch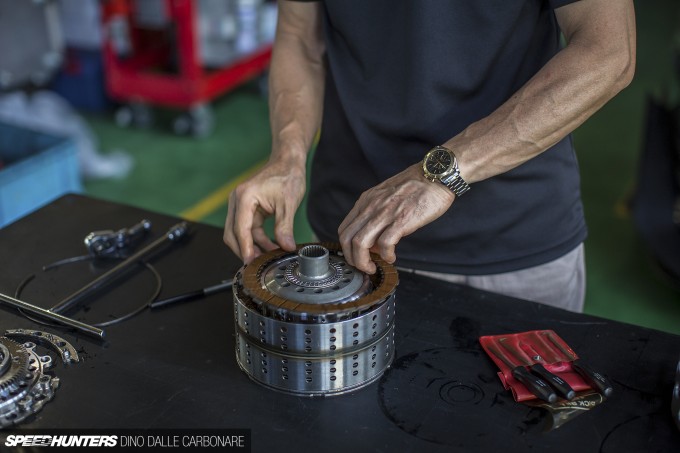 But the gearbox wouldn't be complete without HKS's special clutch pack. Again, this is a totally re-engineered part based on the stock twin-clutch assembly, and therefore is a direct bolt-in replacement for any GR6 gearbox.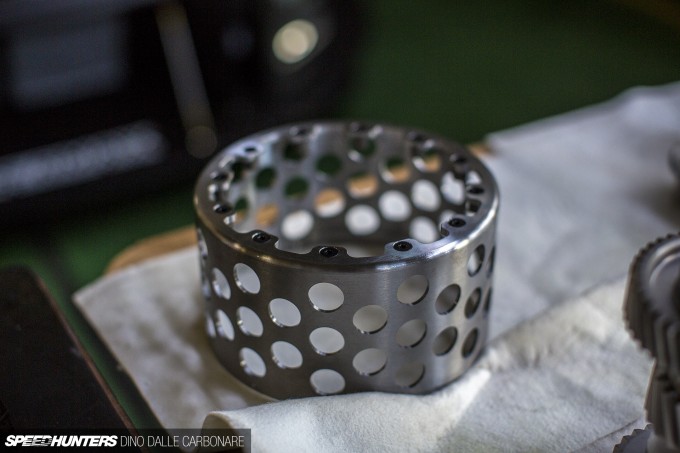 What HKS has done is make it capable to handle 175 per cent more torque capacity, and by using a ball bearing rather than a needle bearing it can take engine rotation up to 8,500rpm. One of the coolest things about the clutch is the external cover – a billet steel item drilled to save weight and allow for it to diffuse all the powdered debris that will be thrown out by the abrasive material used on the clutch discs.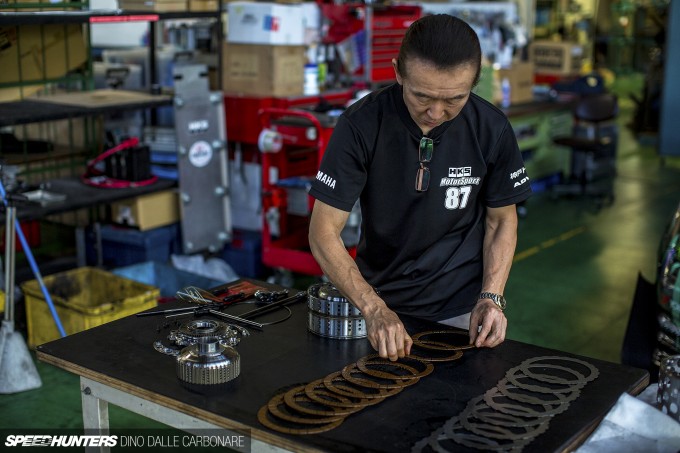 And talking about clutch discs, I showed up just in time, as the engineer was taking the clutch apart.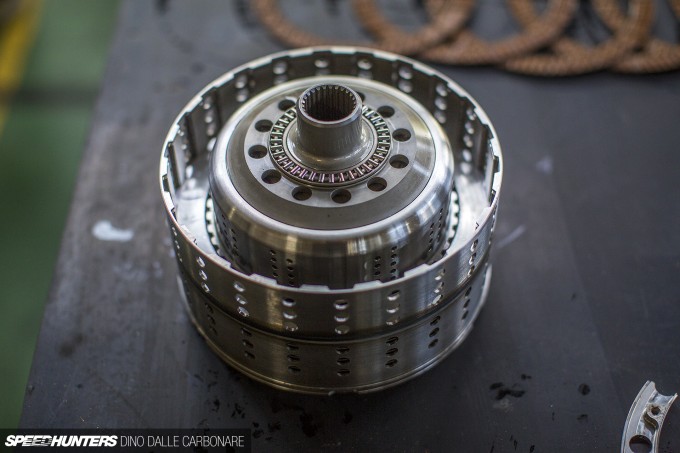 The HKS twin-clutch basket assembly is again a billet part – the top half housing the discs for the first clutch, and the bottom half for the second clutch.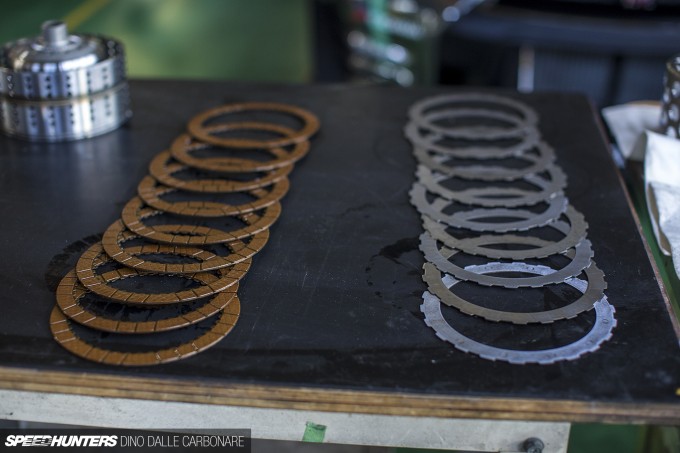 HKS developed its own friction material and was able to squeeze in an additional two plates to get that 175 per cent boost in torque capacity.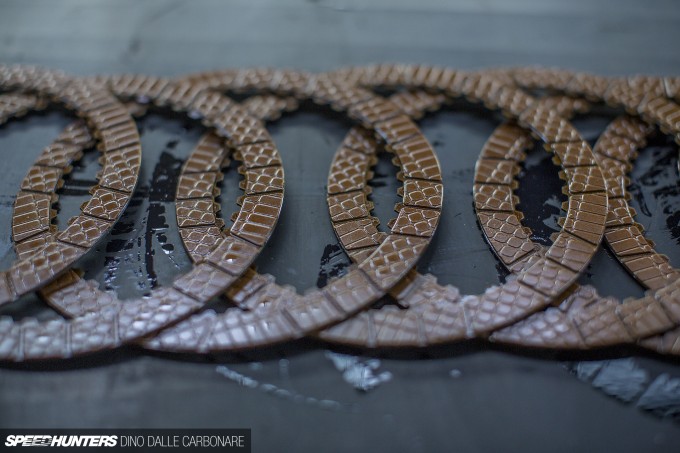 The friction material also runs cooler, eliminating possible distortion of the backing plates. All combined, it's 300 per cent stronger than the stock clutch pack.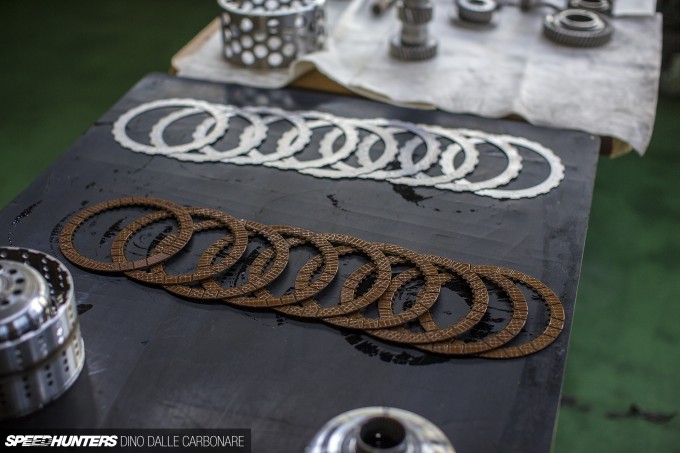 There is a slight grabby feel when you drive a tuned R35 on normal roads, but you can actually get around that by changing the way you modulate the throttle pedal. When you actuate your first full-power shift to second and then to third, you get a very quick and dramatic lesson as to why any GT-R with upwards of 800hp needs an upgrade like this. The shifts become more brutal and you get the feeling that there's not a single newton meter of torque being lost at any point in the driveline. The car I was driving (which I'll be featuring soon) was spinning all four wheels in both first to second and second to third shifts. Just imagine the amount of forces that are necessary to do such a thing with an almost 2-ton car running sticky 20-inch 285-section rubber. It's mind boggling!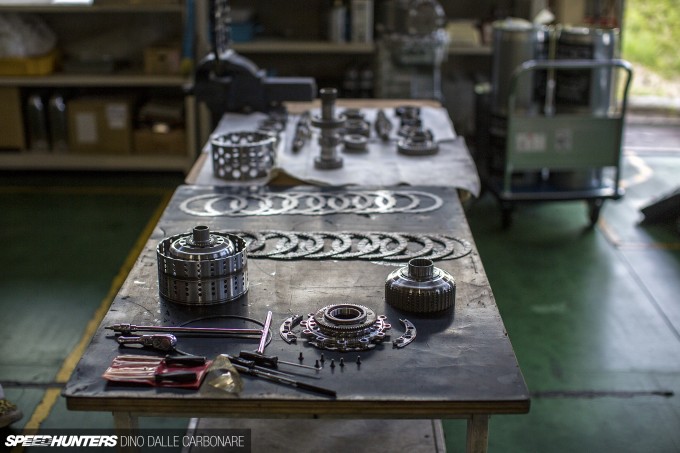 HKS's R35 Transmission Gear Kit might cost as much as a decent secondhand R34 GT-R in Japan, but I guess there is no price for reliability and piece of mind. R35 ownership obviously comes with a budget all to its own, so if you are out to tune these big, powerful cars, it's all to be expected.
But hats off to HKS for once again proving that they are the absolute bosses for coming up with uncompromised solutions for the sort of problems only the luckiest of car owners actually have.
Dino Dalle Carbonare
Instagram: speedhunters_dino
dino@speedhunters.com