As Was The Style At The Time
There's an aspect of life affecting my generation in particular that I find slightly unnerving at times. I'm talking about an overbearing fixation on nostalgia. Not the kind of nostalgia involving reclining in a buttoned-leather armchair and fondly recounting the days when we wore onions on our belts (as was the style at the time), I'm referencing the hysteria that comes with the 're-release' of nostalgia-based consumer goods to the mass market. It just seems, well, contrived.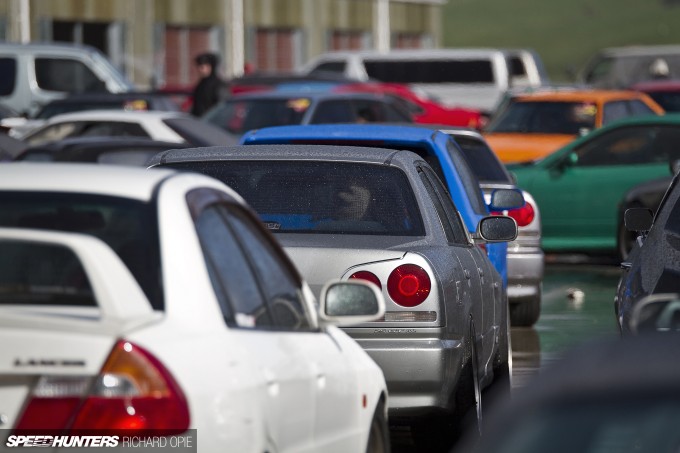 The armchair kind of nostalgia – that's how I like it. Easy going and free of those expectations that burden the commercialised barrage of the way things were. Now, before this starts to sound like old man Richy is heading off on a rant, I'd better make a connection between this intro and what you're about to read below. The event: Mothers Chrome Expression Session. The place: Hampton Downs Motorsport Park, roughly 45 minutes south of Auckland's bright lights.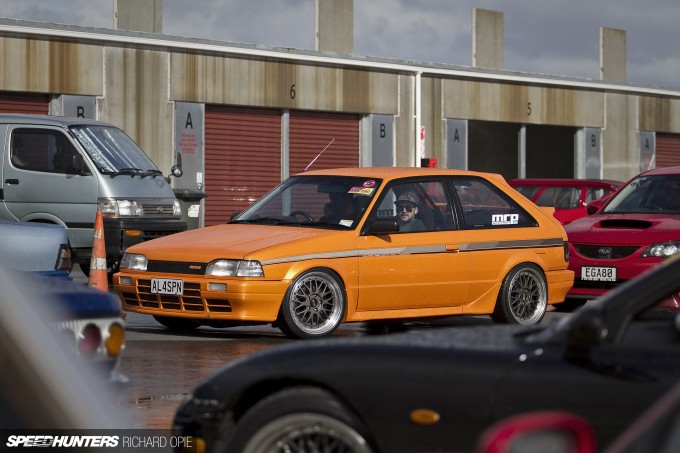 See, here in New Zealand, people of my general age group who've been among the car scene – or more particularly the import scene – for a decade or two like to reminisce about what you could well term the 'golden era' around the late 1990s through to about the mid 2000s. It was during this time the show, drag and street car landscape hit a zenith, featuring packed show halls, quarter mile times tumbling season after season, and after-dark streets overflowing with vibrant modified vehicles.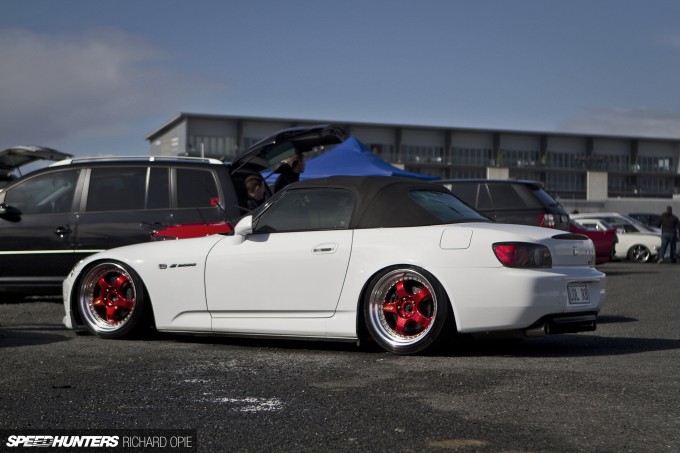 In the past few years, things haven't so much declined more as changed, with a focus from flashy show builds shifting to useable street cars and drag racing's popularity dissipating into the drift set. Central city streets are no longer bustling with the chirrup of blow-off valves venting to atmosphere or throaty induction, but this is where the Chrome Expression Session really twanged a nostalgic nerve.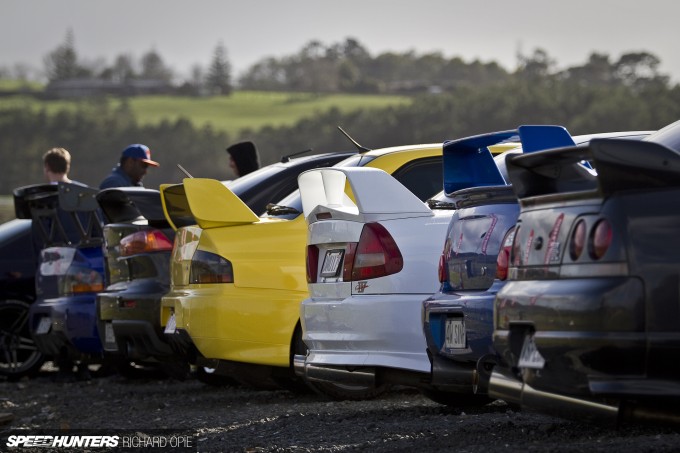 The event proudly purveys a 'come one, come all' approach without a sniff of exclusivity or favouritism when it comes to entrants, resulting in a variety of automotive treats rubbing shoulders without a hint of attitude. Towering superchargers protruding from the bonnets of American iron share parking space with the low-slung splitters of more contemporary Japanese machines.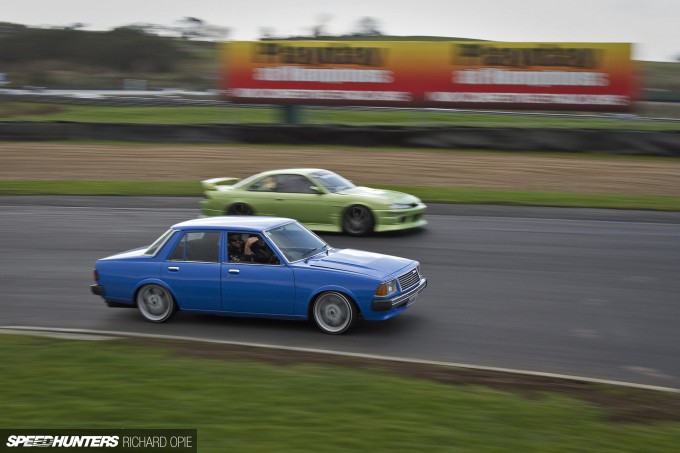 But this is exactly why I found it nostalgic. It felt like those formative years for many guys and girls of my age, in that we had a large congregation of all manner of enthusiasts from different backgrounds and budgets partaking in a festival focused quite simply on how badass it is to be a bit of a petrolhead. Coupled with a predominantly positive vibe, things were looking good for the two-day extravaganza.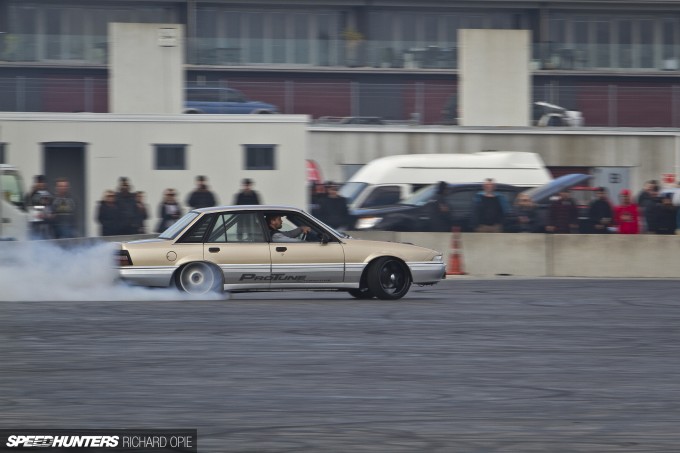 Catering to absolutely everybody was also on the agenda, evidenced by a wide offering of disciplines on offer to Chrome entrants. Drift sessions for those with a sideways bent, skidpan gymkhana sessions providing an outlet to anyone wanting to fling their pride and joy around a cone course or just haze a set of rear treads for the hell of it.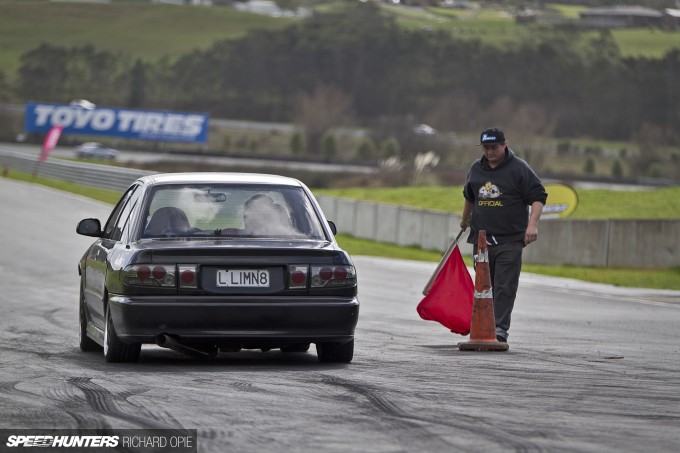 Of course, bragging rights in a straight line could be claimed courtesy of a good old-fashioned drop-flag drag race down the intermediate straight of the circuit. But the area I really wanted to focus on were the sessions running under the acronym DYM.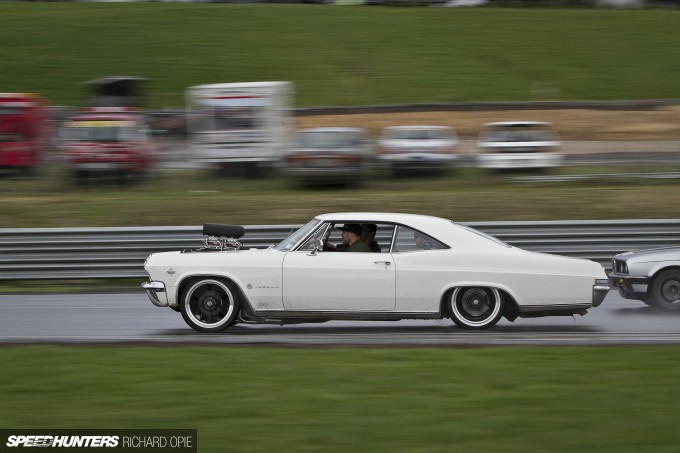 DYM stood simply for 'drive your mates,' and the concept was just as simple – and as rollicking fun – as the moniker suggested. Fill your car with a group of friends and run laps around the Hampton Downs circuit, keeping to what the organisers dictated was 'motorway speed.'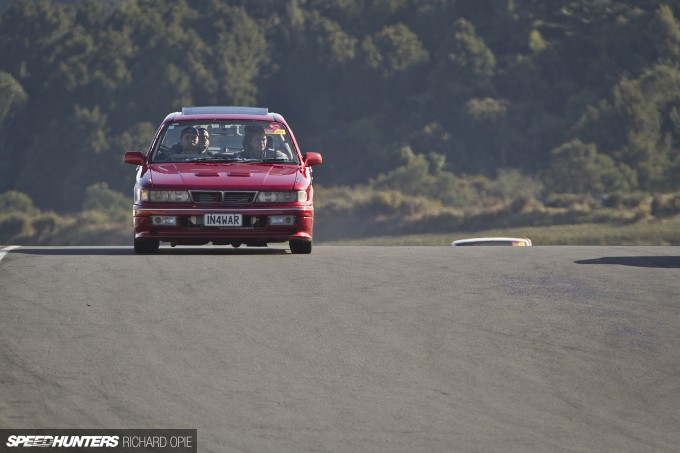 Essentially a means of capturing the essence of the street car ethos at its purest, these sessions were hugely popular with more than 60 cars populating the tarmac at any given time. Designated areas on the track ensured a time and place to line up a mate and have a quick squirt side-by-side on the straights, but primarily this wasn't so much about comparing performance but enjoying the drive with friends and other like-minded enthusiasts.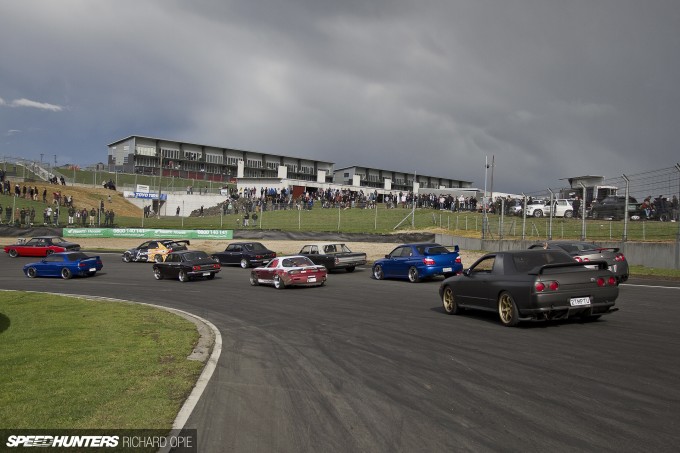 Whatever flavour of four-wheeled delicacy you'd brought to the party, track time was ample. Skyline GT-Rs squared off against Subaru WRXs, Australia represented with Holden, Ford and Chrysler Valiant marques all being given hefty stomps of the right foot, while Europe and the USA weren't left out with plenty of muscle and style in attendance.
You Spin Me Right Round, Baby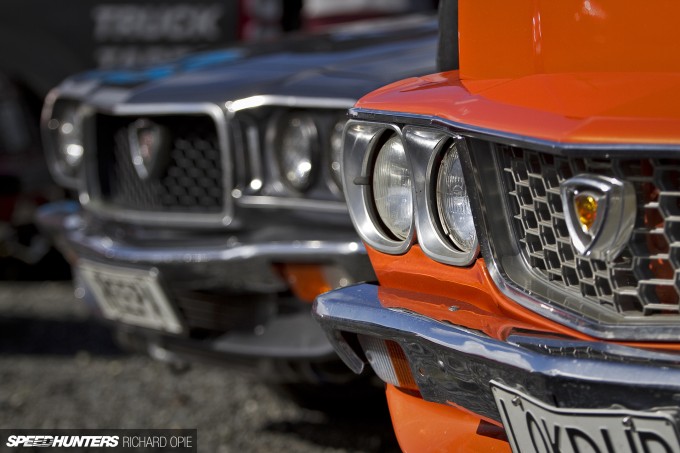 No trip down nostalgia lane for me would be complete without a hearty dollop of Mazda rotaries. It's a pretty simple argument to lay down that here in Kiwiland, the 'import' scene can trace its roots back to a solid foundation built on the tuning of 1970s Mazdas and their Wankel powerplants.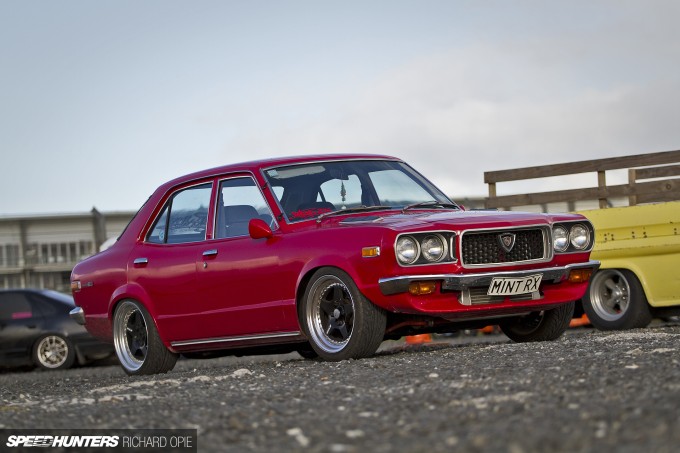 These cars don't come out often these days, but it's easy to cast a mind back to the 4&Rotary Nationals events of the late 1990s and early 2000s when the proliferation of RX-2, RX-3 and SA22C chassis RX-7 were commonplace and wonder, 'where the hell have all the rotaries gone?' Whether the laid back atmosphere or absence of show pressure appealed, the rotary contingent showed in force, and with the numbers came a high level of quality.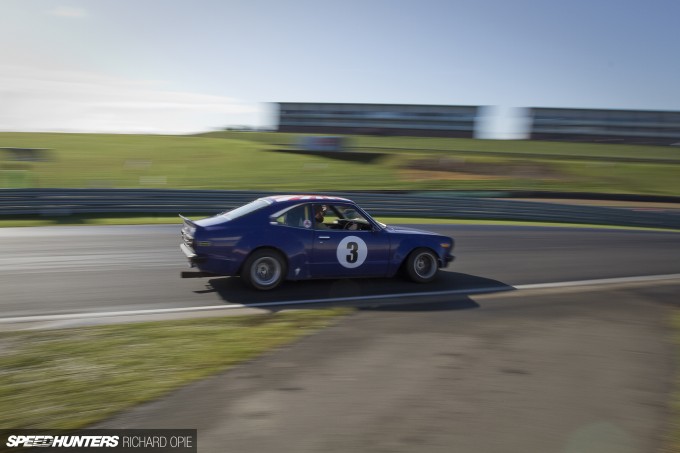 New Zealand rotary builds have almost always embodied a style unique to these two small islands, so it was a pleasant surprise to encounter some legitimate kyusha styling, in the form of this 100 per cent authentic RX-3 Savanna coupe imported from Japan. The RX-3 sported huge Katayama-style bolt-on flared arches, bobtail spoiler and an interior fitted out with period-perfect Italvolanti and Omori hardware. The megaphone exhaust amplified the distinct buzz of a ported naturally aspirated rotary beneath the bonnet.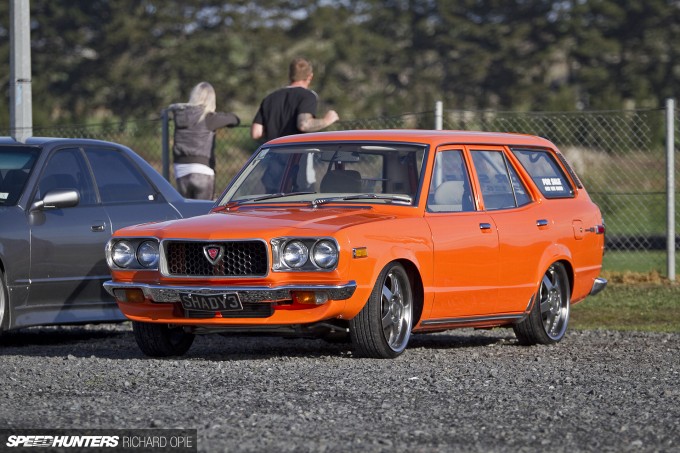 This 808 station wagon converted to RX-3 spec with a 10A Savanna nosecone has long been a favourite of mine. It's tough to go past an unmolested exterior painted in a typically 1970s hue, and tastefully re-trimmed vinyl interior again in a suitably retro shade of cream. 17-inch Lenso RS5 wheels finish an aesthetic so typical of the New Zealand rotary scene circa early-2000s.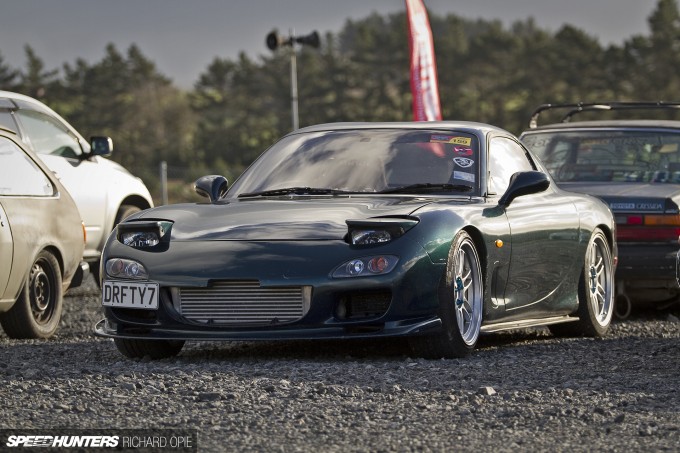 The FD3S RX-7 has to be a contender for the best looking car to come out of Japan, period. Organic styling of the early 1990s is often a hit-or-miss affair when it comes to ageing, but the FD is a car that continues to look fresh over 20 years past its year of release. This series six example sported a later series eight style front bar, subtle aero additions, and hunkered down over a set of Enkei RPF1 wheels for a look favouring function above all.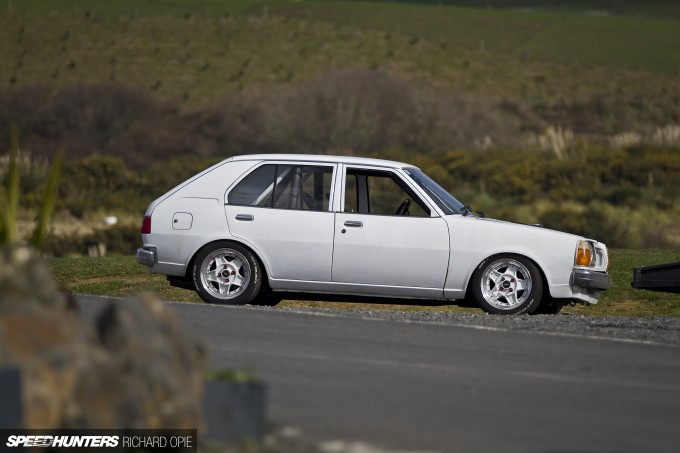 Wedging 12As or 13Bs into the smaller, cheaper and more commonly available FA4 chassis Mazda 323 (for you guys in the States, that's a GLC!) has long been a bastion of rotary fanatics in this corner of the world. Dare I say it, this was typically a more cost effective solution for the cash-strapped rotor fiend to slap together a street car with a bit of presence. Ripping up the track at Chrome was this straight four-door example, again rocking a ported naturally aspirated powerplant with the iconic high-rise K&N air filter sitting just proud of the bonnet line suggesting the provision of a Weber IDA carb or throttle body.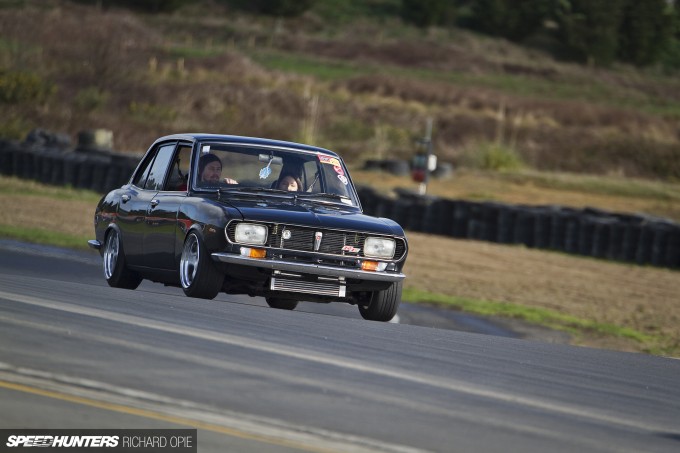 One of my absolute favourites of the day had to be this arrow-straight RX-2 sedan. Slammed on 15-inch Work Meister S1s with a dose of stretch, what's not to like? Note the large oil cooler hanging beneath the bumper – because rotaries get hot!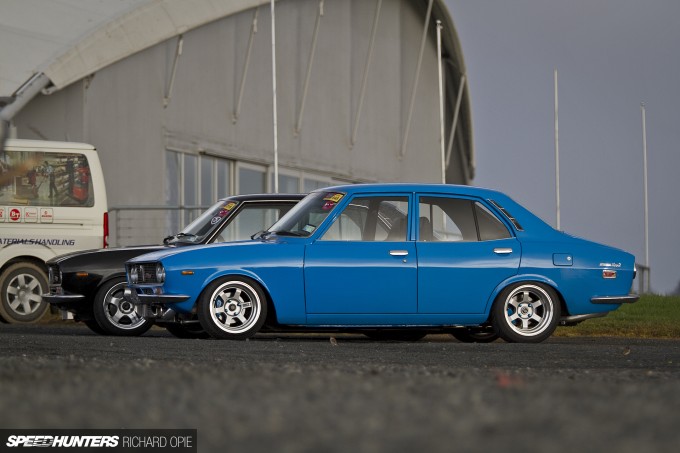 Sticking to the RX-2 theme, this blue sedan proves owners of award-winning show cars aren't always afraid to venture out into the rain for a hoon. In contrast to the naturally aspirated engine setup utilised by the black car, this example made full use of a built 13B turbo for a power increase well in excess of the original 130hp 12A it would have left the showroom with in 1974.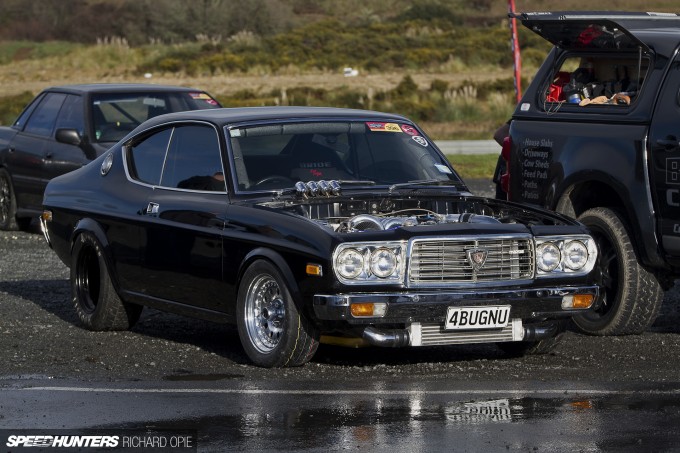 Due to lower production numbers and a higher sale price in period, the slightly bigger brother to the RX-2 and RX-3 – the RX-4 – remains a less common although no less striking choice. Sinister in black with smoke tinted windows, this pillarless coupe began life as a piston-powered 929 model, albeit the even rarer (and some would argue less attractive) facelift styled model. A heavily chromed squared-off front treatment signaled the second phase of the 929/RX-4s lifespan, but somehow when combined with a drag-inspired wheel and tyre combo the slightly awkward styling oozed muscle.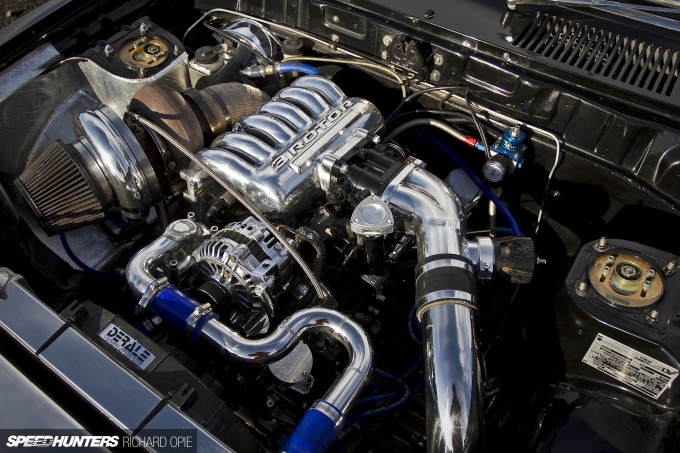 And with good reason! Shoehorned into the engine bay was not the familiar sight of a twin-rotor unit, but a triangular-threesome in the form of a 20B. Ported and running a massive single turbo, the 929 meant business, as witnessed by a collection of tyre-killing antics leading up to the drag section of the circuit.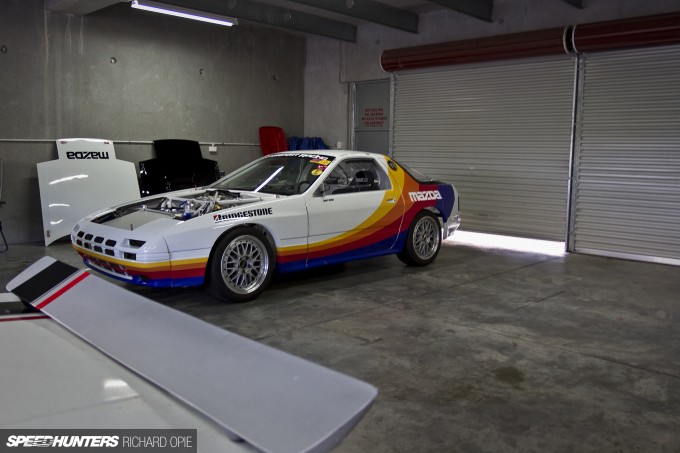 On the 20B note, Grant Munro's painstaking restoration of the ex Rod Millen Pikes Peak 4WD FC RX-7 is almost at a close. With exacting attention to detail, the FC is one of those cars that simply demands a closer inspection and I found myself poring over the details for a solid half an hour. With only a few more cherries on the top to complete the restoration, the car is testament to a fussy build ethic and a desire to relive the 1980s. I'm really hoping I'll get to see this car attack a hill once again at Rod's Leadfoot Festival early next year.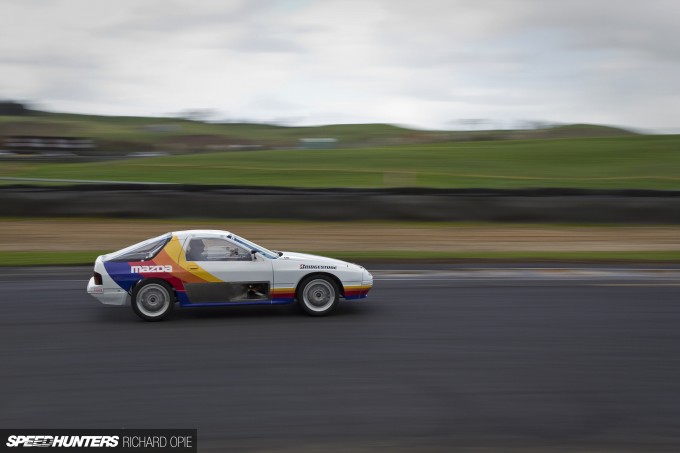 Showing the assembled punters that seeing the RX-7 in motion was the only way to view the car, Grant took to the tarmac for a series of laps. Rocketing out of corners with ease due to the 4WD, the crisp 20B permeated the air as the FC devoured straights with ease. I'm sure with more seat time, watching this car in action is only going to get more and more spectacular!
Automotive Melting Pot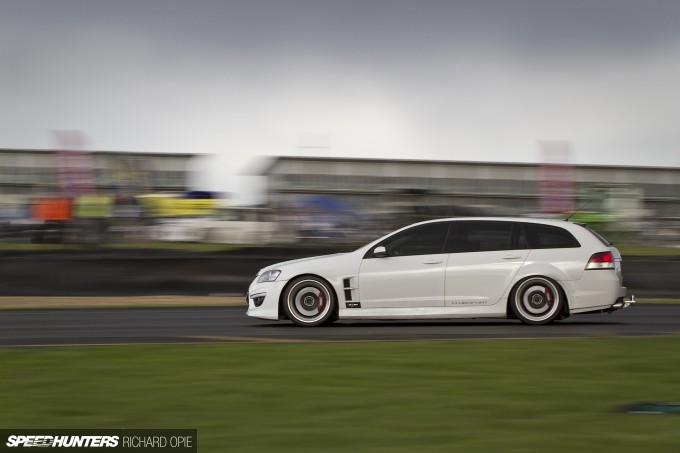 So what about the rest? Both on circuit and sitting in the parking area, the variation continued. An HSV Clubsport R8 wagon dropped over a set of Work Meister S1 wheels? Check, and circulating the track to boot!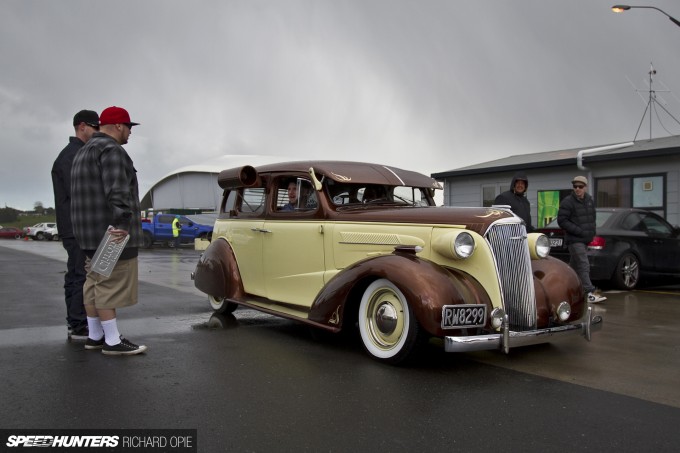 For the pre-war fans, a stunning 1937 Chevrolet 'Sloper' sedan that wouldn't have looked out of place during the On Air Only theme last month. Running a full complement of period accessories and sitting on a custom air ride setup, the old Chevy pulled off the 'bomb' style to perfection.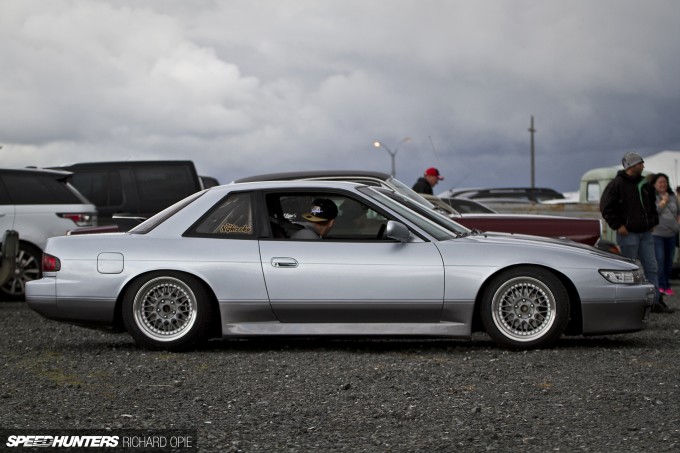 The venerable Nissan S-chassis platforms attracted a typically strong representation. With the popularity of drifting growing ever stronger, it's nice to see some cohesive creations coming out of the woodwork. Factory two-tone is an absolute must-have for an S13, and this restrained take on the cult-classic Nissan featured factory silver over grey augmented with subtle factory aero and a set of not-too-big 3-piece mesh wheels screaming, 'I'm from the 1990s' with pride.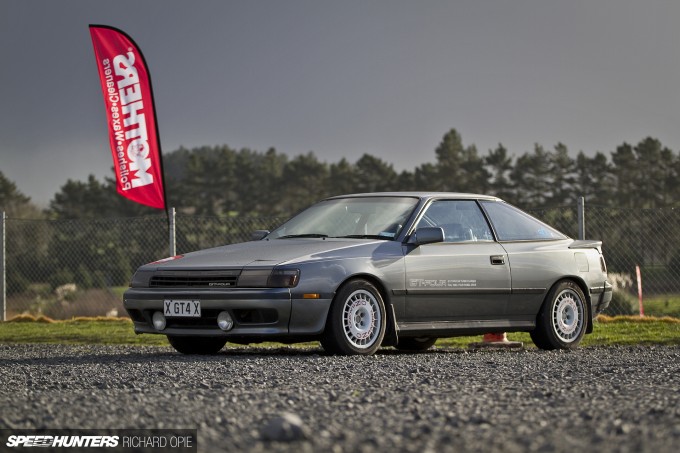 An often forgotten platform is the ST165 GT-Four Celica. Late on the Saturday this tidy rarity caught my eye as it sat alone, uncrowded in an emptying parking area. A child of Group A rallying, this homologation special harks back to a time when top-level motorsport still featured competitive cars driven by the 'race on Sunday, sell on Monday' mantra. The Celica's rallying pedigree in this case echoed by the owners spot-on selection of OZ Racing wheels and retention of a sensible ride height.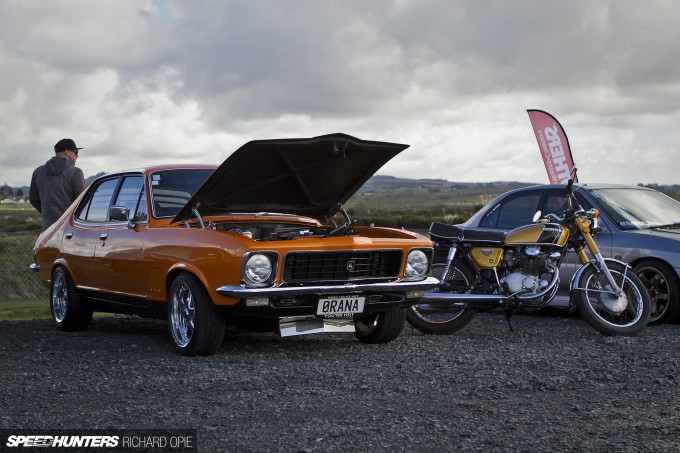 Like the Beastie Boys line in Intergalactic, the custodian of this LJ Holden Torana may have also been in line for an A from Moe Dee for sticking to themes. Accompanying the immaculate example of Holden's mid-size offering from the 1970s was an equally mid-size offering from Honda in the form of a CB350, in equally immaculate condition.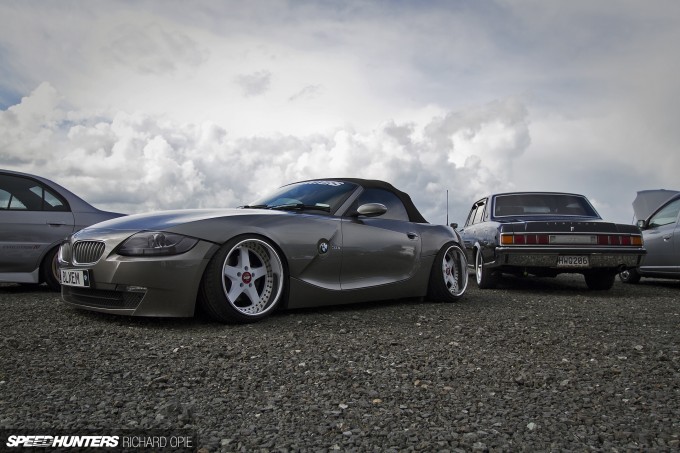 In the German corner, something completely out of left-field in this context. Stance-type builds are so often miscalculated, yet this BMW Z4 employed a set of millimeter-perfect Work Equips in aggressive sizing to ensure precision fitment. Lurking in the background is a VG45 Toyota Century – the pinnacle of Toyota luxury. The popularity of this model is growing as they become cheaper to acquire ex-Japan and age laws allow registration on New Zealand roads.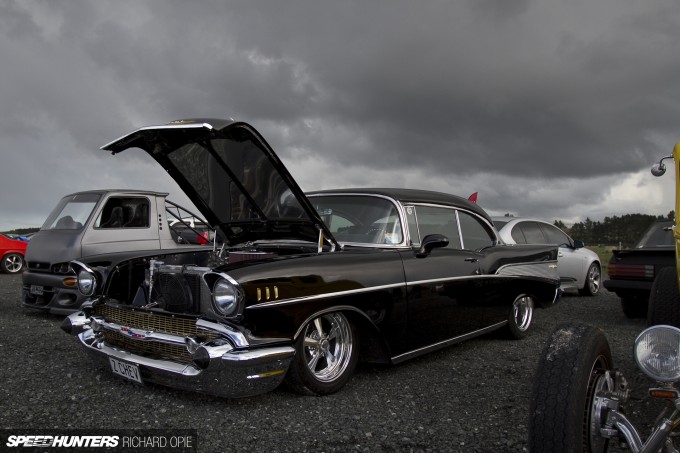 I'll be the first to admit I find the Tri-Five Chevys a little tiresome. Hit up a V8 meet and along with Mustangs and fibreglass-bodied '32 Fords, there are screeds of these things. Naturally, then I felt a bit awkward for enjoying being in the presence of this '57 Bel Air Sport Coupe. Perhaps it was the slightly smaller wheels than the norm that did it, or the properly low ride height with just the right touch of rake, but I could totally get behind the look of this black and chrome creation.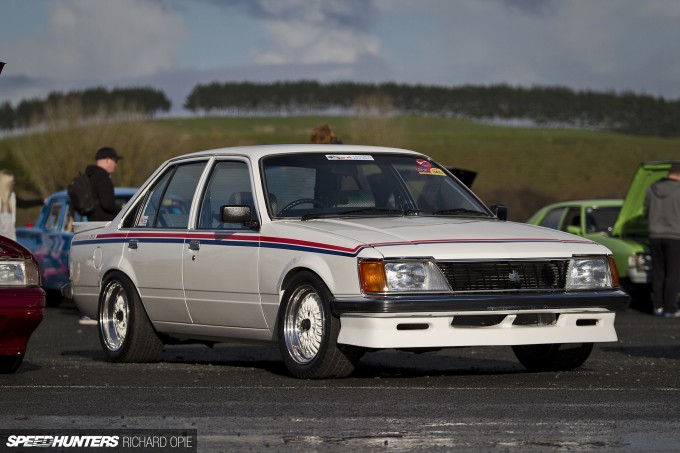 We'll just stick with V8s for a spell with this VH Holden Commodore SS. Although somewhat pedestrian in looks, this particular car is one of only 29 machines built for production car racing by the New Zealand distributor in 1982. All in the name of homologation, the special VHs were fitted with front and rear aero, uprated suspension and a 4-speed manual behind Holden's perennial 308 V8. These cars swept all aside for a couple of seasons, with the above car being returned to road specification following its racing career, in the hands of owner Veen Smith who also raced it in period.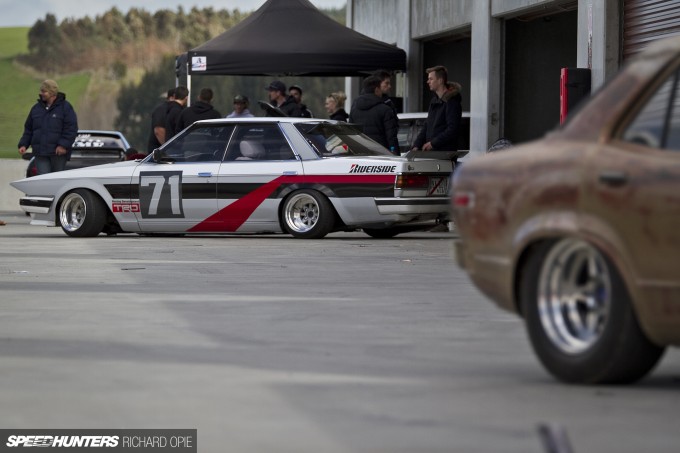 These kind of events have always been a perfect platform for fresh builds to break cover. One of a very small handful of authentic Kaido Racer builds in the country, Matt Jordan's GX71 Mark II hardtop combines perfect proportions afforded by the all-steel long-nose addition with 14×9.5-inch (front) and 14×10.5-inch (rear) SSR Mark IIIs for all-important authenticity. Although in an unfinished state, still requiring final graphics, paint and further touches to the bodywork, the Mark II not only turned heads by virtue of its wild exterior, but the obnoxious cackle emanating from the twin pipes meant that remaining inconspicuous was completely out of the question.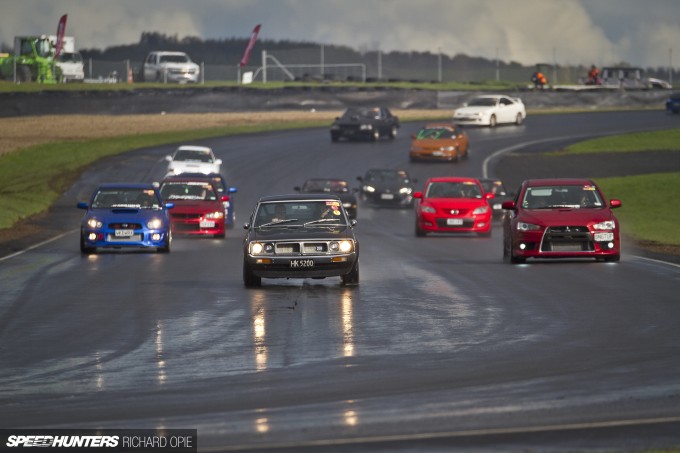 So there you have it – a few slices of Mothers Chrome Expression Session in an attempt to really show the depth of the New Zealand street car environment. A huge variance in style marked a successful weekend at the track, and above all I think an event that takes us back to basics as automotive fanatics. Combining a love of cars, an absence of attitudes and the social aspect really do contribute to a climate that feels as if a shift back to the way things were is entirely possible. And while the automotive community may not be as conspicuous as it once was, it sure as hell is alive, kicking and thankfully here to stay!
Richard Opie
richy@speedhunters.com
Instagram: snoozinrichy
More stories from New Zealand on Speedhunters
Cutting Room Floor