Although never as glamorous as it often appears, working in automotive media does have its fair share of perks. Driving cars you can only ever imagine owning is one thing, as is copping (read: dangerous) front-row viewing positions at motorsports events, and meeting industry personalities. For me, though, the best part of the job are the opportunities to get up close and personal with interesting and important machines, often in the most unlikely of places. Machines like this ex-Pikes Peak, ex-Tokyo Auto Salon, '88 FC3S Mazda RX-7, currently under reconstruction in a small garage, on a farm, in New Zealand.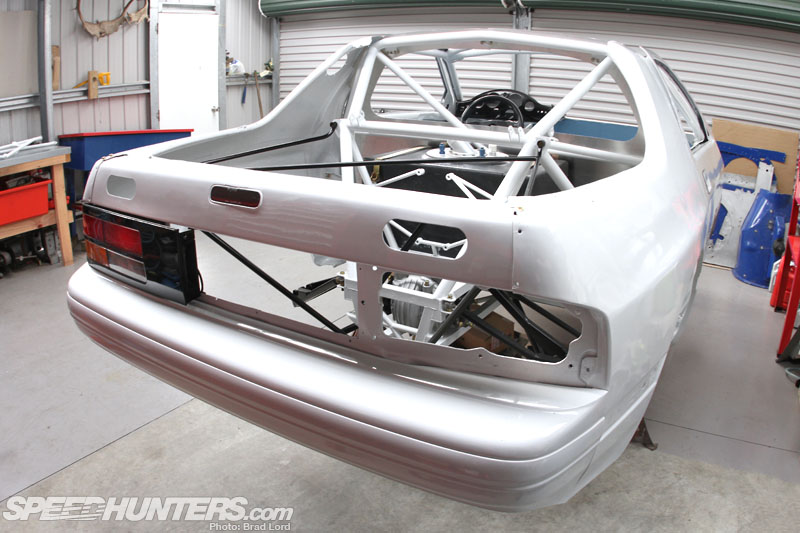 Rod Millen needs no introduction in this corner of the internet. The ex-pat Kiwi first made a name for himself in New Zealand, in the mid-1970s, when he won the national rally championship three years straight in a Mazda RX-3. He found similar success in the US during the '80s, winning the SCCA National Rally Championship numerous times in early RX-7s, and then the FIA Asia-Pacific Rally Championship in 1989 in a Mazda 323 GT-X. But to most, Rod Millen's name is one best associated with multiple successes at the Pikes Peak International Hill Climb (PPIHC) in a bright yellow, Pennzoil-backed Toyota Celica that took the overall record in 1994 and wasn't beaten until 2007. But before Rod raced the Celica, he piloted a crazy powerful and crazy fast, Group B-inspired 4WD Mazda RX-7. This is that car…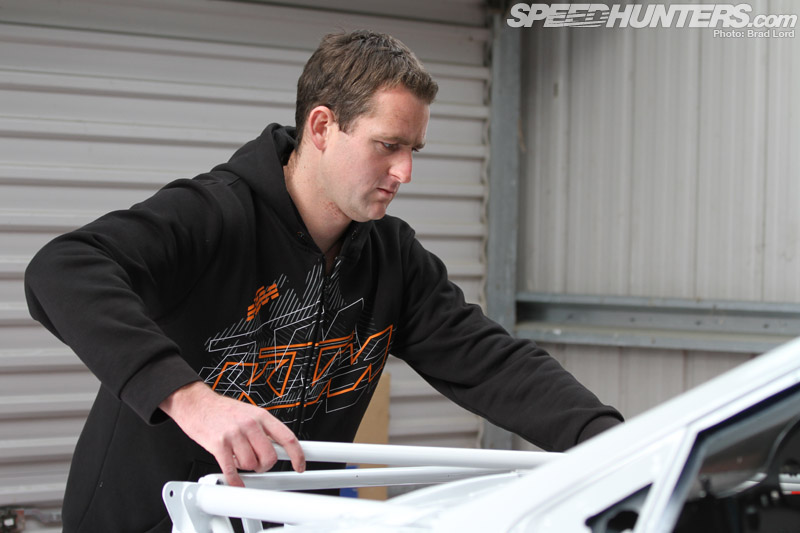 …and this is the guy that's dedicating hundred and hundreds of hours to bringing it back to life: Grant Munro.
But before I delve into its stunning ground-up restoration there's the important story of how this historically significant FC3S RX-7 originally came about – and more so – how it ended up in New Zealand. For that we need to wind the clock back to 1987…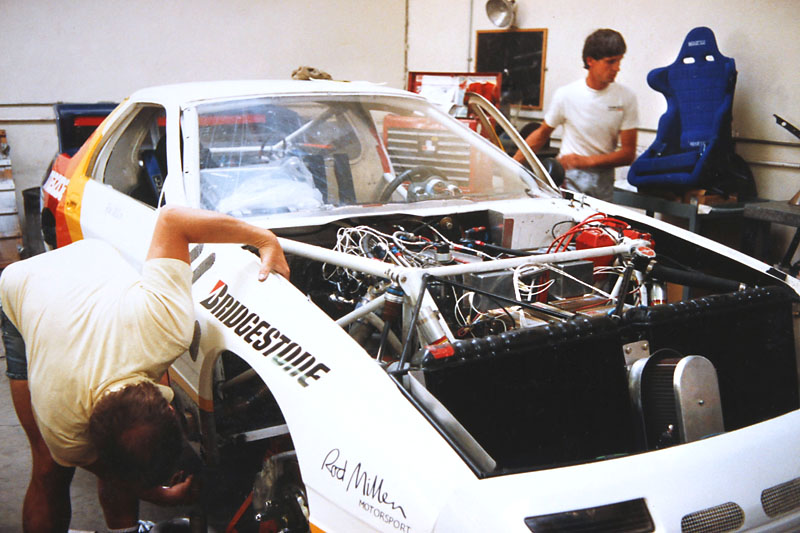 In the mid-to-late 1980s the PPIHC became the domain of the Group B rally monster. The first lady of rallying, Michèle Mouton, won overall honors on the mountain in 1985 driving a specially prepared works Audi Quattro. A year later US driver Bobby Unser backed up the win and re-set the pace behind the wheel of the wild S1 variant of the same car. As Group B had changed rallying, it quickly changed the face of the world's greatest hill climb. Quite simply, to have any chance of standing atop the podium you needed four-wheel-drive, light weight and huge power.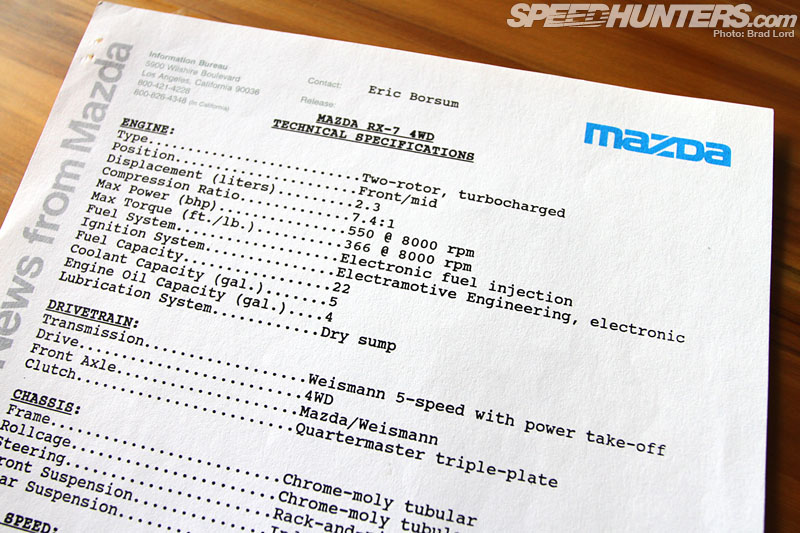 Working with Mazda product, Rod Millen Motorsport came up with something pretty special: a Chrome-moly tube framed RX-7 with custom four-wheel-drive underpinnings and 550hp Racing Beat-built 13B turbo engine.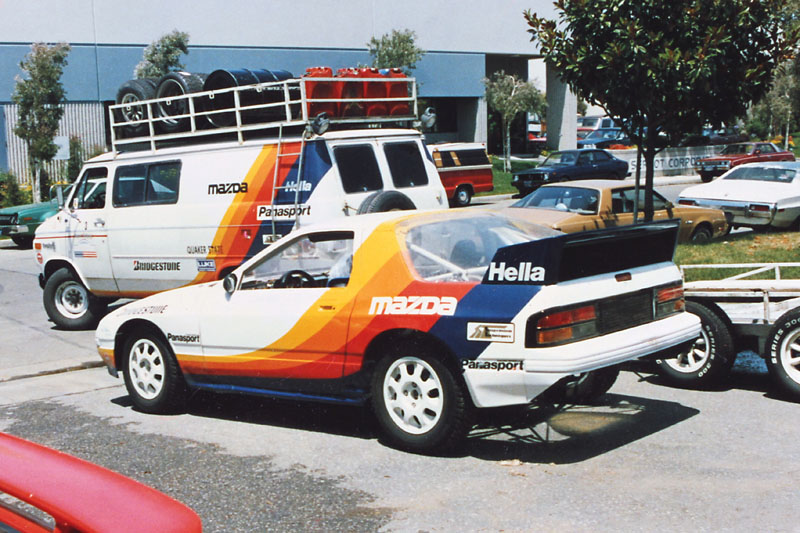 Although Rod and his team had built 4WD RX-7s years before, the FC3S was a lot more serious. With all that power on tap and tipping the scales at just 1700lb (770kg), it certainly had the numbers needed to get the job done.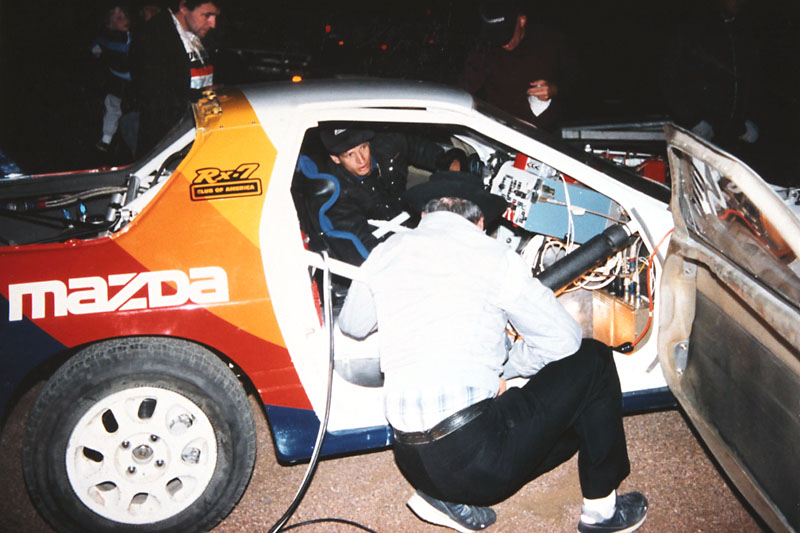 It was also packed to the hilt with the latest performance automotive technology. Check out the size of the aftermarket engine management system in the passenger side footwell, and have a think about how much processing power it wouldn't have had back in '87!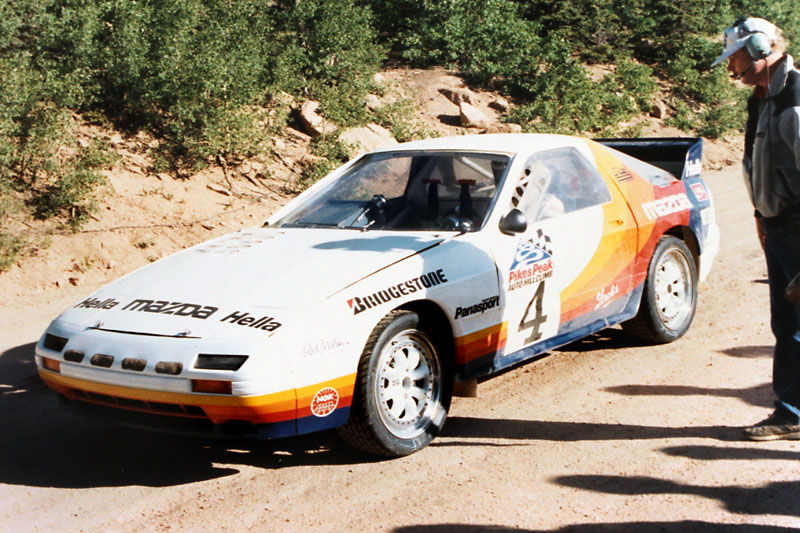 Alongside Ari Vatanen in a modified Peugeot 205 Turbo T16 and Walter Röhrl in an Audi Quattro S1 who were both gunning for Unlimited class victory, Rod made it to the start line of the 1987 PPIHC set to contest the lesser Open class. He didn't win, or set the ground alight that year, but the RX-7 showed more than enough potential to warrant further development. It took four years, but when he returned to Colorado in 1991 he not only convincingly won the class, but shattered the previously held class record in process. In its '91 guise the RX-7 was a different beast to the car that had competed in '87. The biggest change was made under the hood where the complex 13B set up had been swapped to a cutting-edge Mazda JC Cosmo-sourced 20B three-rotor engine arrangement. But even though the car had proven its worth, it would be the last time it was used on the mountain. Rod's long-standing association with Mazda gave way to a new association with Toyota, and the rest is history.
But not so for the FC3S, a new chapter in its life was just beginning…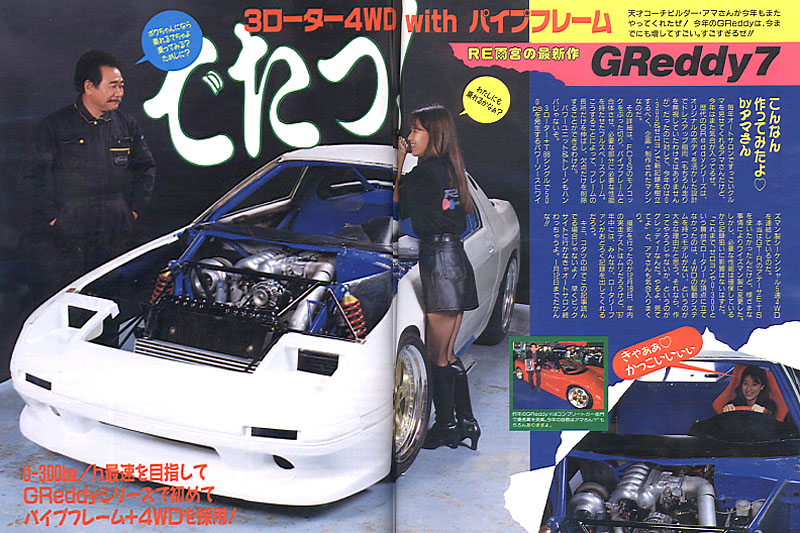 … In Japan and at the hands of well-known rotary tuner, Isami Amemiya.
This scan from a mid-'90s Option magazine shows the car being readied for its debut at the Tokyo Auto Salon (TAS) as the 'GReddy7′. Save for some Trust upgrades to the engine, the majority of upgrades made to the RX-7 at RE Amemiya in Japan were mostly cosmetic, although the story appears to paint a slightly different picture, and with (from what I can tell) no reference to the  car's history. What the article does reveal, however, is that Amemiya-san planned to used the car for Option's 0-300km/h time trials – a popular competition among Japanese tuners at the time.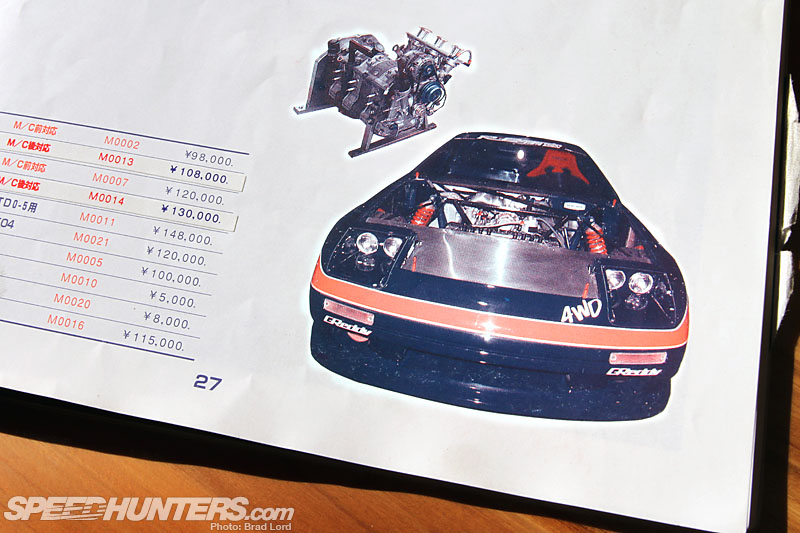 And here's the completed car as shown at TAS '97, and featured in the company's product catalog. Apart from being repainted blue and pink the wheels, the front bumper, fluted hood, headlight upgrade, door mirrors and rear wing were all upgraded to RE Amemiya-branded fare.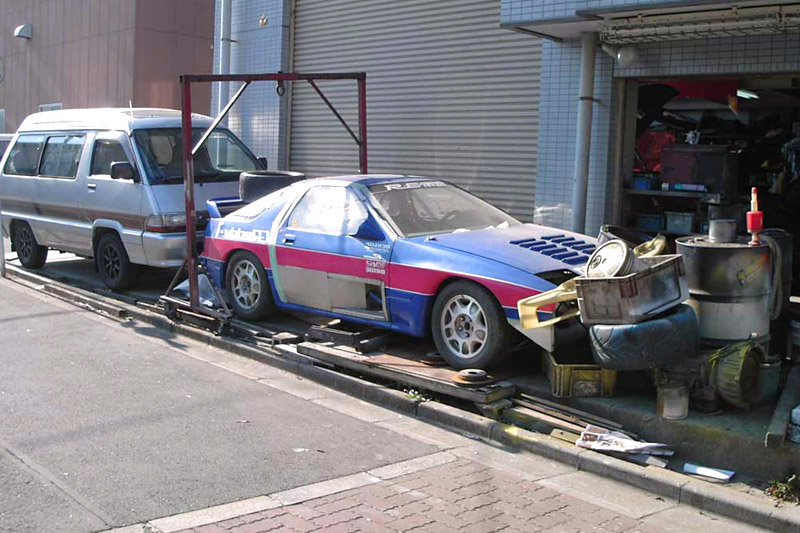 But what happened after its TAS showing still a bit of a mystery. I've yet to determine whether or not the car did in fact compete in any Japanese high speed trial events, or any other forms of motorsport for that matter. What is certain – as this photo goes to prove – is that the RX-7 was eventually pushed outside RE Amemiya's workshop where it remained for a very long time – around seven or eight years at a guess.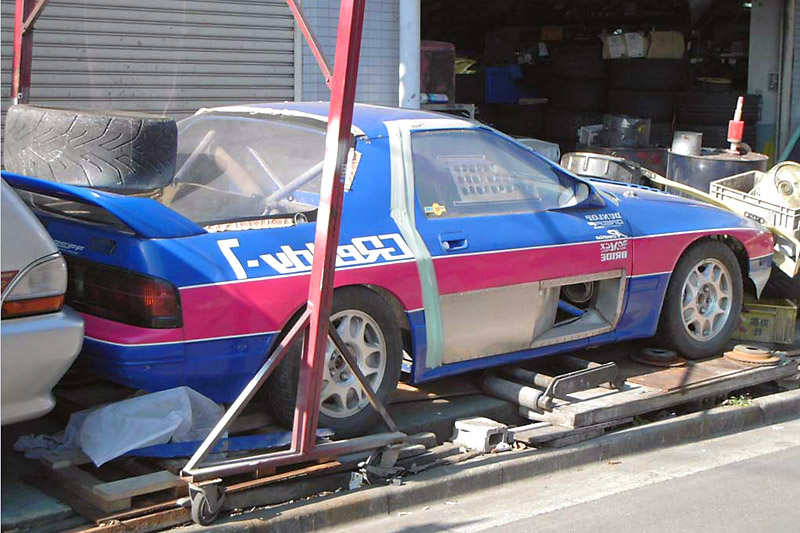 It was these photos of the car – shot by one of group of Kiwi rotary enthusiast traveling in Japan – that would ultimately spark a recovery mission led by Grant's late father, Glenn Munro.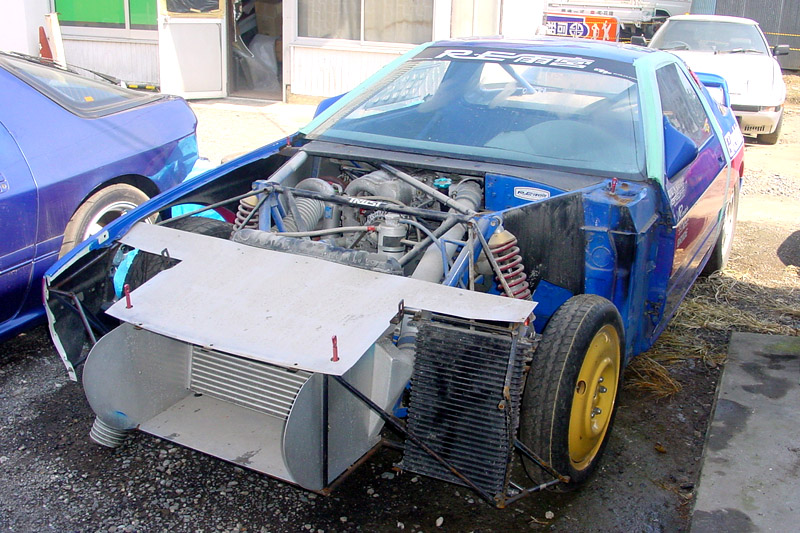 Glenn – a prominent Kiwi rotary tuner and a long-time friend of Rod's – had traveled to Colorado in '87 to watch the car compete (those are his photos from the event earlier in the post) and had always wondered where the RX-7 had ended up after its short-lived PPIHC career. He knew that some time in the mid '90s is had been sold to a new owner in Japan, but wasn't sure to whom, or where exactly it was. But as soon as he saw the photos of the tube-framed and left-hand-drive RX-7 with a 20B engine up front, Glenn knew exactly what he was looking at.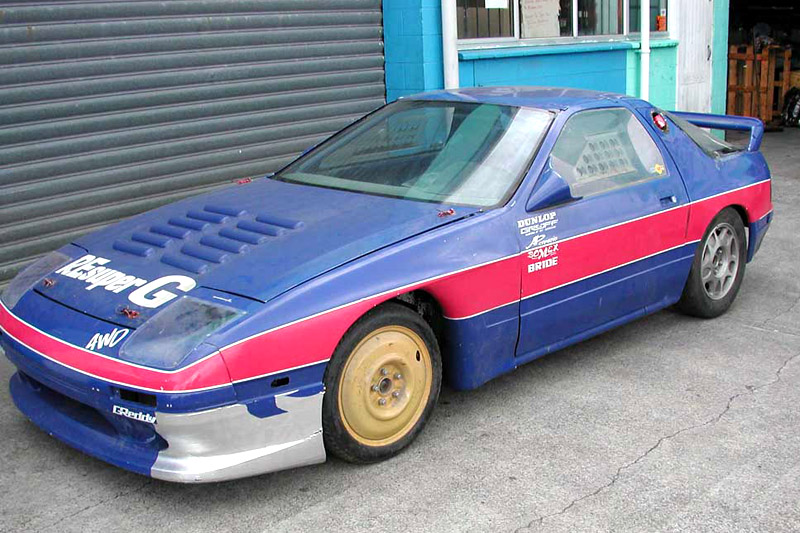 Not about to pass up the opportunity to own the car, a deal was struck up with Amemiya-san and around the car was exported to New Zealand circa 2005.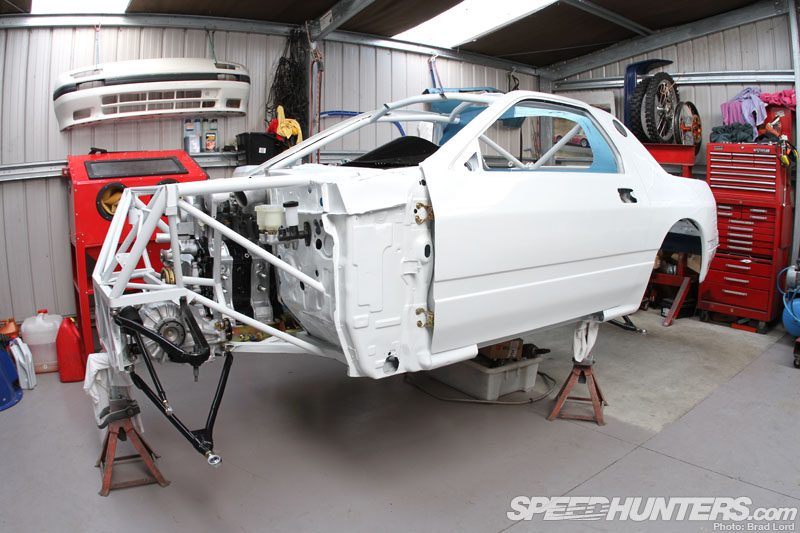 According to Grant his father had always planned to return the car to its former glory – PPIHC livery and all – but ultimately that wasn't to be. Sadly, in 2010 Glenn passed away, leaving the car and his prominent rotary tuning business, Rotary Power (formerly New Zealand's first rotary specialist, 'Rotorsport'), in the hands of his family. But around one-year ago Grant, who now runs the business (albeit back under its original name) decided to utilize his rotary engine building and engineering talents, and realize his father's dream by stripping the RX-7 back to a bare frame, and rebuilding it from the ground up.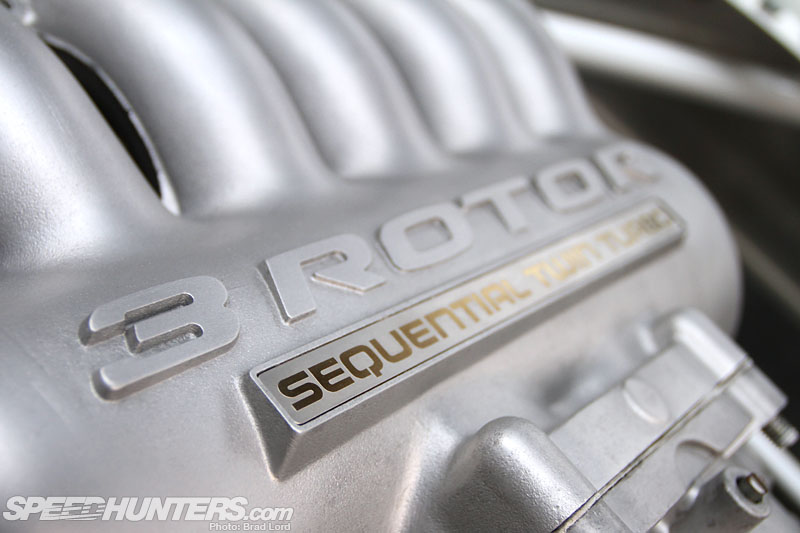 When I caught up with Grant a week or so back he estimated he was about 50% of the way through the rebuild…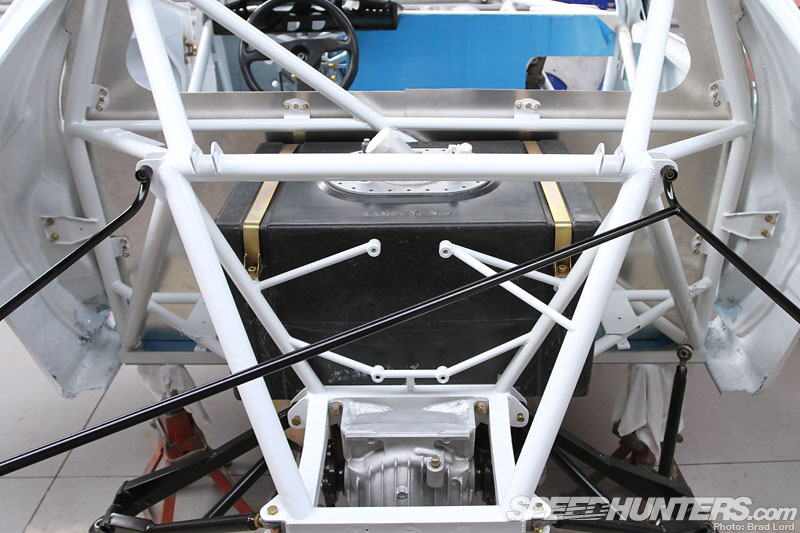 … And as you can see, it's really starting to take shape.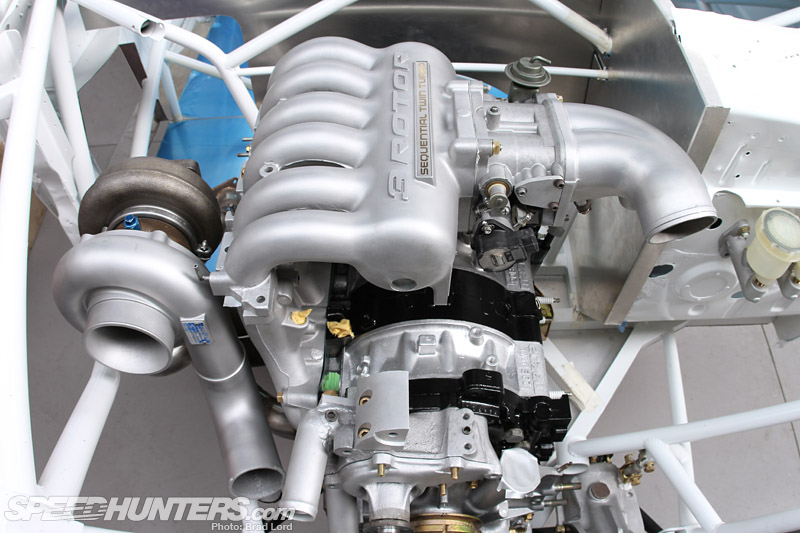 The engine is particularly impressive looking, something helped in part by the huge single turbo conversion!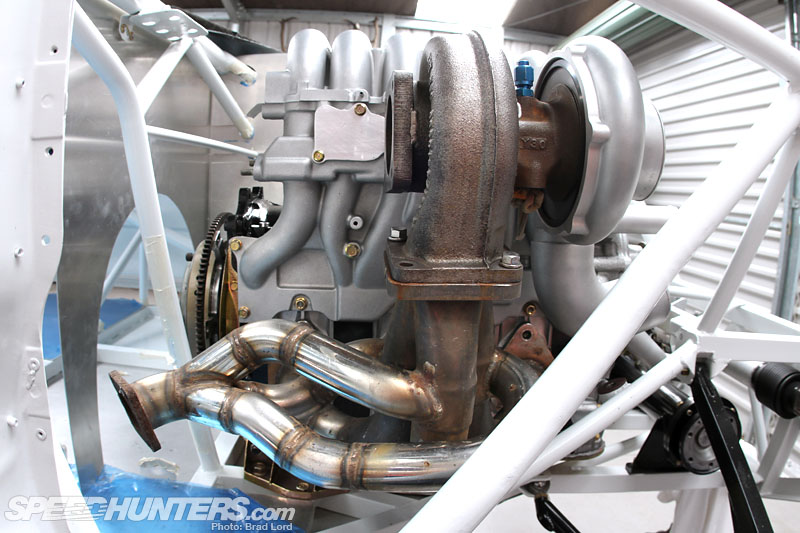 When Rod ran the car at Pikes Peak in '91 it used a single Garrett turbo set up as opposed to the factory sequential twin turbo arrangement, but with major sponsorship coming from GReddy, RE Amemiya had removed the original gear and replaced it with components from the Trust catalog…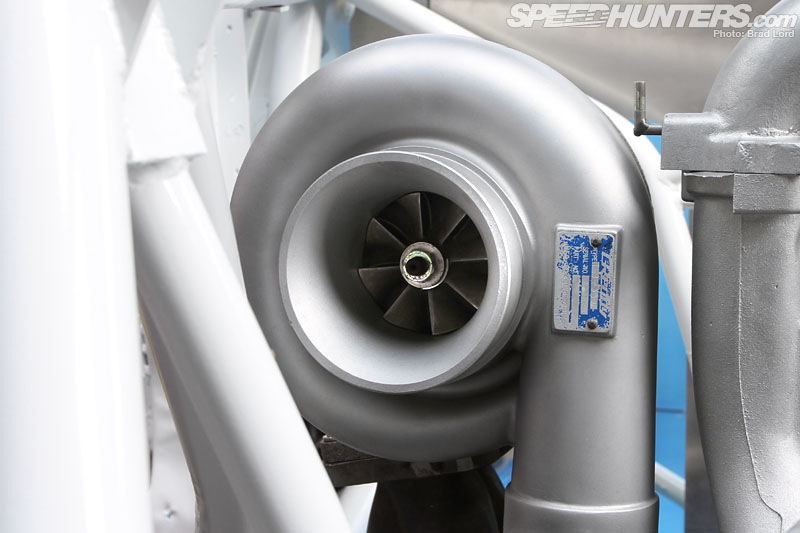 … including a dinner plate-sized GReddy T88-33D turbocharger. The turbo's exterior looked very second-hand when it was first pulled it off the engine, but after stripping it down for inspection Grant told me there were no signs that it had ever been run. Grant definitely isn't complaining!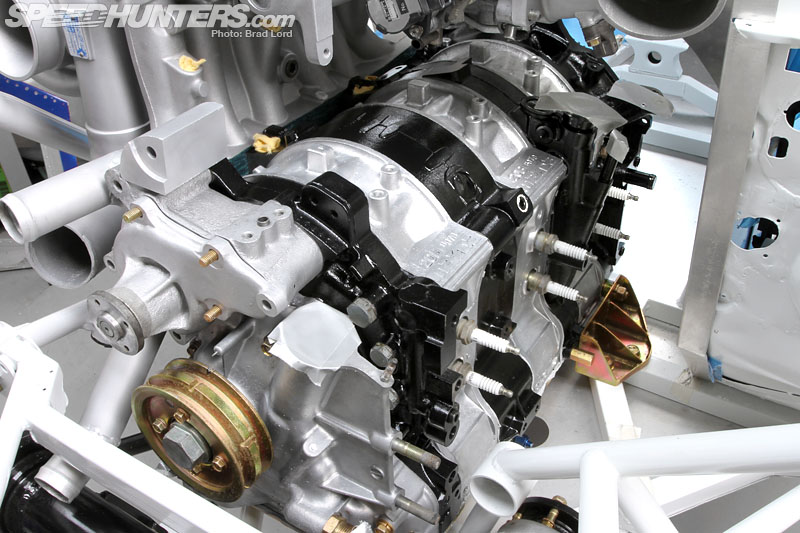 Although it too looked scruffy on the outside, the engine was in good condition inside, meaning the rebuild was pretty straightforward. Originally standard spec, the 20B has since received 'Stage II' Rotorsport porting, 2mm Rotary Aviation (RA) apex seals and MFR competition bearings. Grant also clearance'd the rotors, balanced the rotating assembly, and added a lightweight flywheel to the equation. All told the set up should be good for an easy 600hp.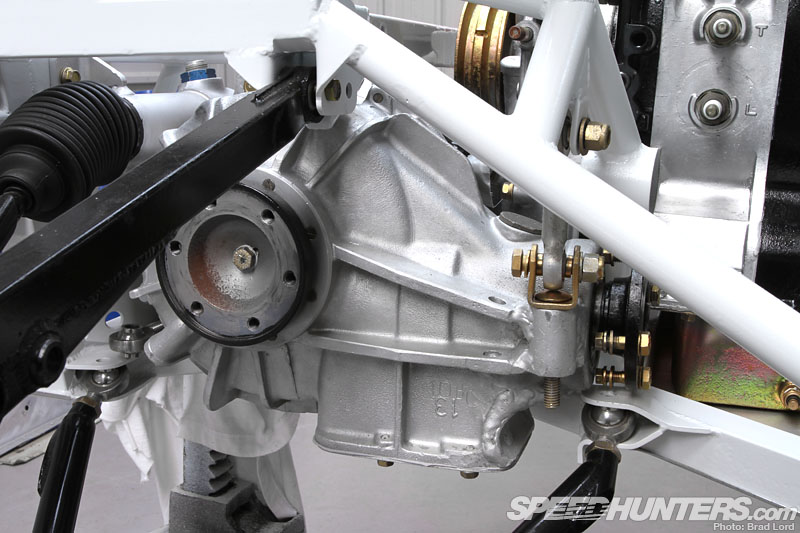 The transmission – a Weismann five-speed unit with a transfer case hanging off the side – is currently being rebuilt, but once it's back in the car a short driveshaft will reconnect it to the Weismann differential custom fitted up front…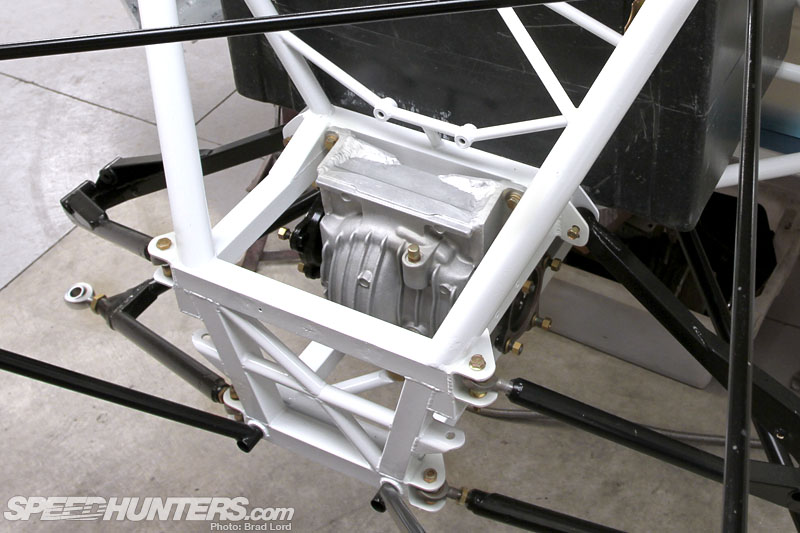 …and another driveshaft will connect up an FC3S-based set up at the rear.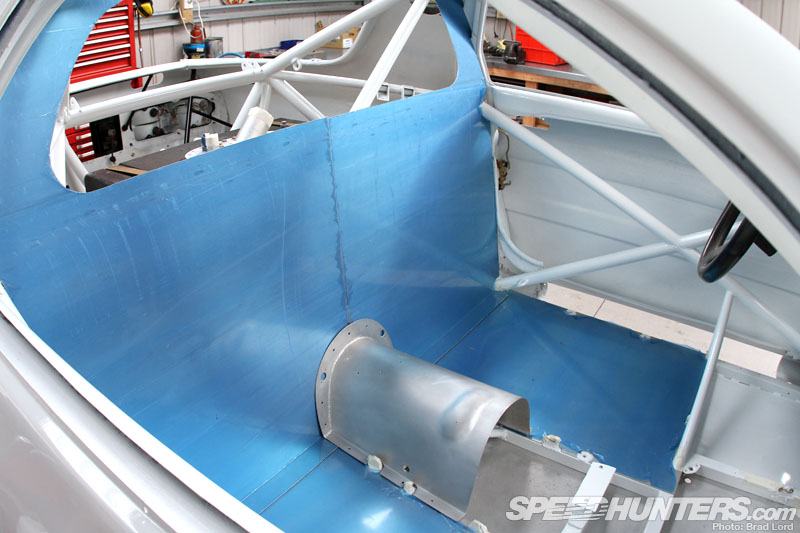 Inside Grant's making good progress replacing all the sheet-metal panels with new tin.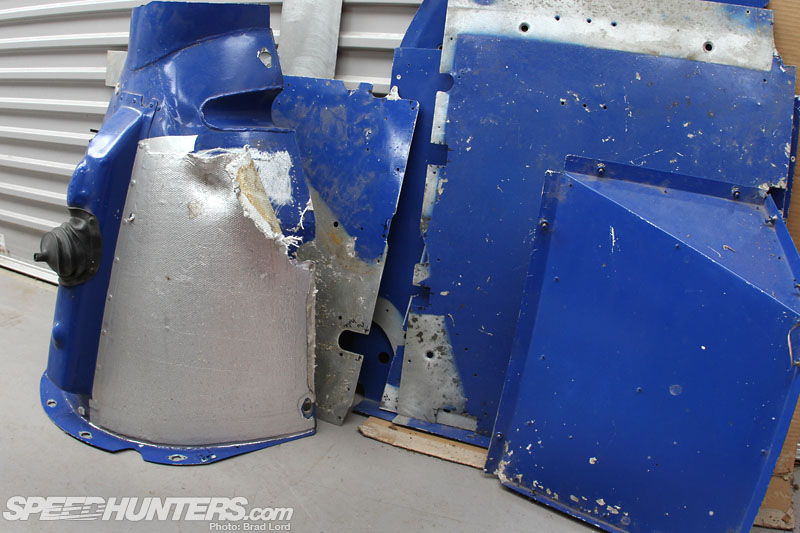 It's been a time consuming job, but one made much easier having the original panels (albeit resprayed in RE Amemiya blue) on hand to use as patterns.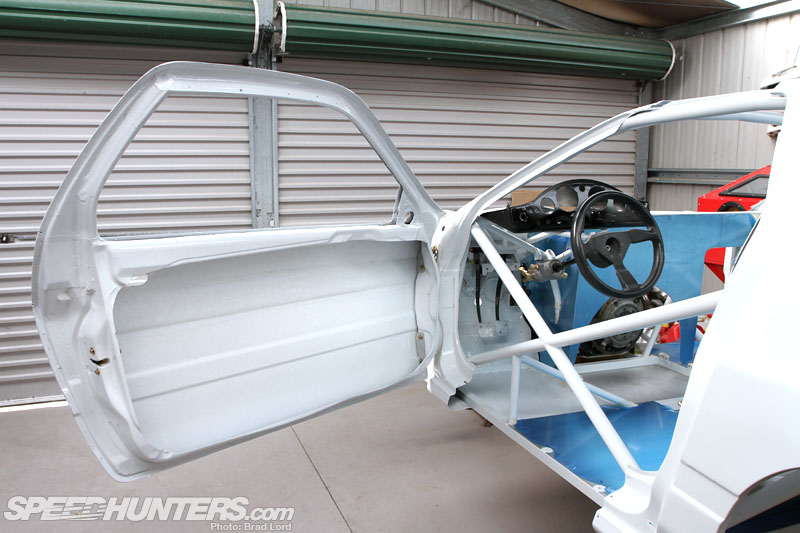 It's bulkhead and A-pillars might be original FC3S Mazda steel fare, but every other piece of body work was reproduced in fiberglass to keep weight low. It, like the tube frame which was sandblasted and repainted, has all been meticulously restored too.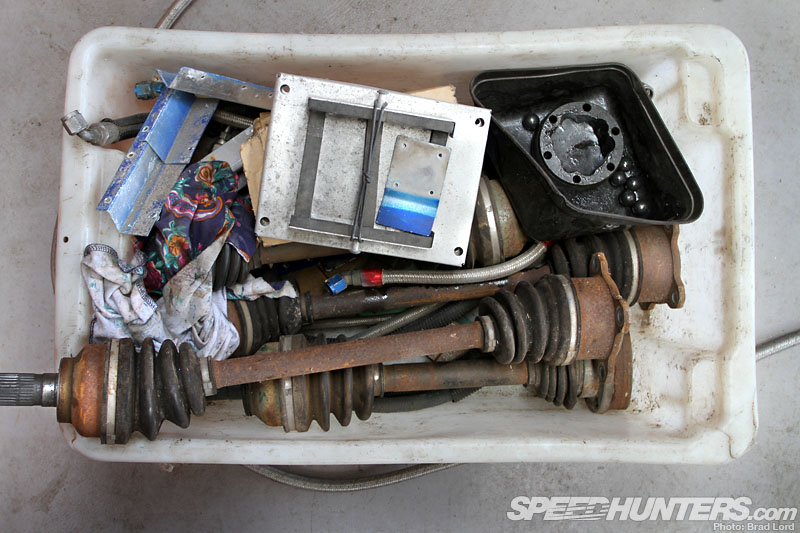 Grant's still got a few boxes of parts kicking around the garage that look like this…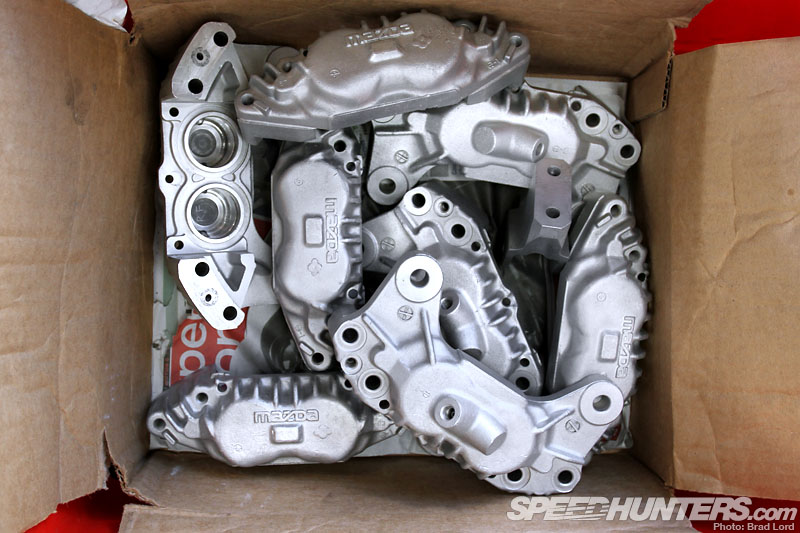 … but he's quickly getting through them. The brakes are looking good and will soon be reunited with the car.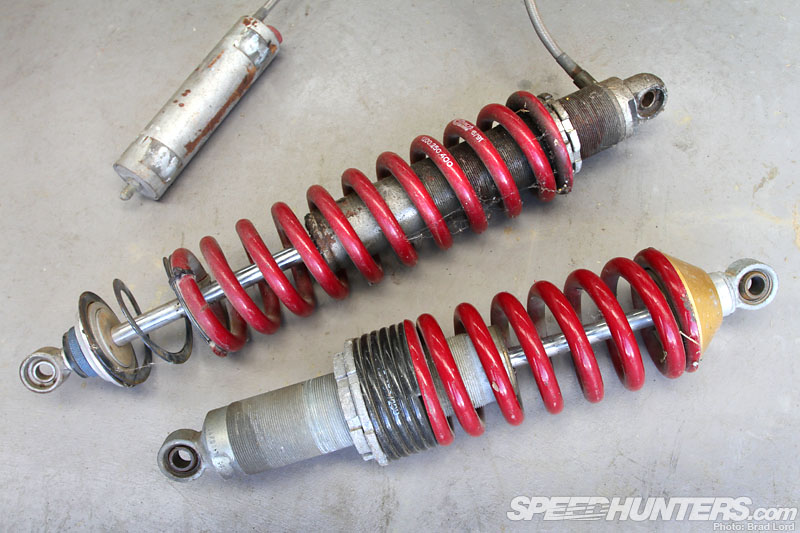 Meanwhile, overhauling the RX-7's original coil-over dampers is one of the next jobs of the list…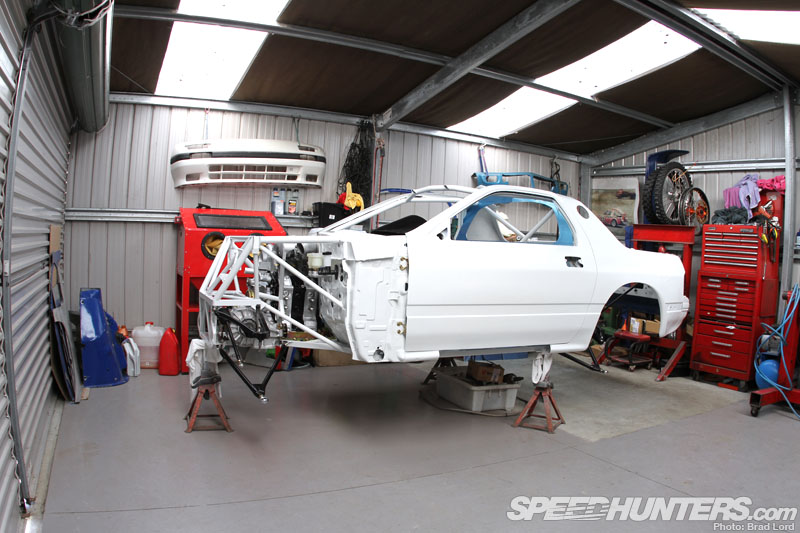 … which will see the RX-7 another step closer to completion, and its first drive in a very long time. I spoke to Rod about the car and asked what he remembered it was like to drive all those years ago. He told me it was very similar to the Celica in terms of the chassis design and weight, but it was ultimately let down by tires, and a lack of aero as the car still had to resemble the production model to satisfy PPIHC's Open class rules. Of course, those two things were able to be addressed on the Toyota with a shift up to the Unlimited class where pretty much anything goes…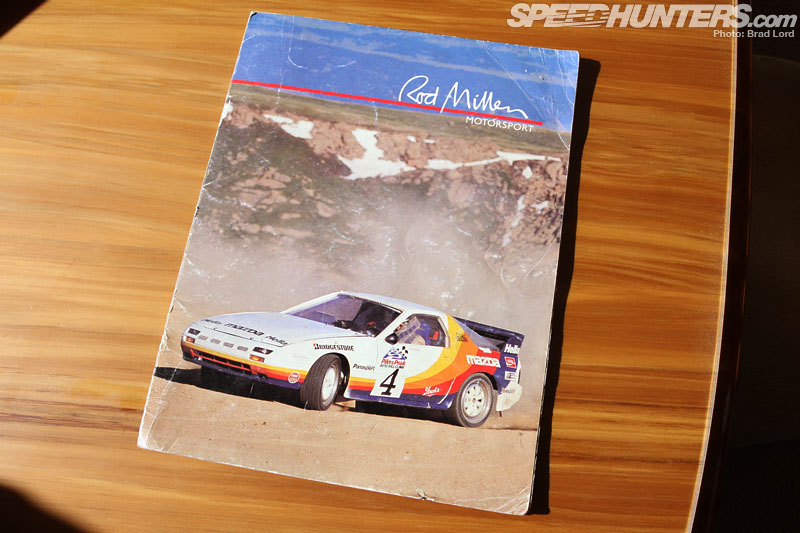 Although Grant has no plans to return the car to Pikes Peak, I was very happy to learn that once completed he will be put to proper use – specifically at one of Rod Millen's future Leadfoot Festival hill climb events, and perhaps with the man himself back in the hot seat… Speedhunters will be there when it turns a wheel in anger once again!
– Brad Lord
Additional Photo Credits: Munro Family Collection ('87 Pikes Peak images), Rotorzilla (RE Amemiya images, Option scan)