Return Of The Boom Bap
Happy 8/6, everyone! It's been a really, really long time since I last wrote anything for Speedhunters.com, but things have come around full circle and it's a pretty cool feeling. See, I was part of the original Speedhunters team that actually launched this site from the point of concept. In fact, I still remember emailing Mike Garrett via his popular Auto Otaku website to ask him if he'd be down to join the team!
At the time, I had been contracted as a freelance consultant for the EA Games Need for Speed team's Black Box Studios in Vancouver BC, and we had just finished working on a Need for Speed sponsored documentary film called The Birth of Pro Street, which aired on SpikeTV in the United States and Motors TV internationally. We began talking about what we should do for our next project, and that's when the idea to create a website as a brand extension for Need for Speed came about – the goal being to connect the game's traditional video gamer audience with car guys from different aspects of car culture throughout the world by bridging the two communities. This was back in 2007 to 2008 when the site launched. It's crazy to think about those days now, because when you fast-forward seven whole years to the present, the early ideas we had actually became reality. Today, Speedhunters is one of the world's most recognized and reputable car culture websites.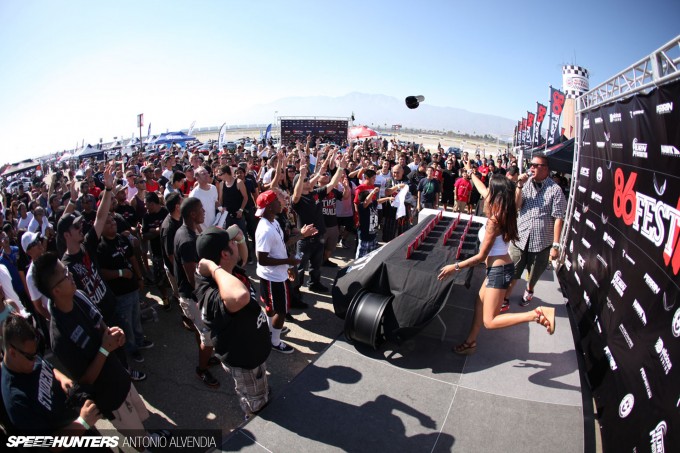 Since the time I originally stopped contributing stories to Speedhunters, my career as a photojournalist evolved quite a bit. I launched a few new websites (including MotorMavens), and an event called 86FEST, which is based on a topic I've been passionate about for over 15 years now. That is, the the culture surrounding one of my favorite cars – the AE86. It only makes sense that I would return to Speedhunters on my favorite holiday of the year – Hachiroku Day, August 6th.
To be completely honest, 86FEST is an event that brings together both the Scion FR-S/Subaru BRZ crowd and the classic rear-wheel drive Toyota community, but there are usually a lot more new 86 (FR-S and BR-Z) owners at 86FEST than AE86 owners. That's just because there are a lot more of these newer cars out there, and Scion and Subaru are still selling them brand new.
As much as I love driving the new 86 chassis, I'm still extremely passionate (or should I say obsessive) about the old boxy AE86 – the last of the rear-wheel drive Corollas. And as much as all my friends in the automotive aftermarket industry have been pushing me to build up a new-chassis Scion FR-S or Subaru BRZ, I decided that I should finish building some of the AE86s in my collection first!
Enter The Cipher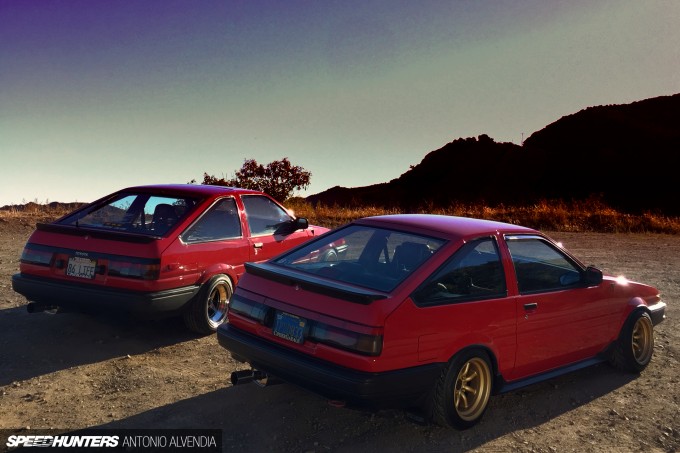 Those who follow 86FEST on Instagram might recognize my matching red AE86s – the Cipher Garage AE86 twins. Both of these cars are USDM Corolla GT-S models (1985 and 1986), but they have been modified with Japanese bumpers, lights, side skirts, and other accessories that match their model years. People ask me all the time why I need more than one AE86, and my answer is simple: I like variety. Just because a guy might have a very pretty girlfriend doesn't mean he can't admire beauty in another female, right? Right!
Each of my AE86s have subtle, minor differences when it comes to the exterior, interior, engine, and suspension modifications, but both have been styled to reflect the clean, period-correct, Japanese classic car type appearance that I really love. Actually, these two cars feel completely different when you're driving them. I like to say that they have different driving personalities. I can talk about the Cipher Garage twins in more detail in another story if anyone wants to know more about them.
For now however, let's talk about my newest project car – a bone-stock USDM 1985 Corolla GT-S hatchback with faded 30-year-old original paint…
No Tricks In 86: It's Time To Build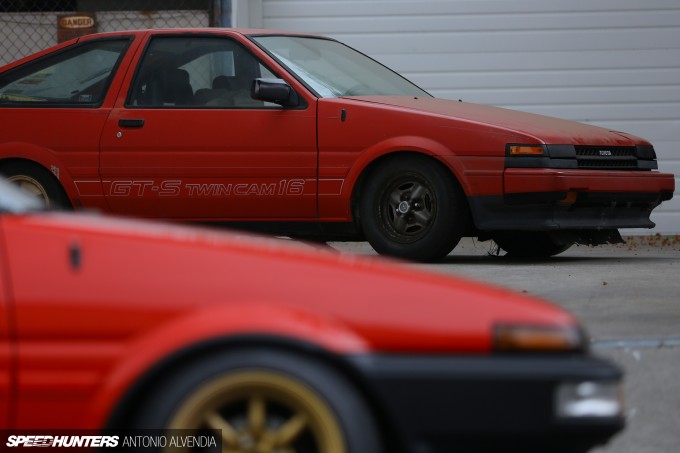 Here's a comparison photo to show you the condition of the car. Man, is it ghetto looking! I mentioned on a YouTube video I recently uploaded that I bought this car for $500 from a junkyard, and people started freaking out about the low price. It was exactly the reaction I thought people would have, so I should come clean. I didn't disclose to my YouTube subscribers exactly when it was that I got the car: 1999. The thing is, I bought this faded 1985 GT-S even before I bought my other red AE86s, but those cars were cleaner and were in running condition, so naturally I put this faded GT-S hatchback on the back-burner. For about 15 years, I kept this car under a car cover or in an enclosed garage. This is why the dashboard is still perfect, even though the original red paint is dull.
When I originally bought the car it was a junkyard rescue operation. A close friend told me a red GT-S had just arrived at the yard, so I called in to find out how much they wanted for the factory rear wing and front McPherson struts. The price was $150 for the struts and $100 for the wing – or I could just tow the whole car away for $500. I dropped everything and went over there with a tow truck. Luckily, the registration papers weren't even submitted to the Department of Motor Vehicles, so the car didn't even have a salvage title or anything. Score!
Aside from the faded paint, there were a few other things wrong with the car: the engine was blown, the front headlight cover had a dent in it, and the carpet was ruined because a cat had urinated on it. That's it. I checked the VIN number and the car was an original 1985 GT-S with a factory LSD. Perfect! I didn't waste much time pulling the original USDM 'blue-top' 4A-G engine out, but since then it's just sat around while I've played with other cars, gone on trips, started websites and things like that. But playtime is over – it's time to build.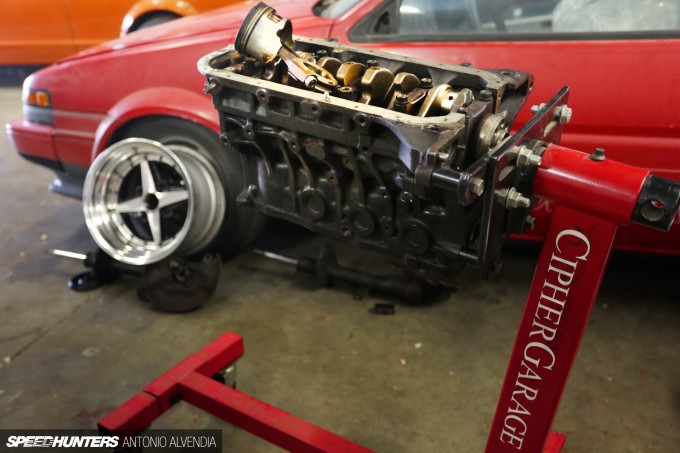 I decided not to rebuild the original USDM blue-top 4A-G, because most AE86 owners prefer to swap in a JDM 'red-top' kouki kyu-ni 4A-G from a late-model, front-wheel drive AE92 Corolla Levin or Sprinter Trueno. That engine has a stronger 7-rib block (versus 3-rib on the blue-top), higher compression pistons and integrated oil squirters. I actually have a spare 7-rib block from an engine that was damaged at a track day due to detonation sitting in my garage. I never fixed it and it's been sitting on an old engine stand for a long time, so I figured this build would be a perfect opportunity to put it to good use. I'll go into more details on the engine build in a future story, but for now I just wanted to introduce everyone to my 86FEST Project AE86, which will be built over at RSPEC Auto in Van Nuys, California. I don't even have all the parts I need for the car yet, so I'm still in the gathering phase.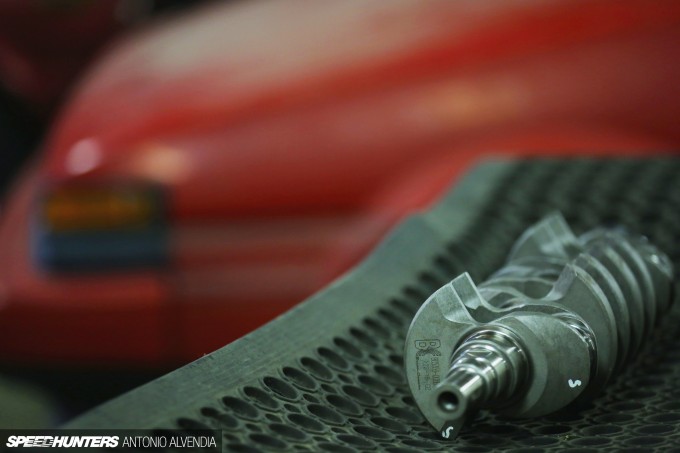 As we make progress on the build, I'll post Instagram updates through @86FEST, blog about the project here on Speedhunters.com and post vlogs about the car on YouTube.
The very first thing I ordered for this car was a 4A-G stroker kit from Brian Crower. For those who don't know, the guys at RunBC actually produce white label engine internals for some of the most popular Japanese tuning shops, even though Brian Crower Inc. is a US-based company. This particular crankshaft I ordered increases the stroke of the 4A-G engine from 77mm to 83mm, which along with some custom-made forged pistons will enlarge my engine displacement from 1600cc to 1800cc. Increasing the stroke of the engine will give my rev-happy 4A-G engine some much needed torque, and that's a good thing.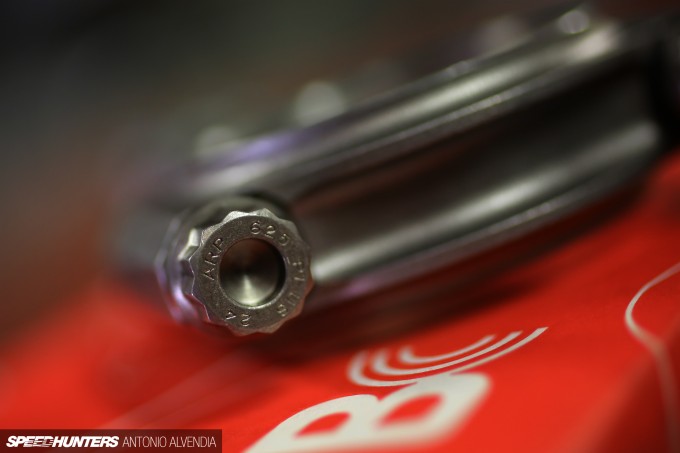 I also ordered some RunBC forged 4340 billet steel H-Beam connecting rods. These rods are a lot stronger than the stock items and have a deep radial groove pin bushing and oil holes at 5 and 7 o'clock positions, which brings critical lubrication to the wrist pin area, which is very important. They also came with ARP rod bolts, which are a lot stronger than the stock Toyota hardware. I haven't ordered the pistons or cams yet, as I'm still figuring out which specs to run (if you have any advice, please chime in), but I did order a set of individual throttle bodies.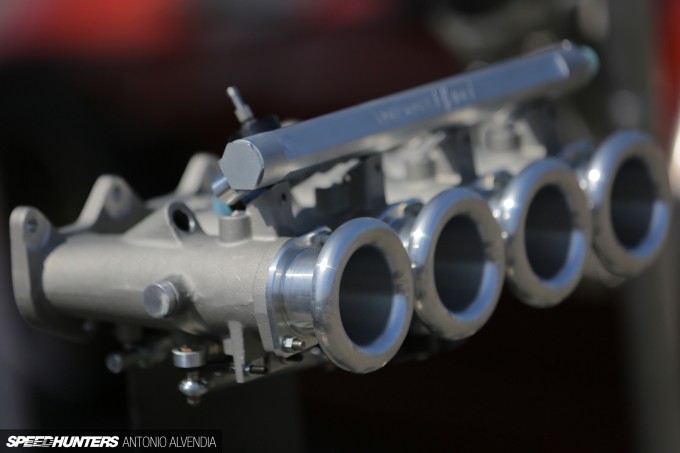 The first time I laid my eyes on these ITBs from Borla Induction, I was instantly in love. This setup was originally developed by the experts at TWM Induction, including Gary Polled who has a history of working with teams running the 4A-G engine in the Formula Atlantic series. Since this ITB setup comes with everything from the intake manifold for small-port 4A-G head, the fuel rail, throttle bodies, throttle linkage and polished full curl air horns, I knew I had to order it even before I had my cams and pistons figured out.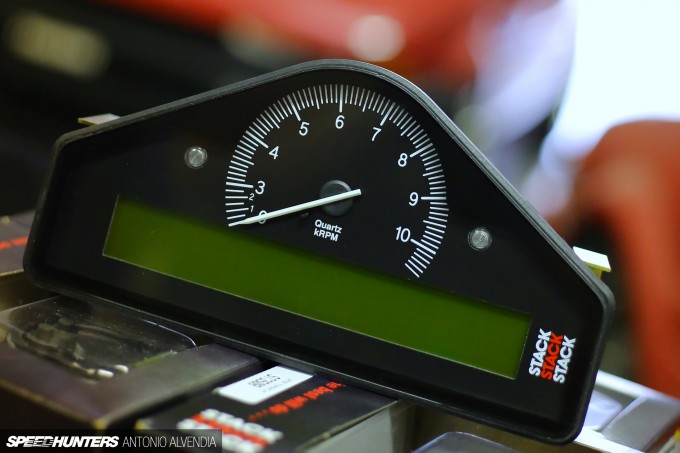 Since the whole point of building up this 4A-G engine is to hear the glorious sound of throttle bodies at high RPM, I knew I'd need some instrumentation that could give me instant, accurate engine readings, with a tachometer that could keep going past the factory 7800rpm redline. I'm definitely not anything close to a professional race driver, so I know going wild and putting a Stack STM8130 cluster in my AE86 is probably overkill for me. But hey, it fits with the engine I'm building, so why not?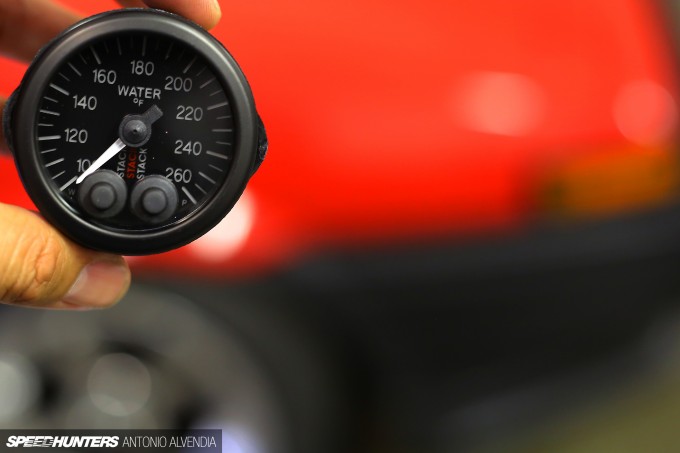 I decided to get some extra analog gauges too, just so I can easily keep an eye on things like my water temp and oil pressure without having to look down at the digital readout on the cluster. These Stack Pro Control series gauges have two buttons on the front that can be wired to control absolutely anything in the car that can use a switch. While it would make sense to wire the buttons to something like an electric fan, I was wondering what other ideas people might have? Maybe I should wire them to something crazy, like a smoke machine or oil sprayers like in spy movies. Just a thought…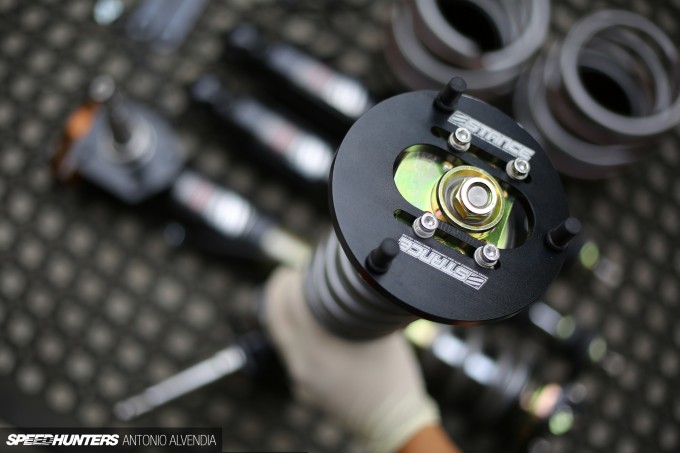 I also needed a set of coil-overs for the car, because I want this AE86 to sit low, but handle well. I decided on a set of Stance Super Sports because they come with spindles for the AE86 and use an inverted mono-tube strut, which is double the width of normal coil-over strut shafts (45mm versus typical 20mm). I currently have a set of inverted mono-tube coil-overs in my zenki (1985 AE86) and a set of normal coil-overs in my kouki (1986 AE86), and the difference in driving feel is huge. I'm no expert, and even I can tell the difference when I'm driving the cars on the street. I let my friend Robby from RSPEC Auto test-drive both cars, and he agreed – the zenki currently handles way better than the kouki with its current setup. Inverted mono-tube dampers for the win.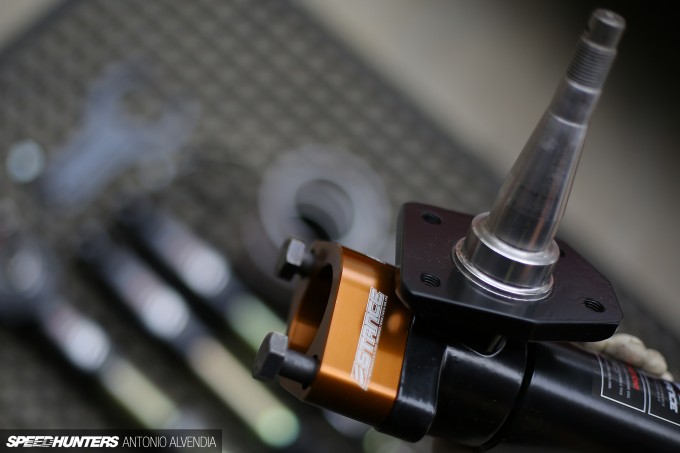 These coil-overs also include roll center adjusters for restoring the lower control arms' factory geometry. A pair of these alone usually cost about $120 when you buy them from an aftermarket suspension company, but they come included in the Stance coil-over kit for the AE86. I dig it.
I'll delve a little deeper into the engine portion of the build in my next 86FEST Project AE86 update post. In the meantime, I made a YouTube video blog to discuss my ideas for the exterior look of the car, and get feedback about the dilemma I'm facing. I like several different styles of AE86s, so I can't make a decision! How do you think I should style the car?
Antonio Alvendia
Instagram: 86FEST
info@86fest.com