Peerless
If I had to pinpoint one thing that attracted me to the Volkswagen scene, it would have to be the incredible attention to detail. This particular aspect is of course not exclusive to the VW Group aftermarket community, but growing up in Ireland it was and remains a rarity. Of course, I don't mean any disrespect to any other group of enthusiasts, there are incredible – and some less than incredible – builds throughout each community, but it was the Volkswagen guys that caught and held my attention above all others.
My first car – well, van – was a Volkswagen. I had no intention of buying a Volkswagen but at the time, the Caddy 2K ticked all the boxes. I reckoned I owned it about six months before I attended a show in Northampton called Edition38 for the first time. The rest, as they say, is history. I sold the Caddy, bought a BMW, then sold that and am back in a Volkswagen again. This is basically my long and convoluted way of saying that I'm just a tad bit biased towards Volkswagens, whilst having a soft spot for its commercial vehicles.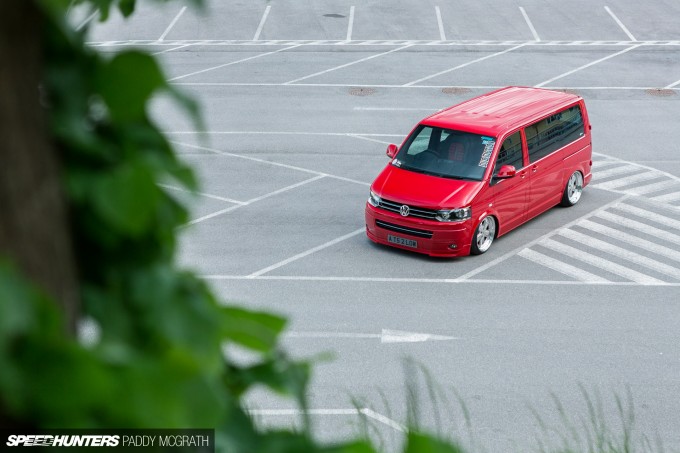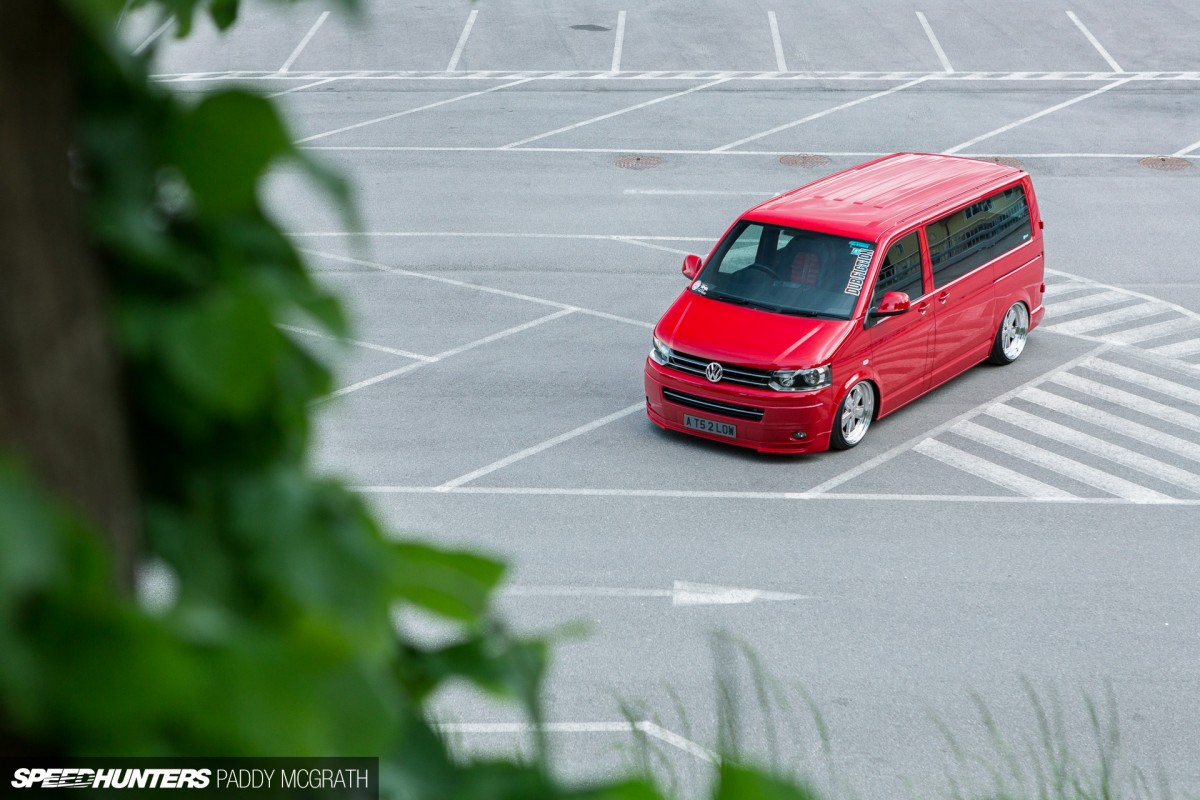 I tell you this so you can begin to imagine my excitement when Shaun Lewis appeared at Wörthersee with his simply unrivaled T5.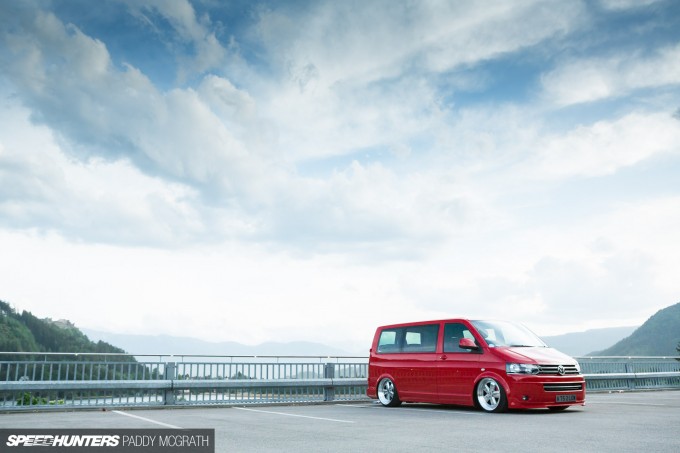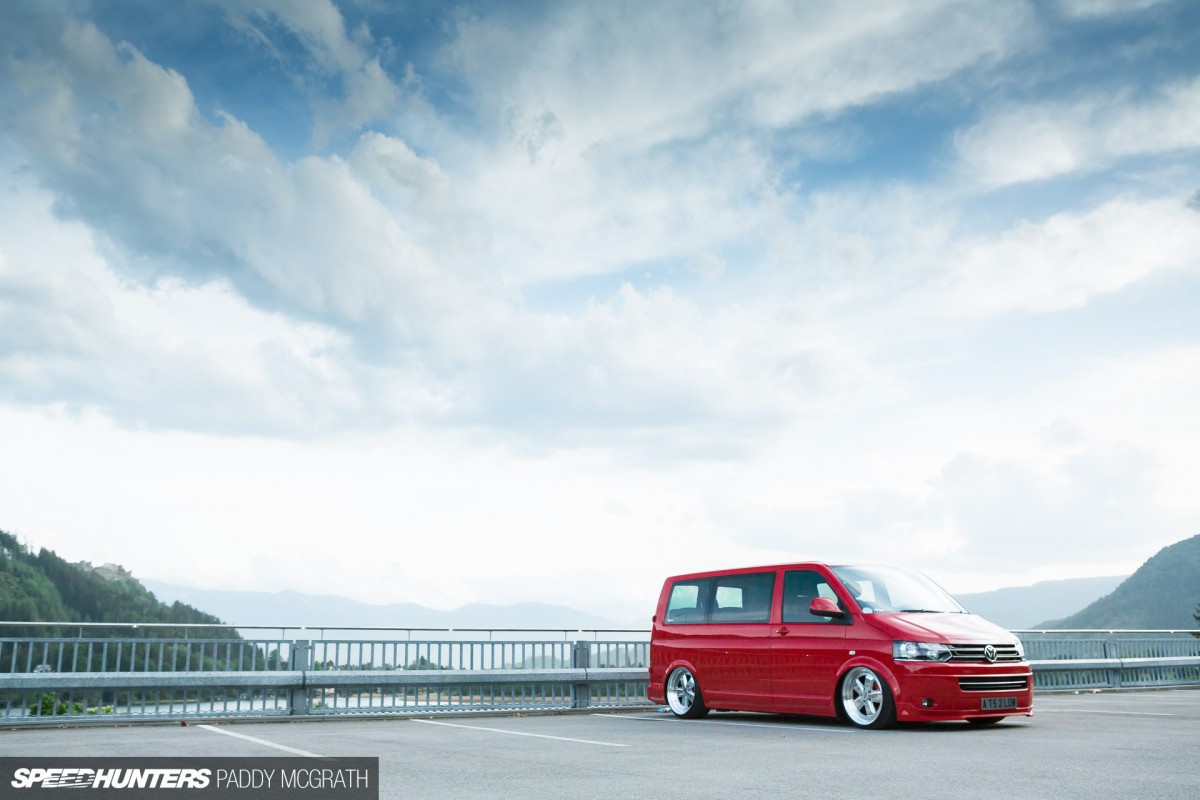 Shaun has been a regular at UK shows with his T5 for as long as I can remember, so I wasn't really surprised when he told me that he has owned the VW van since 2008. That's a long time for anyone to own a vehicle.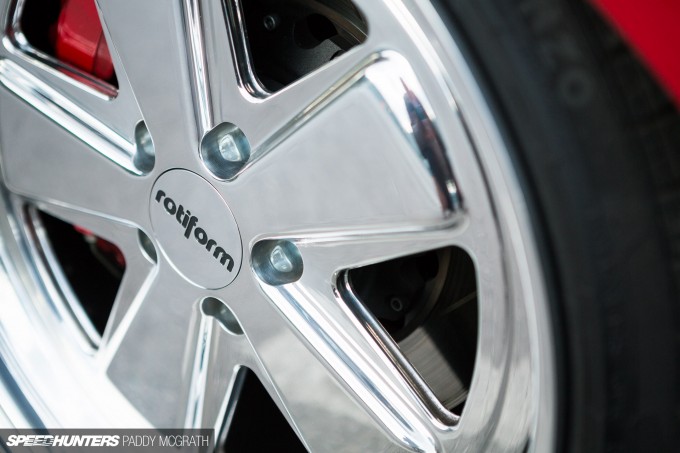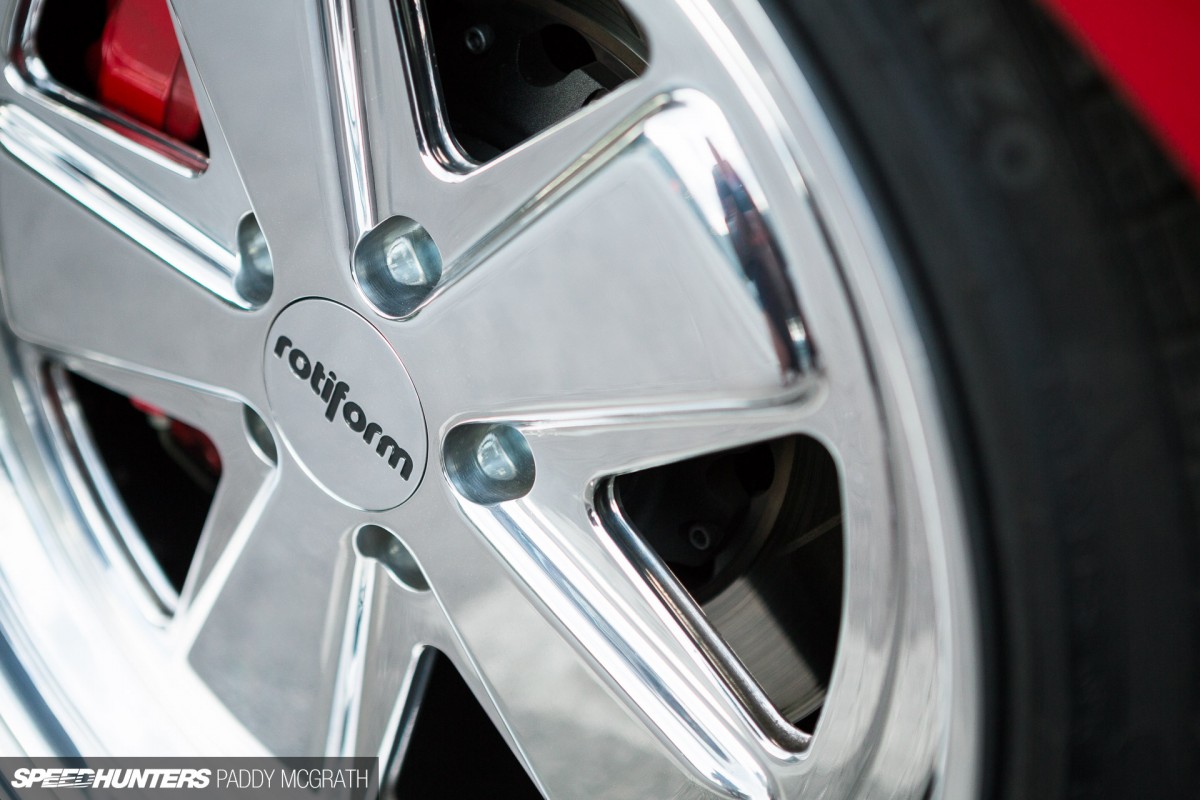 It's a thousand lifetimes within the VW scene, where everyone is constantly striving to reinvent themselves and their vehicles. But much like the all-time great VW Group production cars, Shaun's T5 has been subject to constant evolution rather than regular revolution.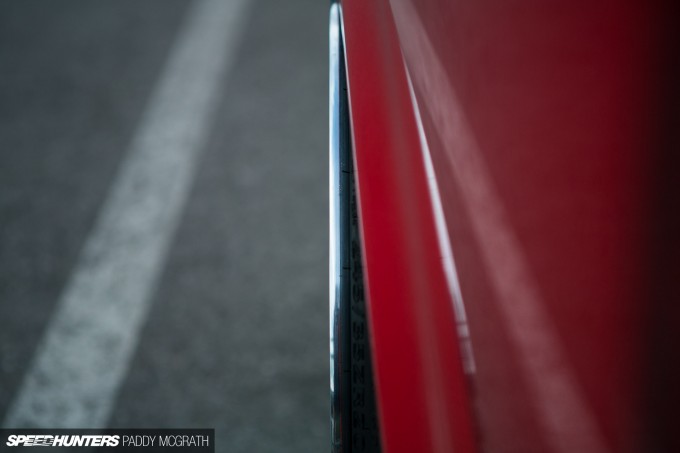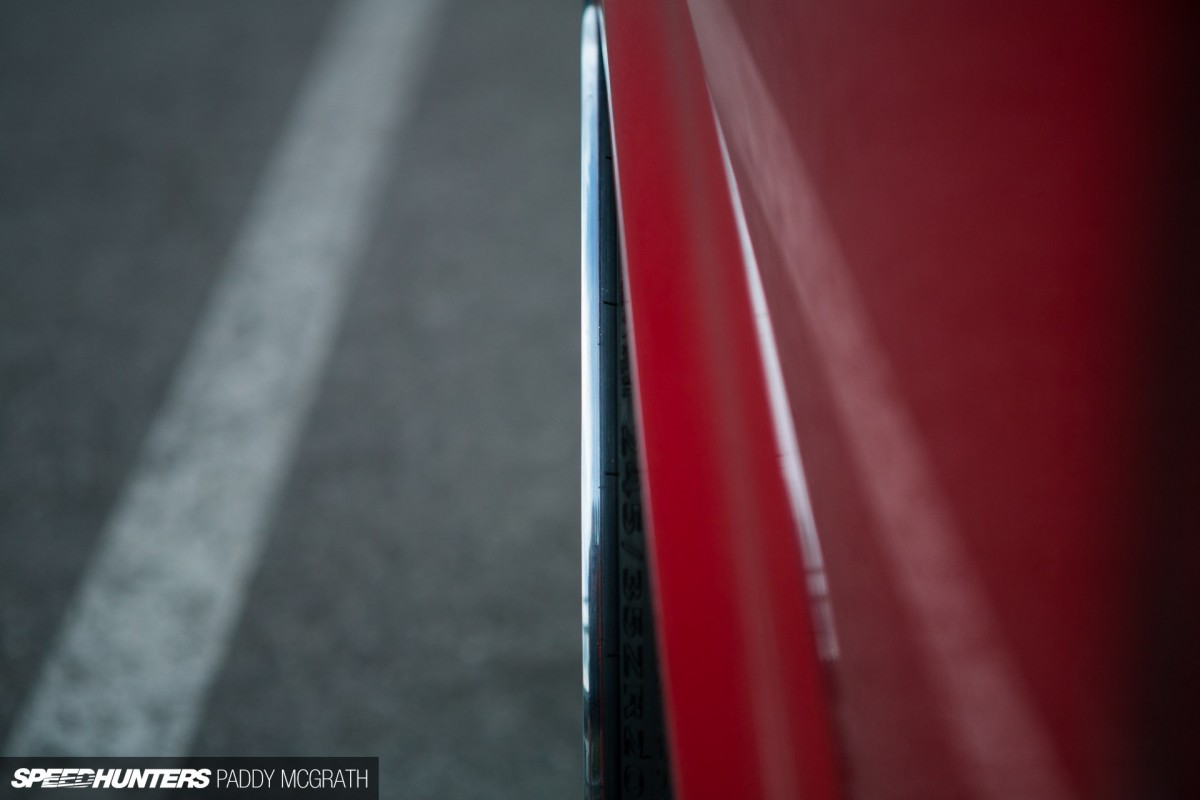 And like many of the best VW builds, you have to be talked through what makes this van special. It's simplicity and subtlety at their very best. Of course, these are things that are rarely achieved easily…
Secrets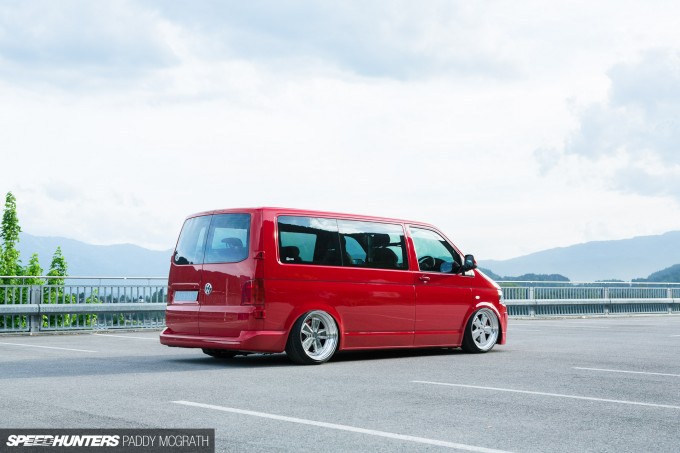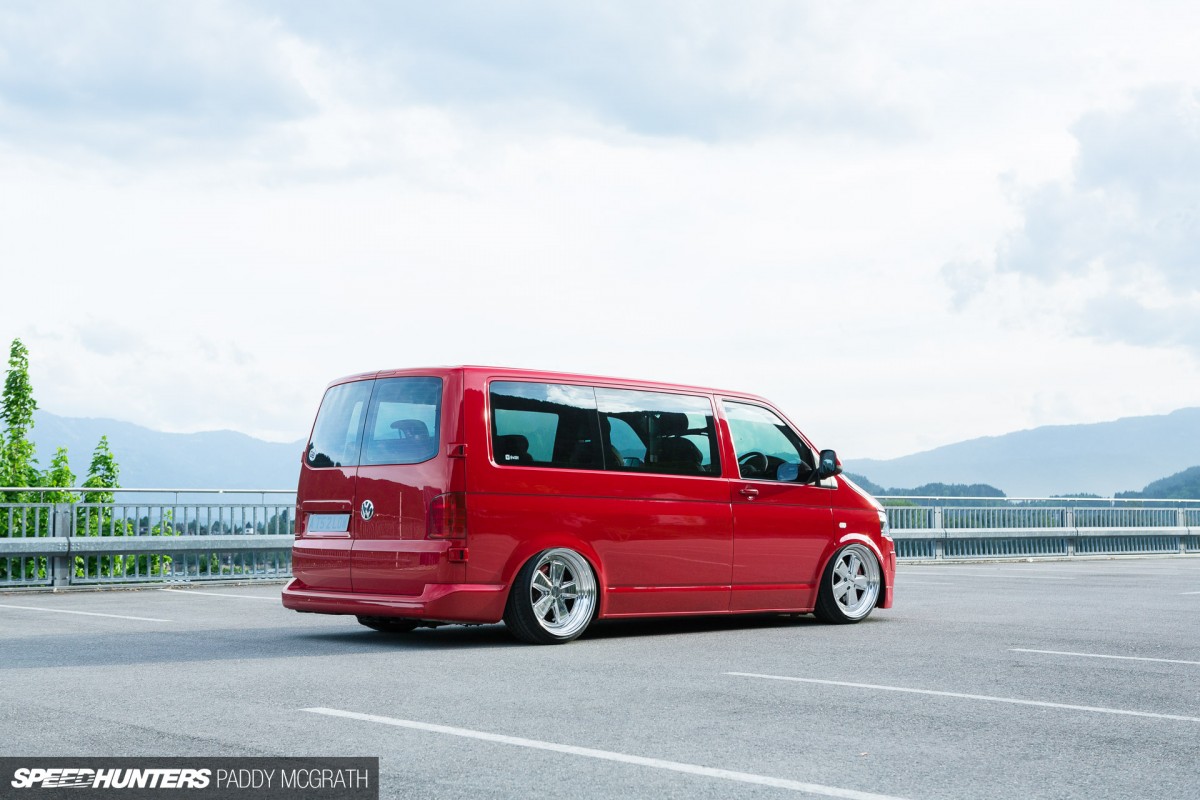 What do you see when you look at these photos? A red minivan with polished wheels and dropped to the floor? Of course, you would be right. But one of the largest tasks in this build is both the most obvious and inconspicuous.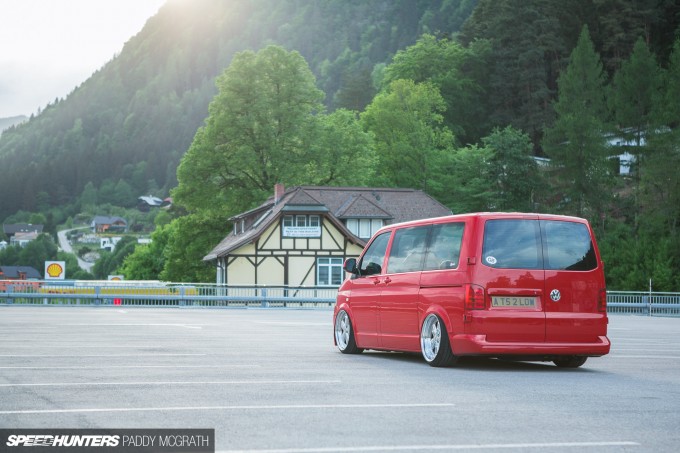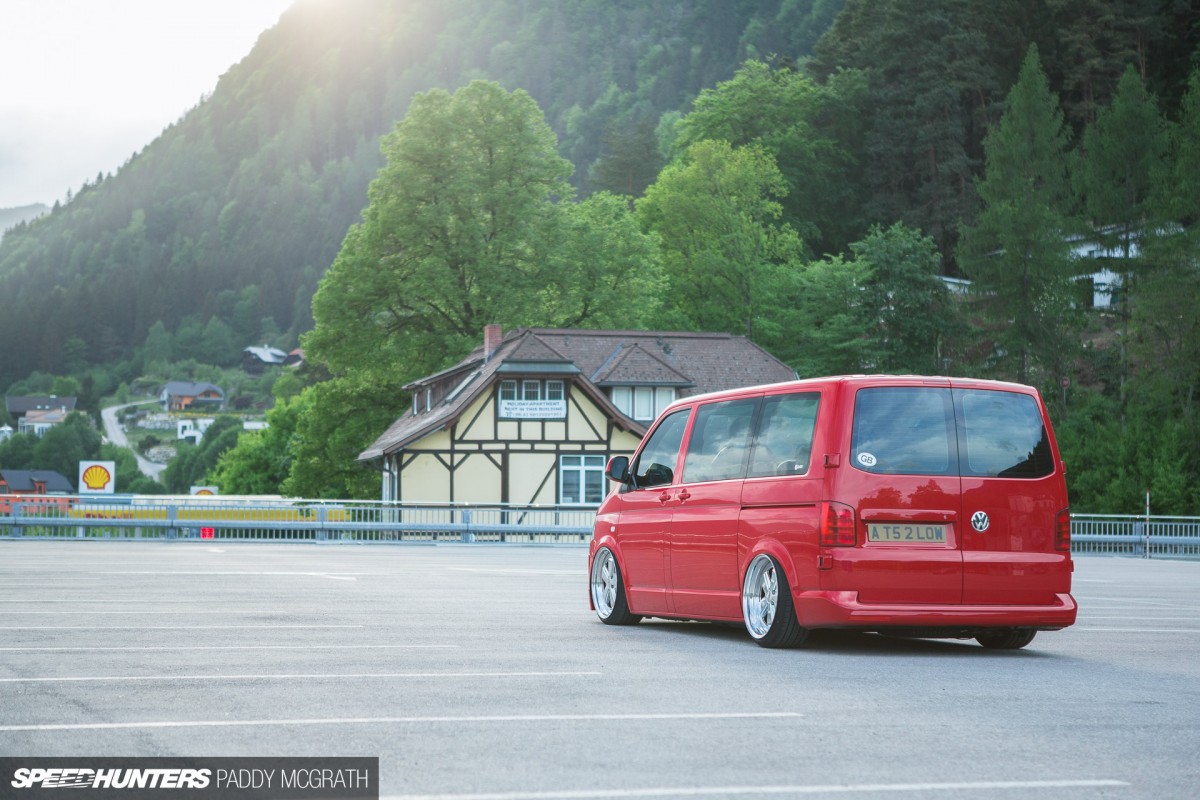 Up until quite recently, Shaun's van was exactly that – a full panel van. That was until he decided he wanted to brighten things up a little bit. He cut the steel panels out and fitted original VW glass all round, with a conservative 50 per cent tint. How many of us would have bought a model with glass and just transferred everything over? But that would have been the easy way out. There are no shortcuts here.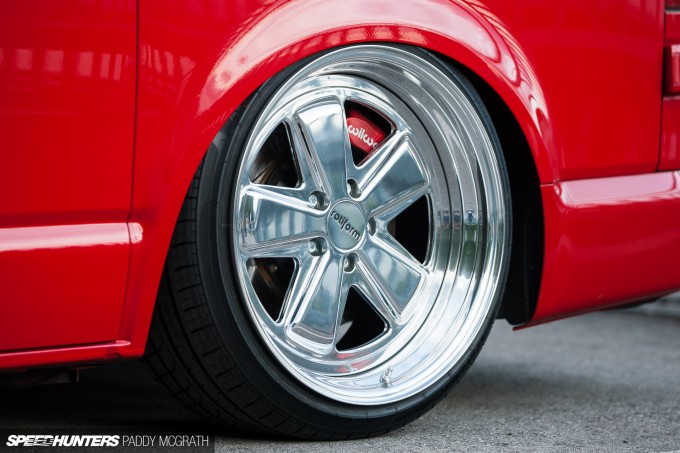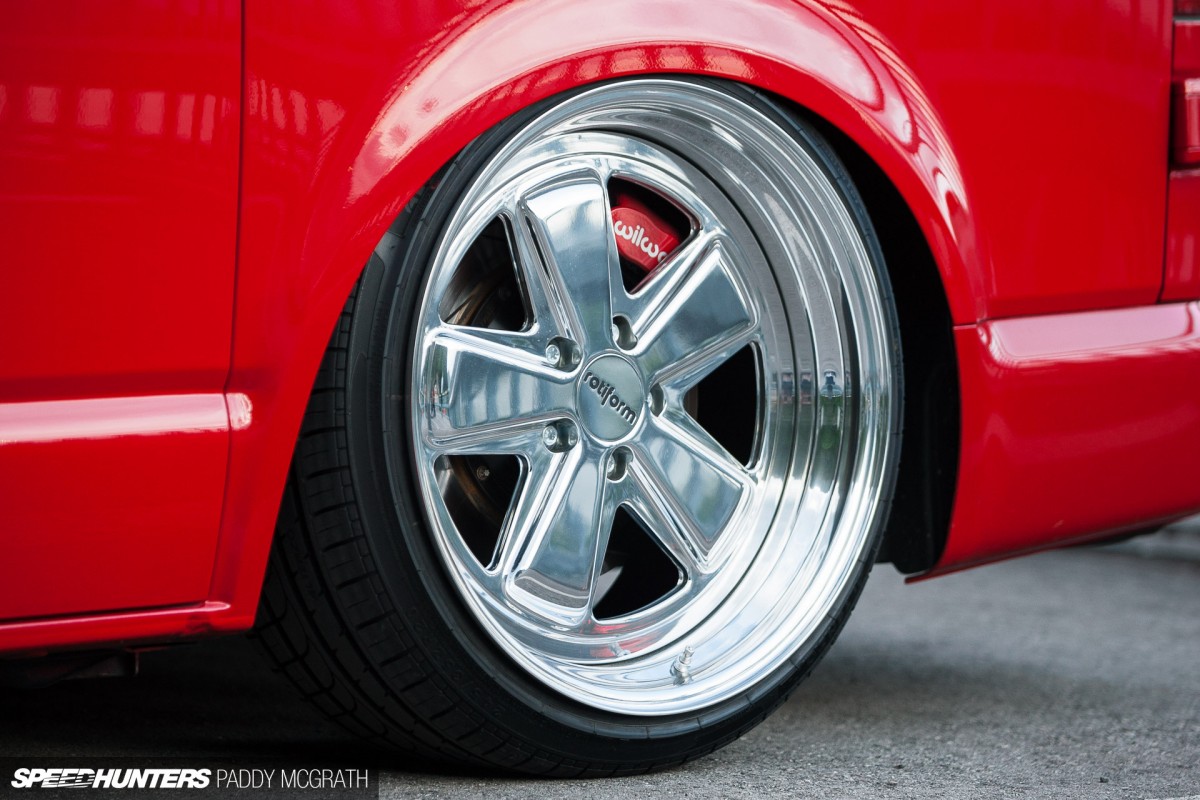 Another area with no shortcuts is the ride height and wheel fitment. Shaun has pieced together the perfect kit for his T5, allowing comfort on his commute with show stealing stance available at the touch of a button. Starting out with an AirREX T5-specific kit, he added Air Lift AutoPilot V2 management with custom-specified Gaz rear shocks. But it's the implementation of the air suspension system that's most impressive. V2 controller aside, there's no evidence of an air install anywhere to be seen inside the van. It's something Shaun's quite proud of, and understandably, something he's quite keen to keep to himself.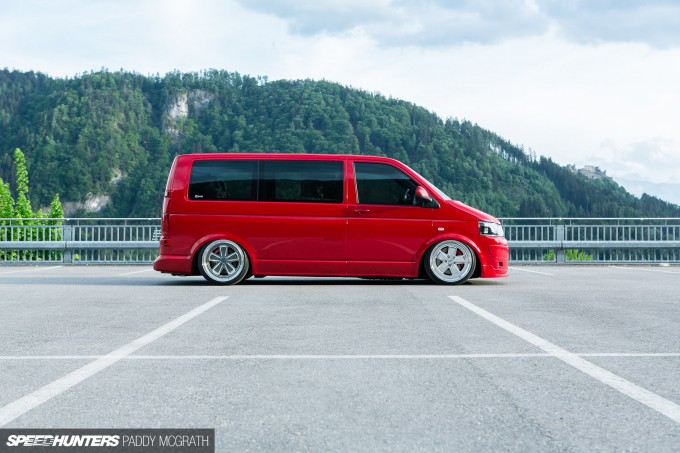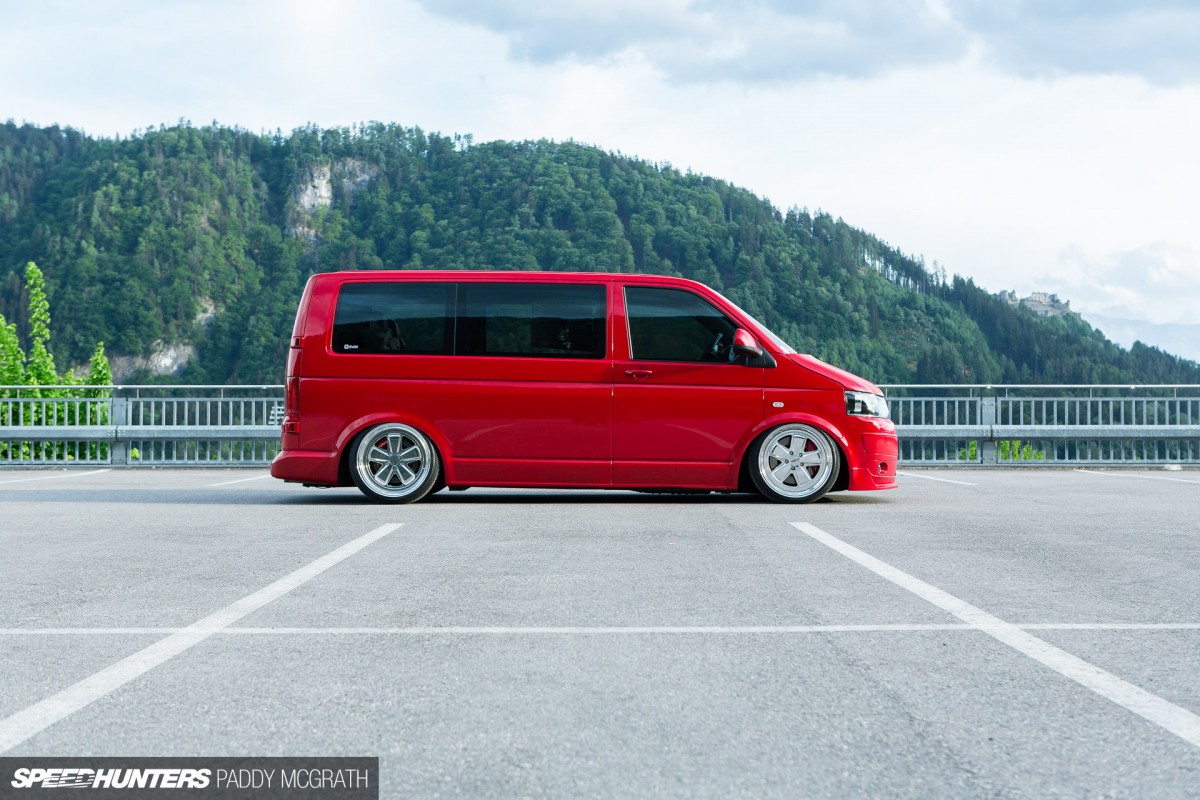 The 20-inch Rotiform FUCs – inspired by Porsche's iconic Fuchs-style wheels – play a big part of what makes this van stand out. From the perfect polished finish, to the subtle amount of concavity in the rear – the reason why the back wheels look like they have painted centres. The van has also had a meticulous facelift performed, with a full genuine T5.1 Caravelle kit applied. To ensure a perfect match, the entire van was broken down for a full respray, which extended to powder-coating the crash bars behind the bumpers.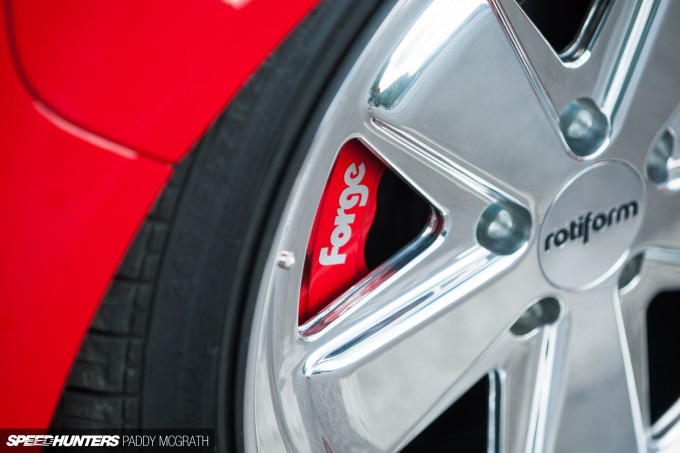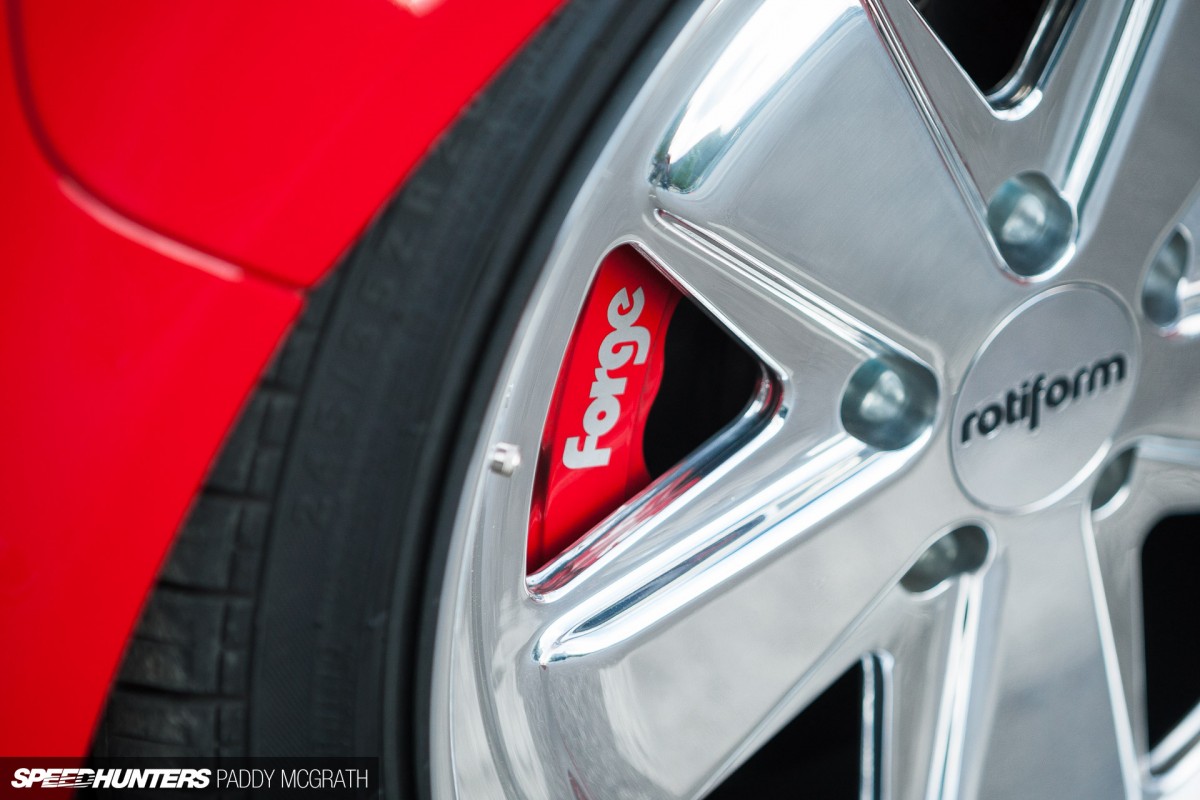 As you can guess, no area has been left unattended. In the brake department there's a Forge Motorsport 6-piston kit up front and a custom Wilwood/AP Racing setup in the rear. All calipers have been colour matched to the body.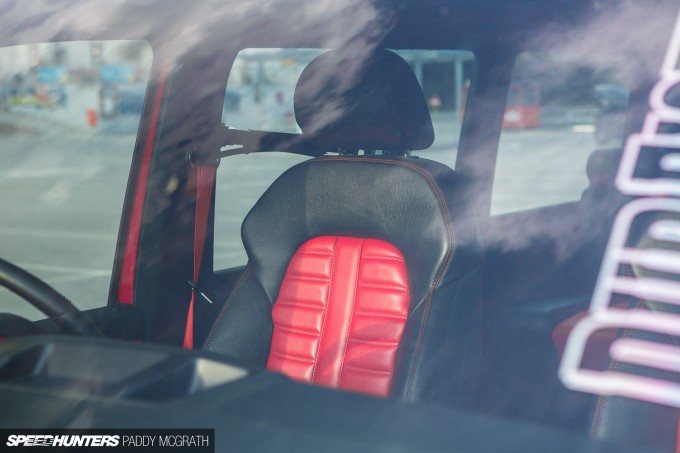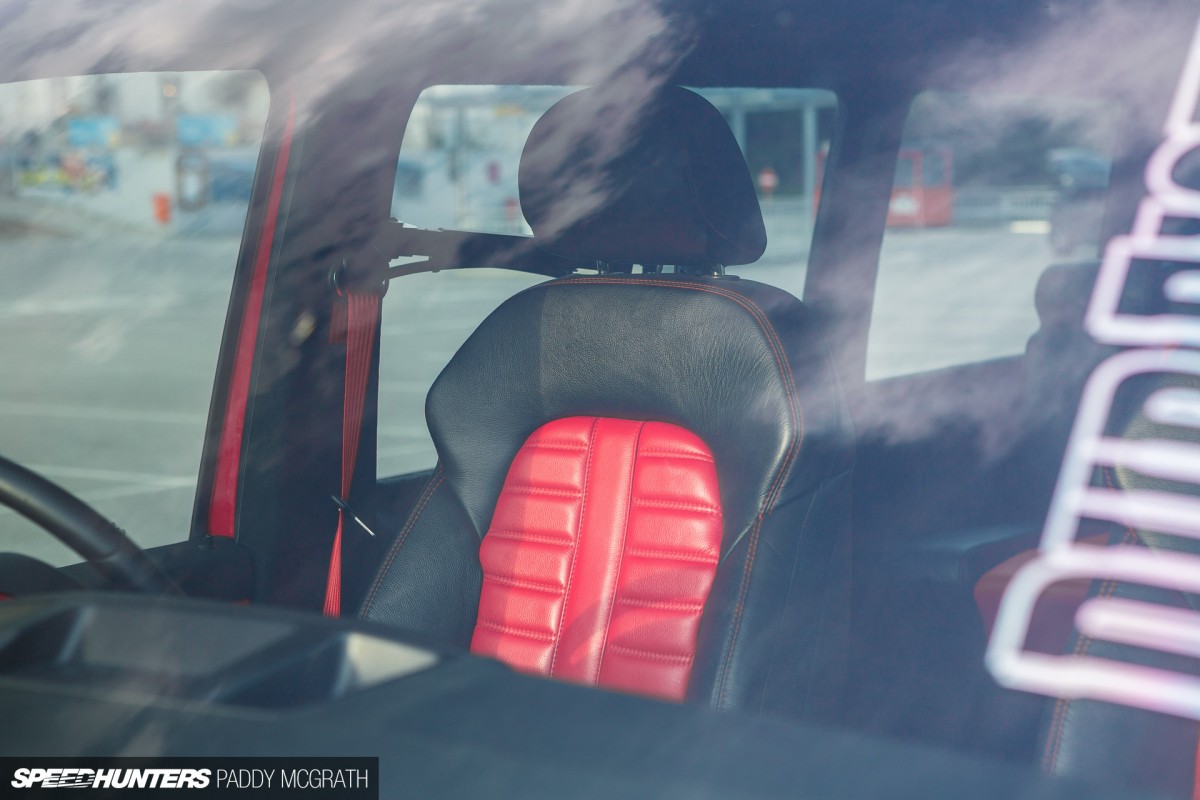 The interior has been treated to more of the same – a subtle overhaul, if there is such a thing. From the custom-trimmed Audi A5 seats to the genuine Caravelle black carpets which adorn the complete interior.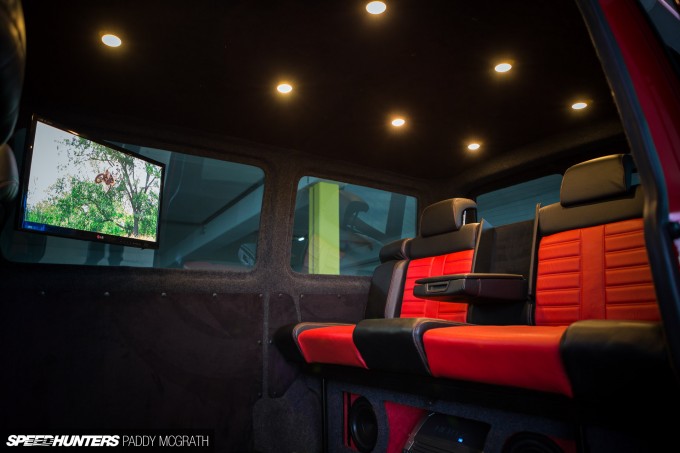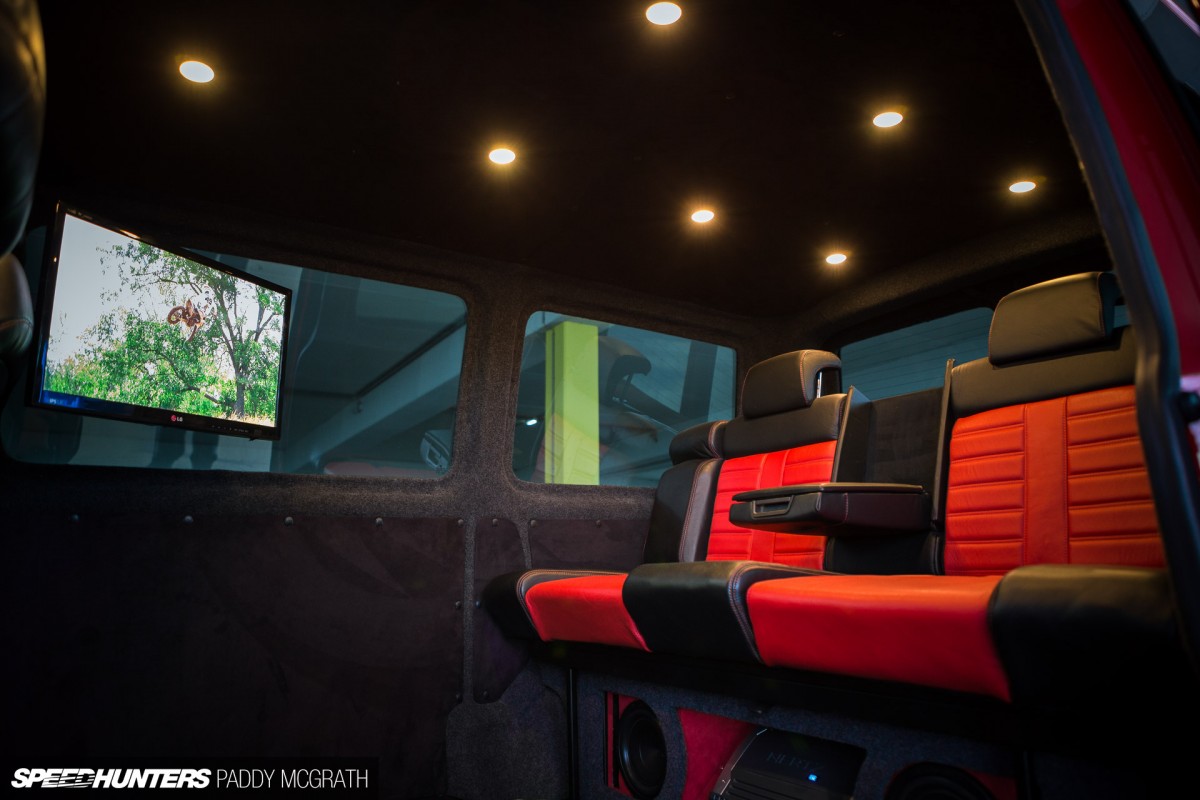 Down the back there's a Cannon's Forge rear Rock & Roll bed, which neatly doubles as a rear seating area. Well, you're going to need somewhere to sit back and enjoy the flat screen and comprehensive in-car entertainment system. Although, I'm sure the idea of someone chilling out in the back with snacks and soft drinks is enough to keep Shaun awake for nights on end…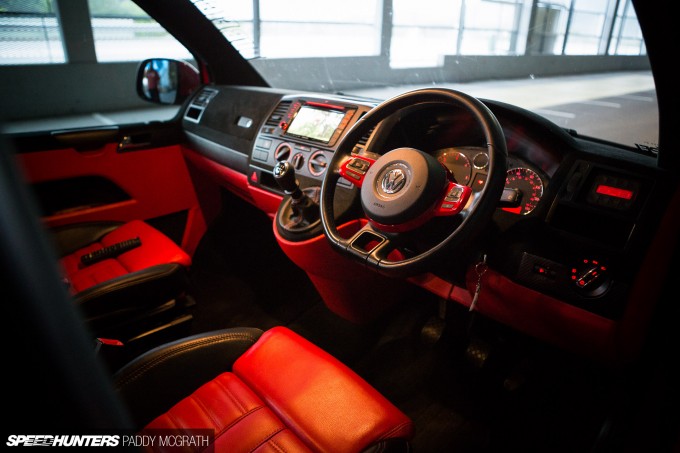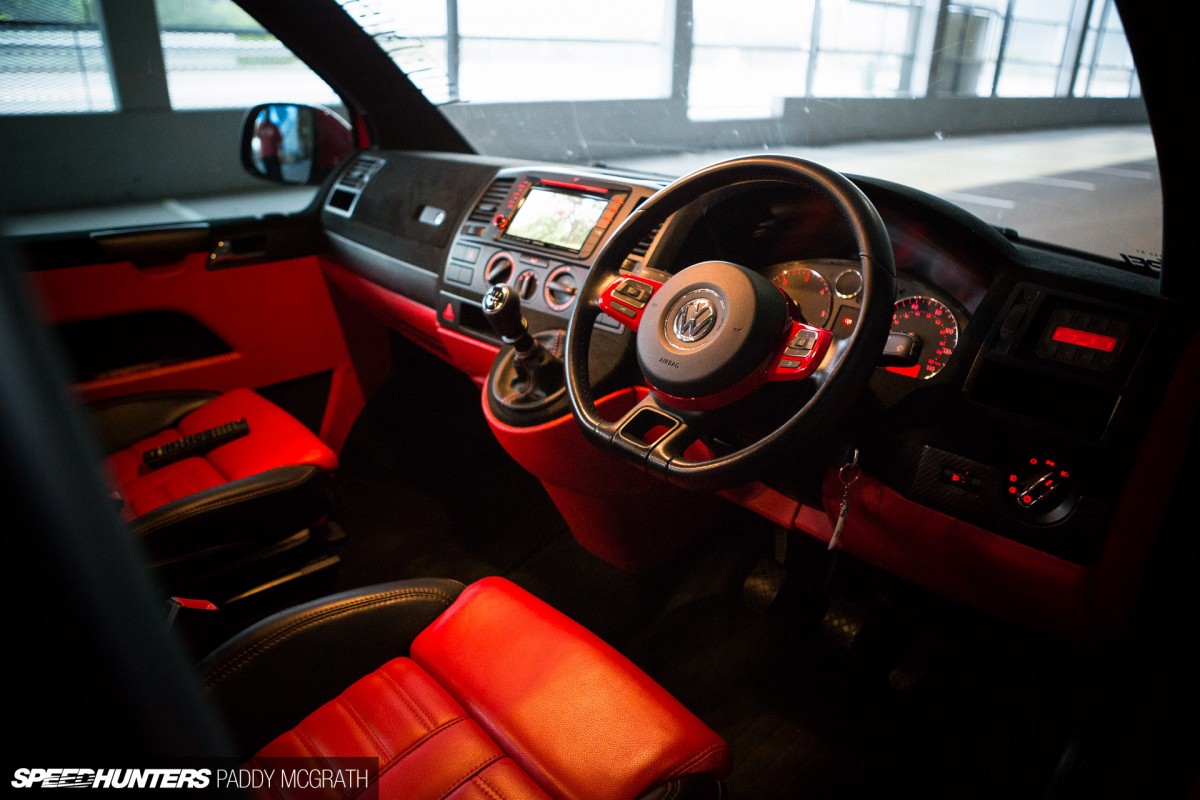 The stock T5 wheel has been replaced with a MFSW from a 2013 Beetle, along with the centre console from a Caravelle which houses a Kenwood DNX521. The latter controls the entire media and entertainment side of the van. The head unit is a vehicle-specific solution for the T5, available directly from any UK Volkswagen main dealer. It's one of those rare times where aftermarket and manufacturer come together for the benefit of the consumer.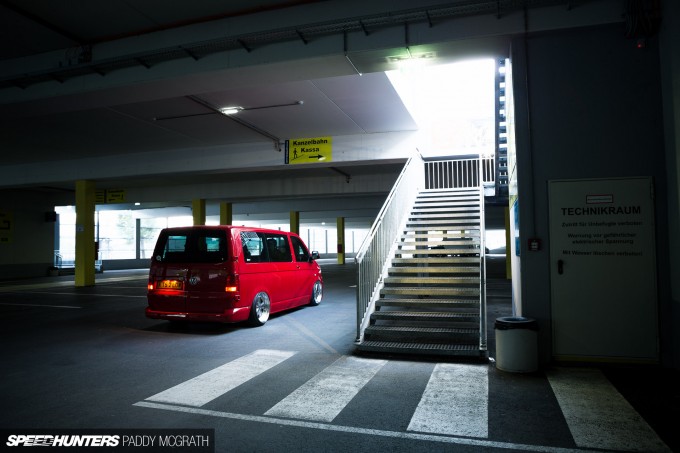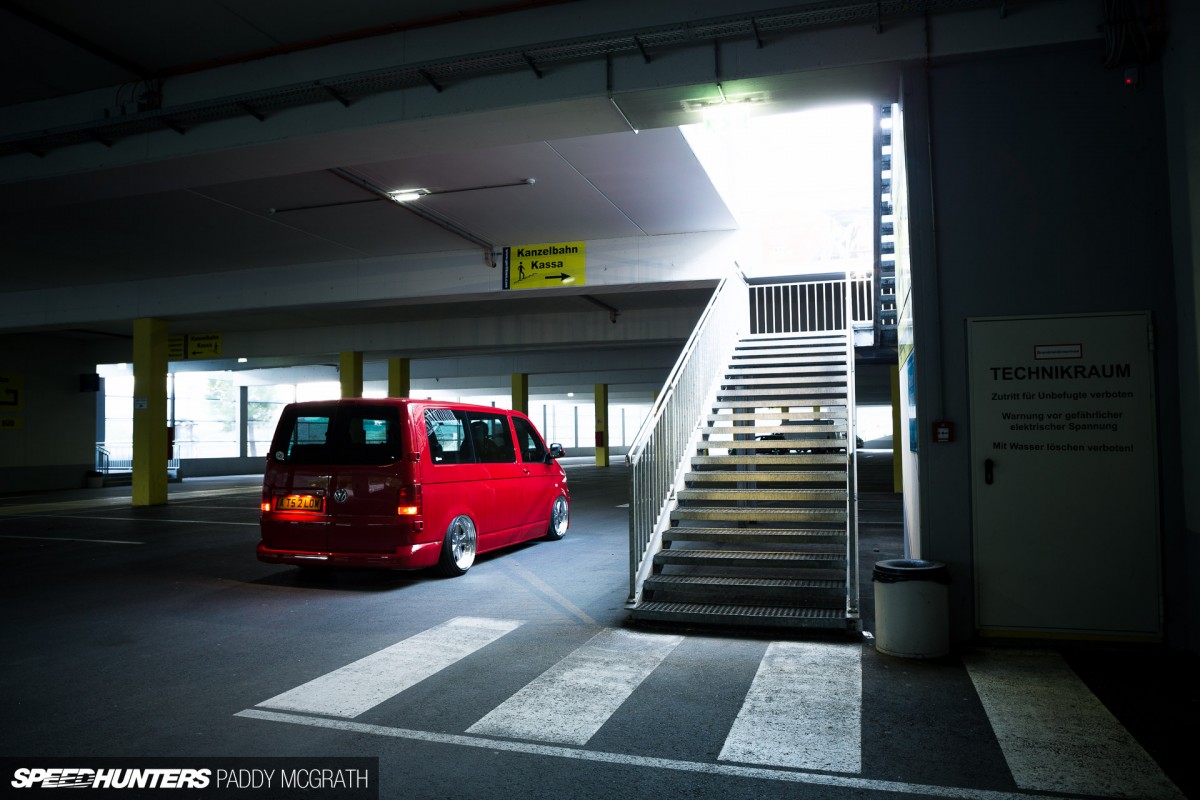 Some people build 50-yard cars. Some people manage to build 5-yard cars, but this is one of those builds where you can get as close as you like and still not find a single imperfection.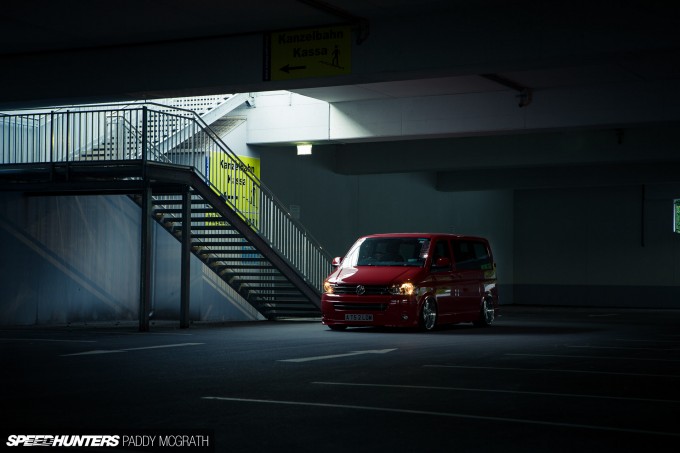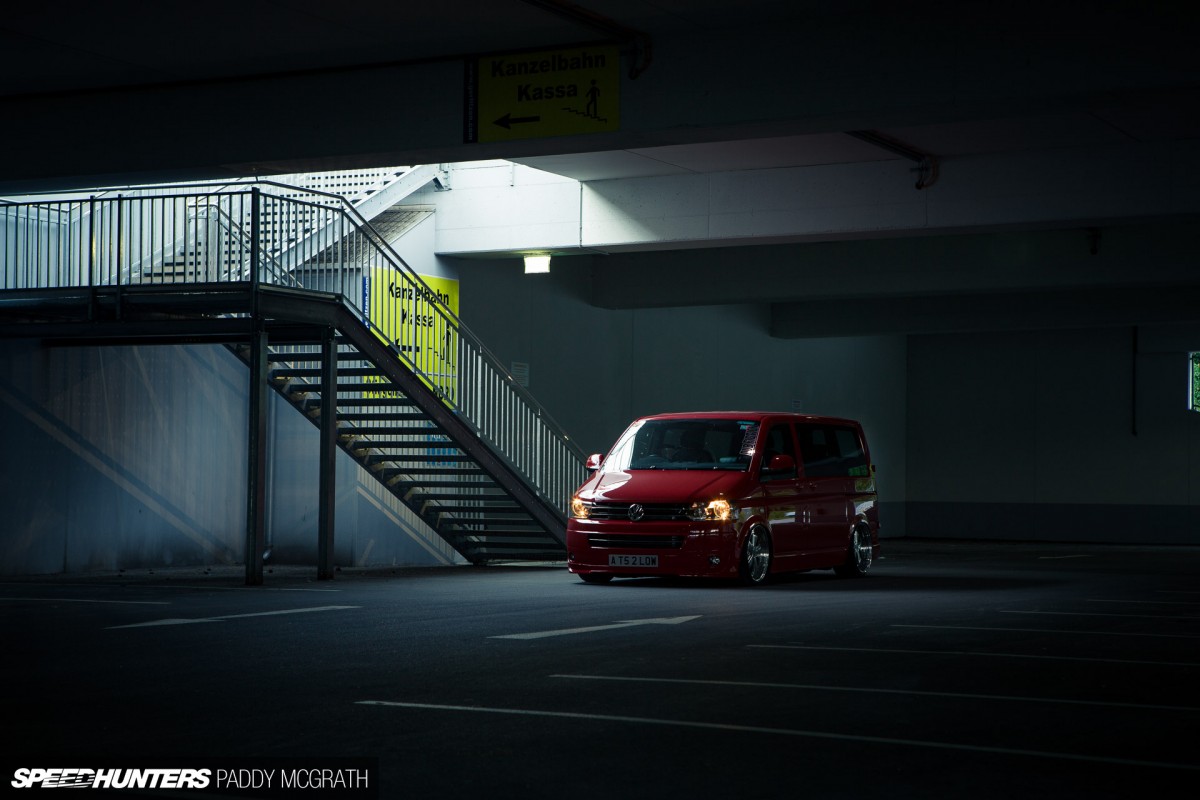 What's next for Shaun's T5? With the winter quickly approaching, he already has plans for swapping out the factory 5-speed for a 6-speed gearbox. He figures that whilst the engine and gearbox are out, he should breathe new life into the 1.9-litre TDI motor. With a solid base already created, Shaun reckons upgraded PD150 injectors will remove the current bottleneck and see power climb to somewhere around the 240hp mark with another bump in torque.
He's seven years – almost eight – into this project and shows no signs of slowing down either. Here's to seeing what the coming years bring for the big red Volkswagen.
Paddy McGrath
Instagram: pmcgphotos
Twitter: pmcgphotos
paddy@speedhunters.com
Shaun Lewis' Volkswagen T5
Numbers
Max Power: 170hp, Max Torque: 310lbs/ft
Engine
VW 1.9TDI, Hybrid turbo, Forge intercooler, PD130 intake manifold, EGR and flapper delete
Driveline
Factory 5-speed manual, G60 flywheel, Sachs silent clutch disc, Sachs race pressure plate
Suspension/Brakes
AirREX T5 kit, custom mounts front/rear, modified front bags for 3/8″ line, custom Gaz rear shocks, Air Lift AutoPilot V2 management, twin Air Zenith OB2 compressors, full Powerflex bush kit, extra rear toe adjustment kit, Trabistyle hose holders, Forge 6-piston 356mm front brake kit, Reyland Racing 335mm Wilwood/AP Racing rear brake setup, braided lines
Wheels/Tyres
Rotiform FUC 20×10-inch (front), 20×10.5-inch (rear), 17-inch spare wheel with 45mm spacer to clear brakes, 245/35R20 tyres (front/rear)
Exterior
Full respray, complete T5.1 genuine Caravelle facelift including front bumper, rear bumper, wing mirrors, crash bars, complete genuine re-glass with 50 per cent tint, all rear panels cut & modified to fit glass, Xpel paint protection film on front bumper
Interior
Retrimmed Audi A5 front seats, Cannons Forge rear Rock & Roll bed, retrimmed dashboard, VW Beetle MFSW, T5.1 dashboard centre console, carbon fibre skinned trim with satin finish, VW Caravelle black cab carpet, VW Caravelle door seals, single-piece rear floor & roof lining, anthracite rear carpet lining, 5x bulk packs of Skinz sound deadening, Kenwood DNX521 DAB, Hertz HE4 with ESK165 & ECX690 speakers, Hertz HE1D with twin ES200.5 subwoofers, 24-inch LG LED Smart TV
More Van-related stories on Speedhunters
Cutting Room Floor