Drop It Low
Over the past month we've had our #IAMTHESPEEDHUNTER inbox flooded with reader submissions containing some incredible cars from all over the world. The dedicated owners and builders of these cars all have one thing in common – they all prefer their cars with a lower ride height. For this special On Air Only theme feature, we've gathered a selection of our favourite readers' rides to take a closer look at. We'd also just like thank everyone who submitted their rides for this feature – it was extremely difficult for us to narrow this down to only 11 cars!
To kick things off, we've got a beautiful air-cooled 911 owned by Brian Choate…
Brian Choate – Nelson, New Zealand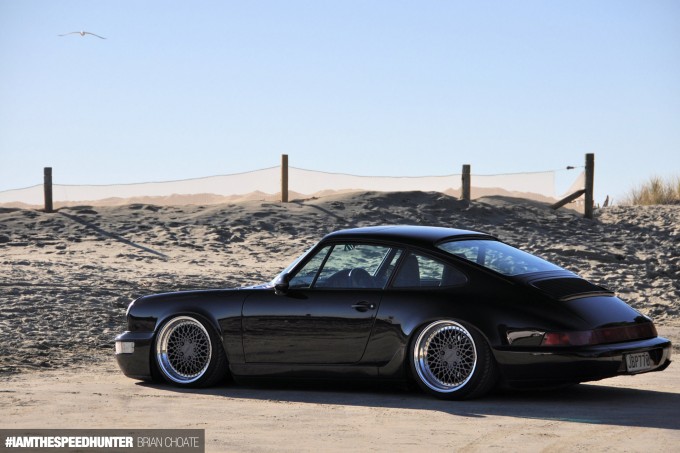 This 1990 Porsche had already been dropped on air suspension and a tasteful set of Rotiform wheels by its previous owner before it came into Brian's possession, and even though he's already got two other air-cooled 911s to his name, Brian couldn't resist adding this black beauty to his collection.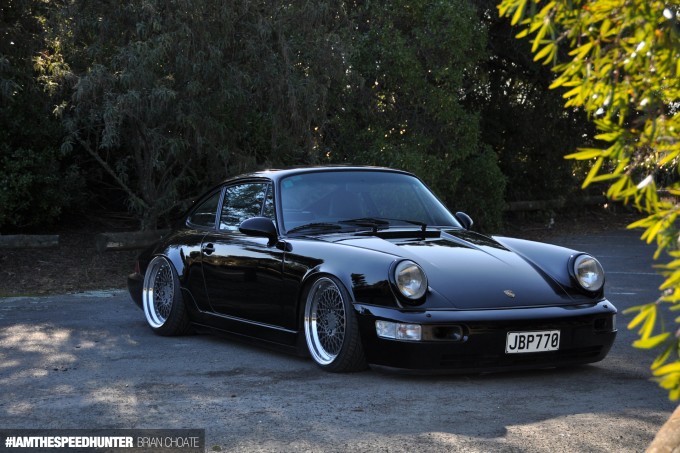 The 964 C4 manual model is a right-hand drive, New Zealand new example, and features AirRex suspension and camber adjusters, and an RS clutch and flywheel. Brian's already personalised the car further by deleting the badges and side markers and adding carbon fiber brake ducts in the front bumper. But there's plenty more in store. The 964 is soon to become a prototype 'old school hybrid' project, featuring a torque-fill electric motor as well as the 3.6-litre engine. We're certainly looking forward to hearing updates on Brian's progress.
Mario da Roza – Alberta, Canada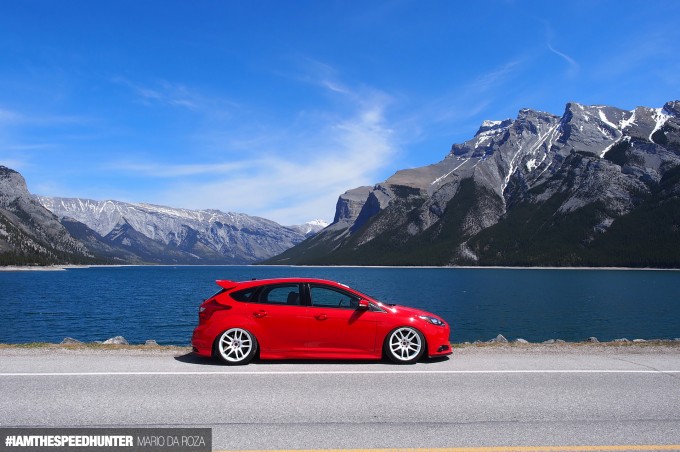 Mario from Alberta has shared with us his 2013 Ford Focus ST, which serves as his trusty daily driver – snow or shine. Mario and a few friends installed his Air Ride suspension system last year, and he's been loving it ever since. He writes, "Prior to this, I'd never been in a vehicle with air suspension so I had no expectations. Of course, I'd read things about it being 'soft and floaty' and that it wouldn't hold around corners at all. Which was funny, because when I first took it for a rip on some twisty roads it was the complete opposite! My first thought was that it handled just like my old S2000 on Buddy Club coilovers. It was stiff and firm – but not quite to the bone-jarring extent of track setup coilovers."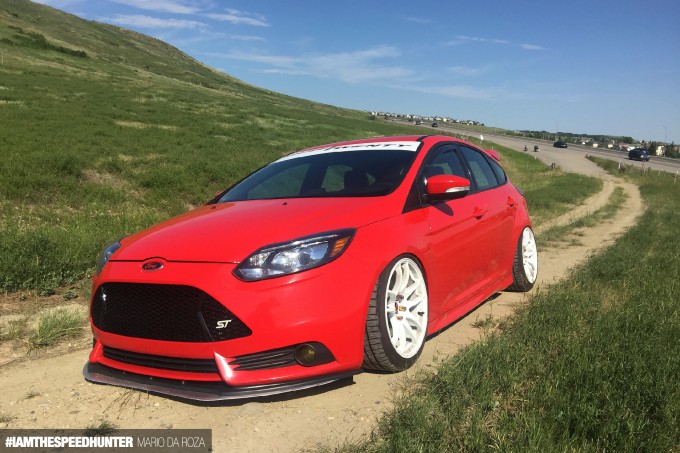 The other huge bonus for Mario is that he can still deal with on-road obstacles like potholes and frost heaves, as he can easily adjust his suspension to clear them and not worry about doing any damage. He's also rocking a full COBB Stage 3 power package, an Agency Power exhaust and a cool set of contrasting white Work CR Kai wheels, and has also been working on sprucing up his trunk setup in his spare time to make it more presentable. It's great to see such a clean and functional daily driver being well-looked after and enjoyed like this.
Blake Hathaway – Boston, Massachusetts USA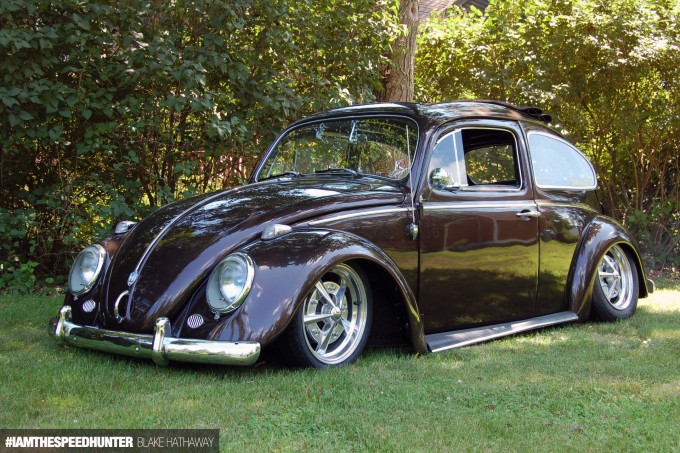 Next up, we've got the first of two old school Volkswagen submissions: Blake Hathaway's '62 rag-top Beetle out of Boston, Massachusetts. Blake tells us, "I grew up watching my father build and work on air-cooled VWs and this is undoubtedly where I got my passion for these cars. So when my father decided to retire from the VW parts room after about 40 years, I knew I wanted to build a car with him." The Beetle you see above has been an ongoing labour of love since 2007, when Blake came across a clean-looking '62 which he thought was going to be the perfect candidate for a restoration project. He later discovered that the car had damage on the B-pillar and was poorly repaired at some point in its life, and so the search began for a new body. Enter the rag-top…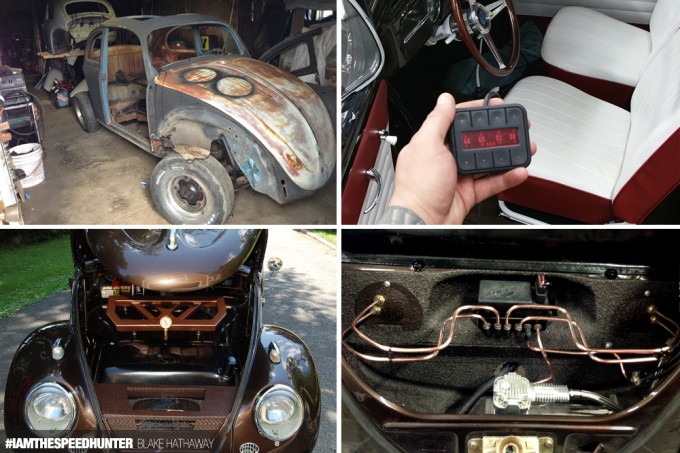 Looking at the 'before' image in the top left, you can really see how much time and effort has gone into this build. The Bug features a custom fabricated front and rear air suspension setup controlled by an Air Lift V2 digital management system, (set up for three bags, two rear and one front), polished copper hard lines and a basket-weave wrapped management enclosure, and 5-gallon seamless air tank. Blake also sourced a vintage OKRASA motor which has been fitted with a stroker kit, upgraded heads, cam, pistons, valves, fuel pump and exhaust, and is estimated to output between 65 to 70hp, (up from the stock 40). Although the Air Lift management and the new motor actually came later on, Blake says the highlight of his project was having his family and friends help him assemble the finished chassis and body, then proudly driving off behind the wheel of his long-time project with his wife beside him after their wedding day. Awesome!
Bil Harmer – San Carlos, California USA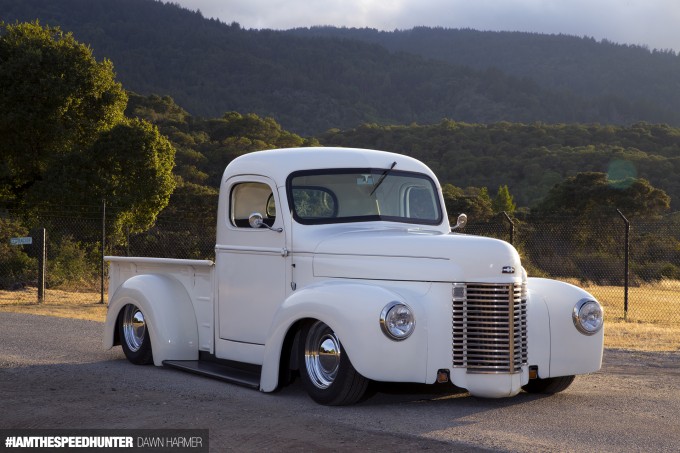 Onto another even older old school project now… We've fallen head over heels for these photos of Bil Harmer's 1949 International Harvester KB1 truck, which he's been modifying and working on ever since he picked it up in Ottawa, Canada, four years ago. Apart from the AccuAir suspension setup install by Skoty Chops Kustoms, Bil and his son have performed all of the work themselves, including shaving the doors and installing power windows, adding new brakes all around and a hand-made exhaust system running from the headers back.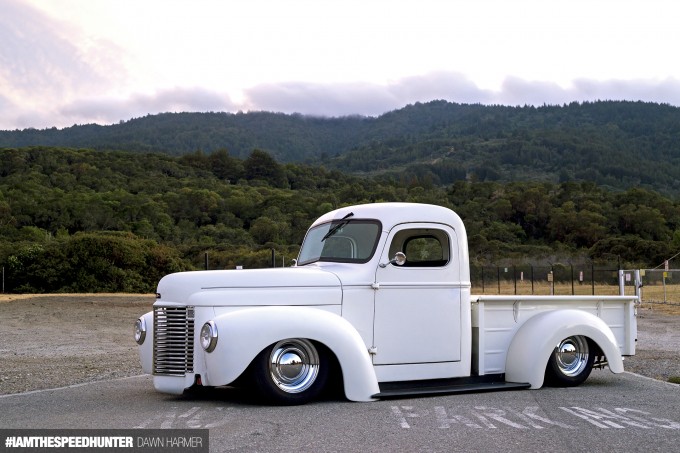 The International's currently running a 350 Chevy small block V8 with a 4-speed tranny and a shift kit, but Bil's actually got a new engine build in the works for the lumbering white beast – a 383 stroker motor. We just can't get enough of how good this truck looks laid out on the ground with its big bulbous arches and protruding headlights, and not to mention those perfectly matched chrome smoothies and wing mirrors. Bil's definitely going to have to send us a video once he's installed the new engine!
Josh Nepa and Oriana Mehden –  Phoenix, Arizona USA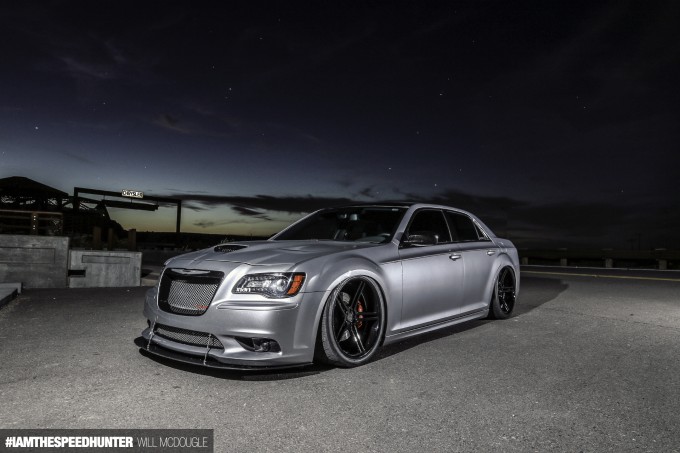 If new school American V8s are more your thing, here we have a pair of cars sent into us by photographer Will McDougle. First up is Oriana Mehden's '14 Chrysler 300 SRT, which features a custom one-off Hellcat hood and an aggressive stance, thanks to a Universal air suspension system. An angry-looking front splitter accentuates the already aggressive lines of the luxury sedan.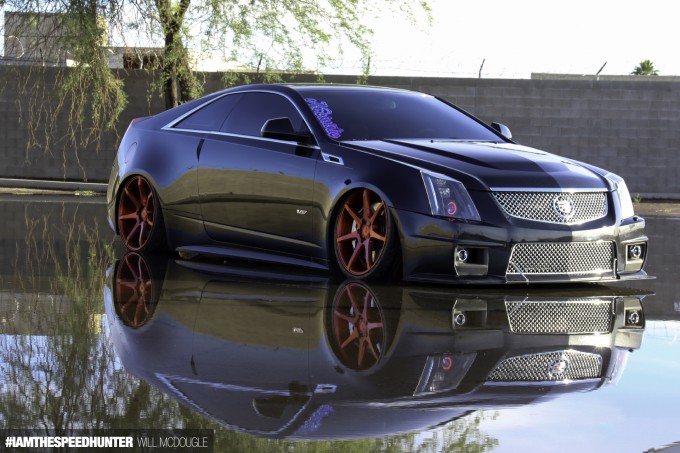 Secondly, this is Josh Nepa's '12 Cadillac CTS-V Coupe, which sits nice and low on a set of 20-inch wheels thanks to Universal air suspension controlled by an Air Lift AutoPilot V2 management system and Dual VIAIR 480C compressors.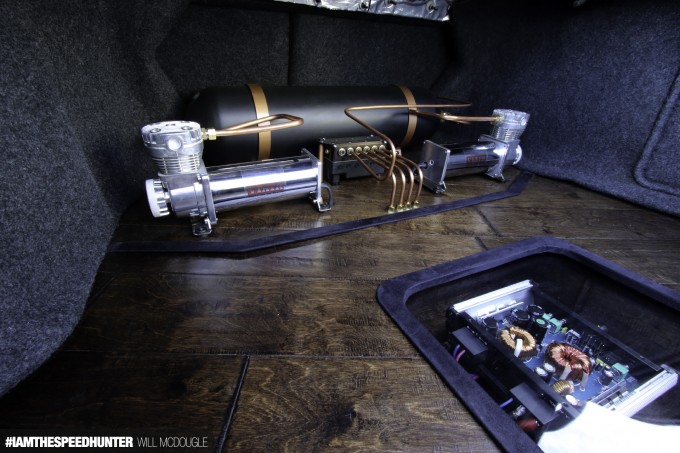 It also features a custom trunk setup with copper hard lines installed by A&G Installs and an imitation wood floor. These are definitely two very clean, comfortable-looking and no doubt fast daily drivers!
Zero Ground Clearance
Vlad Prykhodko – Kiev, Ukraine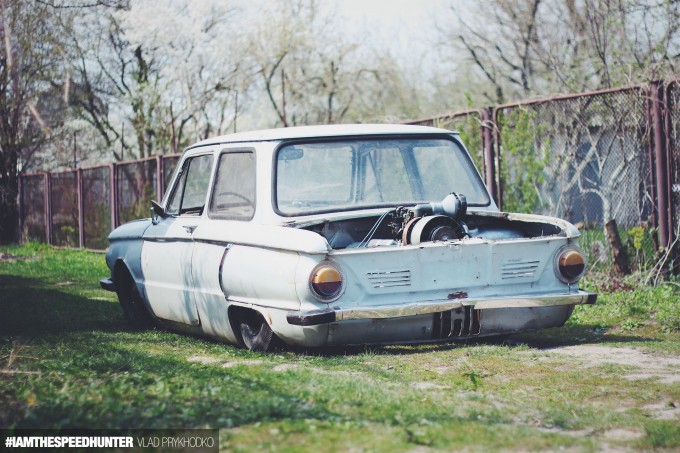 Here's something you don't see every day – let alone in a pavement-scraping, air-bagged form! It's a 1972 ZAZ 'Zaporozhets' model 966, and it's owned by Vlad Prykhodko from Ukraine. Vlad explains his project to us, "When it came to buying my first car when I got my first job, I could only afford something cheap. So my friend offered me his rusty old ZAZ 966 which he wanted to recycle. For a few years it sat underneath the Nutwood tree at my house, and many creative ideas floated through my mind for what I wanted to do to it. But at that time I didn't have the time or skills to act on them." It wasn't until Vlad's brother eventually picked up some welding skills that things started to get interesting…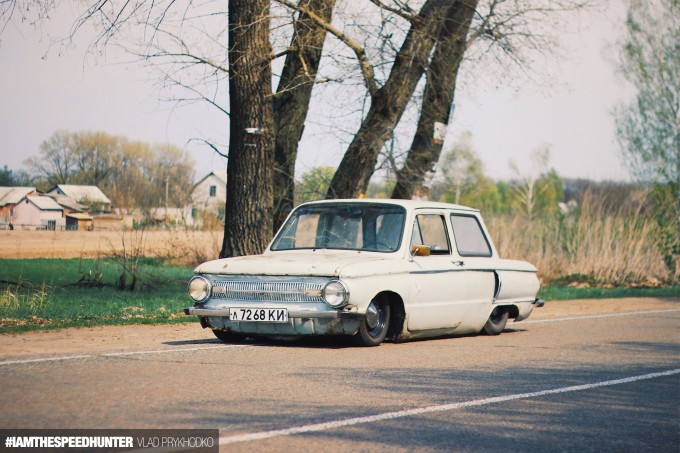 Vlad knew that the old Soviet-Ukrainian machine wasn't worth restoring, so he decided to do something a bit different. Together, Vlad and his brother raised the floor and engine, (the car came air-cooled and rear-engined from factory) and slammed the car on the ground via a custom home-made air suspension system and adjustable torsion bar. Vlad continues, "I'm not planning any more body work as I really enjoy how the car looks. I wanted to save the original body, including rust, scratches and dirt, because in my opinion, an old car should be kept as it naturally is. It's like a historical monument, or a 'live witness' of the past." We think that's pretty cool!
Steve Wiggins – Cincinnati, Ohio USA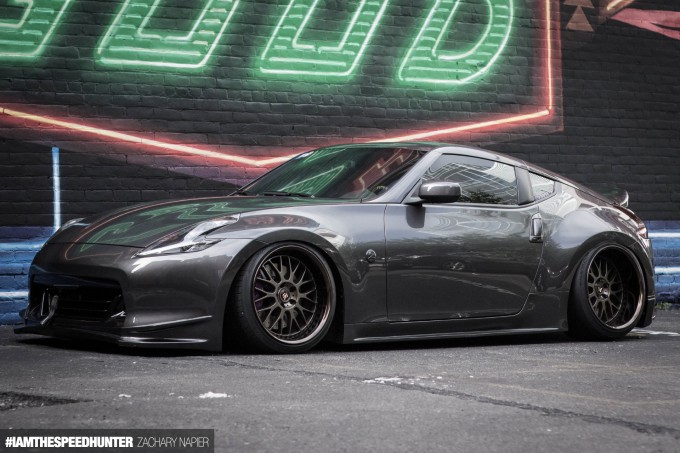 When it comes to suspension, Steve Wiggins' Nissan 370Z has seen almost every different setup there is. After modifying his Z over a four year period (and building up an impressive spec list during that time, we might add!), he eventually settled for a lesser-known type of air suspension: pneumatic air cups mated with coilovers. But although this setup gave Steve the low ride height he desired, just having the right 'look' wasn't enough. He tells us, "The coilovers provided maximum handling and performance, while the air cups – which fit nicely over the coil's springs – provided the necessary lift and clearance for obstacles. The manual management system however, left something to be desired, and while lifted the cups provided an uncomfortable ride."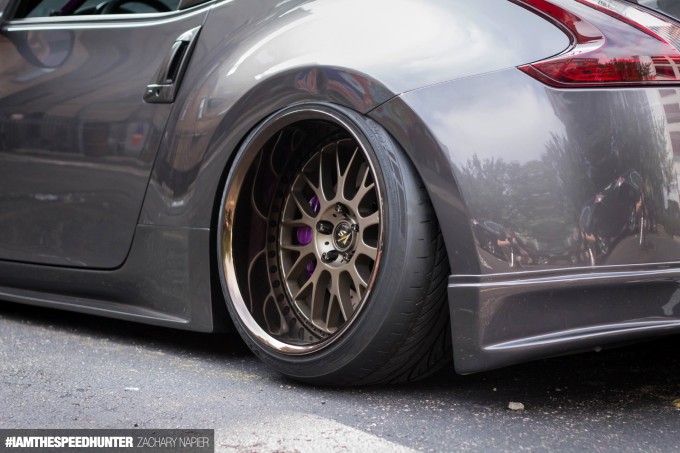 Steve goes onto explain that earlier this year he switched to an AccuAir e-Level air management system with AirREX struts, and now he couldn't be happier with the way his Z handles. It looks incredible too; we love the tasteful colour scheme and the way it sits on those beautiful 19-inch Work VS-XX wheels. Steve's modifying bug hasn't disappeared yet either, and he's already got plans in the works for a custom wide-body kit and a big performance upgrade in the near future. It's great to see such a clean-looking street car built with performance as an equally high priority.
Jason Pietz – Union City, California USA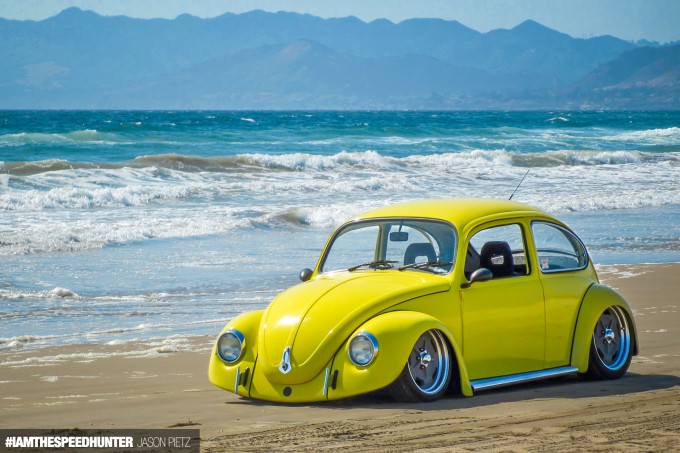 Onto VW Beetle number two now, this is Jason Pietz's '74 Bug, and it has a pretty cool story behind it. Jason writes, "I bought this car almost 18 years ago for $1 out of a family friend's backyard. It was a rusty home to several generations of furry creatures and hadn't run in many years! Being in high school at the time, I worked a couple of part time jobs to earn enough cash to give it a halfway-decent restoration. After that, it was my daily driver for a couple of years and then it got parked for college. Near the end of college, a friend and I got the idea to adapt a Mustang II-style SLA front suspension setup for it. Next thing I knew, there was a coordinate measuring machine in my garage and we had a SolidWorks model of the car!"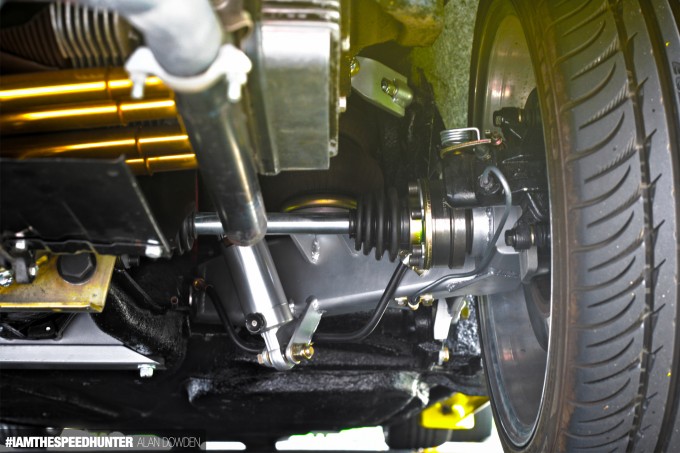 Jason and his friend completely revised the suspension geometry and proceeded to design new parts to make everything work together without having to cut or modify the body or floor pan. Jason continues, "The time spent machining parts and TIG welding it all together was dwarfed by the time working on suspension theory and hashing out the details. But it was worthwhile in the end as the finished suspension bolted right into the car effortlessly."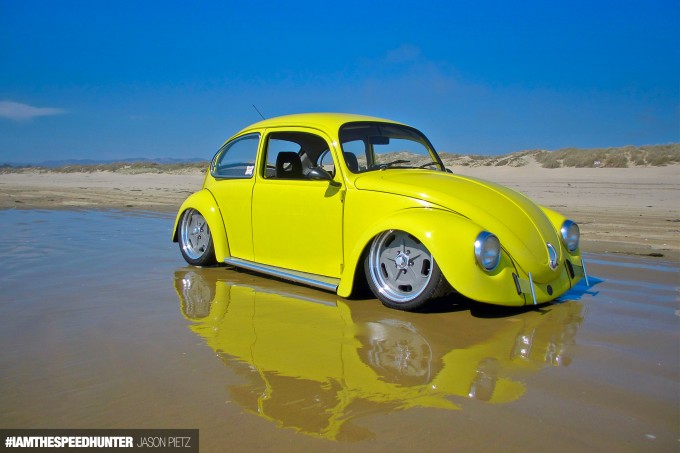 As well as a huge list of other modified suspension parts, the Signal Yellow (a Toyota colour) VW runs ContiTech bags and Chris Alston's Chassisworks VariShocks, with a VIAIR compressor. Even though Jason's friends used to tease him when he was younger, we bet he's extremely glad he didn't give up on the car at the time. It might not be fast, but now Jason has an extremely cool car to cruise around California in, and it brings smiles wherever it goes – especially when it's parked on the ground!
Yves Mertens – Belgium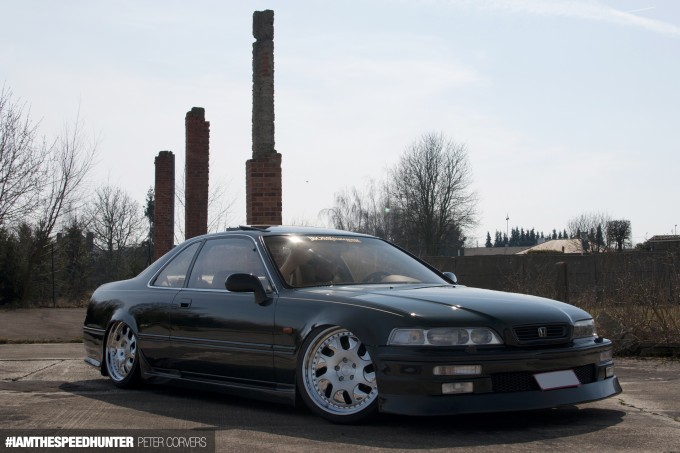 Next up, we have Yves Mertens' '91 Honda Legend coupe. These cars are pretty rare in Yves' part of the world, so it was only natural for him to want to find one to customise. As you can see, Yves has gone for a VIP-inspired look for his Honda, with a custom bodykit and widened front and rear arches. For the suspension, Yves chose a custom air setup based on K-Sport coilovers, along with eight valves with silencers, 8mm lines, and AccuAir e-Level and i-Level management. He even had his ideal set of 19-inch Rotiform BWE wheels custom made, and he's replaced the headlights with JDM items too.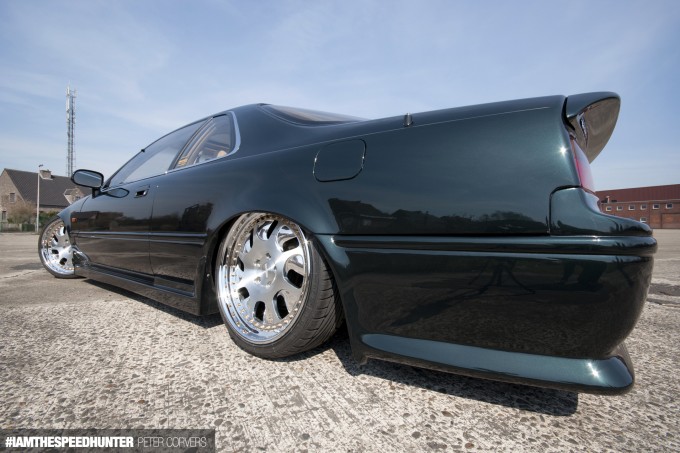 Our favourite touch however, has to be the subtle gold pinstripe running along the sides of the car, matching the golden accents on the wheels. Yves explains, "This gold is actually a Daewoo colour, which I chose as a tribute to the Daewoo Arcadia (built between 1996 and 1999), which was the Korean version of the Honda Legend sedan." We love the way that Yves has really thought through the modifications to his car, and as a result he's created his perfect daily driver to his own tastes. Nice one, Yves!
Robin Wong – San Francisco, California USA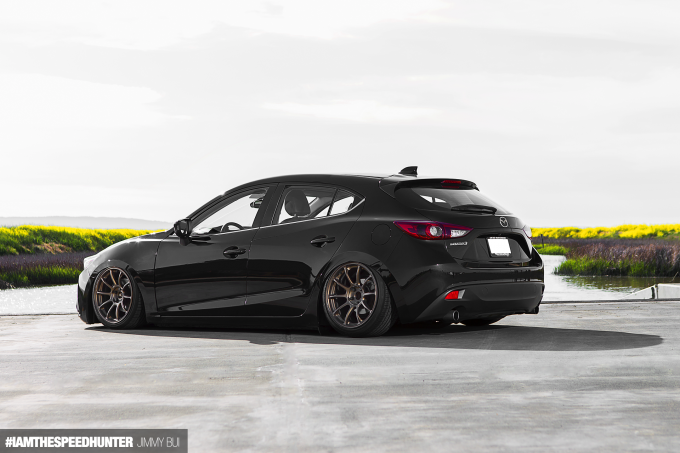 Here we have another cool personalised daily driver, Robin Wong's 2014 Mazda 3 s Touring. Robin always new he'd be using this car for long commutes, so he wanted to give it an aggressive look without sacrificing functionality; especially the ability to get into driveways and go over speed bumps without any issues! Robin's only problem however, was that at the time there weren't any air systems available for the new generation model Mazda 3. Thankfully, the team at BecauseBags in San Jose were able to install custom struts along with Air Lift Performance bags, modified JBR rear camber arms and an AccuAir e-Level management system to achieve the look Robin was after. RAYS Volk Racing ZE40 wheels complement the black body nicely, and tie the overall look together. Practicality, economy and style; now Robin's daily hauler has the complete package!
Charlie Denny Jr. – Holbrook, Massachusetts USA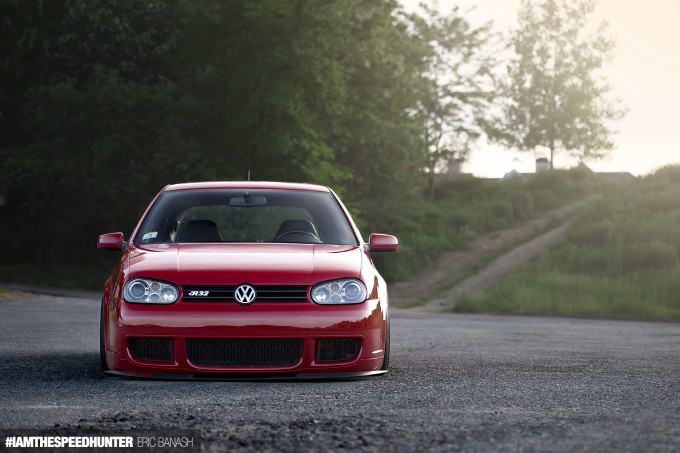 Surely every person reading this has their own idea of their dream car. Charlie Denny Jr. was only 13 years old when the Golf R32 first debuted, but from the moment he saw it he knew he wanted one. And it had to be in Tornado Red! Of course, Charlie's first car was something much less exciting, and the car after that, and so on. But it wasn't until his previous Volkswagen build, which ended up with a crappy air suspension setup, that he found the motivation for his next project car, which is – as you guessed – a bagged, Tornado Red R32.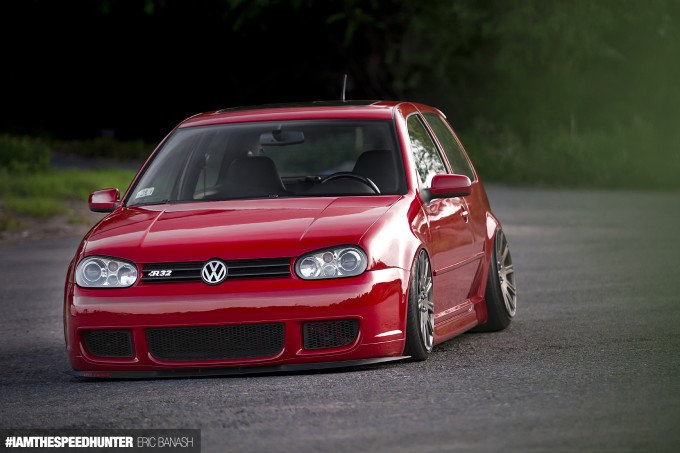 Charlie's previous car handled terribly, and it was this that inspired him to finally build his dream car exactly the way he wanted it: extremely low and well handling. Charlie explains, "I made a promise to myself to build a car that could perform just as well, if not better, on air than a car with static suspension. So I set out to do what everyone told me I shouldn't do – put the greatest handling Volkswagen ever built on air bags!" Charlie went with Air Lift Performance series bags and their V2 management system, but that was just the start. The car might look like it's simply been lowered on nice wheels, but endless hours of work have gone into making sure the R32 sits and handles right. The frame was notched and the subframe modified, tubular control arms and modified tie rods were added in the front, and USP adjustable upper and lower control arms installed in the rear. And that's a very condensed parts list!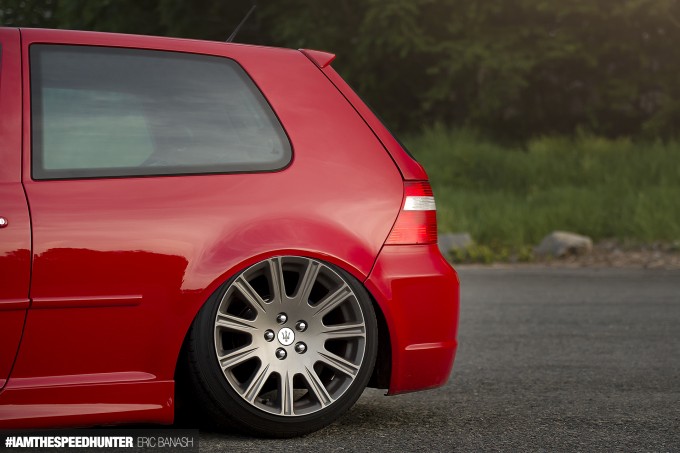 The result? Charlie says, "It drives incredibly. I'd dare say it's better than before." As controversial as that statement may be, Charlie has truly achieved what he set out to do, and the result is a rather stunning and carefully thought out build with no detail spared. And when it's aired-out, the widened fenders house Charlie's choice of Maserati Quattroporte wheels in dramatic fashion. Perhaps we'll have to continue this in a separate feature so that we can continue with more details, like the naturally aspirated 300hp engine…
This brings us to the end of our special On Air Only #IAMTHESPEEDHUNTER feature; thanks for stopping by to check out what bagged rides our readers are driving, and once again, a very big thank-you to everyone who submitted their cars for this feature!
Story curated by Taryn Croucher
Instagram: taryncroucher
Twitter: @taryncroucher
taryn@speedhunters.com
About #IAMTHESPEEDHUNTER
We created #IAMTHESPEEDHUNTER to allow you the opportunity to share your skills and car culture experiences from around the globe with the rest of the Speedhunters audience. How do you get involved? It's simple…
Speedhunters.com – Watch out for our monthly announcements on how you can take part and submit your content to feature in one of our monthly themes!
Instagram – Follow us on Instagram at @TheSpeedhunters and tag your own car culture images with #IAMTHESPEEDHUNTER
Twitter – Follow us on Twitter at @SPEEDHUNTERS and share your tweets with the #IAMTHESPEEDHUNTER hashtag
Flickr – Join our #IAMTHESPEEDHUNTER Flickr Group and share your favourite photos with us and others
E-Mail – If you've been to a cool event and captured some amazing images, be sure to e-mail them to us on iamthespeedhunter@speedhunters.com and tell us a little bit about the event