The City Cruiser
So where to start… Chance are you won't know, but I've owned a few BMWs over the years. While Project GT-R and my Subaru Legacy wagon have had occasional 'air time' here on Speedhunters, the Beemers have pretty much been ignored. And for good reason too, as they have always been shared by my wife and I for our daily commutes and family drives around Tokyo and occasional out of town expeditions. That's why the E46 330i and the E93 335i that replaced it always remained stock, despite my constant plans of how and in what way I could spice them up.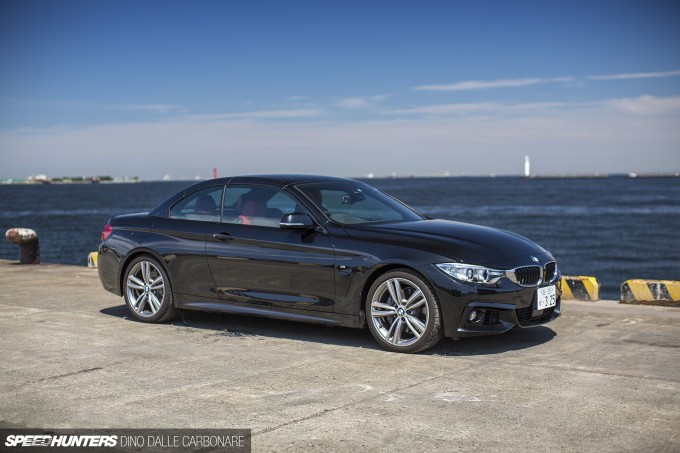 But back in January, when the time came to say goodbye to the E93, I told myself that its replacement – a metallic black F33 435i convertible – would have to succumb to a bit of tuning. After all, life is short, and if there's one thing I've learned over the years, it's that there's nothing worse than going through life wondering 'what if'.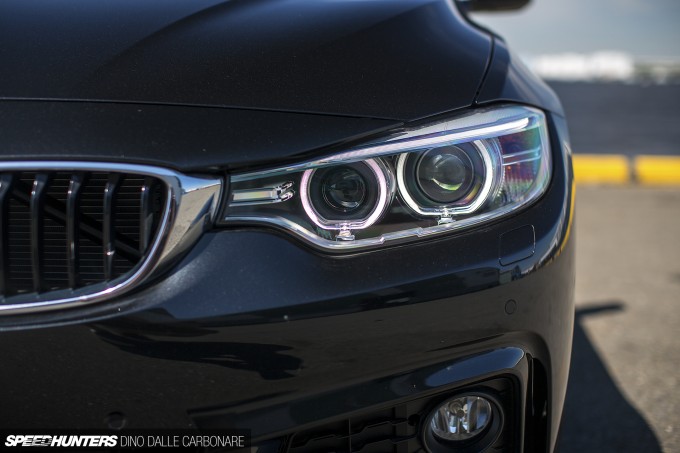 So screw the 'what if' I thought – I'm at least going to get this Beemer looking its best. Plus, I've always wanted to do up a European car, and as strange as it may sound, I'm in the best country to do that, as the Japanese really have got the German style locked down to perfection. I'm a great fan of how BMW has approached the new generation 3/4 Series – it has stepped up the car in every conceivable way and it's such a great base for a bit of fine tuning. In my case it won't be much more than that though, as this still has to be a reliable and functional daily. But at least I can make sure that it has more presence. But before I get to what mods I have planned, I thought I'd at least introduce you to the ride I've quickly started referring to as 'Project Drop Top'.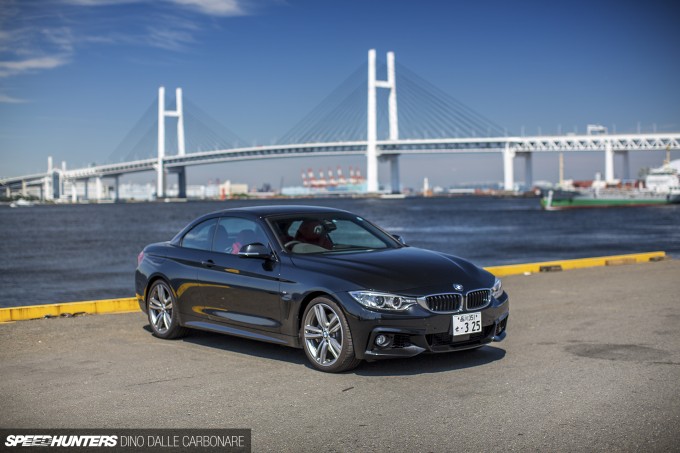 Why a convertible? Well, I mostly put it down to the fact that I like variety, and that Tokyo is actually a superb city to enjoy top-down motoring throughout the entire year. The wind through the hair isn't really something that applies to me specifically – mother nature has taken care of that – but cruising the streets and highways and enjoying the unique point of view that a topless car can offer is reason enough. Plus, like my previous 335i, the folding metal roof pretty much gives you the impression you are using two cars – a cabrio and a coupe all rolled into one.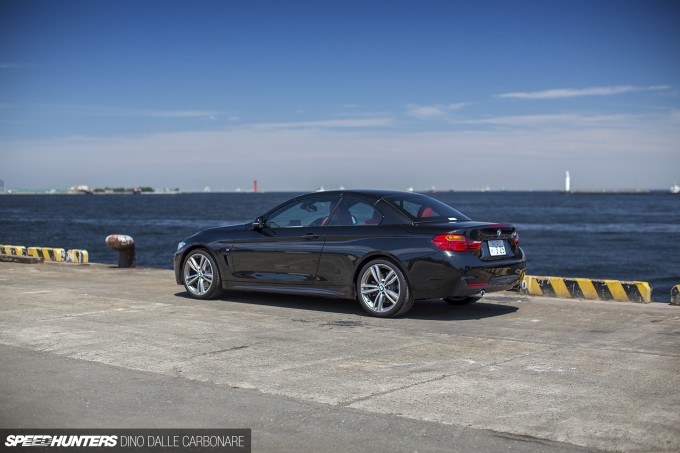 The car's spec is pretty straightforward: it's a 435i fitted with an M Sport package, which aesthetically gives it different front and rear bumpers over the Luxury version, lower suspension and M-branded 19-inch wheels.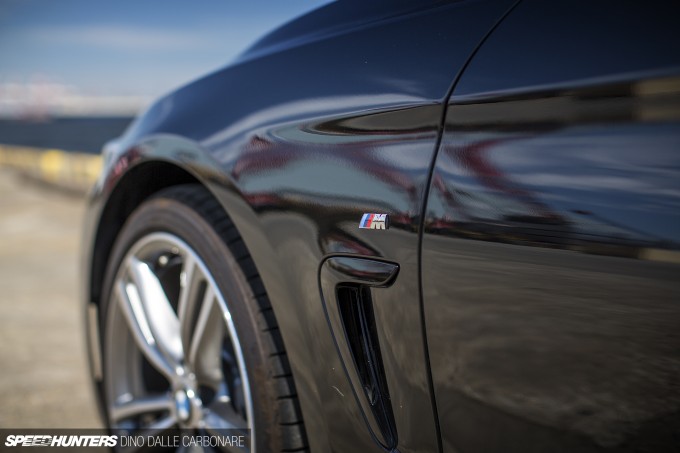 The M emblems on the front fenders further denotes the spec, as do the little vents which are body-coloured, not chrome.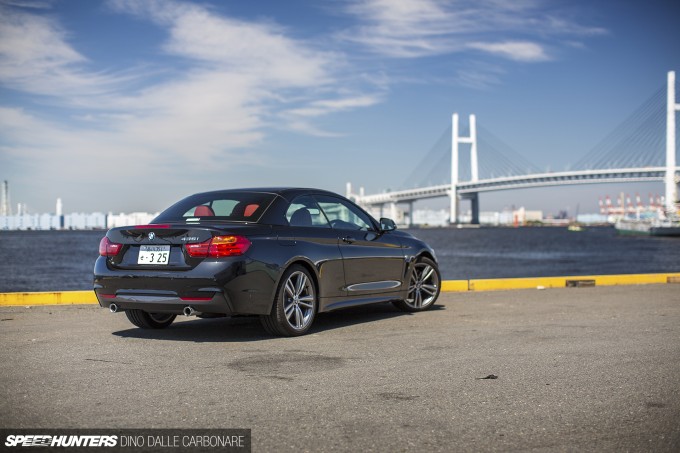 While from the front the car can easily be mistaken for a coupe, it's from the rear that you'll notice this is a fold-top version. The c-pillar angle where the rear glass meets the trunk lid is a little more upright giving it a very unique look and overall presence.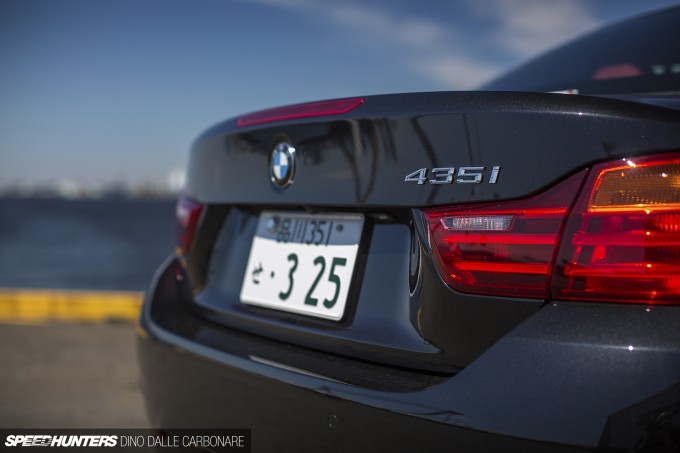 The '35' model is the only cabriolet version that is available in Japan, and no other engine configuration is offered, which should give you an idea of what spec level the Japanese tend to go for. Believe it or not, but the M4 Convertible is not on sale in Japan though. The previous generation of the car sold so poorly over here that BMW Japan decided to drop it from the line-up altogether, which is a true pity as most people probably didn't want it because it was fitted with a 4.0-litre V8. But before I touch on the engine and performance, I'll show you how the whole roof thing works.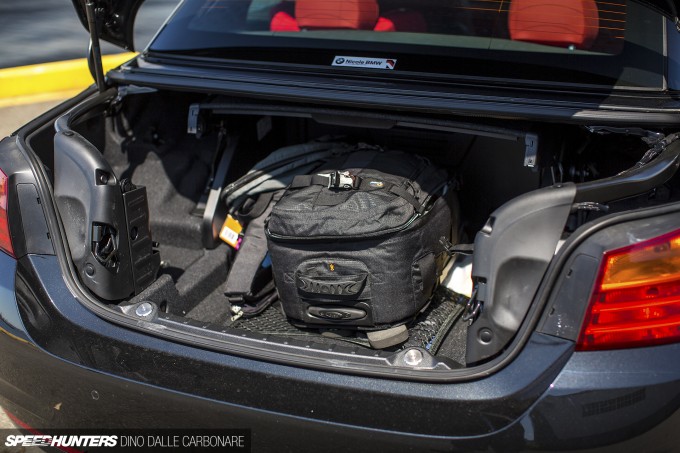 Open the trunk and the 435i has a bit more loading space than the 335i before it had. It's also a slightly bigger and taller car, so that's kind of to be expected. It has no problem swallowing up all my camera gear – lights, tripods and other things.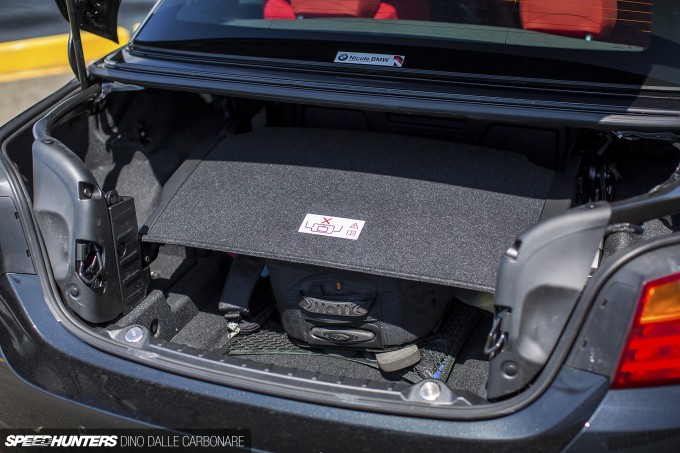 However, if you intend to fold down the roof you better pack light as you first need to lower this luggage protector to ensure that there is enough space back there to fit the actual roof. It looks smaller than it really is when closed, as most of the space is towards the rear of the cargo area.
Coupe & Cabriolet All In One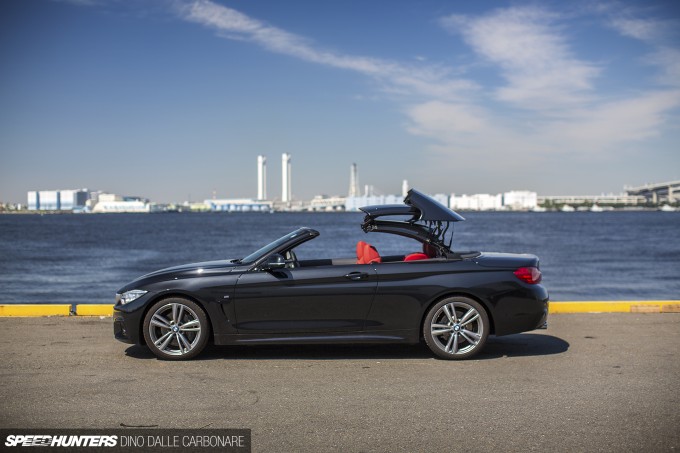 You can operate the roof from either inside the car or from the key fob and it takes about 20 seconds or so. That might sound fast, but when you're trying to actuate it at a red light it's never fast enough! At least now you can actually open and close the roof up to a speed of 11mph which is a great help and something the 335i couldn't do. Anyway, it's an extremely complex series of movements but it all looks simple and effortless as most extensively engineered things usually do. The front section first unlocks, then swings backwards under the c-pillar/rear glass section which by this time has risen up.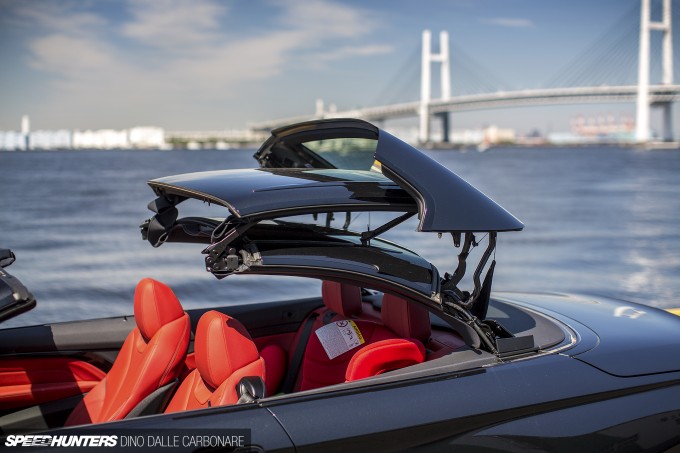 It all then packages neatly together.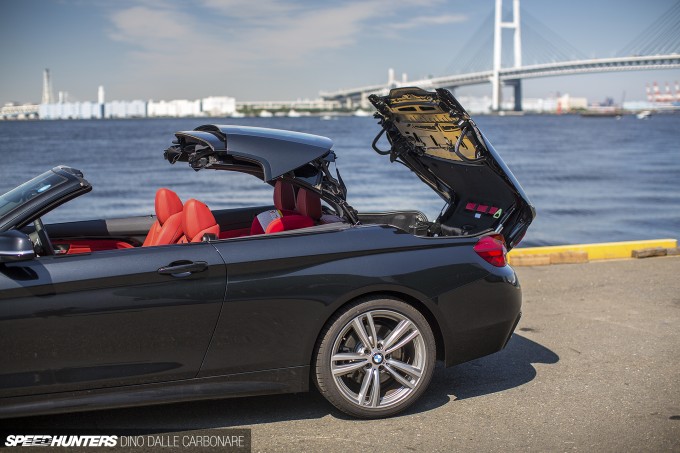 Then the trunk section opens backwards on a complex series of hinges and the roof swings in effortlessly.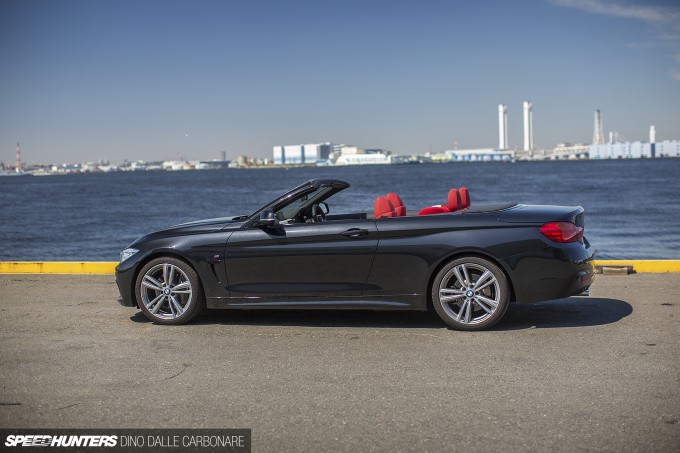 The trunk lid closes and you're ready to go!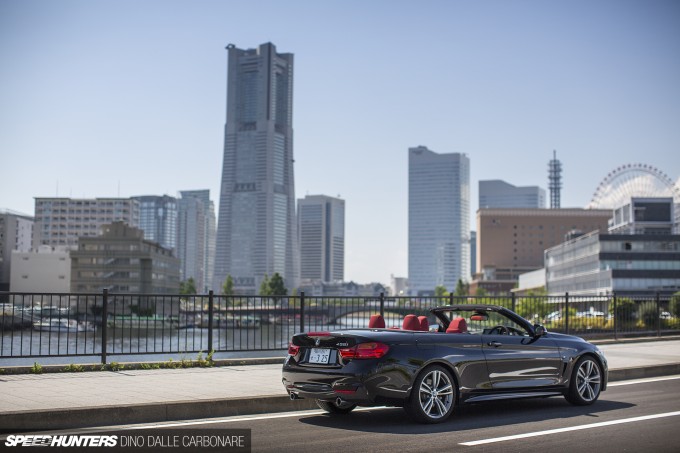 Despite this being the M Sport version, it still exudes a bit too much elegance for my liking – something I will need to address to give it all a slightly aggressive and more focused-looking demeanour.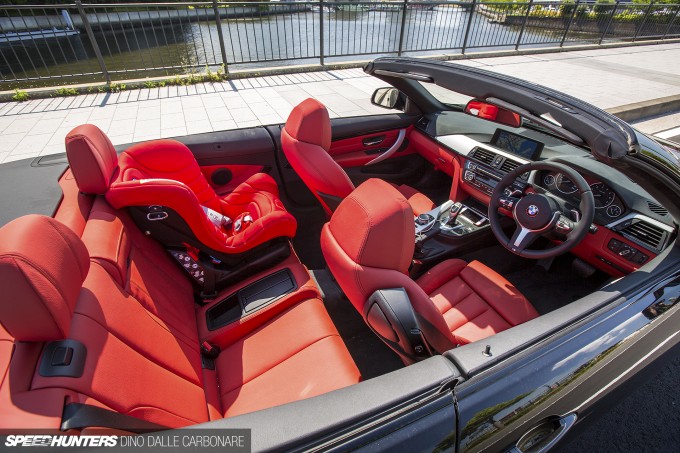 The best thing of all – and the main reason that the 435i was at the top of my list – is that it offers ample space for four passengers, which is very handy for the occasional lift or trip.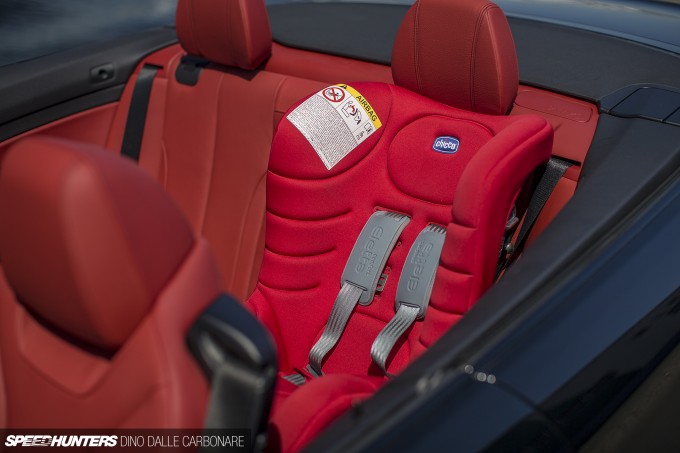 The little Speedhunter of the family gets his own seat too – not a perfect colour-match to the deep red of the leather seats, but close enough!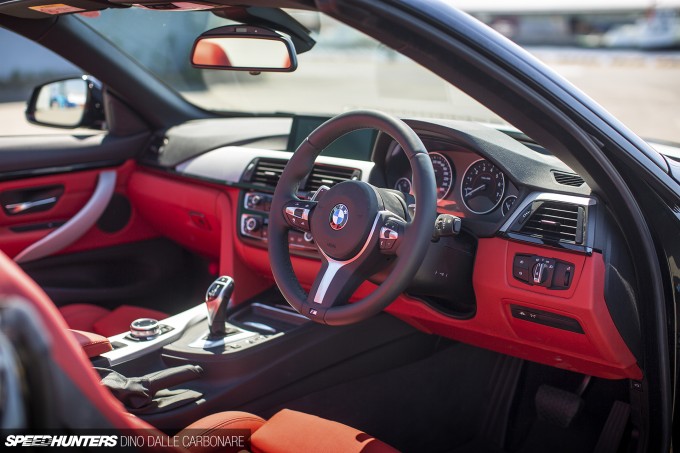 The bright summer sun at the time of the shoot actually makes the whole red trim look far brighter and in your face than it actually is. It's a lot more sedate up close, and definitely makes you feel like you're sitting in something special. It's quite a change from the all-black interior I had in the 335i, but I've gotten used to it over the last few months.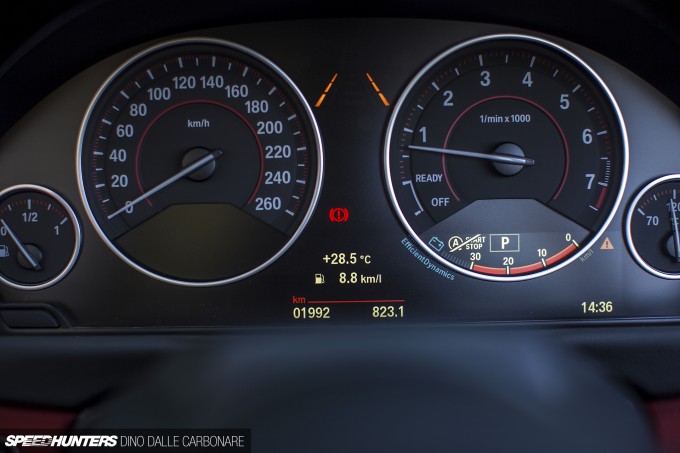 BMW does a good job of integrating all the new features and tech that the 4 Series comes with into a nice and simple analogue dash. The lower section is a color TFT screen which allows you to jog through all the different read-outs from the on board computer, as well as changing the lower part of the tachometer depending on which drive mode you are in.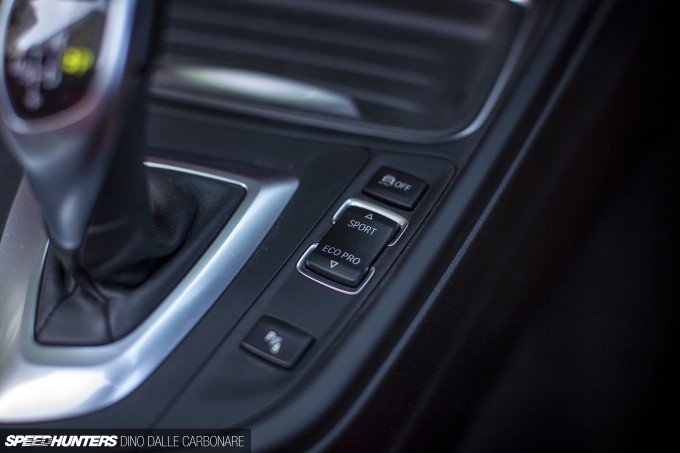 And the drive mode selector is one of the best aspects of any new BMW these days, going from the fuel-sipping Eco Pro mode all the way to the Sport drive setting which varies throttle, steering and gearbox mapping to make the car come alive. The car isn't fitted with the optional active dampers as that's something I will take care of myself.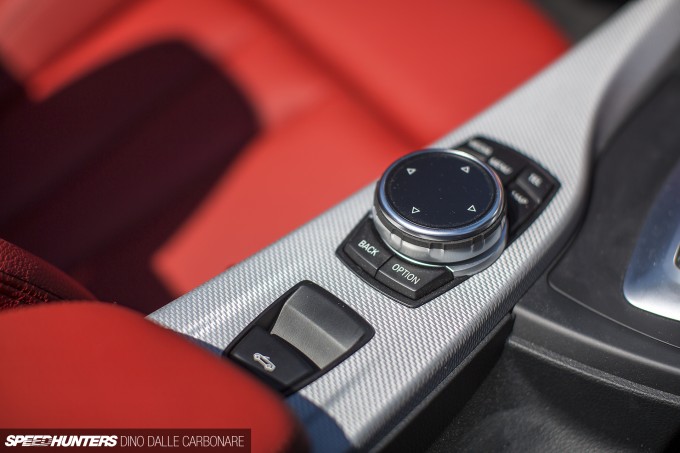 The center console has the familiar iDrive controller and a switch only the cabriolet gets.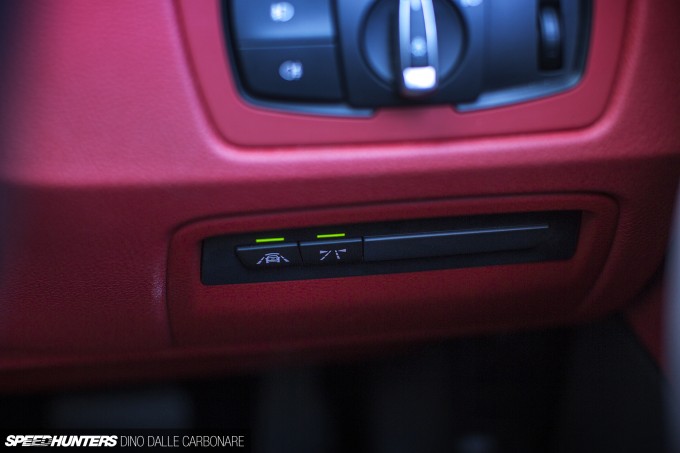 On top of the already generous option lists that BMW Japan specifies for every 435i it sells, I added lane departure and active cruise control as they are systems that might end up saving your life one day. They will also help me stay awake and not crash when I do the usual Sunday night commute back home from Fuji Speedway after an event!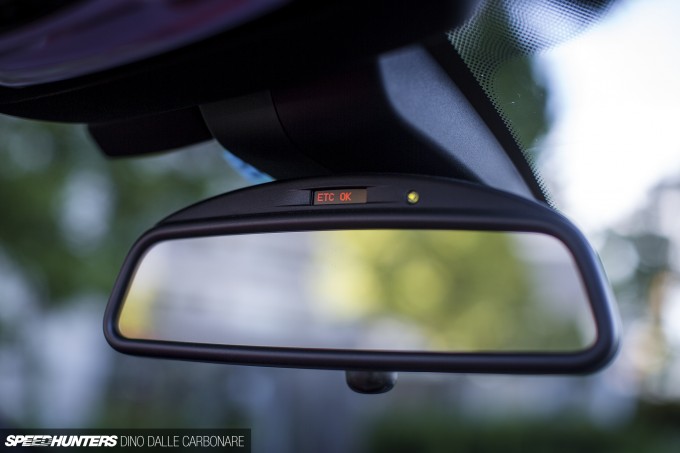 Japanese market cars also have this bespoke mirror that houses the ETC card reader for automatically paying highway tolls. Every time you pass through a toll gate the little LCD display lets you know how much your credit card has been charged.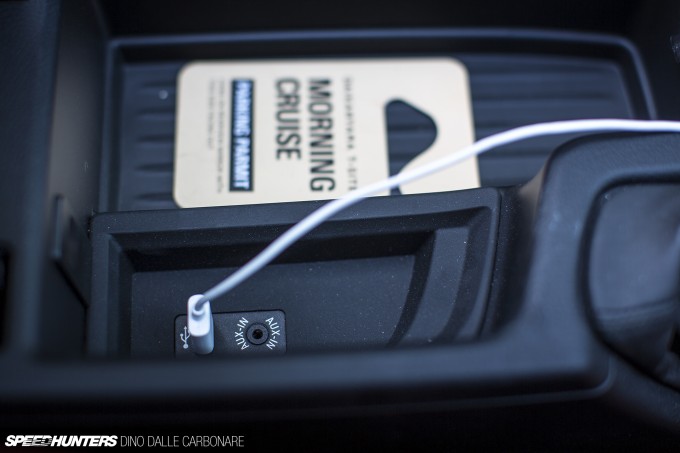 Under the armrest there's a single USB port which connects your phone to the car's infotainment system, as well as a 3.5mm line-in plug if you ever need to use that. The infotainment is probably the first thing I will have to address in the car, having just found out that Studie offers an interesting little mod. But I'll talk more about that in a future post.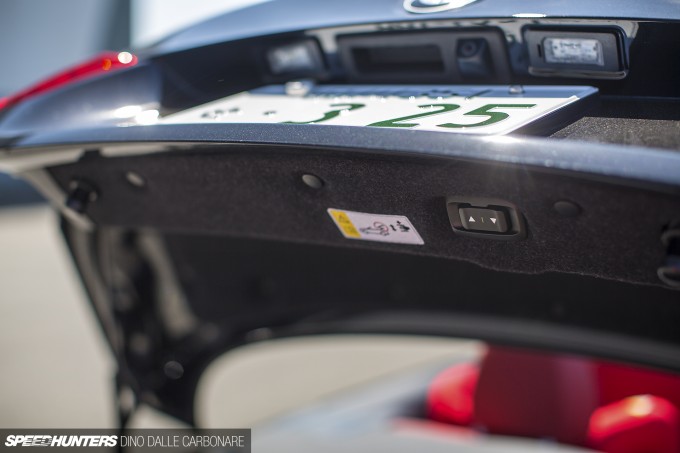 Going back to the trunk, there is one new feature that BMW has added to the 4 Series and that's a lift system for the folded roof.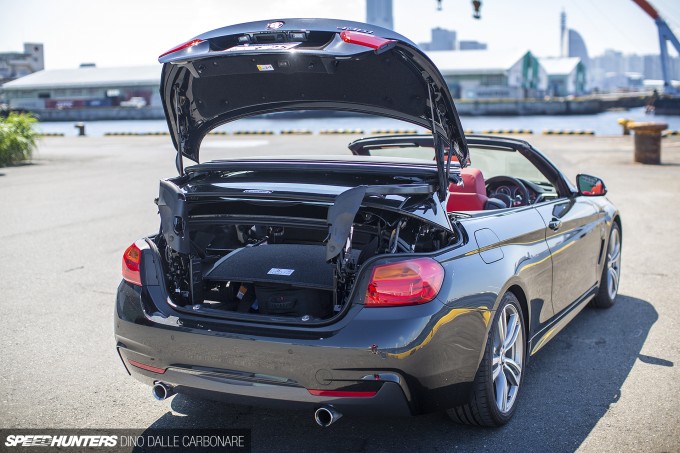 It allows you to lift the entire folded section in the trunk, giving you full access to the cargo space. Having had to close the roof on the 335i just to get something out, this is definitely going to come in handy!
And So The Wish List Begins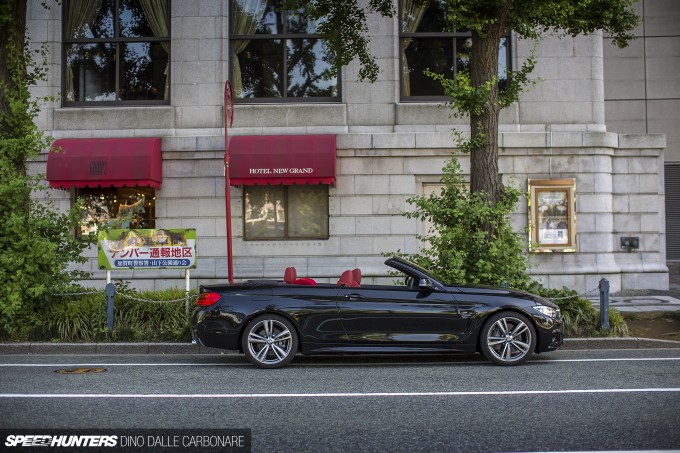 Okay, so what do I have on the cards for the car? Well, from the first moment I drove it, the wheels and tyres are something I told myself I would have to sort out ASAP.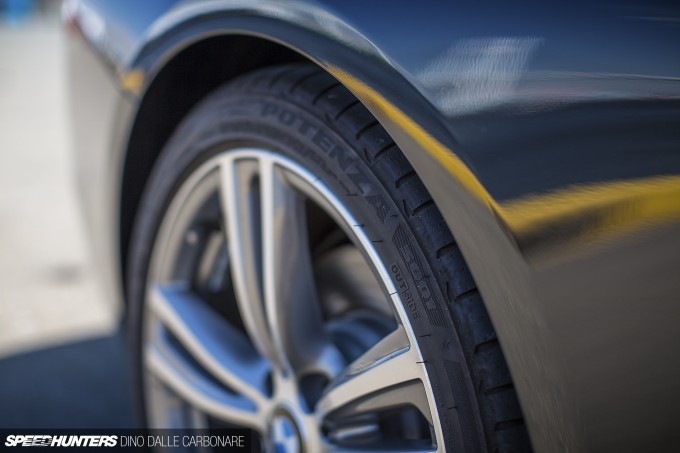 Looks wise they're okay – just regular, uninspiring stock rims with far too much of a conservative offset and not enough girth. But the thing that really gets me is BMW's insistence of fitting these damn cars with run-flat rubber. Performance aside – which is okay for the type of car – they ride pretty harshly and even if the dampers do a good job of counteracting the stiffness of the sidewalls, you can't help but wonder how the car would ride and feel with regular tyres.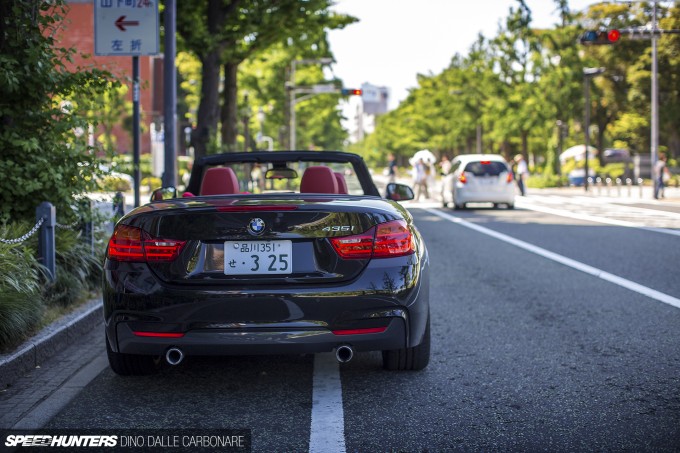 So that's something I will definitely change.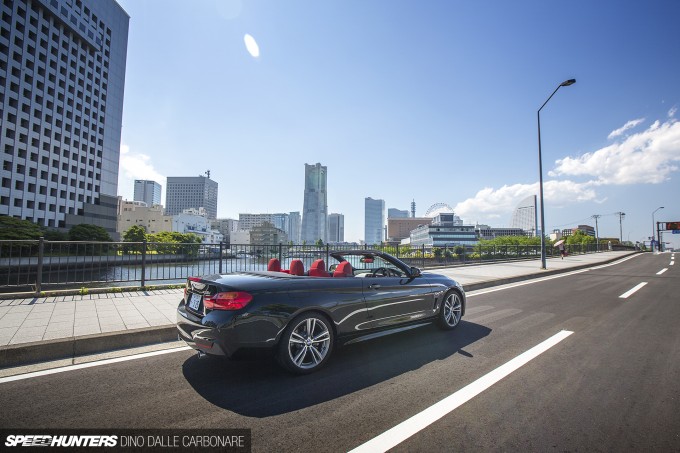 I actually have a nice set of wheels sitting here in my office, so make sure you check the next installment on Project Drop Top to see what I've gone for.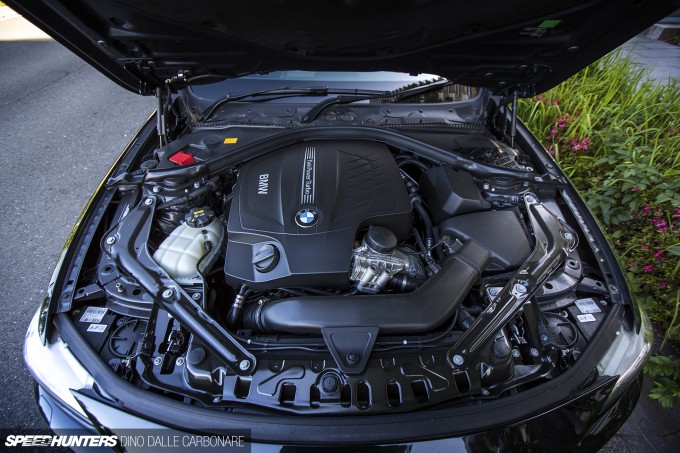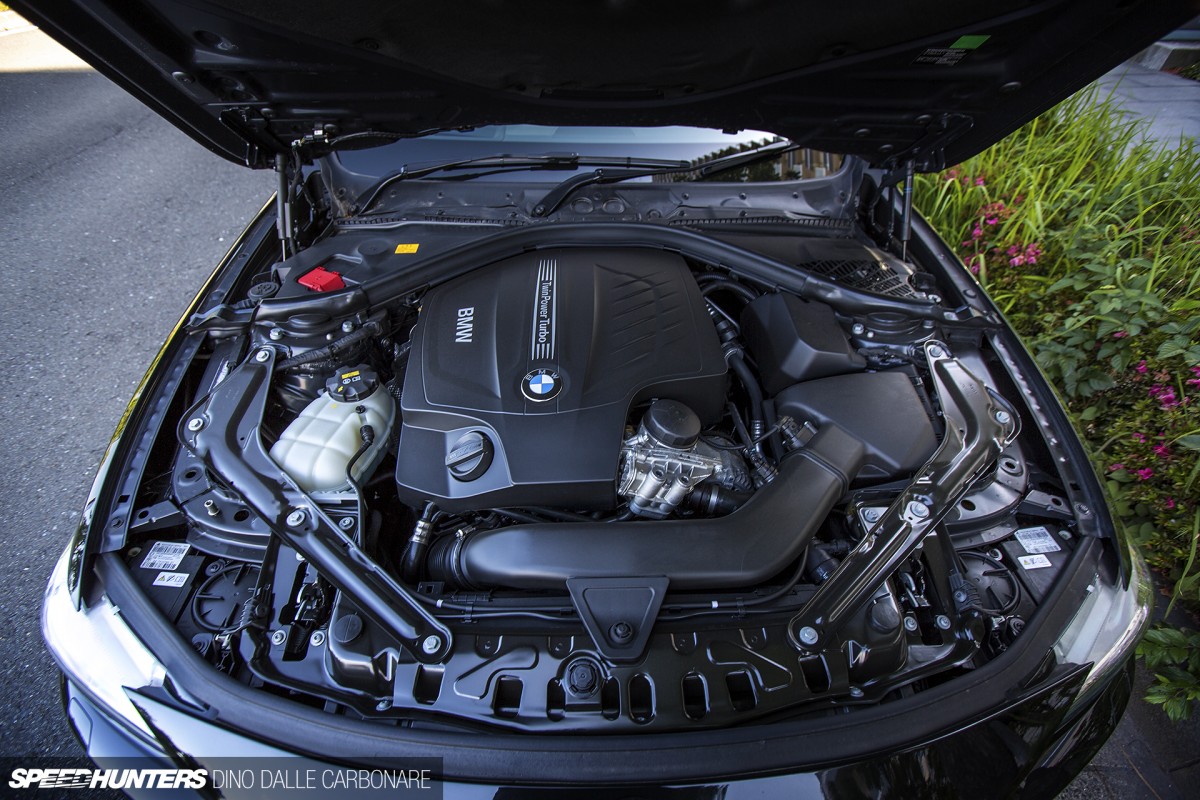 Then there's the engine. What it lacks in presentation under the bonnet it more than makes up for in performance. The 3.0-litre straight six turbo is smooth as silk and mated to the new ZF 8-speed automatic transmission it makes for quite an exciting combo. I was actually pretty sad to say goodbye to the twin-clutch 7-speed in the 335i, but after the first proper drive in the 435i I was impressed with the ZF. It shifts just as fast and is beautifully docile for everyday use and when tackling congested Tokyo streets. It's the best of both worlds for sure.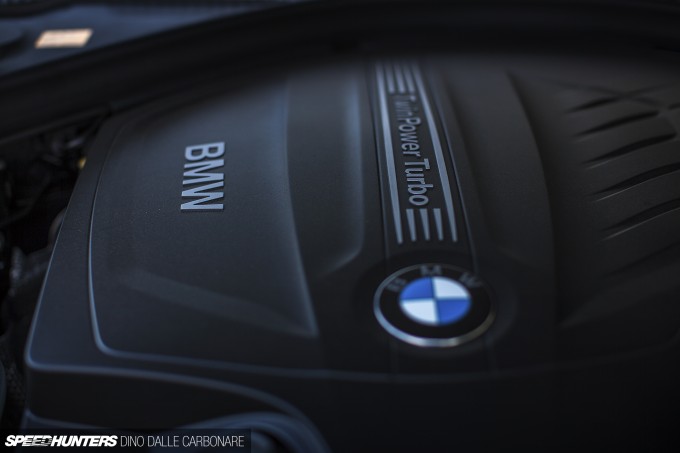 The direct-injected, double Vanos, TwinPower Turbo is good for 306PS at a relatively low 5,800rpm, but it's the torque and response where it truly excels. Much like most modern turbo motors, the torque is strong, 400Nm to be precise, which is exactly what the R34's RB26 was rated at from stock. Except here, that torque is available from 1,200rpm all the way to 5,000rpm, which translates to instant acceleration anytime you may need it.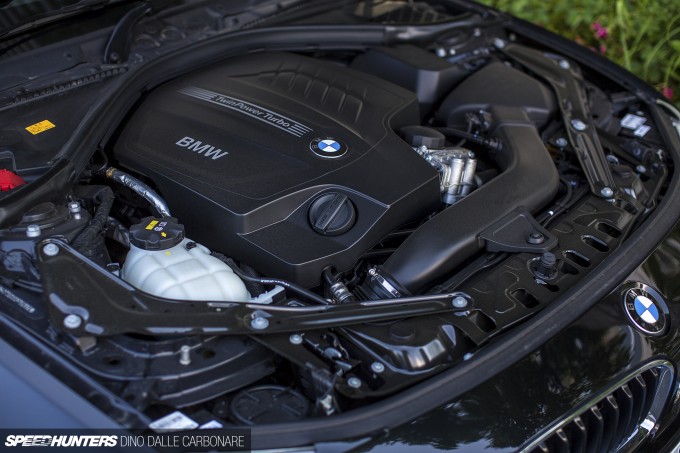 Hearing that this engine responds rather well to some light basic tuning, I'll definitely be having a look at what's out there. Maybe I'll spice things up a little in the engine bay with an intake or airbox that will allow the motor to breathe a little better as well as free up some of those turbo sounds, because it's all way too quiet at the moment.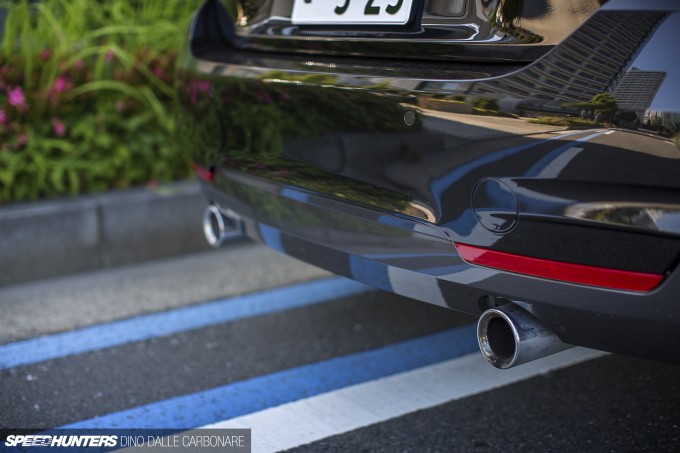 The exhaust too is a bit of a let down. The engine sounds great, but it's all muffled and over-silenced by the stock pipes. It does, however, rip some pretty gnarly farts on the overrun and when short-shifting through the gears, so hopefully all of this can be emphasised a bit!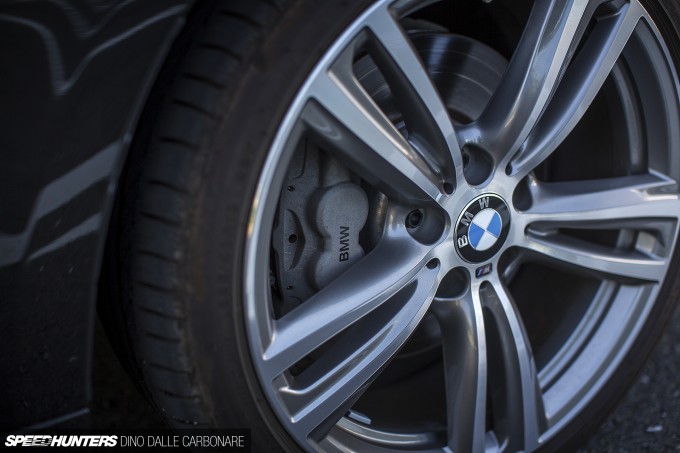 The biggest disappointment? That would be the brakes. In Japan, BMW doesn't include the M Sport brakes on the M Sport package, leaving them to be added as rather pricey option to customers. Seeing that most other markets get them as part of the package, I find this unacceptable. I wouldn't care so much if what they fitted to the car actually worked, but they are seriously a massive let down. The pedal feel and modulation is spot on like on every BMW, but you have to stomp on the pedal hard if you want anything to happen, and they just don't have enough stopping power, period. Plus they fade immediately if you take the car on a road like the Hakone Turnpike. I'll definitely have to explore options here, as attempting to slow down 1,840kg worth of mass with these things is plain dangerous.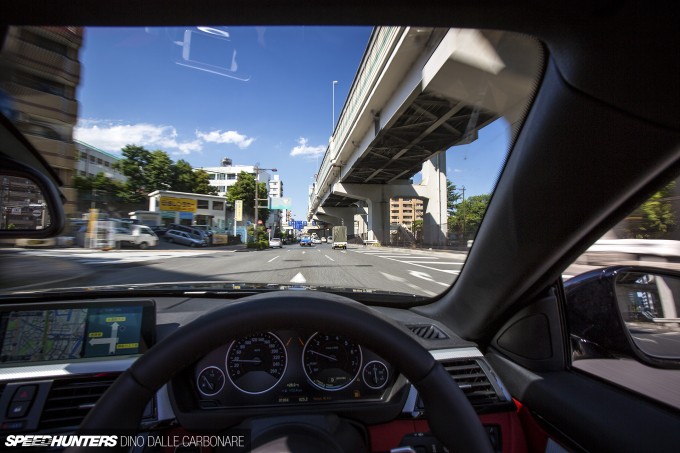 But apart from that, the overall experience is great. The 435i is a superb car to pootle around town in, taking the junior Speedhunter for the occasional excursion to Daikoku PA for some brainwashing (you must like cars, repeat 100 times!) or a quick drive down the coast.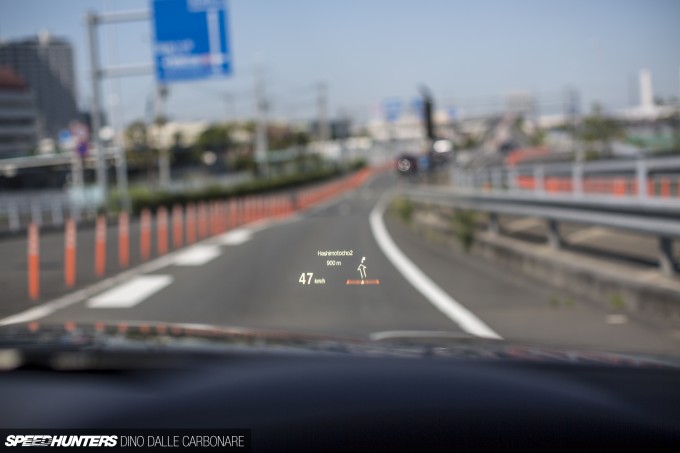 I love older cars which is why my GT-R will always be closest to my heart, but it's just as much fun enjoying all the new toys that modern day cars are packed with – not to mention the advancements in turbo and driveline tech. Plus, with the GT-R spending some time in the workshop at the moment, at least I'll have another project to share with you.
I'd love to hear any pointers or advice for you guys as I'm sure we have a lot of BMW guys reading the site. I'm all ears! I'll be back shortly with a quick update on the wheels, which I have to treat with some protective coating before I even touch them as I have probably gone for the most delicate finish possible!
Dino Dalle Carbonare
Instagram: speedhunters_dino
dino@speedhunters.com