The idea of an electric vehicle winning the famed Pikes Peak International Hill Climb – and in the third quickest (full course) outright time – is somewhat hard to comprehend, yet that's exactly what happened over the weekend when Rhys Millen drive the eO PP03 into the record books.
Over the past few years we've seen battery-powered vehicles of both the two and four-wheeled variety go progressively quicker up the high-altitude, 12.42 mile (19.99km), 156-corner course, but Millen's 9:07.222 sets a new standard for EV performance at the Race to the Clouds. Not that he was entirely happy about it…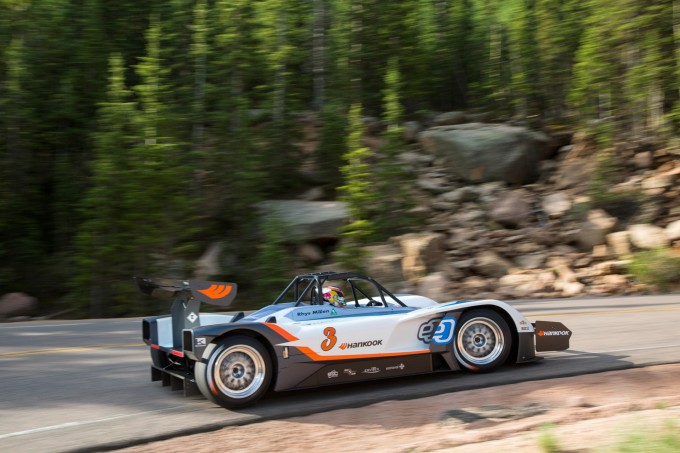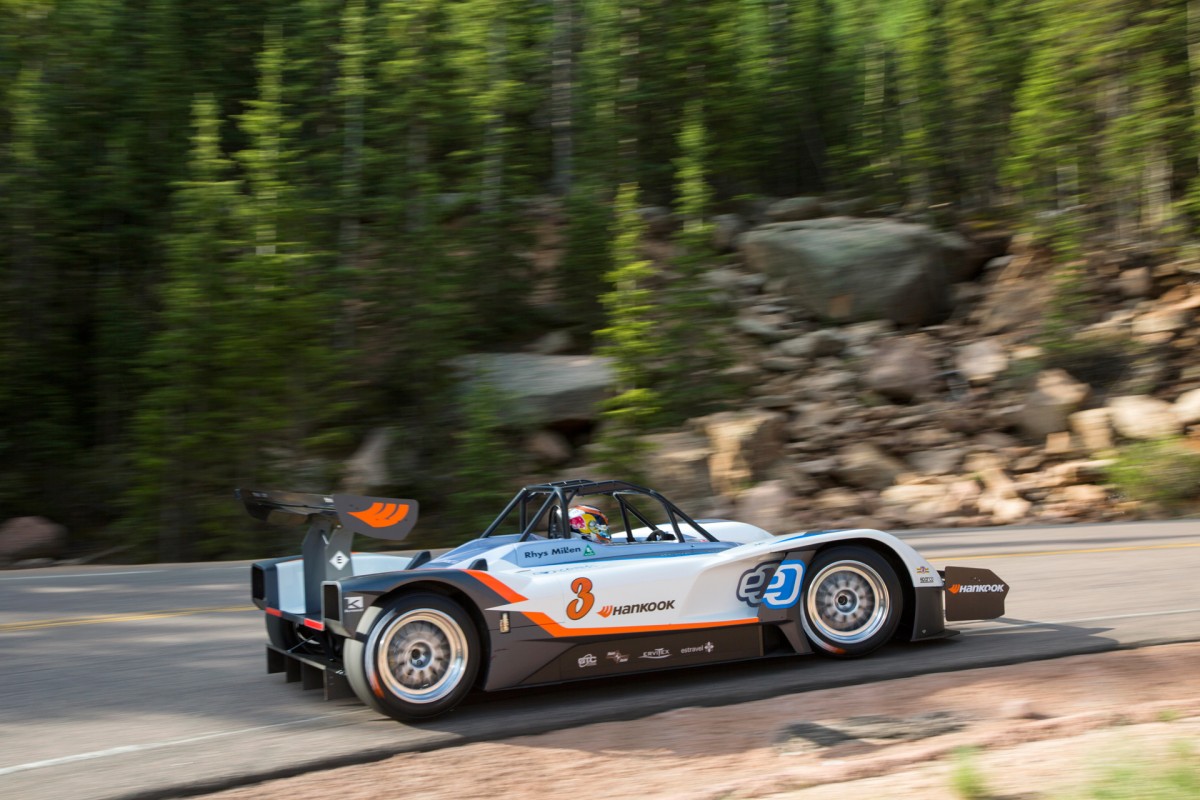 As it turns out, a technical issue saw 50 per cent of the car's available power being cut for more than half of the ascent – something that Millen says cost him almost 30 seconds. Based on times set in testing, 8:38 was the 2015 target time for the Red Bull, Hankook and Pennzoil supported driver – still some way off Sébastien Loeb's record-crushing 8:13.878 set in 2013 driving Peugeot's 208 T16 Pikes Peak, but a stark indication of how rapidly EV race technology is progressing. To put it into perspective, the second-ever quickest full-course run up Pikes Peak Highway was set last year by Romain Dumas driving a Norma M20 RD (Honda HPD K20 turbo powered – 450hp/610kg). Dumas' winning time was 9:05.801 – only 1.421 seconds quicker than Millen's time this year.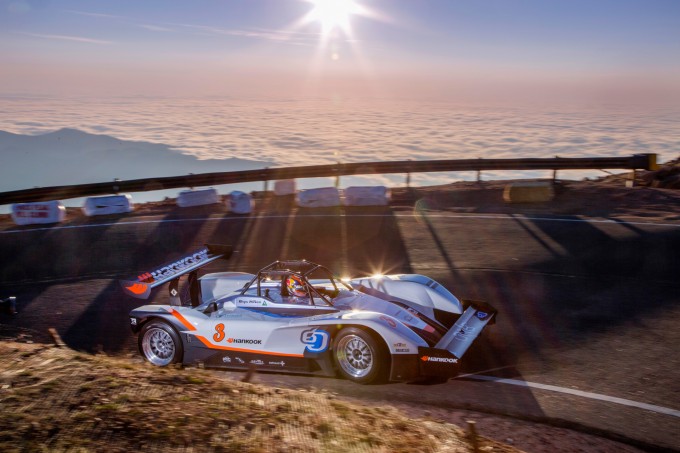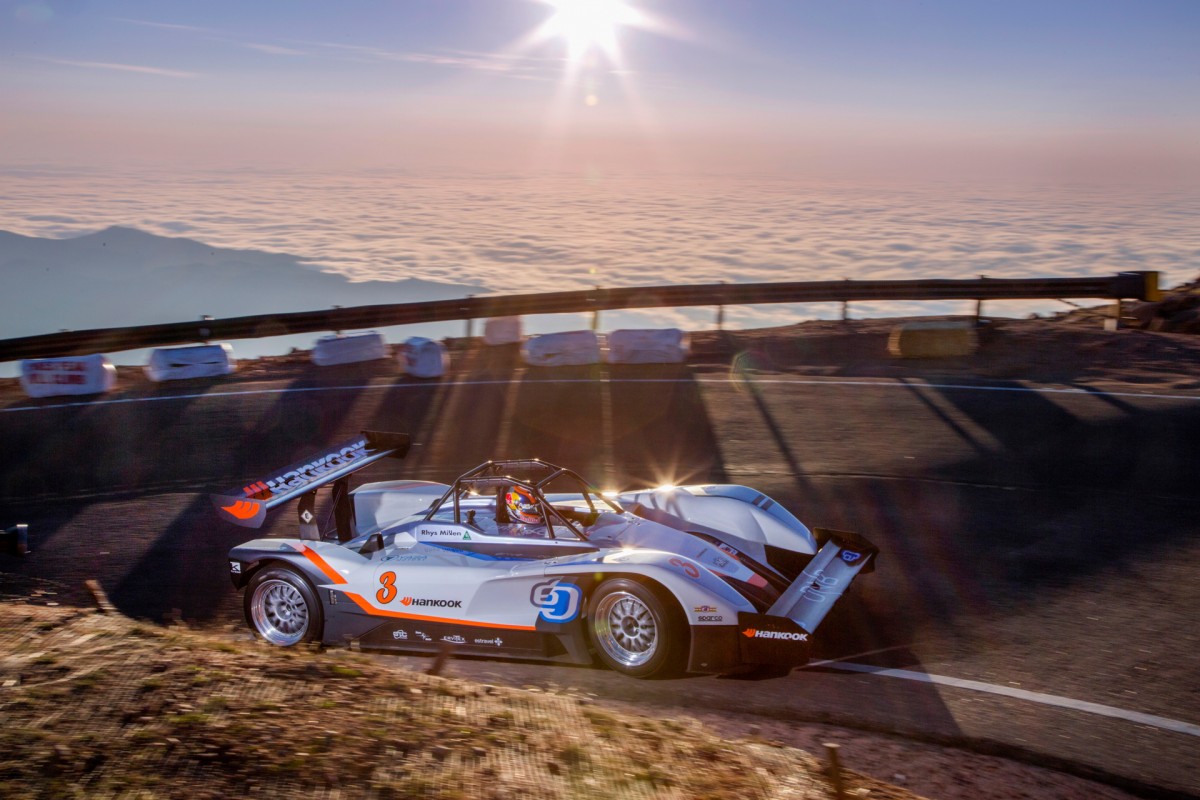 Could a future derivative of this car be capable of bettering Loeb's record? It looks a lot more likely now, but it could still be more than a few years away… As it stands though, the eO PP03's spec is very impressive. Outputting 1,367hp (1,020kW) through six YASA-400 electric motors powered by a 50kWh lithium-ion battery pack, and tipping the scales at 1,150kg (2,535lbs) thanks to a steel tube spaceframe chassis wrapped in carbon fibre, its power to weight ratio of 1.2hp/kg already betters that of the 205 T16 Pikes Peak. No wonder Millen says it's the most powerful car he's ever driven.
You can bet that Drive eO – the Latvian-based engineering company behind the eO PP03 and a specialist in EV race technology – will return to Colorado for the Broadmoor PPIHC in 2016 with Millen, to show what they're truly capable of together. In the meantime, you can check out this on-car clip of the winning (and record-setting) run from the weekend.
The Speedhunters
Photos by Alastair Ritchie / Drive eO