There's a common school of thought relating to getting yourself in front of those things you really loved as a kid, and being bitterly disappointed when you realise that as a 'grown up', childhood memories should perhaps be best left as such. With the proverbial 'never meet your heroes' proverb jangling about in mind, I recently attended an event billed as the New Zealand Truck Racing Festival – a tail-end-of-the-season, club-level shindig featuring 5-ton behemoths lumbering around the track.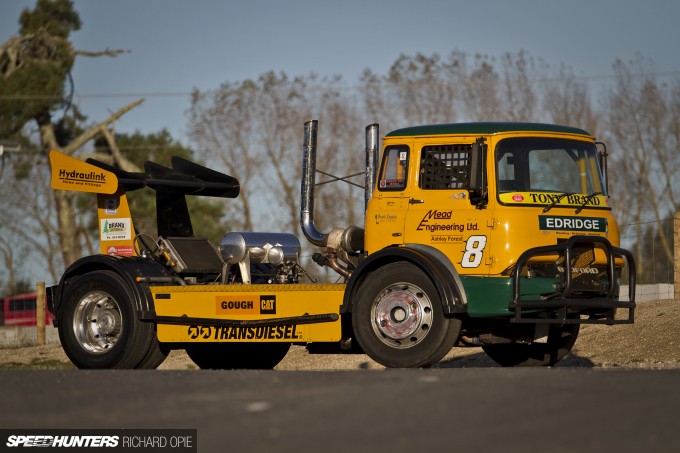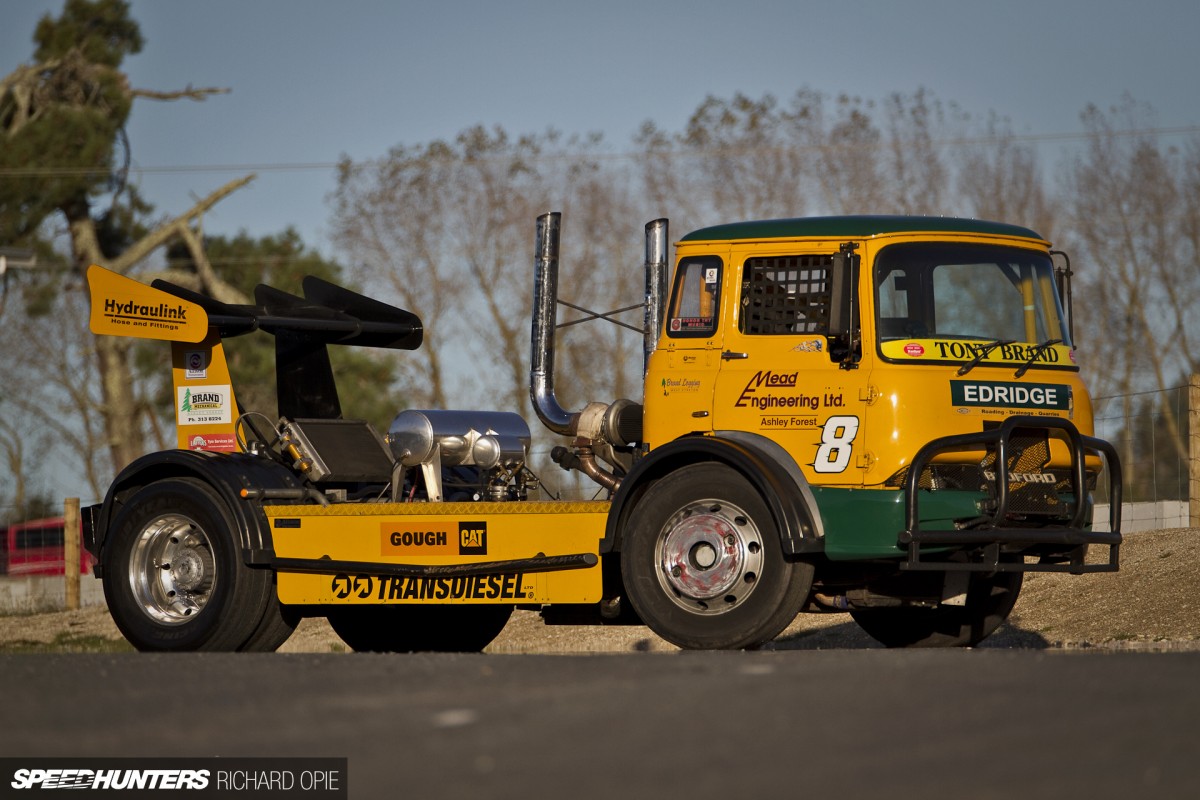 That intro might appear somewhat long-winded and irrelevant, but to give it some context, the last time I was sat trackside watching these exhibitions of excess circulating a close section of tarmac would have been as a fresh face 10-year-old sometime around 1992. I can vividly remember feeling beyond excited at the guttural thud of the large capacity diesels and the sights of colossal chromed snouts peeking through clouds of filthy murk. For a formative motorsport fan, this was the very definition of sensory overload.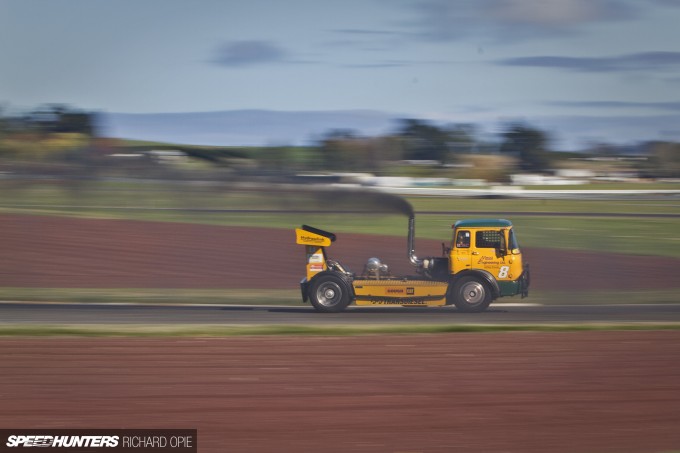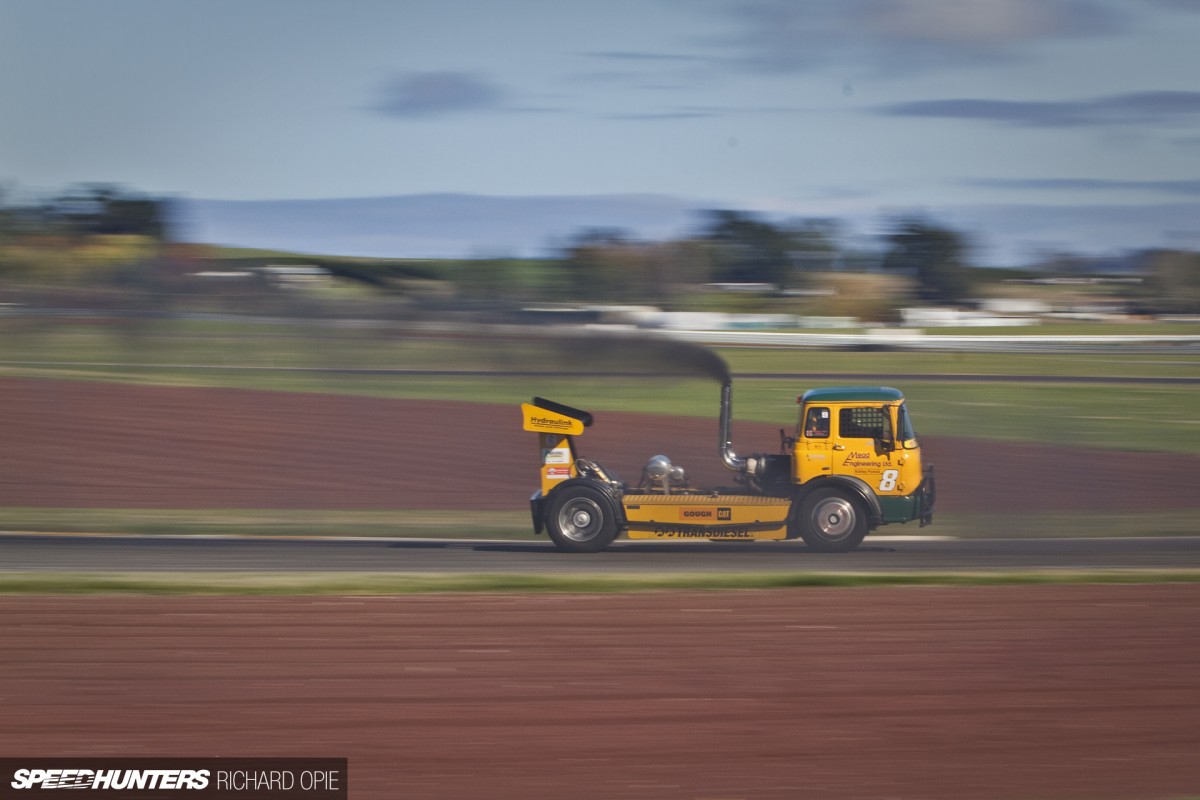 For a taste of the action that captivated me in my youth, check out the video below from the past season's racing. A grid of heavy vehicles, governed to 160km/h (100mph) and jostling for position heading into arguably the most daunting corner in New Zealand motorsport. Cole Trickle had nothing on the 'rubbing's racing' attitudes of the super truck jockeys…
Nevertheless, I trudged down-country to have a nosy. For the first time in over two decades I was going to meet those childhood heroes. Braced for disappointment as I drove through the gates, the sentiment soon dissolved the second the spool of a hefty turbo and the baritone thrum of giant pistons breathing through drainpipe dimensioned exhausts met my eardrums. A wry smile rapidly gave way to a light bulb moment – 'I need to shoot a race truck, and it must be wild'.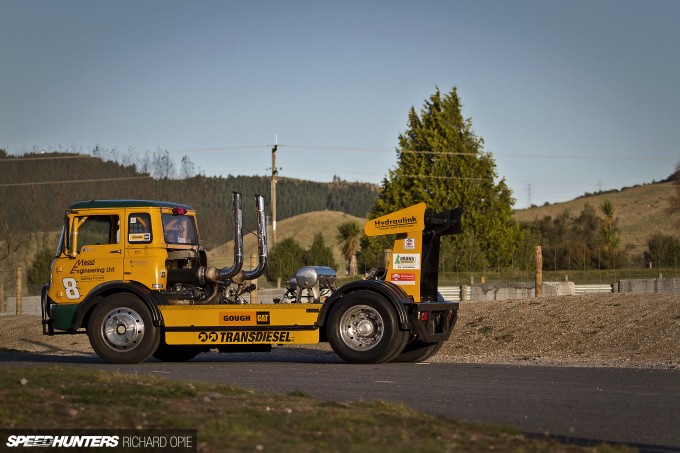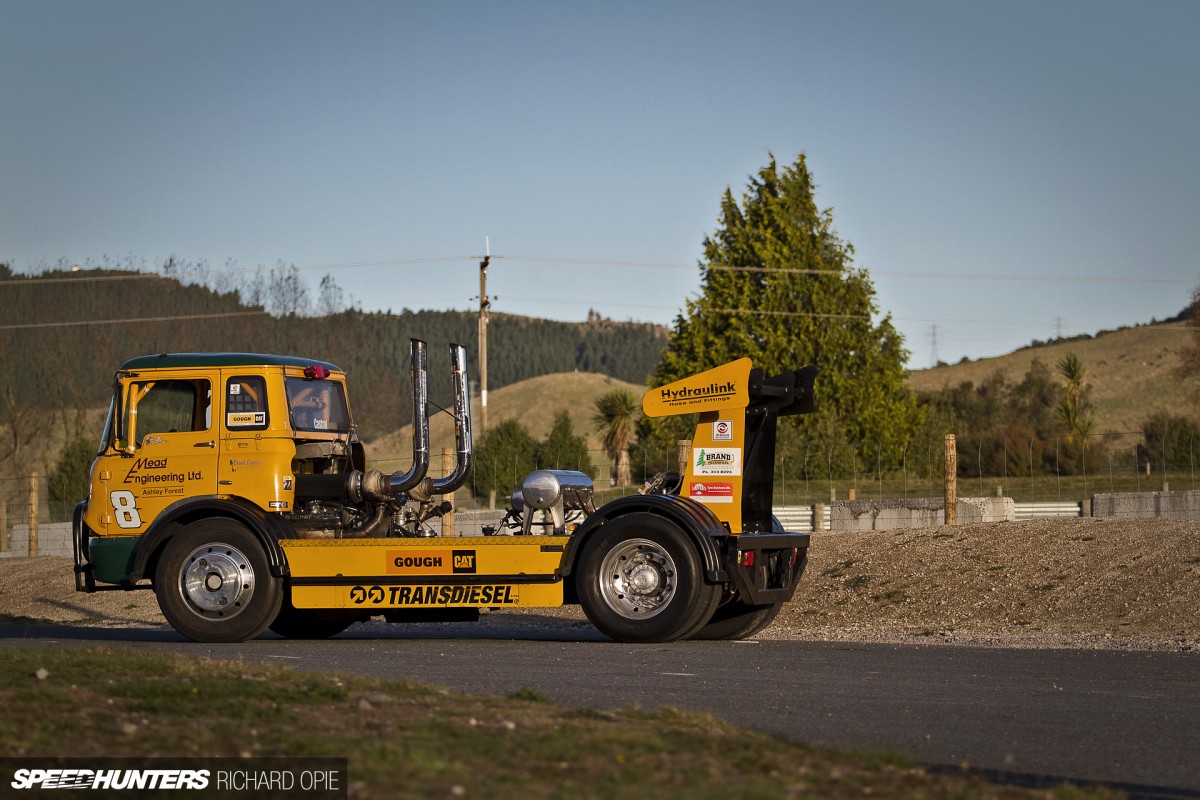 So, meet this 1975 Bedford KM, proudly campaigned by its modest yet quietly crazy pilot Tony Brand – a man who knows a thing or two about heavy transport due to conducting his day-to-day business in the logging industry. Back in 1973, this model was marketed by Bedford as their heavier duty option and featured a 7.6-litre in-house-developed diesel.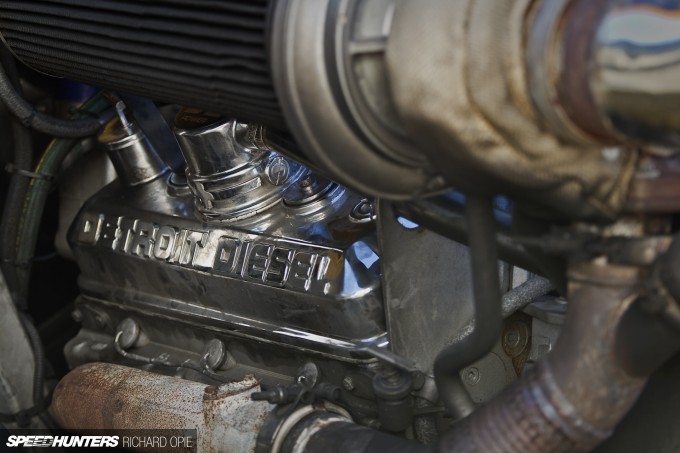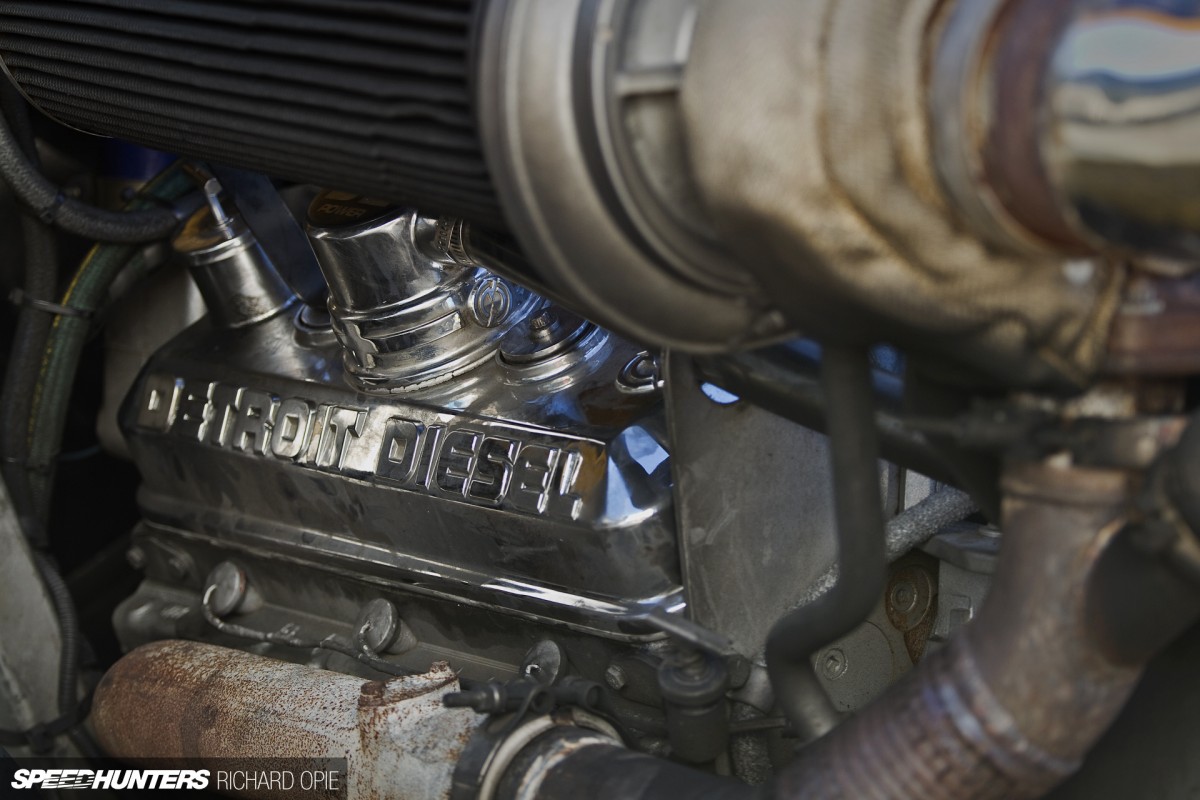 Sitting slightly aft of the front axle, Tony's truck finds itself motivated by a somewhat less modest Detroit 6V92T 2-stroke diesel V6, displacing 9.0 litres. While on the smaller end of the truck racing scale, the Detroit makes itself audibly known on track, paying clear homage to the 'Screaming Jimmy' nickname these hardworking engines earned in period.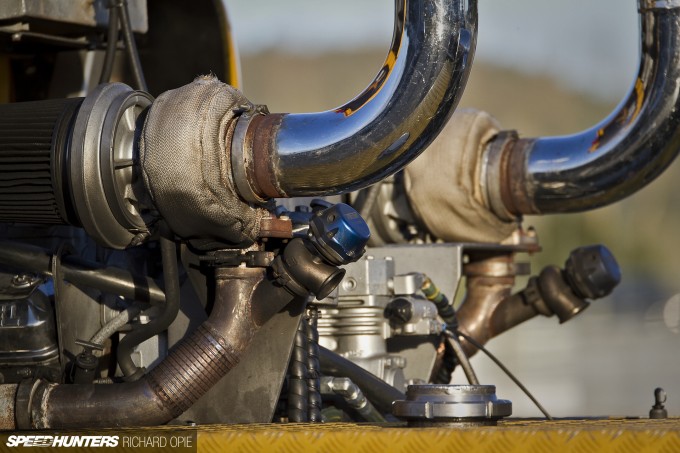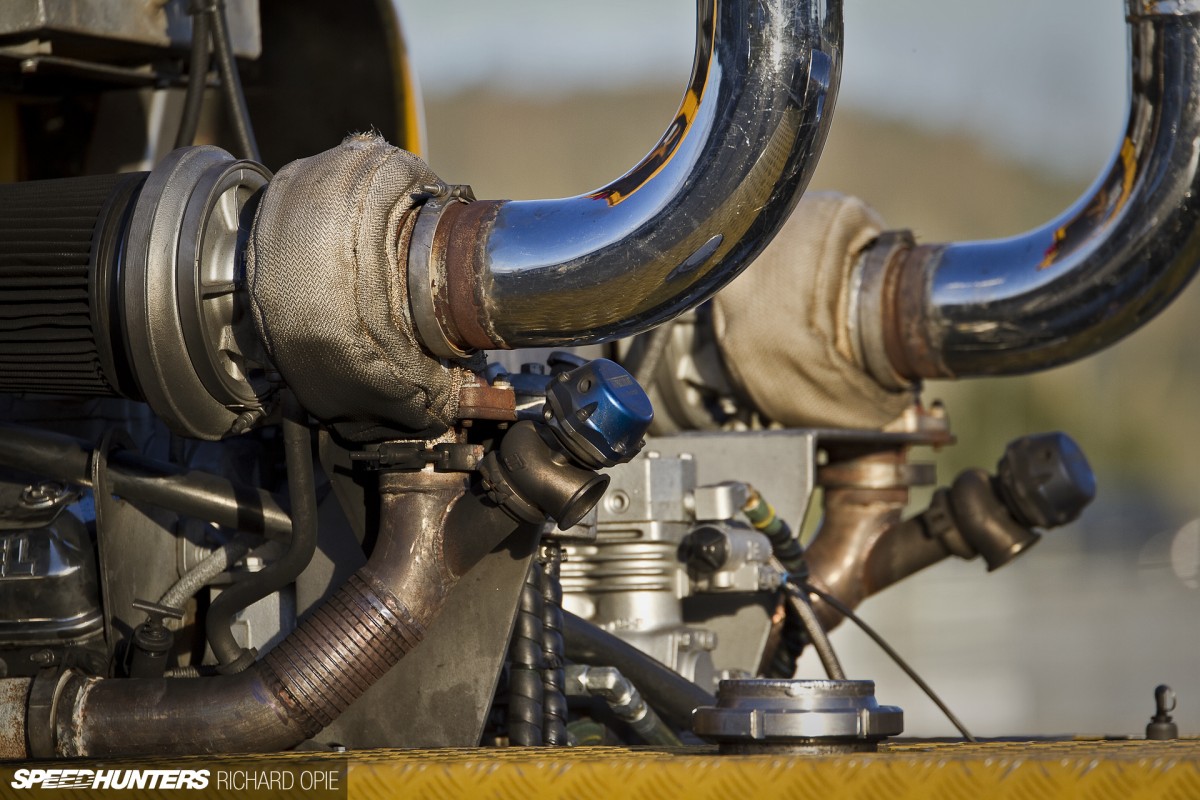 Like any race engine, the Detroit is built to spec – in this instance by a specialist diesel workshop. Internally, the 6V92 sees a set of shot-peened rods and a shot-peened crank, while in the name of keeping combustion temperatures down the chambers in the head and the tops of the pistons have been ceramic coated. Valves obey the commands of a custom cam grind designed to maximise torque a little higher in the rev range than normal.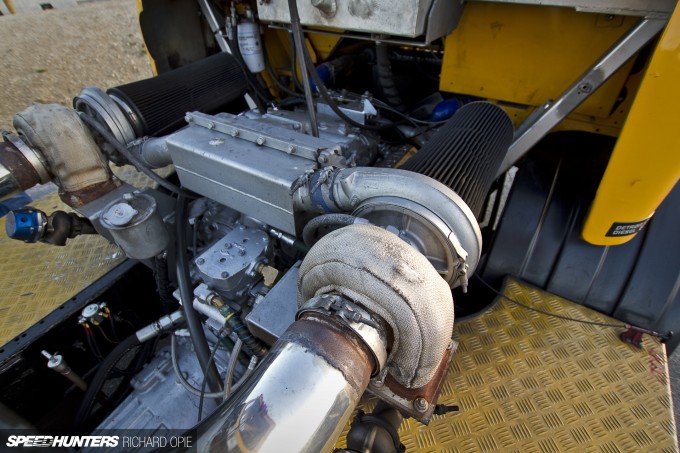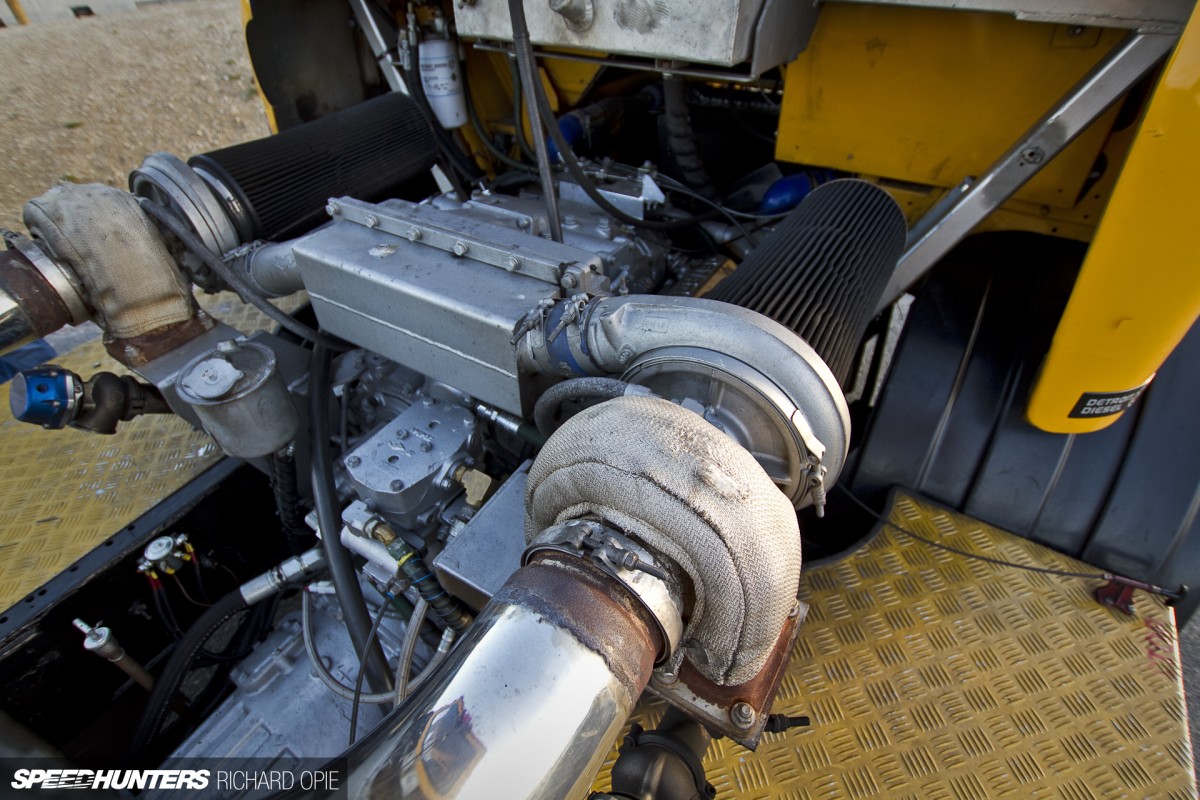 The visibly impressive intake side is where things get interesting however. Not only is the Bedford fed compressed air by a pair of whopping great 80mm BorgWarner S400 turbochargers standing proud behind the cab, but between the cylinder banks sits a supercharger. The blower acts until 2.000rpm when a pair of chokes open, bypassing the unit and letting the turbos do their thing supplying 38psi of boost right up to the 3,040rpm maximum – controlled solely by twin 50mm Turbosmart ProGate wastegates. To date, the motor's pumped out an unstressed 800hp at the crank on an engine dyno.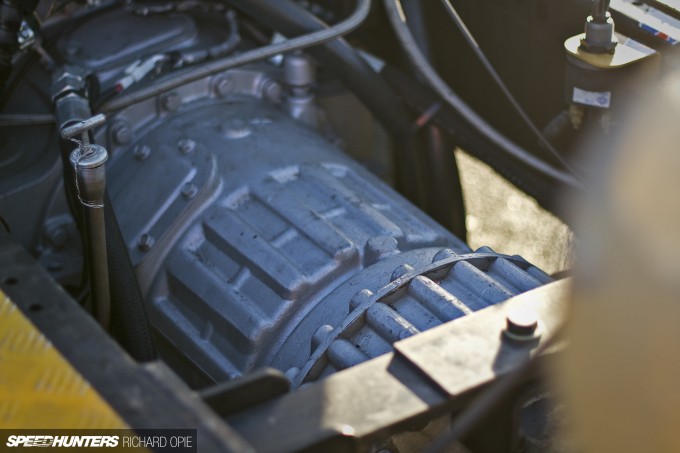 Twin 5-inch stacks expel clouds of black smoke, which Tony openly admits "are just for a bit of a show," rather than any particular performance application. Drive is provided by a 5-speed automatic Allison transmission, shifted manually, while a supersized Detroit locker ensures all four rear truck racing specific semi slick tyres hook up.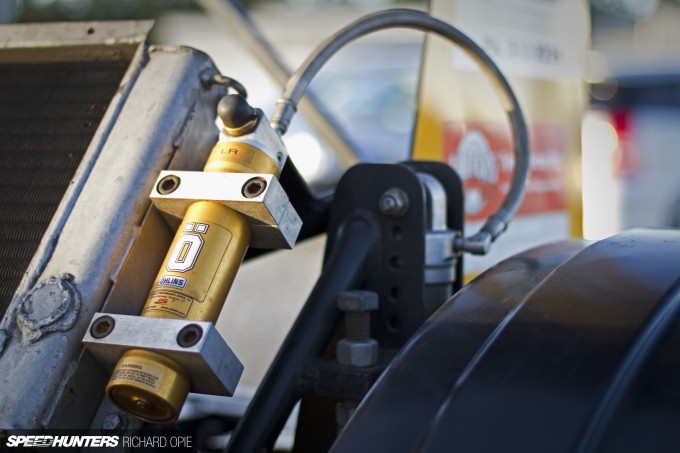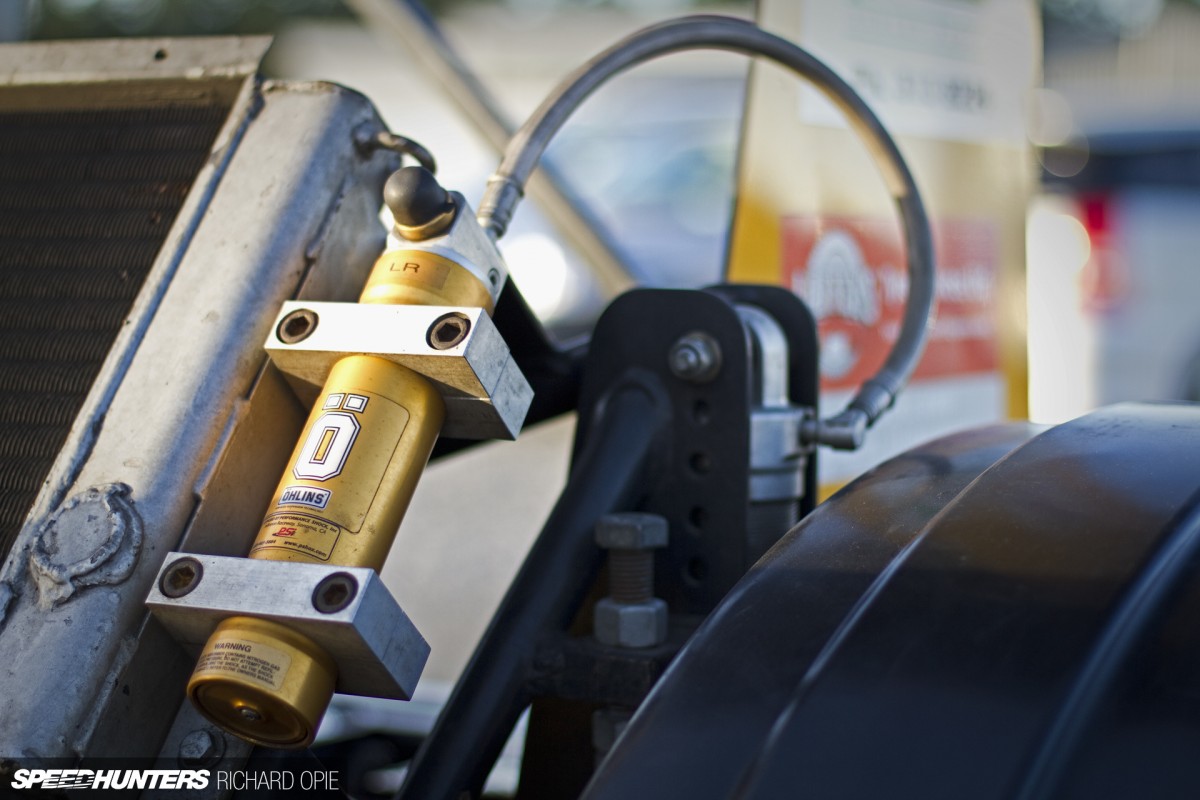 Casting an eye over the chassis, it appears that on the face of it the same principles apply as they do to race cars. Out the back, a set of adjustable platforms capture the locomotive-spec rear springs, with damping controlled by custom-brewed Öhlins remote reservoir shocks attached to an axle located by a jumbo 3-link and Watts linkage arrangement. A somewhat crude arrangement of leaf springs controlled by similar shocks keeps the front end pointed in the correct direction. Four wheel discs atop 10-bolt trailer hubs haul all 5 tons up.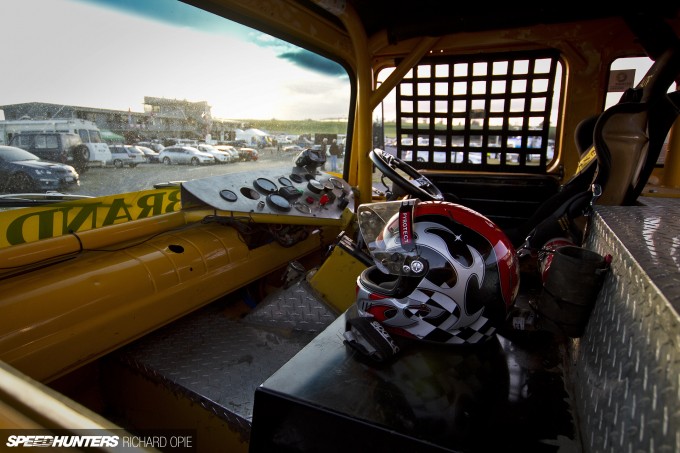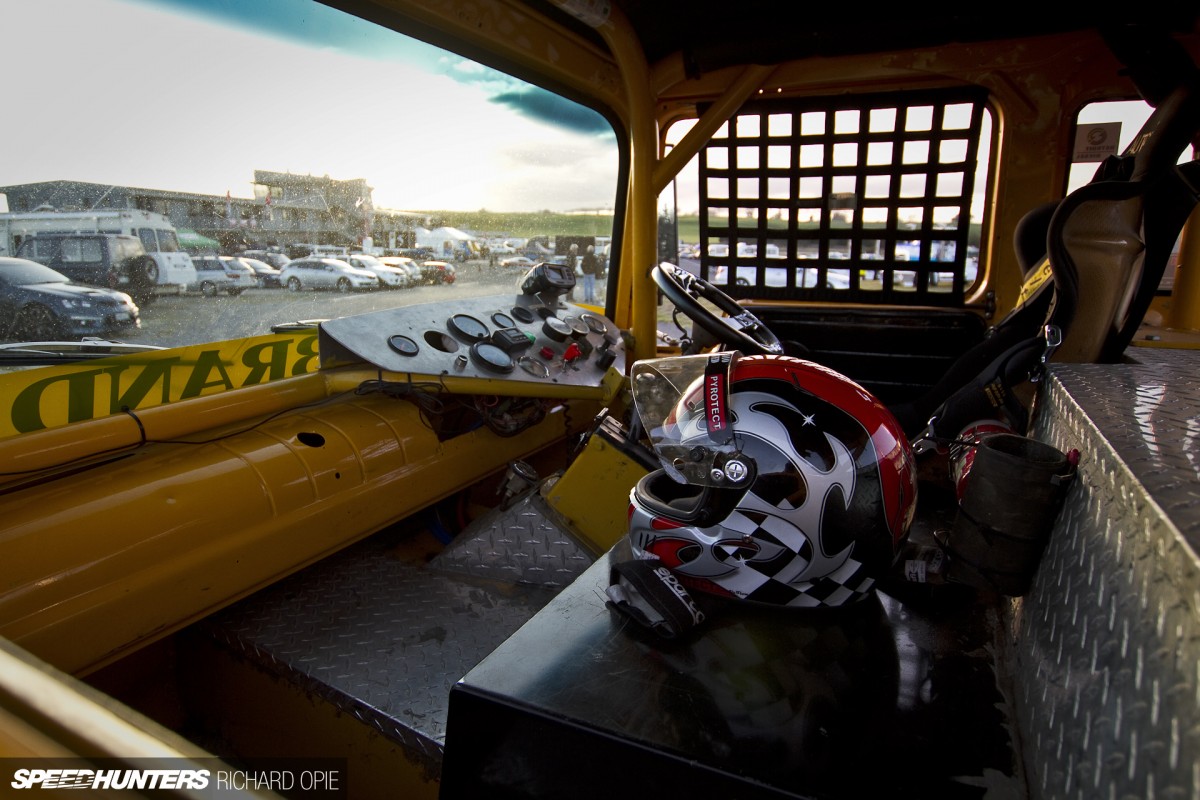 Like any race vehicle, the Bedford is strictly business inside with a mandatory rollcage and a myriad of gauges to monitor everything from boost to air pressure and everything in between.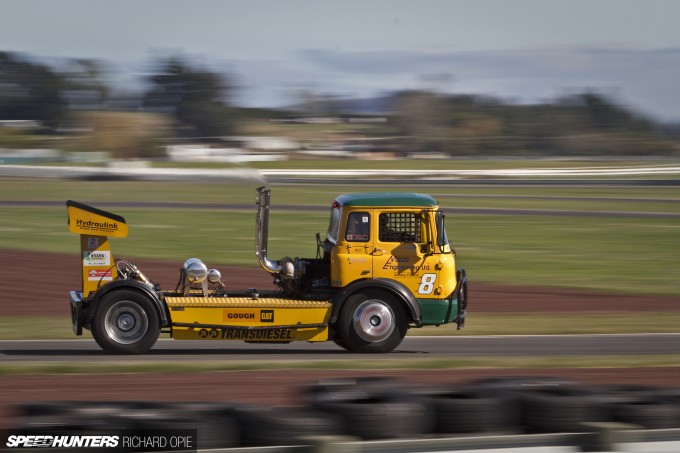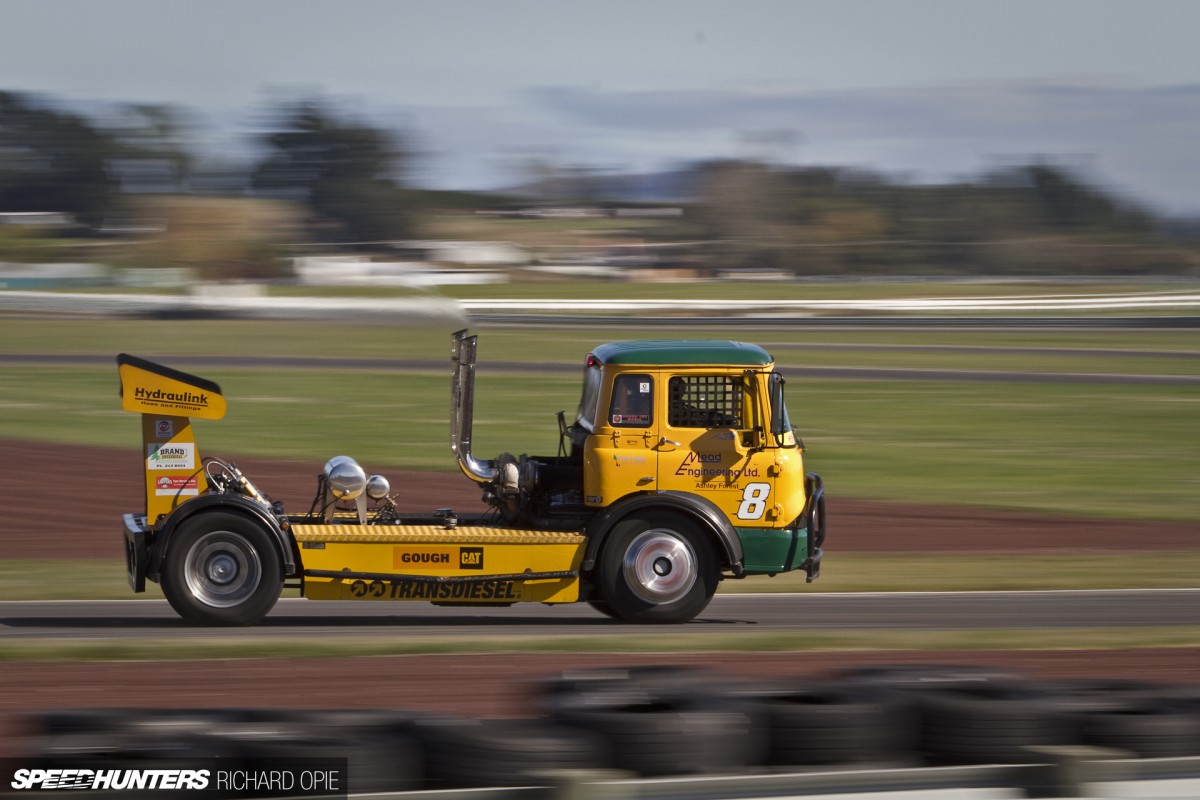 Finishing my short time with the truck, I took a moment to sit back and take it in… Was this really as good as it was all those years ago? I think I can answer a vehement 'yes' – especially given the technical understanding and appreciation of what it takes to manhandle a machine of this ilk around a circuit. The best thing? This has, so far, been Tony's first and only foray into circuit racing!
Richard Opie
richy@speedhunters.com
Instagram: snoozinrichy