There's probably not a single story left untold about the Nürburgring. I can only imagine anyone who's been lucky enough to visit speaks endlessly about it, simply because it leaves such a lasting impression on you.
I thought I'd seen everything at this track – from crazy accidents to unidentified concept car testing. I'm no stranger to witnessing my fair share of action in the German Eifel. This was until the Nürburgring 24-Hour came along – I was never able to get in there with accreditation until this year. I hadn't really prepared myself for what was about to happen, but it has become my backyard over the past few years, so how hard could it be?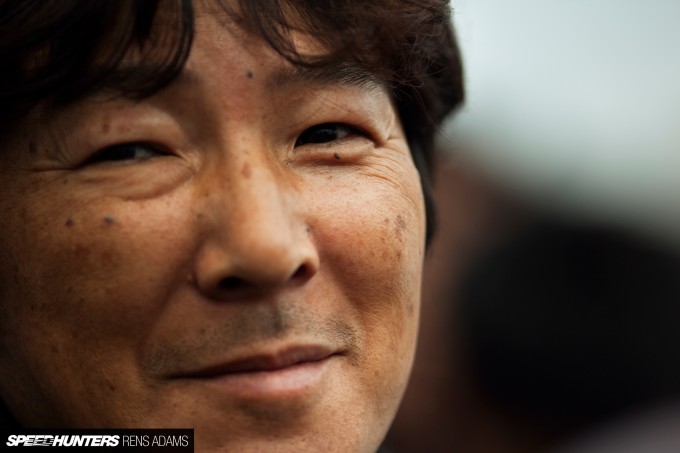 Drivers from all over the globe travel to this part of the planet to step into the most dangerous crucible and have a swing at it. It takes a decent pair to take on this track, because this place knows absolutely no mercy. We're not talking about first-timers here, but there are still major risks that come with the territory, no matter what level of experience you're at. This risk in particular is part of the joy we feel for motorsports.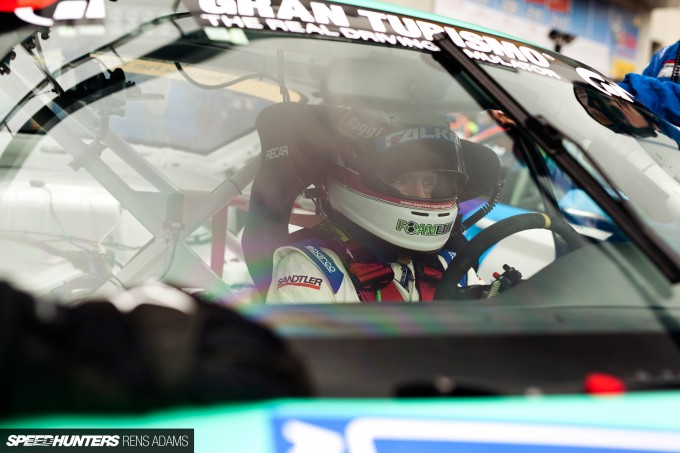 I thought the starting grid was going to be the most easy part of the coming 24 hours, but I was sadly mistaken. It's a complete madhouse, and those who were there with me know exactly what I'm talking about. I like to take my time to frame a portrait of a driver. I like to think I'm not the sort of person who fires at will and hopes there is something good between the shots. Visualise, compose and shoot – that's the way to do it.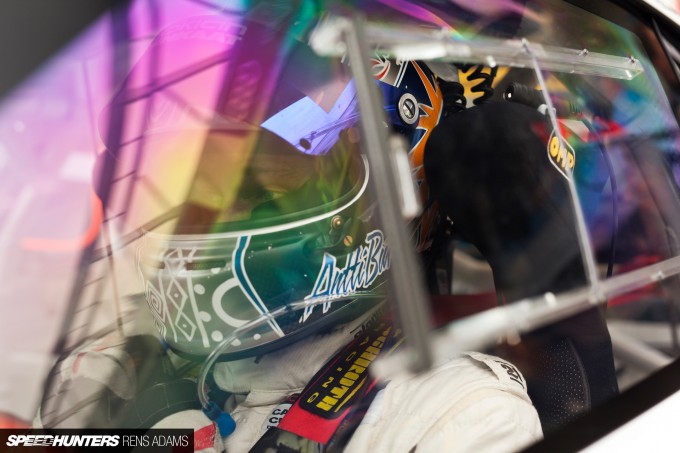 Luckily it's up to us photographers to figure out a way to stay true to our own workflow and style. With people pushing in your back, mechanics running around and marshals screaming and blowing their whistles to warn people, it's not the easiest way to work – but that's all part of the game we're playing. At this point it was less than an hour away from the start of the race, so I escaped the lunacy and made my way to the track.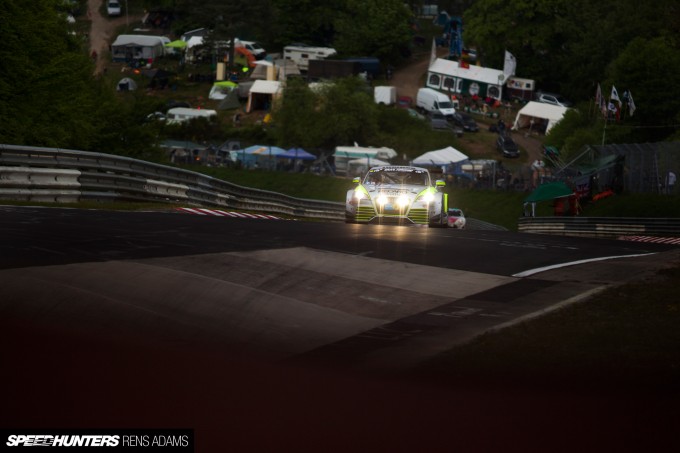 I honestly don't mind shooting with barely any sunlight at the 'Ring as there are a million ways to get an interesting shot out there. Who knows, perhaps the sun was shining bright on the other side of the circuit and other photographers were capturing completely different shots. I love that mystique of the track, as you never know what kind of situation you'll end up in.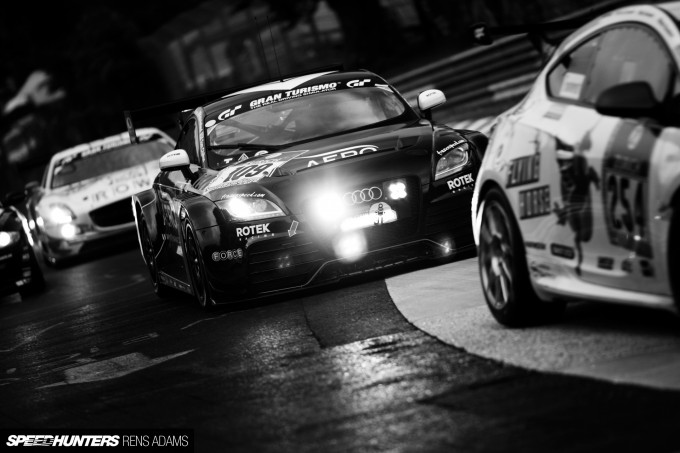 The famous Karussell must be the most notorious corner of the North Loop – the brutality you experience out there goes beyond your imagination. Drivers are dropping-in so close to each other that I was surprised I didn't see any accidents during the couple of hours I spent up there. I had kept the dark mood in my shots since the moment I stood trackside, and that darkness was reflected in the action on track too.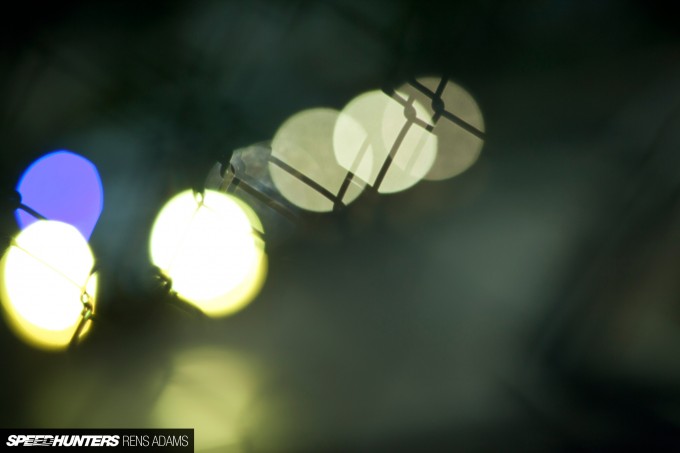 Even with the tiniest amount of light available, you can still play around and get nice results. I drove down the hills again and decided to make my way to Schwalbenschwanz to visit the small Karussell and play a little with light. It was funny to see how interested the marshals were in what I was doing. In my best German I tried to explain to them how a camera works.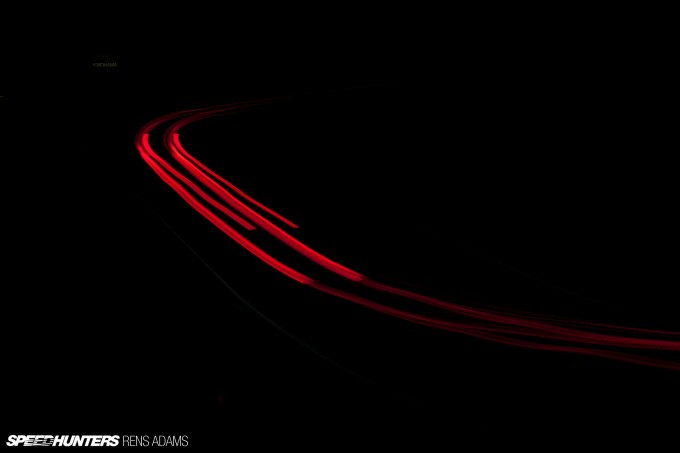 For some reason this is my favourite shot of the entire weekend, it's an untouched RAW file conversion as well. When I initially purchased my camera around five years ago, the first thing I did was to visit a local motorway and test how these light trails are captured. I don't recall doing these kind of shots much over the past few years, but I love how these came out. You can recognize the braking points before they take the turn to Döttinger Höhe.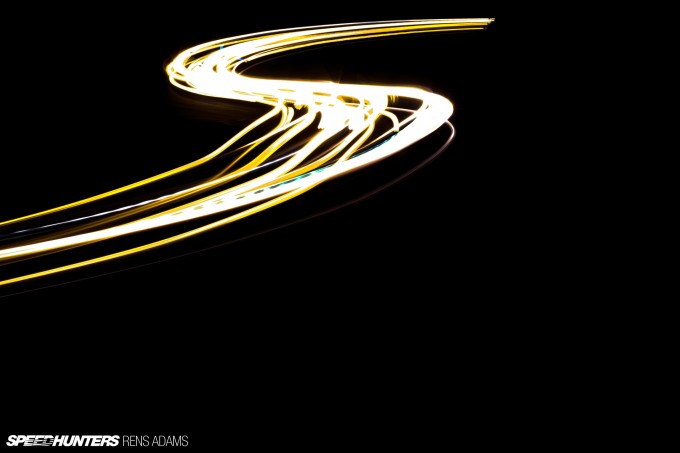 Around 1:00am I left the track to go to the media center as I needed to change my batteries and back-up all my photos on the laptop and USB. Wierdly enough, despite being awake from 6:00am the day before, I still didn't feel the need to sleep. At 3:00am I went for some dinner, because I could hardly call curryworst mit pommes breakfast, right?! I drove to the Brünchen parking lot to capture some more light trails in the darkness.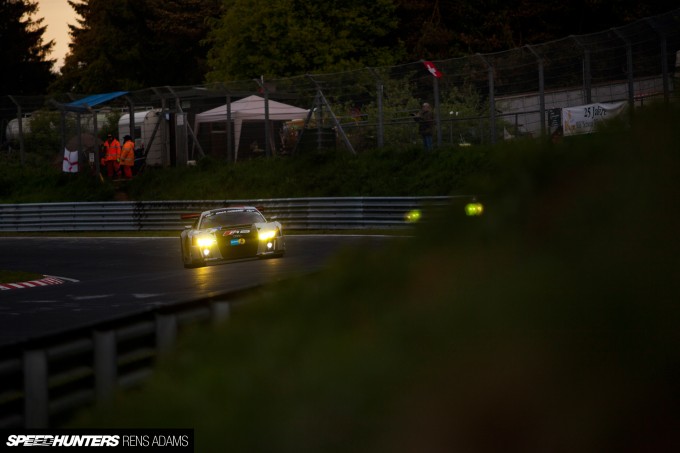 With the morning sun rising I decided to hike up to Höhe Acht, at which point I cranked up the ISO to 1600 and started taking a couple shots next to the track. Again, a couple marshals found it weird I was there so early and asked me what kind of photos I was taking. They even offered me some tea which was nice as it was freezing cold!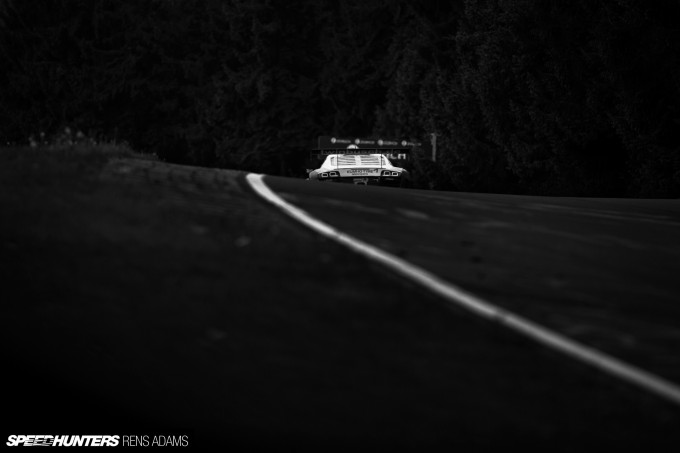 This is one of the part of the track that I love to shoot, simply because there are so many angles and different compositions to be captured. It's also a part of the track I know best, so I figured I'd hike back and walk to Pflanzgarten a part of the 'Ring which I don't usually go to often. I think it was an hour walk from Wippermann to there.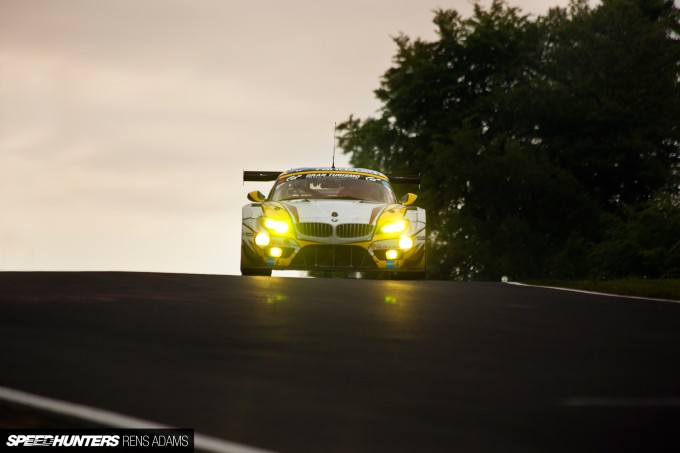 I like this shot in particlar because it was by coincidence that I noticed a potential photo location. I was walking next to the crash barriers and simply looked back and noticed the cars coming over the hill like this. I stopped and started snapping a few shots at this spot – I like it that there is no disturbance in the image, and that it's quite clean. It's pretty hard to find a new exciting photo spot like this but I'm happy I found one!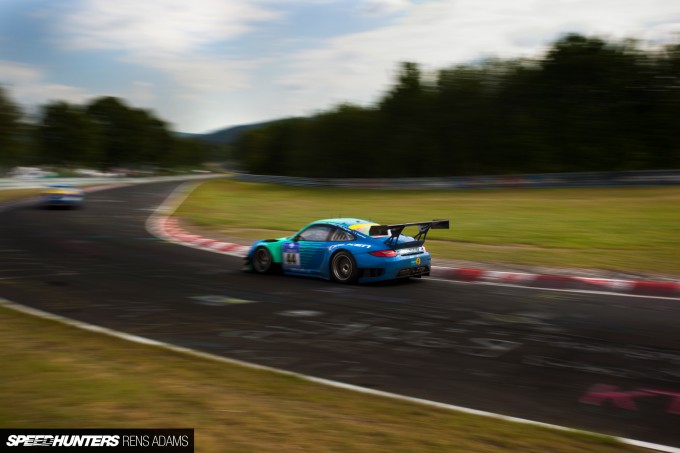 The sun was finally up and shining bright, the temperature went up and I could finally leave my two sweaters and windbreaker in the car for the remainder of the day. I picked the car back up at Brünchen and drove to Adenauer Forst. The natural light contrast was completely different from the dark mood which I'd experienced over the previous 20 hours, but it was a warm welcome.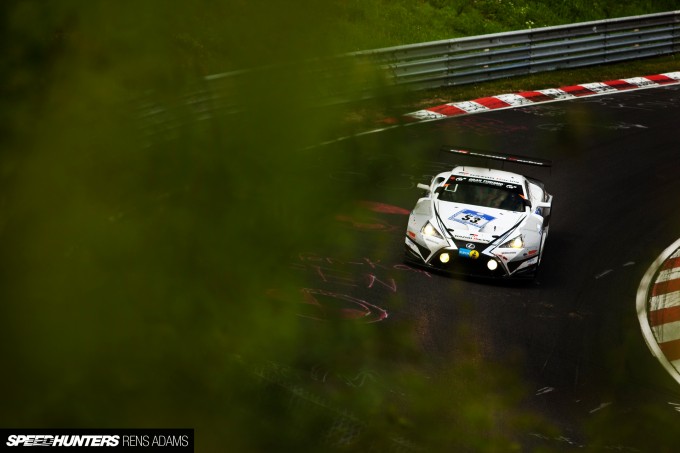 I did my last hike to Wehrseifen where I captured my final action shots. This was also the point where I started to reflect on the past 30 hours or so that I had been awake for. I had been working non-stop since the 7th of this month and I recall saying I'd be happy when it was the 18th because that would be the first day I was off again. I had been doing studio work and a wedding in the week before the N24 and couldn't have wished a better way to wrap up two flat-out weeks.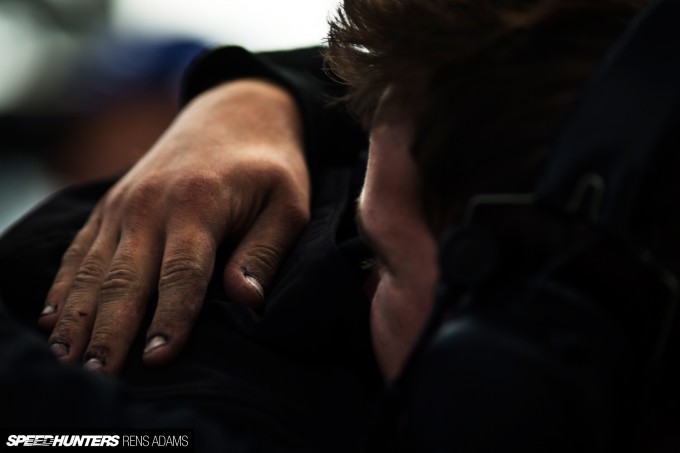 There are no losers in a battle like the N24, there are only winners in my book. The great effort that goes into this can only be understood by someone who witnessed it and experienced it. I thought it would be weak for me to go to sleep for a few hours – if these guys could stay up during this ultimate challenge, so could I. Long live energy drinks and long live the Nürburgring!
Rens Adams
Instagram: rensadams
Rens Adams Photography