Next up in our quickly-becoming-regular guest features, is Dutch photographer Rens Adams. Those of you who follow #IAMTHESPEEDHUNTER should be familiar with Rens, including some of his impressive black and white work. Take it away Rens…
Hi everyone! My name is Rens Adams and I'm a photographer from the Netherlands. When I was younger, I had no idea that by the age of 23 I would be a photographer and loving every single minute. In 2010 I decided to buy myself a Canon 450D and started messing around with it. Little did I know, that only a few months later, I would find myself in the classrooms of the Dutch School of Photography.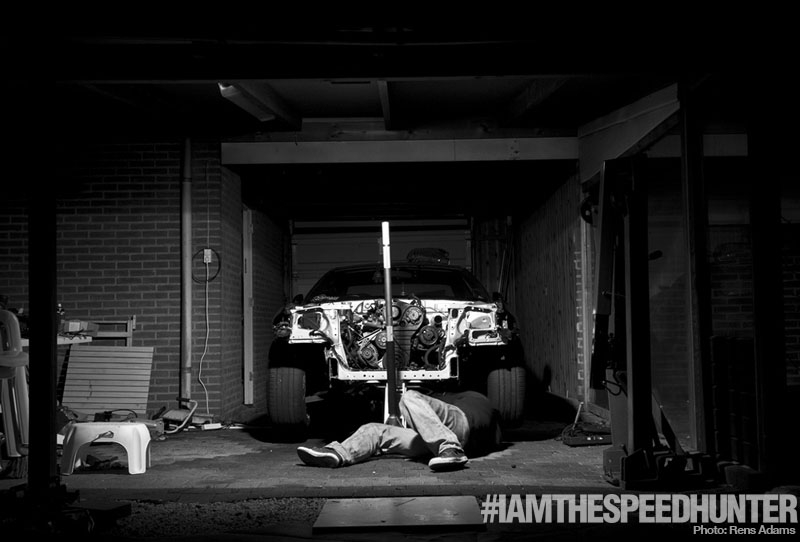 Something changed I suppose, I wanted to know everything about this light capturing business. My respect and attraction for art and photo techniques grew larger every day. I became very interested in the photography of James Nachtwey, Henri Cartier-Bresson, Ansel Adams, Richard Avedon, Linhbergh Nguyen and many more iconic lightcapturists throughout history.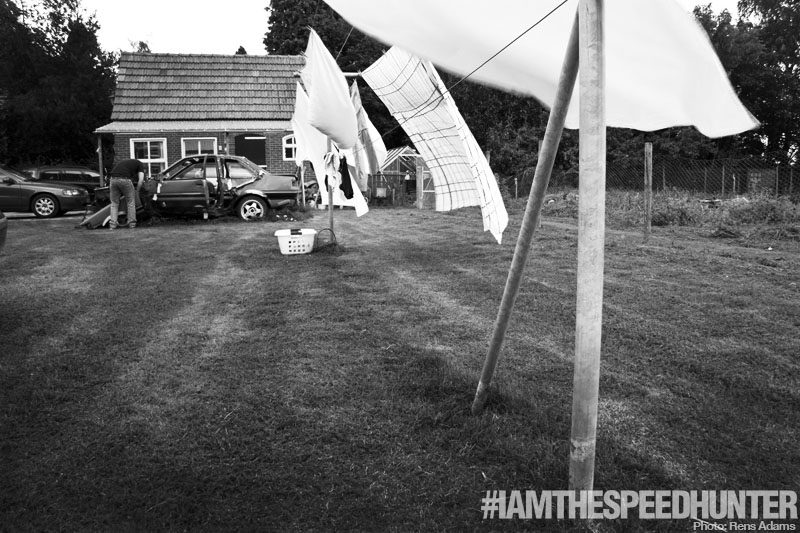 I finished my two year education with a photo-documentary about a group of people who live, what I call, a garage life. A life we all live in some kind of way. I tried to capture all the tracks we leave behind in and around our homes: messy garages, using SSR MkII's as furniture, storing parts in the bedroom etc. Think about it and you will find all kinds of absurd things in your home without noticing it.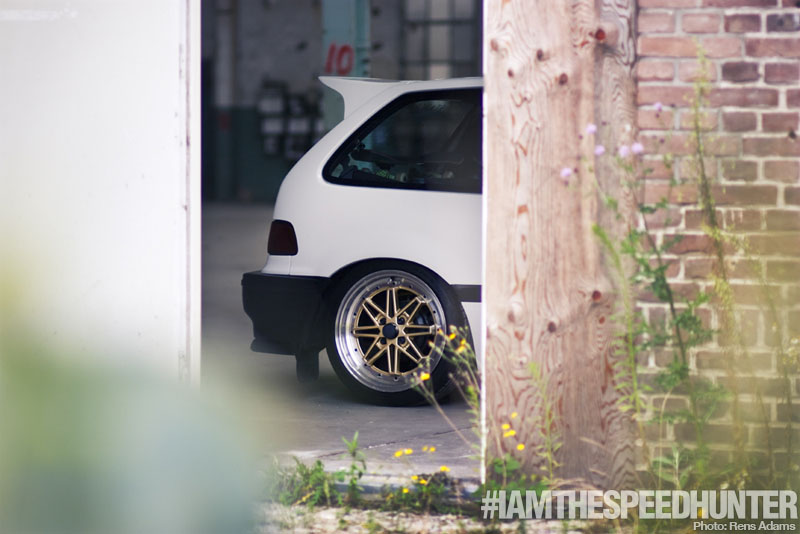 I'm a member of a club called Wangan Warriors and because we launched our new website in 2011, I started going to events and meetings on a regular basis to provide coverage for our blog. We represent a large community for Japanese car enthousiasts.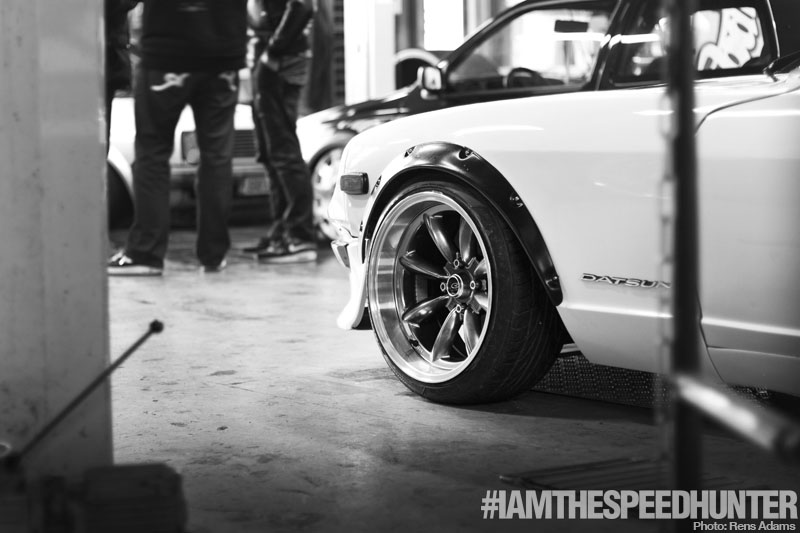 Although you don't hear or see too much from the Dutch car scene, I'm of the opinion that we have a pretty cool thing going on down here. This is Robin's Fairlady, he has just finished his project this winter and it will be an absolute eyecatcher this season!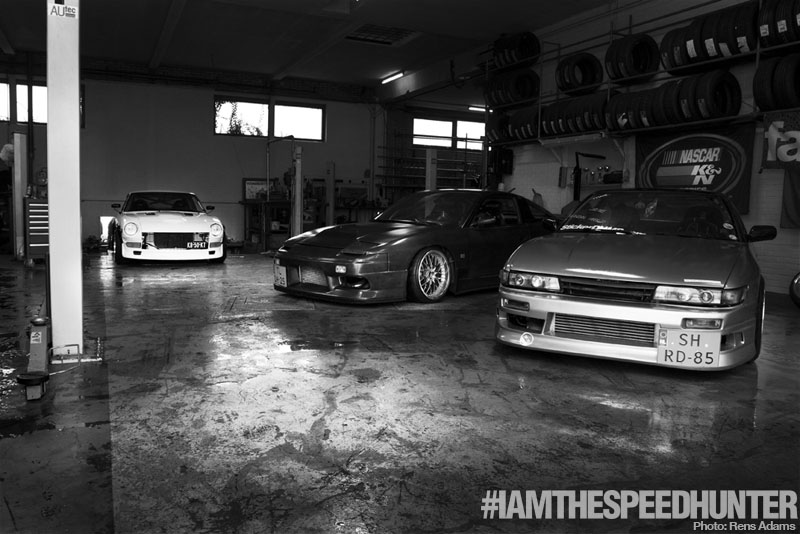 This shot was taken during a promotional meeting for DUMPd 2013. An event of biblical proportions which will be held for the second time on August 17th. This is a day I'm really looking forward to! The two S13s in this shot are owned by two very close friends of mine and are fellow club members.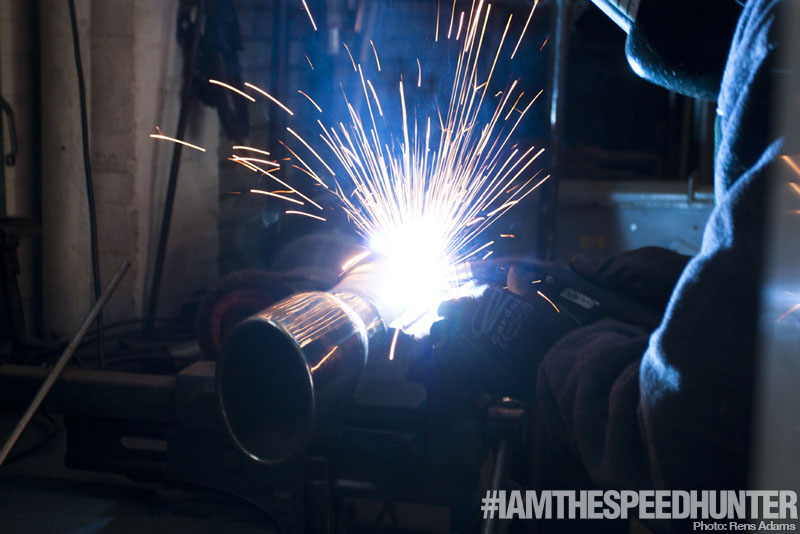 Most of the time while I'm shooting I try to pay attention to the details we normally don't capture. Most people carrying a DSLR tend to shoot cars without paying attention to light or the story telling details. I could spend a whole day shooting a welder doing his job and the passion he has for it.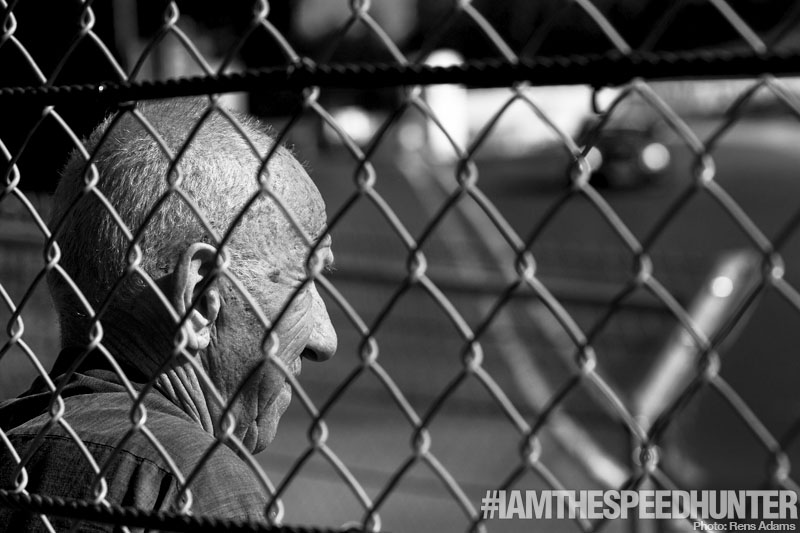 I'm a pretty fortunate guy for several reasons. First, my mother makes a killer spaghetti. Secondly I live close to many amazing places where I can capture lots of automotive stories. I spotted this man at the Nordkehre of the Nürburgring. He was just lingering by the track for his own pleasure, as was I.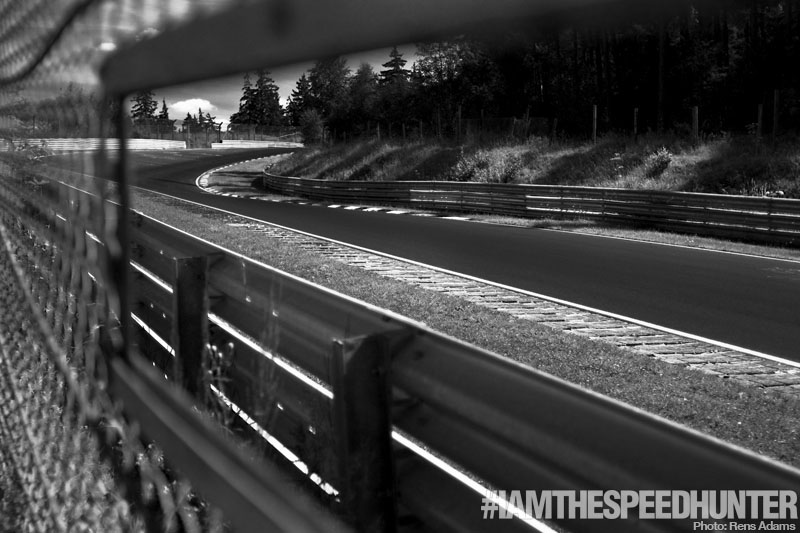 The Nordschleife is an amazing place and I'm fortunate enough to live only a 1h20m drive from it. I don't think there is any other place on the planet that would have such an impact on me.
Another great place to shoot is the Zandvoort circuit. Its scenery and beauty keep surprising me every time I drive to the Dutch dunes.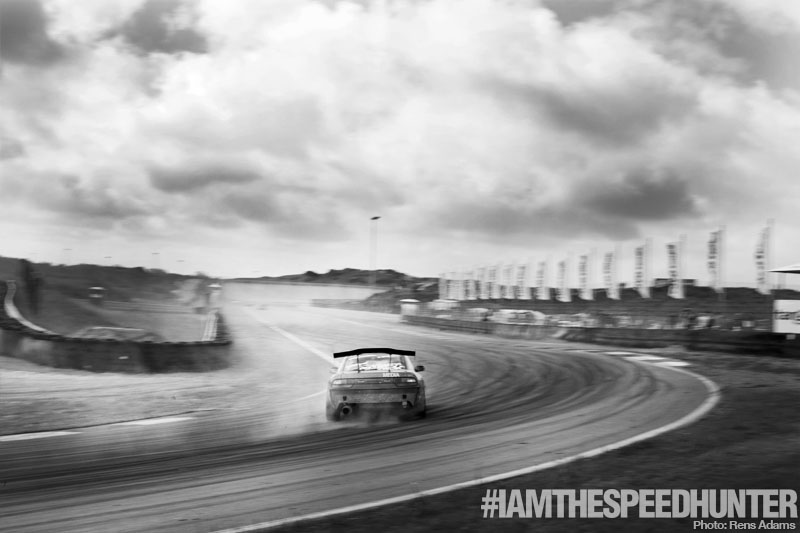 This is Dutch drifter Mick van Randeraat going sideways on the Zandvoort circuit. At the moment I took this shot, we didn't know each other but we're both pretty active in the scene. Just a few weeks ago during the DUMPd promotion meeting, we became acquainted and he kindly thanked me for this shot, which he spotted a while ago on Facebook.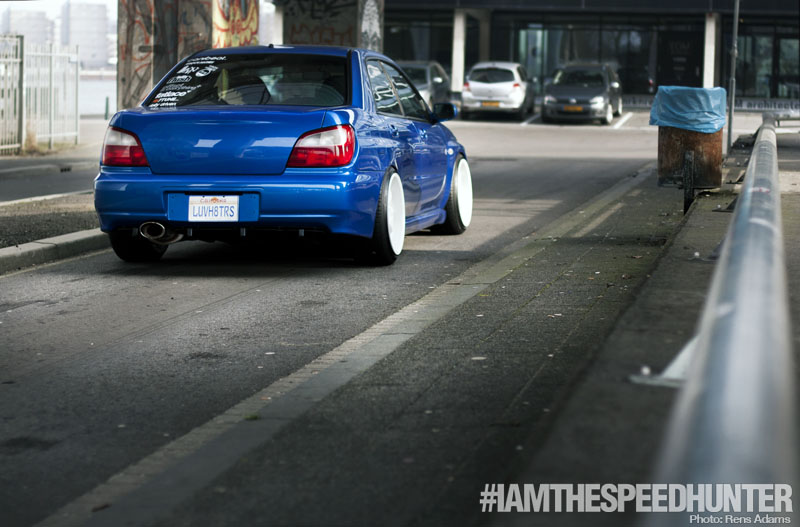 Every once in a while I do some static shoots. This bug-eye Impreza looks dead gorgeous on those fresh 18×10 Work Emotion XD9s. The owner, Gerben, is a real family guy and always supportive and enthusiastic to the scene and I.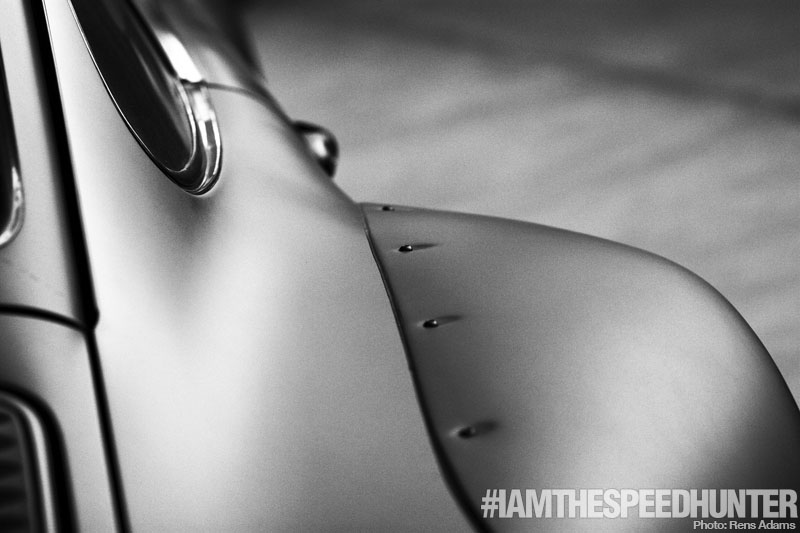 I love the lines of the VAD Revenger.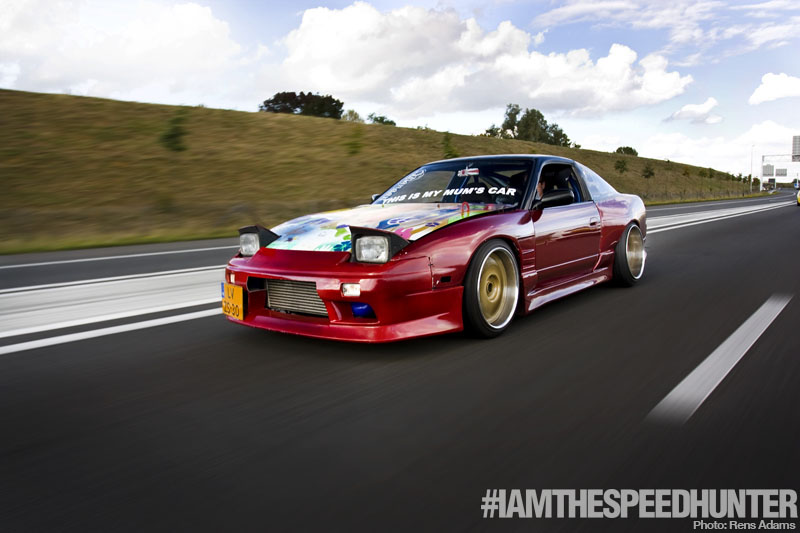 This is Noud's wide body S13. This is the first street legal RB25DET powered 200sx in the Netherlands, so it has some historical value to our scene if you ask me. You must notice that multi coloured bonnet and have questions about it. Our whole club painted some personal messages and drawings on it. This S13 turns countless necks as we drive through our hometown.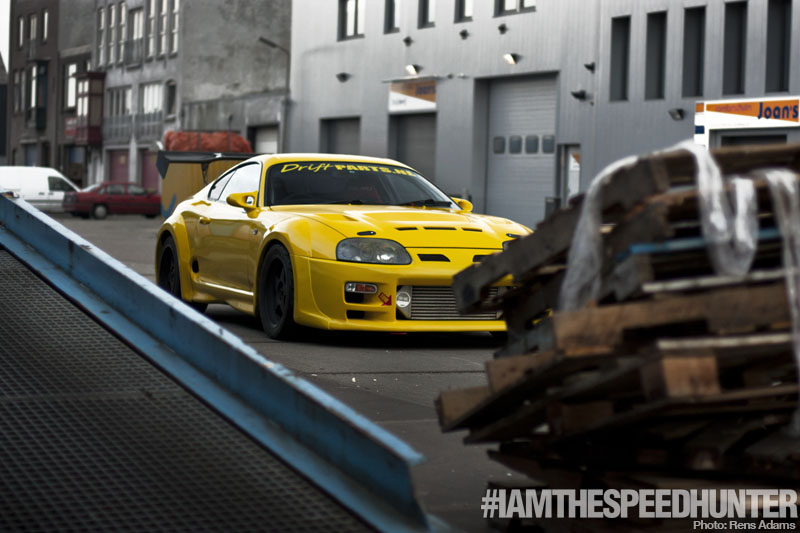 Me and the owner of this Supra. Tim Lust, have history. We've been trying to get together for a long while to do a photo shoot of this machine. Once we did, but it was a crappy day to shoot with bad light in a bad location and I wasn't feeling it so we buried the files. This week we met up again in the harbour of IJmuiden and finally had the chance to capture this 600+BHP banana.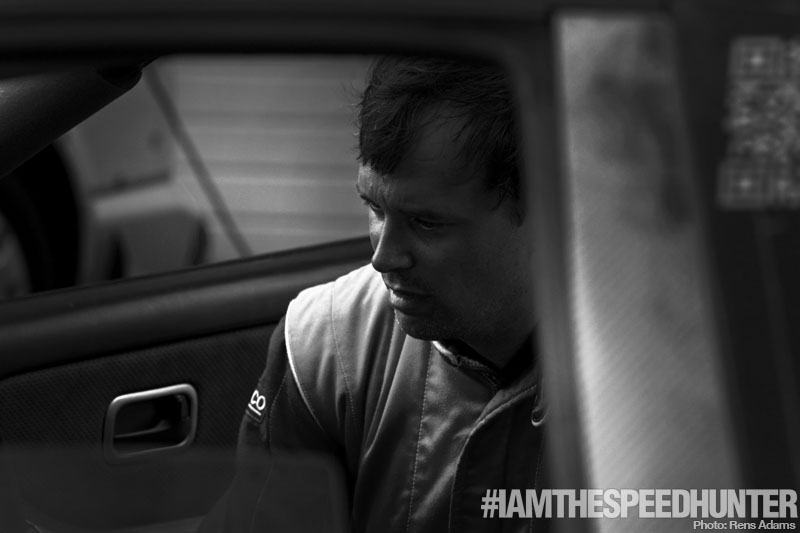 When I'm shooting track this season I'm going to pay extra attention to the people rather than the cars. I have the idea of making a series about the people we usually only see rushing by at high speeds. But there is more going on behind those visors.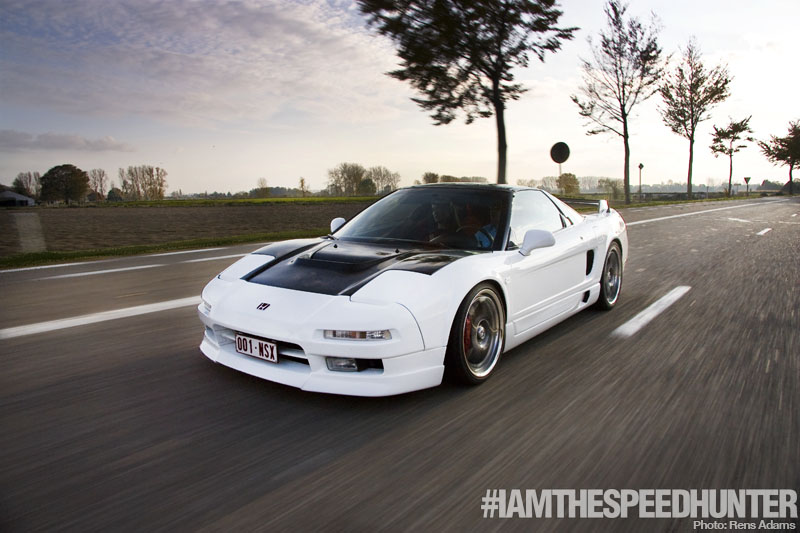 I live close to Belgium as well, and this NSX is their country's #1 head turner. The owner Eric Ooms has great taste as you can see.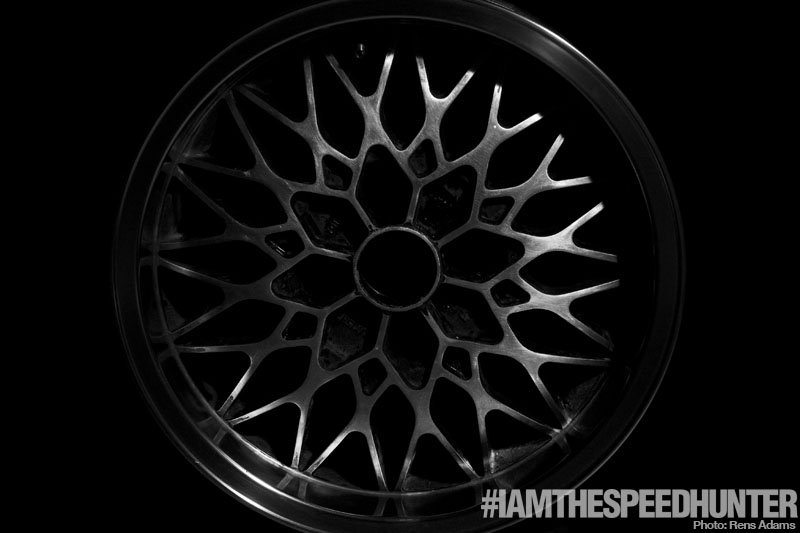 I don't own any strobist sets or other external flash systems. This shot might look like I used studio light but the fact is, I only used the led light of my iPhone. It's easy, turn off all the lights in the room, set a product in front of a black panel and set your camera on remote with a shutter speed of a couple of seconds and be creative. It's fun!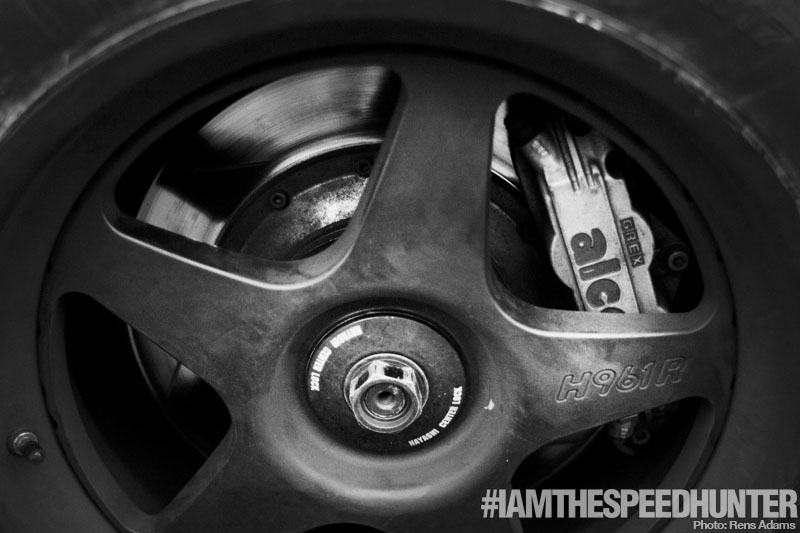 As you can see I prefer black and white photography. It just has more impact to me and I express my style better that way. Maybe one day I will only shoot B/W. I have the feeling that I've been to so many places and already shot a lot but I'm just getting started.
I would like to thank Speedhunters (Paddy) for offering me this guestblog. I'm very grateful!
Shoot and drive safe everyone!
–
Rens Adams
Wangan Warriors 
About #IAMTHESPEEDHUNTER
We created #IAMTHESPEEDHUNTER to allow you the opportunity to share your skills and car culture experiences from around the globe with the rest of the Speedhunters audience.
How do you get involved? It's simple…
Flickr - Join our #IAMTHESPEEDHUNTER Flickr Group and share your favourite photos with us and others.
Instagram – Follow us on Instagram at @TheSpeedhunters and tag your own car culture images with #IAMTHESPEEDHUNTER
Twitter – Follow us on Twitter at @SPEEDHUNTERS and share your tweets with the #IAMTHESPEEDHUNTER hashtag.
Tumblr – Visit our Tumblr page to view the latest #IAMTHESPEEDHUNTER tagged images.
E-Mail – If you've been to a cool event and captured some amazing images, be sure to e-mail them to us on iamthespeedhunter@dev.speedhunters.com and tell us a little bit about the event. The images need to be a minimum of 800×533 pixels.
Have you submitted already but yet been featured? Here are some tips to help you…
DO – Submit your best work, regardless of when it was taken.
DO – Take your time shooting and consider each detail
DO – Try to submit each image no larger than 1000PX wide.
DON'T – Put a huge watermark on it. We'll make sure you're credited!
DON'T – Send us huge image files that kill our e-mail system!
日本のSpeedhunters読者にお知らせです。
Speedhuntersでは、週一回#IAMTHESPEEDHUNTERにて、読者の皆さんから寄せられたカーシーンの投稿写真を紹介しています。
投稿写真は、カーレース、カーショー、イベント等、車に関するものならなんでもOKです。
Speedhuntersで皆さんの撮ったカーシーンショットを世界中のファンに紹介して、あなたもSpeedhunters記者の仲間入りしましょう!
#IAMTHESPEEDHUNTERには、ツイッターかインスタグラムにて簡単に写真を投稿していただけます。
上記方法で写真を投稿する際は、写真に#IAMTHESPEEDHUNTERのハッシュタグを付けてください。
また、メールアドレスiamthespeedhunter@dev.speedhunters.comでも投稿受付しています。
写真は、800×533 ピクセル以上のJPGのフォーマットでお願いします。
上記サイズより小さい写真ですと、すばらしい写真でもサイトの写真サイズの関係上掲載できないことがありますのでお気をつけください。
投稿された写真は世界中のSpeedhunters読者とシェアされますので、あなたのベストショット写真を投稿してくださいね!
また、写真に併せてどういった写真なのか、どこで撮られた写真なのかの説明と投稿者様のお名前を明記の上投稿お願いします。
皆さんからの投稿お待ちしています!