Slant Style
There are always certain cars that stand out at shows. The reasons why depend on the frequencies of your own individual 'car radar': a particular make for instance, a shiny engine bay or enormous turbo, an outrageous body kit or rare instance of a classic. Then there are cars that stand out on track; it could be the sound, the poise through corners or the obvious commitment of the driver inside.
What's less usual is if the same car figures in both dimensions. That's what you've got here: a MkII Ford Escort RS2000 that shines like the sun yet howls like a demon when it hits the track.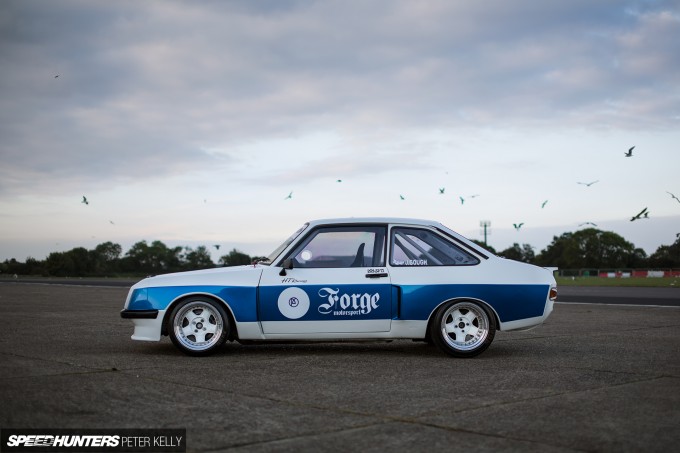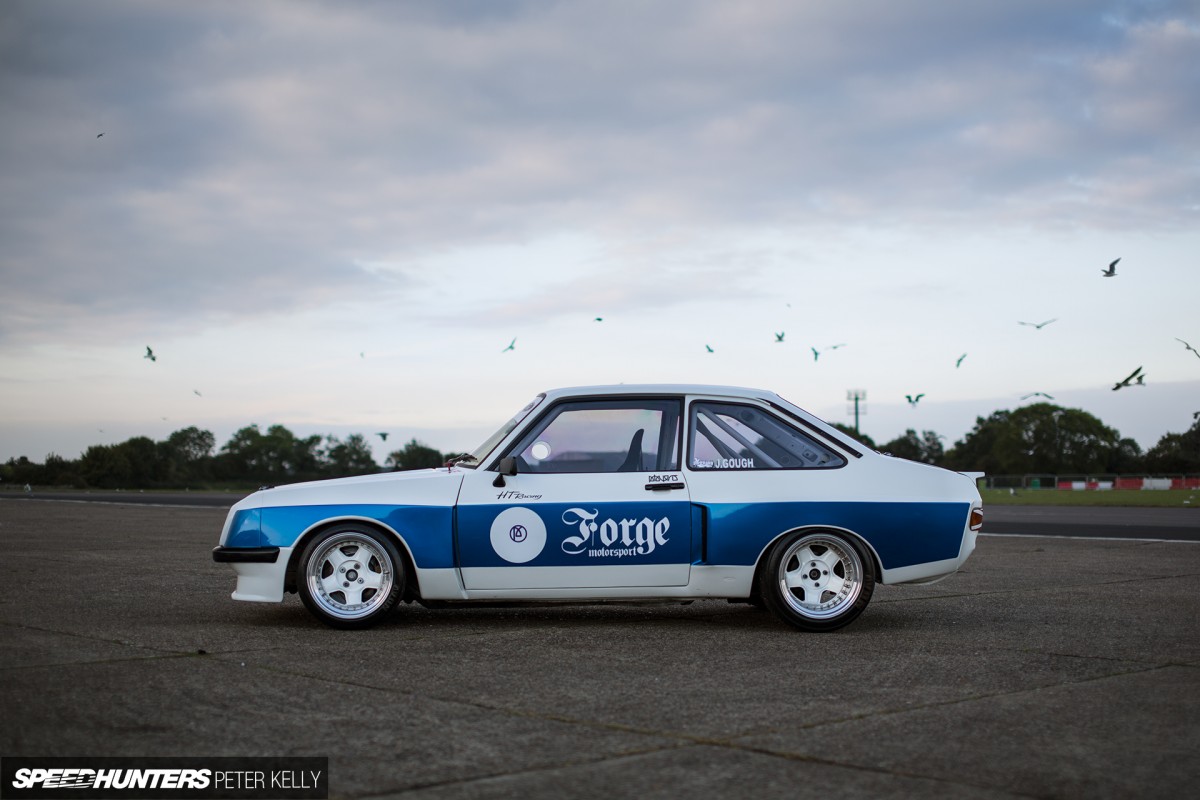 On my own personal car radar, hot Fords will always trigger a massive signal return. It's a family thing, typical of most marque adherents, that figures lowered and tuned Anglias, a Capri, Fiesta XR2 and 2.0-litre Sierra on my parents' driving list. But the force of Escorts was strong in me. The first family Ford I was bundled into was a humble MkII Escort, and I remember being left slack-jawed after a ride in a MkIII Escort RS Turbo. The wheel-spin that continued gear after gear and the smoke we left in our trail, the turbo pressure gauge going wild and the (for the time) face-melting acceleration.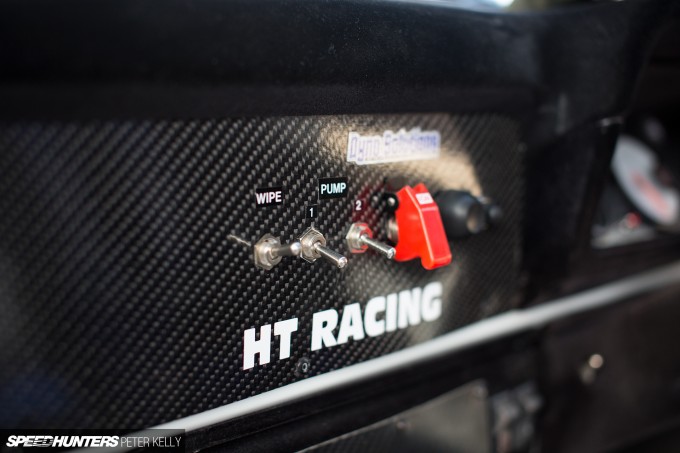 The owner of this particularly potent MkII, Jamie Gough, had a similar introduction to his Ford education. One of his older brothers owned an RS Turbo – one of three specially blueprinted by Ford Motorsport, and competed in various national race series for Fords. Their group of friends formed HT Racing, which included Ford engine specialist Aaron Tucker, and even after his brother stopped racing Jamie continued to hang out with the team as they raced around the place.
Nine years back, the inevitable happened. At HT Racing headquarters with a friend who was looking to buy a car, Jamie spotted this Escort, also up for sale as a part-finished project. That was that – the car was bought there and then.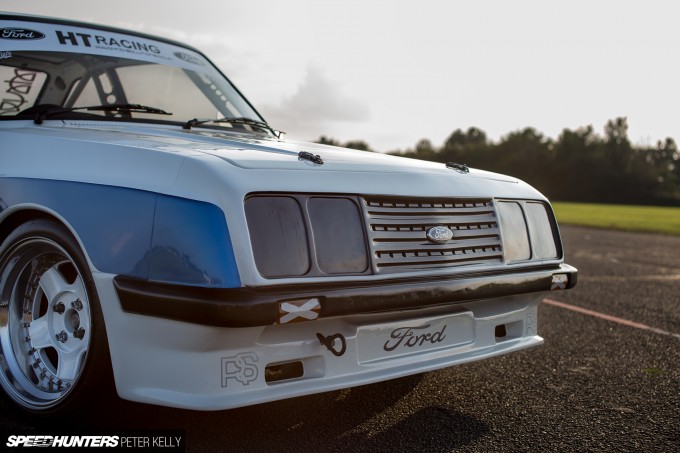 It was originally a straight-up road car, but had been converted for racing. The log book showed that it was delivered new as a Pinto-engined RS2000 – one of Ford's classic slant-nose specials. The strengthening in the engine bay backed that up, but it had been temporarily converted to a flat front and nose-coned to save weight. It had also been fitted with a 2.1-litre Pinto, but the project needed serious tidying up, painting, and new wheels.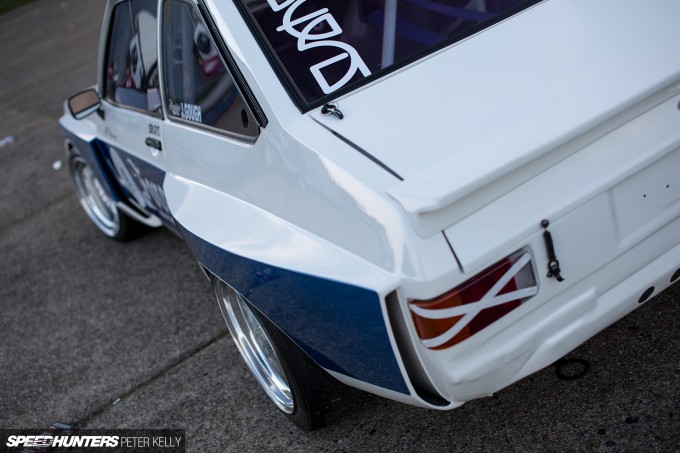 What you see here is the latest evolution in a process that started almost as soon as Jamie got his hands on the car. Restoring the slant-nose look was just the first step. The original X-Pack wide-body kit, complete with its Ford badges, is still recognisable, but it's been gently teased out inch by inch.
Jamie might nonchalantly use words like 'chopping' and 'playing about', but the end result shows that's being beyond modest. Working with his paint-shop colleague Kevin, each panel alteration has been meticulously finished – which is where the perfectionist, show-car finish to every performance modification becomes clear.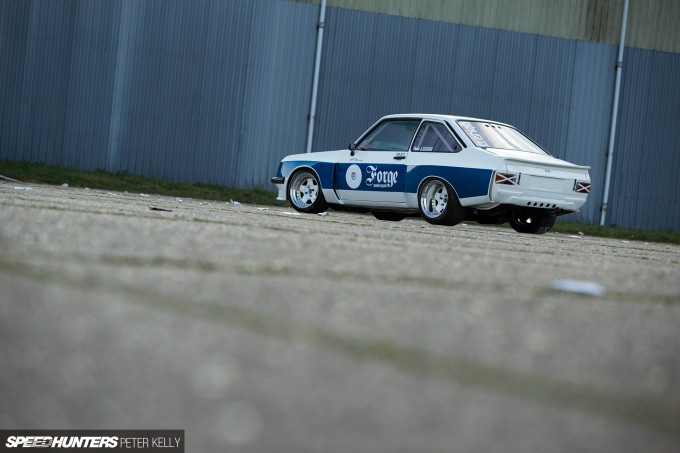 The attention to detail means that Jamie's subtly muscled up the poise of the car without compromising an authentic RS2000 look. From the side, you still have the instantly recognisable, sharp lines of the MkII, just sitting considerably lower and more aggressively than standard.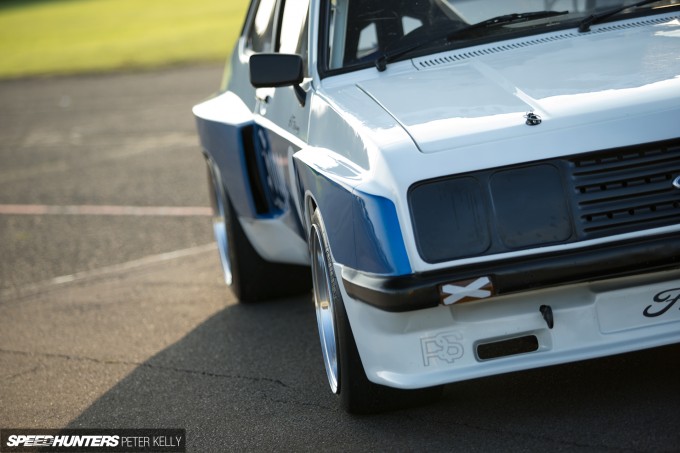 It's only from certain angles where you can see just how much the arches have been pushed out. It's about 2.5 inches wider out back, and he's in the process of applying a similar anti-diet to the front fenders. That's allowed a much wider rubber to be bolted on: now 12.5-inch rears where originally there were 10-inchers.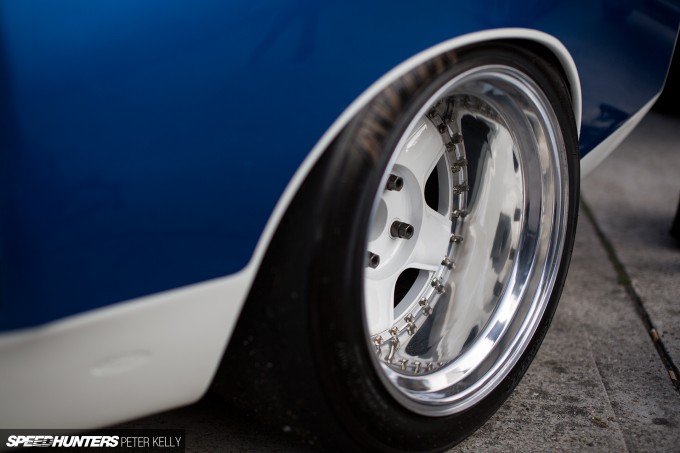 The wheels are from Image, 3-piece split rims with IFX centres. The centres used to be black, but the white works with the car's more street style. I'm not sure if this Escort is a sleeper racer or a sleeper street car – it works on both levels.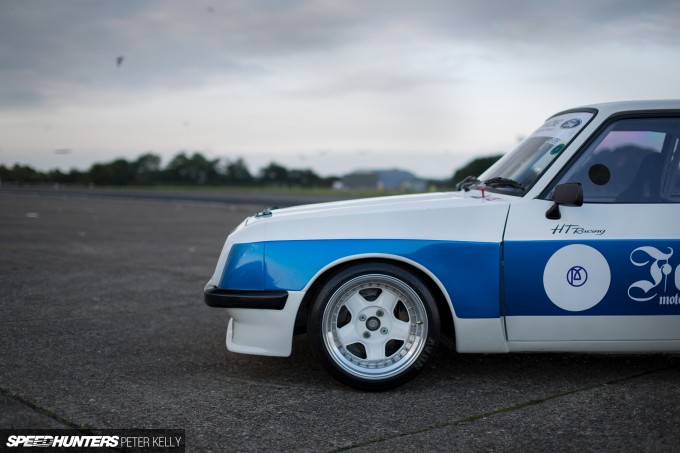 The well-meaning devil on Jamie's shoulder is called Adrian Hall, he of the wild flat-nose MkII that can be considered almost the older, brasher sister to Jamie's car. Jamie talks about Adrian with a chuckle, explaining the exuberance of the latter and how he has to resist Adrian's urges to go full-on, attack-ship-on-fire with his own MkII. The two work closely together: Adrian's helped out with a number of aspects on Jamie's car, using the expertise he's built up over the years.
There's no either/or reaction here. I love that Adrian's Escort has metamorphosed into a carbon-laden space frame rocketship (as does Jamie himself), but I also love Jamie's restraint and will to keep his car within far more subtle boundaries.
Performance Priority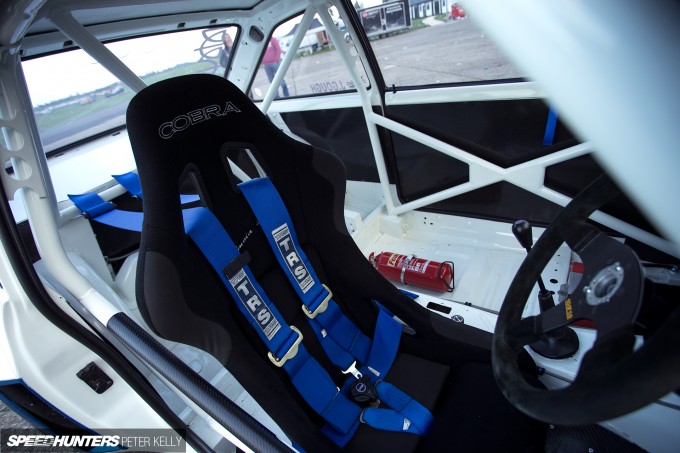 Last year saw a major step change, with the car stripped back for a complete interior refit. That was one of the times where Adrian's mischievousness came to the fore: the extent of the work made Jamie take the plunge of swapping the original battered steel roof for a carbon panel. It's a scary thing to undertake, so with Adrian's willingness to wield the cutters Jamie sent the car over – only to be gleefully sent a picture of his brutalised car with the top cut off…
Of course the end result is perfect, the new roof seamlessly let in and saving yet more precious kilograms.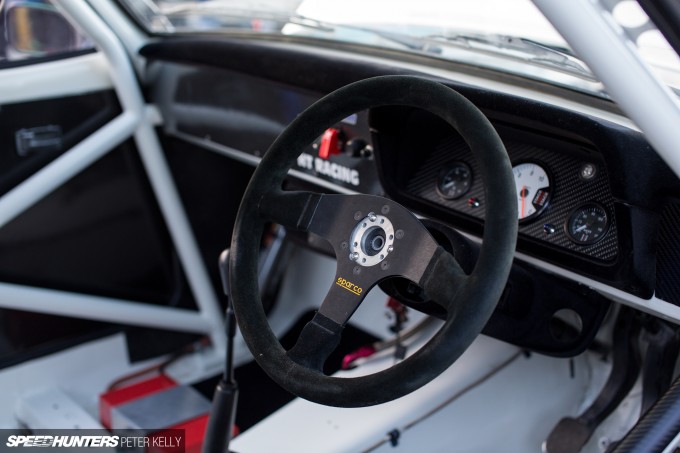 Add that to the fibreglass bonnet, boot and fenders, plus the polycarbonate windows, and you end up with a car that's thought to tip the scales at barely 800kg. When we talk about the engine you'll see just why this car is such a demon on track.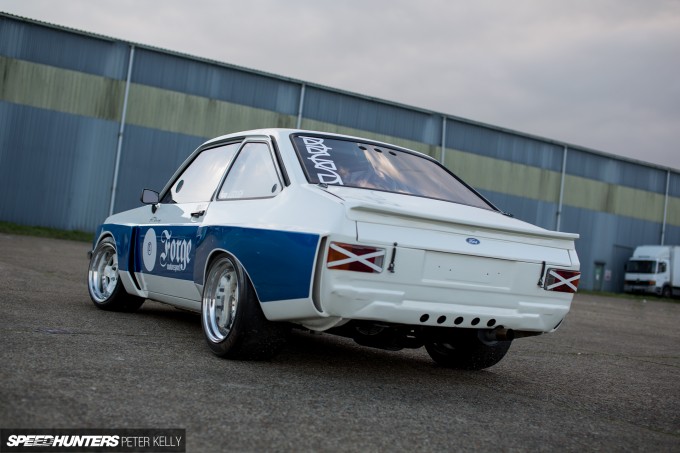 Out back, the period-style ducktail spoiler is the only adornment – other than that it's more about what's been taken off. A big wing might shave off tenths, but that would be a compromise too far in aesthetic terms. Again, I just love how the dedication to making this car perform as well as possible isn't allowed to run roughshod over the idea of keeping RS2000 style.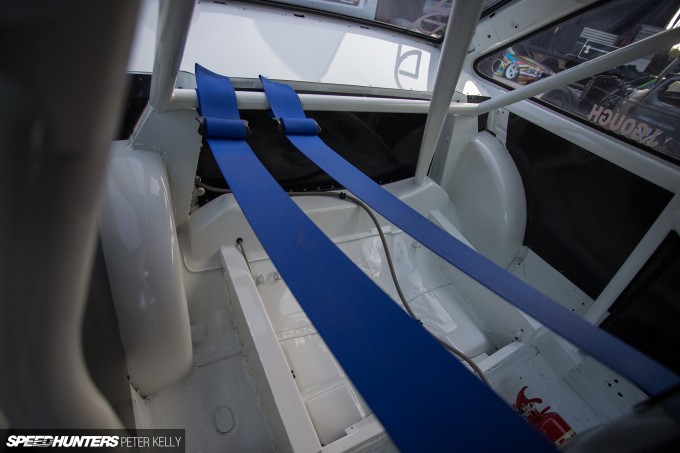 Jamie's reticence to go too far off reservation stylistically means that there's also a good deal of the old car remaining underneath as well. It looks like an RS2000 on the outside, but even under the skin Jamie has tried to keep the heart of the car intact.
If you take off the wings and panels there are still the inner steel wings and rear three-quarter panel outlines, although they have been altered – particularly as the arches are all tubbed. The floor pan and boot floor are still intact (though the latter is another bit that Adrian keeps trying to wield a cutter at).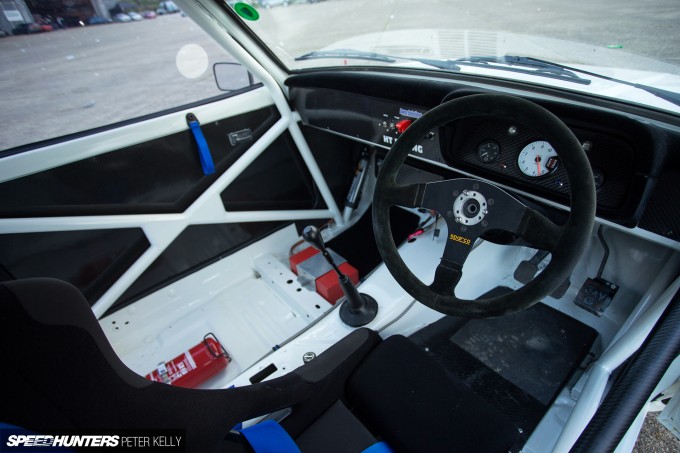 The interior strip-down led to a substantial change in the feel of the cockpit, with the pure white finish highlighting the additional bracing and detailing. Following on from the approach to the exterior, the cockpit is understated and equipped for function – low on bling, high on accessibility and effectiveness.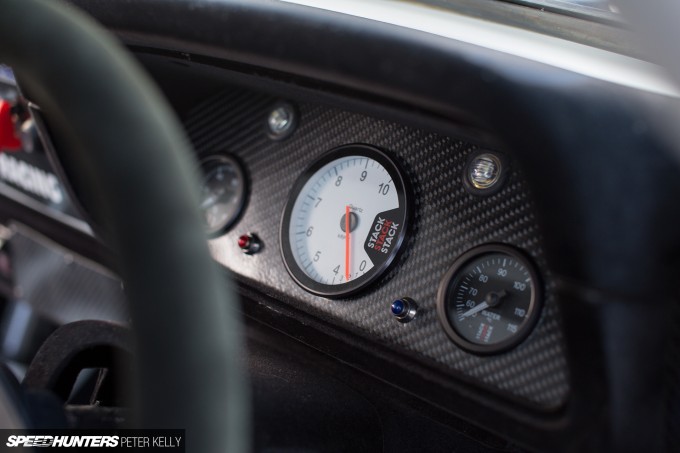 The basic switchgear is mounted on carbon panelling; race-spec Stack gauges are complemented by the snap-off Sparco wheel. There's a plumbed-in fire extinguisher system in the passenger space, along with an Optima Red Top battery, and the harnesses extend back horizontally to the rear-most cross-bar of the cage.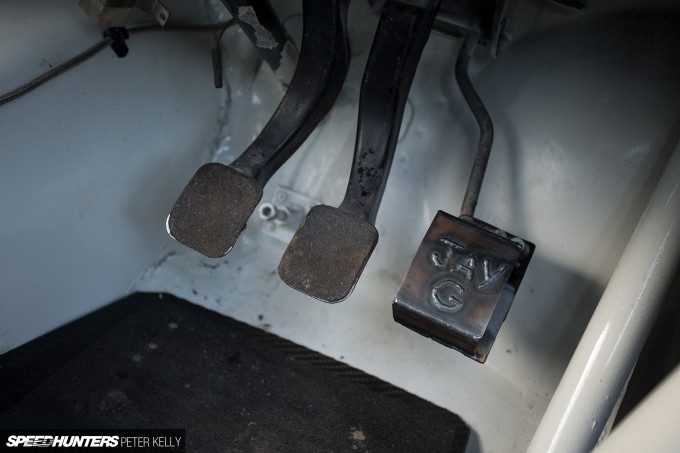 Unbeknownst to Jamie, whilst his fabricator was working on the cross-bracing and additional reinforcement across the rear tubs (put in to compensate for some flexing the car had experiencing) he also added in a little bit of personalisation…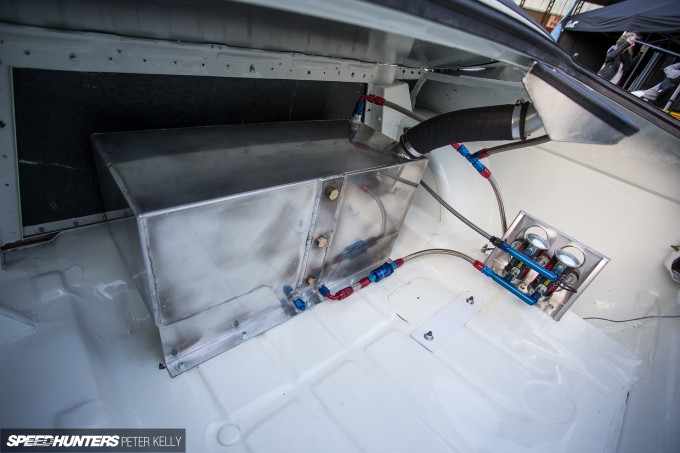 The alloy fuel tank was also fabricated and installed, with Facet Red Top fuel pumps and everything connected using top spec Aeroquip parts. The expense was justified for both safety and performance reasons.
Pinto Perfection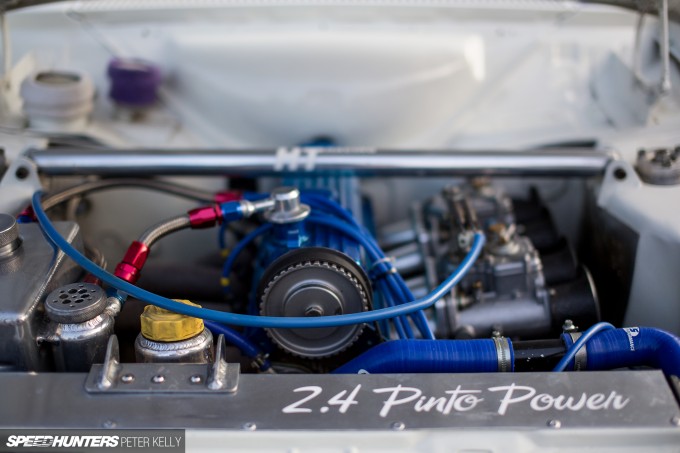 So time to go under the bonnet to take a look at the pristine engine bay, one of the many reasons this car picks up so many trophies at shows. Jamie sold the 2.1 Pinto block that came with the car and replaced it with a 2.4-litre 202 with a steel bottom end – making this technically an RS2400.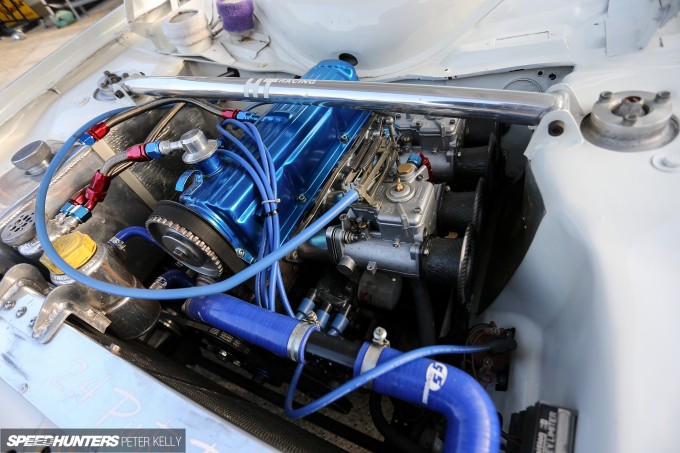 The internals have all been uprated: it now features a specialised Farndon crank, new conrods, a Kent HT1e race cam and Mahle pistons.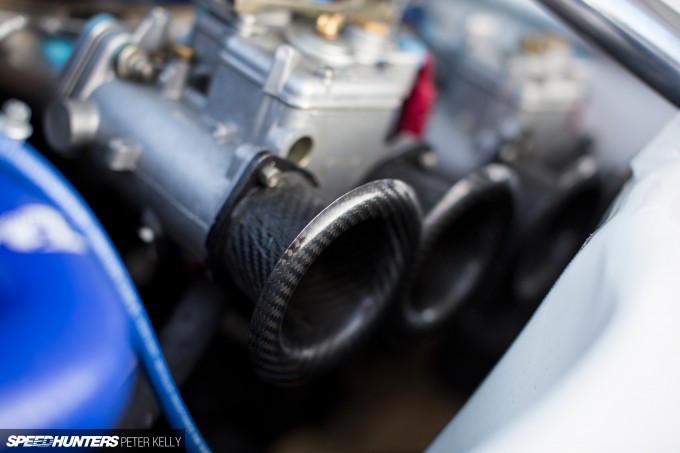 A relatively recent addition has been this set of bespoke carbon trumpets. Showing it's all about who you know, they were the result of a chance conversation with a guy who brought his car into Jamie's garage for an MOT!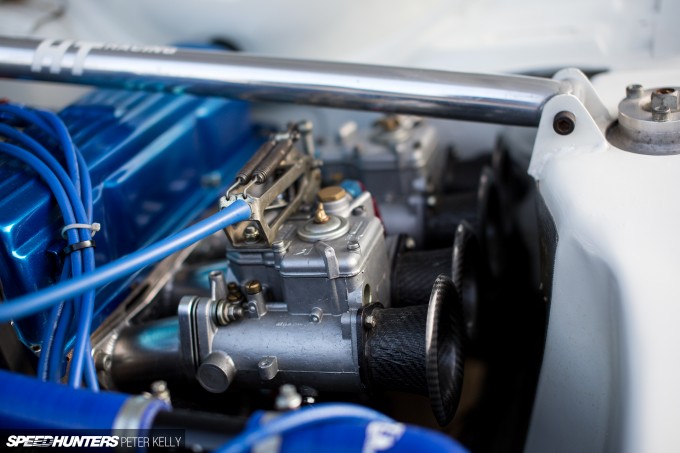 The Pinto is charged up via classic Weber 50DCOE carbs, staying true to that constant of period fidelity where sensible and apprpopriate. The engine is producing around 240hp and 200 foot-pounds of torque, which in a car weighing around 800kg is basically the promise of intense joy behind the wheel. Personally, that's always my preference in a car, the Colin Chapman principal: less weight requiring less power to deliver maximum performance.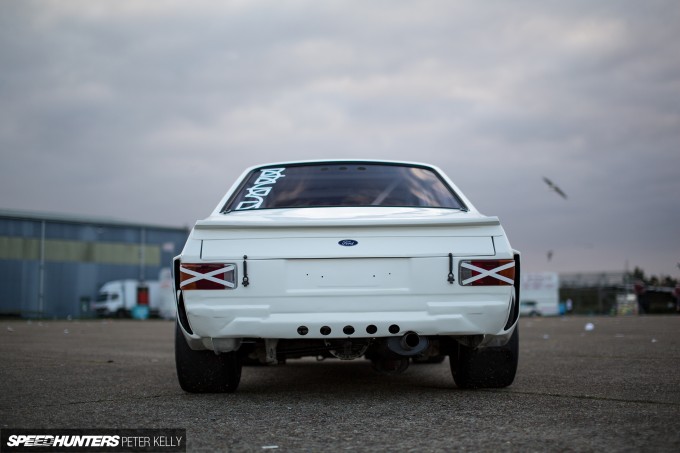 The exhaust system is an off-the-shelf Ashley Competition Exhaust four-into-one unit. Jamie's looked at replacing it with something more bespoke, but there just hasn't been anything else that's come up that can promise to manage the reliable, consistent delivery of the Ashley. Once again, rather than going for some complex matrix of pipes, the simple and effective solution comes out on top.
Jamie replaced the 4-speed with a solid Quaife 5-speed dog 'box; some people find that a fierce unit to deal with, but by his own admission he's hard on his shifts and had constant issues with the 4-speed.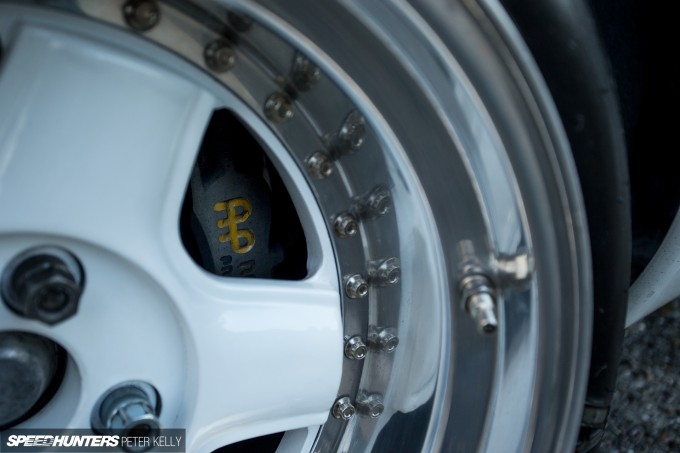 Braking power is provided by hardcore AP Racing 4-pots at the front, utilising 330mm floating discs with an AP compensator valve. At the rear Jamie is still using a set of Sierra Cosworth discs, but in typically understated form has a set of APs 'lying around somewhere' ready to drop in when he gets a chance.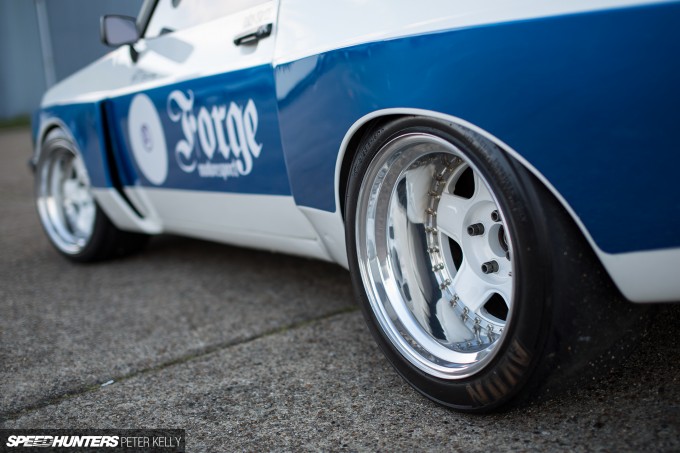 The wheels are tightly tucked into the fenders, but with a 6-link suspension setup the positioning is spot-on and there's no rub at all even with the wider wheels. The car is suspended on 3way fully-adjustable Nitrons at the rear; Bilsteins were still mounted in the nose, but Jamie was in the process of acquiring the stub axles and top mounts to add Nitrons up front as well.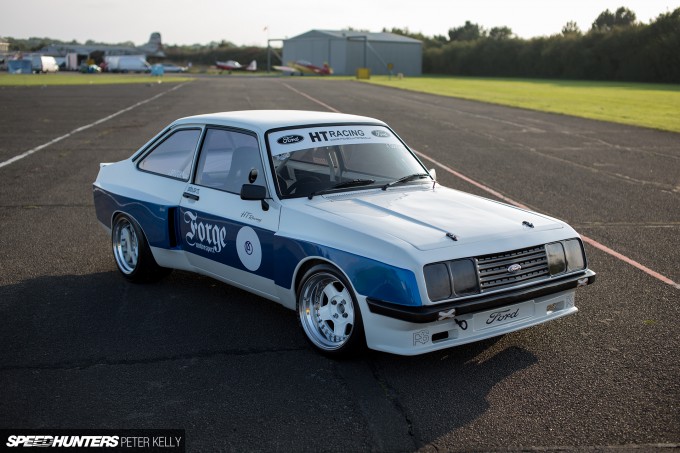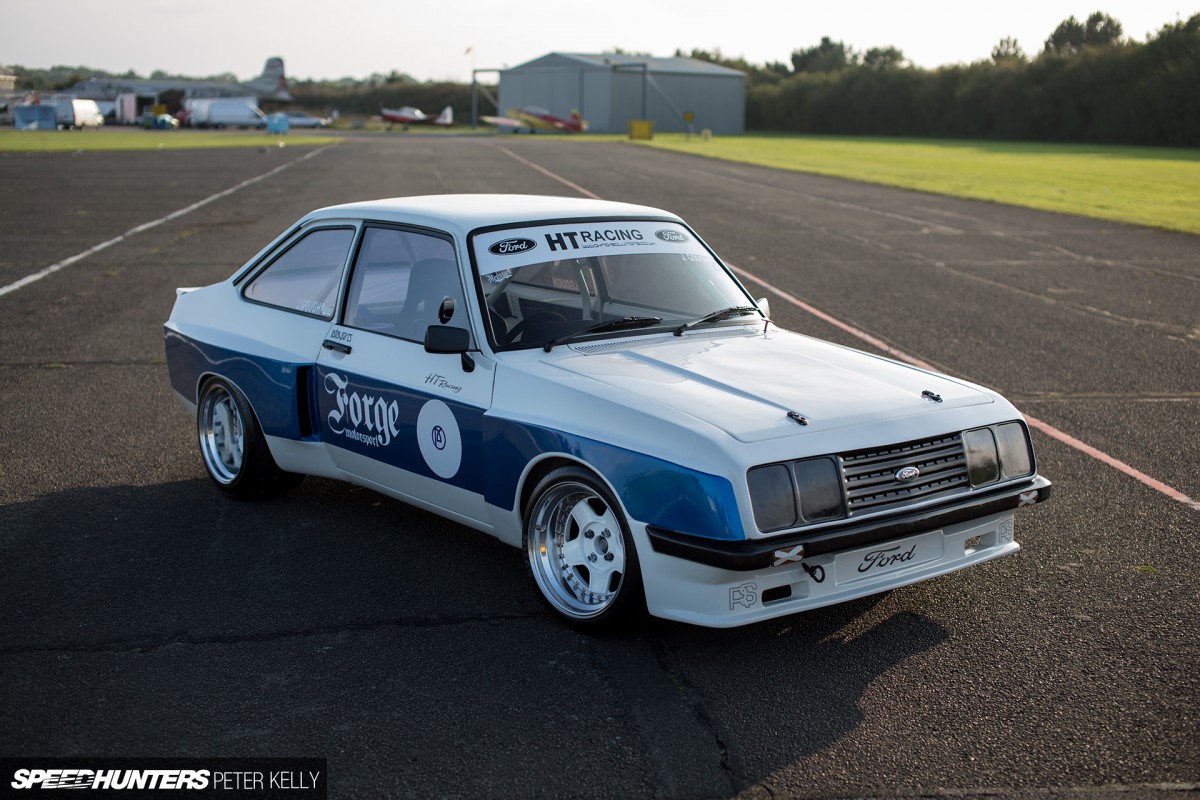 Jamie reports the car as being very stable and predictable; a propensity to oversteer was solved by the Nitrons, but now that's turned into progressive push – the planned front upgrades will tackle that. In addition, Adrian Hall is working on a new splitter and Jamie is planning on trying to create as flat a floor as possible, whilst also adding rose-jointed lower arms from Gartrac.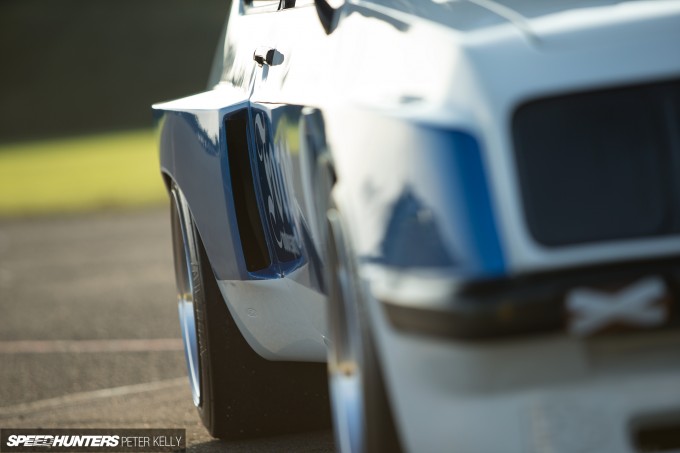 All the way through the car: it's about getting what actually works rather than looking like it works. The Escort might be maintained in concours condition, but everything is there for a purpose and the presentation shows the commitment to performance. You don't see professional race cars turning up with dirt or damage from the last race for instance, so why should Jamie's?
From lines to livery the whole car is incredibly pure and is like a beacon at shows. It's no surprise that it's registered with me every time I've spotted it, and that companies like Meguiars and Forge have come on board to support Jamie.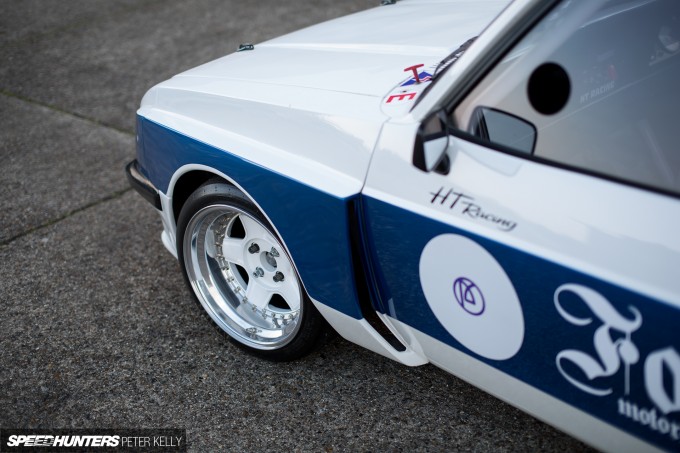 It's been a bit like stalking, though I'm not sure whether I've been stalking the car or the other way round. Looking back through my archives, there are so many shows where I've picked up on this car – in static mode every so often, but most often in queues of cars waiting to hit the track, such as at the night Time Attack event at Brands Hatch last year, where the simple and effective livery really made the car stand out.
The attention to detail and presentation often gets Jamie a bit of gentle ribbing from his friends, saying it's all about the show – but then on track Jamie gets to disabuse the doubters.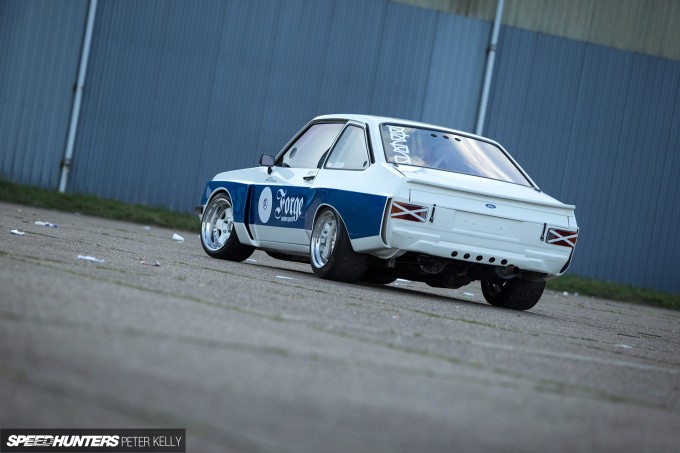 This Escort is one of those cars that epitomises why we all love to own a car. It's Jamie's pride and joy – a car built to satisfy his own personal goals, that's involved every possible emotion along the way. Every project hits points where you just think to hell with it, I'm selling the car and buying something easy – but then at almost every point during our chat Jamie would talk about what he was thinking of upgrading or changing.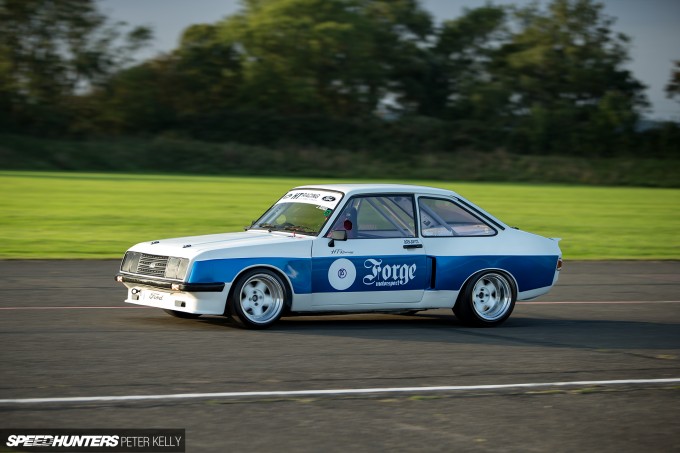 A polycarbonate windscreen; swapping out the steel doors; maybe going for BBS split rims (personally I like how different the current wheels are from the norm); all the other upgrades I've already mentioned. There's a long and detailed list that shows that this Escort is well and truly under his skin, and an investment of time and passion that is paid back every time he gets behind the wheel. Exactly how it should be.
Jonathan Moore
Instagram: speedhunters_jonathan
jonathan@speedhunters.com
Photos by Peter Kelly
Instagram: speedhunters_pedey
pedey@speedhunters.com
Cutting Room Floor