A Rare Opportunity
Jay Leno doesn't collect cars: He collects stories.
Somewhere in Burbank, California, sits a nondescript row of commercial buildings, and inside them is his collection of stories – mostly in motorized form of course.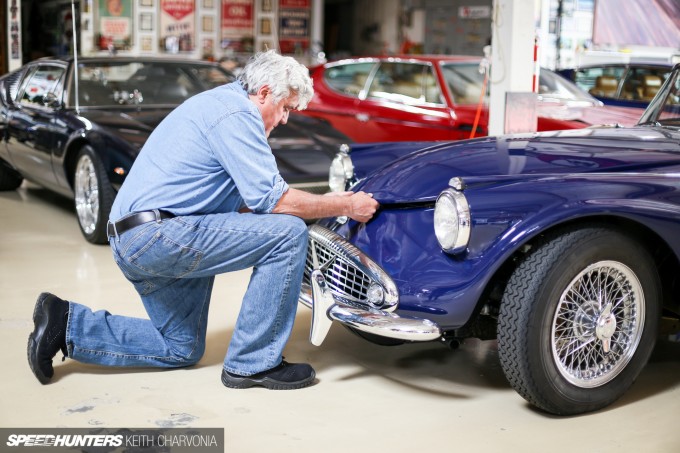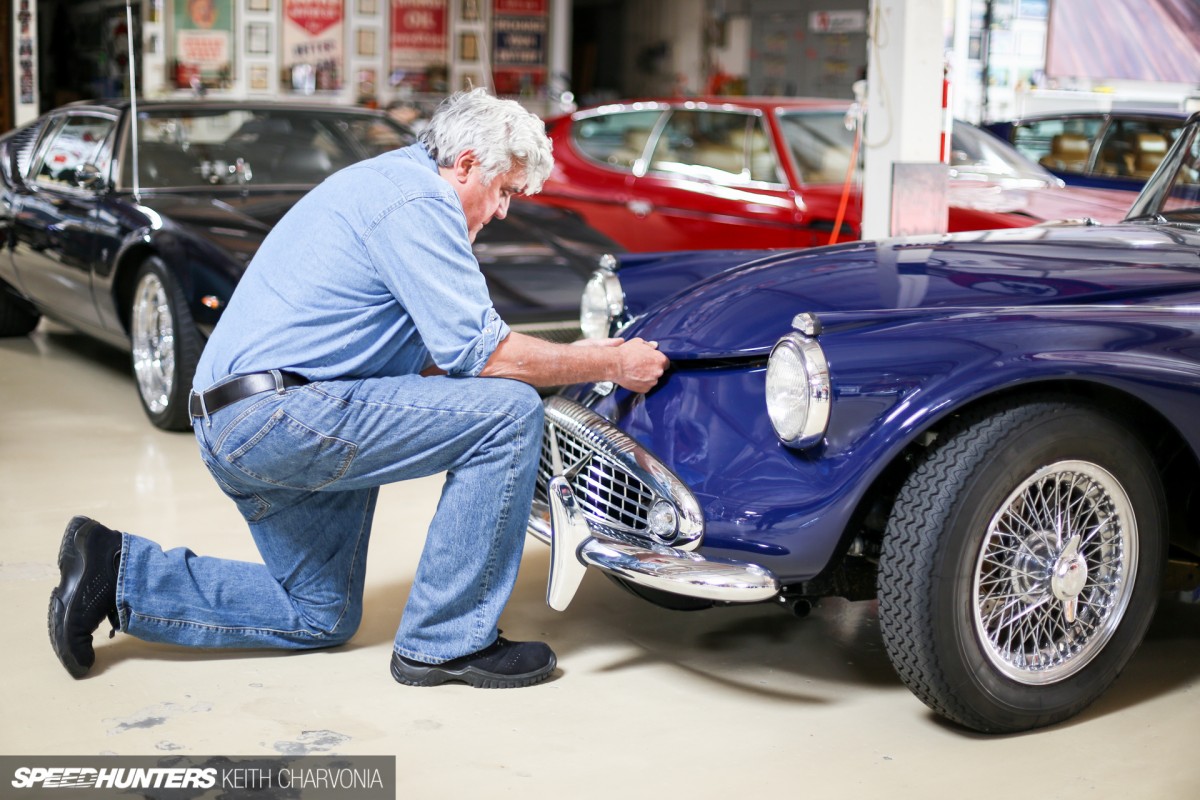 So that's the first amazing thing about this collection, but there are a couple more. When you get the chance to walk around the multiple buildings that comprise Big Dog Garage, you first notice the endless rows of priceless cars. There are a couple hundred of them stuffed in there, and you quickly realize that Jay Leno knows each and every one of them – intimately.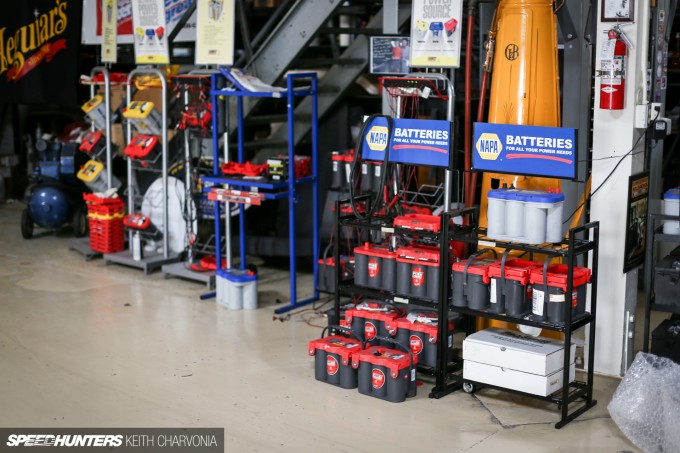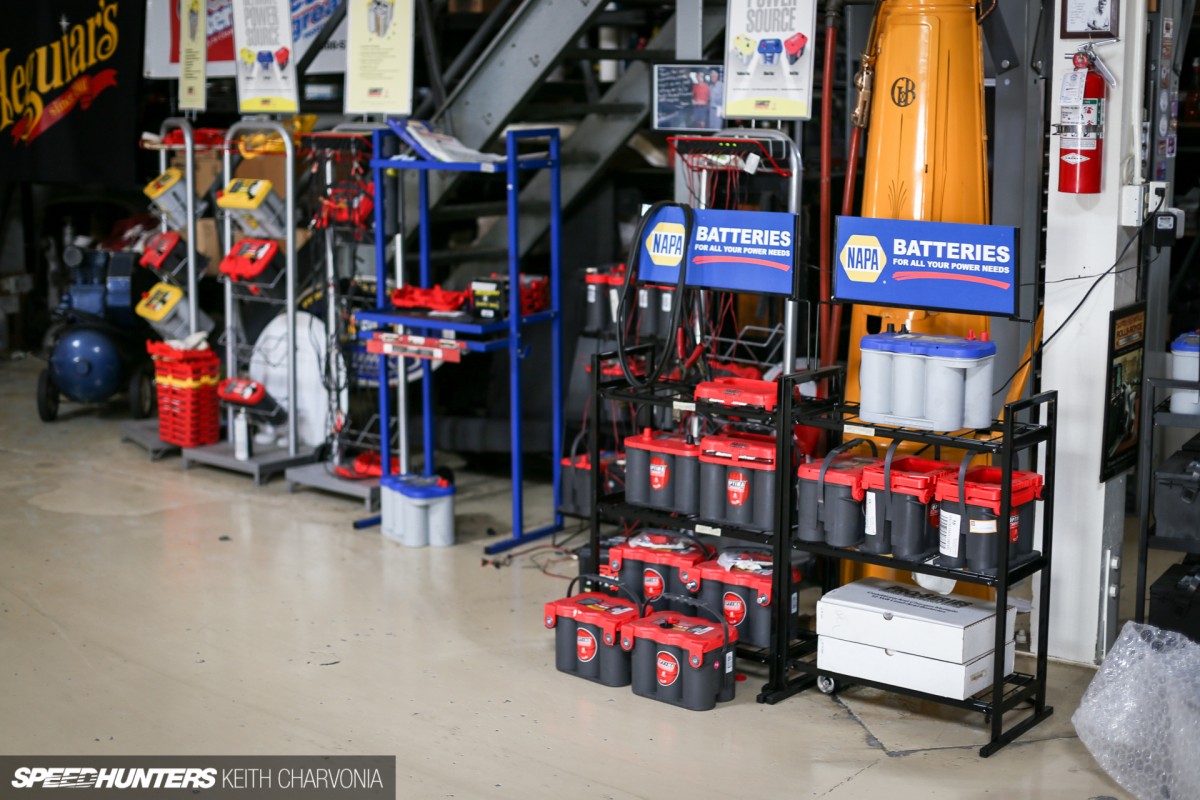 The third thing that sets Leno's garage apart from any other esteemed collection or museum is that literally any of these cars can be started and driven at Mr. Leno's whim. The oil stains on the floor, the trickle chargers everywhere and current tags on every single car prove it.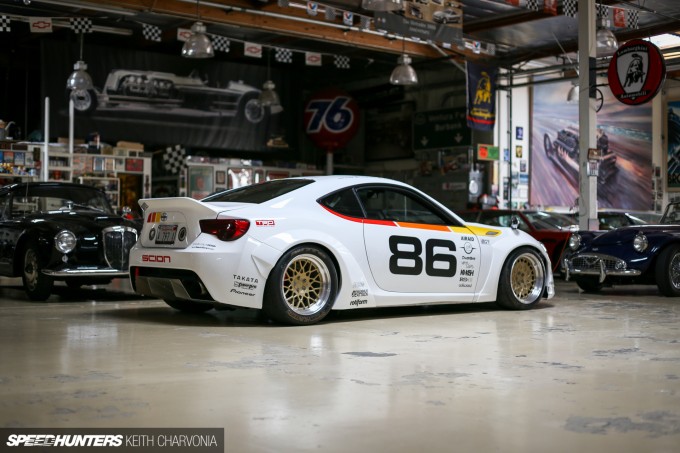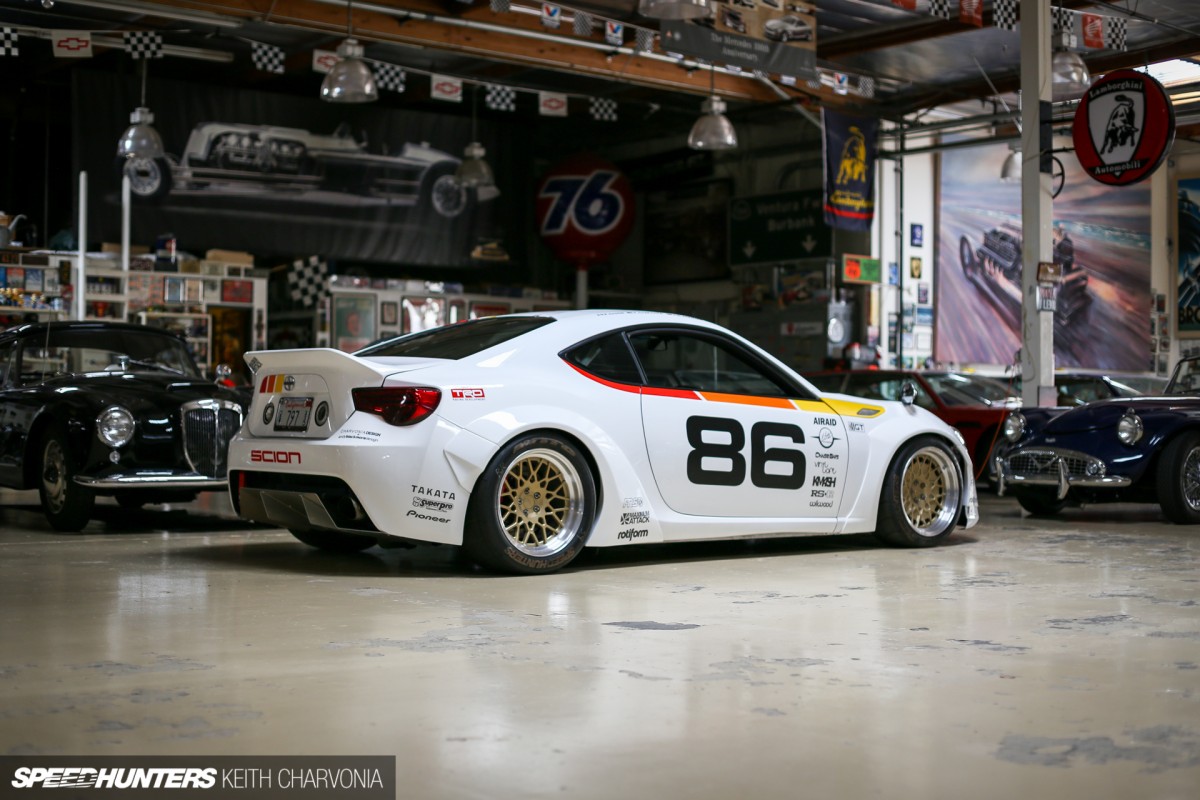 But how did I weasel my way into such a special place? This little guy right here. Since my Kaiser was featured on the Jay Leno's Garage YouTube channel a couple years ago, I sent an email to the production team asking if they would be interested in featuring the Scion Tuner Challenge winning FR-S I built. They showed Jay, Jay liked it, and two weeks later I was in.
More on that soon though, because this story is about the rare opportunity I was allowed in bringing a camera where very few have clicked.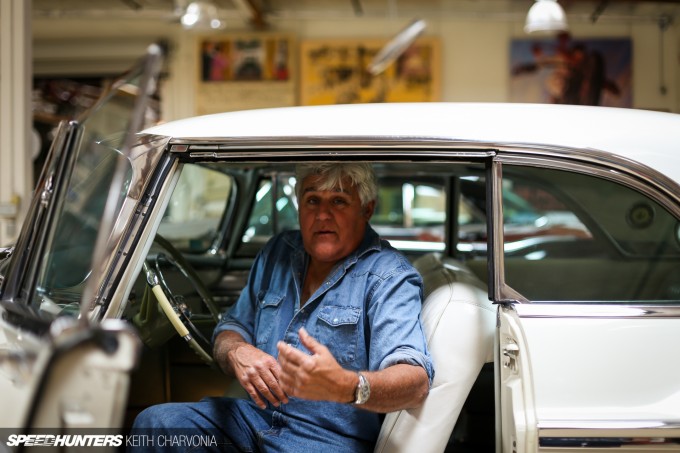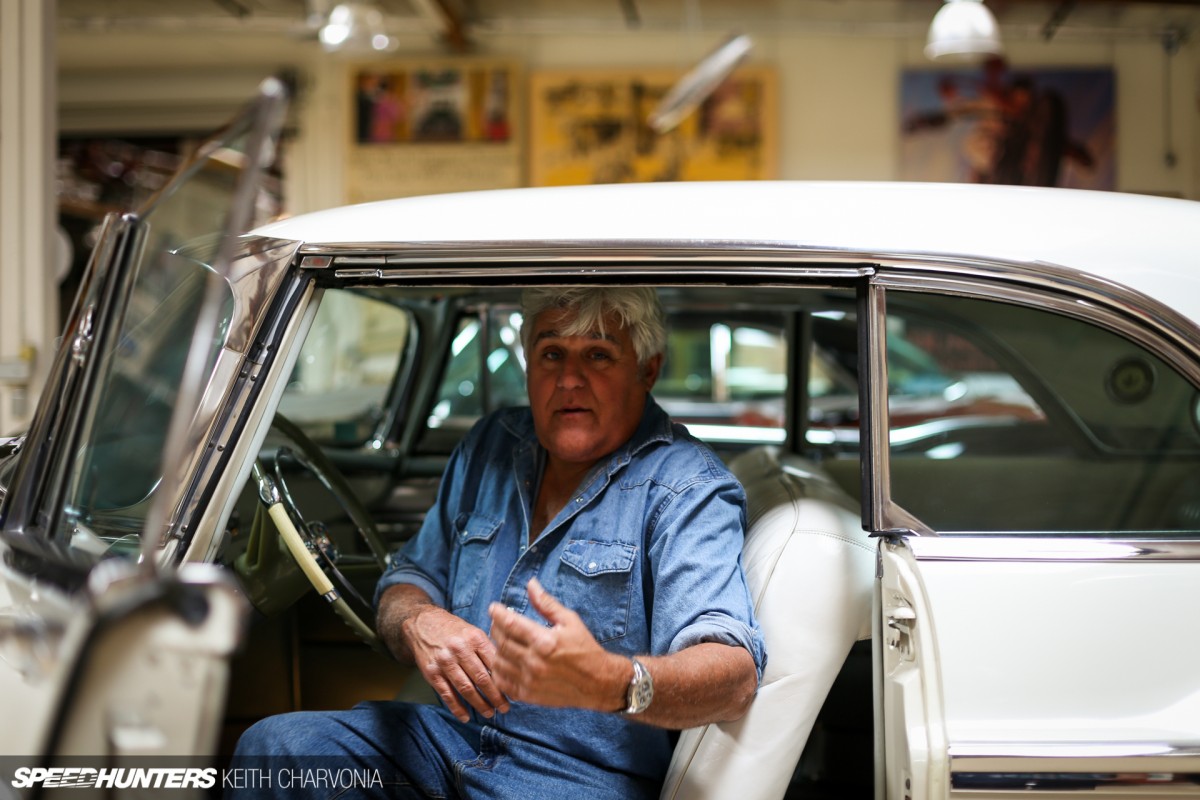 I sheepishly requested a bit of Mr. Leno's time before, after or in between takes on the day we filmed the MAXIMUM ATTACK FR-S, and he graciously accepted. Why? Because he loves his garage and he loves sharing it with people who care as much as he does.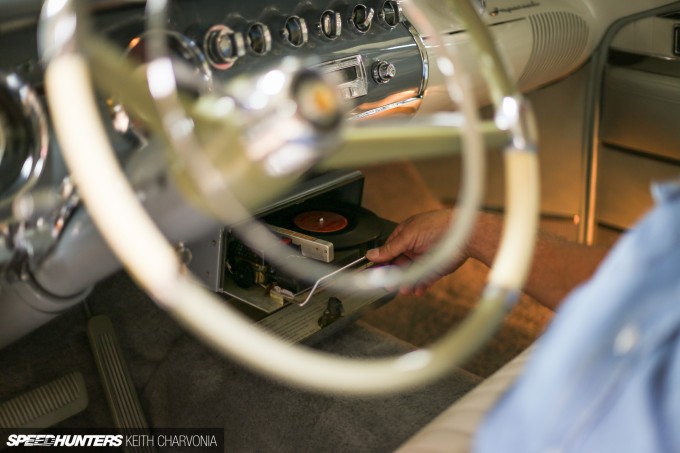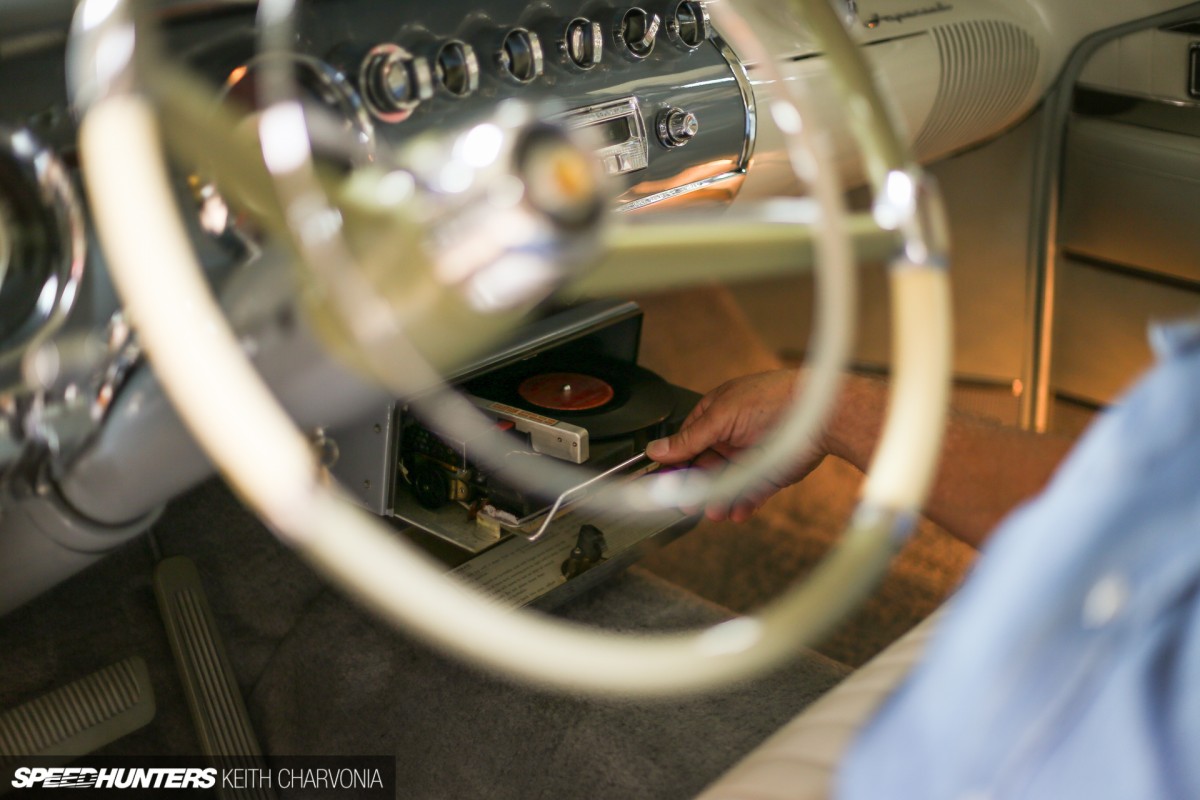 You simply can't walk through the garage without Jay stopping to show you something interesting, like this early hi-fi system with a dash-mounted record player. "This is how you got chicks back in the day," he joked.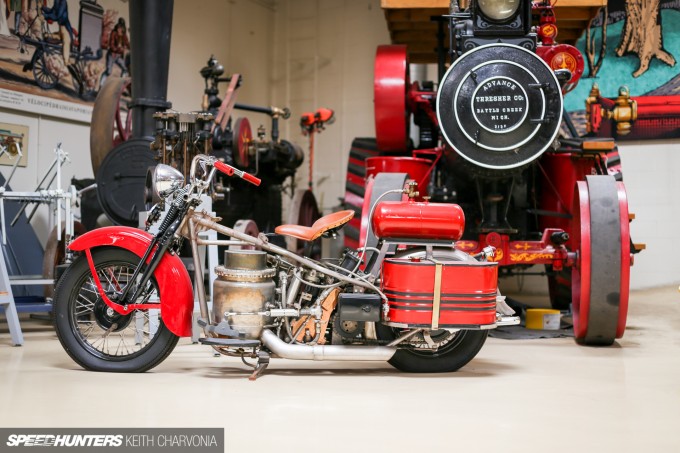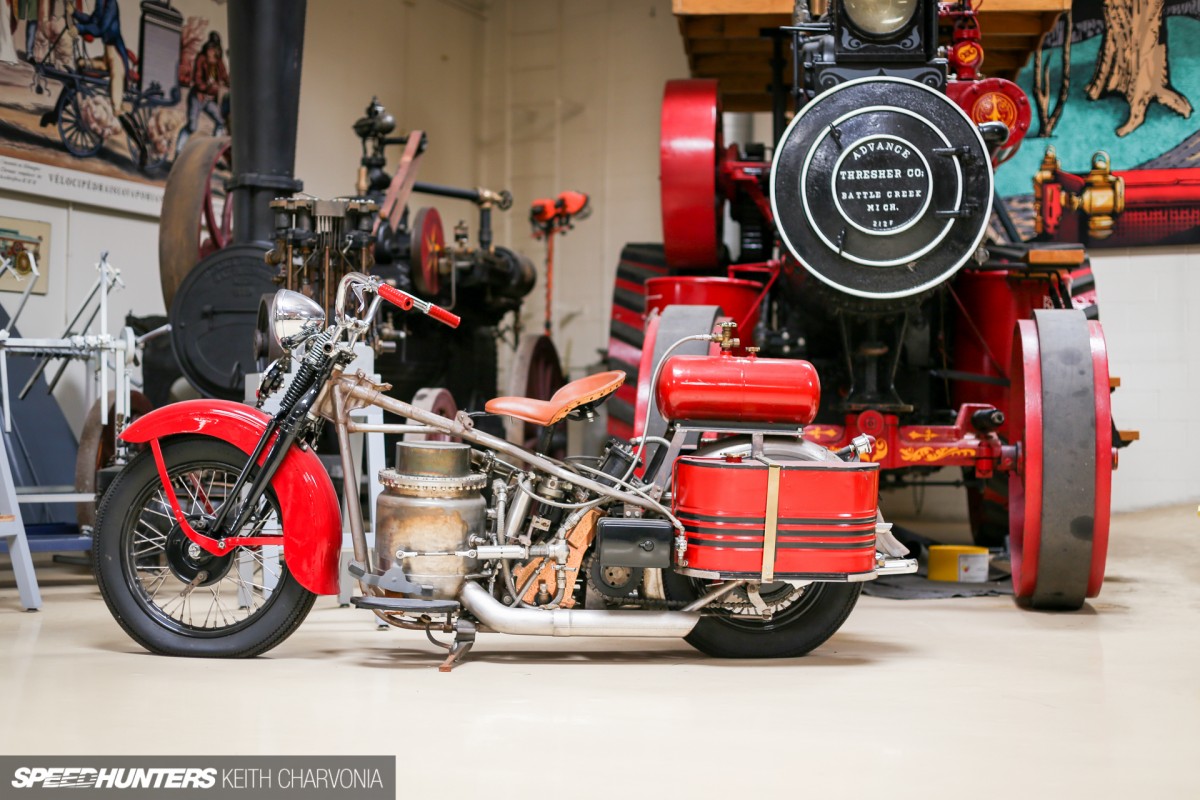 My premise was simple: rather than attempt to cover his monstrous collection, I asked Jay to just show me a few cars that were special to him. I have no idea if he randomly chose these or if they really do mean more than any of this other cars. Either way, this represents a pretty nice cross-section of Big Dog Garage.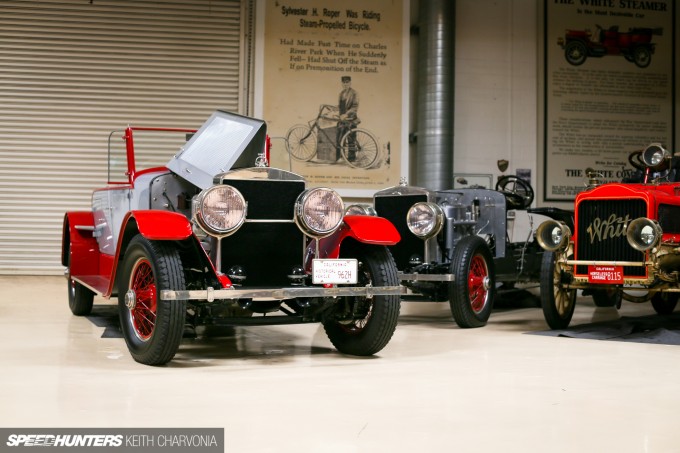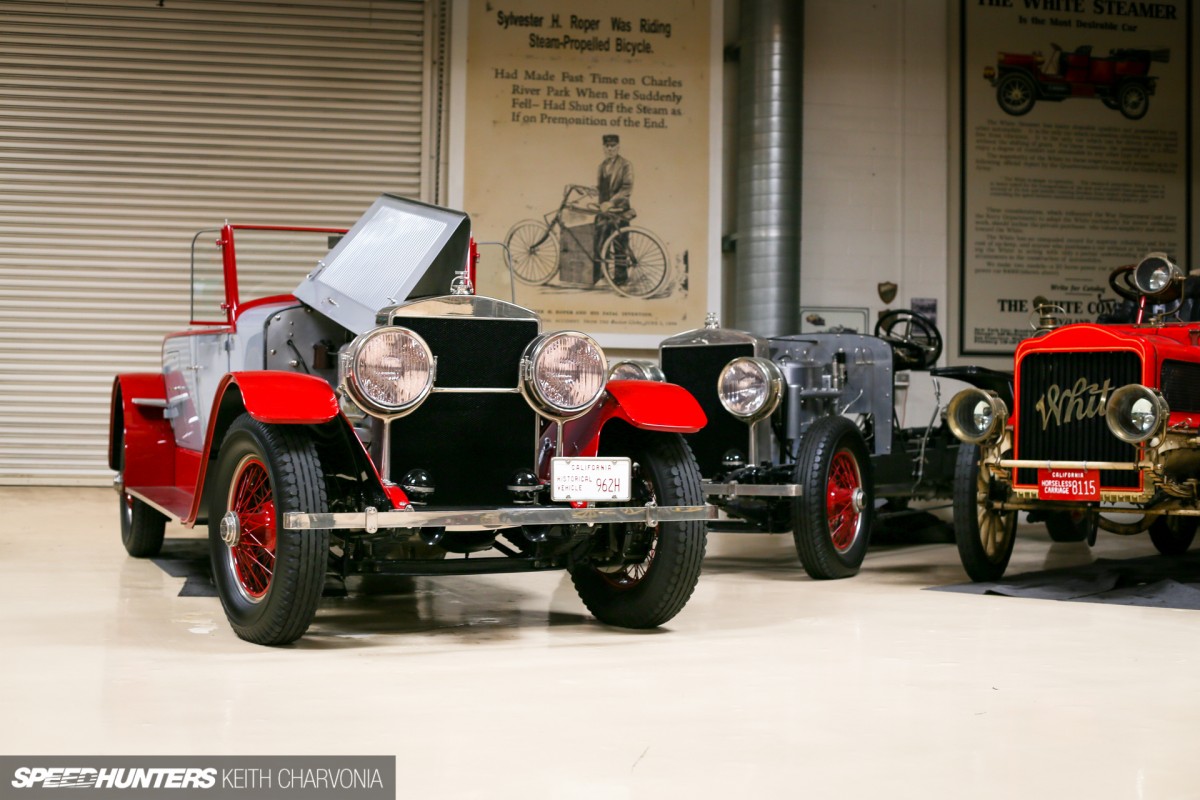 To start, we followed Jay into the 'Steam Room' where he wanted to show us his 1925 Doble E-20. It was once owned by Howard Hughes who piloted it to 132.5 miles per hour, and it's been called the greatest steam-powered vehicle ever built.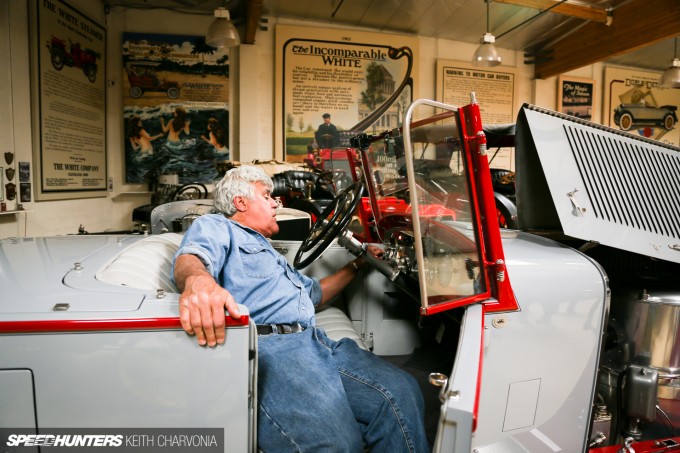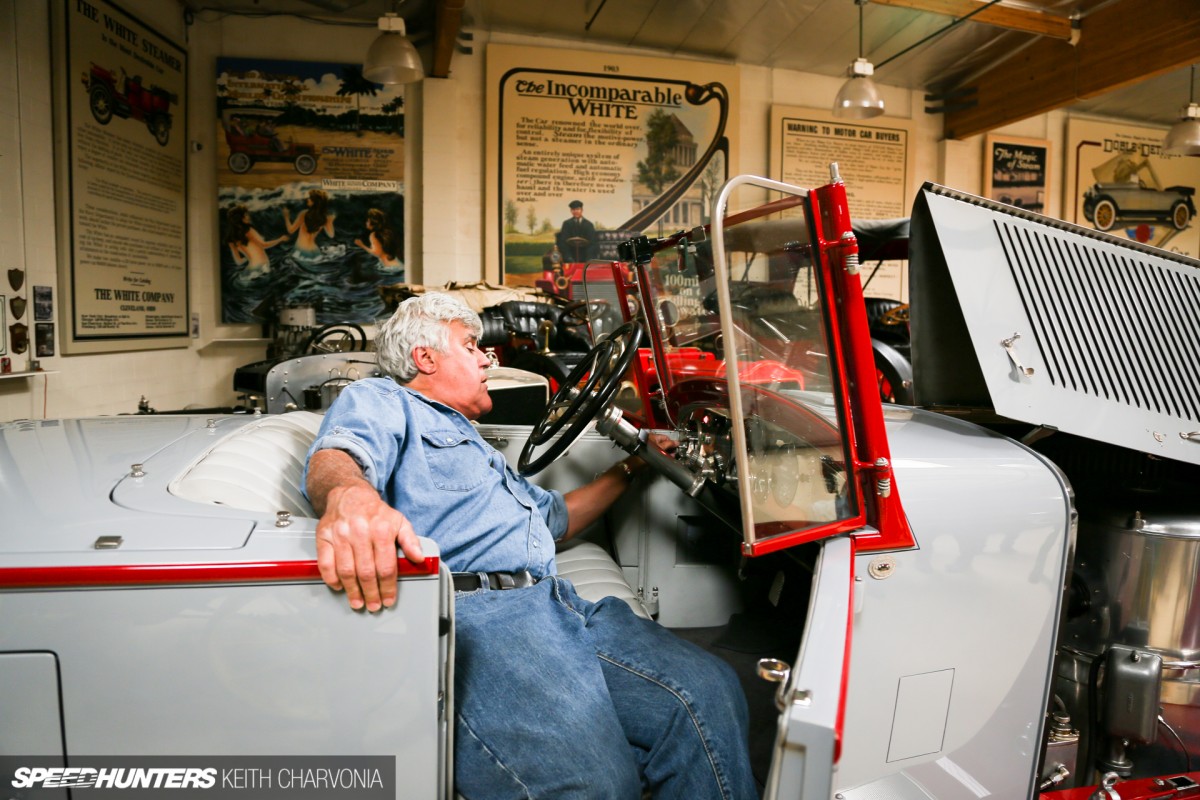 Jay opened the door and fiddled around with something. I wasn't sure what he was up to just yet.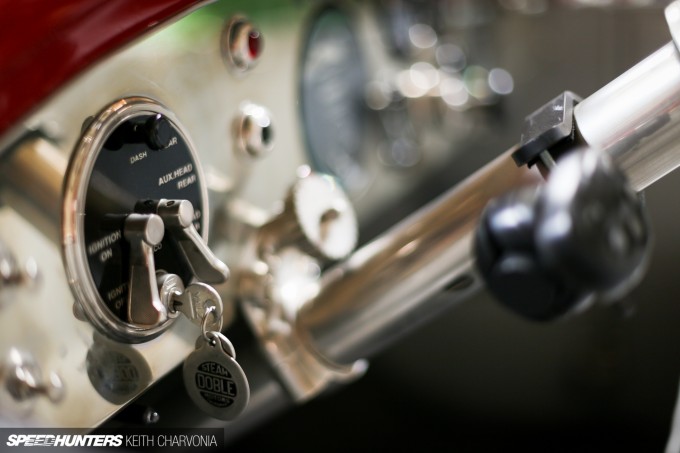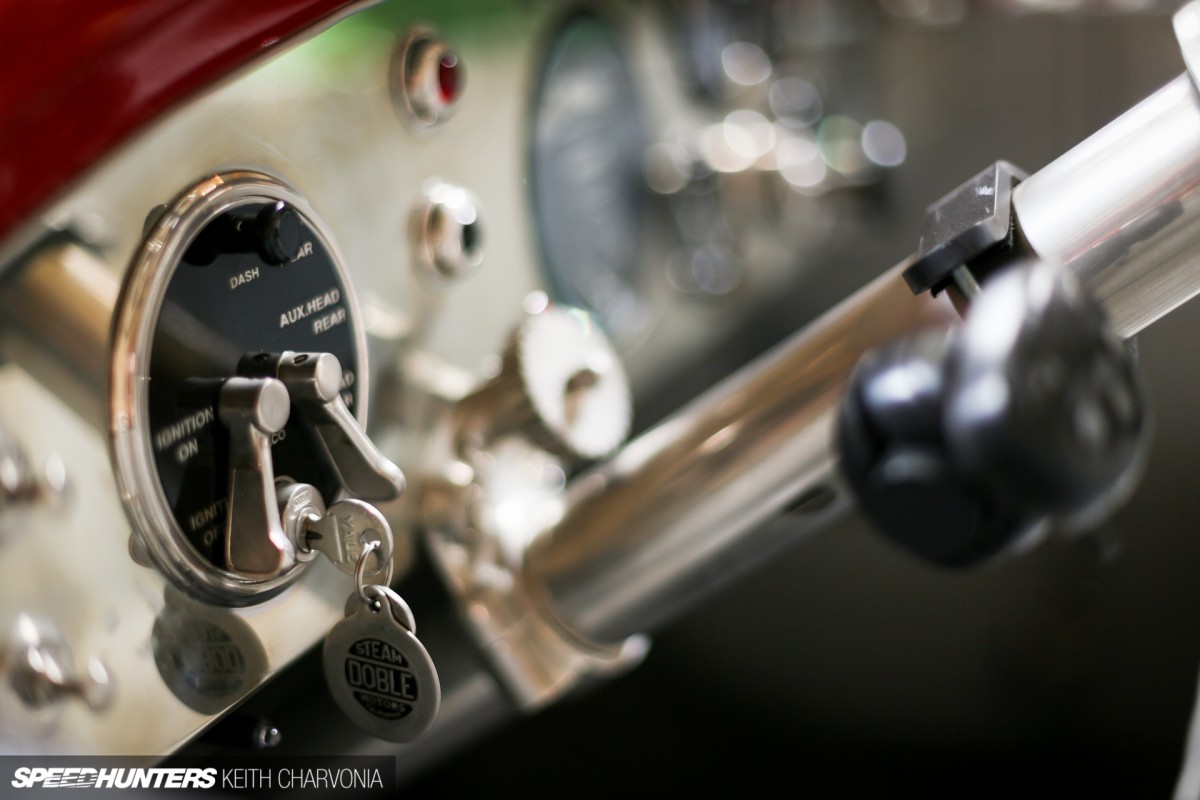 Then I realized he was going to start it. But how do you really start a steam car anyways?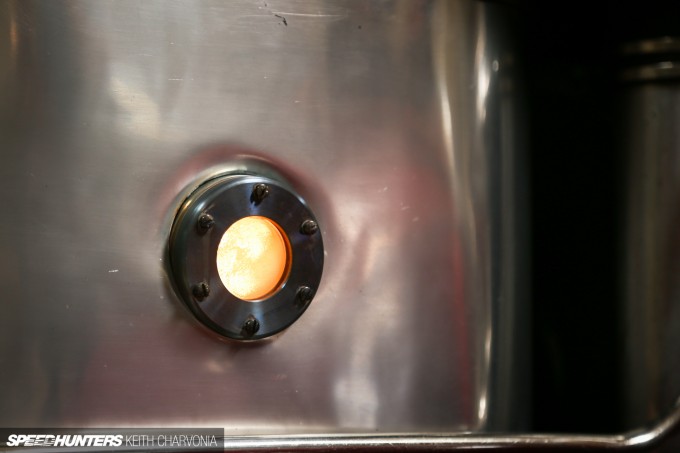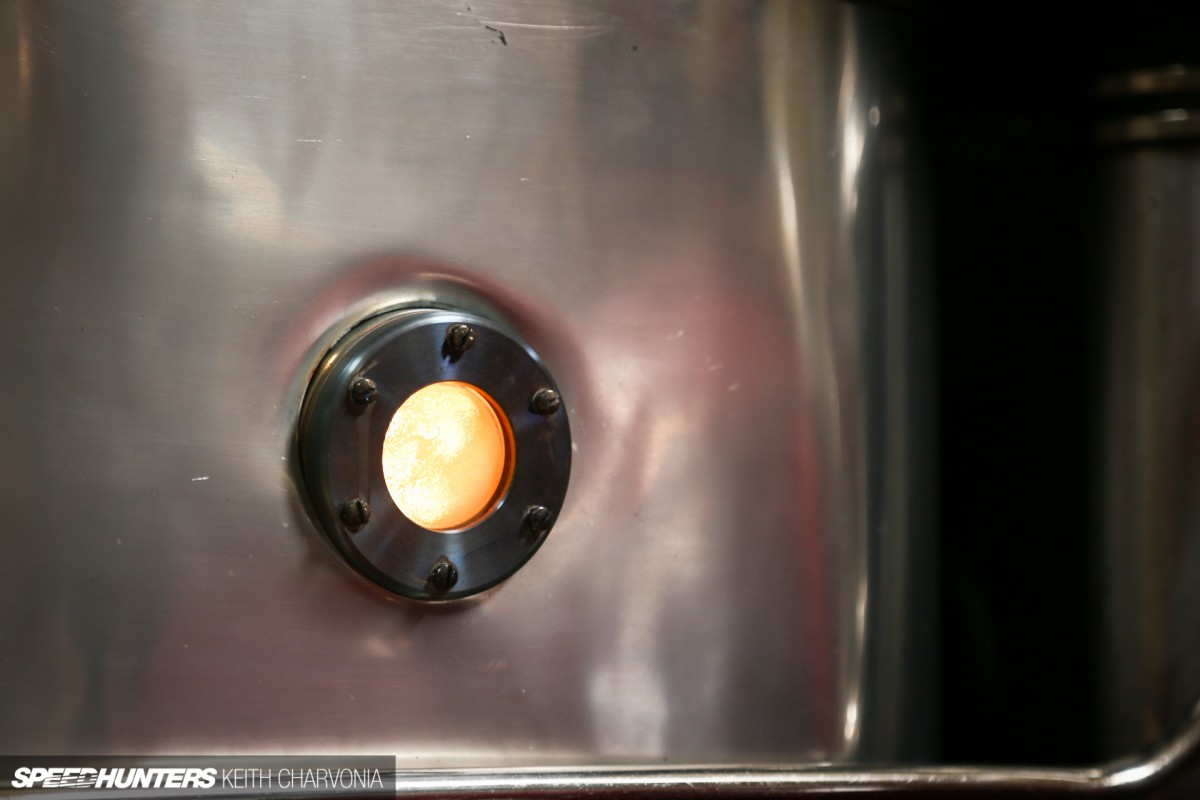 "Now watch what happens in that little window," he said as we heard the boiler ignite.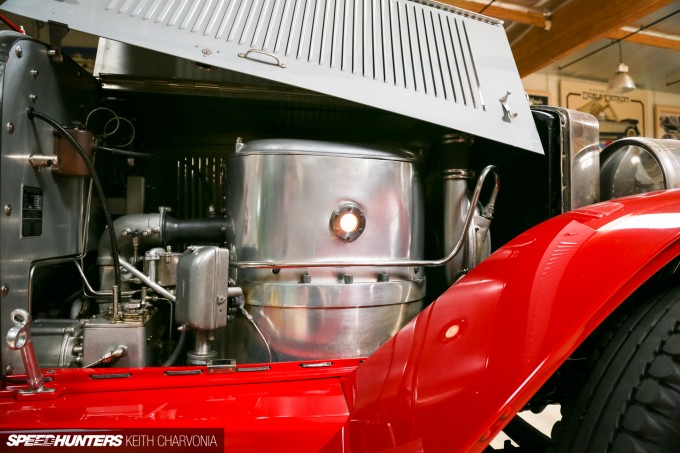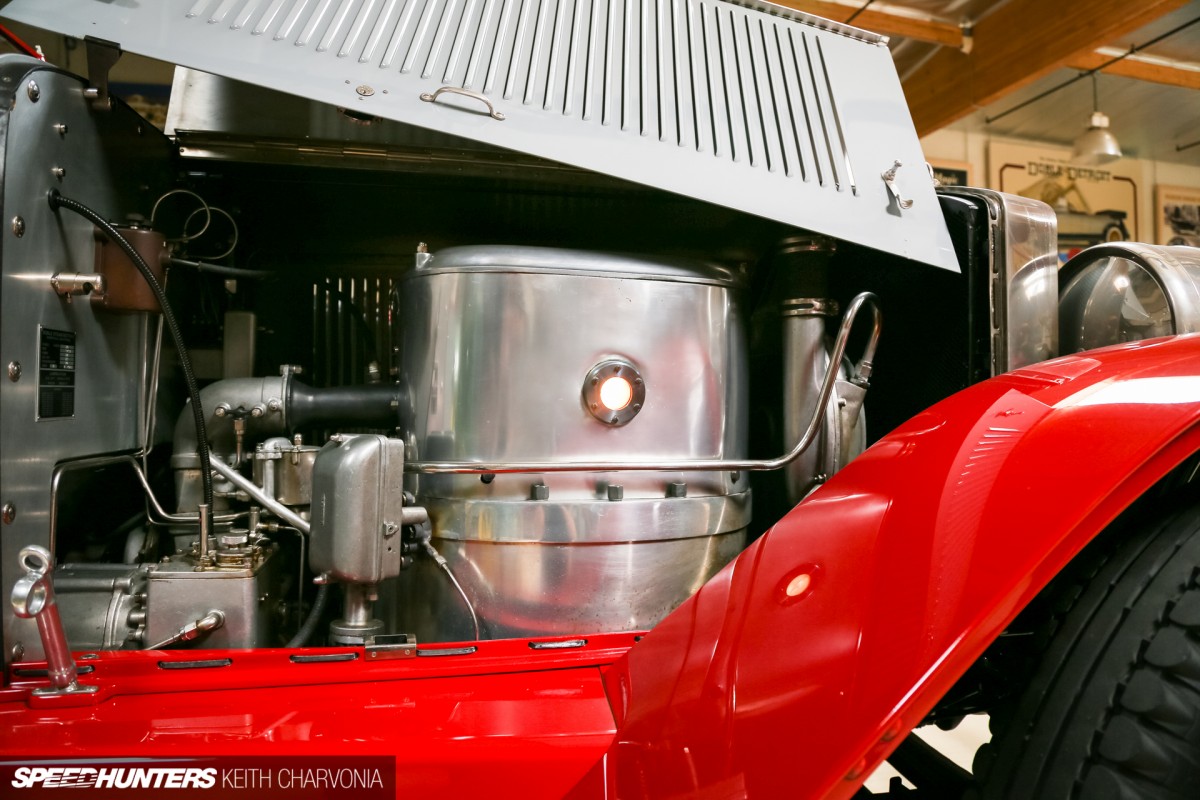 Inside that tank are six hundred feet of coil and less than a quart of water. The super-heated steam runs twice as hot as a typical steam car and expands something like twenty five hundred times before making its way to a four cylinder compound engine mounted near the back.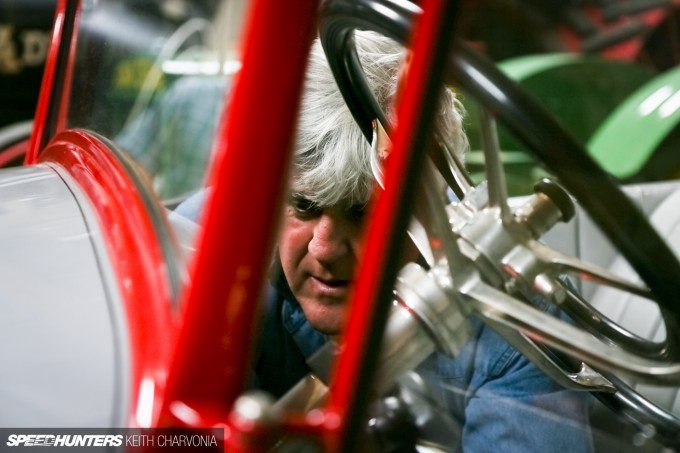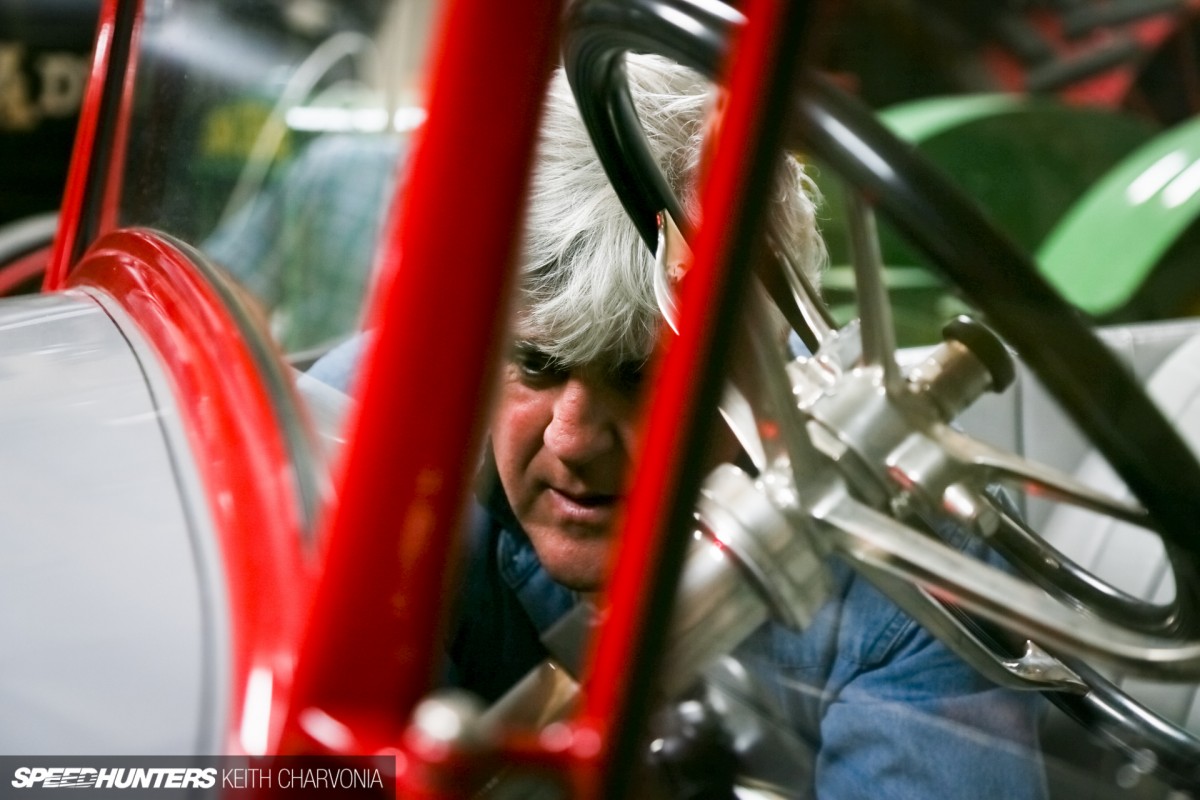 "It makes one thousand pound feet of torque from zero," he tells us. "That's why it doesn't even need a transmission!" This was the pinnacle of steam technology, just before it bowed to the gasoline engine.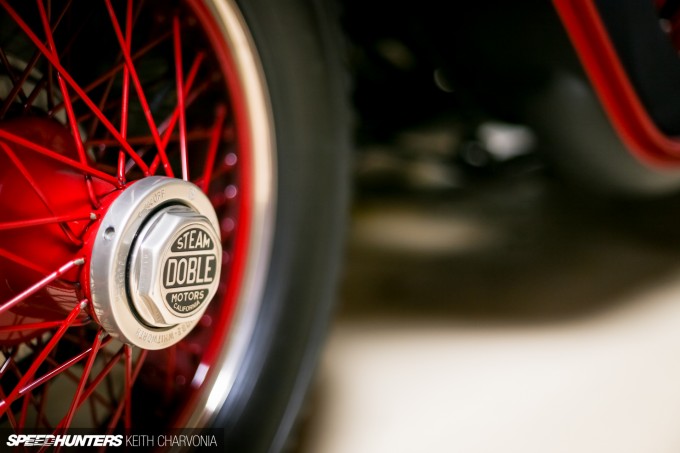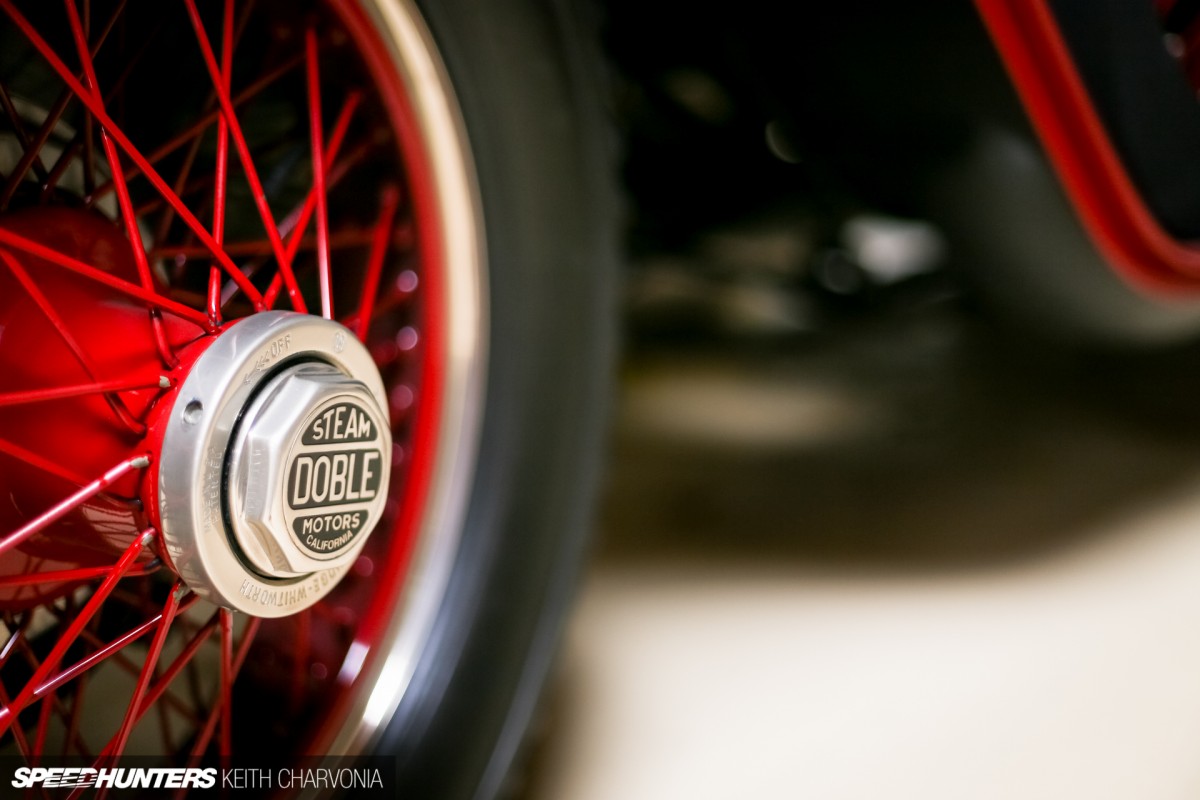 Leno's cars are beautifully restored, unless there's a reason he wants to enjoy them in original form of course. He's not really a purist though. He's a driver and he wants to be able to enjoy them.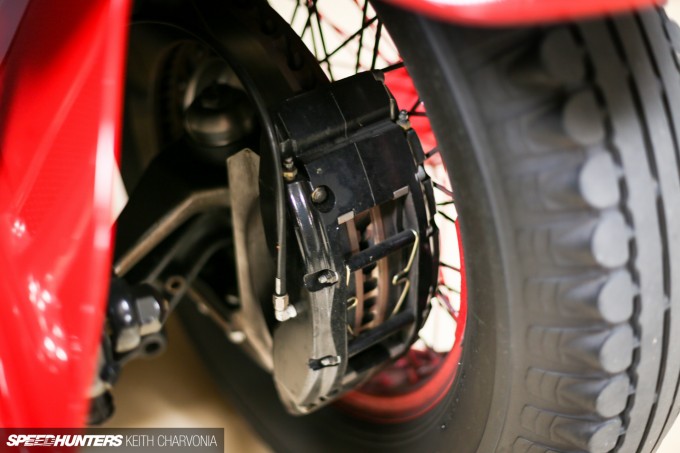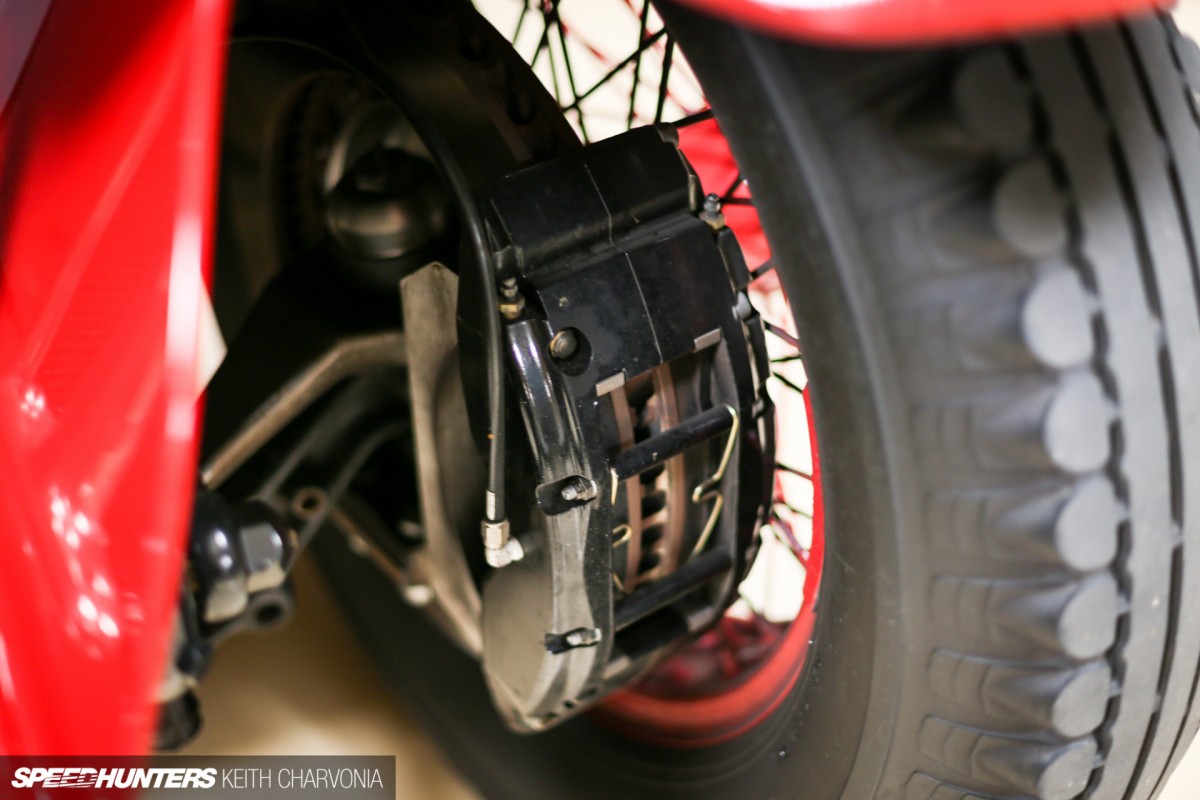 Which is why you'll find things like a disc brake conversion on a steam car. This car is fast, so to take it on modern roads it needs to stop safely too.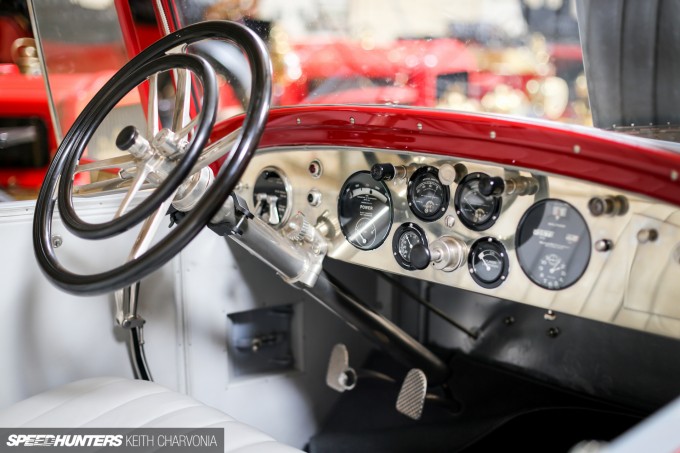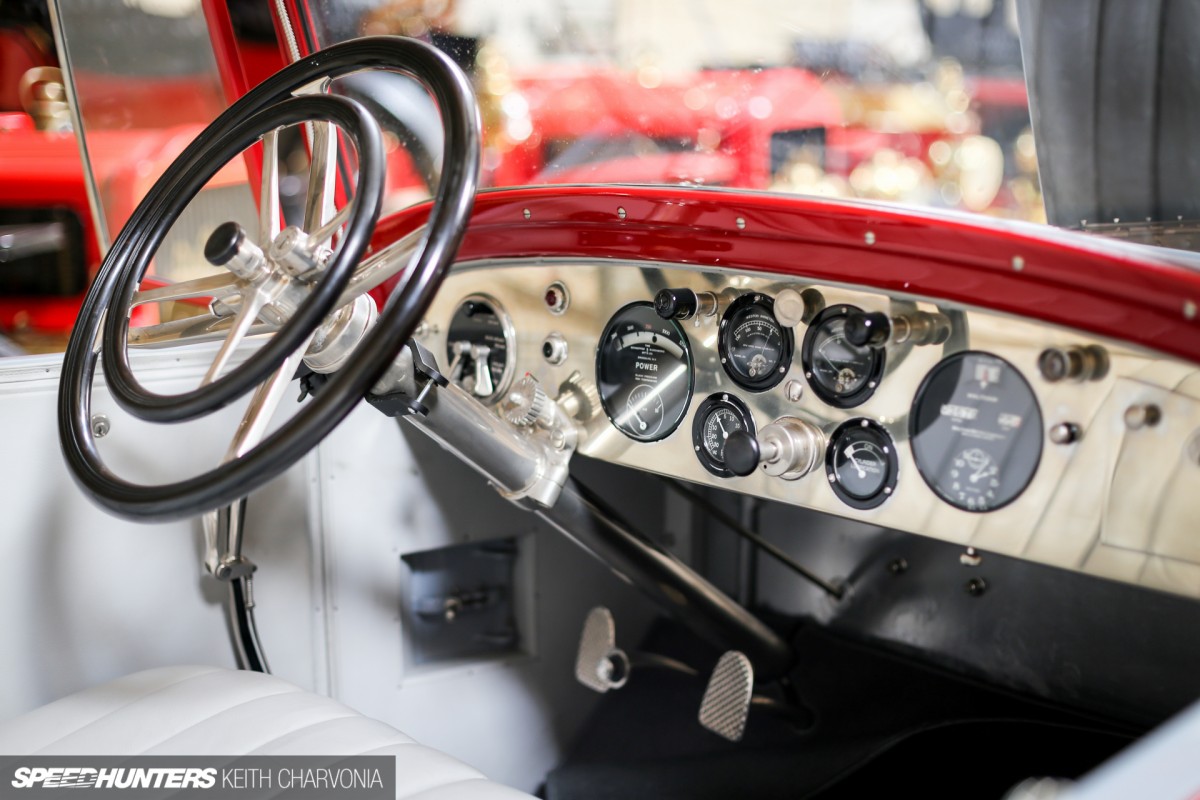 Don't let that one modern safety item fool you though. This thing works just like it was originally designed, and Jay knows the operation thoroughly so he can hop in anytime and drive down the street.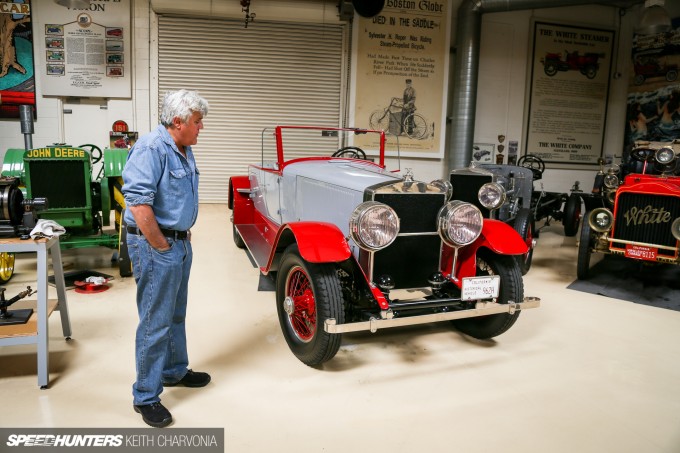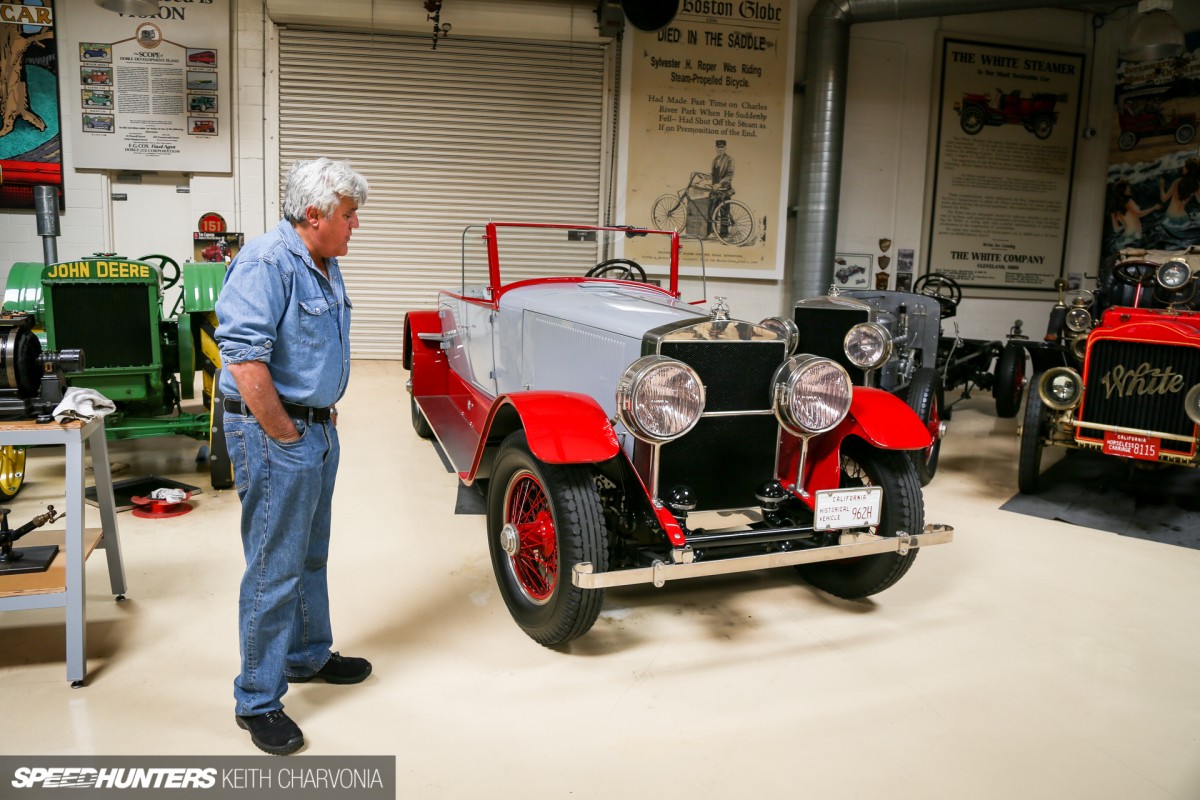 The Murphy-built roadster body was the first with a disappearing top that folds down and stores under the bodywork, completely out of sight.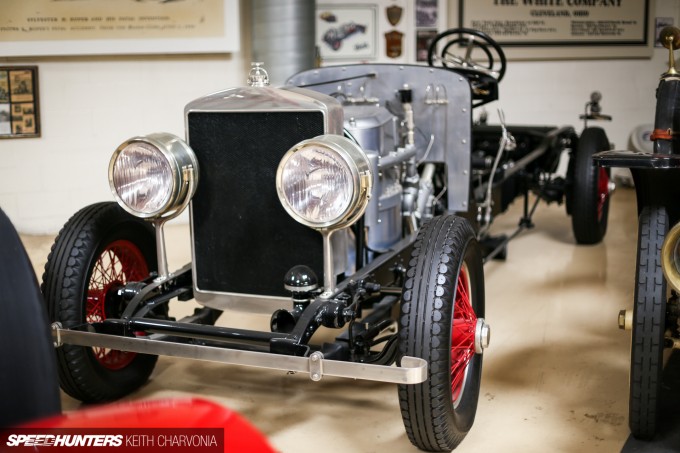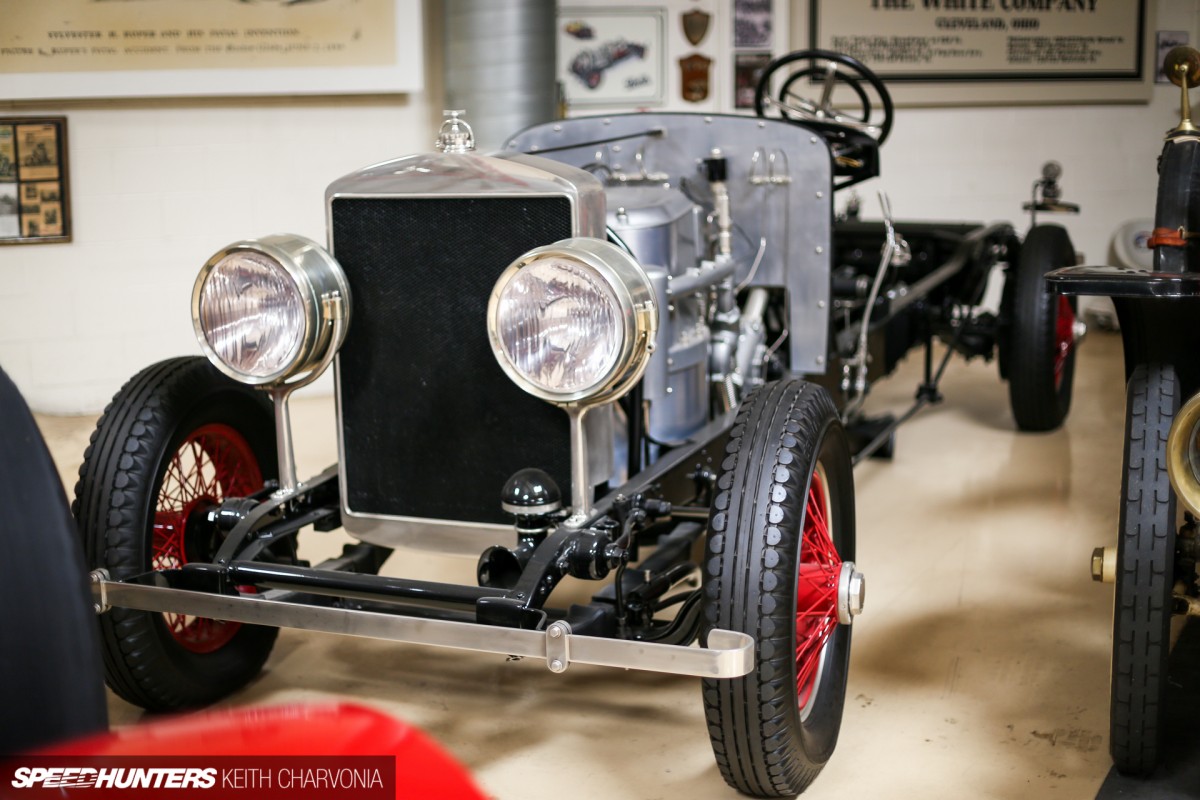 In case you're having trouble grasping the finer points of a Doble steam car, there's a demonstration chassis right next to the real car.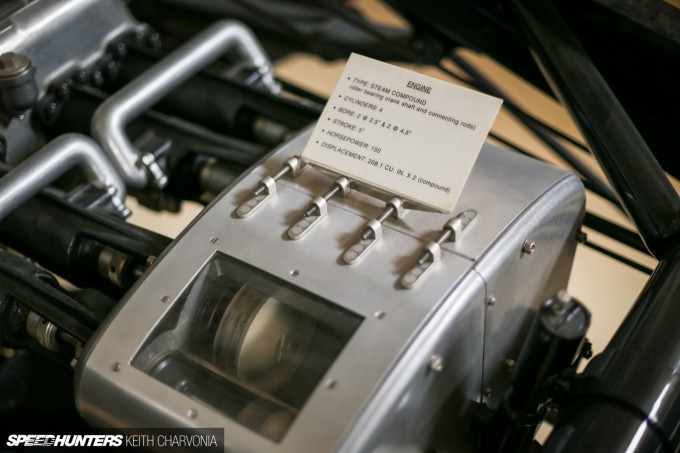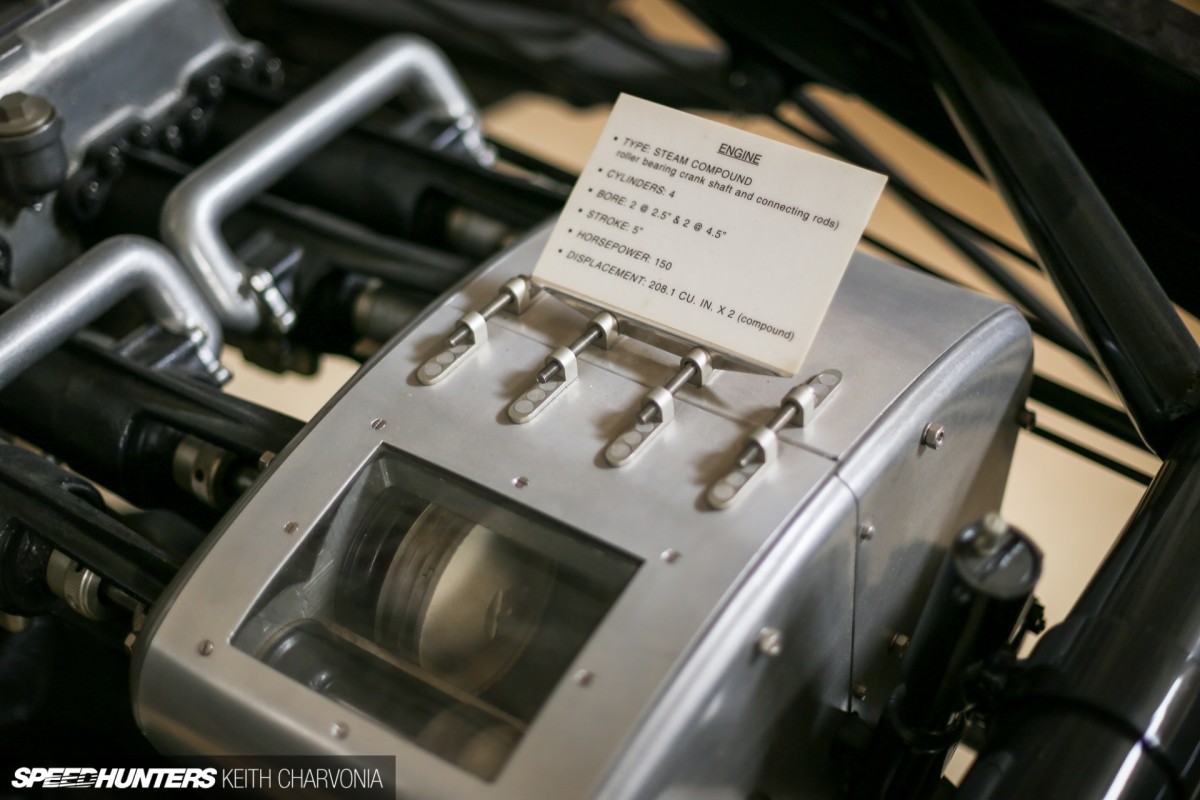 The compound steam engine has a window so you can watch the pistons pump back and forth.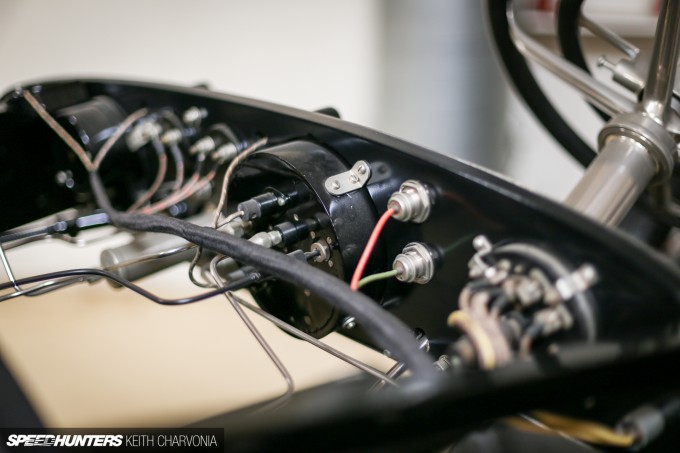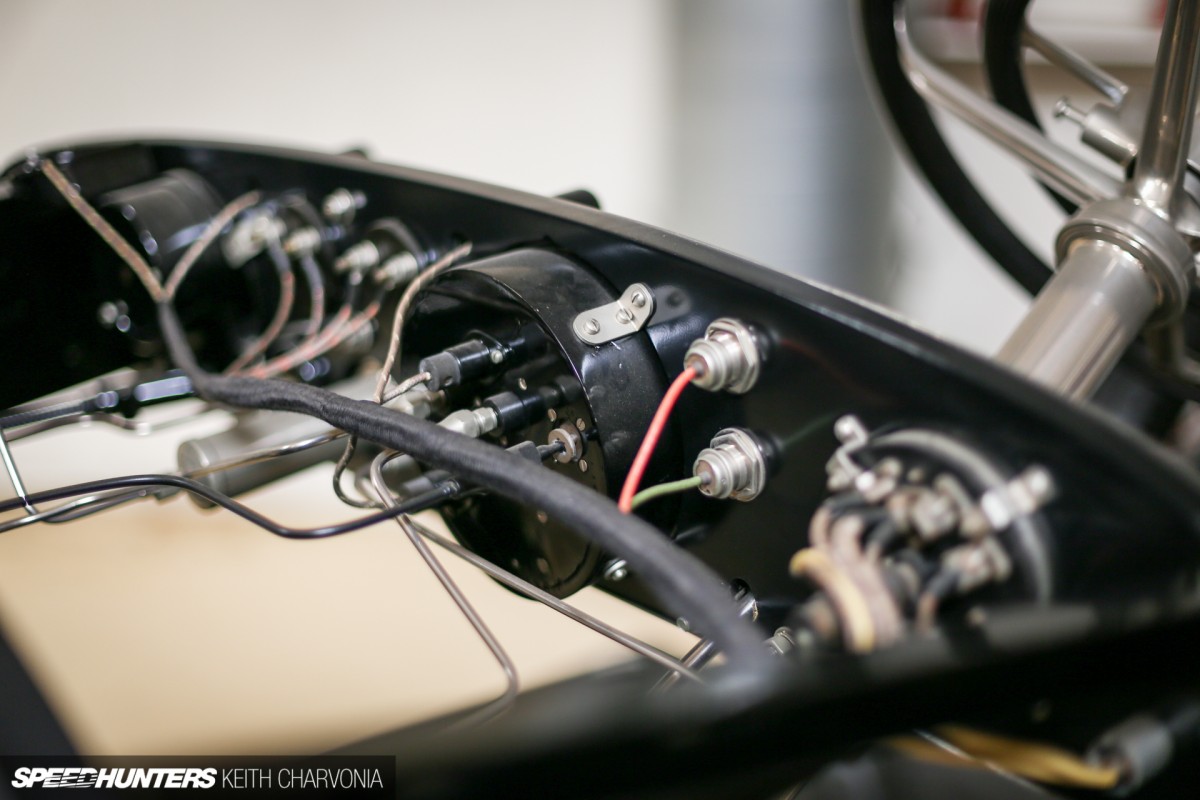 It appears to be complete, besides a coach-built body like the E-20 we were just admiring.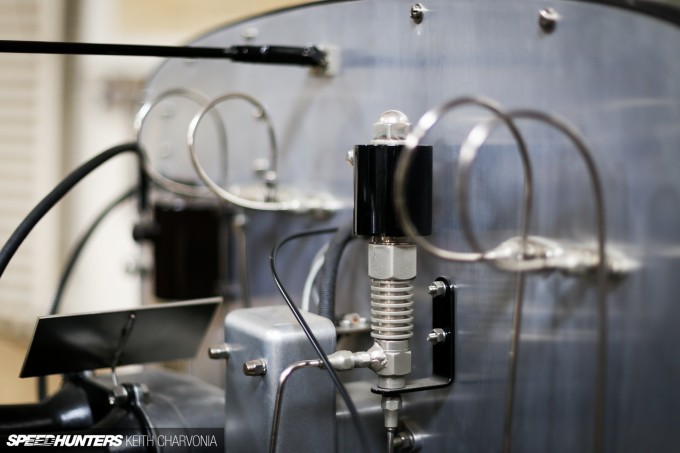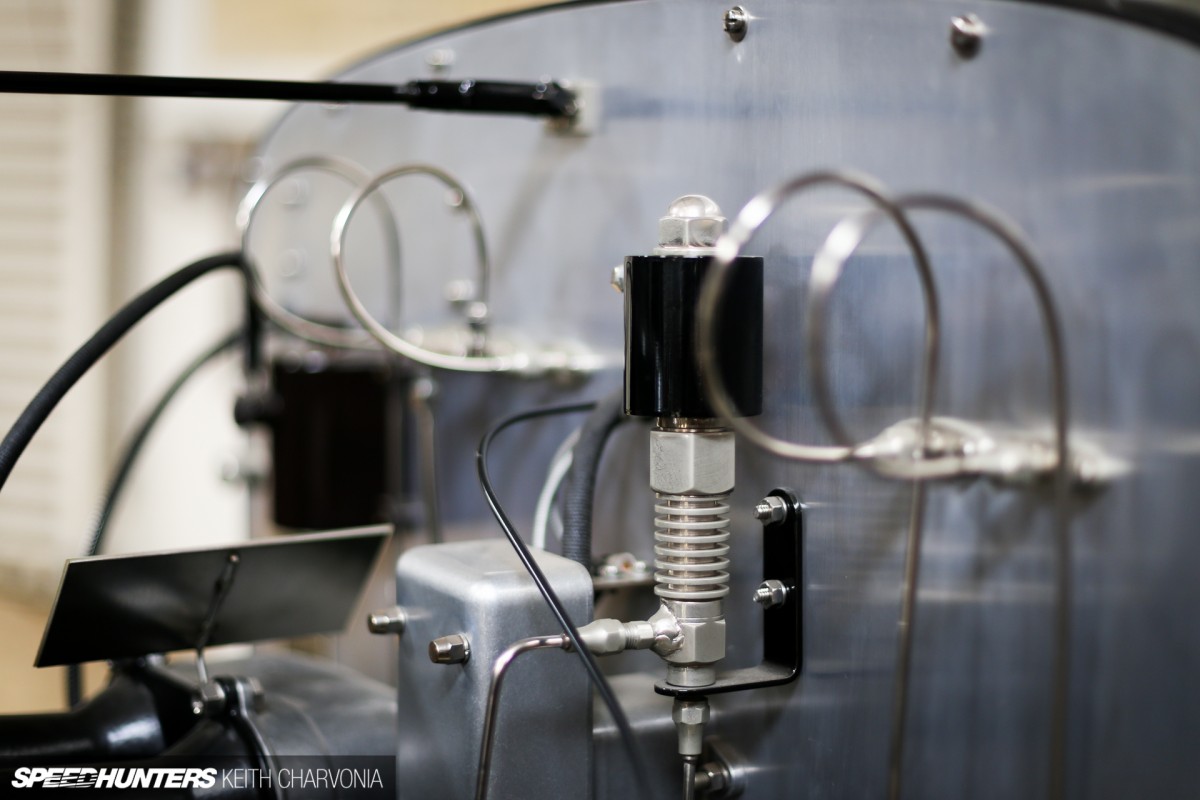 As a casual observer it's tough to know what does what, but Leno or his mechanics can tell you all about it. They're the custodians, and they know the fine details of this car and the hundreds of others they restore and maintain too.
Fast Forward 90 Years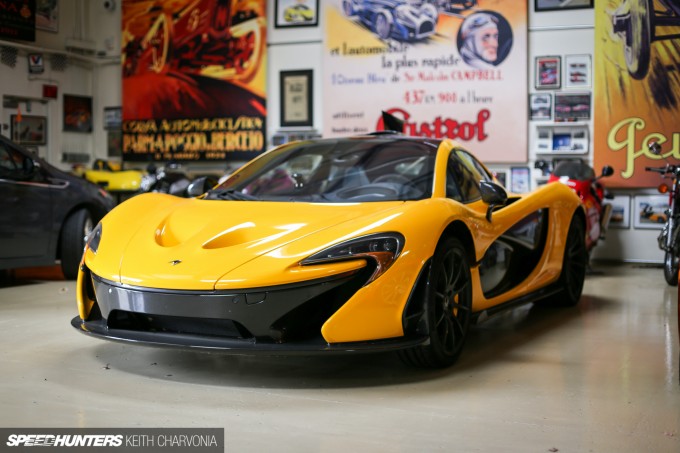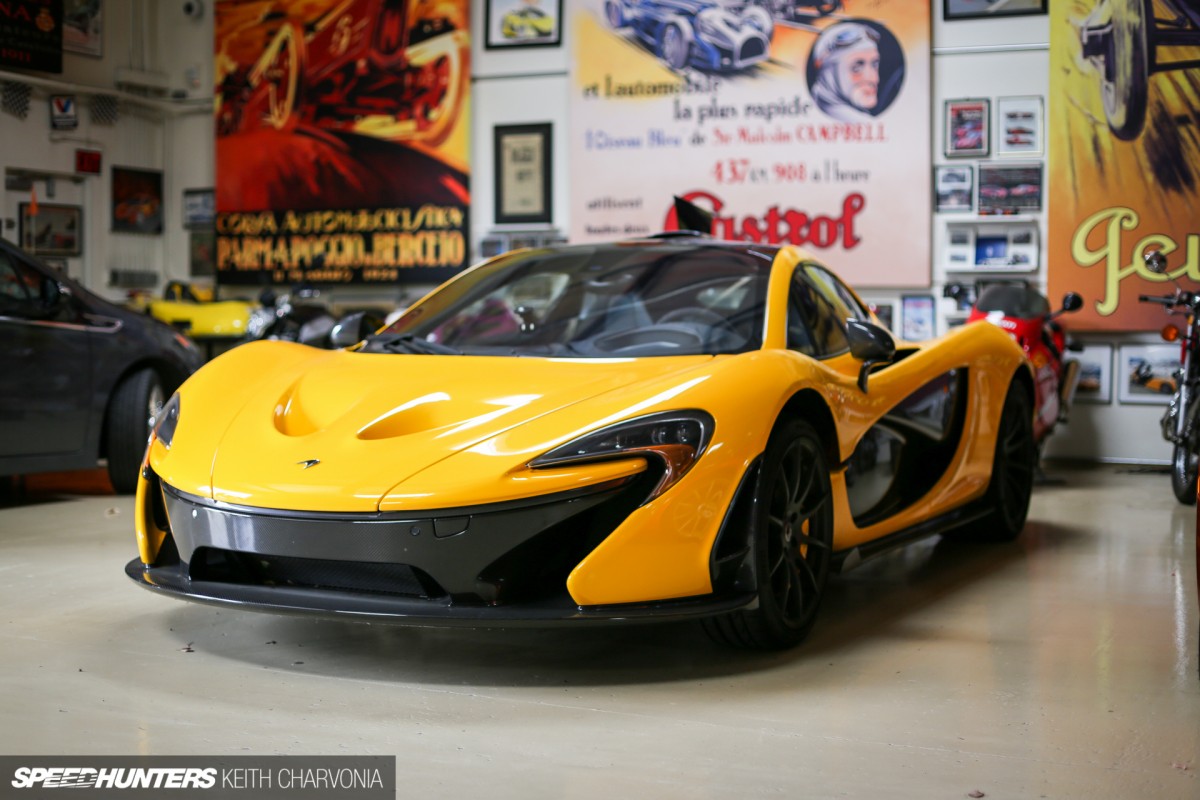 If the Doble was the pinnacle of 1920s technology, then the McLaren P1 must be the same for 2015.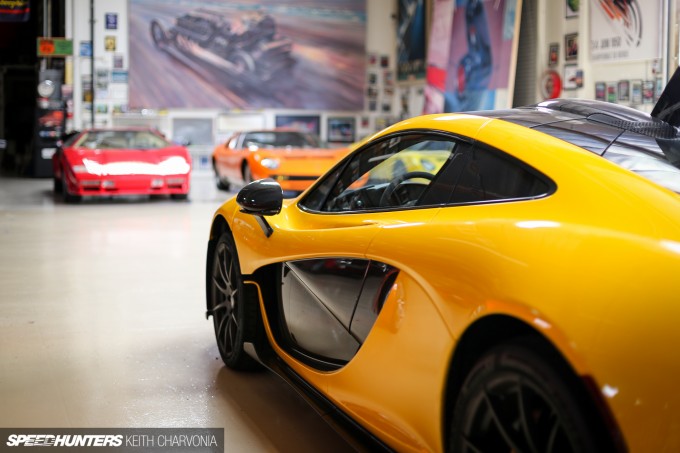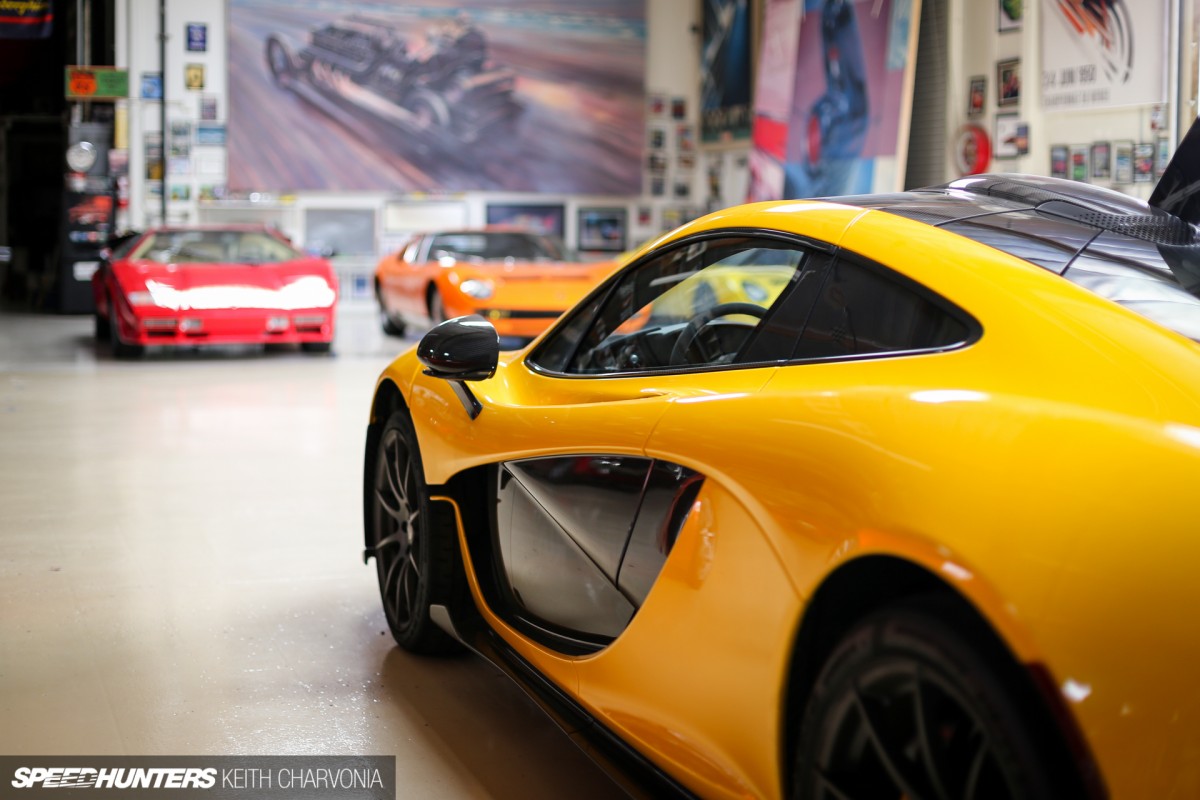 Last time I visited the garage, Jay arrived in his F1 and climbed out of the centered driver's seat as nonchalantly as if he had arrived in a Honda Civic.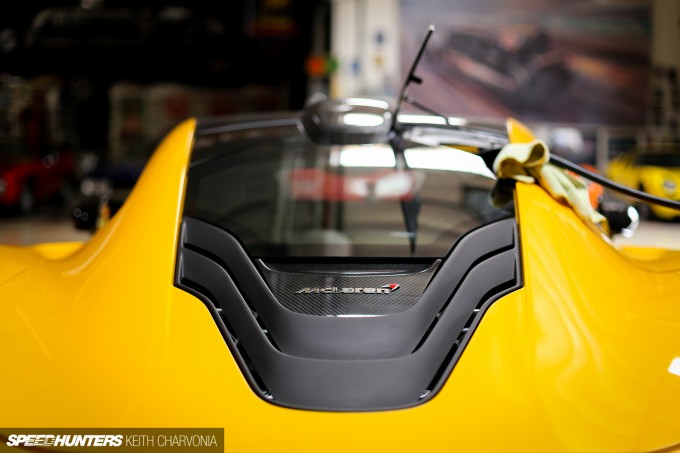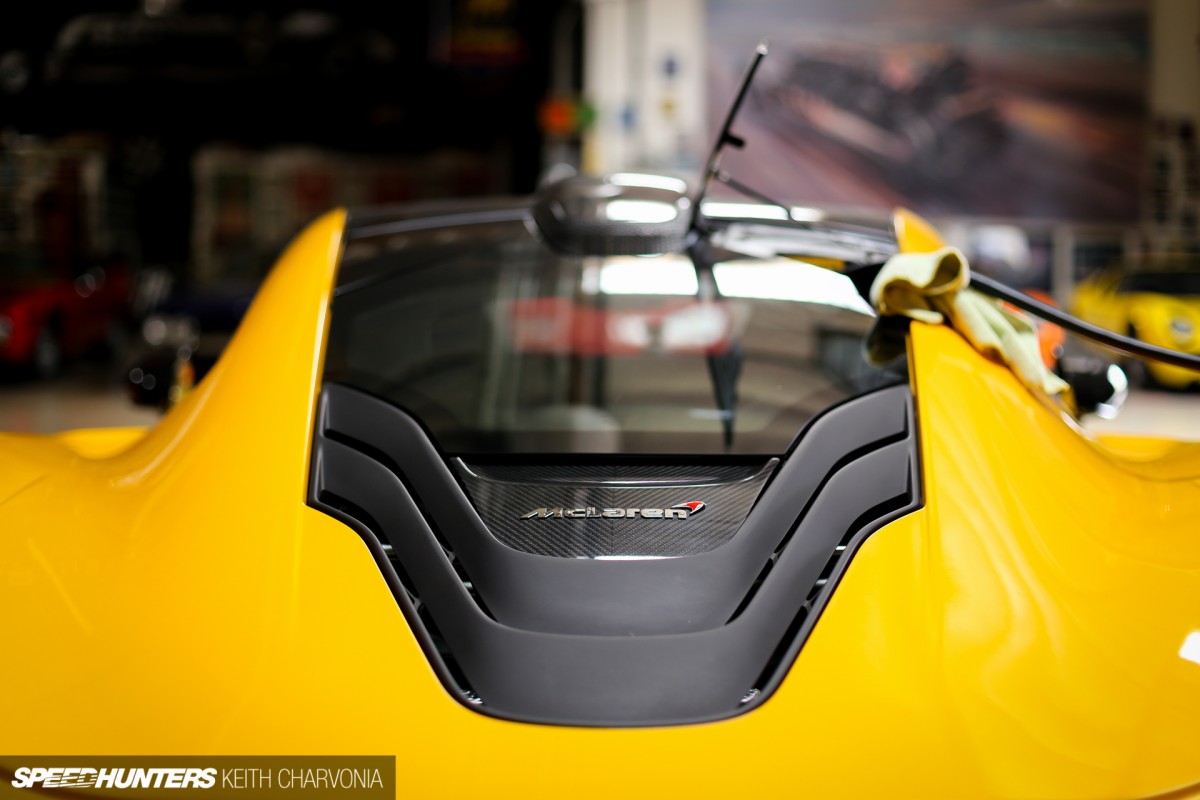 You can bet he drives the P1 too.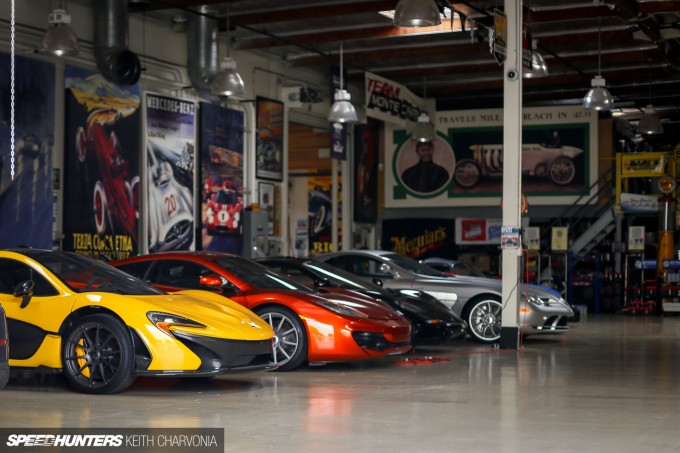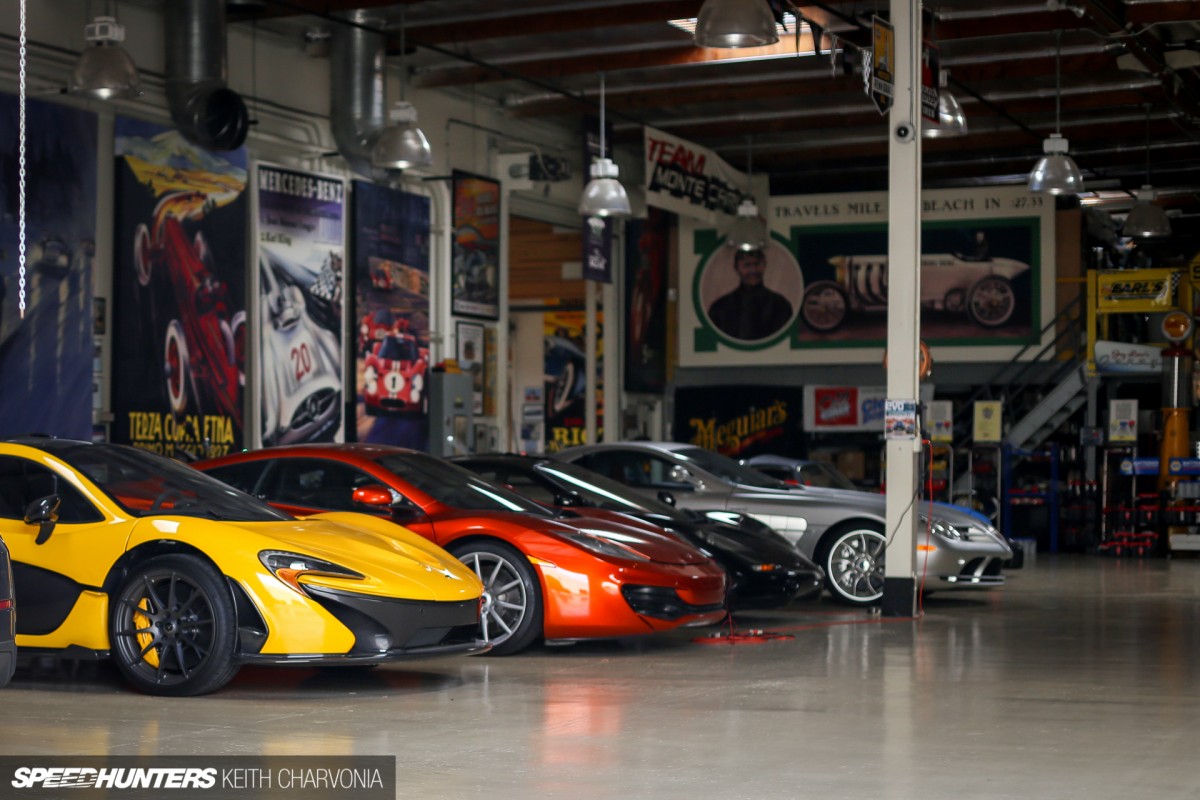 He's got the collection pretty well covered, but he's not the same owner as the guy who started some website and wants to show off his money. We know that guy's car is destined to skid off the road anyways.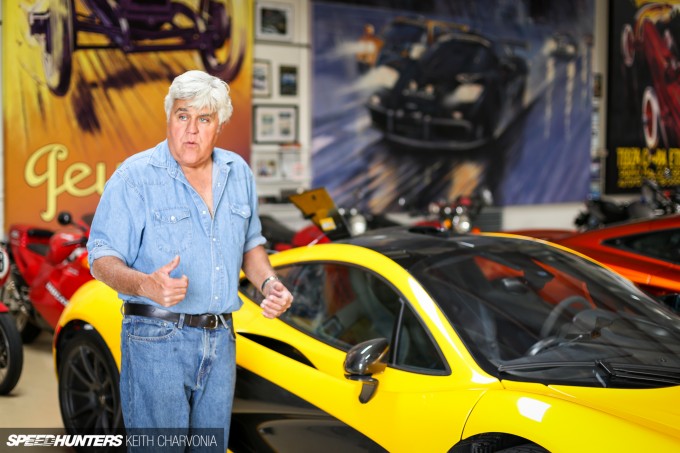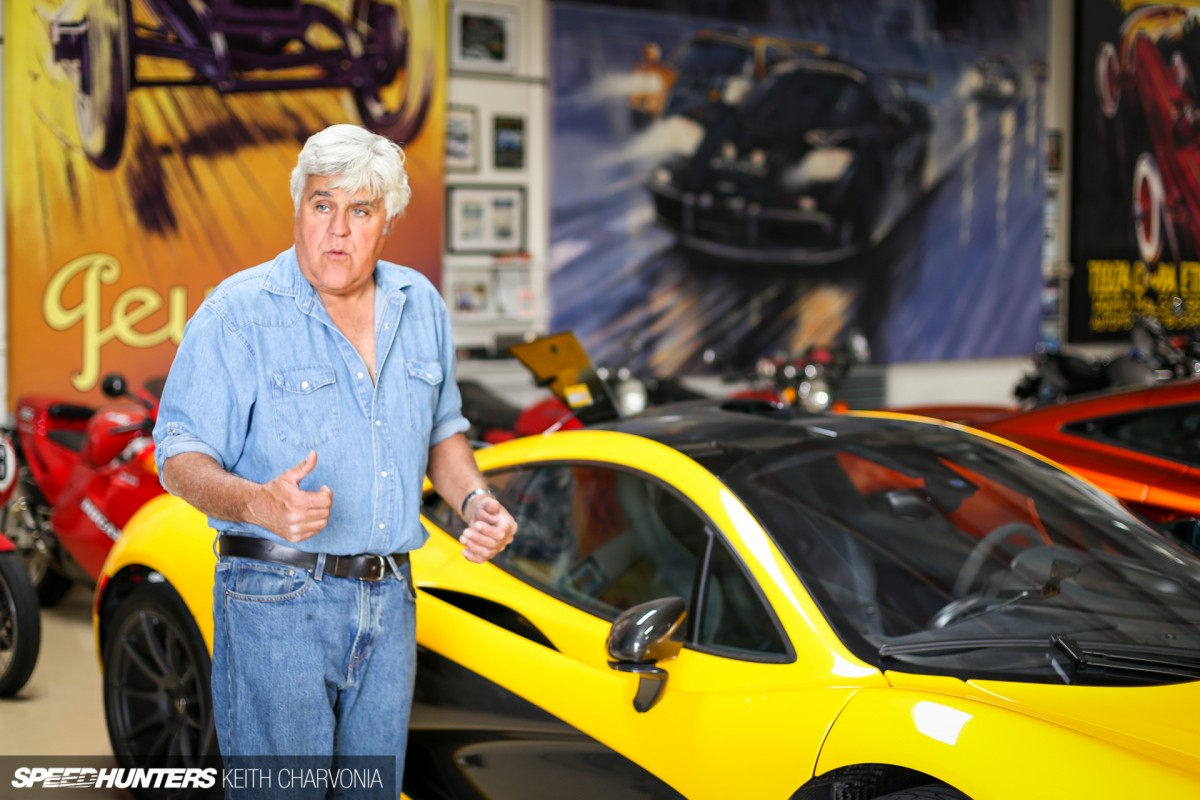 The difference is that Jay truly appreciates the engineering of his McLarens. Like the Doble, Jay delved right into the intricacies of the P1. He can tell you all about how the electric motors work, how it drives in each of its five modes, and how it compares to the MP4-12C and the F1 as well.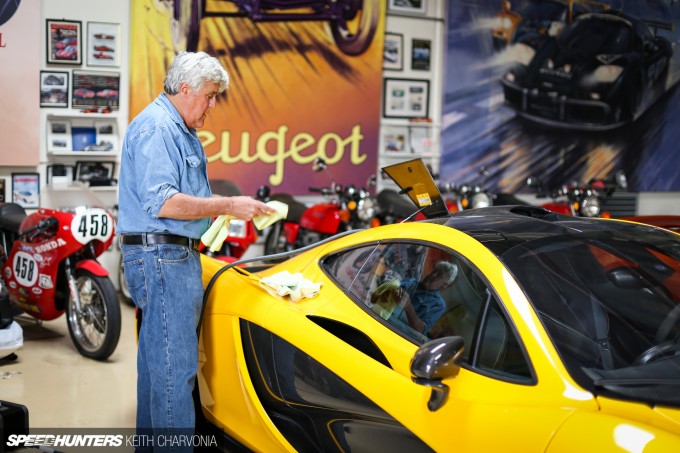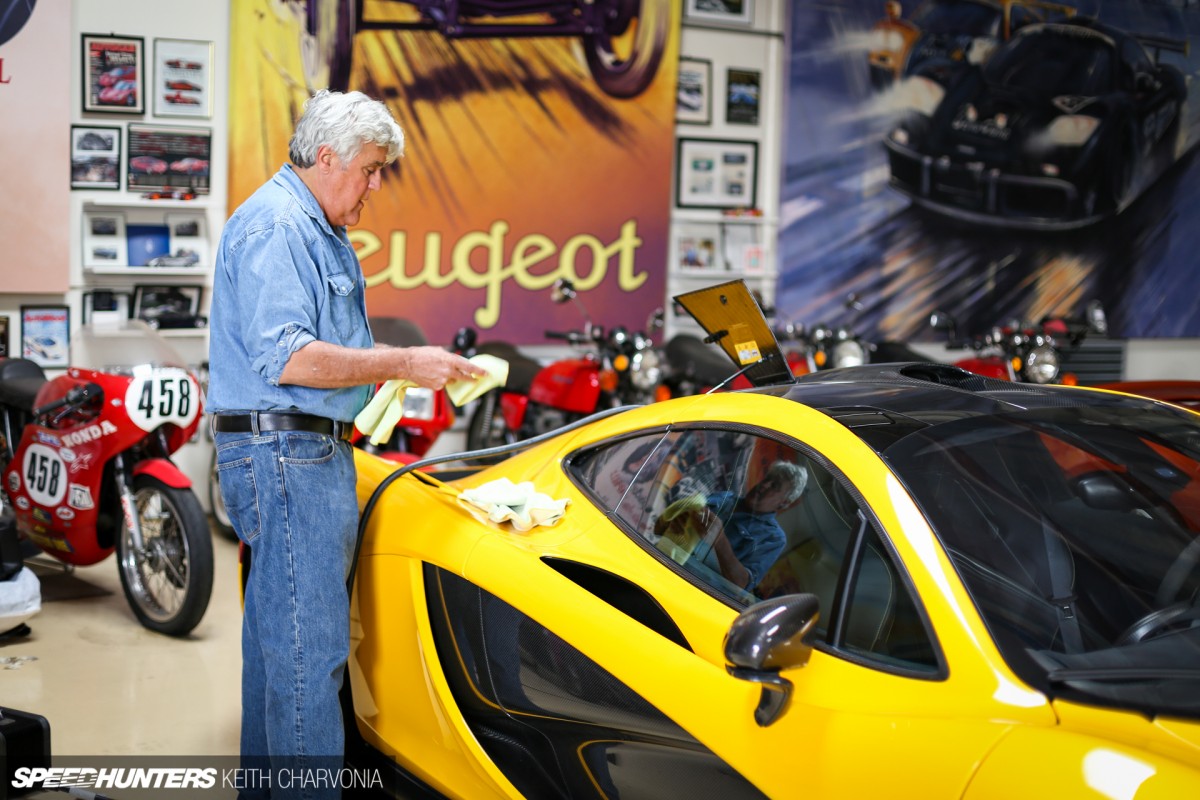 Outside of a McLaren employee, he was the first to drive the P1 when it came out. Of course, he was one of the 375 individuals who got to buy one too.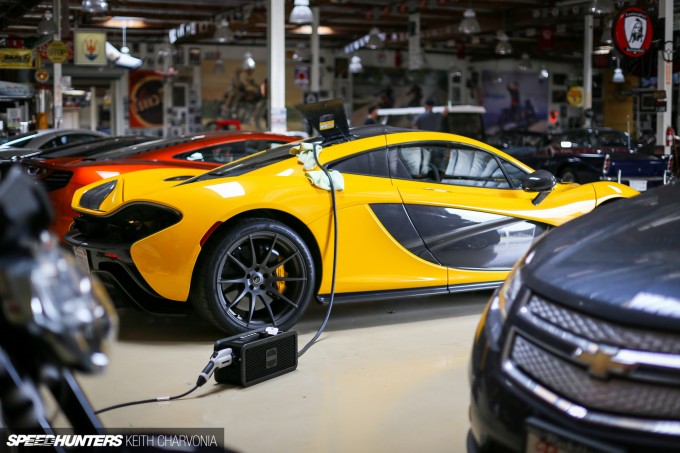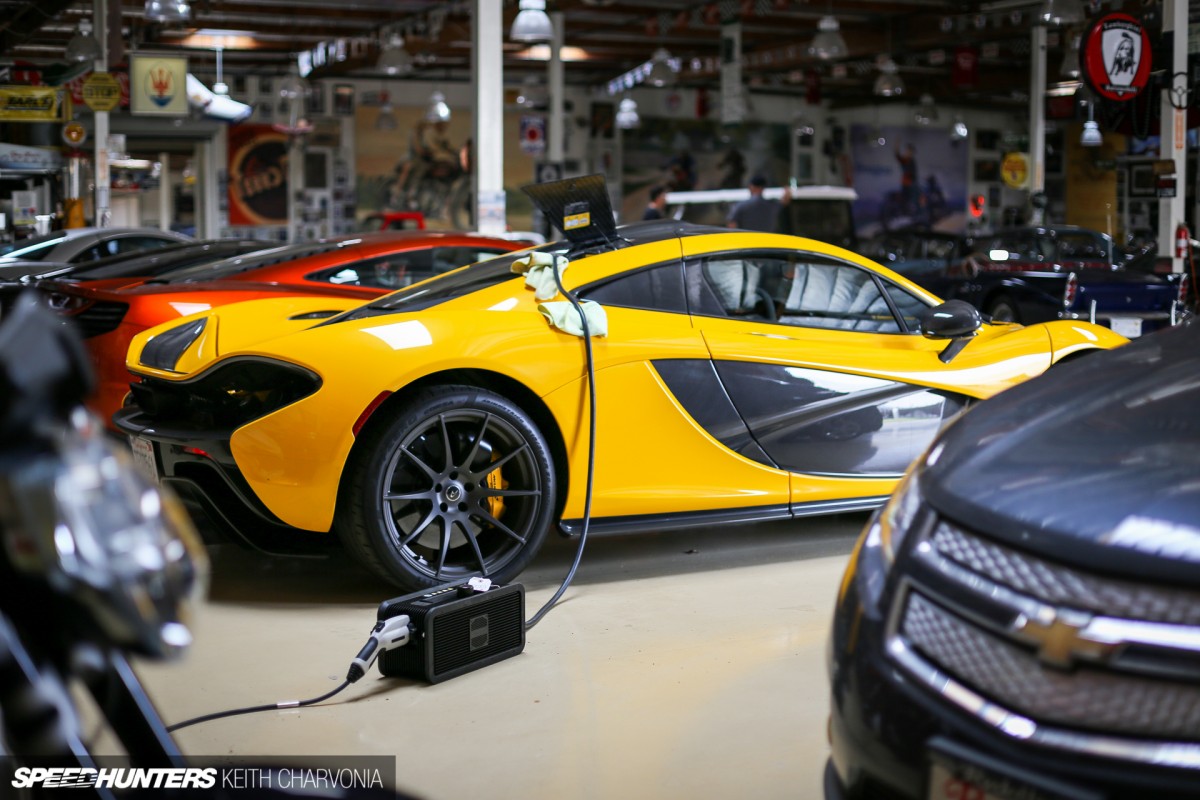 Leno has enough seat time in enough cars that he can actually have an opinion when it comes to a car like the P1. Me? All I would be able to tell you is that it's super fast.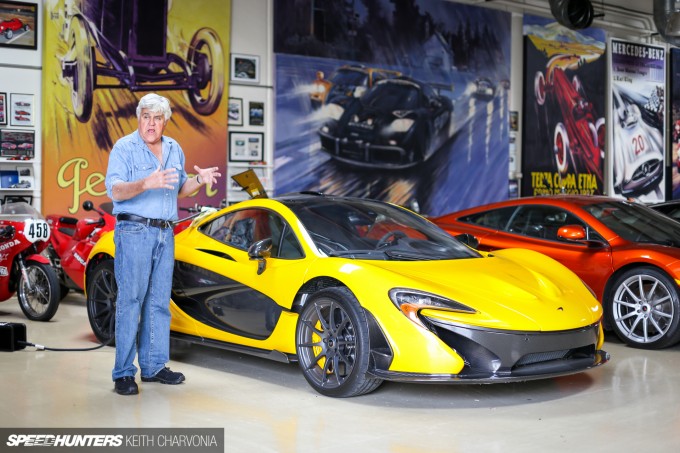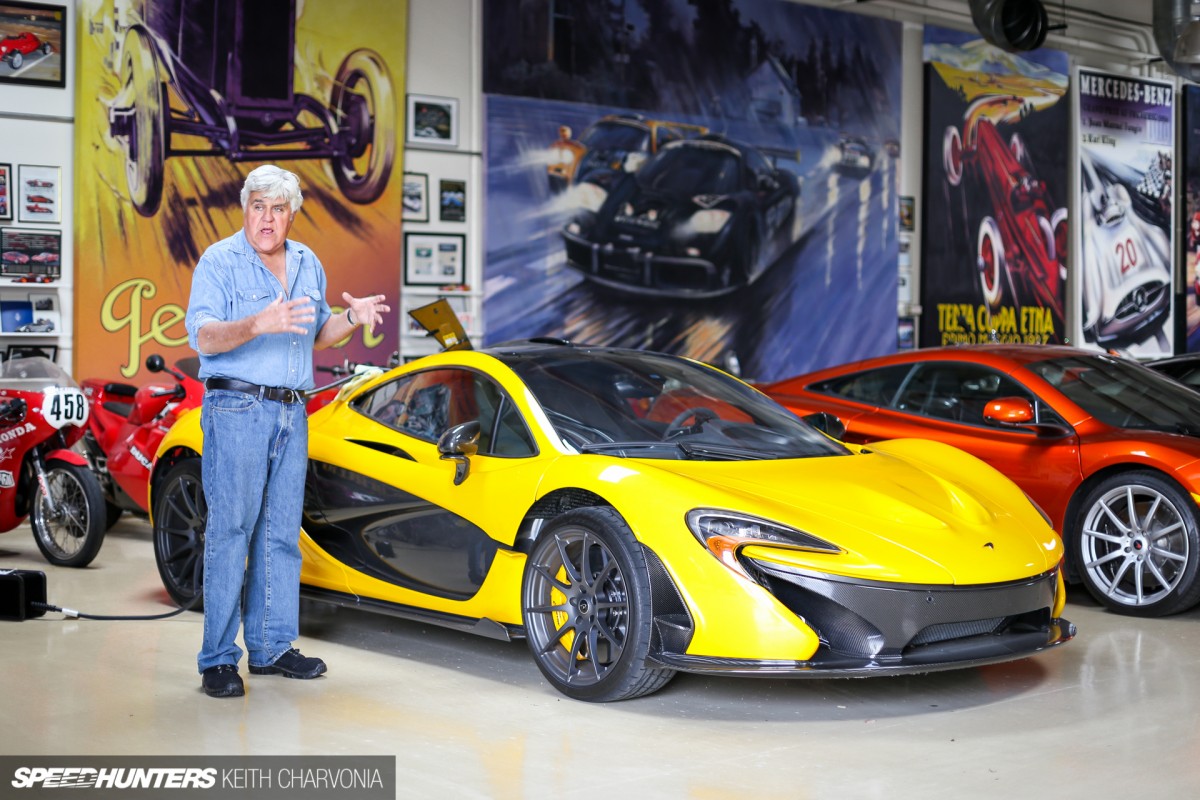 Jay explained that he had it lifted up high so he didn't rip off the nose as he pulled in, because "just the splitter is the price of a Porsche Cayman."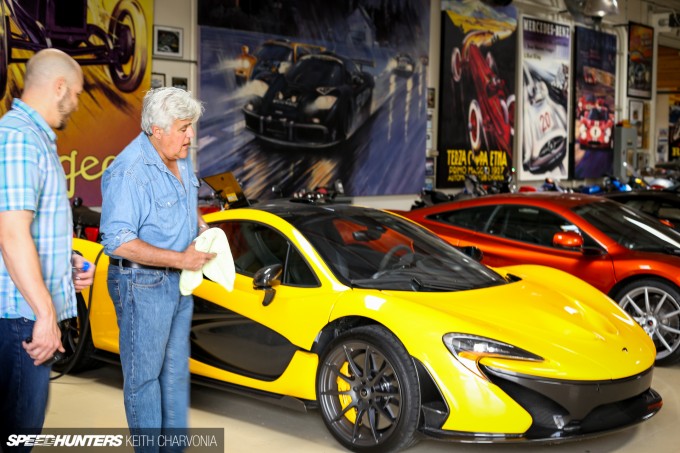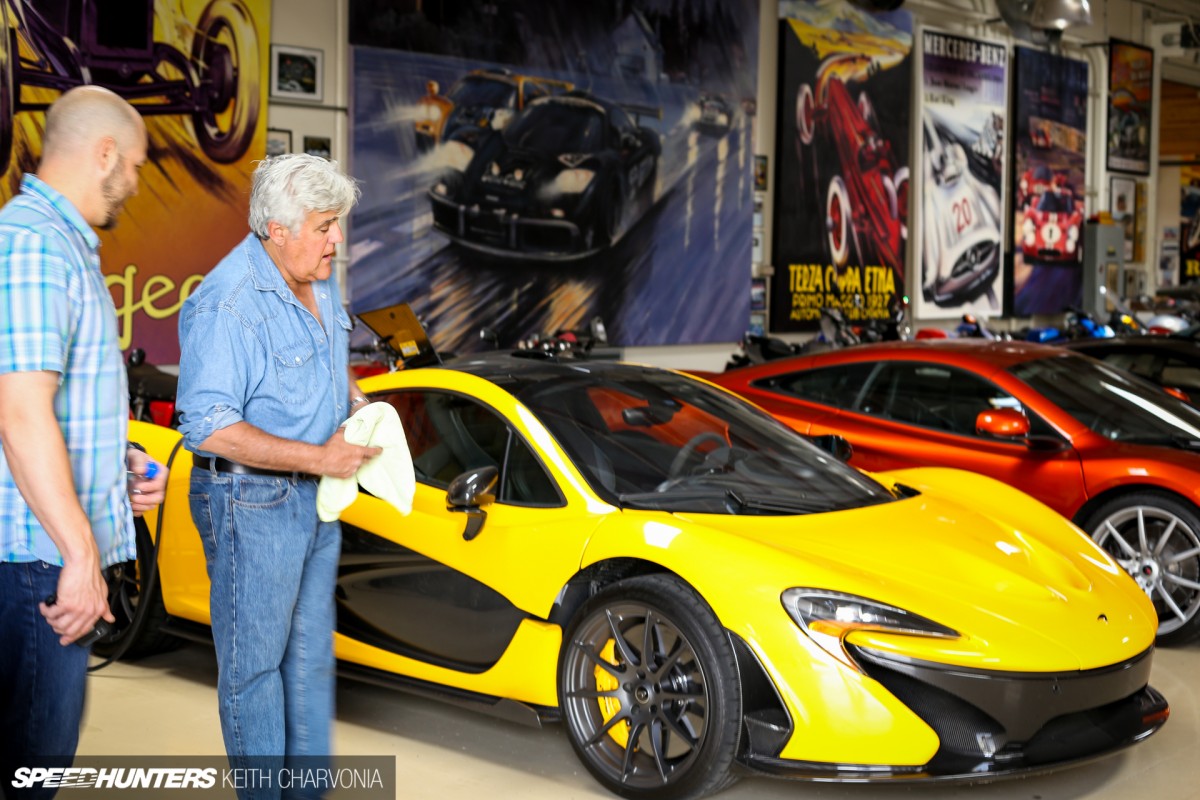 We could tell Jay was enjoying giving us an engineering lesson as he explained the merits of hybrid technology as it applies to speed rather than economy.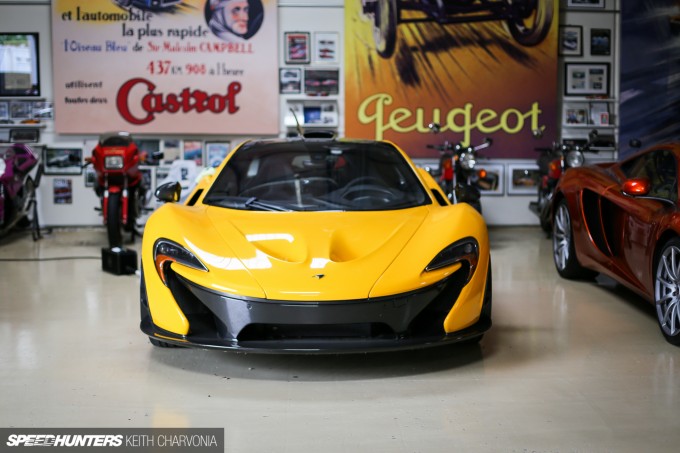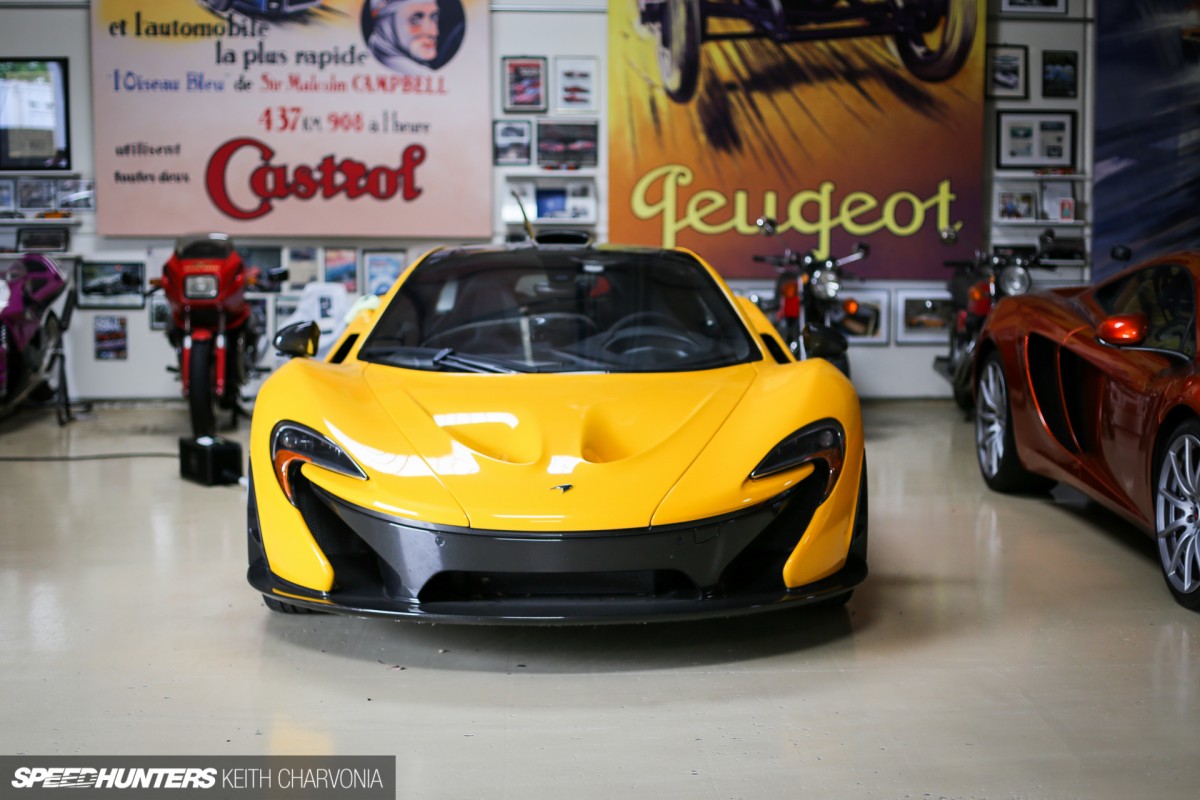 If you want to learn more check out this video where McLaren CEO Mike Flewitt visits the garage to walk Jay through his new P1.
Turbine Powered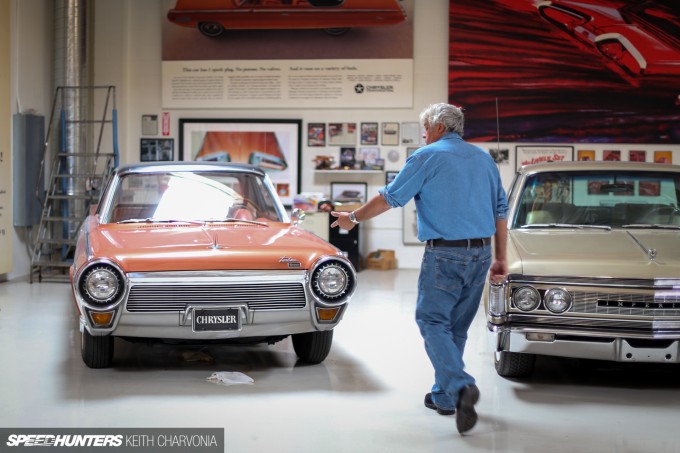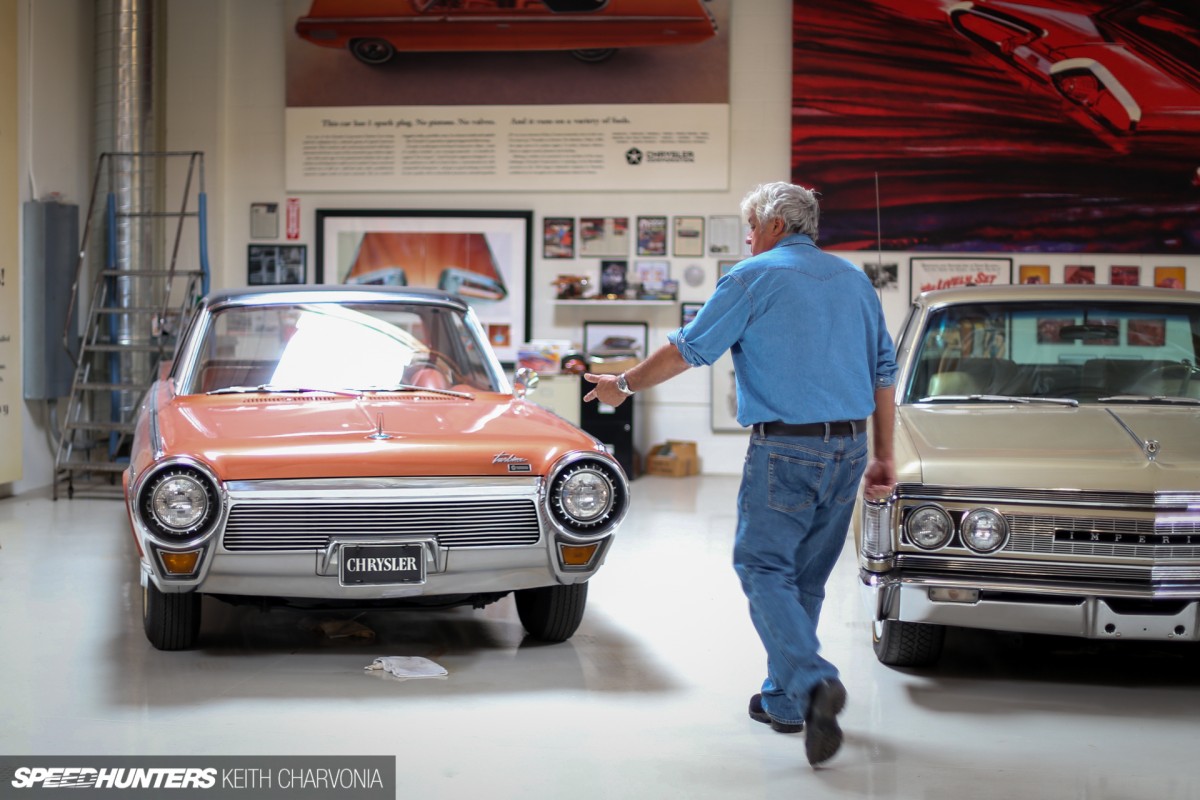 We've covered a steam car and a hybrid, so why not a jet car next? The Chrysler Turbine car was actually my special request, simply because it's always fascinated me.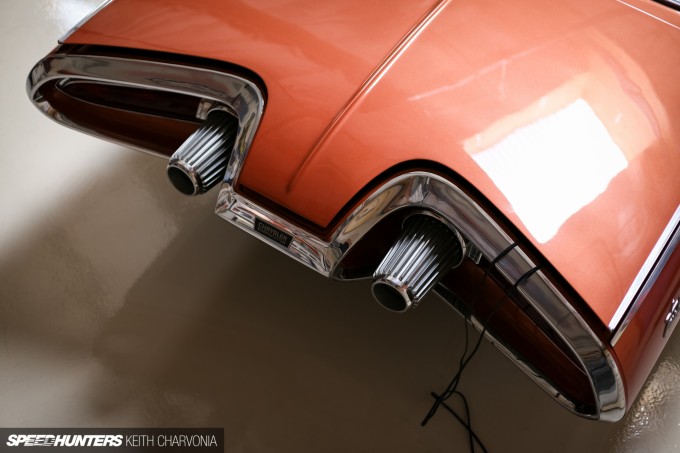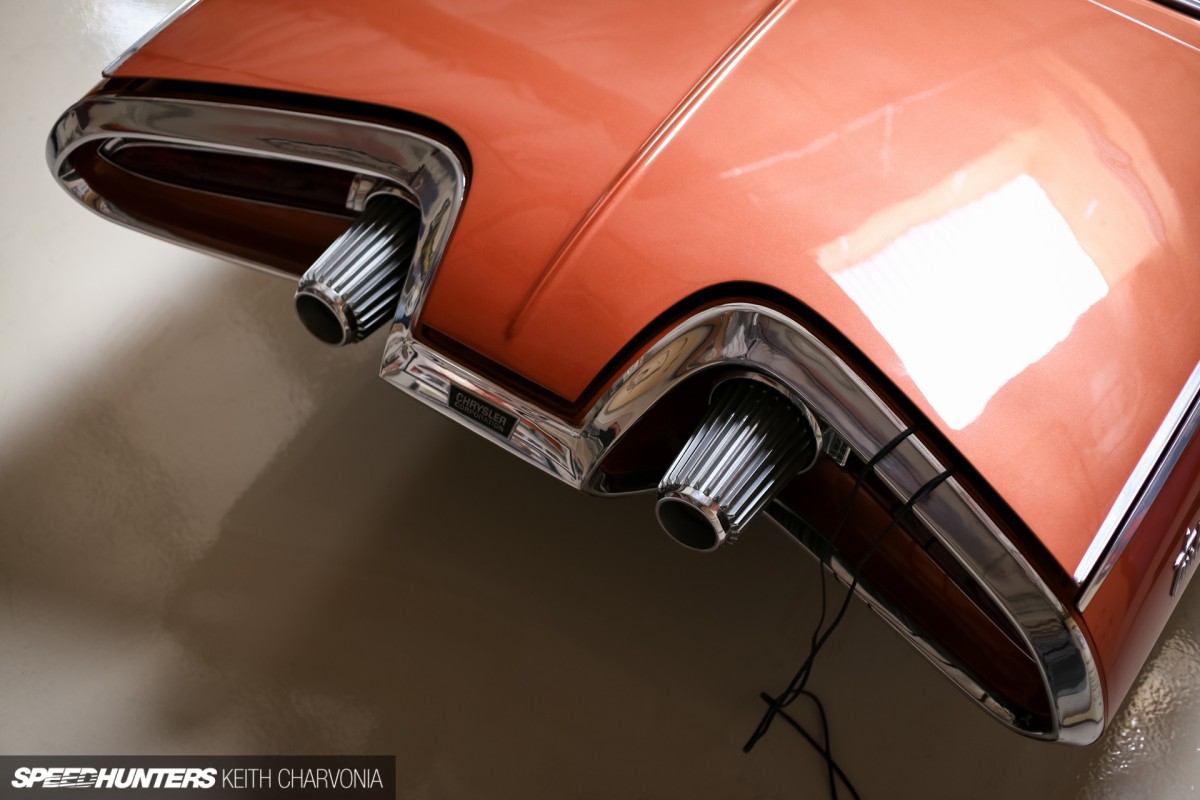 The Ghia bodies were made in Italy and shipped to Detroit in crates. There's some great old footage of Chrysler engineers uncrating the bodies in Leno's video.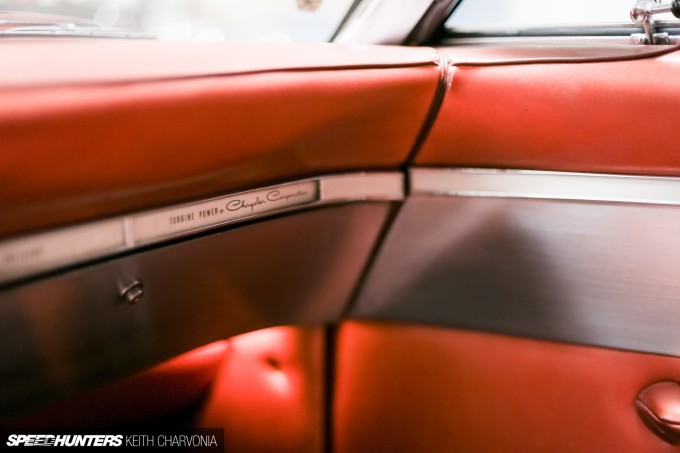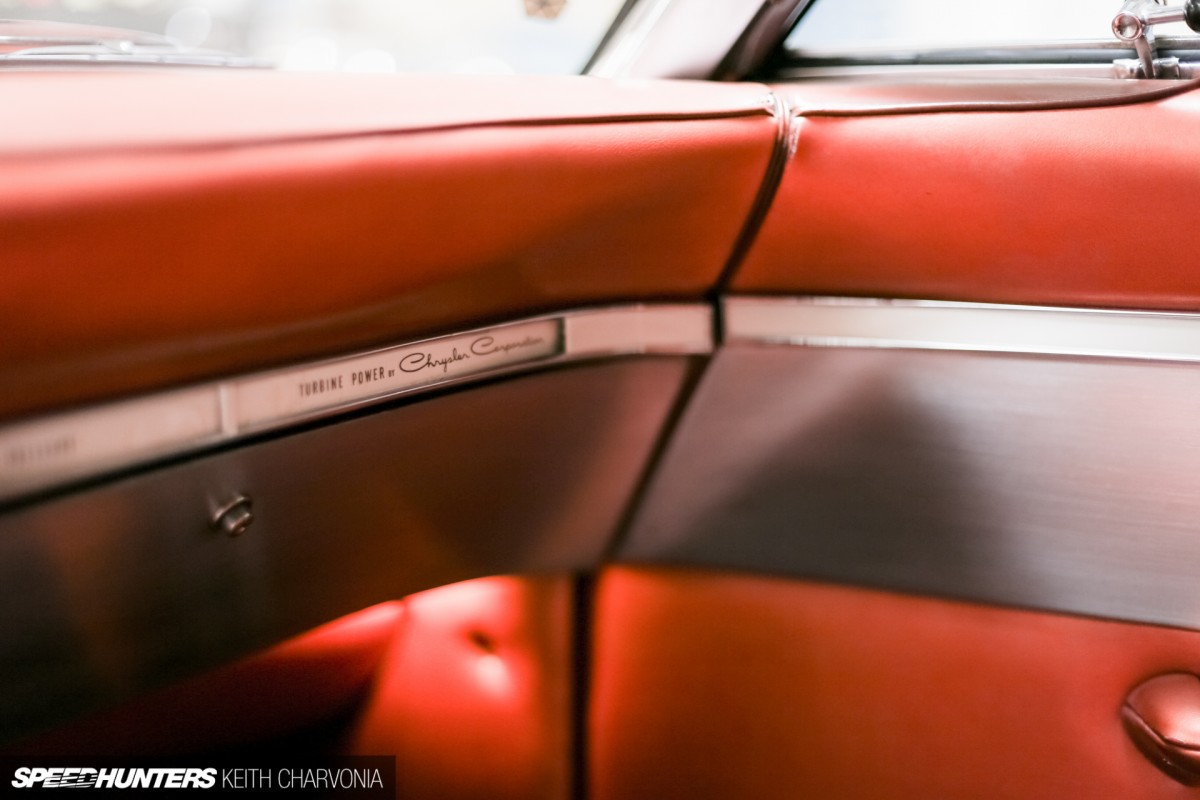 When Jay was 14 he went to the 1964 World's Fair specifically to see this car. Who would have thought that one day he would own one of the very few examples left?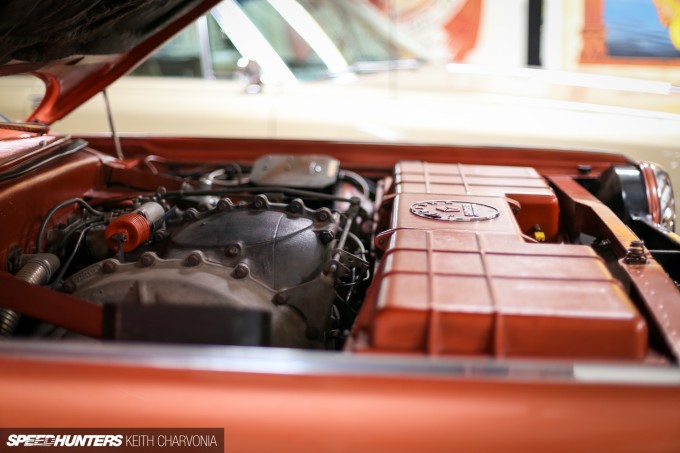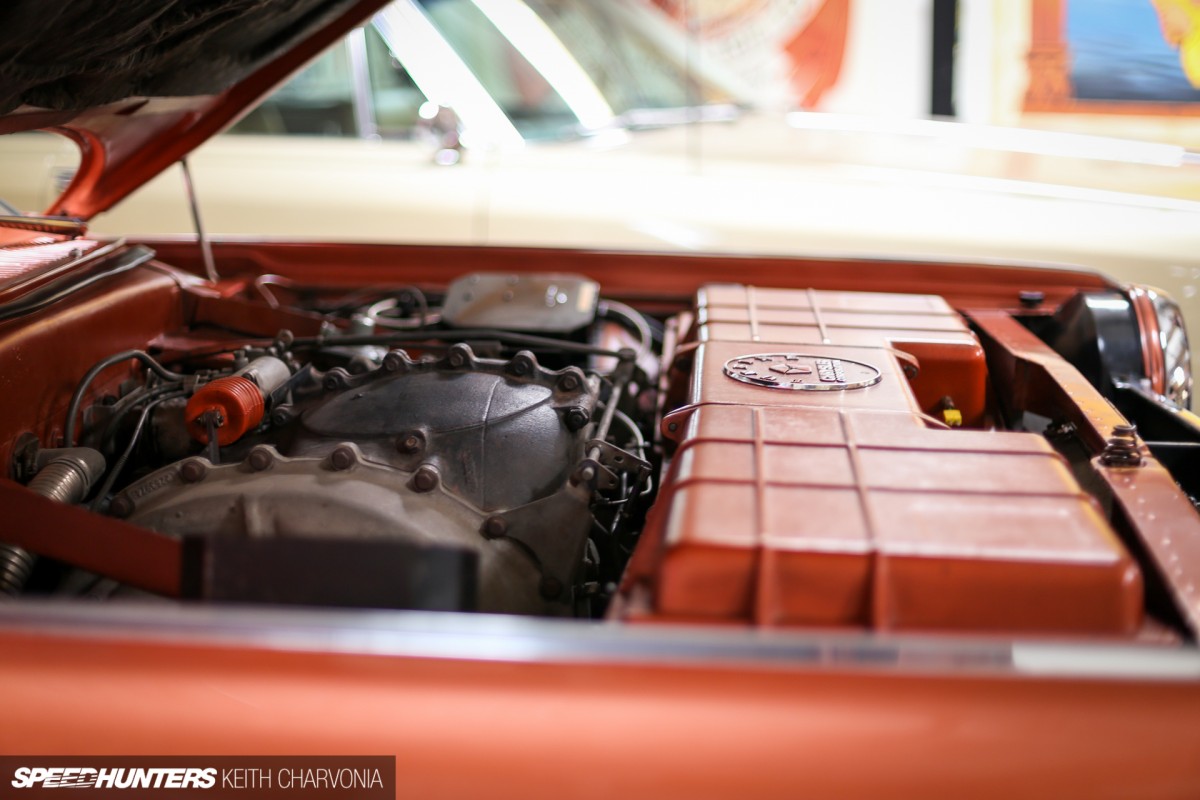 He opened the door and pulled the hood release, then asked me to raise the hood. I was giddy just touching the Turbine car's rare hood. This is the kind of thing you wouldn't dare do in any other circumstance, but in Leno's garage fingerprints seem to be okay – with his permission of course!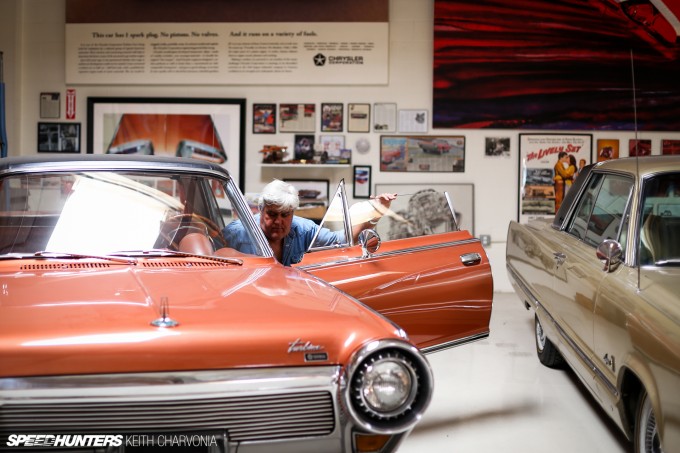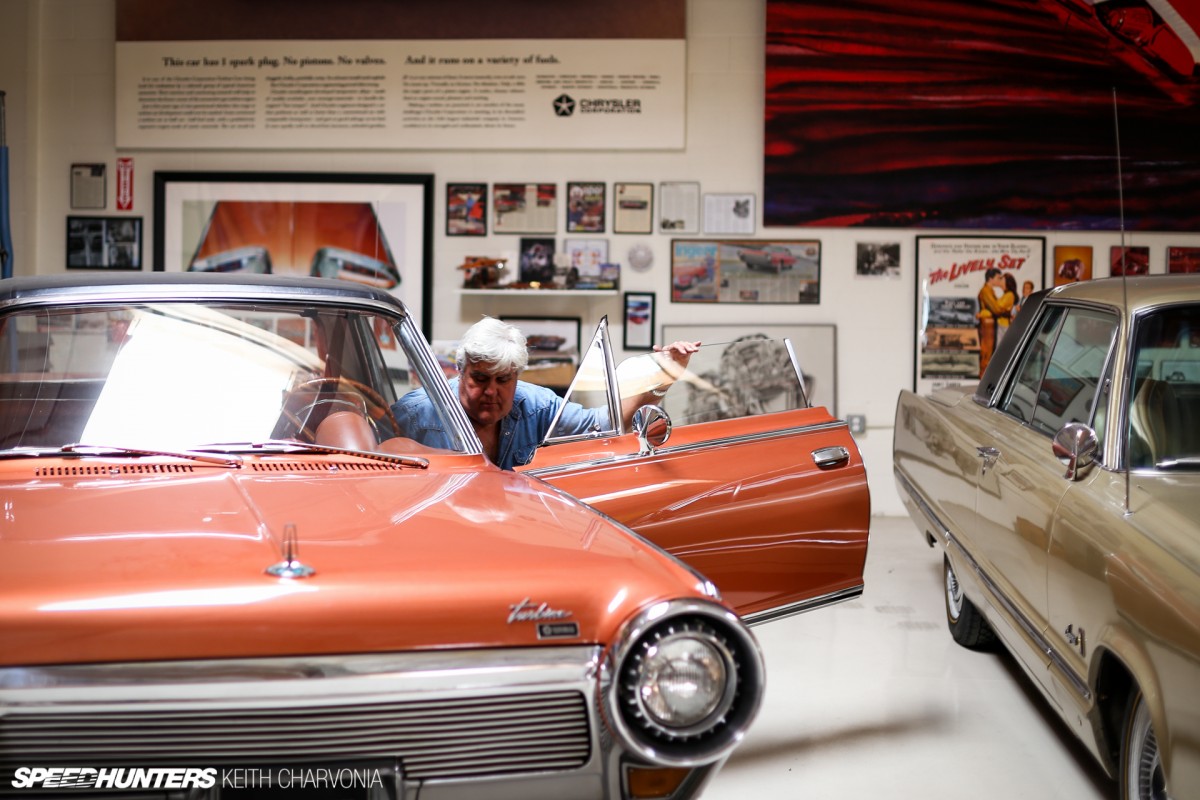 Once more, Jay reached inside and twisted the key. The sound that came next was both bizarre and euphoric at the same time.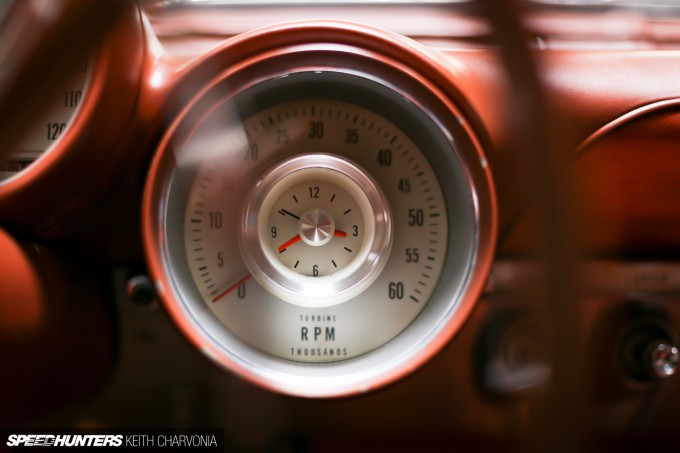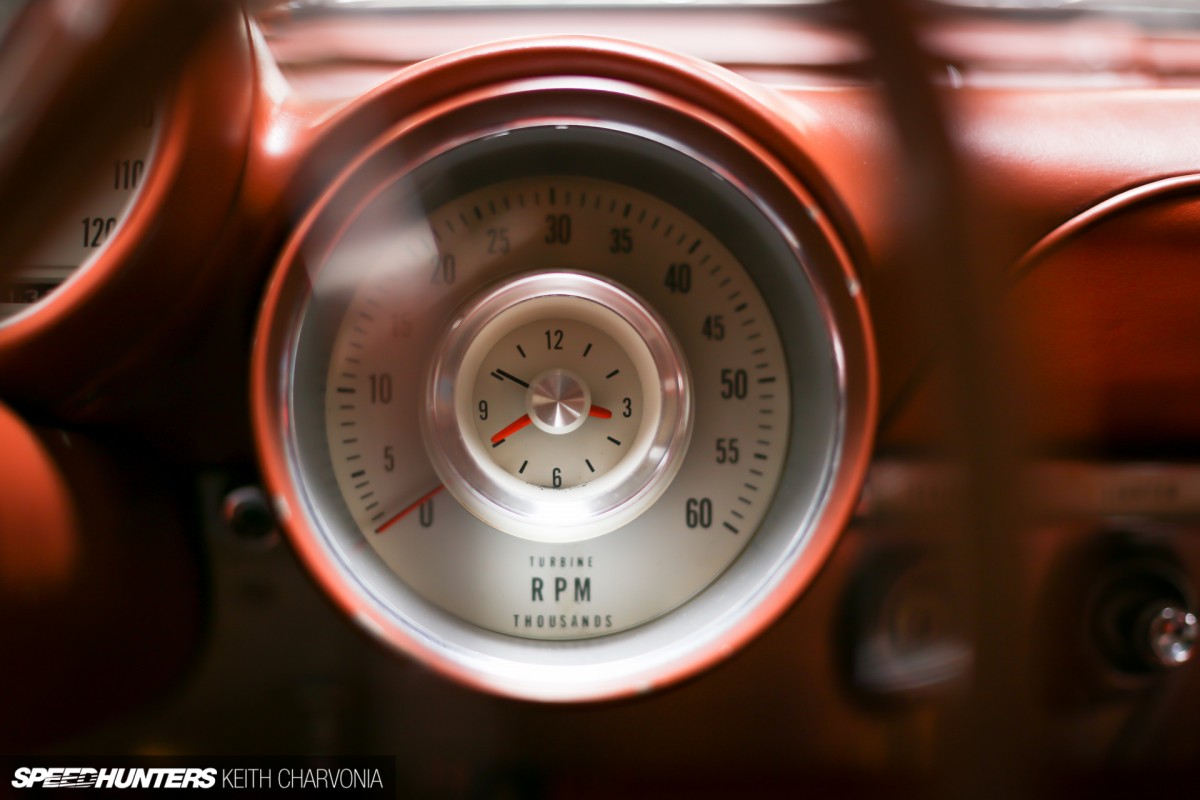 The turbine engine lit off and hummed up to a 22,000rpm idle. This car belonged to Chrysler until Jay took ownership (he's the only owner on the title) and the first thing he did was fix the clock and all the door dings.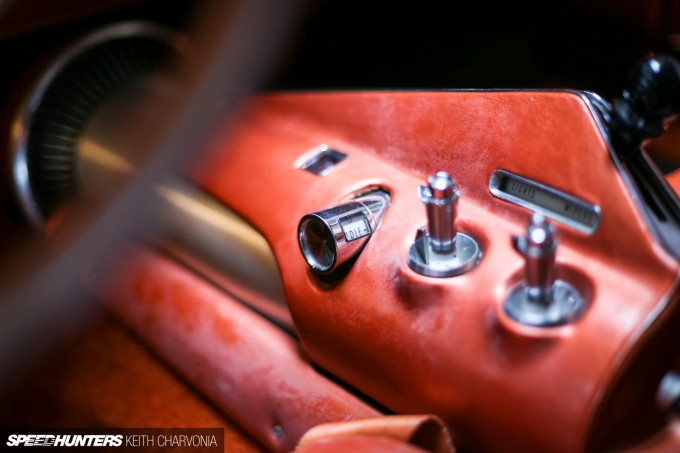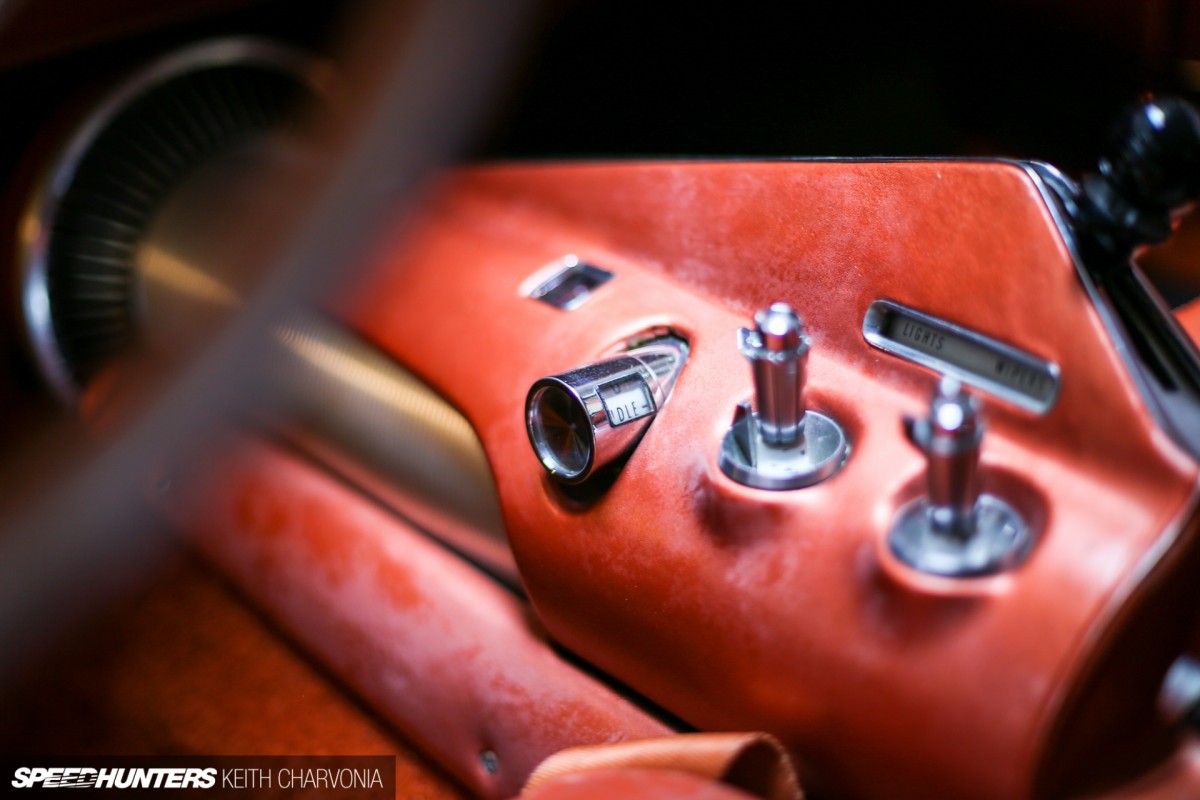 Fifty five were built and put into public hands. To get one you had to write a letter and then be selected by Chrysler. To think that ordinary people had these cars sitting in their driveways; this was jet-age optimism in the flesh.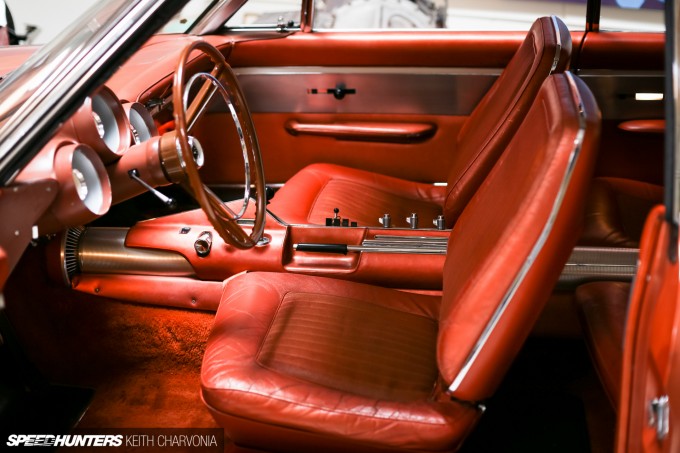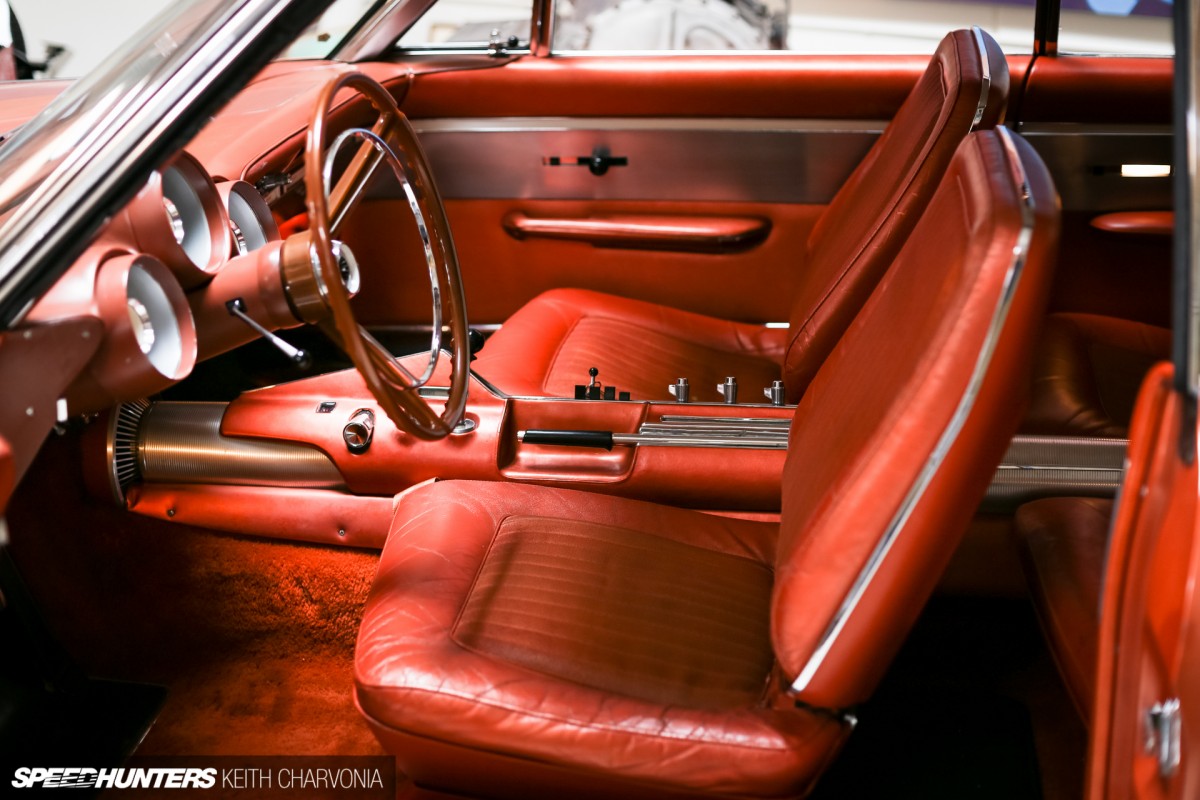 The Big Dog Garage mechanics haven't restored the car so the leather is wrinkled and there are small chips in the paint. I hope they never do, because the '60s charm would be erased.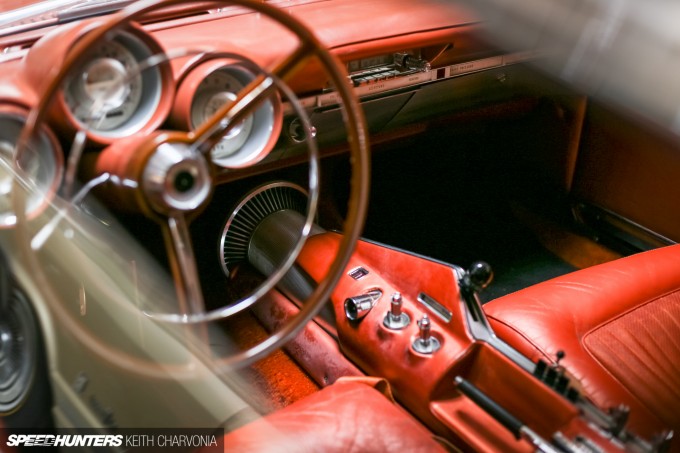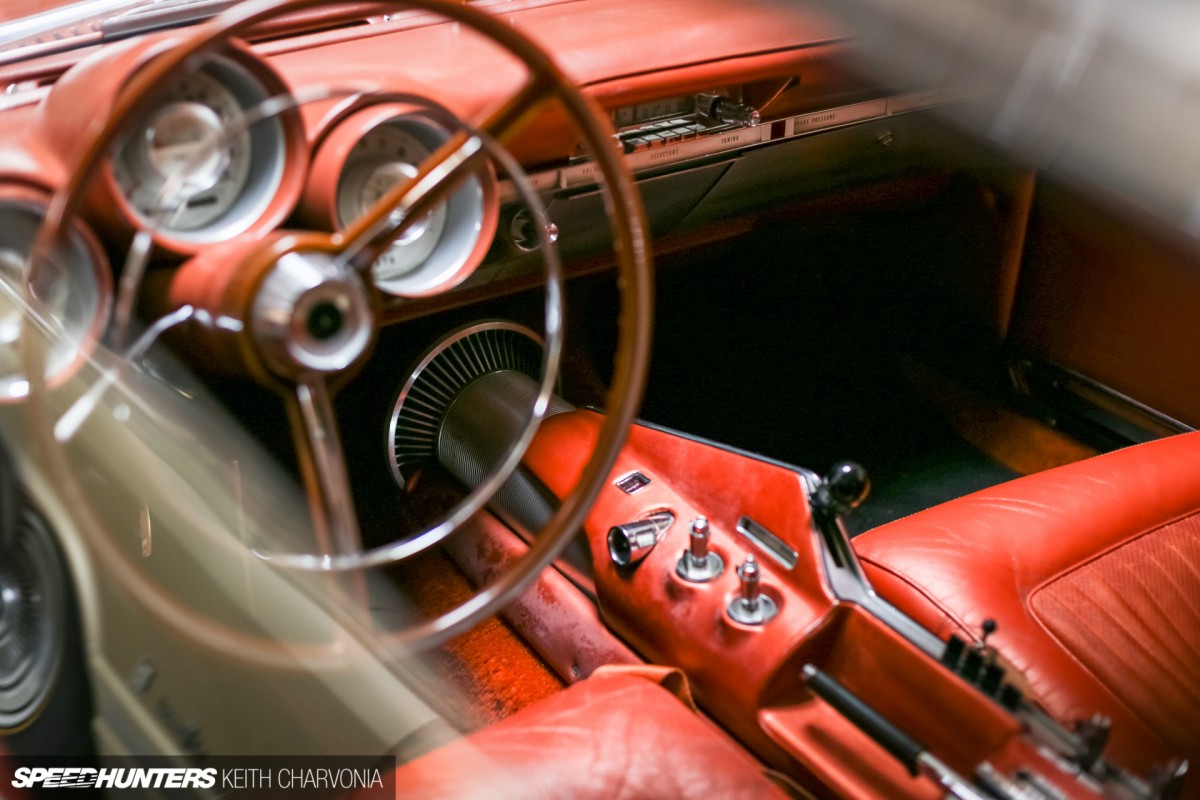 Looking at this car it's clear that the designers had fun with it. The styling approaches Jetsons status, yet somehow it's real and it's right here in front of you.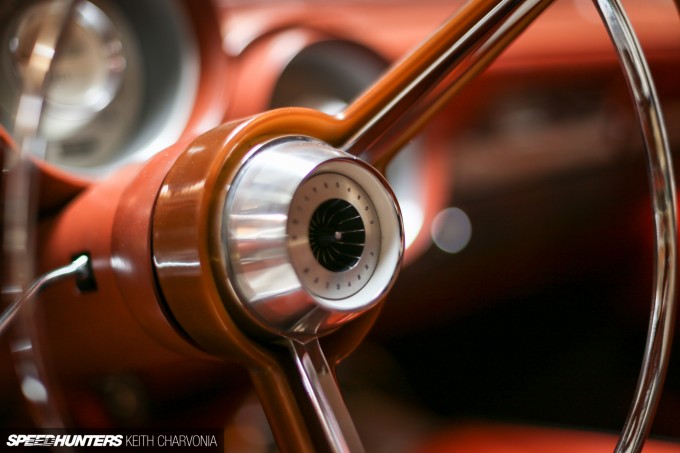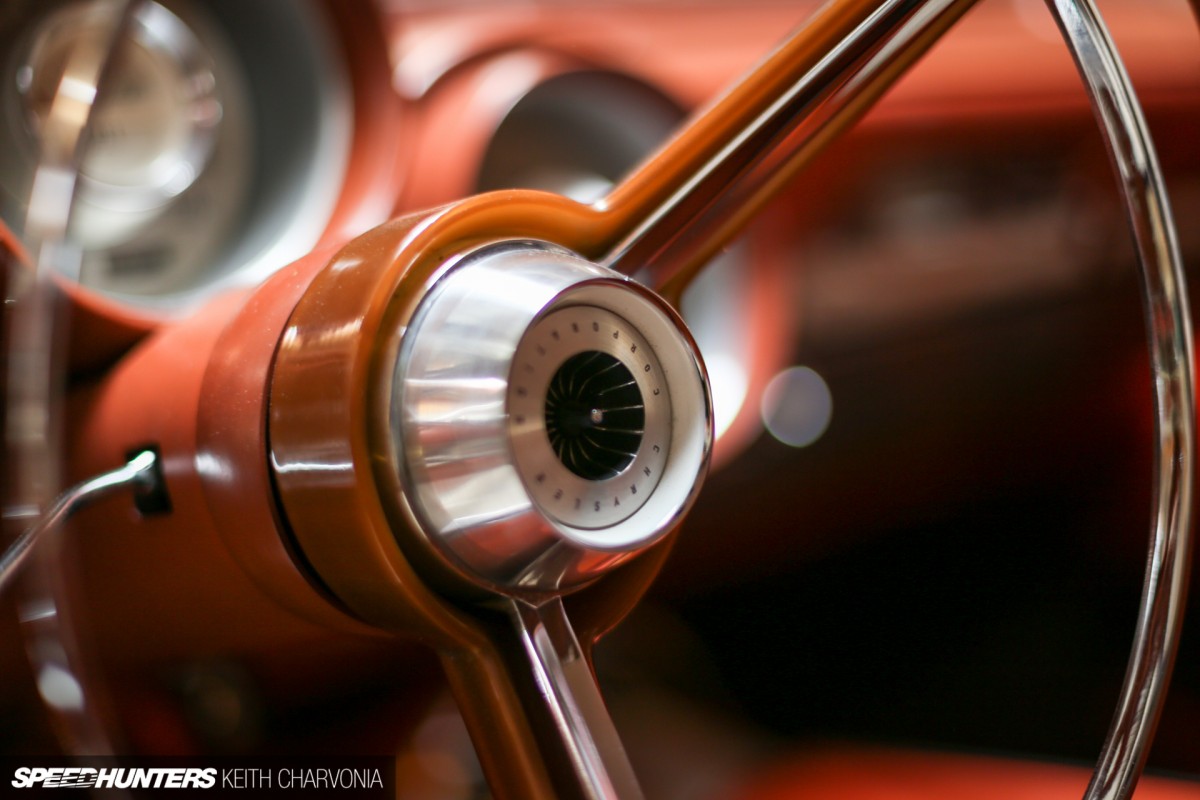 The turbine motif is everywhere you look.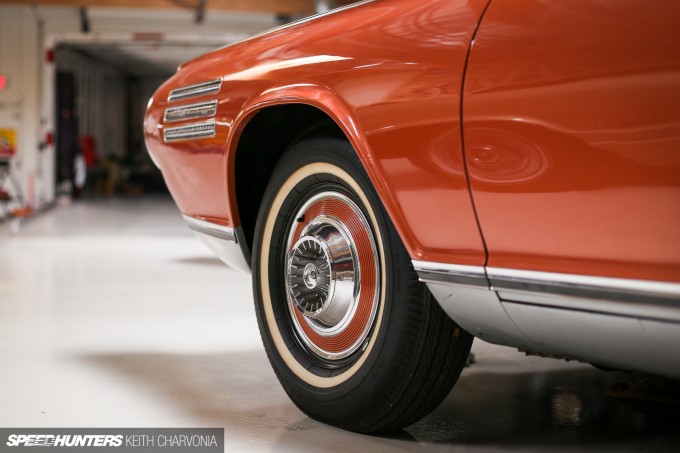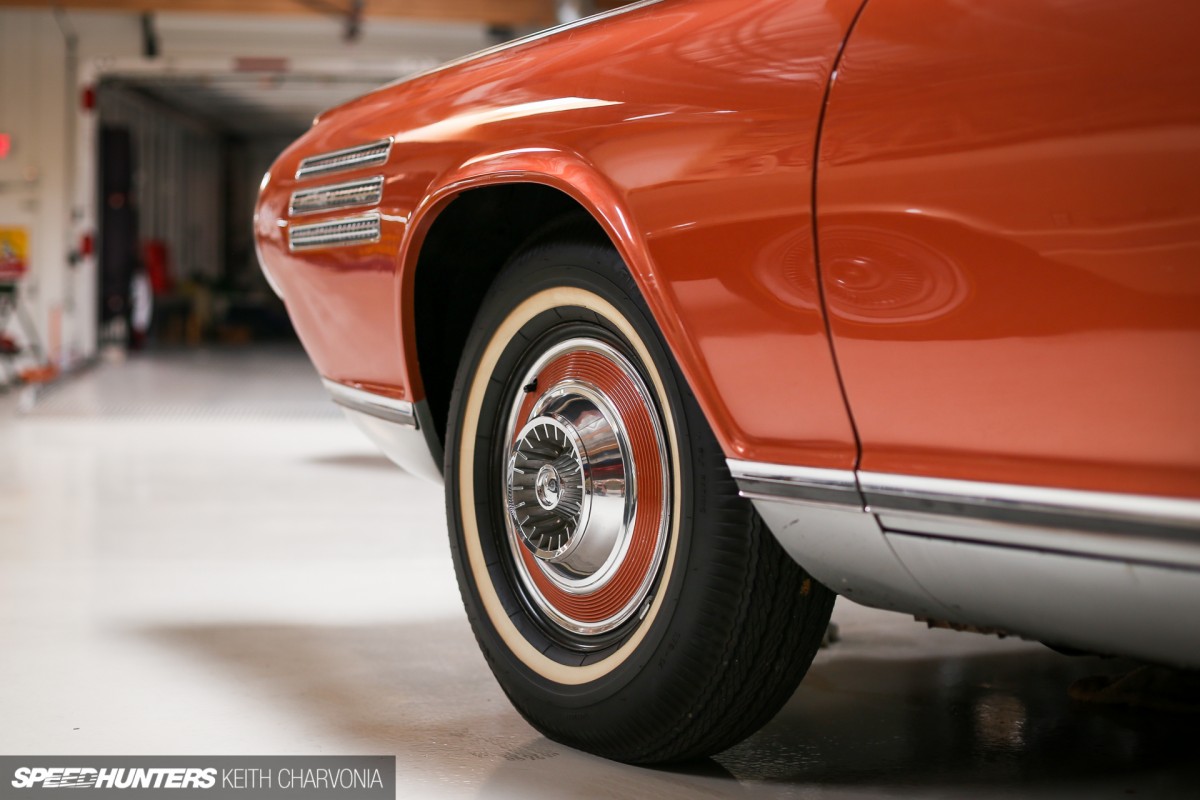 Even in places where it looks perfectly production-ready.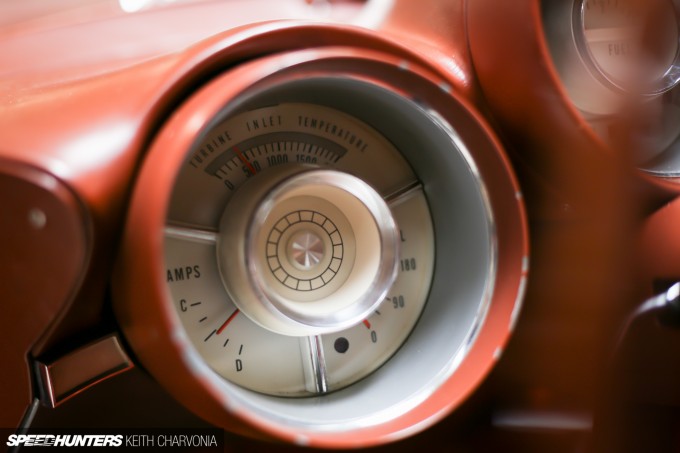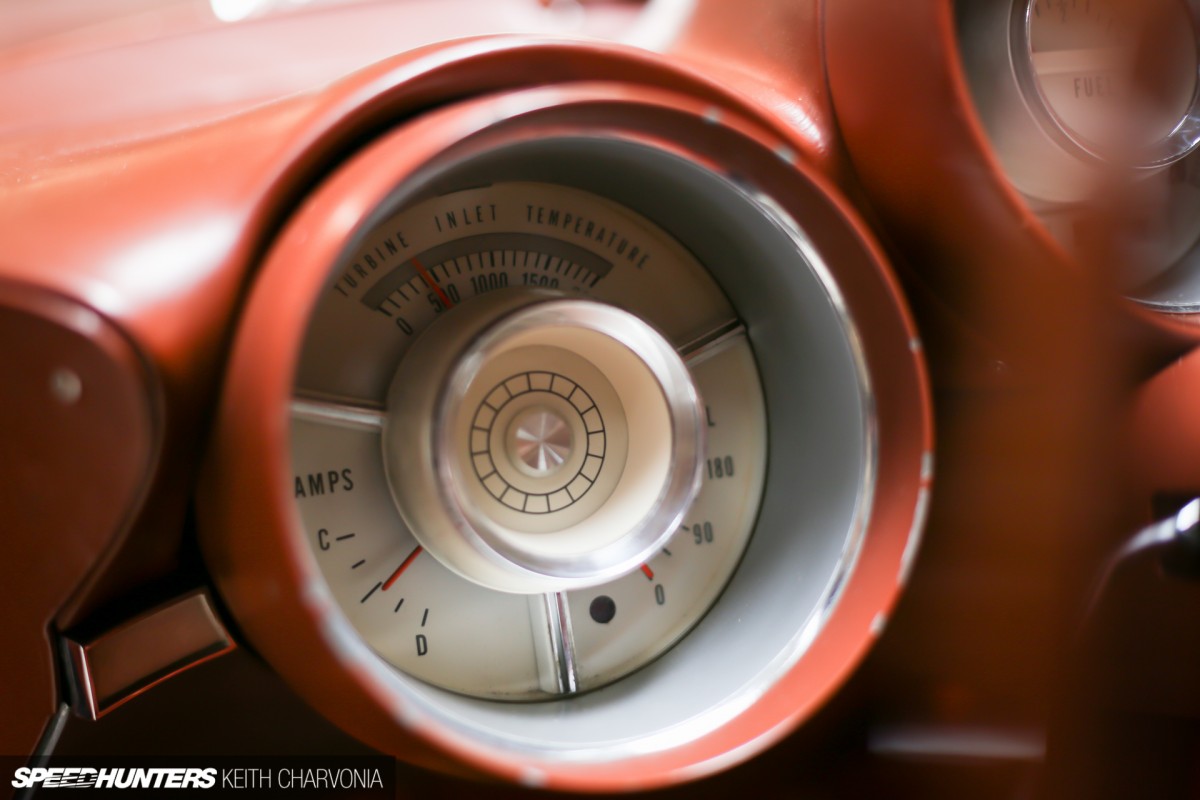 But then you remember this isn't a styling exercise. It's the real deal.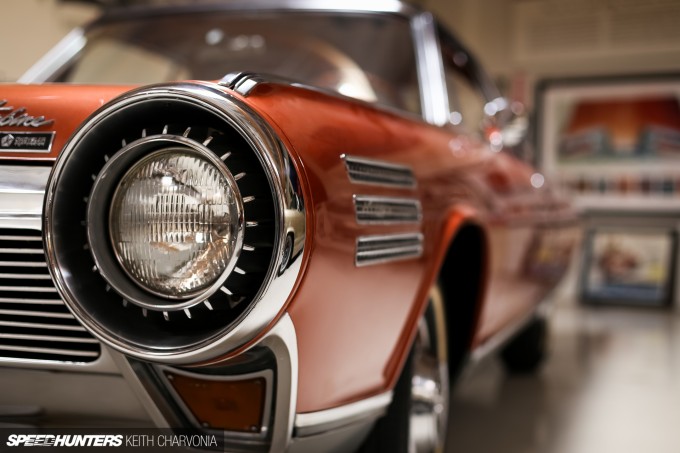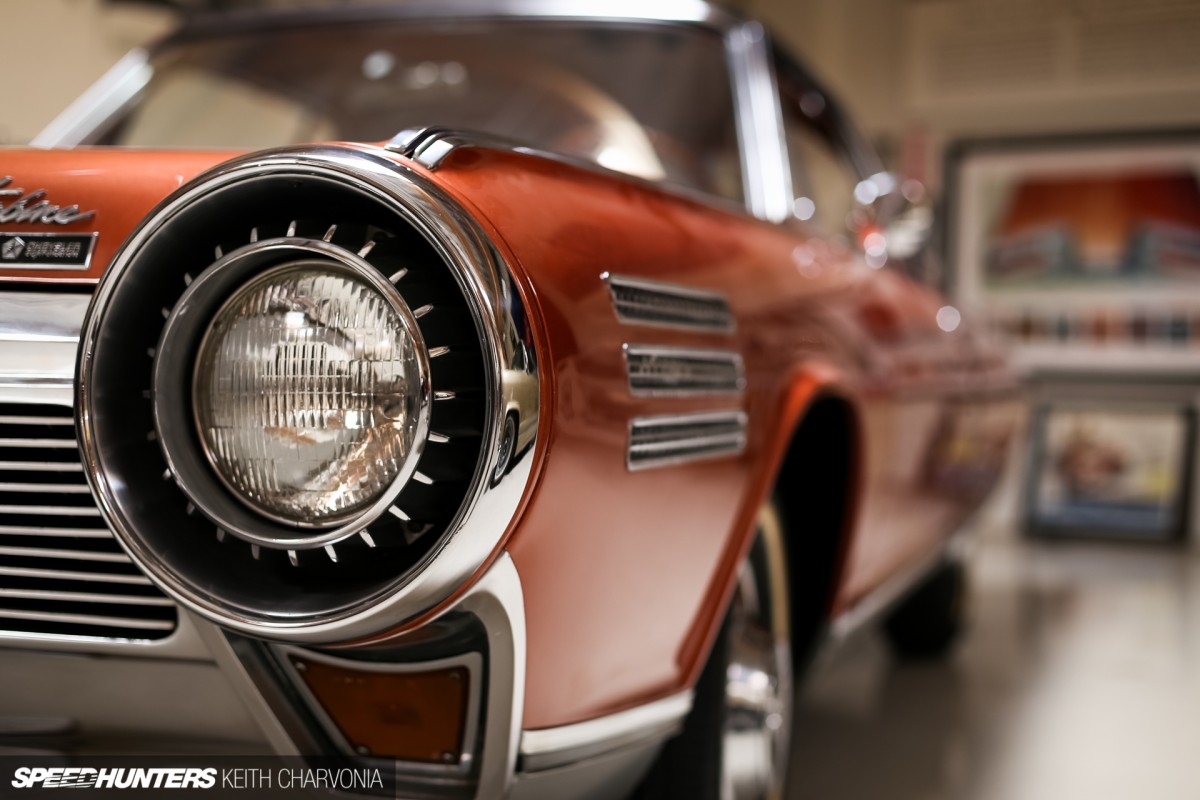 I guess that's what I find so amazing about this car – the feeling of concept car and production car all in one. The headlights could so easily have been on a car from the '60s.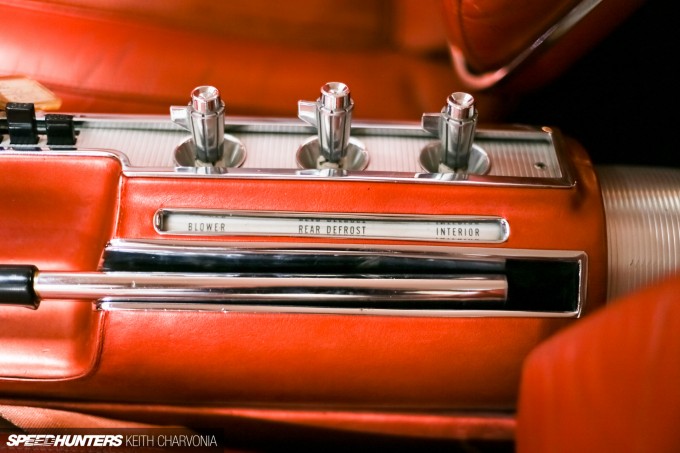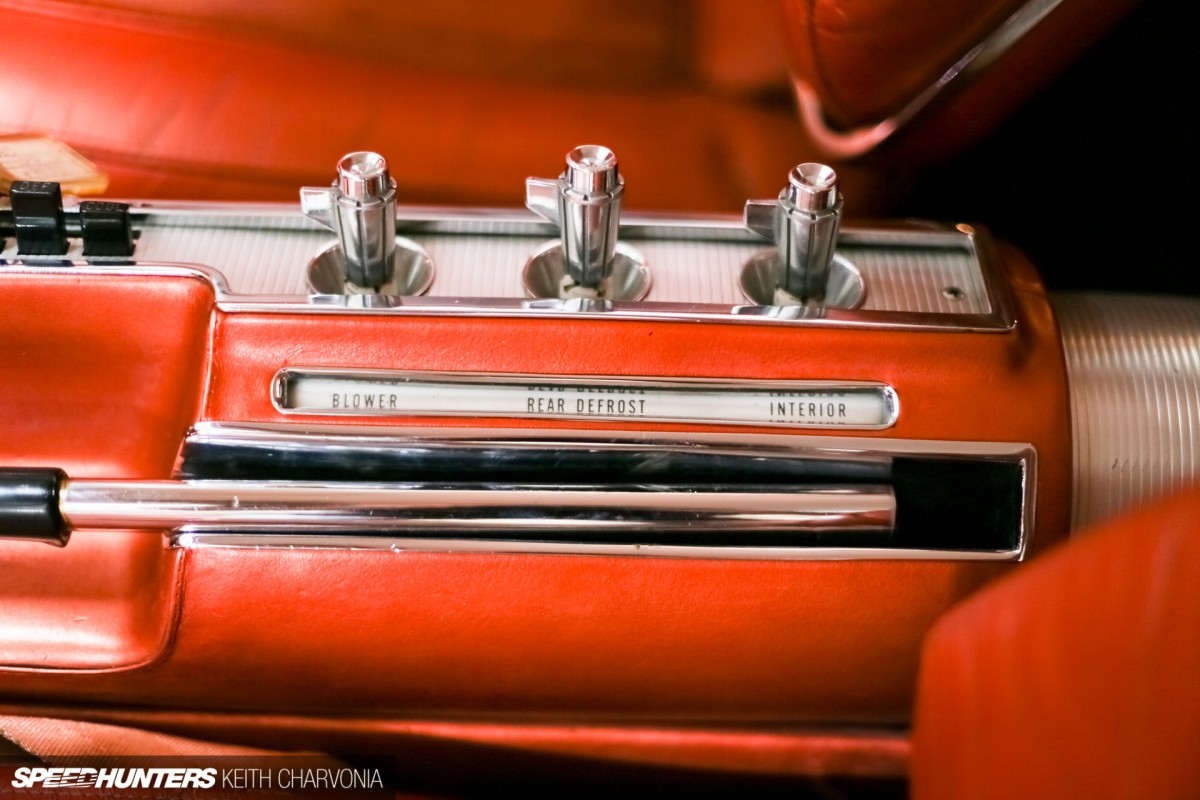 It's all there in a package that somebody got to live with as a family vehicle, even if it was only a trial.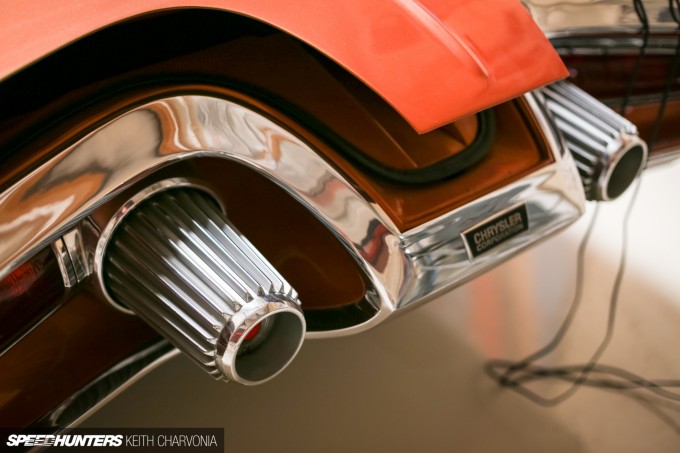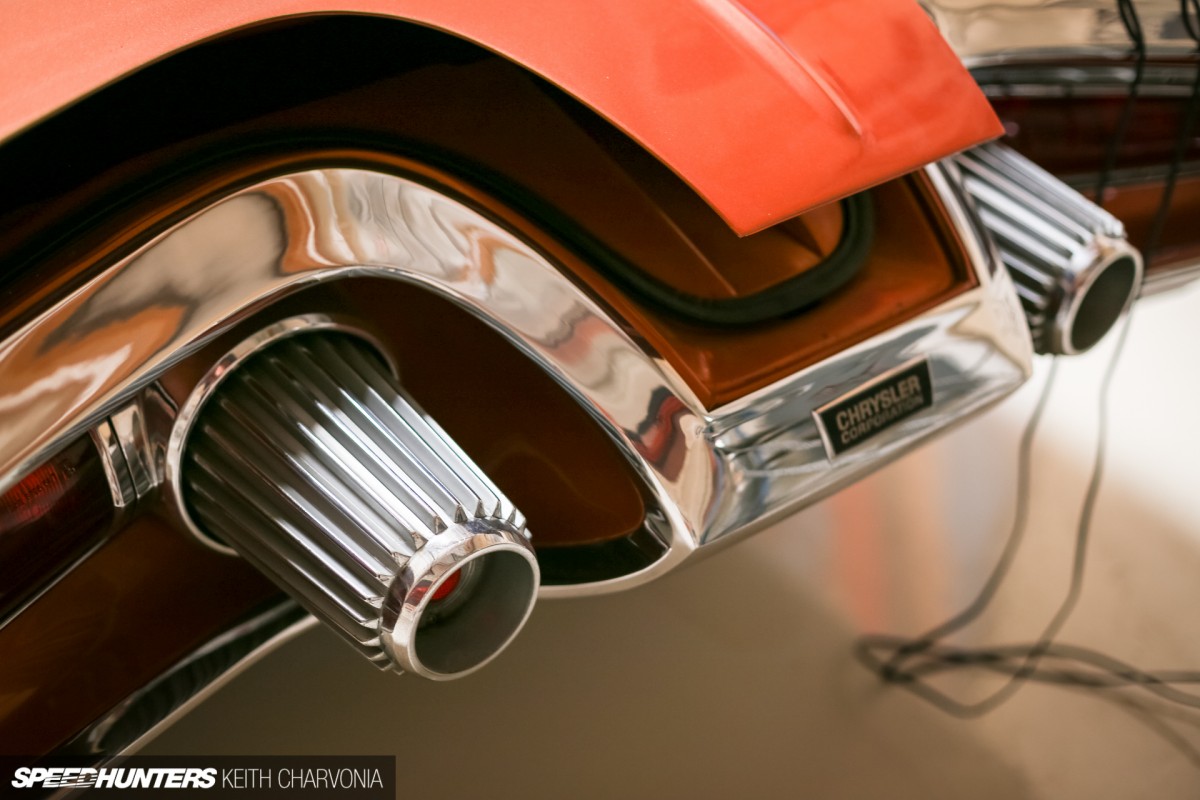 The only place the design fell short was in making the faux exhausts which house simple lights. Surely it was a design cue that they wouldn't dare scrap; it's just too bad there aren't jet fumes blasting out of the finned cylindrical projections.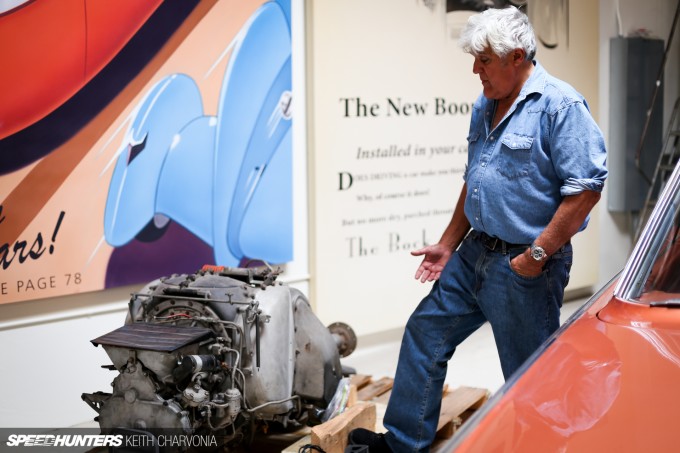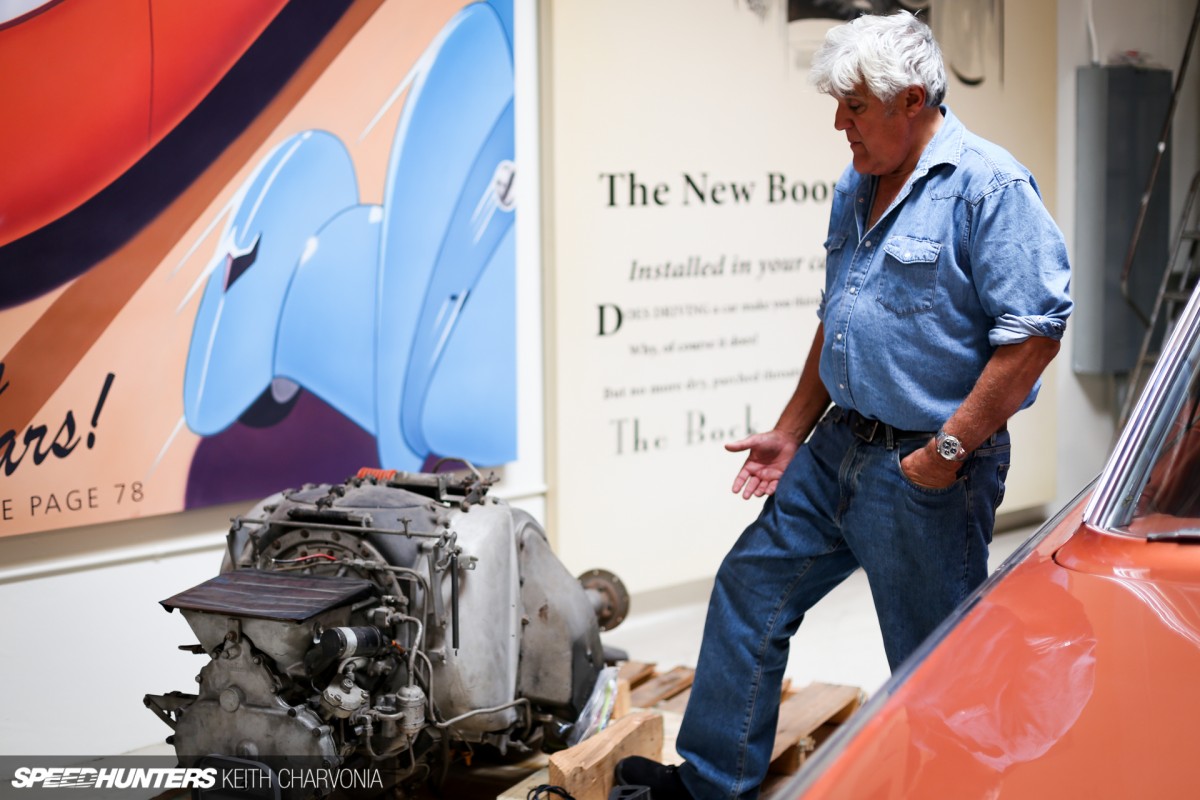 Next to the car sat a spare engine. Jay explained that it was manufactured from an alloy that was fine for a car, but not usable for an aircraft. These engines can run on almost any fuel, use just one spark plug, and burn so clean that the oil never gets dirty.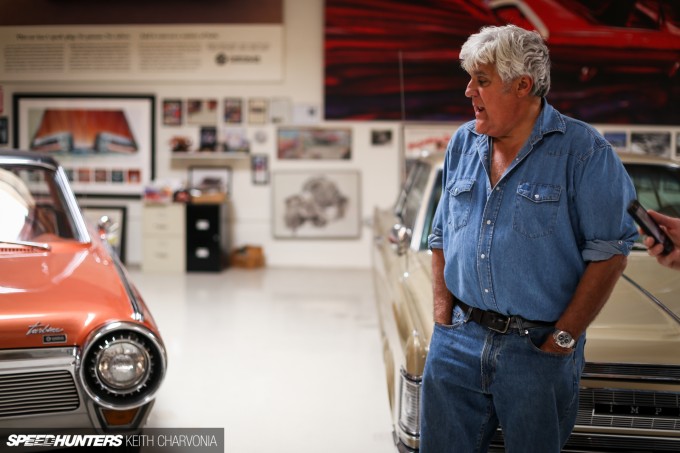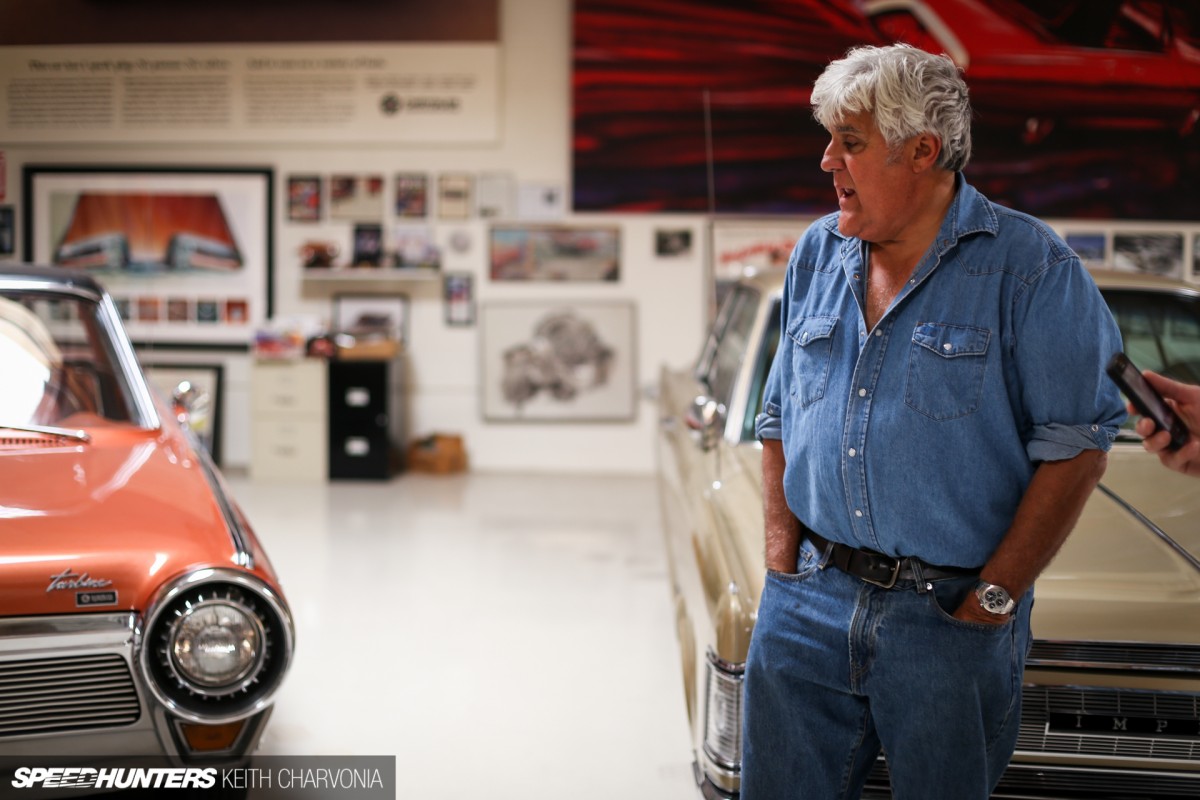 In the end, the Chrysler Turbine cost twice that of a Cadillac, returned so-so fuel economy and didn't perform any better than a V8-powered car of the day. Couple this with hard financial times at Chrysler and the jet-car dream was squashed.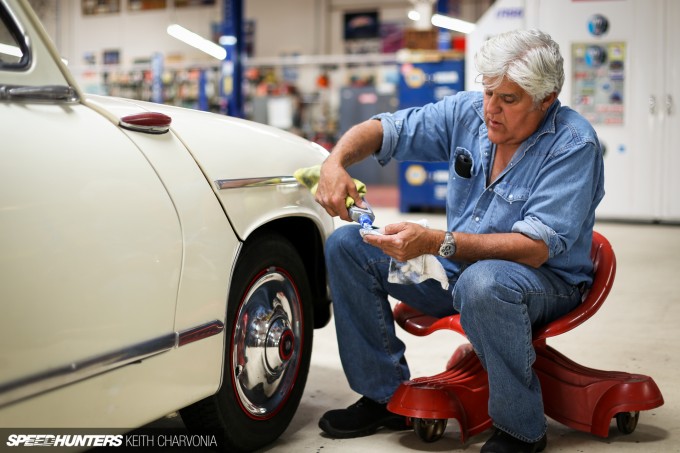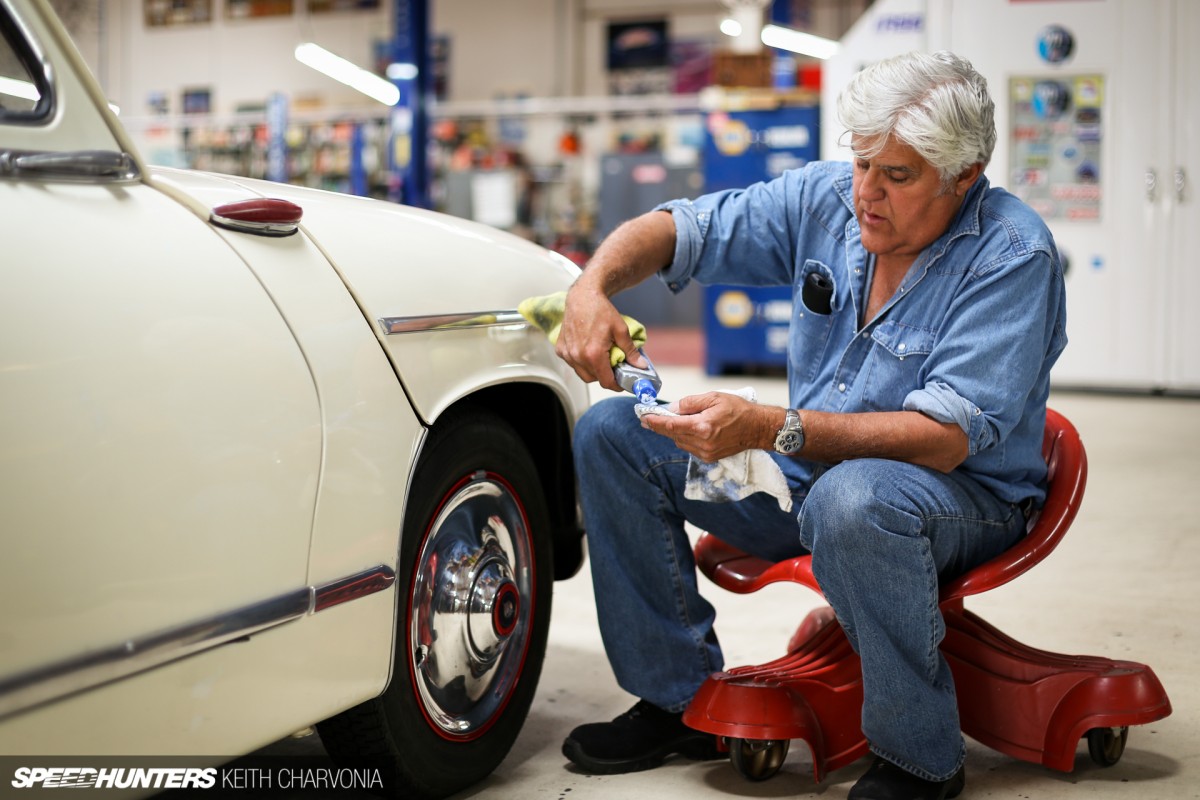 As I finished getting the shots I needed for this story, we found Jay polishing the trim on some other obscure car which I've already forgotten the name of. I had to take a photo of him in his happy place though, because Big Dog Garage is a place he created where he can just be himself. Nobody is running up asking for his autograph and he doesn't have to wear a suit and crack jokes (unless he wants to). This is a place where Jay Leno can just be Jay. He can drive fast, rare and unique cars and talk shop with his small staff of brilliant car guys.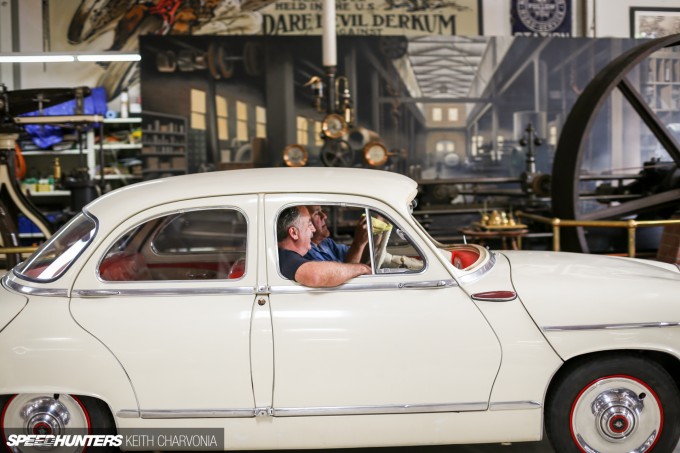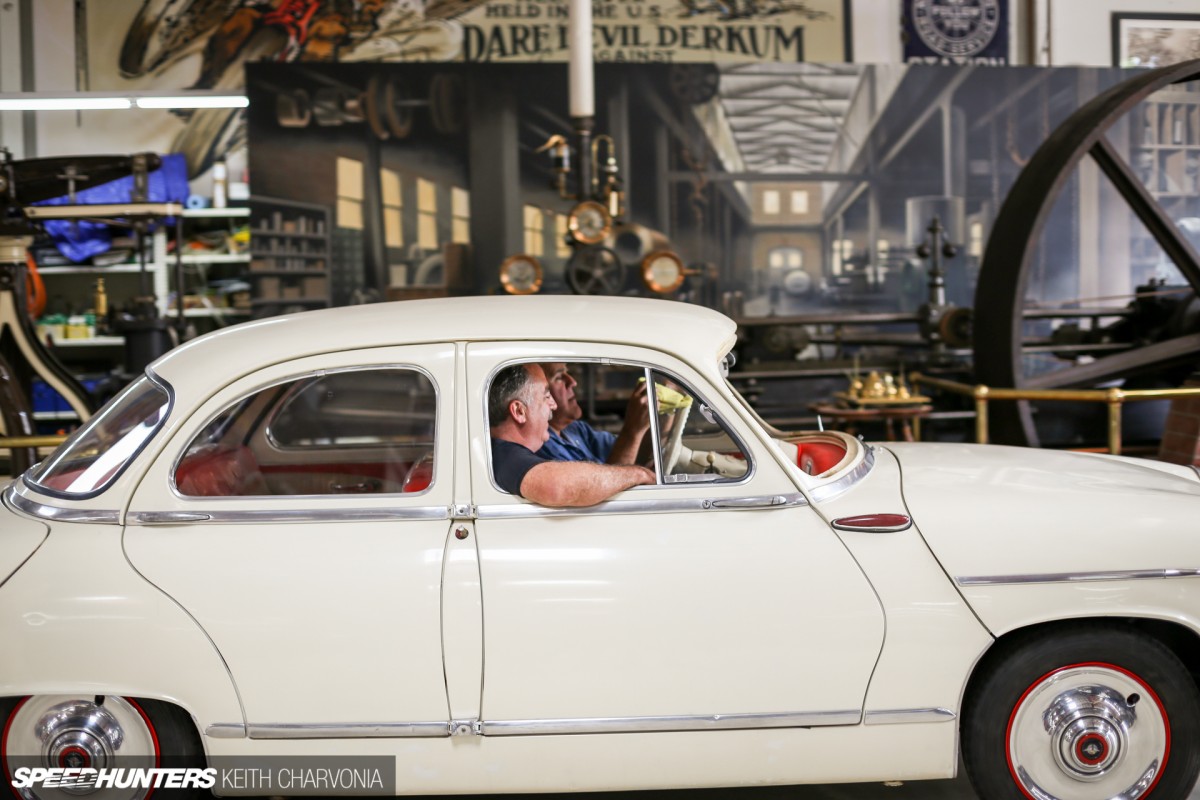 Soon Jay decided to take his latest project for a ride, windshield or not.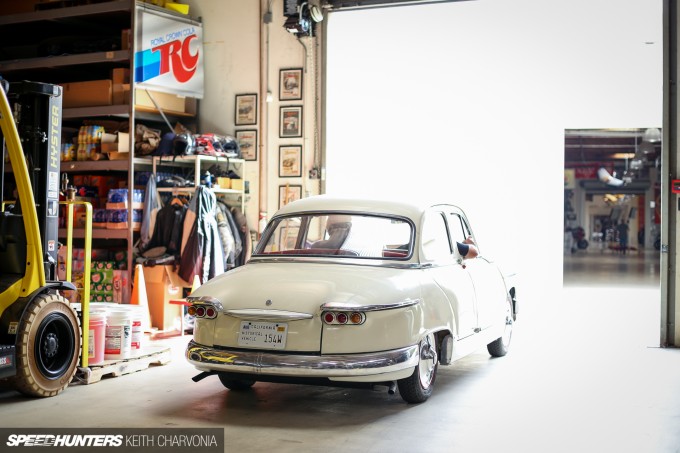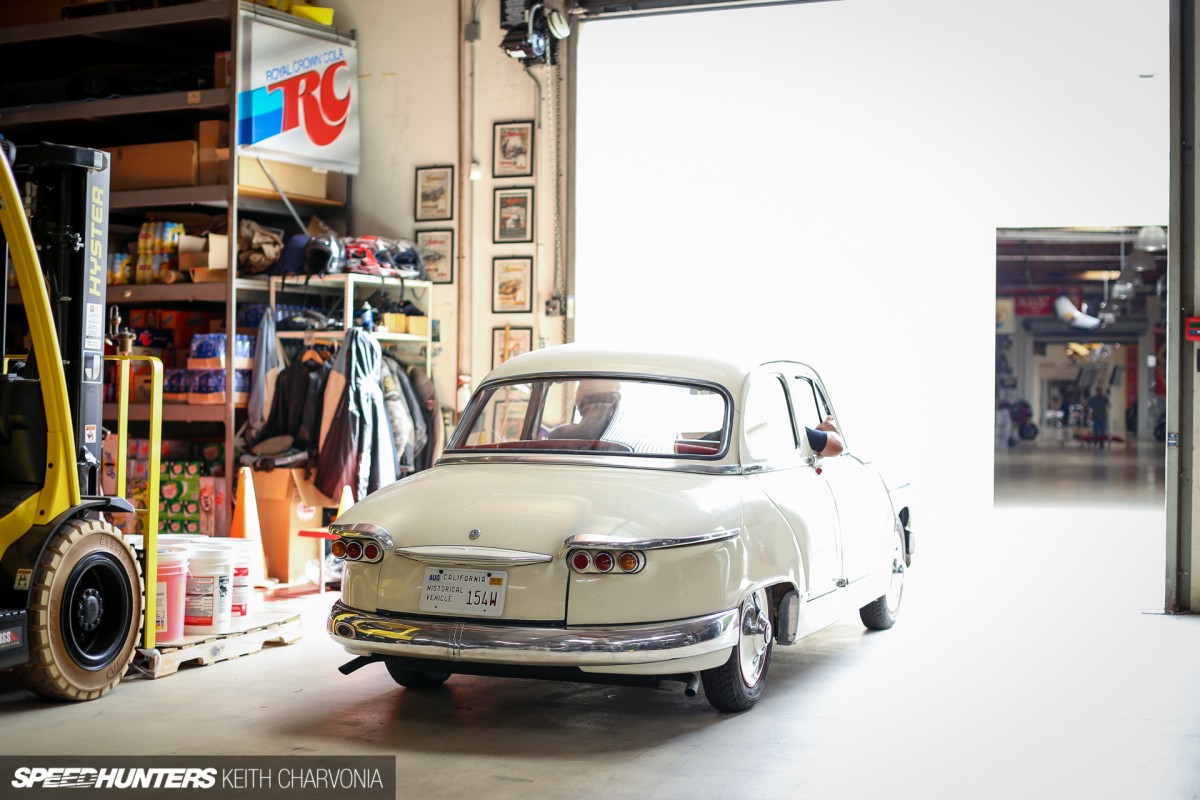 Because who can resist a test drive in the latest project? Not any car guy I know.
Keith Charvonia
Instagram: SpeedhuntersKeith
keith@speedhunters.com
Cutting Room Floor