The Big Push
In the world of professional drifting there are some pretty crazy builds happening right now, but the one being pieced together in New Zealand by Speedhunters' own Mad Mike Whiddett might just be certifiably insane.
Because, as we've seen in previous updates on Project RADBUL – including the last one from early December when its engine was being pieced together – not only is everything about this build unconventional, the shock value has been wound right off the scale.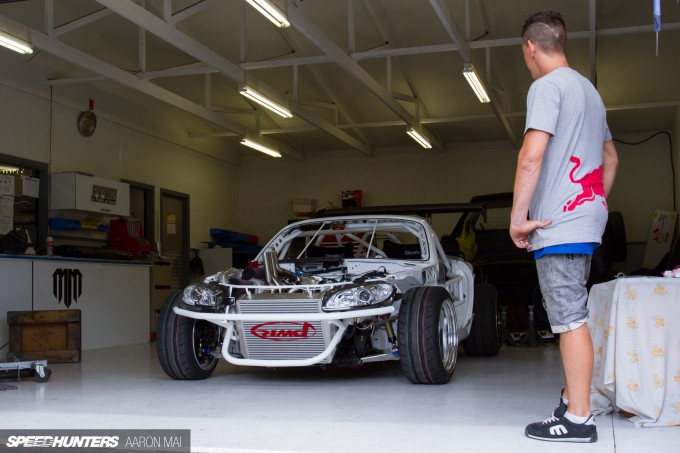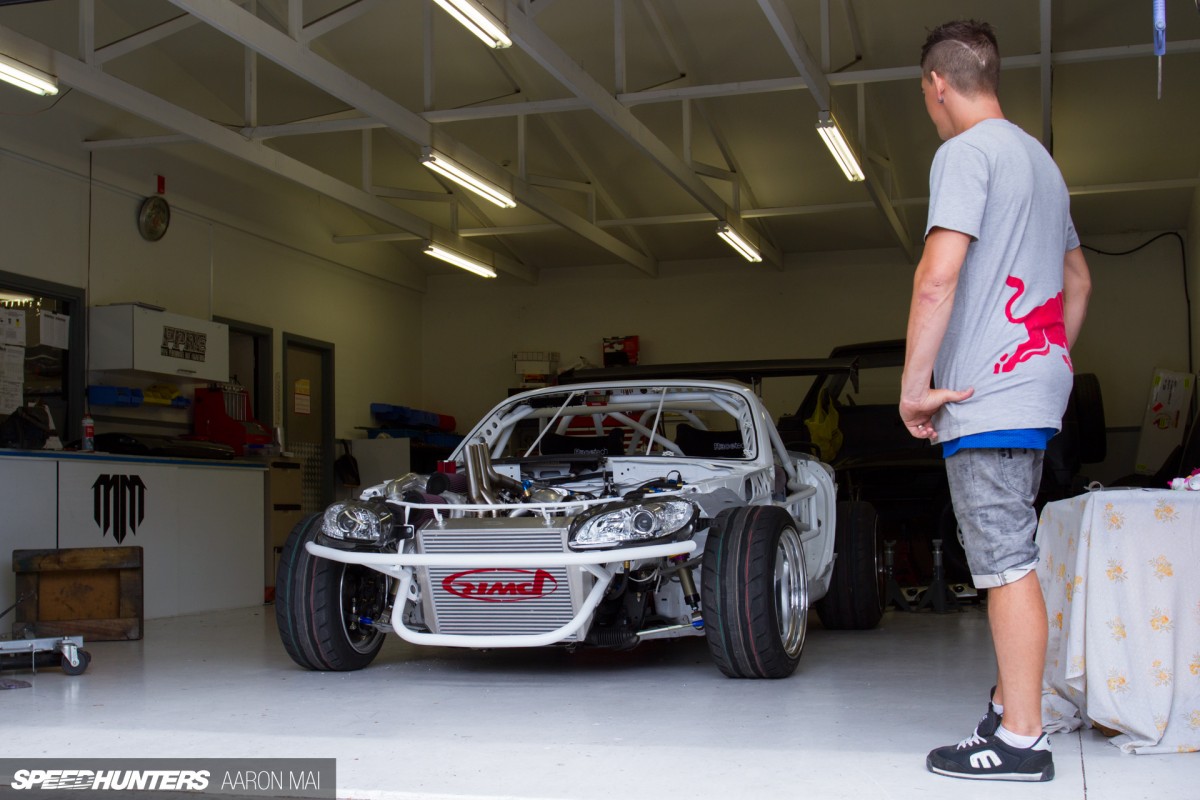 Despite being a motorsport category where rulebooks allow a certain amount of engineering freedoms, there's almost a tried and tested formula when it comes to engineering competitive pro car. I can tell you that a short wheelbase Mazda MX-5 with a 4-rotor, twin turbo engine good for four digit power output is definitely not it though. But would you expect anything from Mad Mike? We certainly didn't…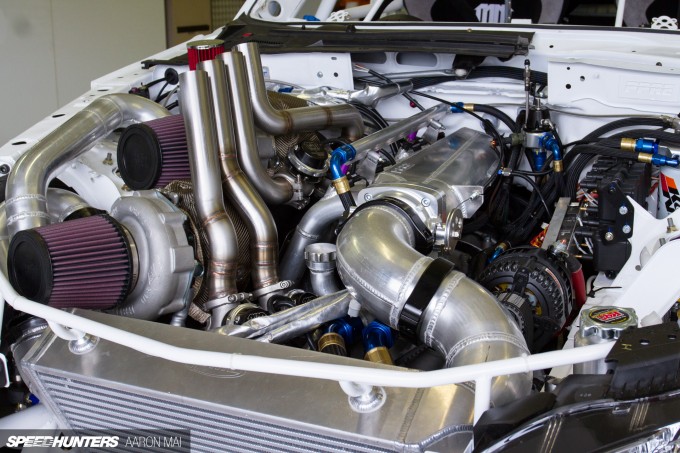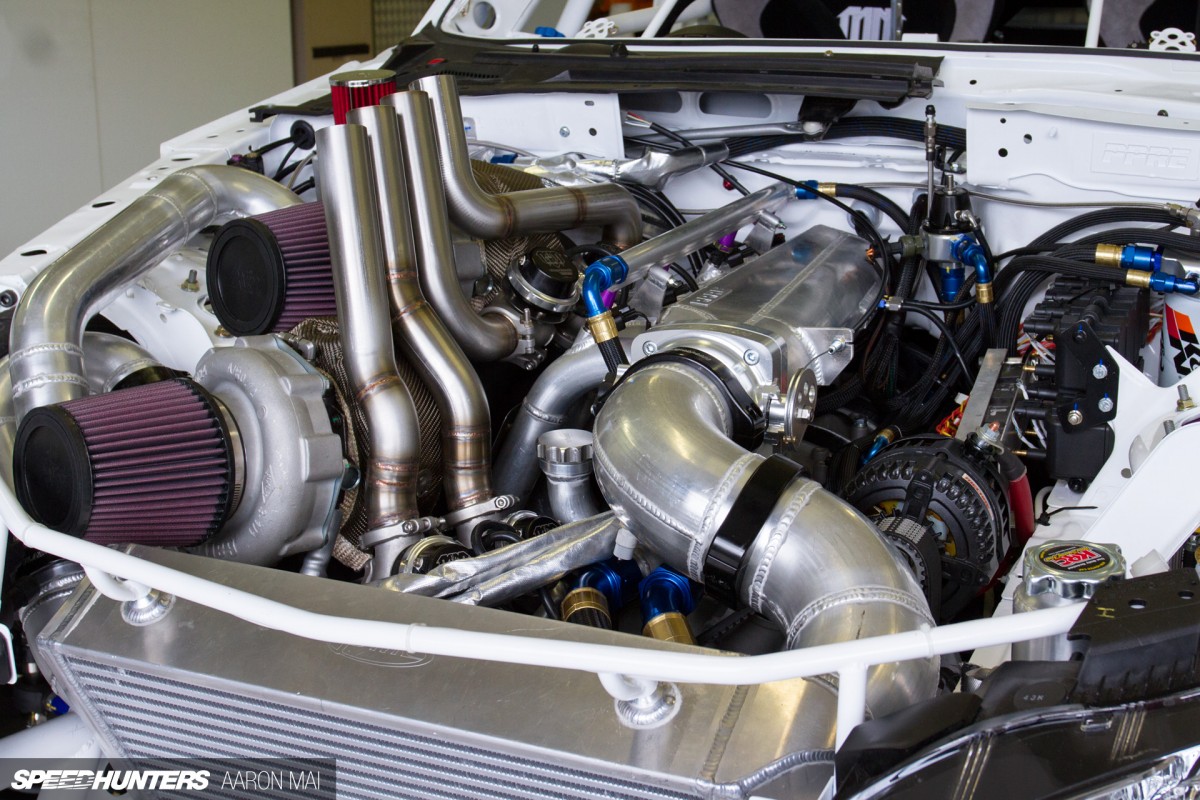 From the moment Mike began drifting almost 10 years ago, he's been pushing automotive boundaries. RADBUL is the culmination of all his wildest ideas, turned into reality and then cranked up to 110 per cent.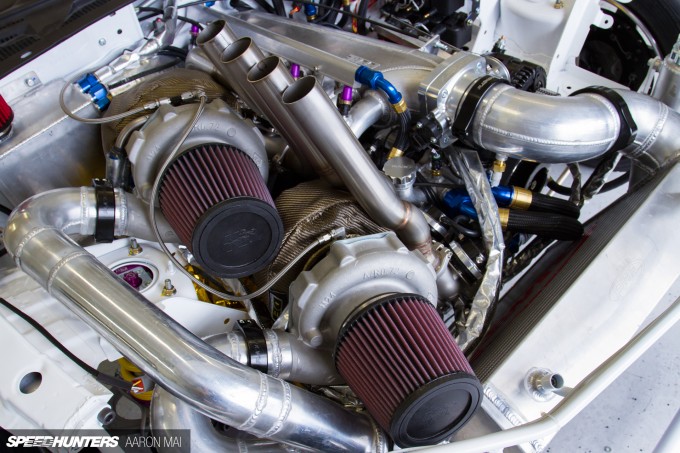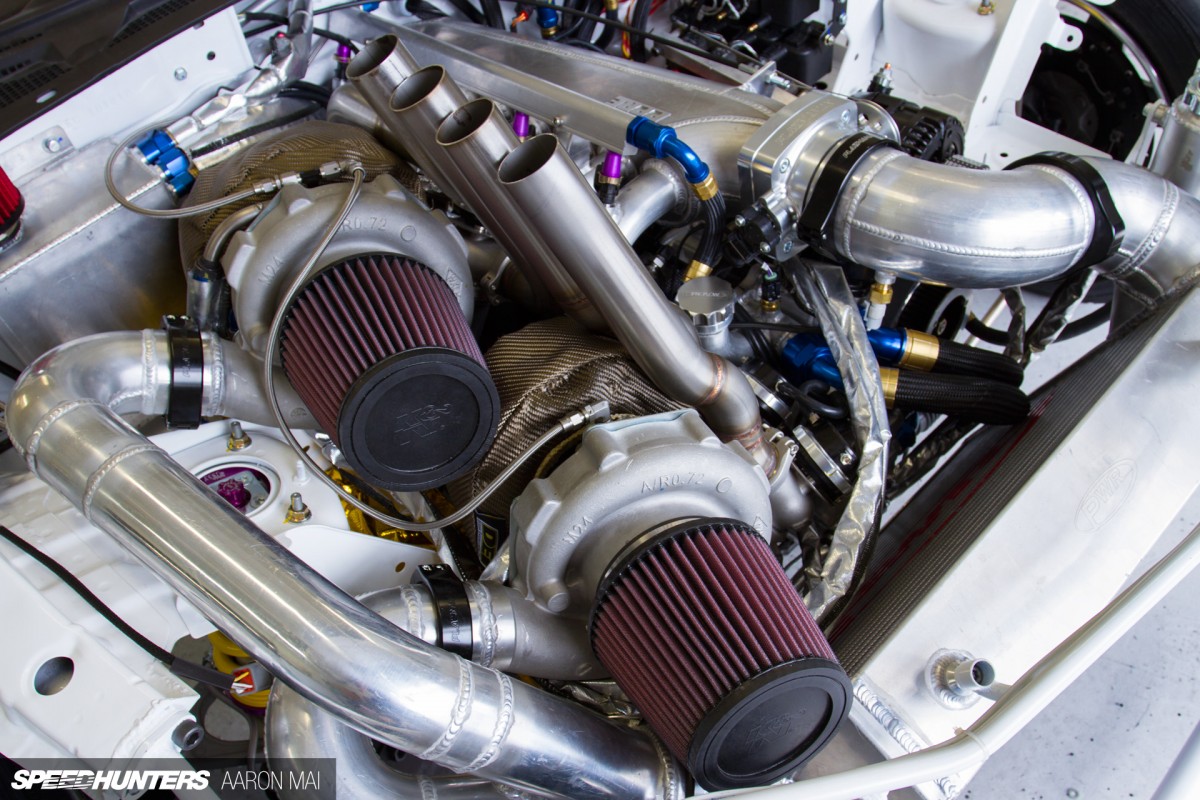 To recap quickly, late last year the NC MX-5 chassis was put on a trailer and driven half the way down New Zealand's North Island to Wanganui, the home of Pulse Performance Race Engineering. It was there that RADBUL's custom quad rotor engine was pieced together, using among other components, a bunch of brand new Mazda OEM parts – rotors, housings and apex seals included. It also received a pair of custom-specced Garrett GTX40 turbos on a PPRE-built manifold running a ProStreet Performance merge collector for the wastegates.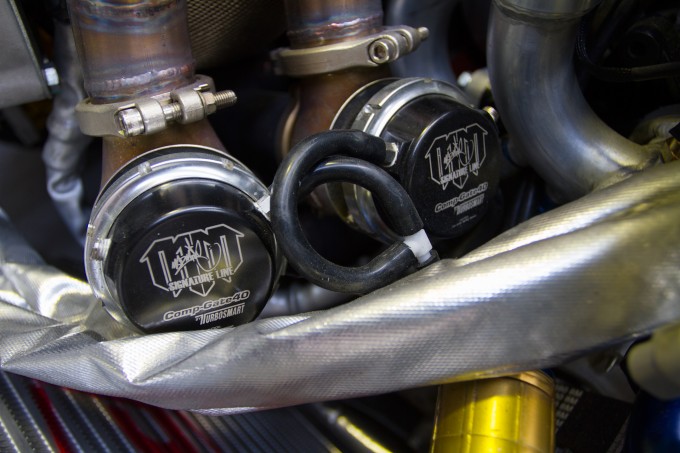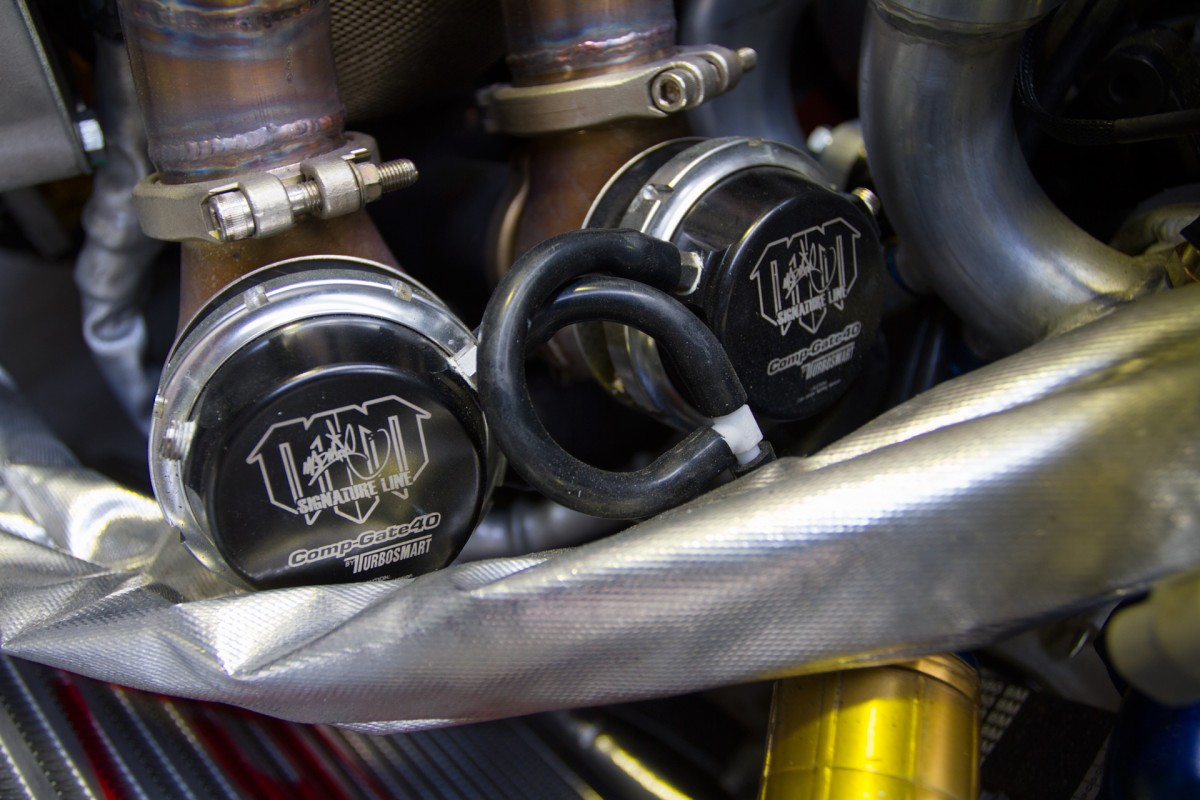 Speaking of which, there aren't just two 'Mad Mike Signature Line' Turbosmart Comp-Gates 40s employed for boost control…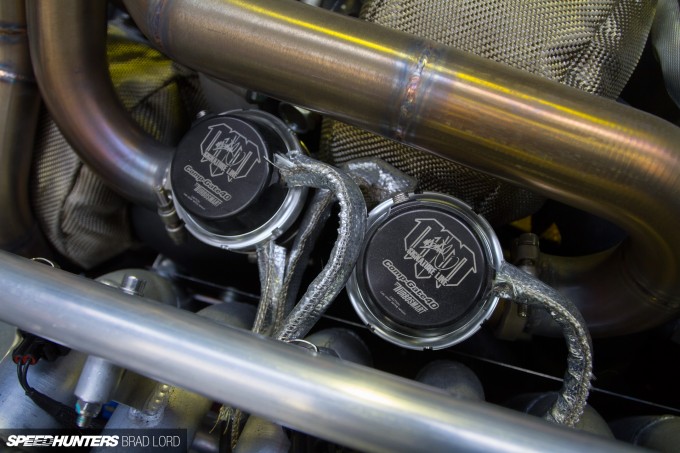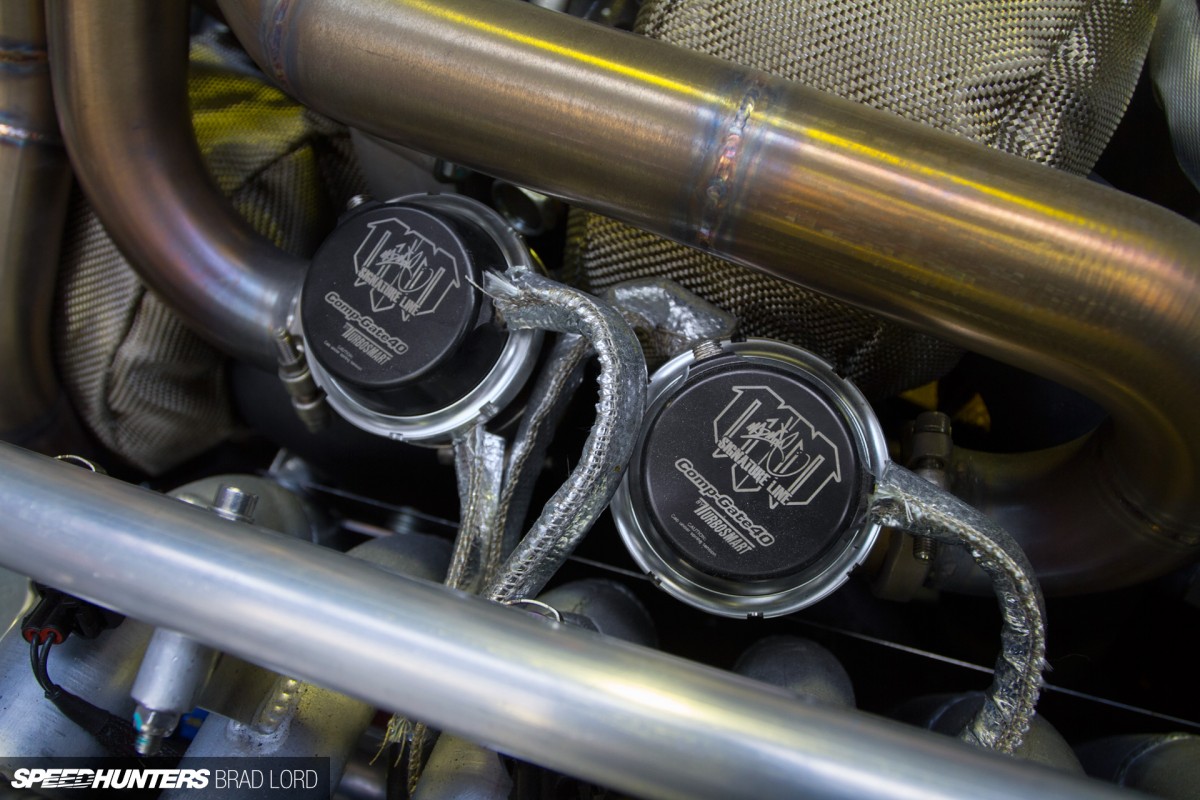 But four! The dump pipes, which point upwards and extend right out through a hole cut in the bonnet are one of this builds many considered details. Because why not have a quartet of stacks shooting fire out of the hood?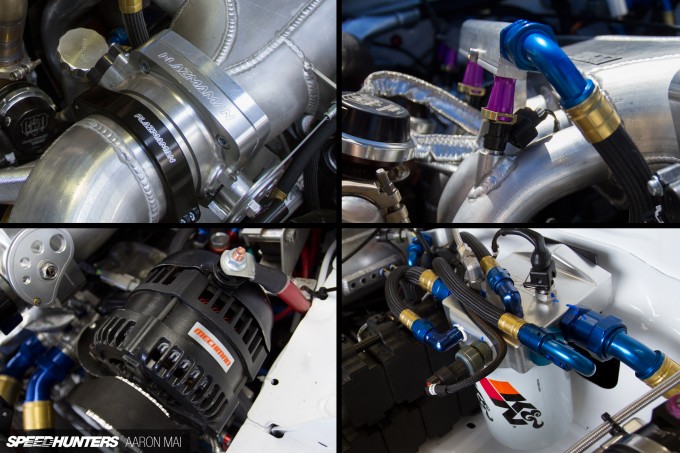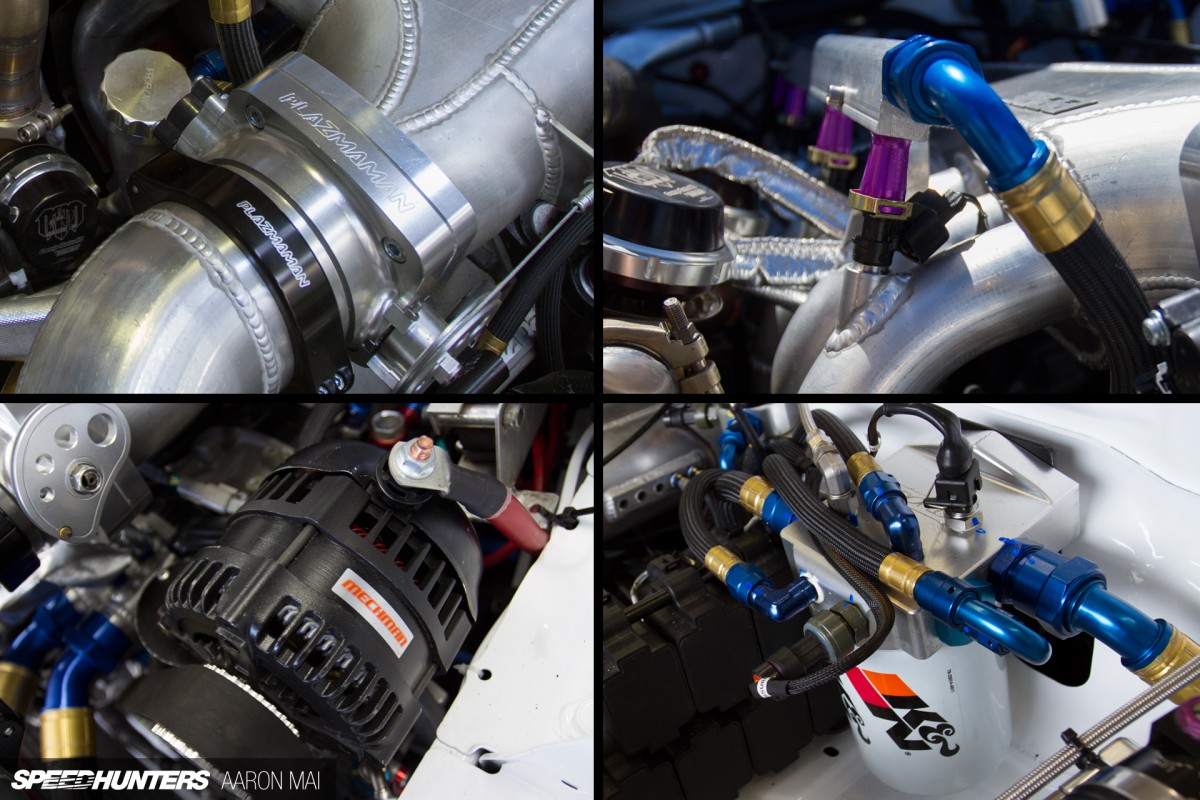 Given the calibre of this project, it's not surprising that many brands have partnered up with Mad Mike Motorsports throughout the course of the build. Quality gear is everywhere, including an entire fuel system designed and supplied by Aftermarket Industries (Australia), that includes the injectors and fuel rails, Brown & Miller Racing Solutions fittings and lines, and three giant Walbro pumps as part of a custom surge tank setup. Also in the mix is a huge Plazmaman throttle body and o'ringed alloy Plazmaclamps from the same maker, and a locally-sourced Mechman alternator.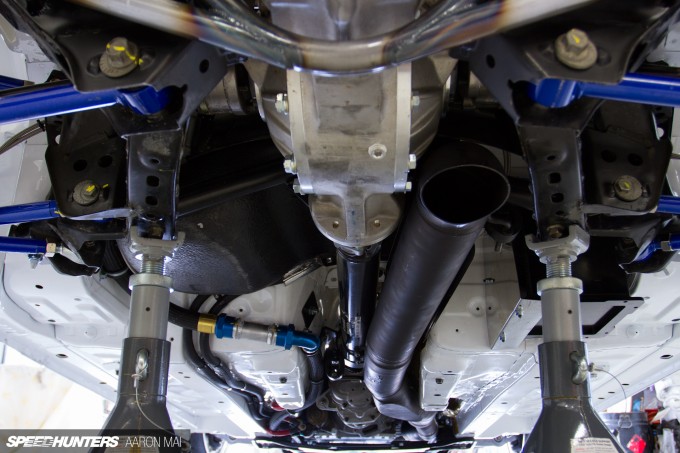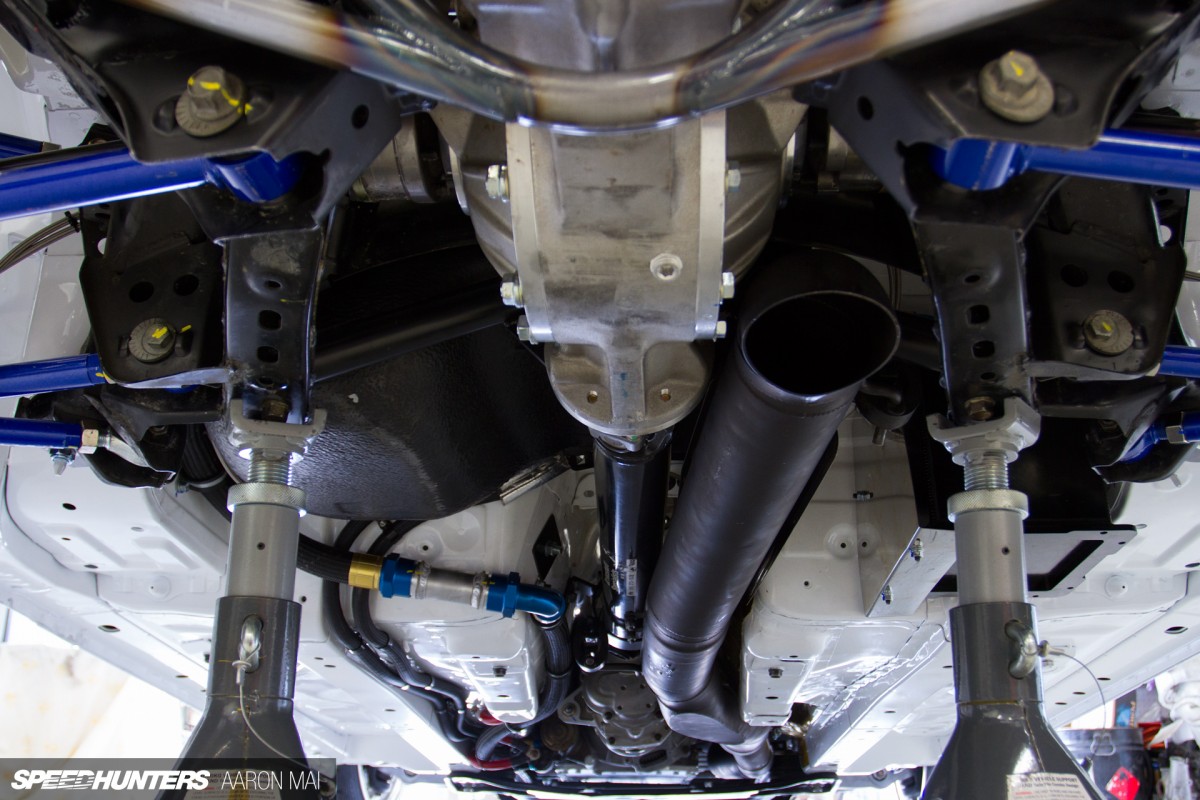 While the 26B build was going on in the engine room at PPRE, the rest of the car was in another part of the workshop being worked upon too. You'd be right in calling the 4-inch pipe that exits just shy of the differential an exhaust, but seeing as what it does, 'flamethrower' would perhaps be a more accurate description.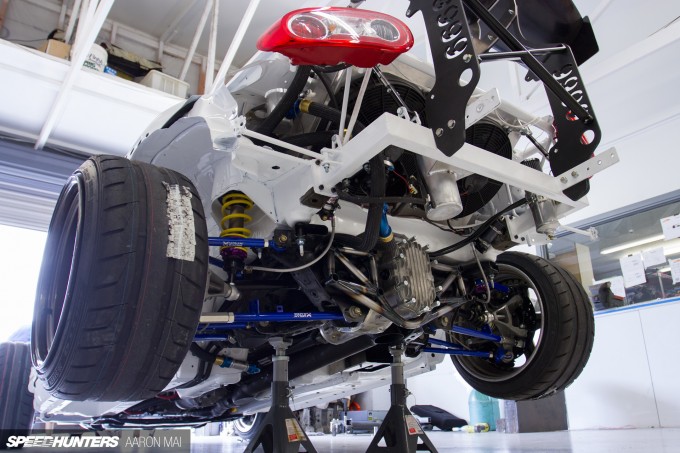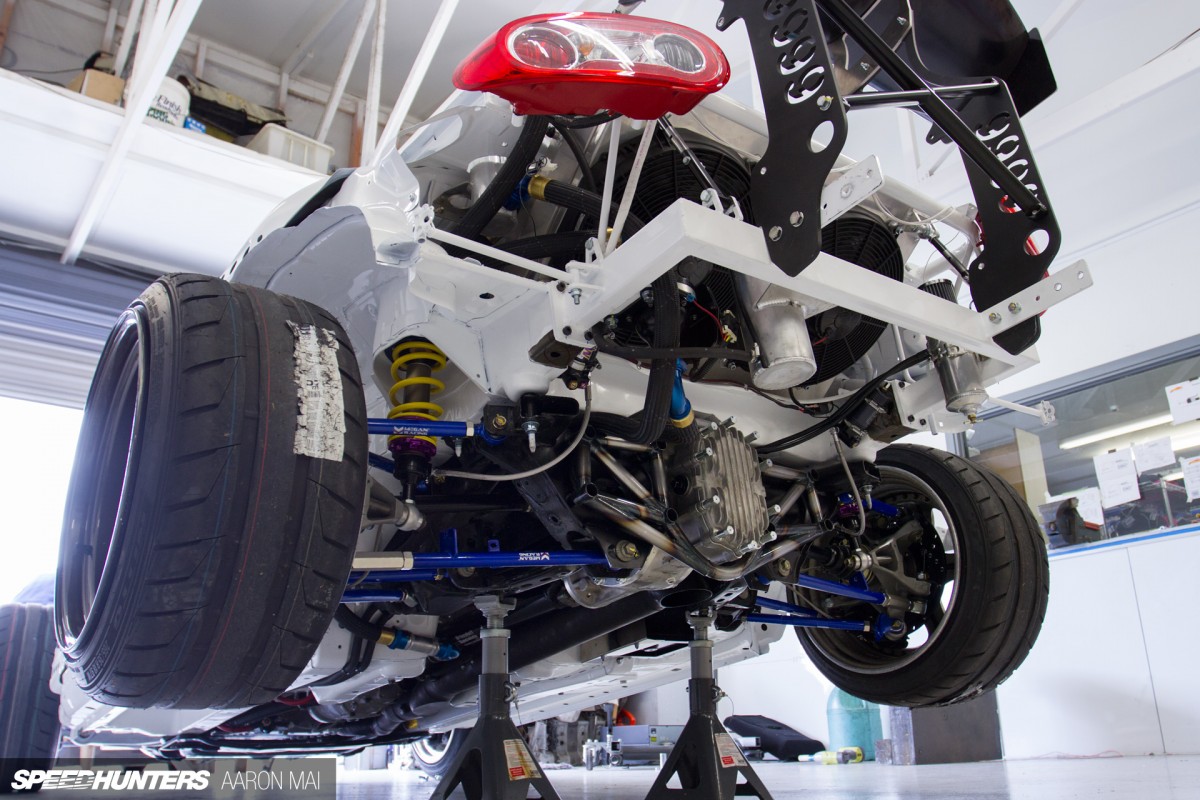 From underneath you can see PPRE's handiwork when it came to mounting the Winters Performance Quick Change rear end, plus the rear-mounted PWR radiator with twin fans, custom-built KW Suspension coilovers and Megan Racing arms.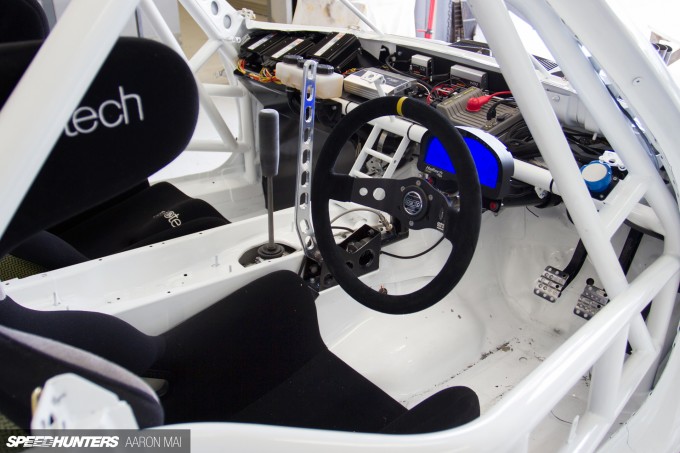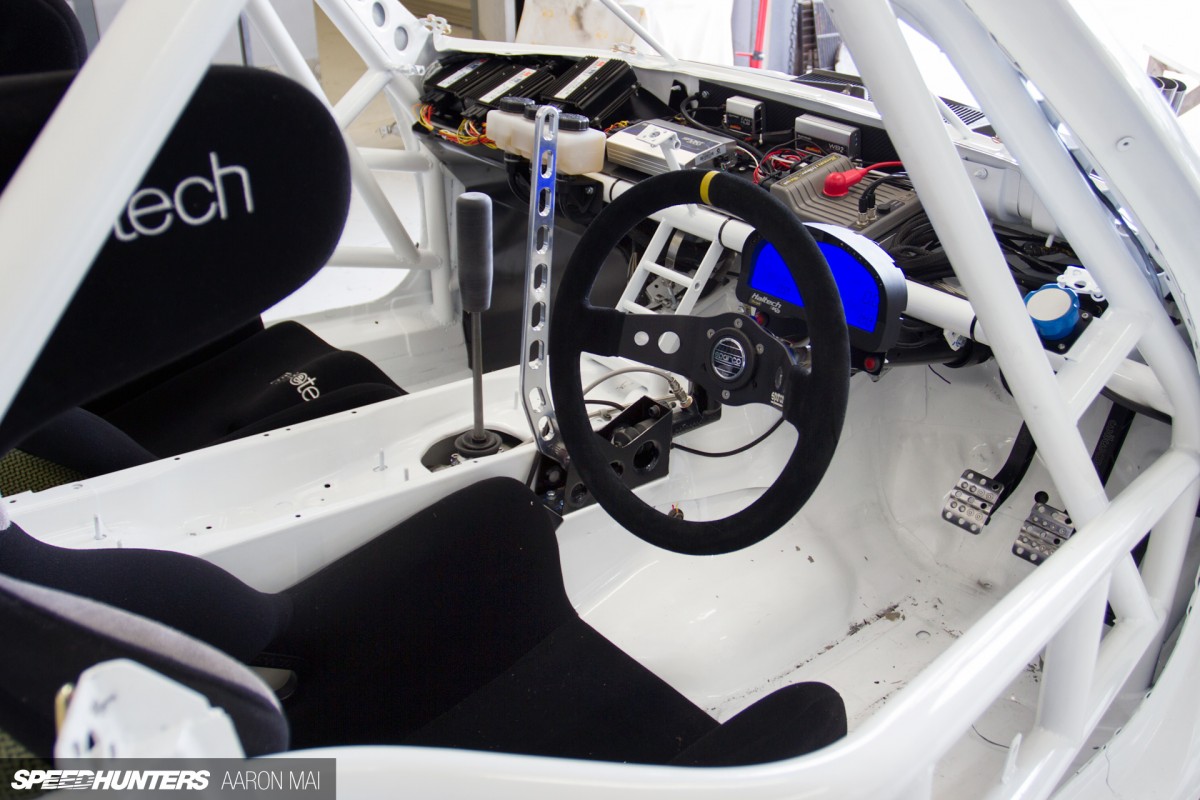 While they were at it, PPRE took care of the interior fit-out too. The idea here was to keep things is simple as possible, with all of the important stuff tucked away, but still easily accessible. The only thing missing in this shot is a cut-down version of the Mazda's factory dashboard skin, which neatly covers up all of the electronics.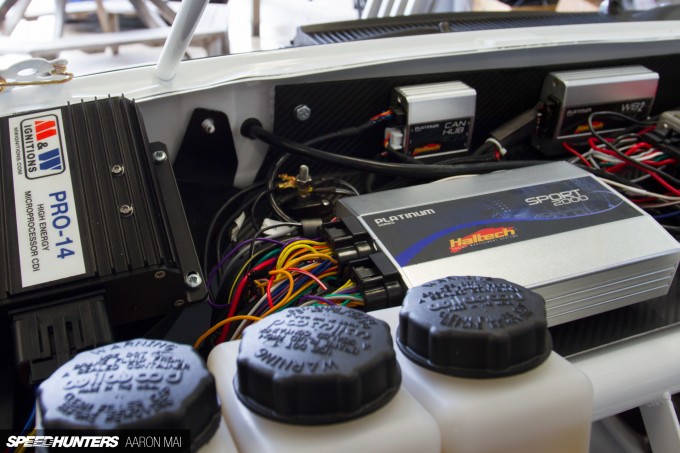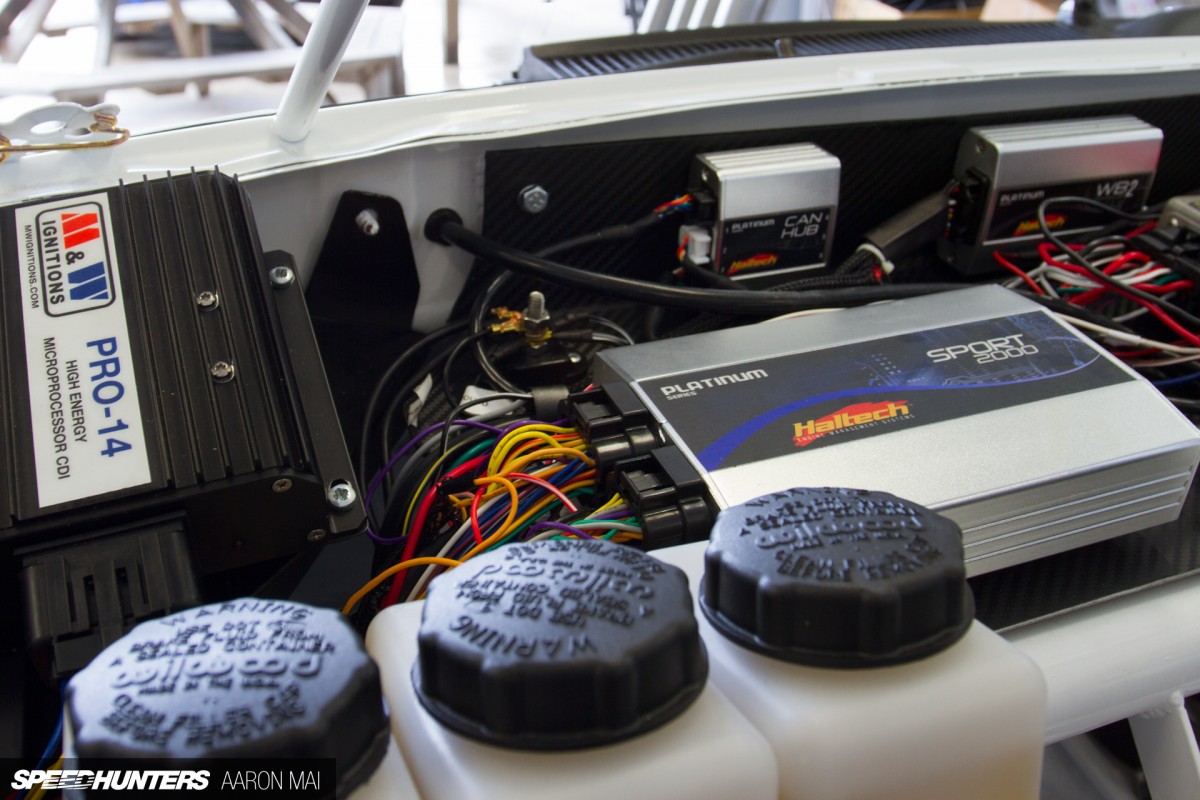 They include everything from the Haltech Platinum Series Sport 2000 engine management system, WB2 Wideband Controller and CAN Hub modules, to a bunch of M&W Ignitions CDIs.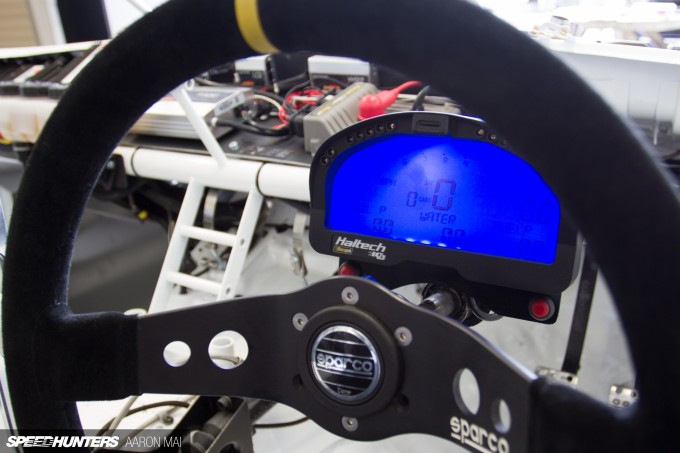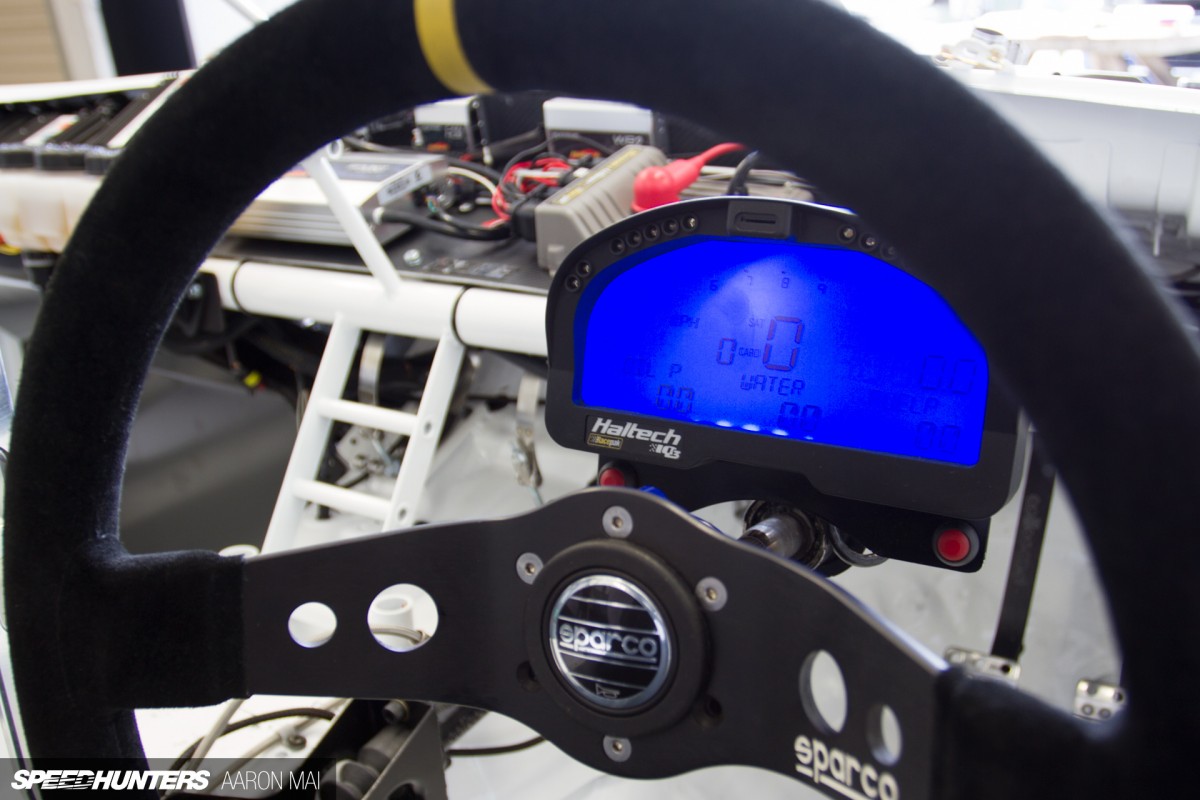 A Racepak SmartWire solid state power module is also installed and acts as central command centre for all of the MX-5's wiring, with activation via an eight-gang Racepak Switch Panel mounted on the rollcage bar at the top of the windscreen. No surprises that a Haltech IQ3 digital display unit features in the mix too.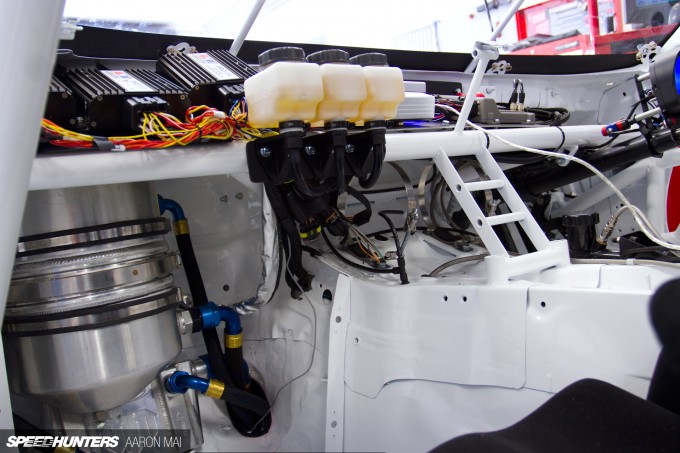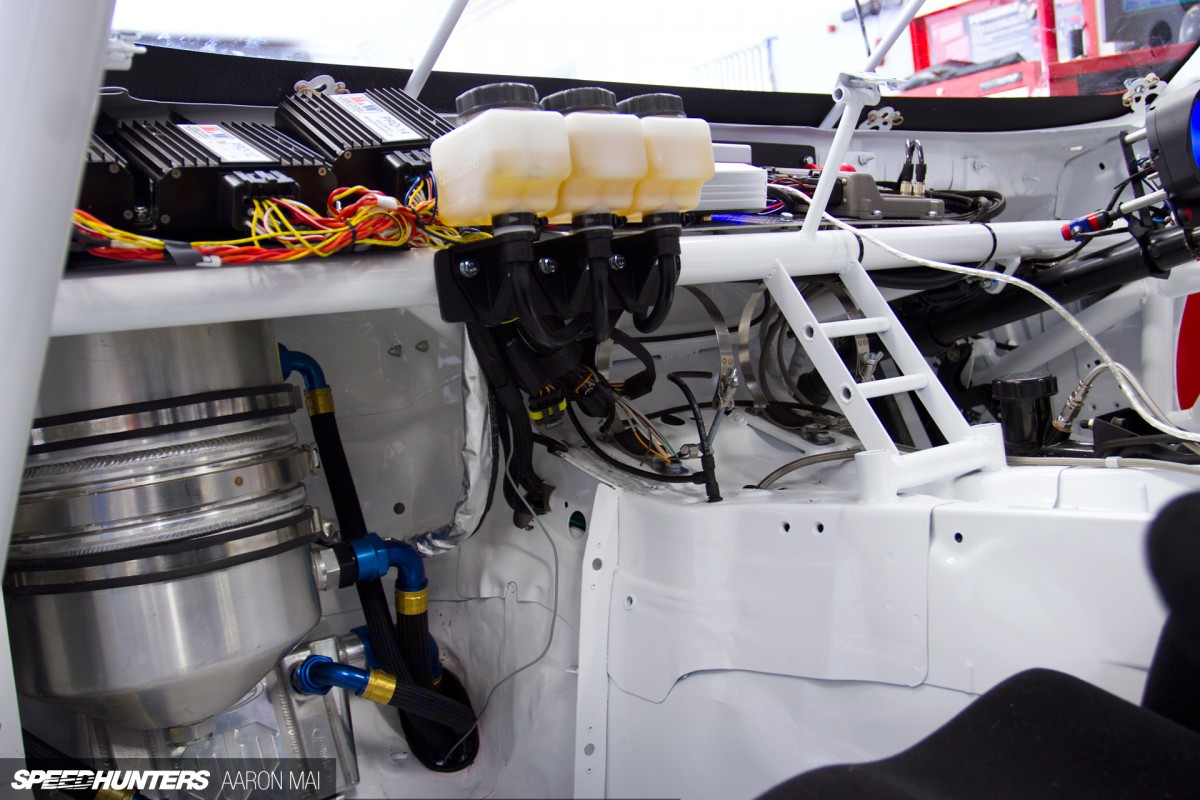 Deep into the passenger side footwell is where the dry sump system tank and PWR inline water-to-oil cooler are positioned, but these are normally hidden behind a black shroud, as seen in the first image of RADBUL's interior.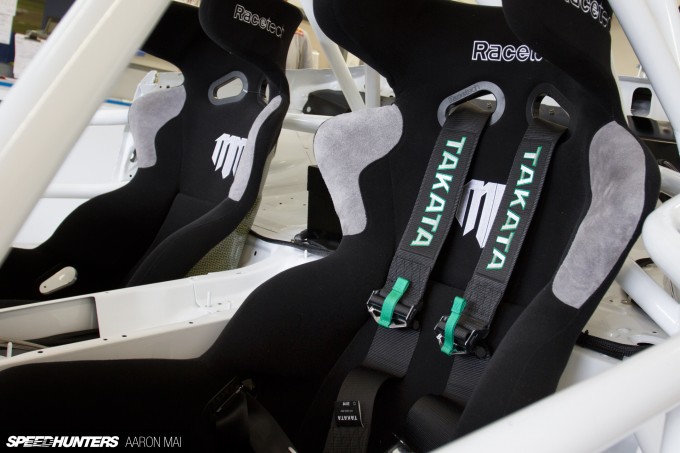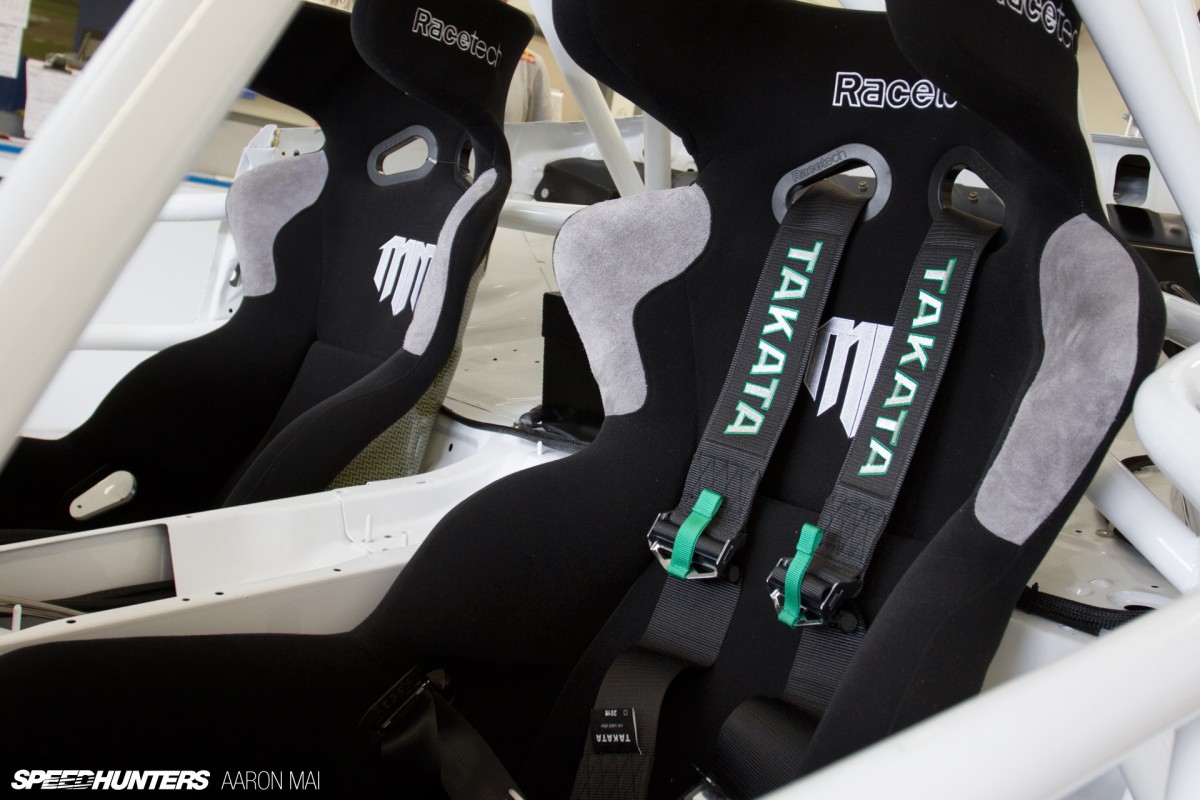 On the opposite end of the cockpit, New Zealand competition seat maker Racetech has provided a pair of their made-to-order RT9009HRs. These carbon/Kevlar-framed seats feature 270 degrees of head support, and flanked by Takata RACE 6 harnesses they'll keep Mike and any would-be passengers locked into position. And you'd want to be locked into position riding in a Mazda MX-5 with a twin turbo 26B engine in the front, right?
Time To Tune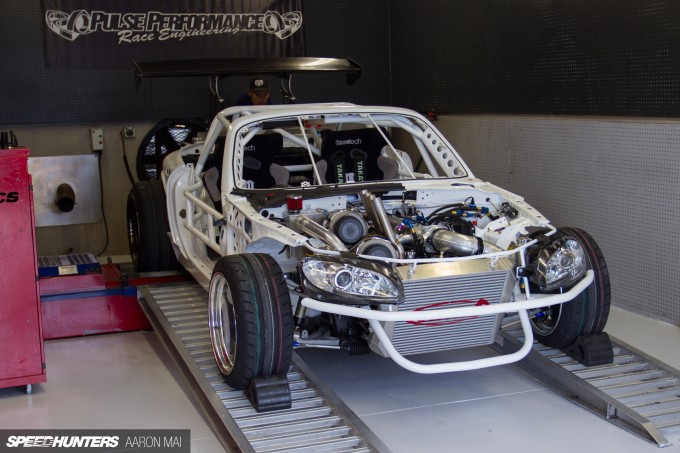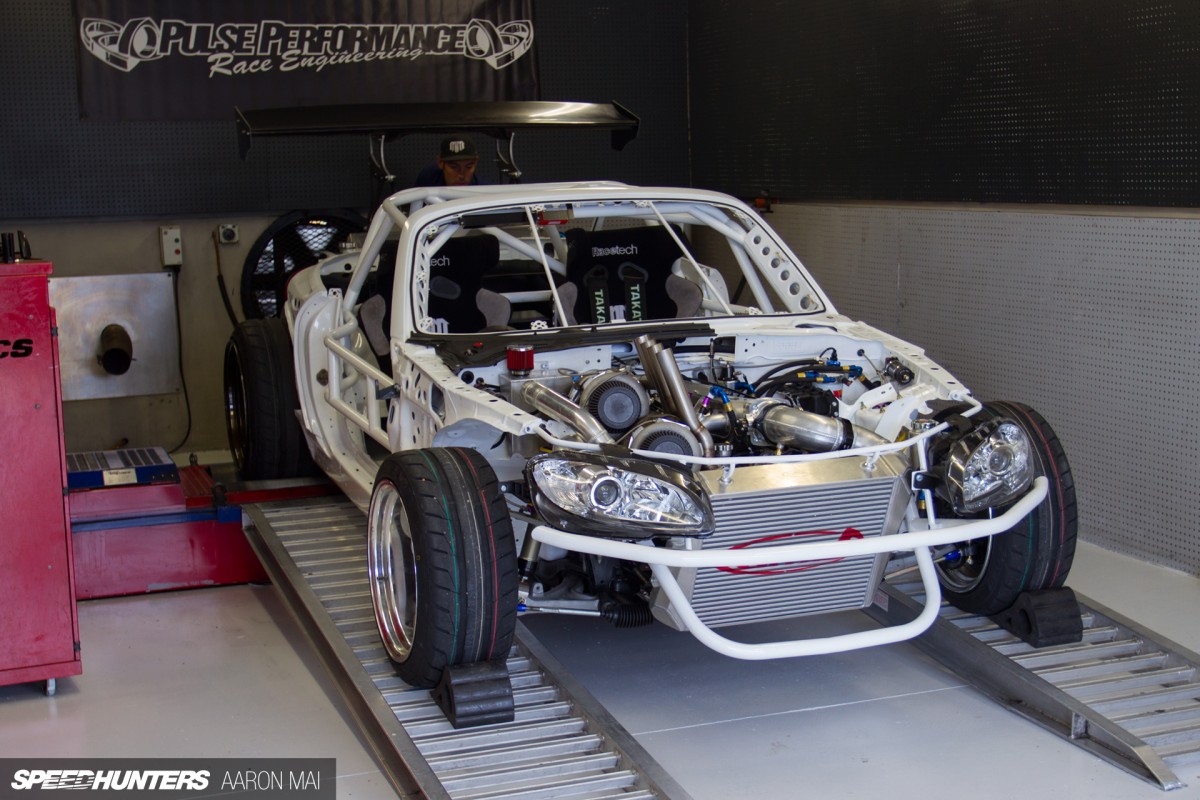 The sum of all those parts and countless labour hours have resulted in this. Having seen the Mazda when it was delivered to Mike as a lightly-damaged, rolling chassis, it's hard to believe that it's the same car. If there was any doubt that Mike was building the world's wildest MX-5/Miata, I think they can all be put to bed now…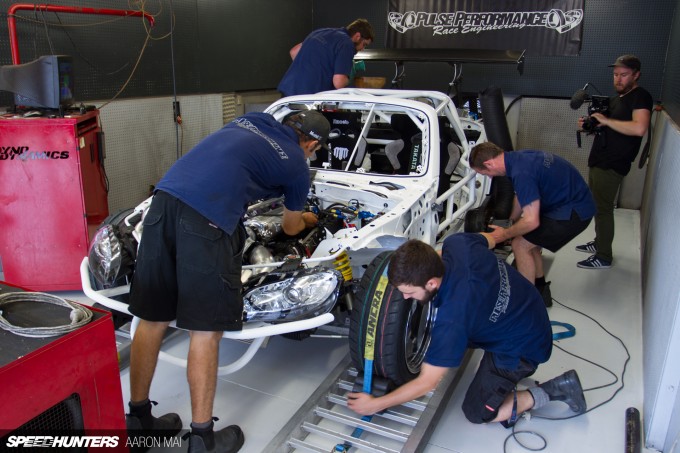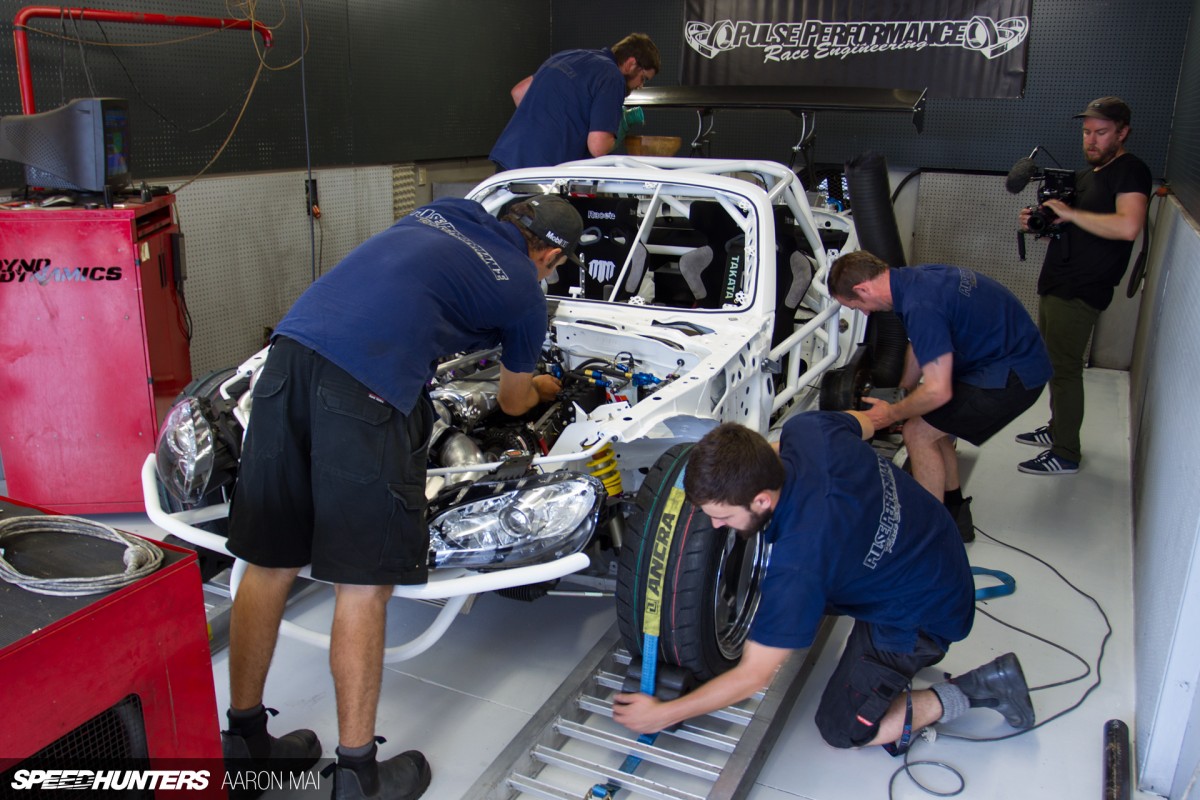 Prior to its first shakedown, the final job for the Pulse Performance crew was to strap RADBUL down on their Dyno Dynamics rolling road dynamometer, and get the tuning phase underway.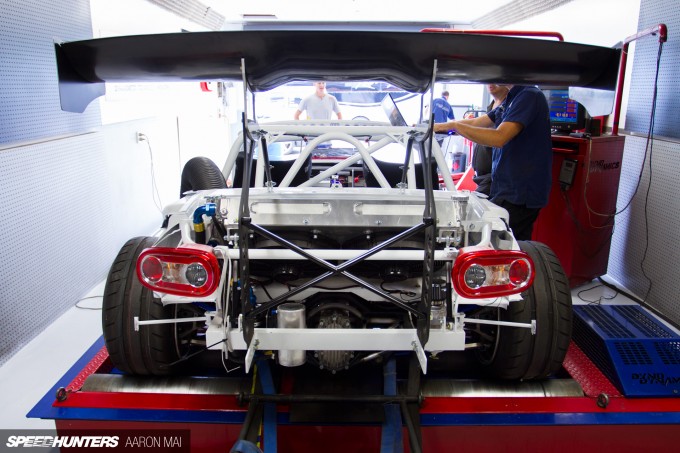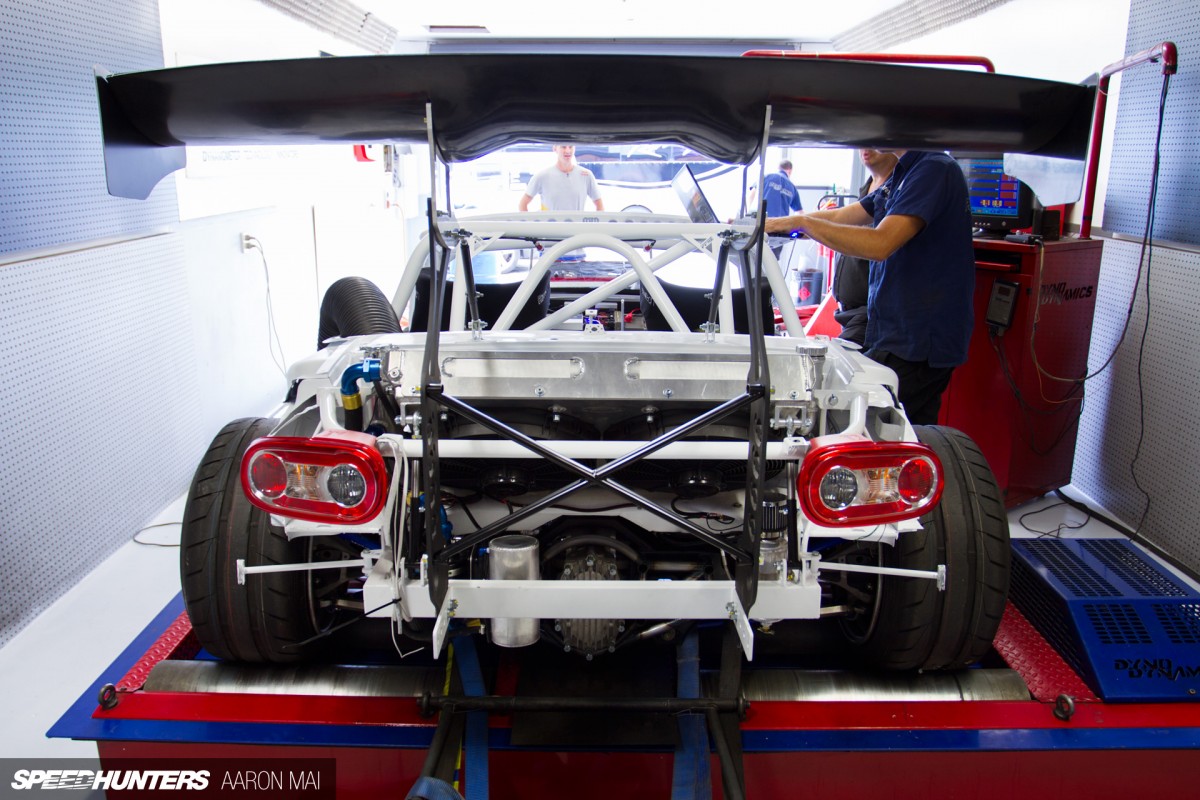 Is 'epic' the right word to use here? I think so… It almost looks like it should run a clear polycarbonate body over the top, like a scale R/C car!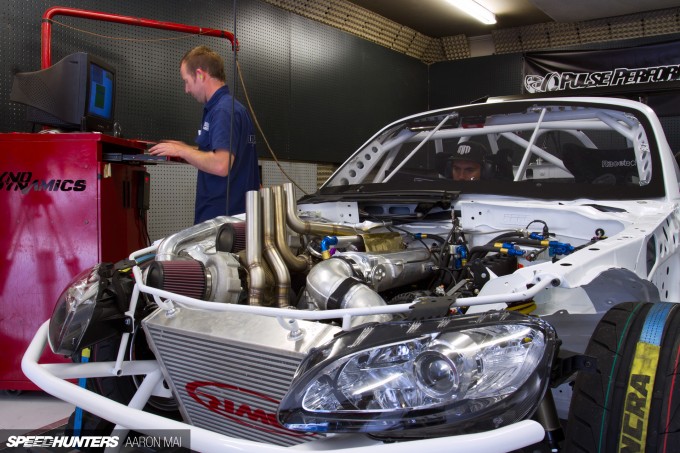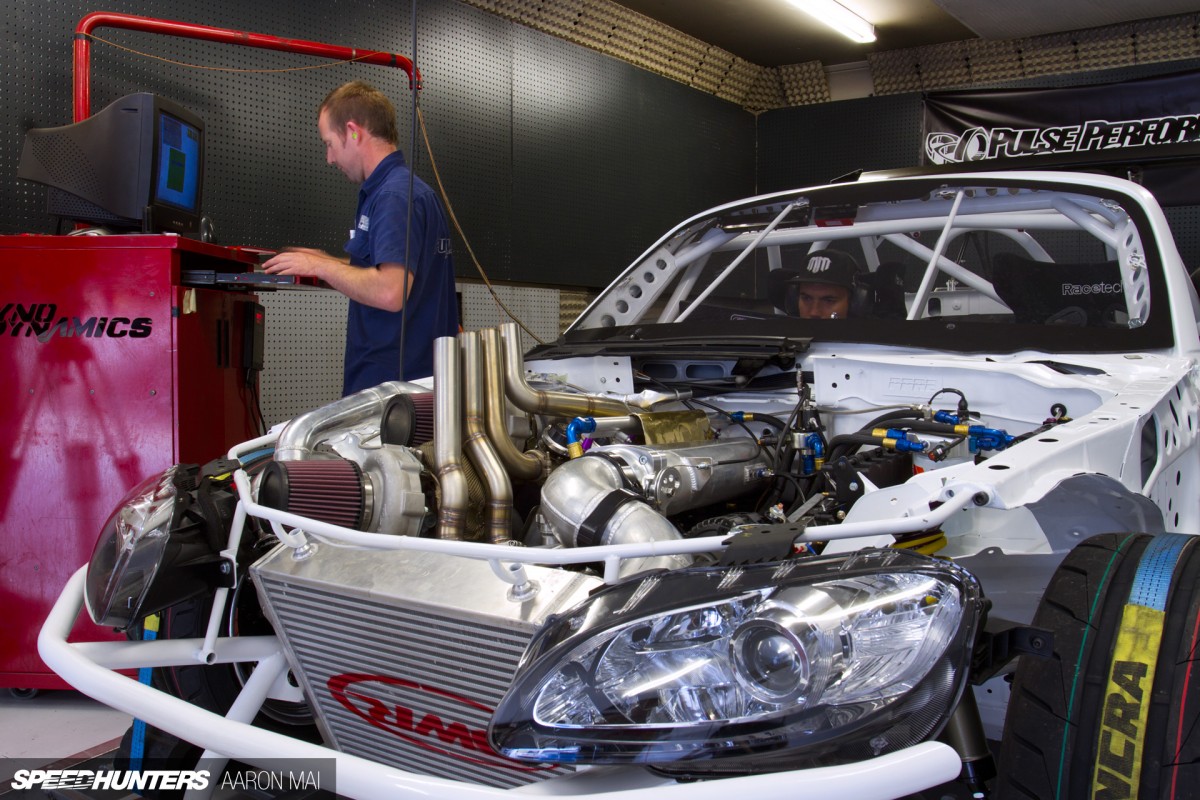 For the task at hand, Haltech flew in a technician from Australia, and armed with their tuning software, he went to work with Warren from PPRE.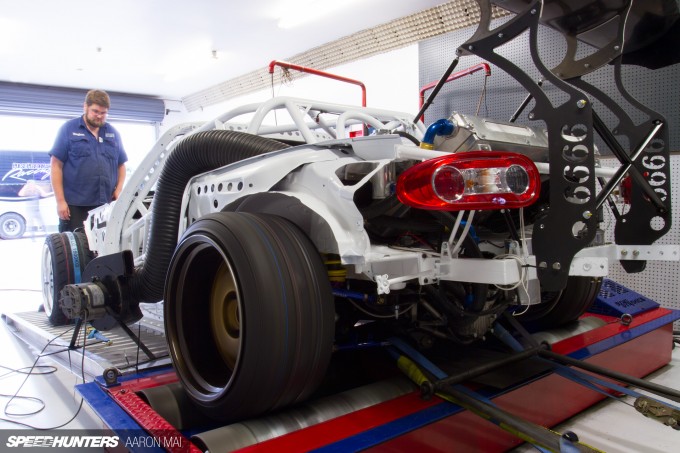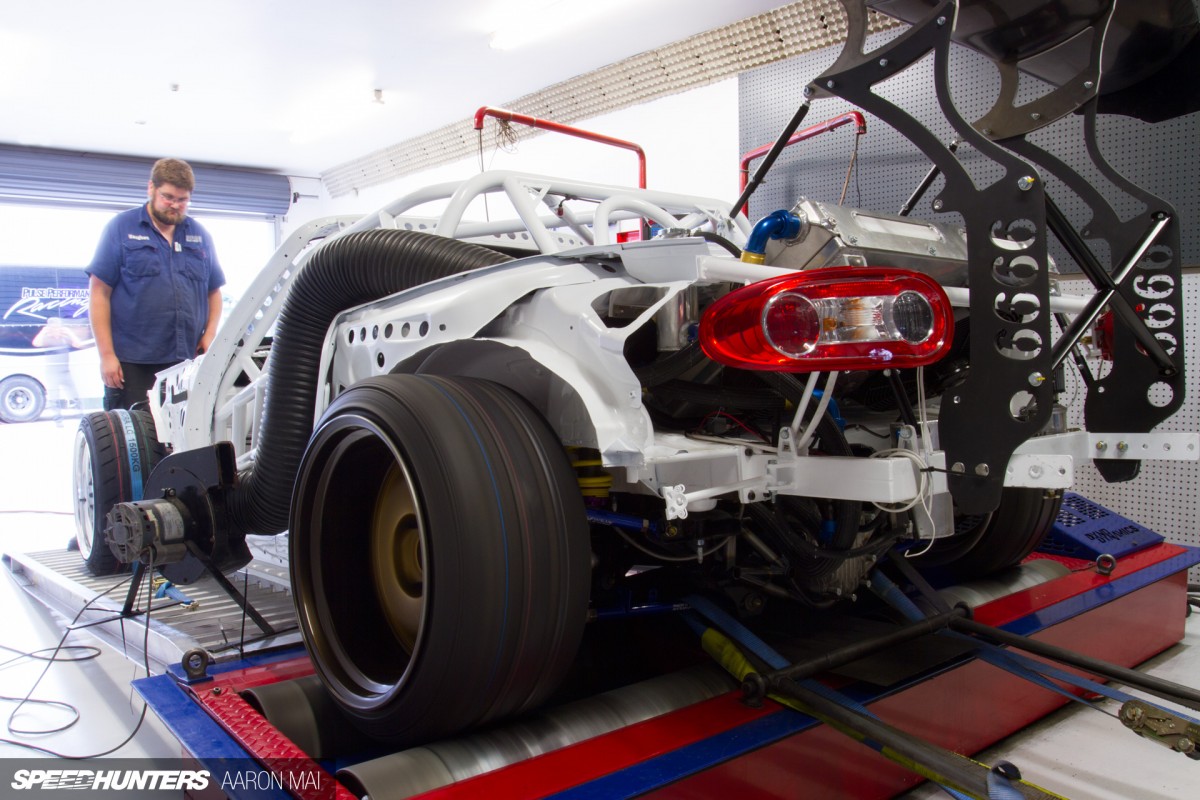 Solid output from the engine was never in question, but when – with just a whiff of boost pressure thrown into it – RADBUL's rear tyres started lighting up on the rollers, it was confirmed. A tyre change was required, but after two days on the dyno the tune was complete. The result? 1032.1hp on its lowest boost setting, running a simple mix of 100 octane race gas with Mobil two-stroke oil. We'll let you draw your own conclusions on what it's making at full whack…
Shake & Bake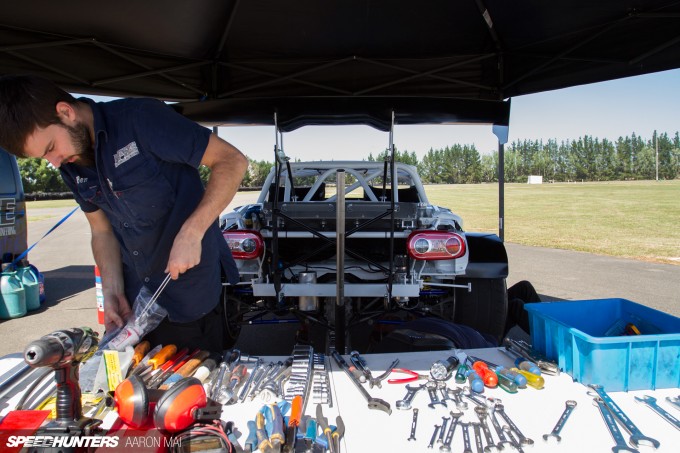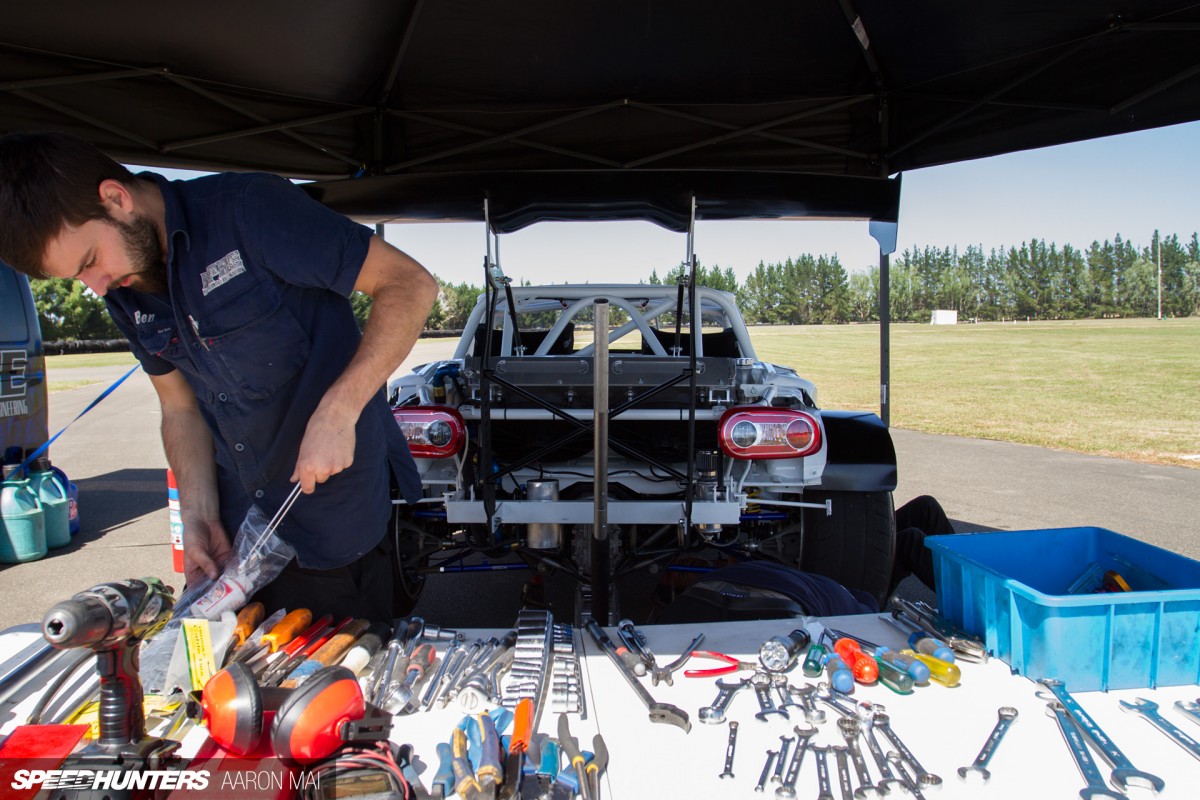 Given PPRE's stones-throw proximity to Manfeild raceway, it would have been silly to not give the Mazda a solid thrash prior to Mike bringing it back up to Auckland.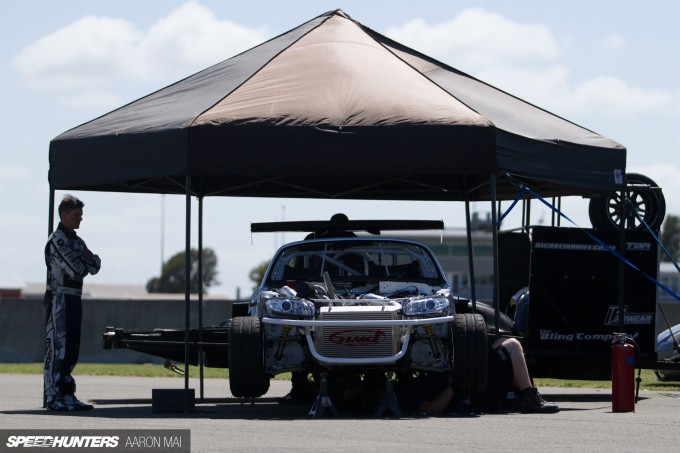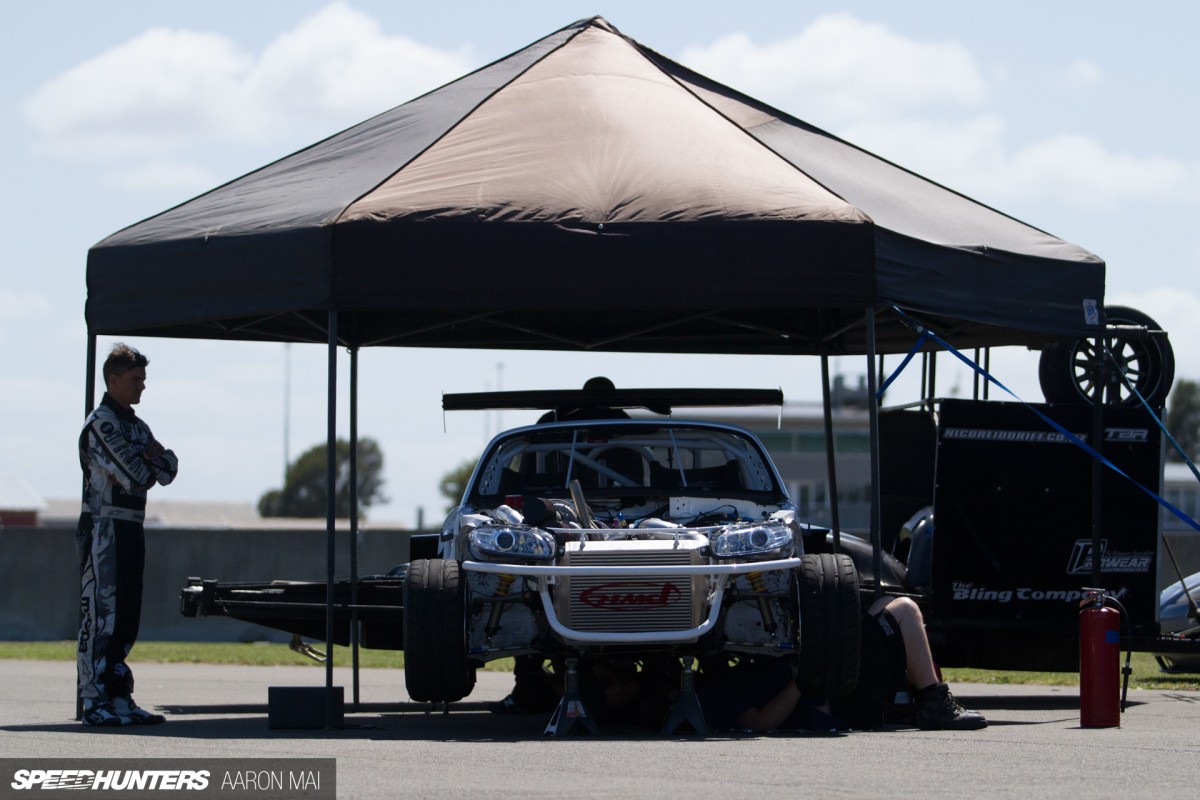 This was crunch-time for everyone involved in the build. Calculations and theories aside, no one really new how the ultra short wheelbase of the MX-5 would react with four-digit horsepower motivating it. Having so much time and money invested into the build, RADBUL was a pretty big gamble, but one that Mike was ultimately willing to take.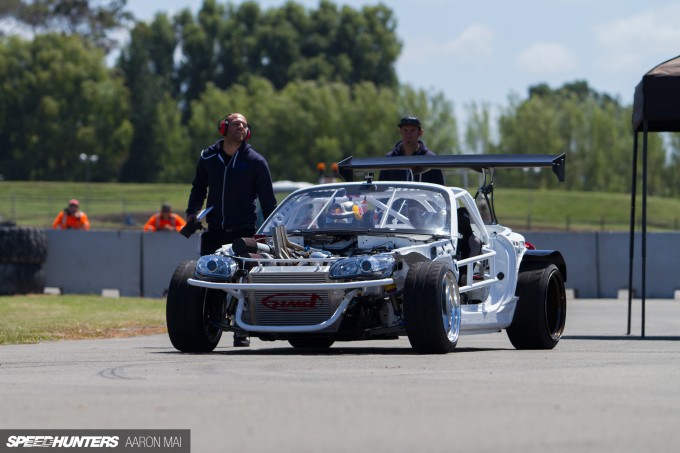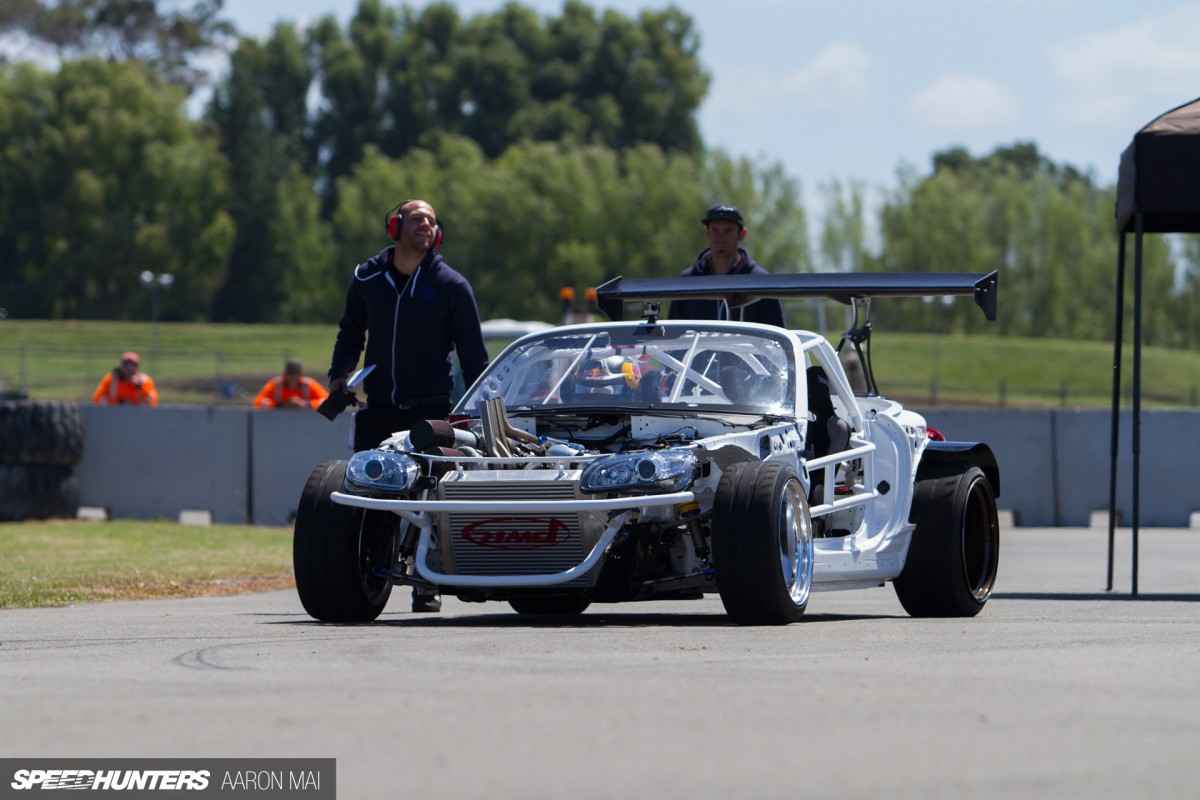 Yes, he could have shoved this motor in a fresh RX-7 or RX-8 build and had some idea of what he was going to end up with, but that's not his style. And looking at this thing, we can be thankful for that!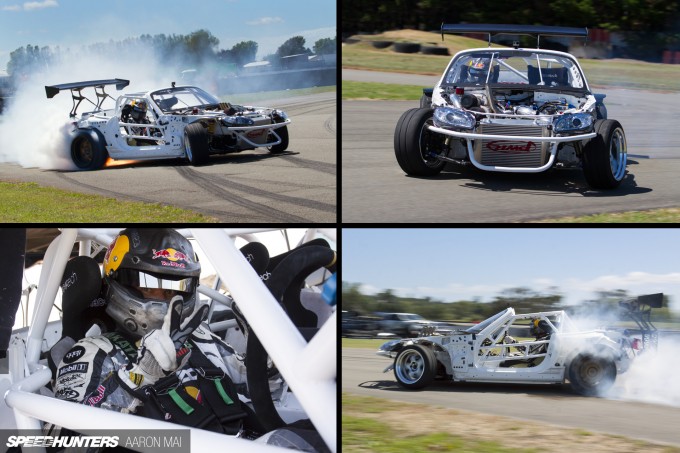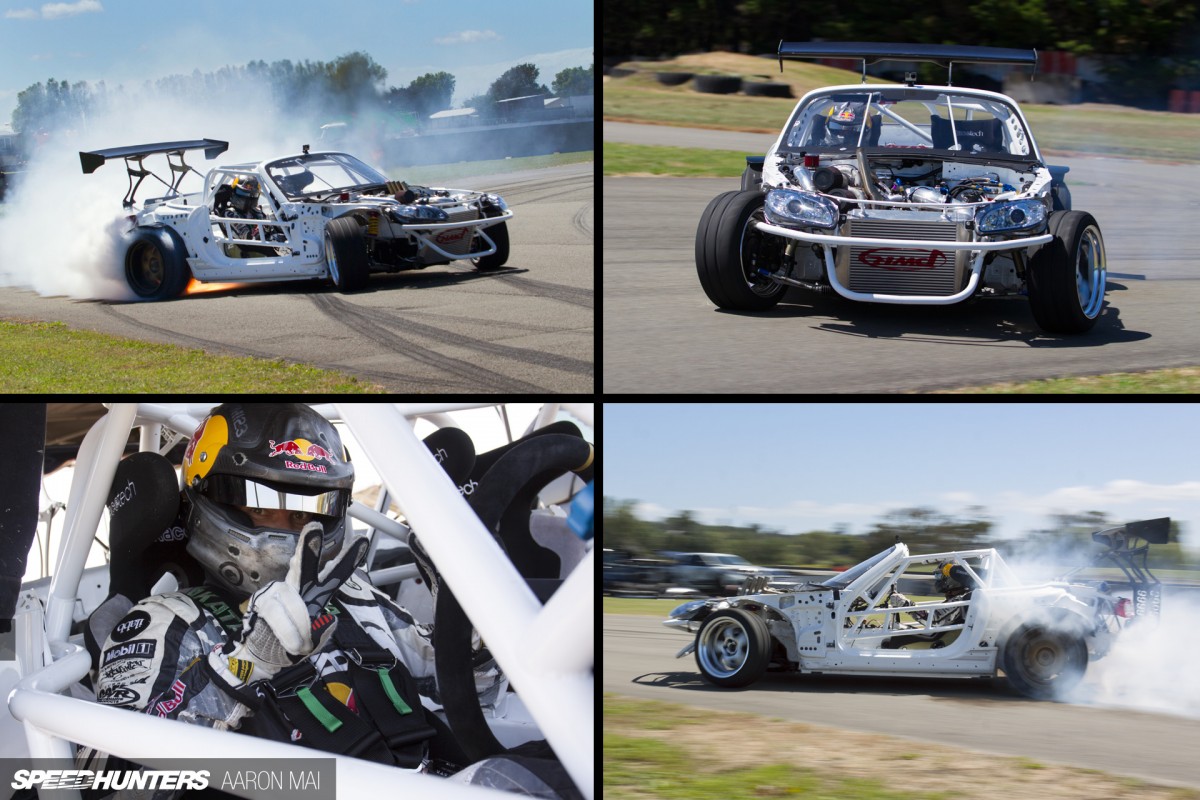 To get a proper handle on what the car was capable of a relatively neutral setting was applied the suspension, and RADBUL was let off the leash. As you can see above, it made lots of smoke and lots of fire, but what you can't see is the ear-to-ear smile plastered across Mike's face. Given its physical dimensions it was always going to be an aggressive chassis, but with the immense amount of power and torque on tap, the verdict is that the two factors balance each other out nicely. If you took the violent nature of MADBUL (Mike's naturally aspirated 4-rotor RX-7), and the grunt of BADBUL (Mike's turbo 3-rotor RX-8) and amplified them ten-fold, this would quite likely be the result. In Mike's own words, it's also "the fastest thing with four wheels that I have ever driven."
The Final Touches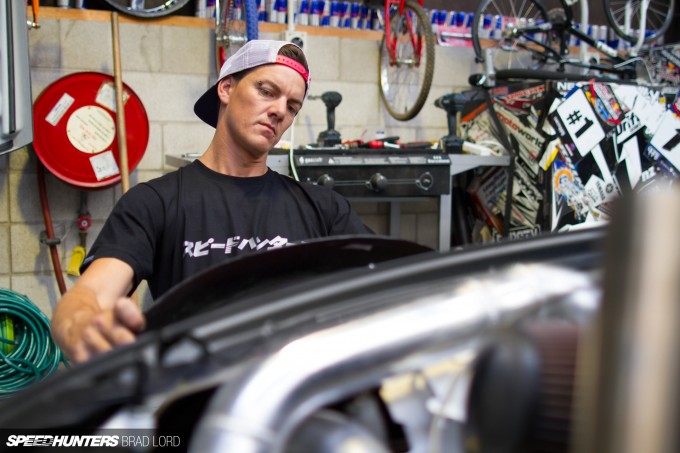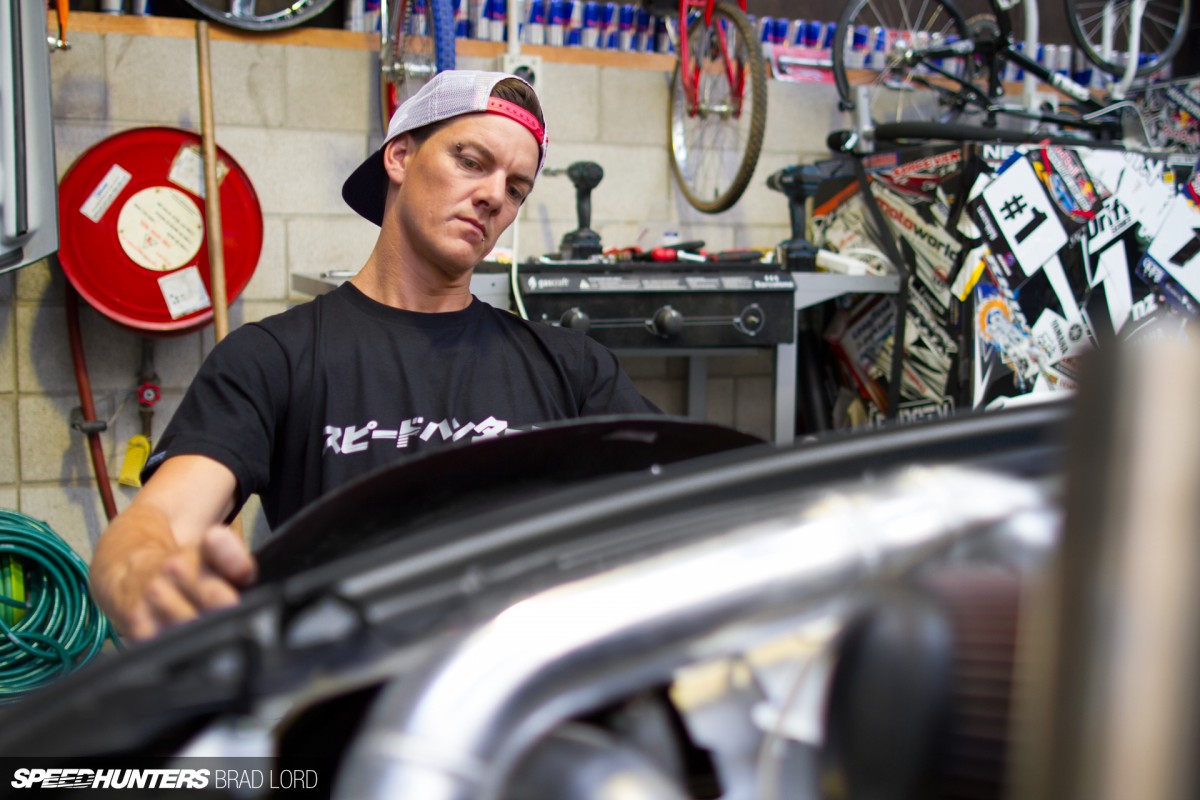 When I caught up with Mike last night at his compound in Auckland, he was busy at work finalising the the MX-5's body work.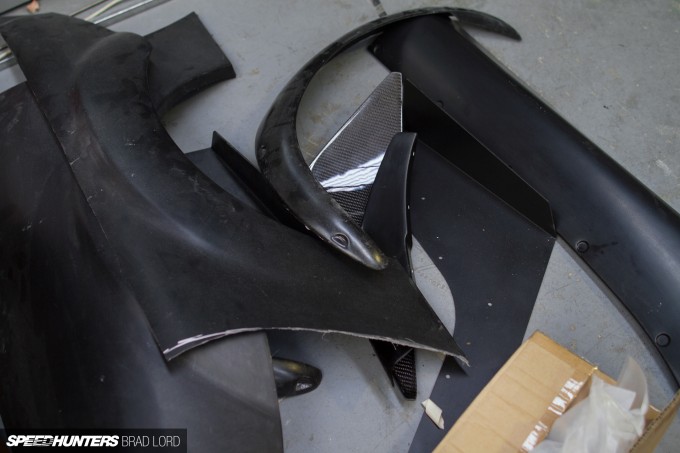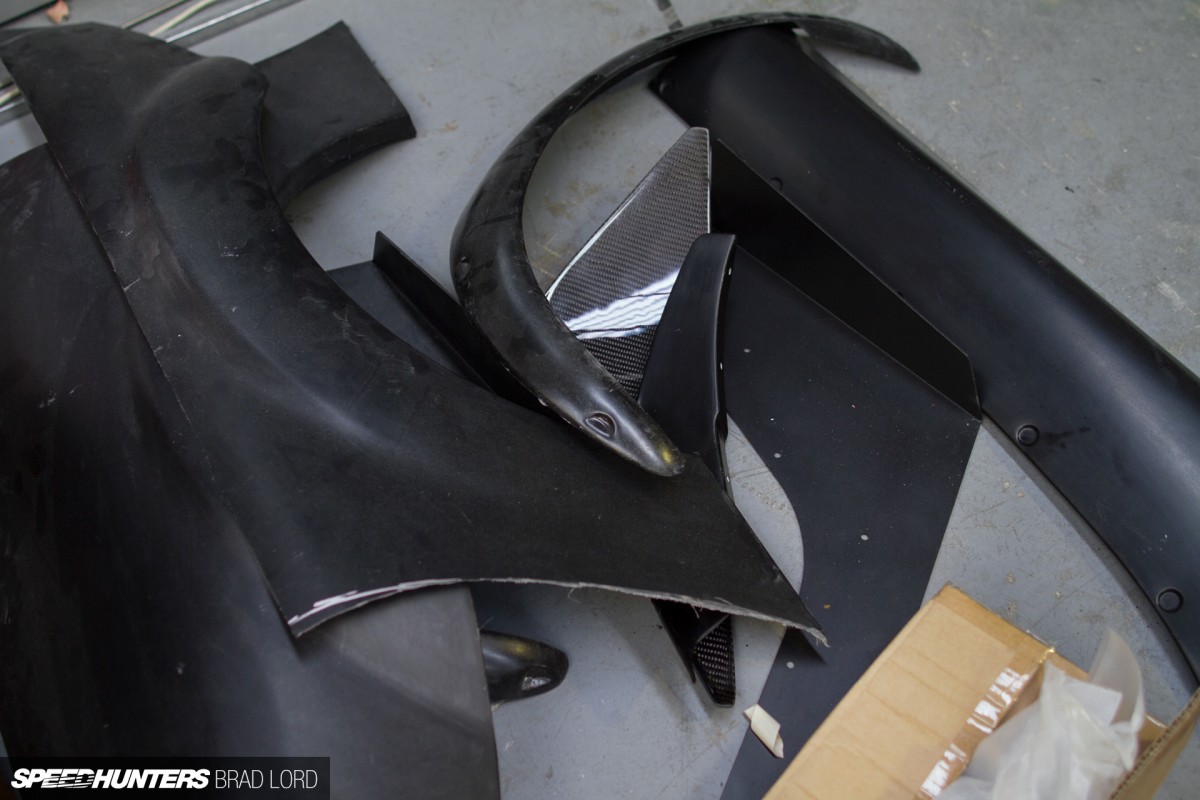 Kit-wise, there's not a lot available off-the-shelf for the NC chassis, let alone with the sort of aggression that Mike knew it needed. So to get the MX-5 looking how he envisaged it on paper a long time ago, he's taken matters into his own hands, using a combination of Mazda OEM, Autokonexion, Hybrid Lab, and Rocket Bunny RX-7 parts laying around the shop to bring the look to life. Given his track-record with this sort of thing – and what I've seen in person – it's going to look amazing.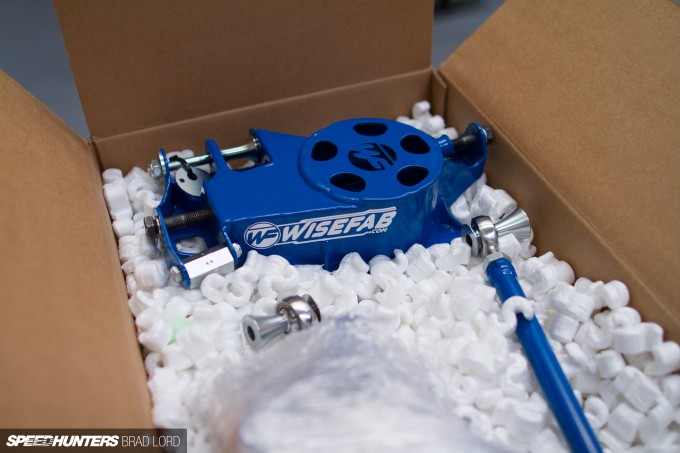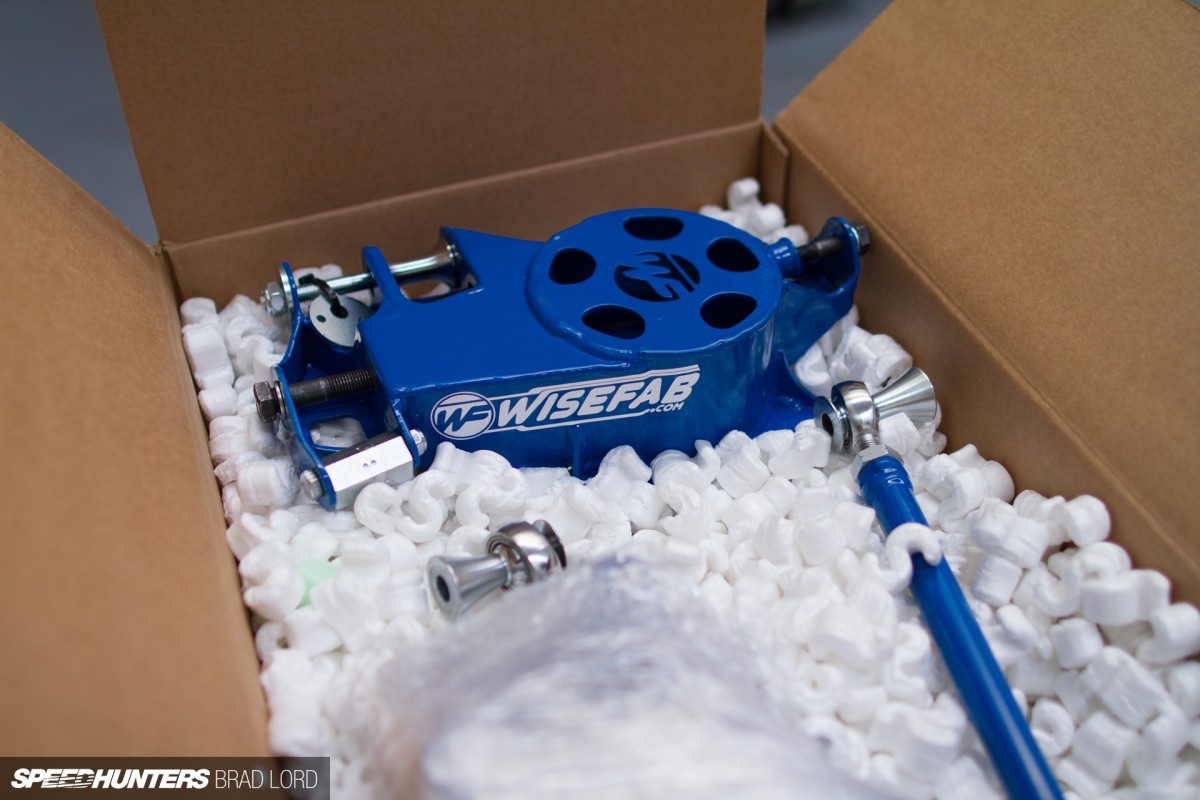 While I was poking around the shop a courier arrived with two big boxes – inside a bunch of custom-built Wisefab components. With the engine positioned so far back in the chassis, the steering rack has been located in a far more optimal position than where it's sitting in his other cars, so Mike is looking forward to getting this gear fitted up and dialled in for RADBUL's next test outing.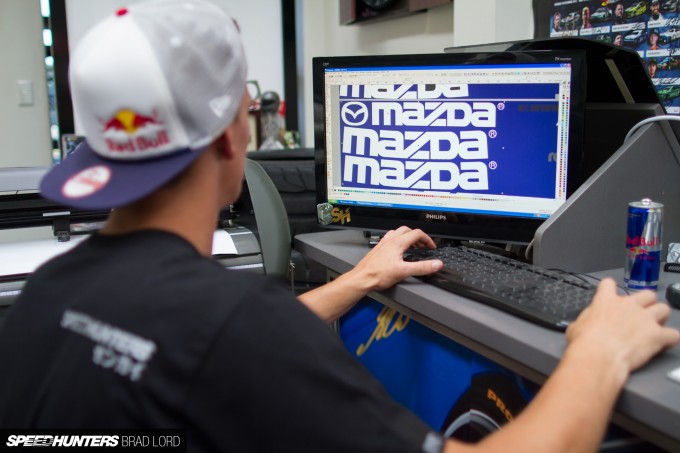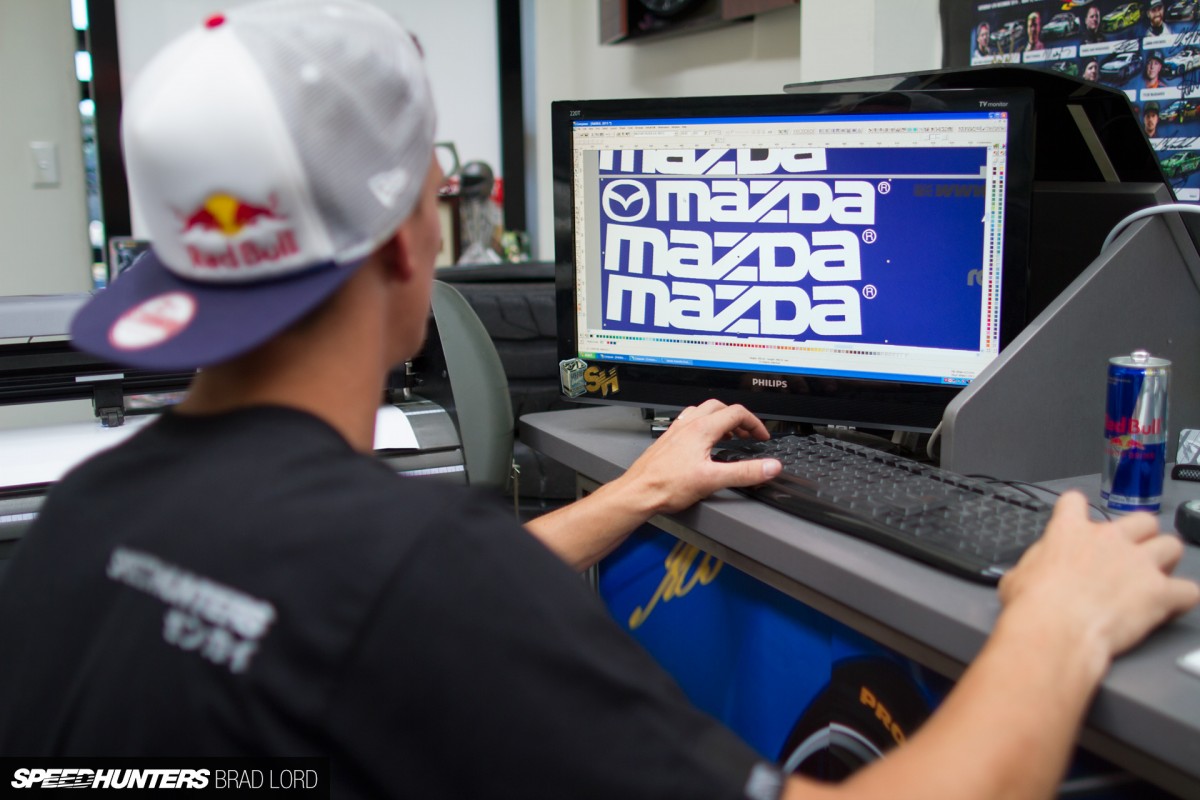 With just the final bodywork touches to finish off and the livery to fine tune, for the most part the car is now complete though.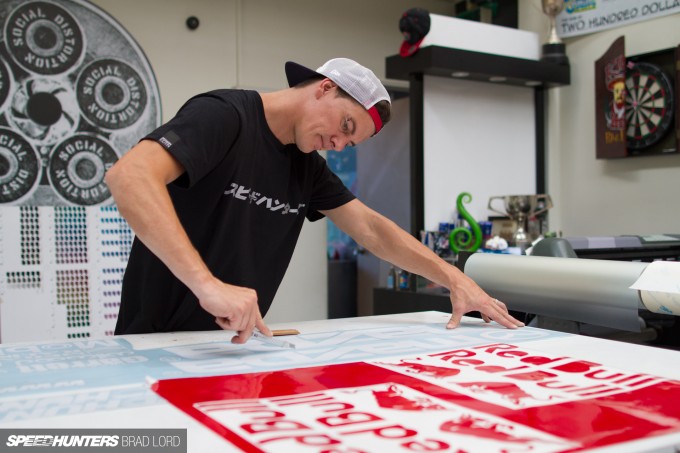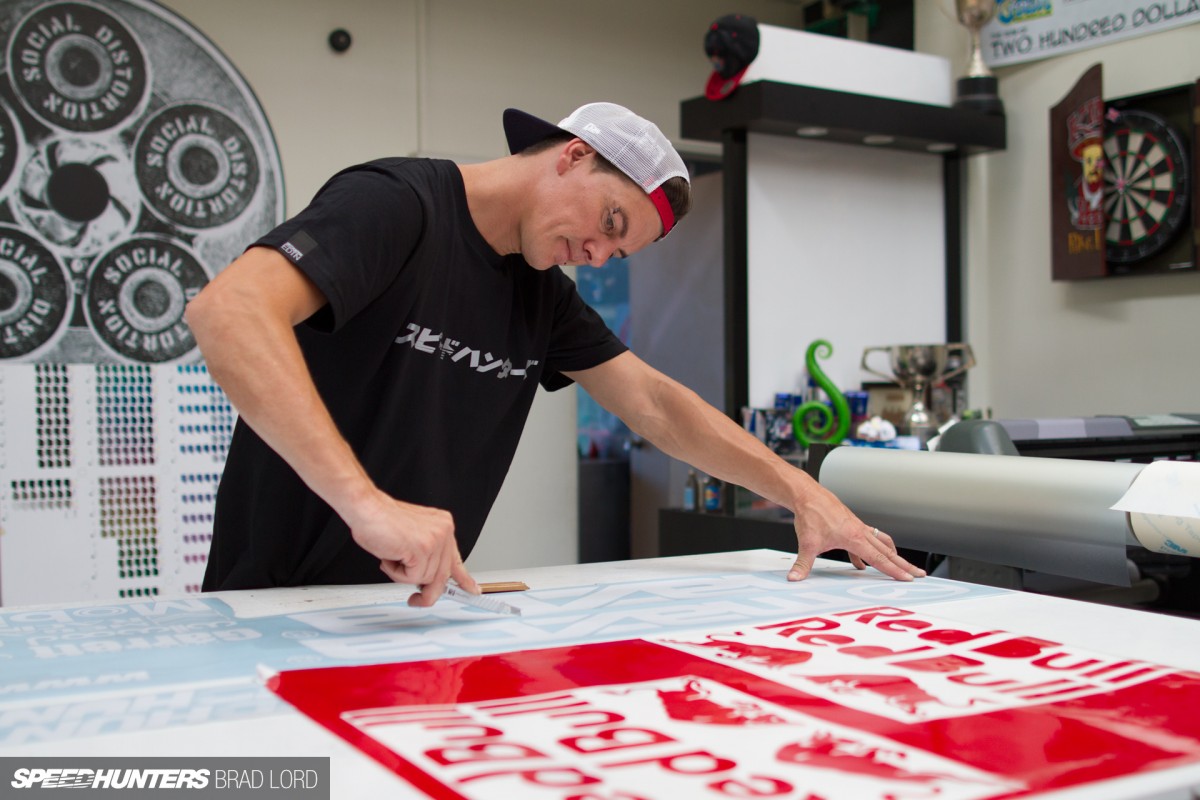 After years of planning and months of build time, there must be a lot of satisfaction in cutting vinyl on the plotter and laying it on the steel, FRP and carbon. It's the final step in a creative process that's seen a 'hairdresser's' car transformed into arguably the wildest pro drift car the world has ever seen. Or will see, that is, in a just a few weeks from now.
In the meantime, there's a new Making of RADBUL video clip from Red Bull to check out. You know you want to hear that twin turbo 26B scream…
Brad Lord
brad@speedhunters.com
Photos by Aaron Mai
Instagram: aaron_mai_media
Cutting Room Floor