Sometimes You Don't See It Coming
You expect one thing, you get another. Typically with classic British sportscars you might predict lightness and a phenomenal chassis, but you don't necessarily put brutal power on the list. Think Lotus Elan or Cortina, which are all about performance over power. Seeing a Marcos, the first thought might be along those lines, expecting fantastic handling to make up for small capacity up front. But, like TVR and even Morgan, this Marcos represents the time when a British company went a bit loopy and started throwing big, bluff V8s at their little cars. Things got brutal, fast. And then the owner of this particular car decided to make his brutally fast.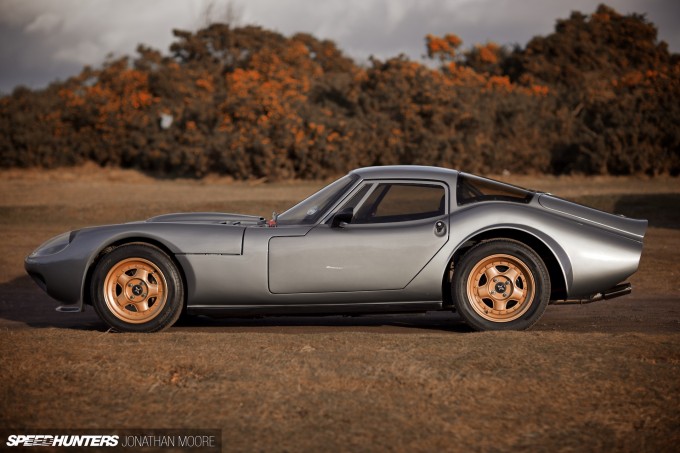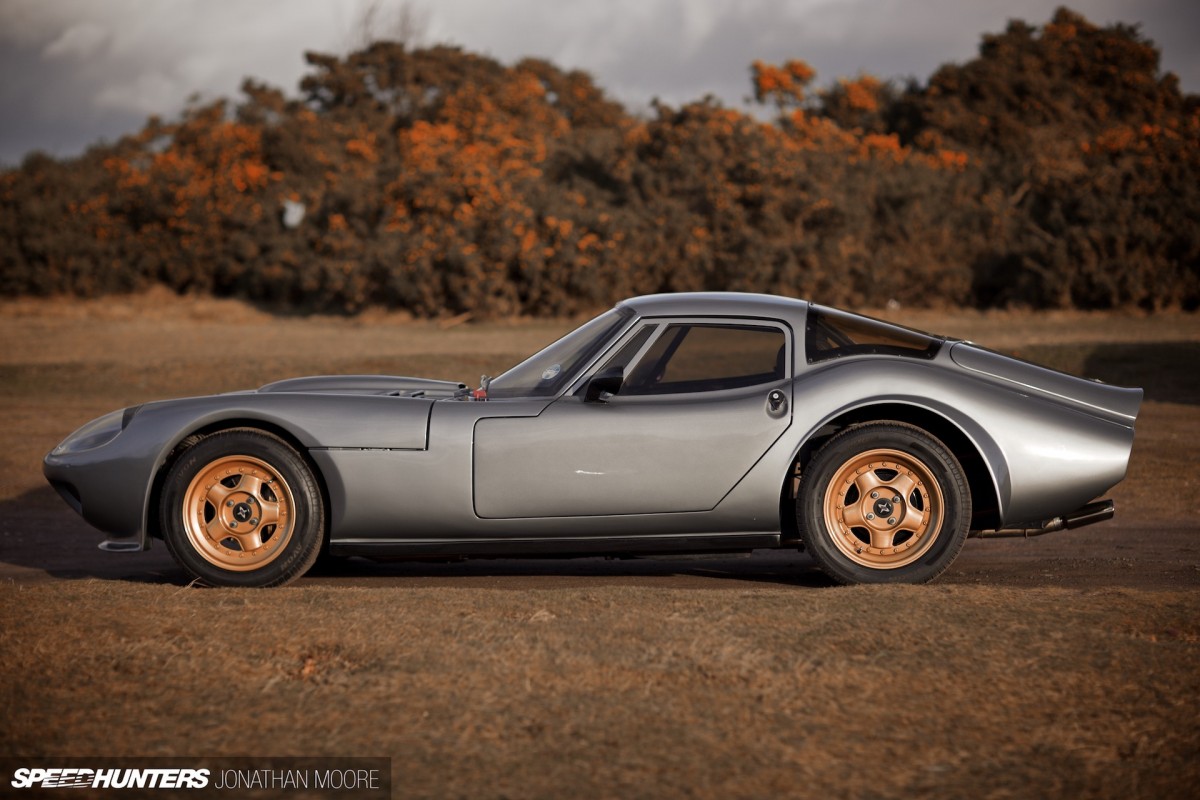 This beautiful 1985 Marcos Mantula is the result of a ground-up rebuild by Martyn Phillips in the UK, who stripped the car down to its last nut and bolt and remade it into this glorious example of all that is good and proper about classic Brit metal. Lithe. Lightweight. Fast. Utterly beautiful. It's so low that you just trip over it, just 41.5 inches (one metre!) high. There's not a straight line to be seen from its acres of long nose through its flowing flanks and high rump to the sloping tail.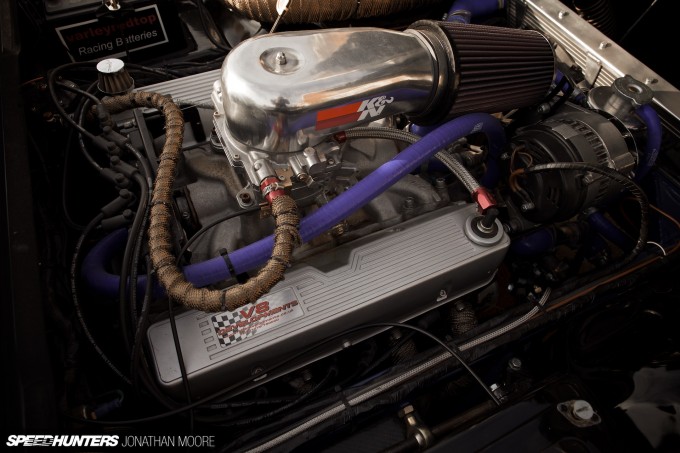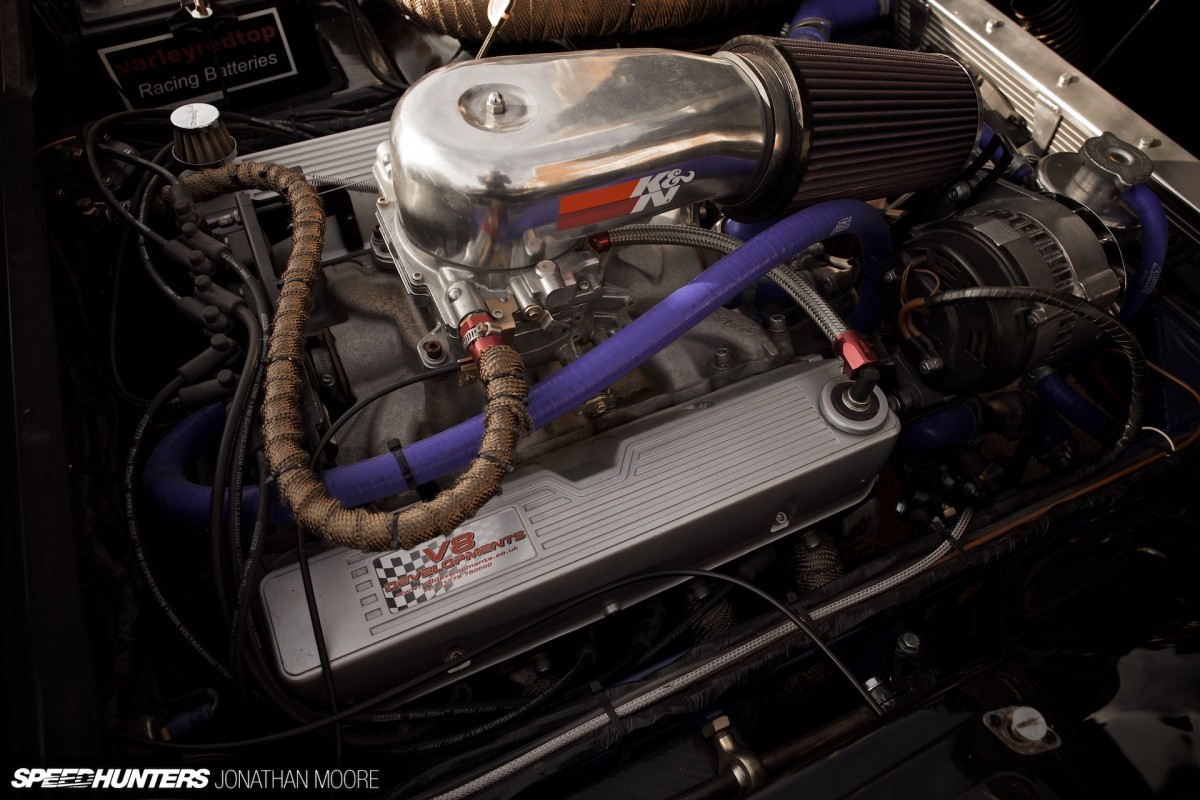 Then he strapped a 5-litre V8 in there. And the strangest thing is, that just seemed like the sensible thing to do.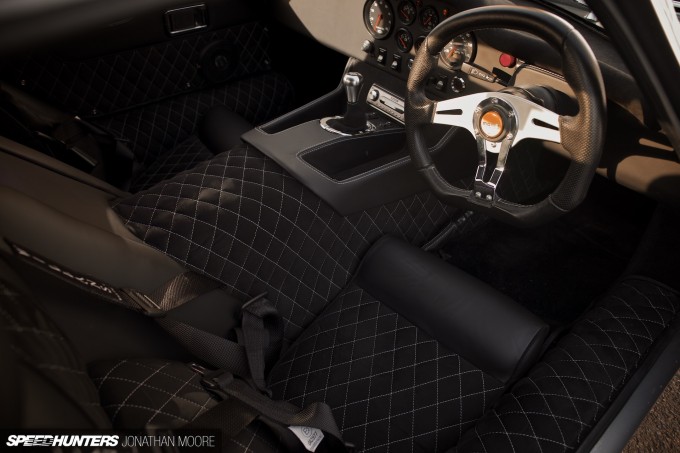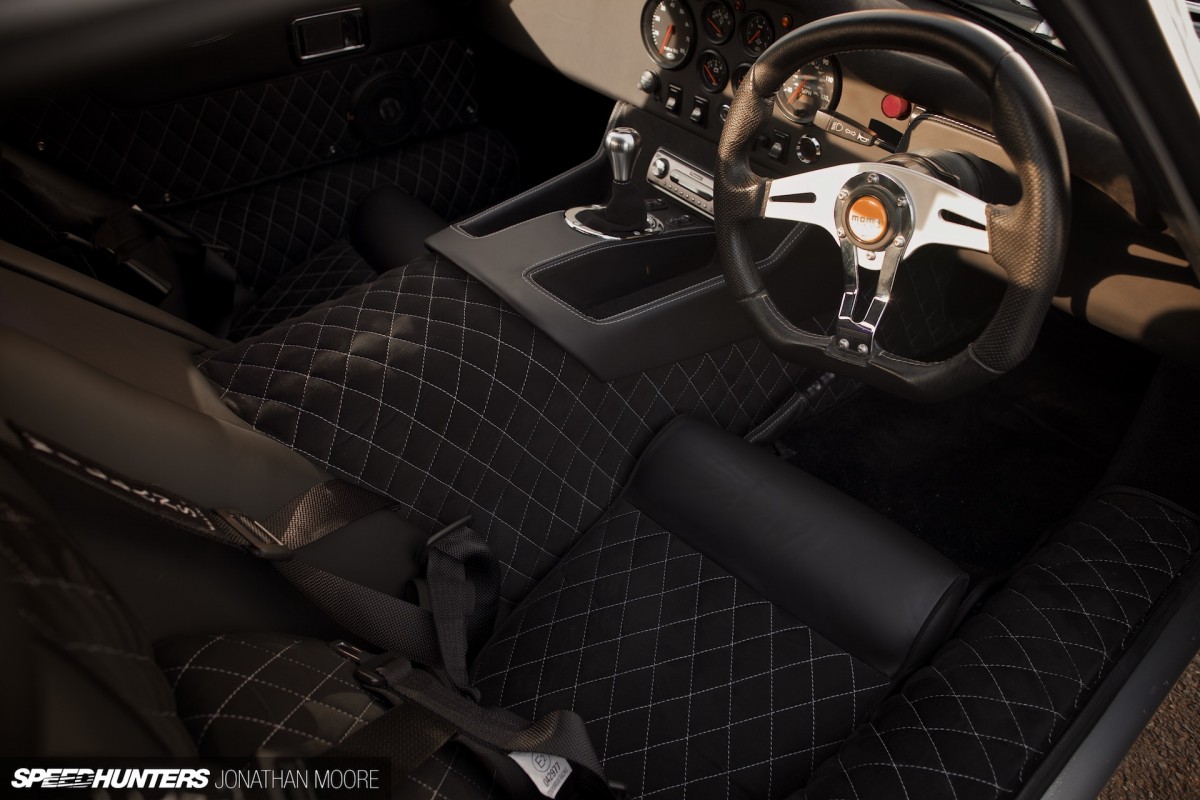 For me, this Mantula is another step in the rediscovery of a great marque that has disappeared from the public eye; another niche British classic all but consigned to history. For Martyn, this car is something far more important. It's the culmination of a driving ambition that goes back to his youth and pictures of Marcos cars stuck on his wall, picked from brochures that he'd sent off for.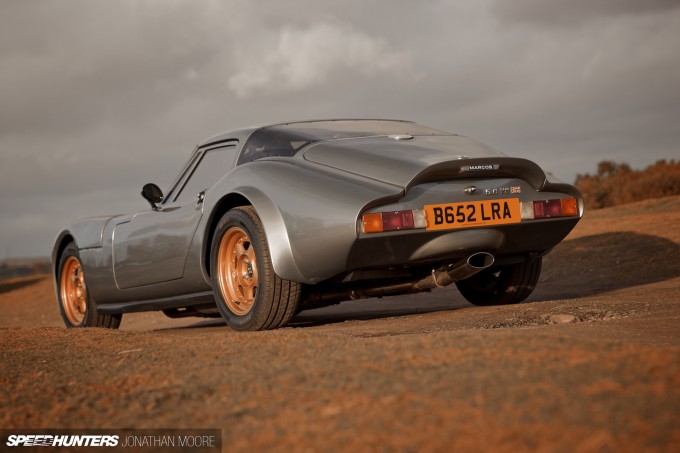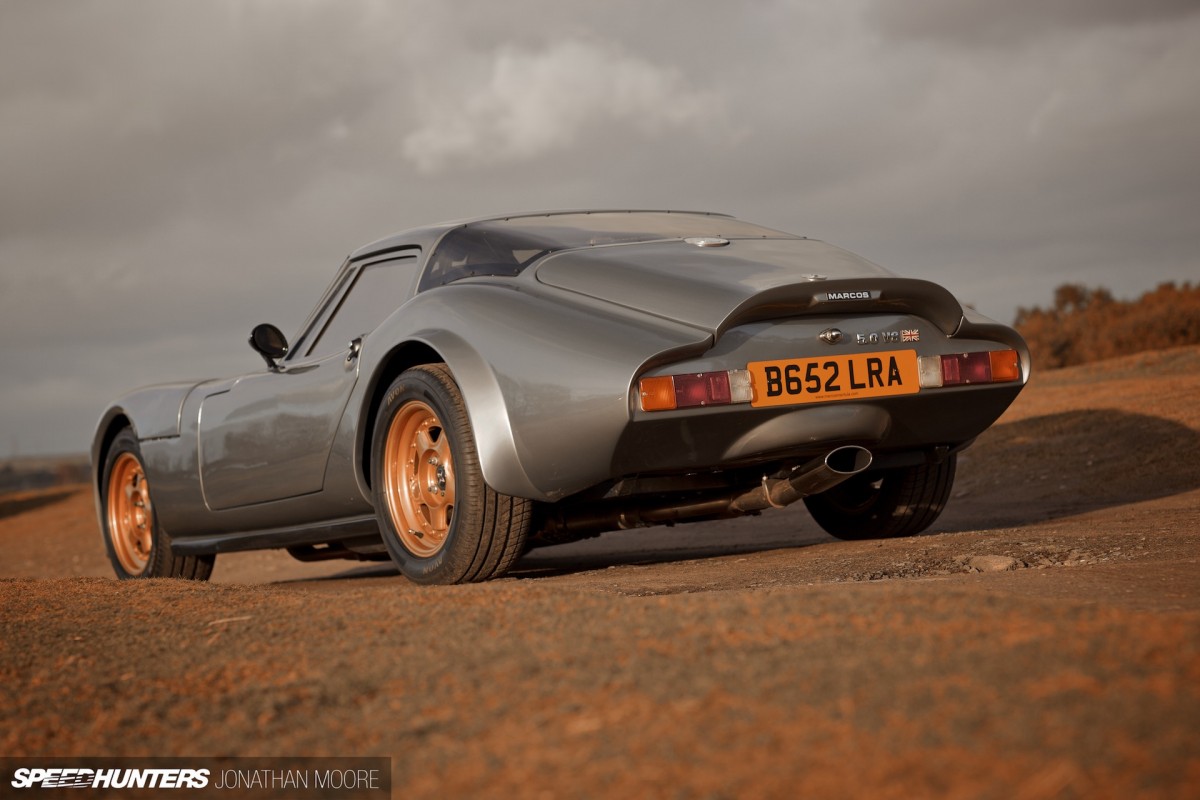 It's also a fine example of what you can do when you set your mind to something. Building this Marcos was a classic journey of discovery for Martyn, a self-confessed enthusiast rather than expert builder, where he found out just what he was capable of. It shows that dedication and passion are commodities that you can't put a value on.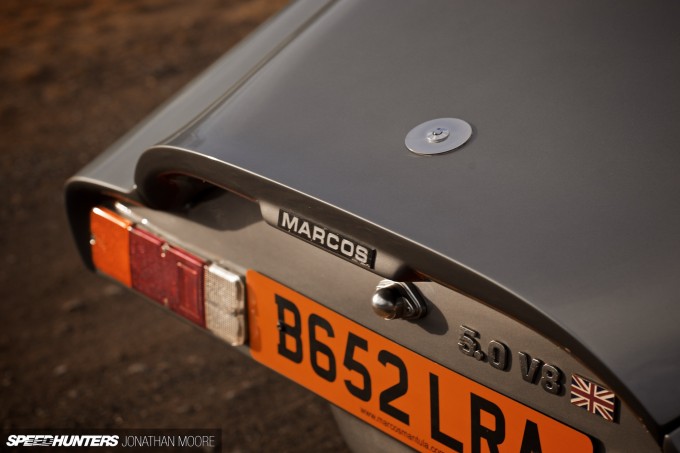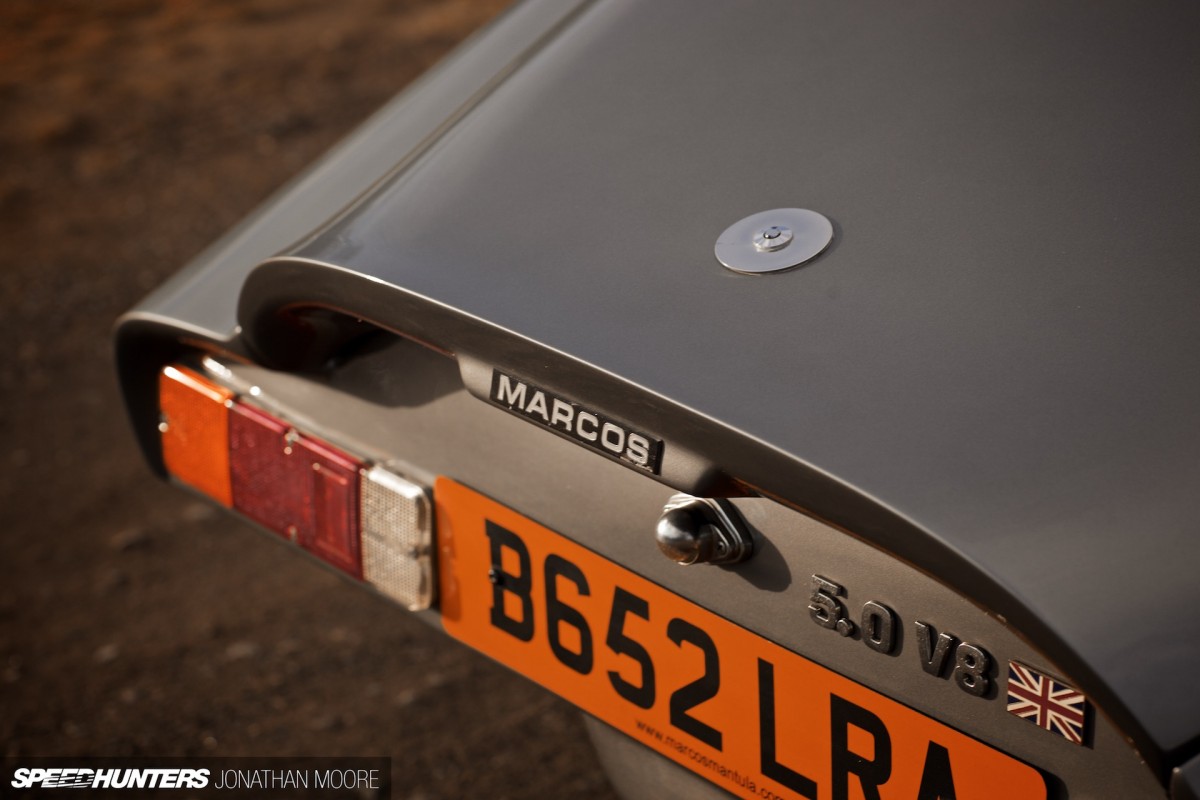 Why choose a Marcos? They're not something that everyone has heard of – but they're not easily forgotten once you've seen one. For some people it could be a Countach on the wall, but for Martyn it was a Marcos – and for a long time owning one seemed as likely as getting a Lamborghini…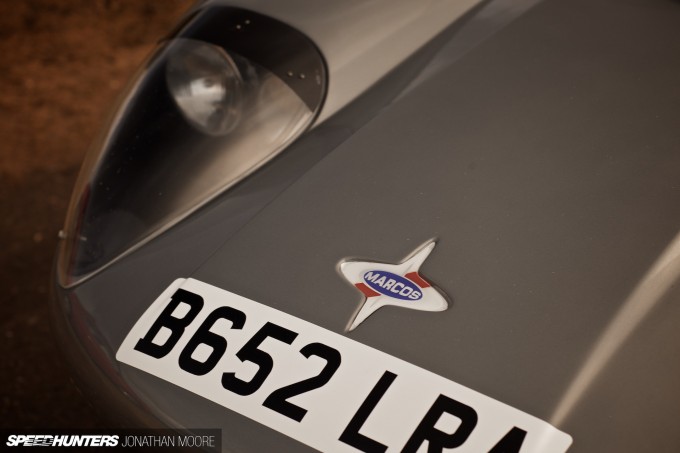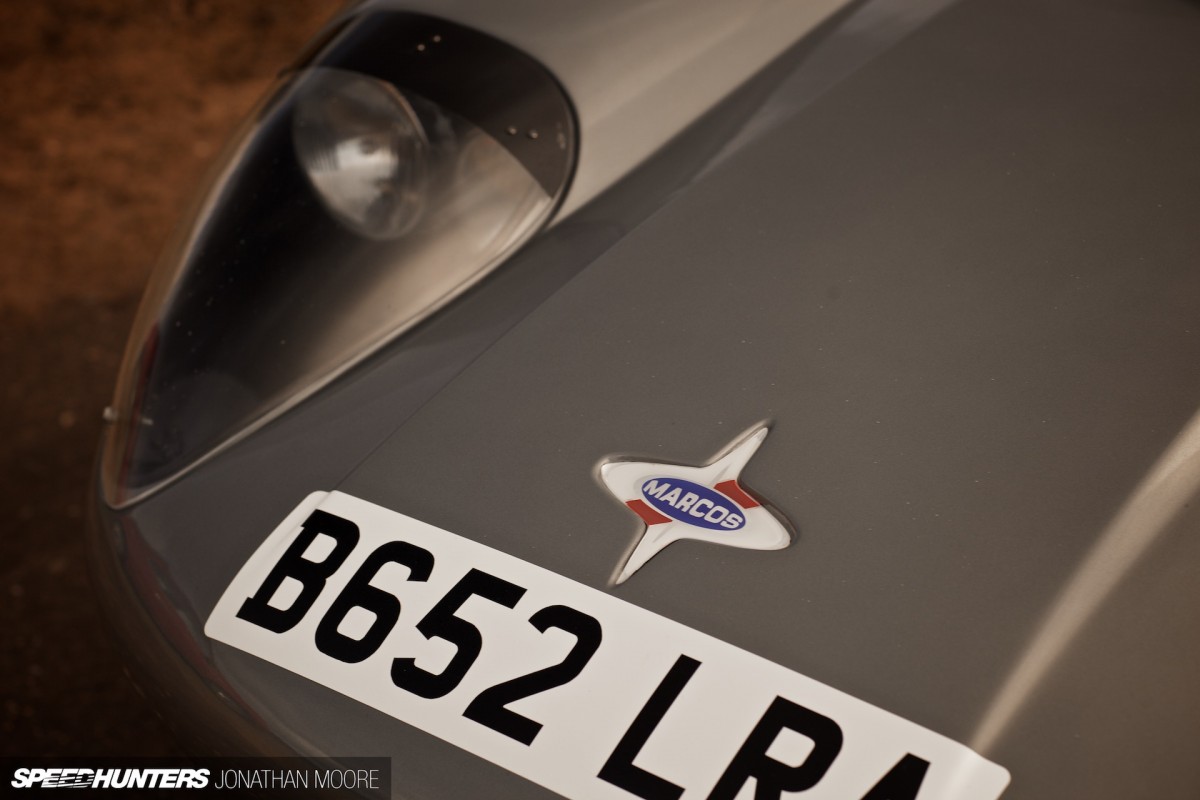 The Marcos name was created in 1959 from conjoining the surnames of its founders, Jem Marsh and Frank Costin. The latter had made his name designing airplanes such as the legendary Mosquito for the De Havilland aircraft company, and his know-how of wood monocoques led to the first plywood-based Marcos sportscars. Kicking off with the 475kg Xylon GT (yes, you read that number right), there then came the iconic 1800GT and then the snub-nosed Mini Marcos, a not very pretty but still somehow appealing aerodynamic take on the classic Mini platform.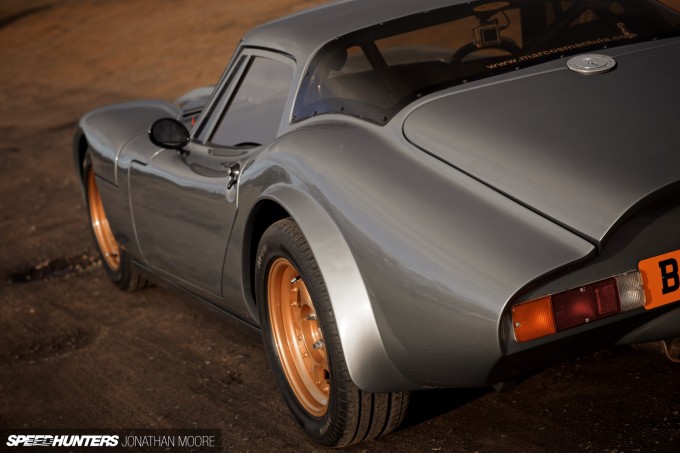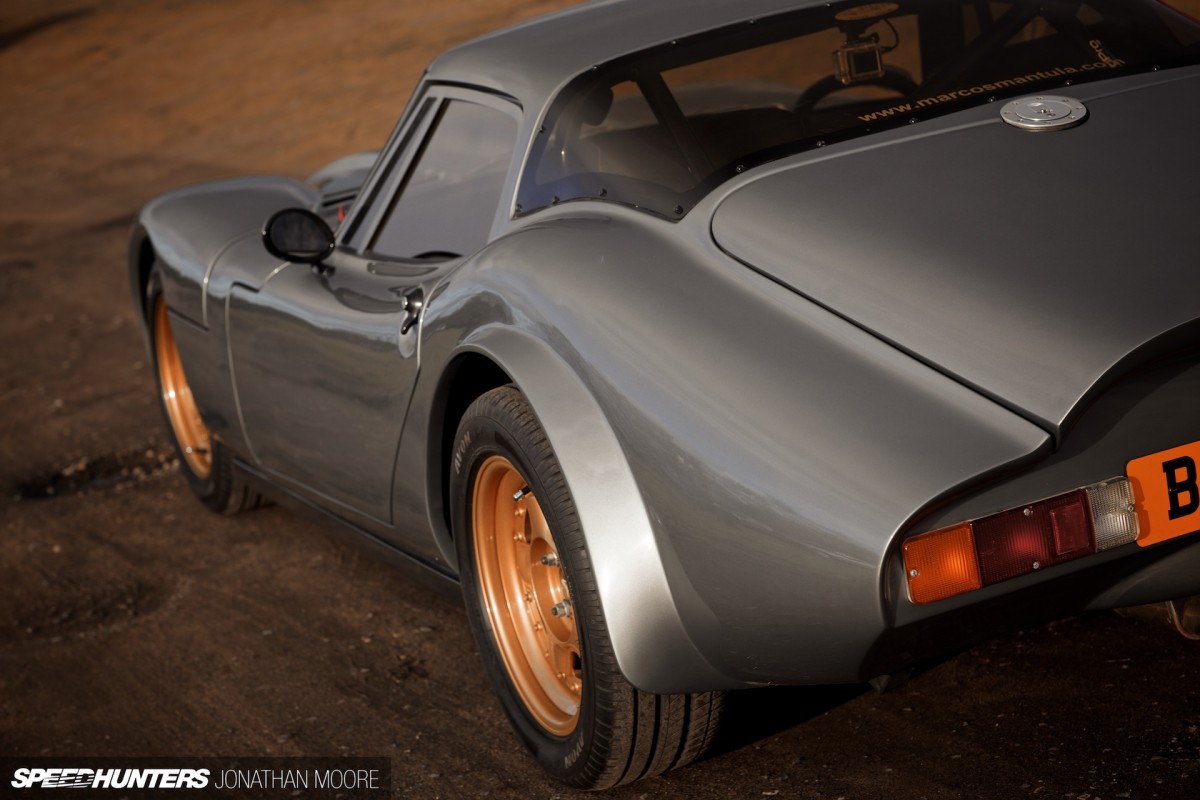 This Mantula is one of a relatively rare breed. Only 170 were made as part of Marcos' second wind in the '80s when it bounced back from its first bout of bankruptcy (this is a British company after all, so engineering always came before sensible book-keeping).
Based on the original GT, the Mantula was just that little bit tighter in its design; more modern looking, with more defined curves that further accentuated its long lines. It also introduced a 3.5-litre Rover V8 as the roaring heart of the new model. The Mantula went through various GT and other variants before the bulging Mantis model superseded it in the '90s, but Martyn's eye was fixed on the purity of the classic Marcos shape.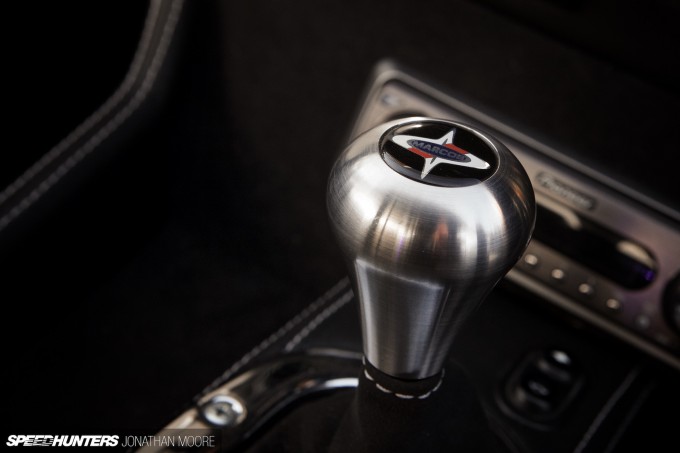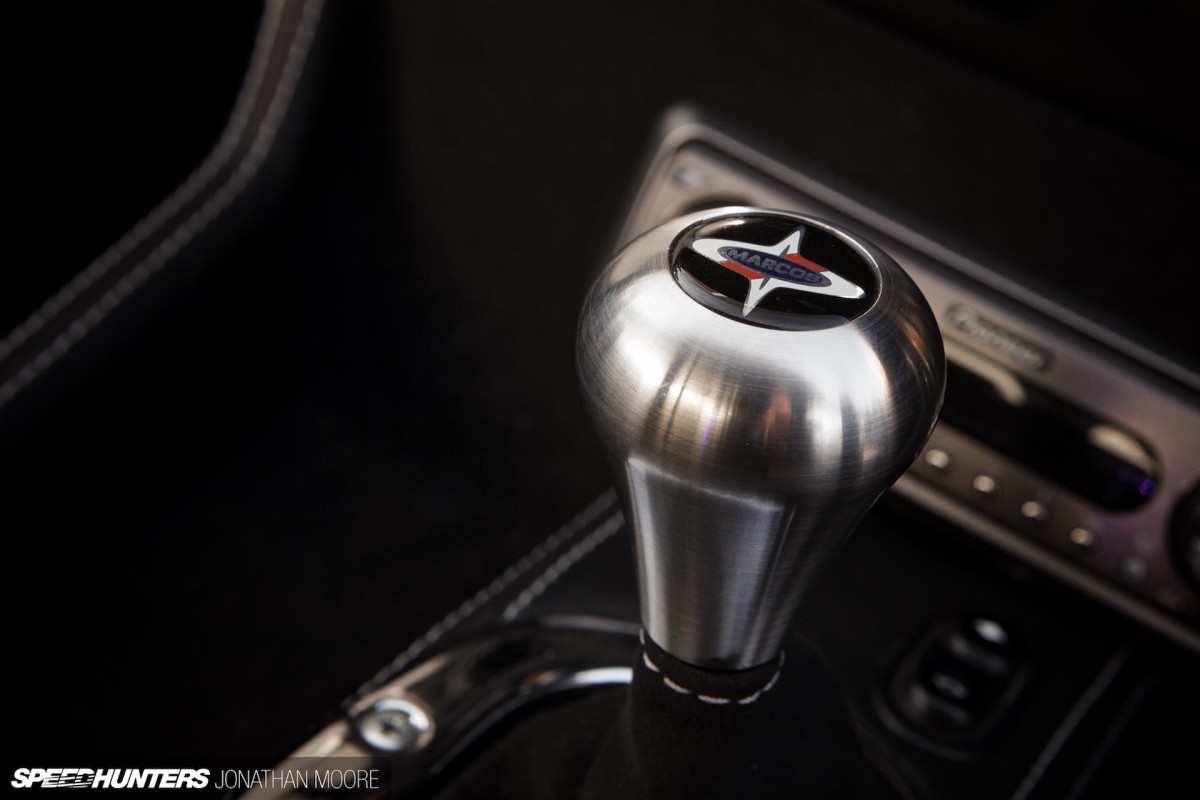 Martyn initially scratched his automotive itch via building a Jago Geep kit car – but pesky Marcos kept cropping up at meets he attended. Although not a kit car in the traditional sense, a large proportion of Marcos were sold in kit form, both as a less expensive route to ownership and to take advantage of various tax breaks. Martyn just couldn't get away from them, but would still have to be patient. Like, two decades-worth of patient.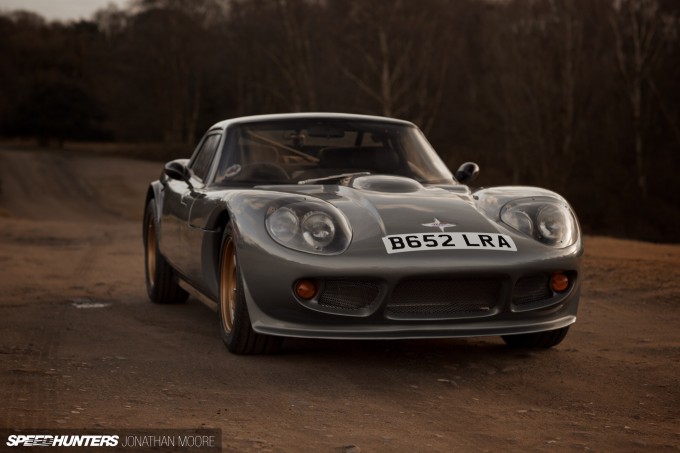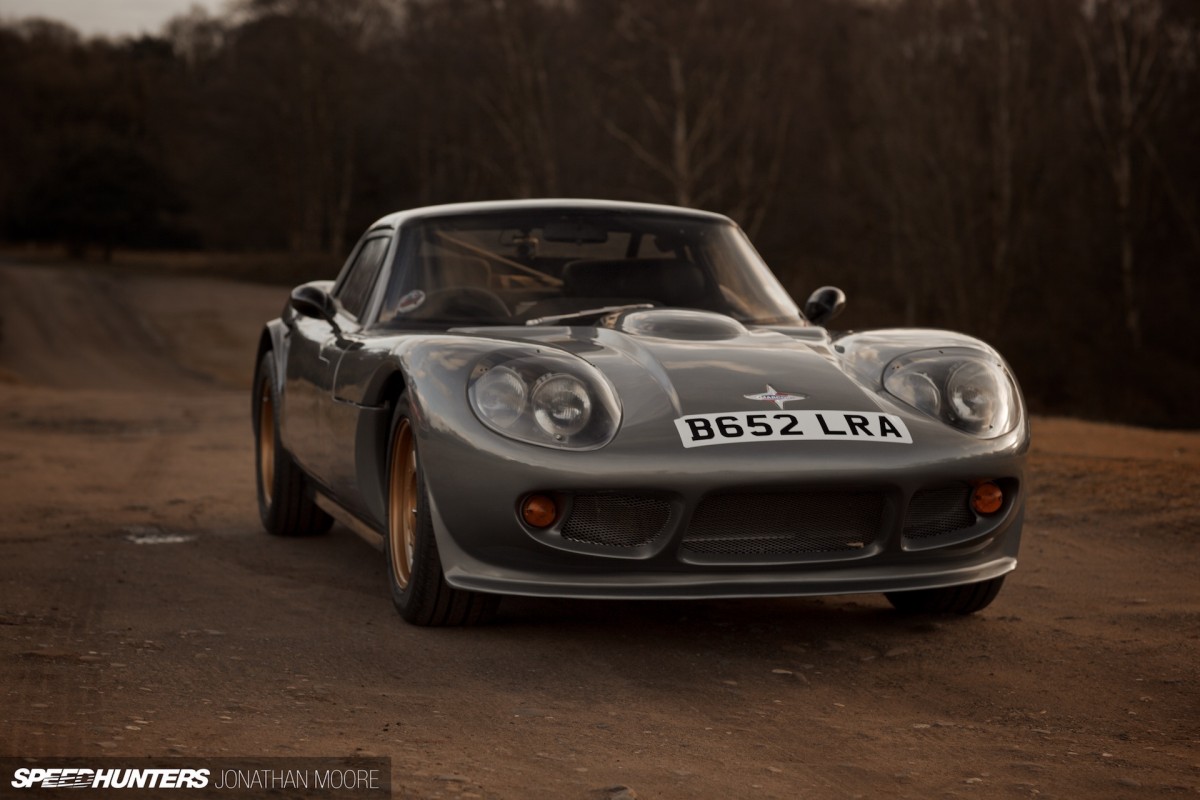 An MG Midget was his next long-term love, but then in 2008 the inevitable happened after the result of something I'm sure most of us do: some anything-but-innocent eBay trawling. Up popped this Mantula, in need of both a quick sale and a lot of care and attention.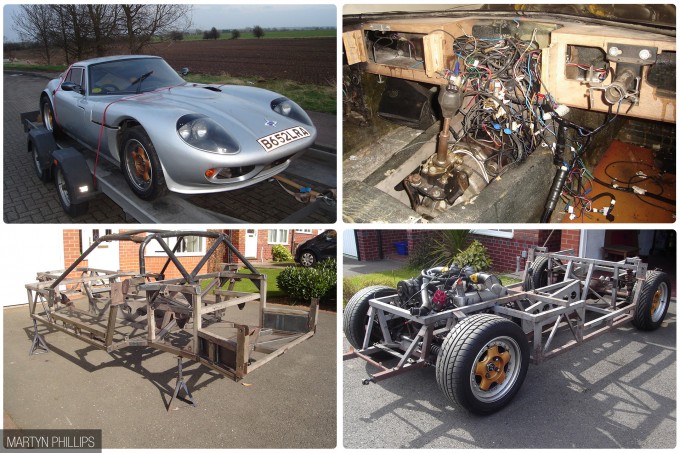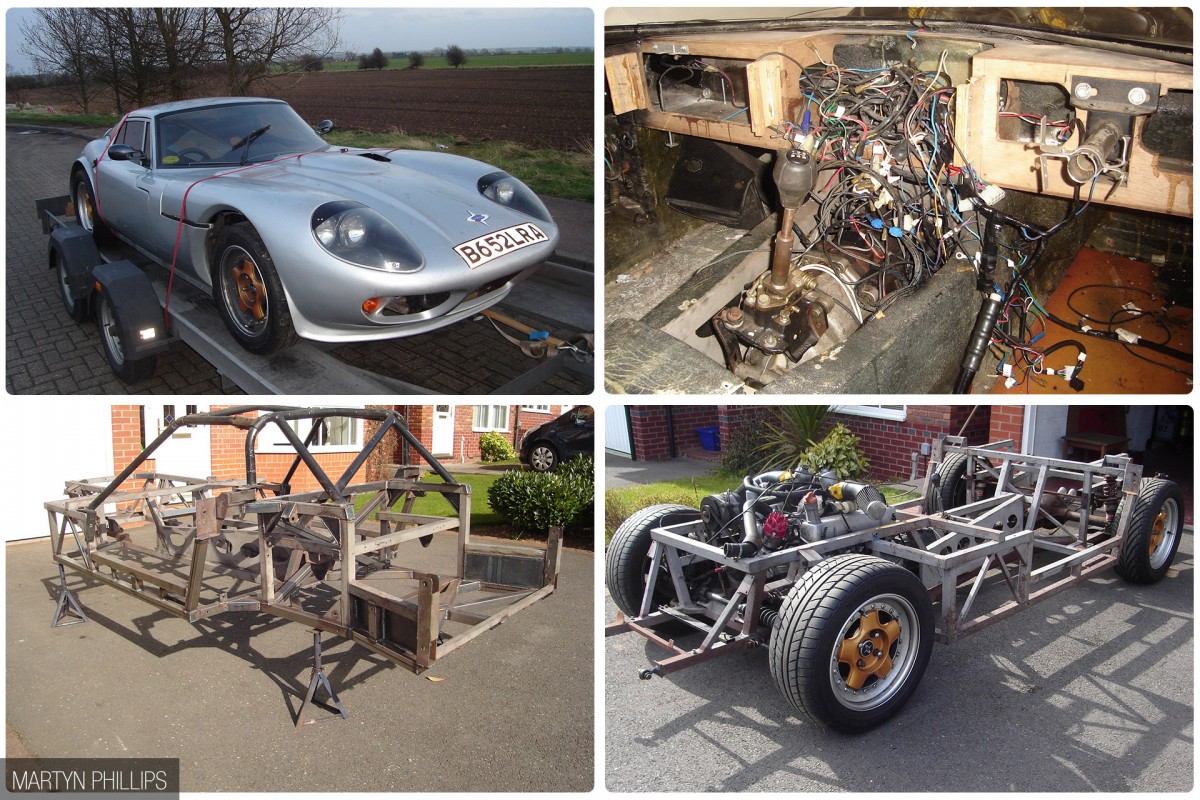 The Mantula's then owner had the car in a mid-project state, partially disassembled and taken off the road with a known – and major – issue with the chassis rails, but was emigrating to Canada literally the next week and couldn't engineer a way to take it with him. The gateway to dream Marcos ownership suddenly opened up for Martyn, and a short while later a slightly tatty Mantula and a box of bits were sitting outside his garage at home.
That must be when panic could have set in – and maybe did a little. With the wafer-thin bodywork removed and suspended from the garage roof, the wiring, bulkheads, ancillaries and finally the running gear were all carefully extracted, leaving just the Mantula's simple box-steel frame. This is where optimism would only get you so far.
Limited Space, Limited Time, Unlimited Dedication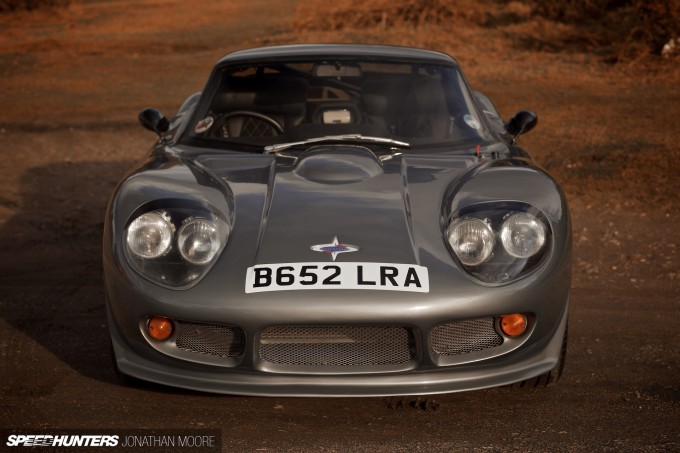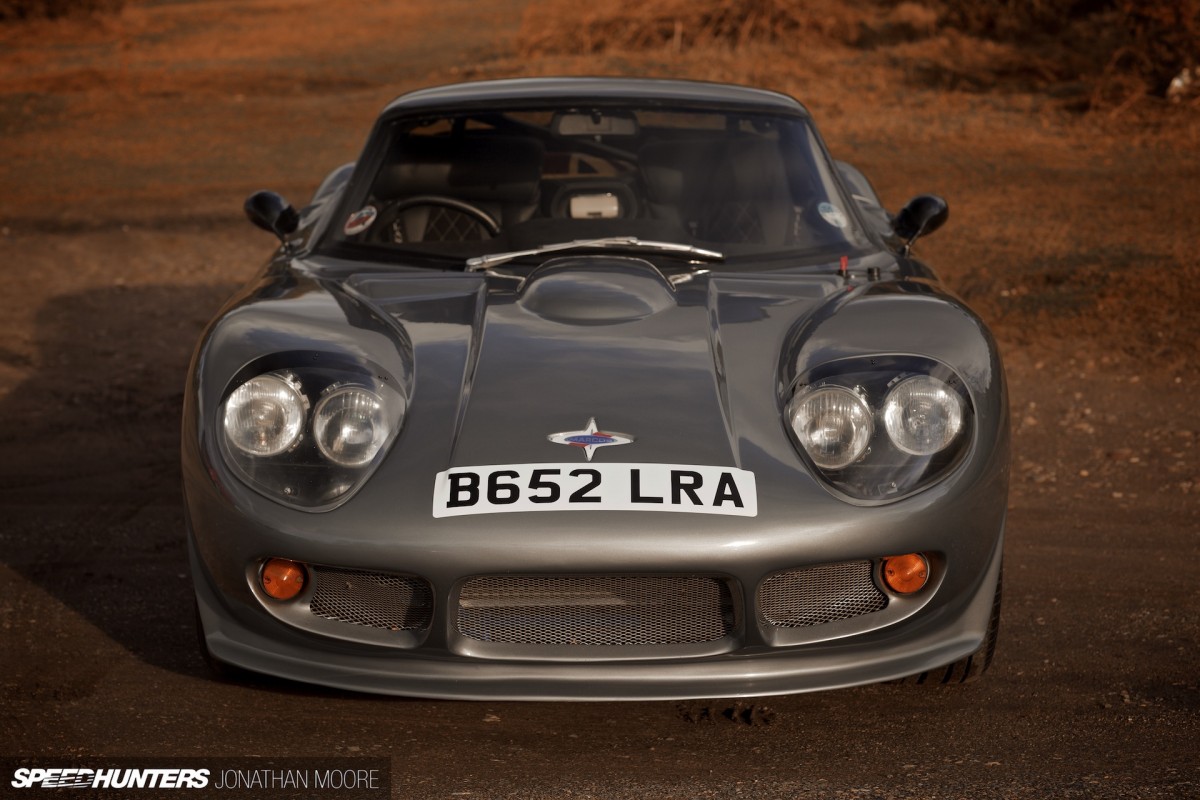 Undaunted, Martyn just got down to work. He'd previously taken a welding course at night school, so bought himself a MIG welder, mugged up with a wiring guide he'd downloaded, and got on with things. Sensibly, he put himself under no pressure or self-imposed deadlines, and stuck to a methodical approach. Over five years, and in a cramped single garage with limited space and basic tools, the Mantula was reborn. It's a salutary lesson about putting quality time in to get a quality result out.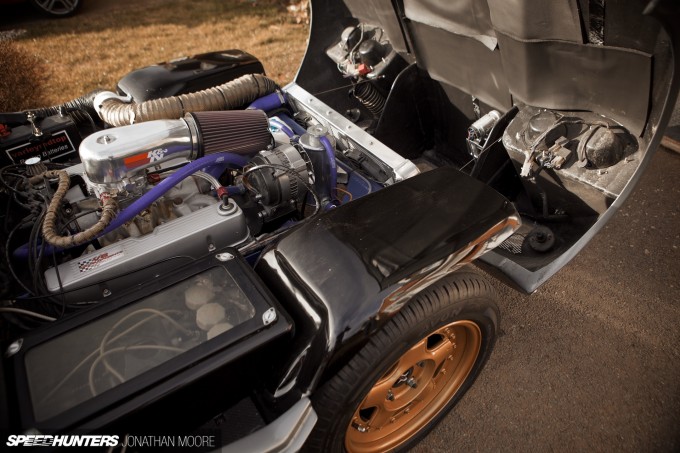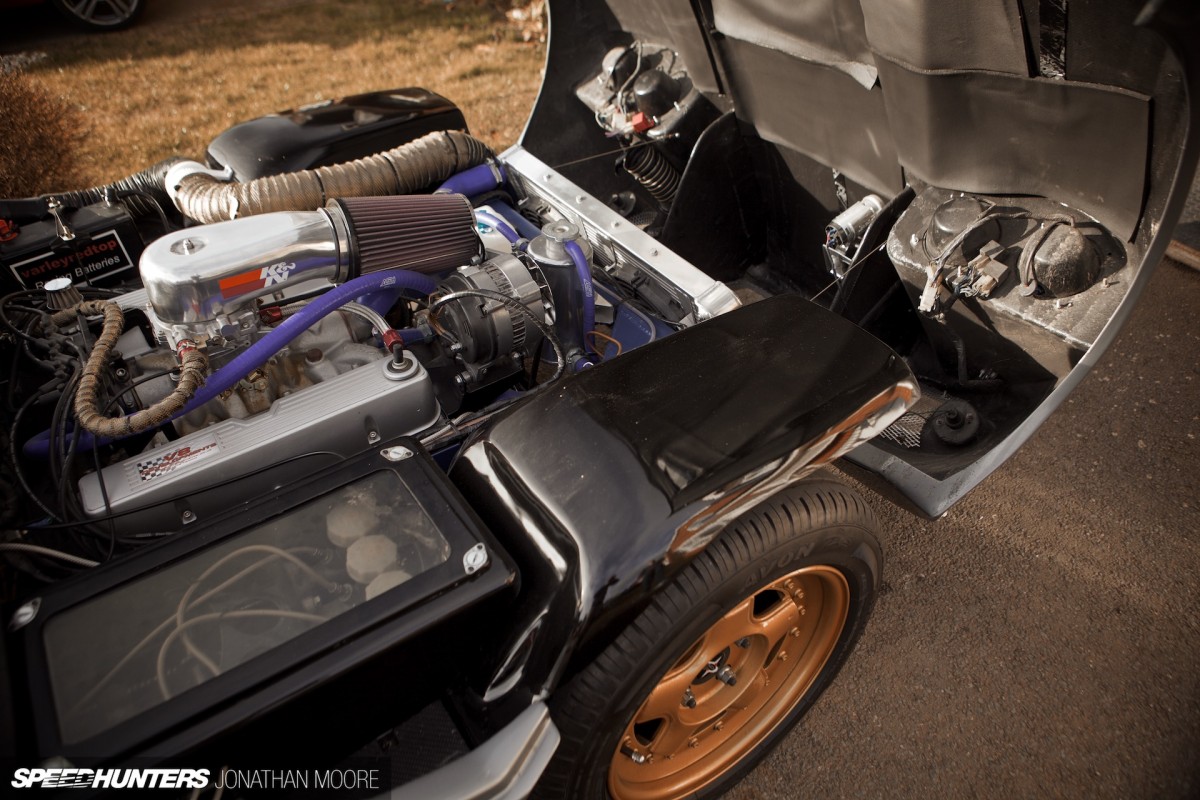 From the moment Martyn picked up his new toy, he also kept a personal and incredibly detailed diary of the work involved on his personal blog. Starting in March 2008, every milestone was recorded as the Mantula was gradually dissected down to its component parts, before being meticulously restored, rebuilt and refined. It's a great read and reinforces just how much effort was put in, not just in hard graft but in tracking down suppliers and the right partners to help with key tasks he couldn't handle himself.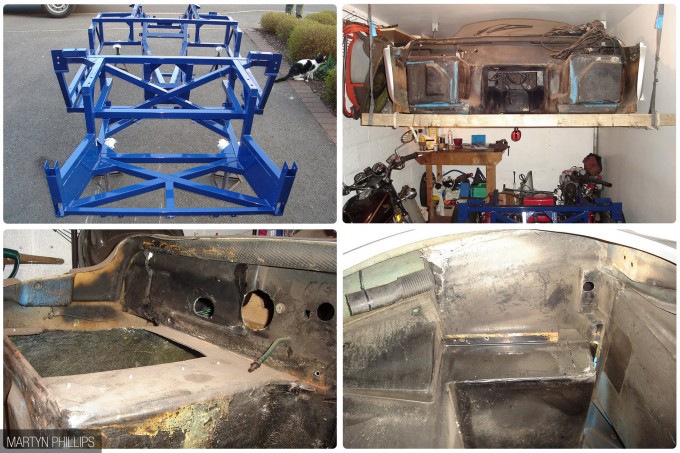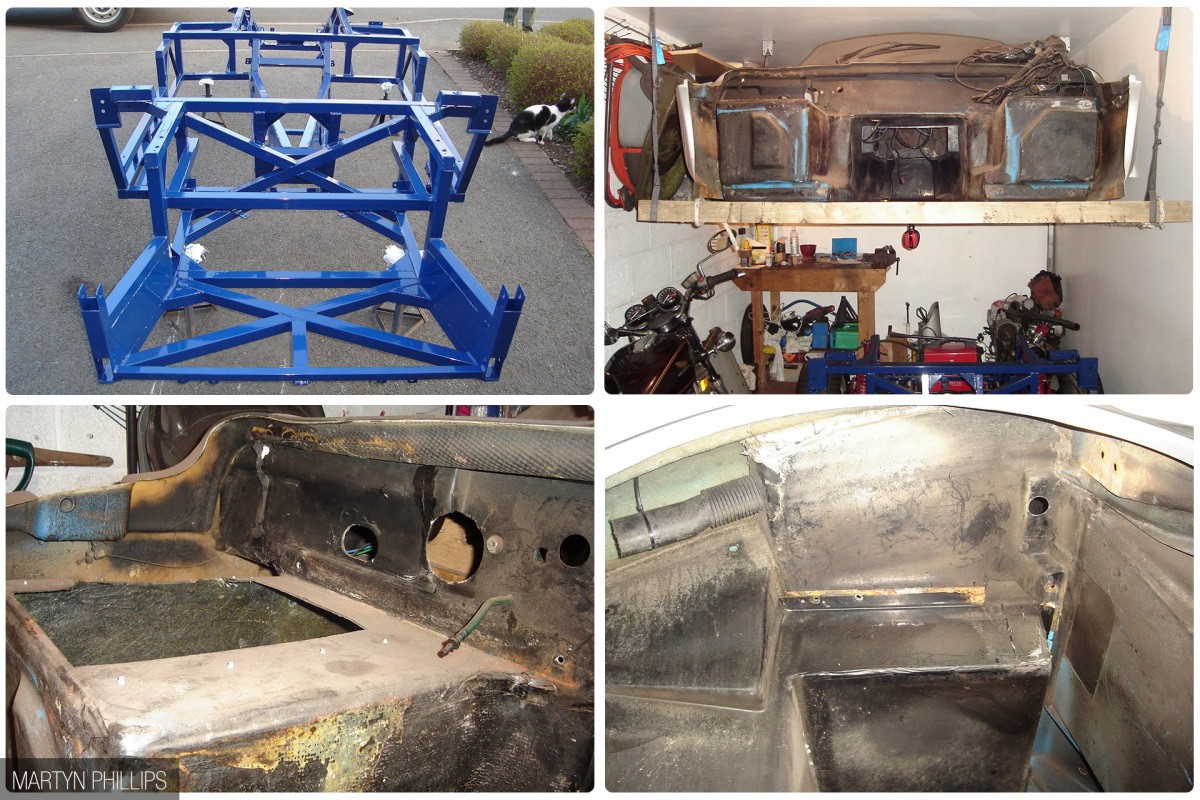 Although the bodywork was going to be relatively easy to patch up, being made of woven glass mat, the chassis was a different matter. The protective powder coating applied by the factory was always known to be a pretty desultory affair, so the whole thing would need to be repaired and then re-coated. Rotten sections were all cut out and new pieces let in; Martyn also added additional bracing to further stiffen the car. A year into the project the chassis was sent off to be zinc primed followed by a double top coat of polyester powder coating, then finished in factory blue. All the sub assemblies were also removed and dismantled, shot-blasted and coated before being put back together.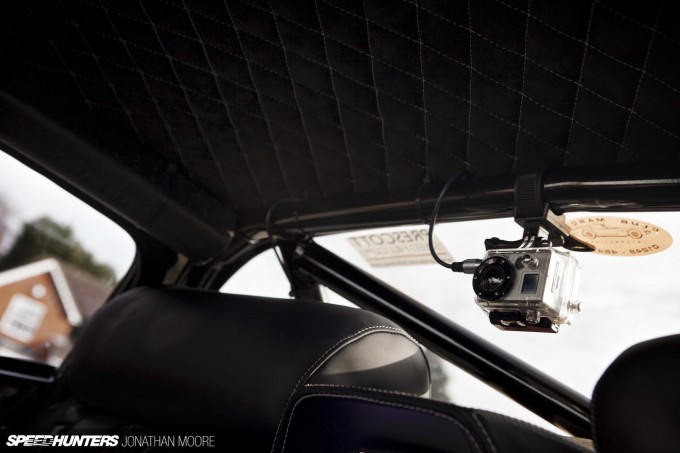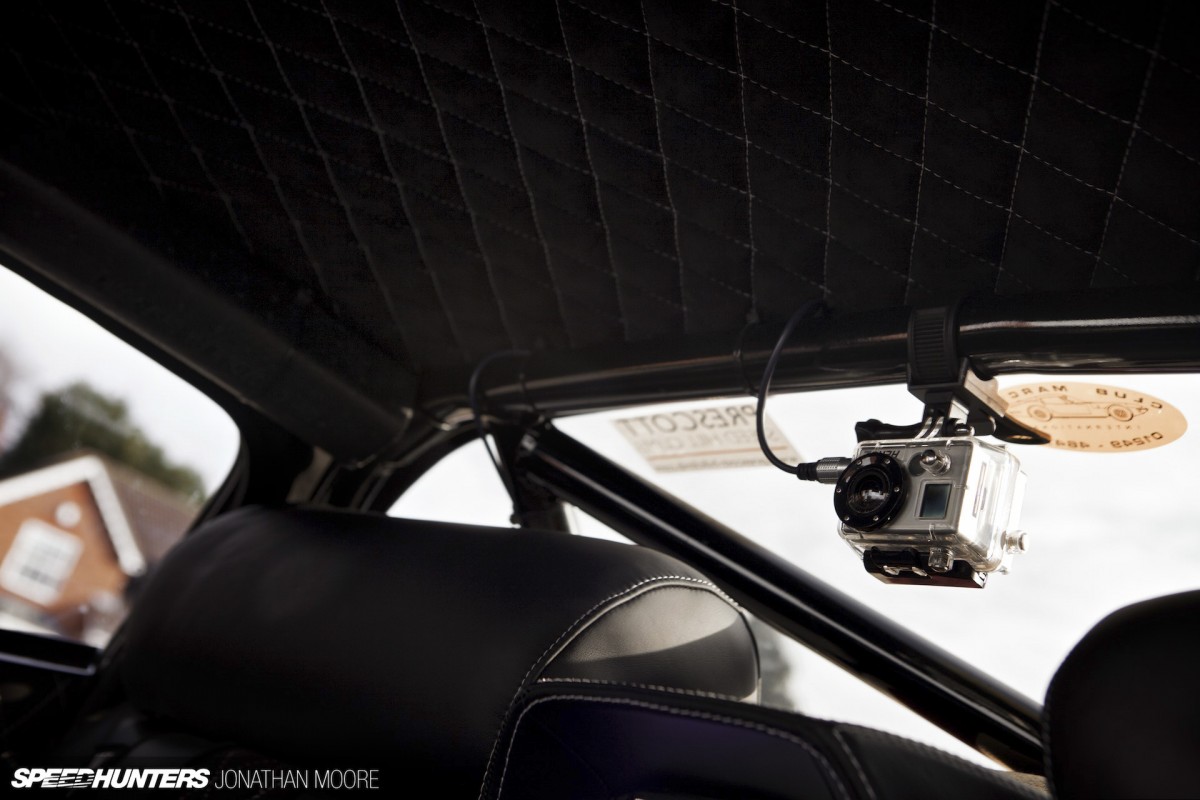 Alongside getting his hands very dirty, Martyn also delved into the car's history. At first, the results were confusing and initial research ended up down blind alleys: this seemed to be the car that didn't exist… Marcos Heritage Spares, who are the guardians of build sheets and chassis details for pretty much every Marcos built, came up empty. There was no chassis number. Where was this car from?
The story was gradually revealed as he followed up leads and tracked down previous owners. The car was obviously a competition model, as it featured a factory-fitted FIA-spec roll-cage, used uber-thin bodywork and lacked all the refinements that Marcos cabins usually had. This was a stripped down racer, for sure.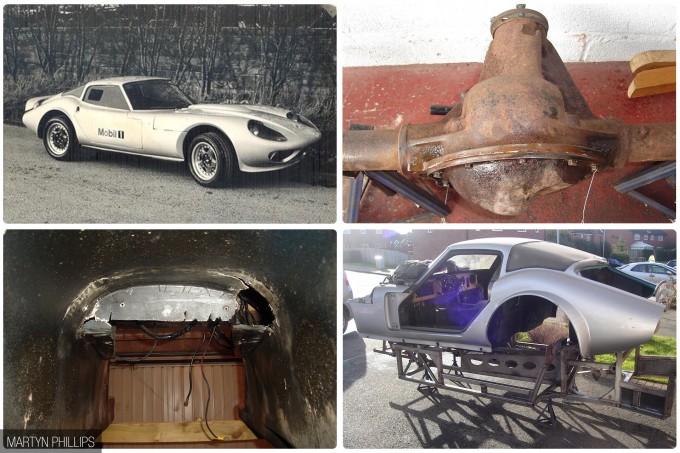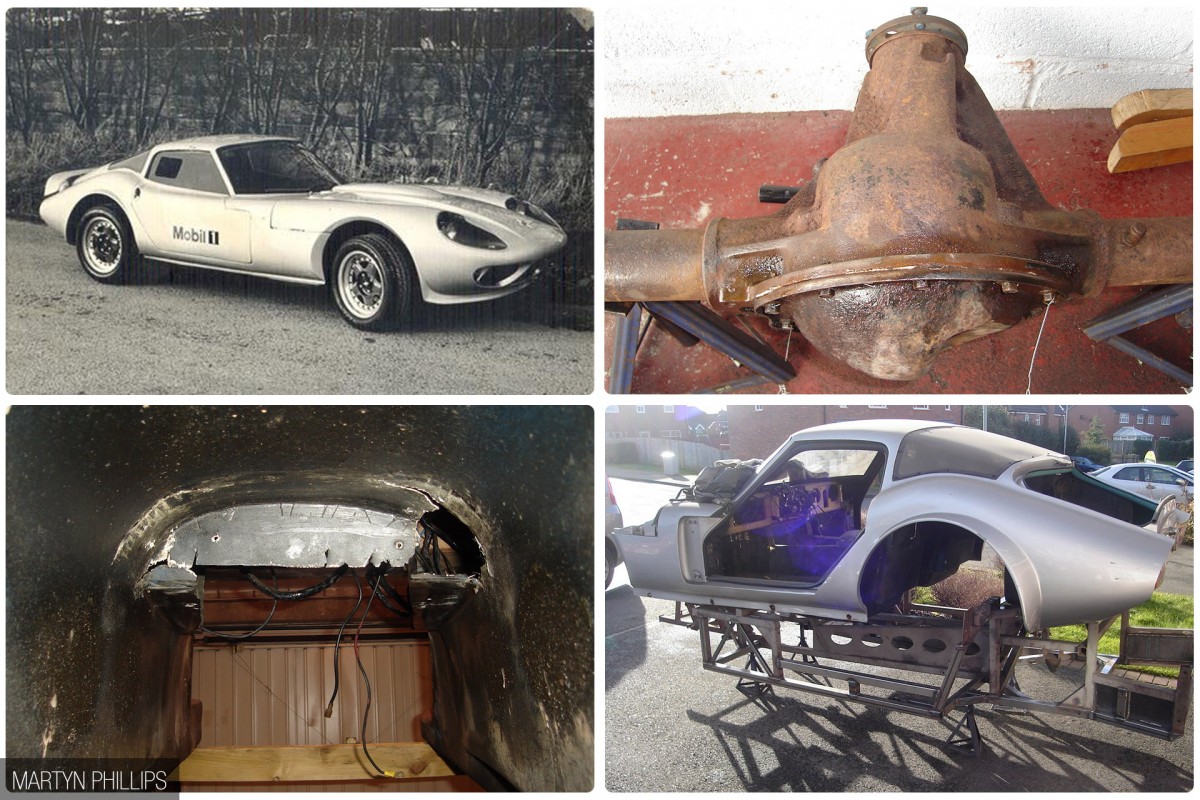 It turns out that the Mantula was built in 1985 by the Marcos factory for the Alexandra Palace Motor Show (the second year of coupé production) but then handed over to Rover V8 engine specialist John Eales to settle some financial wrangling. He then used it as an engine development platform for almost a decade, campaigning it at various sprints sporting light silver paint and a low rear spoiler.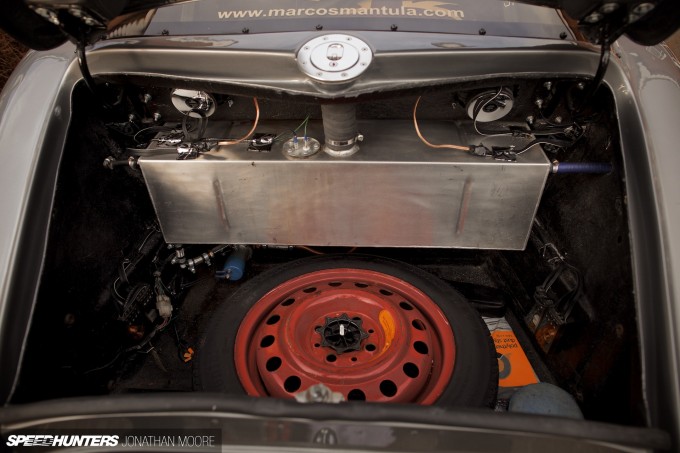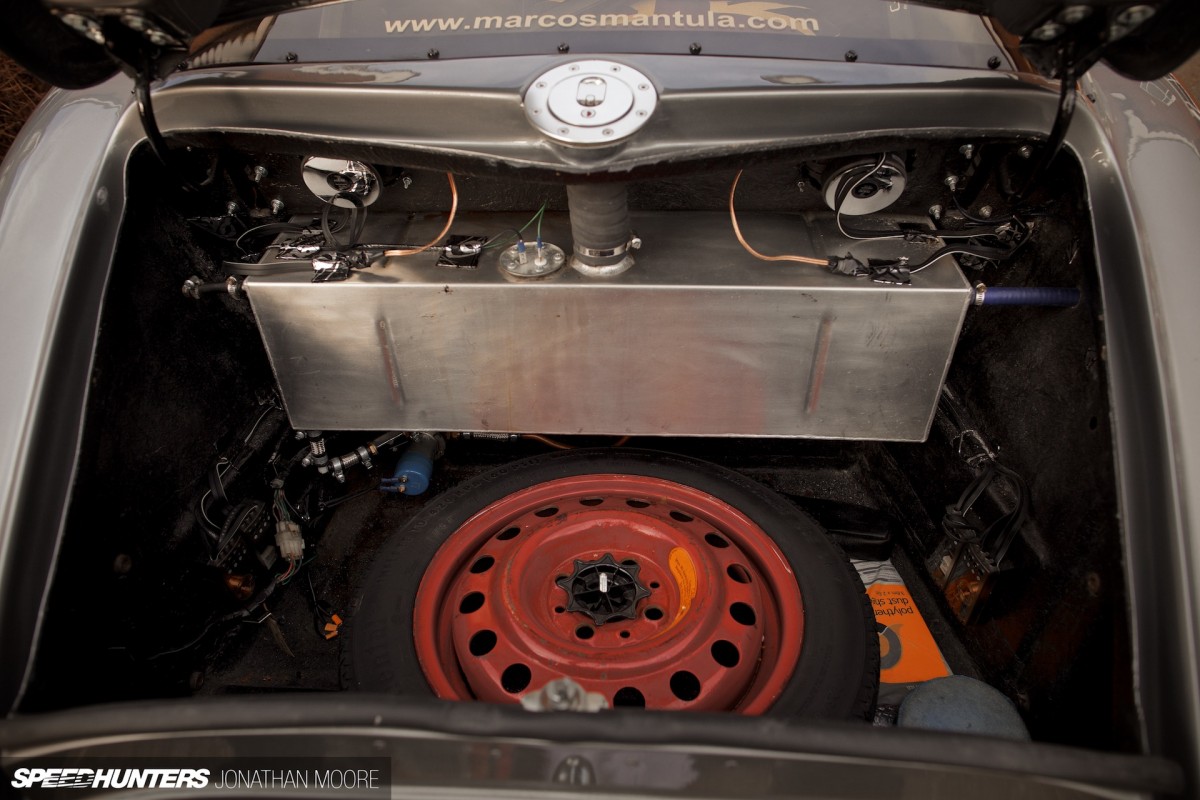 In '96 the car was sold on and the new owner road-registered it; at this stage it was assigned an age-related plate, as it was effectively built up using new parts. The forward Perspex windows were replaced with glass and electric side windows installed, though the lightweight rear screen was kept. Through one final owner, who installed a new dual exhaust system and custom alloy fuel tank, the story led to Martyn.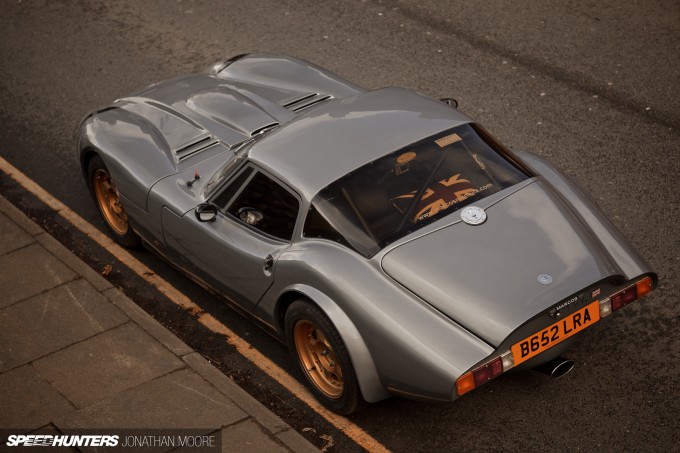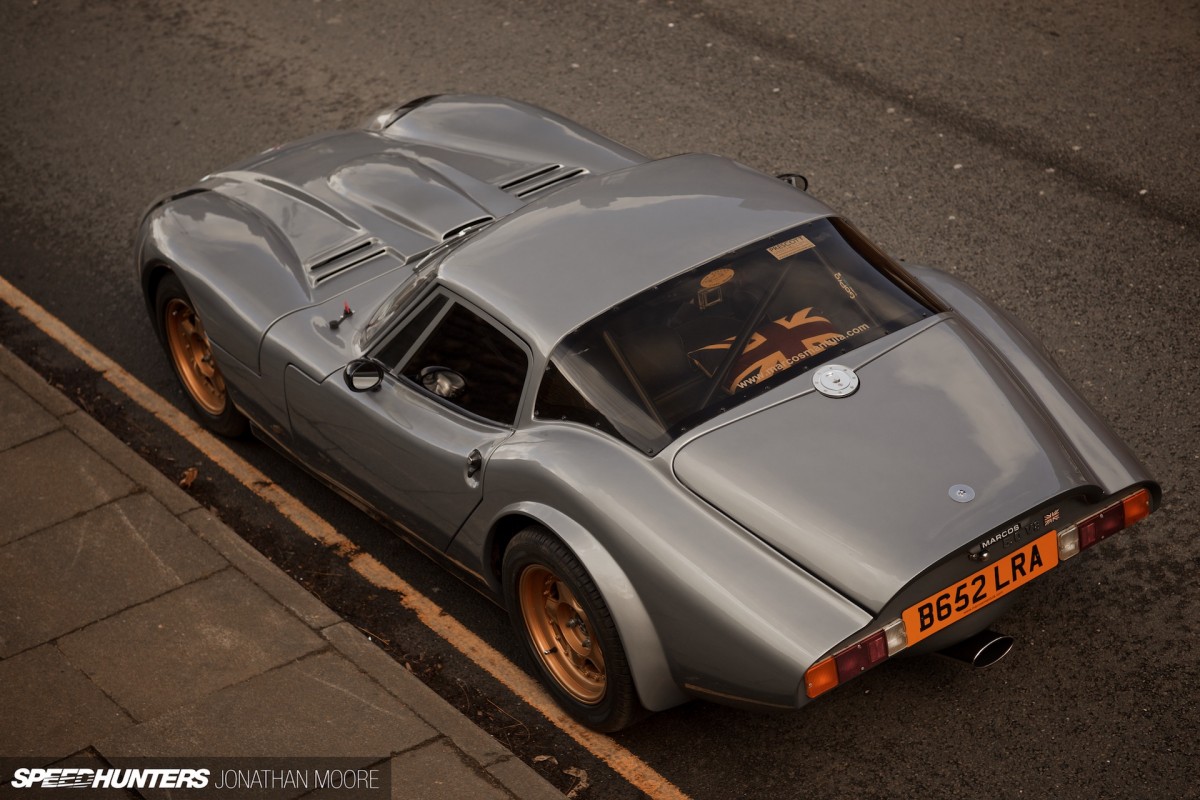 The condition was poor, but the potential of the car was joyful. It had fully rose-jointed suspension; a ZF limited slip diff; a blueprinted 3.5-litre Rover V8 with twin SUs; Koni 8212 shocks and adjustable rear anti roll bar; Girling 4-pot callipers with vented discs front and oversize drums at the rear. Apparently even the shocks were special, part of a lightweight series developed by Koni for the iconic six-wheeler Tyrrell Formula 1 car.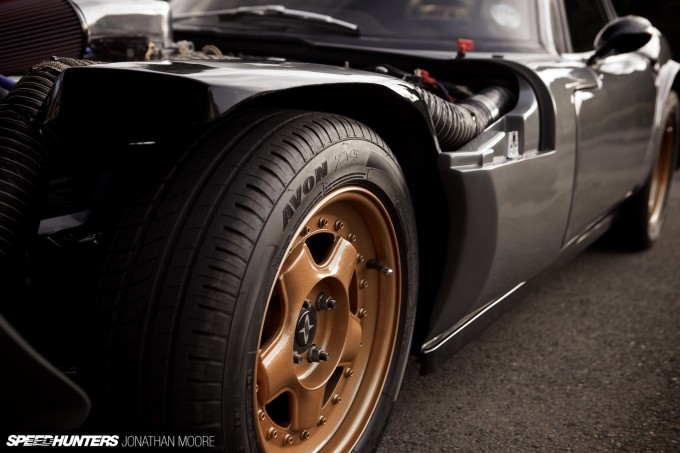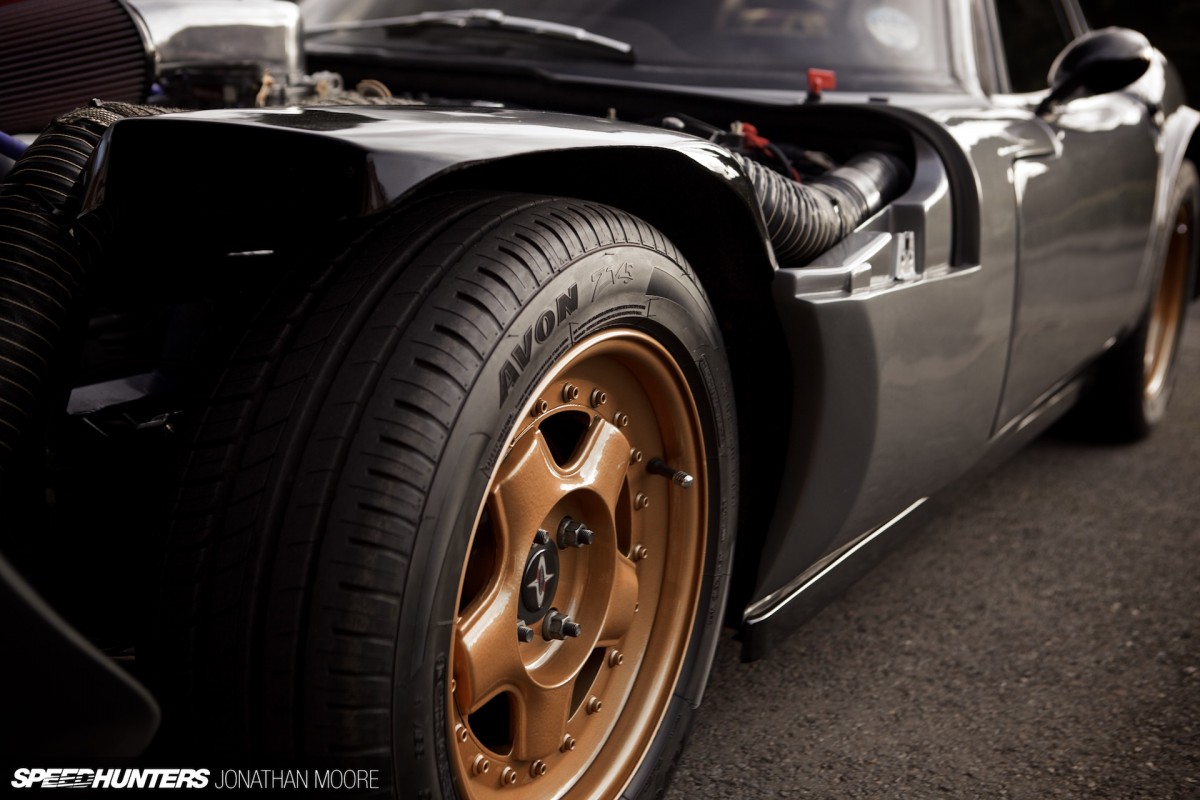 Throughout the build, Martyn was completely open to advice: he took advantage of the support of the Marcos Owners Club and followed a number of other rebuilds, whilst at the same time seeing more and more people follow his own progress. He was getting contacts from all around the world, with people asking questions or offering tips. Although he took on a great portion of the work, there was no question about bringing in experts for specific jobs.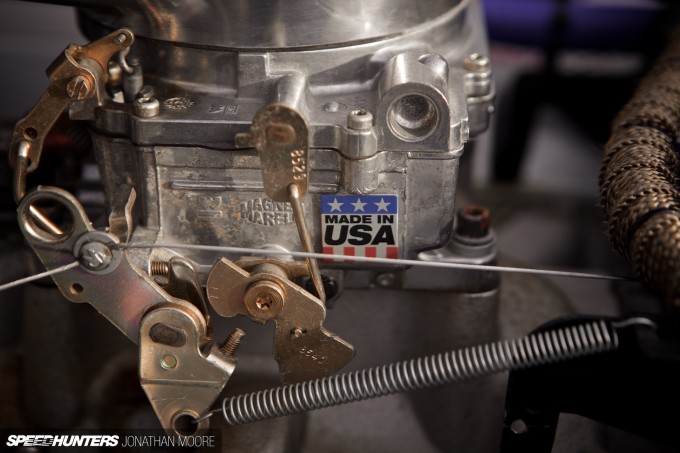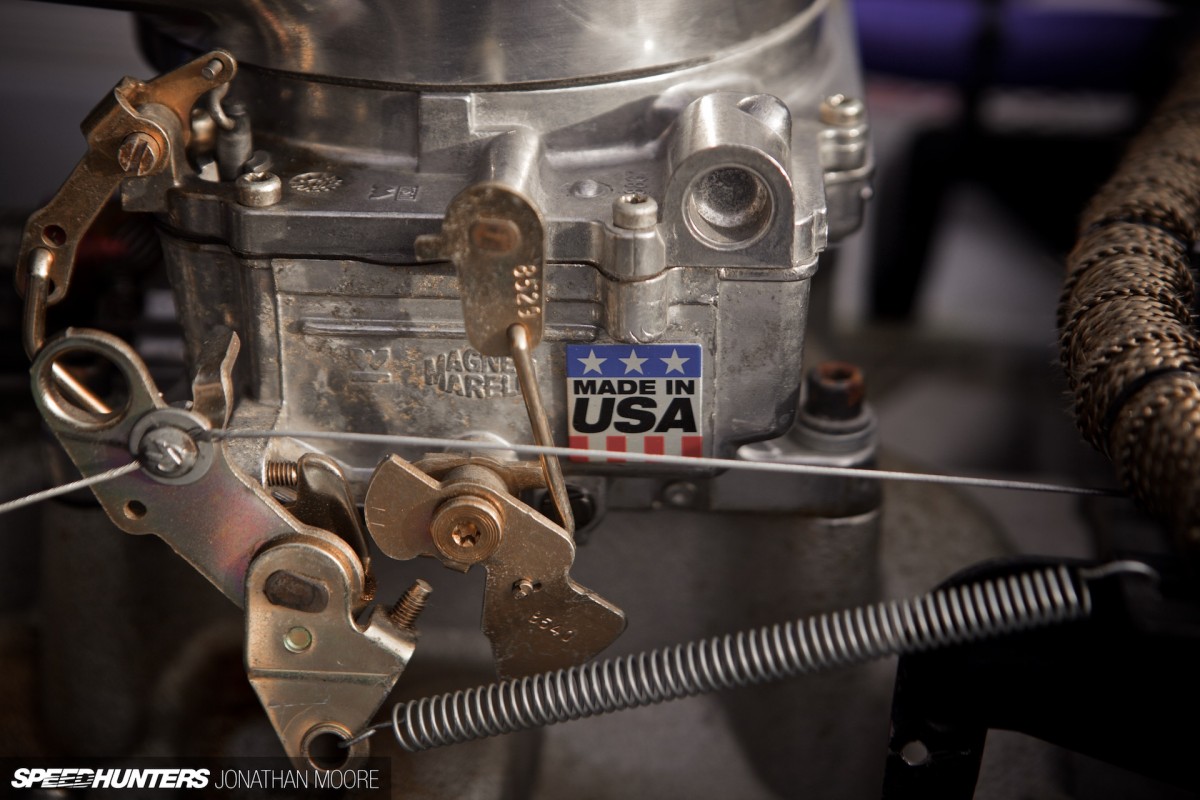 The car has seen plenty of different engines over the years, but Martyn has up-gunned it further. Early on in the project he bought a 5-litre, cross-bolted Edelbrock short-block from V8 Developments, lighter and more powerful than the Rover, which then sat in his poor daughter's old bedroom until the time was right to start on the engine bay. V8D then got to work, stripping off swappable ancillaries from the Rover V8 and adding their own Stage 3 heads, Edelbrock carb, a Stealth cam and MegaJolt ignition.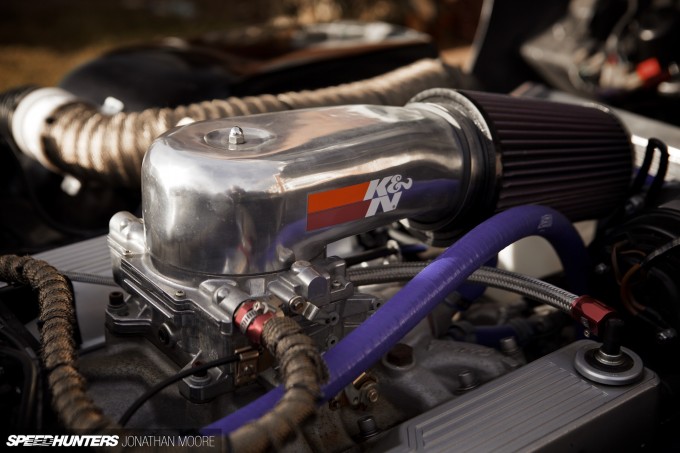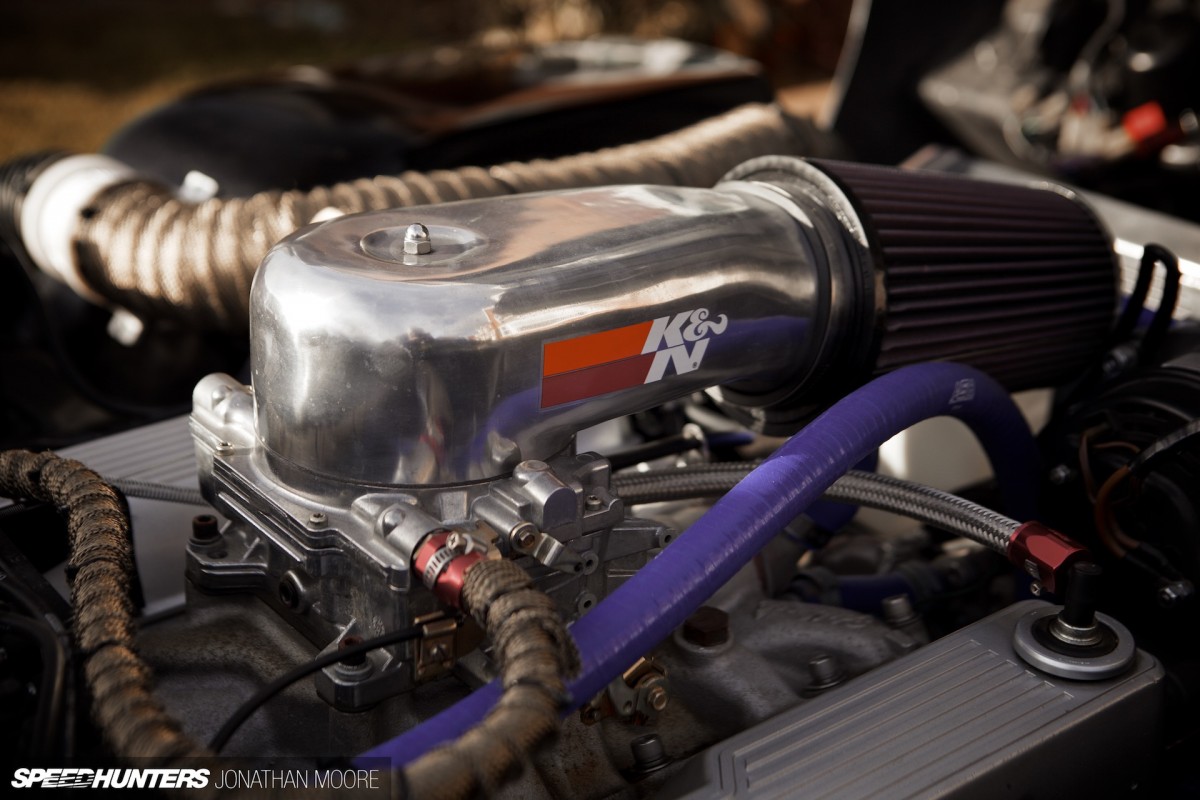 There was no chance of using the archetypal circular air filter, but by luck the straight-through would just fit in the natural bulge of the bonnet created for the original engine setup. Despite the big engine, the Mantula is thought to have pretty much perfect weight distribution because of the block sitting low-down and quite a way back.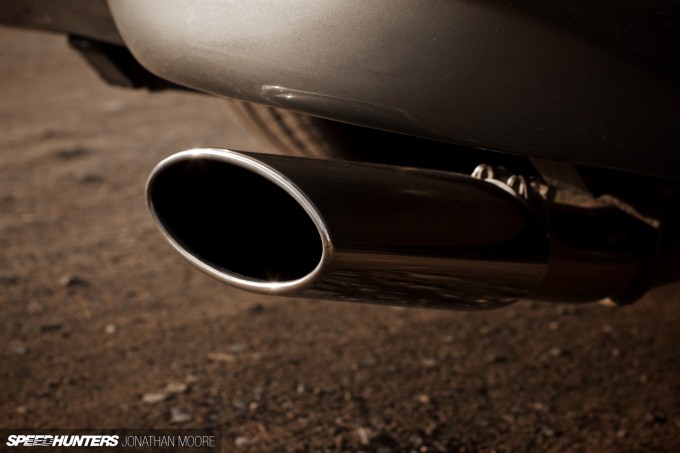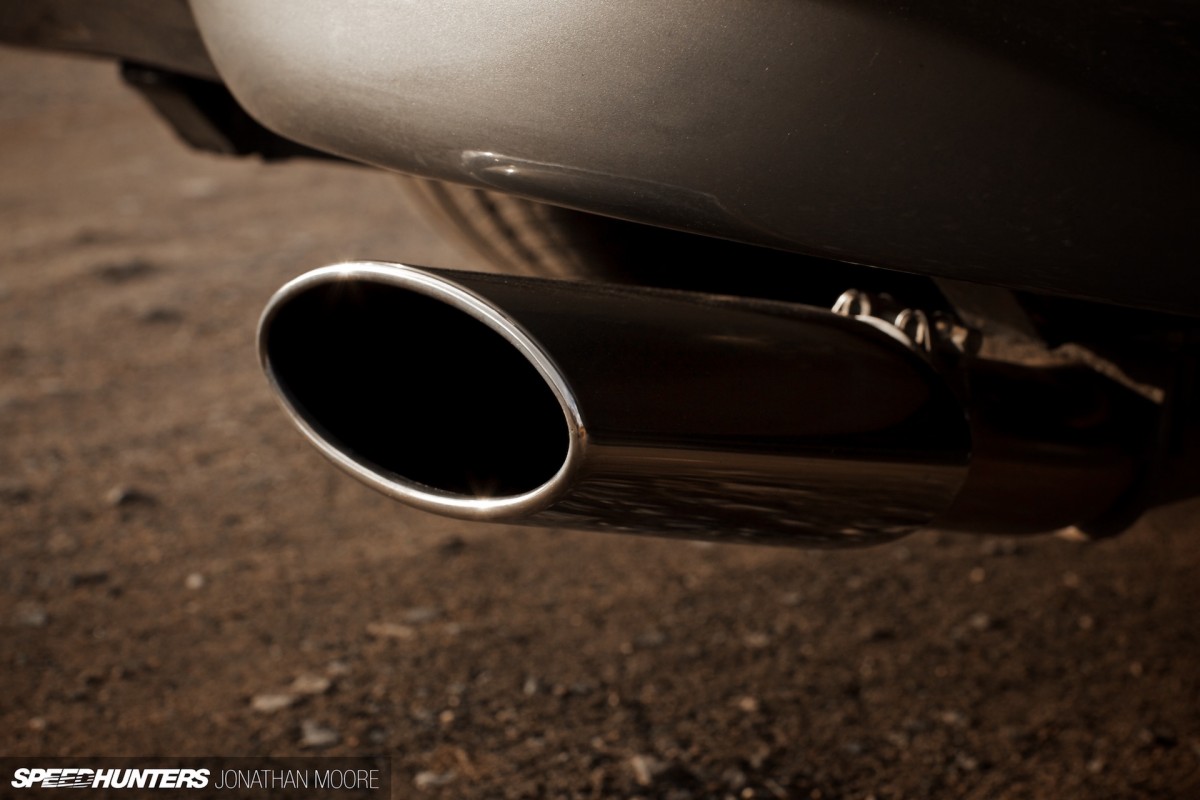 Out back, after trying out different options (including a four-pipe setup), Martyn opted for the tidiest solution, routing twin pipes either side of the centreline before bringing them back together into a single oval tip.
Paint, Polish, Performance & Presentation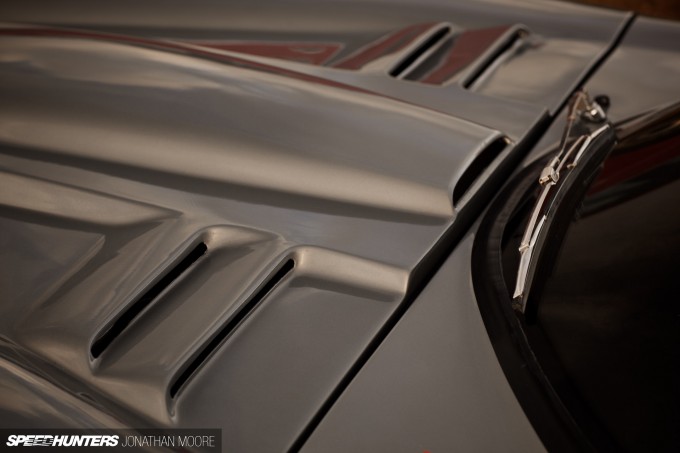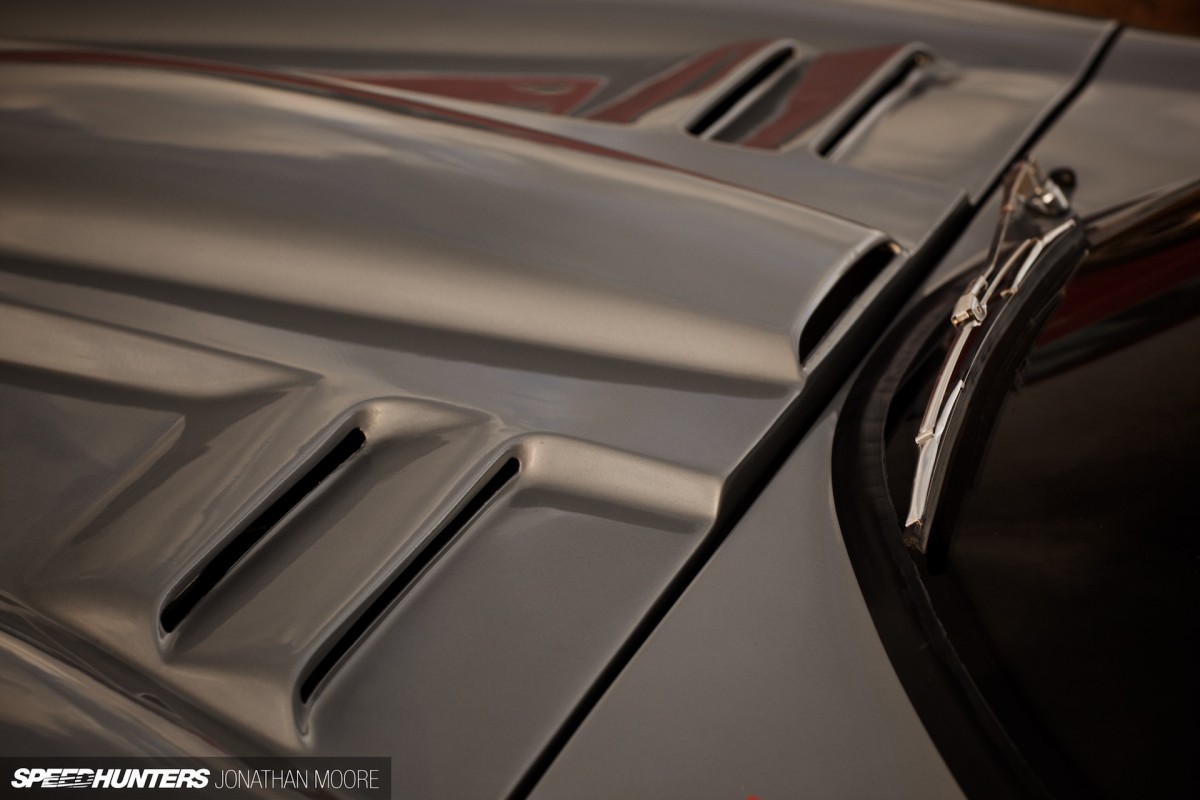 One important milestone was to get the car back on the road and settled into its new form before starting on any finishing touches. Concerned with the restored but fragile bodywork developing cracks or other issues, Martyn ran the car in with a bare cabin for a very noisy and not altogether comfortable 12 months.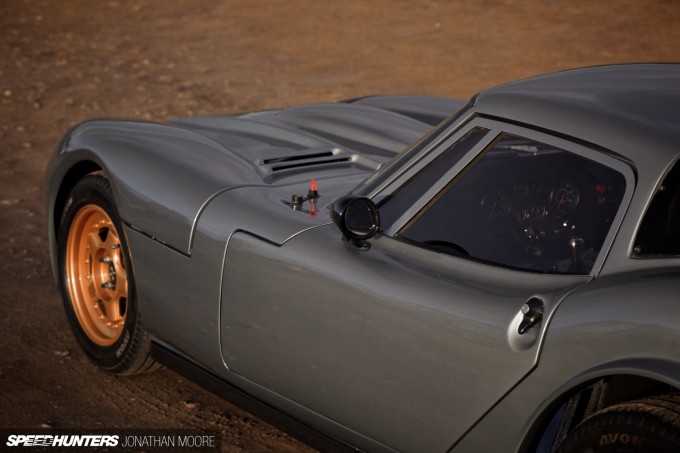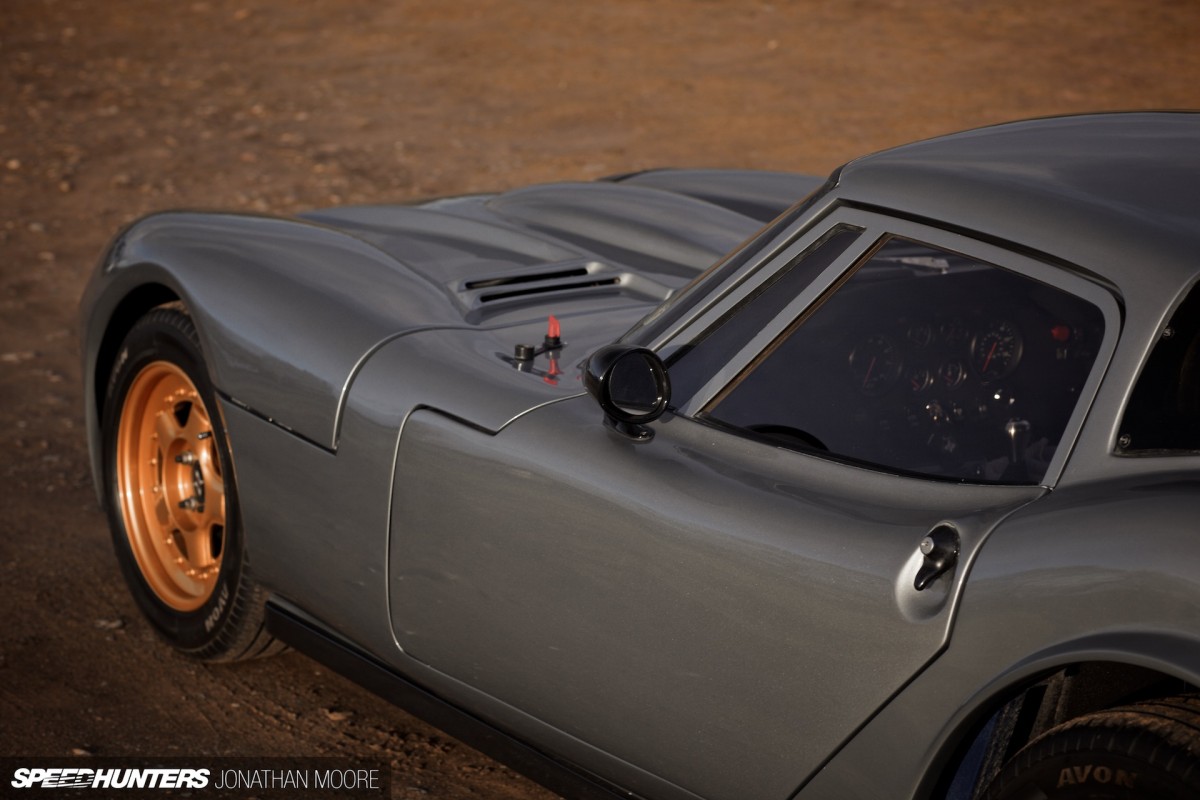 Only then, confident that everything not just fitted together but would stay together, and that no major issues would likely rear their head, the Mantula was be prepared for its final flourish There was the option of going completely off-piste with the colour, but Martyn decided to retain a thread to its history and opted for a silver, albeit a much darker shade. It's actually a Mercedes colour, Palladium Silver. The split rims were also returned to their gold shade, having been silver and gold previously.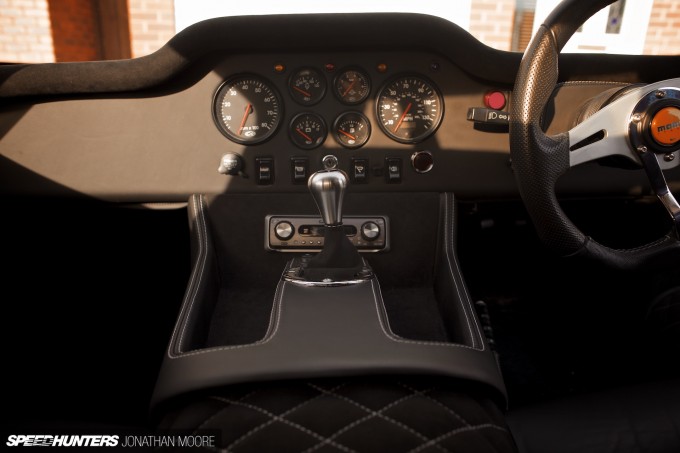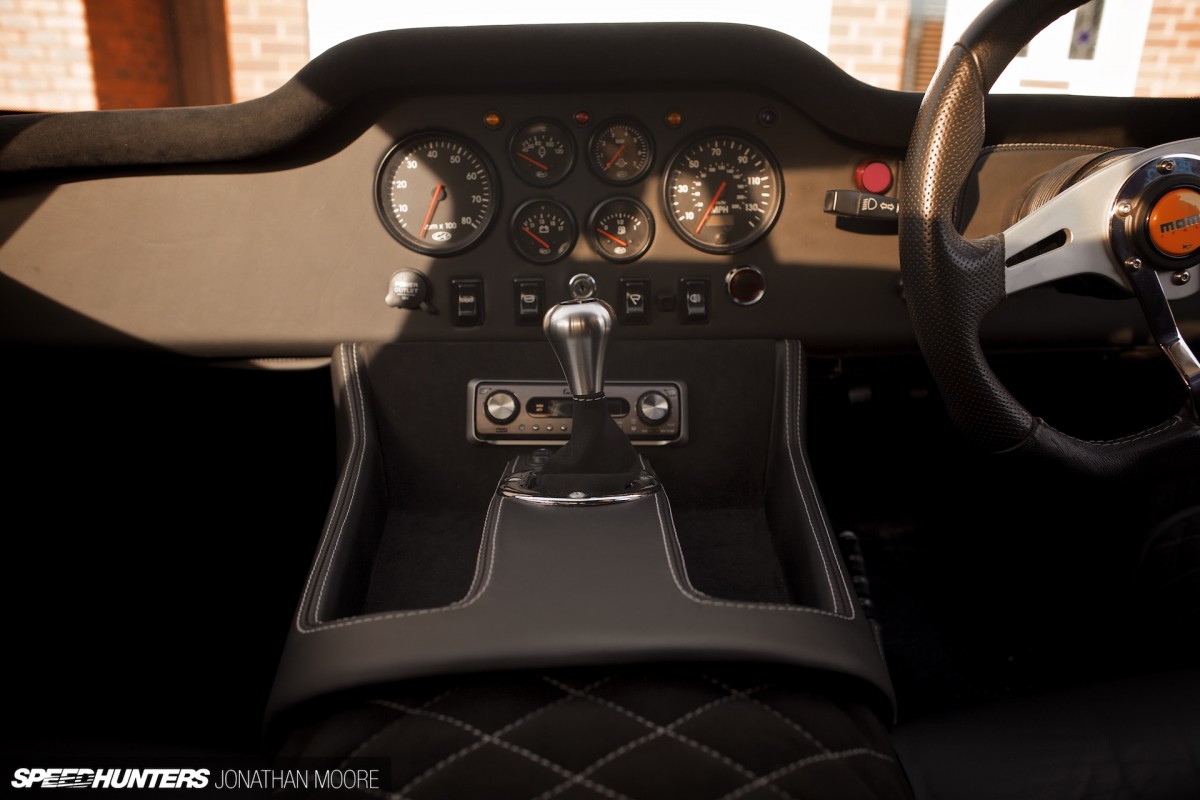 Although Martyn had a clear vision of how the car would be mechanically, the interior was the one thing that came together late in the project.
The cockpit had been a glass-fibre shell with vinyl seats and a ratty panel holding back a vomit of cables, wires and brackets. Martyn started afresh with a blank wood template and cleaned the whole fascia up to give himself this clean and modern look. The dials had been hidden behind the wheel, which made them basically useless, so moving them centrally made perfect sense. The Marcos switchgear was a bit Victorian, so Martyn took more modern, sturdy and appropriate looking units from an MG.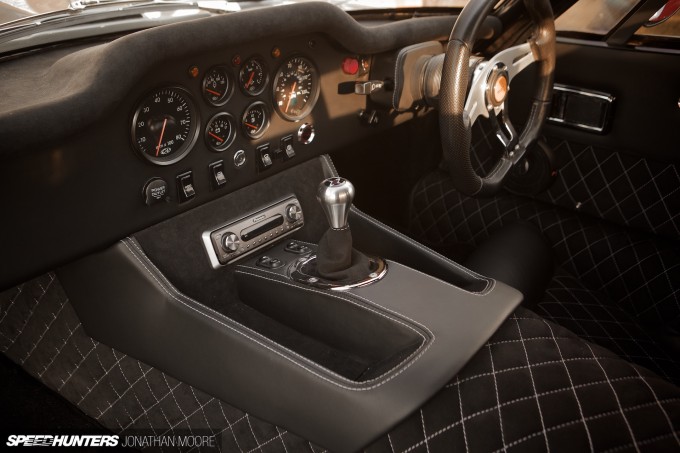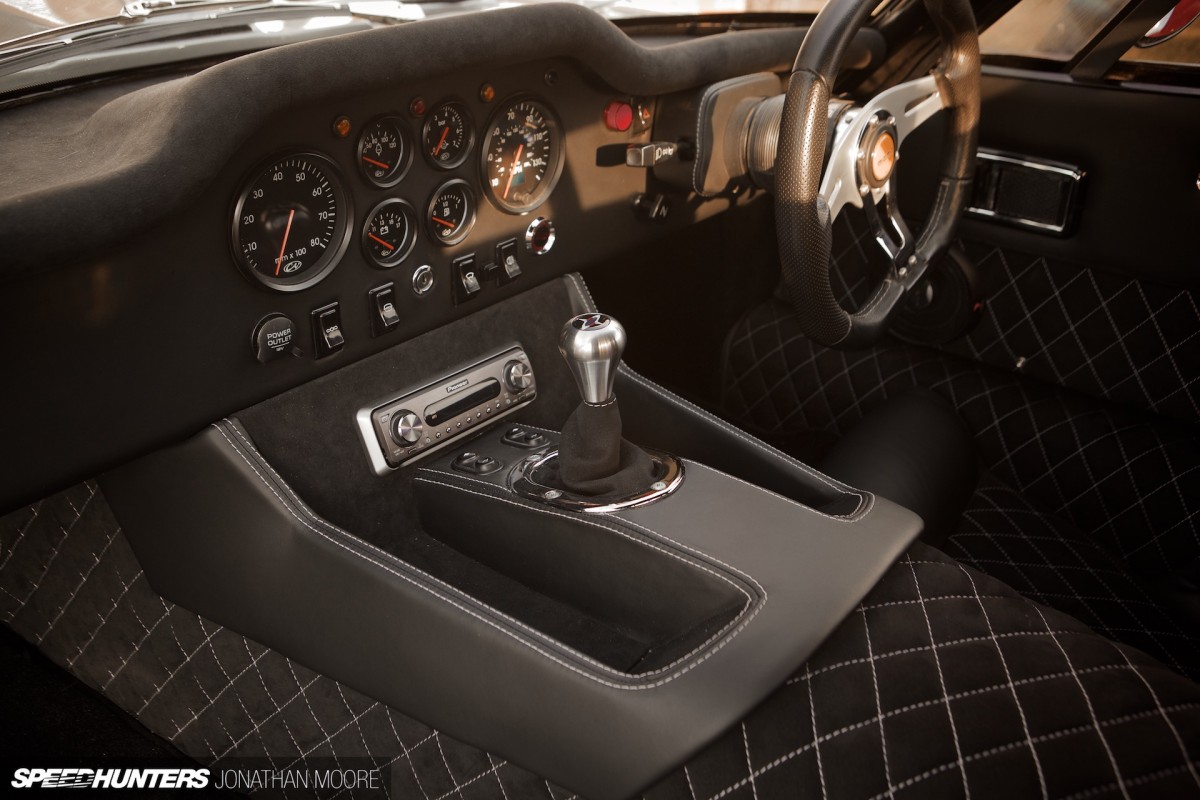 After a lot of research and discussions with his trimmer, he opted for this uncluttered, sleek cabin style finished in black leather and silver diamond-stitch on the material elements. The dash top is finished in Alcantara to reduce glare, and the cabin was sealed using Dynamat Extreme proofing material to try and reduce the heat coming from both the engine up front and the transmission tunnel that bisects the cockpit.
During all this time Martyn had deliberately kept the car out of the public gaze, wanting to wait until he was satisfied with the result. Back in 2013, and with five years of graft put in, he was ready, and the car took pride of place on the Marcos Owners Club stand at the Classic Motor Show in the UK – which is where I first gawped at it.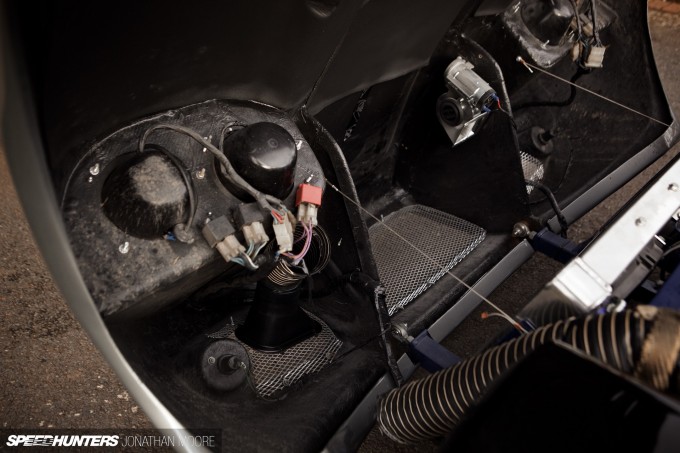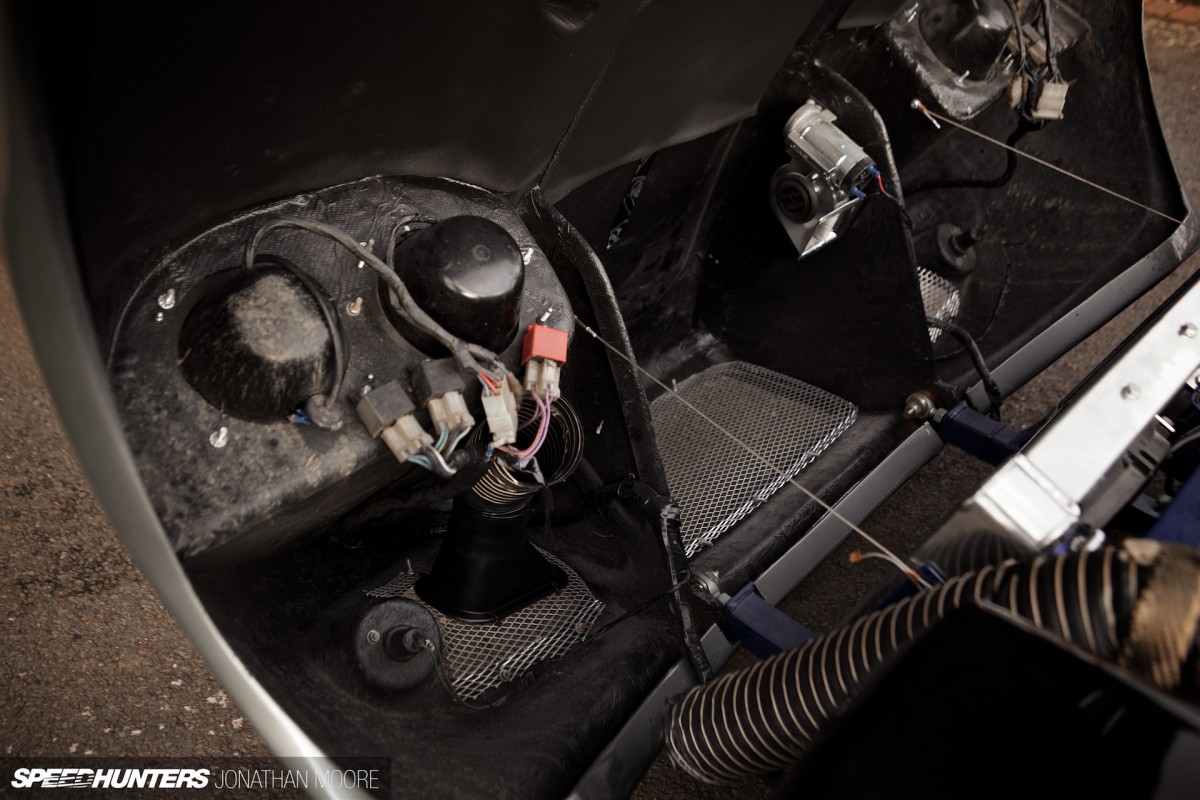 Last year saw Martyn gently refine his Mantula; little things here and there as issues cropped up. The main thing was the headlight power: with the original sealed units you might as well have a couple of candles mounted out front, and after some near misses at junctions (remember just how low and long this car is; a super loud horn helped in the short term) Martyn upgraded the beams to halogen units.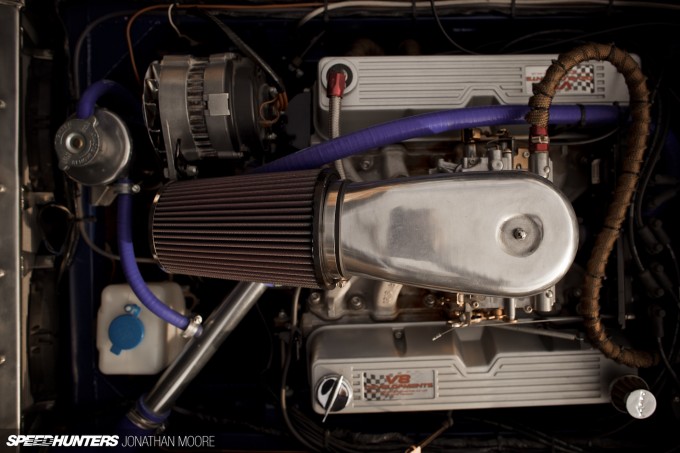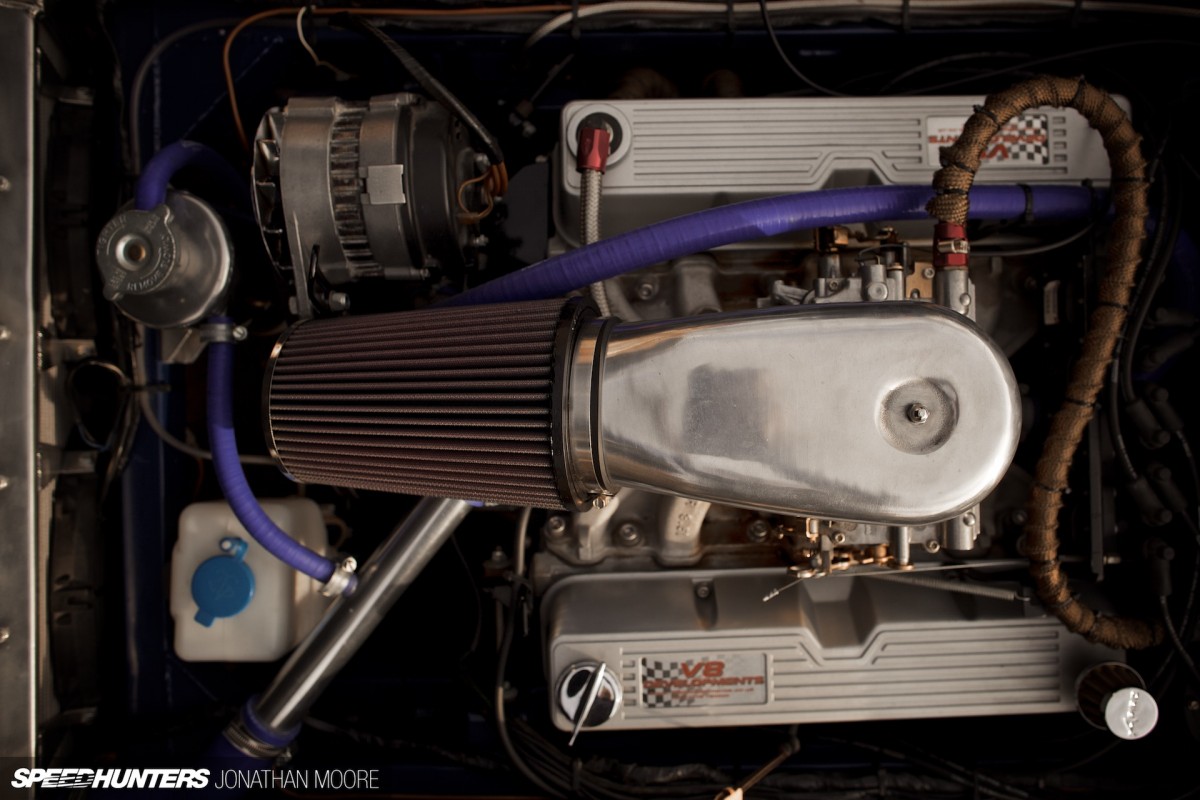 The Mantula was also unleashed on a dyno. And immediately tried to leave it in quite a startling way. Even heavily strapped down, the featherweight car began to move about alarmingly as soon as the revs rose, and the attempt was abandoned after at around 2,800rpm. The figure must be in the 300hp range, which with 820kg to play with is positively volcanic.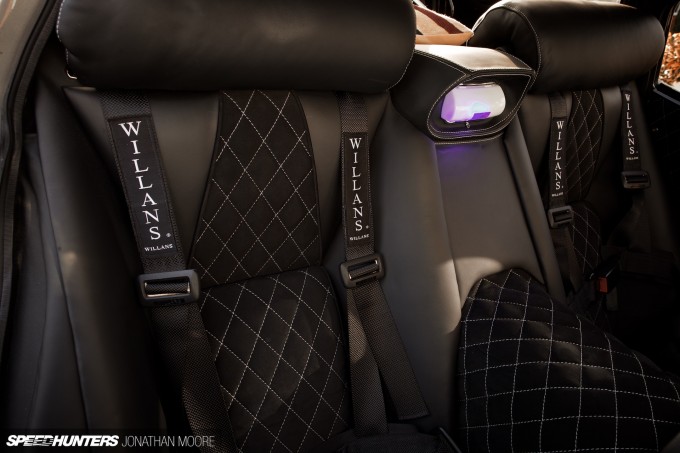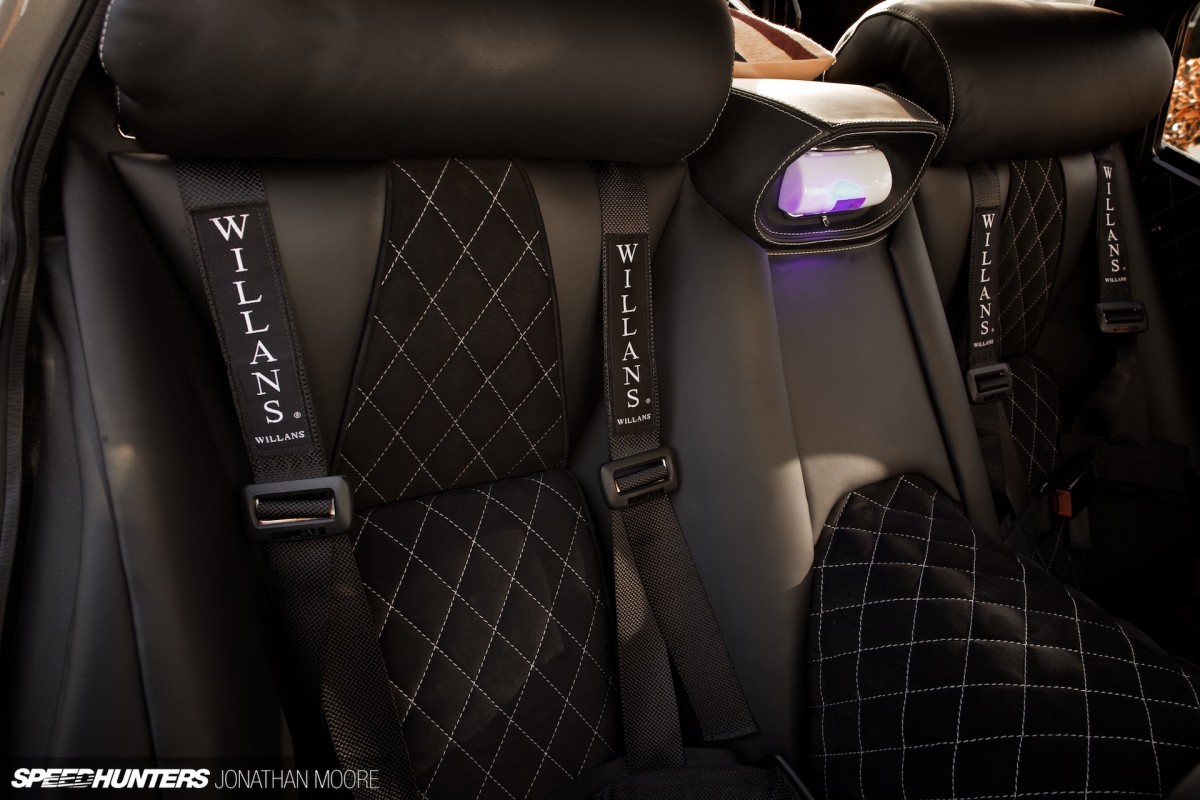 Being practical in the wider sense is a more difficult, and perhaps unachievable, goal for a car like this. It's just not like any other normal car you can drive on the road. Sure, it already looks so unique, but it's all about driving position and visibility combined with the respect for what's up front and what's beneath you. Seats? There aren't any. The padding simply follows the contours of the car, so there's no adjustment. The pedal box comes to you…
Four-point Willans harnesses hold you in place – so much that the handbrake is tough to reach. Martyn now sees why a lot of people move the handle…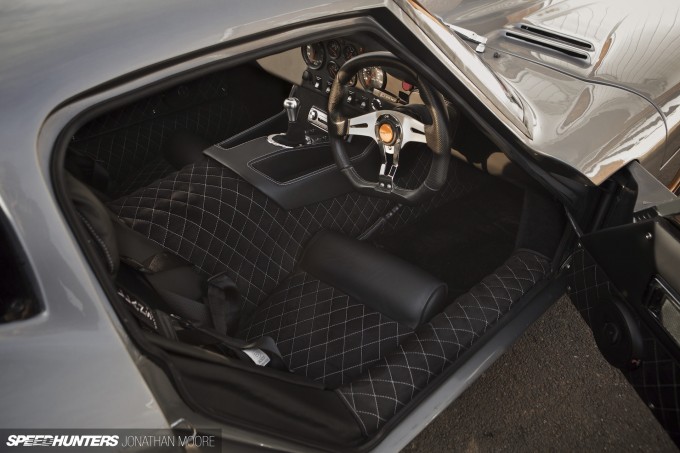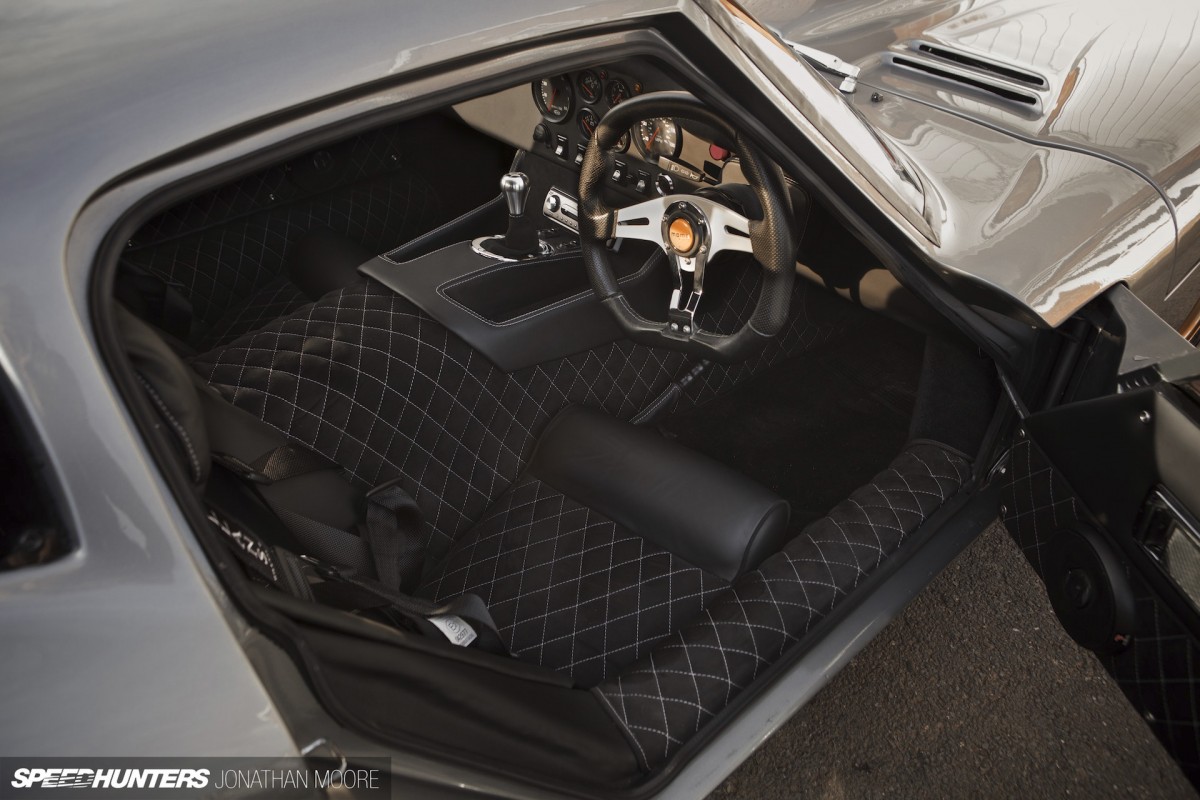 You don't simply 'get in' to a Marcos. You more step down into it and then slowly thread yourself into one of the narrow apertures either side of the engine. It's like a gym exercise. The bulky transmission tunnel divides you from your co-pilot to such an extent that you can just about see shoulders and above.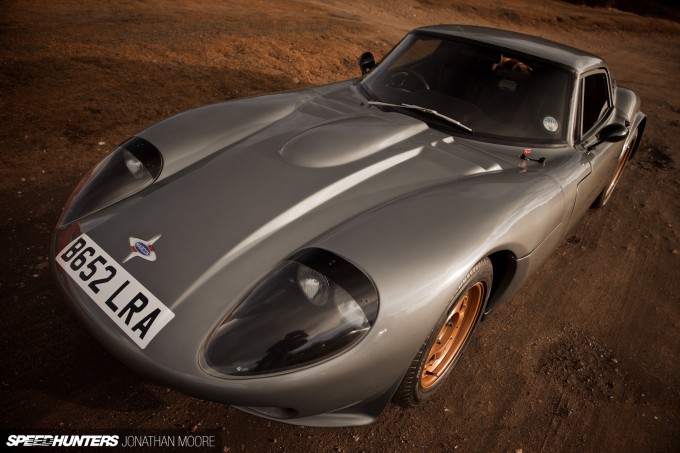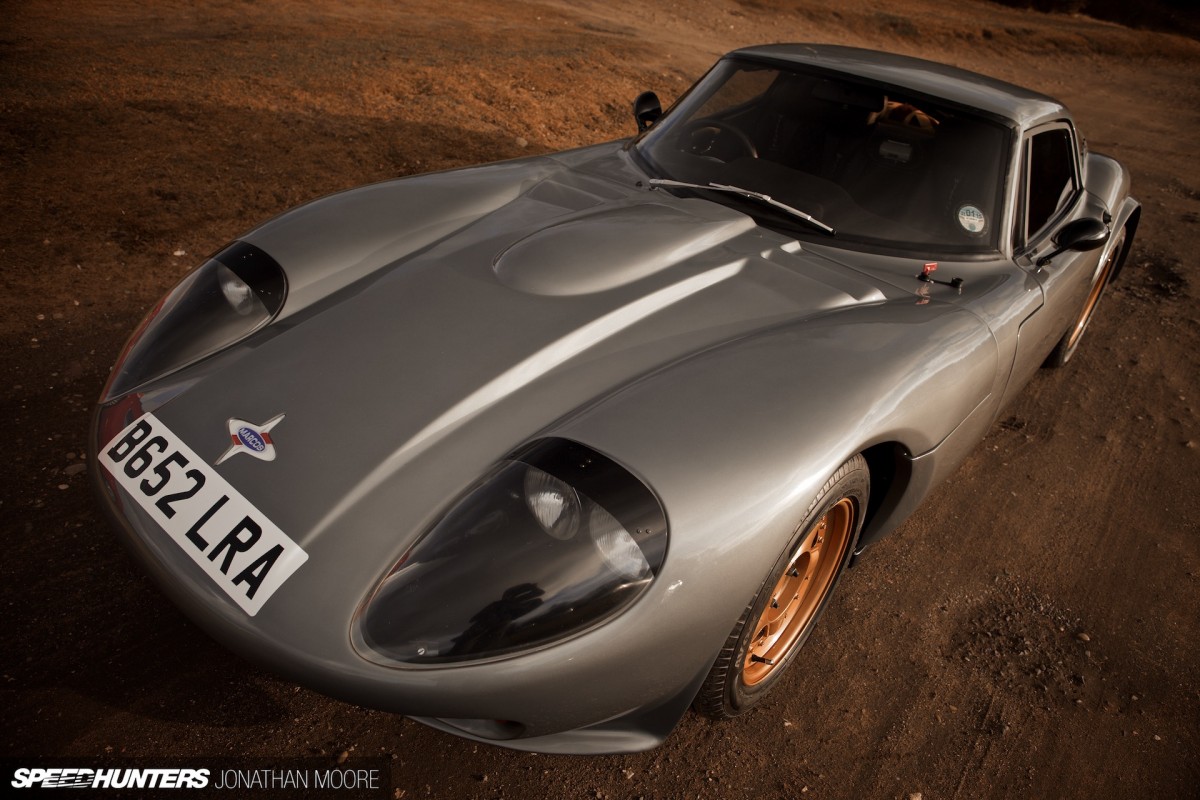 Out front, I have been in few cars that give that immediate sense of being so low to the ground and so reclined that at first you constantly strain your shoulders to try and see up, over and down the miles of bonnet that stretch out ahead. You have to learn to relax into the position and accept that what's there is what you've got.
The power bulge in the bonnet further reduces visibility, and the rear view is non existent: but as ever, these are all things you quickly got used to – though never becoming normal.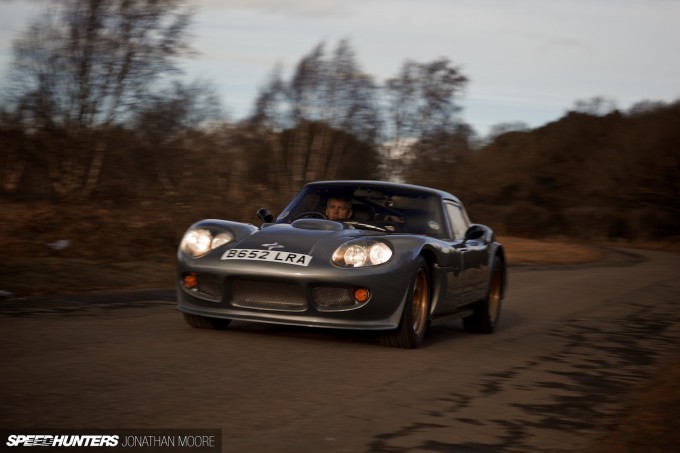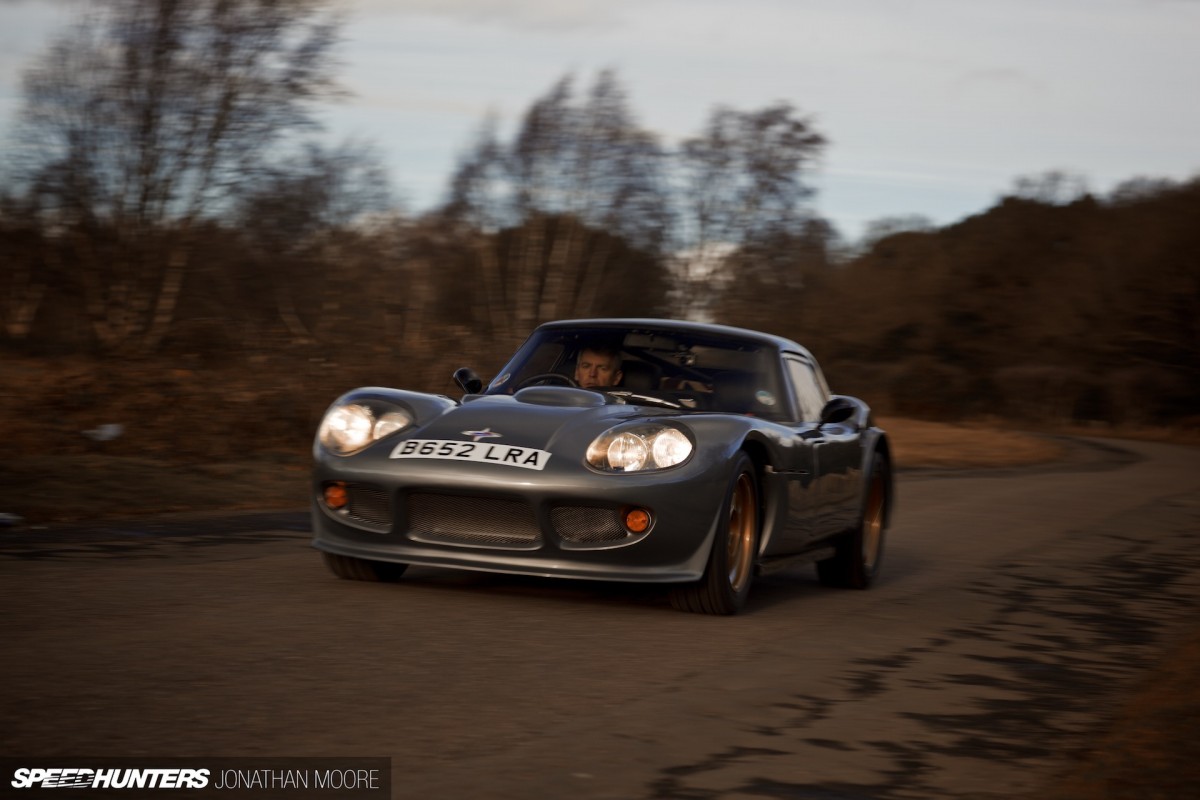 The Marcos a glorious thing to drive though, or even to be driven in. With its long wheelbase and super low aspect it's utterly planted through corners, with the proviso being that you have to be incredibly careful with your right foot: you can break traction in an instant. The V8 growls away up front, sounding unrefined in the most positive sense of the word. It's not tuned up to a thousand: it's just a monstrous American V8 in alien surroundings.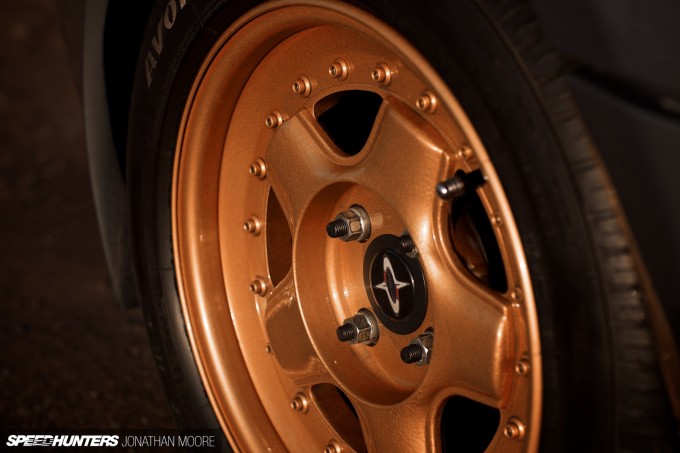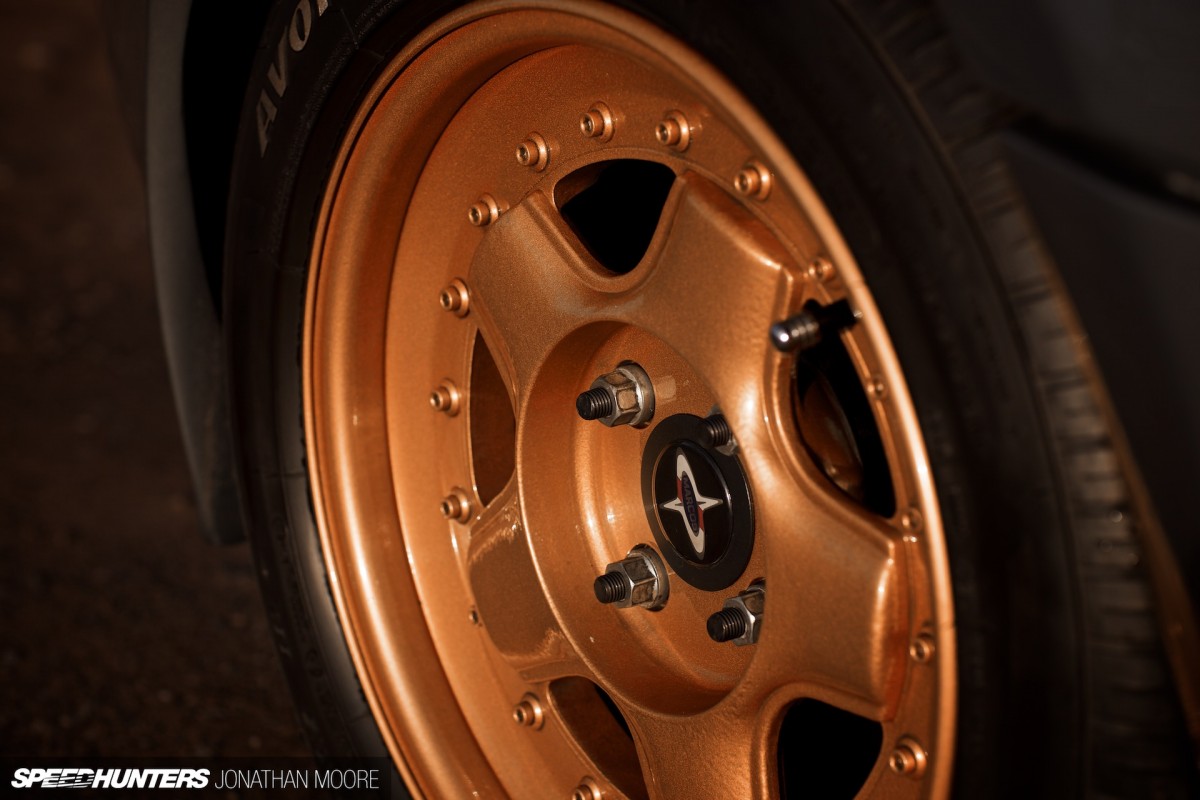 There's a different track front to back, with the rear a little wider. Checking the Revolution split rims in detail, Martyn realised that the wheels were different sizes: but again not what you'd expect. It's actually the fronts that are wider, perhaps to compensate for the extra width of the Atlas axle at the rear.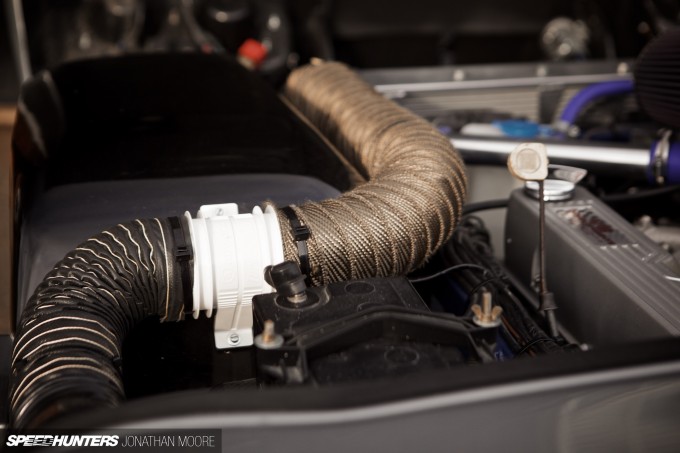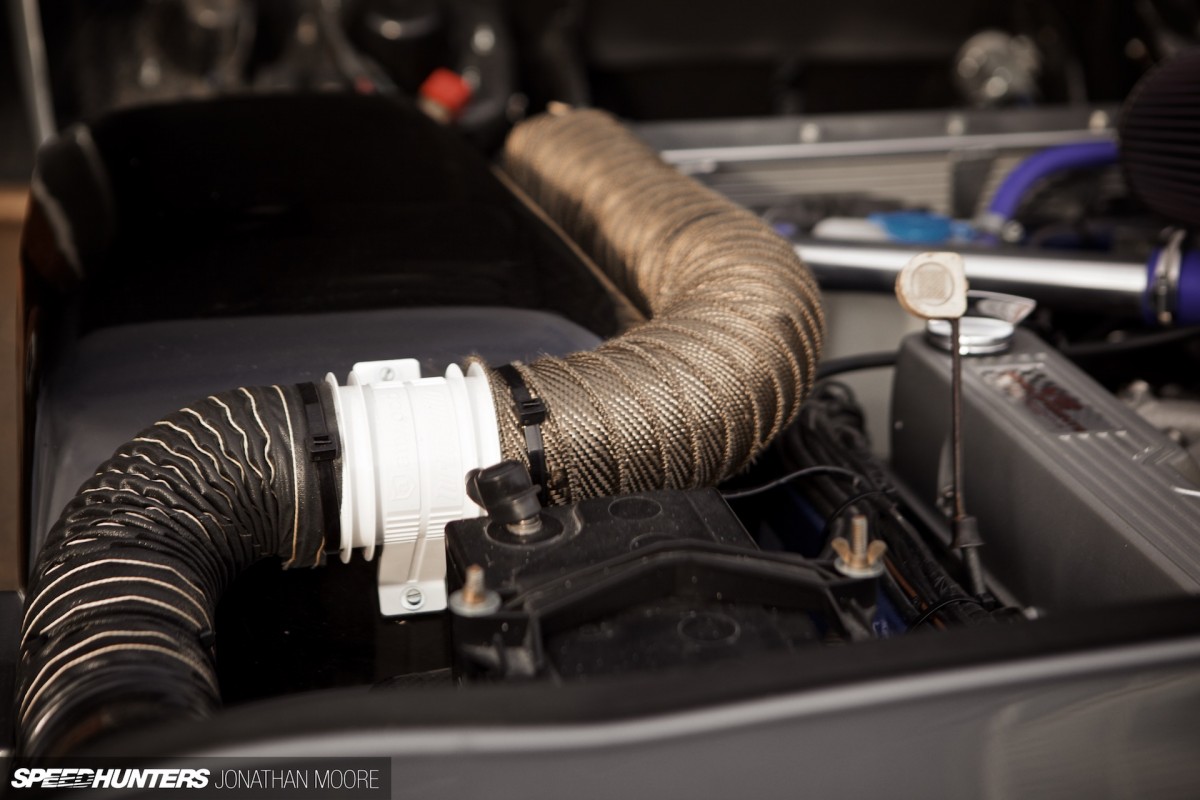 What's next? Stopping being boiled alive is one thing. The seating (lying?) position means that your lower half is right next to the full heat of the big V8 and the expanse of sloped glass exposes your top half to the full glare of the sun. Martyn has sensibly already cut in cockpit vents and plumbed in piping, but needs to connect them up to the intakes at the front. A small inline electric fan will back up the natural ram air effect.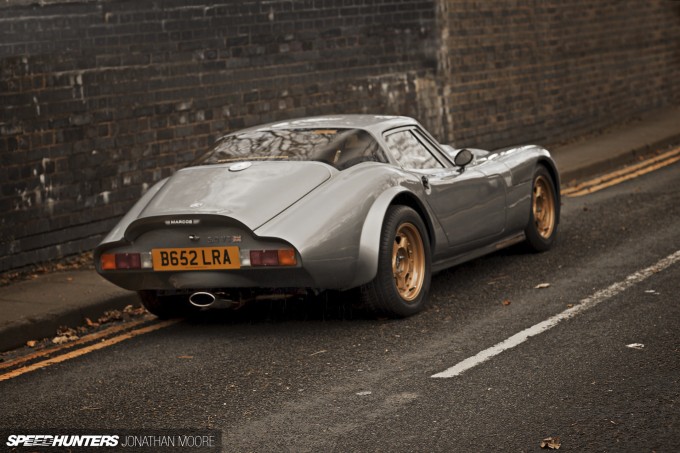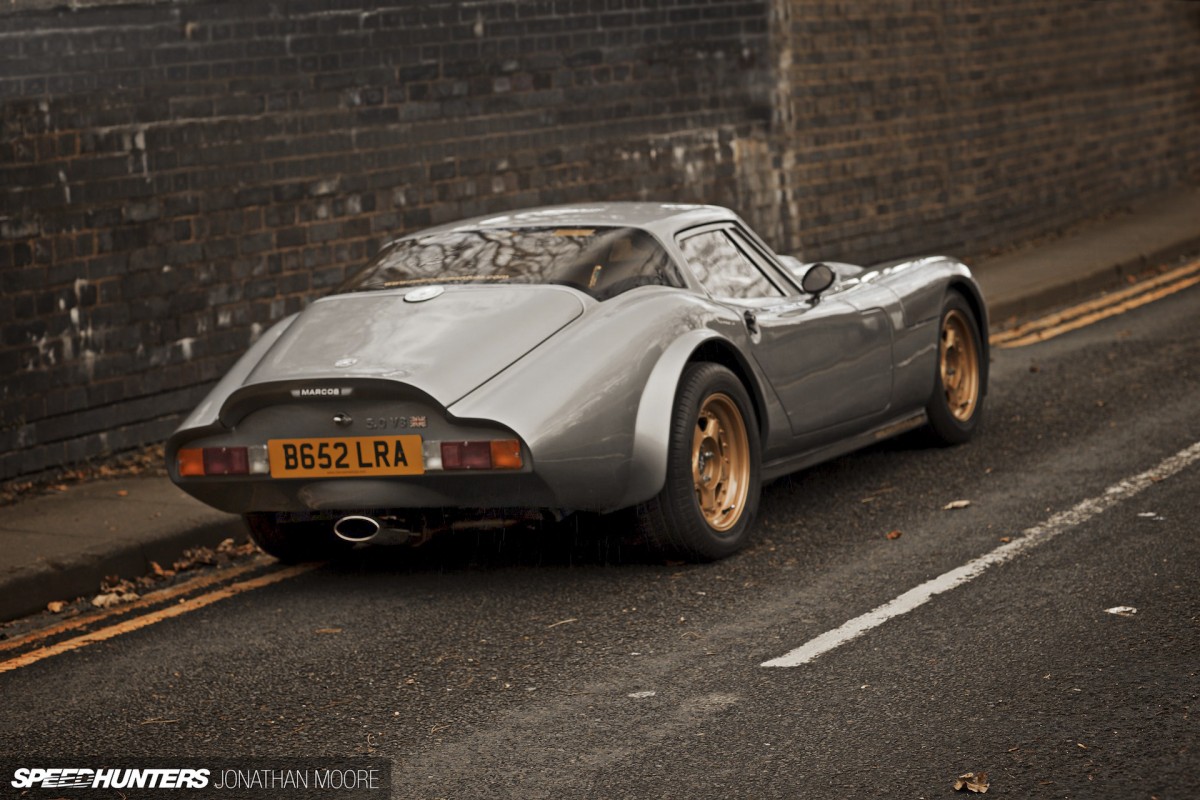 The engine sounds ferociously raw, but is being partially throttled by a silencer. The issue is that the silencer presents the lowest part of the car, meaning that getting anywhere in modern urban Britain, a place embattled by speed bumps and poor roads, is not so much fun.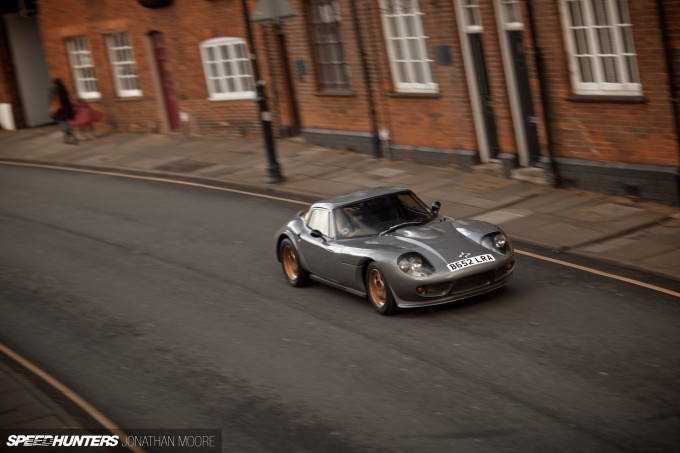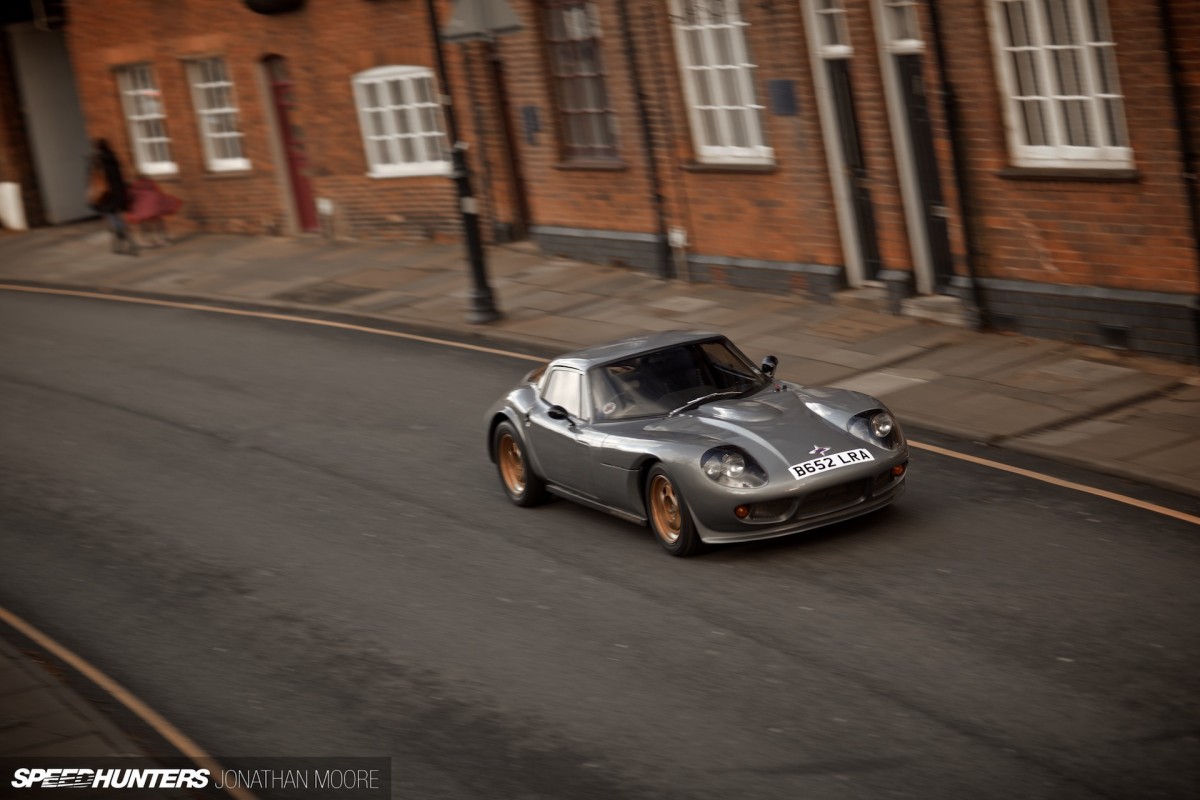 A smaller task is that having a single, cursory windscreen wiper means that Rain-X is the fall-back for keeping any kind of visibility in the wet. However, this is not really a car you want to take out on a damp, slippery road surface, unless you like visiting hedges backwards at speed.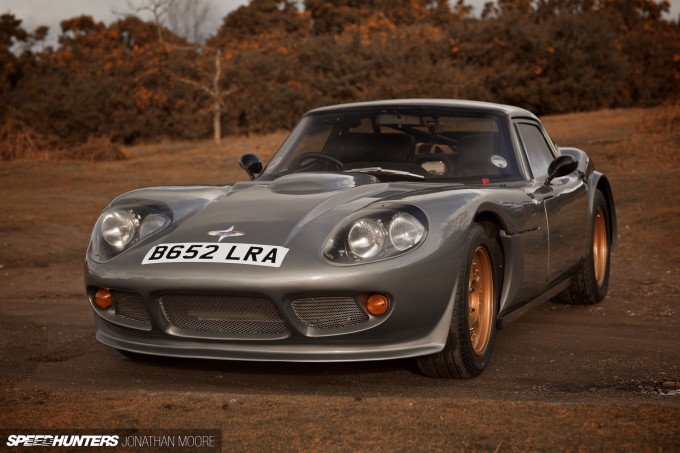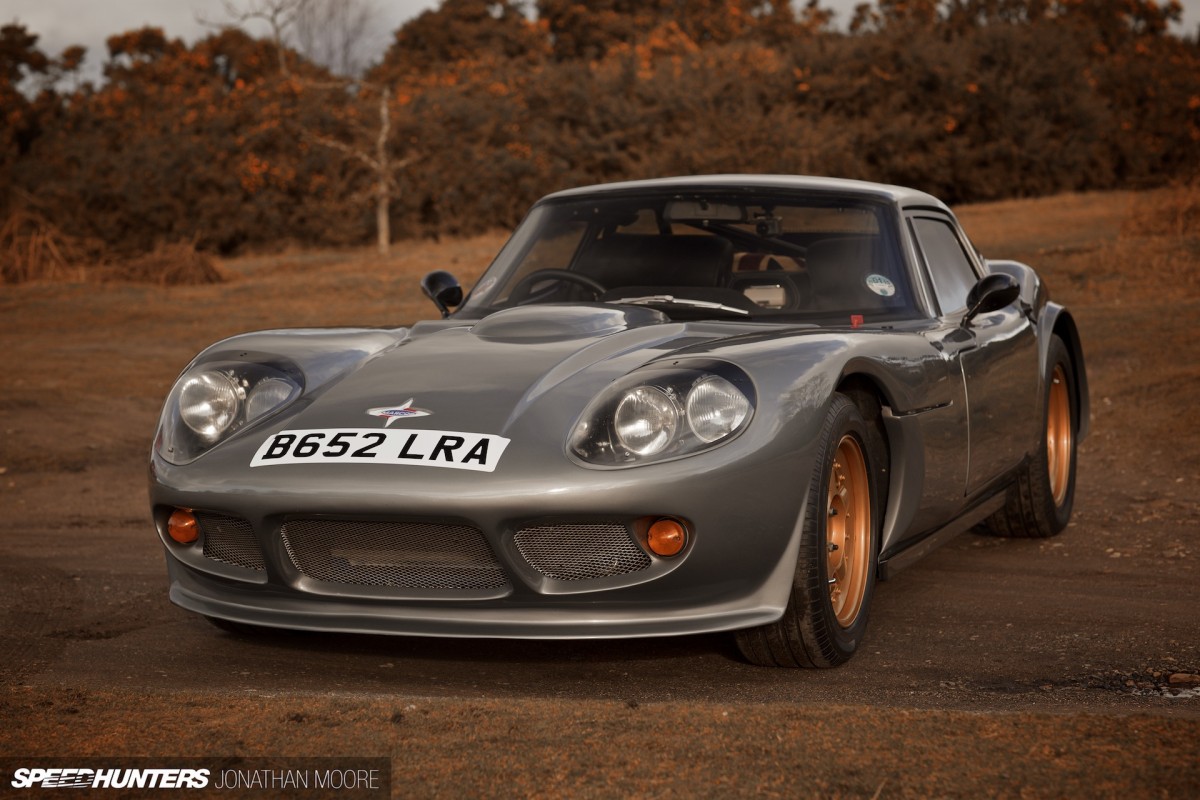 The Marcos is one of those head-turning cars; something you just don't see every day, and one that Martyn has sensitively updated. His main issue is now going to be avoiding any more of those 'accidental' eBay searches; his mother-in-law worked for Jensen, and the idea of a four-door project sounds all too appealing when mentioned…
Jonathan Moore
Instagram: speedhunters_jonathan
jonathan@speedhunters.com