'90s Kids
In the past few months I've often written about how the Japanese sports cars of the 1990s have become icons for an entire generation of auto enthusiasts who are now settling into their adult years. Just as earlier generations idolized that HEMI 'Cuda down at the local drive-in, or the Lamborghini Countach from the poster on the bedroom wall, these people grew up dreaming about Acura NSXs, Mazda RX-7s and twin turbocharged Toyota Supras.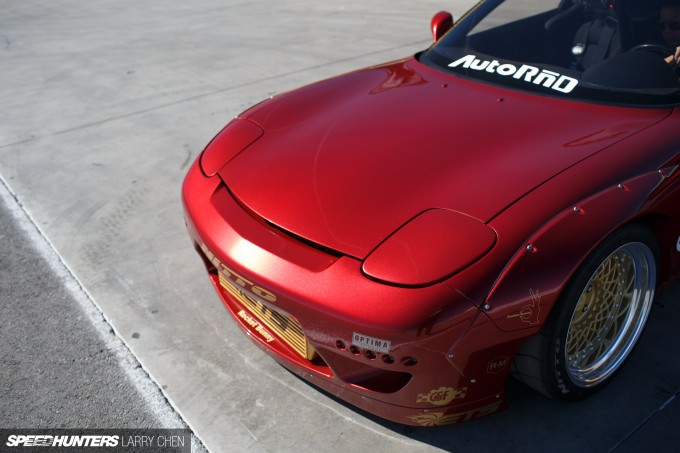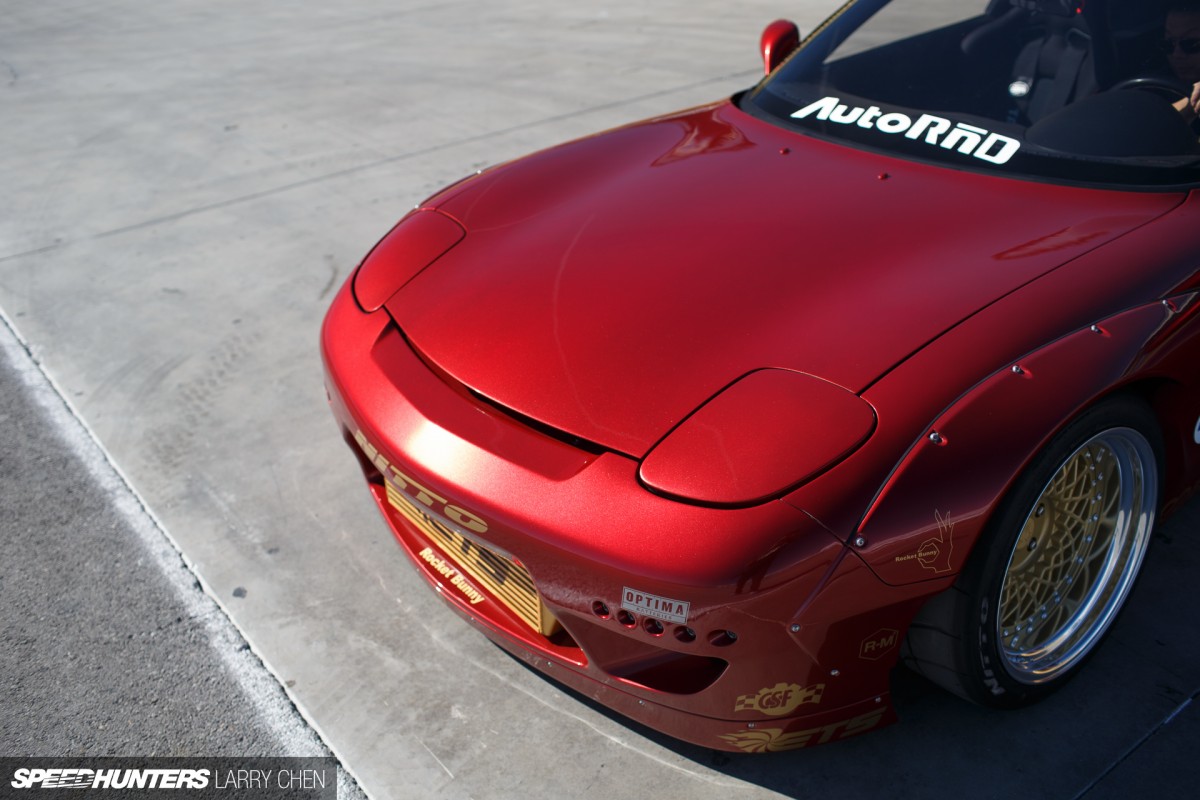 Sure, the cars have changed over the years, along with the ways we are exposed to them, but the feeling has always been the same. Each generation will have automobiles they dream of buying when they have the means to, and there's a reason why many are predicting that Japanese sportscars will be the next big boom in the collector car market.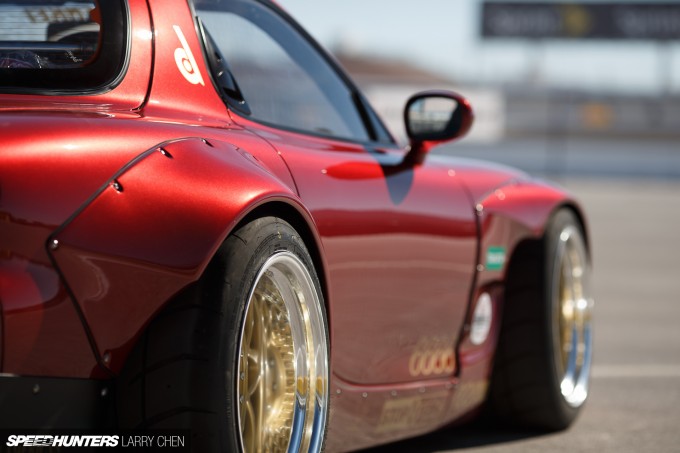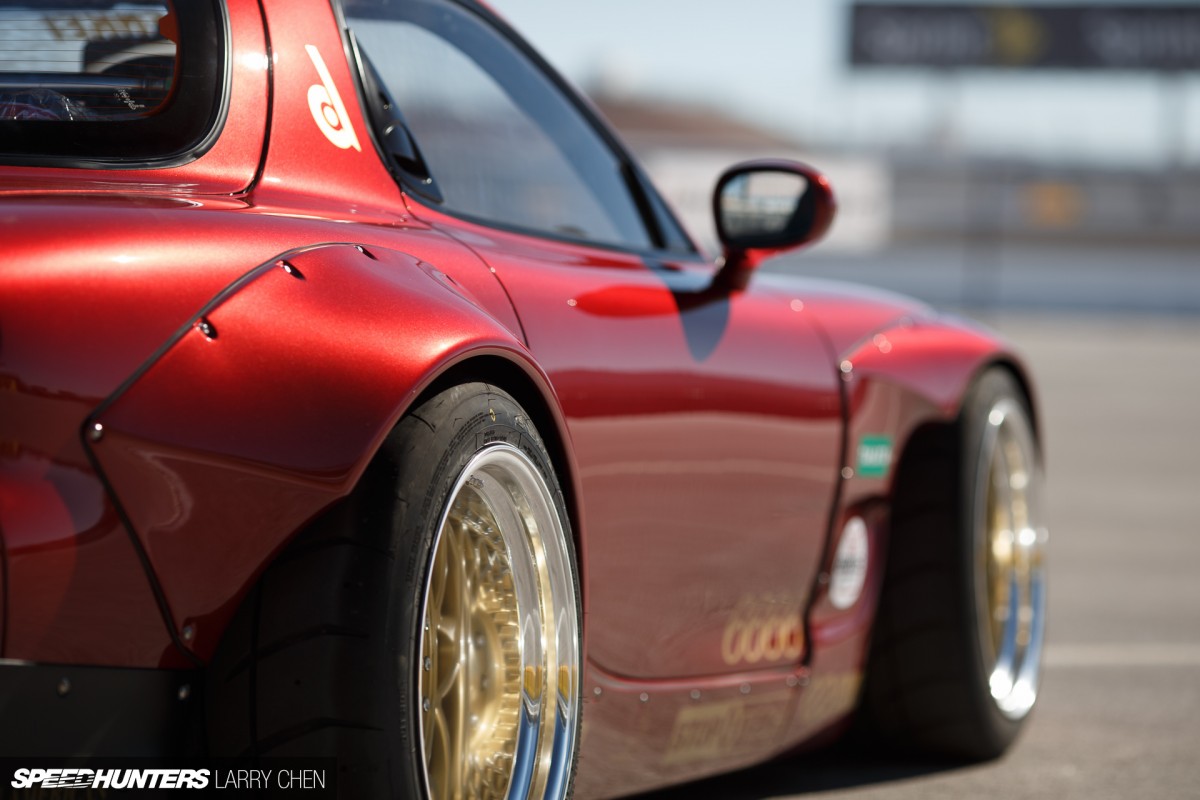 But the one thing that is different about this group from the ones that came before is what they dreamt of doing to to their cars. While the 'Cuda or Countach guy might have fantasized about parking his car in the garage, waxing it on Saturdays and taking it out on Sundays, the younger generation saw their cars a bit differently.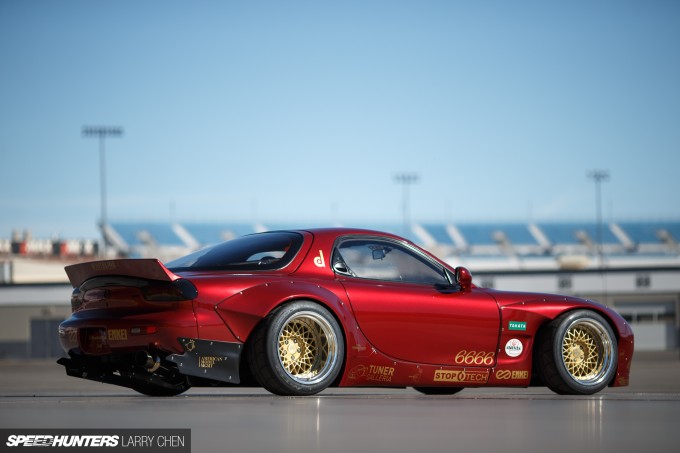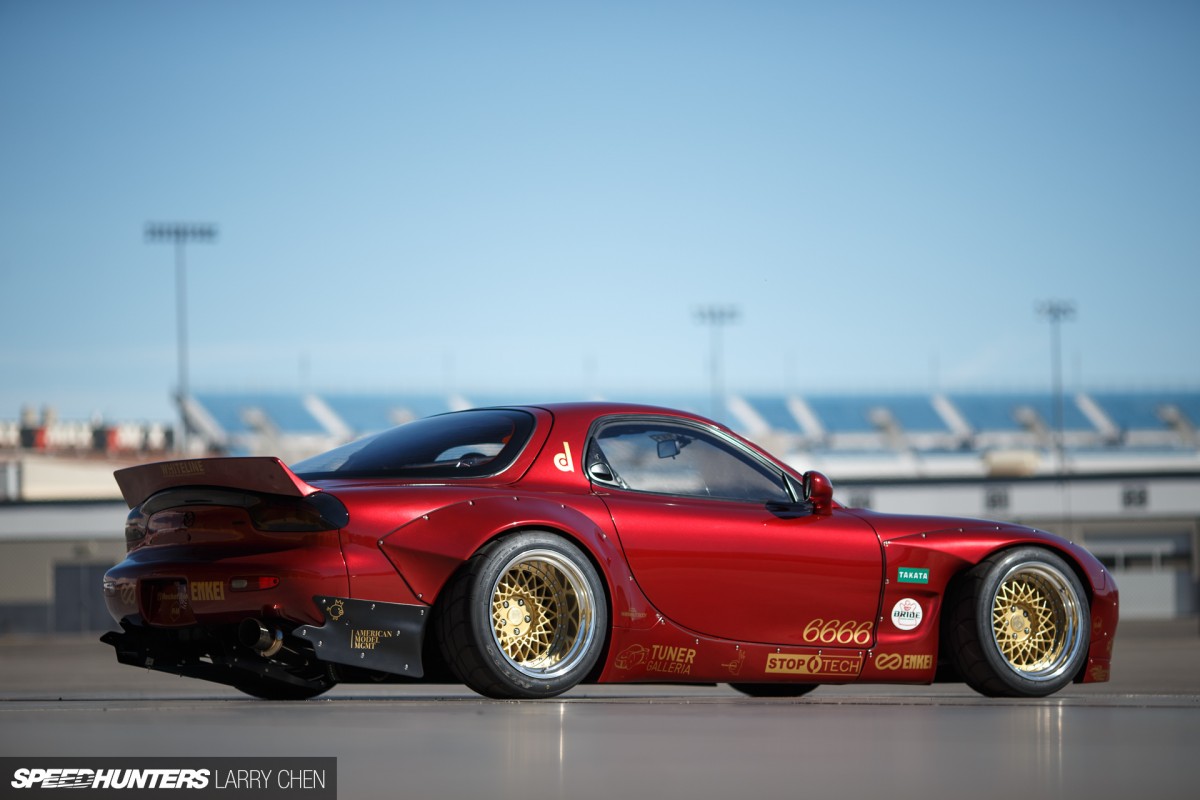 Rather than just wanting to own something like a Supra or an RX-7, these guys wanted to start playing with their dream cars – fitting high-end tuning gear from Japan, turbo upgrades, rare body parts, larger wheels and more. It was this younger generation of hot rodders that helped kickstart the tuning movement in the 1990s.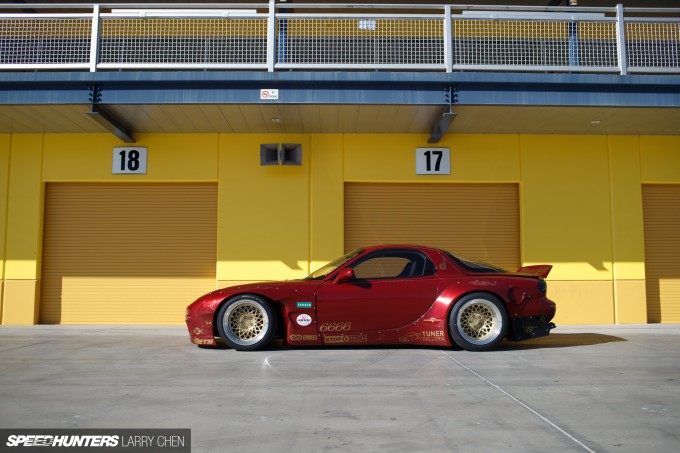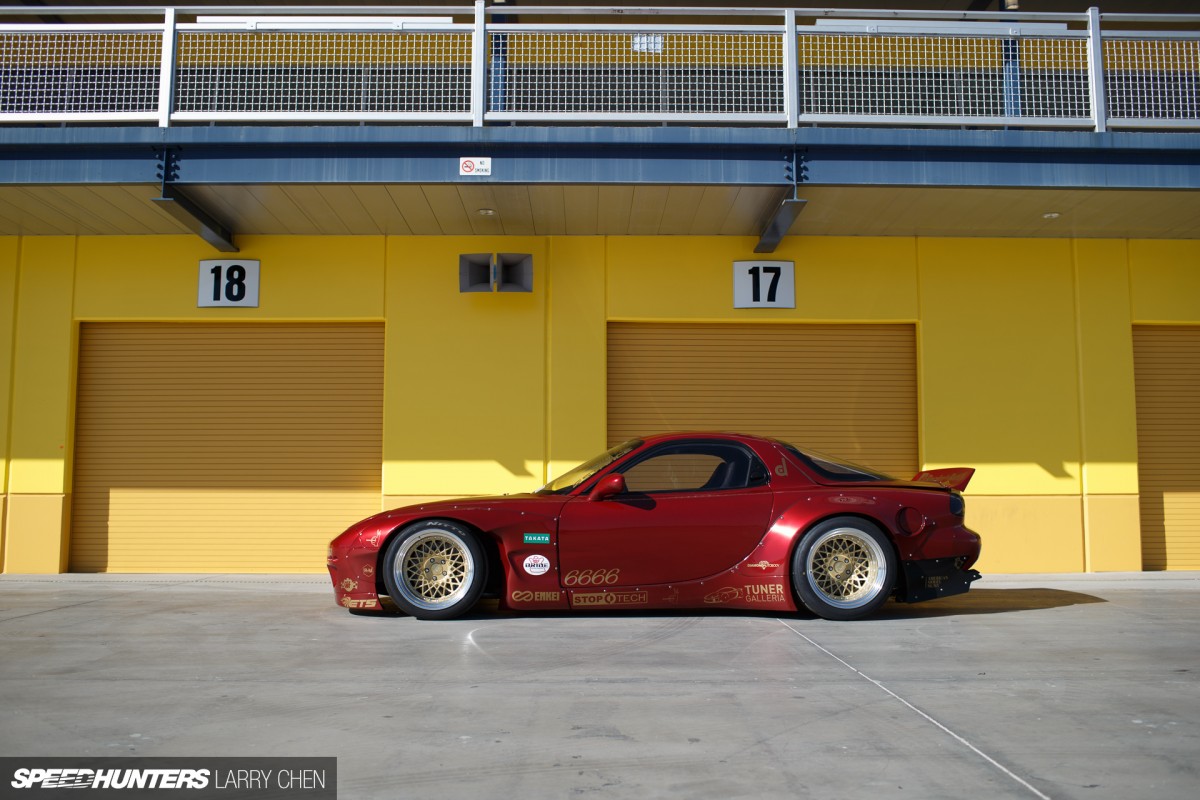 One of these people was Jim Pan. Jim got his start modifying Japanese cars back in 1991 with a Mugen-equipped Honda CR-X. He went on to build many other cars too, including an AWD Eagle Talon TSi, an EK Civic Type R and one his favorites – a Competition Yellow Mica FD3S RX-7 with a full array of Blitz parts. In 2001, the FD was wrecked and Jim replaced the car with a Honda S2000.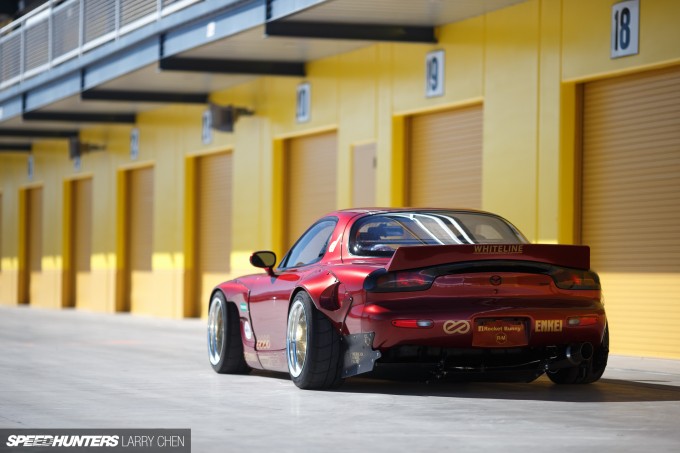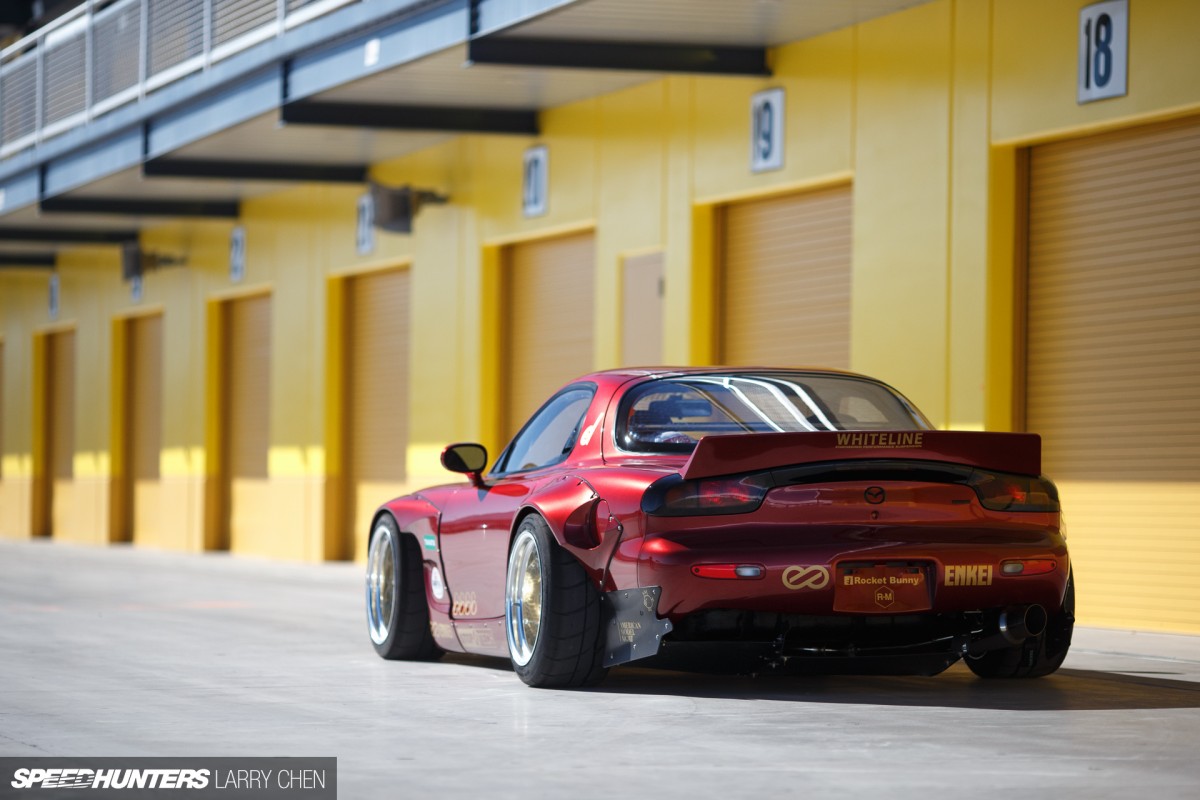 In the following years, Jim saw himself moving towards European cars. He founded a club called TWCompetition and was involved in a number of builds that ranged from BMW M3s and AMG-Mercedes to a twin turbocharged Ferrari 360.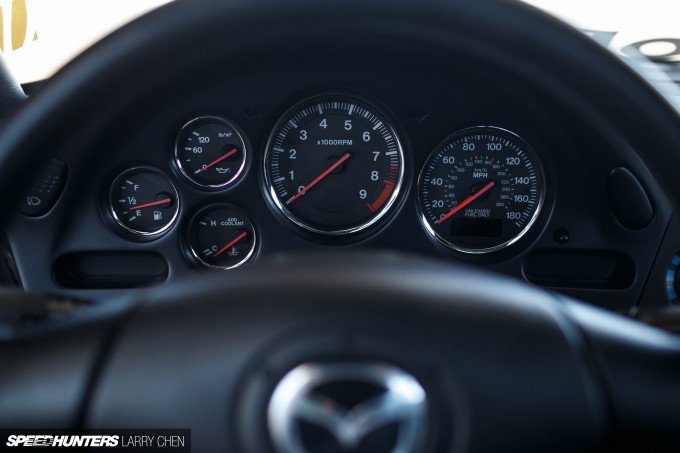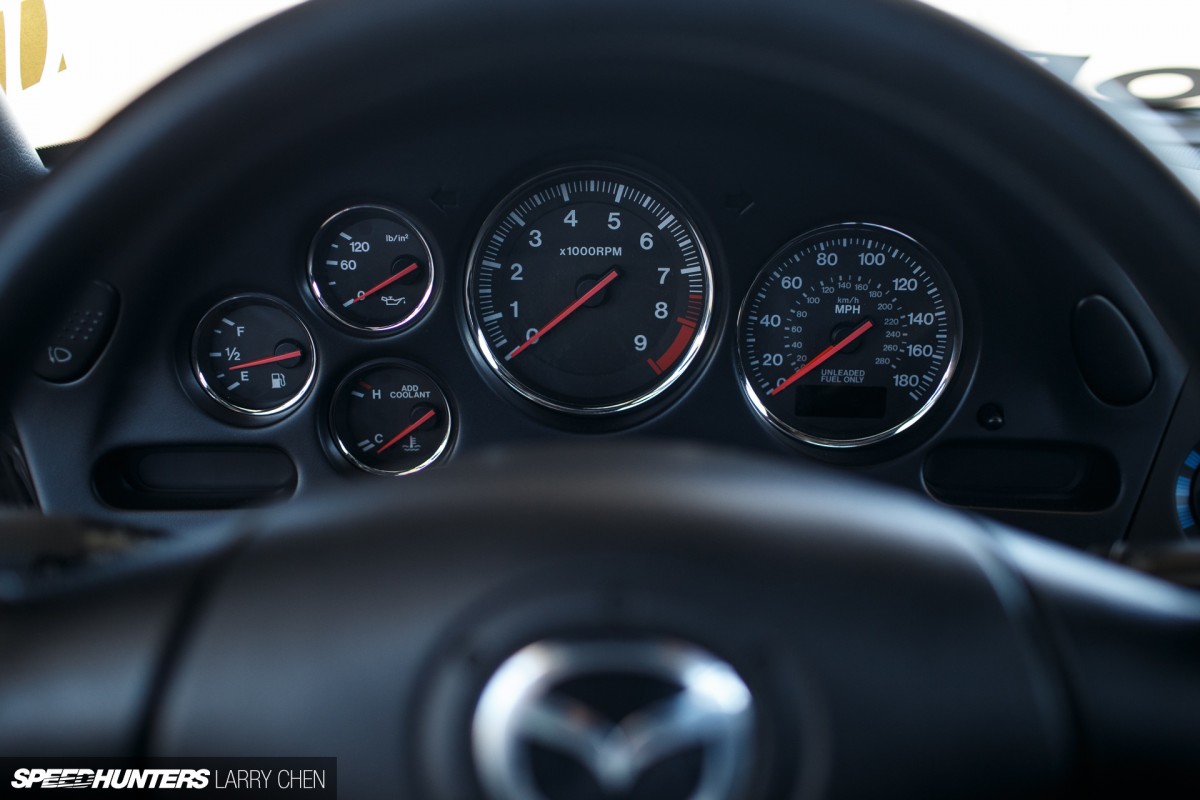 In 2009, Jim started a series of car shows called Tuner Galleria, and this led him to making even more contacts within the automotive aftermarket. He met Kei Miura for the first time in 2012, right when the new Rocket Bunny Scion FR-S kit was hitting the market.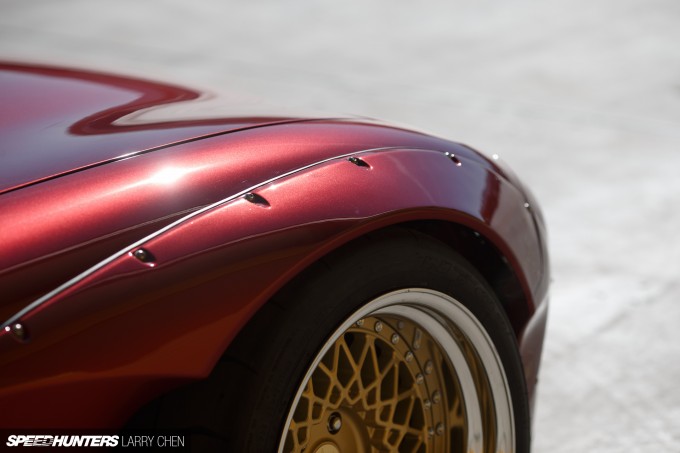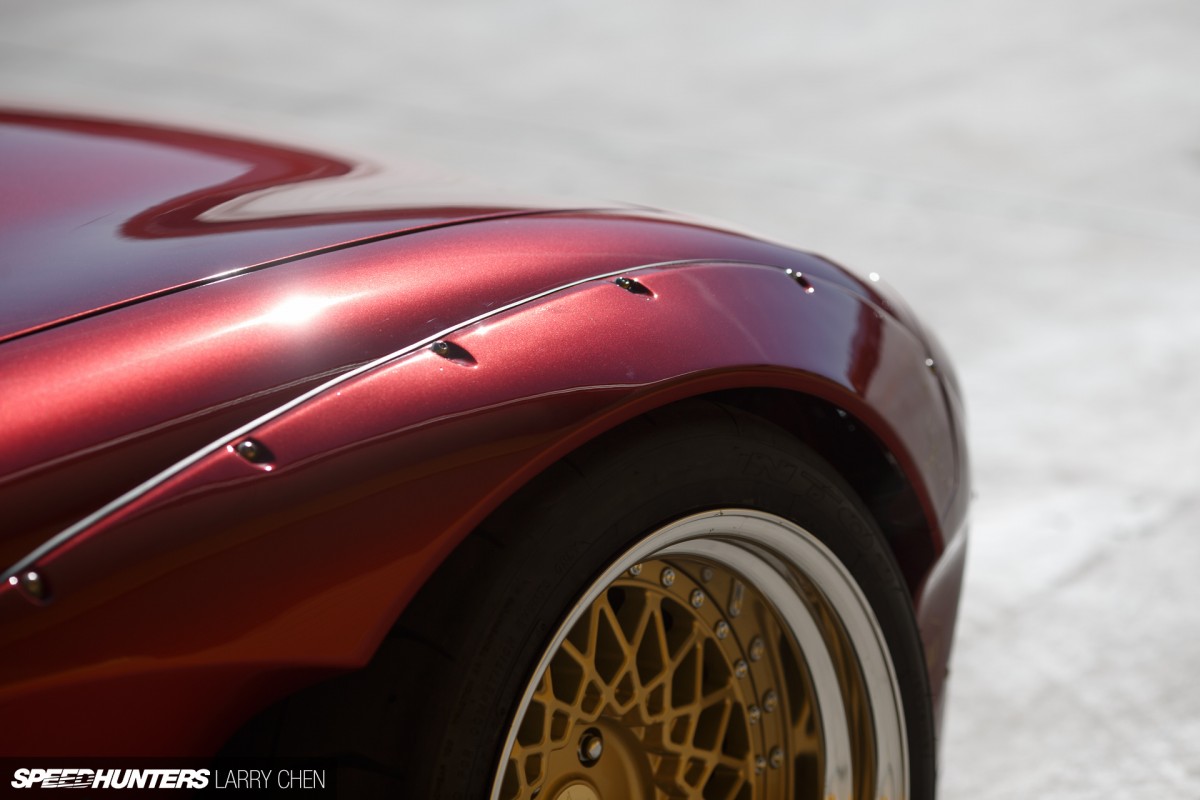 A year later Jim traveled to Japan where he visited Miura-san's shop in Kyoto and discussed the idea of future collaborations. Eventually, he invited Miura to come to the 2014 Tuner Galleria Chicago event, held last March. When Jim caught a glimpse of the upcoming Rocket Bunny kit for the FD3S RX-7, he was sold.
Trans-Pacific Collaboration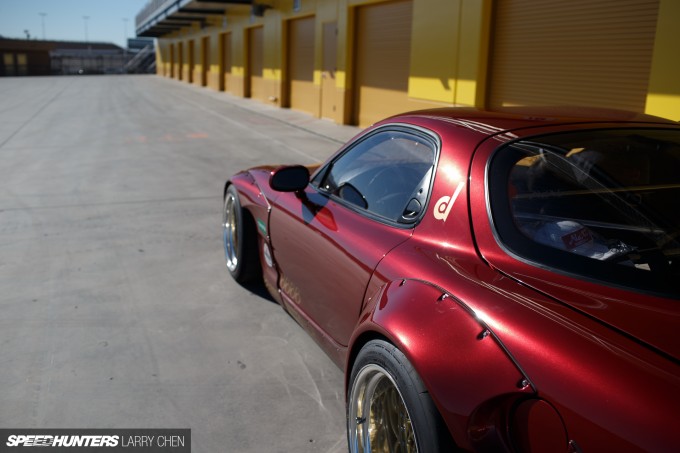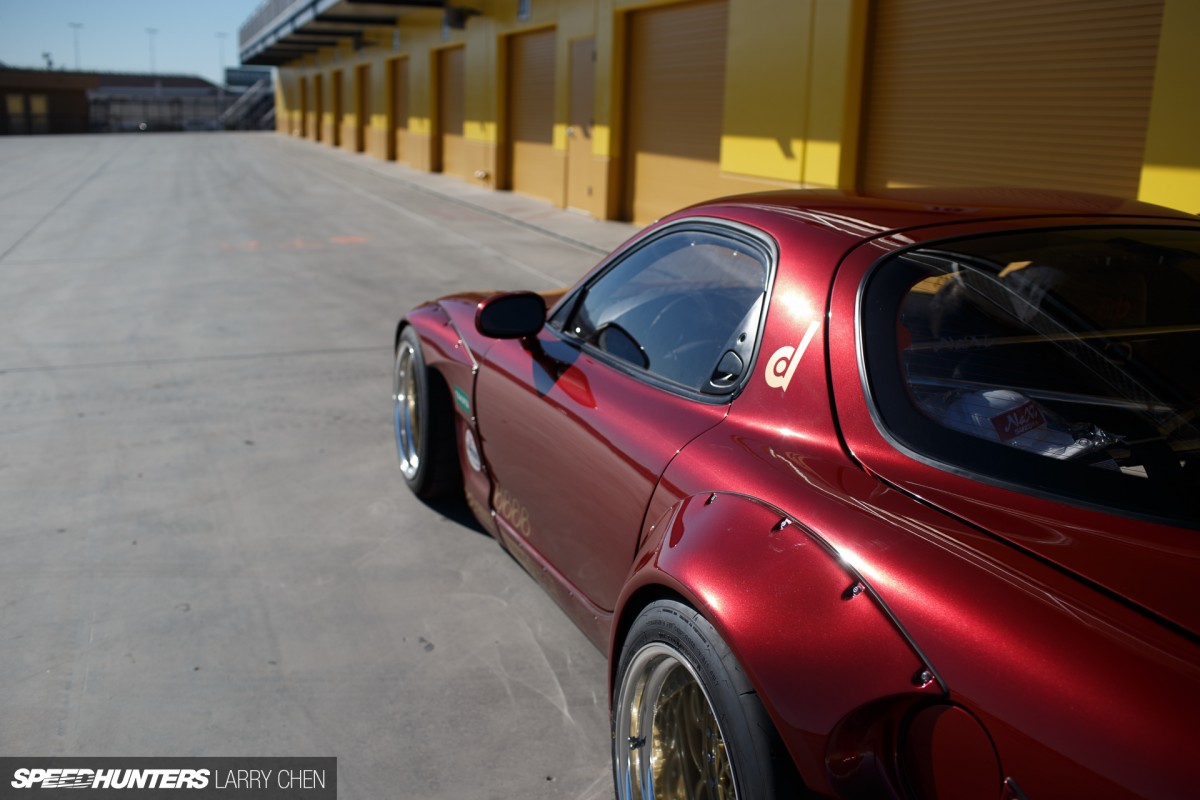 Not only had he fallen in love with TRA Kyoto's latest design, he'd long thought about picking up another FD, and the timing seemed to be perfect. In May of last year, Jim bought a 1993 RX-7 R1, having already discussed with Miura the idea of doing a build for the 2014 SEMA Show.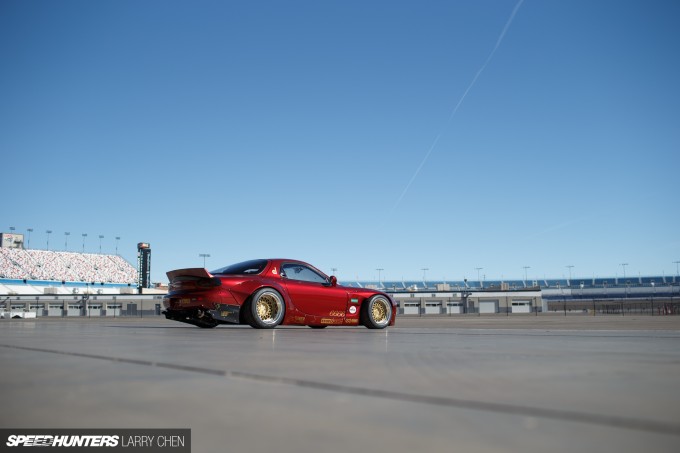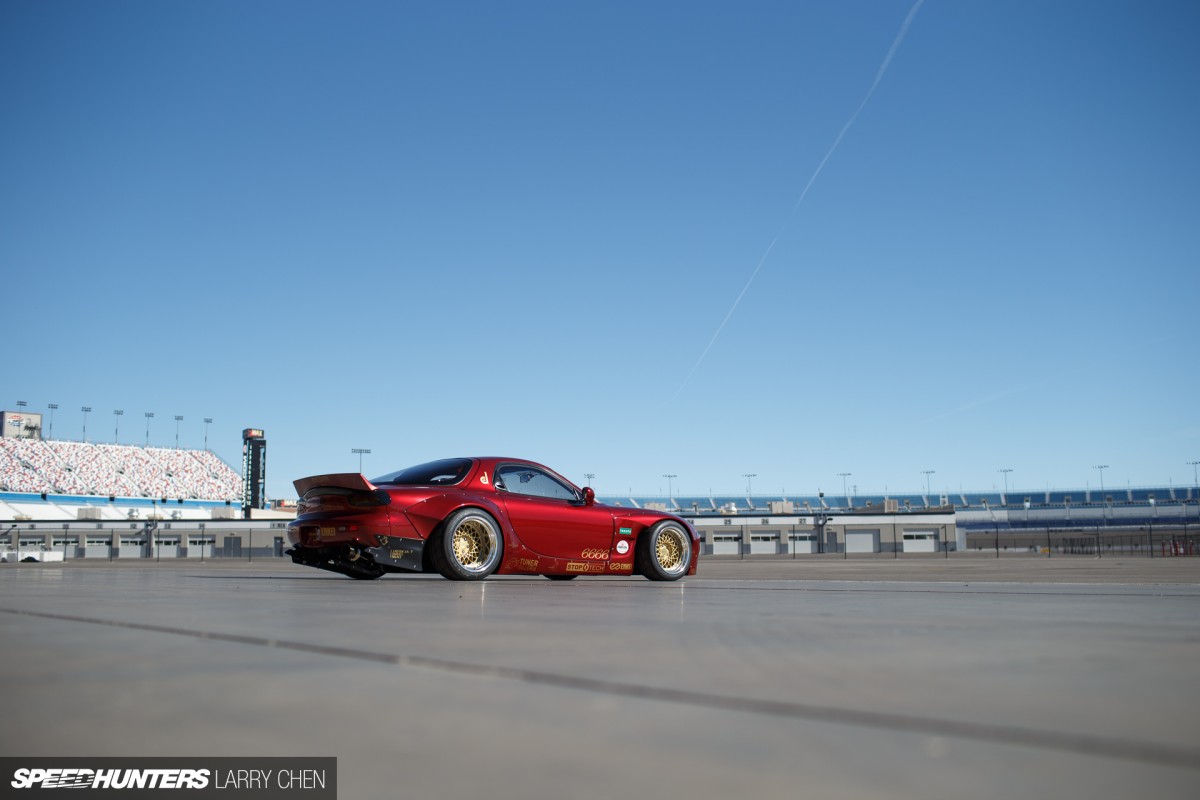 With the car in his possession, Jim got to work on the build. Rather than just building an FD that happened to have Rocket Bunny parts, he wanted to fully embrace the TRA Kyoto style with a cohesive theme.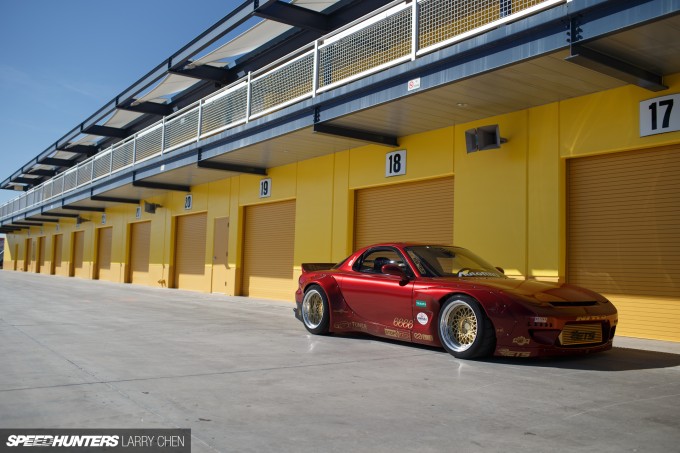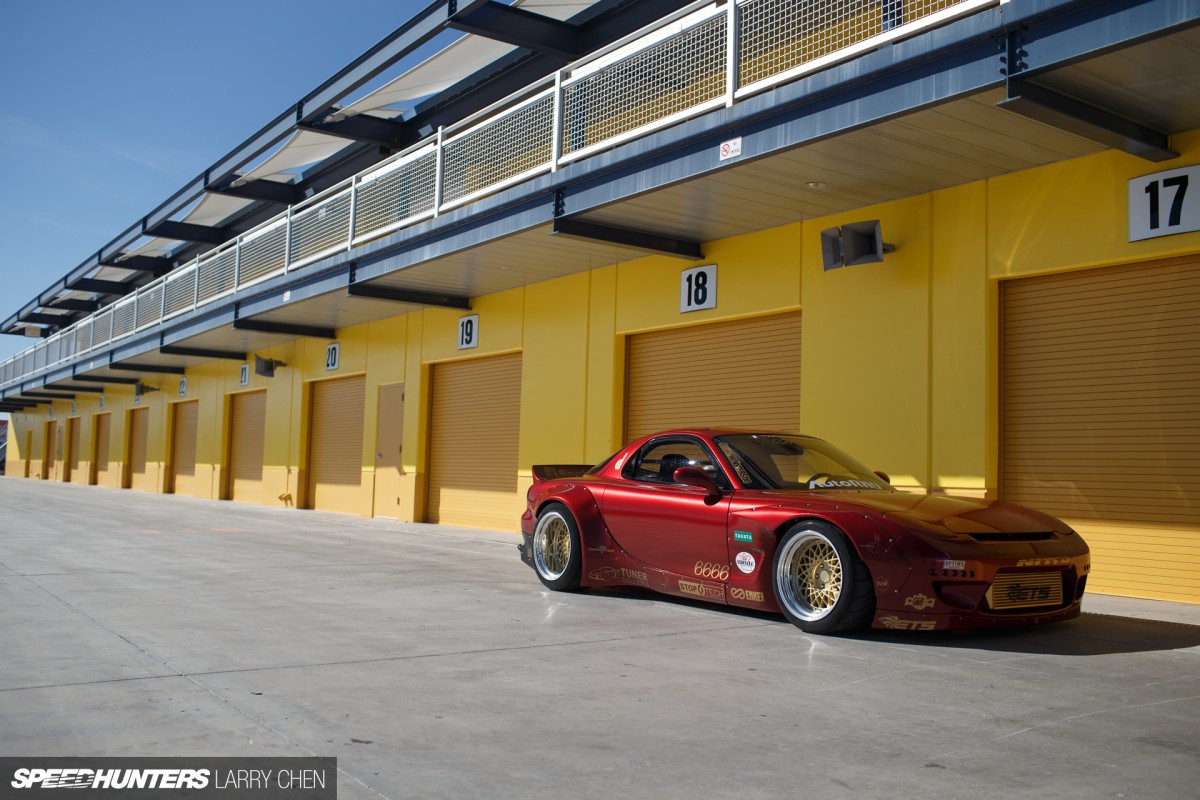 Once the kit had arrived from Japan, the FD went under the knife for its wide body transformation. Along with the complete Rocket Bunny kit, the car was also fitted with a Rocket Bunny rear diffuser and Rocket Bunny LED turn signals.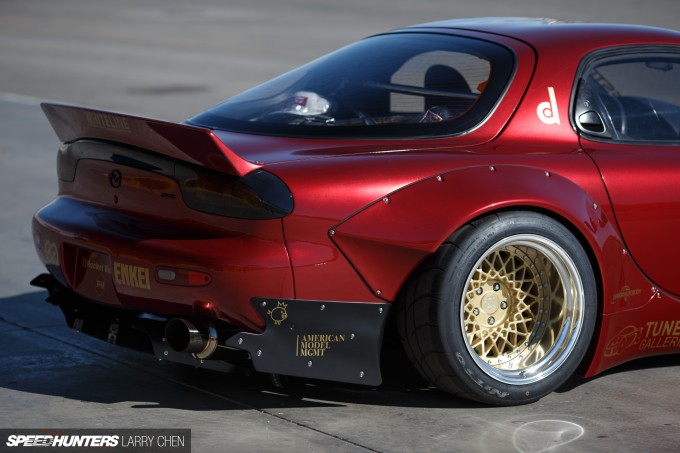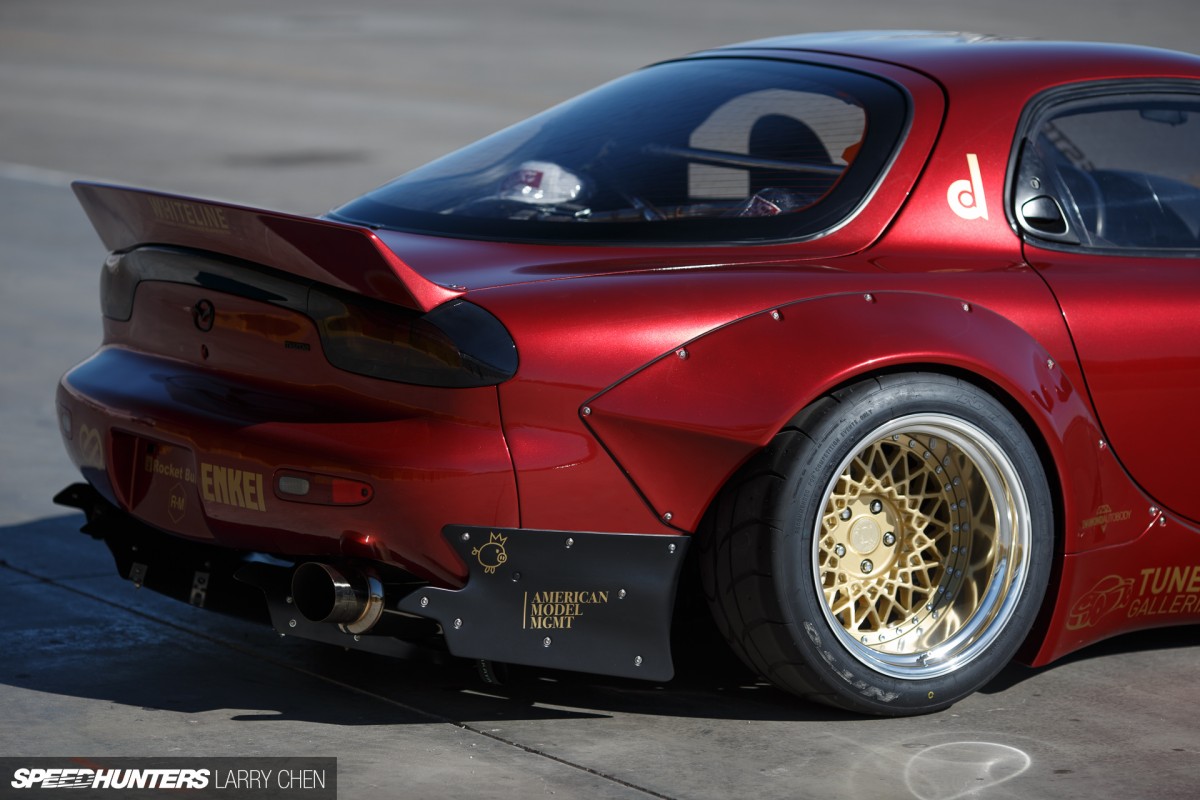 Diamond Auto Body also performed some subtle custom work to the FD's exterior, shaving and smoothing the factory side-markers, antenna and rear spoiler holes.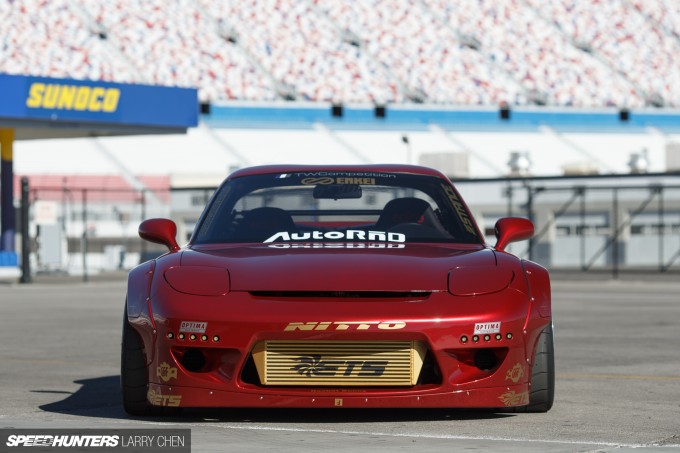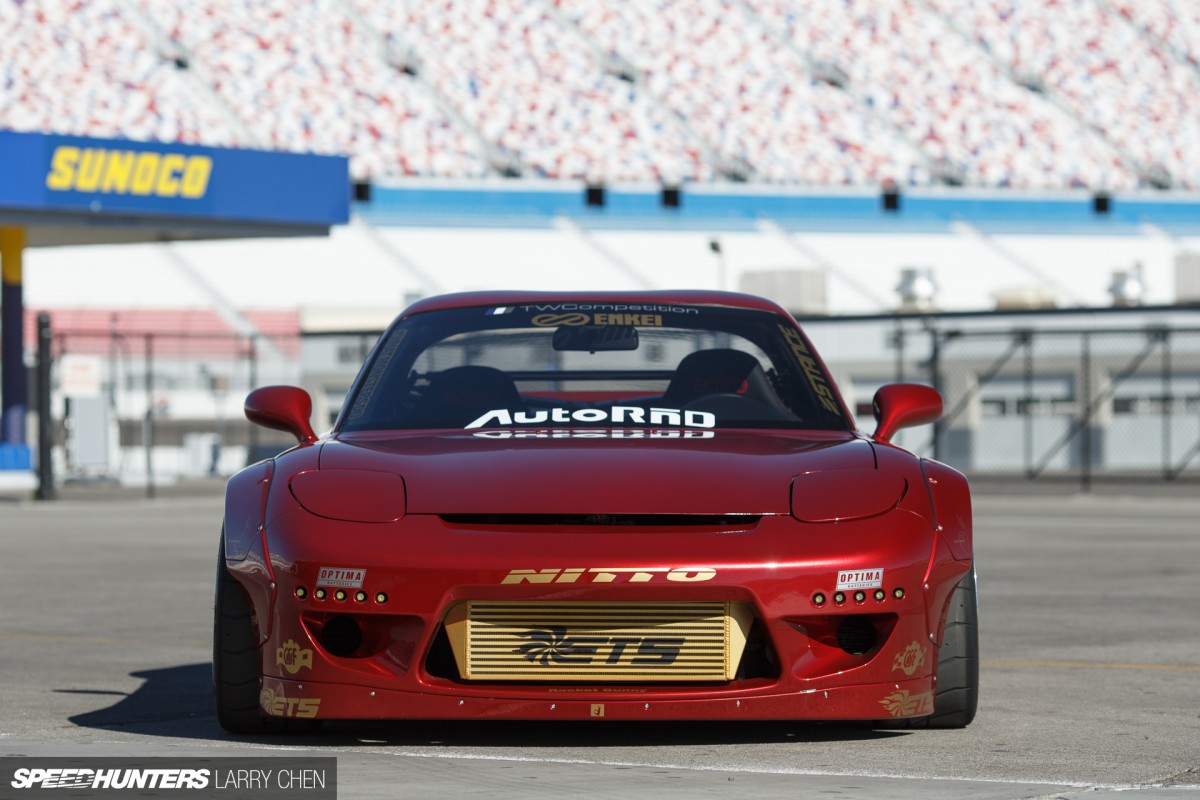 Once the bodywork was complete, the car was finished off with a coat of BASF Red Pearl paint, which contrasts nicely with the gold vinyl lettering, and really helps to accent the finer details of Miura-san's design.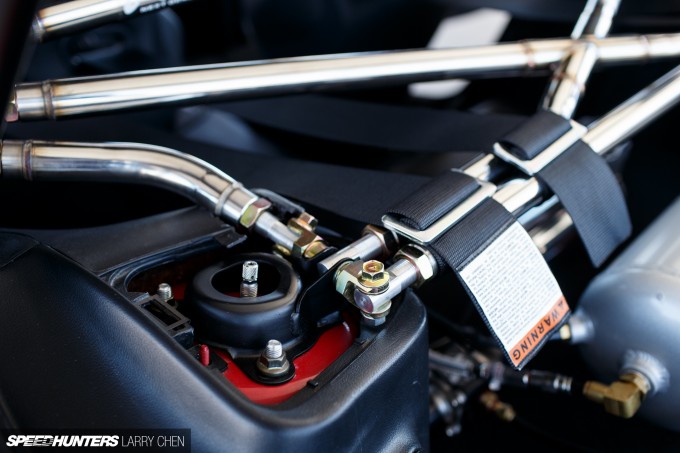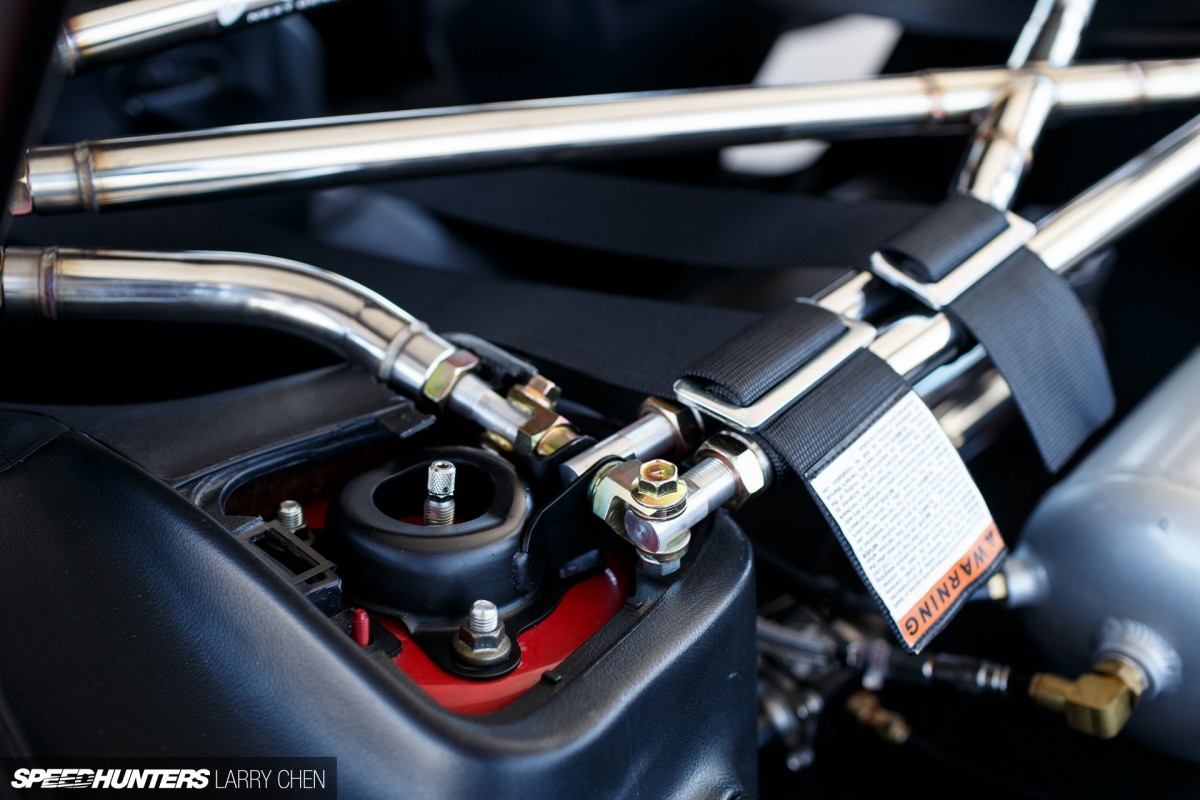 Jim also has a close relationship with the team at Stance Suspension USA, and when it came time to ugprade the FD's footwork he fitted the car with one of Stance's prototype monotube coilover setups with external reservoirs and an air cup kit for extra adjustment.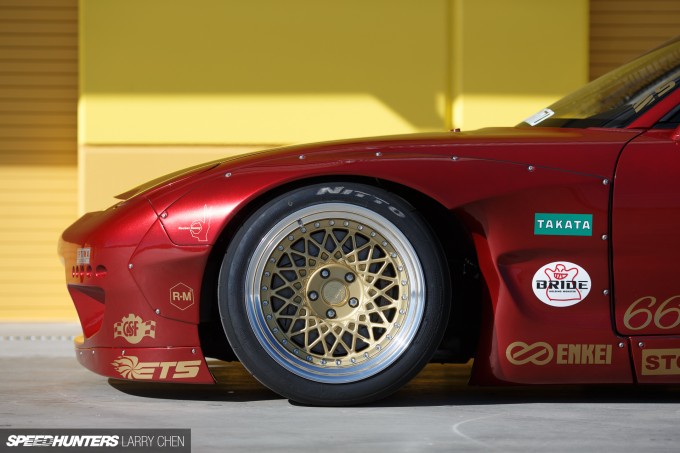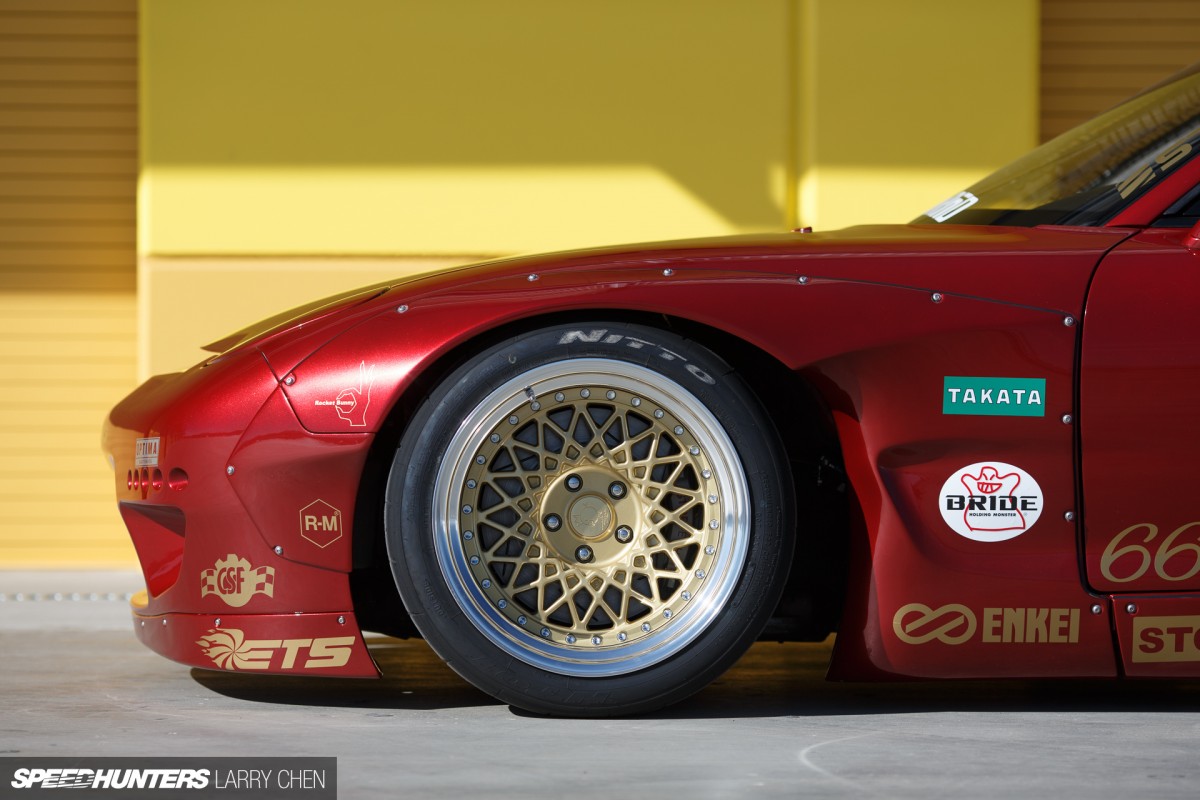 Along with the coilover package, the chassis has also been upgraded with Whiteline bushings and a number of additional braces mounted both beneath the car and inside the cabin. Together they add some much needed stiffness to the 20-plus-year-old FD3S.
The Red Bunny Rolls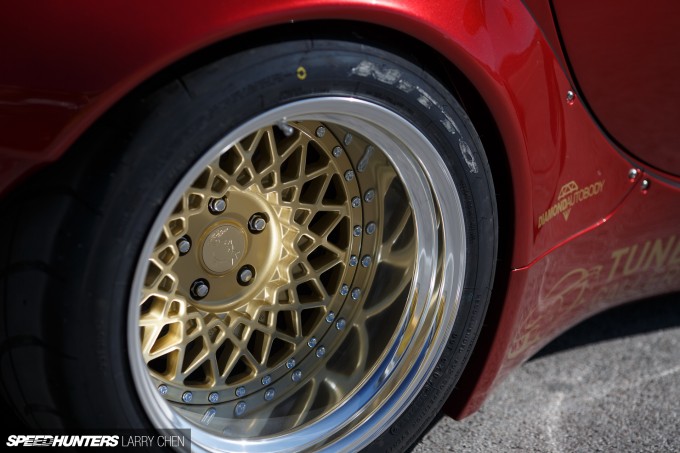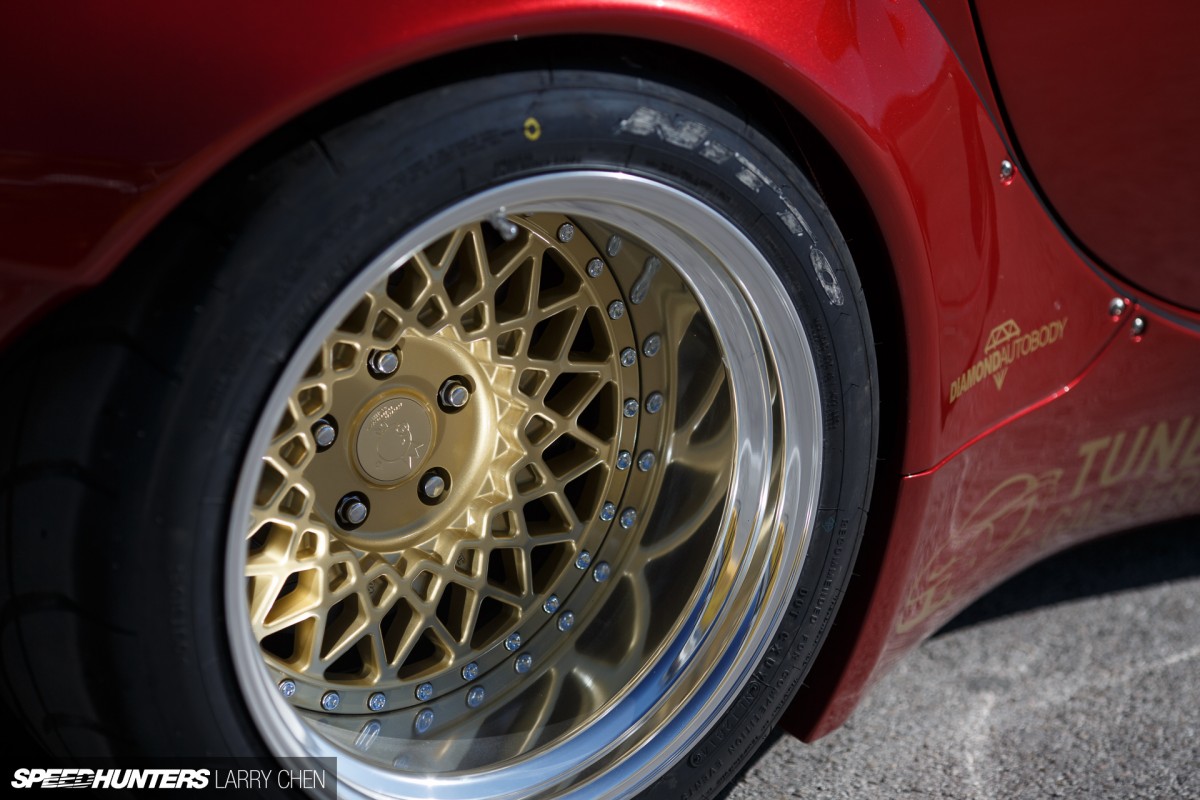 To further embrace the Rocket Bunny theme running throughout the car, Jim went with a set of the new 6666 Mesh wheels produced by Enkei. They measure 17×9.5-inch -30 in the front and 17×10.5-inch -80 in the rear, with beefy Nitto NTo1 street-legal road course tires to complete the package.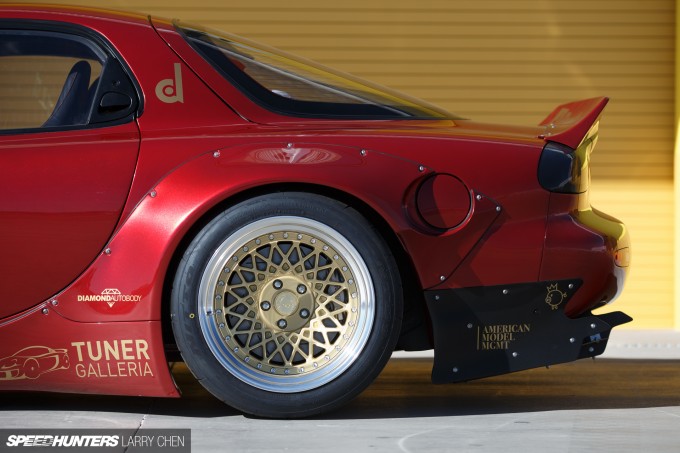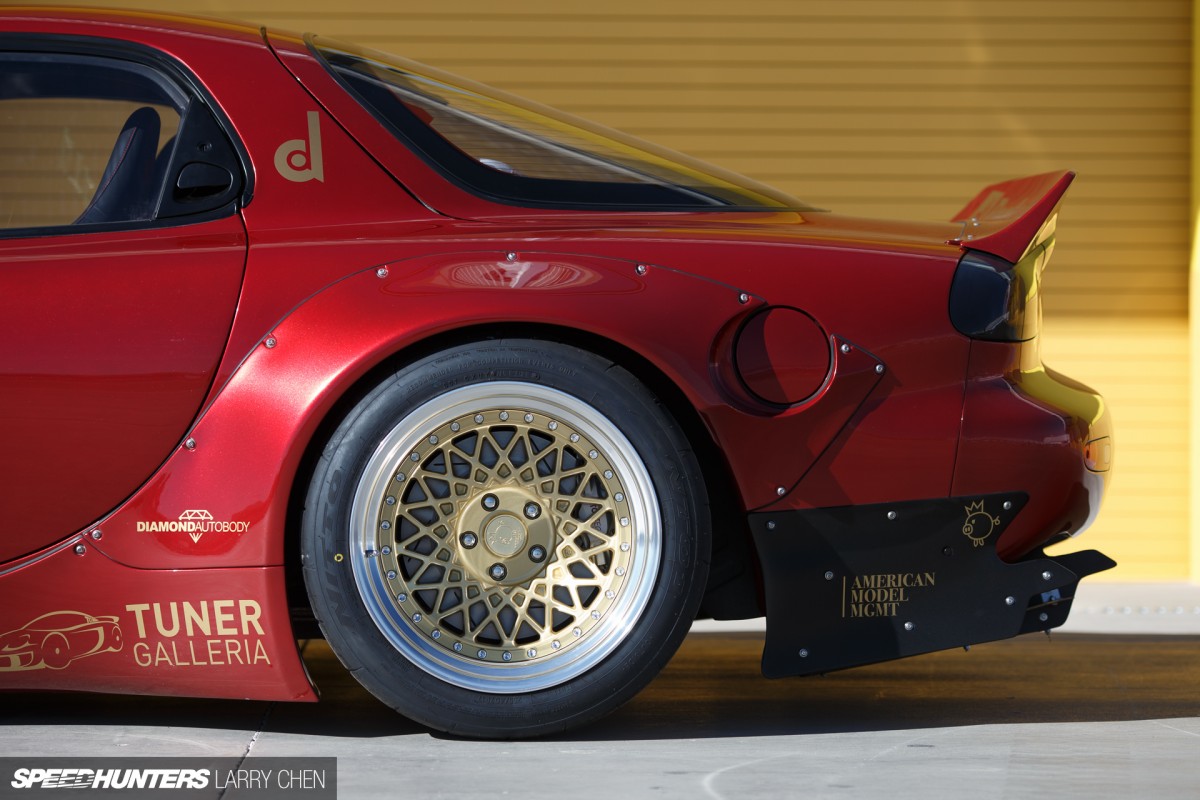 Also of note is are the StopTech Trophy brakes that can be found at both the front and rear. The larger 4-piston units barely clear the 17-inch wheels, with just a credit card's space between the caliper and the inner wheel.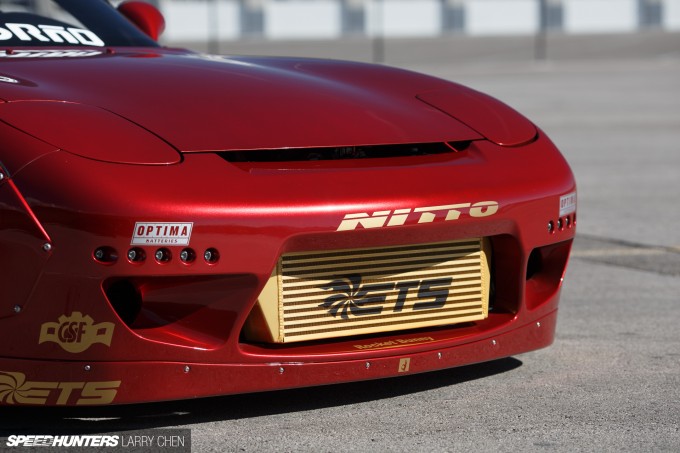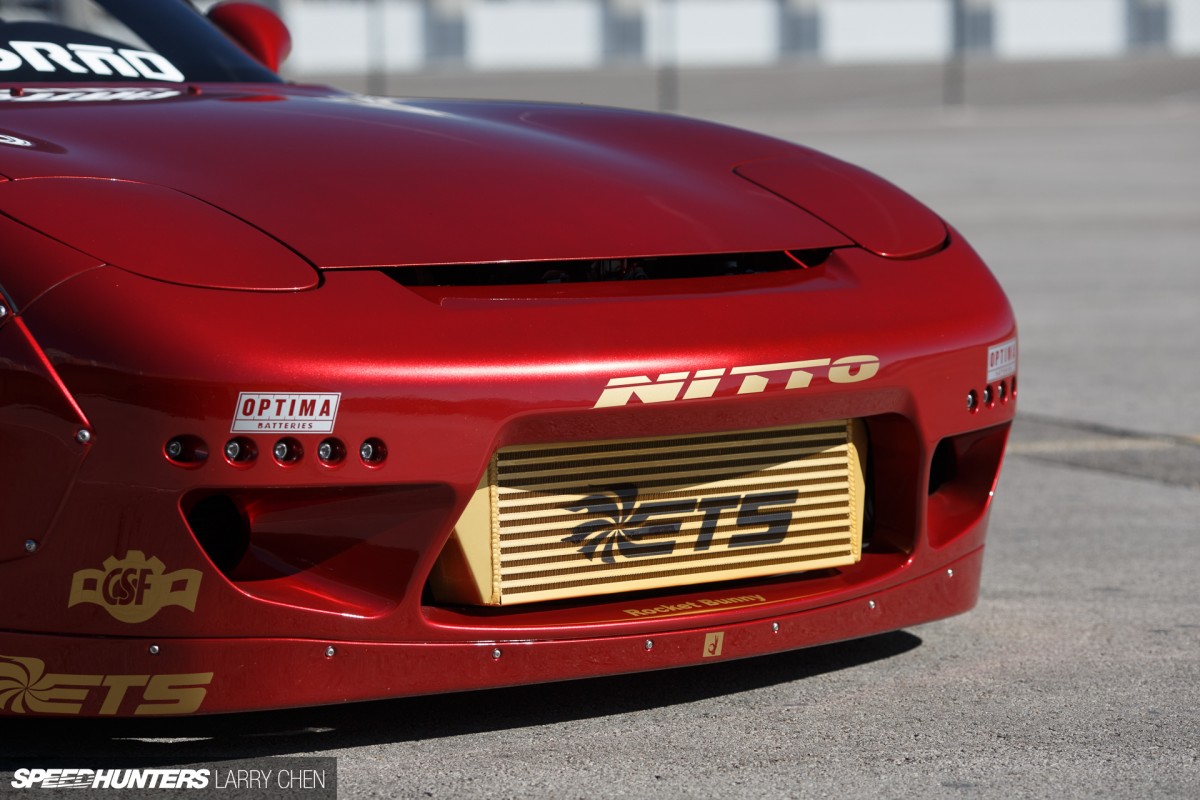 When it comes to power, things have been kept mild to this point. The rebuilt 13B has been street-ported and fitted with a balanced rotating assembly while the turbos come from an Efini-model RX-7 – as do the intake manifold and Y-pipe. Elsewhere there are upgrades like a full 3-inch Invidia exhaust, CSF radiator and an Extreme Turbo Systems intercooler with gold anodized piping.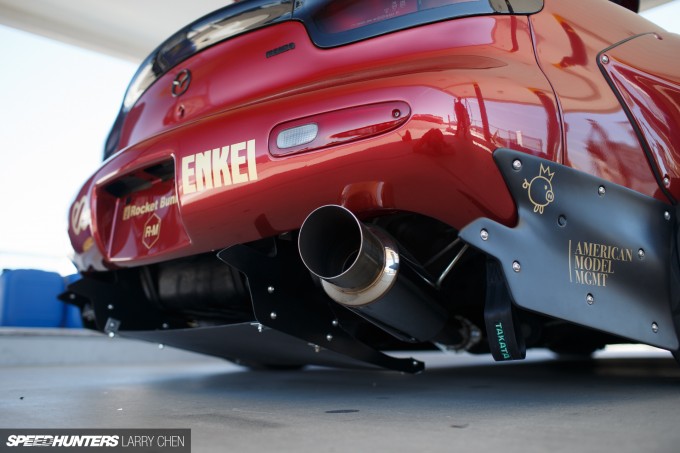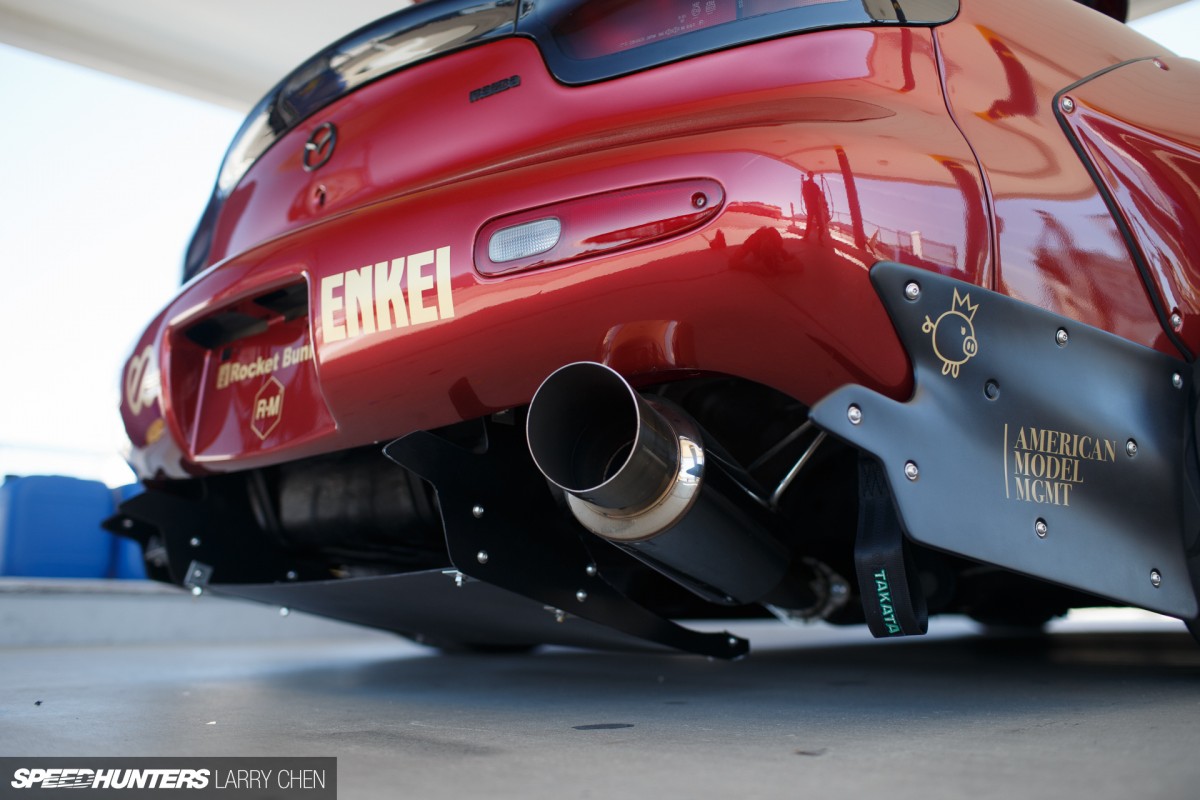 It seems, however, that the current setup is just temporary stop on the way to something more extreme. When asked what he has in store, all Jim says is "wait and see."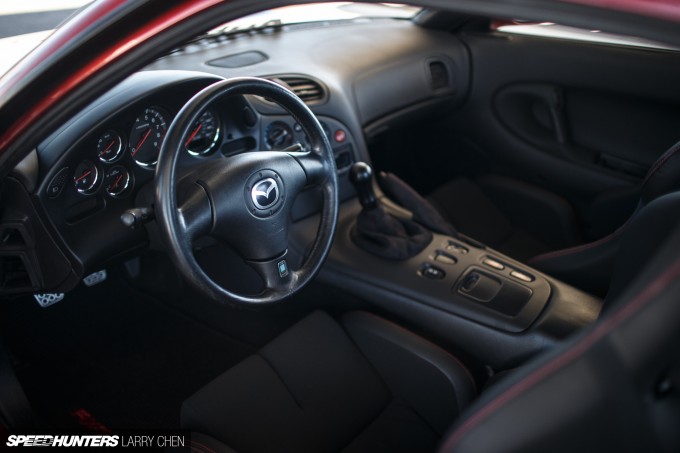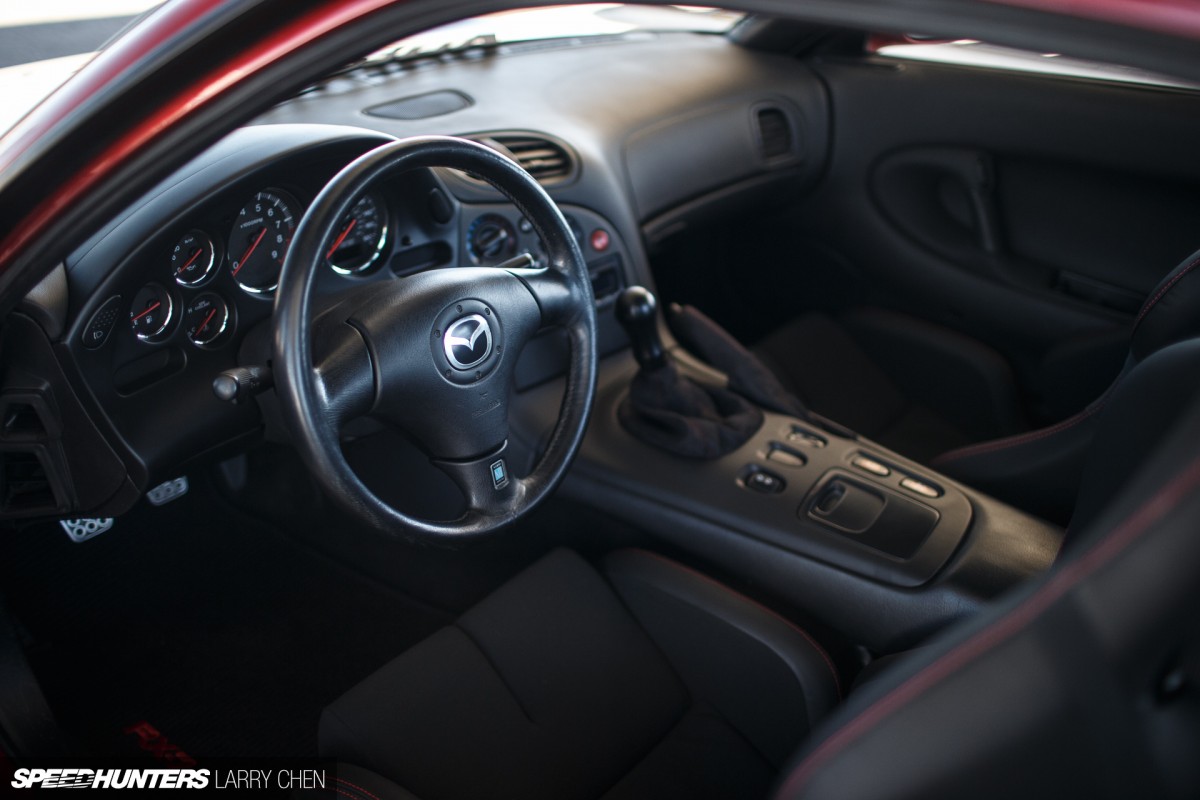 Inside, the cabin of the RX-7 has been kept subtle and street-friendly. All of the interior plastics have been replaced with new OEM Mazda parts and other little touches include custom Alcantara shift and handbrake boots.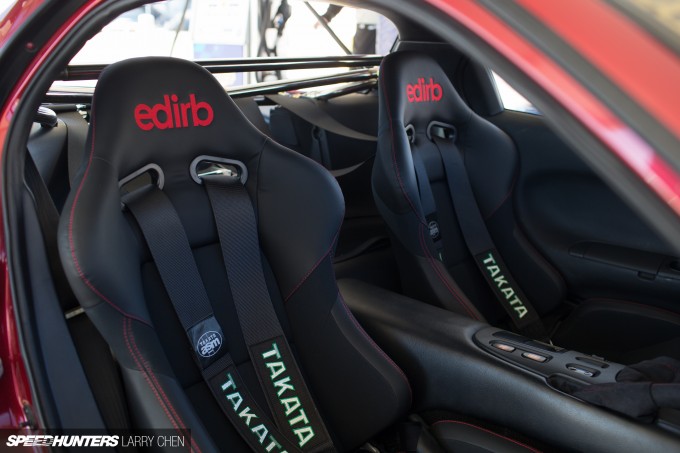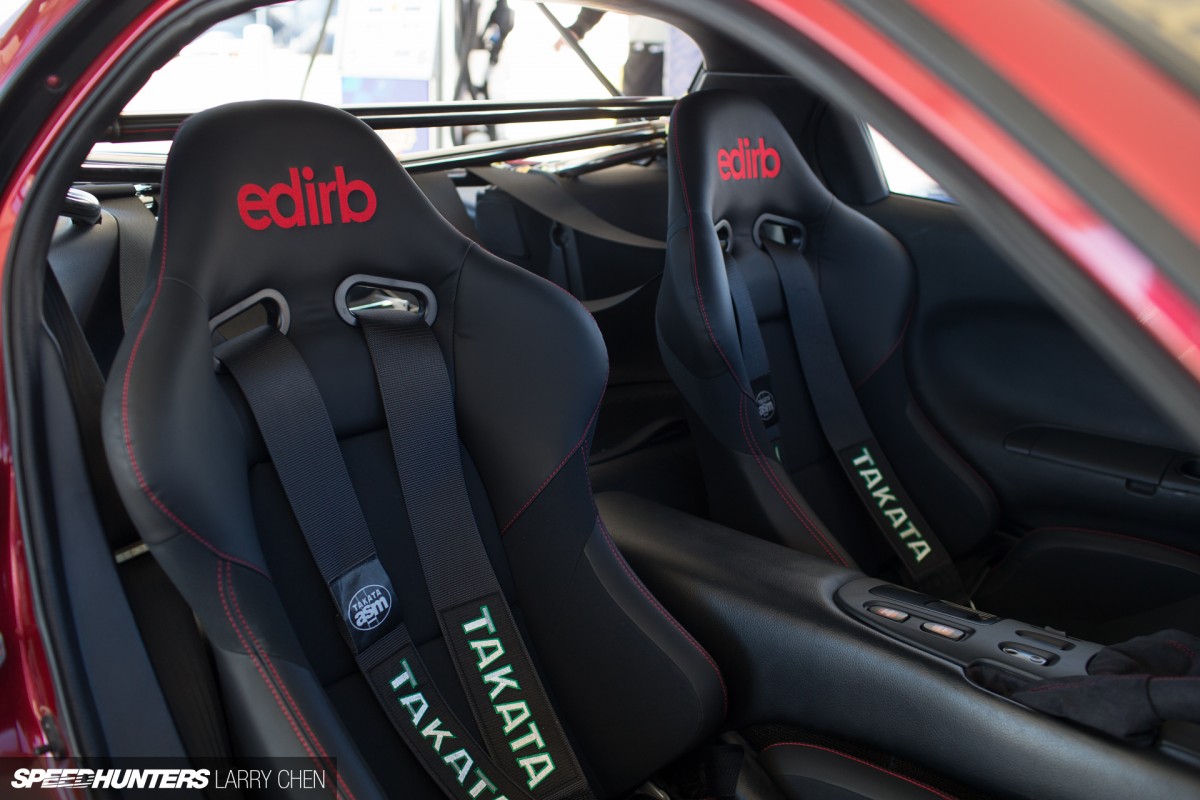 The most substantial change inside the car is the addition of edirb 023 carbon fiber bucket seats with Bride rails and Takata Drift III 4-point harnesses.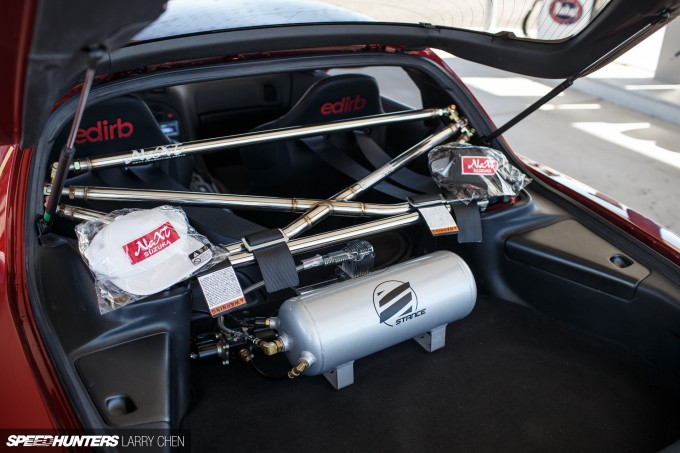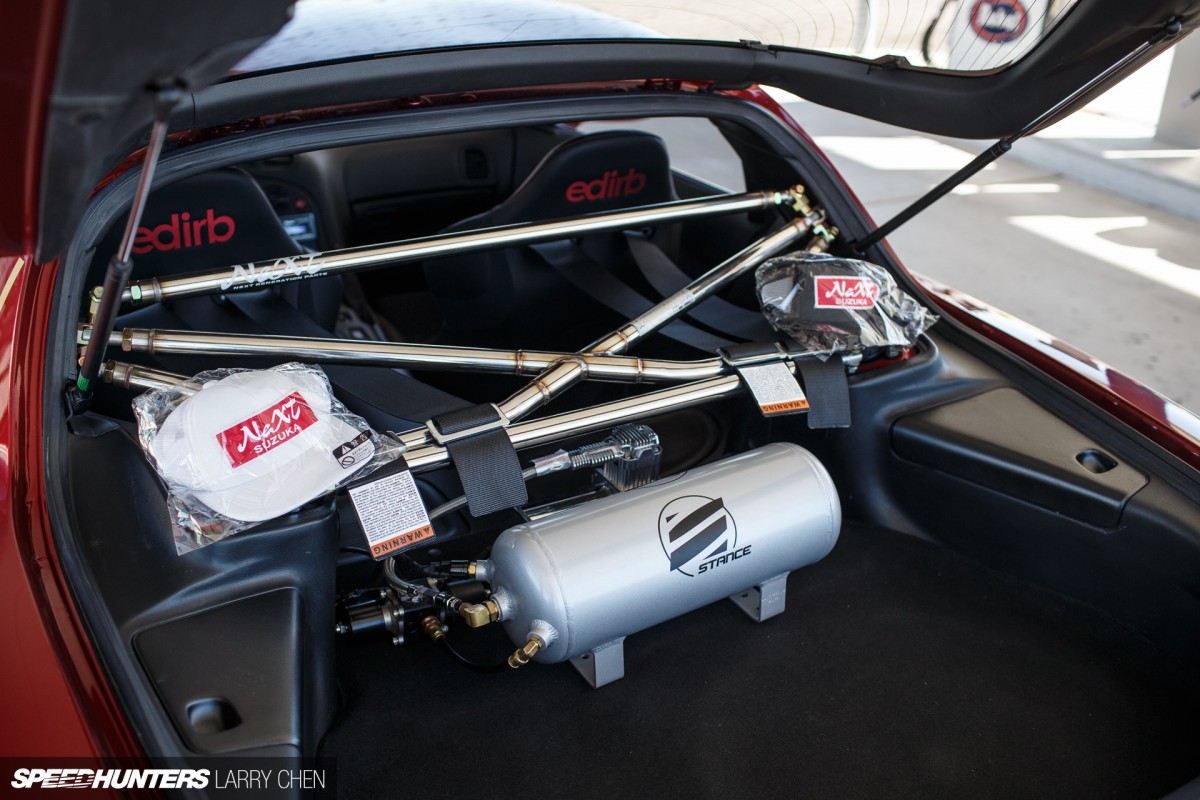 Elsewhere, you can see the aforementioned Miracle Cross Bracing and the tank for the Stance air cup kit mounted in the rear hatch area.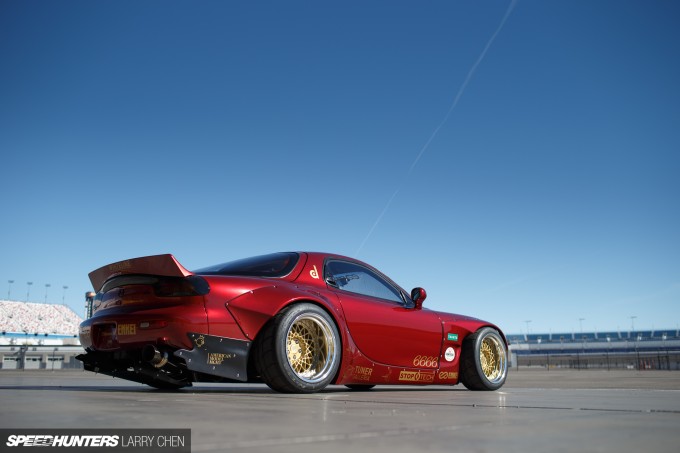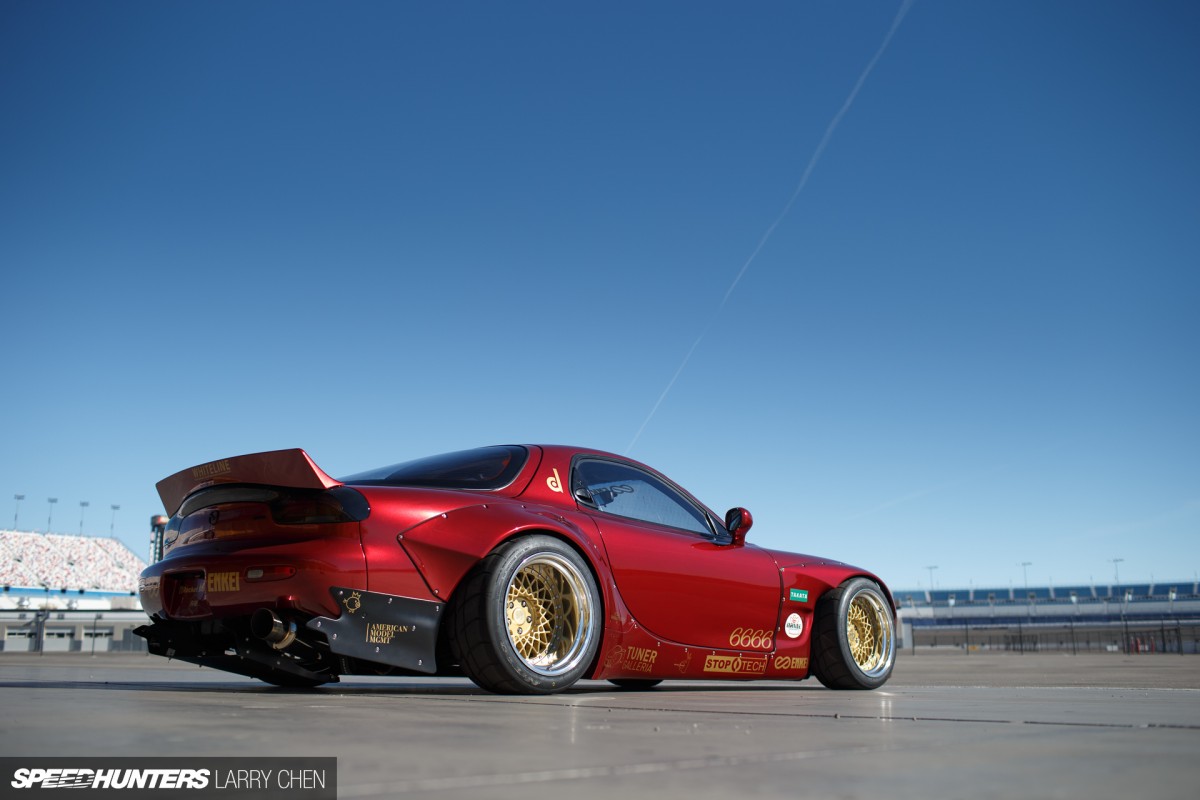 As for future plans, Jim is continuing to work with Stance and Auto RnD to dial-in the FD's suspension parts, and there's also that mysterious power upgrade he hinted at. Aside from that, Jim says he's already made plans with Miura-san for another Rocket Bunny build for the 2015 SEMA Show. Busy times ahead indeed.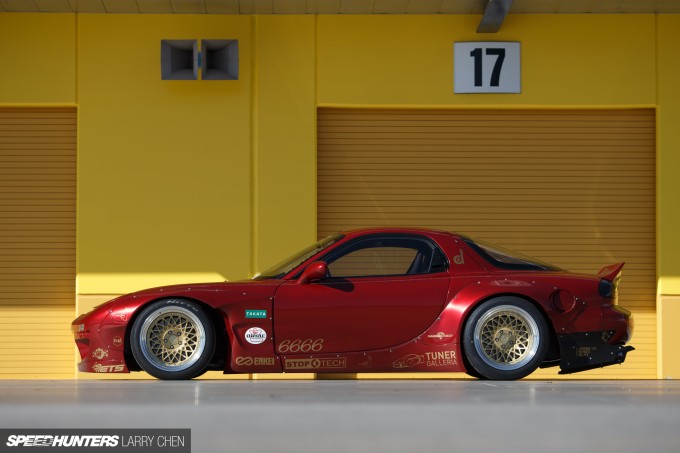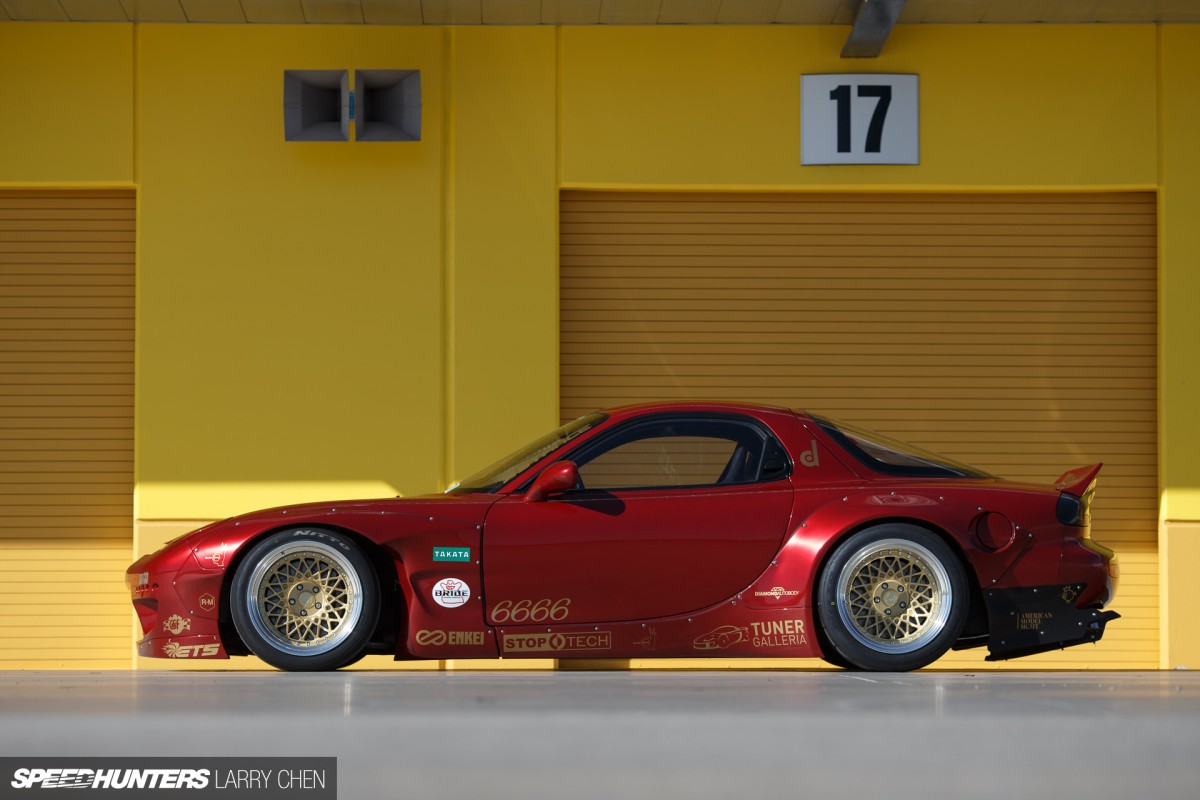 Cutting up factory bodywork and fitting a pile of aftermarket parts might not be the traditional thing people have done with their dream cars, but that desire to tweak and customize is really a quality that defines an entire group of Japanese performance car enthusiasts. To me there's certainly something cool about a group that sees a dream car as something you modify to your own taste rather than something you just buy and drive. Now, I just wonder if tastefully modified RX-7s will sell for as much as their mint, original counterparts at the 2040 Barrett-Jackson auction?
Mike Garrett
Instagram: speedhunters_mike
mike@speedhunters.com
Photos by Larry Chen
Instagram: larry_chen_foto
larry@speedhunters.com
Jim Pan's Tuner Galleria/Rocket Bunny 1993 Mazda RX-7 R1
Engine
Mazda 13B street ported/polished with balanced rotating assembly, Efini twin turbos, Efini Y-pipe, Efini upper intake manifold, Efini lower intake manifold, Bonez 3-inch stainless downpipe, Bonez 3-inch stainless performance catalytic converter, Invidia exhaust system, Denso Supra fuel pump, CSF Performance radiator, CSF Performance radiator cap, Extreme Turbo Systems front mount intercooler with piping gold anodized, Pettit Racing TKT cold air intake, Pettit Racing 180-degree thermostat, Pettit Racing 185-degree fan switch, Magnecor spark plug wires, Garfinkle oil pan brace, Optima battery
Driveline
Factory FD3S 5-speed gearbox, OS Giken STR twin-plate clutch with flywheel, rear counterweight, C's Racing Short Shifter
Suspension/Brakes
Stance prototype monotube aluminum coilovers with external reservoirs, air cup kit, Whiteline rear control arm lower inner & upper outer bushings, Whiteline rear differential bushings, Whiteline rear toe arm inner bushings, GReddy front strut brace, Mazdaspeed Power Plant Frame, Racing Beat front swaybar mount brace, Next Complete Miracle Cross X Brace, Next Miracle upper/lower parallel bar, Next Miracle Butterfly bars, StopTech Trophy 332x32mm 2-piece rotors & 4-piston calipers (front), 328x28mm 2-piece rotors & 4-piston calipers, stainless steel brake lines, Auto RnD hydraulic E-brake
Wheels/Tires
6666 Mesh wheels by Enkei 17×9.5-inch -30 (front) 17×10.5-inch -80 (rear), Nitto NT01 tires 235/40R17 (front) 255/40R17 (rear)
Exterior
Rocket Bunny wide body kit, Rocket Bunny rear diffuser, Rocket Bunny LED turn signals, Diamond Autobody shaved side markers/antenna/R1 rear spoiler holes, BASF/RM Pearl Red Paint, Takata tow strap, Armored Down Studio gold vinyl decals
Interior
New Mazda OEM interior plastics, Alcantara shift and E-brake boot, Delrin shift knob, edirb 023 carbon fiber seats, Bride seat rails, Takata Drift III 4-point harnesses, custom Berber floor mats
Cutting Room Floor