Modern Classic
It's been nearly 13 years since the last Supra rolled off Toyota's assembly line. Think about that for a moment – 13 years. There are middle school students out there who were born after Toyota stopped producing the Supra. My apologies if that makes you feel old.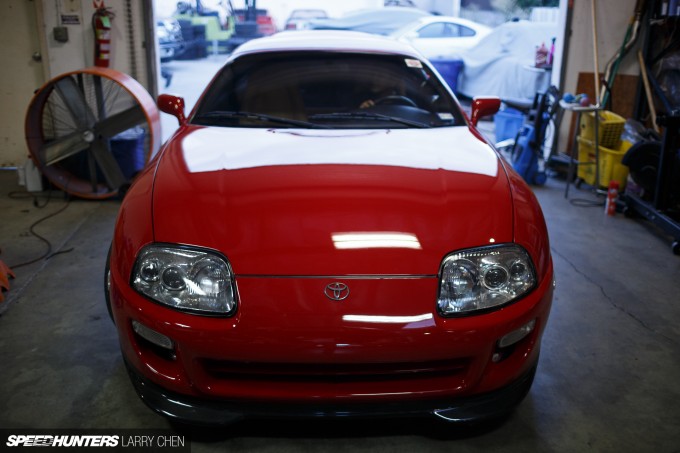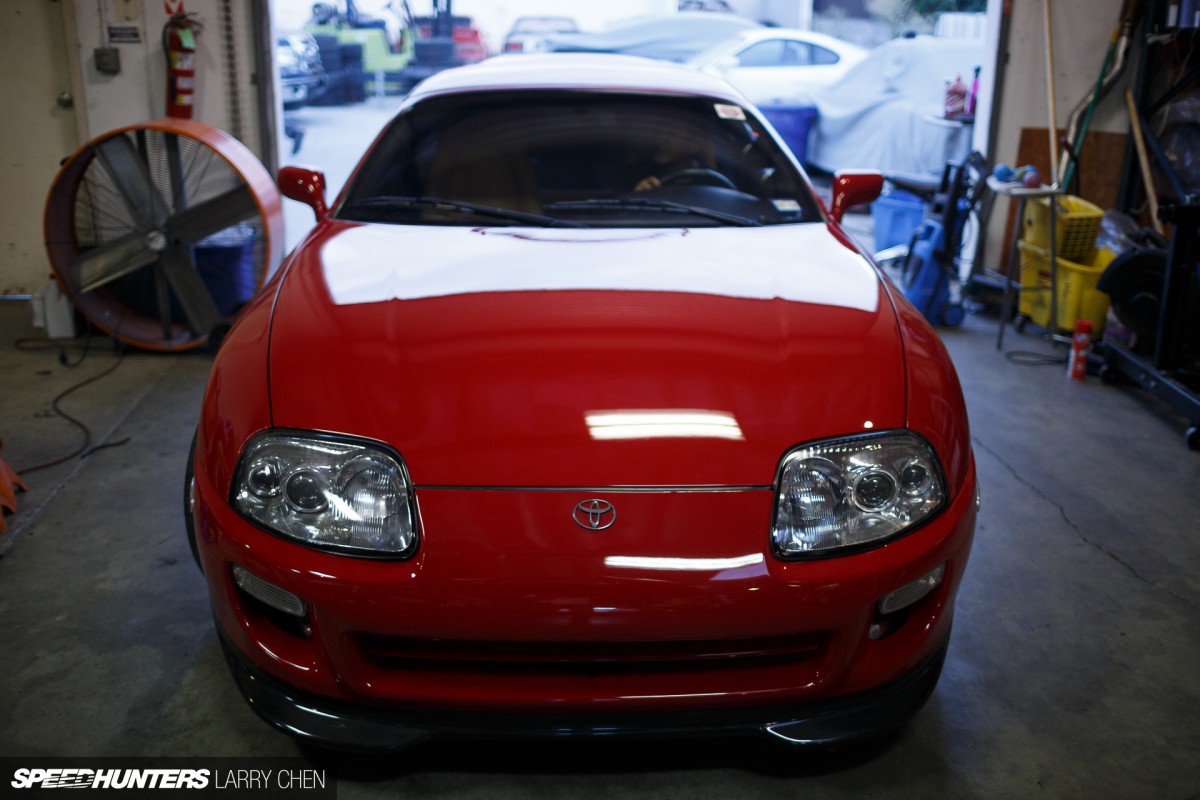 But besides reminding us how old we're getting, the thought of the Supra being gone for so long only helps us understand just how beloved these cars are.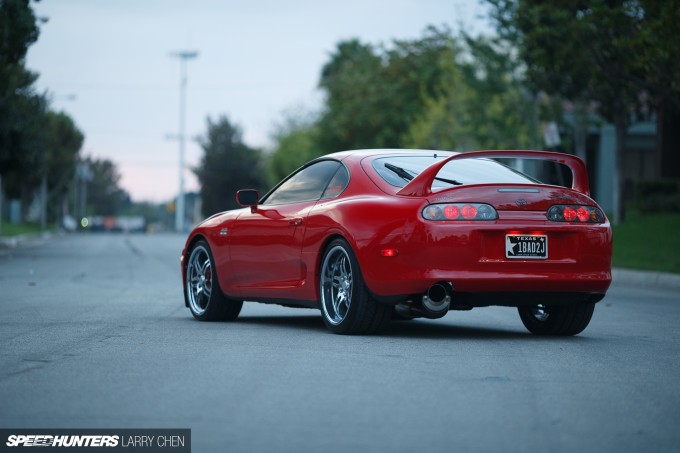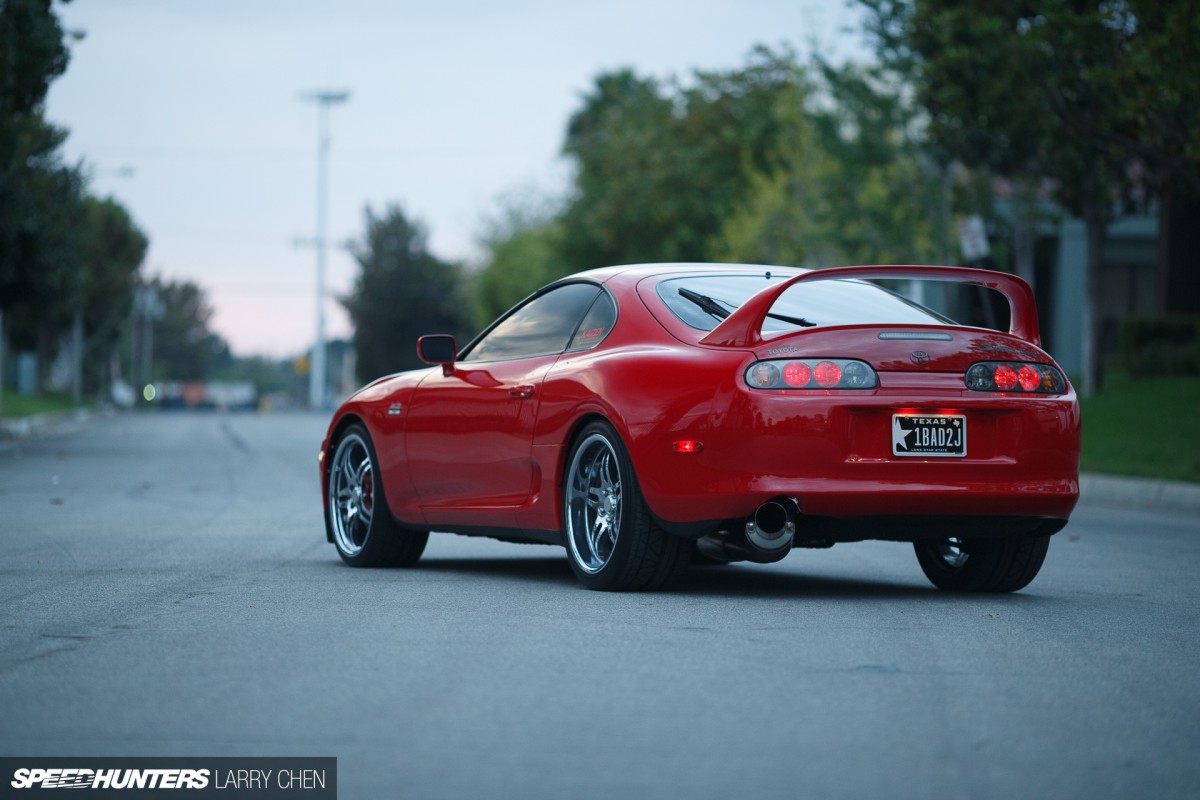 Despite their age, it still costs a pretty penny to buy a decent JZA80 Supra, and while its factory performance was amazing for the time, many of today's cars easily better its numbers. But none of that seems to matter. The fourth generation Supra has already secured its status as an icon for an entire generation of automotive enthusiasts who grew up playing video games and dreaming of overnight parts from Japan.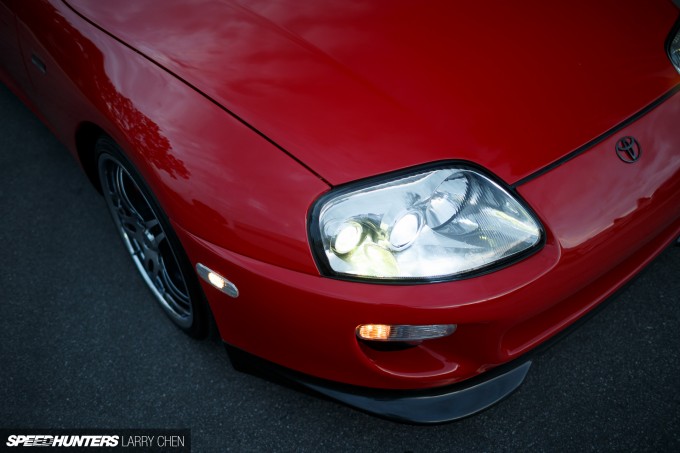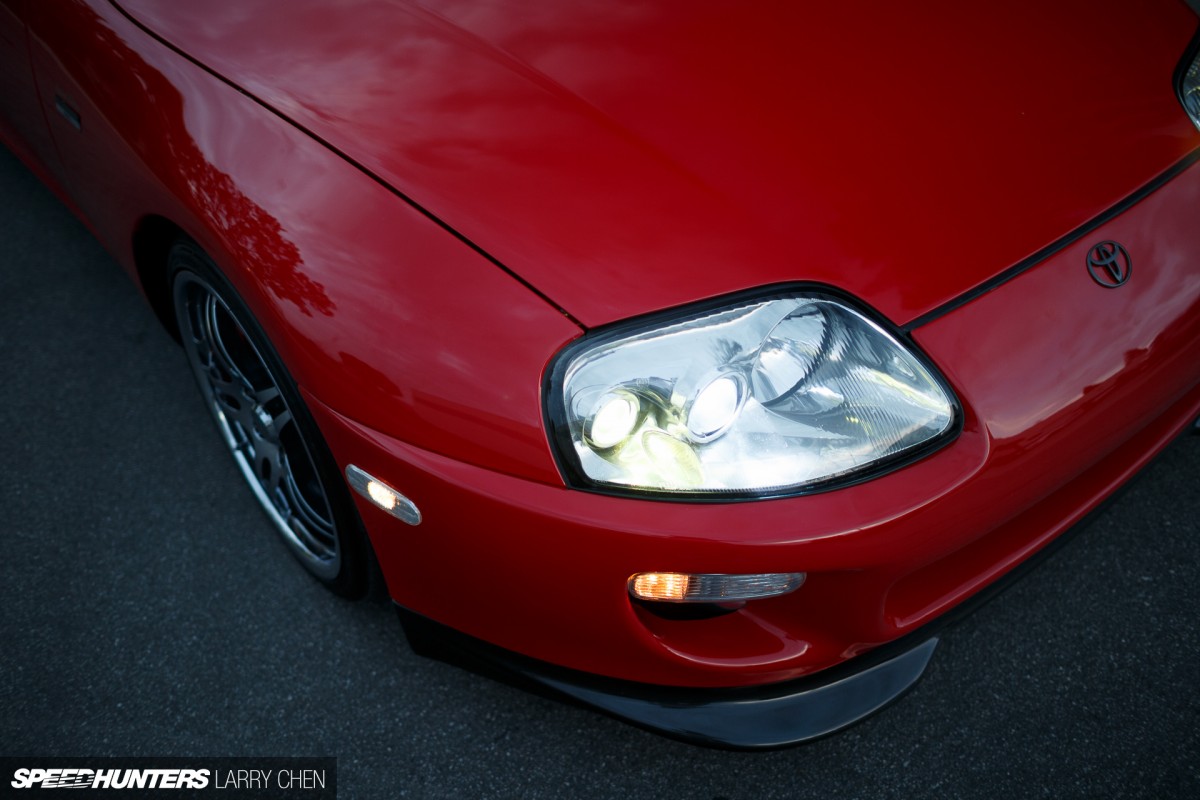 And despite the demand that exists for these cars, it's not like Supra owners are babying their cars, keeping them stock and waiting the day when they can sell them at auction for big profits. Not even close. It's been two decades since the MkIV Supra debuted, and builders are still pushing the limits, discovering new things and building upon the JZA80's rock solid foundation.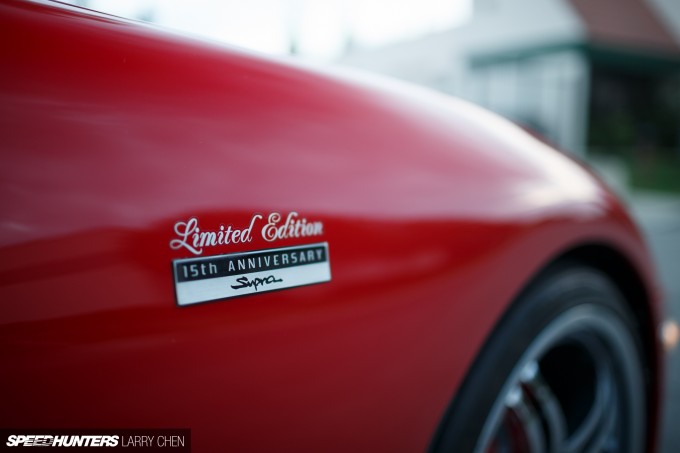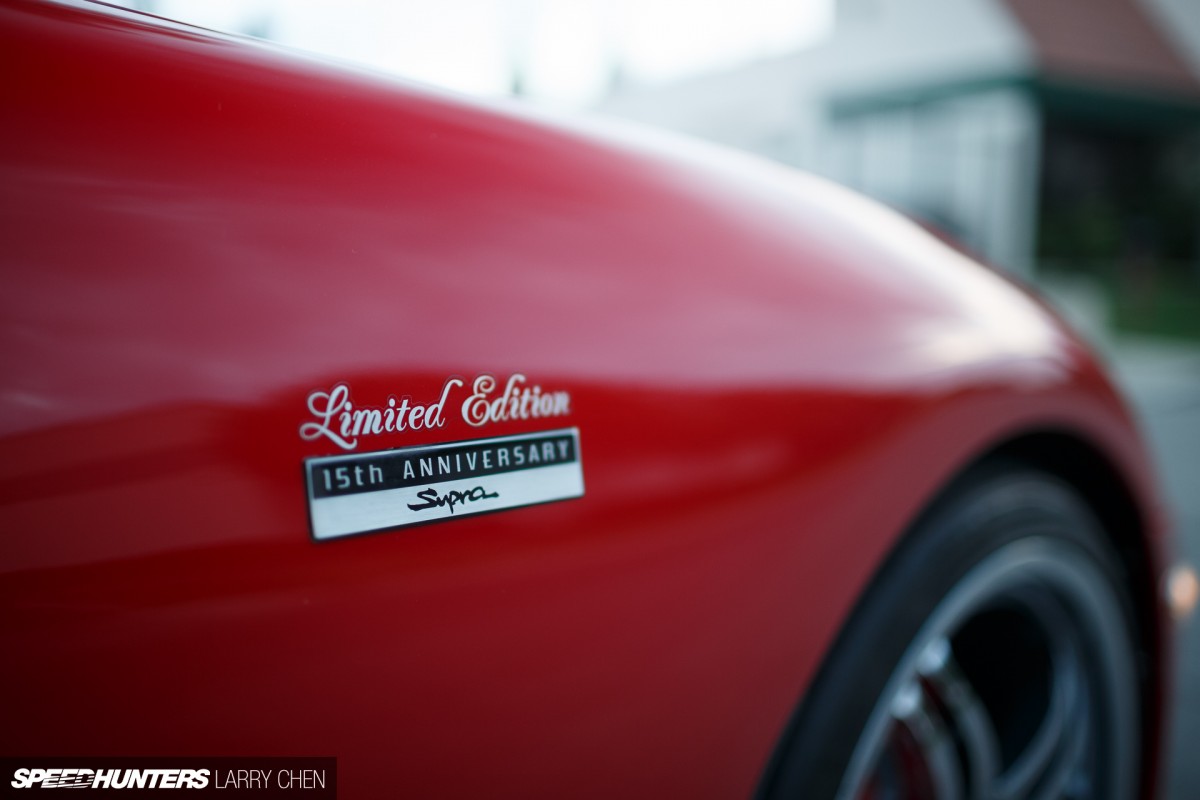 It was back in 2006 when Brent Huckaby purchased this particular 1997 Toyota Supra. Prior to this Brent had completed a couple of Mitsubishi 4G63 builds, and he was originally planning on getting an Eclipse GSX to continue the tradition. But the fourth gen Supra had always been his ultimate dream car. Brent thought, 'why not go for it?' and set out on the hunt for a Supra.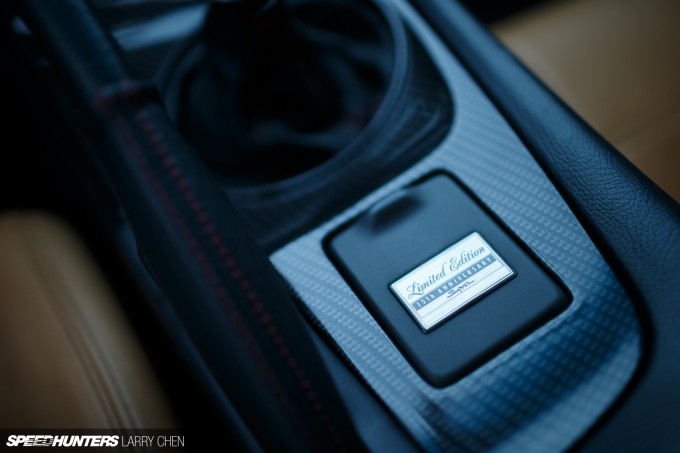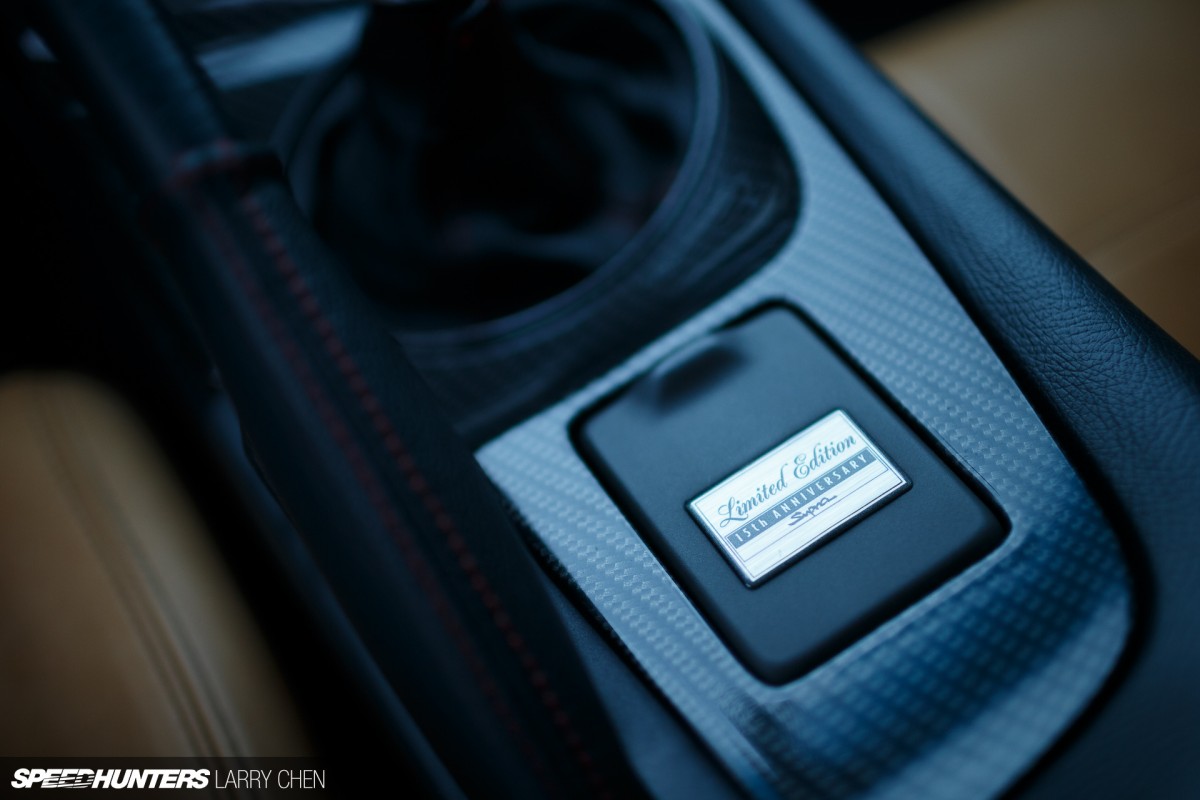 He test drove nearly a dozen different candidates, encountering many cars that were overpriced, beaten up or often both. Finally, Brent came across a Renaissance Red example with a tan interior and pulled the trigger. The car wasn't perfect, but it would serve as the ideal platform to start building upon.
Build, Then Rebuild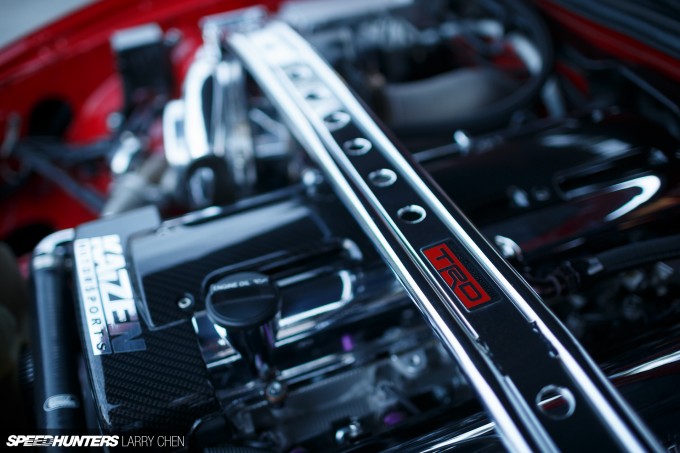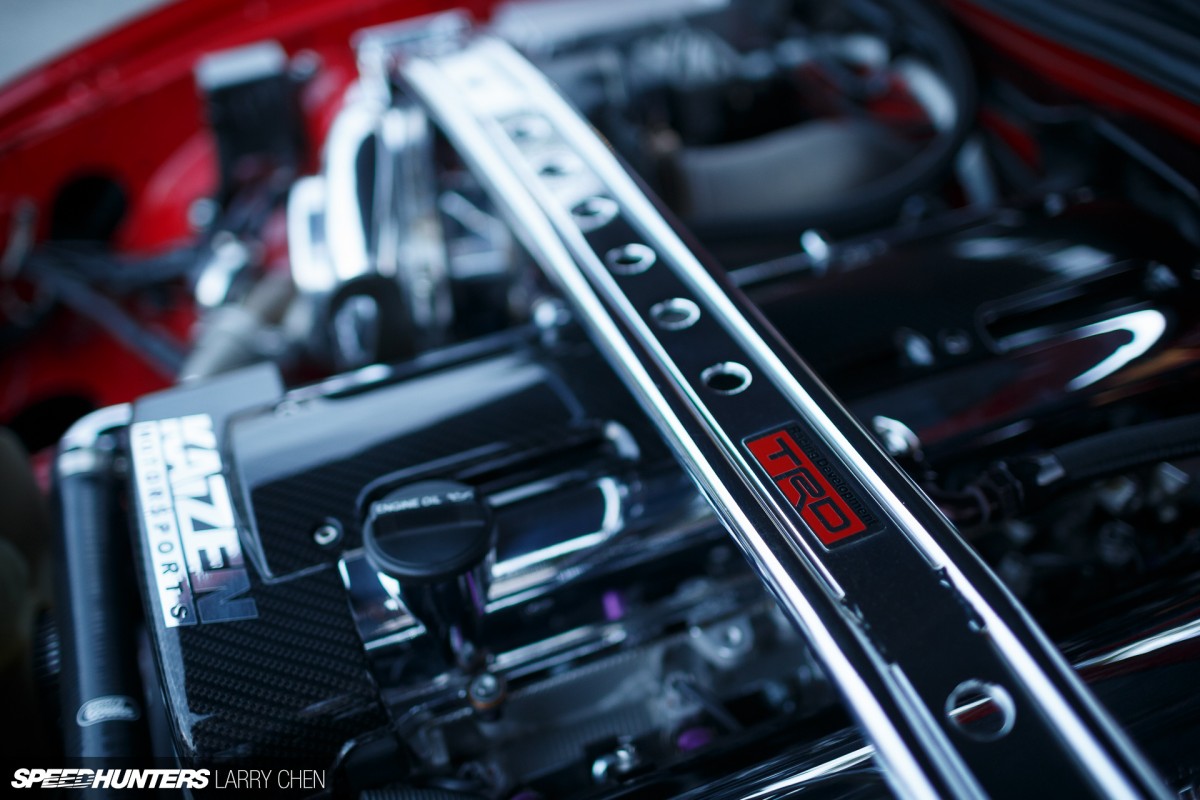 Thus began a long journey of adventures with the Supra – building, racing, breaking parts and rebuilding again. It started when one of the factory twin turbochargers developed issues and this led Brent to do what many Supra owners do – remove the factory twins in favor of a single turbo setup. By 2007 the car was putting down over 500 horsepower to the ground, and by 2009 that number had climbed past the 750hp mark. It was at this point that a rod bearing failure lead Brent to completely rebuild the motor using a brand new long block with heavily strengthened rods and bearings.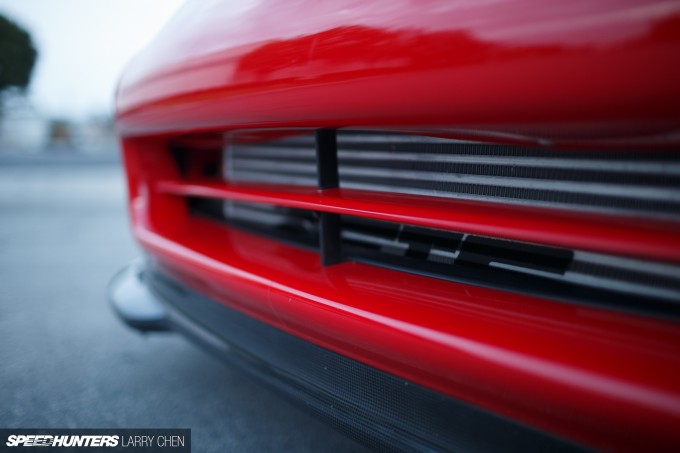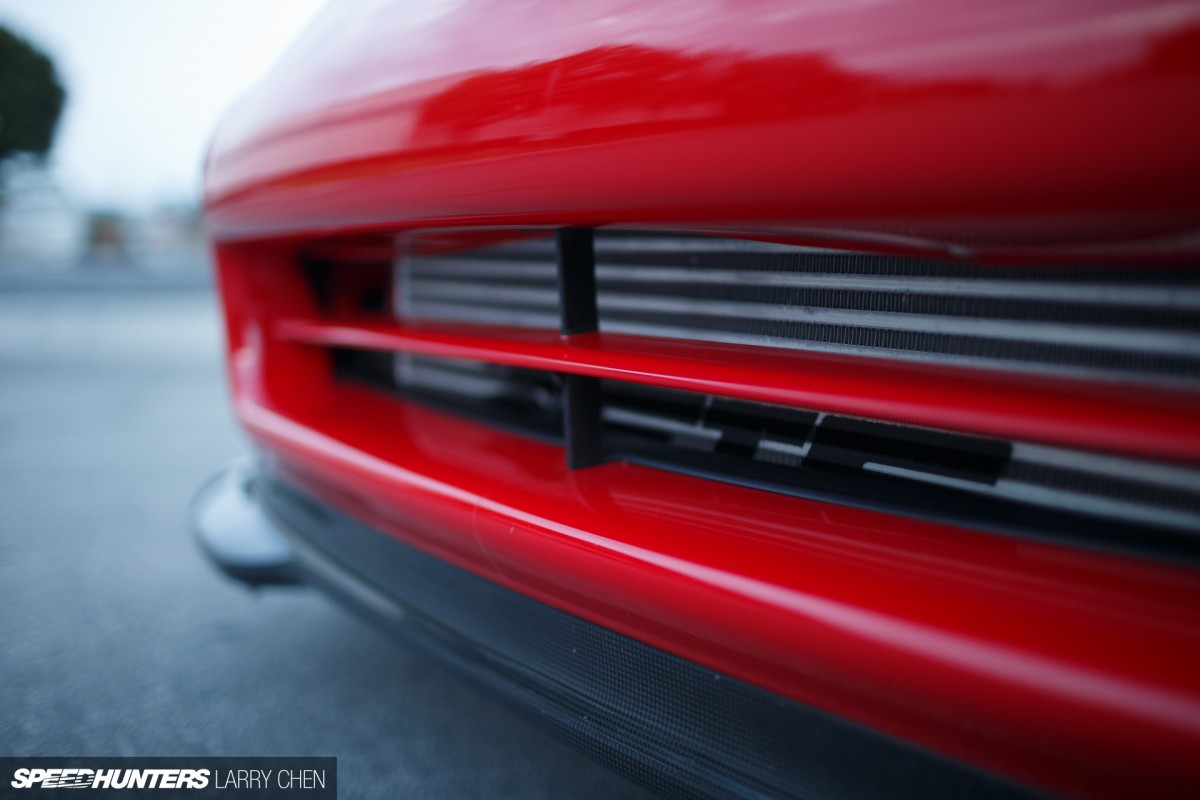 In 2010, with just 1,200 miles on the new motor, Brent was making a 1/4 mile pass at Las Vegas Motor Speedway when the car developed a misfire. It was at this time that he linked up with Jose Valle of Kaizen Motorsports.  Jose not only diagnosed the misfire, but he worked up a game plan to rid the Supra of its durability issues. Brent liked what he saw from Jose, so he decided that Kaizen Motorsports would be the perfect partner to help take the car to the next level.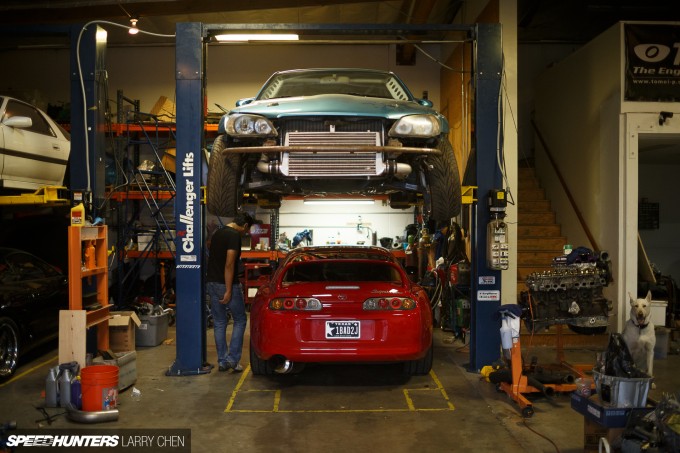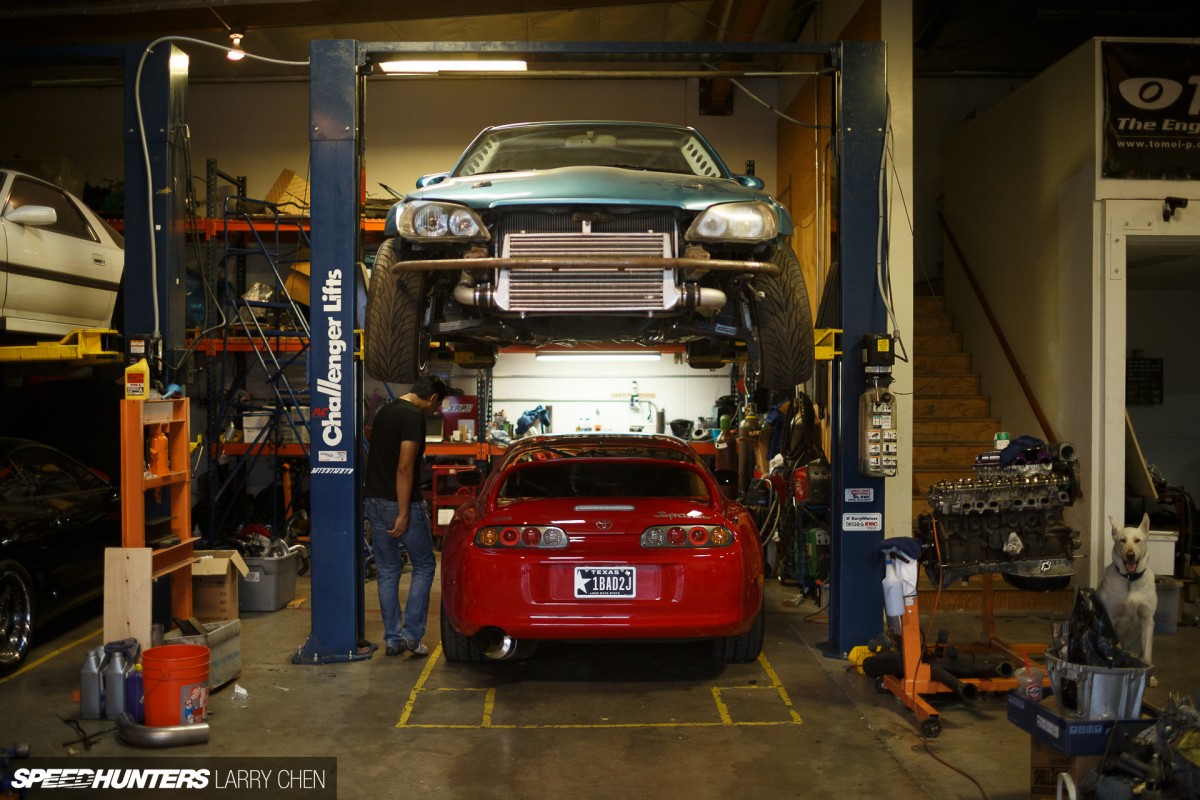 The first thing that Jose did once the car was in the Kaizen garage was dismantle the engine to see what was up. Unfortunately they discovered that two of the main bearings were mismatched. This would require a lot of work to fix, but it also meant that Jose and Brent could start developing a more reliable, more powerful engine setup.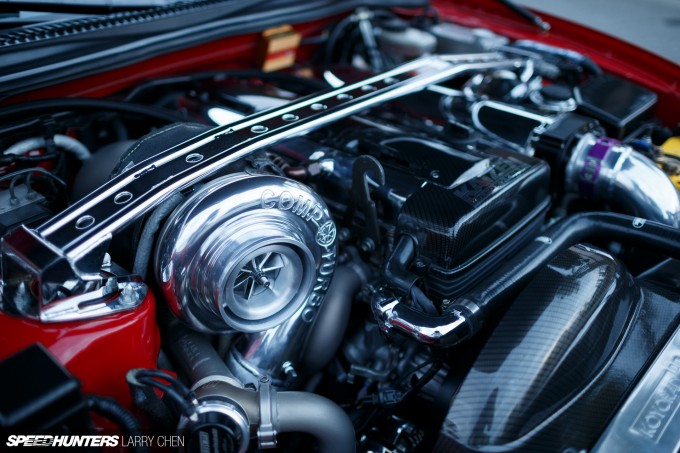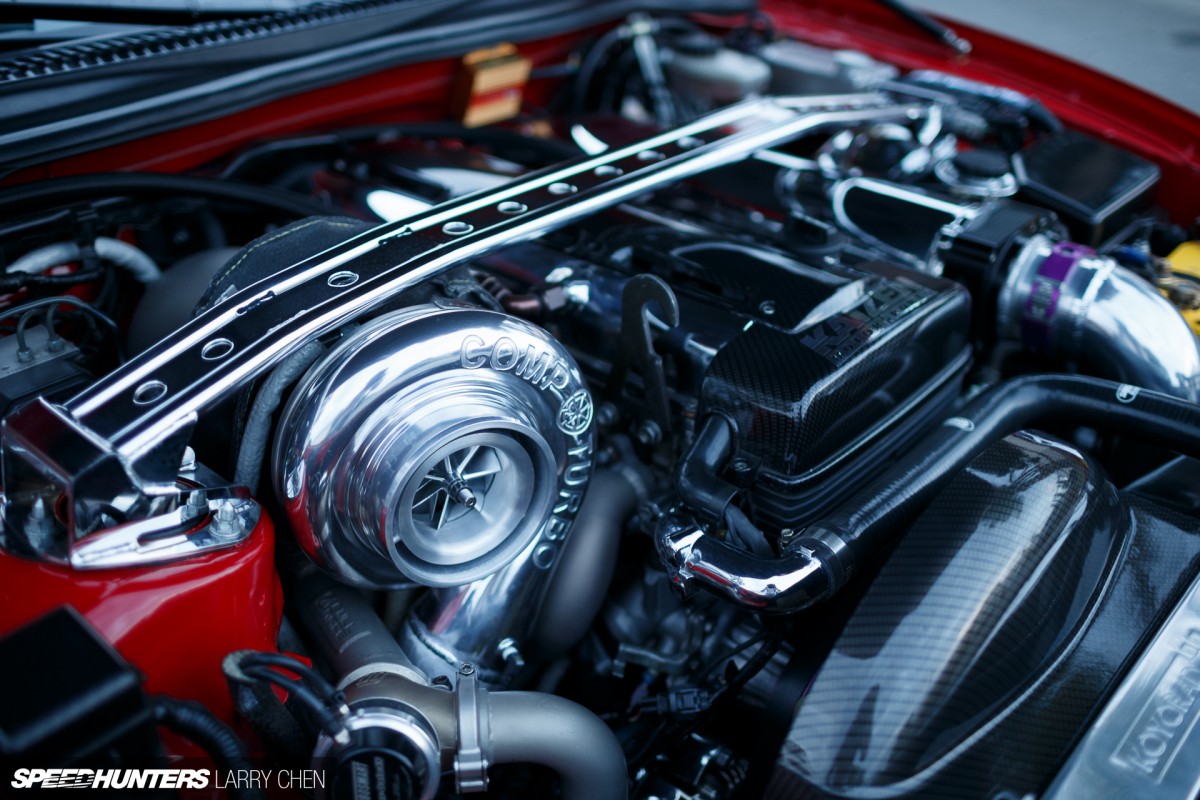 With ambitious goals, the guys started scheming up the next iteration of the Supra's powerplant. Jose had good experiences with Comp Turbo, so they selected one of the company's turbochargers along with an AEM engine management system. With these parts the car was quickly at the 860rwhp mark.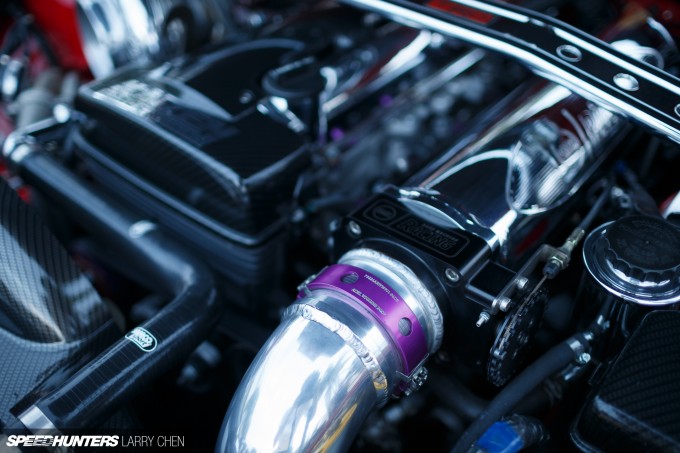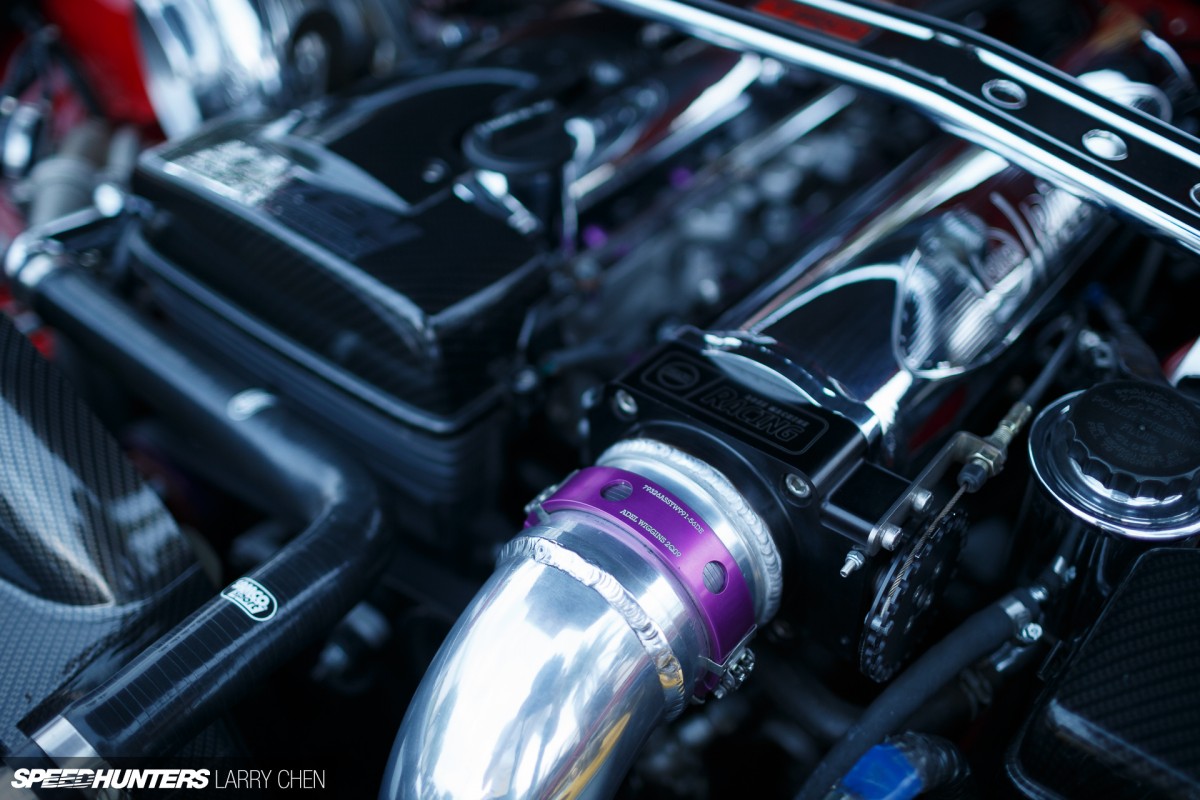 In 2013, they swapped over to AEM's new Infinity system, which could be dialed in to work properly with the car's E85 injection. Brent also liked the system's ability to protect the engine if something went wrong. Blowing the motor was not something he wanted to experience again.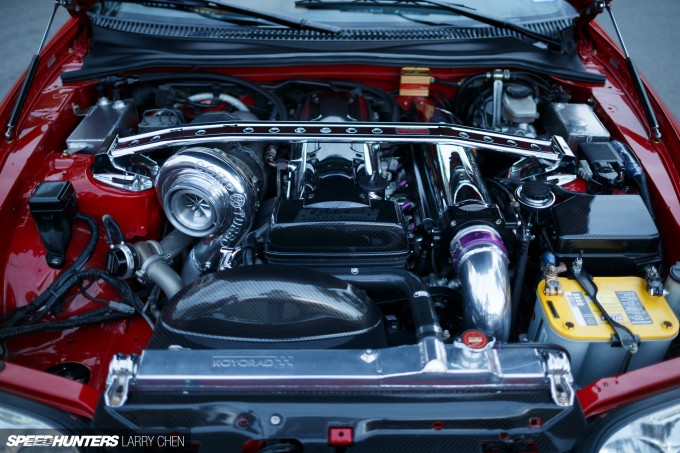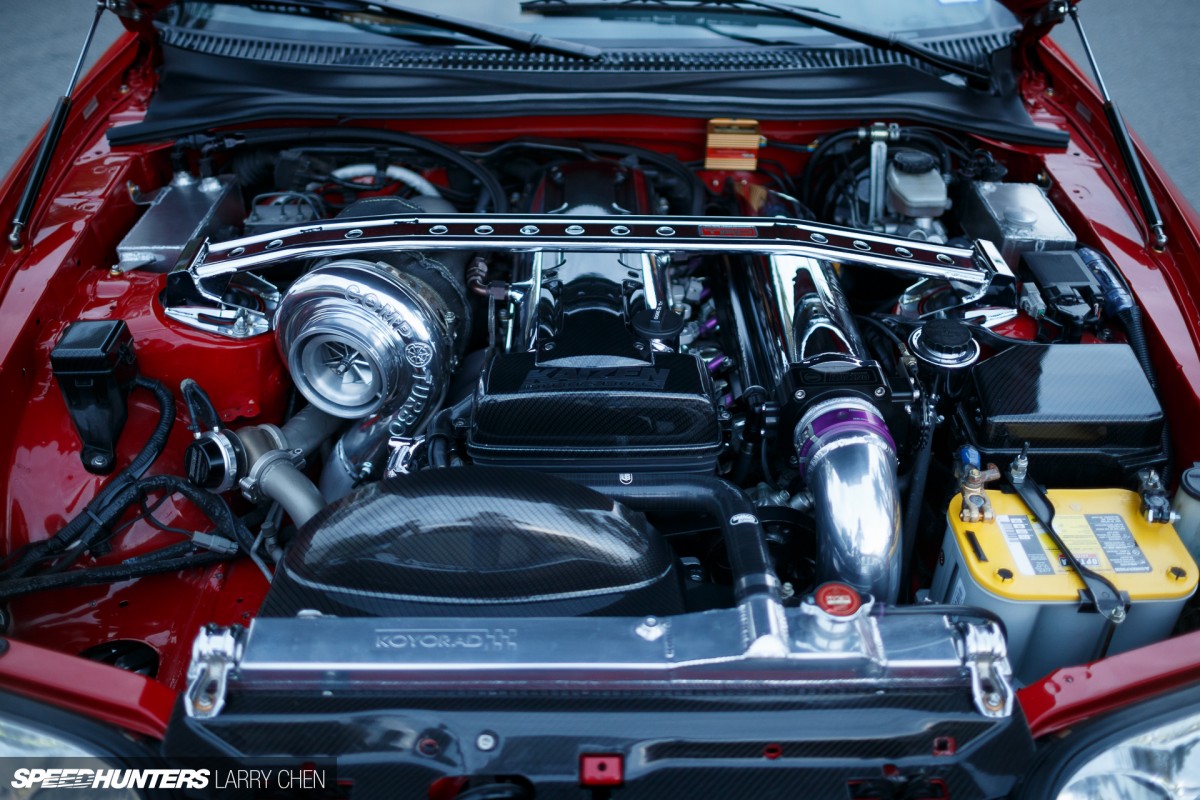 Even in the time since Larry shot these images, Brent and Jose have continued developing the car. For years Jose had been trying to sell Brent on the idea of running a VVTi head, despite myths that they couldn't be used in high horsepower builds. But after fitting a brand new, fully built VVT-i head and a newly designed Comp Turbo CTX5-7483 T4 turbine, the Supra recently put down 948 horsepower and 760 pound feet of torque. Better yet, drivability and fuel economy was also improved, and Brent did 21 miles to the gallon while driving to last year's Supras Invade Las Vegas event.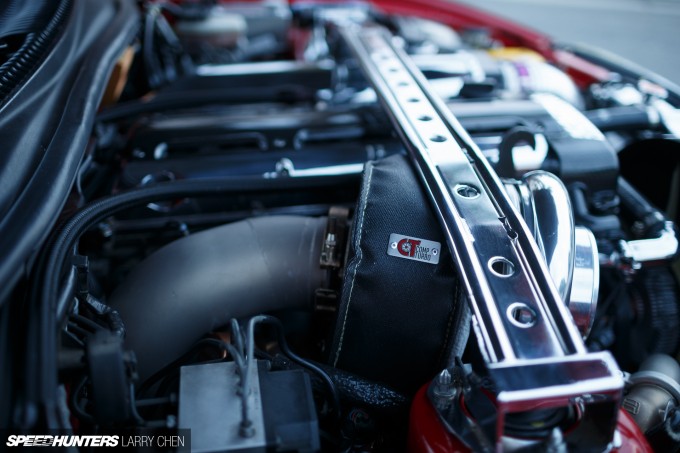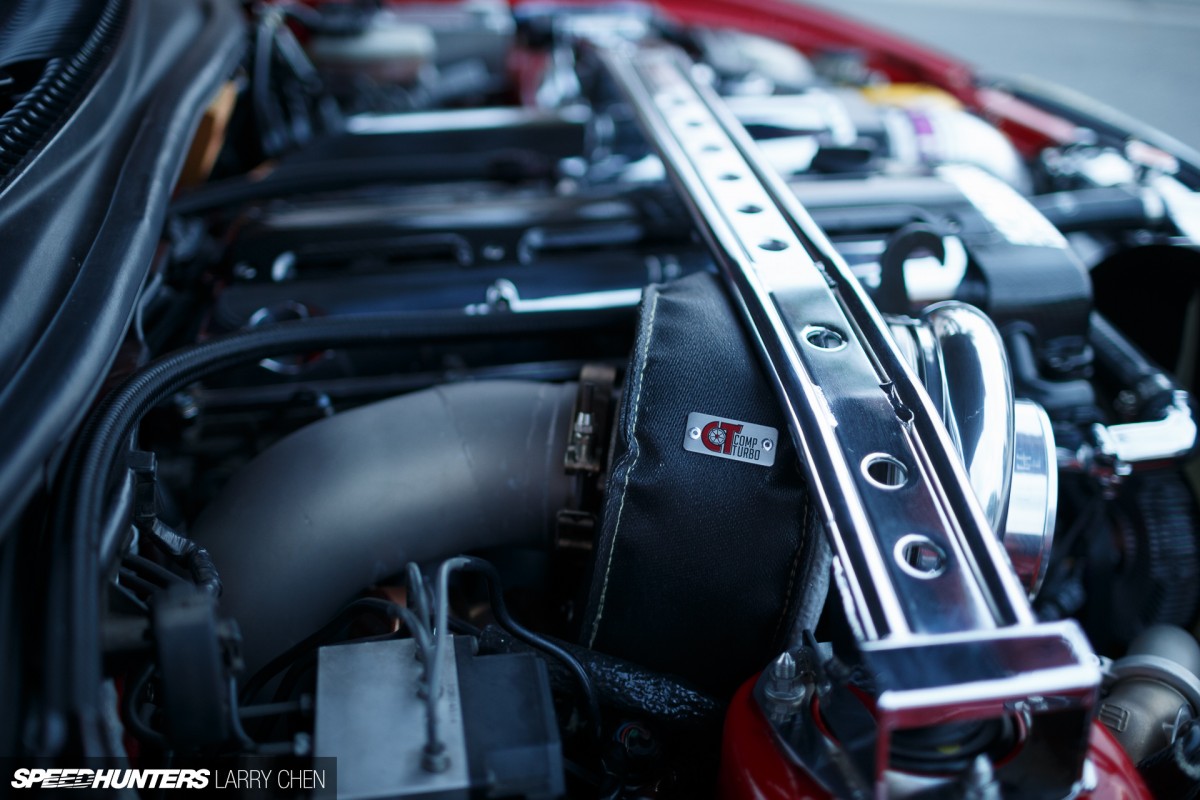 And the work isn't over yet. More upgrades are planned for 2015, including stronger brakes for mile and 1/2 mile competitions, along with another increase in power. Brent tells me the goal for this year is for near-on 1,200hp horsepower to the back wheels.
Footwork & Bodywork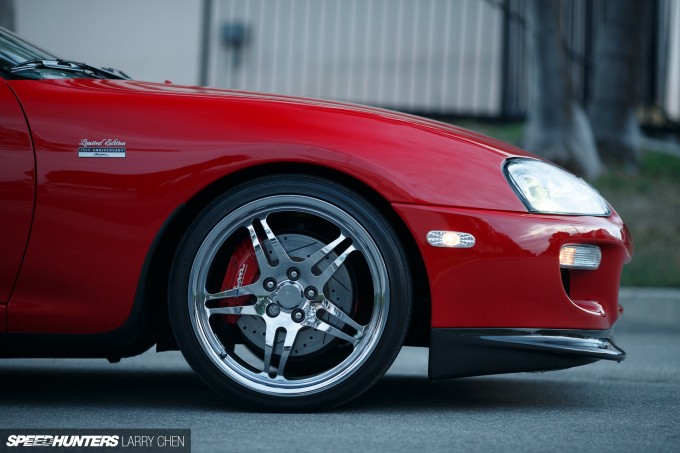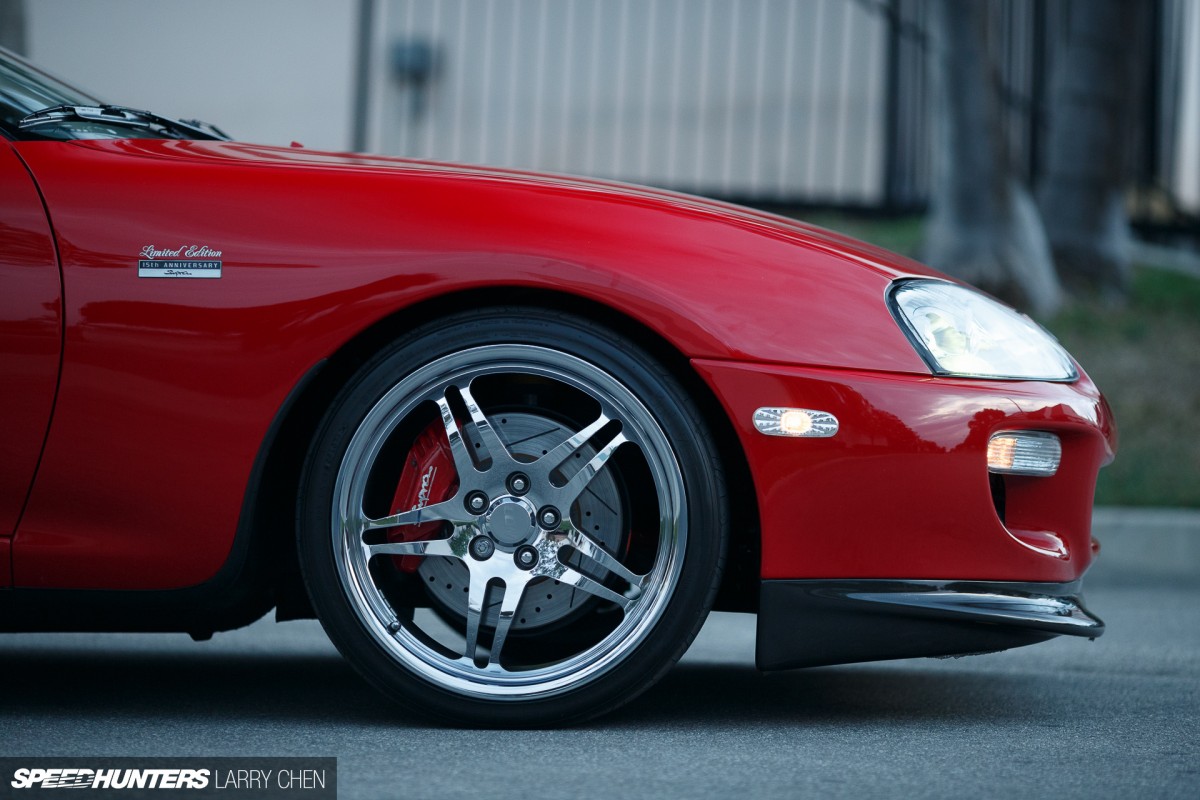 Aside from the constantly evolving engine setup, the Supra has been fitted with a number of other upgrades over the years. The drivetrain, for example, has been beefed up with an OS Giken clutch and a TRD 1.5-way LSD. Suspension-wise, KW V3 coilovers help improve both handling and ride quality on the street.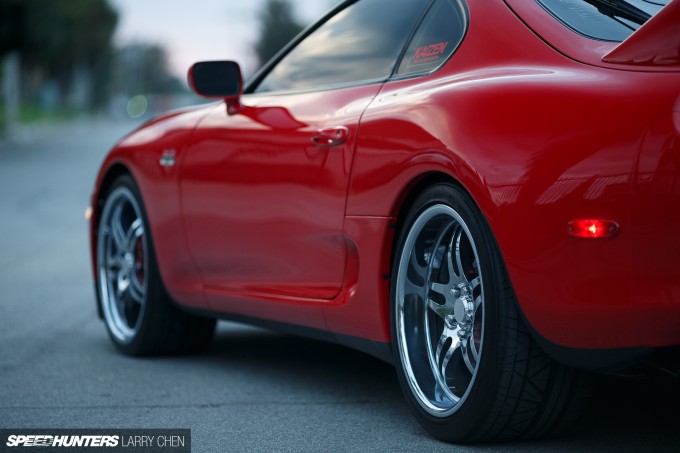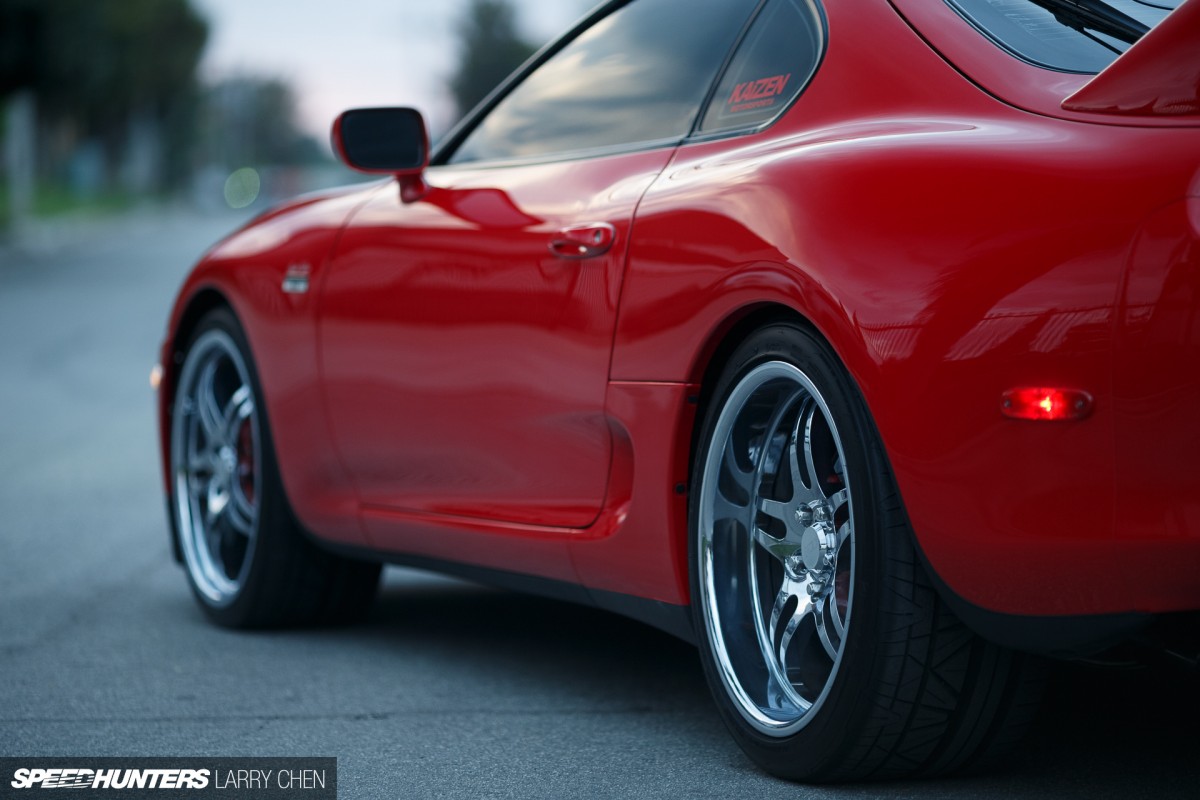 The wheels are custom-built CCW 505As measuring 19×9.5-inch up front and 19×11.5-inch in the rear. Tires are Nitto INVOs, 265/30R19 in the front and 315/30R19 out back. No slam and stretch here.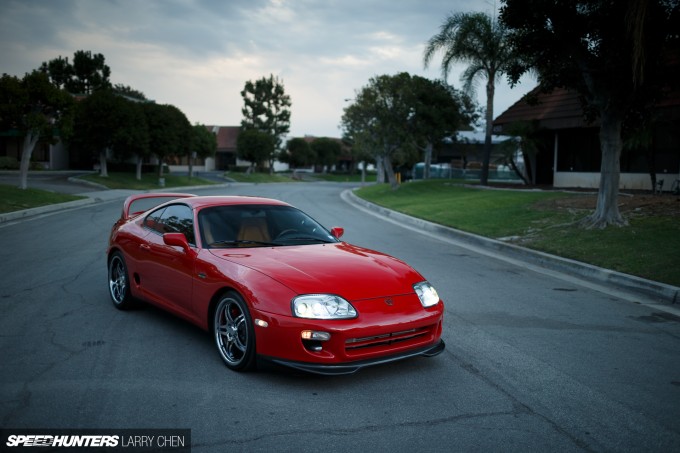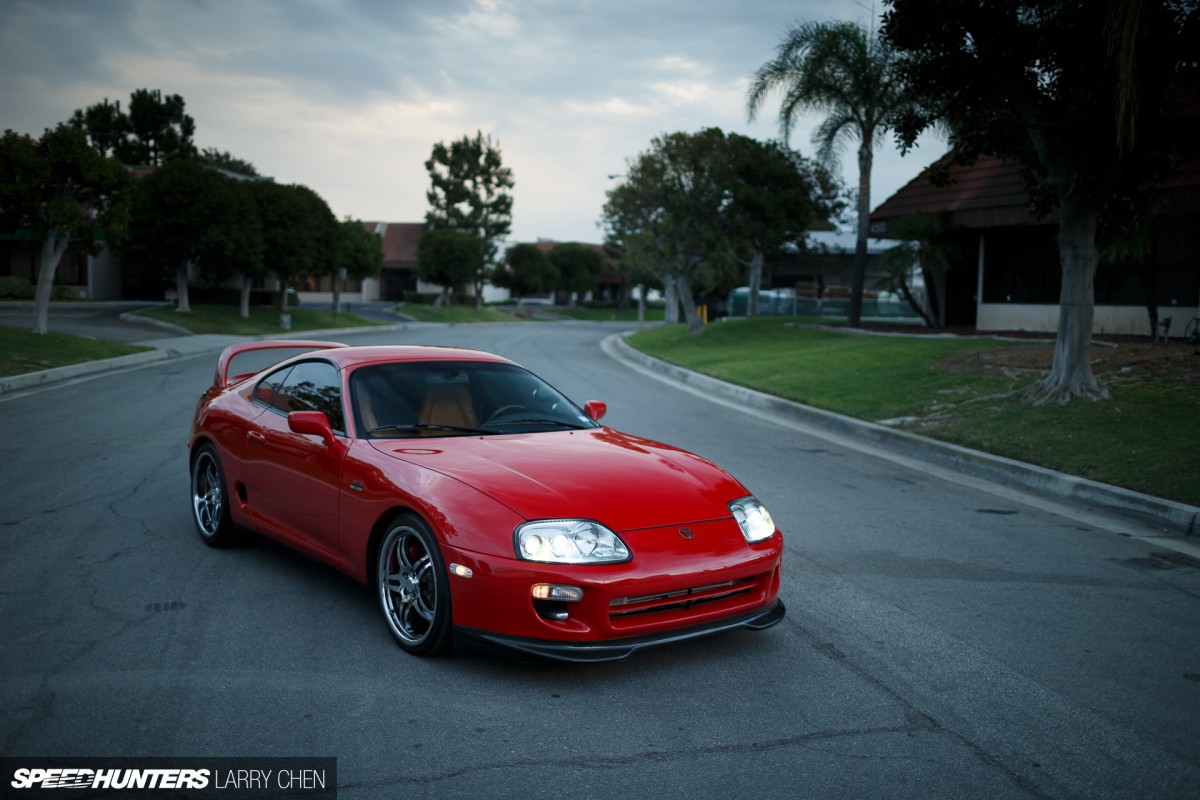 As for the body, it's essentially been left stock. The car was, however, stripped down to bare metal and treated to a House of Kolor three-stage red paint job with a white basecoat. The only aftermarket addition to the exterior is a Titek carbon fiber lip up front.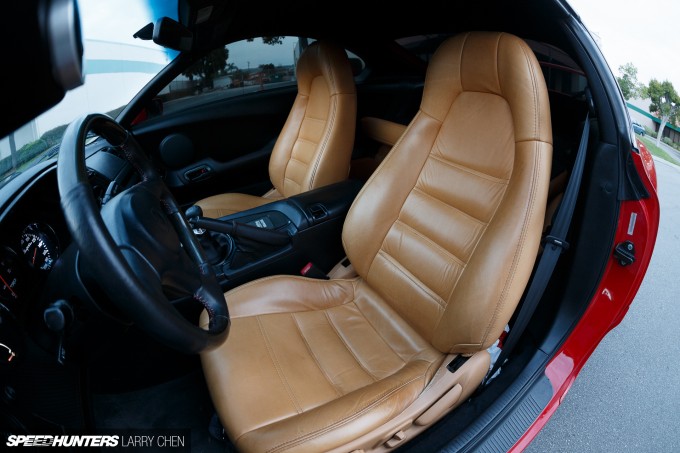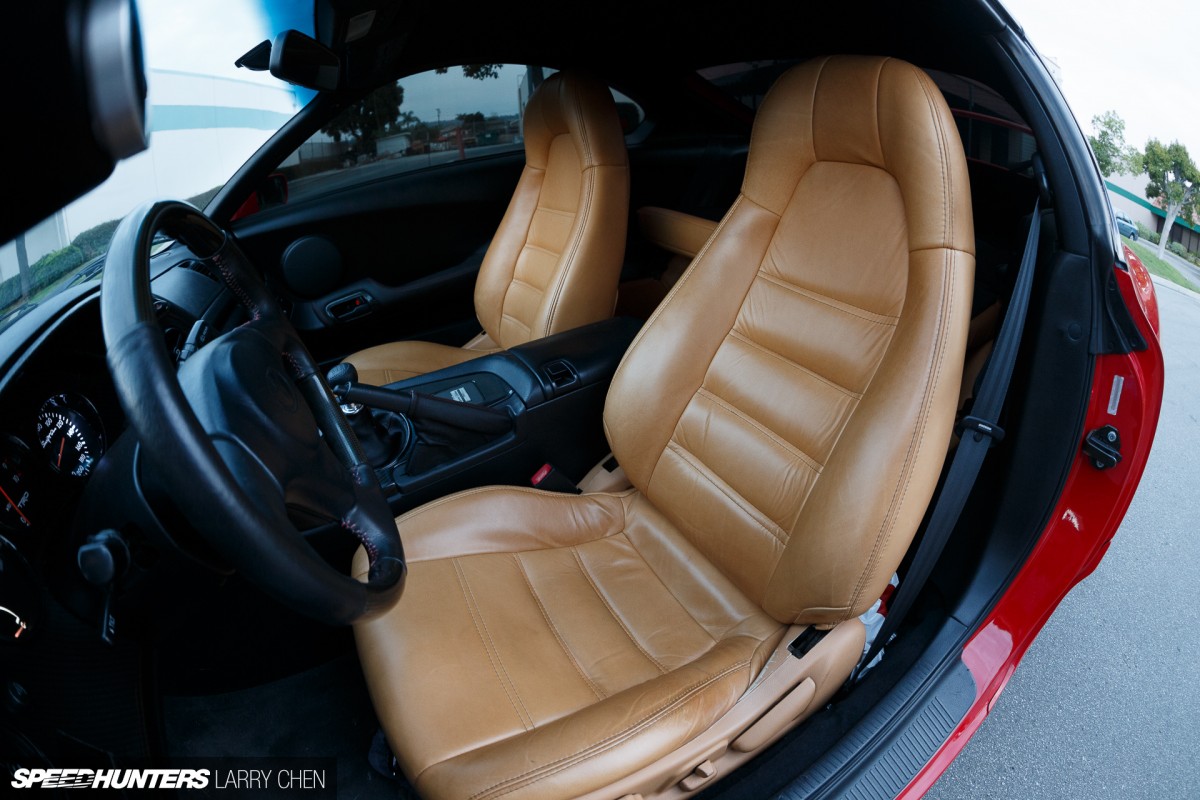 Inside the Supra you won't find a sea of crazy modifications. Instead, you'll see a lot of upgraded and refreshed OEM components mixed with a few choice aftermarket upgrades. The carpet is blend of wool and silk, while the original seats have been reupholstered with textile-grade hides. The steering wheel, shift boot and other components have also been refreshed with subtle red stitching.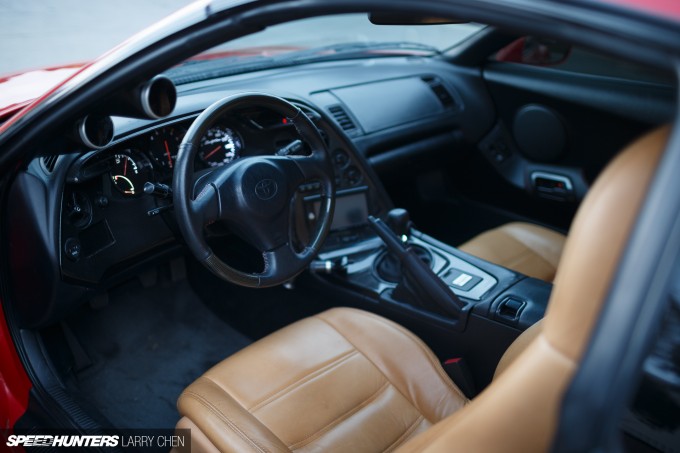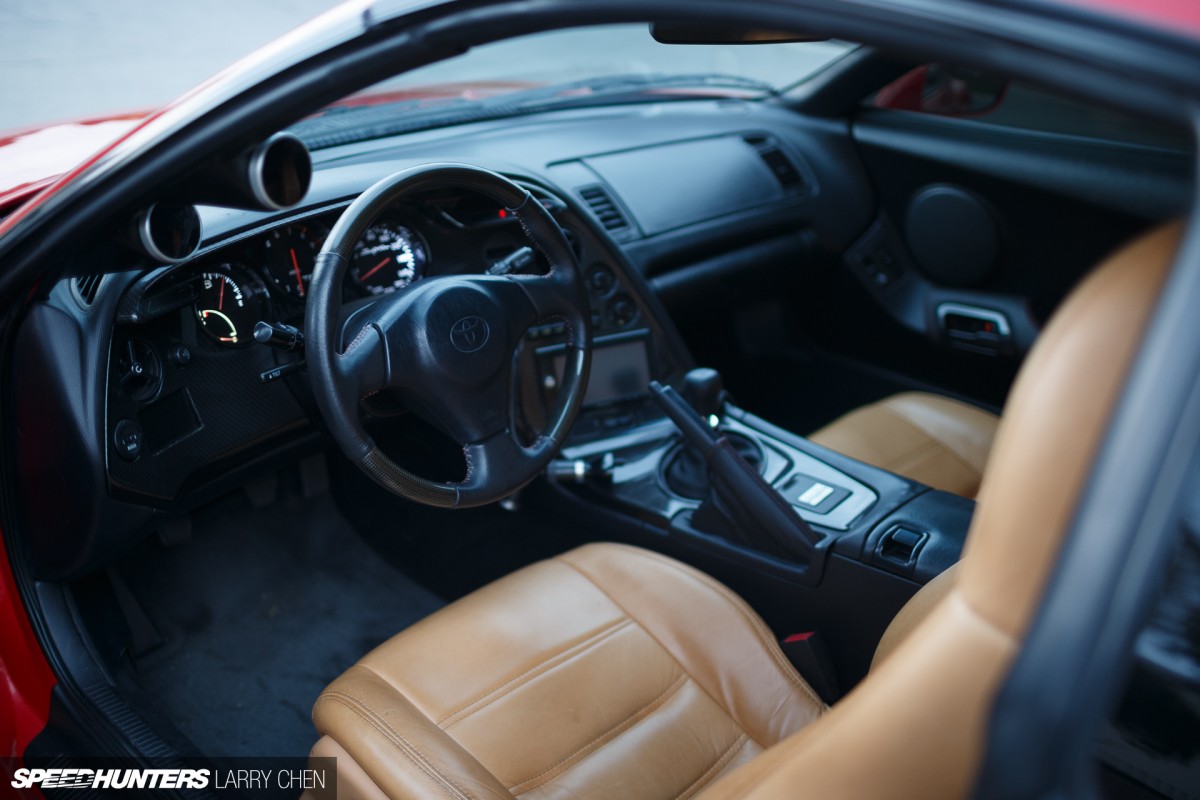 Aftermarket additions include a Do Luck floor support bar, new gauge faces and a TRD tachometer. There's also a double DIN stereo unit that comes in handy on those long road trips.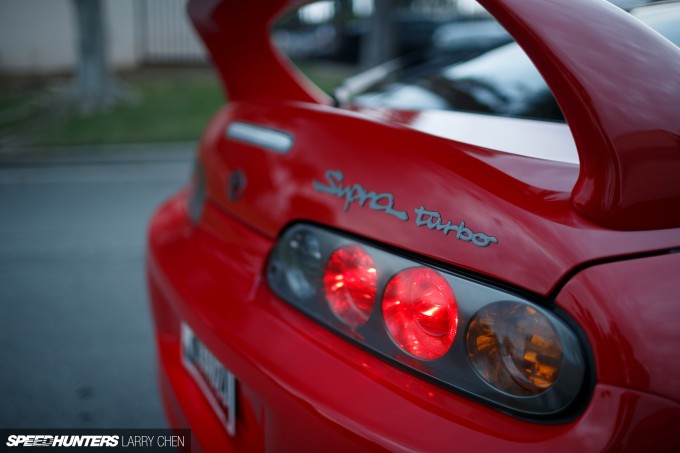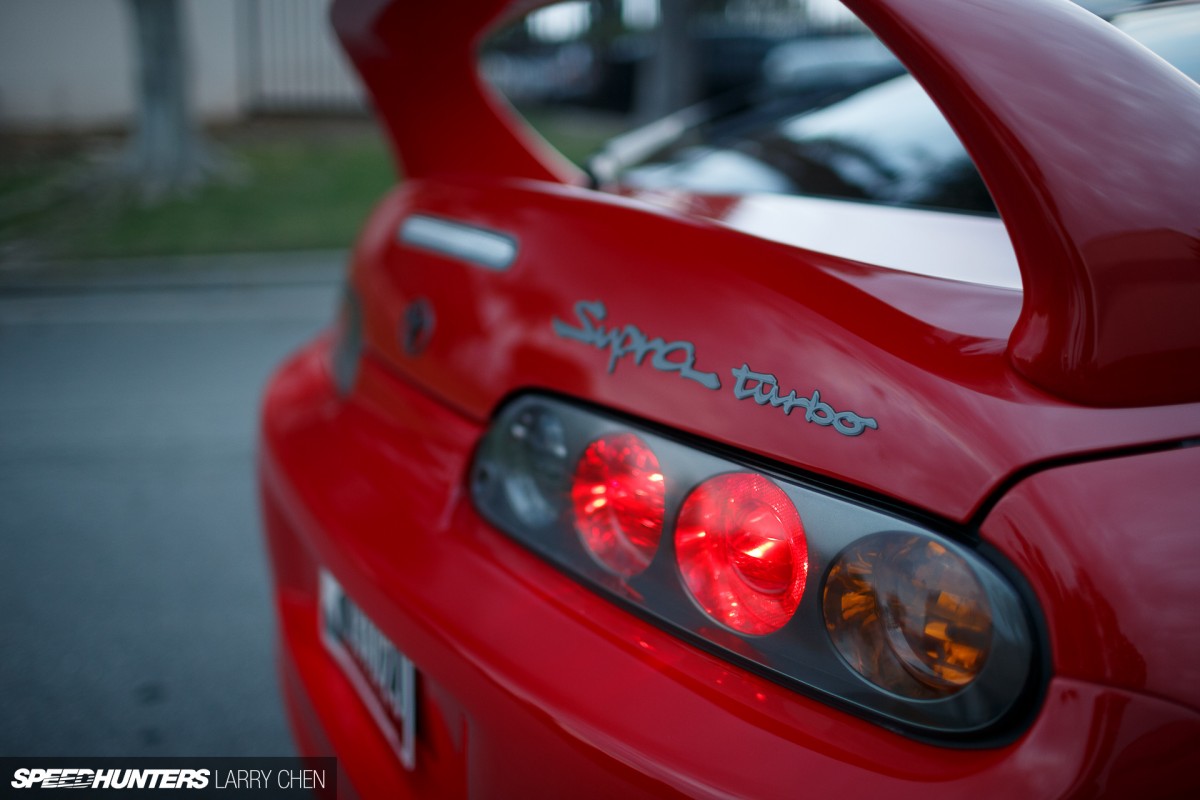 In nearly a decade of ownership Brent has seen his fair share of ups and downs with the car, and after testing so many different parts and setups he's been able to give a lot of advice to other Supra owners. Brent says that being able to help out the fellow enthusiast has been one of the most rewarding things about the car.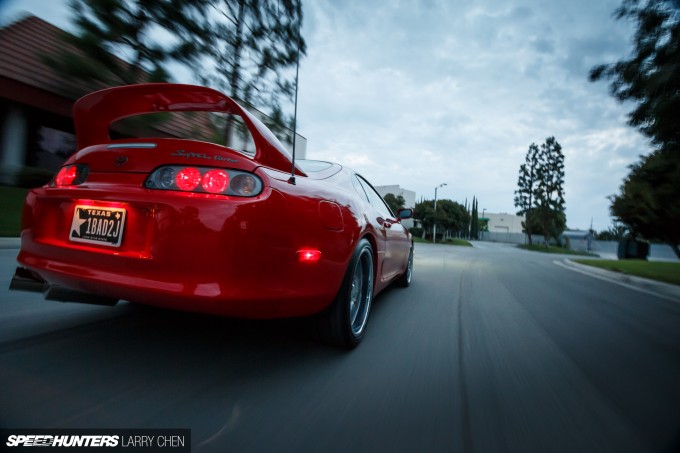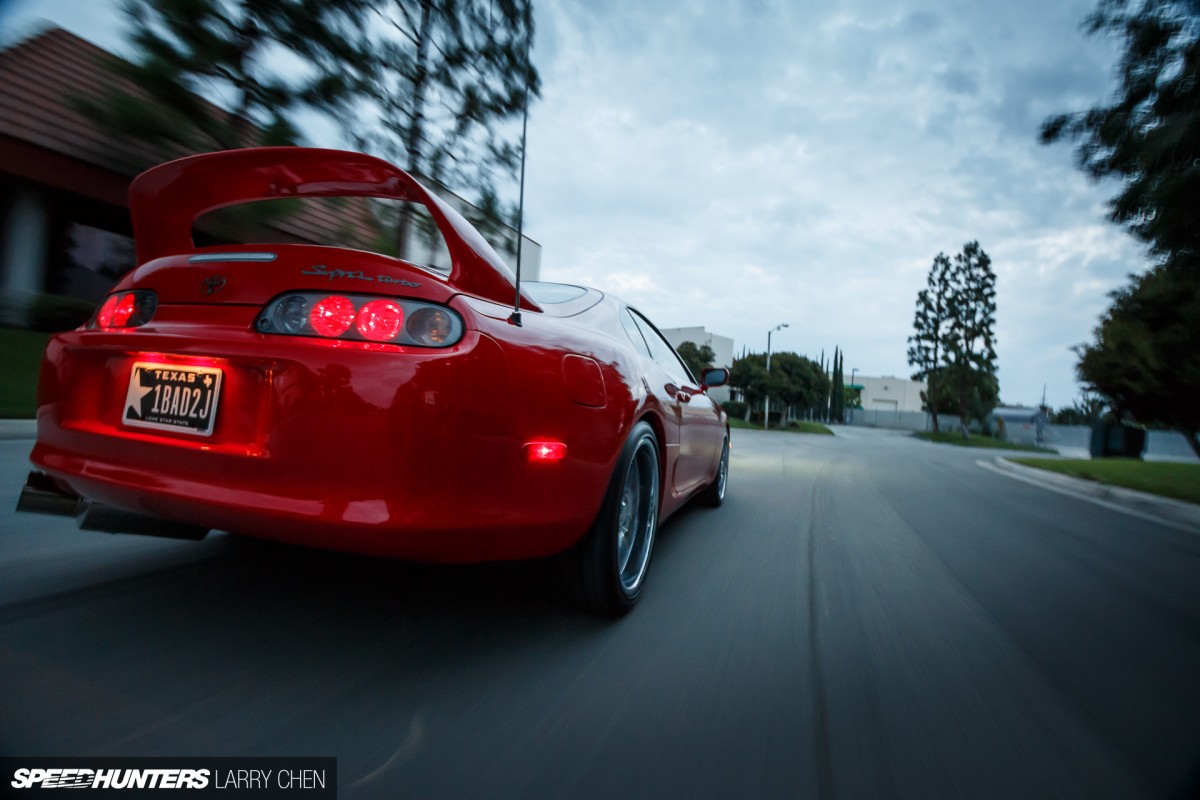 In the end, Brent's car is perfect embodiment of the following that surrounds the MkIV Toyota Supra. It's been well preserved and tastefully modified, but at the same time its engine setup has continued to push the limits of what's possible with the now-iconic 2JZ platform.
Even if Toyota does in fact build the oft-rumored Supra successor, that might only serve make the legendary JZA80 even more special. It's a modern classic in every sense of the term.
Mike Garrett
Instagram: speedhunters_mike
mike@speedhunters.com
Cutting Room Floor