Think Gatebil and it's not hard to conjure up thoughts of mutant creations with mind-blowing four-digit horsepower outputs being thrown sideways at speed. And there's a good reason for that, because when it comes to building cars – especially crazy-fast cars with outside-of-the-box thinking – Scandinavia does it like no other.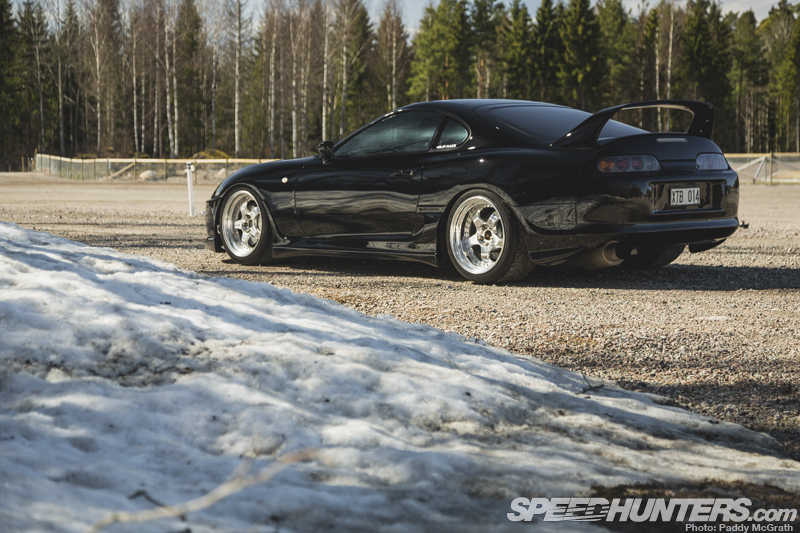 But amongst the mayhem you'll find cars like Tobias Andersson's 1993 Toyota Supra RZ – a well-known Swedish creation from the garage of Gatebil regular Peter Björck, aka 'Bjørcks Busbil', aka the builder/owner/driver of a certain Volvo 245 wagon. Not only is the JZA80 one of the cleanest street-driven Supras you're ever likely to come across, but having stamped its mark on the strip with an 8.82-second pass with Peter at the wheel, it's probably one of the quickest too.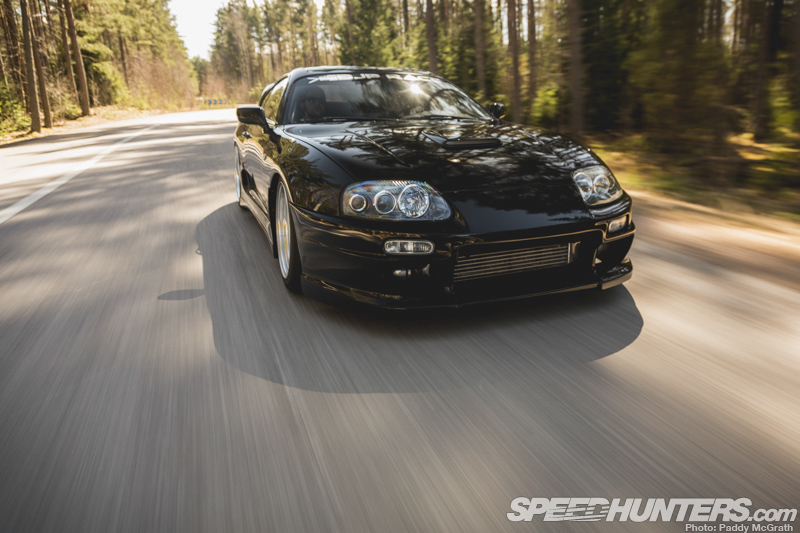 It doesn't take a genius to work out that moving a fully-loaded Supra down the quarter mile in less than nine seconds takes an almighty amount of power, and as you've probably worked out by the title of this post, this one has rather a lot of it. Interestingly enough, when Peter built the Supra he was never chasing a specific number or had a particular horsepower goal in mind, but through the evolution of its factory-fitted 2JZ-GTE engine a staunch 1,294whp is where it's ended up.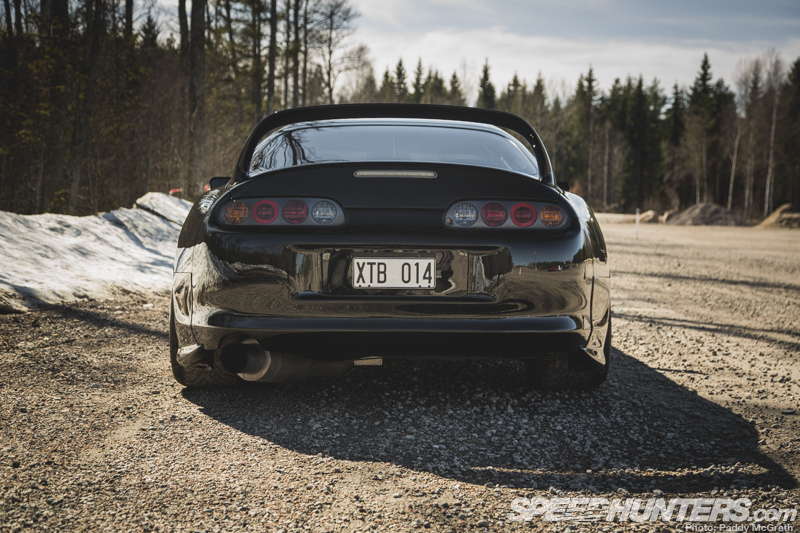 If that number wasn't impressive enough in its own right, the fact that Peter built the car himself in his garage with no previous experience with Toyotas – or the venerable 2JZ for the matter – is testament to the achievement here. Of course, being an aircraft technician and obviously someone with an eye for detail has certainly helped the cause.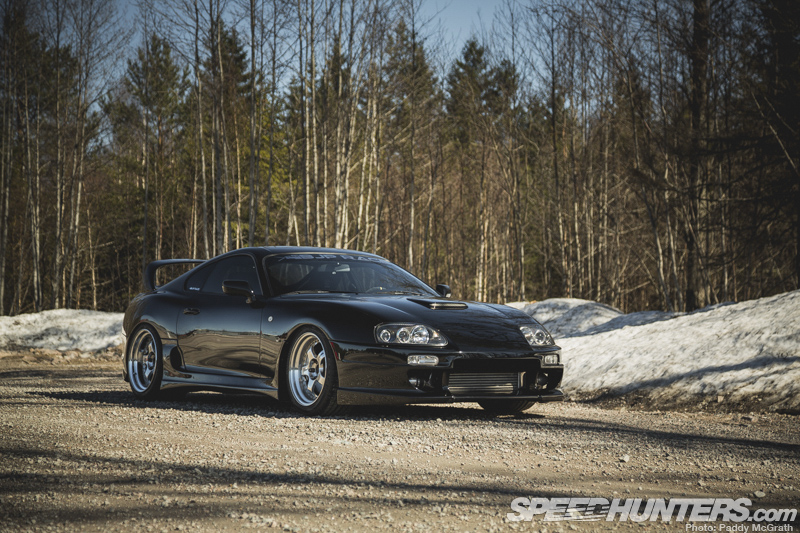 And there are details aplenty, whichever angle you view the car from. Peter originally imported the Supra from Japan, and thanks to one of its previous owners it had already been subtly upgraded with a Border front bumper, Bomex side skirts and 98-spec headlights and tailights. The Euro-spec bonnet is one of Peter's small touches, as is the left-hand-drive conversion – something that he didn't have to do, but wanted to.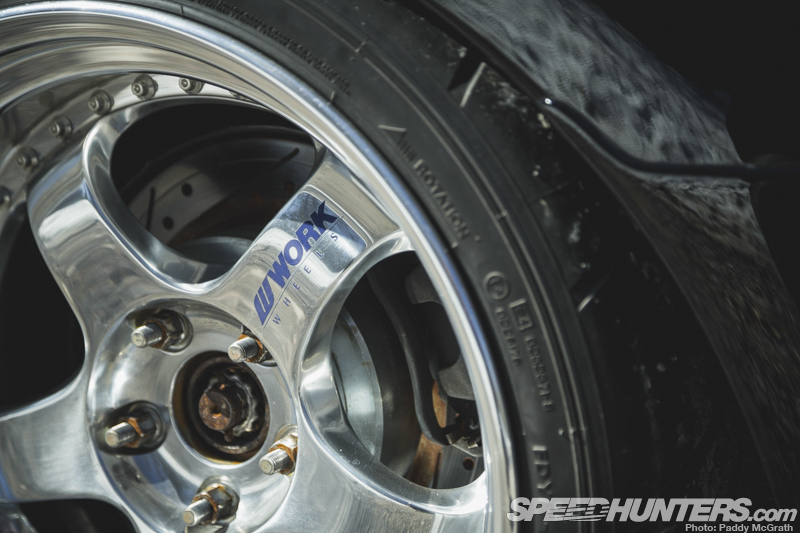 The Work Meister S1 alloys also came with the car from Japan, and at 18×10-inch and 18×12-inch front and rear respectively they're a perfect fit. The wheels and their Yokohama AO48R semi-slicks see street and track duty, with Weld wheels and drag-specific rubber getting swapped on for quarter mile jaunts. On those days a Simpson parachute is attached at the rear too.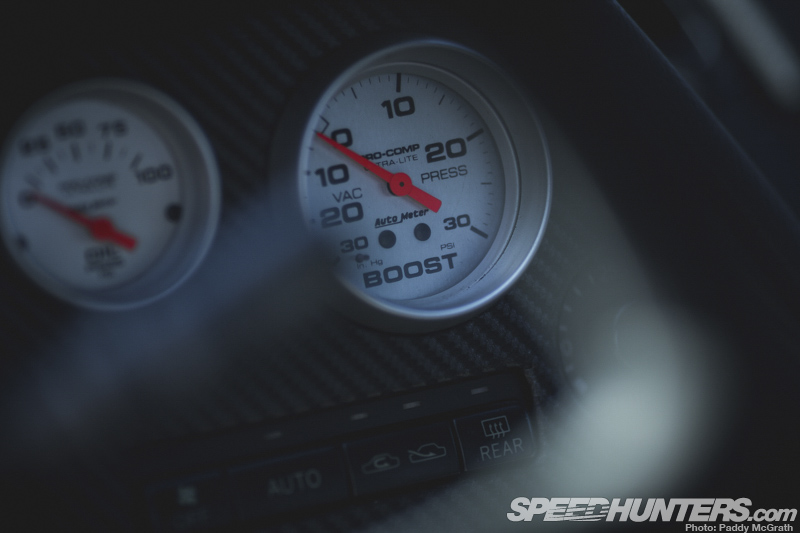 For Peter and now Tobias however, the Supra is primarily a street car – and the further you look into it the clearer that becomes. Albeit a street car with the ability to handle much more pressure than its 30psi Auto Meter Pro-Comp gauge can read.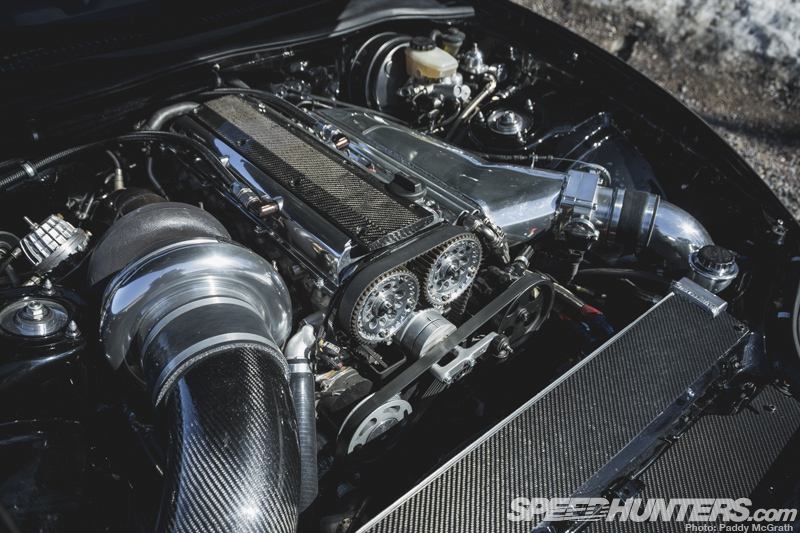 Ever since the Supra was built in Sweden, its 2JZ-GTE has been through a few different guises, each time becoming more and more powerful, until it looked like this. According to Peter, thousands of hours were invested into the creation of this car, and gazing into the jaw-dropping engine bay that's nowadays awash with polish and carbon fibre, it's not hard to see where a lot of his time went. I love the fact that something can be completely over the top, yet thanks to an almost monochromatic finish understated at the same time.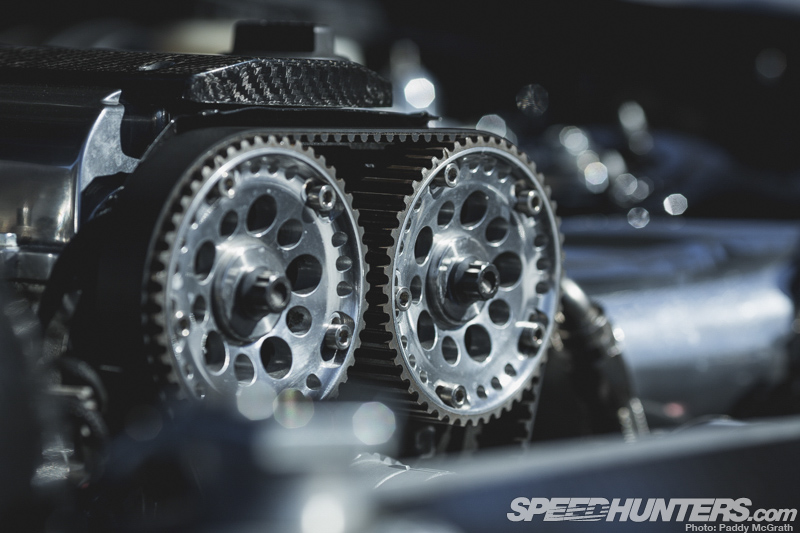 As impressive as it looks on the outside, within the walls of the straight six is where most of the work has gone on. Custom CP forged pistons and Carillo rods feature, as do Crower cams and oversized valves in the JB-Engine race-prepped DOHC 24-valve cylinder head. Those beautiful adjustable cam gears are Peter's owned handiwork, and one of a long list of custom parts that he casually knocked up at home.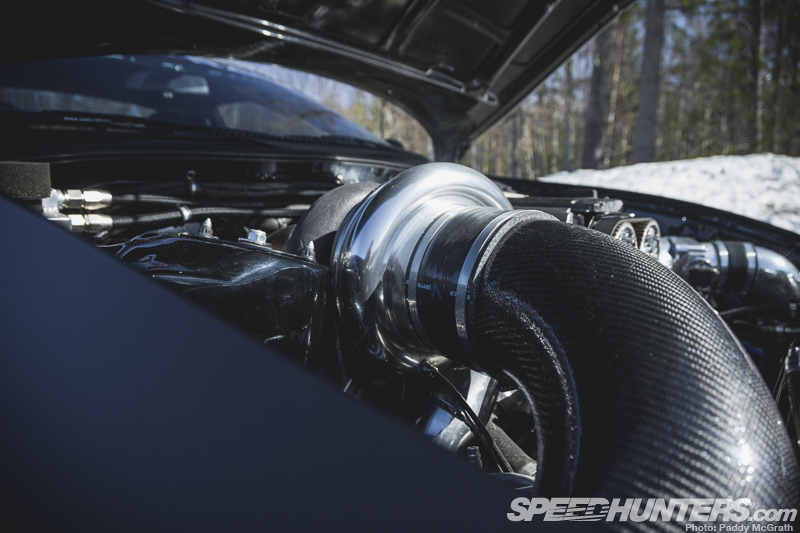 Given its dimensions, it's hard to miss the turbocharger – a rather large Garrett GT47-88 sitting on custom high-mount manifold that can also be credited to Peter. He's also responsible for the intercooler pipes too, which run to and from a sizeable Blitz front mount core.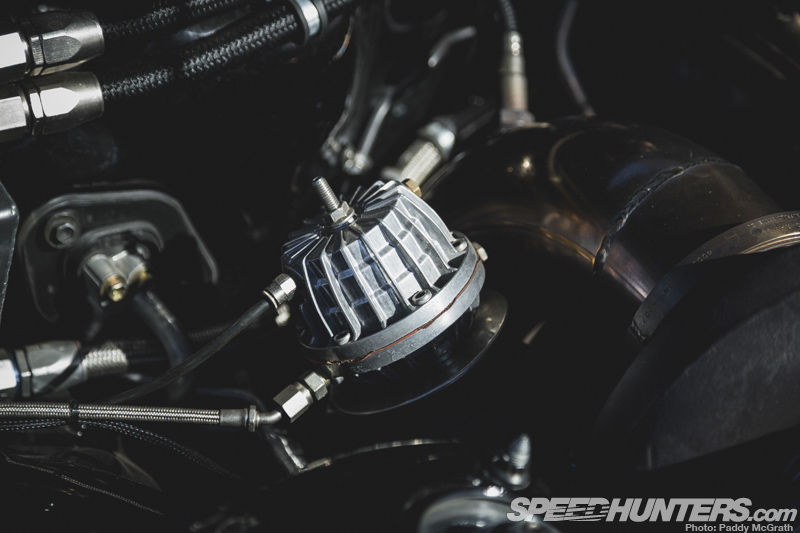 A 60mm HKS GT wastegate is employed, and working in conjunction with a Vipec V88 engine management system takes care of boost control. There are gear-dependent pressure presets, and a dash-mounted switch to select between low and high settings. At the upper limit, a staggering 3.15bar (46psi) gets blown into the 2JZ.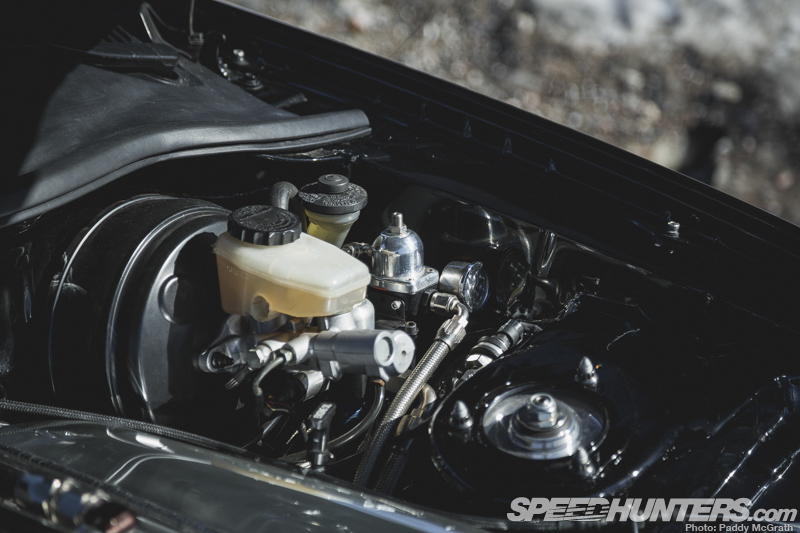 To satisfy the engine's need for fuel at such times, Peter pieced together a pretty innovative set up that runs two distinct systems – one for regular pump gasoline, and the other for E85 biofuel. Under high load, a boost pressure sensor switches over the supply from the gasoline tank, Bosch Motorsport 044 pump, AN6 lines, Fuelab fuel pressure regulator and Siemens 670cc injectors, to the E85 system with a completely separate set of components. That is another tank, AN10 lines, Fuelab Prodigy pump, a Weldon fuel pressure regulator and Siemens 2340cc injectors. Because of E85's high octane content and cooling properties, the biofuel injection is well suited to the application, not to mention a nice advertisement for Peter's part-time online parts shop which specialises in this type of gear.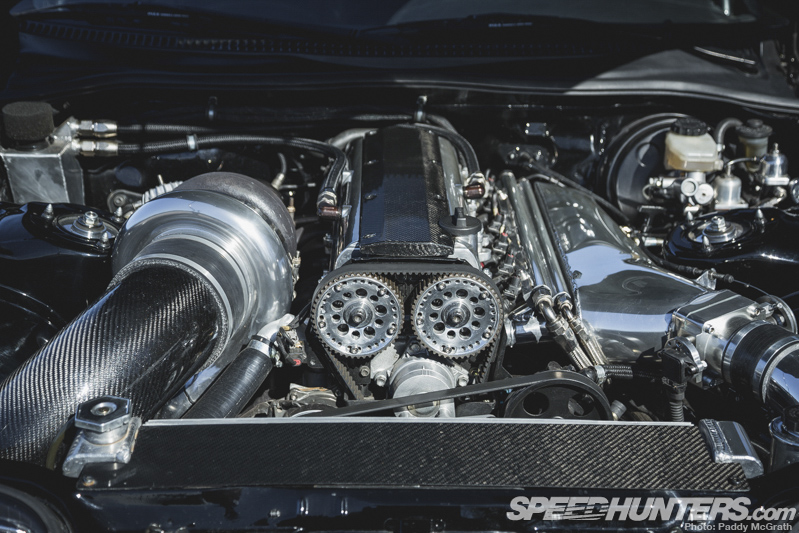 Peter built the custom plenum chamber/intake manifold too, and the dual fuel rails that supply 12 injectors in total. On the ignition side of the equation an EMS-triggered M&W PRO-16b CDI unit is utilised, along with the 2JZ's factory coils.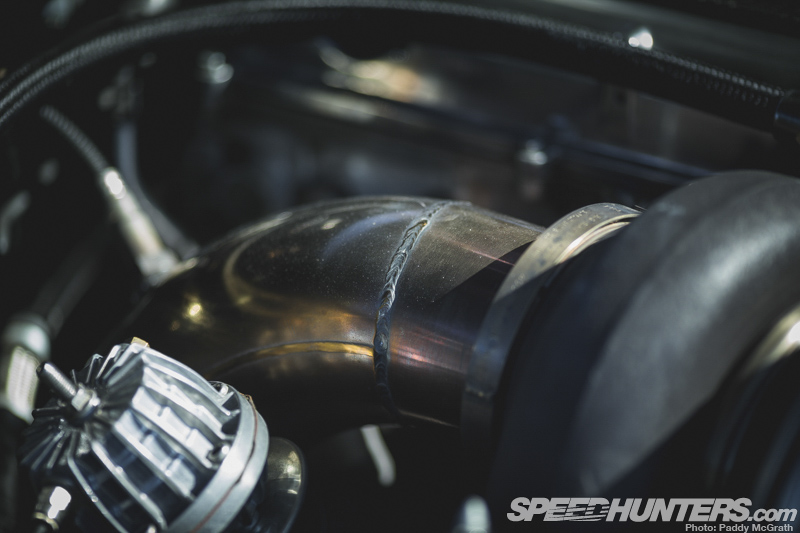 Exhaust gases exit via a handmade dump pipe into a four-inch system with two mufflers.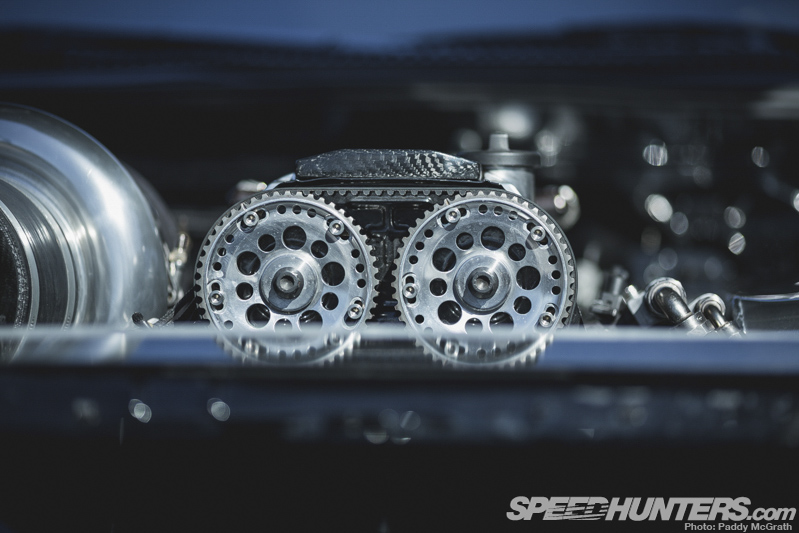 As far as 2JZ street engines go, they don't come much harder tuned than this. I'm not sure if it's the world's most powerful, but I don't think there's any questioning of it being right up there. It's absolutely a work of art.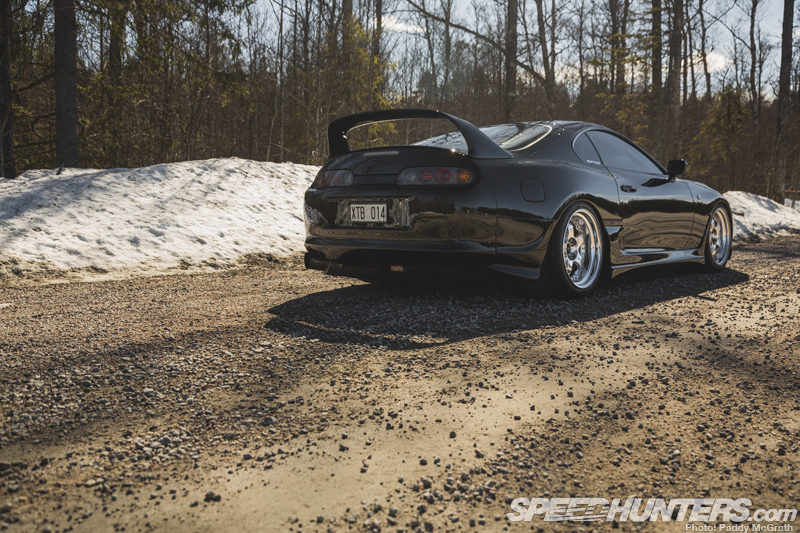 Considering the monster motor has been built around a standard block and still uses the factory crankshaft, it's a pretty good testament to Toyota's 2JZ-GTE hardware. Likewise, the Supra's original six-speed Getrag V160 gearbox is yet to buckle under the pressure. The rest of the driveline has been uprated however, now featuring a Toyota Racing Development limited slip differential, Svea driveshaft and a Tilton triple-plate clutch complete with an EMS-controlled hydraulic clutch flow control valve to limit shock on engagement.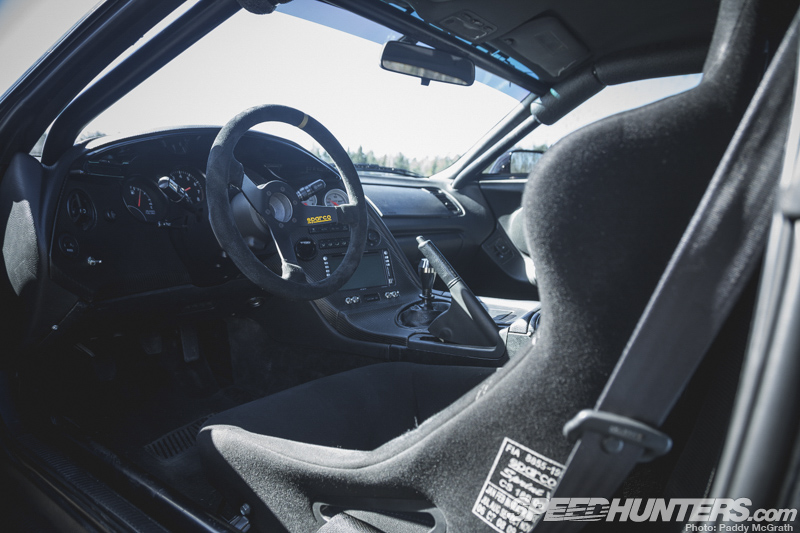 Inside the Supra there's a nice balance between form and function. The rollcage for example, while somewhat of a necessity in car that's able to cover the quarter mile as quickly as this one, seamlessly integrates into the space and allows full use of the factory dashboard. Low side intrusion bars that run between the A-pillar bars and the main hoop mean there's no need to contort your body to get yourself in and out of the seats.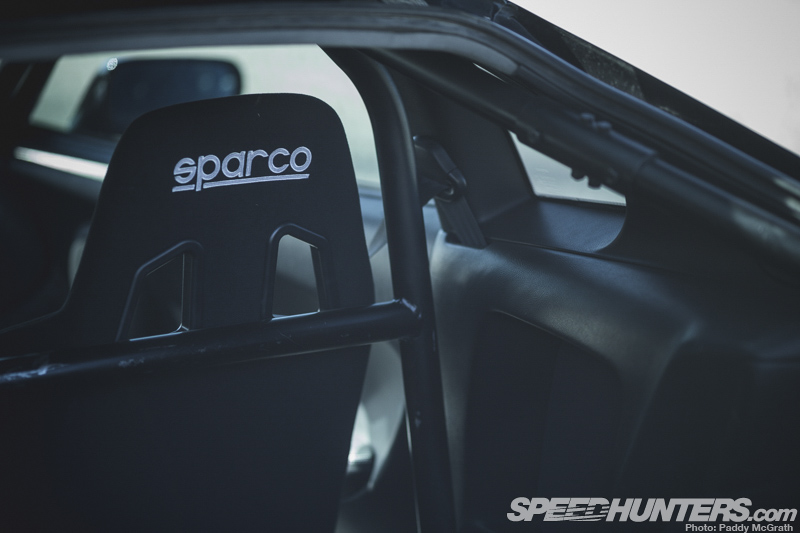 Built by Peter of course, its simple design has allowed for all of the factory trim to be retained.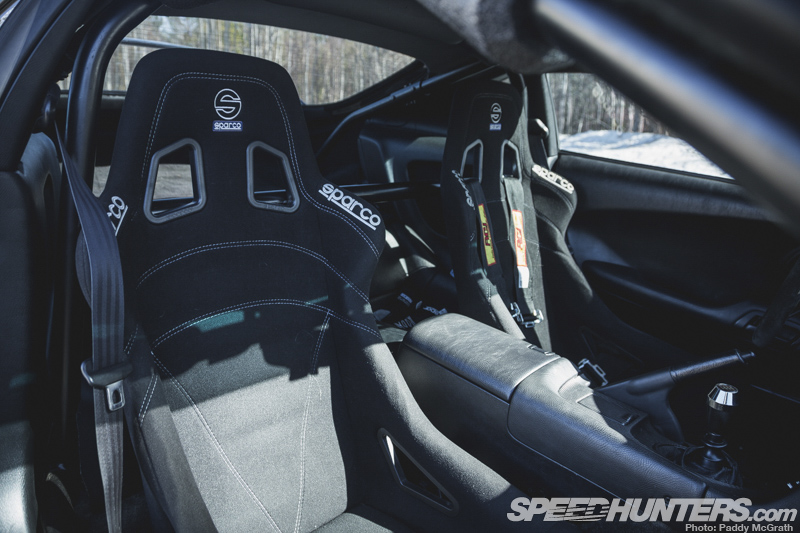 In fact, trim is retained right the way through the cabin into the rear hatch area. Running a full interior like this – complete with air-conditioning, electric windows, carpet and a DVD audio system I should add – might go against the grain of a car built for outright acceleration and speed, but any extra weight it carries is most certainly offset by those wild horses running rampant in the engine bay. In highly modified machines, comfort is so often sacrificed for performance – but it's most definitely not in this case.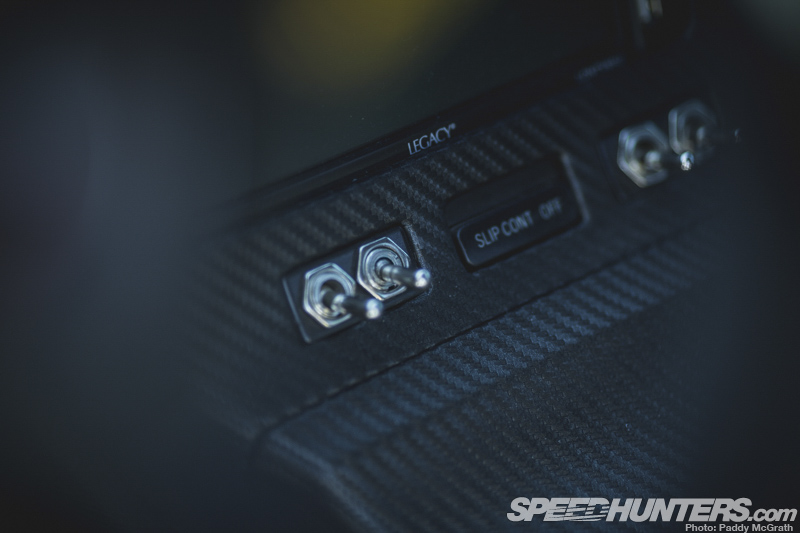 Although these four unlabelled switches mounted in the centre console aren't factory, they blend in nicely with their no-nonsense surroundings. One triggers the line lock valve for pre-stage burnouts, one turns on the data logger, one switches between high and low boost settings and the other toggles the fuel gauge between the gasoline and E85 fuel tanks. Neat huh?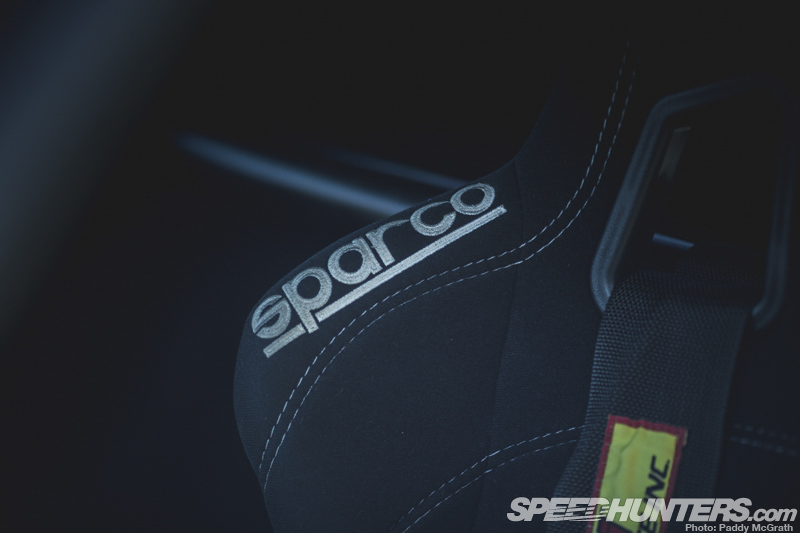 With the amount of g-force the car is capable of generating, a decent pair of race seats were required of course.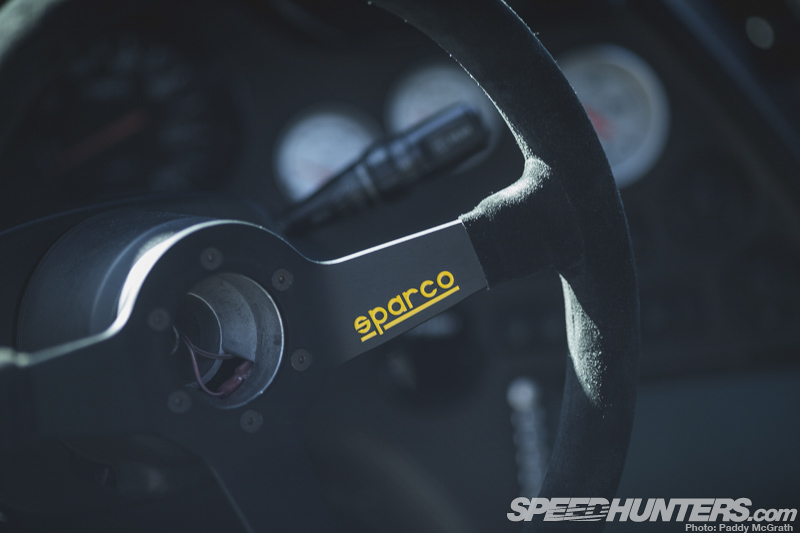 And the same went for something grippy to hold onto. Tightly.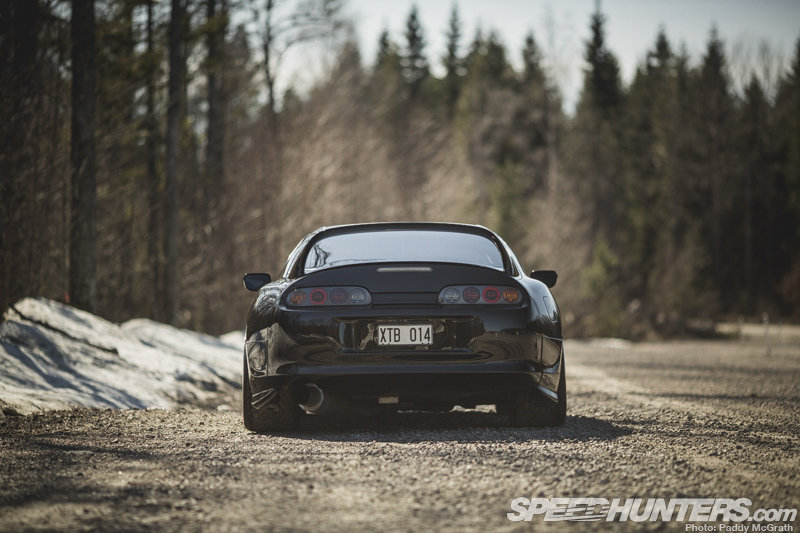 Without losing sight of what this car is – and a rocket with four wheels seems appropriate – on its low boost setting of 0.8bar (11.7psi) the Supra has proven to be a remarkably streetable machine regardless of whether it's blurring scenery on the motorväg or creeping along a high street.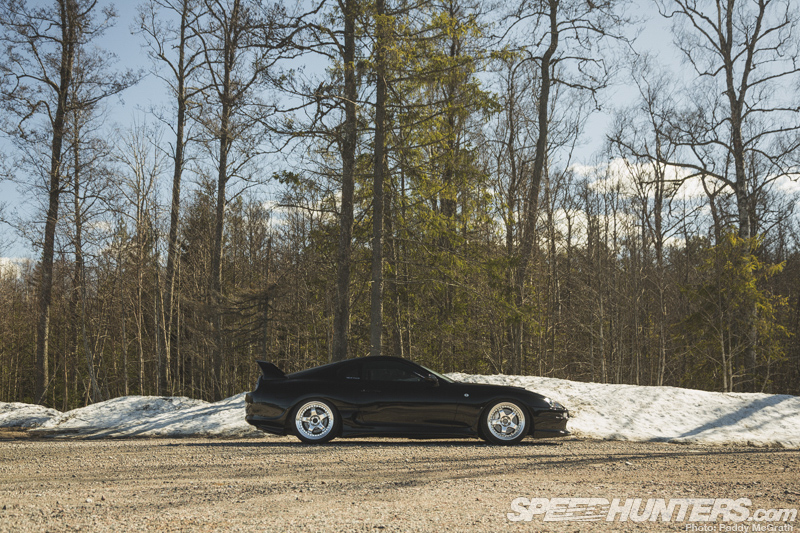 There's no denying it looks every bit the part too: the inimitable factory lines of a Japanese performance icon, squat on a fat set of classic JDM rims. The perfect compliment to the supercar-decimating firepower that hides under its hood, don't you think?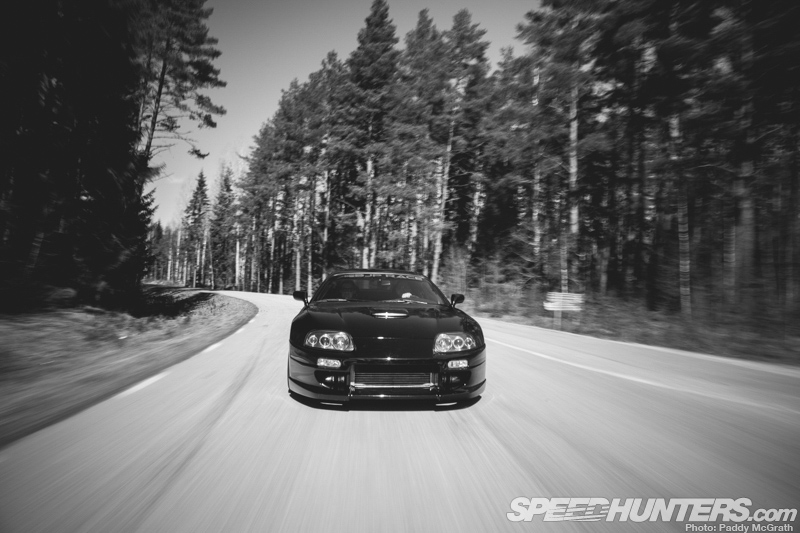 Having created an ultimate interpretation of the Supra, I'm sure it would have pained Peter immensely to part ways with this machine, but at least he can take comfort in knowing that in handing over the keys to Tobias it'll be treated in the way it was built to be. Peter's still got his 2JZ-powered Volvo 245 wagon to keep him happy and a new project that he'll be shipping back from Dubai – where he's currently based – to Sweden when the opportunity arises. That's destined to be another 'Busbil' build of course, but in starting with a Lamborghini Gallardo Superleggera who knows where it'll go.
Words by Brad Lord
brad@speedhunters.com
Photos by Paddy McGrath
Twitter: @PaddyMcGrathSH
Instagram: speedhunters_paddy
paddy@speedhunters.com
More Gatebil themed stories on Speedhunters
An Audi 80 like no other on Speedhunters
1993 Toyota Supra MkIV JZA80
Numbers:1294hp at wheels
Engine
Toyota 2JZ-GTE 3.0L inline six DOHC 24-valve, 9.0:1 c/r, CP oversized forged pistons, Carrillo rods, stock crankshaft, billet main caps with ARP studs, ARP L19 head studs, ACL bearings, modified oil pump, Fluidampr crank pulley, billet timing belt tensioner, factory steel head gasket, JB-Engine ported/mira-milled head, Crower in/ex valves, BC springs & titanium retainers, Toyota MR2 cam followers, Crower 280-degree 10.5/10.8mm lift (in/ex) camshafts, Ferrea race valve guides, custom adjustable cam gears, custom plenum/intake manifold, 80mm throttle body, Volvo idle pump, 4-inch exhaust system, K&N air filter, custom intercooler piping, PPF 75mm blow-off valve, Blitz intercooler, Meziere electric waterpump, ANAB Chevrolet radiator rebuilt to dual-pass, Spal electric fans, carbon fibre cooling plates, Setrab slim-line oil cooler, Garrett GT47-88 turbo, custom heat-coated exhaust manifold, HKS 60mm wastegate, twin custom aluminium fuel tanks, AN6 lines, Bosch Motorsport 044 fuel pump, 6x Siemens 670cc injectors, polished Fuelab fuel pressure regulator, AN10 lines (E85), Fuelab Prodigy fuel pump (E85), Siemens 2430cc injectors (E85), Weldon fuel pressure regulator (E85), custom BJP Race fuel rails, Vipec V88 engine management system, custom wiring harness, M&W Pro 16B CDI ignition, factory 2JZ coils
Driveline
Factory Getrag V160 6-speed gearbox, Tilton flywheel, Tilton triple-plate clutch, hydraulic release bearing with adapters, hydraulic clutch slip valve controlled by engine management, Svea driveshaft, TRD limited slip differential
Suspension/Brakes
Modified K-sport drag coil-overs shocks/springs, JZA80 Euro-spec front discs, JZA80 JDM-spec rear discs, ARP wheel studs
Wheels/Tyres
Street: Work Meister S1 3-piece rims, 18×10-inch, Yokohama A048R 265/35R18 (front), 18×12-inch, Yokohama A048R 315/30R18 (rear), Drag: Weld Alumastar 17×4.5-inch, M&H Racemaster Front Runners (front), Racemaster Weld Draglite 15×10-inch, Mickey Thompson ET Drag 28×11.5-15 (rear)
Exterior
Border front bumper, Bomex side skirts, factory JZA80 rear wing, antenna & wipers removed, JZA80 Supra 98-spec lights, JZA80 Supra Euro-spec bonnet, Simpson parachute (removable)
Interior
Custom-built roll-cage, Sparco seats, Sparco steering wheel, 6-point harness seat belts, Auto Meter boost, oil pressure & temp gauges. TMS/Innovate wideband sensor/meter, exhaust temp gauge
Sponsors
BjpRace.se, JB-Engine, TA Schakt och Maskin