It's All About The Power
This is when the big boys come out to play! Since its inception back in 2009, the HKS Premium Day has established itself as one of the best events on the Japanese calendar. After missing it last year, we were very happy to be back at Fuji Speedway on Sunday for the annual celebration of power.
HKS is synonymous with power. It has shaped the whole Japanese aftermarket tuning scene in a way that no other company has, and it's showing absolutely no sign of holding back for the future. The Premium Day was initially a way of bringing HKS dealers from around Japan together and giving them a chance to display their cars to the public and compete in a time attack event in collaboration with Option magazine.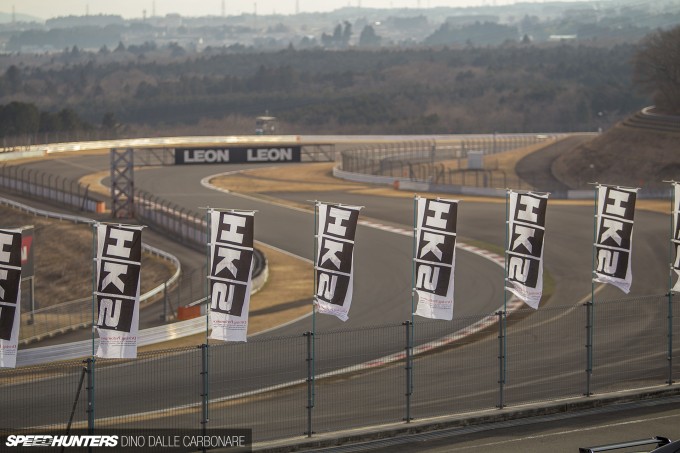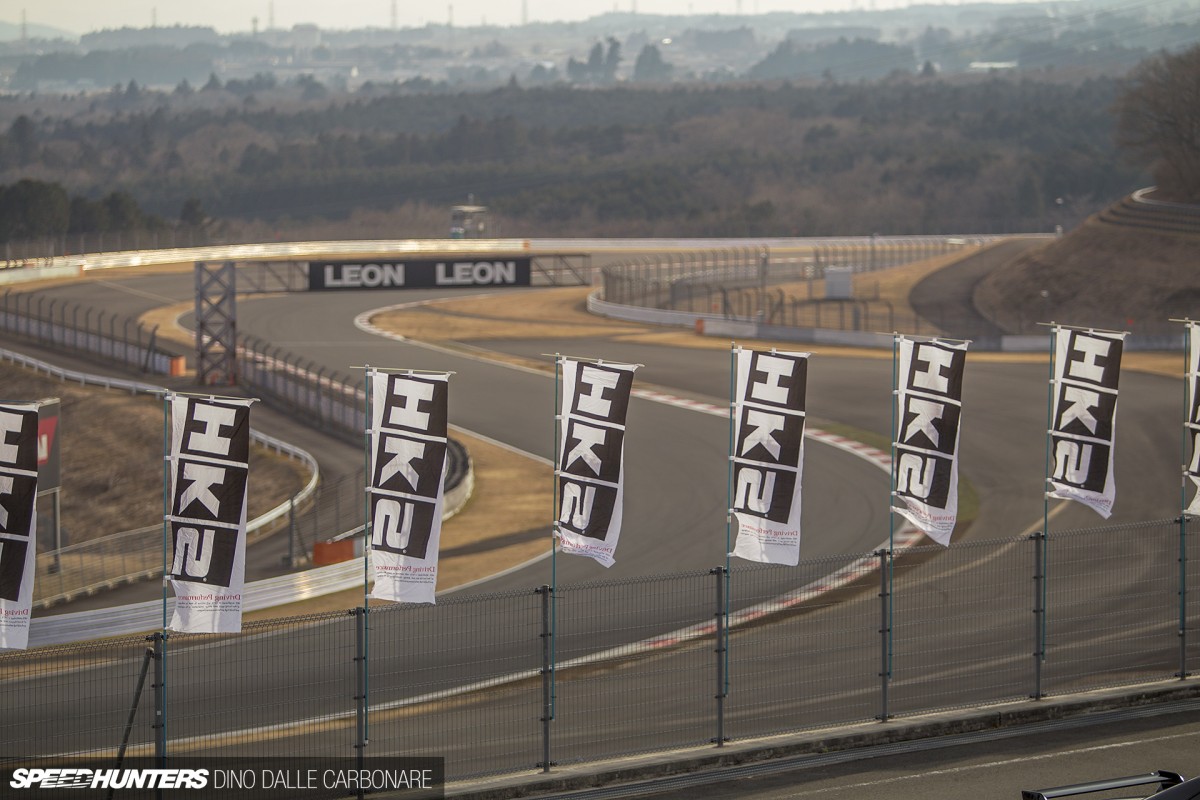 That's still very much the main focus of it all, but now in its sixth year the HKS Premium Day has become so much more. It has grown to attract a ton of privateers who enter their cars in the Hyper Challenge time attack event, and there's now even a stance-oriented event held on the upper paddock overlooking the main straight. Furthermore, overseas guests and HKS dealers from around the world are brought in to see what the Japanese shops are up to and check out new and soon-to-be-released products. It's fun for everyone, but for you and me it's a great opportunity to see how Japanese tuning is progressing. While I personally have nothing against the style movements, JDM tuning will forever be about performance. And there was plenty of that this year!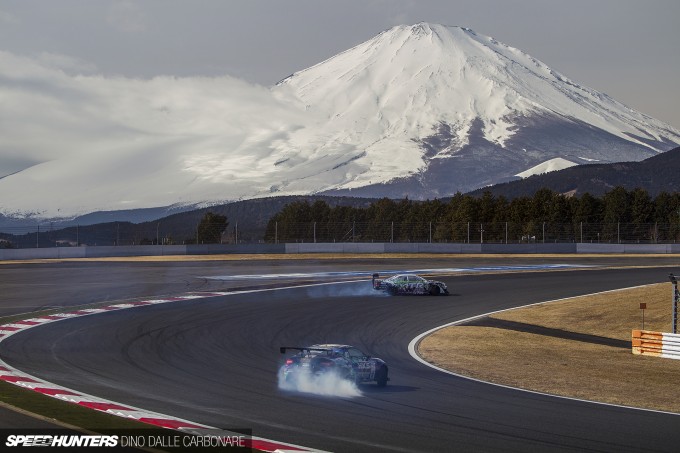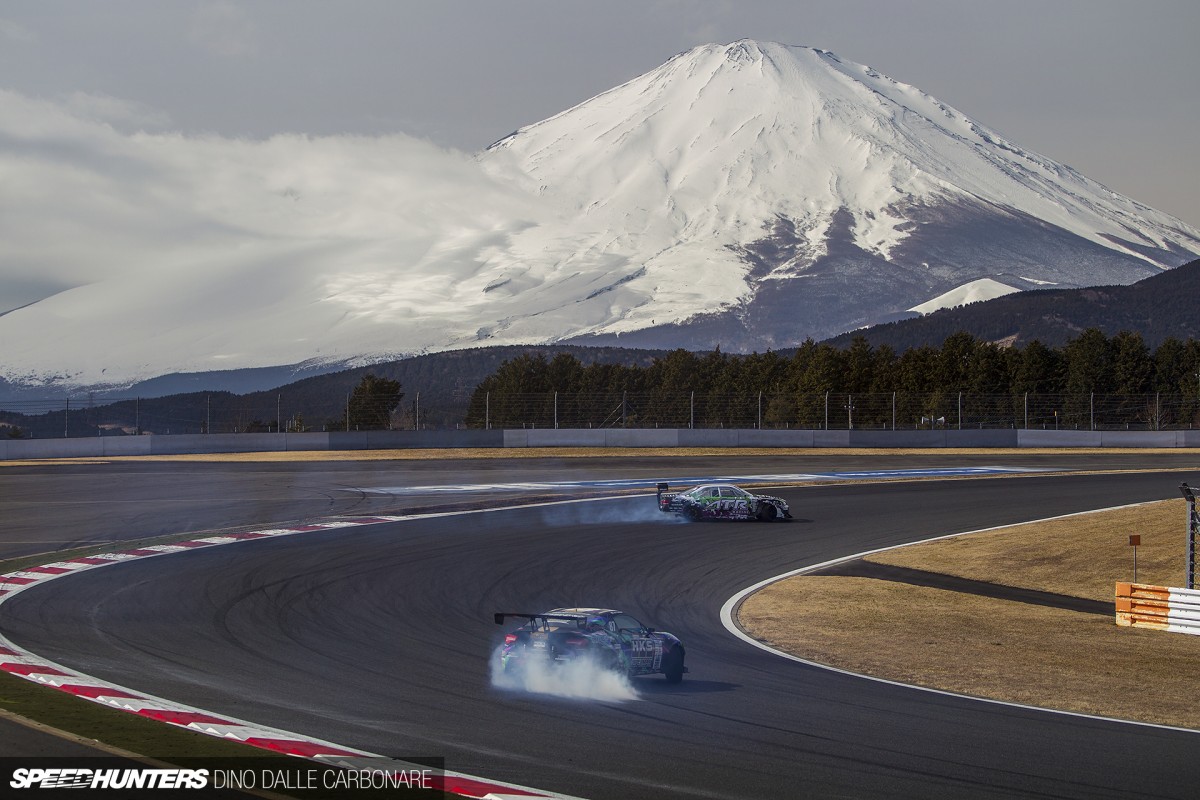 HKS will be supporting Daigo Saito and his Formula Drift R35 GT-R this year, so to celebrate the awesome new partnership they invited him along to tear up the asphalt with long-time HKS factory driver Nob Taniguchi. Seeing these awesome drivers out at Fuji doing their thing was a pleasure, and as usual the backdrop was breathtaking!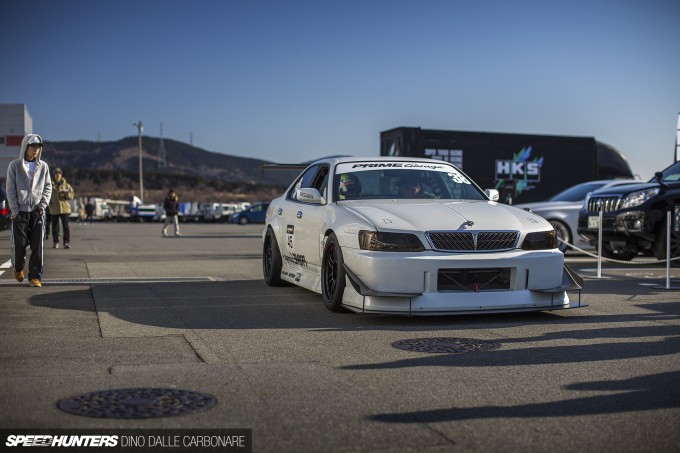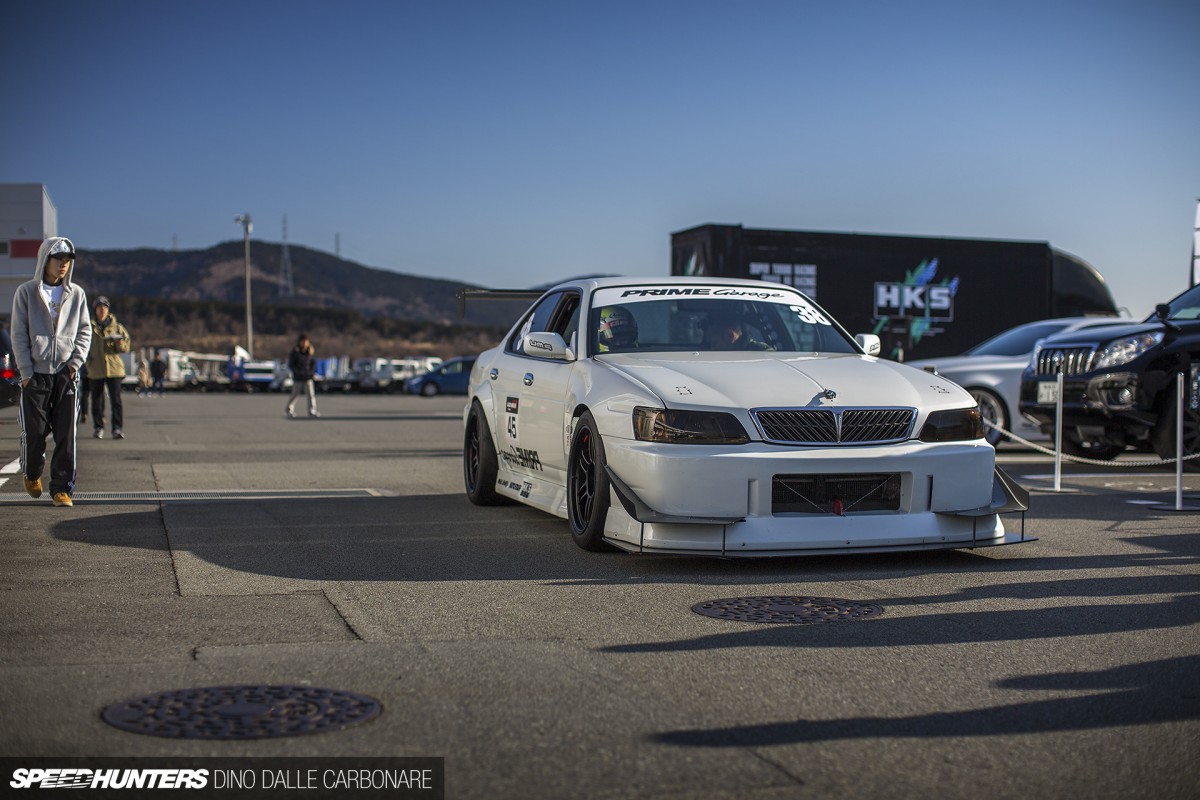 I'll have more on-track action for you soon, but to kick things off let's take a look at what I came across while wandering through the paddock. One of the first cars I noticed was this HC35 Laurel from Prime Garage in Fukuoka. This was a big surprise because you just don't see Laurels prepped for time attack – let alone having travelled so far to attend the event. I'll be taking a closer look at this crazy build in an upcoming HKS Premium Day Spotlight-O-Rama post, so I'll save the details for that…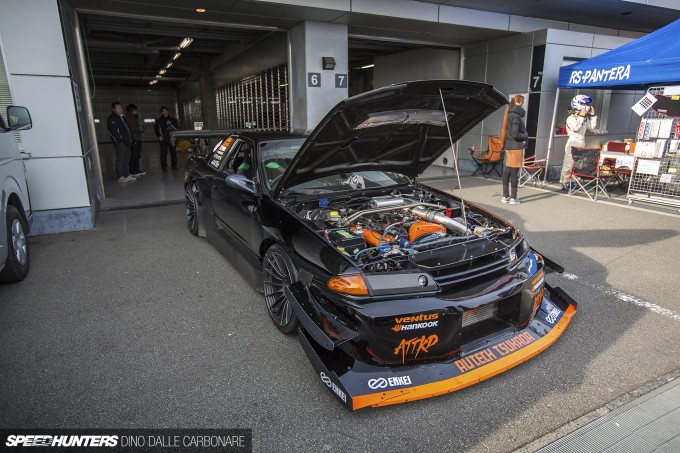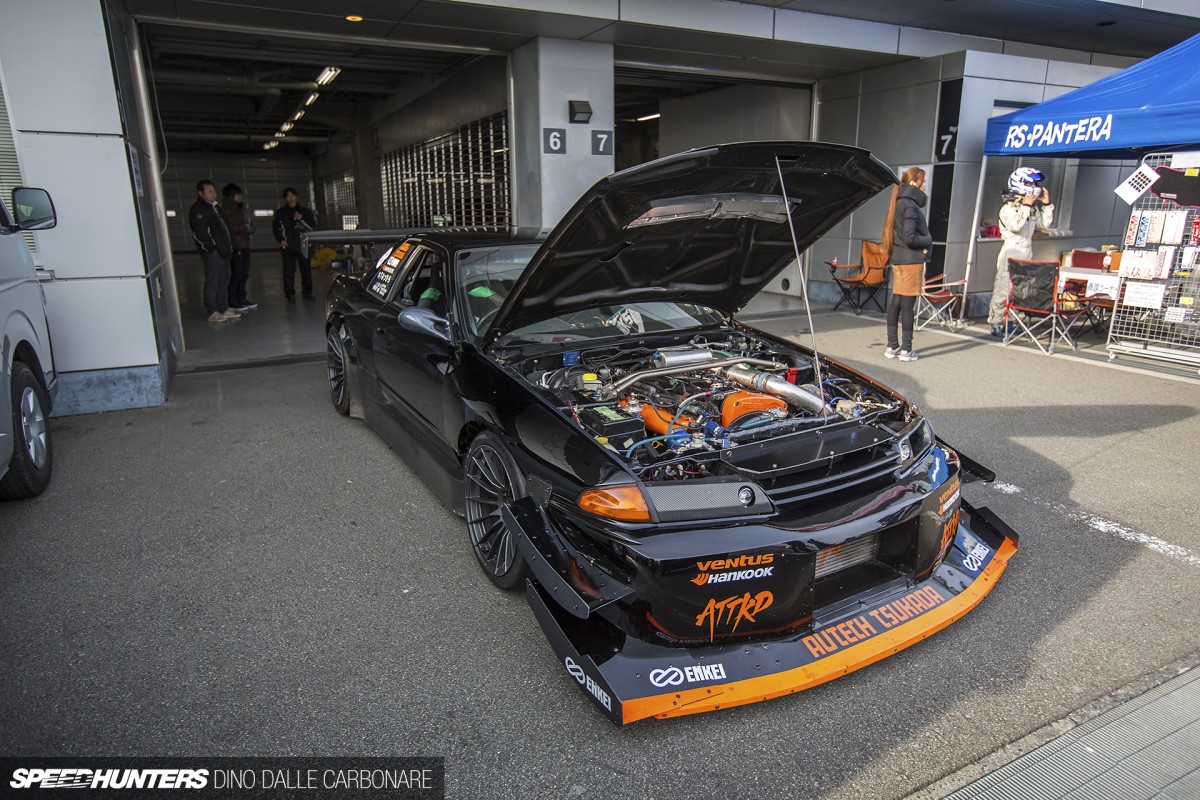 Tsukada-san from ATTKD in Nagano is nothing but a GT-R tuning god in Japan. His BNR32 is still the fastest RB26-powered GT-R around Fuji and I just love seeing how it evolves and gets quicker. It's now down to 1'40″925, which is not only astronomically quick, but pretty much right on point with Super GT GT300 lap times. It was also faster than every R35 GT-R out at the Premium Day event – bar one.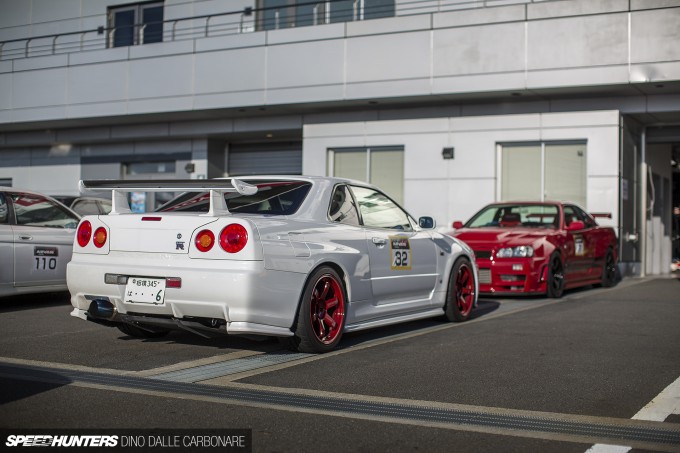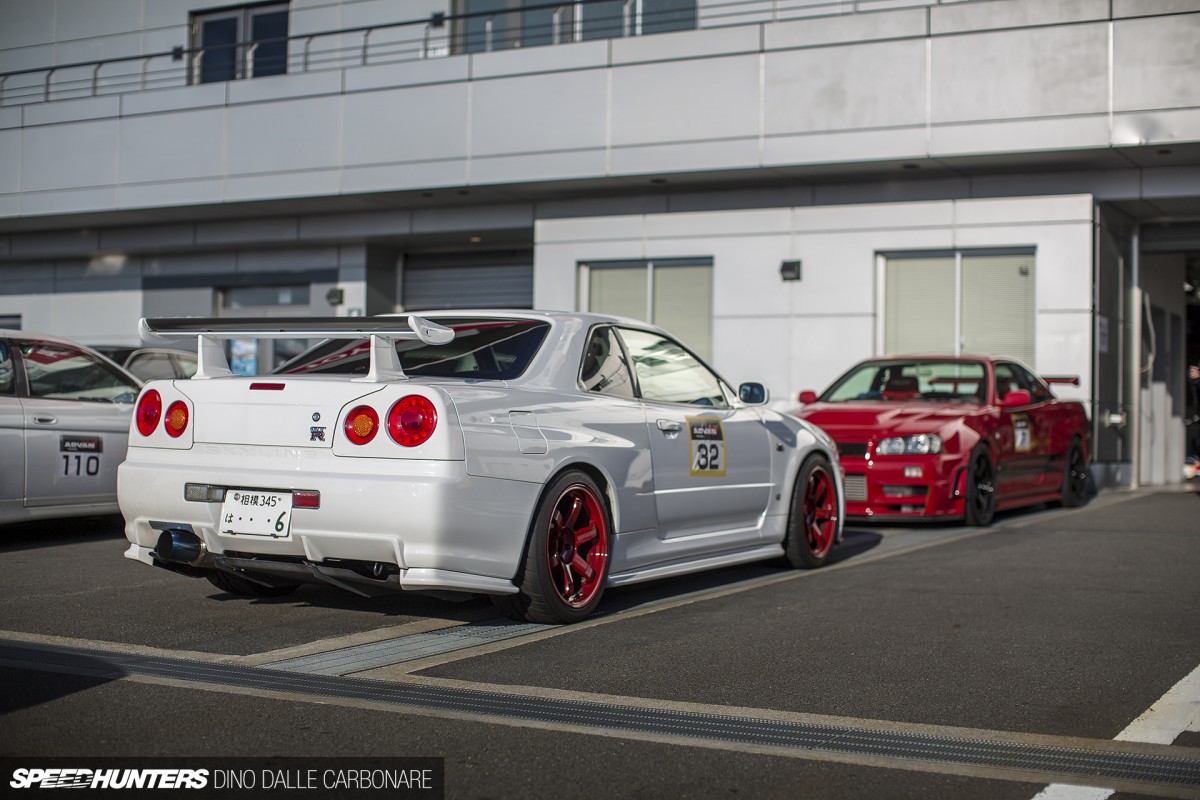 While lap times are interesting and all, let's concentrate on the cars themselves as they're what really fuel our passion at the end of the day. Check out these pair of BNR34s – both built up with 600hp-plus engine packages. I for one will never tire of looking at these older GT-Rs, but you all probably know that by now!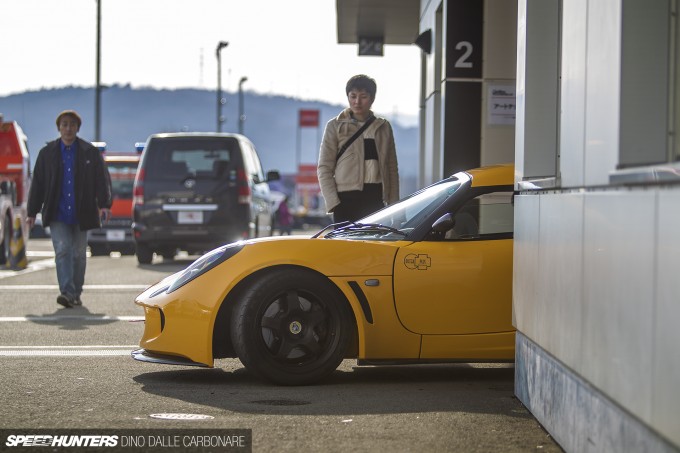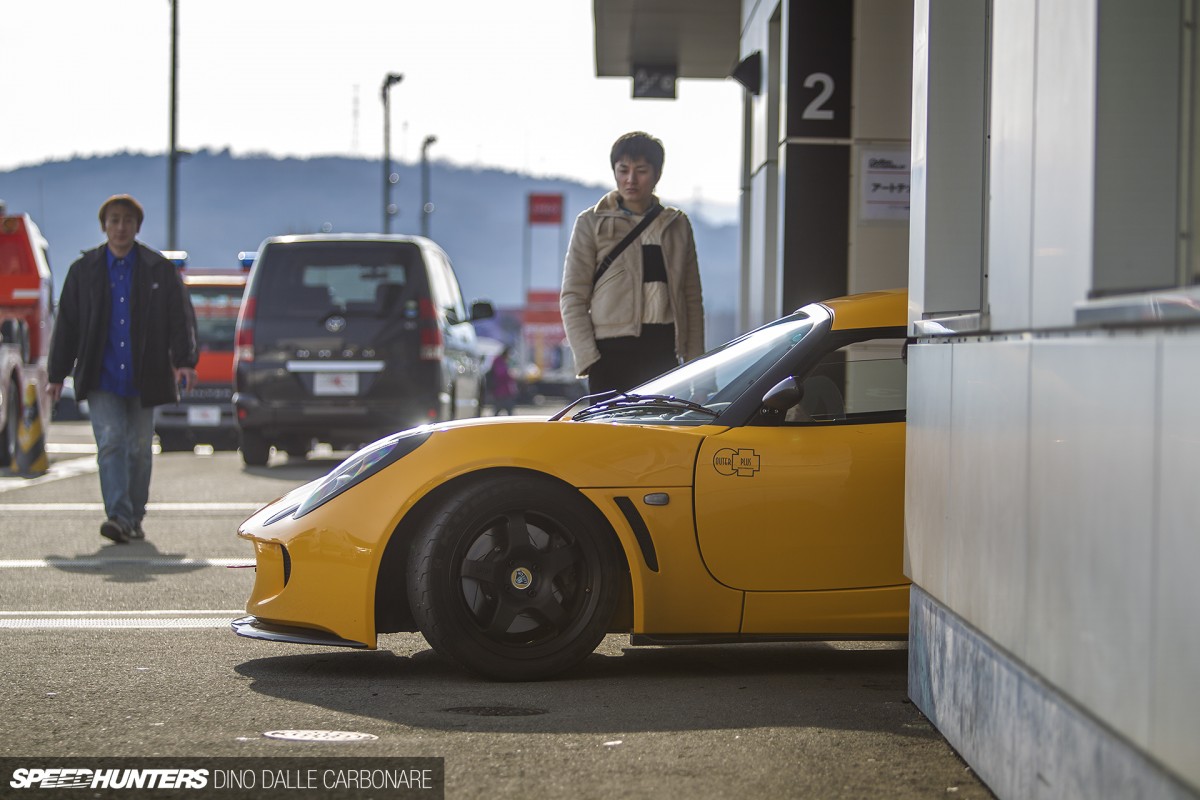 It was cool to see Outer Plus at the Premium Day, and it reminded me that I still need to do a shop tour and feature their most extreme Lotus Exige.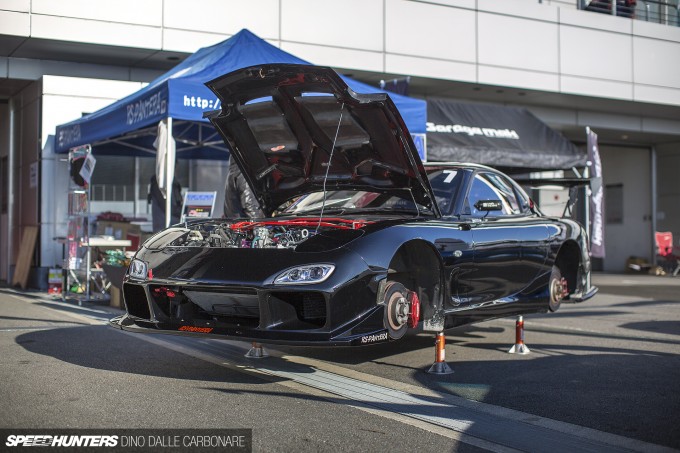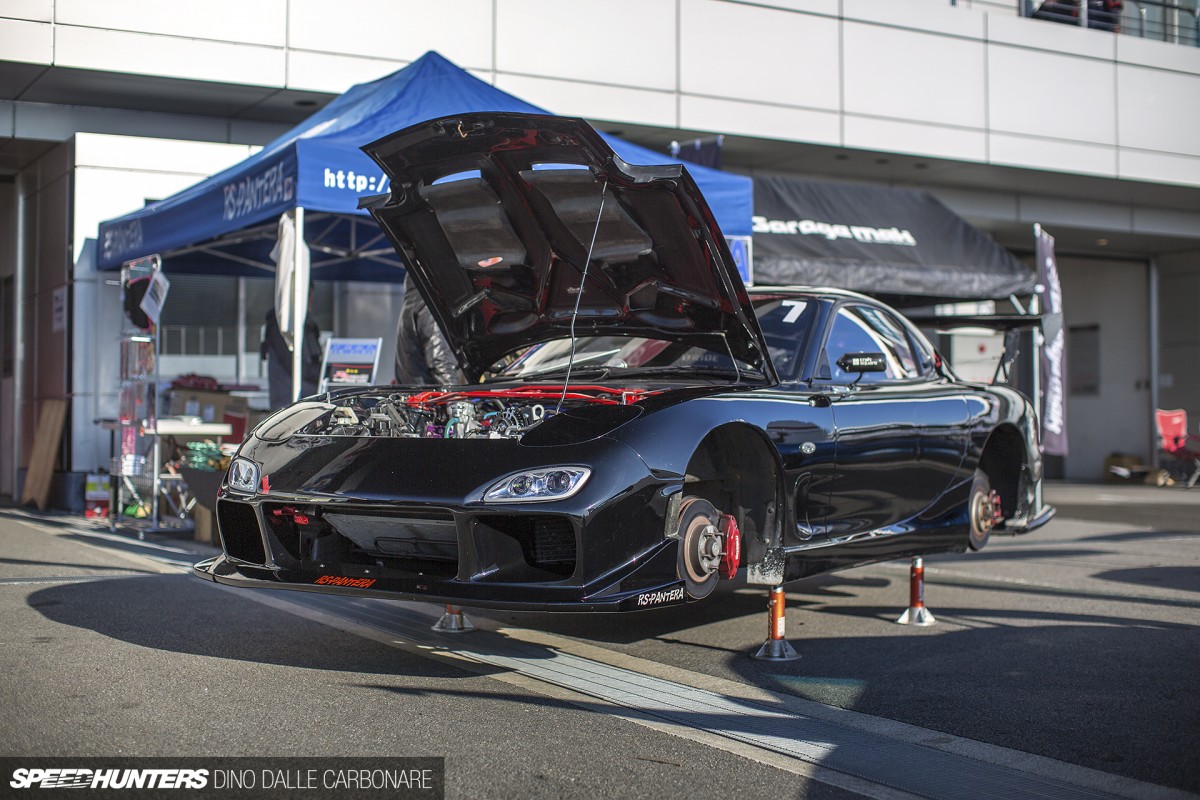 RS Pantera, who are located on the other side of Mt. Fuji, brought along their black RX-7 demo car to enter in the time attack event. It might not be the fastest FD out there with a 1'59″970, but it's very unique having done away with the stock 13B.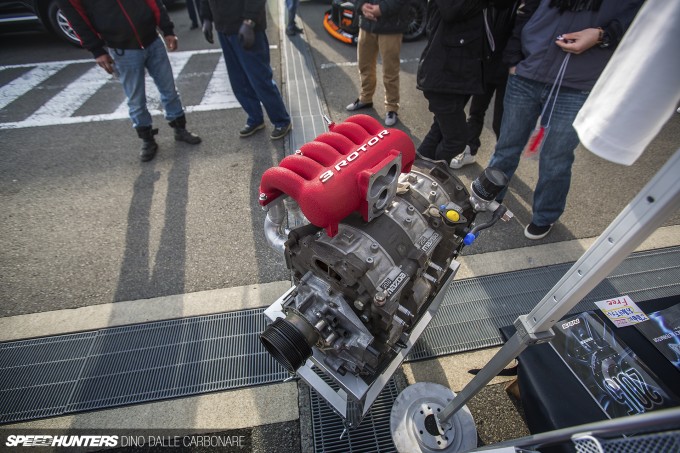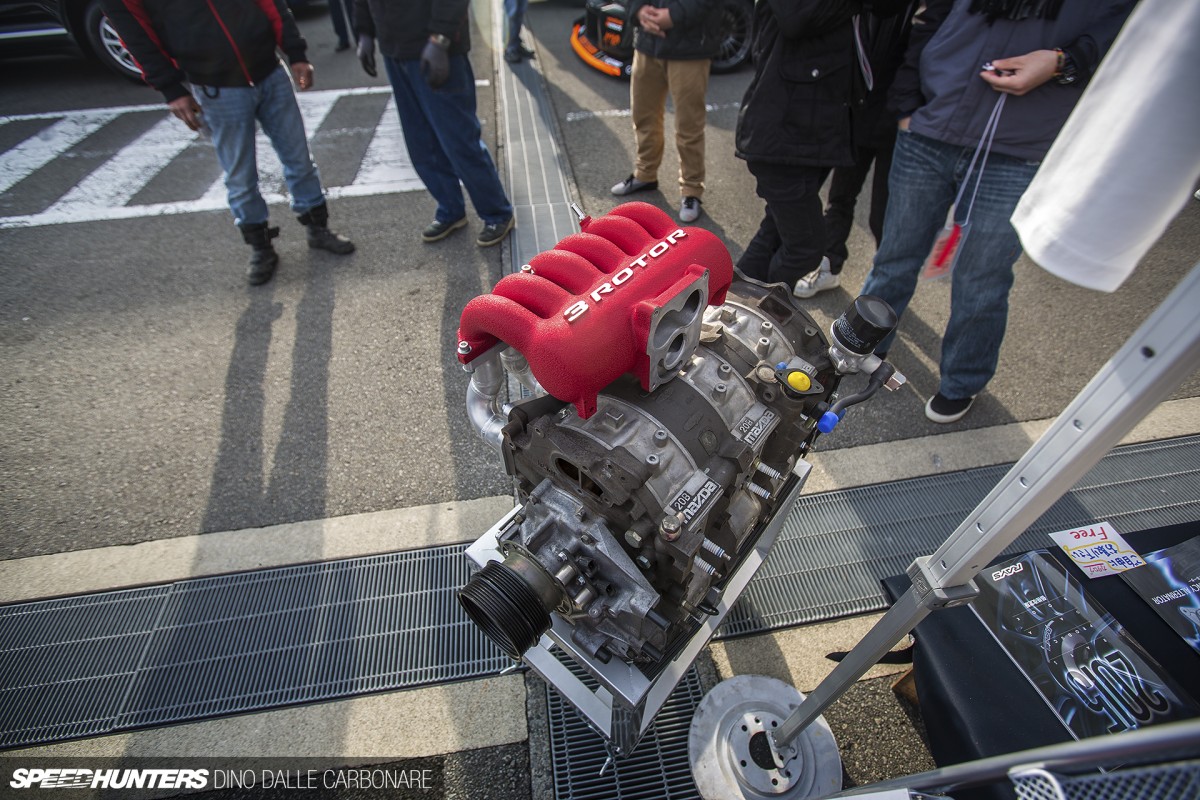 Powering the Mazda now is a 20B triple rotor motor, similar to this one that they had on display. What the car lacks in outright pace at the moment it more than makes up for with its soundtrack.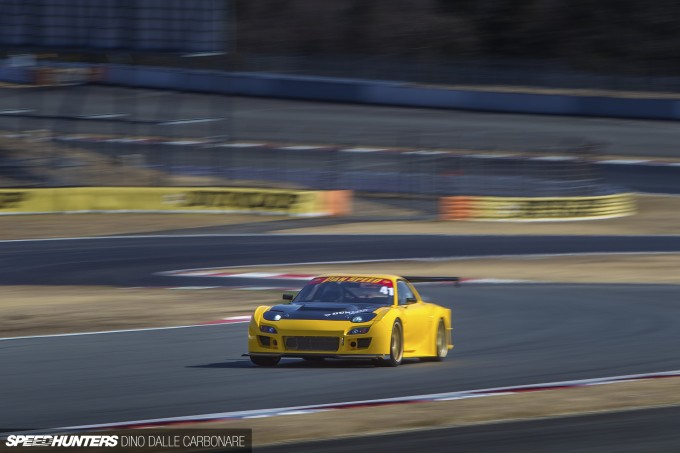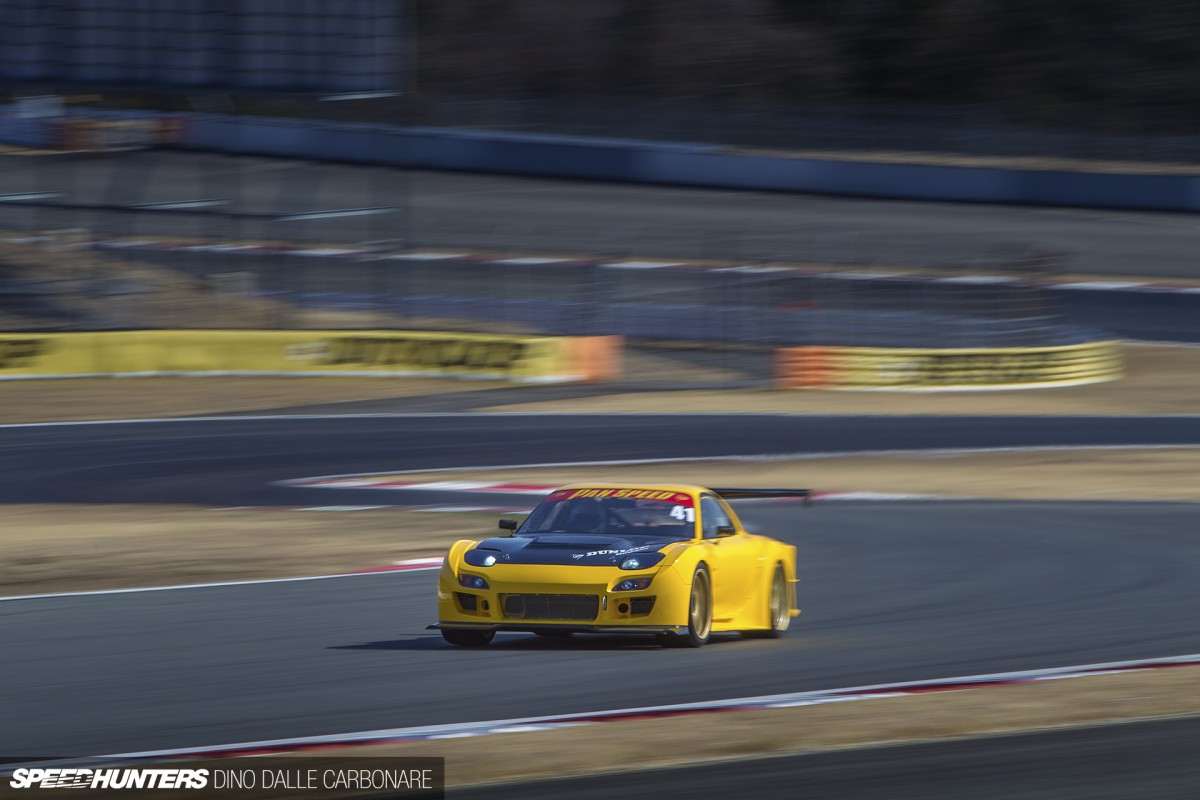 While we are on the subject of rotaries I was very happy to see that Pan Speed have completed their brand new FD3S time attack car. This is a completely fresh build and an evolution of the original wide body machine that they have been running for well over a decade now. This was the RX-7's first shakedown test and Sasaki-san seemed quite happy with how the car performed, as well as the 1'45″146 lap time it posted. There is a lot of fine tuning still to be done, but you can expect to see the yellow Mazda in detail as soon as it's finished.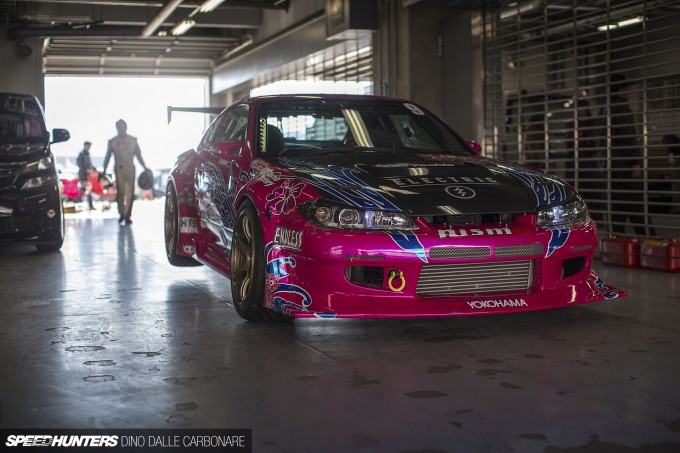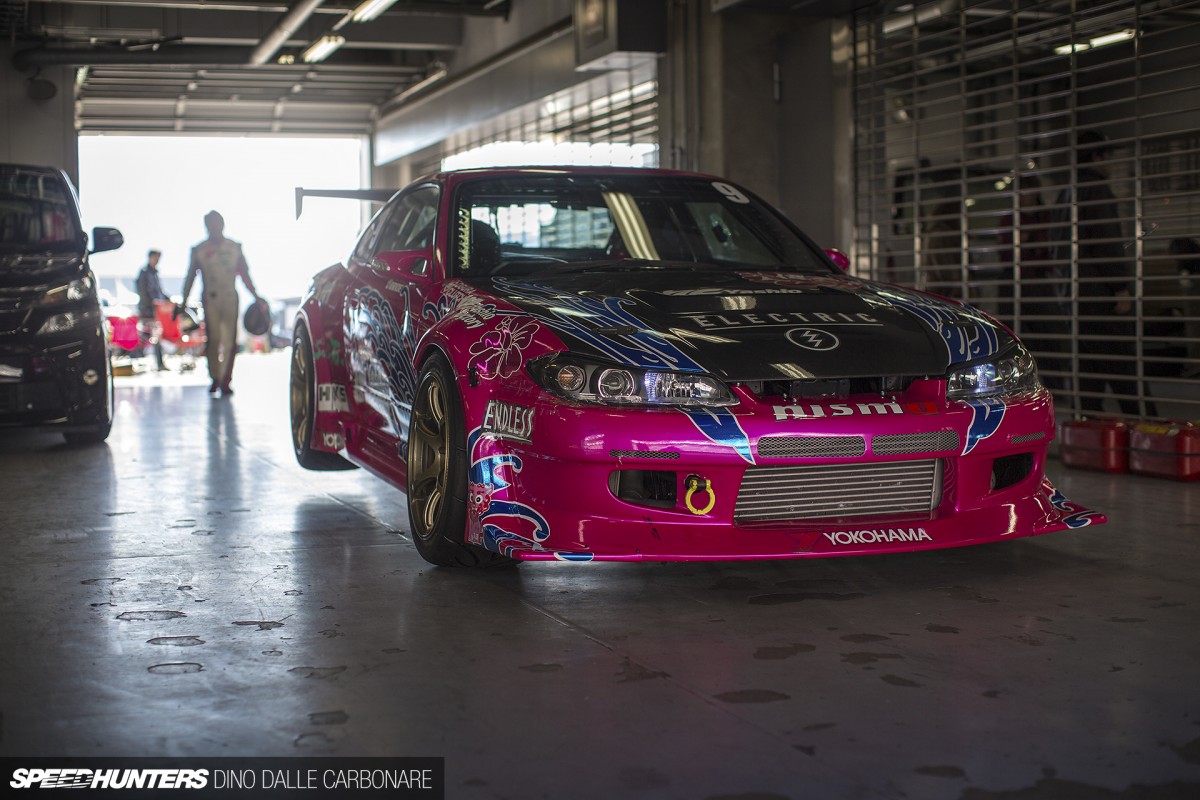 Okamura-san of Yashio Factory is a guy that enjoys driving. In fact, personal satisfaction is pretty much the reason why he got into the tuning game in the first place. Seen here making his way to Yashio's pink time attack S15, he's extracted a lot more performance out of the Silvia over the past 12 months. The result was a best lap of 1'48″425 – a whopping six seconds quicker than his time at the 2014 HKS Premium Day!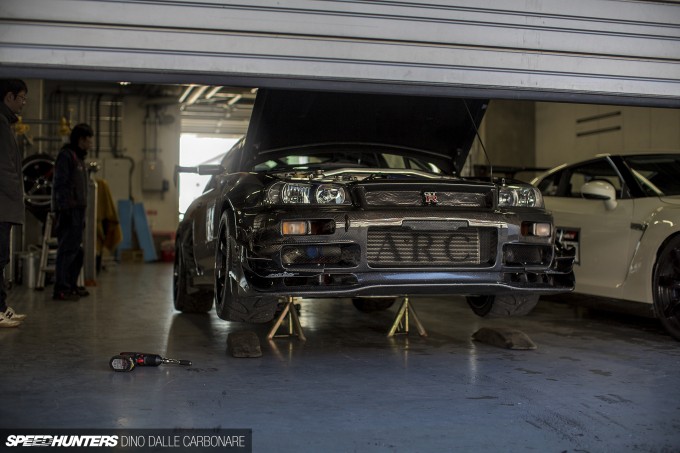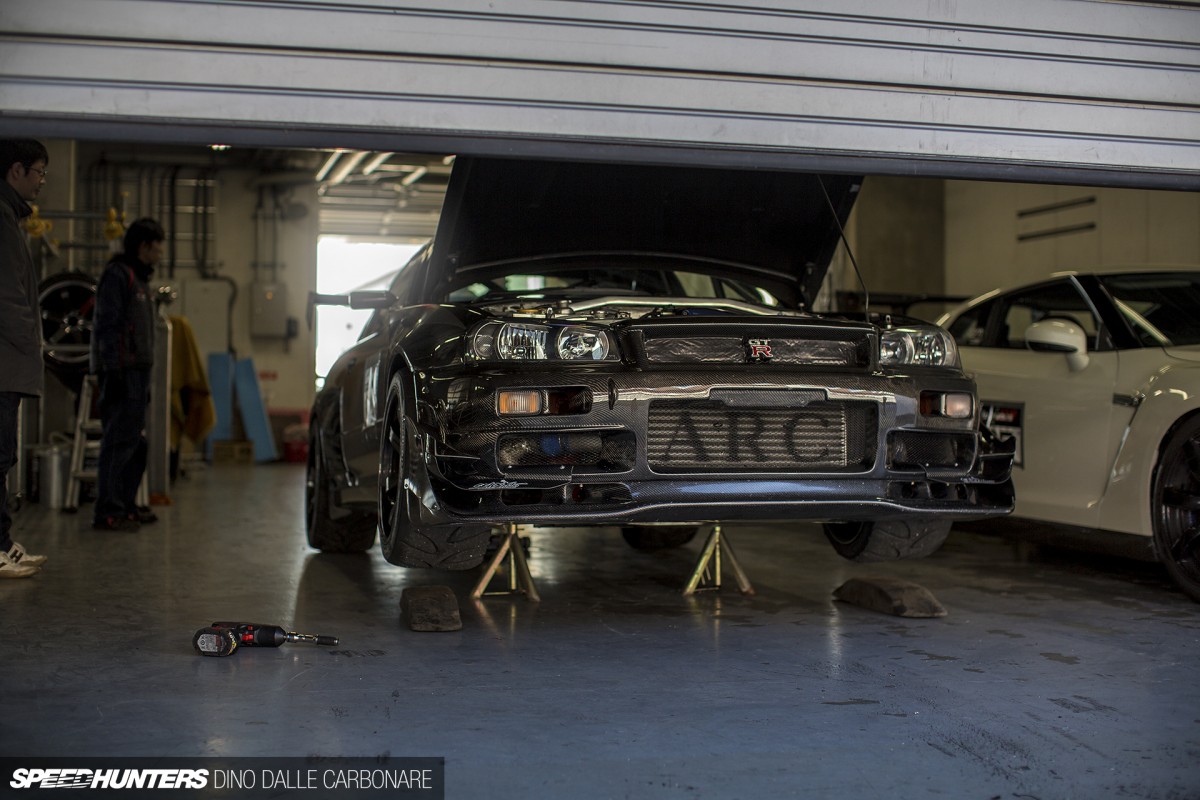 Next door was another familiar name: Auto Select. The Sawa brothers and their team from Osaka always show up at Premium Day with a ton of customer cars, but instead of bringing up their Yellow Shark BNR34, they were driving this all-carbon time attack machine built for a client. 1'47″115 was the best it could manage.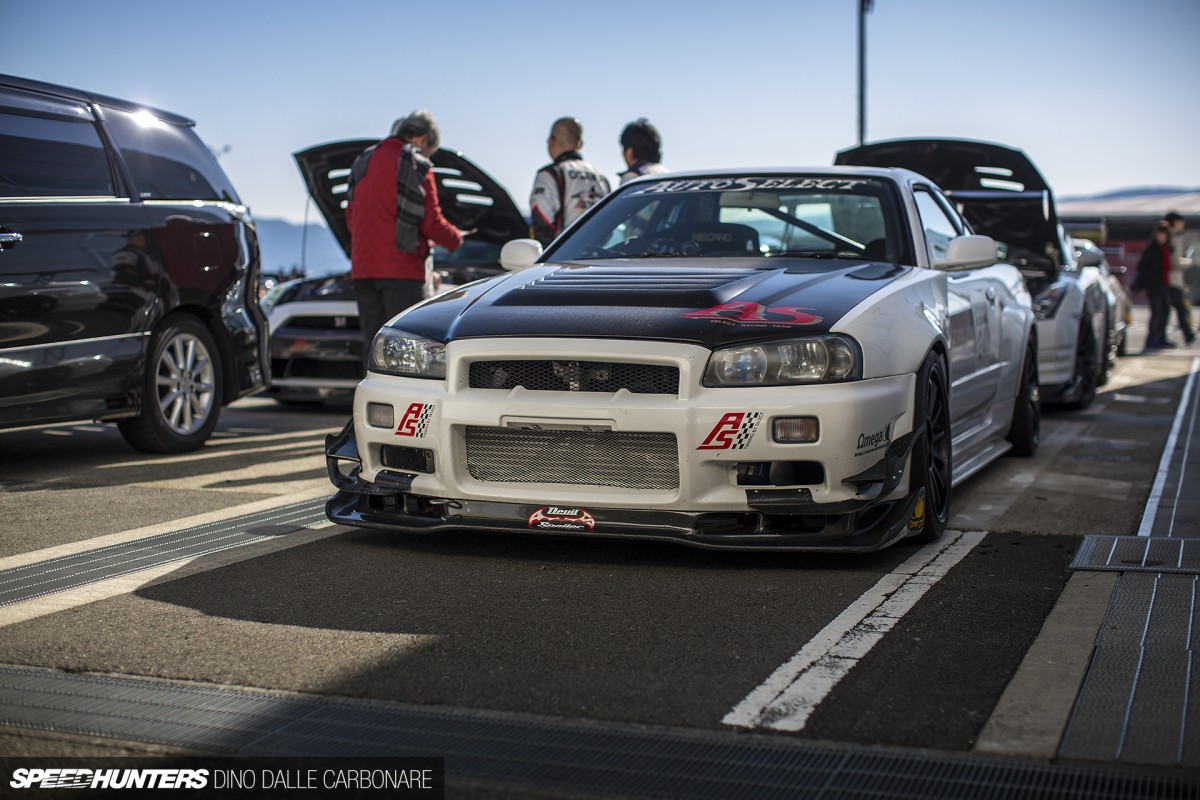 Auto Select love GT-Rs, and I counted at least seven others in their group. Crazy stuff!
Pushing The Envelope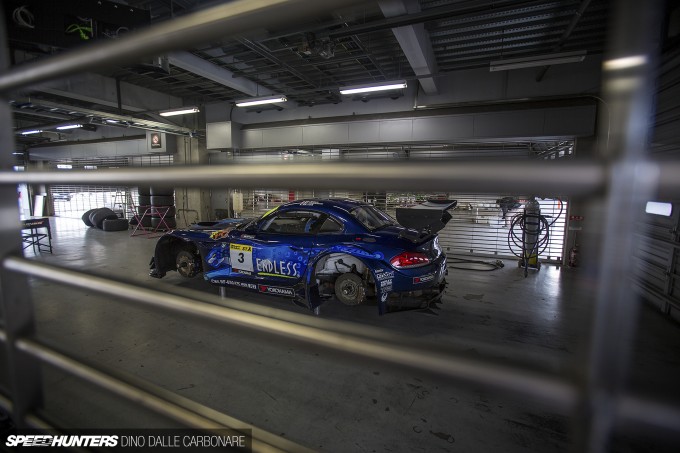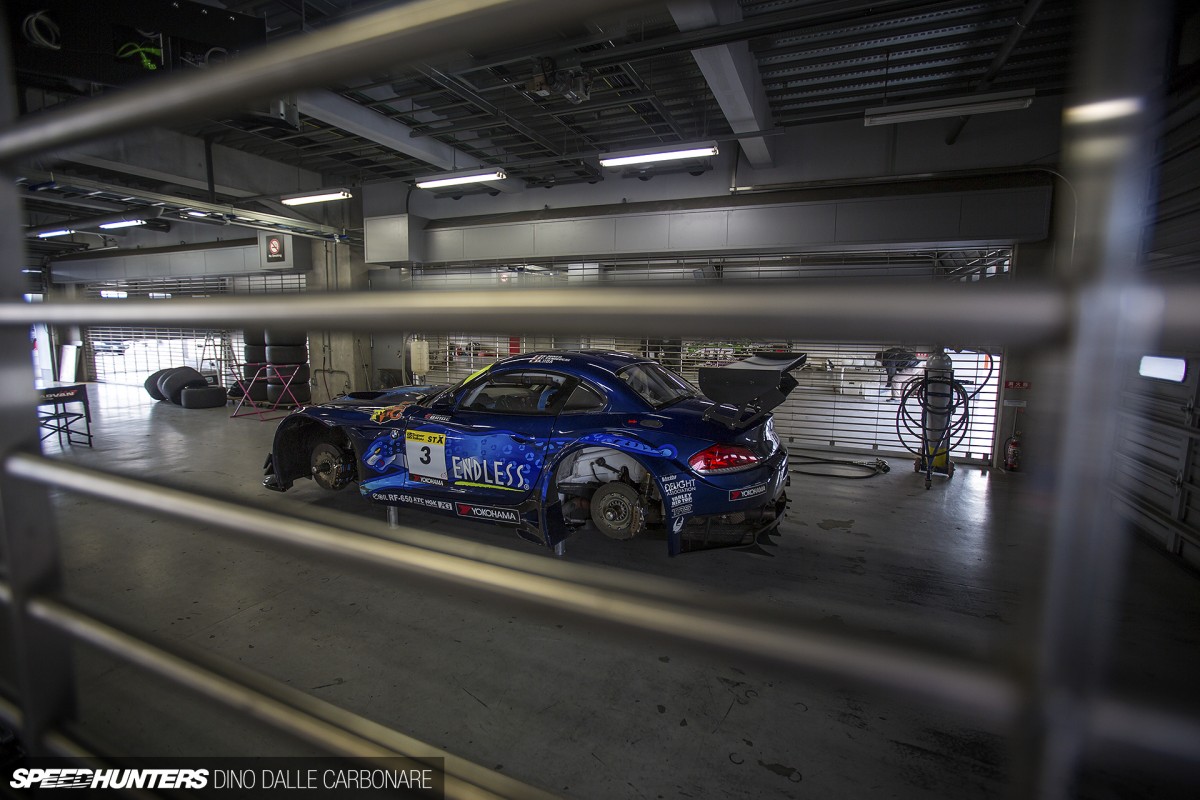 A few pits up was the Endless BMW Z4 GT3 racecar that competes in Super Taikyu. No one besides the team was allowed in the garage so I did the next best thing and grabbed a shot through the fences that separate each of the pits. With Kyosuke Mineo behind the wheel, 1'40″543 was the car's top time.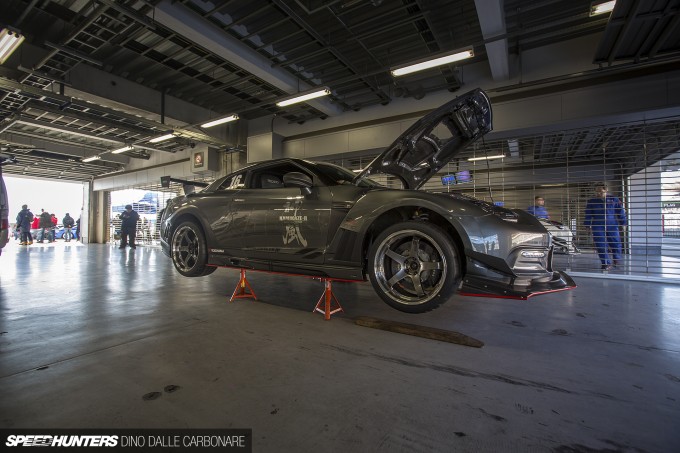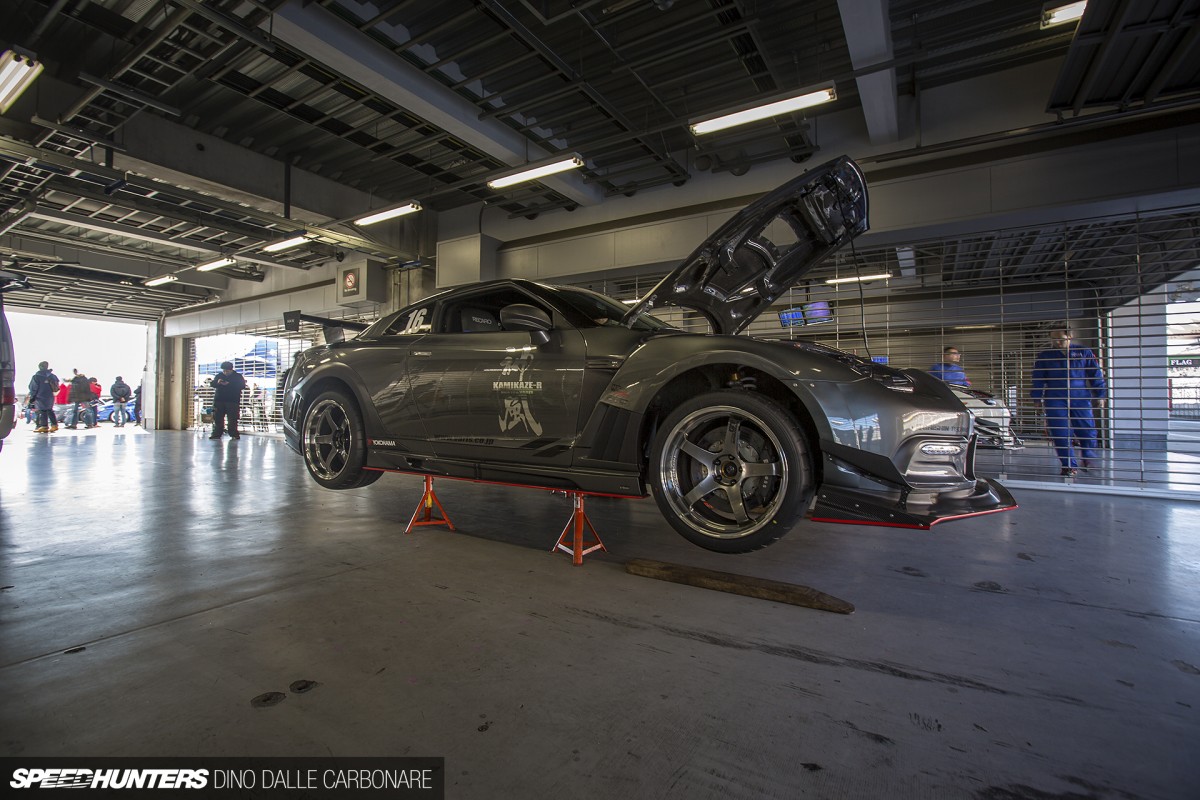 Back at the 2013 Premium Day event the HKS Technical Factory R35 GT-R became the fastest 'tuned R35 on radial tyres' at Fuji Speedway. That accolade still holds, but they managed to rewrite their own record last year with a 1'44″051 lap. This year provided an opportunity to test out the all-new Yokohama Advan tyre designed specifically for the R35.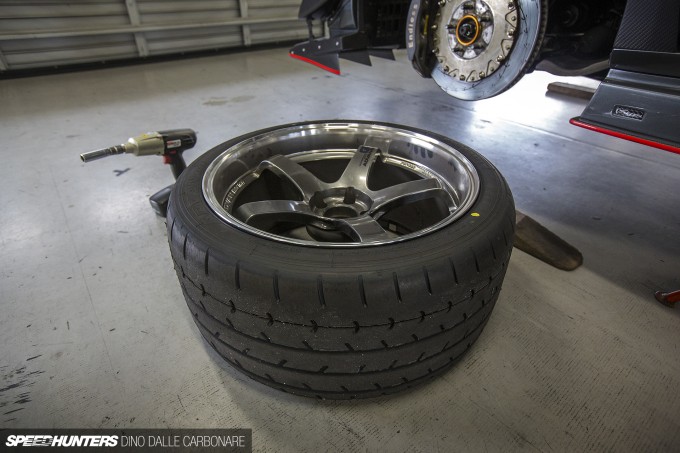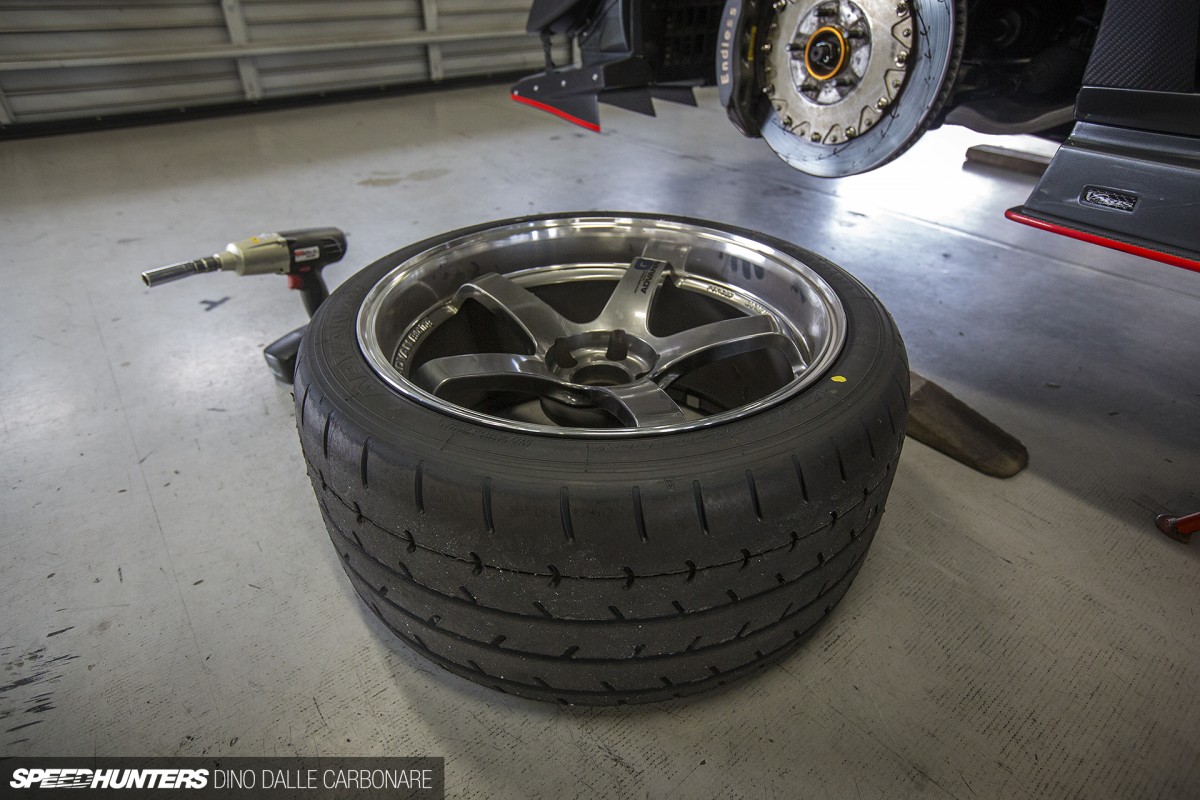 The 'A08B' was released at the Tokyo Auto Salon a couple of weeks ago, and is aimed at new-gen GT-R owners who spend a lot of time at the track.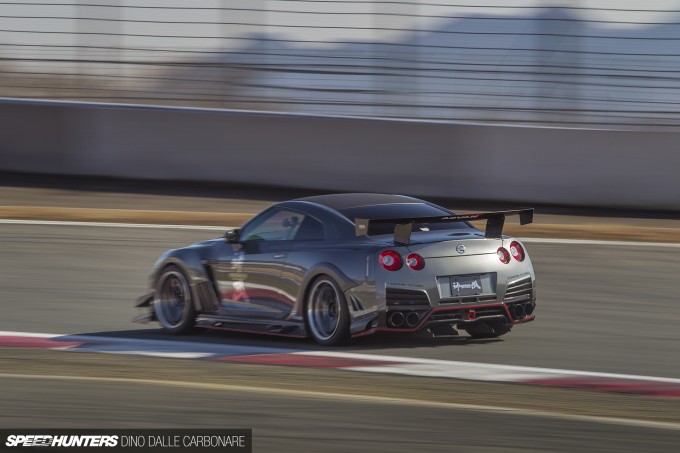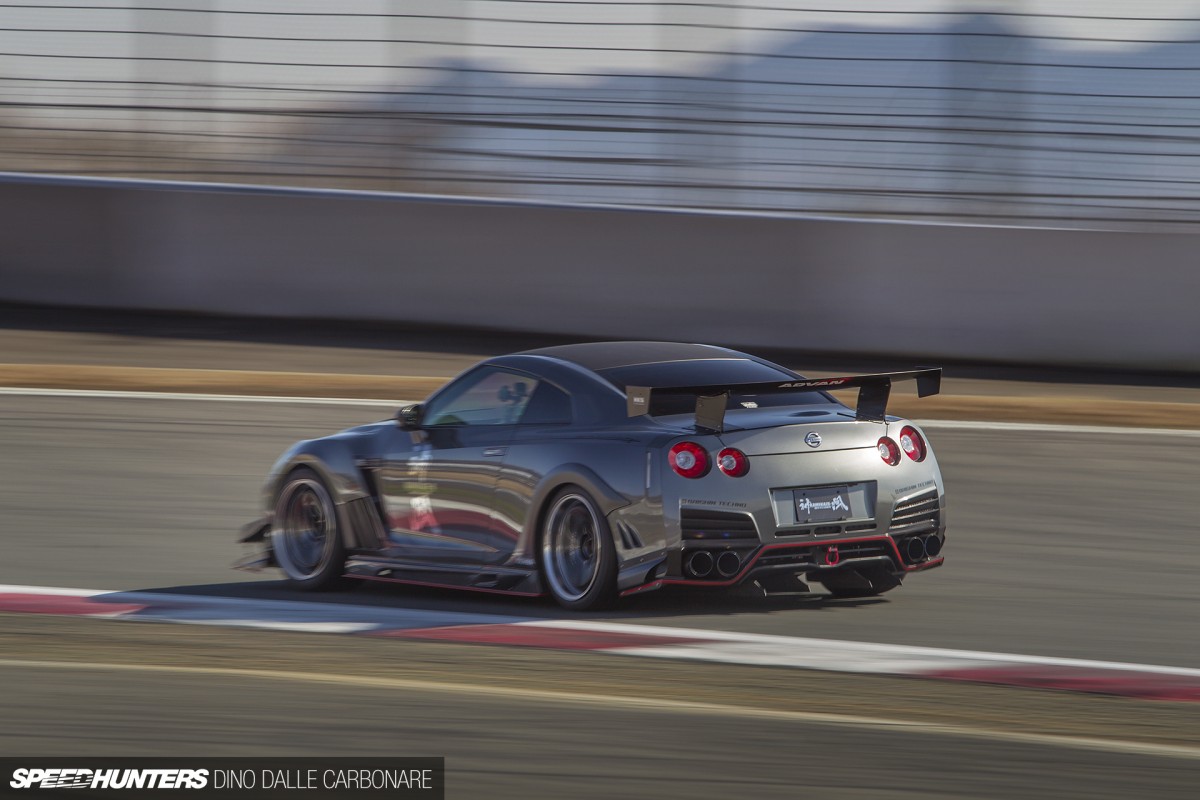 On the new Advans the HKS Technical Factory R35 was able to post a 1'41″743 lap – around two seconds quicker than any other of the tuned R35s entered and another record-rewrite to boot.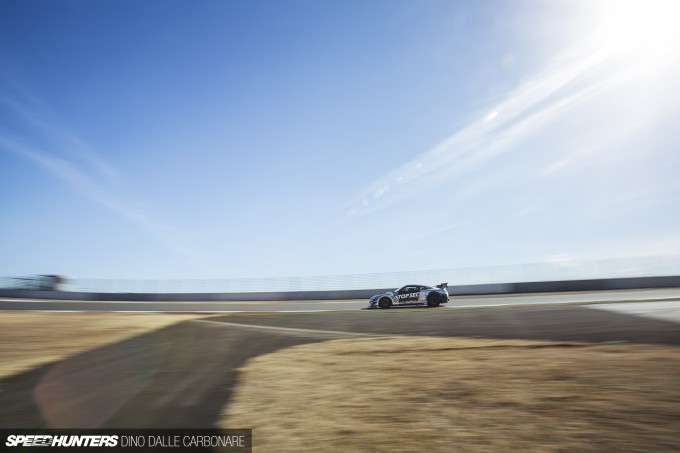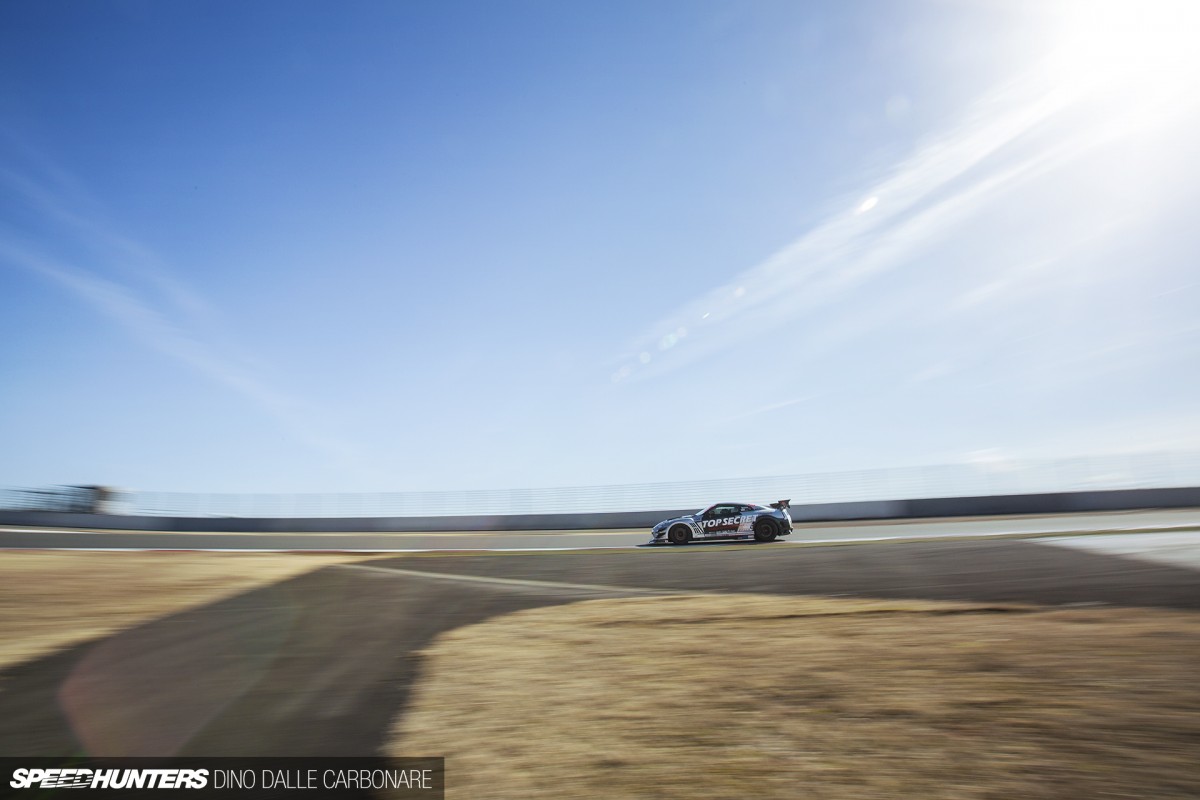 One of those was the Top Secret GT-R being driven by Yasushi Kikuchi. Smoky's car posted a best of 1'46″430, which was unfortunately a couple of seconds slower than last year. They were on their way it improving when the R35 had a tyre blow-out on the main straight, which coincided with a major oil leak that hinted at engine trouble. Hopefully the Top Secret team will have better luck next year.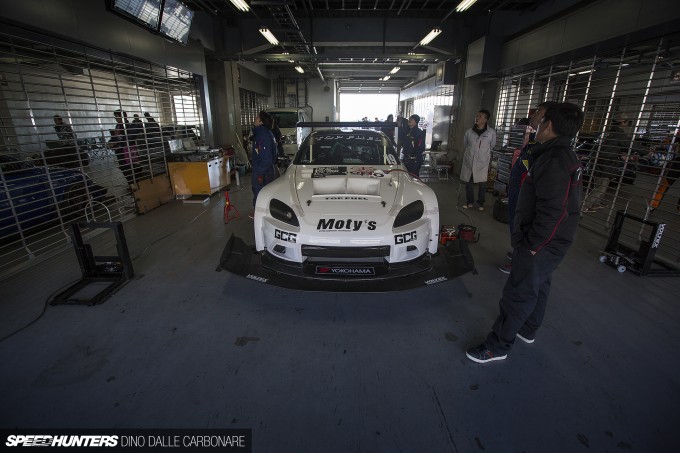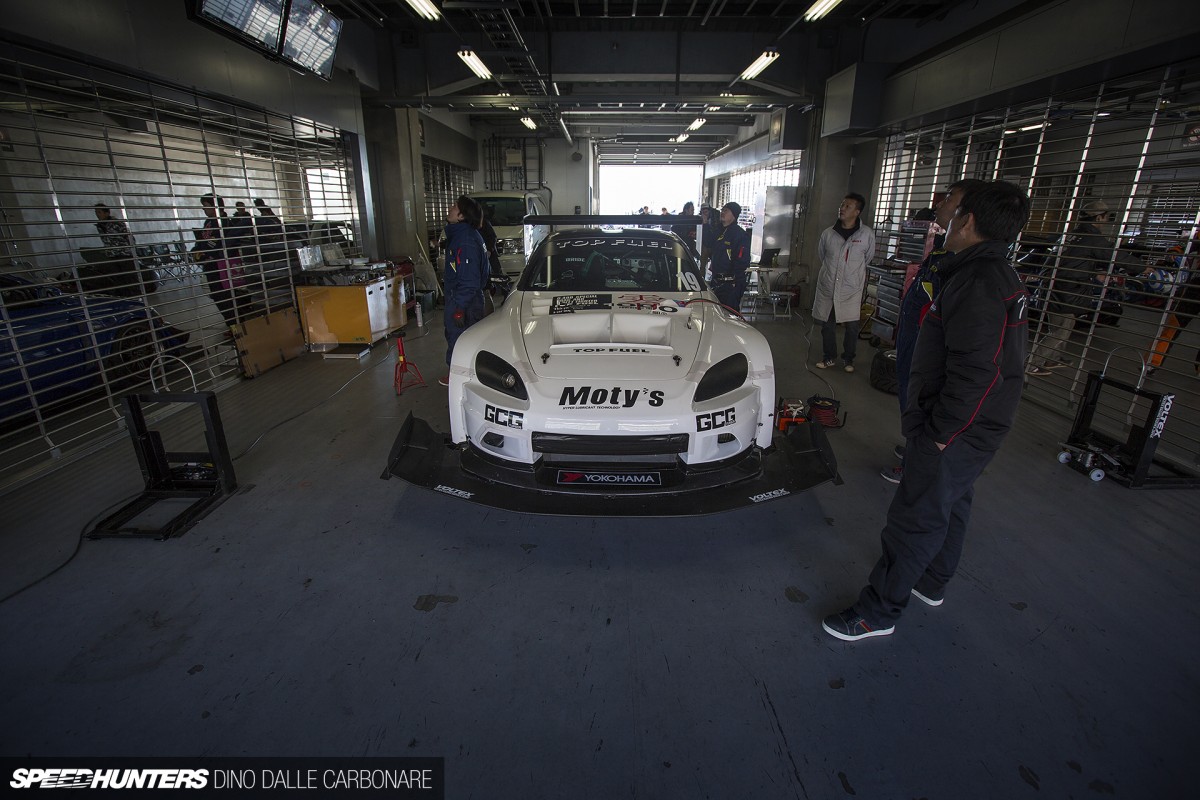 Taniguchi was busy jumping in and out of cars all day, and drove in five of the nine classes that the entrants had been split into. After setting the record time with the HKS Technical Factory GT-R in the R35 class, he did the exact same thing with the Top Fuel S2000 in the 2WD class, breaking the 1-minute 40-second barrier with a 1'39″131. This is a very important time as it proves just what a difference serious aerodynamics can make.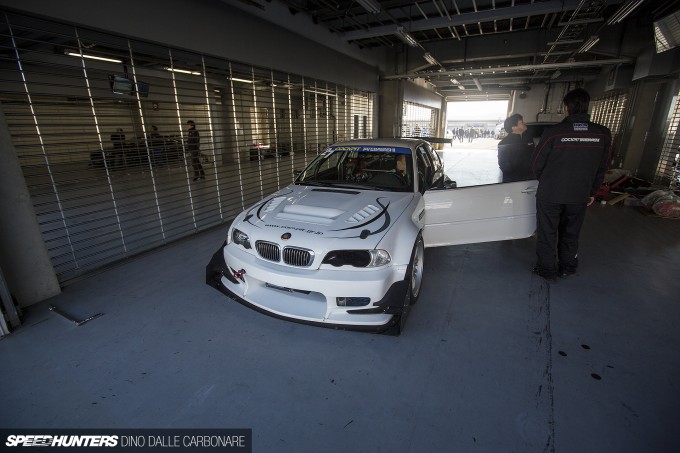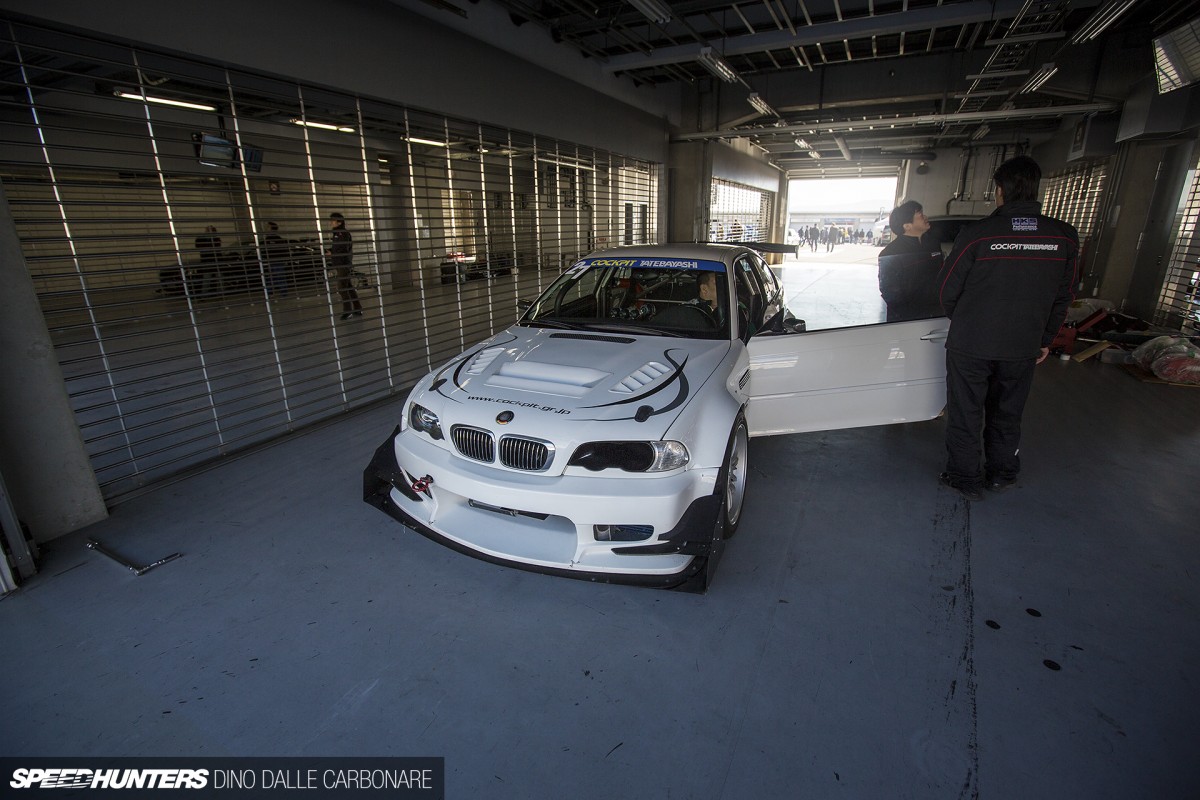 Cockpit Tatebayashi showed up with an all-new car this year: a widebody E46 BMW M3 that's been stripped-out and ready to improve on times set by the ECR33 Skyline they've been campaigning for years. And they achieved their goal – albeit by a whisker – with a 1'56″081.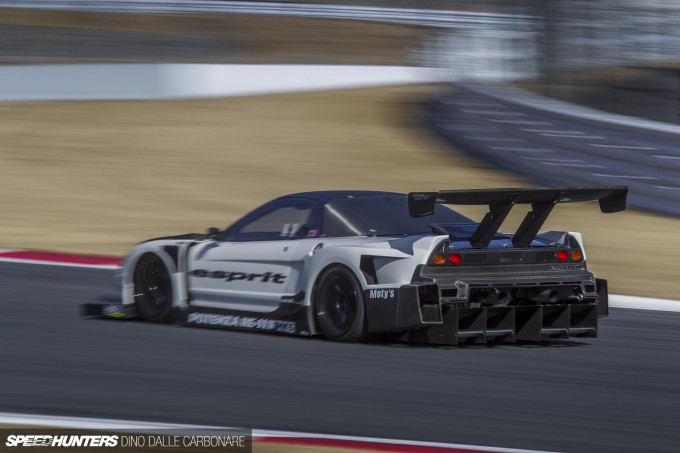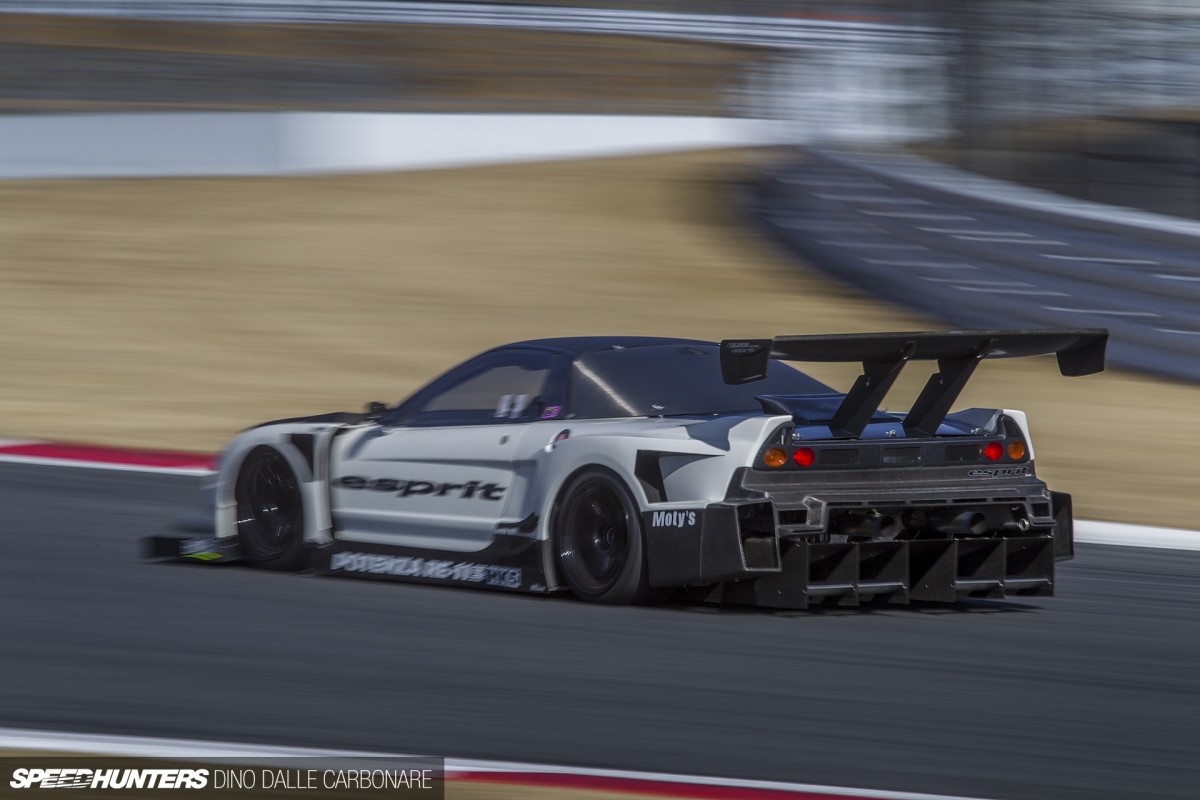 Tarzan Yamada was called out to Fuji to pilot the twin turbo Esprit NSX, which – since I featured it a couple of years back – has evolved with a wider set of fenders and an even more serious aero package dictated by its outing at the WTAC. Tarzan extracted a 1'42″466, which is about half a second faster than the time the wild Honda managed in 2014.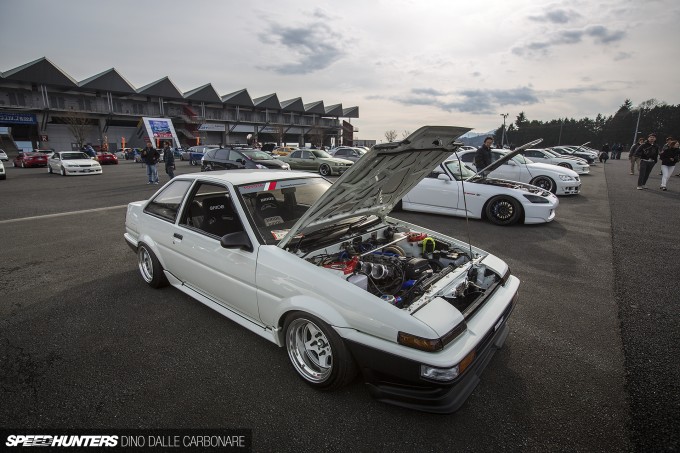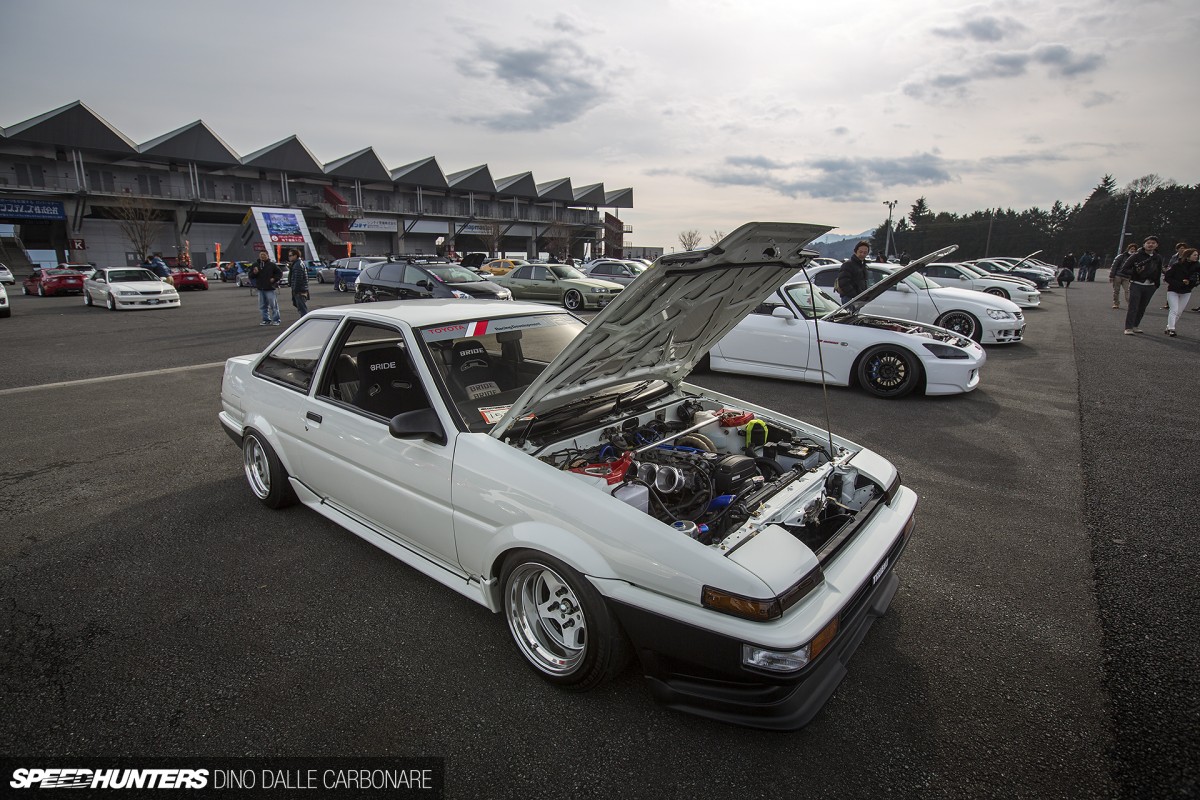 Once the time attack session was all but over I made my way up to the stance show to check out what had shown up. I must have been too late though, as half of the cars had left after the awards were handed out. I did, however, spot this stunning Trueno notchback running a clean 4A-G 20-valve blacktop swap.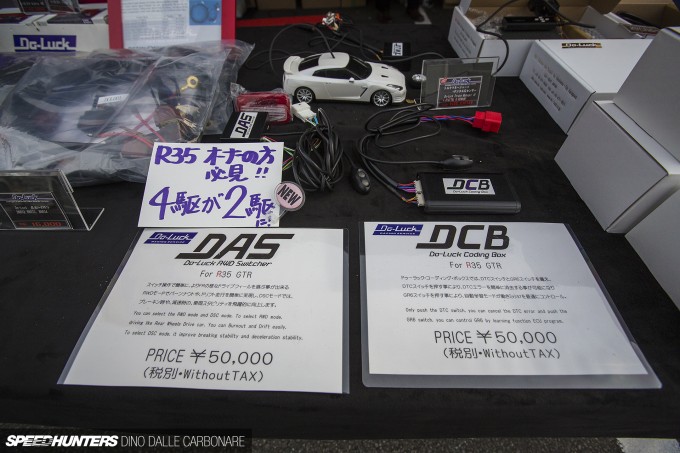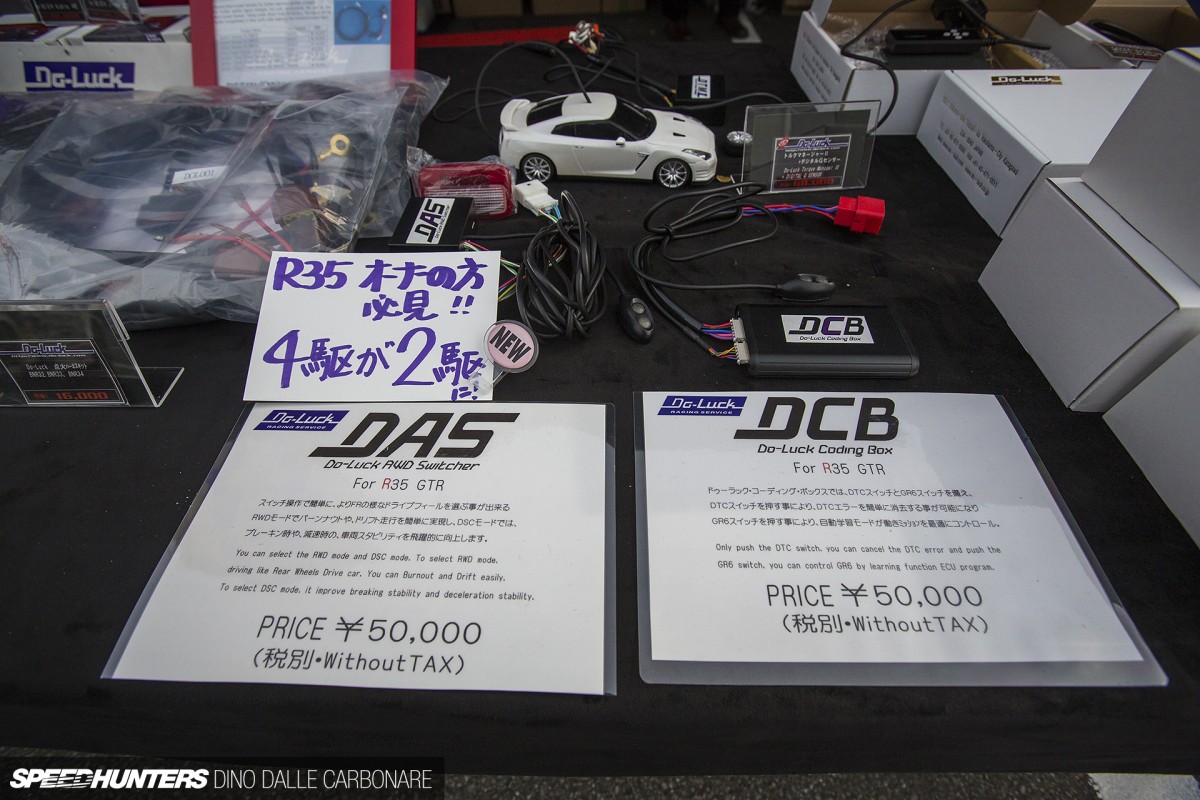 Since Ito-san at Do-Luck will soon be upgrading Project GT-R's engine with all the parts I've been accumulating over the last two years, I stopped by his booth to chat about the plan of attack. While there he showed me a new product that's just been launched – the Do-Luck AWD Switcher. Like its name suggests, this nifty little module allows the R35 GT-R to be switched into RWD mode.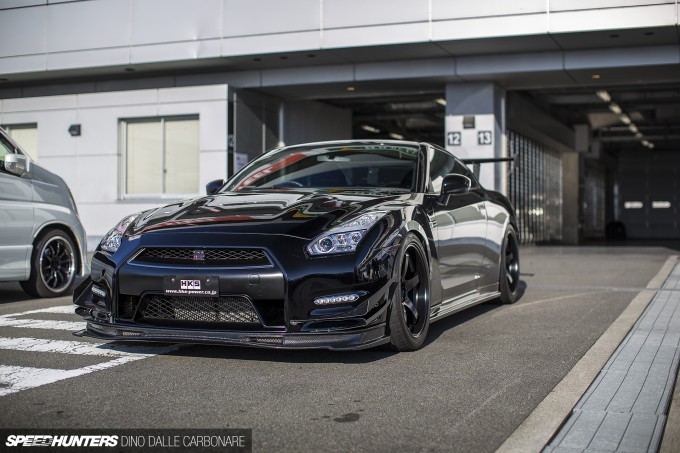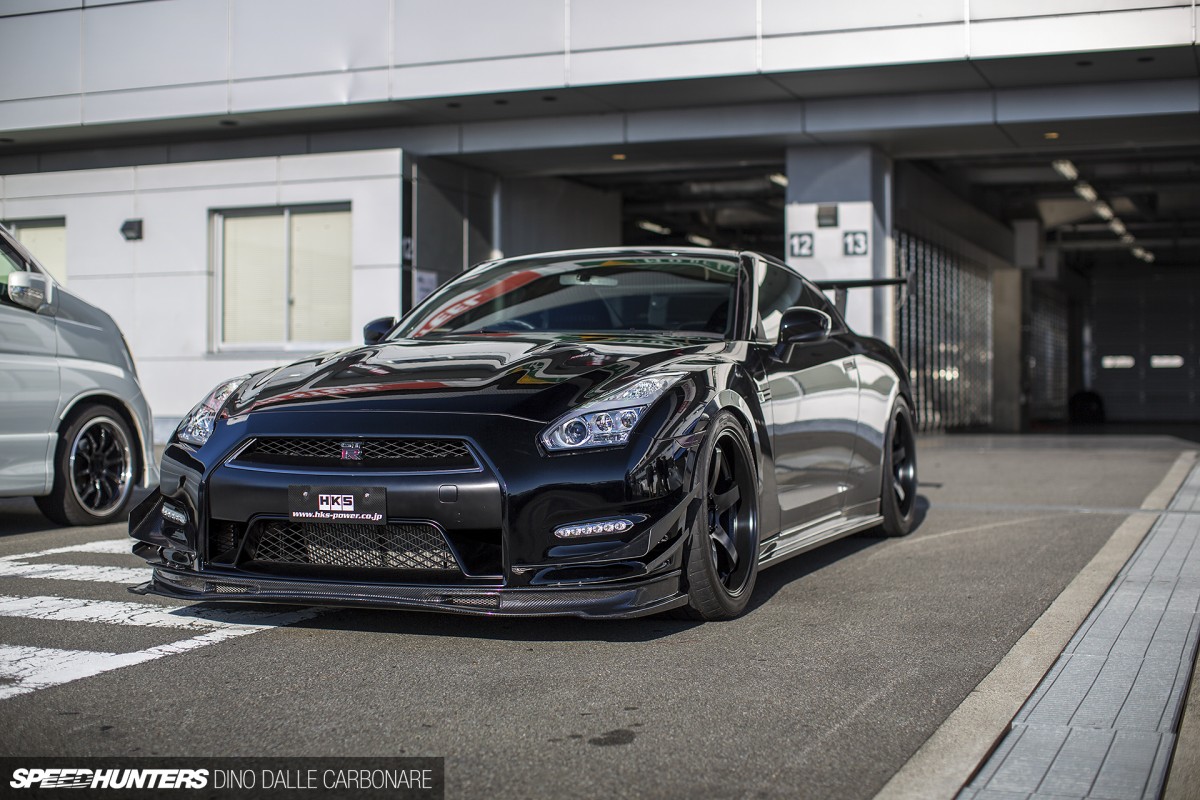 It all sounded interesting – a sort of digital line-lock for R35s that I'm sure will be very popular with the drag crowd, who will now be able to easily warm up their rear tyres before a 1/4 mile sprint.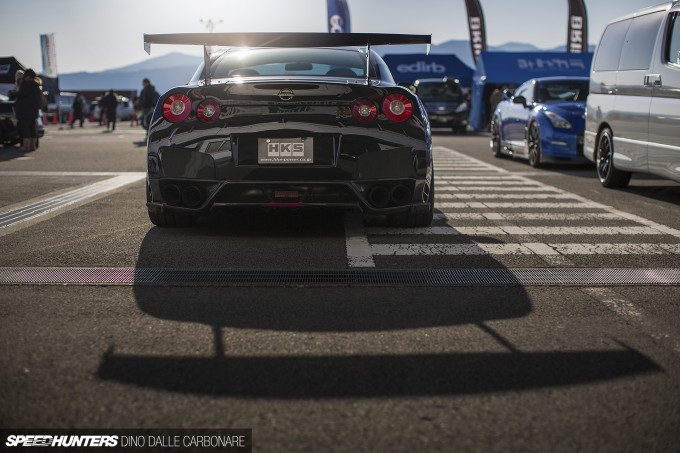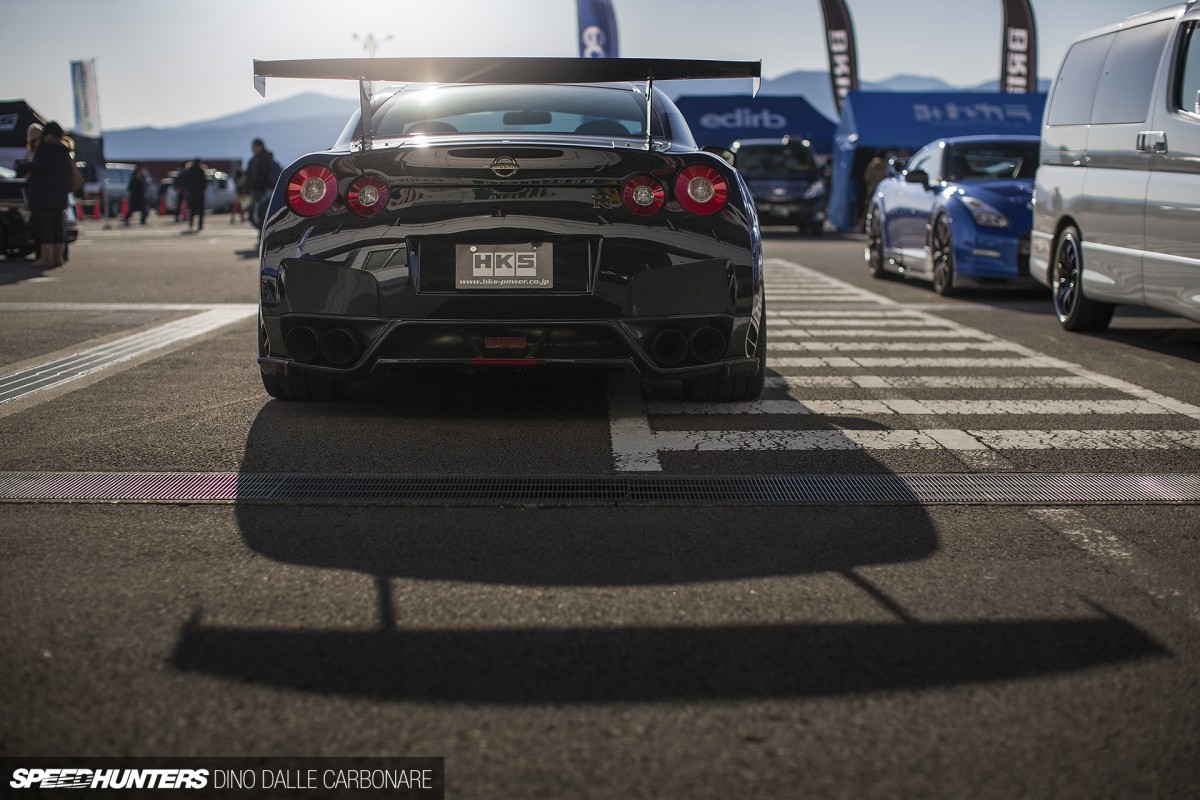 Ito-san told me that D1 driver Daisuke Hasegawa – the driver of the BenSopra 380SX – would be trying it out in his own R35 and taking the car for a few quick drift laps around Fuji's short course. It sounded like a lot of fun, so I tagged along to check out a big, fat GT-R do its thing sideways.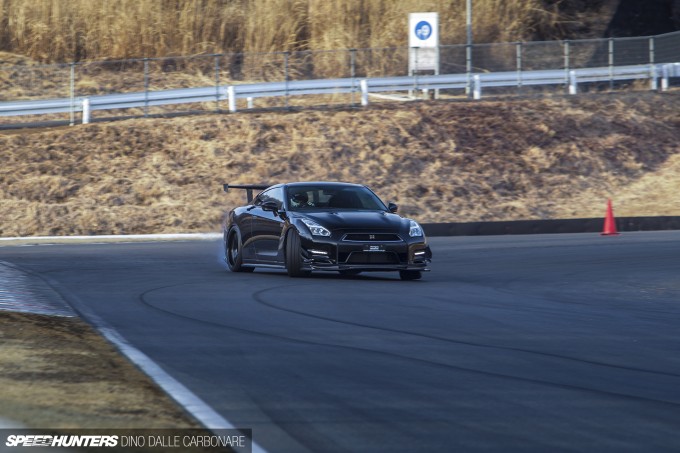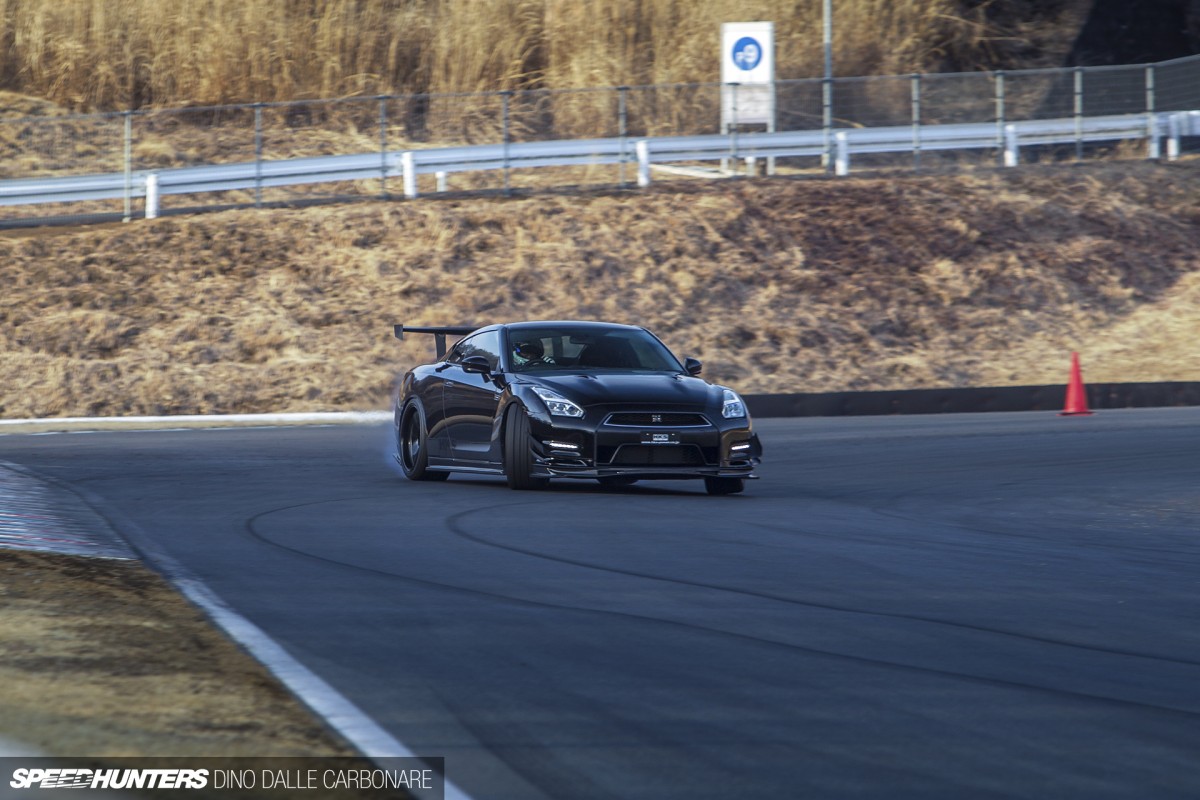 After fitting the Do-Luck DAS – which takes about two minutes all told – engaging RWD is as easy as hitting a button. Hasegawa seemed to be enjoying throwing his car sideways!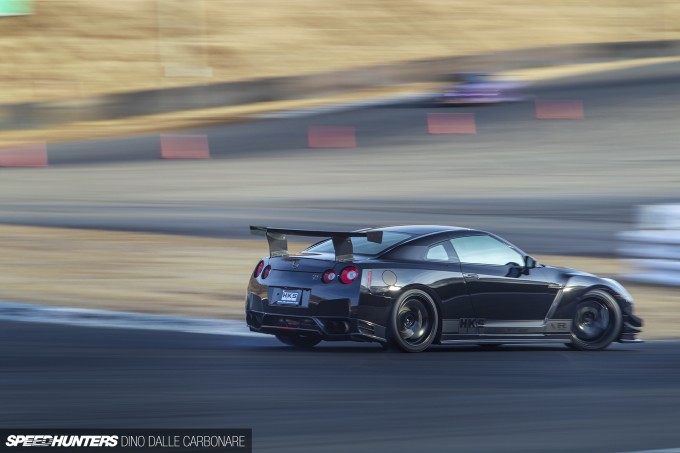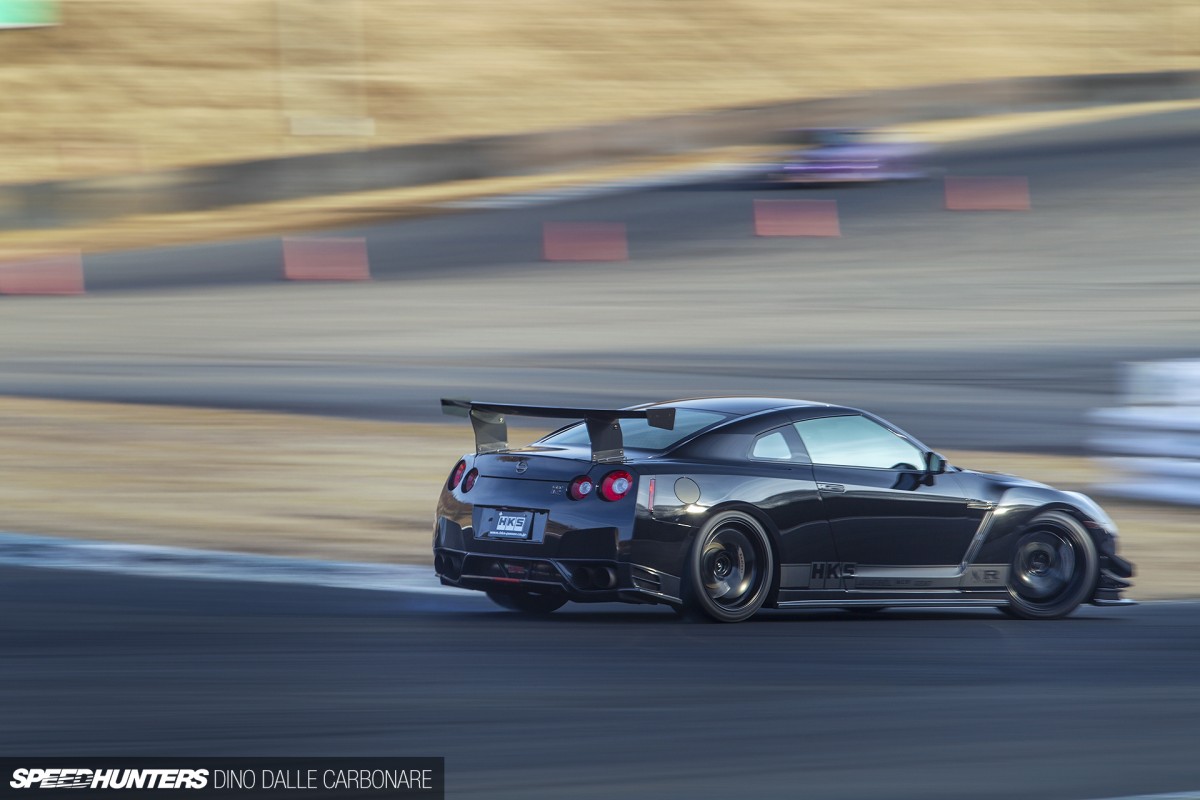 He was out to finish off an old set of tyres so kept going until they were done. Afterwards, he said how well the module worked, but complained that the R35 hasn't got enough steering lock to have proper fun with, and that the dual-clutch transmission won't allow mid-drift shifts.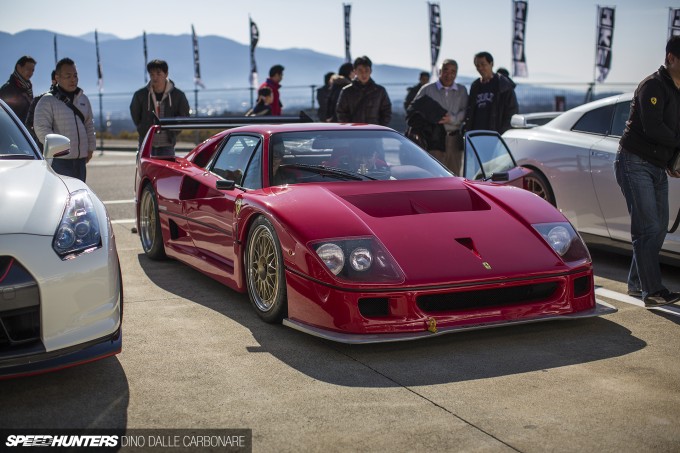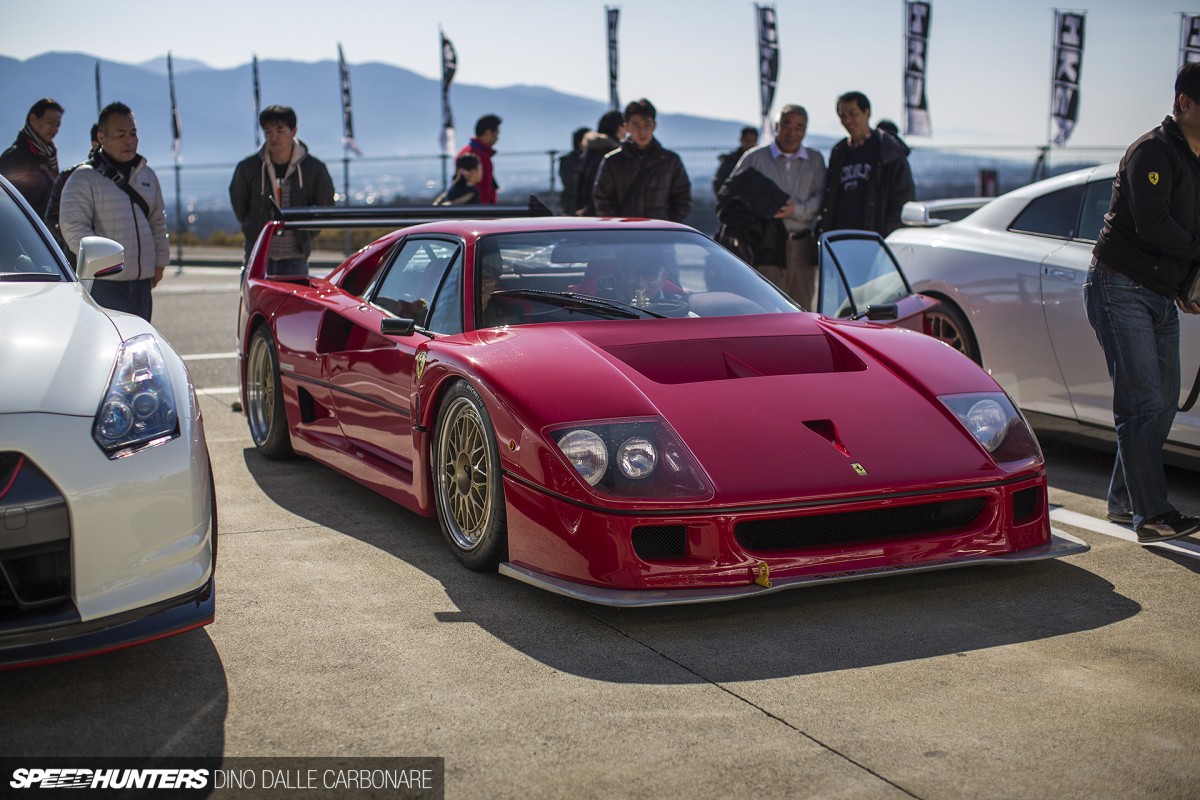 When I came back to the paddock, I was blown away.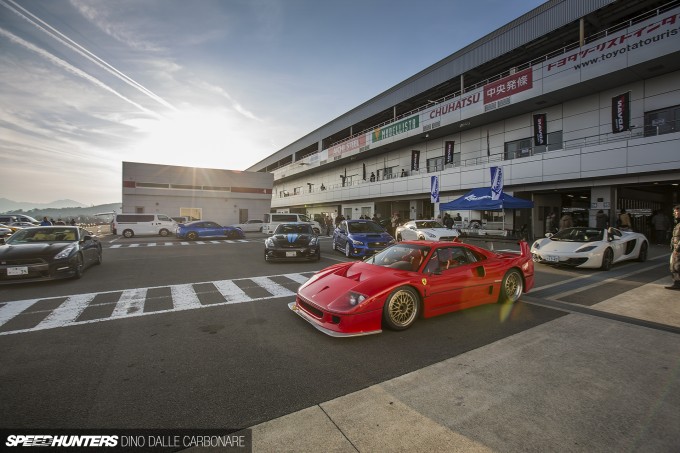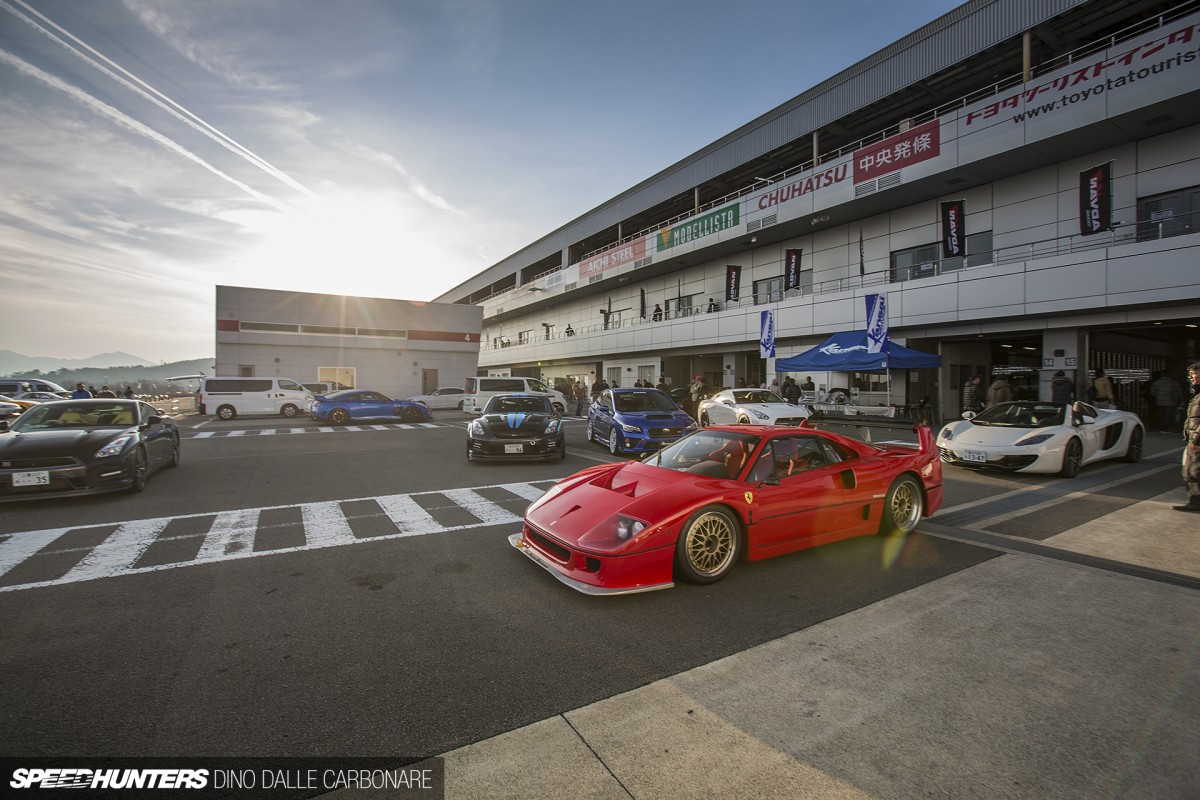 An HKS Technical Factory customer who usually runs his 1'47"-capable R35 GT-R at Fuji had shown up with another car from his collection – an F40 converted to look like a Michelotti LM. I think there are still frozen drool puddles in the Fuji paddock after a long session of extreme salivation on my part!
What Everyone Had Been Waiting For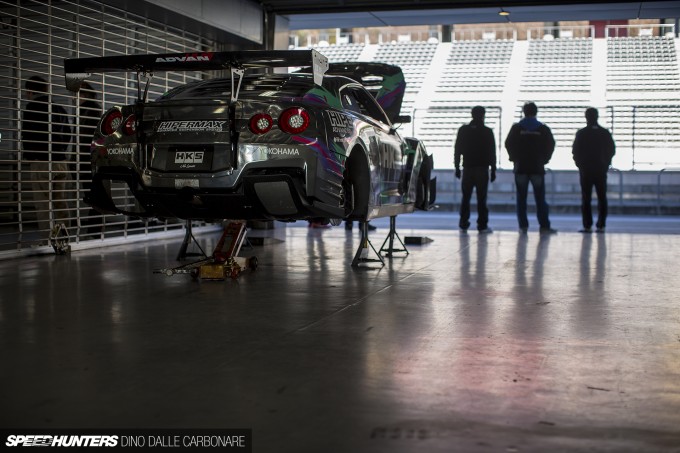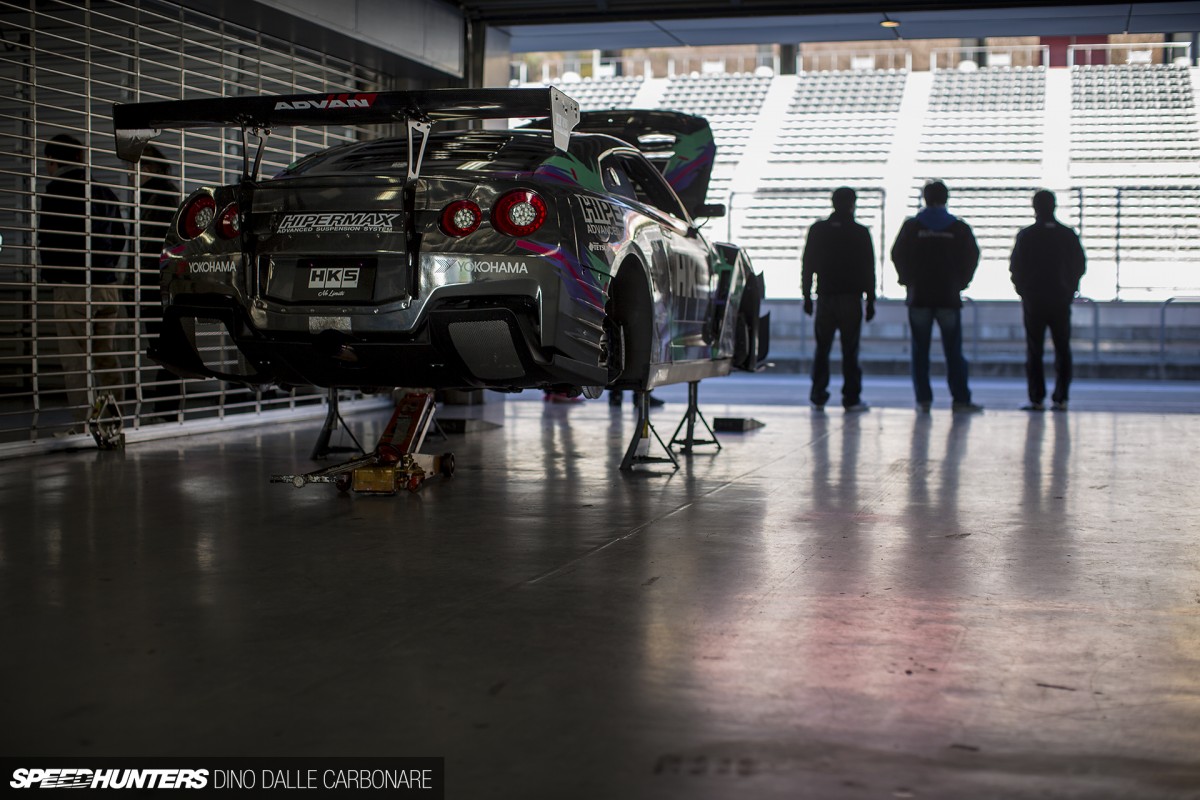 By late afternoon the event had come to an end, but there was one final session that the HKS Racing team had been waiting for. It was time for Nob Taniguchi to jump in the GT1000+ R35 development car and hit the track with a fresh set of slick tyres.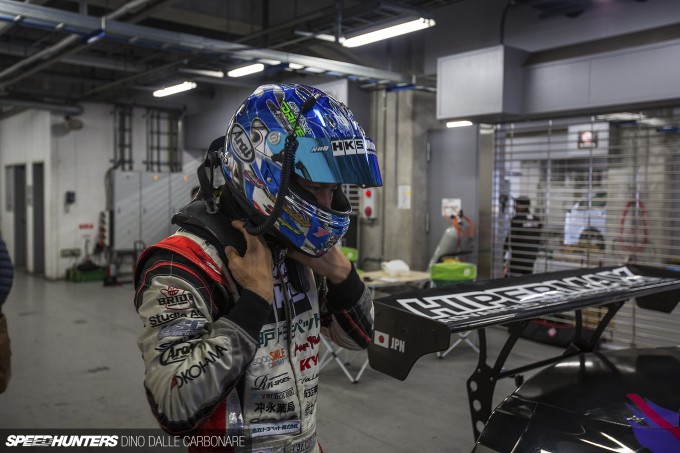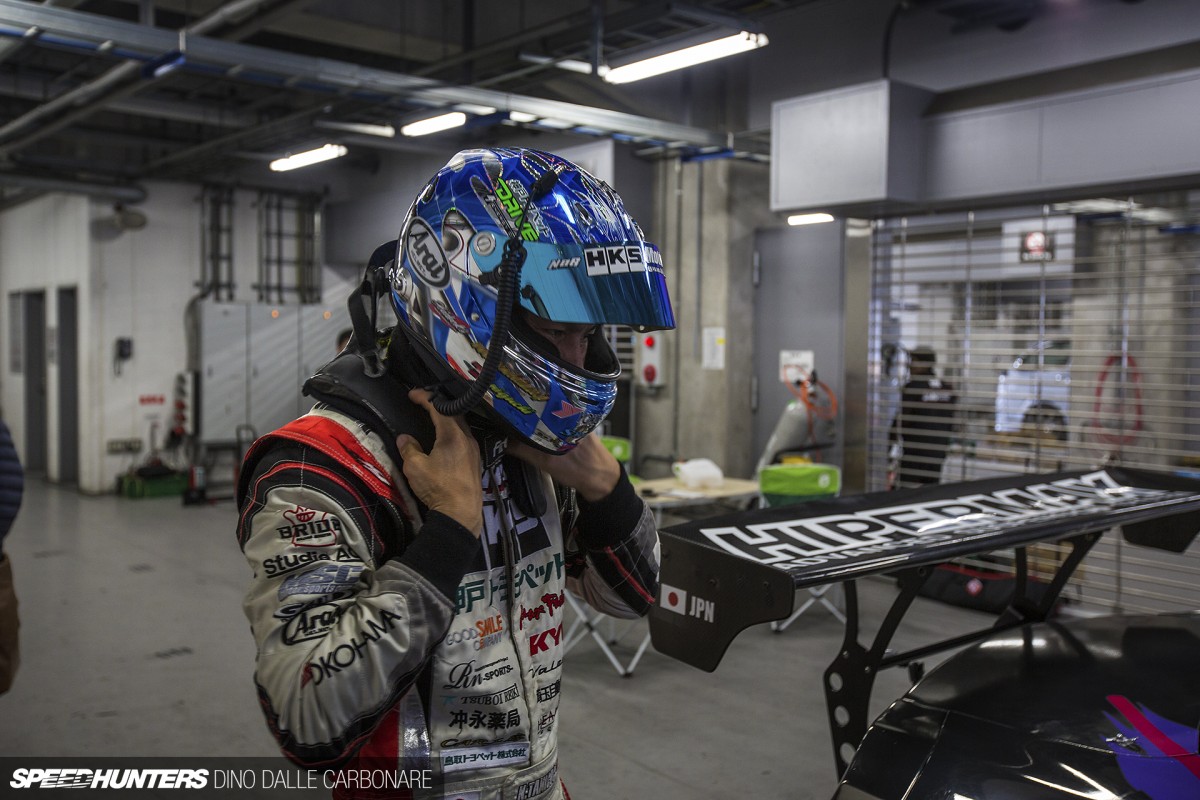 With the same car running on Yokohama slicks, Nob managed a 1'39″853 at last year's event. Having made many upgrades to the GT-R over the past few months, this time the guys at HKS were expecting an even quicker lap.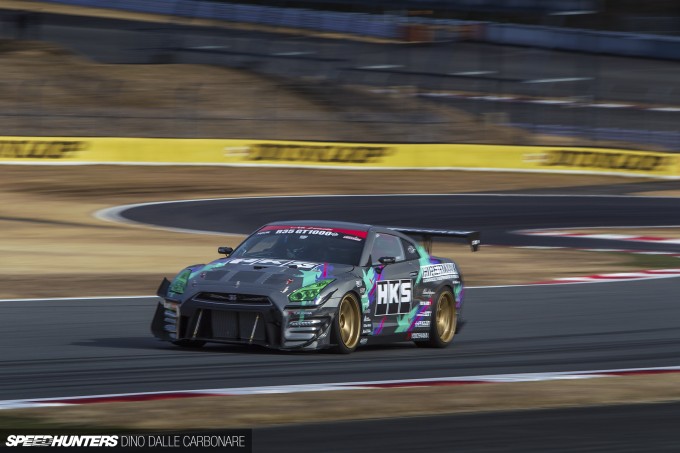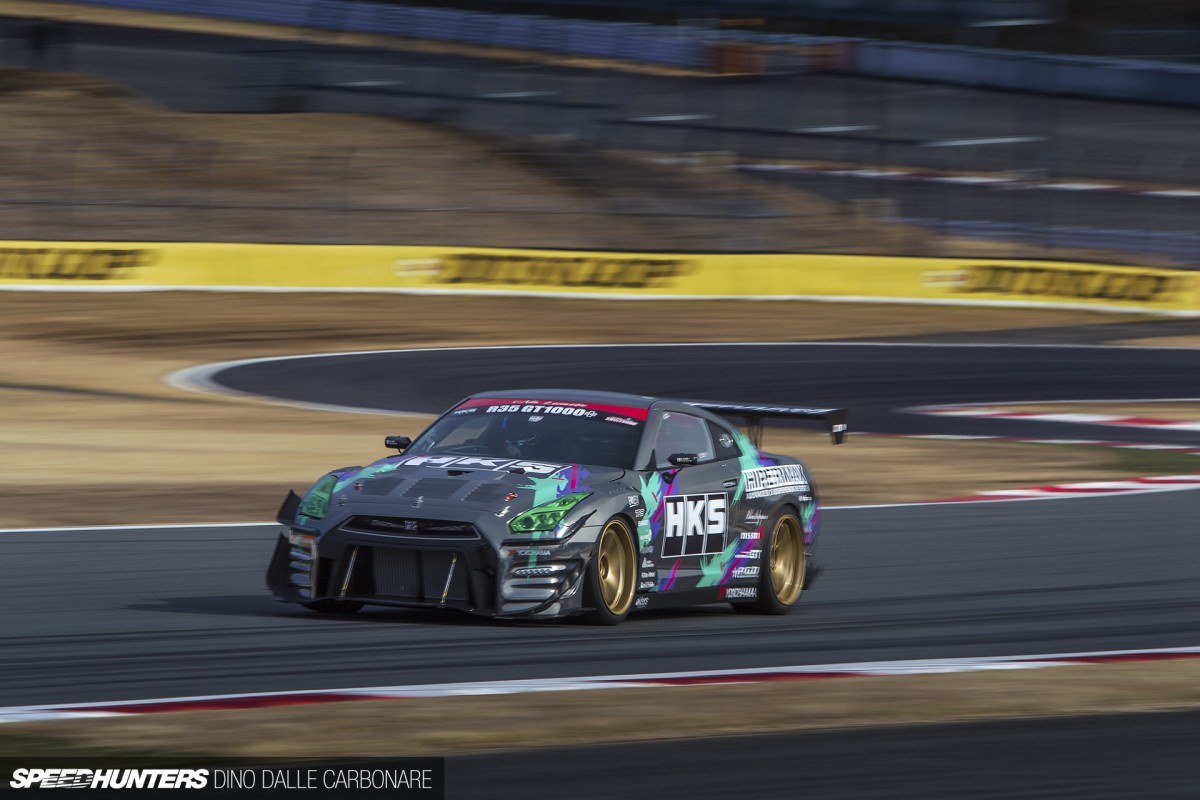 After waiting for the track to be cleared, Nob went out and gave it everything he had.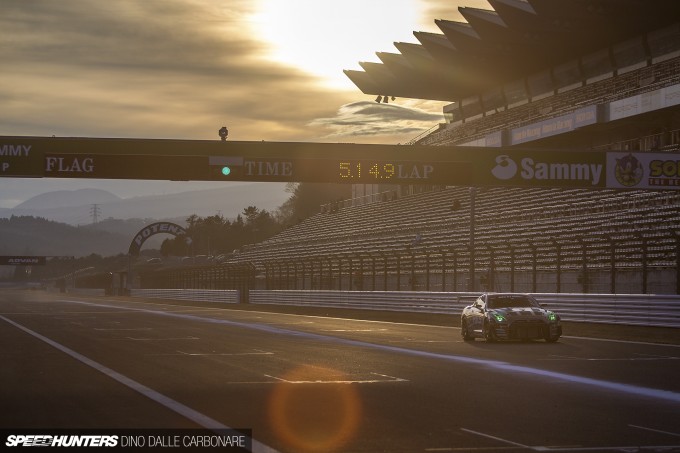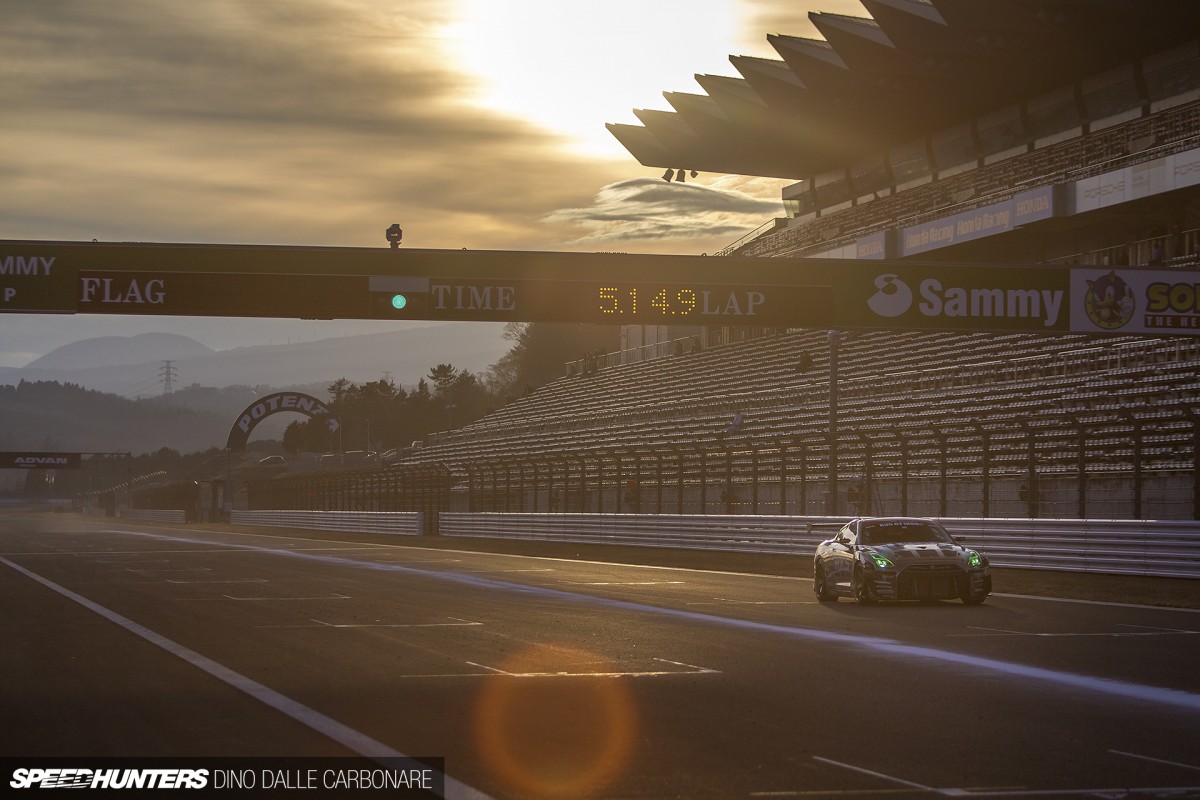 His first few laps yielded marginally faster times, but it wasn't until his third pass down the Fuji straight that the latest round of modifications showed their worth. 1'37″771 is now the fastest any tuned R35 has gone around Fuji Speedway – a mighty impressive number that shows just how much time and dedication the team have put into the development of this car.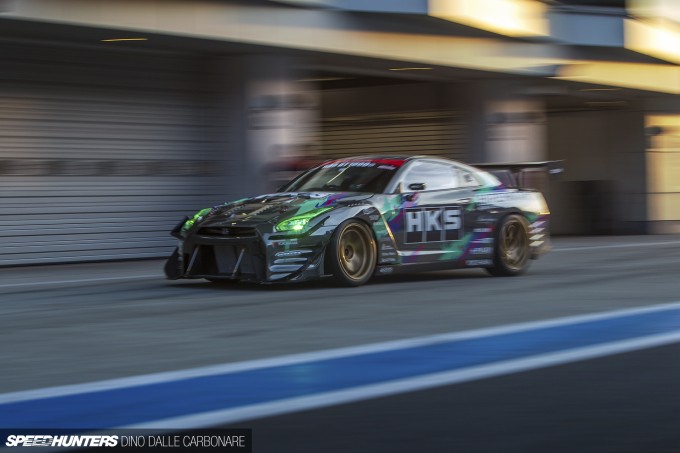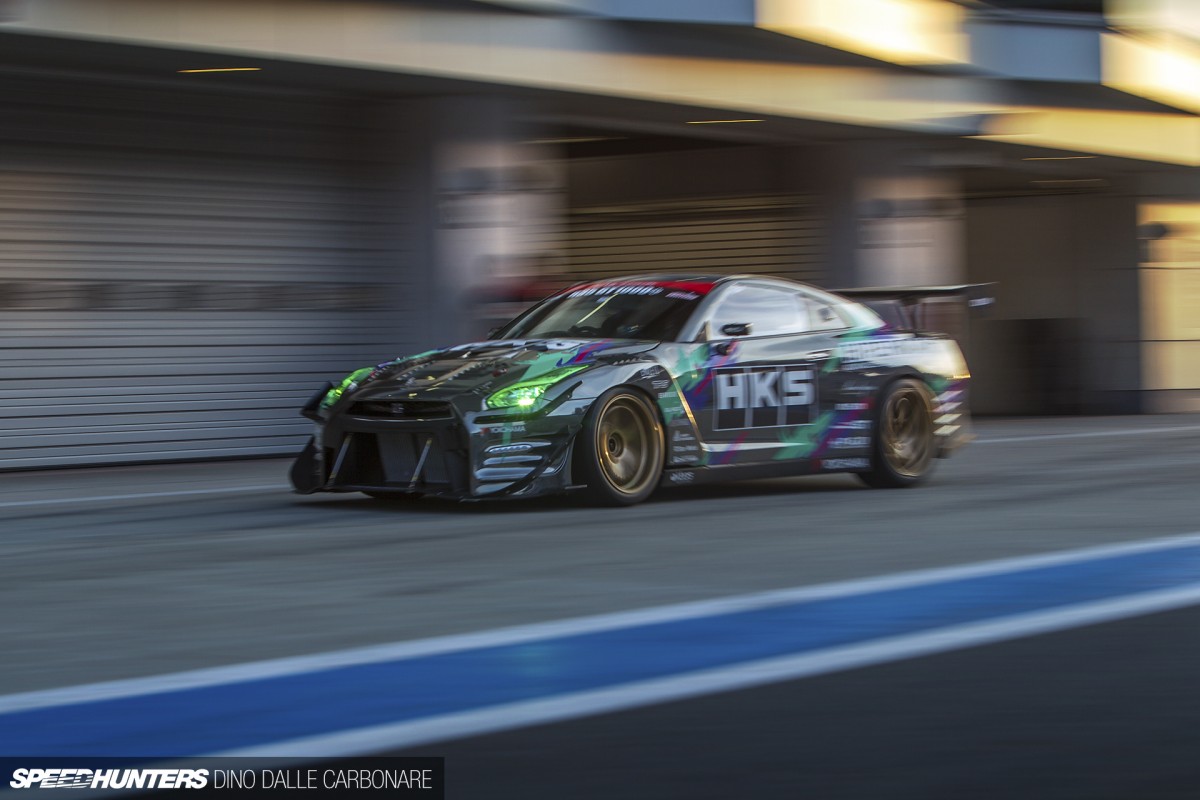 Nob entered the pits victorious, and was greeted with hugs from the mechanics and a round of applause from the onlookers. It's all in a day's work for Japan's fastest time attack driver!
Our main coverage of the 2015 HKS Premium Day ends here, but I've got some Spotlights to share with you soon, so make sure you don't miss that. And yes, I'll be showing you the HKS car in detail…
Dino Dalle Carbonare
Instagram: speedhunters_dino
dino@speedhunters.com